Are you wondering what to wear hiking? We break down all of the fundamental essentials to a good wardrobe and outfit for your hike in the wilderness. Of course, you don't need a new wardrobe to go hiking and if you're on a short and simple walk. We suggest you head out in whatever is comfortable but don't forget a rain jacket (location dependent), phone, and some water.
As you gradually progress to longer hikes and more advanced terrain, it's a good idea to have a smart strategy regarding clothes. We spend a lot of time out on the trail or scrambling up peaks once the summer season rolls around. In that time we've learned a thing or two about being prepared for hikes in the Canadian Rockies.
---
What to Wear Hiking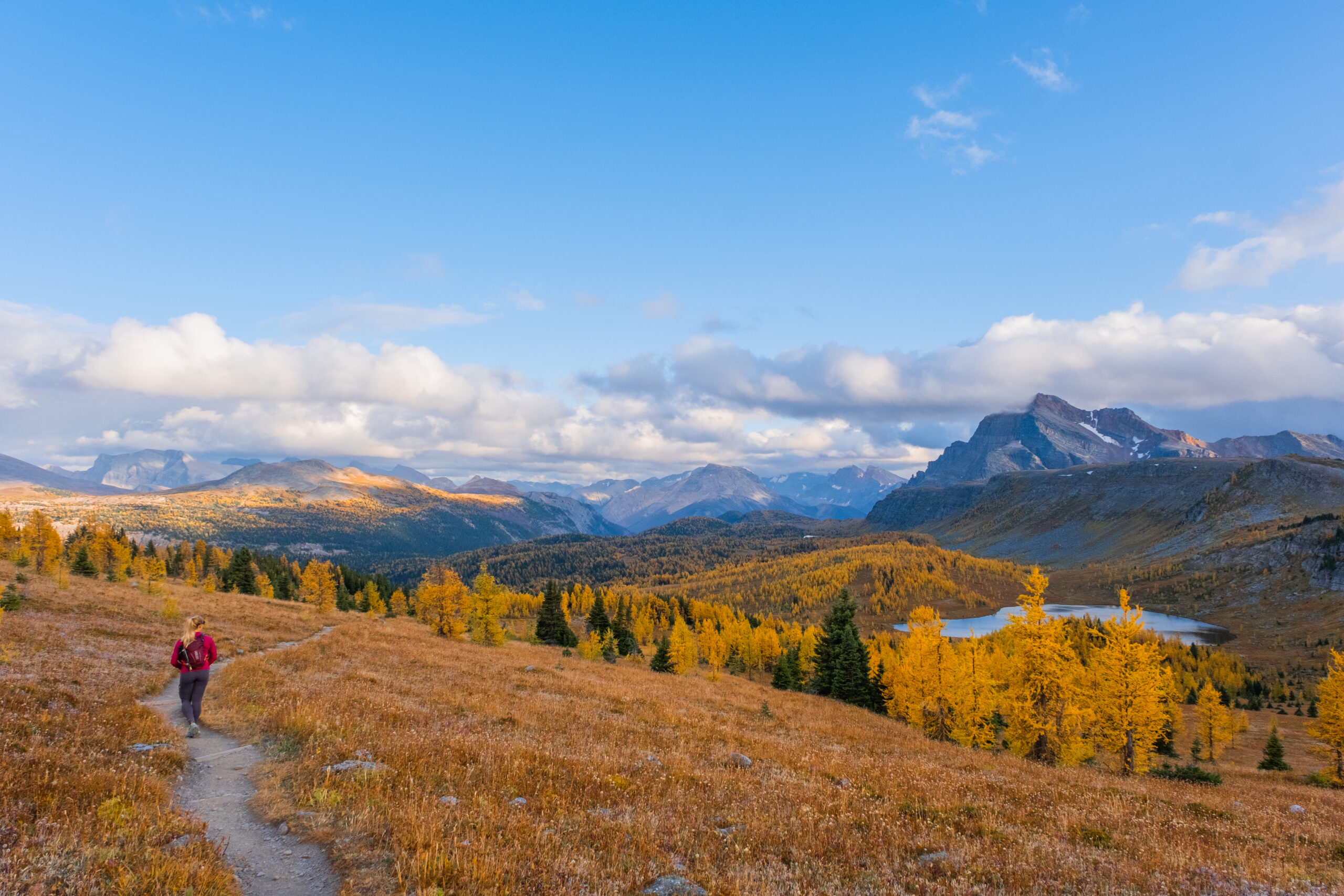 When it comes down to what to wear hiking you don't need everything on this list. As it all depends on where you're trekking, the season, your personal preference, and the route aspects. A walk through the woods to a waterfall in the summer is not the same as summiting a mountain in the winter. Though any season does share some basic principles on what you should wear hiking.
The most basic principle of what to wear hiking is layering. Anyone that has spent time in wilderness or mountains can speak to the fact your temperature can fluctuate a lot on a hike. So the goal of clothing is to help regulate your body temperature, provide element protection, and manage moisture. All of that is best done through a layering system.
The layering system may not be as important for short hikes at low elevation in the summer, but since most hikes occur in the mountains, it is realistic that hikers will deal with cold temperatures.
---
Do You Really Need New Hiking Clothes?
The short answer is NO. A lot of this stuff you probably already have at home. Things like wool socks, underwear, and sunglasses are all things I imagine everyone has at home. I've added recommendations on what we currently use during hikes of course there are hundreds of comparable products.
It's all quality gear that we've tried to balance for performance and value. There are several vital fundamentals I recommend for everyone, like a decent shell/rain jacket and comfortable boots/shoes.
What to Wear Hiking Checklist
Sunglasses
Sunhat
Sports Underwear
Wools Socks
Thermal Layers
Performance Shirt
Mid Layer
Shell Jacket
Down Jacket
Hiking Shorts
Hiking Pants

Trail Running Shoes

Hiking Boots/Shoes
Buff Headband
Beanie
Gloves
---
Sunglasses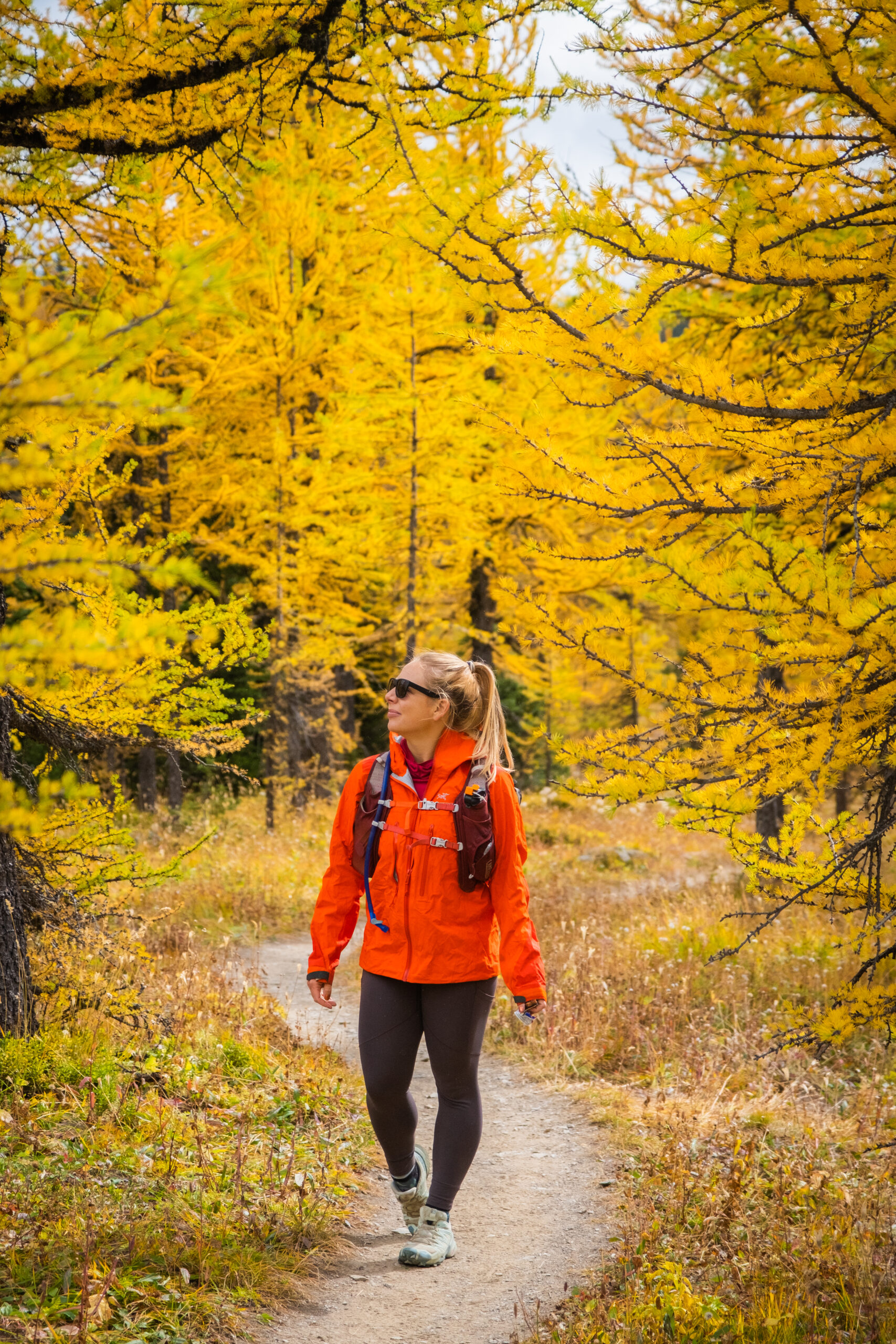 Ensure you protect your eyes from the sun. Since hiking is an outdoor activity, it's essential to bring UV protection. Make sure to consider the increased UV strength when you hike at elevation or near reflective surfaces such as water or snow. Especially at an elevation where vegetation is sparse and UV rays are intense.
There are a lot of options for sunglasses, and everyone should own at least a pair. It's best to make sure they do have UV protection for the health of your eyes. Our personal favorites are the Smith Guide's Choice and Lowdown 2 because the sunglasses have a broad frame to reduce UV reflection.
---
Sunhat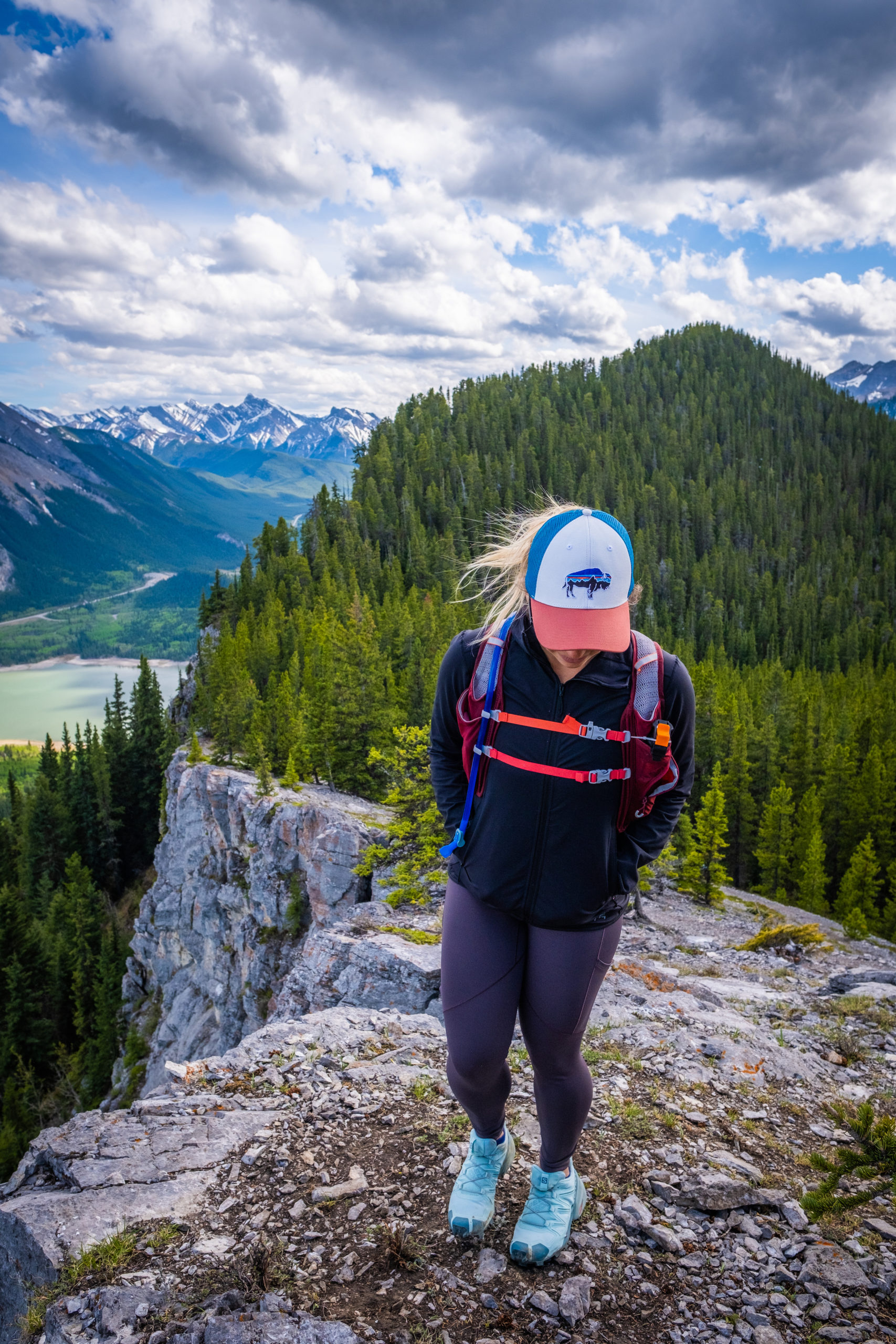 You should pack at least one type of hat to give an added layer of sun protection. I'm often in a ball cap so it's what I most commonly use, but a well-designed sunhat with a wide brim is more effective. It's all a matter of personal preference. On a sunny day, you're going to see a lot of sun on the trail so it's important to protect yourself. My favorite hats are the LoPro Trucker hats from Patagonia.
---
Sports Underwear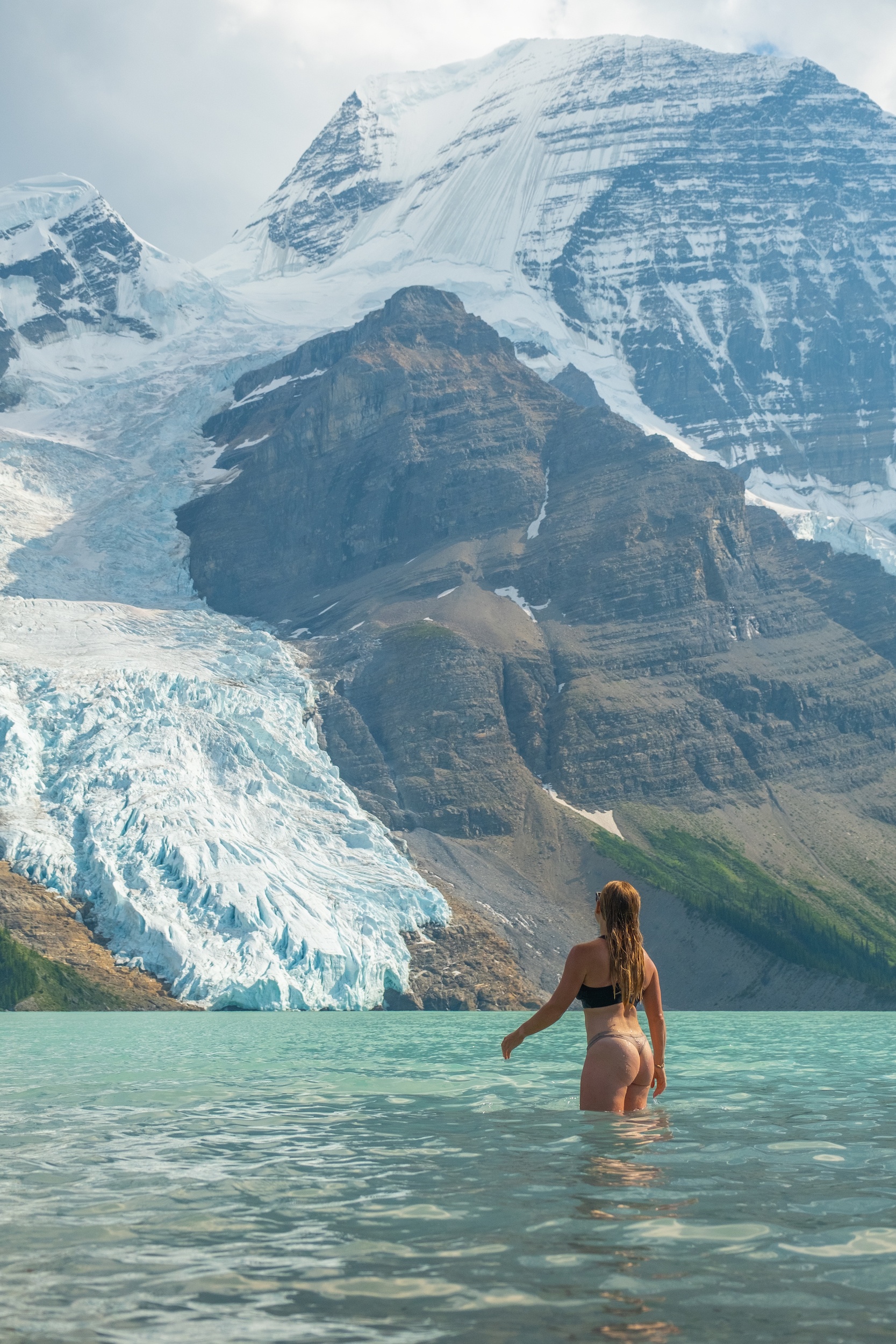 It's best to wear underwear that wicks away moisture from your body for multiple reasons. The first being that moisture pulls away heat from your body when you're in cold temperatures. However, more importantly, it keeps you dry in hot weather and reduces the risk of chafing or discomfort. I know chafing might sound a little comical, but it's a real risk when the distance starts to add up — just ask any endurance athlete.
For men, I have a couple of pairs of Smartwool wool boxer briefs I've been hiking with for years now. For women, it's all about personal preference, but the Patagonia Barely wool underwear comes in both bikini and thong versions.
---
Thermal Layers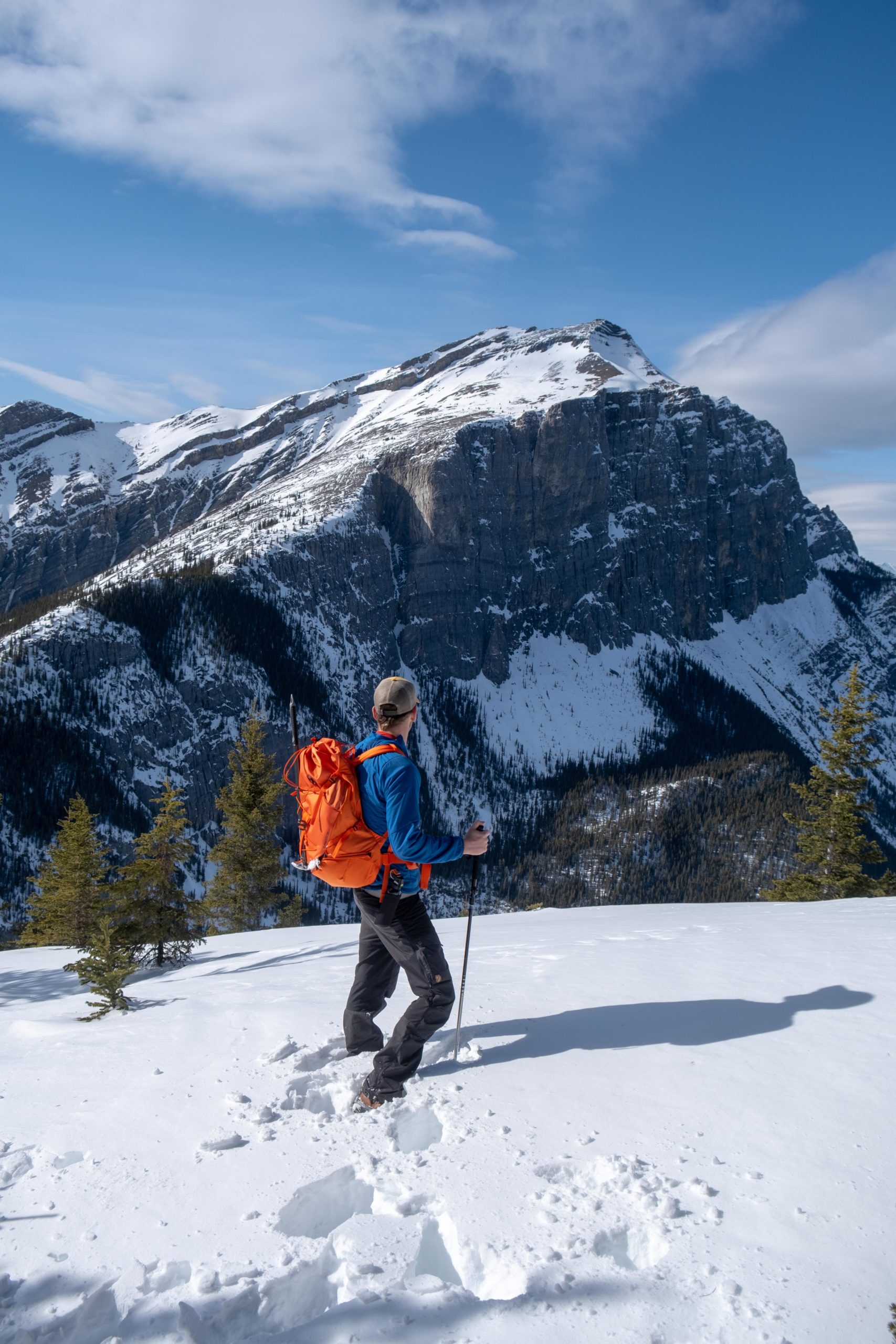 Underlayers are the closest layer to your body and maintain your body heat. When we reference thermals this includes long-sleeved thermals and underwear. I always wear quality baselayers when active in cold temperatures. It's an essential item if you're in alpine conditions while hiking, snowboarding, scrambling, or camping.
We've tried a few different brands but recently settled on Kora as our favorite pair of thermals. It may be best for us as we need something technical as we spend a lot of time in the alpine around glaciers. Kora makes high-performance technical clothing out of quality Yak Wool from the Himalayas — warning they are high priced.
For base layers, we recommend they fit snug and are made from a noncotton material like nylon or wool. We've had a lot of baselayer, but our favorites are wool based layers from Helly Hansen, Smartwool, Black Diamond, and the yak wool from Kora. You only need these if you're hiking in temperatures below zero.
---
Wool Socks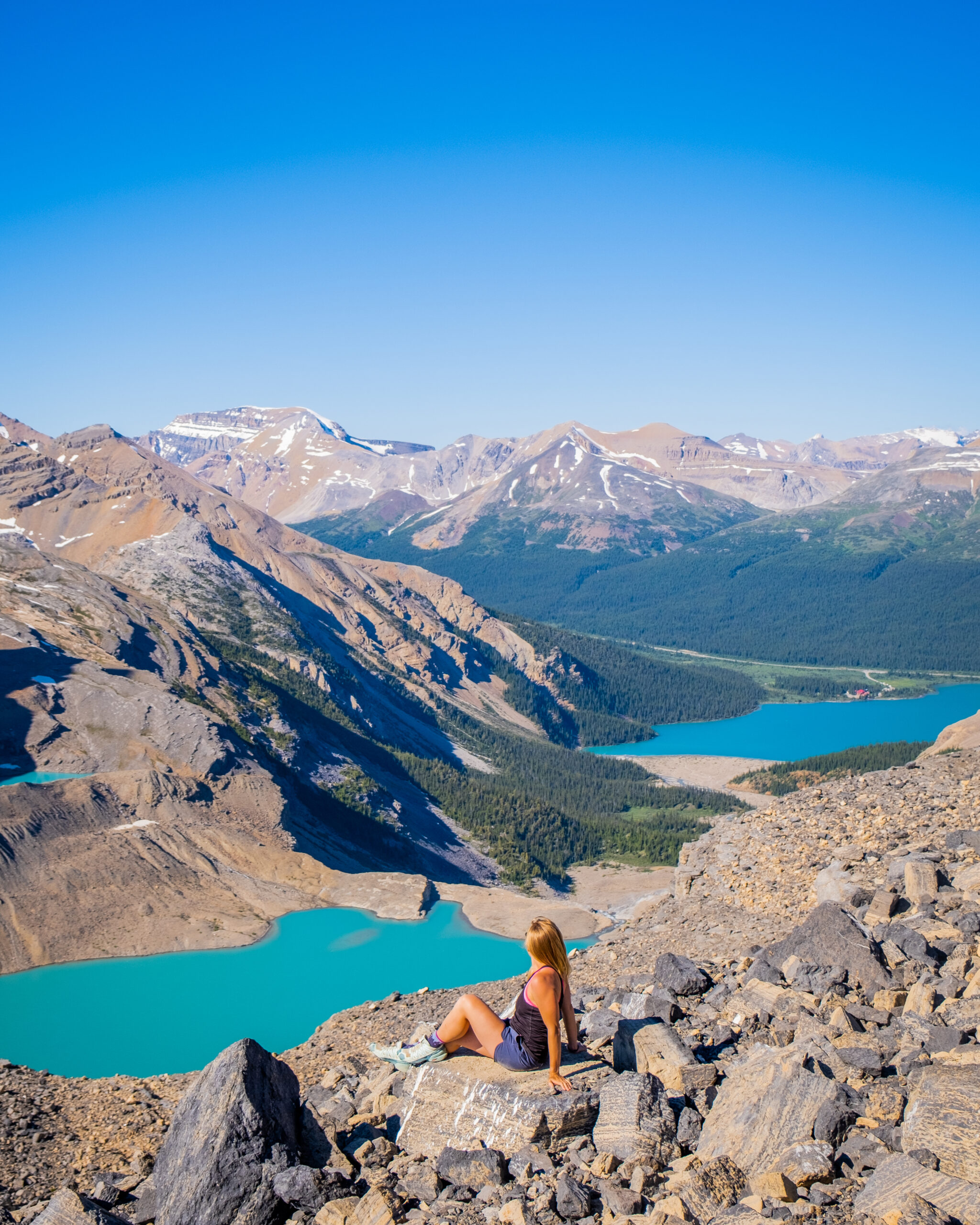 We've learned to love our feet with a good pair of socks. You will want to keep your feet nice and dry while you walk around. Most importantly wool socks stay fresh for several days as they have natural antimicrobial properties.
Try to avoid cotton socks as they are well known to cause blisters since they slip, rub, and hold moisture. My personal favorites are Darn Tough merino socks and my feet have never felt cold or wet. As a bonus, they're produced in Vermont! We also love Smartwool and Farm To Feet!
---
Performance Shirt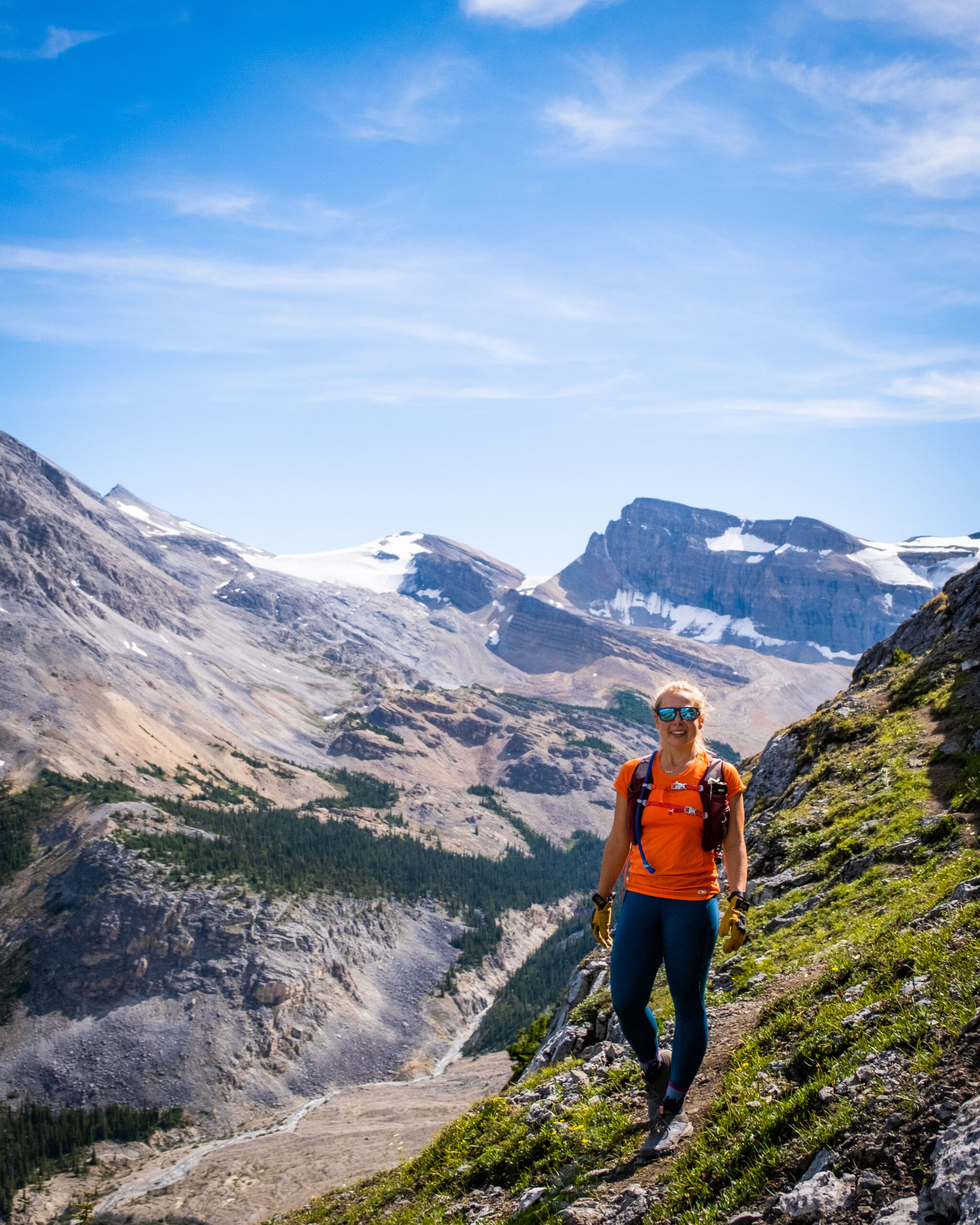 I love to wear a comfortable shirt on hot days made from a performance fabric that handles sweat. You should look for a fabric that is lightweight, breathable, and has quick-dry qualities such as merino wool, nylon, or polyester.
I've tried a ton of hiking shirts, but my absolute favorite shirts for hiking are the Outdoor Research Echo Shirts. They have both long-sleeve, short-sleeve, and tank top options, but I wear long-sleeve shirts more these days for added protection. If you're on the fence about synthetics try out a wool-based shirt.
---
Mid Layer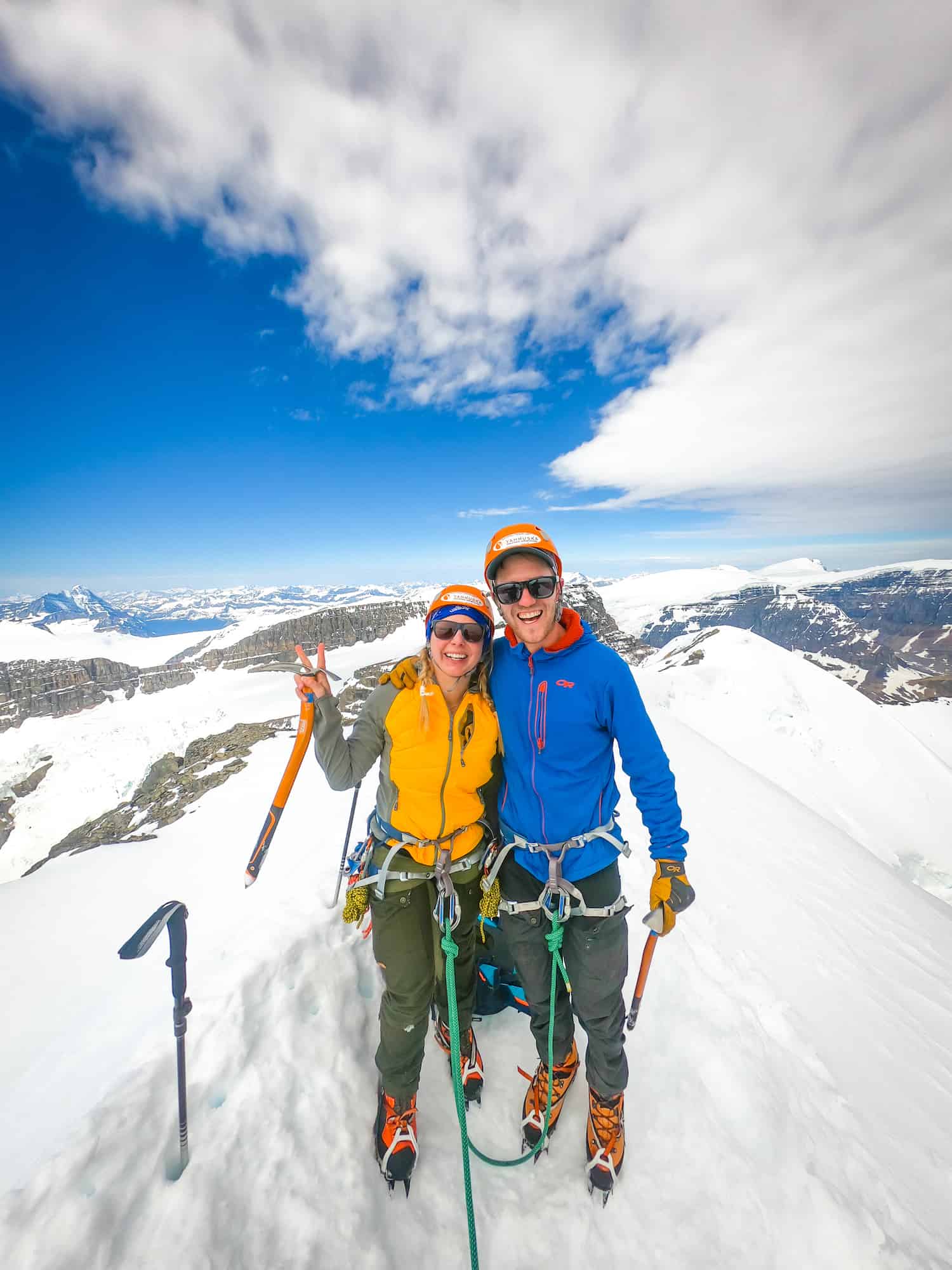 When you're on the trails you often come across cold temperatures in the mountains. A comfortable sweater is a great way to remain warm in the mornings and evenings. There are a couple of options for hiking mid-layers you can choose from a fleece, thermal, down jacket, or softshell jacket. It depends on what you find comfortable and the weather on the trail.
Our Patagonia Better Sweaters are perfect fleece sweaters, especially for a mid-layer. It's a slim cut fleece with a soft lining that moves well with your body while the outer material feels tough and shows little to no wear. A loose base synthetic layer such as Stryka Hoody from Arc'teryx is great for chilly hike days or if you're backpacking. Of course, a wool-based thermal like the Smartwool Merino Sport 250 is tremendous. My last recommendation would be the Ascendant Hoody from Outdoor Research which is my favorite!
---
Down Jacket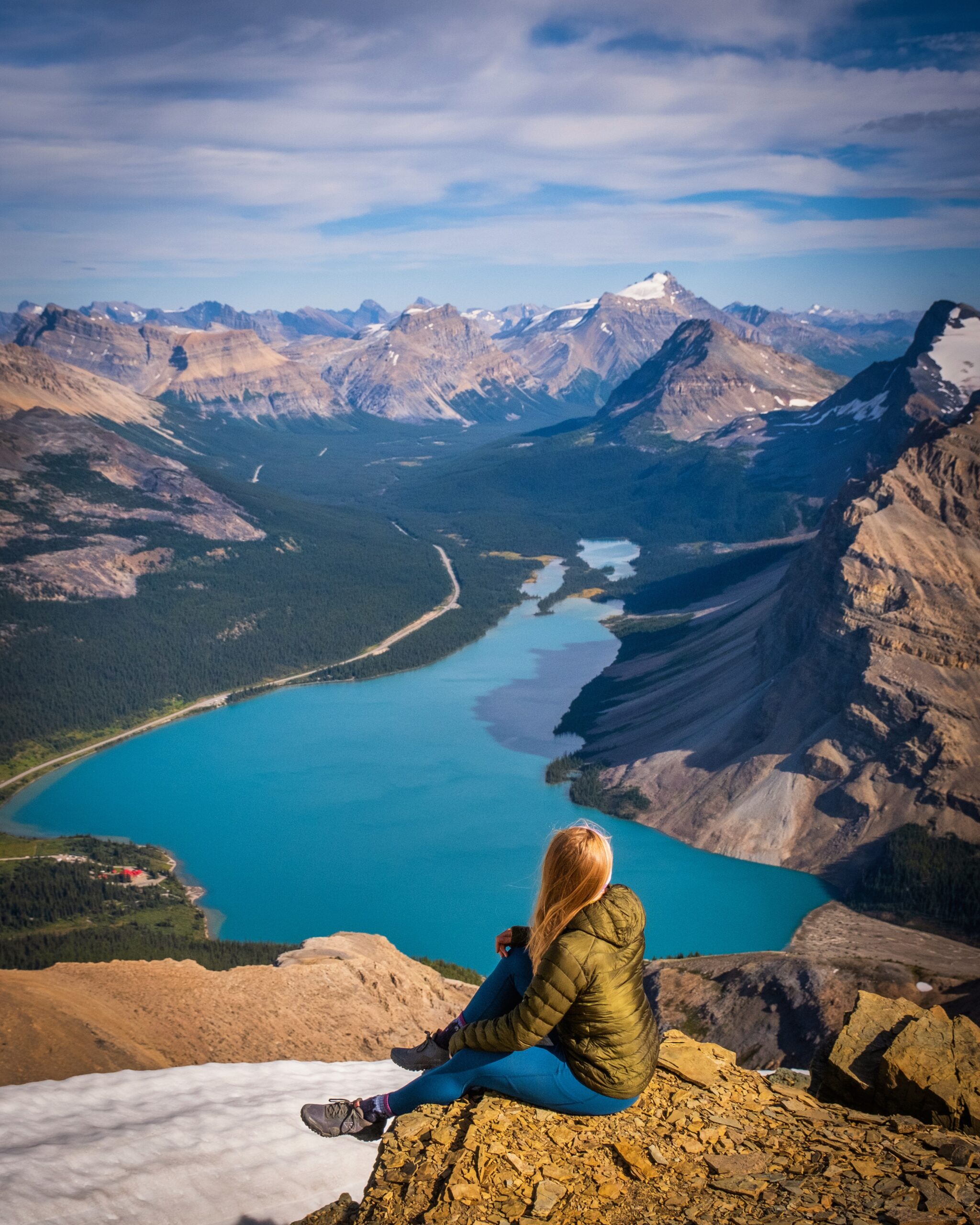 There are only a few items we recommend everyone has and one of them is a down jacket. A down jacket is a staple for travel and outdoor activities as its tremendously versatile. They pack down and fit easily in a backpack. However, despite their lightweight nature, they can offer a lot of warmth.
We always recommend you bring a great packable down jacket on just about any hiking trip. When you're dealing with the mountains and wide temperature shifts it's a great way to keep warm without eating up too much space in your hiking backpack. My favorite down jacket is the Arc'teryx Cerium as it manages to blend the perfect balance between ultralightweight, performance, style, and fit.
---
Shell Jacket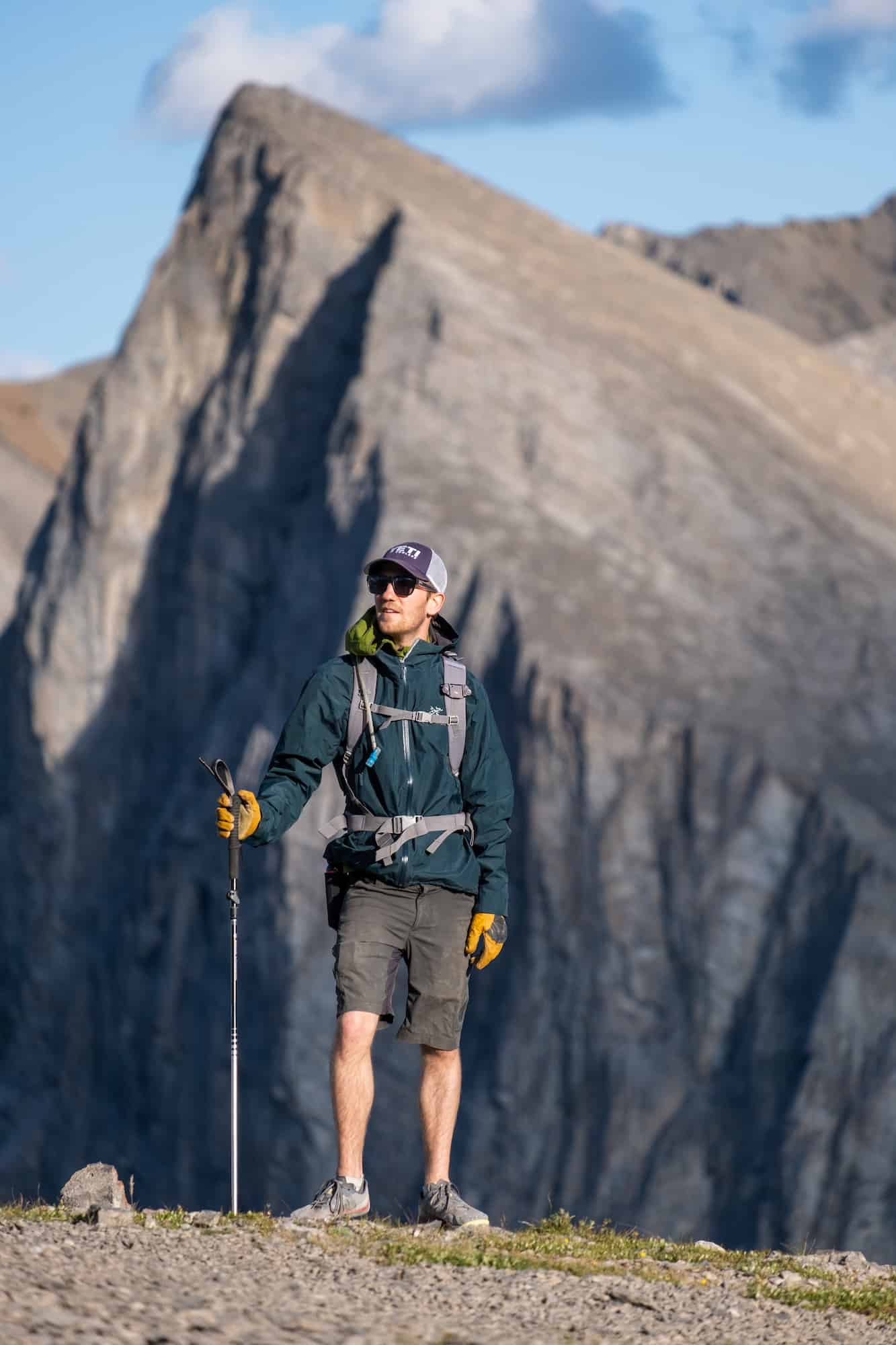 The most essential article of clothing for hikers is the shell jacket. You have two options for shell jackets and it is a good idea to have both as it depends on the climate. One option is a sturdy multi-layer rain jacket and the other is a lightweight windbreaker.
They're both a great item to have on the trails as the shell jacket is designed to protect you from the wind and rain. If there is a chance of rain or cold weather on the trail we always pack one of GoreTex shell jackets. We have a couple, but I really love my Arc'teryx Zeta FL Jacket for its lightweight construction and performance. Arc'teryx makes the best outdoor apparel on the market, but expect it to come with the highest price tag. Other great options that are far more affordable is the Patagonia Torrentshell and the REI Drypoint.
A lightweight windbreaker is great for those warmer days where a chance of rain looks unlikely. They can help you out in a pinch against a surprise shower, chill, or even hordes of insects. A light windbreaker also packs down small and fits easily in a backpack.
---
Hiking Shorts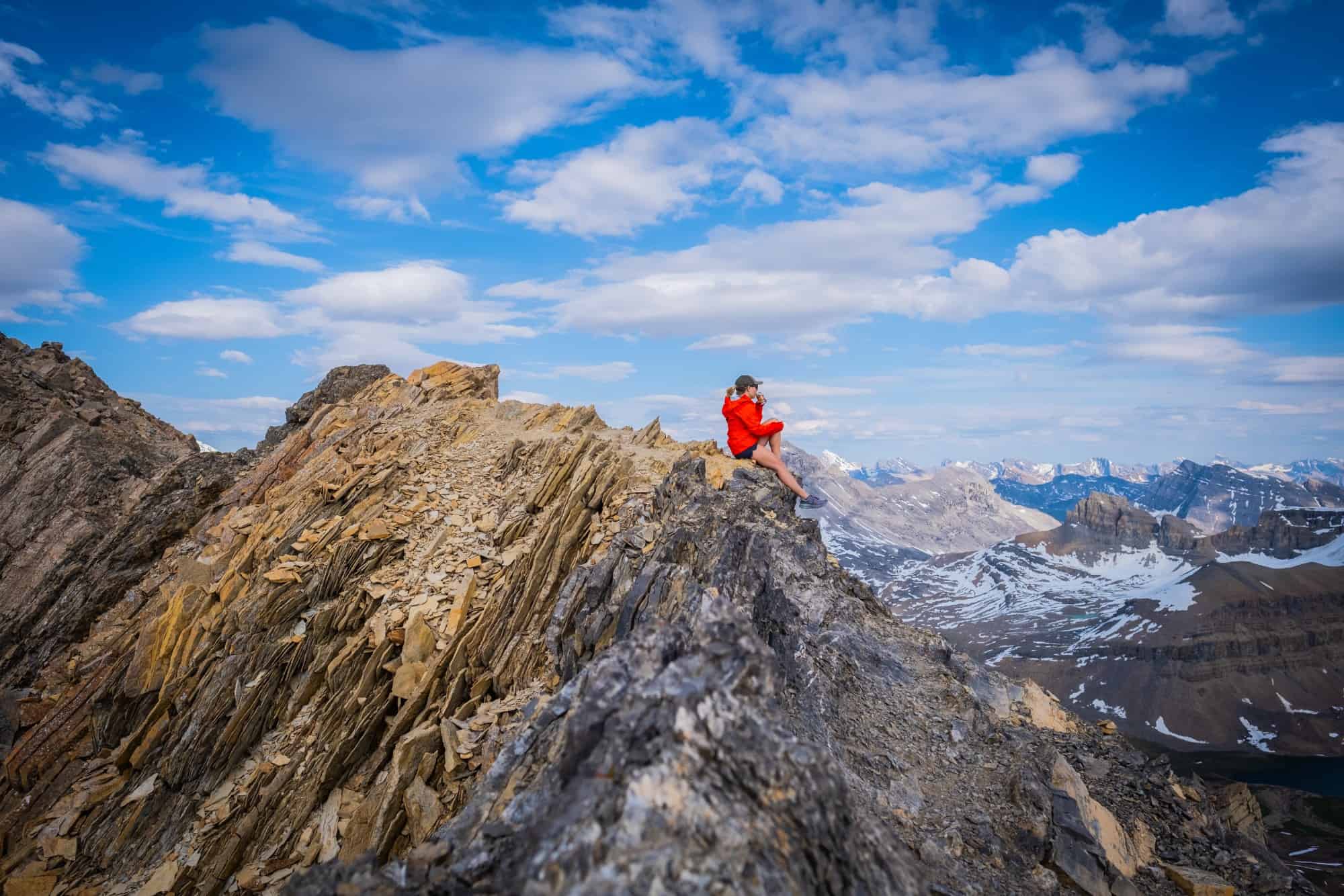 A great pair of shorts are self-explanatory for keeping yourself cool on a hot hiking day at lower elevations and warmer weather days we love a pair of hiking shorts. Of course, it all depends on the terrain and landscape as sometimes a pair of hiking pants can remain cool while protecting your legs from thick brush or rocks when scrambling up a trail.
---
Hiking Pants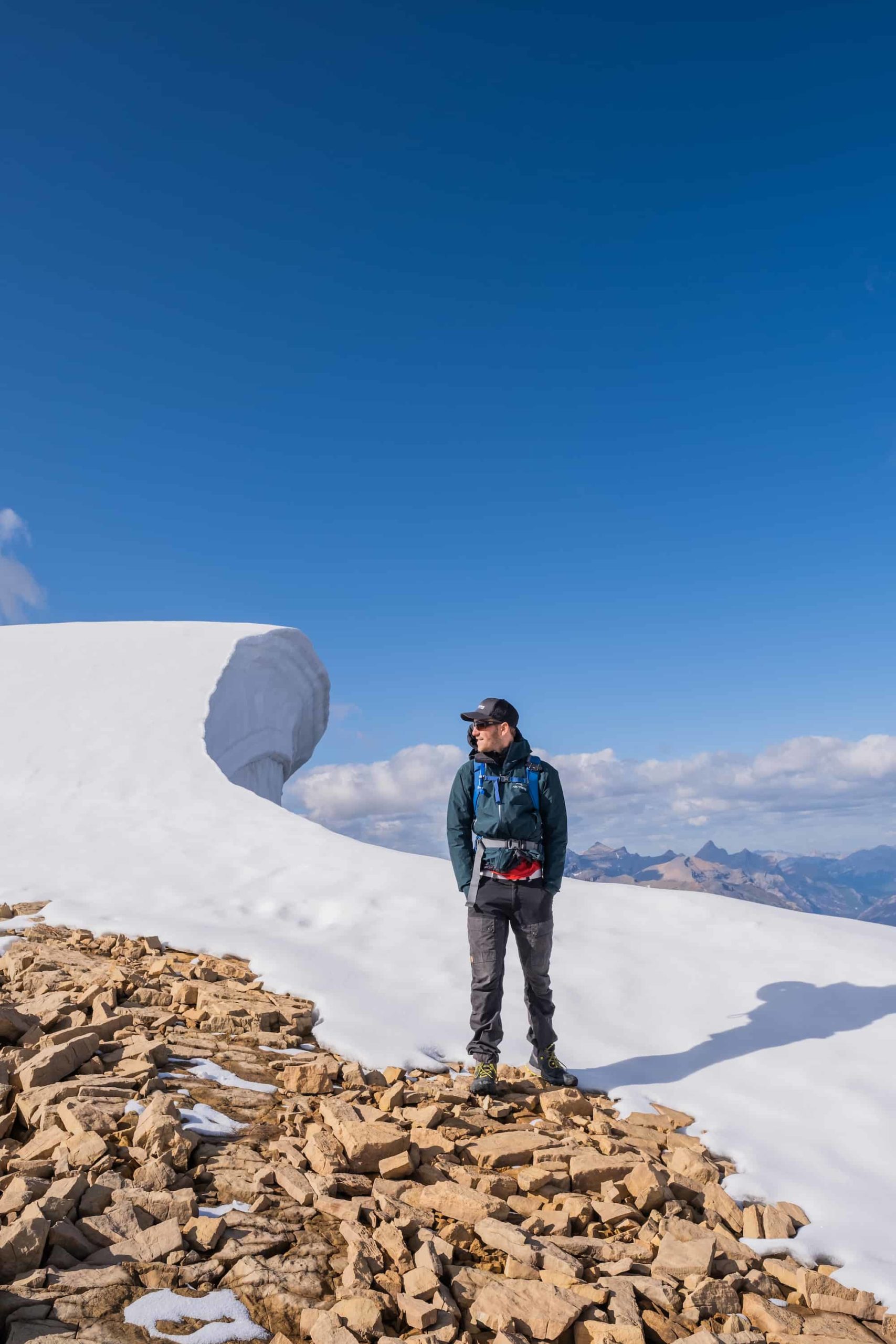 Lightweight pants that are made from synthetic material are tremendous to have in your pack. It's what we wear most days when hiking as they're comfortable, antibacterial, and protect our legs from mosquitos and branches.
There are two different hiking pants that we love to wear on our travels the Keb Trouser from Fjallraven and Outdoor Research Ferrosi Pants. The most versatile would have to be Outdoor Research pants that are lightweight, look great, and extremely comfortable. We recommend neutral-colored pants as they're great at hiding dirt and can match most shirt colors.
Fjallraven's Keb pants are a staple, but they are heavyweight and not great for quick dry properties yet extremely durable. If you really want to mix it up you can opt for hiking tights — Tasha loves those!
---
Belt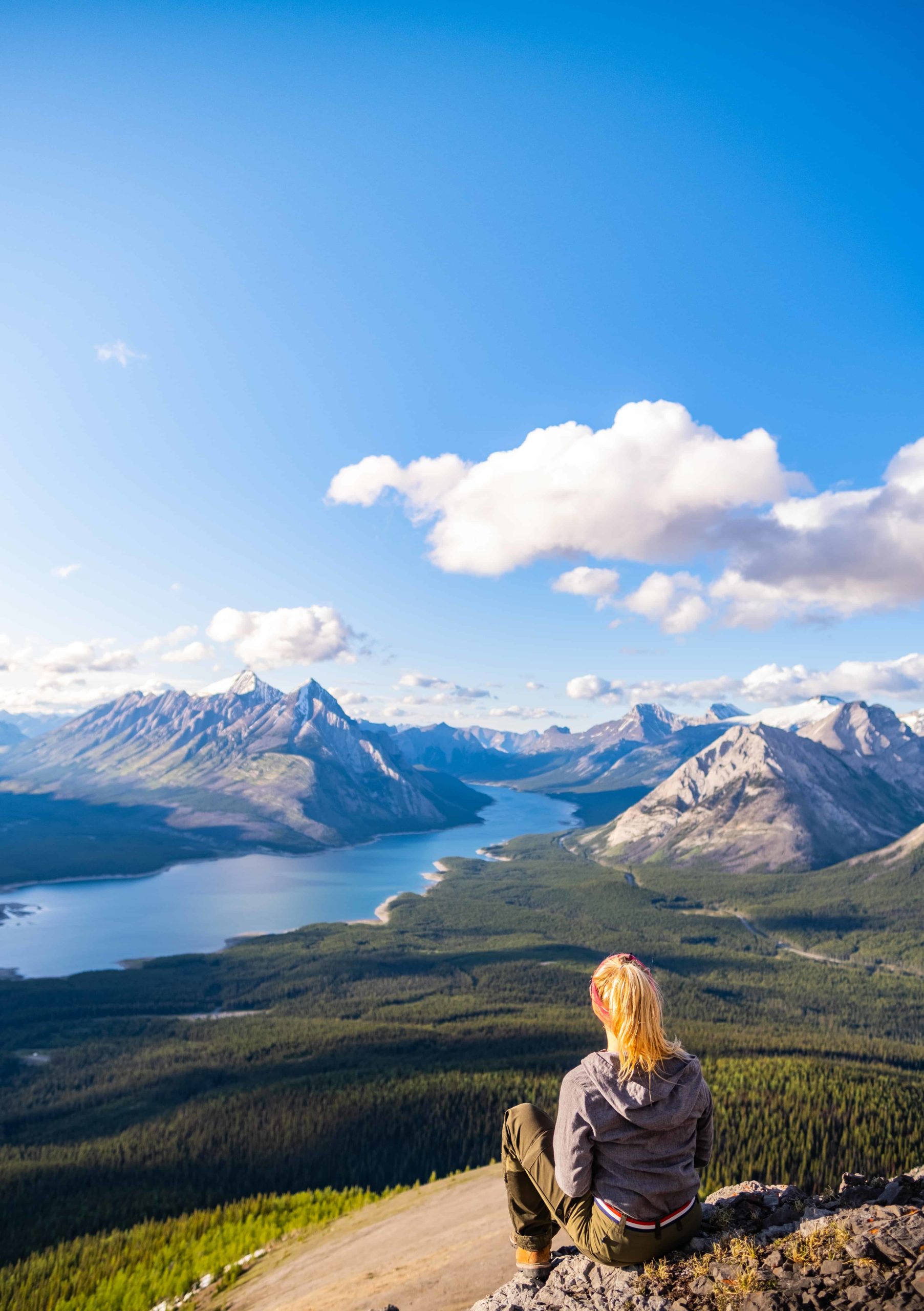 This is one of those obvious things that can be really easy to forget at home. I'm partial to the simplicity of a canvas belt that has a locking buckle. Canvas belts treated us well, but we've now opted for a Jelt belt.
Jelt is a B-corporation based out of Montana that creates elastic belts made from recycled bottles. The belts are tremendous for physical activities as they're very slim, lightweight, and comfortable.
They now offer quick easy shipping in Canada through their new store online store. There you can shop top-selling travel and outdoor elastic stretch belts and get 2-3 day shipping to most areas throughout. Same-day delivery is available to customers in the Greater Toronto Area.
---
Buff Headwear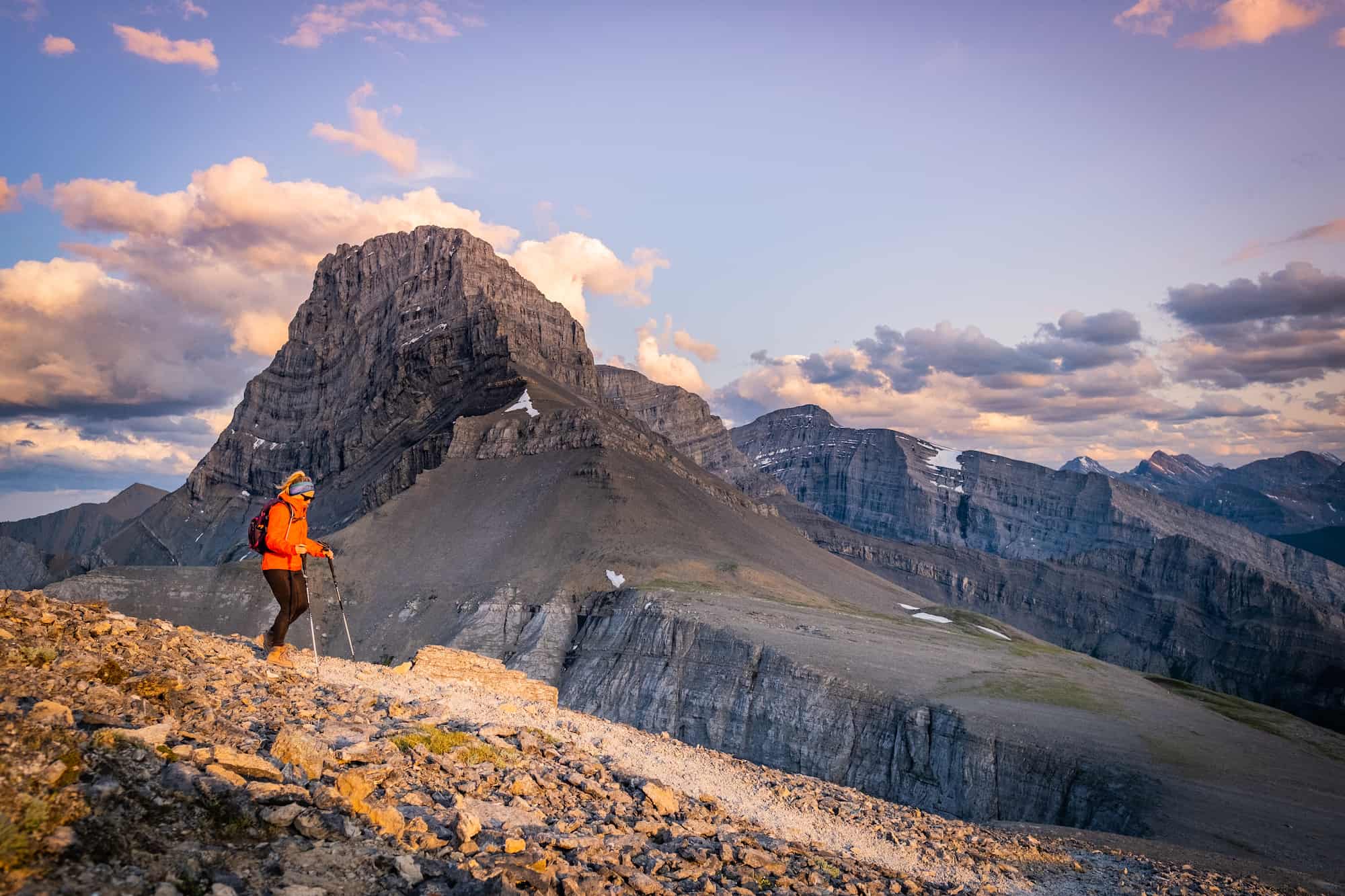 We have a collection of Buff Headwear and bring them everywhere. They're great for a multitude of reasons such as sun/wind protection, a scarf, headband, or an ear warmer.
We always have one in the backpack no matter the hike and consider it one top hiking accessories. I imagine most people have one or two of these by now!
---
Toque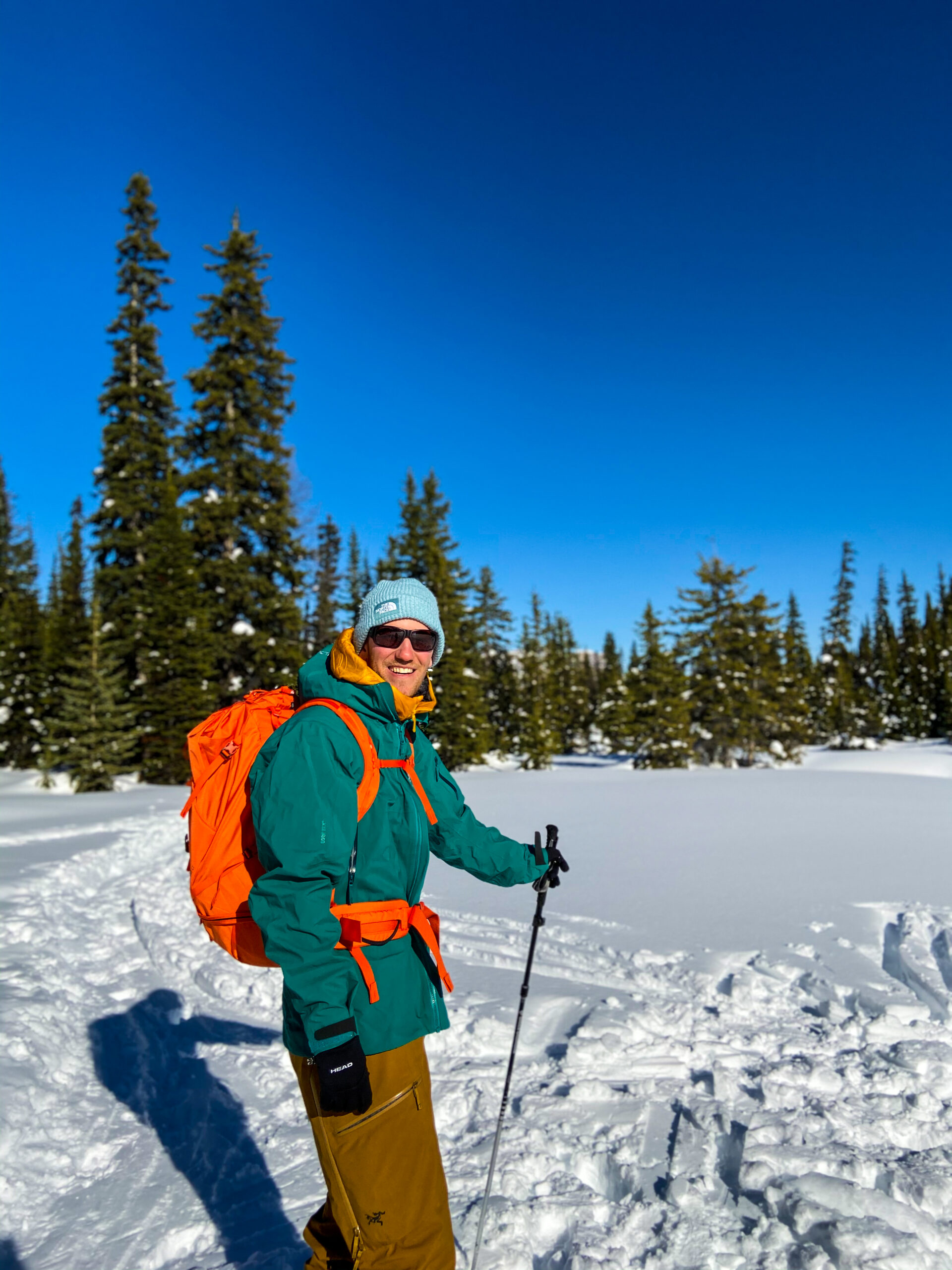 As I've said before cold evening and nights are a frequent occurrence at elevation so a nice beanie to keep your head warm is always nice to have in your pack. It's small and covering your ears is one of the best ways to warm up.
---
Gloves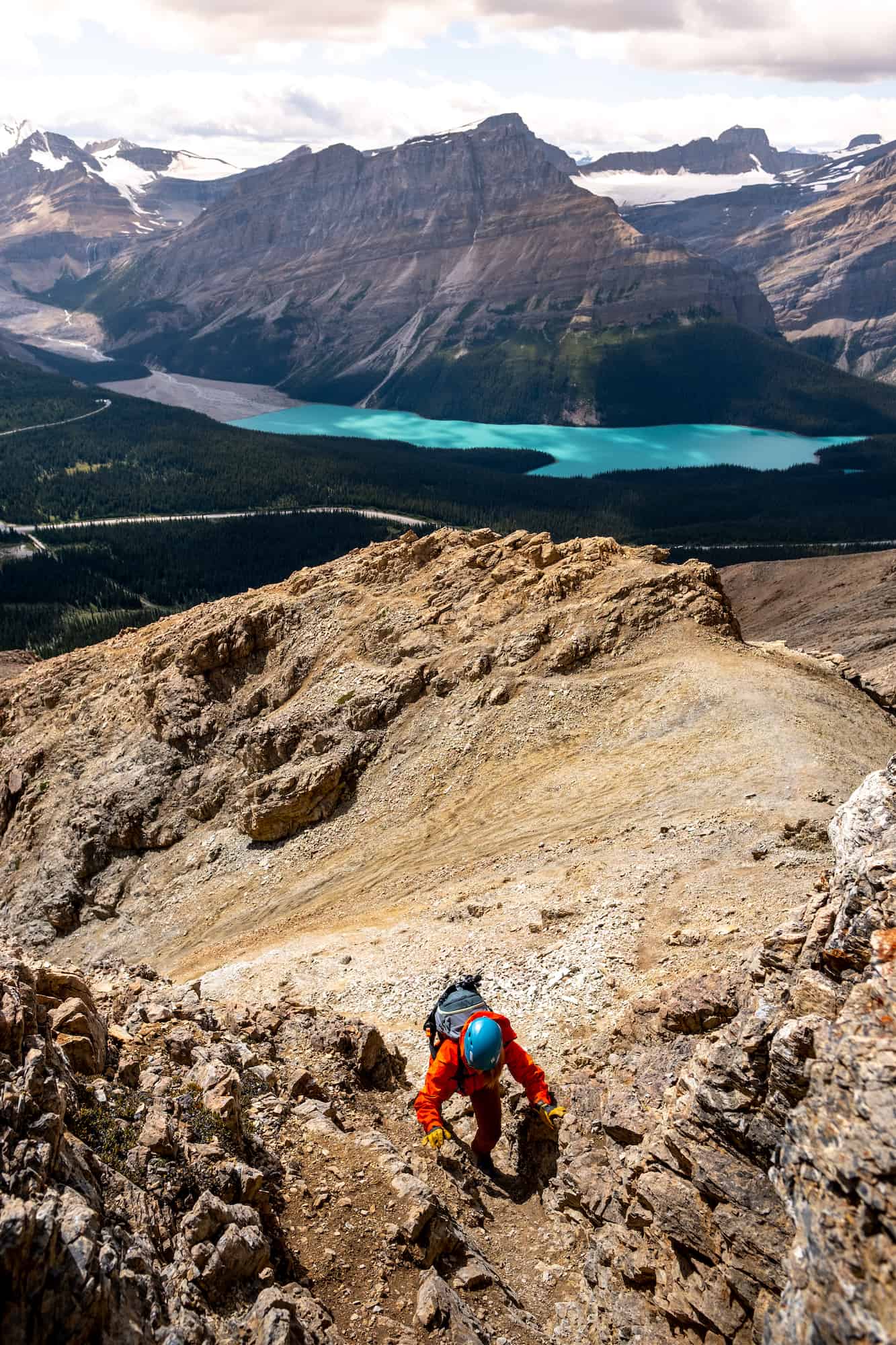 Heavy winter gloves are not necessary on the average hike, but a lightweight pair is great for those prone to cold hands. If you're trekking in cold temperatures consider a pair of lightweight and weatherproof gloves that will protect your hands from the elements. There are a lot of gloves purpose-built for hiking, jogging, or general sports activities that would be great for your trip. It's also tremendous in protection from sharp rocks on scrambles or sections where you need to grip rocks.
---
Hiking Footwear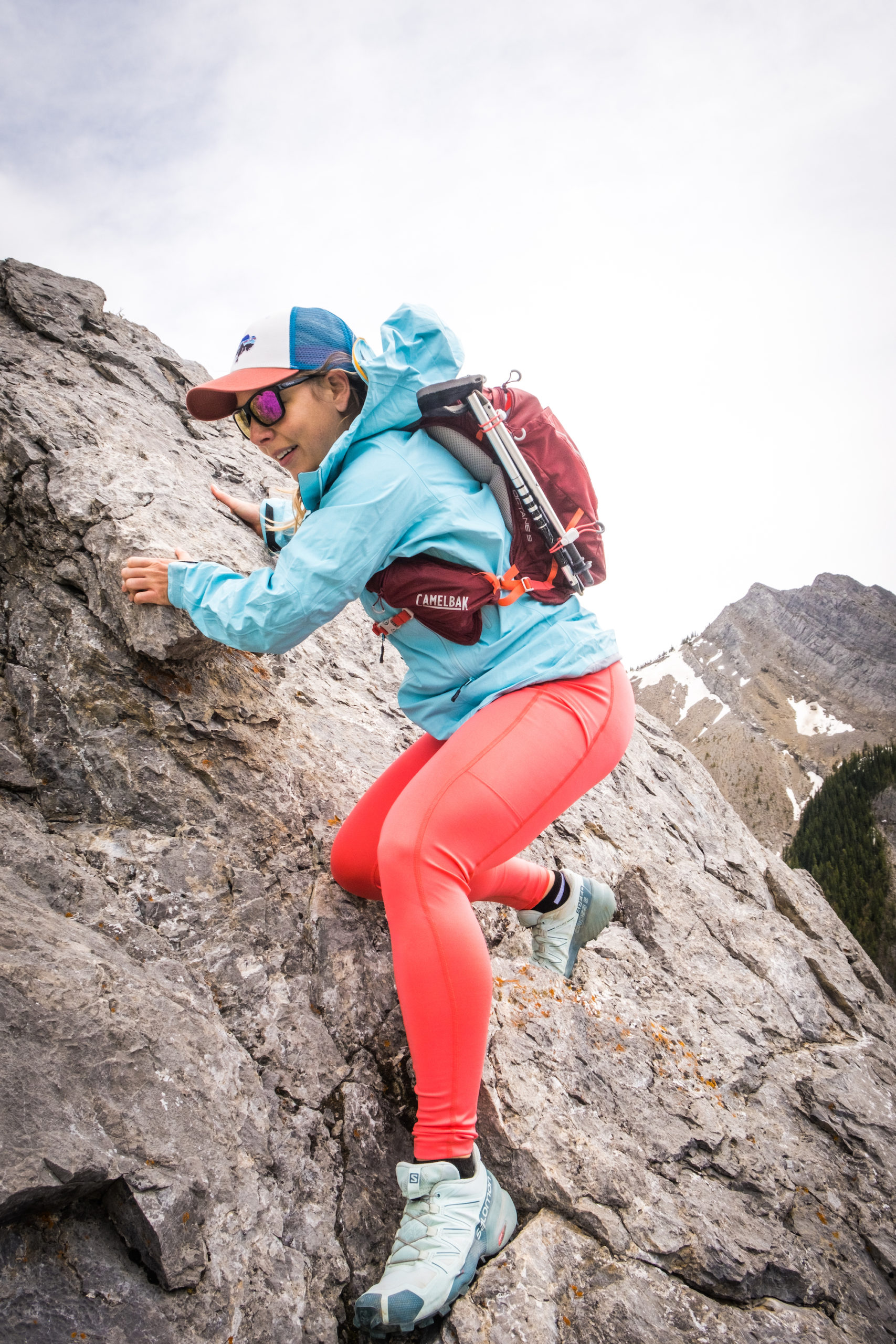 I could write dozens of articles on the best shoes for hiking. Truthfully there are a ton of variables when it comes to footwear. Things to consider are terrain, fit, style, and intended use. I have several different options for footwear when it comes to the trail and I choose based on the day.
I do not recommend everyone have seven different options so choose a shoe that best fits your everyday needs. For most hikers, I would say that is a trail running shoe as it is capable both on and off the trail so you get plenty of use.
There has been a long debate on whether you need high top boots or low cut shoes to protect your ankles. Truthfully we own both types and like to wear high tops on muddy trails or areas with thick vegetation and shoes in warm and dry destinations. Boots are also a lot better to carry weight on multiday camping trips.
---
Trail Running Shoes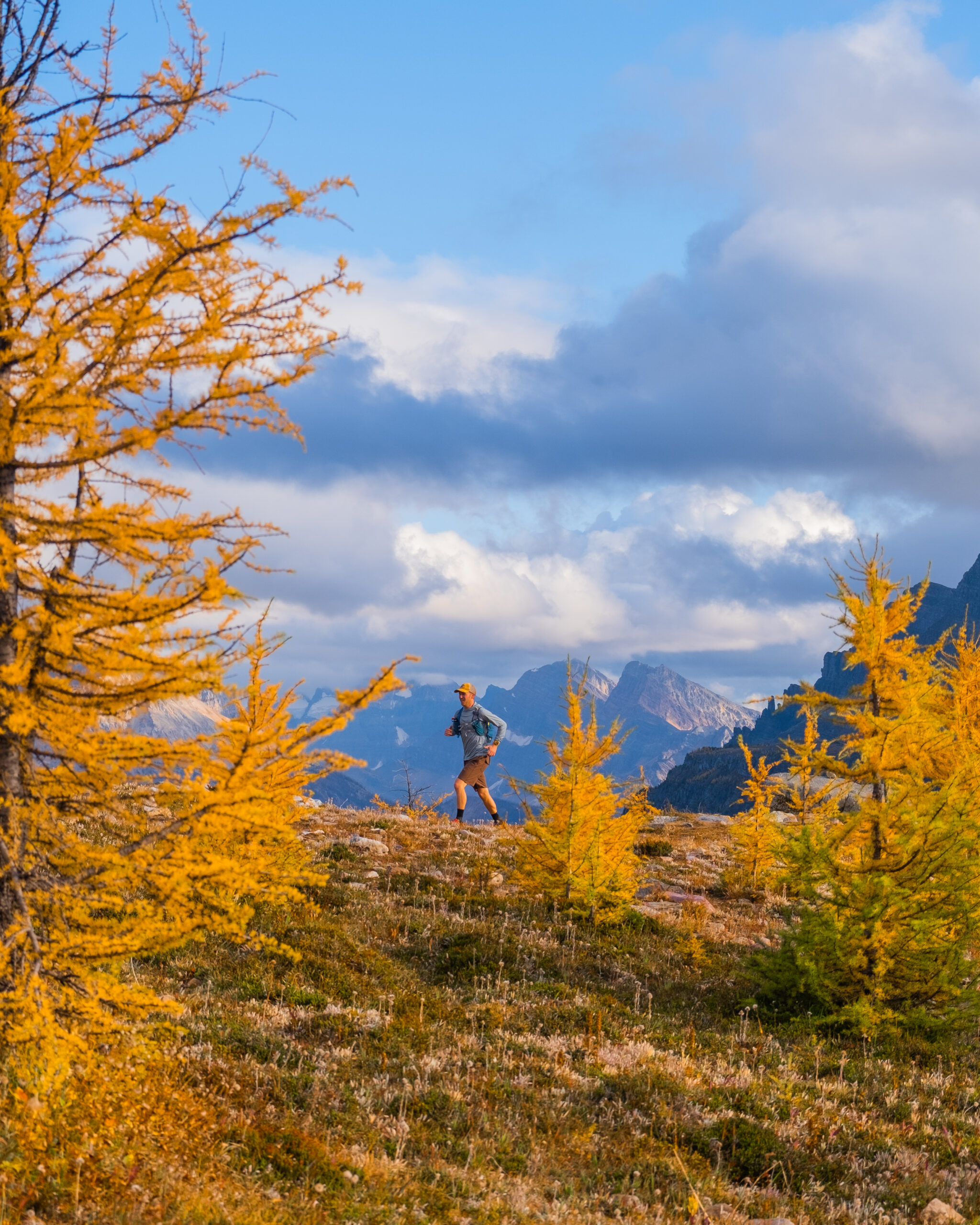 We both have up the Hoka One One's Speedgoat 4 and they're great on the trails. They're pretty heavily cushioned so they protect your feet from uneven or rough surfaces. The tread pattern is also not too aggressive so they feel comfortable with gravel surfaces or the gym.
However, if you're big on the actual sport of trail running it's pretty tough to beat the Salomon Speedcross 5. They have a diehard following and for good reason. The lightweight shoe is high on comfort and the aggressive tread pattern ensures you always have grip. We'll burn through a pair of these each summer. Of course, you're not a local trail runner until you've owned a pair of Speedcross.
---
Approach Shoes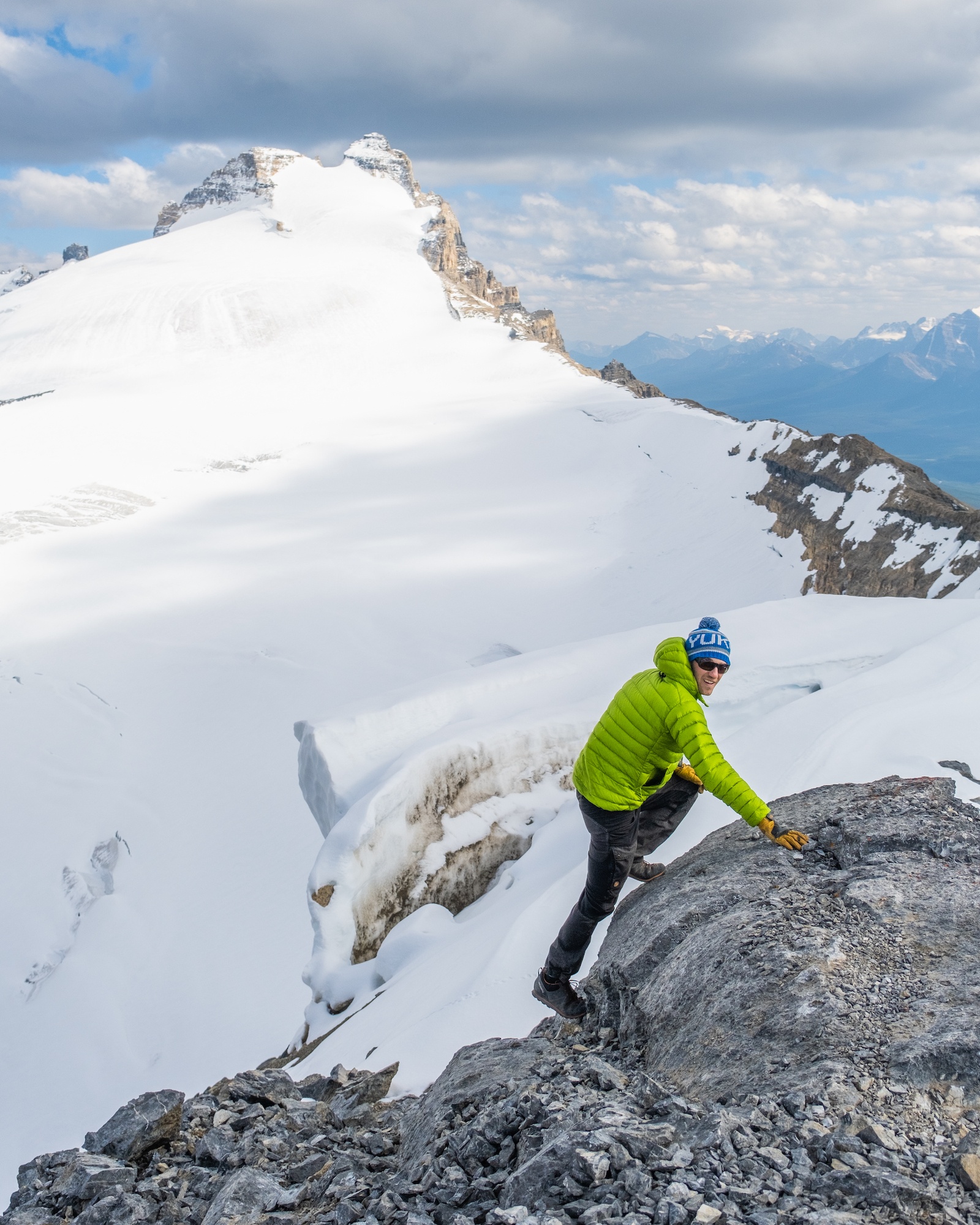 This is a great option for more challenging scrambles as approach shoes are designed specifically for the sport and alpine climb approaches. The shoe shares similarities with a hiking boot and climbing shoe. Things such as flat grippy rubber and a protected toe box come from climbing shoes. While a study platform protects the foot from rock strikes and provides support on steep terrain.
On easier scrambles, I've found trail running shoes are totally appropriate. However, as you reach more advanced terrain the grip on your shoes is quite literally a life-saver. Not to mention loose scree and rock can shred a pair of trail running shoes like cheese on a grater. I tried out my first line of approach shoes this year the Scarpa Crux Approach Shoe and they've performed amazingly. Most importantly the shoes have shown little wear which is an accomplishment in the Rockies. My only complaint would be the fit is kind of mixed. Next season I plan to try out the Konseal from Arc'teryx to compare.
---
Hiking Boots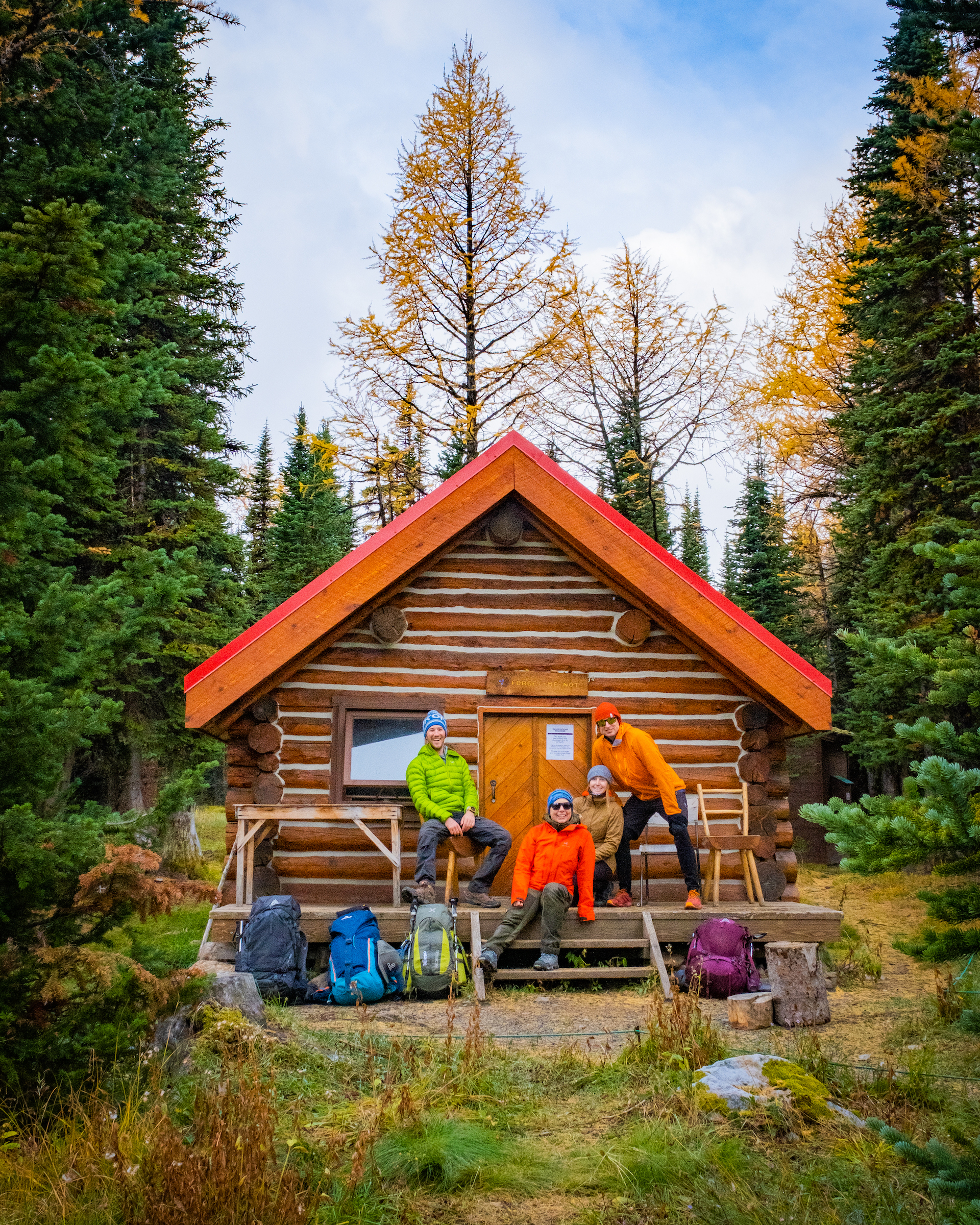 When it comes to hiking it's tough to beat purpose built synthetic boots as they are lightweight, breathable, quick drying, and often waterproof. While hiking in the mountains loose rocks are a real threat on the trails and it's a good idea to wear decent hiking boots or shoes.
I'd say wear what you're comfortable with, but if you have plans to head to the wet areas it would be a good idea to bring a pair of high ankle boots. Ankle-high boots are for protection against thick brush, bugs, and loose rocks.
So owning a good pair of hiking boots will come in handy if you have plans to explore different climates. We love the Merrell Moab II that comes in both women's and men's versions in addition to high and low-cut versions. They are not the most technical boot, but they're always reliable and never give you a blister. I took a brand new pair on a backpacking trip and hiked 30 kilometers a day in them with no threat of blisters. Most important they're the best value on the market for hiking boots!
---
---
Peak Design Capture Clip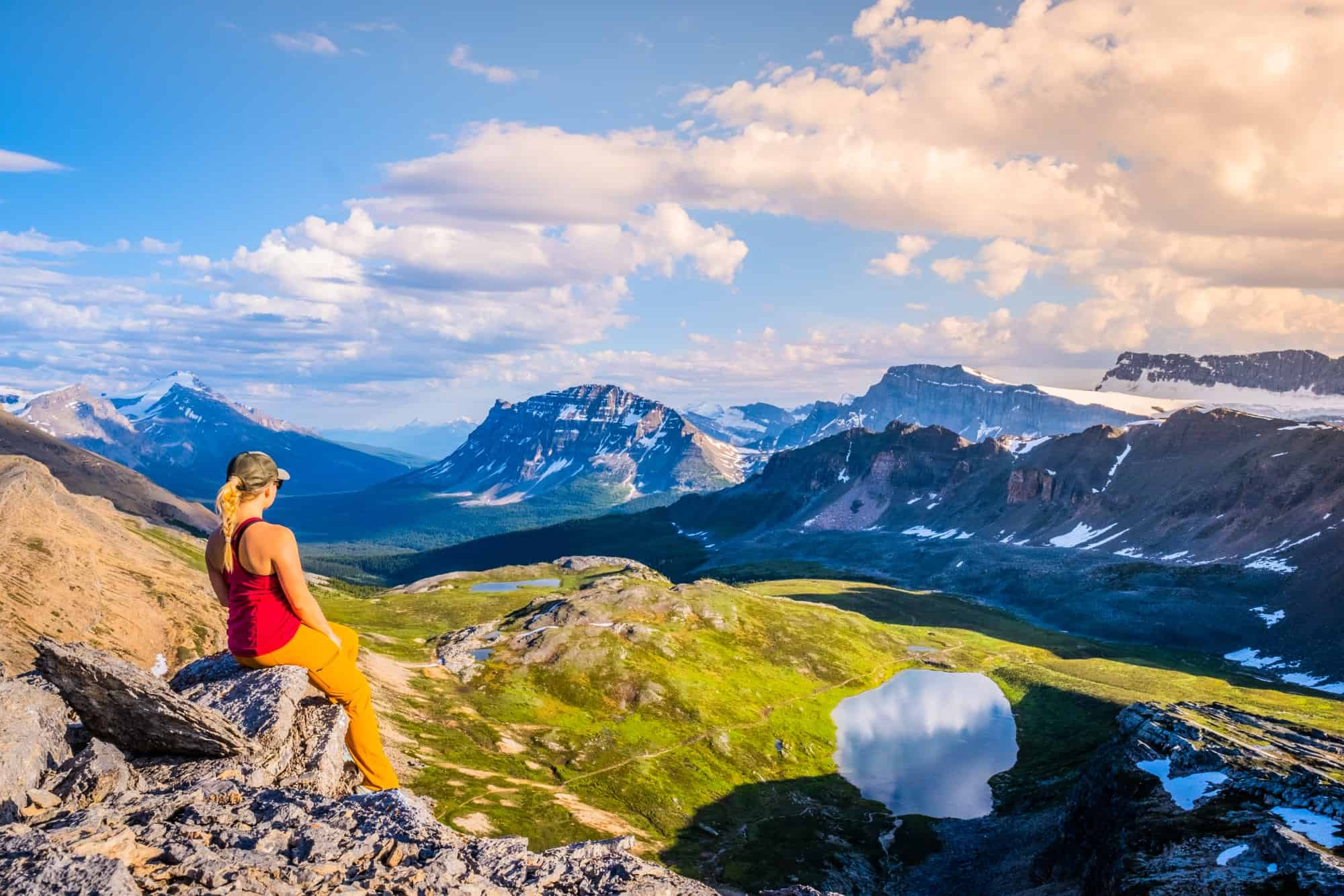 This is has been one of our favorite additions to our camera equipment and hiking outfit. The Peak Design capture clip allows for a camera to be clipped on to your backpack strap or belt. It has to be one of the best accessories we've ever used for carrying our camera.
The clip feels secure and robust with a straight forward design that makes switching straps easy. We've brought it on several hikes around the Canadian Rockies now and it has changed the way in which we photograph hikes. The access it provides to your camera is so much better than a camera strap that allows a camera to swing and banging into everything.
It's super handy and a must for anyone who wants to carry their camera on hikes, but not have to fumble around in their bag every time they want to take a photo.
---
Bear Spray*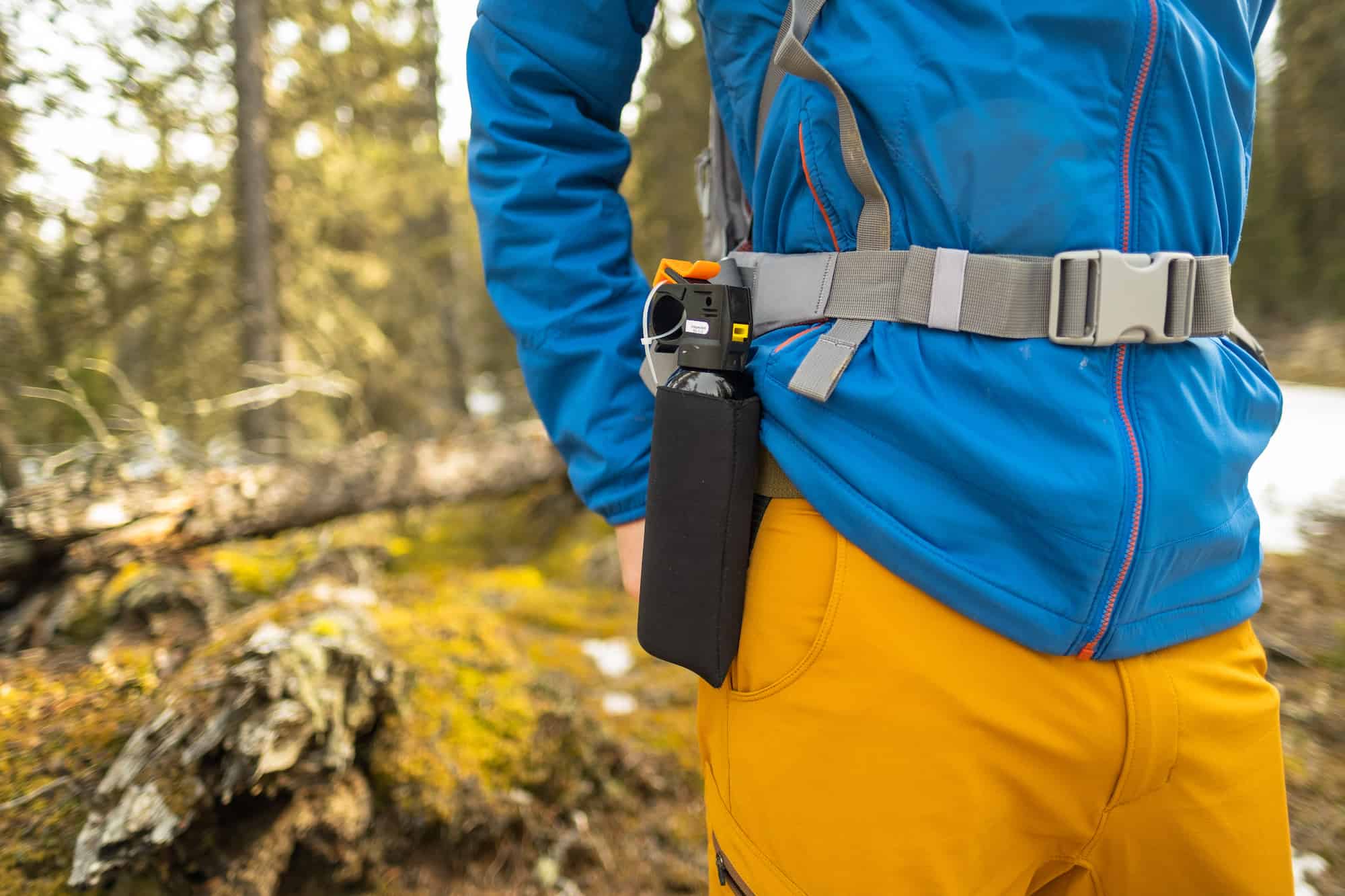 This is a non-negotiable item if you're in bear country and in some parks, it's actually required by law. Bear spray should be on your person and not in your pack. We each have a neoprene sleeve that holds our bear spray on our belt pocket. It's easy to reach in case of an emergency which the most important detail.
It's a good idea to make noise while hiking in the bear country whether that is singing, ringing a bell, clapping, or banging your hiking poles. Be wary of blind spots on your hikes such as tight bends and forested sections of the trail.
---
Further Reading
This is a general list of some of the many items we pack when hiking. What we bring revolves and changes around the time of year and the forecasted weather. If you want a more extensive list check out what to wear hiking for women, what to wear hiking for men, and our full backpacking checklist.
↓ Join the community ↓
The Banff Blog Facebook Group is your headquarters for the Canadian Rockies travel advice and information. Including hike info and off-season travel information. This is also a place where you can meet one another when you need adventure buddies.