Our past summers have been filled with a plethora of spectacular Kananaskis hikes. Every day we can, we get out of our home in Canmore and explore the fantastic provincial park in our backyard. Many beautiful memories have been made around Kananaskis Country.
I want to share our favorite Kananaskis hikes with you from our Canadian Rockies summers and will continue to update this list year after year as we get out more. Here are the best hikes in Kananaskis in no particular order.
For more information on each of these Kananaskis hikes and Kananaskis trails, see the separate full detailed post mentioned.
---
A Kananaskis Conservation Pass is Needed to Hike in Kananaskis
Visitors are required to hold a Kananaskis Conservation Pass. The area covered in the pass includes Kananaskis and the Bow Valley corridor. Passes may be purchased online and are attached to a license plate number. Requirements are around vehicles and parking, not the individual. This includes parking at the Canmore Nordic Center or Grassi Lakes.
Kananaskis Conservation Pass Prices
Daily Pass: $15 (registers one vehicle)
Annual Pass: $90 (registers two vehicles)
---
When is the Best Time to Tackle These Kananaskis Hikes?
The best time to go hiking in Kananaskis is during the summer months of July and August. This is when most of the snow on high elevation hikes in the area has disappeared – especially in August.
If you have any prominent mountain summits on your Kananaskis hiking list, like Mount Sarrail or Mist Mountain, where there is a chance for snow to be lingering around at the peak, wait until late July and August.
That being said, the hiking season in Kananaskis *officially* starts in Mid May (for us, anyway), as this is when the ski season ends, and our brains immediately switch to hiking.
In May, you'll be able to get out on lower elevation Kananaskis hikes like the Prairie View Trail in Kananaskis without the risk of snow. As the year goes on, your choice of hikes will expand, and you can work your way up to the higher elevation hikes.
A hike up Tent Ridge or Rimwall Summit is a great option by early June. When Highwood Pass opens in Mid June, you'll have even more access to Kananaskis hikes like the Mist Mountain Hot Springs.
Great hiking in Kananaskis typically lasts well into September (larch season!) and the first few weeks of October, depending on the year.
This is not to say that you cannot hike in the winter in Kananaskis, because there are plenty of fun trails. You'll just have to hike with winter conditions and temperatures in mind, and of course, microspikes and hiking poles never hurt. See some of our favorite winter hiking trails in Kananaskis.
---
The Best Kananaskis Hikes (Our Favorite Trails!
---
Smutwood Peak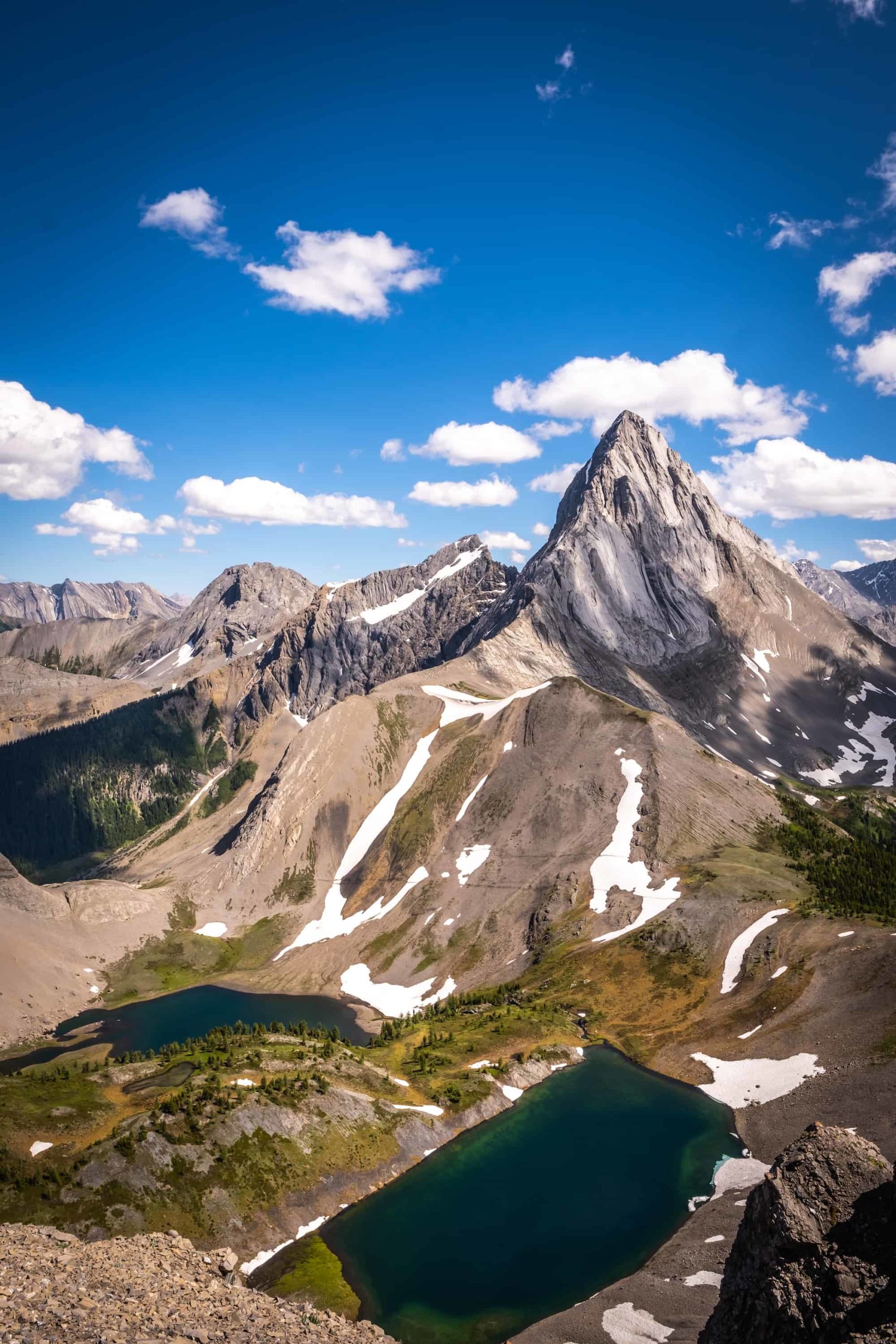 Length: 17.9km (11.1 miles)
Duration: 5 – 9 hours
Elevation Gain: 961m
Difficulty: Moderate-Difficult, mainly towards the summit.
Scrambling Involved: Mild scrambling at the very end towards the summit.
Best Time To Go: Late June – First Snowfall
Parking Just Past Mt Engadine Lodge along Mt. Shark Rd.
Smutwood Peak is one of our favorite Kananaskis hikes and possibly one of Alberta's best hikes. The views almost the entire way are absolutely stunning, and it doesn't truly get challenging until the end.
This hike is best done with a group since you are in grizzly country. The beginning (and end) of this hike is in the trees. Although we didn't see our grizzly friend until we reached the saddle. We kept our distance, and he went on his way.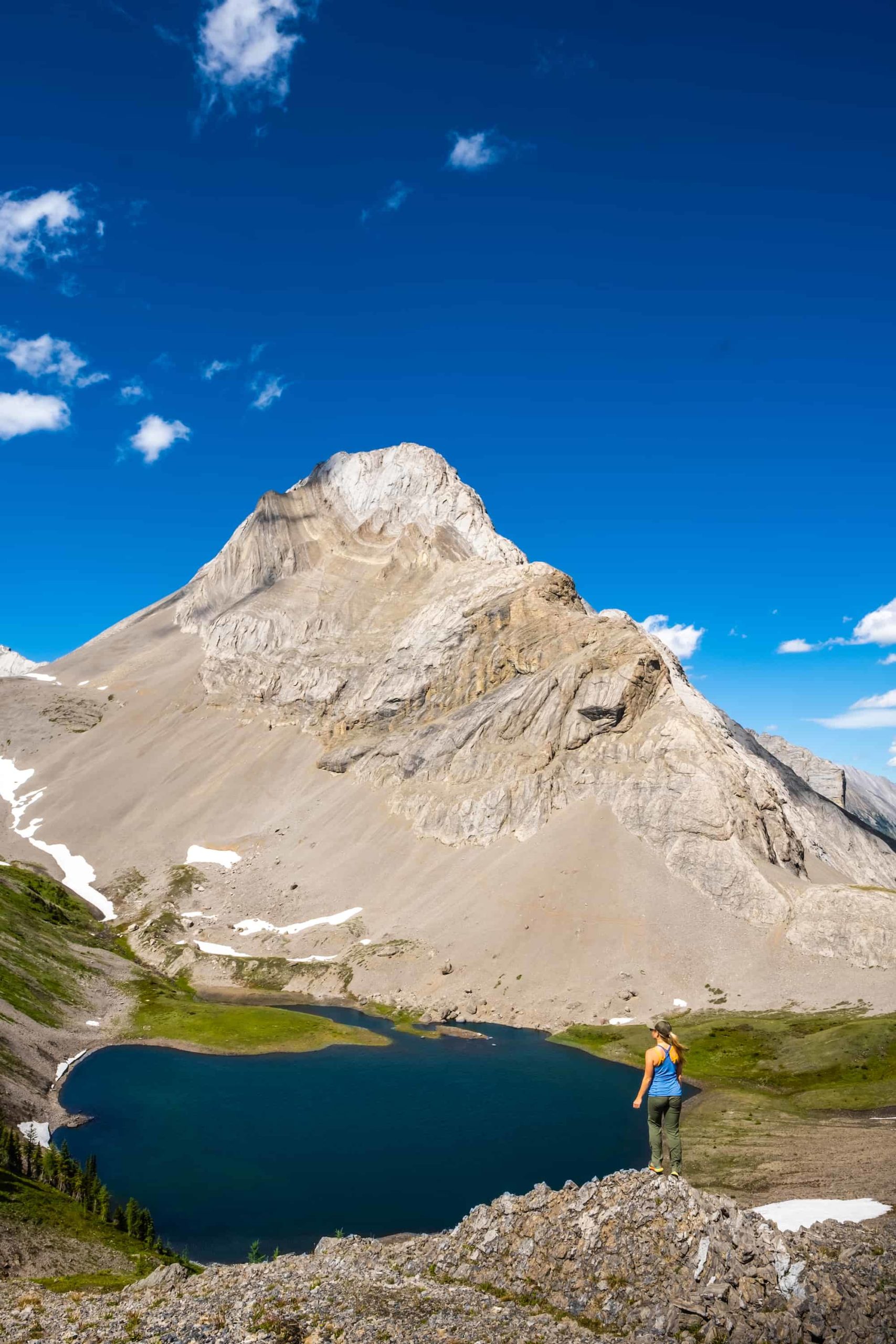 The first hour or so of this Kananaskis hike is straightforward, with no elevation gain. You'll pass an incredible waterfall, and once you get into the alpine meadow, the views are amazing. Your first taste of steepness is going into Smuts Pass, where it's relentless uphill for 2 km or so but then lightens up again as you first lay your eyes on Mount Birdwood.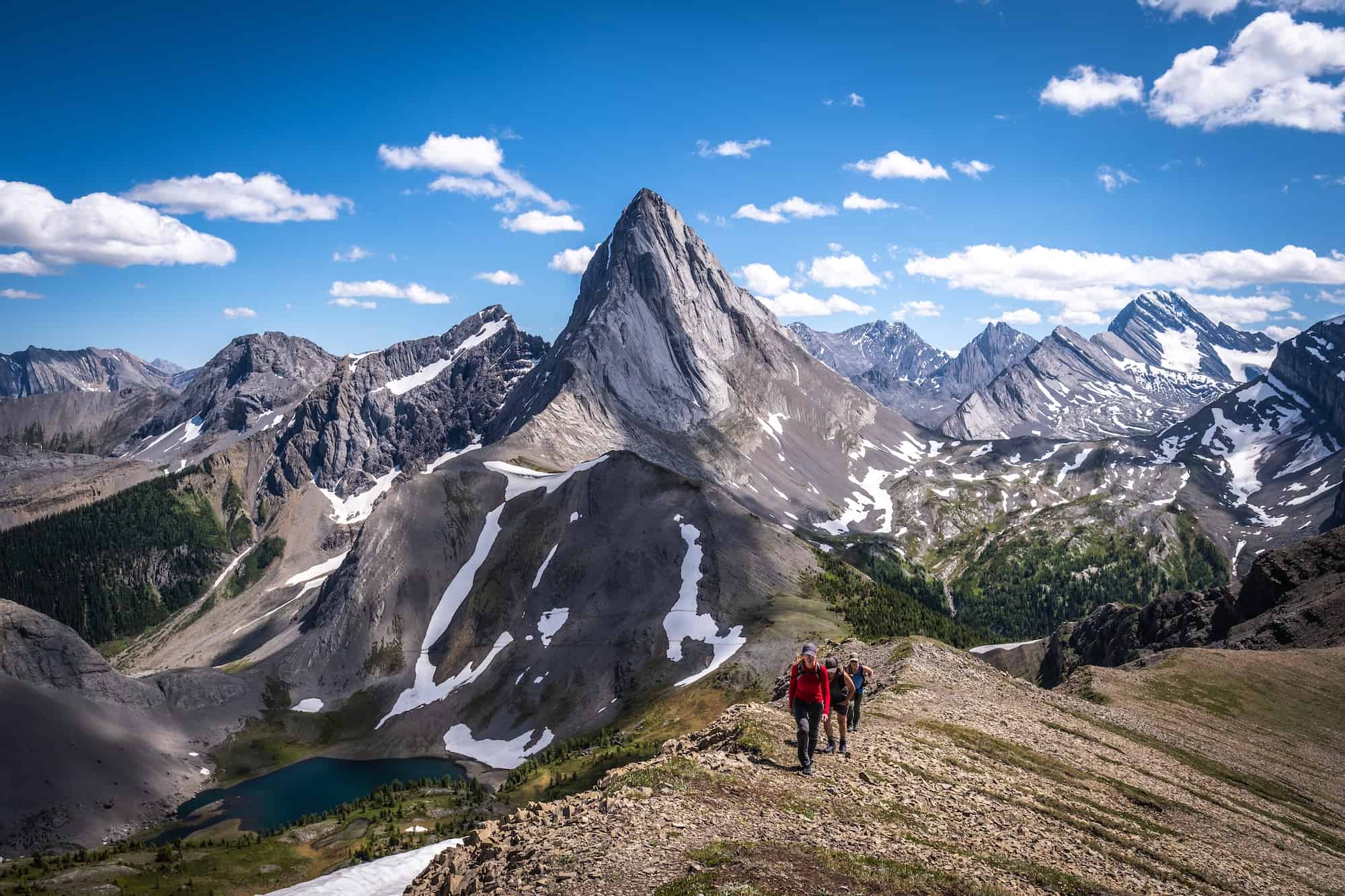 Many groups were hiking here when we went, but they stopped at the saddle and enjoyed the surrounding lakes. The route from the saddle up to the top of Smutwood Peak looks long and steep, but it's easier and shorter than it seems.
Continue on past Birdwood and around the two lakes to your right. Here's where your ascent truly begins. You have about 45 minutes to one hour to go. The view from the false summit of Birdwood is great but continue on to the true summit for 360 views. This is where the route gets a bit scrambly and slightly exposed. A fall here certainly wouldn't be good, but it's not certain death (that's next door on Mount Smuts).
Keep pushing for the summit and enjoy the views. Descend the same way you came. Smutwood Peak took our group 6 hours with a 45-minute summit break. It's one I would readily do again!
How to: Hike Smutwood Peak in Kananaskis
---
Tent Ridge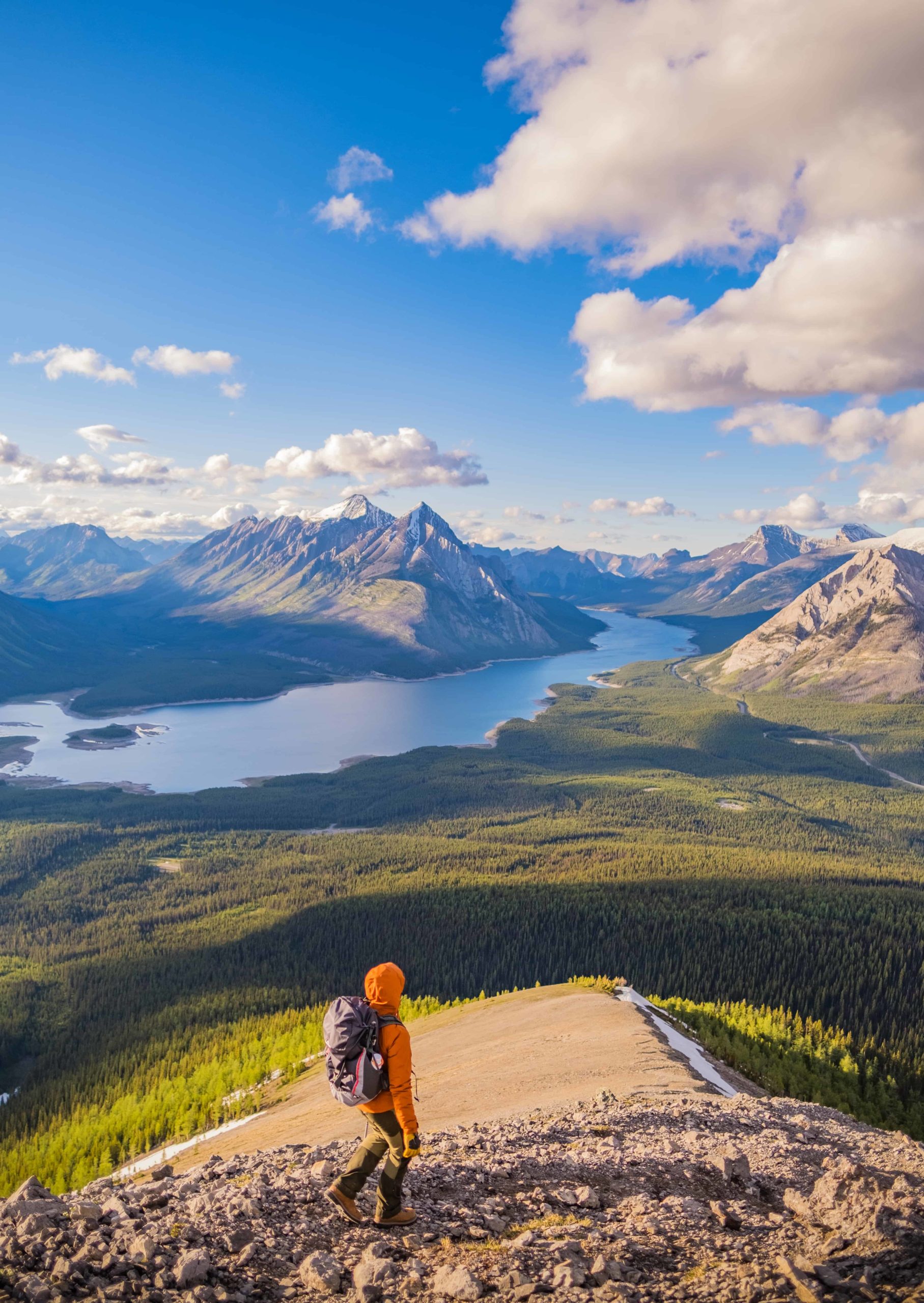 Length: 10.6km (6.6 miles)
Duration: 3-6 hours
Elevation Gain: 750m (2460ft)
Difficulty: Moderate
Best Time To Go: June – October
Scrambling Involved: Two short sections. Make the loop clockwise, so you are scrambling up these sections instead of down.
Parking: There's trail parking across the street from one of the trailheads. From the parking area, go LEFT to start this hike clockwise.
Tent Horseshoe Ridge is one of my favorite hikes in all of Alberta. This beautiful loop trail is just an hour's drive from Canmore in the Spray Valley. It's the perfect hike with amazing views of the surrounding mountains and lakes. In summer, you'll find wildflowers abound. If you're looking for a quick but moderate hike, Tent Ridge is a must-do.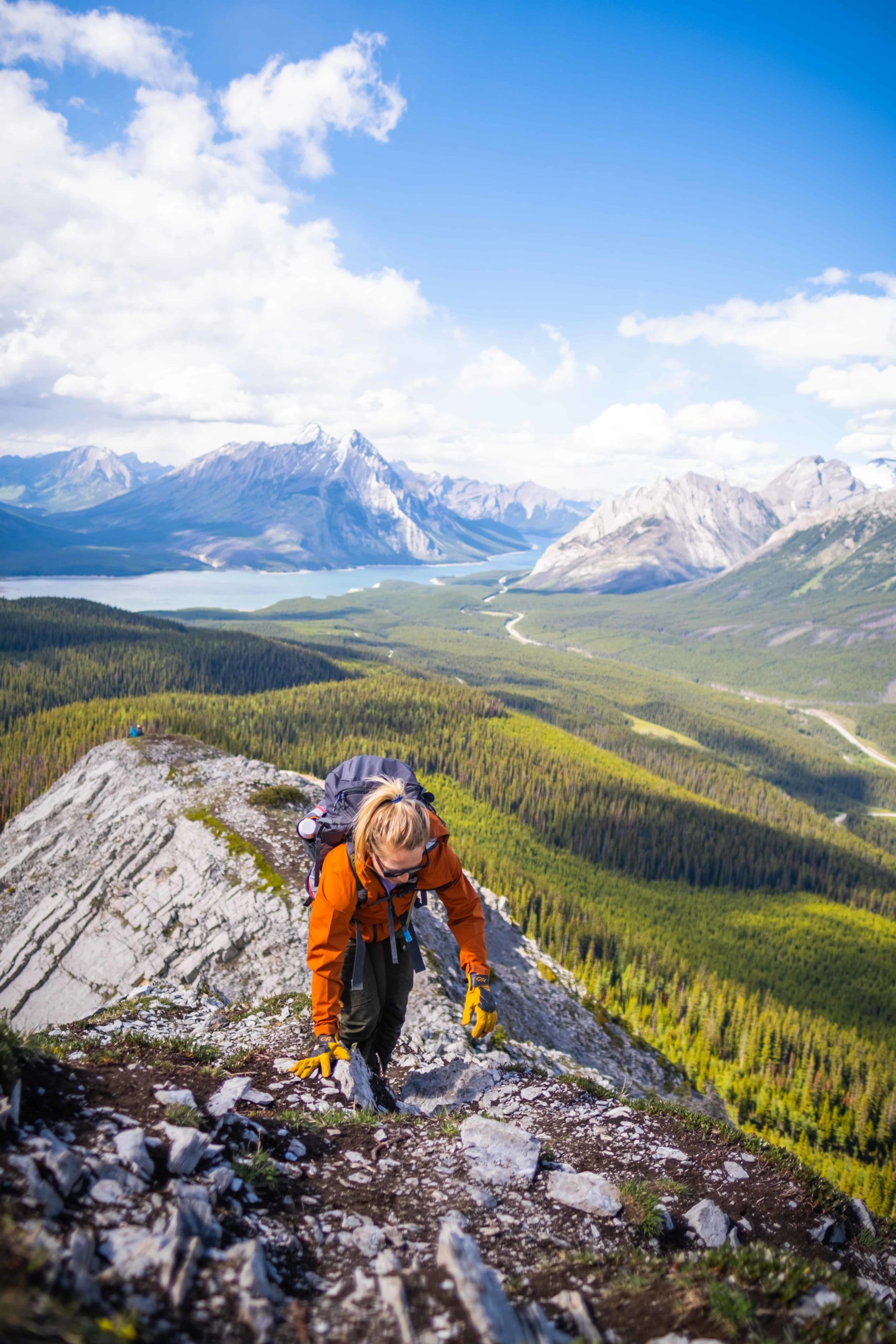 Tent Ridge Horseshoe is a 10-kilometer loop trail. This trail took us about 4-5 hours, with LOTS of photo stops and a lunch break near the satellite tower. If we weren't taking any photos or videos (or waiting around for the sun to get lower for sunset photography), we should have been able to do this loop hike in well under four hours.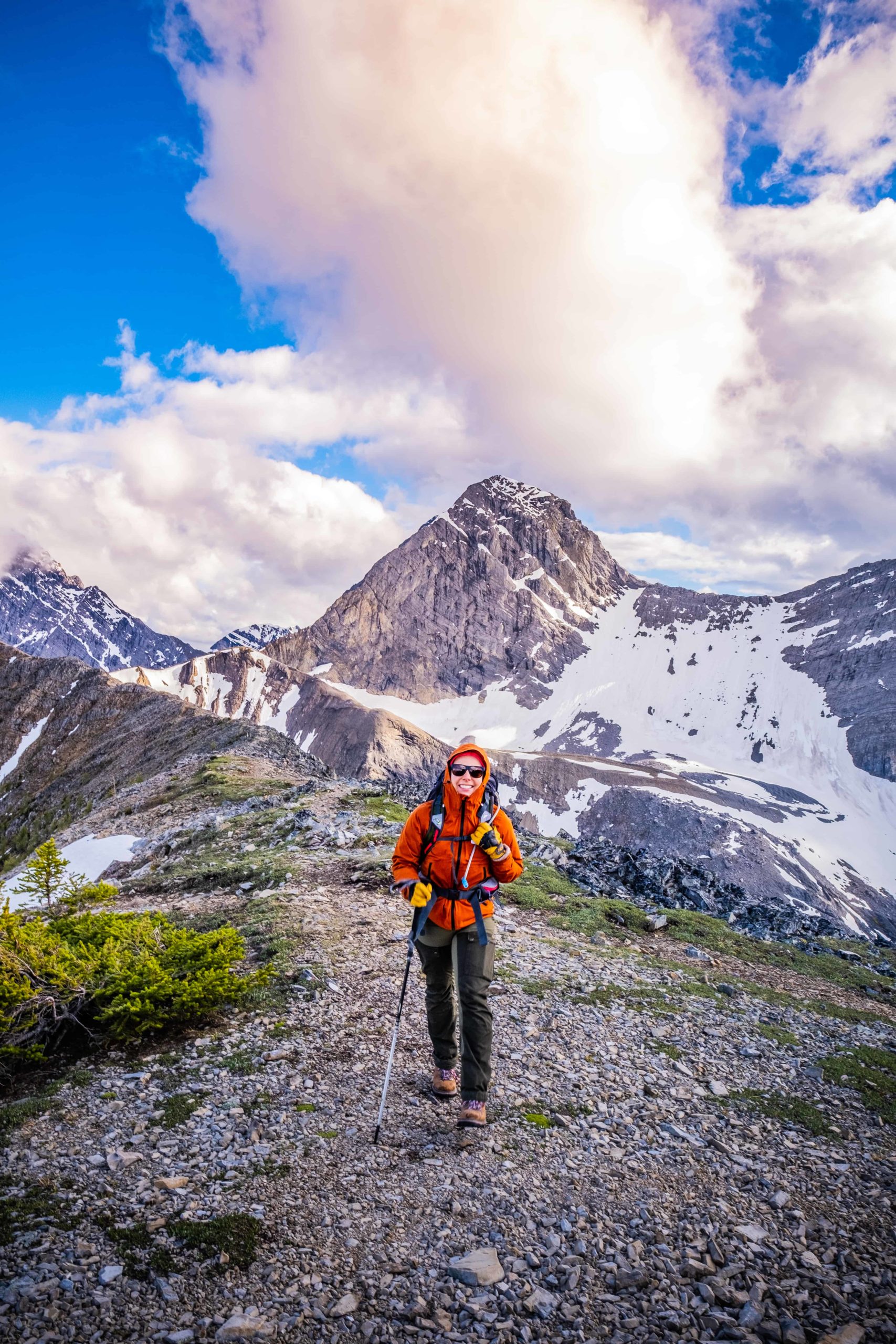 Although AllTrails rates this as hard, I would put it at a moderate. A few steep pitches will have you panting, but I believe the real reason it's rated as hard is because of the scramble up (or down, depending on which way you go) from the ridge. I saw all ages of life on this trail. The scramble was slightly exposed in two sections but not too sketchy.
This trail would be best between June and October, though I've seen photos in the winter, and the images are gorgeous. Make sure you have gaiters, crampons, and poles if you decide to do a shoulder season hike. You should have proper Avalanche training too; deaths have occurred back here as this is serious avalanche terrain.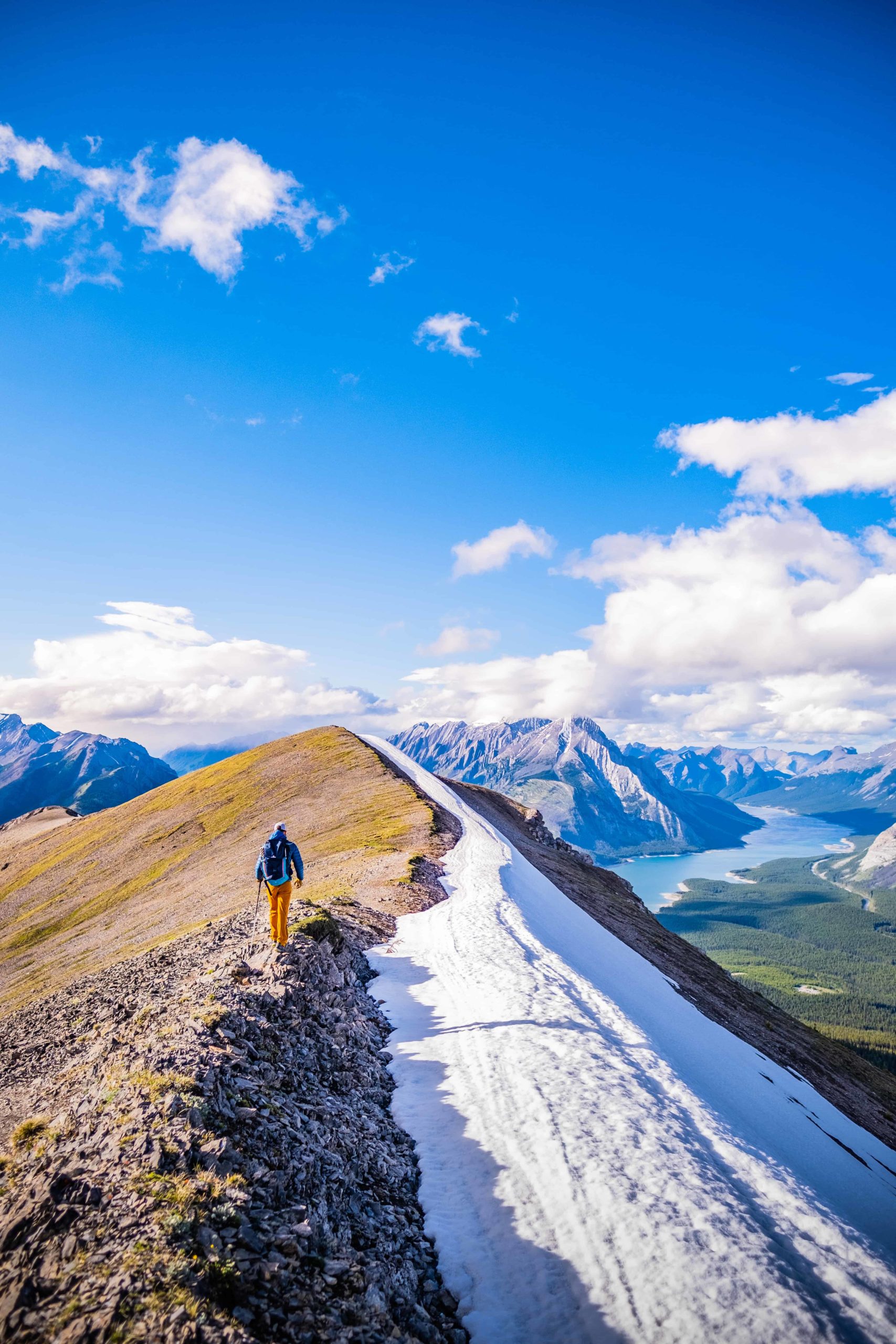 We hiked this trail on Canada Day weekend (July 1st). There were a few spots with slushy snow, but it was a dry trail for the most part.
How to Hike Tent Ridge Horseshoe in Kananaskis
---
East End of Rundle (EEOR)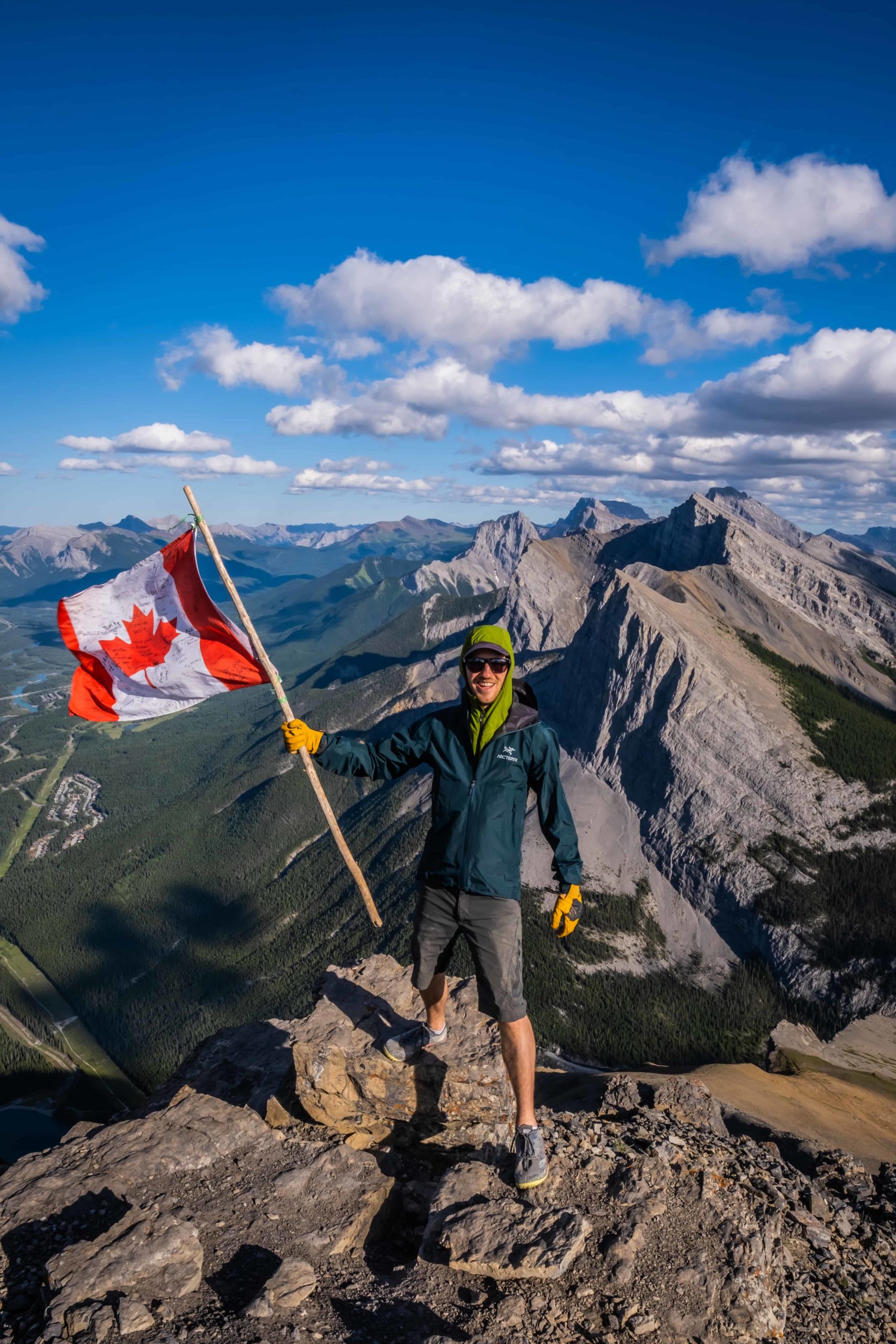 Length: 5.8km
Duration: 3-5 hours
Elevation Gain: 870m
Difficulty: Moderate
Scrambling Involved: Towards the top, you'll be using your hands. Gloves will come in handy.
Best Time To Go: May – November
Where to Park for This Kananaskis Hike: Whiteman's Pond dam. You can't miss the cars.
East End of Rundle is easily one of the most popular Kananaskis hikes. It's also the best effort vs. reward in all regions, with breathtaking views of Spray Valley, Canmore, and Ha Ling Peak in a brief amount of time. Given its proximity to downtown Canmore and relative ease, it sees heavy foot traffic.
Although, just because East End of Rundle (or EEOR, or "Eeyore" as locals call it) is close to town doesn't mean it's an easy climb up to the summit.
The hike up the East End of Rundle starts at Whiteman's Pond dam. The trail begins right between two flagged power poles across the road.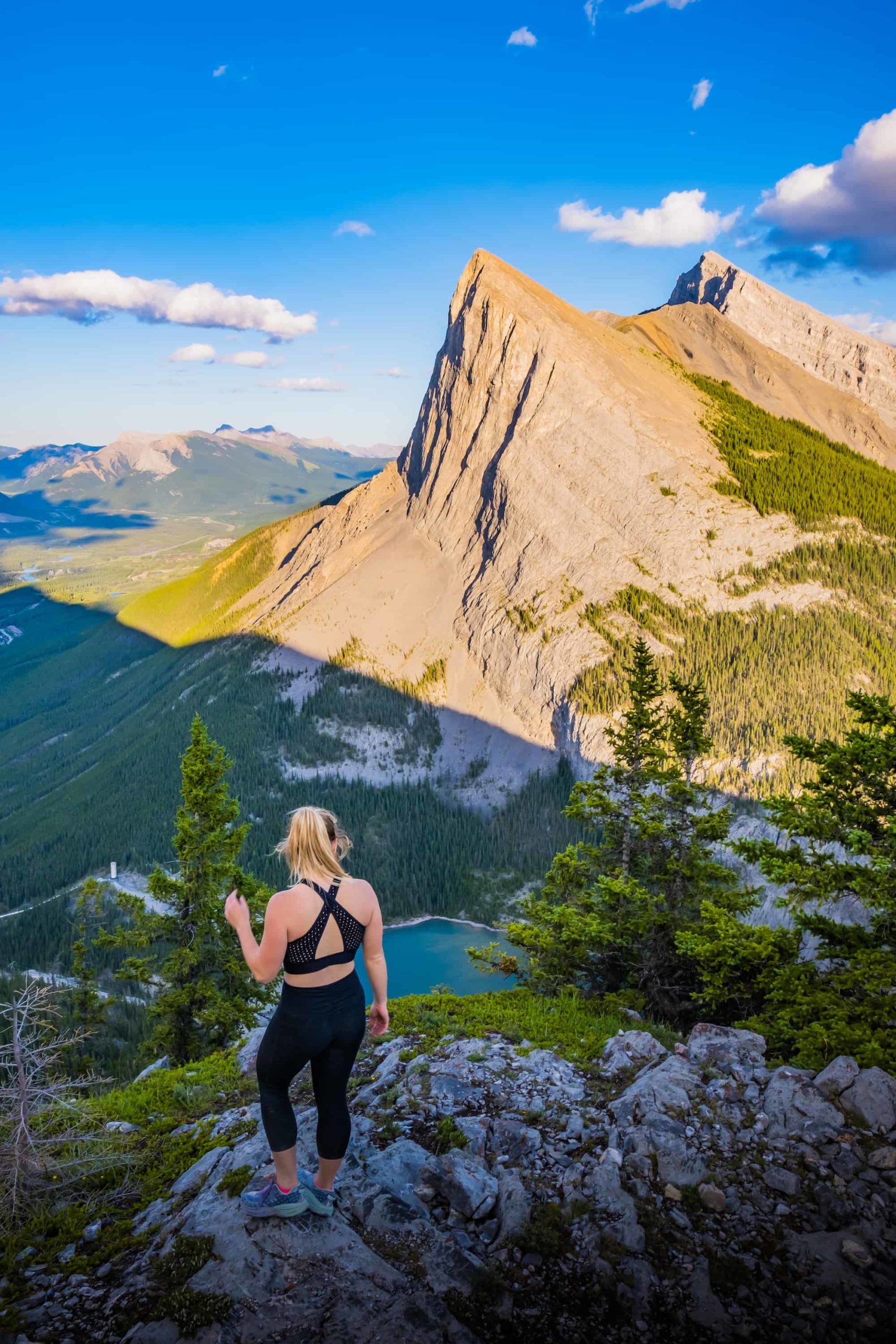 The trail is a bit of a mixed bag, though. The ascent makes several switchbacks, followed by a few rocky sections, followed by relentless scree, before several rocky sections that may require a handhold or two. It's nothing complicated, and any hiker should handle the terrain, but it is steep.
It's relatively easy to follow with the small pieces of tape, painted rocks, and cairns leading to the peak. However, it's easy to get off trail if you stop paying attention – especially on the way down. On the way up, you begin to see views down Spray Valley to the East, Ha Ling Peak, and Mount Lawrence Grassi.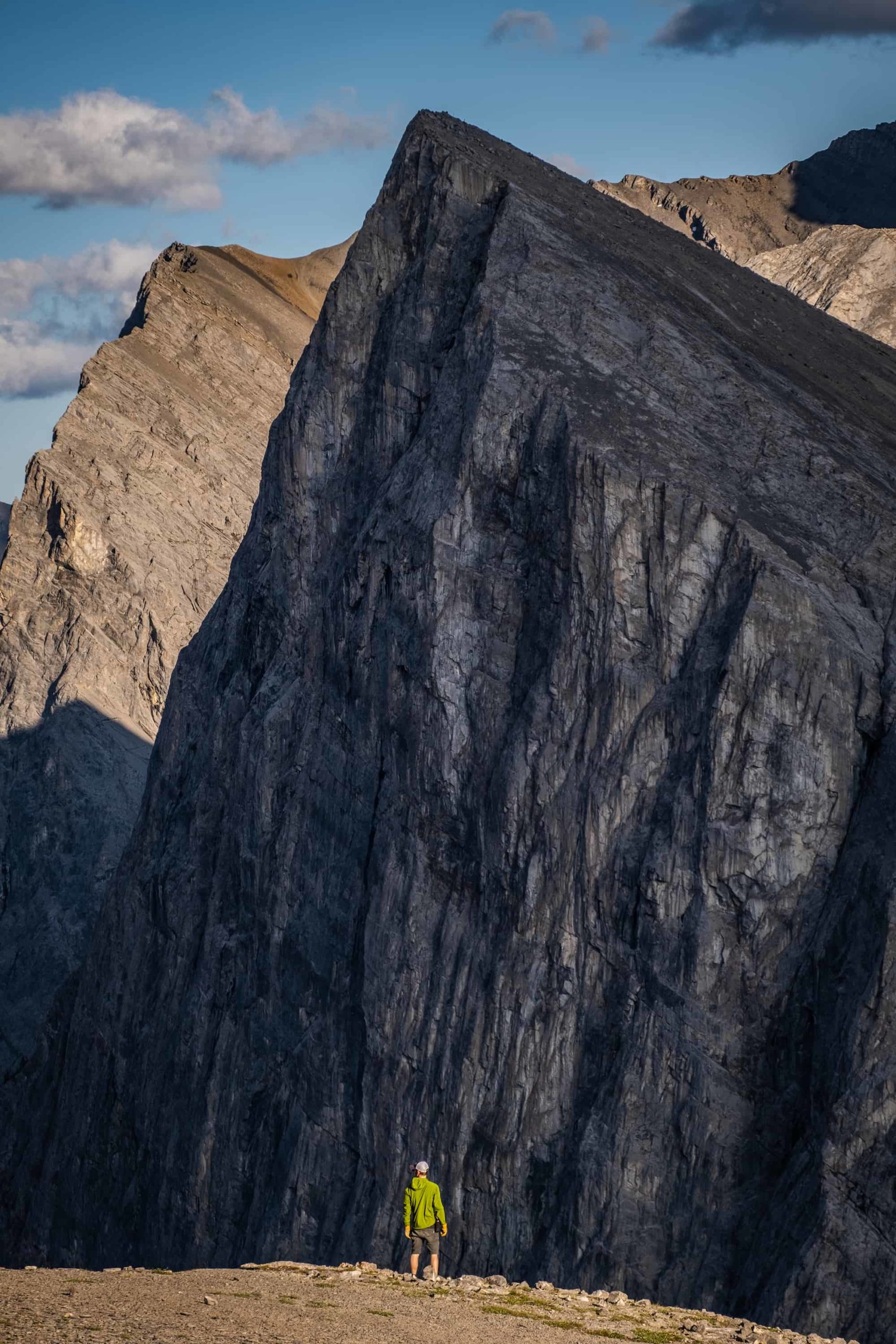 The hike up comes out of the first section of the treeline to a small ridge. This section has some route finding and small portions of scree. It's not too tricky, and the most advanced section comes on a large rock slab that can be bypassed by heading to the left.
Once you get above the final bit treeline, you'll find a steep wide open scree section waiting for you. Once you make it past the scree, you'll find two paths leading up to the summit.
We took the one to the left, which seemed to be the more accessible trail up. Once you get to the rock band, you'll want to put your gloves on (and helmet if you have one) as you'll be walking along the cliff for about five minutes using your hands and careful footing. The helmet is more necessary on a busy day as it would it's easy for clumsy hiking groups above to dislodge rocks.
After this scramble, you've reached the summit and get to enjoy the views over Canmore! The view was inspiring for us as we could see our home way down below.
If you don't want to tackle the entire hike, many parties stop about an hour up, which still provides excellent views over Ha Ling and Whiteman's Pond.
How to Scramble East End of Rundle
---
Read's Tower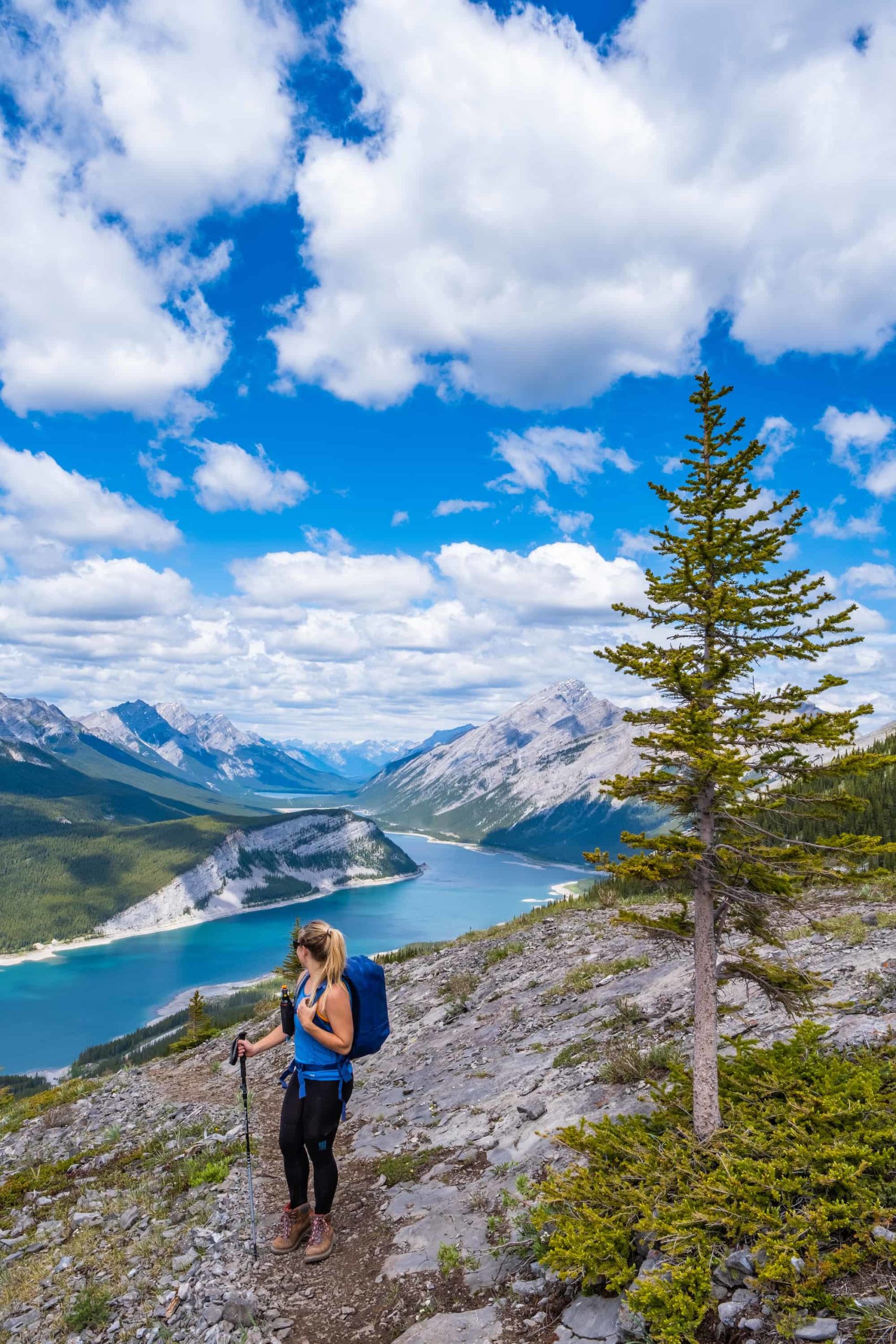 Length: 6.8km
Duration: 3-5 hours
Elevation Gain: 855m
Difficulty: Moderate
Scrambling Involved: No
Best Time To Go: April – October
Parking: Across the street from the trailhead. Parking for Sparrowhawk.
Read's Tower is perfect for those who want fantastic views over Spray Lakes but don't want to put in a whole day's effort to get up. This is less than a 4 hour round trip hike, but you do have the option to keep going past to scamble Mount Sparrowhawk for a more full day.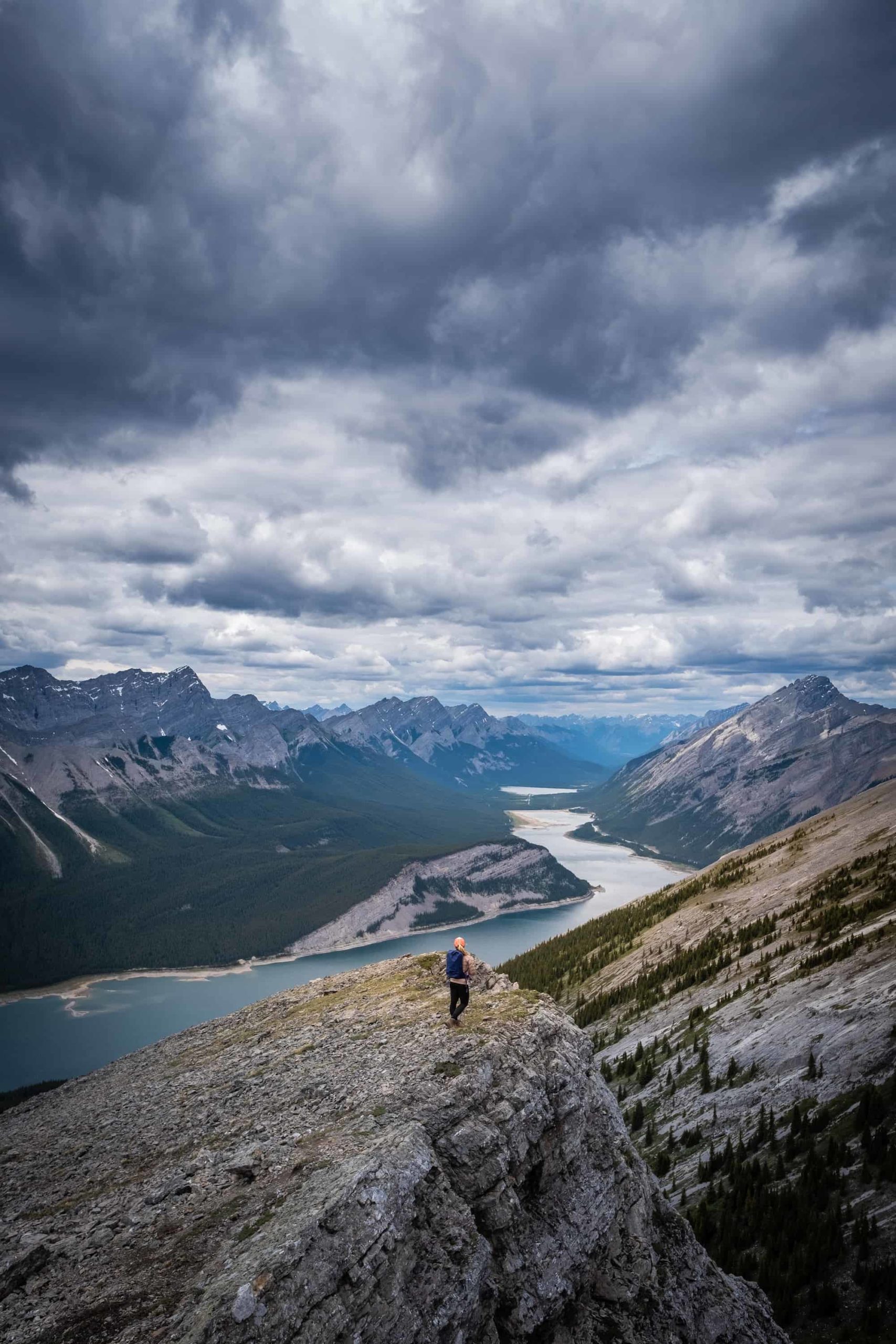 The first hour or so of Read's Tower winds through the forest. Get used to going uphill, as it never really lets up once you start. Fight the rock slide and slabs uphill until it opens up. From there, you'll get a great view of both Mount Sparrowhawk and Reads Tower. Now is your choice of what kind of length and time you want to be on the trail, because you could turn this Kananaskis hiking trail into a full day out and get up Mount Sparrowhawk.
If you choose just Read's Tower, you have about a 45-minute to an hour scree climb to the summit. Going up the treadmill scree is brutal, but the scree run down is fun and quick!
Read's Tower is a rewarding hike for low exposure and minimal scrambling effort. To make it a full day, consider scrambling up the much larger and more challenging Mount Sparrowhawk (1,342 m gain/ 9.2 km)
---
Windtower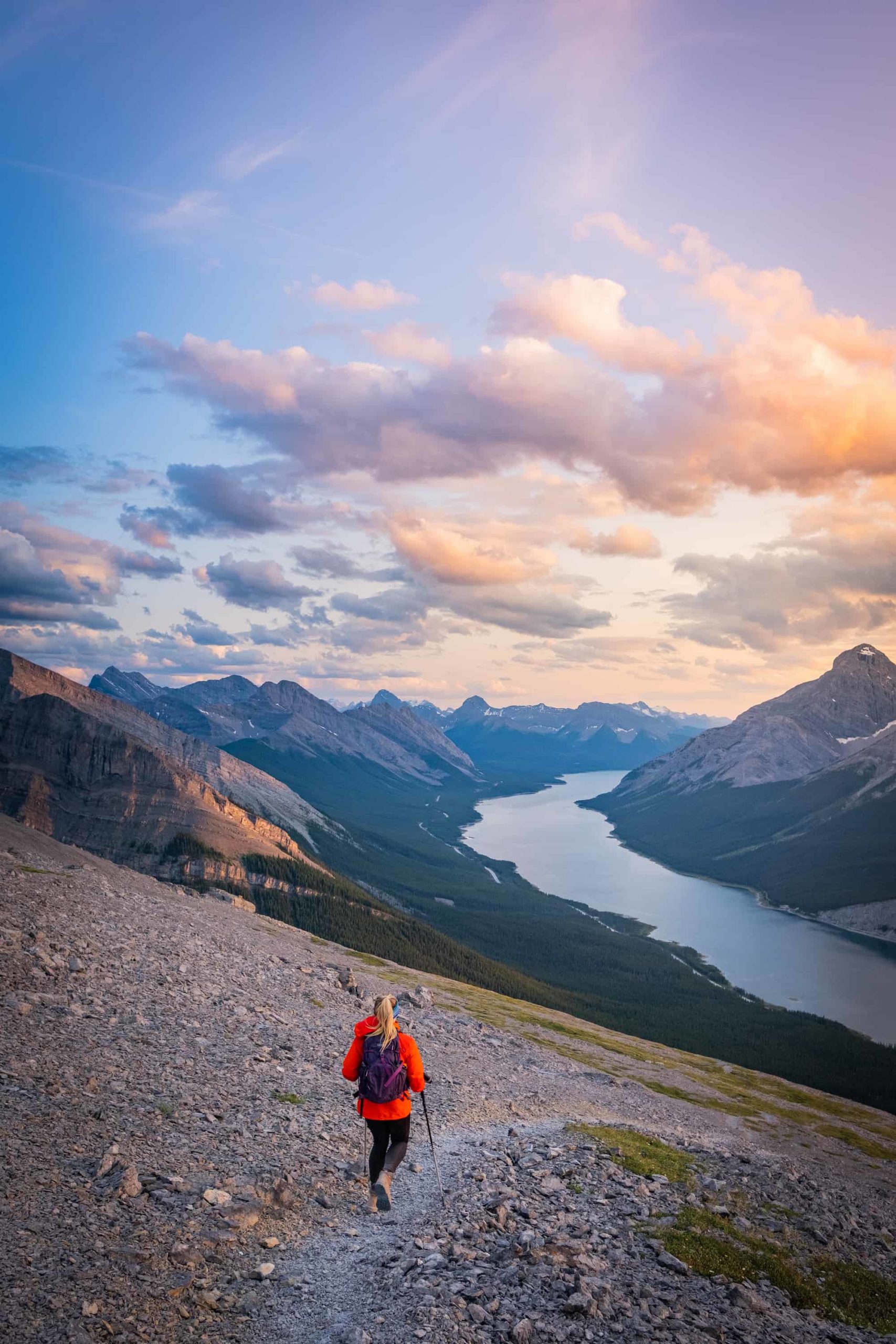 Length: 9.8km
Duration: 4-6 hours
Elevation Gain: 898m
Difficulty: Moderate
Scrambling Involved: No
Best Time To Go: May – October
Parking: Look for West Wind Pass signs along the Smith Dorrien Highway
Right before you reach the parking for Read's Tower, you have the option to try another Kananaskis hike – Windtower! Windtower provides similar views over the Spray Lakes Reservoir that Read's Tower does, with about the same amount of effort.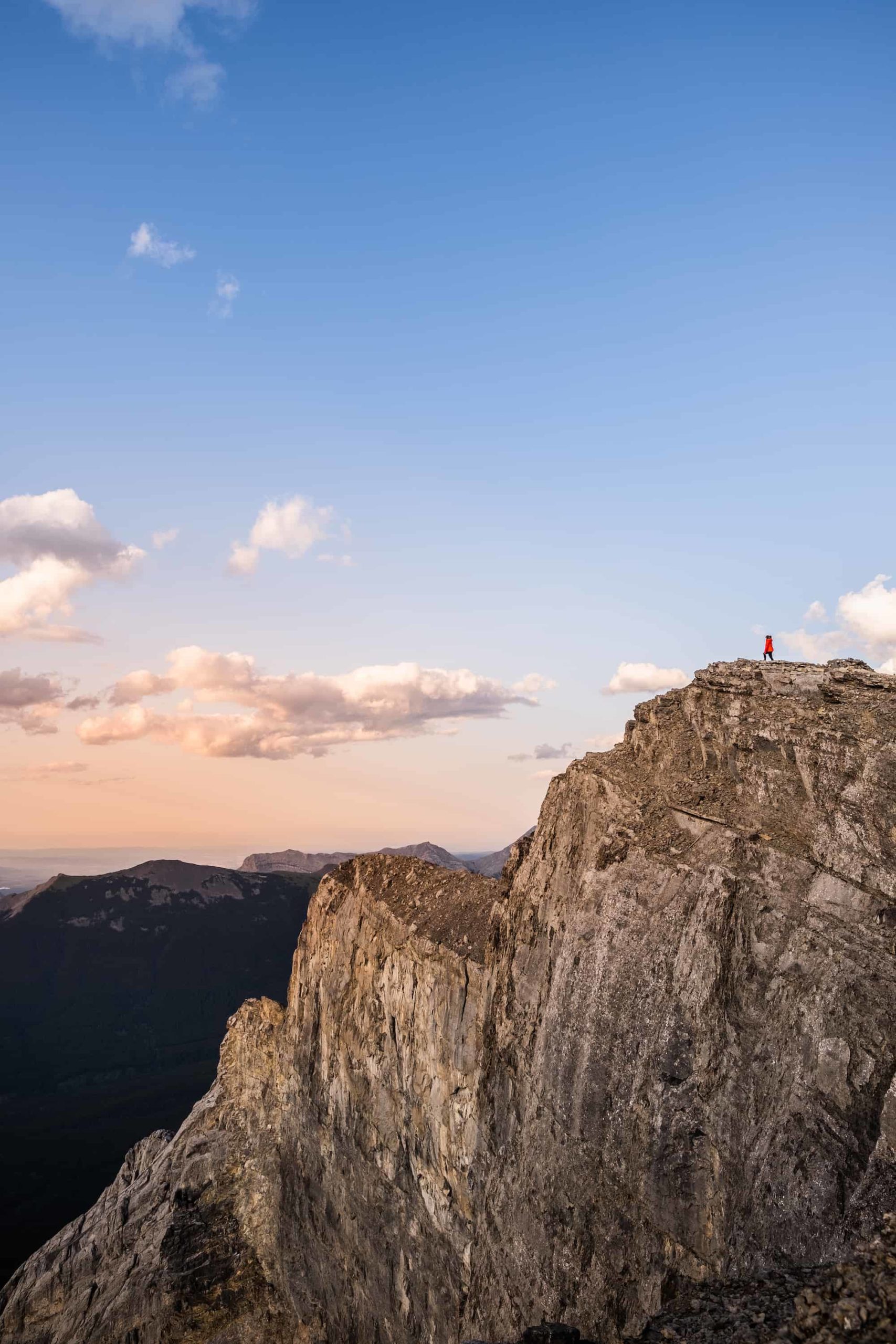 We completed this hike in 4 hours on a fantastic summer evening and were rewarded with an epic sunset from the peak.
To hike Windtower, you'll want to start across the street alongside the road. You'll hike in the treeline for the first 45 minutes or so until you reach West Wind Pass. If you want a nice, short, moderate hike – stop here and enjoy the views. West Wind Pass is a very popular Kananaskis hike for those looking for a quick journey out.
To conquer Windtower, you have at least an hour and some change, more of very light scrambling with a moderate incline to the top.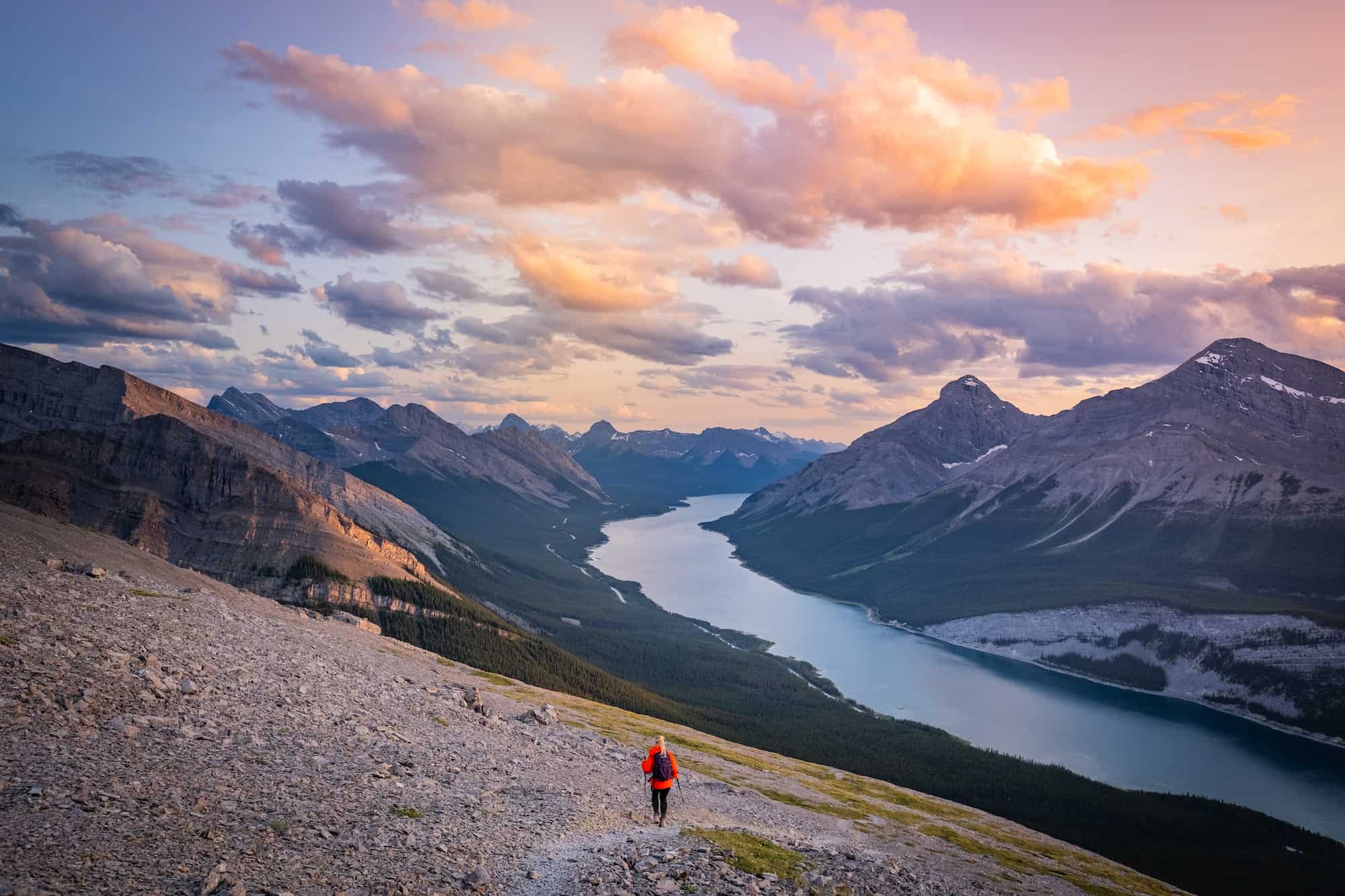 Once you reach the summit of Windtower, enjoy the views over Canmore to one end and the Spray Lakes to the other. From here you can get great views of Mount Lougheed. Just watch your step – it's a straight drop-off up here! Return the same way you came.
How to Hike Windtower in Kananaskis
---
Mist Mountain Summit (Hot Spring Add On)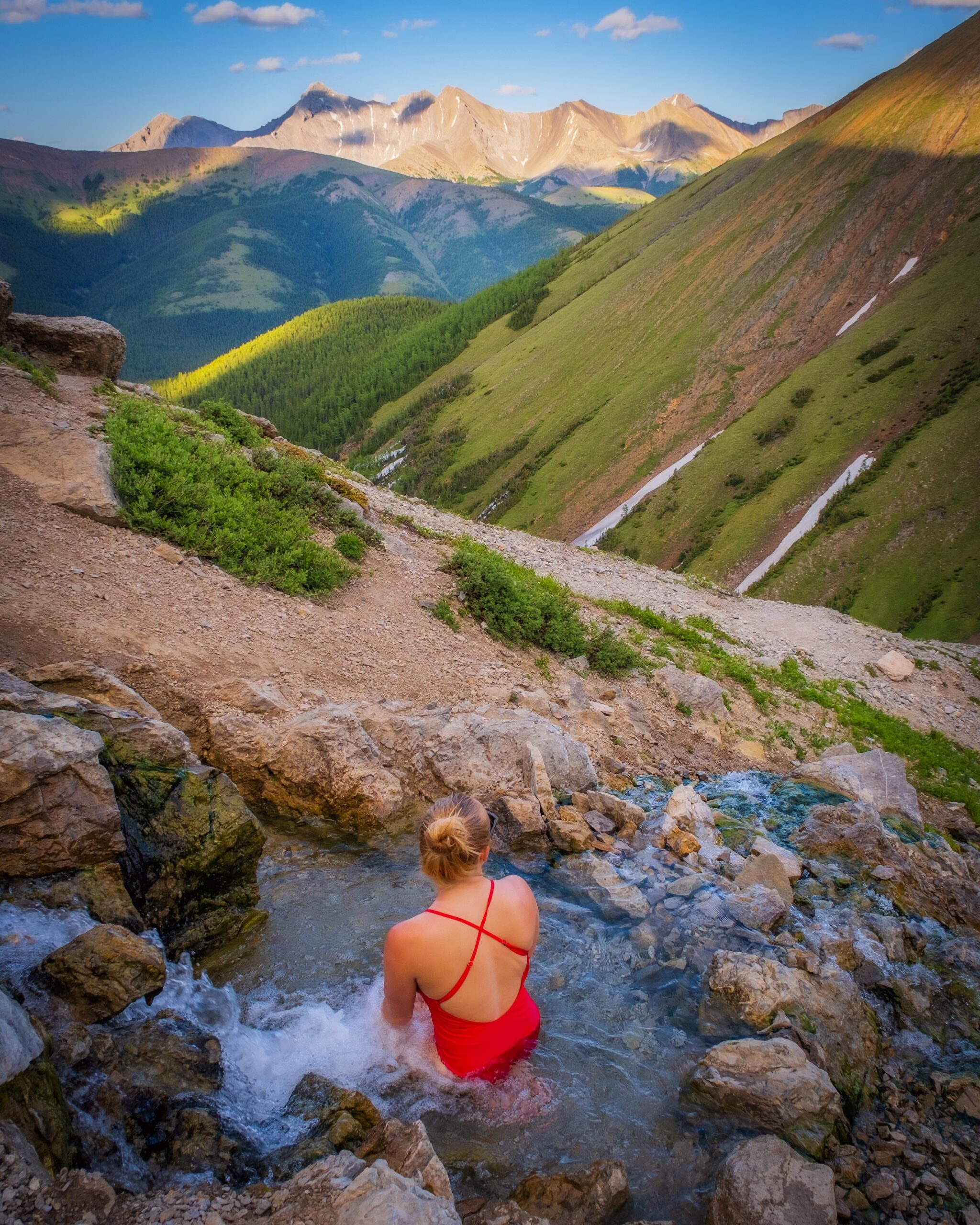 Length: 9.8km
Duration: 4 – 7 hours
Elevation Gain: 1,265 meters
Scrambling Involved? Yes
Difficulty: Difficult
Best Time To Go: July – September
Parking: Mist Mountain Trailhead
Mist Mountain is one of the tallest mountains in the Kananaskis region and offers a significant objective without any technical mountain climbing. Most people head to Mist Mountain only for the hot springs, which is a short hike through a valley. Be forewarned that the Mist Mountain Springs can get insanely busy in the summer, and you'll have to be here at sunrise to avoid crowds.
There's only enough space for 4-5 people in the hot springs at once, and quite honestly, they are more like lukewarm springs, which in the Canadian Rockies is not exactly ideal. Still, the views are stunning, and the photos are definitely Instagrammable.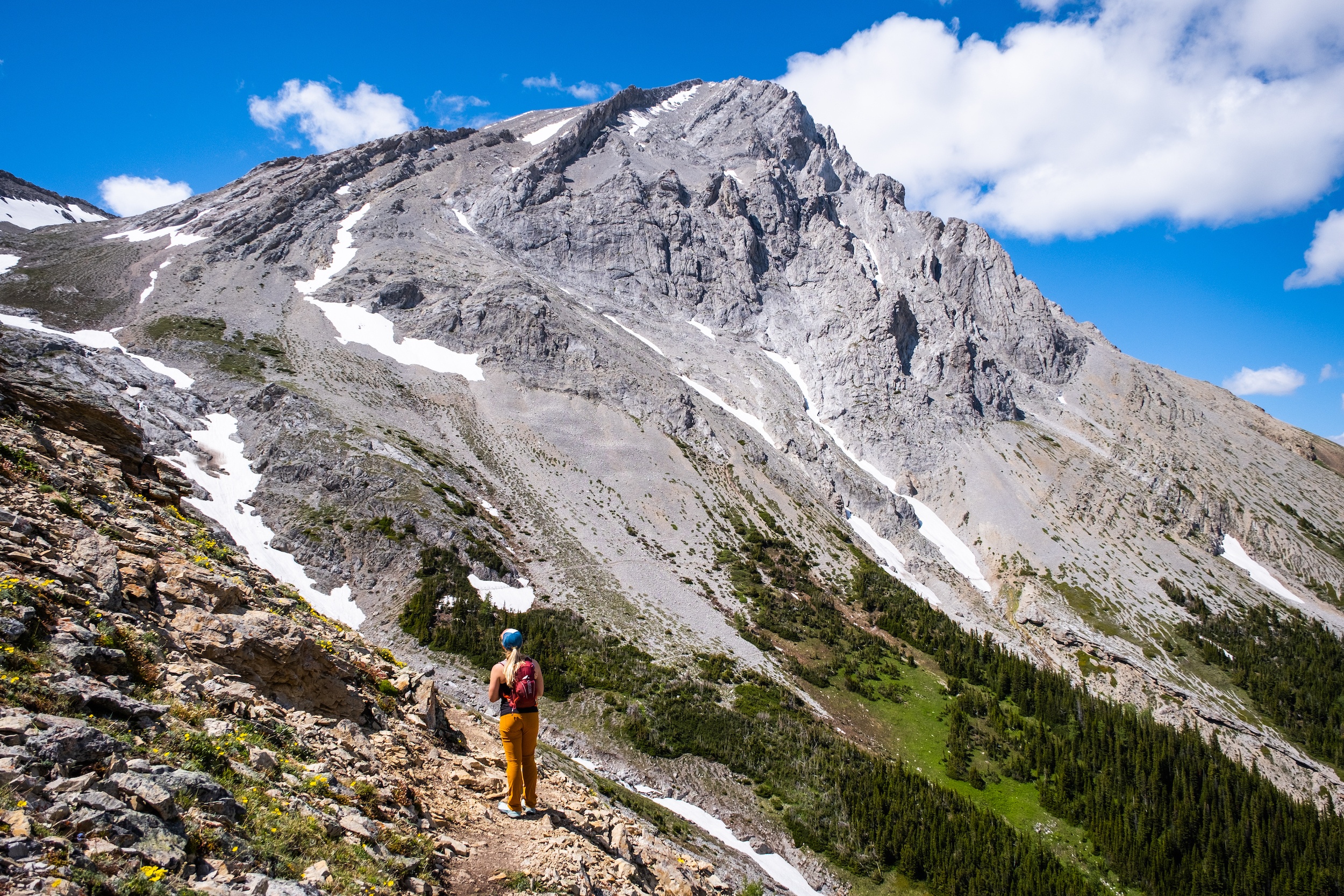 However, for a tough day and a sense of accomplishment, set your goals on actually summiting Mist Mountain.
There are several routes up to the peak of Mist Mountain with many varying degrees of difficulty. The most straightforward and enjoyable ascent is via the south face and east ridge. This was our choice, as we decided to skip over the Lipsett Col with high exposure levels on loose rock.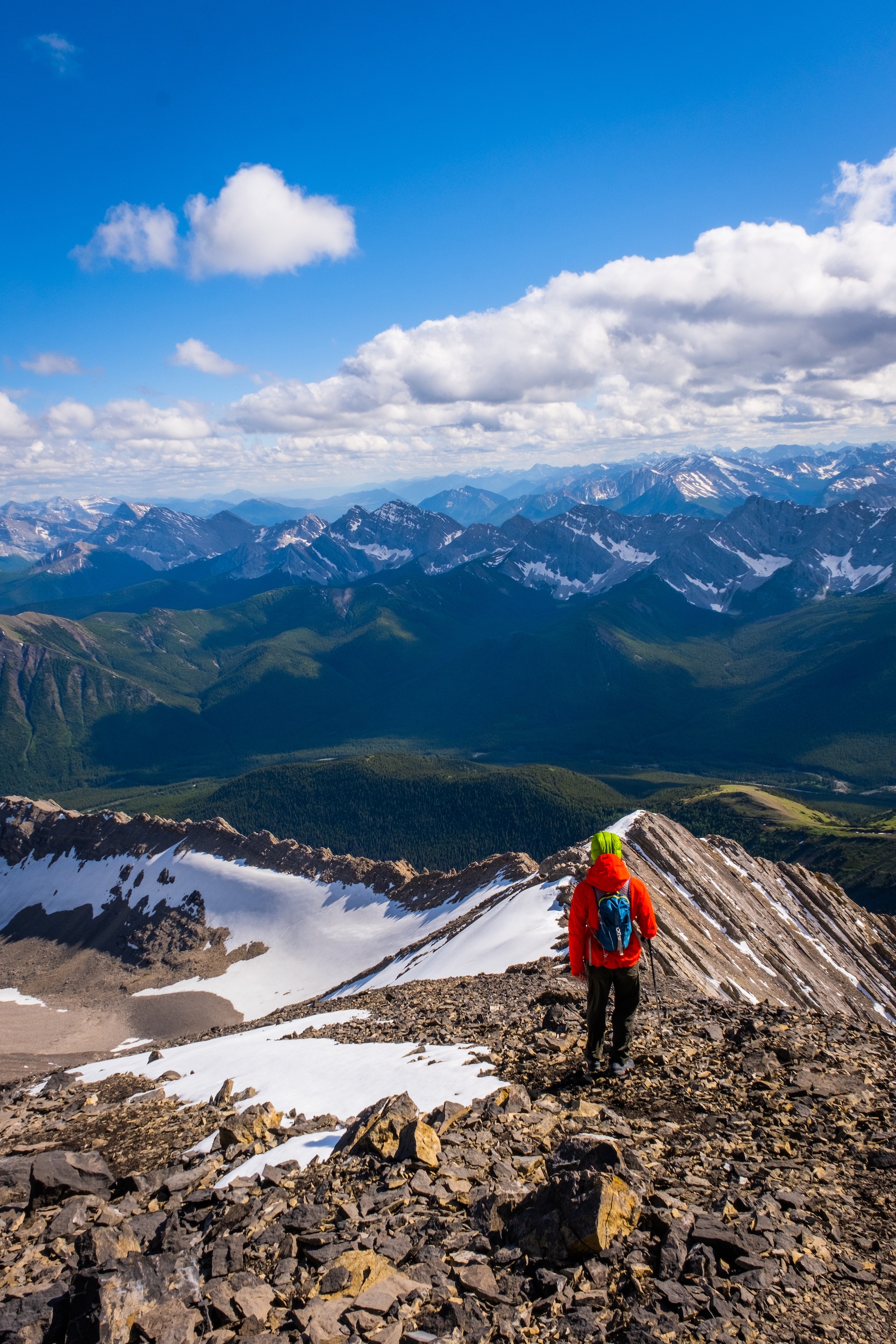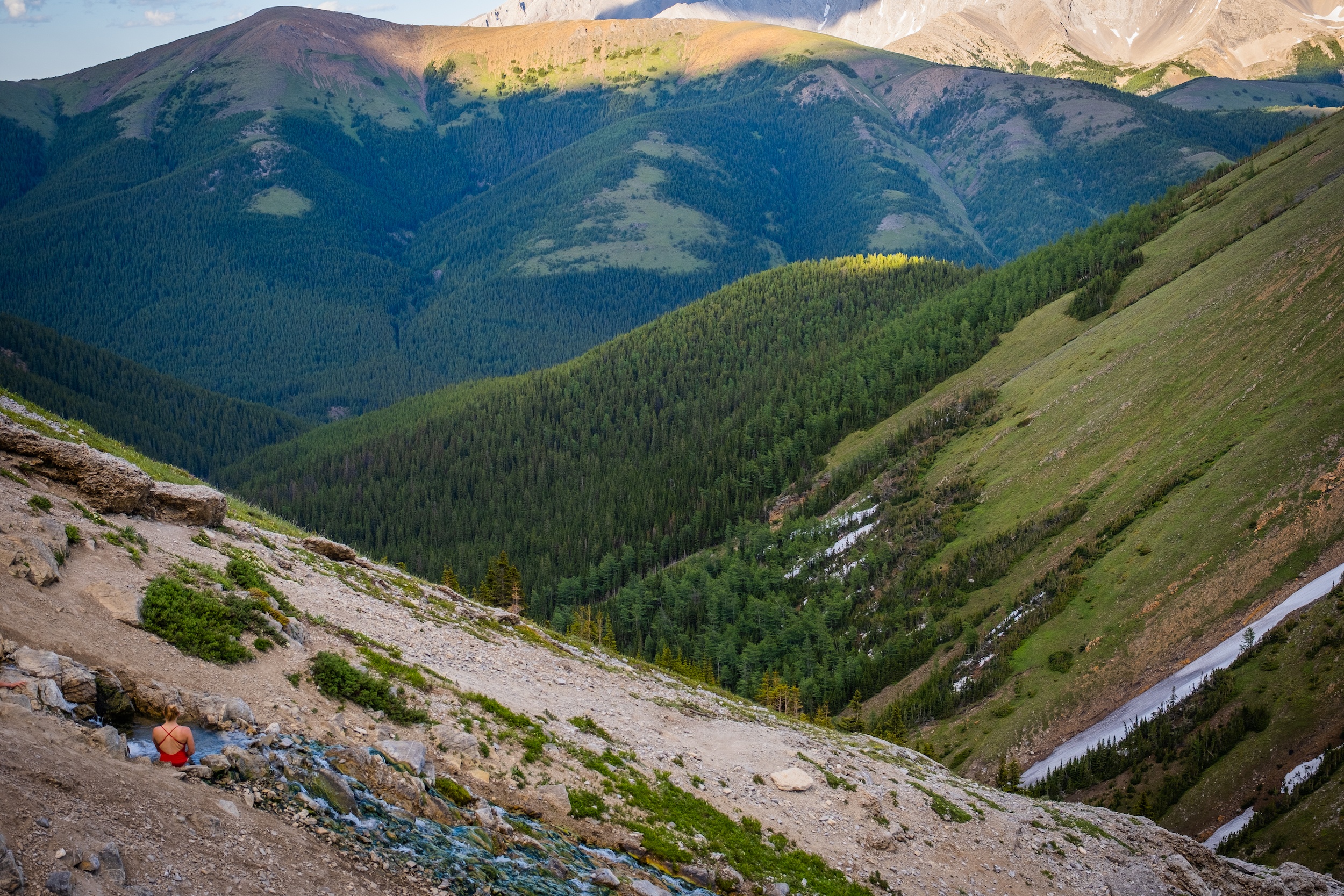 The excellent alpine pass views on the approach are of the most interest, with exceptional cirque and small hot springs with a great view. Of course, the views from 3,140 meters are pretty great too! The technical aspects and short approach make the mountain accessible to many able-bodied hikers, so it's easy to understand its popularity.
How to Scramble Mist Mountain and Soak in the Hot Springs After
---
Grizzly Peak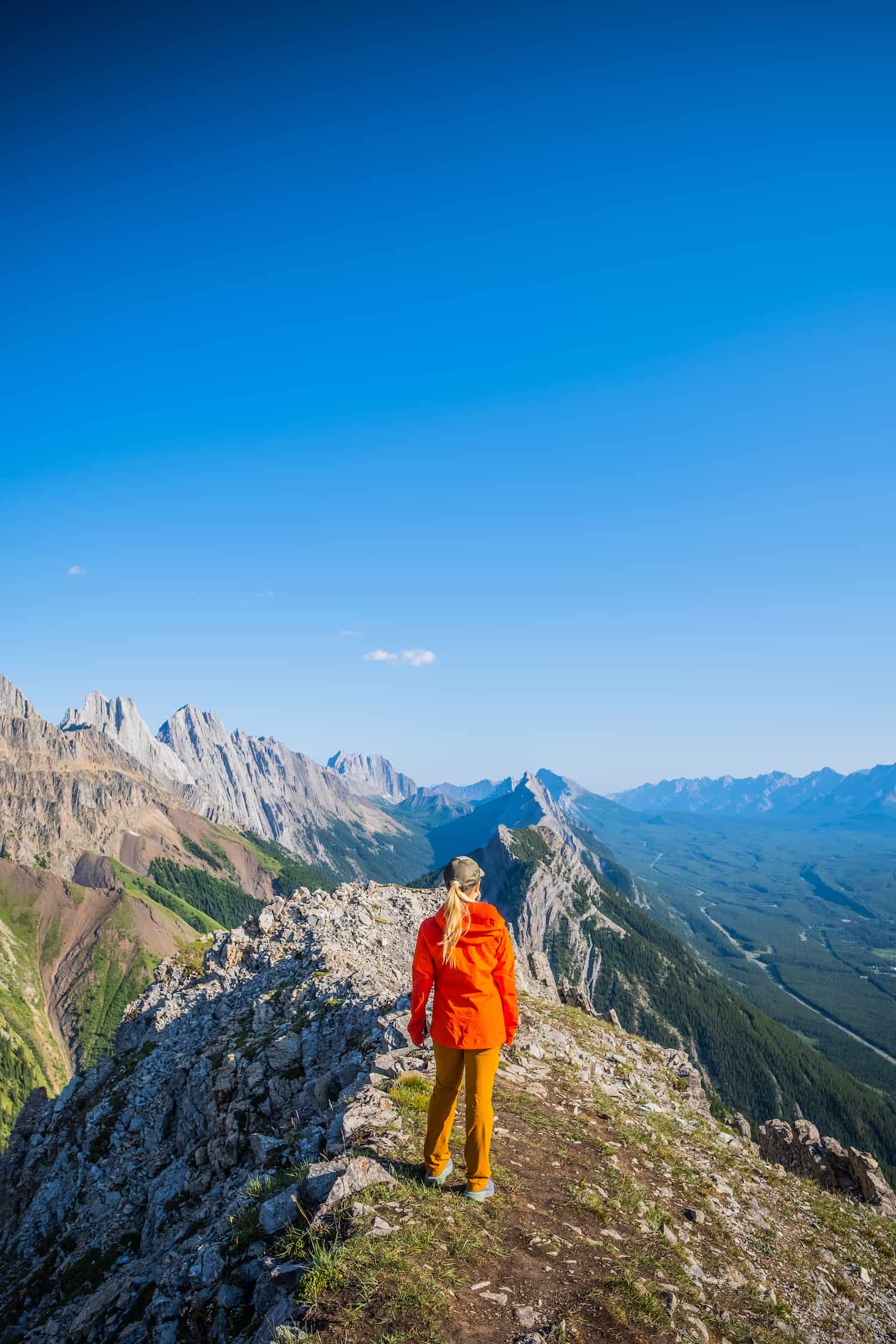 Length: 6.8 km
Duration: 3-5 hours
Elevation Gain: 875m
Difficulty: Moderate to Hard because of steepness.
Scrambling Involved: Scrambling route optional
Best Time To Go: May – October
Parking: There is no designated parking area for this. Instead, park on the side of the road near Ripple Rock Creek.
Grizzly Peak is an uphill grind all the way up and is not our favorite of these Kananaskis hiking trails. Not just a moderate uphill grind, but a steep and loose uphill battle. You are gaining 875 meters in 3.2 km, after all. If it weren't for the epic views at the summit, I wouldn't be recommending this one as the trail is in very poor condition.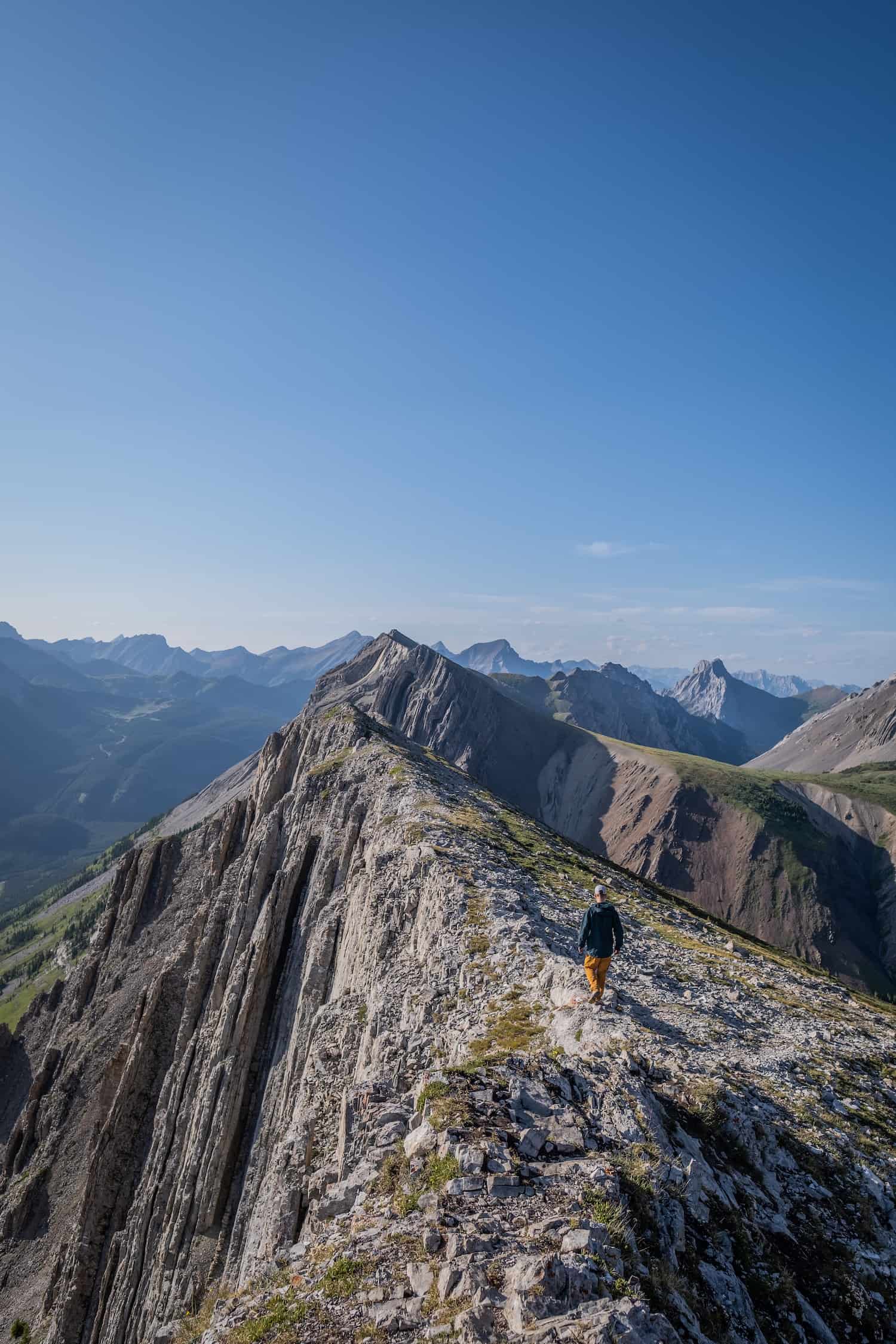 However, once at the peak of Grizzly, you can see endlessly over Kananaskis Valley and even Upper and Lower Kananaskis Lakes.
This hike took us four hours round trip and was perfect for a half-day, regardless of the leg burn. Gloves were definitely helpful as there is light scrambling involved. Poles are ideal for the steep downhill climb.
---
Opal Ridge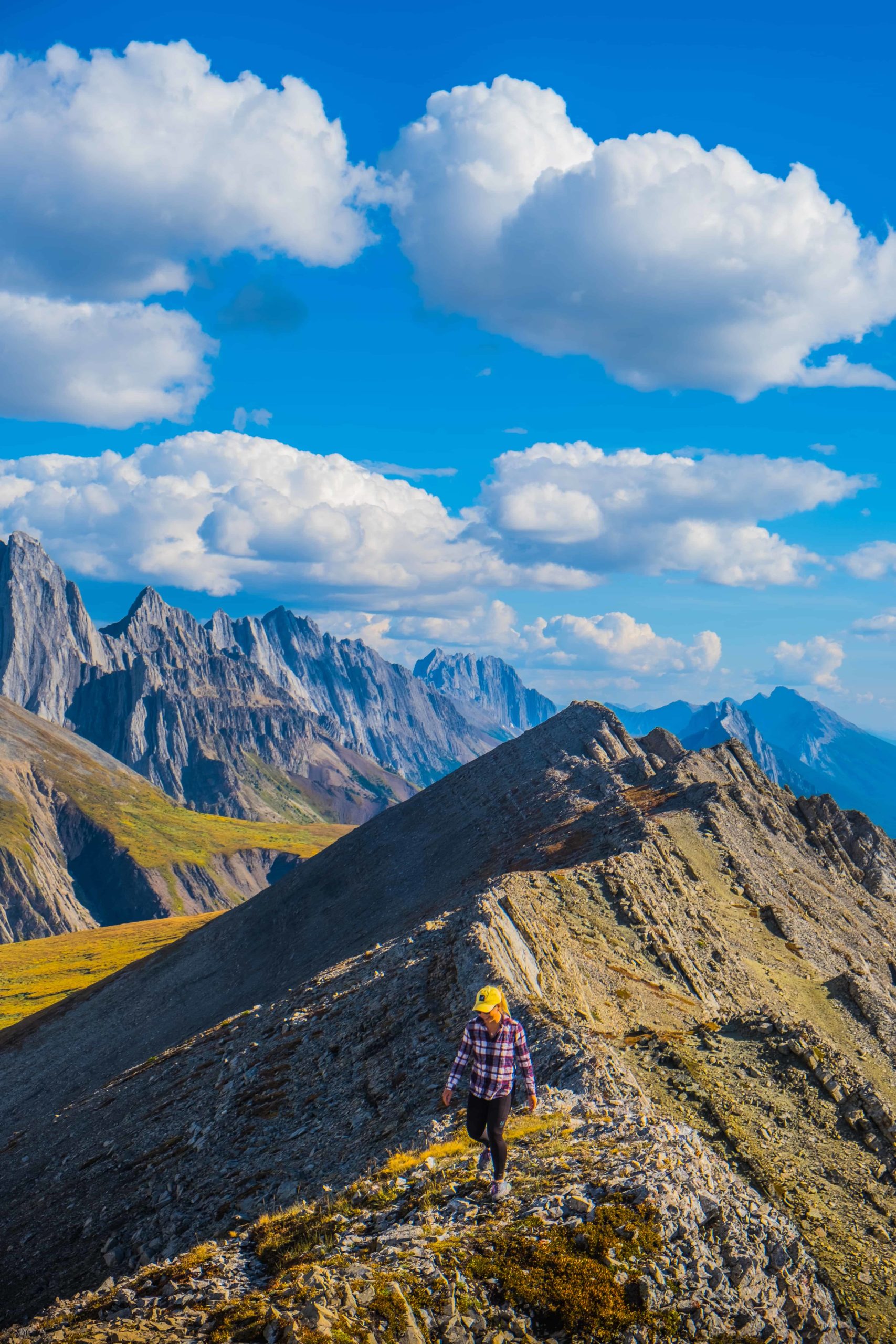 Length: 6.4km
Duration: 4-6 hours
Elevation Gain: 1,026 m
Difficulty: Hard if you choose mainly scramble route
Scrambling Involved: Scrambling route optional
Best Time To Go: May- October
Parking: Park at the Fortress petrol station.
Before reaching the parking point for Grizzly Peak (Coming from Calgary/Canmore), you'll come across the Fortress petrol station stop. Park here to tackle Opal Ridge. You can't miss the trailhead by the picnic tables. After parking, you'll mosy along the powerlines for a few hundred meters before the workout begins.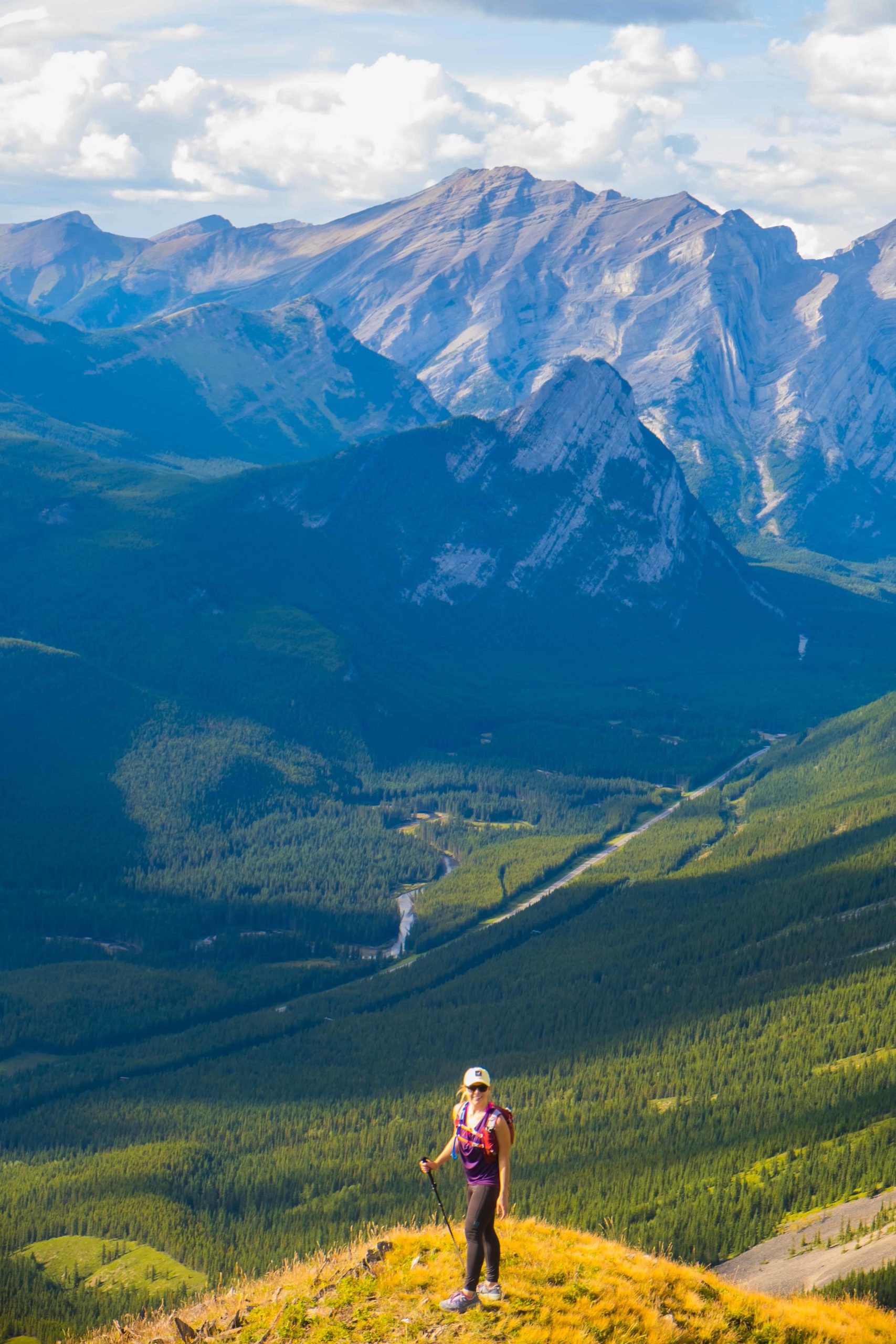 The trail goes through the treeline until you break past it for magnificent views. Here's where the work REALLY begins. The trail is pretty easy to follow, but it's easy to get off it and have a "choose your own adventure" kind of day.
Opal Ridge South Summit is an enjoyable half-day hike that provides a hiking trail and many optional scramble sections should you want to challenge yourself. There's nothing death-defying about this scrambling, and it is great for beginners.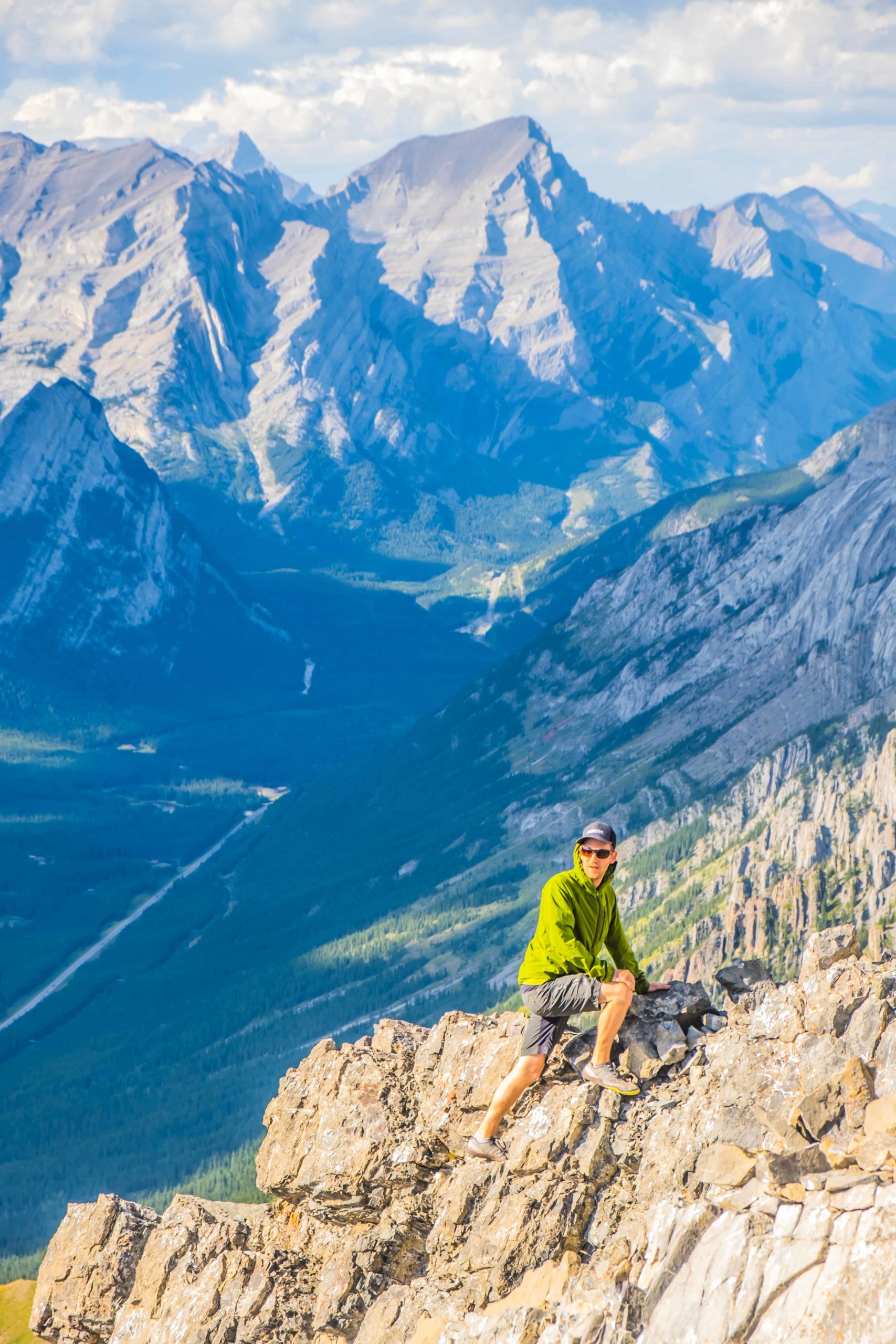 Like Grizzly, it's a steep climb, but the views from the summit are superb. This hike took us four hours round trip, but you can take on all of Opal Ridge for a more challenging day. There's plenty of opportunity for an extended summit.
Once you reach the south summit, you can traverse back to where you reached the ridge and go left to check out the North view just a couple hundred meters up (scrambling involved).
---
Mount Allan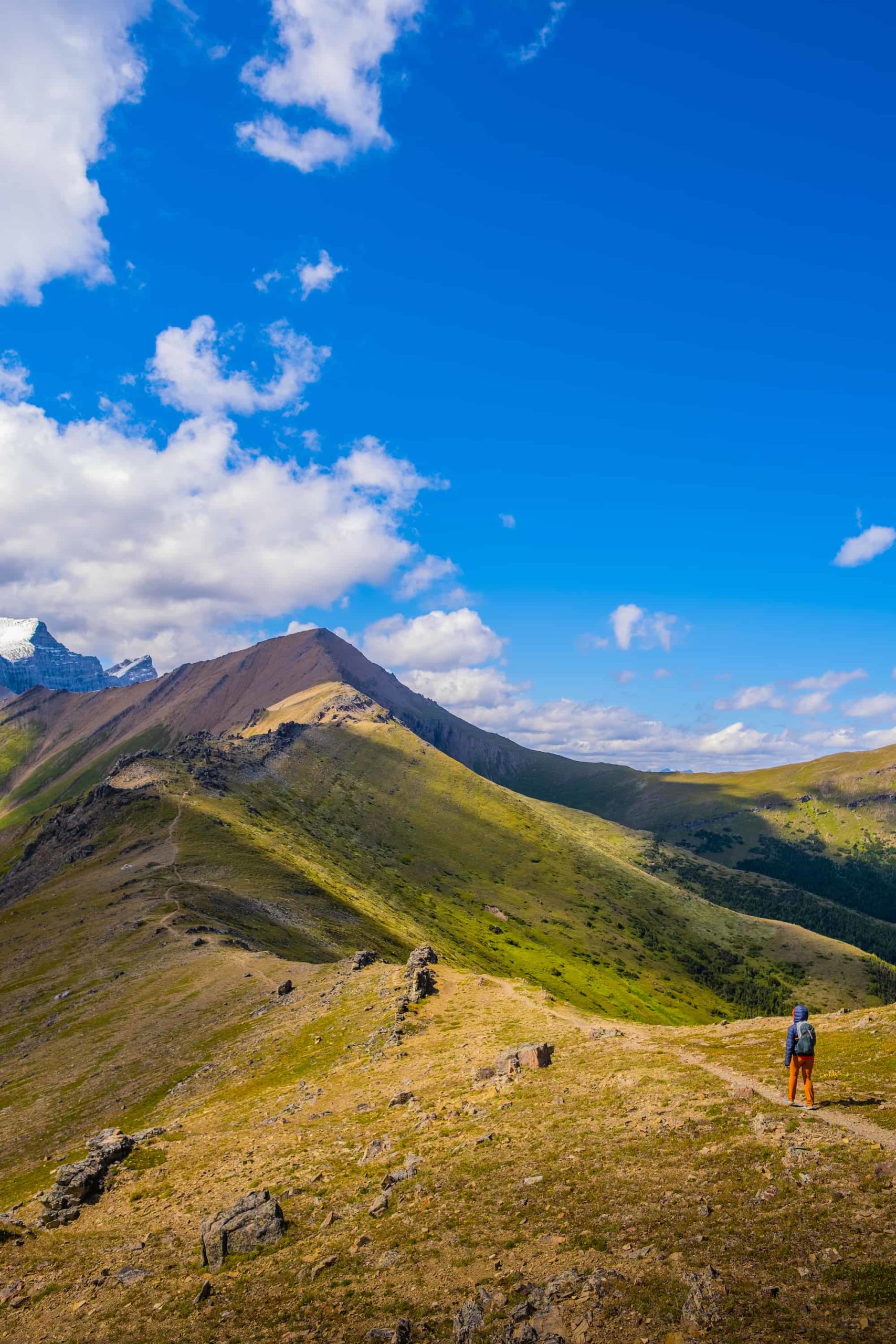 Length: 15.8km
Duration: 6-9 hours
Elevation Gain: 1,485 m
Difficulty: Easy, but long
Scrambling Involved: No
Best Time To Go: June – October
Parking: Centennial Ridge trailhead near Nakiska.
When the weather for a hike we wanted to do in Banff National Park turned out to be poor, and the sun was shining in Kananaskis, we turned around. We quickly decided to summit Mount Allan, a popular hike in Kananaskis, but a long day with significant elevation gain.
With a distance of 15.8 km and an elevation gain of 1,485 meters, Mount Allan is no short hike. It is a great day out with a beautiful summit and no technical scrambling. It's a steady incline for most of the well-worn and marked path, making it an excellent hike.
Mount Allan via Centennial Ridge links Ribbon Creek and Dead Man's Flats. You can do the entire traverse for a super long day and those with two cars. We only had one car and decided to start our journey at Centennial Ridge trailhead, where we had a steady but easy incline up into the valley and would return the same way.
The views start here and never end. From the car park to Centennial Ridge is about 1.5-2 hours. Most people stop when they reach the ridge, but it's worth it to keep pushing and go for the summit of Mount Allan. It's easy until the final push and well worth the views across Kananaskis and Canmore.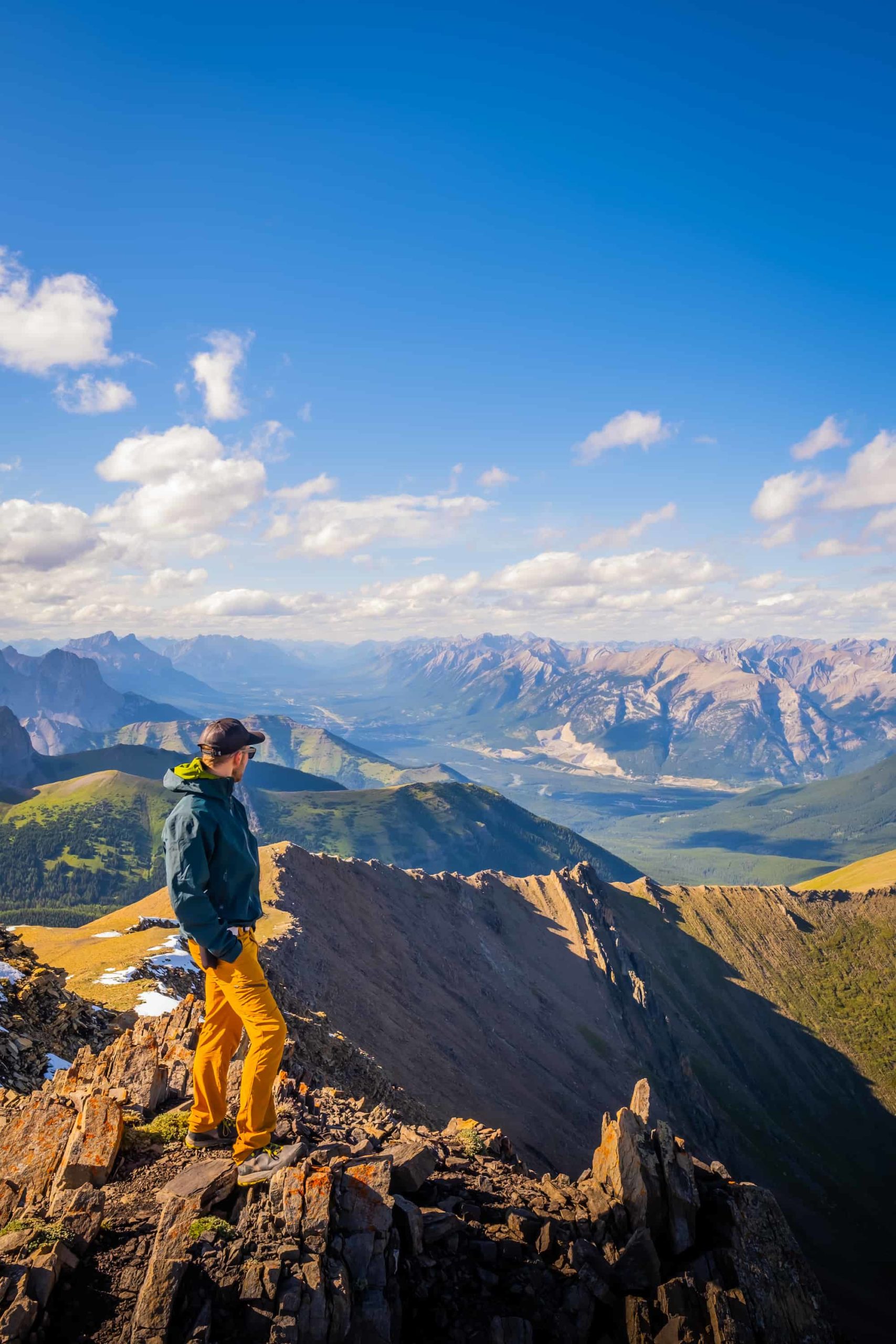 Past the ridge, it's another 1.5 hours to the true summit. Along the way, you'll see huge pinnacles that look unworldly. These features make this hike one for the books alone.
From here, you can keep going on to Dead Man's Flats or turn around for an easy and enjoyable hike down. The summit of Mount Allan sits at 2819 meters, making it the highest maintained trail in the Rockies, and it is very well maintained!
How to Hike Mount Allan Near Nakiska
---
Arethusa Cirque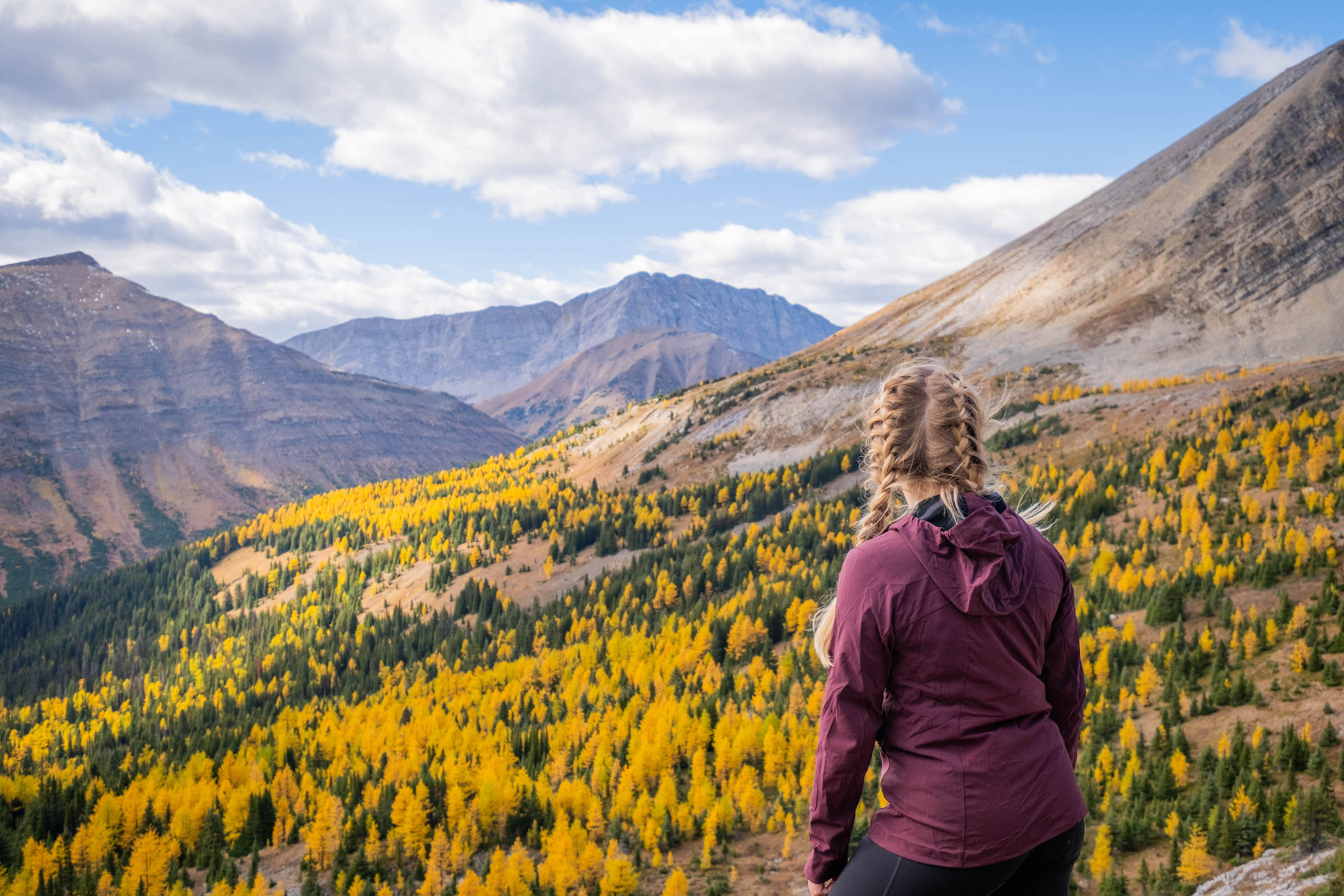 Length: 5 km
Duration: 2-3 hours
Elevation Gain: 350 m
Difficulty: Easy
Scrambling Involved: No
Best Time To Go: Larch Season
Parking: Arethusa Cirque Trailhead off HWY 40
Arethusa Cirque is a well-known family-friendly hike in Kananaskis, and honestly, I wasn't expecting much from this one. We decided to do it with a 4-week old newborn since it looked simple for a new momma.
Boy, was I wrong about my perceptions of this beautiful Alberta larch hike. This was a simple hike with out-of-this-world views of the Kananaskis mountains in all directions. It's exceptional in late September when the larches turn golden.
I would suggest taking this loop trail clockwise. One very steep and loose section is better to ascend than descend – especially with children or older hikers.
---
Wasootch Ridge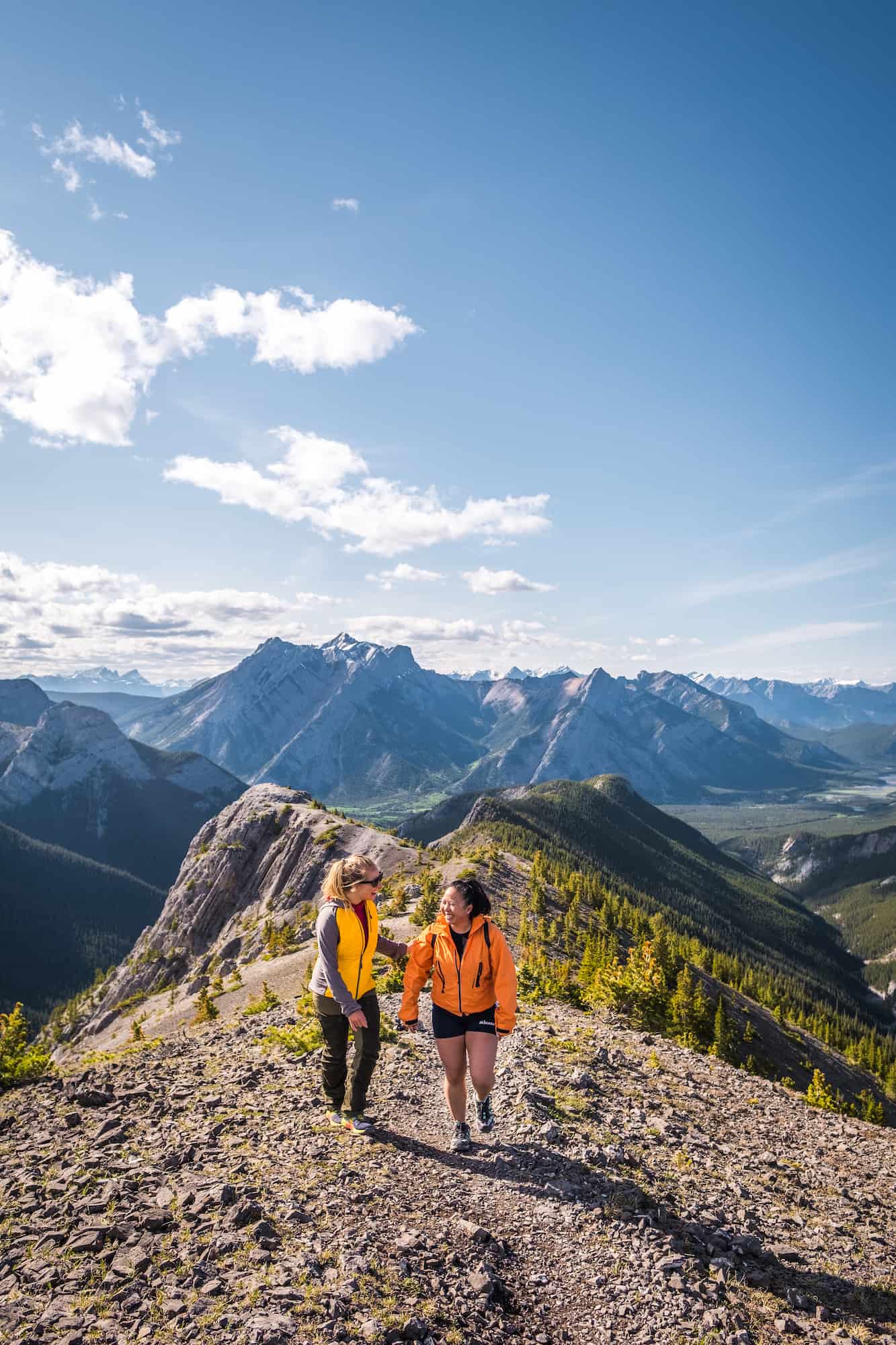 Length: 15.4km
Duration: 5-10 hours. Depends on where you want to stop.
Elevation Gain: 1,451m
Difficulty: Moderate. Hard if you choose the scramble.
Scrambling Involved: Scramble optional
Best Time To Go: May – October
Parking: Parking area for Wasootch Creek Trail and Porcupine Trail.
Wasootch Ridge is a favorite hike near Canmore in Kananaskis Country. The trail is straightforward to follow and gains quick elevation, then travels along a ridge that delivers spectacular views for hours. The roadway slowly evaporates from view on the ridge before a challenging scramble to the true peak.
The scramble can be avoided, and the trail is wide enough for the first 5km with no exposure. The result is an easy dog/kid-friendly Kananaskis hike that doesn't need to be completed to enjoy, as the views are great early on the trail.
Wasootch Ridge starts hard at the beginning with a leg-burning climb right out of the parking lot. The parking lot is a little confusing as there are several trails through the woods leading up the ridge and a path along the creek. Head up through the woods near the beginning of the parking area in a southeast direction. The trail through the woods is not technical, with plenty of traction on dirt.
Once you come out of the forest, which takes twenty to thirty minutes, you'll be treated to some fantastic views of Barrier Lake to the North and Nakiska to the South.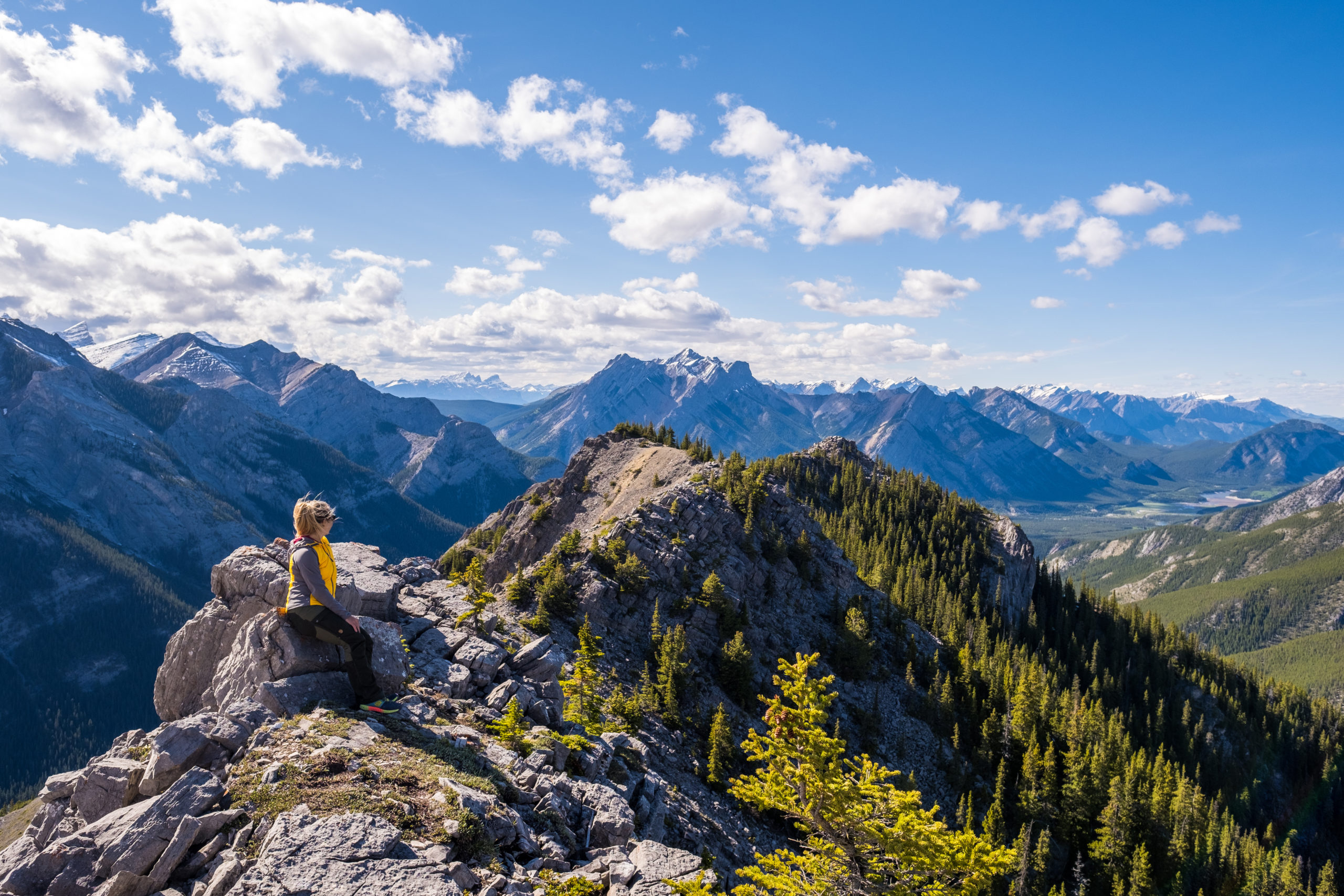 The hike continues along the ridge for several kilometers, where you'll climb up and down a series of five peaks. Towards the final and tallest peak, the ridge turns into a scramble. The scramble is complex, with several moves that are high exposure.
Its first technical move may be the most exposed, with a rock less than a meter wide and a tall rock wall on either side. This section of the trail should only be attempted by advanced hikers/scramblers or people of solid fitness. Most hikers either turn around before this point or at the beginning of the scramble.
In hindsight, I've researched that it is possible to avoid the scramble by descending the ridge and traversing before ascending to the peak again. From here, it's only the halfway point as you turn around and make your way back to the parking lot along the same trail. It is possible to descend the backside of the peak for a circuit, but the descent involves bushwacking and loose scree. Past reviews discourage this route as it's dangerous and painful, ending with a long walk out of Wasootch Creek.
The trail is 15.4 km and has an elevation gain of 850 meters. You should expect a long hike if you finish at the peak. We spent around seven hours on the tail and took time for photos and lunch without rushing to finish. It's a stunning hike and the perfect place to unwind in nature.
How to Hike Wasootch Ridge
---
Porcupine Ridge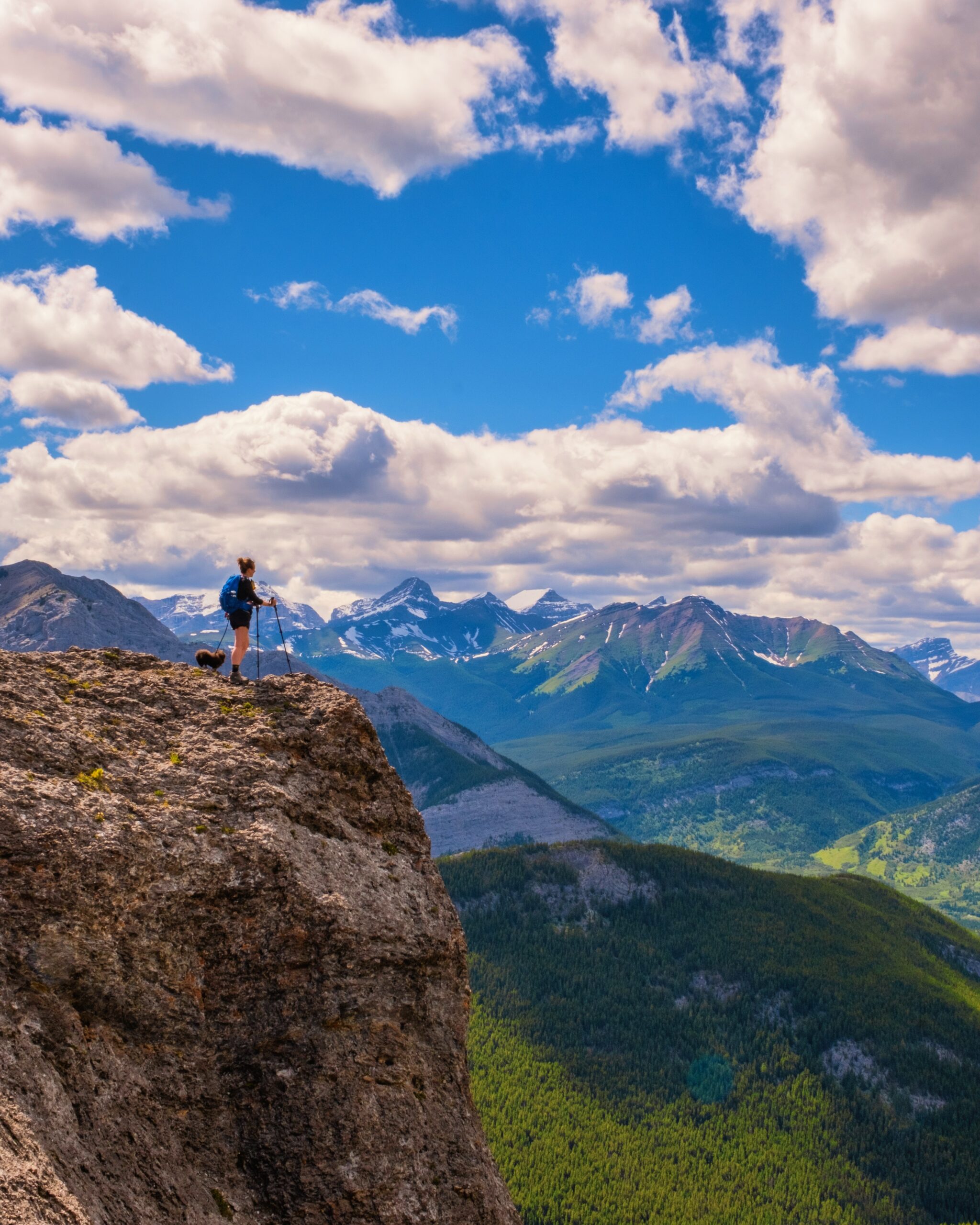 Length: 9 km
Duration: 2-4 hours. Depends on where you want to stop.
Elevation Gain: 764m
Difficulty: Easy to Moderate
Scrambling Involved: Scramble optional
Best Time To Go: May – October
Parking: There's a parking area near the road at Porcupine Creek
Literally right across the valley from Wasootch Ridge is Porcupine Ridge. It's a very similar Kananaskis hike to Wasootch Ridge. It starts off steep initially, and as you get on the ridge, you walk the ridge most of the way until the summit, with stunning views the entire time.
The main difference here is the beginning. Instead of starting straight off like Wasootch, you must navigate your way along Porcupine Creek, crossing a few times before you begin to ascend towards the ridge. After about 1km in the creek bed, you'll see a trail in the treeline.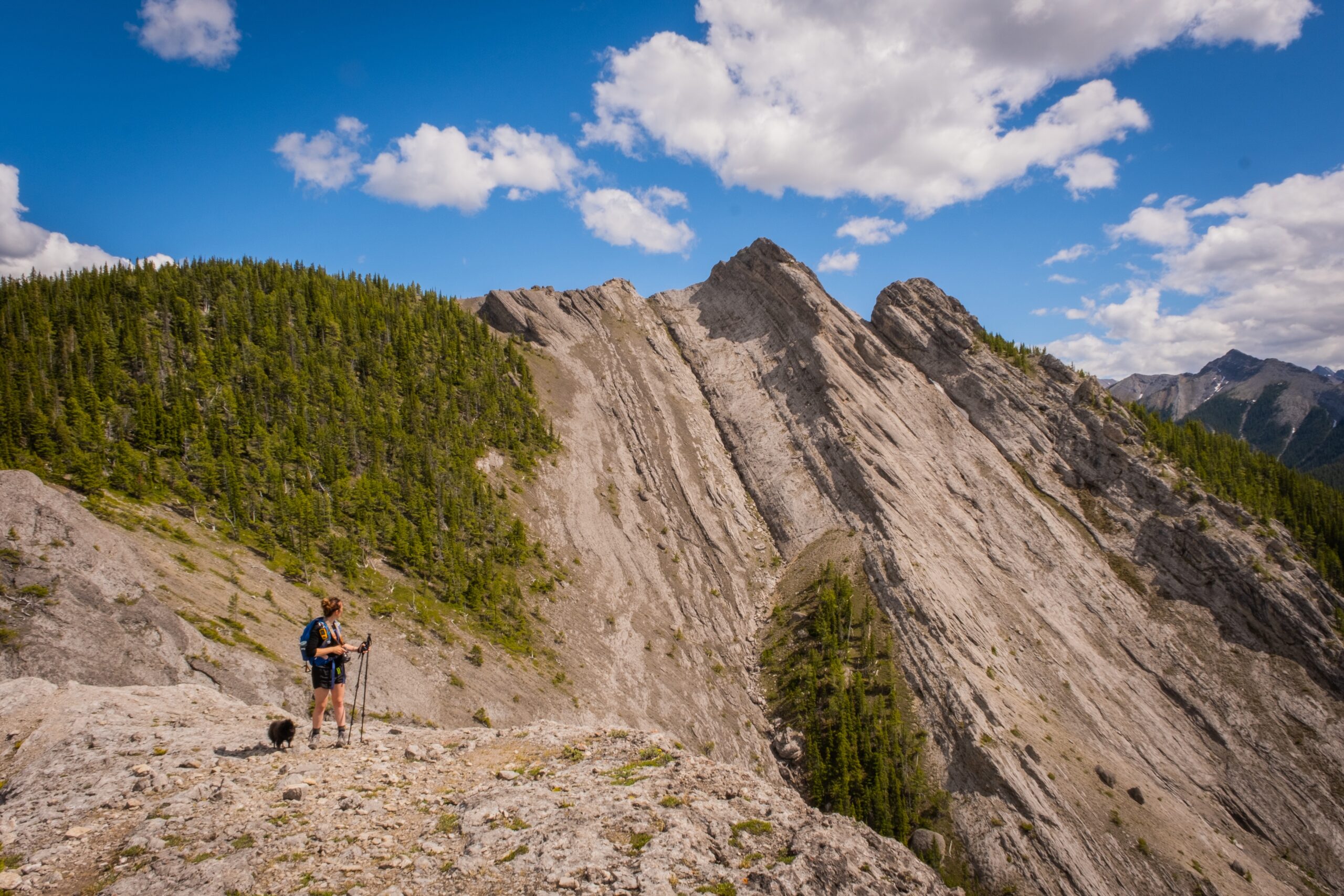 The ascent is pretty easy to the ridge. Once to the ridge, you can stop and enjoy the views. We saw many parties doing this. However, I highly recommend continuing to the true summit (we didn't see many others doing this). The views get better and better, and the crowds clear out.
If you choose to push on, there is a short, easy scramble section to navigate before getting to the end, marked by a cairn.
---
Carnarvon Lake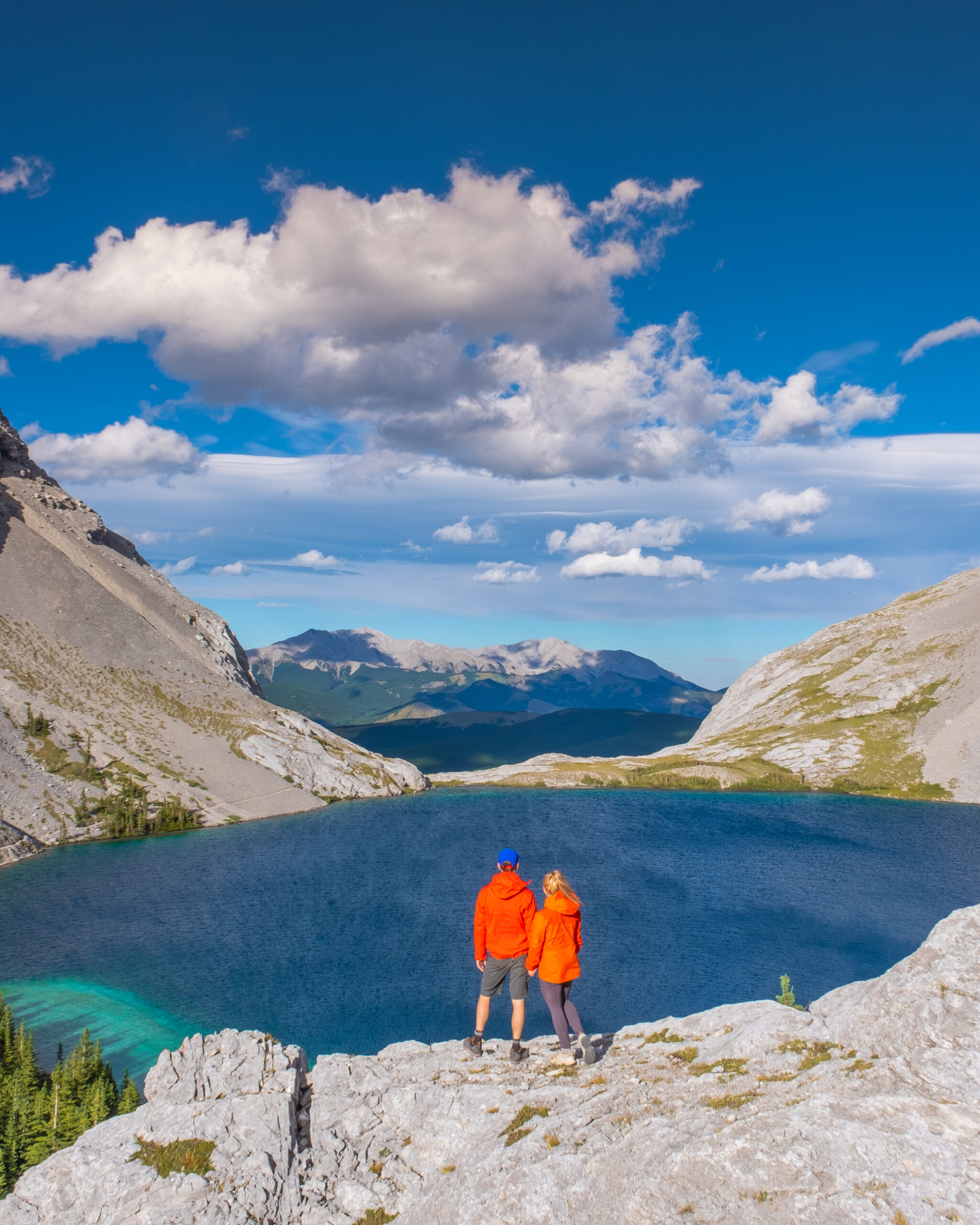 Length: 20.4km
Duration: 4 – 9 hours
Elevation Gain: 857 meters
Difficulty: Moderate because of length and creek crossing and chain section.
Scrambling Involved? Easy scrambling with chain assistance.
Best Time To Go: July – September
Parking: Cat Creek Day Use Parking
Carnarvon Lake has been making the rounds on social media as one of the best hikes in Kananaskis. It's technically outside of Kananaskis on Crown Land at the foothills, meaning you can wild camp here if you want.
I had avoided Carnarvon Lake our first year living in the Rockies because I knew there was a creek crossing and chain section, but after hiking around the Rockies a lot, I finally decided I could go for it. I realized that there is nothing scary about either of these sections, and they actually make the hike more exciting, which is necessary because it's honestly a pretty boring hike.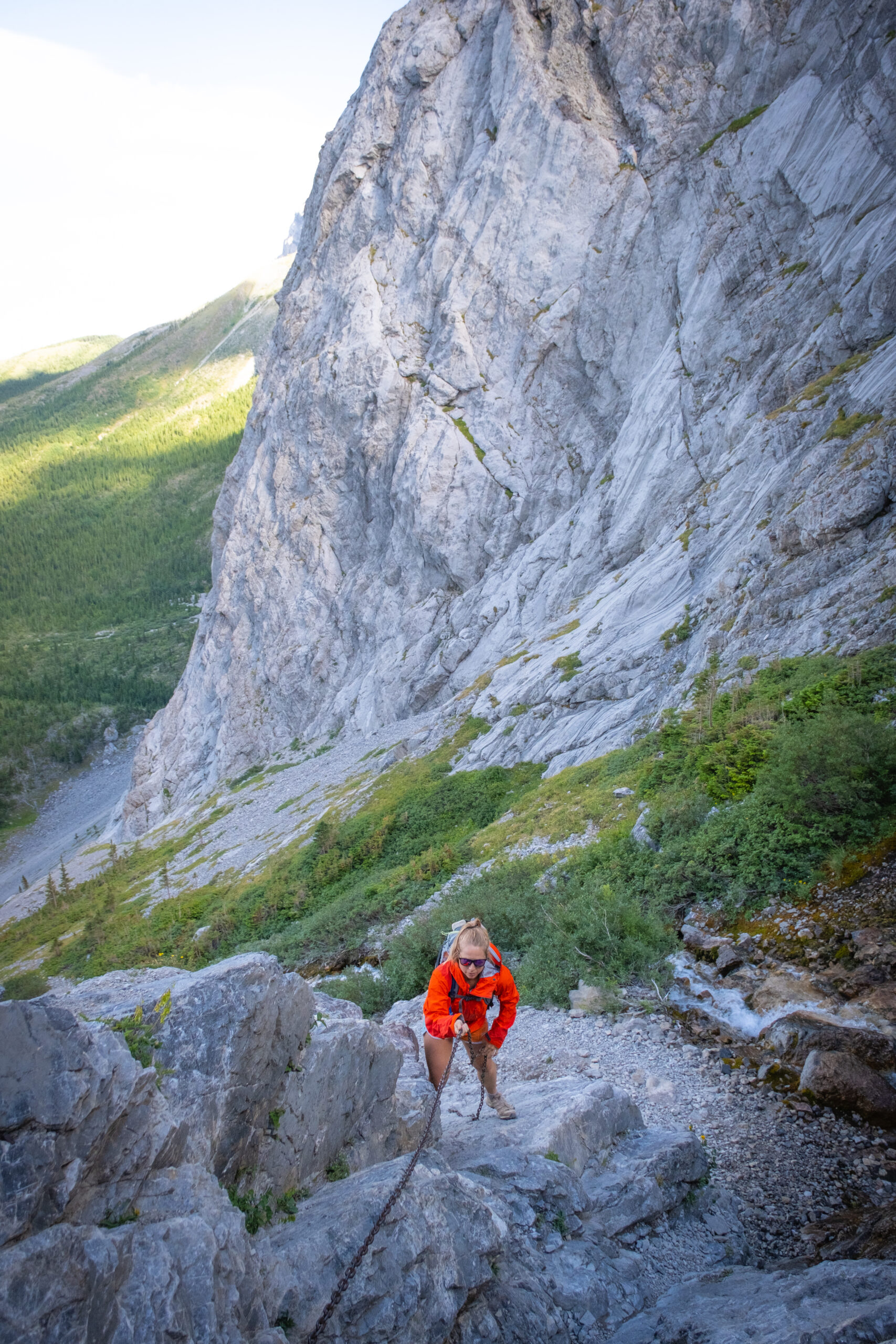 To reach Carnarvon Lake, it's gonna take you 10km of hiking and over 800 meters of elevation gain. There are few views, and it's exceptionally dull until about the 8km section. We knew this going in, so we decided to take out mountain bikes till we could no further.
We stashed them in the trees around the 8km mark and only hiked 2km. Which made for a quick day and a much more thrilling time back to the trailhead. I highly recommend this option if you have a mountain bike and feel comfortable crossing a river with it (Tevas helped).
Around 8km, the hiking opens up to beautiful views and is a pretty steady climb on a scree trail. Follow the path until you reach the waterfall. This is where your scrambling begins; thankfully, there are chains to assist you, though if you are a confident scrambler, they aren't 100% needed but were surely appreciated.
After a few significant steps over large rocks, you'll notice a chain to the right of the waterfall, and it's a beautiful and thrilling time. I found the chain section to be easy, but if you are a new scrambler or scared of heights, this may be difficult for you,
Once you are past the chains, you only have 50 meters or so until you lay your eyes on Carnarvon Lake for the first time. Once you reach it, try your best to stay calm as the views are even better when you reach the end of the lake. Continue along the shoreline for 400 meters until you reach the bright blue Caribbean water. Here, you can find a camping spot if you plan to camp. Walk past the campers and up the trail about 50 more meters for amazing views.
How to Hike to Carnarvon Lake
---
Piper Pass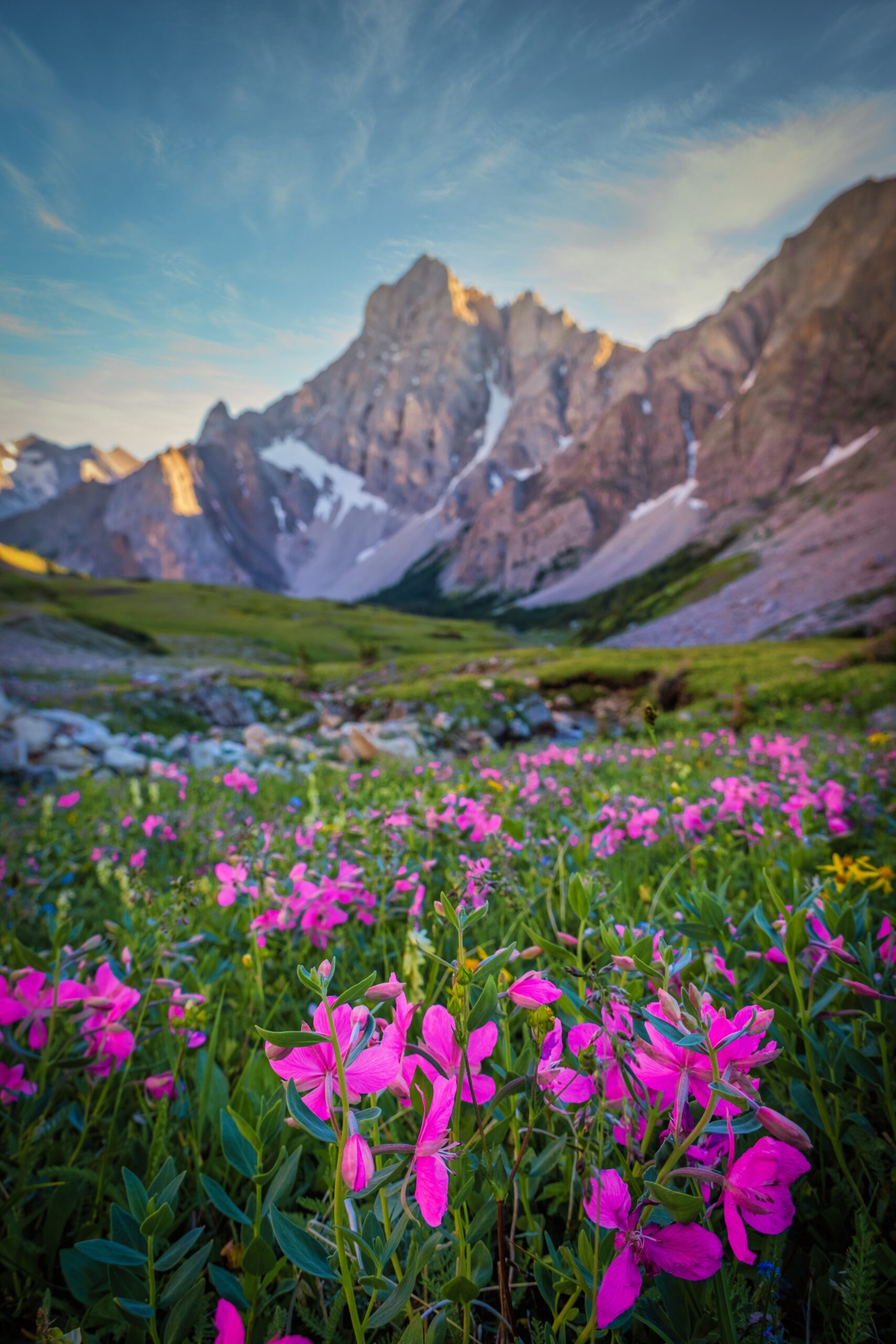 Length: 20.4km
Duration: 4 – 7 hours
Elevation Gain: 994 meters
Difficulty: Moderate because of length
Scrambling Involved? No
Best Time To Go: July – September
Parking: Elbow Lake Trailhead
We were looking for a hike over 15 km with not a ton of elevation gain and landed on Piper Pass. I hadn't heard much about this Kananaskis trail; honestly, I had barely even seen any photos from it. But wow, Piper Pass really blew me away.
At 20km, it's a long day, great for trail runners in the summer. Once you pass the crowds at Elbow Lake (a more leisurely Kananaskis hike), it is unlikely you'll see many more people. We never saw anyone else on the trail on a beautiful summer day in July.
To begin this Kananaskis hike, you'll start at the Elbow Lake trail. The trail up to Elbow Lake is popular as it's family-friendly and a nice place to get introduced to camping. Continue on for about 5 km until you see a small trail heading into the woods on your left. This is easy to miss, so download the Alltrails map and pay attention.
There's an overgrown trail here, where you must cross a few creeks. It will probably have you wondering if you're on the right track. You are. Continue on until you find yourself on a narrow trail in the forest, there are a few pieces of orange tape to guide you, but they can be easy to miss.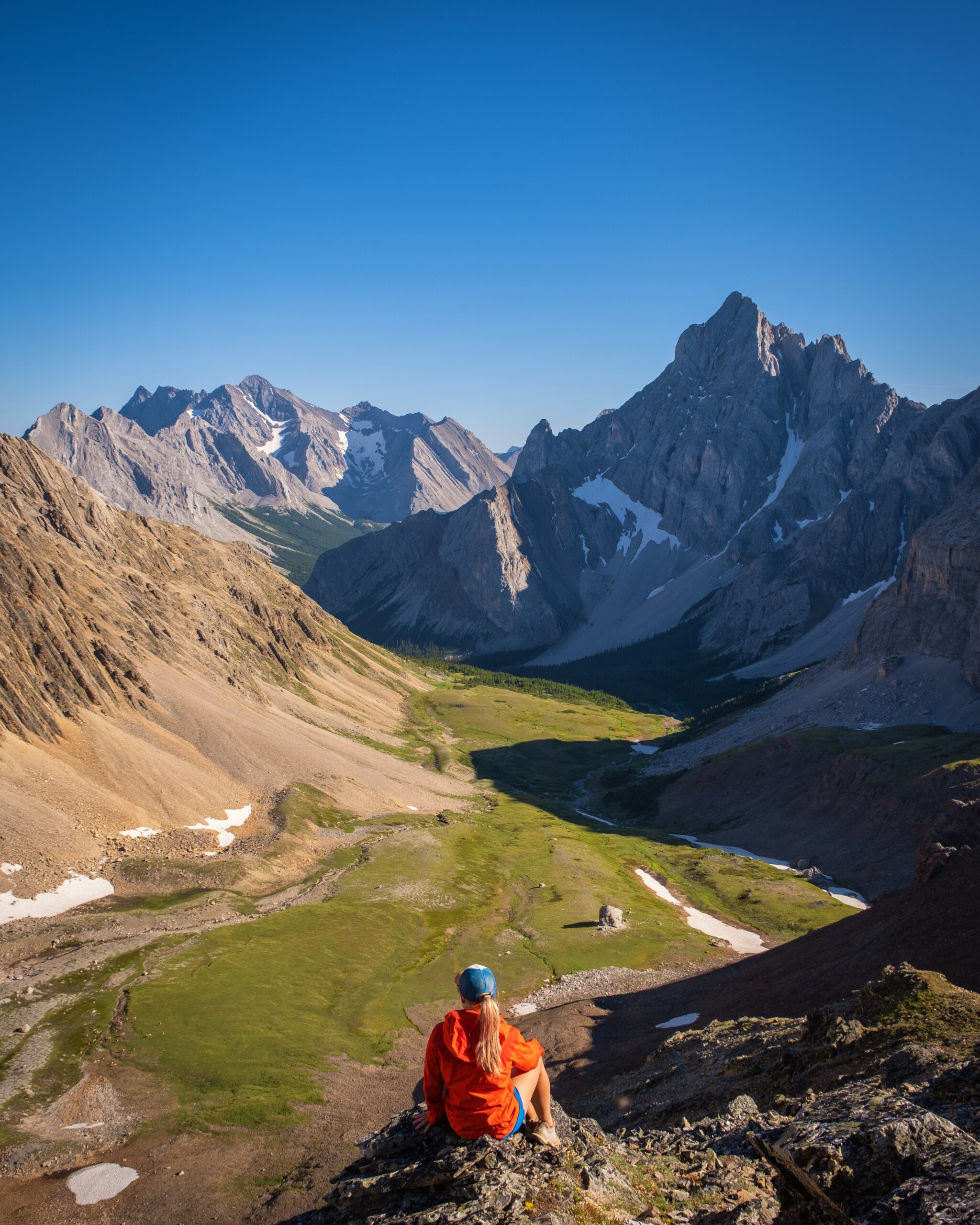 You'll eventually get spit out into a big beautiful valley next to Mount Elpoca on your left and Tombstone Mountain and Mount Schlee right in front of you. Continue through the valley, gaining a bit of elevation over a long distance.
At around 9.5 km, you'll see where all your elevation gain is. Because up until now, it's been pretty simple and effortless (besides the distance). Continue up a scree slop gaining 300 meters relatively quickly. However, you will have spectacular views over the valley you just crossed through once you're at the top. Seriously, it looks like you're in Switzerland here!
Piper Pass is best hiked during July and August when the wildflowers are fully bloom!
---
Pocaterra Ridge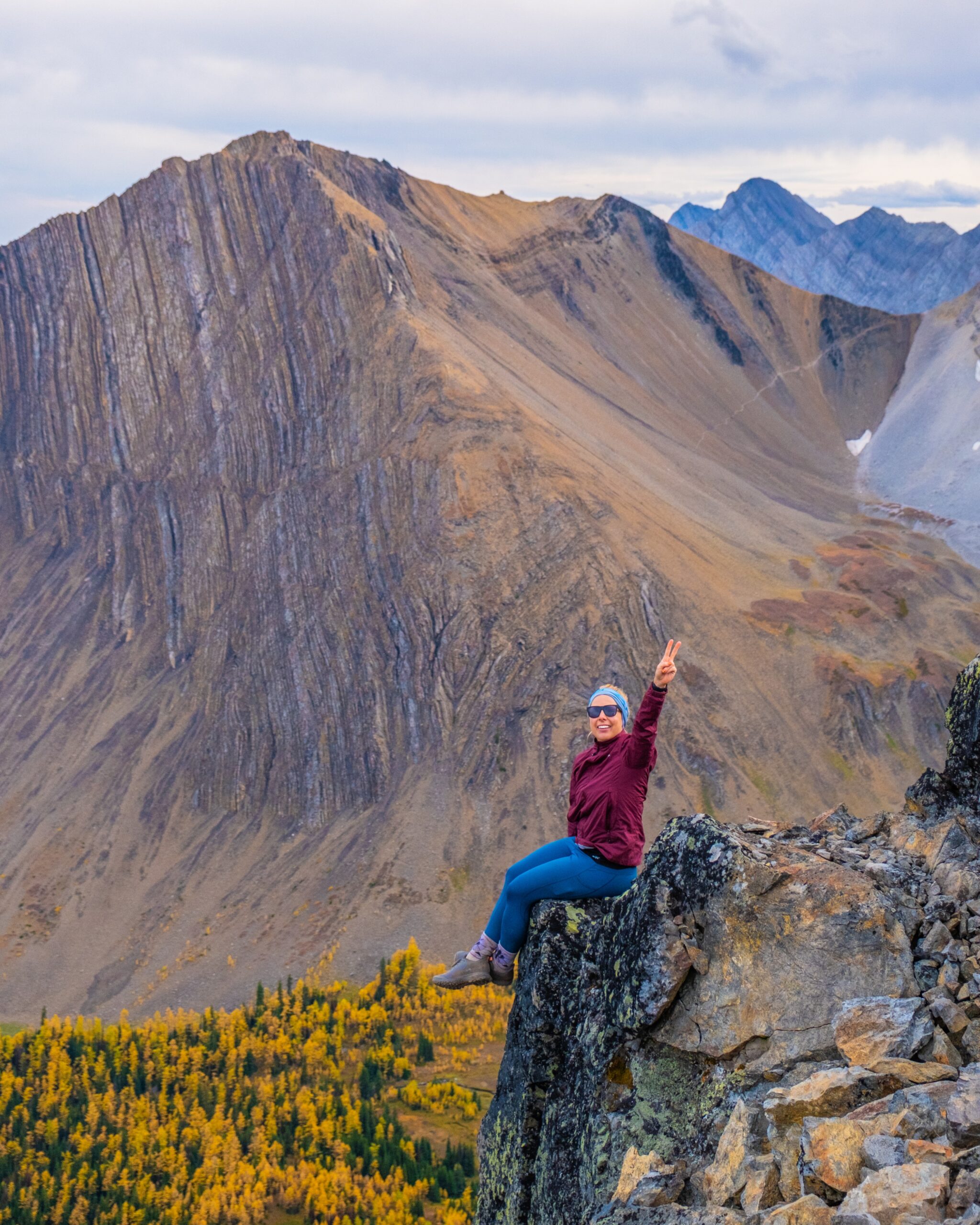 Distance: 11.4km
Duration: 4 to 7 hours
Elevation Gain: 764 meters if doing point to point
Difficulty: Moderate.
Scrambling Involved: Scramble optional
Best Time To Go: Larch Season
Trailhead: Near the Highwood Meadows Trail
Pocaterra Ridge is one of the most popular Kananaskis hikes on this list. Mainly because it's one of the best larch hikes in all of the Canadian Rockies. This area has so many larch trees it's hard to believe.
Located near Highwood Pass in Kananaskis, Pocaterra Ridge is home to tons of larches. When the needles start to turn yellow, this is one of the first places you should head. Although if you can try and avoid weekends – it's a busy one!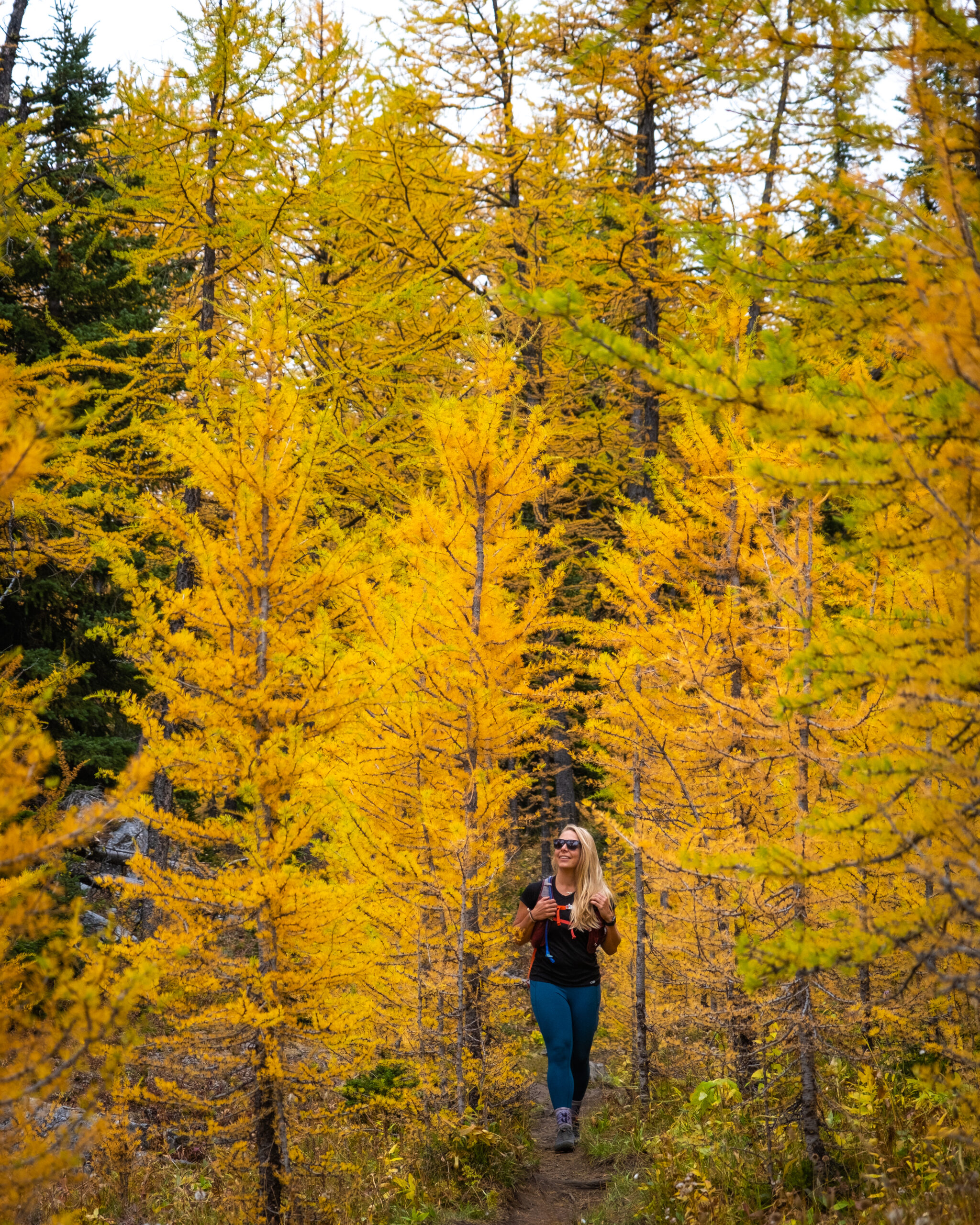 Pocaterra Ridge is typically done as a point-to-point hike, so I would definitely try to do it this way if you have two cars. If you only have one car, you can still do it as an out and back hike called South Pocaterra Ridge and get amazing views, especially during larch season.
The turnaround for it would be at the summit of Pocaterra Ridge. The out and back would put your day at 9.3 km and 745 meters of gain.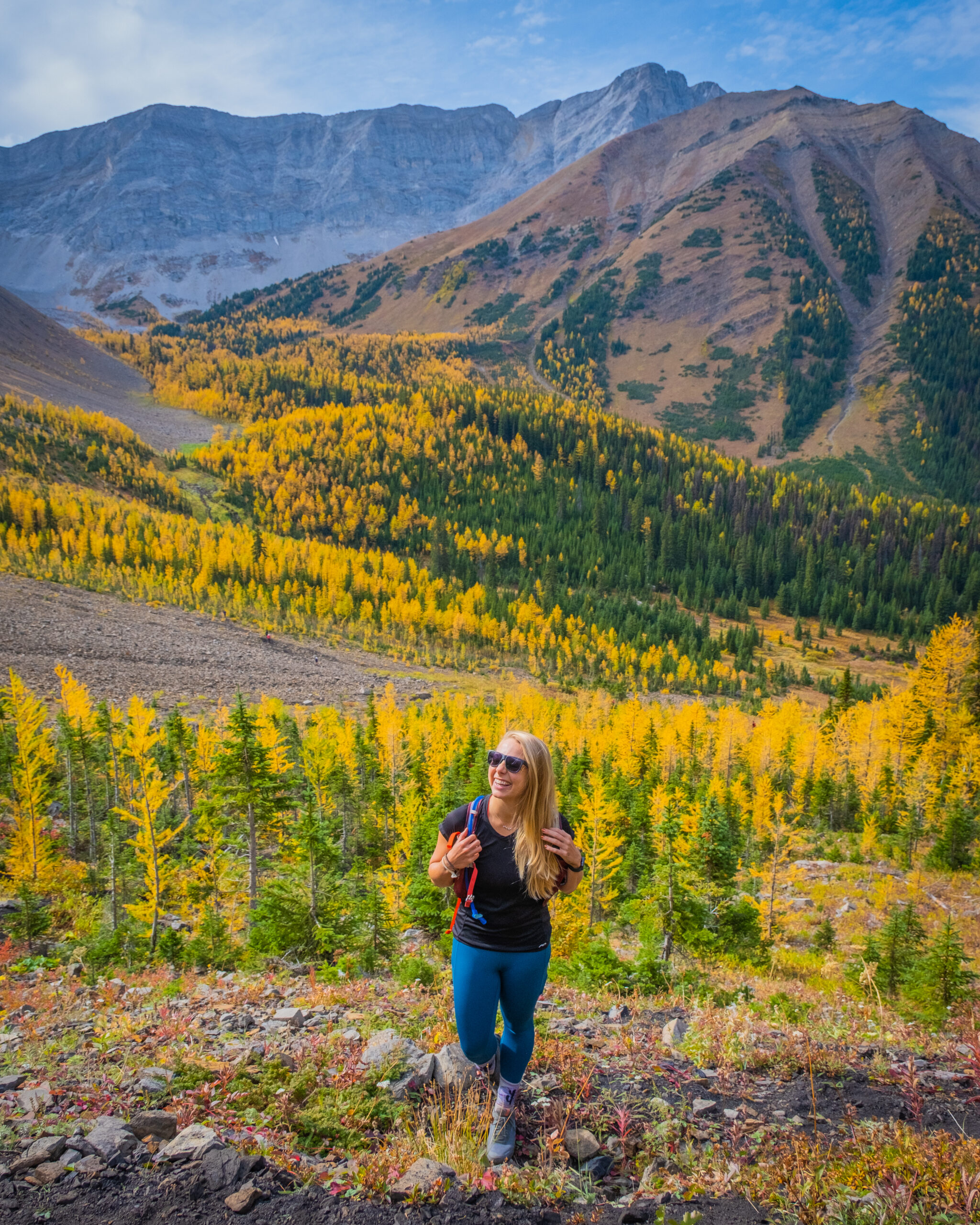 You follow the trail network until you reach the open valley to do this. Make sure to stay on the trail though. Scores of people going off-trail have caused this trail to become extremely braided and confusing to navigate.
Once it opens up, you can continue along Pocaterra Cirque, which only takes you 430 m up and is easier than trying to summit the ridgeline. Once you reach the ridge's summit, which is about 600 meters up, you can either keep walking the ridge with some easy scrambling or head back down!
How to Hike Pocaterra Ridge (Larch Season!)
---
Rimwall Summit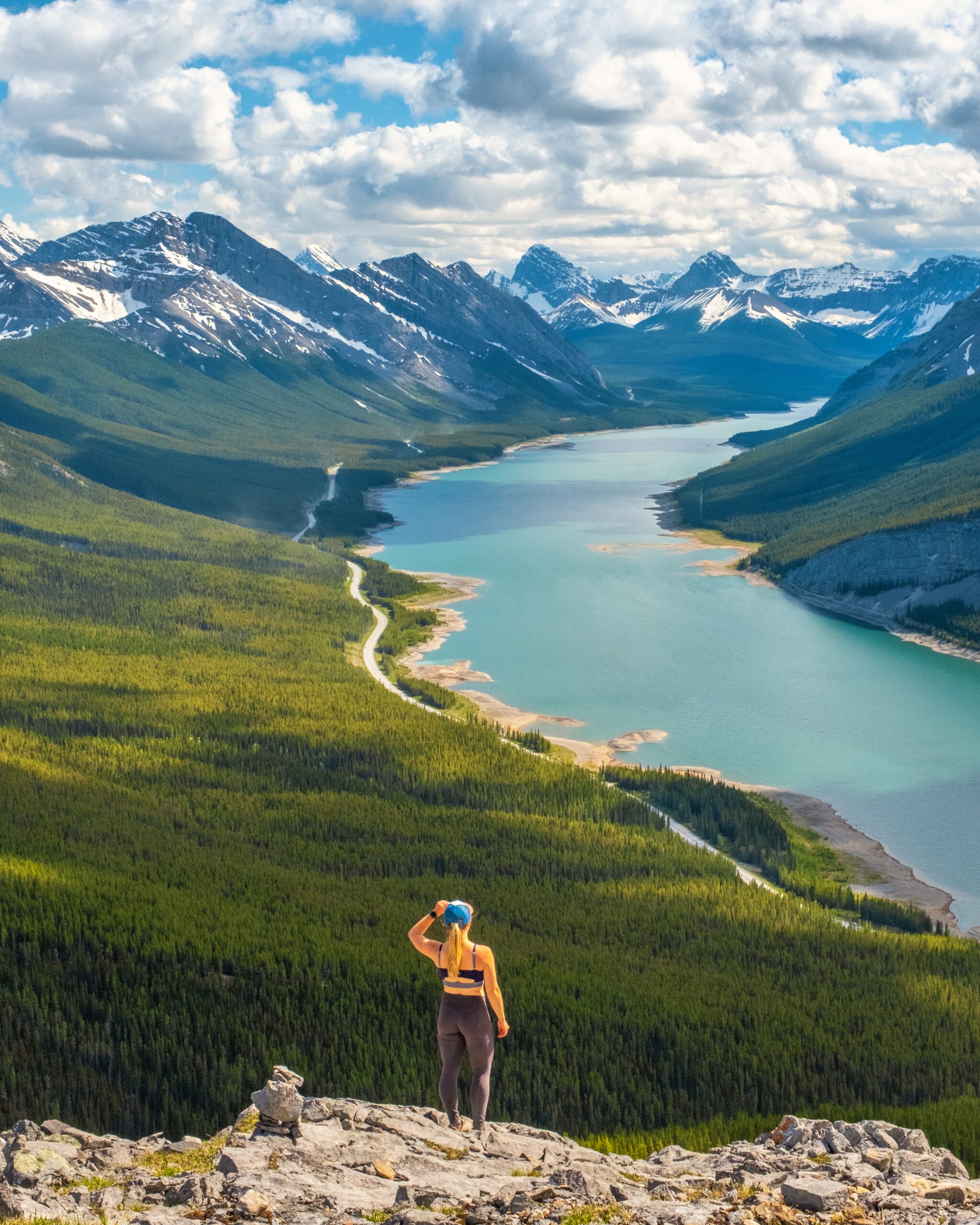 Distance: 6.3 km
Duration: 3 to 6 hours
Elevation Gain: 891
Difficulty: Hard. Very Steep
Scrambling Involved: Easy Scrambling
Best Time To Go: June – October
Trailhead: Trailhead for West Wind Pass
Rimwall Summit is similar to Windtower, and Reads Tower mentioned higher on this list. You get similar views over the Spray Lakes. I didn't like Rimwall as much as I enjoyed Windtower, mainly because it felt like much more of a grind up neverending scree.
Nevertheless, it's a great hike in Kananaskis that provides breathtaking views. Some easy scrambling is involved, and it definitely requires some navigation skills around West Wind Pass.
It can be easy to get turned around when heading up Rimwall. It's best to download a map to your GPS and study reviews, but take a left well before West Wind Pass.
If you get cliffed out, you've made a mistake. You will know you are on the right trail when there is a huge scree slope in front of you that feels neverending. It's steep and unforgiving. I would bring a helmet and gloves, especially on the weekend – this one can get busy.
Once you climb up most of the scree, you'll think you have made it to the top, but you haven't. You need to continue along the ridge and hike to your left to the top of Rimwall. Don't get too close to the edge – it's a straight cliff. As you near the summit, around 2.8 km, some light scrambling will be involved over cliffs. Don't try and work your way around it; just take it slow and ask for help from a partner if you need some foot placements.
Once you reach the summit, you'll have stellar views over the Spray Lakes and the back of the Three Sisters.
---
Yates Mountain (Prairie View Trail and Jewell Pass)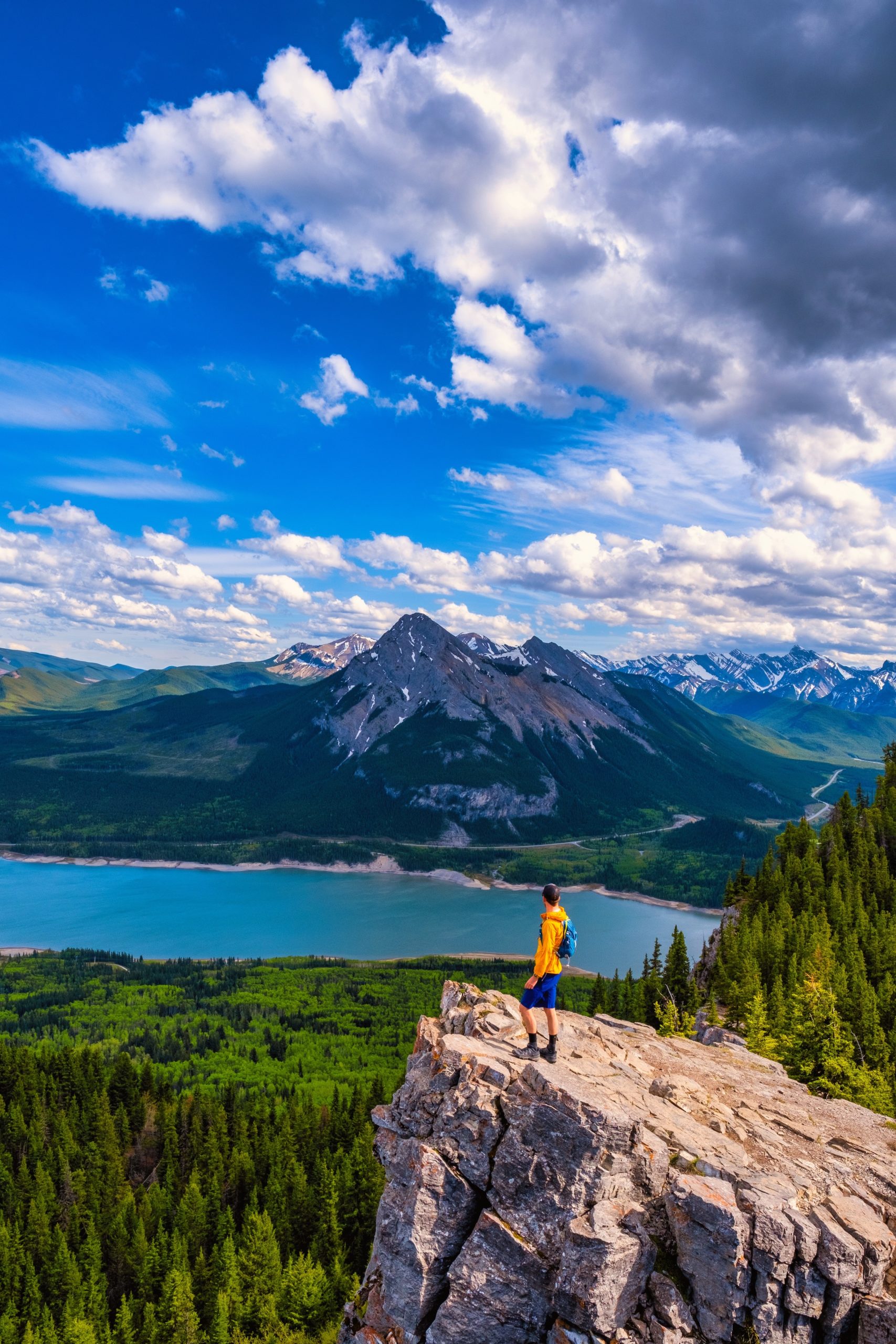 Length: 13.8 km for Full Loop, Can be shortened
Duration: 2-4 hours
Elevation Gain: 756 m (+130 more to summit Yates Mountain)
Difficulty: Easy – Moderate
Best Time To Go: Good Year Round. Best from late April-late October
Parking: Barrier Lake
Crowds: The ease of this hike, and that it's a great earlier seasoner keeps it pretty busy
Barrier Lake is one of the most popular spots to head in the entire park as it's a beautiful lake in Alberta and one of the best hikes near Calgary. Besides being beautiful and one of the most accessible Kananaskis trails on this list, you can reach it in less than an hour from Calgary, as it's located right after the entrance to Kananaskis.
Visitors can choose to either enjoy the lakeshore, or go for a moderate hike to the Prairie View lookout point, head up Jewell Pass via the Prairie View trail, or continue up to Yates Mountain and check out the Barrier Lake Fire Lookout. There are a lot of options here!
Hiking up Prairie View Trail is one of the most visually rewarding Kananaskis hikes relative to my effort. It's a smooth well-maintained trail the entire way, with stunning views over Barrier Lake. At just under an hour up, it can quickly be done at sunrise or sunset. It's also good to go all year round – even in the winter.
After parking near Barrier Lake, follow the AllTrails Map past the sign for Barrier Lake. As you continue along the closed road, Barrier Lake will be on your left. After .8 km, you'll head into the trees, and at about 1.3 km, you'll start gaining gradual elevation. The trail up to the lookout point is pretty boring.
There are no sites and viewpoints, but it's fast and easy, so it goes by quickly. At about 4 km, you'll find yourself in the clearing and start getting views. Take some photos and keep moving – you're almost to the viewpoint, which is about at 5.4 km. The trail will break left or right, with a sign saying it is not maintained any further if you take a right.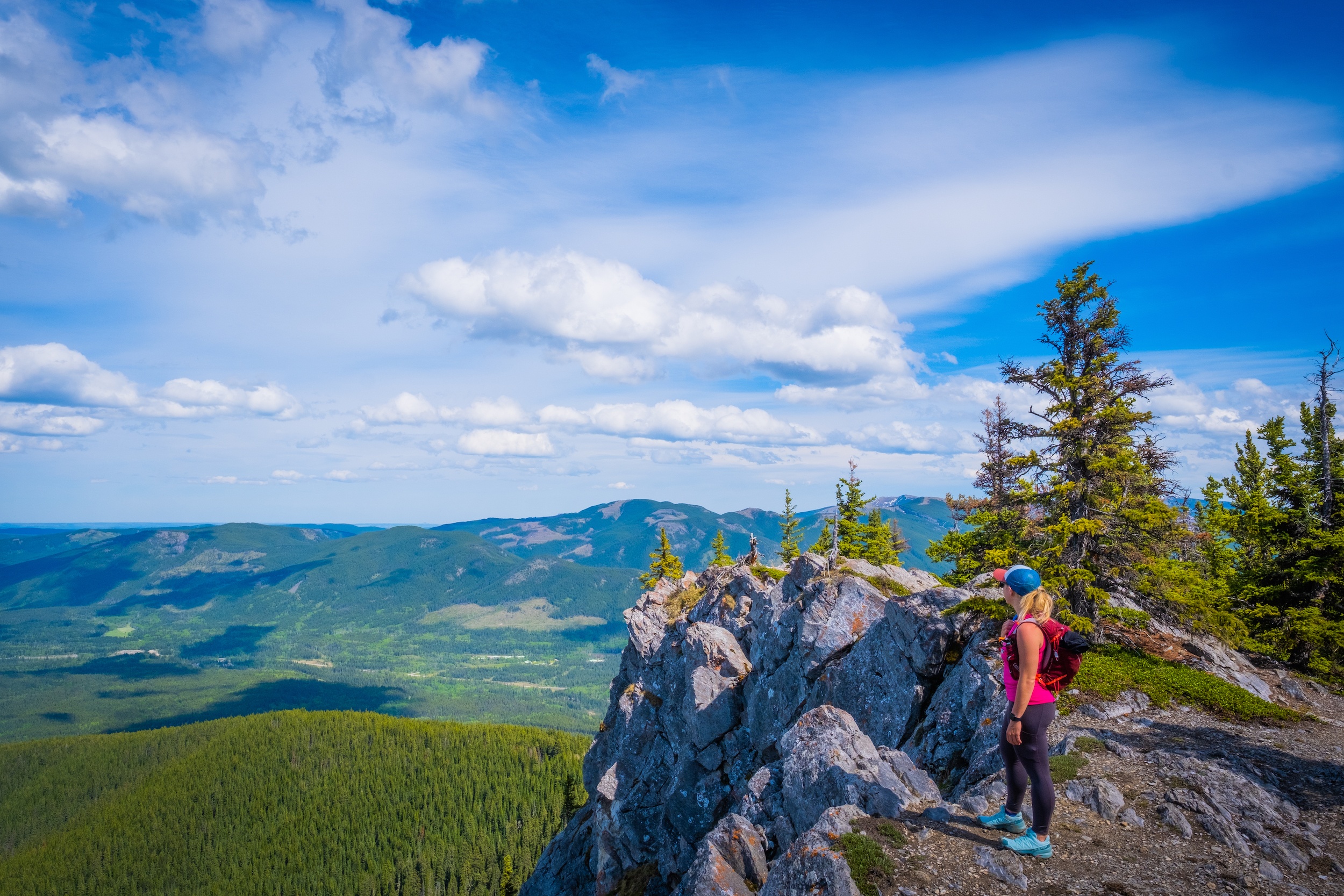 Take a left for the viewpoint; you'll find a large slab, likely with some other hikers on it. Enjoy for a bit – the view is terrific, and you didn't have to work too hard to get it! If you want to actually summit a mountain today (and you should!), backtrack to the trail divide and go past the sign that says it's not maintained.
The trail technically isn't maintained – but don't worry, it's still easy, just slightly steeper and rockier to the summit of Yates Mountain and the Barrier Lake Fire Lookout. You have about 10-15 more minutes until you hit the peak.
How to Hike to Barrier Lake (+ Yates Mountain)
---
Sarrail Ridge via Rawson Lake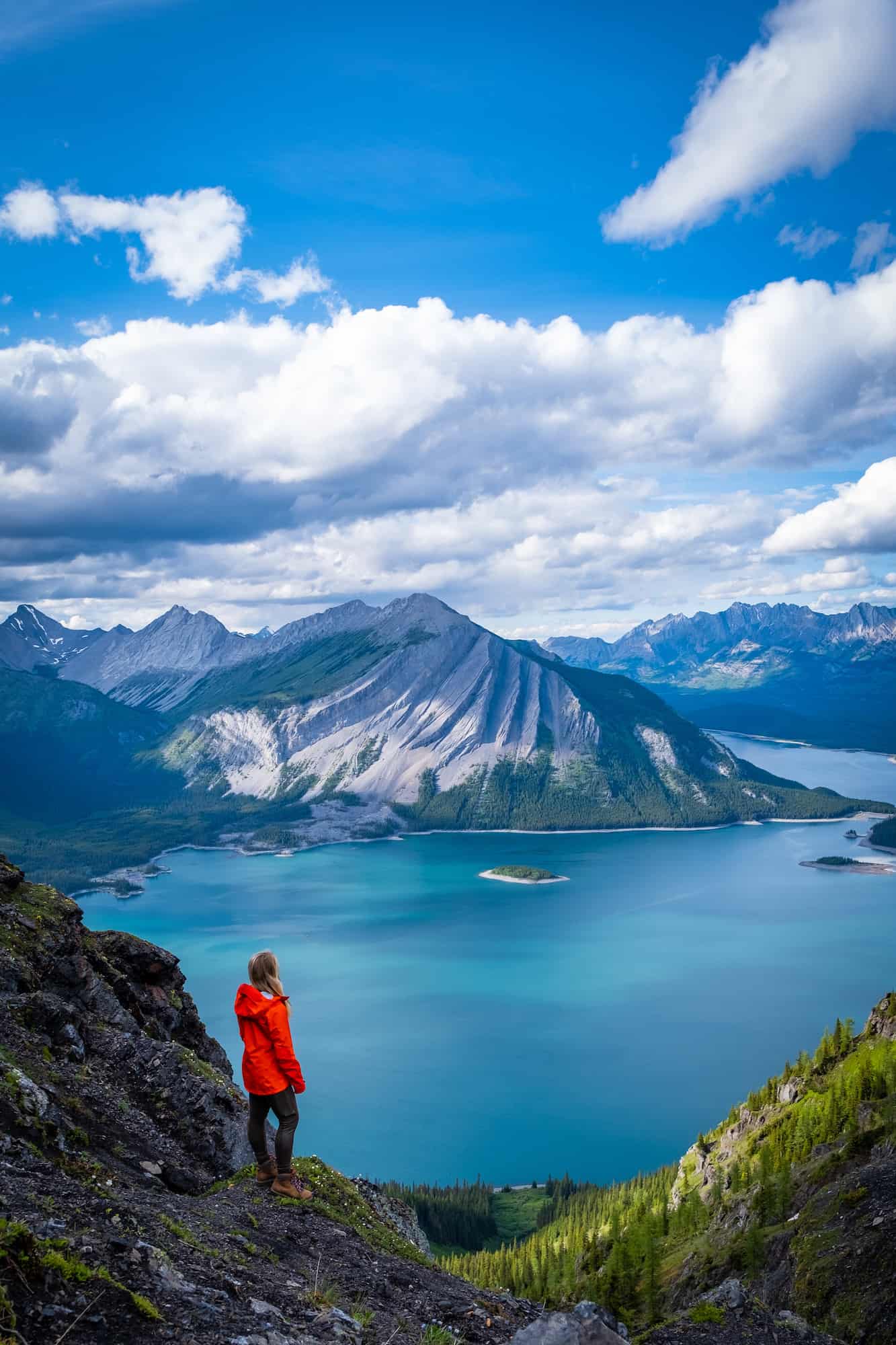 Length: 11.3km
Duration: 3.5-6 hours to Sarrail Ridge and 2 hours to Rawson Lake
Elevation Gain: 1,066m
Difficulty: Moderate
Scrambling Involved: No
Best Time To Go: Mid June – October
Parking: Upper Kananaskis Day Use Parking lot
Note: This trail is frequently closed due to bear activity. Make sure to check with Alberta Parks before driving out here.
Rawson Lake is a beautiful Alberta lake suitable for a wide range of abilities, and when combined with Sarrail Ridge, it makes for a quick classic hike in the Canadian Rockies. The views, in particular from Sarrail Ridge, are stunning, but you'll have to put in plenty of work.
The hike starts at the Upper Kananaskis Day Use Parking lot and is one of those perfect Kananaskis day hikes you'll remember forever. From there, you walk through a wooded trail along the lake, catching glimpses of the stunning water and nearby Mount Indefatigable.
For the first major site, come soon as you cross a bridge over one of the better waterfalls in the region. You depart from the loop around Upper Kananaskis Lake not long after the waterfall and head for Rawson lake.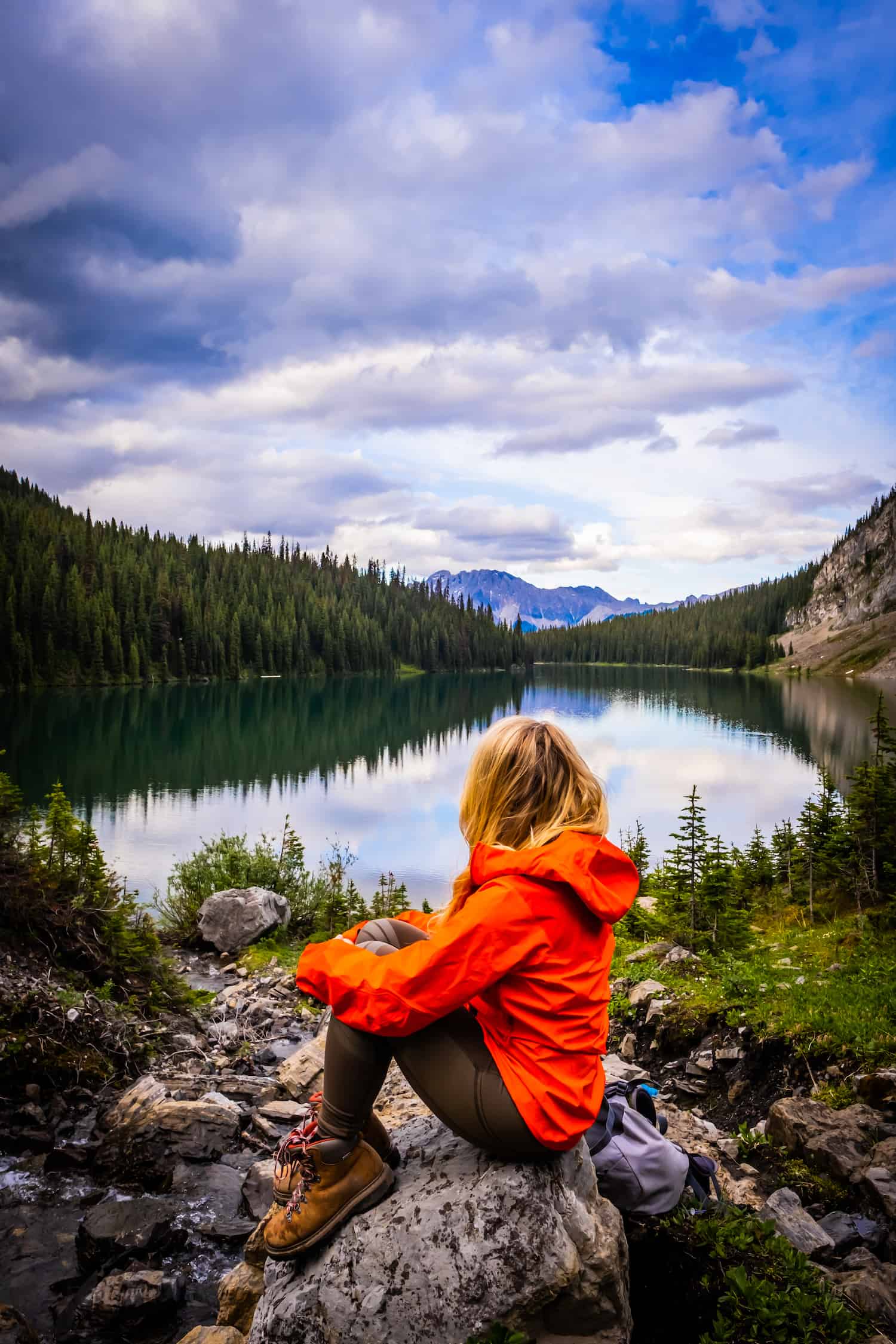 For the milder adventure, the hike up to Rawson lake is a great beginner hike in Peter Lougheed Provincial Park. It's about a 300-meter elevation gain and can be done early or late season. It skirts around Lower Kananaskis Lake and crosses a waterfall before ascending 300m to the enchanting Rawson Lake.
If the bugs aren't bad, it's the perfect spot to enjoy lunch before heading back down. Stop here at Rawson for an easy and enjoyable hike. To get the views in the photos above Kananaskis Lakes, you will have to continue on and work for them.
If you're continuing up to Sarrail Ridge, the trail winds around Rawson Lake to the Southeast before climbing the ridge to the Northeast. The ridge climb is a bit of a slog and goes straight up avalanche shoot and prime grizzly bear habitat. A switchback trail would be nice, but unfortunately, it's just straight up.
We climbed late in the afternoon and saw multiple tracks from ill-prepared hikers sliding down the trail. It's not quite a scramble, but those not sure-footed may find themselves on their hands at a few sections as it is very steep.
At the top of the path, you reach the ridge, which provides unreal views. Once you reach the top of the pass, you can look out over Upper and Lower Kananaskis Lakes and Mount Indefatigable. We spent over an hour on the ridge exploring, taking photos, and enjoying the view. Watch out for the ground squirrels – it's here that we left our hiking poles unattended, and they started to eat away at the handle grip.
Rawson lake took us just under 45 minutes from the car park, and continuing to Sarrail Ridge took another hour. That was at a pretty good pace with some miles under our legs. This hike can be done in 4-5 hours round trip.
How to Hike to Rawson Lake and Sarrail Ridge
---
Lillian Lake and Galatea Lakes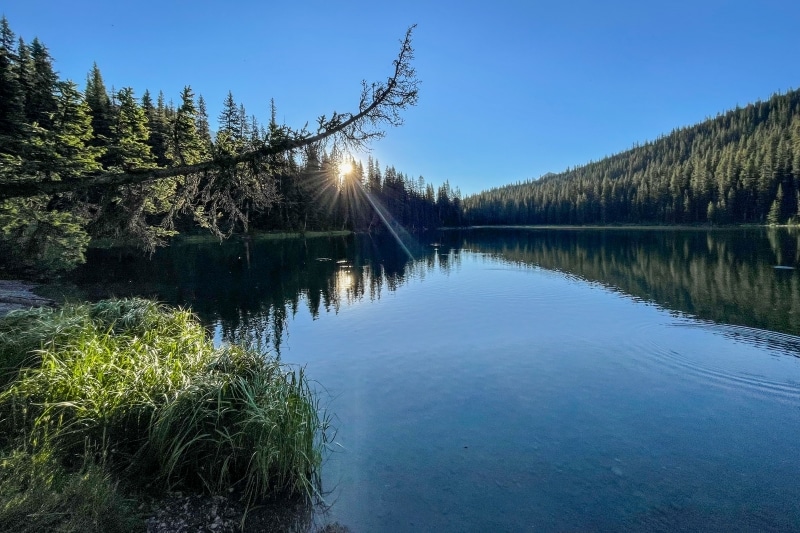 Length: 12 km to Lillian and 16 km to Galatea
Duration: 4-7 hours
Elevation Gain: 500m to Lillian and 870m to Galatea
Difficulty: Moderate
Scrambling Involved: No
Best Time To Go: May – October
Parking: Galatea Day Use

If you're a fan of hiking to serene alpine lakes, look no further! The Lillian and Galatea Lakes hike via Galatea Creek is an absolute gem in Kananaskis Country, boasting three enchanting lakes nestled beneath rugged peaks if you choose to hike all the way to Galatea Creek.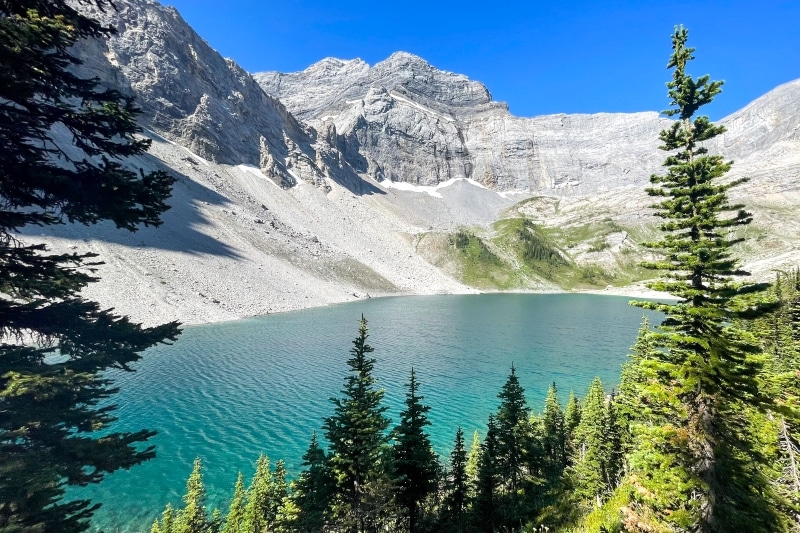 This out-and-back trail offers a delightful combination of gushing streams, a well-marked path, and breathtaking vistas. It caters to hikers with varying levels of intensity preferences, making it an ideal choice for all. The best part is you can hike to just Lillian Lake, or continue to Galatea Lakes if you want an epic day out.
For those seeking an extended multi day adventure, consider reserving a campsite at Lillian Lake for an easy backpacking excursion, allowing you to fully immerse yourself in this area. As the Lillian Lake Backcountry Campground is 6km from the trailhead, and can be reached in a bit over an hour, it's a great place to camp if you are a newbie camper.
How to Hike to Lillian Lake & Galatea Lakes
---
Burstall Pass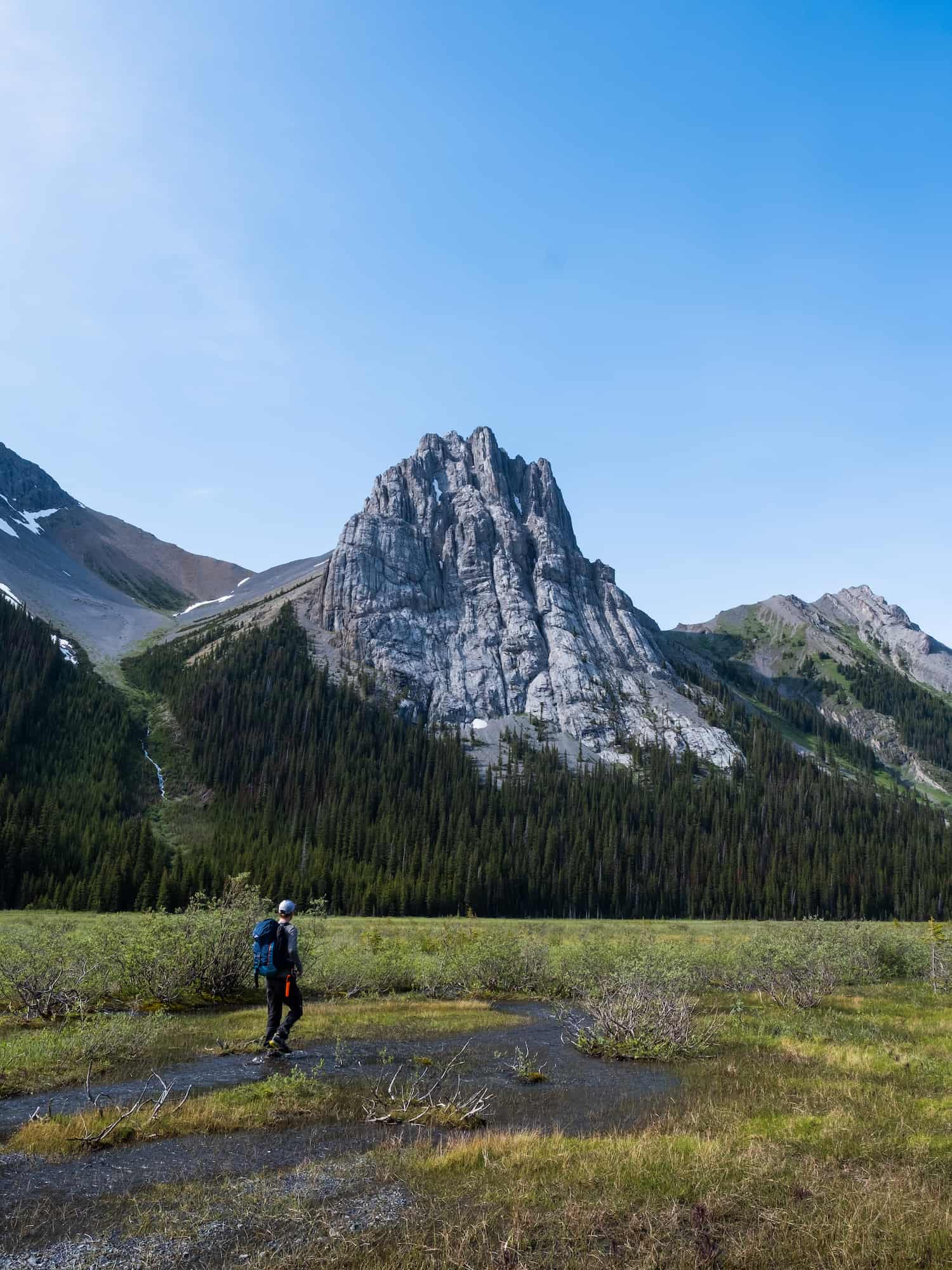 Length: 16.4km
Duration: 4-6 hours.
Elevation Gain: 667m
Difficulty: Easy
Scrambling Involved: No
Best Time To Go: May – October
Parking: Parking along the Smith Dorrien near Mud Luke.
Burstall Pass is a classic hike in Kananaskis Country and off Smith Dorrien Trail. The hike moves past several marshy lakes and streams before a steep ascent up to an alpine meadow and then finishes on a high mountain pass with grand glaciated mountain views.
We loved our time in Burstall pass and spent most of our time alone in the woods. It's a long one at 16km and a little redundant since it's an out and back trail, but it has everything you could want out of a Canadian hike.
Burstall Trail starts from Smith Dorrien Trail, with a large parking lot serving the trail and stunning Mud Lake. The hike starts along Mud Lake before heading along an old road for 2.7 kilometers, which bicycles can use. Keep an eye out for the trails down to the three Burstall Lakes as you move along the trail. All of them are breathtaking and offer some of the best views on the hike until reaching the pass at the end.
From there, the trail continues along through the forest and valley. It's a prime spot for birders, and we stopped multiple times to listen to their calls. When you reach the end of the first forest section, you come to the alluvial fan of the Robertson Glacier.
Come prepared for some smart route-finding and waterproof shoes, or perhaps some hiking sandals. The fan spreads across the trail with multiple streams and flooded sections. It wasn't difficult, but it does take some time to make it across the streams about 500m in length. Some helpful signs mark the trail for hikers to follow across the plain.
After you make your way across the flooded sections of trails, you reach more forest. This is where the trail begins to ascend to an alpine meadow. It's a steep climb but easy enough for most people to handle without too much of a struggle. It takes around a half-hour to reach a sub-alpine meadow filled with wildflowers.
How to Hike Burstall Pass in Kananaskis Country
---
Grassi Lakes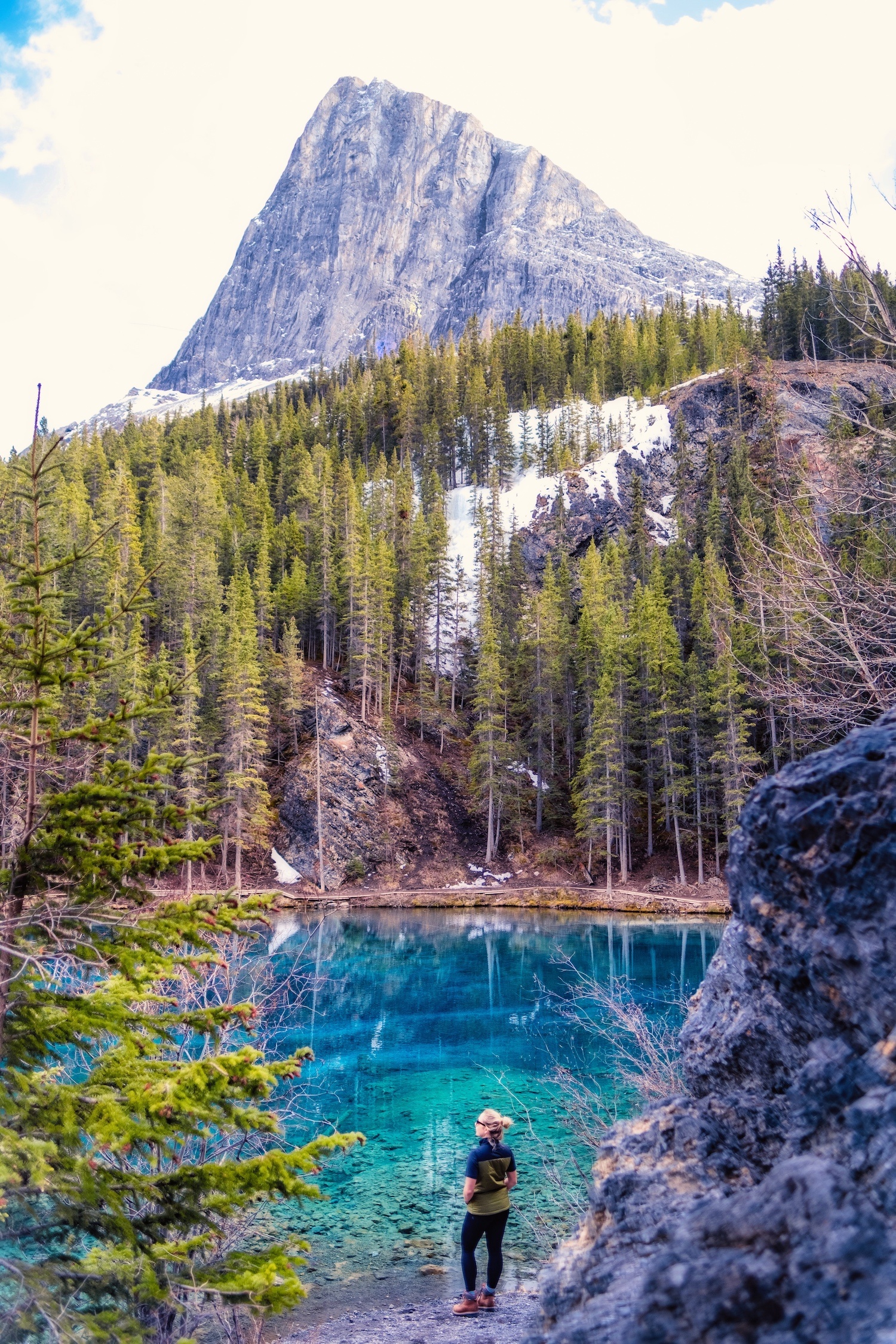 Length: 4km
Duration: 1-3 hours.
Elevation Gain: 233m
Difficulty: Easy
Scrambling Involved: No
Best Time To Go: Year-Round
Parking: At the Grassi Lakes Trailhead. Past the Nordic Center off of Ken Ritchie Way.
The Grassi Lakes Trail is now open. The Grassi Lakes hike is the perfect Kananaskis hike for friends and families. It's an easy trail with a wide path that leads through the forest up to two sparkling turquoise lakes. If you're looking for a good hike in the Canmore/Banff area that is child-friendly, this is a great choice. 
Grassi Lakes are two sparkling teal alpine lakes with two of the most famous peaks towering above. On the way up to the two shallow lakes, a few viewpoints offer wonderful panoramic views of the town of Canmore down below.
This is where we take any visitor who wants a short and straightforward hike to beautiful lakes. There are two options to see Grassi Lakes – a challenging hike and a more leisurely hike. Take the hard one; it's not bad. Compared to any other hike on this list Grassi Lakes (hard or easy) is a walk in the park.
For rock climbers, there are several rock faces famous for rock climbing. Routes are pretty easy to find with many bolts in place.
The trailhead begins on Spray Lakes Road, around 2kms past the Canmore Nordic Center. You'll see a small sign that says "No Exit" on the left and a gravel parking lot on the right. Drive down the hill to the parking area and sign for the Grassi Lakes Trail.
How to Hike to Grassi Lakes Near Canmore
---
Ha Ling Peak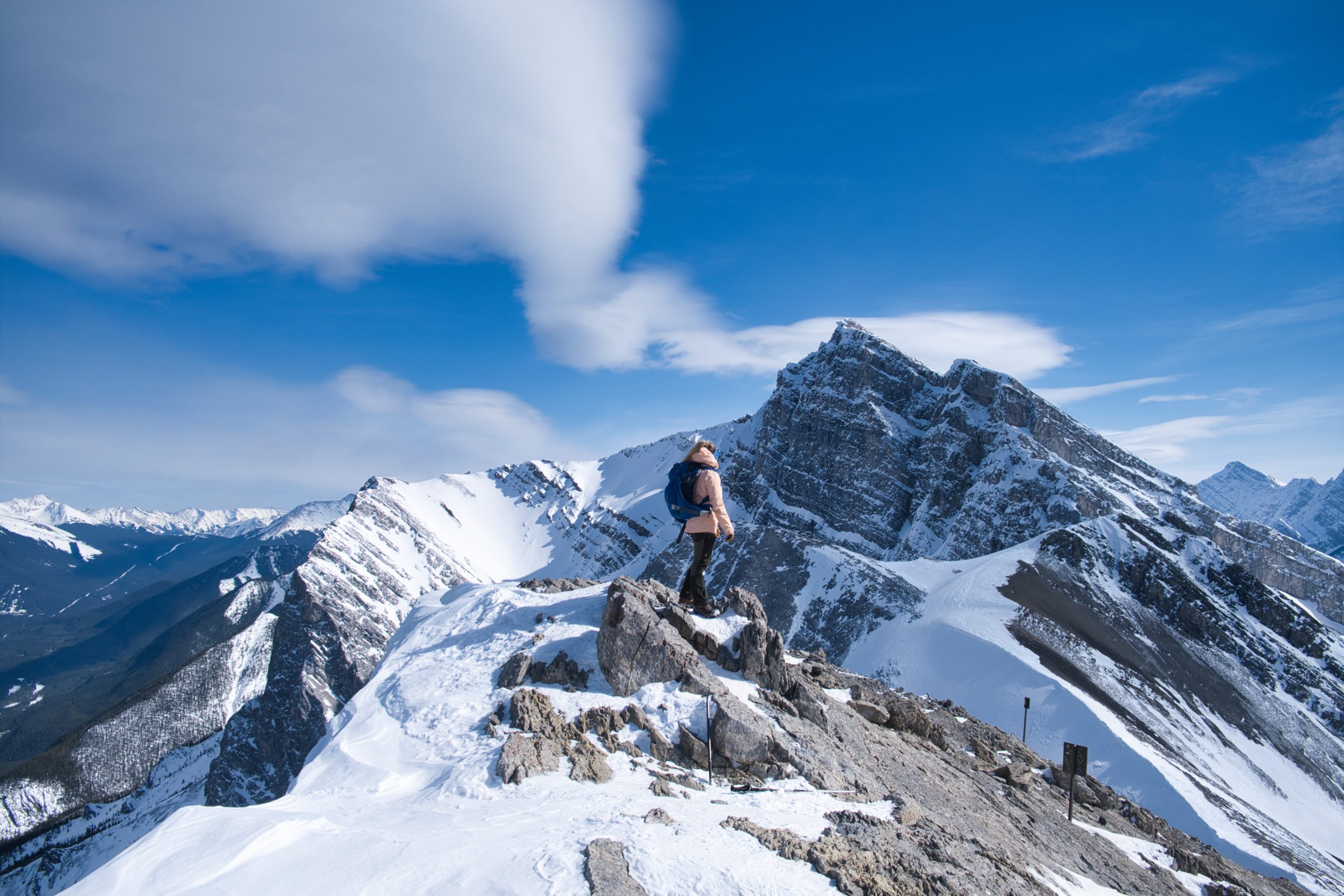 Length: 7.9 km
Duration: 2 – 5 hours
Elevation Gain: 804 meters
Difficulty: Moderate
Scrambling Involved: Not really
Best Time To Hike: Possible year-round, but attention must be paid to avalanche cycles in winter/spring.
Where to Park for This Kananaskis Hike: Goat Creek Day Area
My final Kananaskis hike on this list needs no introduction. Ha Ling Peak is the most popular mountain summit hikes in the Canadian Rockies, along with EEOR and Grassi Lakes. Hiking it is like a right of passage into the Rockies, and visitors come from all over Alberta every weekend to conquer Ha Ling.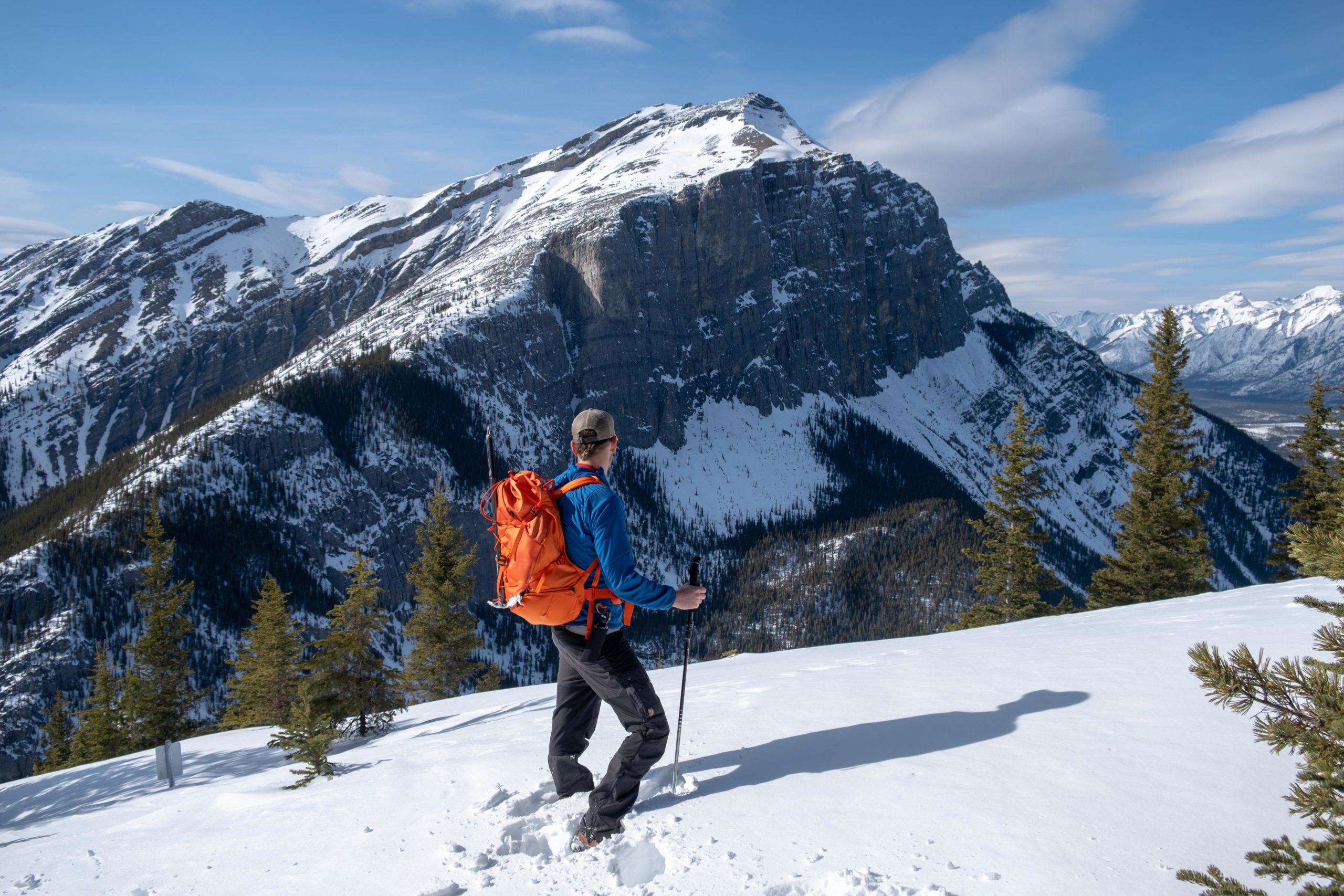 Its popularity does not mean it is easy or shouldn't be taken seriously. It's still a peak in the Rockies, meaning there will be some effort to get to the top.
At the end of 2019, Alberta Parks unveiled a new trail that was a significant upgrade with even grading, switchbacks, steps, and handrails in certain locations as the old one were falling apart due to overuse.
The improvement has increased the safety of the trail, but make no mistake, it's still a tough physical challenge for many. Once you enter the trailhead and go through the forest, it's a constant uphill climb to the summit.
How to Hike Ha Ling Peak Near Canmore
---
What is a Scramble?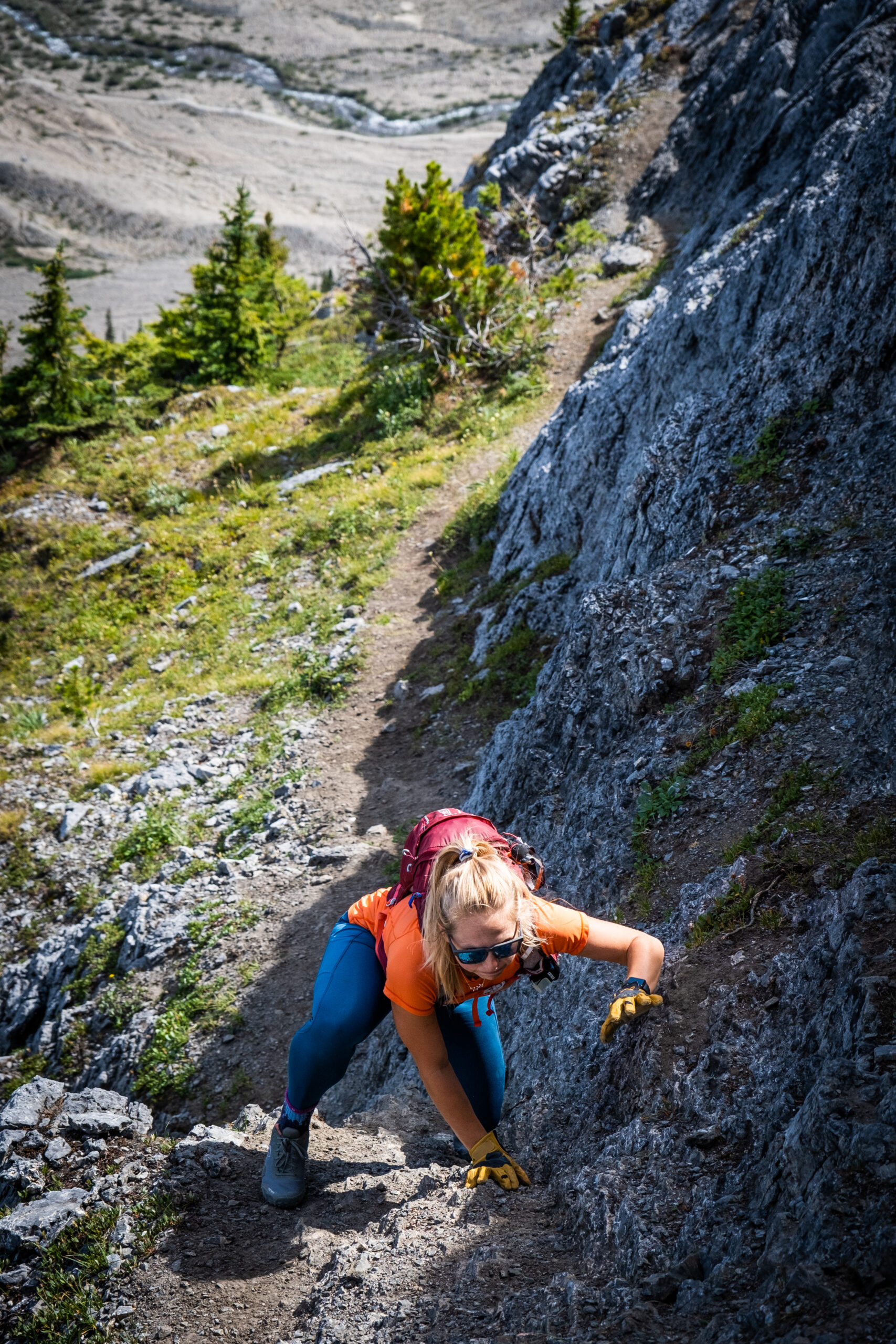 You'll see some Kananaskis scrambles listed in this Kananaskis hikes guide. While most of the hike is often a steep walk, there may be sections where scrambling is involved. This will be noted in the text.
What is a scramble? Scrambling is a walk up steep terrain involving one's hands. Three contact points with your body are typically needed to classify a hike as a scramble. I love scrambling as it's more challenging than hiking, and it's typically required to access some of the significant peaks in the Rockies.
It's a prevalent sport in the Rockies but should not be confused with hiking. Some scrambles are dangerous and may require a helmet. You should have experience with more challenging Kananaskis hikes and maybe even some beginner scrambling.
Some scrambles are not straightforward and do not have a defined trail, meaning route finding and a sense of adventure are needed. August is the best time to scramble as most snow has melted off the mountain peaks.
---
Gear We Recommend for These Kananaskis Hikes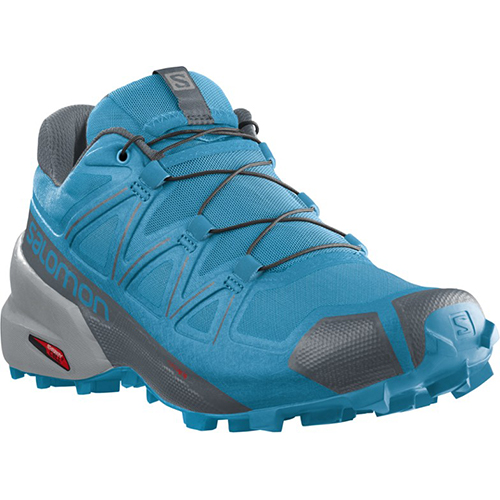 The vast majority of hikes and easy scrambles in the Rockies, you'll find us in our trusty Salomon Speedcross.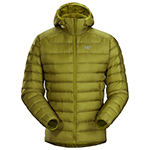 Arc'teryx Cerium is our pick for the best down jacket. It's incredibly light, and we bring it on almost every hike in the Rockies.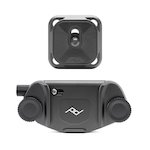 This nifty clip from Peak Design secures a camera to my backpack strap for easy reach. No more digging in the backpack!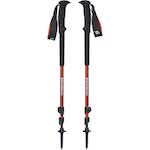 A pair of durable and lightweight hiking poles are a great asset on the hiking trail.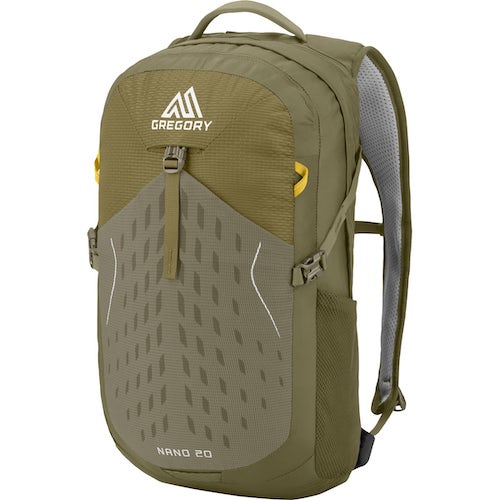 20L feels like the ideal size for quick hikes and scrambles. We love the Nano from Gregory with a hydration reservoir.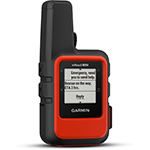 There is not much cell service in the Canadian Rockies. In case of emergencies, we carry an emergency beacon with GPS.
---
Advice on Kananaskis Hikes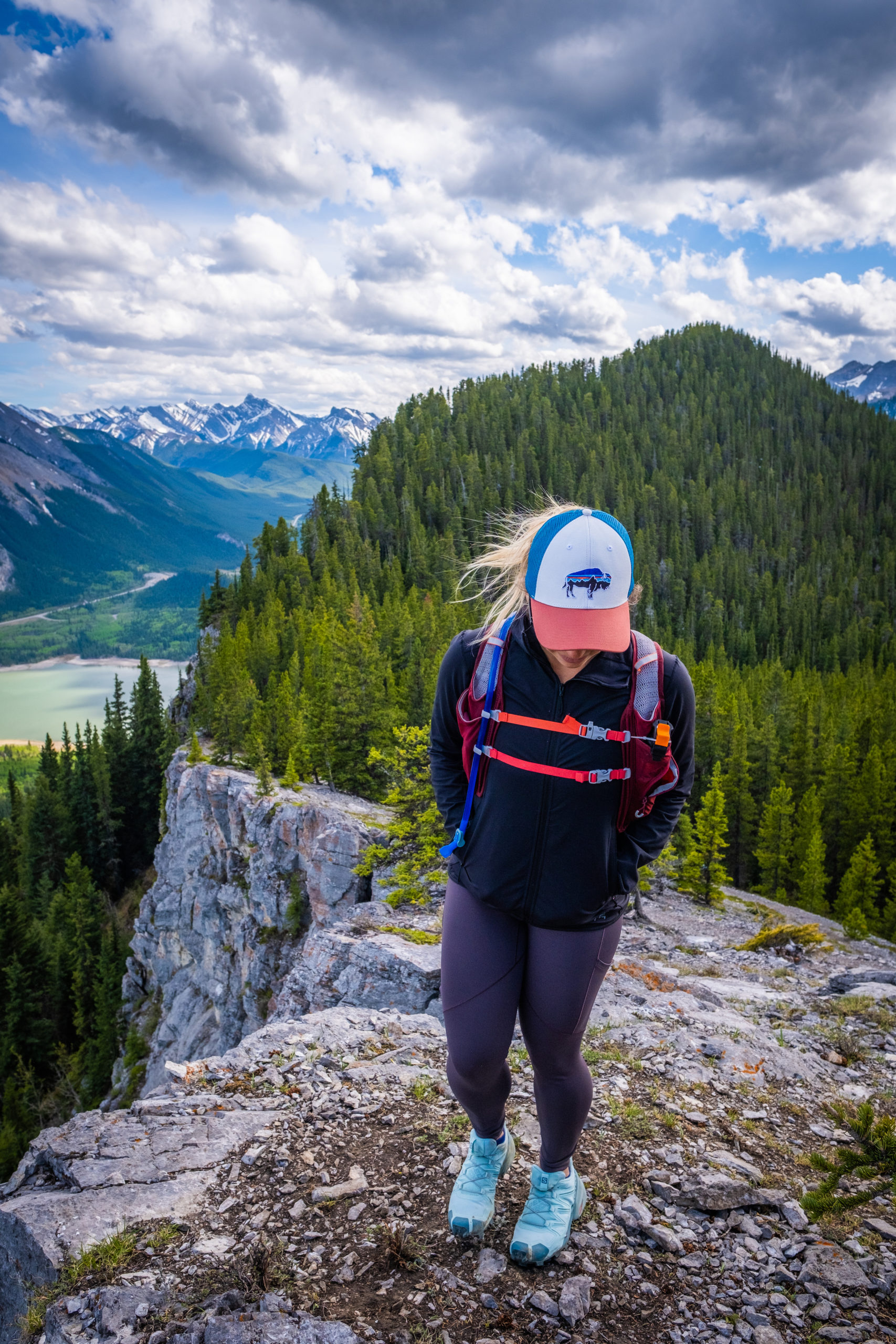 If this is your first time hiking in the Rockies, take a conservative approach – read our post for beginner hikers in Banff too. Pick an adequate hike for your fitness, plan for plenty of time, pack water and food, and don't be afraid to turn around. If you want to learn more about what to wear hiking in the Rockies we have a great post.
For long Kananaskis hikes, set a turnaround time at the departure. Any time we set out for an objective, I determine a time we need to turn around to arrive at the parking lot or campsite by dark. I recommend not hiking in the dark as it's easy to get lost, and it's not fun in bear country.
Always carry bear spray if you plan to hike in the park. We carry ours even in our neighborhood, and bears have been known to stroll through town and busy parking lots. When on a trail, always practice wildlife awareness, and please give animals space.
Dogs are allowed on these Kananaskis hikes but must be kept on a leash for the entire duration of the hike.
Regarding times, keep in mind your mountain fitness — it's much different from gym fitness. The low end of the times in this post is a constant fast pace uphill with little to no breaks and a brisk pace downhill. Most hikers should plan for a middle-of-the-road time with the estimated duration.
It's also important to know that there are limitations and to come prepared. These are very serious mountains, and it is easy to get in well over your head with life-threatening consequences. That being said, all of these hikes should pose no risk if you stick to the trail.
12 Bear Safety Tips • How To Hike In Bear Country
---
Searching for Easier Hikes in Kananaskis?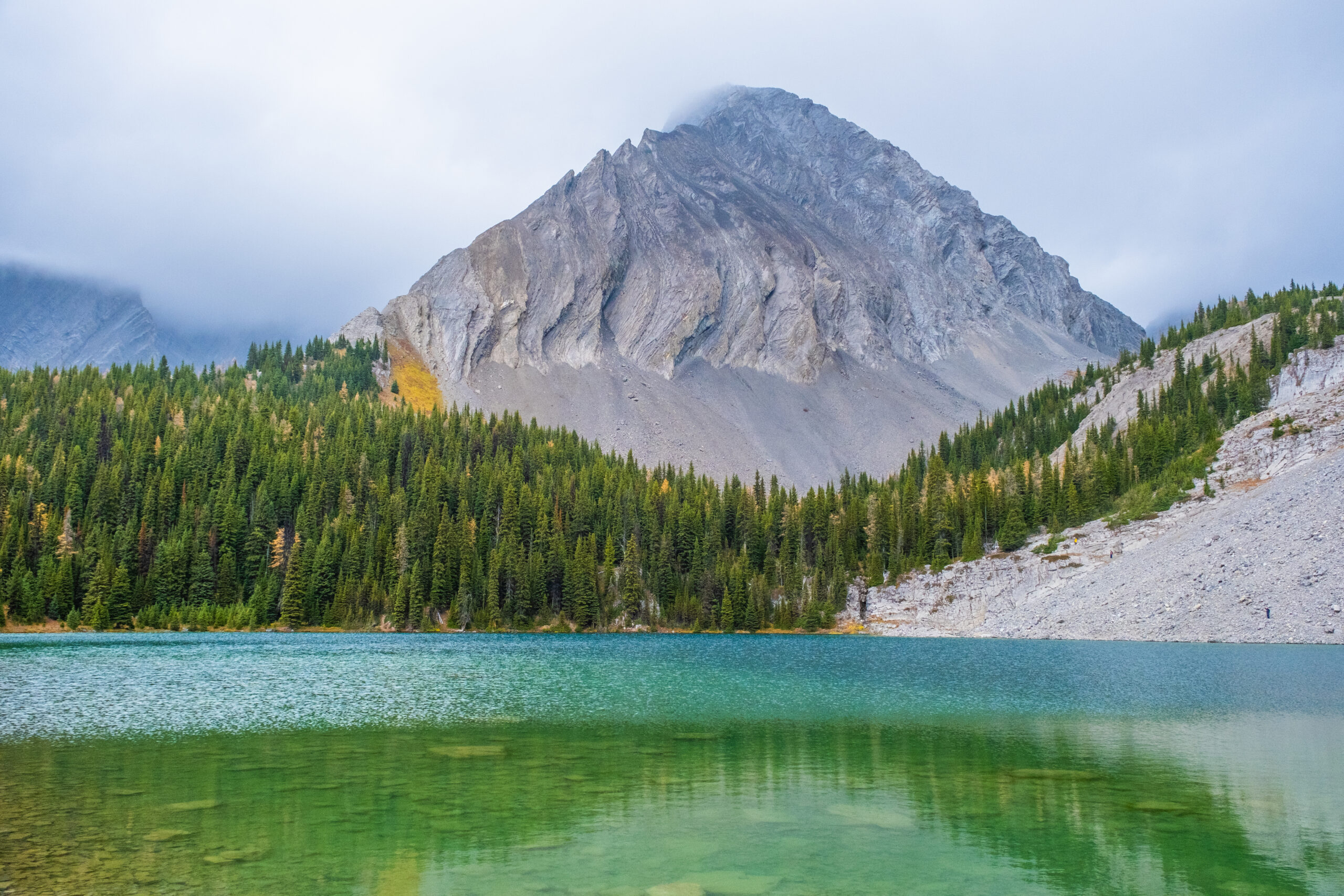 For those after a more leisurely time outdoors, make sure to read on to find some easy hikes in Kananaskis.
---
The Best Places to Stay in Kananaskis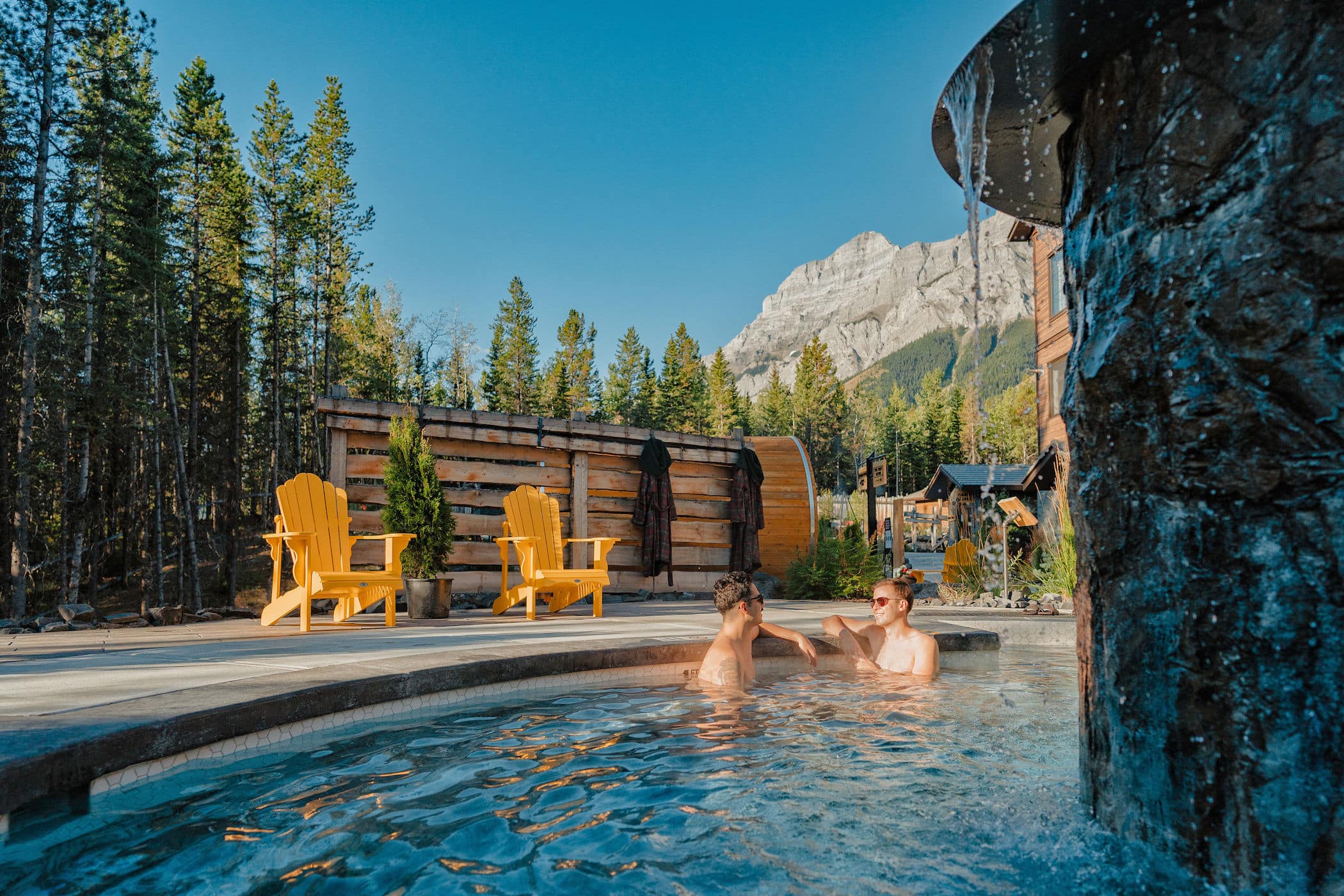 One of the best places to stay in all of Kananaskis Mountain Lodge, which also operates the amazing Kananaskis Nordic Spa.
If you're looking to stay in Kananaskis specifically, we can't recommend Mount Engadine Lodge. It's near to the trailheads of Tent Ridge and Smutwood Peak!
---
Plan Your Trip to the Canadian Rockies
---
Hopefully, this helped you determine which of these Kananaskis hikes and Kananaskis trails are for you.
If you have any other questions leave a comment or see our Canadian Rockies travel guide for more articles about photography spots, lakes, hikes, and everything else.
---
↓ Join the community ↓
The Banff Blog Facebook Group is your headquarters for the Canadian Rockies' travel advice and information. Including hike info and off-season travel information. You can also meet new adventure buddies.