It's no secret that there are some stunning lakes in Alberta to visit. Any visitor to Alberta probably has "visit beautiful lake" on their list of things to do.
Whether it's a lake you can swim in, paddle around, enjoy from the lakeshore and photograph in the summer, or skate on in the winter, one thing is for sure – Alberta has the perfect lake for you. It's unlikely you'll leave the province unchanged after visiting these mesmerizing bodies of water.
Here are the best lakes in Alberta.
---
Beautiful Lakes in Alberta to See
---
Moraine Lake
Banff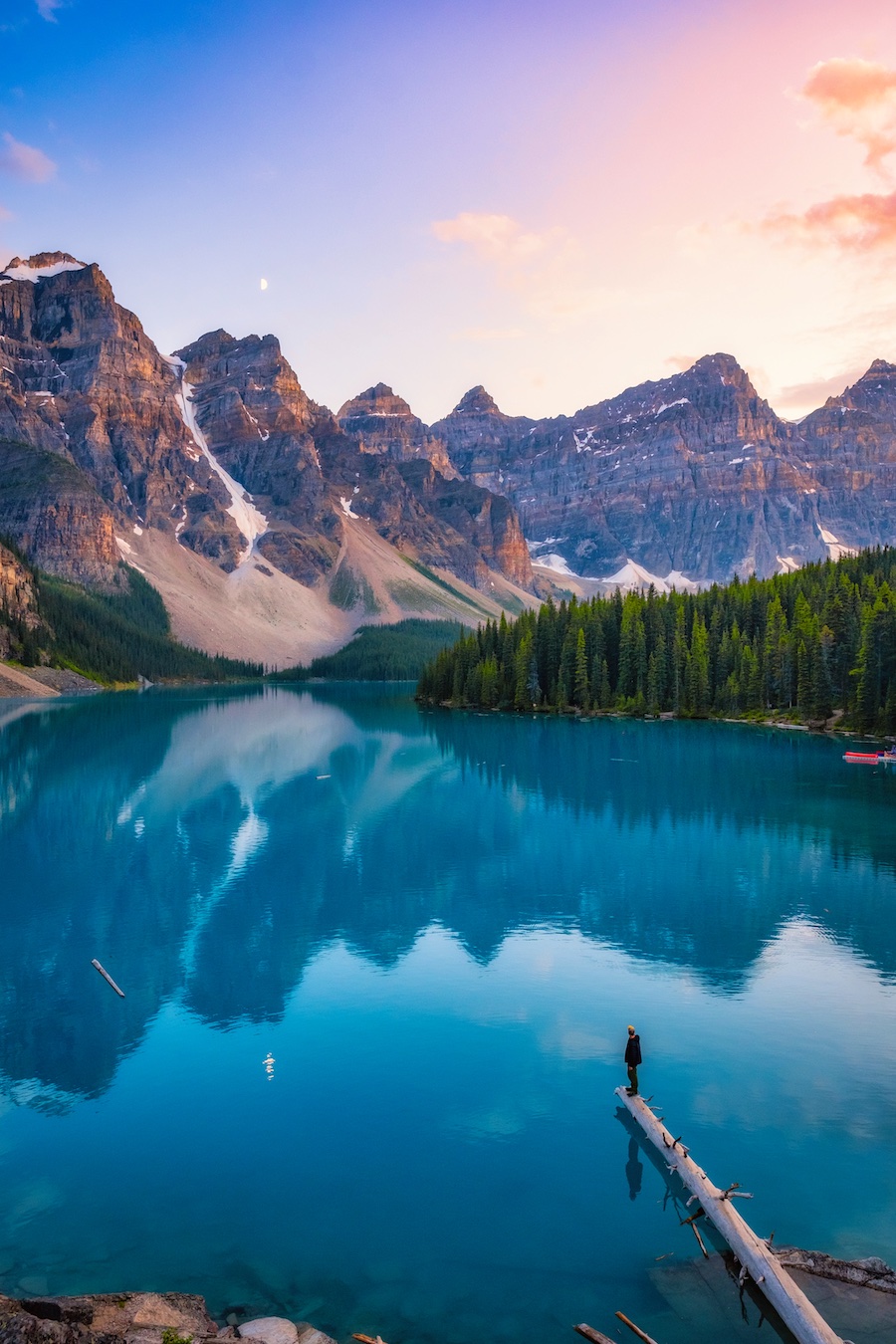 It's hard to write an article about the best Alberta lakes and not mention Moraine Lake. It's easily the most iconic lake in Alberta, if not all of Canada, or perhaps even the globe.
Moraine Lake once graced the Canadian twenty-dollar bill. It's the most popular spot to visit in Banff and it's no secret why. This stunningly blue lake with the iconic ten peaks right behind is an amazing sight to see. It only takes one paddle on the lake to feel like you are paddling in heaven.
Just an hour's drive from Banff, visiting Moraine Lake is one of the best things to do in Banff National Park.
---
Lake Louise
Banff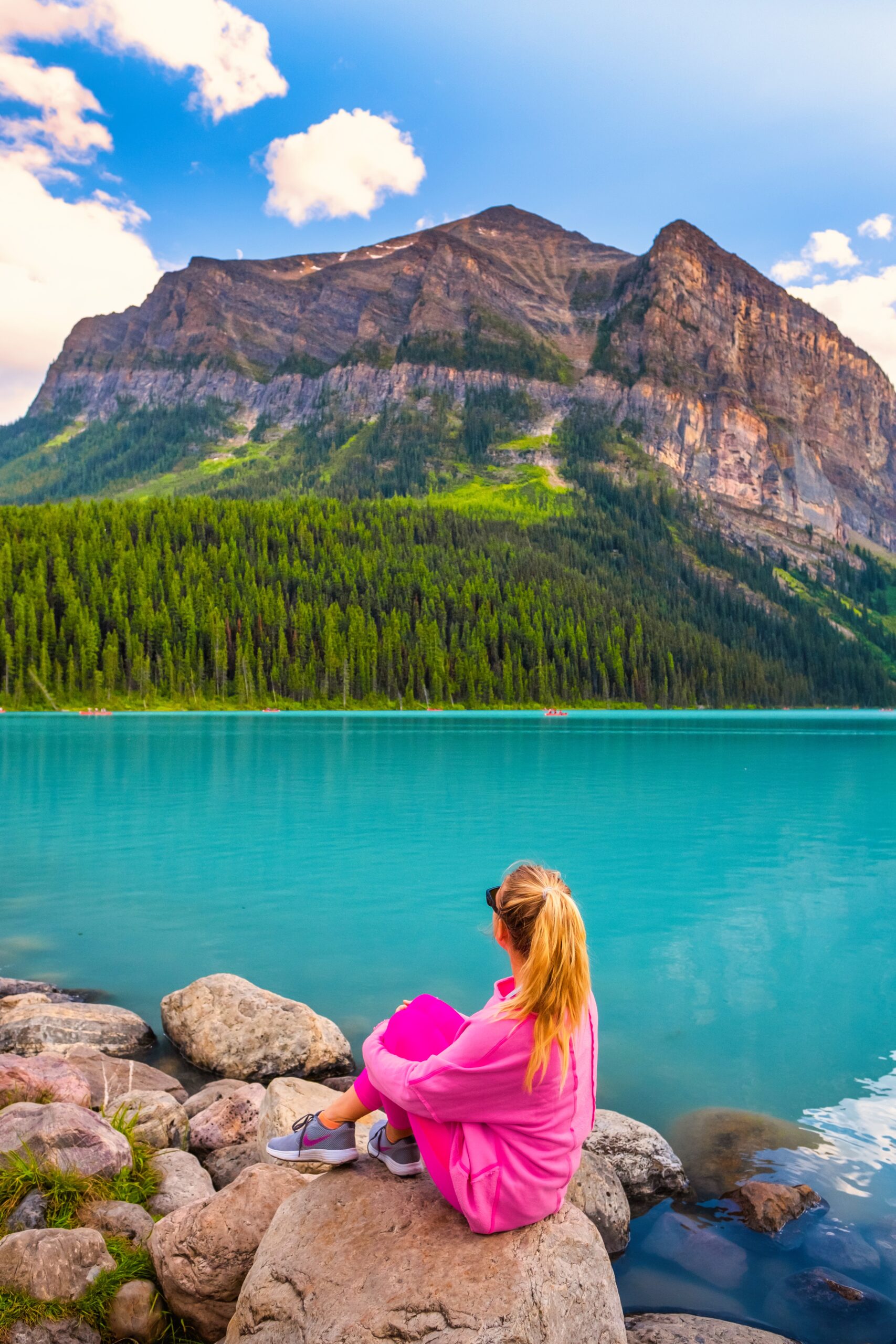 Behind Moraine Lake, Lake Louise is the most famous lake to visit in Alberta. This is another glacier lake with a turquoise-blue color. The blue color comes from the glacial melt. The glaciers grind rock down into the rock flour which is then carried downstream into the lake. This rock flour then refracts the light and gives off a vivid blue or teal color. 
What results is a fabulous bright blue Alberta lake, like Lake Louise! No matter how many times I visit this lake, I still can't get over how beautiful it is. It's fantastic in the summer when you can enjoy the hikes around the lake, and even in the winter when you can ice skate on it.
---
Abraham Lake
David Thompson Country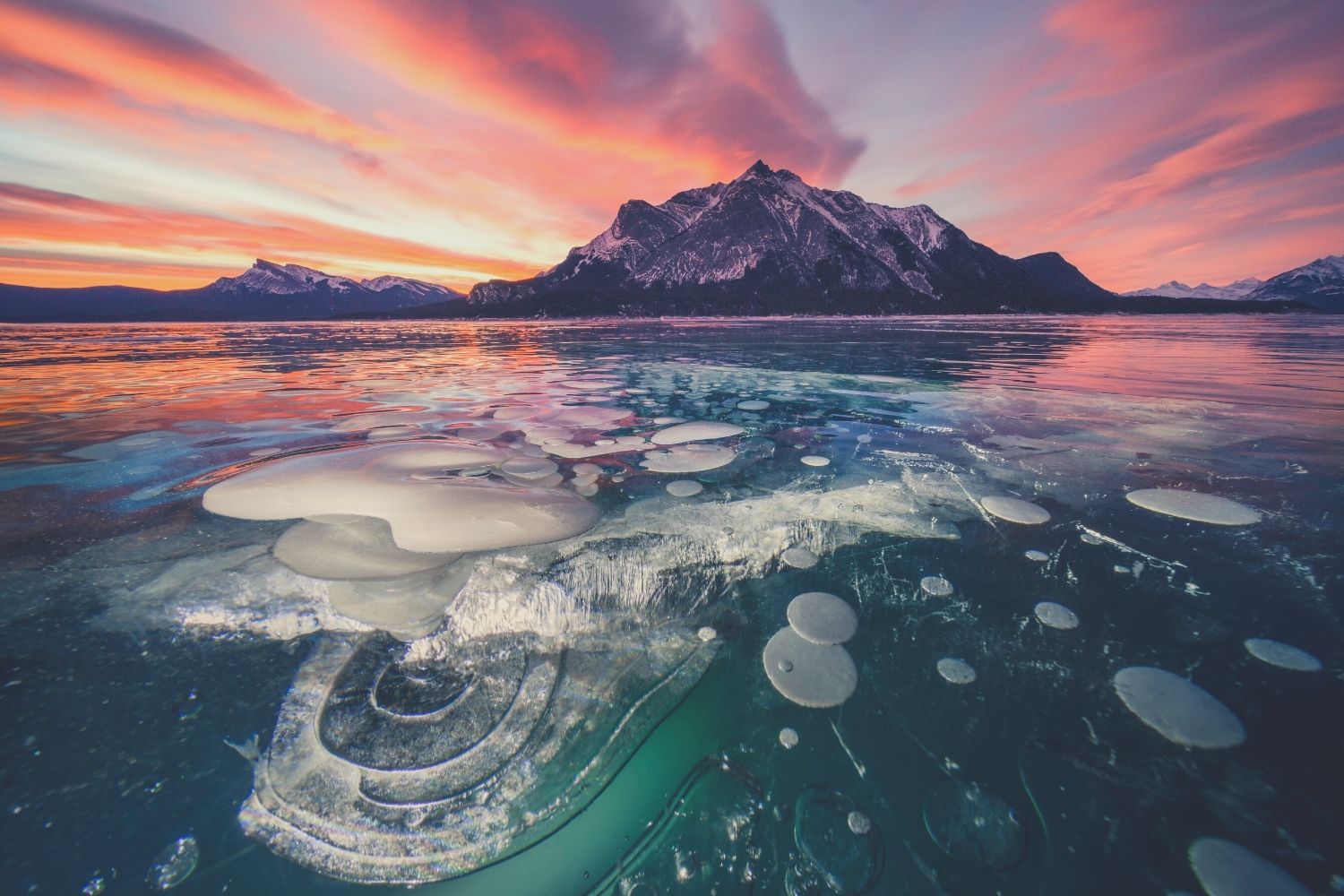 You've likely seen photos of Abraham Lake in Alberta, whether you know it or not. Abraham Lake is a man-made lake on the North Saskatchewan River in David Thompson Country. It's a great place to head in the summer as you can camp around the lake and enjoy the beautiful water.
In the winter, most Albertans know Abraham Lake as the lake with the famous ice bubbles. If you come here between December and March, you stand a very very good chance at seeing methane ice bubbles. Just bundle up really good, it's one of the windiest places in Alberta!
---
Bow Lake
Banff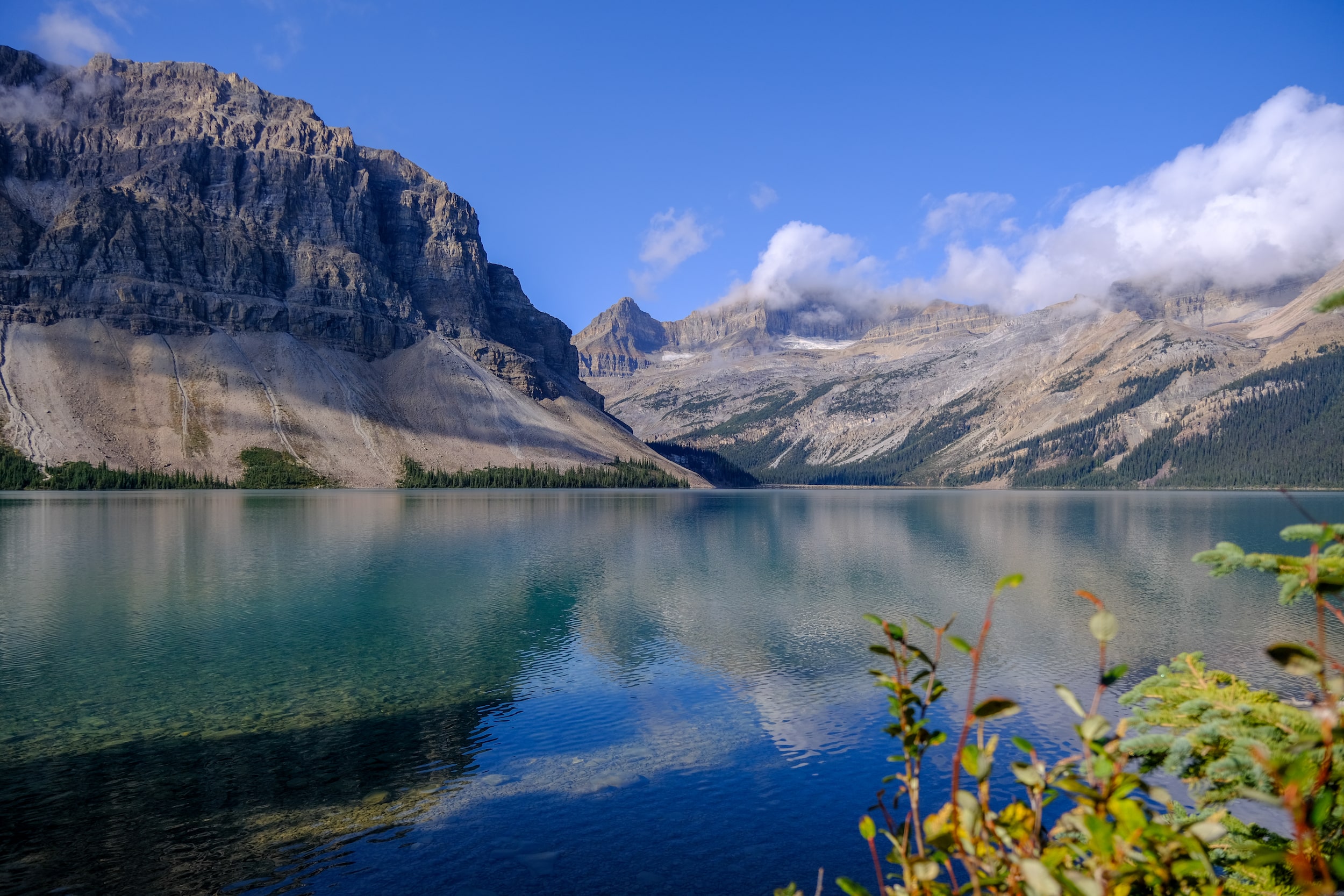 Bow Lake in Banff is another glacial lake visitors to Alberta shouldn't miss. On a summer day in July or August, this lake sparkles blue. I love heading to Bow Lake to enjoy a paddle or just sit by the lake and have a picnic. If you want to check out an epic waterfall walk all the way around Bow Lake and check out Bow Glacier Falls.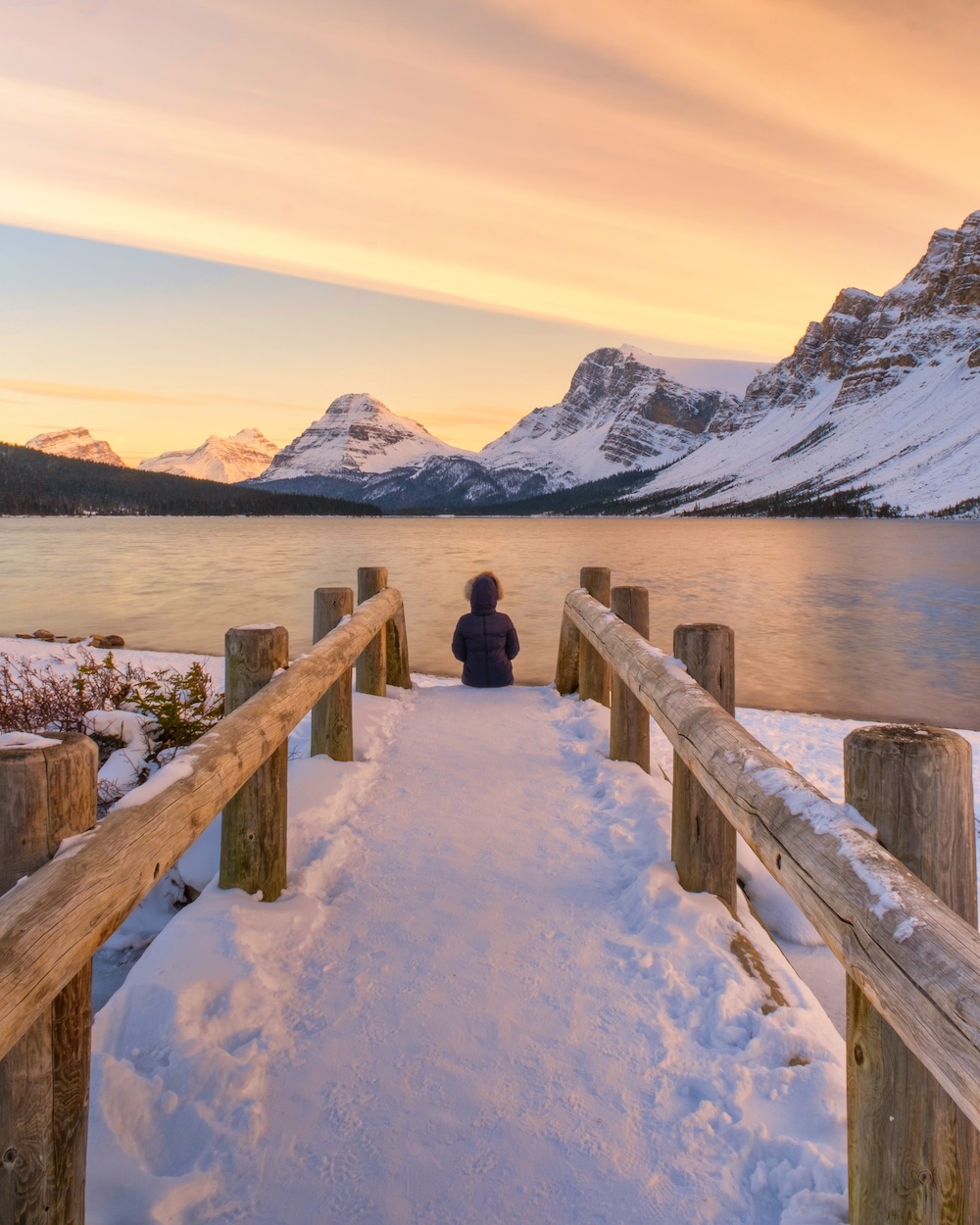 Bow Lake in the winter is another magical sight to see, as there is nothing quite like seeing Bow Peak covered in a fresh layer of snow.
---
Barrier Lake
Kananaskis Country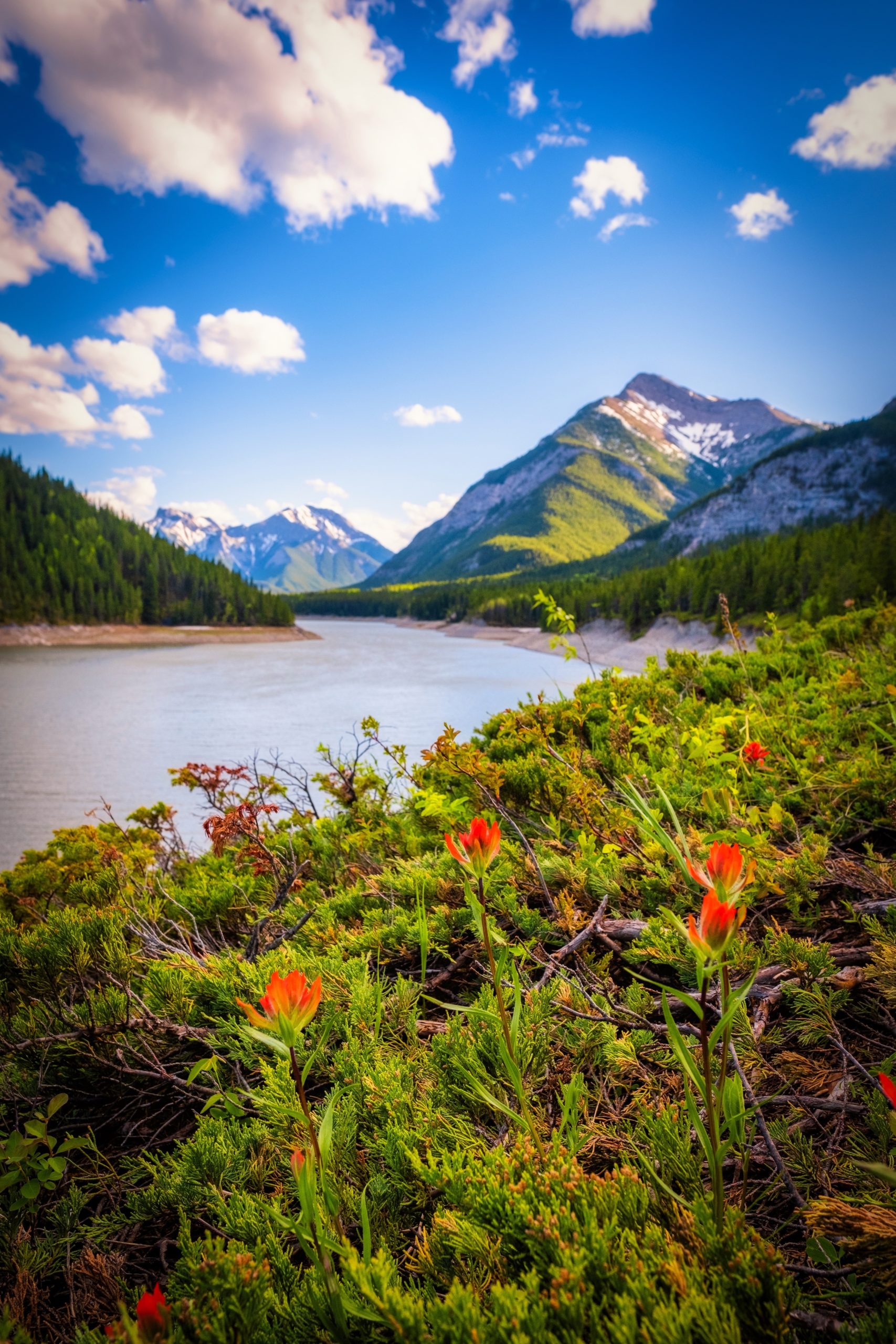 Barrier Lake is one of the first lakes you'll come upon when driving into Kananaskis Country from Calgary, and it's one of those Alberta lakes that doesn't get the recognition it deserves. It's a bright blue lake that sits right under Yates Mountain and from its shores, you can get a great view of Mount Baldy.
Albertans love this lake as there is a small beach area to relax at, easy parking, and it's a fun lake to paddle around on.
---
Lesser Slave Lake
Slave Lake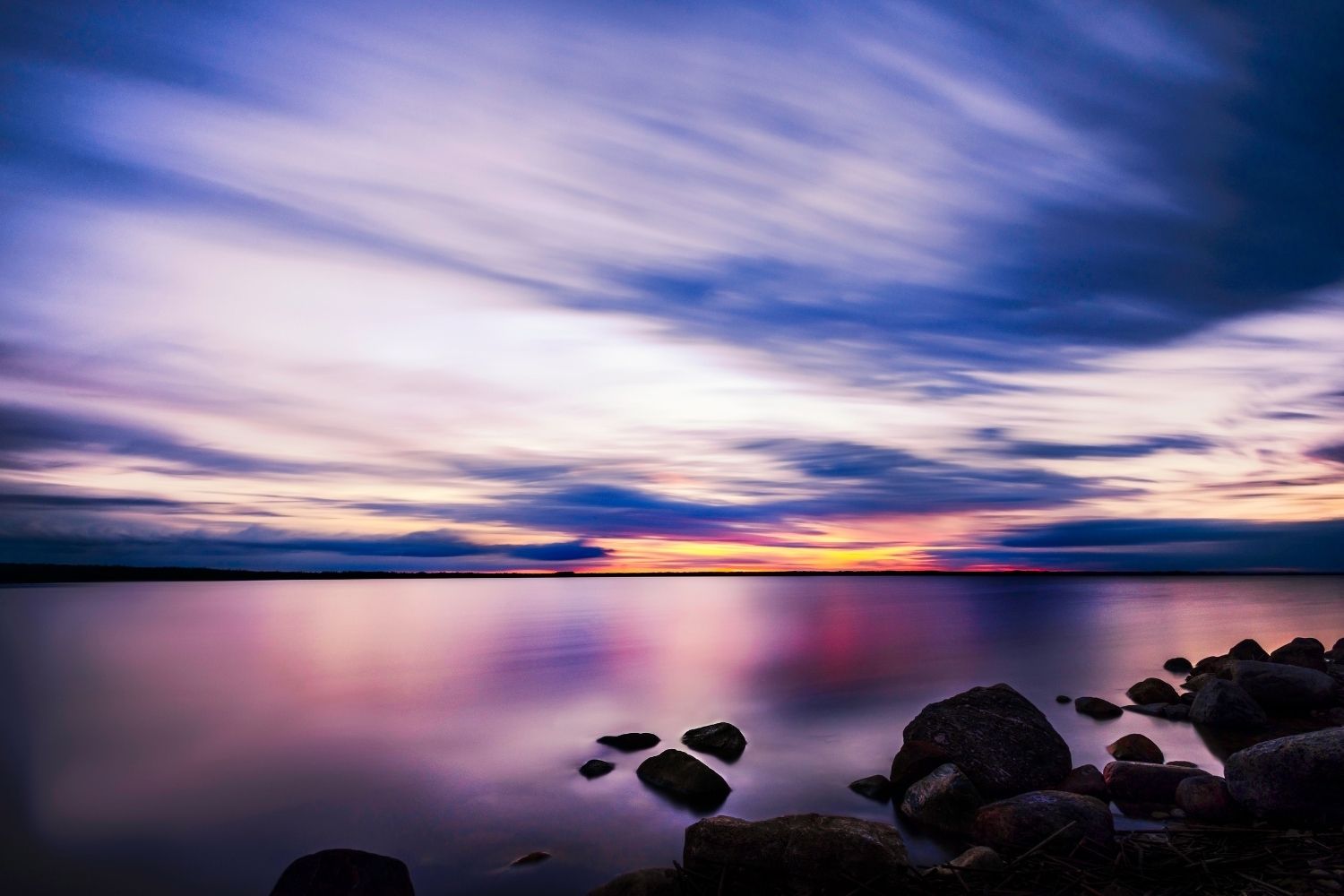 Lesser Slave Lake is the second largest lake that is located entirely in Alberta. It's well known as it's three hours from Edmonton and a popular place to enjoy in the summer. It's easily accessible by vehicle.
---
Waterfowl Lakes
Banff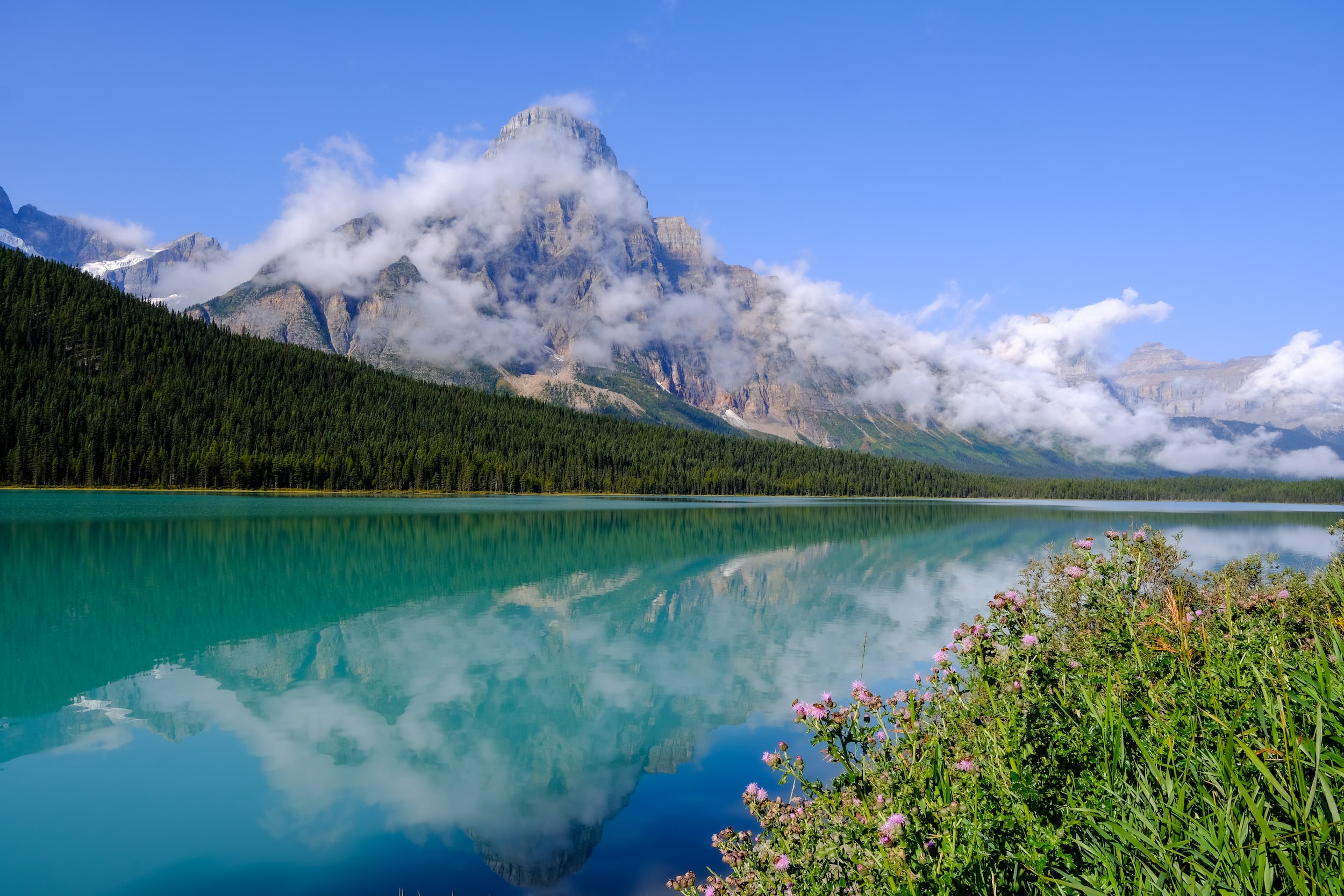 The Waterfowl Lakes are two relaxed lakes in Banff that see far fewer visitors than other lakes in the park. The two lakes are glacial and have the classic blue color that radiates on a sunny day. They are easy to enter the lakes with a kayak or canoe from the Waterfowl Lakes Campground. For optimal enjoyment consider camping on Waterfowl Lakes for a few days!
---
Peyto Lake
Banff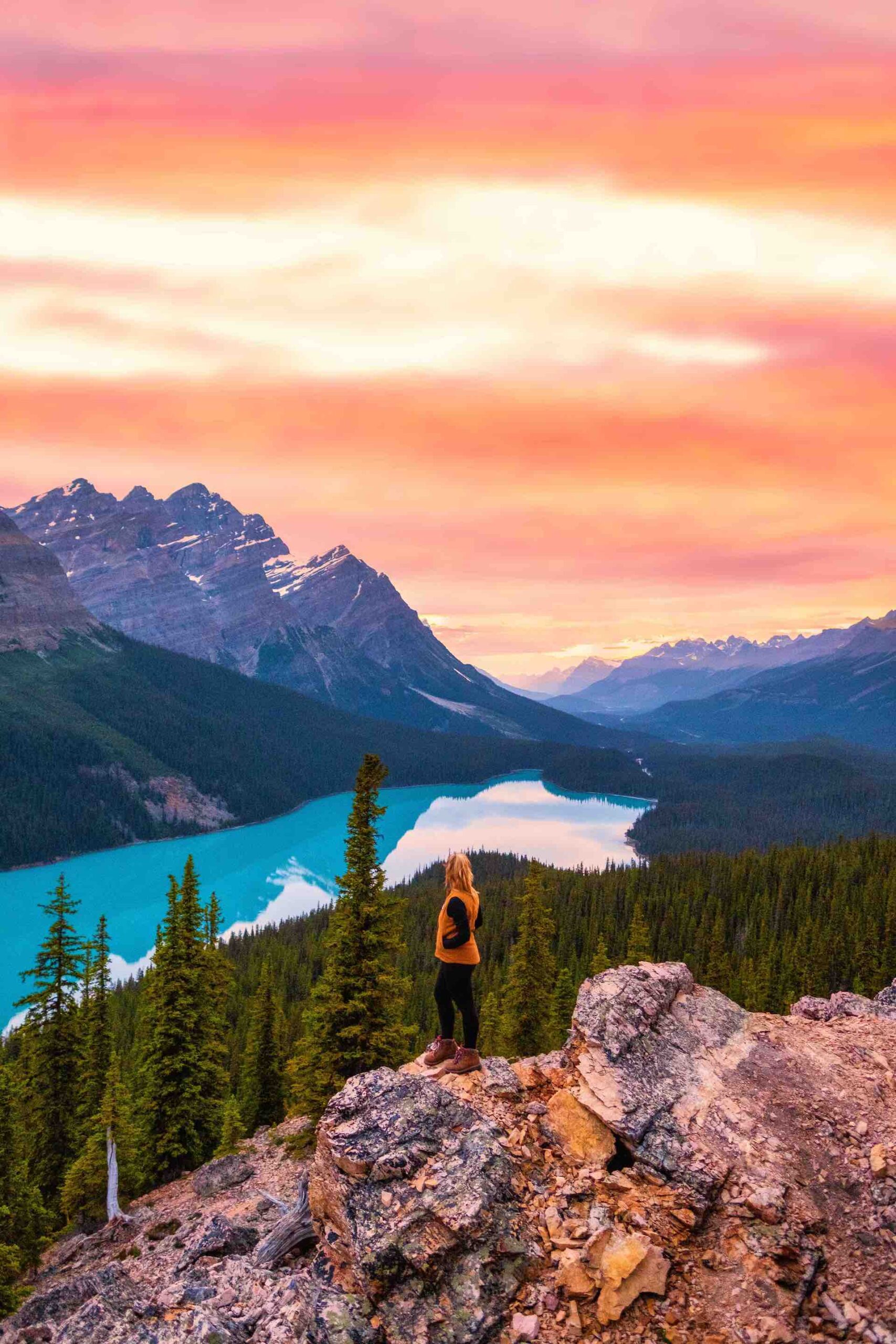 Peyto Lake (PEE-toh) is another glacier-fed lake in Banff National Park, and is a must-visit when driving the Icefields Parkway. Peyto has a unique shape that looks like a fox head, which you can easily see from the Peyto Lake viewpoint.
The viewpoint takes under 10 minutes to walk to, making it a great Alberta lake for people of all ages and abilities to see.
---
Sylvan Lake
Red Deer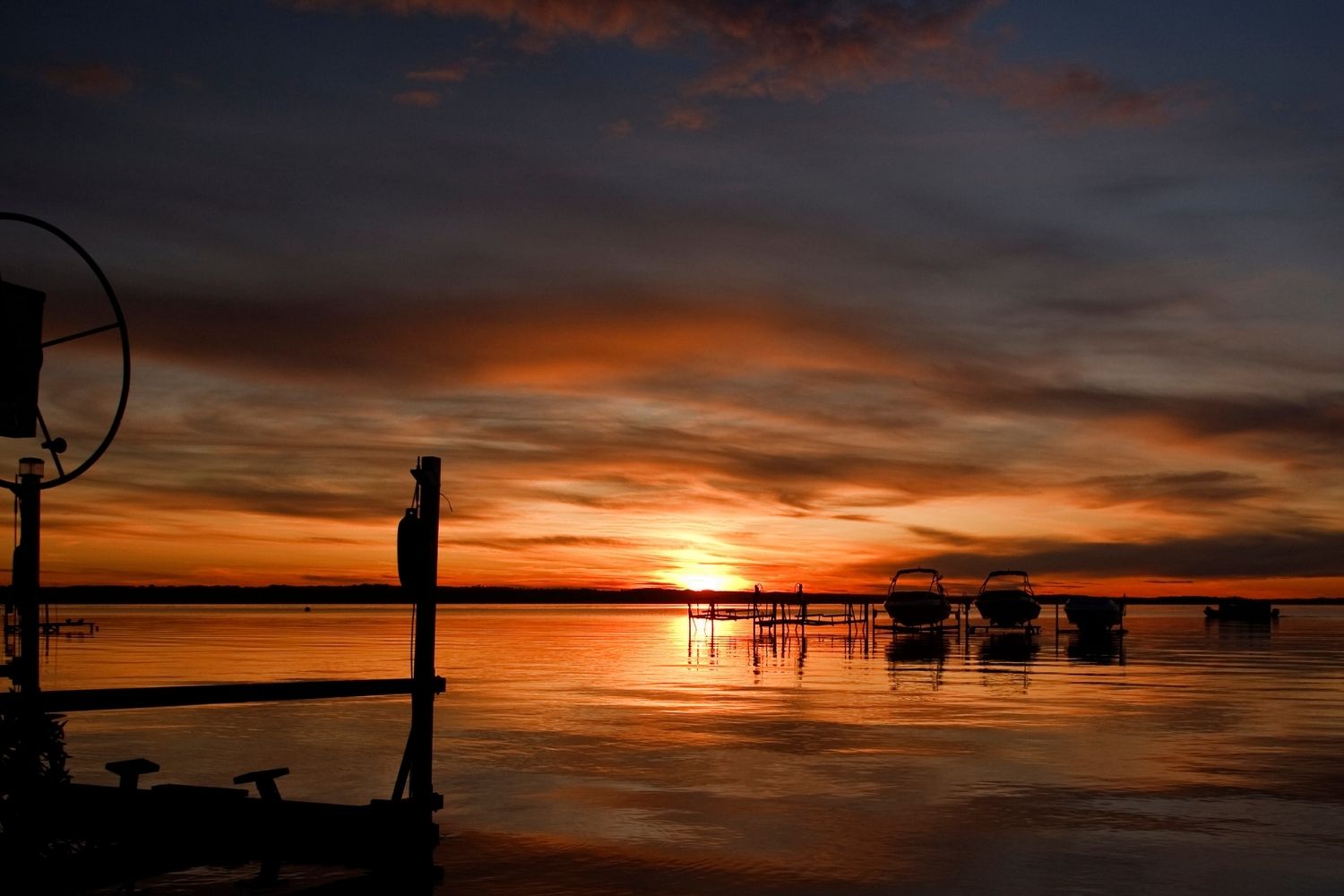 Sylvan Lake is only 25 kilometers from the town of Red Deer which makes it a popular spot for people from the city to head to in the summer. It's a great spot to spend some time on a cabin in Alberta.
This 15-kilometer long lake is a well-known recreational spot that offers fun boating opportunities as long as dragon boat racing and swimming, windsurfing, and water skiing!
---
Kananaskis Lakes
Kananaskis Country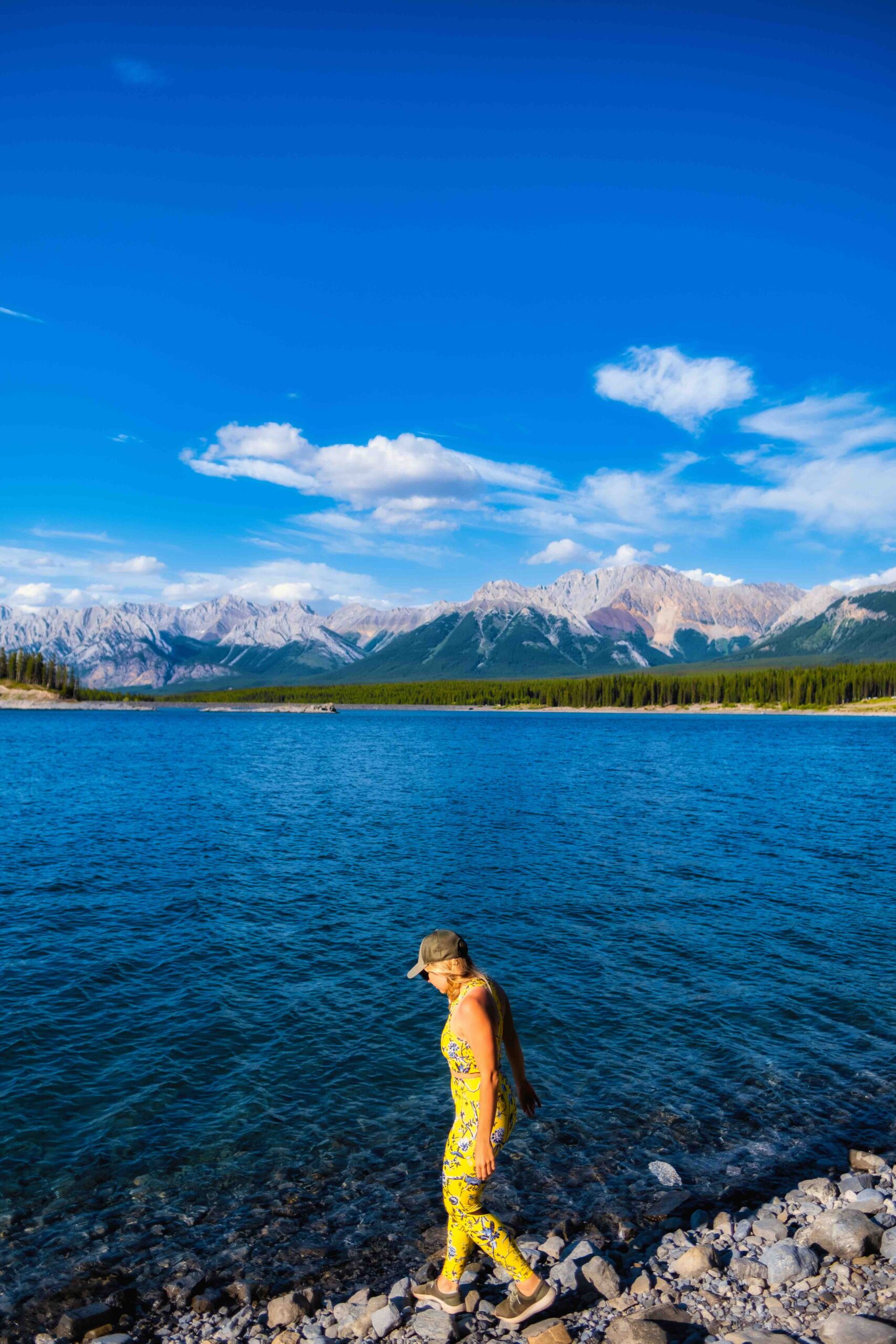 Kananaskis Lakes make up two lakes (Upper and Lower Kananaskis Lakes) in Kananaskis Country. On a hot summer day in July or August, they are among some of the best places to head. There's a beach area to lay a blanket down and enjoy the sunshine, so make sure to bring something comfortable to lay on. There are also picnic benches nearby for the whole family.
Kananaskis Lakes is one of the best places to head in the Canadian Rockies for a paddle. Whether that be on a canoe, kayak, or stand-up paddleboard it's super fun and not insanely windy or cold.
There is a large area to park and a boat launch here. Keep an eye out for the motorboats here, it's one of the few lakes in the Rockies you can bring an engine boat on.
---
Spray Lakes
Kananaskis Country
Spray Lakes are an amazing sight to see in Kananaskis Country. Though there's not a great place to sunbathe here, this is a fantastic Alberta lake to bring your boat out on or go fishing from the shore on.
In the winter you can ice fish on the lake, or if you're really lucky and catch Spray Lakes when they freeze over, but before the snow falls on the lake you can ice skate on it.
My favorite view of Spray Lakes however is from elevation. If you hike up Tent Ridge, West Wind Pass, Rimwall Summit, or Windtower you'll catch fantastic views down below.
---
Quarry Lake
Canmore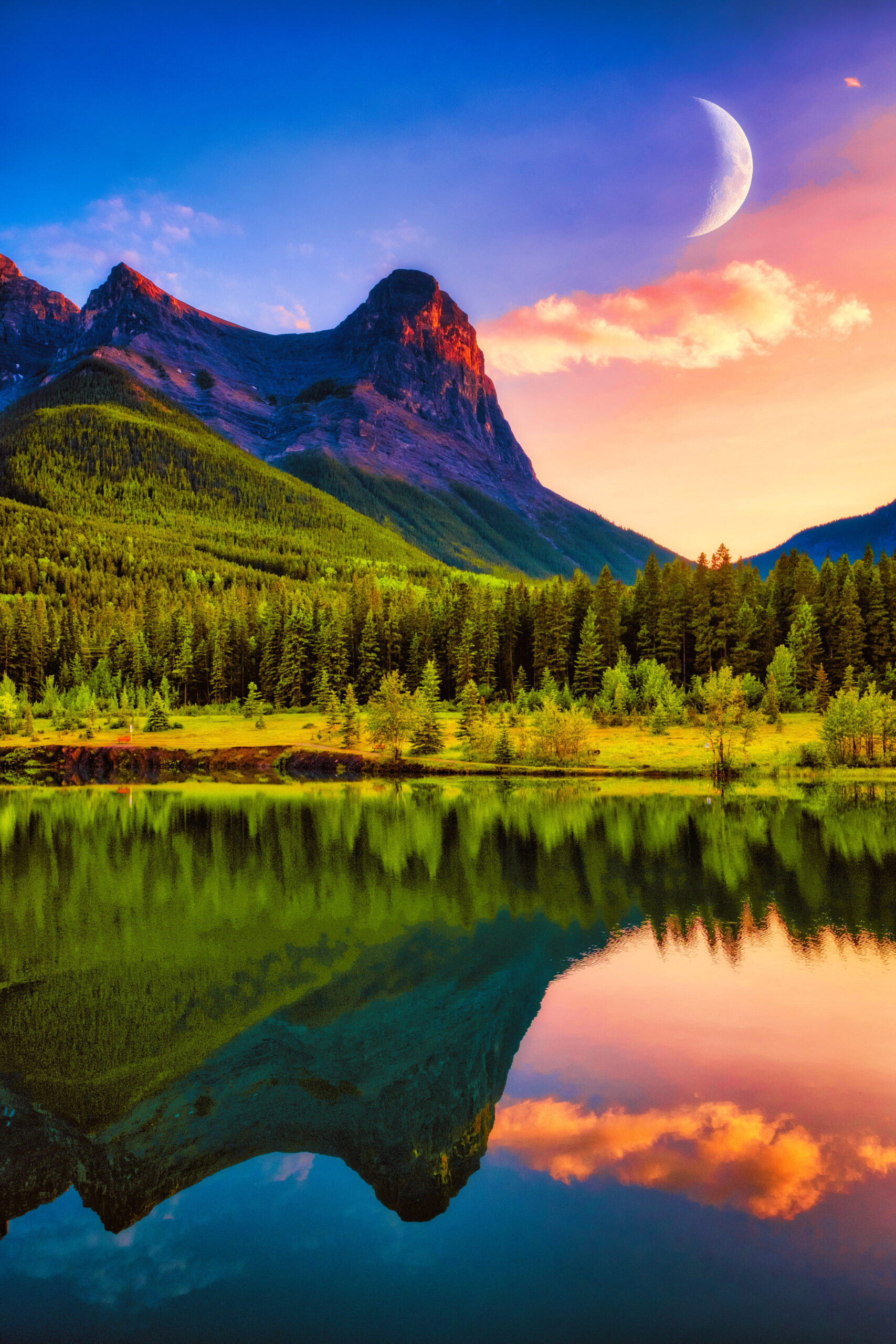 A Canmore local favorite is Quarry Lake, right outside of Downtown Canmore. It's a small charming lake that is warm enough to swim in the summer, and small enough to walk around many times over.
Come summertime it's a popular hang-out spot as there are plenty of picnic benches to relax at and a nearby off-leash dog park.
---
Grassi Lakes
Canmore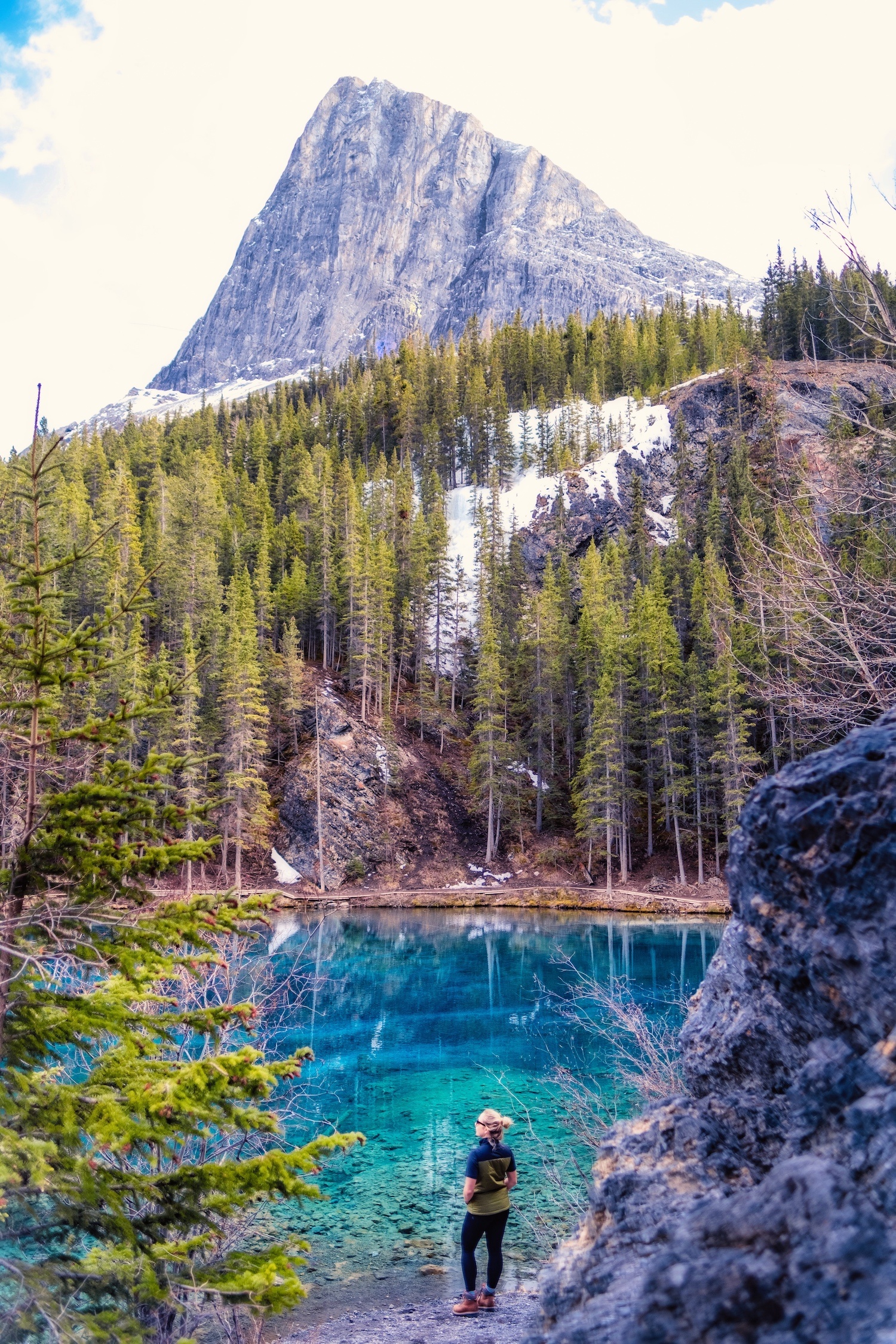 Right near Quarry Lake are the famous Grassi Lakes, some of the easiest lakes near Canmore to see. To reach these amazing blue lakes, you'll have to complete a short hike, but I promise it's worth it to see these small lakes in Alberta.
Grassi Lakes is located right near the town of Canmore, and they are a popular destination for weekend visitors to the area. Head here on a nice summer day or a weekend afternoon, and it's unlikely you'll have the trail to yourself. However, during the winter, you can trail run or fat bike up to the lakes and likely never see another soul!
---
Crypt Lake
Waterton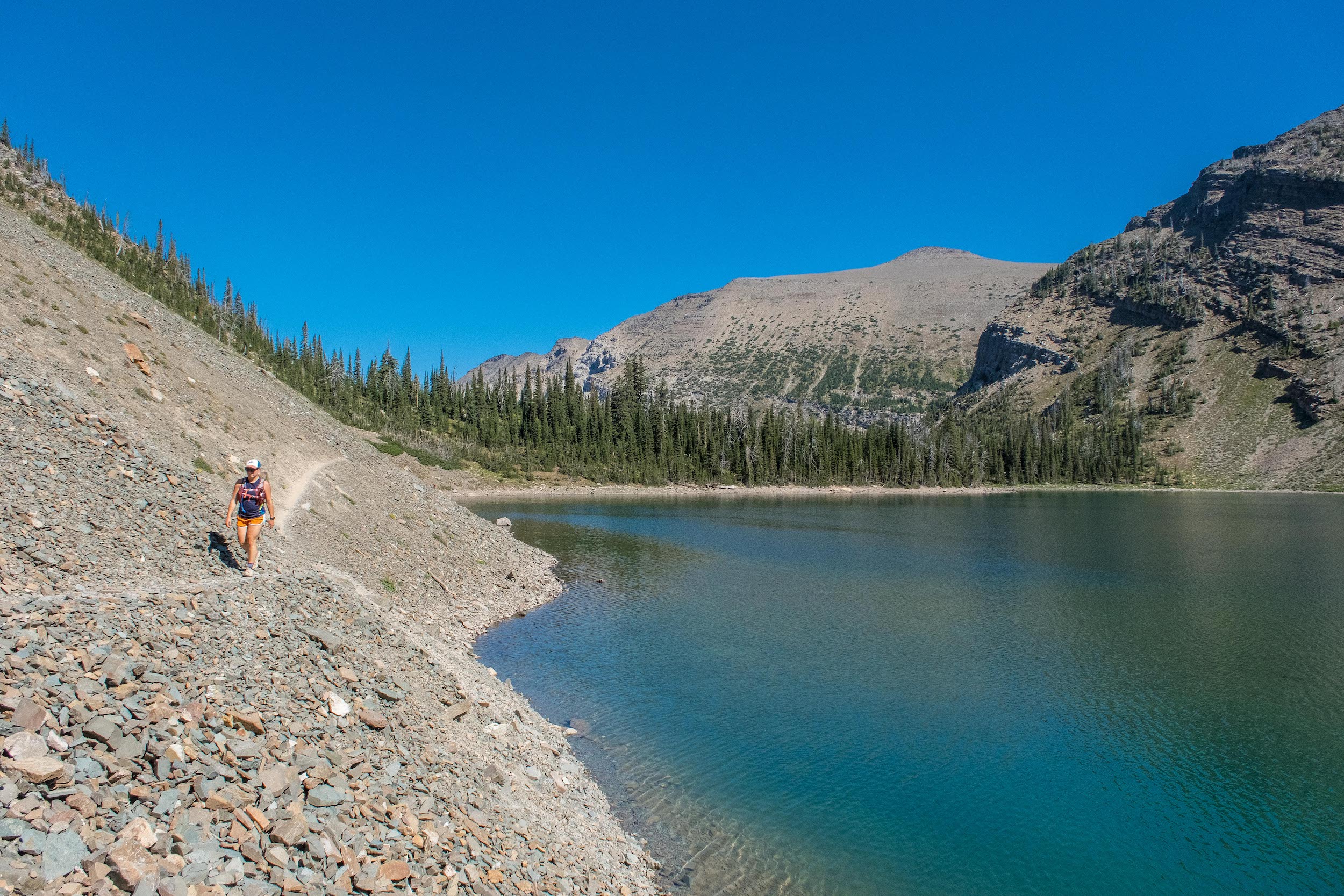 The Crypt Lake Trail in Waterton National Park has been named one of the most thrilling hikes in the world and one of the best trails in Canada. Hikers reach the trailhead via boat from the Waterton Township for a full day on the trail. The trail climbs 900 meters over 10 kilometers and ends at the stunning Crypt Lake. Along the trail, you'll have to climb ladders and go through tunnels, but it's all worth the effort.
Crypt Lake almost sits right on the border of the US, although you wouldn't know it by just reaching the lake. There's a huge mountain in between!
---
Rawson Lake
Kananaskis Country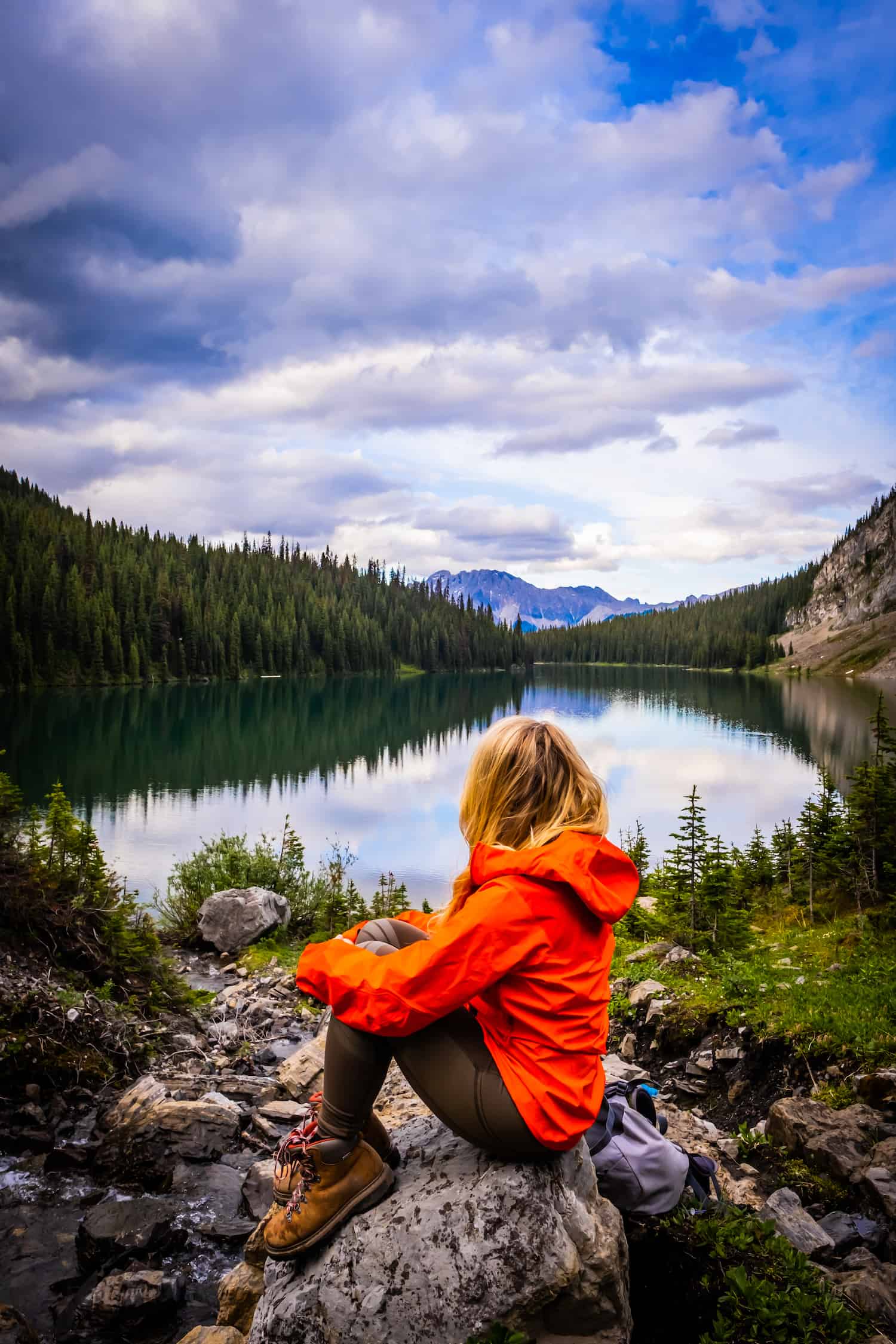 I love venturing up to Rawson Lake in Kananaskis, mainly because you have to hike over 3 km to reach it, keeping crowds down. Starting at Kananaskis Lakes, the trail to Rawson Lake is popular in the summertime, bus is quite exciting as it skirts Upper Kananaskis Lake for its beginning, passing by waterfalls and streams along the way. The elevation starts around the 1.3 km mark and keeps climbing until Rawson Lake.
Once you make it to Rawson Lake, you can walk around the lake and pick a nice spot to sit and relax. I suggest bringing some picnic supplies and enjoying the scenery under the mountains.
For those looking for a more extended and challenging day, consider hiking the steep trail up to Sarrail Ridge. Keep an eye on the Alberta Parks website. This trail frequently closes as there are many grizzly sightings.
---
Two Jack Lake
Banff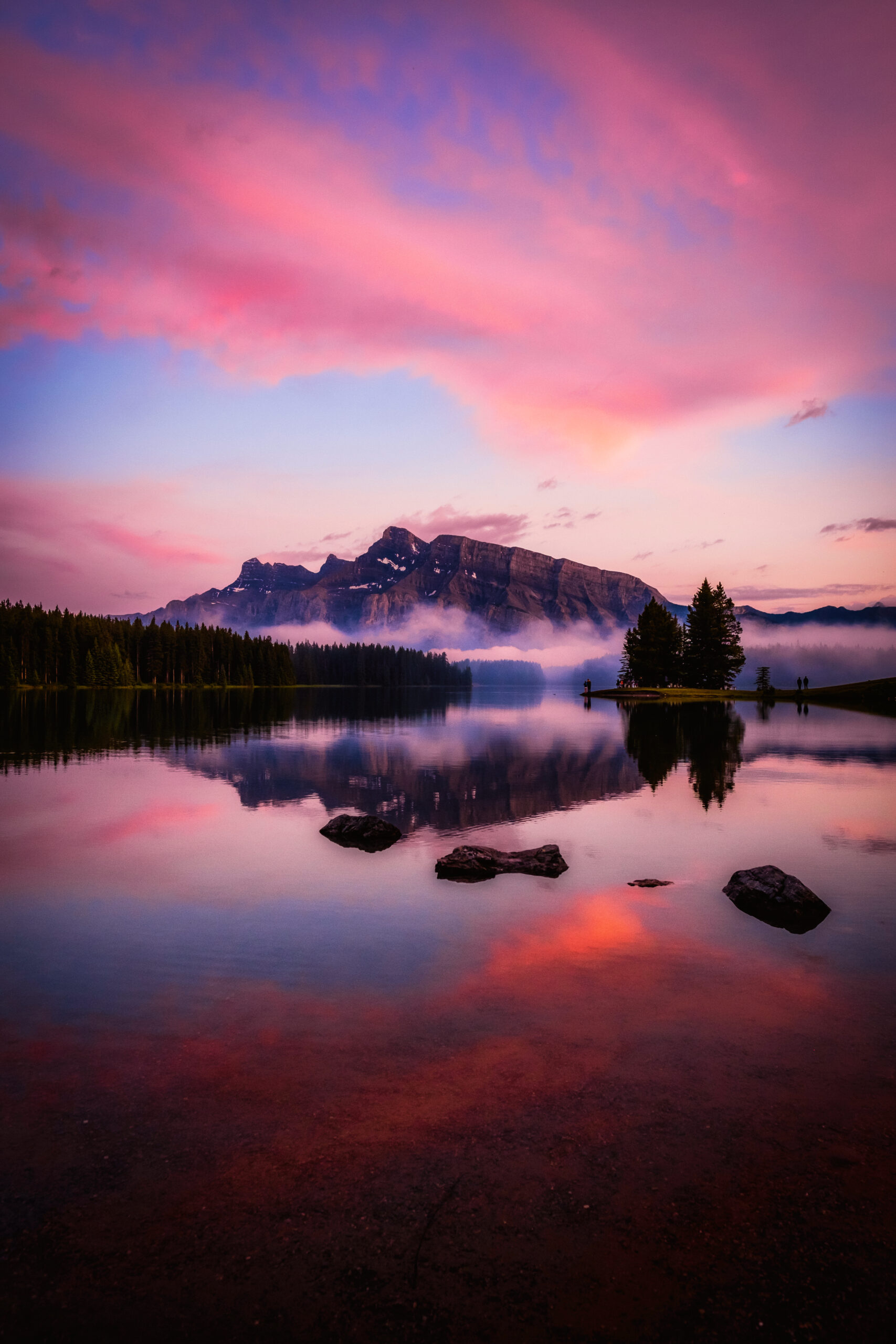 Another Banff favorite is Two Jack Lake right near the Town of Banff! While this lake isn't quite like the other vivaciously blue glacier-fed lakes in Banff it does have gorgeous views of Mount Rundle.
It's a great lake in Alberta to catch at sunrise or sunset, which is easy if you're camping in Banff at the Two Jack Lake campground. In the summer you can kayak, stand up paddleboard, or even swim if you don't mind the cold!
---
Pyramid Lake
Jasper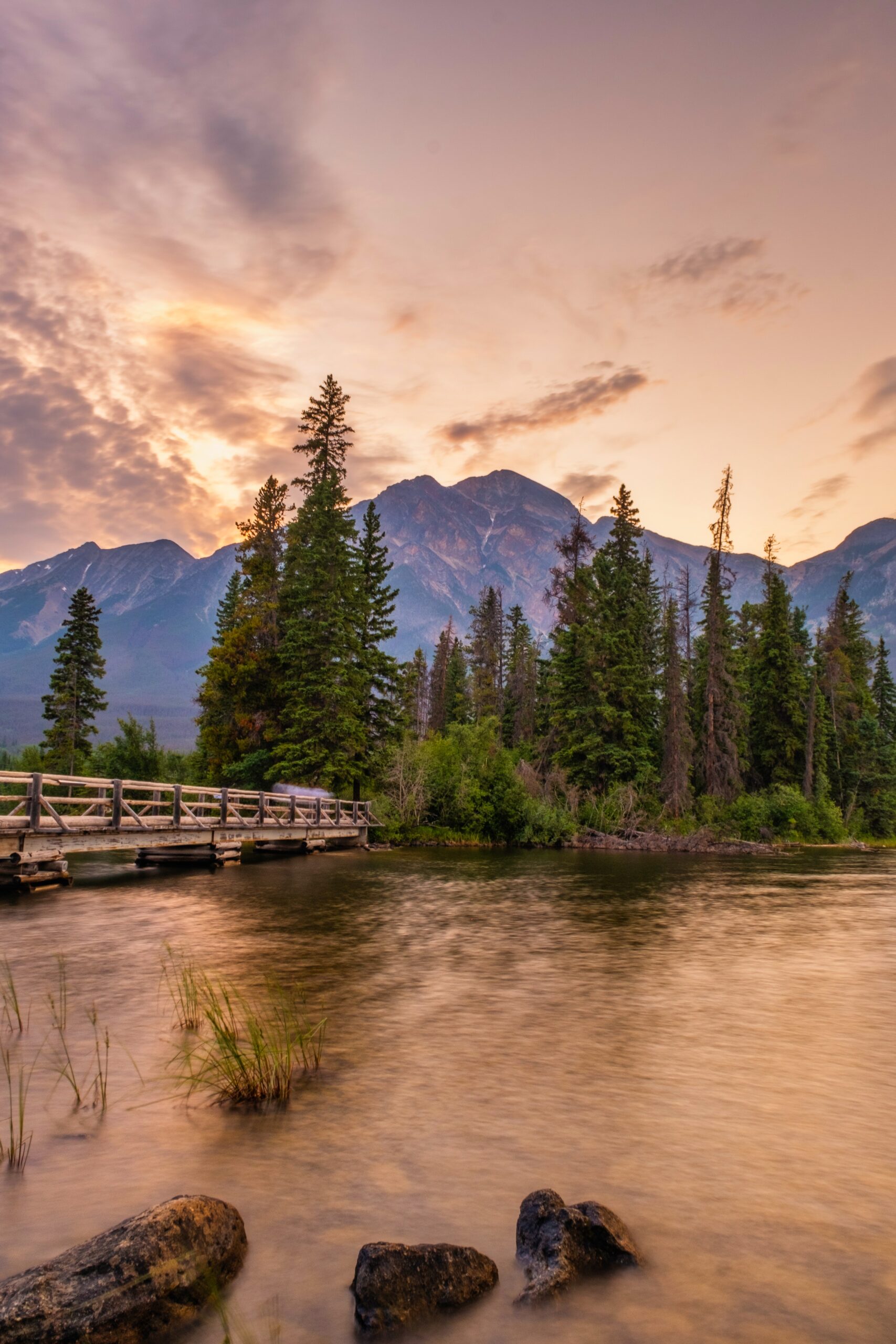 Pyramid Lake in Jasper National Park sits right under the iconic Pyramid Mountain. It's a warm (for Alberta) lake to swim in and is not as wind-affected as other lakes nearby. The highlight of Pyramid Lake is Pyramid Island, which is a small island accessible by bridge from the road.
If you are already paddling on the lake you can also easily reach it by boat! It makes for stellar photographs during the winter and summer. Don't forget to also stop at Patricia Lake when visiting Pyramid Lake – it's right next door!
---
Lake Minnewanka
Banff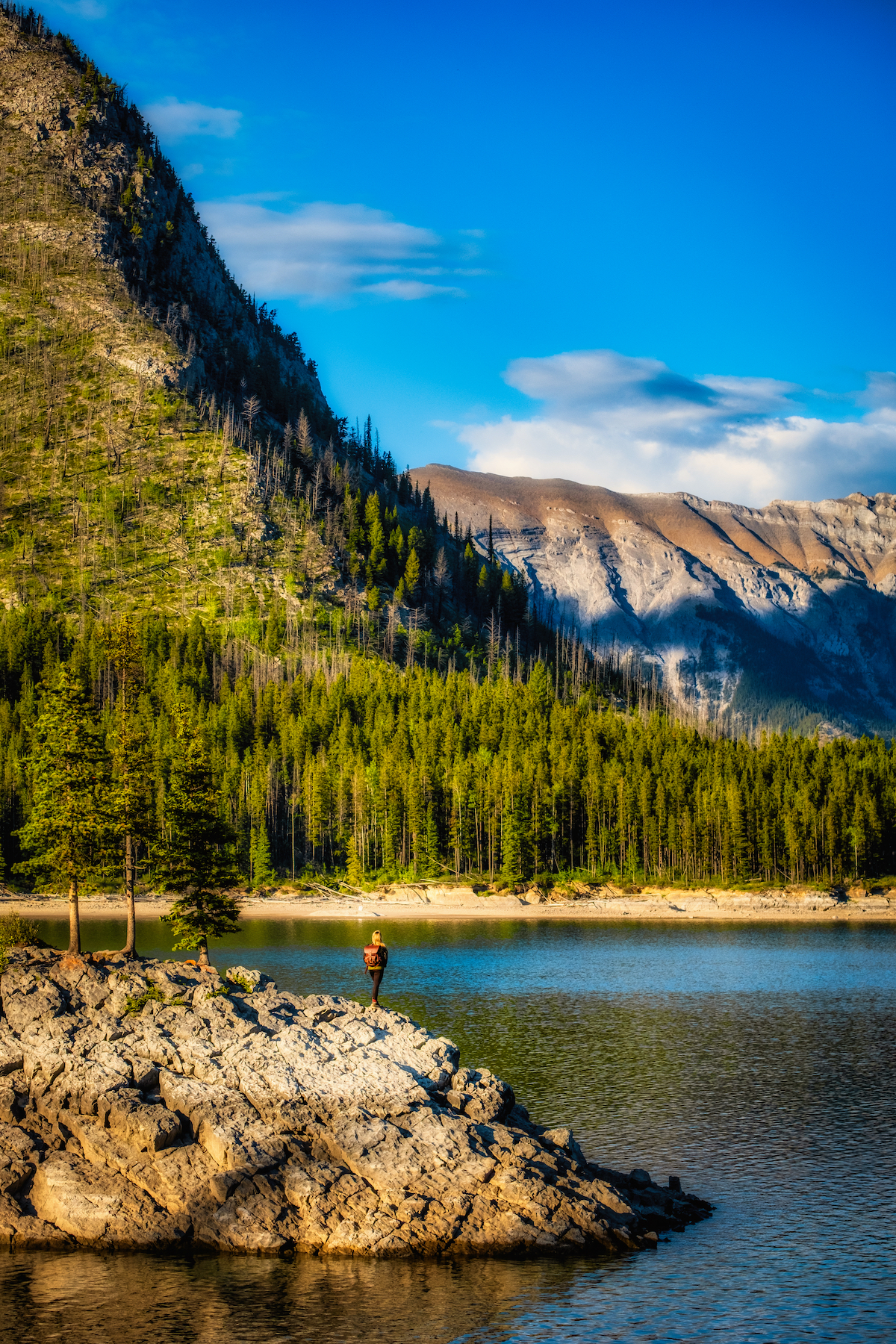 Lake Minnewanka is right near Two Jack Lake and is the largest lake in Banff National Park. It's a huge mand made lake at 21 km long! One of the most popular things to do here is enjoy a Lake Minnewanka Boat Cruise that will take you to the lake's start called Devil's Gap. You can also rent your own motorboat here with friends, as it's one of the only lakes in Banff that allows motors.
Lake Minnewanka is often wind-affected and very cold, meaning it's not a great lake to paddle on or swim in. Regardless it's worth heading to any time of year.
---
Waterton Lakes
Waterton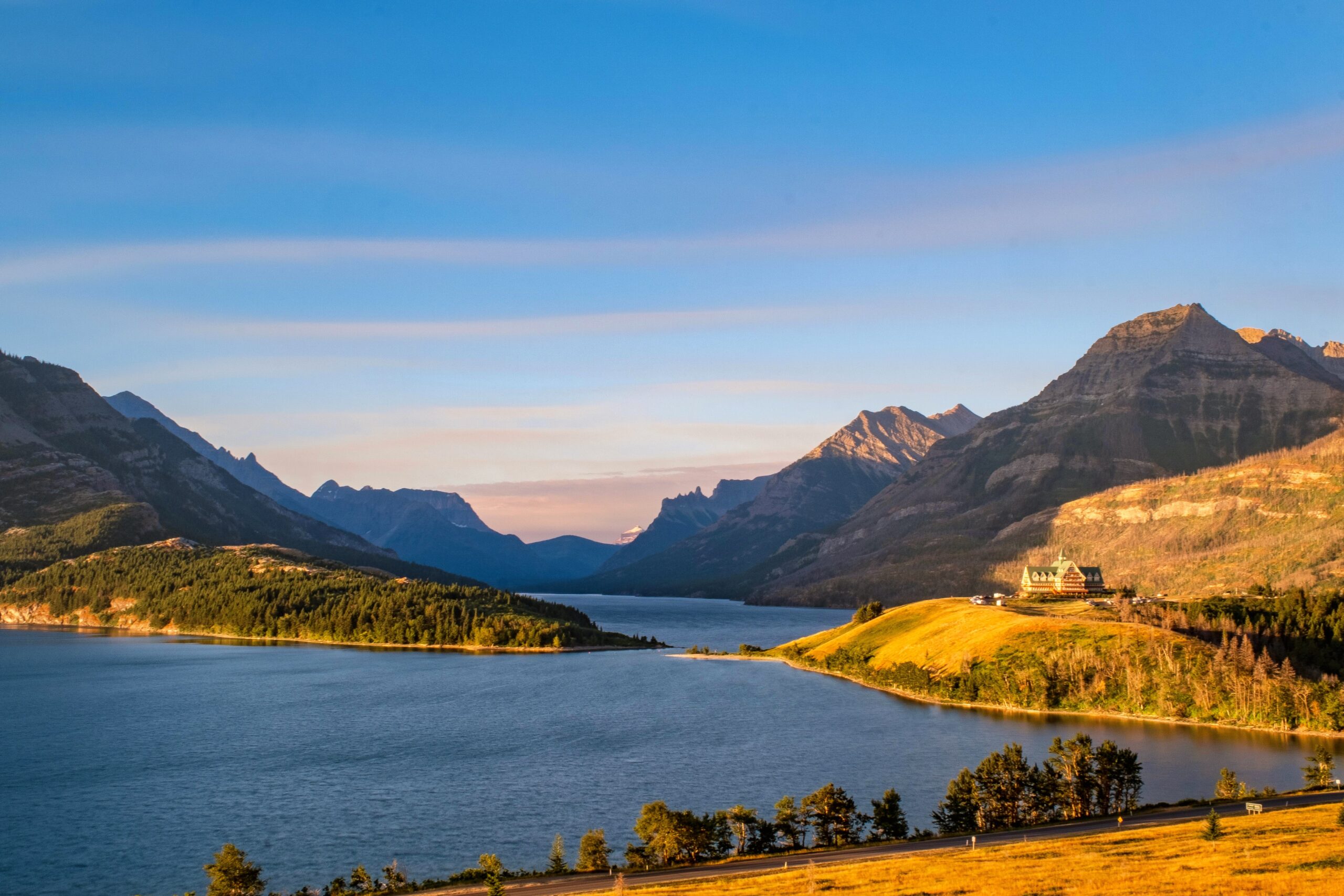 Waterton Lakes National Park is on the Canada/US border and makes up the second half of the Glacier-Waterton International Peace Park. Waterton Lakes consists of Lower Waterton Lake, Middle Waterton Lake, and Upper Waterton Lake. All are stunning, but Upper Waterton Lake typically gets the most glory.
On a beautiful summer day near the shore you can often make out the brilliant multi colored rocks under the water. Whether it be by kayak, canoe, or stand-up paddleboard, it's important to make sure you get out on Lake Waterton while there.
---
Lac Beauvert
Jasper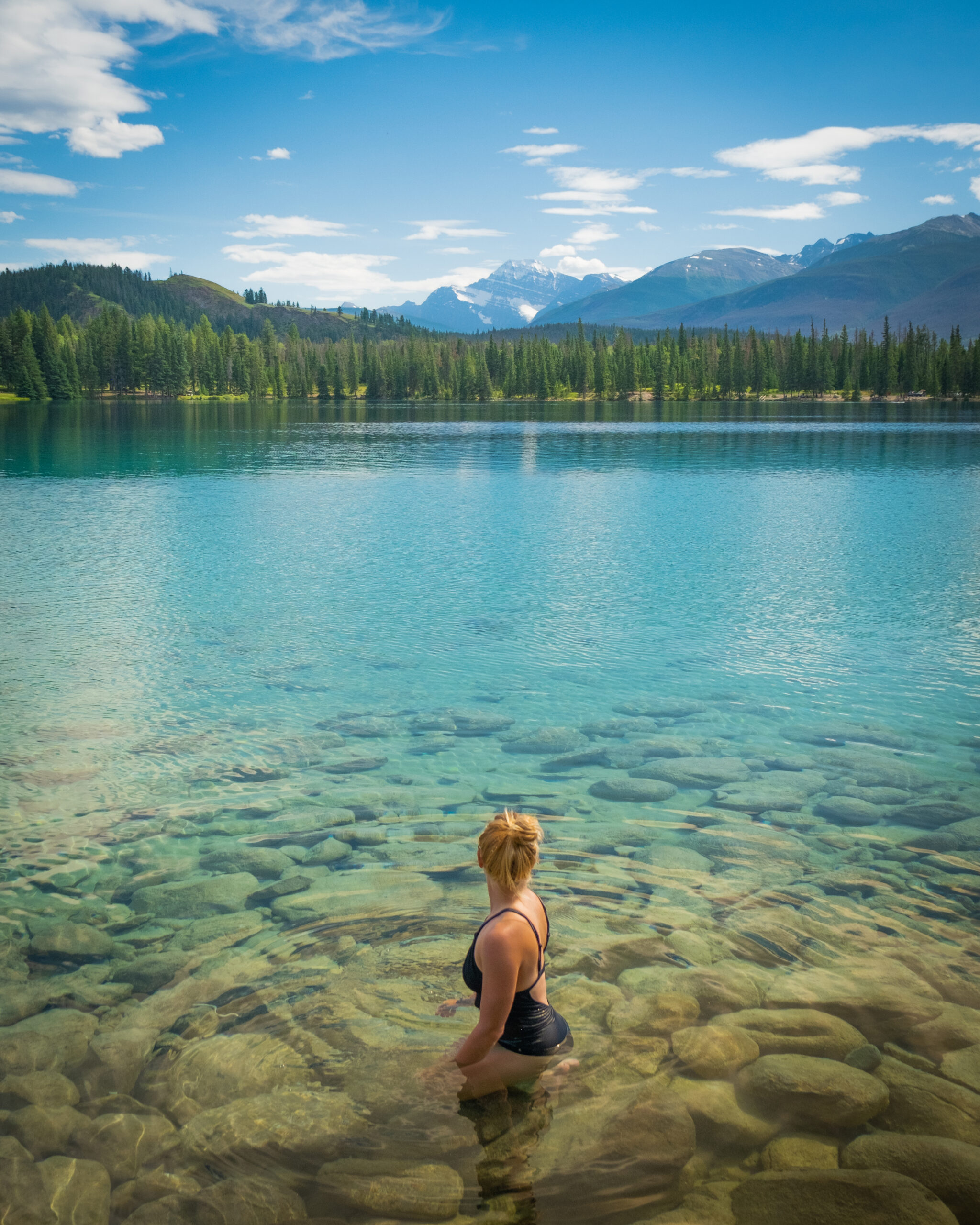 Out of all the lakes in Jasper, Lac Beauvert is easily my favorite. It has a picture perfect setting and is surrounded by the Jasper Park Lodge, but that's not why it's so great.
Beauvert is one of the clearest, bluest lakes in all the Rockies. Seriously you can see straight to the bottom of this one! While it's a bit too cold to ever take a swim in, the Jasper Park Lodge has a boathouse that rents out canoes, paddleboards, and paddleboats.
Nearby make sure to also check out Lake Annette and Edith Lake.
---
Maligne Lake
Jasper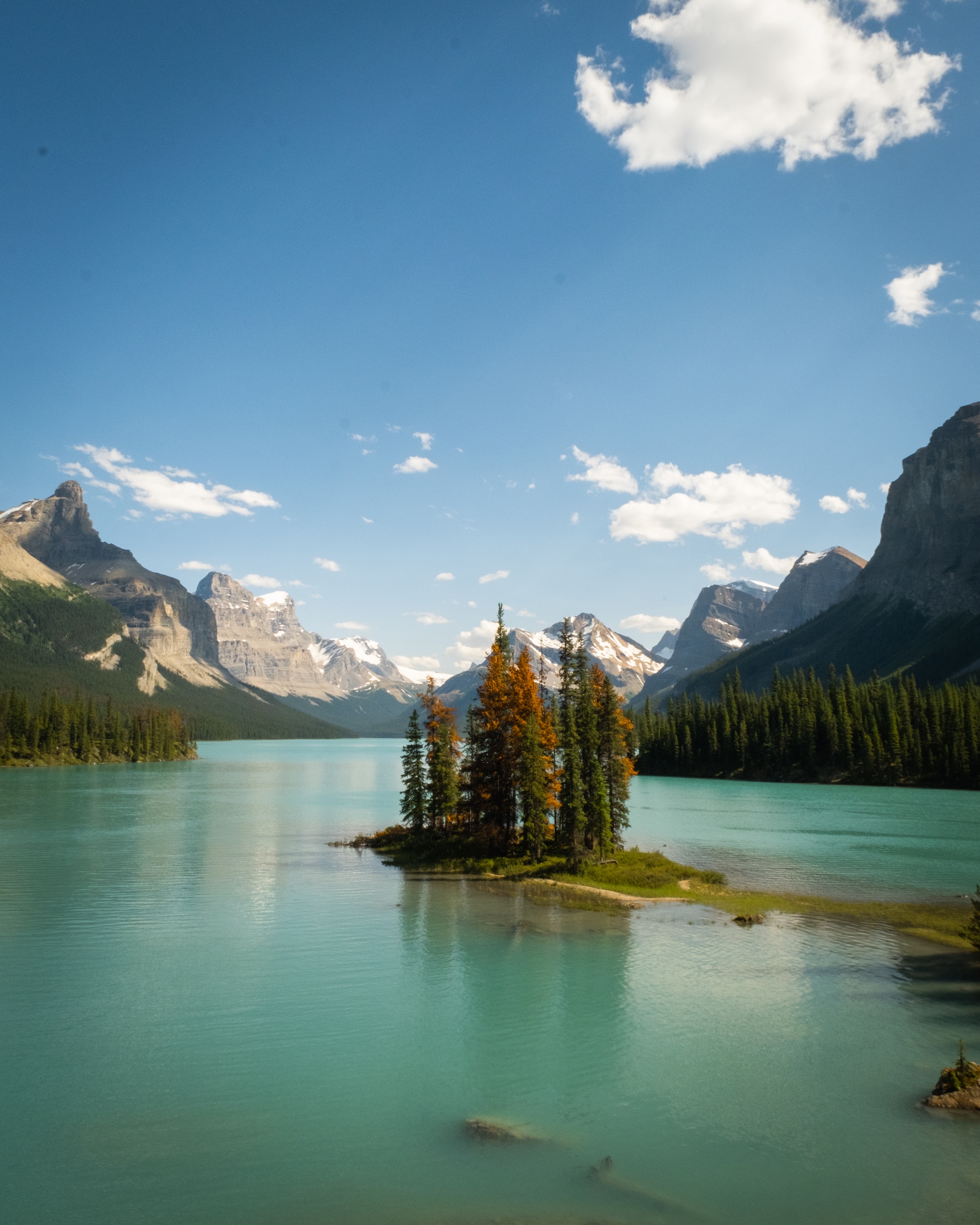 While Minnewanka is the largest lake in Banff, Maligne Lake is the largest in Jasper. Maligne is a must-visit for anyone visiting Jasper as it's glacial fed and bright blue in the summer. There's a boathouse here where you can rent canoes and kayaks.
It's also possible to take a Maligne Lake Boat Cruise to Spirit Island. As you may have guessed by its name, Spirit Island is a serene and revered place, especially to the area's indigenous people. Due to its sacredness, the island is off limits, but boat tours are available which will take you close enough to appreciate its splendor.
For those who need a little more exertion and adventure, it's possible to view the island by kayak or canoe; this option is only for the physically fit because the roundtrip is difficult to complete in a day and you'll need to camp at one of the Jasper campsites nearby.
In peak summer these campsites book up fast and well in advance, so if it's on your wishlist to camp next to Spirit Island always check back with the Parks Canada camping reservation site.
---
Lake Athabasca
near Wood Buffalo National Park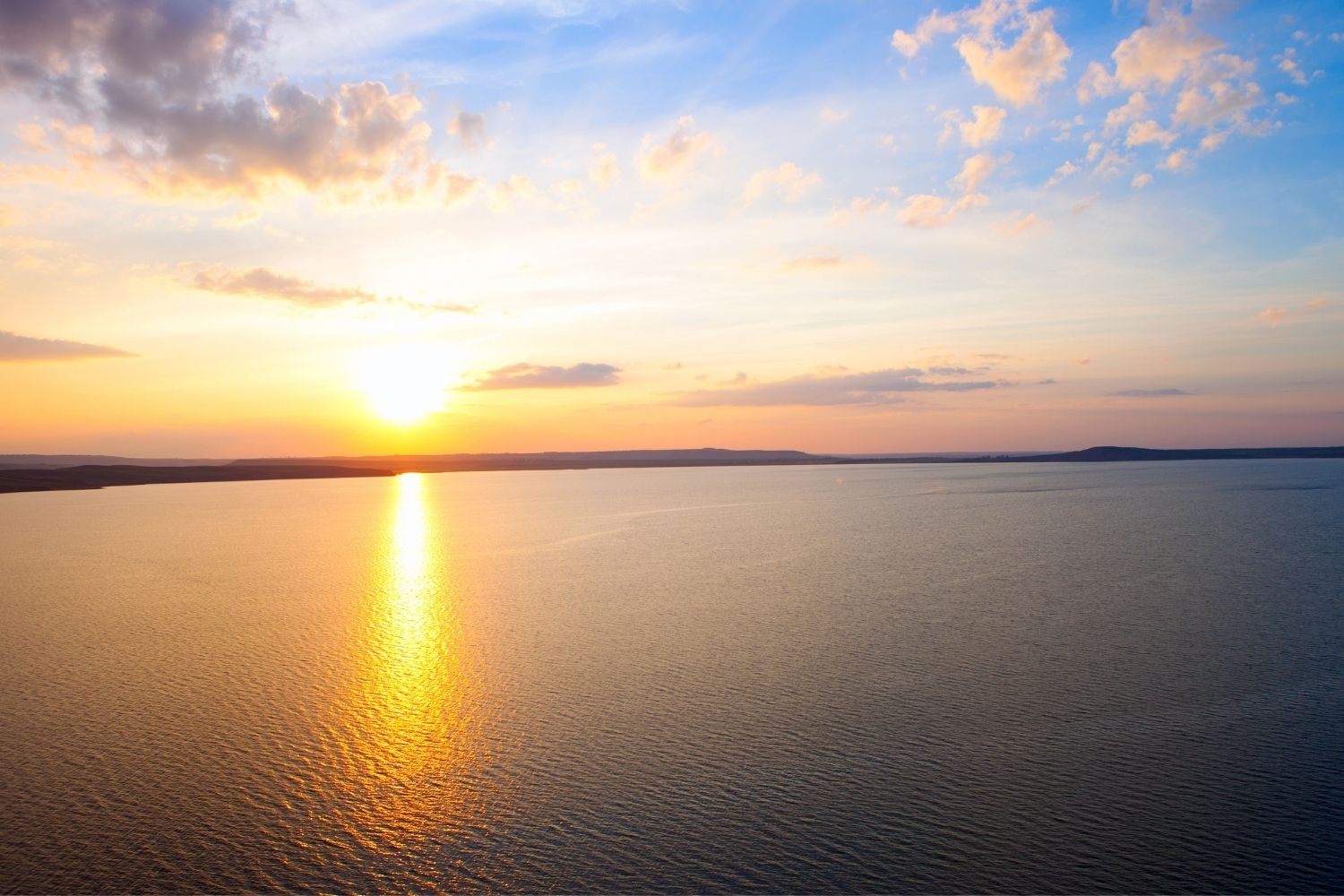 While only 26% of Lake Athabasca is in Alberta (the rest is in Saskatchewan) I knew I still had to mention it on this list as it's truly a sight to see. Mainly because at almost 2 million acres and a depth of 410 feet it is the largest and deepest lake in Alberta and Saskatchewan and the eighth largest in all of Canada!
Lake Athabasca is near Wood Buffalo National Park, which if you look at a map is pretty far up there near the NWT border. It's a remote section of the world that is not so easy to get to with only lesser traveler access roads to get you there.
---
Vermilion Lakes
Banff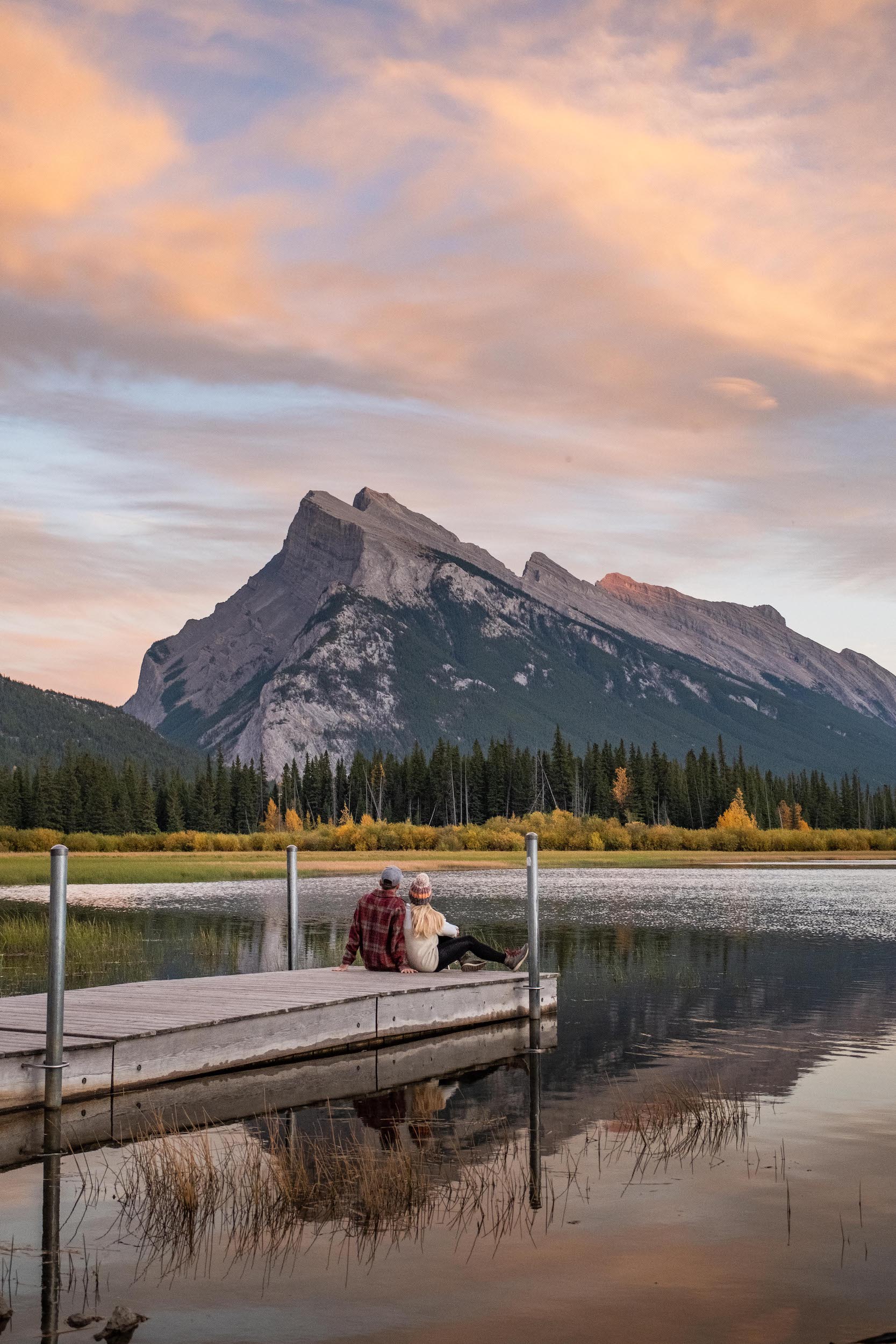 Vermilion Lakes are the closest lakes to the Town of Banff and a super popular Alberta lake to head for sunrise and sunset. If you are visiting Banff, you literally cannot miss this lake as you can see it right from the TransCanada.
It's a marshy area that is fun to paddle around. There are a few boat docks in the area to enjoy with a drink in hand during any season.
---
How Many Lakes Are There in Alberta?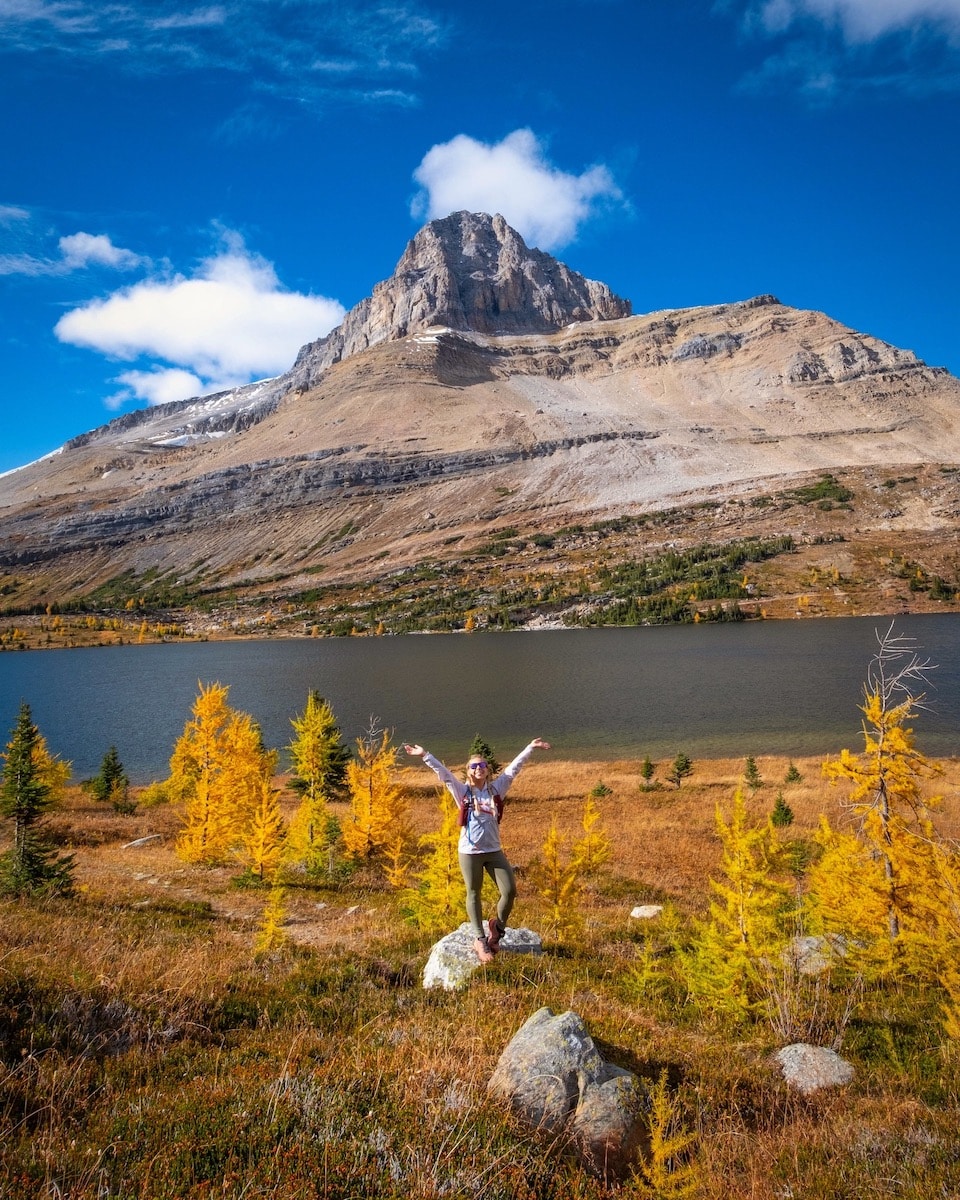 While Alberta is a landlocked province, one can always find a lakeshore to enjoy as there are over 600 lakes in Alberta!
---
Best Lakes in Alberta Map
---
Hopefully, this helped you determine which Alberta lake to visit!
If you have any other questions leave a comment or see our Canadian Rockies travel guide for more articles about photography spots, lakes, hikes, and everything else.
---
↓ Join the community ↓
The Banff Blog Facebook Group is your headquarters for the Canadian Rockies' travel advice and information. Including hike info and off-season travel information. You can also meet new adventure buddies.

Plan Your Trip to the Canadian Rockies