You've likely seen photos of Abraham Lake in Alberta whether you know it or not. Abraham Lake is well known for the dizzying amount of methane ice bubbles that are locked away in the lake's clear ice during the winter months. This man-made lake on the North Saskatchewan River in David Thompson Country is a popular place to travel in both the summer and the winter.
While Abraham Lake isn't technically in Banff National Park or Jasper National Park, it's not far from either and is a must-stop on any road trip along the Icefields Parkway. Here are all the amazing reasons you should make the trip to Abraham Lake.
---
Why Should You Visit Abraham Lake in Alberta?
---
Abraham Lake is Home to the Ice Bubbles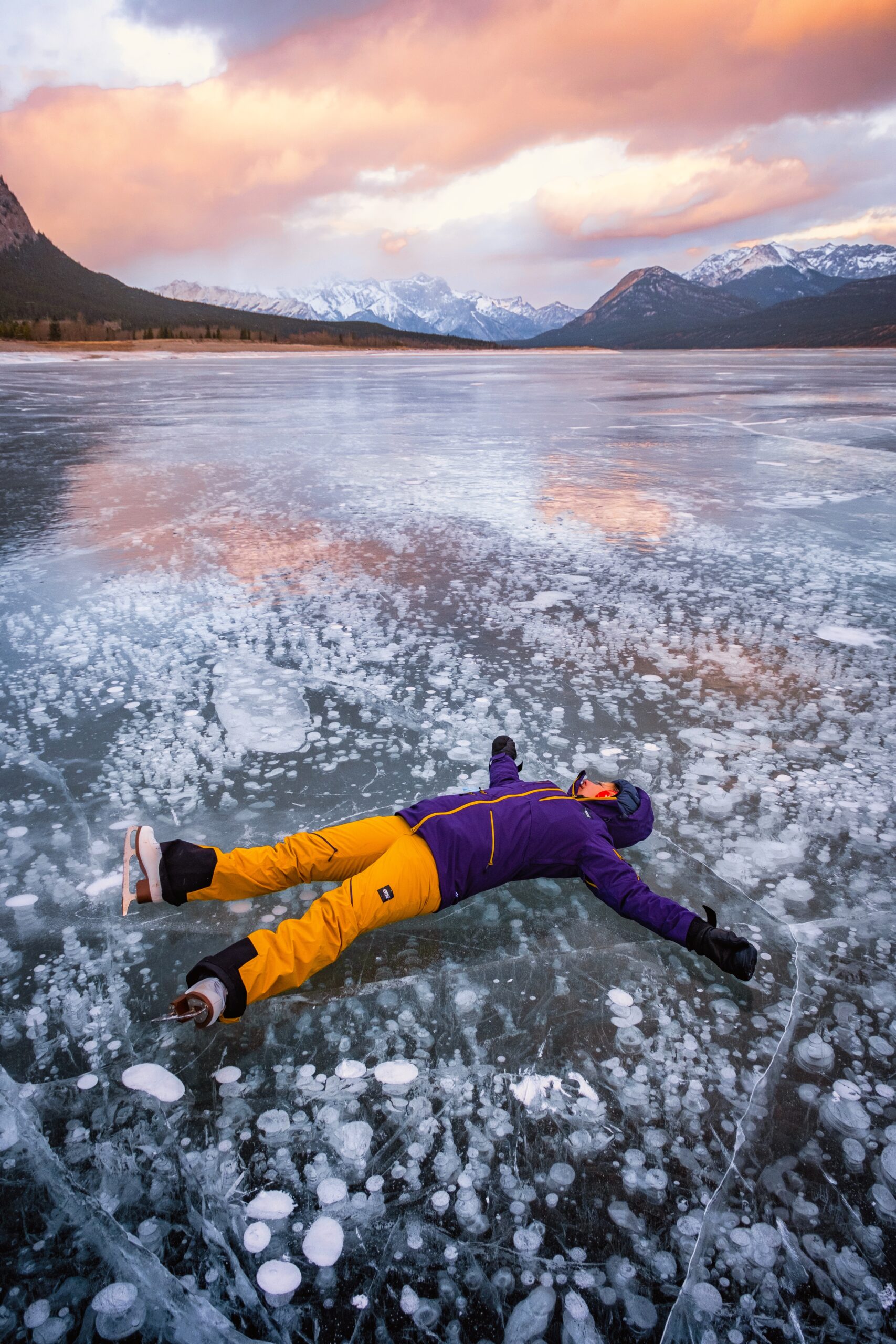 Abraham Lake has been seen in Instagram photos around the world. But it's not usually for those dreamy summer blues you get in the Canadian Rockies, but instead for its winter phenomenon.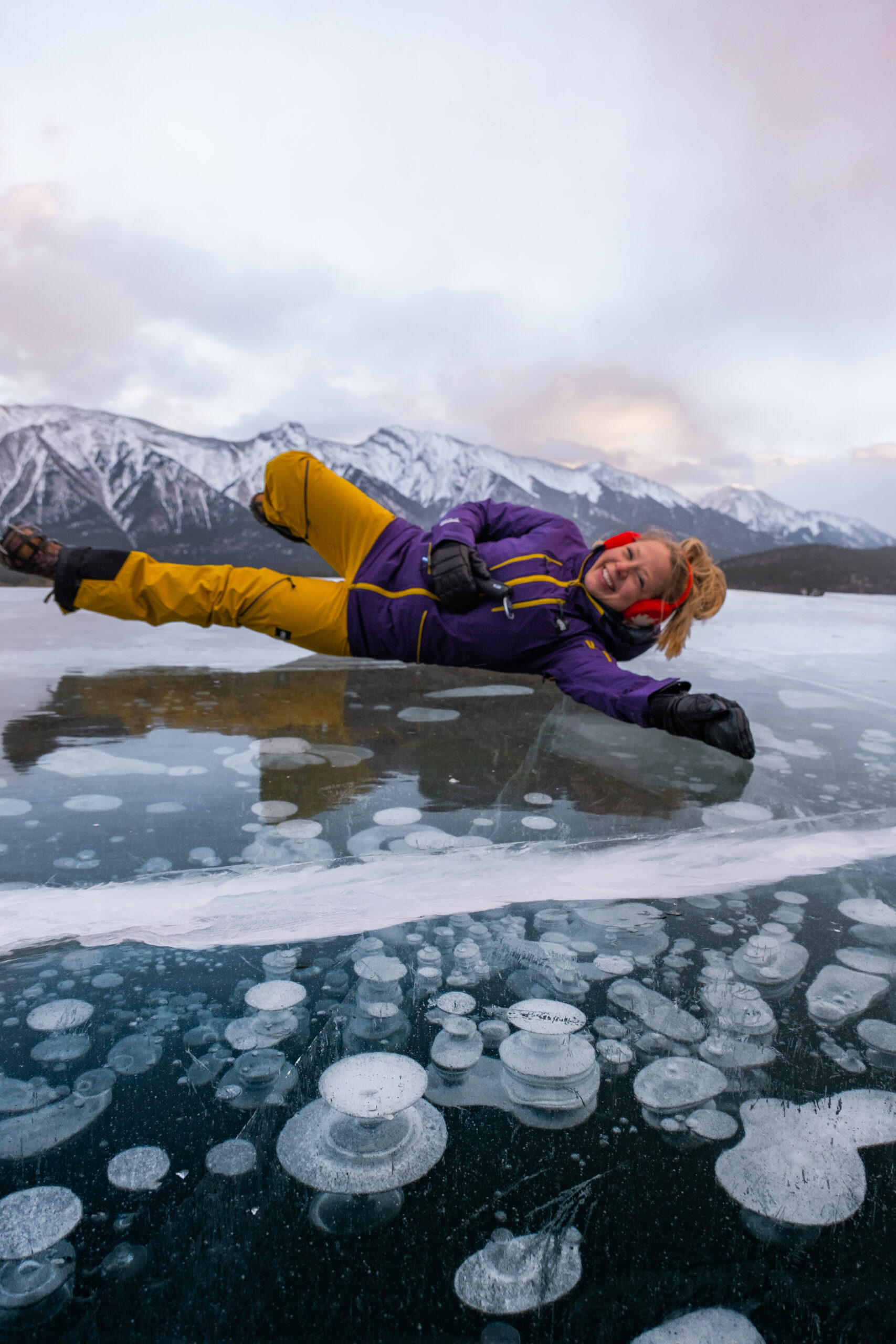 If you come here between December and March you stand a very very good chance at seeing tons of frozen ice bubbles. These frozen ice bubbles happen at many lakes in the Canadian Rockies, but they are most prominent at Abraham Lake.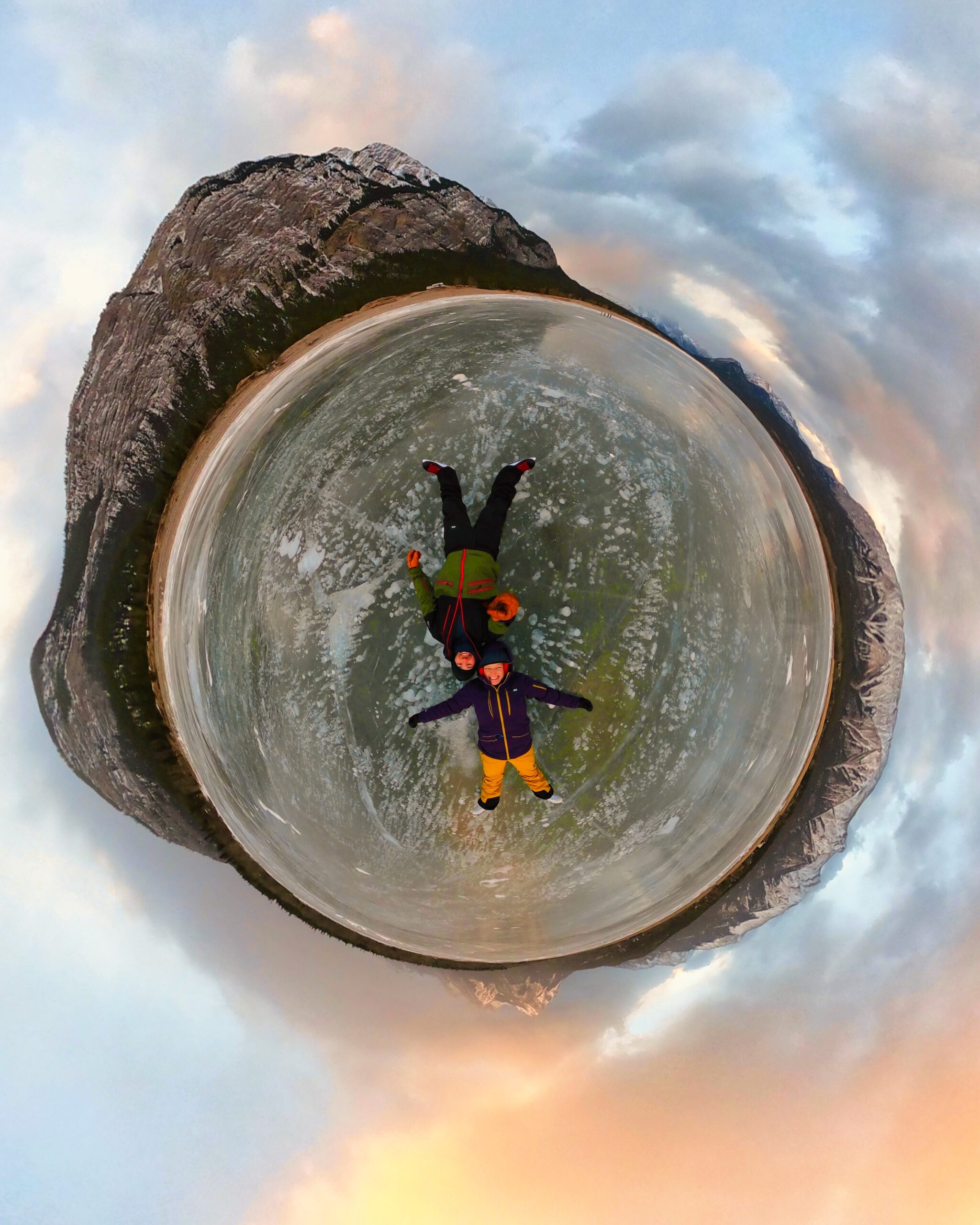 The ice bubbles are caused by trapped methane which are created when organic matter, like dead plants and animals, sink to the bottom of the lake. When this matter decomposes it releases methane gas and rises to the top.
As the lake begins to freeze the bubbles get trapped and stack on top of each other. This creates unique formations of ice bubbles in the winter. When spring rolls around and the ice melts the methane gas is released into the atmosphere.
The visuals of these frozen ice bubbles have people traveling from all over the world to see this lake in the winter.
---
You Can Ice Skate on Abraham Lake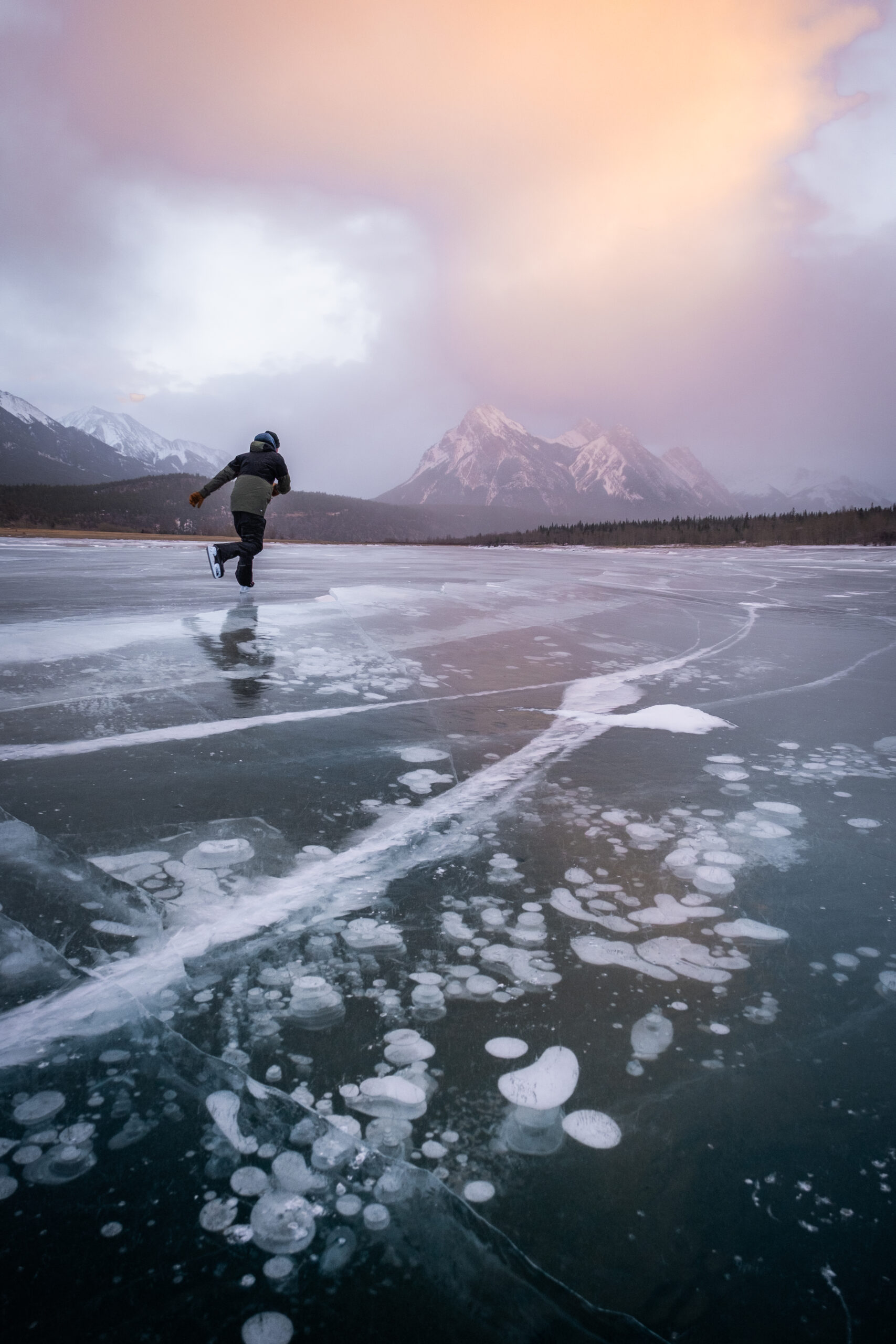 Abraham Lake is one of the best places in the Canadian Rockies to wild skate on and heading here is one of the best things to do in Nordegg. It's best to head here in January when the ice is frozen. There's nothing quite like wild ice skating on millions of frozen bubbles. What makes Abraham Lake one of the best places to ice skate is something you may not like though…
---
Abraham Lake is Super Windy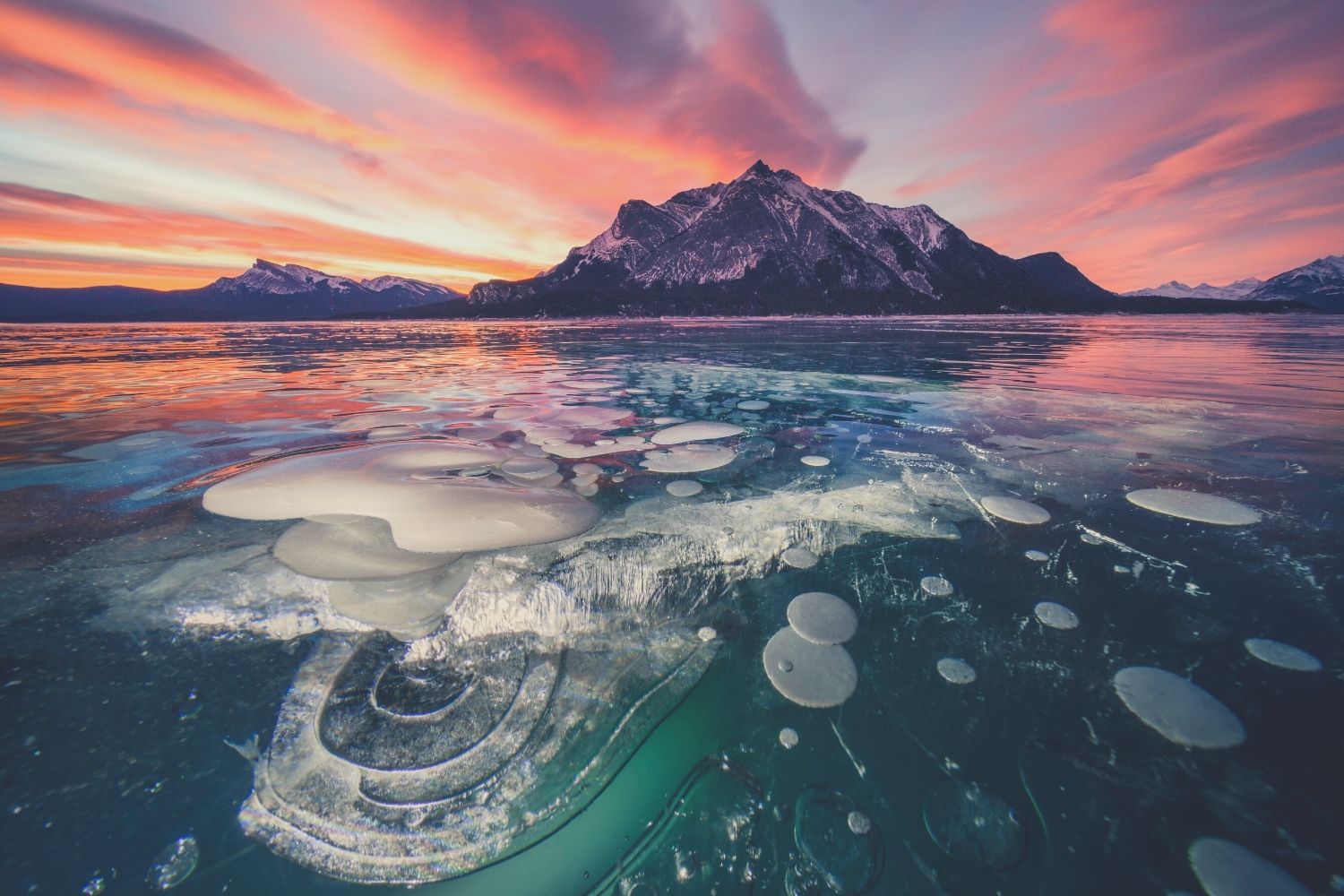 While being one of the windiest places in Alberta isn't exactly a desirable thing, but Abraham Lake weather has some positives. Most notably the wild skating and ice bubbles. You see, many lakes like Lake Louise and Two Jack Lake freeze in the winter, but once the lakes freeze and snowfalls they are essentially not skateable anymore. And forget about seeing the ice bubbles.
However, Abraham Lake is extremely windy, meaning even in the middle of February you'll have ice that isn't covered by snow. The wind is so strong here that Abraham Lake stays clear almost all winter.
That being said heavy wind during an Alberta winter is far from warm and you'll need to dress accordingly. A hat, gloves, and warm coat and snow pants are recommended (see our full winter packing list here). Don't drop your gloves (or anything else) on the ice through – the wind is so strong it could sweep items away in an instance!
And yes, Abraham Lake is just as windy in the summer too. When the lake is thawed winds can create 3 foot high swells that could easily hinder a canoe or kayak, so always wear a life jacket and watch the Abraham Lake weather if you're having a lake adventure.
---
Abraham Lake is Man Made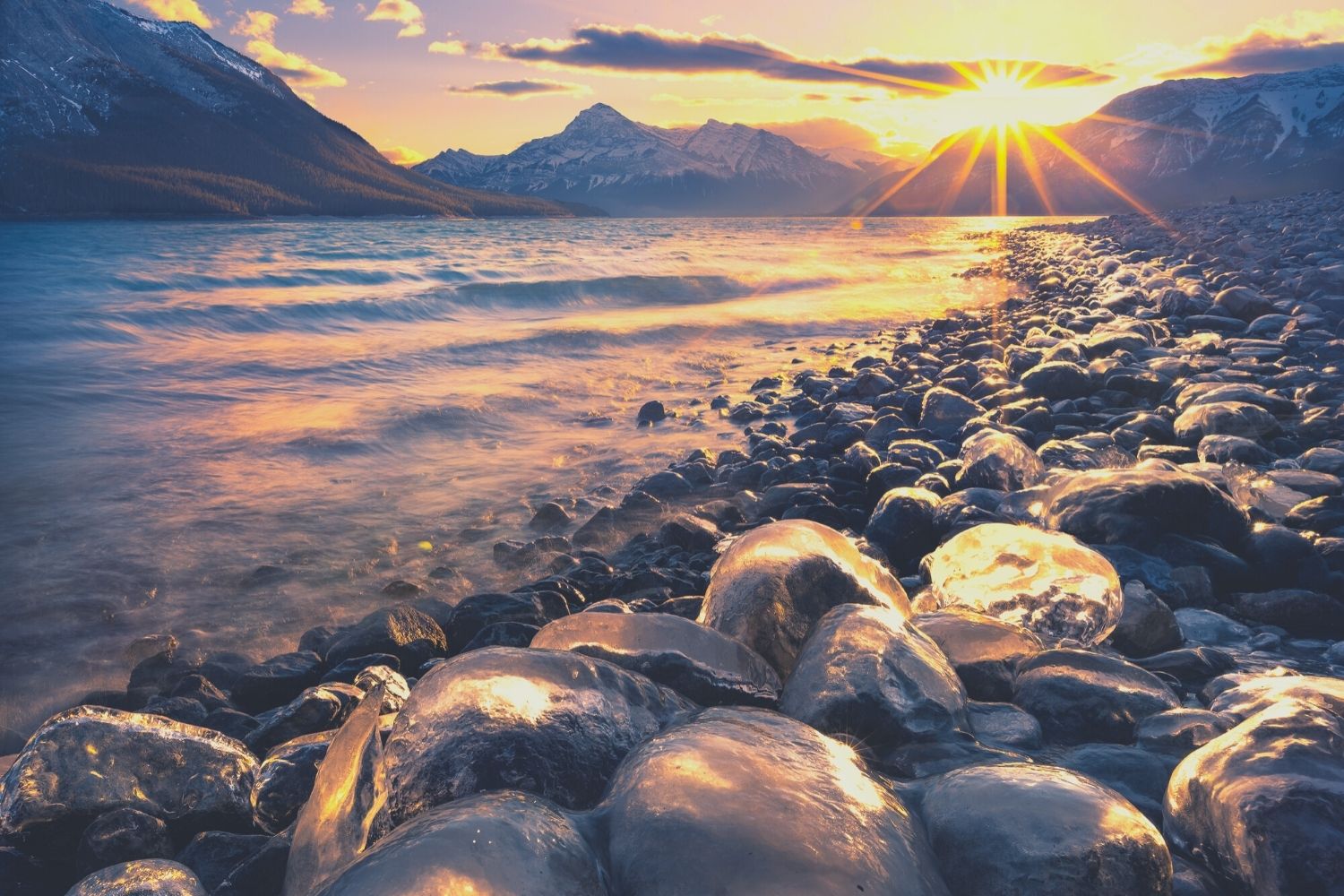 An interesting thing to note about Abraham Lake in Alberta is that it is man-made. The lake was created in 1972 with the construction of the Bighorn Dam. The lake was built on the upper course of the North Saskatchewan River and lines the David Thompson Highway.
---
Abraham Lake is Huge!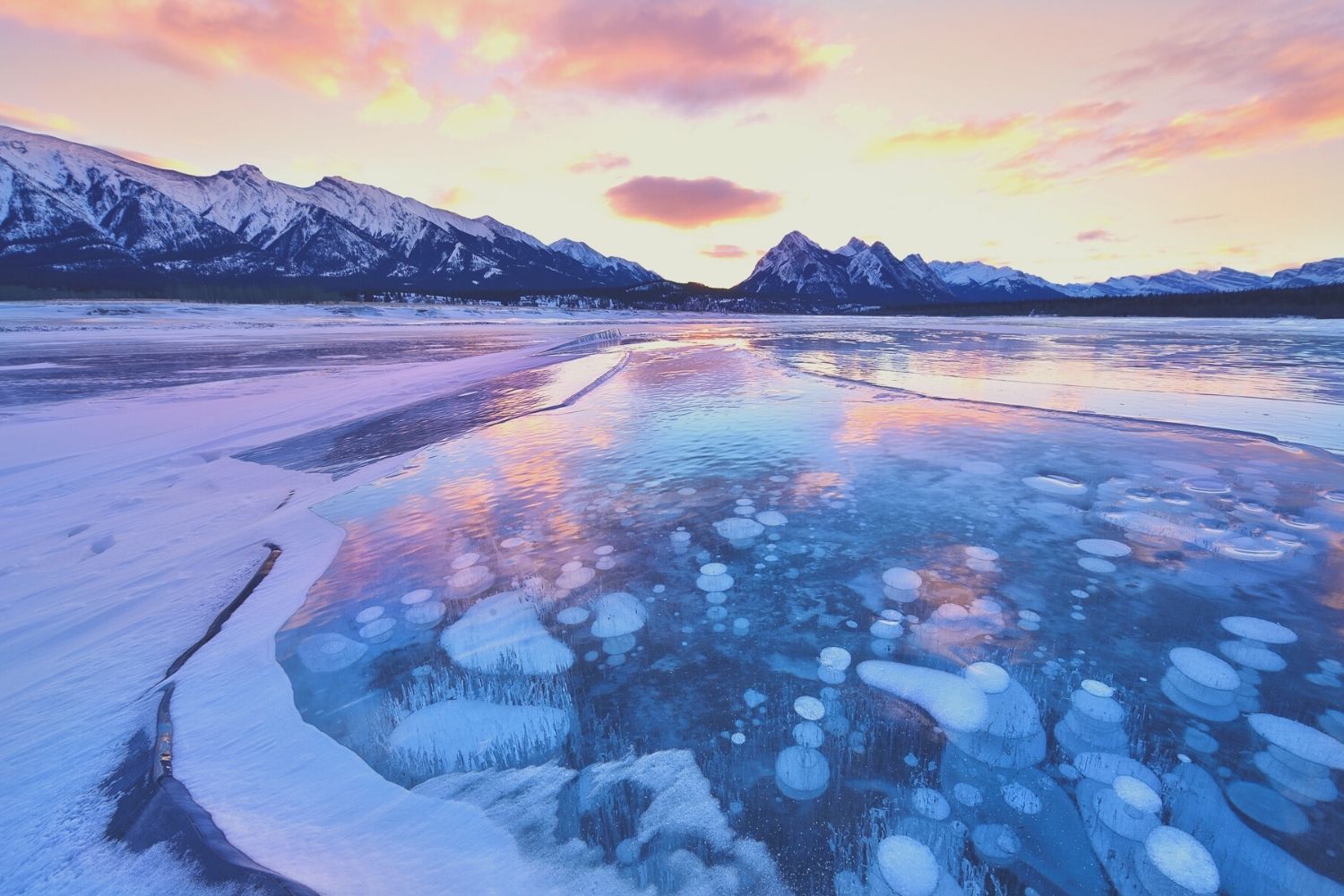 How huge exactly? Abraham Lake has a surface area of 53.7 km2 and a length of 32 km making it one of the largest lakes in Alberta and the largest reservoir in the province.
---
Abraham Lake has Those Sweet Baby Blues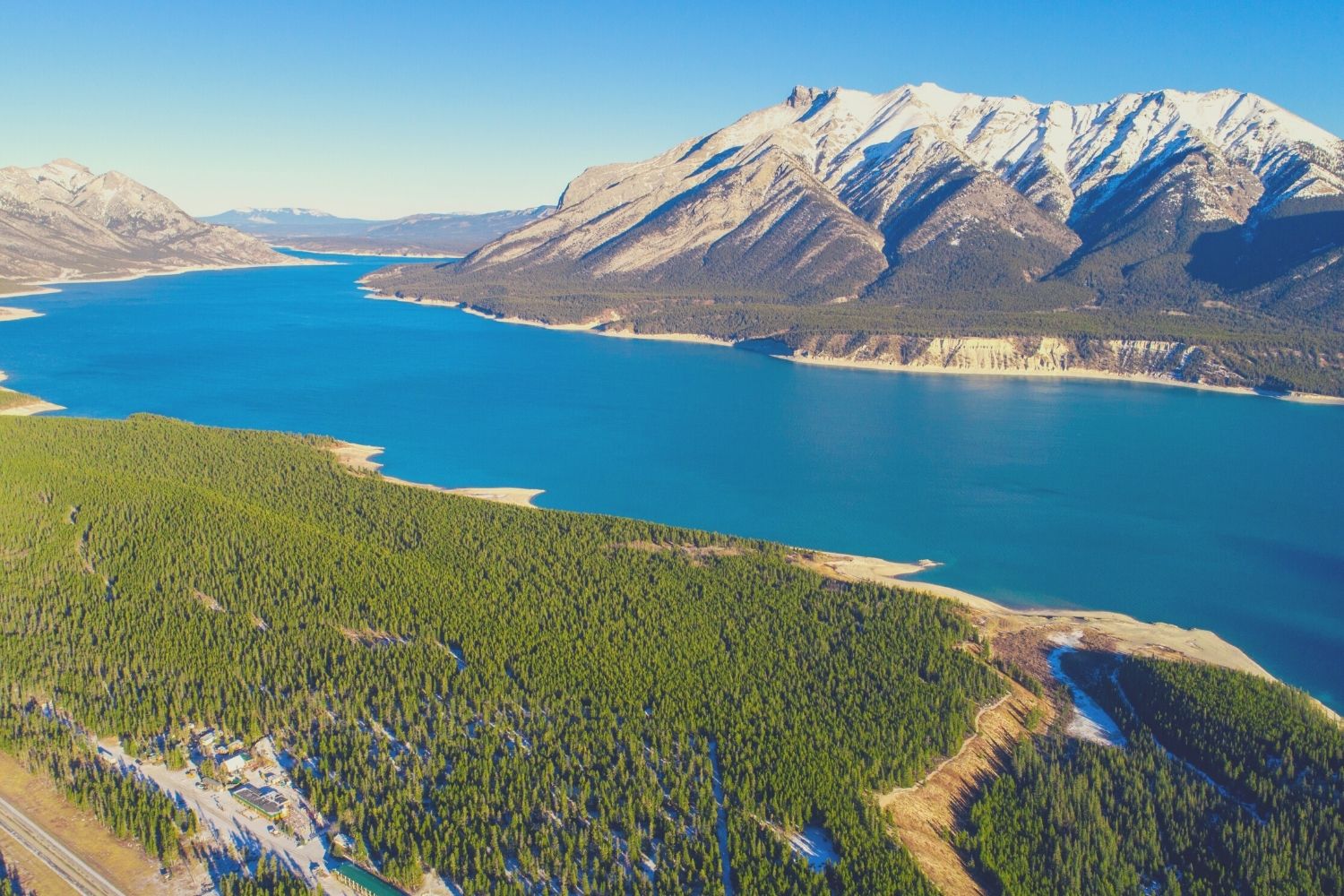 While most visitors know Abraham Lake as the famous winter ice bubble lake it's actually just as amazing in the summer. Although it's an artificial lake it still has the deep blue color that the other glacial lakes in the Rockies have.
So if you think your lake adventure ends at Lake Louise and Peyto Lake you would be wrong! You'll have to continue traveling to see this lake color.
---
Abraham Lake is Surrounded by Colossal Peaks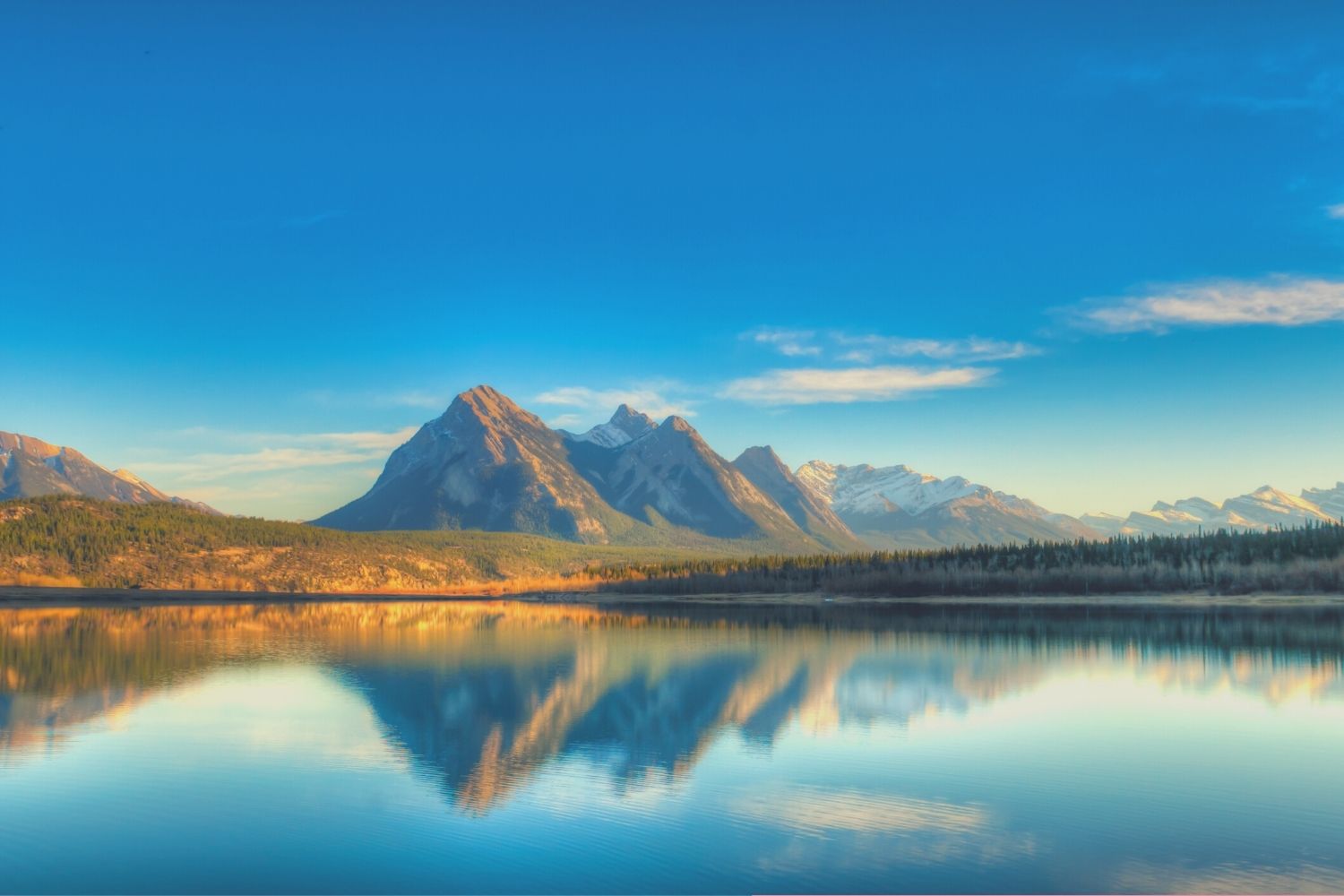 Just because Abraham Lake isn't in a national park doesn't mean it's not surrounded by some mammoth mountains – this is the Canadian Rockies after all! Abraham Mountain, Mount Michener, Mount Ernest Ross, and Elliot Peak all surround Abraham Lake and are amazing to catch a glimpse of. There's also a very famous hike above Abraham Lake you can hike in the summer called Vision Quest.
---
Hike Vision Quest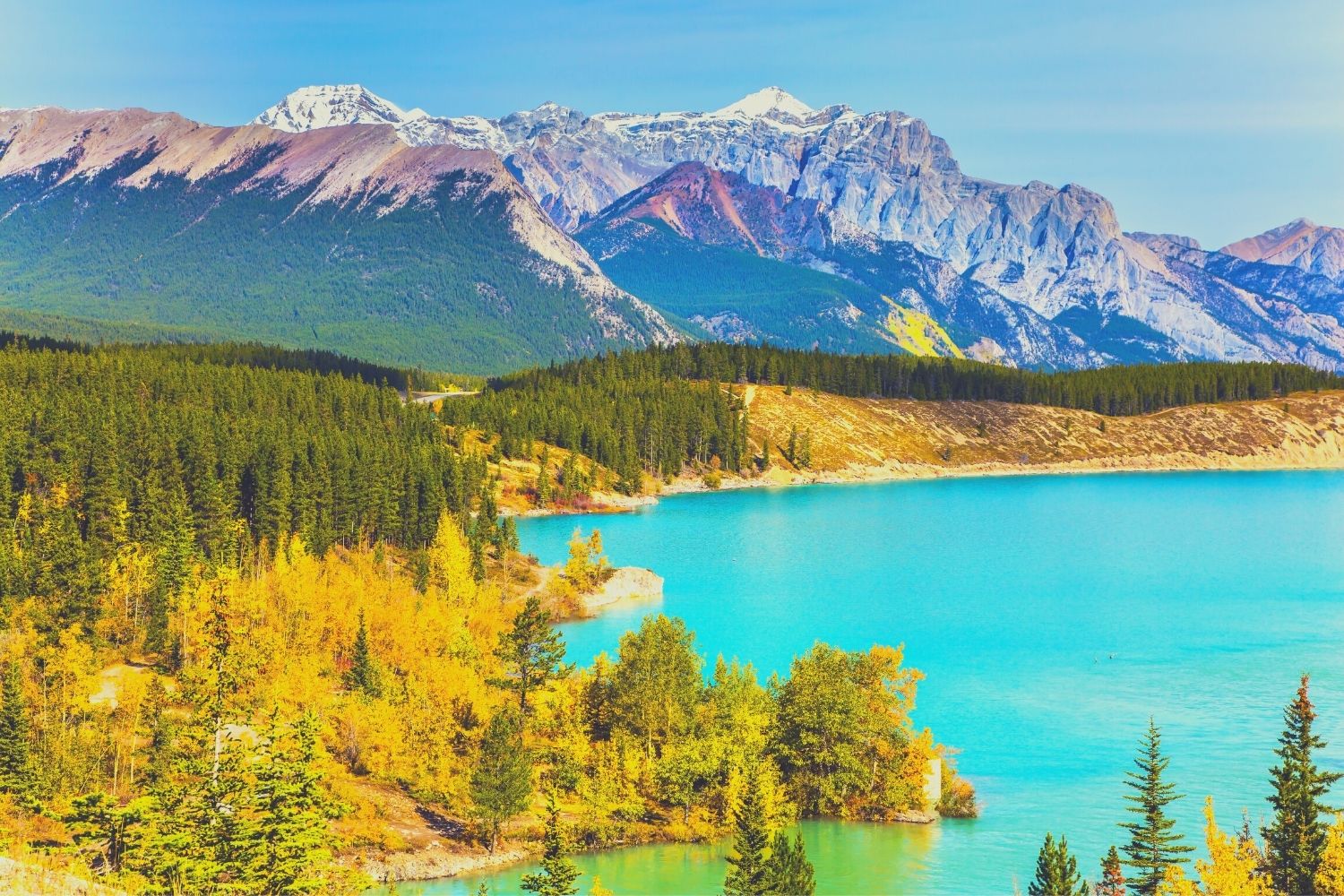 One of the main reasons Albertans head to Abraham Lake in the summer is to hike Vision Quest. Vision Quest is a popular hike in the Canadian Rockies that provides absolutely astonishing views over Abraham.
Hiking/scrambling Vision Quest involves climbing 850 meters of elevation gain and 6.3 km. But unlike inside Banff, you can actually open camp around the lake and at the start of Vision Quest if you want.
---
Abraham Lake is Right Off the Icefields Parkway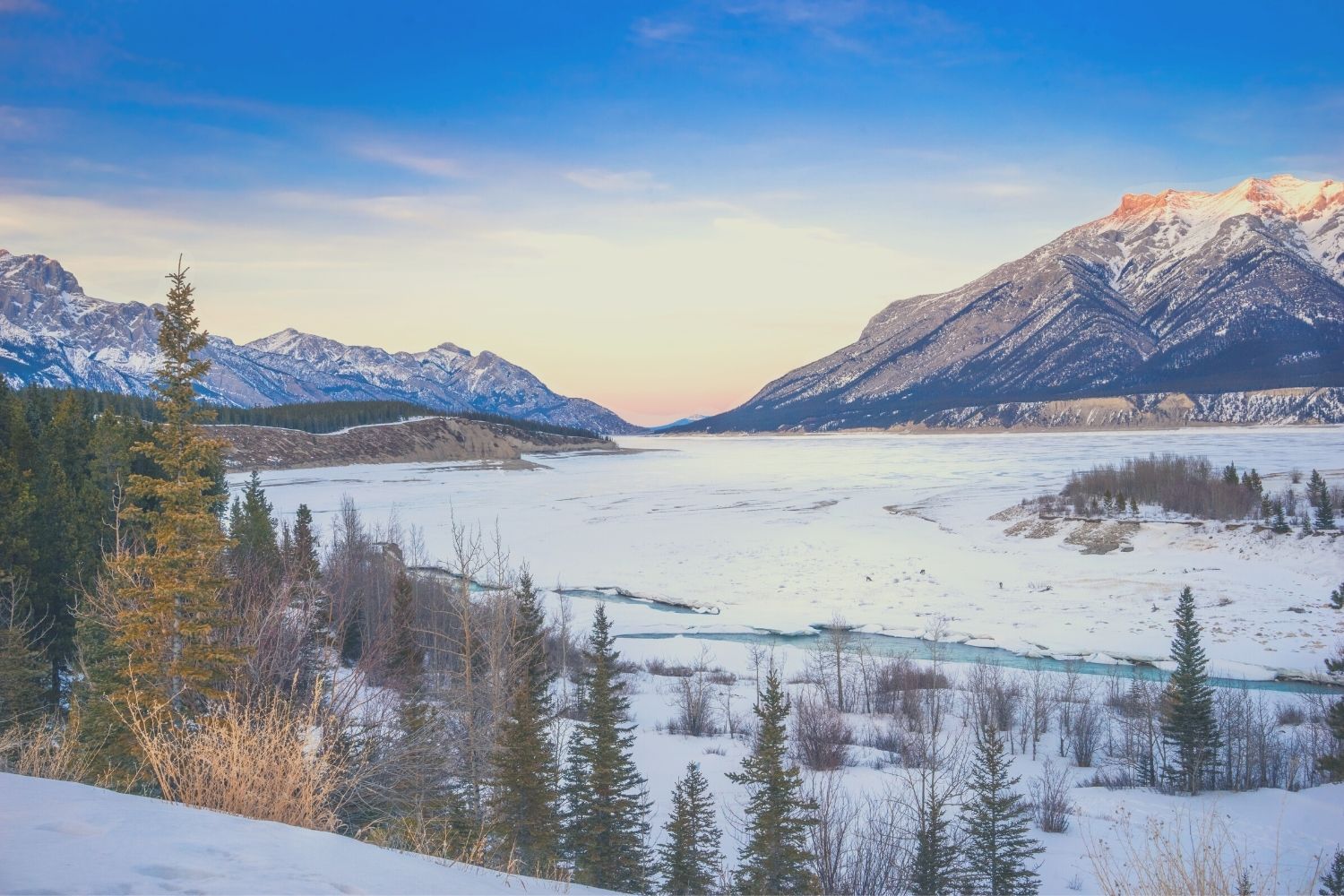 If you're visiting the Rockies and plan to drive from Jasper to Banff, or vice versa, along the Icefields Parkway then this is the best time to visit Abraham Lake. The start of Abraham Lake is only 32 km from the Saskatchewan River Crossing along the parkway, making it a short detour.
This area off David Thompson Highway is called Preachers Point and is an amazing spot along Abraham Lake to visit. So if you only have a few hours to spare on your drive you can easily make the detour here.
---
Abraham Lake Weather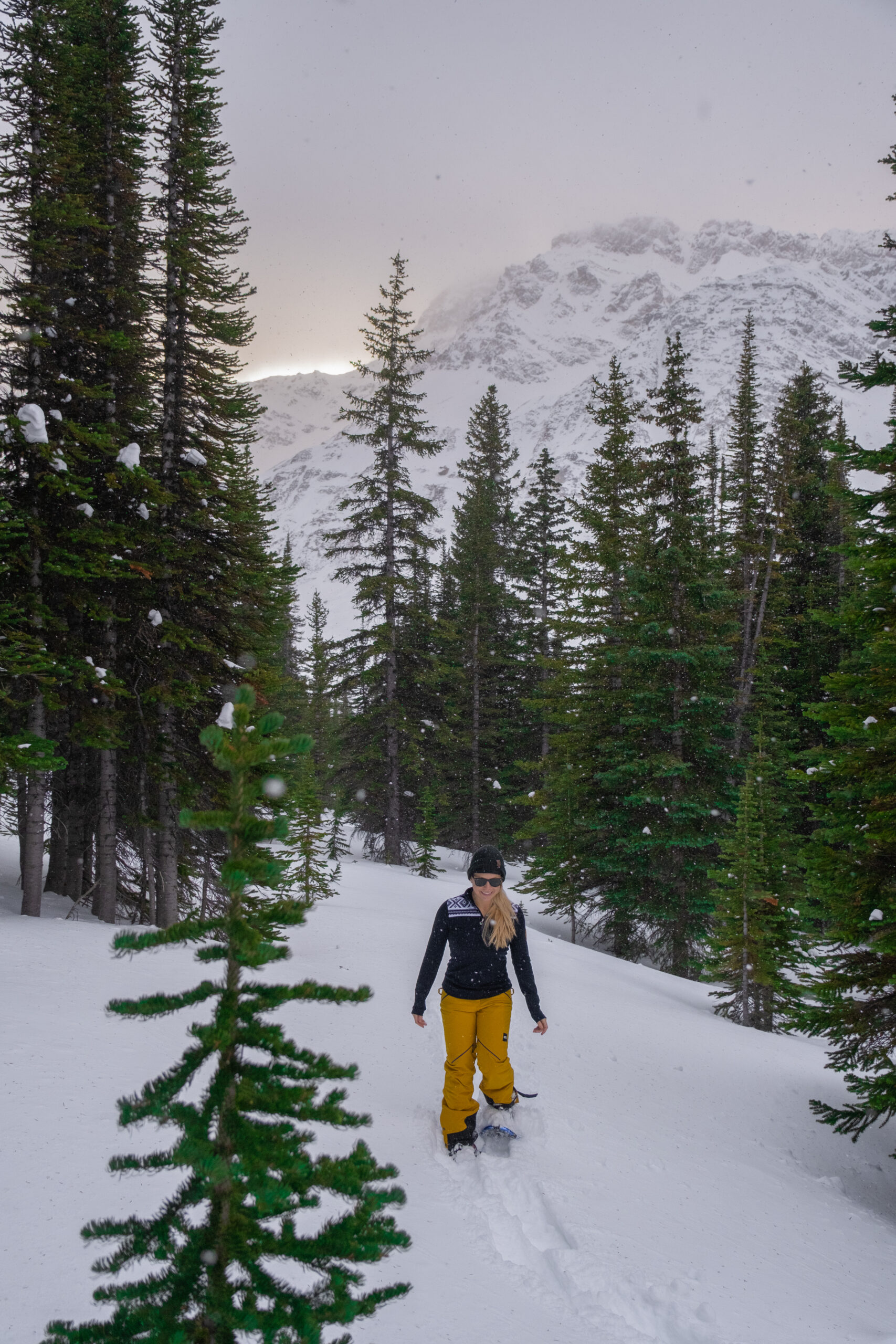 As mentioned it's imperative to check the Abraham Lake weather before visiting. This will give you an idea of temperatures and how strong the winds are. In the winter especially, you'll want to have all the adequate clothing for visiting Abraham Lake. It's one of the most temperamental places in Alberta.
---
Other Things to Know Before Visiting Abraham Lake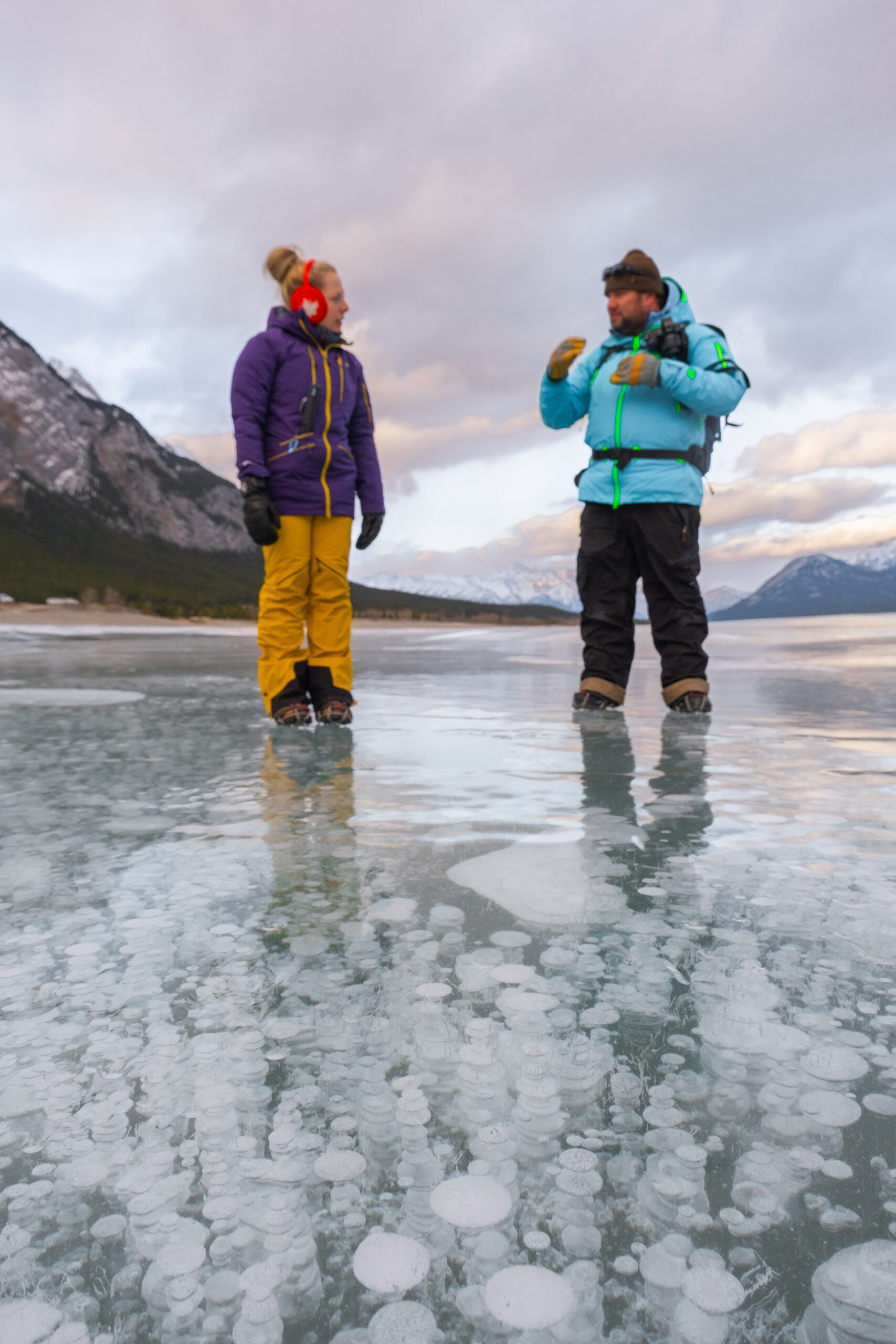 Abraham Lake isn't near anything. The closest town is Nordegg about 40 km from the lake. In Nordegg there are two gas stations, a restaurant, and a few accommodation options.
If coming from the Icefields Parkway your last stop for fuel is at the Saskatchewan River Crossing. This is closed n the winter and your last place for fuel is either in Lake Louise or Jasper.
There is no cell service at Abraham Lake.
Remember to clean up all your trash. Pack in/pack out.
Having a guide on Abraham Lake is extremely helpful. Especially in the winter. JP with Pursuit Adventures runs ice bubble tours and provides ice cleats, knowledge, and hot chocolate. Guides are also very helpful in pointing out the best photo spots at Abraham Lake.
One of our favorite things to do at Abraham Lake was to take a helicopter tour above the lake. Rockies Heli operates amazing helicopter tours in both the winter and summer above Abraham Lake and ventures into the surrounding mountains.
Abraham Lake is a dam, meaning that water levels vary. This can become dangerous in the winter when people travel out to see the frozen ice bubbles. The increase in visitors means there is an increase in risk. Stay aware of the thin ice as it could collapse. See some of our tips to stay safe while ice skating.
---
---
↓ Join the community ↓
The Banff Blog Facebook Group is your headquarters for the Canadian Rockies travel advice and information. Including hike info and off-season travel information. This is also a place where you can meet one another when you need adventure buddies.