The drive from Jasper to Banff along the scenic Icefields Parkway in Canadian Rockies is ranked among the top road trips in the world. Along the drive mountains and glaciers rise dramatically overhead while wildlife roams freely.
The Majority of the drive from Jasper to Banff occurs along the Icefields Parkway. Icefields Parkway is a 232 km stretch of double-lane highway taking you along the Continental Divide. It runs from Lake Louise to Jasper, which are both fantastic places in themselves. You can drive the parkway in either direction and on multiple days.
See Also:
---
The Drive From Jasper To Banff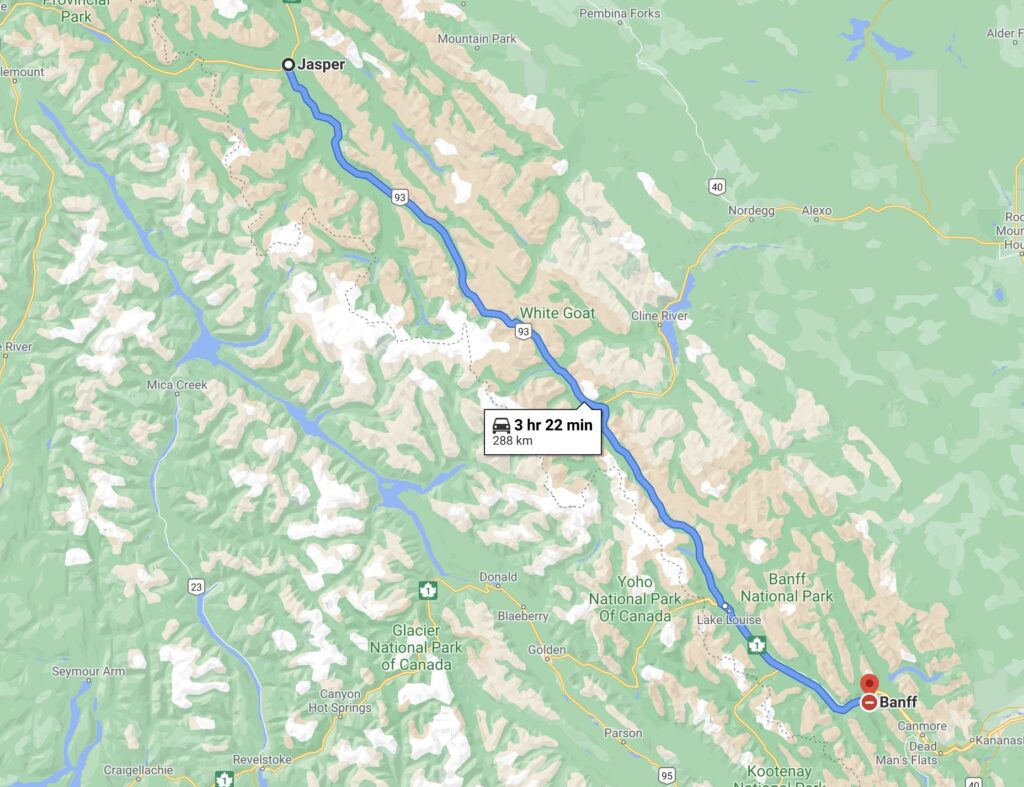 The drive between Jasper and Banff is 288 km (179 miles) and takes around 3:30 hrs. Two highways connect the small mountains, the Icefields Parkway (93), and TransCanada Highway (1). A drive between the two towns takes on average four hours due to delays from winter driving conditions or touristic traffic in the summer.
---
How Long is the drive between Jasper and Banff?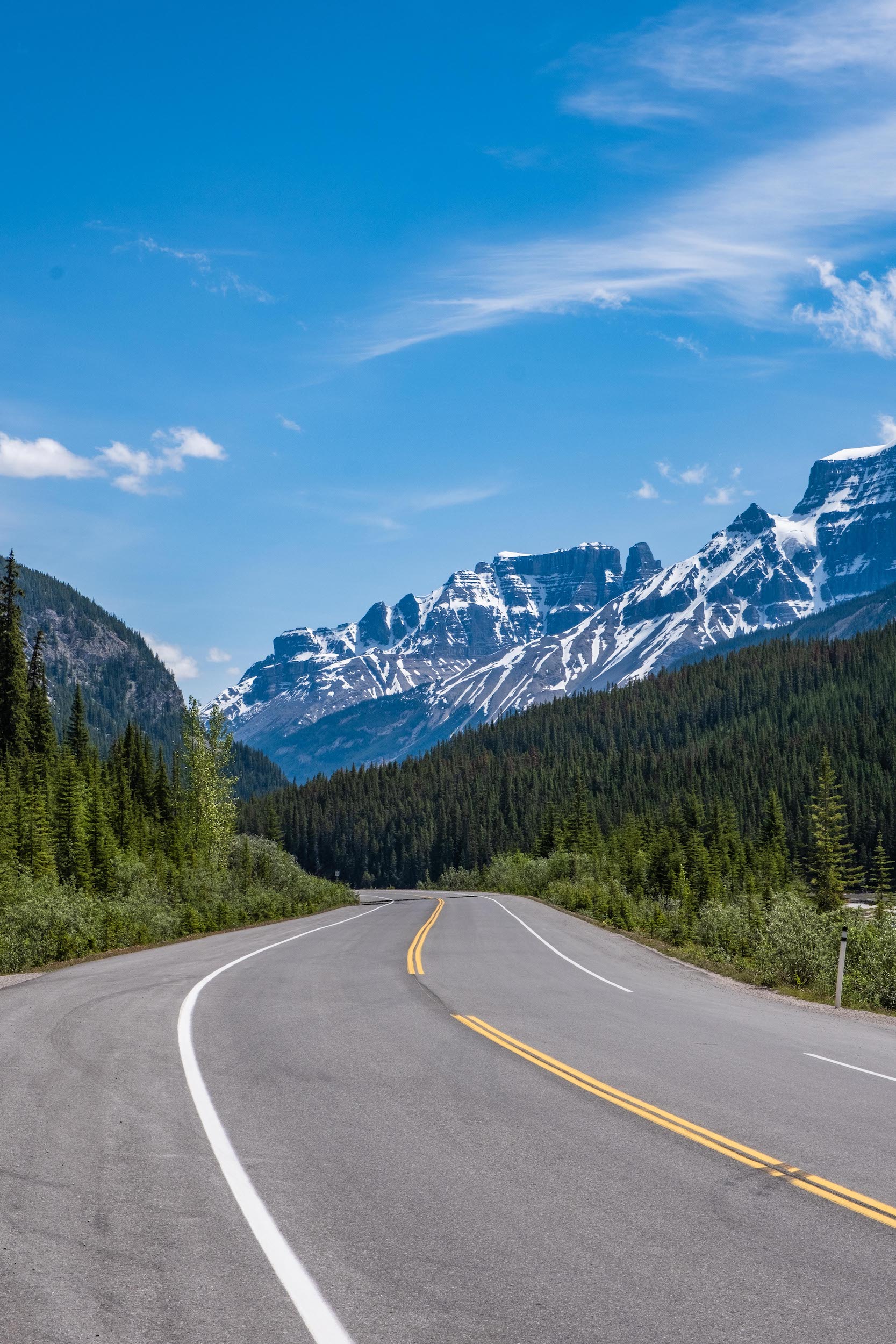 The fastest you could drive the entire parkway is around three and a half hours. Though, just driving straight from Jasper to Banff, 288 km, in one sitting without a stop would be a real shame. There are a plethora of gorgeous vistas, glaciers, waterfalls, and hiking trails along the highway.
---
Where To Stop Between Jasper and Banff
There are a plethora of worthy stops on the drive from Jasper to Banff. Even if you had a month there would still be plenty left to explore, especially for hikers. Below are a number of highlights along the way. You can read our post about the best stops along the Icefields Parkway for more information.
Athabasca Falls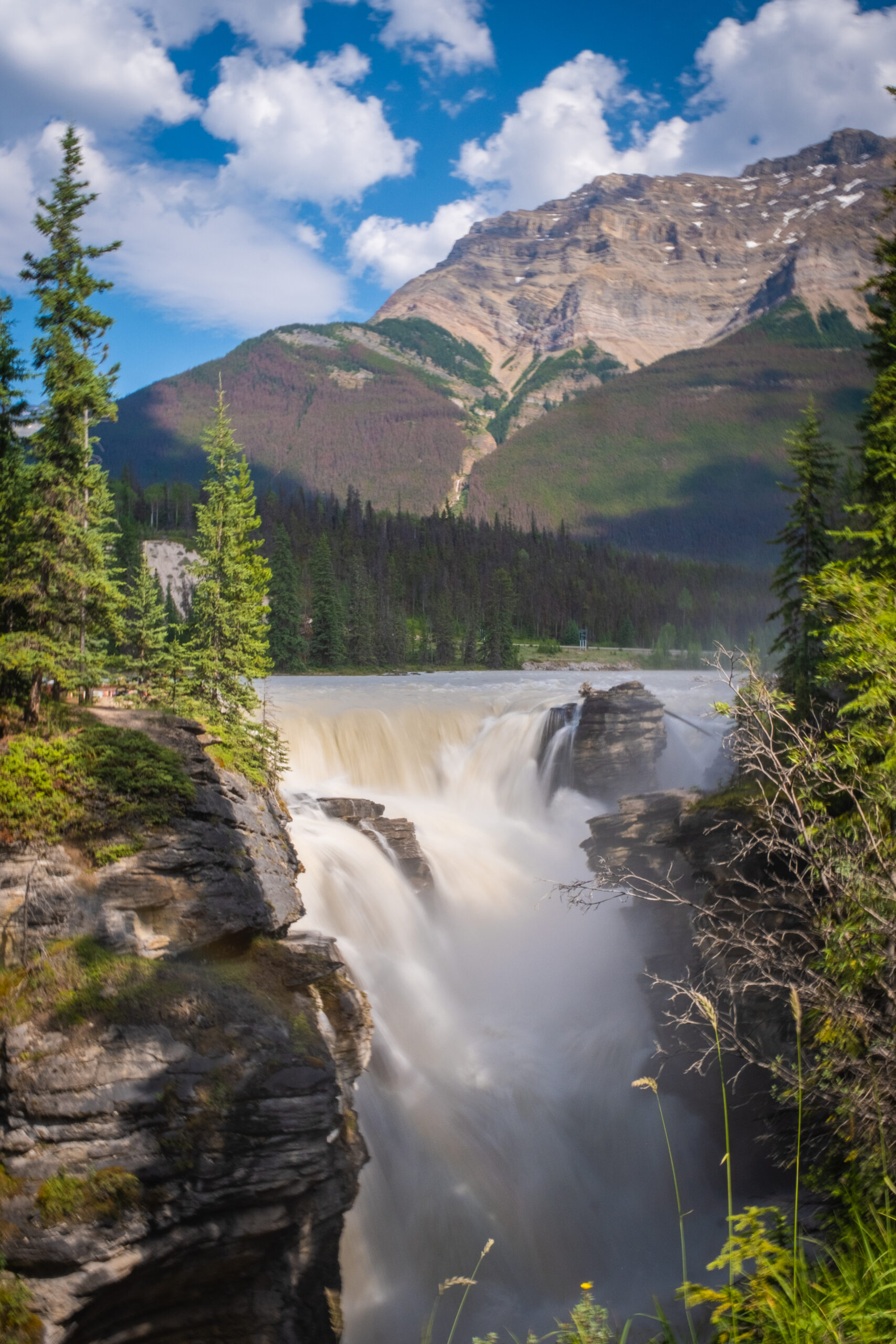 Distance from Jasper: 32.1 km
Distance from Banff: 257 km
---
Sunwapta Falls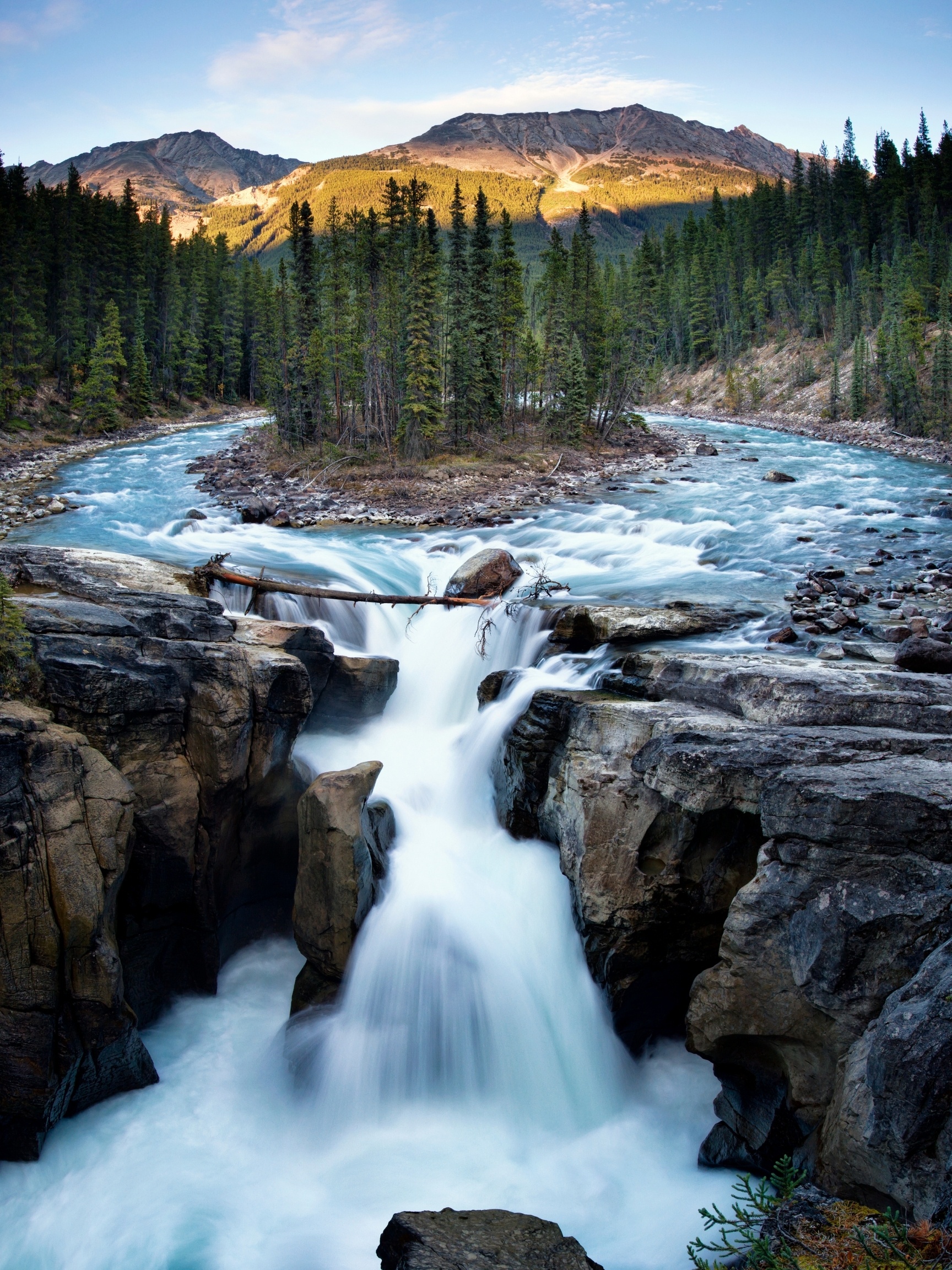 Distance from Jasper: 55.4 km
Distance from Banff: 234 km
---
Athabasca Glacier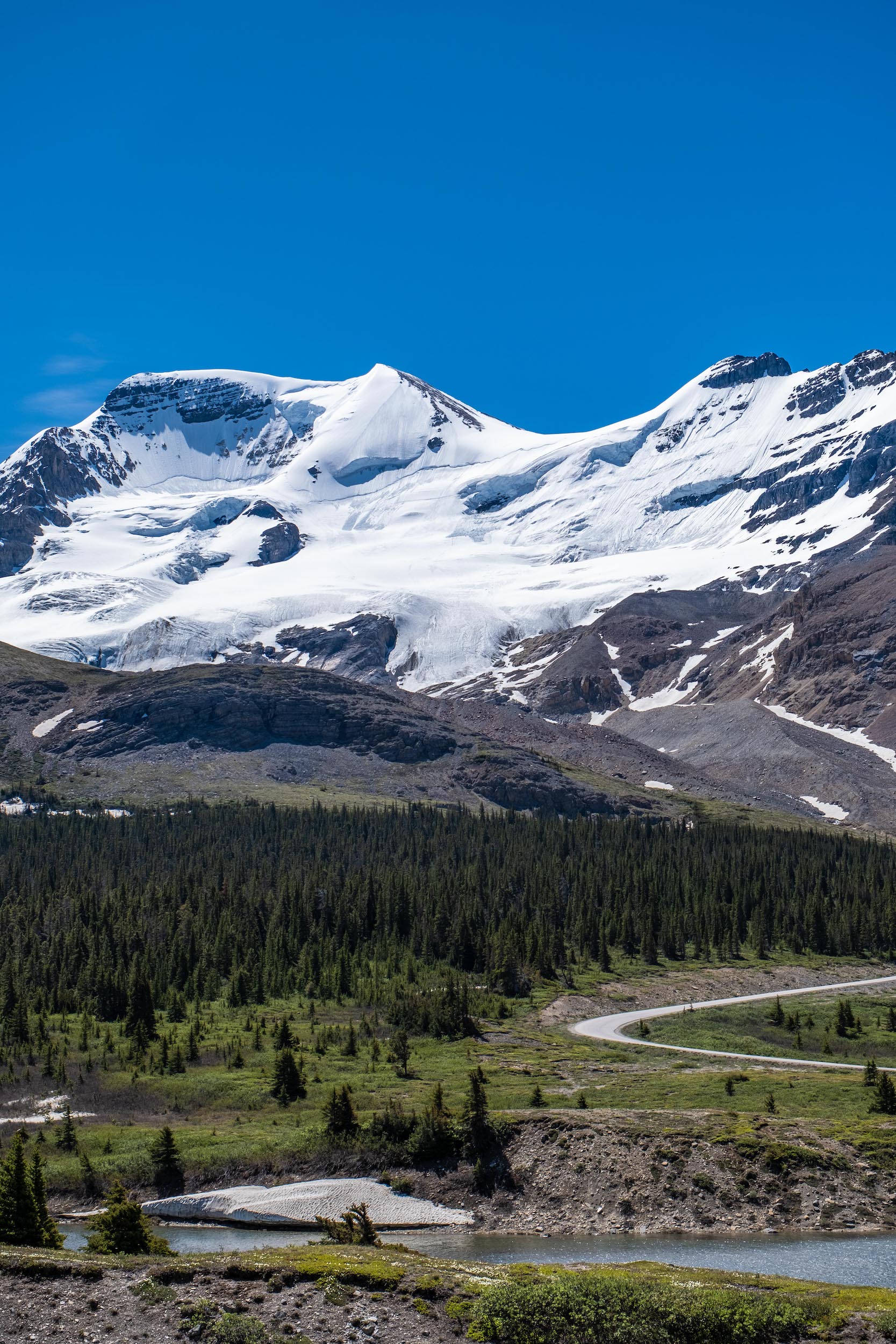 Distance from Jasper: 105 km
Distance from Banff: 187 km
---
Mistaya Canyon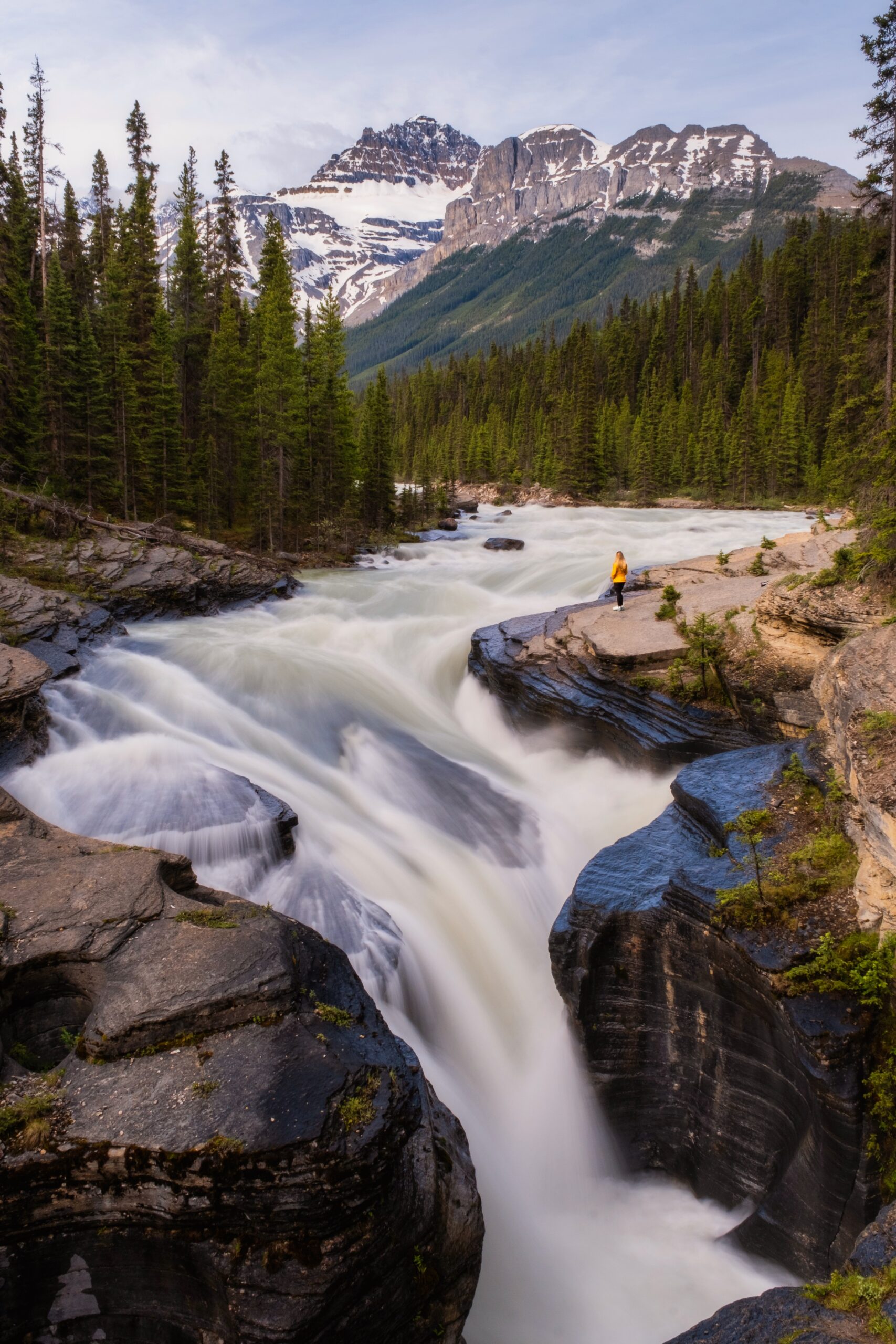 Distance from Jasper: 158 km
Distance from Banff: 130 km
---
Peyto Lake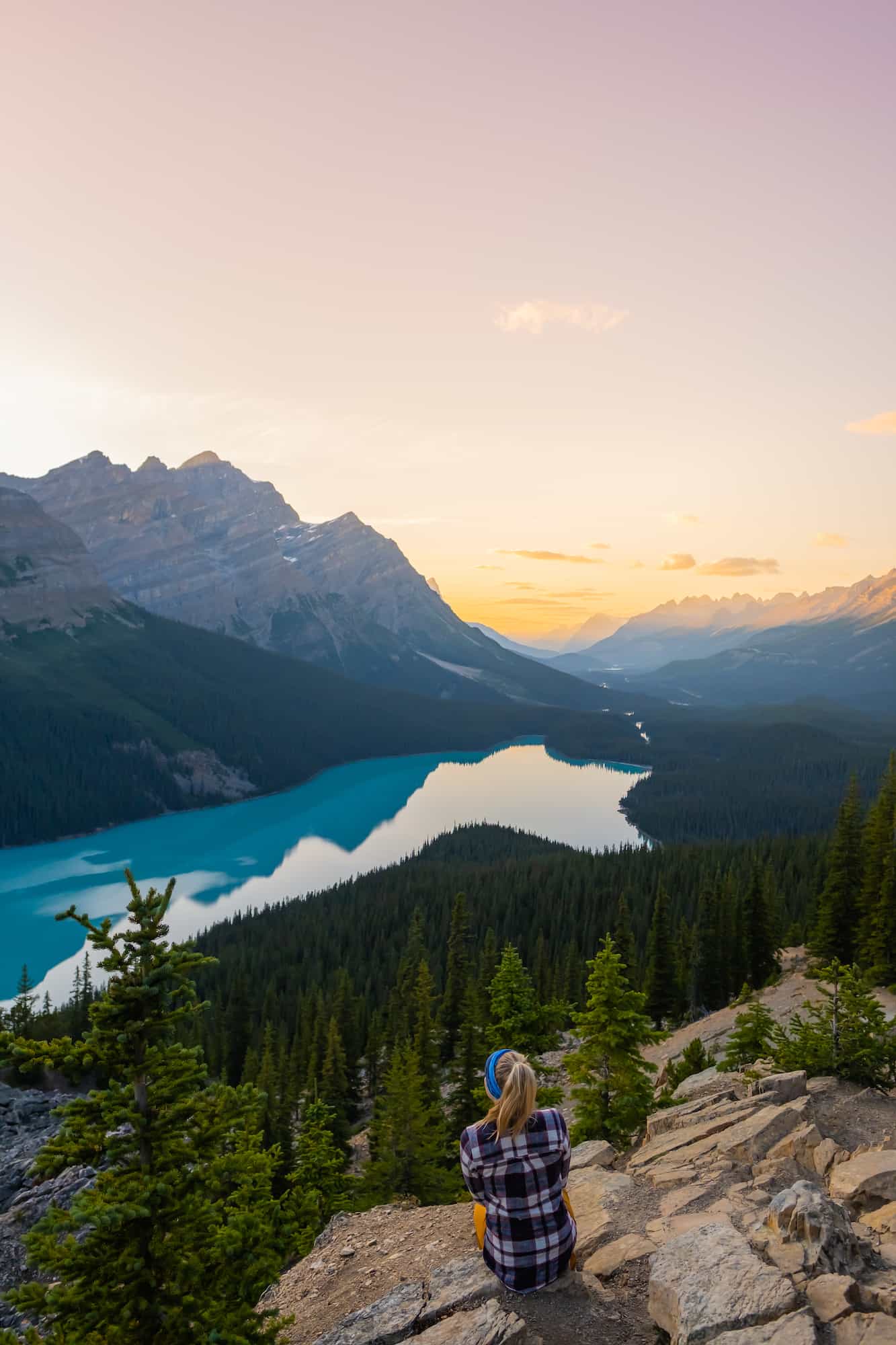 Distance from Jasper: 188 km
Distance from Banff: 101 km
---
Bow Lake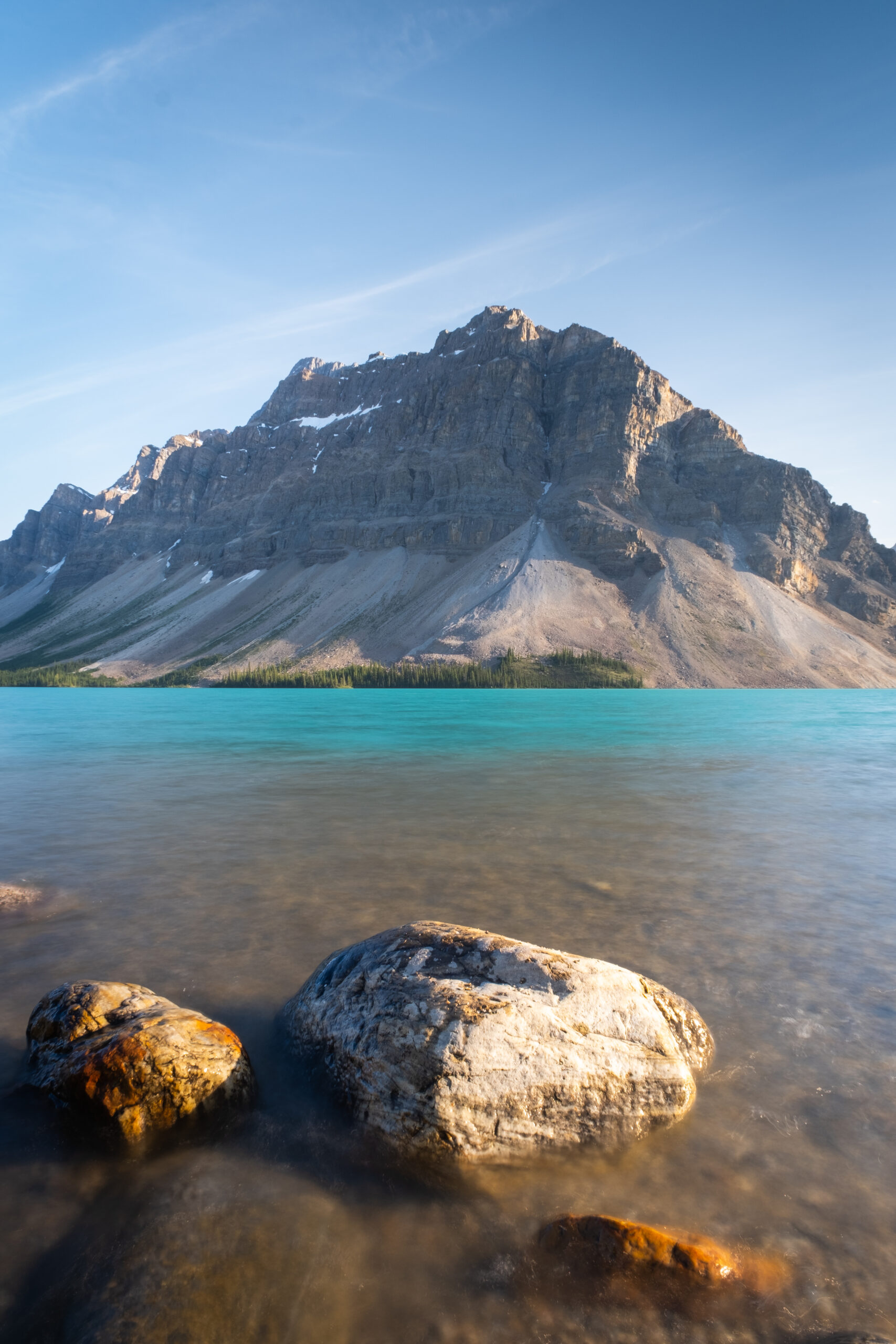 Distance from Jasper: 195 km
Distance from Banff: 93.8 km
---
Lake Louise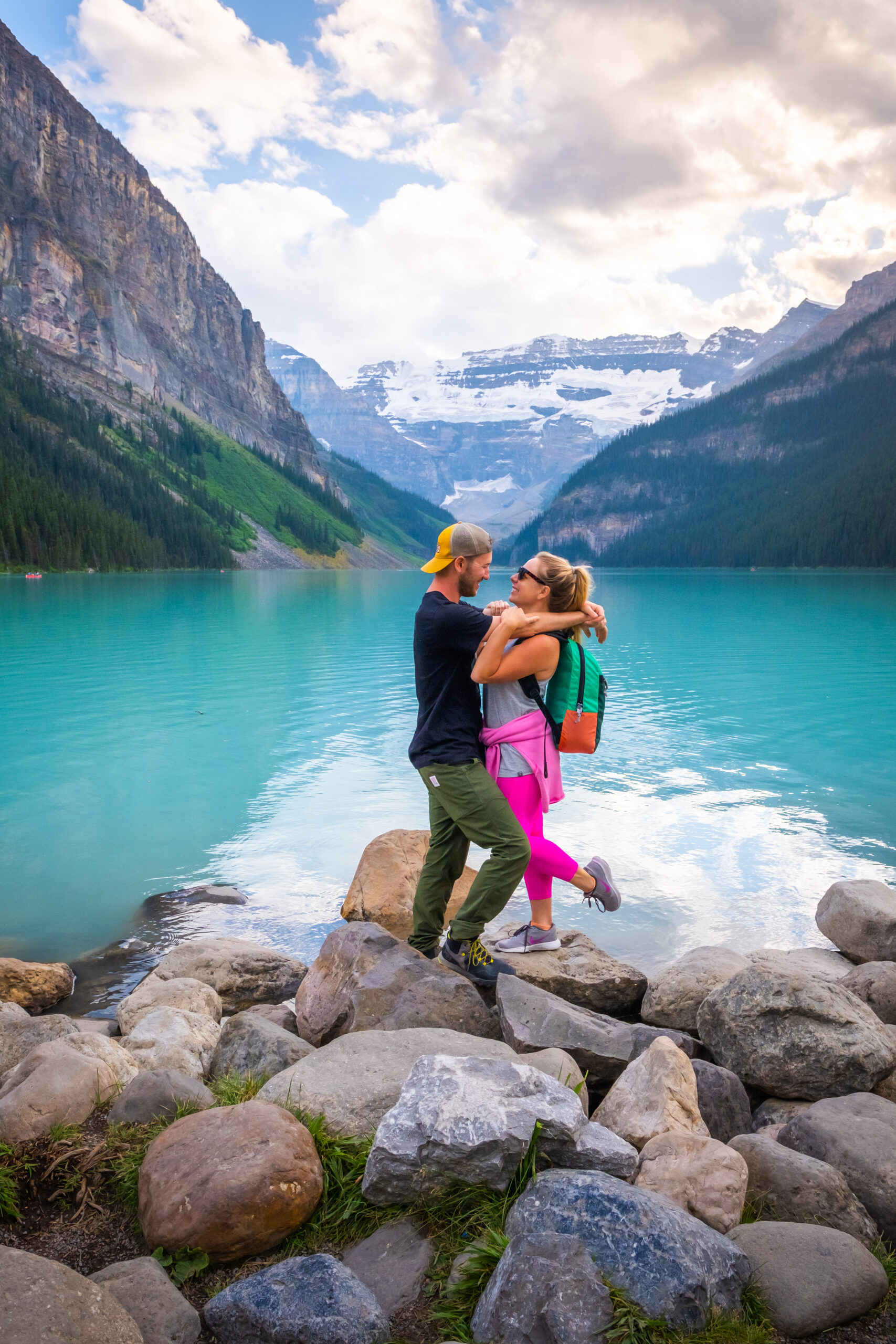 Distance from Jasper: 232 km
Distance from Banff: 57.3 km
---
Bow Valley Parkway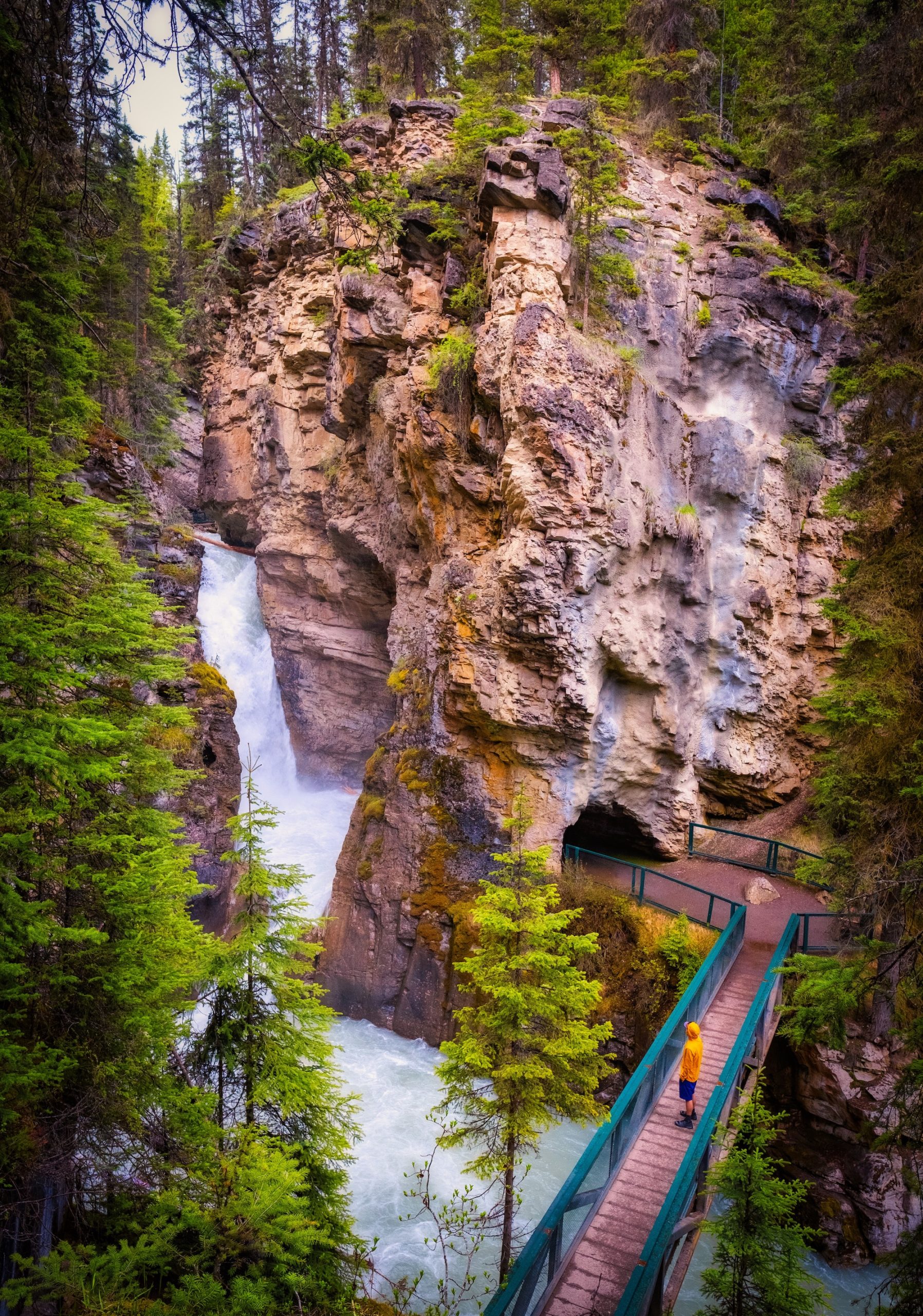 Distance from Jasper: 232 km
Distance from Banff: 10 km
---
Road Conditions Change with Seasons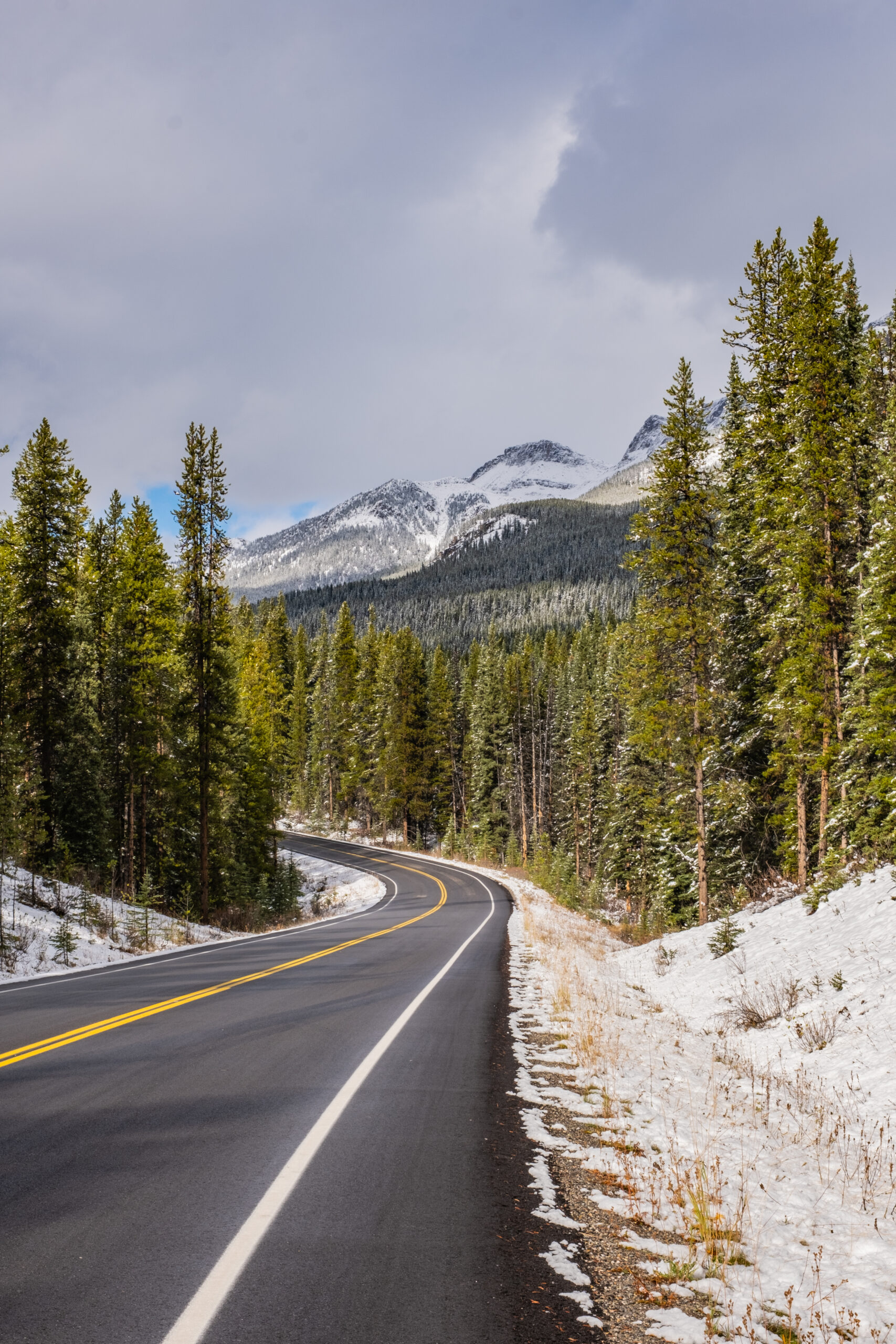 The drive from Jasper to Banff is great no matter the season. Even in the winter, the Icefields Parkway is open unless avalanche conditions are too high during winter storms — closures rarely last more than a day. Many people would say the best time to drive the Icefields Parkway is in the summertime, between mid-June to early September. This is when the days are long, the wildflowers are blooming, and the lakes are in their prime.
In the winter, drivers should be prepared for winter driving conditions. Snowstorms are frequent in the winter and ice is always present on the road during this time. Services are seasonal so restaurants, accommodation, campsites, and fuel stations along the parkway close from November to April. Fuel stations are available in Jasper and Lake Louise a distance of 232 km, ensure to fill up before driving the road. The TransCanada segment of the drive is typically in better condition, but it's very common to find one lane of the road covered in ice and snow.
Summer is obviously the best time to drive between Jasper and Banff, but if visiting in the winter I would not let it detract you. The ski and winter sports are far better in Banff than Jasper. Banff also serves as a great base for ski resorts in the greater region like Kicking Horse or Panorama.
---
Wildlife on the Road from Jasper to Banff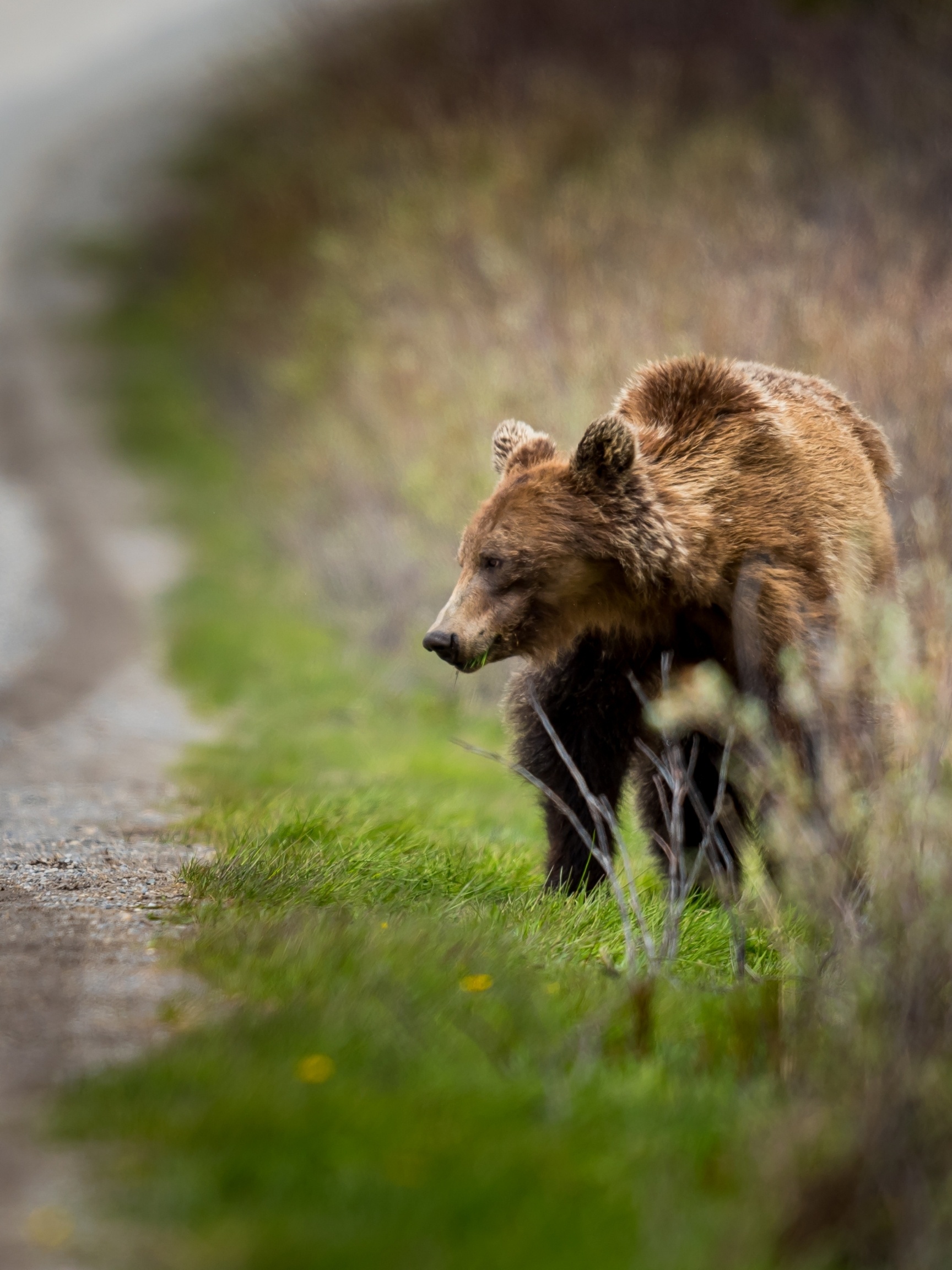 There is a plethora of wildlife along the Icefields Parkway. So be prepared to see deer, elk, mountain sheep, and if you're lucky a bear or coyote. We almost always see a bear when driving the parkway, but they tend to stay away from traffic and noise pollution. You'll probably be tempted to pull over if you see wildlife, but it's best not to do this. This is what we call a "Bear Jam" and is a real problem in the park.
Once one person pulls over to get a closer look at a bear, another car pulls over, and another, and so on. Eventually, people are getting out of their car taking selfies (yes I'm serious), which is not only dangerous to you, but also to wildlife. Parks Canada discourages pulling over for bears and has even made it illegal for buses to do so. They can issue tickets too. So if you see a bear on the road, slow down and admire it from the car, and do not stop and cause a traffic jam, please. If there is a pull-off or parking lot nearby feel free to stop, but still give the animal some space.
---
Services Along the Drive from Jasper to Banff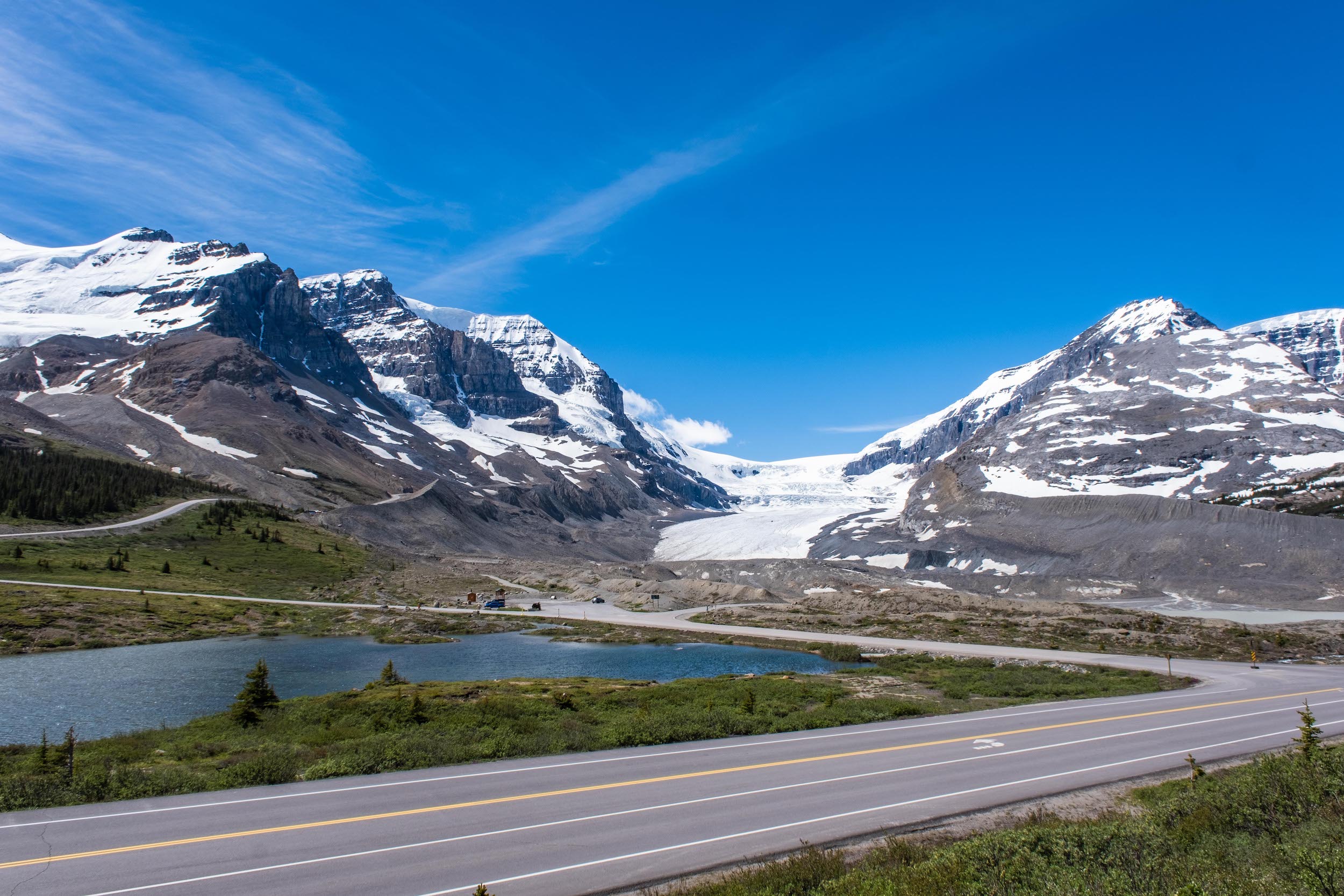 There aren't many gas stations on the Icefields Parkway so you will really have to plan accordingly. If you're coming from Jasper then fill up there. There is only one service station at the Saskatchewan River Crossing between Jasper and Lake Louise.
Don't expect to get much of a cell phone signal on the Icefields Parkway. If you're driving from Lake Louise you'll lose a signal sometime after Herbert Lake. If you're driving from Jasper you can expect to have a signal until just after the Valley of the Lakes Trailhead.
There are a few times along the parkway where you will be able to make calls and check emails if need be. I typically get a signal at the Saskatchewan River Crossing and Columbia Icefields Center, but that's it. Unplug and enjoy nature – it's what you're here for! The TransCanada section of the drive has cell service.
---
A Parks Canada Pass is Required for the Drive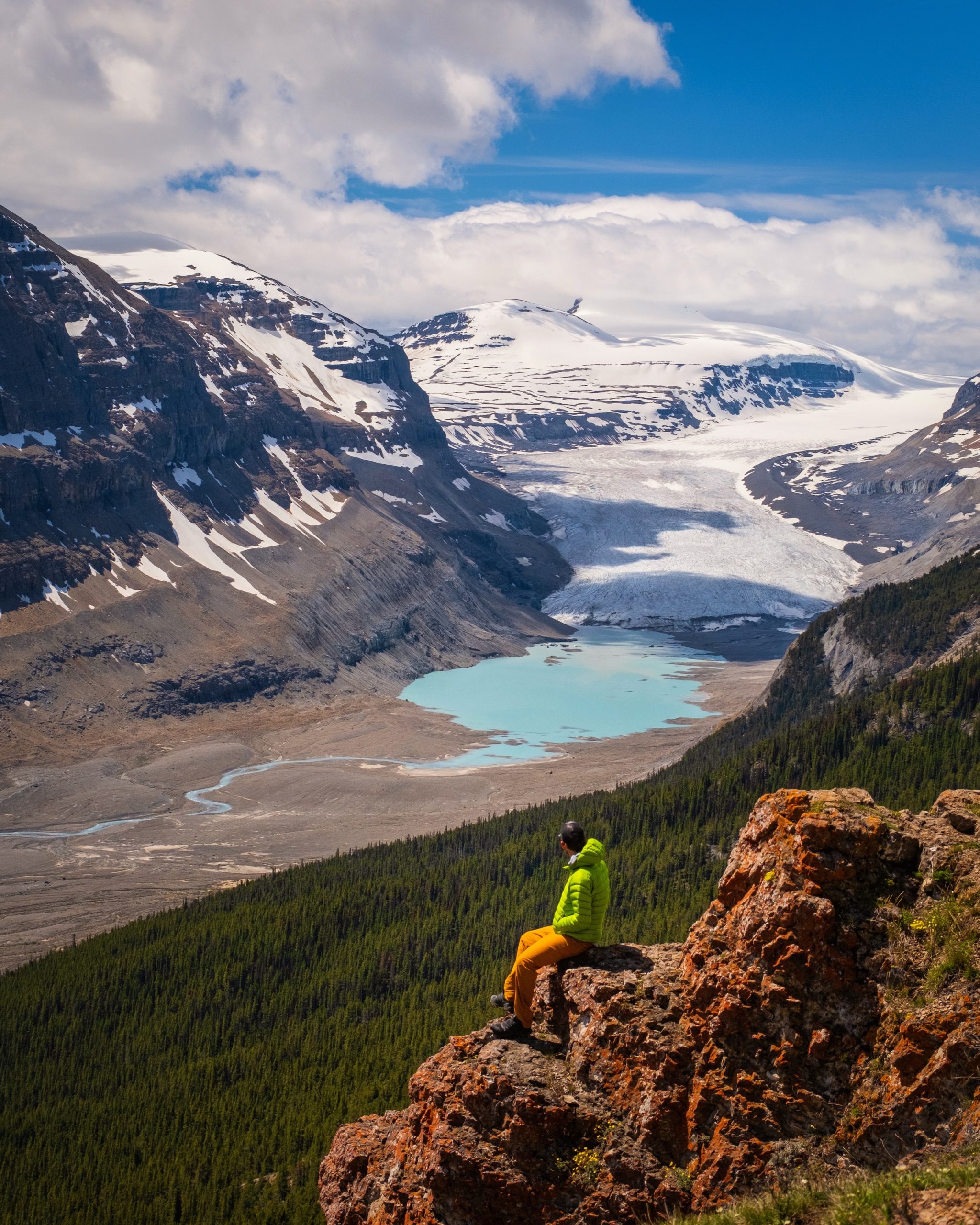 You will need a Parks Canada Pass to drive on the Icefields Parkway and there are booths just as you're leaving Lake Louise and Jasper to check if you have them. You can purchase a Parks Canada pass at any park gate. Or you can buy them in advance online.
A Parks Canada Discovery Pass gets you entrance to all Parks Canada destinations for the year is only $139.40 for a family. Day passes are $10 per person, so depending on how many days you are staying you may want to consider the Discovery Pass.
---
Banff to Jasper by Bus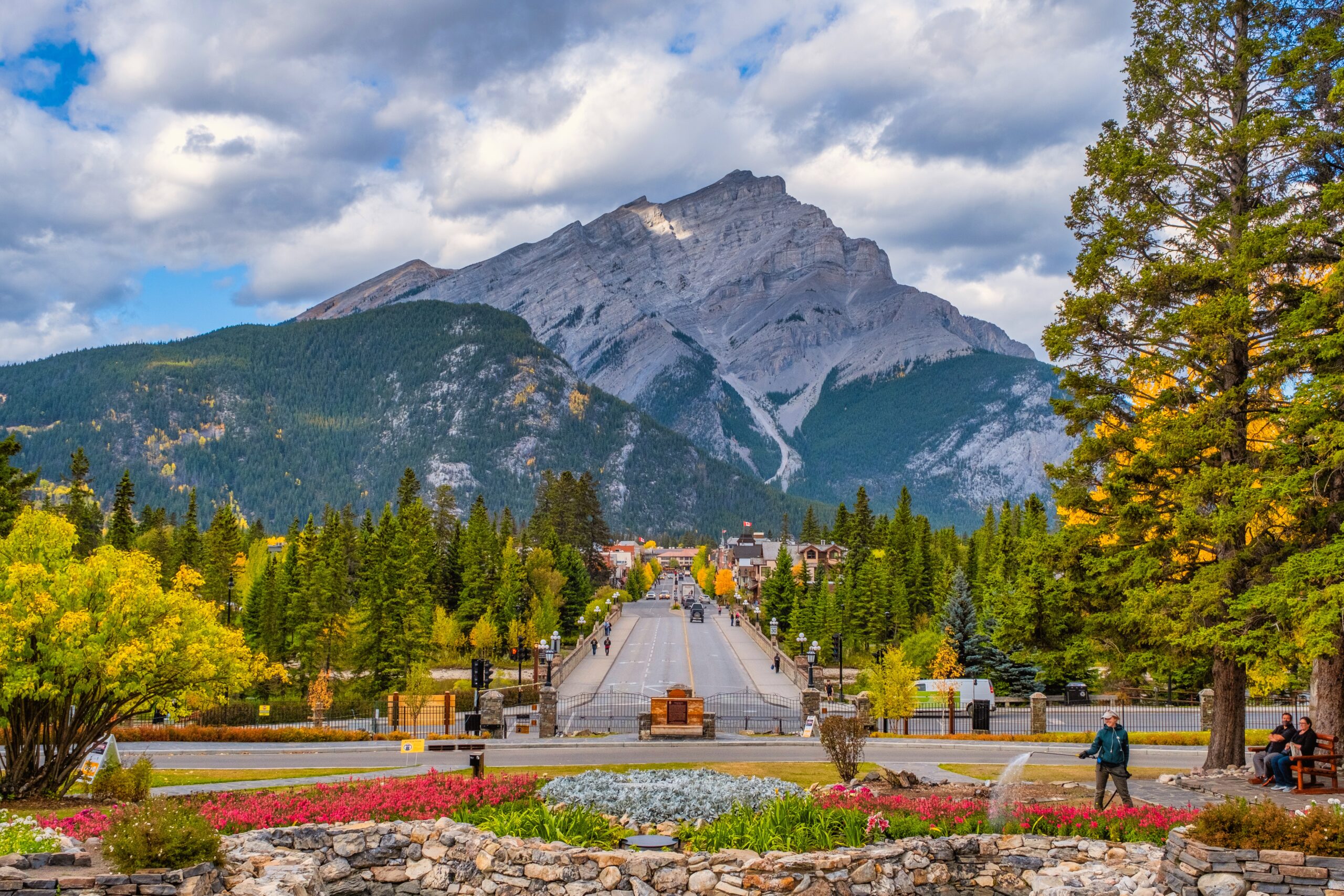 If you don't feel like driving the parkway or you'd rather ride as a passenger to watch out the window there are tour operators. They can drive you from Jasper to Banff or vice versa.
Brewster Express offers a pickup service from any hotel in Banff, Jasper, Lake Louise, Kananaskis, or Calgary. They can help you conveniently plan your trip between the two destinations. Prices start at $38.50 CAD, but the price between Jasper and Banff is currently $120. Return tickets provide a discount.
SunDog Tours also operates a one-way tour that begins at Banff or Lake Louise and drops off in Jasper. It's a full-day tour with a number of stops along the way and includes a four hour stop at the Athabasca Glacier. They also operate a direct route from Jasper to Banff which is part of their Calgary Connector service. It's a daily service that operates in the winter between October and April.
Travel Planning Resources
Packing Guide — Check out our Banff packing list to help pack your bags and ensure you don't leave anything at home.
↓ Join the community ↓
The Banff Blog Facebook Group is your headquarters for the Canadian Rockies travel advice and information. Including hike info and off-season travel information. This is also a place where you can meet one another when you're in need of adventure buddies.