Kootenay National Park in British Columbia is 1,406 square kilometers of pure beauty, bordering Banff National Park; many visitors may not even know they entered a new park when traveling along the Banff-Windermere Highway.
The best way to see this gorgeous park is to hop on Hwy 93S, which connects Banff to Radium Hot Springs, and plan a day of beautiful stops. At every turn, this road takes visitors past mountain vistas, clear lakes, and plenty of Douglas Fir trees. For those after a solid hike, do not worry; there is plenty of that in the park. Here are the best things to do in Kootenay National Park.
---
Best Things to Do in Kootenay National Park
---
Storm Mountain Lodge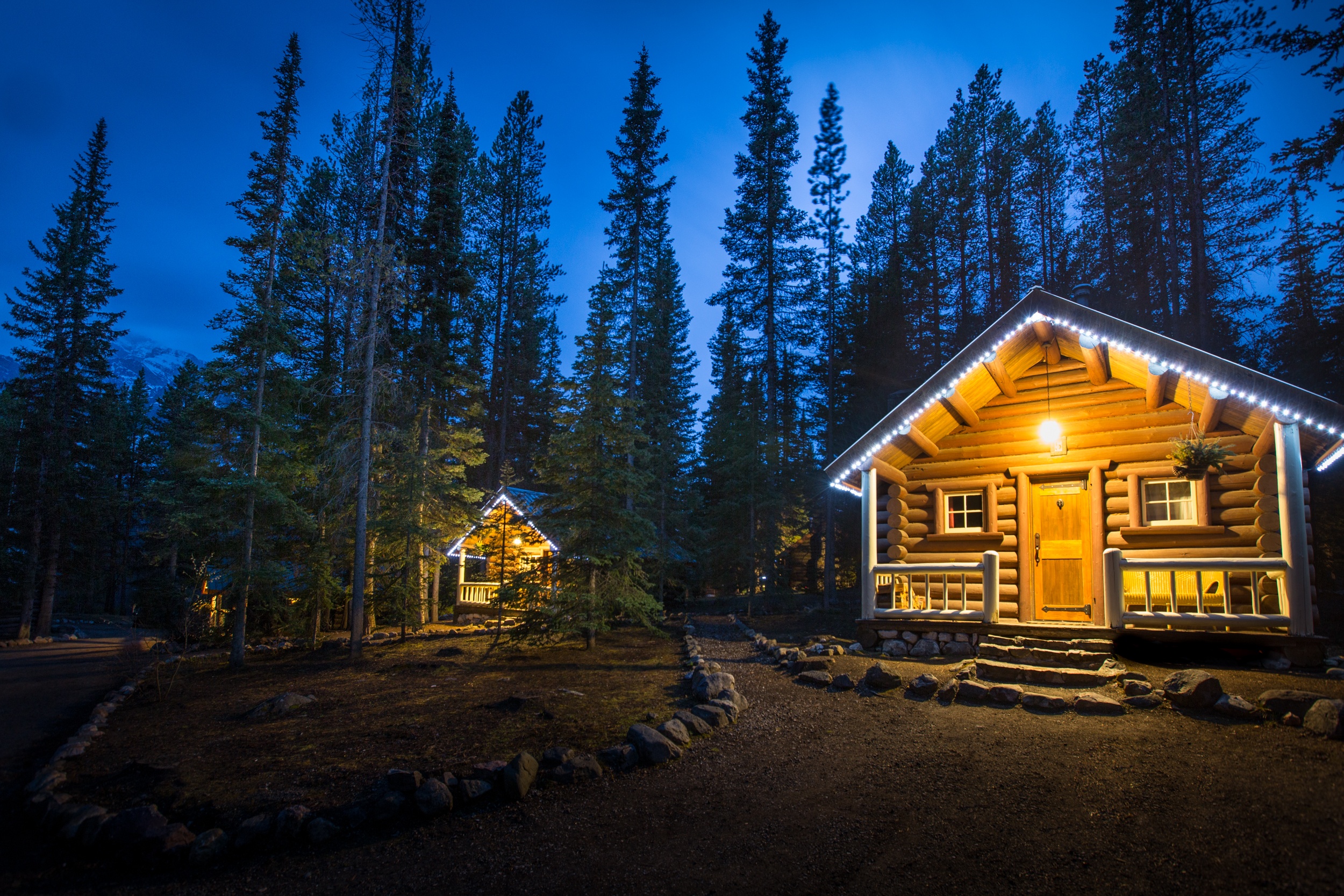 Though not technically in Kootenay National Park, it's pretty darn close and worth mentioning as a great place to stay. Storm Mountain Lodge has some of the best cabins in Banff National Park and is located right off the Trans Canada.
It's one of the first points of interest you will come from if driving from Banff. If you're a true outdoor lover who enjoys the experience of removing yourself from everyone and everything, a cabin in the forest offers a true outdoor escape, and Storm Mountain Lodge has one that'll meet all your backcountry needs.
If you are looking for Banff accommodation here, you'll find cozy Alberta cabins with wood-burning fireplaces and full bathrooms and a lounge serving authentic Canadian dishes made with organic ingredients, homemade desserts, and Canadian wine.
If you just want to stop by for lunch, they have a fantastic restaurant open in the summer season!
---
Boom Lake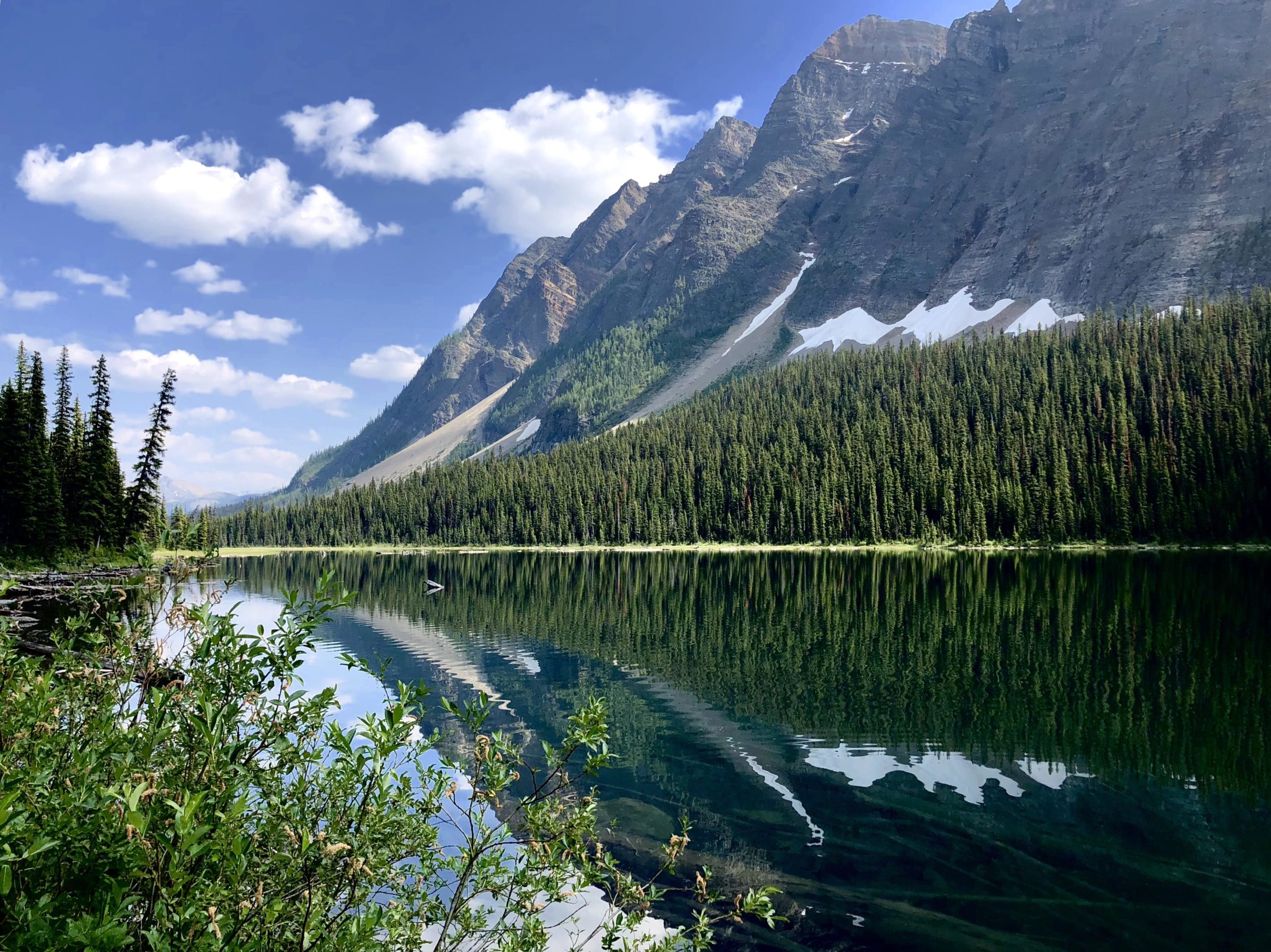 Boom Lake is a gorgeous alpine lake that can only be reached on foot, not in Kootenay either, but located on Hwy 93S on the way to Kootenay National Park, it makes for a good option for a 10km hike.
The majority of the trail is flat, making for an easy hike in Banff. It's a nice hike through the forest, and you'll get a chance to see some of the largest trees in the park. The start of the hike is the most difficult, as you gain around 100 meters, but after that, it's smooth sailing.
Compared to many of Banff's more popular hikes and sites, the hike to Boom Lake gives you a chance to be alone in nature. However, the crystal clear Boom Lake with substantial mountain views makes this easy hike in Banff a winner.
---
Vista Lake Viewpoint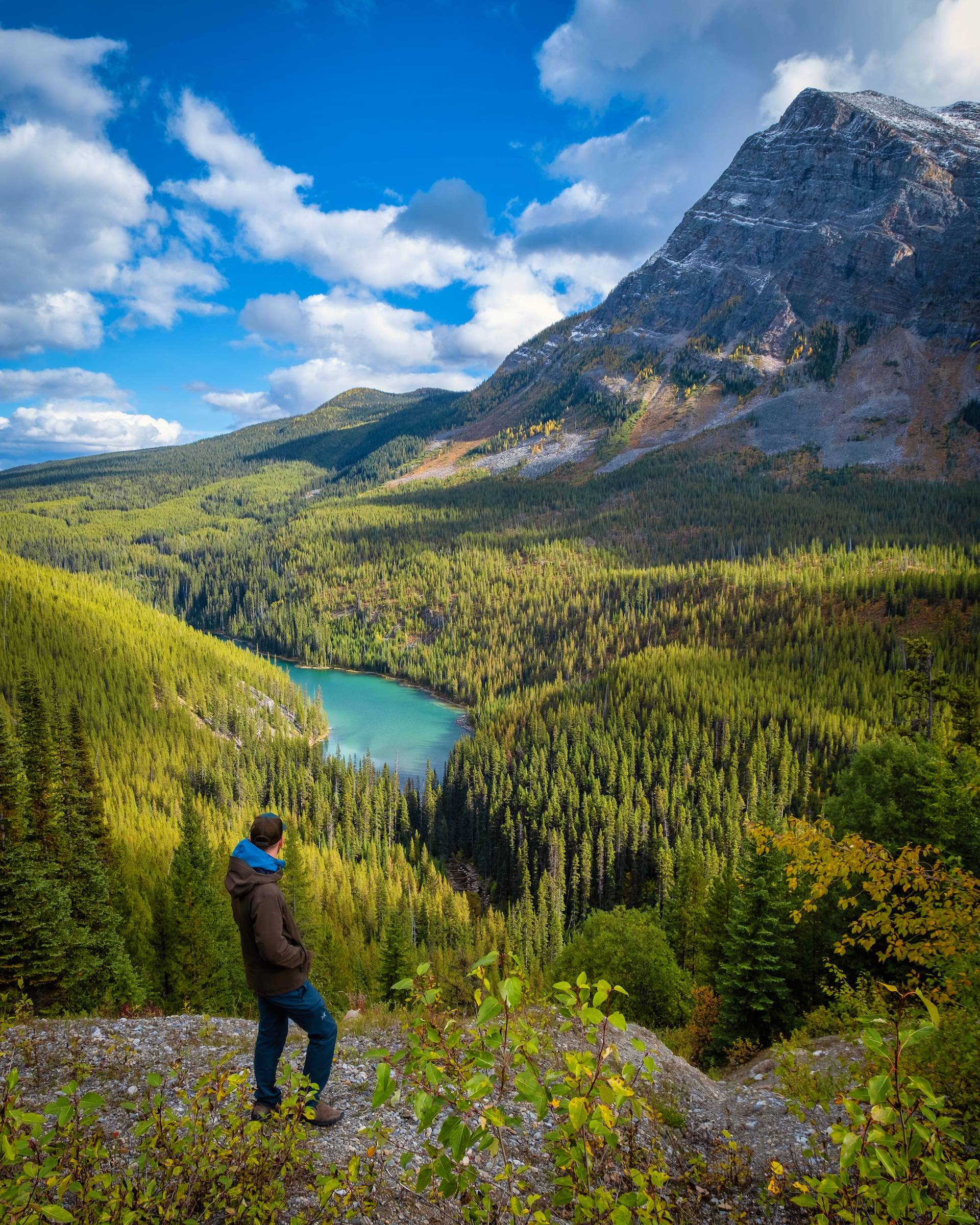 Vista Lake is located right off of Highway 93 right before crossing into Kootenay National Park from Banff (I promise this is the last Banff attraction). You can stop here quickly for a viewpoint over Vista Lake, or hike down.
Vista Lake is an excellent family-friendly lake to check out since you can easily park and walk just over 100 meters down to the lake.
There's a small parking area for Vista Lake on the left-hand side of the road when driving from Banff to Radium Hot Springs.
Once you park, all you have to do is get out of the car for an incredible viewpoint of Vista Lake. The short 1km hike down to the lake will likely take less than 30 minutes to walk. It is not stroller friendly. If you want a longer and more challenging hike, continue to Arnica Lake, one of Alberta's best larch hikes!
---
Continental Divide
The Continental Divide is the dividing point between Alberta and British Columbia – Banff and Kootenay – where the water flows to the Pacific or Atlantic. You can stop here and grab a photo of the small stature while driving the Banff Windermere Highway.
---
Stanley Glacier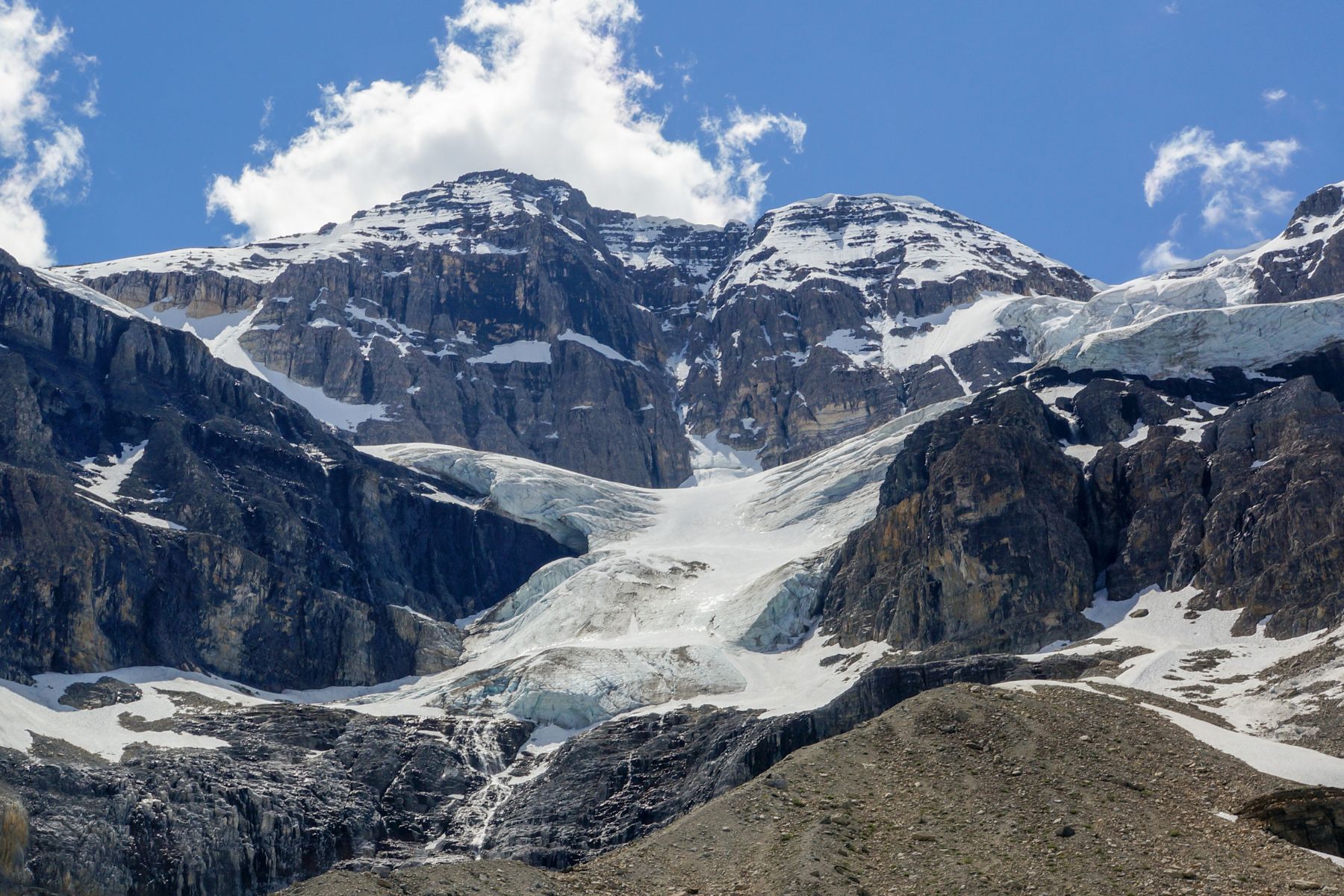 The Stanley Glacier is a popular destination for hikers and offers everyday hikers the chance to get up close to a glacier. And that glacier is a big one, notably it is one of the few easily accessible glaciers in the Canadian Rockies.
If you are looking for a glacier experience and have seen the Athabasca Glacier experience offered, this is a much quieter one with far fewer people. The caveat is you have to put the work in to hike for the views, whereas at the Athabasca Glacier a large monster truck does all the work for you (unless you want to summit Athabasca)
To reach the glacier, hikers must trek for 10.9 km (round trip), but the effort is well worth it in the end. The Stanley Glacier trail is best completed in the summer between June and September, but it's also possible as a snowshoe the trail in the winter.
Things to keep in mind about this trail. While the first 4 km of this trail are gently graded on well-maintained, packed dirt trails the final section of the trail includes 800m of rough trail and walking on uneven and loose rocks. This hike is not for those with mobility issues as it is considered a moderately difficult trail.
Fun info – hidden in the Stanley Glacier basin are trilobites, hyolithids, brachiopods, and sponges from the Eldon formation. To book a tour that will explain and explore this area more in detail, you can book a guided hike with Parks Canada.
---
Marble Canyon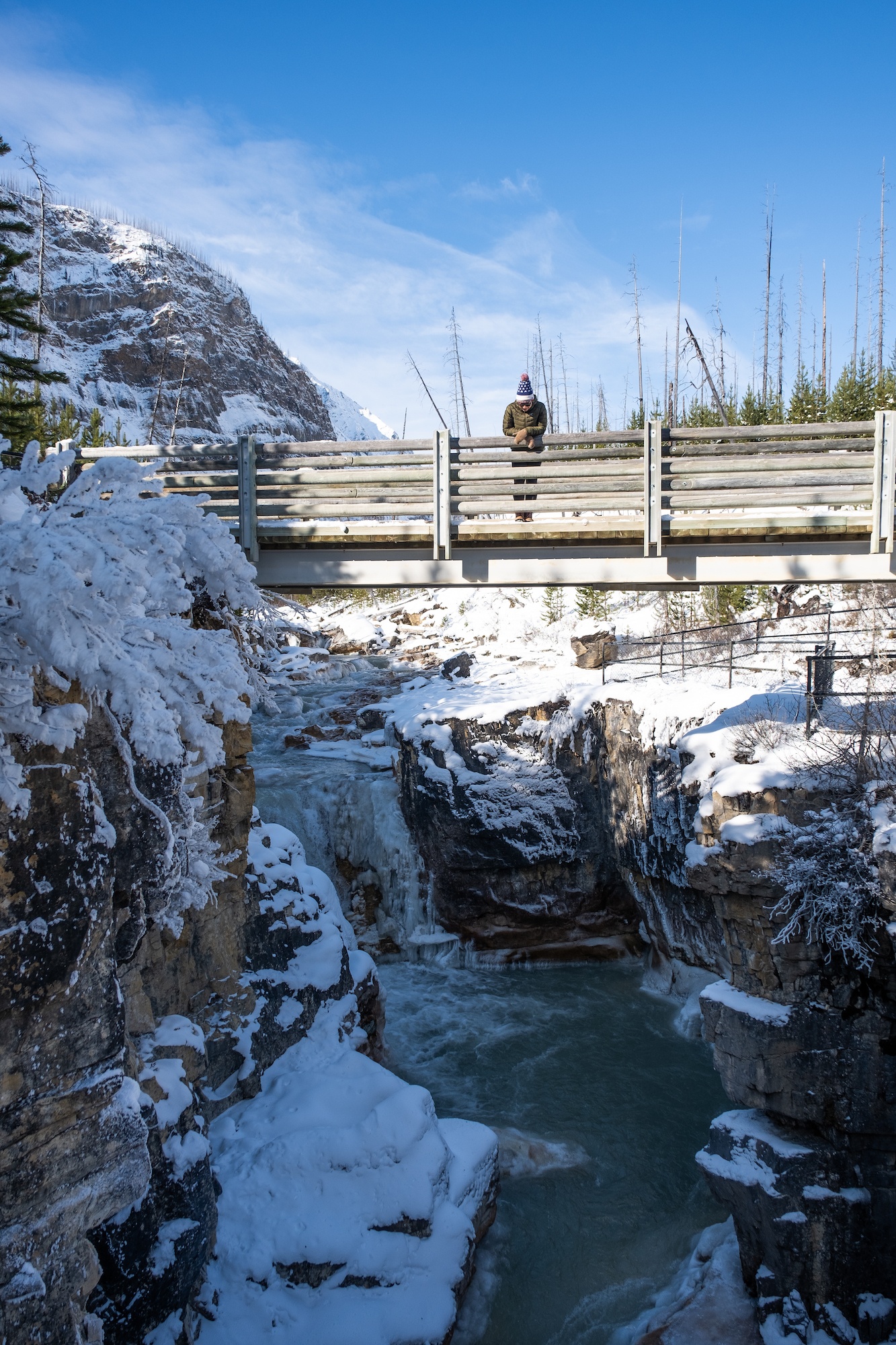 Visiting Marble Canyon is one of the best things to do in Kootenay National Park. It's a lovely hike through a canyon often filled with thousands of wildflowers in the summer and delightfully snow-covered in the winter. The trail follows the canyon and has a series of bridges that cross over the rushing Kootenay River.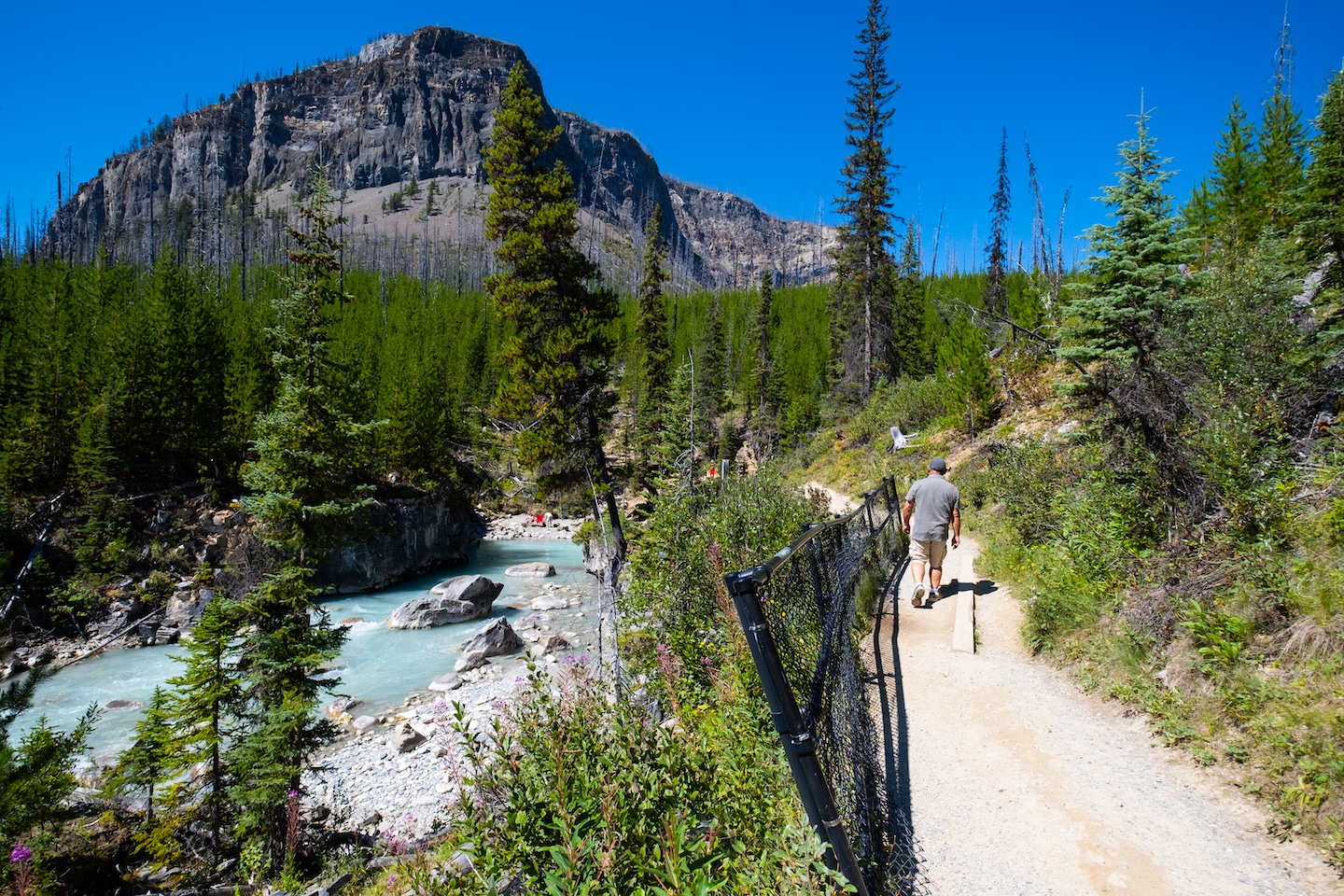 The trail is well-marked and maintained, so it's easy to follow and great for families who are seeking just a bit of outdoor time. As the river is fed by glaciers high above the Alpine, it often has a blue tinge color, which is breathtaking in the peak summer months.
It's one of our favorite trails for families or anyone looking for something easy and straightforward, right off Highway 93S. There's also a small camping area for those that with to camp nearby.
You can easily stop at Marble Canyon on your way to Lake Louise, as it's just a short detour off the Trans Canada.
---
Paint Pots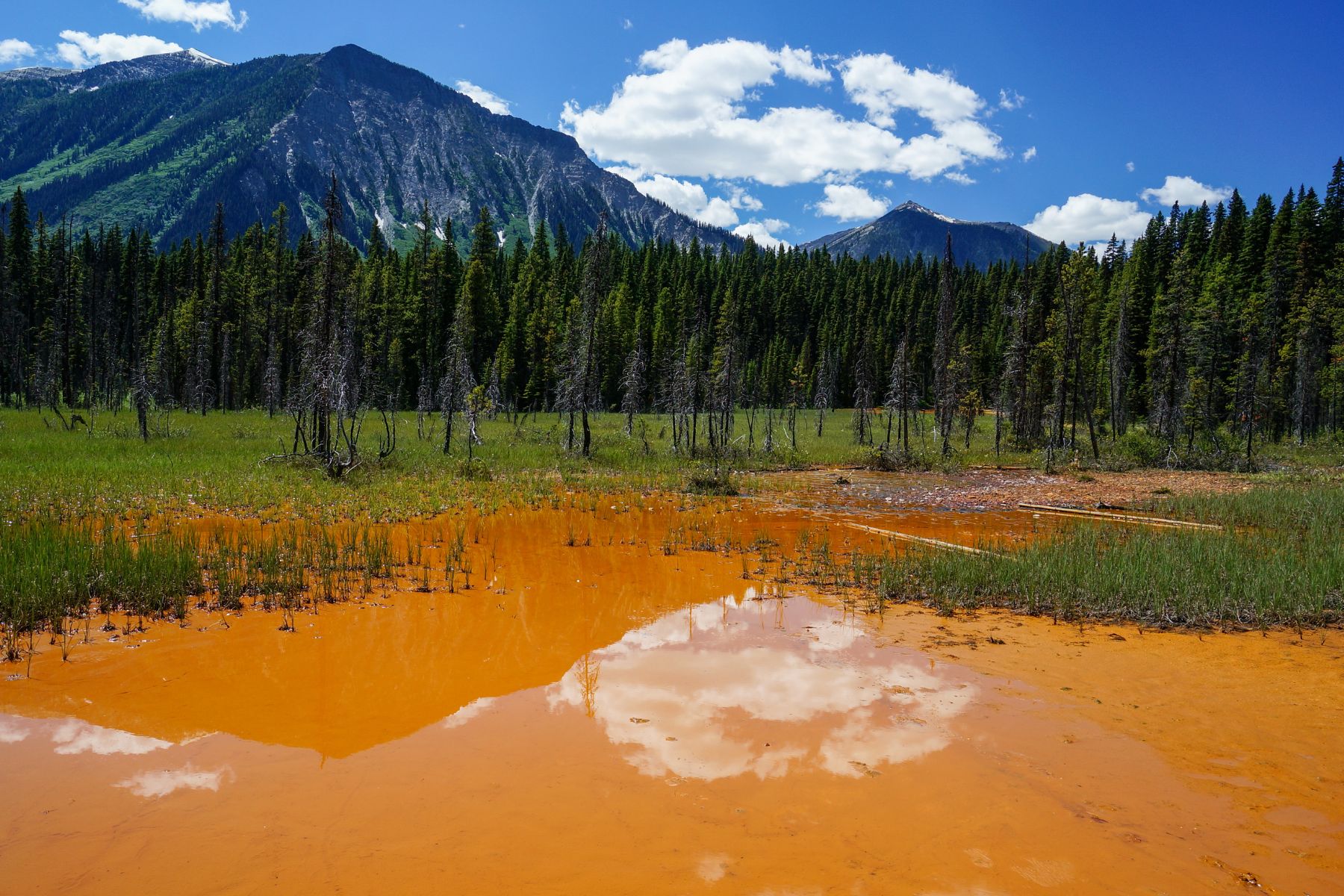 The Paint Pots are a collection of iron-rich mineral hot springs that have colored the surrounding earth and water with various shades of red, orange, yellow, and green, giving the appearance of paint pots. They are a popular tourist attraction for visitors interested in geology, hiking, and scenic views.
This hike is easy and doable for all at just 2.1 km out and back. It's one of the most popular things to do in Kootenay National Park, so arrive early in the morning or later afternoon for the chance to have the trail to yourself.
---
Numa Falls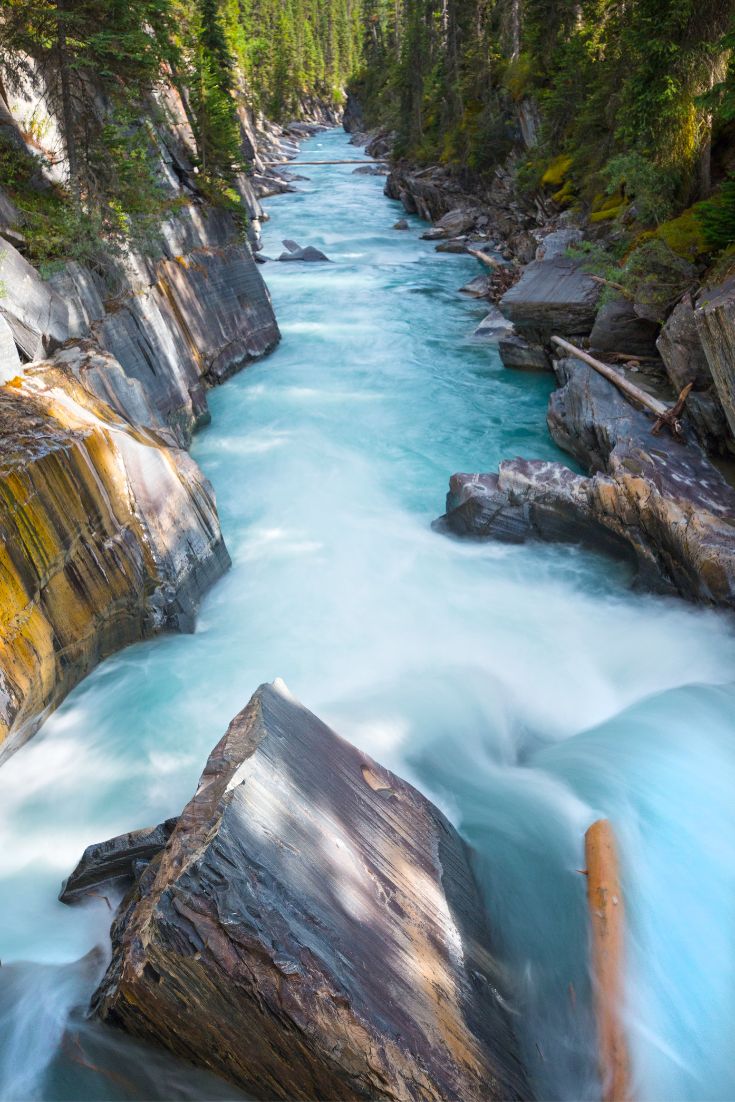 Numa Falls is a waterfall located in Kootenay National Park and is a popular hiking destination, with a well-maintained trail leading to a viewing platform offering a breathtaking view of the falls. It's not the most impressive waterfall in the Canadian Rockies, but still provides excellent views relative to effort.
The falls are approximately 40 meters high and are surrounded by lush forests and towering mountains. Numa Falls is a part of the Kootenay River system and is fed by glacial meltwater, which contributes to its stunning beauty. The falls and surrounding area are considered a protected wilderness area known for their abundant wildlife and diverse plant life.
They are a great stop to make that requires almost no effort to reach the viewpoint.
---
Floe Lake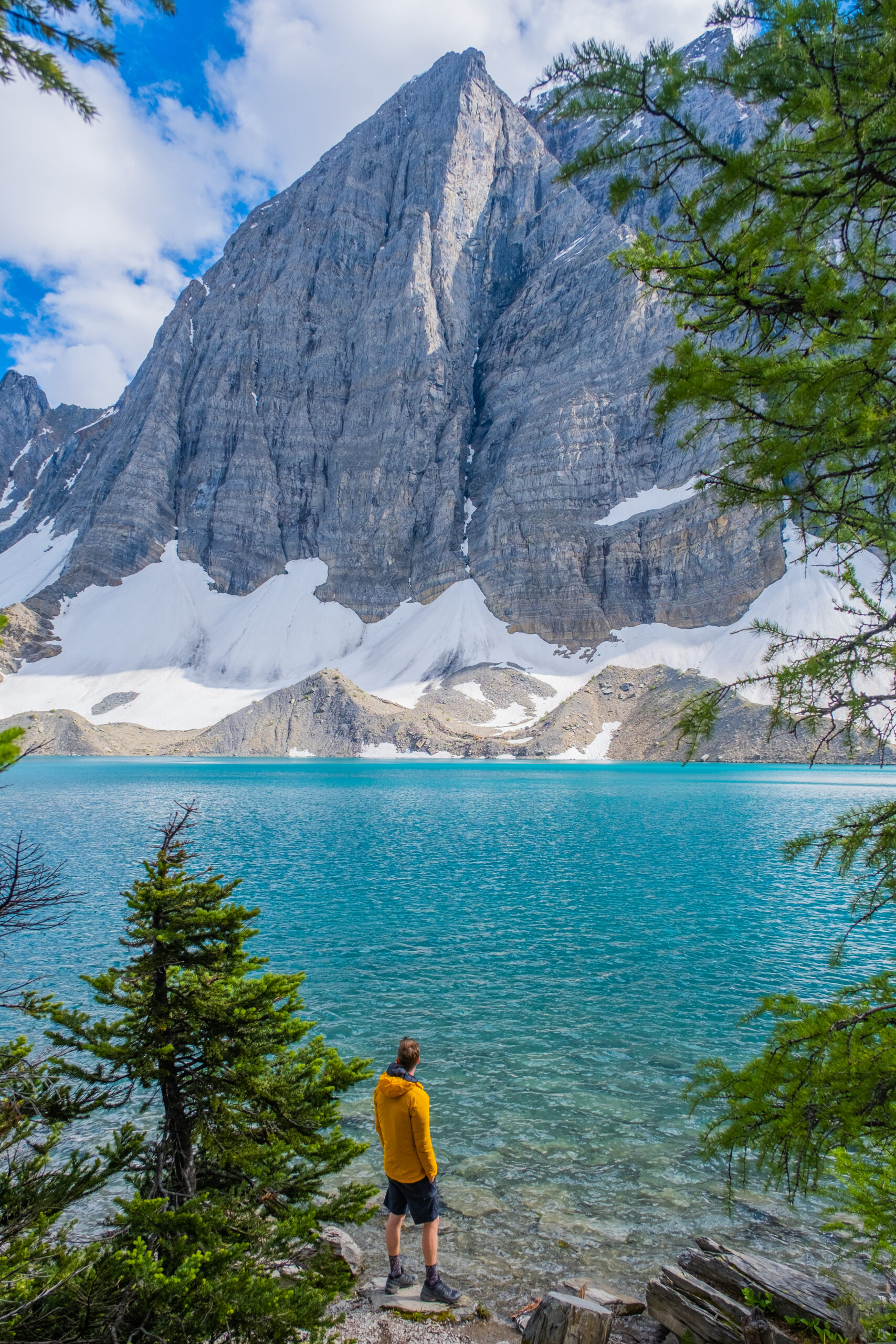 Floe Lake is a fantastic backcountry destination and is a well-known Instagram spot thanks to the beauty of Floe Lake under the impressively shaped Floe Peak.
You'll have to hike 10km to reach the lake with just about 1000 meters of elevation gain, so this is a full-day trip involving 20km+ of hiking, or an overnight stay at one of the coveted campsites (hard to secure in the summer season).
Though if you find yourself lucky enough to nab a campsite, you'll be treated to magnificent views. Once at Floe Lake, you can turn back, making for a 20km hike out and about hike, or continue along the Rockwall Trail for an incredible multi-day backcountry experience.
Plenty of larch trees surround Floe Lake, making it a great fall hike. If you get a clear morning here, you're in for a treat as the sun lights up the whole lake quite peacefully.
---
The Rockwall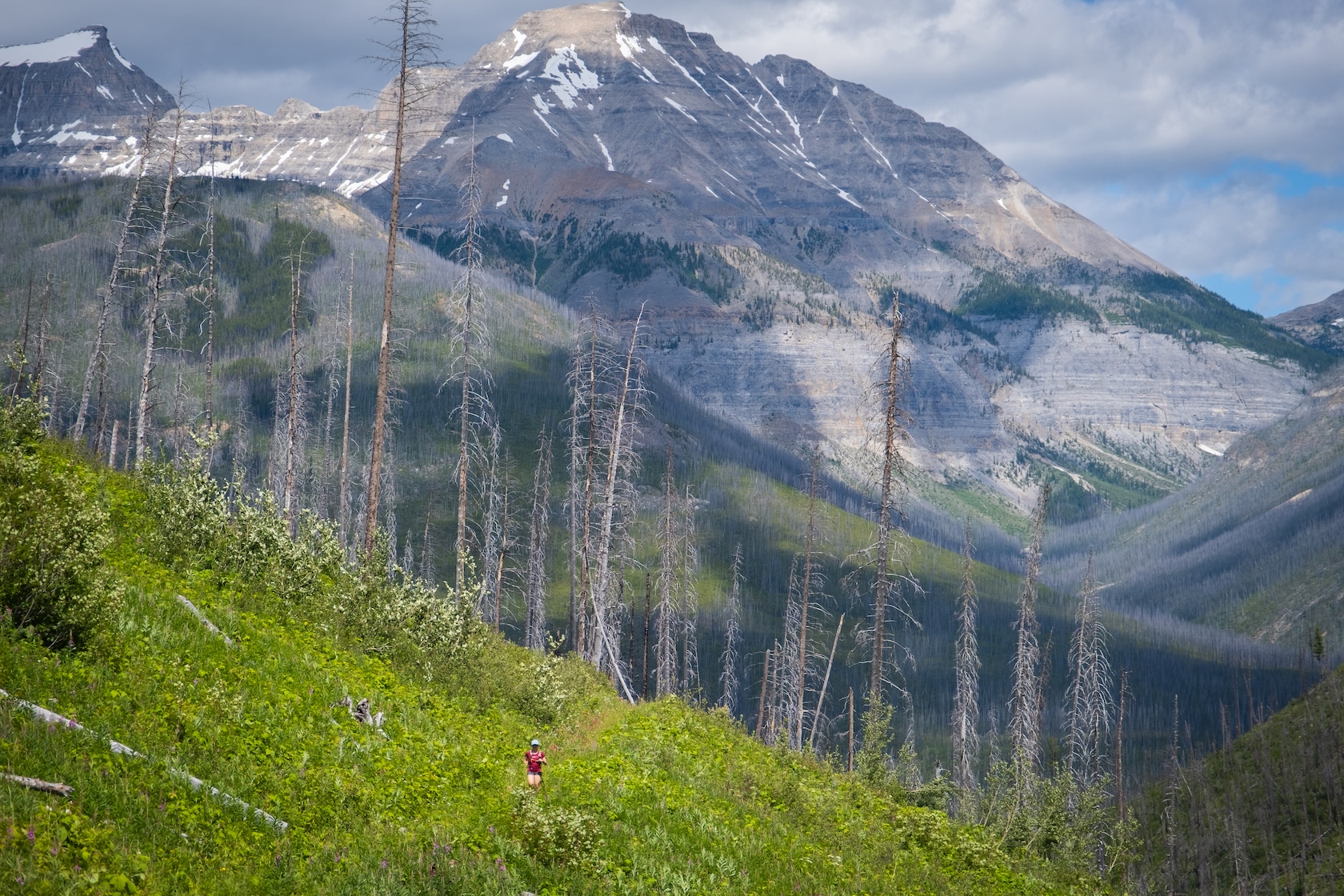 The Rockwall Trail is a breathtaking 54 km multi-day backpacking journey filled with remarkable landscapes. It is an extension of Floe Lake mentioned above, of which you will pass if you decide to tackle this fantastic trail.
The Rockwall Trail winds its way across three Alpine passes, through subalpine meadows, and past stunning hanging glaciers. Its most striking feature is the towering limestone cliff that rises to over 900 m in some areas, offering a spectacular view from the trail below.
Depending on your pace, it will take at least three days to backpack the Rockwall Trail, and you'll gain almost 3000 meters. The best time to hike this trail is during the summer season.
There are four access points to the Rockwall Trail along Highway 93S:
Helmet Creek Trail, access via Paint Pots trailhead
Tumbling Creek Trail, access via Paint Pots trailhead
Numa Creek Trail, access via Numa Falls trailhead
Floe Lake Trail, access via Floe Lake trailhead
---
Cobb Lake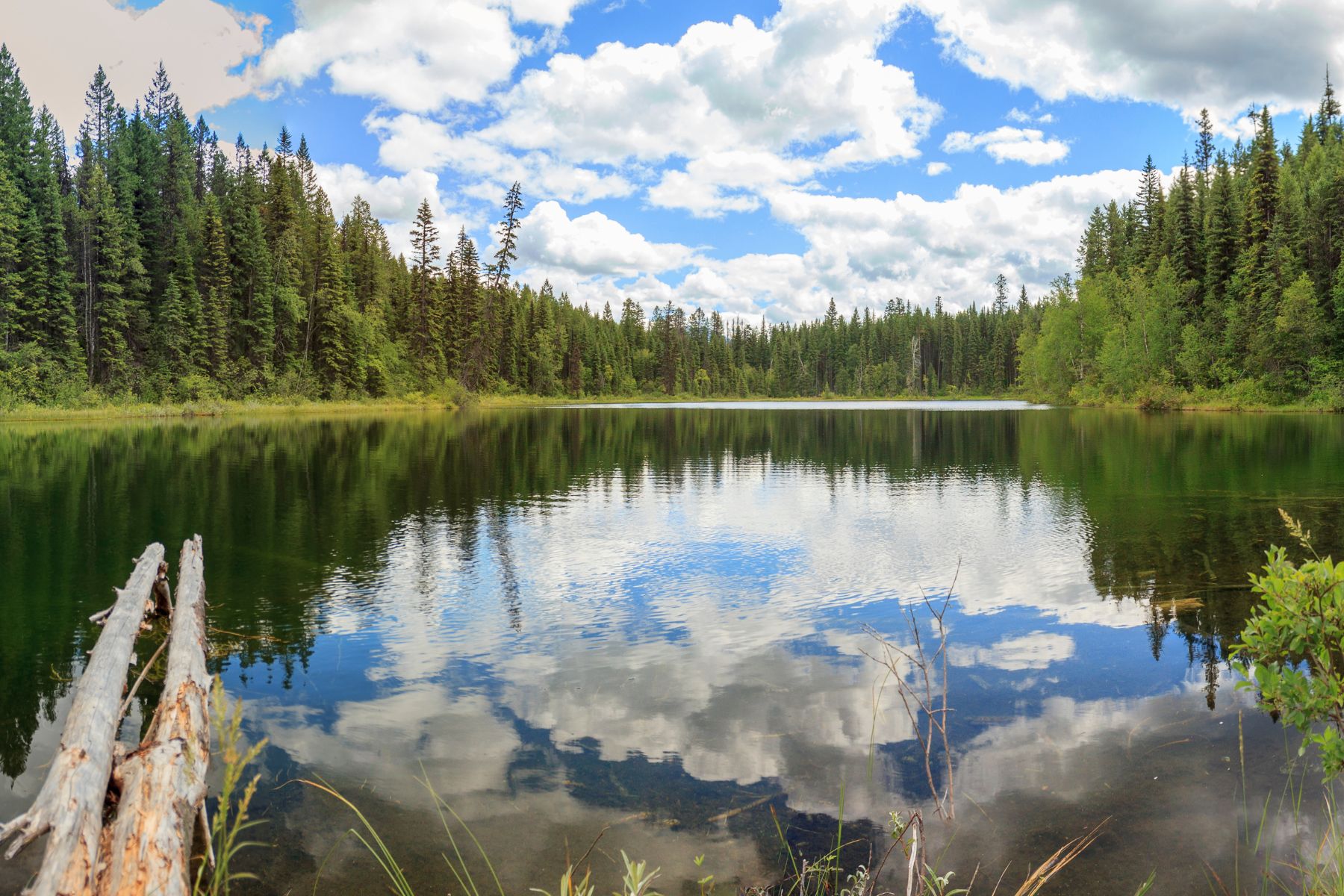 On a hot summer day, one of the best things to do in Kootenay National Park is enjoy a leisurely hike to Cobb Lake.
This is a 5.0 km out-and-back trail that will take between 2-3 hours to complete. The path is relatively easy with under 250 meters of elevation gain, mainly on the way back from Cobb Lake.
The path first leads down to Swede Creek, then ascends to the other side to reach Cobb Lake. Despite its charm, the lake falls short in comparison to the breathtaking scenery of other bodies of water in Kootenay National Park, like Floe Lake. Still, it provides a much-needed escape into the wilderness with easy effort.
---
Olive Lake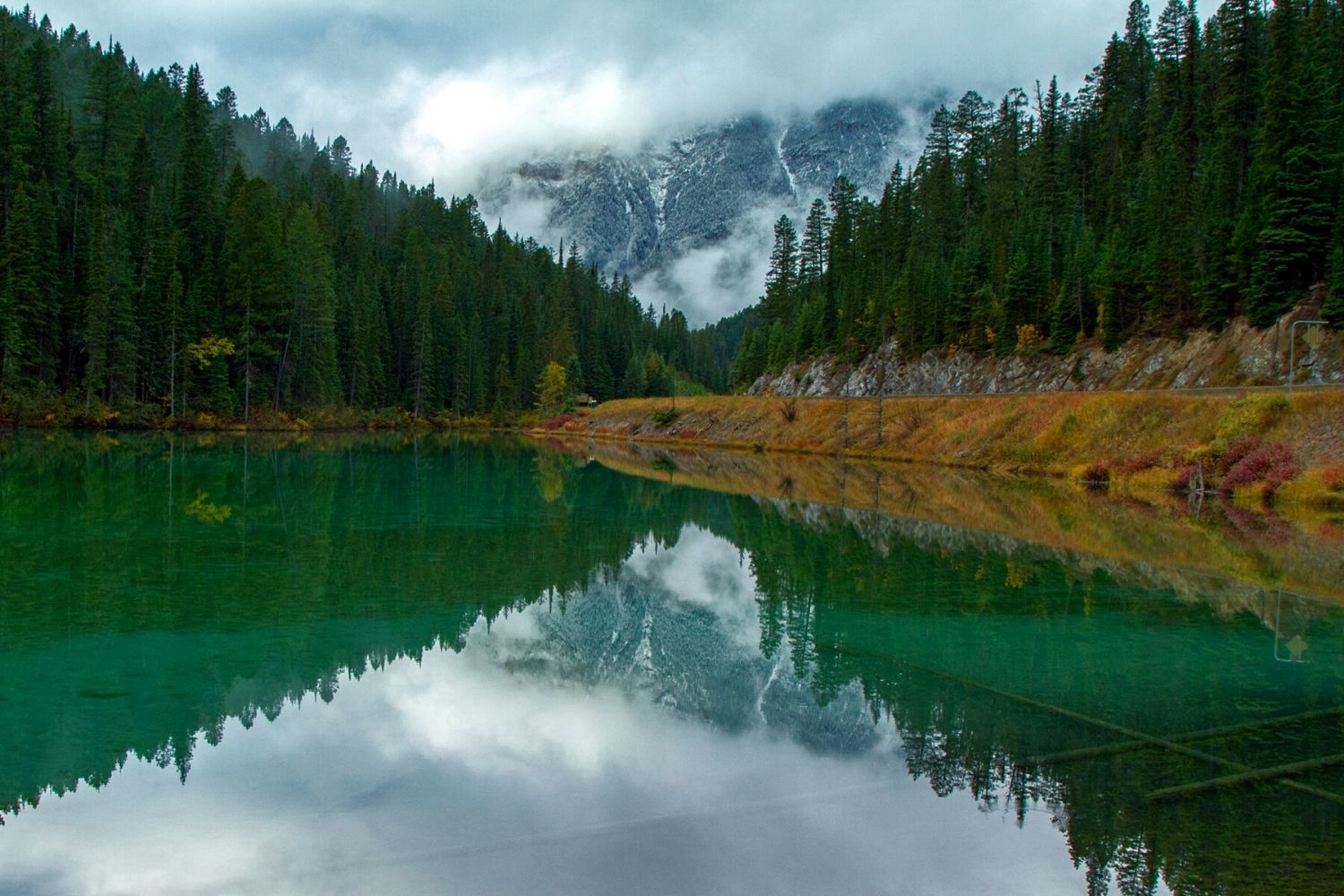 Just a short distance from Radium Hot Springs and within the boundaries of Kootenay National Park, Olive Lake is well worth a visit. The boardwalk is fully accessible, too, allowing wheelchair and pushchair users to enjoy the lake's splendid views and tranquil vibe.
The lake was once a camping and hunting area for indigenous groups in times gone by. Today, the sparkling aquamarine waters glisten in the sunlight, providing many opportunities to get the perfect pictures. Look out for brook trout swimming through the waters.
---
Sinclair Canyon/ Sinclair Canyon Trails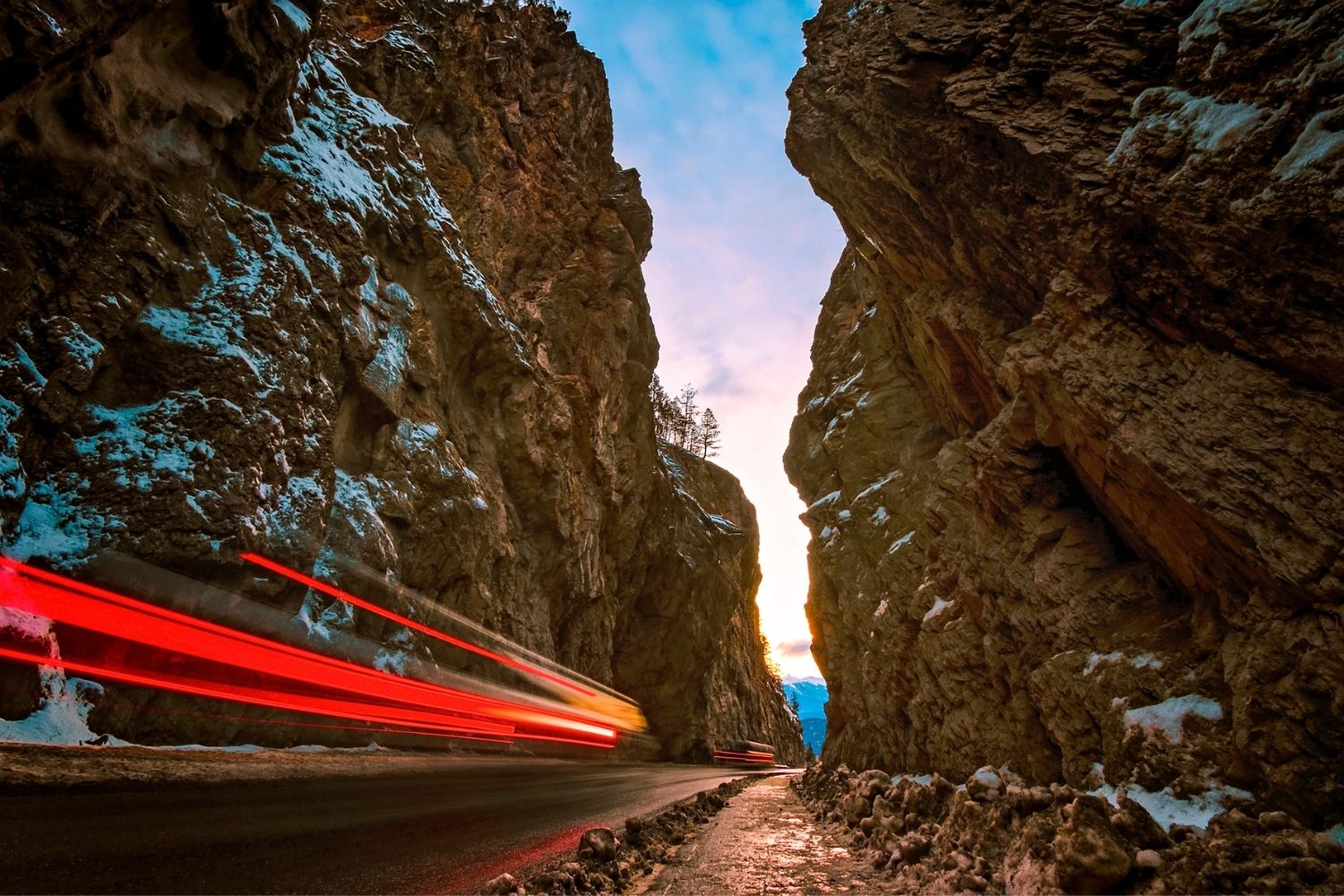 Sinclair Canyon is a scenic canyon in Kootenay National Park. If you drive between Banff and Radium Hot Springs on Highway 93, you will definitely pass through Sinclair Canyon. It is known for its towering cliffs, which rise over 500 meters above Sinclair Creek.
By Sinclair Canyon is a network of trails, the Sinclair Canyon Trails offer a vast network of paths that traverse the lower region of Sinclair Creek ranging from easy hikes to full day hikes. These trails also serve as a designated off-leash area for dogs.
Visitors can easily access the trails from Radium via three different methods:
By starting from the trailhead at Rotary Park, where a gravel path leads down to the trail area.
By using the path off Forsters Landing Road, which is marked by a Village kiosk and a locked gate across from Revelstoke Avenue.
By parking at the lower lot of Sinclair Creek and then heading down Forsters Landing Road. Just before making a left turn onto Horsethief Creek Road, take a sharp right onto the road that runs alongside the Canfor mill log yard.
---
Radium Hot Springs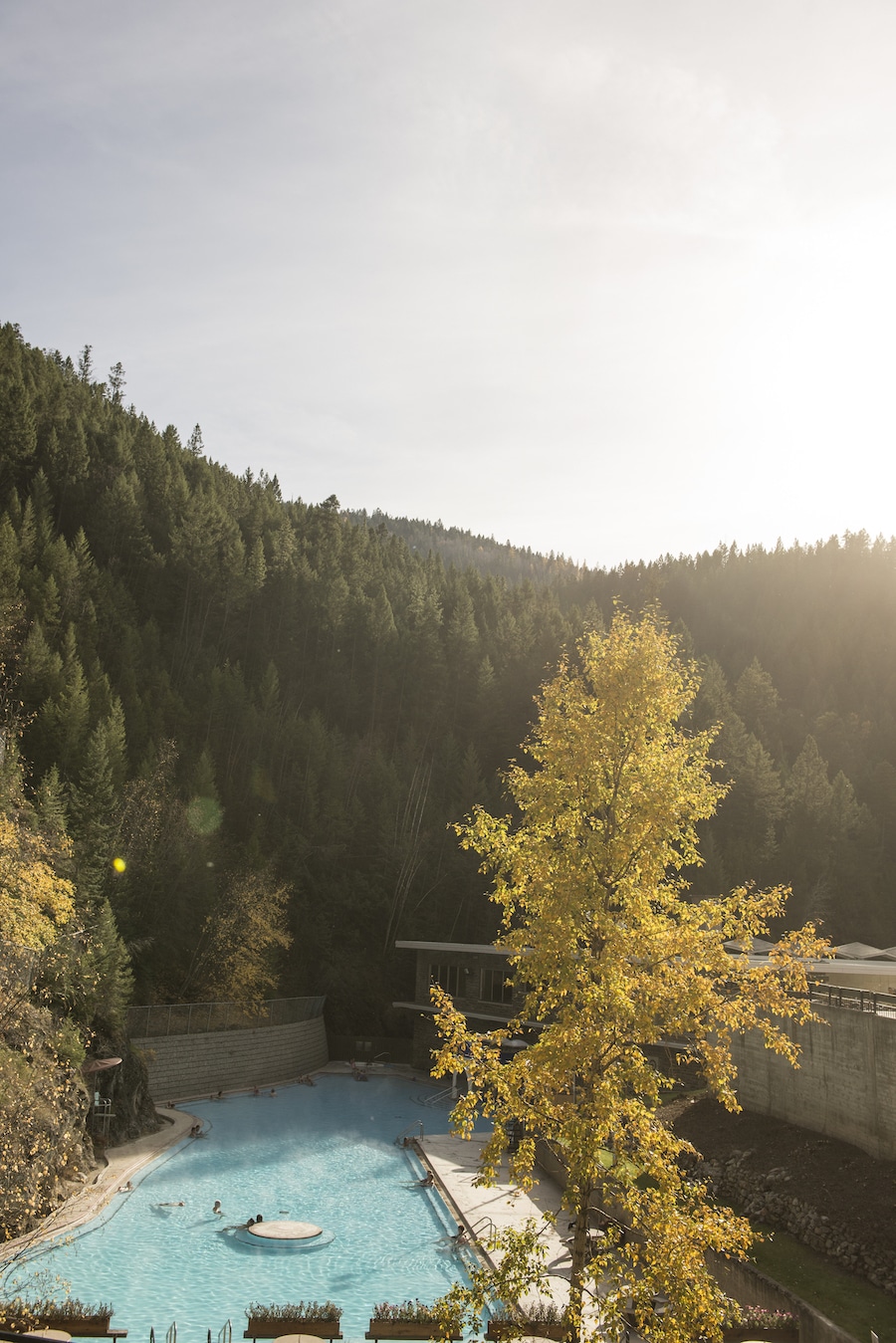 One of the best things to do in Kootenay National Park is head to the small town of Radium Hot Springs and soak in the hot springs! These BC hot springs are listed on the Canadian Register of Historic Places and are a treat to ache your hiking muscles in the winter and summer.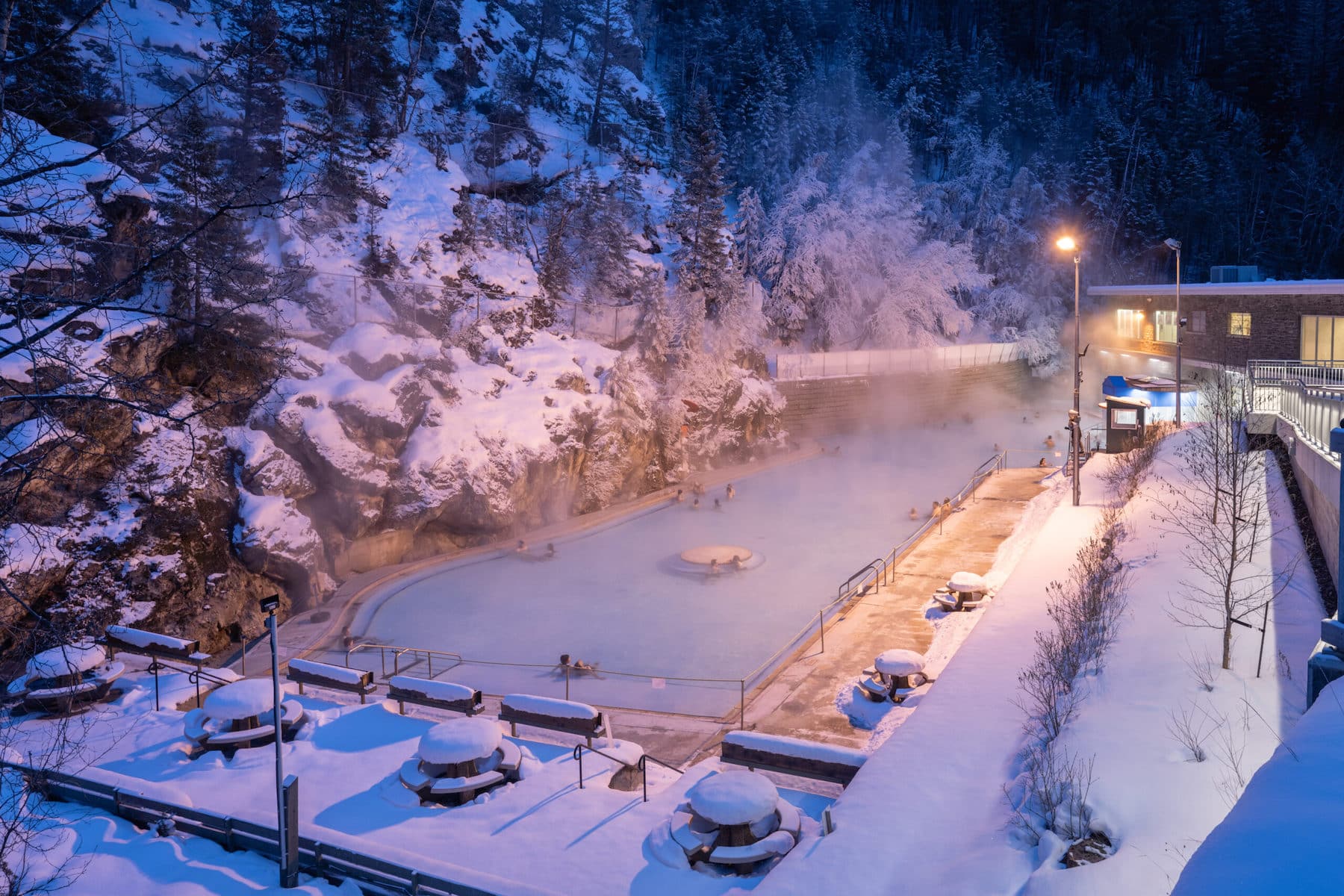 Radium Hot Springs are open all year round, soothing and dazzling visitors with relaxing heat and glorious vistas. You'll have stunning views when relaxing in the hot springs, which are one of the biggest and most famous hot springs in all of Canada. Radium Hot Springs are mineral rich, and the clear waters contain sulphate, calcium, magnesium, silica, and more.
The temperature is always between 37 and 40 degrees Celsius. No need to worry about an overpowering eggy smell that is common at hot springs—the waters at Radium Hot Springs have no odor.
The family-friendly site has a pool right next to the springs, perfect for swimming and splashing about. And, if you really want to treat yourself, there's a day spa on-site too.
---
Find the Adirondack Red Chairs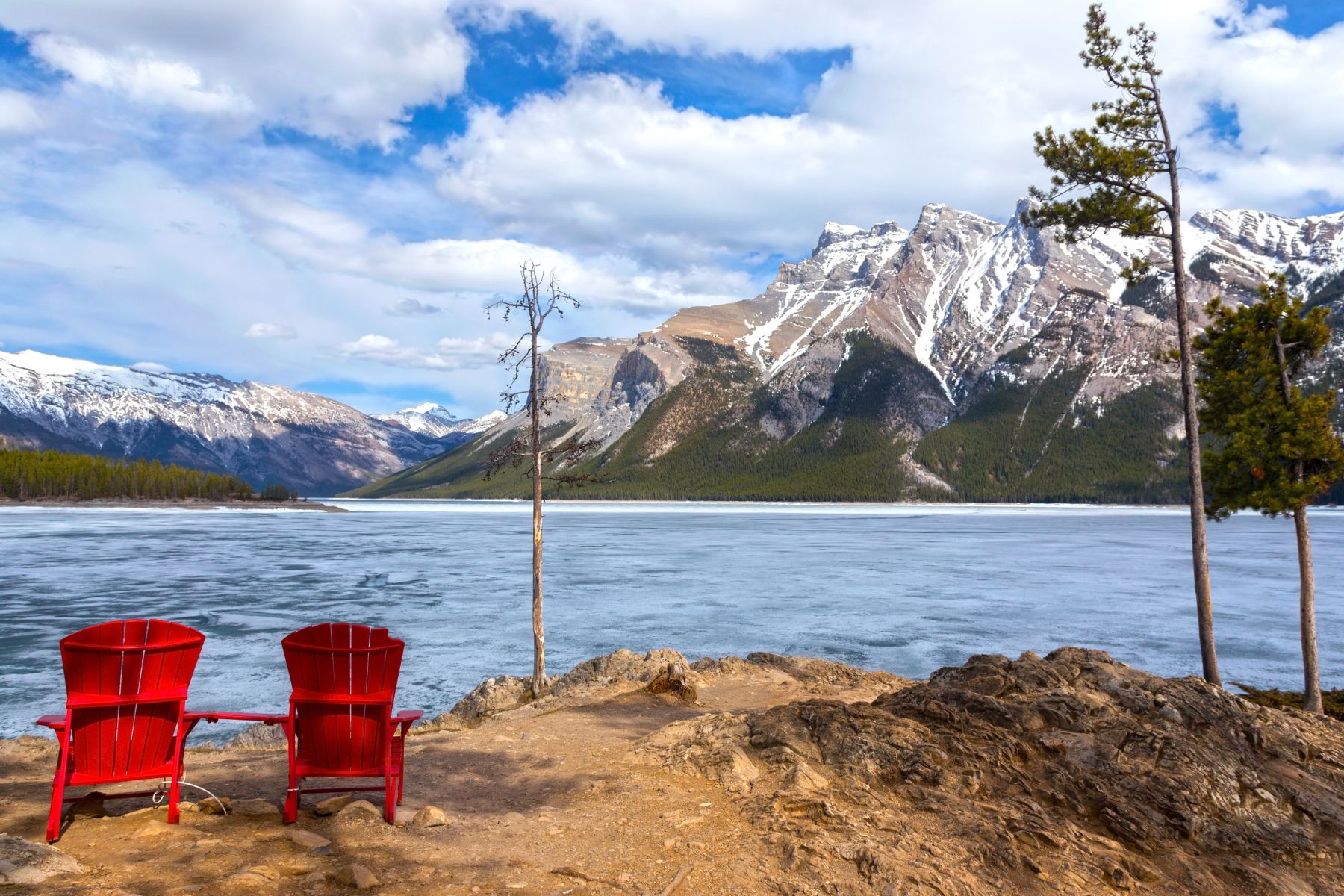 Parks Canada has placed over 200 red Adirondack chairs in peaceful and scenic locations throughout many of the country's most unique and treasured places. There are three sets found in Kootenay National Park.
They always place them ever so conveniently, so you get the most mesmerizing views.
You can find them in the following locations:
Marble Canyon N 51º 11.396 W 116º 07.599
Simpson River N 50º 58.332 W 115º 56.045
Radium Hot Pools (Juniper Trail) N 50º 38.140 W 116º 02.452
---
Kootenay National Park Map
---
Where To Get More Information For Kootenay National Park?
The Kootenay National Park Visitor Centre is located in the Village of Radium Hot Springs just outside the park's west boundary at 7556 Main Street East. The Visitor Centre shares a building with Tourism Radium and the Friends of Kootenay.
---
Do You Need a Parks Pass for Kootenay?
Yes, you need a Parks Canada Pass to visit Kootenay National Park; however if you're visiting from Banff, Jasper, or Yoho you likely already have one. You can read everything you need to know about the Parks Canada Pass here.
---
Is It Worth Visiting Kootenay National Park?
Many visitors to Banff and Jasper will skip Kootenay National Park. We get it; there is very little time and so much to see. However, we urge everyone to at least pop into Kootenay for some of the day.
It's a stunning park that provides a bit of a different experience than in Banff. It's far less crowded and has some unique sites that not every visitor to the Canadian Rockies will see. We suggest exiting onto Hwy 93S while driving between Banff and Lake Louise.
---
Is Kootenay in BC or Alberta?
Kootenay National Park is located in British Columbia.
---
Are There Grizzlys in Kootenay National Park?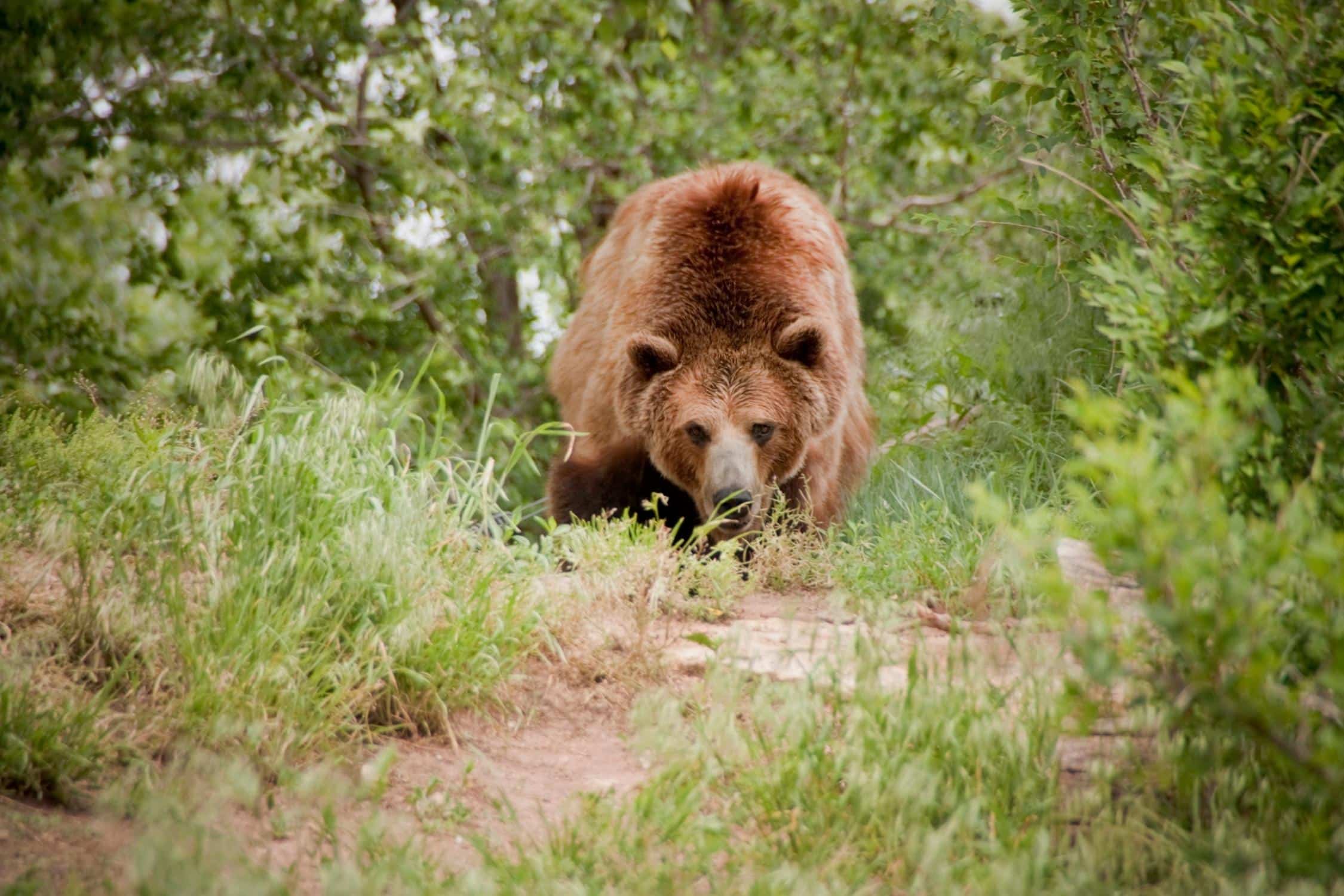 There is lots of wildlife in Kootenay, including black and grizzly bears. While hiking, always hike with bear spray, and makes lots of noise to detract any bears.
Other wildlife to watch out for are deer, elk, moose, coyotes, goats, mountain sheep, and rabbits.
12 Bear Safety Tips • How To Hike In Bear Country
---
Campgrounds in Kootenay National Park
There are several campsites in Kootenay National Park. It's always best to reserve the campsites in advance when applicable.
Marble Canyon: (61 sites), open late June to early-September, unserviced.
Redstreak Campground: (242 sites), open early-May to mid-October, 19 walk-in tent sites, 50 power/water/sewer sites, 38 sites with electricity, 125 unserviced sites, 10 oTENTik tent-cabins.
McLeod Meadows: (88 sites) open late June to early September, unserviced.
Plan Your Trip to the Canadian Rockies