Before we made a home in Canmore, we researched all the best things to do in Canmore, like you! Canmore offers visitors many attractions, great restaurants, and stunning views, especially for a small Canadian mountain town. It is one of the most beautiful towns we've ever visited. Whenever I walk out of the grocery store here, I am blown away by the in-your-face mountain views.
Nestled in the Canadian Rockies, Canmore is any outdoor fanatics' dream. There are so many things to do in Canmore and the surrounding region that it's hard to get bored.
It also has retained some down-to-earth charm Banff lost years ago as it sees millions of tourists a year. If you're heading to the area, read our favorite things to do in Canmore.
---
Where is Canmore, Alberta?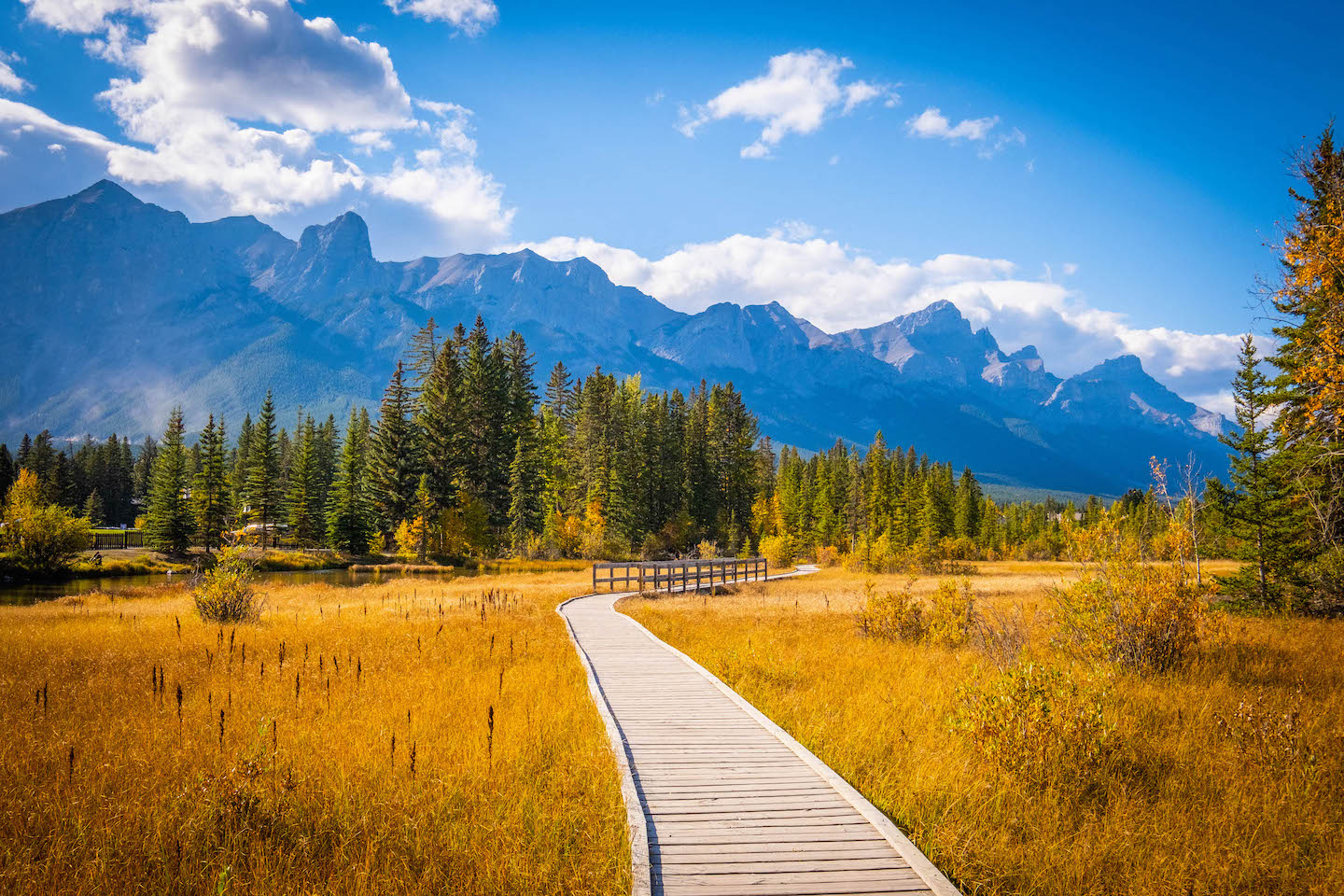 Before you wonder what to do in Canmore, let's establish where exactly it is. Canmore is a beautiful town in Alberta, Canada. It's just 81 km west of Calgary, just about an hour's drive.
Canmore, Alberta also neighbors the famous Banff National Park but is far less heard about internationally. It's a stunning town in the Canadian Rockies, well worth a visit.
Calgary to Canmore: 1 hr 15-minute drive – 105 km via Trans-Canada Hwy/AB-1 W.
Banff to Canmore: 20 minutes drive – 25km via Trans-Canada Hwy/AB-1 E
Vancouver to Canmore: 9.5 hour drive – 869 km via Trans-Canada Hwy/BC-1 E
Edmonton to Canmore: 4 hour drive – 390 km via AB-2 S
Fernie to Canmore: 4 hour drive – 363 km via AB-22
How to Get From Calgary to Banff and Canmore
---
A Brief History on Canmore, Alberta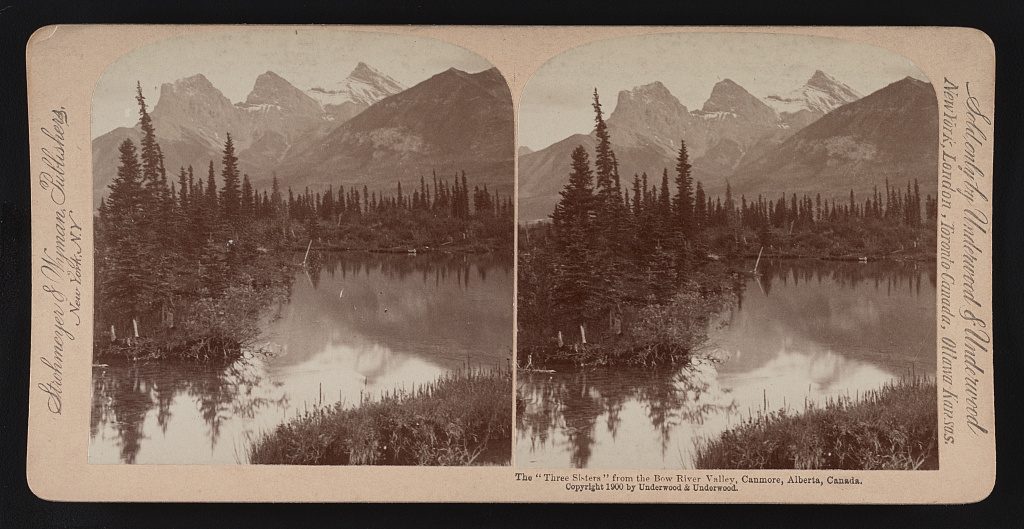 In the 1880s, Canmore was known as a mining town and remained that way throughout most of the 20th century. It wasn't until recent years that the town became a tourist destination.
Donald A Smith was an employee of the Canadian Pacific Railway and, in 1884 named the town Canmore, which originates in Scotland. The name Canmore has its origins in Scotland and comes from the Gaelic phrase "Ceann Mòr," which means "great head" or "big head." This name was given to Malcolm III, who was the King of Scotland in the 11th century, and who was known as Malcolm Canmore or Malcolm Ceann Mòr. The town of Canmore was named after Malcolm Canmore.
In 1887 the first mine was opened in Canmore, and it wasn't until 1965 that Canmore was incorporated into a town with just 2000 residents. In July of 1979, Canmore Mines Ltd. closed their last mine. In 1988, the Olympic Winter Games were held in Calgary (anyone else remember Cool Runnings?), which marked a change for the town of Canmore. The town would be the site of the Nordic events, and The Canmore Nordic Center was developed to host the events.
The town of Canmore was put on the map as a Canadian tourist destination and is now well known as another destination to visit in conjunction with Banff National Park when traveling around the Canadian Rockies.
---
The Best Things to Do in Canmore
---
Take in the Three Sisters Mountains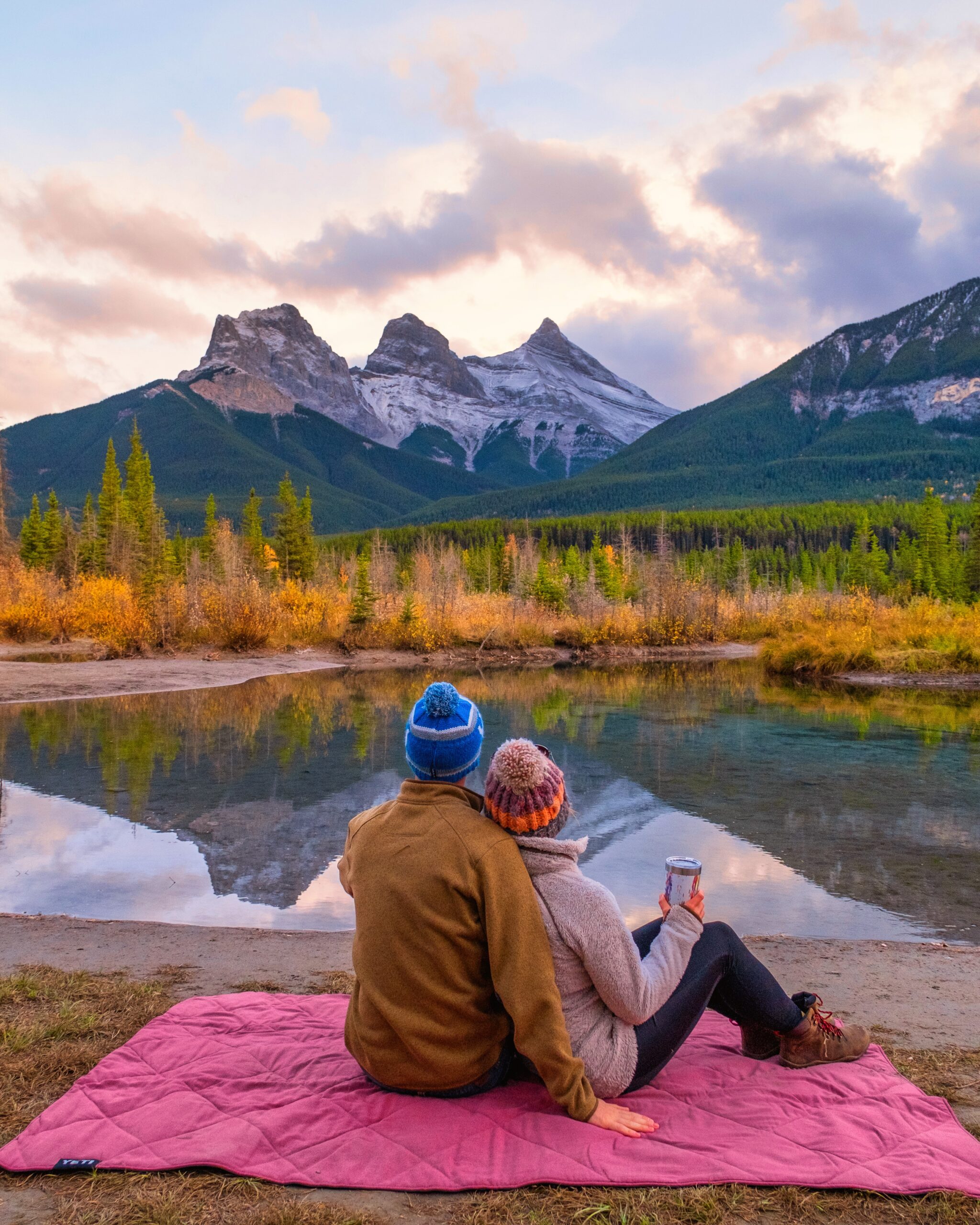 Faith, Hope, and Charity, the individual mountains that make up the Three Sisters Mountain, are majestic and easily recognizable icons of Canmore (called the Big Sister, Middle Sister, and Little Sister).
At nearly 10,000 feet, they're hard to miss, and that's a good thing because experiencing these stalwart giants is one of the best things to do in Canmore, Alberta, that you won't want to pass up.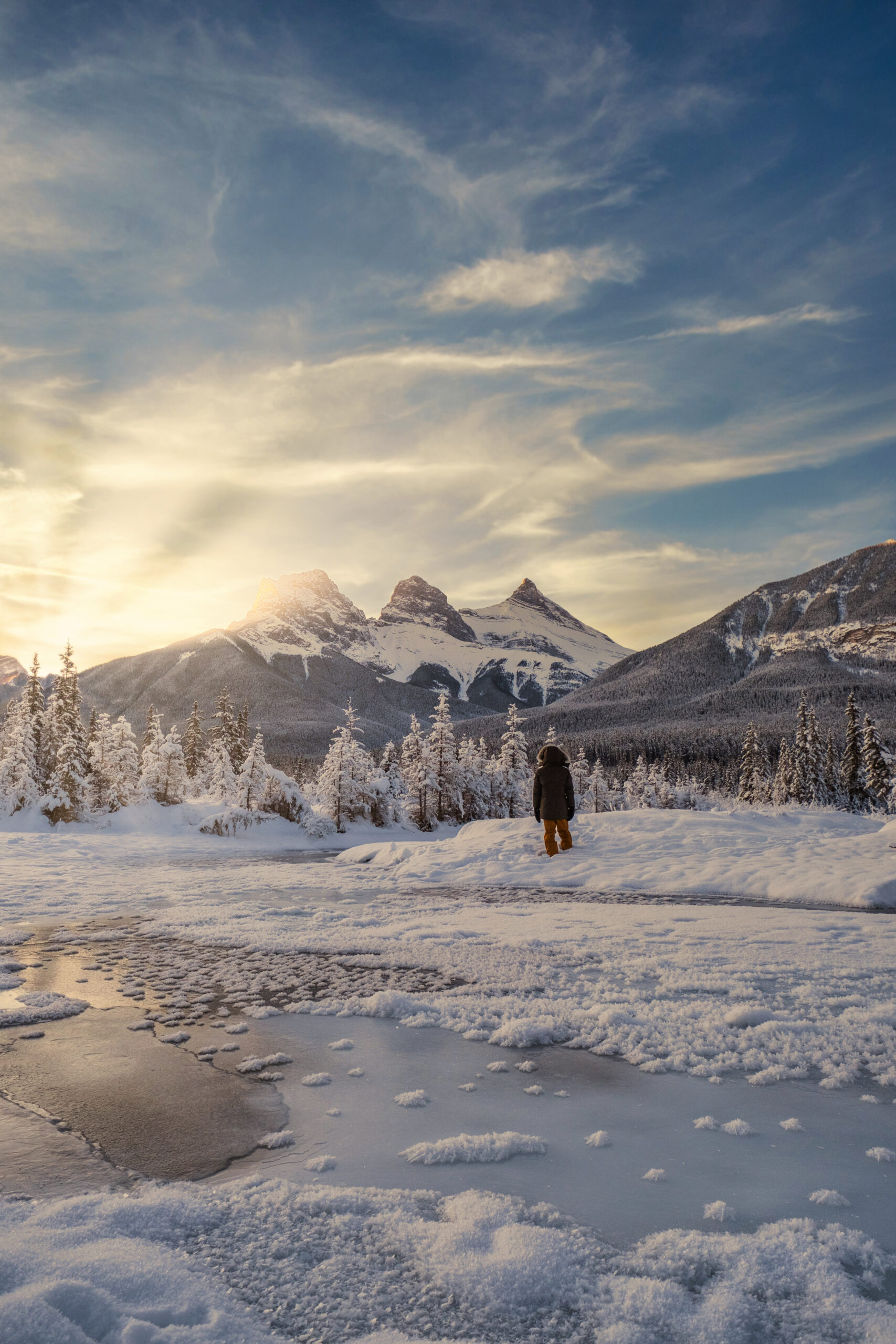 The mountain's bare, rocky peaks contrast dramatically with the lush, green pine forests that envelop them at lower elevations.
You can scramble up the Middle Sister and Big Sister; however the Little Sister is for serious rock climbers only. These are long and hard scrambles that should not be attempted unless you have experience hiking and scrambling in the Canadian Rockies.
If you want to get up close to the mountains, you can enjoy a helicopter ride in Kananaskis, though be aware it is expensive, but it will give you a unique view that most will never get to appreciate.
Or you can always do what most people do, snap plenty of photos, and enjoy the view.
---
Hike in Kananaskis Country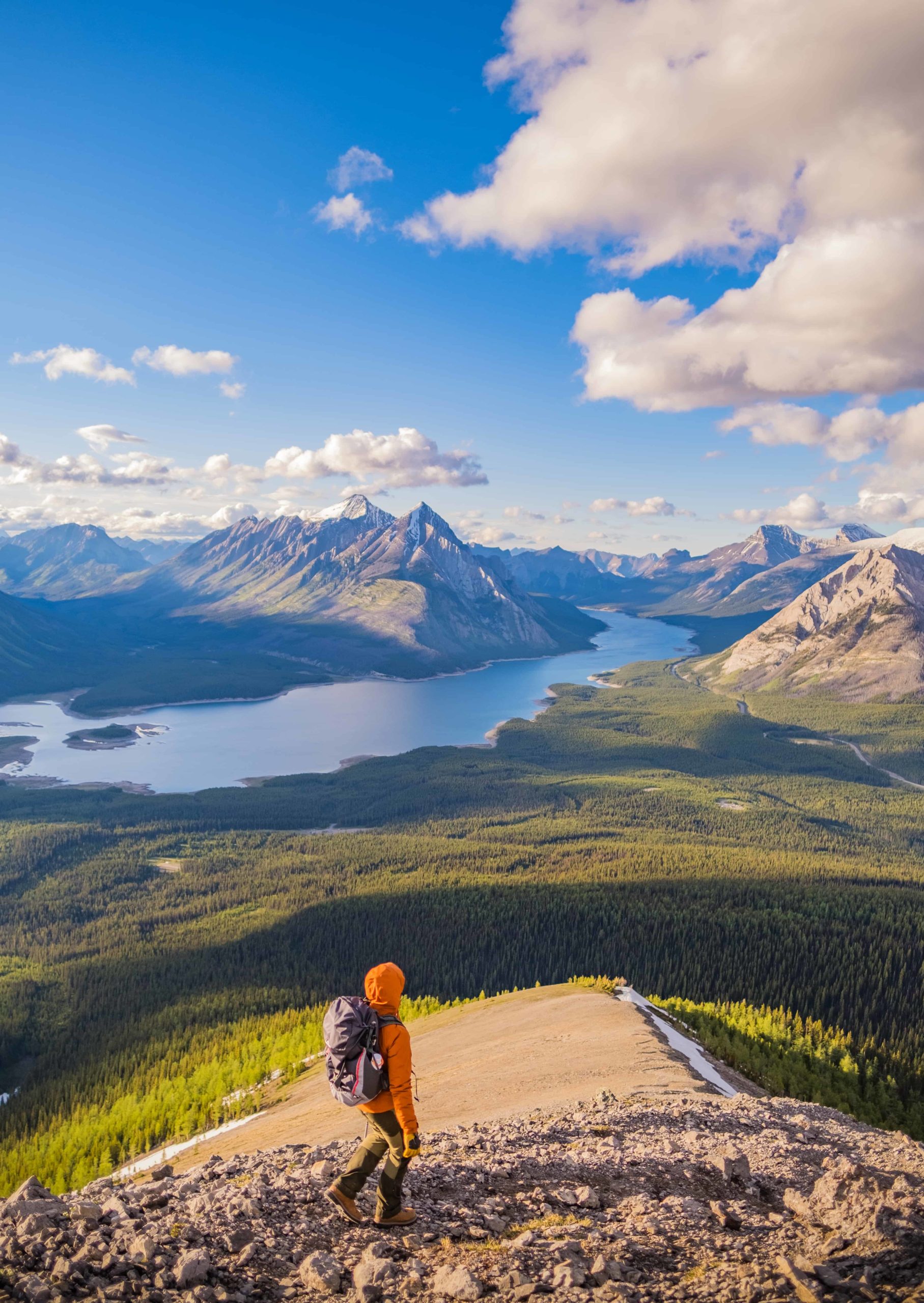 Not everything takes place in Banff National Park. Canmore is situated between Banff and the Alberta Park, called Kananaskis Provincial Park. Kananaskis is often thought of as the foothills to the Rockies, but there are some tremendous hikes in Kananaskis. Don't make a mistake and underestimate them as there are some massive mountains and hikes in the park.
It's also great for fewer crowds on the weekdays and finding wildlife. On the weekend, it is very popular with Calgarians having fun in the mountains, still far from the madding crowds of Banff.
If you're looking for two of our favorite hikes, check out Tent Ridge or Wasootch Ridge. You can also check out Sarrail Ridge, Burstall Pass, East End of Rundle – There are too many to name!
---
Scramble Up East End of Rundle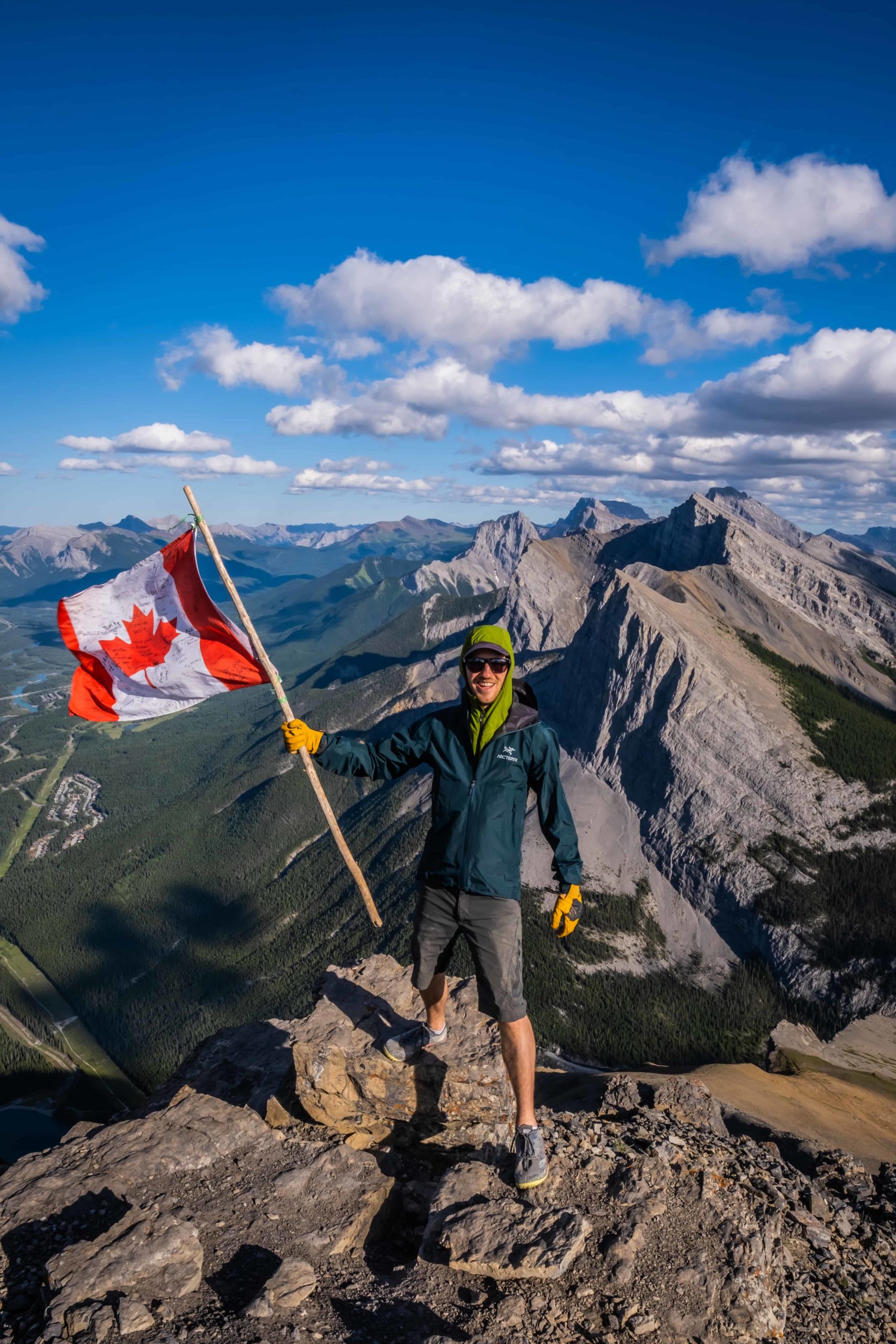 East End of Rundle (EEOR) is one of the most popular hikes in Canmore. It's a beautiful hike that offers visitors astonishing views over Canmore, the Bow Valley, and Ha Ling Peak. Although, just because East End of Rundle (or EEOR, or "Eeyore" as locals like to call it) is close to town doesn't mean it's an easy climb up to the summit.
EEOR trail is a 5.8 kilometer out and back trail that gains more than 800 meters of elevation. It's certainly a steep and strenuous uphill battle for almost the entire hike. There are hardly any flat parts, and the climb starts right from the car park.
There is moderate exposure and some scrambling required, but nothing too scary or difficult for the average to the advanced hiker. We are reasonably fast hikers and completed the trail in four hours with a 45-minute summit beer stop at the top and about 15 extra minutes for sunset photos. If we were really moving with no long stops, we could have done EEOR in under three hours.
The average hiker will probably be able to summit in two hours and descend in 1.5 hours. If you are slower, five hours round trip is probably a safe time to estimate.
---
Canmore Highland Games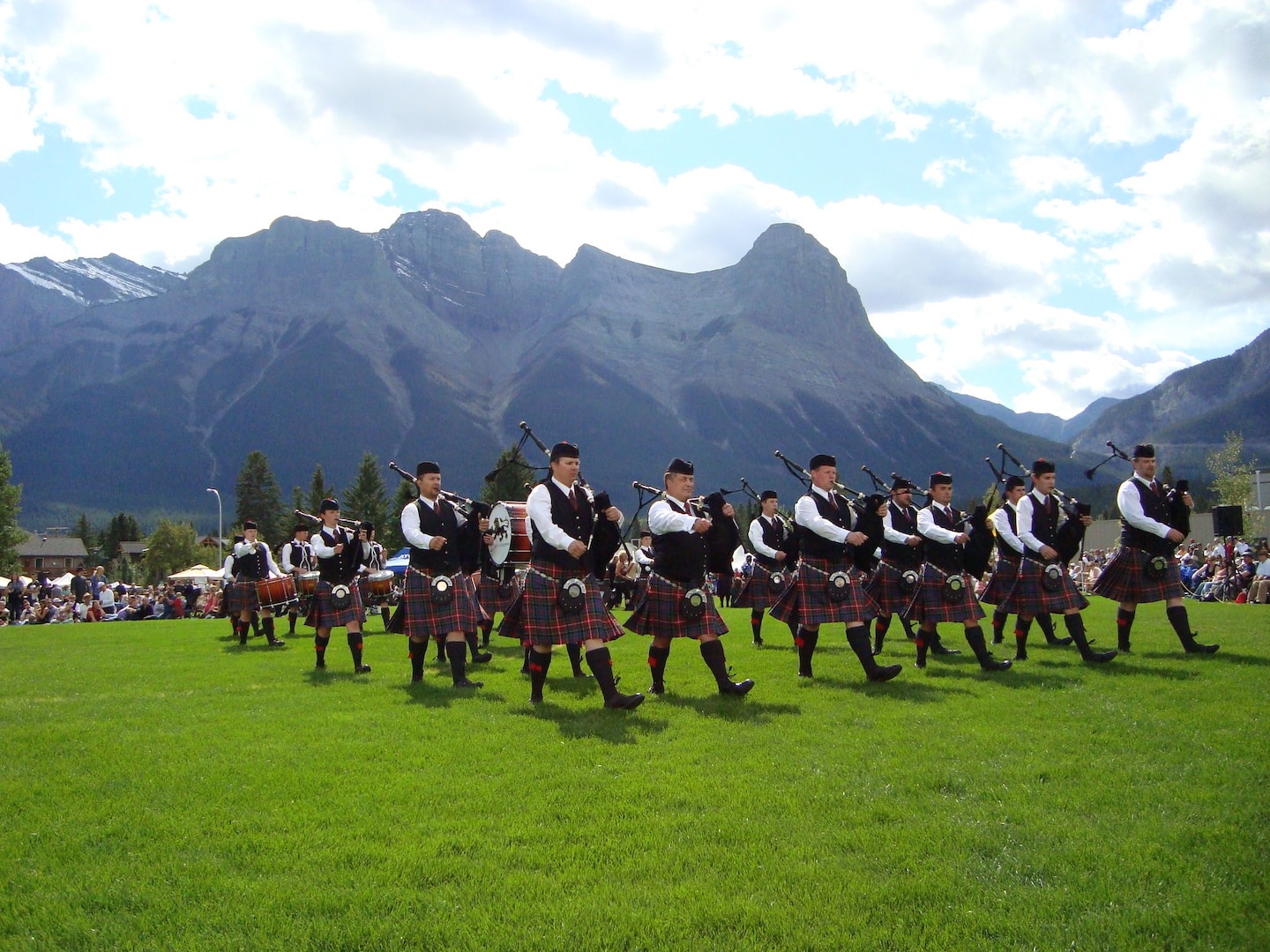 The first Highland Games were held in Scotland in the 11th Century. It's no small coincidence that they were the brainchild of King Malcolm III, whose nickname was 'Canmore.'
The games' strenuous events were used to test the physical prowess of local men to determine which of them would make the fittest and suitable royal mail carriers.
Drawing visitors from around the world each year, the event has been held since 1991 and occurs during the first weekend of September. With a mandate to promote Scottish ancestry and heritage, the event includes lots of kilts, bagpipes, and a caber toss too. You can purchase tickets in advance online, sign up to volunteer, and even apply for a vendor spot if you're so inclined.
---
Play a Round of Golf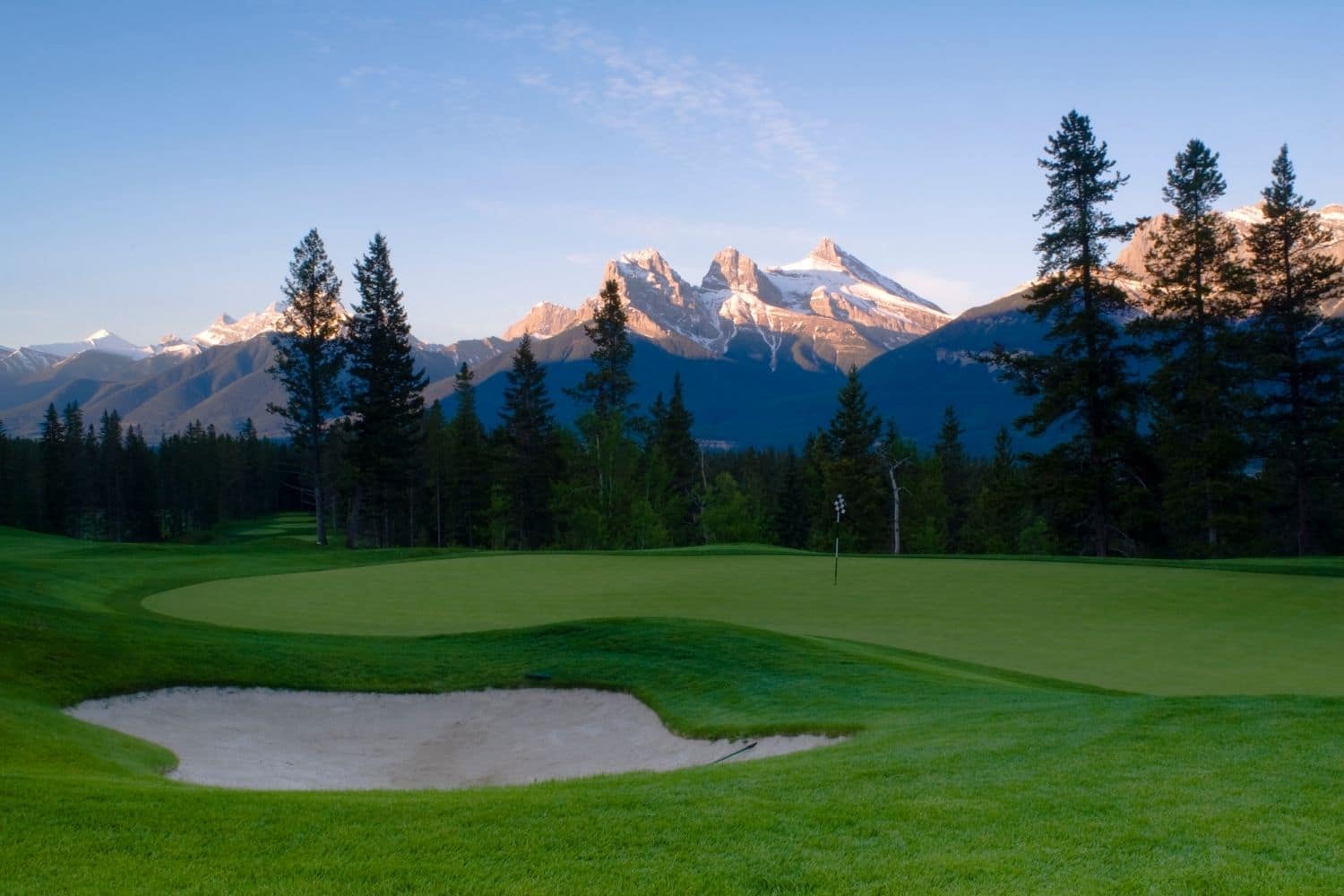 One of the best things to do in Canmore in the summer is play a round of golf. This beautiful mountain town is surrounded by some of the most beautiful golf clubs in the world.
Enjoy a round at the Stewart Creek Golf Course or Silvertip, which gives the most beautiful views of the Three Sisters, Cascade Mountain, Pigeon Mountain, and Ha Ling Peak.
20 BEST Alberta Golf Courses to Tee Off At
---
Three Sisters Pathway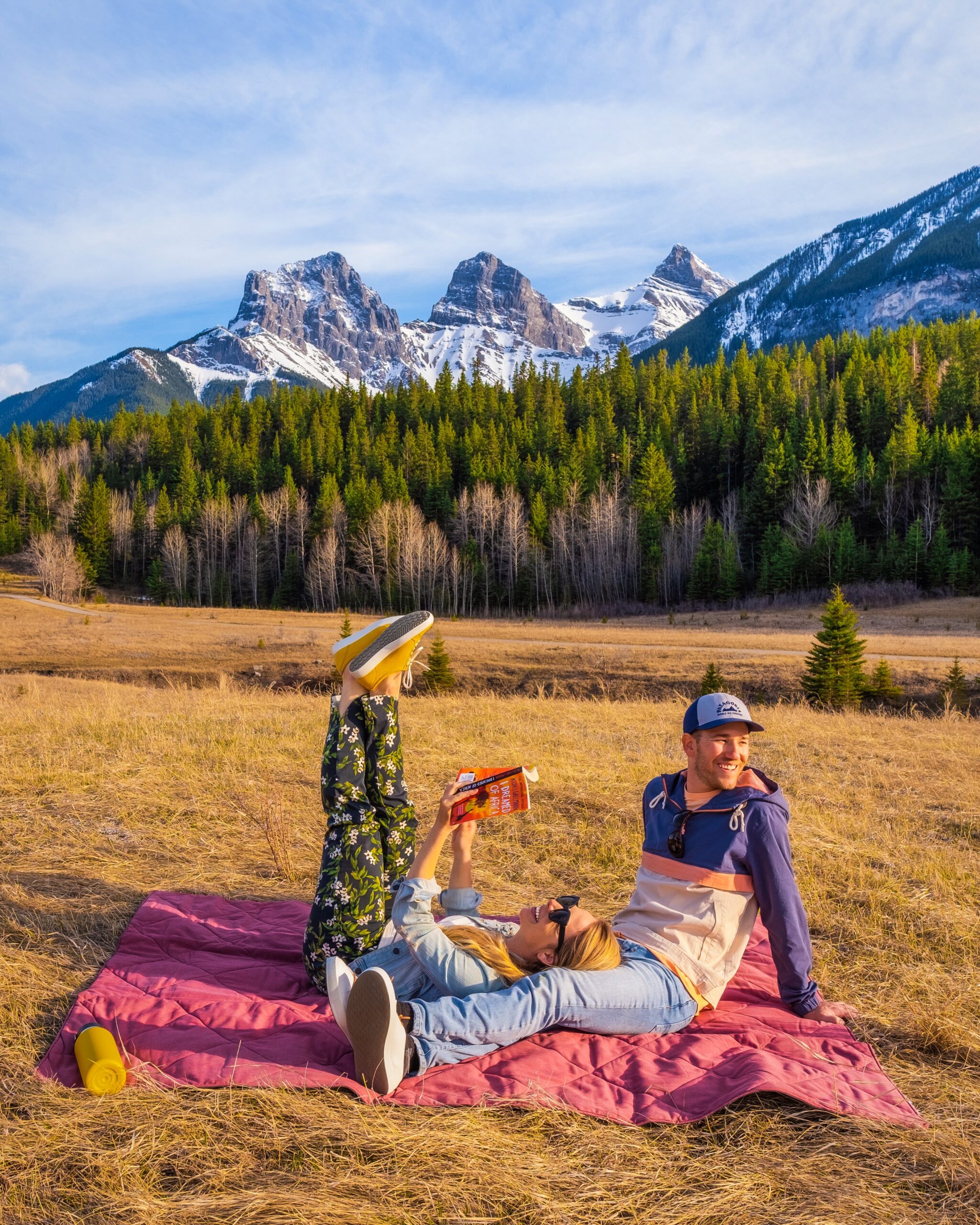 The Three Sisters Pathway is our favorite walk in Canmore, plus it's a great option for bikers and runners. Chances are you might even see us on the trail taking in the epic views of the Three Sisters.
The trail is a mix of gravel and paved paths that follow the Bow River downstream to the Three Sisters. As the trail moves alongside the river, it passes several meadows, creeks, and forests.
We've seen a lot of wildlife along the trail, in particular birdlife along the river, and consider this trail one of the best things to do in Canmore. There is also a good chance you'll come across some elk as they're plentiful, especially in the winter months. Don't worry about mountain views as they're everywhere.
The trail is accessible from the Canmore Boat Launch along the Bow River and sees less than 100 meters of elevation gain depending on how long you walk or bike. You can make this walk as long or short as you want!
---
See the Giant Head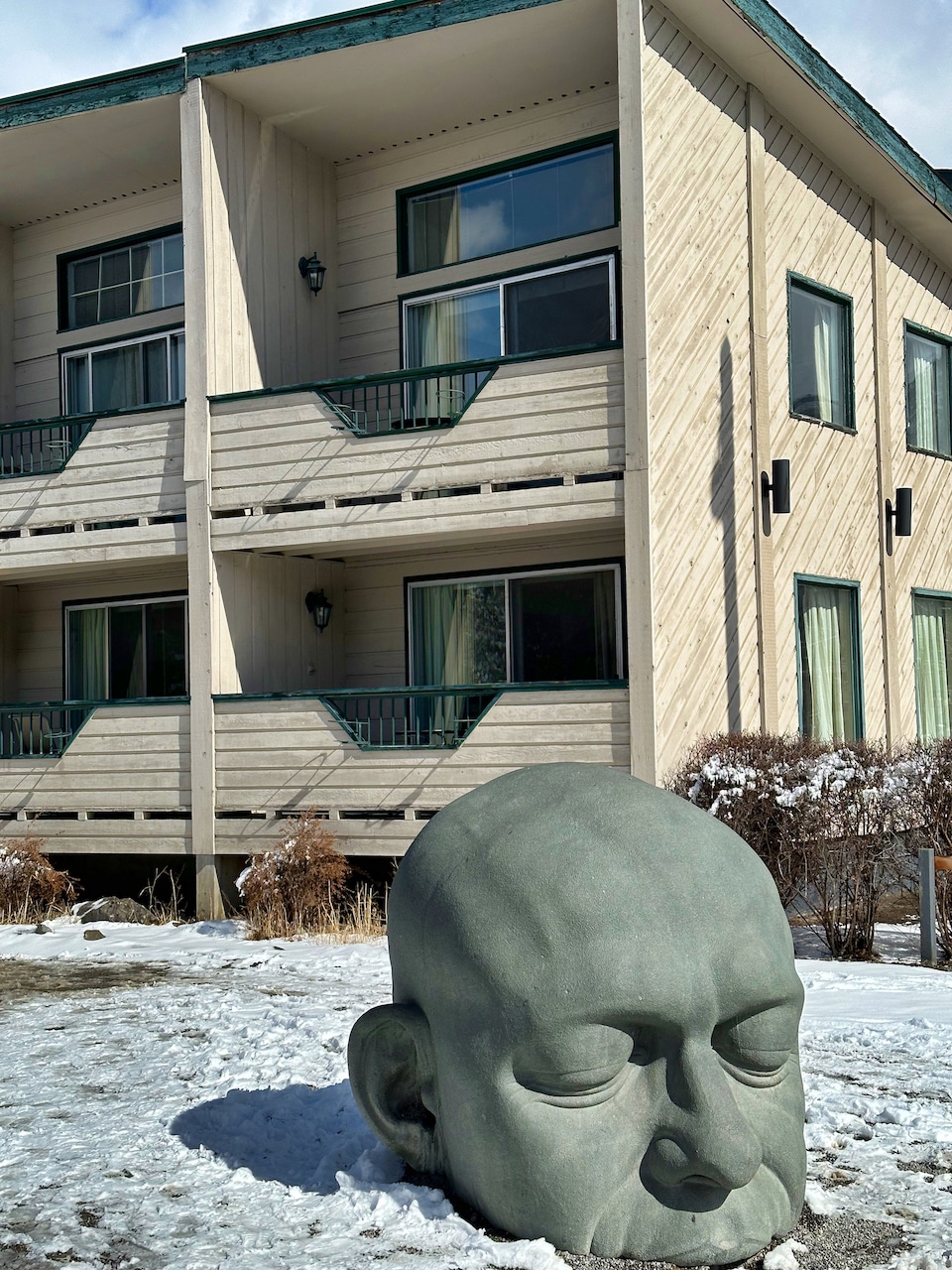 If you're strolling down Main Street (8th Street), you will certainly come across a giant head near The Drake. The "big head" is a sculpture created by artist Al Henderson, who was inspired by Canmore's name. The name of Canmore was taken from a small town in Scottish and means "great head" or "chief" in the Gaelic language, as explained previously.
This big head, or half of a head, is a local landmark. I'm certain you will see it, but in case you miss it, look for The Drake Pub – it's right near it!
---
Stretch At Wildheart Yoga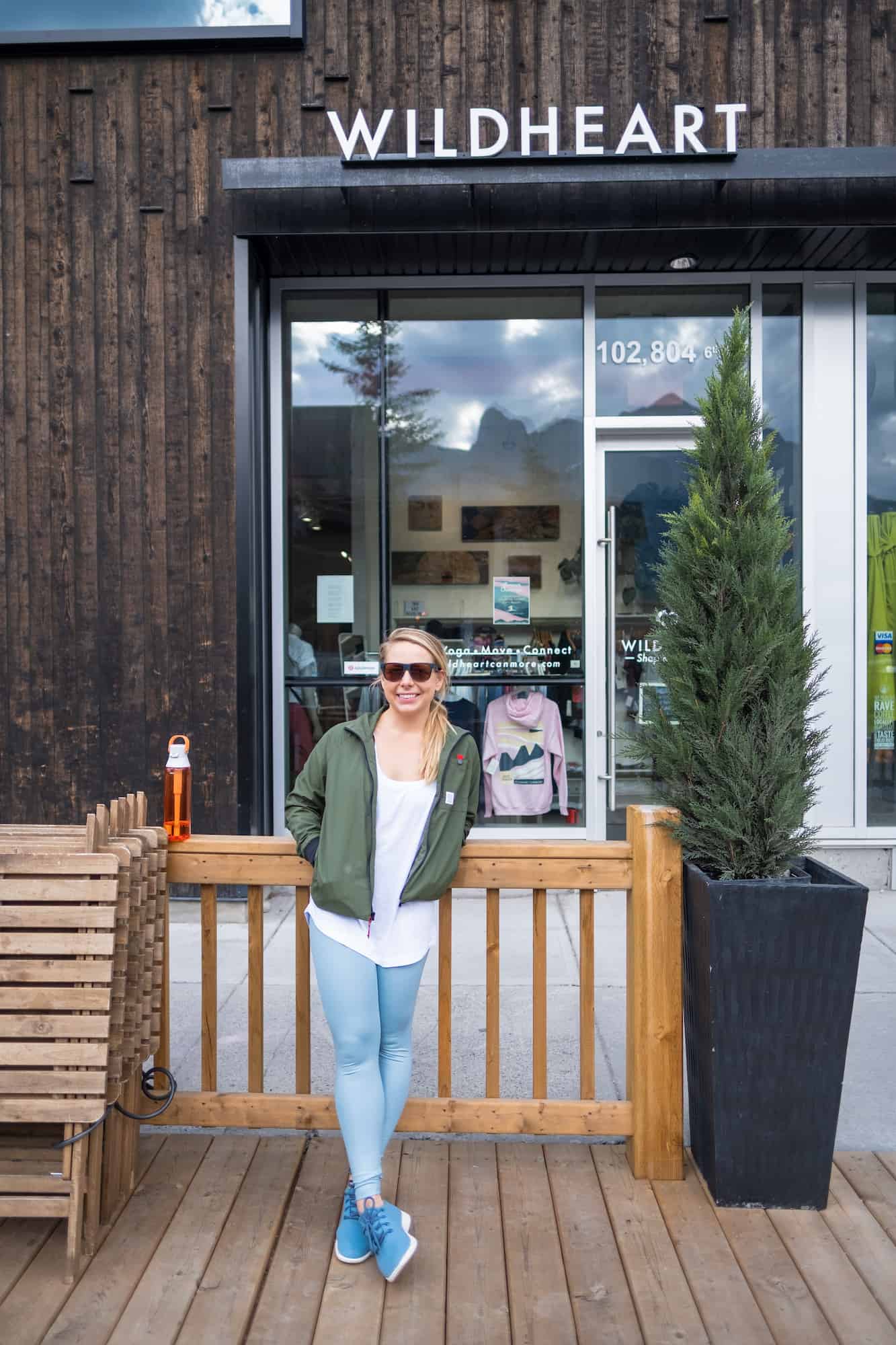 Natasha loves to take yoga classes when we travel and has taken lessons in at least two dozen countries. Naturally, she tries to get in as much yoga as possible between hikes when we're at home. Her favorite yoga studio in Canmore is Wildheart Yoga.
They have a beautiful modern studio and wonderful instructors with various classes and times. You can find more information along with a schedule on their website.
---
Grab a Beer at Grizzly Paw Brewing Pub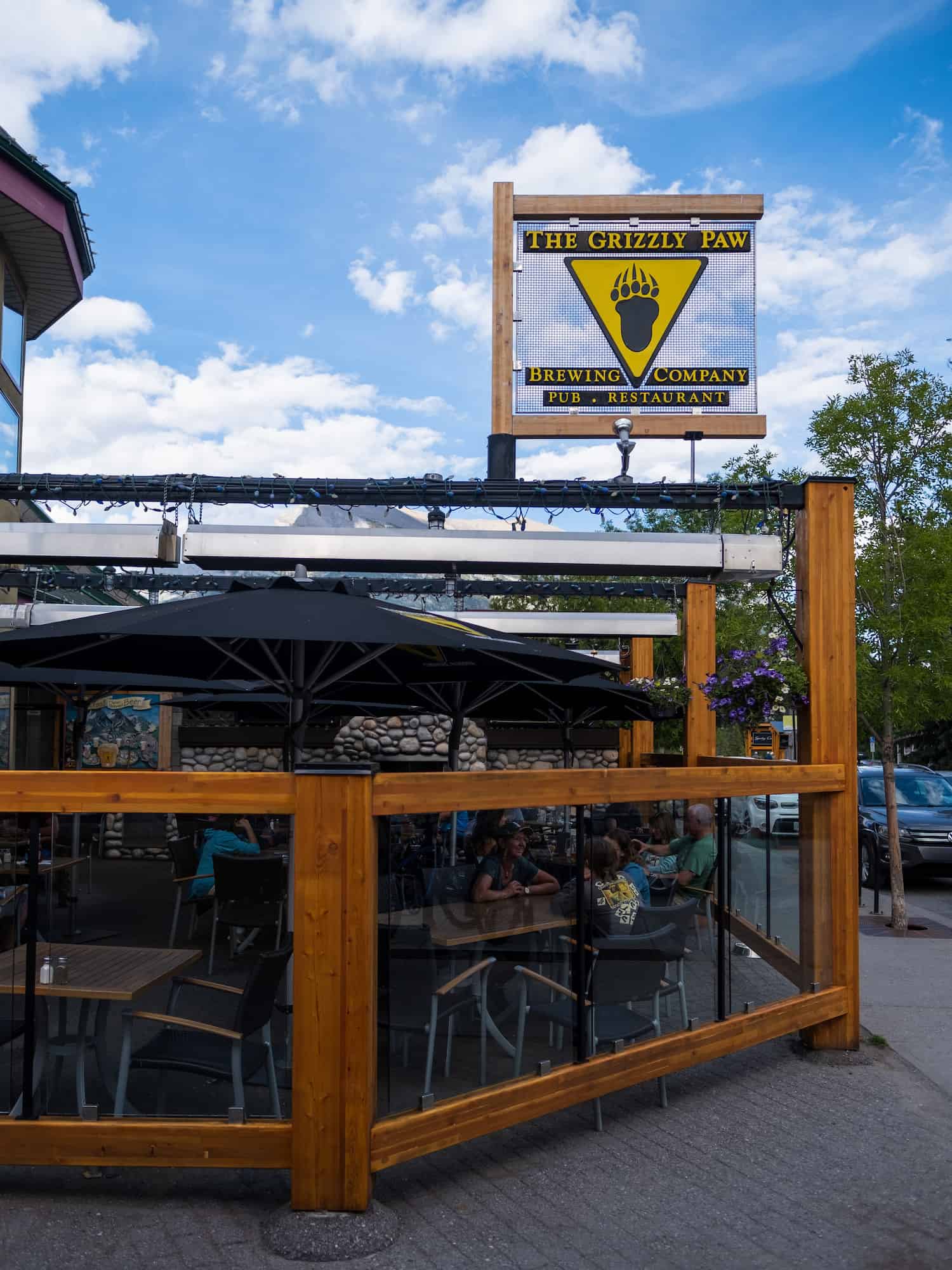 Our favorite apres ski ritual and post hike fix is to check out the local brewery. It doesn't matter the season, but to end any day with a local beer in the stunning Rockies is the perfect day.
The drink and food at The Grizzly Pub are great, and we loved their Grumpy Bear Honey Wheat and Rundlestone IPA. There are also seasonal draughts on offers, like gose, wheat, specialty IPA, and other guest brewers. If you're looking for another Canmore brewery to try out, then try Sheepdog Brewing next!
---
Stroll Into Stonewaters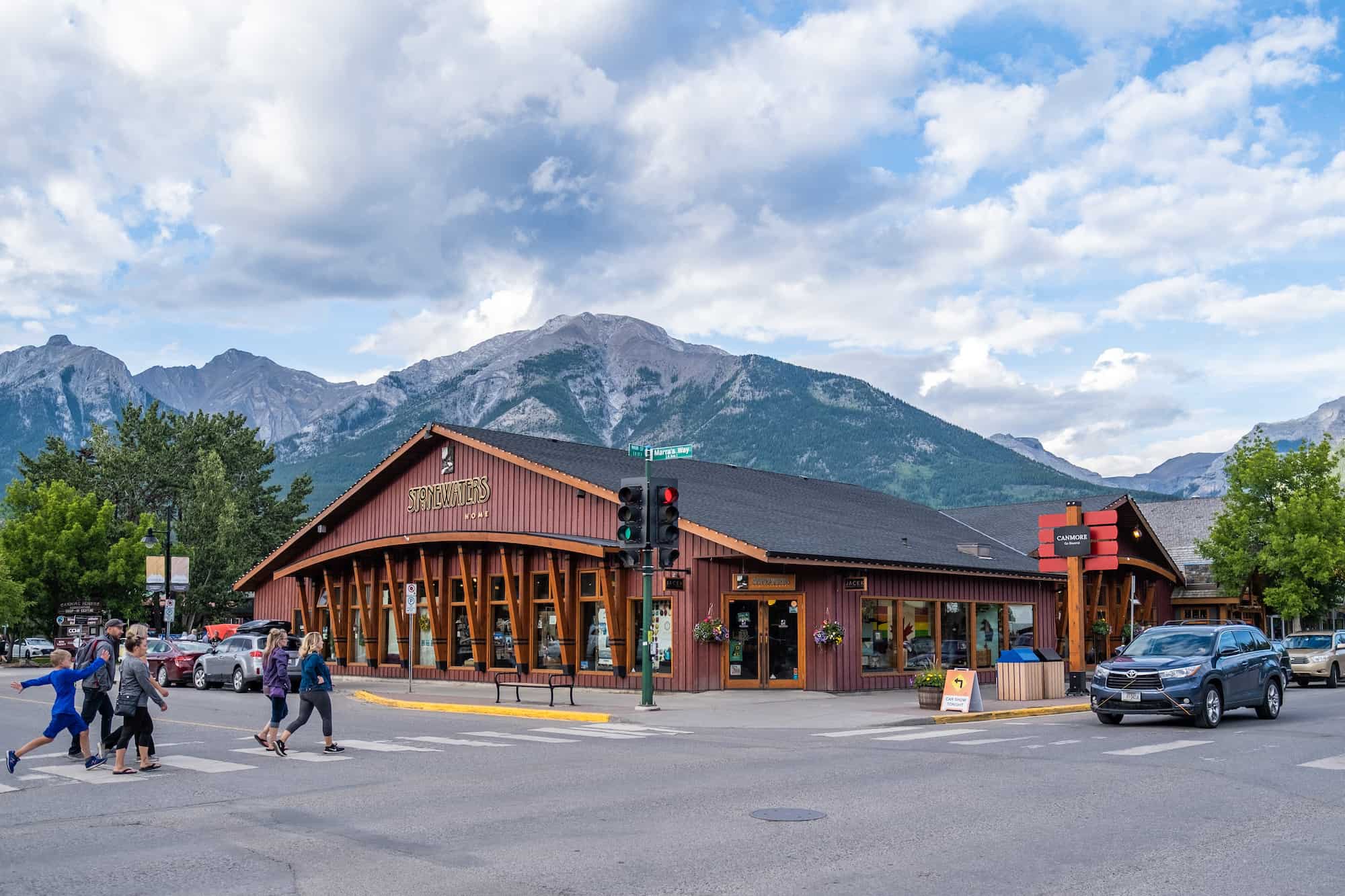 While you're enjoying Downtown Canmore, a pop into Stonewaters on the corner of 6th Av and 8th Street is a must do. You can't miss the big red building, and although it already looks beautiful on the outside, step inside and you'll enjoy everything they have to offer.
You'll find souvenirs, mountain mementos, and even stunning furniture – most of it proudly Canadian made. In here you'll find a wide range of unique products from the Bow Valley, to Vancouver, Montreal and beyond.
If you're looking for a gift, or to bring something home for yourself from the Canadian Rockies, chances are you will find it in Stonewaters.
---
Catch Some Fresh River Trout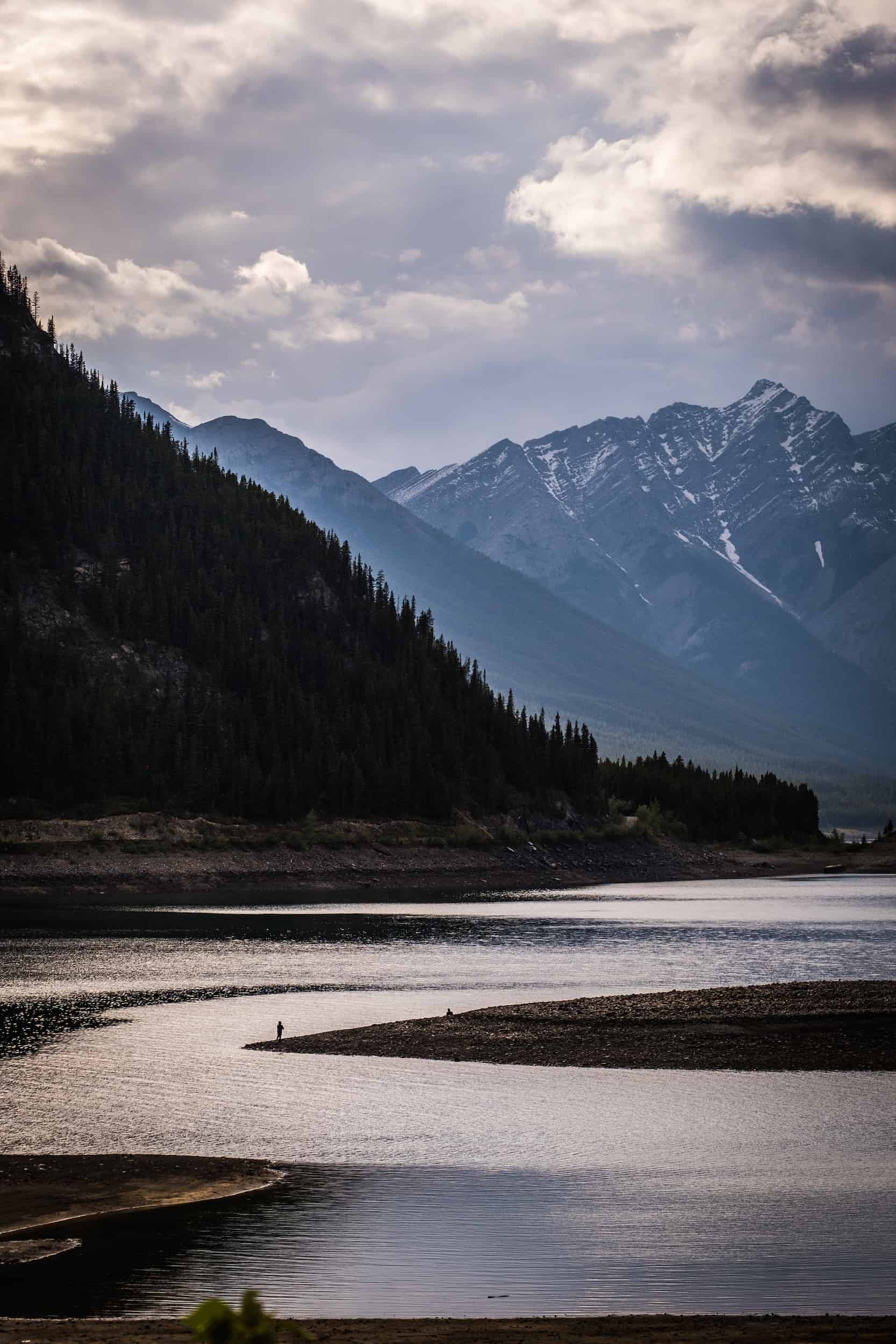 The amazing Canadian Rockies are home to an abundance of streams and rivers. All of this means some of the best fishing you can find in North America. It's one of the best ways to spend some time in the great outdoors.
Some of the most popular spots that are easy to visit are Spray Lake, Bow River, Grotto Mountain, Quarry Lake, and Lake Minnewanka in Banff. It's best to verify the local regulations as they change by season. The upper Bow River in the park is catch and release.
You don't need to know the area because there are two fishing guide companies to take you to all the best spots and get you outfitted. You can check out Wapiti Sports & Outfitters and Banff Fishing Unlimited, based in Canmore, for more information. They also offer ice fishing on Spray Lakes in the winter.
---
Keep Your Eye Out for Wildlife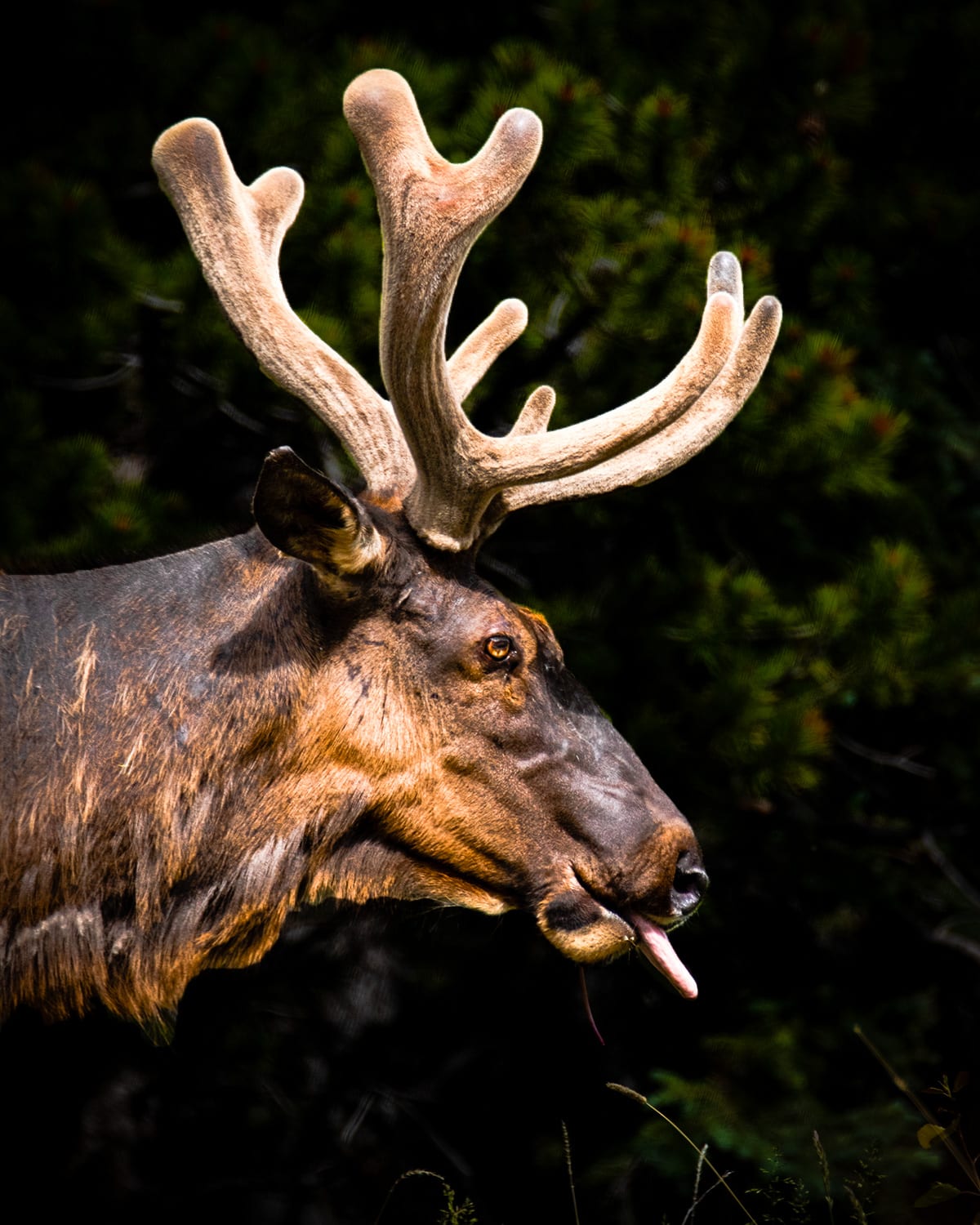 Any visit to the Canadian Rockies is likely to be met with some wildlife sightings. You'll see plenty of elk in Canmore, as they often like to hang out in town.
However we frequently see deer and coyotes, and on rare occasions, a black bear will make an appearance. Keep your eyes peeled when visiting, and you'll be sure to see something too!
Please remember these animals are wild and deserve to be treated with respect and plenty of space. If you make wildlife change its course of direction, you are too close.
12 Bear Safety Tips • How To Hike In Bear Country
---
Hike Read's Tower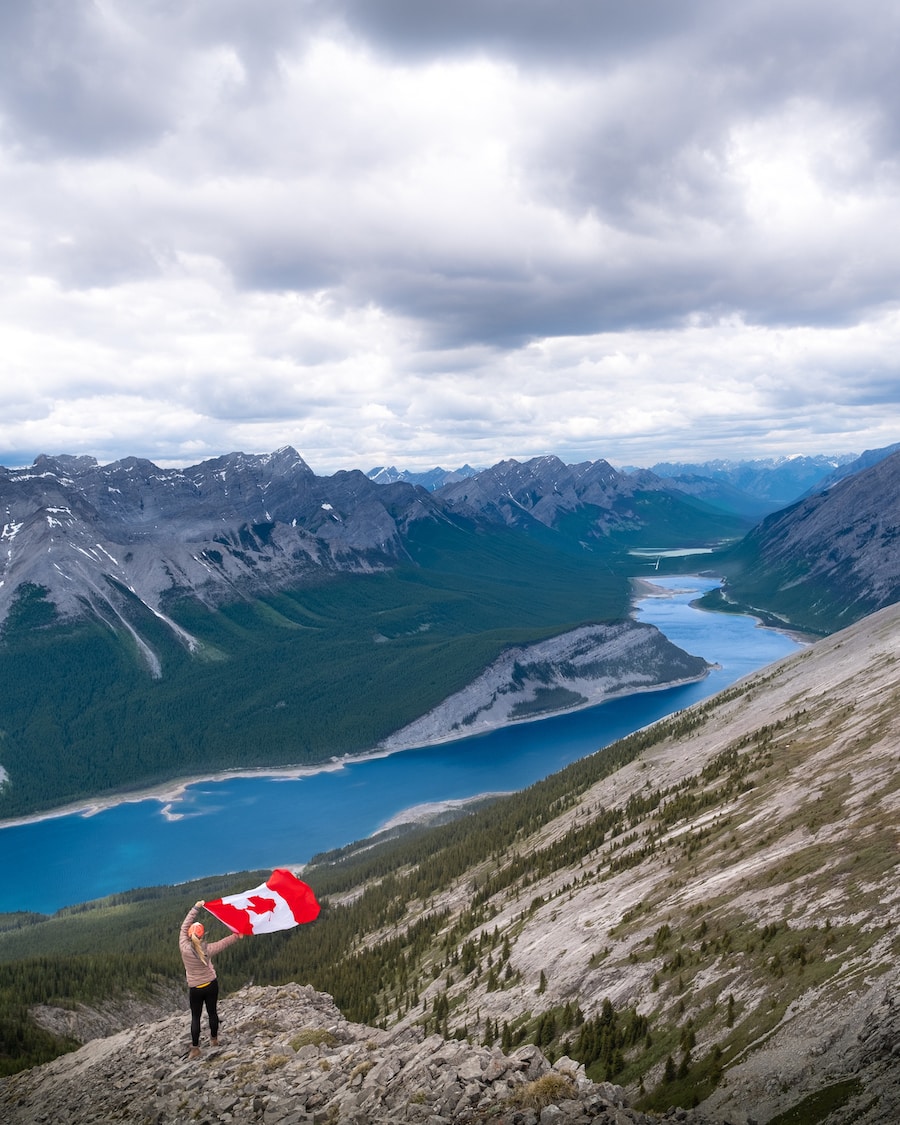 If you are looking for a relatively short hike (under 4 hours) with fantastic views over the Spray River consider hiking up Read's Tower – it's one of the best hikes near Canmore! The first portion is a steep incline through the forest, followed by a bit of a scree slog – but once you are at the top the views are unbeatable.
22 Fun Canmore Hikes and Trails from Easy to Hard
---
SUP on the Canmore Reservoir (Rundle Forebay Reservoir)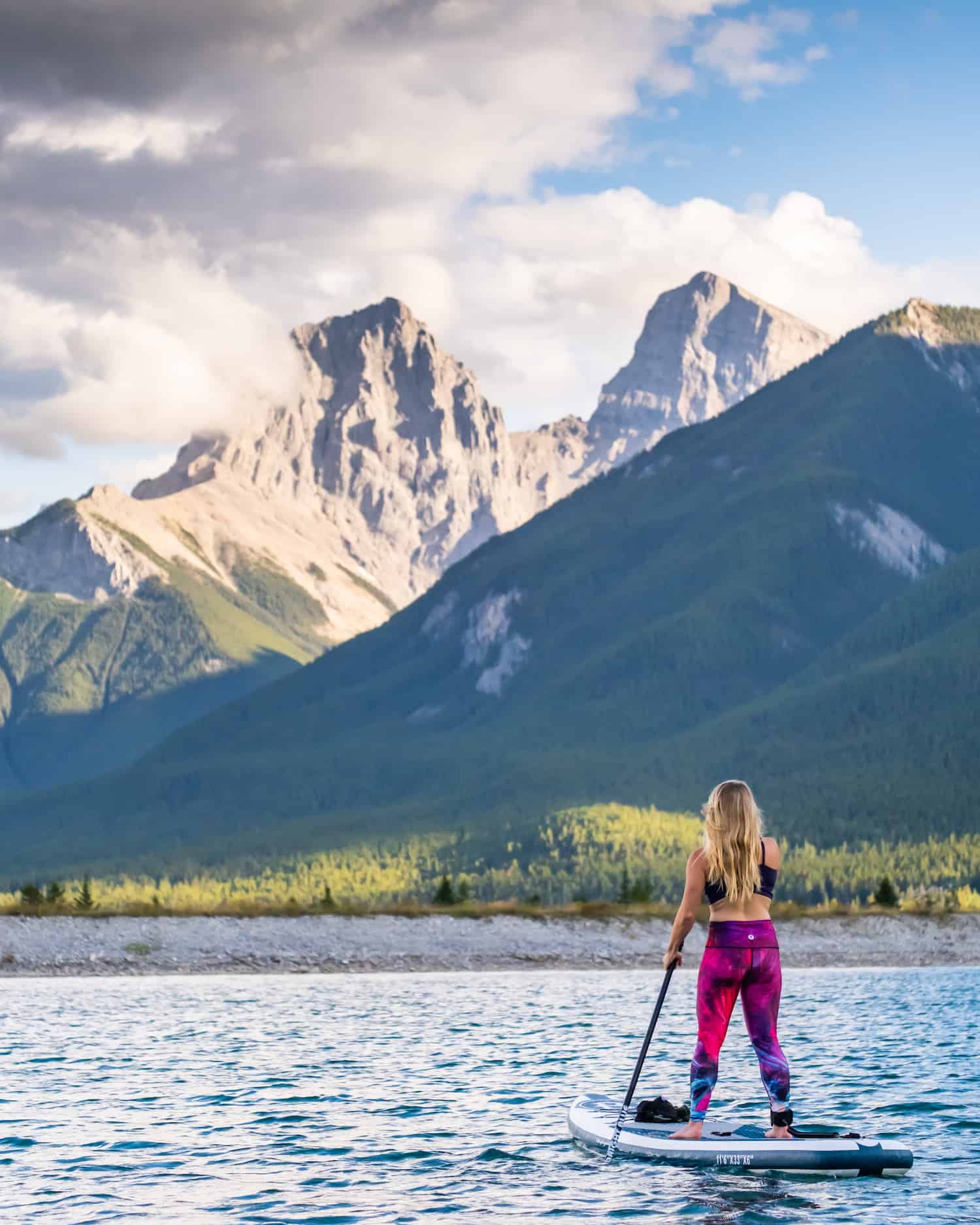 There is no secret that Canada has some stunning lakes, more than any other country, in fact! Canmore has a wide selection of waterways itself, and there are so many water activities that visitors can do in the area.
One of those things that have made their way from the coast is stand-up paddleboarding. Bow Valley Stand Up Paddleboarding has operated in Canmore for the past five years and offers rentals, lessons, and sales. On nice days in the summer, they often have a pop-up van at the Canmore Reservoir where you can rent a paddleboard.
It's an amazing way to take in the stunning waterways around Canmore and one of the best things to do in Canmore in the summer. Of course, if you don't want to risk a very brisk swim in the water, you can opt for a traditional canoe from Banff Canoe Club.
---
Canoe at the Canmore Reservoir or Goat Pond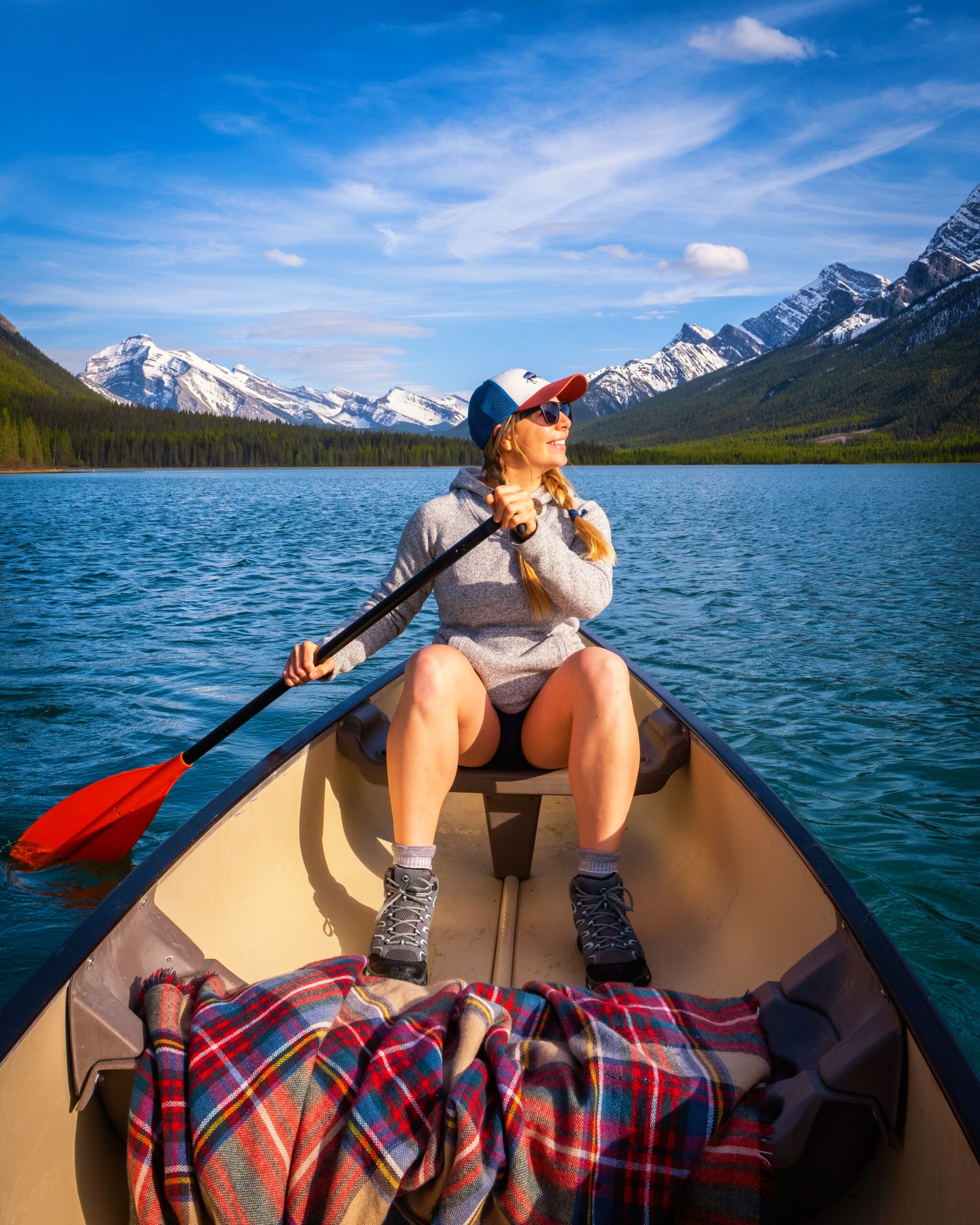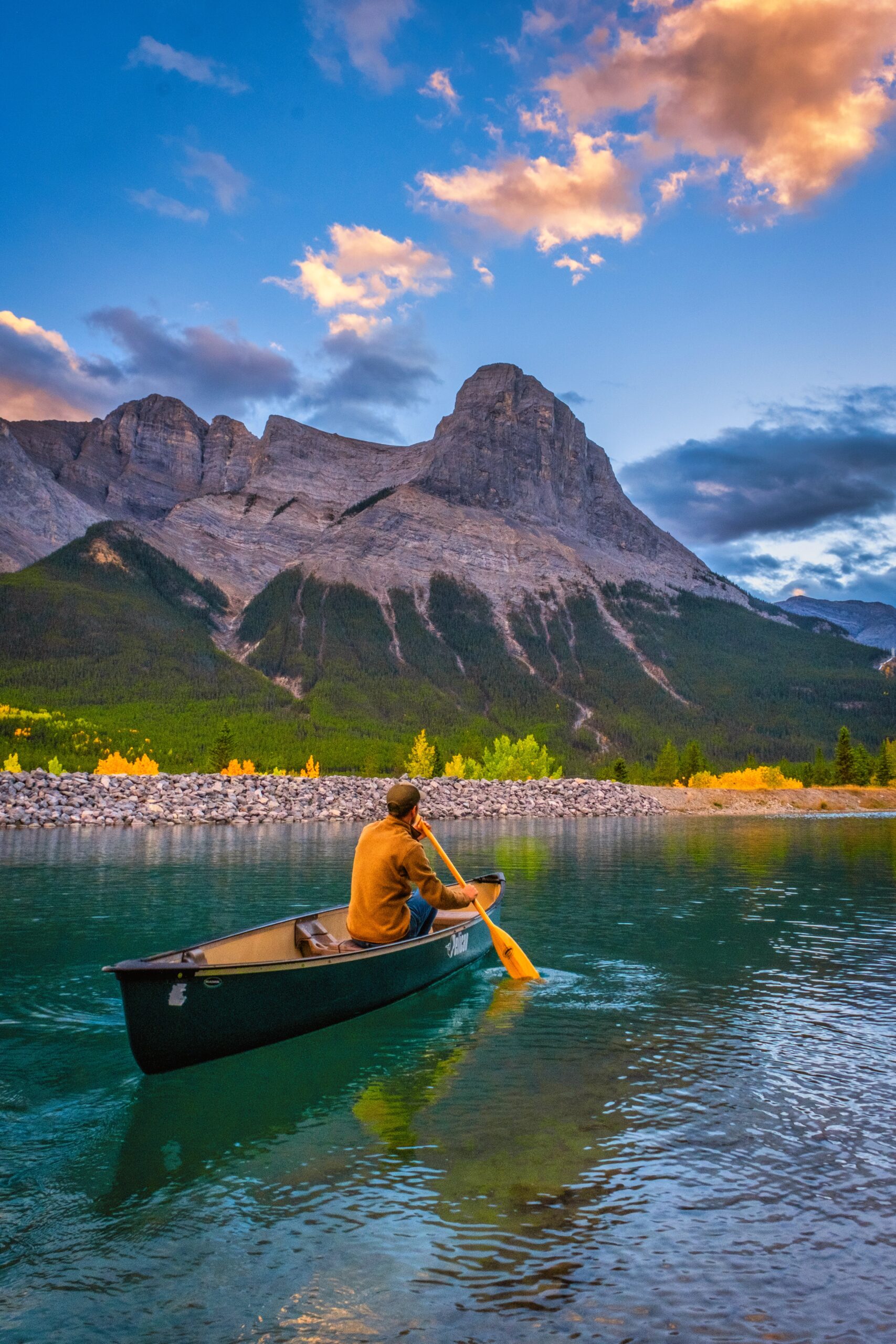 One of the best things to do in Canmore is paddle on a canoe in one of the nearby ponds. I particularly like bringing our canoe to either the Canmore Reservoir (Rundle Forebay Reservoir) or to Goat Pond off Spray Lakes Road.
Both aren't very wind-affected and make for a great place to have a serene paddle. Canoes can be rented from Banff Canoe Club.
---
Scenic Nature Float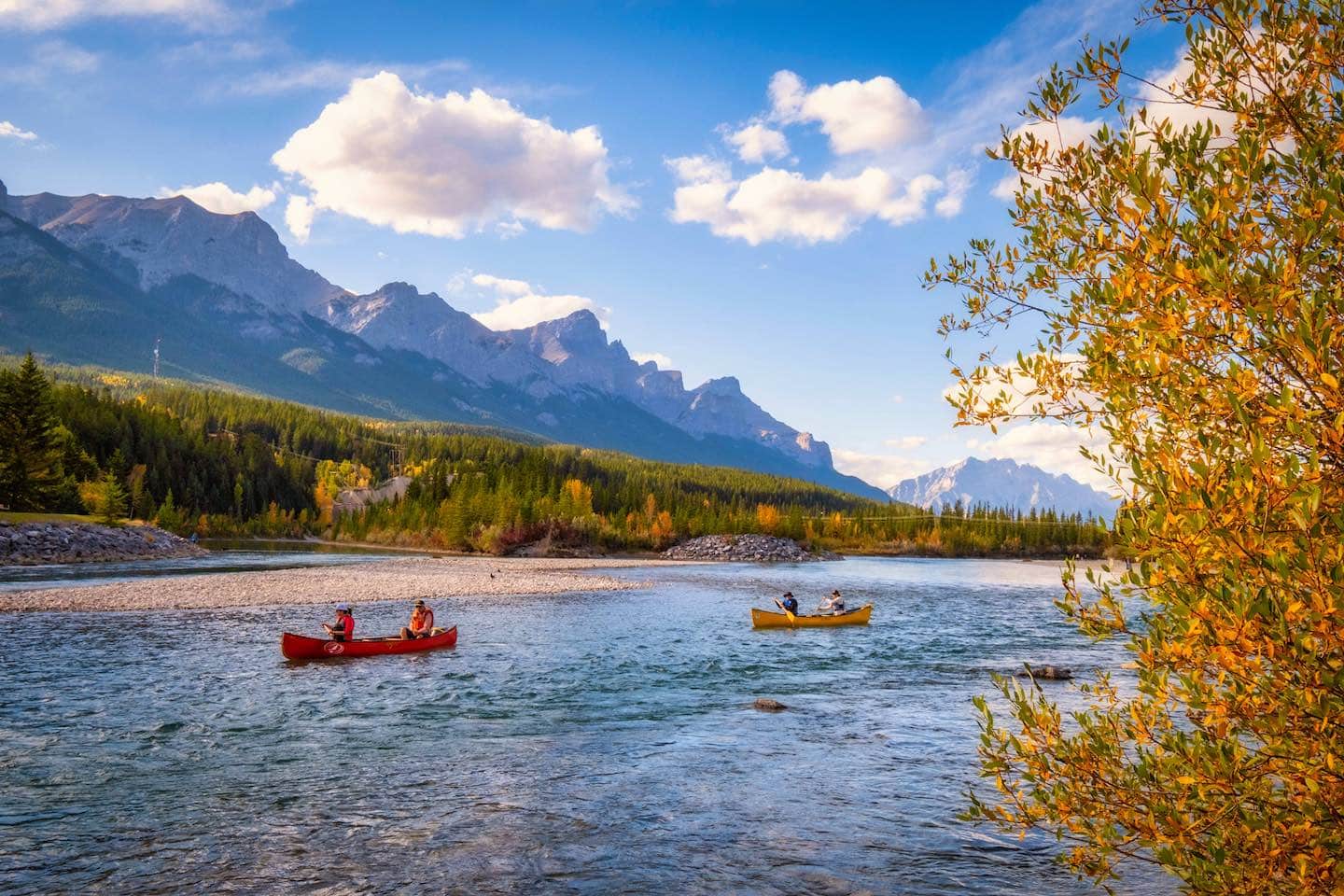 Imagine floating with stunning mountain views, picturesque glacial waters, local wildlife, and beautiful spruce and pine shorelines. Book a scenic float on flat moving water from mid-May to mid-September.
The tour departs at 10 am, 12 pm, 2 pm, 4 pm, and 6 pm from the Canmore Boat Launch on the Bow River, and is fun for all ages who want to get out on the water.
Book a Canmore Float Tour
---
Morning Coffee At Eclipse Coffee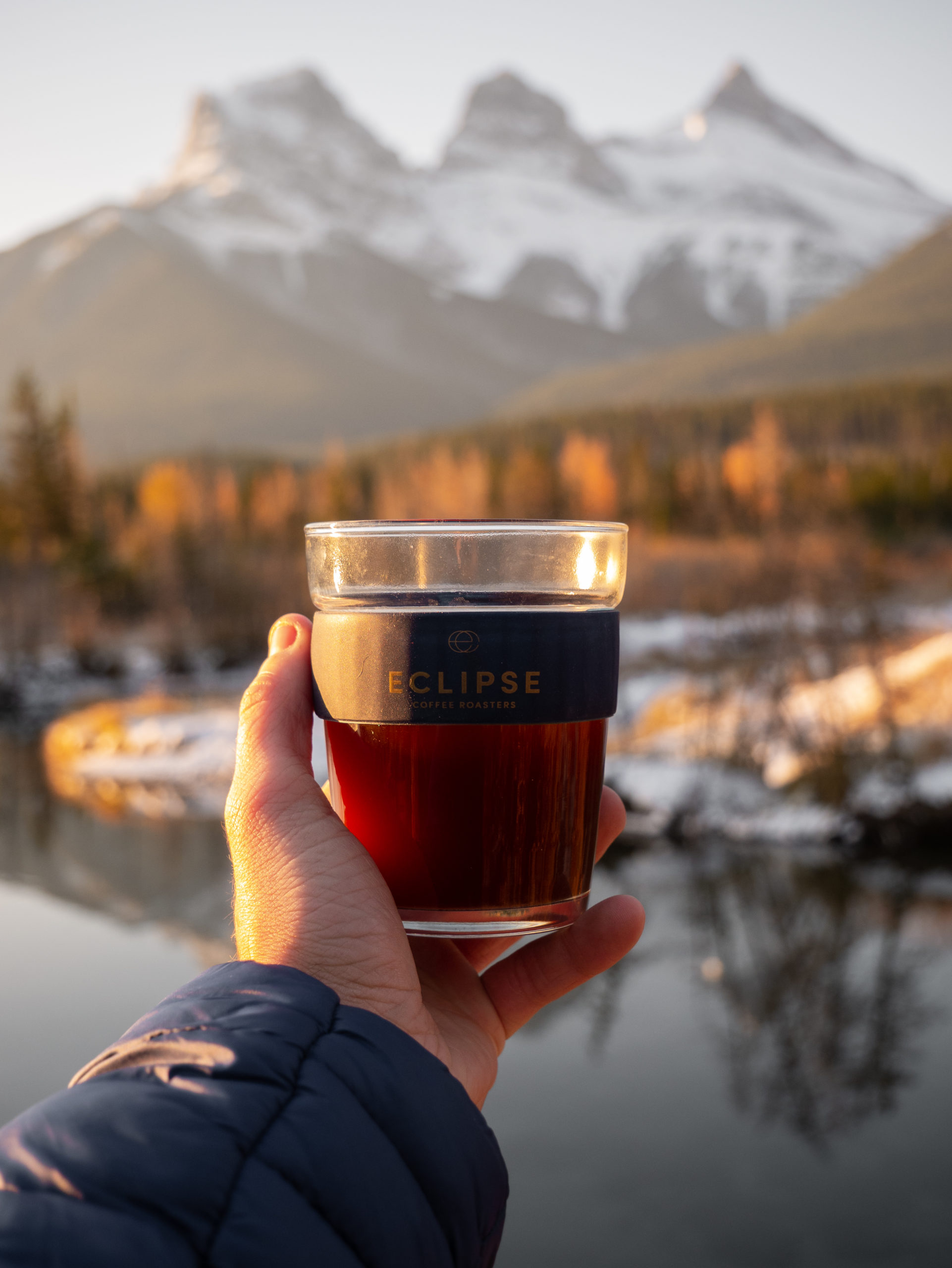 If you're looking for the best coffee in Canmore, then you need to head to Eclipse Coffee Roasters. They have two locations – one in Downtown Canmore and a second new location on Railway Avenue near Safeway.
You can find artisan roasts made in-house or order a range of specialty coffees at the shop. Expect to find the usual ranging from a flat white to a latte and even a nice pour-over for true coffee aficionados. This is our favorite spot and where we like to pick our coffee roast for home.
It's also a great place to pick up a local roast for camping or a coffee before tackling a hike in Kananaskis, off the Smith Dorrien Trail, or on your way to Banff.
---
Walk Through Grotto Canyon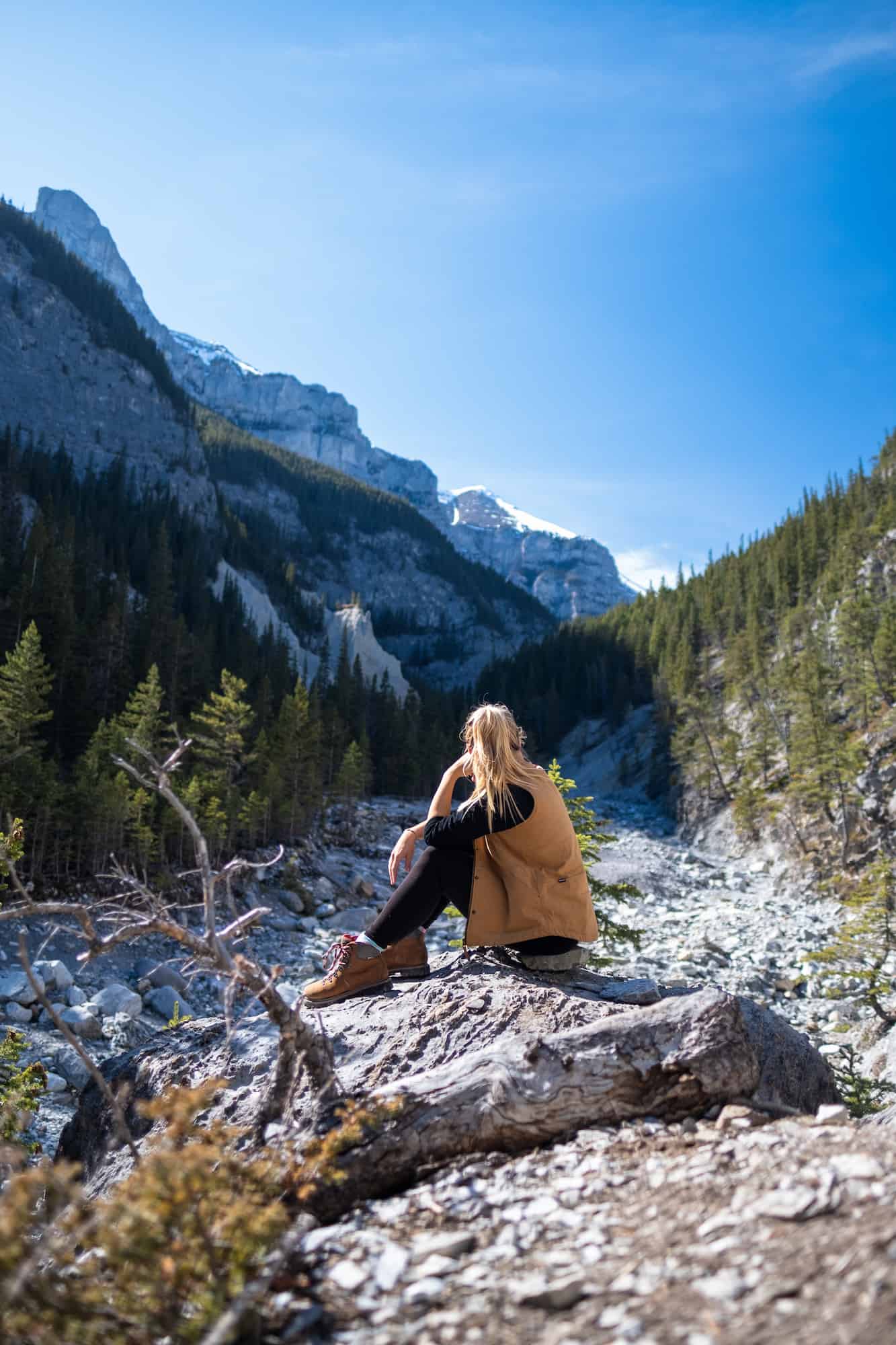 An easy hike in Canmore that's good year-round is Grotto Canyon. Even in the winter, this famous canyon with rock art is possible to walk along the frozen creek, and it's even possible to book an icewalk tour through the canyon.
In the summertime, it's popular for families seeking to enjoy the narrow slot canyon and climbers looking to scale its walls. At only 4km in length, you can check this one off the list in an hour or two.
---
Canmore Museum and Geoscience Center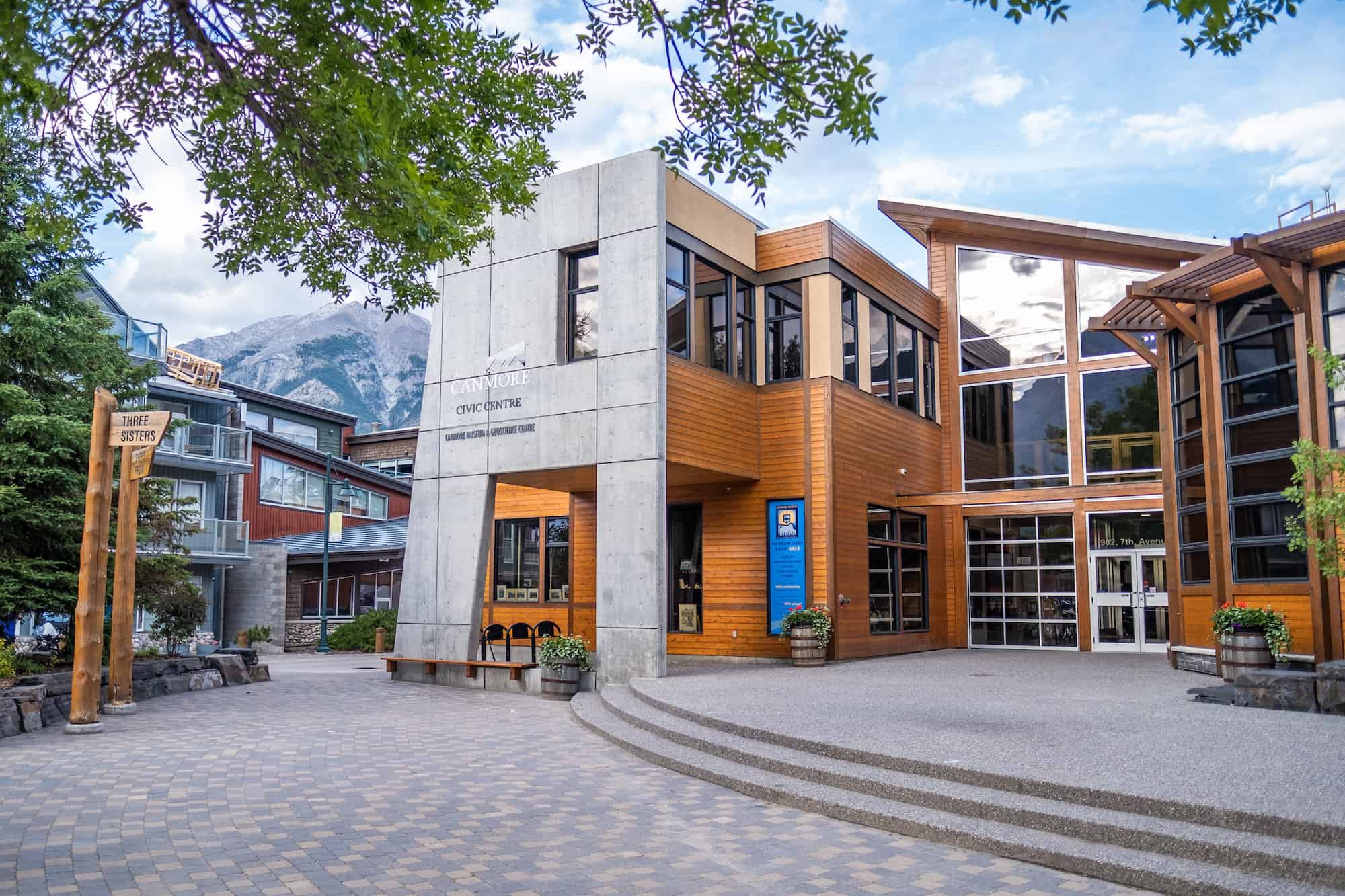 One of the best things to do in Canmore on a rainy day is to visit the Canmore Museum and Geoscience Center. With many fascinating exhibits about Canmore's historical and geologic past, the Canmore Museum and Geoscience Center is a place you should plan to visit.
The museum's most popular exhibit, 'From Coal to Community,' will give you an interesting insight into the area's native people, the expansion of the railway system, and the overall importance of coal to the region.
If you're game for more after you've seen the museum, guided tours of two of the area's most productive mines are given by a local historian. Approximately four hours in duration, the tours are very popular, so if it sounds like something you'd like to do, book in advance, so you don't miss out. It's great if you're a family and looking for things to do in Canmore if it's raining.
---
Hit the Mountain Bike Trails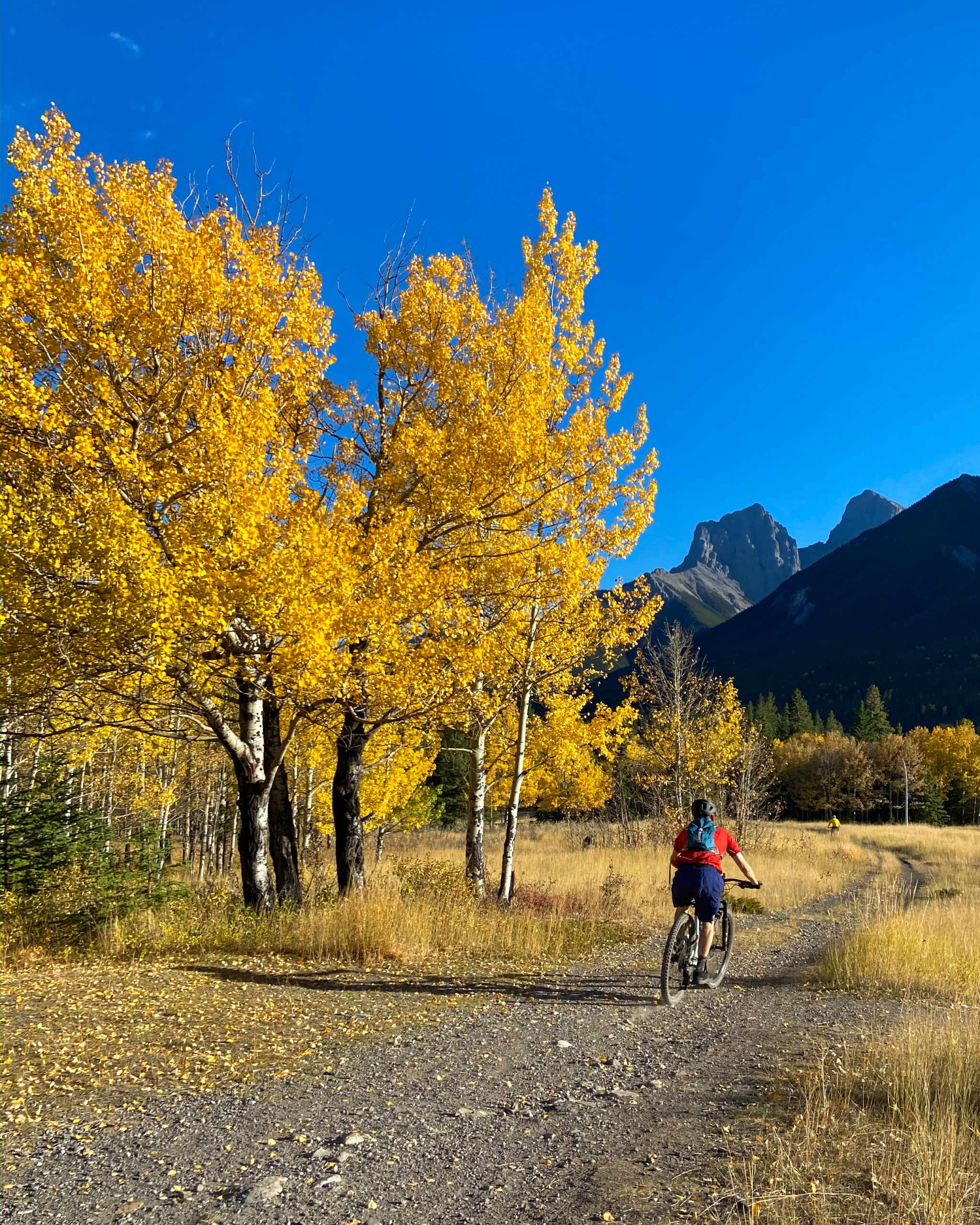 Once the snow melts in May and June, so do the trails, and there are myriad trails for mountain biking that cater to any skill set. That could mean a nice mellow bike ride through a field with gorgeous views or screaming down a ridgeline on a white-knuckle ride.
The Canmore Nordic Center transitions in the summertime to a network of trails for mountain bikers with a wide range of difficulties. My personal favorite is the Odyssey Trail!
Mountain biking has caught on all over North America, and the opportunities and trails continue to grow every season. For the most current information on trails in the area, stop in a local bike shop like Rebound Cycle or Gear Up, or check out the trails on Trailforks.
---
Hike Ha Ling Peak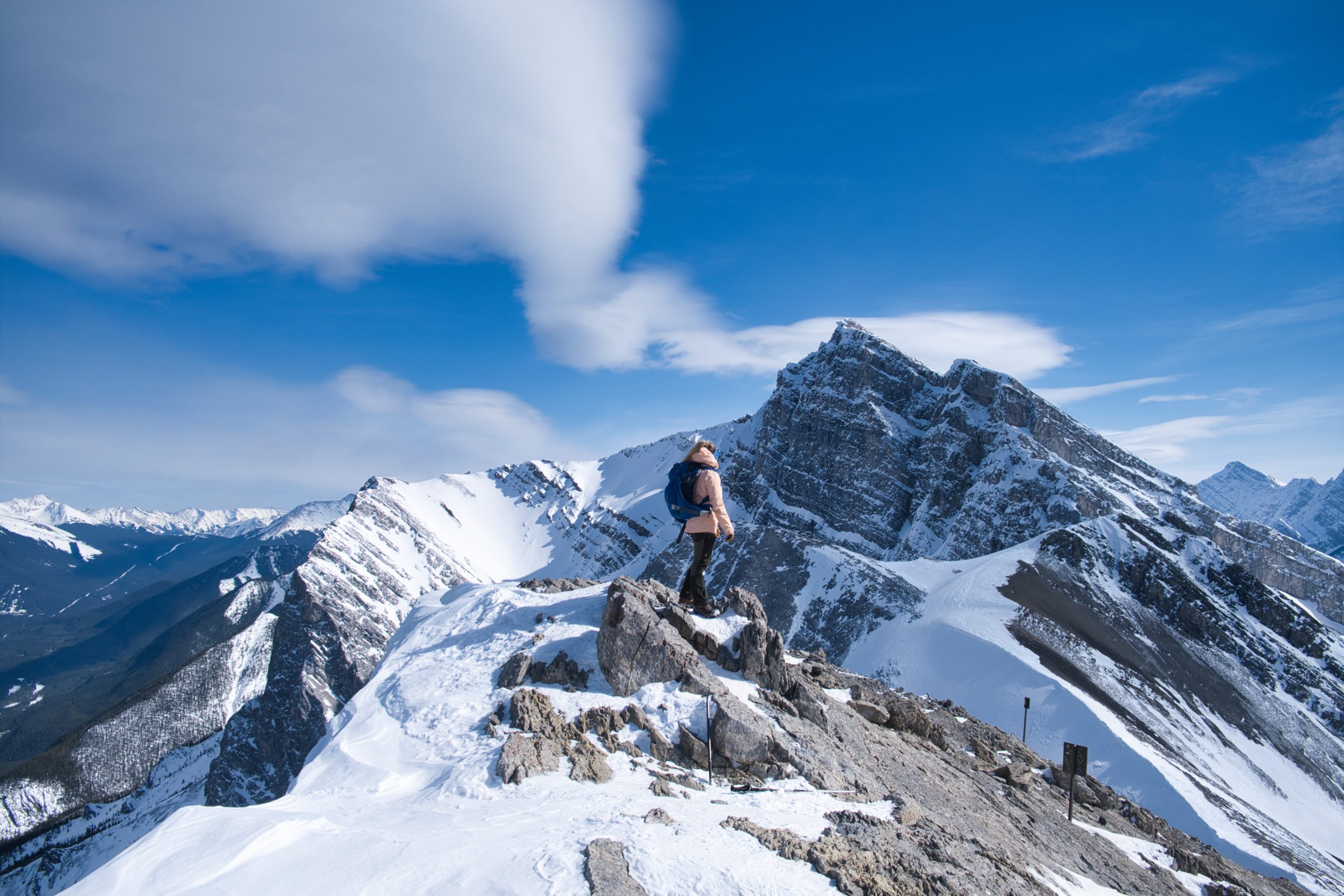 Head to the top of the most notable mountain in Canmore, Ha Ling Peak. It also happens to be the most approachable mountain in the region, with a recently revamped trail that includes steps, informational signs, viewpoints, and a clear trail.
The downside of Ha Ling is its popularity; on a nice summer weekend day, the parking lot and trail are packed with what feels like thousands climbing the short trail to the peak. It's still a pretty difficult hike as you gain almost 800m in just under 4km.
---
Drive Down Smith Dorrien Trail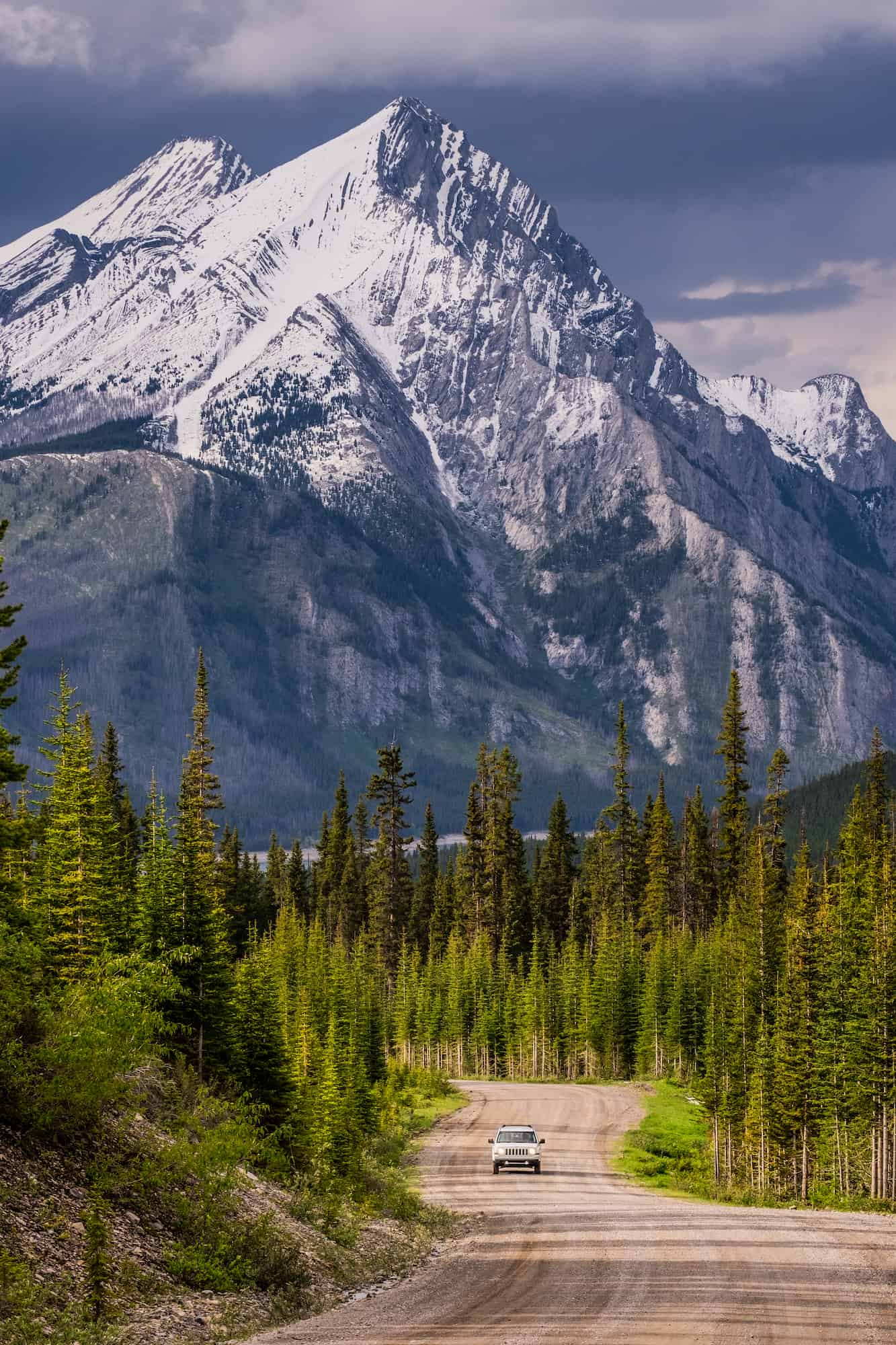 The dirt road that leads up past Grassi Lakes and the Canmore Nordic Center is the Smith Dorrien Trail. It's an unpaved road that is open year-round, avalanche conditions withstanding.
You'll find some impressive views as you make your way up the pass between Mount Lawrence Grassi and Rundle. You can even stop for high tea at Mount Engadine.
Along the drive, you pass some superb lakes like Goat Pond and Spray Lakes, and of course impressive mountain vistas. Keep your eyes peeled as you'll likely spot some wildlife too; we've seen just about everything, such as bears, moose, elk, deer, goats, bighorn sheep, and coyotes.
---
Grab a Burger at the Tavern 1883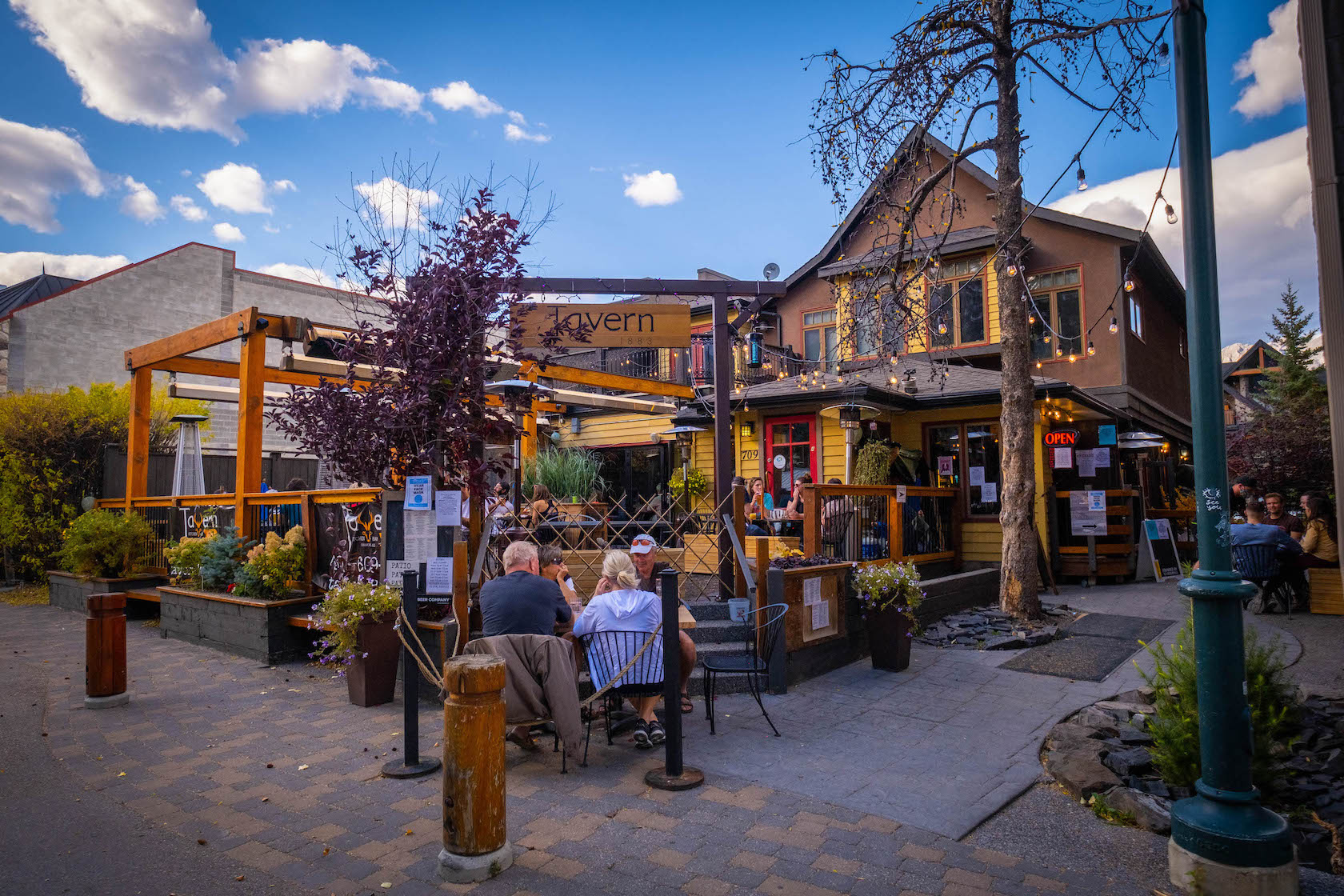 If you're looking for the best burger in the Canadian Rockies, you can find it at Tavern 1883. It's our go-to spot for some beers and wings in a relaxed atmosphere along with great pub food.
They also host many entertaining events such as a Jam Night, Trivia, and Bingo. Check out their social channels for the latest times and dates.
---
Bike Highwood Pass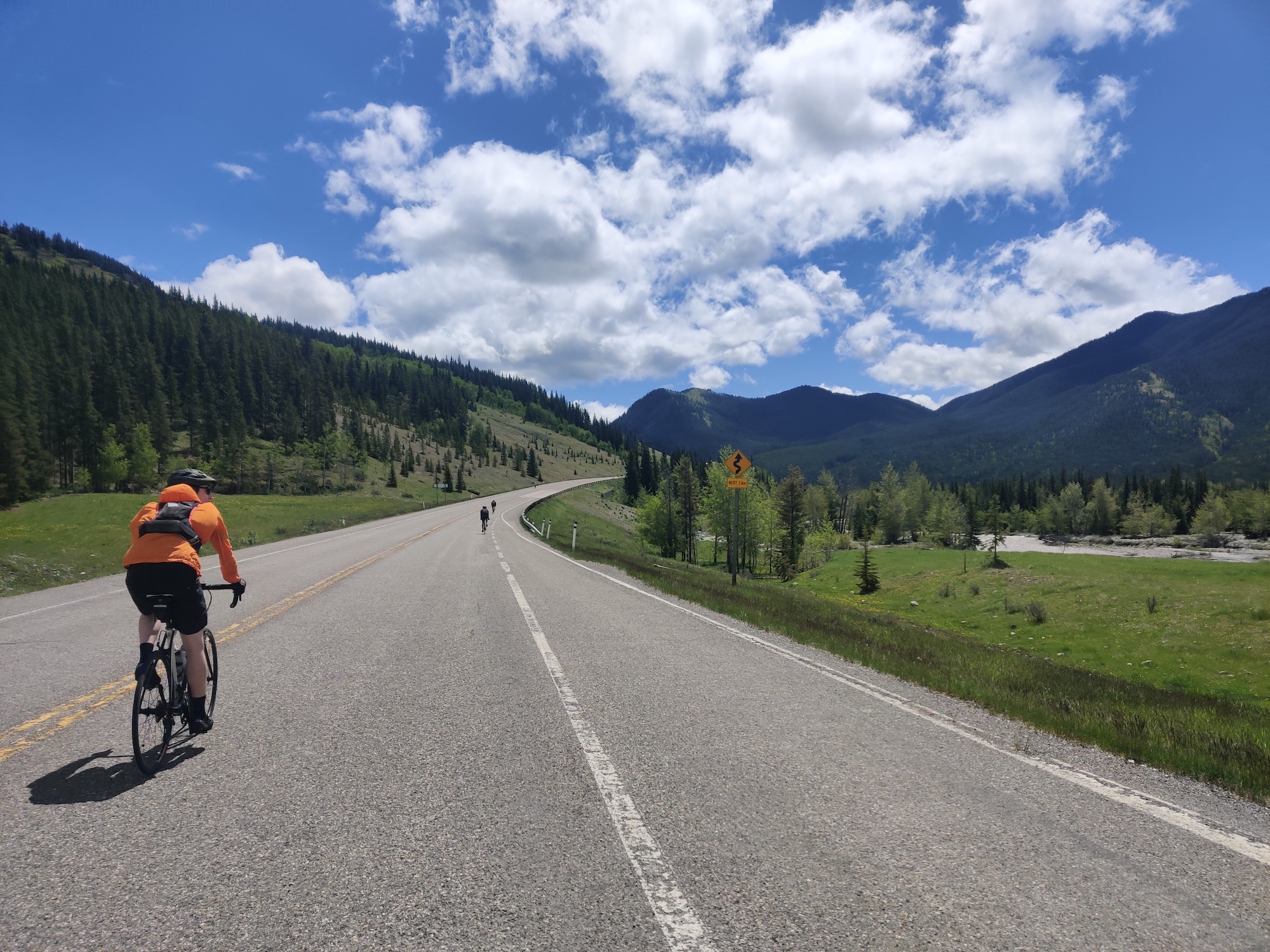 At 2206 meters, Highwood Pass is the highest highway in Canada and is located in Kananaskis Country. It lies within the Peter Lougheed Provincial Park on Alberta Highway 40. There are some astounding views of the front range here. Due to the elevation and high snow levels, the road closes in the winter months due to avalanche risk.
However, at the start of summer, the snow often melts before the official opening date for the highway (typically June 15th), which means cyclists can take advantage of a car free ride through Kananaskis. It makes for an excellent car-free route for cyclists and a pretty nice size challenge if you bike the entire route.
The start of Highwood Pass is about an hour's drive away from Canmore, and is a great day out!
---
Take a Helicopter Flight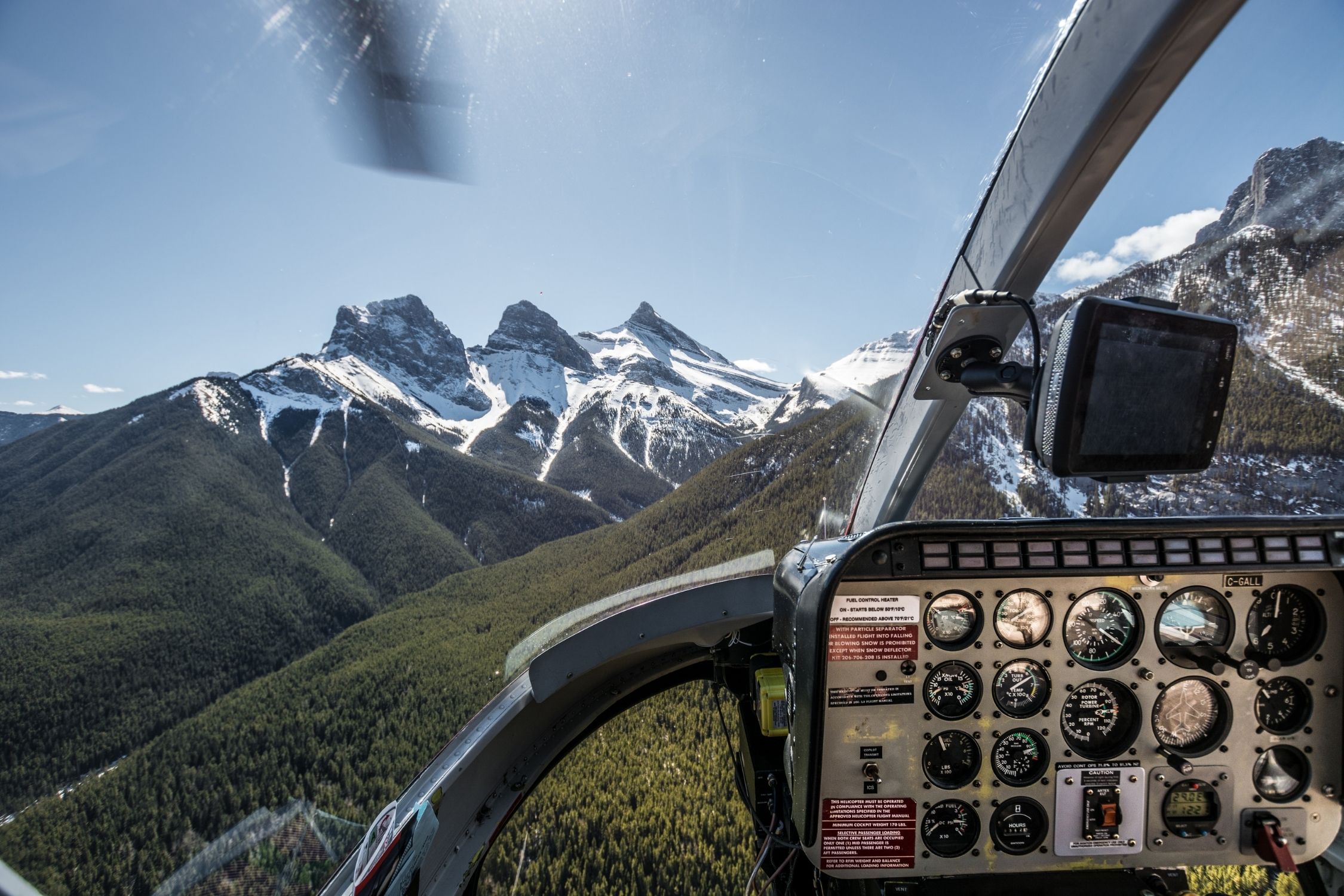 Alpine Helicopters is based in Canmore and offers helicopter tours that provide a spectacular bird's eye view of the surrounding mountains. While it's certainly not a cheap thing to do in Canmore, it is undoubtedly unforgettable. Tours begin at $290 per person and can reach as high as $725 for a 55-minute tour.
You're guaranteed jaw-dropping views as you circle around some of the region's most notable peaks, such as the Three Sisters or Mount Assiniboine.
---
Hike to the Lady Mac Teahouse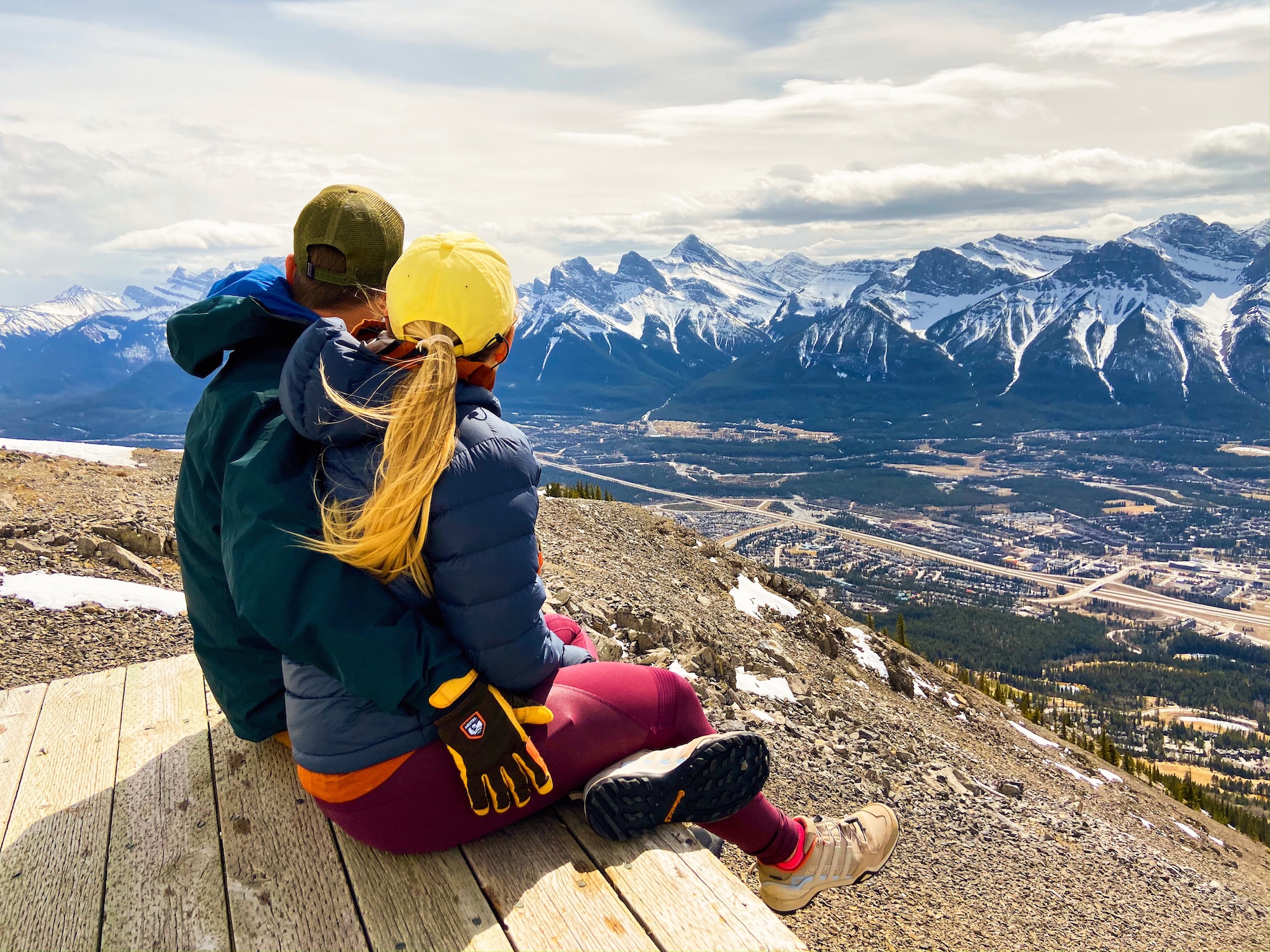 Several famous peaks around Canmore are well known for locals to summit. Lady Mac is a wild challenger for scramblers as the ridge walk to the true summit that will make your hairs stand.
However, any average hiker can make it to the Lady Mac Teahouse point, which gives you the most spectacular views of Canmore. ** Note: The Lady MacDonald hiking trail is now open after a long closure. Future closures will be needed as construction progresses. See more info.
---
Indoor Rock Climbing at Elevation Place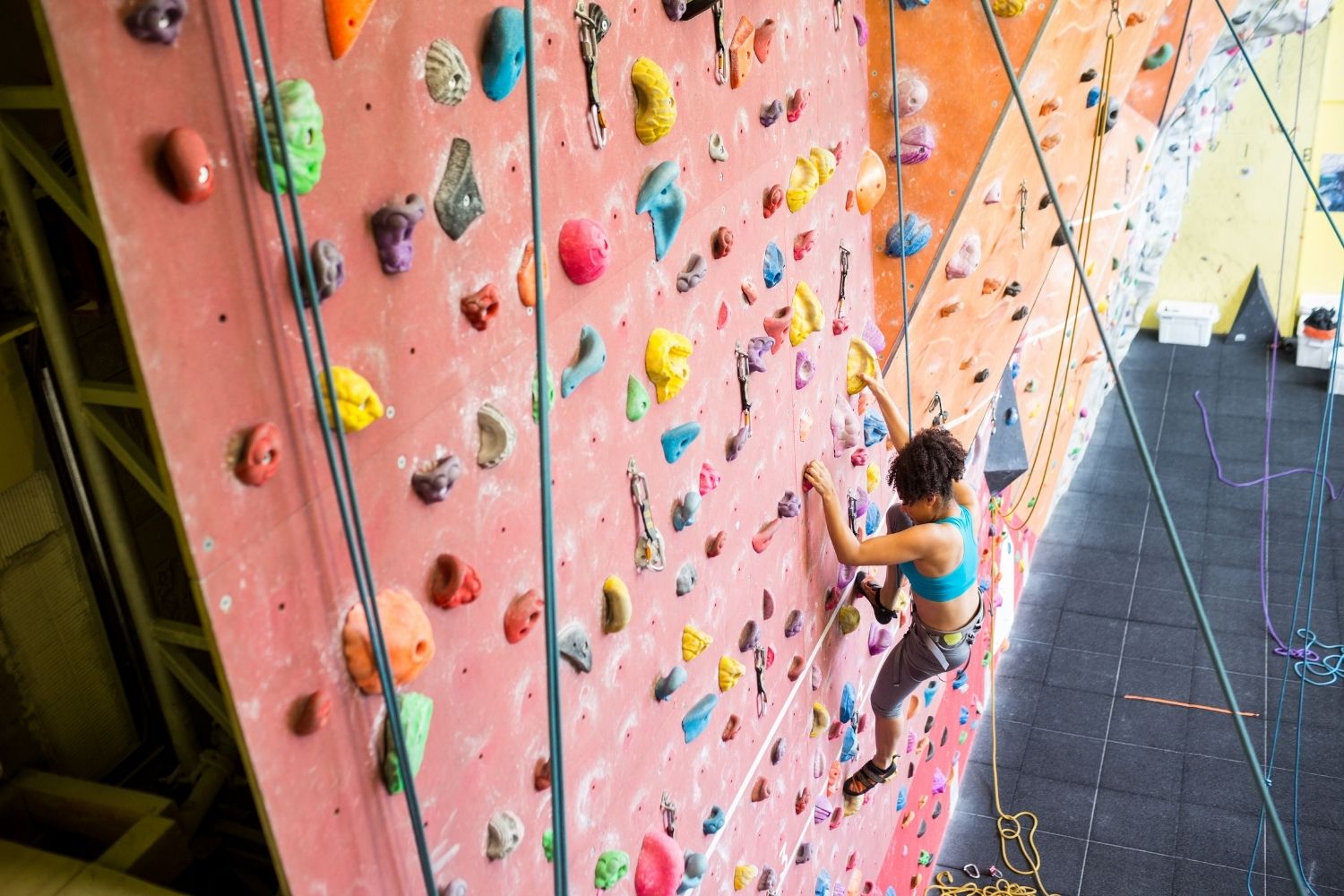 Though rock climbing isn't for the faint of heart, you don't have to put your life at risk clinging to a sheer rock face thousands of feet up to experience it. That's just what they had in mind when they created Elevation Place – the place to go in Canmore to see what the climbing hype is all about. It's also a great place for expert-level climbers to practice their moves in the off-season.
There are climbing areas suitable for nearly every age and physical ability; lessons are available for those with little or no experience.
If you're still not game for being strapped into a harness and grasping for an artificial wall while amused onlookers laugh at the terrified look on your quivering face, fear not because there is a swimming pool and water slide too.
Professional daycare, staffed by fully qualified and experienced employees, is available on site as well.
---
Have A Sunset Picnic at Quarry Lake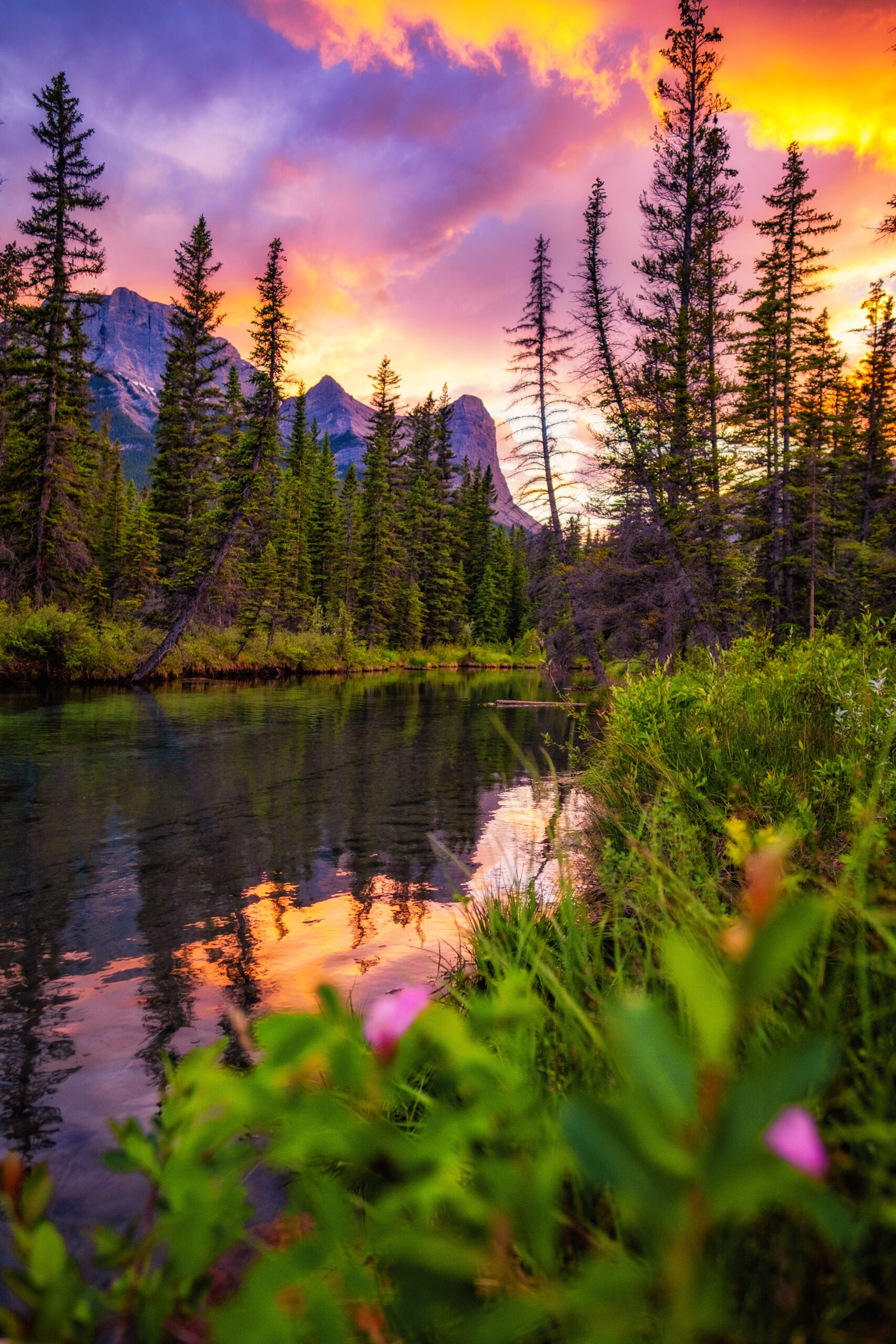 This is one of our favorite things to do in Canmore in the evening. After a full day of work or hiking, finding a better way to end our day than by one of the many lakes for sunset is tough.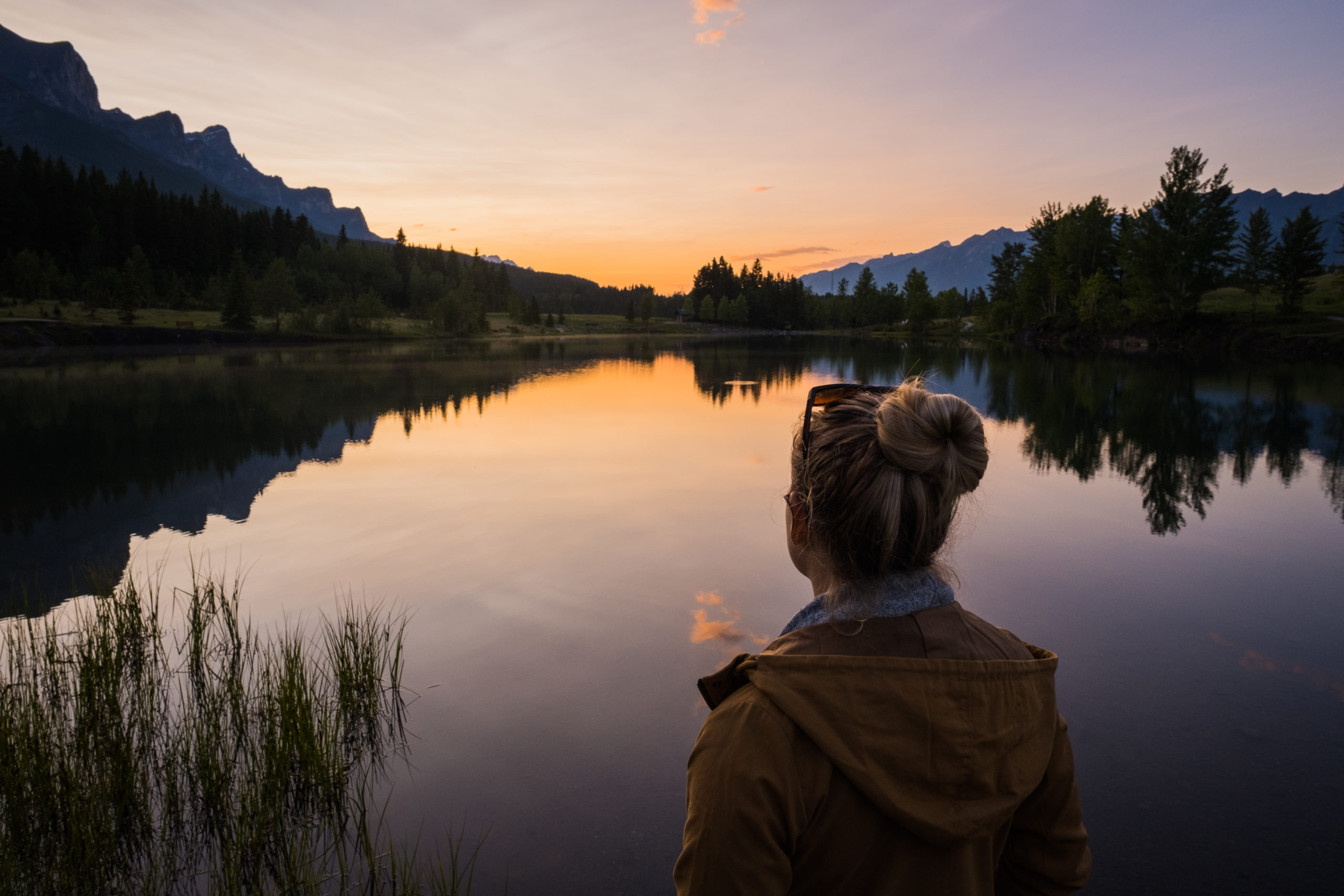 We rarely get a great sunset because of the height and scale of mountains here, but it's tough to complain about sitting alongside a gorgeous lake. Quarry Lake and anywhere along the Bow River are some of our favorite Canmore sunset spots. Please remember to pick up after yourself, every day trash is left behind from visitors at Quarry Lake as it has become that popular. So popular that there is now a fee to park there.
---
Walk the Historic Railway Bridge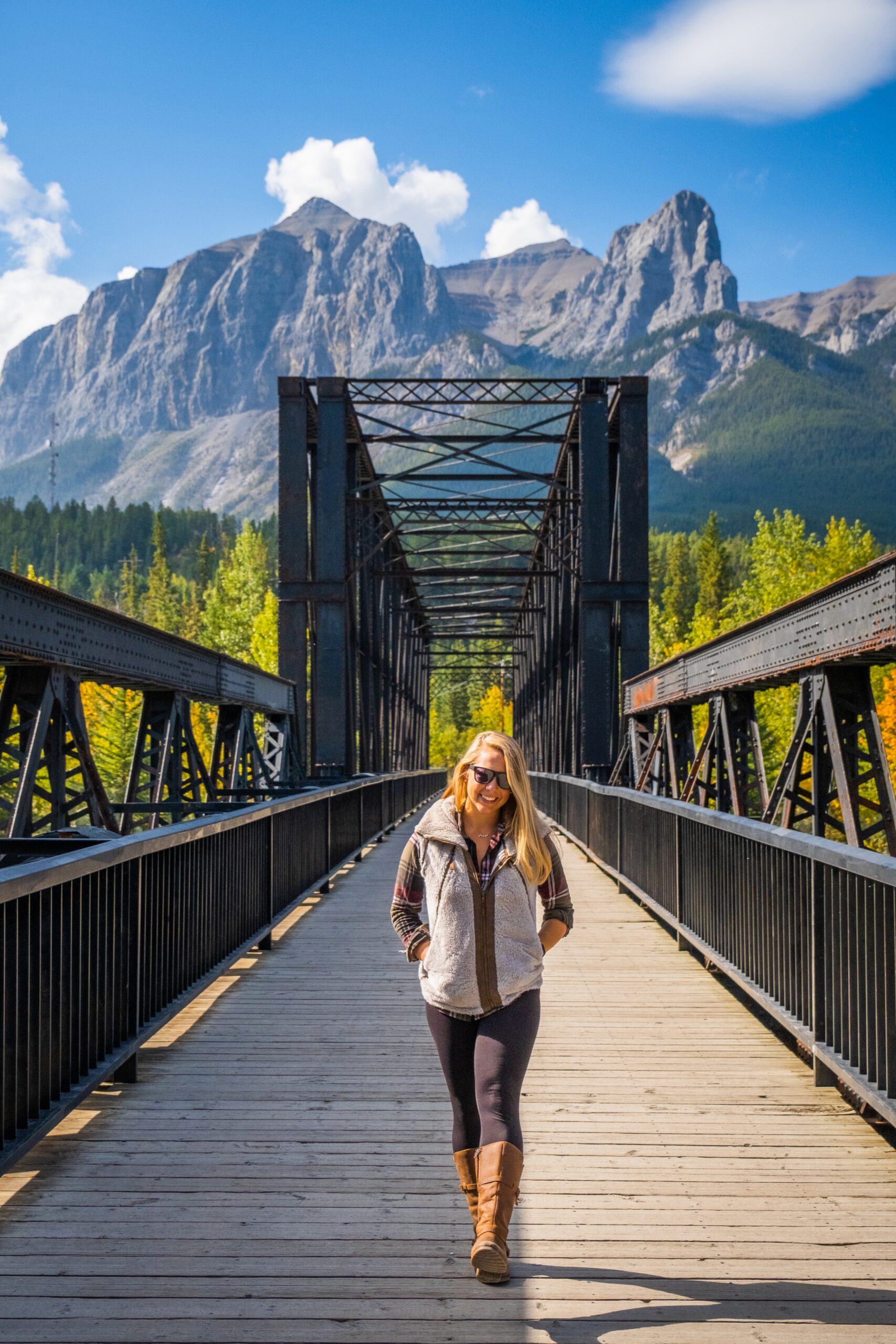 The Canmore Railway Bridge is one of the most iconic sights in Canmore and one of the best Canmore attractions that few people think about.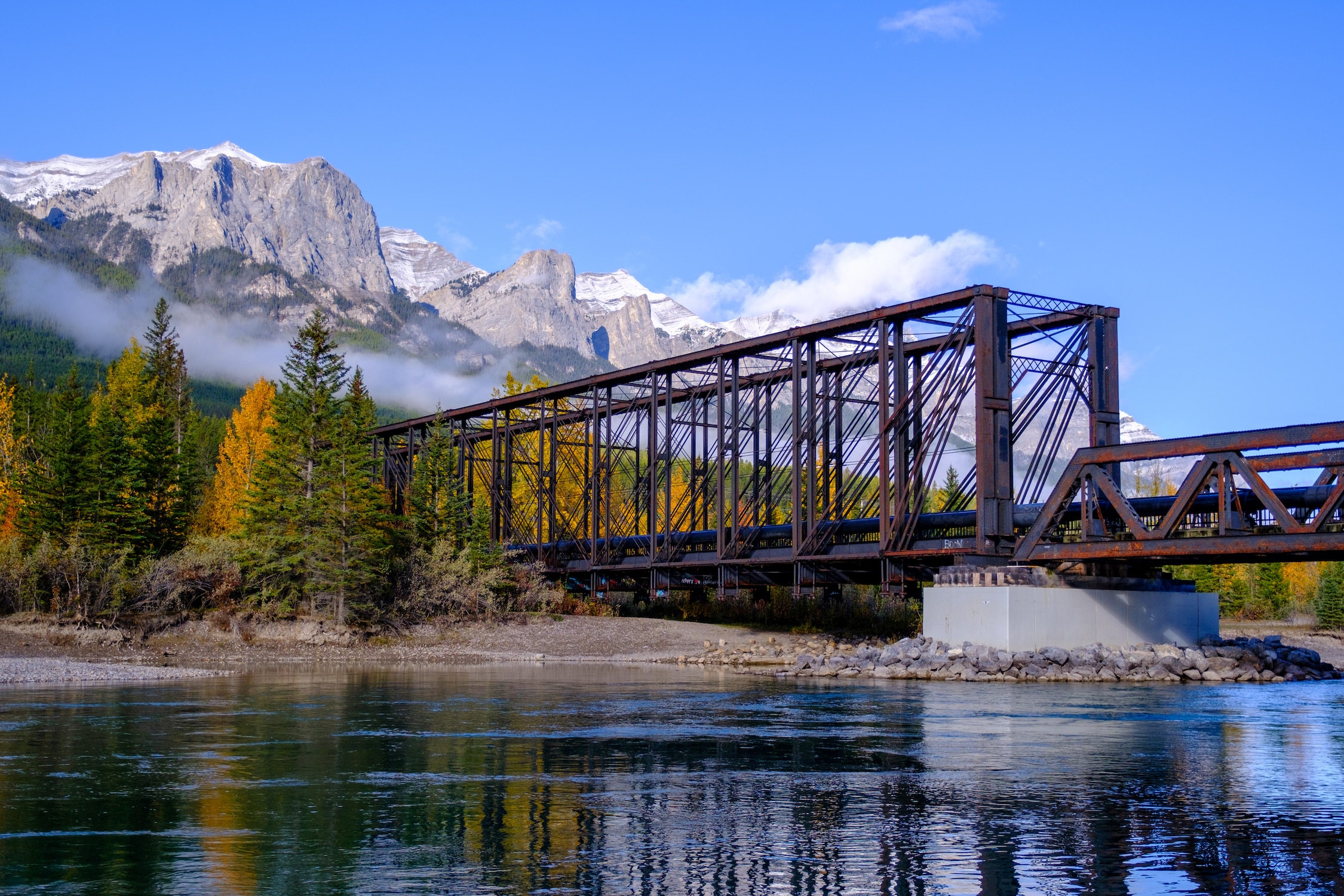 Well actually, now many people think about it thanks to The Last of Us, which was shot in Alberta, and featured Canmore and the Engine Bridge prominently in an episode!
I love to walk across it and take in the views. Sometimes, if you get lucky, they'll be some resident elk hanging out below on the Bow River.
---
Walk Along the Policeman's Creek Boardwalk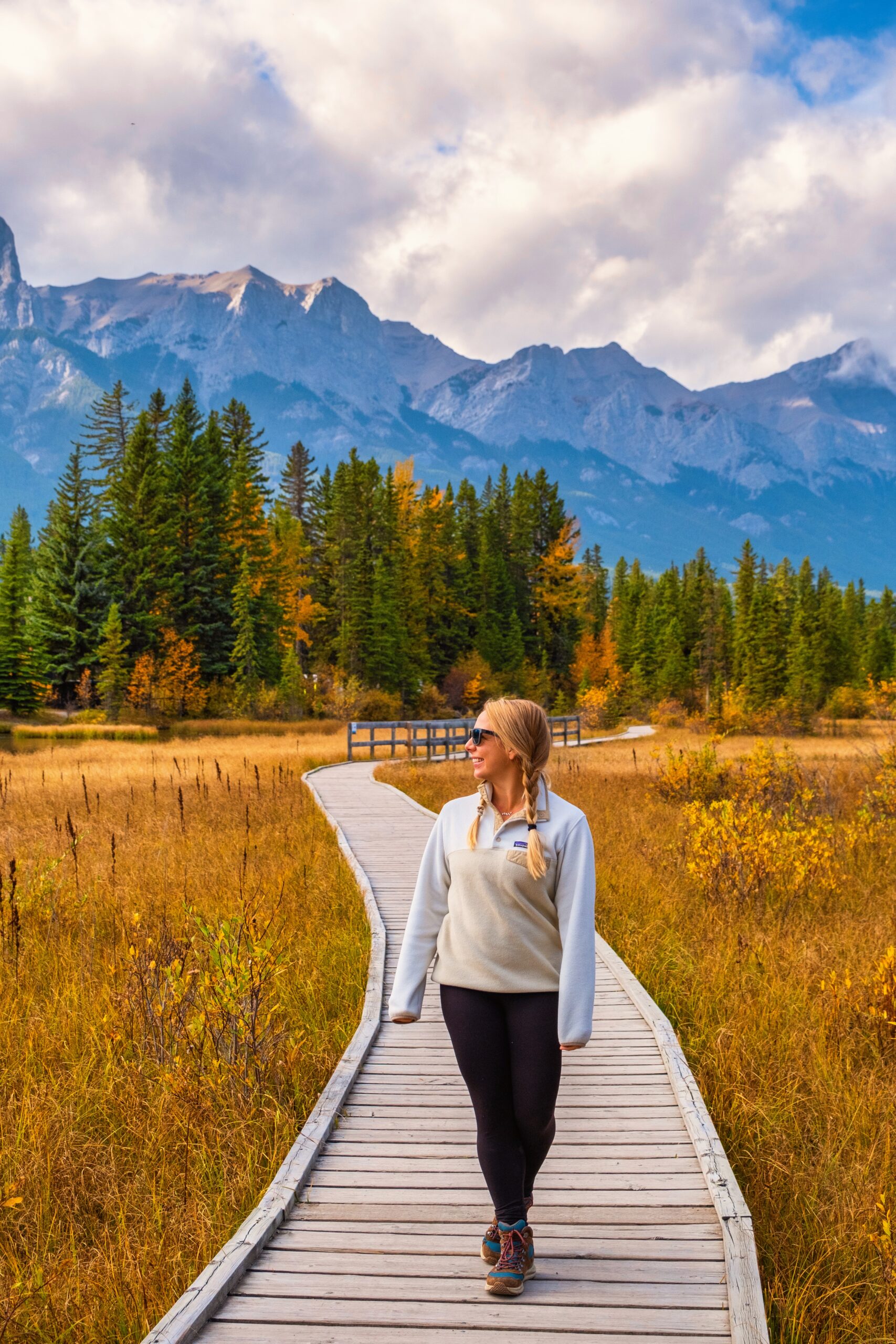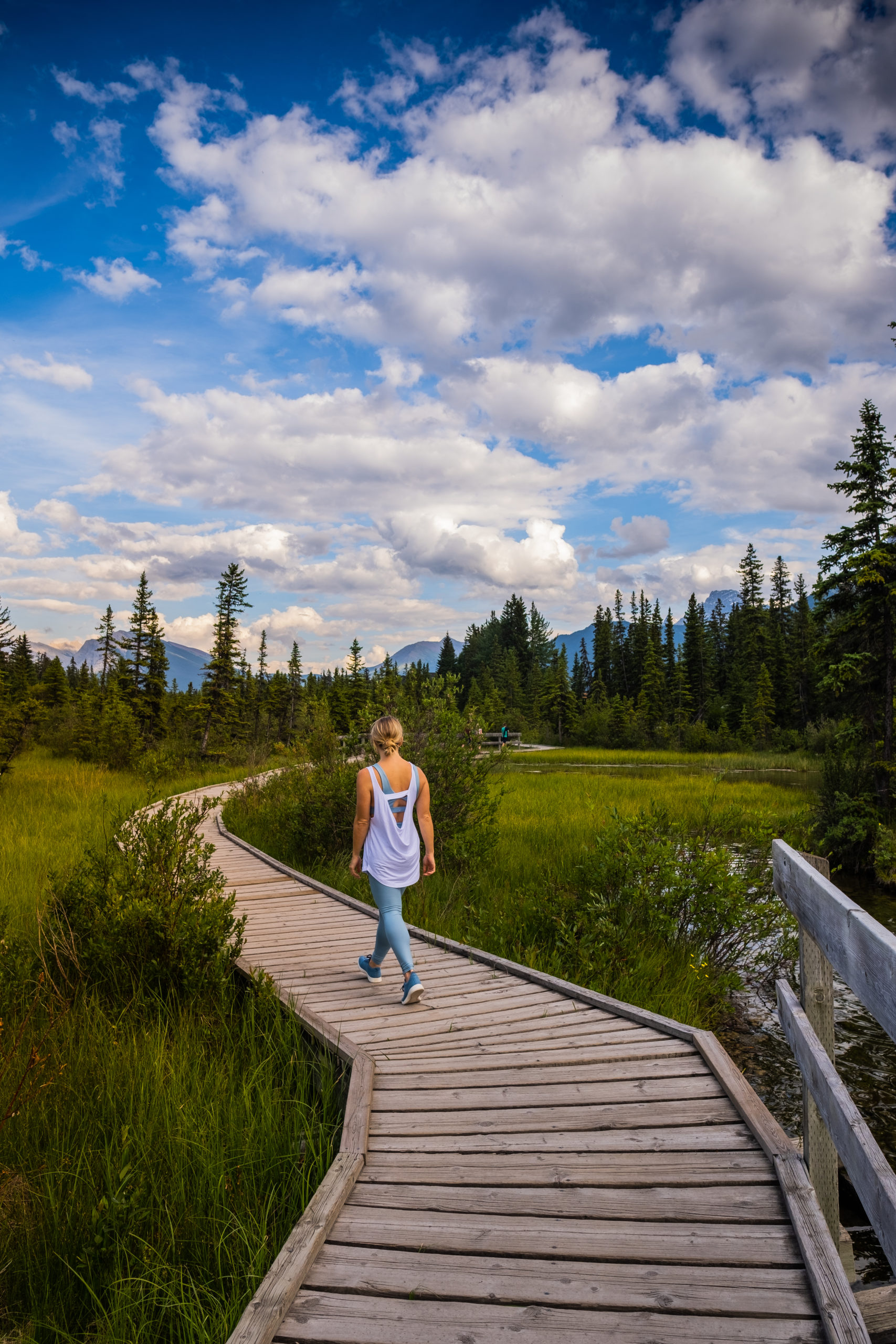 If you want to spend a quiet morning or afternoon strolling through nature, head to the Policemen's Creek boardwalk. The elevated walkway presents year-round opportunities without a need for waders, boots, or snowshoes. It's easily accessible from downtown, and the trailhead is near the intersection of Main Street and Spring Creek Drive.
The four-kilometer trail is well-marked, easy to follow, and will bring you right back to your starting point, so you won't have to drop bread crumbs or call for an embarrassing helicopter rescue.
The boardwalk's pleasant mix of town and country is the best of both worlds, and you'll think you're much farther away from civilization than you really are.
---
Walk To Grassi Lakes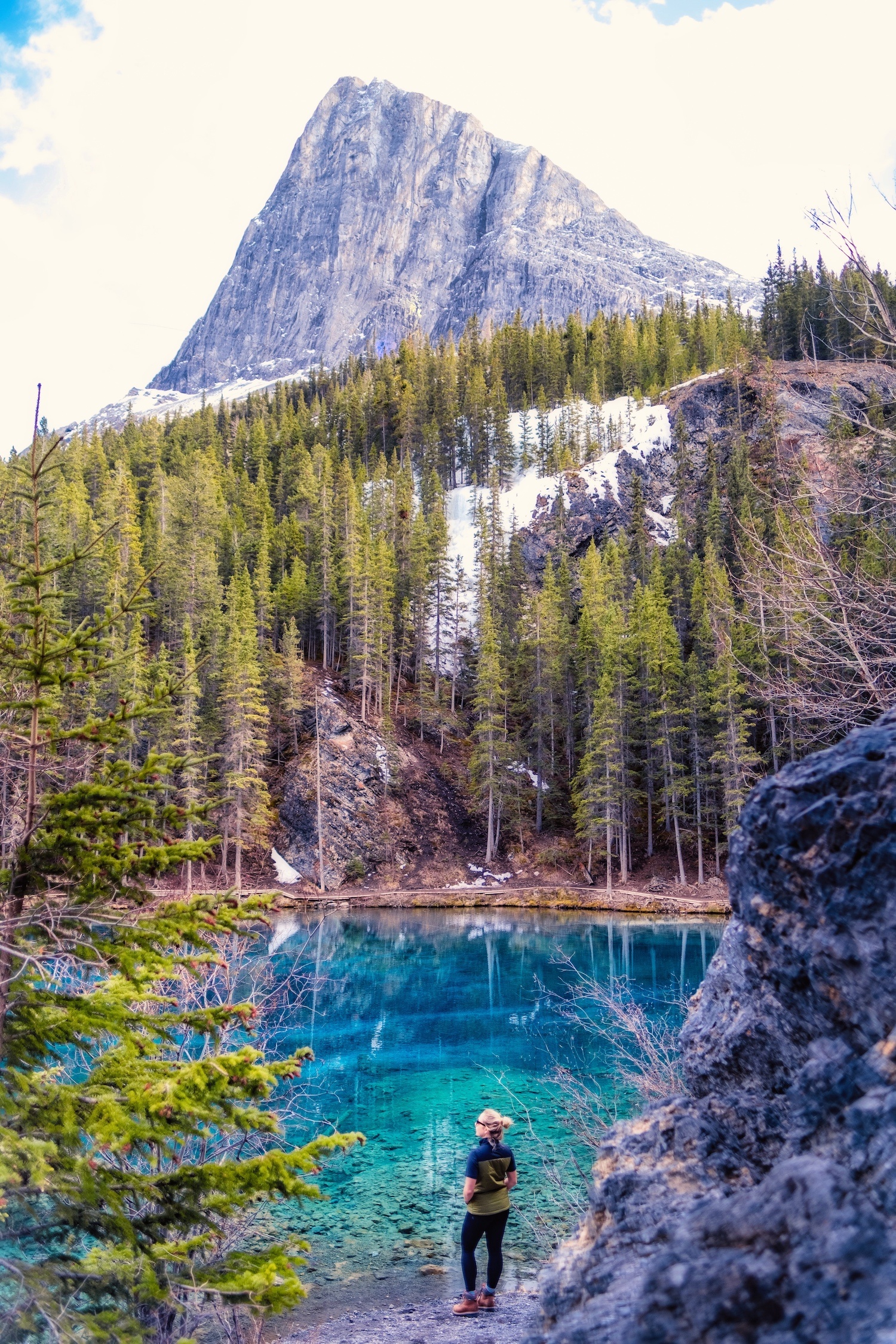 With water clear and mesmerizingly blue, Grassi Lakes is remarkable and easy to reach on a short hike.
About five kilometers south of town, the lakes are easy to get to, and you may want to consider packing some food for a picnic, as it's one of the most picturesque places around Canmore. Stunning views of a nearby waterfall and the town of Canmore below present plenty of photo opportunities, so grab your favorite travel camera before going.
Though there are other fantastic Canmore walks, I love Grassi Lakes as they're clearly marked and easy for all visitors in both the winter and summer.
---
Rat's Nest Cave Tour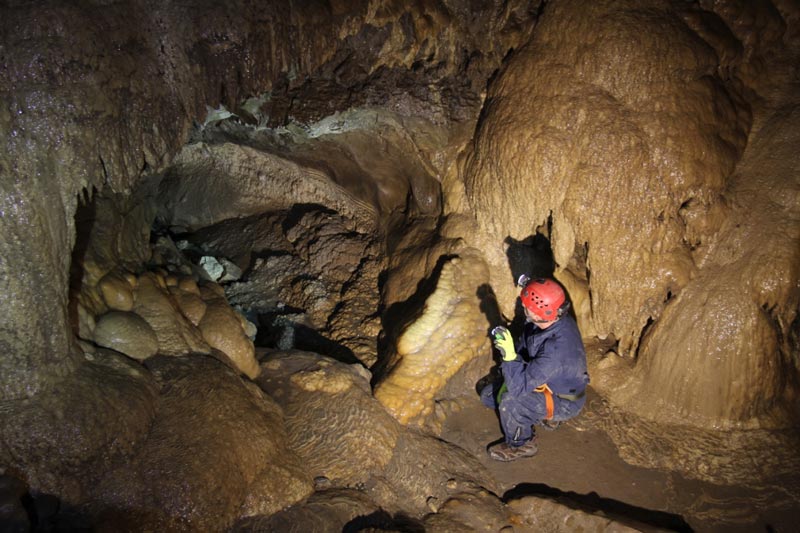 If spending a few hours of your vacation groping around in a dank, subterranean cave named after rats sounds like an adventure for you, then a Rat's Nest Cave tour may be just what you've been seeking.
The nice people at Canmore Cave Tours will gladly guide you through the pristinely natural and undeveloped cave regardless of the season or weather, and your knowledgeable and enthusiastic guide will give you a fascinating glimpse into Canmore's geology.
---
Head into Banff National Park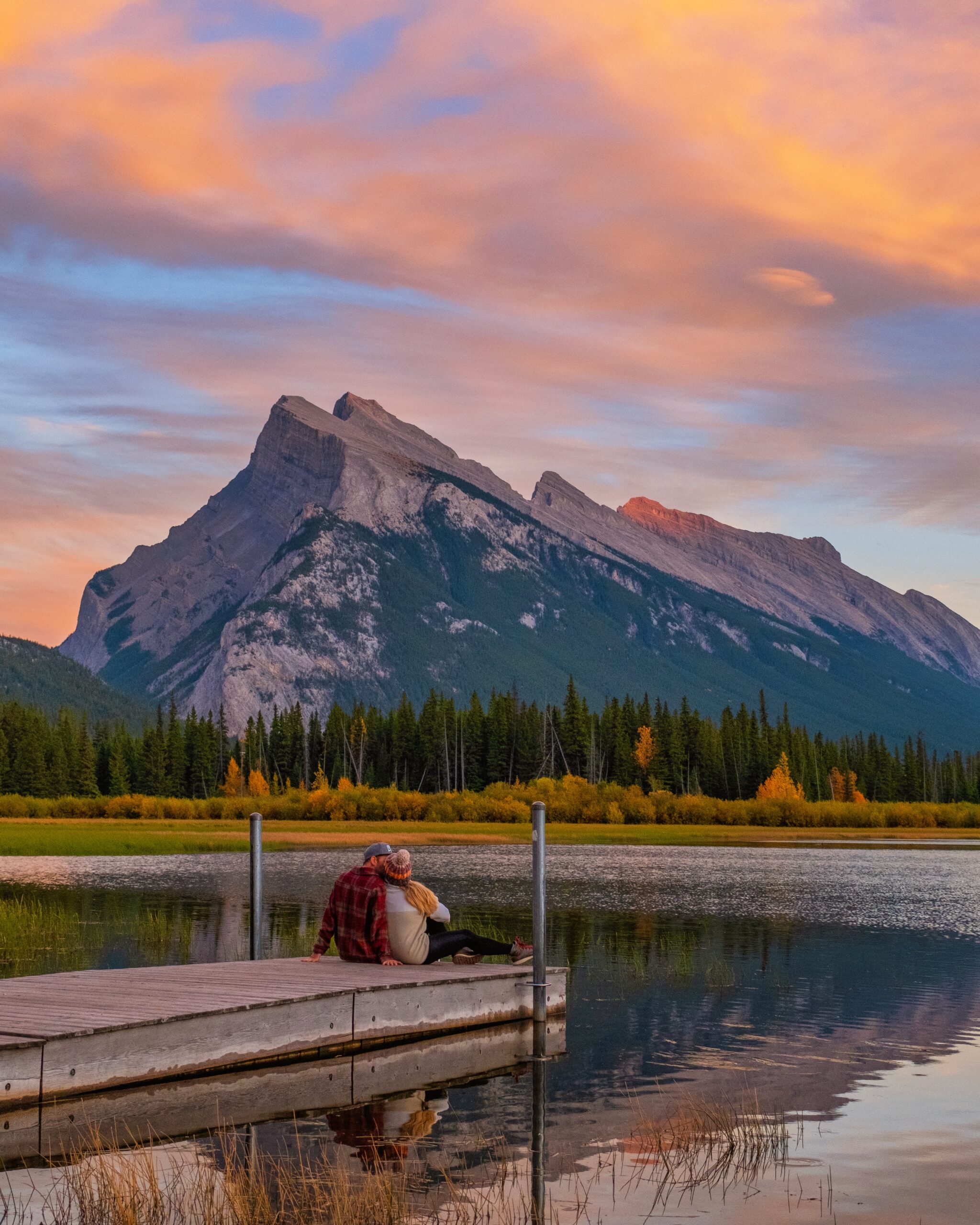 Though not in Canmore, Banff National Park is a must for anyone in the region. The park is world-famed and easily considered one of the most beautiful places on earth. It's one of the most majestic parks you're likely to set foot in your lifetime.
With more activities to occupy your time than could possibly be listed, Banff is a natural wonderland that will take your breath away, regardless of the season in which you visit.
The town is noted for its gourmet cuisine, world-class golf, fishing, hiking, and even a hot spring that will soothe your soul when you ease your weary bones into the balmy, therapeutic water after a long, activity-filled day.
---
Spot the Bunnies of Canmore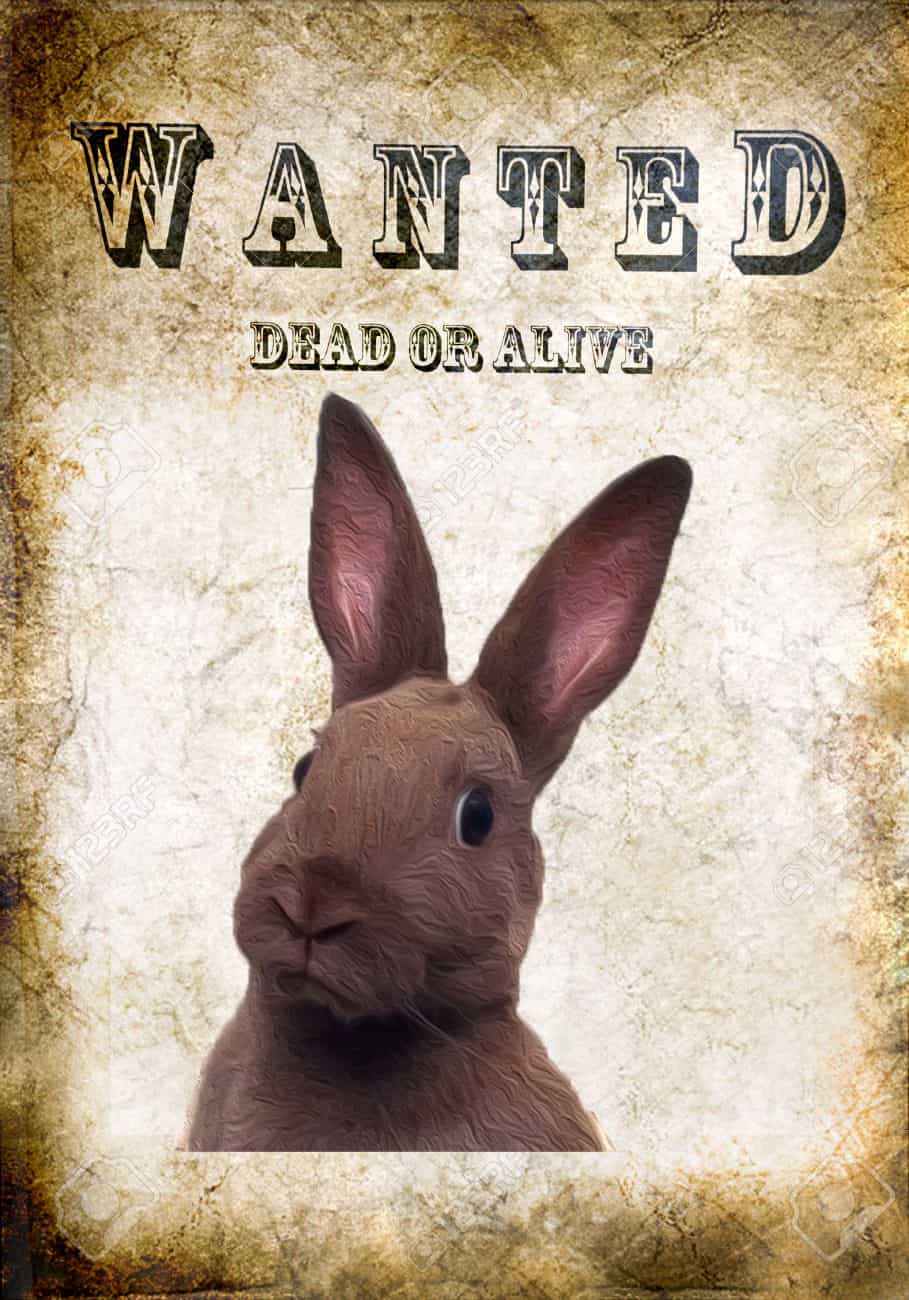 Ask any resident of Canmore, and they'll likely have an opinion on the town's most controversial residents – bunny rabbits. For the last four decades, a population of feral pet rabbits has hopped around town.
Many speculate the rabbit is easy prey and draw predators such as cougars, coyotes, and bears into town.
In recent years the town council and mayor have waged an expensive war on the rabbits at the cost of $300 per rabbit. Judging by the number of young rabbits we see around town, it's having mixed success.
---
Check out Canmore's Art Galleries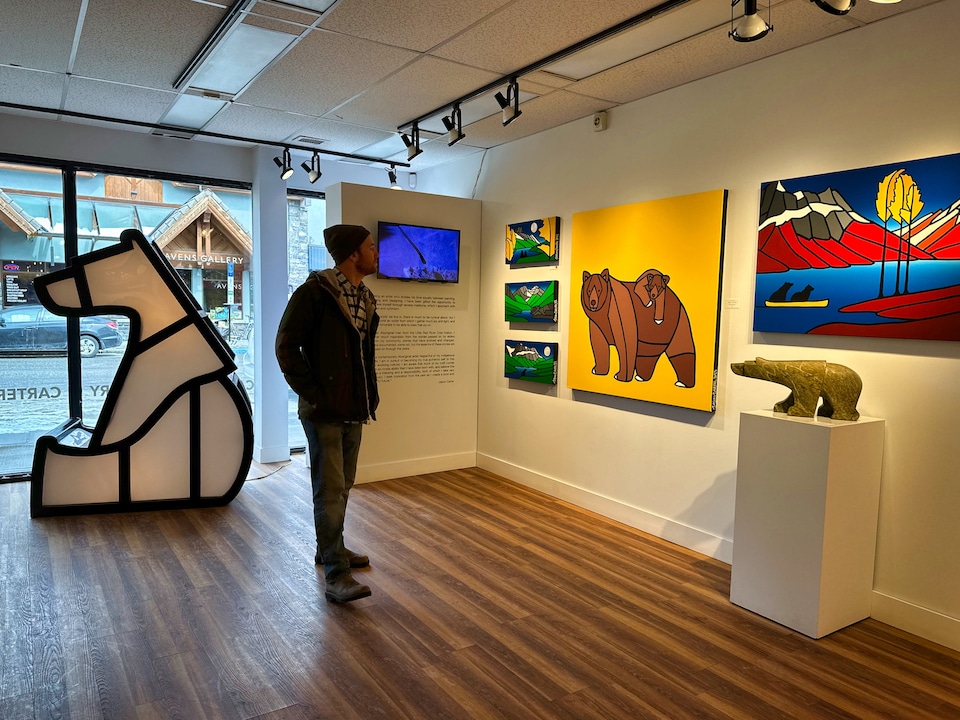 For some strange reason, beautiful and quaint towns nestled into breathtaking mountains attract artists. Perhaps the natural majesty inspires them to dig deep and create more memorable works.
Whatever the case, you'll get the point when you stroll through the many galleries within Canmore's town limits.
Though not a place to pick up works on the cheap, you'll be amazed at the things human hands can create. If you're an artist yourself, struggling with motivation or inspiration, then a trip to where successful artists display their work will work wonders.
My favorite place to find local crafts is Stonewaters, though plenty of others are on Main Street like Alberta's Own Marketplace and the Indigenous owned and operated Carter-Ryan Gallery.
---
Have Tea at Mount Engadine Lodge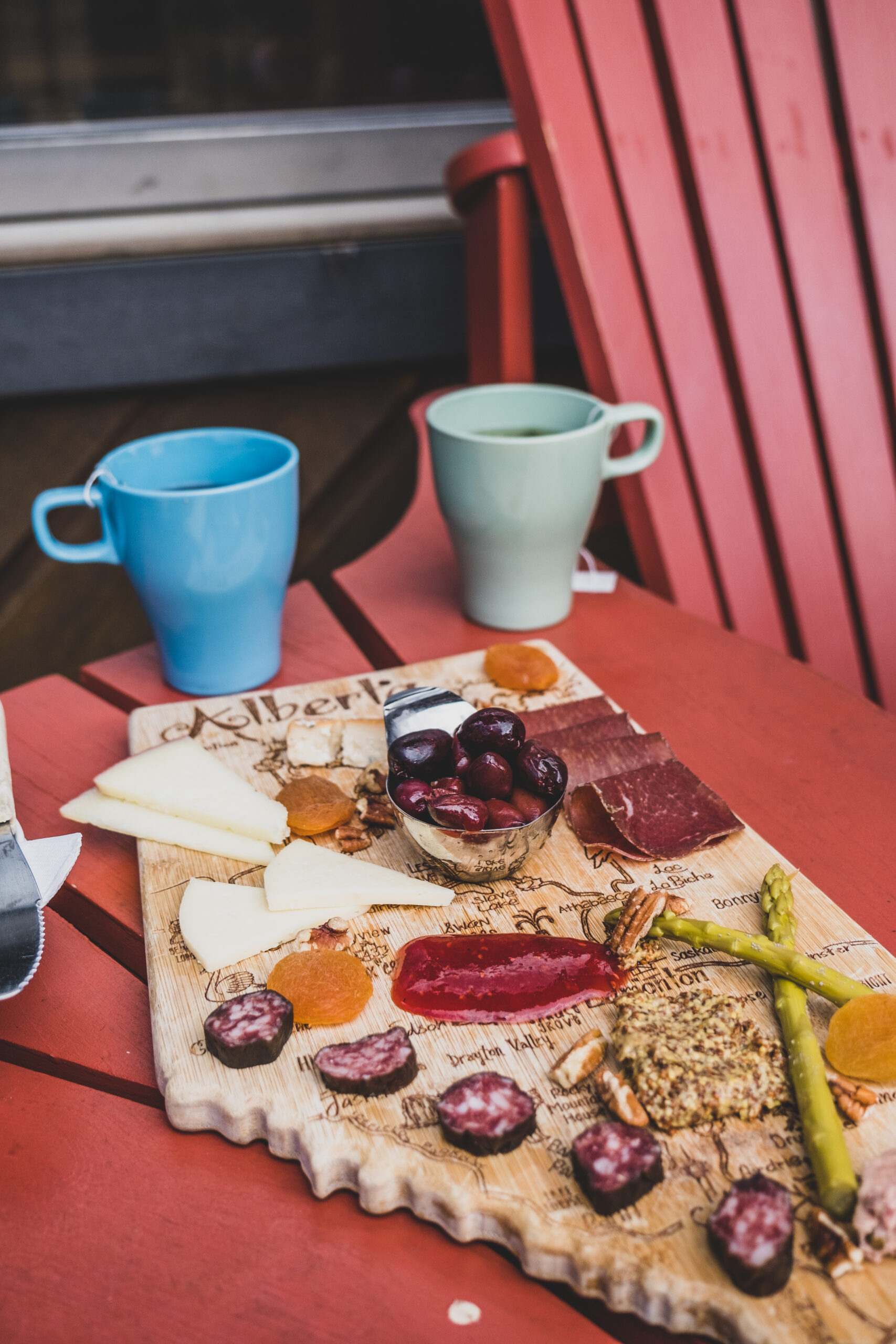 Mount Engadine Lodge is one of the only remote cabin accommodations close to Canmore. This one-of-a-kind accommodation is nestled deep in Kananaskis near Spray Lakes and the Tent Ridge Trail. Of course, I recommend staying overnight there for a real back to wilderness experience, but one of the most popular things to do in Canmore is head there for a cup of afternoon tea.
They have an amazing patio with views out to Commonwealth Peak. There's a beautiful swing for children to play on, and an awesome walking path on their grounds. Tea is open to all visitors and not just guests of the lodge. Tea is served daily from 2pm to 5pm and costs $35 per person.
---
Walk Across the Blackshale Suspension Bridge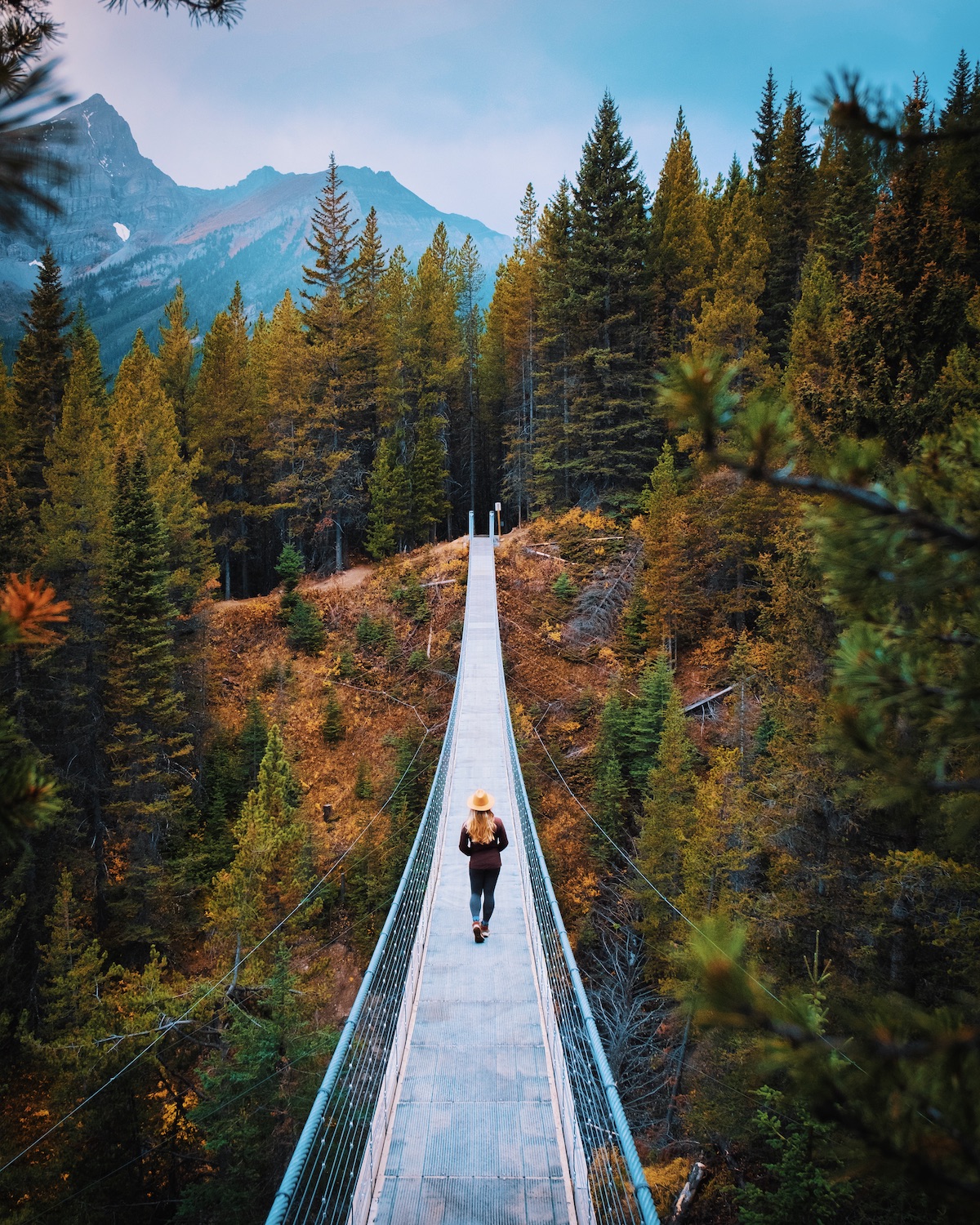 A super fun and short hike in Kananaskis is the Blackshale Suspension Bridge. At just 1 km in distance and 52 meters in elevation gain, it's a fantastic hike for the entire family.
It's certainly not the most exciting hike in the Rockies, but I love walking across suspension bridges – it's like a trip back in time! If you time it right, you can get the entire bridge all to yourself. The photo above was taken in late September around sunset, and there was no one else around!
Because it's such a short hike, it's best done in conjunction with another objective, like paddleboarding on nearby Kananaskis Lakes or hiking to Chester Lake.
---
Chester Lake Hike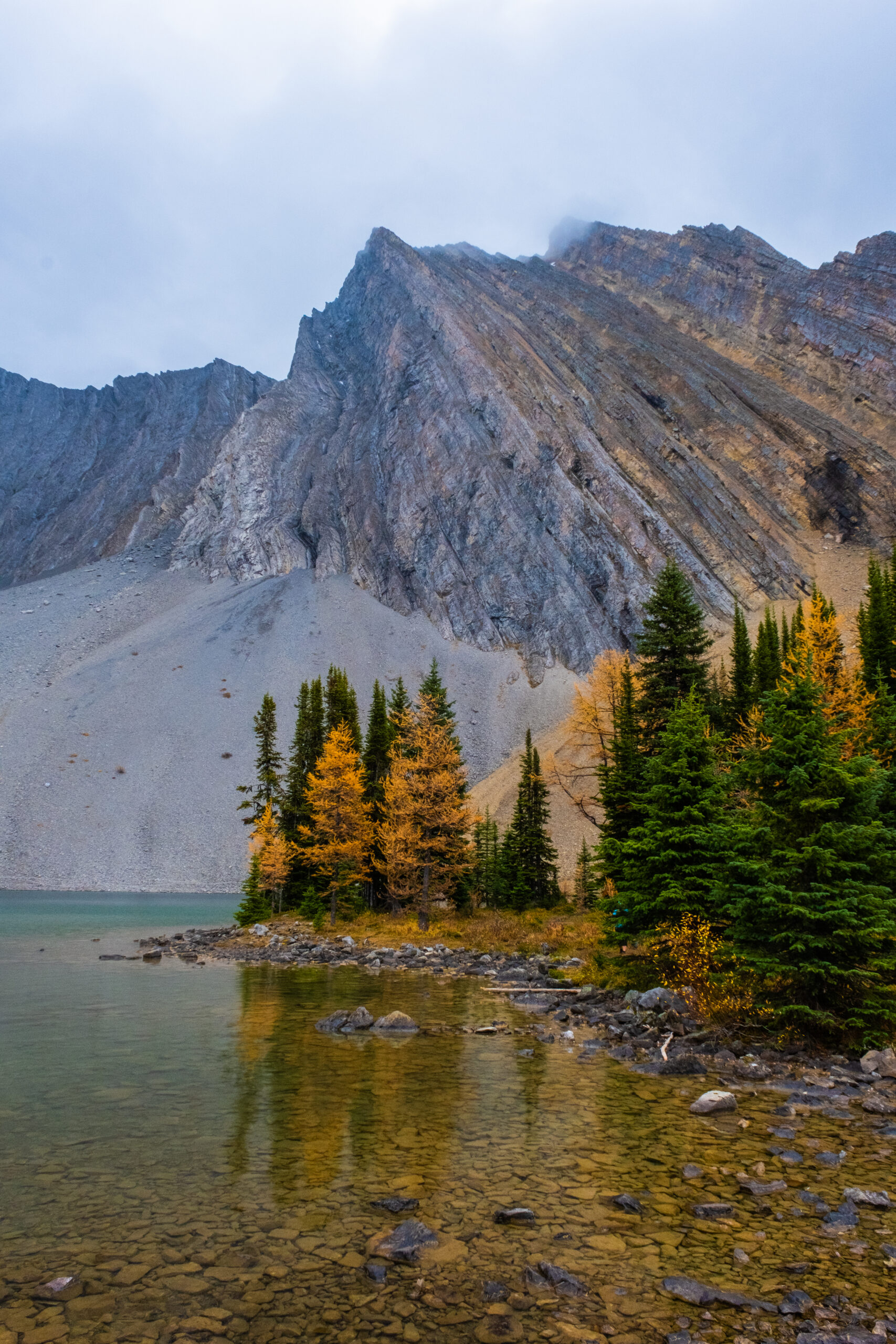 Speaking of Chester Lake, this is an awesome easy hike to take the kids on! This beautiful hike to a lake is located about an hour from Canmore down Spray Lakes Rd. It's under 10 km in distance with under 500 meters of gain.
Most of the trail is pretty boring with few views, but once you get to Chester Lake, the surroundings really open up, and your jaw will likely drop!
Because of the larches in the area, Chester Lake is a fun hike to do in fall when the larch trees turn a golden yellow.
---
Canmore NWMP Barracks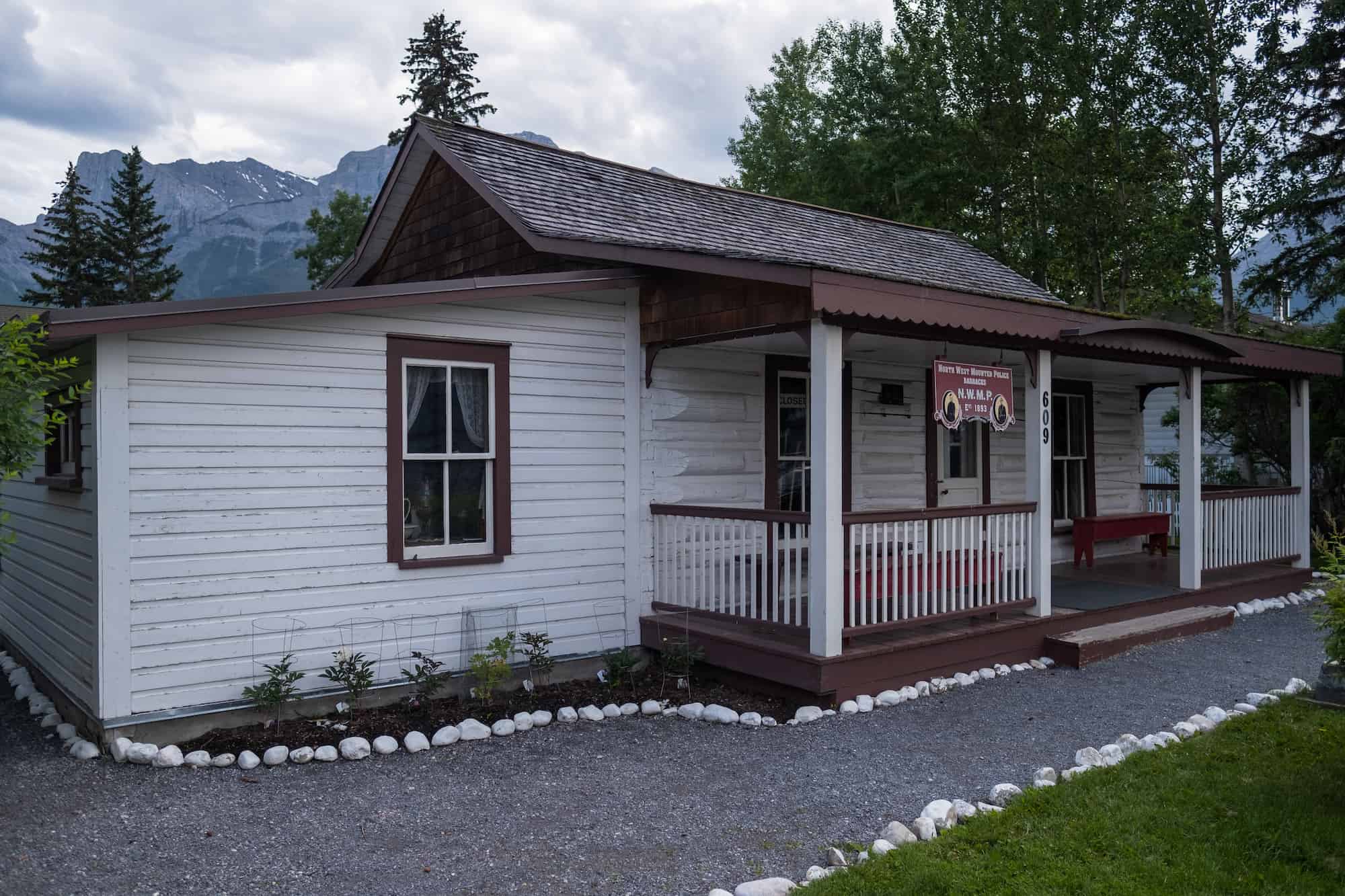 One of the best ways to get an idea of what makes the town you're visiting tick is to put your itinerary away, put on your walking shoes, and head out and see where you end up.
If you try that in Canmore, one of the gems you may run into is the Northwest Mounted Police Barracks, located on Main Street in downtown Canmore. The barracks were constructed in the 19th Century from logs, mud, and straw.
One of the oldest and best-preserved buildings of its kind, it originally housed the brave men whose job it was to keep law and order in a rough and tumble town full of tired and inebriated roughnecks who worked the local mines.
---
Check Out the Canmore Nordic Center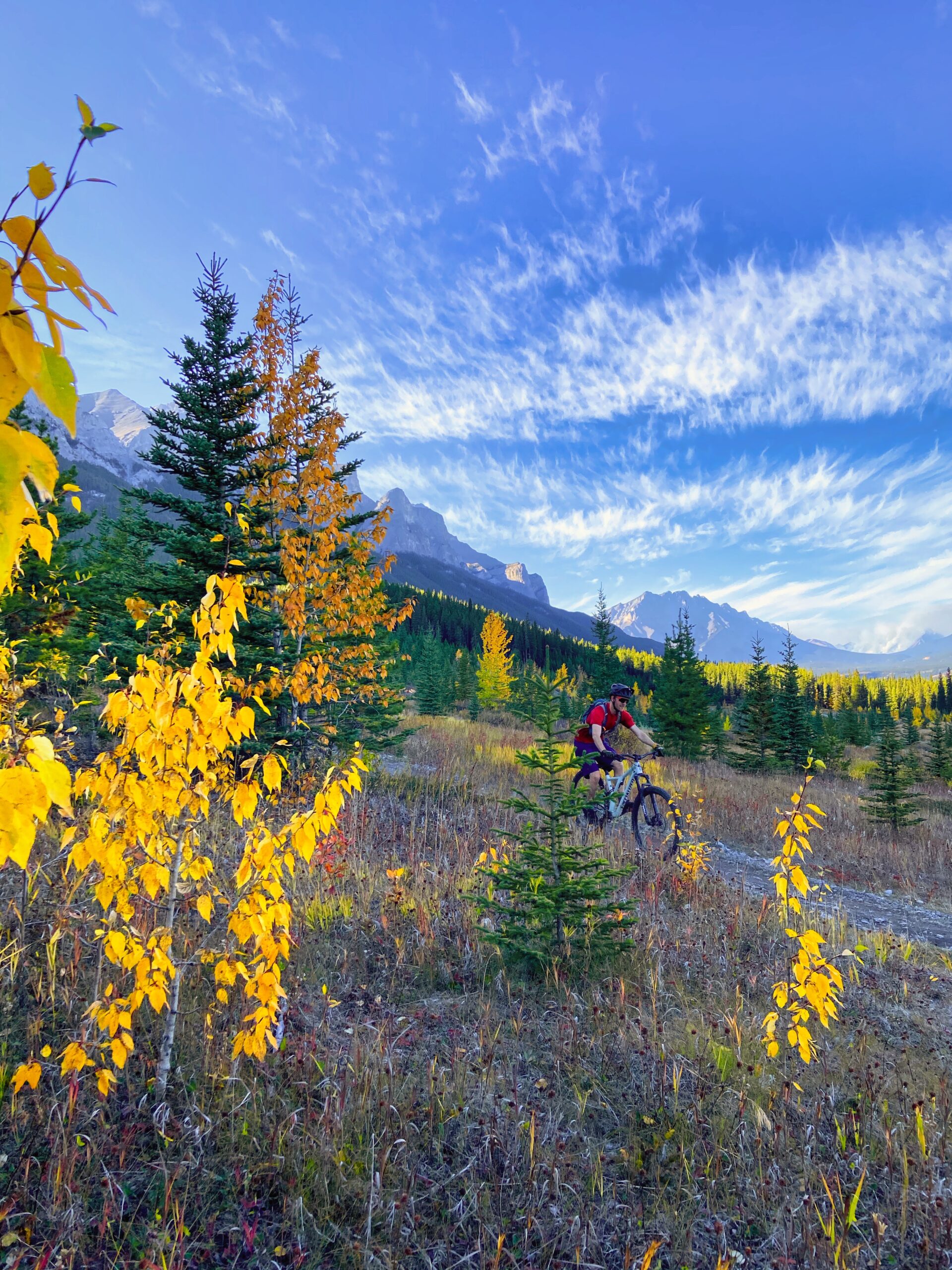 The Canmore Nordic Center is what put Canmore on the map for tourism. The center was constructed for the 1988 Calgary Winter Olympics and brought in international visitors worldwide.
The center still operates today with trails for cross-country skiing in the winter, and mountain biking and hiking in the summer. The trail system for cross-country skiing is world-class ready to hold international events with 60km of trails and 6km that have lights for nighttime skiing. They offer summer and winter rentals for whatever sport you'd like to try.
---
Disc Golf at Three Sisters Mountain Village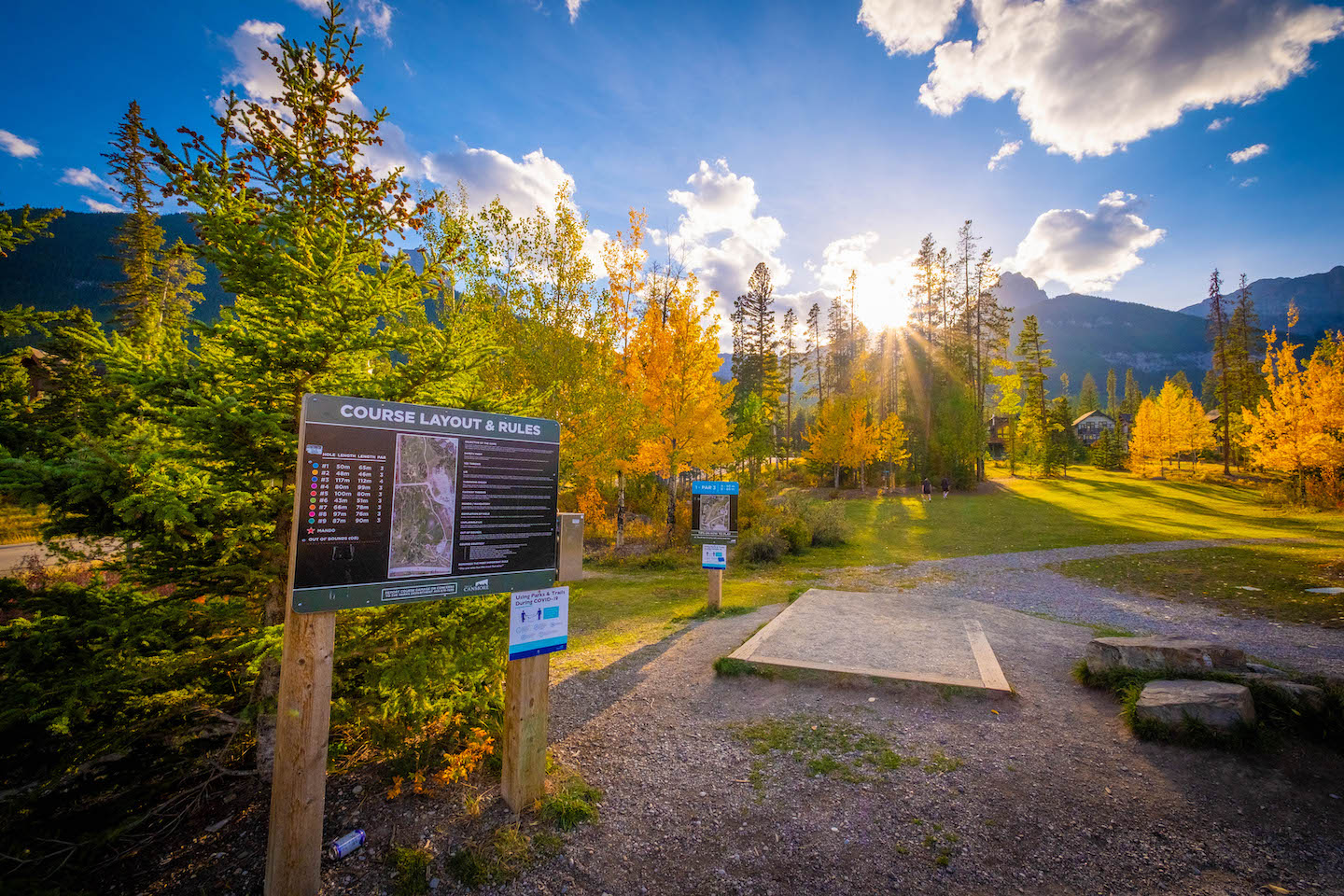 A fun thing to do in Canmore is play a few rounds of disc golf with friends. There are a few disc golf courses around the valley, but two of the best are the Three Sisters Mountain Village disc golf course and at the Nordic Center.
This is a super fun activity when you are tired of hiking and want a chill day with a nice cold drink (or hot coffee). You can rent a disc golf set at Trail Sports or buy a set at Switching Gear, Sports Expert, or Canadian Tire.
---
Complete The Triple Crown / The Quad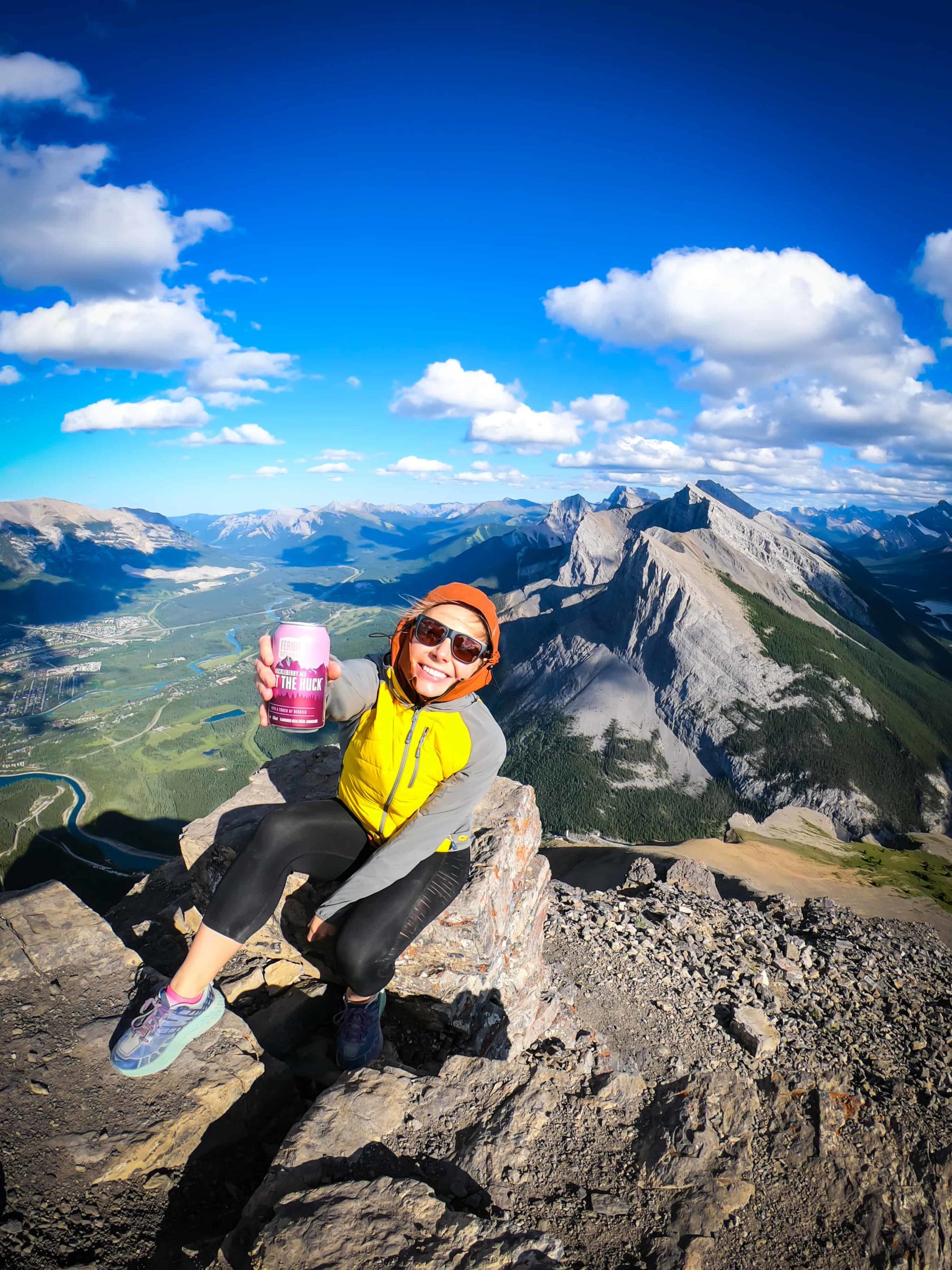 A right of passage for locals, trail runners, or anyone who likes physical suffering. The challenge leaves from the Georgetown Inn and has participants climb Lady Mac, Ha Ling Peak, and the East End of Rundle all in one day!
No cars are allowed, so you have to climb to the base of Ha Ling Peak and Rundle then across town to Lady Mac. The Quad is an even more daunting task and throws Grotto Mountain into the mix (so that's four mountain summits in a day!)
---
Relax at Quarry Lake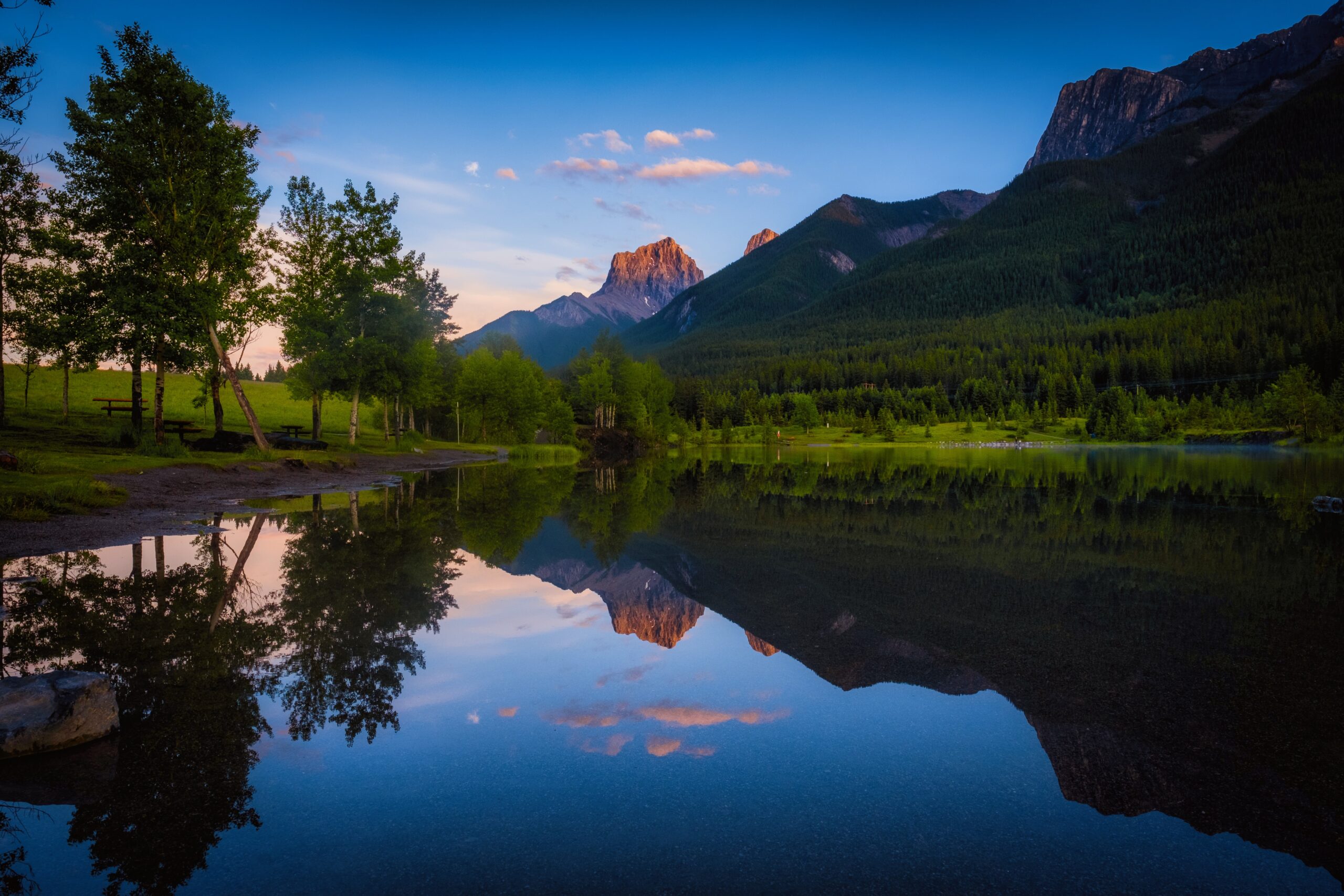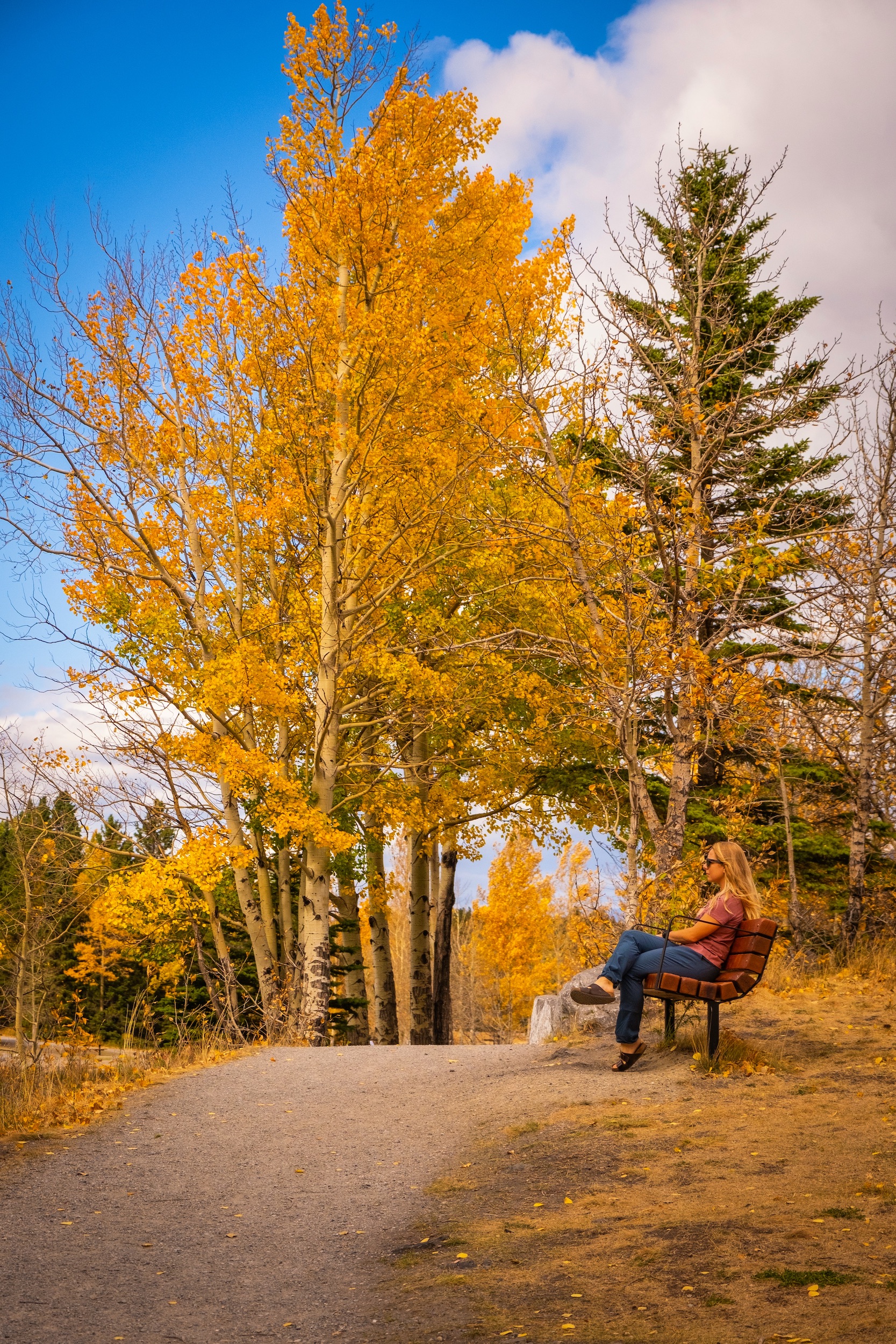 Quarry Lake is another one of those "locals" lakes in the Canadian Rockies. It's where you'll find people walking their dogs and just enjoying the scenery. There are picnic and park benches to sit and look up at Ha Ling Mountain and the Little Sister.
Quarry Lake sees many visitors, especially on weekends, and sadly, many don't clean up after themselves. Make sure to pack out what you bring in and always Leave No Trace.
---
Enjoy the Shops of Main Street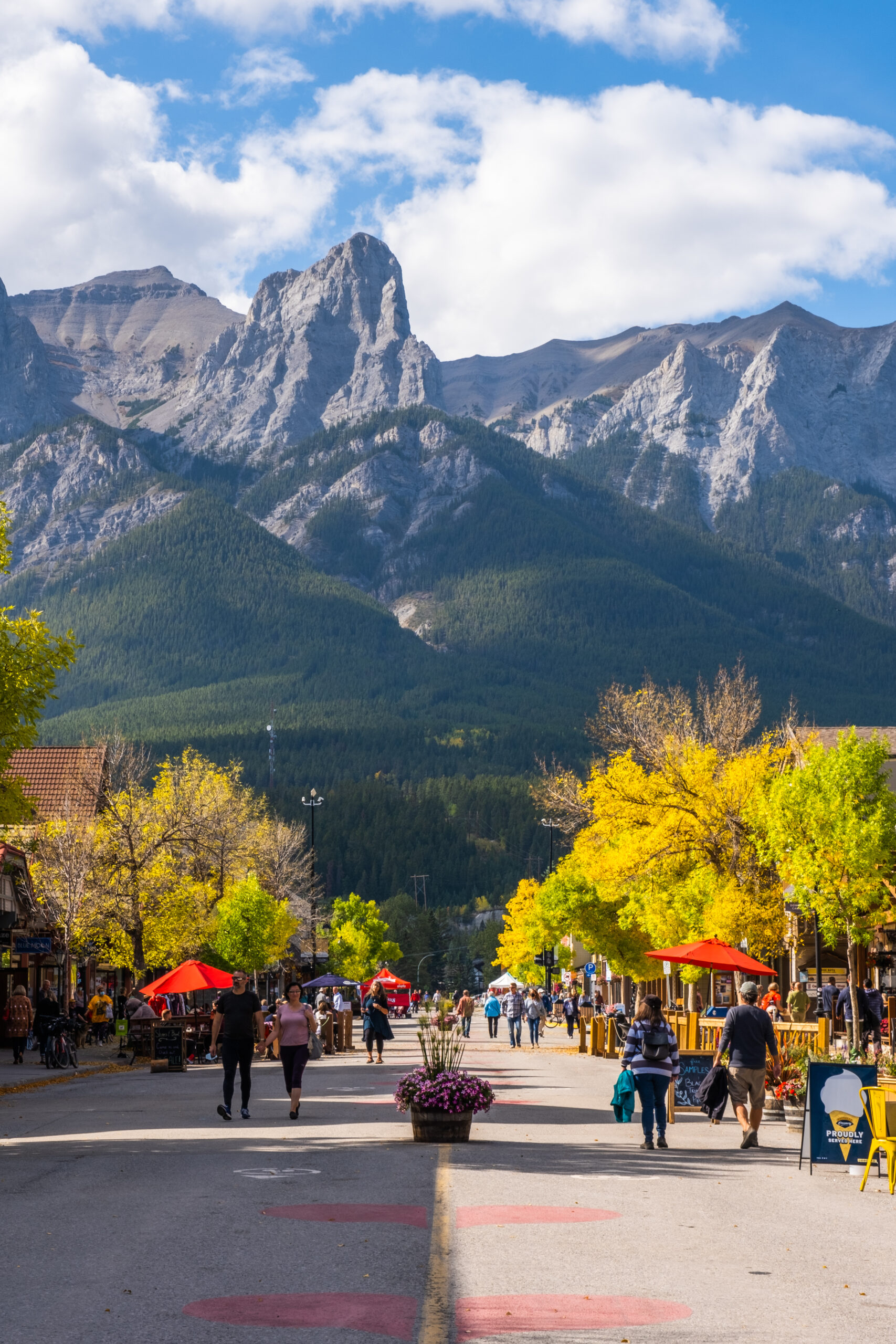 Main Street, or 8th Street, is well…the main street of Canmore! It's where you'll find many of the boutique shops, cafes, and restaurants that make up the town.
I love walking up and down the main street in both the winter and summer. It's much quieter than nearby Banff.
In the summer, Main Street turns pedestrian and cyclist only! It's my favorite time and when you will find everyone enjoying walking everywhere and enjoying the patios that spill out onto the streets. From mid May to mid October, expect it to be pedestrian and cyclist only from 6 Avenue to 8 Avenue.
---
Canmore Folk Music Festival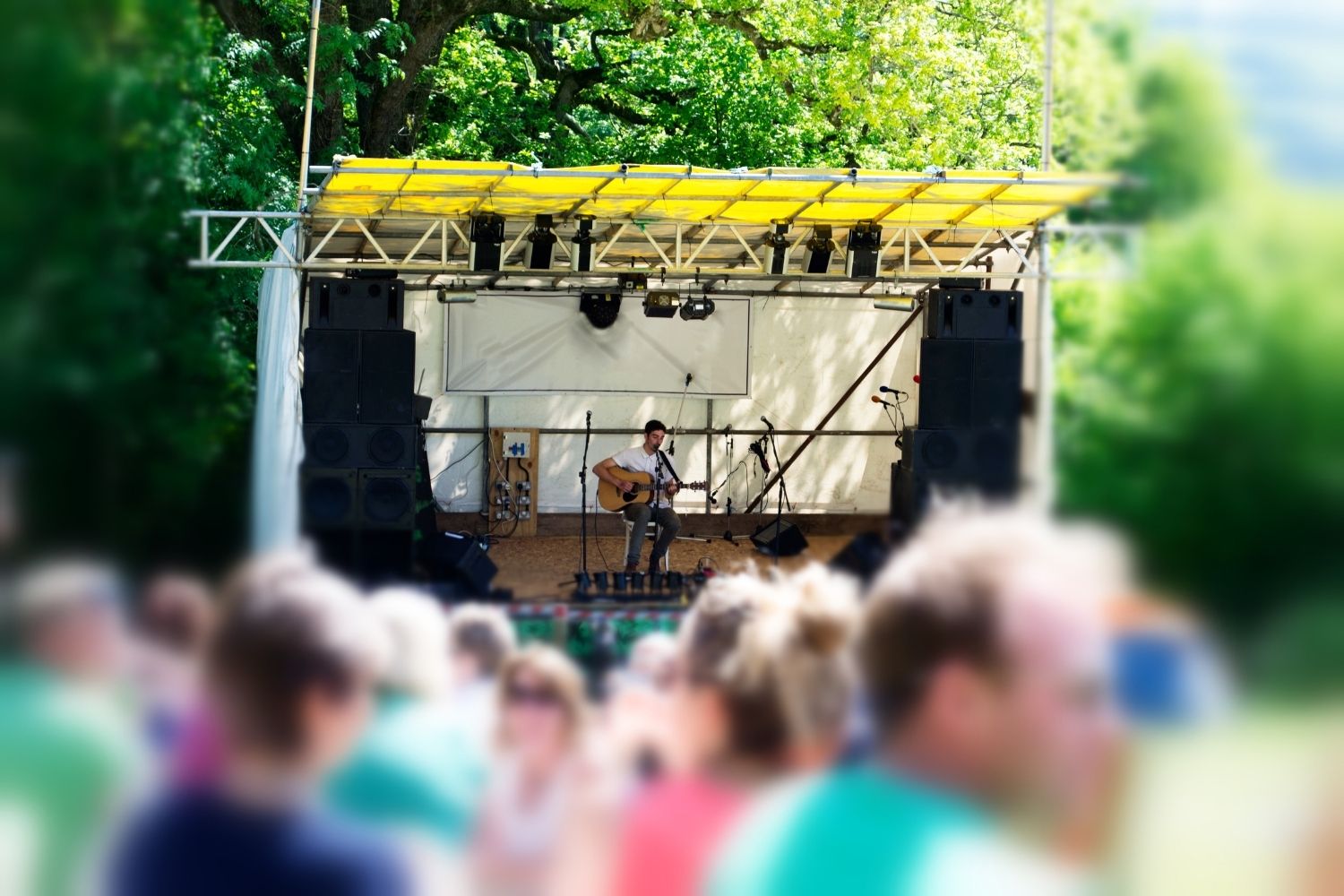 If you haven't noticed, festivals are a common theme among things to do in Canmore. As the longest continuously running festival in Canmore – dating back to 1978 – The Canmore Folk Music Festival is held over the long weekend in August that coincides with Heritage Day.
Drawing over 20,000 visitors annually, the festival is held in scenic Centennial Park, wonderfully set against the majestic Rocky Mountains in the background. Though not as inexpensive as many other festivals, it's a must for lovers of eclectic music.
If your weak heart skips a beat or two when you've seen the prices, don't fret because the Friday evening kicking off the event is free.
---
Ride the Legacy Trail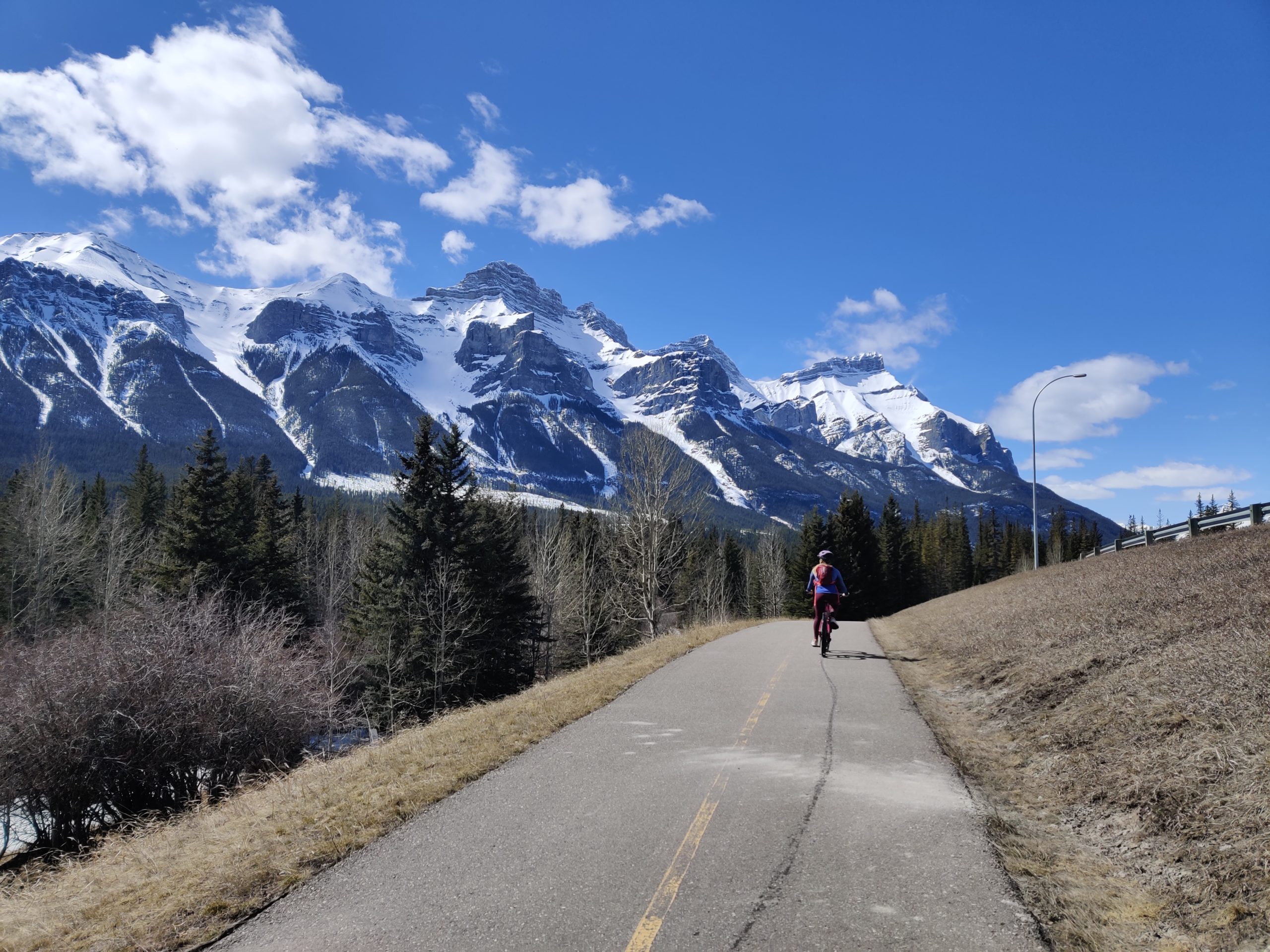 If there is a style of biking you enjoy you'll find an abundance of scenic places to get on a bike in Canmore. It doesn't matter your skill level either, as there is everything in the area.
One of the best things to do in Canmore come May is ride the Legacy Trail to Banff. The Legacy Trail connects Canmore to Banff along a fantastic paved trail for 26 km. One of my favorite things to do on a sunny day is ride to Banff for a drink and then head back home!
You can rent bikes from Rebound Cycle downtown. The Legacy Trail is typically not free of snow until Late April/May, and is usually good to ride until mid/late October when the snow starts to build up and the weather gets cool.
---
Enjoy the Views of Ha Ling From Below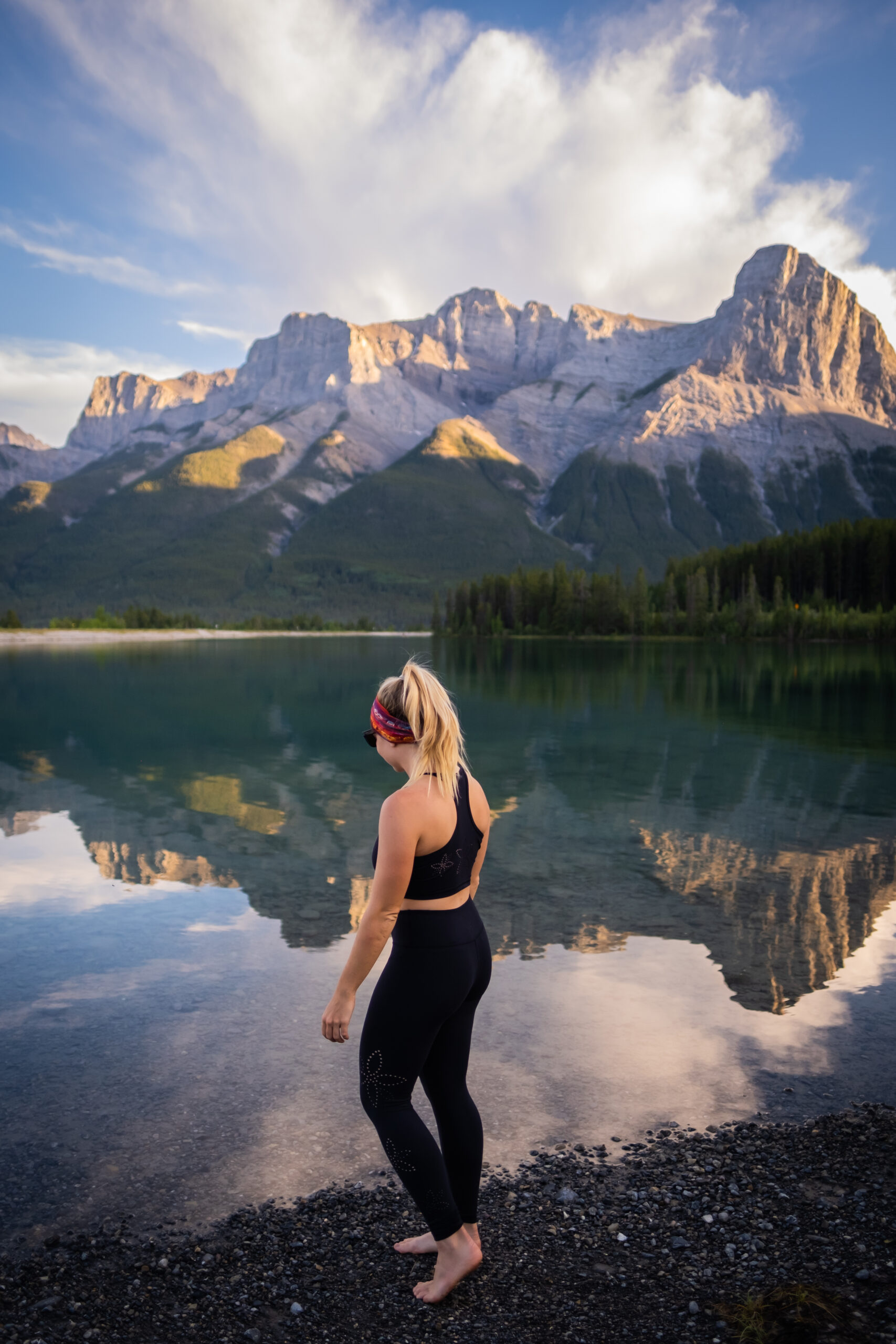 Ha Ling is one of the most iconic mountains in Canmore. Its peak stands out among all the others. One of my favorite places to sit and enjoy the views is the Canmore Reservoir, Grassi Lakes, and Whiteman's Pond.
---
Canyoning at Heart Creek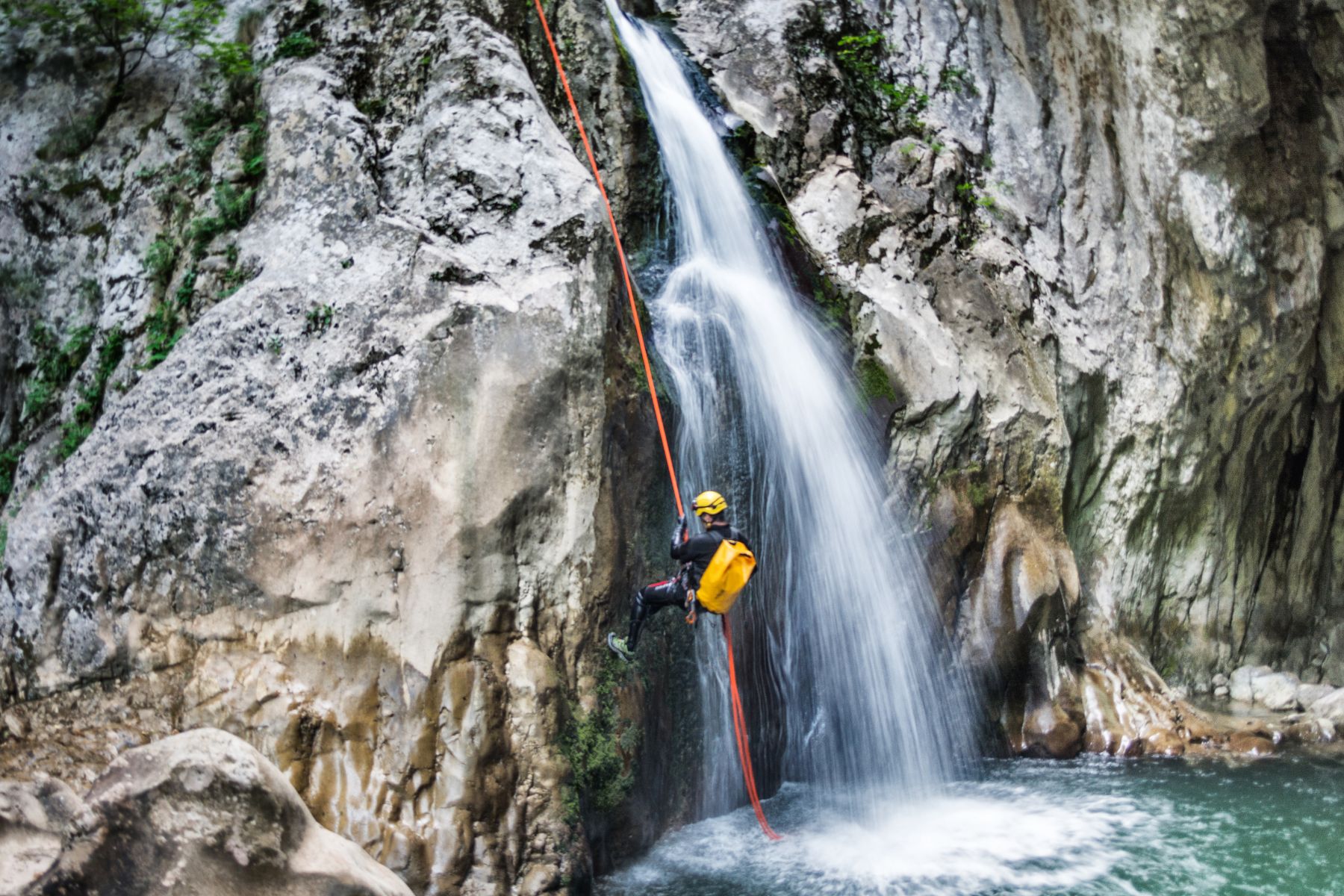 Have you heard of Canyoning before? Canyoning, also known as canyoneering, is an outdoor adventure activity that involves traveling through canyons using a variety of techniques including hiking, scrambling, climbing, rappelling, and swimming
If this sounds like something you want to try Heart Creek Canyon, just outside of Canmore is a great place to start. It offers incredible scenery, and the canyoning experience features an easy approach where you can safely try rappeling with rope before you even begin the experience!
There are five rappels, interspersed with some scrambling and hiking, but all suitable for beginners. There are introductory short rappels that allow you to ease into rappelling and increase in length as you progress down the canyon. Your adventure finale is rappeling an exciting 60 foot wet waterfall rappel and slide.
Book the Heart Creek Canyoning Tour
---
Things to do in Canmore in the Winter
---
Canmore Christmas Artisan's Market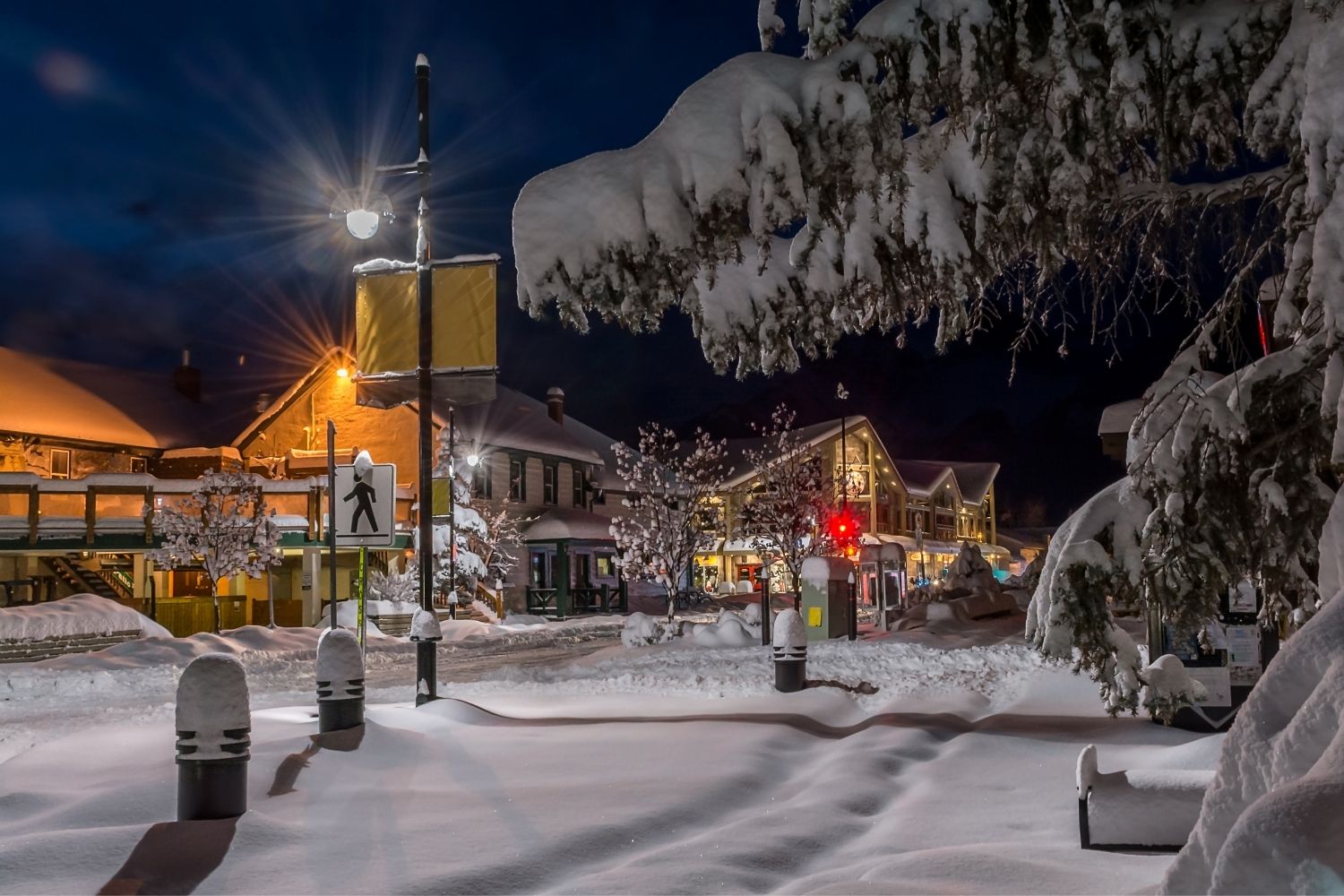 As you'll find out, this town takes its festivals seriously, and they're one of the most prevalent things to do in Canmore. Occurring at different times throughout the year, you'll need to time your visit, depending on which you'd like to experience.
To many, Christmas is the undisputed king of holidays; imagine how it would feel experiencing it in a quaint town nestled in the scenic Canadian Rockies.
If I've piqued your interest, get your calendar out and tell the in-laws they're on their own this year. For 25 years, Canmore has hosted the Christmas Artisans' Market, which features nearly 100 artists and artisans who specialize in clothes, paintings, and natural body products, to name just a few.
Plenty of food and drinks will be on hand, and the small admission fee benefits the Canmore Preschool Society.
---
Ice Skate on the Canmore Town Pond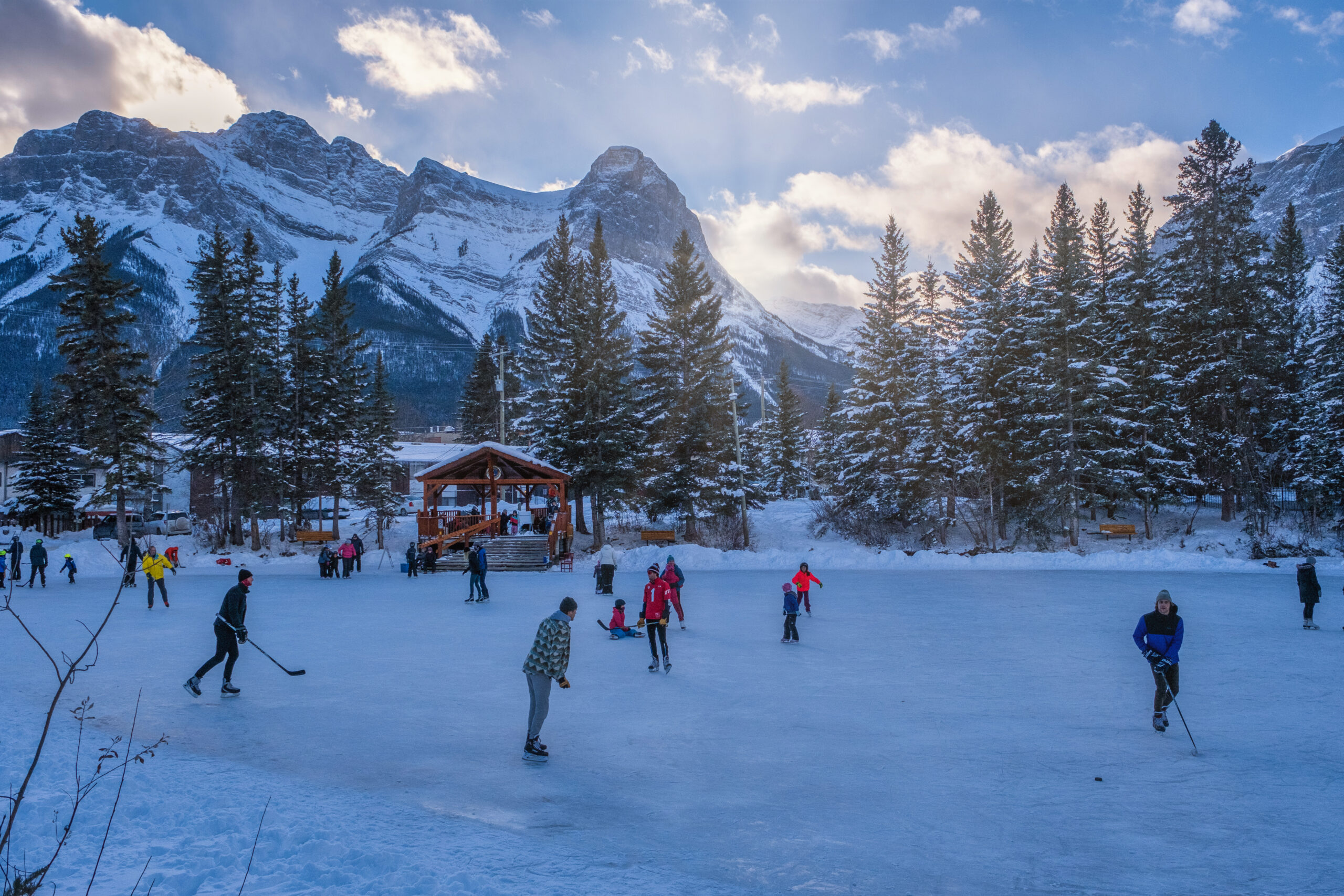 The Town of Canmore maintains a nice natural ice skating pond just outside of downtown. It's serviced daily and resurfaces three-five times a week, so you have a reliable surface, and it's great for vacations who choose Canmore as their base.
It's even lit at night, so if you feel like enjoying some nighttime skating it's a great place to head. The only downside is there are no views as the pond is surrounded by trees and in a neighborhood. There are several frozen ponds around the town of Canmore; you can find those on the site here.
---
Ice Skate on One of the Many Frozen Lakes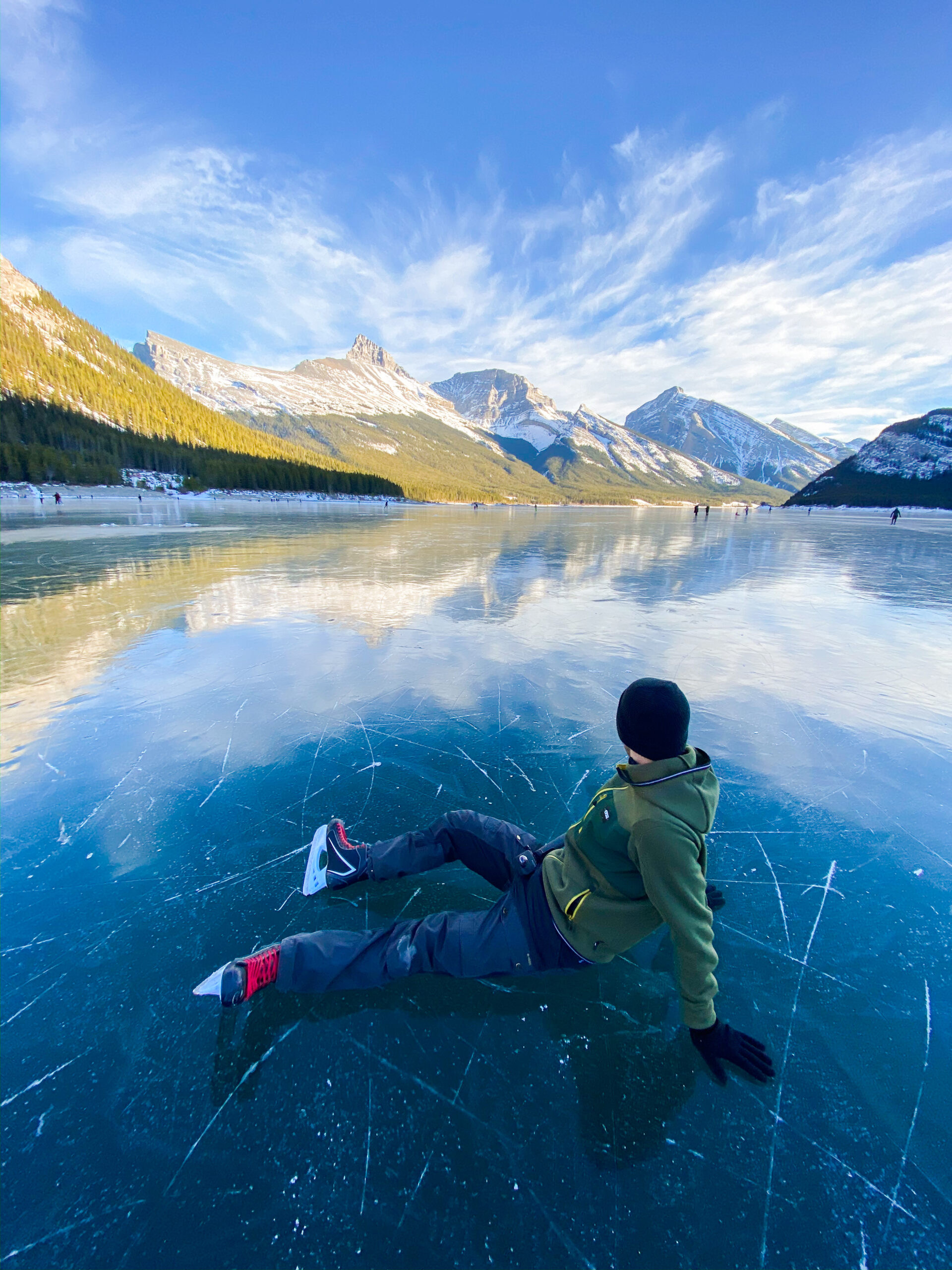 There are plenty of lakes to ice skate on in the Canadian Rockies and many around Canmore. The trick is to catch them just at the right time. That's when it's gotten cold enough for them to freeze over enough to allow safe skating (over 4 inches thick) and before the first big snowfall.
My favorite places to ice skate around Canmore are Gap Lake, Spray Lakes, and Goat Pond. Rent a pair of ice skates and get out there; it's one of the best things to do in Canmore in the winter.
---
Canmore Winter Carnival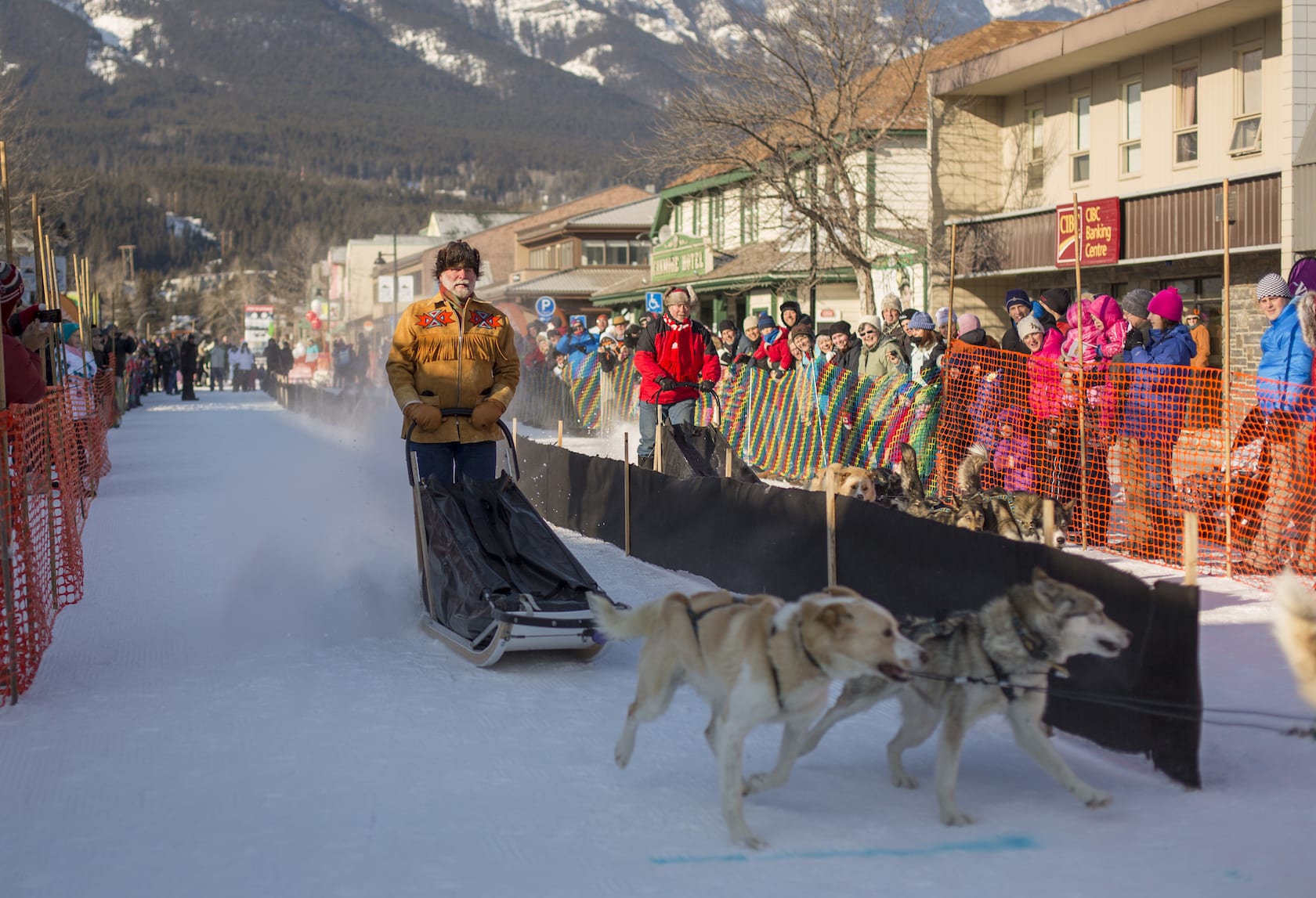 Every winter in Canmore, a carnival takes place in the the last few weeks of February to celebrate the coldest months. The carnival is a wonderful and quirky mix of events, games, races, and activities, all of which are somehow associated with winter.
There are lots of activities to participate in. If you're not in the mood, you can take a casual stroll, eat and drink to your heart's content, people watch, and take in events like hockey, ice carving, the lumberjack competition, and even the dog parade. The dates are yet to be announced for 2024, so be sure to keep checking their website.
---
Dog Sled Tour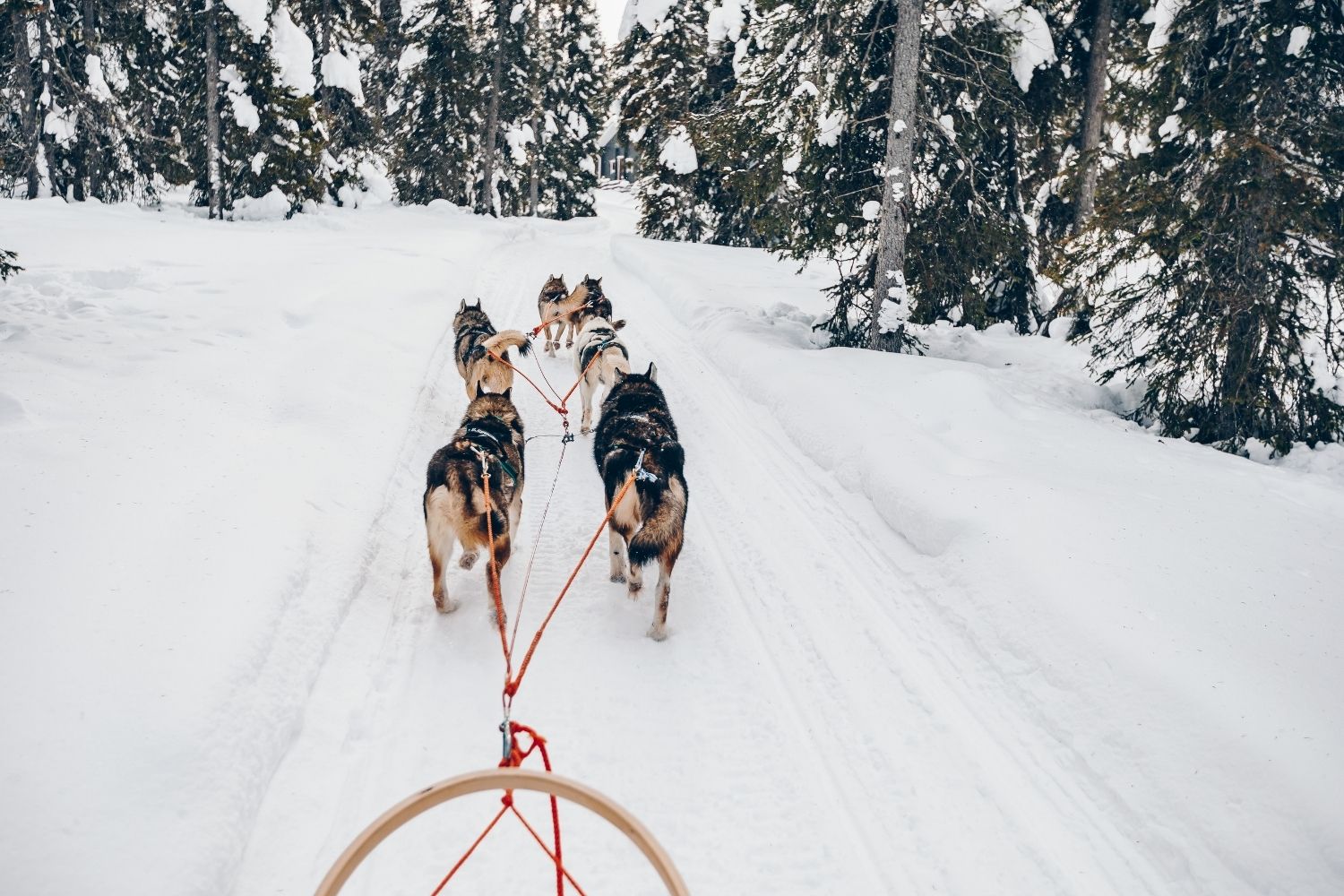 Dog sledding is a quintessential winter experience and will easily be a highlight of any vacation. It's been a highlight of our winters around the globe.
Bundling up in a sled as a team of dogs rushes through the woods is sensational, and Canmore certainly is a winter wonderland come December.
Or if you feel like doing it yourself, you can even be a musher! Howling Dog Tours is the best operator in Canmore, with an experienced and small family operation that's been in operation since 1995. If you want to book a dog sled tour in Canmore, and you definitely should, head over to their website for their contact details.
---
Ski at Nakiska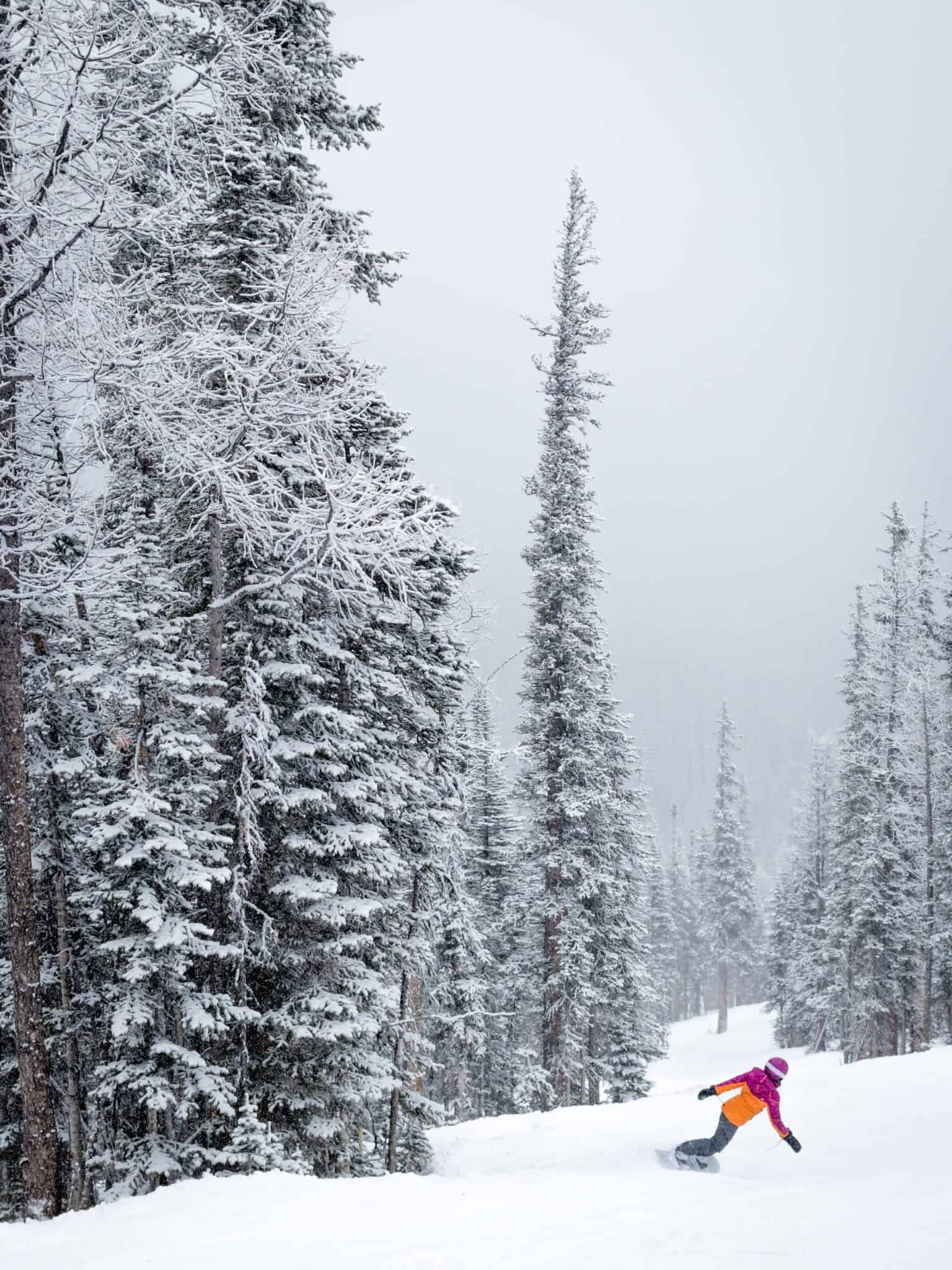 This was our first introduction to skiing the Canadian Rockies years ago, and we are happy we made the stop. Many people skip over Nakiska for its bigger and more intimidating Lake Louise Ski Resort and Banff Sunshine counterparts. While the surrounding region of Kananaskis may not be as world-renowned as Banff, it is every bit as stunning.
To get to Nakiska, you will most likely start in Calgary, only an hour's drive away. The drive into Kananaskis Country instantly makes you feel small as the Canadian Rockies, making you forget you were just in a major city. Read all about Nakiska Ski Resort here.
---
Ski/Snowboard at Lake Louise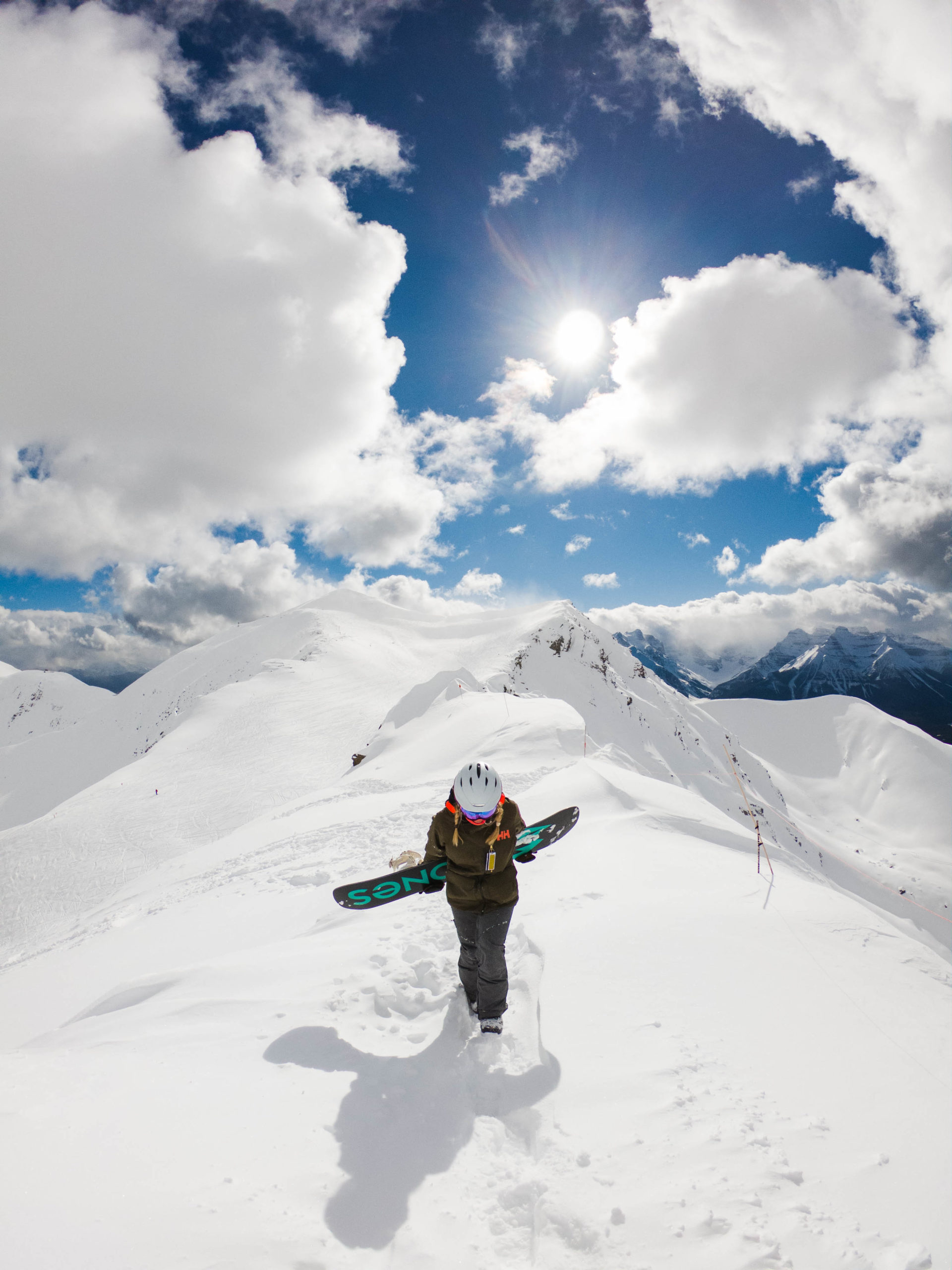 There is arguably no ski resort in the world with a better view than the Lake Louise Ski Resort. Although it's not in Canmore, it should be added to any winter bucket list in Canmore for ski enthusiasts.
See Our Full List of Things to do in Canmore in the Winter!
---
Transport Around Canmore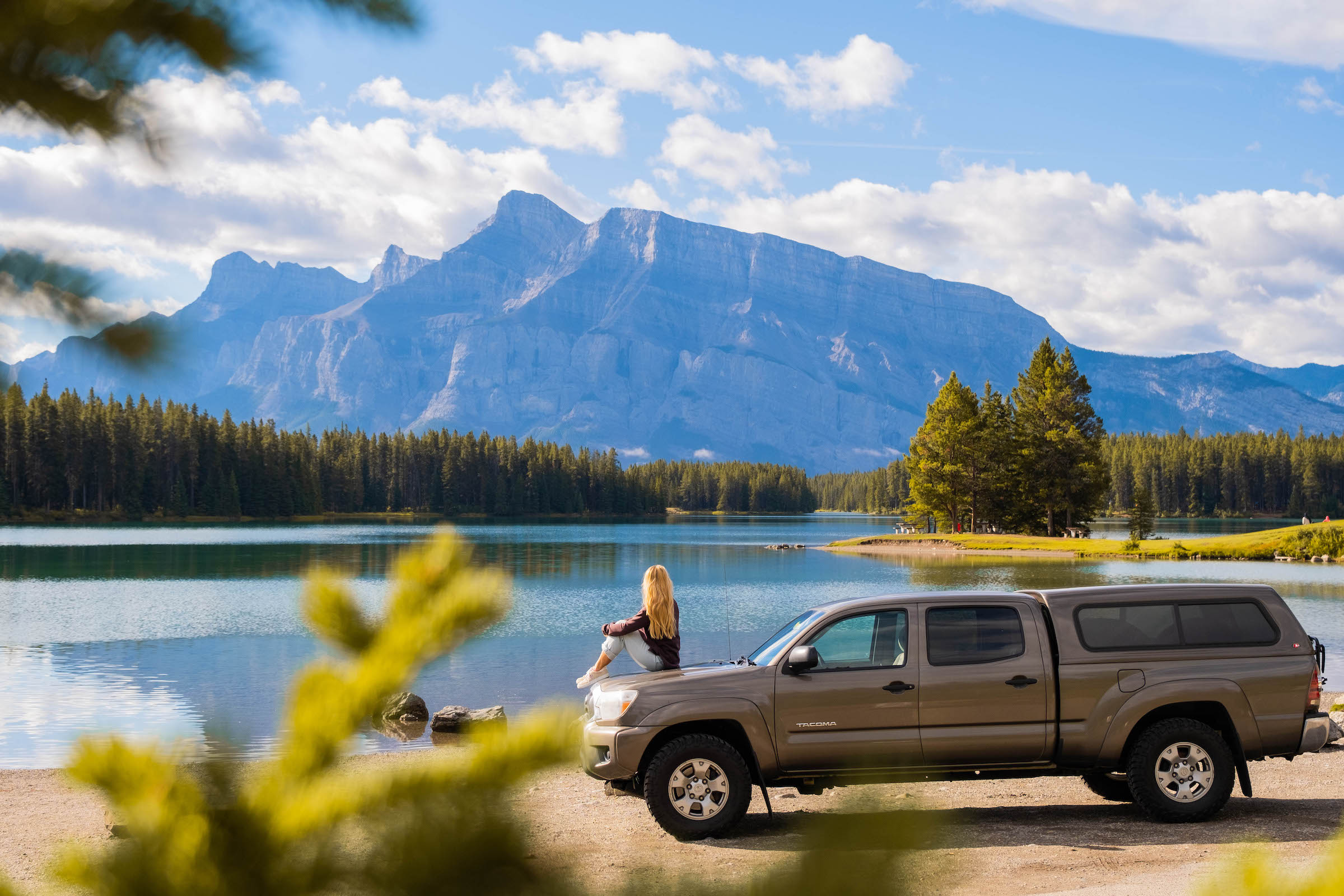 Once in Canmore, there are a few ways to get around if you don't have your own car. The Roam bus system is a great way to reduce emissions, however it likely won't check off all the things to do in Canmore that you have on your bucket list. The Roam bus operates year-round and will also take you between Banff and Canmore.
Best Ways to Explore Canmore
Walking: Downtown Canmore is extremely walkable with plenty of pedestrian sidewalks. In the summer, Main Street (8th Street) becomes pedestrian-only and no cars are permitted, creating an extremely relaxing environment with plenty of outdoor patios. From 8th Street, you can easily walk to the Canmore Engine Bridge and cruise the Bow River. Walking is the easiest way to get around Downtown Canmore.
Rental Car: Having a rental car is the best way to ensure you will get to everything you want on your own schedule. You can pick up a rental car right from the Calgary Airport, Downtown Calgary, or there are a select few enterprise locations in both Banff and Canmore. Having a rental car allows you to easily drive Highway 40 and the Smith Dorrien Trail.
Roam Transit: The Roam Transit is a public bus and will get you between Banff, Canmore, and Lake Louise at an inexpensive price year round. Roam Public Transit also connects with many major attractions in Banff National Park in the summer, like Johnston Canyon and Lake Minnewanka. See their full route and price information here.
Taxi: There are only a handful of taxis in Canmore, and they are not the cheapest option. However they are a great alternative if you are stuck in a bind. If you need one, consider calling Three Sisters Taxi. If going from Banff to Canmore, or vice versa, expect a taxi to charge around $70. A taxi ride from Canmore to YYC will cost upwards of $200.
By Bike: One of my absolute favorite ways to get around Canmore is by bike. If you are driving in I would highly recommend bringing bikes to explore the park. Rebound Cycle and Gear Up Canmore rent mountain bikes, e-bikes, and cruisers during the summer. Bike rentals often include a helmet, lock, and trail map.
Canmore Parking: Parking in the Town of Canmore can be challenging during peak summer months. Paid parking is in effect in the Town Centre and Quarry Lake and will be in effect seven days per week all year round. You can find Canmore parking info on the Town website.
---
Weather in Canmore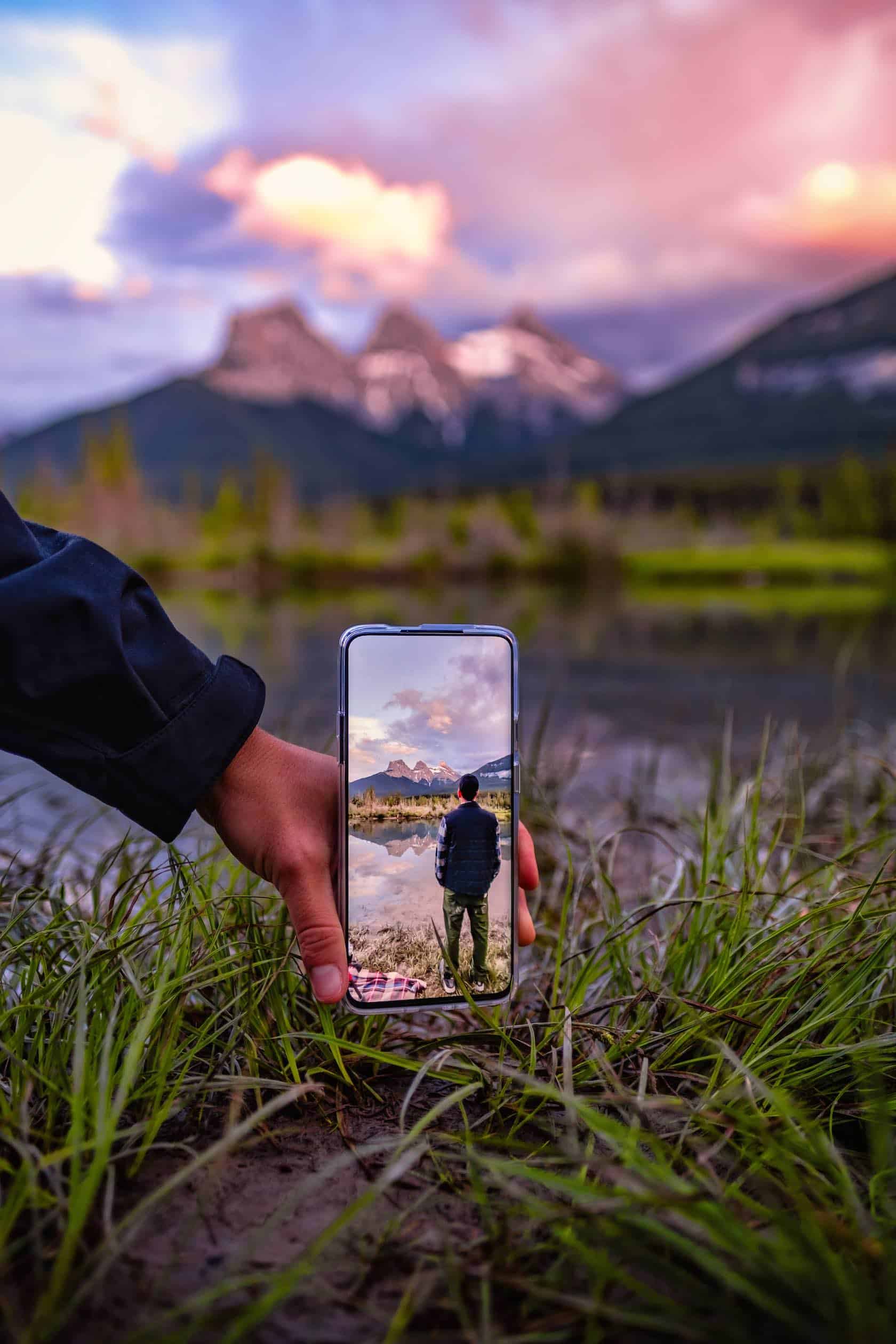 The weather in Canmore varies greatly depending on the time of year. It never gets crazy hot in Canmore, unless there is a freak Alberta heatwave. However it does get very cold in Canmore, possibly some of the coldest temperatures you've ever experienced. We'll break down the weather in Canmore into four parts.
Winter weather in Canmore: Winter in Canmore feels like it lasts for over half the year. From November to mid-April you can expect it to be pretty wintery, and for there to be plenty of snow. During this time you'll want to dress warm as temperatures can fluctuate between -30°C and 10°C, with some of the coldest temperatures hitting in January and February.
Spring weather in Canmore: Spring finally rolls around in the Canadian Rockies come mid April, and stays pretty springlike until late June, well after the rest of North America is experiencing summer. During the spring months you should be prepared for anything. Bring your down jacket, but also be optimistic for some shorts and sandals.
Summer weather in Canmore: Summer feels like the shortest season in the Rockies, but when you get that ideal summer weather in Canmore, there truly is nowhere better to be. The best summer months are July and August and during these months temperatures float around 25°C. However you still need to pack a jacket, as temperatures plummet at night.
Fall weather in Canmore: Fall is a magical time of year in the Rockies. September and October are fall months, with the highlight peaking in late September when the larch tree needles turn golden. We call this season "larch season." Larch season only lasts 2-3 weeks, but it is a wonderful time when the park is awash with yellow!
---
Things to do in Canmore Map
---
Do You Need a Parks Canada Pass to Visit Canmore?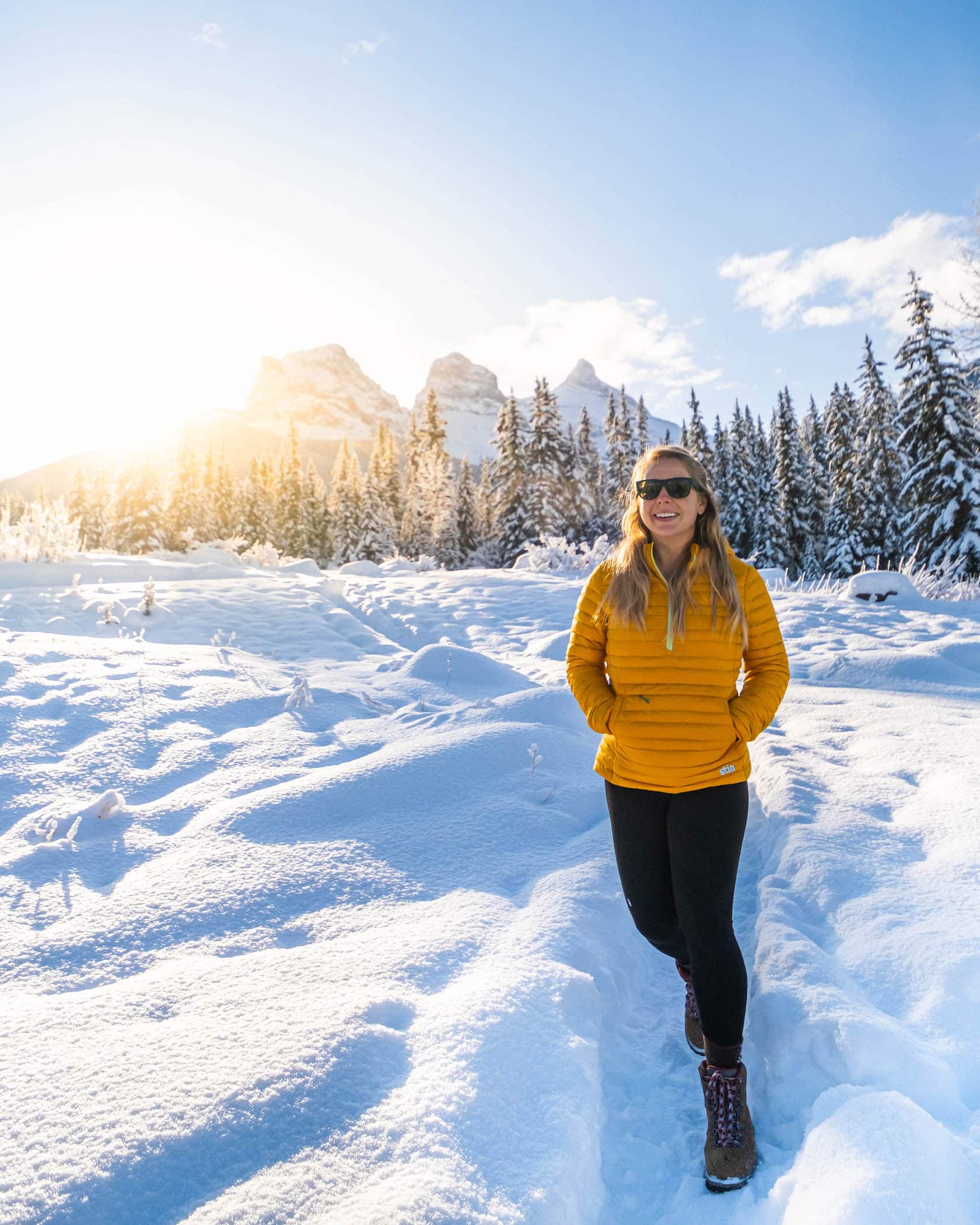 A National Parks Pass is not required to visit Canmore. However, if you venture into neighboring Banff National Park (which you likely will), you must purchase a Parks Canada Pass either online or at the Park entrance gates as you leave Canmore and enter Banff.
If you plan to do any hiking in Kananaskis Country and the Bow Valley Corridor, and this includes Ha Ling Peak, EEOR, and driving down the Smith Dorrien, you will need a Kananaskis Conservation Pass for recreating in an Alberta Park.
ULTIMATE Guide To Purchasing A Banff Park Pass (Parks Canada Pass)
---
How to Get from Canmore to Banff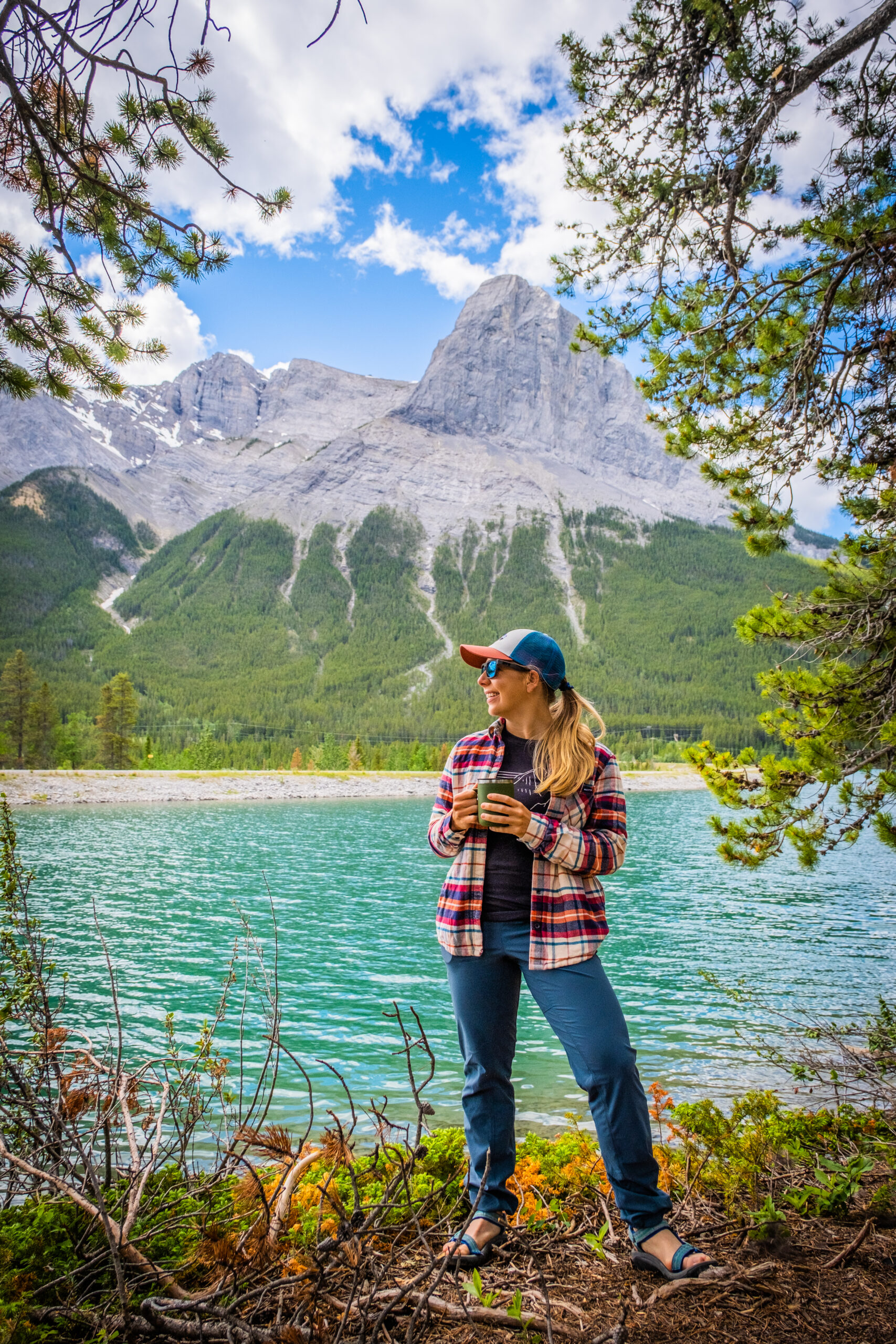 There is only one way to drive from Canmore to Banff, and that is via Trans-Canada Hwy/AB-1 W. It is approximately 25 km and will take about 20 minutes to drive from town to town.
Roam Transit operates a public transit service that connects the two towns. The cost of a bus ticket is $2 one way. See the schedule here.
If you have a bike you can connect Canmore to Banff via the Legacy Trail, which is a blissful paved 26km trail that connects the towns. Confident cyclists can make it to Banff in under an hour on a road bike, while it will likely take two as a leisurely bike ride on a mountain bike.
The Ultimate Guide on How to Get From Canmore to Banff 
---
Visiting Canmore vs. Banff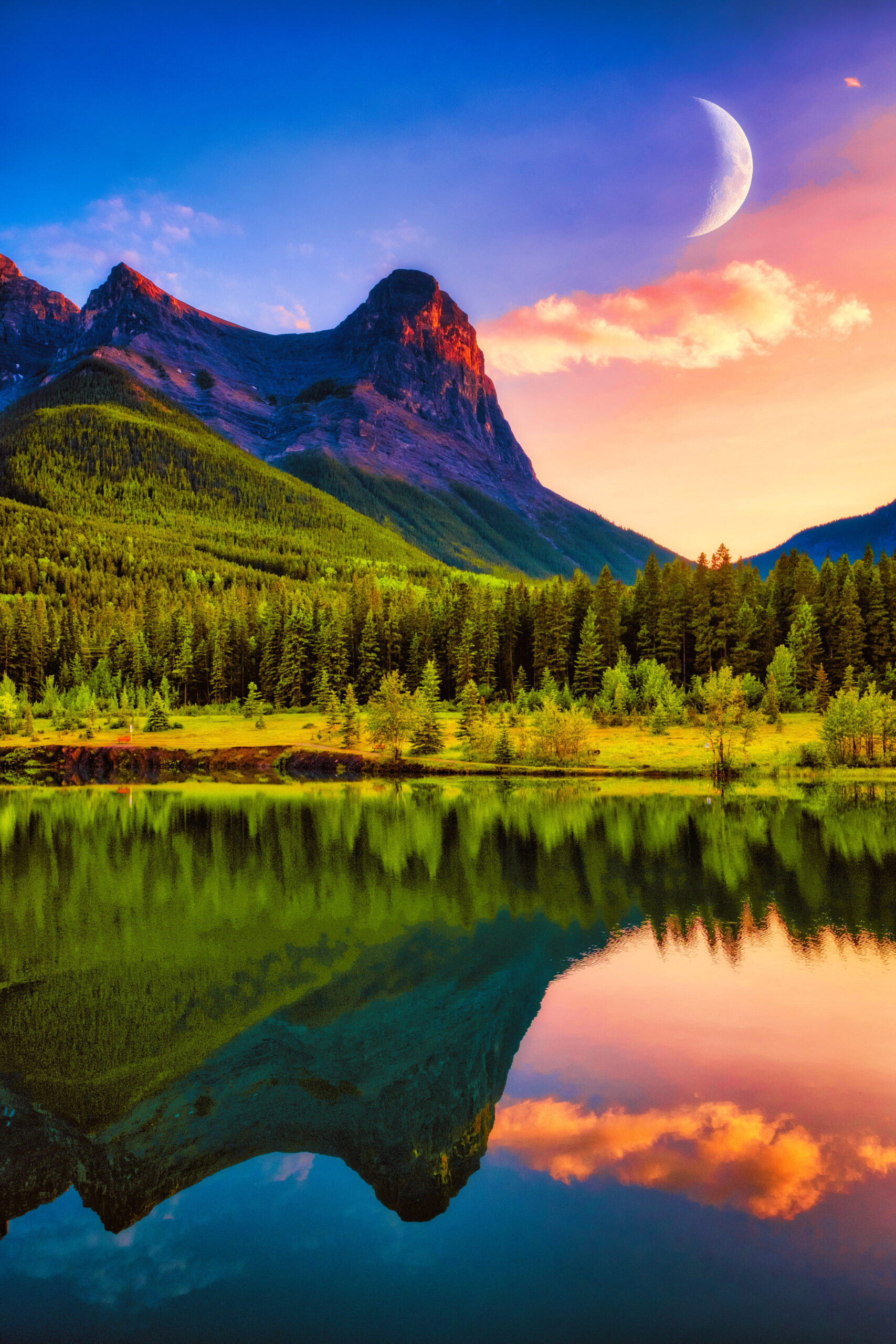 Canmore and Banff are both popular tourist towns but have very different vibes and things to offer. Canmore is a town of nearly 15,000, while Banff is around 8,000. Banff is located in Banff National Park and thus has more building and development regulations.
Banff is geared more toward tourism with more shops, hotels, activities, and sights. The town is surrounded by the National Park and provides amazing access to outdoor activities. Of course, all of this draws in a massive crowd, and there are several kitschy things like cheap souvenir shops, McDonald's, Ruby Tuesdays, Chilis, and candy shops.
Some great independent retailers, restaurants, and big brand name outdoor shops are hard to find like FjallRaven, Patagonia, The North Face, and Helly Hansen.
Canmore is a more liveable town with two large grocery stores, a drug store, Canadian Tire, and more independent retailers. Many also prefer the food scene in Canmore as it is more geared towards locals and Calgarians.
However, just to say Canmore is not as touristy as Banff, does not mean it's not touristy. Downtown Canmore is popular on summer weekends but much more manageable with far fewer crowds than Downtown Banff. If you want a low-key vibe, then Canmore is a great choice. However you truly should plan to visit both when you're completing your Canadian Rockies itinerary.
---
Where to Eat in Canmore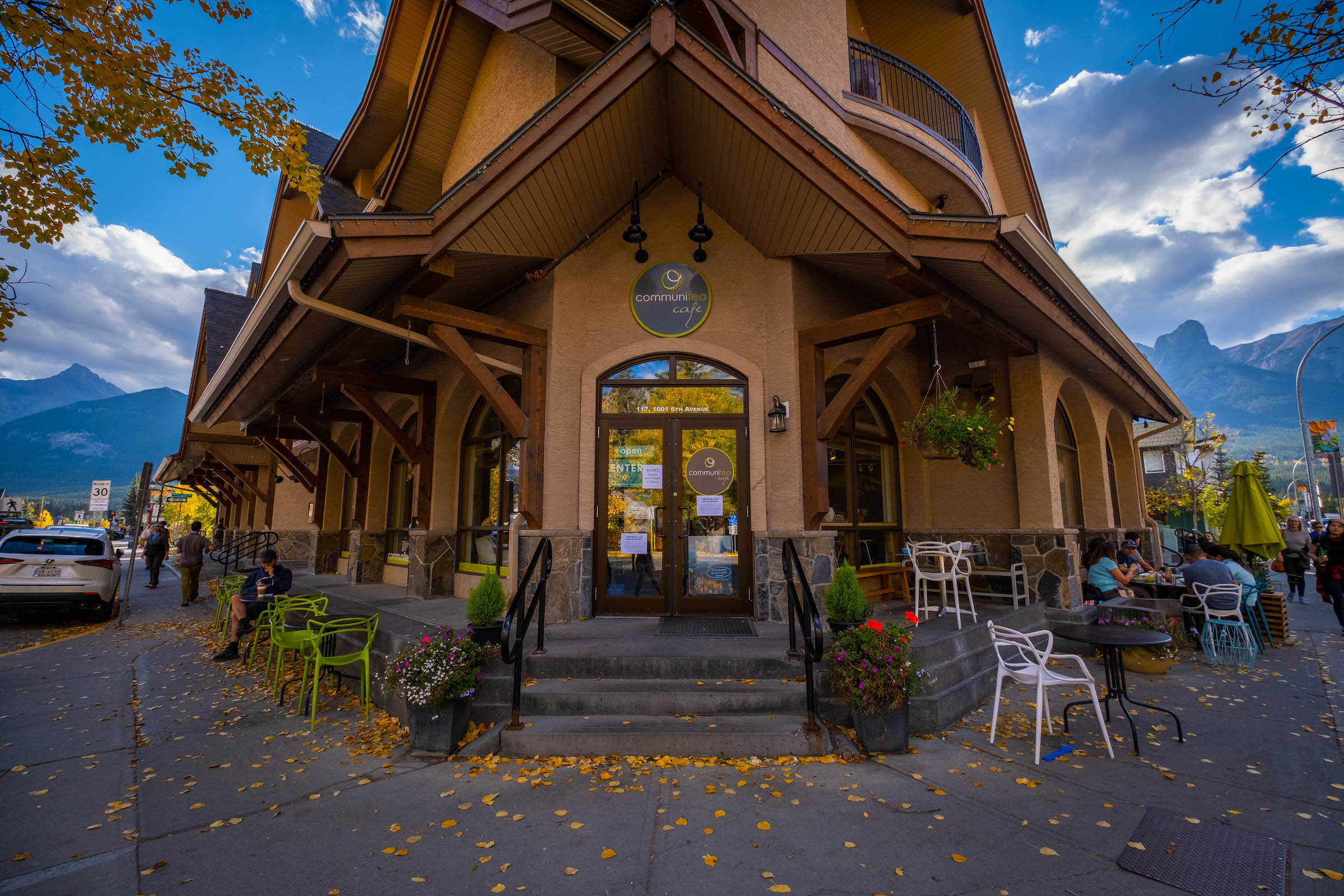 Communitea: For a quick and fresh bite to eat at lunch or for breakfast in Canmore I typically turn to Communitea. They offer up delicious salads, breakfast bowls, and the best Pad Thai in the town.
Where the Buffalo Roam Saloon: Epic spot on Main Street for cocktails and a dinner out with friends.
The Drake: For yummy pub food with outdoor patio dining right on Main Street, The Drake is a classic spot to eat an easy laid back meal.
---
Where to Stay in Canmore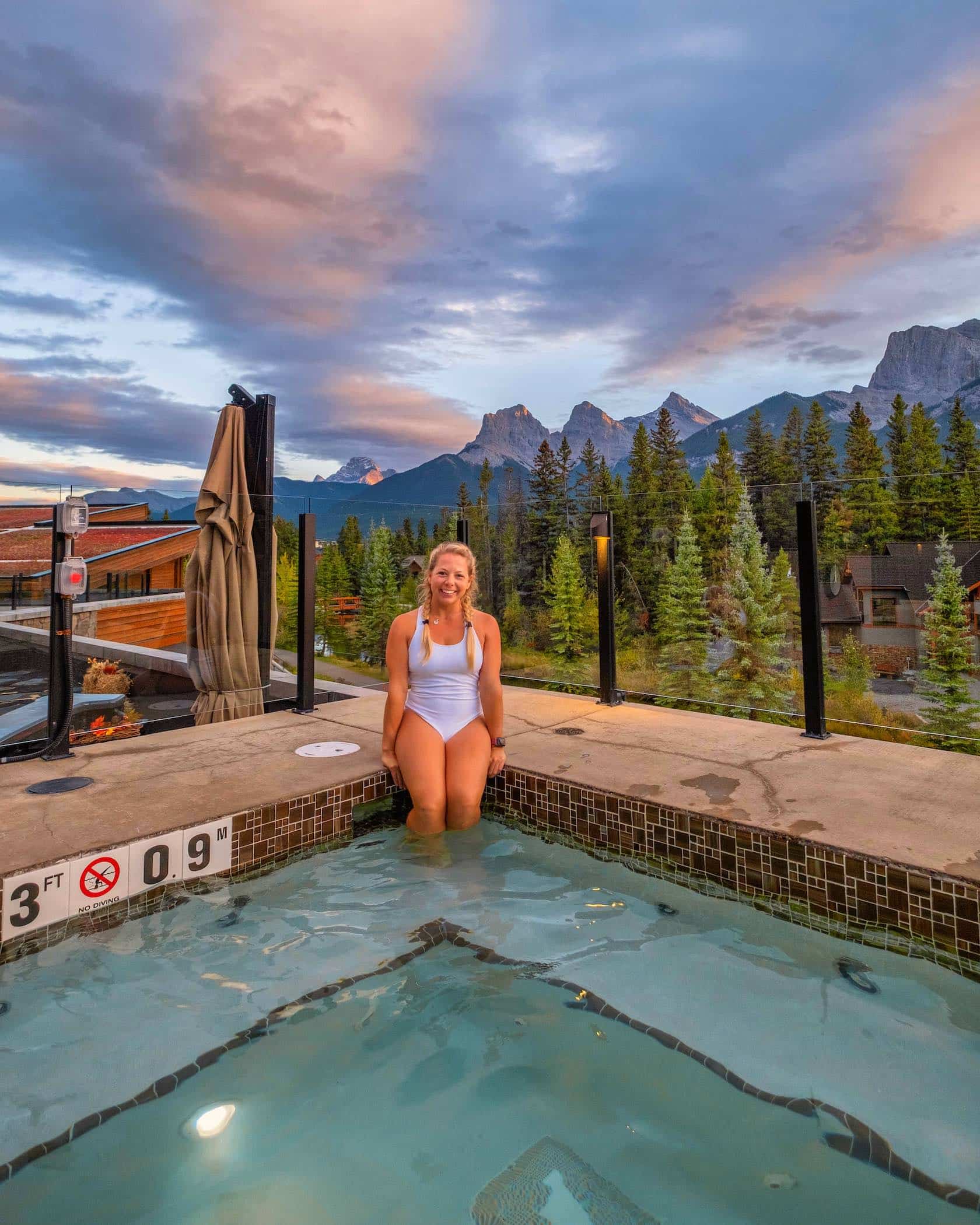 While you're enjoying all these things to do in Canmore, you'll need a great base to stay at. Here are a few of our favorites.
Basecamp Resorts: One of the best places to stay in Canmore is Basecamp Resorts in Downtown Canmore. There are multiple apartment styles to stay in, many can accommodate larger groups of people. Complete with a hot tub to be enjoyed in the winter or summer.
The Malcolm: The Malcolm Hotel is the nicest hotel in Canmore and sits right along Policemen's boardwalk just far enough away from the hustle of Downtown. It's a fantastic place to stay and have a unique experience in Canmore.
Solara: Solara is a resort community that offers small apartments to visitors. It's well located right next to the Trans Canada and Downtown Canmore. Book here.
---
When is the Best Time to Visit Canmore?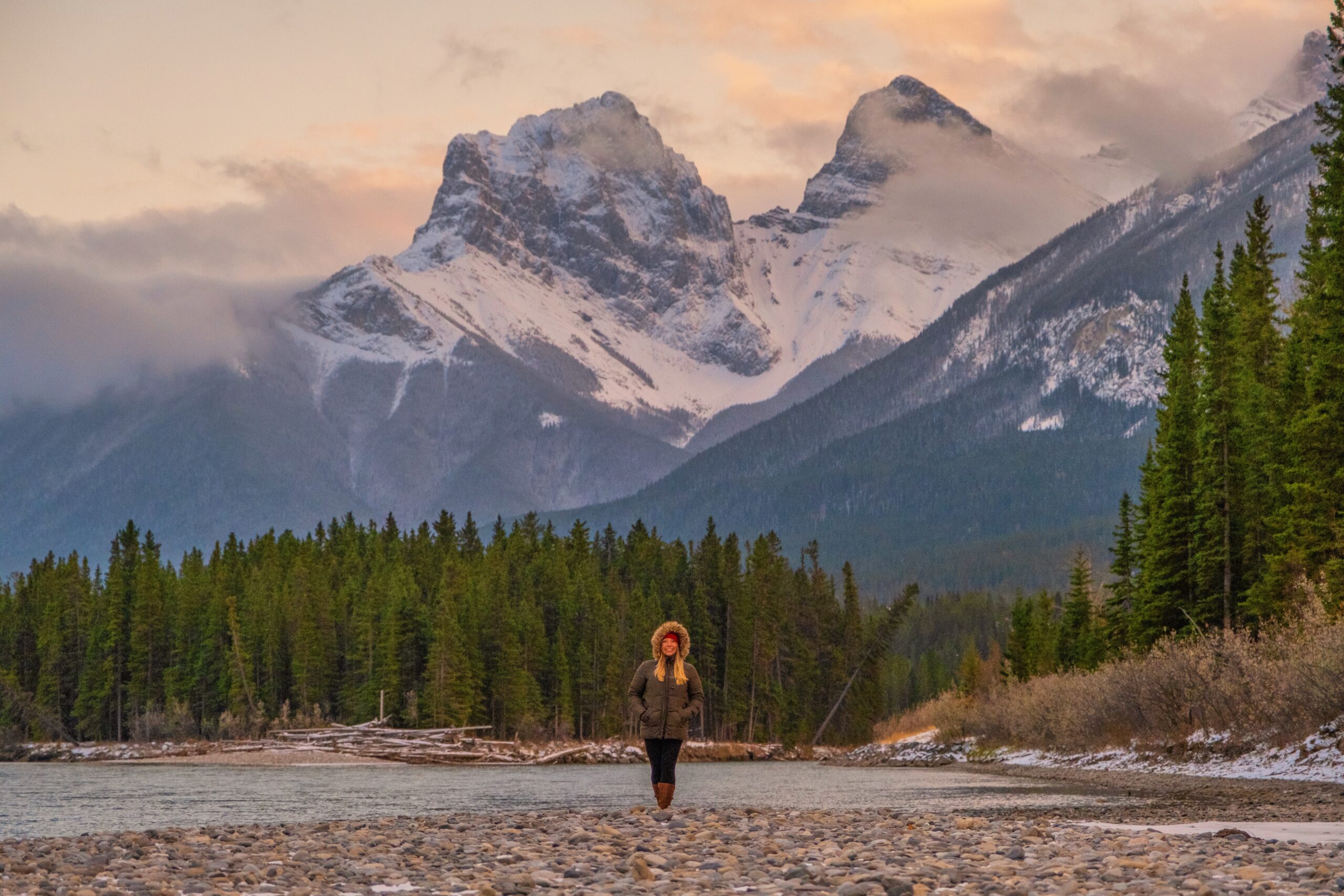 For most people, the best time to visit Canmore and the Canadian Rockies, in general, is in the summertime. Late June to early September will provide the most pleasant weather. However, that doesn't mean to arrive in Alberta with just shorts, flip flops, and a t-shirt; it's never that warm in these mountains!
July and August are the busiest times of the year and are when you face crowds and high accommodation prices. September is my favorite time to visit, especially when the larch and aspen trees turn yellow, and we can enjoy our favorite Alberta larch hikes.
The best time to visit the Canadian Rockies is between December and March if you are into winter sports. I particularly love Canmore around Christmas time as it's almost always a white Christmas, and there is so much joy in the air!
---
Hopefully, this helped you determine the best things to do in Canmore for you and your party!
If you have any other questions leave a comment or see our Canadian Rockies travel guide for more articles about photography spots, lakes, hikes, and everything else.
---
↓ Join the community ↓
The Banff Blog Facebook Group is your headquarters for the Canadian Rockies' travel advice and information. Including hike info and off-season travel information. You can also meet new adventure buddies.

---
Plan Your Trip to the Canadian Rockies