Curious how to get from Calgary to Canmore? We'll break everything you need to know. The Calgary International Airport (YYC) is an excellent gateway to the Canadian Rockies.
Many visitors to Banff/Canmore and the Canadian Rockies will find this is where their trip to the region starts. A Calgary to Canmore journey begins in the bustling city, before driving through the Alberta prairies, before finally getting to the beautiful Rocky mountains and the Bow Valley. Many people might pass right through Canmore on their way to Banff, but we promise it's well worth the stop.
If you're arriving in Calgary before your trip to Canmore, the good news is there are many ways to get from Calgary to Canmore and Banff. These options vary from rental cars, private transfers, shuttle buses, and public transport.
So let's dig into the best ways to get from Calgary to Canmore (and Calgary to Canmore), as many don't realize a car rental isn't always necessary. Although, we suggest most visitors would best be served by one.
---
What Is The Closest Airport to Canmore?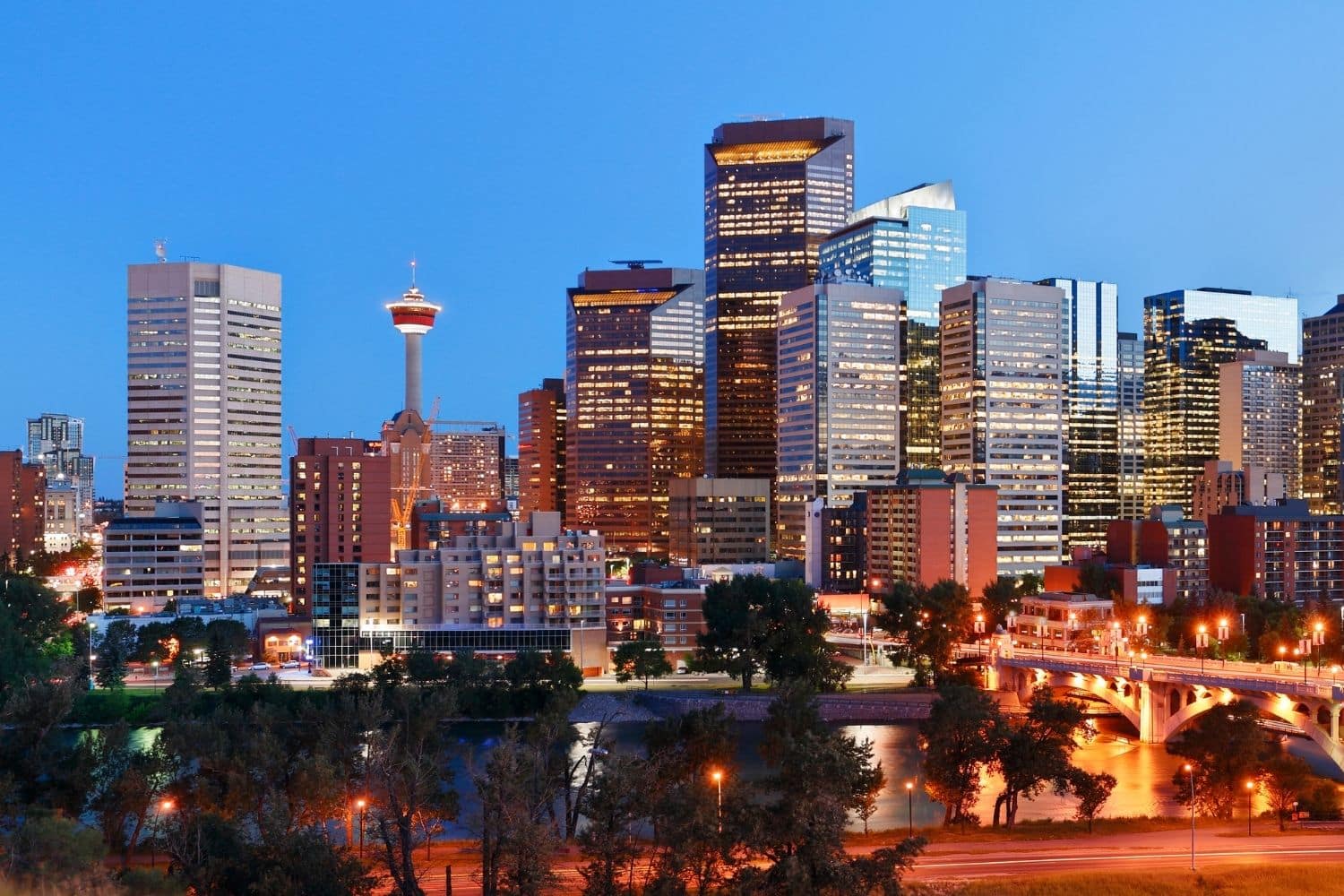 There is no airport in Banff or Canmore; the closest airport is the Calgary International Airport (YYC), a 1.20 hr drive from Canmore. YYC is an excellent airport and is often very pleasant and quiet to travel through.
If you arrive late at night or have extra time in your schedule there are some awesome things to do in Calgary!
---
How Far is it From Calgary to Canmore?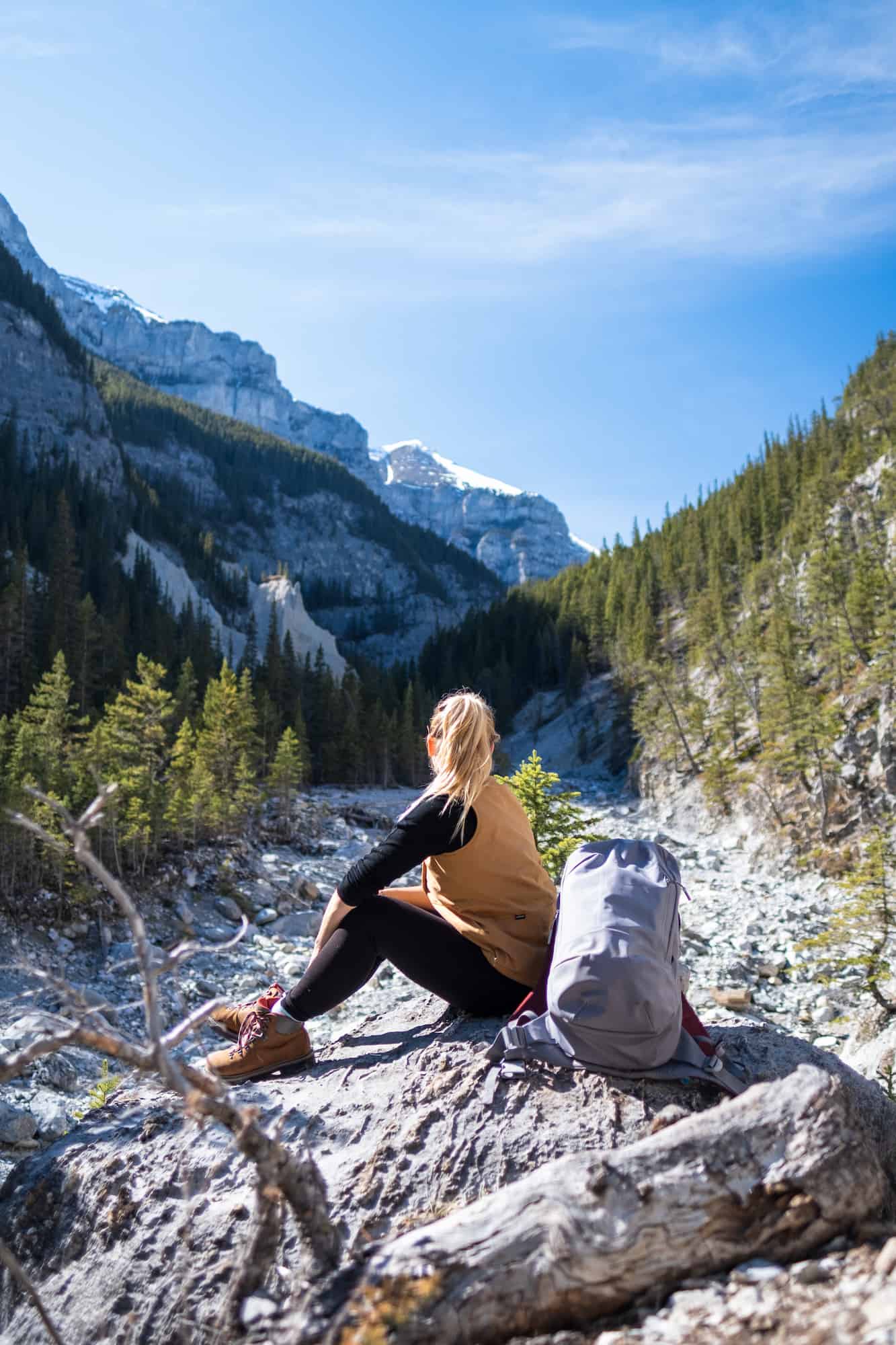 The distance between Calgary and Canmore is not far, and it's fantastic that there are mountains so close to a major city. You can drive from Calgary to Canmore in less than 1.5 hours, but you'll start getting great views of the mountains as your driving around the 45-minute mark.
The Fastest Route from Calgary to Canmore is on the Trans-Canada Highway. From YYC to Canmore takes 1 hr 20 min across 122.0 km via the Trans-Canada Hwy/AB-1 W. This route isn't very scenic but gets very pretty once you pass the Stoney Nakoda Casino and the entrance to Kananaskis on your left-hand side. Before reaching Canmore, you'll see famous mountain peaks like Yamnuska. If you pass the Banff park gates, you have gone too far, though it would be near impossible to miss the exits for Canmore.
The Scenic Route doesn't take much more time than the fast route, so if you have an extra 20 minutes in your schedule, I would recommend taking it. When driving from Calgary to Canmore, you'll exit towards Cochrane and take Highway 1A from Cochrane to Canmore. It's a slight detour with different views. To make it a little quicker, you can get on the 1A in Cochrane and get off near Morley before continuing to Canmore on the TransCanada. If you are genuinely looking for scenic drives, we recommend spending your time on the Bow Valley Parkway and Icefields Parkway.
Important Calgary to Canmore Routing Notes
If time allows, consider driving each route to and from Calgary. When driving from Calgary to Canmore, take the 1A, and when going from Canmore to Calgary, take Trans Canada, or vice versa.
Expect the drive to take longer during the winter months, especially after a big snowstorm. Drive carefully; the roads can become treacherous, especially with chinook winds.
During the weekends in July and August, the TransCanada can become very congested, with a large portion of the city entering the mountains. This means it may take longer to get to Canmore on a Friday night, and on Sunday evening, it will take longer to get back to Calgary. Keep this in mind if you have flights during these times.
As mentioned above, take extra care as you approach the mountains as Chinooks, gusts of warm air that descend from the mountain, have blown unsuspecting drivers off the road. This is a real threat in the winter months when gusts of snow can make the road disappear. If it's a terrible storm, consider spending the night in Calgary. Other than that, the drive from Calgary to Canmore is straightforward.
---
Transportation Options from Calgary to Canmore
---
Calgary to Canmore by Shuttle Bus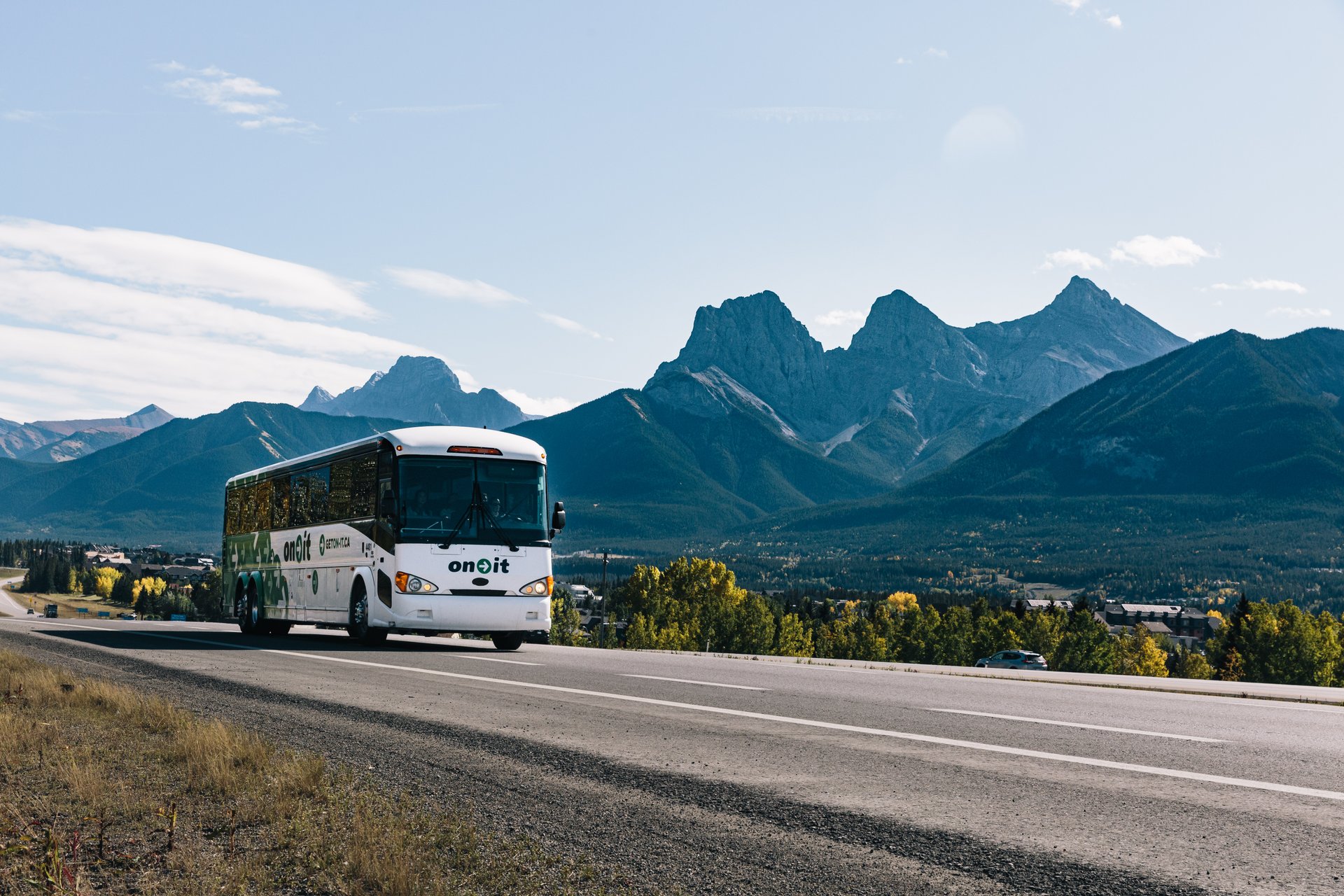 Several companies offer shuttle bus transfers to Canmore from the Calgary International Airport. The Calgary to Canmore bus operates on a schedule and runs multiple daily transfers. The two most popular bus options are Banff Airporter and Brewster Express.
They are excellent options, and they have different offerings, so your travel plans may be better suited for one over the other.
---
Calgary to Canmore Bus Option 1: Banff Airporter
The Banff Airporter is a year-round service between Calgary, Canmore, and Banff. They have many scheduled times, so you rarely have to wait more than an hour after your flight has landed unless you land at an odd hour.
Only one location is available for pickup/dropoff in Calgary at the airport and one in Canmore at the Coast Hotel.
The staff is always friendly, and they have modern buses with power points, comfortable seats, blankets, and water available. The journey takes about 1:15 hrs to reach Canmore.
You can also use them to get from Calgary to Banff. They do not offer a service to Lake Louise. We've used them a bunch as we like to leave our car in our garage at home when we travel abroad and they always provide good service.
Calgary to Canmore
| | | |
| --- | --- | --- |
| Ticket | One Way | Return |
| Adult | $76.99 | $153.98 |
| Senior (65+) | $69.49 | $138.98 |
| Child (6-17) | $31.49 | $76.98 |
| Kid Under 5 | Free | Free |
---
Calgary to Canmore Bus Option 2: Brewster Express
Brewster Express is the largest operator of group tours and bus services in and around the Canadian Rockies. Pursuit's parent company also operates many significant attractions like Banff Gondola, Jasper Skywalk, Golden Skybridge, and the Lake Minnewanka Cruise.
Brewster Express is their shuttle service that connects Calgary with Kananaskis, Canmore, Banff, Lake Louise, and Jasper. There have an excellent selection of pick-up and drop-off points with the Brewster Express.
In Calgary, you can request pick-up or drop-off at the Calgary International Airport and at these downtown hotels:
Marriott Downtown Hotel
Delta Hotels by Marriott Calgary Downtown
Fairmont Palliser International Hotel Suites Calgary
Sandman Hotel Calgary City Centre
International Hotel Suites Calgary
Westin Calgary Hotel
In Canmore, you will be picked up or dropped off at the Coast Canmore Hotel.
There are multiple departures throughout the day, so you'll have to find the time that works for you best here.
The bus service also allows you to purchase point-to-point tickets. You can hop on a shuttle bus from Canmore to Lake Louise or Banff to Jasper.
Calgary to Canmore
| | | |
| --- | --- | --- |
| Ticket | One Way | Return |
| Adult | $79 | $158 |
---
Calgary to Banff Shuttle Option 3: Discover Banff Tours
Discover Banff Tours runs shuttles between Banff, Canmore, Downtown Calgary, and the Calgary Airport. These coach cars run throughout the day and start at $78 a person.
This shuttle service offers pickups from select Lake Louise locations, including the Fairmont Chateau Lake Louise and most hotels in Banff. They offer pick-ups and drop-offs in Canmore at the Coast Hotel only and will drop off in Calgary at YYC.
YYC to Canmore
| | | |
| --- | --- | --- |
| Ticket | One Way | Return |
| Adult | $78 | $150 |
---
Option 4: RTB Tours & Shuttles
RTB Tours is a small company based out of Calgary. They offer many pick-up and drop-off locations with service to both Canmore and Banff.
RTB Tours offers some of the most affordable rates for shuttle service, starting at $43 for one-way transfers and $84 for a round-trip. They offer transfers year-round. If their pick-up times don't fit your schedule, they also offer private customized transport.
Calgary to Canmore Options
| Destination | One Way | Return |
| --- | --- | --- |
| Calgary to Canmore (and Canmore to Calgary) | $47.95 | $93.05 |
| YYC to Canmore | $57.95 | $110 |
| Canmore to YYC | $57.95 | $110 |
Prices do not include GST
---
Option 5: On-It Public Bus
This is only available in the summer months, but there is a public bus route that can get you from Calgary to Banff. On-It is a regional transit company that connects the towns of Banff and Canmore to Downtown Calgary. The bus is not as luxurious as shuttle buses, and there is no ample luggage storage in the back, but it only costs $10. The bus also operates only on weekends.
It's designed more for Calgarians to take public transport to the park and vice versa. However, if you're traveling to Banff on a budget, it's a great way to save some money.
The weekend buses sell out pretty quickly, so make sure to book your tickets well in advance. The Buses depart from Downtown Calgary, Bridlewood / Somerset LRT, and the Crowfoot LRT Station drop off in Canmore at Benchlands & Bow Valley Trail.
---
Option 6: The Banff Express
The Banff Express offers great value fares to Canmore. Buses leave from Calgary Eau Claire Market (Good Earth Coffeehouse), Calgary – Foothills Hospital McCaig Tower (West Entrance), and the HI Calgary City Centre Hostel.
Passengers are dropped off at the Canmore – Visitor Information Centre. Drop off at your hotel or home is available in Banff, but not in Canmore. Compared to the airport options, The Banff Express is pretty affordable and charges the following one-way fares:
| | |
| --- | --- |
| | Calgary to Canmore |
| Adults: | $35 |
| Children (12 and Under): | $22 |
---
Calgary to Canmore by Private Transfer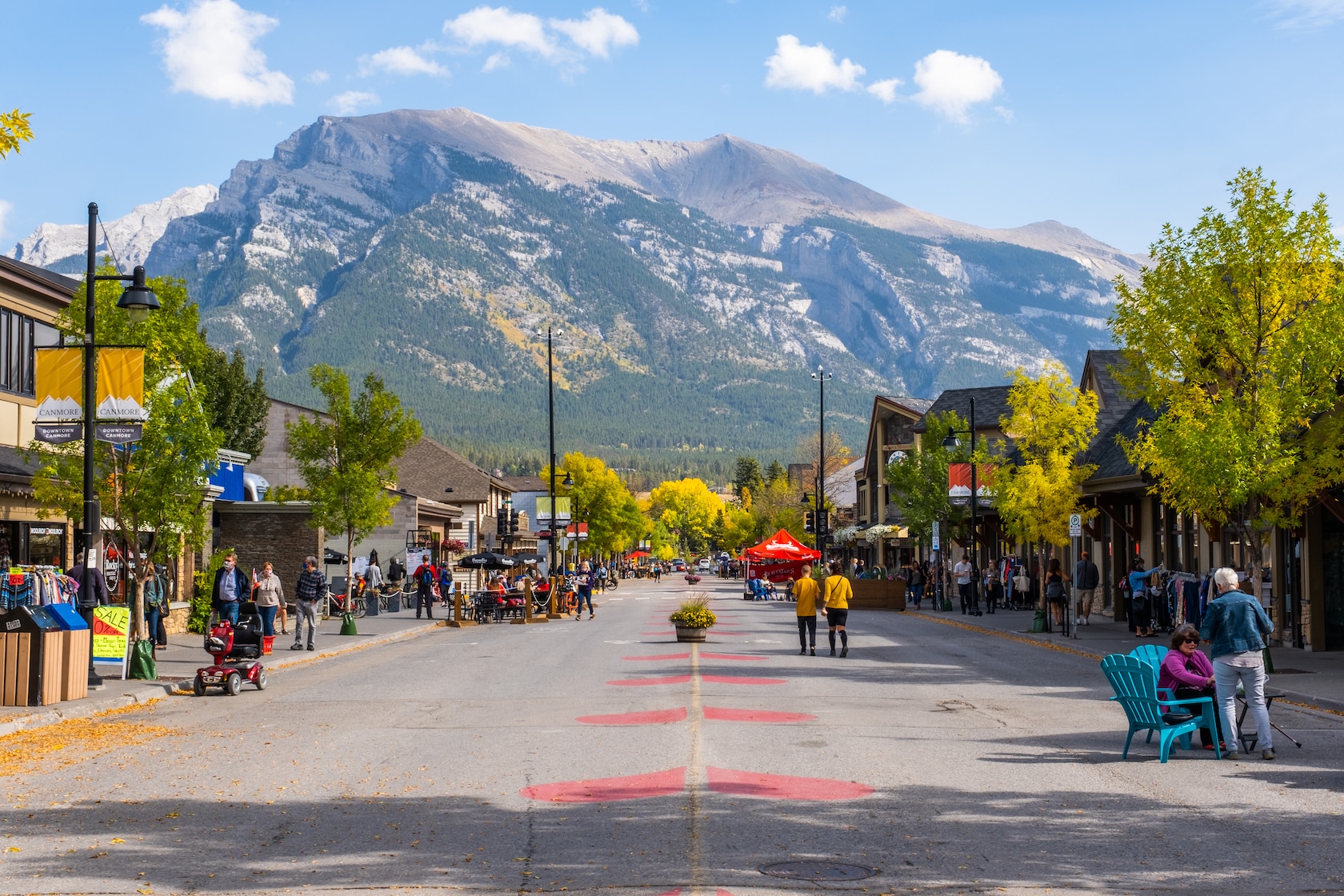 If you're not looking to drive but prefer more flexibility, consider a private transfer from Calgary. You can leave at any time or from any address in Calgary. Rates vary, but the pricing may work out better for you if you are a larger group.
The local Calgary taxi companies include:
Many companies offer a private shuttle service, and you'll likely get the best rate booking direct rather than your hotel/resort. Banff Sedan offers several luxury vehicles that you can book. If you're a large group, these services can actually work out cheaper in the long run or are similarly priced to the shuttle bus service with the added bonus of your own schedule.
Other Private Transfer Companies
Banff Transportation Group: Popular transportation group that will take you from Calgary to Canmore or vice versa.
Banff Private Charters: If you have a large group, like a wedding party, this is a good option as they cater to up to 24 people.
Limo To Go: If you want to arrive in Canmore in style, be it a luxury dean, luxury SUV, or even a limo, Limo to Go has you covered.
---
Get a Rental Car and Drive from Calgary to Canmore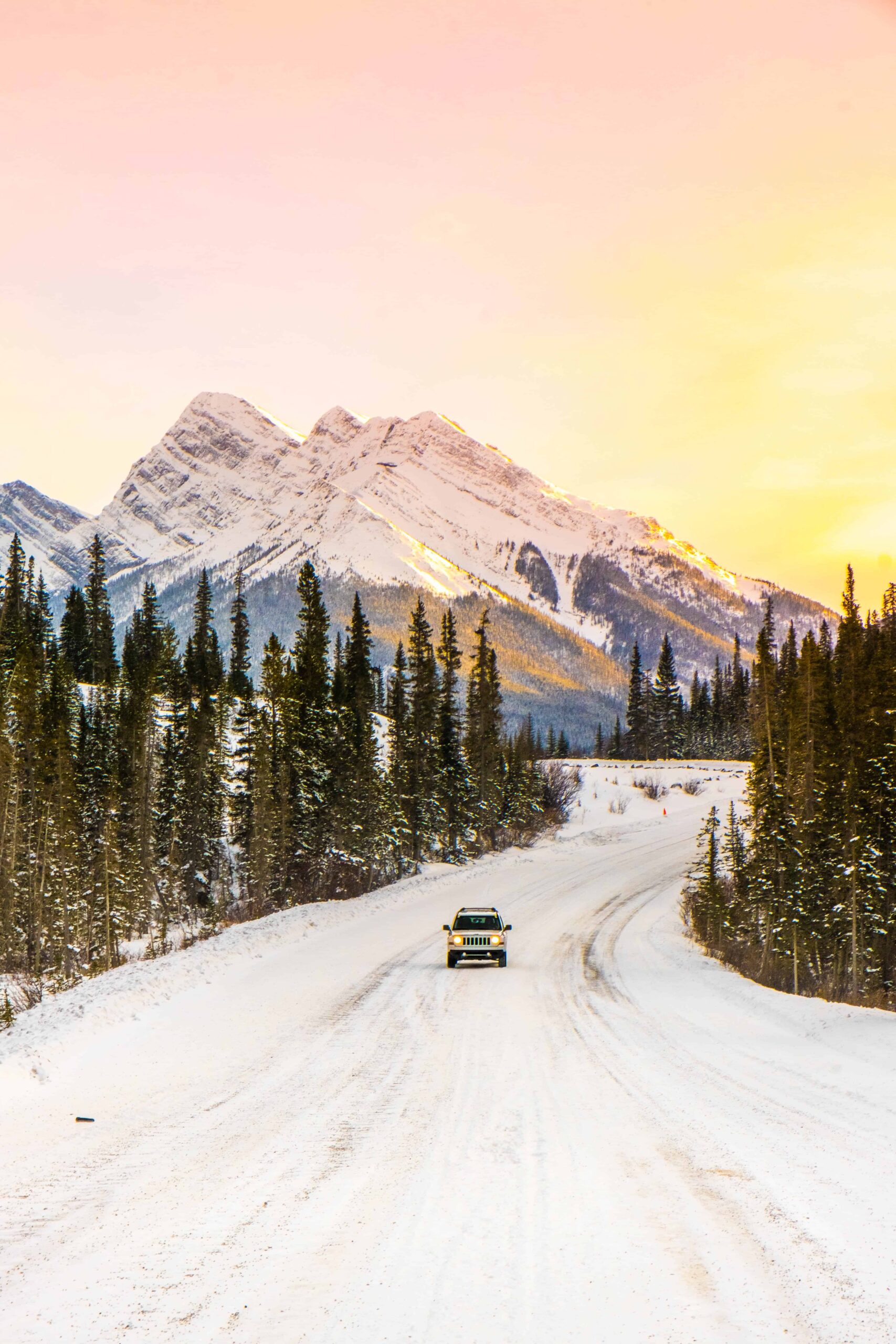 Driving from Calgary to Canmore is very straightforward. Once you leave the city, it's pretty much a straight shot on Trans Canada until you get off in Canmore.
Renting a car or driving your own vehicle is one of the best ways to explore the Rockies and provides many advantages over public transport. There's no need for a shuttle with a rental car, and you don't have any times to adhere to.
A vehicle allows you to avoid crowds, make up your own schedule, and explore all of the various parts of Banff. If you have plans to do a lot of hiking around Canmore, in Kananaskis, or in Banff, you'll need your own rental car.
Of course, if you don't want to drive it's possible to book tours or use public transport around the park. If you plan to visit the more popular sites, it might make more sense to use tours and public transport. Roam Transit has routes to Lake Louise, Johnston Canyon, Lake Minnewanka, Sulphur Mountain, and more.
Parking at sights like Lake Louise and Johnston Canyon can be far more complex than a public option, and there are public transport options to get to these places. However, anything even vaguely off the beaten path, will require your own wheels.
All major car rental companies operate at Calgary International Airport with a large fleet full of options. You do not need a truck or SUV in the summer months, and it's questionable in the shoulder seasons when snowy roads are infrequent.
If you are on a budget, renting a car from Downtown Calgary rather than the airport may be worth it, as prices are typical $50-$100 cheaper.
If you plan to visit Canmore in the winter, you must rent a car with winter tires. If you are visiting between November and April, you should get a car with winter tires, or at the very least all season tires. Inform your rental car company you are driving to the mountains, and they should know what to do. Renting a car in the winter does not mean your rental will automatically come with winter tires.
If you plan on driving on the Icefields Parkway, winter tires are necessary for the winter. Snow tires or chains are required by law for travel on Hwy #93N / Icefields Parkway) and Hwy #93S / Banff-Windermere Highway (Banff and Kootenay national parks) between November 1 and March 31.
Canadian Rockies Car Rental Resources
---
Other Options to Get Between Calgary and Canmore
There is no Calgary to Canmore train, but there are talks of it happening in the future.
There's always Uber. However, I wouldn't rely on this service as many drivers will require a return fare to justify the drive and cost of taking you from Calgary to Canmore.
Like BlaBlaCar in Europe, PopaRide is a rideshare company where you can find drivers already making the drive between Calgary and Canmore. Prices vary, but typically it's not much more than the fuel cost. The only issue is these drivers have a strict schedule that likely won't line up with yours.
There are plenty of Bow Valley Facebook groups with drivers and passengers often seeking others to ride with.
Hitchhiking is not common between this route, and you will likely be waiting a while to find a ride by hitchhiking between Calgary and Canmore.
---
Local Transport While in Canmore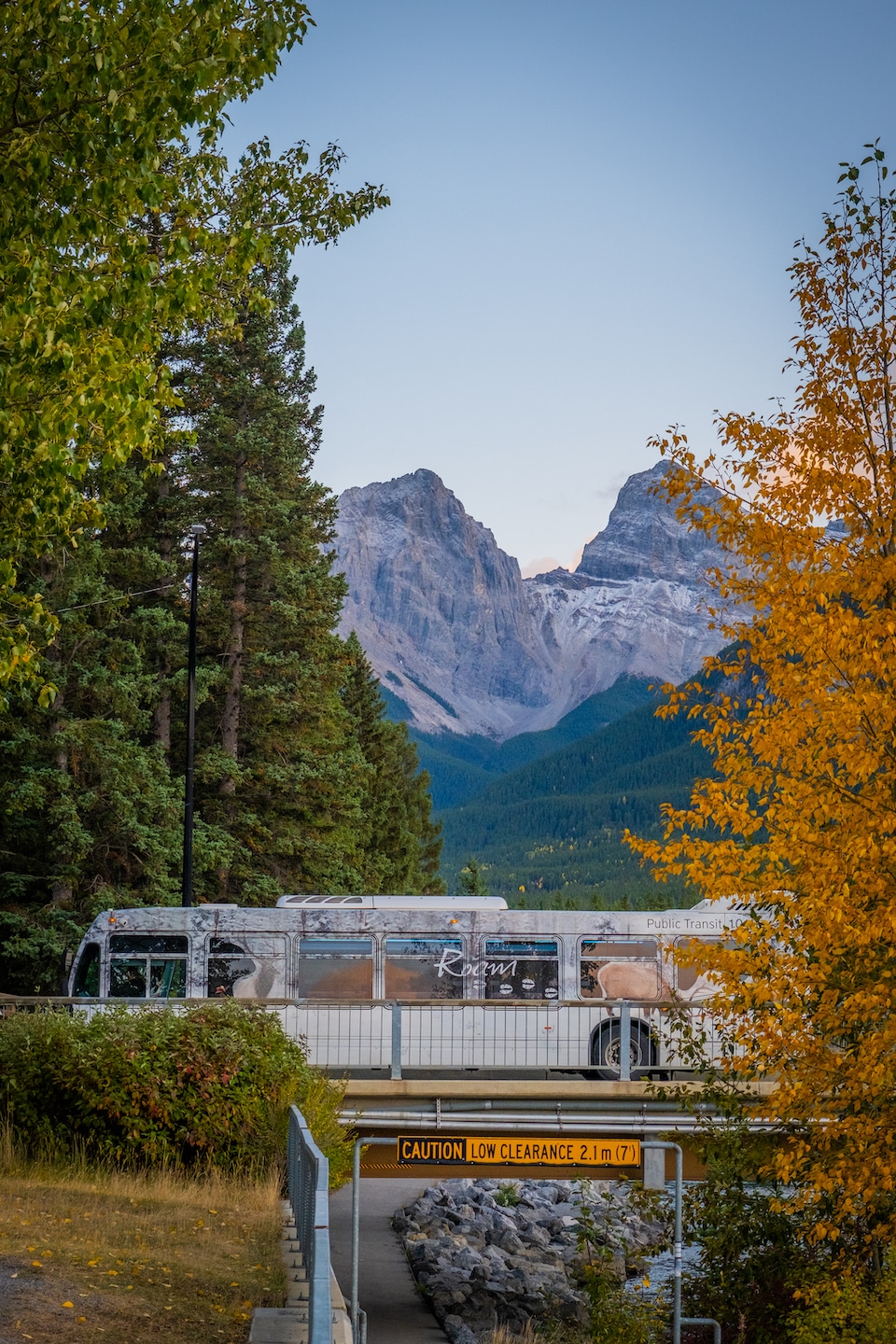 Once you arrive in Downtown Canmore, you can do many things without a car. If you are staying Downtown, like at The Malcolm Hotel, you can walk Downtown, enjoy all the fabulous Canmore restaurants, go shopping, and stroll the Policemen's Creek Boardwalk. Renting a bike at Rebound Cycle will also help get around.
Public Transport in Canmore
Although the towns of Banff and Canmore are not the typical size you'd expect to find an extensive public transport network, Roam Transit serves the area reliably. It can get visitors between Banff and Canmore quickly.
You have the option to buy your fare individually, multiple foods at once, or a daily/monthly card. Fares are pretty affordable, too, with local routes starting at just $2.
---
Shuttle Buses
It may be best to check out the Brewster Express that connects Kananaskis, Canmore, Calgary, Lake Louise, and Jasper for transfers with luggage. You can book individual legs for an accessible hotel transfer between Banff and Jasper or Lake Louise.
---
Booked Tour
Several tour providers will pick you up and take you to all the hotspots in Canmore and Banff. You can book private tours, extensive group tours, or unique experiences like dog-sledding or white water rafting.
Going on a tour offers more than just transport as you gain a knowledgeable guide who can share facts and history and share the park's natural wonders.
This all means you don't need a car to visit Banff. Discover Banff Tours and the Pursuit are two of the biggest operators in the region, but there are many different operators, so shop around for the tour that best suits you. You can see our recommended tours in the Rockies here.
Other Options for Getting Around Banff
Taxi: There are only a handful of taxis in Canmore, and they are not the cheapest option, but they are there if you need them! Try Three Sisters Taxi and Canmore Cabs.
By Bike: In the summer, I get almost everywhere by bike. I love riding my bike from Banff to Canmore and vice versa on the Legacy Trail. There's also a fabulous pathway in Canmore called the Three Sisters Pathway. If you are driving from your home, I recommend bringing bikes to explore the park. Rebound Cycle and Gear Up have bike rentals in Canmore.
Canmore Parking: Parking in the Town of Canmore can be challenging during peak summer months. Paid parking is in effect in the Town Centre and Quarry Lake starting and will be in effect seven days per week from 8 a.m. – 8 p.m. You can find Canmore parking info on the Town website.
---
Do You Need a Parks Pass for Canmore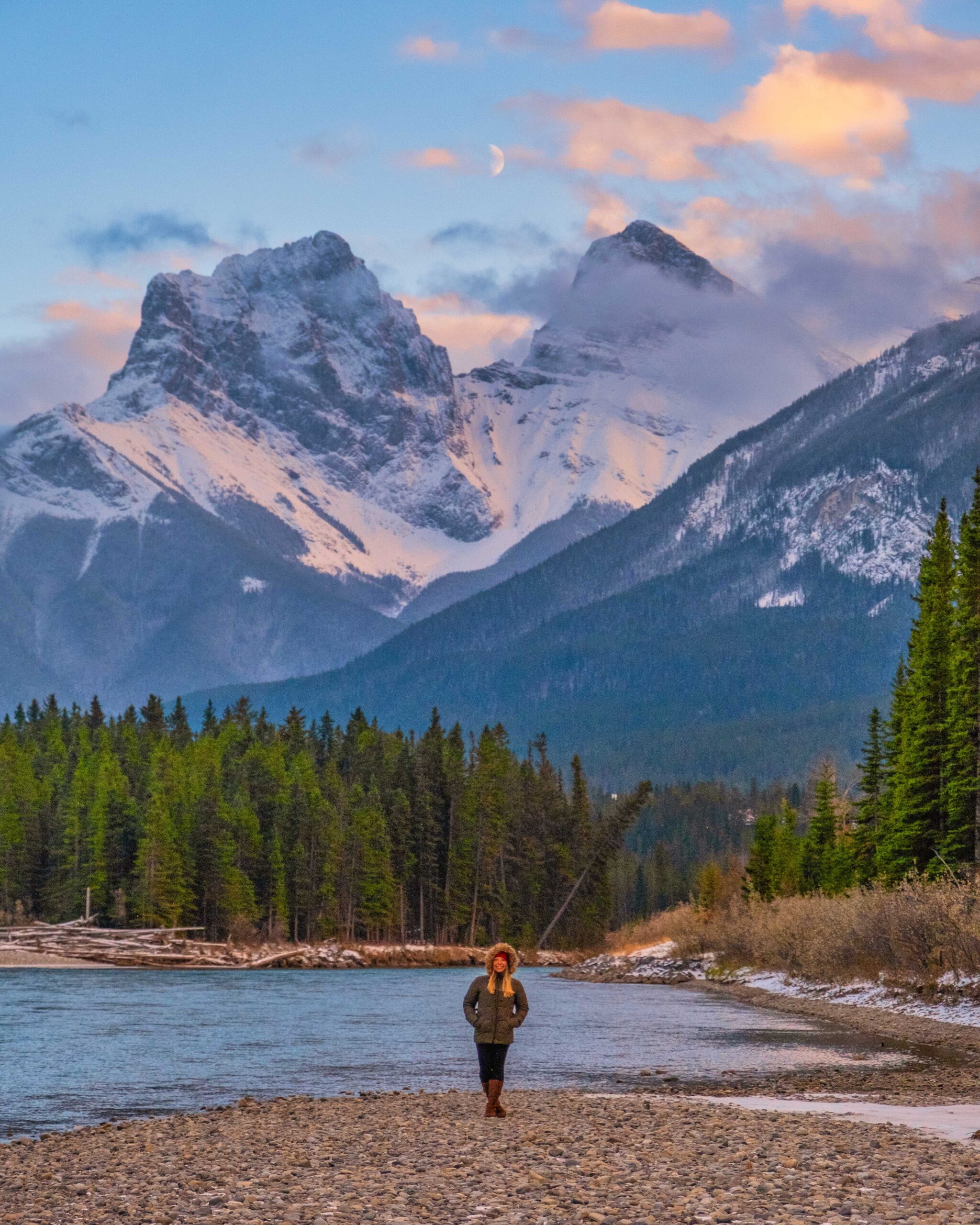 You do not need a Parks Canada Pass to visit Canmore; however, you will need one if you intend to cross into Banff National Park (which you likely will). If you have plans to hike in Kananaskis, you also need a Kananaskis Conservation Pass. The Parks Canada Pass prices are as follows:
Adult: $10.50
Senior: $9
Youth (up to 17): Free
Family/group of 7 people: $21.00
Day passes expire at 4 pm the following day.
You can buy them from Parks Canada in advance online, or you will be able to purchase a Parks Canada pass when you drive into Banff from the park gates.
A Parks Canada Discovery Pass, which gets you entrance to all Parks Canada destinations for the year, is only $145.25 for a family. Again, day passes are $10 per person, so depending on how many days you are staying and if you have plans to go to Banff, you may want to consider the Discover Pass. Discovery Pass fees are as follows:
Adult: $72.25
Senior: $61.75
Family: $145.25
ULTIMATE Guide To Purchasing A Banff Park Pass (Parks Canada Pass)
---
Hotel Recommendations in Canmore
13 Best Canmore Hotels and Accommodation Options
---
Best Restaurants in Canmore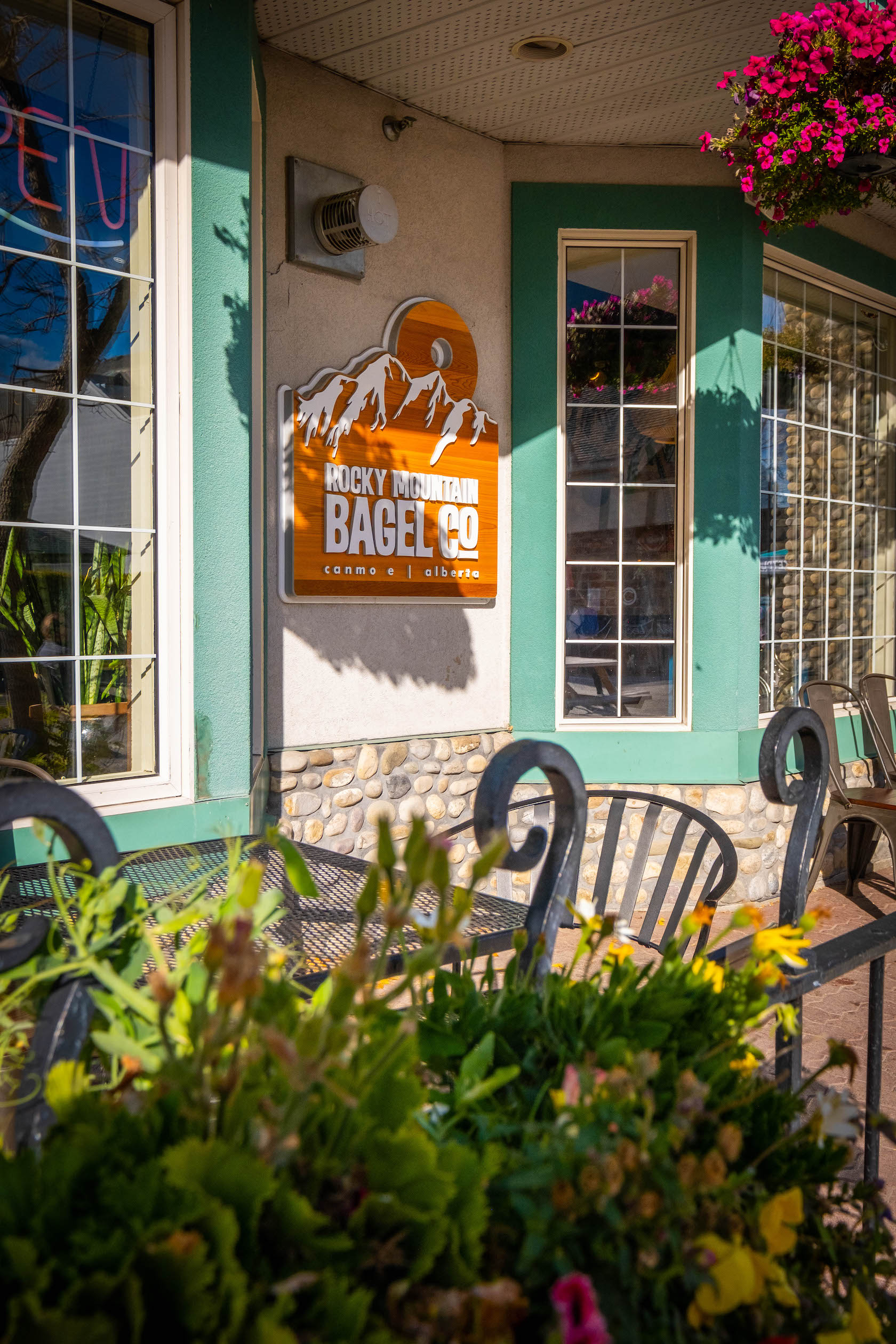 Communitea: Awesome lunch spot with delicious salads and light fares. Their pad Thai is exceptional!
Rocky Mountain Bagel: The most iconic place in Canmore to grab breakfast!
Sauvage: One of the most excellent restaurants in Canmore.
30 BEST Canmore Restaurants to Try!
---
Things to do in Canmore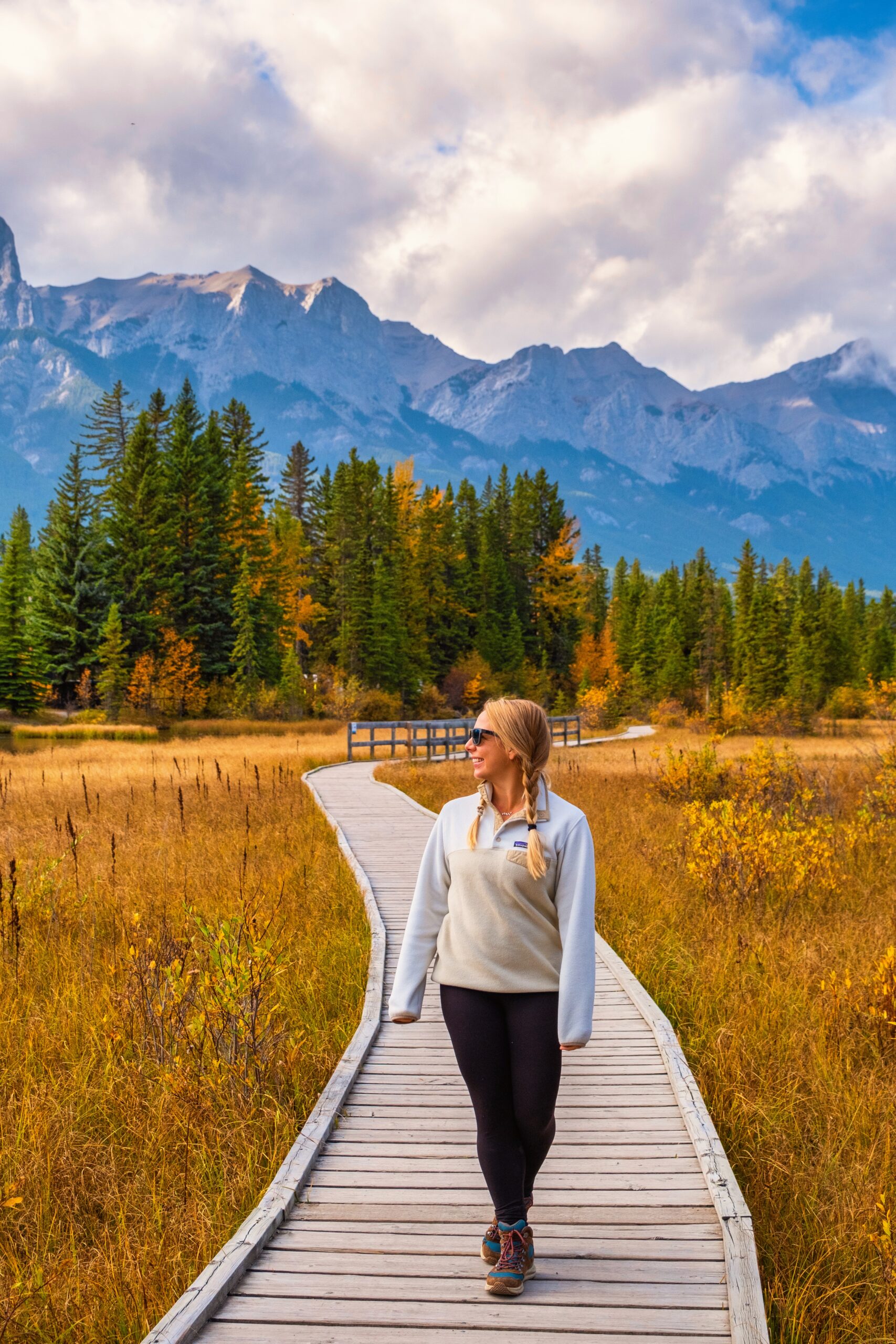 There are plenty of things to do in Canmore, no matter the season. A few recommendations:
Walk the Policemen's Creek Boardwalk: One of the most beautiful walking paths, perfect for all.
Watch the Sunrise at the Rundle Bay Reservoir: It's here you'll watch the first rays of light hit Ha Ling Peak.
Canmore Nordic Center: In the summer, this is where you'll want to go mountain biking, while in the winter, there are plenty of stunning cross-country ski tracks.
If you are looking for the best things to do in Canmore in winter make sure to check out our full article! 
Plan Your Trip to the Canadian Rockies
↓ Join the community ↓
The Banff Blog Facebook Group is your headquarters for the Canadian Rockies' travel advice and information. Including hike info and off-season travel information. This is also where you can meet one another when you need adventure buddies.