Many people think a trip to the Canadian Rockies will blow any budget, but visiting Banff doesn't have to be expensive! There are so many ways to do Banff on a budget.
It starts with choosing the best time to go, from there you can choose cheaper accommodation and the right transport option for you. We break down all the best ways to visit Banff on a budget below.
---
Tips To Visit Banff On A Budget
---
Visit Banff in the Off Season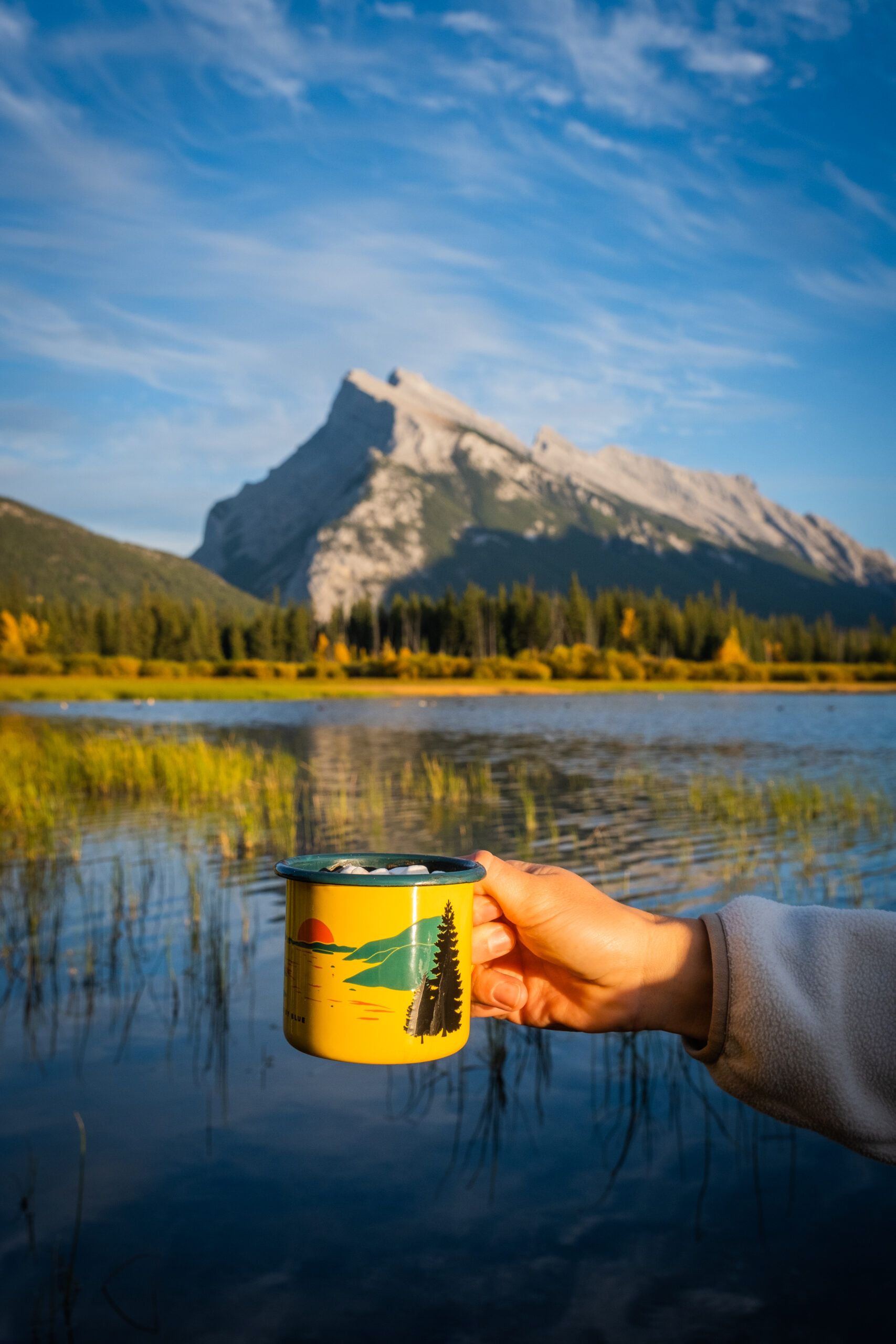 One of the top ways to visit Banff on a budget is by traveling to the Canadian Rockies outside the peak season. The busiest and most expensive time to visit Banff is in the summer.
Summer in Banff starts in June and ends in late September. You're probably not thinking that early June and late September sounds like summer in Banff, during these times it can be particularly cold. However, with school vacations people from all over the world travel to Banff in June, so prices go up around now.
They'll stay high until late September. Late September is larch season in Banff. A magical time of year when the larch trees turn golden yellow. Although it's a short autumn season it stays busy with international and domestic travelers.
The other busy season in Banff is from December to February. The holidays are a great time to visit Banff, and visitors travel from all over to have a proper white Christmas. The snow sticks around until April or May, but the higher season prices run until late February for peak ski season. To break it down there are the off-season, shoulder season, and busy season Banff. The information is as follows.
Off Season in Banff (November, Late March, April, Early May)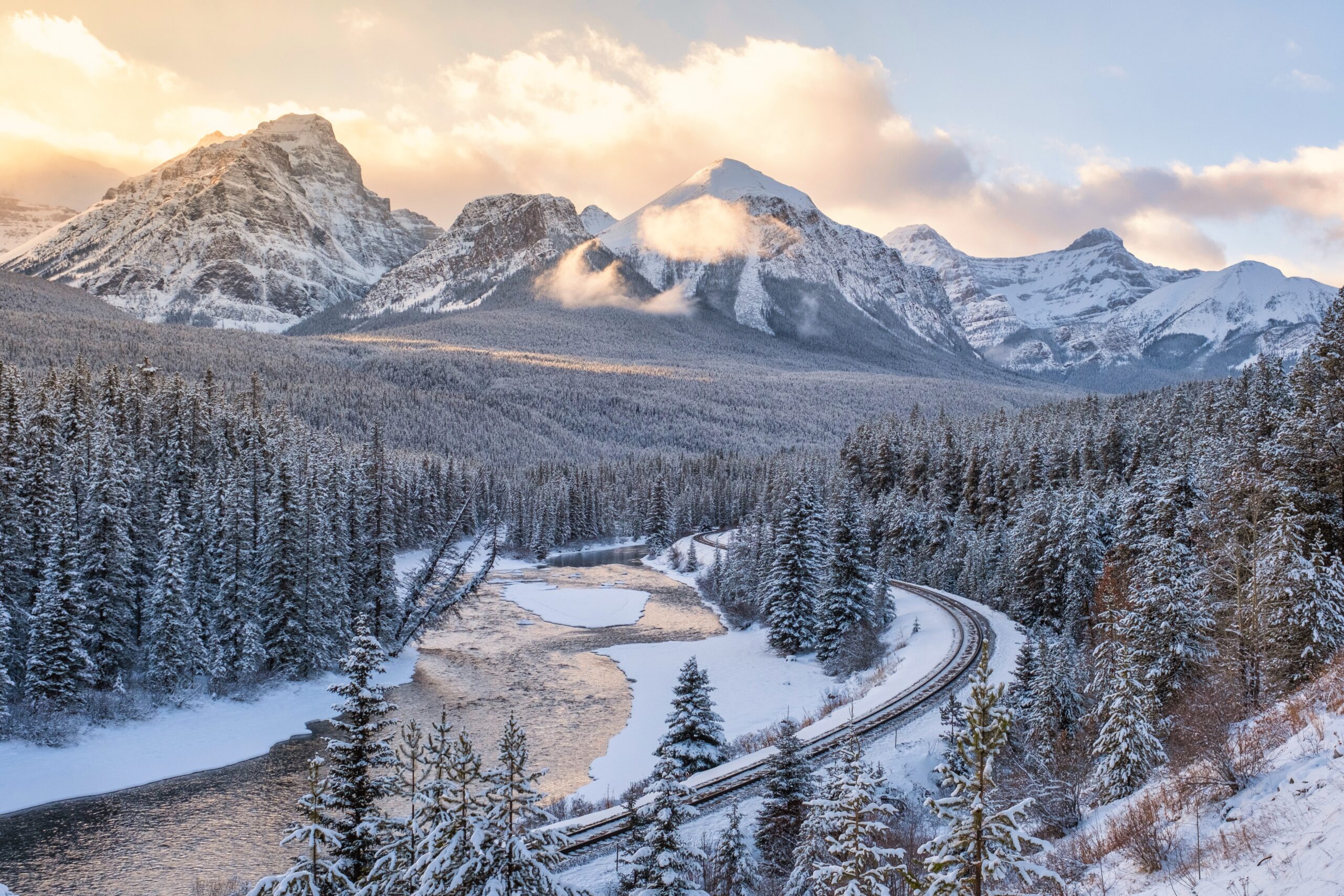 These are generally cold, cloudy, and what some may call "miserable" months, but they are the best time visit Banff on a budget. Unless you like the winter, snowboarding and skiing, ice skating, cross-country skiing, snowshoeing, and all that other fun stuff. If you're a winter person this is still a time to visit Banff. Low numbers of tourists, low prices, and plenty of snow!
By April you can start biking and even challenge yourself to a few low elevation hikes (with the proper gear!). We hike Ha Ling Mountain in early April. However, if you're looking to save money these months are the best time to visit Banff.
Shoulder Season in Banff (Late May/Early June, Late September, October)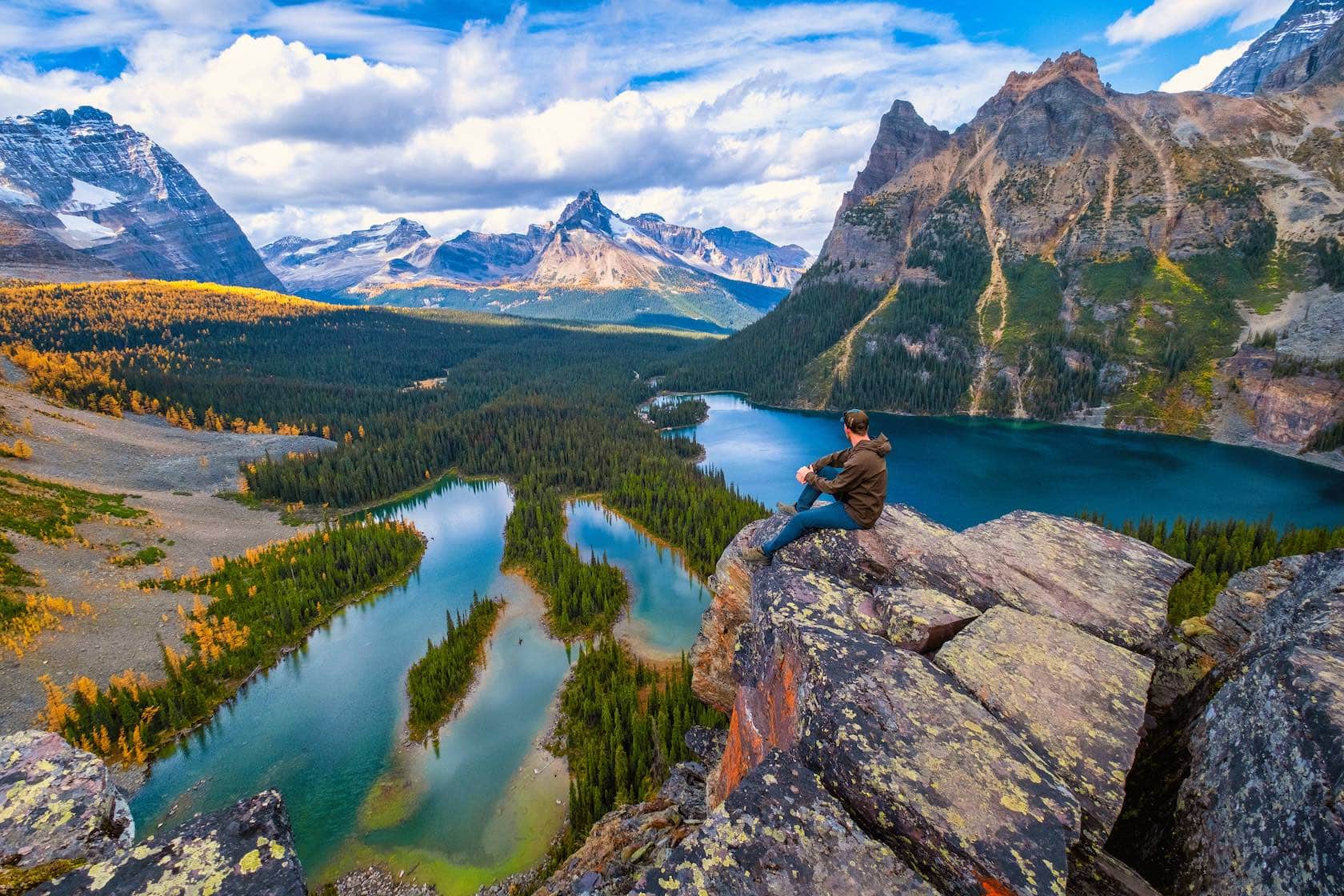 The shoulder season months are a wonderful time to visit Banff National Park. Except on mountain peaks, the snow is pretty much gone by June and the glacier lakes should be pretty much thawed. The weather is getting better and better in June.
If chasing the fall and seeing the yellow larches is the thing you'll want to visit in September and October. After Labor Day the crowds start to fizzle out as the kiddies go back to school and summer vacations are over. But it's still pretty busy in the park during September, just not summer levels. Hiking is still great as the winter gods (typically) haven't dumped snow yet. That comes in late October.
High Season in Banff (July, August, early September, December- early March)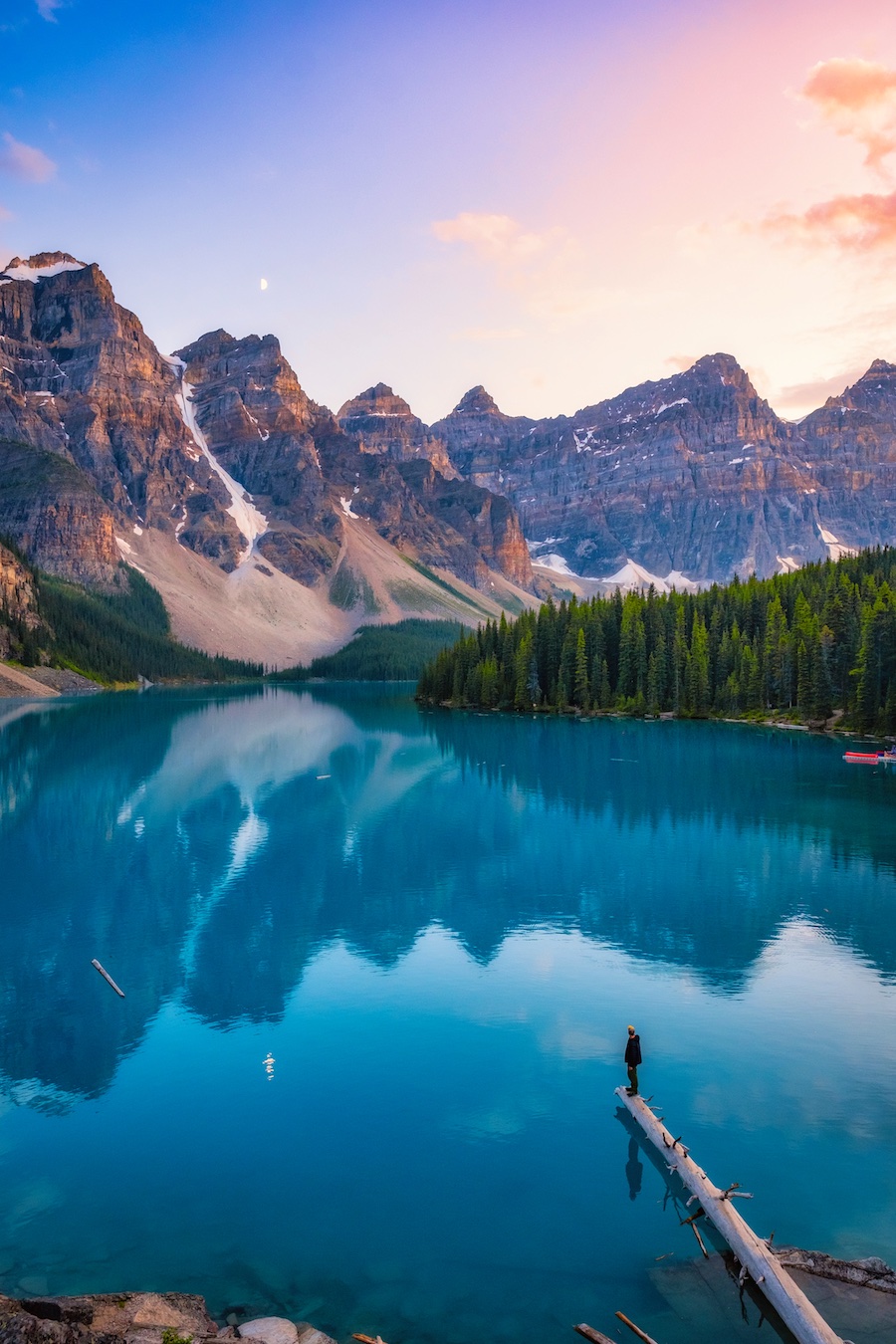 If you want to visit Banff on a budget, stay away from this time. Unlike many other destinations, Banff National Park has a high season for winter enthusiasts and those after that perfect North American summer getaway. The first is much quieter than its summer counterpart, but around the holidays prices rise and crowds flock to Banff in search of a white Christmas.
Those after a ski vacation still visit Banff in February and March and ski runs become busier around some of the holidays like Family Day. During these two winter times, you'll find higher prices on accommodation.
However, that's nothing compared to summertime in Banff. Numbers explode between June and August and while I would love to say that because of this it's not a good time to visit I would be lying. July and August bring about the best weather in the park. Long days and sunshine await you during the summer. The wildflowers are in full bloom and it's a great time for anyone looking for a summer adventure.
---
Skip the Organized Tours and Enjoy the Free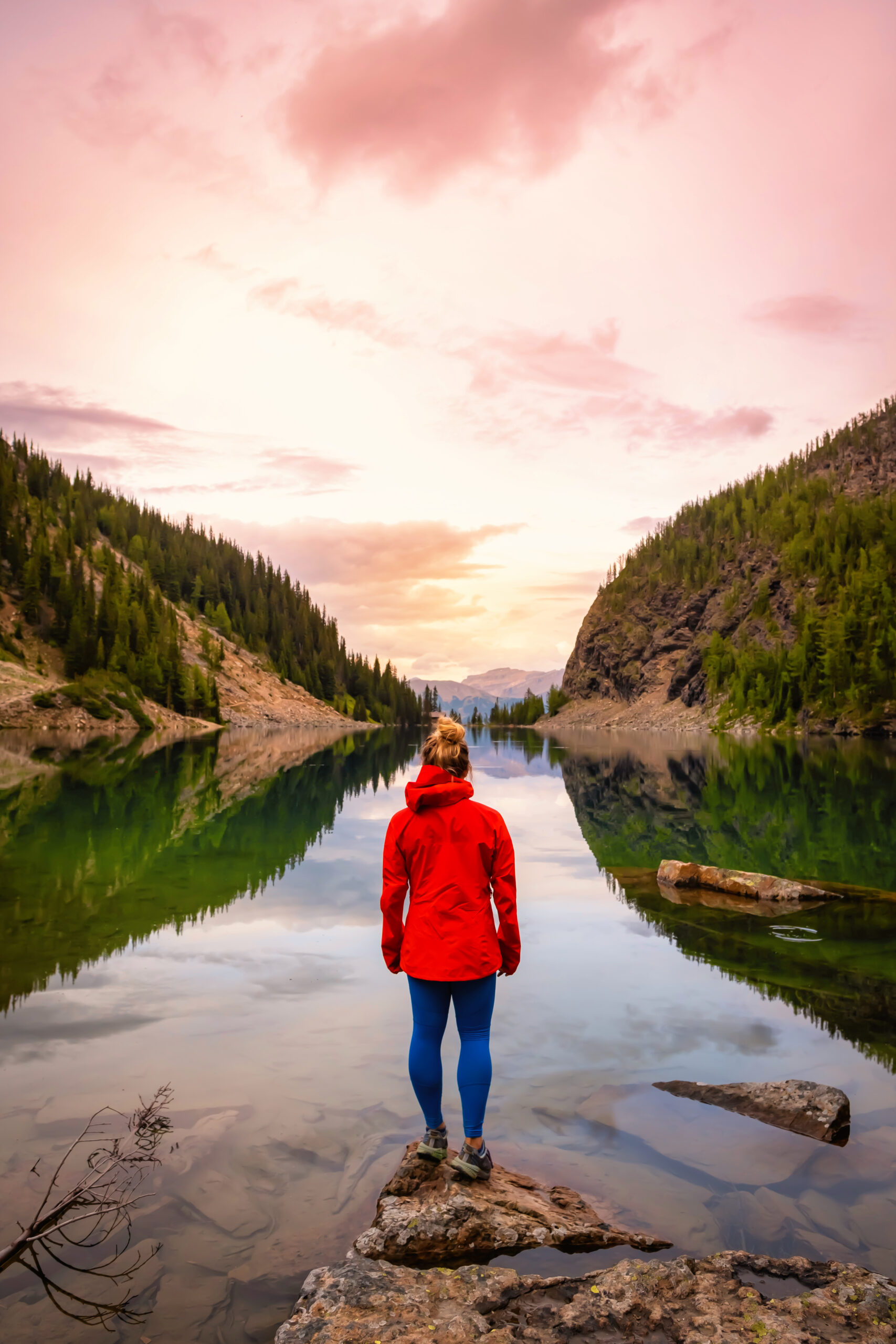 While there are many great tours you could book in Banff I can't deny that they are expensive. For example, a ticket up the Banff Gondola can run anywhere between $50-$70 depending on the season, but you can actually get up to the top of Sulphur Mountain by hiking it for free. Or for instance, the Glacier Skywalk costs upwards of $40, but the views aren't anything to write home about and you can get much better ones by going on a hike.
Banff doesn't have to cost a ton of money, especially when you're looking for things to do. We get out multiple times a week and rarely spend any money. That's because things like hiking and enjoying all the beautiful lakes are completely free!
---
Think About the Parks Pass You Purchase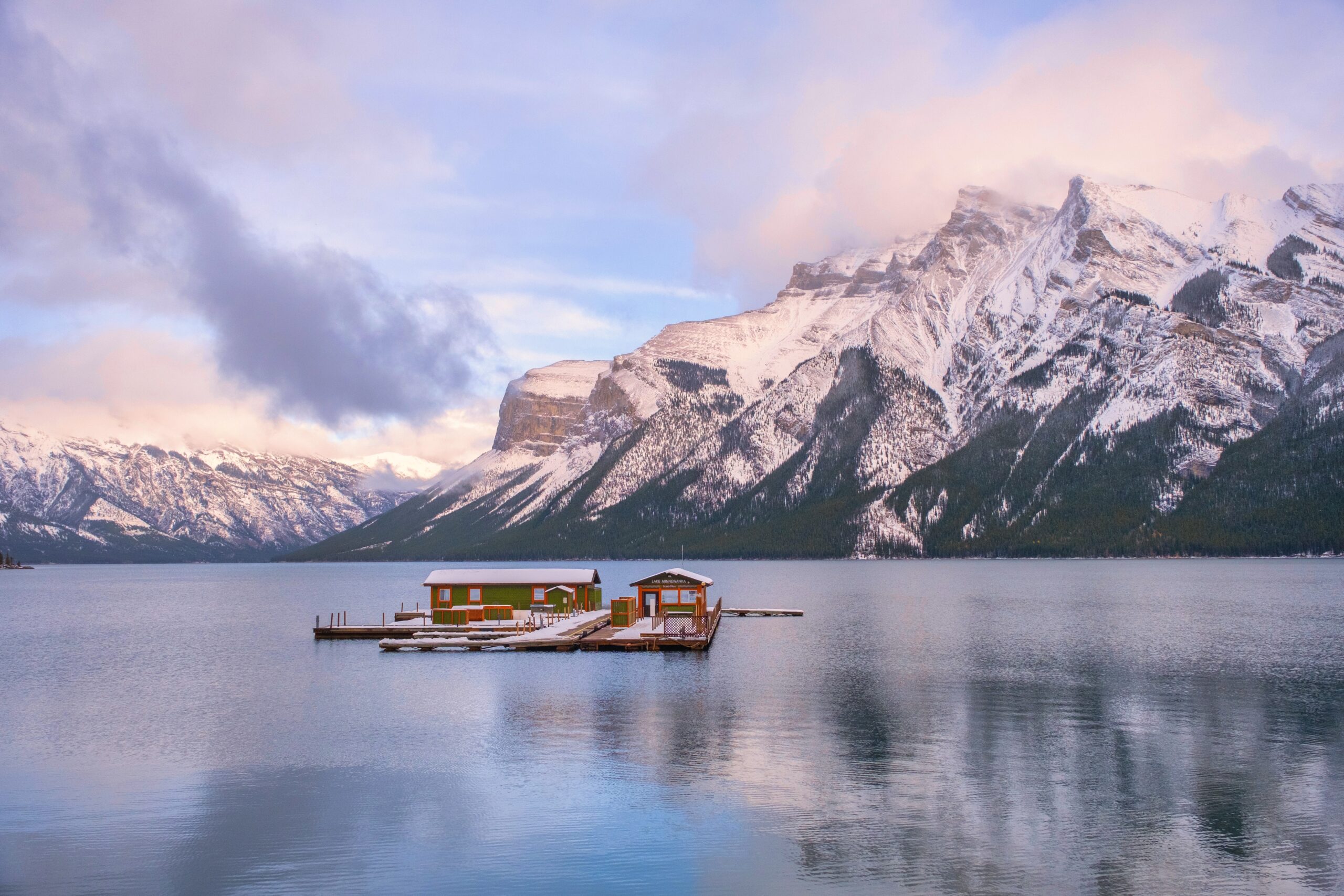 You can purchase a Parks Canada pass at any park gate. Or you can buy them in advance online. A Parks Canada Discovery Pass which gets you entrance to all Parks Canada destinations for the year is only $145.25 for a family.
It sounds expensive as one payment, but keep in mind that day passes are $10.50 per person. So if you are a group who is visiting Banff for more than two days it's worth it to get the full year.
ULTIMATE Guide To Purchasing A Banff Park Pass (Parks Canada Pass)
---
Book the Right Accommodation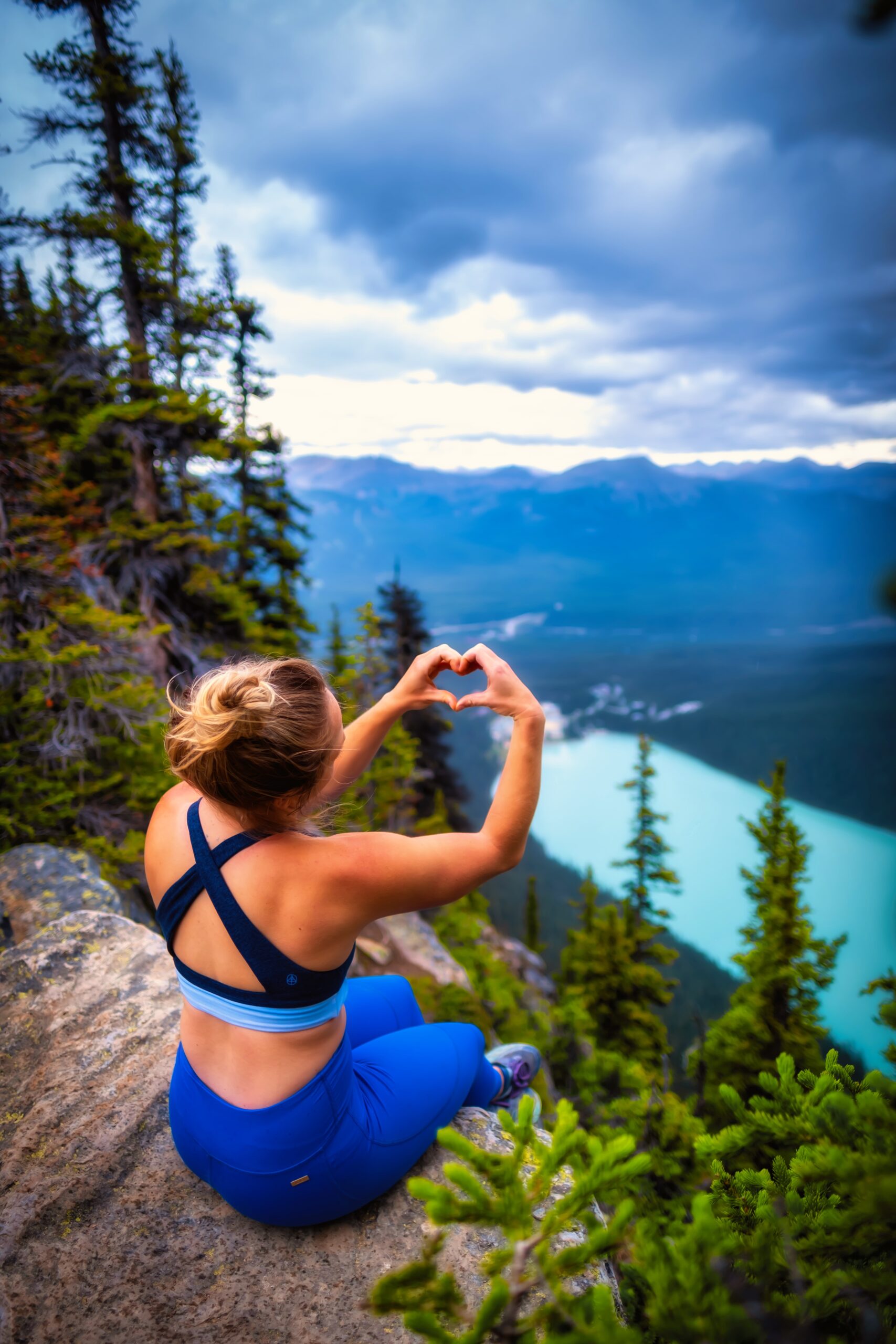 Banff National Park has quite a bit of accommodation for a Canadian park. There are plenty of options from camping, to hostels, to mid-range, and then luxury.
You don't have to camp or stay at a hostel to visit Banff on a budget. There are mid-range hotels for under $200 and lower depending on the season. If you plan to visit around Christmas or in July, August, or September it's advised to book well in advance. The sooner you book the more options you have. If you wait until the last minute you could be left with the more expensive hotels as the cheaper places tend to book up faster.
Weekends in July and August book up quick, but even weekdays during these beautiful summer months will go fast. If you can it's best to book a room between Monday and Friday.
You don't have to stay at a hotel though, there are some great Airbnbs in Banff to choose from. Airbnbs with multiple rooms are great for larger groups. Booking one with a kitchen also means saving money on food by cooking in.
If you can't find any suitable Banff hotels or Airbnbs to stay at you can always stay just outside the park. Canmore, while still expensive is a great option that is only 15 minutes away from Banff. Aside from staying in Banff and Canmore, there is also Dead Mans Flats, Exshaw, Harvey Heights, Field, Cochrane, or Golden.
Of course, you can camp in Banff too, which can save quite a bit of money. You'll need to book the popular spots well in advance.
---
Utilize the Grocery Store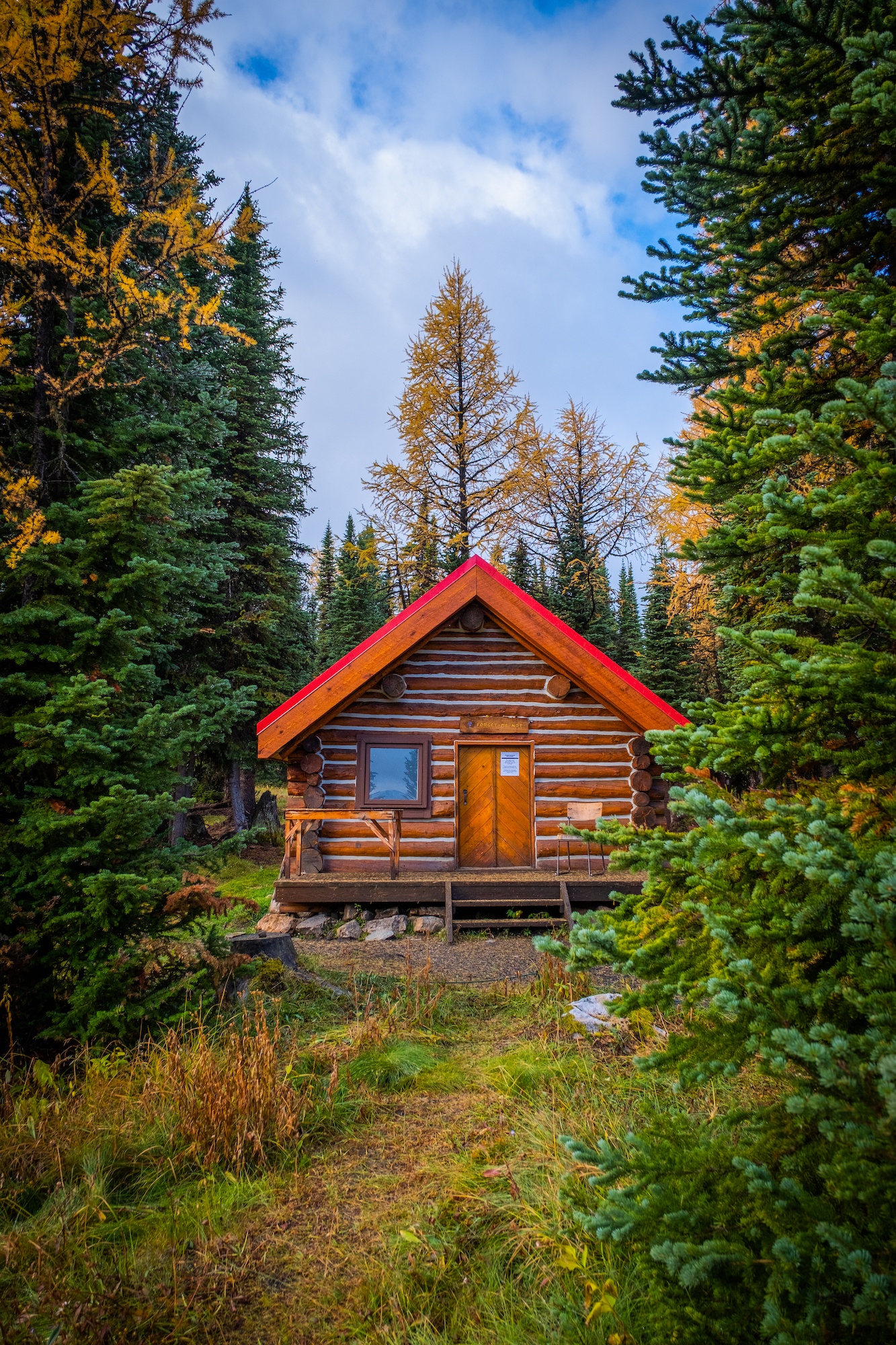 You'll save a lot of money in Banff if you avoid going out to eat for every meal. An average meal for two out in Banff will cost at least $30 and only go up from there. A great way to visit Banff on a budget is to book accommodation that has a kitchen in it. Then go to the grocery store and cook all your dinners. Lunches can be easy and be a packed sandwich lunch, and breakfasts are always simple with things like oatmeal or eggs.
There aren't many grocery stores in Banff, but the two main ones are IGA and Nesters. Of course, that doesn't mean skipping all the Banff restaurants, it just means limiting your eating out to a few times on your trip.
If you find yourself hungry while in Lake Louise there is a small grocery store in the village. It's called The Village Market and is surprisingly better stocked than you would think.
Alternatively, head to Canmore to save money. The two main supermarkets are Safeway and Save-On-Food in Canmore and are slightly cheaper than grocery stores in Banff.
---
Consider Your Transport Options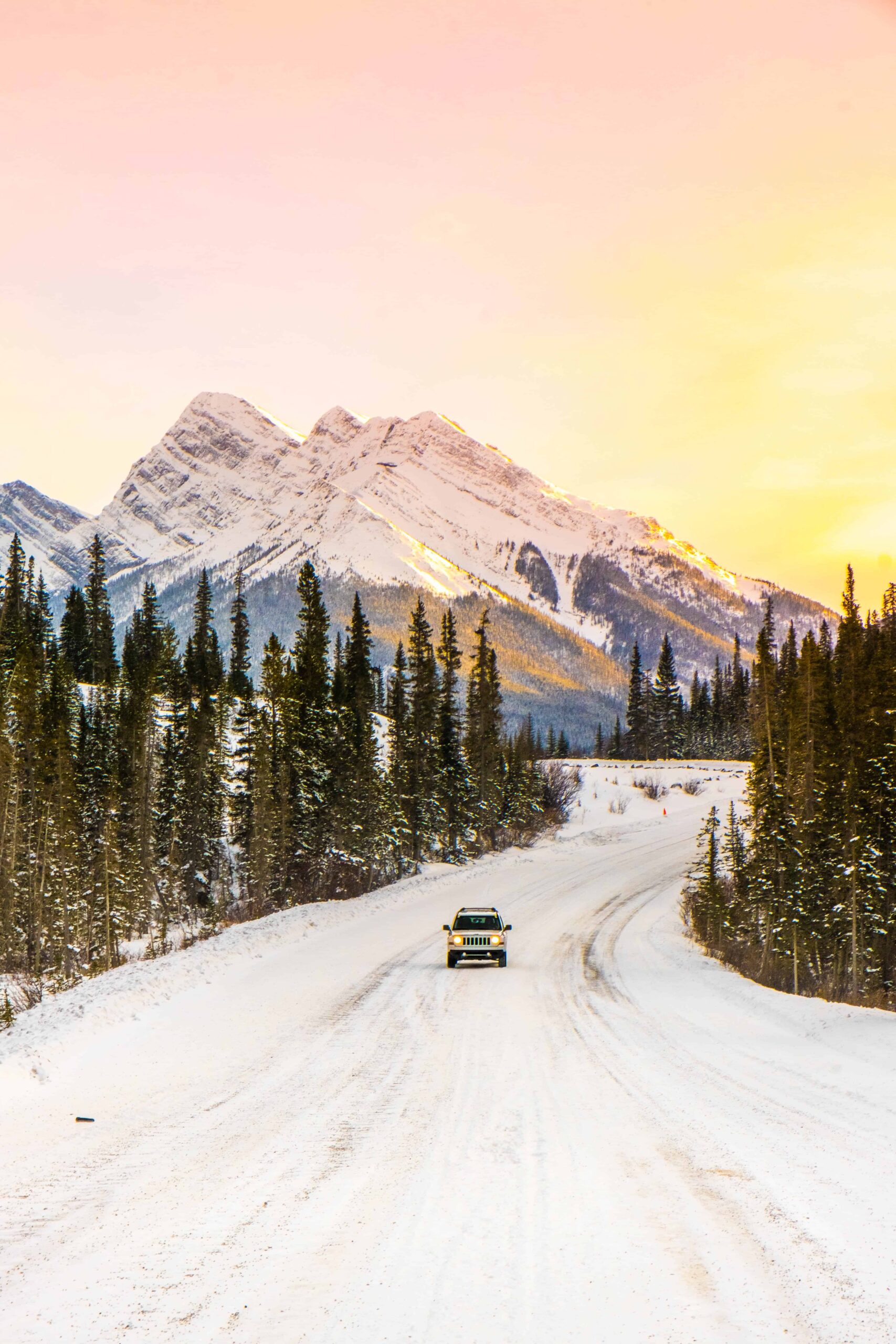 There are really only two options for getting around Banff National Park. A rental car and public transport. Most people choose a rental car as public transport is limited.
Car Rental
Renting a car in Banff is a great option if you are a pair or group of travelers. The best place to pick up the car is in Calgary and drop it back off there. We've scored great deals in Banff with car rentals costing us $30 a day in the offseason, though prices can go up well past $50 a day depending on the season and what type of car you get. Overall though, I think renting a car is the best way to explore the park.
Public Transport
ROAM transport is surprisingly efficient for a little mountain town and can be critical if you want to visit Banff on a budget. The ROAM bus will take you to some of the hot spots like Lake Louise and Johnston Canyon and also shuttle you between Banff and Canmore, which is a great way to save money in Banff when you don't have a car. If you don't plan on exploring all over Banff and plan on spending most of your time in Downtown Banff, avoiding a rental car and relying on the ROAM bus is a great option.
---
Fuel Up Outside of Banff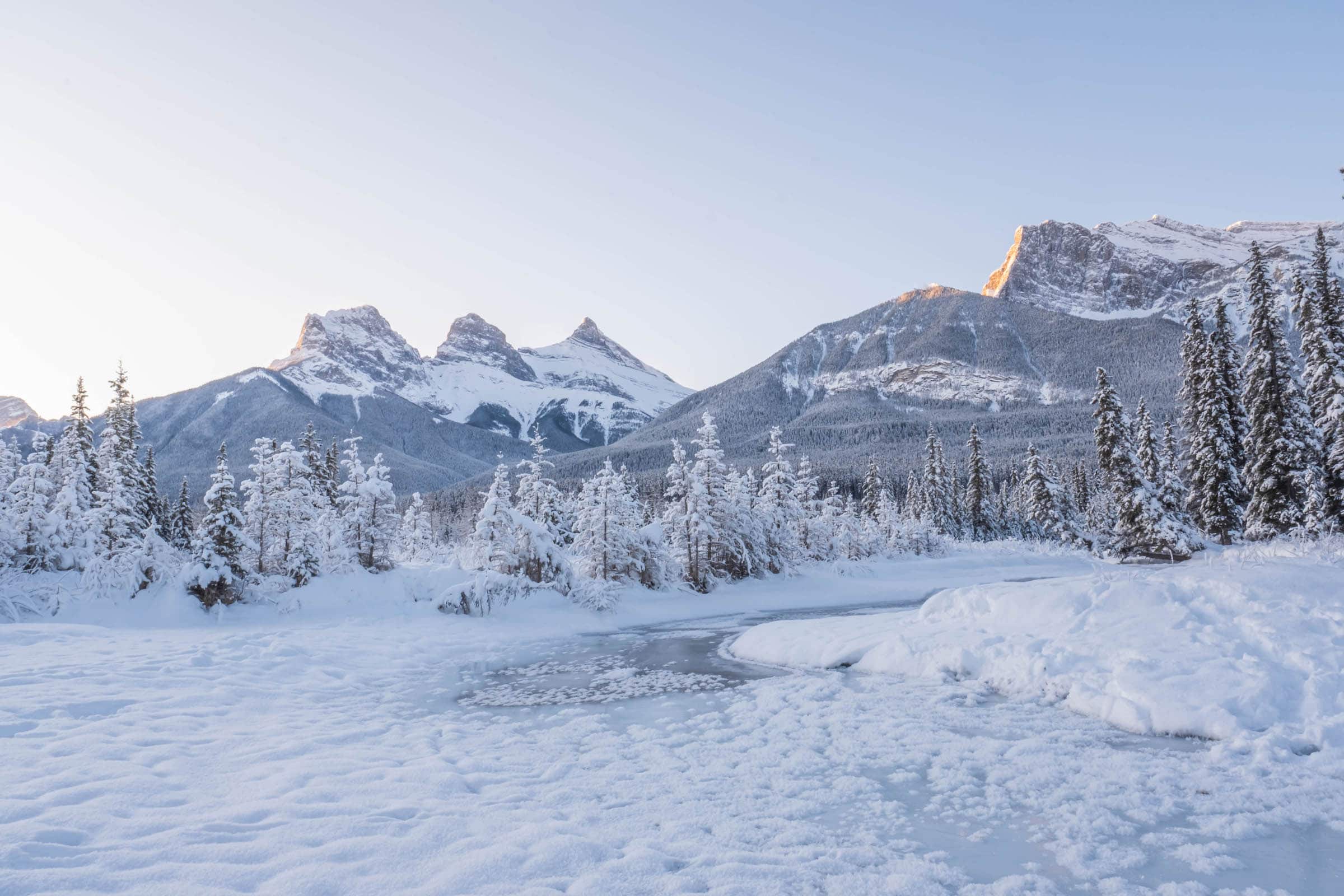 Gas costs the most in Banff and Lake Louise, so to save money on fuel you should try and fill up outside of the park if possible. My favorite place for gas is in Dead Man's Flats, which is cheaper than Canmore. Canmore is cheaper than gas in Banff, and the cheapest place of all is in Calgary.
---
Affordable Alternatives to Staying in Banff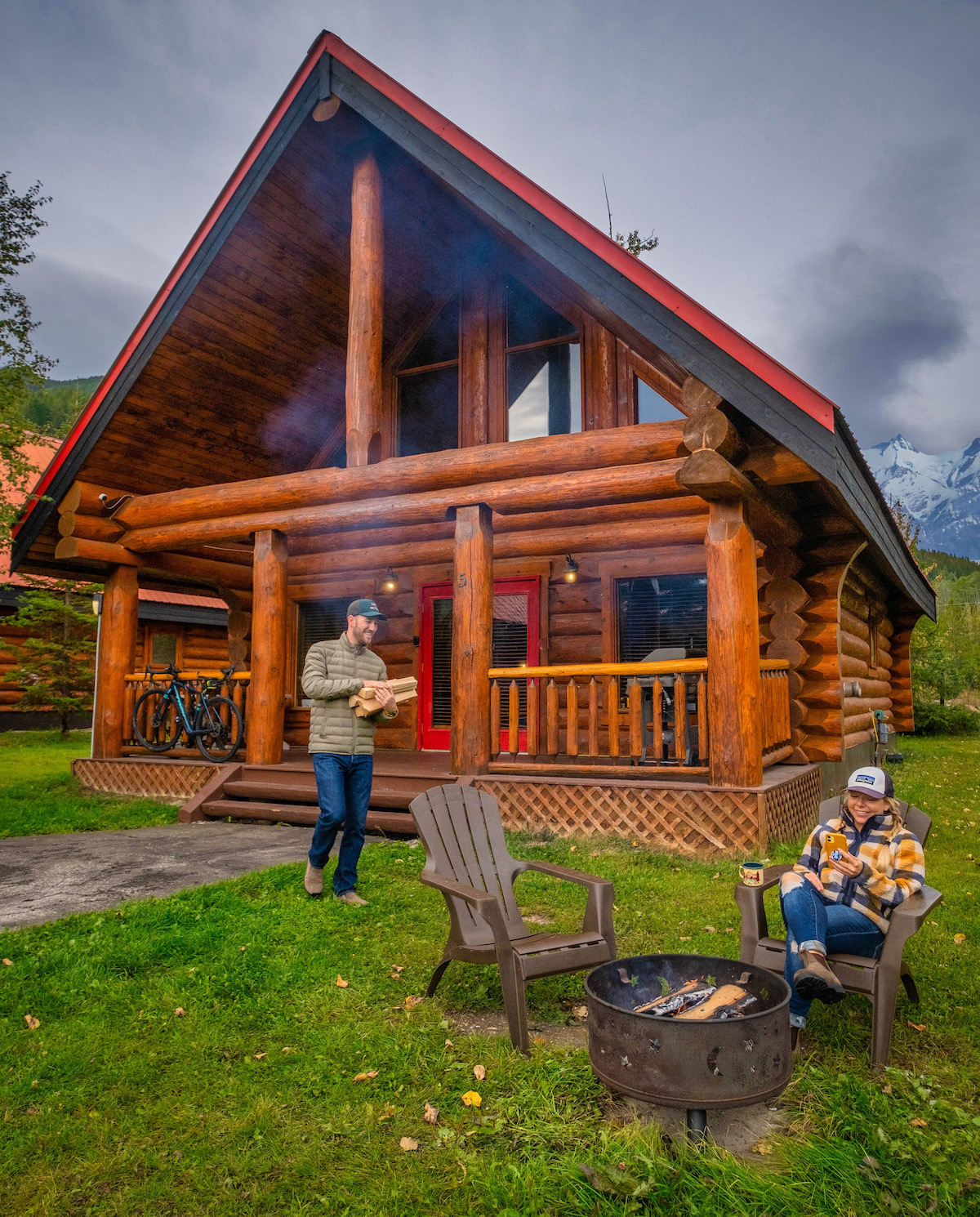 Canmore: Canmore is the closest alternative option to staying in Banff. It's the next town over and is only 15 minutes away. The problem is Canmore has built up quite a name for itself in its own right and is a tourist mountain town at its finest. While it's a bit cheaper than Banff, it's far from budget.
Cochrane: Cochrane is not in the mountains, but it's just over an hour to Banff. You'll be able to find really affordable places in Cochrane to stay.
Calgary: Calgary is one of Canada's major cities. You'll be able to find any type of accommodation in Calgary, and it's quite a lively city if you are more of a city and night owl. No, it's not in Banff, it's actually quite far at 1.5 hours, but a good option if you're on a major budget. Though you'll spend quite a bit on fuel driving back and forth to the mountains.
Field: The closest town to Lake Louise is Field. It's about 30 minutes away in Yoho National Park. It's an extremely small town, but it is in the mountains and you can find some charming budget places to stay. Oh and you're also right next to Emerald Lake!
Golden: Lastly, you'll be able to find some great options in Golden in British Columbia. It's about an hour to Lake Louise from here, but it is another mountain town near Yoho and Banff. If you love skiing you can always check out Kicking Horse Mountain Resort too!
---
You Can Always Rent a Campervan/RV!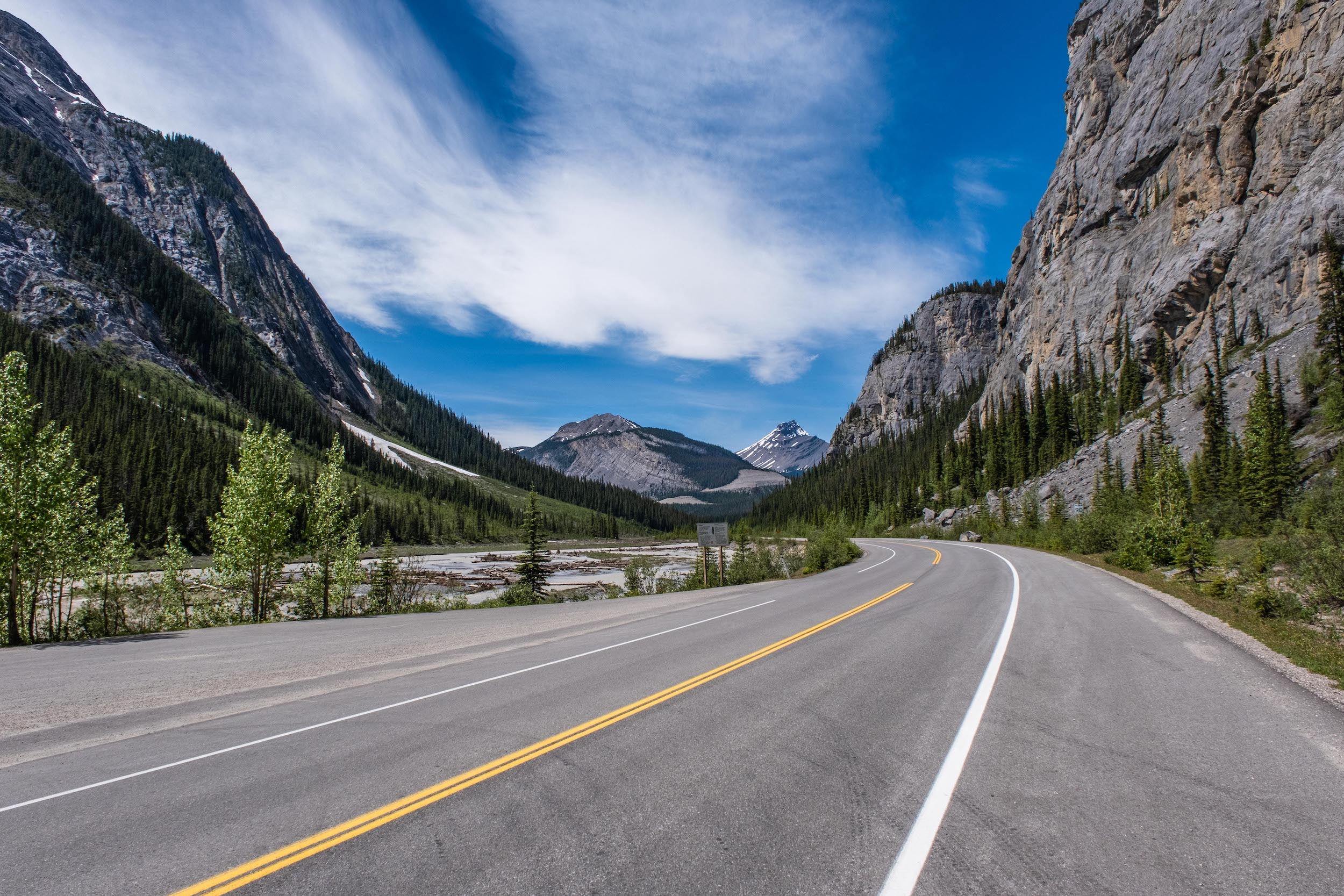 No one says you have to stay in hotels and rent a car! A very popular option for traveling the Canadian Rockies is in a campervan or RV – especially in the summer!
Sometimes the price of a campervan is a better deal than getting a hotel, especially when you factor in the kitchen and the ability it gives you to cook all your own meals.
They are great for families and groups of friends and can save a lot on accommodation! Keep in mind though you cannot just pull over anywhere and camp, you will still have to pay to stay at designated campsites with your camper.
Our recommendation is to compare rates on Outdoorsy, Wicked Campers, Karma Campervan, or CanaDream! We like to compare rates before we choose, which you can do here!
---
Hopefully, this helps you travel Banff on a budget.
If you have any other questions leave a comment or see our Canadian Rockies travel guide for more articles about photography spots, lakes, hikes, and everything else.
---
Plan Your Trip to the Canadian Rockies
↓ Join the community ↓
The Banff Blog Facebook Group is your headquarters for the Canadian Rockies' travel advice and information. Including hike info and off-season travel information. You can also meet new adventure buddies.