Banff in October is a magical time of year. It's cool and crisp and the fall foilage still lingers for the majority of the month. It's the shoulder season in Banff meaning crowds are lower, but snow has yet to really fall meaning you can still comfortably get out and enjoy hiking in the mountains among unfrozen lakes.
If you're wondering what the weather is like in Banff in October, and what all you can do in Banff in the fall keep reading!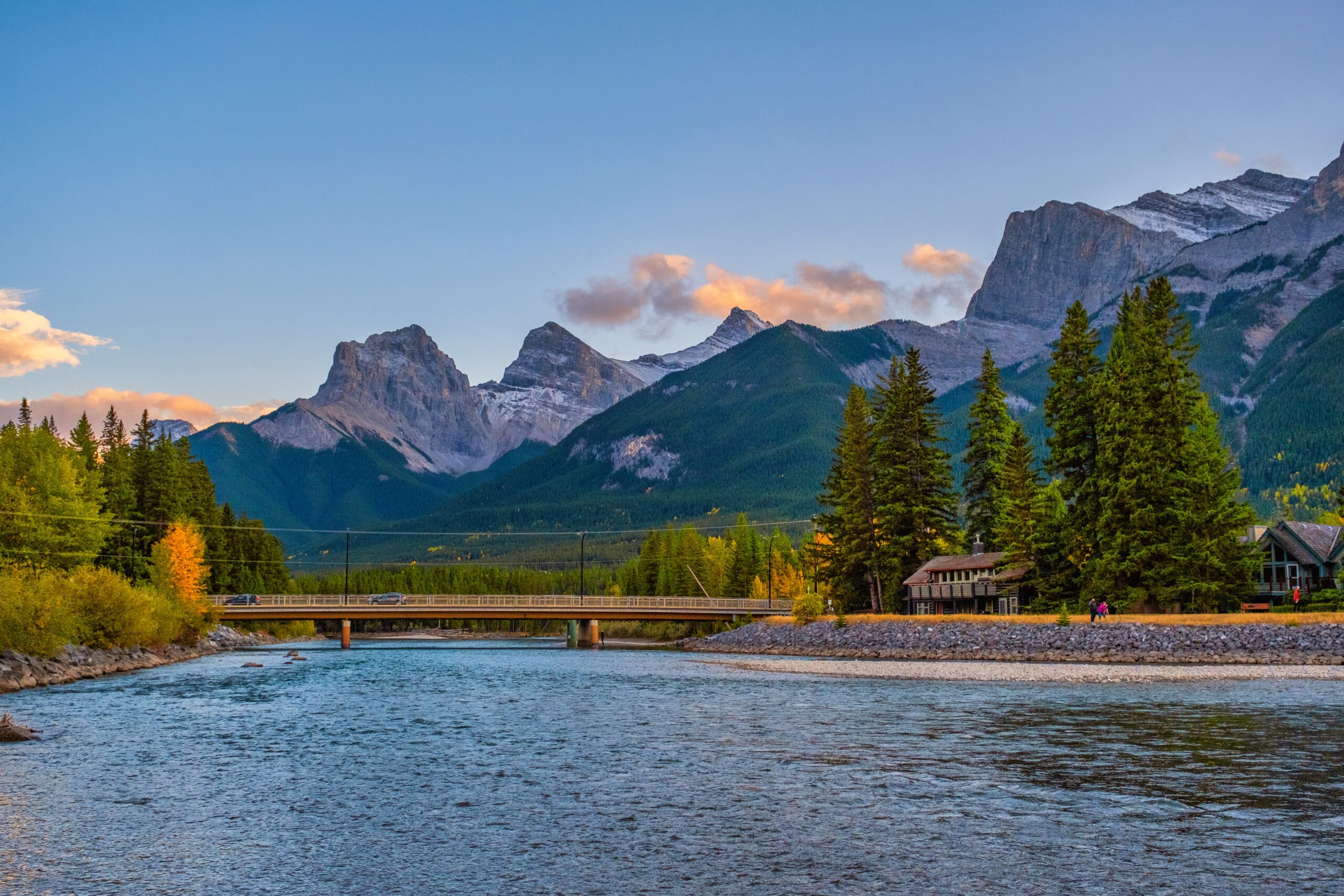 ---
Things to Know Before Visiting Banff in October
---
What's the Weather Like in Banff in October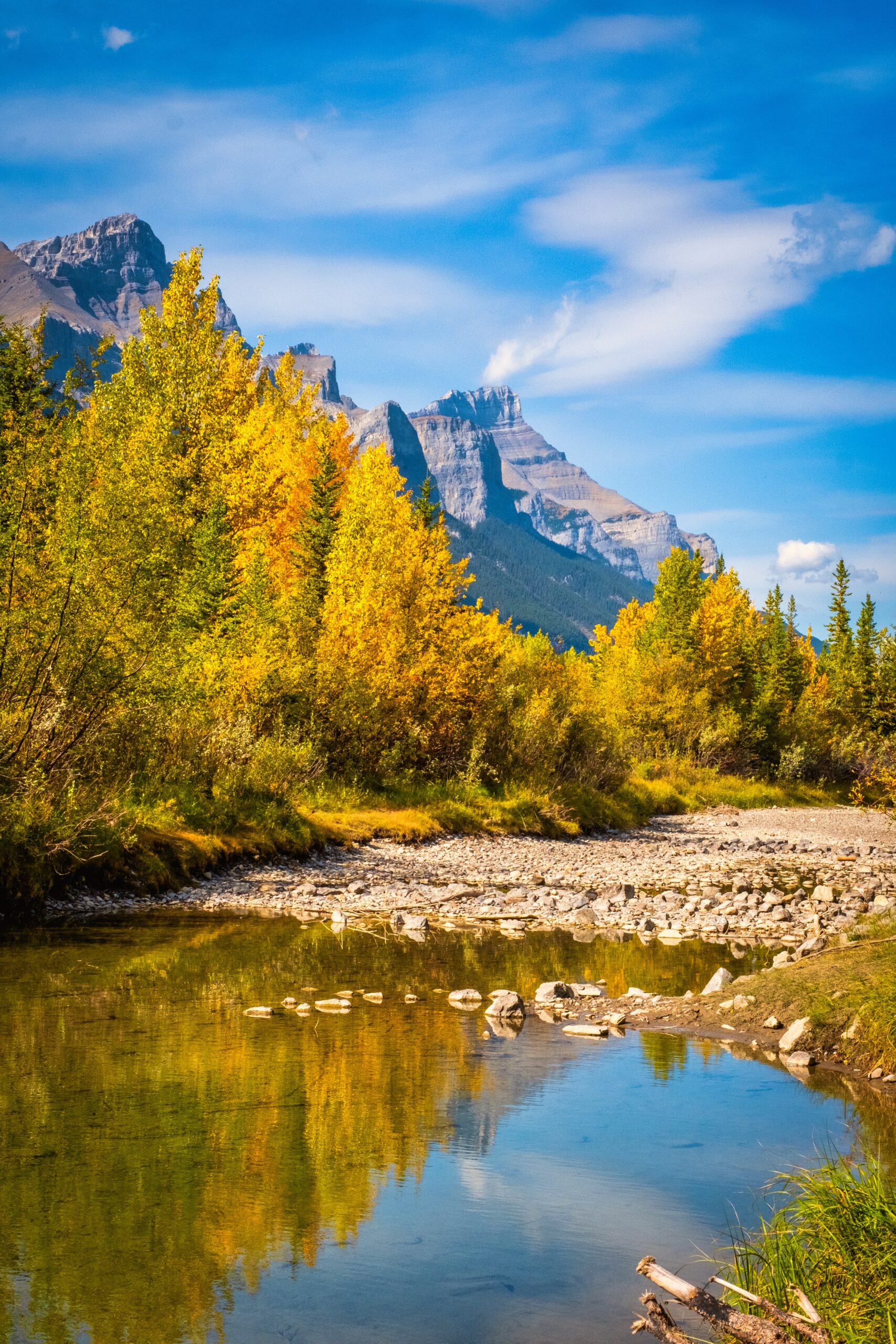 Banff in October means there is still plenty of sunshine, but it is definitely fall and it's going to get cold fast. Early October means larch season, but hurry as the larches turn yellow in late September and may only last until the first week of October. There's not much snow on the ground yet meaning you can still get out and go hiking, just be prepared to bundle up as it's cold. The temperature on average is between 10-15°C, and after dark, it can drop below freezing.
Days are getting shorter and you can expect the sun to set around 7pm and to rise around 7:30am. Although the days are shorter than they were in the summer there is still plenty of time to get out there and enjoy the Rockies.
Visitors can expect instances of light rain and even snow across the month, but it's still pleasant enough for hiking in the hills and the valleys. By the end of October, there will be little fall foliage still around and you'll quickly realize that winter is coming.
---
What to Pack for Banff in October?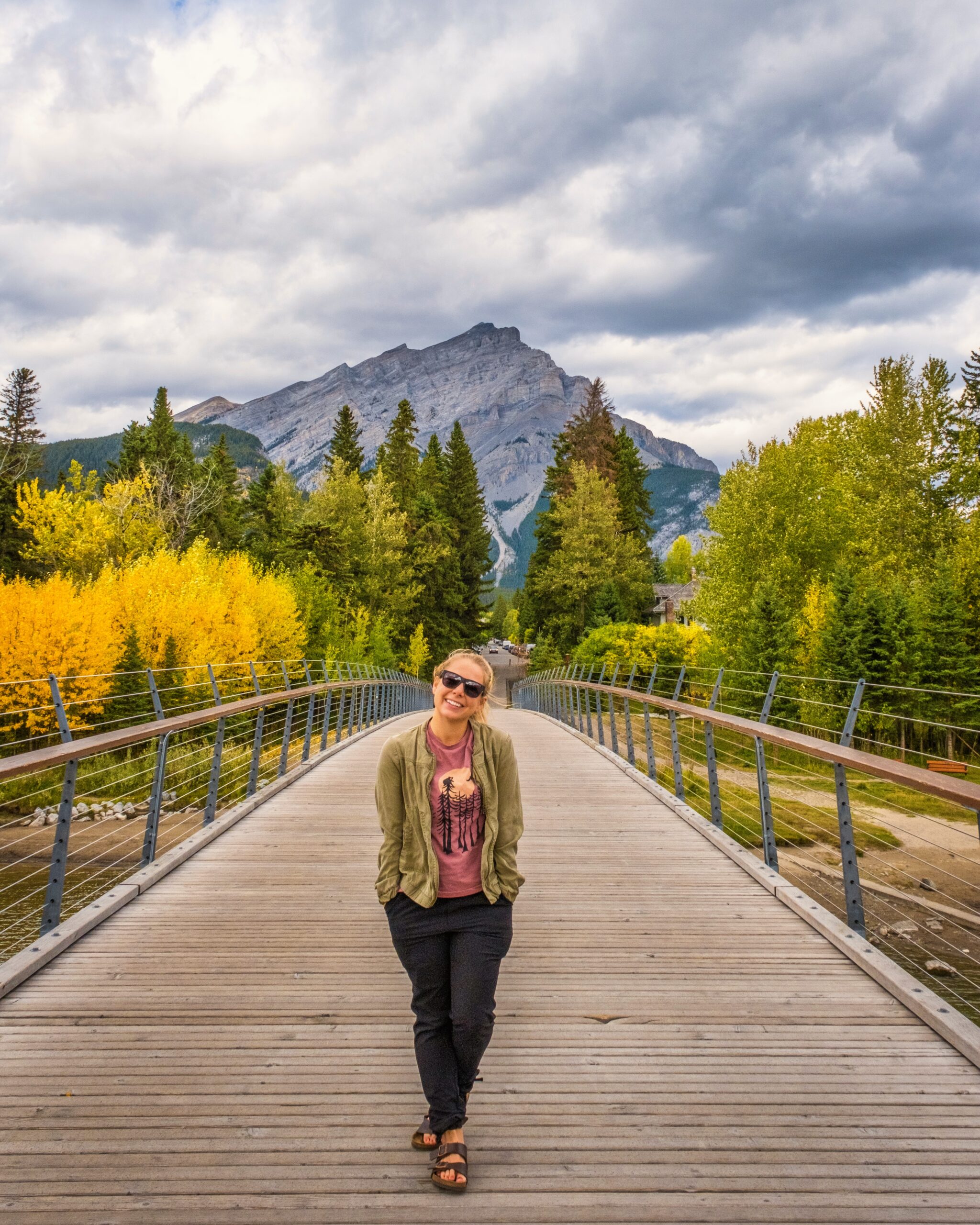 Put away the flip flops and shorts – summer is over. Come to Banff in October with leggings, sweaters, and boots. I would suggest bringing a down jacket for the evenings and you can never go wrong with a hat and gloves – especially in the Rockies. Although you won't need full-on snow boots yet it wouldn't hurt to bring a waterproof pair of hikers.
Down Jacket
Sweater
Flannel
Casual Pants
Long sleeve shirts
2-3 x Wool Ski Socks
Mittens
Warm Hat
Waterproof Boots
Buff
---
Can You Visit Lake Louise in October?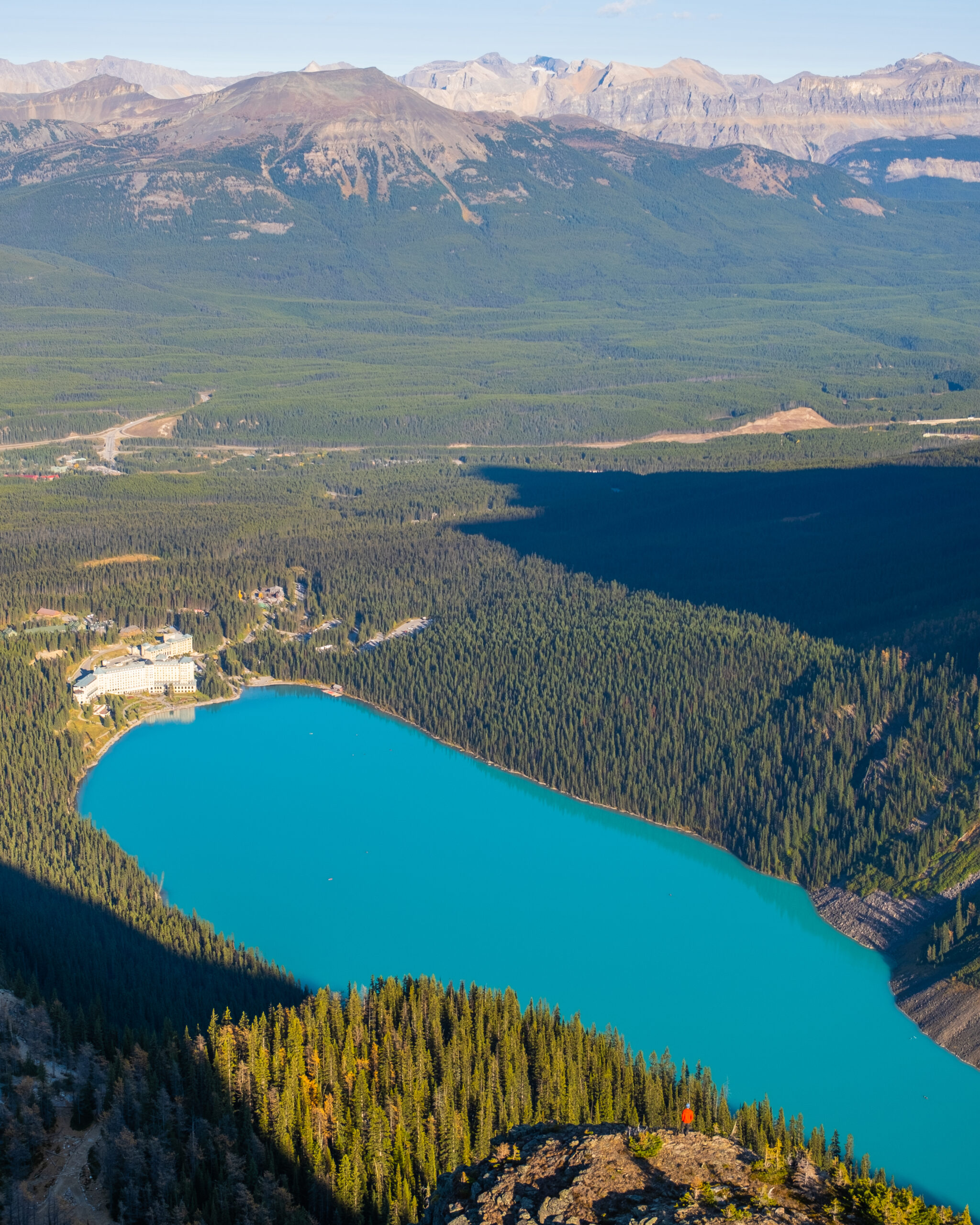 As mentioned there's still plenty of sunshine in Banff in October, but it's most definitely fall weather and you should plan your trip to Lake Louise accordingly. Early October means larch season and a good time to go hiking, so it's not a bad time to visit Lake Louise!
But at least be prepared for it to get cold and for some more unpredictable weather that you may not be used to. All I can say is layers, layers, and layers. This is pretty much your last month to enjoy Lake Louise before it is frozen over.
So get out on that canoe, but wear a life jacket, falling in would surely shock you to hypothermia quickly. By mid-October, the first snow of the season will begin to fall, which makes it a beautiful time to visit Lake Louise. I love seeing the trees dusted in snow. Some good Lake Louise hikes that you can still do are Lake Agnes, Little Beehive, and Big Beehive, although you'll have to keep your eyes out on the mountain tops for higher elevation objectives like Mount Niblock and Devils Thumb. If there's been heavy snowfall already (which is completely possible), these objectives should be reconsidered.
---
Can You Visit Lake Moraine in October?
If you want to head to Moraine Lake this is your last month to do it. By mid-October, Moraine Lake road will close for the season as the snow from the surrounding mountains will become dangerous to road conditions on Moraine Lake road.
It's hard to know the exact date Parks Canada shuts down the Moraine Lake access road as it changed every year. Typically, after the first snowfall they will shut the road down. Last year this was on October 13th.
---
Things to do in Banff in October
---
Check Out Two Jack Lake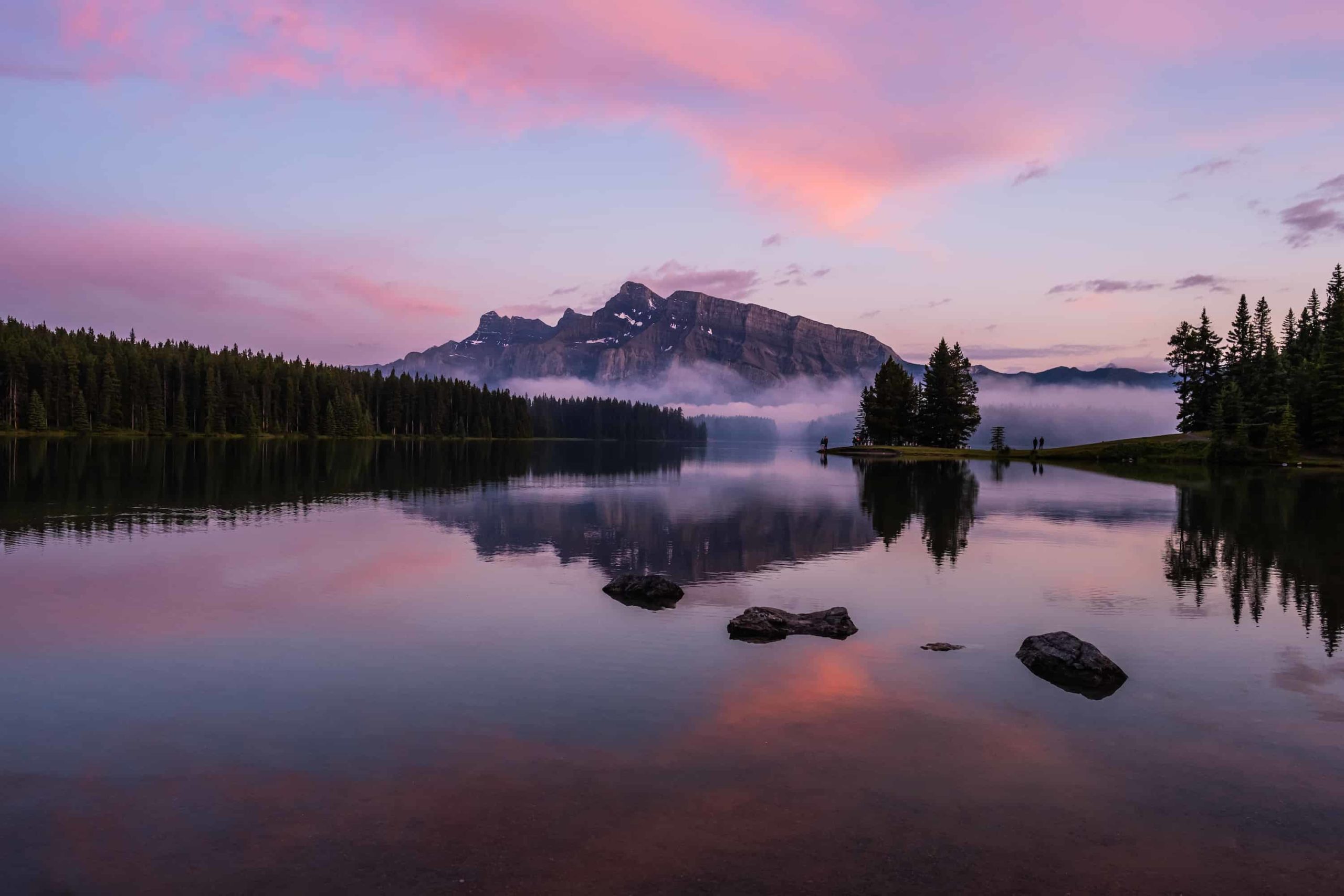 Just a five-minute drive away from Lake Minnewanka is Two Jack Lake. It's another fantastic lake with Mount Rundle Views. Two Jack is one of the most photographed lakes in the Canadian Rockies, due to its proximity to Banff.
It's also a popular spot with visitors and locals alike to go for a kayak or canoe. It won't be frozen over in October so you can still have an enjoyable time out on the water – just make sure to bring a life jacket! If you can't get out on the water I definitely recommend still visiting and enjoying the views – it's here you can get some of the best views of Mount Rundle.
---
Go For a Bike Ride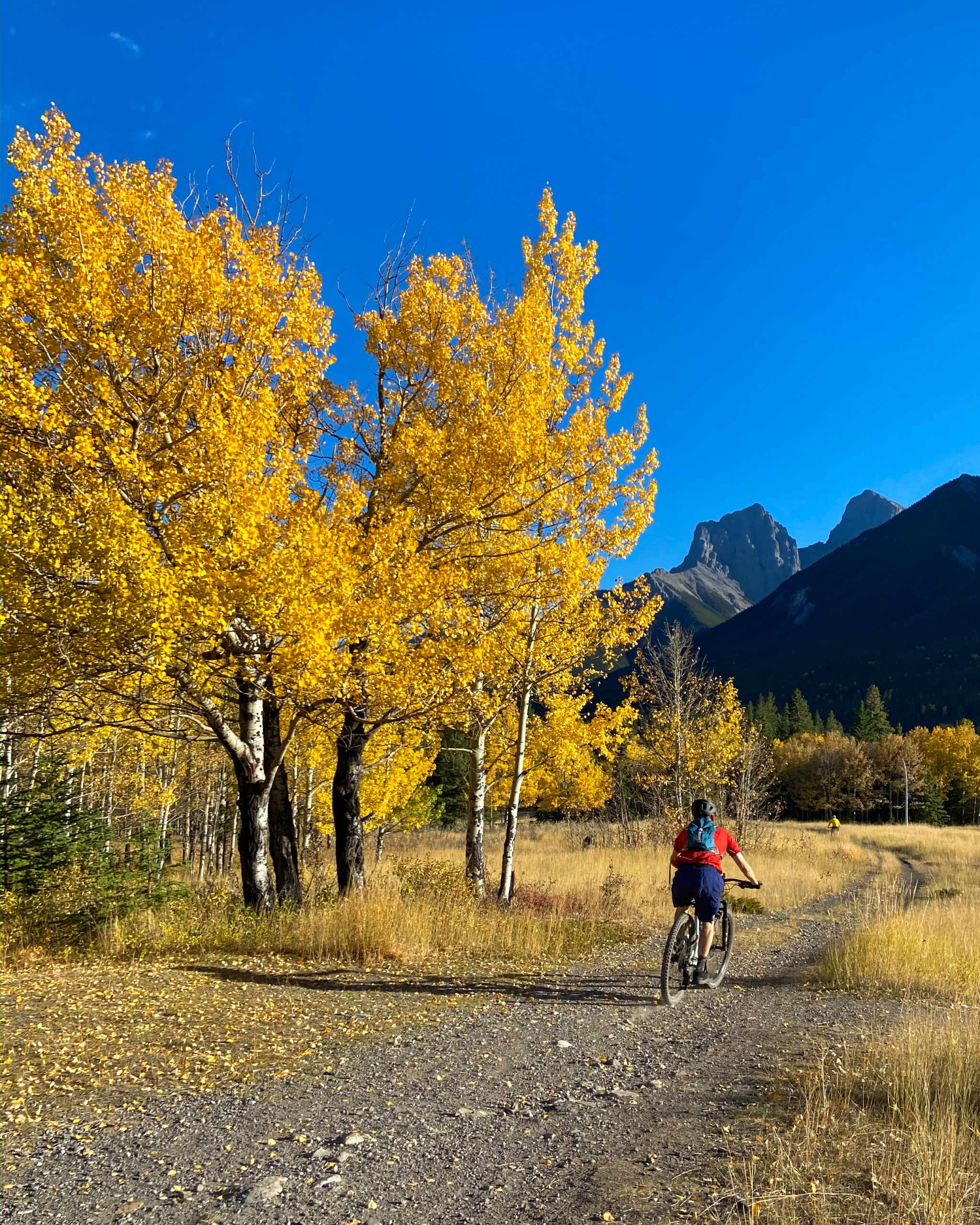 If there is a style of biking you enjoy you'll find an abundance of scenic places to get on a bike in Banff. It doesn't matter your skill level either as there truly is everything in the area. Head up the Bow Valley Parkway to Lake Louise on a road bike for one of the best rides of your life. Or head over to Canmore's Nordic Center for some thrilling mountain bike trails, or take to the wild and explore some of the park's amazing trails.
If all of that sounds too much hop on the Legacy Trail and ride to Canmore for some beers at the Grizzly Paw Brewery. Or just rent some simple cruisers and enjoy the scenery around Banff town, like Bow Falls or Vermilion Lakes.
---
Walk Around Johnston Canyon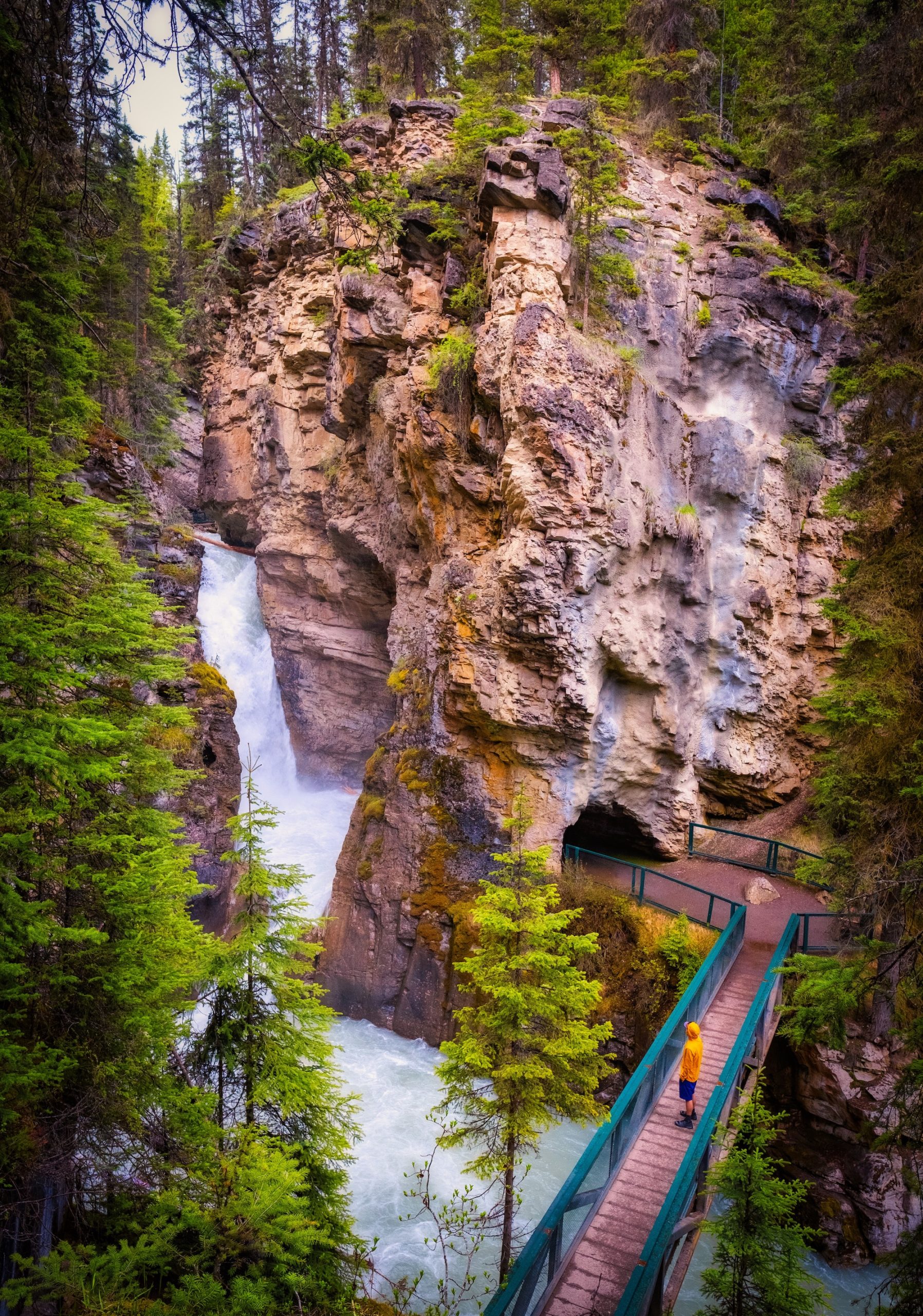 The Johnston Canyon walk is the best thing you can do in Banff in the winter or summer for free. October is a great time to enjoy this activity in Banff as the weather will be cool, and there will be fewer crowds, but the views will be just as magnificent.
---
Lake Agnes Teahouse Trek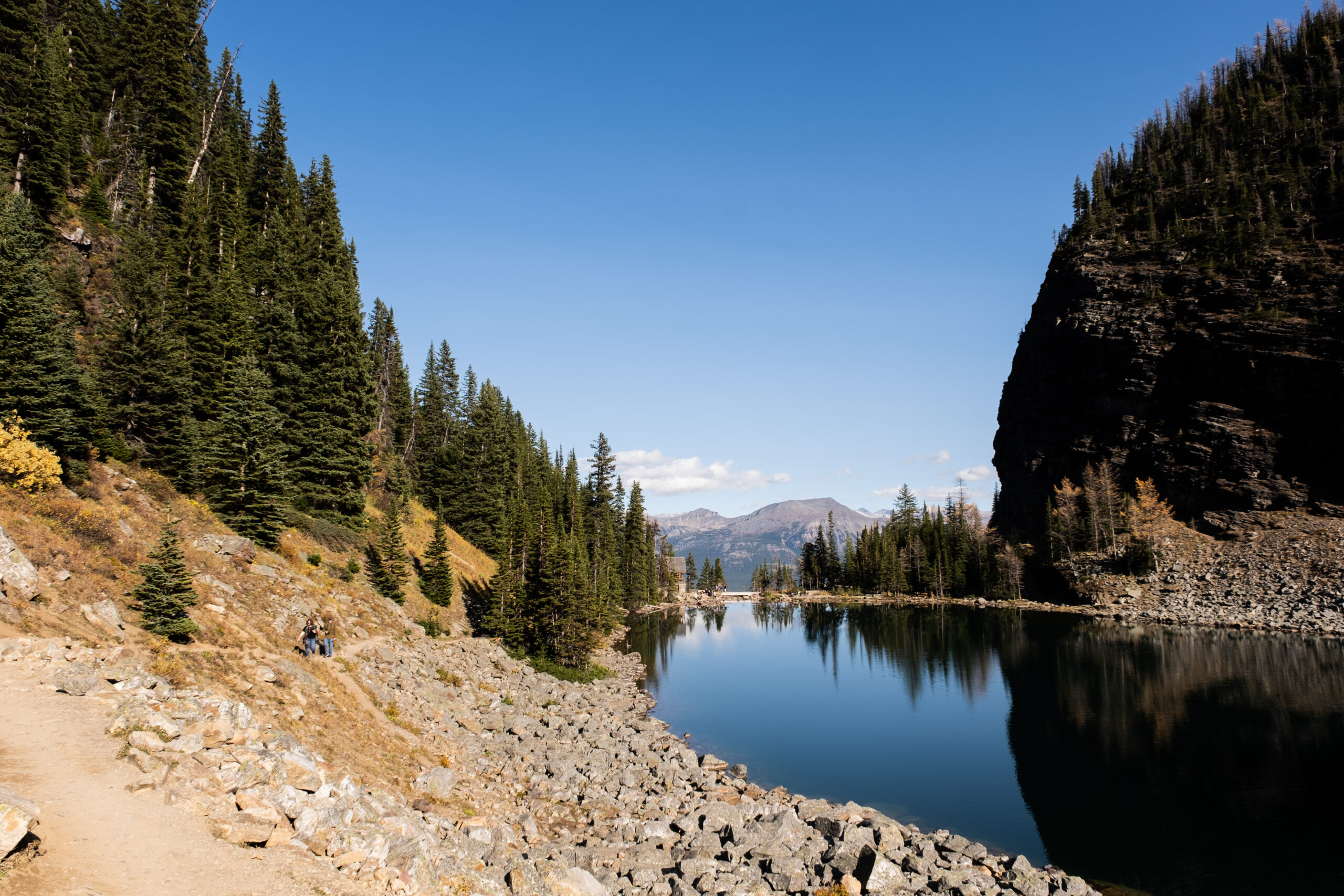 The Lake Agnes Teahouse trek is a popular thing to do in Banff for visitors to Lake Louise. This is an easy to moderate hike above Lake Louise that is suitable for all visitors to Banff. When you reach the top of the 7.6 kilometers (round trip) heavily trafficked out and back trail you'll find a teahouse and stunning Lake Agnes.
This is an easy hike that can be done in under an hour and is an iconic thing to do in Banff. However, be warned it is a busy one!
To escape the crowds (and get better views) keep climbing to the Little Beehive, Big Beehive, Mt. St. Piran, or Devils Thumb. If you're an experienced Scrambler you can keep going past to summit Mount Niblock (moderate scramble) or Mount Whyte (difficult!), but these higher objectives become less likely once the snow falls.
---
Spot the Banff Wildlife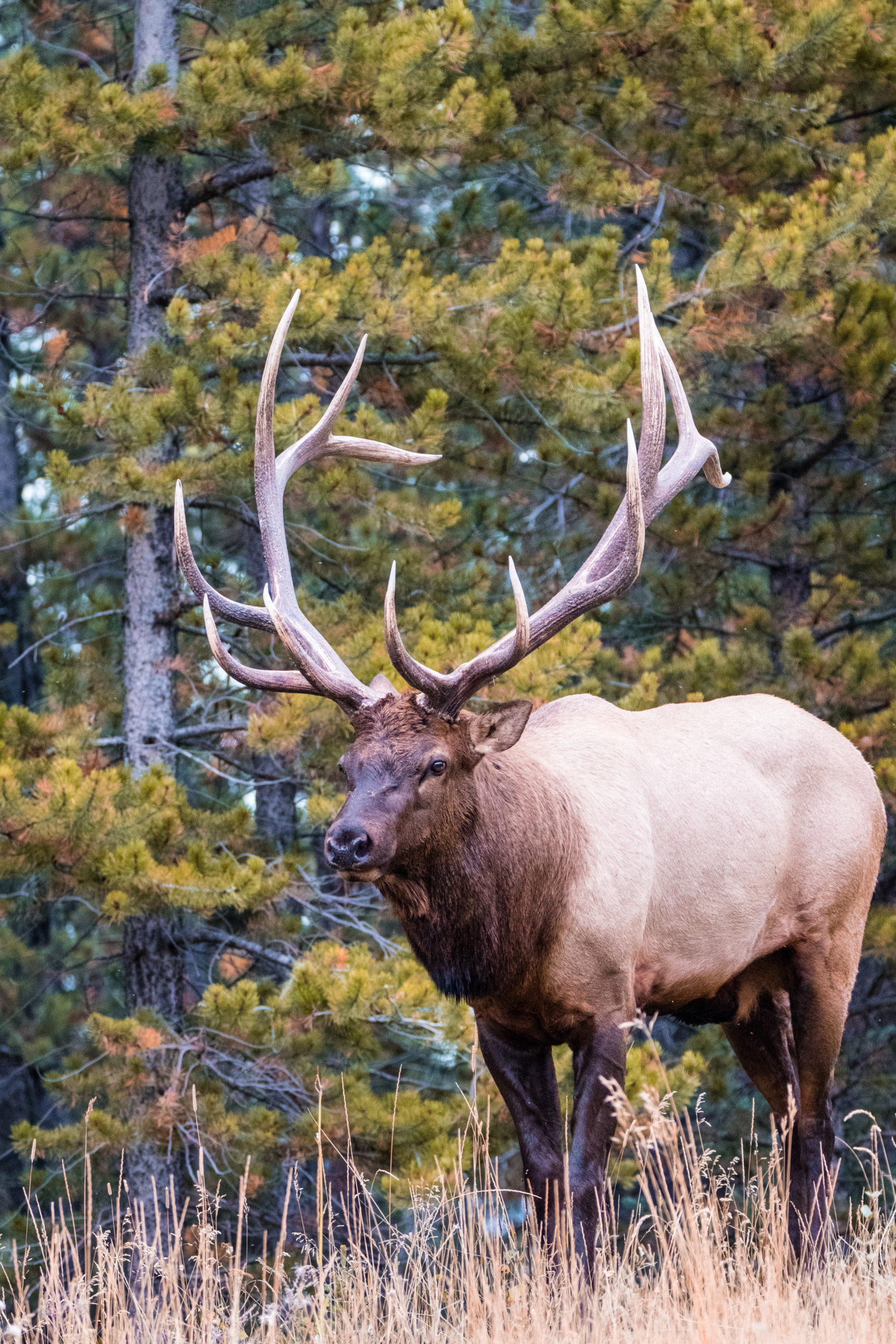 Banff wildlife is active all the time. Apart from bears, you'll find moose, elk, deer, owls, foxes, wolves, and coyotes here all year round. In the summer, it's very possible you'll catch a glance of a black or brown bear (hike with bear spray always).
I love spotting these animals all around the Bow Valley. Please remember if you want to pull over to take photos of wildlife to do so safely and make sure you are out of the way of traffic.
---
Head to Canmore!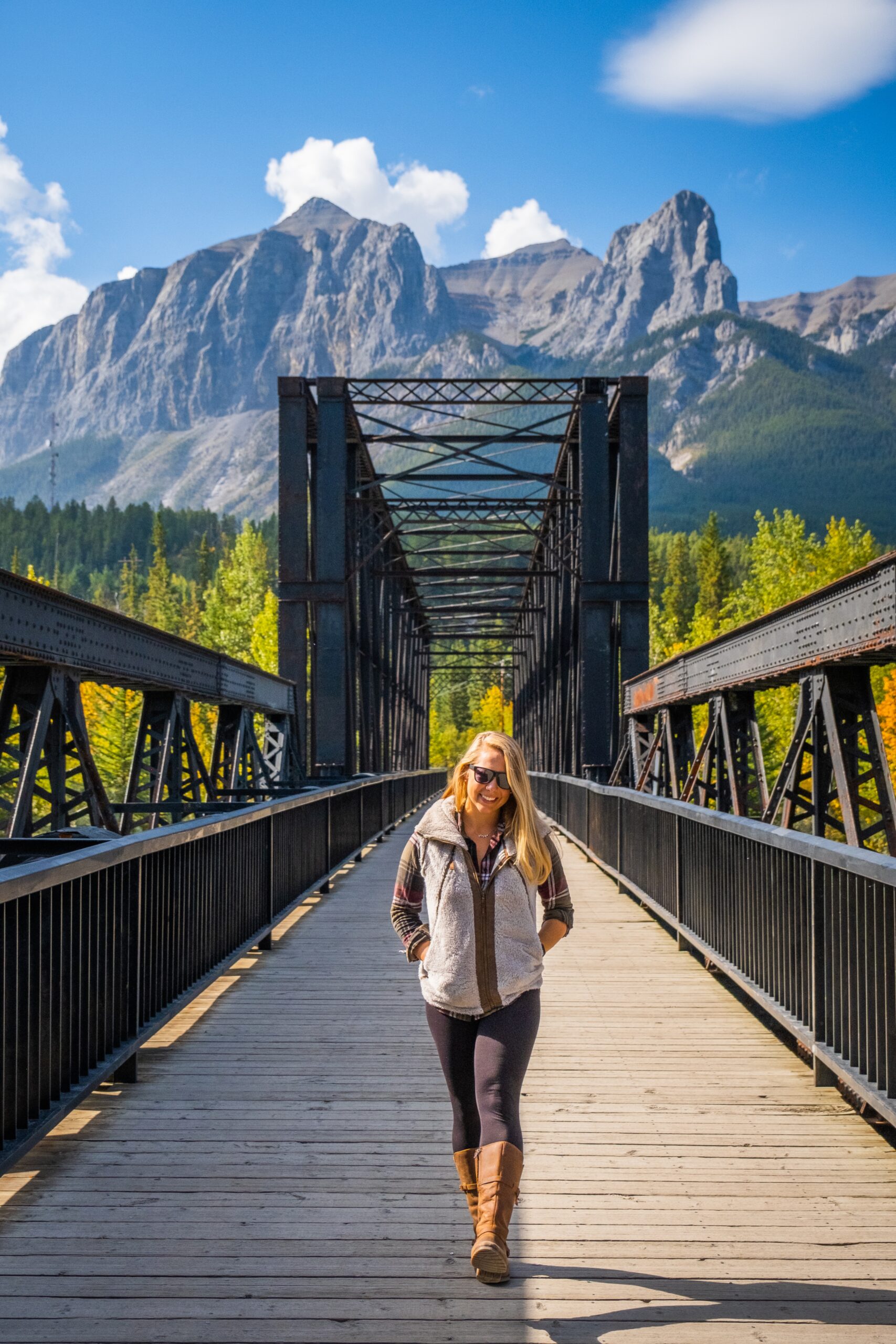 Okay, this isn't really a thing to do in Banff, Canada as Canmore a 15-minute drive away. We may be biased to our home base, but we think Canmore is the bee's knees. It's also where we spend a lot of our time in the Canadian Rockies.
Canmore is another mountain town just outside of Banff National Park. It's not nearly as touristy or popular as Banff meaning it's much more enjoyable. You can walk down the main street here without fighting through crowds and there are plenty of great restaurants, bars, and shops to venture into. The views are just as amazing as well. Make sure to check out The Three Sisters!
---
Banff Travel Tips
---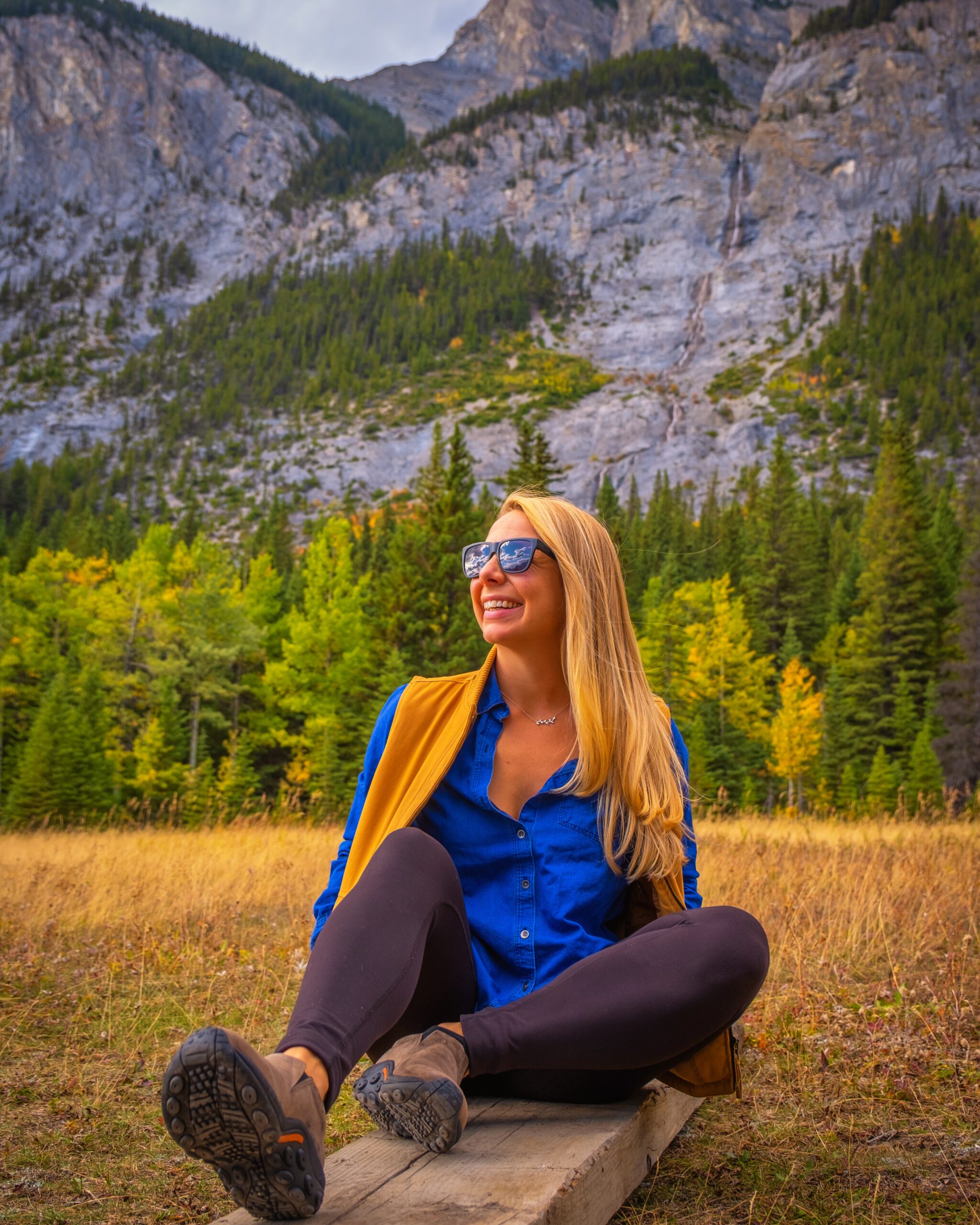 Download AllTrails
If you plan to do any hiking (including the hikes mentioned on this list) download AllTrails first. Alltrails gives you the latest review of a hike, as well as all the logistical information you may need. If you pay for AllTrails Pro you'll also be able to download offline trail maps to your phone. We use AllTrails for every hike.
---
Consider Renting a Car
Being in North America your options for transport are limited. Most visitors to Banff will rent a car in Calgary as this is the easiest way to get around. Renting a car in Banff ensures that you can get to where you want to go on your own schedule.
Depending on the season of your travel car rentals in Calgary can be quite affordable. We've rented with Enterprise for less than 20 CAD a day in the winter. However, expect prices to rise during July and August.
In the winter, it's best to get a car with winter tires so make sure to check with your car rental agency. If you do decide to drive from Alberta into BC these winter tires are mandatory! You can see road conditions here, which are super helpful between November and late April.
---
Other Transport Options
You may not feel comfortable driving in Canada and that's okay! There are other options to get to and from Banff and around the town. However, they are limited so keep that in mind.
To get from YYC to Banff, the Banff Airporter is a good option and costs $138 (CAD) round trip.
Once in Banff, there is the Roam bus system to get around town and in the summer it runs to Lake Louise while in the winter it will easily get you to Lake Louise Ski Resort and Banff Sunshine Ski Resort.