A quintessential experience in the Rockies is to enjoy a Moraine Lake canoe. A paddle across Moraine Lake is an experience that we can not recommend enough. Only a few are fortunate enough to make it to this lake in the Canadian Rockies and even less dip a paddle in its waters.
The turquoise waters of Moraine Lake are framed by the magnificent Ten Peaks for a splendid scene. It's an iconic view of Canada and at one point was on the back of the Canadian $20 bill. There is likely no lake in the world more beautiful to canoe than Moraine Lake.
See Also: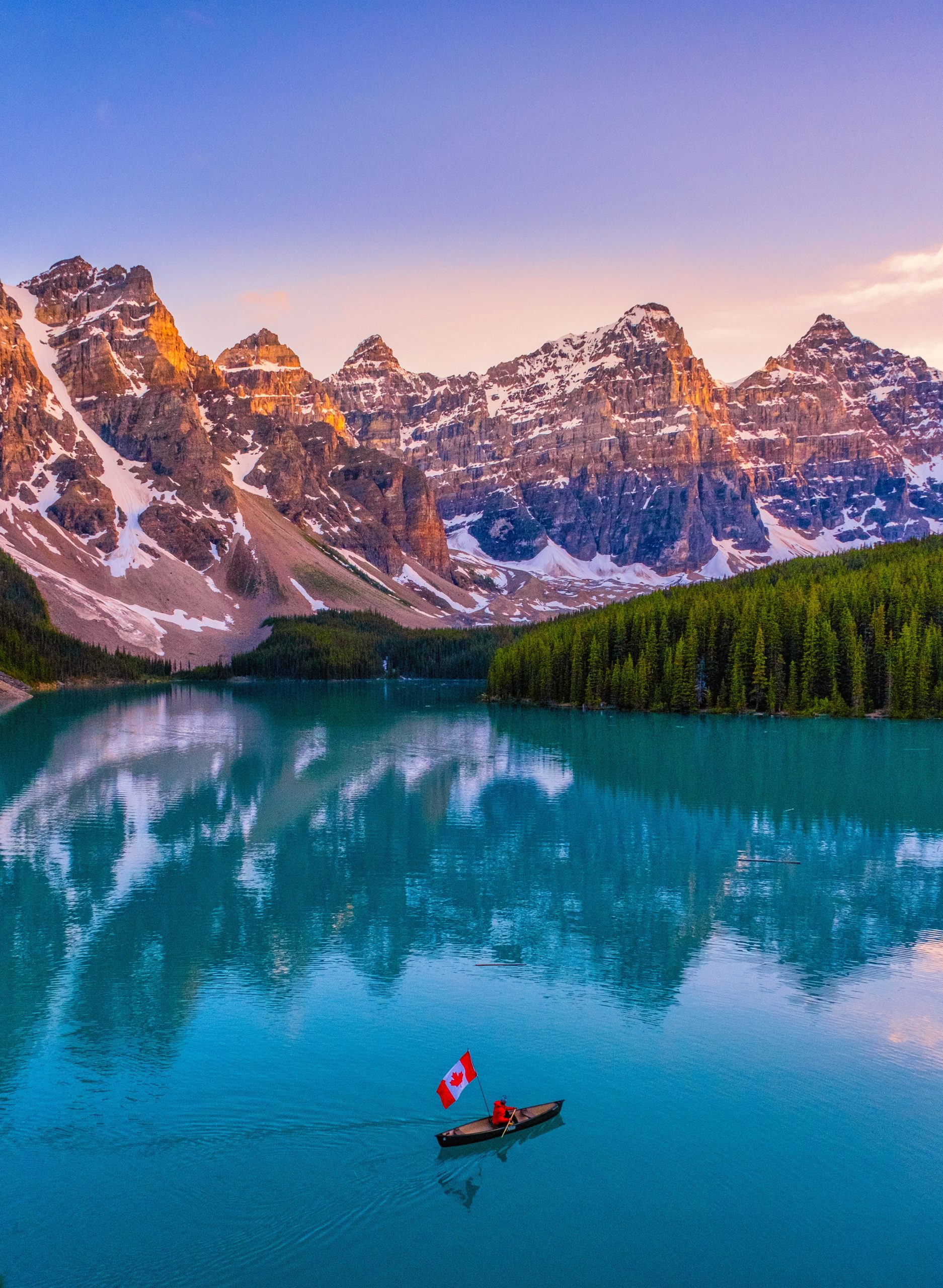 ---
Moraine Lake Canoe Guide
Moraine Lake is one of the most popular attractions in Banff National Park and draws a crowd in the summer months. The main photo spot the Rockpile is a busy spot thousands of people grab their photos of the spectacular scenery. It is a magnificent setting, but it can be a little difficult to escape the crowds.
One of the best ways to escape the crowds is to take to the water with a canoe. Or you can get out for a hike, but the Sentinel Valley and surrounding peaks can be intimidating for many along with the added threat of high levels of bear activity (always carry bear spray in this area).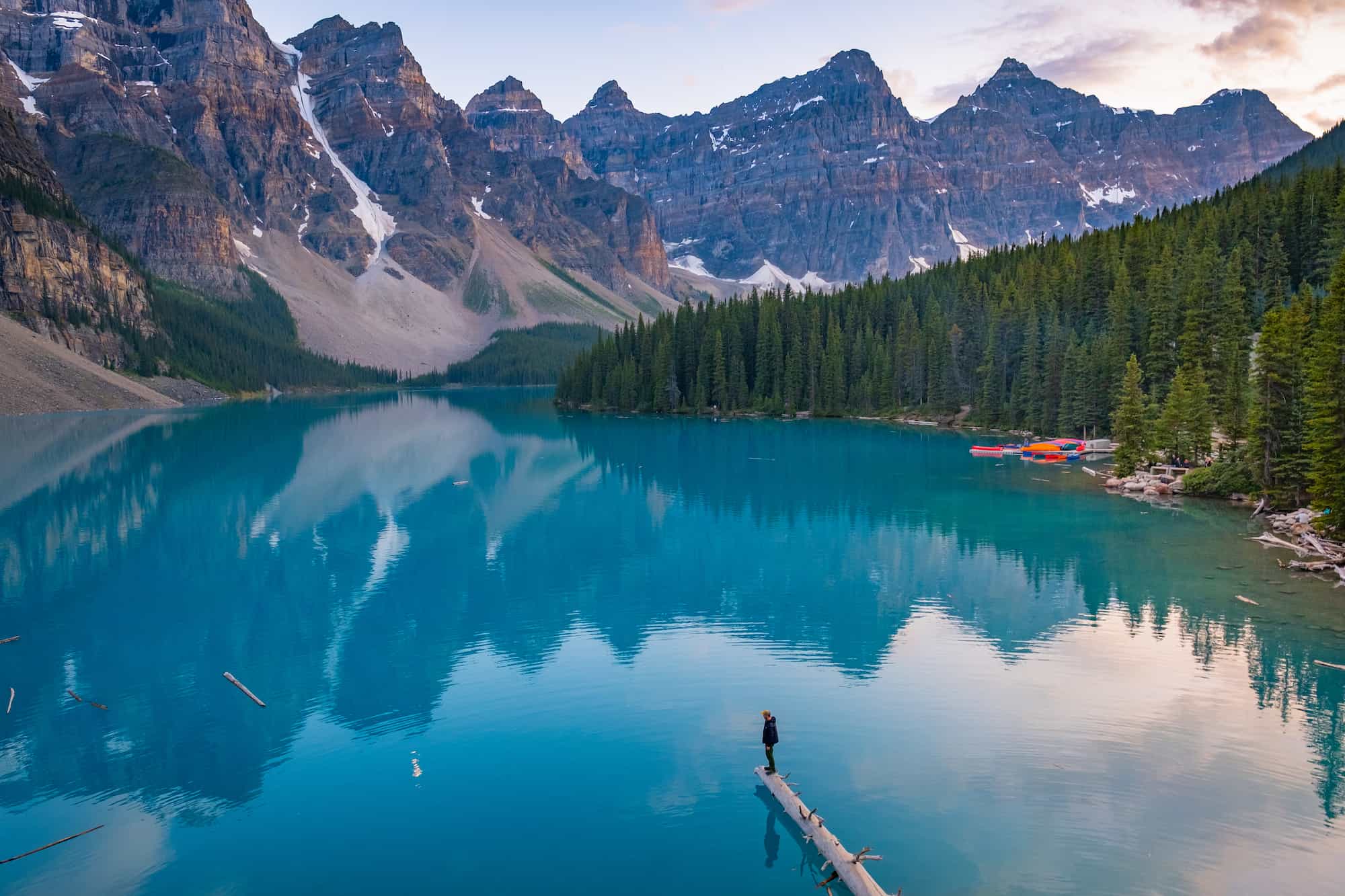 So if you're looking for more to do than take photos and stand in awe a Moraine Lake canoe rental is a great option. Visitors can rent canoes on the lake at the canoe dock run by the Moraine Lake Lodge.
---
Good to Know for Renting a Canoe at Moraine Lake
There are a few downsides to canoe rentals at Moraine Lake.
The price tag can be a little eye-watering, there are high competitions to get a canoe in the summer, and only one rental operator.
Parking at Moraine Lake is limited by a small lot and the shuttle bus system although improving still makes it difficult to reach the lake. Access to the lake is at the end of a long road and Parks Canada limits access to the road in the summer to stop a build-up at the parking lot. Most visitors will have to take advantage of the transfer bus from Lake Louise. To learn more about the updates to parking here read our main guide to Moraine Lake and our guide to parking at Moraine Lake.
The canoe rentals at Moraine Lake operate on a first-come-first-serve basis so if you arrive late in the day you may be out of luck as it's a popular activity. That being said outside of early morning or late evening there may be a wait for a canoe rental at Moraine Lake.
It's not near as busy as renting canoes at Lake Louise, due to the difficulty in reaching Moraine Lake. Once you're out canoeing on Moraine Lake you won't have the lake to yourself, but it's easy enough to keep your distance from other canoes on the lake.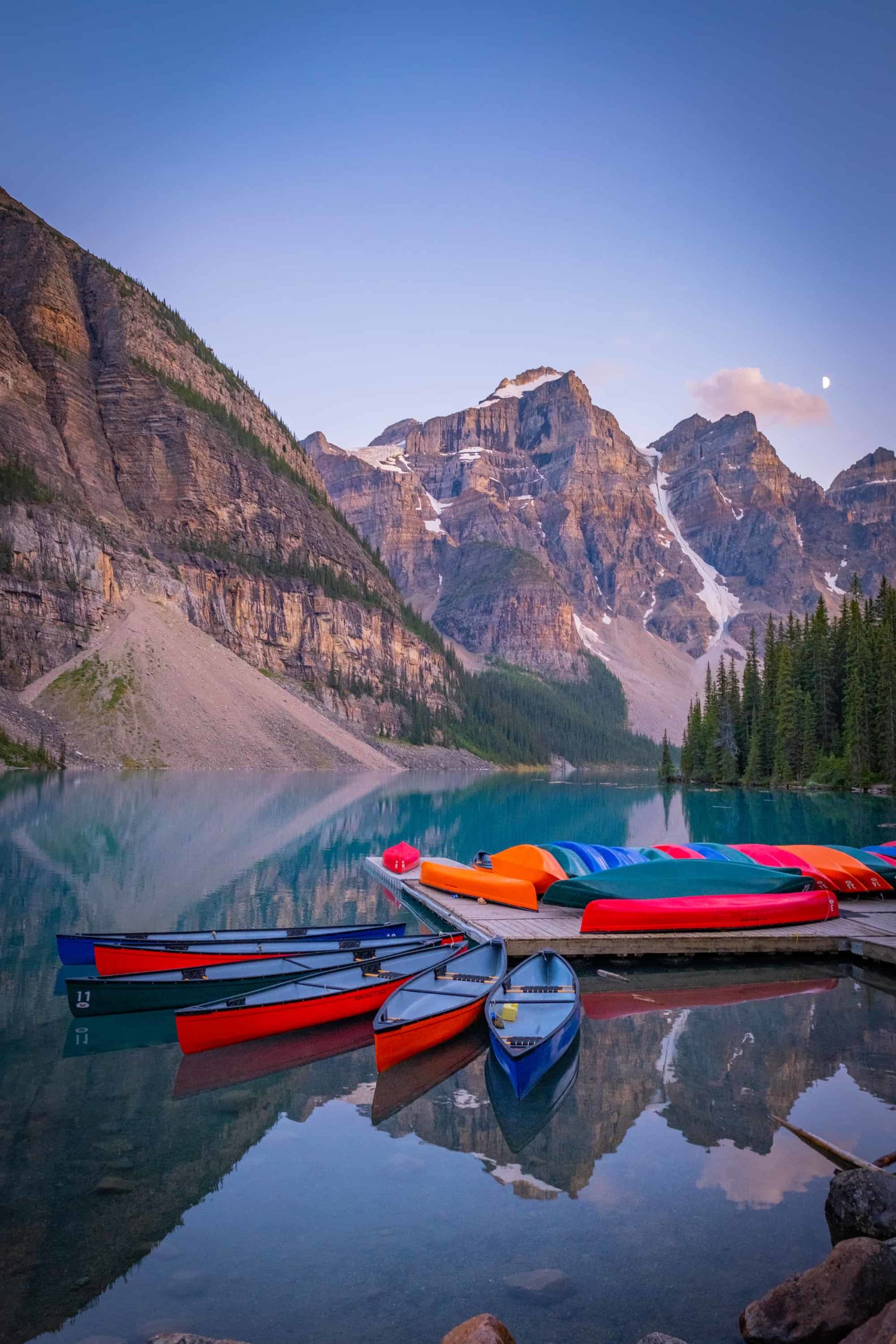 Getting solitude at Moraine Lake is particularly easy if you aim to paddle the whole lake as most people tend to stick close to the dock and the middle of Moraine Lake. The lake is not as large as canoeing on Lake Louise so an hour-long canoe rental should suffice.
It should give you enough time to paddle around the lake and grab a number of photos to save the memory, it's nearly impossible to get a bad photo at Moraine Lake.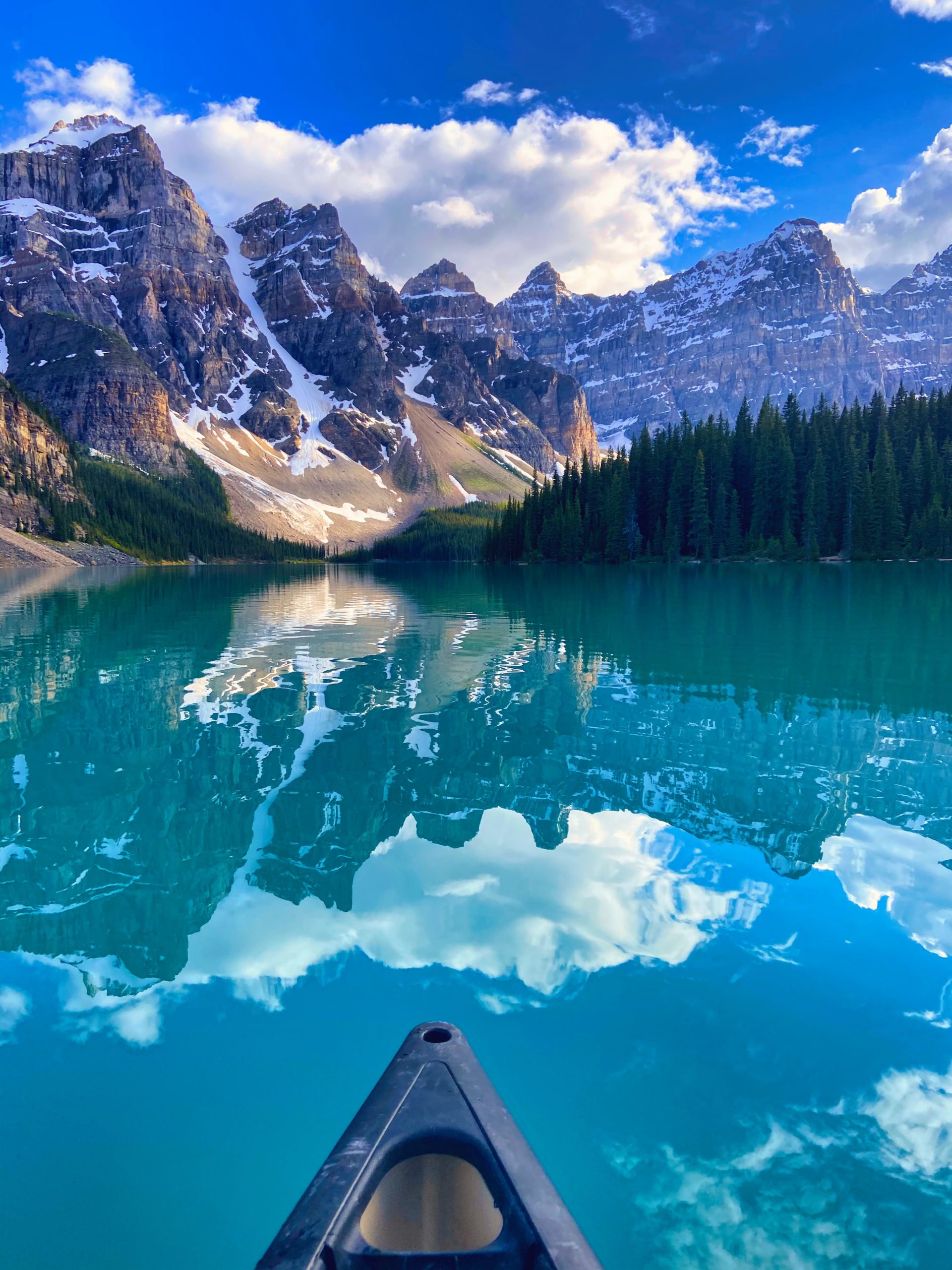 Of course, you're welcome to bring your own canoe or watercraft to Moraine Lake. The only problem is the parking situation as it's the only way to bring in your own kayak or canoe to Moraine Lake.
This means an early morning in the summer months, truly at the crack of dawn to secure a spot. We like to plan for a big Moraine Lake hike/scramble in the region for in the morning like Eiffel Peak and then finish the day with a leisurely paddle.
---
Moraine Lake Canoe Season and Rental Hours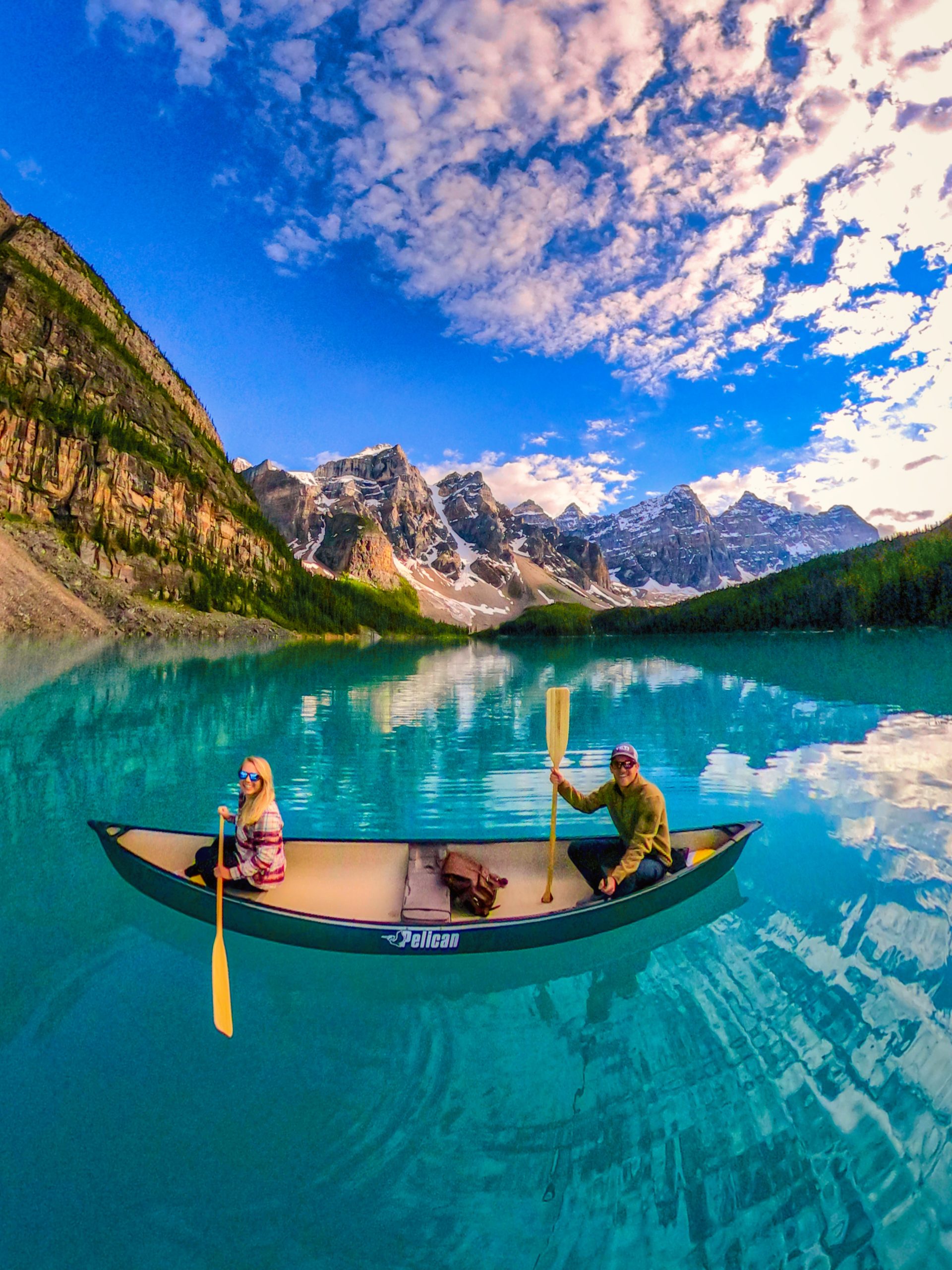 Every season at Moraine Lake Lodge is different as it's entirely dependent on seasonal weather. Generally, the lake unthaws around early-June and the canoe rentals run from mid June until mid-September when the lake water levels drop due to less glacial melt in colder weather.
The daily hours are from 9:00 a.m. – 5:00 p.m, weather permitting as they will close with severe inclement weather. Keep in mind the last boat is around 4:00 p.m. as the boat dock closes to the public at 5:00 p.m. A paddle, life jackets, and basic instructions are provided. 2-3 people are allowed on the Moraine Lake canoe rentals and no pets are allowed.
---
Moraine Lake Canoe Rental Rates
| | |
| --- | --- |
| Canoe Rental For Public | $115 per hour (+tax) |
HOURS OF OPERATION: 9:00 AM – 5:00 PM (last boat at 4:00 PM)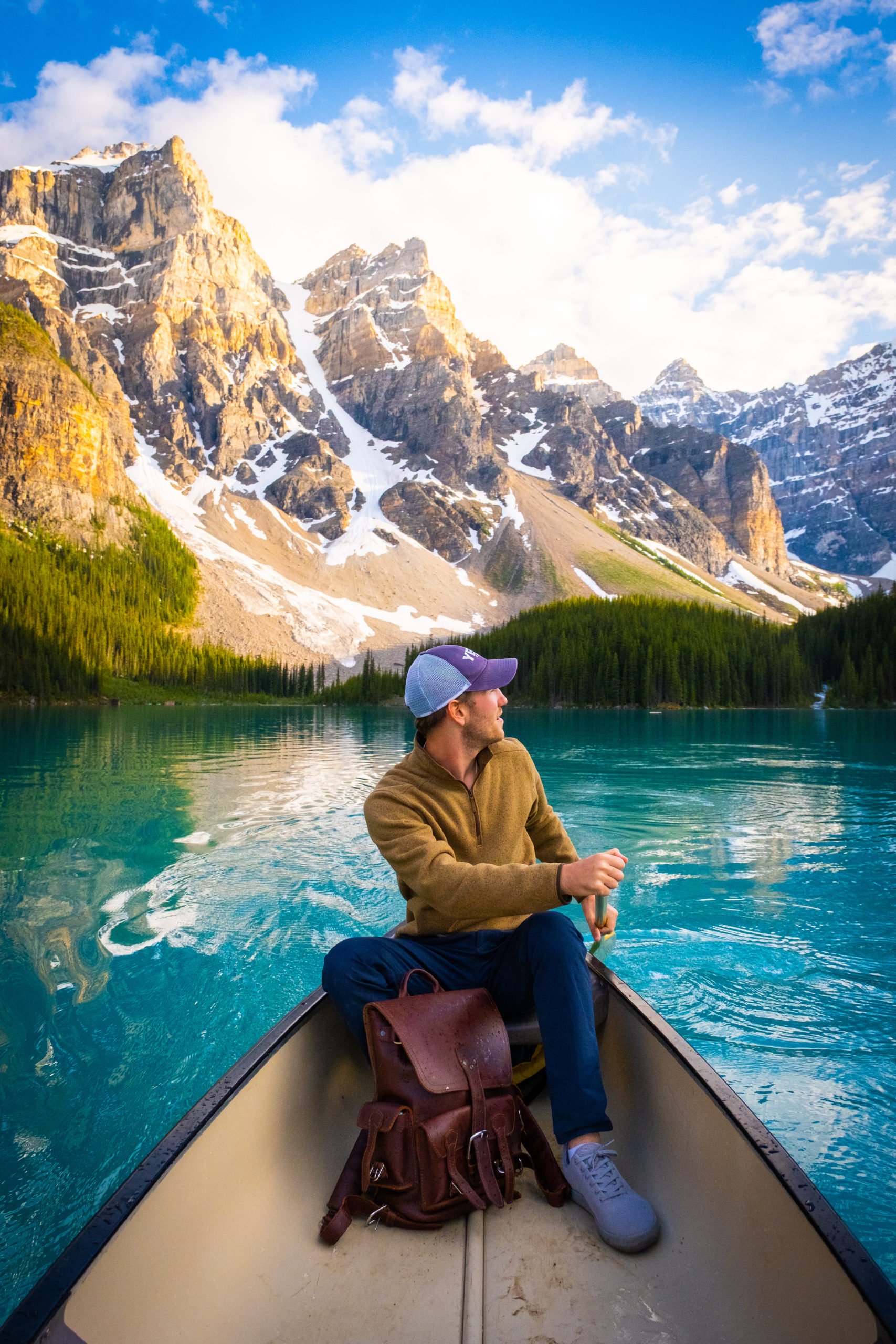 ---
Why Are Canoe Rentals Expensive at Moraine Lake?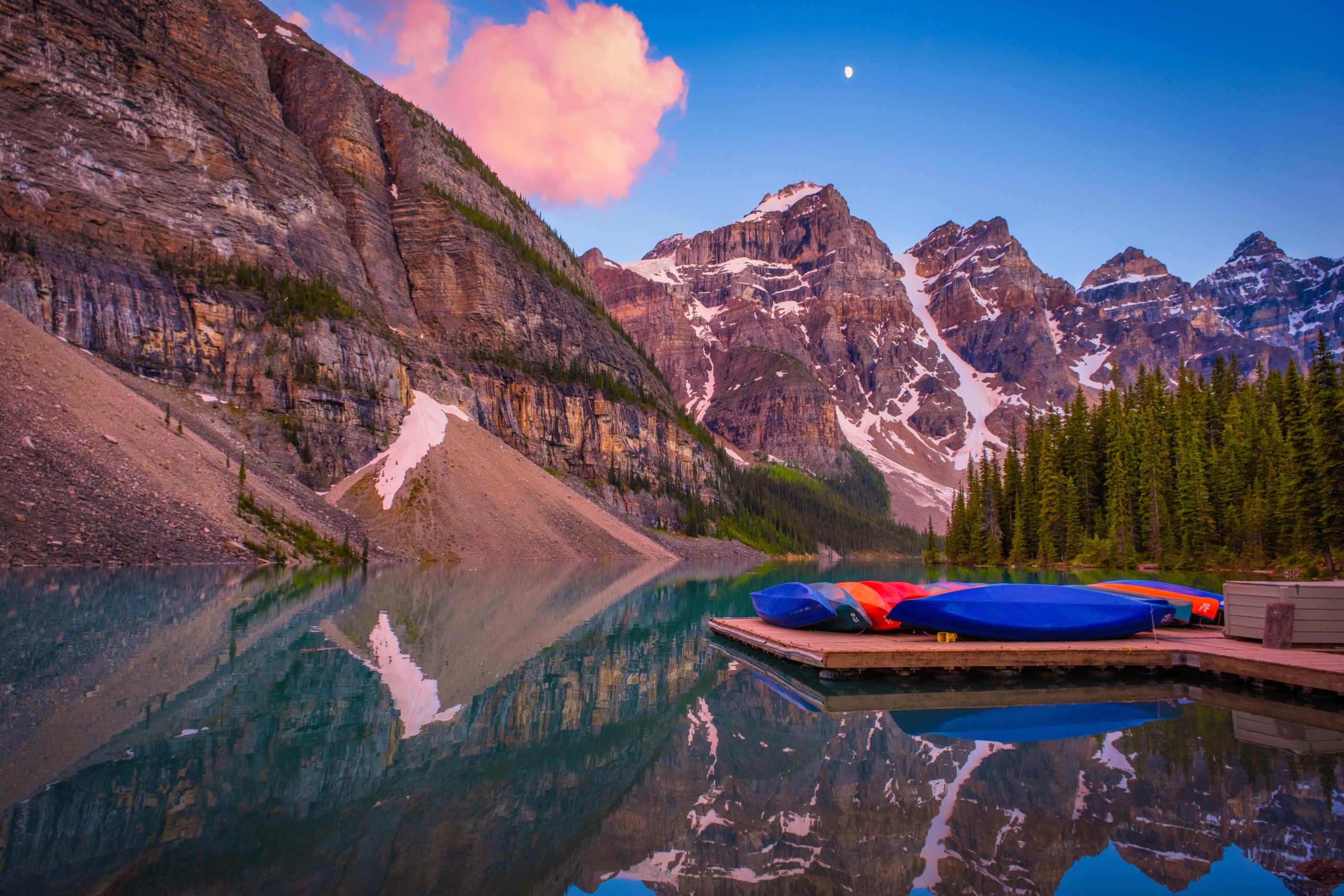 I'm sure by now you realize canoe rentals at Moraine Lake are pretty expensive. There are a number of reasons for the prices of canoe rentals. The first is the short season so the operator has to recoup their investment in the few months that Moraine Lake is unfrozen.
You also have zero competition so the Moraine Lake Lodge can set whatever price they see fit, which follows just behind the prices set by the Fairmont at Lake Louise. Canoeing on Moraine Lake is a popular activity with plenty of demand – supply and demand. On top of all that the liability insurance for operating in the park and renting canoes is very expensive.
---
Tips For Canoeing on Moraine Lake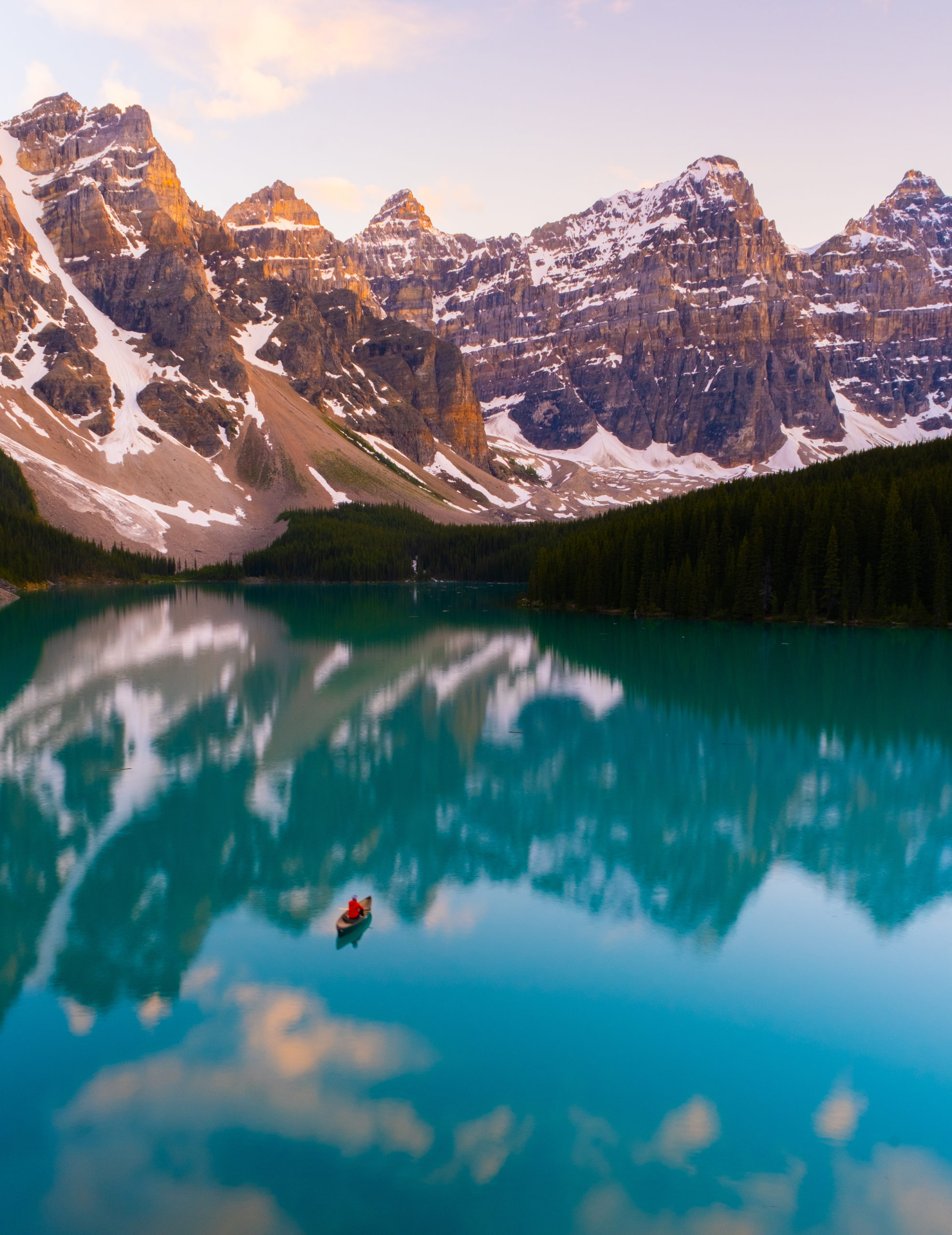 Temperatures are very cool in the shoulder months of June and September. When you go out on the water, be sure to pack in layers so you can remain warm.
Weather on the lakes particularly the large bodies of water can change rapidly. Keep an eye on the horizon if it's looking like a storm or the wind starts to pick up it may be time to get off the water.
Take sun protection seriously on warm days as the water reflection is very strong. We suggest making sure you have a hat, long sleeve shirt, and sunglasses.
Bring a water bottle in case you start heating up in the peak summer.
Remain calm and don't rock the boat when out on the water. The glacial-fed Moraine Lake is frigid all year round and you're not going to be a happy camper if you end up in the water and require rescue.
All canoe rental operators provide life jackets so make sure to take advantage. A fall into this water will surely shock you and you may not be able to swim as well as you are used to under such extreme temperatures.
---
Can You Bring Your Own Canoe Or Kayak on Moraine Lake?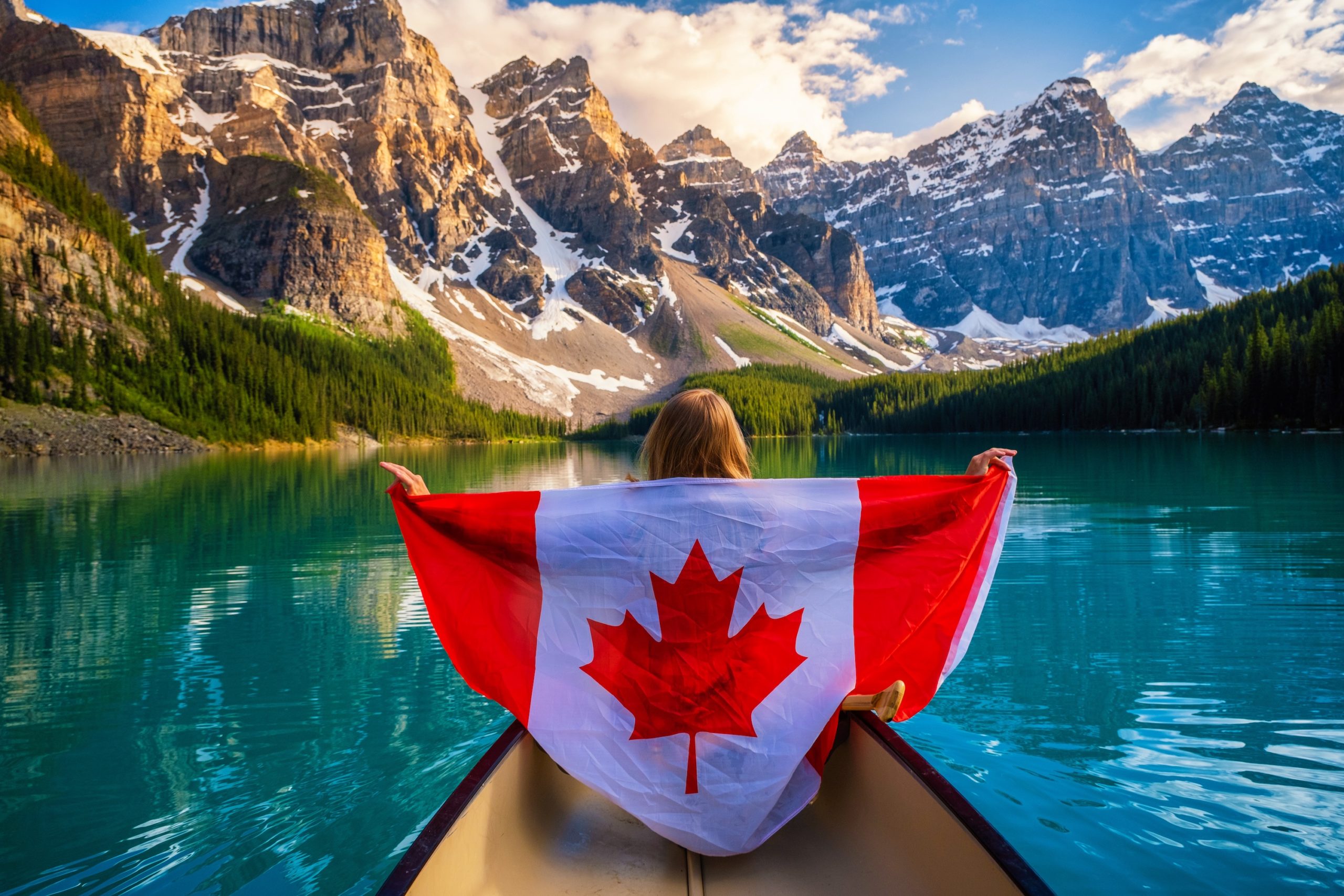 Yes, you can bring your own canoe or kayak to Moraine Lake or any body of water within Banff National Park. As stated earlier there is no public boat launch at Moraine Lake which means you'll have to carry your canoe from the public parking lot. That is if you can get a parking spot as they fill up fast in the summer months.
There aren't any great spots along the lakeshore to launch a canoe yourself, but where there is a will there is a way. You just might have to get your feet a bit wet!
We love to go for a SUP on the lake by arriving early in the morning for a Moraine Lake hike and then relaxing on the water in the afternoon. However, we've been able to get a parking spot and get out own canoe in the water occasionally too, typically in the late evening in the summer. All the photos from this post are with our personal canoe!
To prevent the spread of Aquatic invasive species visitors must now fill out a Self Certification Permit with Parks Canada for any nonmotorized watercraft entering the water. This includes personal kayaks, canoes, and paddleboards. The Self Certification Permits can be found online.
---
Should You Canoe on Moraine Lake or Lake Louise?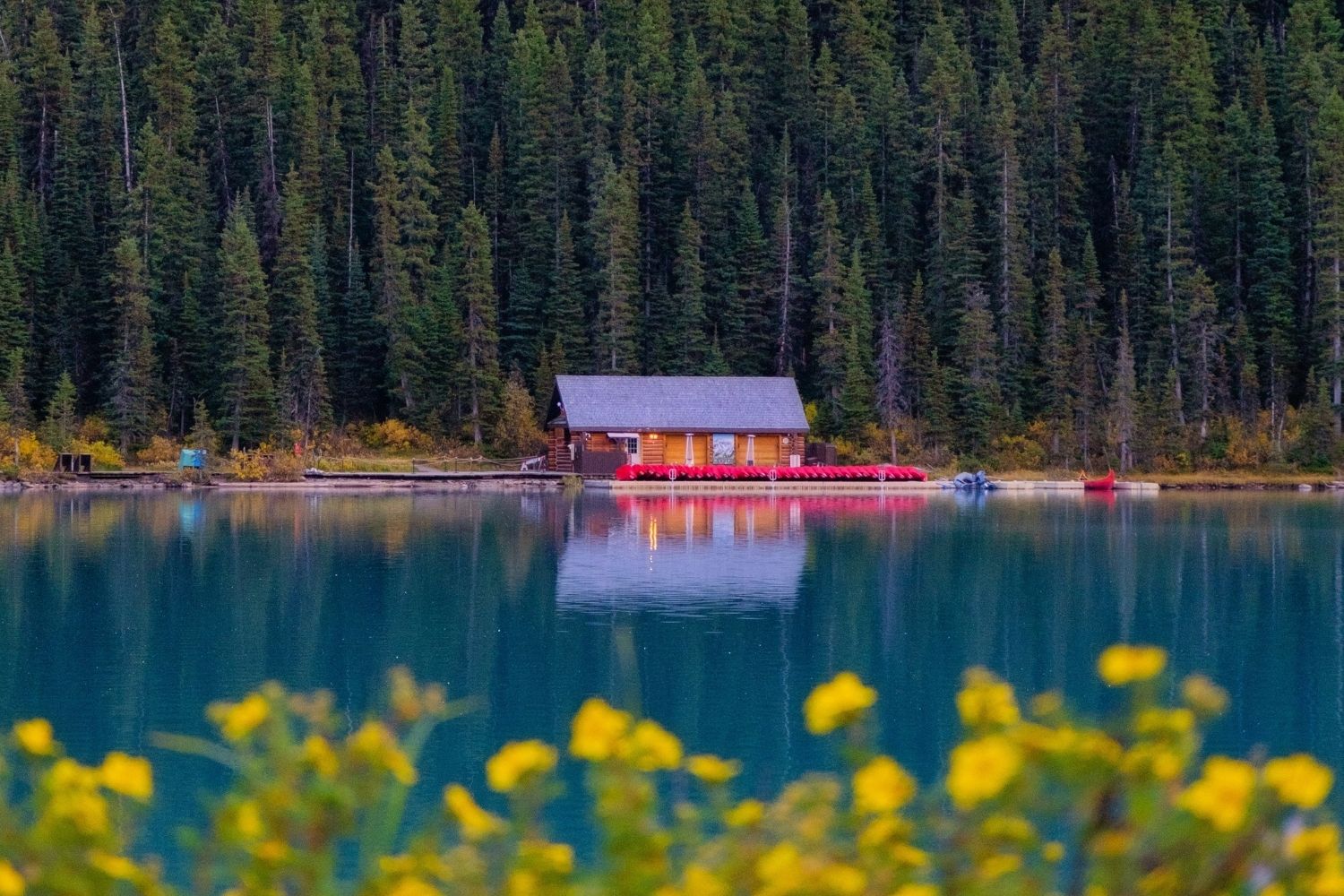 Of course, canoeing on both lakes is ideal! Though we know that not everyone has the time or budget to canoe on both lakes. We have canoed on both Lake Louise and Moraine Lake and have no preference over the other.
They are both fantastic places to take in from the water. Because of parking restrictions at Moraine Lake, I would say that canoeing on Moraine Lake sees fewer people.
---
Other Places to Rent a Canoe in Banff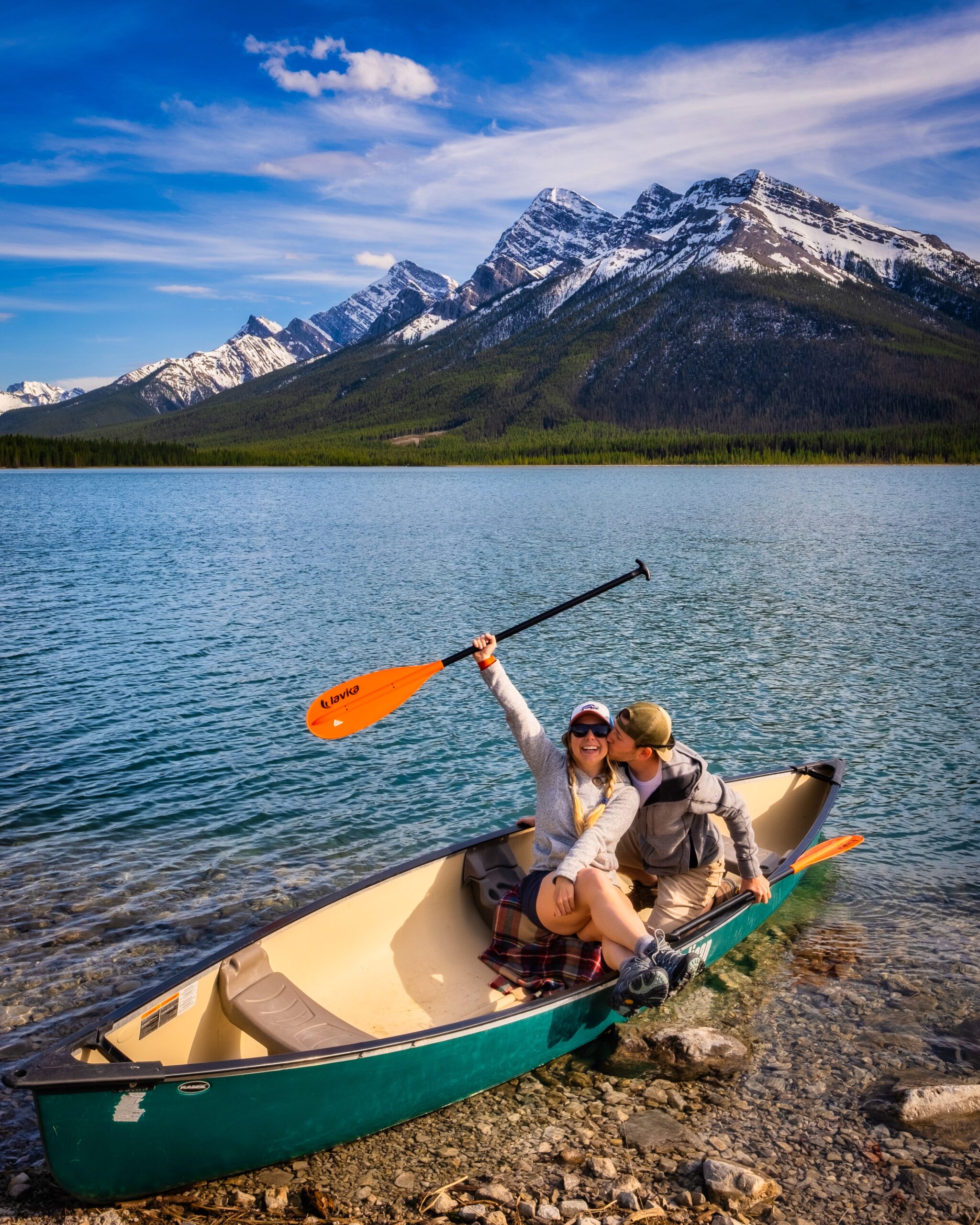 If you're not keen on waiting in line or paying the high prices for a canoe rental at Moraine Lake there are other locations that you can head to in Banff National Park. For more information, you can check out our post on canoe rentals in Banff.
---
↓ Join the community ↓
The Banff Blog Facebook Group is your headquarters for the Canadian Rockies' travel advice and information. Including hike info and off-season travel information. This is also where you can meet one another when you need adventure buddies. 

Plan Your Trip to the Canadian Rockies