Emerald Lake canoe rentals are an experience of a lifetime. Emerald Lake is located in the stunning Yoho National Park, one of the best places to visit in BC. This lake has both turquoise-colored water and astounding mountain views. Both the attractive surroundings and the beginner-friendly waters make for the ideal canoeing destination.
Canoeing on Emerald Lake is both breathtaking and relaxing, as you paddle through the crystal clear water and fully immerse yourself in nature.
We highly recommend adding this to your bucket list during your trip to British Columbia!
See also:
---
All About Emerald Lake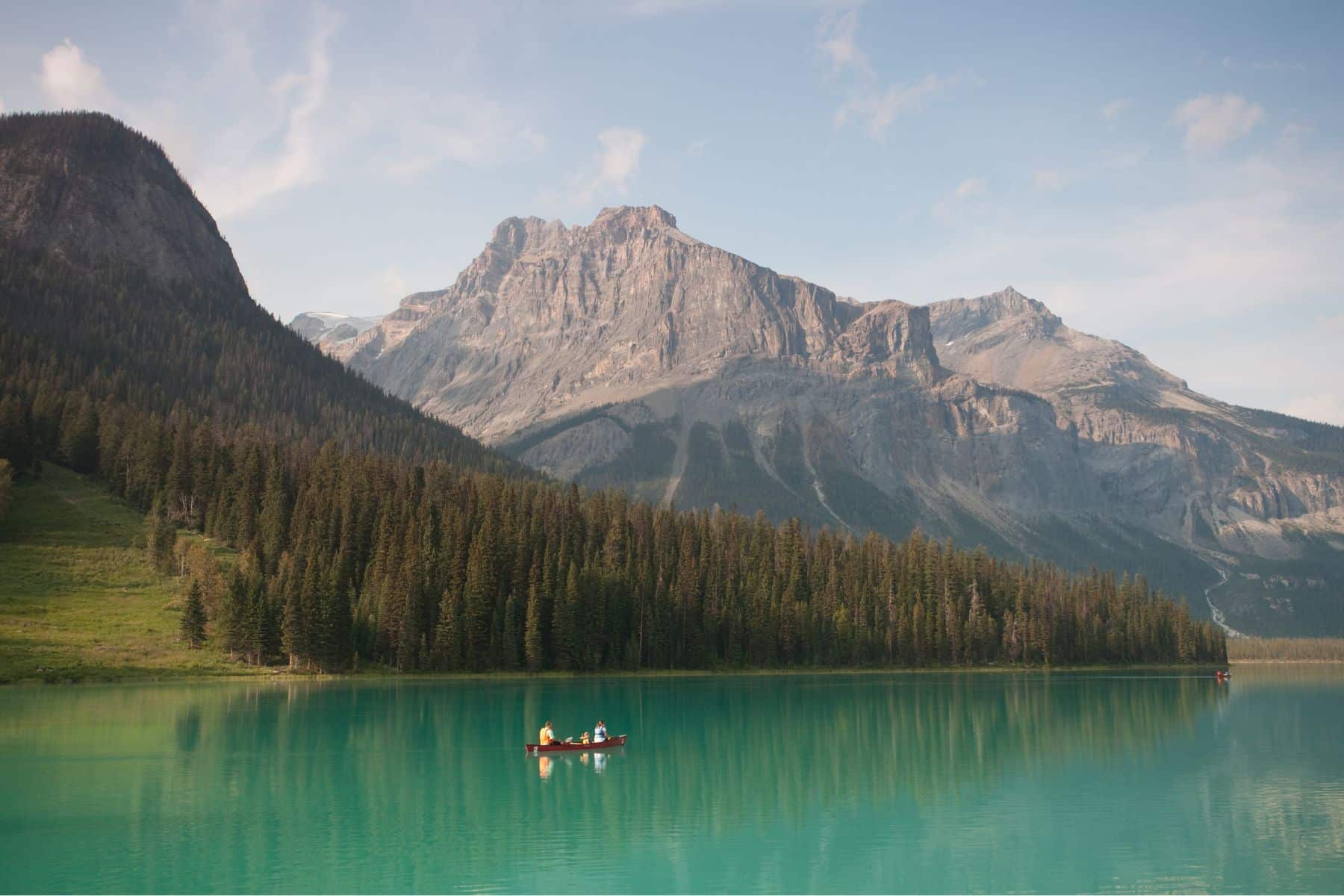 Emerald Lake was named after its impressive color, resembling the gemstone. The lake has this remarkable color due to the sunlight reflecting off of the white layer of marl found at the bottom of the lake. Marl is a calcium carbonate clay that is formed in the water before settling at the bottom of the lake.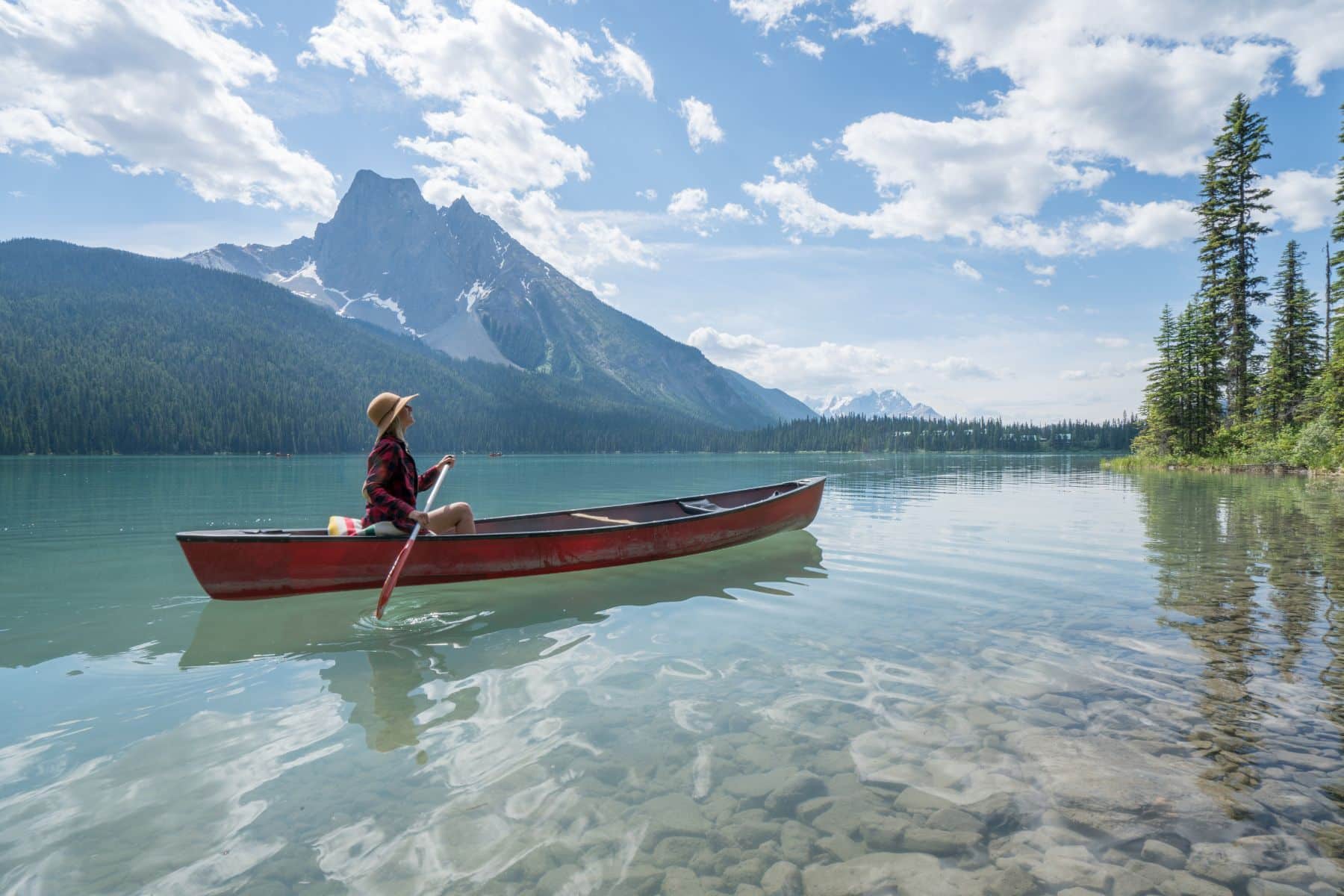 This lake was discovered by Tom Wilson in 1882, during the construction of the Canadian Pacific Railway. Interestingly, the original lodge found at Emerald Lake was built in 1902 and could only be accessed by railway. In the mid-1920s, the lodge was renovated and expanded and car access was made available.
---
The Good and the Bad About Emerald Lake Canoe Rentals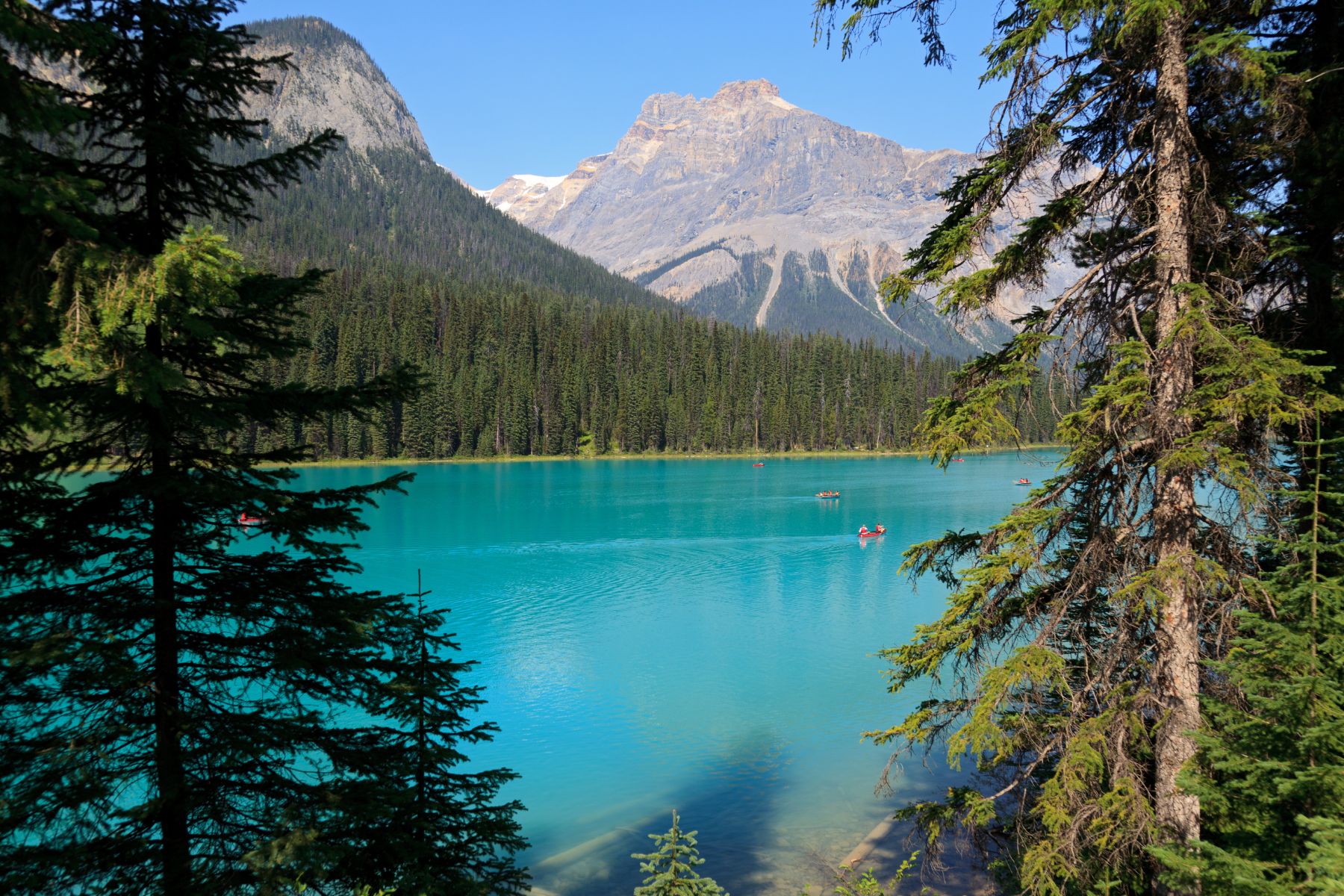 There are so many things to consider when planning an outing to Emerald Lake. We want to leave you feeling informed and in the know about the good, the bad, and the ugly when it comes to Emerald Lake canoe rentals.
Emerald Lake Canoe Rentals: The Good

1 - Emerald Lake has so much good to offer. The "Gatorade" coloured water is our favourite thing about the area. On a sunny day especially, the lake colour comes to life, making for a once in a lifetime experience.

2 - Canoeing at Emerald Lake is beginner friendly. Seeing as motorboats are not permitted on the lake, the water is calm and there is ample space for you to learn and soak in this amazing experience. Before starting, the friendly workers will ask you if you've canoed before and give you instructions from there. Being a plus sized woman, I felt totally comfortable canoeing on Emerald Lake. Choosing Emerald Lake as your first ever canoeing experience would not only be a wise choice in terms of learning conditions, but would set the bar high in terms of experience!

3 - One of the things that we love most about Emerald Lake, is that there is so much more to offer than just canoeing. We love heading to Cilantro Café for a bite to eat and a drink on their patio, putting up our hammock and walking the 5.2 km loop around the lake. 
Emerald Lake Canoe Rentals: The Bad

1- Seeing as canoeing on turquoise water is quite niche and it is one of the only options to choose from in the area, The Boathouse Trading Co. can choose their own price points. Though the rental price could be seen as expensive if you are travelling on a budget, this is one experience that we found to be worth every dollar. It's worth noting that canoe rentals on Emerald Lake are lower than nearby Lake Louise and Moraine Lake. 

2- The weather can be super unpredictable. Surrounded by mountains, the weather in this area changes quickly. If you're travelling with time restraints and had allocated a certain day to canoe on Emerald Lake, you might be dissapointed if Mother Nature doesn't cooperate. Though this experience can still be enjoyed on a cloudy day, without the sun, the lake will not show of its beautiful turquoise colors to the same extent. 

3- The Boathouse Trading Co, the canoe rental shop, will close down for the day if the weather is not safe for canoers. Though this can be dissapointing for your trip, please know that they are taking all precautions to keep you safe. 
Emerald Lake Canoe Rentals: The Ugly

1- Though it isn't shown in the Instagram worthy photos you will come across, Emerald Lake can be extremely busy in the summer months. Consider arriving early on in the day in the hopes of finding a parking spot. 

2 - Once you are out on the water, you will be immersed in a tranquil and serene atmosphere. That said, when touring around the facilities, it may be pretty packed, depending on the season, the weather and time of day. 

3 - Though we did not have any trouble getting a canoe rental, this is something to keep in mind when planning your trip. With a limited amount of canoes, there could be a wait time. They do not take reservations in advanced, so be prepared to enjoy the other activities that the lake has to offer while waiting your turn. Pack water, sunscreen and food in case you are put on a wait list and enjoy the beauty that surrounds you in the meantime. 
---
Pricing for Canoe Rentals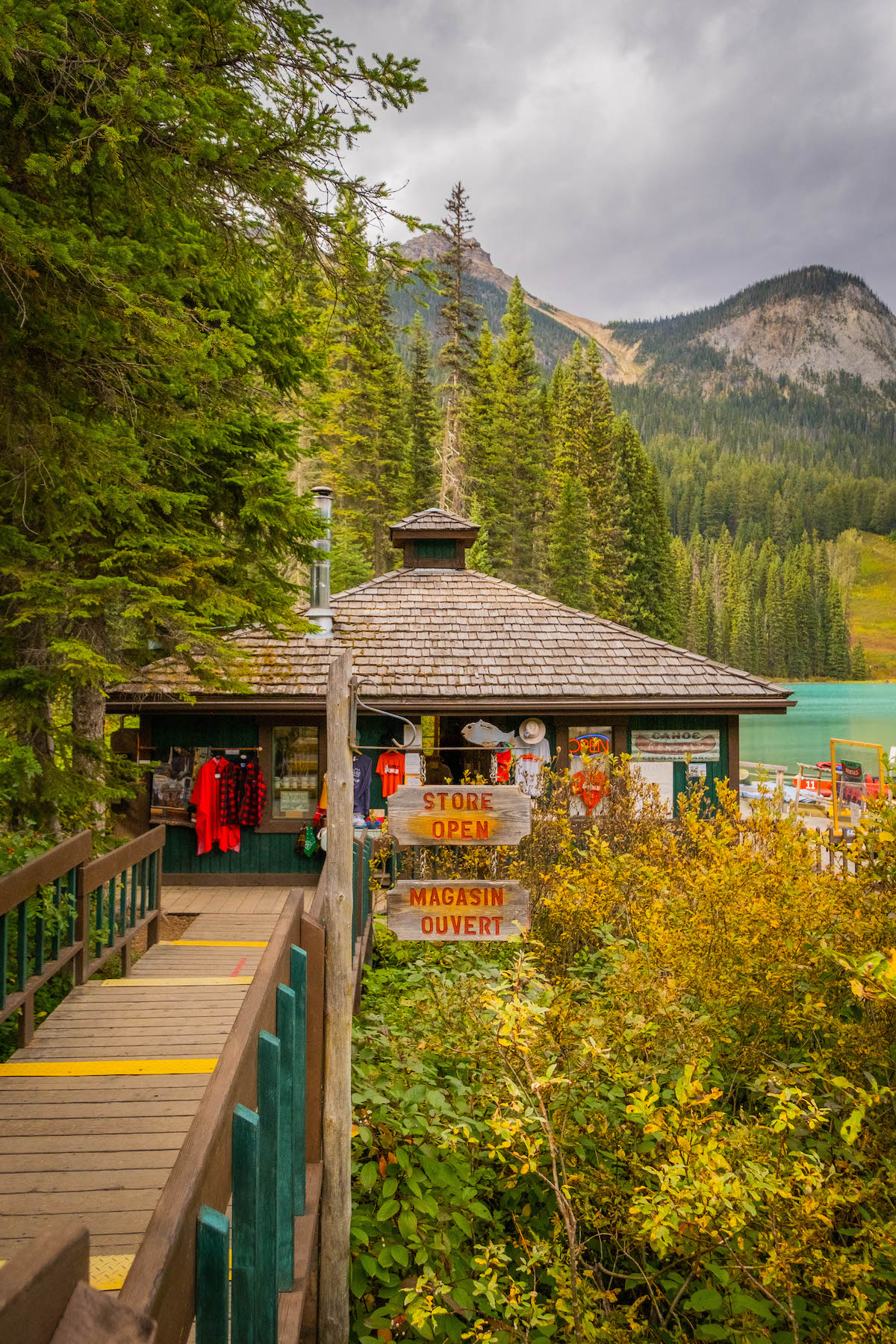 | | |
| --- | --- |
| Canoe Rental at Emerald Lake | $90/ hour |
Pricing for canoe rentals at Emerald Lake
Though you could rent the canoe for more than one hour if you are an enthusiast, we were more than satisfied when the hour ran out. This gave us enough time to paddle out, take multiple photos and float along the lake.
There is nowhere to store your belongings while you're out on the lake, so consider leaving anything that you don't want to risk getting wet in your vehicle.
TOP TIP: Bring your furry friend along for the adventure! One dog is permitted in the canoe with a maximum weight of 50 lbs.
---
Emerald Canoes Hours of Operation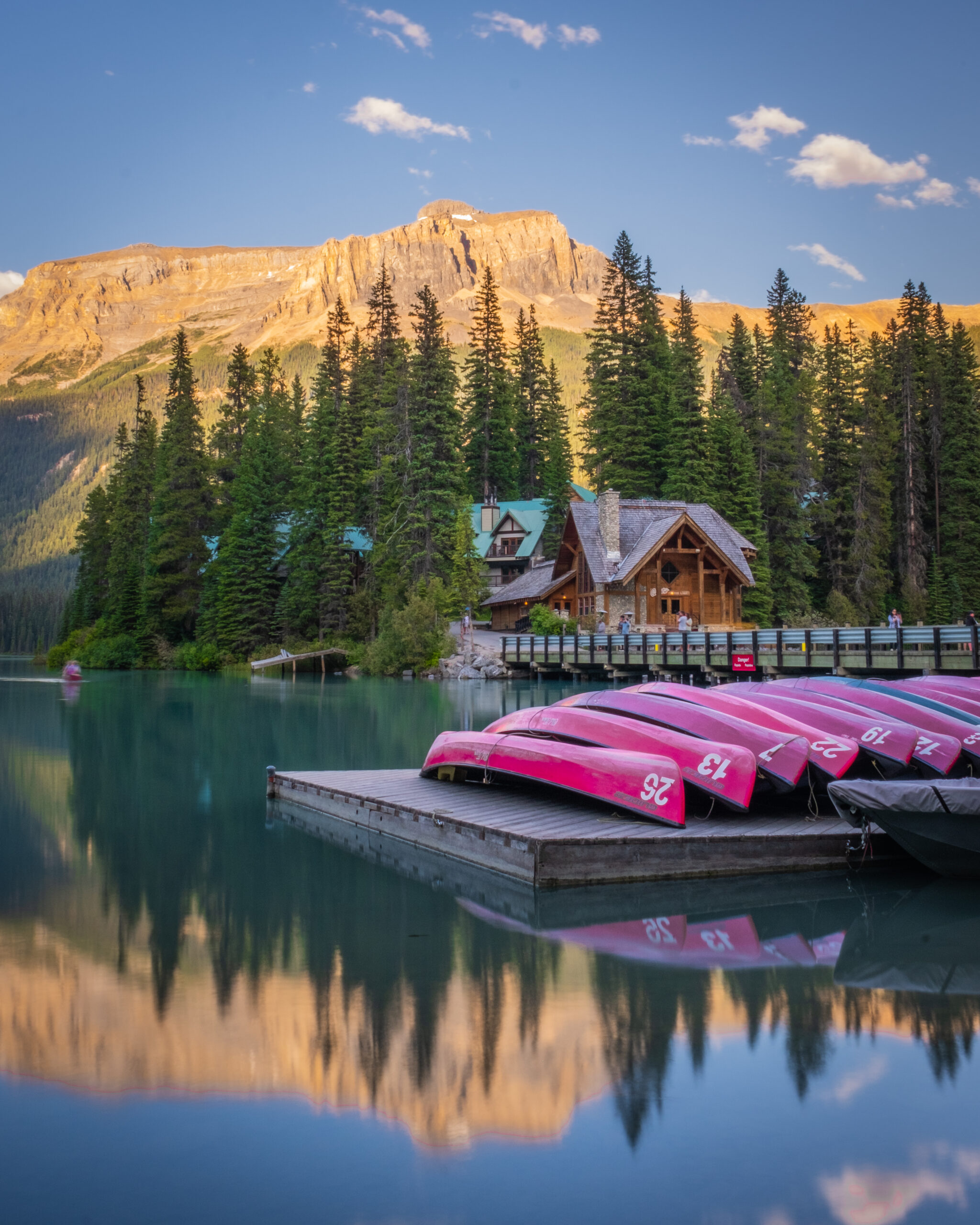 The 2023 summer hours have not yet been released. Keep your eye on their site to see when they will be announced. The hours are dependent on hours of sunlight, which are much longer in the summer months. That said, the 2022 fall hours were as follows.
| | |
| --- | --- |
| Open 7 days a week | 8am – 2:45pm (the last canoe goes out at 2:45pm for one hour) |
Fall hours in 2022
In 2022, the closing weekend was October 8th and 9th. The closing weekend may fluctuate based on the weather as every year's weather looks different in the Rocky Mountains!
HELPFUL INFO: There is no cell phone reception at Emerald Lake. Keep this in mind as you prepare for your trip. Once you've arrived, sit back, relax and enjoy a chance to disconnect from the world of technology and connect with nature.
---
Are Emerald Lake Canoe Rental Prices Expensive?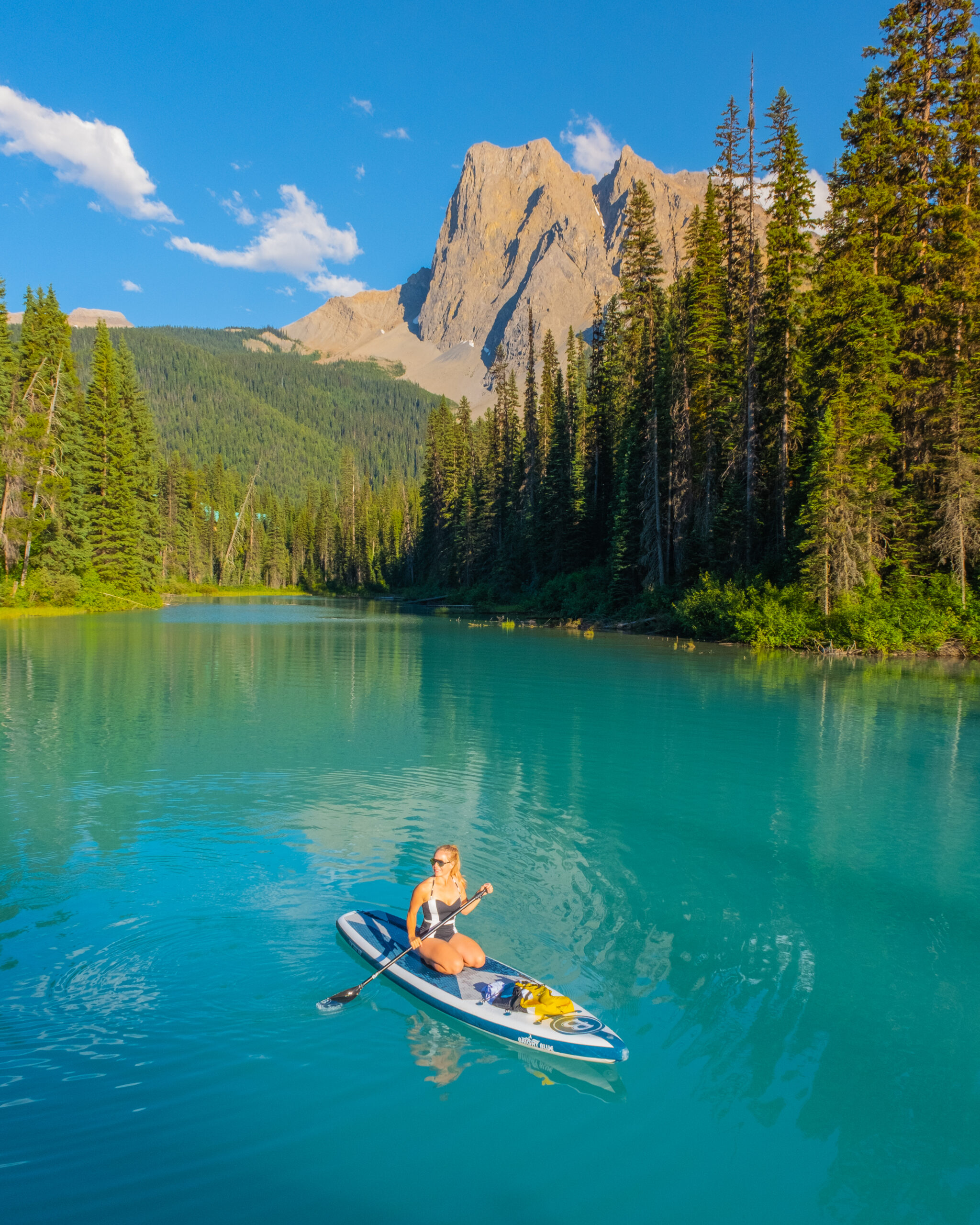 When looking at the upfront cost of $90/ hour, canoeing at Emerald Lake can seem expensive. That said, when you break it down, it isn't quite as unreasonable as meets the eye.
Canoes can fit up to 3 adults, or 2 adults with 2 small children. Enjoying this experience with others can significantly decrease the cost per person.
| | |
| --- | --- |
| Three adults | $30/ each for the hour |
| Two adults and two small children | $45/ each adult for the hour |
Pricing when canoeing in groups
Though it may feel as though this is an expensive activity, it is actually quite a reasonable rate when compared to its competitors. The closest canoeing opportunities on breathtaking turquoise waters are on Moraine Lake and at the Fairmont Lake Louise.
With Moraine Lake being only accessible by shuttle/ bus, and Fairmont Lake Louise which is now charging for parking, Emerald Lake is both the most cost-effective and accessible option out of all the major lakes to canoe on in the Rockies.
| | |
| --- | --- |
| Moraine Lake Public Canoe Rentals | $115/ hour |
| Fairmont Lake Louise Public Canoe Rentals | $145/ hour |
Canoe rental prices in the area
---
Can you Bring Your Own Canoe?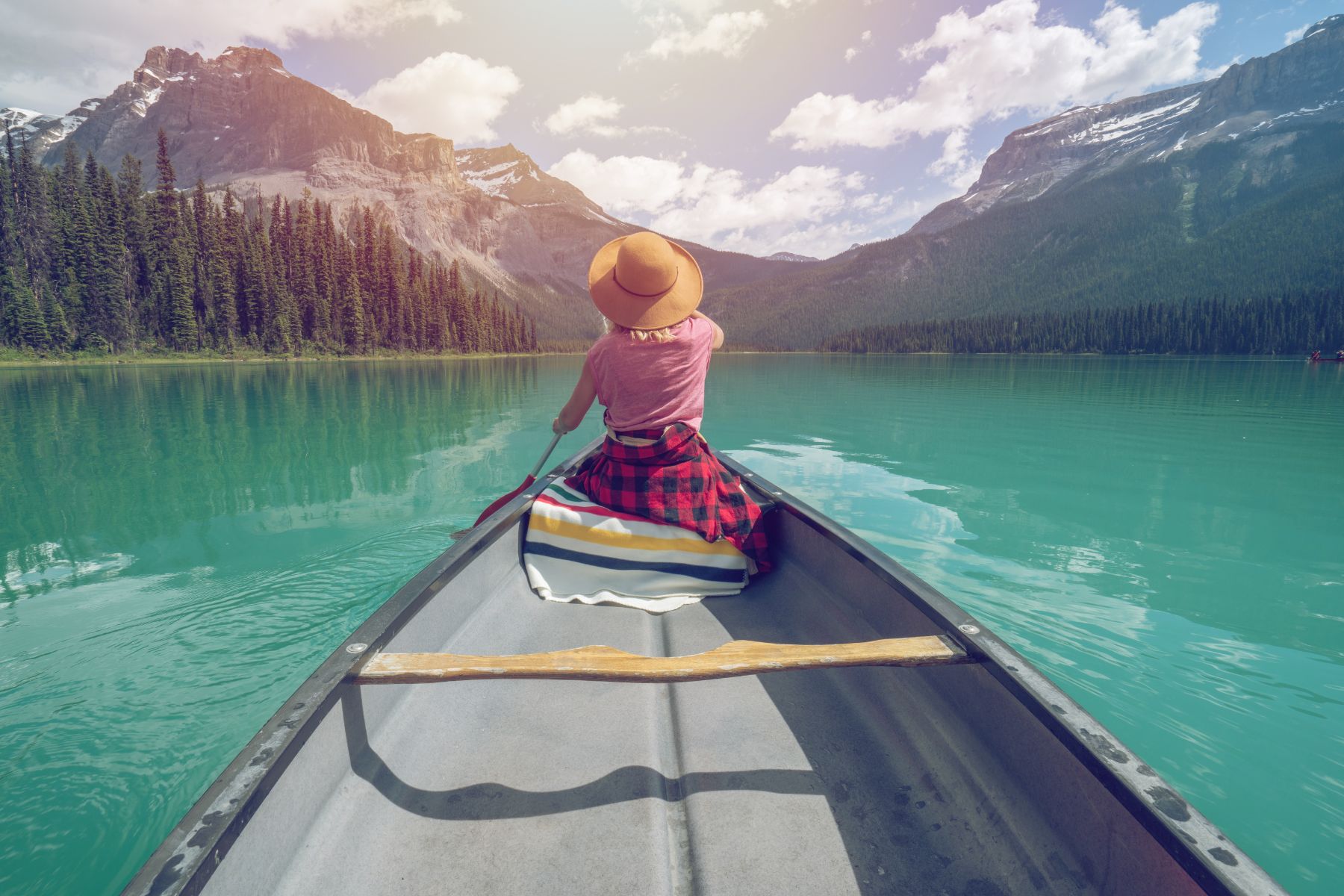 Yes, you can most definitely bring your own canoe, kayak, or sup! If you live within driving distance of Emerald Lake, this could be a great option.
That said, the beauty of rentals is that you can visit from anywhere and get to experience this classic Canadian activity. Not to mention, the convenience of not having to lug around your own canoe around is more than worthwhile!
If you do have your own floatation device, you'll be happy to know that the parking lot is not far from Emerald Lake. Making it easier to launch your own device into the water. That is if you get a good parking spot at Emerald Lake (so arrive early before 9am, or in the evening after 6pm, in the summer!)
---
What Else Can I Do at Emerald Lake?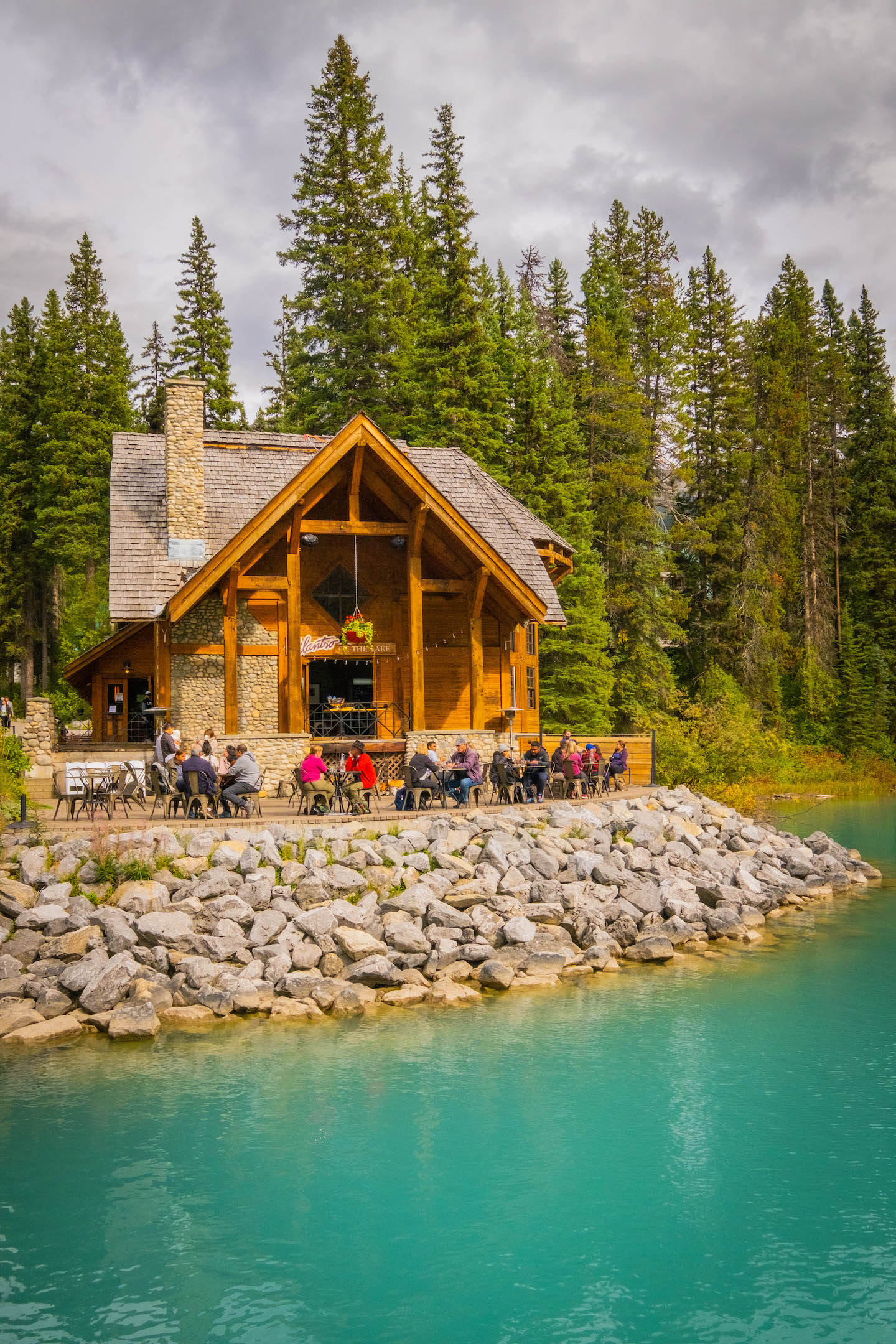 Emerald Lake is so much more than its canoeing experience. You could easily spend a half day or more at this impressive location.
Dining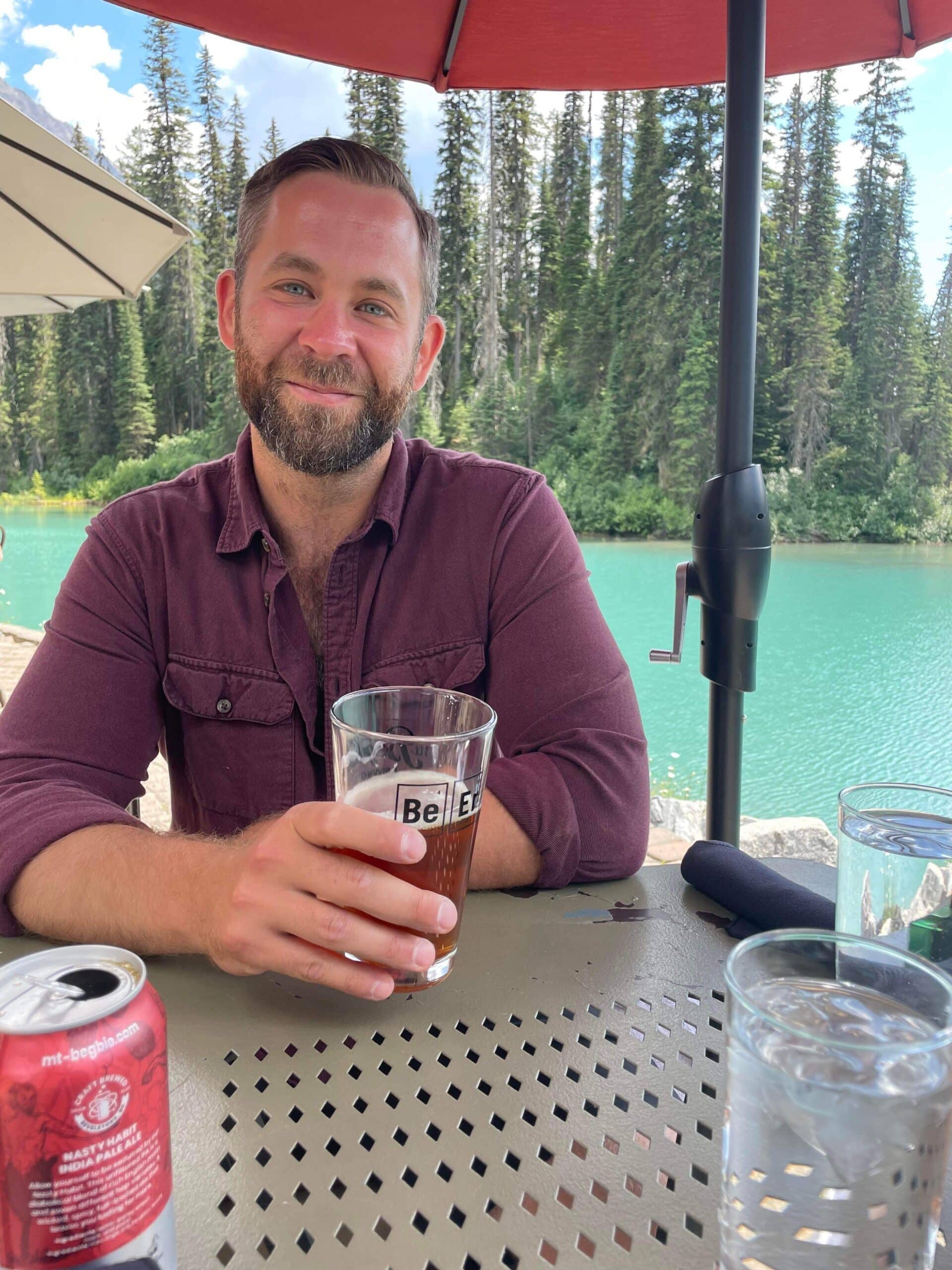 We love making the most of our day and grabbing a bite to eat while we're at Emerald Lake. After working up an appetite out on the lake, we enjoy heading to Cilantro Café to grab a cold drink and some food.
If there is a lineup, it is worth the wait to be out on the patio. The patio is intimate and is right on the edge of the lake. It is a great way to take a little break from the sun and to rehydrate after being out on the lake.
There is also a quick grab-and-go cantine-style nook for quick snacks and drinks. It is located past Cilantro Café, on the path to Emerald Lake Lodge.
Walking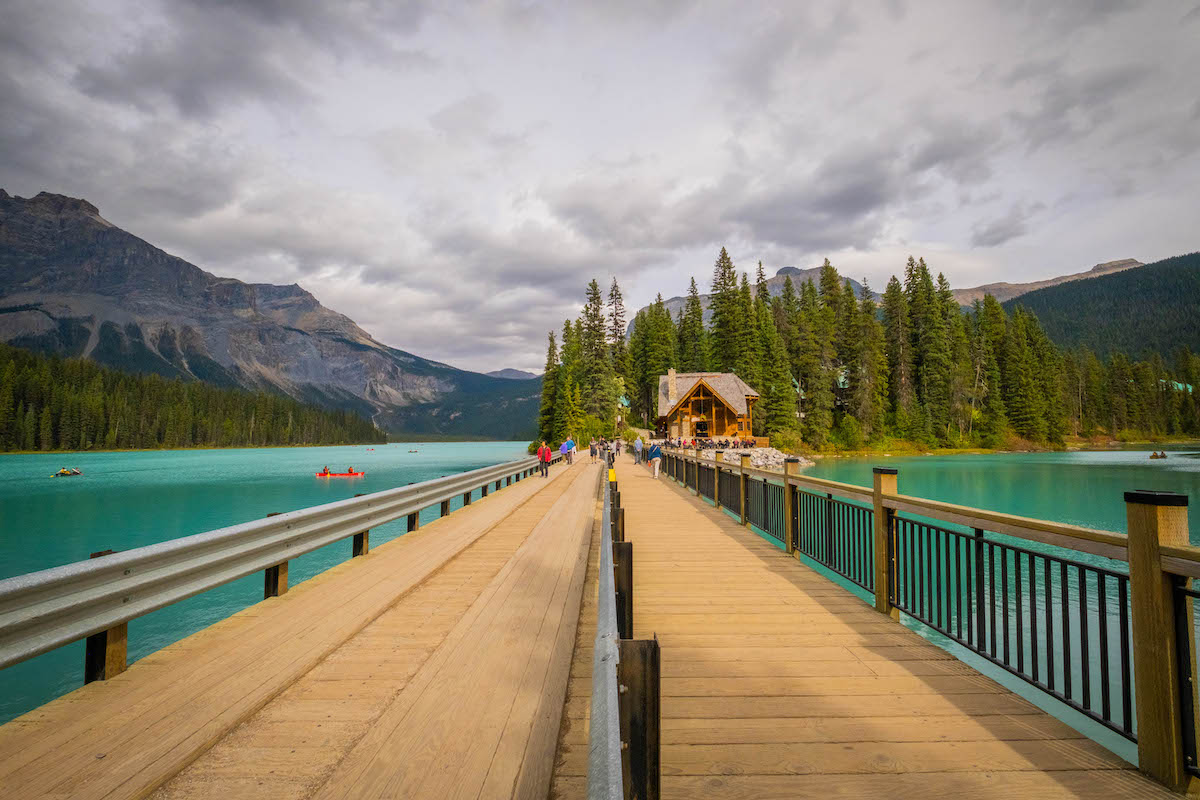 What better way to soak in the views of the lake than to walk around it? There is a 5.2 km path that loops around the lake, with an approximate round trip of 1 hour and 20 minutes. This Yoho hike offers post-card-worthy views of the lake and the Rockies along the way.
We recommend packing good walking shoes for this trail, as there are some uneven areas. Don't forget to pack your water and sunscreen while you're at it!
Hammocking
Though this area isn't renowned for its hammocking spots, we successfully found a cozy shaded spot nuzzled in the trees and overlooking the lake. Bring a book, some comfortable clothes, and enjoy a relaxing afternoon in your hammock.
Picnicking
If the canoe rental already felt like it was at the high end of your budget, consider packing a picnic to enjoy before or after your canoe trip. Though there are picnic tables available as you walk down the trail to your left, they do tend to fill up quickly. Consider bringing a picnic blanket or some camping chairs instead.
Did you know that you can bring a small picnic on the canoe with you to enjoy while floating on the lake? Be sure to keep all food scraps and garbage with you while on the canoe and take them with you when you leave. Alcohol is not permitted on the canoe.
The Natural Bridge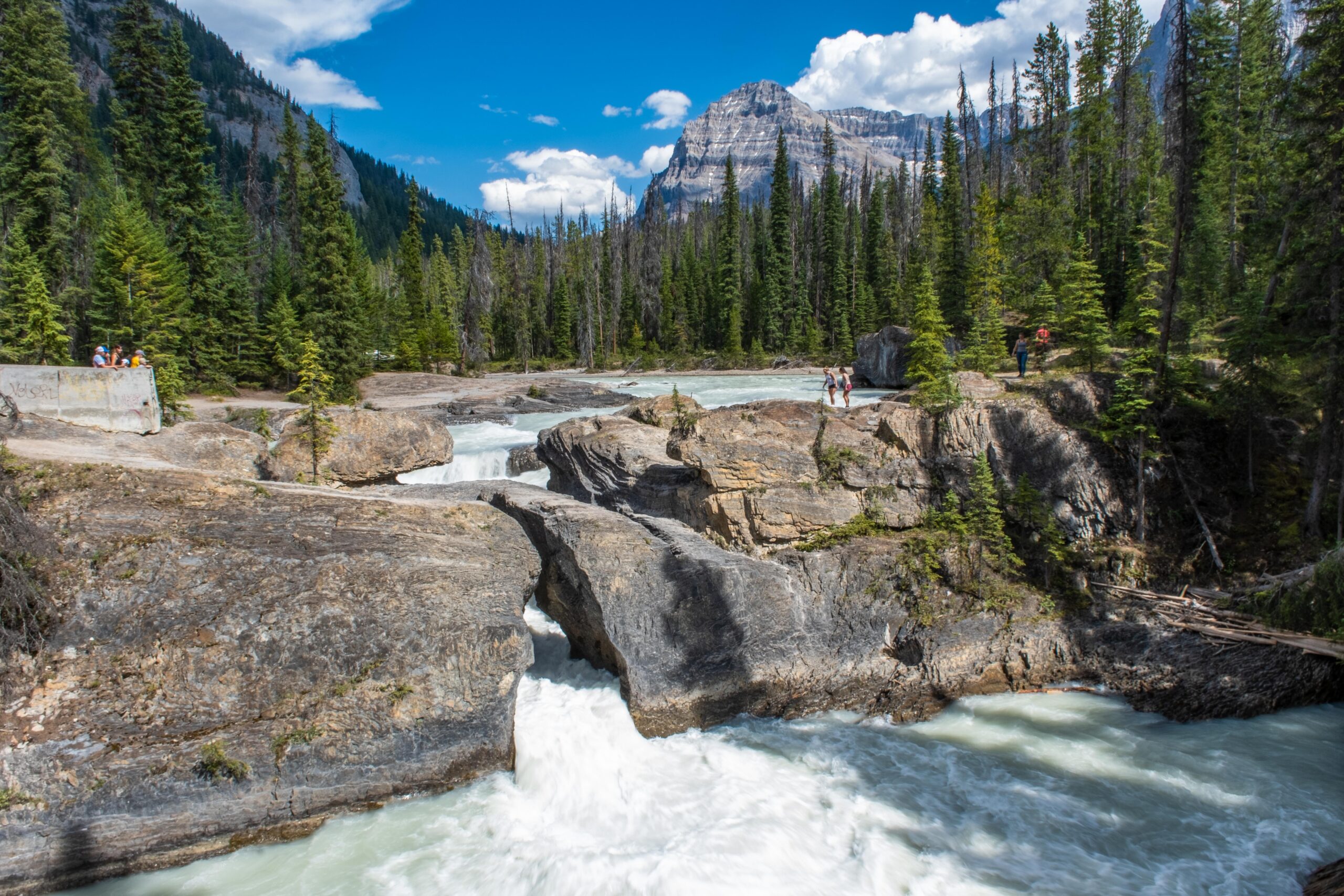 If you're heading to Emerald Lake, you need to stop at the Natural Bridge on either your way in or out. The Natural Bridge is a stop-off point on Emerald Lake Road. The turn-off is easy to miss, so keep an eye out for it on your left as you head up to Emerald Lake.
The natural bridge is what it sounds like. A natural bridge made out of rock that was cut by the Kicking Horse River. It's an unusual sight to see, especially in the winter!
---
Parking at Emerald Lake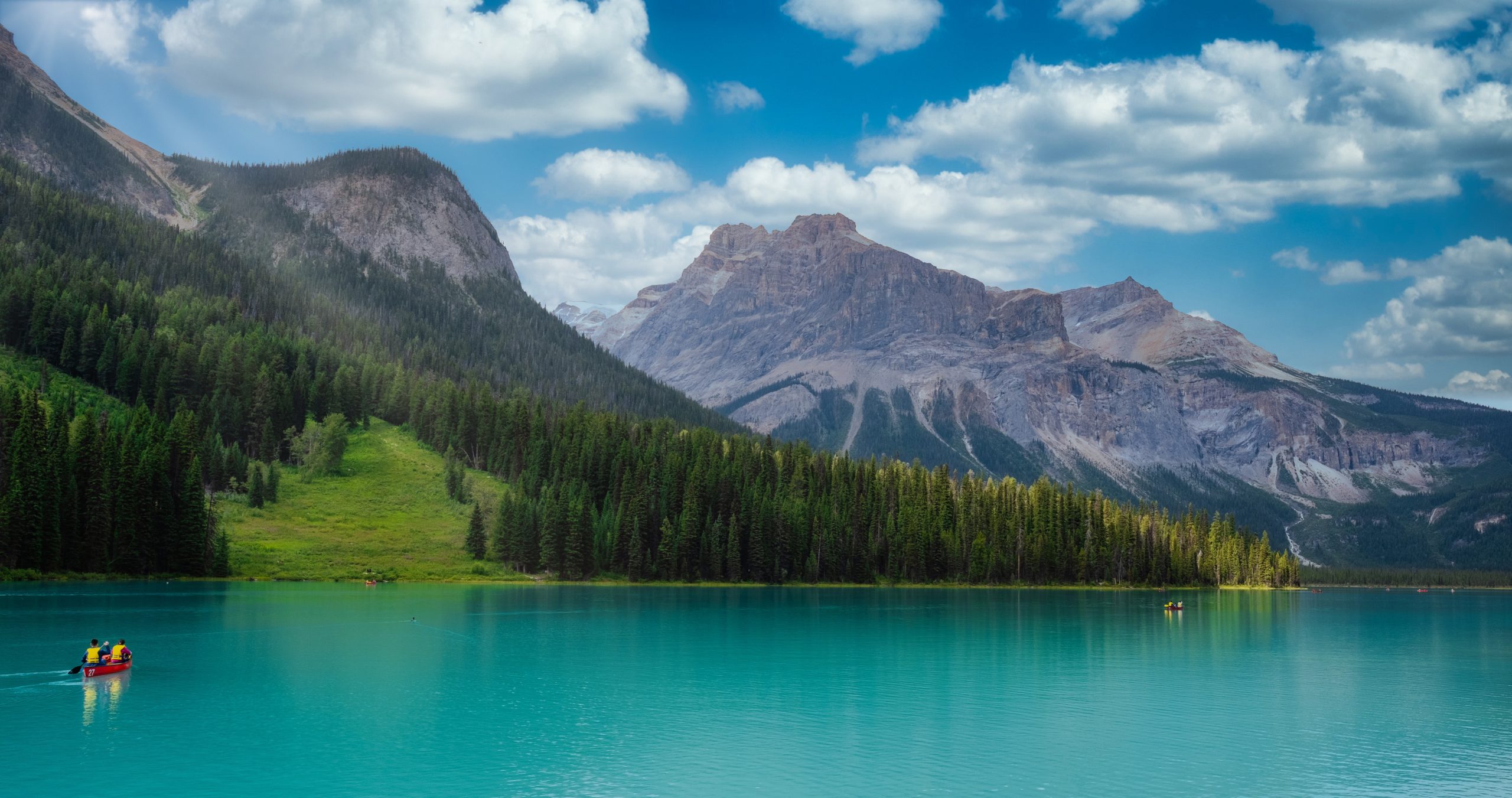 Parking at Emerald Lake can be challenging just like any other top attraction in the Rocky Mountains, especially during the prime summer months of July and August.
We recommend heading to the lake earlier in the day to increase your chances of finding a spot. Once you've arrived at the parking lot, try taking a full loop around to see if anyone with a closer spot has recently left. That said, seeing as the parking lot can get quite congested, be courteous and don't stop and wait for a spot to open up. Allow for traffic to flow smoothly.
---
Do You Need a Parks Pass For Emerald Lake?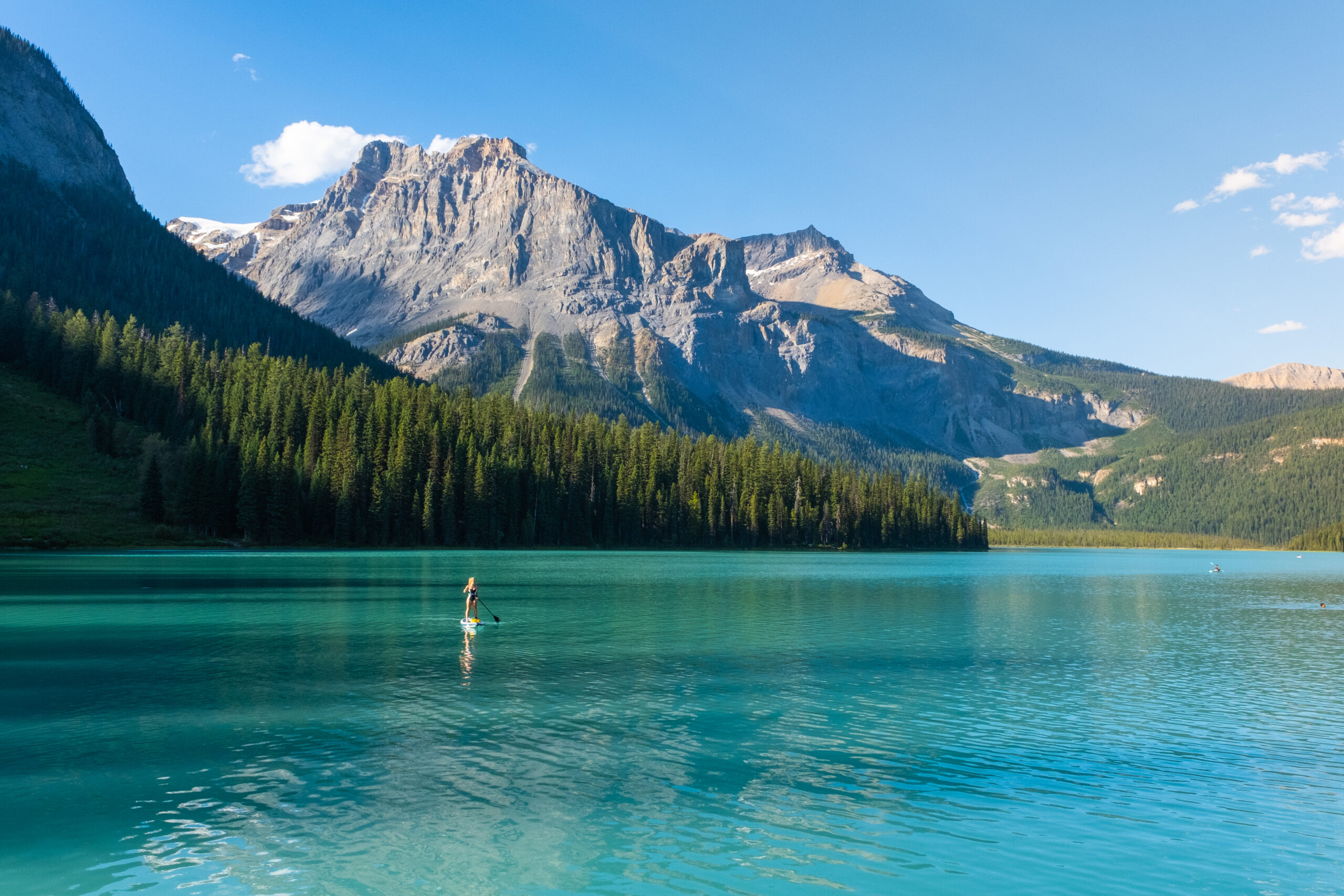 When parked at Emerald Lake, you will need to have a Yoho National Park Pass. These passes allow you to enjoy the beauty that the area has to offer and allows the National Parks to be maintained and not only look beautiful but be safe for your arrival.
TOP TIP: You must purchase your National Park Pass before arriving. There is no where to purchase it at Emerald Lake.
You can purchase your park pass either at the east gate when leaving Canmore, or coming west, about halfway between Golden and Field. There is also the option to buy it at the Information Centre in nearby Field, British Columbia.
Yoho National Park Pass prices are as follows:
Daily
| | |
| --- | --- |
| Adult | $10.50 |
| Senior | $9.00 |
| Youth (17 or younger) | Free |
| Family/Group | $21.00 |
Yoho Nation Park Pass – Daily Rates
Parks Canada Discovery Pass
| | |
| --- | --- |
| Adult | $72.25 |
| Senior | $61.75 |
| Family/Group | $145.25 |
Discovery Pass Rates
What is the Parks Canada Discovery Pass?
Parks Canada Discovery Pass is an annual pass that gives you access to over 80 destinations, covering over 450 000 km2 of land. This pass might be worthwhile if a long travel itinerary awaits you!
---
Can I Stay the Night at Emerald Lake?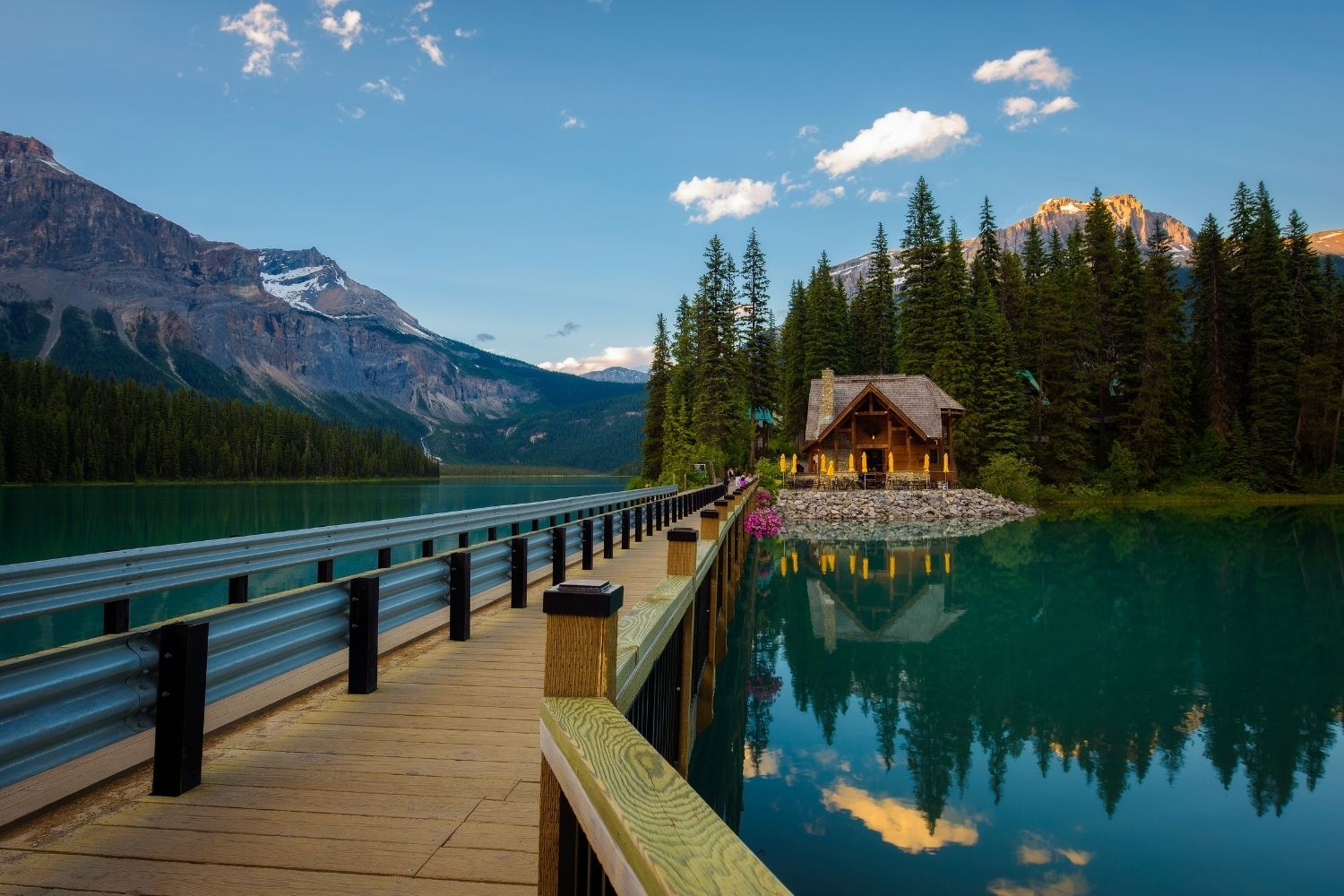 If you want to make Emerald Lake into an overnight getaway, consider staying at Emerald Lake Lodge. They offer a serene experience without phone service, TVs, and away from the hustle and bustle of everyday life.
Emerald Lake Lodge has a rich history dating back to the 1820s, and its stone fireplaces and hand-built timber structure make for a cozy-rustic feel.
It offers a renowned dining room, cozy reading and relaxation rooms, verandas, a game hall and conference spaces.
Though the pricing can be quite steep, it is a great way to fully immerse yourself in the Canadian experience.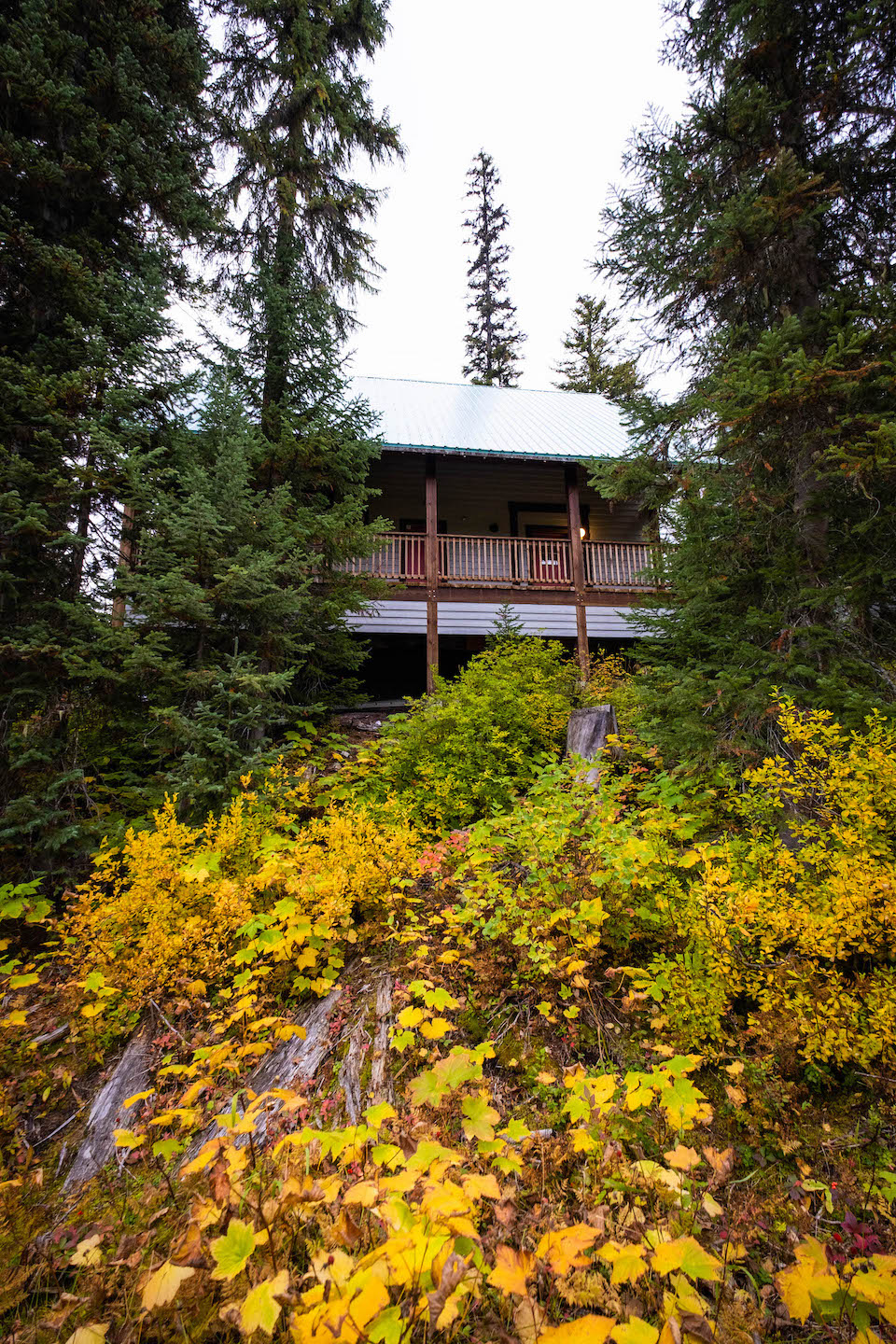 ---
Where Else Can I Canoe in the Area?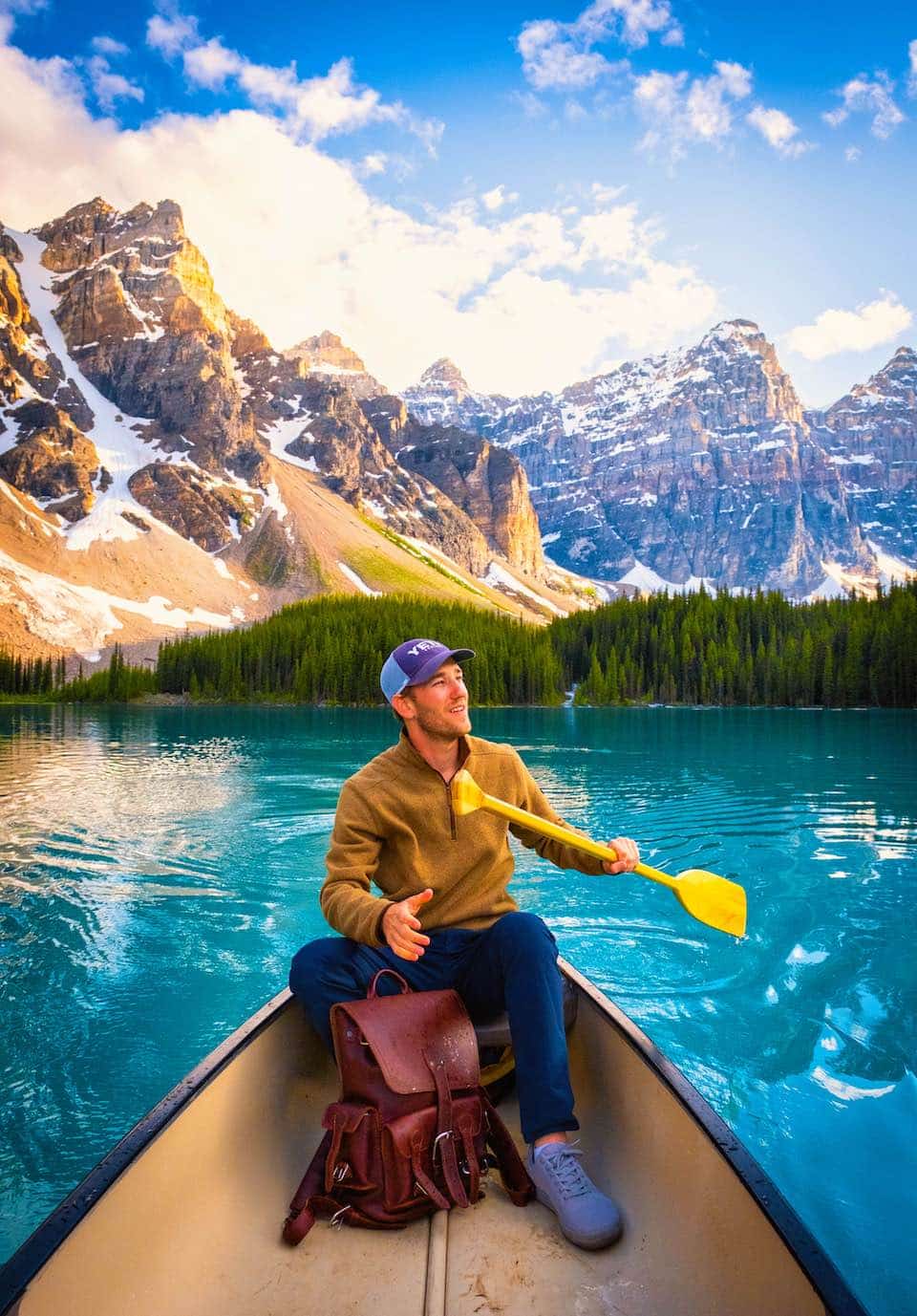 If you are searching for other canoe experiences in the area, look no further. There are opportunities to canoe on Moraine Lake, Lake Louise, Lake Minnewanka, and the Bow River. All of these experiences require a Banff National Park Pass before arriving.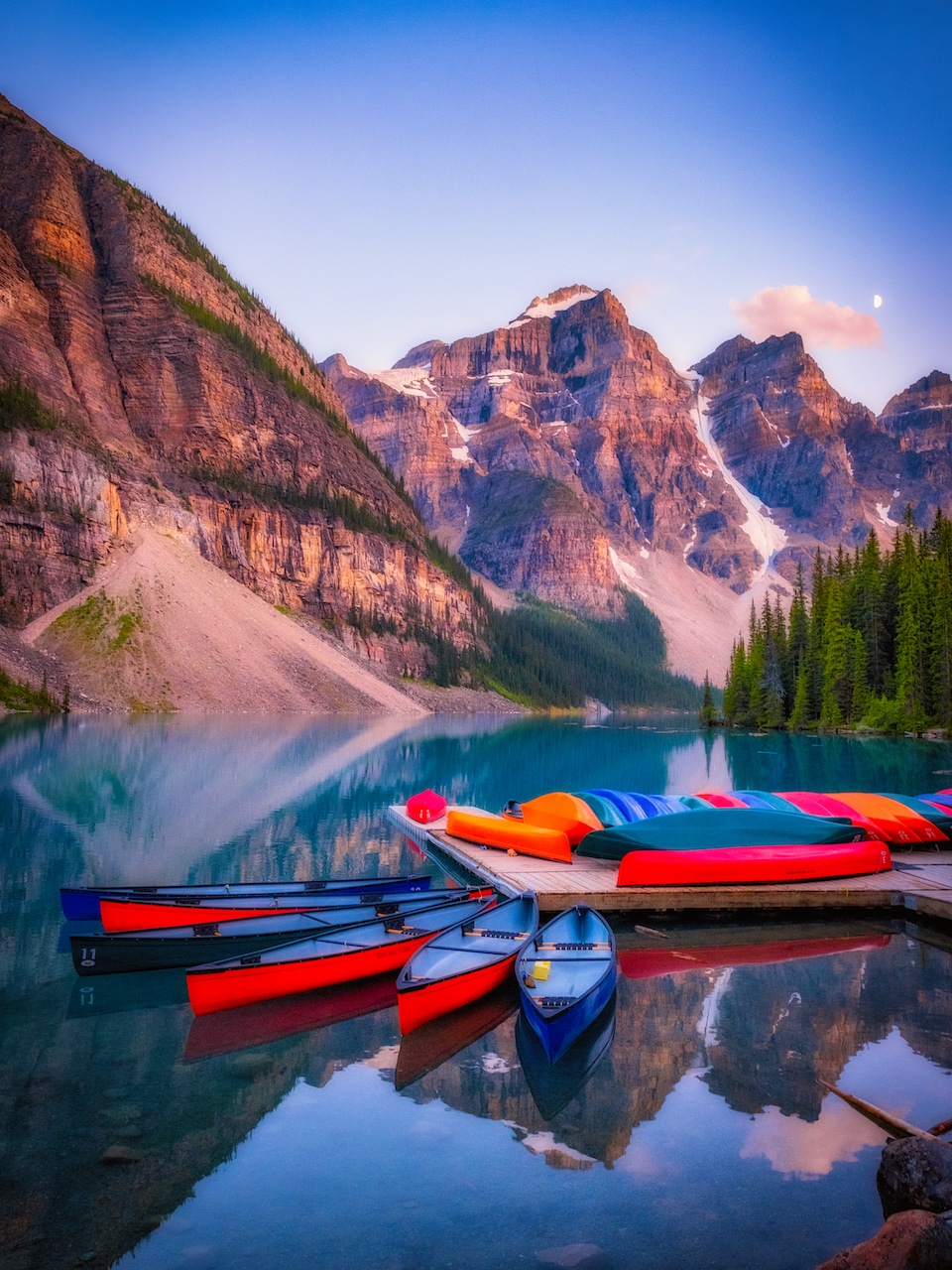 Moraine Lake is located in Banff National Park. Moraine Lake is a dream-worthy location, known for its vibrant blue glacially-fed water and its exclusiveness. In the past, travelers would arrive at the parking lot before sunrise in hopes to snag a spot.
Now Moraine Lake can only be accessed by bus/ shuttle. This will make for a trickier experience when it comes to canoe rentals. If you hope to canoe at Moraine Lake, be sure to book your shuttle in advance and be prepared to be put on a waitlist for your turn to paddle.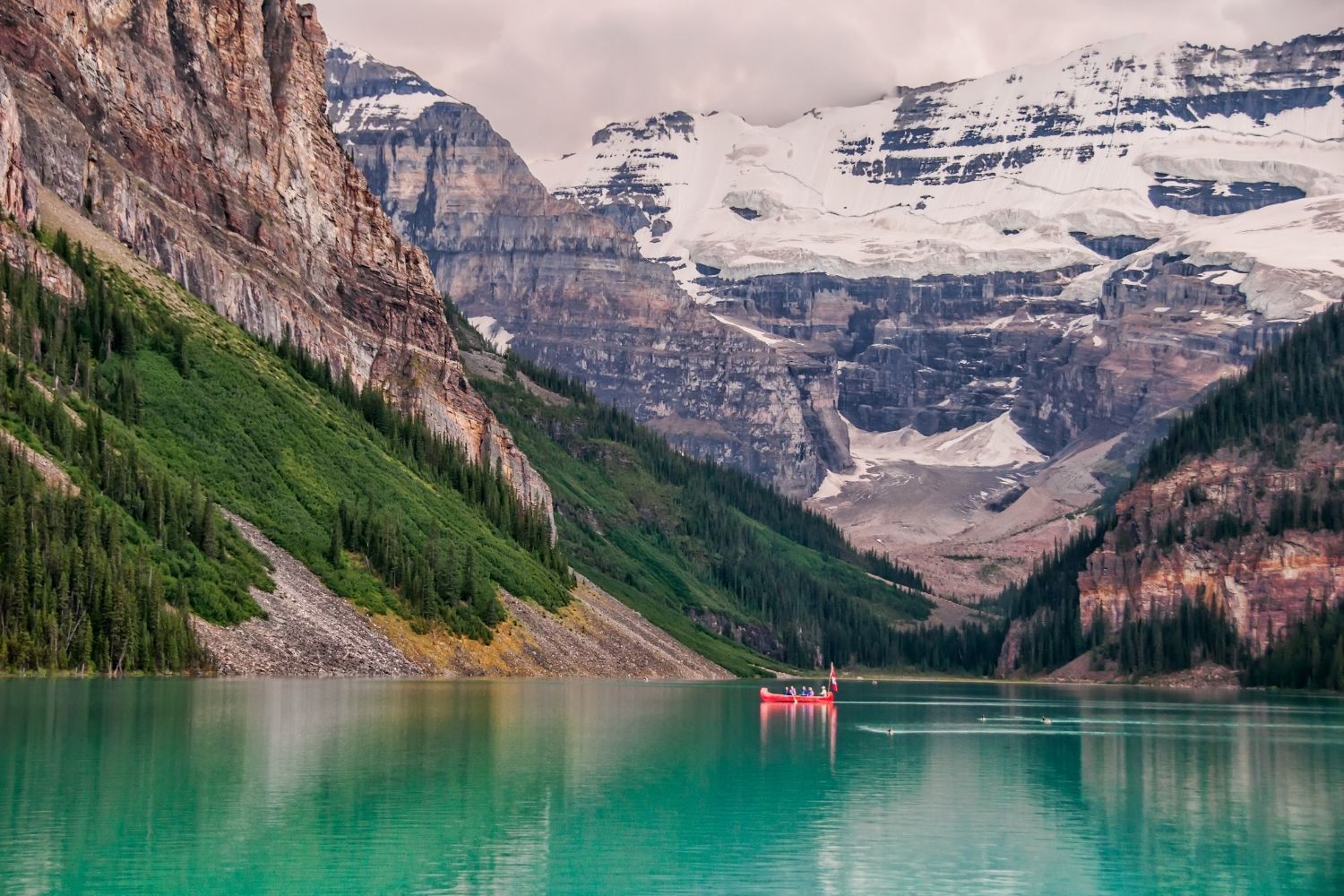 Canoeing on Lake Louise is a highly desired activity due to the popularity of its location. Found in Banff National Park, Lake Louise is one of the top tourist destinations in all of Alberta.
Because of this, rentals tend to be quite popular. If canoeing on Lake Louise is part of your bucket list, consider arriving early to secure a spot in the parking lot and get your rental organized.
If there is a wait time, it could be a great opportunity to hike up to Lake Agnes Tea House or to enjoy a meal at one of the Fairmont Lake Louise restaurants.
Bow River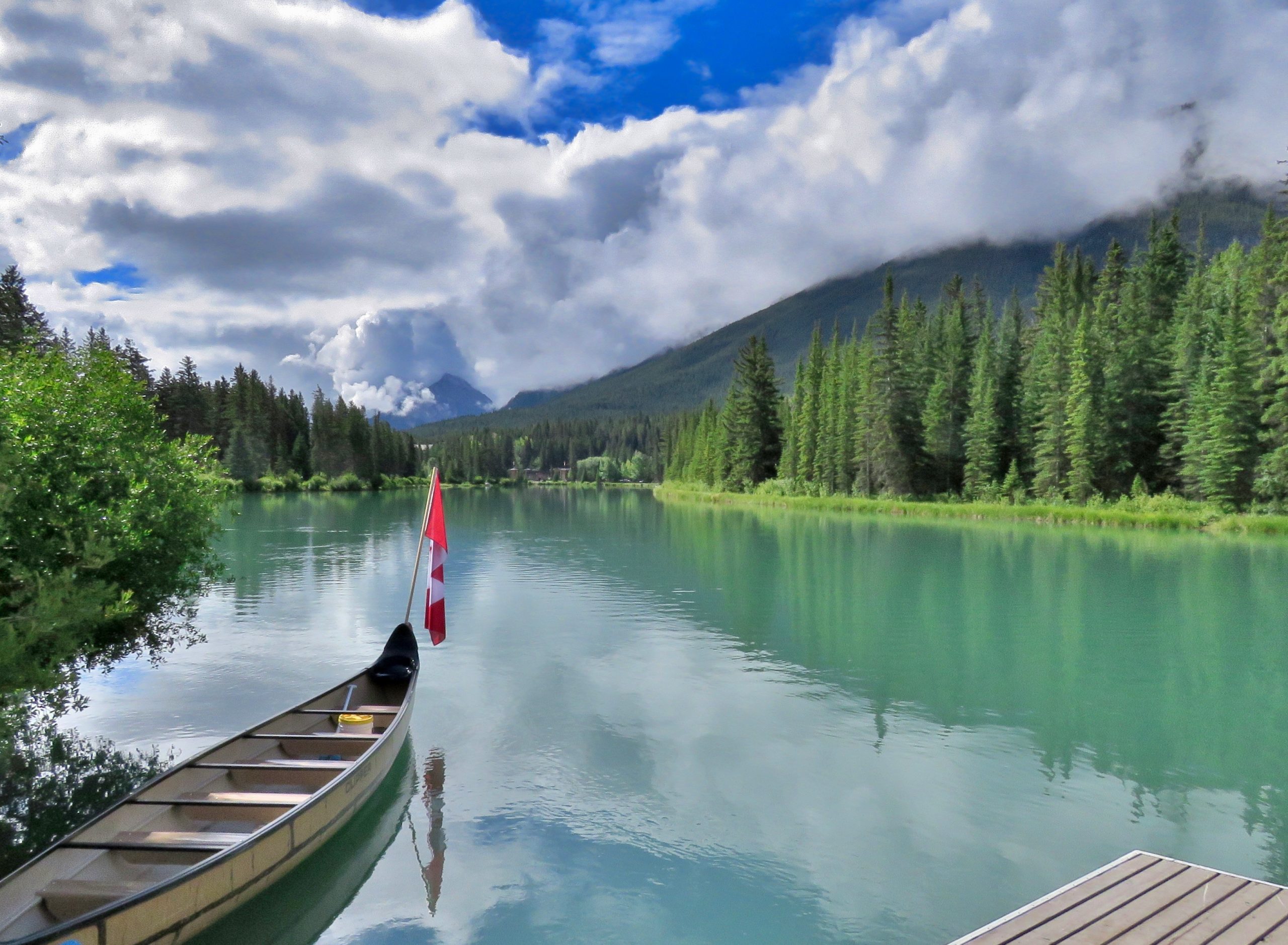 Canoeing down the Bow River is a great activity to add to a Banff itinerary for anyone looking to stay within the parameters of the Town of Banff. Located near downtown Banff, canoeing on the Bow River makes for a relaxing and scenic experience.
What we love about this option is that you can not only rent a canoe but can choose between a canoe, kayak, paddleboard or a big canoe tour.
The canoe hourly rate is the lowest of all options in the area. That said, though it does offer beautiful views with stunning colors, it is a more narrow body of water and isn't quite as renowned as the other options mentioned throughout this article.
---
Emerald Lake Canoeing: Main Takeaways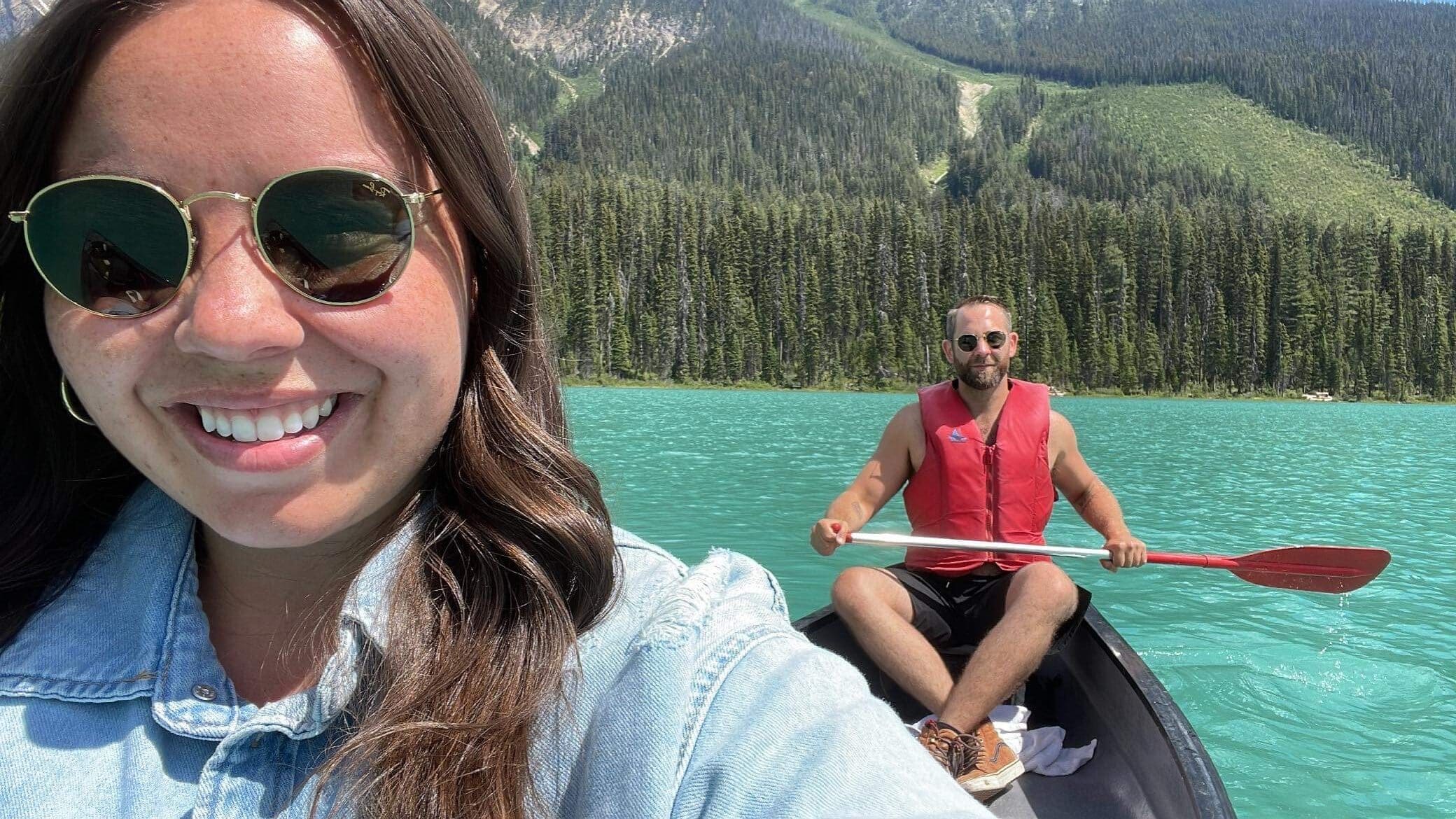 Here are some of the main takeaways that will help you plan your canoe adventure at Emerald Lake.
Canoeing on Emerald Lake is the true Canadian experience.
If you have the flexibility, plan your canoe trip on a sunny day.
There must be at least 1 person in the canoe that at least 19 years old.
There might be a waitlist, enjoy what the area has to offer in the meantime.
Consider arriving early on in the day for better chances of finding parking.
Bring a hammock, a picnic, or sturdy walking shoes to extend your day.
You must purchase your Parks Canada National Park Pass ahead of time.
You cannot book your canoe reservation in advance.
You can bring your dog canoeing with you (max weight: 50 lbs).
There is no cell phone reception at Emerald Lake.
You can bring your own canoe, kayak or paddleboard.
Food can be brought onto the canoe for a small picnic. Do not throw food or scraps into the lake. Pack out what you bring in and dispose of your trash in the bear proof bins on the lake shore.
No alcohol is permitted on the canoes.
You must wear a life jacket.
Other canoeing options: Moraine Lake, Lake Louise, Lake Minnewanka, the Bow River and many more places (if you have your own canoe!)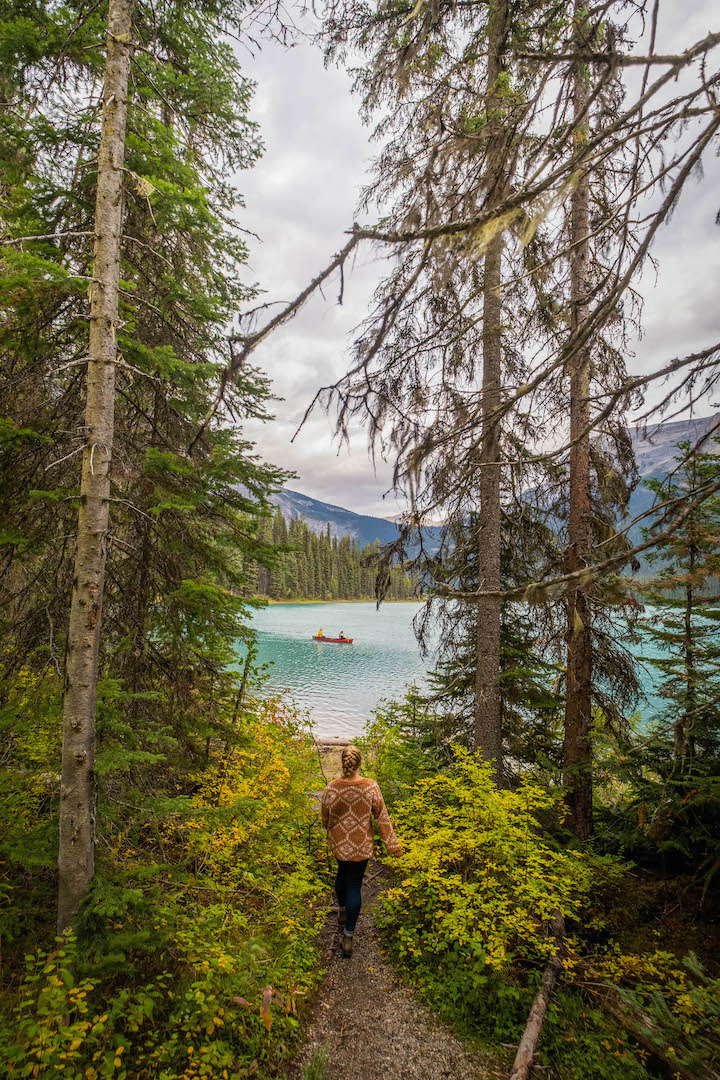 ---
---
Plan Your Trip to the Canadian Rockies