The Golden Skybridge is Golden's newest attraction. Brand new in May 2021 is this 426 ft high bridge over a fantastic canyon. What's great is there is not just one long suspension bridge, but two!
These are the highest suspension bridge in Canada and give views over the whole Columbia Valley. At any time, you'll be able to see the Rocky and Purcell mountains.
As you walk the bridge, you'll be able to see Hospital Creek crashing below you, and the experience really puts into perspective the beauty of the area you are in.
The Golden Skybridge is an excellent adventure for the entire family. Their bridges and walking trails are ideal for young and old and easily accessible for all. There is an exciting new zipline and canyon swing for adventure seekers, and this is the only place you can enjoy a canyon swing in the whole region!
Stopping at the Golden Skybridge is one of the best things to do in Golden, especially if you are driving between Alberta and BC on an epic Western Canada road trip! Let's dig into all you need to know about this new attraction.
---
Attractions at the Golden Skybridge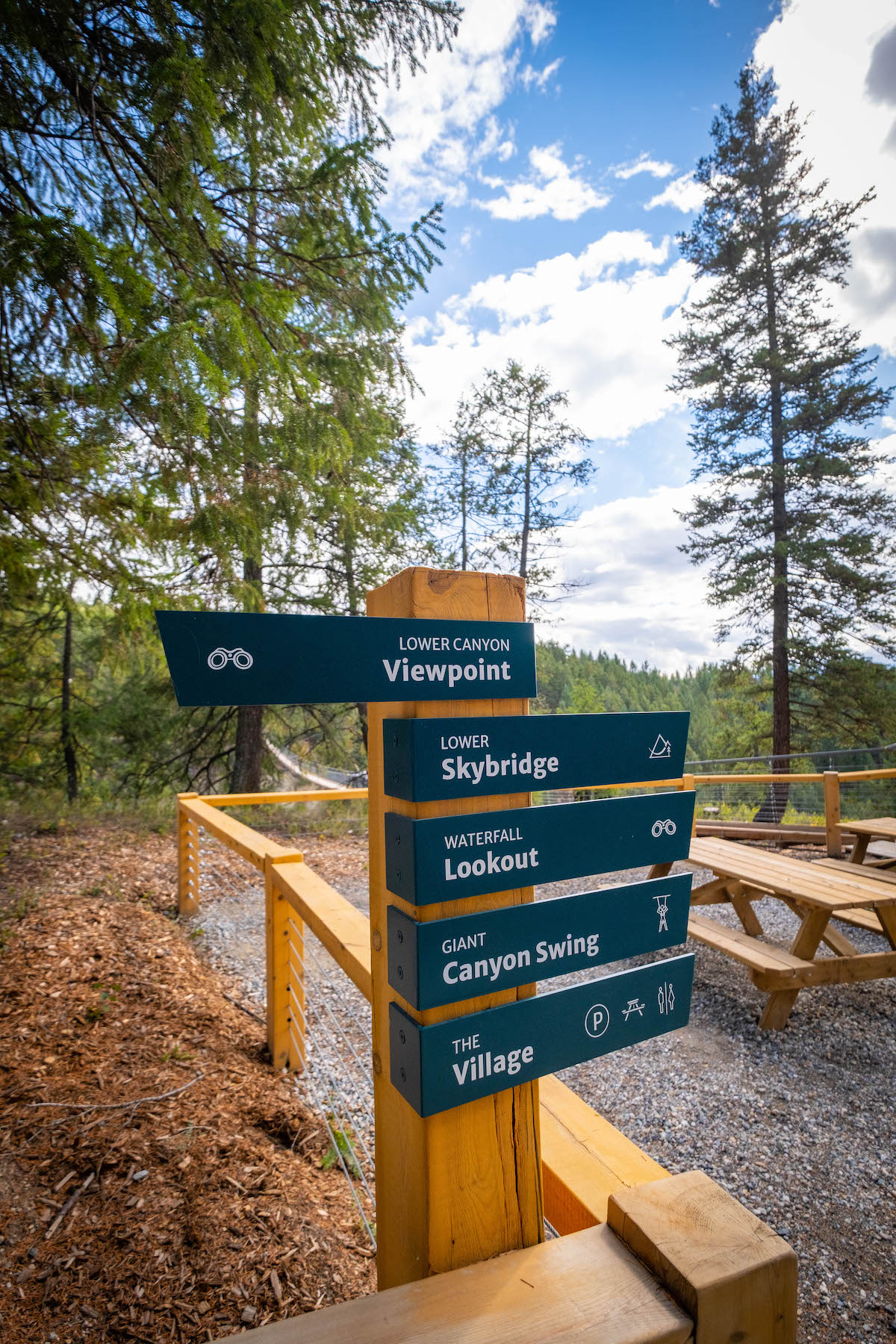 Visiting the Golden Skybridge is a solid 2-3 hour affair. There's a lot to do here besides walk on the suspension bridges. As soon as you walk in, you'll notice the outdoor BBQ and entertainment area. It's a great place to grab some quick food staples.
There's also a Treetop village play park for young kids, two large suspension bridges, as well as the Canyon Edge Challenge Course for families. For those that want to fly high over the canyon, there is a thrilling zipline experience, and a canyon swing will open in 2022. Let's break down all the attractions individually!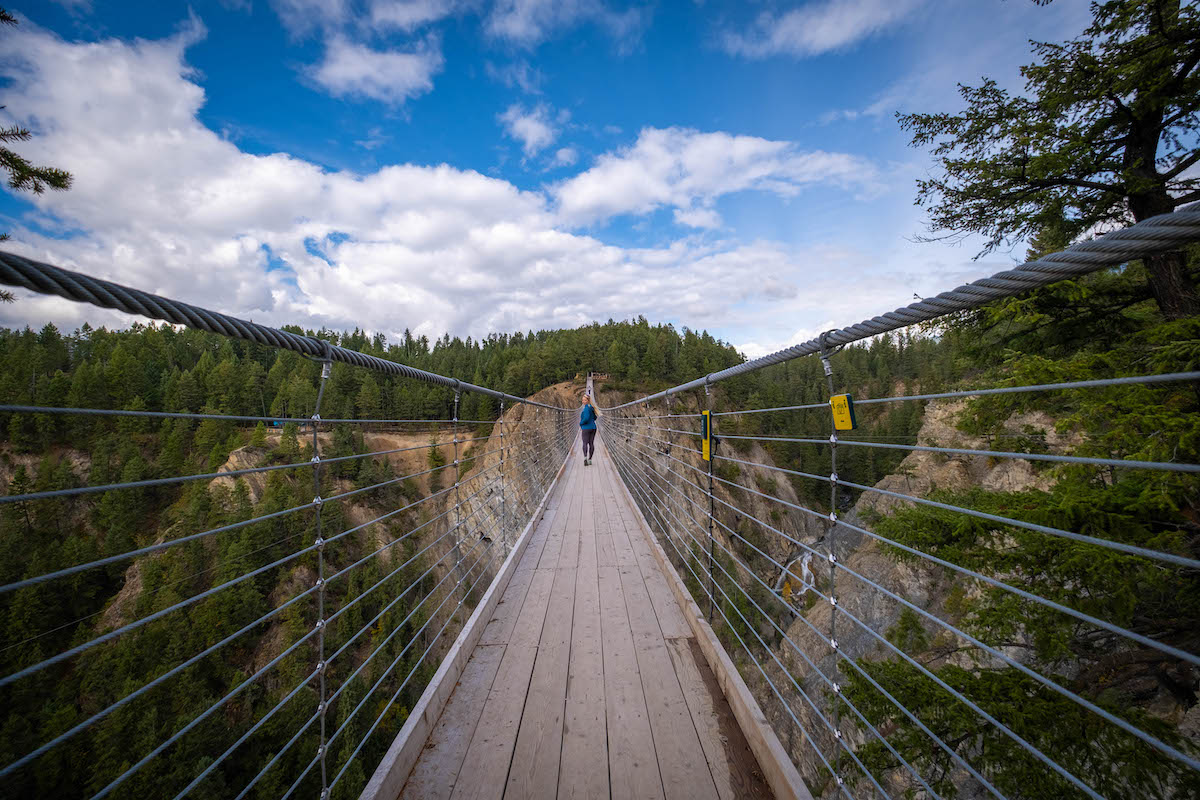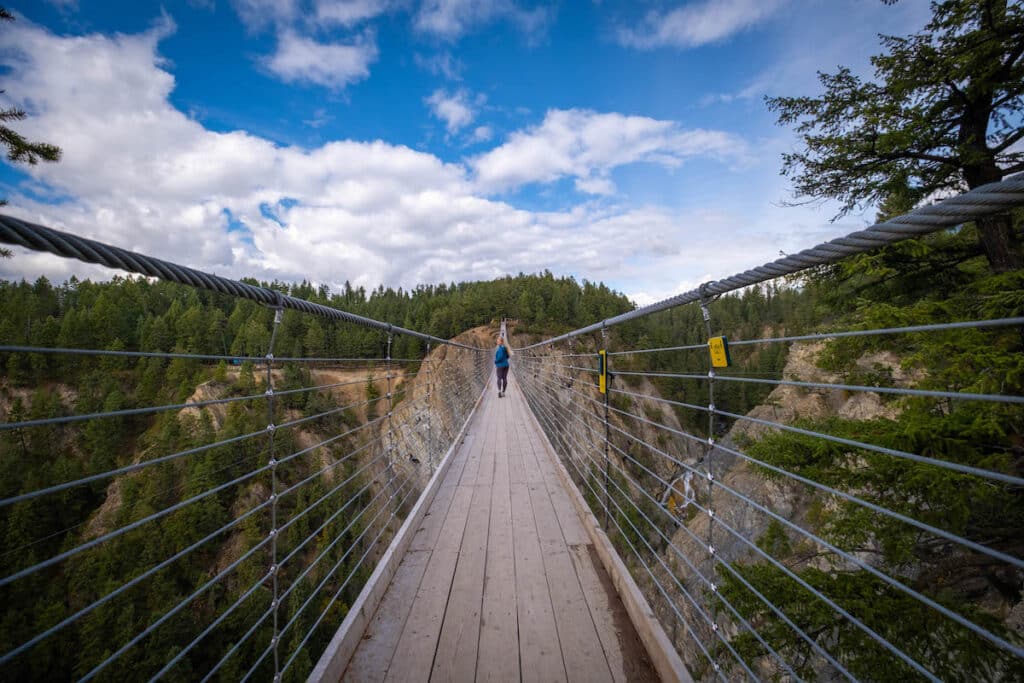 Face Your Fears on the Golden Suspension Bridge
Two separate suspension bridges spanning 150 meters gets you up close and personal with the canyon and crashing water below. Fantastic views of Hospital Creek Falls to be had.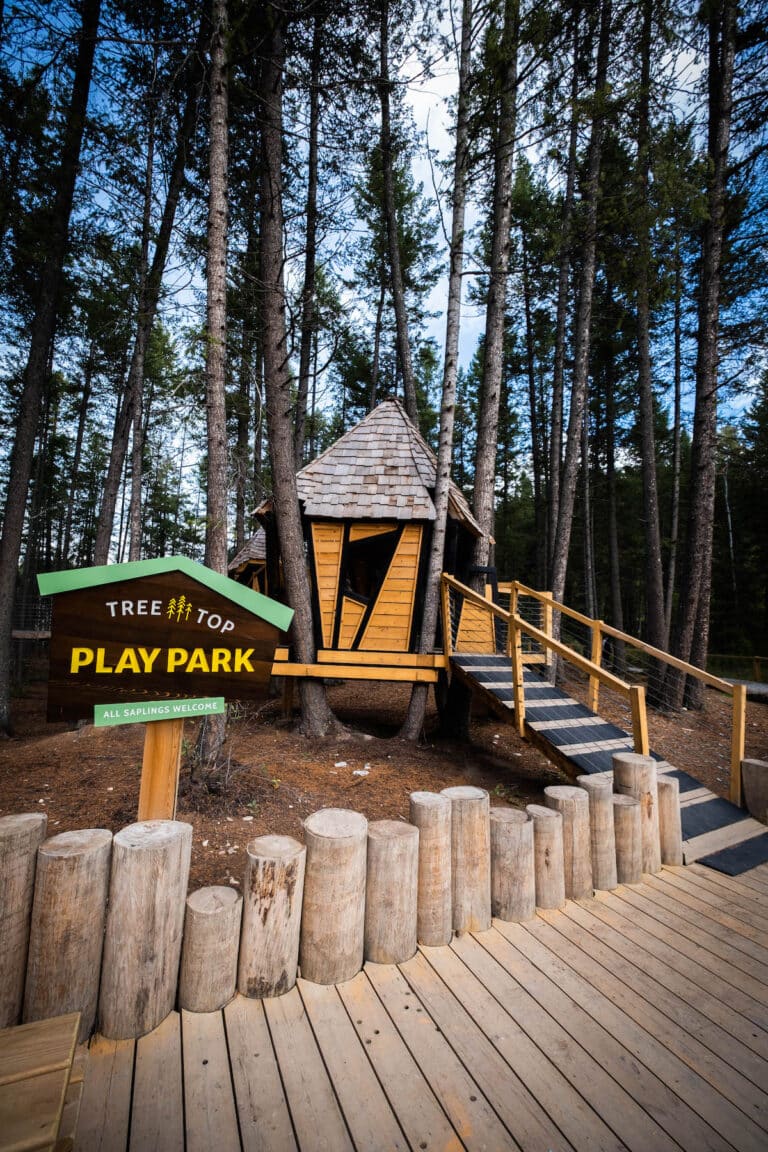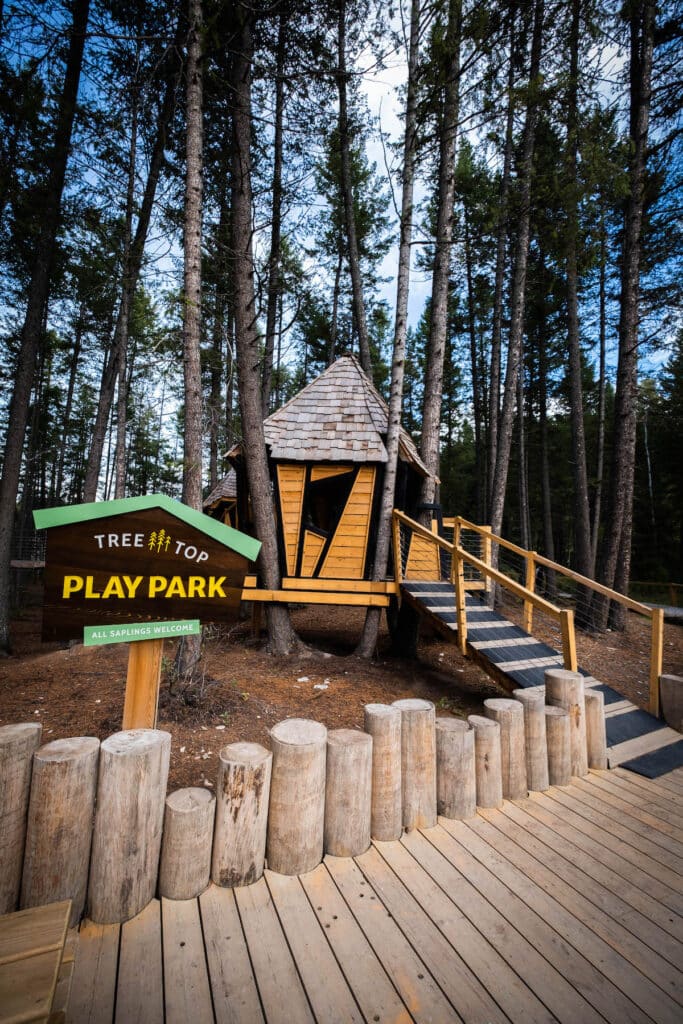 Treetop Village Play Park
Perfect playpark for the young kids before the venture across the suspension bridge.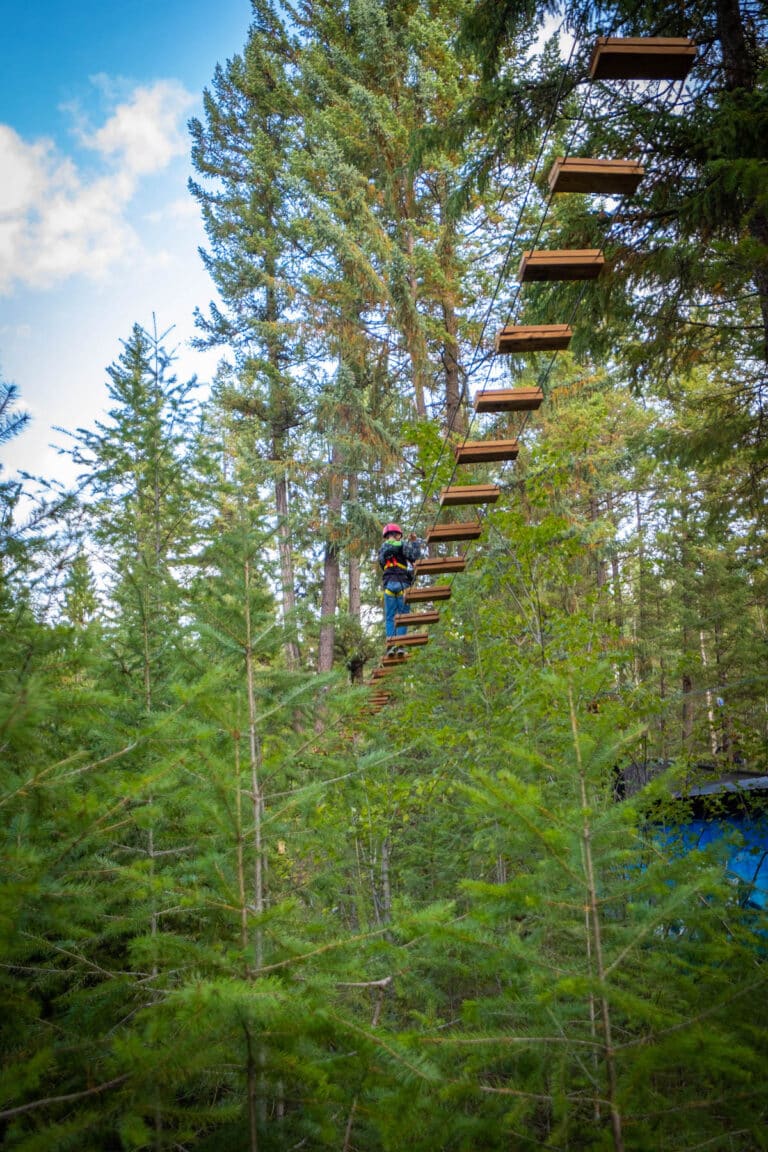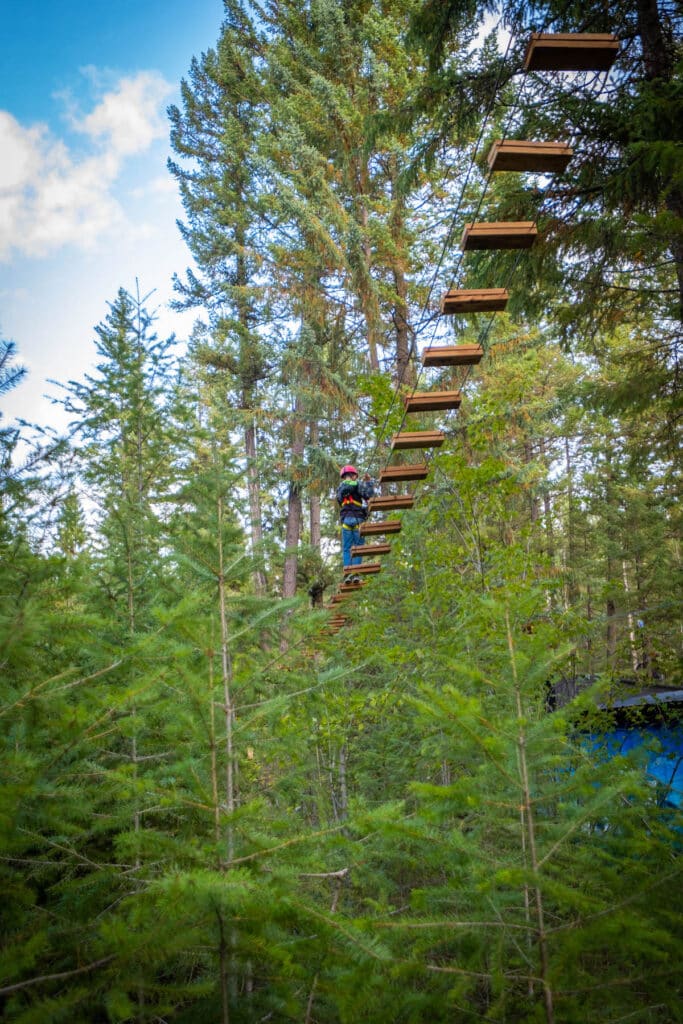 Canyon Edge Challenge Course
An ideal ropes course to test your fears 40 feet in the air. Great for all ages to enjoy!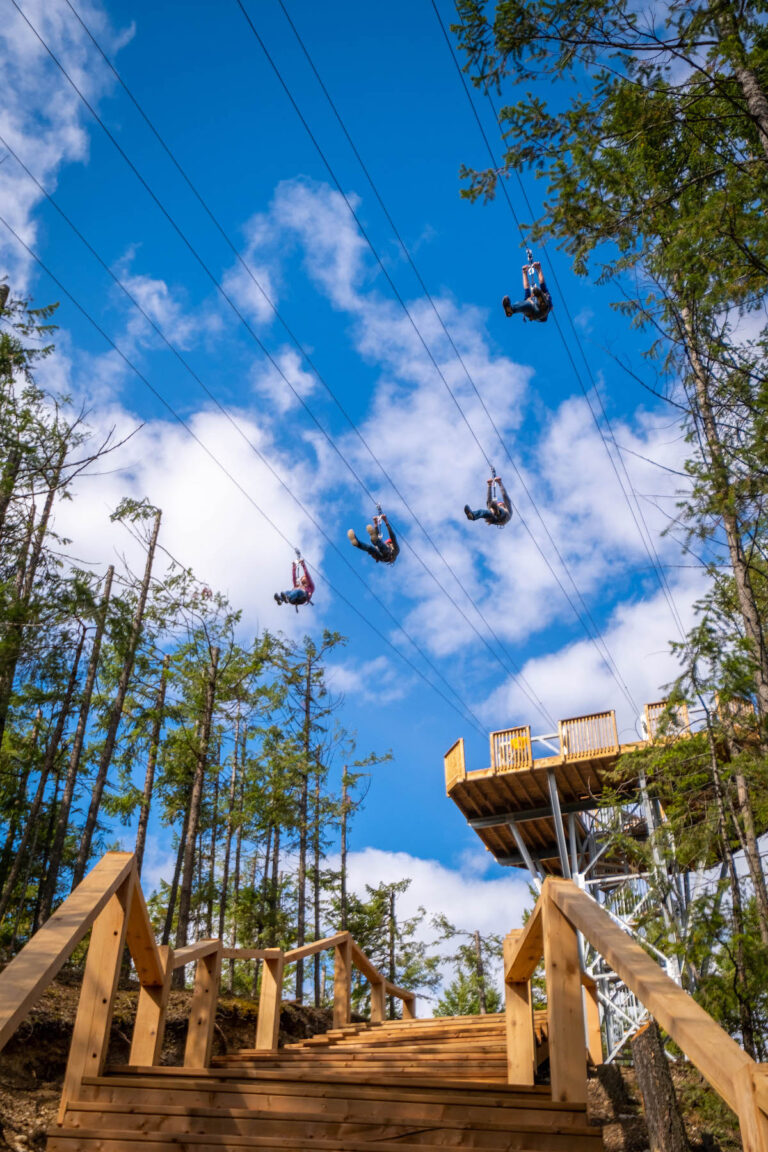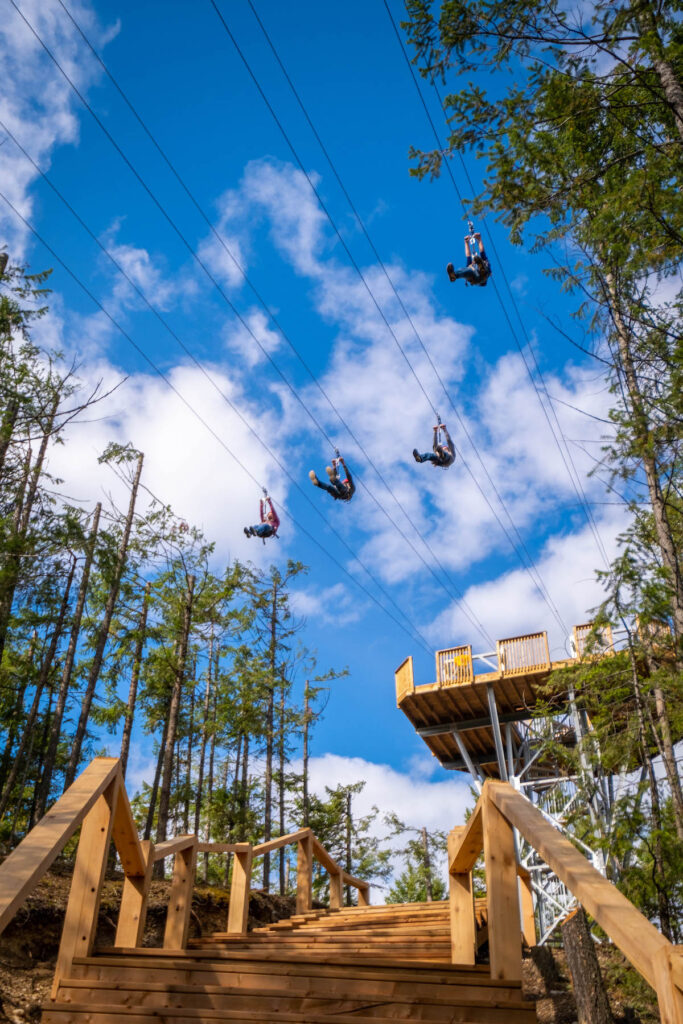 Zipline!
Go for a ride on this 1000 foot zipline and get 360-degree views of the Columbia Valley.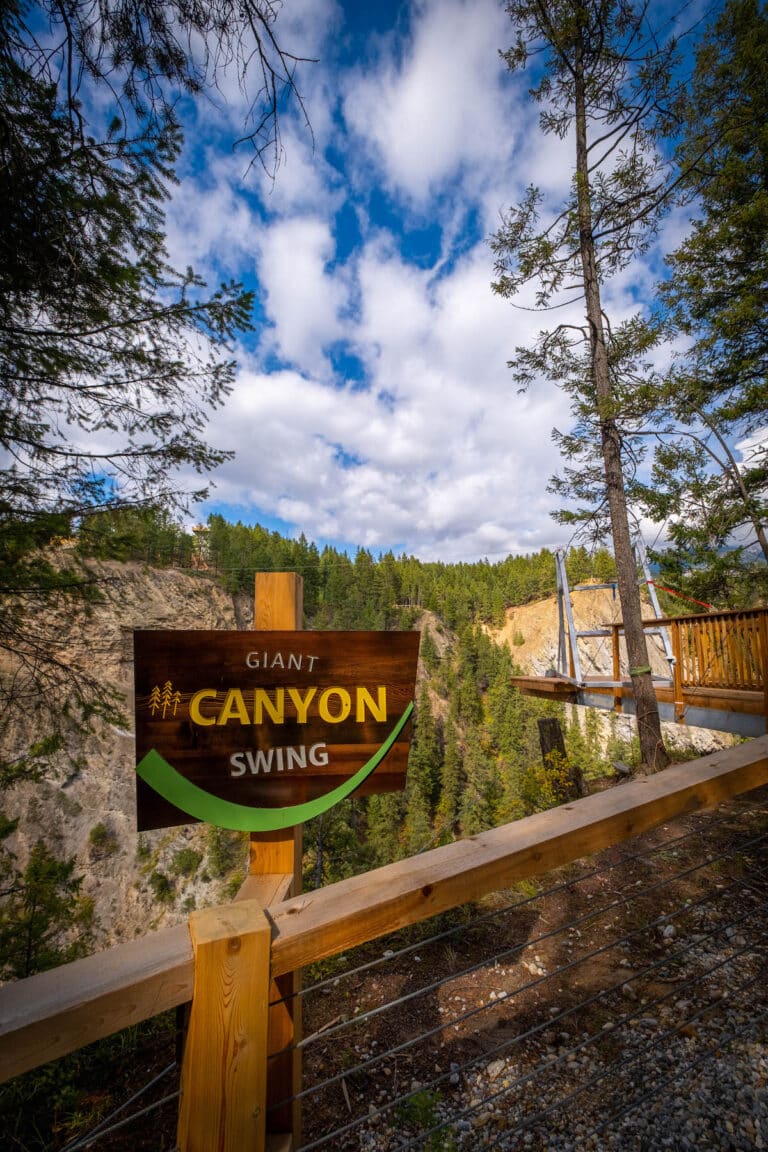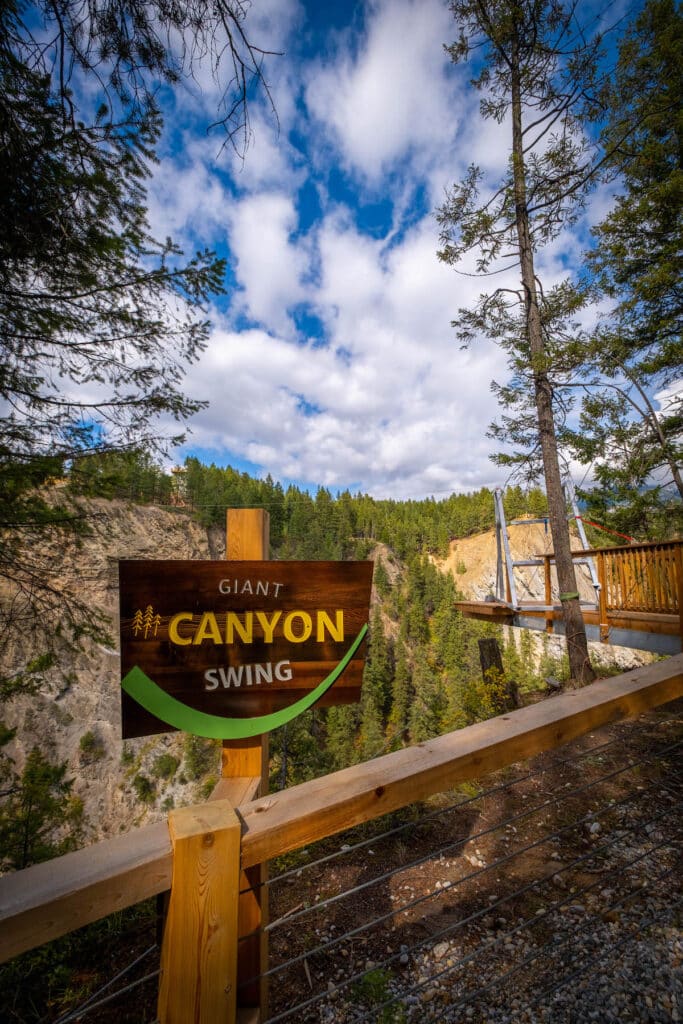 Giant Canyon Swing!
Designed for two people to enjoy this swing sends visitors free falling over the canyon edge before the swing kicks in and lets riders swing from side to side. (opening soon).
---
Golden Skybridge Prices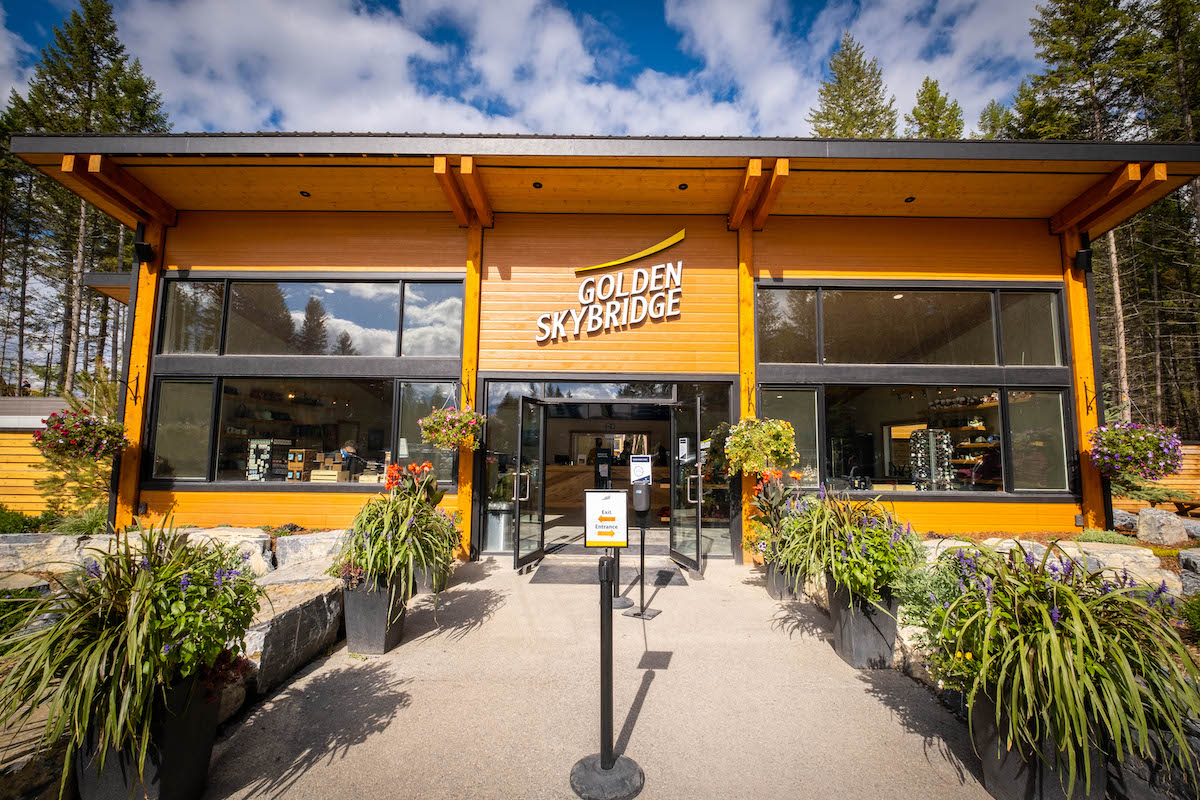 Base admission to the Golden Skybridge is $34, and then depending on any extras you want to add on, like the zipline, challenge course, or gondola swing, prices will go up. Note that anything on this list includes access to the suspension bridges.
| Activity | Adult Price | Kids Price |
| --- | --- | --- |
| Golden Skybridge | $37 | $17 |
| Canyon Edge Challenge Courses | $44 | $32 |
| Skybridge Zipline Experience | $69 | $66 |
| Admission + Canyon Edge Challenge Course + Zipline | $89 | $89 |
| Giant Canyon Swing Experience | $123 | |
---
Golden Skybridge Hours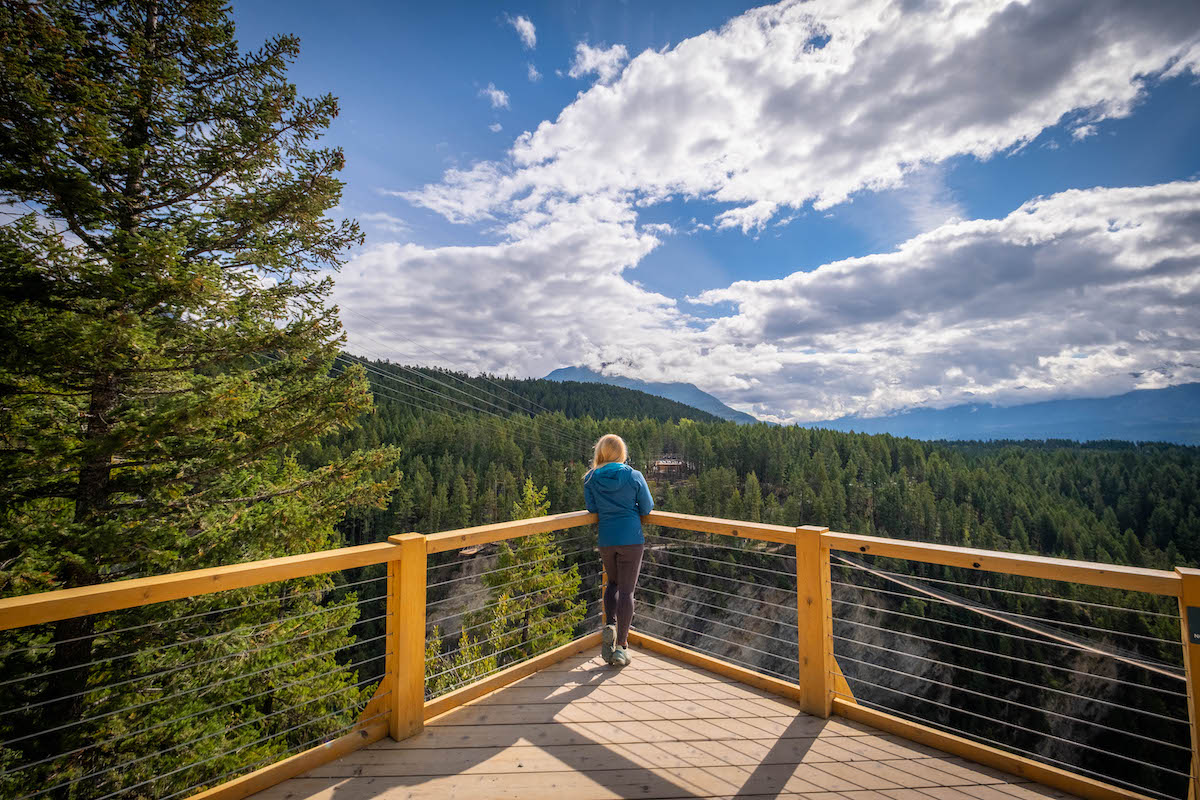 Unlike the Capilano Suspension Bridge in Vancouver, the Golden Skybridge is only open between May and October. Golden receives quite a bit of snow come late October, and the Skybridge and other activities cannot operate.
---
Is the Golden Skybridge Safe?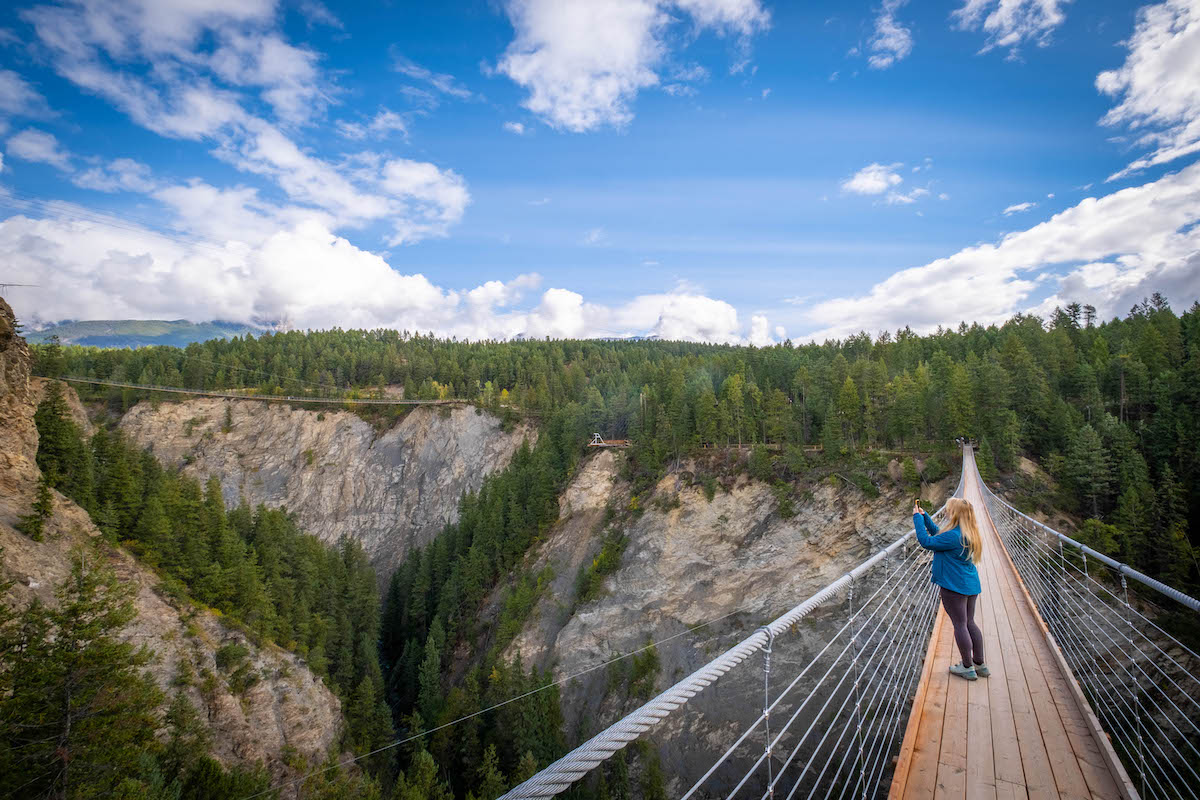 The Golden Skybridge is built with steel cables strong enough to hold…well a lot! This adventure is perfectly safe. The bridge only wobbles enough to get your heart racing just the right amount.
---
Is the Golden Skybridge Worth the Price?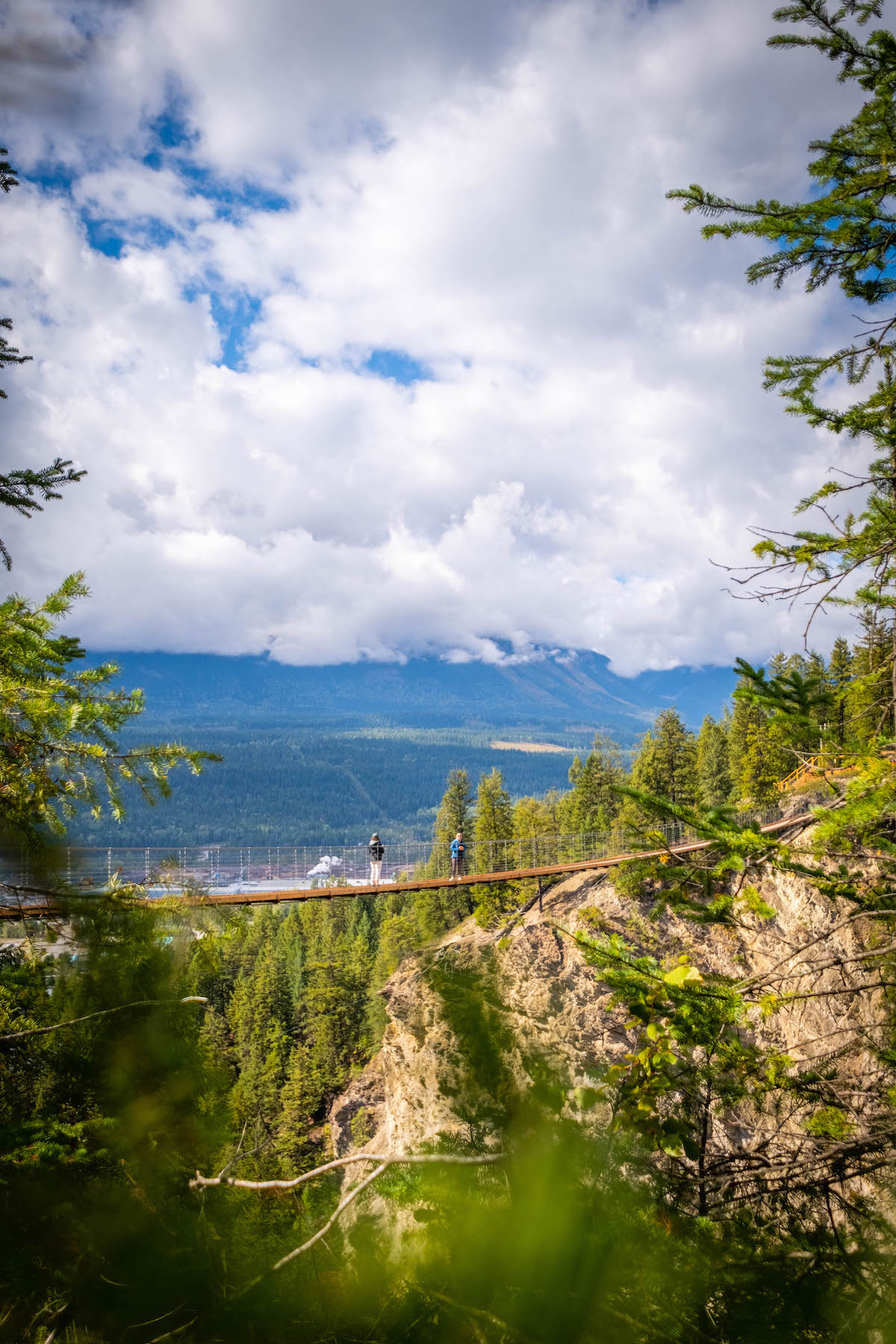 The Golden Skybridge is similar to other main attractions like the Banff Gondola and Jasper Skywalk in the Rockies. It allows visitors access to the mountains they otherwise may not have. It's quick, easy, and safe and provides excellent views.
The Golden Skybridge is great for families and those with not much experience in the mountains. At $37, it's cheaper than other Pursuit attractions and is great for a family or those looking for a relaxing day.
For the hardcore mountain person, I would give the Golden Skybrige a skip as it is more geared for those with families and those not acquainted with do-it-yourself mountain adventures.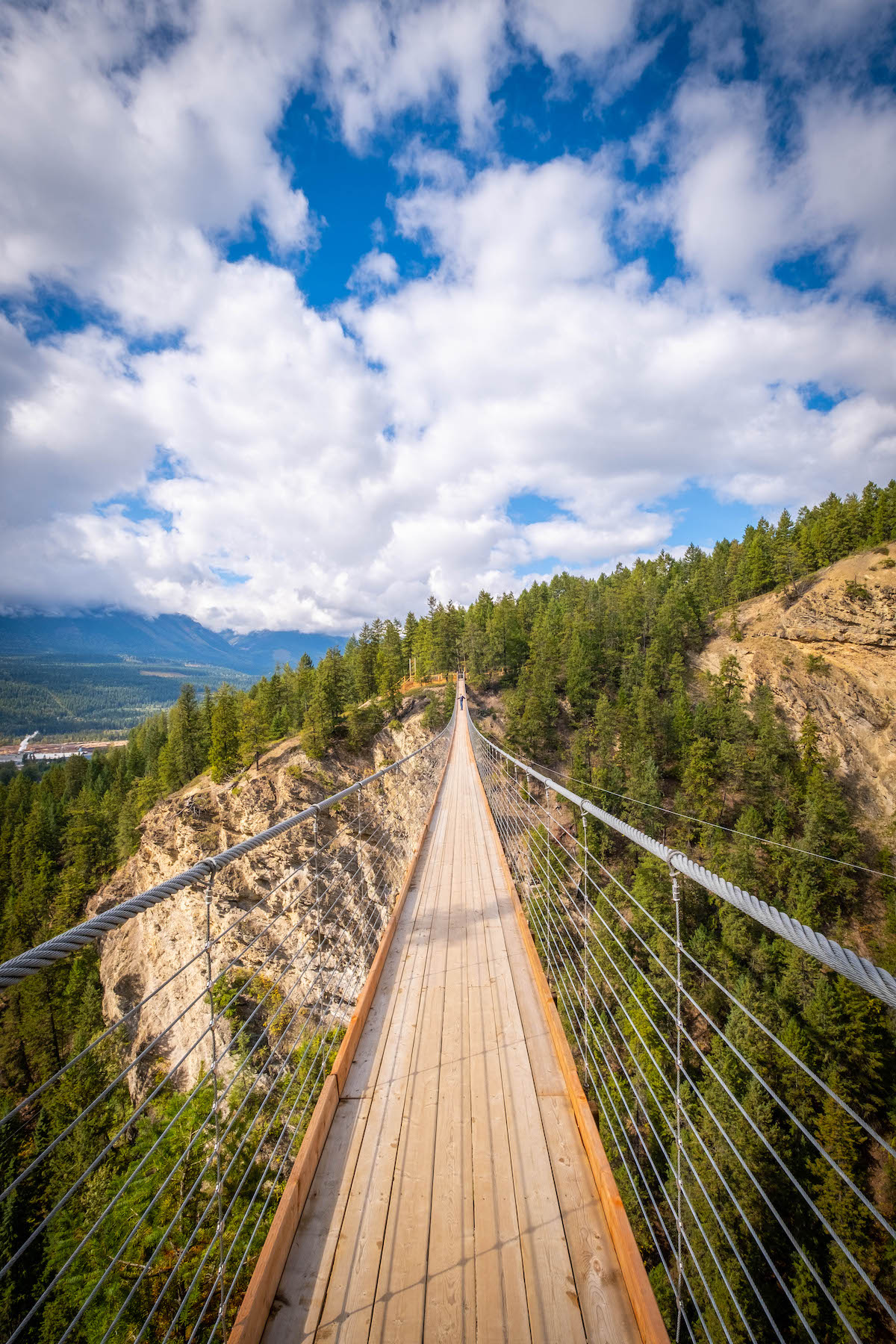 If you have been on many hikes in the Rockies, you have likely seen grander vistas, but you know you have put the effort in to get to those viewpoints.
I love the location of the Golden Skybridge as it puts Golden more on the map as a tourist destination, pulling crowds away from the very crowded Lake Louise and Moraine Lake in Banff. It's a great addition to any Banff itinerary, and just 45 minutes away from Emerald Lake.
---
Golden Skybridge Tips for Visiting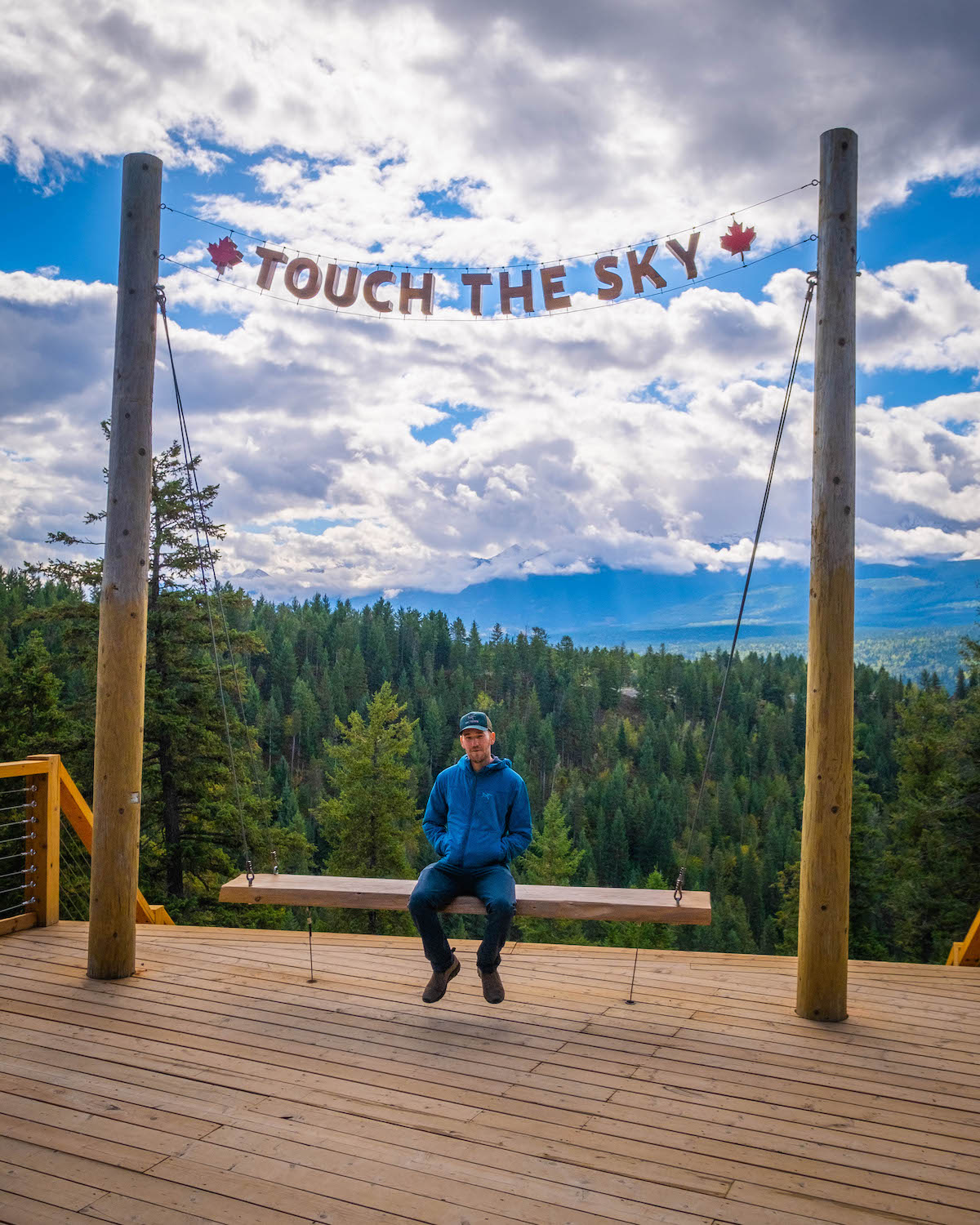 All ticket prices include admission to the suspension bridges and the area.
The entire premise is surrounded by gates, so don't think you can sneak in and avoid paying.
The Golden Skybride is located off Golden Donald Upper Rd, which is directly off the TransCanada. From Banff it takes around two hours to reach Golden, and Golden is also two hours from Revelstoke.
Plan for at least two hours for the full experience. This includes enough time to walk along the bridges, enjoy the views, and take photos at the Touch the Sky photo point! If you take part in the challenge course or zipline you could easily spend half a day enjoying the Skybridge.
On weekends expect the Golden Skybridge to get busy. To avoid crowds it's best to avoid midday and arrive right at opening or two hours before closing.
Last entrance is 30 minutes before close, but some activities close 45 minutes before closing hour.
Wear comfortable shoes, as the whole loop around the bridges is 3km.
The trails are one way, but you can always do it twice, or three times if you want!
Be respectful of others on the bridge and don't purposely bounce around trying to scare others.
---
Other Things to do in Golden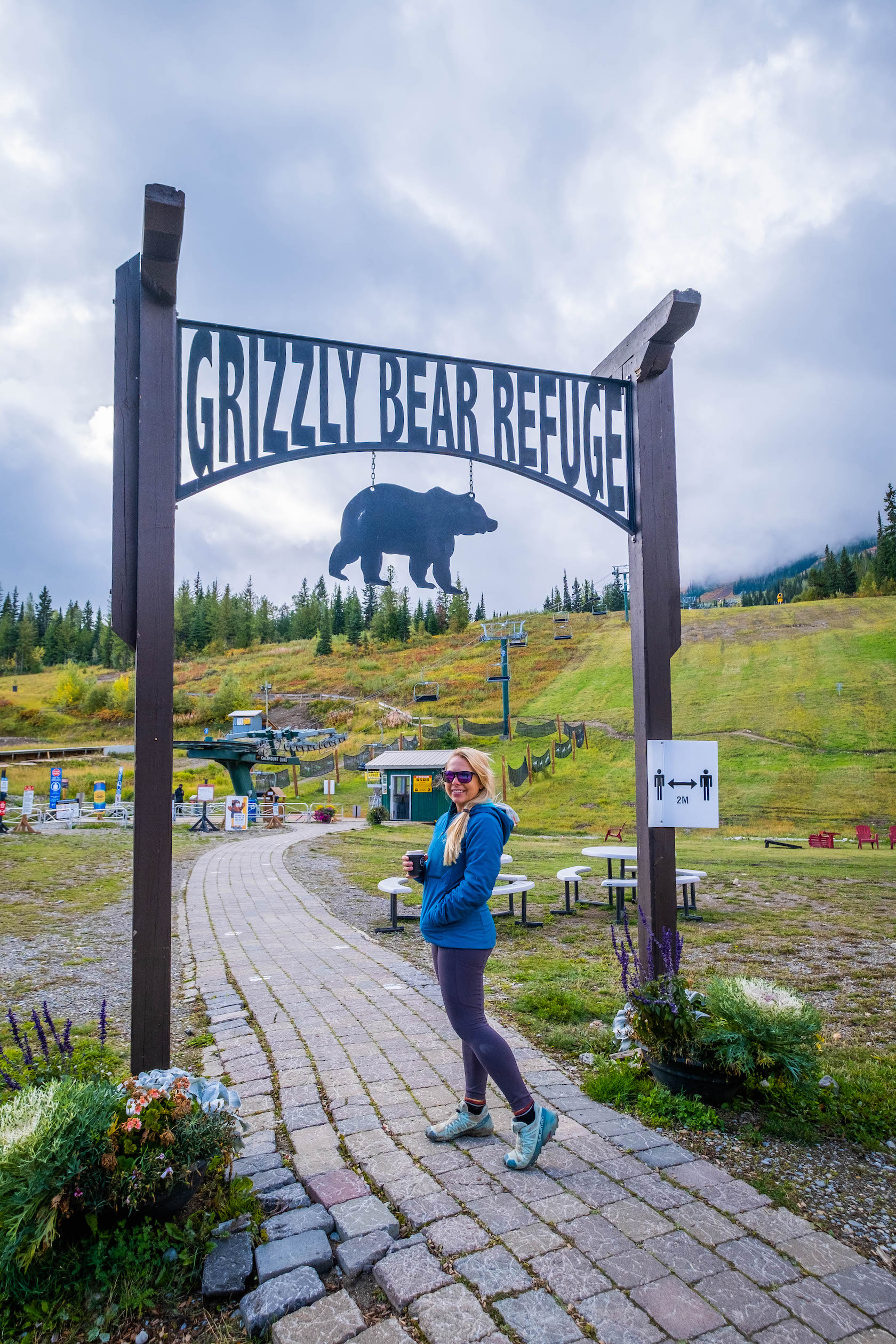 Golden has plenty of things to do and is well worth a few day trips to explore. The Skybridge won't take you longer than half a day to explore, so it's best to fill your day with a few other activities! Some fun things to do in Golden are:
Horseback Ride Along the Blaeberry
Hike to Thompson Falls
Meet Boo the Bear at Kicking Horse Mountain Resort
Get Your Adrenaline Pumping at the Kicking Horse Via Ferrata
Have a Beer at Whitetooh Brewery
25 Best Things to do in Golden, BC
---
Where to Eat in Golden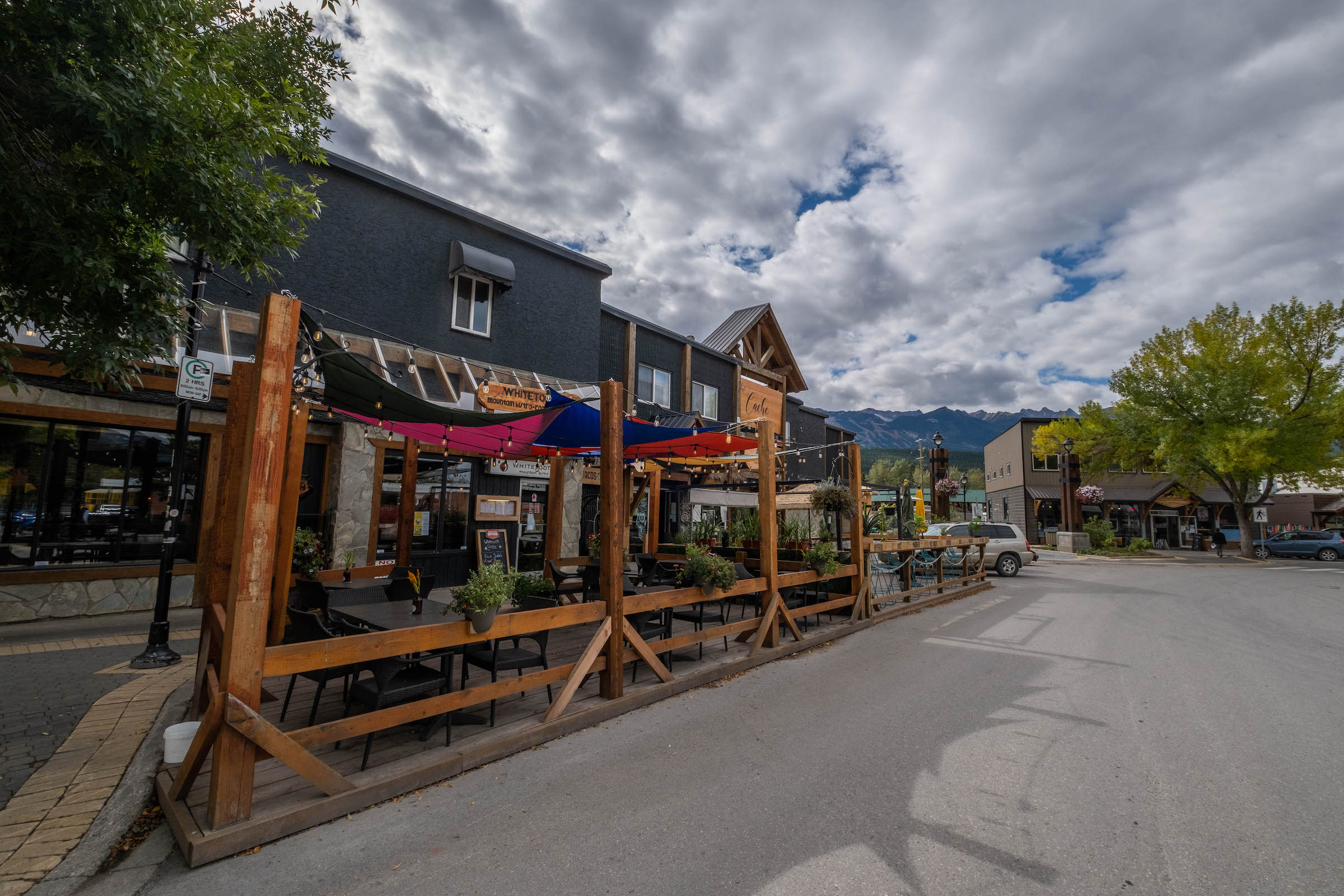 For such a small mountain town, Golden has quite a few tasty restaurants. Our absolute favorite place to eat when we visit Golden is Reposados for tacos. Bluebird Cafe does fantastic coffee and takeaway sandwiches, while Whitetooth Bistro downtown is great for a more excellent meal out.
10 Best Golden, BC Restaurants You Should Try
---
Stay Near the Golden Skybridge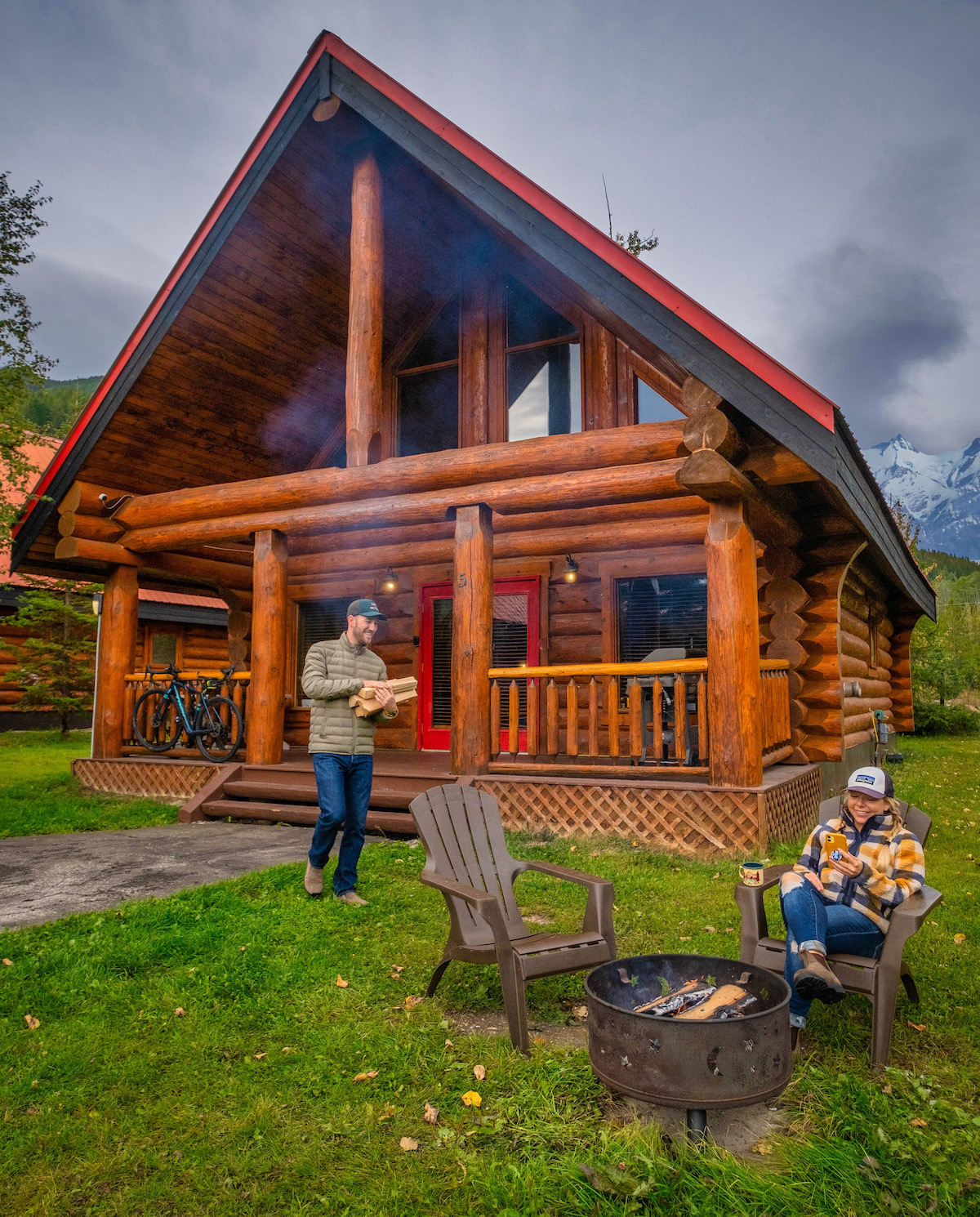 We've visited Golden multiple times, and we always stay at different places each time. There are so many hidden gem accommodation options in the area. We can't recommend the following three places enough!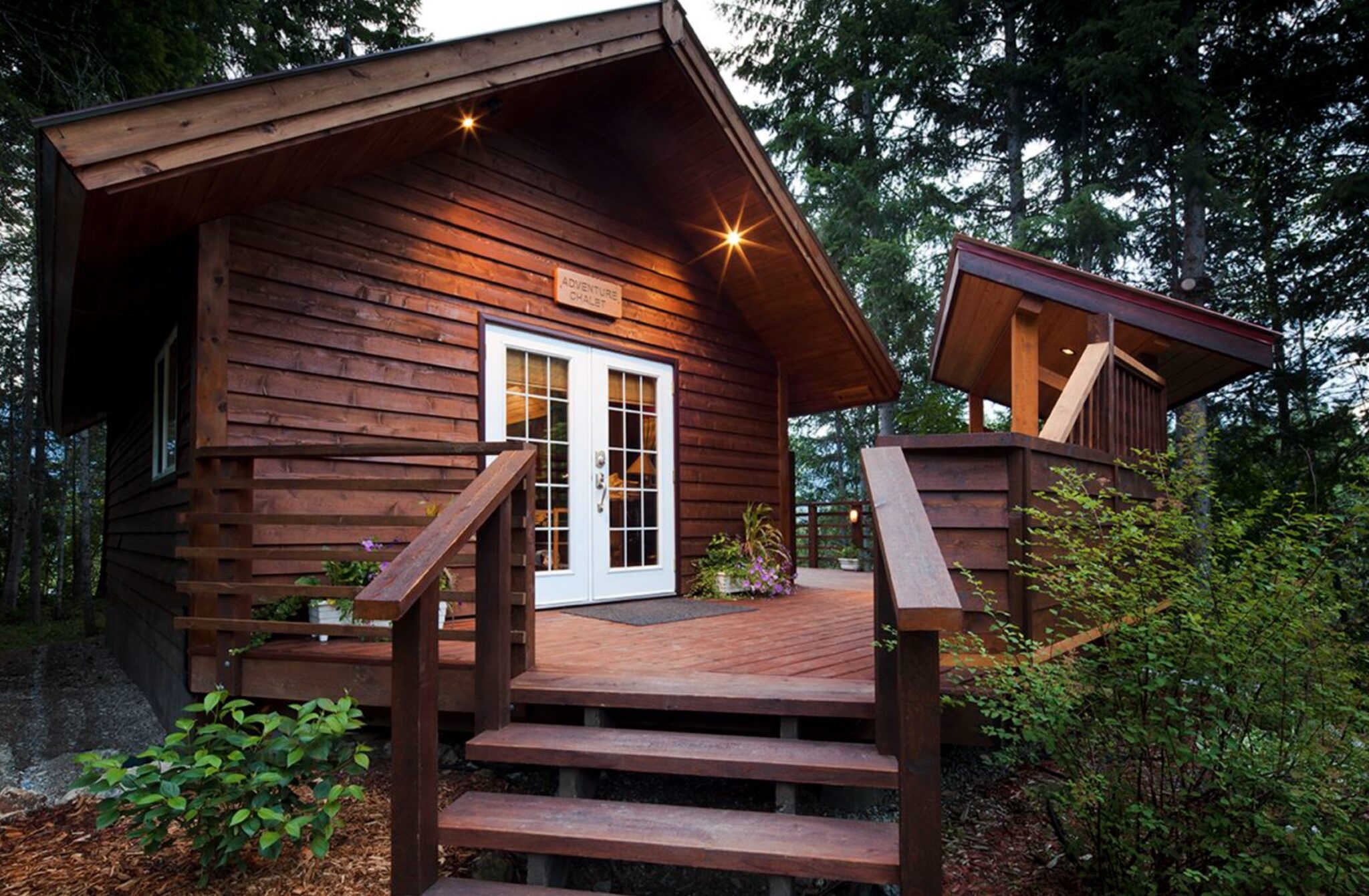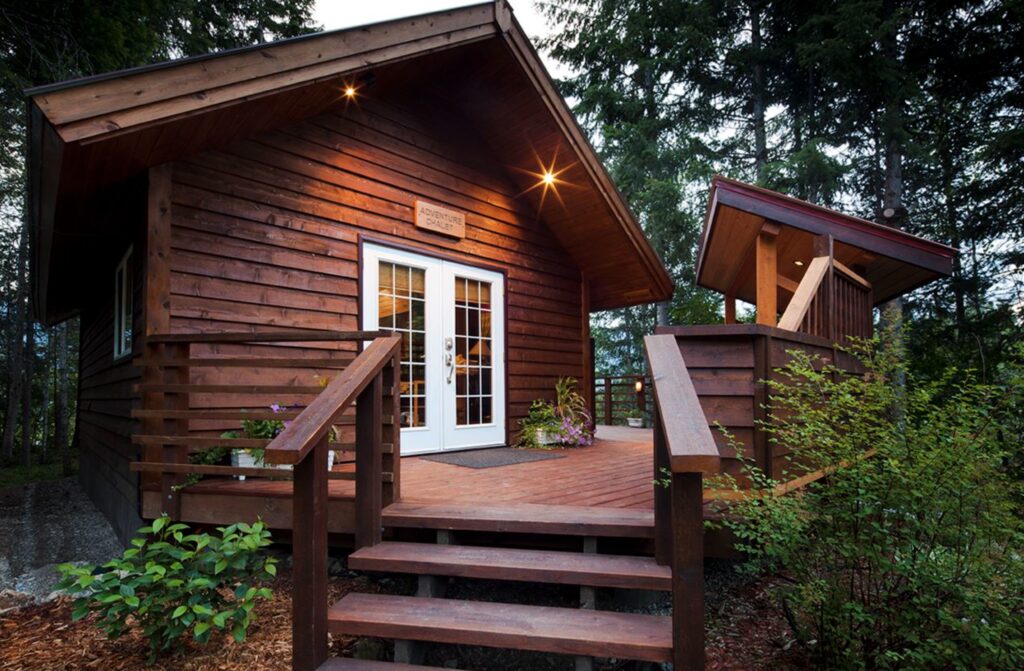 Cedar House Chalets provided us with a comfortable place to stay and great views over Kicking Horse Mountain. Each of these Golden chalets comes with a full kitchen, good WiFi, a fireplace, and most come with even a hot tub!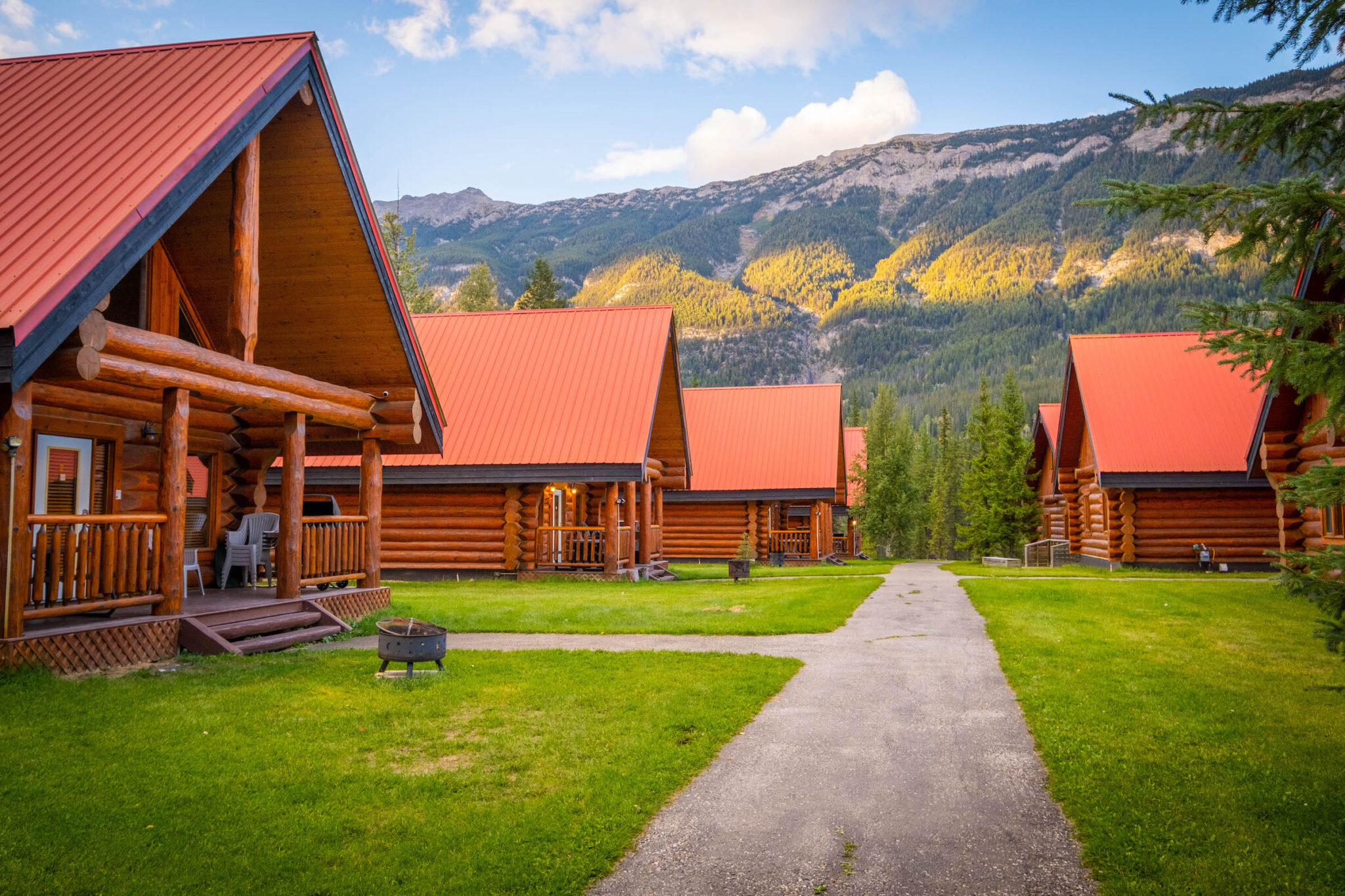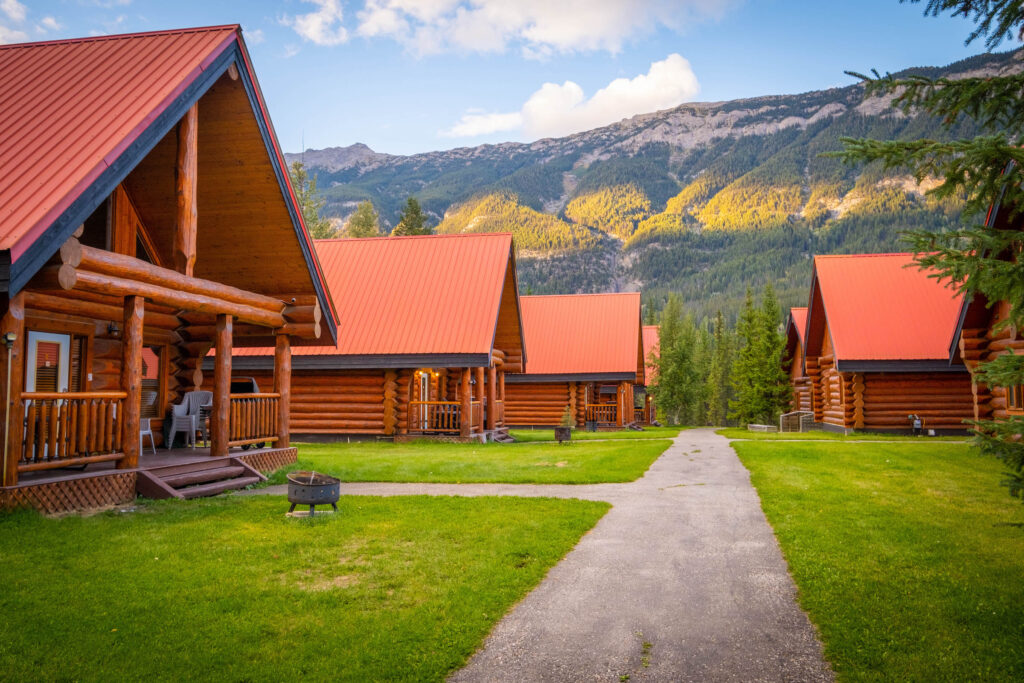 If you don't mind being a bit far from Downtown Golden, I recommend staying at one of these cabins tucked away in the wilderness. Next to the Kicking Horse River with views of Mt Vaux, this was our favorite place to stay in Golden.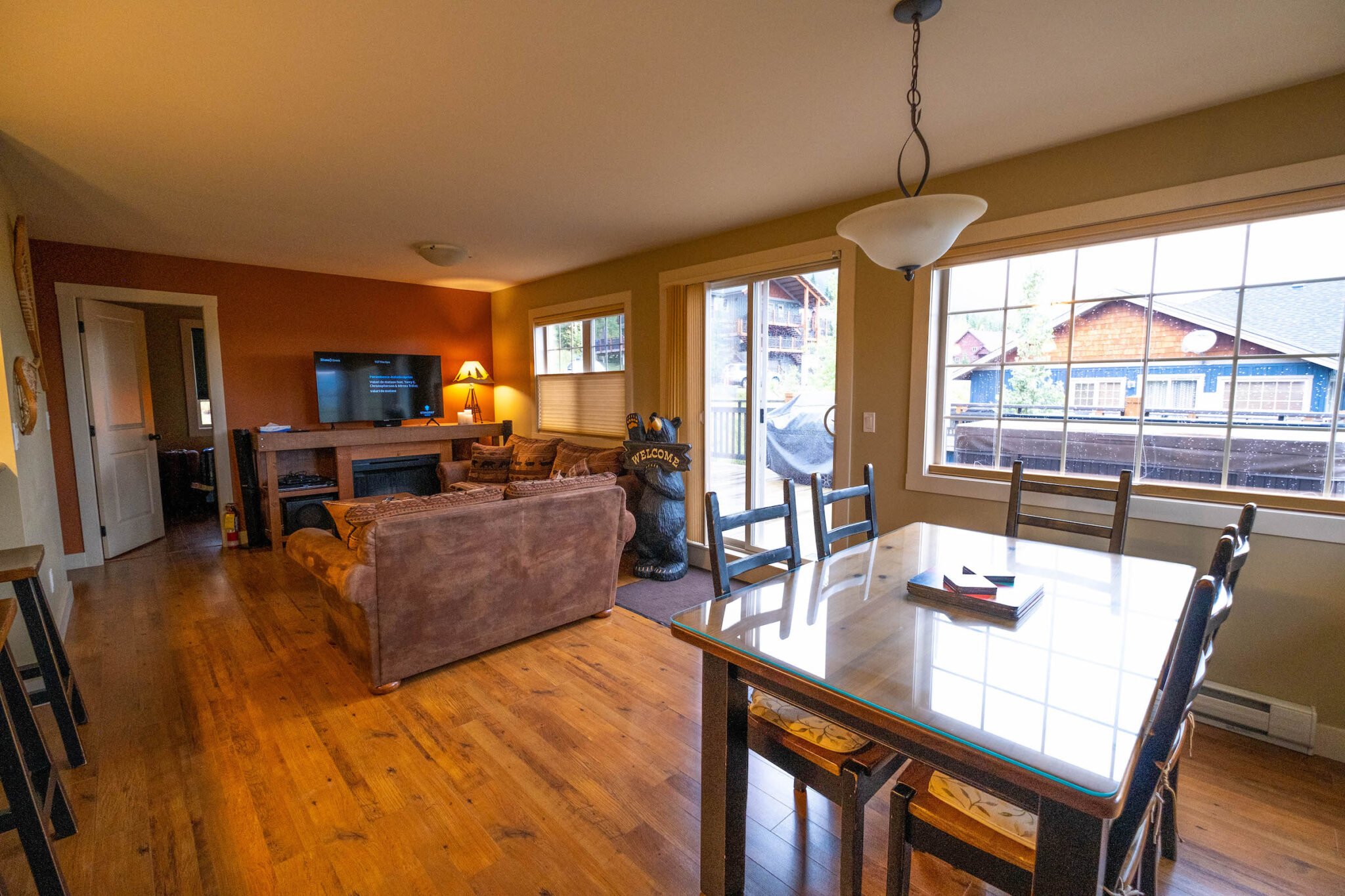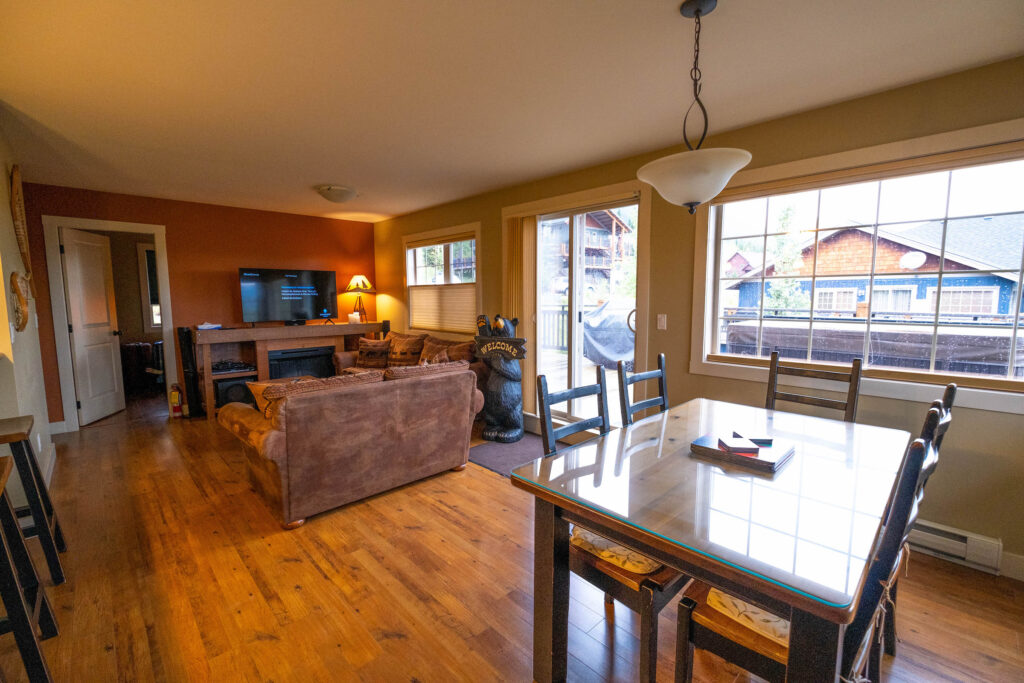 This private and sheltered little cabin is just far enough outside of the hustle and bustle for peace and quiet, yet close enough that you're never too far from the action. Kicking Horse ski resort is just steps away from the cabin. Great for a winter ski vacation!
---
We hope you enjoy the Golden Skybridge! If you have any other questions leave a comment or see our Canadian Rockies travel guide for more articles about photography spots, lakes, hikes, and everything else.
---
↓ Join the community ↓
The Banff Blog Facebook Group is your headquarters for the Canadian Rockies' travel advice and information. Including hike info and off-season travel information. This is also where you can meet one another when you need adventure buddies. 

Plan Your Trip to the Canadian Rockies