Searching for a bite to eat at one of the best Golden, BC restaurants after a day out exploring the mountains?
Golden is a small town, and while it doesn't have as many restaurant choices as nearby Banff or Canmore there is surprisingly quite a bit on offer for a rugged mountain town. Let's dig into the best restaurants in Golden BC.
---
The Best Restaurants in Golden, BC
---
Reposados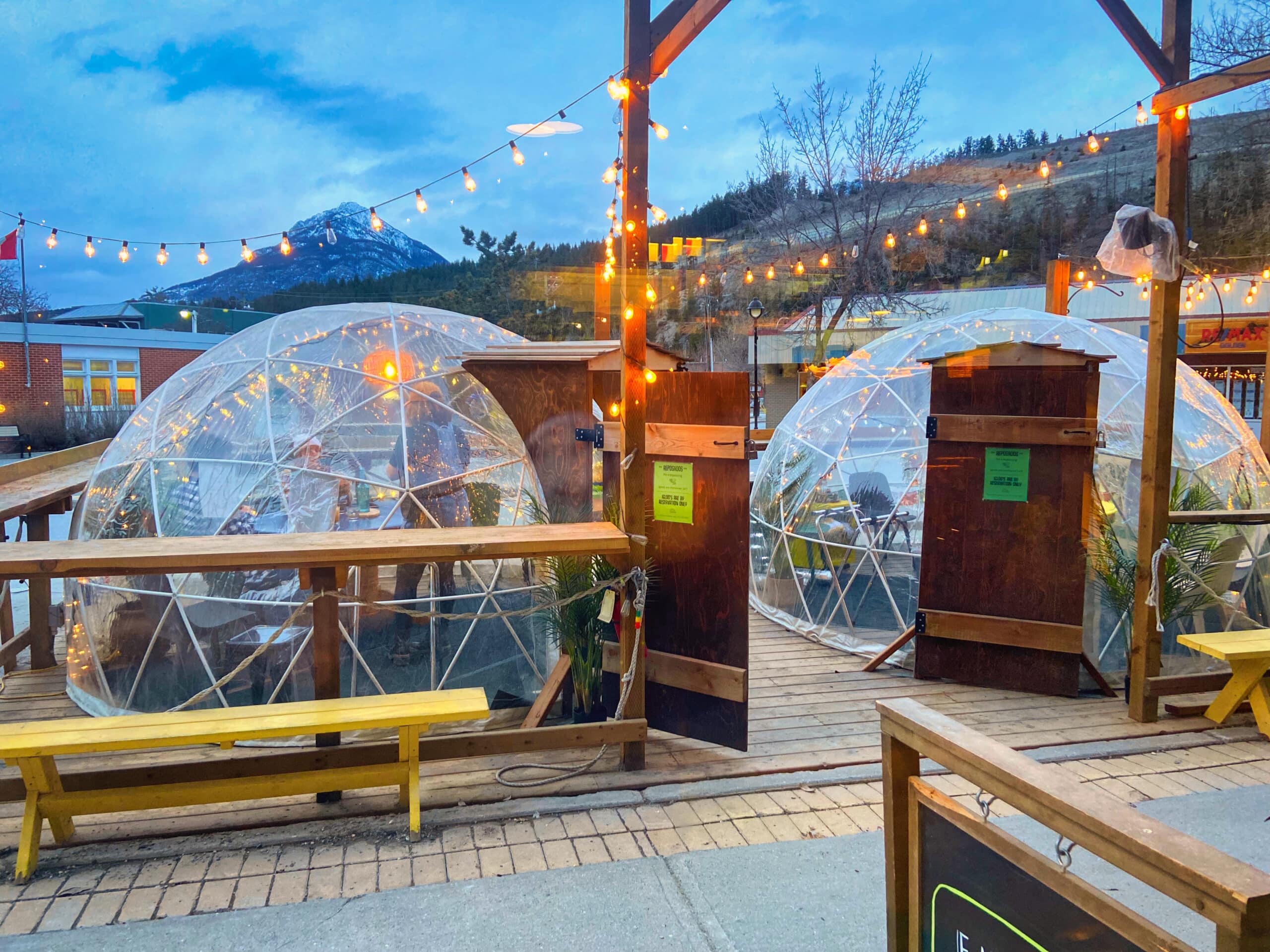 Reposados is Golden's newest restaurant and is the first place you should head after enjoying all the things to do in Golden. Established by two local Golden women, Reposados was born when they realized Golden, BC was missing a little spice.
They bring a fresh and unique twist to traditional tacos and only use the freshest produce to create mouth-watering dishes. Everything is made fresh daily, and you can truly taste it when you take a bite of a burrito here. We were initially drawn here because of the healthy-sounding menu. I mean halloumi avocado bowls and crispy yam burritos? Yum! We were expecting it to be good, but we didn't know it would be simply divine.
Reposados are located right in the heart of downtown; it's hard to miss. Although their indoor dining is small, they have a great outdoor seating area with domed seating in the cooler months! We loved eating here after a fun day at the Golden Skybridge.
---
Jita's Cafe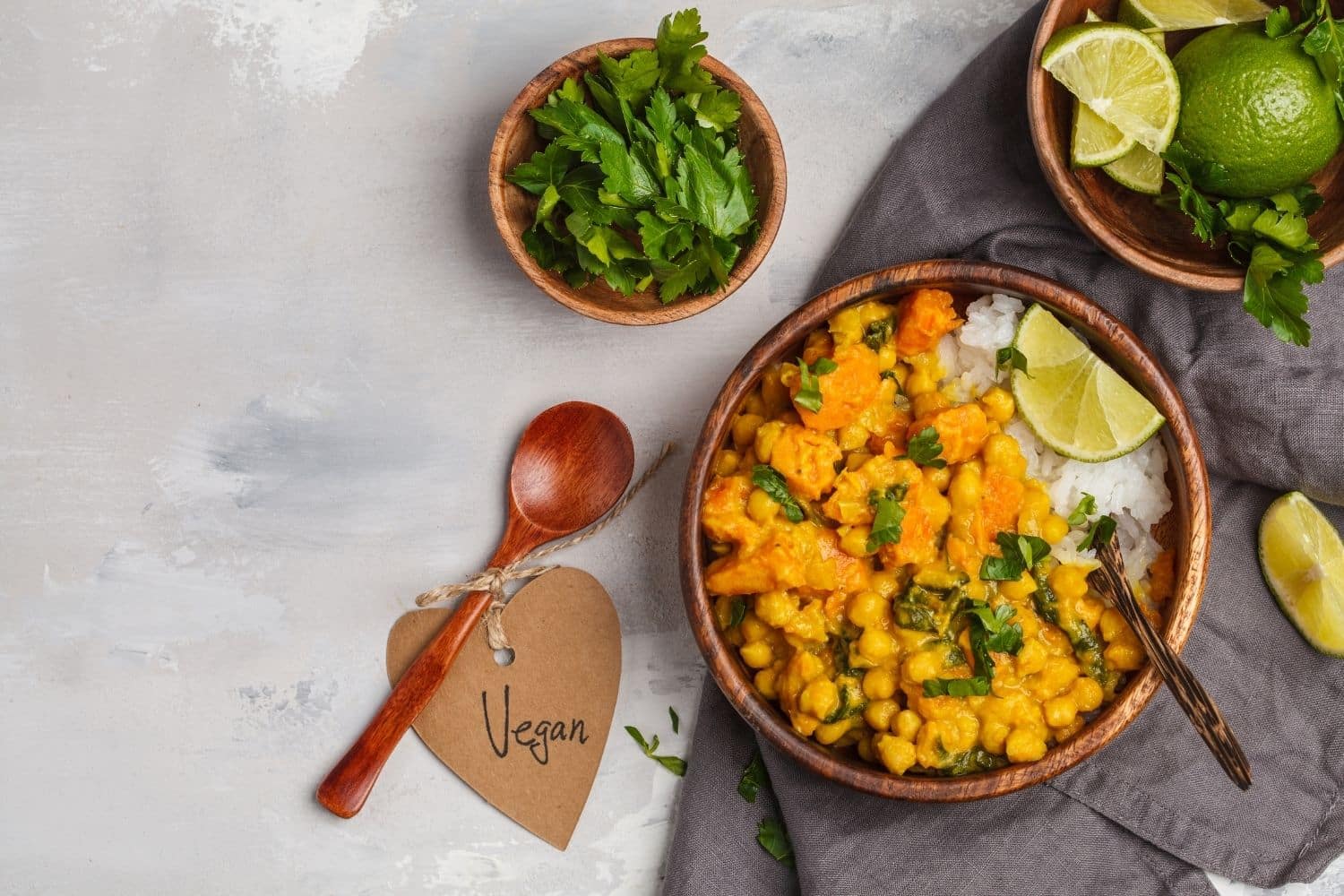 Jita's Cafe is a small vegan-friendly restaurant in Golden that dishes great curries, wraps, soups, and other essential lunch items. You can eat here at an affordable price, so it's perfect if you're looking for something quick on a budget.
Jita's is open every day but Sunday during breakfast and lunch. Don't hesitate to try their staple chickpea curry! After you are done head to the bakery next door for a treat.
---
Eleven22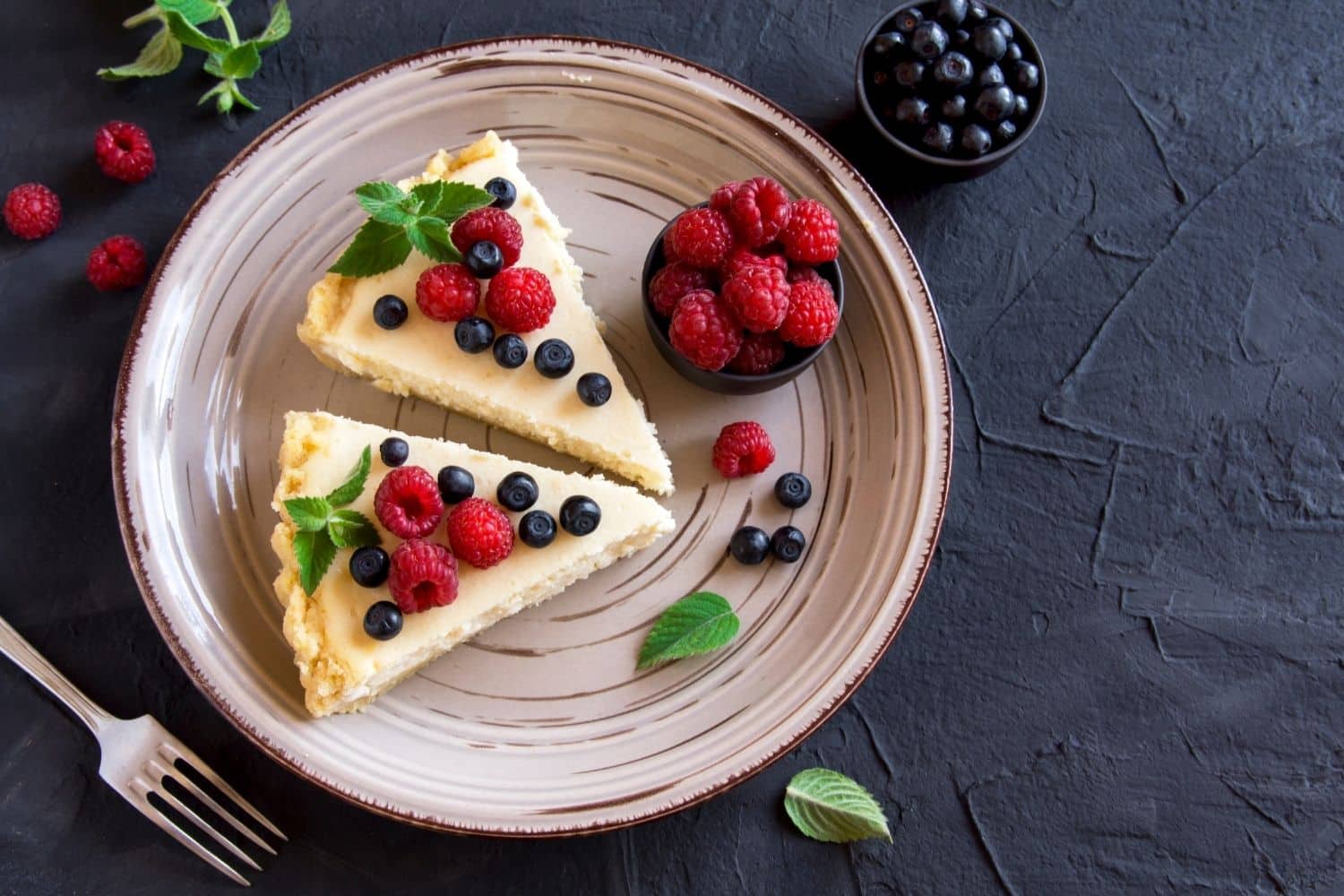 Eleven 22 is an upscale eatery that creates modern comfort food for all. Some of their most loved dishes are Stilton Fondue, Duck's Sheperd Pie, and Ratatouille. Eleven22 has an inviting atmosphere that will make you instantly fall in love, it's the perfect cozy place to have a meal before heading back to your cabin in Golden.
If you arrive early, from 5-6pm, you can enjoy the early bird special, which is three courses for $25. Make sure to get your hands on the pina colada cheesecake.
---
Red Tomato Pies Ltd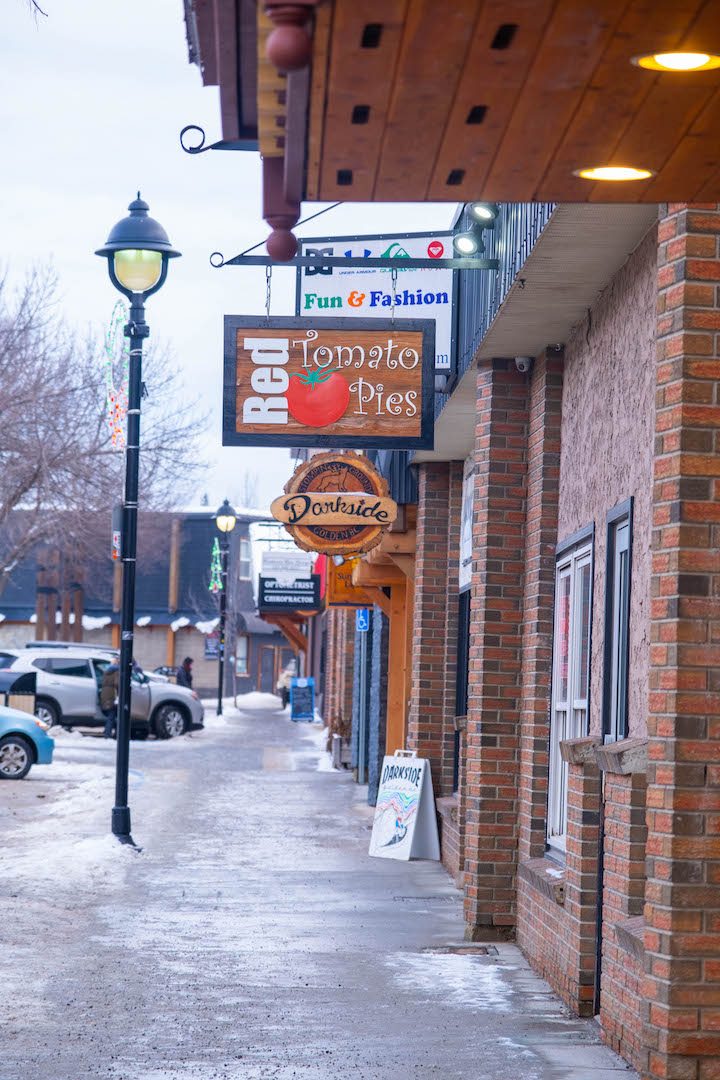 Red Tomato Pies makes the best pizzas in Golden. This is a tiny joint that, if you blink, you'll miss! Right on 9th Avenue, this is where you should head if you want a takeaway pizza after a day skiing at Kicking Horse.
Choose from any of their handcrafted pizzas, or build your own! The pizza creations are all unique. Golden isn't a big town, and everything shuts down pretty early. Thankfully Red Tomato Pies are open until 11pm and midnight on weekends!
---
Whitetooth Bistro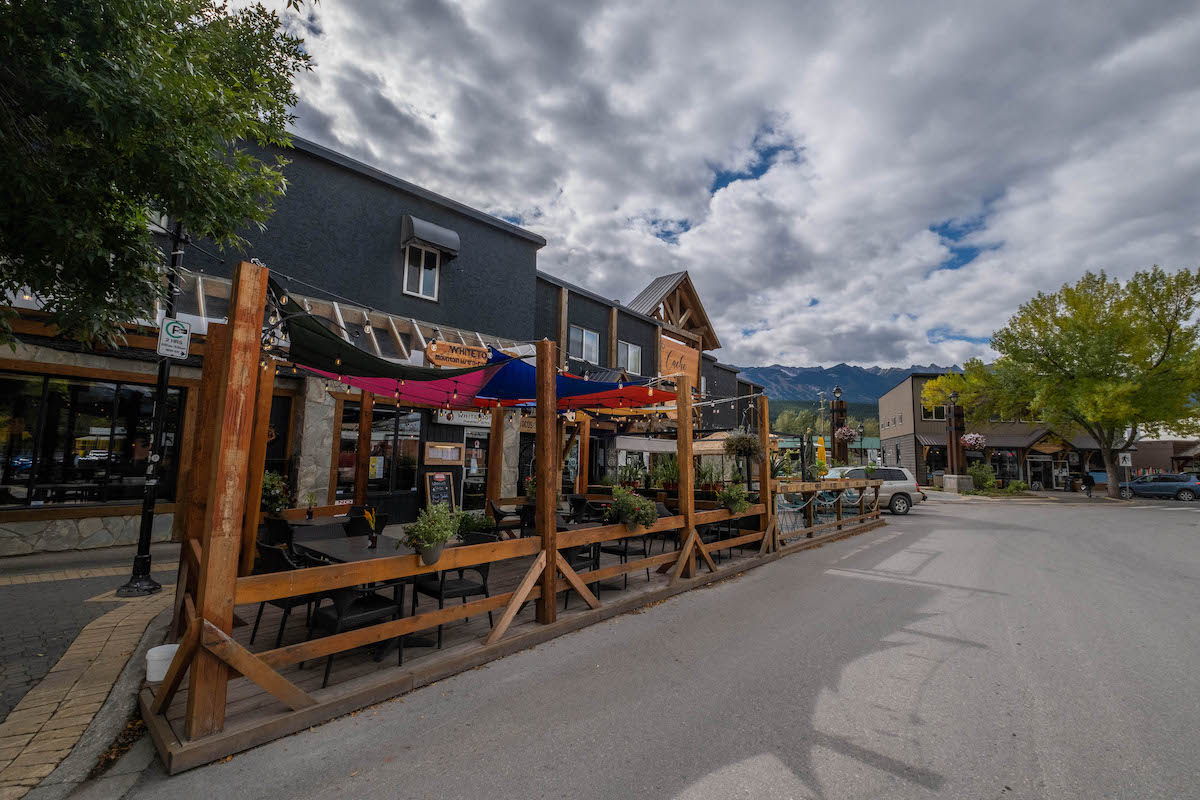 Located downtown next to Reposados is Whitetooth Bistro. They are open for breakfast, lunch, and dinner and have a very extensive menu for each meal.
Whitetooth Bistro has been a staple of Golden for over 15 years and prides itself on dishing up meals for every palate. Seriously, do you want Asian cuisine tonight? Or how about a veg friendly yam burger? Or perhaps you are craving a juicy steak? All of these items and more are available at Whitetooth Bistro.
You probably think that a place that tries to have it all can't be that good. But we were amazed at every dish our group received, all unique, different, and exceptionally tasty.
---
Bear & Bone Burger Co.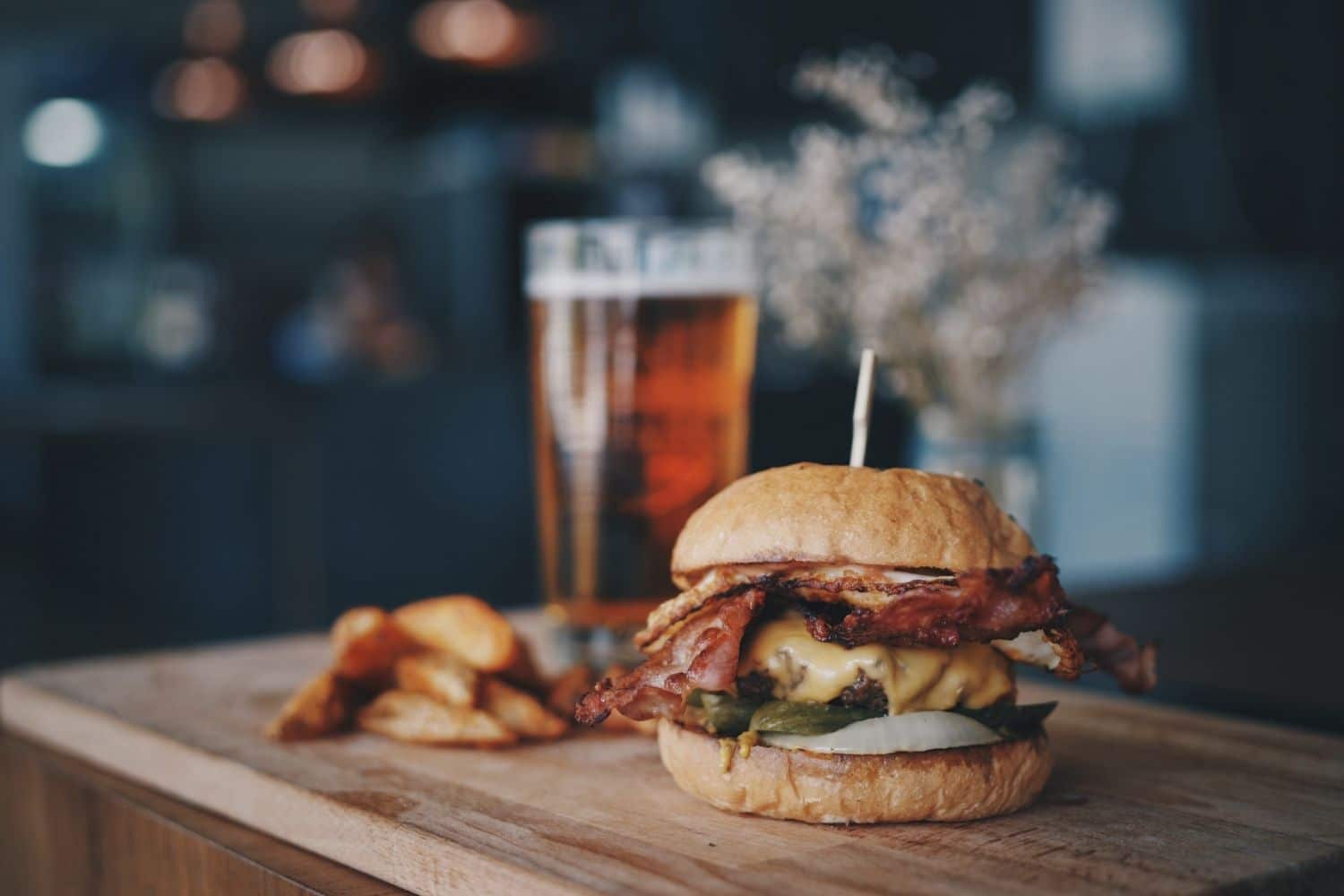 Bear and Bone is located right off Trans Canada and doesn't look like much when you are just passing it from the busy road; however, it's one of the best Golden, BC restaurants you can try.
Bear and Bone specializes in homemade, locally sourced hamburgers and other homestyle classics with a family restaurant touch. So whether you are in Golden on a ski trip, or if you just passing through between Revelstoke and Banff, one thing is for certain – if you are craving a burger, this is the place to stop. Stop in on a Wednesday and enjoy wing night – $5 off per pound of wings!
---
Rockwater Grill and Bar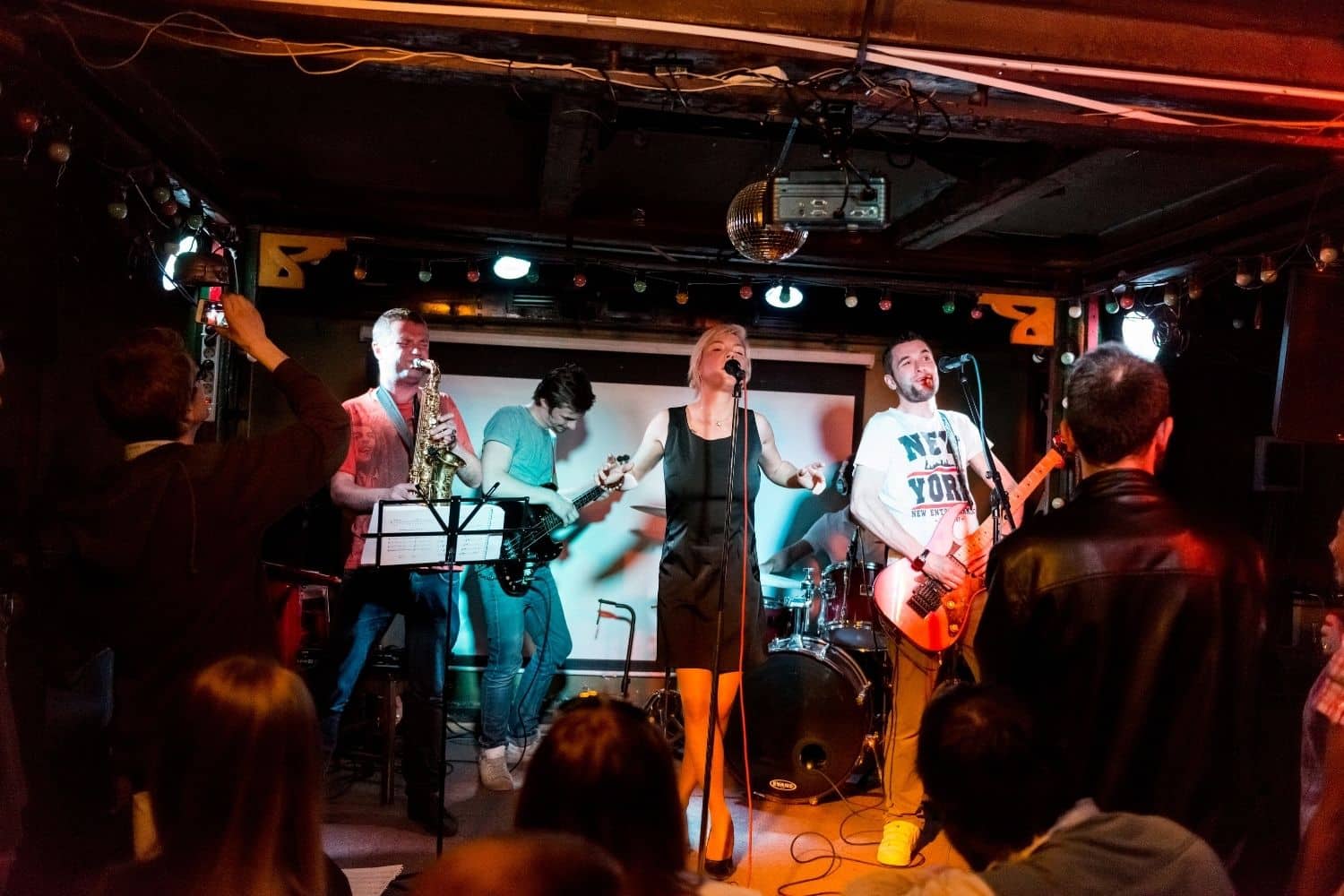 Rockwater in downtown Golden is the liveliest place to have a beer and burger in all of Golden. Not only do they have live weekly music performed by amazing artists, but they have great seating, including patio seating right on the Kicking Horse River – great for summer!
Rockwater hosts many events including comedy acts, folk music, and punk rock night. Some of their classics are lobsterish roll and the crispy chicken club, and the duck poutine is also worth a go!
---
Nagomi Sushi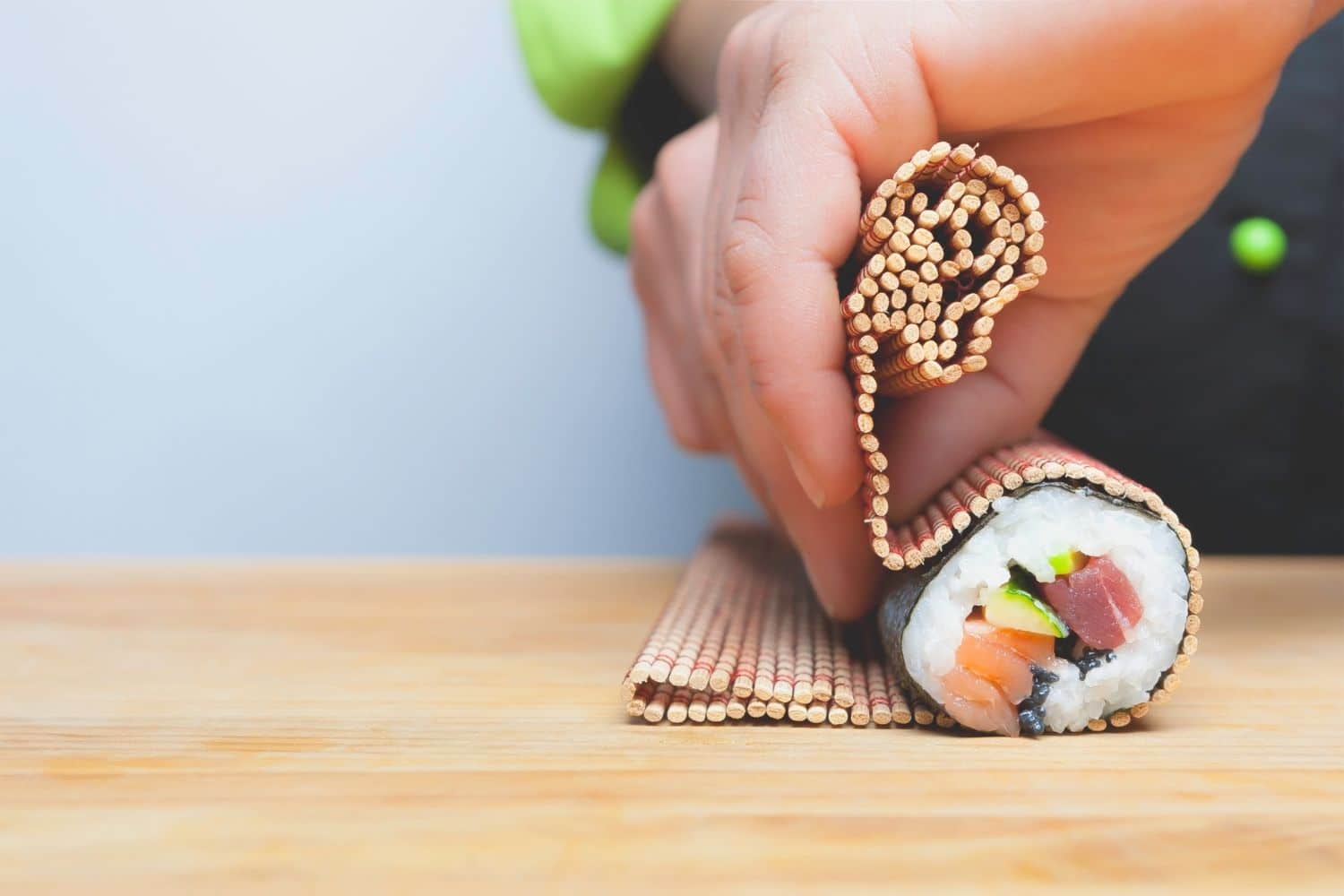 When we first visited Golden, we didn't think we would find good sushi in this small town. Thankfully we were wrong! Rolls at Nagomi sushi are basic, but delicious.
Don't come expecting a plethora of roll creations like you are in Vancouver, but the prices are affordable and Nagomi will fix any sushi craving you may have. Perfect for takeout in Golden!
---
Ronin Noodle Bar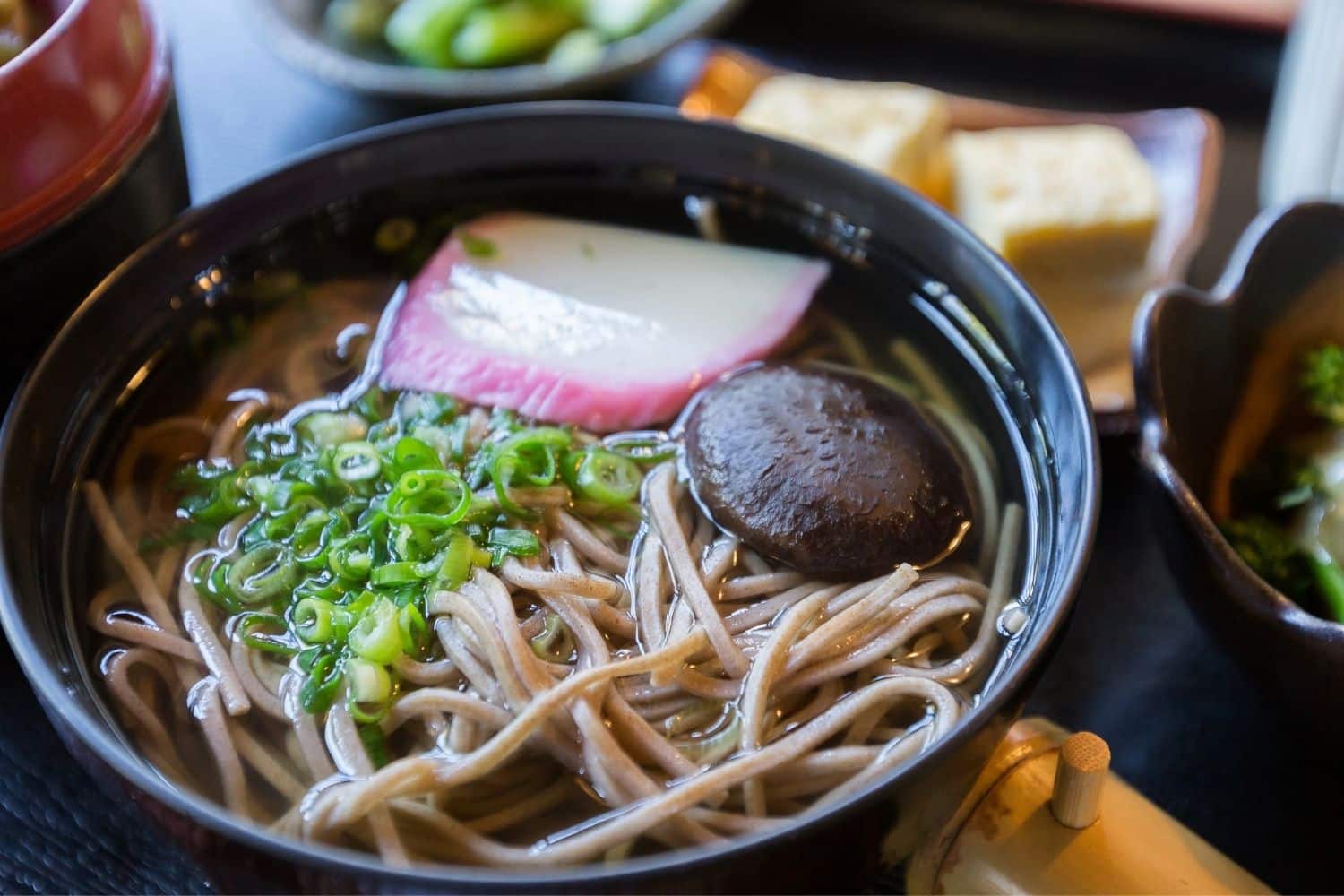 One of the hippest Golden, BC restaurants you can find. You don't need to fly all the way to Japan to get a great bowl of noodles. For that, you can head right to Ronin Noodle Bar, which is the perfect place to warm up after a cold winter day.
Ronin Noodle Bar was created after the chef wanted to create the perfect noodle dish for the town. A vast bowl menu and incredible sharing plates like Beef Gyoza and Japanese Fried Chicken for the table is what you will find here.
Ronin also serves the best cocktails in town. Expect creations like a Japanese Old Fashioned and a Kimchi Caesar, or the "Bonsai Tree, which is Tanqueray gin, fernet branca, cucumber, mint, basil blender muddled, garden 108, with yuzu syrup. Seriously you can't go wrong with a drink with friends here.
---
Bluebird Cafe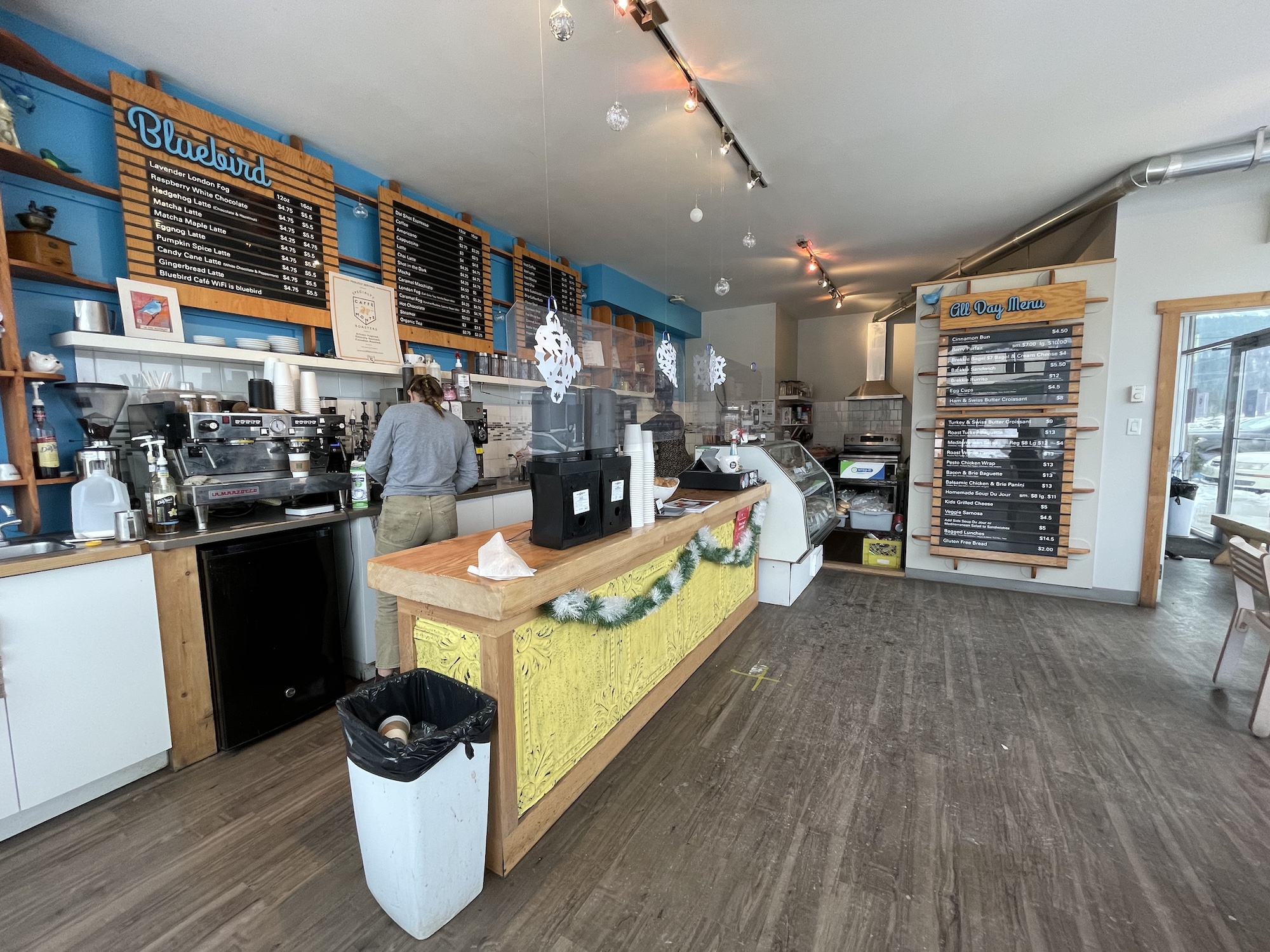 Bluebird Cafe is just outside Downtown Golden and is where you should head in the morning when searching for that morning cup of joe and cinnamon roll.
Everything used at Bluebird Cafe is environmentally friendly, including; biodegradable take-away cups, cutlery, and containers. They also bake all their muffins and pastries daily.
Bluebird Cafe is named after the perfect bluebird day in Golden, one where you can take to the mountain bike trails or snowmobile adventures. Because they know the Golden community is an active bunch, they have a plethora of grab-and-go items! We like to come here to grab a sandwich from their grab and go, knowing it will be delicious on a lunch hike in Yoho.
---
Hopefully, this helped you determine what Golden, BC restaurant to try today!
If you have any other questions leave a comment or see our Canadian Rockies travel guide for more articles about photography spots, lakes, hikes, and everything else.
---
Plan Your Trip to the Canadian Rockies
↓ Join the community ↓
The Banff Blog Facebook Group is your headquarters for the Canadian Rockies' travel advice and information. Including hike info and off-season travel information. You can also meet new adventure buddies.