It's best to start any day exploring the Canadian Rockies with a fantastic breakfast. If you're exploring Jasper National Park for the day, you'll be delighted to know that there are plenty of great places to have breakfast in Jasper. For such a small mountain town there are surprisingly a good amount of restaurants and cafes to try in Jasper, and we'll break down the best of them here.
Of course, many will choose to dine at their Jasper hotel if breakfast is included in the room rate. However, not everyone wants a lackluster breakfast buffet that can be hit or miss, and it's always nice to support some of the local cafes, coffee shops, brunch, and breakfast places in Jasper.
---
The Best Breakfast in Jasper
---
Sunhouse Cafe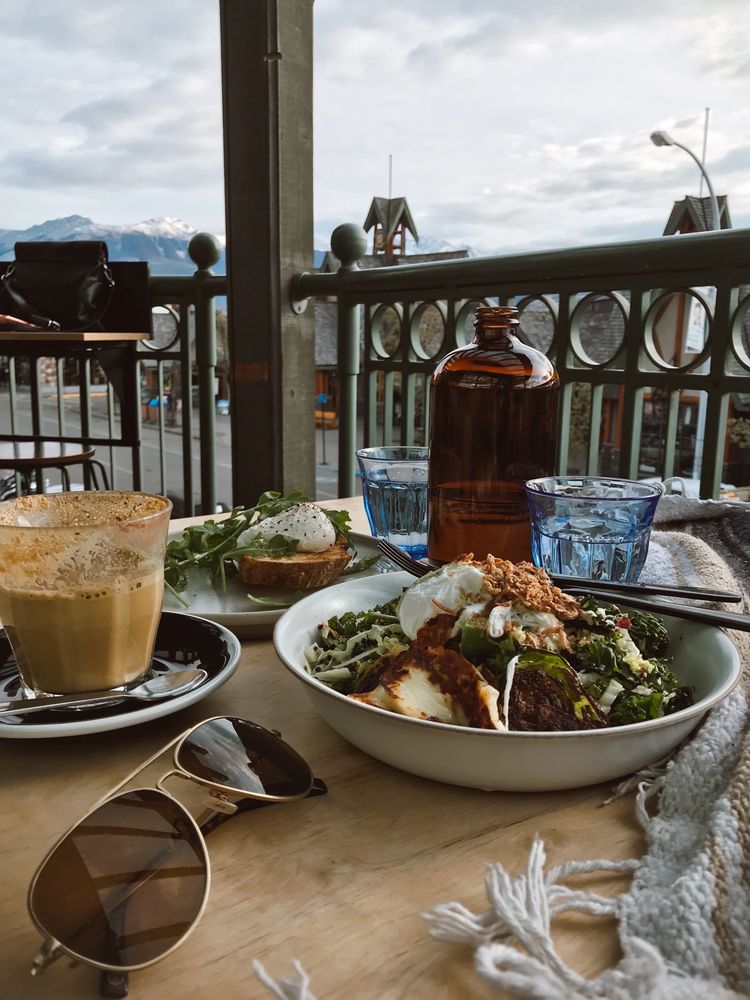 Sunhouse Cafe gets our nod for the best breakfast in Jasper. The bright, airy cafe with modern decor serves mouth-watering coffee and food. It's located on the second floor of a small mall and the outdoor patio provides a pleasing view over Patricia Street.
Coffee is a strong focus here and they serve some great espresso-based drinks along with single-origin pour-overs. Drinks don't stop there, as there are a number of organic teas, kombucha drinks, and smoothies.
The food here is excellent and original with fresh ingredients and healthy options, this is the kind of place you'll find fancy avocado toast — and I mean that in a nice way. All drinks can be made with milk alternatives like oat milk for vegans. Top marks all around from the service to the atmosphere, drinks, and food.
---
Bear's Paw Jasper Bakery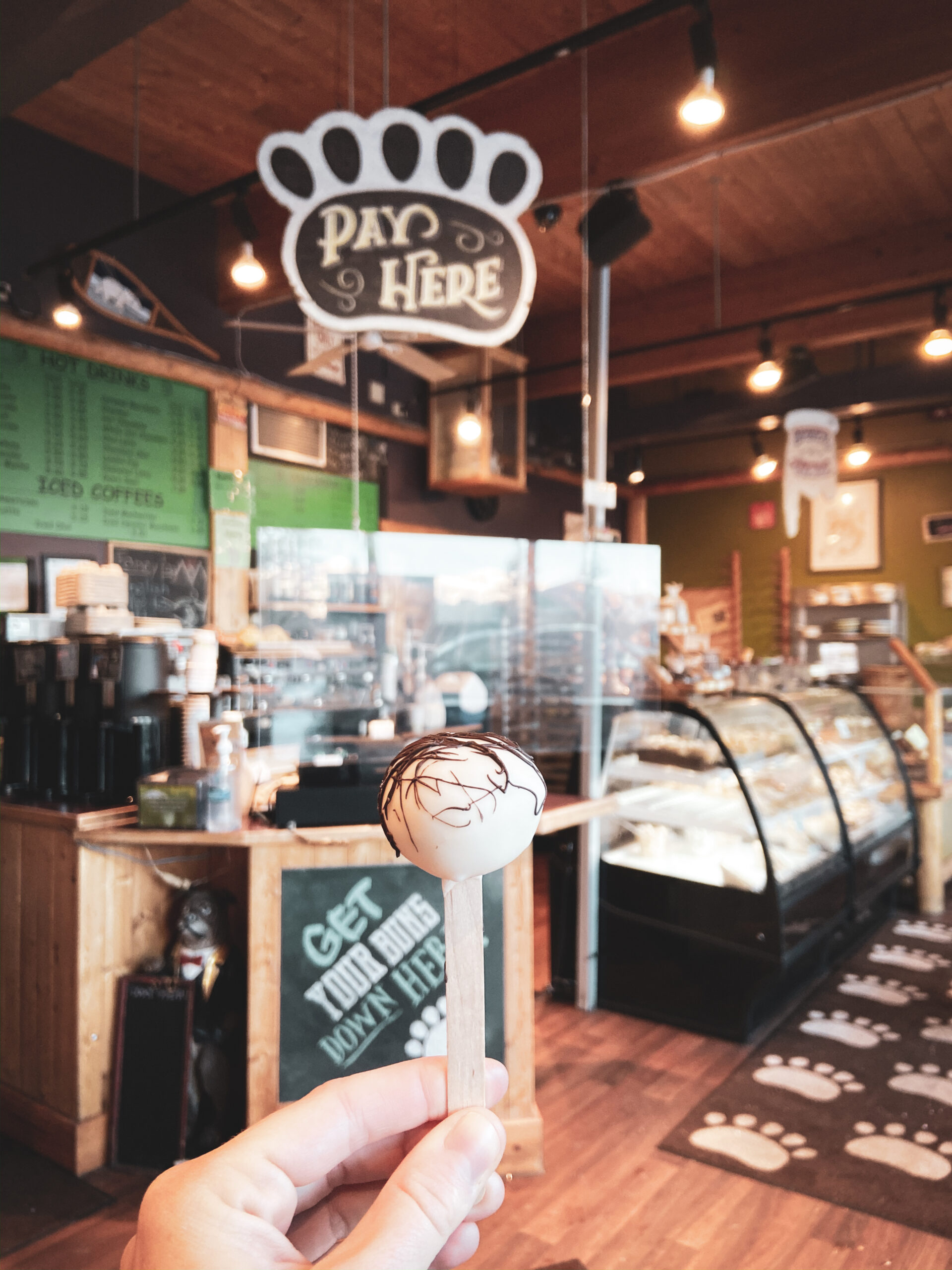 Bear's Paw Bakery is an institution in Jasper and just about every visitor to Jasper should pay the bakery a visit. Everything is baked from scratch in house and they have a wide variety of Canadian and European pastries.
The signature baked good is a bear paw or one of their massive scones. Baked goods are bountiful at the Bear's Paw Bakery such as cookies, muffins, apple pie, pumpkin tarts, sticky cinnamon buns, brownies, rhubarb squares, and fresh bread loaves.
They also serve some decent coffee with and espresso-based drinks. There are two locations the original, Bear's Paw Bakery, and the second location, the Other Bear Paw. Ice cream is also available for an afternoon treat, but we've never had the pleasure to try. It's also nice to note that they open early at 6:00 a.m. if you have a big day planned like hiking the Berg Lake trail. We loved the raspberry white chocolate scones!
---
Other Paw Bakery & Cafe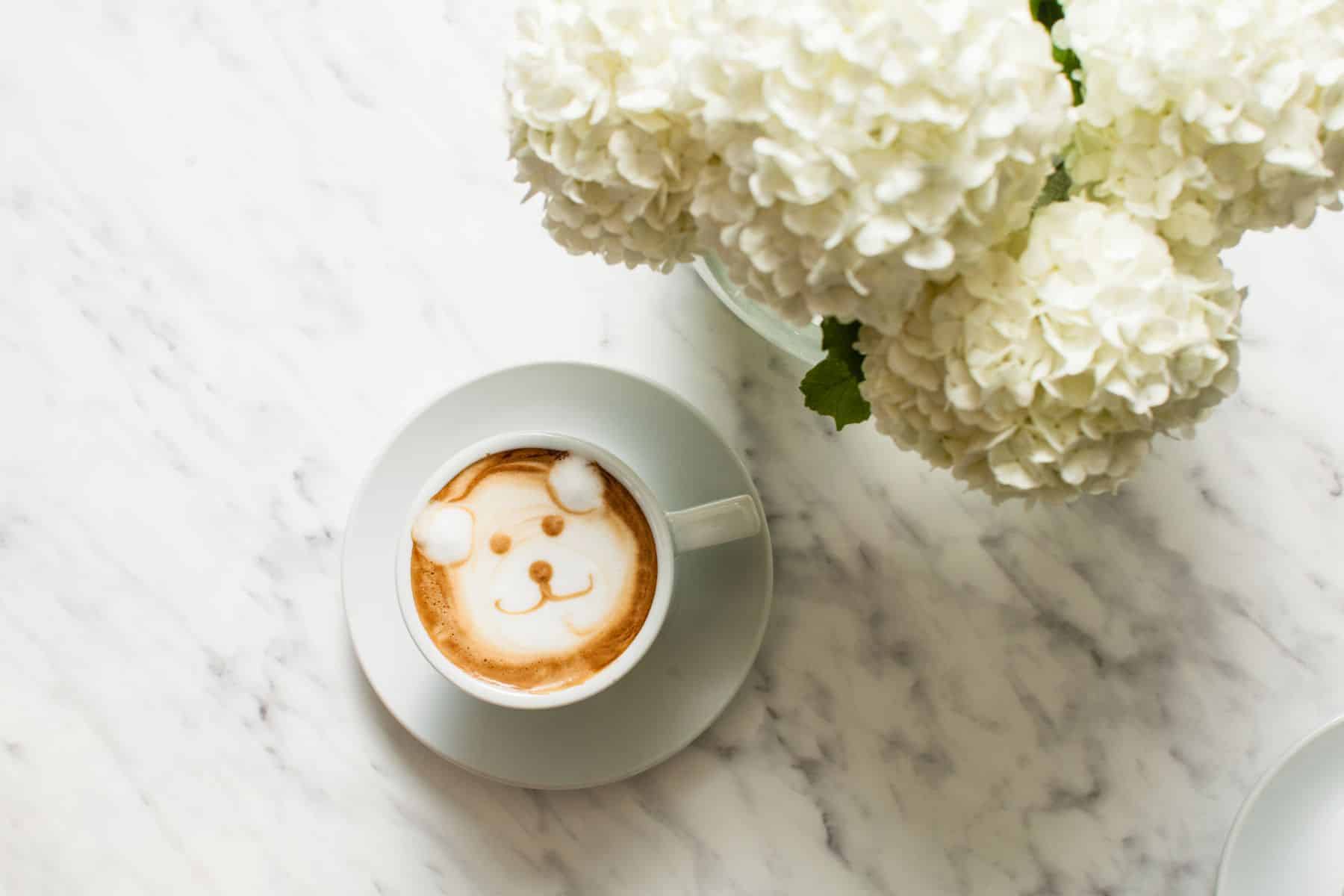 Established by the same folks that run Bear's Paw, the Other Paw is like Bear's Paw Bakery, but with more emphasis on food. Here you can come for your daily coffee, as well as for a wrap, sandwich, salad, or panini.
It's a great place to head for a quick bite, or to grab some take away wrapped food for a day at one of the best lakes in Jasper.
---
Wicked Cup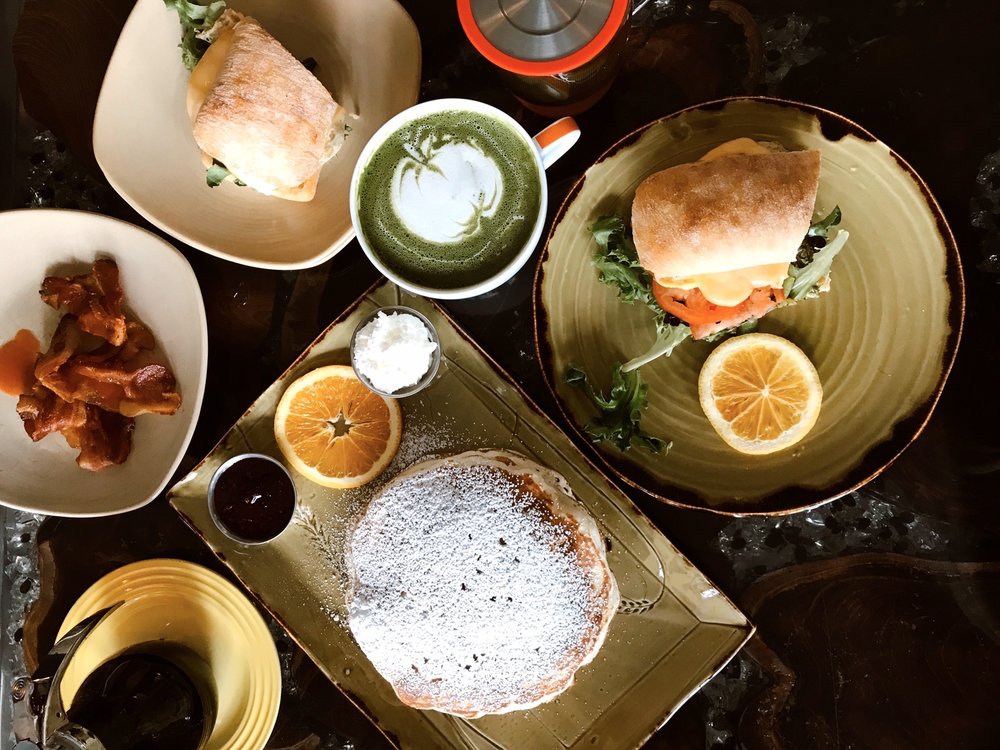 Wicked Cup starts serving coffee early at 7:00 a.m. and serves up a number of cafe classics for breakfast. There is plenty of seating and the interior is eclectic with a small gift shop inside. An outdoor patio with plenty of seating means you can enjoy mountain views while you have your morning coffee.
Breakfast is served all day with staples such as a lox bagel, breakfast burrito, pancakes, and yogurt parfaits. They also have a children's breakfast menu which is a big win for families.
After breakfast, they serve food all day and have a full bar for when you're ready to have a stronger drink. Nothing is exceptional here, but they definitely serve some of the best coffee in Jasper — just behind Sunhouse Cafe.
---
Harvest Food & Drink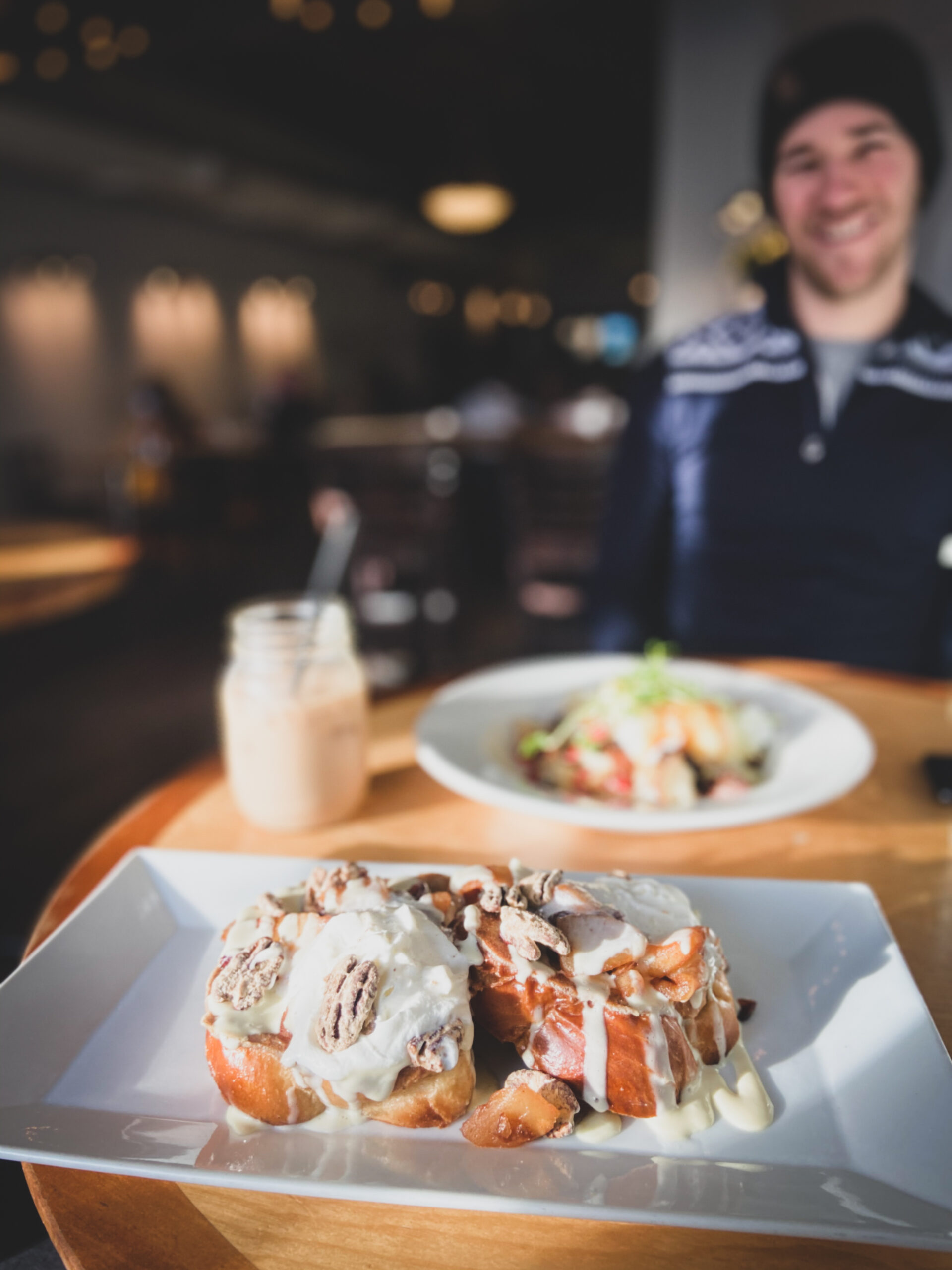 One of the better restaurants in town Harvest Food & Drink serves breakfast, brunch, lunch, dinner. It's one of the newer restaurants in Jasper with a healthy menu. Diners can choose from options such as a classic egg breakfast, apple pie french toast, avocado toast, kale & potato hash, eggs benny, or Belgian waffles.
There are also a number of tasty smoothie options if that's how you like to start your day. Food is really great here and prices feel reasonable for the quality. It's a great cozy little spot for breakfast in Jasper, just wish there was a little more atmosphere with the decor.
---
Coco's Cafe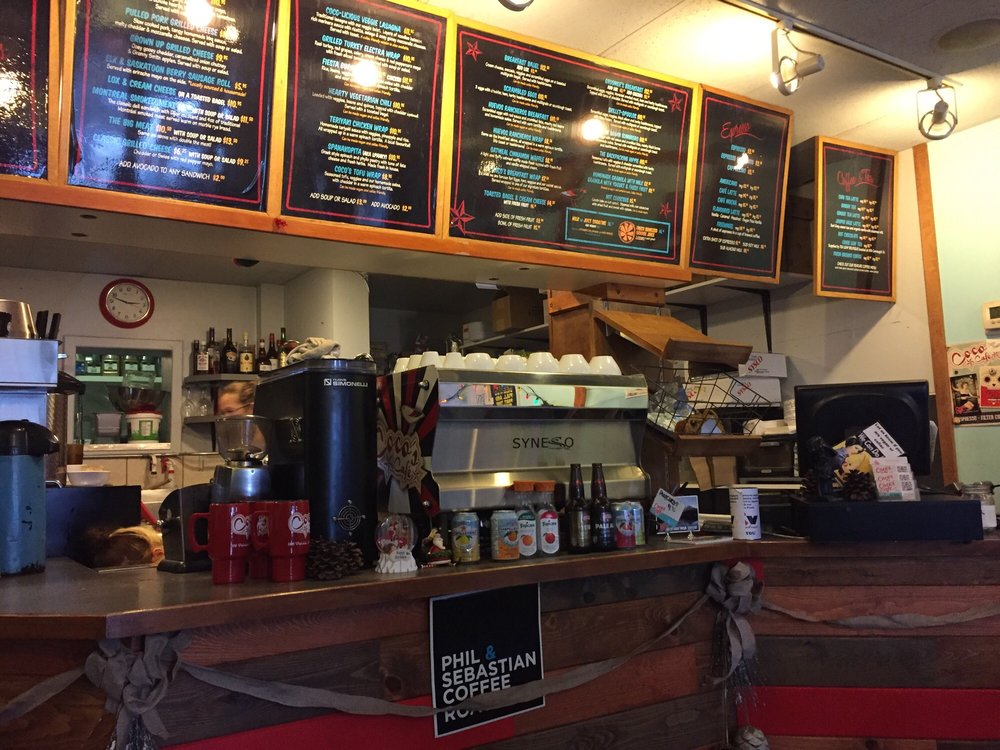 Coco's Cafe is a beloved local's spot that's cozy and delicious. They've got all of the classics of a relaxed cafe such as bagels, oatmeal cinnamon waffles, breakfast burritos, breakfast bowls, and huevos rancheros.
A standout dish is the Breakfast Bagel a tummy-filling Montreal-style bagel (a classic Canadian food item) with cream cheese, avocado, and veggies. You can choose from a nice range of coffee and tea drinks like a cappuccino or London fog (The Jasper Haze). It's all pretty decent and can hit the spot if you're hungry in the early morning as they're one of the first breakfast spots to open in Jasper.
---
SnowDome Coffee Bar
First off I have to say I love the name as it's named after one of the iconic mountains of the Canadian Rockies.
This quirky Jasper coffee shop is located inside a Coin Clean Laundromat on the bottom floor of a building. It's a small little coffee bar that serves some delicious espresso-based drinks for those looking for a quick jump-start.
Beans come from Ace Coffee from Edmonton and they produce some fresh quality roasts. There isn't much to eat from SnowDome asides from a few small baked treats and cookies. However, we're fans of eating at a self-catered stay and then grabbing a good coffee from a local spot to start our day.
---
Andromeda Coffee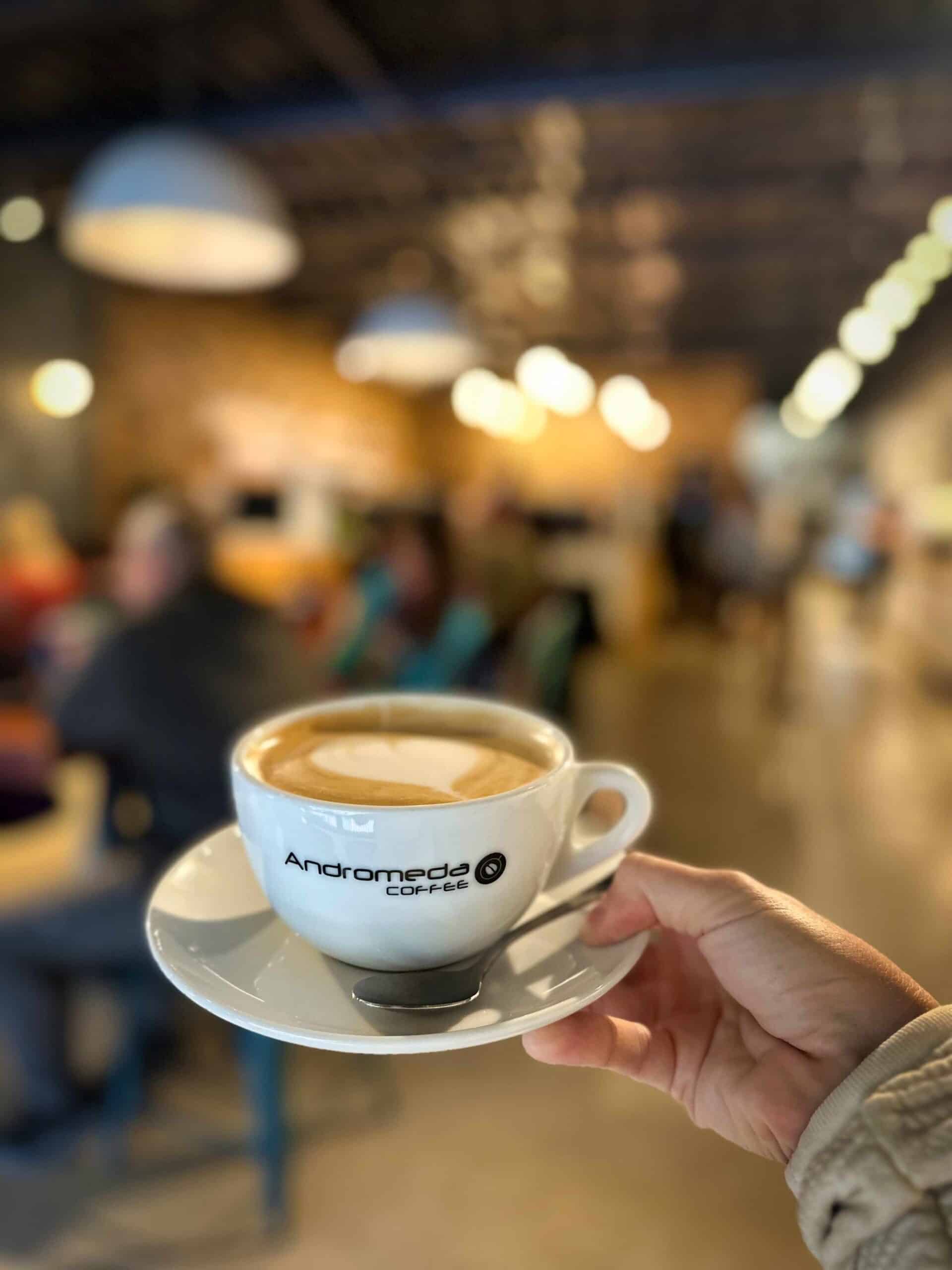 Run by the same folks who run Snowdome and in the same building, this coffee shop has quickly become a hit breakfast spot in Jasper and has even been voted Jasper's Best Coffee!
Andromeda Coffee boasts two custom, sapphire blue Slayer Espresso machines, a Poursteady, and a generous amount of space for indoor coffee drinking. All of their baking is made with real ingredients and prepared from scratch, in-house. It's a great place to head if you need a quiet space for studying or work while enjoying a freshly baked treat!
---
Orso Trattoria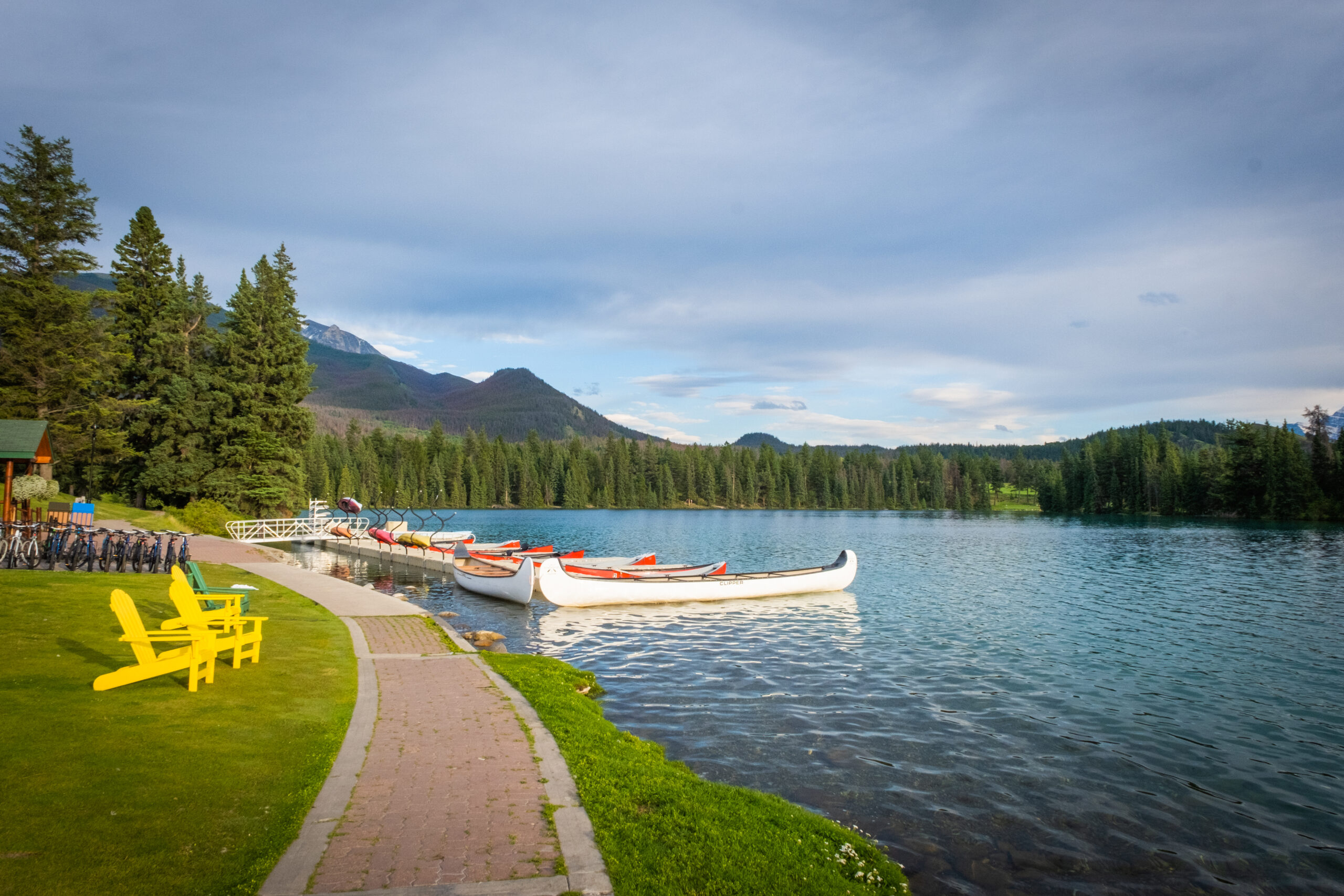 While the main breakfast option, the Great Hall Gastropub delivers a pleasant breakfast for guests at the Jasper Park Lodge Orso Trattoria serves a luxurious brunch. Every Sunday from 10:30 a.m. to 1:30 p.m. the Italian restaurant serves a delicious tapas-inspired menu.
Reservations are a great call as the outdoor seating here is exceptional with wonderful views over Lake Beuavert, lovely gardens, and mountains in the distance. If you're seeking a mimosa kind of breakfast this is the spot!
---
Papa George's Restaurant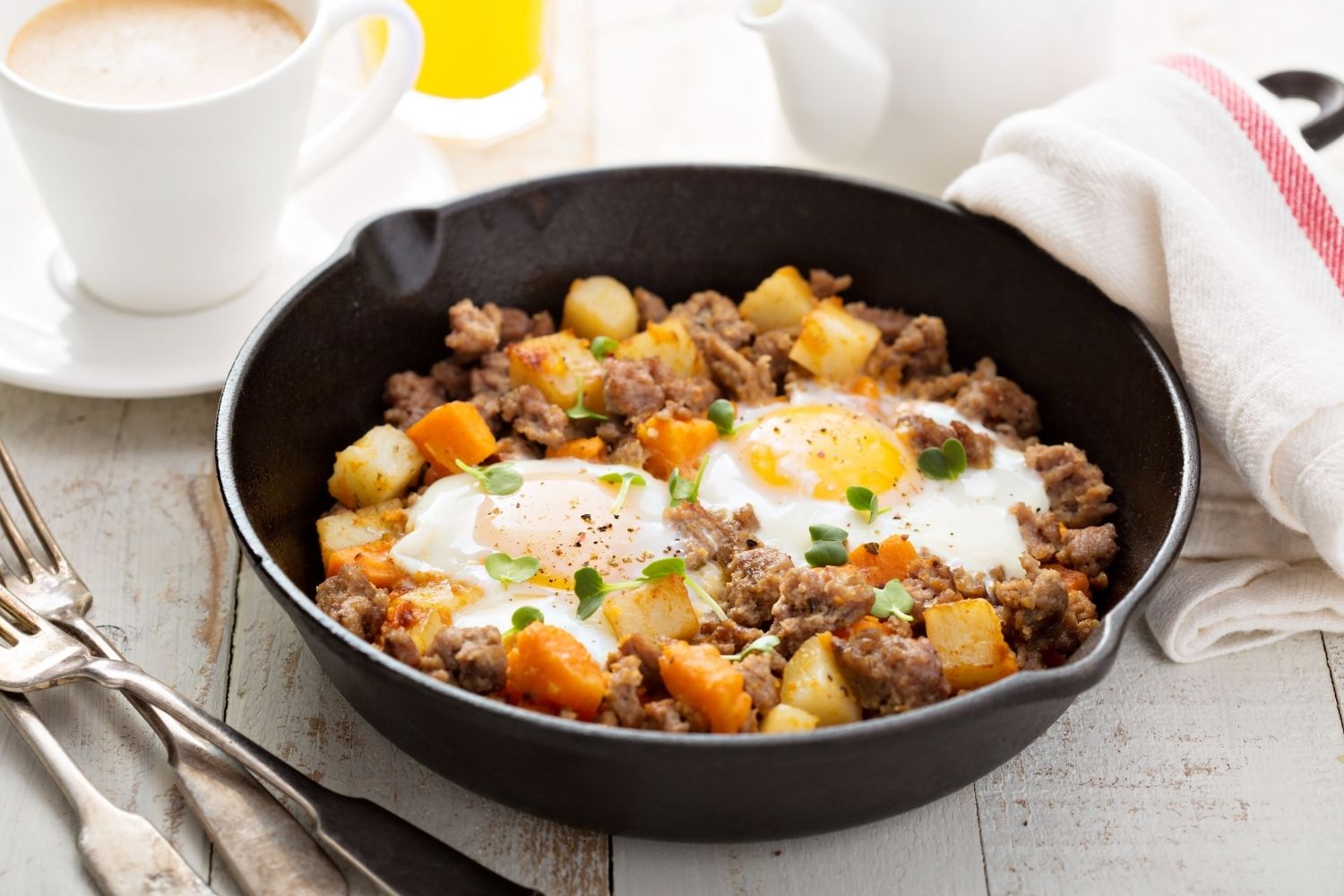 Papa George's Restaurant has one of the most extensive breakfast menus in town with a wide range of options. You can find Canadian classic breakfast staples at a reasonable price like pancakes, eggs benny, and omelets.
They also have an espresso bar and loose-leaf teas for a solid caffeine fix. Plus after 10:00 am, their bar opens, so you can order a Caesar or mimosa.
---
Terra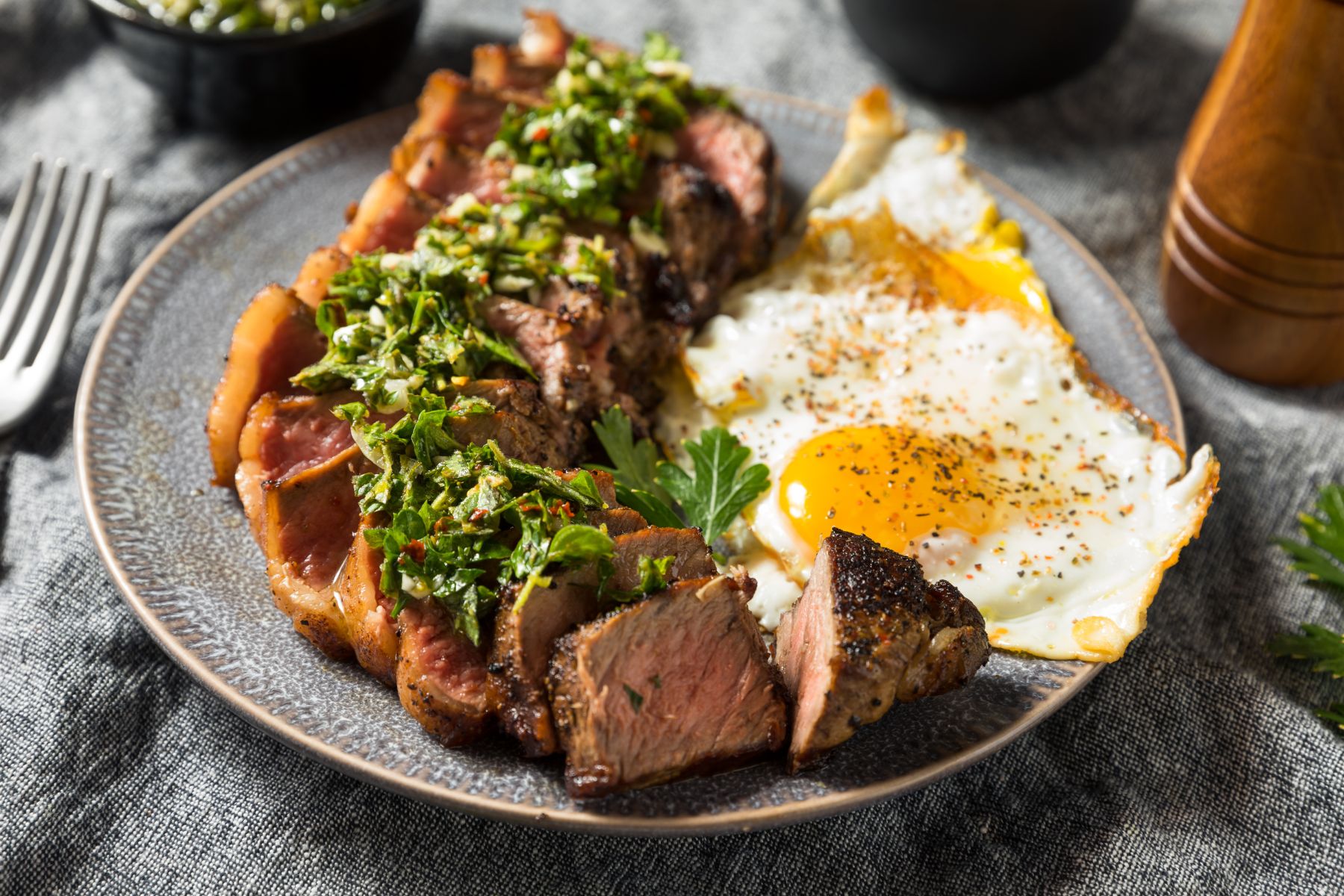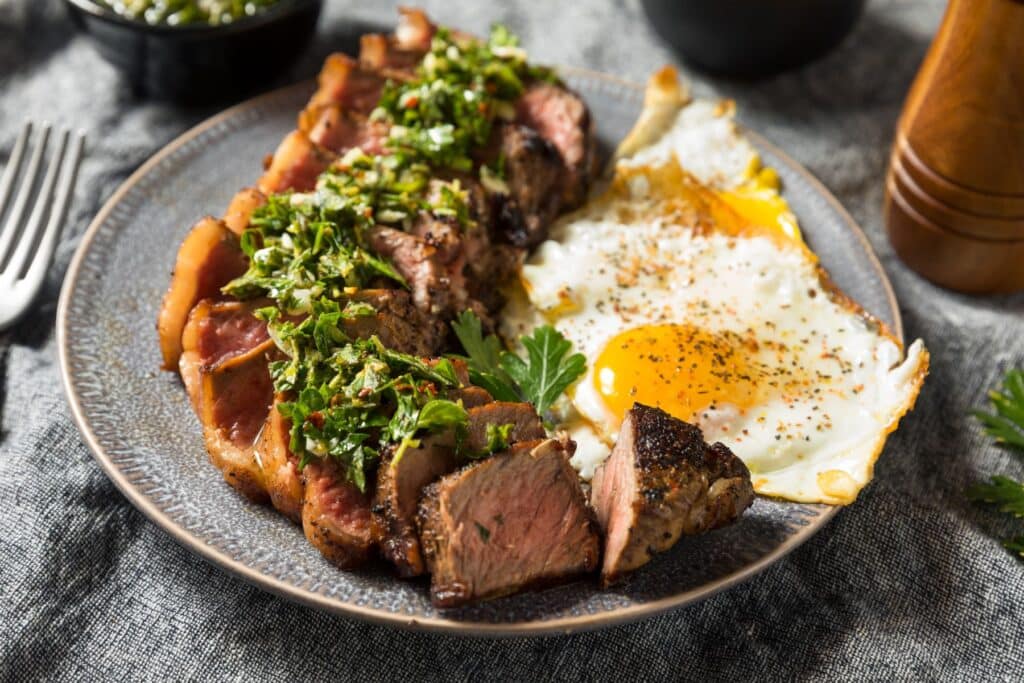 Embark on a culinary voyage that celebrates the untamed beauty of Jasper at Terra, just steps away from the core of Downtown Jasper. Drawing inspiration from the rugged essence of this stunning locale, Terra thrives on the concept of harmonizing locally farmed and foraged ingredients to craft a dining experience that truly resonates with the spirit of the land.
Central to Terra's philosophy is the embrace of seasonal abundance, mirroring the ever-shifting landscapes of Jasper. With each passing season, their menus undergo a transformation, weaving in the bounty of natural and local elements. They are open all day, and are a great dinner spot, however, for sit-down breakfast in Jasper, Terra is sure to hit the spot.
---
Hopefully, this helped you determine the best breakfast Jasper spot for you!
If you have any other questions leave a comment or see our Canadian Rockies travel guide for more articles about photography spots, lakes, hikes, and everything else.
---
Plan Your Trip to the Canadian Rockies
↓ Join the community ↓
The Banff Blog Facebook Group is your headquarters for the Canadian Rockies' travel advice and information. Including hike info and off-season travel information. This is also where you can meet one another when you need adventure buddies.