Looking for the best Jasper hotels? The charming town of Jasper and the surrounding national park are certain to provide visitors with a memorable experience. We like to refer to Jasper as a more subdued version of Banff with far more wildlife thanks to friendlier terrain and fewer visitors.
Take in the spectacular scenery and go for a Jasper hike, climb, ski, or canoe in one of the most beautiful Jasper lakes. In between, you will want somewhere amazing to lay your head. All of these amazing hotels in Jasper will ensure a great vacation.
---
Click on the hotel name or the Booking.com links to check the latest rates. For the best rates on your hotel reservation, we recommend booking 6-8 months in advance.
---
Where to Stay in Jasper?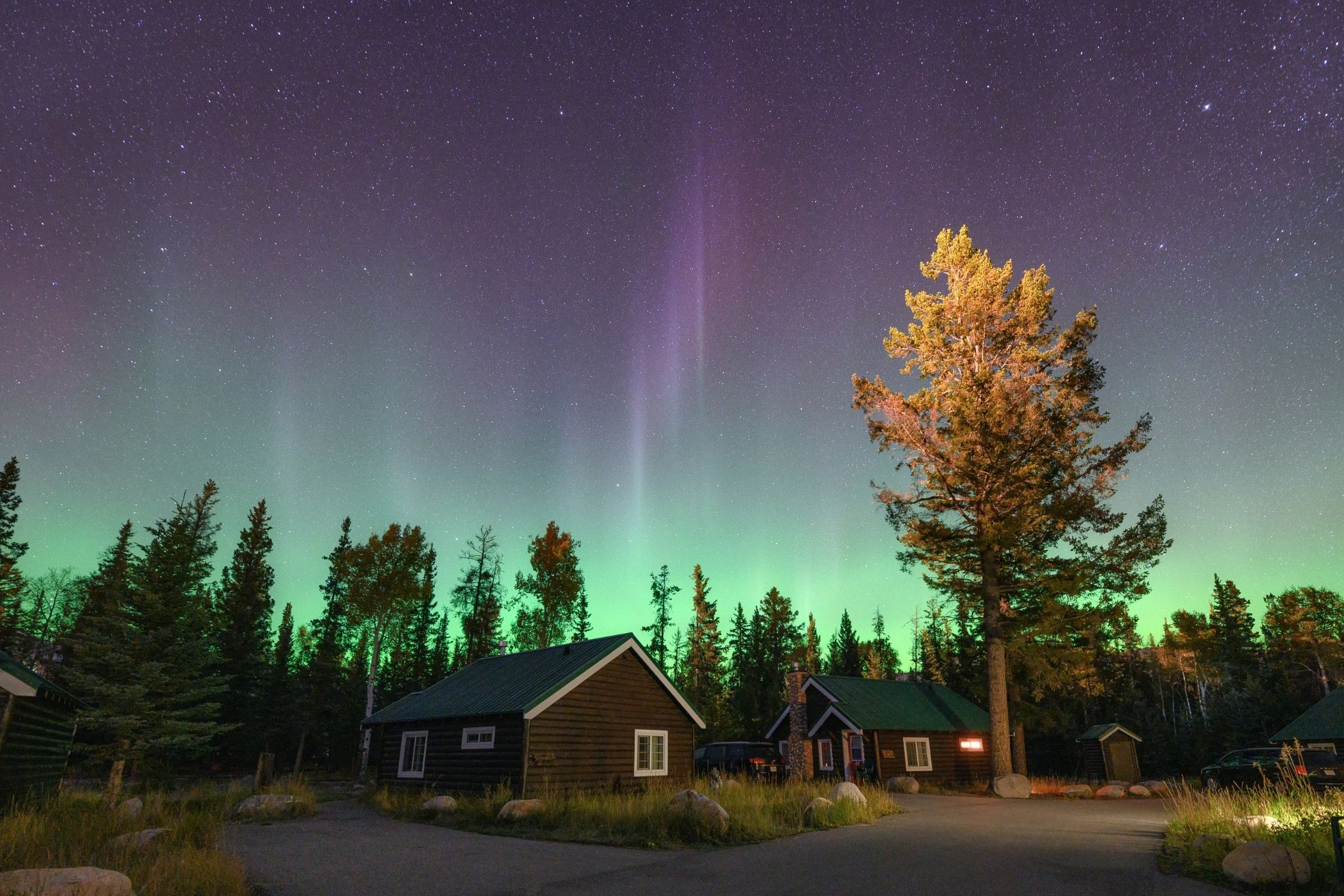 Jasper National Park is a vast park, larger than Banff. But that doesn't mean there are places to stay everywhere. There are only a few main regions of Jasper where visitors will find themselves. Most of the best hotels in Jasper are actually not in the Town of Jasper, but on the outskirts. Cabin lovers will also be pleased to know that there are tons of cabins around the park, Jasper does cabin living so well! The areas to stay in Jasper are:
Downtown Jasper: The Town of Jasper is a small one, but this is where you will find most of the Jasper accommodation options. Booking a hotel downtown will ensure you are always only steps away to the best Jasper restaurants and shops.
On the Lakes of Jasper: There are so many lakes in Jasper to enjoy. While most of them are secluded with little around there are a few higher-end properties that are lakeside in Jasper. These include Pyramid Lake and Beauvert Lake.
Along the Icefields Parkway: The Icefields Parkway connects Jasper to Banff. Once you enter the town of Jasper, there are a select few basic properties along the route.
On Yellowhead Highway: Yellowhead Highway connects the Town of Jasper to Hinton. Staying along this highway is further away from Downtown Jasper, but gets you closer to sights like the Miette Hot Springs and away from the crowds. It's also possible to stay just outside the park gates, which will yield lower rates and some better accommodation options.
---
Best Lakeside Jasper Hotels
---
Fairmont Jasper Park Lodge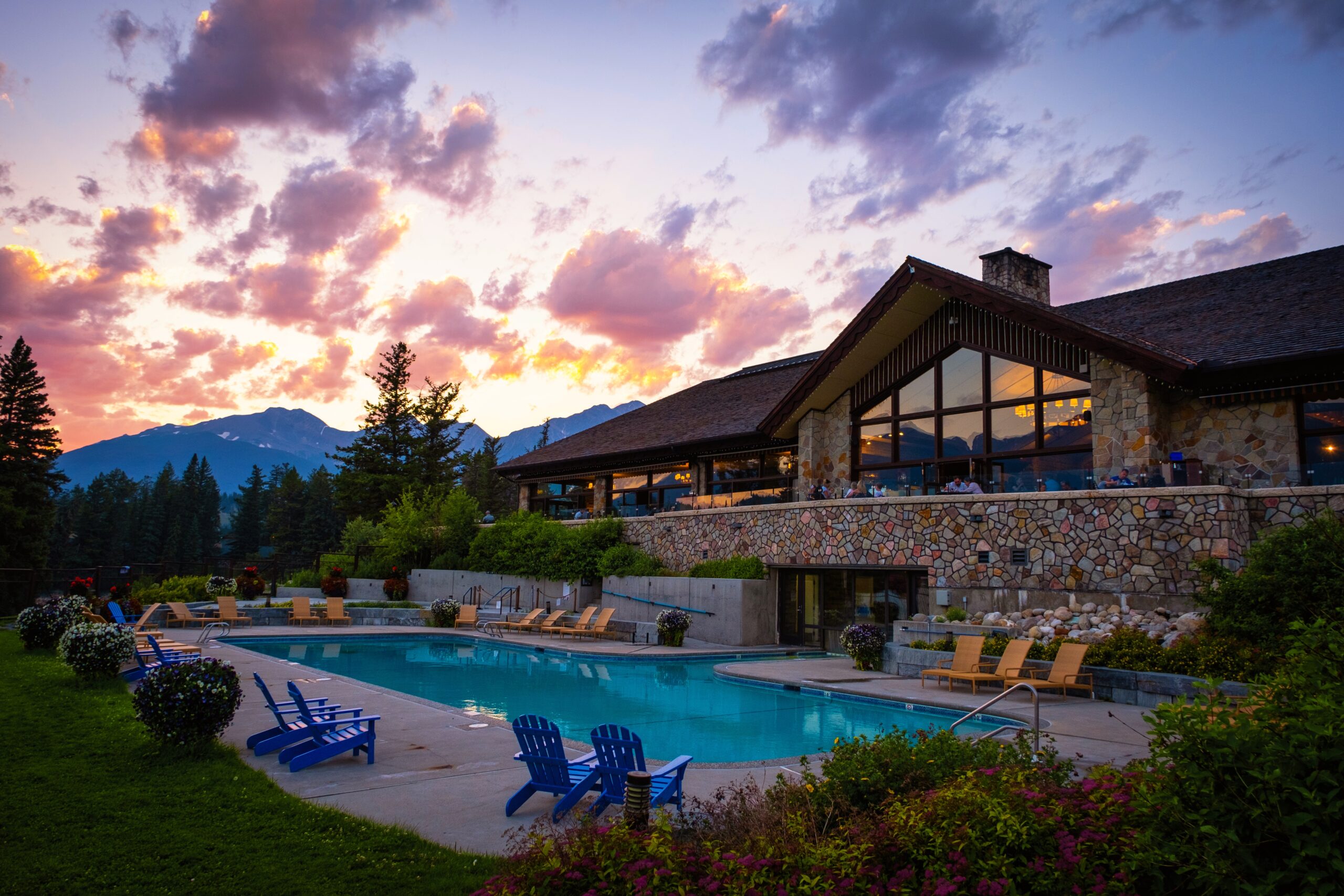 The Fairmont Jasper Park Lodge is easily one of the best Jasper hotels, but it does come with a high price tag. The Jasper Park Lodge remains one of our favorite stays in all our travels, and they know how to treat guests.
The grounds that surround the lodge are exceptionally maintained, with beautiful gardens set along the sparkling Beuavert Lake. It's our favorite Fairmont property in the Canadian Rockies and feels more like an exclusive resort set on the lake, especially compared to the Chateau Lake Louise.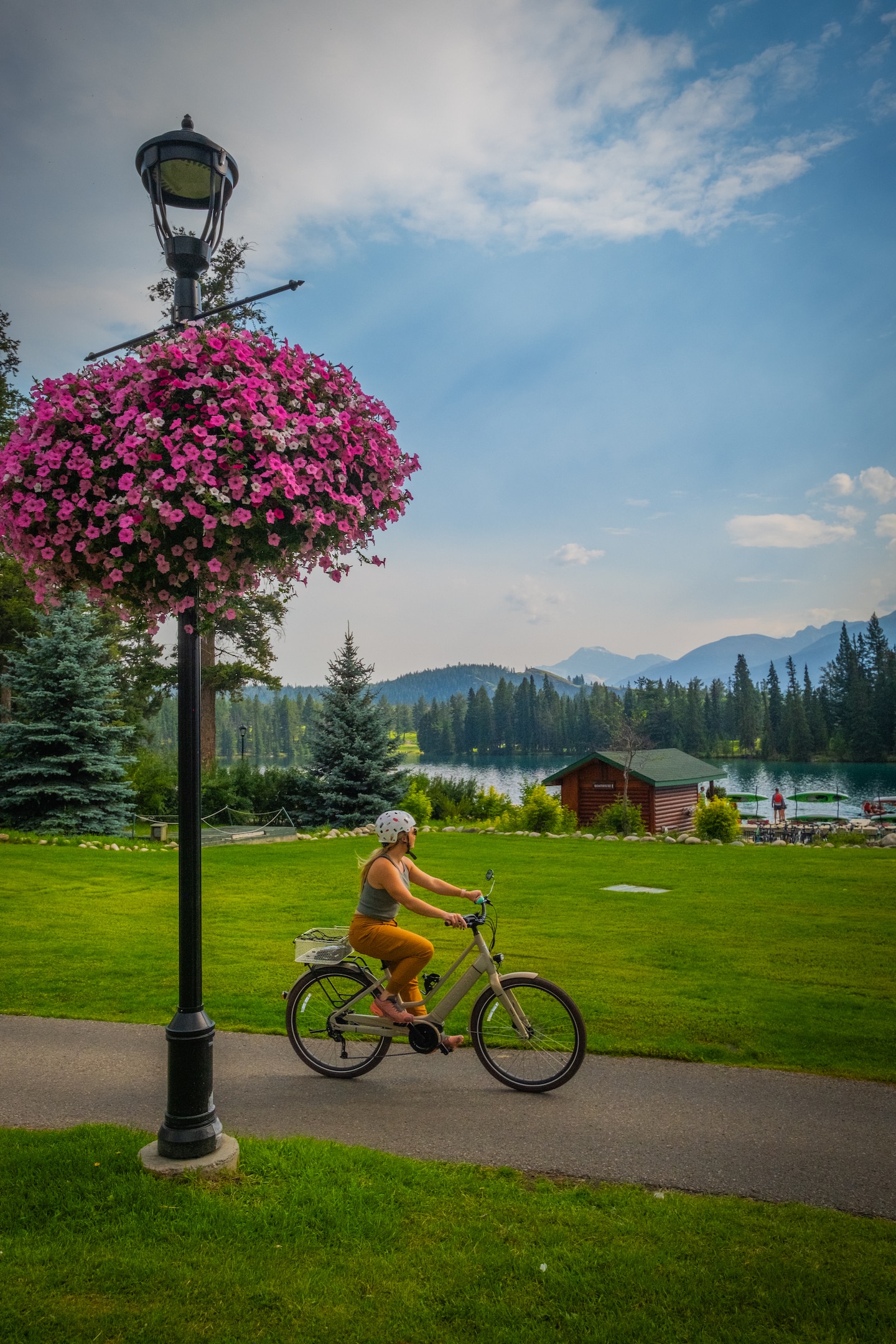 Instead of one central hotel building, the lodge is spread across the grounds, with various rooms and cabins available for booking. Elk and deer frequent the lodge, so guests often wake up to visitors outside their window. As one would expect, the Fairmont Jasper Park Lodge rooms feature king beds, plush linens, and high-quality toiletries.
It's easily the most luxurious resort in Jasper National Park and features a heated outdoor pool, gym, large spa, boathouse, and three restaurants. The Emerald Lounge makes some fantastic cocktails to watch the sunset on Mount Edith Cavell in the distance from the large patio.
Be warned though, room rates are easily the highest in Jasper! It's also worth noting the property is not located in Jasper town, but it's easy enough to reach in a five-minute drive.
---
Pyramid Lake Resort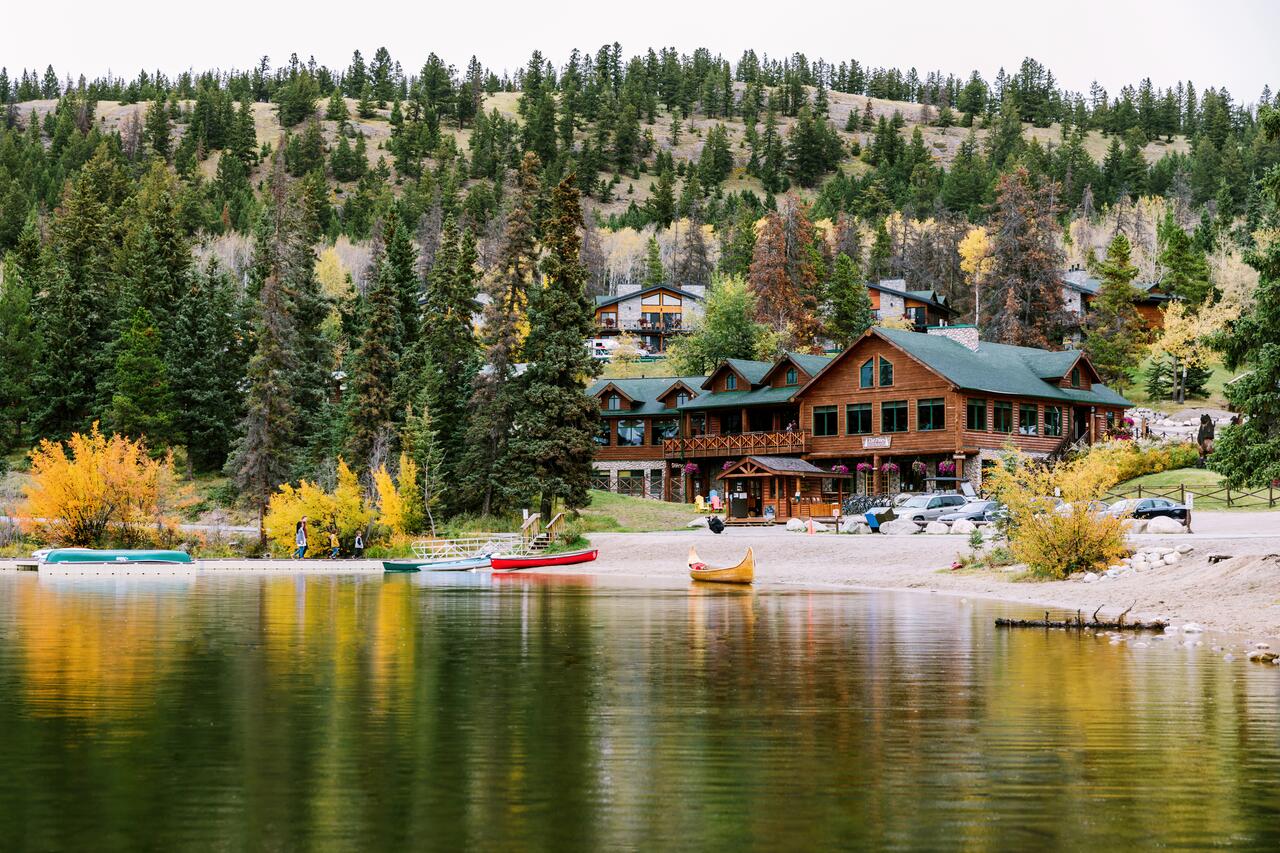 Pyramid Lake Resort is another fantastic lakeside property, and one of the best hotels in Jasper. As the resort sits along Pyramid Lake, it has one of the best locations for a hotel in Jasper. Lodging is chalet-style alpine rooms with 62 guest rooms in total.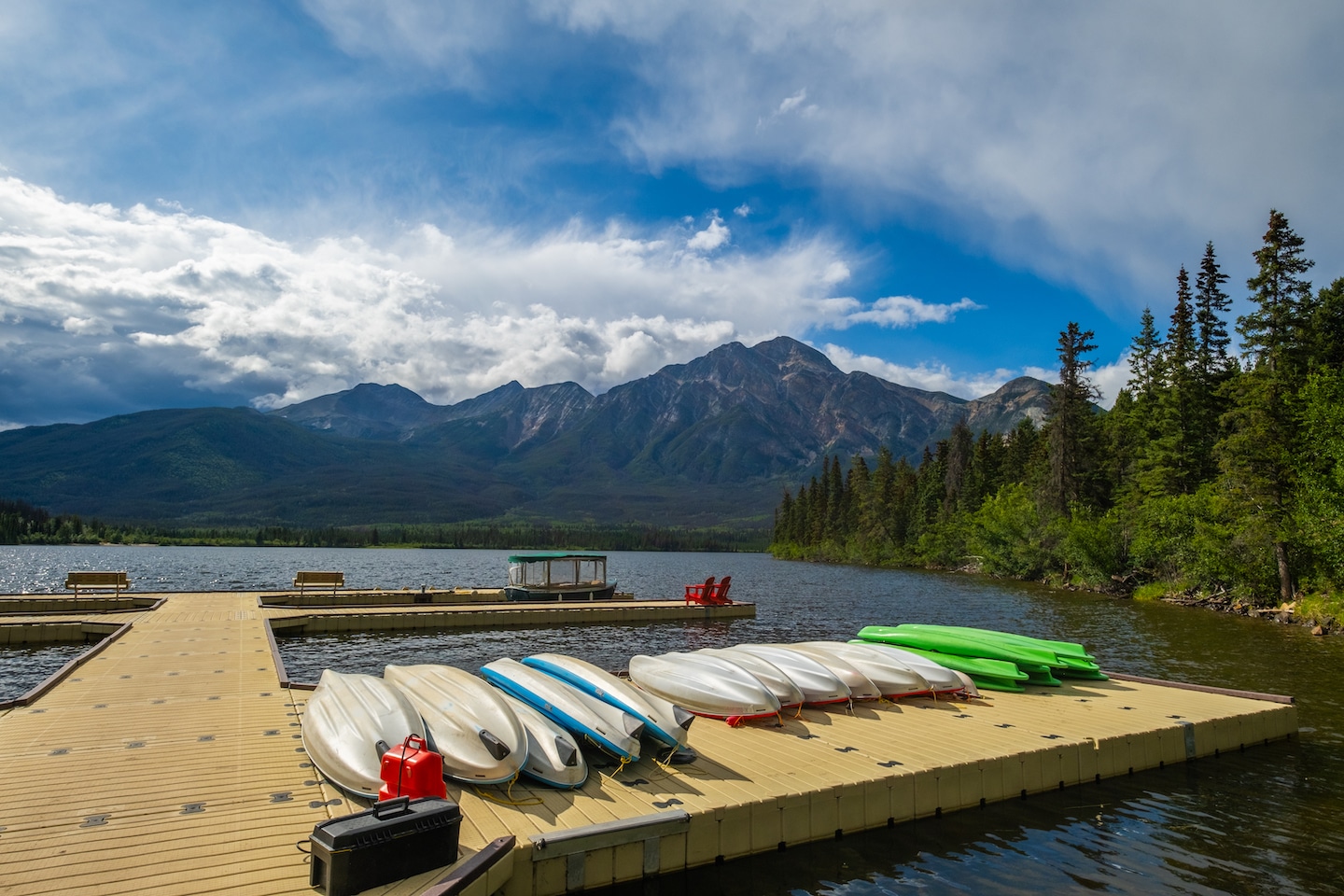 The resort is just 6 km from the townsite, but obviously right next to Pyramid Lake and Pyramid Island. All rooms come with a gas fireplace, and most have a beautiful deck overlooking the lake.
In the summer, this means you are steps away from enjoying a paddle on Pyramid Lake, and in the winter, it means you are steps away from snowshoeing across the lake. No matter what season, there's no shortage of things to do in Jasper.
---
Patricia Lake Bungalows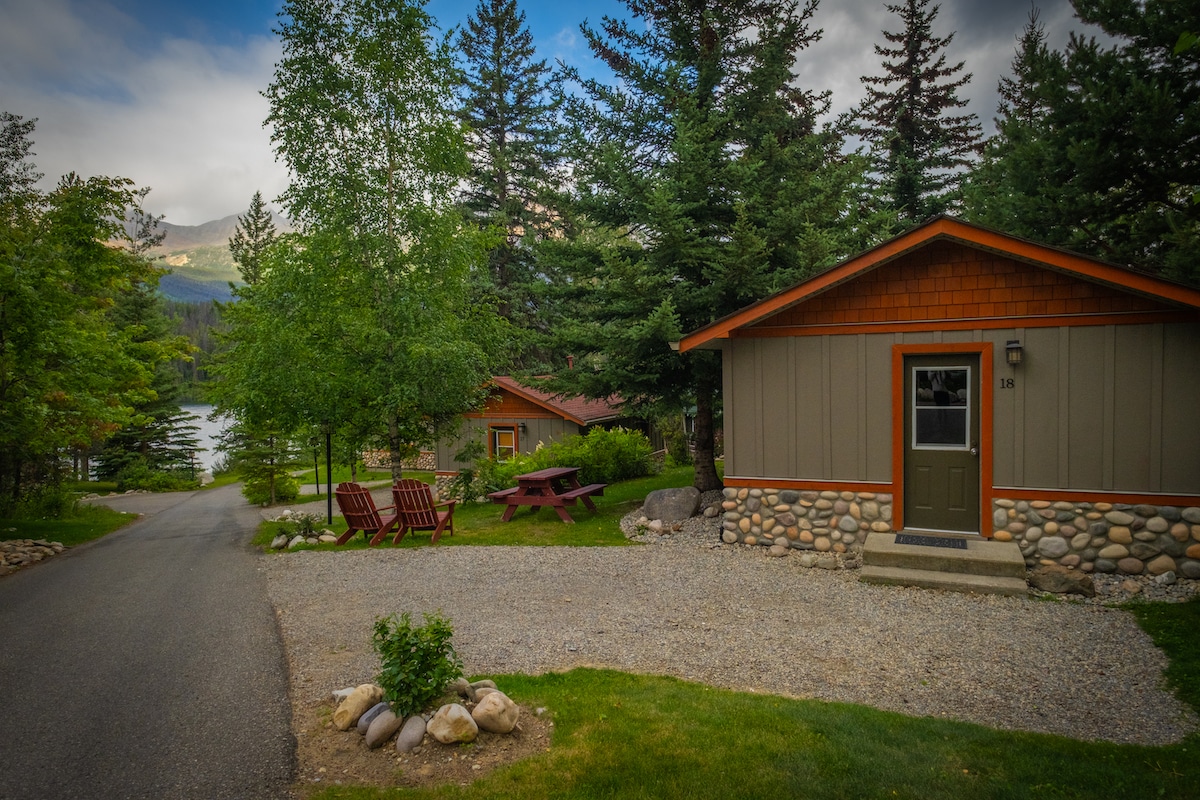 Patricia Lake, right next to Pyramid Lake, is one of my favorite places to visit in all of Jasper. It's a beautiful place to head in the summer and winter in Jasper, but even a better place to stay.
Right near Patricia Lake are the Patricia Lake Bungalows. It's close enough to where you can ride a bike or take a leisurely walk into town if you want to, but still be far enough away from crowds and noise to enjoy the peacefulness of the lake.
In-room amenities are in-room coffee, fully equipped kitchens, free WiFi, TV, and gas fireplaces. Other property amenities are a playground and playhouse for the families, BBQ area, 10 person lake view hot tub, boat dock, outdoor fire pit, indoor games, library, and complimentary DVD movies available. There's always, of course, Patricia Lake to swim, canoe, and kayak in the summer.
---
Pine Bungalows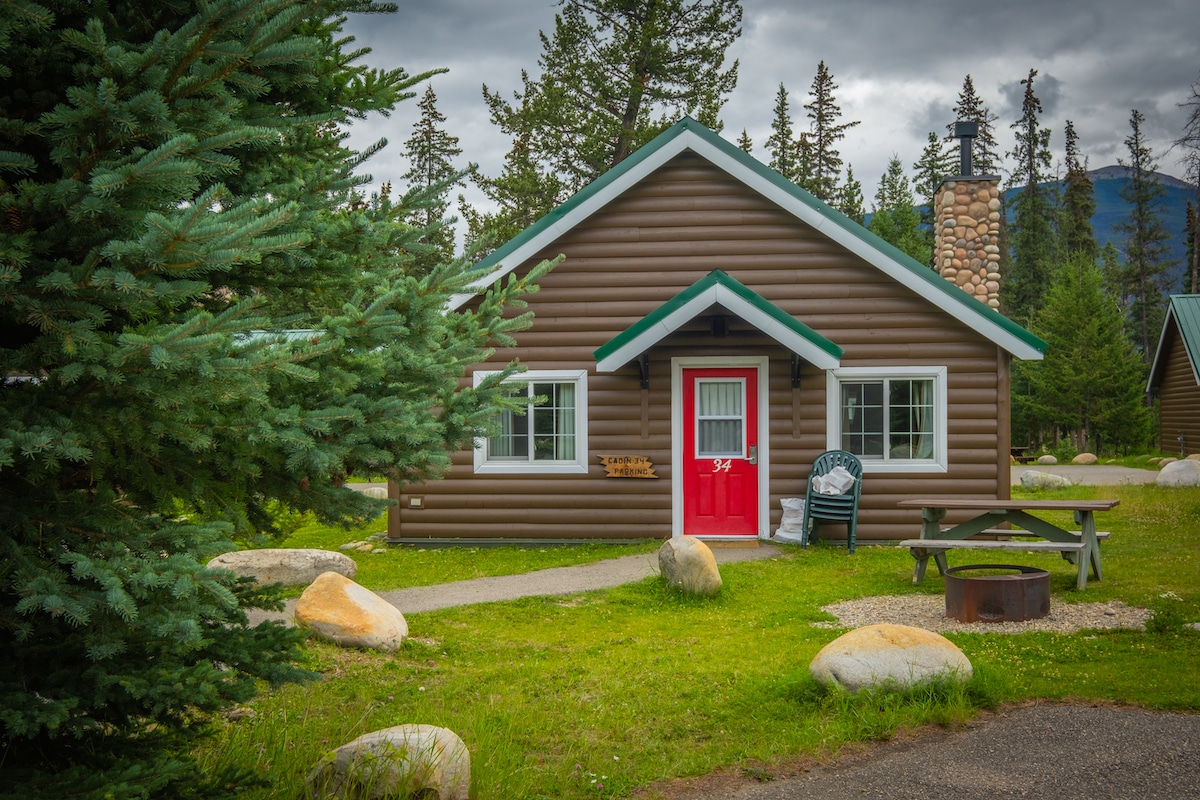 Pine Bungalows have cabins that sit right along the Athabasca River and are a stunning place to hide away in the woods and forget about the hustle and bustle for a bit.
Pine Bungalows are close to Beauvert Lake and Maligne Canyon and offer the essential amenities you may have come to expect from a Jasper cabin. That means wood cabins, gas fireplaces, and heated bathroom floors.
Built in 1936, Pine Bungalows are about historic as they come and have been family-owned and cared for throughout the years. They are one of the most iconic places to stay, not only in Jasper but all of the Canadian Rockies.
---
Downtown Hotels in Jasper & Accommodation
---
Forest Park Hotel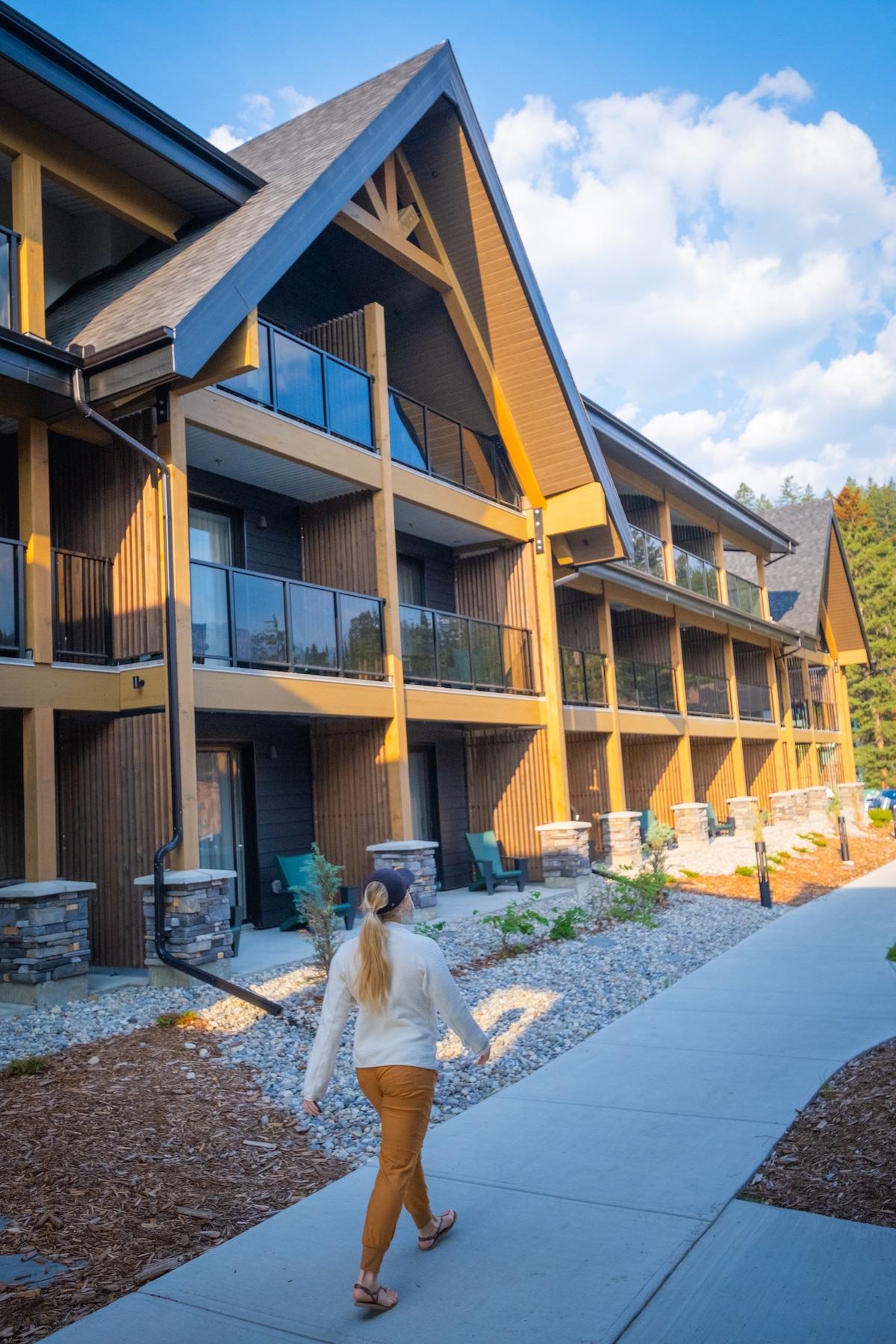 The Forest Park Hotel is one of the furthest hotels away from Downtown Jasper on Connaught Dr, though it is still walkable! The recently renovated Forest Park Hotel is one of the best hotels in Jasper and guests can choose between the recently constructed Alpine wing, showcasing upscale finishes and a contemporary design influenced by the forest's charm, or the original Woodland wing, thoughtfully positioned in close proximity to the hotel's facilities, and more dated.
We stayed in the new modern rooms and loved our stay! Found within the newest building, the Alpine rooms offer a level of sophistication through their elevated finishes and a design that draws inspiration from the captivating forest setting.Each room is equipped with coffee and tea facilities, a 42″ flat-screen TV, as well as an iron and ironing board for your convenience.
The Woodland Wing is more inexpensive, and situated in their original establishment, these rooms offer convenient access to our pool, spa, dining venues, and event spaces.
Traveling with a furry friend? Be sure to opt for our pet-friendly room option.
---
Jasper Inn & Suites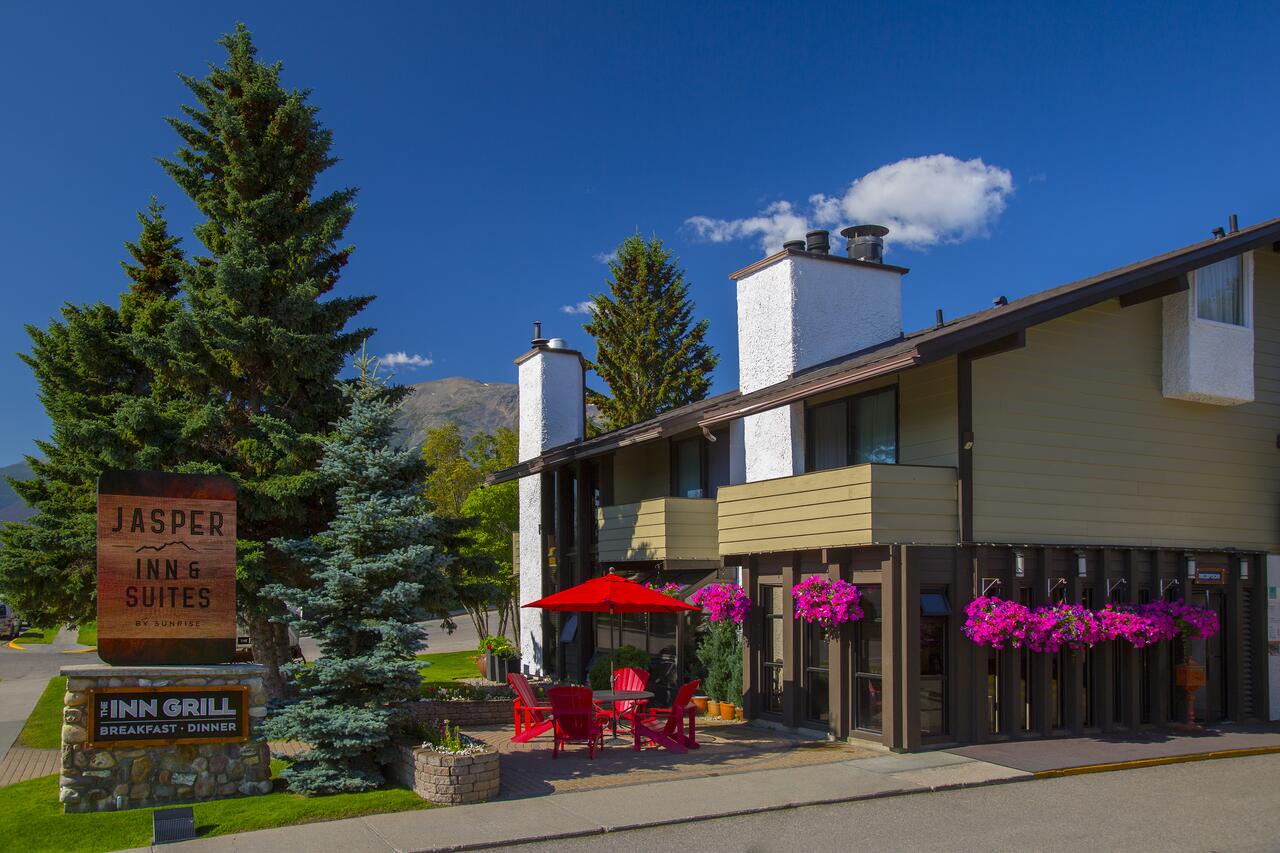 Situated in the core area of the town of Jasper, the Jasper Inn & Suites has a great location to make the most of town. It also offers some of the best value for a hotel in Jasper.
The hotel features several rooms categories that range from standard hotel rooms to suites with fireplaces and kitchens perfect for a family.
This is one of the best Jasper hotels with a hot tub. Other facilities at the hotel include a sauna, steam room, swimming pool, gym, and restaurant. The most prevalent standard room has all the basic amenities for a comfortable stay, such as flat-screen TV, king bed, coffee station, and jacuzzi tub. Staff are well-loved for being helpful, and its location is a short walk to Jasper's restaurants and shops.
---
The Crimson Jasper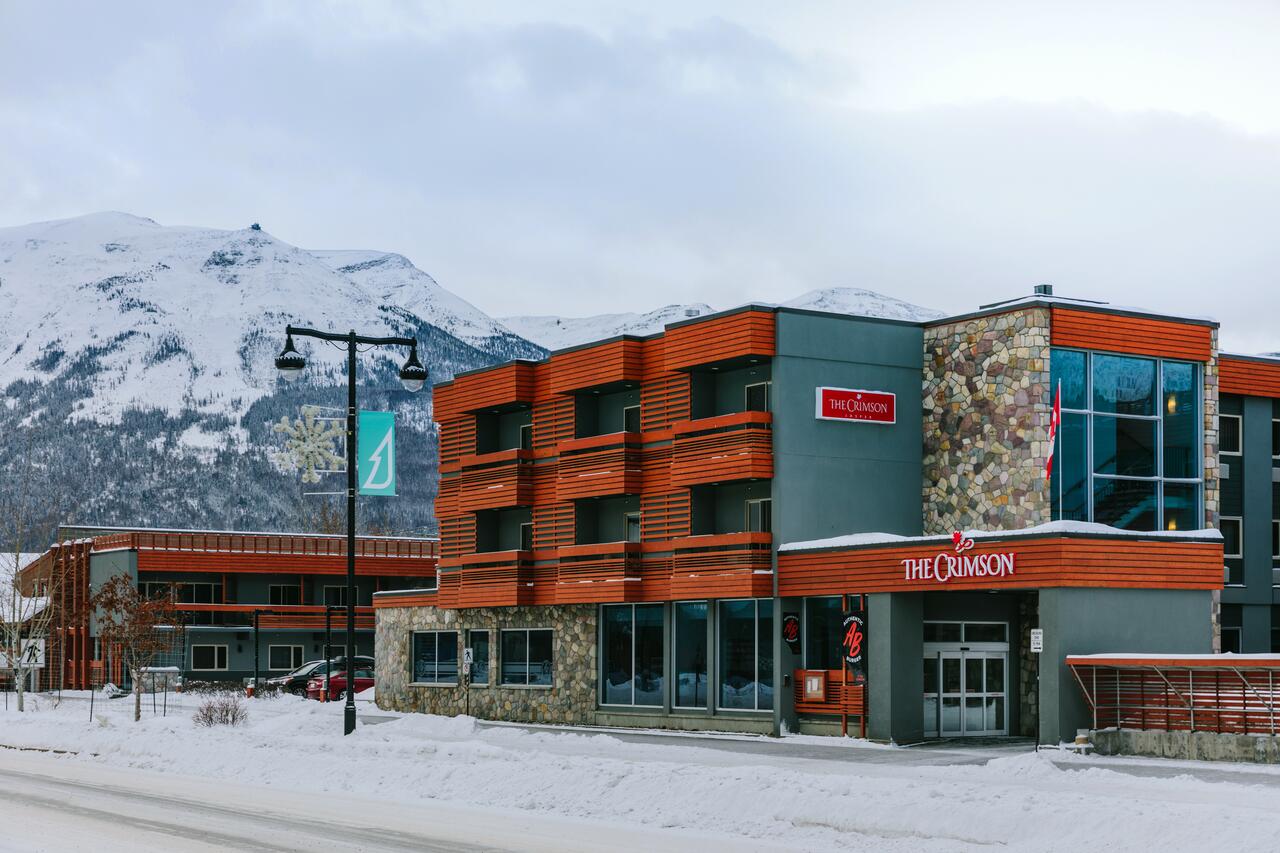 The mid-range The Crimson Jasper offers renovated rooms in a newer hotel. It's close to the downtown core area and located along Connaught Drive, the main street into Jasper town.
A walk into town is around 5-10 minutes from The Crimson Jasper hotel, so guests can leave their car in the free parking lot. It is located across from the train tracks, so it might help to request a room on the backside of the hotel.
Rooms are standard hotel rooms with options that range between one or two beds in a room. All rooms feature a flat-screen TV, coffee machine, microwave, mini-fridge, and tea kettle. With newer facilities, everything is clean and comfortable with decent value compared to some of the more dated options in Jasper.
---
Mount Robson Inn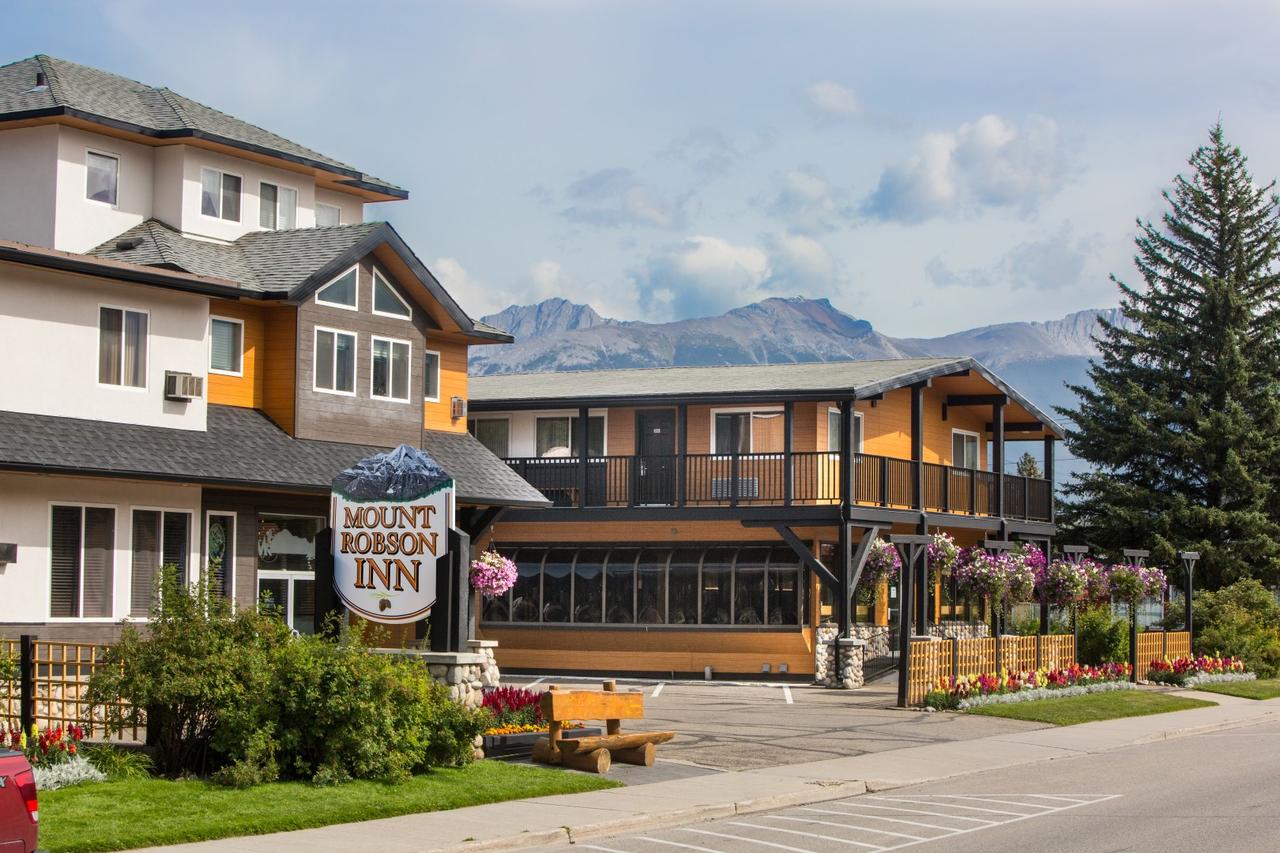 The Mount Robson Inn is another reliable mid-range hotel in Jasper that offers decent value and good service. Rooms are a little more dated, but they are well maintained and clean. Its location just outside of the downtown core means it's a short 15-minute walk to the restaurants in town.
Each room at the hotel has cable TV, a mini-fridge, coffee maker, a desk, and toiletries. There are several different room options with several layouts.
A 24-hour reception is also an excellent feature for those arriving or departing early in the morning. They also offer a tour desk and ski storage to help guests with their stay. Included in the room rate is a complimentary hot breakfast in their dining room. Two hot tubs are on the hotel grounds for guests to relax in the winter or soothe sore hiking legs.
---
Whistlers Inn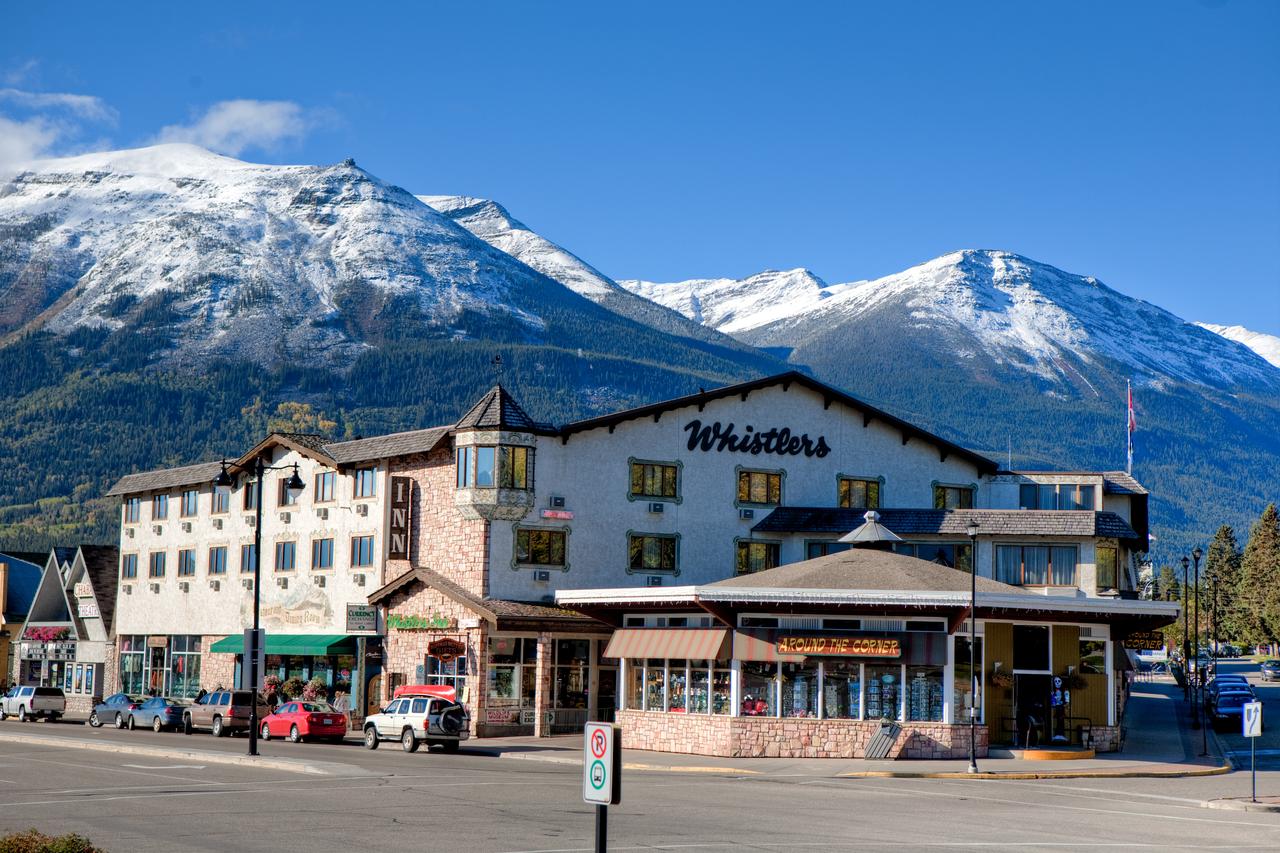 The Whistlers Inn is located in the heart of Jasper town and directly across the street from the Jasper train station. If guests are seeking easy-access accommodation, this fits the bill. The hotel has two restaurants and a pub.
Rooms are up to date, clean, and comfortable, but a little on the small side. All rooms include a coffee maker and air-conditioning — a nice feature for the summer months. Facilities at the hotel include two rooftop hot tubs and a steam room.
---
Jasper Downtown Hostel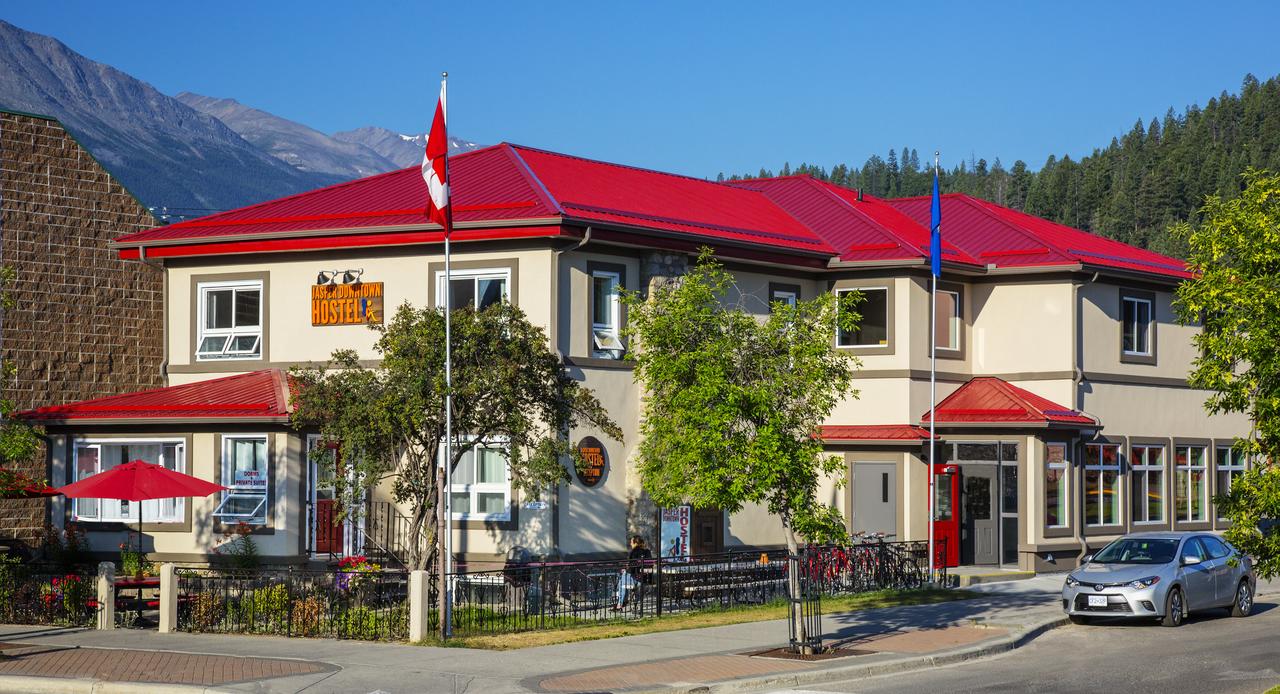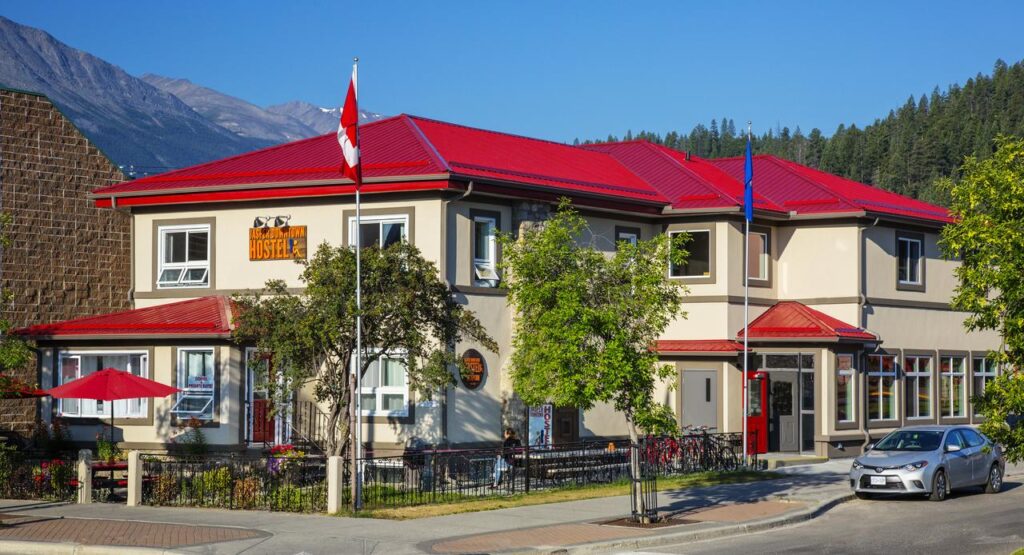 For travelers on a budget, the Jasper Downtown Hostel is one of the best hostels in all of the Canadian Rockies. It's situated in the center of Jasper town and close to the restaurants, shopping, and grocery store. There are a variety of room options that include private rooms or shared bedrooms with privacy curtains.
Facilities at the hostel include an extensive modern kitchen, laundry room, lounge, and outdoor picnic tables. Bathrooms, beds, and the hotel, in general, is well noted for being comfortable and very clean. It's an excellent option for solo travelers, and the staff is happy to help with travel plans or suggestions.
---
Marmot Lodge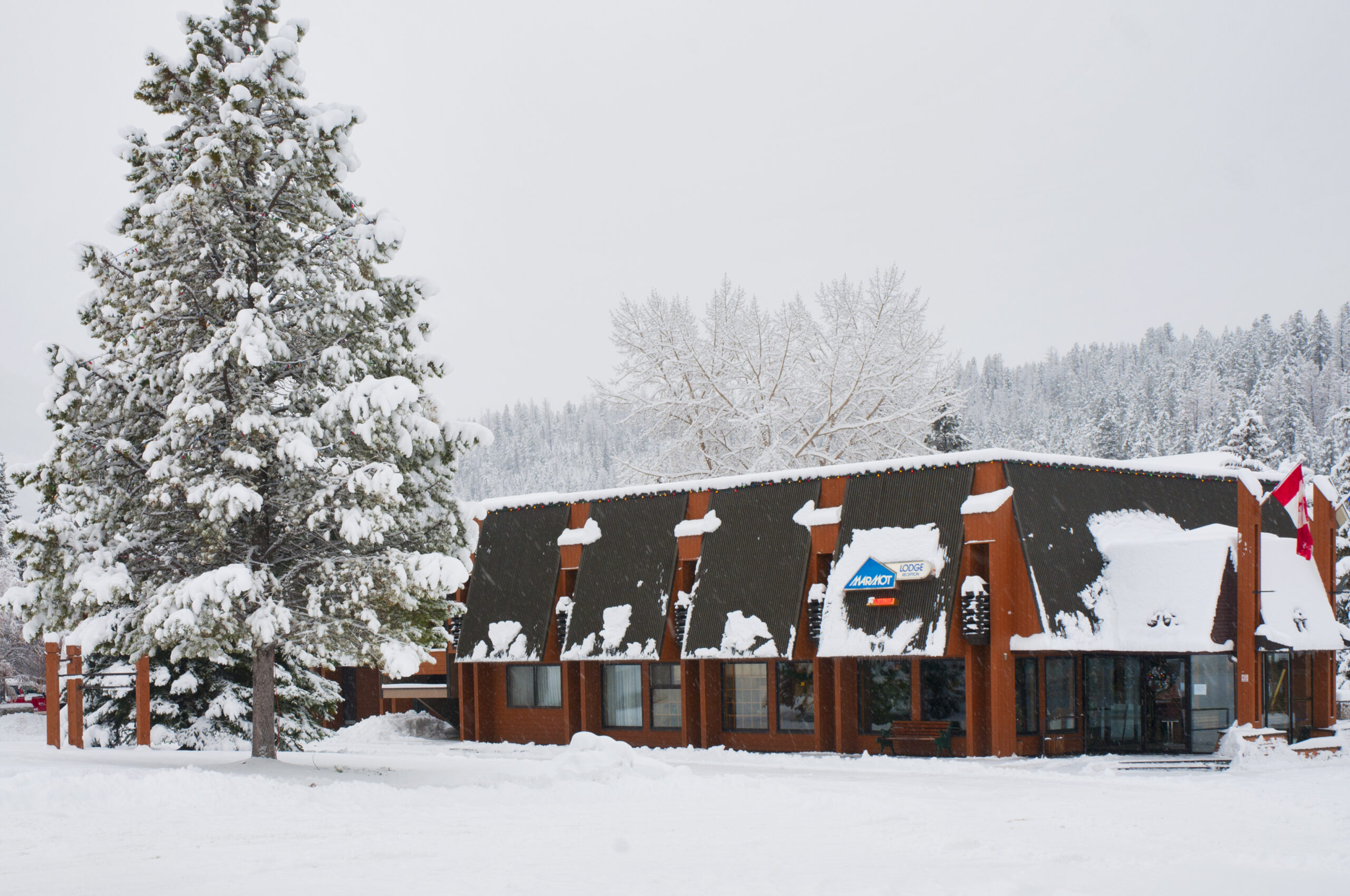 Marmot Lodge is located at the edge of the Jasper Downtown area, on Connaught Drive, not far from the train station. Marmot Lodge is a 3-star hotel. From the outside, it looks like a motel with spacious rooms and a parking area, but there are many amenities on offer on the inside.
From this location, you can walk to any sight downtown in just a few moments. There is an indoor hot tub and pool located at Marmot Lodge, and there are rooms large enough for families and groups. It's one of the best value hotels in Jasper!
---
Chateau Jasper Hotel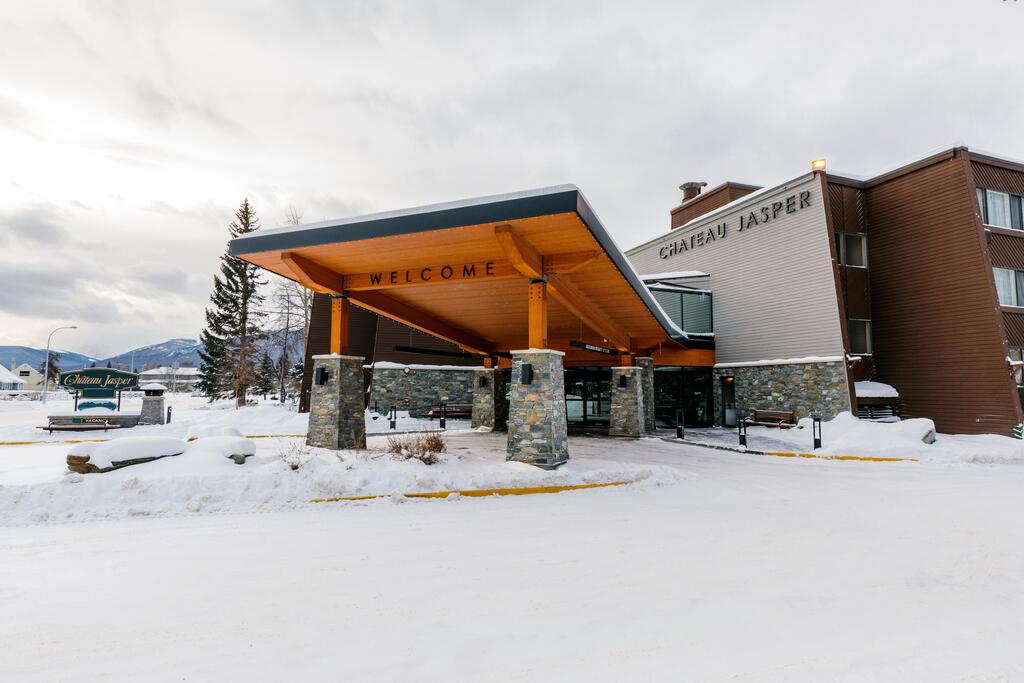 Wildlife can frequently be spotted roaming the verdant landscape surrounding Chateau Jasper Hotel, flanked by towering pine trees. Sunwapta Falls, Pyramid Lake, and Jasper National Park are nearby.
This newly-renovated hotel with 119 rooms features alpine-style decor, and highlights include the on-site Silverwater Grill and Lounge, where Executive Chef Jamie Hussey (along with his 80-strong culinary team) whip up a celebration of Canadian cuisine.
---
Best Hotels in Jasper – Yellowhead Hwy
---
Tekarra Lodge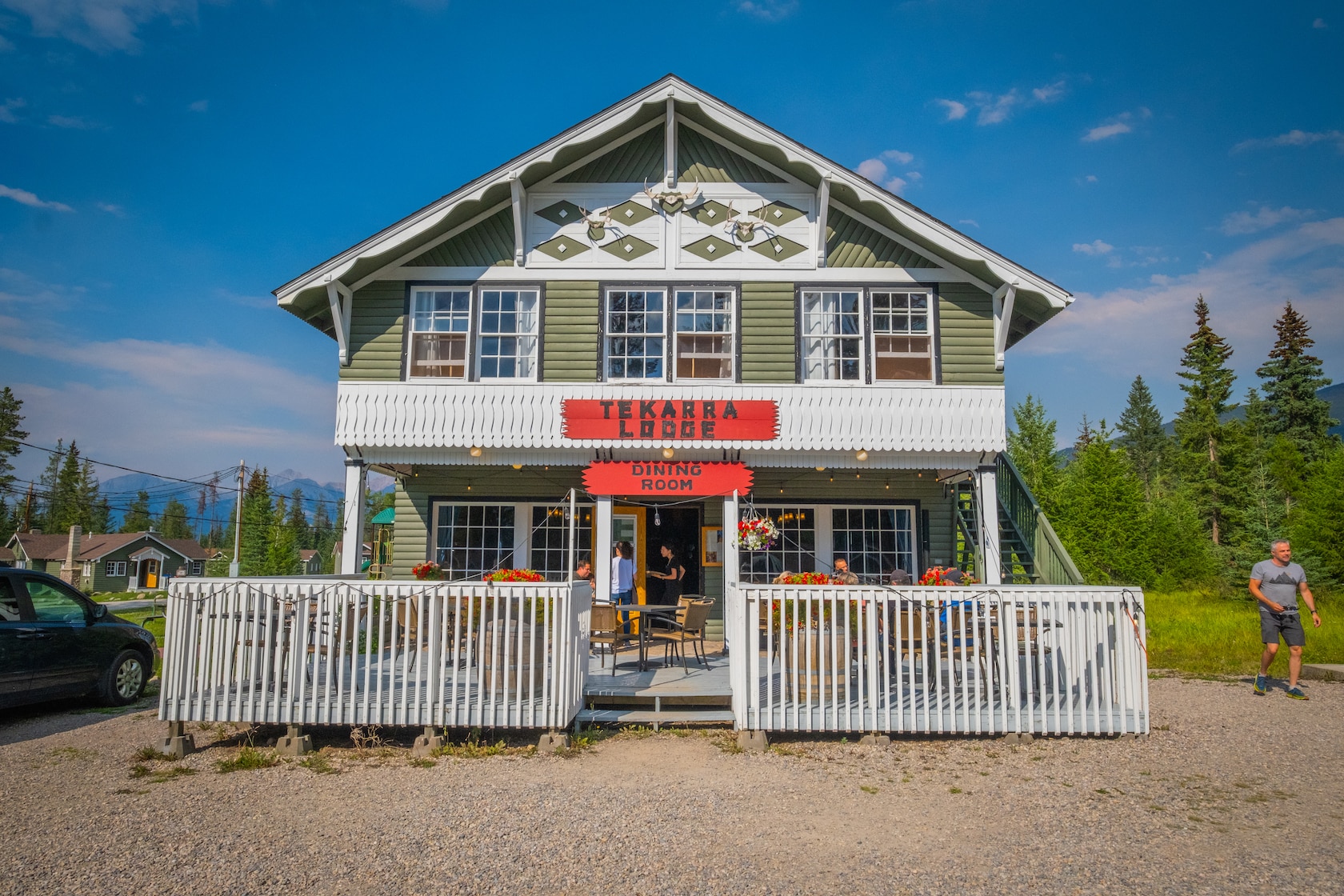 If you want rustic cabins in Jasper National Park, you have to check out Tekarra Lodge. Located just on the other side of Yellowhead Highway towards the entrance of the town, these Jasper cabins are super charming and quiet. It's the perfect place to come and enjoy a peaceful setting in the mountains.
While these cabins don't have televisions, they are all fully equipped with utensils, plates, pots, and everything else you need to cook a full meal. The cabins have fireplaces to cozy up at. The lodge also has activities for guests like a s'more and fire night outside, interpretive talks, and music nights. What I also love about this Jasper cabin is that it is pet-friendly!
---
Miette Mountain Cabins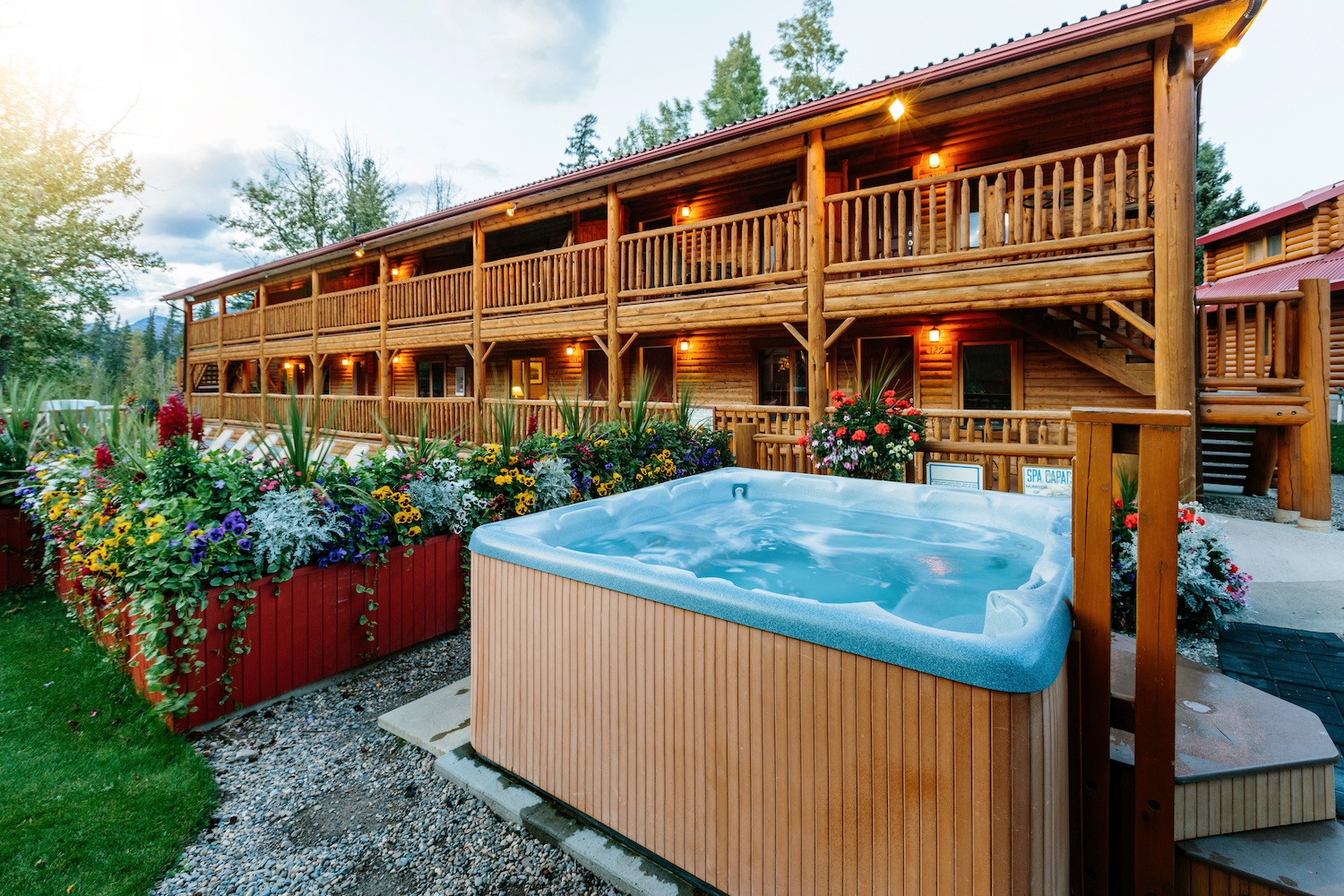 Miette Mountain Cabins (previously named Pocahontas Cabins) are some of the best places to stay in Jasper National Park. They offer visitors to the park a relaxing place to stay outside of the hustle of downtown Jasper.
Miette Mountain Cabins are located 30 minutes from the town of Jasper along the Yellowhead Highway, about halfway to Hinton. They are cute and quaint wooden cabins great for families. If you are looking for a more secluded stay and step back into nature with plenty of amenities like a jacuzzi, you should consider visiting here in the summer or winter.
---
Best Hotels in Jasper Along the Icefields Parkway
---
Sunwapta Falls Rocky Mountain Lodge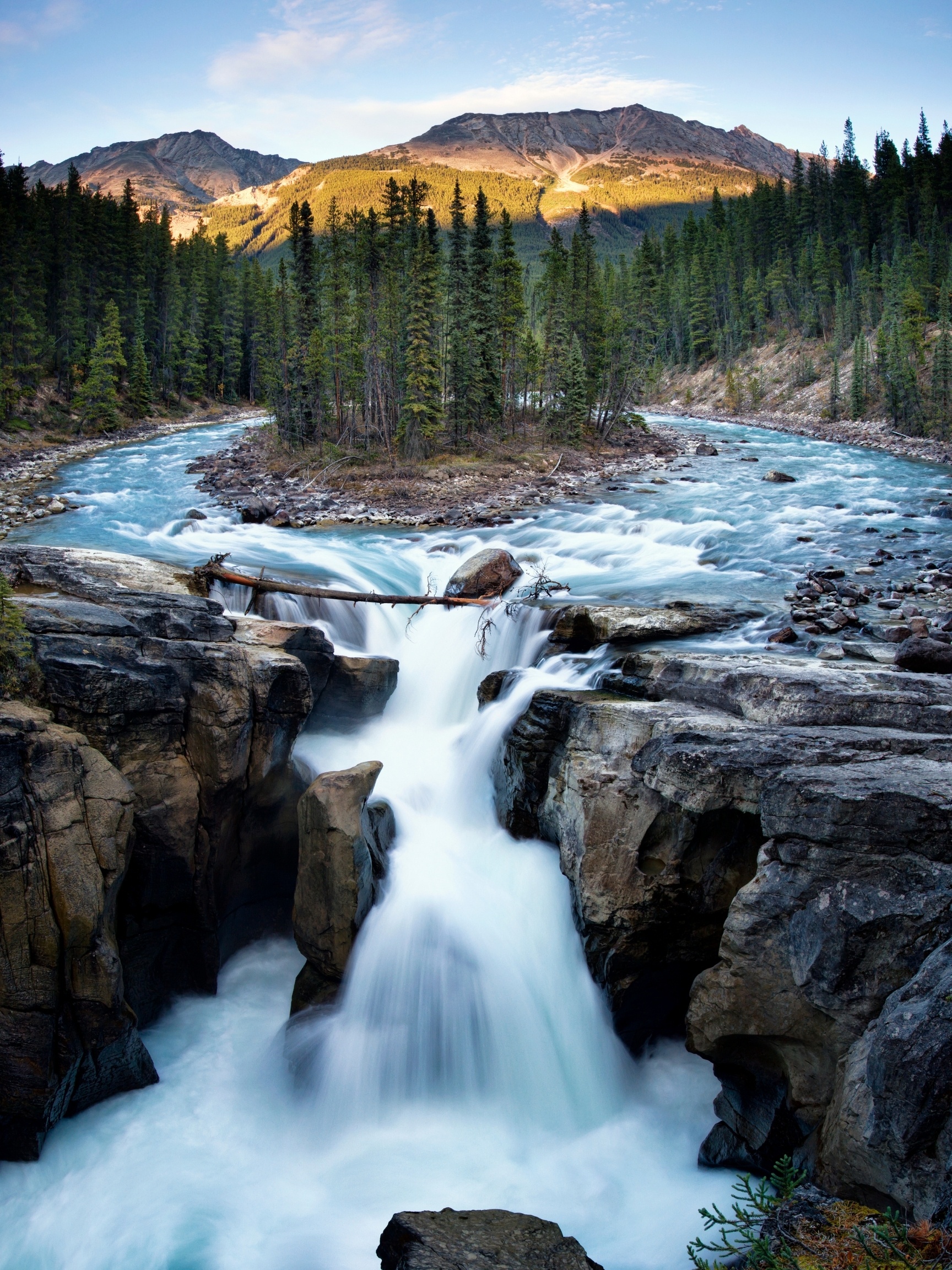 Sunwapta Falls Rocky Mountain Lodge is located at Sunwapta Falls, which is one of the main stops on the Icefields Parkway when driving between Banff and Jasper. It's located about 40 minutes from the town of Jasper, so it is ideal for families and groups that want to stay out of town and don't mind driving to most of the sights.
These rooms are cabin style and are quite romantic for couples with a fireplace, kitchenette, and free firewood. There's also a restaurant on-site should you want to not venture into Jasper for dinner.
---
Glacier View Lodge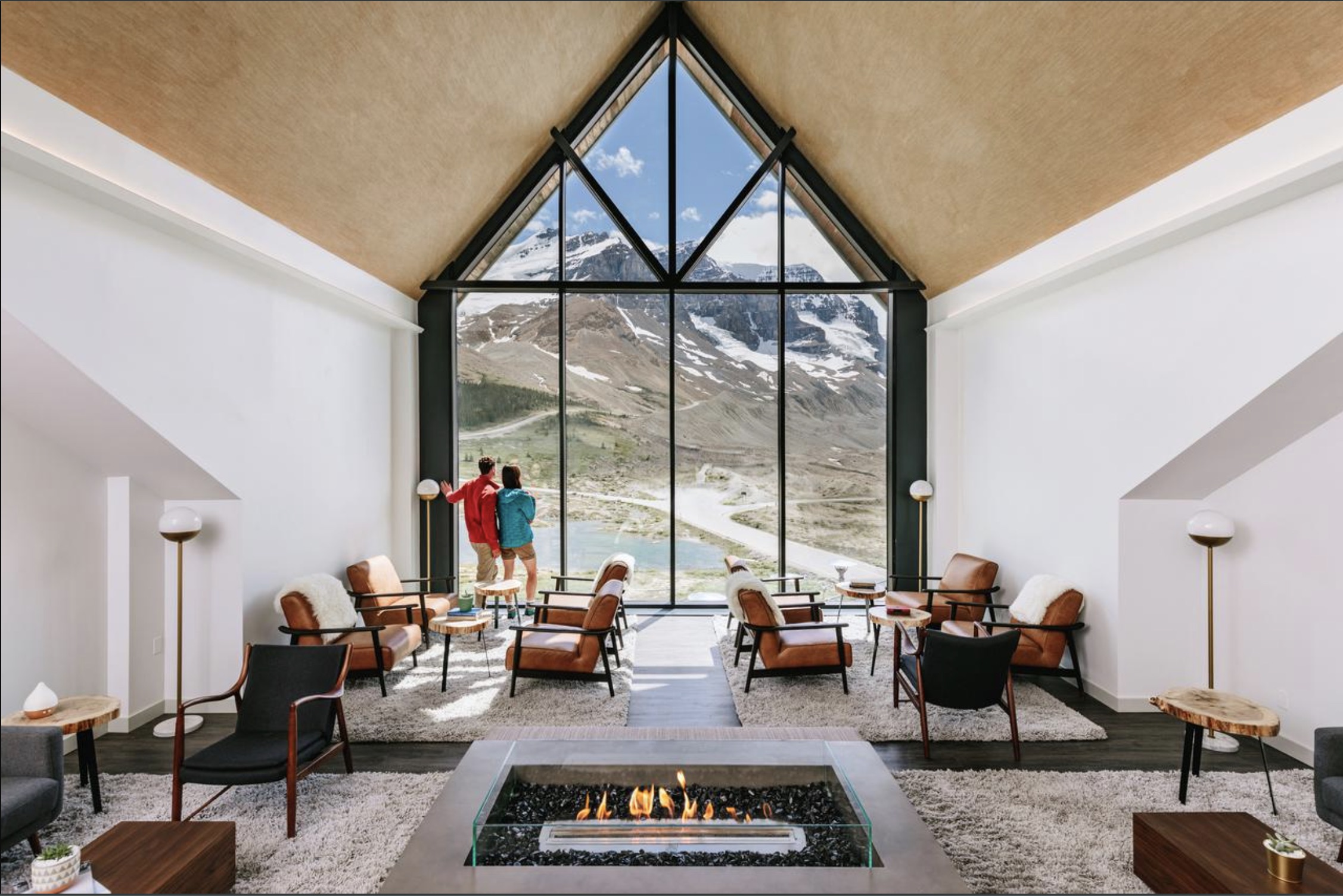 Easily one of the nicest hotels near Jasper is the Glacier View Lodge. This hotel, although technically in Jasper National Park, is actually one of the only hotels between Banff and Jasper at the Columbia Icefields Center.
It's ideal if you dream about waking up to Athabasca Glacier views and don't mind being in the middle of nowhere, as it's pretty far from the town of Jasper and far from Downtown Banff as well. (Make sure to review it's location and check out our map below to see).
The Glacier View Lodge is where you come for a full-service holiday where you enjoy meals at the lodge and even a few activities. Some of the best things to do near the Glacier View Lodge are the Glacier Skywalk and the Parker Ridge Hike. I can't stress enough how nice this place is, easily the best hotel between Banff and Jasper.
*It's important to note this Jasper hotel is closed in the winter
---
Best Hotels in Jasper Map
---
Things to do in Jasper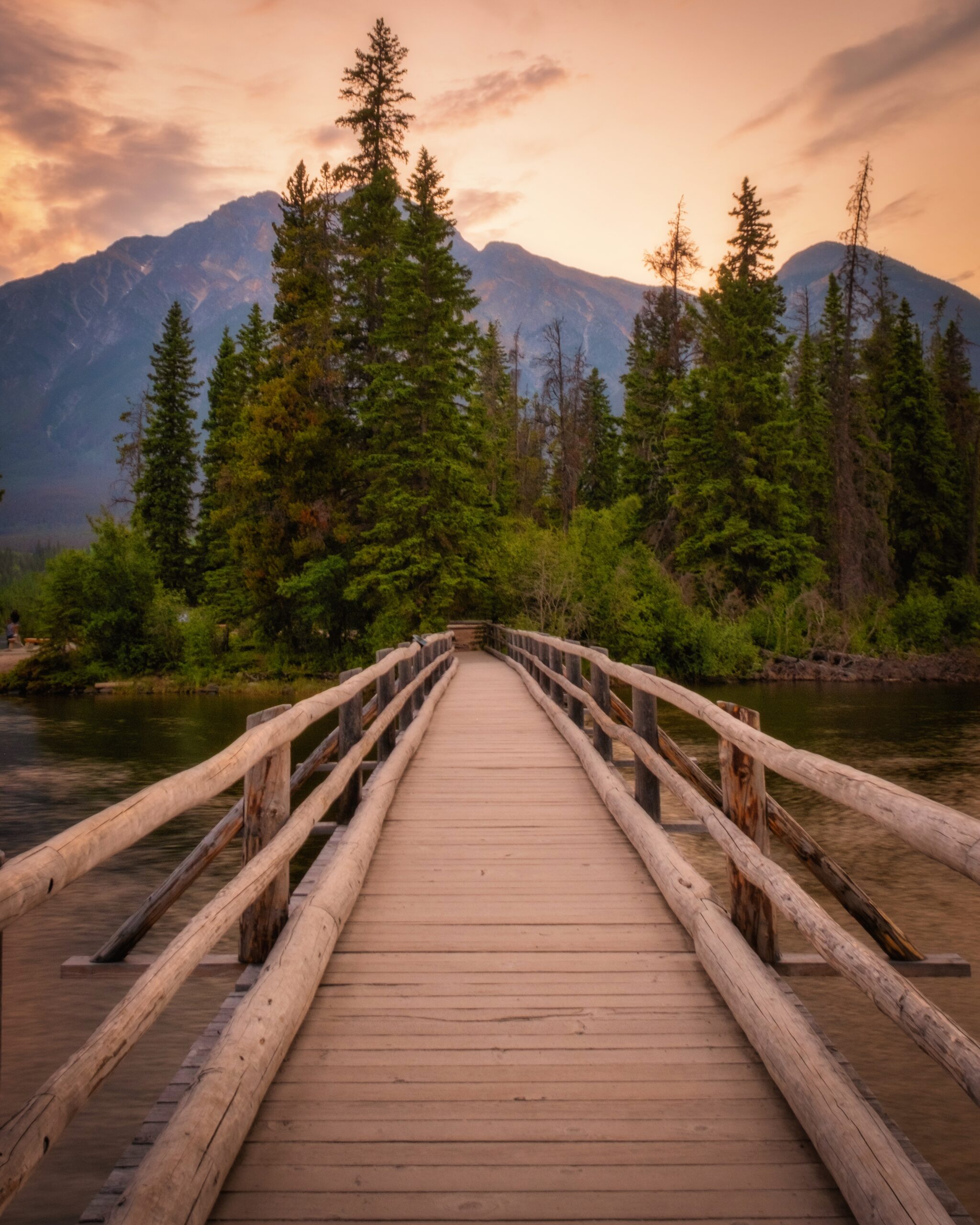 There are many things to do in Jasper, so many we wrote an entire guide to the area! Some of our favorite things to do are:
Paddle on Lake Edith, Lake Annette, or Lac Beauvert.
Drive Maligne Lake Rd and stop at Medicine Lake on the way.
Hike Maligne Canyon.
Stargaze at the Jasper Planetarium.
Go on a Jasper Food Tour!
---
Our Top Recommended Jasper Tours
---
Plan Your Trip to the Canadian Rockies
---
↓ Join the community ↓
The Banff Blog Facebook Group is your headquarters for the Canadian Rockies' travel advice and information. Including hike info and off-season travel information. You can also meet new adventure buddies.