Pyramid Lake in Jasper National Park is one of the best places to visit in Jasper. This lake is a wonderful kidney-shaped lake right at the foot of the iconic Pyramid Mountain. It's a local's favorite and also a sight to see for all visitors to Jasper.
Pyramid Lake is fairly big with a size of 1.2 km2 and discharges right into the Athabasca River. It's the perfect place to hang out for the day, whether it's winter or summer. There are plenty of things to do in the area, and Pyramid Lake will certainly be a highlight of your trip to Jasper.
---
Why You Can't Miss Pyramid Lake in Jasper
---
Pyramid Lake is a Great Place to Paddle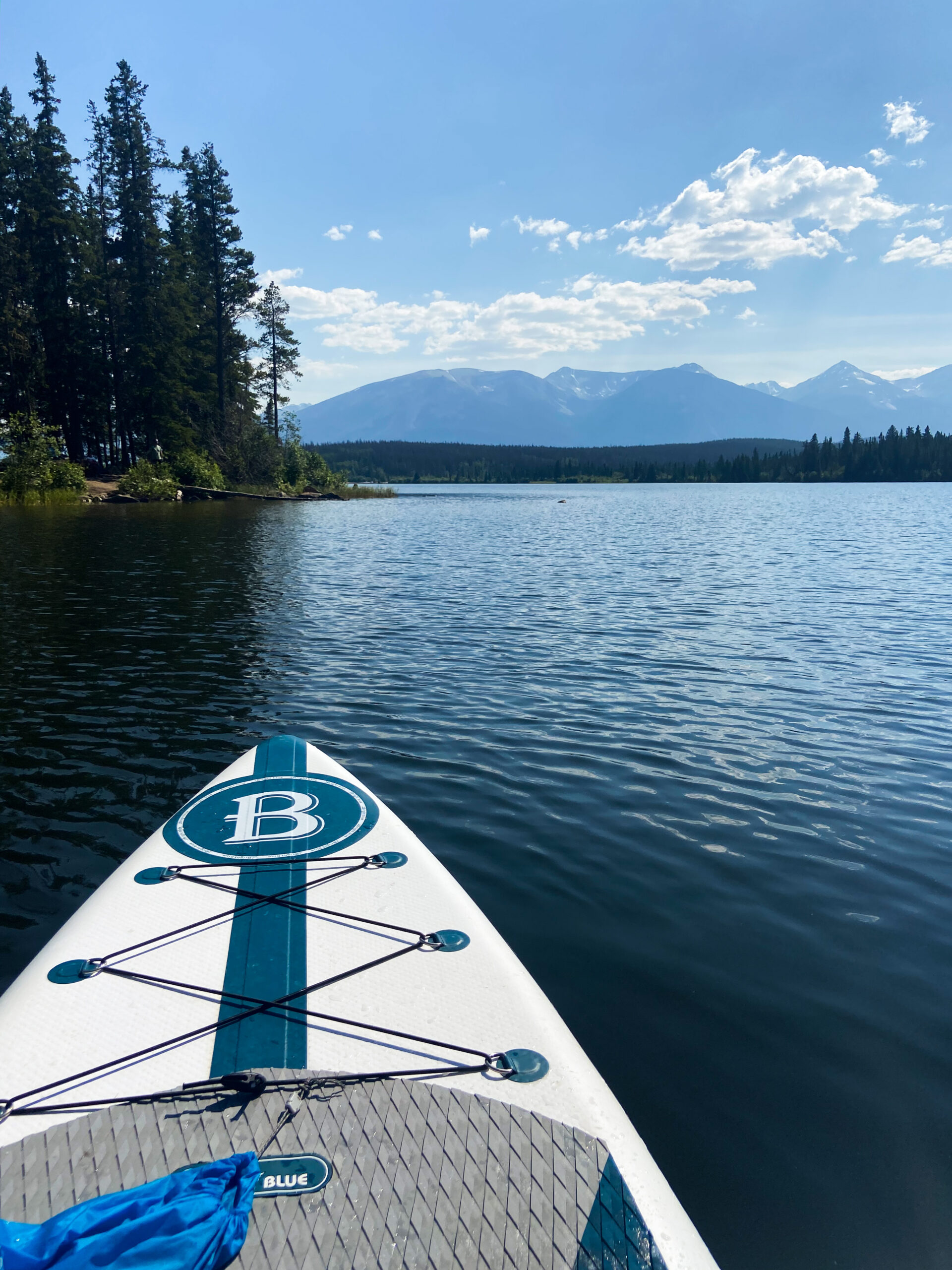 There are a lot of fantastic lakes to paddle around in Jasper, and Pyramid Lake is no exception. Out of many of the area's lakes, I actually found Pyramid Lake to have some of the calmest waters.
Perfect for kayaking, canoeing, or stand up paddleboarding. It's also a very popular lake for fishing in the summer. If you're a fisherman, don't forget your rod before visiting as you can fish in this lake!
---
It Sits Right Under Pyramid Mountain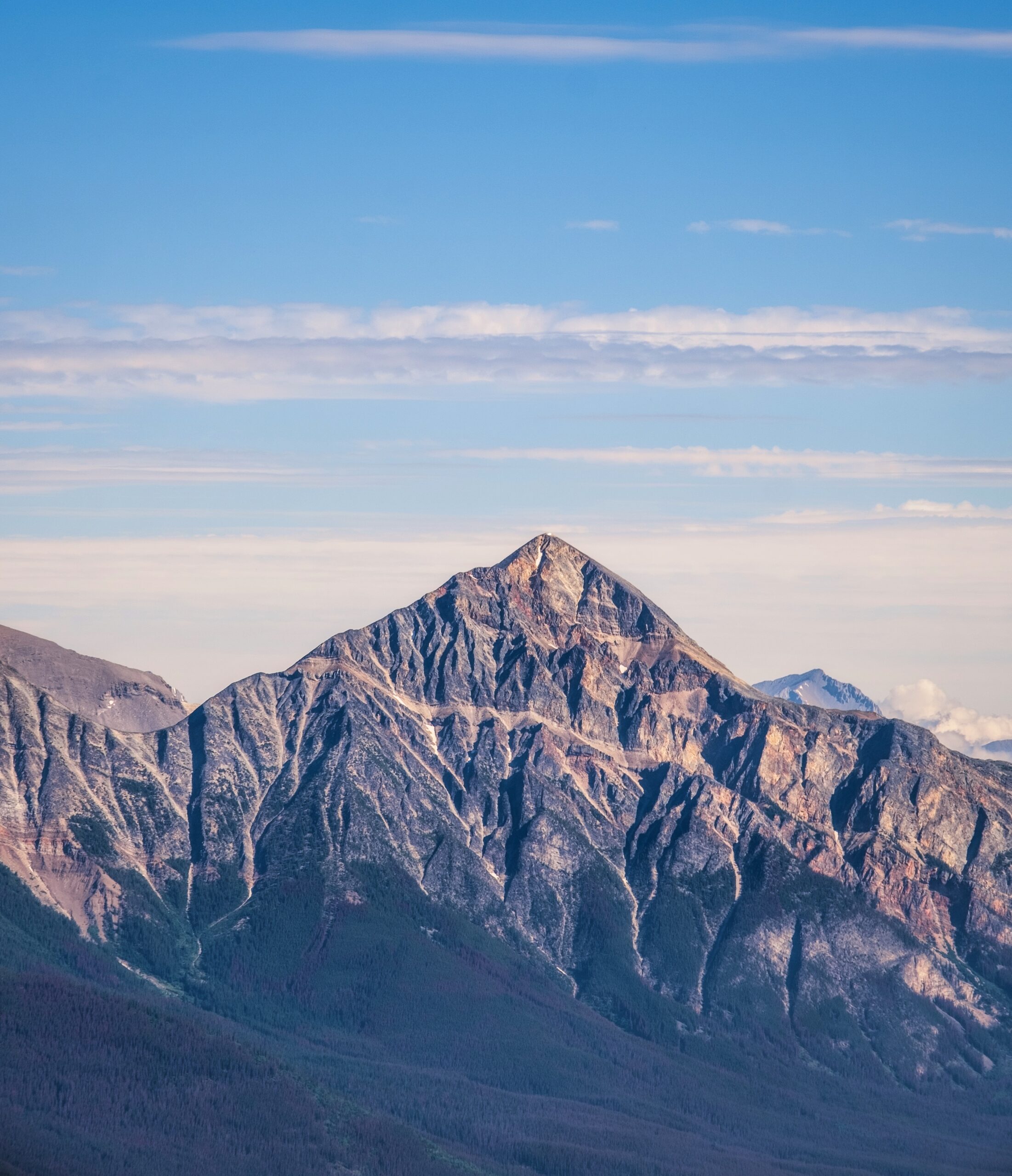 Pyramid Lake is nestled right over the iconic Pyramid Mountain; it's one of the many small lakes left behind by retreating glaciers in the area. It's near impossible to miss the sight of Pyramid Mountain from the town of Jasper, but it is certainly impossible to miss the mountain once you are at Pyramid Lake.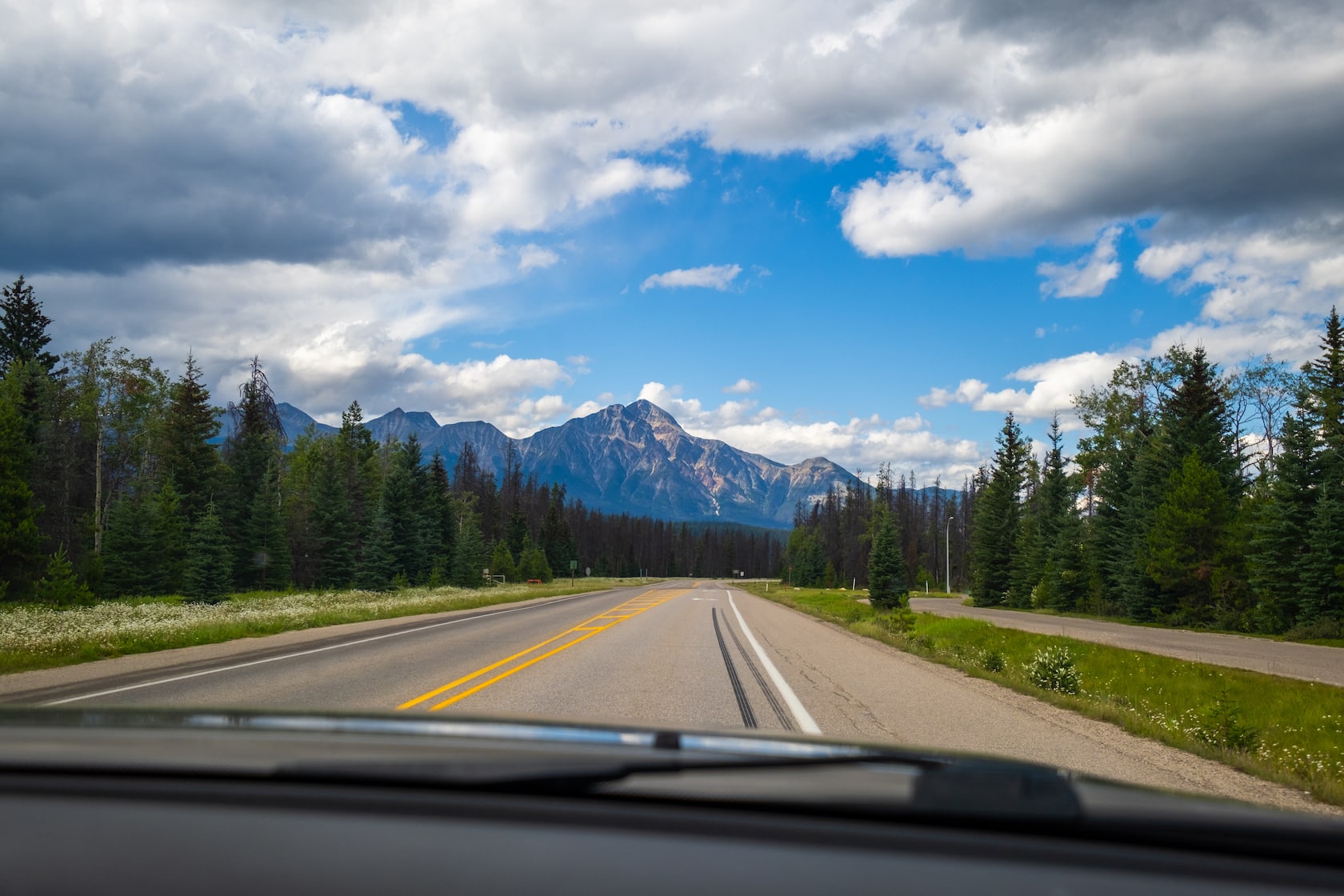 Whether it's in the winter or summer, the view of Pyramid Mountain is sure to impress.
---
Pyramid Lake is Downtown Jasper
Unlike many of the Banff lakes, which can seem like a trek to get to from town, Pyramid Lake is only 5 km from town down Pyramid Lake Road. So even if you only have a half-hour to spare while visiting Jasper, you can easily make a trip to Pyramid Lake and see its beauty.
Pyramid Lake is also well connected to town via several bike trails and paths. If you are a runner, a great workout is running to Pyramid Lake and back in the early morning or evening.
---
You Can Visit Pyramid Island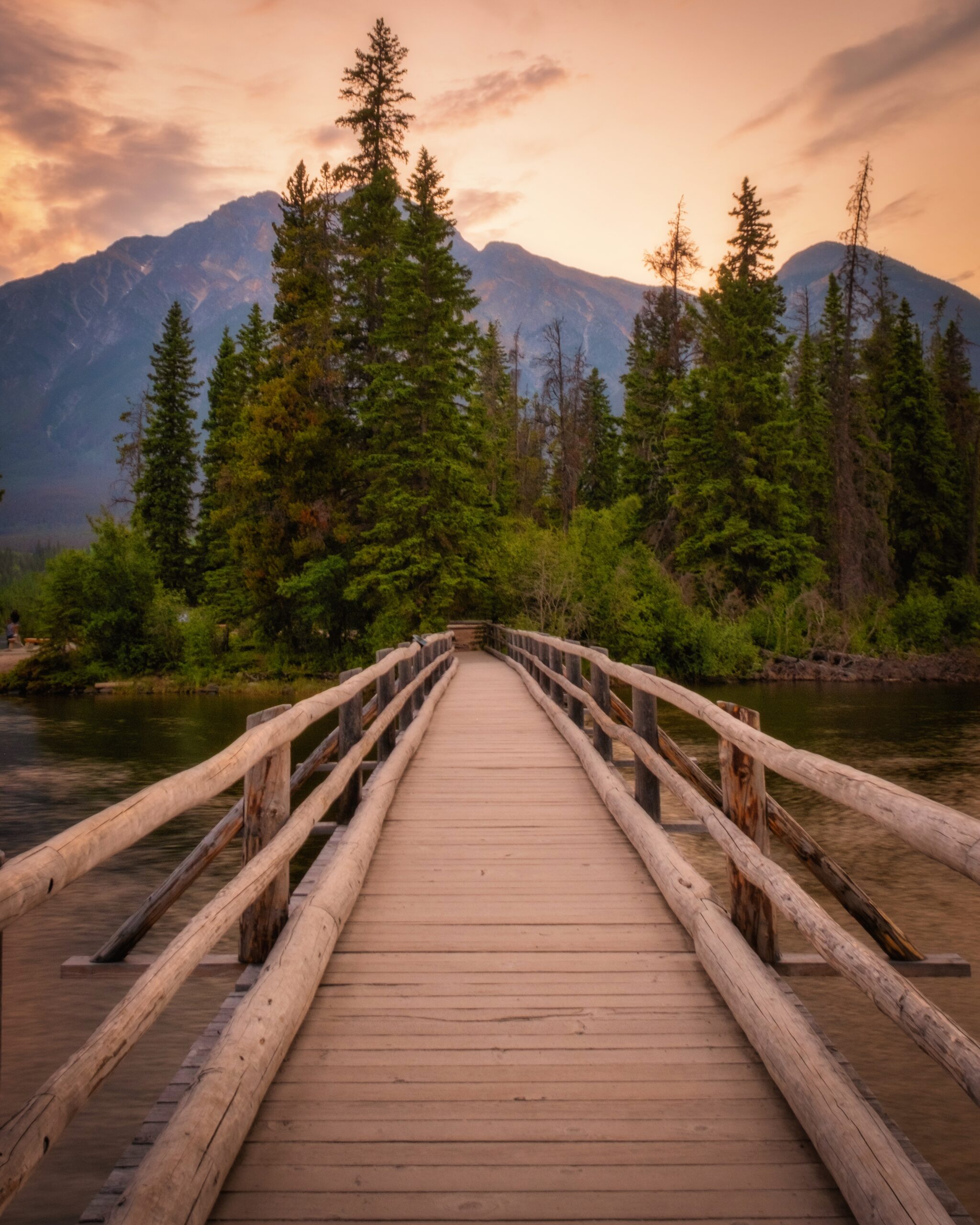 Pyramid Island is a small island on Pyramid Lake. It's about 2 km past Pyramid Lake Resort and 7.5 km from the town of Jasper. You can access Pyramid Island from the water if you are paddling up or easily access it from the road.
There is a beautiful bridge that connects Pyramid Island to the mainland, and it's not only beautiful to walk across but also one of the best photo spots in Jasper. From the bridge, you can easily see the Jasper Skytram and Mount Edith Cavell.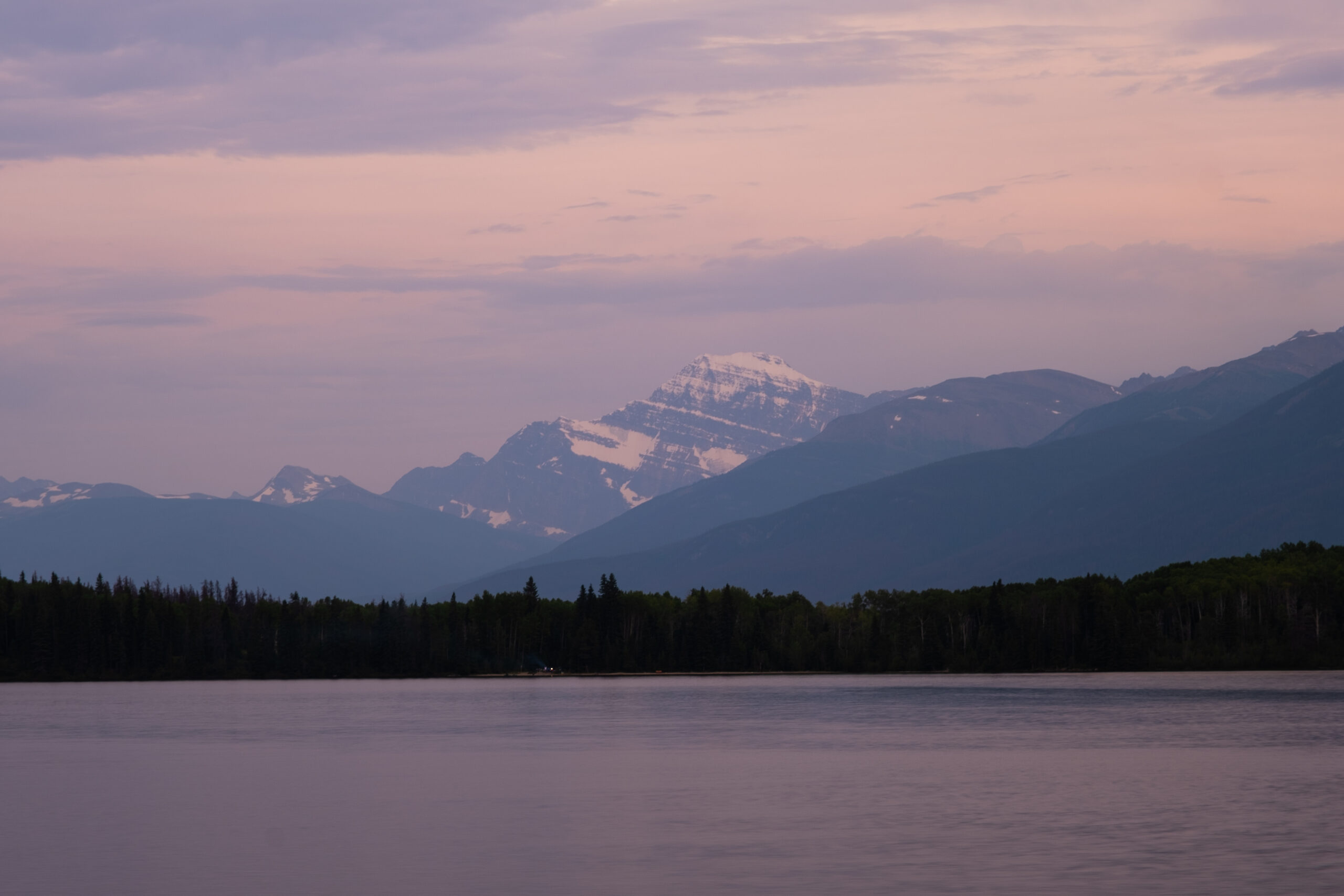 When walking onto Pyramid Island from the mainland, you can easily see Pyramid Mountain positioned perfectly above the island. There are only 5 parking spots on the road, but we have never had a problem getting one in both the winter and summer.
It's possible to even rent out a section of the island as a venue. There are benches for ceremonies with a million-dollar view to look out to. For the best photos, head here at sunrise and sunset. If you are lucky, you can get a photo of Pyramid Island without anyone walking across the bridge (patience is key here).
Don't miss the rustic shelter on the island, which is recognized as a Federal Heritage Building built in 1933 during the Great Depression.
---
Pyramid Lake is Warm Enough to Swim In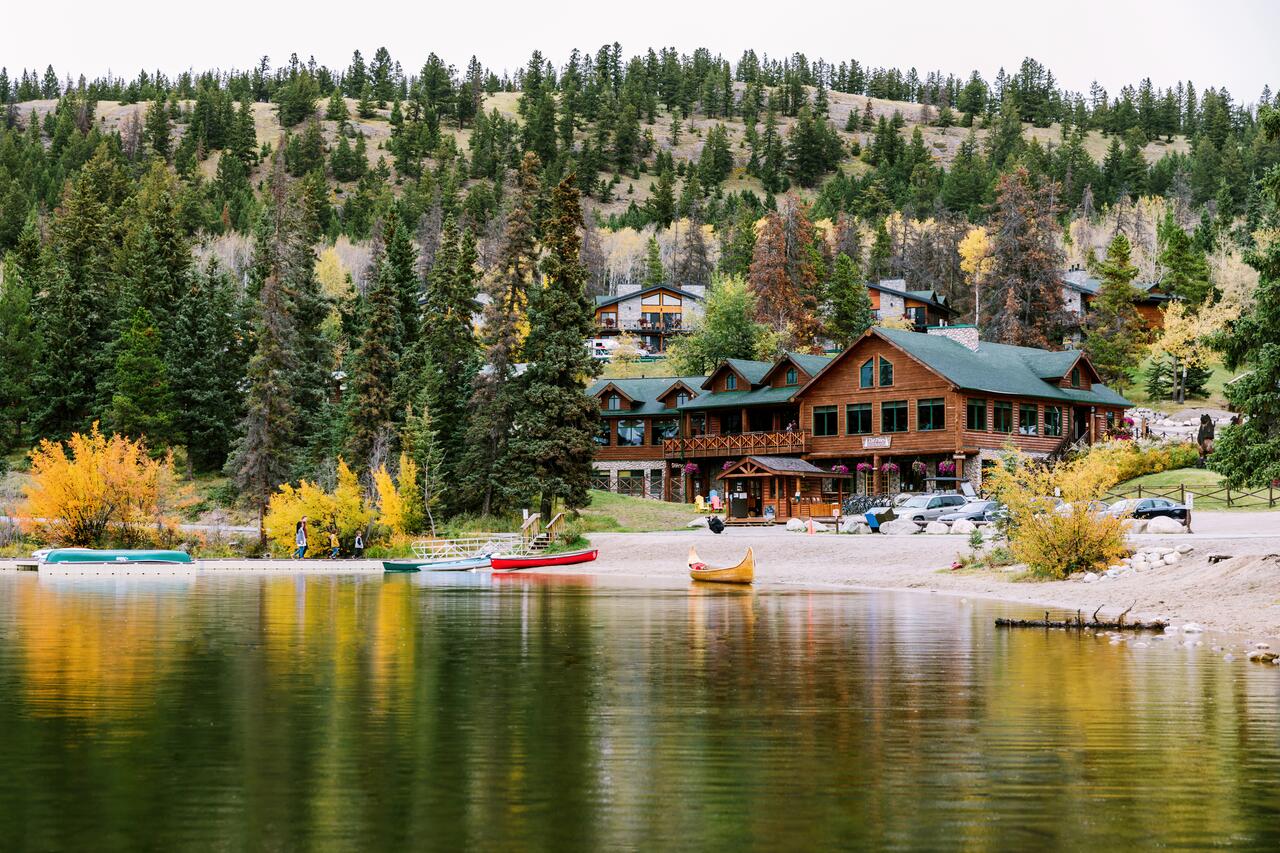 It's hard to find lakes in the Canadian Rockies that are warm enough to swim in for an extended period of time. Nearby Maligne Lake, Medicine Lake, Lake Annette, Beauvert, and Edith nearly took my breath away when I jumped in.
However, I was pleasantly surprised that at Pyramid Lake, I could swim in the water without feeling like my heart would stop. On a warm summer day, one can easily enjoy the refreshing water at Pyramid Lake.
---
You Can Ice Skate on Pyramid Lake in the Winter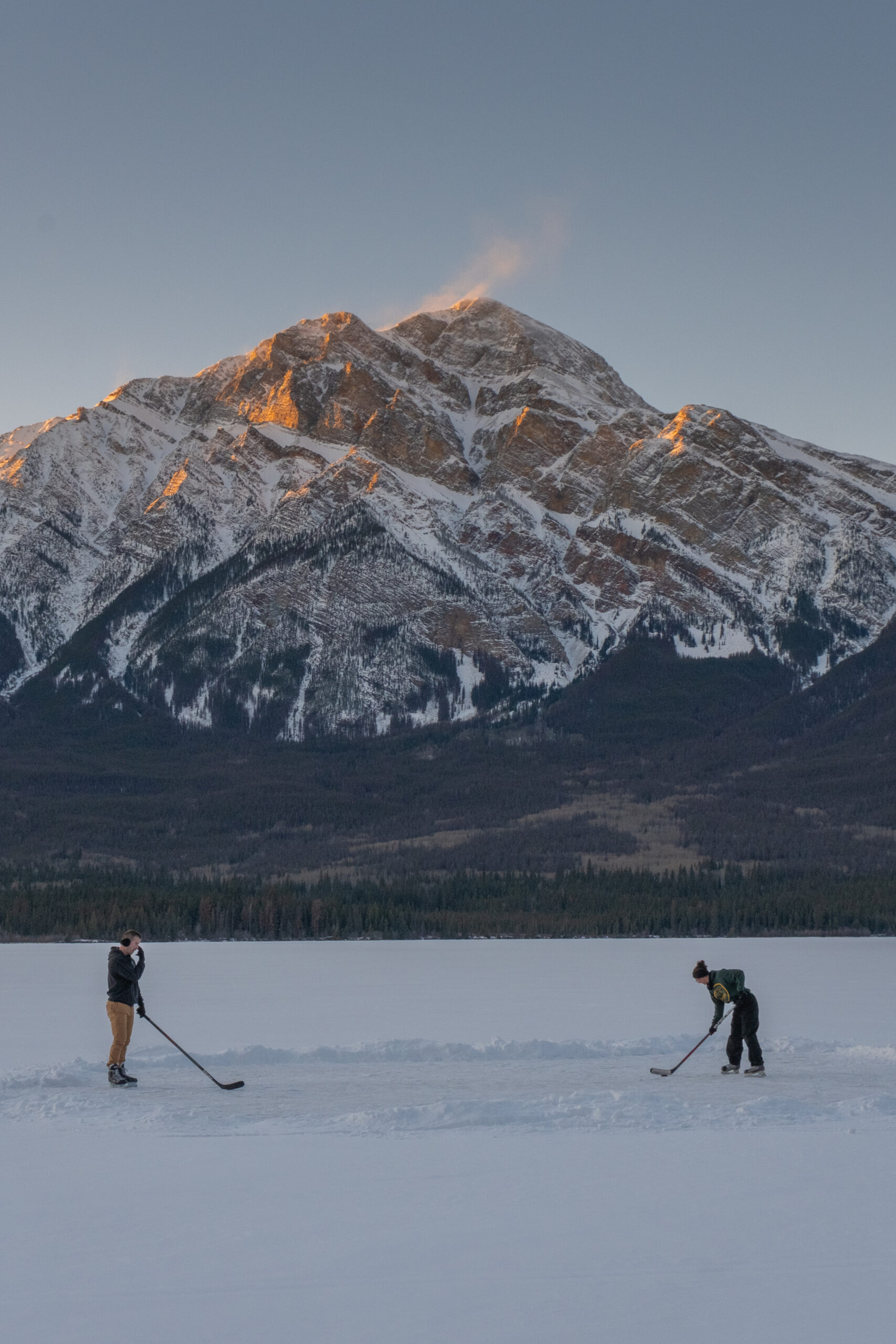 I've been writing a lot about Jasper's summer when winter in Jasper is equally as amazing. Pyramid Lake completely freezes over in the winter, and by the end of December, it turns into a winter wonderland.
Pyramid Lake Resort maintains a section for ice skating on the lake and snowshoe tours, fat biking, and even horse-drawn carriages.
We visited in late November and found people were already skating on Pyramid Lake, though you should properly check the ice thickness to make sure it is safe if planning to skate this early.
---
Pyramid Lake Resort is Simply Amazing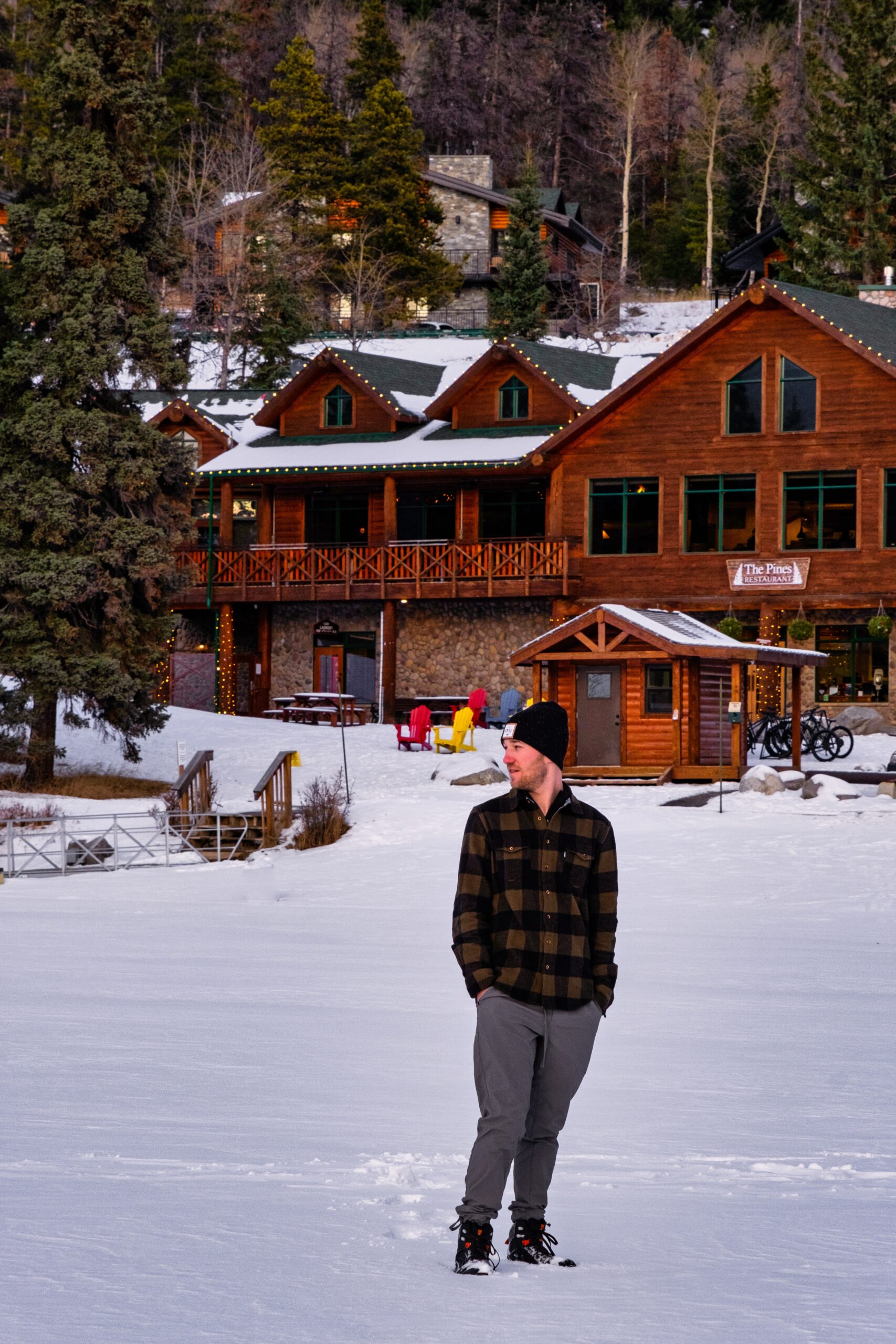 Pyramid Lake Resort is an amazing property in Jasper that cannot be beaten. Sitting right on Pyramid Lake, its location in the park is amazing. Away from Downtown Jasper, so you can enjoy nature, but still only a few minutes drive away so you can easily enjoy town amenities.
These are chalet-style Alpine rooms with 62 guest rooms in total, and all come with a cozy fireplace. I highly suggest booking a room with views over Pyramid Lake if possible. There's a fantastic hot tub as well to enjoy after a long winter day out in the mountains. The resort is just 6 km from the townsite, but obviously right next to Pyramid Lake and Pyramid Island.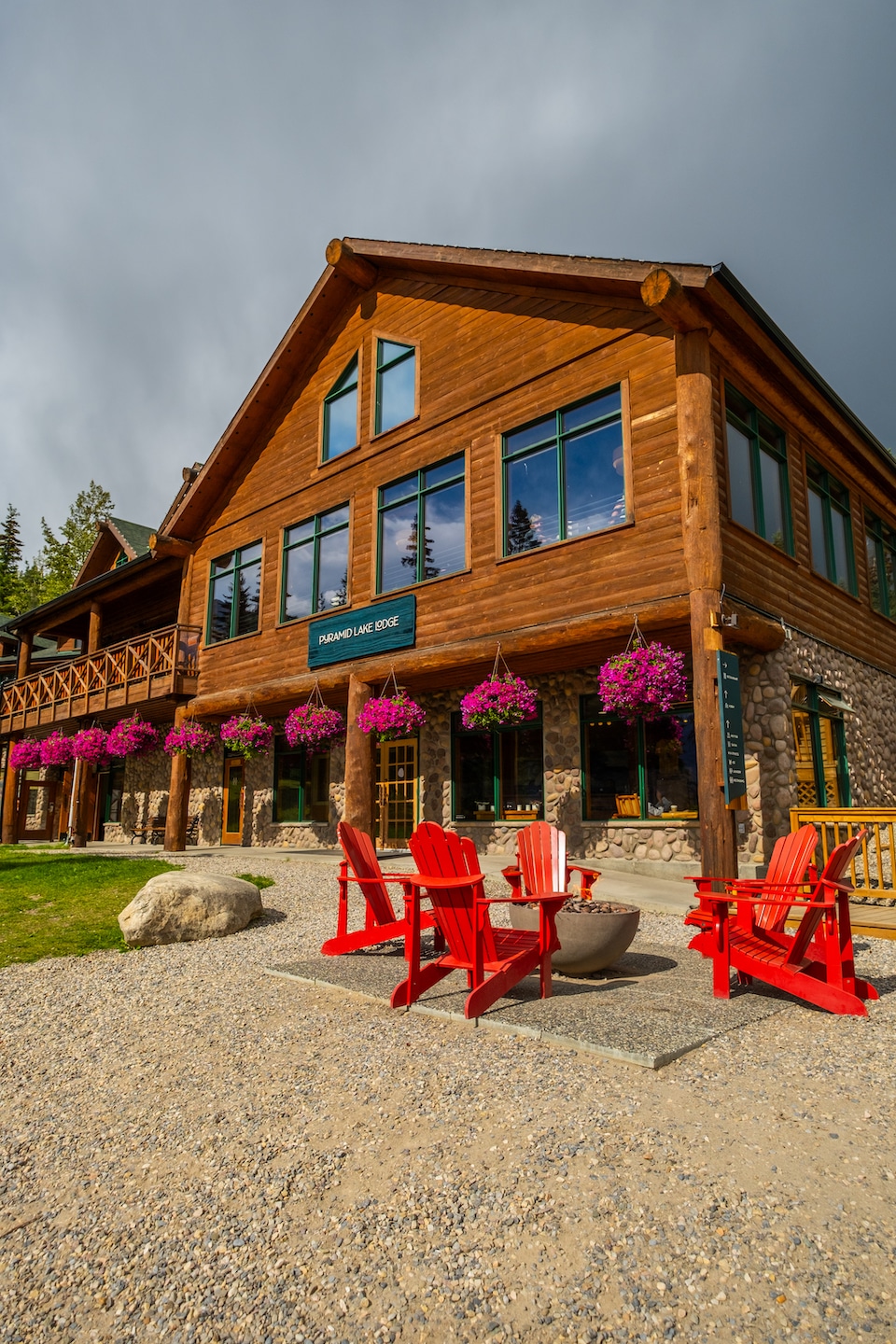 It's the only property at Pyramid Lake and is the perfect place if you want to enjoy some quiet downtime at the lake. They have fantastic amenities, especially in the summer when they offer canoe rentals. As mentioned before, in the winter Pyramid Lake Lodge offers ice skate rentals, fat bike rentals, snowshoe rentals, and carriage rides.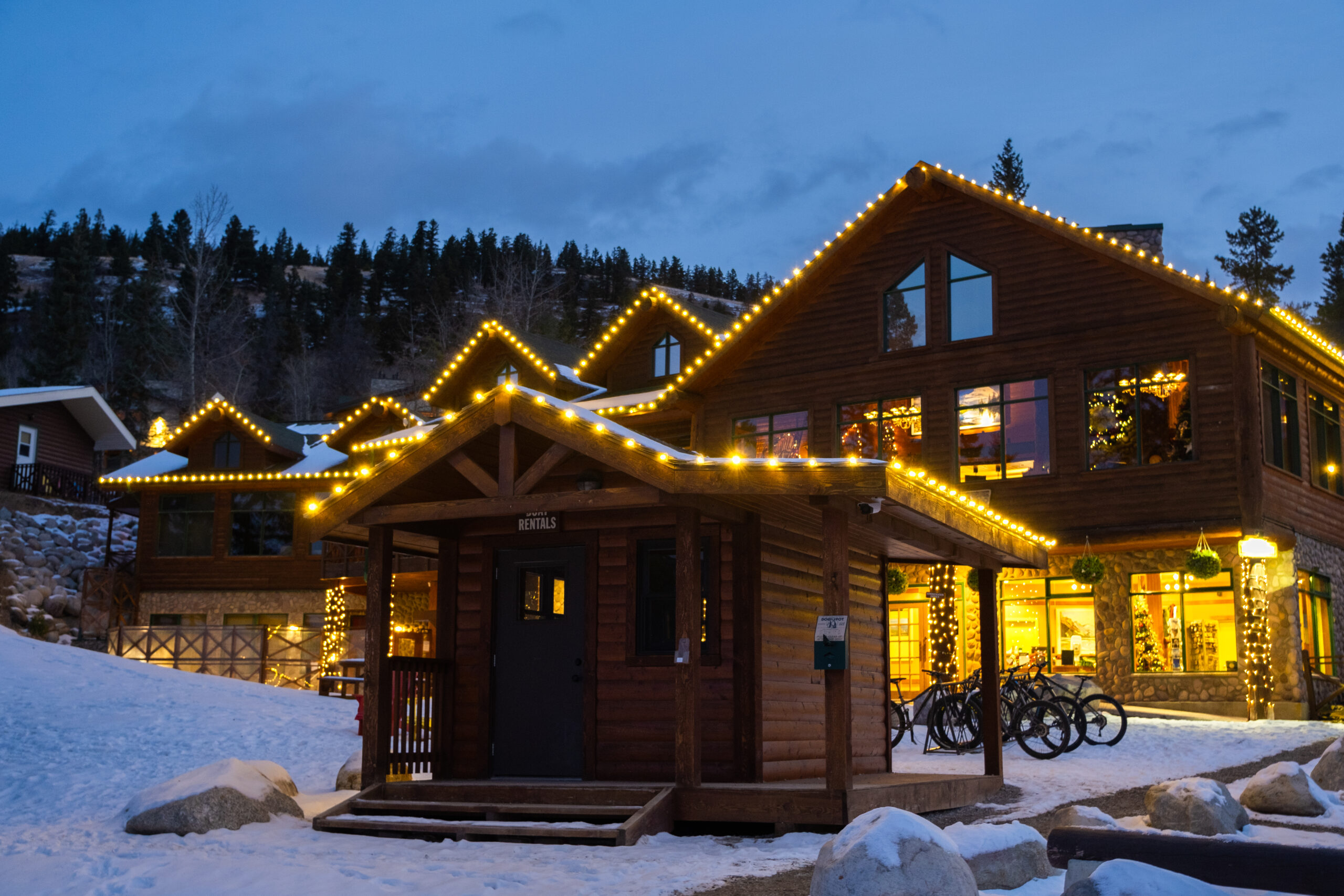 The Pines Restaurant is located at the resort and is one of the only Jasper restaurants not in downtown Jasper. The Pines Restaurant is easily one of the most romantic places to eat in Jasper.
Serving up breakfast, lunch (take away), and dinner, you can expect an intimate setting complete with dishes like Wilde Boar Pâté, Duck Confit, and Braised Alberta Venison. Reservations are recommended here!
---
There are Great Bike Trails Around Pyramid Lake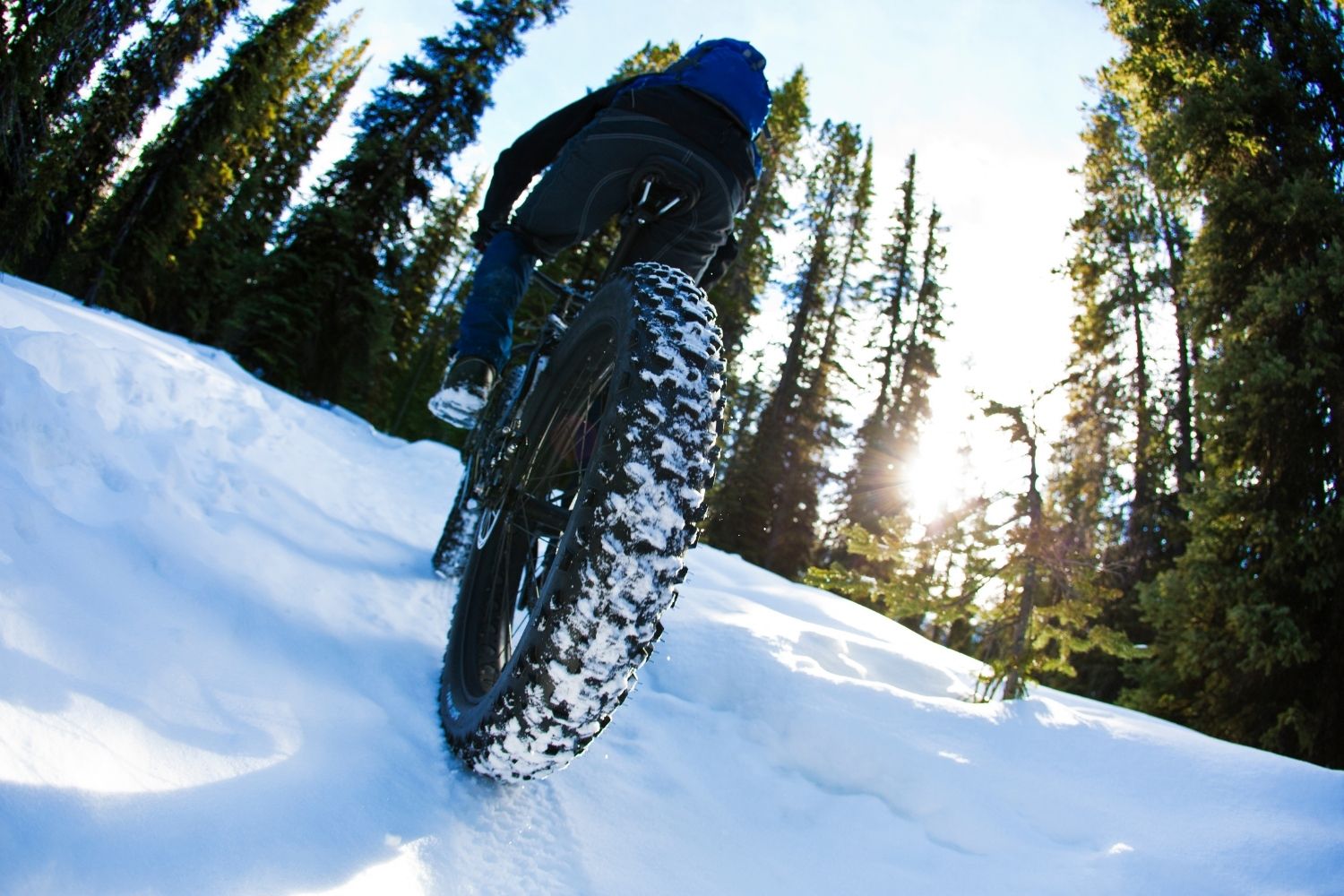 If you're into mountain biking, there are some fantastic trails in the Pyramid Lake area. Some will take you right into town, while others connect Pyramid Lake to Patricia Lake.
Then if you are interested in scrambling up Pyramid Mountain, a popular way to cut some time is to mountain bike up the first leg via the Pyramid Fire Lookout road. You can see a map of all the trails in the area on Trail Forks.
---
And Trail Running Opportunities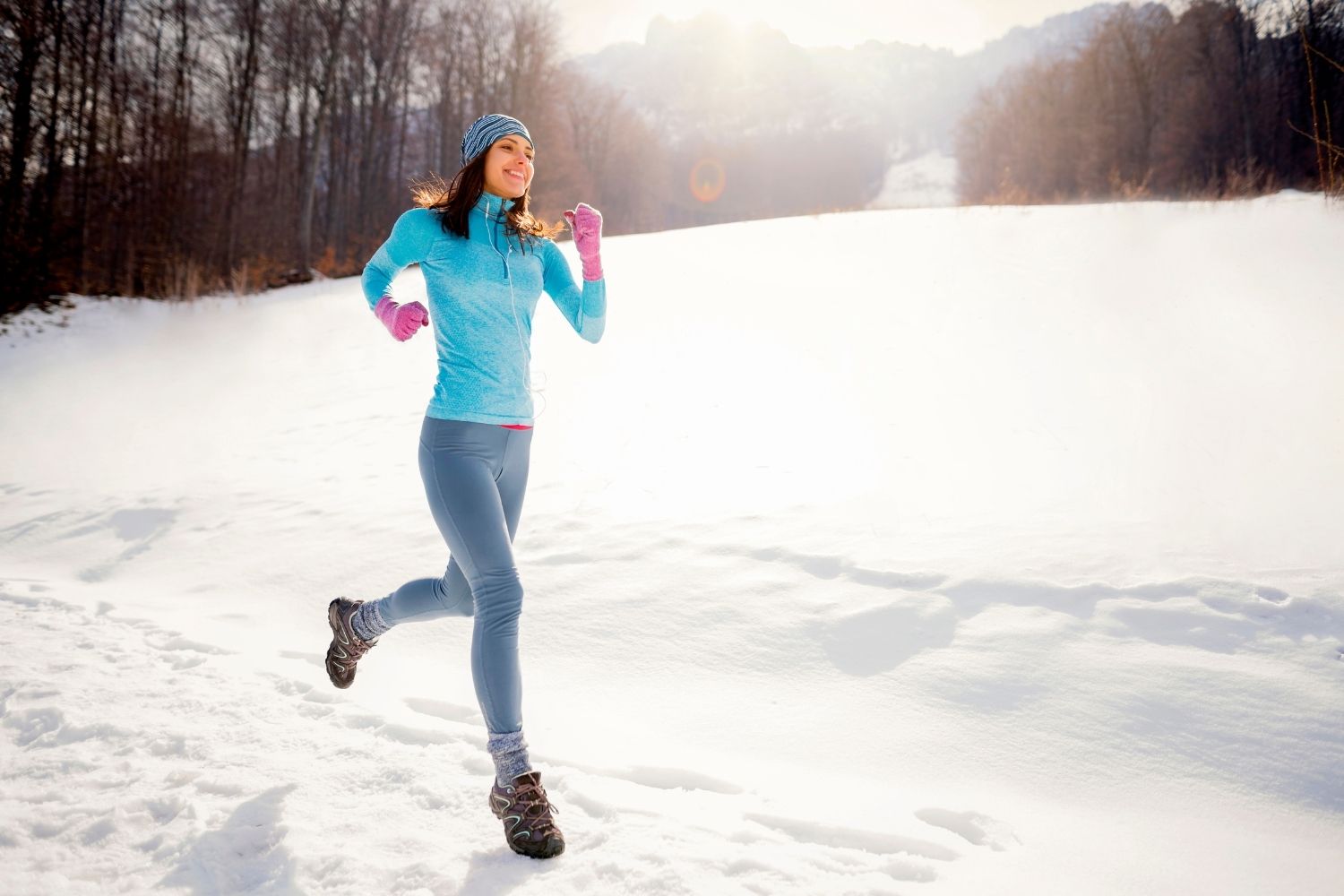 Speaking of trails, a popular thing to do in Jasper is to trail run around Pyramid Lake as well. Many of the bike trails mentioned above can double as trail running opportunities.
---
Pyramid Lake and Pyramid Island are a Photographers Paradise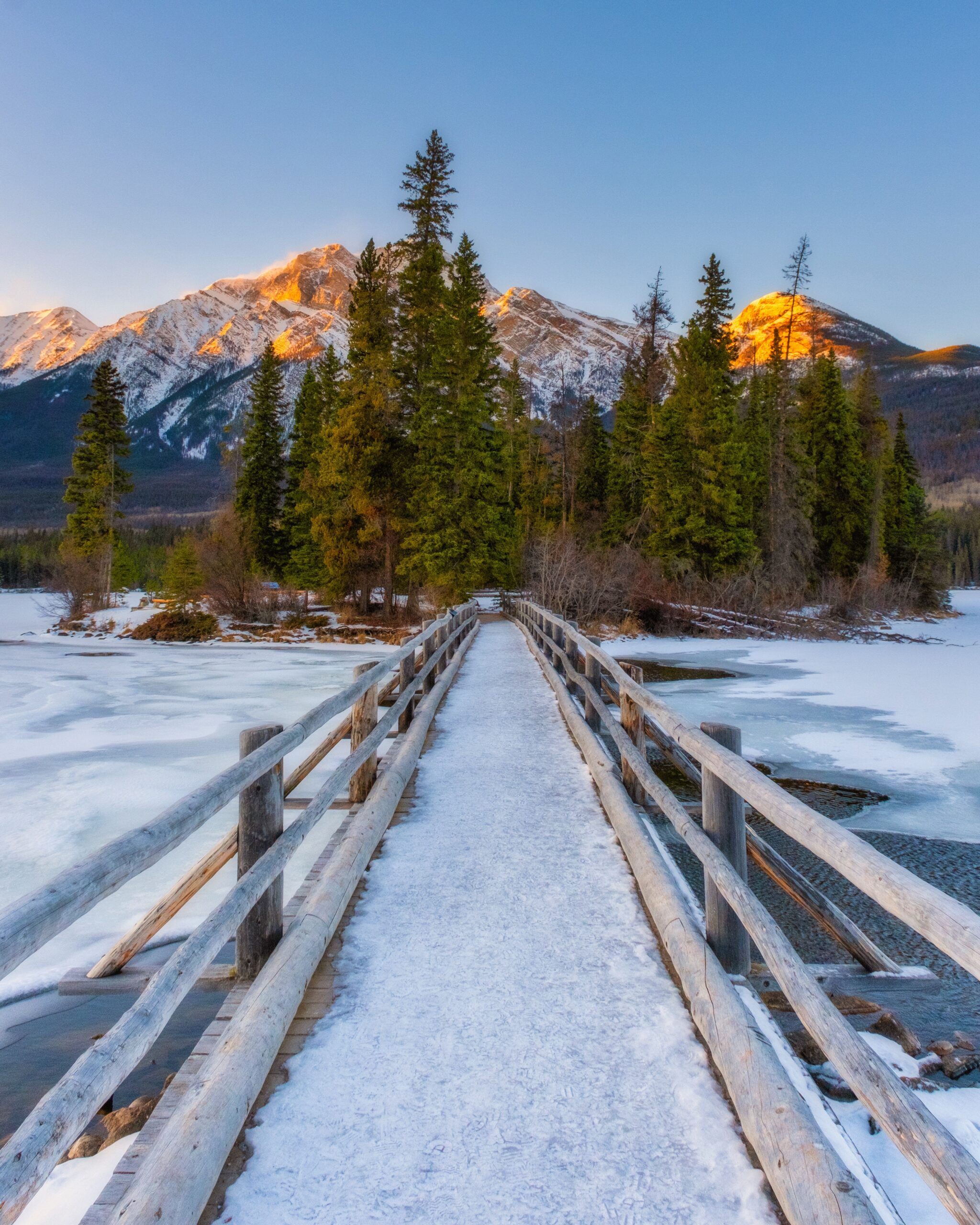 Pyramid Lake is easily one of the best photography spots not just in Jasper, but in all of the Canadian Rockies. You'll always be able to get a beautiful shot of Pyramid Mountain, but the best photo spot, in my opinion, is of the bridge leading up to Pyramid Island. We've been able to score this bridge to ourselves for photographs in both the winter and peak summer season.
Don't worry if there are a few people on the bridge; just be patient, and you'll be able to capture a great photo. My best advice is to arrive at Pyramid Island around sunrise or sunset.
The Best Banff Photography & Picture Spots (and How to Get To Them)
---
Don't Forget Bug Spray!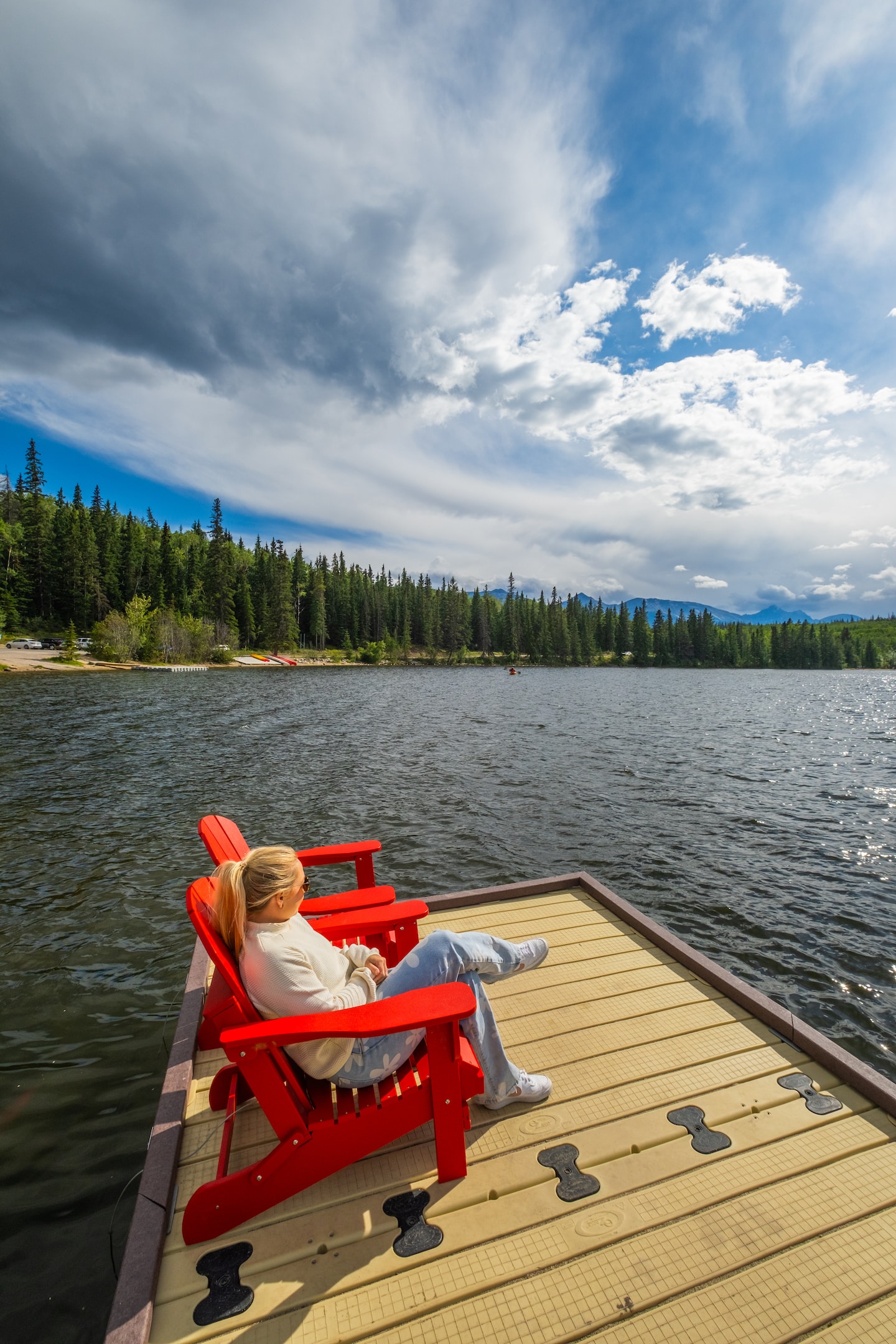 In the peak summer season, the mosquitos are out in force around Jasper. We particularly found them terrible at Pyramid Island.
If you're visiting between June and August, having some OFF around may make your experience at Pyramid Lake much more enjoyable.
---
One of the Best Restaurants in Jasper is Nearby!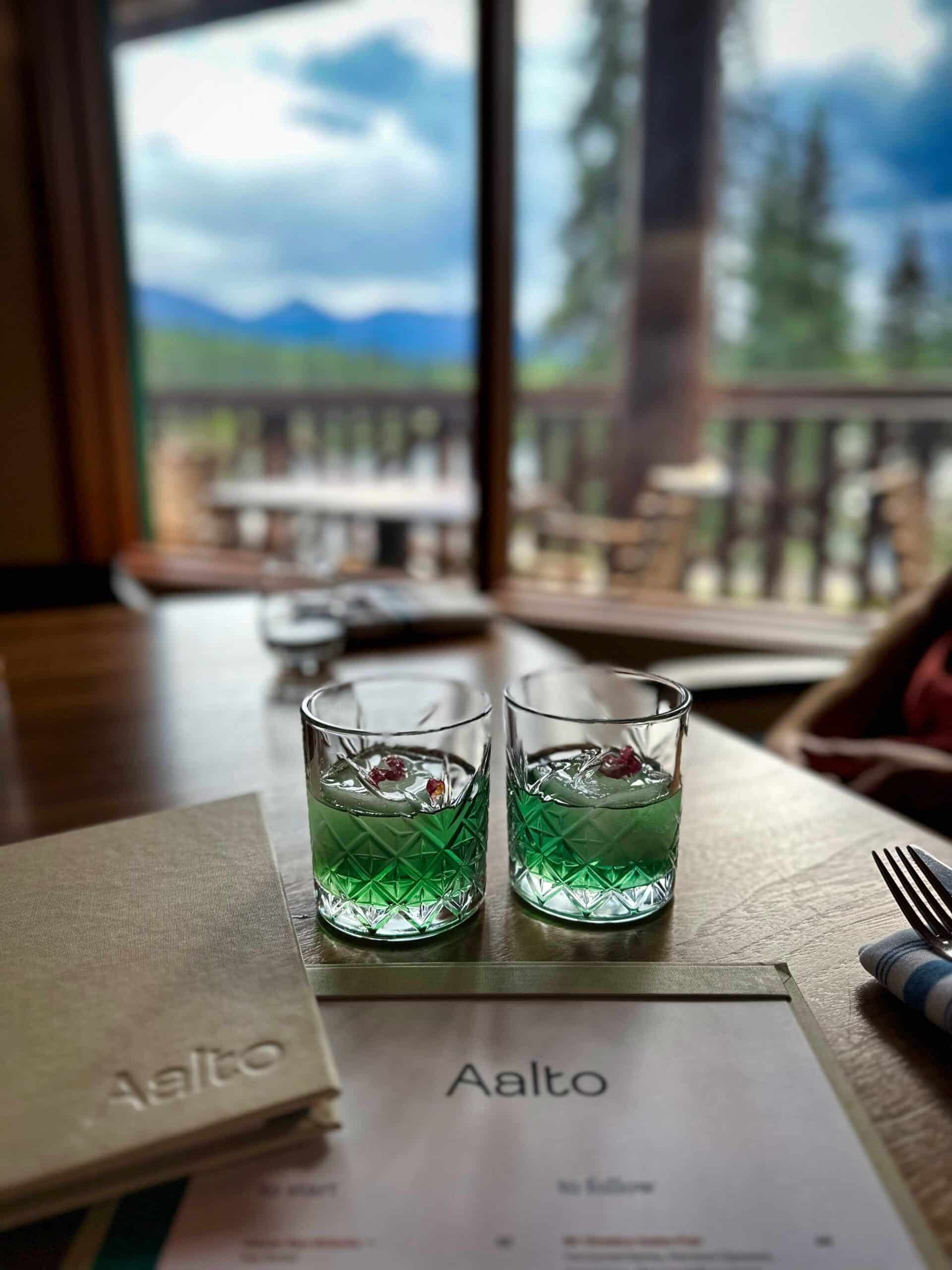 Aalto stands out among all the delicious Jasper restaurants not only because of its unique location outside of downtown Jasper, but for it's epic views over Pyramid Lake and delicious food.
Rather than opting for a night in the downtown center, consider making your way to Pyramid Lake to relish the scenic vistas offered by Pyramid Lake Lodge. Nestled within the lodge, Aalto undoubtedly claims its place as one of the most enchanting dining spots in Jasper.
Whether it's breakfast, lunch (available for takeout), or dinner, Aalto ensures a cozy ambiance that sets the stage for an intimate dining experience. The menu boasts delectable offerings like Wild Boar Pâté, Duck Confit, and Braised Alberta Venison. We advise reservations during the high season!
---
Things to do at Pyramid Lake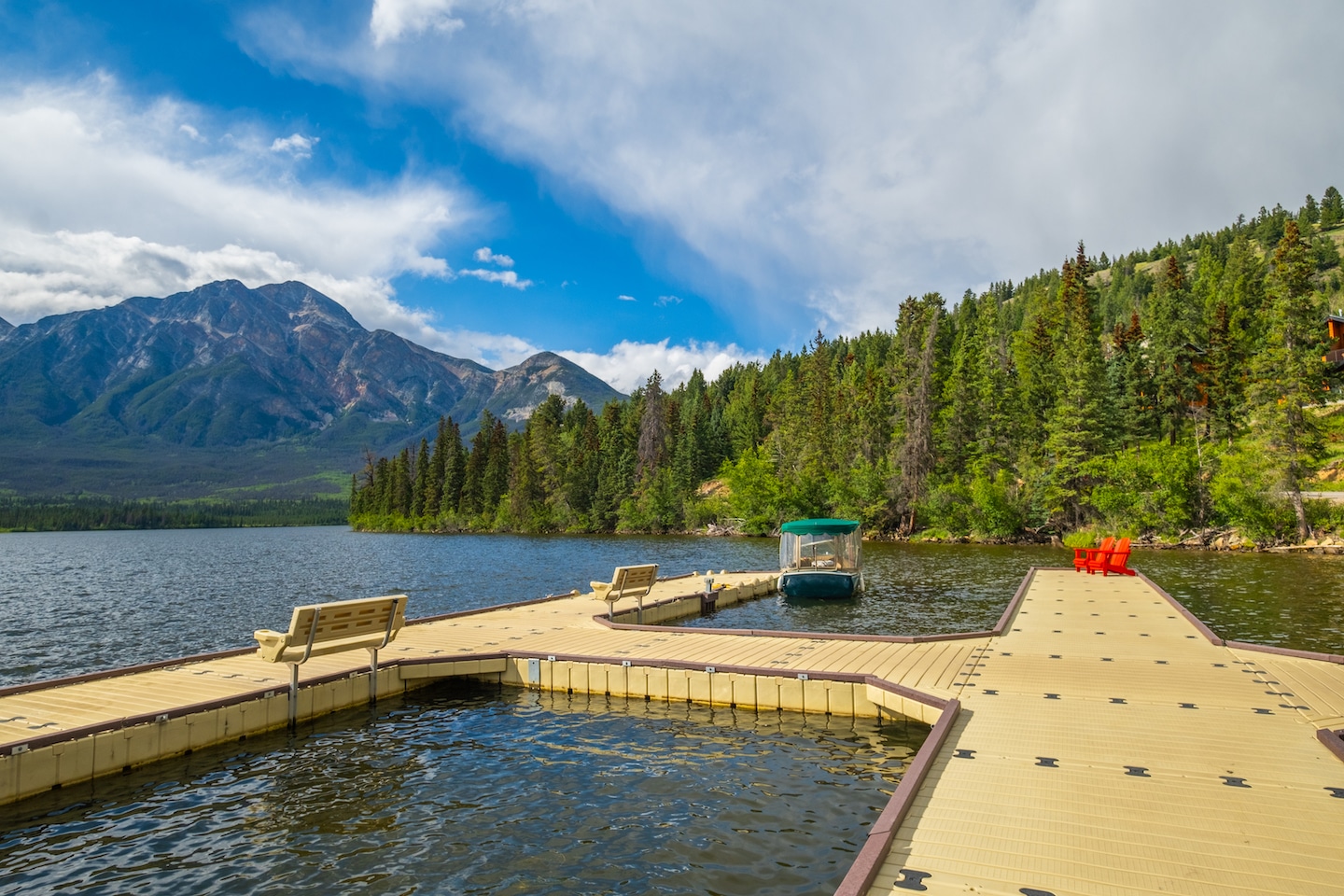 Pyramid Lake In the Summer
Kayak/Canoe/Stand Up Paddleboard
Jump off the dock for a refreshing swim
Spend a sunset on Pyramid Island
Mountain Bike
Climb Pyramid Mountain
Pyramid Lake In the Winter
Snowshoe around the lake
Ice skate
Enjoy a fire at Pyramid Lake Resort
Horse drawn carriage
Fat Bike Trails
Have an enchanting meal at Aalto
---
Cost for Rentals at Pyramid Lake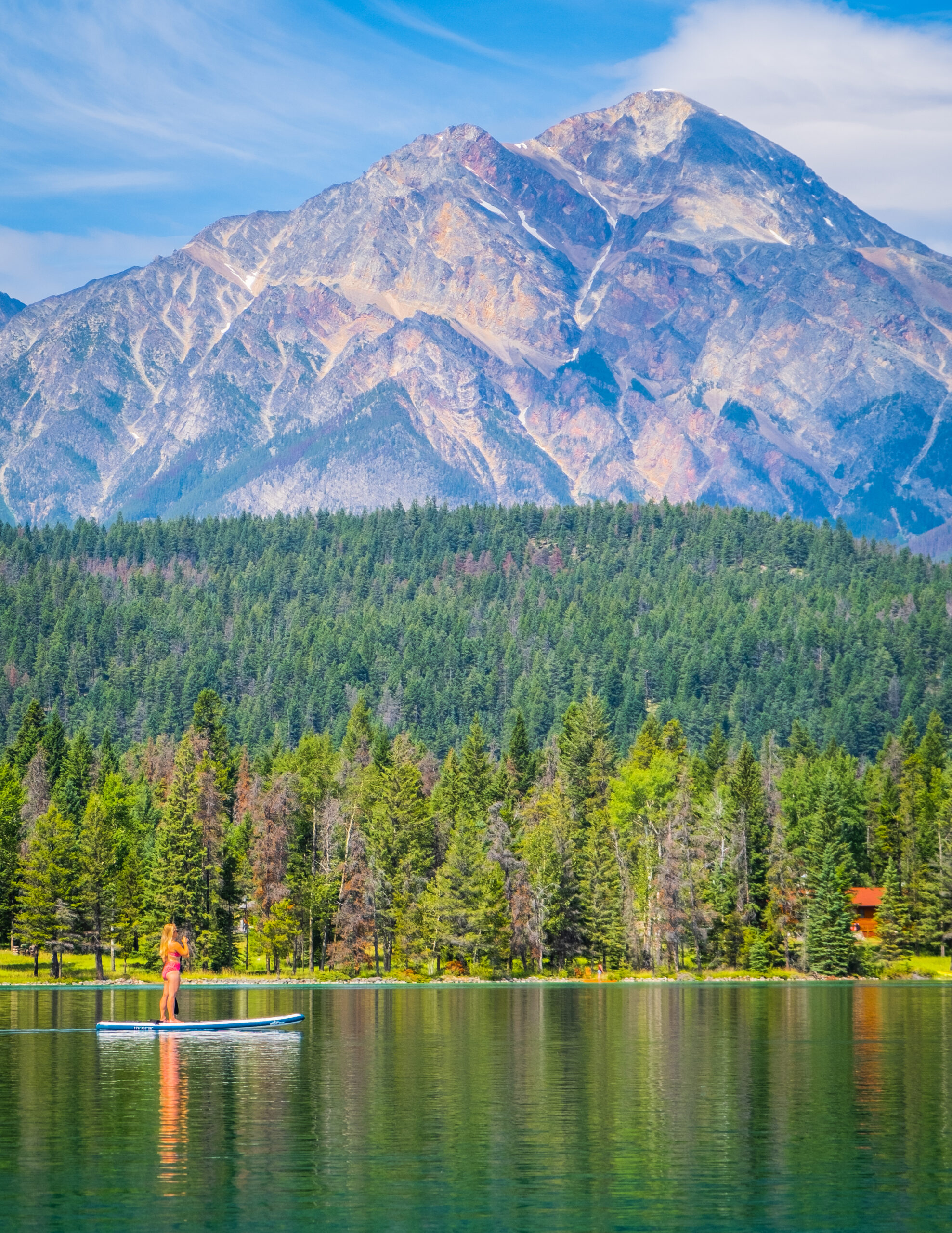 You'll be able to rent anything you need in the winter or summer from Pyramid Lake Resort. The prices are as follows.
Winter Rentals
Snowshoe Rental – $10/hour
Ice Skate Rental – $10/hour
Fat Bike Rental – $18/hour
Sleigh Rides – $30
Summer Rentals
Mountain Bike – $25/hour
E-Bike – $50/hour
Rowboat – $45/hour
Canoe – $80/hour
Kayak – $45/hour
Stand Up Paddleboard – $45/hour
Paddle Boat – $50/hour
Electric Family Cruiser Boat – $120/hour
*If you stay at Pyramid Lake Resort, your first hour of rentals is on the house!
Our Top Recommended Jasper Tours
---
Hikes Around Pyramid Lake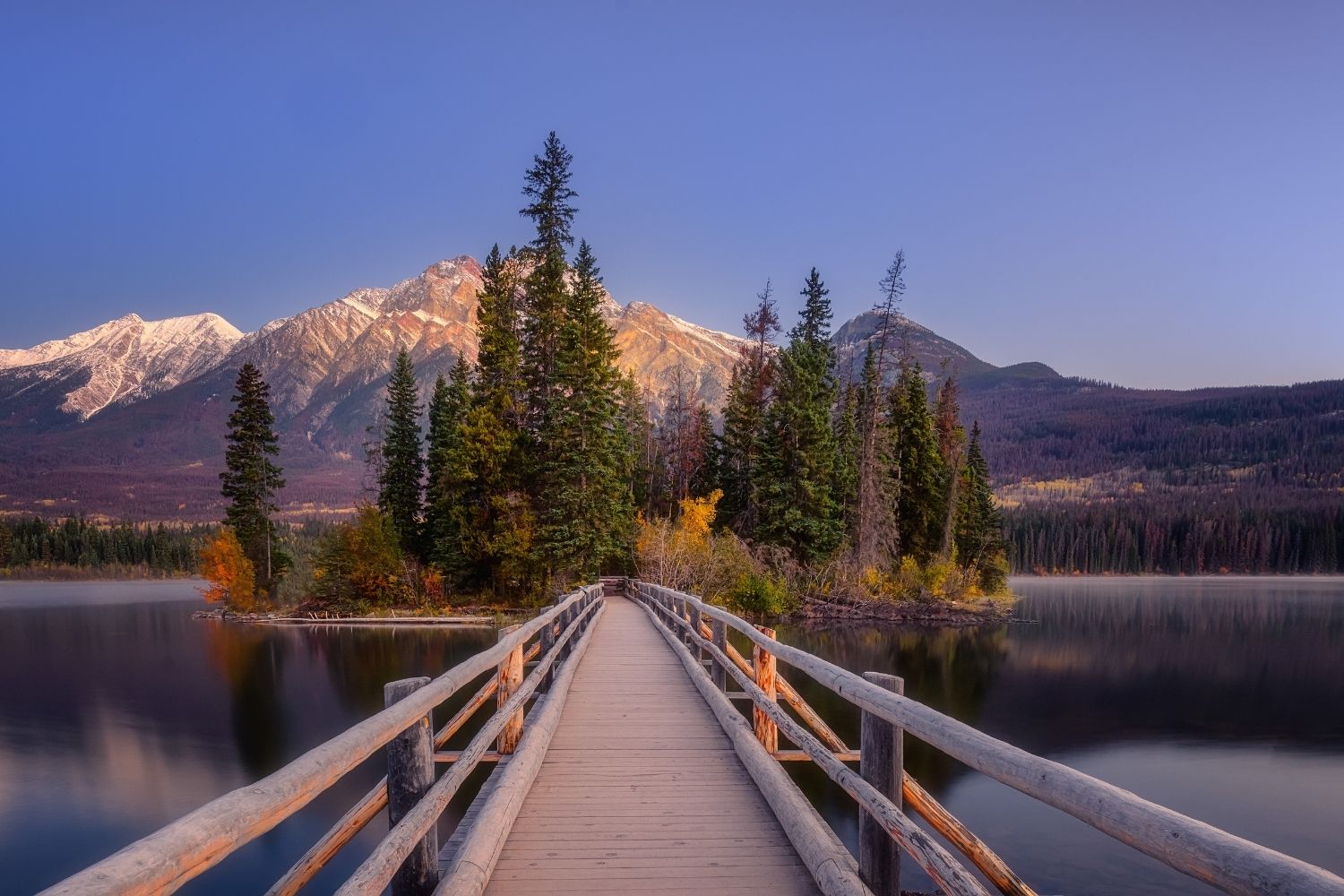 There are a few great Jasper hiking opportunities around Pyramid Lake. An easy one would be the Pyramid Lake Loop, a gentle 5.6 km walk with 200 meters of elevation gain. This is a great hike for older people and families!
If you want a big day, and I mean a really big day, you can set your eyes on summitting Pyramid Mountain. This is a 33 km day gaining 2686 meters of elevation. It's a long day with scrambling involved.
But the views from the top of Pyramid Mountain would be amazing. You can mountain bike up the fire road to save your legs from an otherwise boring walk.
---
Other Great Jasper Lakes to Visit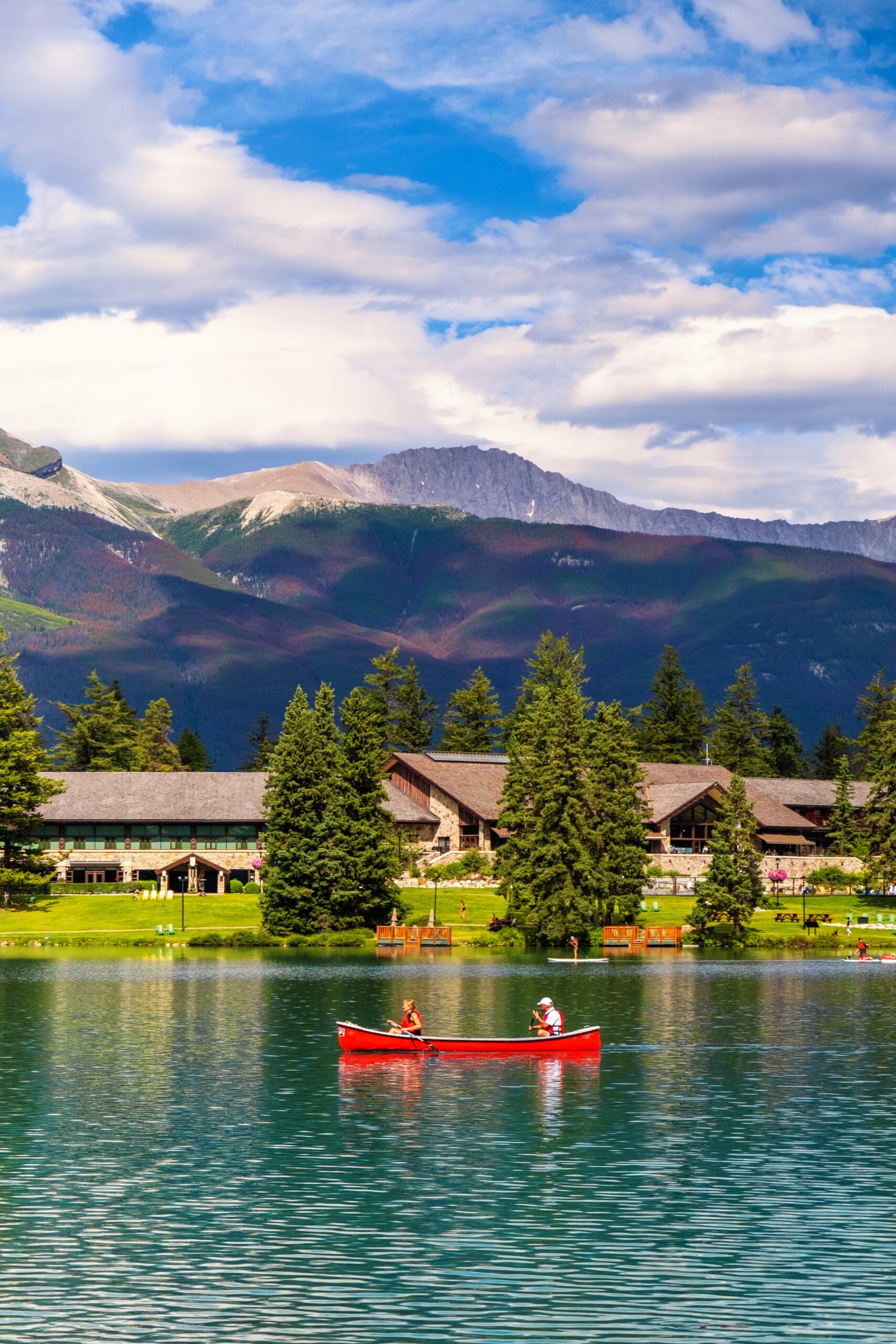 There are a lot of beautiful lakes around Jasper. So after you are done enjoying Pyramid Lake, we recommend venturing to another destination. Some ideas:
Maligne Lake
Medicine Lake
Lac Beauvert
15 Jasper Lakes Well Worth a Visit
---
Plan Your Trip to the Canadian Rockies
↓ Join the community ↓
The Banff Blog Facebook Group is your headquarters for the Canadian Rockies' travel advice and information. Including hike info and off-season travel information. You can also meet new adventure buddies.