Maligne Lake is a glacial lake in Jasper that is just a 45-minute drive from the town of Jasper along the stunning Maligne Lake Rd. It is one of the most serene lakes in all of the Canadian Rockies and prized for astounding natural splendor.
It's well worth a visit for anyone visiting the Canadian Rockies, and is a must-stop if you're in Jasper for a few days. Here's everything you need to know about traveling to Maligne Lake and Spirit Island.
---
All You Need to Know About Maligne Lake
---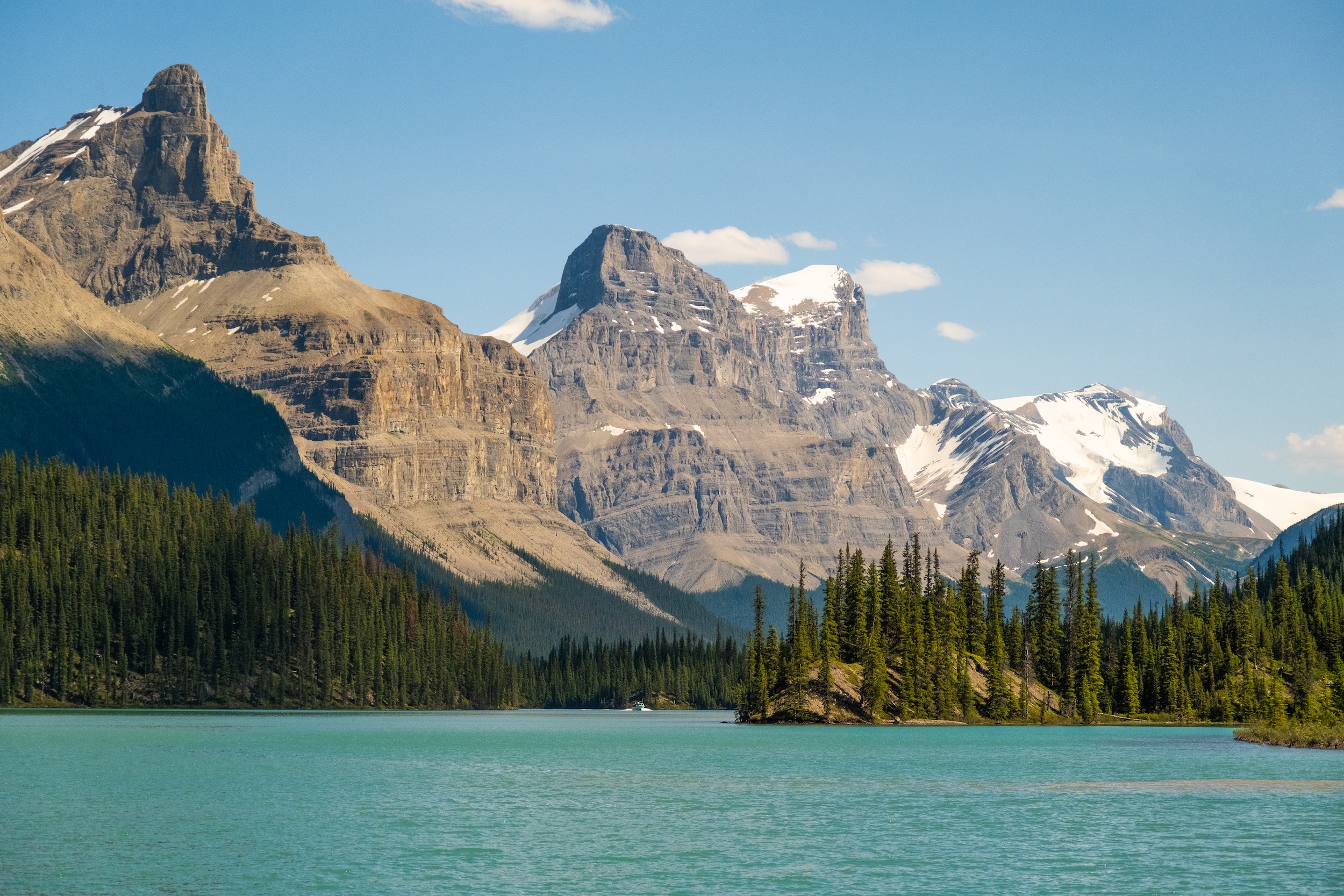 Maligne Lake is a premier destination in the Canadian Rockies for scenic beauty. It's the largest natural lake in the Canadian Rockies and a must for any visitor to Jasper National Park.
Its serene natural beauty and picturesque views are prized around the world. The grandeur of the lake as countless glaciers run off into the lake below from the Hall of Gods is beyond compare. On a sunny day, the waters of Maligne Lake sparkle a dazzling cerulean blue.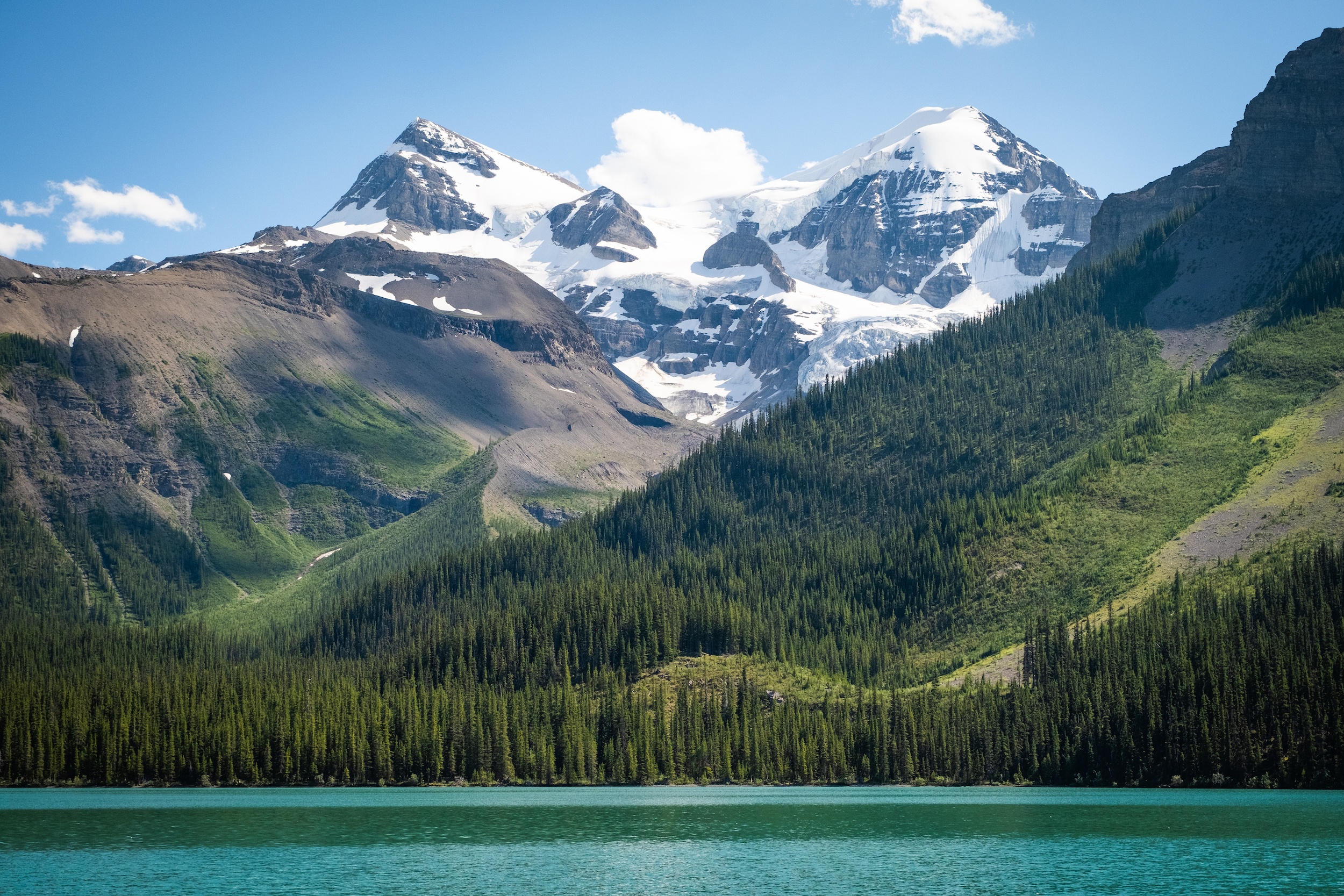 Maligne Lake stretches from the boat docks for 22km past the famous Spirit Island to the base of the Coronet Glacier. Spirit Island is a small peninsula island that sits 14 kilometers from the docks at Home Bay.
The small island is now world-famous for its resplendent scene that is treasured around the world. It feels more like the landscape of a dream than reality.
---
What Wildlife Can You See at Maligne Lake?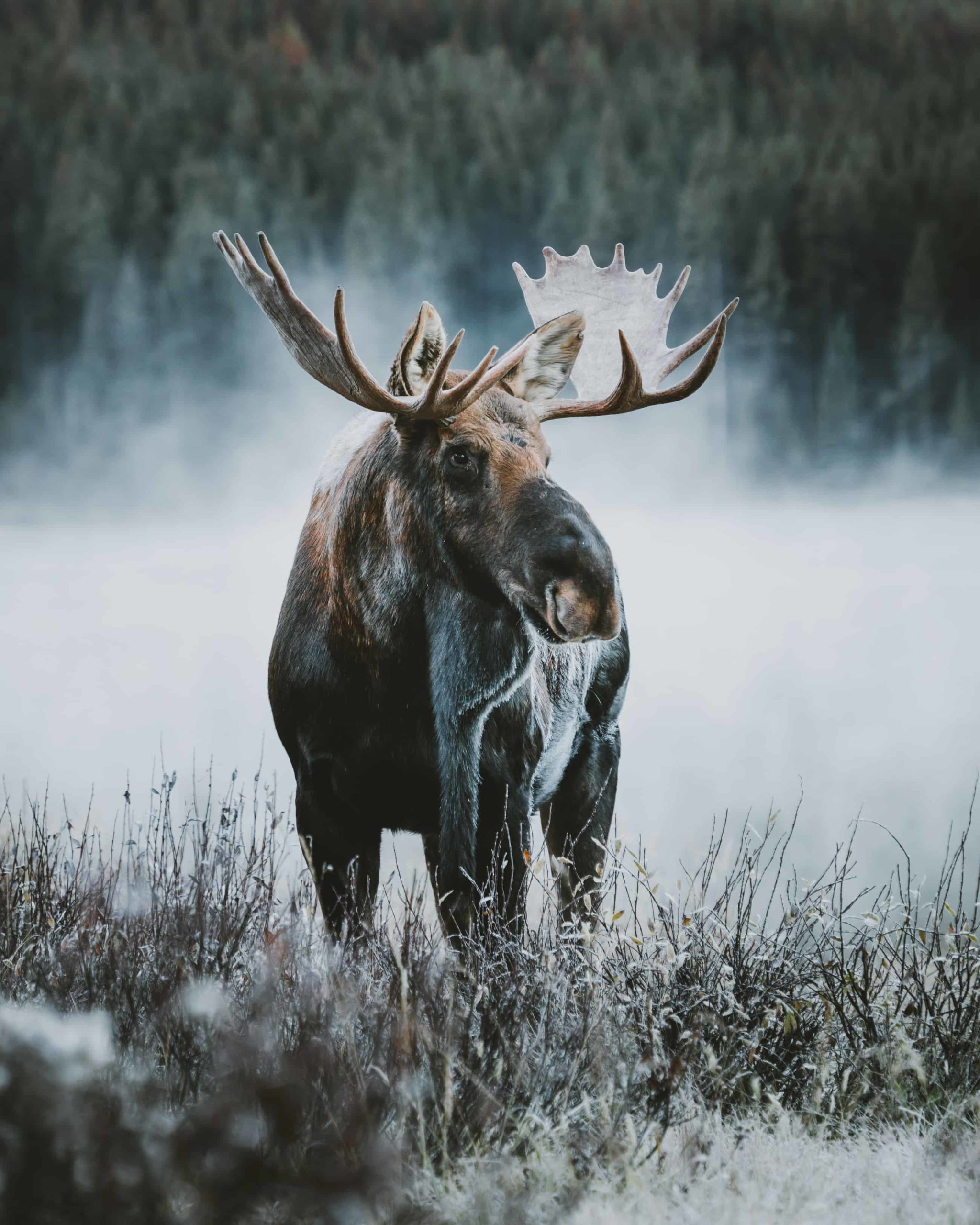 An expansive forest of pine and spruce trees flank Maligne Lake. It makes for a wonderful habitat for many wildlife including mule deer, wolves, elk, caribou, bears, moose, and mountain sheep.
The waters also draw in birdlife that includes Bald Eagles, Osprey, and Golden Eagles. That being said, don't come expecting to see any or all of that wildlife — especially wolves or caribou.
Why is Maligne Lake so Blue/Emerald?
The blue waters of Maligne Lake vary as the water moves from the inflow to the outflow of the lake. This is due to the glacier sediment deposited at the lake's start in a box canyon.
Melting glaciers run into the lake and deposit rock flour which in turn refracts the sunlight and produces the signature color. As the water flows out of the lake the rock flour settles and causes a shift in color from one end of the lake to the other. If you take a cruise on Maligne Lake you may notice that the further south on the lake you travel, the closer you get to glaciers, the more the lake shows off an emerald color.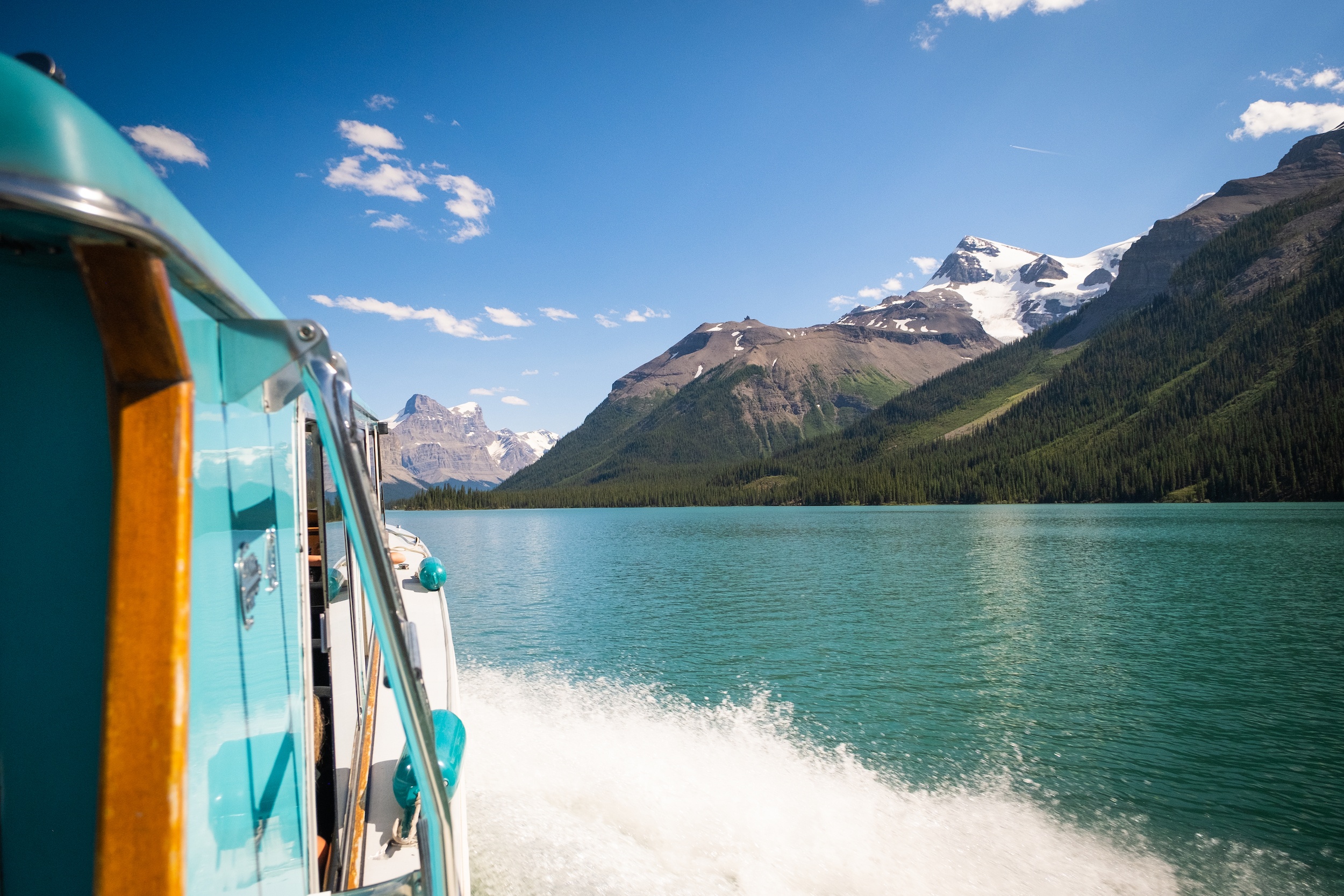 There are a plethora of things to do around Maligne Lake all year round. In the summer, visitors can hike, canoe, fish, or hop on a tour boat. While the winter months are great for cross country skiing.
The gorgeous blue waters of Maligne Lake make look very tempting for a swim, but the glacier-fed lake remains cold for swimming year-round. While we haven't taken a dip in Maligne we've been in many Jasper and Banff lakes and can attest to their temperature that at most reach a few degrees above freezing.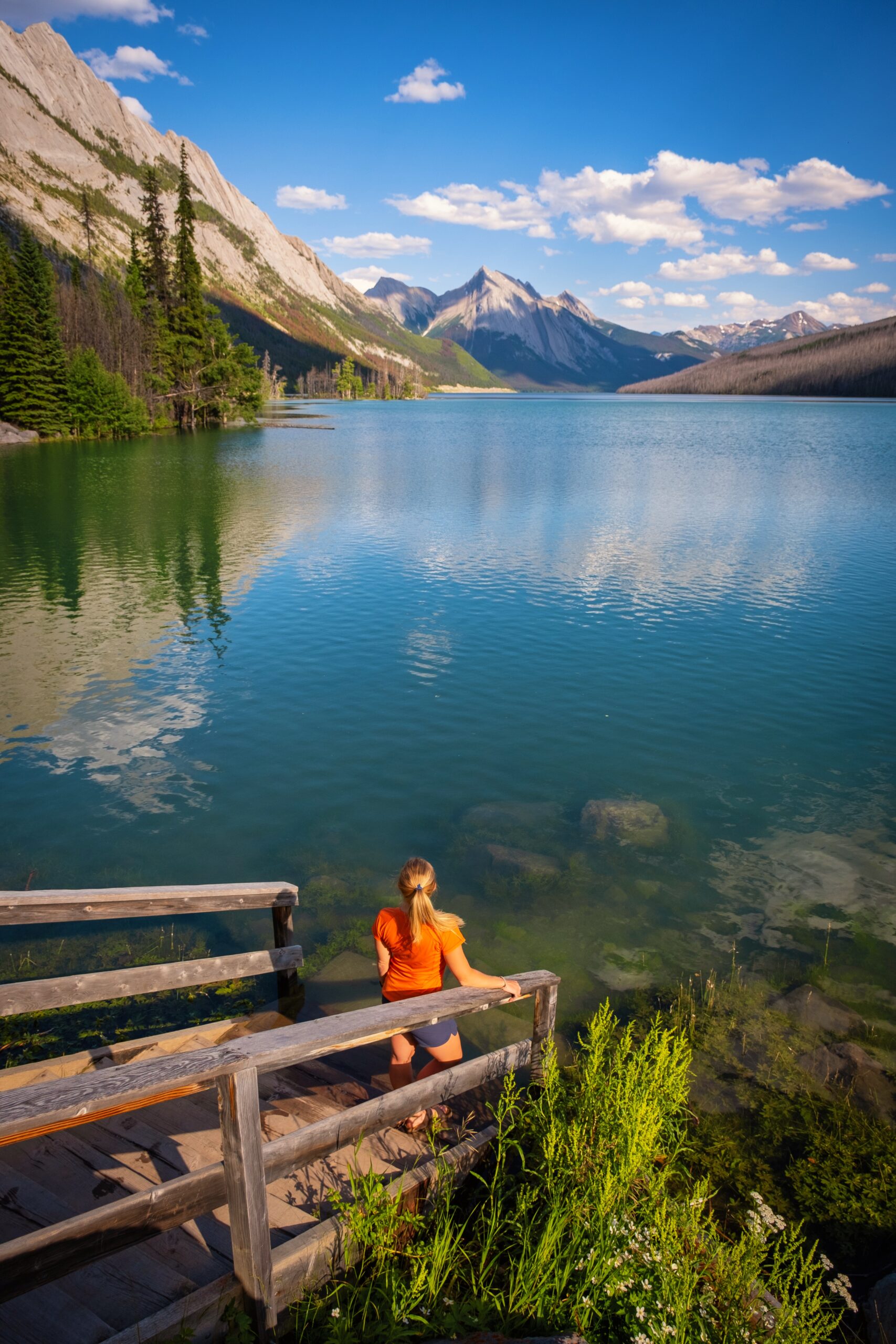 Even the drive to Maligne Lake is eye-watering as you drive from Athabasca Valley through Maligne Valley. From the townsite of Jasper it is roughly 45km and passes the worthwhile stops of Maligne Canyon and Medicine Lake, both are fed from the outflow of Maligne Lake.
There is no notable outflow from Medicine Lake as the water travels through underground caves before reemerging in dramatic fashion in Maligne Canyon.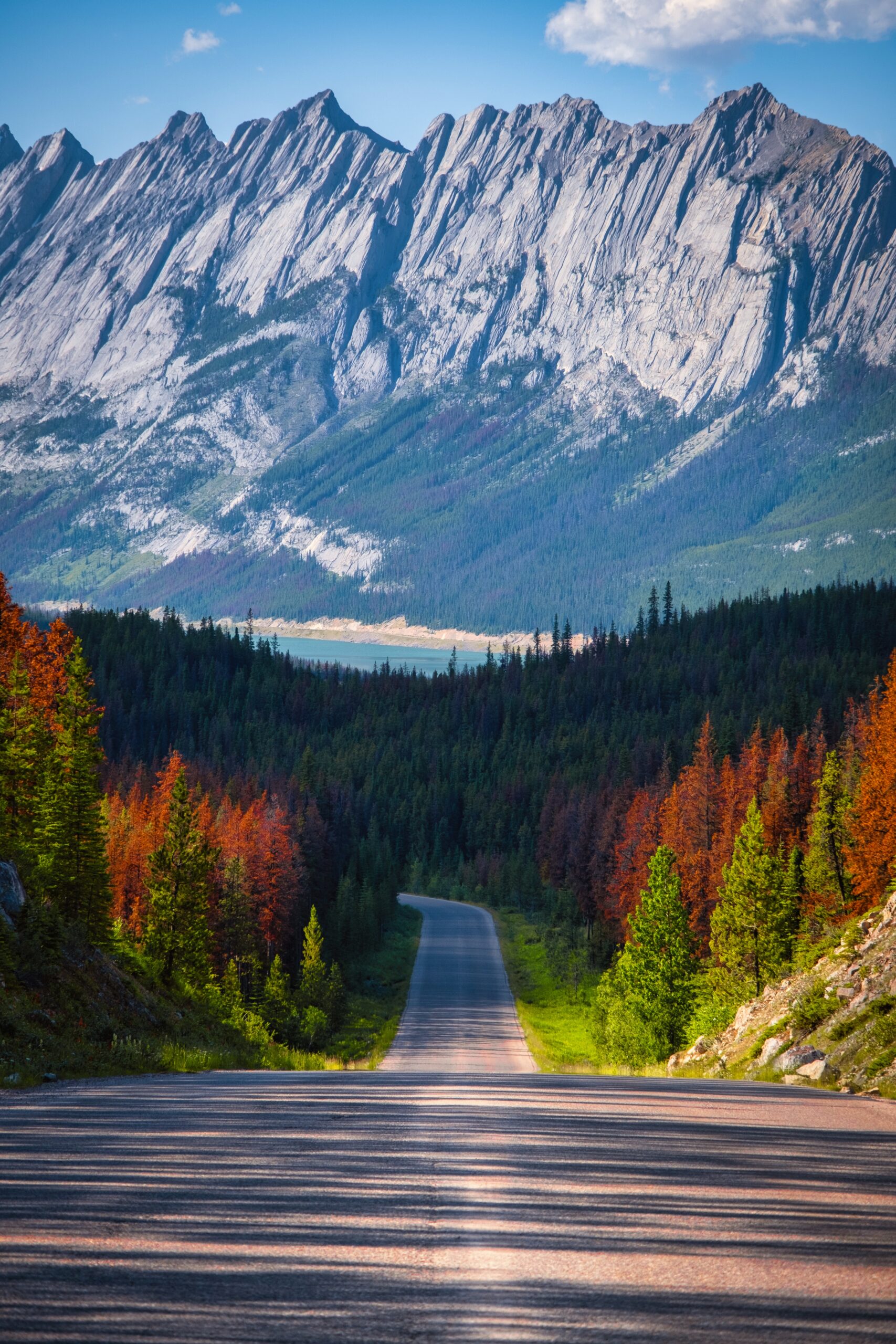 ---
Spirit Island Jasper Information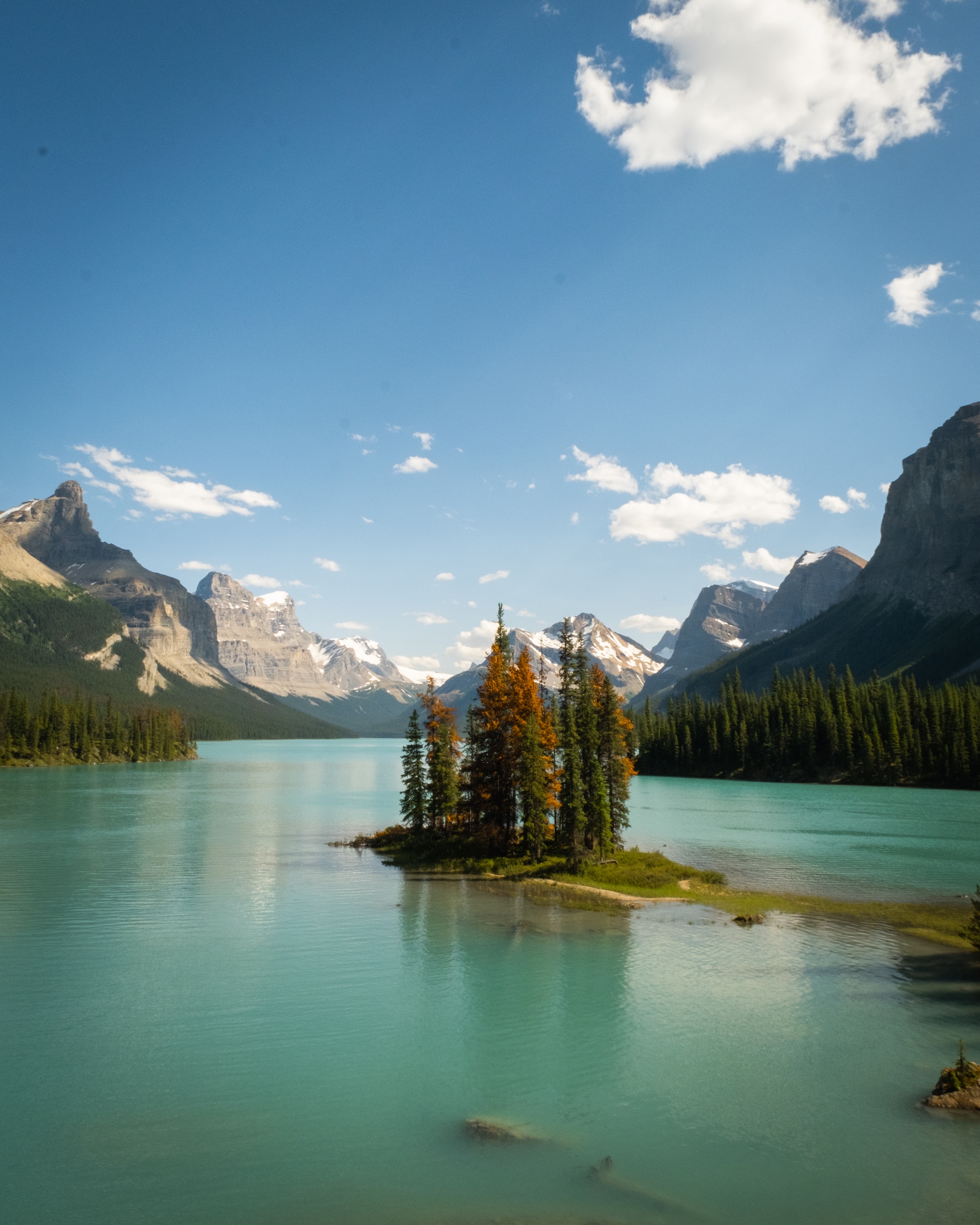 Spirit Island is a small island that sits along the lakeshore of Maligne Lake in Alberta, Canada. It's prized for its spectacular landscape and photos of the picturesque island circle around the globe for its idealistic landscape. The island is surrounded by emerald blue glacier waters and flanked by staggering mountains that form a box canyon referred to as the "Hall of Gods."
Most interesting enough is the vast majority of the year it is not an island as it is connected to the lakeshore. Spirit Island is a spiritual place for the Stoney Nakoda First Nation. Mountains are considered the physical representations of ancestors and since the island is surrounded by the same mountain range it is treasured.
How to Reach Spirit Island
On a Tour
There are only two ways to reach Spirit Island and they are both by boat. The vast majority of visitors to Spirit Island will visit the popular cruise tour with the Pursuit Collective. The boat ride is around 30 minutes and provides amazing views of the lake along with some history from a tour guide.
Personal Watercraft
The other way to reach Spirit Island is by personal watercraft such as a canoe or kayak. No internal combustion engines are allowed, but small electric trolling motors are permitted. Paddling can take up to 4-5 hours each way and is recommended for those with paddling experience.
Paddlers can choose from three campsites along the lakeshore to camp with the closest campsite at Fisherman's Bay. These campsites require advance reservation and are very hard to get as they are extremely popular, especially Fisherman's Bay in the summer. If you don't have your own canoe or kayak to get to Spirit Island, you can rent one with Wild Current Outfitters.
---
Maligne Lake Cruise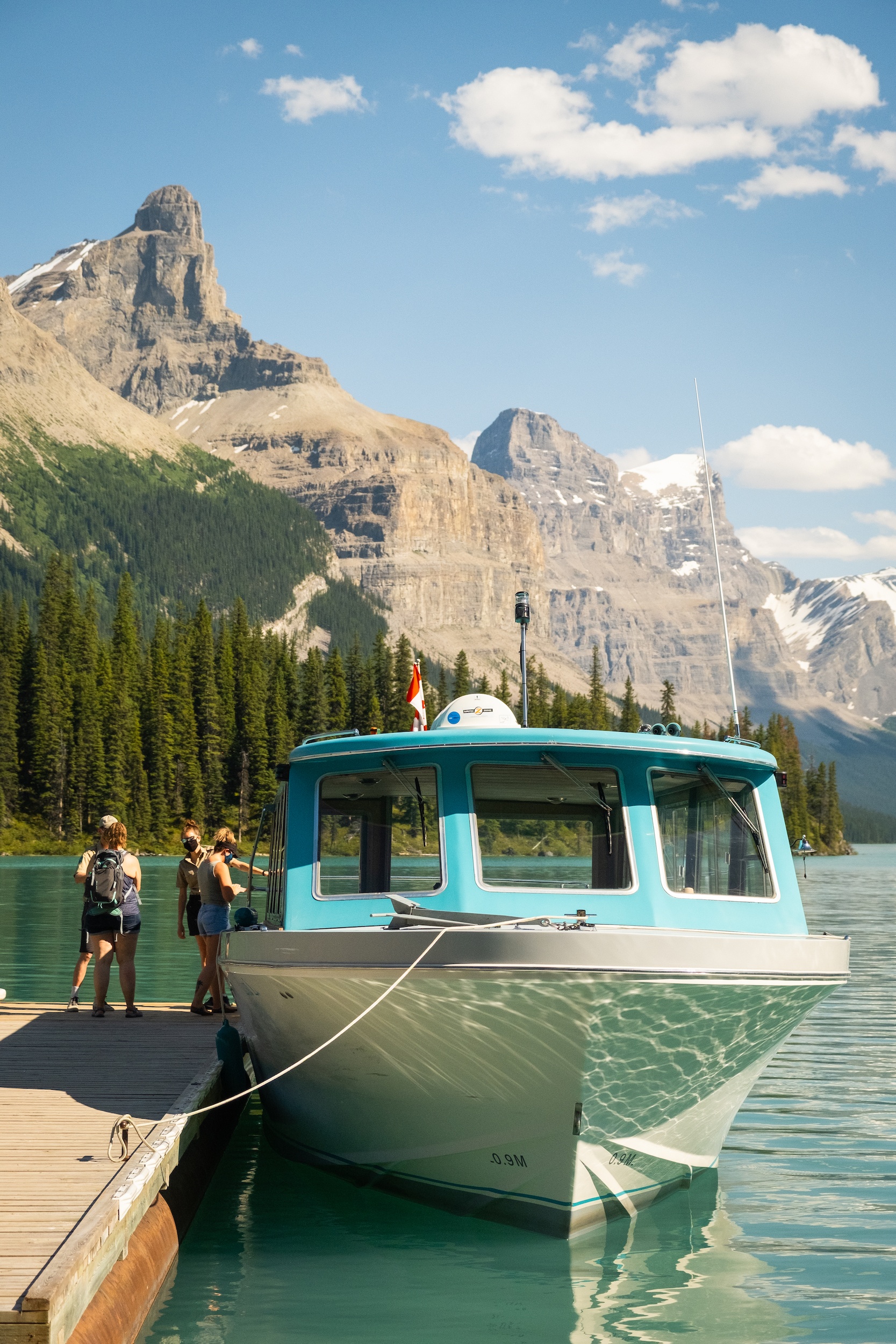 One of the most popular activities on Maligne Lake is to hop on a Maligne Lake boat tour run by the Pursuit Collective. The hour and a half panoramic cruise heads to Spirit Island 14 km up the lake. It's around a half-hour to the island where guests get 15 minutes off of the boat for photos before the return journey.
You're guaranteed spectacular mountain vistas while you cruise across the cerulean water. You can buy individual tickets for the Maligne Lake cruise, but for the best deal consider purchasing the Banff Jasper Collective's Banff Explorer Pass that includes the Banff Gondola and the Icefields Experience.
We enjoyed Pursuit's Classic Cruise tour to Spirit Island, but honestly felt very rushed with only 15 minutes on the island. Their Premium Cruise gives at extra 15 minutes of time on Spirit Island.
Advanced Purchase Pricing:
The Maligne Lake cruises begin on June 10, 2022.
Classic Cruise – $72/adult and $46.80/child
Premium Cruise – $101/adult and $65.65/child
Age 5 & Under – Free
Kids Go Free Early Bird! Receive one free child ticket for each paying adult on the 9 AM and 9:15 AM Classic Cruise.
Jasper Ultimate Explorer Combo Package: $178.00/adult and $115.71/ child
---
Maligne Lake Camping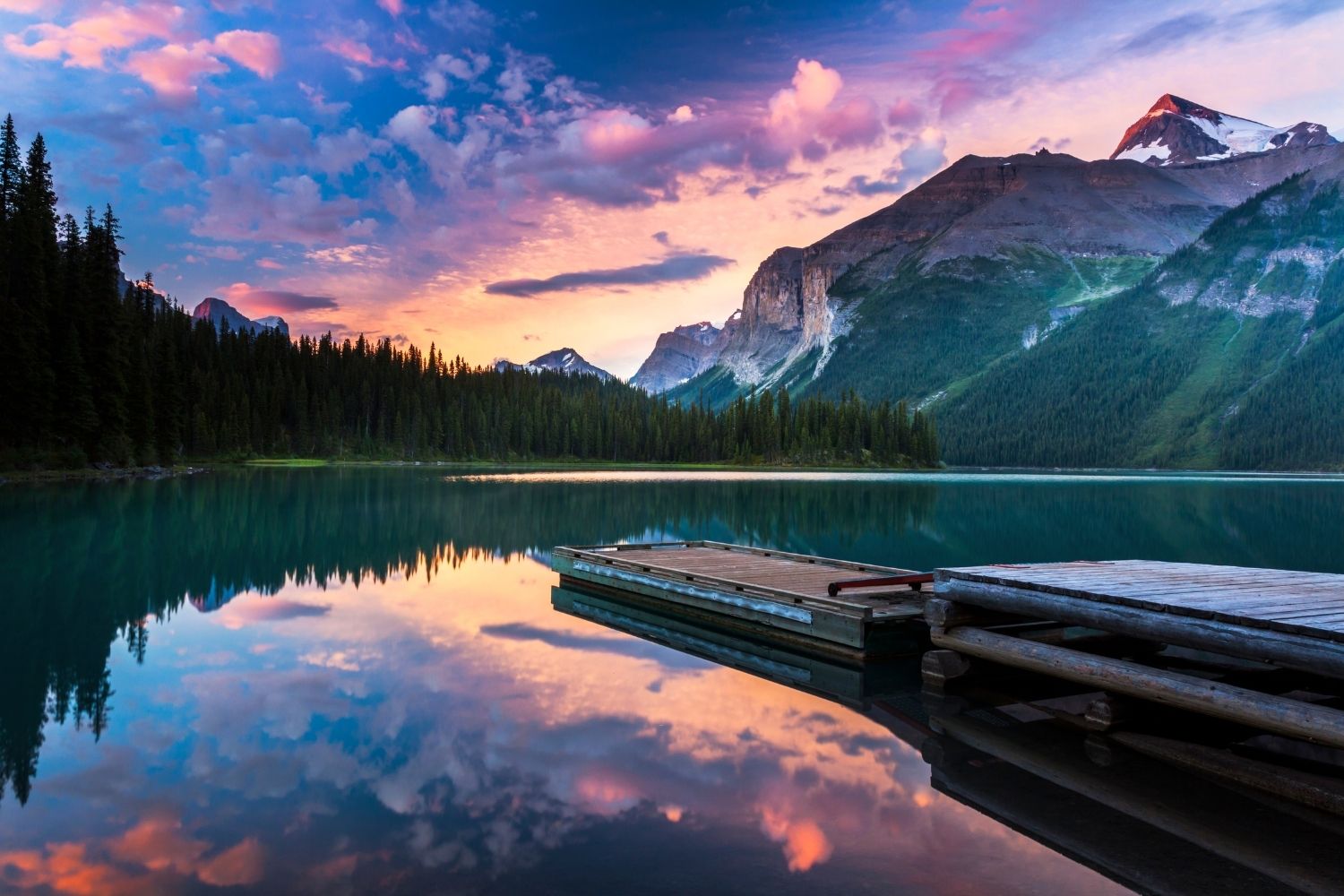 There are three campsites located on Maligne Lake. To get to them you will have to paddle yourself and your camping gear in. Though if you manage to score a campsite on one of these backcountry Jasper campgrounds in the summer consider yourself lucky, as they are very competitive.
Hidden Cove (4 camping sites): This is 4 km from the parking area and is great for novice paddlers and families who want to spend the night on Maligne Lake.
Fisherman's Bay (8 camping sites): 13 km from the parking area. This is the closest campsite to Spirit Island. At 13 km it will likely take you a majority of the day to paddle here.
Coronet Creek (8 camping sites): 21.3 km from the parking area at the Southern end of Maligne Lake. Camp here and wake up to amazing views of Coronet Glacier.
---
When is the Best Time to Photograph Spirit Island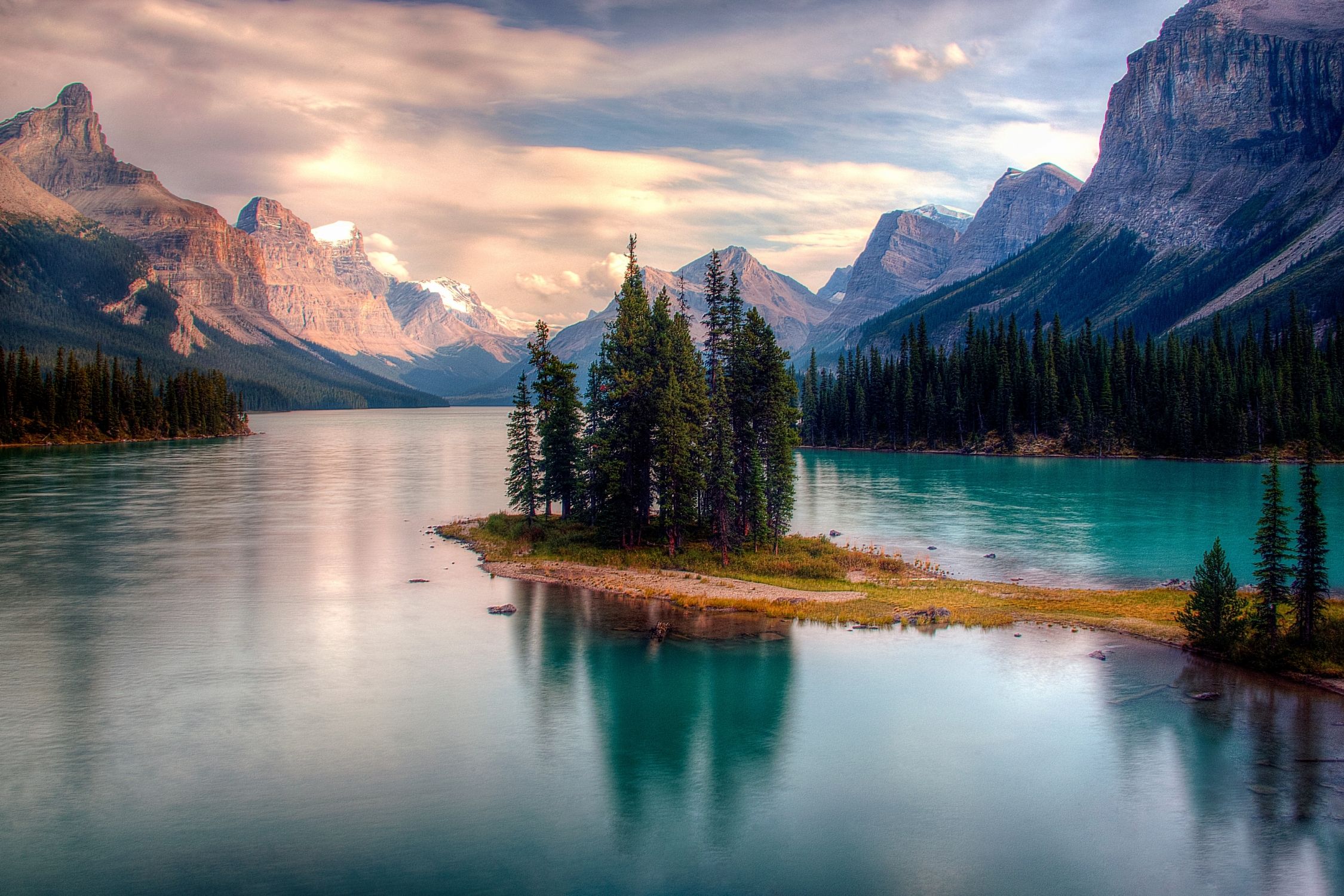 Pursuit claims that the best time to photograph Maligne Lake is in the later afternoon as it gives you the best even light on Spirit Island. They run a "Through the Lens" cruise three times a week during this time that gives a 60 minute stop on Spirit Island guided by a photographer.
While this may be the best time to photograph Spirit Island to the average visitor, the truly best time to photograph Spirit Island is at sunrise. This means you'll need to be camping at one of the nearby campsites to catch the beauty of the first rays hitting the Hall of Gods.
Nevertheless, if you can't score a camping reservation and paddle 14 km in for a photograph we totally get it! Then the Through the Lens cruise is the next best option – still providing stellar evening light.
---
The History of Maligne Lake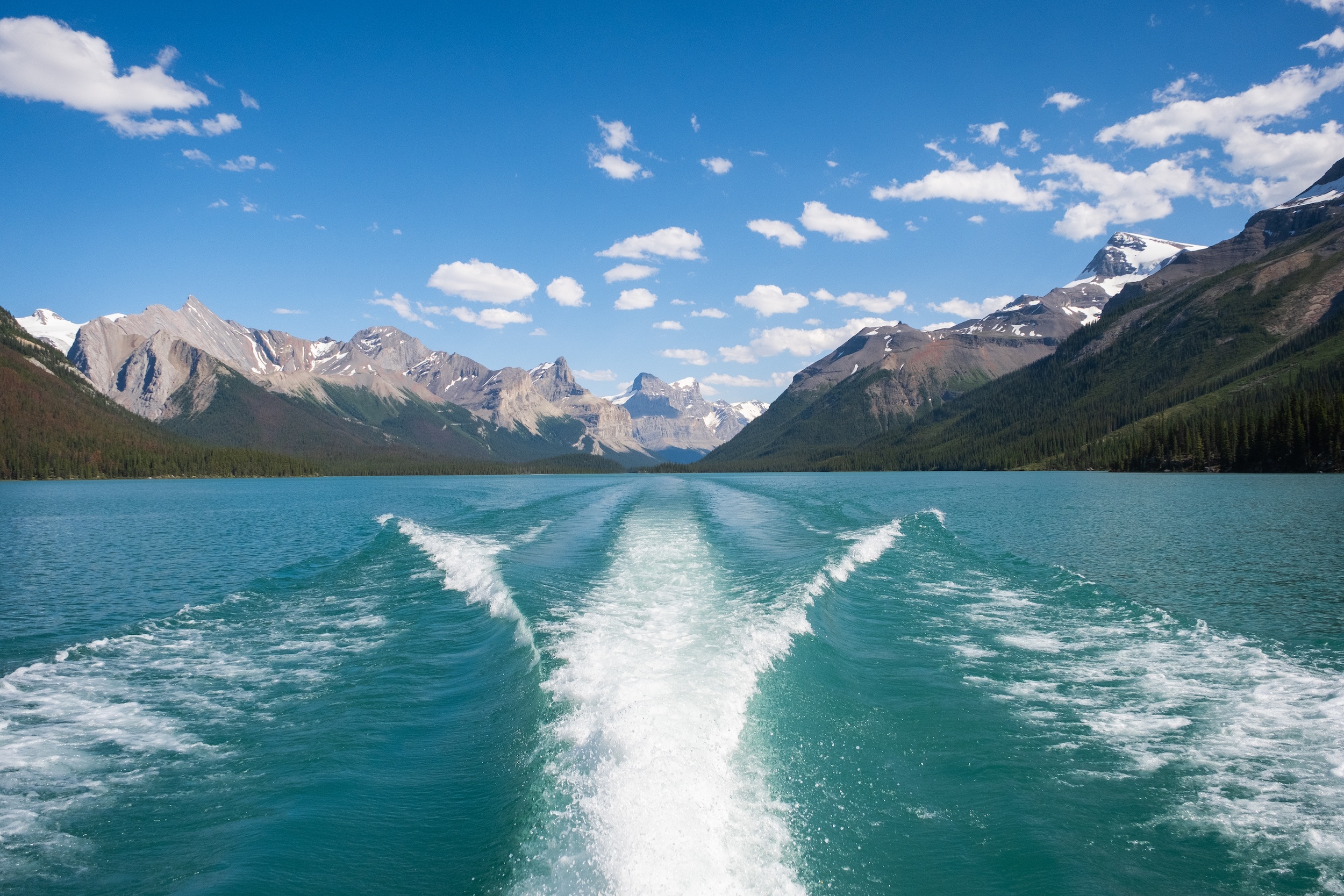 Maligne Lake's original Indigenous name was "Chaba Imne" (Beaver Lake) who lived in Jasper.
Mary Schaeffer was a wealthy Quaker and artist from Philadelphia. She received a map in 1907 from Samson Beaver, an Indigenous guide and settler. Mary set out on an expedition from Banff and reached the lake and valley. She reached the lake in 1908 and explored the valley extensively.
Her writings and paintings about the lake are what would in turn bring more tourists to the area in the coming years. Mary was taken by Maligne Lake's natural beauty and said that "if Lake Louise is a pearl, Maligne is the entire pearl necklace."
---
Boating on Maligne Lake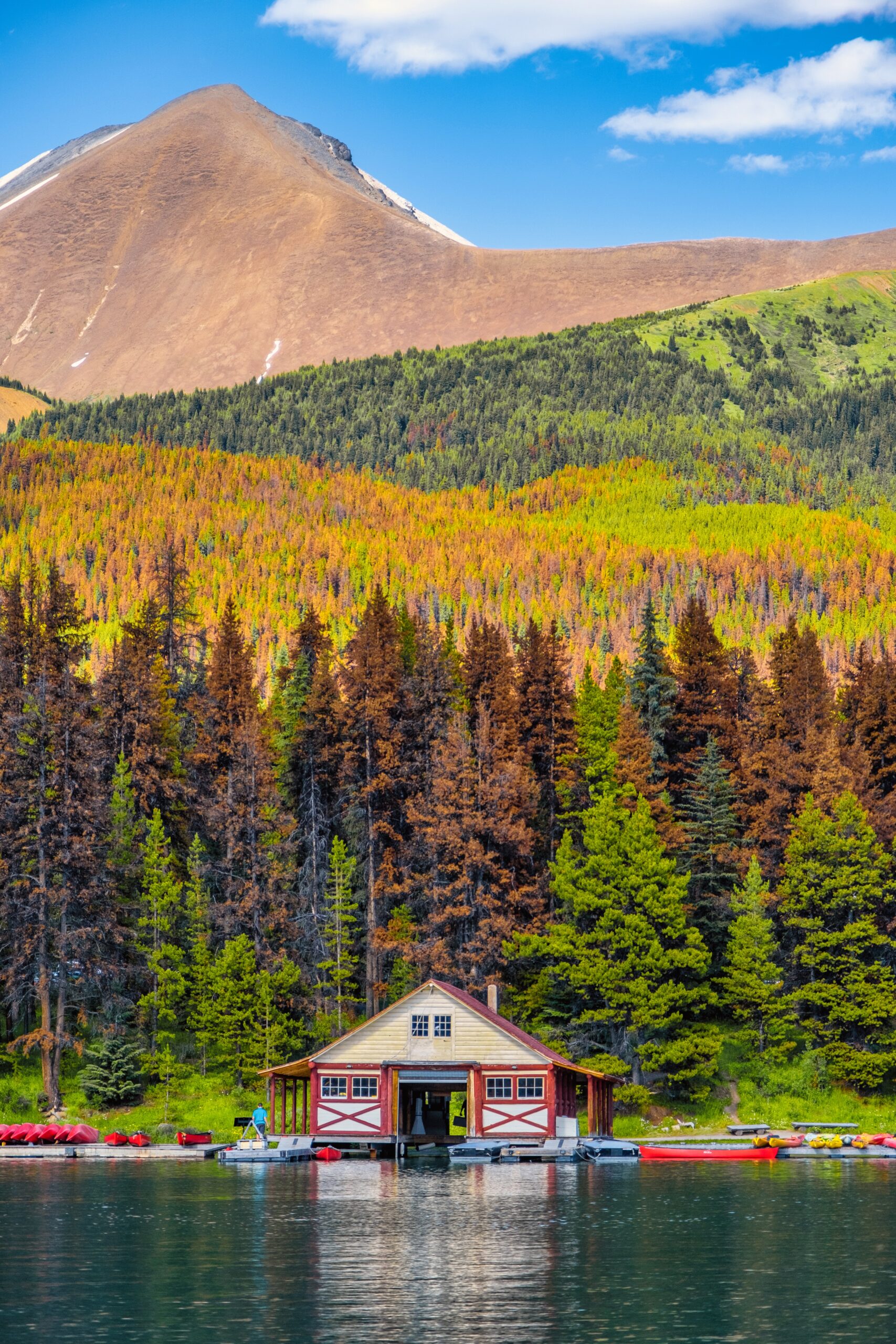 The original boathouse built by Donald Philips in 1928 rents a number of canoes, kayaks, and rowboats. Taking a paddle on Maligne Lake is a wonderful activity to enjoy on a warm summer day. You can rent boats by the hour or the full day to make the most out of the backcountry offerings along the lakeshore.
Boats operate on a first-come-first-serve basis so the best chance to secure a rental is to arrive early in the morning or late in the evening. Visitors can use their personal non-motorized watercraft on Maligne Lake.
Location: Maligne Lake Boathouse
Canoe Cost: $80 hour / $205 day
Single Kayak Cost: $65 hour / $190 day
Double Kayak Cost: $80 hour / $205 day
Rowboat: $75 hour / $200 day
Large Rowboat: $100 / $225 day
Season: June to October
The Boathouse 2022 Operating Hours Are:

June 6 – 24: Daily, 10 AM – 5 PM
June 25 – September 5: 9 AM – 5 PM
September 6 – October 2: 10 AM – 5 PM
---
When Is The Best Time To Visit Maligne Lake?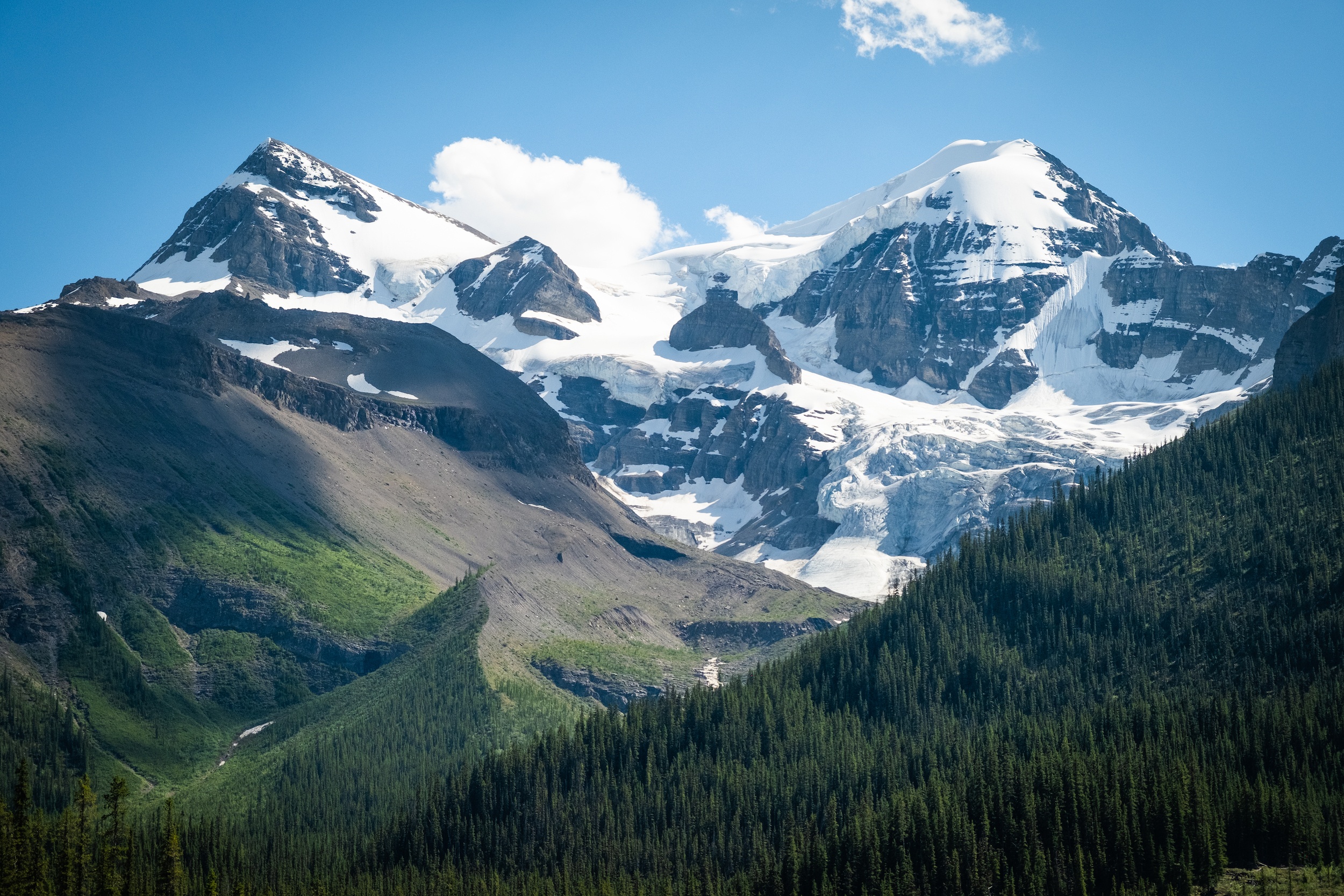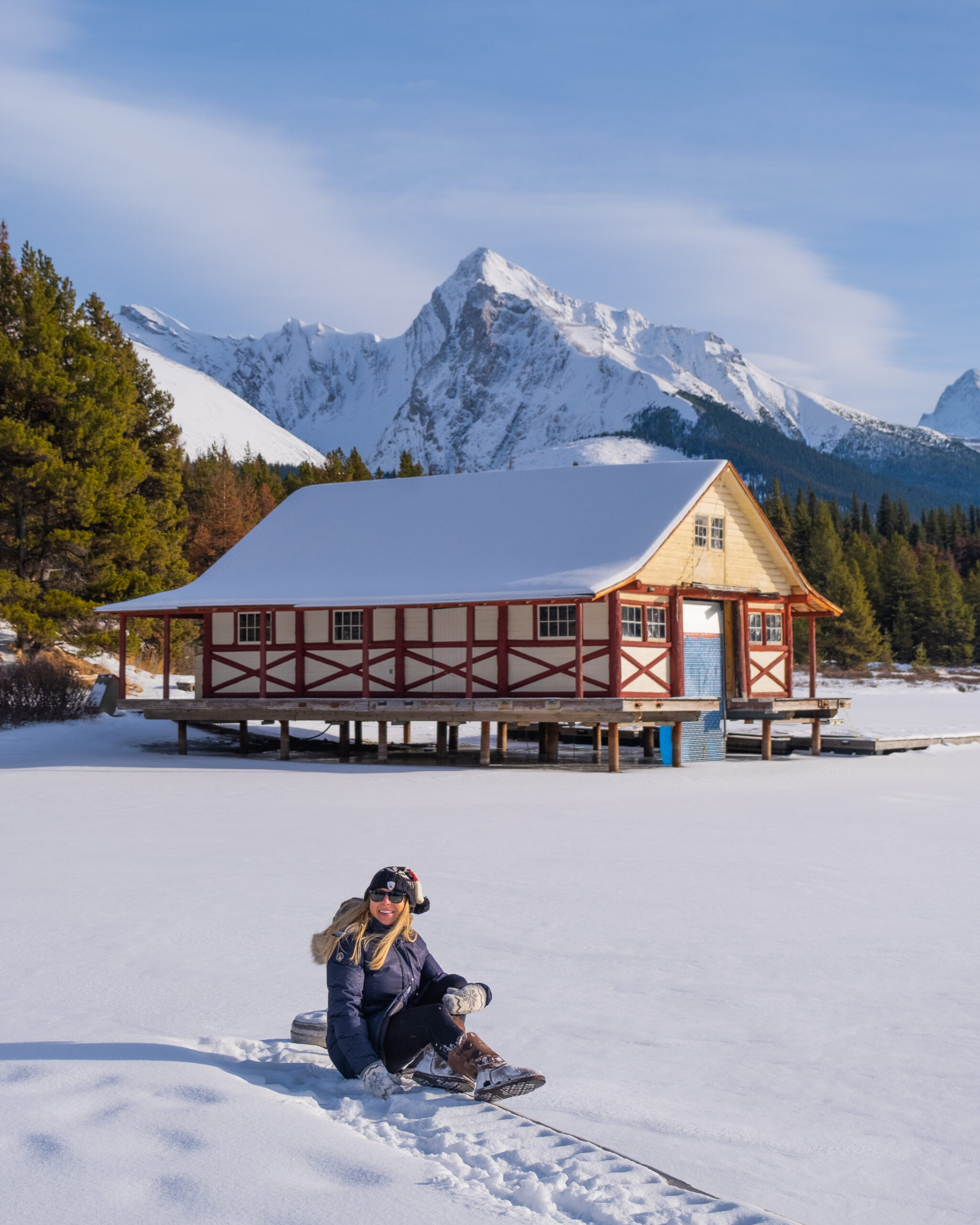 The best time to visit Lake Maligne and Spirit Island is from mid-June to late October. This is the timeframe that Maligne Lake has thawed from the winter and boat cruises are operational.
However, the winter months are still worthy of a visit because of the gorgeous drive and cross-country ski trails around.
---
Fishing on Maligne Lake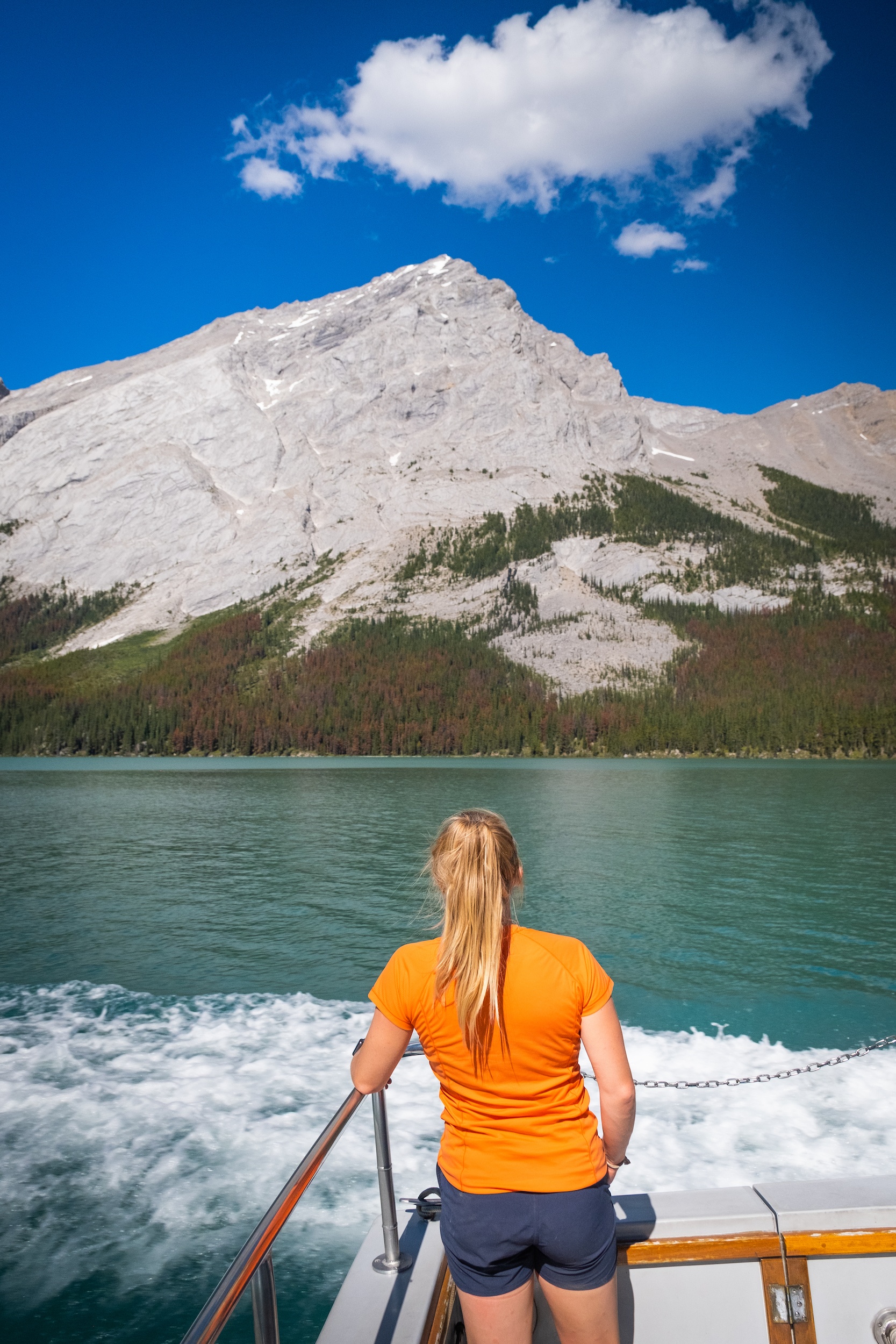 You're permitted to fish on Maligne Lake on your own. To fish in the park you are required to have a National Park Pass, fishing permit, and be aware of current regulations. This means you know fishing limits and can identify the various fish within the park. No live bait fishing is allowed in the park.
Kids under the age of 16 are allowed to fish on their accompanied pass, but their catch is included within the permit holders' daily limit. For the most up to date fishing information please reference Park Canada's website as it changes seasonally.
Fishing permit price:
Daily – $ 9.80
Annual – $ 34.30
---
Things to do at Maligne Lake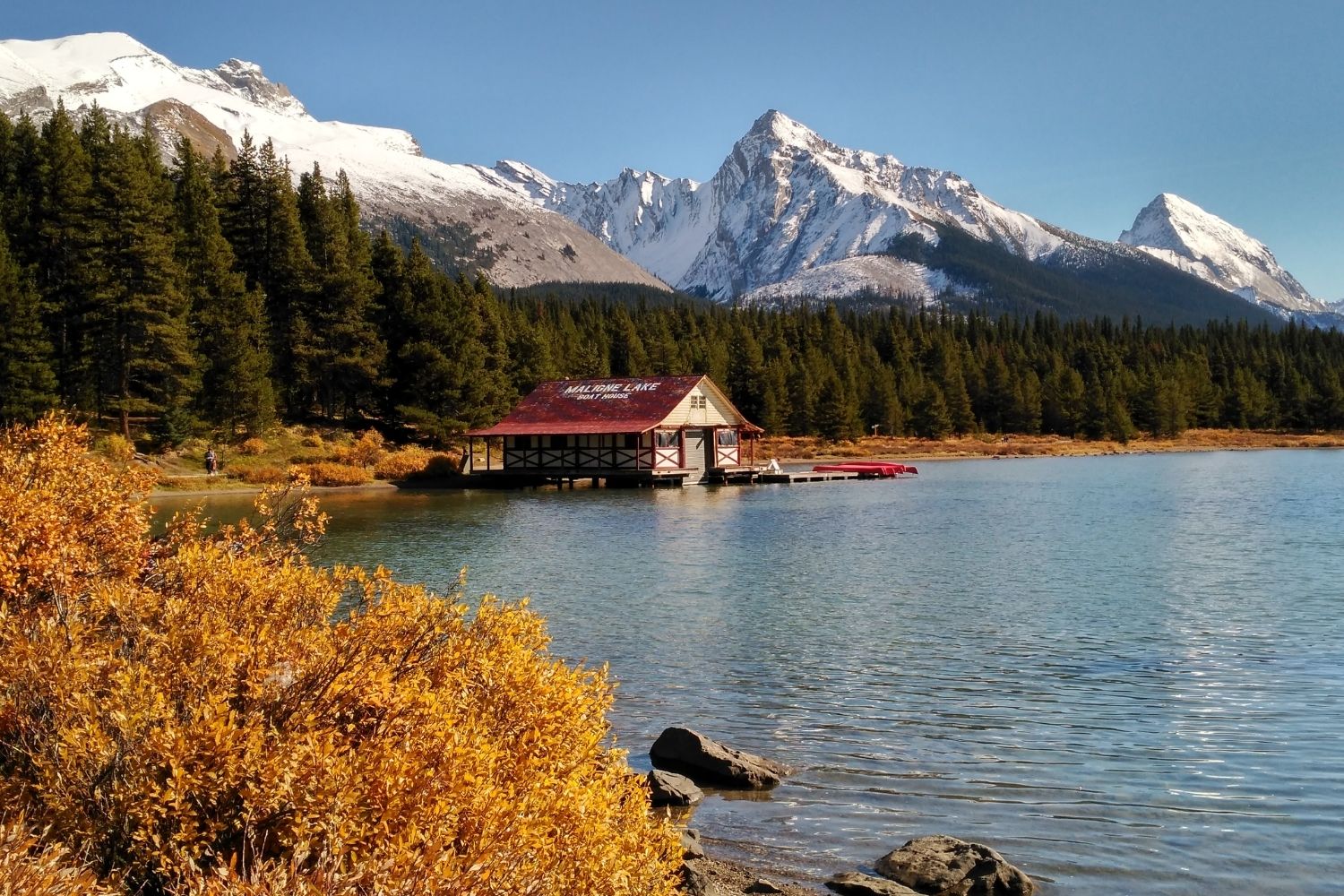 Boat Cruise: I've already mentioned this above, but the most popular thing to do at Maligne Lake is enjoy a boat cruise to Spirit Island.
Kayak/Canoe/Stand Up Paddle: The Maligne Lake Boathouse rents out water devices so you can get out on the water during the summer!
Walk the Mary Schaffer Loop Trail: This is an easy 3.2 trail with only 82 meters of elevation gain near Maligne Lake. It will loop you through some beautiful forests and starts and ends at Maligne Lake. It's a great winter activity! This is the busiest trail near Maligne Lake so try to get on the trail early morning or late evening.
Walk the Moose Lake Loop: This is a shorter trail at only 2.7 km, but has slightly more gain at 144 meters. The trail starts at Maligne Lake and gets you to the quiet Moose Lake!
Opal Hills Loop Trail: If you want a longer and more demanding hike near Maligne lake check out Opal Hills. At 7.9 km and 520 meters of gain, it's rated as a hard hike. You'll find it's not traveled so often and will likely only pass a few other groups on the trail. It's fantastic as a winter snowshoe, but also in the summer when you can get to the lake viewpoint.
Bald Hills Loop: At 15km and 780 meters of gain this a longer day hike option near Maligne Lake. It's quite steep and demanding at points so make sure you pack the right gear and enough water. Your effort for this hike will be rewarded at the end with absolutely amazing views.
---
How to Get to Maligne Lake?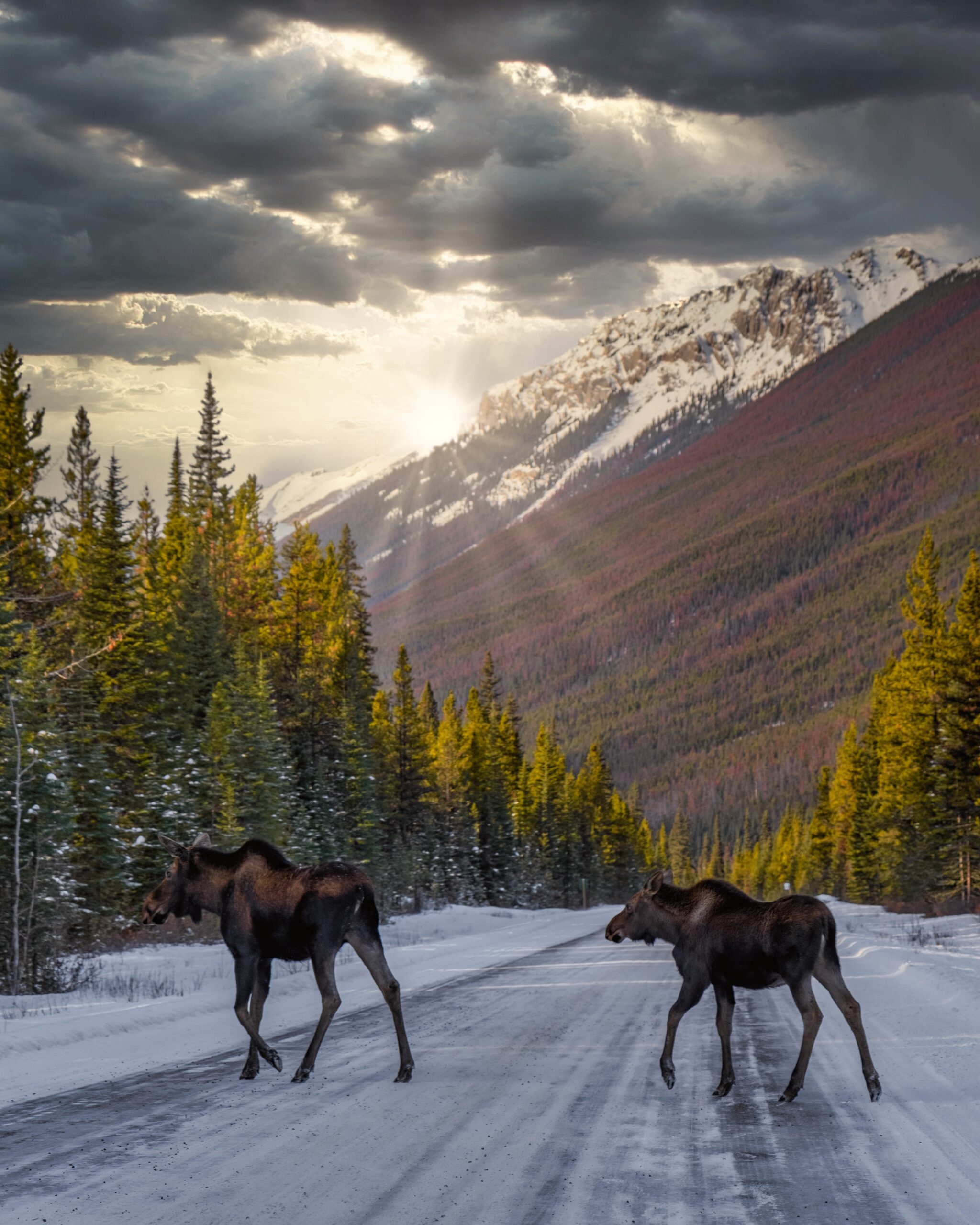 Maligne Lake is roughly 45km from the Town of Jasper. To get there get on the Yellowhead Hwy and take a right on Maligne Lake Rd and continue on this pretty much the whole way till you get to Maligne Lake.
If you have the time I suggest stopping at Maligne Canyon, as it's a great beginner-friendly Jasper hike. And definitely don't miss Medicine Lake on your way in. Keep your eyes out for moose, sheep, and elk – Maligne Lake Road is one of the most well-known places to see wildlife in the park!
You'll know you've reached Maligne Lake when you get to the end of the road. There is a big parking area to park at, as well as outhouses, and a whole dining and cafe area to enjoy the sunshine and views.
---
---
Hopefully, this will help you experience Maligne Lake and Spirit Island to the fullest!
If you have any other questions leave a comment or see our Canadian Rockies travel guide for more articles about photography spots, lakes, hikes, and everything else.
Plan Your Trip to the Canadian Rockies
---
↓ Join the community ↓
The Banff Blog Facebook Group is your headquarters for the Canadian Rockies' travel advice and information. Including hike info and off-season travel information. This is also where you can meet one another when you need adventure buddies.