Looking for the best things to do in Banff in winter? I love Banff all year round, but I particularly love Banff in winter. While most people think of the Canadian Rockies as a summer destination, I think that winter in Banff is what it's all about. There are so many amazing things to in Banff during the winter I actually got sad this past year when spring rolled around.
The truth of the matter is I love winter in the mountains. I love snowboarding and that cozy feeling you have when you walk through the door after a long day out and have a hot chocolate. Banff is great for that feeling. In addition, Lake Louise and Banff Sunshine are easily two of the best ski resorts in North America. Instead of heading to the beaches of the Caribbean or Southeast Asia, we decide to spend our winter tackling mountains with snowboards strapped to our feet.
We urge everyone to not let the fear of Canadian snow deter you from traveling to Banff in the winter. You're sure to be blown away by the beauty if you sacrifice palm trees and beaches and head north. Seriously, we fell in love so much that we MOVED HERE! If you choose the right spot, activities, and ski resort you'll be counting down the days until winter in Banff rolls around again.
If you decide to make your way to Banff in the winter these are some of the best things to do. In this guide, we break down the best things to do in Banff in the winter, where to eat in Banff, where to stay, and also a ski guide to SkiBig3.
---
Fun Things to do in Banff in the Winter
---
Ski/Snowboard Big Mountain Terrain
Snowboarding at all of the SkiBig3 resorts was our primary reason for heading to Banff in the winter. SkiBig3 is a collection of three mountain resorts all within Banff National Park. You have Lake Louise, Banff Sunshine, and Mt. Norquay which are all fantastic and unique ski resorts. Skiing or snowboarding here is one of the best things to do in Banff in the winter. It's also one of the many reasons we decided to live in the Canadian Rockies, summer mountaineering is pretty awesome too!
---
Lake Louise Ski Resort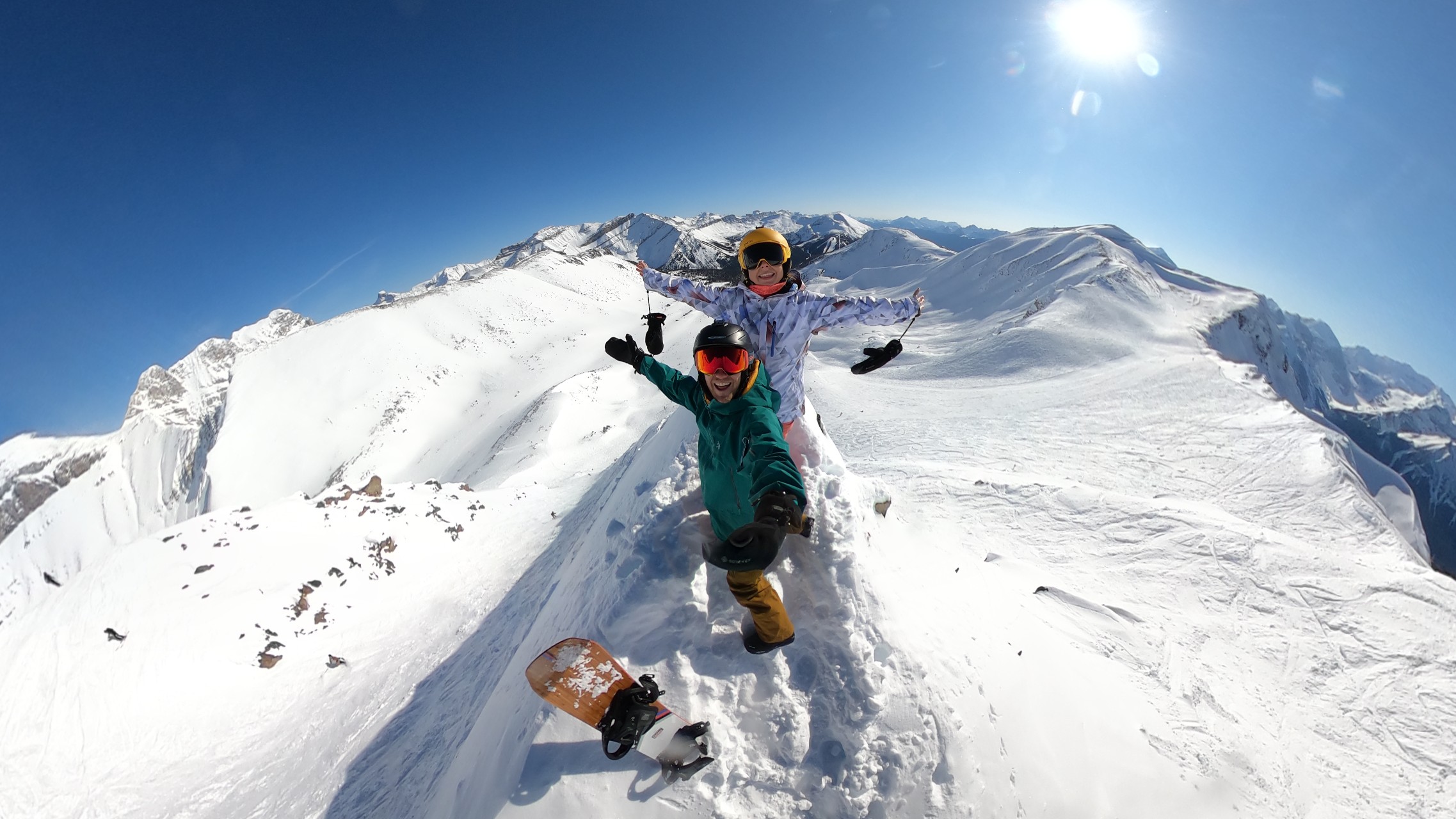 There is arguably no ski resort in the world with a better view than Lake Louise Ski Resort, that photo above is what we're talking about. In between runs screaming down groomers or tackling a bowl Banff National Park provides you some fresh air and stunning landscapes. We visited dozens of resorts around the world and the views from Lake Louise are hands down some of the best in the world. In our opinion, Lake Louise beats out Banff Sunshine and Mt Norquay by leaps and bounds.
It also happens to be one of the largest ski resorts in North America with 4,200 acres covering four mountain faces. The terrain varies between beautiful groomers, challenging steeps, and expert level chutes. The longest run here stretches for nearly five miles so start working out your leg muscles now.
We love Lake Louise so much that we have bought season passes there for two years in a row. They have a very long season, challenging terrain, and in general, it's MUCH quieter than Banff Sunshine. Also as snowboarders, we find that Banff Sunshine has too many flat cat tracks.
Lift Ticket Cost: Adult – $104 • Youth – $79 • Child – $39 • Senior – $79 (Book Tickets Here)
Runs/Skiable Terrain: 145 • 4,200 acres
Favorite Runs: Brown Shirt Main, Swedes, Juniper Jungle, Men's Downhill, Saddleback, Sunset Terrace, Jerry's Jungle and E Chute.
---
Banff Sunshine
I was standing in the middle of a massive chute watching Natasha's snow rain down on me from the slope above. The run below me looked like a straight cliff and while standing I could touch the mountain, at least it felt that way. Banff Sunshine is a mountain that offers something to everyone from professionals right down to beginners. You can easily find yourself smack dab in freeride terrain that would be considered out-of-bounds in other resorts.
If you want to find a mountain with some seriously humbling terrain in-bounds then Banff Sunshine is the place to head. Jagged peaks loom high above alpine trees and the views are unparalleled. When you first arrive in the parking lot the mountain does not look like much as the base is simply a gondola station and one restaurant. In fact, to reach the true resort base guests must take a 15-minute gondola that delivers them into a sprawling resort that looks like it belongs in the Alps, not North America.
Banff Sunshine contains two expert only areas that require all riders and skiers to sign out with the ski patrol and carry an avalanche kit. Delirium Dive and Wild West areas feature massive cliff features, chutes, and some seriously steep terrain.
Don't let the expert terrain detract you from visiting the resort as it also has a plethora of groomed beginner and intermediate runs. The resort has something for everyone and the base area makes for a perfect central point to meet after skiing the surrounding peaks.
Lift Ticket Cost: Adult – $109 • Youth – $85 • Child – $42 • Senior – $85 (Book Tickets Here)
Runs/Skiable Terrain: 145 runs • 3,300 acres
Favorite Runs: World Cup Downhill, Bunkers, The Shoulder, Wildside, Rolling Thunder, Tin Can Alley
---
Mt. Norquay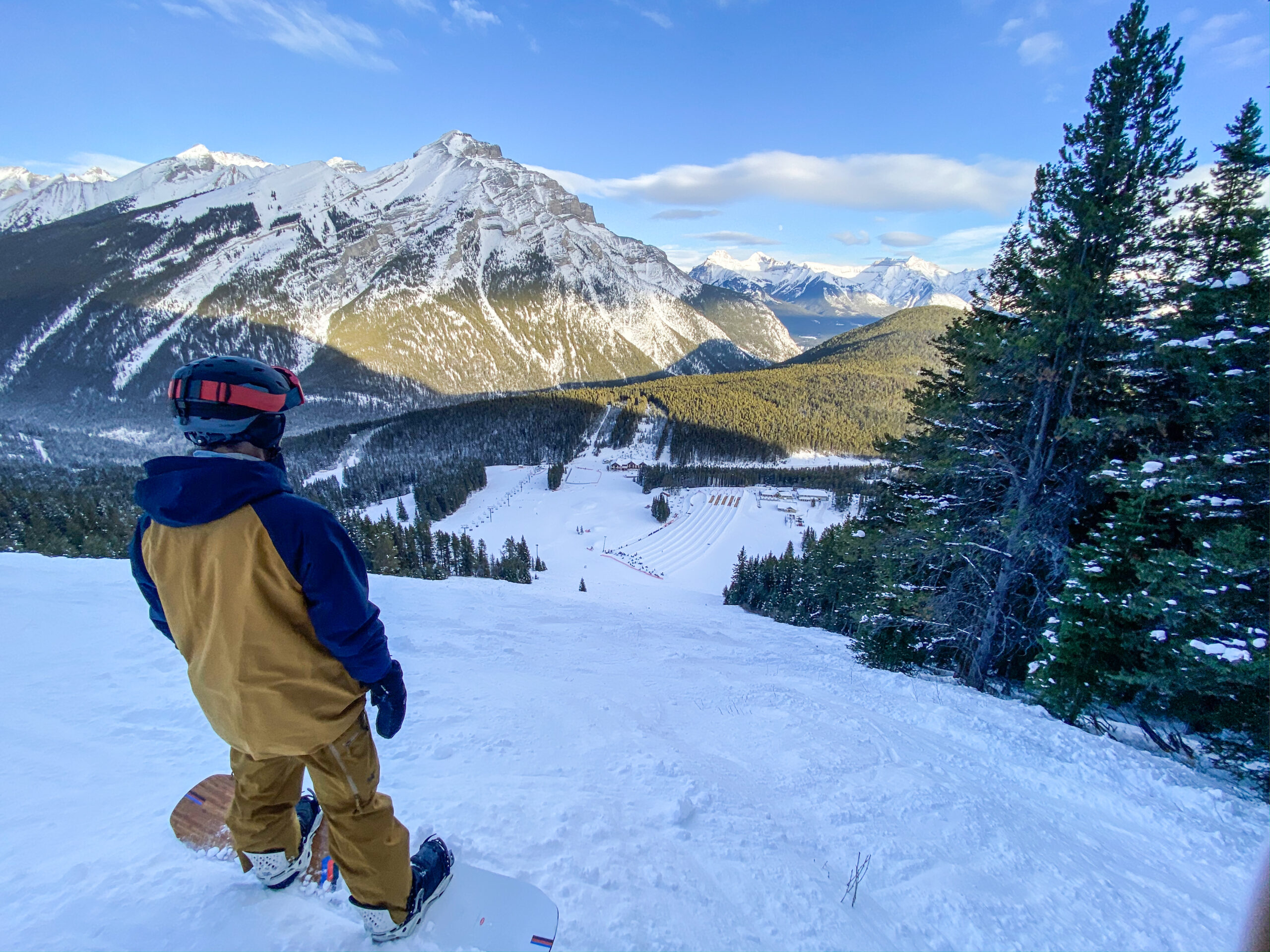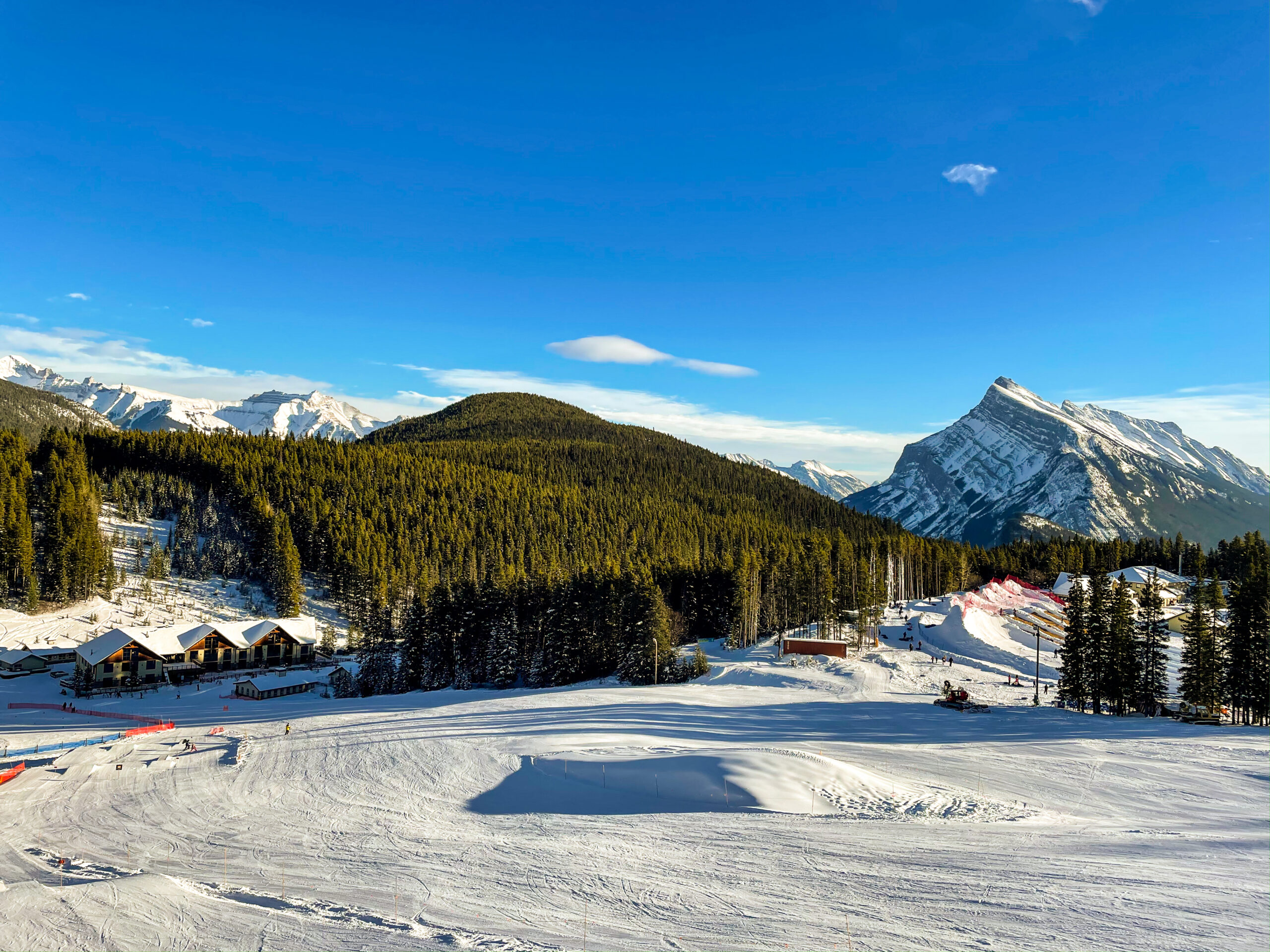 Mt Norquay is the most digestible of resorts here and the least imposing for beginners/intermediates. It's only a 10 minute drive from the town of Banff, making it a great option to go get some runs in and still have time in town. The resort has been in operation since 1926 and offers a number of activities asides from snowboard and ski. It's also the only mountain that offers night skiing in the area and relatively small in comparison to the other resorts of SkiBig3.
While Lake Louise and Banff Sunshine can draw a decent crowd (still few lines) Mt. Norquay is a quiet mountain. You'll have a hard time finding crowds here and it's the perfect place to learn how to ski with a good ski school and affordable lift ticket. They also offer snowshoe hikes, tubing, and child care. The biggest plus to Mt. Norquay for us is the proximity to the town of Banff, only a 10-minute drive.
Lift Ticket Cost: Adult – $74 • Youth – $56 • Child – $29 • Senior – $56 (Book Tickets Here)
Runs/Skiable Terrain: 60 • 72 acres
Favorite Runs: Constellation, Norquay 90 Glades, and Lone Pine.
---
Hit the Photography Hotspots of Banff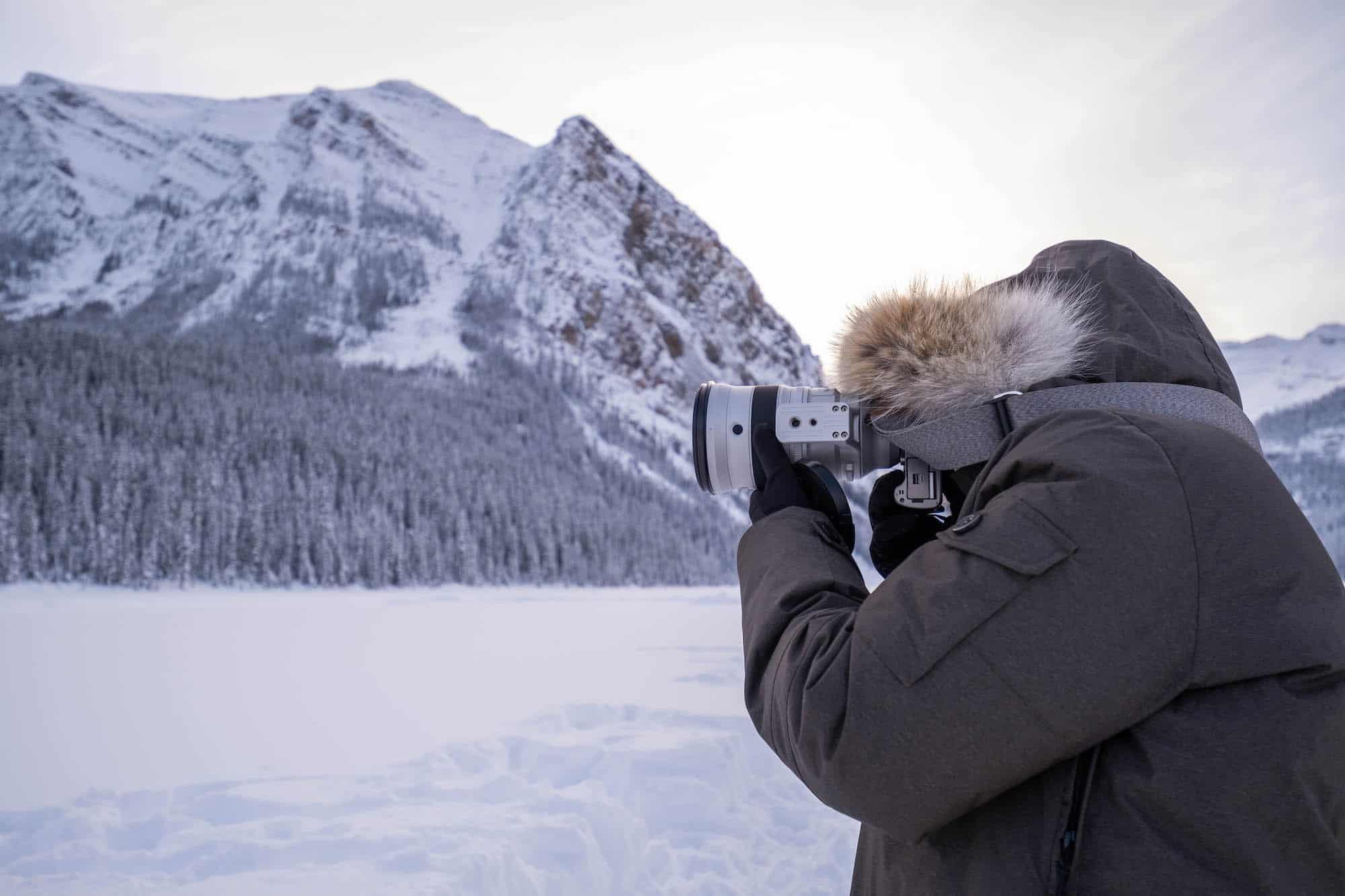 There are four national parks and a countless number of scenic mountain peaks, alpine lakes, and glaciers. In one of the most scenic places in Canada, you're definitely going to want to take a large share of photos. You can also partake in a photography tour where they show the best places and how to get the perfect shot.
There are a number of great spots to take photos in the winter. Vermilion Lakes, Bow Valley Parkway, and Lake Louise are great places to snag a great photo or you can drive all the way up to Jasper for a multitude of more places.
---
Johnston Canyon Ice Walk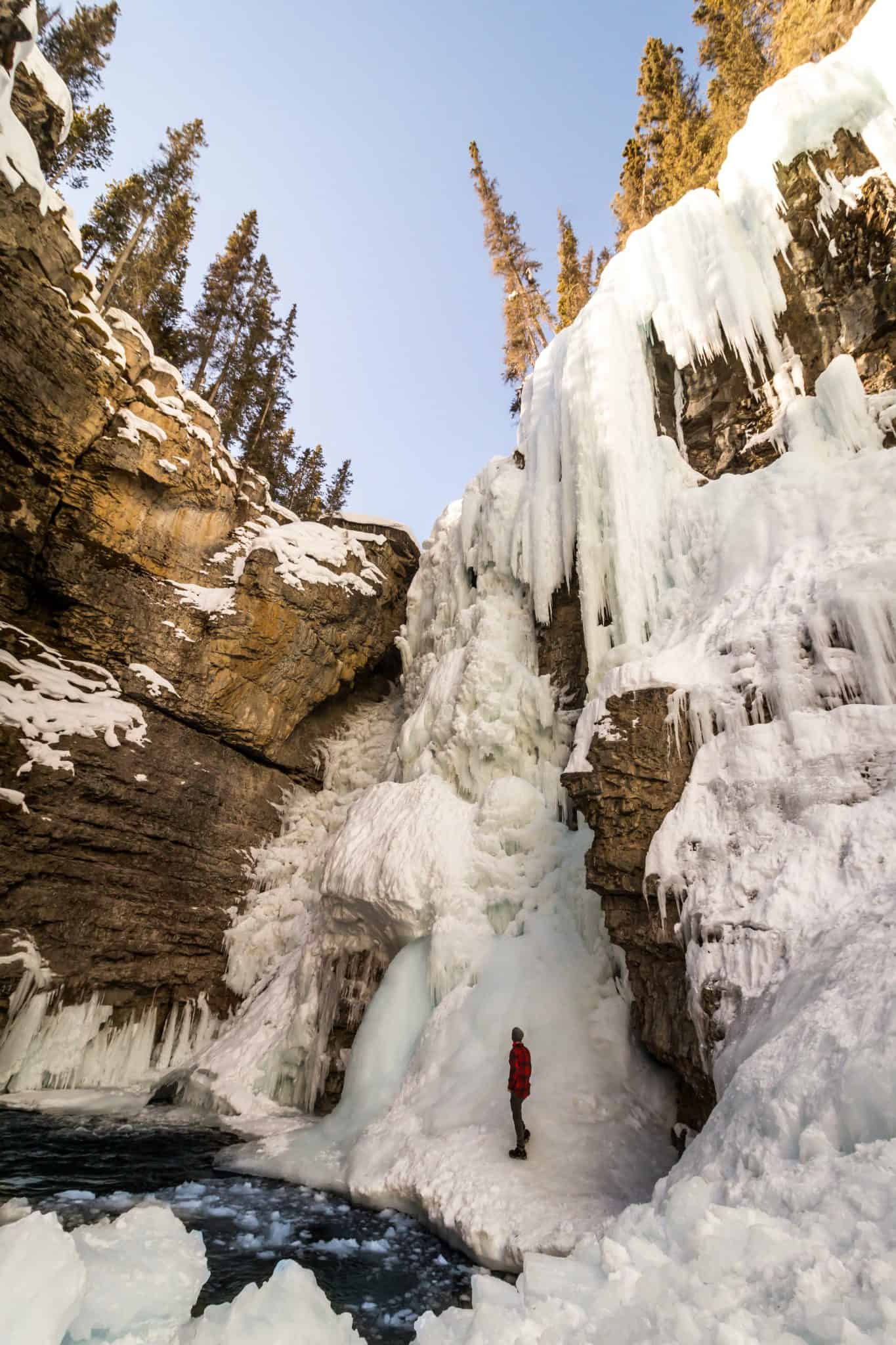 The Johnston Canyon walk is the best thing you can do in Banff in the winter for free. Have you ever stood on a frozen waterfall before? Neither had we until the Johnston Canyon hike. Due to the elevation of the region and the sub-zero temperatures of winter the waterfalls of Johnston Canyon freeze in time. It's a pretty surreal experience and completely accessible for all.Ski/Snowboard Big Mountain Terrain
As a tip, we suggest picking up some ice cleats in town. Although the trail is well managed it can get icy and it's better to slip everywhere on the trail – ours were very handy! Once you reach the end of the trail and the most impressive frozen fall you'll probably find some ice climbers. If you're feeling adventurous book an ice climbing tour yourself!
---
Hike Tunnel Mountain
Tunnel Mountain is right in the heart of Banff. It's beloved by locals for its accessibility and you can hike it year-round. It may be one of the smallest mountains in Banff National Park, but it still offers tremendous views of the surrounding valleys and Mount Rundle.
The hike moves slowly up the mountain through a number of switchbacks and offers various viewpoints out into the Bow and Spray Valleys. It's great for sunrise or sunset and it rarely disappoints. The best part is it's only a 4.5 km round trip hike and shouldn't take more than one hour up. It's one of the easiest winter hikes you can do with only 266 meters of elevation gain.
---
Snowshoe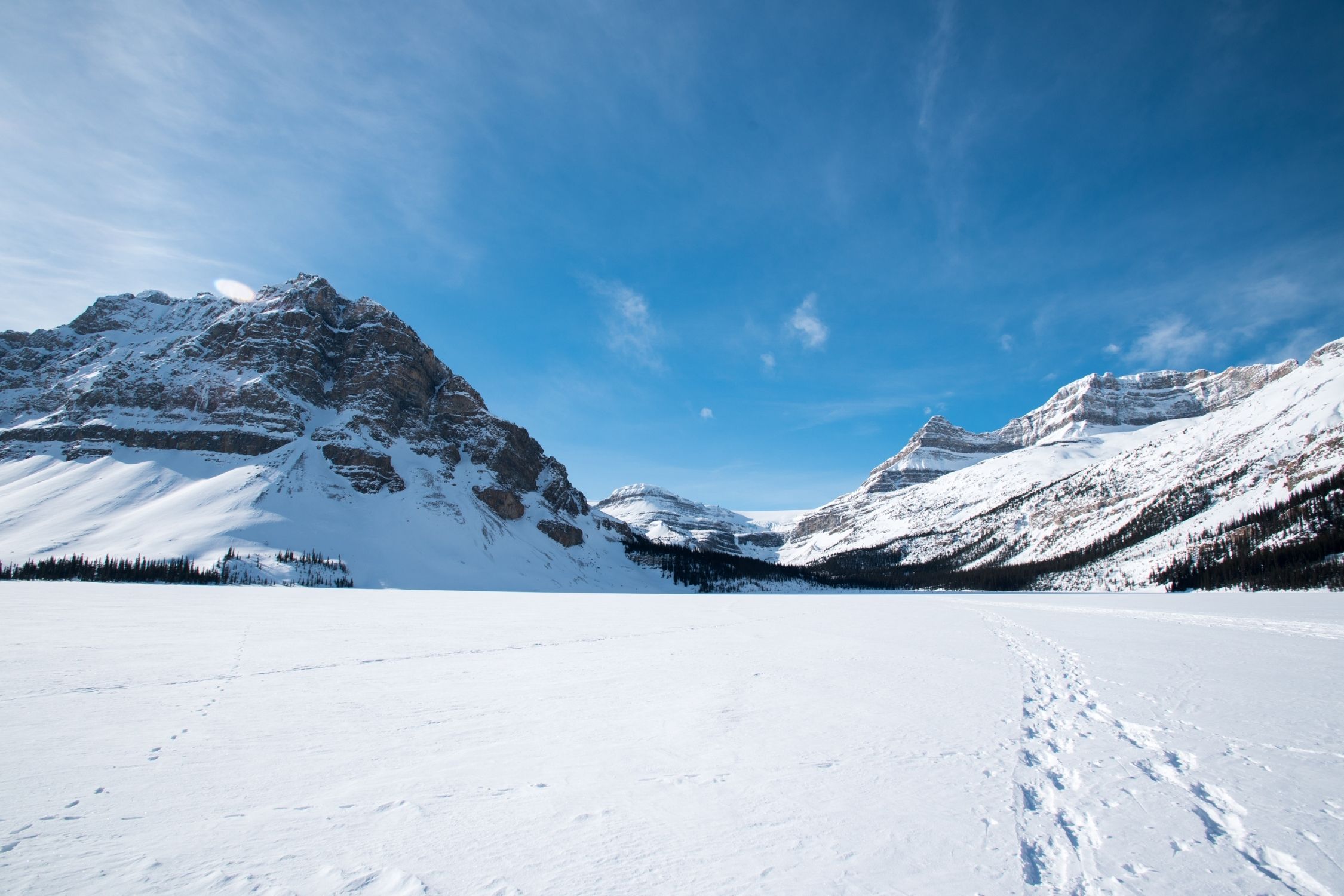 A great thing to do for families visiting Banff in the winter is snowshoe! Just because there is snow on the ground doesn't mean you can't leave the well-trodden path. You might not be able to walk through the snow on foot, but a quality pair of snowshoes allow you to float across the snow.
They're super easy to get the hang of and you'll be moving along in no time. Two popular snowshoe hikes are to the Paint Pots or Marble Canyon, but you're free to explore the wilderness on your own if you rent a pair.
---
Walk and Ice Skate on Lake Louise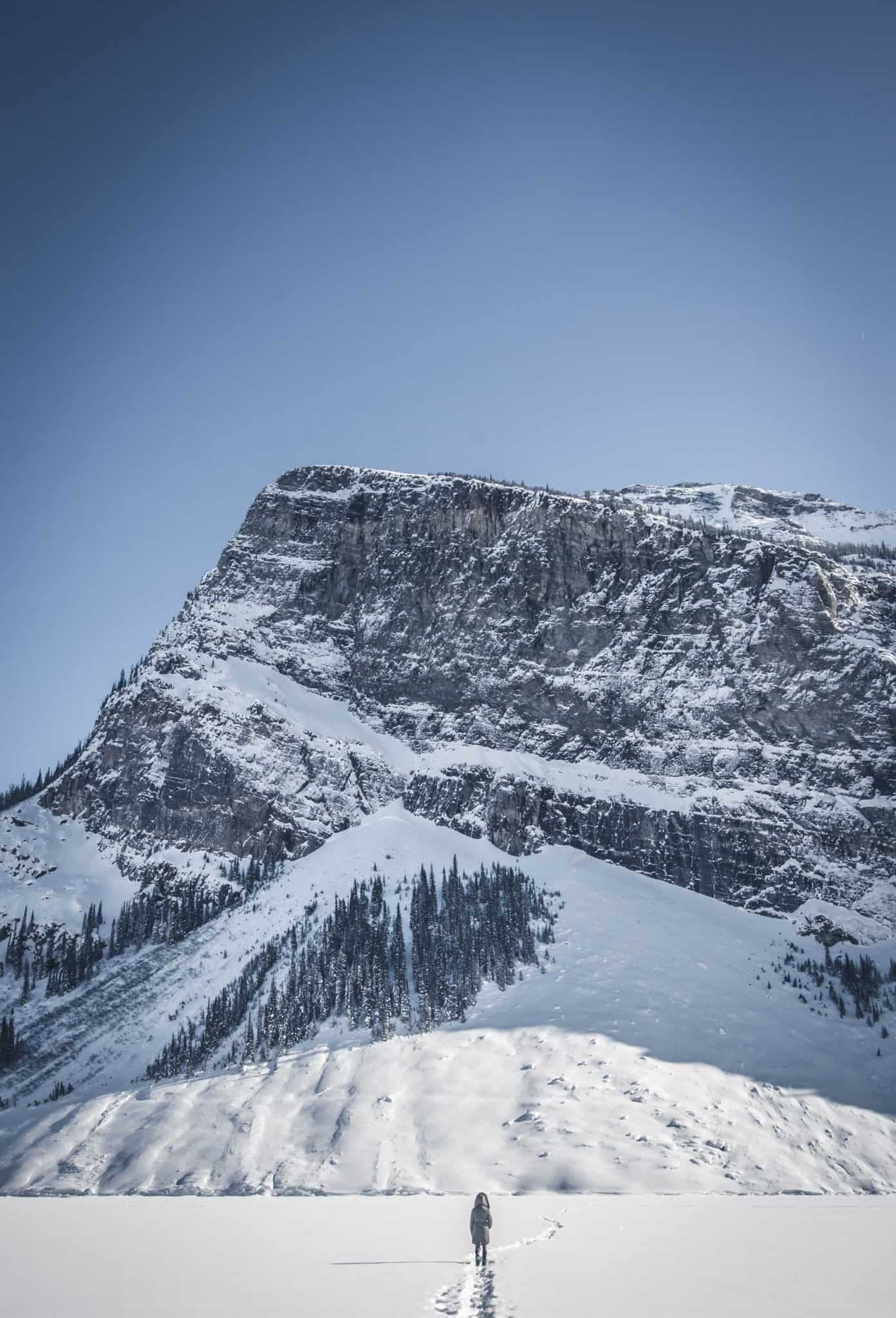 One of the best things to do in the winter is Banff is ice skate on Lake Louise. Seriously, it's one of the most beautiful places in the world so you have to take a whirl among Mount Victoria and the lake. The best part about ice skating on Lake Louise is that it is always skatable as the Fairmont clears it every night. This is great compared to other lakes in Banff that are no longer good for skating as soon as snow covers the ice.
If you're not much of a skater don't worry – Lake Louise freezes completely over every winter providing you the opportunity to walk and explore the area.
---
Enjoy the Lake Louise Ice Bar
During weekends at Lake Louise, you can enjoy a mulled wine at the Banff Ice Bar! The Ice Bar is open from around December 20th to mid-April. They dish up all kinds of hot chocolate goodness and even have special treats for the kids.
Oh yea and 20 blocks of ice, each weighing 300 lbs, were used to make this bar, so it's truly a special place to visit in Banff in the winter.
---
Banff Ice Festival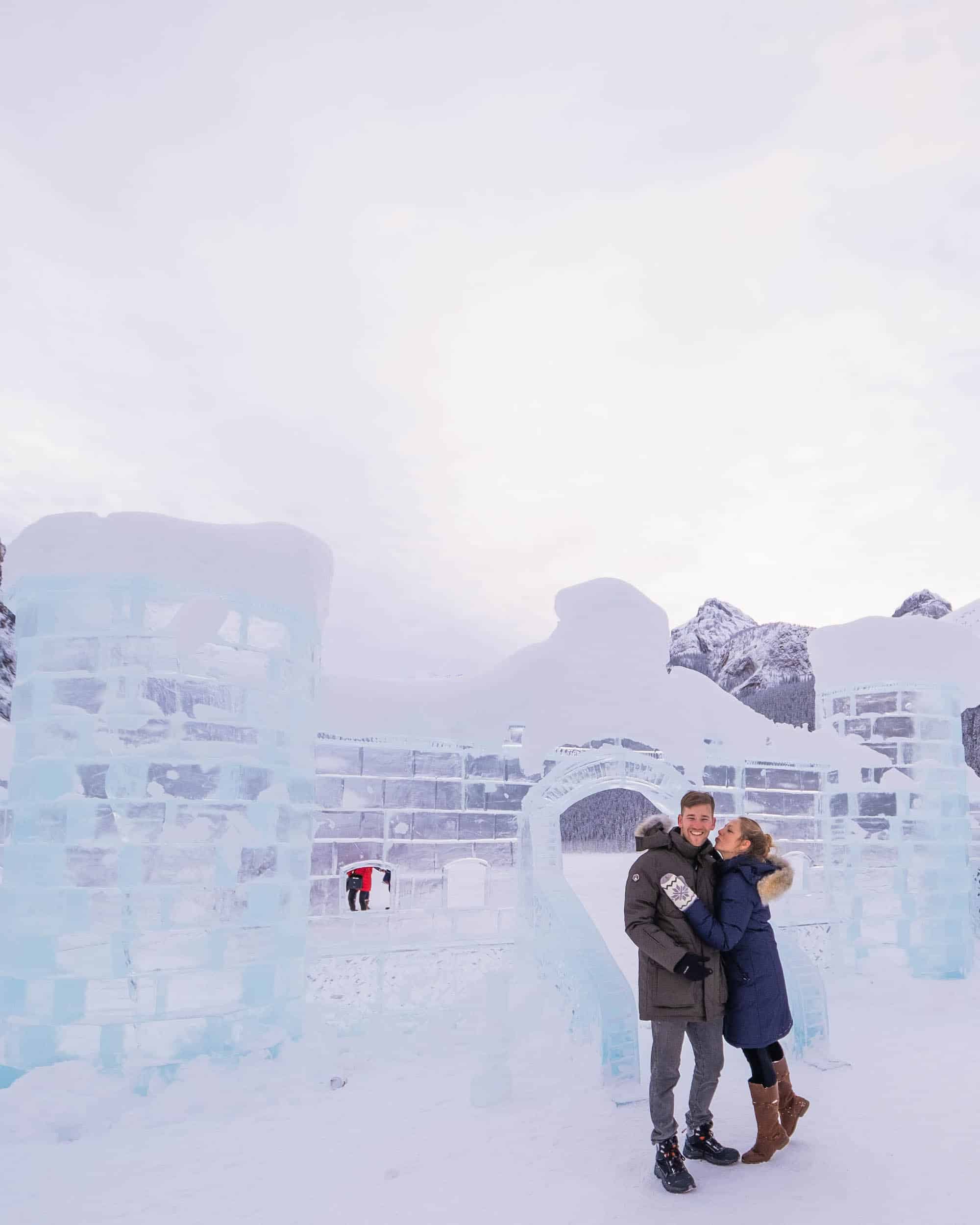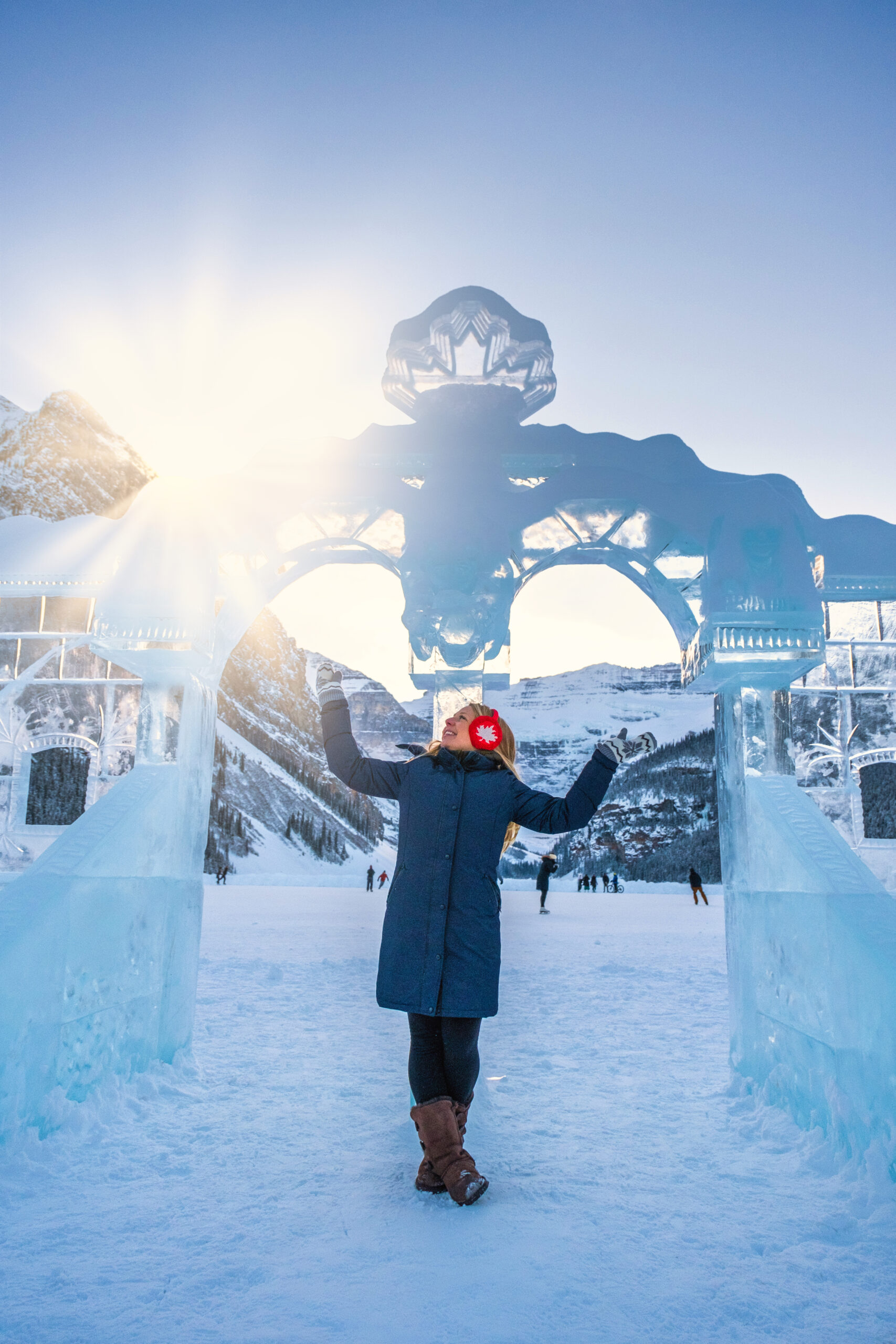 For 12 days around January 15 – 26 (check dates first though), there is a very special event at Lake Louise. The Ice Magic event is what winter in Canada is all about. This is where ice comes alive and serves as a form of art and architectural design. During this time you can watch artists from around the world carve different frozen figures.
It's free to visit the ice carving events between Monday – Friday and on the weekends before 10 a.m. or after 5:30 p.m. During peak times on the weekend an admission fee is charged.
If you can't make the dates of the actual Ice Magic events don't worry, the carvings will be on display throughout February.
---
Nordic Ski/Cross Country Ski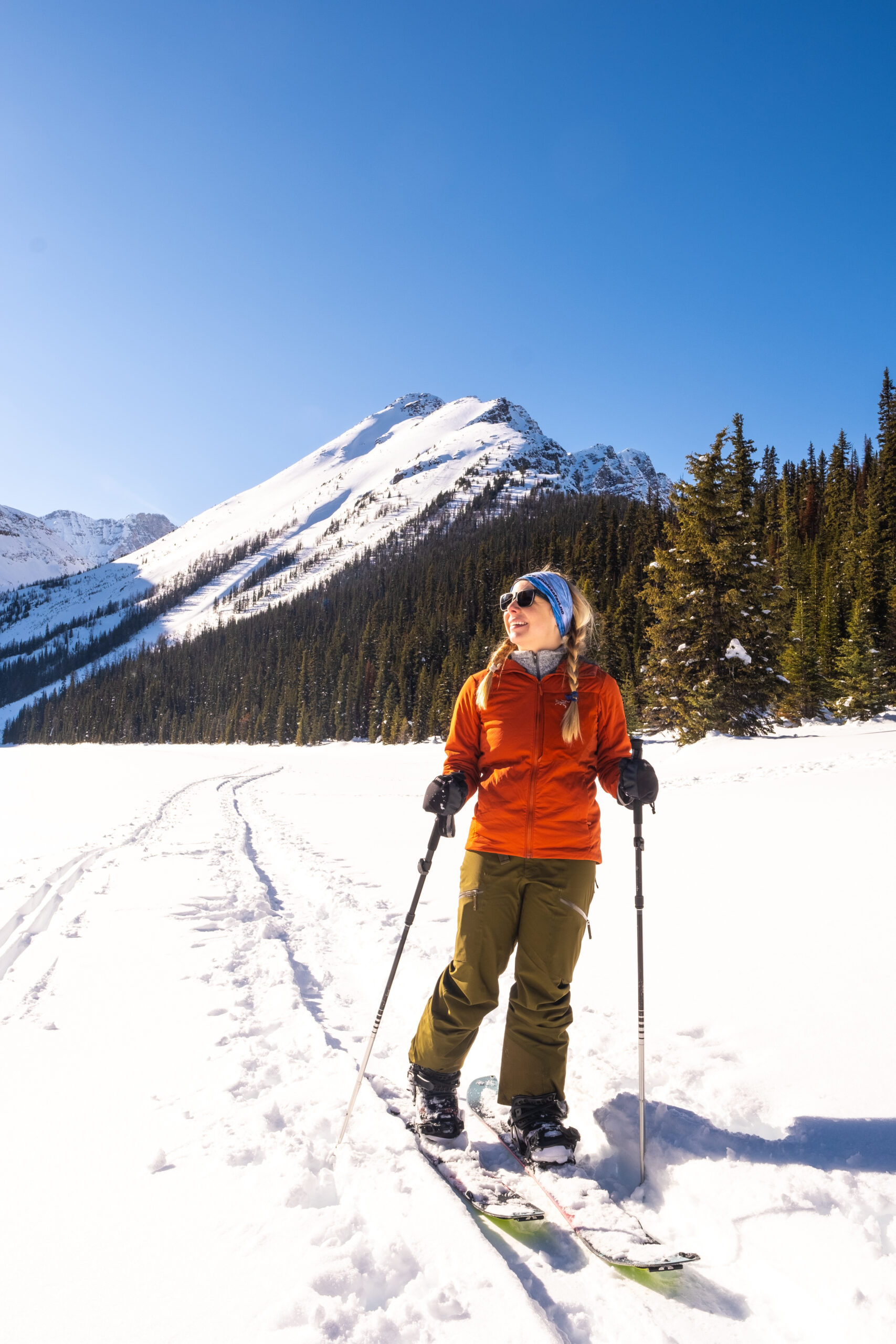 I personally don't like cross-country skiing, but there are plenty who love to cross-country skiing. It's a low impact sport that gets your heart racing and allows you to slide across the snow. There is one thing you can't argue against is the pristine wilderness beauty nordic skiers will find themselves, especially in Banff.
Cross country skiing is a serious hobby here and you'll find plenty of people getting out there and stretching their legs. The Nordic Center near Canmore is a popular place to go cross country skiing.
---
Attend the Ski World Cup at Lake Louise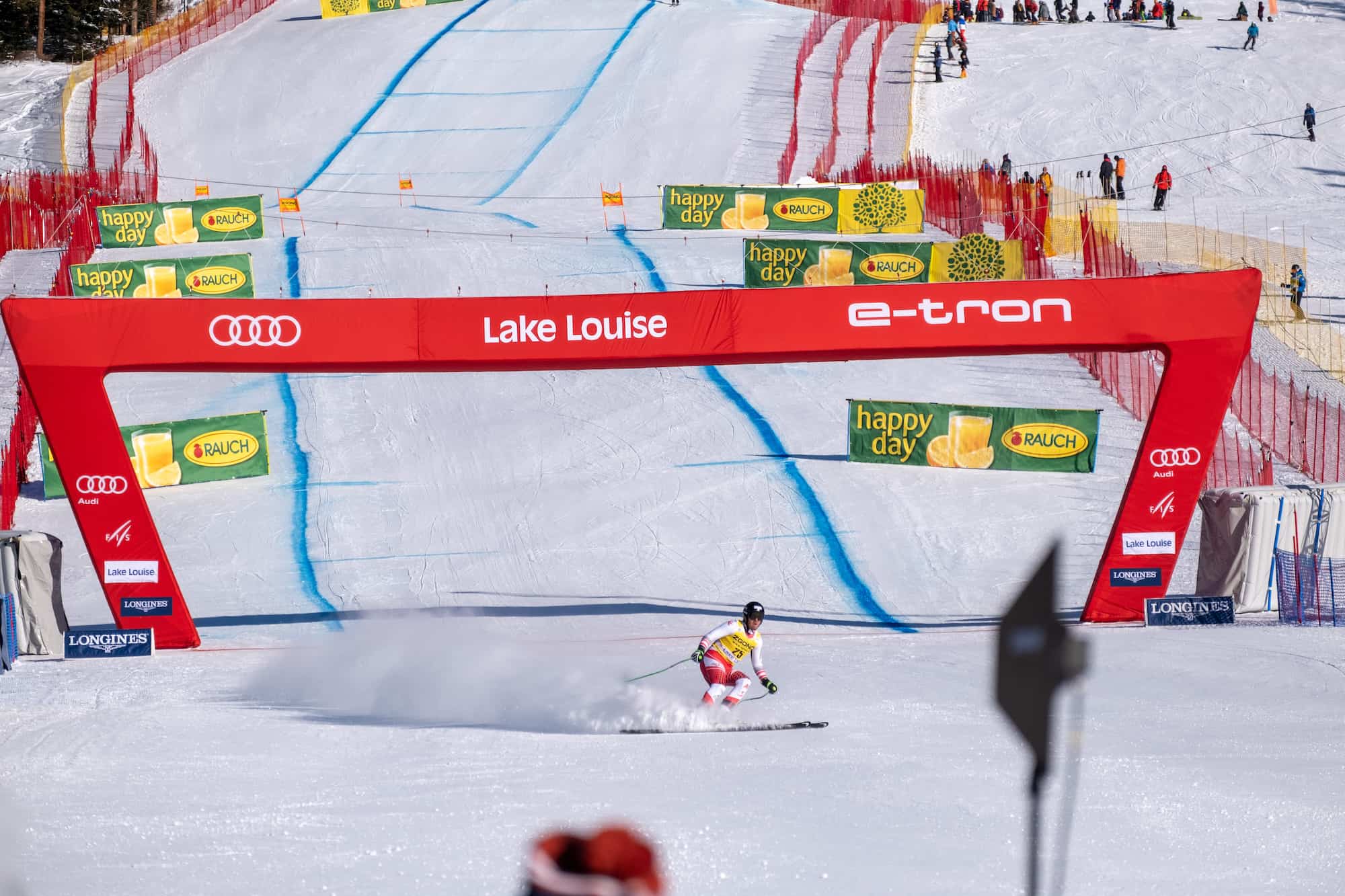 There's no better way to kick off winter in the Canadian Rockies than attending the Audi FIS Ski World Cup at Lake Louise. Every year a small army of visitors, volunteers, media, and world-famous athletes descend on the tiny resort town with big mountain terrain. It's the start of the World Cup speed circuit where the fastest skiers in the world compete to be crowned champ as they travel around the world.
Personally, we couldn't think of a better spot to kick off winter as it arrives early in the Canadian Rockies. Come November it's not a question of whether they'll be ski, but how much and with three ski resorts in the area, we're spoilt for options. Of course, our personal favorite is Lake Louise and we're happy to have a season pass every year.
---
Drive the Icefields Parkway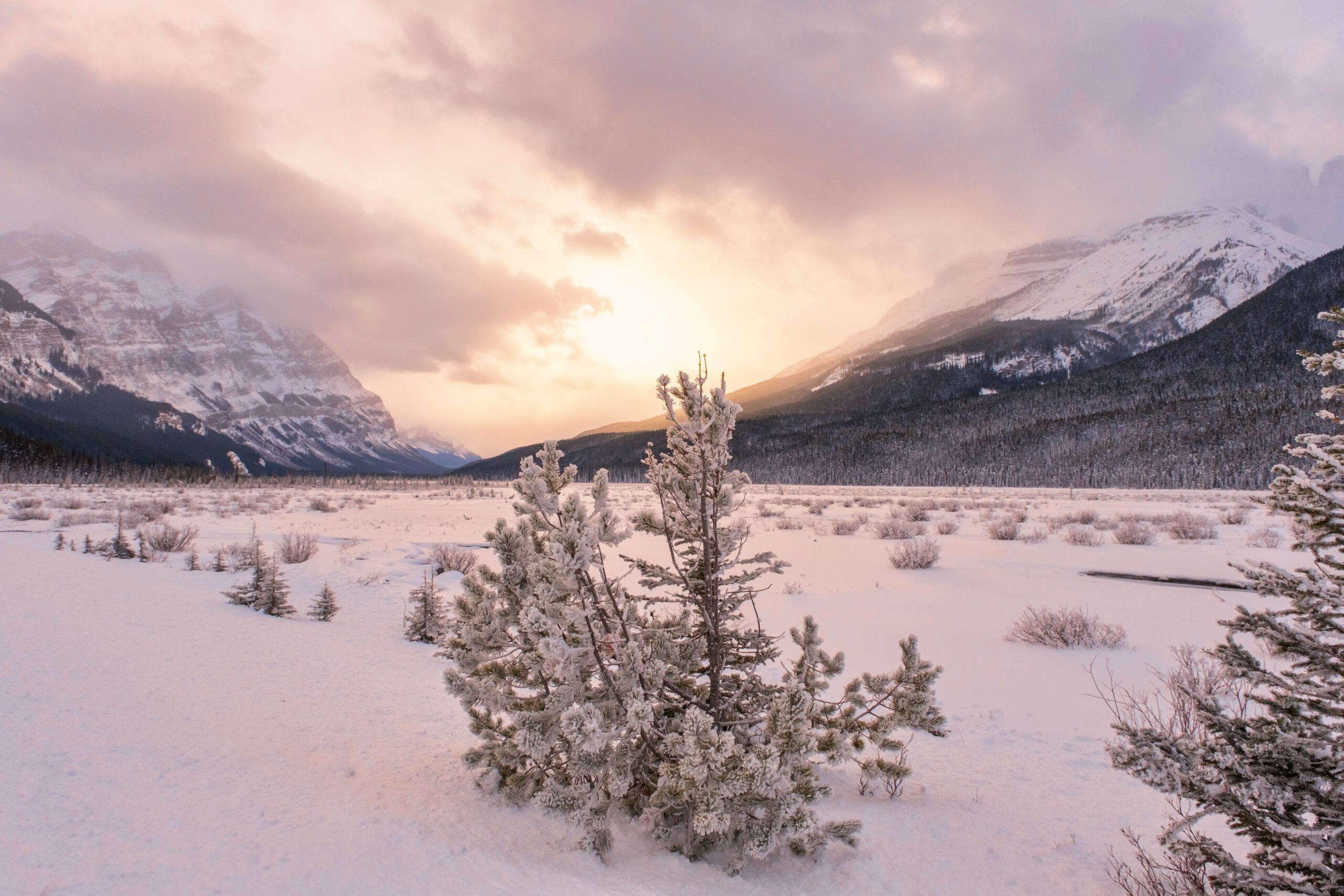 The Icefields Parkway, or Hwy 93, is a scenic drive that has visitors flocking from around the world to see. If you're driving from Banff to Jasper or vice versa, you'll be taking the Icefields Parkway. However you don't have to drive it from point to point (though I recommend it). The parkway is where one can come to enjoy a drive-in nature, surrounded by waterfalls, rock spires, ancient glaciers, and turquoise lakes in the summer. But the road and stops are just as beautiful in the winter!
If there's been a big recent snowfall I would check conditions and make sure you have a sturdy 4×4 vehicle at the very least. This road is not often plowed in the winter and the road can get icy!
Your vehicle should have winter tires if you're driving in Alberta in the winter anyway and should have an emergency kit in case you are stranded. There's no cell service along the Icefields Parkway. Winter conditions last from November to April, but even October will see some snow in the Rockies.
---
Admire Bow Lake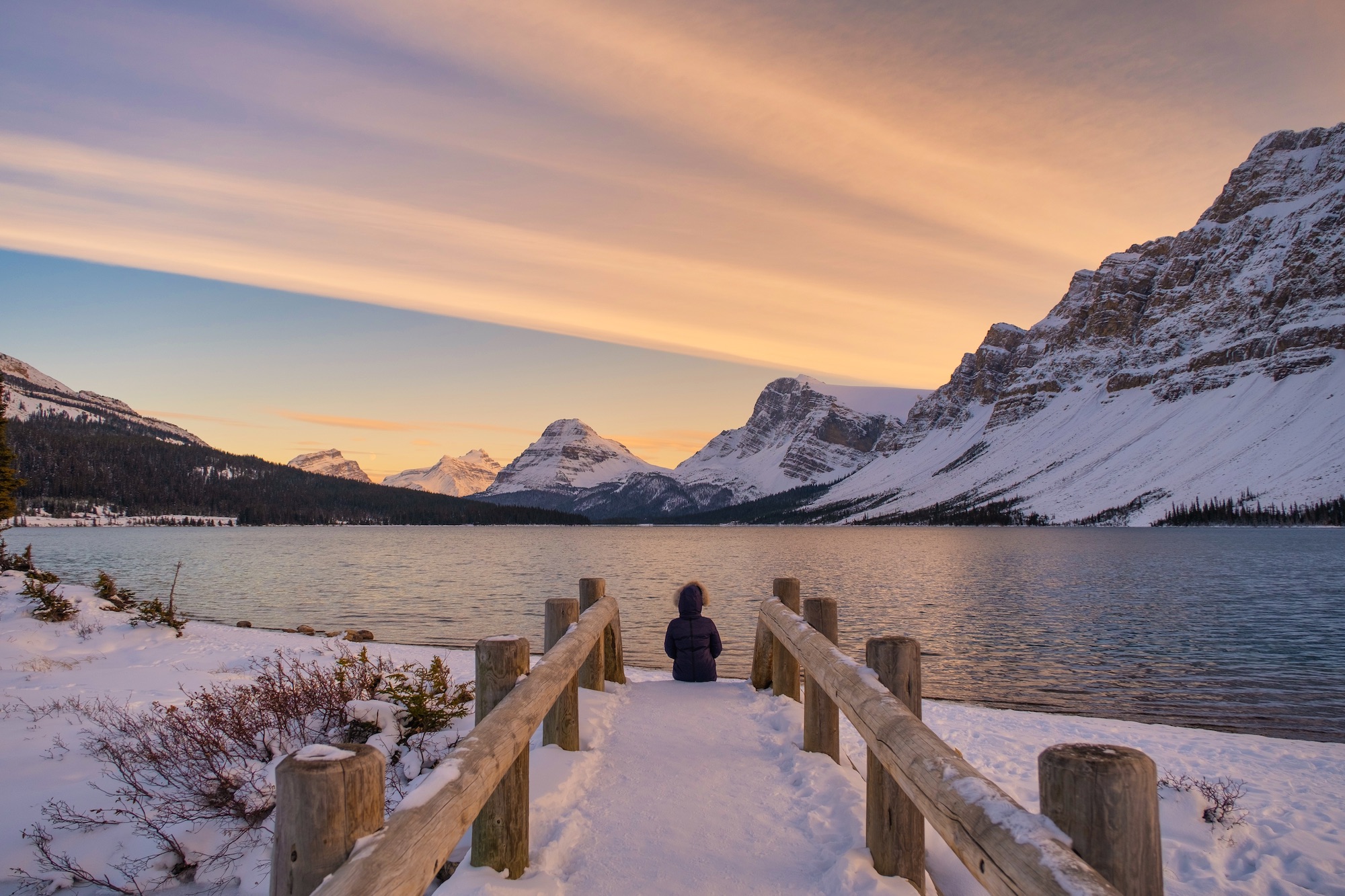 Bow Lake is a tremendous stop on the Icefields Parkway and one of our favorite lakes to enjoy. While it's not a large lake in the scope of the world it is big for the Canadian Rockies. Bow Lake sits at an elevation of 1920 meters and spends the majority of the year locked away in ice.
This makes it a popular spot for winter activities like snowshoeing and ski touring. bow Lake is also great to visit and not do anything but admire the sunset from the shore and take in views of glaciers.
---
Peyto Lake
Peyto Lake is the most famous lake in Banff National Park you've probably never heard of before. It's a turquoise blue glacier-fed lake 40 km north of Lake Louise and a popular stop on the famous Icefields Parkway. The brilliant display of blue is fed by the Peyto Glacier high above the lake and part of the Wapta Icefield.
The view from the viewpoint is one of the most spectacular in all of Banff National Park and a super popular spot for photographers in the summer. Peyto Lake in our opinion competes for beauty with Moraine Lake without as many visitors.
In the summer you'll find bright blue water here, but in the dead of winter, you can still see a beautiful frozen wonderland. If you get here in October right after the first snowfall, but before the lake freezes it makes for an extra special sight! It's a great place to go for a snowshoe in Banff, but be mindful to not continue on to Bow Summit as it is avalanche terrain.
---
Soak in the Hot Springs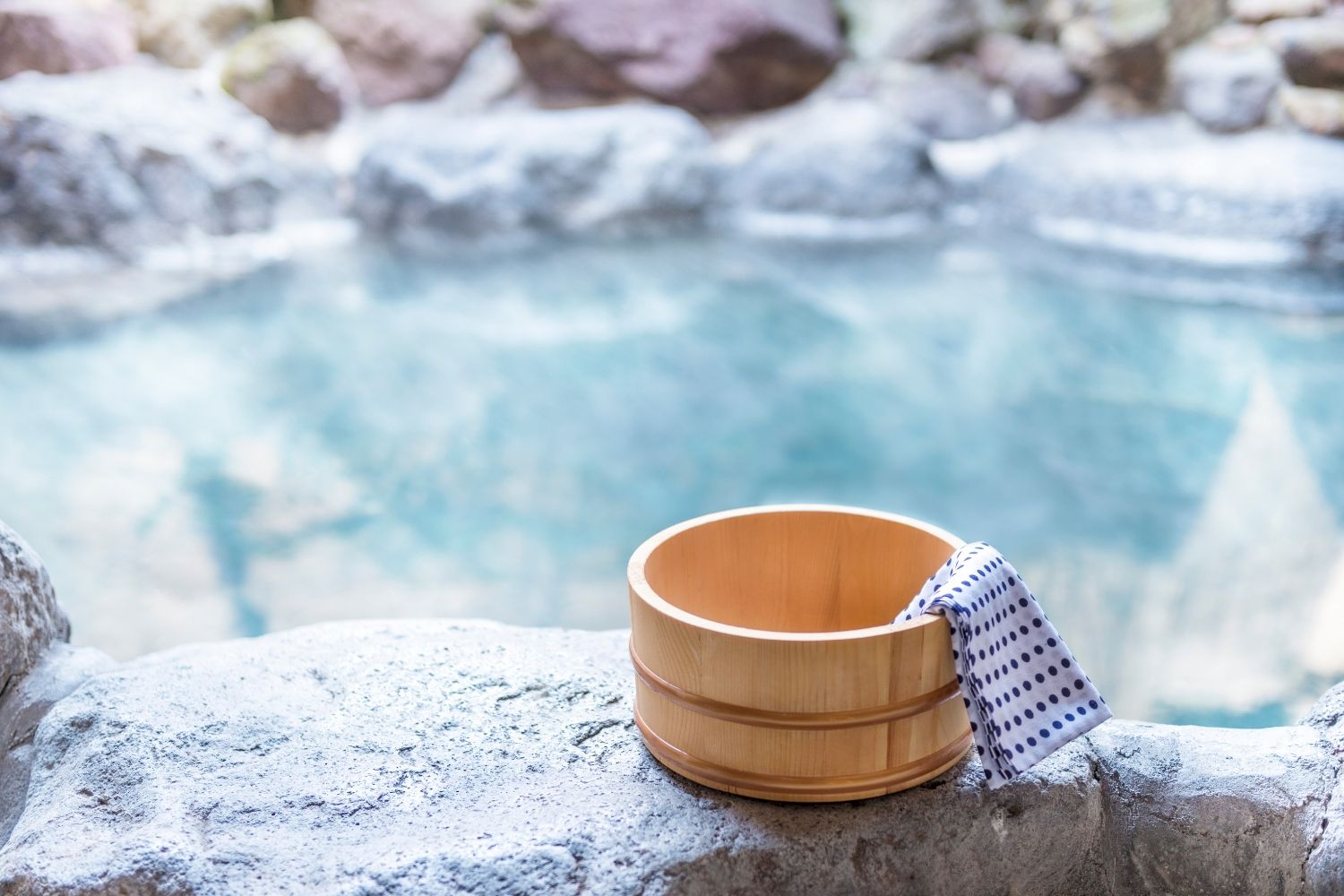 Enjoying hot water in the cool air is one of the top Banff winter activities to enjoy. Don't let the frigid Canadian temperatures detract you because there are plenty of ways to warm up around the Banff.
Just outside of the Banff town lies the Banff Upper Hot Springs. These hot springs make for one of the best places to relax those stiff muscles after a ski day. Just be warned afternoons can draw a crowd so head there in the morning for a more quiet experience.
---
Climb Sulphur Mountain
Still wondering what to do in Banff in the winter? How about you climb a mountain! What? Just because it's winter you think you can't climb a mountain?
Sulphur Mountain is easily one of the most popular hikes in Banff National Park. It's a beautiful hike up that provides visitors with astonishing views over the Bow Valley.
Due to it's proximity to Banff town, and the fact that you can take the Banff Gondola up to the peak instead of sweating it out on the trail means that Sulphur mountain becomes very busy – but not in the winter! With a pair of crampons and some hiking poles, you'll be able to tackle the trail up in no time.
---
Get Those Mount Rundle Views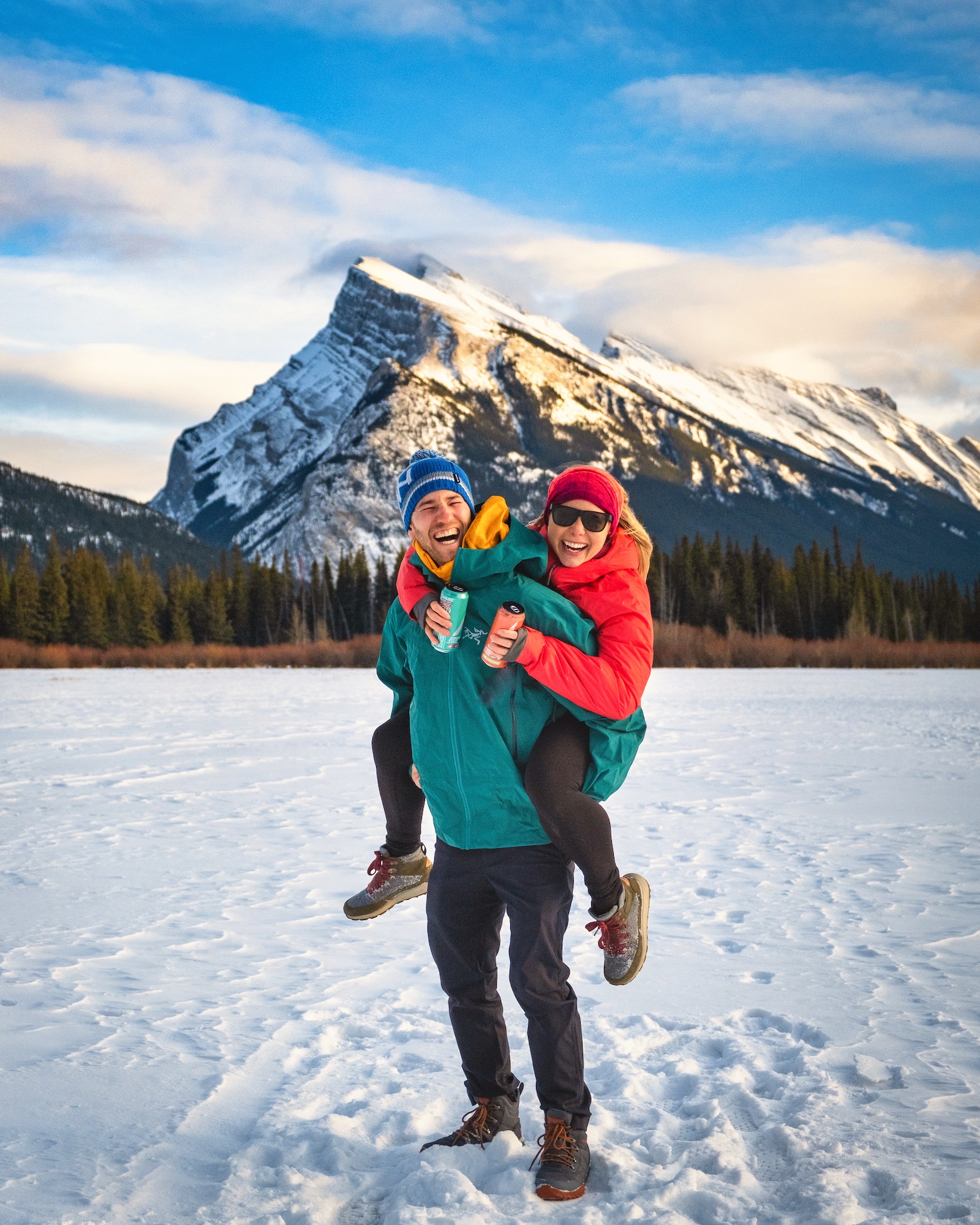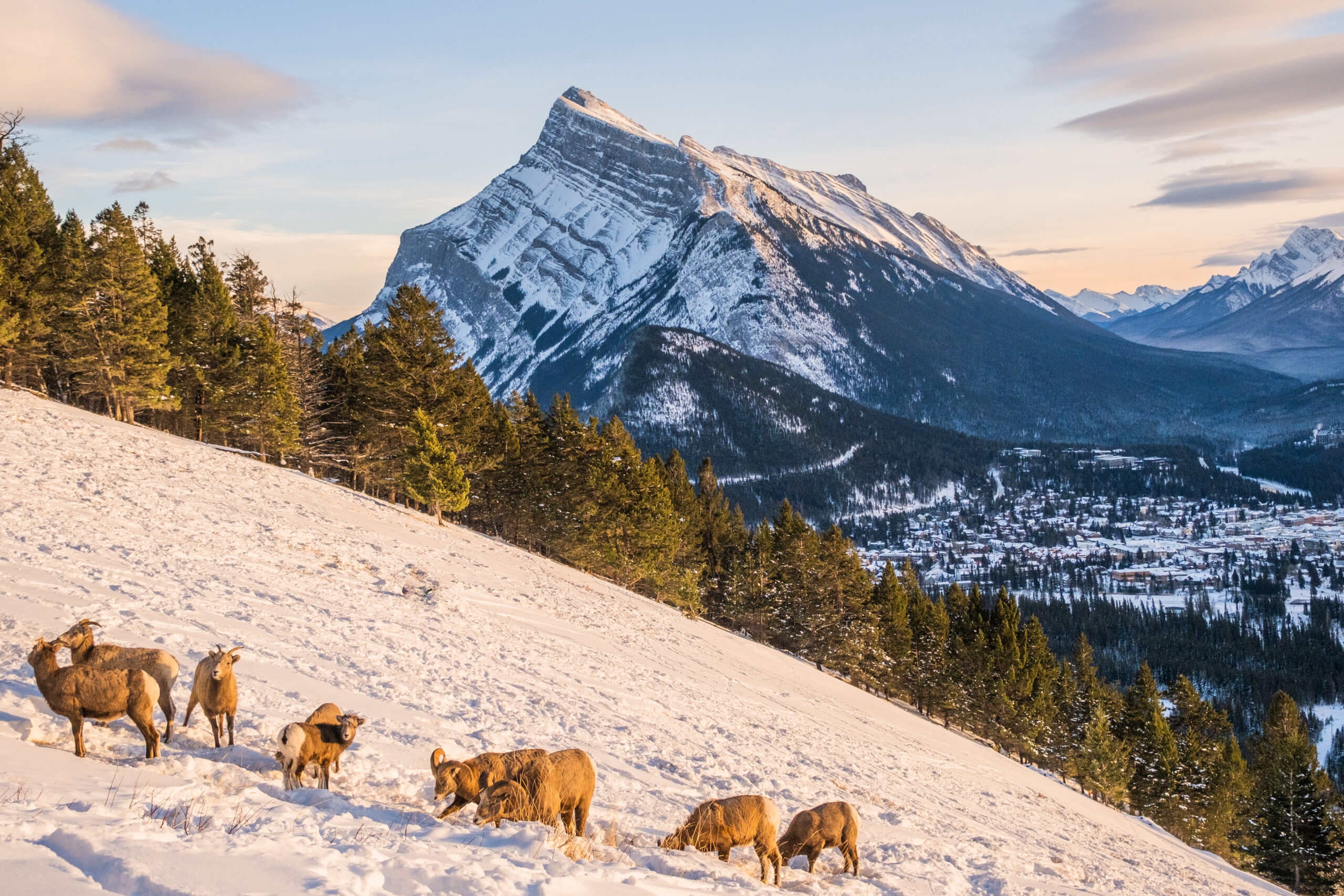 Mount Rundle is one of the most famous mountains in all of Canada and a top sight to see in Banff in the winter. It's an icon to Banff and will make you feel incredibly small any time of day. Mount Rundle is best seen at sunrise and sunset.
Which thankfully, in the winter, the sunrises late (sometimes 9 am!). In the winter you can catch sunset between 5:30-6: 30 pm. My favorite spot to see Mount Rundle is from Vermilion Lakes or Mount Norquay Lookout.
---
Spot Wildlife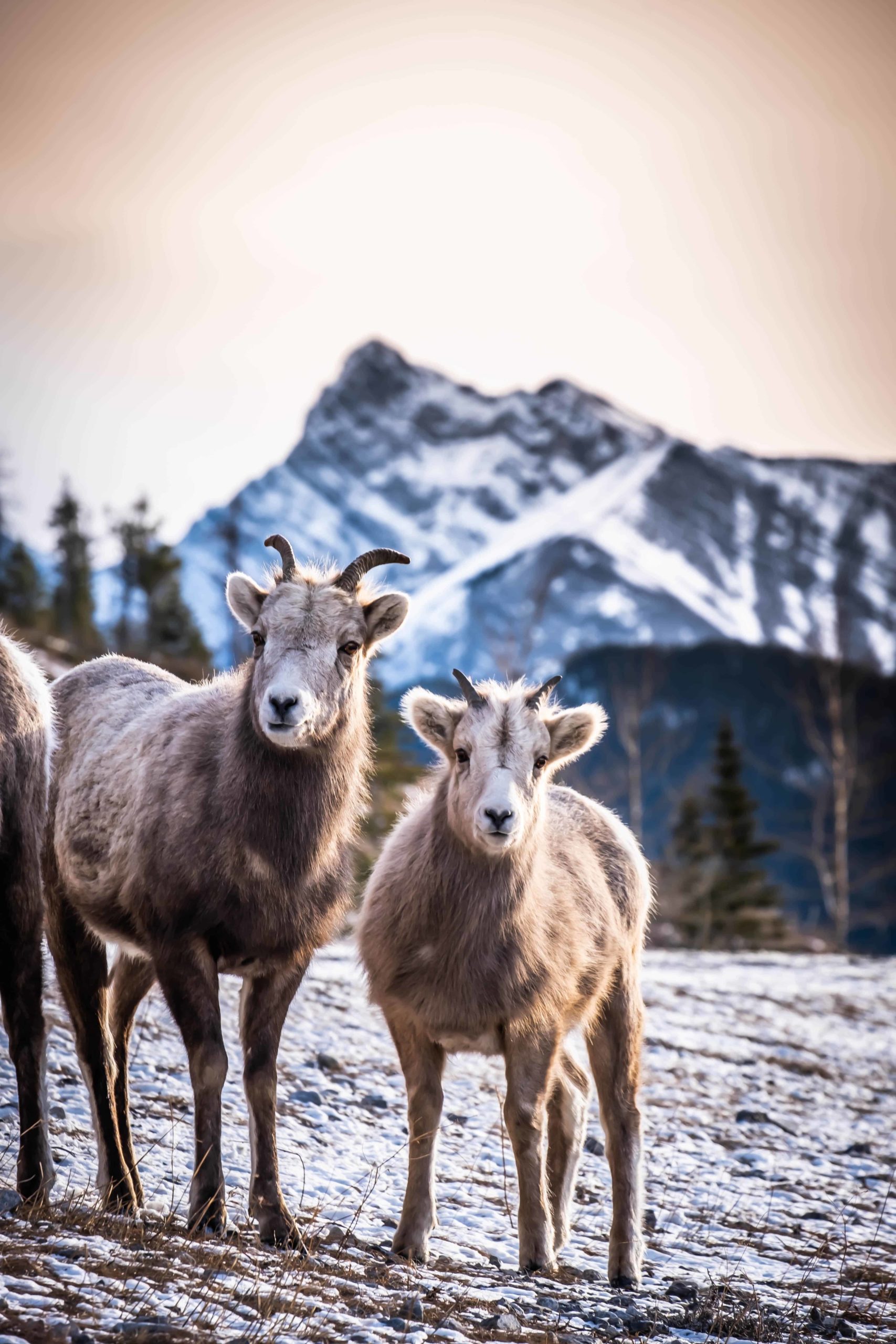 The wildlife doesn't leave Banff when summertime goes away. Apart from bears, you'll find moose, elk, deer, owls, foxes, wolves, and coyotes here all year round. I actually love spotting these animals in the winter more than the summer – they look so much more majestic!
Please remember if you want to pull over to take photos of wildlife to do so safely and make sure you are out of the way of traffic.
---
Skate on Lake Minnewanka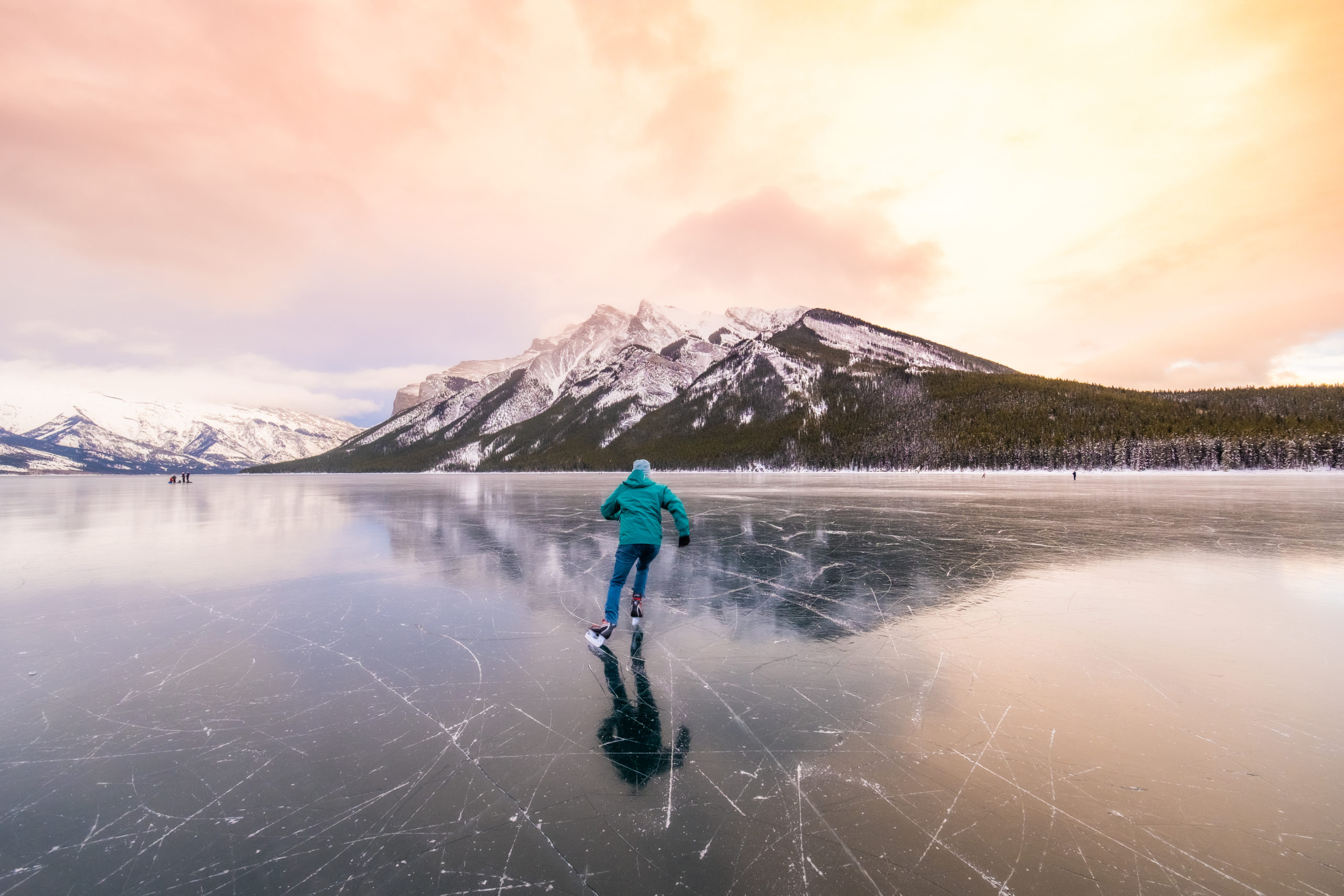 Lake Minnewanka is a glacial lake that is just a ten-minute drive away from the town of Banff. This lake is 21 km long and 142 meters deep. In the summer it's a busy place to hike and go canoeing on, but in the winter it's a sight to behold. The mountains towering over Lake Minnewanka are seriously impressive all covered in snow.
If you catch it just at the right time, after the lake freezes but before snow falls, it will be a day to remember.
---
Two Jack Lake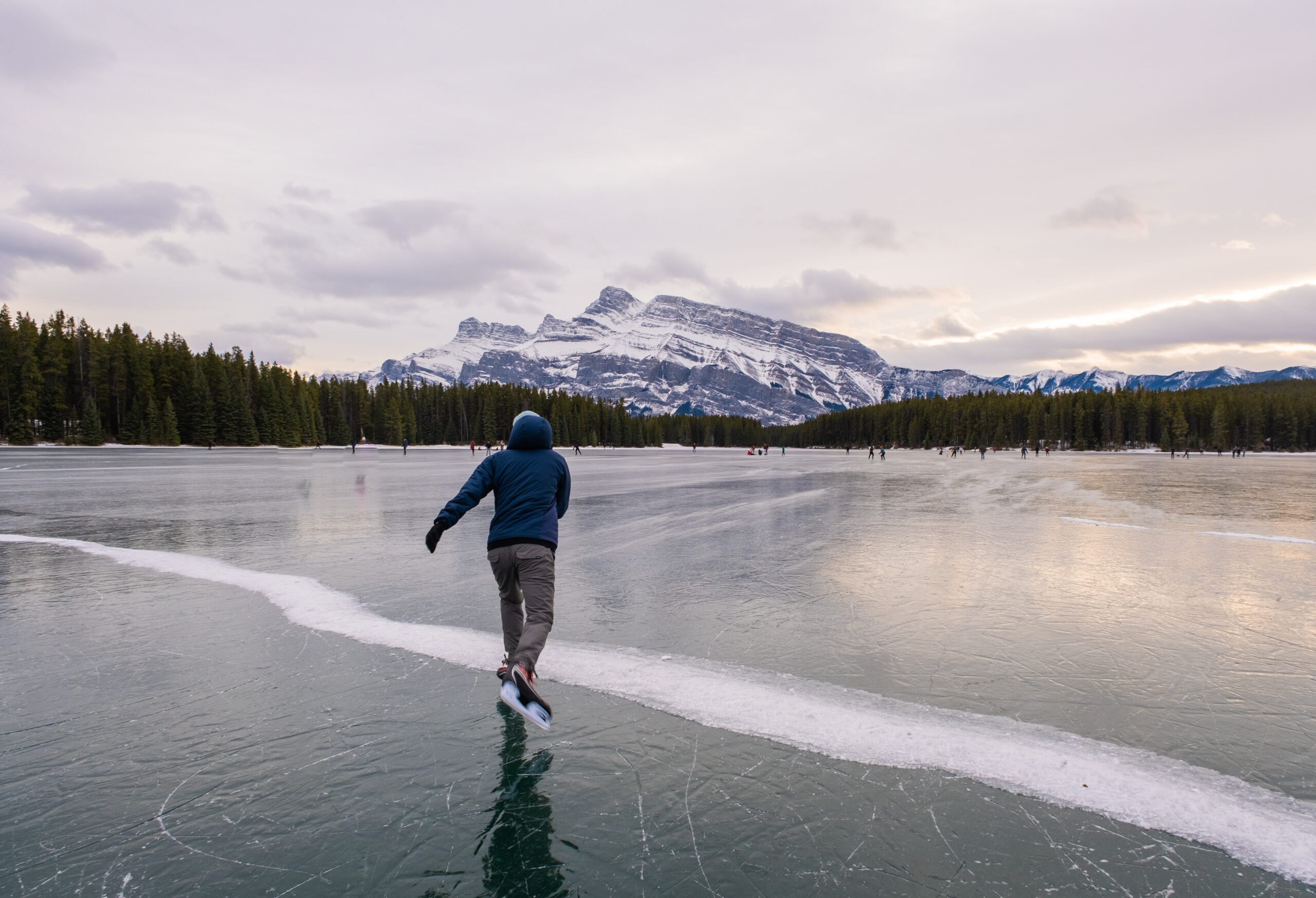 Just a five-minute drive away from Lake Minnewanka is Two Jack Lake. It's another fantastic lake with Mount Rundle Views. Two Jack is one of the most photographed lakes in the Canadian Rockies, but in the winter it's possible to arrive here with a tripod and be all by yourself.
Two Jack is also great to skate on while in Banff in the winter if you arrive and the conditions are just right.
---
Enjoy the Town of Banff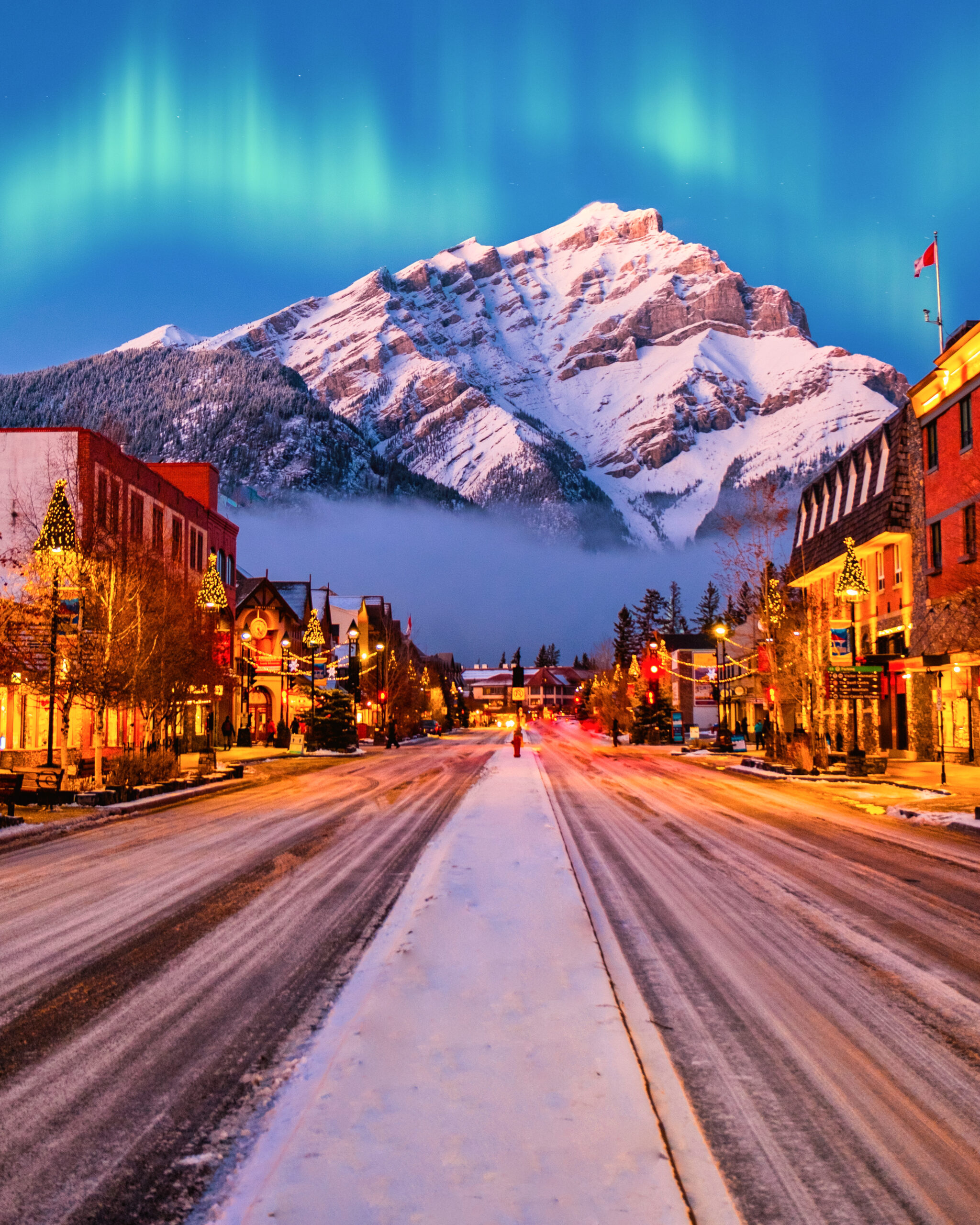 If you want a day of shopping, cappuccinos, and breweries stay in the town of Banff and enjoy a day of walking around. Banff Ave has tons of restaurants, boutique shops, and cheesy souvenir stores to entertain all.
---
Check Out Bow Falls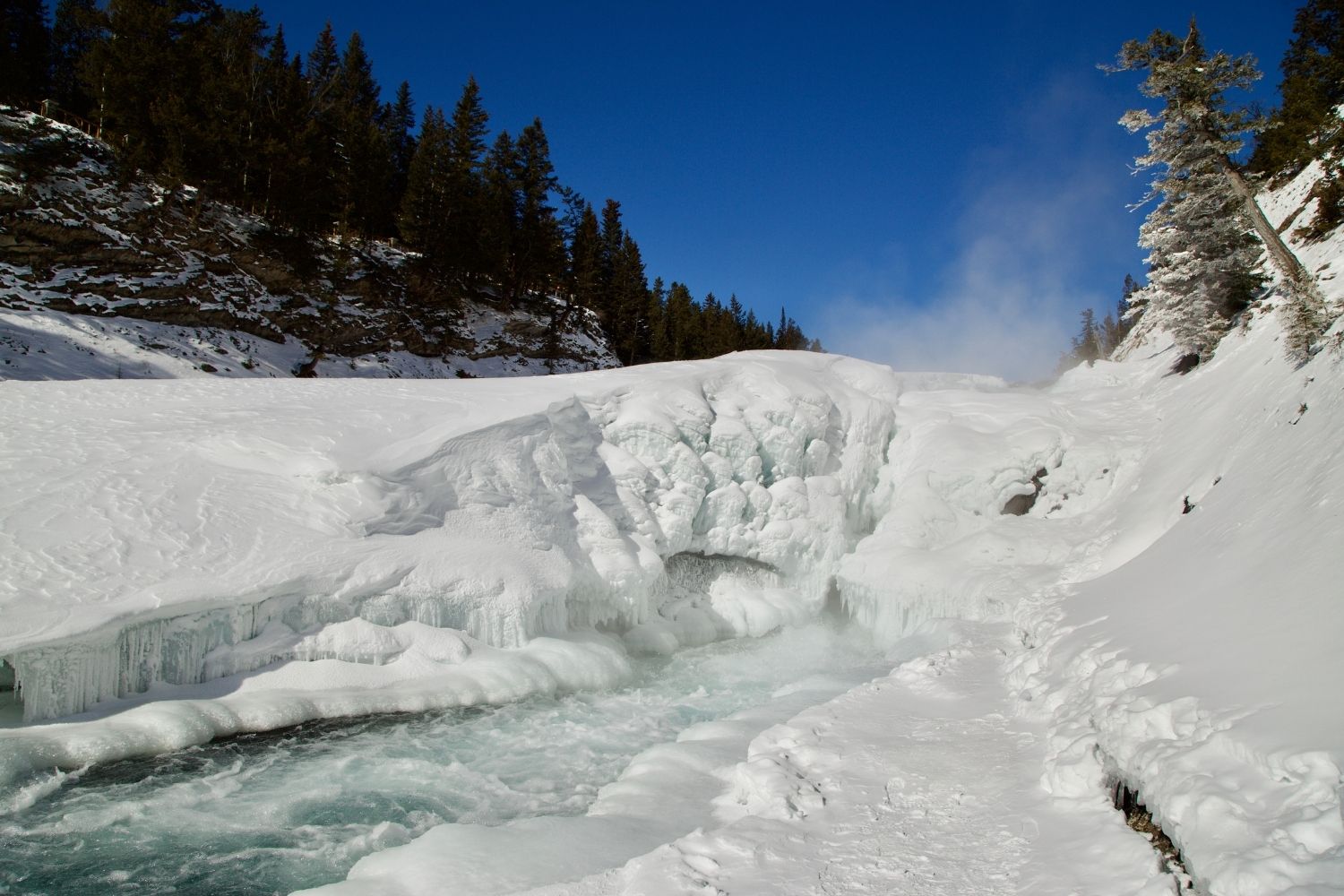 Bow Falls are a must-see when in Banff. They are only a short walk away from the town and take you into magnificent nature. Depending on when in the winter you go to see them they
may be frozen, but we've been lucky and seen the beauty of the half in ice and half water. There are nice walkways for visitors so they can view safely. (Also you can type Surprise Corner Viewpoint on Google Maps when near here for an amazing view)
---
Sleigh Ride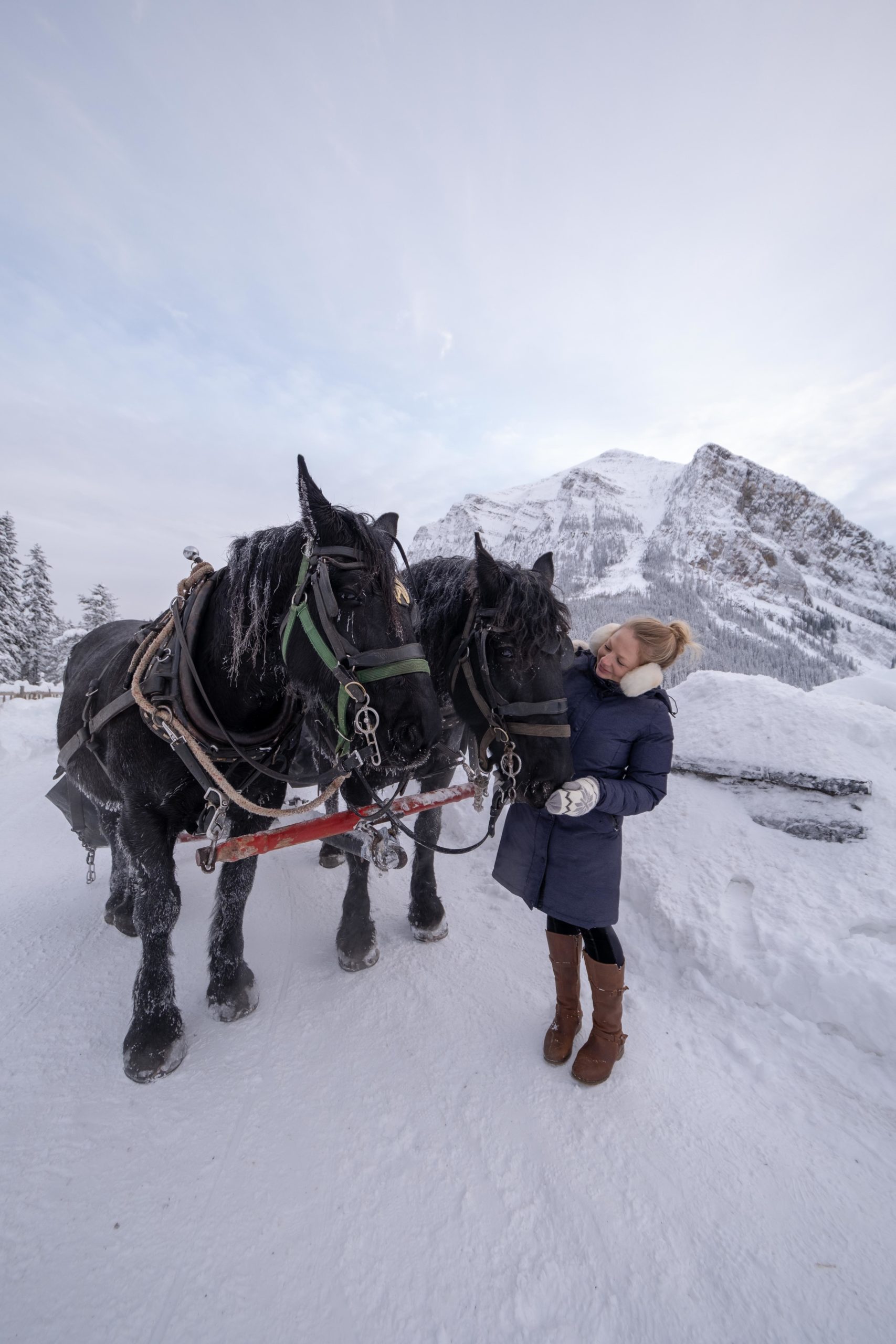 Yup, it's definitely possible to take a horse drawn carriage ride inside an actual snowboard when you visit Banff in the winter. Two of the best places to do this is Lake Louise and also downtown Banff.
---
Go Dog Sledding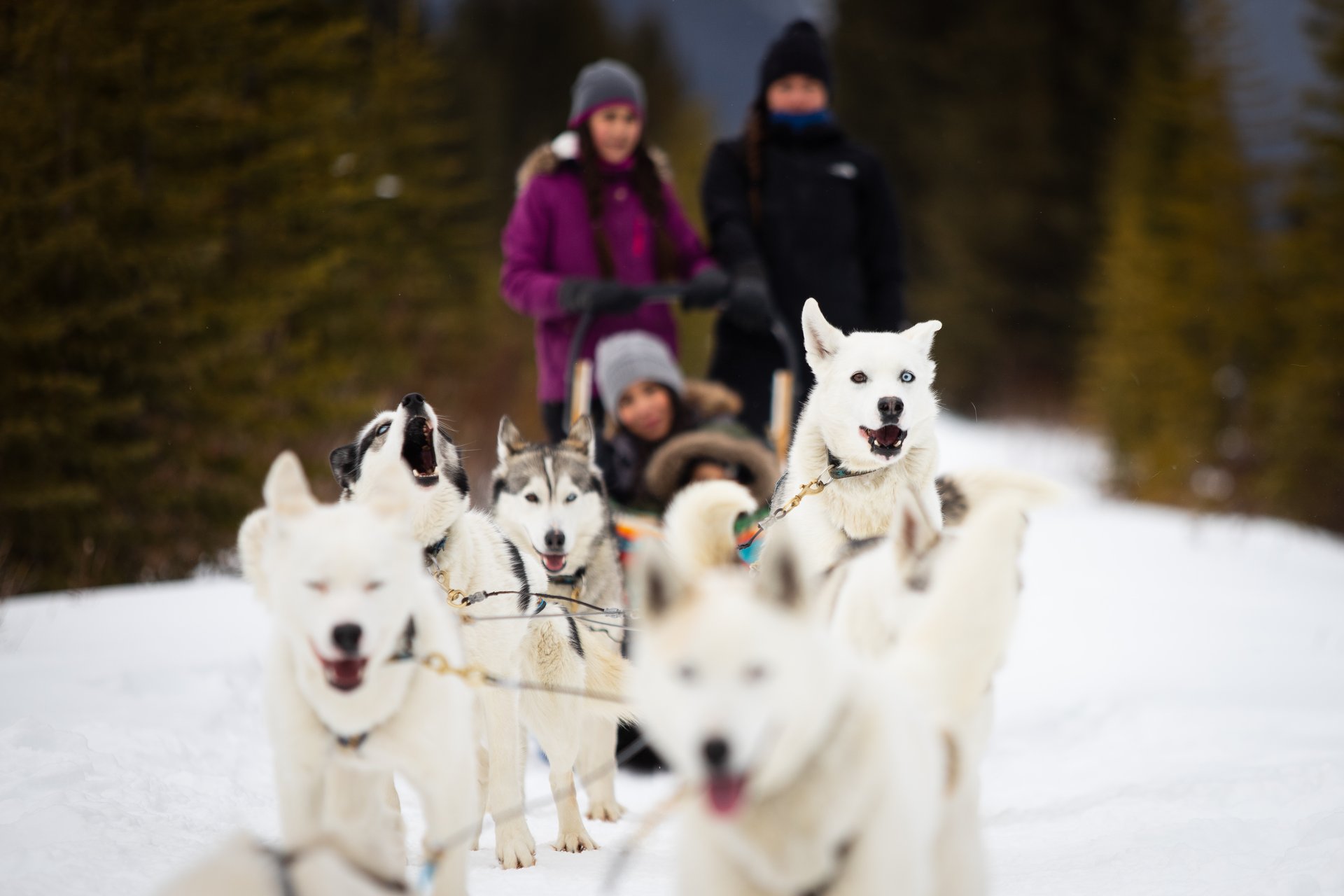 Discover Banff Tours runs dog sledding adventures at Lake Louise and in Canmore. We've done this four separate times and it's always an amazing experience. What I particularly love is how quiet the ride is with only the sound of the dog teams steps against the snow.
---
Relax in Nature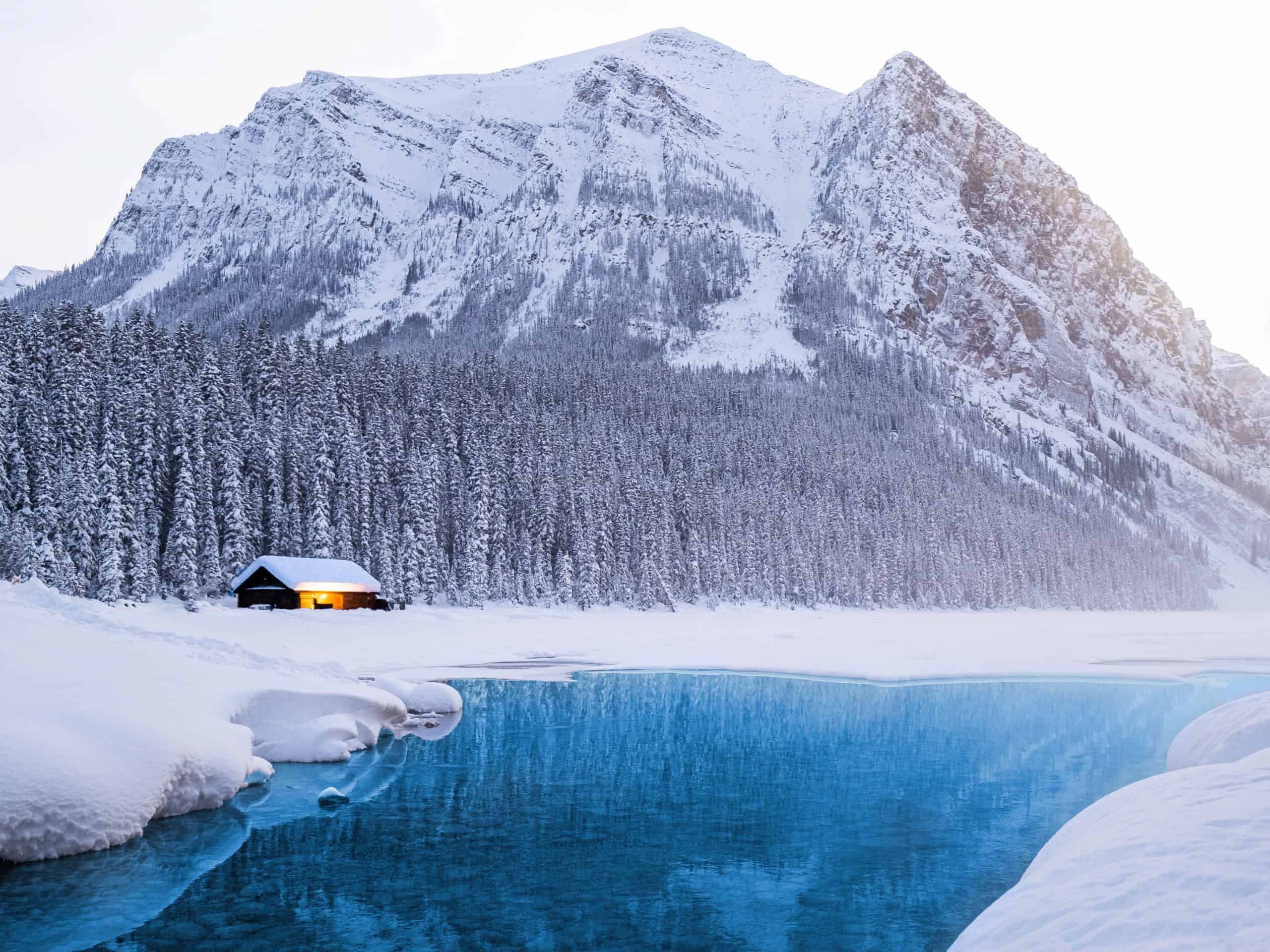 We have an addiction to the post excitement high we receive in the mountains. After flying down a mountain on our snowboard nothing beats the feeling of calming our nerves in nature. There are a countless number of ways you can relax whether it be by a hot tub, on a bench, by a fire, or watching the sunset over the frost-tipped mountains.
Just kick back with the one you love and let the calming effect of Banff National Park wash over you. Nothing else can compare to this when visiting Banff in the winter.
---
Head to Canmore!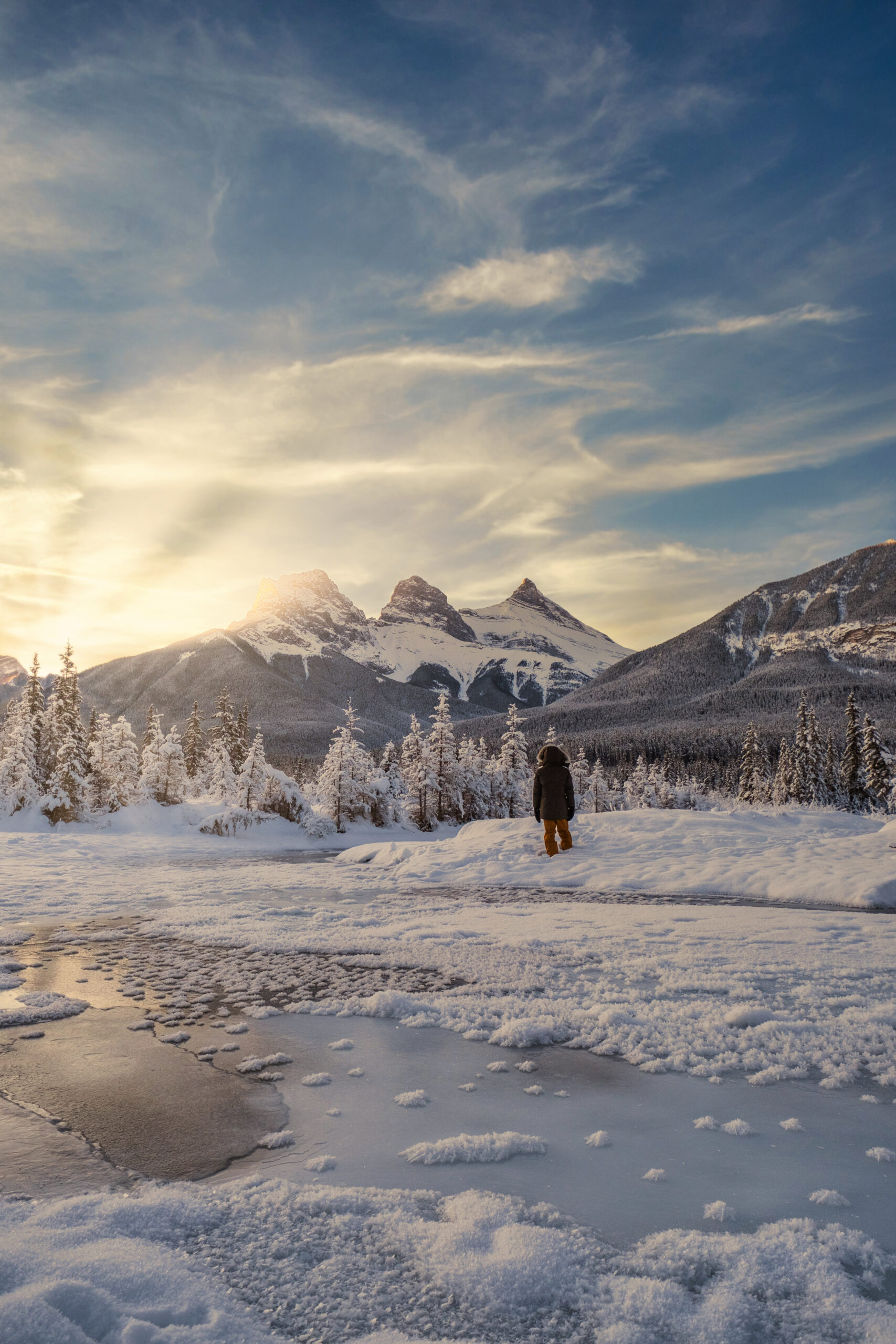 Okay, this isn't really a thing to do in Banff as it's a 15-minute drive away. We may be biased to our home base, but we think Canmore is the bee's knees.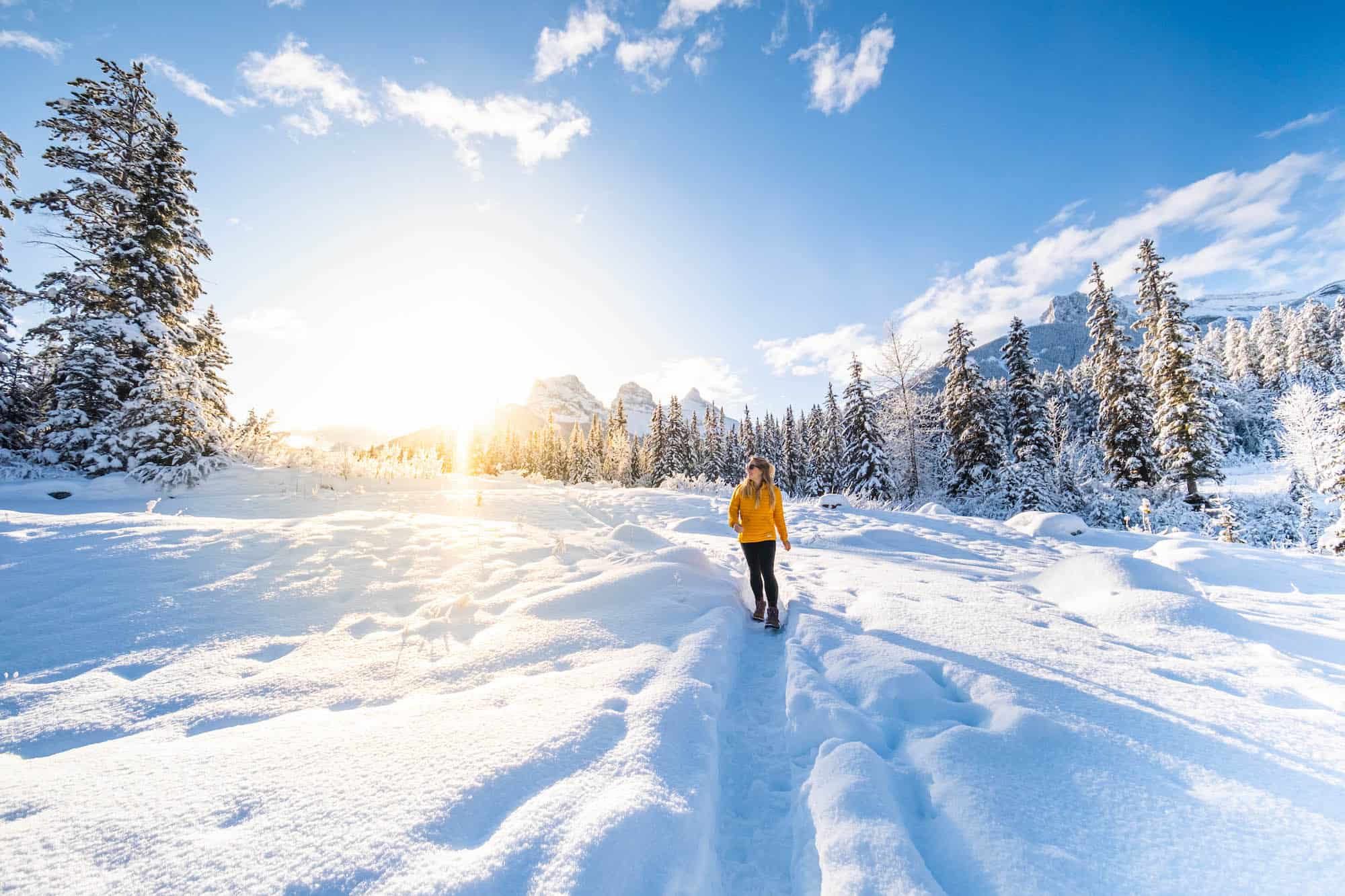 Canmore is another mountain town just outside of Banff National Park. It's not nearly as touristy or popular as Banff meaning it's much more enjoyable.
There are so many things to do in the winter in Canmore! You can walk down the main street here without fighting through crowds and there are plenty of great restaurants, bars, and shops to venture into. The views are just as amazing as well. Make sure to check out The Three Sisters!
---
Where To Eat in Banff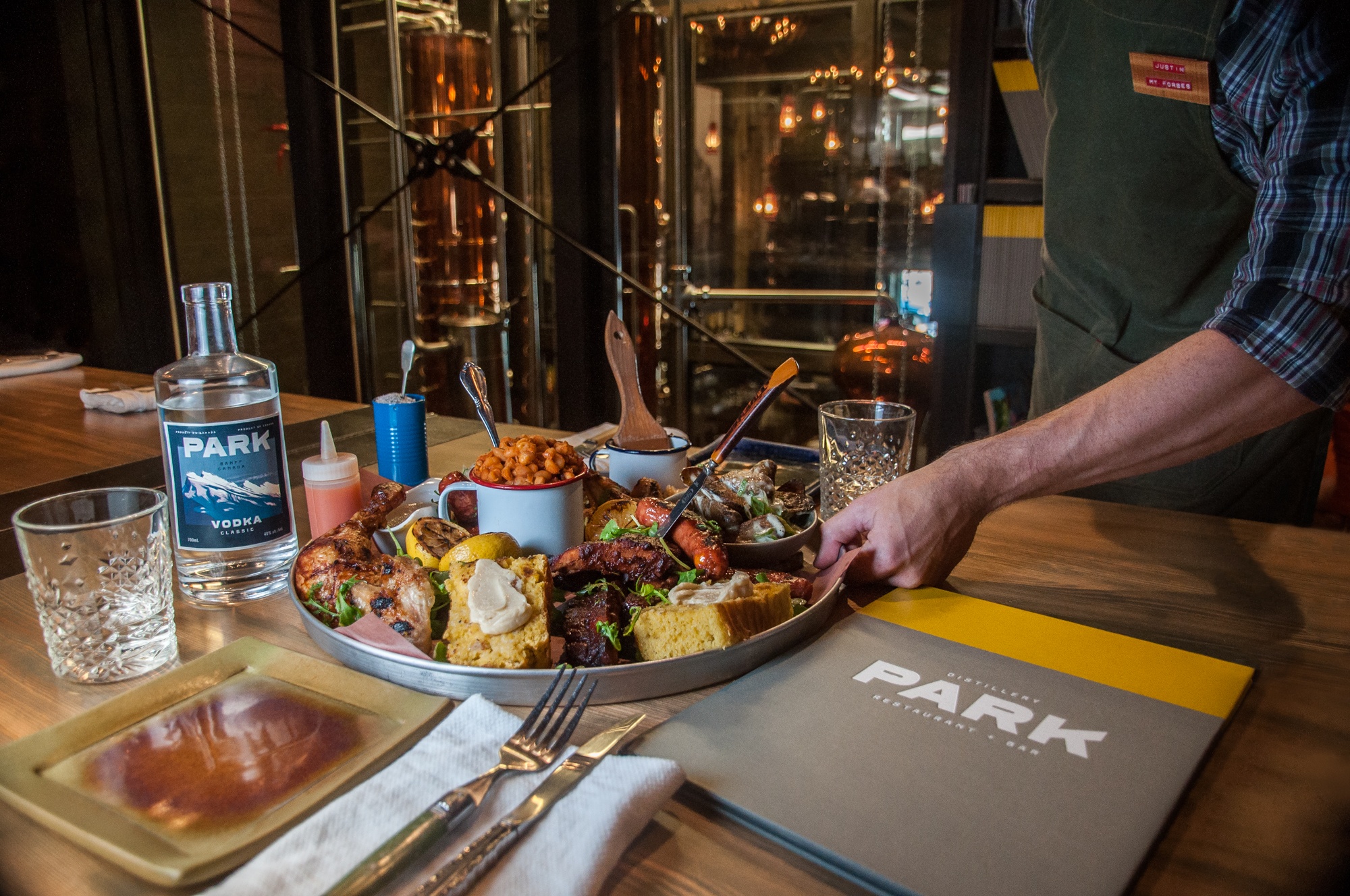 Banff Sushi: We love sushi and we love a good deal so Banff Sushi is a slam dunk for us. The novelty of sushi train was definitely appreciated and brought us back to Japan as we nabbed tantalizing bites of sushi off the Canadian train engine. If you like sushi this may be one of the best deals in Banff.
Whitebark Cafe: Hip coffee shop serving delicious coffee and freshly baked treats. It's the perfect post ski pick me up if you're not into the apres ski scene!
Park Distillery: Check out the only distillery in a national park in North America. It's super cool inside with large tables perfect to finish off a winter day in Banff with friends or family.
Nourish Bistro: This healthy cafe is the perfect lunch spot in town with reasonably priced lunch combos and coffee.
Bear Street Tavern: Winter activities often mean you're burning plenty of calories so if you're looking for a laid-back atmosphere and some tasty grub head to this tavern to replenish.
The Grizzly Paw Brewing Pub: Our favorite post ski ritual is to check out the local brewery, something you can only find in North America. To find some of the best brews around go to the neighboring town of Canmore.
---
Where to Stay in Banff?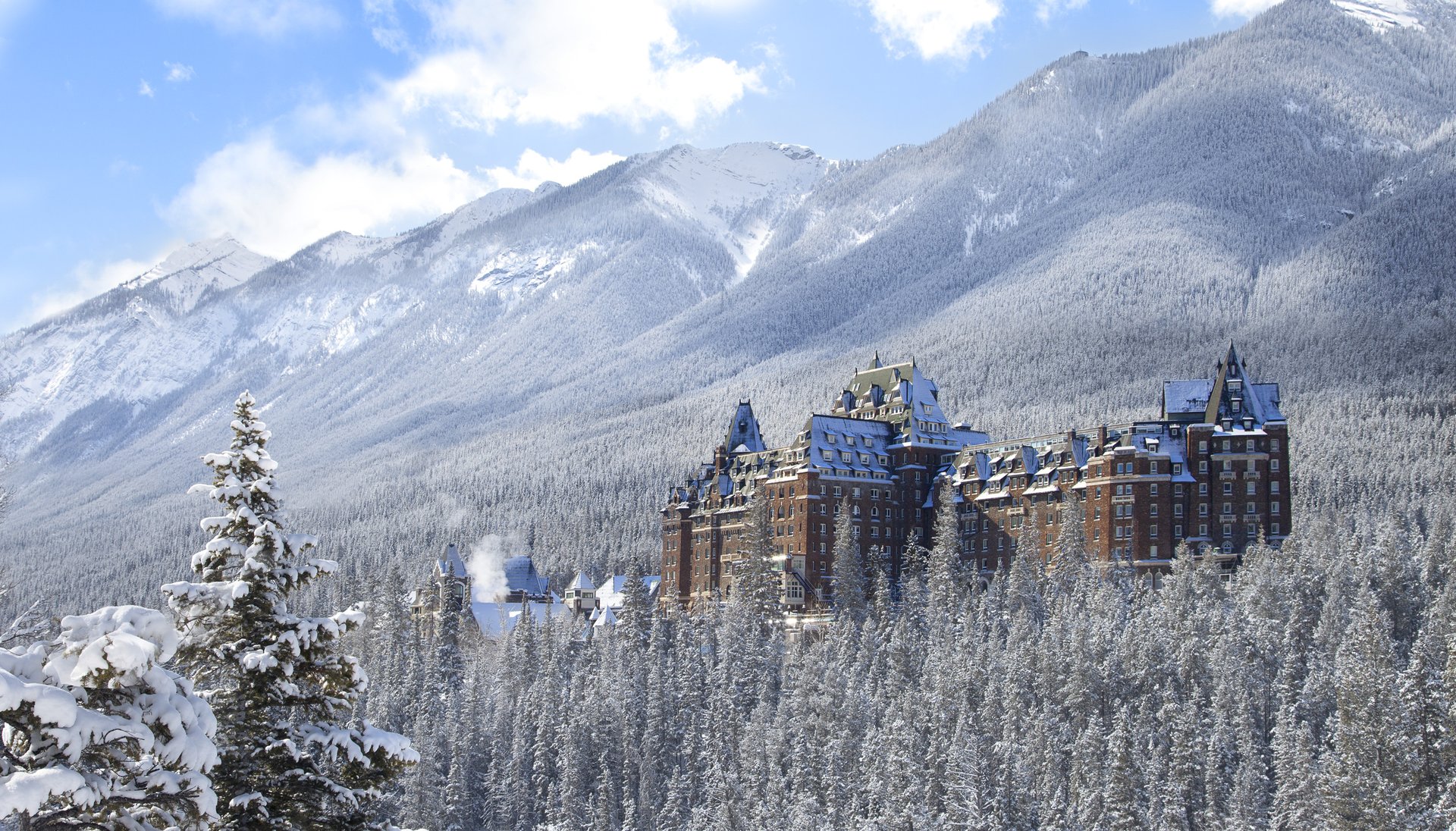 Fairmont Banff Springs (Luxury): Easily the most sought after and luxurious place to stay in Banff. If you're looking to stay in a castle this is for you.
Elk + Avenue Hotel (Mid Range): Comfortable and modern hotel on Banff Ave.
Banff Caribou Lodge (Budget): More affordable, but basic hotel option on Banff Ave.
---
Map of the Best Things to do in Banff in the Winter