Emerald Lake Lodge in Yoho National Park is one of the most dream-worthy places to stay in the Canadian Rockies. Whether you know it or not, you've likely seen famous photos of a small cabin surrounded by canoes, an "emerald lake," and a distinctly shaped mountain behind it. This would be Emerald Lake, one of the most photographed sights in the Canadian Rockies and somewhere that is almost too beautiful to be real.
Most visitors to the Yoho stop by Emerald Lake and hang around for an hour or so, but I highly recommend staying overnight to really get the full immersion.
The only place you can stay overnight at Emerald Lake is the Emerald Lake Lodge. A scenic, cozy, and comfortable lodge that offers guests tranquility and seclusion. It's one of the best places to stay in the Canadian Rockies. But don't just take my word for it; keep reading on!
See Also:
---
Emerald Lake Lodge Quick Details
---
Staying at Emerald Lake Lodge
---
Emerald Lake Lodge is the Only Place to Stay on Emerald Lake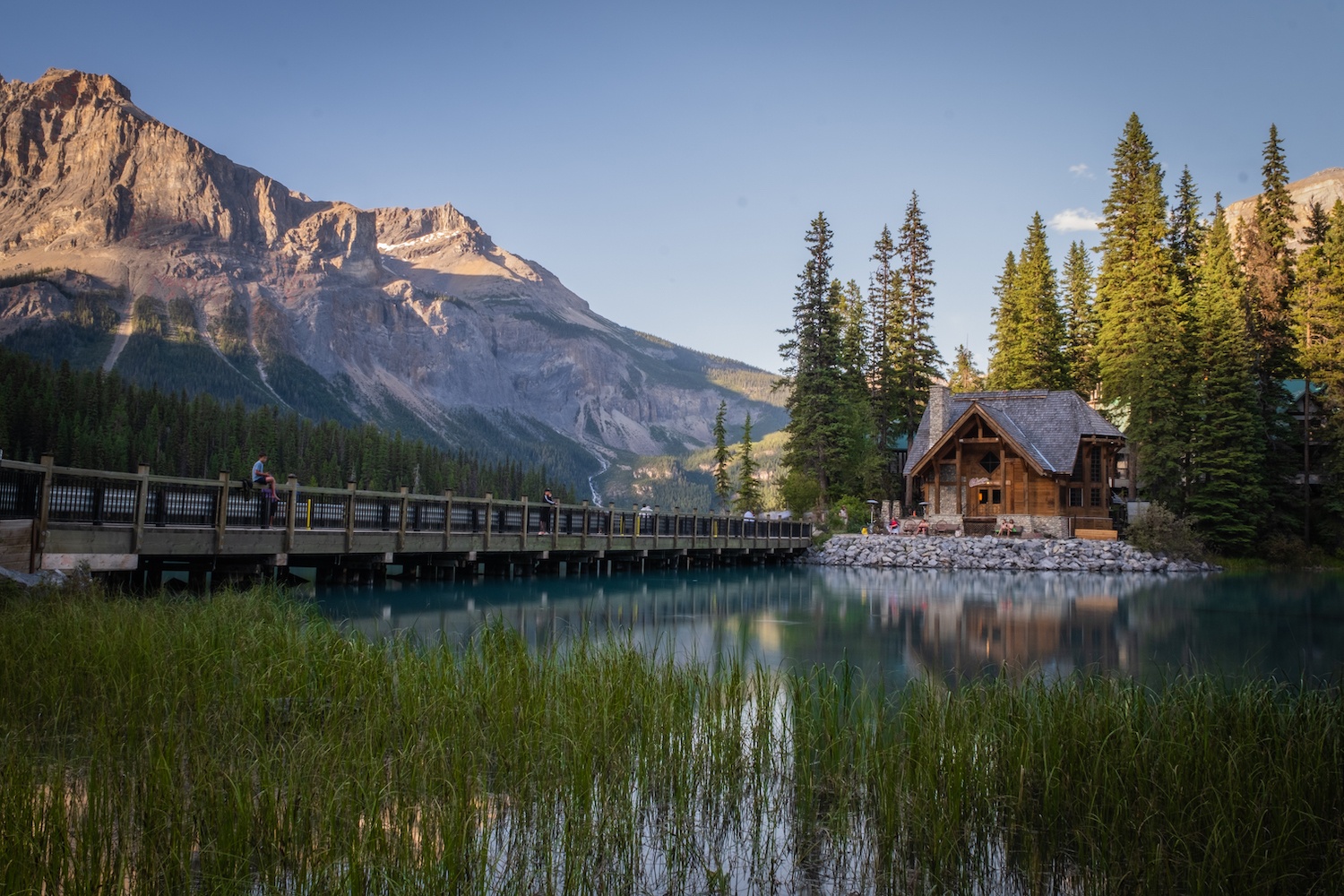 There are not many places to stay in Yoho National Park, to begin with, but there are no other places to stay actually at Emerald Lake than Emerald Lake Lodge. Meaning if you are craving some exclusivity while visiting the Canadian Rockies, a stay here should be in your forecast. Just imagine waking up at sunrise at one of the prettiest lakes in the world and being one of the only people there.
You can have gorgeous mountain and lake views right from your balcony. The famous Wapta Mountain and Mount Burgess are always in sight. The lodge itself is connected to the main bridge via a photogenic bridge that looks like a movie set.
However, being the only place in such a stunning destination comes with drawbacks. Mainly, prices are high, service is subpar, and non-guests can walk around the premises. We'll go into the cons of Emerald Lake Lodge at the bottom of this post.
---
You'll Be Staying in History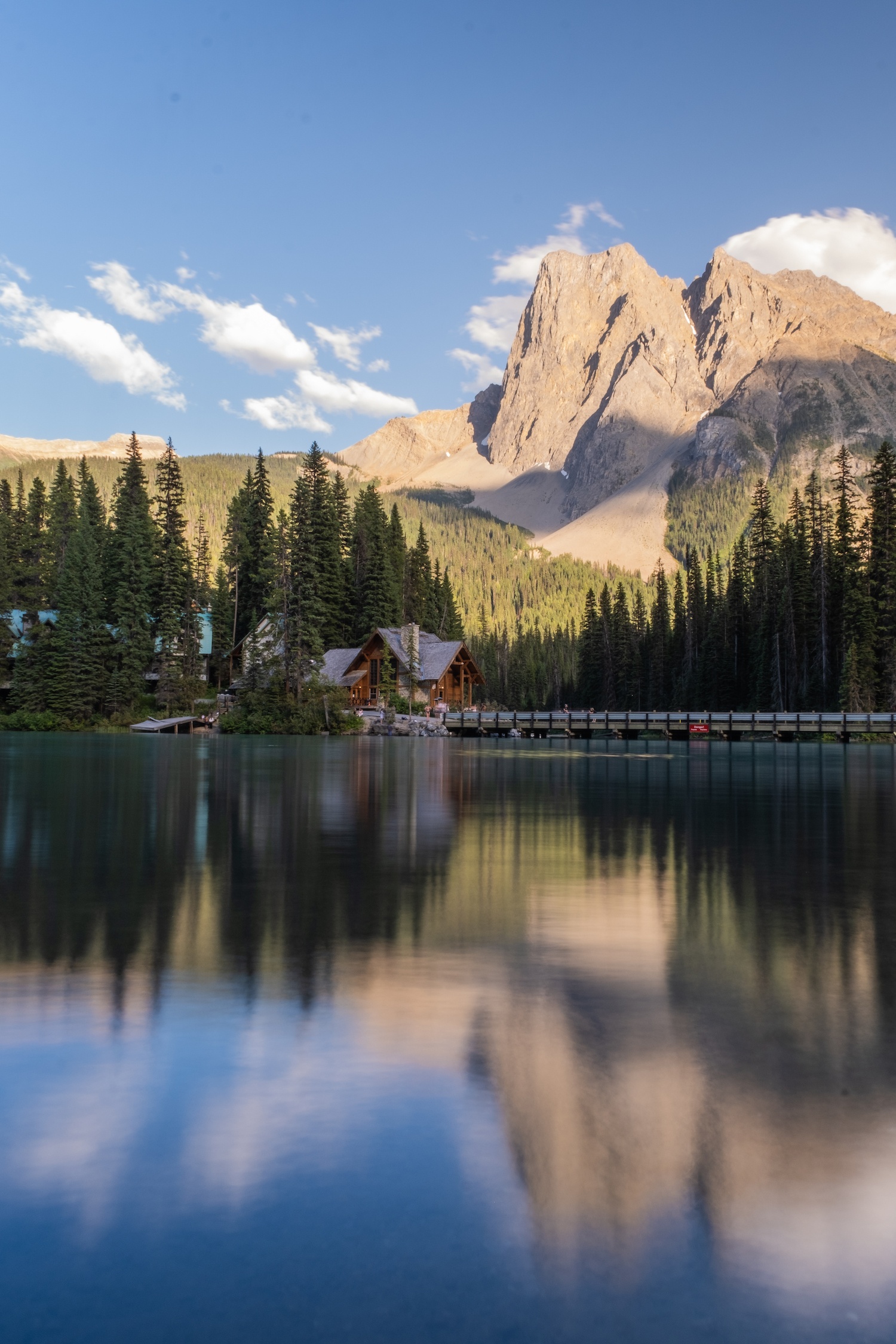 In 1892 guide Tom Wilson stumbled upon this lake in Yoho National Park. He saw it during the construction of the Canadian Pacific Railway, and it was named Emerald Lake for its jade-colored waters. Inside the Emerald Lake Lodge, you can find a salvaged oak bar from an 1890s Yukon saloon still standing and a century-old fireplace.
---
There's No Cell Service at Emerald Lake Lodge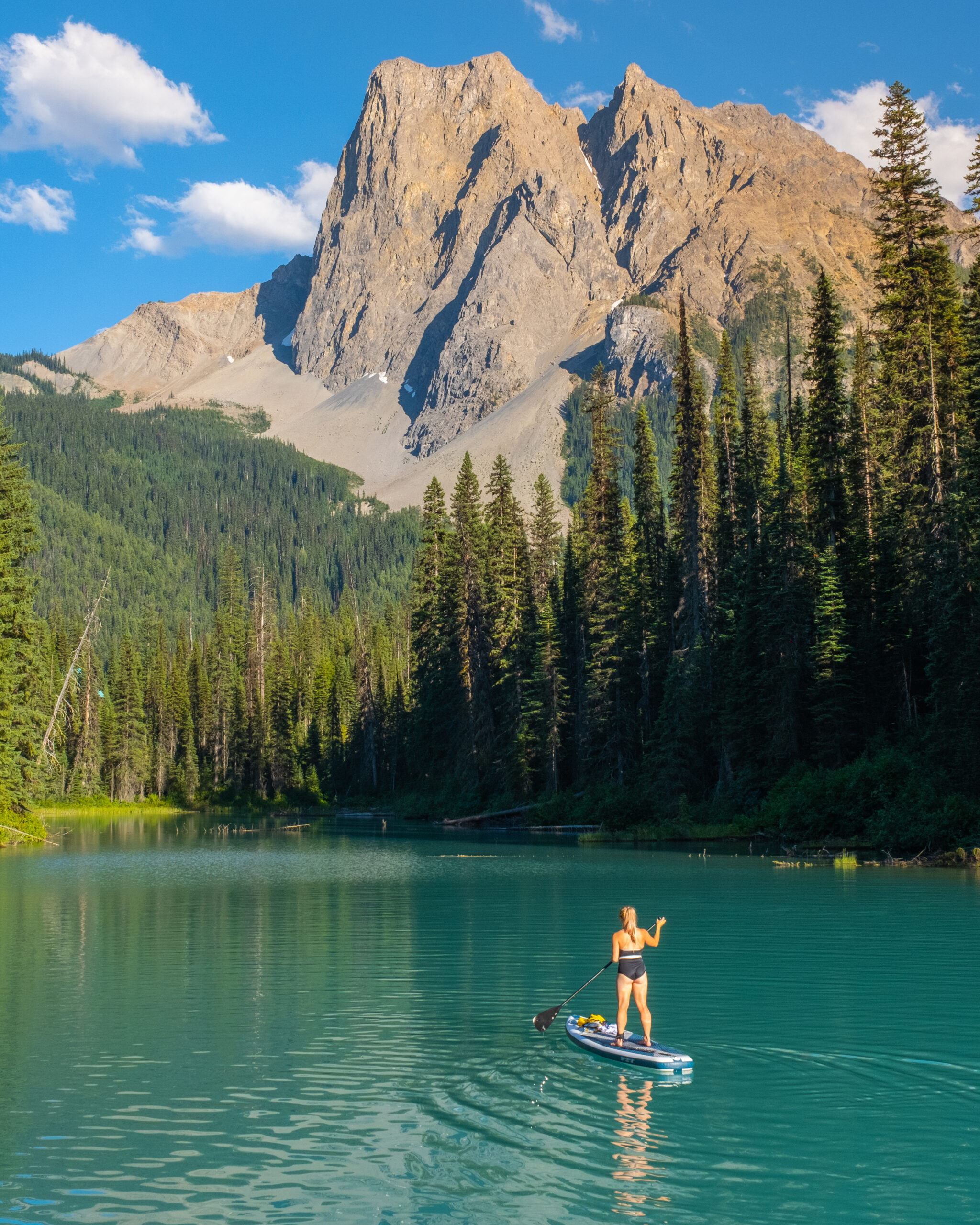 This may be a good or bad aspect of staying at Emerald Lake Lodge, depending on who you ask. To me, it is a huge plus. You likely didn't come to the Canadian Rockies and experience the great outdoors only to be connected at all times. Take the well-earned time off from the outside world here.
There's no cell service anywhere around Emerald Lake, so even if you feel the need to take that work call, you won't be able to here. There's also no WiFi in any of the rooms at Emerald Lake Lodge, but there is basic (slow) WiFi at the main lodge should you have an emergency.
---
Emerald Lake Lodge is Pet Friendly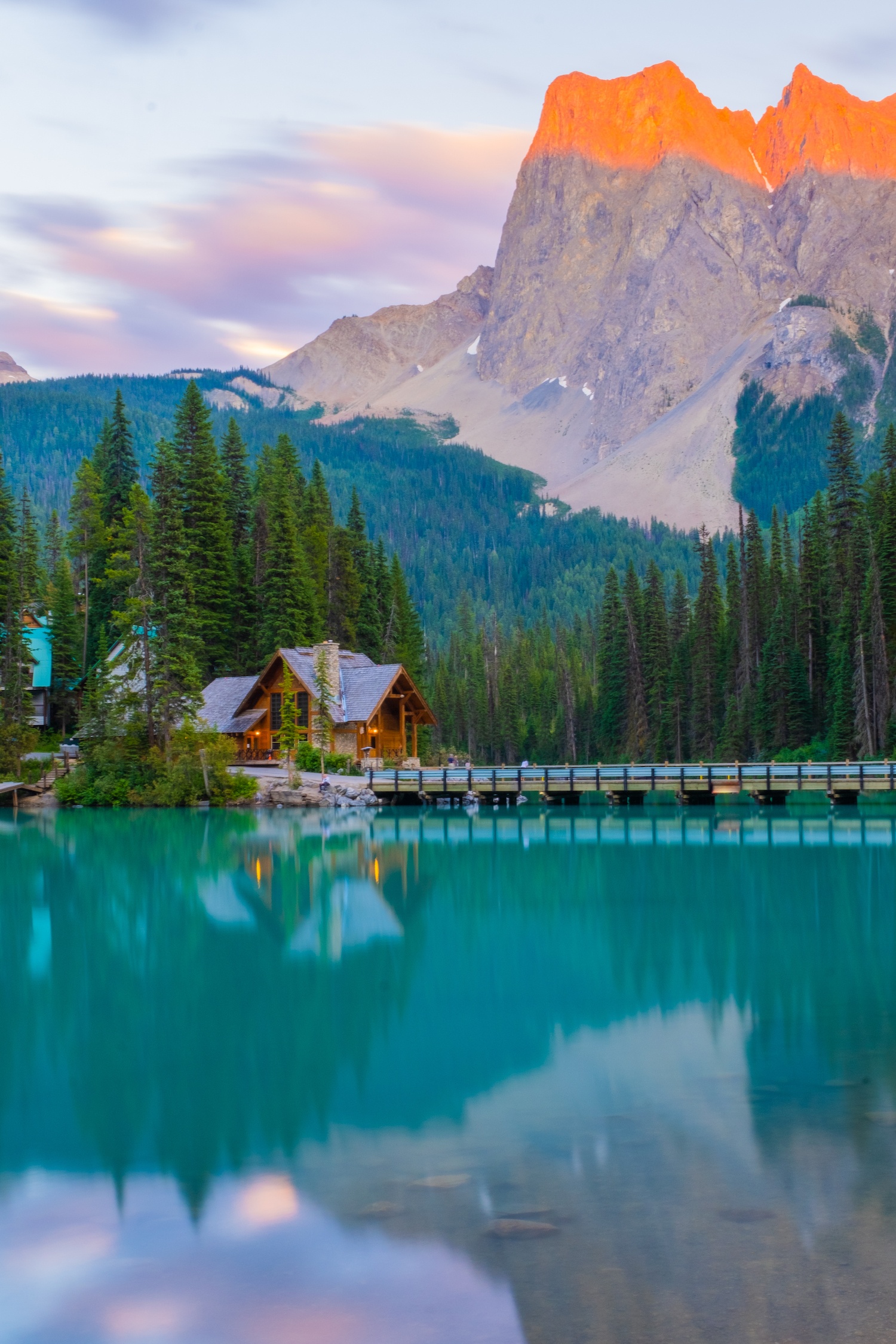 That's right! There are select rooms at Emerald Lake Lodge where you can easily bring your pooch. They'll love you even more for letting them tag along to this amazing lake. (Additional charges apply, Emerald Lake Lodge must be notified if there is a pet).
---
Emerald Lake Lodge Has an Outdoor Hot Tub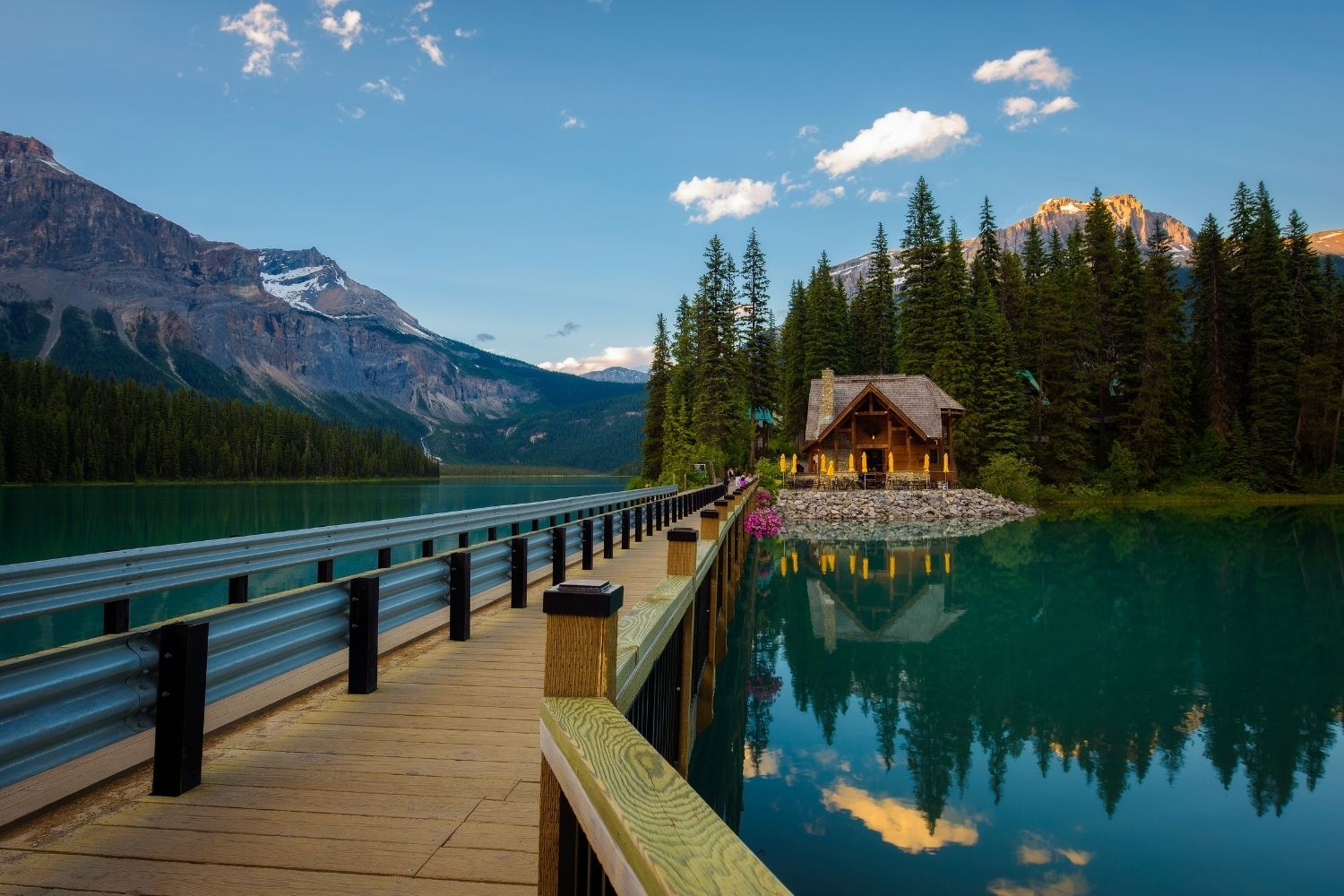 An outdoor hot tub might not seem like a big deal, but when you're in an area as pretty as Emerald Lake, you'll want to relax in this hot tub every single night, especially in the winter.
The hot tub at Emerald Lake is one of the most scenic in all the Rockies and definitely (if not the only one) at a lodge in Yoho National Park. Don't forget to pack your bathing suit.
---
Emerald Lake Lodge has Plenty of Room Types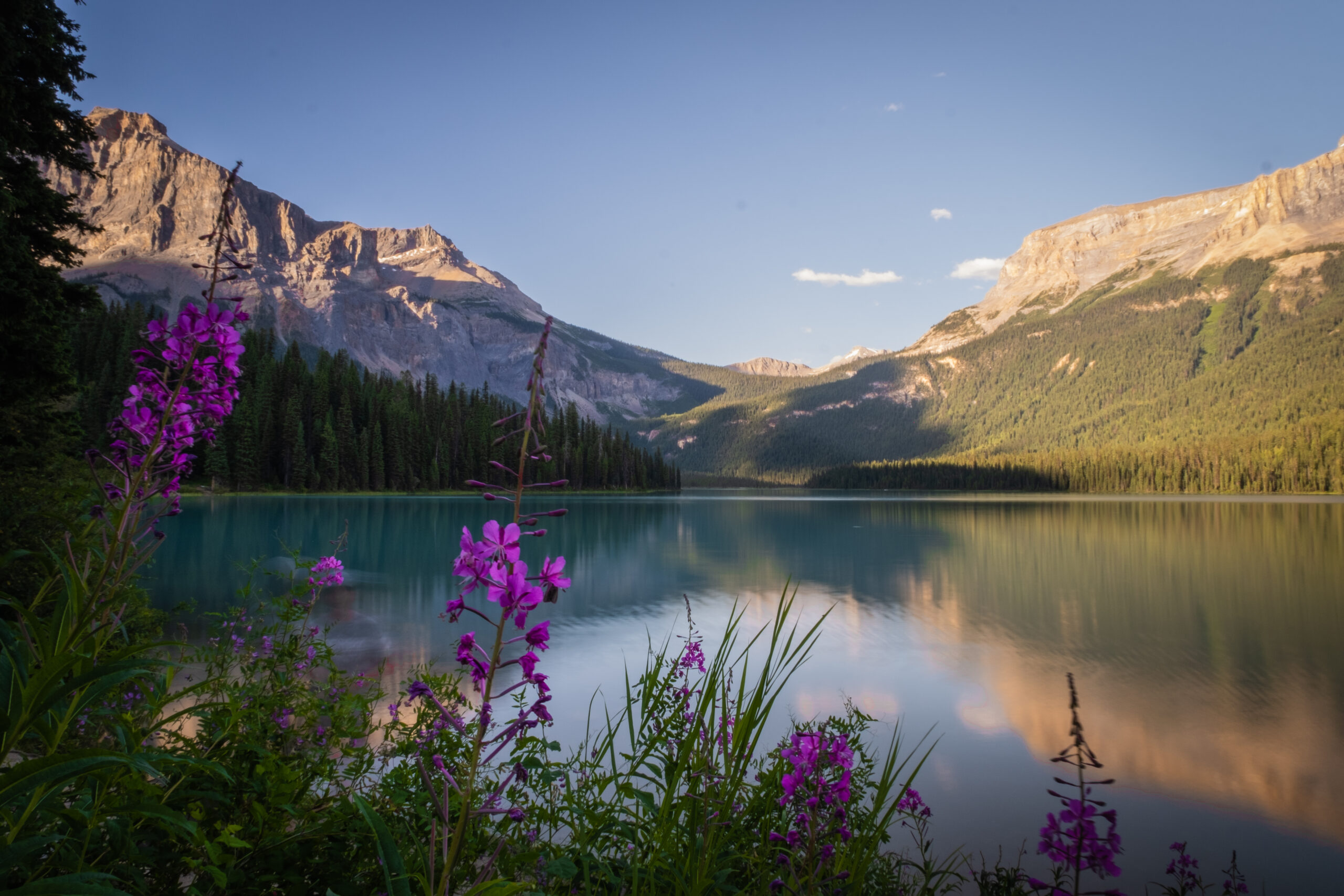 There are multiple rooms at Emerald Lake Lodge, varying in size. The most basic is the lodge room which has a fireplace and a private balcony. The next step up is the Lake View Room, which obviously has views of Emerald Lake. Besides a private lake-facing balcony, there's also a king-size bed, sitting area, and wood-burning fireplace.
The top tiers are the Emerald Suite and the Point Cabin. The Point Cabin is the most exclusive lodge, which is the largest cabin and has a kitchen, wrap-around balcony, and whirlpool bath.
---
You Can Find Some Great Dining in the Rockies Here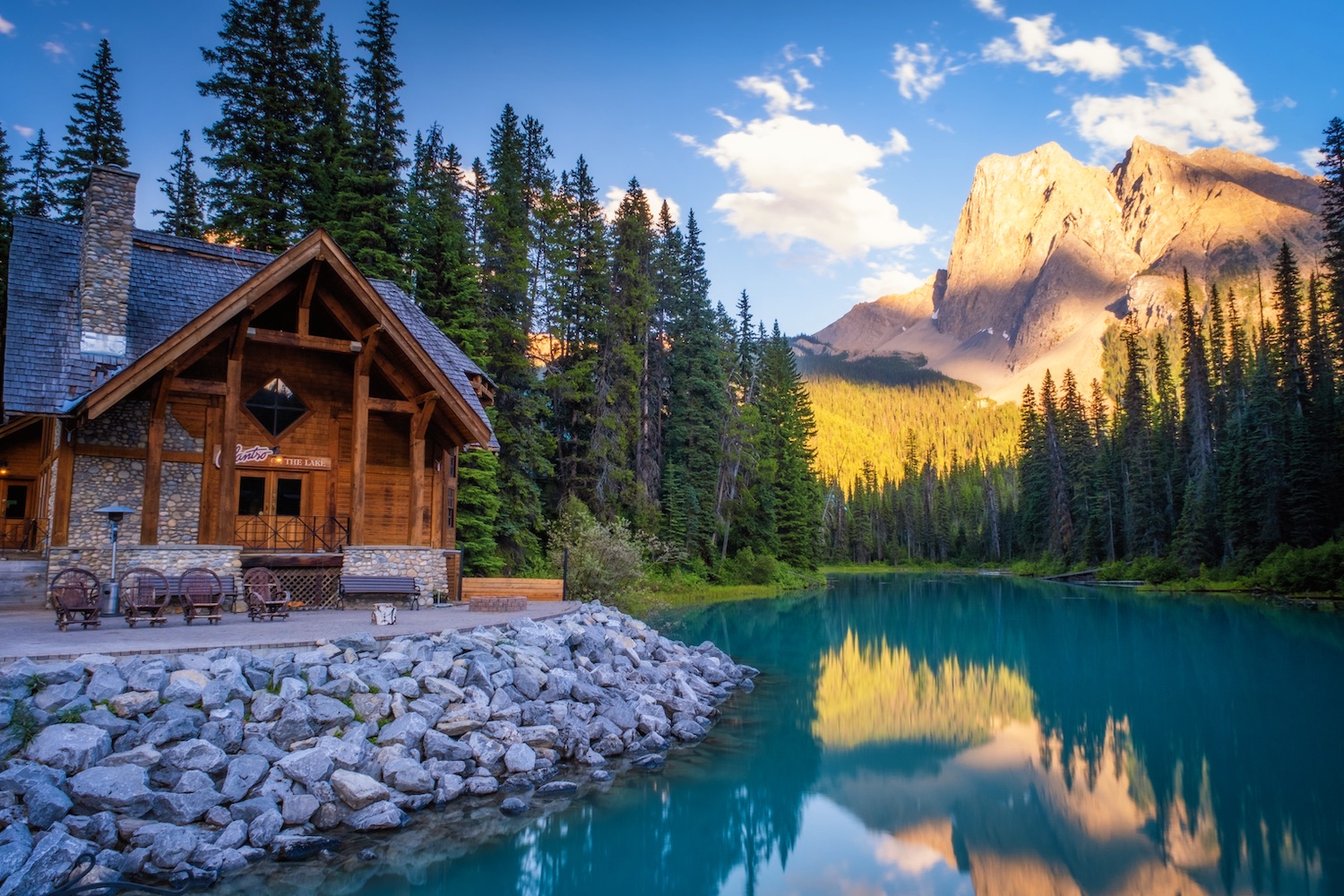 Okay, there aren't many places to eat outside the town of Banff, but Emerald Lake still serves up delicious food (especially considering the remote location) at the Mount Burgess Dining Room. This is the nicest place to eat at Emerald Lake, and reservations are recommended if you're not staying at the lodge.
Here you can have classic Canadian Rockies comfort food like free-range elk, bison, and caribou. The Kicking Horse Lodge is where you'll head either before or after dinner to enjoy a cocktail by the fire. While the Cilantro Cafe is where one can grab quick, convenient bites during the day.
---
Emerald Lake Turns into a Winter Wonderland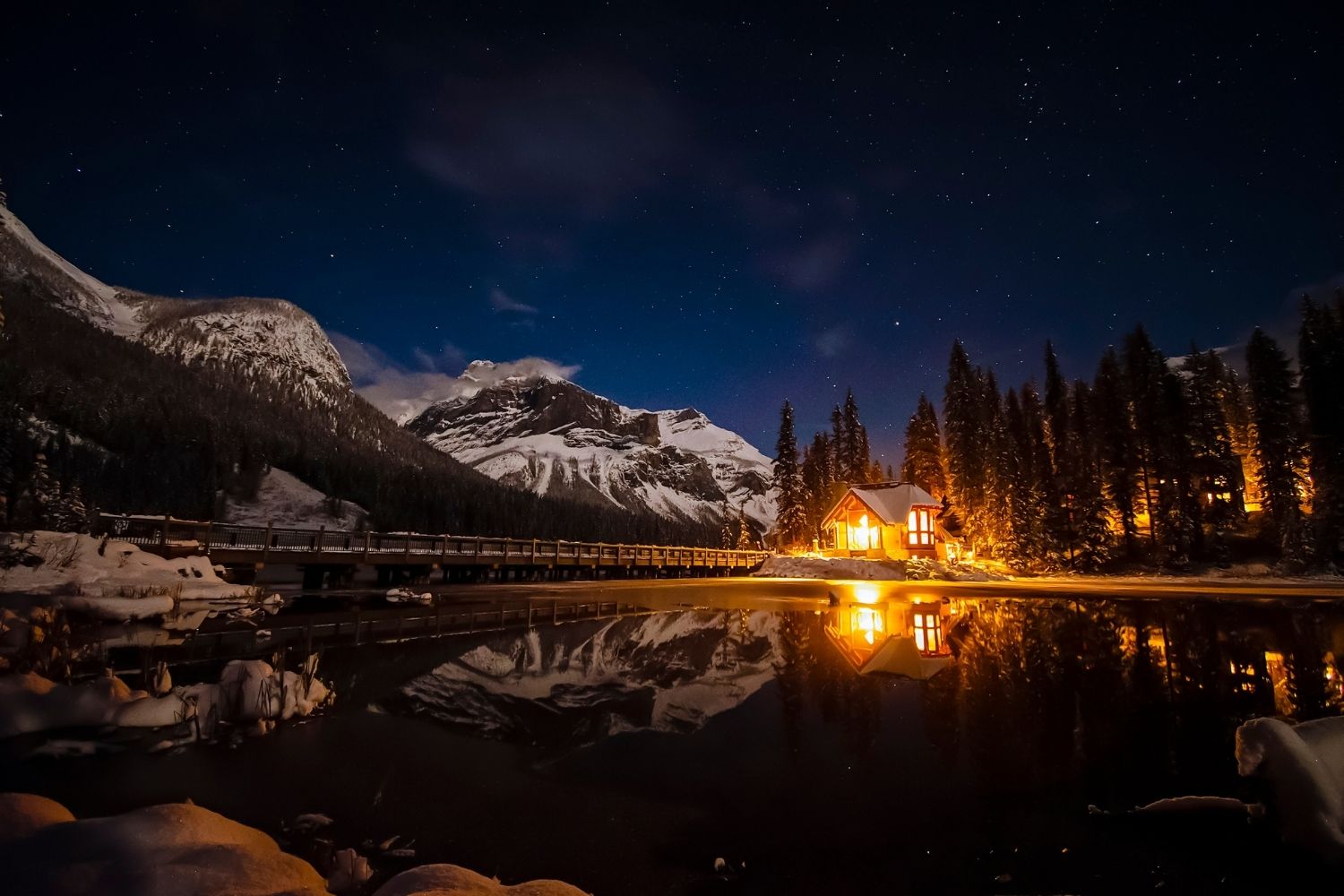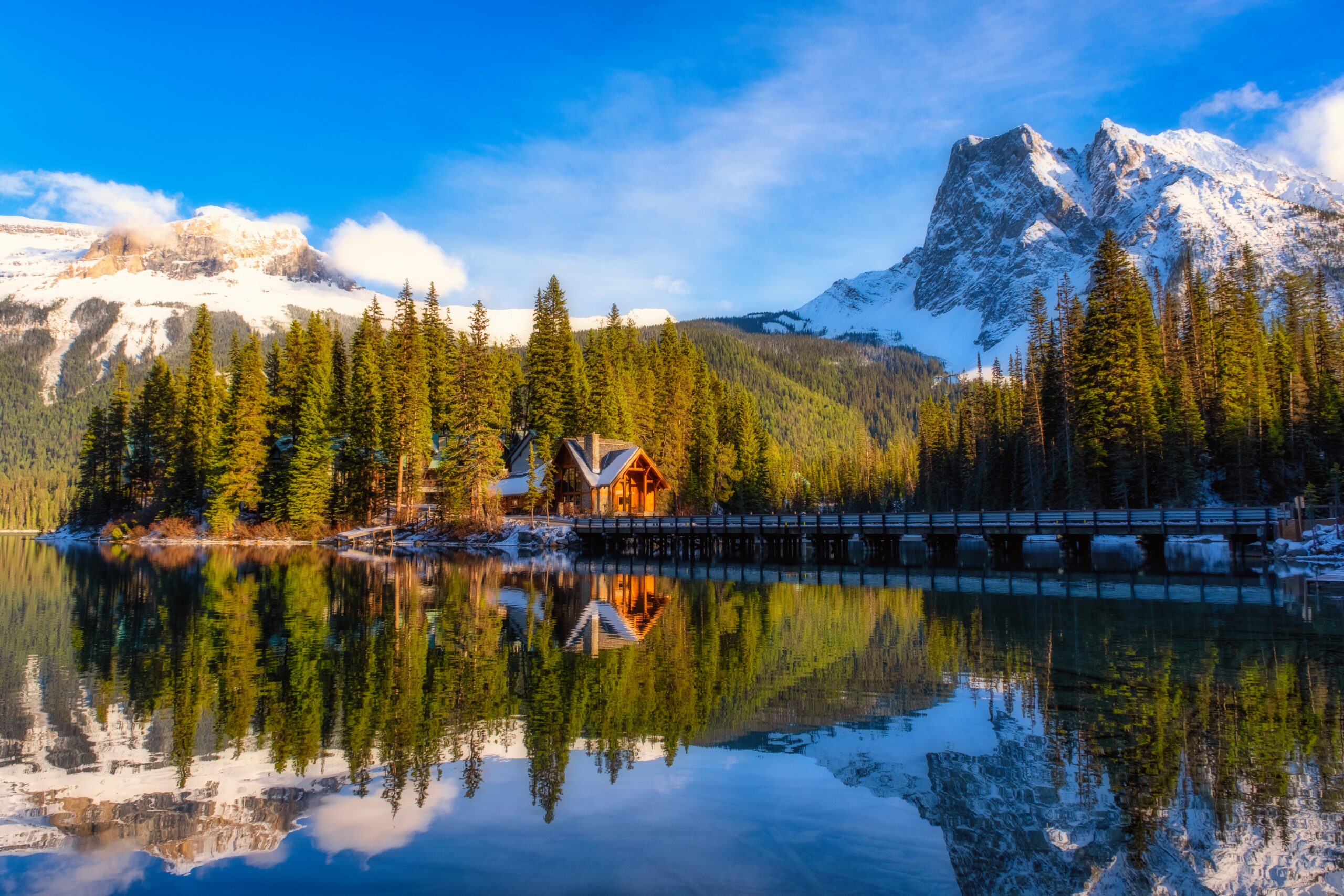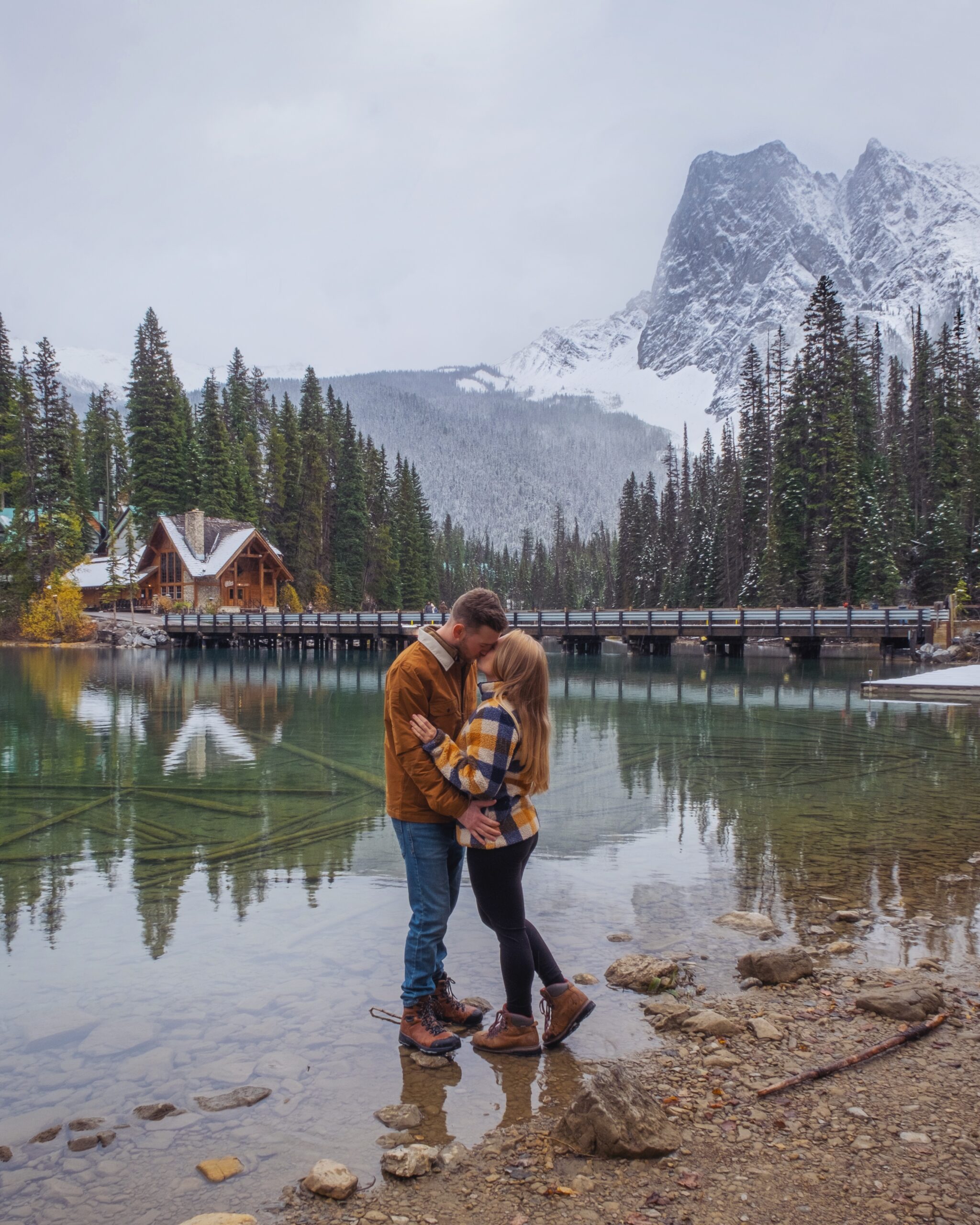 The summer is absolutely wonderful at Emerald Lake. You truly can't beat those teal and emerald colors. While it's still busy in the summer, it's not nearly as crowded as Lake Louise.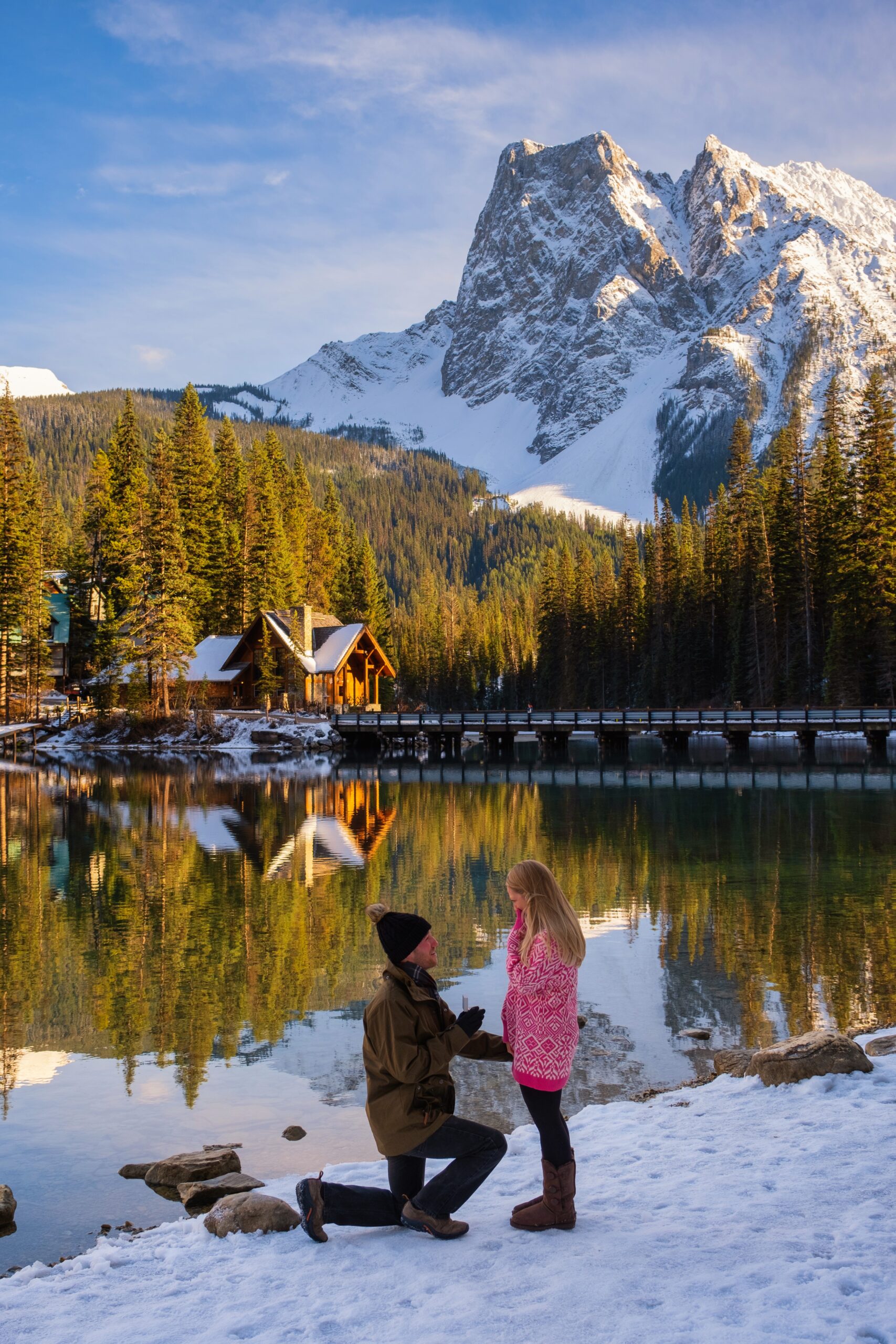 However, stay here in the winter, and Emerald Lake is dead. The whole area is covered in white fresh snow. Emerald Lake freezes over and you will feel like you are on the inside of a snowglobe. While there is no ice skating at Emerald Lake there are still walking trails to venture around in the winter.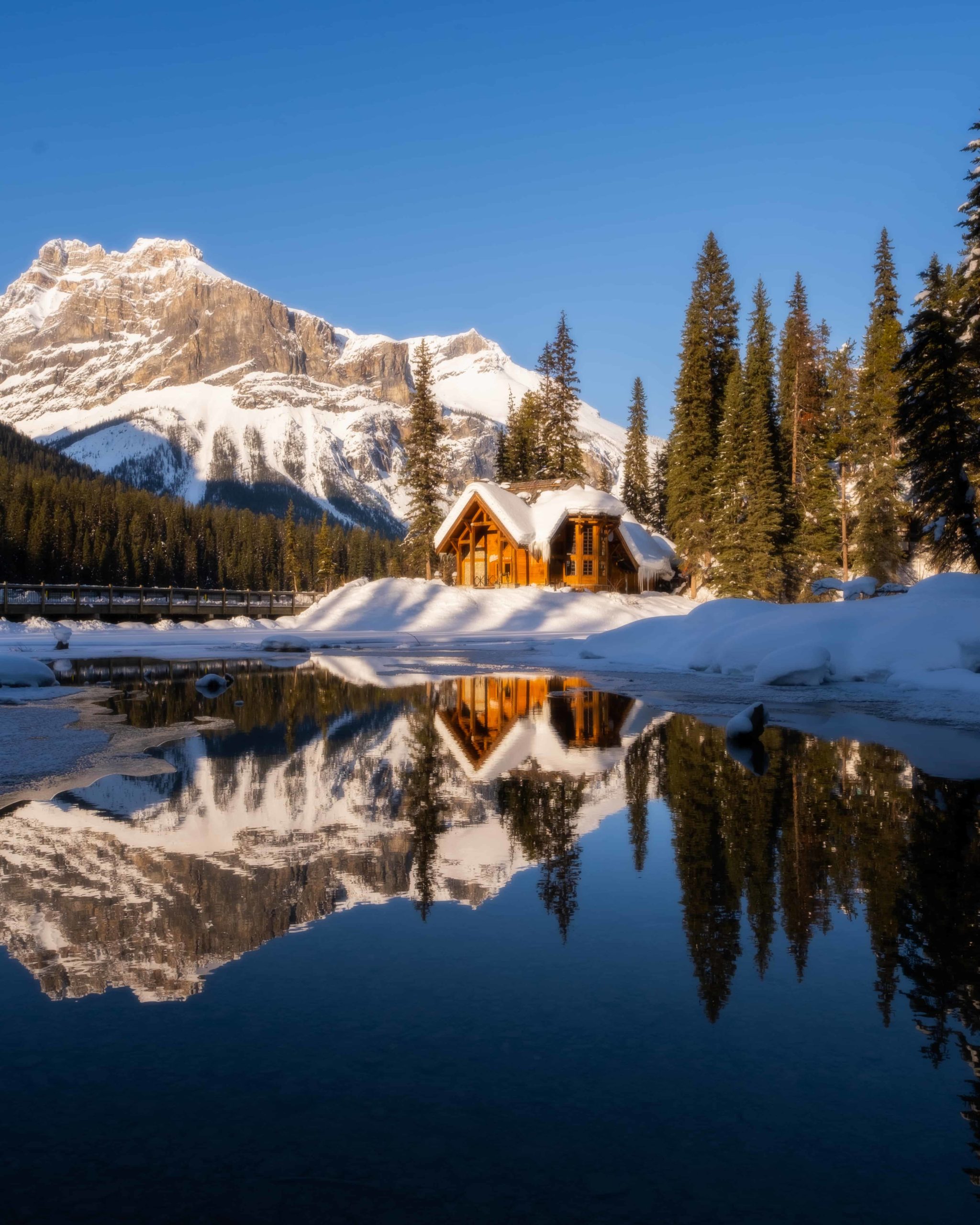 If you are into ski touring and have proper avalanche training this is a popular place to ski tour. Though it's a high avalanche risk area around Emerald Lake, you must know what you are doing.
---
You Can Easily Stay Entertained Without Ever Leaving Emerald Lake Lodge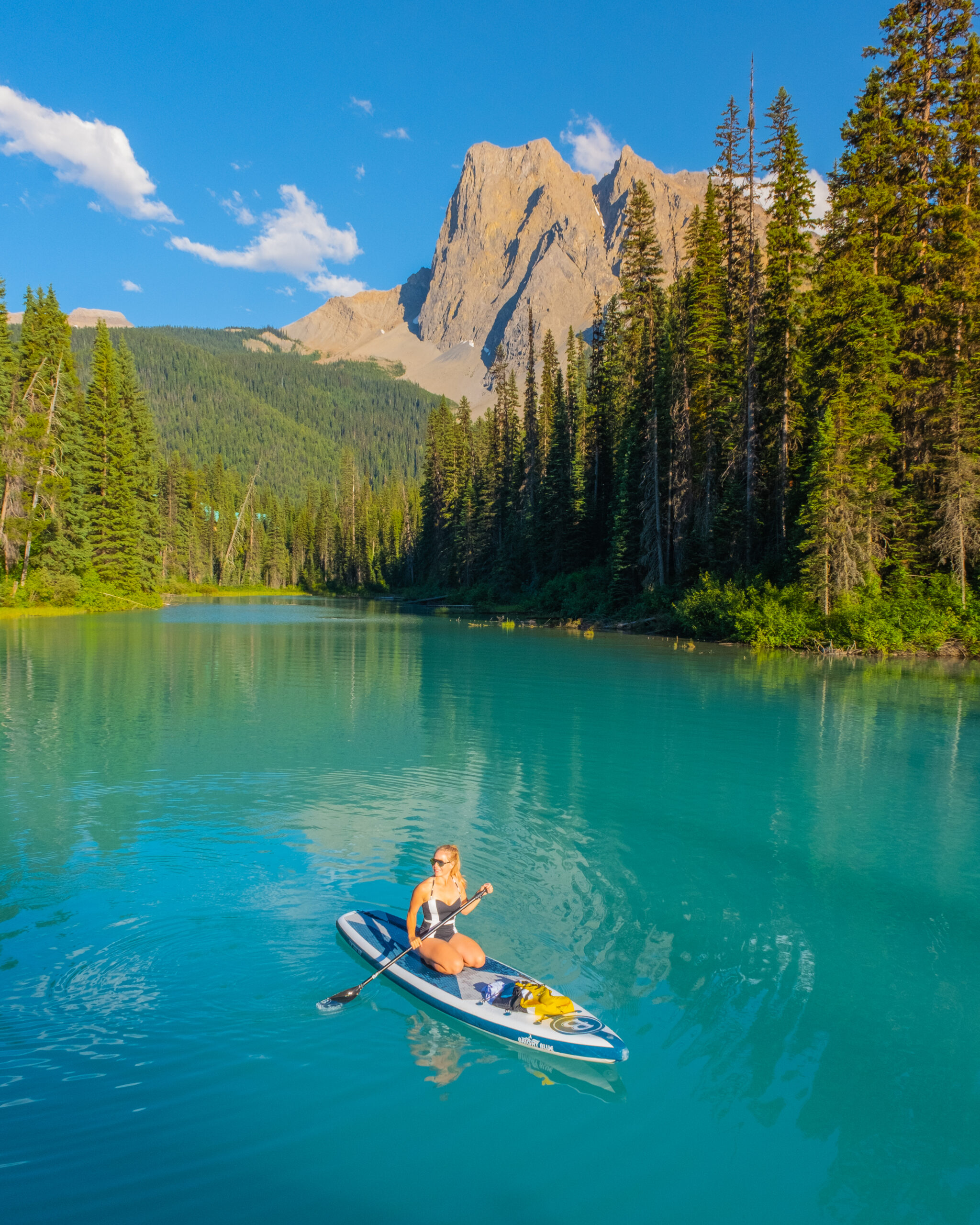 In the winter there's walking, snowshoeing, and ski touring and in the summer, there is canoeing, kayaking, stand-up paddleboarding, and even swimming if you dare. There's some awesome hiking around Emerald Lake with plenty of views to take in at every single turn.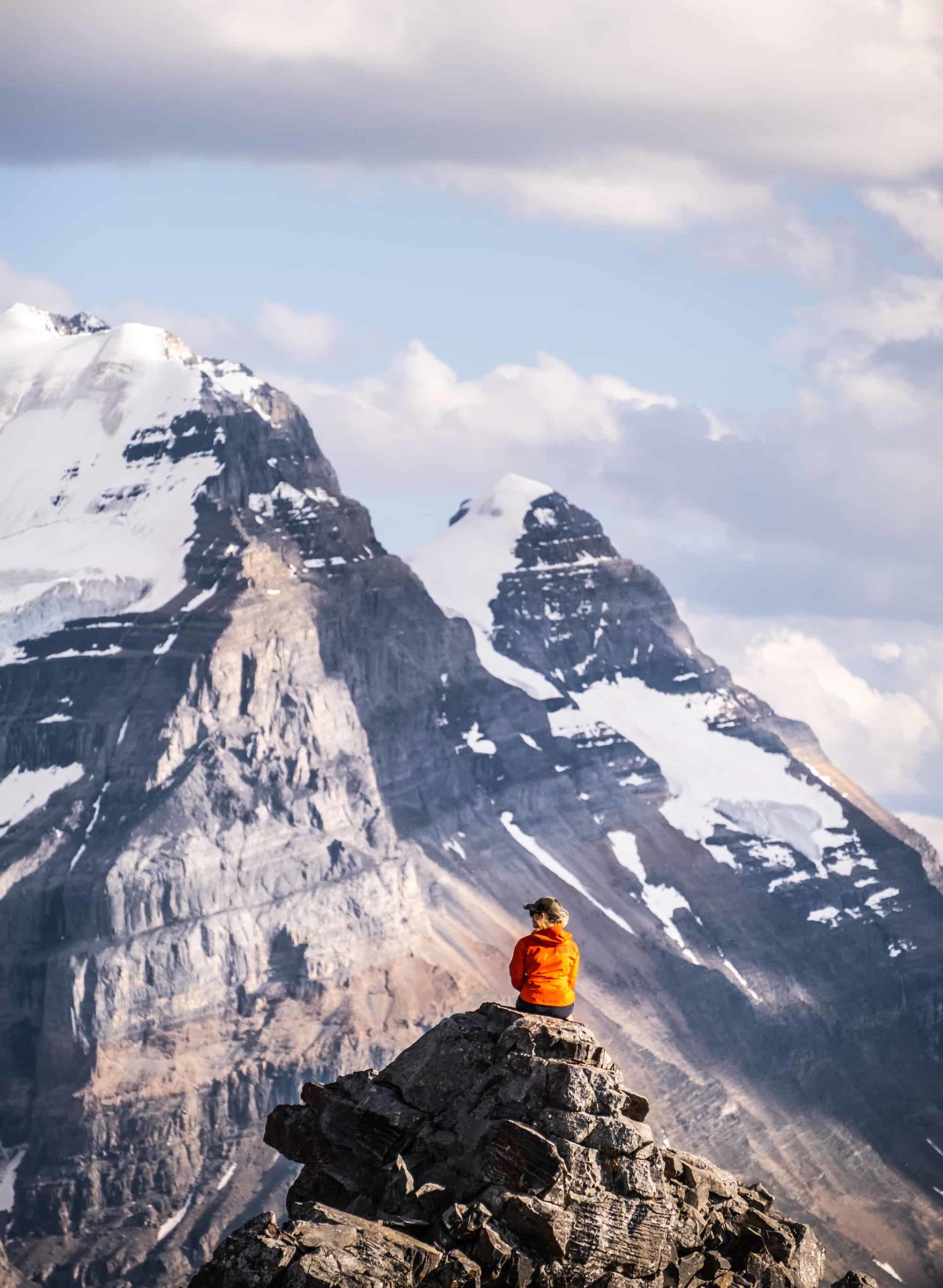 It's possible to stay two or three days and never ever leave (which I might recommend for ultimate relaxation). Emerald Lake Lodge rents out canoes to guests and non-guests all summer long, or you can bring your own water device and float on a blue paradise. Some of the hikes and scrambles in this area are some of the best in the Canadian Rockies.
When you decide to hop in the car and venture away from Emerald Lake there's still plenty to do in Yoho National Park and nearby Golden. Or you can always drive to Banff and experiencing everything there is to do at Lake Louise. What I am trying to say is that Emerald Lake Lodge is in a fantastic location perfect for any outdoor escape in the Rockies.
---
Criticisms of Emerald Lake Lodge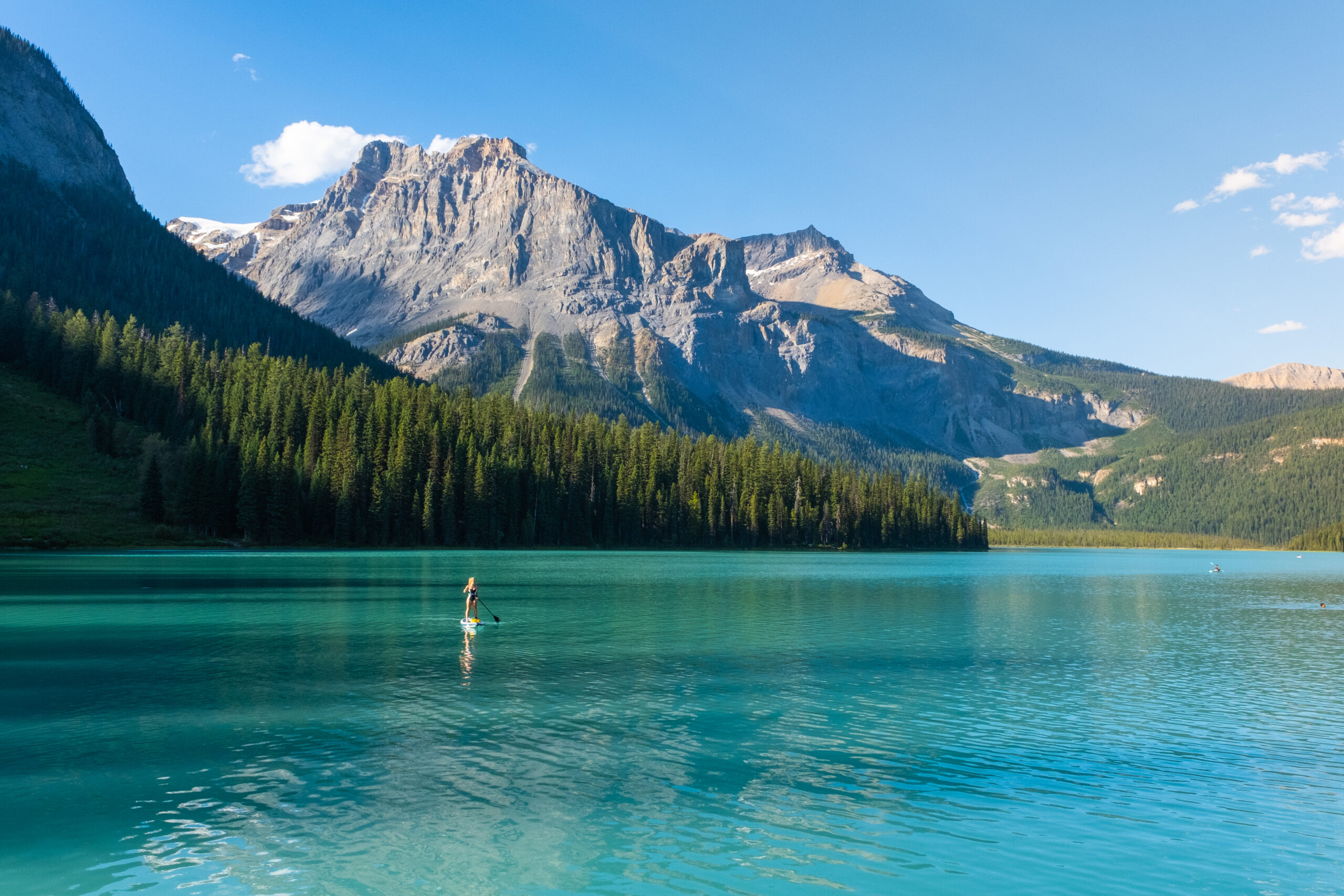 I couldn't write this whole post about how wonderful Emerald Lake Lodge is without noting the cons of the property. And there are definitely some negatives about this place.
I want to mention that Emerald Lake Lodge charges high prices, stays booked up in the summer, and is the most sought-after place to stay in the Rockies. However, this is mainly because of the location itself and not because of the actual property. Because in all fairness the actual interior of Emerald Lake Lodge is very much in need of some updating.
Rooms are dated and are in need of some updating
There are four guest rooms per cabin and if you are on one of the bottom two you will likely hear the guests above you frequently. While booking request a top room.
You may find service is subpar as most workers are young seasonal workers who don't seem to care too much.
Emerald Lake Lodge charges over $400 a night in the summer. At that price point, you would think their reviews would be immaculate but they aren't. The sad truth is Emerald Lake Lodge relies on its pristine location to survive.
Although less busy than Moraine Lake and Lake Louise, Emerald Lake still stays very busy during peak summer months. And as a paying guest at the hotel, this may get very annoying as anyone can walk around the lodge.
---
Getting to Emerald Lake Lodge
---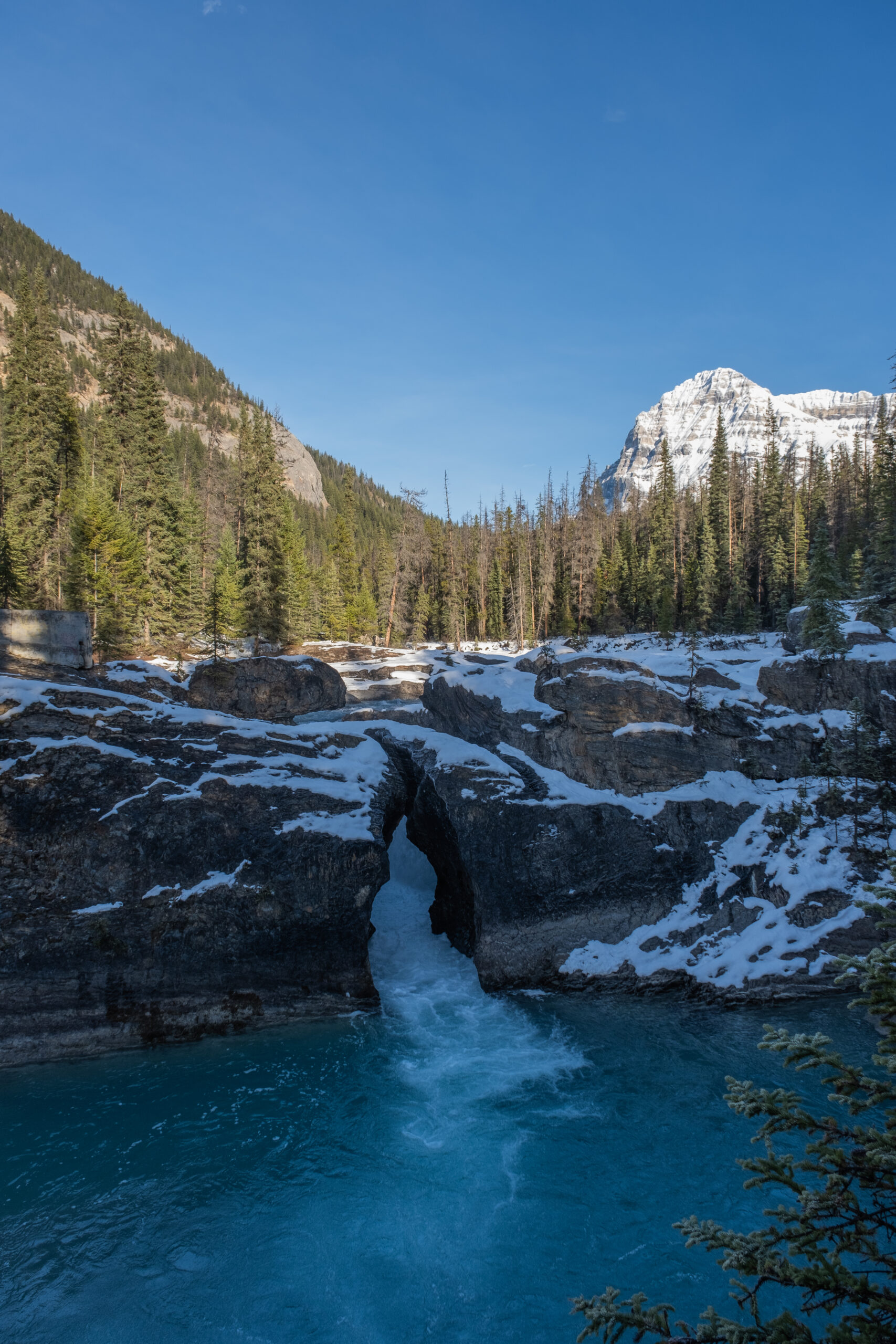 Emerald Lake Lodge is 20 minutes past Lake Louise in Yoho National Park right near the town of Field. From the town of Banff, it will take you about one hour and 15 minutes to get to Emerald Lake. From Calgary, expect it to take you 2.5 hours to get to Emerald Lake Lodge.
The turnoff to Emerald Lake Lodge is 1km west of Field. From the turnoff, it's about 8 km to get to the overnight guest parking and just a bit further if you are a day visitor. Don't forget to stop at the Natural Bridge along the way.
Park at the Overnight Guest Parking area that is 1 km from the lake. The main parking lot is owned by Parks Canada while the lodge parking lot is 1 km away. There is a telephone to call the front desk from the lodge parking lot, and a small shuttle will be sent to pick you up and bring you to the lodge. The shuttle runs 24 hours a day.
Downtown Banff to Emerald Lake: 94 km via Trans-Canada Hwy/AB-1 W
Canmore to Emerald Lake: 116 km via Trans-Canada Hwy/AB-1 W
Golden, BC to Emerald Lake: 65 km via Trans-Canada Hwy/BC-1 E
Lake Louise to Emerald Lake: 38.8 km via Trans-Canada Hwy/BC-1 W
Invermere to Emerald Lake: 184.6 kmvia BC-95 and Trans-Canada Hwy/BC-1 E
Radium Hot Springs to Emerald Lake: 168.3 km via BC-95 and Trans-Canada Hwy/BC-1 E
Book Emerald Lake Lodge On
---
---
↓ Join the community ↓
The Banff Blog Facebook Group is your headquarters for the Canadian Rockies' travel advice and information. Including hike info and off-season travel information. This is also where you can meet one another when you need adventure buddies.