It's exciting that you are considering the beautiful Banff National Park for your next vacation. Here are some important questions that often get asked before visitors get to the Canadian Rockies. Feel free to ask any more questions in the comments and we will be happy to answer.
---
Banff Basics
What is Banff known for?
Banff National Park is known for many things, but in general it's known for its extreme beauty. The Town of Banff is the highest town in all of Canada, it is the oldest national park in Canada and the second oldest in North America, and the third oldest in the world.
Banff is famous for its bright blue lakes and endless mountains. It's one of the most stunning places in the world.
---
Why is the water so blue in Banff?
Many of the lakes in Banff are a bright blue/turquoise color that almost seems too beautiful to be real. These lakes are glacier-fed lakes caused by a natural phenomenon in glaciers. The glaciers grind rock down into the rock flour which is then carried downstream into the lake. This rock flour then refracts the light and gives off a vivid blue or teal color. Some of the bluest lakes in Banff are Lake Louise, Moraine Lake, Peyto Lake, Sherbrooke Lake, Waterfowl Lakes, and Bow Lake.
---
What mountain range is Banff in?
Banff National Park is located in Canada's Rocky Mountains. Banff is entirely located within the Canadian province of Alberta.
---
Why is Banff important to Canada?
Banff is important to Canada for being Canada's first national park. In addition, it is one of the most popular places in the entire country and plays an important role in tourism and for Parks Canada. It's a symbol of extreme beauty. Moraine Lake itself is perhaps the iconic symbol of Canada. The blue lake with thee ten peaks in the background once even graced Canada's twenty-dollar bill.
---
Why is Banff called Banff?
Banff is named "Banff" after the Scottish town, Banffshire. In 1930 the park was renamed from Rocky Mountains Park to Banff National Park. This is where the president of the Canadian Pacific Railway was from.
---
Can you stop in Banff without a pass?
You can drive on the Trans-Canada freely without a Parks Canada Pass and stop for gas. However, if you stop in Banff for sightseeing or touring you must purchase a Parks Canada Pass. Adult day passes start at $10.
---
Is there cell service in Banff?
There is cell service in Downtown Banff and at major tourist sights like Lake Louise, Vermilion Lakes, and Mt. Norquay. However the further you go into the park the less likely you are to have cell coverage. If you plan on doing any hikes you should prepare to not have cell service. A Garmin In-Reach can come in handy for these hikes in the backcountry.
---
Do I need bear spray in Banff?
Bear Spray is essential if you plan on doing any hiking in Banff in the summer. Even short hikes in Banff require bear spray as there are plenty of black bears and grizzly bears in the park. You can buy bear spray in any outdoor shop in Banff. Atmosphere sells bear spray for about $40. You cannot fly on a plane with bear spray.
---
Are there grizzly bears in Banff National Park?
Yes there are grizzly bears and black bears in Banff. There are about 70 grizzly bears in Banff, but more can be found in Jasper and Kananaskis.
---
Weather in Banff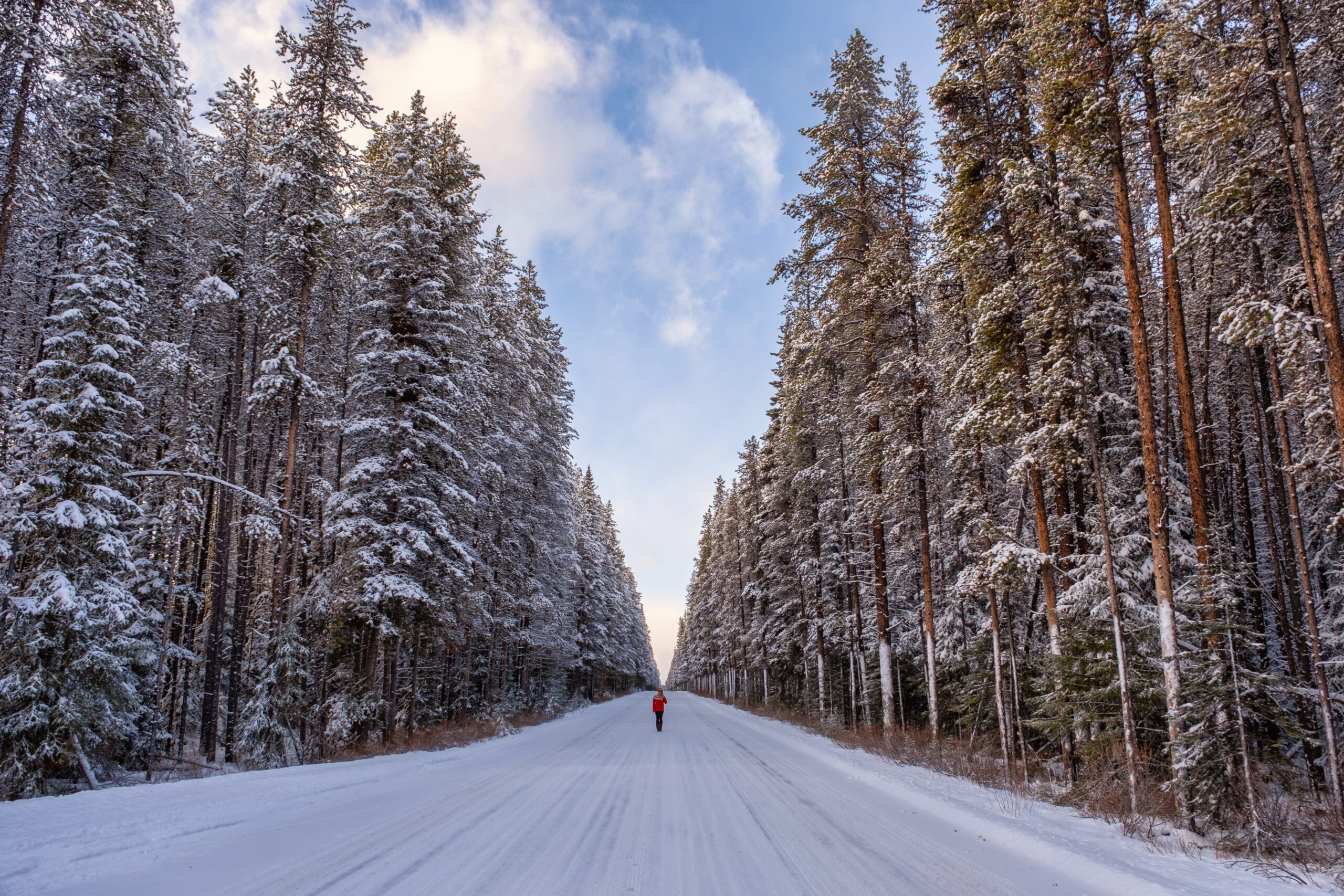 What is the best month to visit Banff?
The best month to visit Banff is typically summer, unless you are craving a winter adventure. July and August are when you will see the best and warmest weather in Banff. September is also a great month if you are chasing the golden larch trees and fantastic fall weather.
If you are into ice skating, skiing, snowboarding, and snowshoeing the best time to visit Banff is in the winter from December to March.
---
How cold does it get in Banff?
It gets quite cold in Banff at any time of year, but the coldest months in Banff are January and February. During this time temperatures can dip to -30°C, or even lower. However the average temperature in the winter in Banff is -15°C. Things start to warm up come April, and by July and August, it's the warmest you'll see Banff with an average temperature of 24°C. Though nighttime in the summer can still get quite cold with temperatures dropping below 10.°C. The good news is that because of the dryness in Banff and Alberta the cold temperatures can be more bearable than coastal weather that is similar.
---
When should you not visit Banff?
Banff National Park is always beautiful, however the worst times to visit Banff are during the shoulder months. It's recommended to avoid visiting Banff in April, May, and November as it's not warm nor is it a beautiful winter wonderland either.
---
Are there mosquitoes in Banff?
There are mosquitos in Banff, but they often aren't too bothersome. The worst months for mosquitos are July and August. Having bug spray, especially for any hiking or camping is important.
---
Banff Travel Basics
What airport do you fly into to go to Banff?
The best airport to fly in and out of for Banff is Calgary International Airport (YYC). Calgary International Airport to Banff takes about one and a half hours to get to by car and is roughly 144 km, mostly along the Trans-Canada Highway. Calgary is a great airport to fly in and out of with many direct flights to the United States and Europe. There are no airports that service Banff directly.
---
How far is it from Calgary to Banff?
144 km from YYC to Downtown Banff. The best way to get to Banff from Calgary is with a car, however, it's also possible to take the Banff Airporter or a private transfer to Banff.
---
Where should I stay in Banff National Park?
There are plenty of places to stay in Banff National Park at all different price points. One of the best places to stay near the town of Banff is the Fairmont Banff Springs Hotel. It's also possible to stay near Lake Louise. For a cheaper alternative consider staying in Canmore.
---
How expensive is a trip to Banff?
A trip to Banff doesn't have to be expensive, but in general, a trip to Banff can cost $100 CAD per person per day. So for a one week trip the average cost of a trip to Banff is $700 for one person and $1400 for a couple. Prices can go up or down from here depending on the type of hotel, the season of visit, restaurant choices, and activities.
---
Do I need a car in Banff?
A car is highly recommended for a visit to Banff. There are limited public transport options and Banff National Park is huge. Having your own vehicle ensures you get to the sights you want to get to on your schedule. Check out how to rent a car in Banff.
---
How many days do you need for Banff?
A week is an ideal duration to visit Banff for your first time, although you can spend months here exploring. A week in Banff will give you enough time to see the main sites and get out on a few outdoor adventures. Here is a great Banff itinerary.
---
How far is Banff from Lake Louise?
It is just over 60 km to get from Downtown Banff to Lake Louise. The drive should take you around 45 minutes along the Trans Canada Highway.
---
How many days do you need to see Banff and Jasper?
If planning to visit both Banff and Jasper allow at least three days for Banff and three days for Jasper, however it's recommended to allocate a total of 10 days between the two locations to get the most out of the Canadian Rockies parks.
---
Is there a shuttle from Banff to Lake Louise?
There is a shuttle from Banff to Lake Louise on Roam Public Transit. It's also possible to get from Lake Louise to Moraine Lake. It's also possible to take the free ski shuttle from the Town of Banff to Lake Louise Ski Resort.
---
Activities in Banff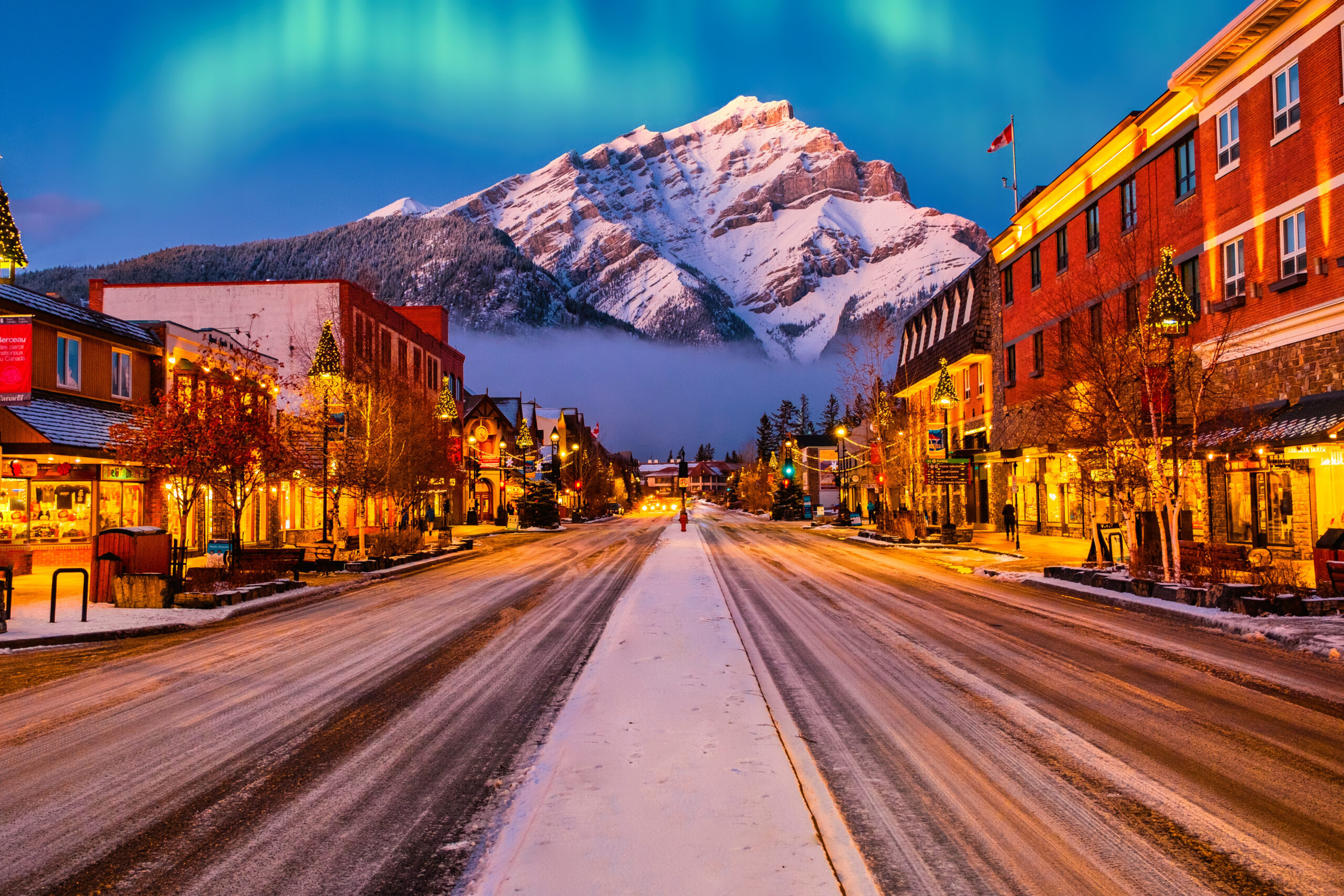 Can you see Northern Lights in Banff?
It is possible to see the Northern Lights in Banff from as early as September to April. However they shine the brightest from February to April. You'll need to watch for a dark and clear night to be able to see them. The best place to see the Northern Lights in Banff is away from town and in areas of the park that are away from light pollution. Lake Minnewanka, Castle Junction, and Peyto Lake are all fantastic spots to s the aurora borealis.
---
Is the Banff Gondola worth it?
If you are new to hiking or have mobility issues the Banff Gondola is definitely worth the price to get to the top of Sulphur Mountain. The Banff Gondola provides easy and quick access to the summit of a mountain in Banff. The views from the top of Sulphur Mountain overlooking the town of Banff are amazing.
---
What are the Best Things to do in Banff?
There are many amazing things to do in Banff to keep you entertained for a long time. Some of the best Banff attractions are Moraine Lake, Lake Louise, Vermilion Lakes, and Cascade Ponds. Some of the best things to do in Banff in the winter is go skiing at Banff Lake Louise Ski Resort and to go ice skating on one of the many frozen lakes.
---
Do you have to pay to go to Lake Louise?
You do not need to pay to visit Lake Louise. Lake Louise is located in a National Park so it is free to see. However you do need a Parks Pass to enter Banff National Park. Parks Passes start at $10 for an adult day pass.
---
This or That in the Canadian Rockies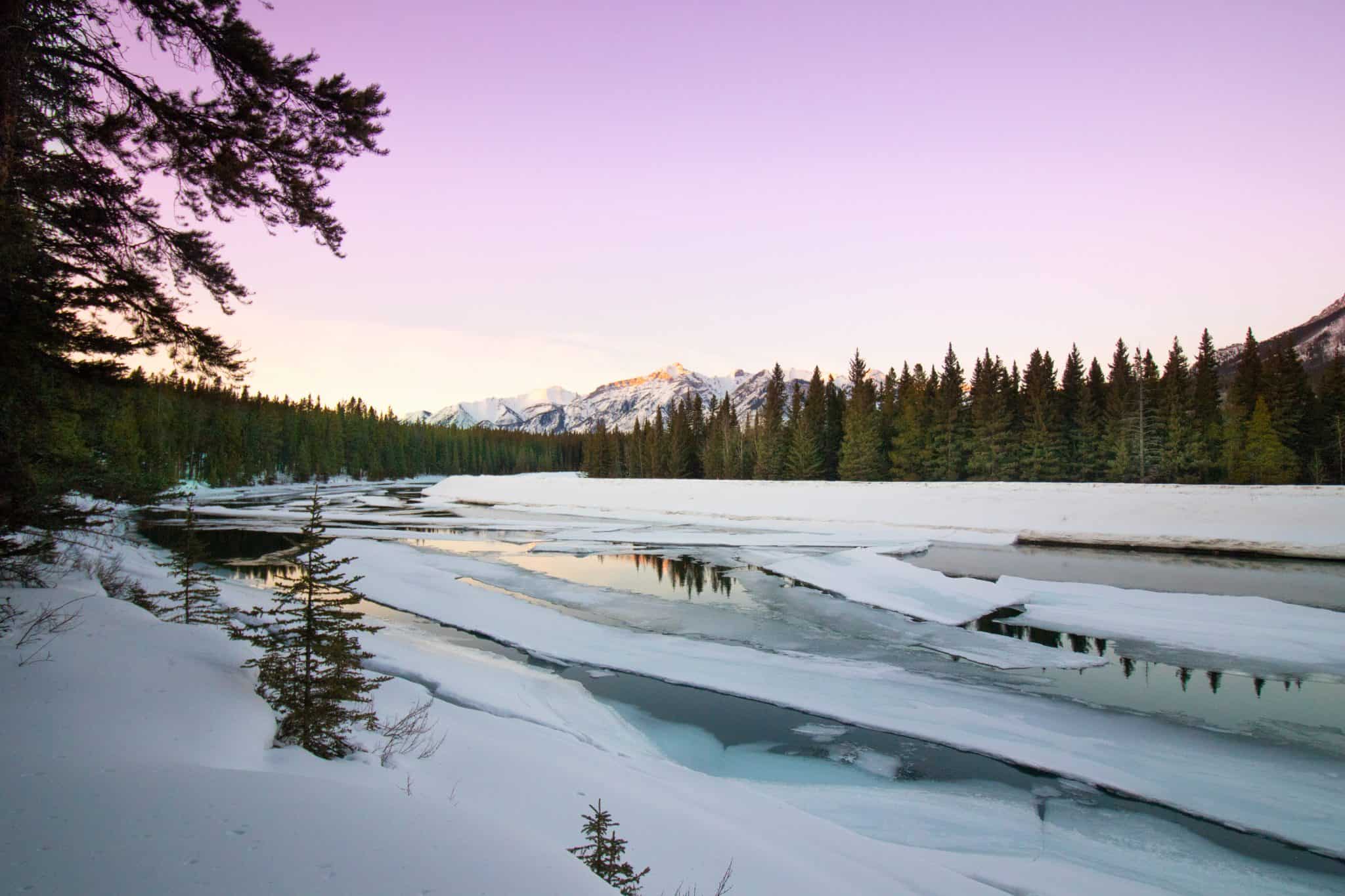 Is Banff better in summer or winter?
Many think Banff is the most magical in the summer. There truly is no better place to spend a summer than in Banff National Park. The weather is perfect, the mountains are dry, and the lakes are bright blue. However if you want guaranteed snow and a white Christmas you should consider visiting Banff in the winter.
---
Should I stay Banff or Canmore?
Both are great places to stay and there are fantastic places to stay in both Canmore and Banff. Canmore has slightly more affordable accommodation options and is closer to Kananaskis. While staying in Banff means you are closer to Downtown Banff, Two Jack Lake, Lake Minnewanka, and sights like Johnston Canyon. See if Banff or Canmore is better for you here.
---
Is Banff or Jasper better?
Both parks are fantastic and deserve a visit. Jasper is the less-visited park, sees fewer crowds in the summer, and has many things to do. It has plenty of lakes to visit and the Jasper Skytram is a fun activity. Banff has more lakes to visit and more hiking opportunities, especially for beginners. With more restaurants, hotels, and a livelier downtown area Banff is the town better catered to tourists.
Banff has moree ski resorts in the winter, but Marmot Basin is a beloved hill. See which park is better for you.
---
Is it better to stay at Lake Louise or Banff?
Lake Louise has fewer places to stay than Banff. By staying at Lake Louise you are closer to sights like Lake Louise, Moraine Lake, Lake Louise Ski Resort and the start of the Icefields Parkway. However you are giving up things like fantastic restaurants in Banff, plentiful hotel options, and being closer to the towns of Canmore and the Kananaskis Range. Perhaps a good option is to stay in the Town of Banff for a few days and add on two days at a Lake Louise hotel.