The Windtower hike is short and rewarding in Kananaskis Country. Located off the Smith Dorrein Highway and remains a favorite in the provincial park. The hike was never on our list, but we crossed it off for one stunning evening hike thanks to a friend's recommendation.
After a fun four hours, I am so happy that we could complete another epic Kananaskis Hike. Read on for what to expect while hiking Windtower in Kananaskis Country.
See More:

---
A Windtower Hike Guide
---
Key Stats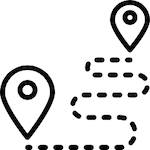 Length
9.8 km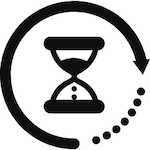 Duration
4 – 6 hours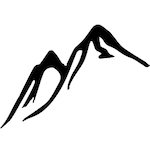 Elevation
898 meters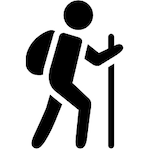 Difficulty
Moderate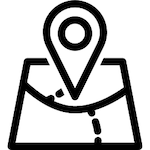 Trailhead
West Wind Pass Trailhead
---
Windtower Hike Route Description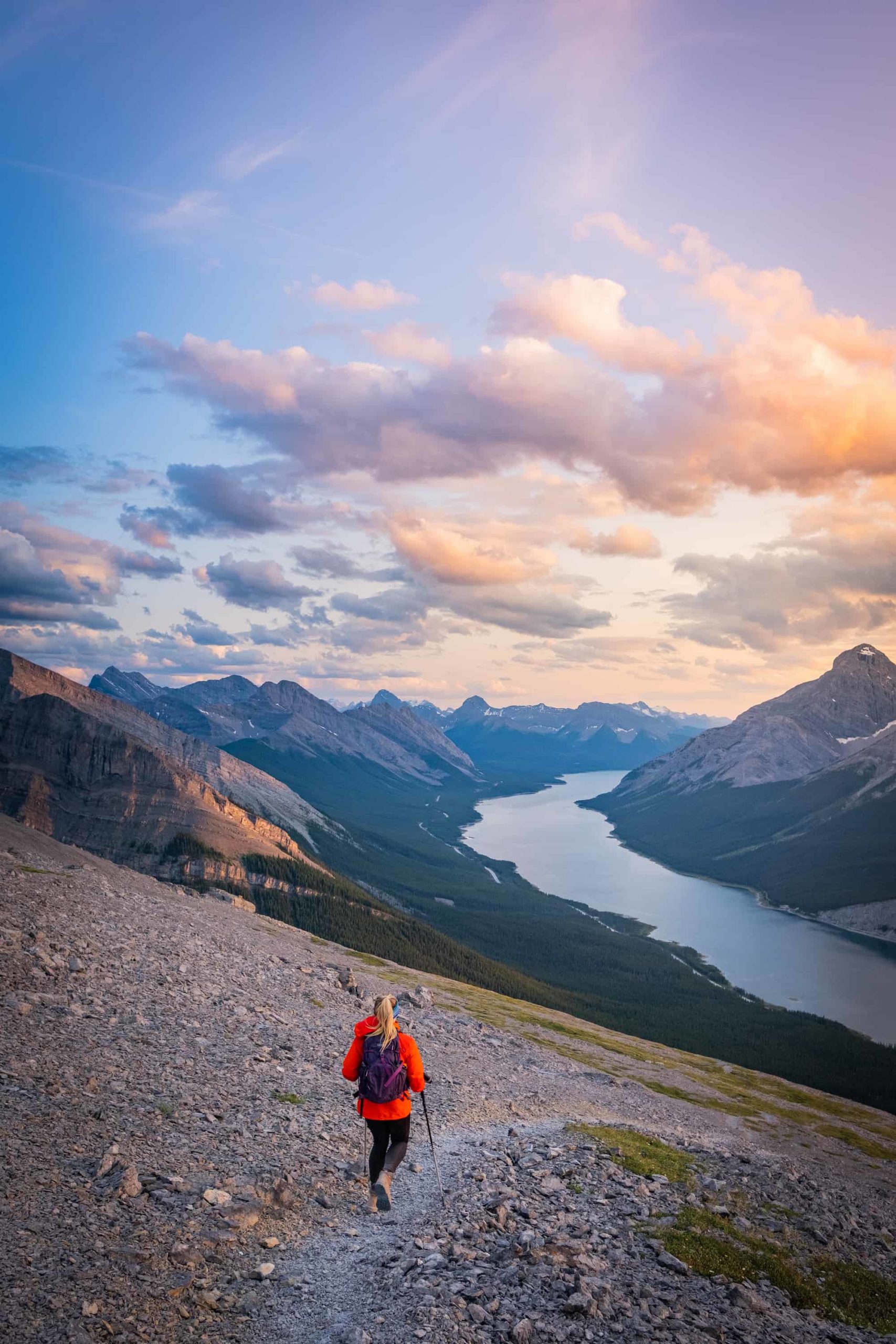 The hike starts out pretty mild. You'll hike in the treeline for the first 45 minutes or so until you reach West Wind Pass. It's a steady uphill easy climb to West Wind Pass. If you want a nice and short hike – stop here and enjoy the views over the Bow Valley. You'll know you have reached West Wind Pass around 3km when you get above the trees and have awesome views.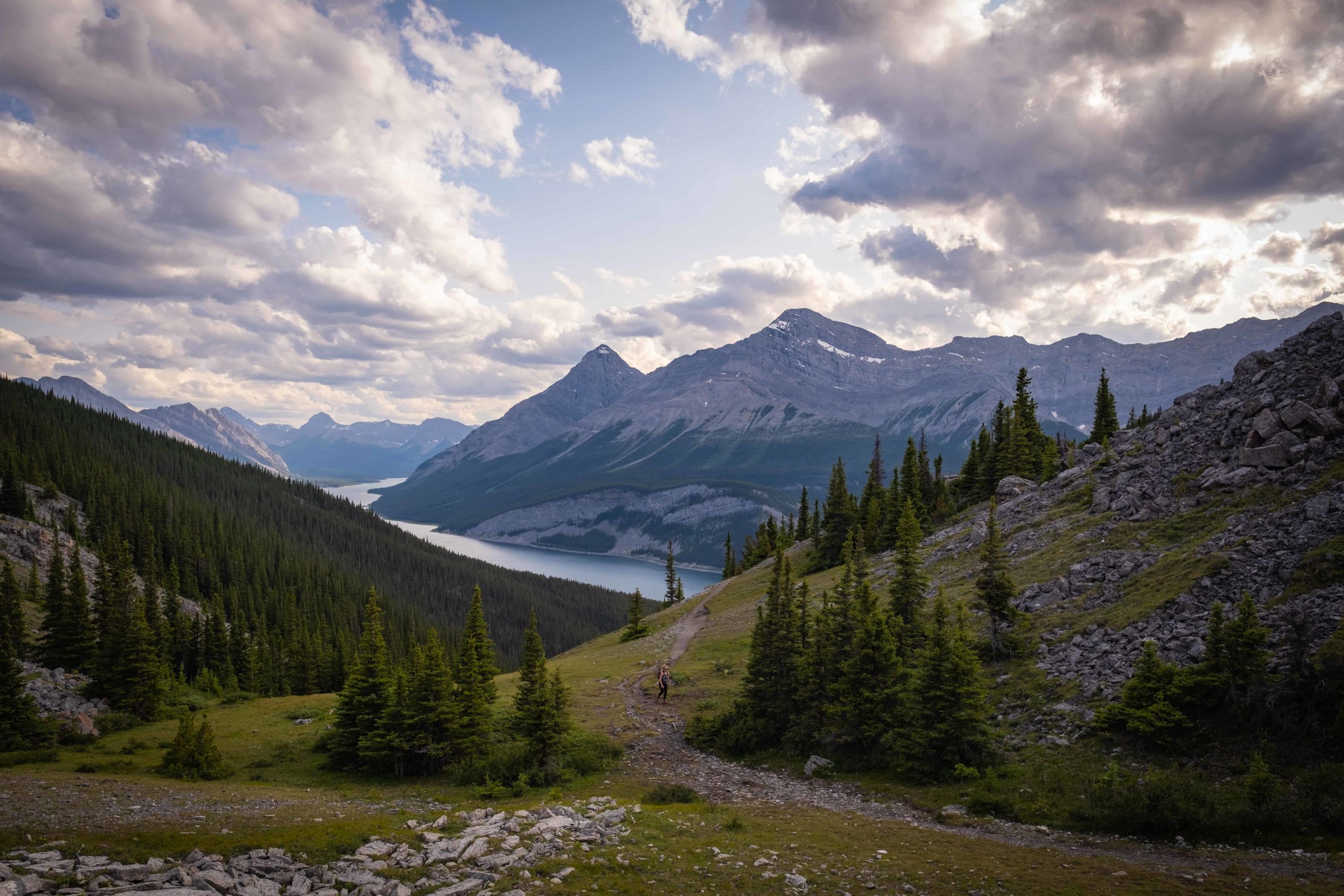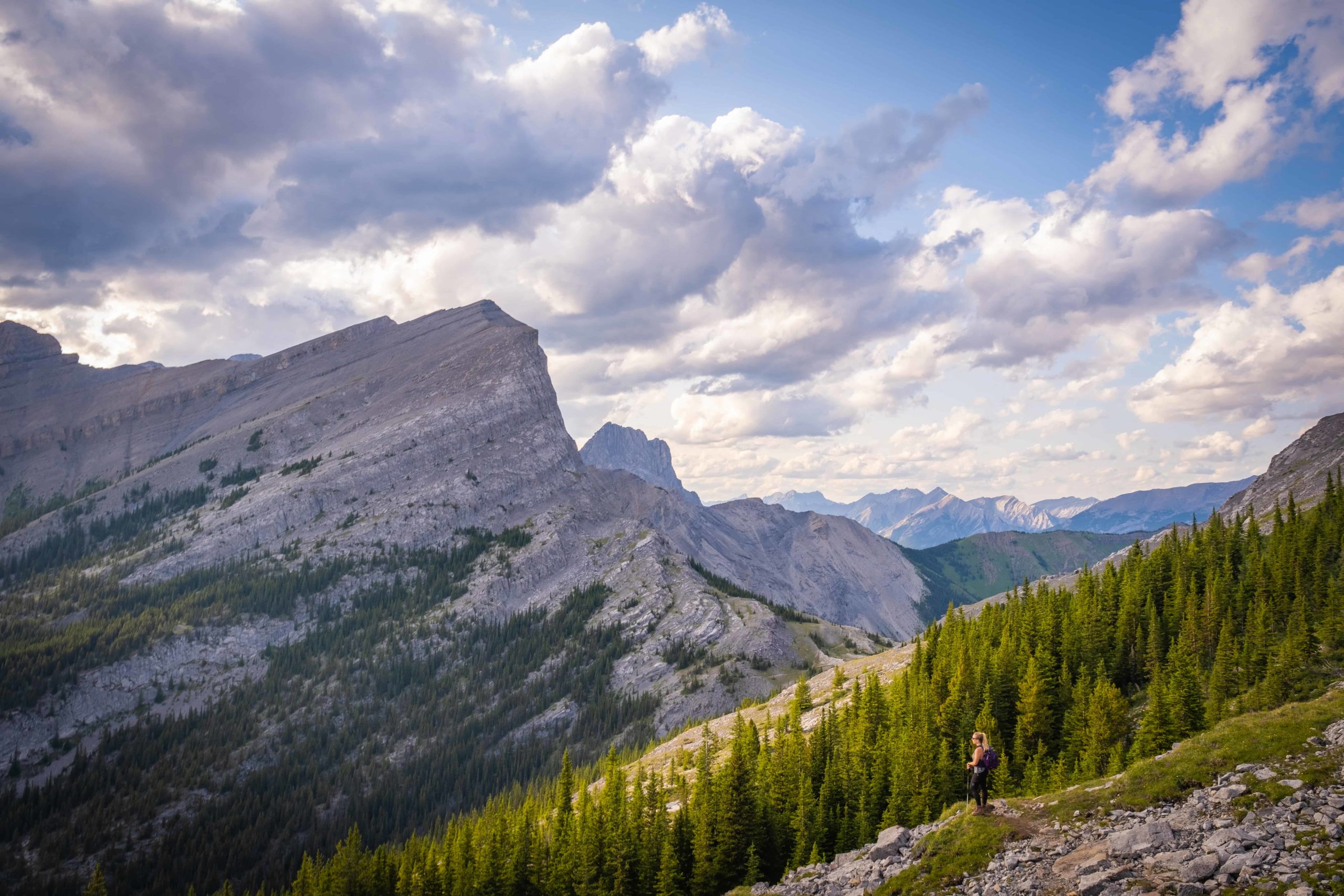 To conquer Windtower, you have at least an hour and some change, more light scrambling, and a moderate incline to go. But it's worth it to continue on. The path starts to fall apart a tad bit from West Wind Pass. Stay on trails with the AllTrails path. We saw two other guys taking a detour to run into them later, saying they got cliffed out.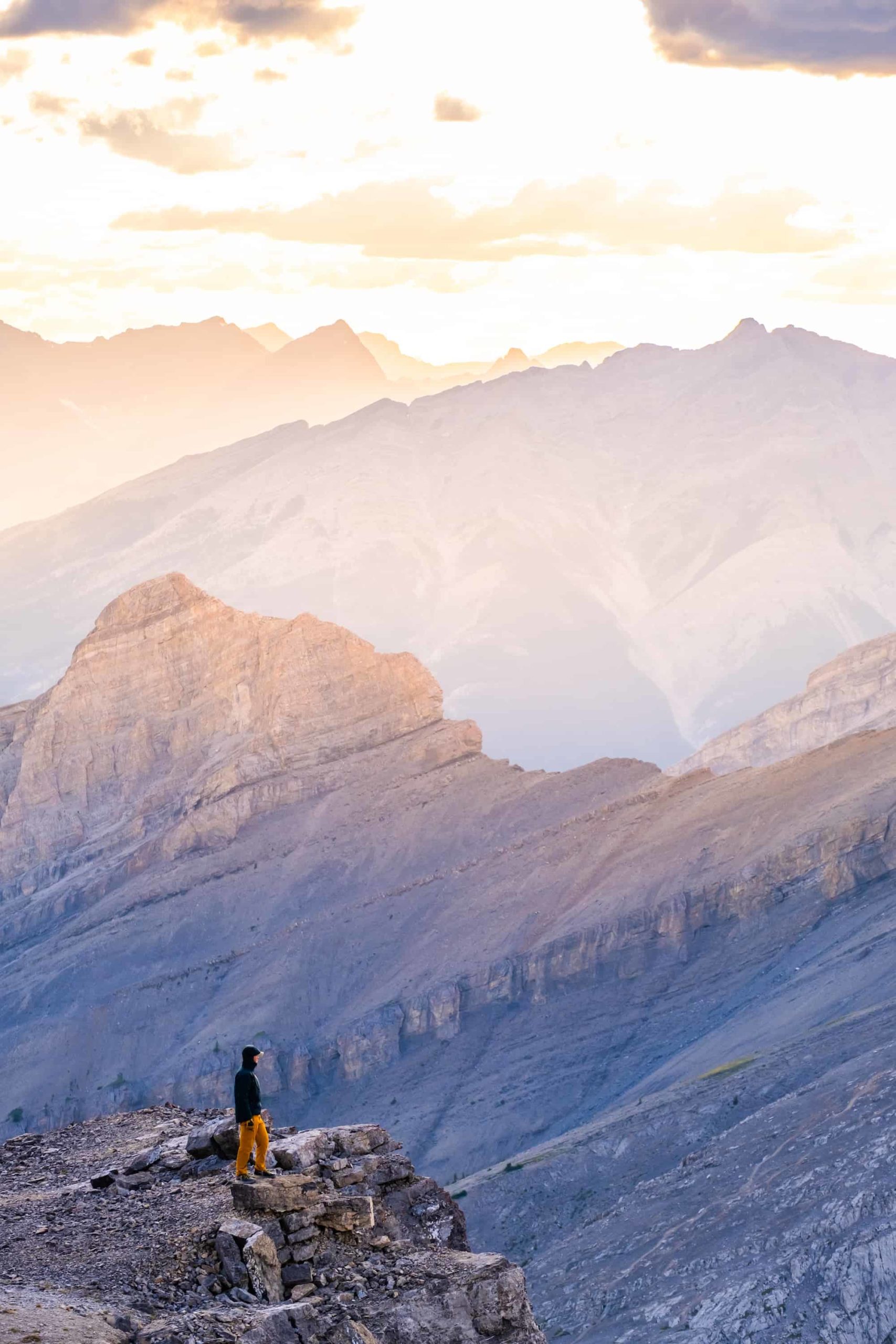 The last 1km is a pretty relentless uphill climb in scree once you reach the top stop to admire the views. It gets really windy – hence the name – Windtower. We hid out in a small rock wall to eat a cliff bar while enjoying the view with epic views. Don't get too close to the edge. It is literally a straight drop-off up here.
Turn around and return the same way you came while enjoying views over the Spray Lakes Reservoir.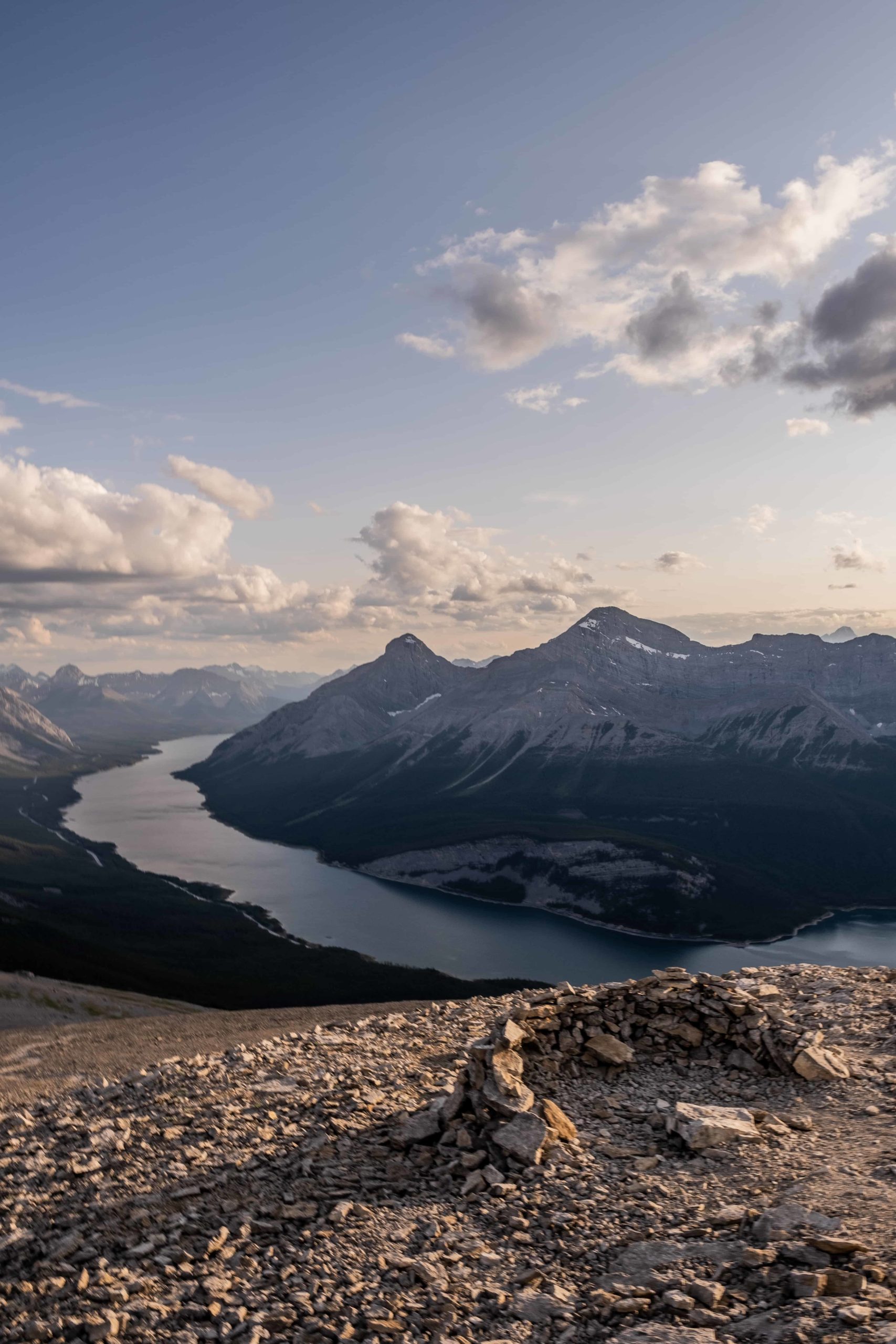 ---
Gear We Recommend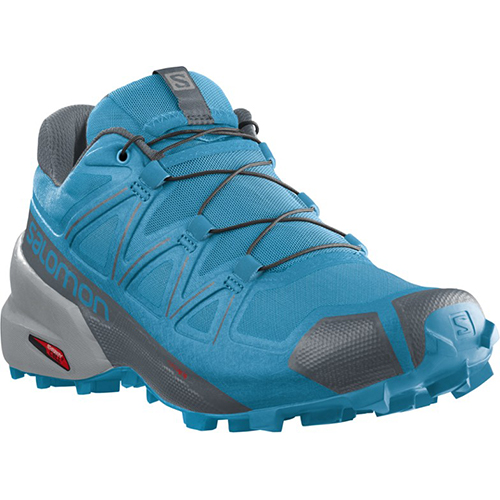 The vast majority of hikes and easy scrambles in the Rockies, you'll find us in our trusty Salomon Speedcross.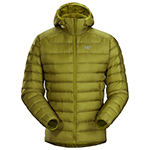 Arc'teryx Cerium is our pick for the best down jacket. It's incredibly light, and we bring it on almost every hike in the Rockies.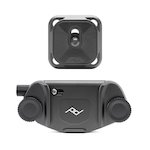 This nifty clip from Peak Design secures a camera to my backpack strap for easy reach. No more digging in the backpack!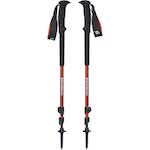 A pair of durable and lightweight hiking poles are a great asset on the hiking trail.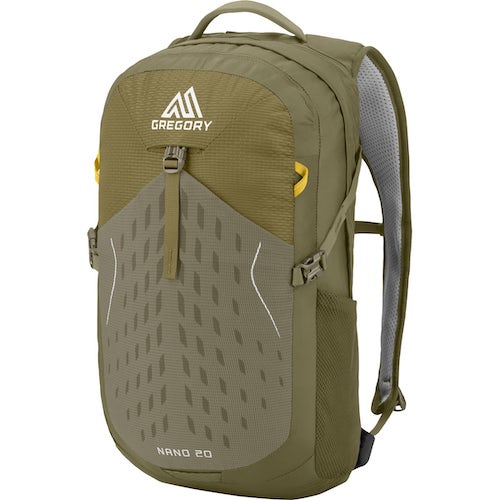 20L feels like the ideal size for quick hikes and scrambles. We love the Nano from Gregory with a hydration reservoir.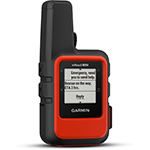 There is not much cell service in the Canadian Rockies. In case of emergencies, we carry an emergency beacon with GPS.
---
Windtower Hike Parking
From Canmore, driving down the Smith Dorrien, you'll pass other stop-offs like Ha Ling and EEOR. Follow the AllTrails start mark to find the parking options. There is a small area for street parking along the road on the right-hand side of the road near Spray Lakes. Park Here.
---
When Can You Hike Windtower?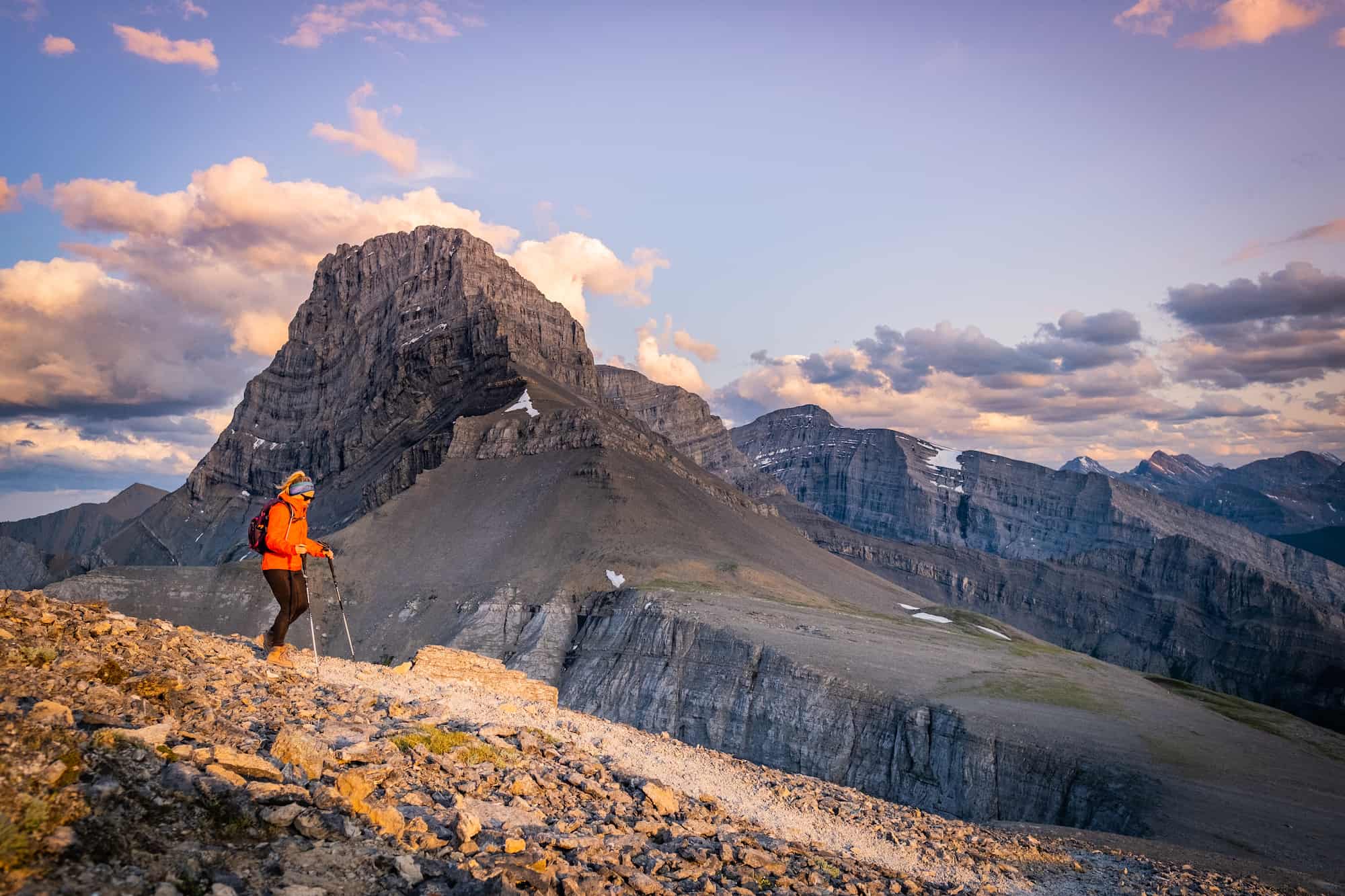 Windtower can be tackled between late April and November. Although you'll likely need poles and microspikes between April and June and in November. If you go hiking in winter weather, make sure to have ankle-high waterproof boots and other waterproof warm clothing.
---
How Long Does Take To Hike Mount Windtower?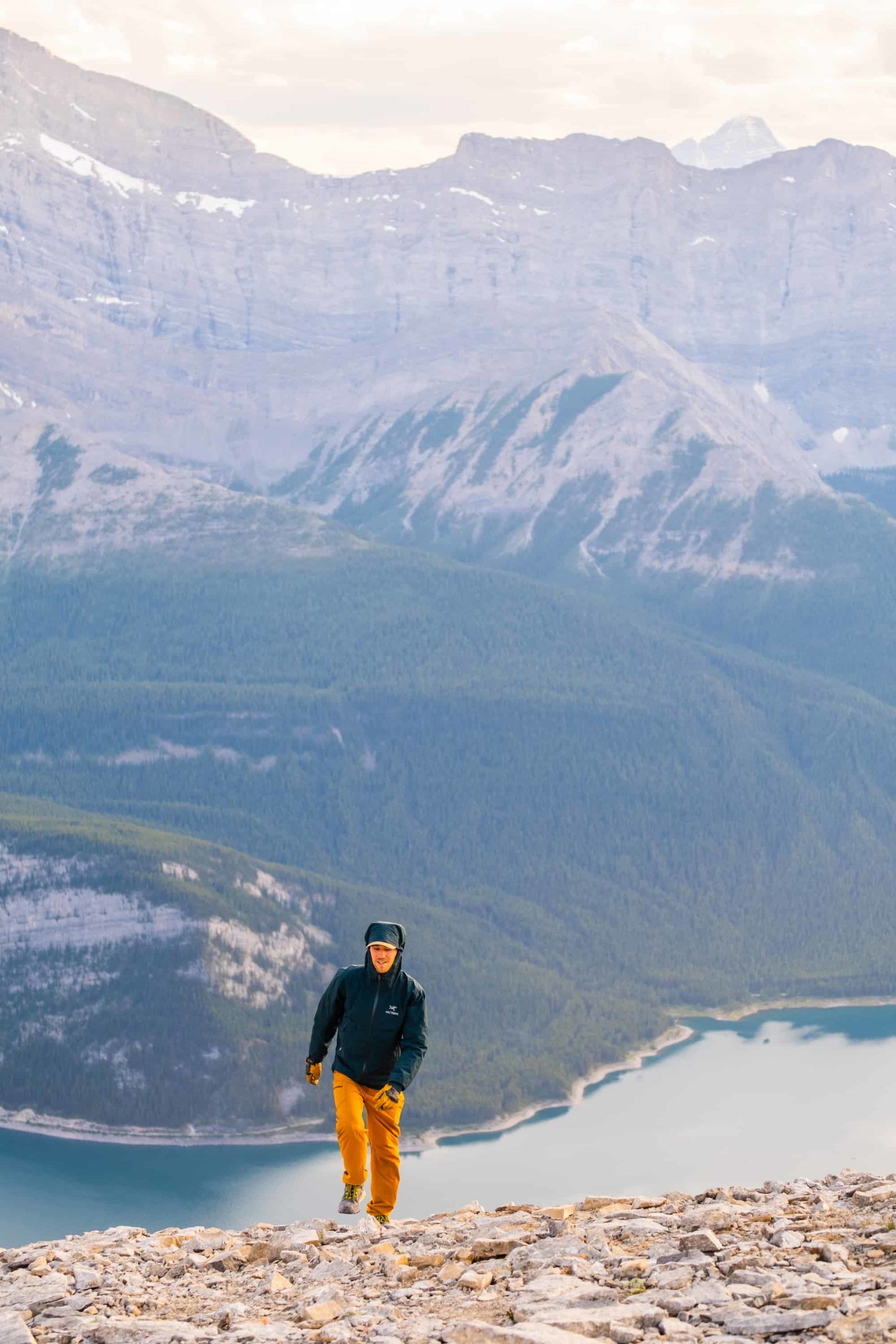 Windtower is a 9.8km hike with an elevation gain of 898 meters. The hike is rated as moderate, but there are only two bits of very light scrambling. Nothing technical is required.
We wanted a sunrise hike when we hiked Windtower, started after 5 pm, and came back just before dark. Total round trip time took 4.5 hours with a 30-minute summit stop. You can expect Windtower to take you anywhere between 4-6 hours. If you are only heading to West Wind Pass, allow yourself two hours round trip.
---
How Hard is it to Hike Up Windtower?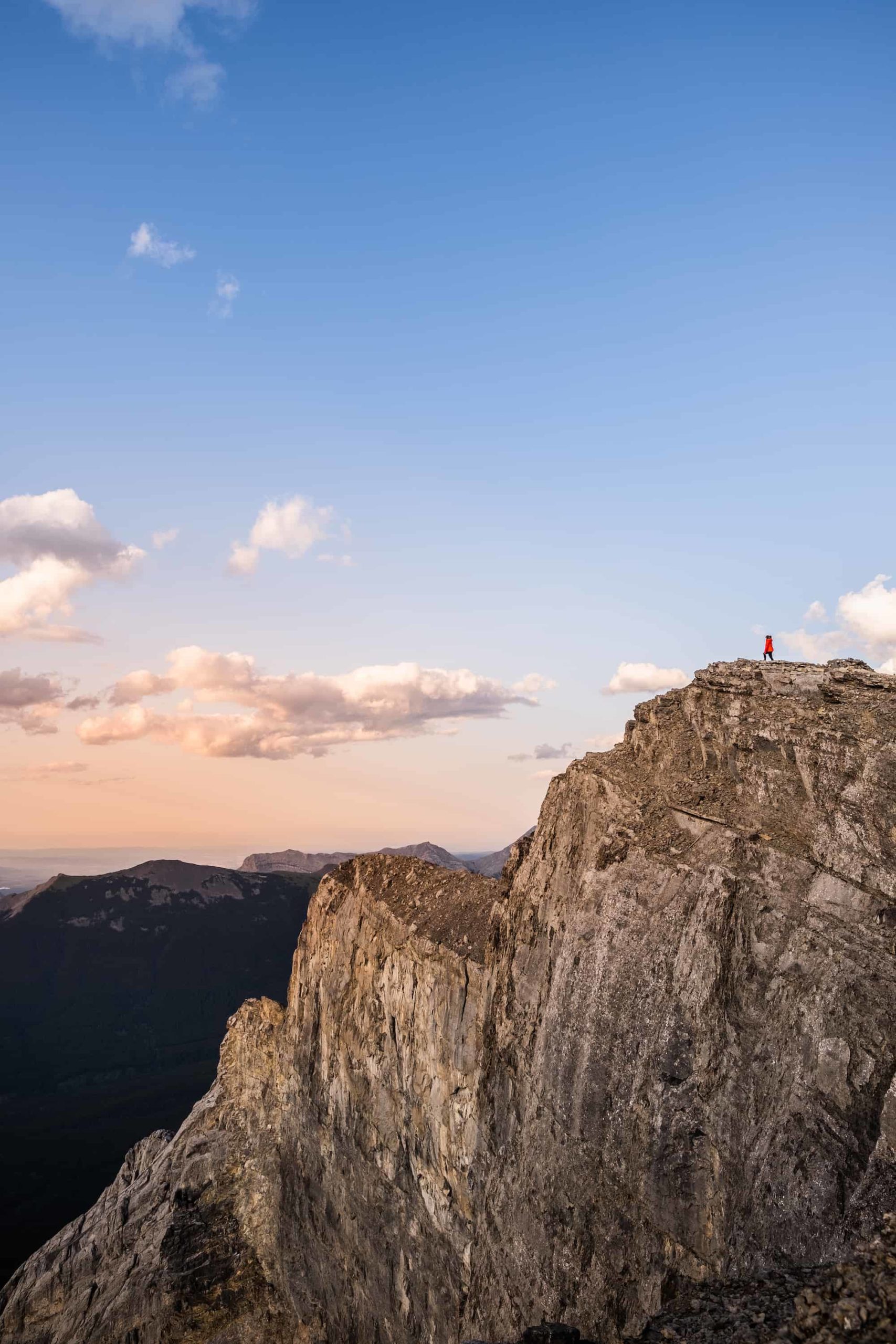 As far as hikes in Kananaskis go, I would rate this hike as on the harder end of easy or the easier end of moderate. It's slightly easier than Tent Ridge nearby and definitely easier than East End of Rundle.
While the hike takes at least four hours to complete, the uphill climb is gradual and really only picks up at the end. There is nothing technical about this hike. You only have to use your hands once or twice, where a fall would result in a sprained ankle or similar (not death). Of course, this is not including the summit of Windtower, where you definitely don't want to get close to the cliff edge.
If you are in reasonable shape, this hike is suitable for you. If you are an experienced hiker but want to take someone new to hiking out, I recommend Windtower. It will get your heartbeat up for sure, but it's not scary like other hikes in the Rockies and provides breathtaking views.
---
Are dogs and kids appropriate to hike up Windtower?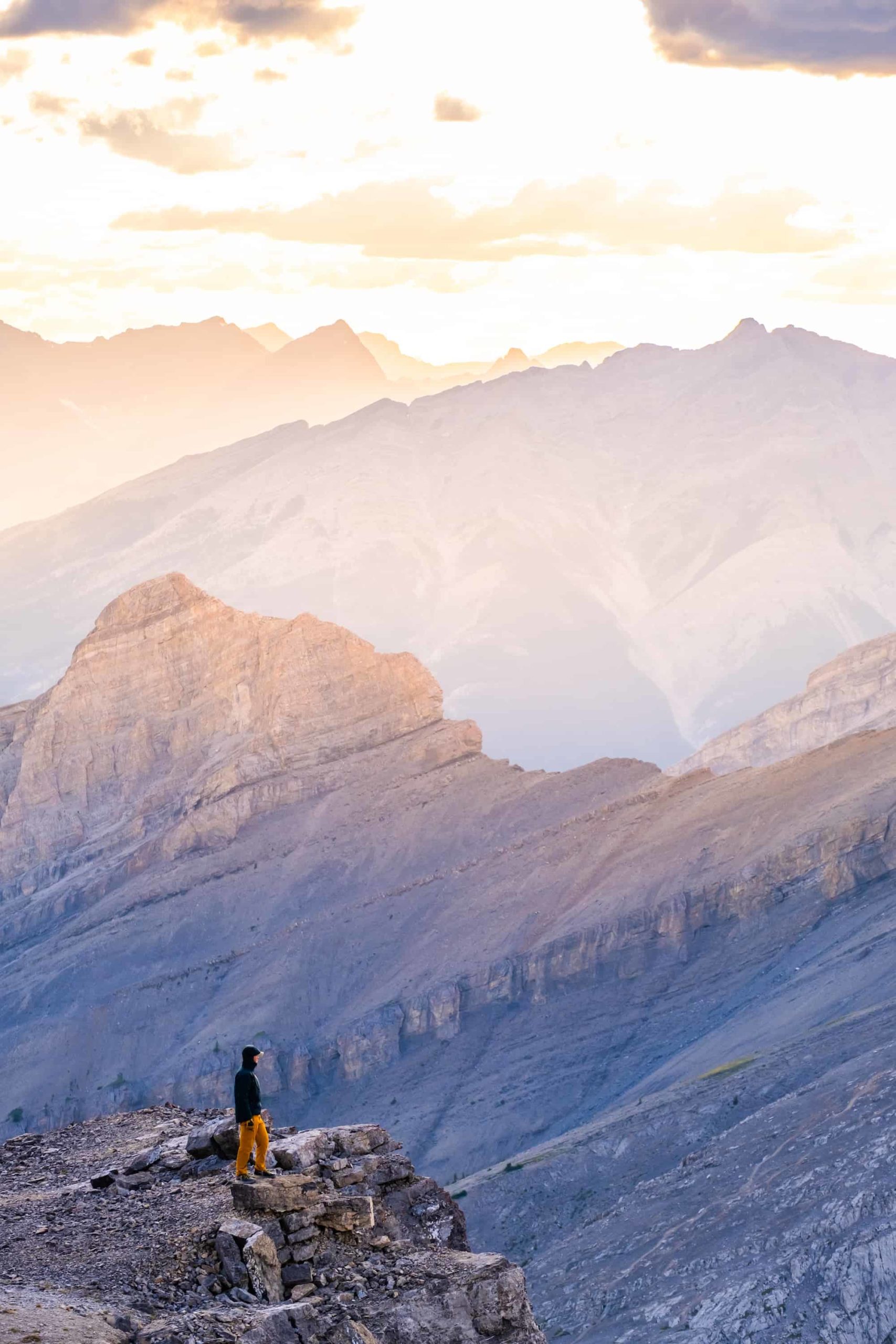 Both dogs and experienced kids would be able to handle Windtower, although, towards the summit, you'll be walking on nonstop scree. There is also a lot of elevation gain, and it could be a tiring day for many. In addition, be mindful of the precarious cliffs that are massive drops down to the valley below.
---
How Busy is the Windtower Hike?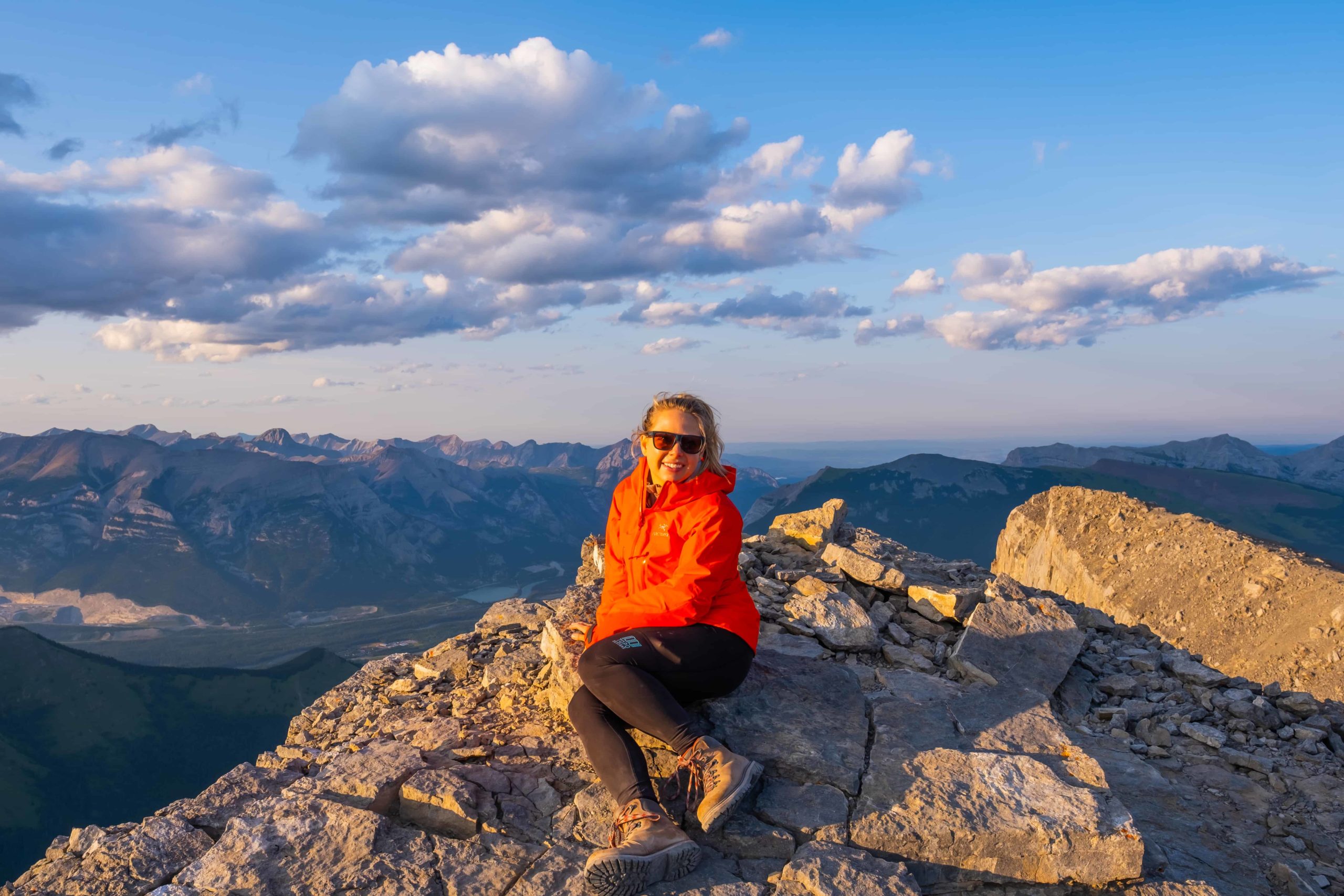 West Wind Pass is relatively busy, but many people stop here and turn around. The hike all the way up to Windtower is one of the lesser-known hikes in the area, and you will likely only see a few other parties even at the peak of summer.
---
Other Notes about Hiking Windtower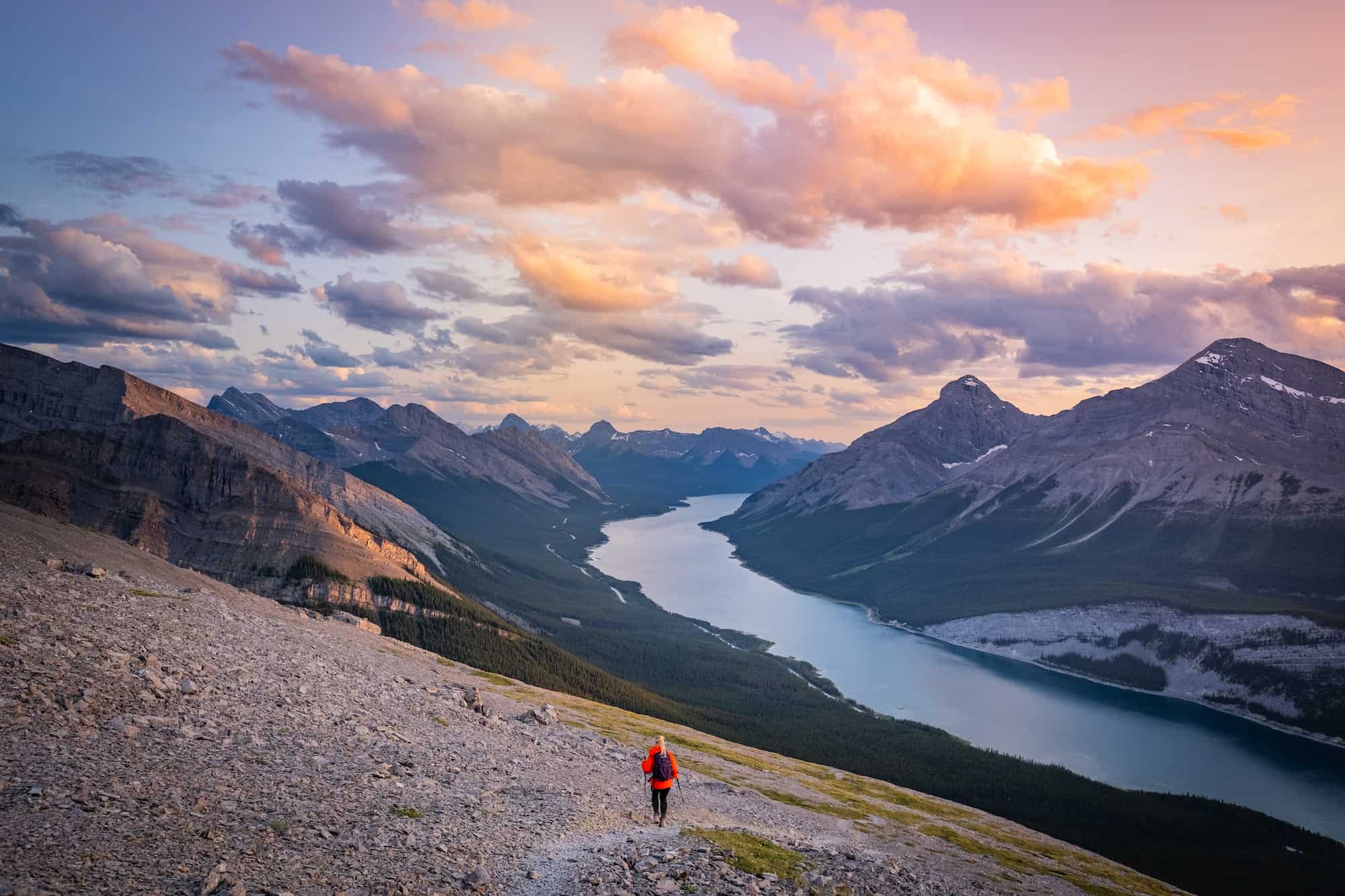 Bring a windbreaker jacket as it gets super windy. Be careful at West Wind Pass with routing. If you try to make your own way, you may get cliffed out. Follow your GPS and AllTrails for the correct route up.
---
Wildlife Awareness on Hikes in the Rockies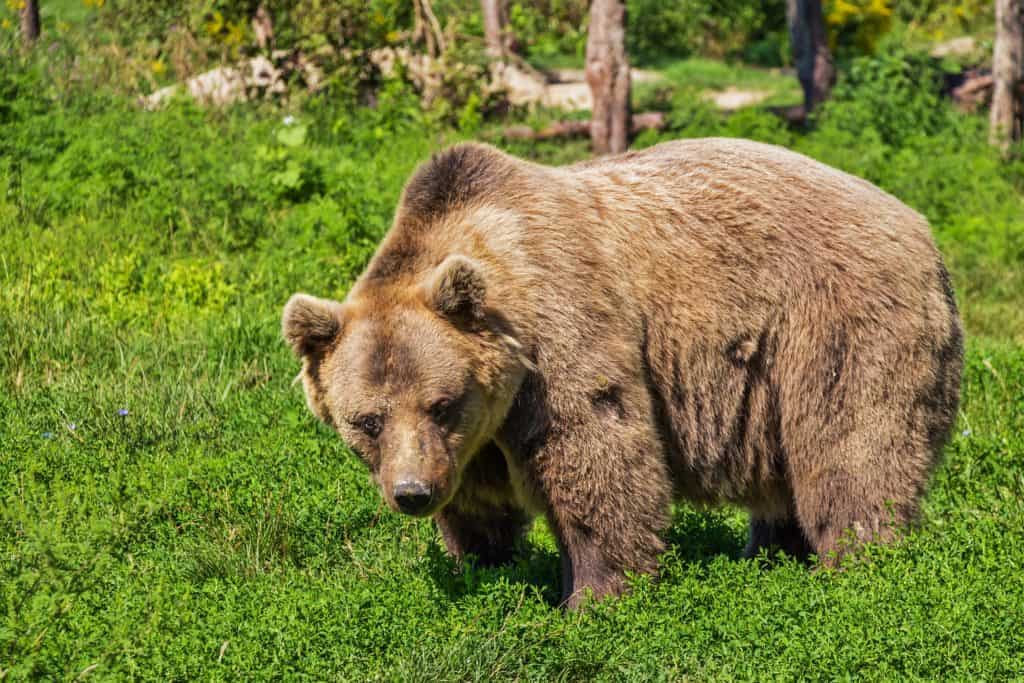 If you're on any hikes in Kananaskis, you should practice proper wildlife awareness. There are frequent sightings of black bears, grizzly bears, moose, coyotes, and cougars in the region. They are all a potential threat to humans, and we should reduce our impact on their natural lives.
Before any hike or walk-in the Canadian Rockies, you need to have bear spray. Remember that the bear spray is worthless if it's in your pack, you'll need to be able to grab this in two seconds or less in an emergency. We wear our bear sprays on our hips.
The likeliness of seeing wildlife on this trail is high. It is a moderately trafficked trail, but bear sightings have occurred. Most notably, a spirit bear was spotted in the area last year. The spray valley and the pass are frequented by bears.
Always check the park websites for wildlife information (Parks Canada) and then check again for notices at the trailhead.
When you're on the trail, make noise by banging hiking poles, talking, whistling, clapping, or singing. This is particularly important around blind bends and corners. You're through the deep woods during these times, and it's prime time to sneak up on a bear. Once you're at the summit, you're safer as you can see wildlife from afar, but still, don't let your guard down and keep the bear spray on you just in case.
As always, while hiking, you need to stay alert, travel in a group, mind children and pets, and finally carrying bear spray and knowing how to use it. If you've come to the park without bear spray, Valhalla Pure Outfitters in town sells spray and holders with employees who will demonstrate how to use them properly.
Besides bears, it's common to see hoary marmots and pika. We asked a marmot for directions, but they only gave us a whistle.
---
Advice on Hikes in the Canadian Rockies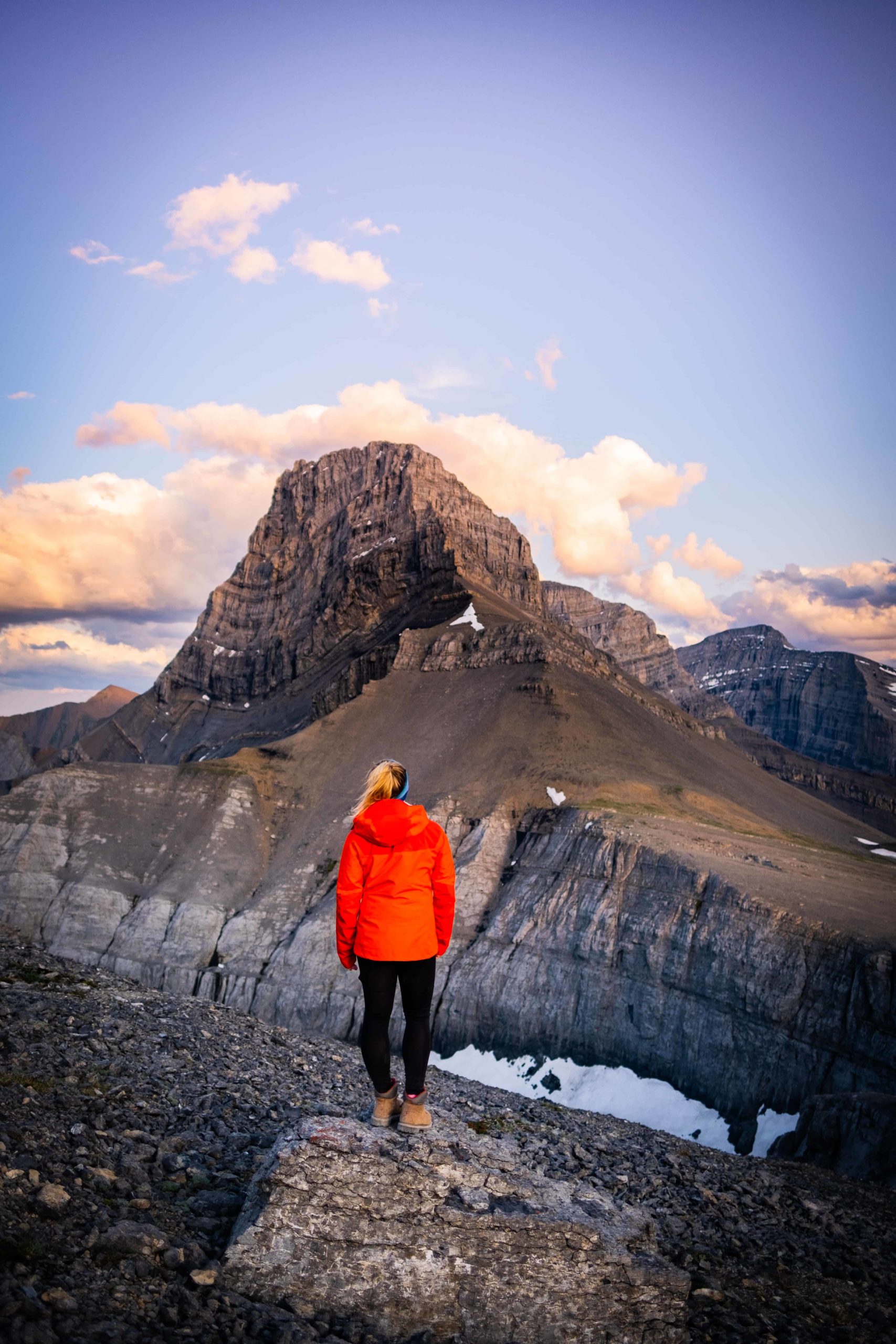 If this is your first time hiking in the Rockies, take a conservative approach. Pick an adequate hike for your fitness, plan for plenty of time, pack water and food, and don't be afraid to turn around. If you want to learn more about what to wear hiking, we have a great post.
For long hikes, set a turnaround time at the departure. Whenever we set out for an objective, I determine a time at which we need to turn around to arrive at the parking lot or campsite by dark. I would recommend not hiking in the dark as it's easy to get lost and it's not fun in bear country.
On that note, always carry bear spray if you plan to hike in the park. We carry ours in the neighborhood, and bears have been known to stroll through town and busy parking lots. Always practice wildlife awareness when you're on a trail, and please give animals space.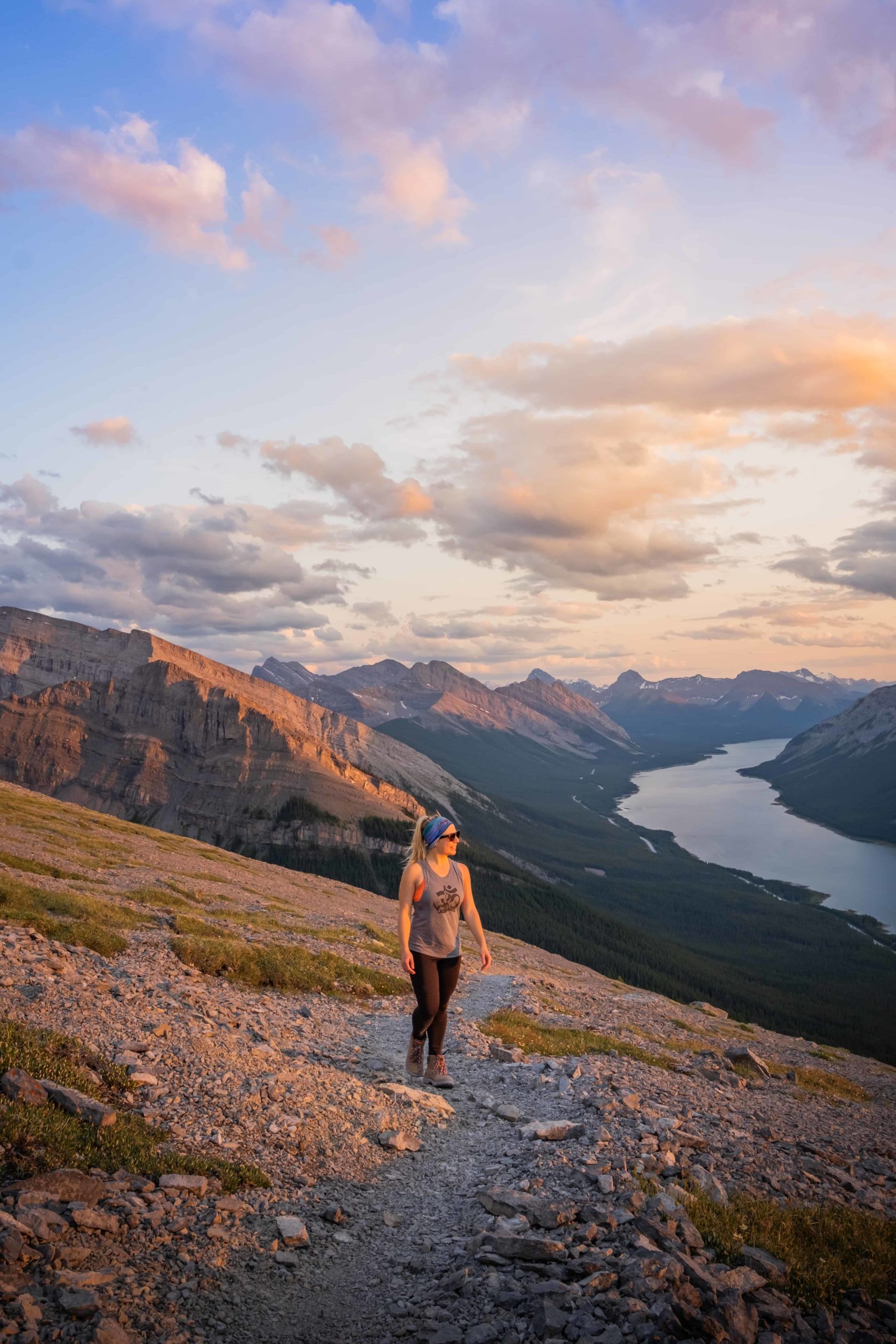 In regards to times, keep in mind your mountain fitness — different than the gym. The low end of this post's low end is a constant fast pace uphill with little to no breaks and a brisk pace downhill. Most hikers should plan for a middle-of-the-road time with the estimated duration.
It's also super important to know that there are limitations and to come prepared. These are very serious mountains, and it is easy to get in well over your head with life-threatening consequences.
Lastly, a GPS tracker could save your life – it's one of those backpacking essentials I like to have on me just in case I need to hit SOS.
Alltrails is our favorite app to have on a hike. It shows the correct trail way, elevation, and other hiker reviews. We paid the subscription fee so that we could download all the data we need to our phones. Best $3 (per month) ever spent!
---
What to Wear On a Hike?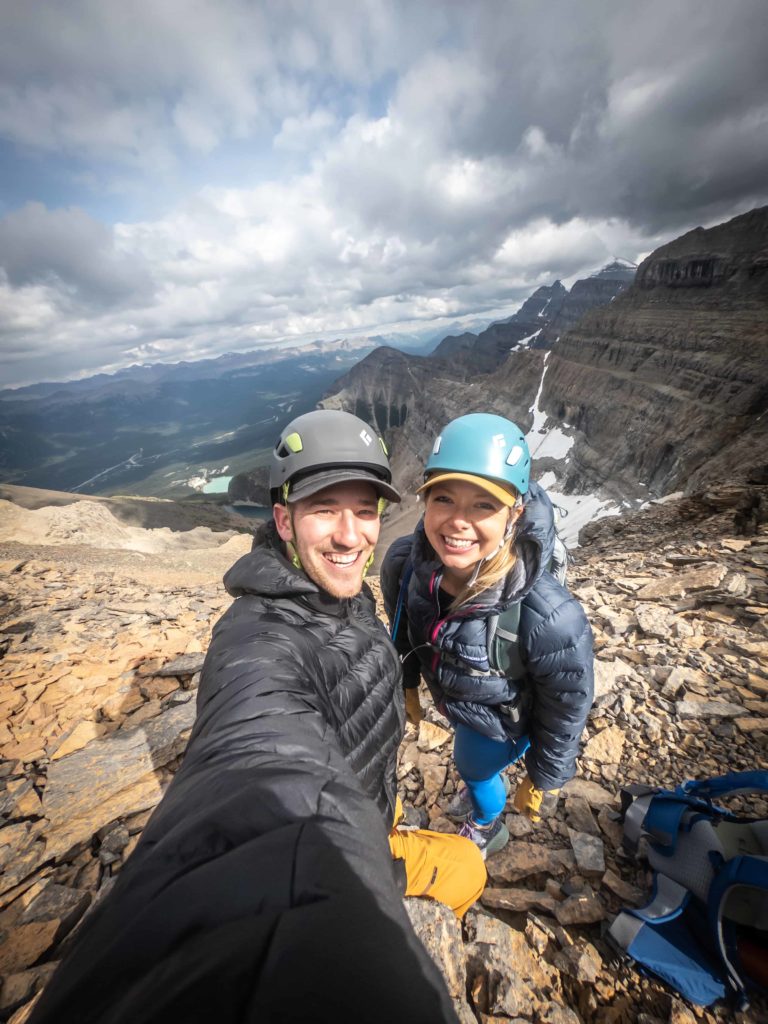 The most basic principle of what to wear hiking is layering. Anyone that has spent time in the wilderness or mountains can speak to the fact your temperature can fluctuate a lot on a hike. You can easily start off cool at the mountain base and get hot as soon as you begin moving.
↓ Join the community ↓
The Banff Blog Facebook Group is your headquarters for the Canadian Rockies' travel advice and information. Including hike info and off-season travel information. You can also meet new adventure buddies.