East End of Rundle hike is easily one of the most popular hikes near Canmore. It's also the best effort to reward with breathtaking views of Spray Valley and Ha Ling Peak. Given its proximity to downtown Canmore and relative ease, it sees heavy foot traffic. It's a beautiful hike that provides visitors with astonishing views over Canmore, the Bow Valley, and Ha Ling Peak.
Although, just because East End of Rundle (or EEOR, or "Eeyore" as locals like to call it) is close to town doesn't mean it's an easy climb up to the summit. Here is all the info you need to know about hiking EEOR.
See More:
2023 Update: After a long closure, the East End of Rundle Trail is now open for the season.
---
East End of Rundle (EEOR) Hike
---
Key Stats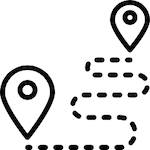 Length
5.6km (6.6 miles)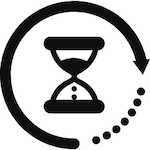 Duration
3 – 6 hours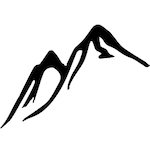 Elevation
872m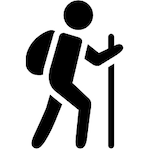 Difficulty
Hard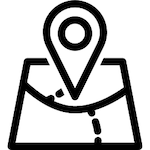 Trailhead
Whiteman's Pond or Goat Creek
---
A Kananaskis Conservation Pass is Needed to Hike in Kananaskis
Visitors are required to hold a Kananaskis Conservation Pass. The area covered in the pass includes Kananaskis and the Bow Valley corridor. Passes may be purchased online and are attached to a license plate number. Requirements are around vehicles and parking, not the individual. This includes parking at the Canmore Nordic Center or Grassi Lakes.
Kananaskis Conservation Pass Prices
Daily Pass: $15 (registers one vehicle)
Annual Pass: $90 (registers two vehicles)
East End of Rundle Route Description
Mount Rundle is an icon of Banff National Park and dominates the sky over both Banff and Canmore. It has seven distinct peaks over 12km, and the East of Rundle refers to the last peak to the East over the town of Canmore. The EEOR summit is 2,545m (8,350 ft) in elevation and is an easy scramble with 875m (2,870 ft) of elevation gain.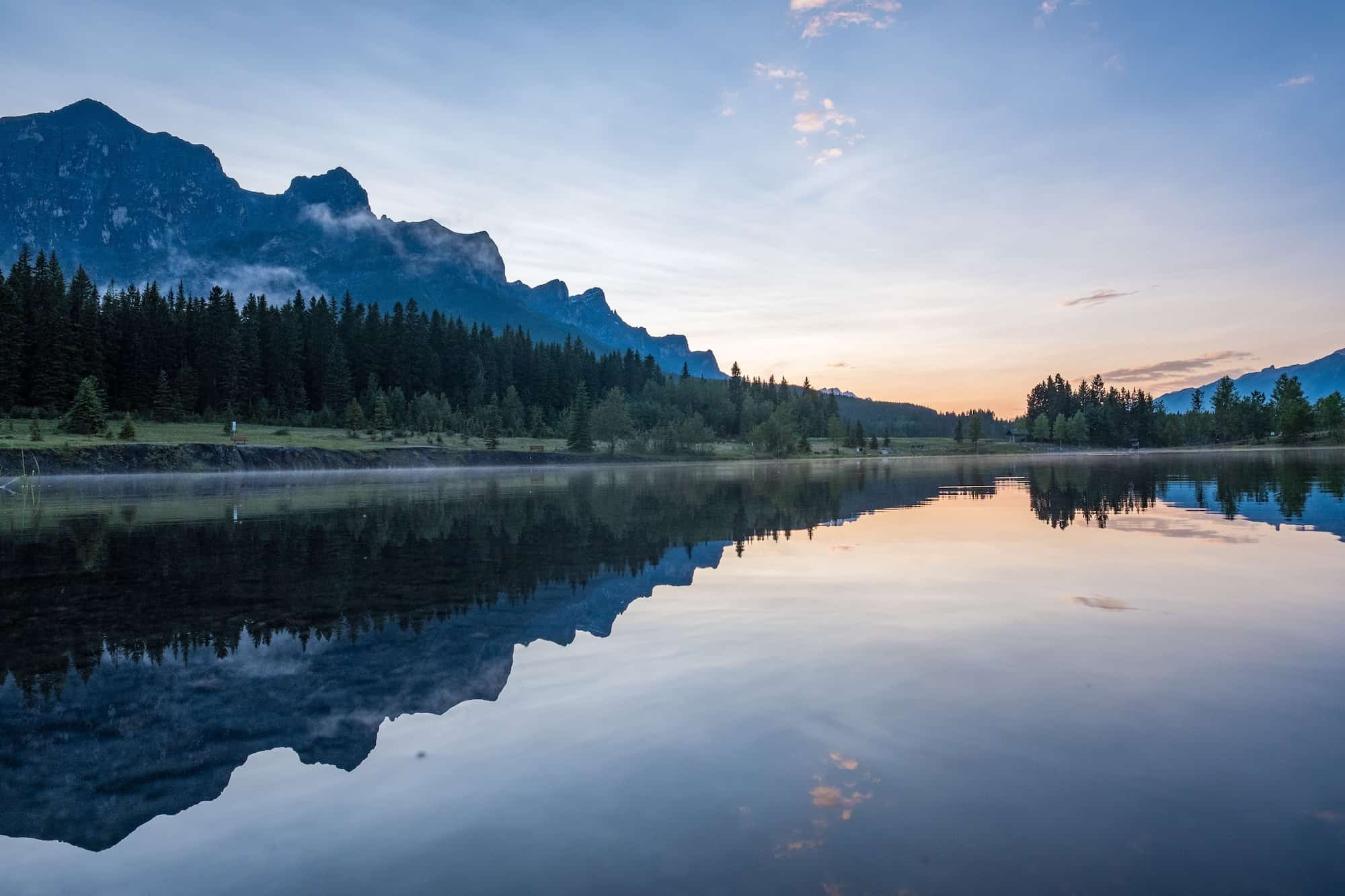 The hike up the East End of Rundle starts at Whiteman's Pond dam at the top of Canmore Hill. There are two parking areas, but the latter from Canmore is the best for access to EEOR, and you can't miss the giant new paved parking lot that services Ha Ling and EEOR hikes.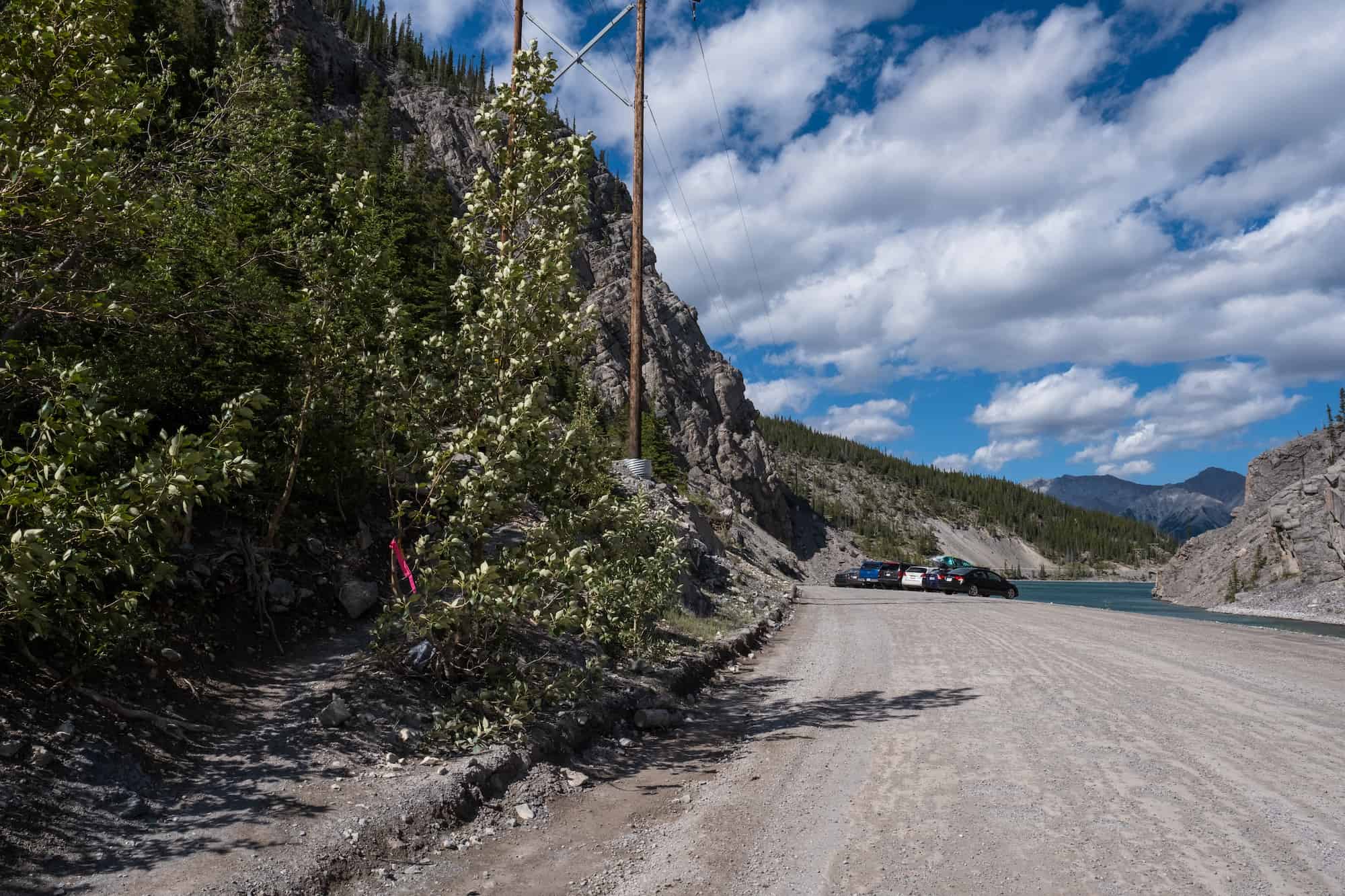 The trail starts right between two flagged power poles, which you can see in the photo below.
The trail begins a quick ascent up through the woods through a series of switchbacks. Make a note of the well-worn trail and downed trees to mark the way as it is easy to end up on any number of trails used for climbers, goats, or both.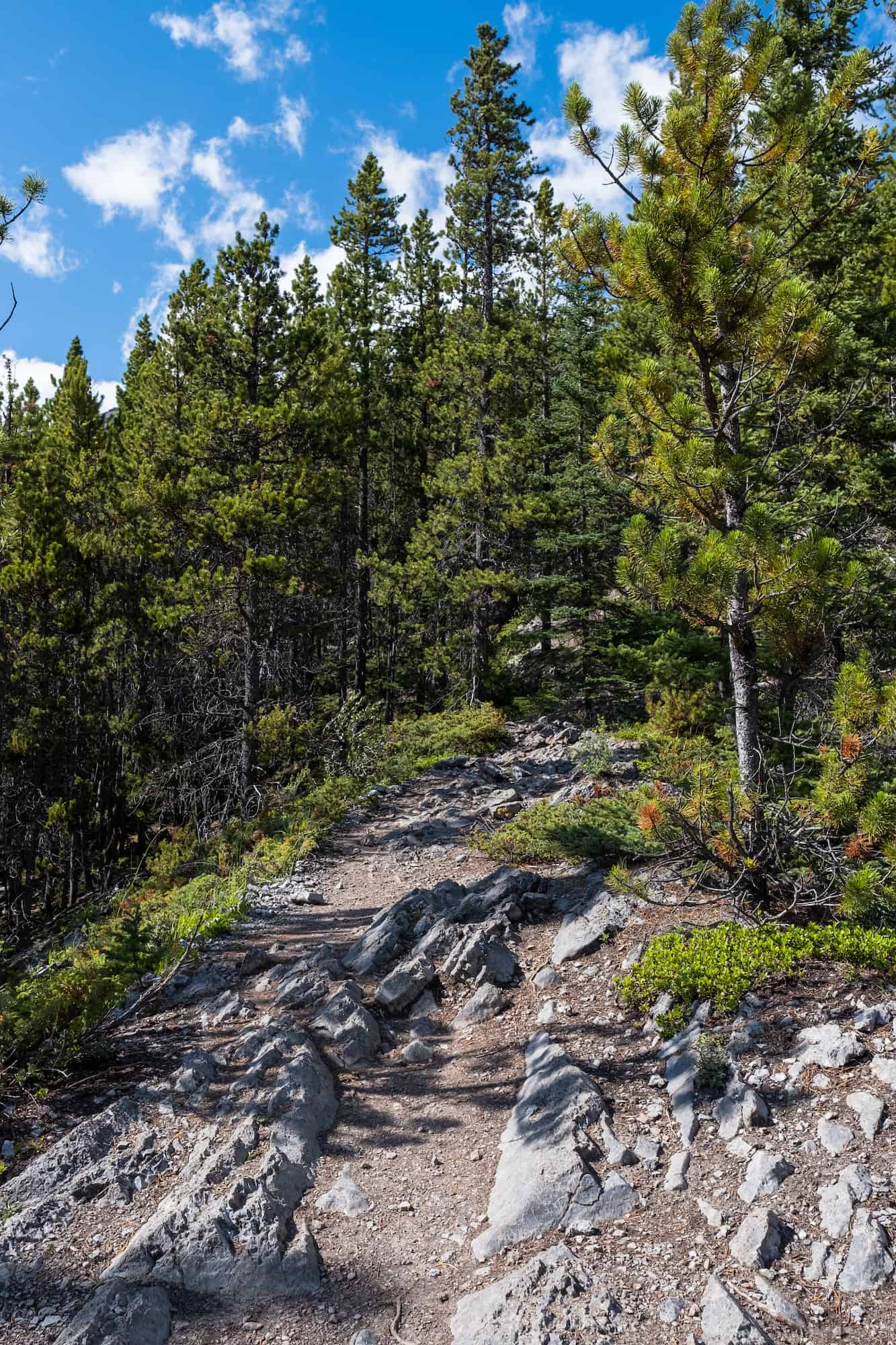 The trail is a bit of a mixed bag through the ascent as it makes several switchbacks, changes in trail material before several rocky sections that may require a handhold or two.
However, it's nothing difficult, and any hiker should be able to handle the terrain. It's is fairly easy to follow with the small pieces of tape, painted rocks, and cairns leading the way to the peak.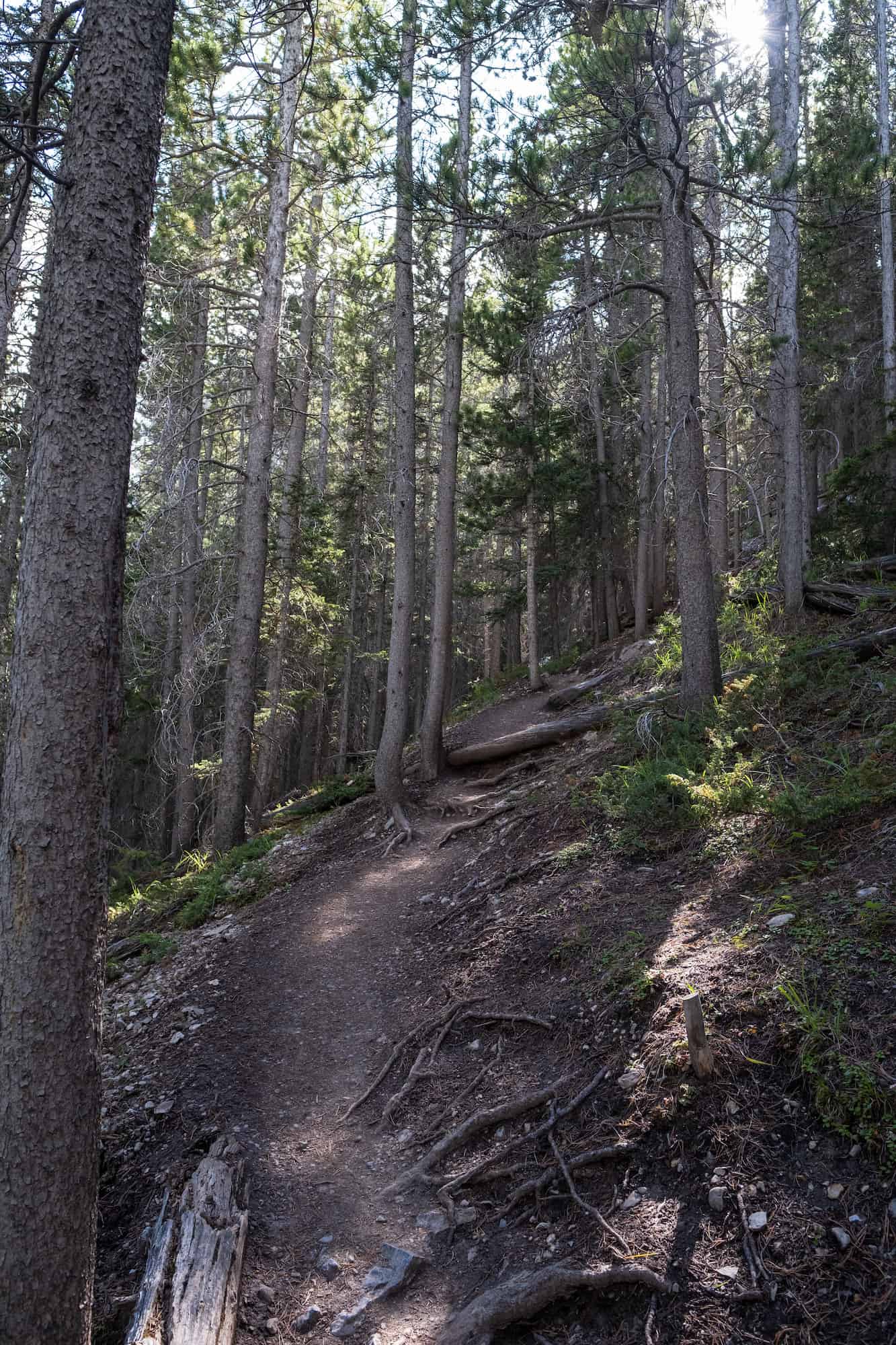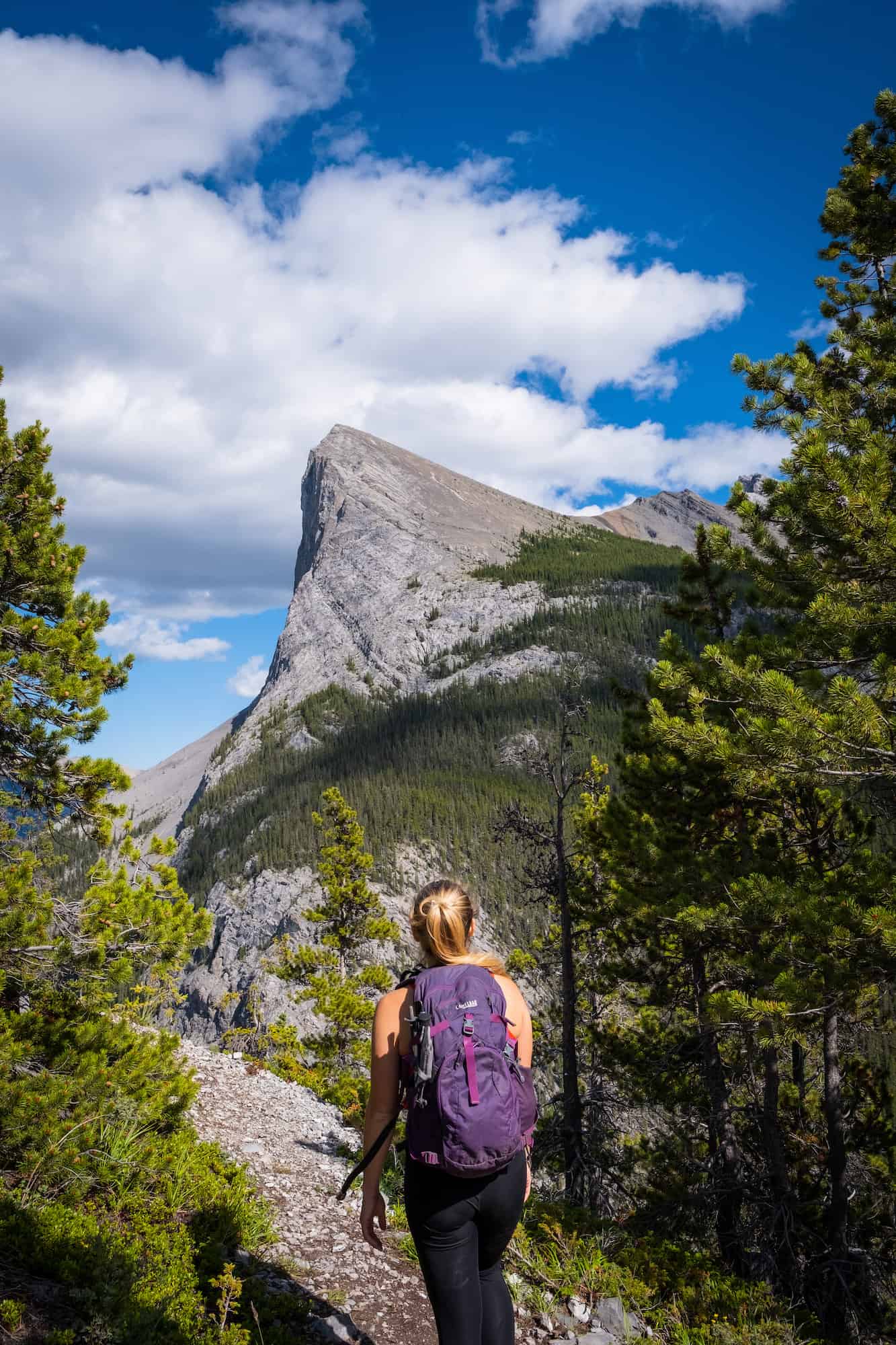 On the way up, you begin to see views down Spray Valley to the East, Ha Ling Peak, and Mount Lawrence Grassi. With this in mind, there are many off-shots and goat trails from the main trail that lead to various viewpoints.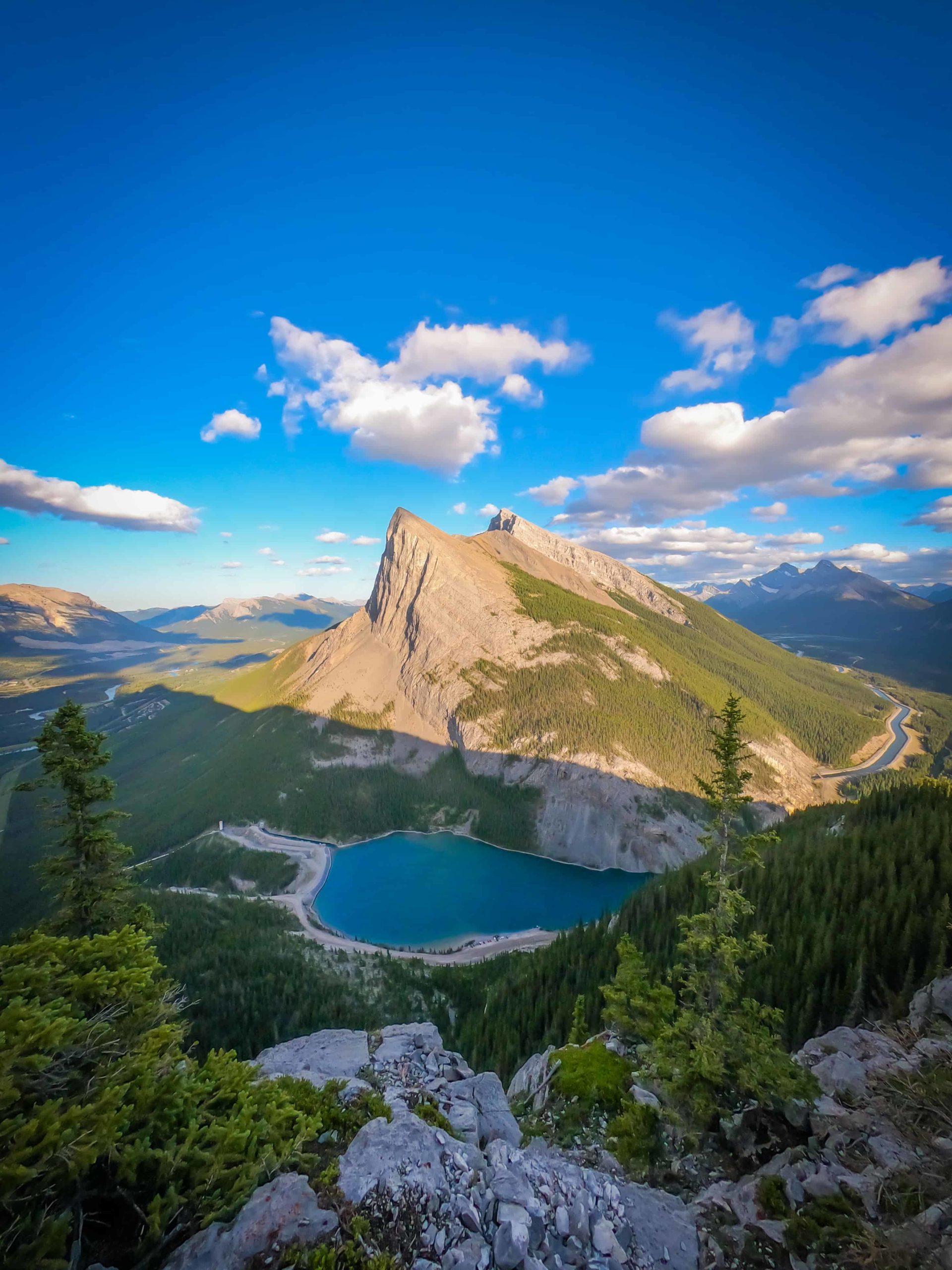 The hike up comes out of the first section of the treeline to a small ridge. This section has some route findings and small portions of scree. It's not too difficult, and the most advanced section comes on a large rock slab that can be bypassed by heading to the left.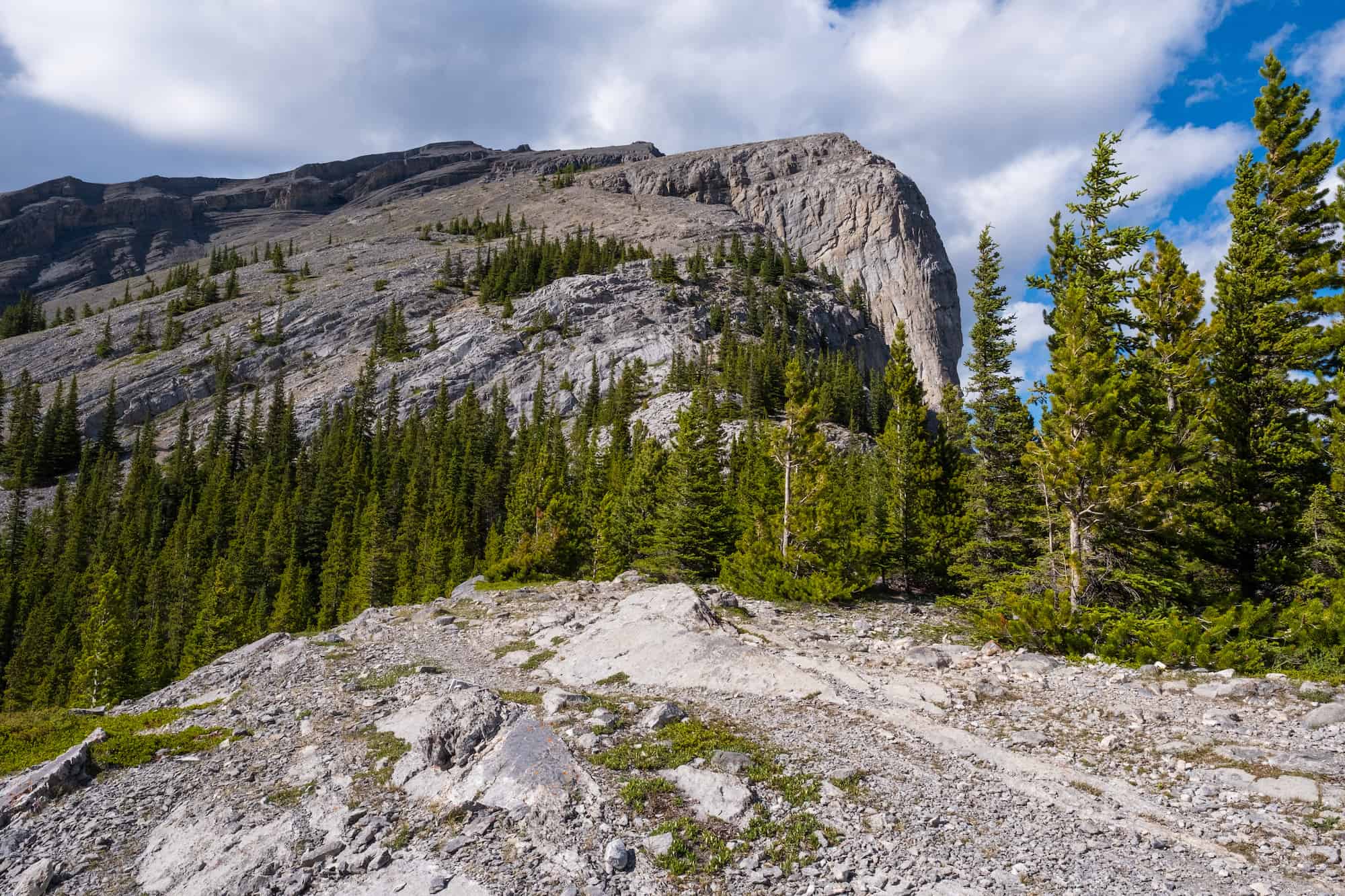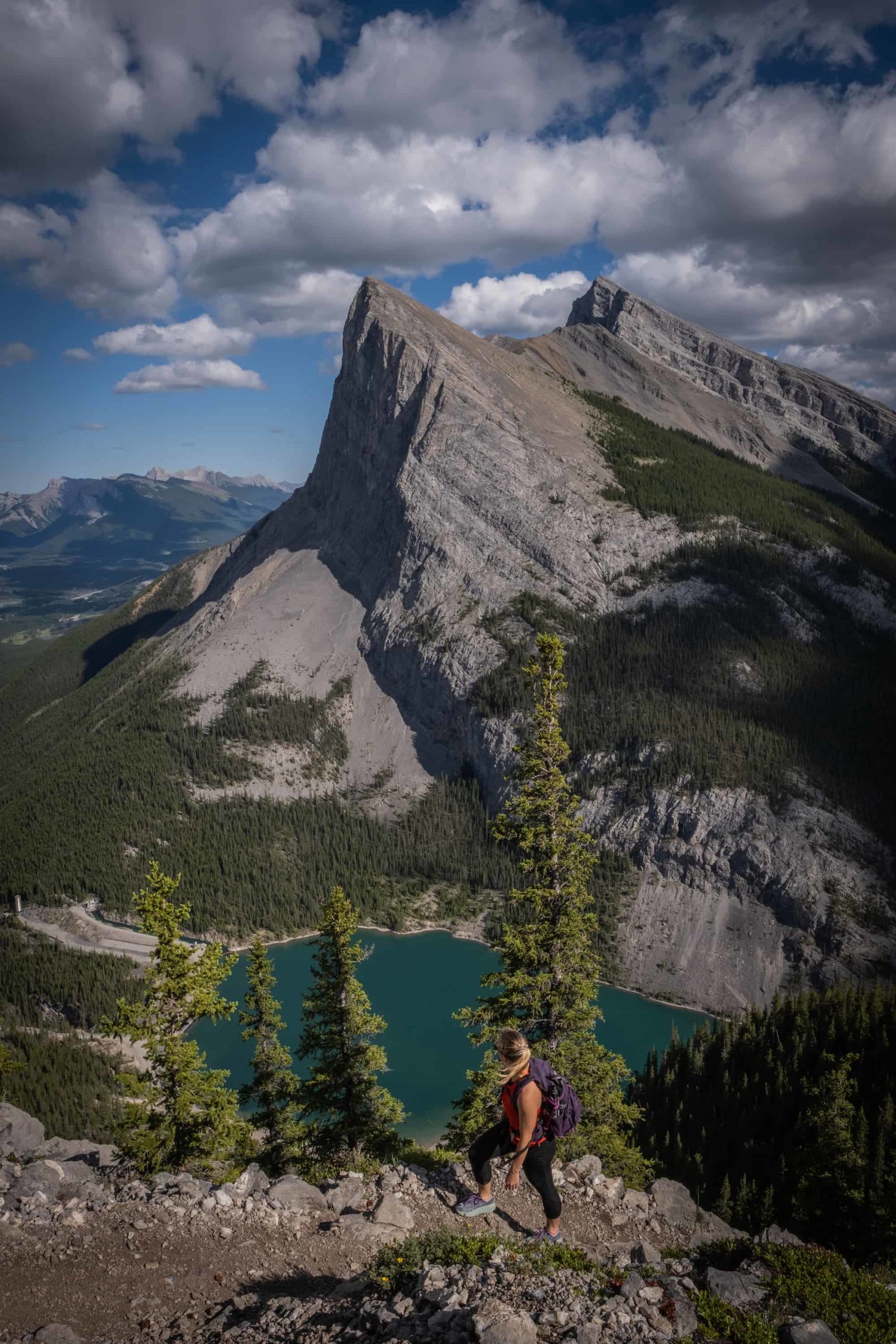 Once you get above the final bit treeline, you'll find a steep wide open scree section waiting for you. Once you make it past the scree (hiking poles helped me!), you'll find two paths leading up to the summit.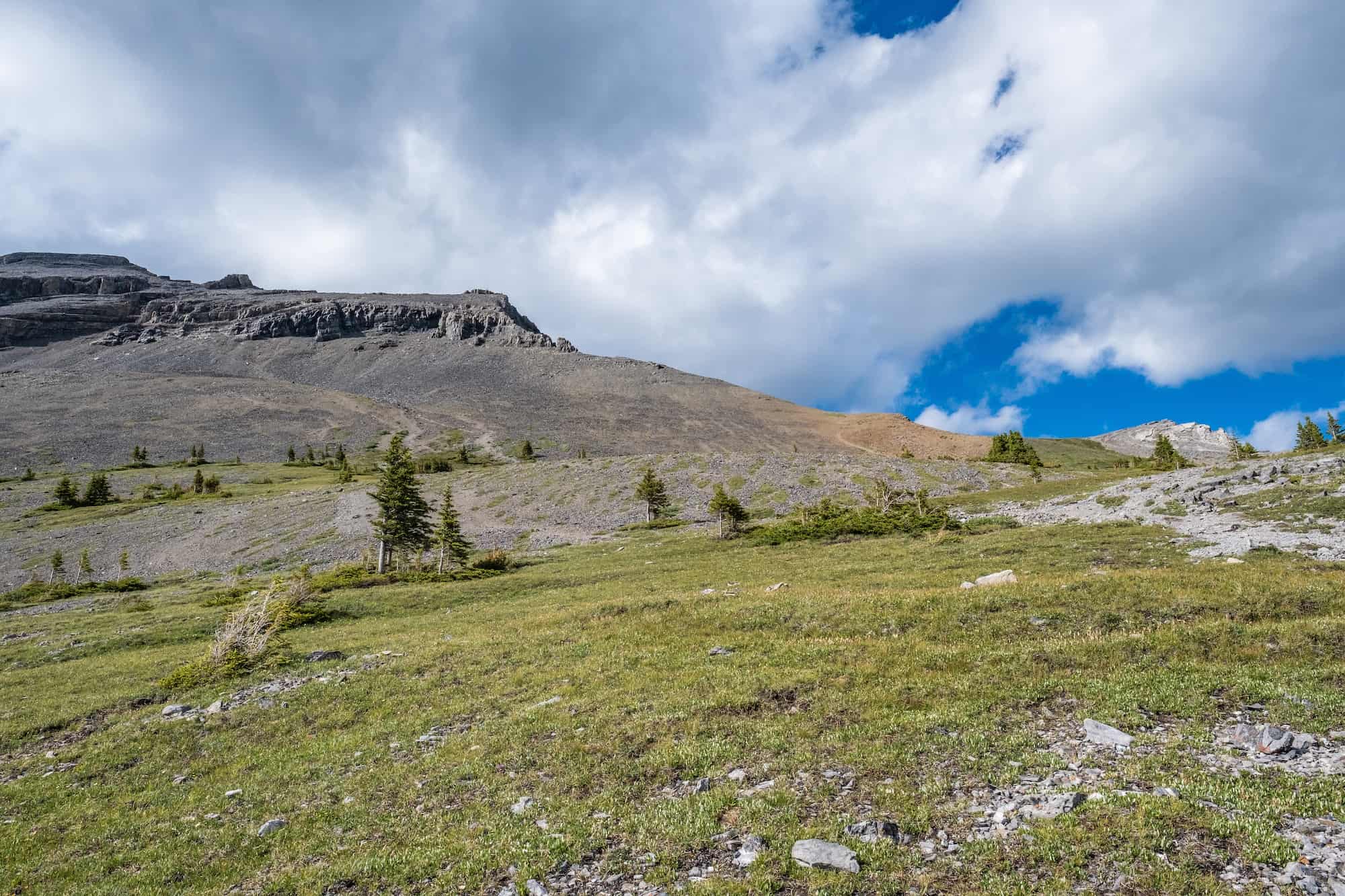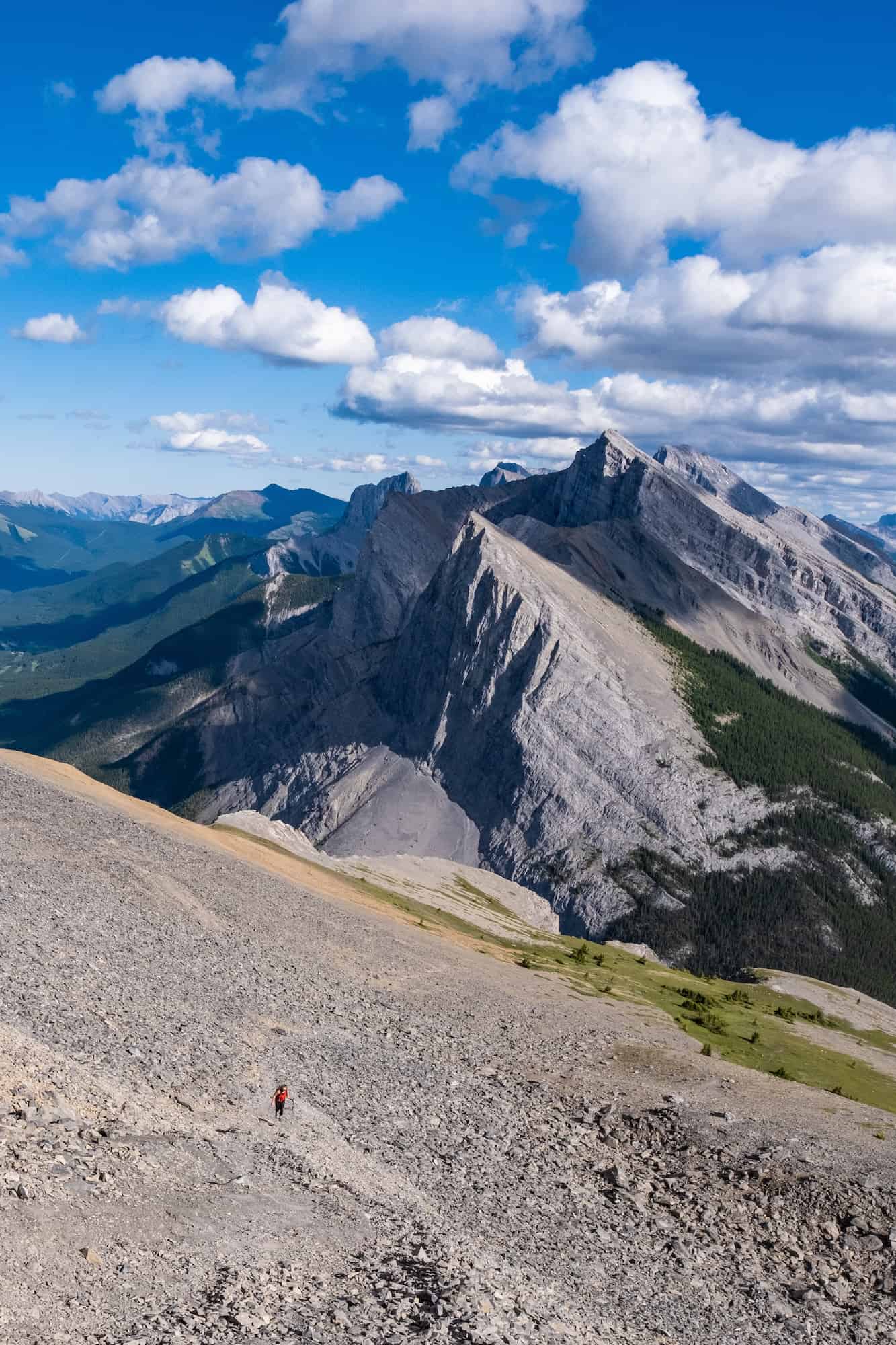 We took the one to the left, which seemed to be the easier trail up. Once you get to the rock band, you'll want to put your gloves on (and helmet if you have one) as you'll be walking along the cliff for about five minutes using your hands and careful footing. The helmet is more necessary on a busy day as it would it's easy for clumsy hiking groups above to dislodge rocks.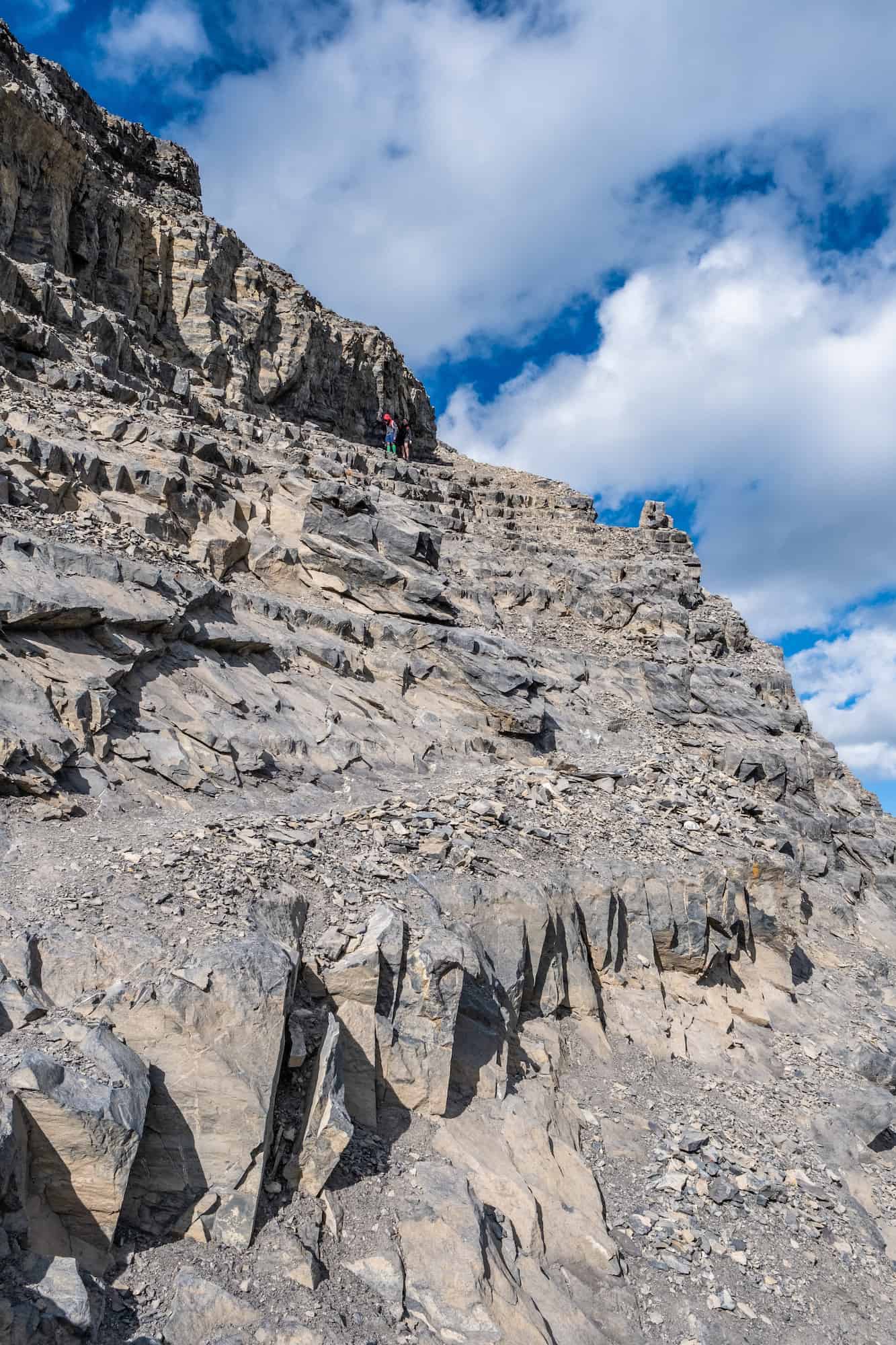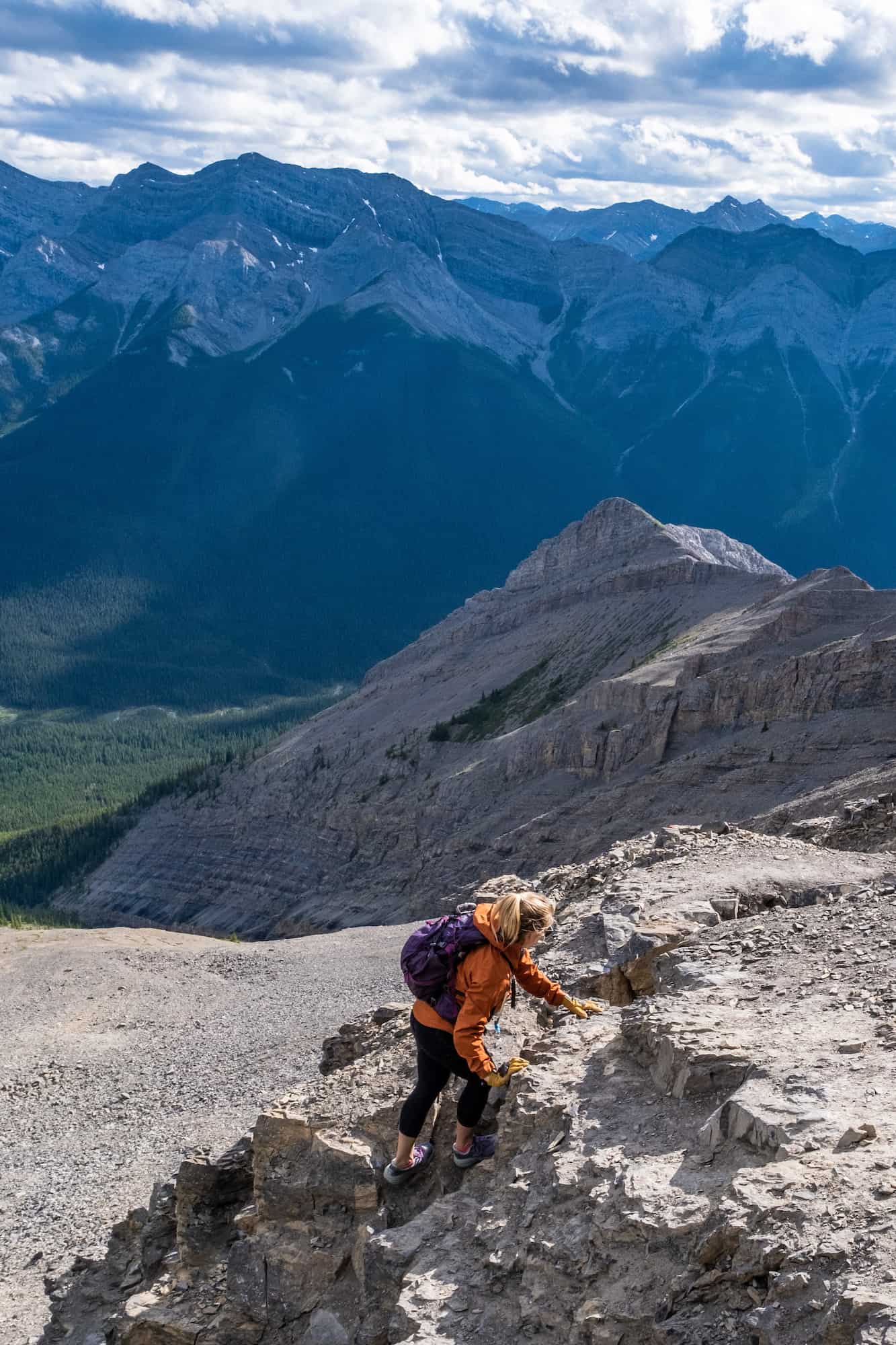 After this scramble, you've reached the summit and get to enjoy the views over Canmore! The view was inspiring for us as we could see our home way down below.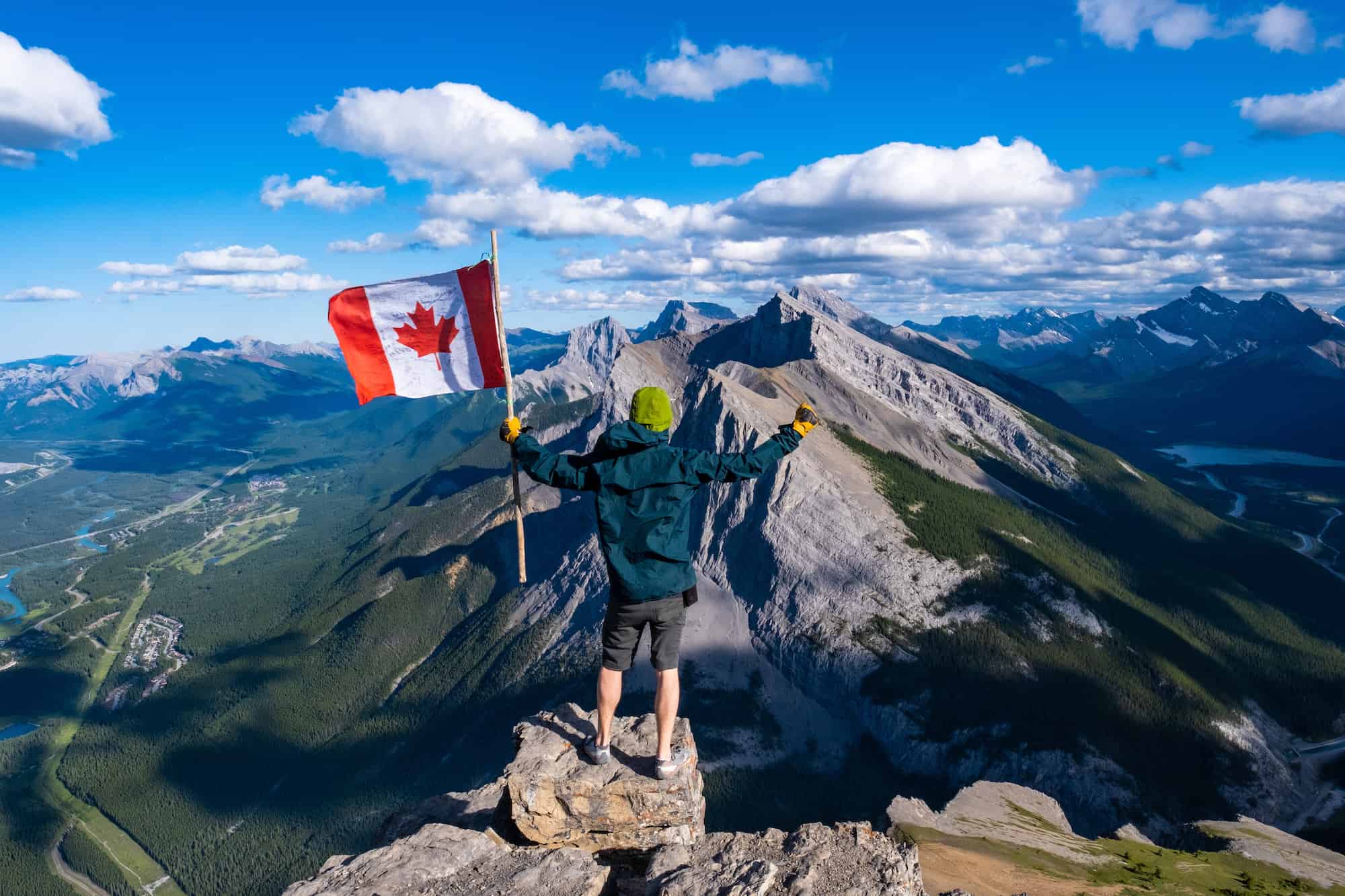 With a summit beer in hand, we watched a marmot wander around the peak and flipped through the very full summit register.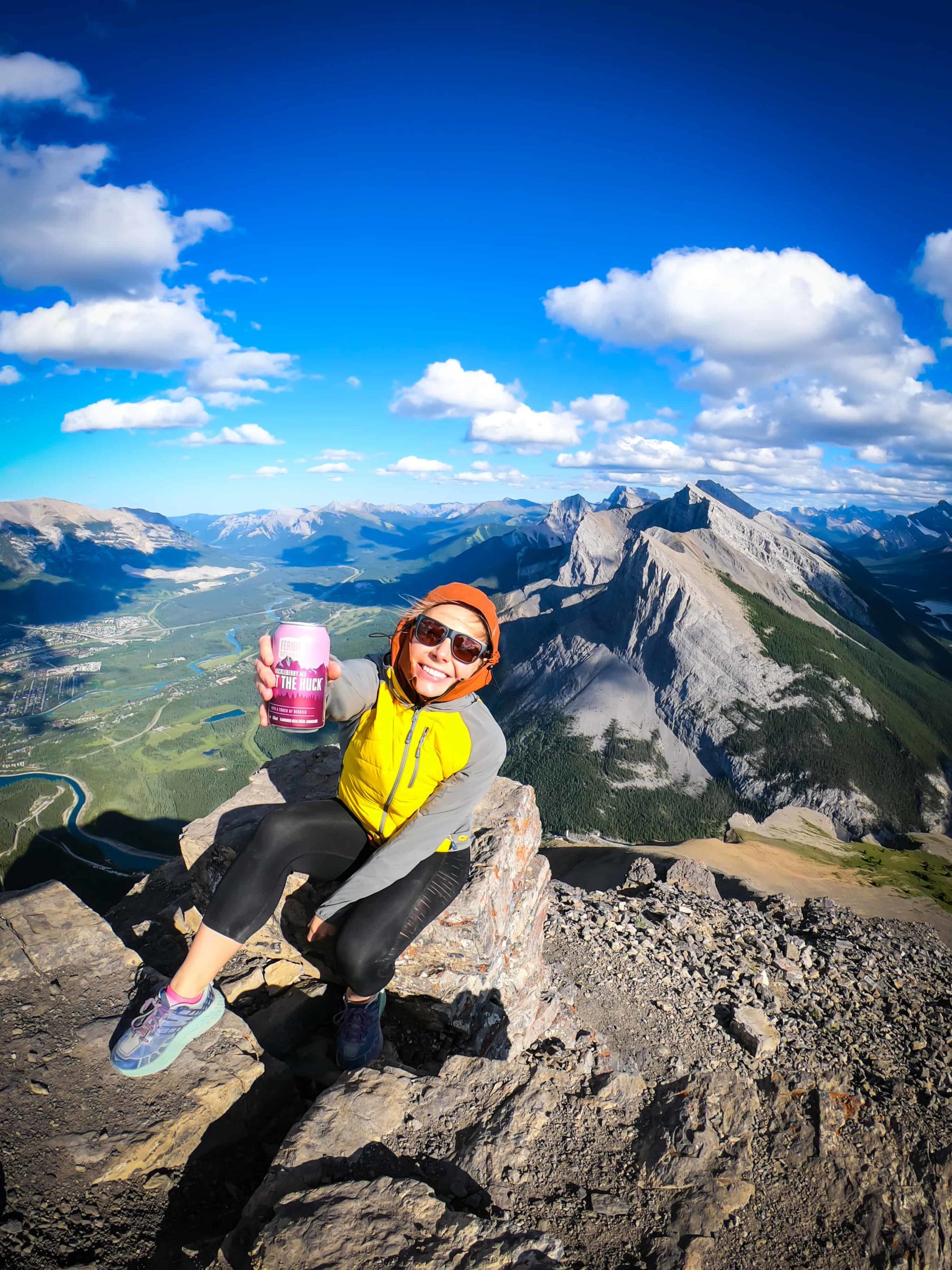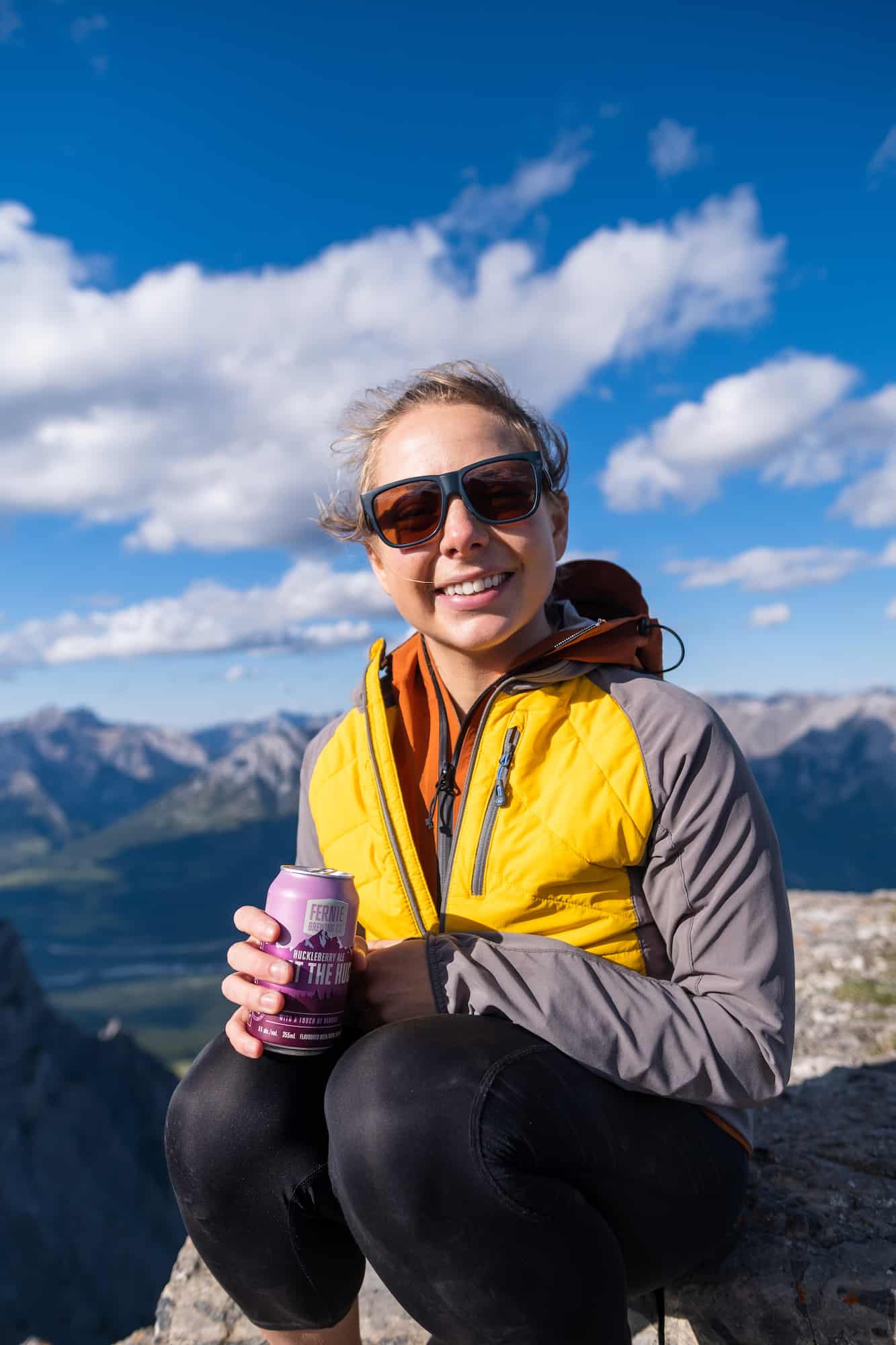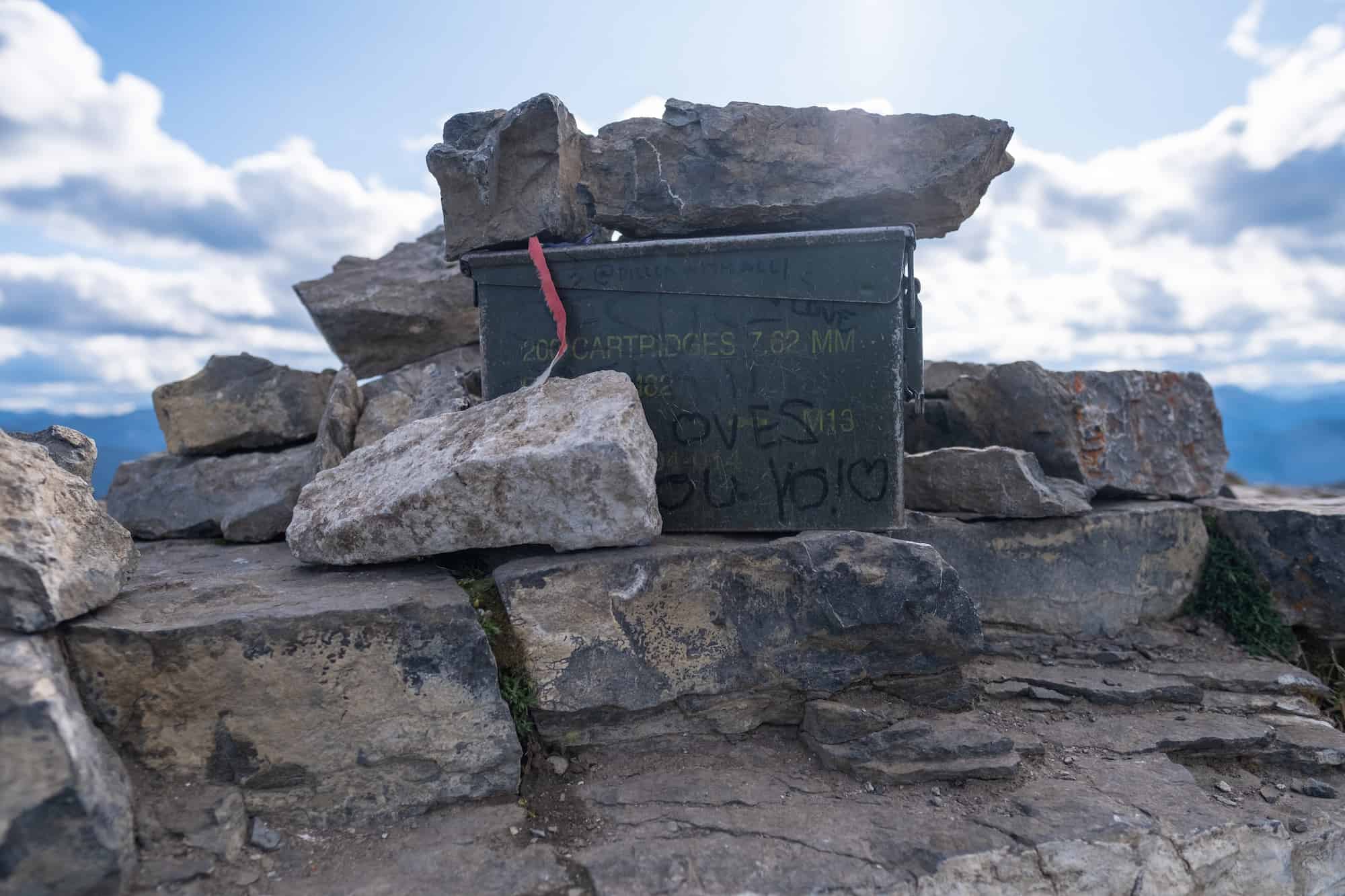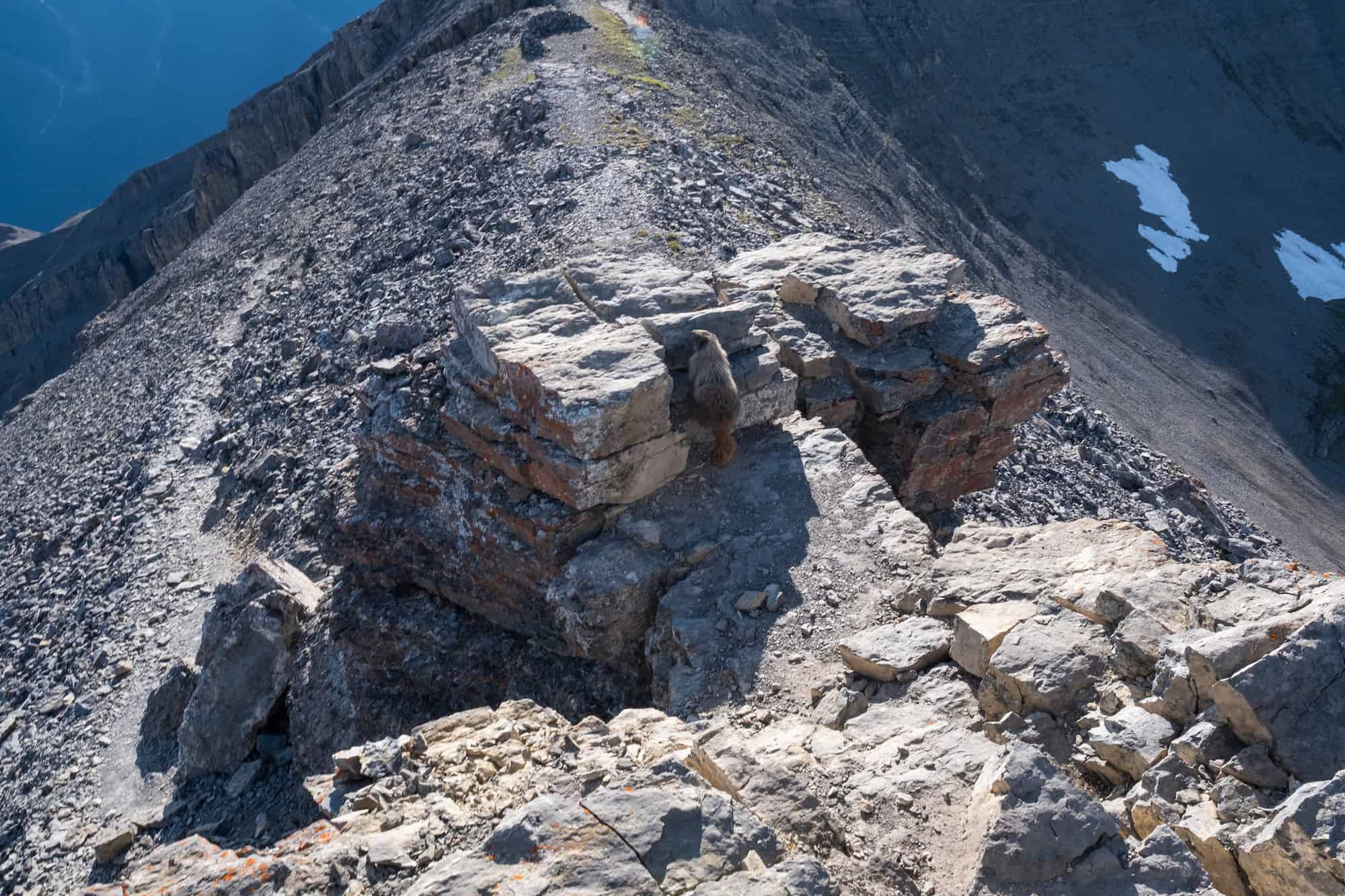 The descent was the same as our accent, as the other way looked more treacherous. We tried to run down the scree, but the well-trodden trail only had small rocks on hard dirt and caused us to slip multiple times. With that in mind, so we grabbed our poles and walked fast down the scree.
---
Gear We Recommend for Hiking EEOR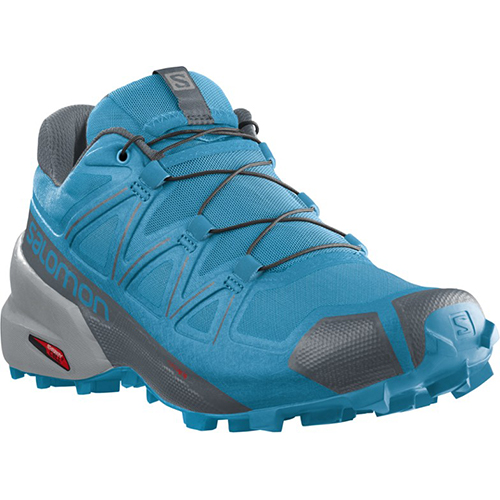 The vast majority of hikes and easy scrambles in the Rockies, you'll find us in our trusty Salomon Speedcross.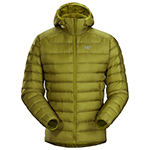 Arc'teryx Cerium is our pick for the best down jacket. It's incredibly light, and we bring it on almost every hike in the Rockies.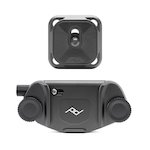 This nifty clip from Peak Design secures a camera to my backpack strap for easy reach. No more digging in the backpack!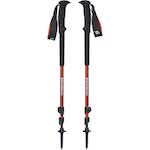 A pair of durable and lightweight hiking poles are a great asset on the hiking trail.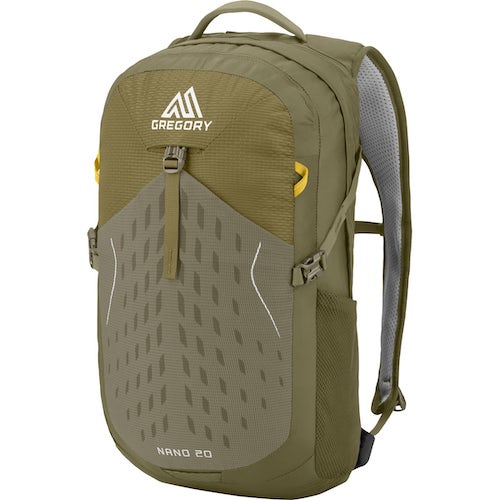 20L feels like the ideal size for quick hikes and scrambles. We love the Nano from Gregory with a hydration reservoir.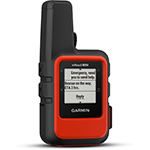 There is not much cell service in the Canadian Rockies. In case of emergencies, we carry an emergency beacon with GPS.
---
East End of Rundle (EEOR) Duration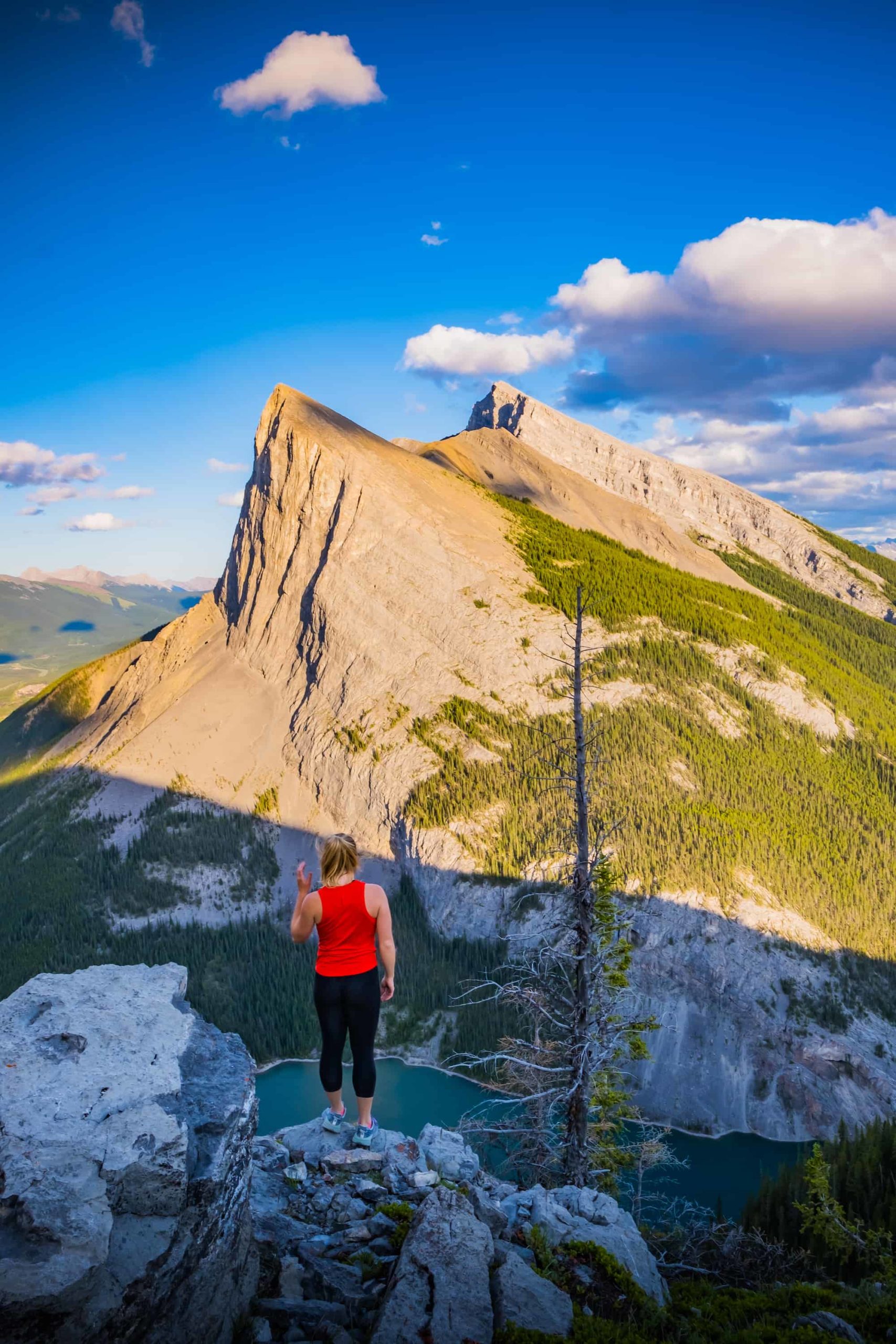 EEOR trail is a 5.8 kilometer out and back trail. We are reasonably fast hikers and completed the trail in three and a half hours with time for summit beers at the top and about 15 minutes extra for sunset photos. If we were really moving with no long stops, we could have easily done EEOR in under three hours.
The average hiker will probably be able to summit in 2-3 hours and descend in 1.5 hours. If you are slower, five to six hours round trip is a safe time to estimate. We were in no rush, and it took 1.5 hours for us to reach the summit and an hour down.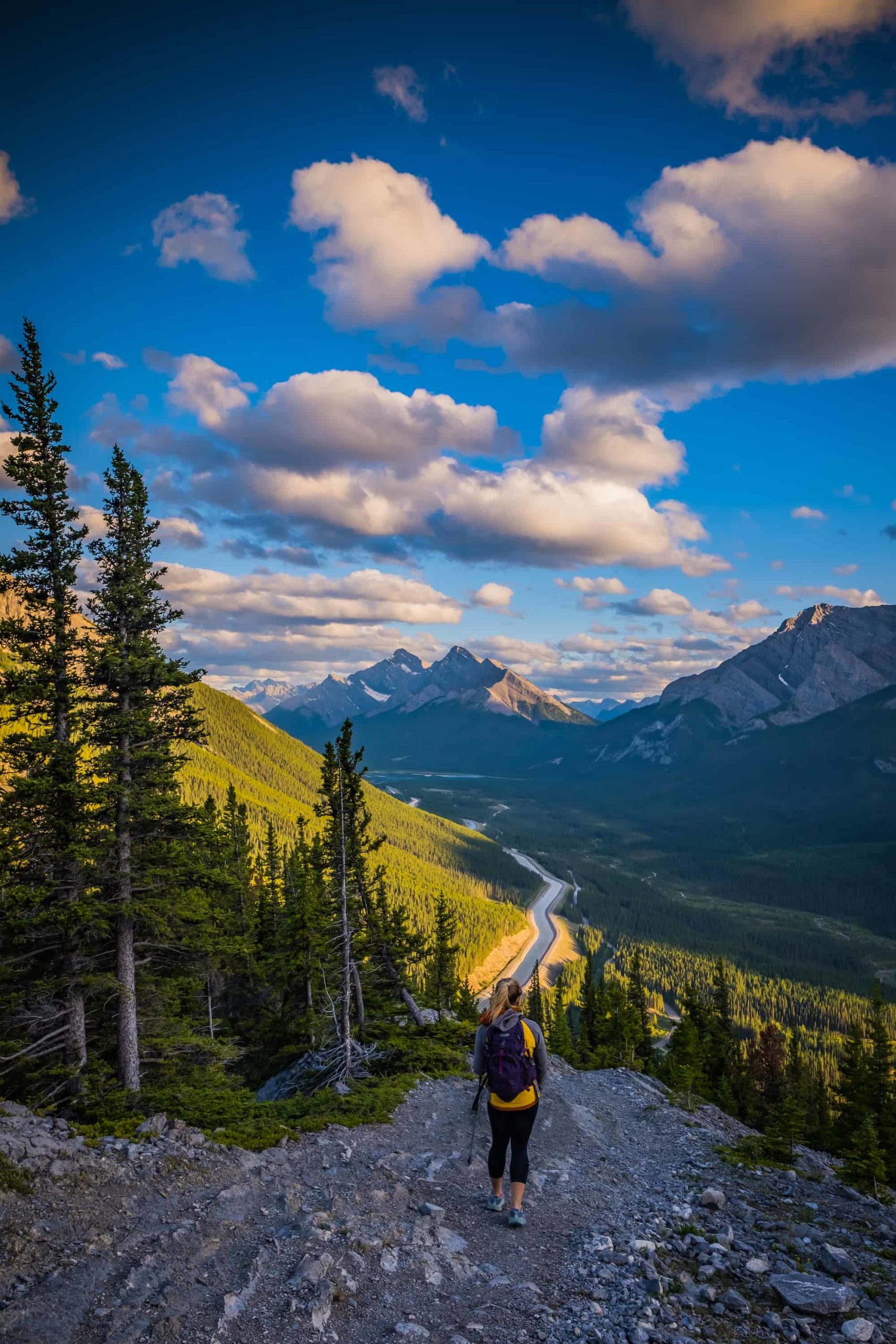 We came across two other pairs of hikers who completed the trail with a proper summit. Many others stopped at the countless number of viewpoints along the way, they don't get old.
If your main priority is to take photographs, you could stop at any number of the viewpoints over Ha Ling, the Bow Valley, and the Spray Lakes Resoivor after about an hour of hiking and descend in an hour, making the whole trip just two hours in length! In fact, we actually find the photographs are better from lower elevations.
---
East End of Rundle Difficulty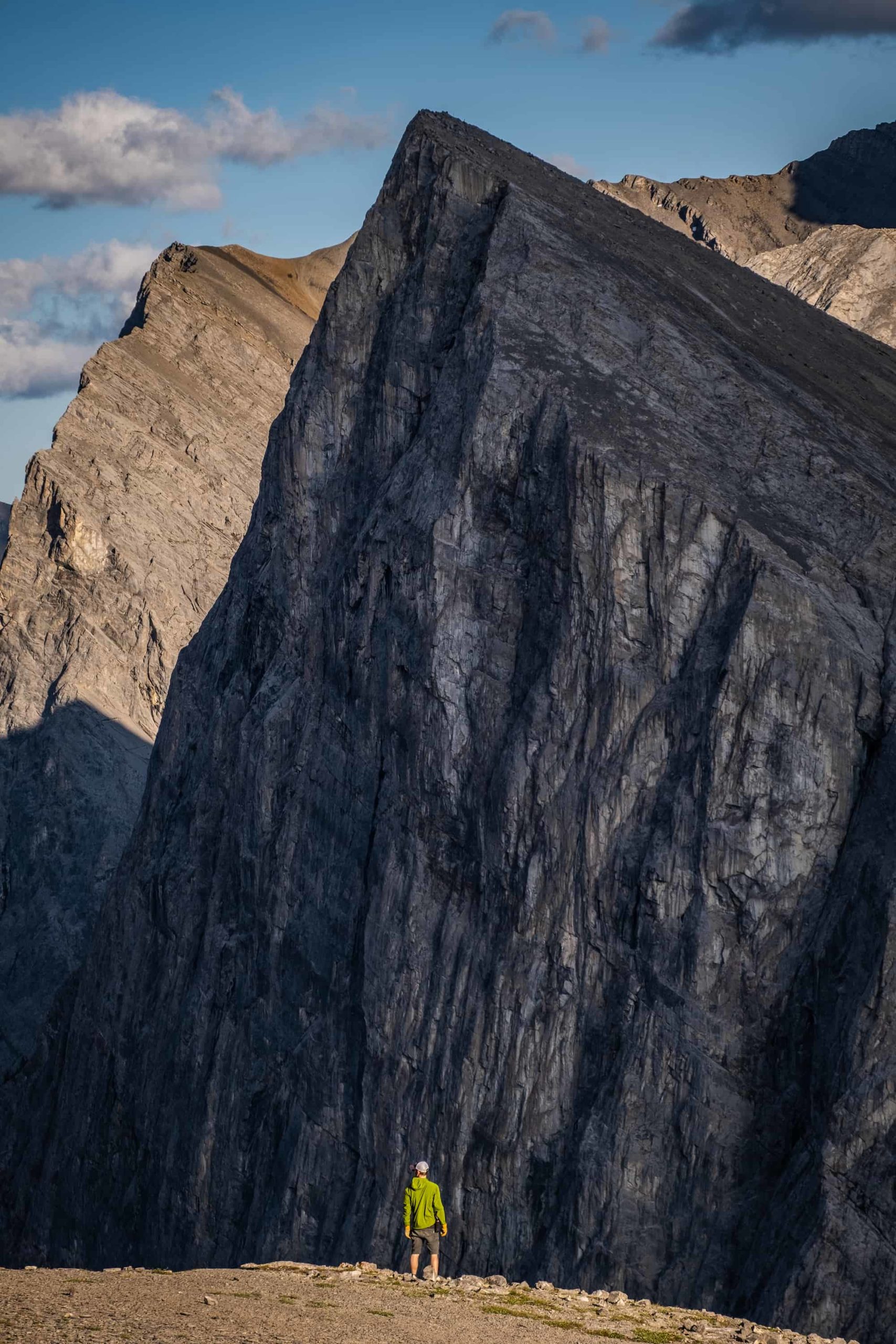 AllTrails has rated this hike as hard, but I would put it in between moderate and hard. It's certainly a steep and strenuous uphill battle for almost the entire hike. There are hardly any flat parts, and the climb starts immediately right from the car park.
There is a modest amount of exposure and some scrambling required, but nothing too scary or difficult for the average to an advanced hiker.
Poles are recommended for the scree ascent and descent, and gloves would come in super handy as well, as you'll be using your hands in a few sections.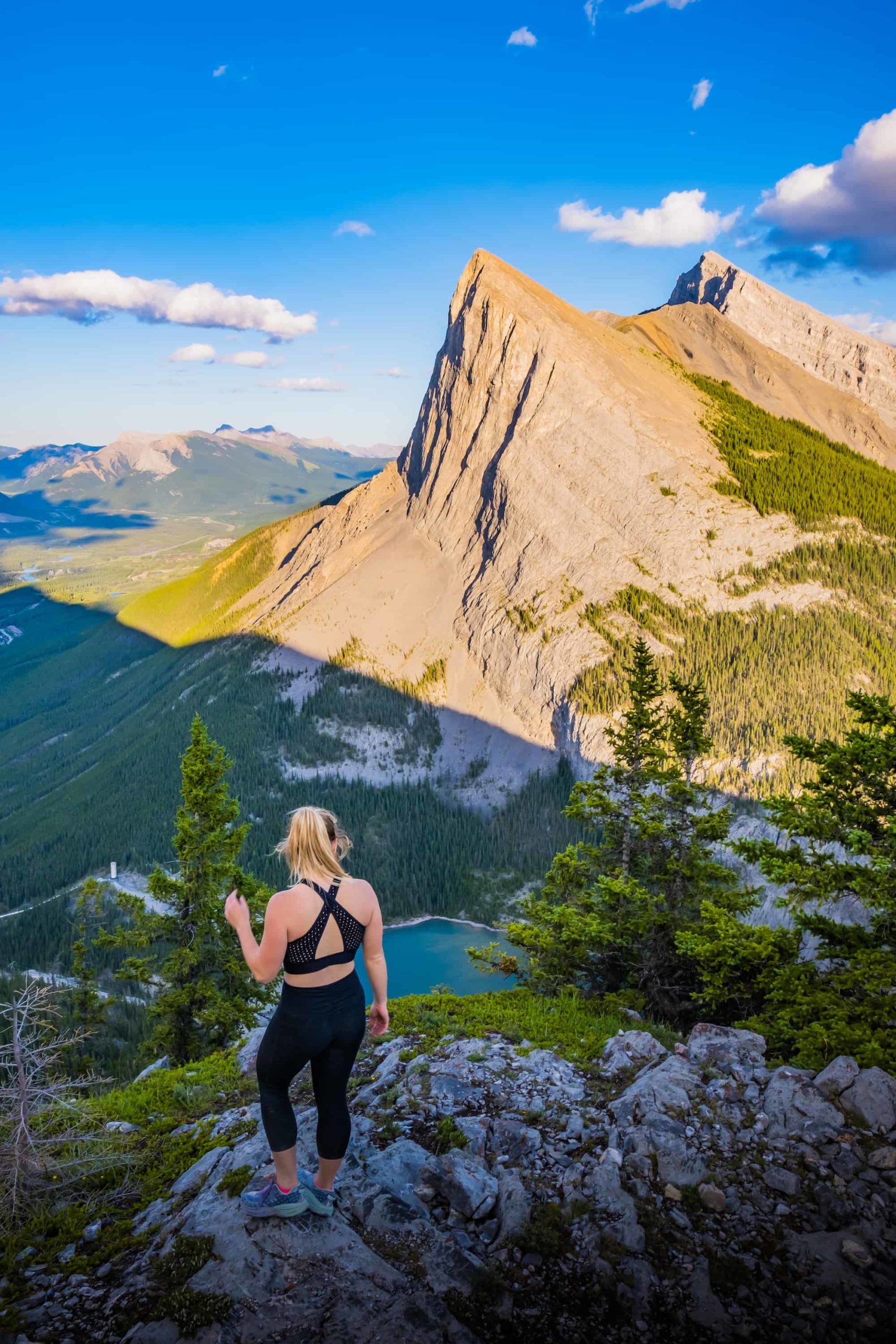 If you are new to hiking and scrambling, this will definitely be a difficult climb, and we recommend checking off Ha Ling next door first. However, if you're in reasonably good shape and hike a bit, EEOR should be no problem for you.
It's a great workout, with great views the entire way. You'll be gaining 870 meters of elevation in 3km – a leg burner for sure!
---
When Can You Hike EEOR?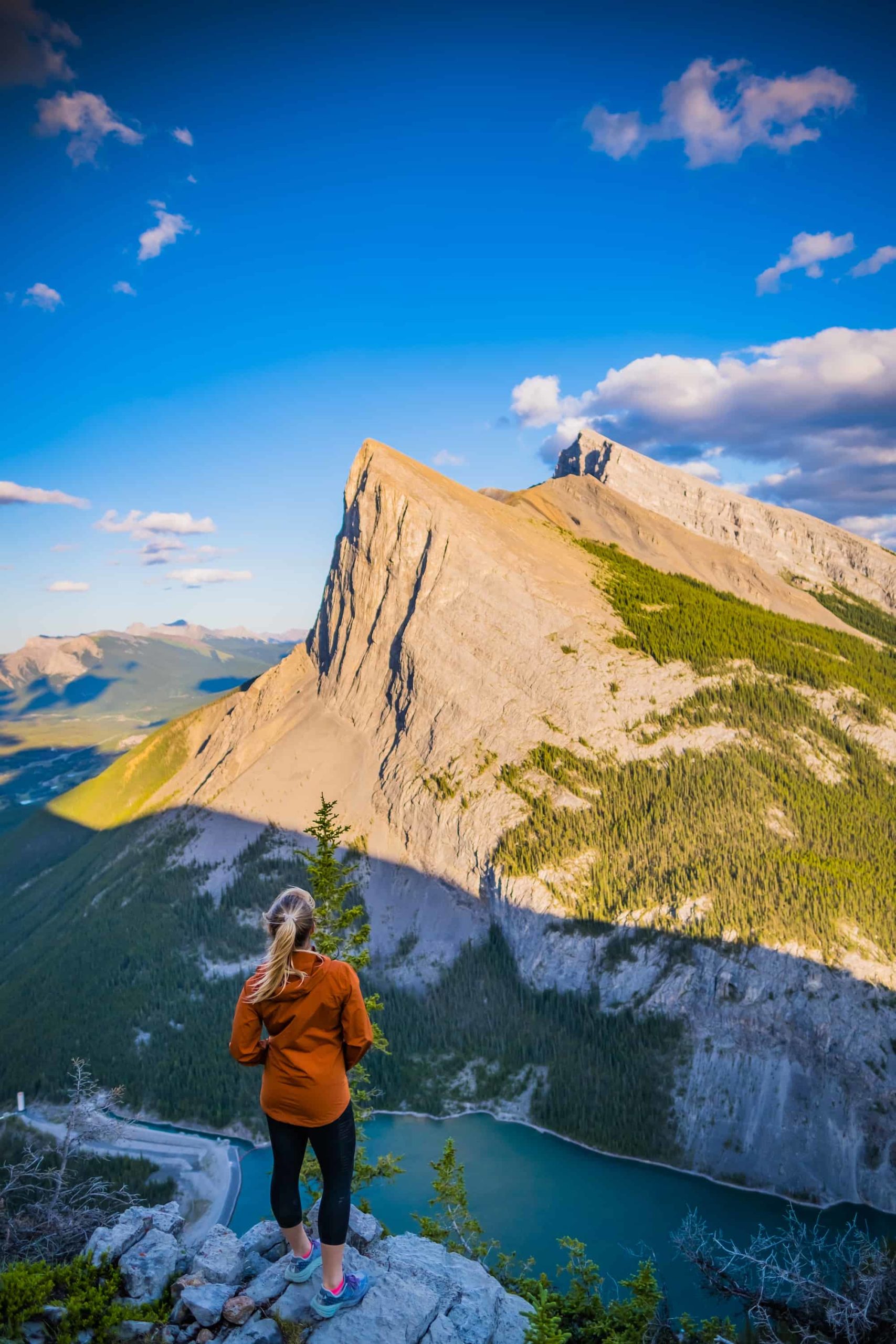 The best time to hike EEOR is between May and early October. If you decide to tackle this in the winter, you will need spikes to get you through. It's steep and slippery. Hiking poles are never a bad idea either. See my section at the bottom for what to wear hiking.
We hiked EEOR in late July and had great conditions. We've also hiked EEOR in November for an early winter burner. However, it is one of the busiest trails in the area. It's typically a great early season objective as it receives plenty of sunlight to melt away the snow faster than other peaks.
Hiking EEOR in the winter means that you won't find many other people on the trail, but you'll need to be extremely cautious and pay attention to Avalanche Canada reports. Just because EEOR is easily accessible, doesn't mean it comes without dangers – especially with a heavy snowpack. During the peak summer season, this trail is heavily trafficked given its ease and proximity to Canmore.
---
How Busy is EEOR?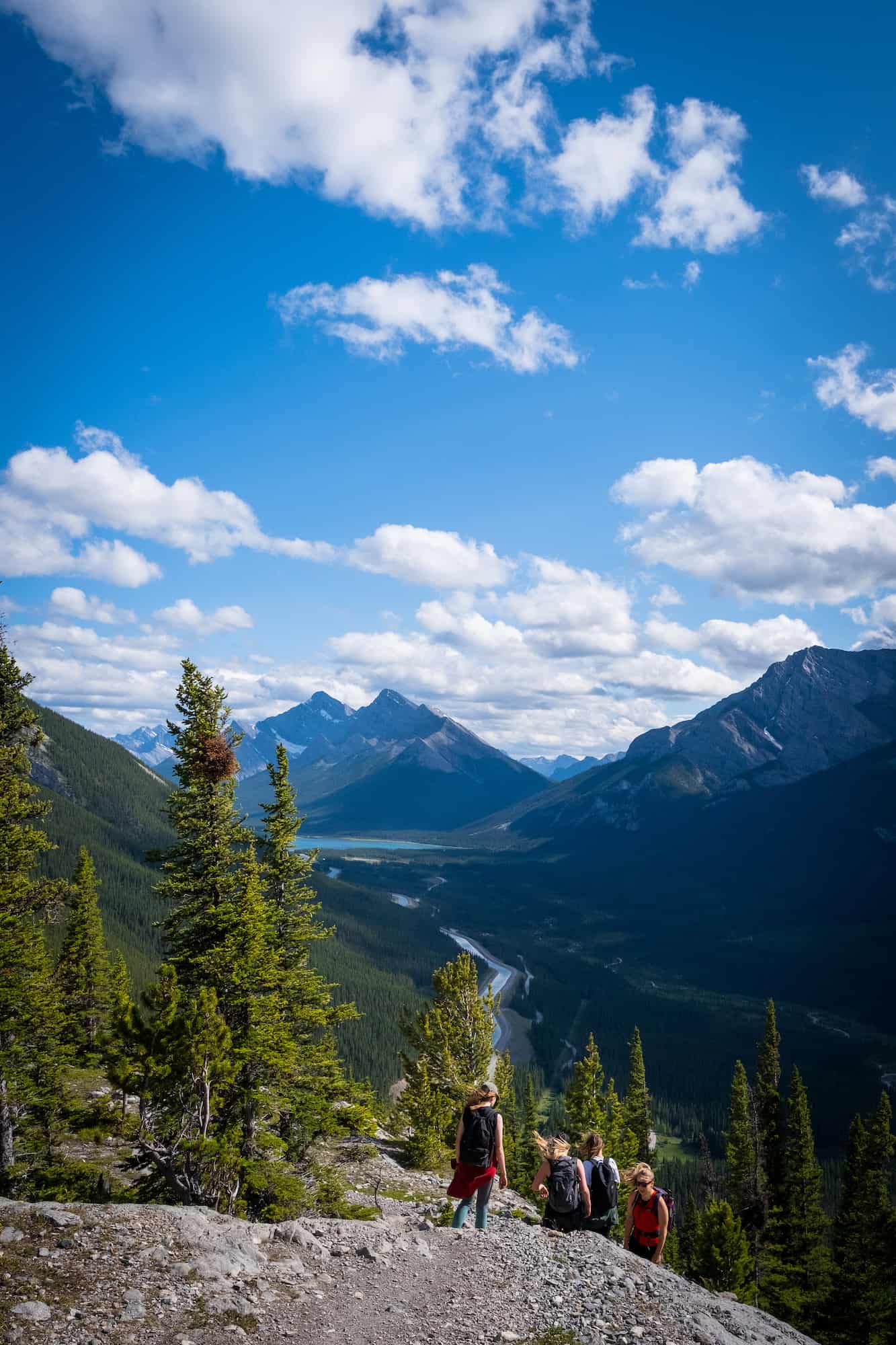 AllTrails rates this as a heavily trafficked trail, and it is. It's a hard hike that is exceptionally close to the town of Canmore and offers breathtaking views over the Bow Valley.
Don't come here expecting to be alone. Your best bet at having a crowd-free experience is coming mid-week at either sunrise or sunset. We started this trail on a Thursday at 4 pm, wanting to catch the sunset light. We passed many people coming back down from the trail but were the last to summit for the day.
---
Dogs and Kids on the East End of Rundle (EEOR)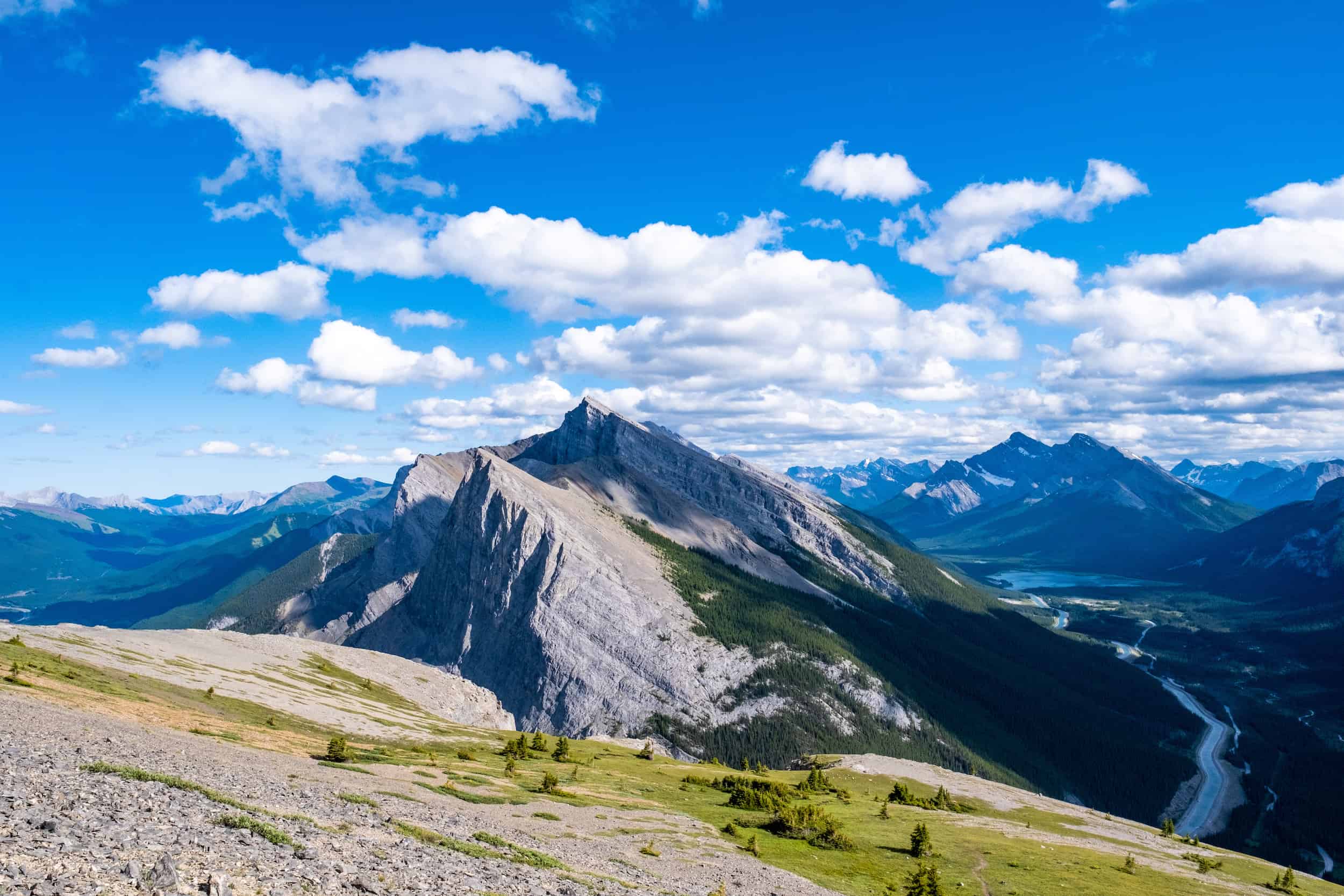 Only kids and dogs with experience scrambling should tackle the summit of EEOR. The crux is the last hundred meters to the summit and requires hands and sure footing. However, most teenagers and pets should be able to make it to the viewpoint without issues!
---
Is There Parking for East End of Rundle (EEOR)?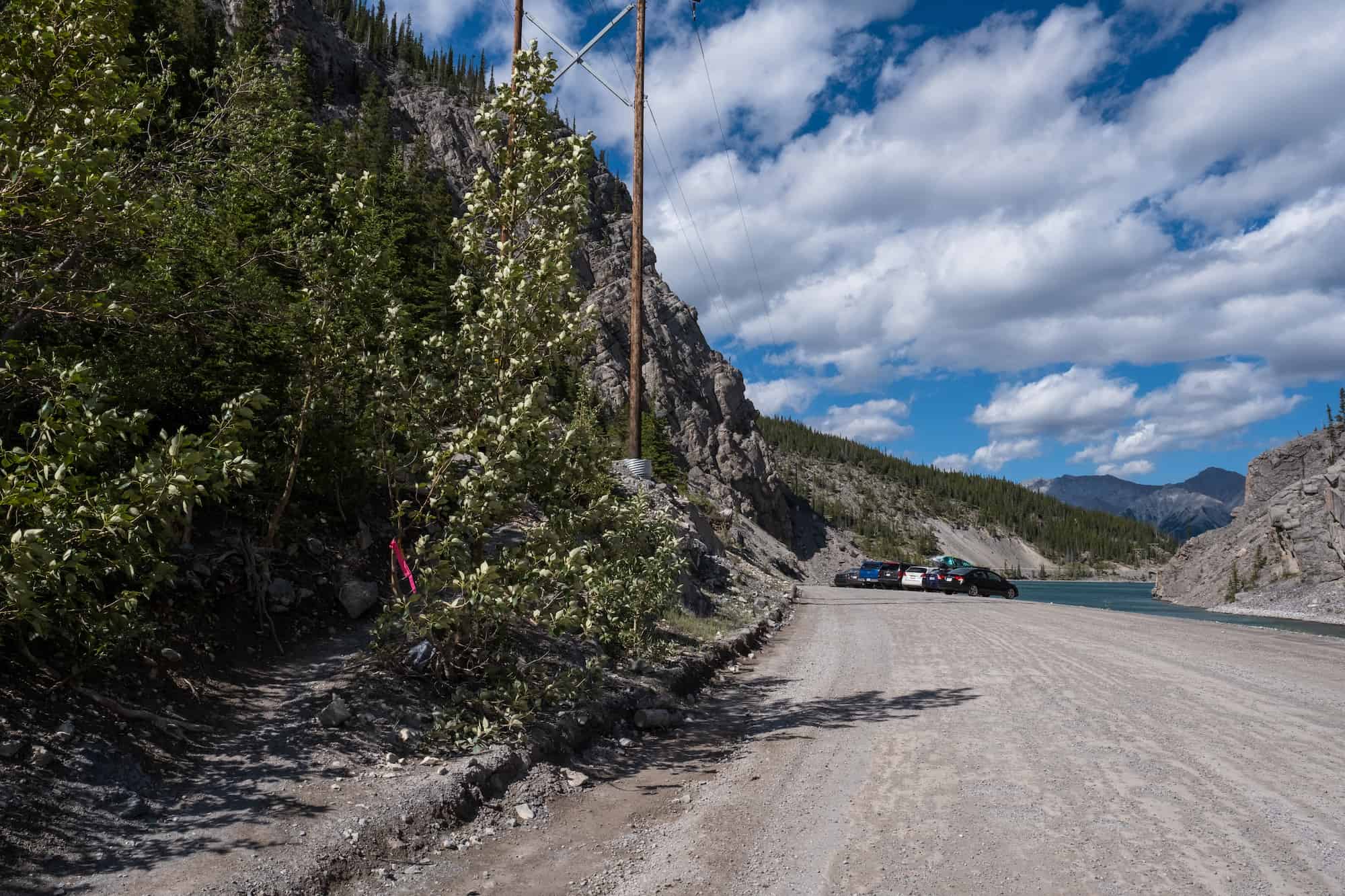 Yes! Vehicles should park along Whitemans Pond or at the giant new paved Goat Creek Parking Lot. There are typically always cars at Whitemans Pond unless you're one of the first ones here.
EEOR is a very popular hike and rock climbing area, so expect lots of hikers and climbers around.
Across the road from Whiteman's Pond, you'll find a ribbon attached to the tree indicating the start of the trail.
---
Wildlife Awareness On East End Of Rundle (EEOR)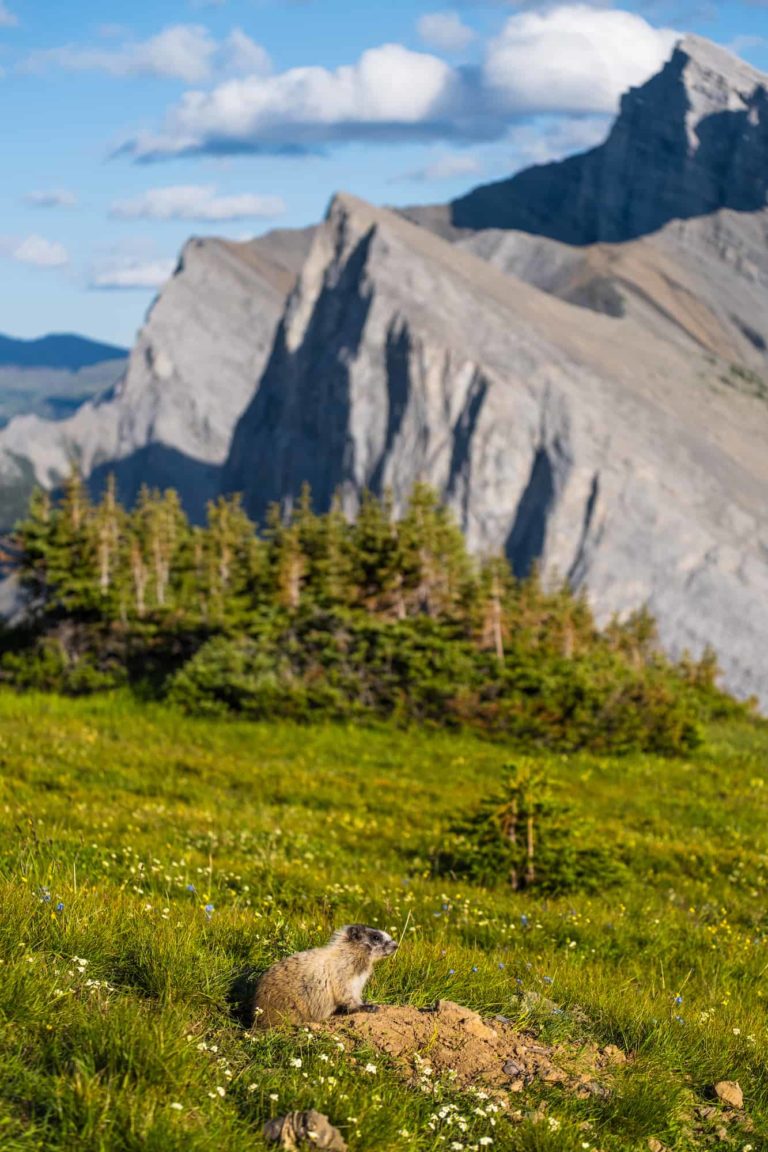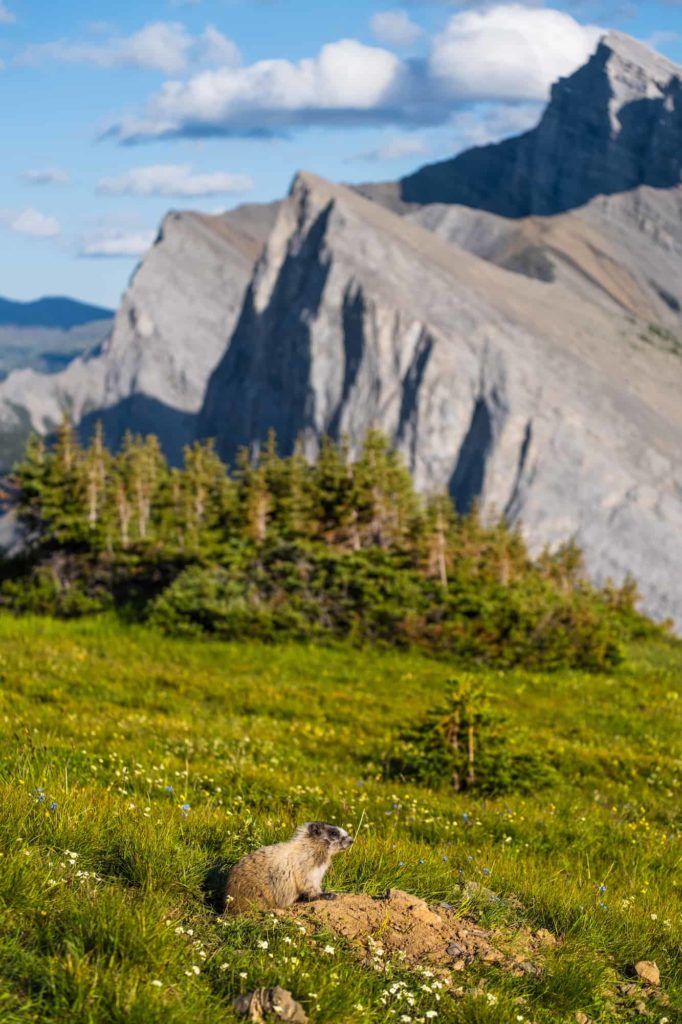 If you're on any hikes in Kananaskis, you should practice proper wildlife awareness. There are frequent sightings of black bears, grizzly bears, moose, coyotes, and cougars in the region. They are all a potential threat to humans, and we should reduce our impact on their natural lives.
Before any hike or walk-in Kananaskis Country, you need to have bear spray. Remember that the bear spray is worthless if it's in your pack, you'll need to be able to grab this in two seconds or less in an emergency. We wear our bear spray on our hips.
The likeliness of seeing wildlife on this trail is high. It is a heavily trafficked trail, but bear sightings have occurred. Always check the park websites for wildlife information (Parks Canada and AB Park), and then check again for notices at the trailhead.
When you're on the trail, make noise by banging hiking poles, talking, whistling, clapping, or singing. This is particularly important around blind bends and corners. You're through the deep woods during these times, and it's prime time to sneak up on a bear. Once you're at the summit, you're safer as you can see wildlife from afar, but still, don't let your guard down and keep the bear spray on you just in case.
As always, while hiking, you need to stay alert, travel in a group, mind children and pets, and finally carrying bear spray and knowing how to use it. If you've come to the park without bear spray, Valhalla Pure Outfitters in town sells spray and holders with employees who will demonstrate how to use them properly.
Besides bears, it's common to see mountain goats on EEOR and then, of course, marmots. We saw lots and lots of cute marmots!
---
Things to do in Canmore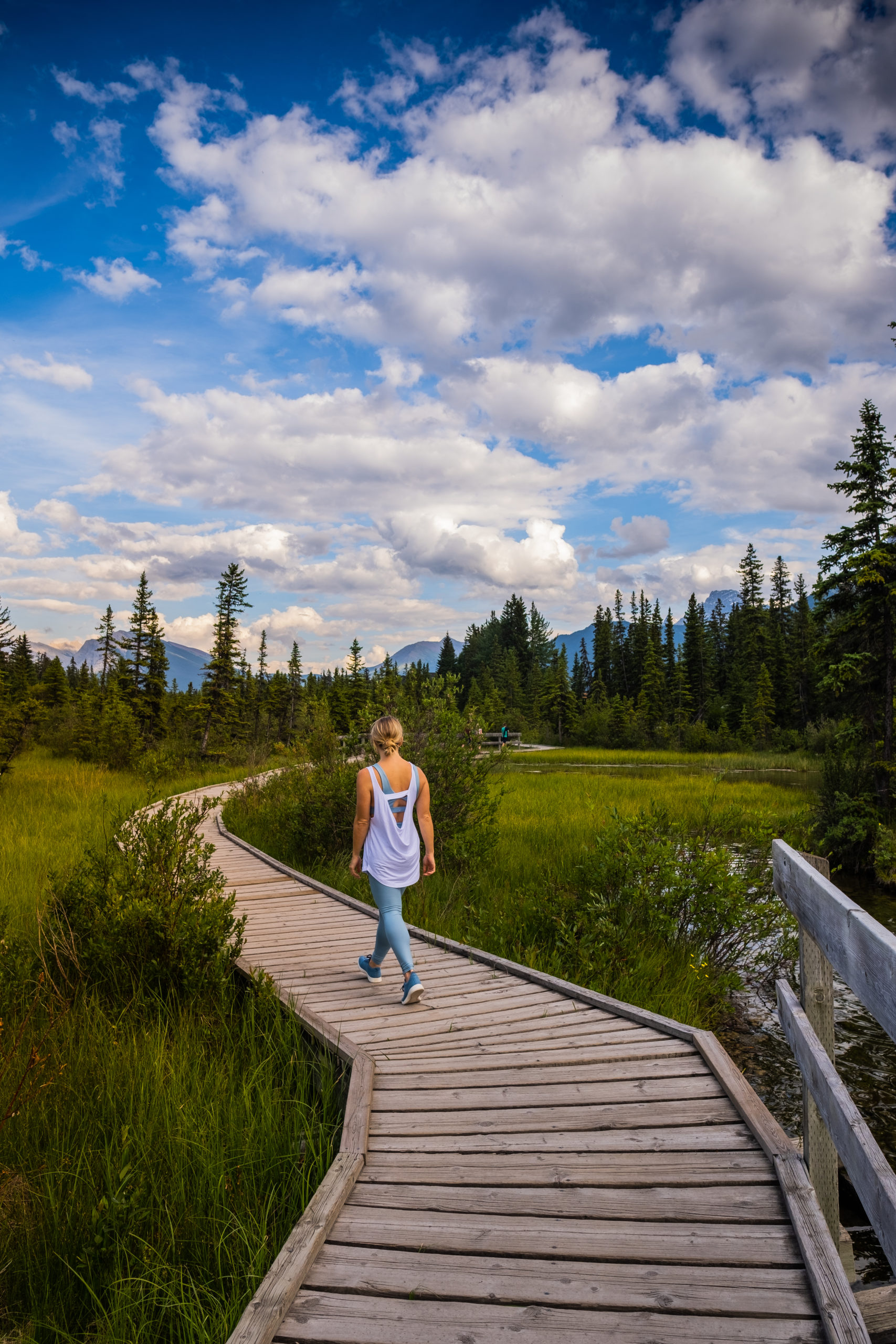 Grab A Beer at the Tavern 1883: Our favorite post-ski ritual is to check out the local bar. It doesn't matter the season, but to end any day with a local craft beer in the stunning Rockies is the perfect day. The drink and food here are great and we always have a good time.
SUP: There is no secret that Canada has some stunning lakes, more than any country in the world. Canmore has a wide selection of waterways itself and there are so many water activities that visitors can do in the area. One of those things that have made its way from the coast is stand-up paddleboarding. Bow Valley Stand Up Paddleboarding has been operating in Canmore for the past five years and offers rentals, lessons, and sales.
Grotto Canyon: An easy hike in Canmore that's good year-round is Grotto Canyon. Even in the winter, this famous canyon with rock art is possible to walk along the frozen creek. In the summertime, it's popular for families seeking to enjoy the narrow slot canyon and climbers looking to scale its walls. At only 4km in length, you can check this one off the list in an hour or two.
Indoor Rock Climbing at Elevation Place: Though rock climbing isn't for the faint of heart, you don't have to put your life at risk clinging to a sheer rock face thousands of feet up to experience it. That's just what they had in mind when they created Elevation Place – the place to go in Canmore to see what the climbing hype is all about. It's also a great place for expert-level climbers to practice their moves.
---
Advice on Hikes in the Canadian Rockies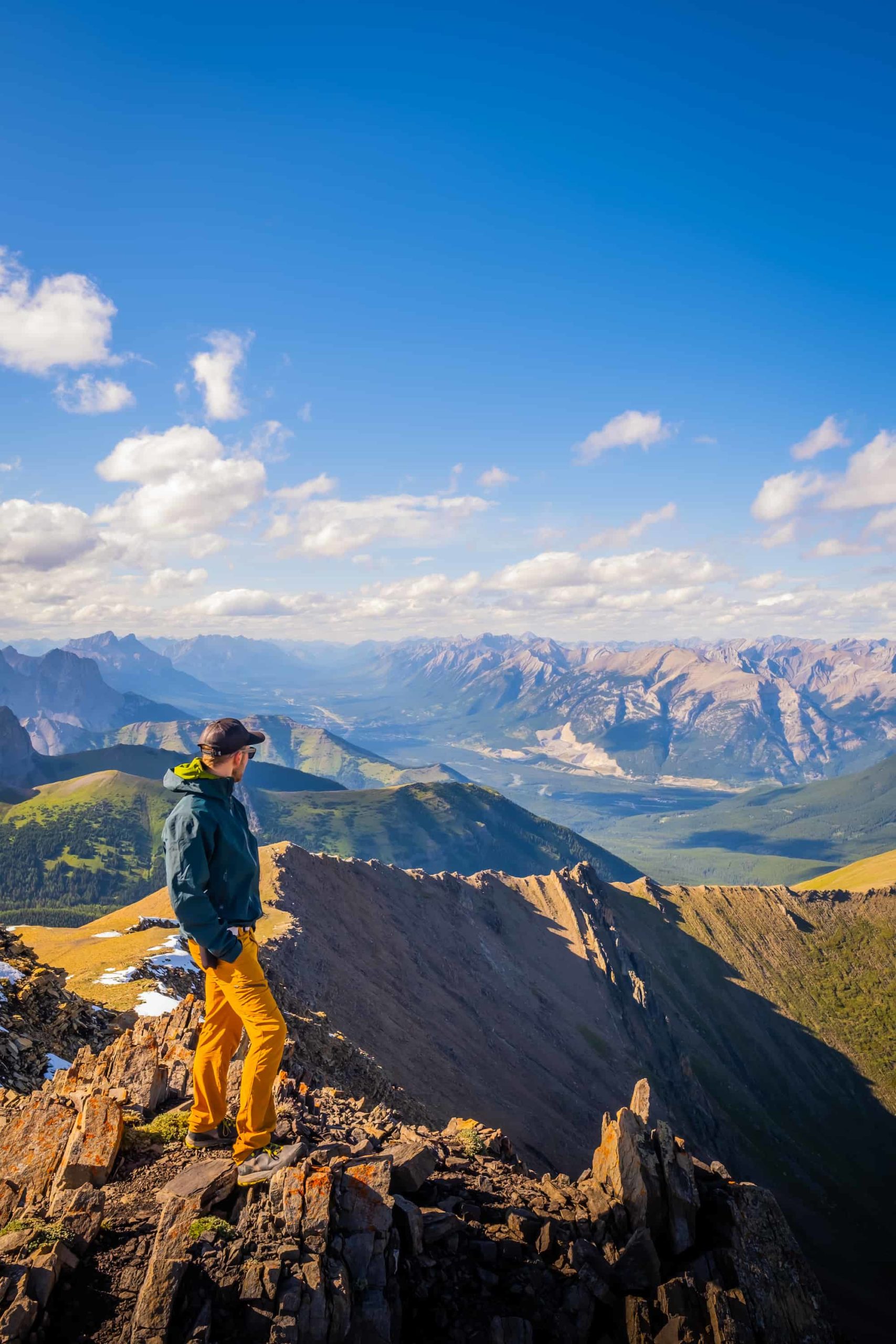 If this is your first time hiking in the Rockies take a conservative approach. Pick an adequate hike for your fitness, plan for plenty of time, pack water and food, and don't be afraid to turn around.
For long hikes, set a turn around time at the departure. Any time we set out for an objective I determine a time at which we need to turn around in order to arrive at the parking lot or campsite by dark. I would recommend not hiking in the dark as it's easy to get lost and it's not fun in bear country.
On that note, always carry bear spray if you plan to hike in the park. We carry ours in the neighborhood and bears have been known to stroll through town and busy parking lots. Always practice wildlife awareness when you're on a trail, and please give animals space.
In regards to times keep in mind your mountain fitness as it's different than the gym. The low end of the times in this post is a constant fast pace uphill with little to no breaks and a brisk pace downhill. Most hikers should plan for a middle of the road time with the estimated duration.
It's also super important to know that there are limitations and to come prepared. These are very serious mountains and it easy to get in well over your head with life-threatening consequences.
Lastly, a GPS tracker could save your life – it's one of those backpacking essentials I like to have on me just in case I need to hit SOS. Thankfully there is service on EEOR, but on most hikes in the Rockies there isn't.
Alltrails is our favorite app to have on a hike. It shows the correct trail way, elevation, and other hiker reviews. We paid the subscription fee so that we could download all the data we need to our phones. Best $2.50 (per month) ever spent!
---
What to Wear On a Hike?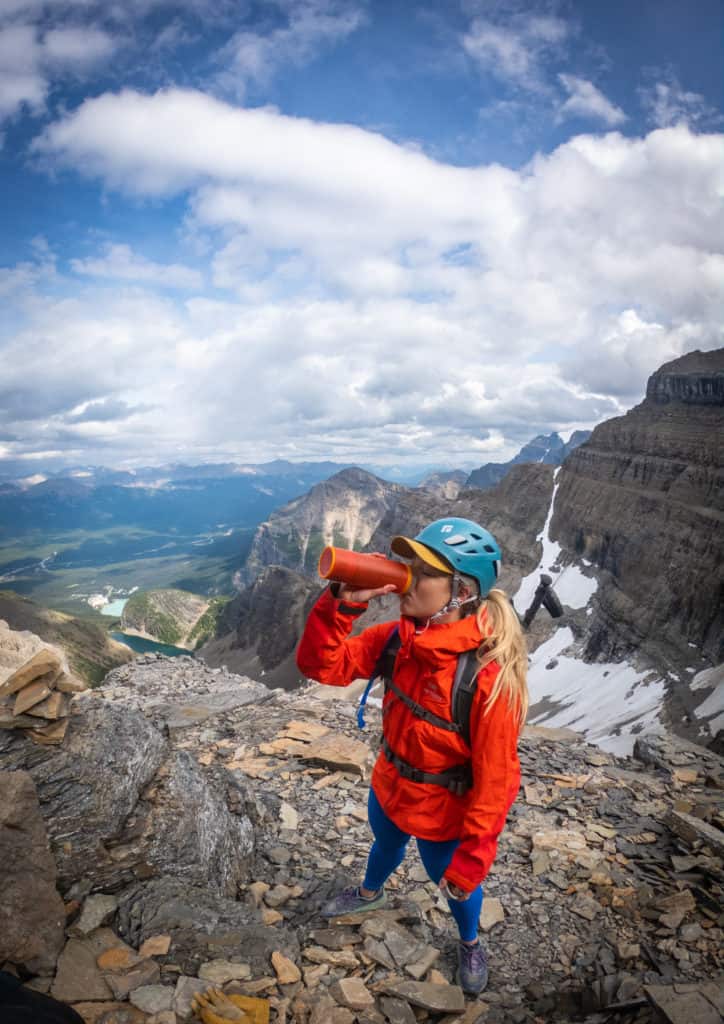 The most basic principle of what to wear hiking is layering. Anyone that has spent time in the wilderness or mountains can speak to the fact your temperature can fluctuate a lot on a hike. You can easily start off cool at the mountain base and get hot as soon as you begin moving.
The goal of hiking clothing is to help regulate your body temperature, element protection, and moisture management. Temperature management is best done through a layering system. If you want to learn more about what to pack for a day hike or what to wear on a hike, you can see our full post! Here are the best hiking clothes for men and the best hiking clothes for women.
---
Other Kananaskis Country Hikes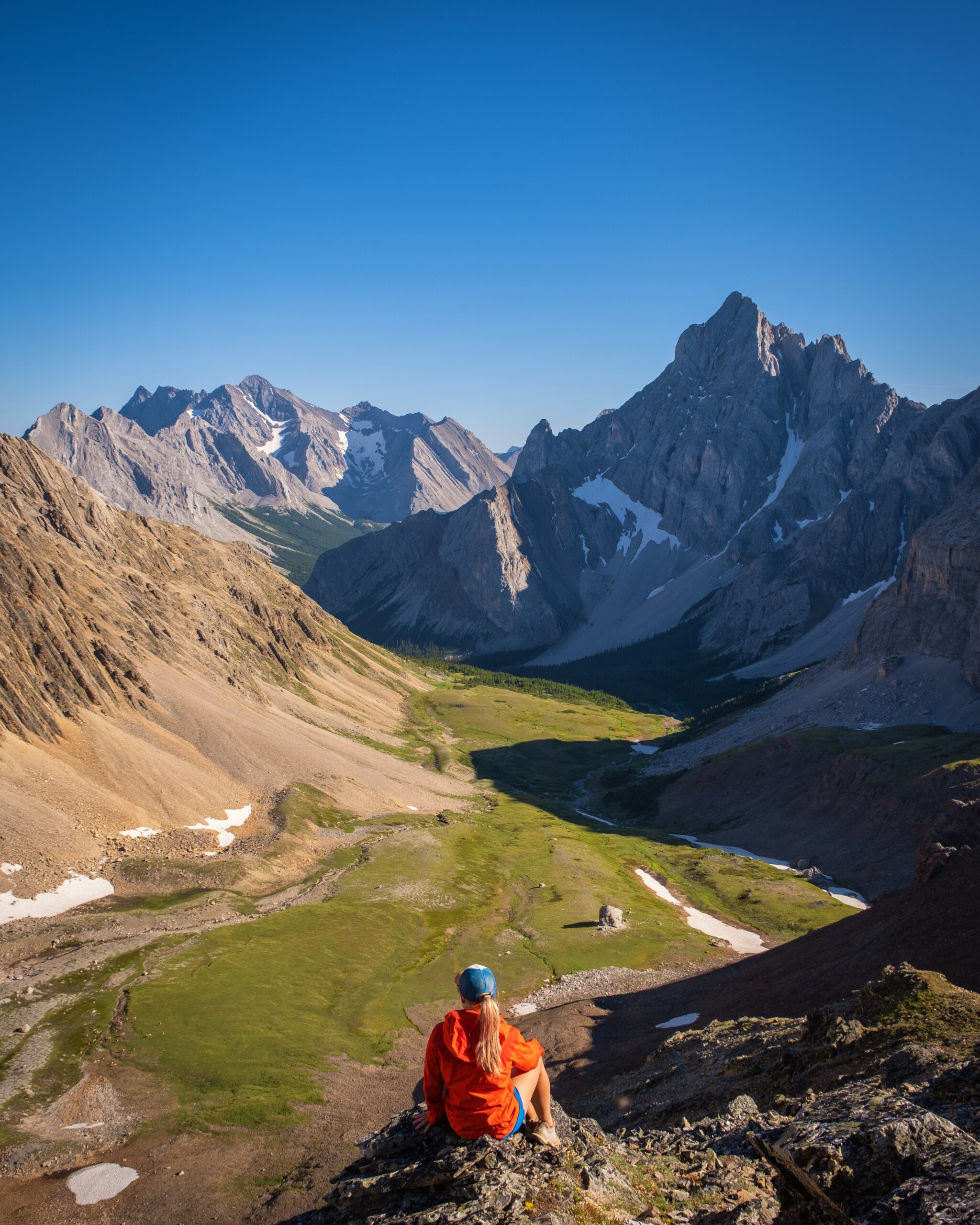 There are many more great hikes in the Kananaskis Country Provincial Park, or you can check out some awesome Banff hikes. Both are home to some of our all-time favorite hikes and scrambles in the region. To learn more, we've got a post on our favorite hikes in Kananaskis Country.
---
Plan Your Trip to the Canadian Rockies