Yoho National Park is one of my favorite places to head in the Canadian Rockies and one of the most beautiful places in BC. There are so many things to do in Yoho for all visitors, and it's an easy add-on to anyone visiting Banff or near the town of Golden. Yoho National Park is a key area to stop and explore when doing a Canadian road trip too.
From visiting turquoise lakes, to hiking with waterfall views, it's definitely an exciting park for exploring. Here are some of our favorite things to do in Yoho, including campsite and hiking information.
---
Do You Need a Parks Pass for Yoho National Park?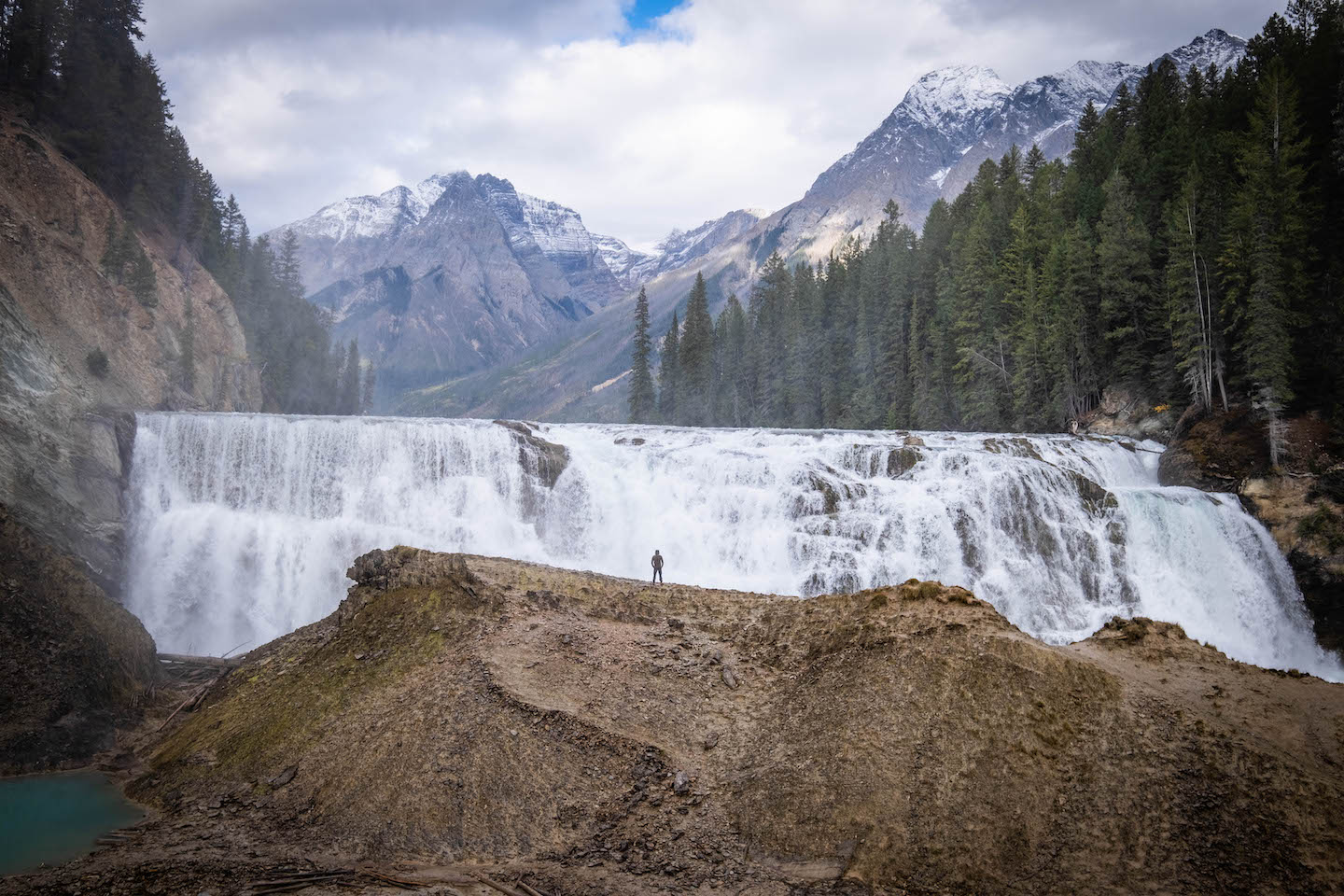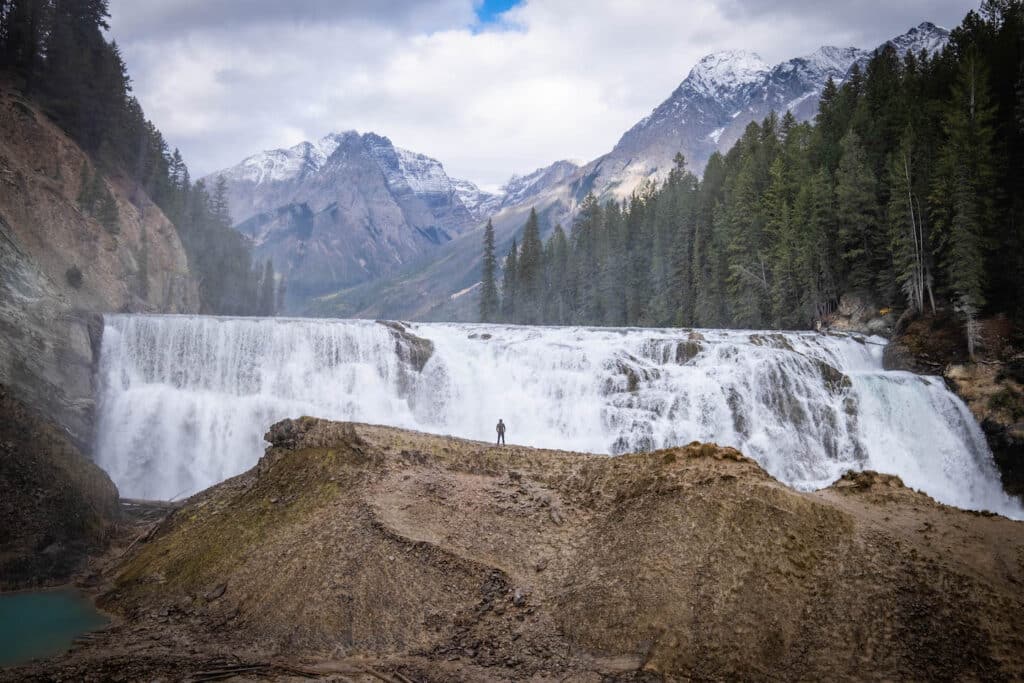 You need a National Parks Pass to visit Yoho National Park. You can purchase a Parks Canada pass at any park gate. Yes, Parks Canada employees do check, and you can get a ticket if you don't have one. You'll hit a Parks Canada gate right after Canmore along the Trans-Canada Highway if coming from Calgary before entering Banff. There is also a Visitor Center in both Golden and Field which sells Parks Passes. Parks Canada pass prices are as follows:
Adult: $10.50
Senior: $9.00
Youth (up to 17): Free
Family/group of 7 people: $21.00
Day passes expire at 4 pm the following day.
Or you can buy them from Parks Canada in advance online. If you're staying in the Rockies for more than a few days, I highly recommend a Discovery Pass. A Parks Canada Discovery Pass, which gets you entrance to all Parks Canada destinations for the year, is only $145.25 for a family.
Again, day passes are $10.50 per person, so depending on how many days you are staying and if you have plans to go elsewhere like Banff, Waterton, or Jasper, you may want to consider the Discover Pass. Discovery Pass fees are as follows:
Adult: $72.25
Senior: $61.75
Family: $145.25
ULTIMATE Guide To Purchasing A Parks Canada Pass
---
Is Yoho in BC or Alberta?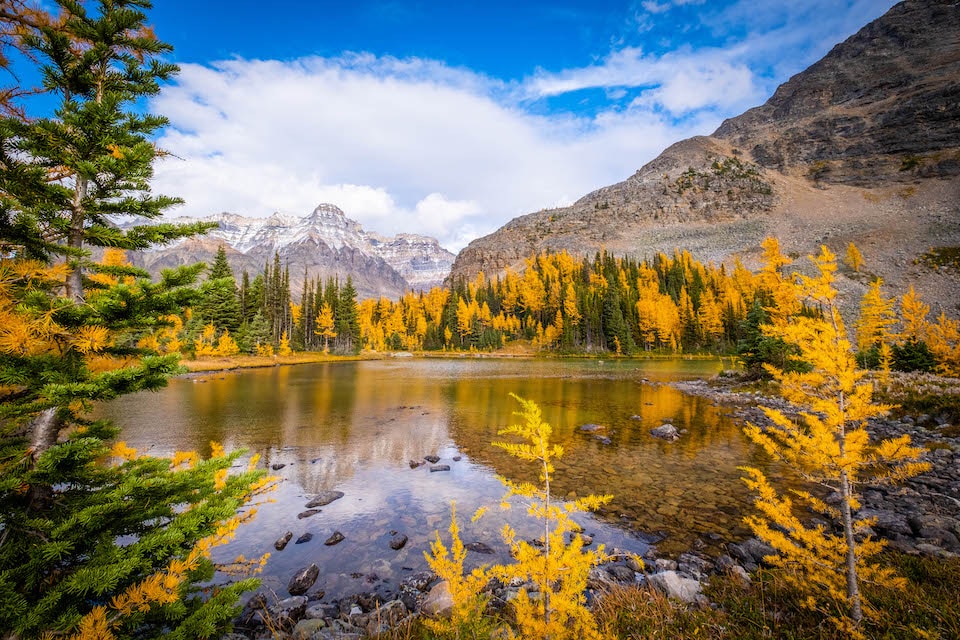 Yoho National Park is located within the Canadian Rockies, though it sits just over the Alberta/BC border and is actually located in southeastern British Columbia along the western slope of the Continental Divide of the Americas.
---
Is Yoho National Park Crowded?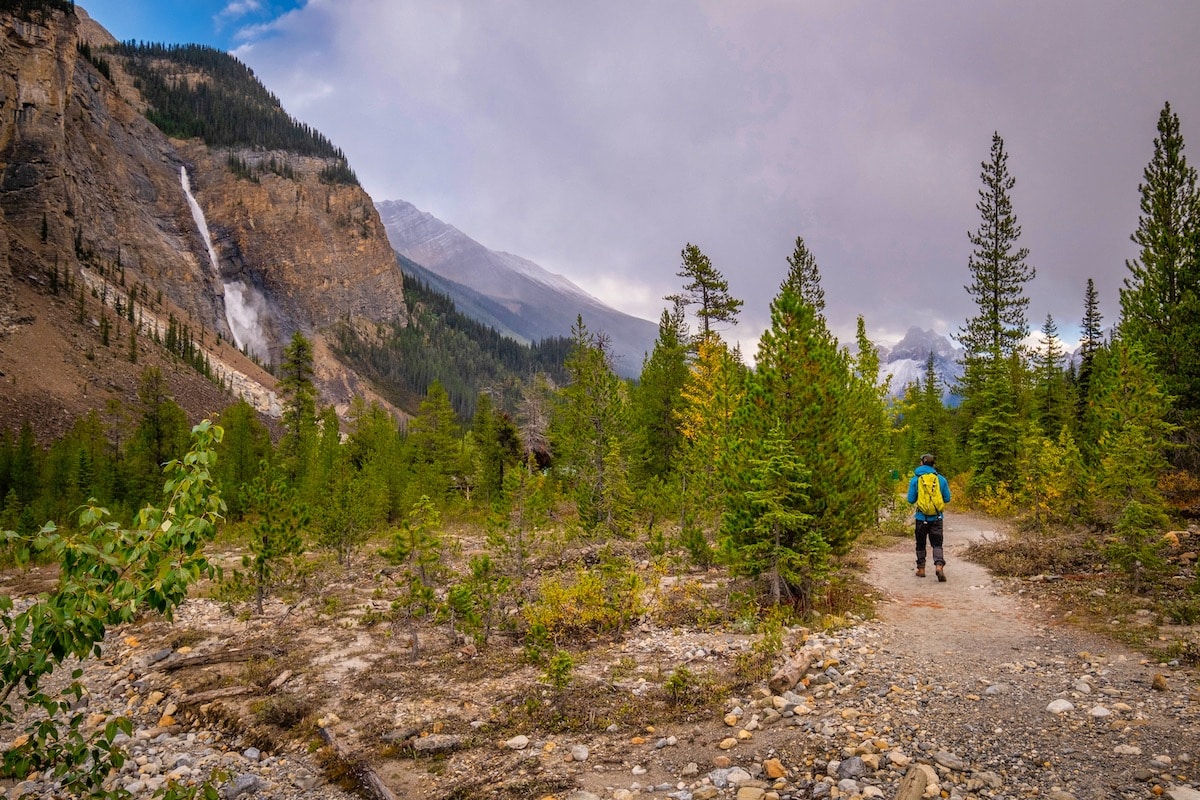 Compared to Banff National Park, Yoho is far less crowded. Many visitors don't consider exploring Yoho much when they visit, with many just planning a quick stop at Emerald. However, there is so much to explore in a park that is just as beautiful as Banff (it just doesn't have that same catchy buzz to it).
---
Is Yoho National Park Worth Visiting?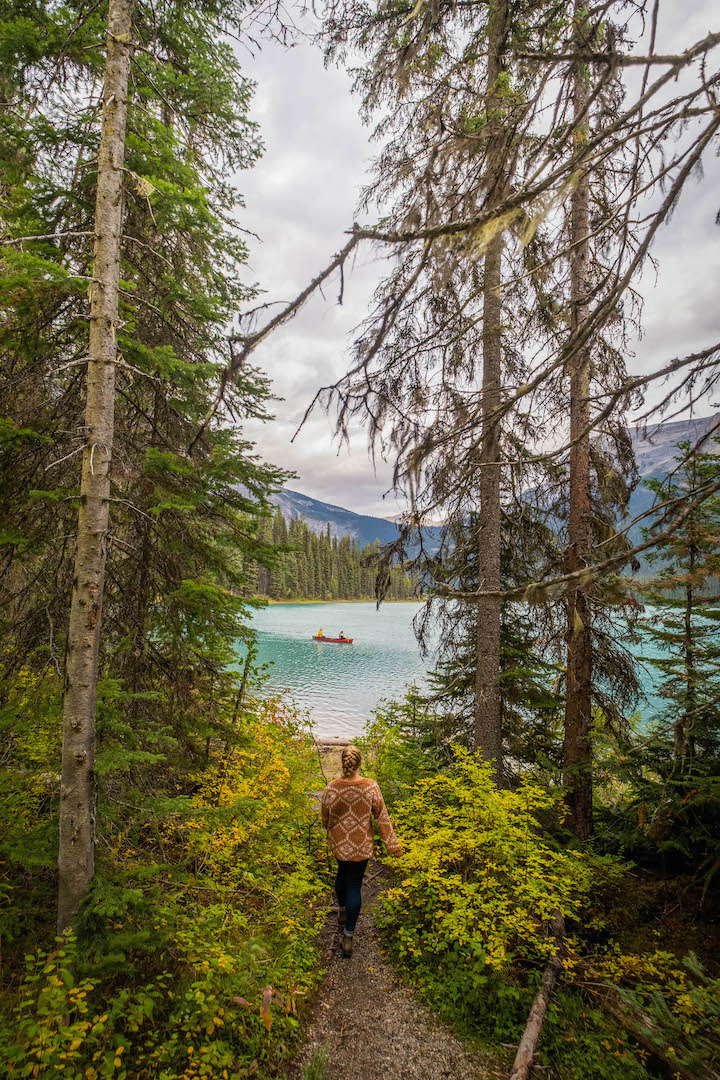 The word "Yoho" comes from the Cree expression meaning "awe," which is a great way to describe the beautiful park. It's well worth exploring this 1,313 square kilometers (507 sq mi).
---
Things to do in Yoho National Park
---
Emerald Lake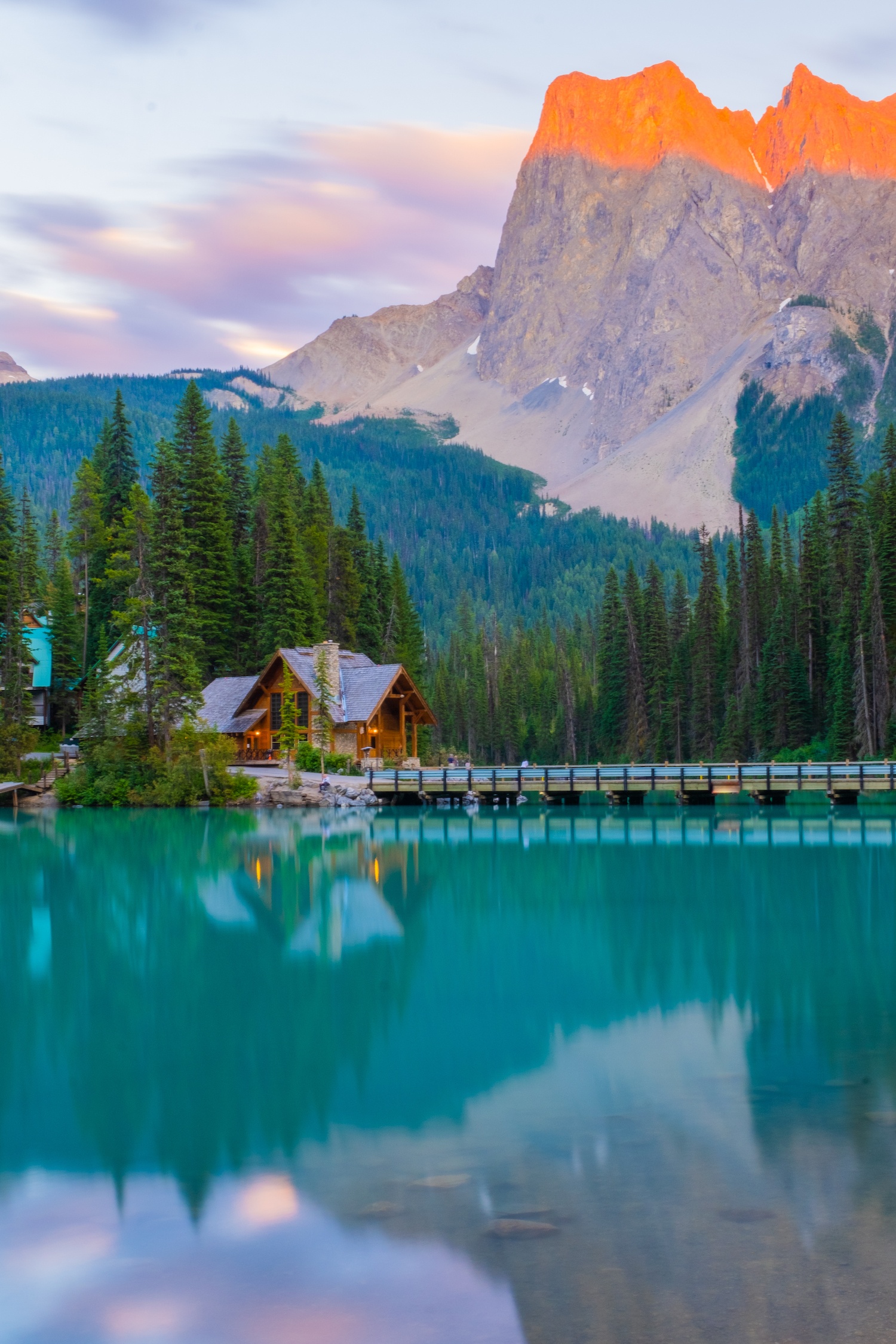 Emerald Lake in Yoho National Park is one of the Canadian Rockies' finest lakes and a resplendent place to visit. It's the largest lake in Yoho National Park and is surrounded by the President Range. Once you lay your eyes on this BC lake, it's pretty easy to figure out where Emerald Lake gets its name as the glacial waters refract light in a vibrant display of color.
The color alone would be enough to move you, but the surrounding landscape leaves you speechless. The President Range mountains surround the lake and form a natural amphitheater of the grandest scale with towering peaks and forested banks.
I would say it's not only a must-visit in Yoho but actually for anyone visiting the Canadian Rockies and Banff. It's not too far away from Lake Louise either, and in under 40 minutes, you can drive from Lake Louise and add on Emerald Lake.
I love going in the summer and taking the paddleboard or canoe out. However, it's stunning in the winter too, when the lake freezes over, and the Emerald Lake Lodge is blanketed in snow. It's seriously one of the most beautiful lakes in the entire world and the best thing to do in Yoho.
---
The Natural Bridge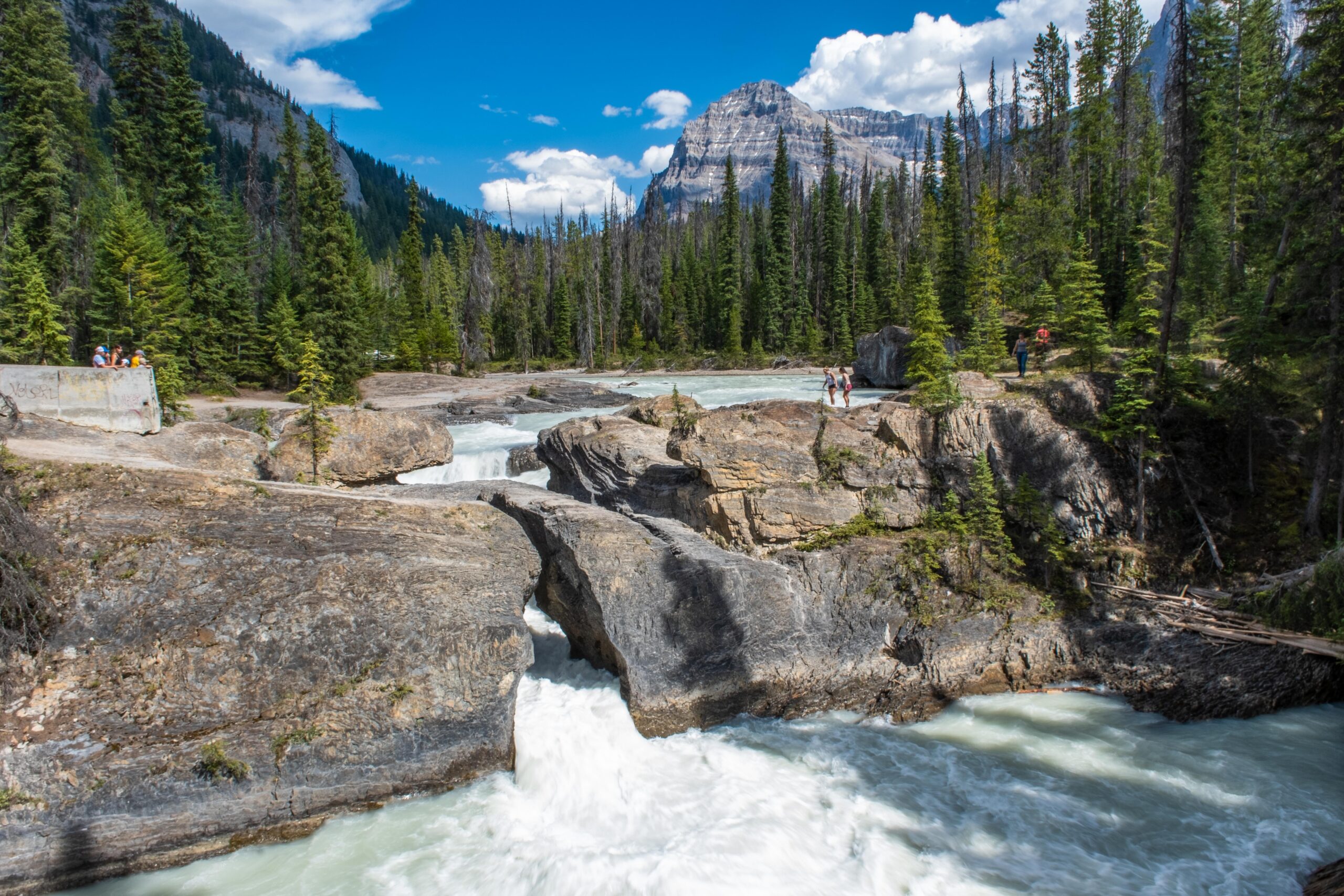 If you're heading to Emerald Lake, you need to stop at the Natural Bridge on either your way in or out. The Natural Bridge is a stop-off point on Emerald Lake Road. The turn-off is easy to miss, so keep an eye out for it on your left as you head up to Emerald Lake.
The natural bridge is what it sounds like. A natural bridge made out of rock that was cut by the Kicking Horse River. It's an unusual sight to see, especially in the winter!
---
Lake O'Hara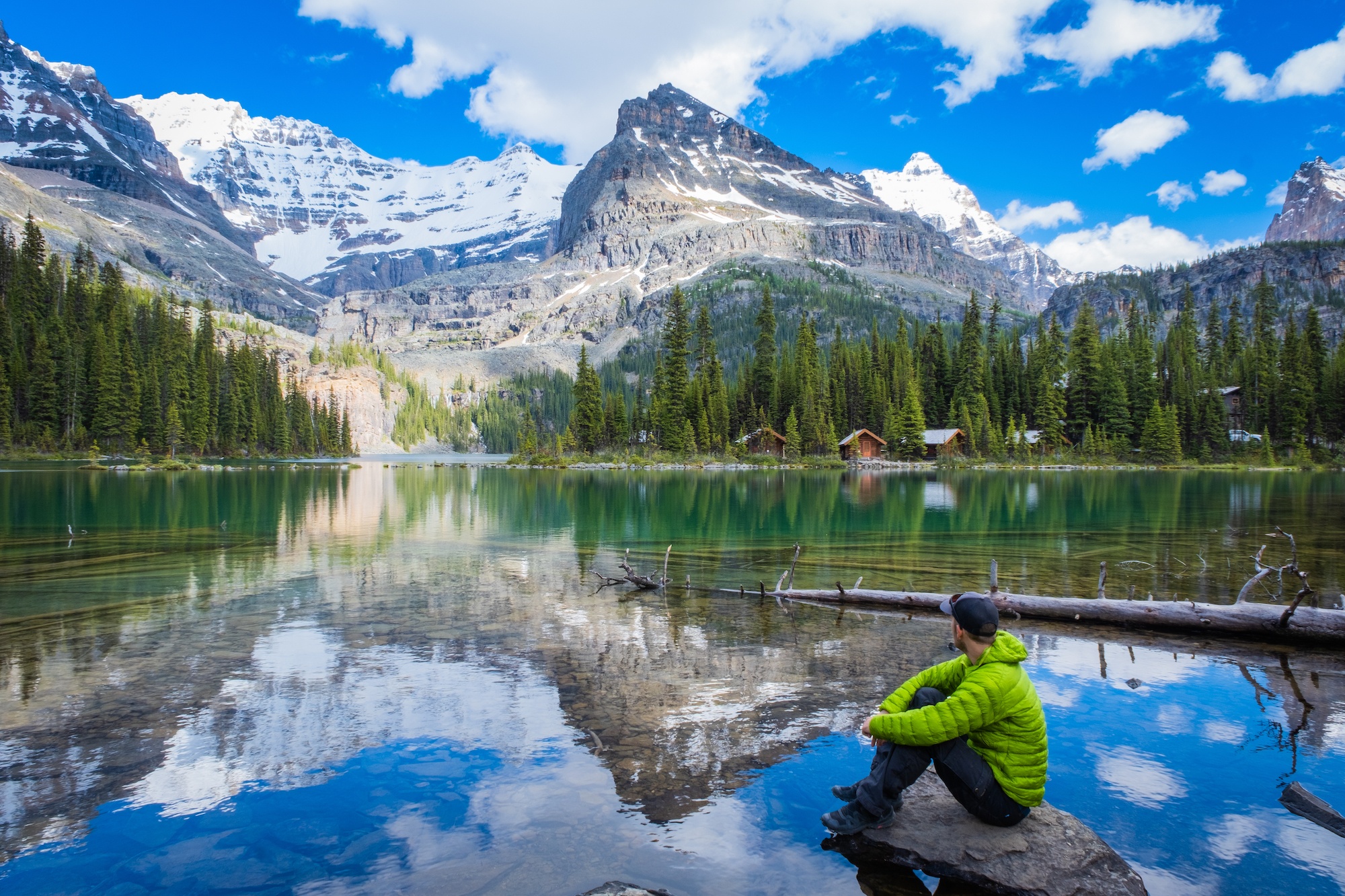 The stunning Lake O' Hara may just be one of the prettiest places I have ever seen. Seriously, the first time I saw it, I declared it the most beautiful place in the world. It's that good! It's one of the best places to visit in Yoho; however, getting there is not easy.
Lake O'Hara and the surrounding valley are some of the most prized areas for natural beauty in the Canadian Rockies. At an elevation of 2,200 meters, the lake spends most of the year locked away in a sheet of ice.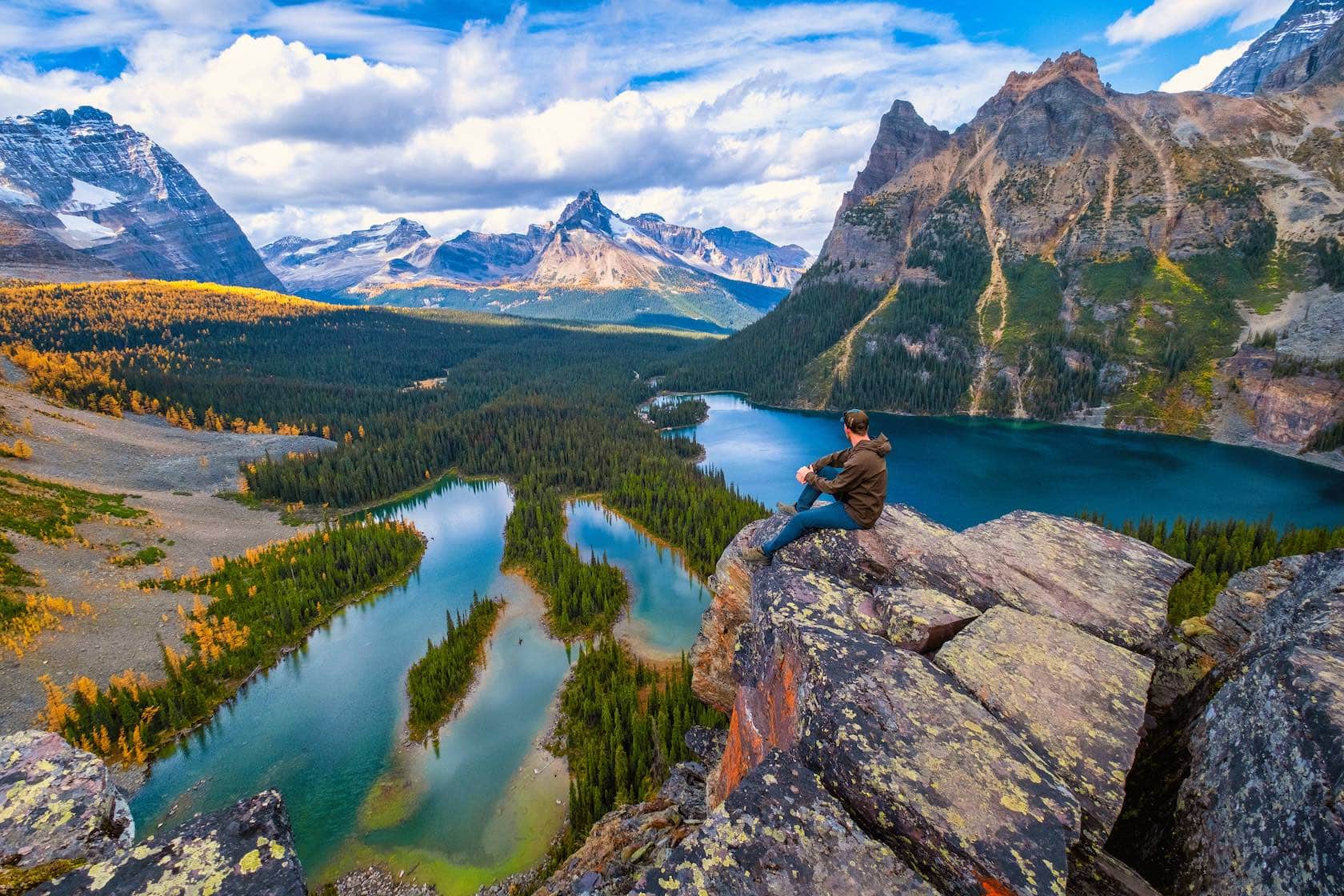 Thousands of hopeful campers scramble to secure reservations at the much sought-after Yoho campsite located near the lake in the summer months. Those lucky enough to sleep on the shores of Lake O'Hara are treated to a resplendent landscape full of wildlife, glaciers, larch trees, and alpine lakes.
However, to score those campsites is quite some work, and most visitors to Yoho probably won't know about the system until already here (you can read all about that here). So if you don't get a coveted campsite or seat on the bus to Lake O'Hara, you'll have to hike 11km in and 11km to see it, and don't forget all the hiking you will want to do when you get there. So there's undoubtedly legwork required to see this destination, but it's 100% worth it.
---
Lake McArthur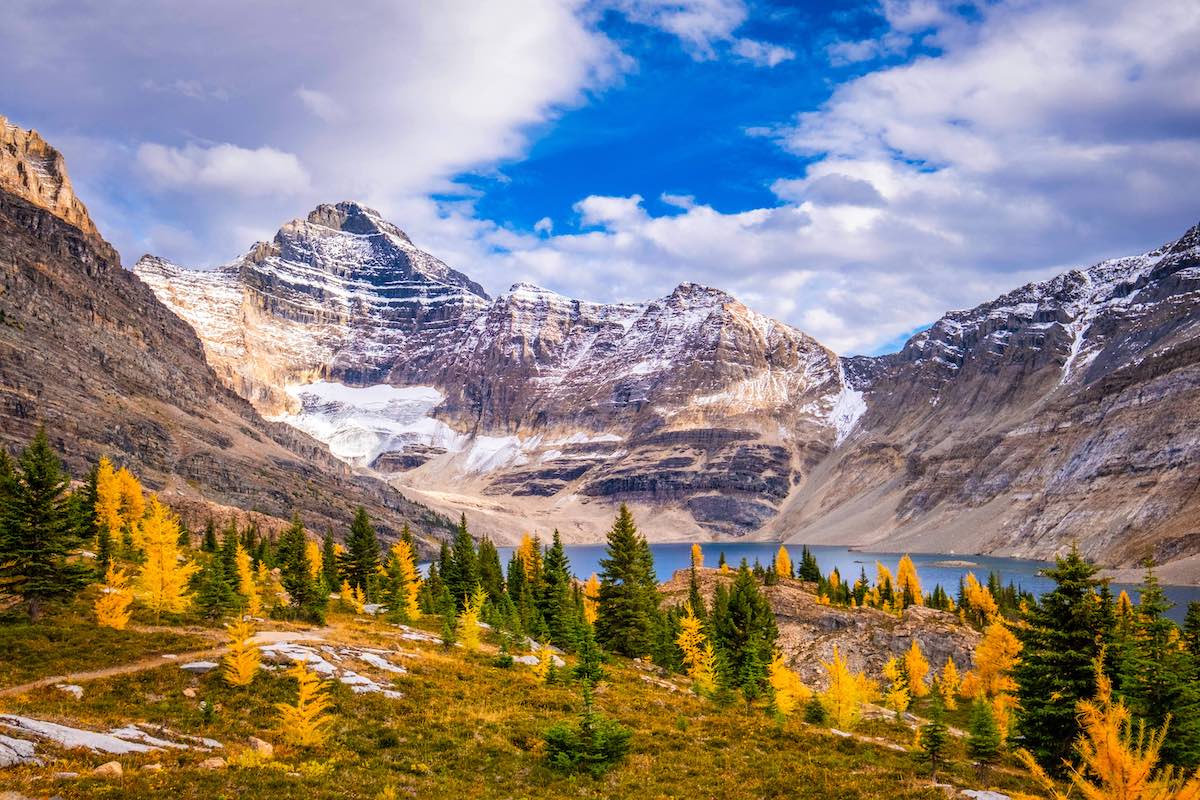 Lake McArthur is a beautiful lake in the Lake O Hara area of Yoho. If you are already spending a few days hiking around Lake O Hara we highly recommend spending a day hiking McArthur Pass to this lake. Once back here, it's unlikely you'll see other people. This hike is 8km round trip from Lake O Hara and well worth the effort.
---
Takakkaw Falls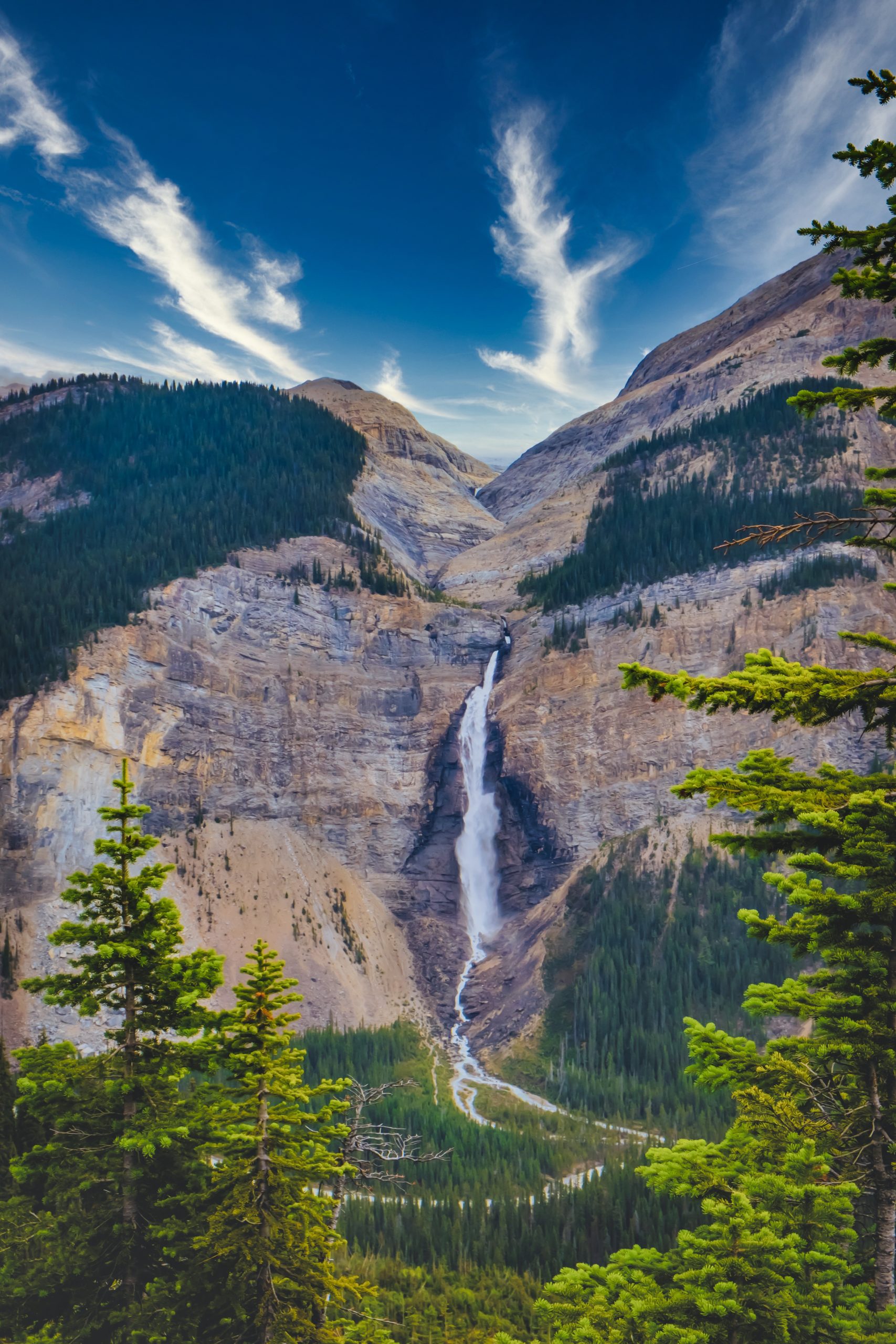 Takakkaw Falls is one of the best things to do in Yoho National Park. If you're looking for something short and sweet, it hits the spot just right.
Takakkaw Falls, or "Tak Falls," is spectacular, and at a height of 373 meters, it's one of the tallest single-drop waterfalls in Canada. Its name even comes from the Cree word meaning "wonderful."
It's a dizzying sight that can be seen throughout the valley. The best time to see it is in early June, when the heavy snow begins to melt. Keep in mind to get there easily, you'll need to drive the Yoho Valley Road, which is closed from October to June.
---
Iceline Trail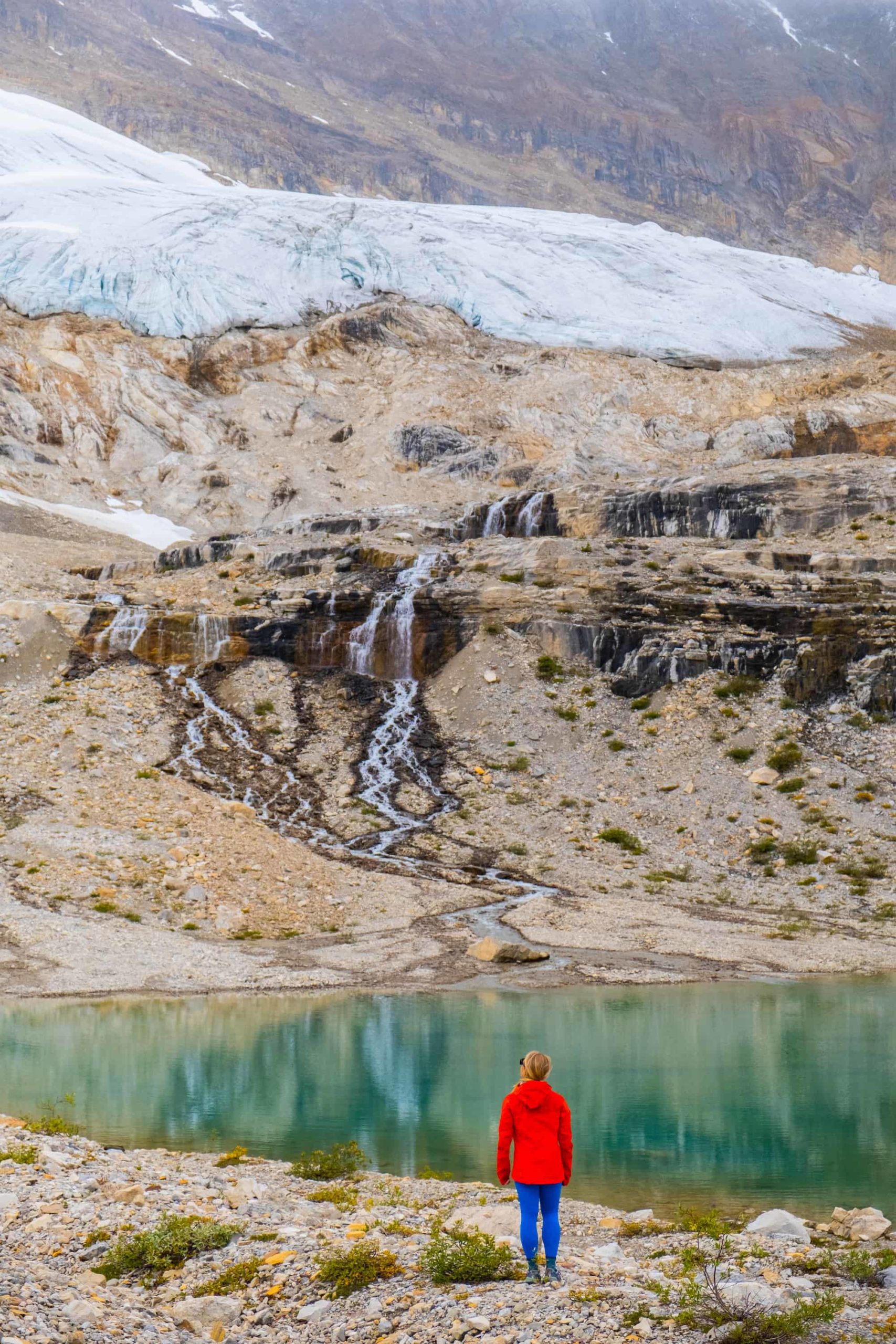 The Iceline Trail is one of the great hiking trails in Yoho National Park. You'll need to plan a day to tackle it, and many people even complete it on an overnight trip. The whole 14.2 km trail is simply stunning, offering waterfalls, glacier views, glacier lakes, and beautiful wildflowers if you hit it in the right season.
This trail is rated as difficult, but we found it very easy as there isn't much elevation gained involved and no scrambling to overcome, but it is long. Expect the Iceline to take you anywhere from 6-8+ hours. Alternatively, if you don't want to rush your time, there are campsites along the trail, though they'll have to be booked out in advance in the summer season.
The Iceline trail can be combined with Takakkaw Falls and Emerald Lake!
---
Paget Peak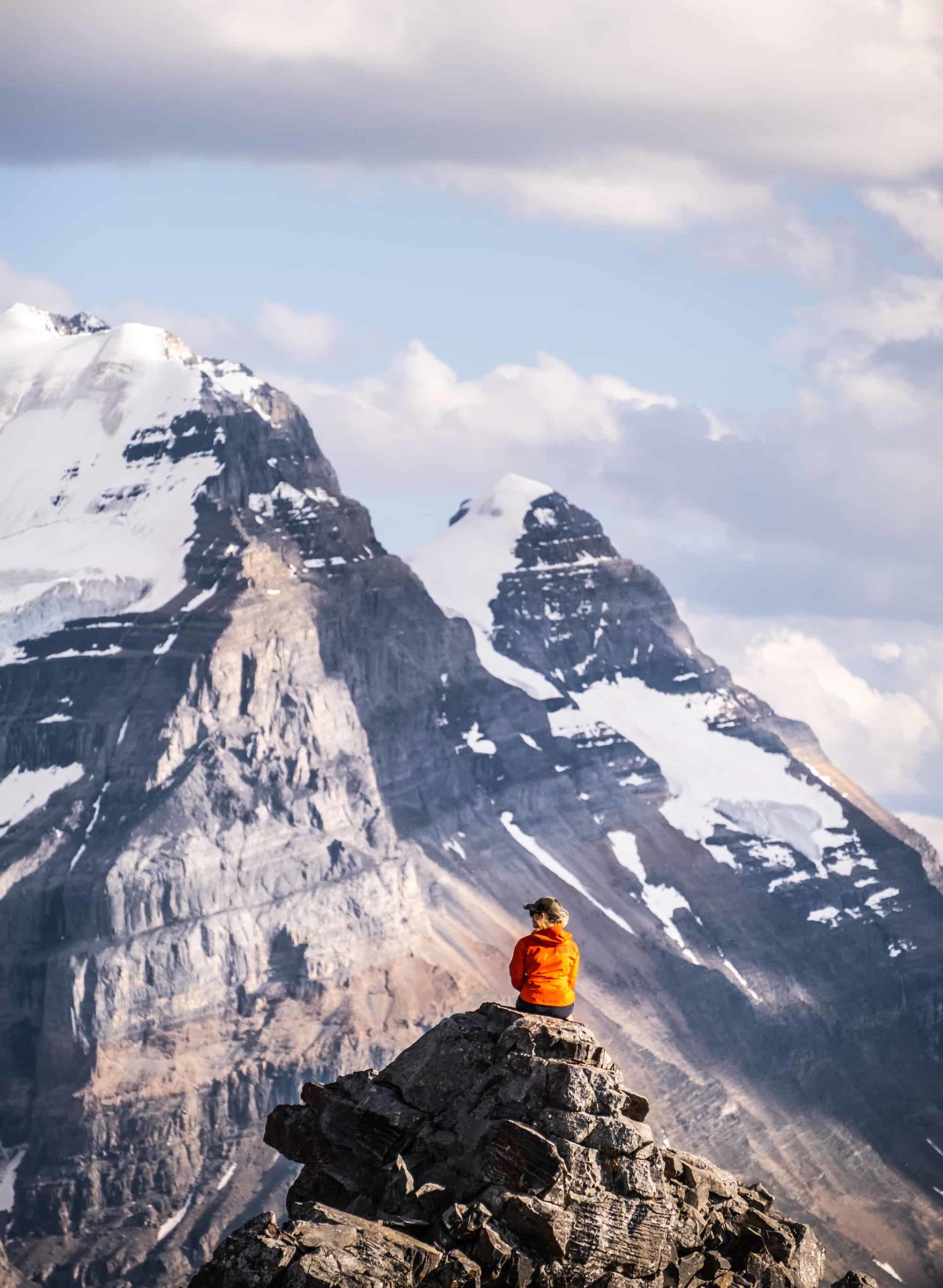 Paget Peak is often recommended to those that want to start scrambling in the Canadian Rockies. It's an easy scramble, with nothing technical involved. It's also one of the shorter scrambles you can complete in the Canadian Rockies, making it a great option for those who want to get out but don't have an entire day.
Once at the summit, scramblers are provided incredible views of Kicking Horse Pass and the Great Divide Glacier. Most notable is the hanging glacier on Cathedral Mountain across the valley. It's a really phenomenal Yoho hike and one of our favorite bang for your buck hikes in the Rockies.
It's located almost right after the "border" between Banff National Park and Yoho National Park and is easily accessible if you are staying in Banff, Field, or even Golden.
---
Sherbrooke Lake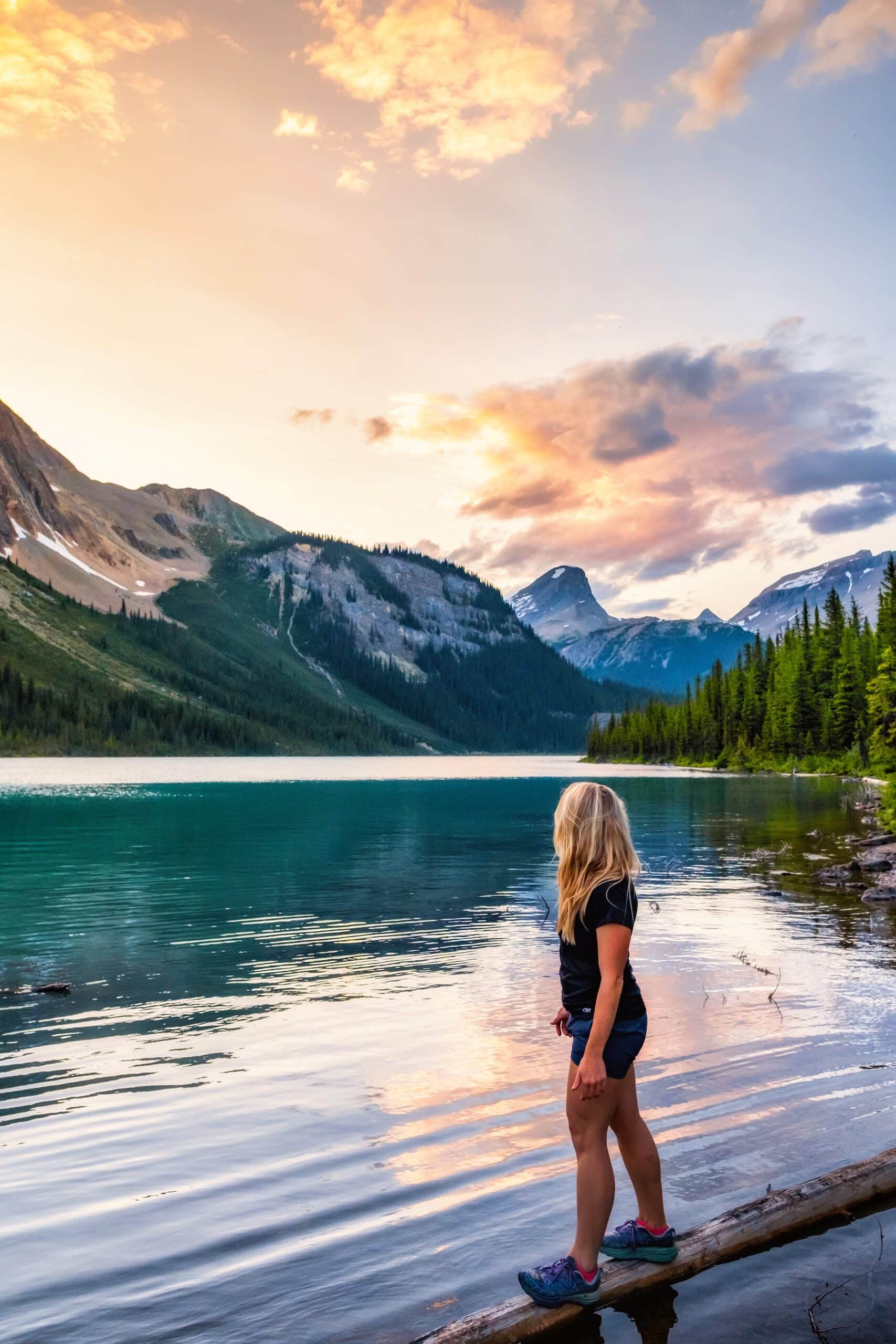 Sherbrooke Lake is a stunner that sees far fewer visitors compared to Emerald Lake or Lake Louise. This is for the benefit of any hikers looking for a bit of relaxation in the mountains. The trail moves through the woods for several kilometers until it reaches the lakeshore, and views open up to views of Mount Ogden and Mount Niles.
You can hit Sherbrooke Lake on your way up Paget Peak; it's a little bit of detour, but definitely worth it!
---
The Town of Field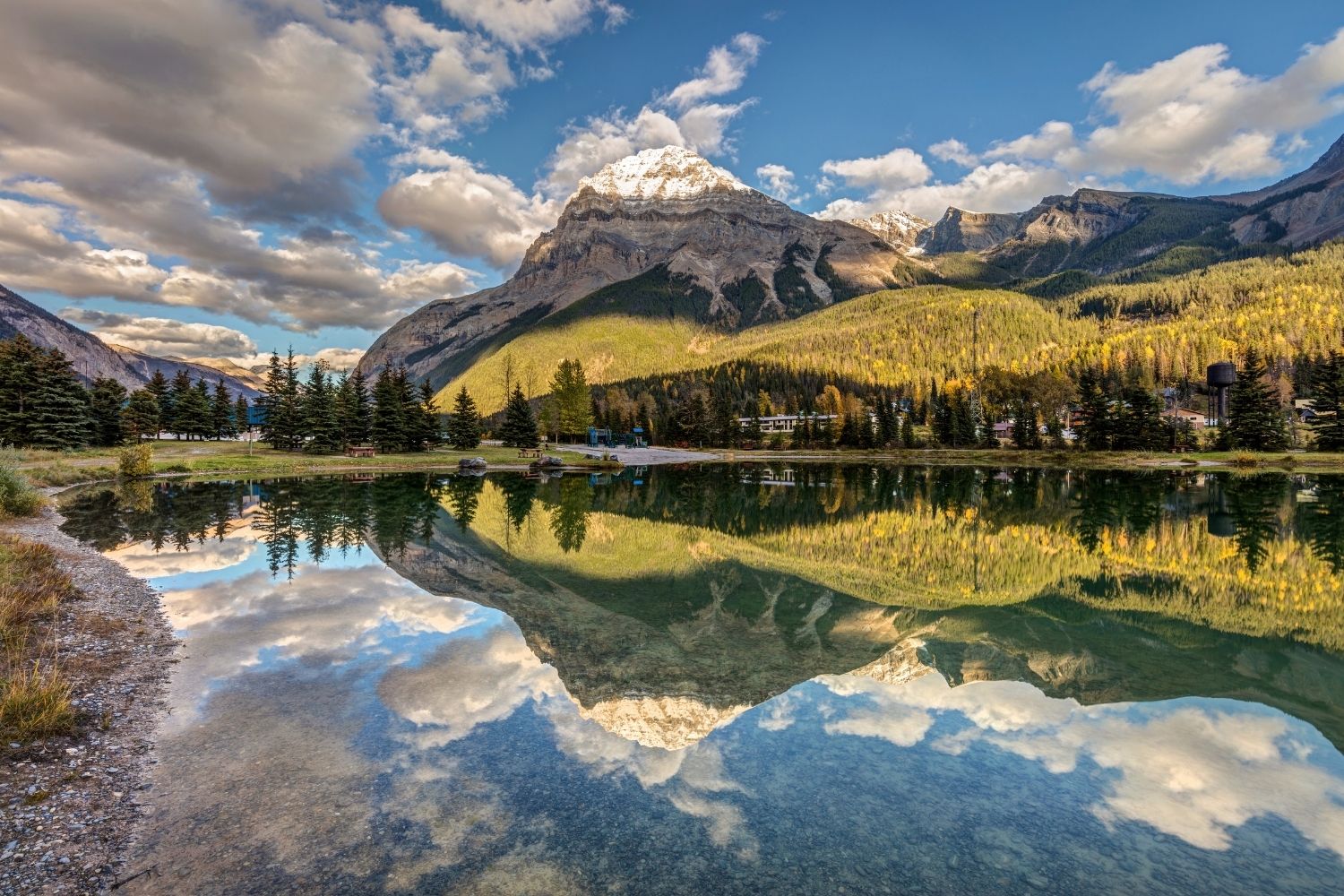 The small hamlet of Field is the only town located in Yoho National Park. A small community of fewer than 200 people live here. There's not a ton to do in Field, but it's well worth a stop and walk around. During the summer, you will find a few restaurants, cafes, and artisan shops.
There are some cute historic heritage homes here and even a few accommodation options should you want to base yourself close to Emerald Lake and Takakkaw Falls. Make sure to stop at Truffle Pigs before you head out!
---
Spiral Tunnels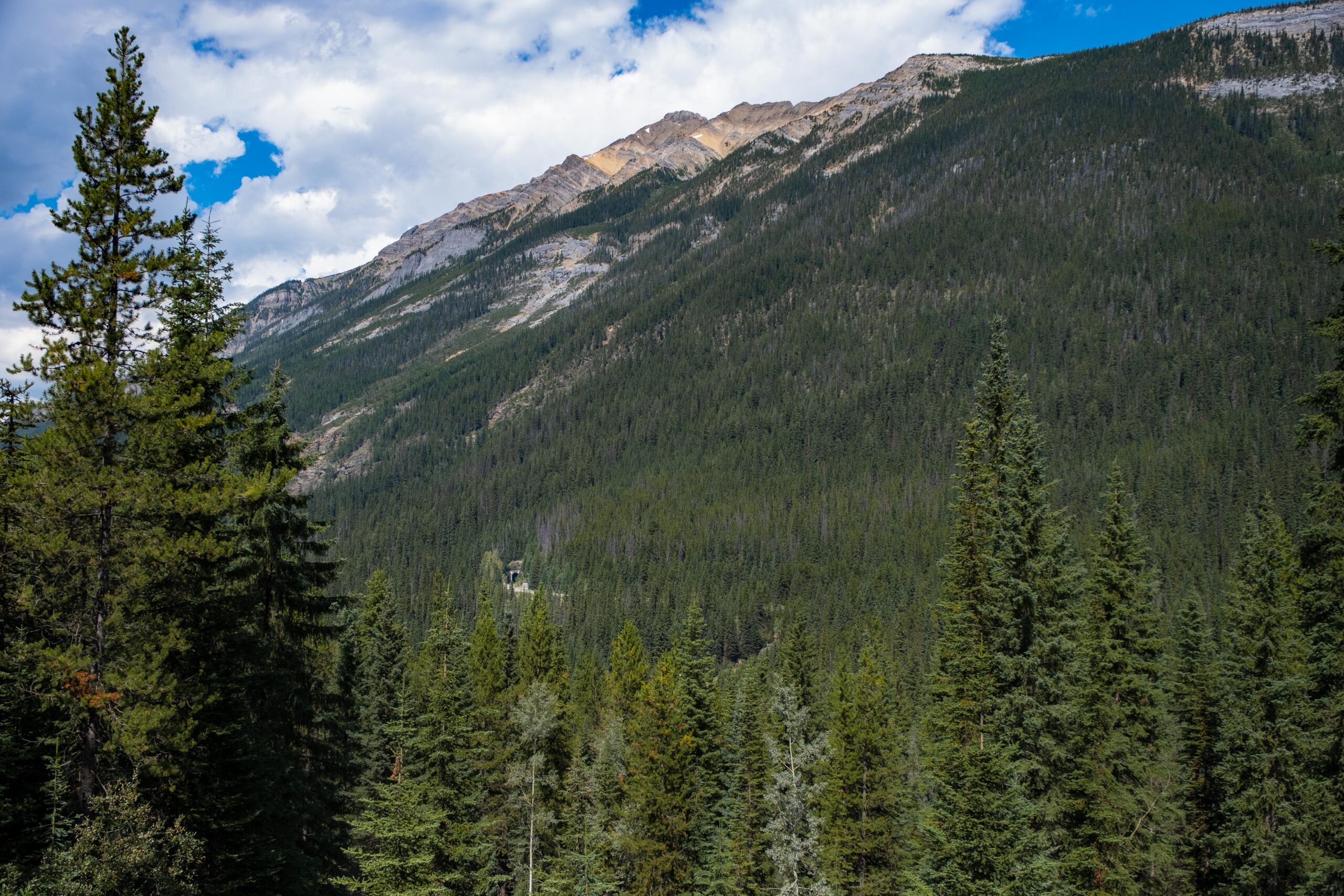 The spiral tunnels near Field are an example of great railway engineering. In the late 1800s, when connecting British Columbia, navigating through the Rocky Mountains was proving difficult. Kicking Horse Pass was chosen because of its proximity to the US and Pacific Coast, but the steep grade was a challenge for the trains. So the Spiral Tunnels were born, and you can read all about how they work here.
Trails still pass through here to this day, and visitors are welcome to visit one of the two viewpoints 7.4 km east of Field; you can see the Lower Spiral Tunnel viewpoint, and 2.3 km up the Yoho Valley Road, you'll find the Upper Spiral Tunnel lookout. 25-30 trains pass through a day, but there is no set schedule, so you'll just have to try your luck!
---
Laughing Falls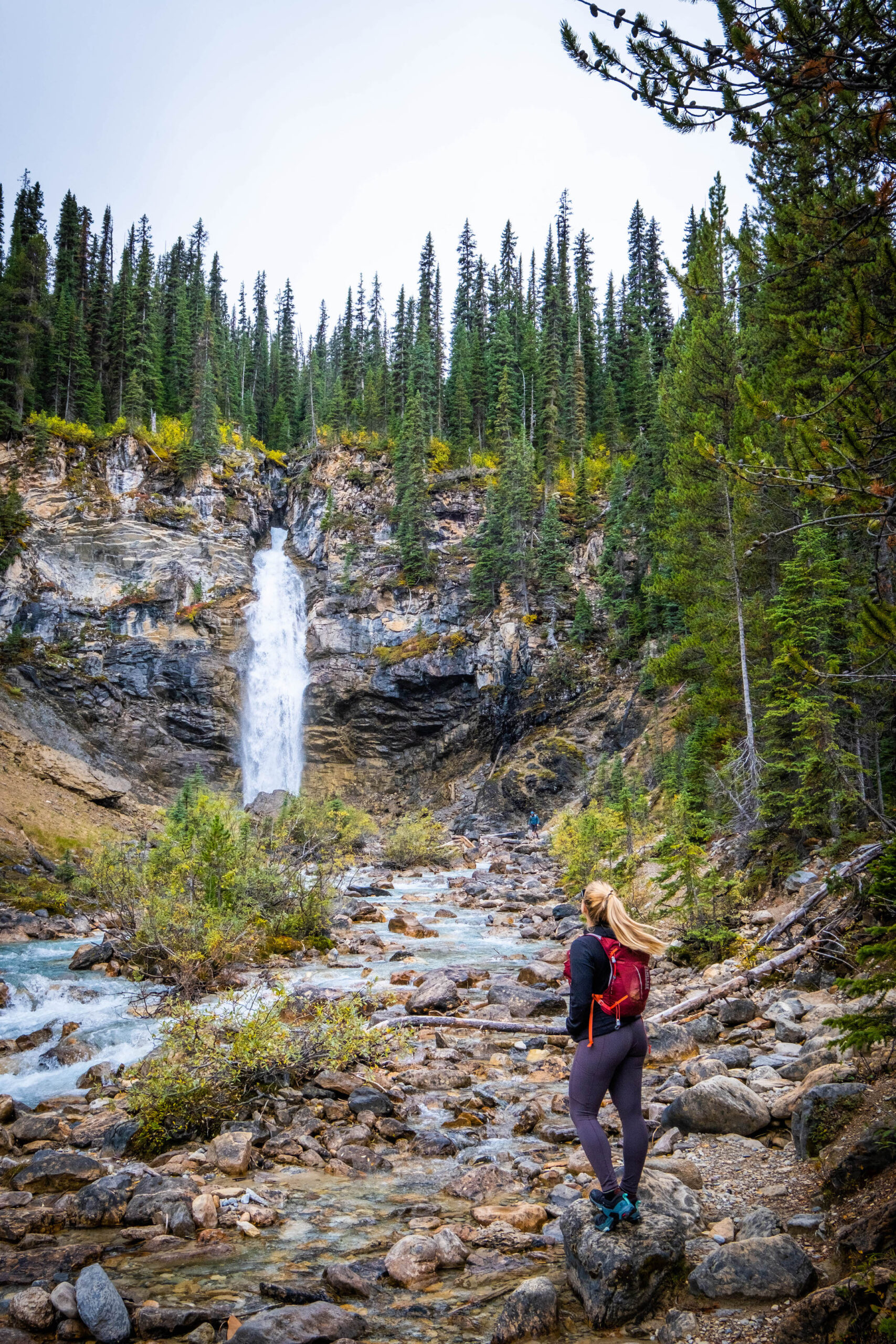 The trail to both Laughing Falls starts at the Tak Falls parking lot and is a relatively easy hike in the Yoho Valley. Laughing Falls doesn't see nearly as much foot traffic as Takakkaw Falls and is well worth the short hike to get there if you're looking for something to do in Yoho.
The trail to Laughing Falls is a 7.8km round trip trail with an easy 128 meters of elevation gain. The trail ends at the base of Laughing Falls and Laughing Falls campsite. It should take about one hour to reach the falls!
---
Twin Falls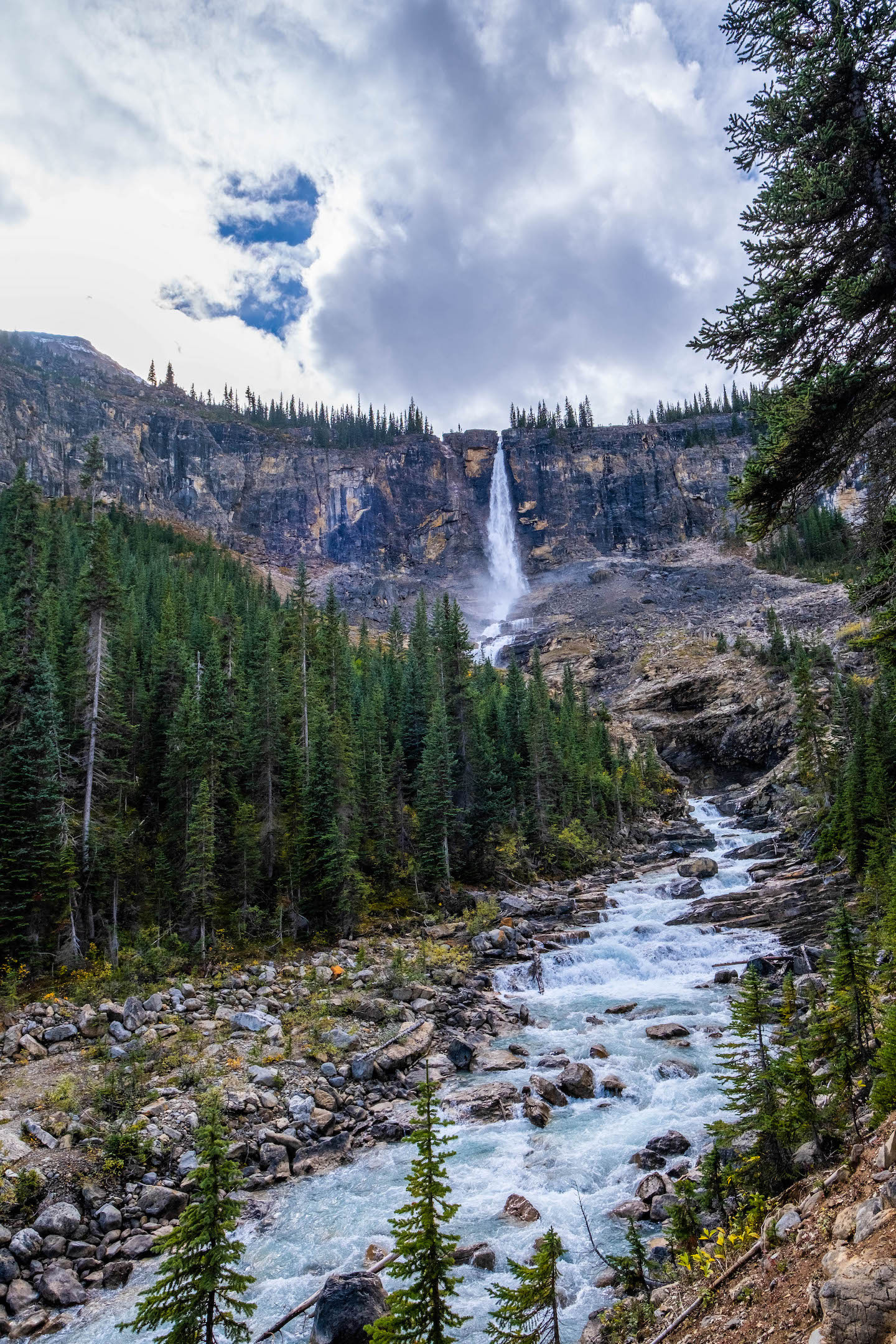 If the trail to Laughing Falls is not long enough for you, continue to Twin Falls! If you like big impressive waterfalls, you'll want to continue hiking. From Laughing Falls, you'll have to continue around 6.5 km to Twin Falls on simple terrain.
As you may have guessed, Twin Falls are two rushing 80-meter waterfalls – side by side twins. If you get to see both, consider yourself lucky. When we visited in mid-September, only the right fall was flowing, we'll have to return sometime for the true magic of both falls.
---
Wapta Falls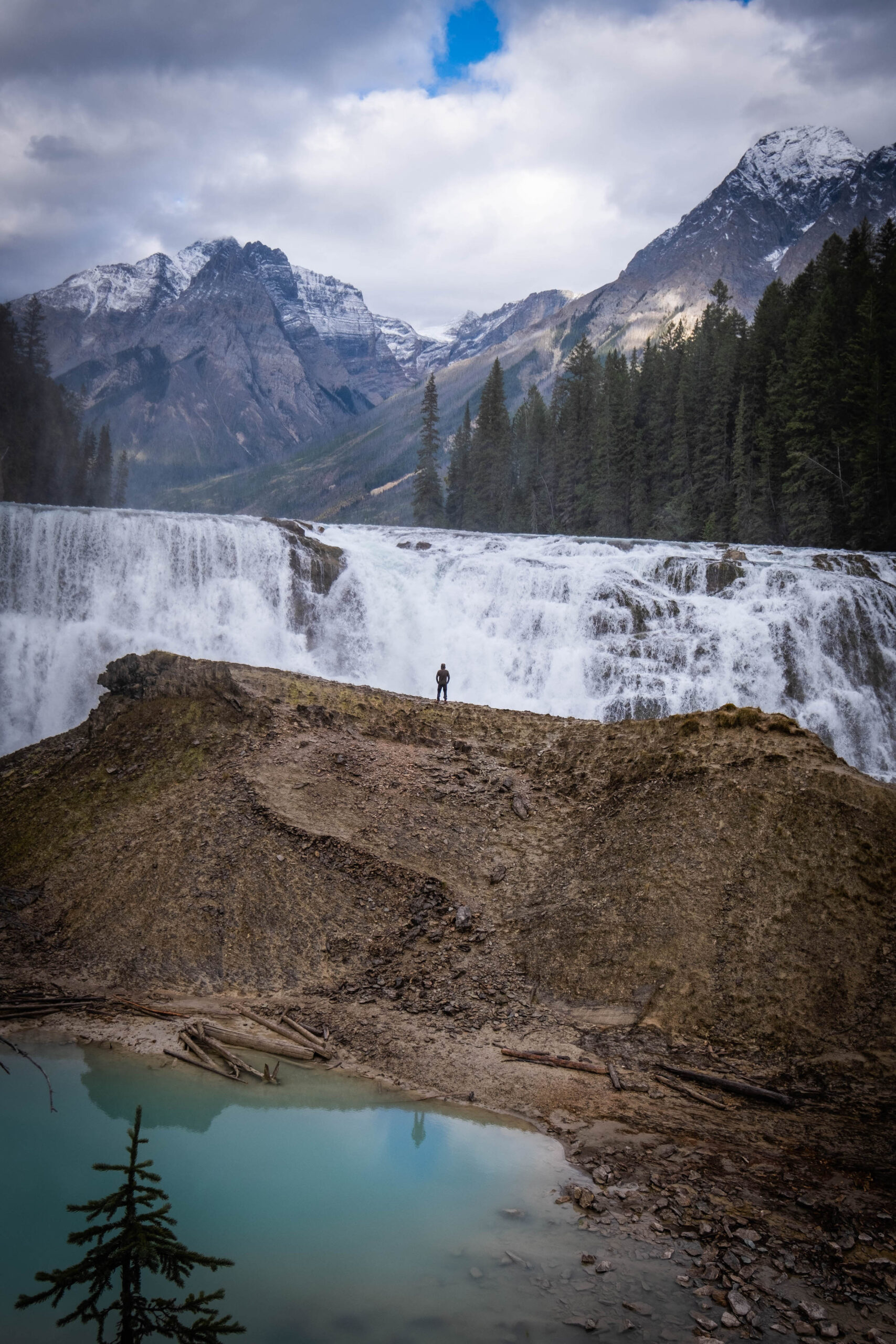 Wapta Falls is the largest waterfall of the Kicking Horse River and one of the best things to do in Yoho National Park. This BC waterfall is 18 meters high and a whopping 107 meters wide, making it one of the most impressive sights in the Canadian Rockies.
I love visiting in the summer, but honestly think it is even more beautiful in the winter when the ice freezes over and the surrounding peaks are covered in snow.
---
Burgess Shale Fossil Hike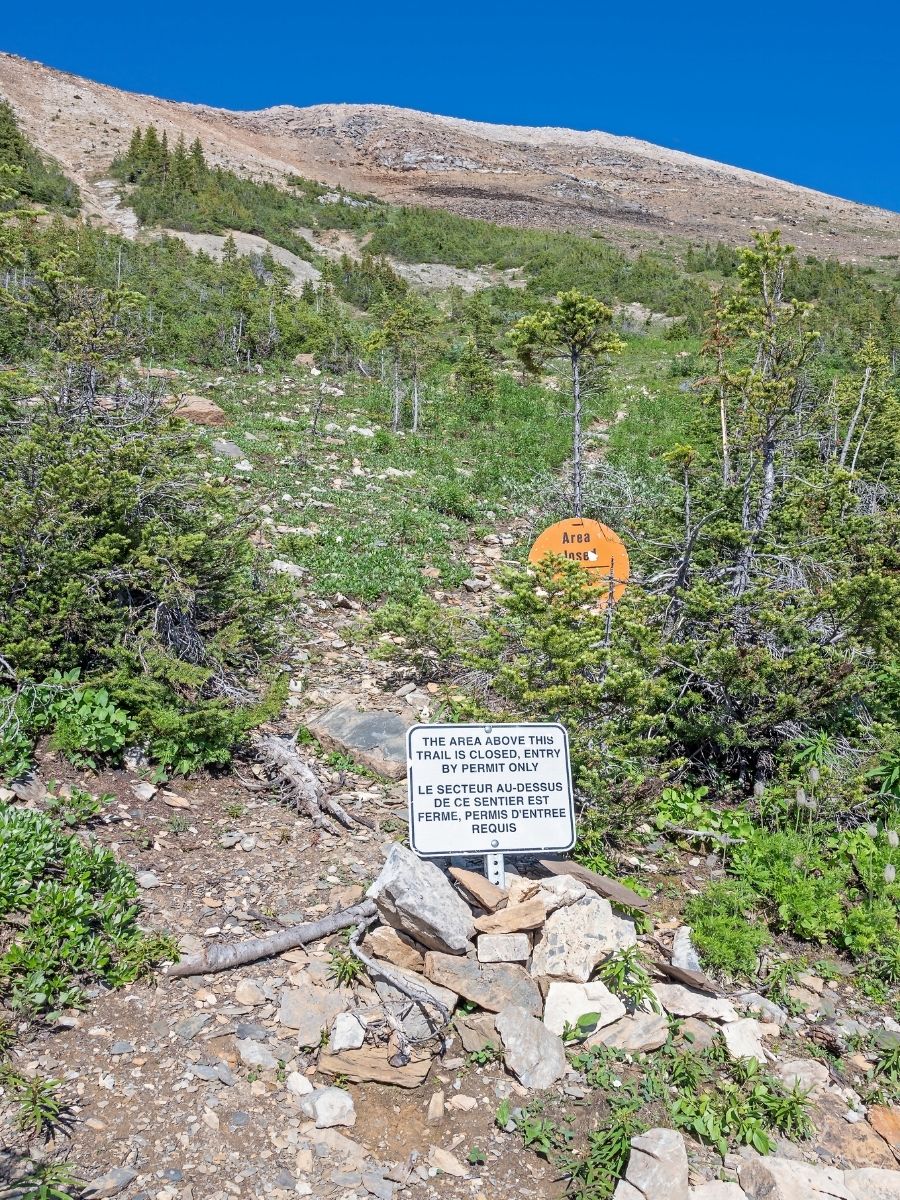 High in the mountains of Yoho, the Burgess Shale fossils are some of the oldest evidence of complex life on Earth. These fossils are over 500 million years old! You must go on a guided hike to see the fossils and must be paid for. See more information here.
---
When is the Best Time to Visit Yoho National Park?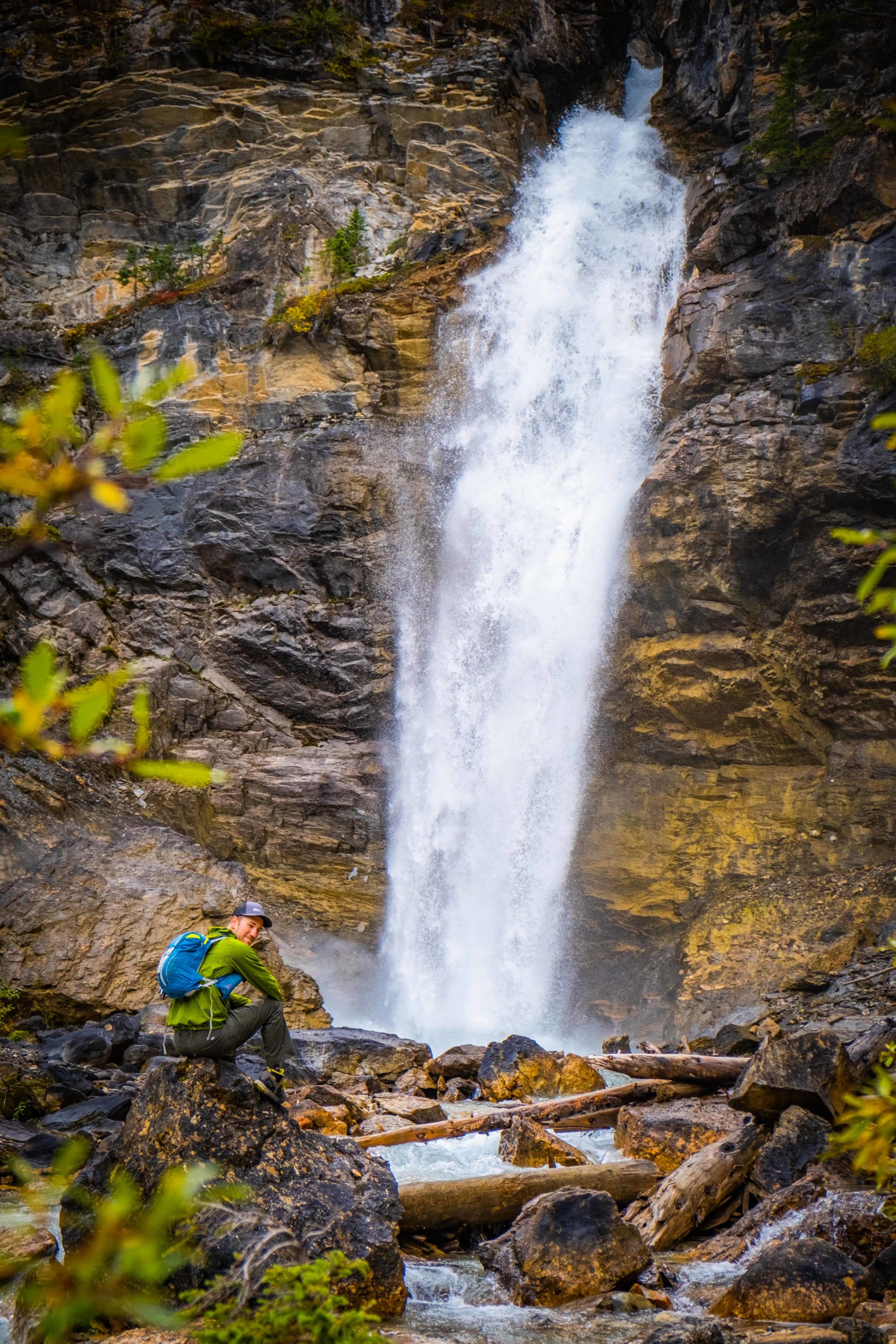 The best time to visit the Canadian Rockies is between June and September, when the weather is favorable and the days are long. Most of the locations I mentioned here aren't easily accessible in the winter, with the exception of Field, Wapta Falls, The Natural Bridge, and Emerald Lake.
July and August are easily the busiest months in Yoho National Park, but nowhere near as busy as Banff. Emerald Lake is likely the only place you'll notice severe crowding.
September, is my favorite month in the Canadian Rockies. It's a beautiful time of year, and crowds are much lower than they are peak summer.
---

---
How Long Do You Need in Yoho National Park?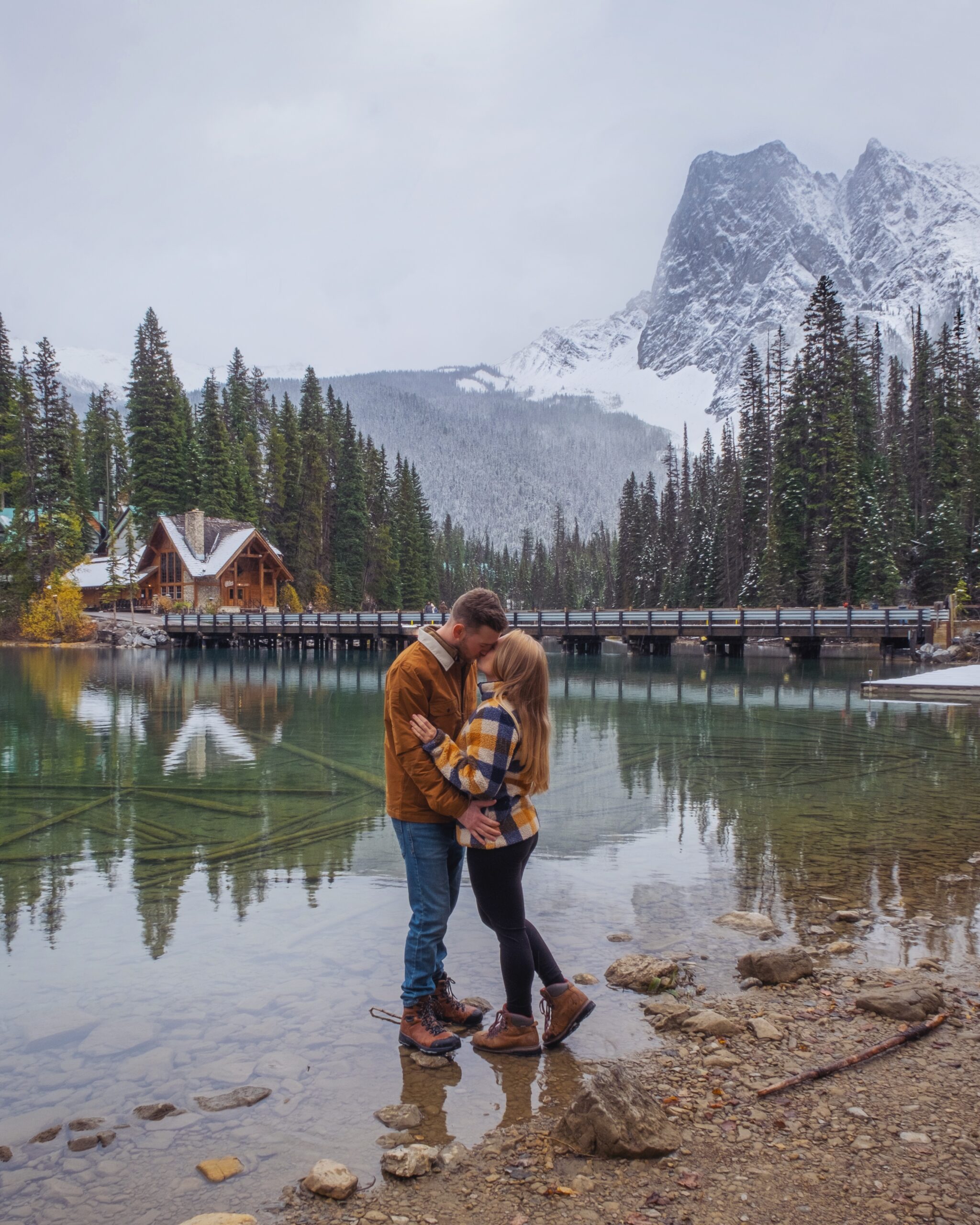 If you work fast, you can hit most of the sites in a day, with the exception of the hikes (Paget Peak, The Iceline, and Lake O Hara). The good news is Emerald Lake, The Natural Bridge, Tak Falls, Field, and Spiral Tunnels are all super close to each other. The only outlier is Wapta Falls which is about 30 minutes further towards Golden.
If you want to see all the best things to do in Yoho plus do some hiking, I would recommend three days for the area. You can stay nearby in Field, Lake Louise, or Golden to enjoy Yoho!
---
Can You Camp in Yoho National Park?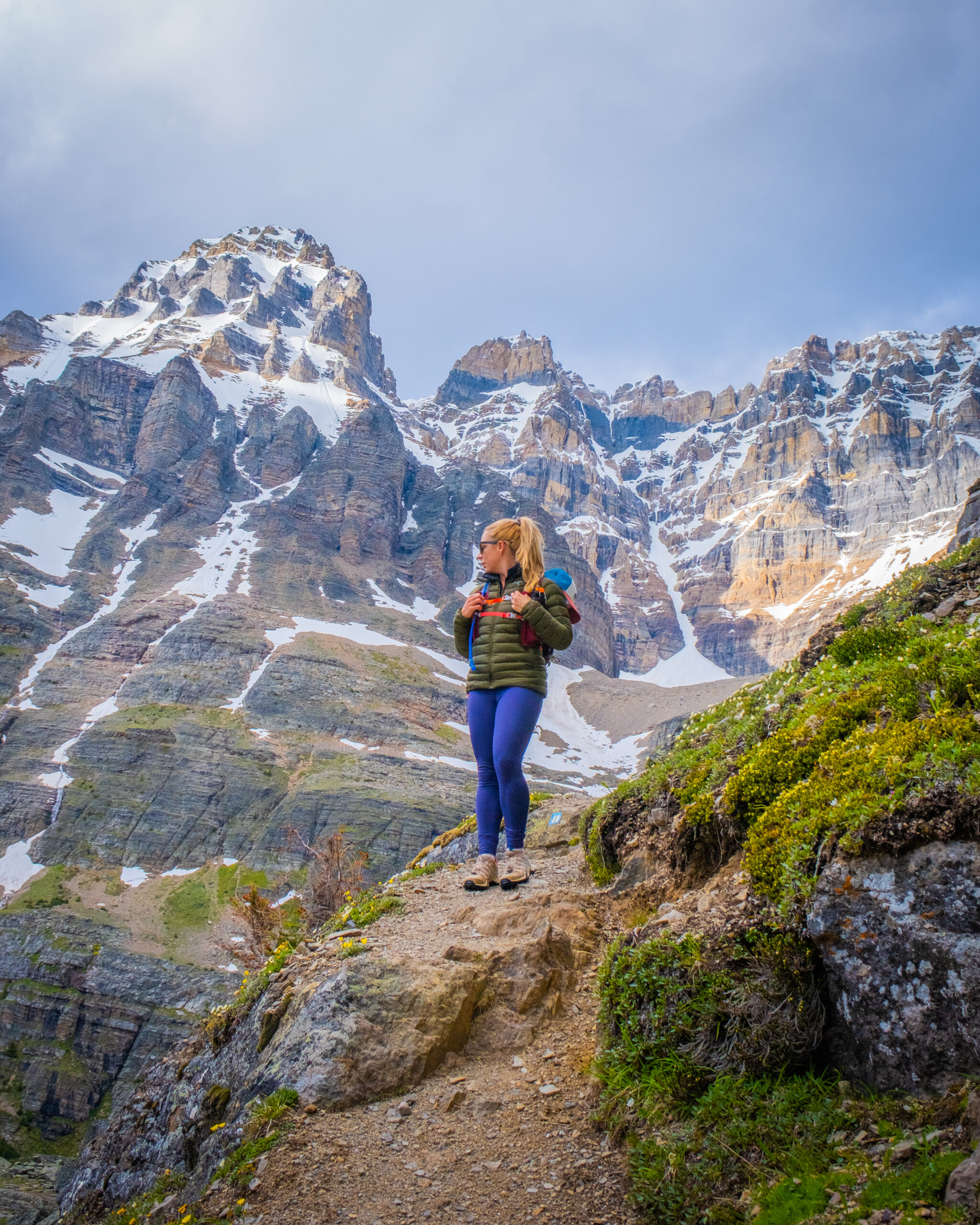 You sure can! There are front country and backcountry campsites.
Front Country Campsites in Yoho National Park
Kicking Horse Campground
Monarch Campground
Takakkaw Falls Campground
Hoodoo Creek
Backcountry campsites in Yoho National Park
Lake O'Hara Camping

Yoho Lake
Laughing Falls
Twin Falls
Little Yoho
McArthur Creek
ACC Huts
---
Where to Stay in Yoho National Park?
---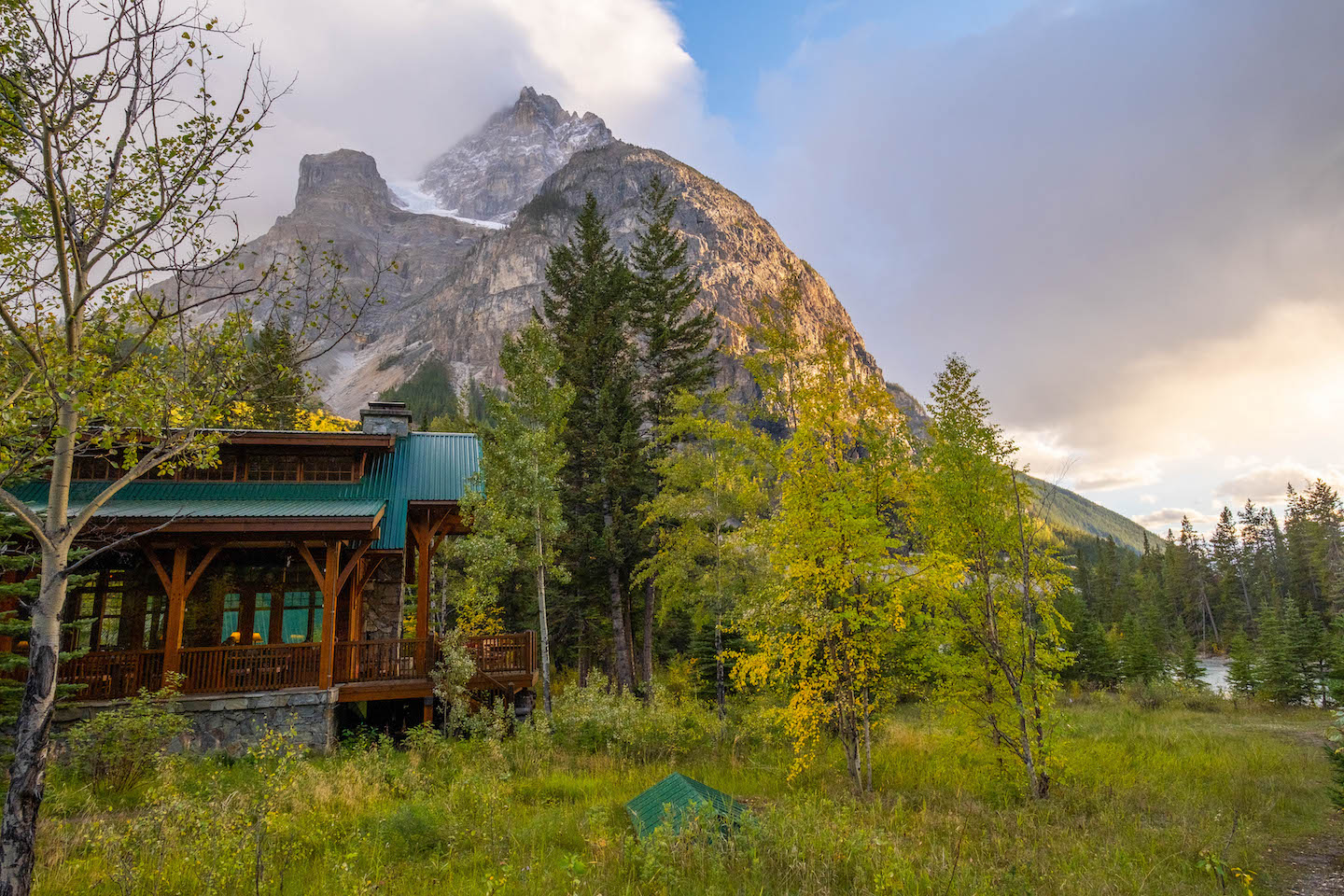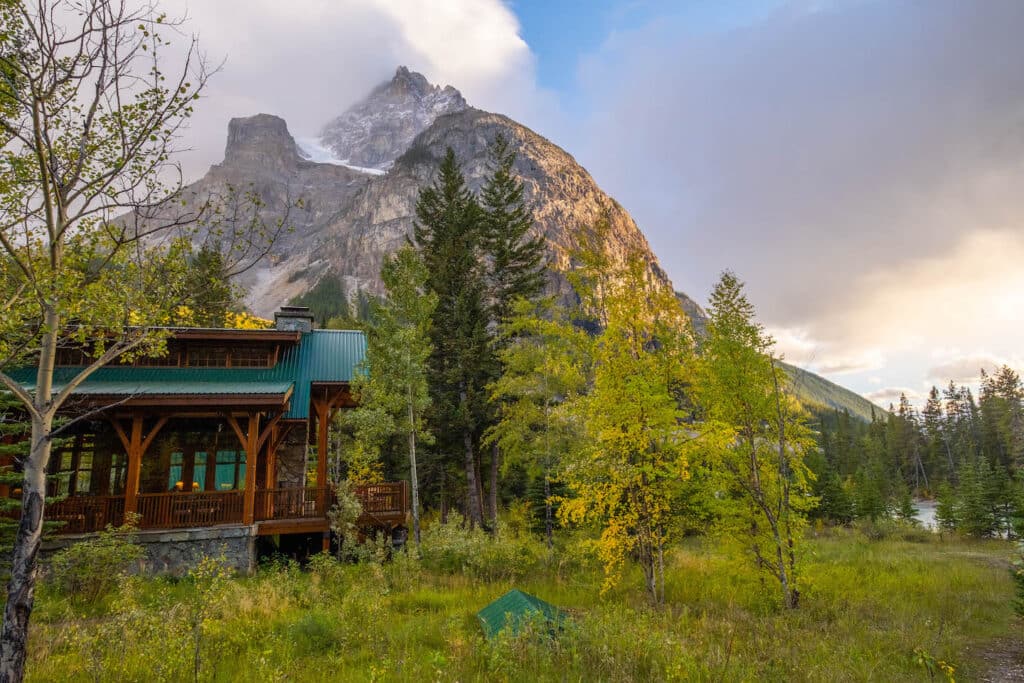 An absolutely stunning log cabin property right in the town of Field. If you score a stay here in the summer consider yourself lucky!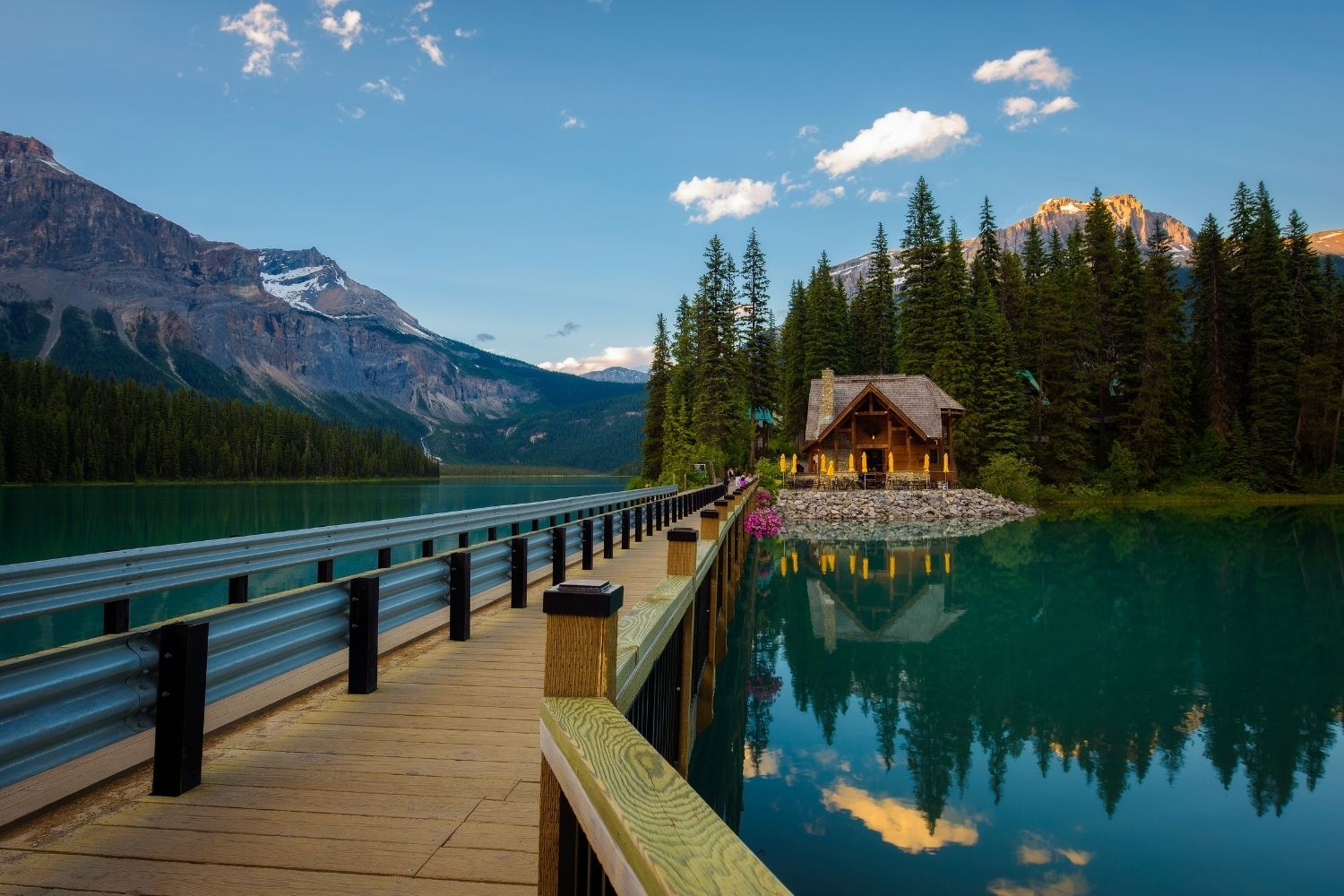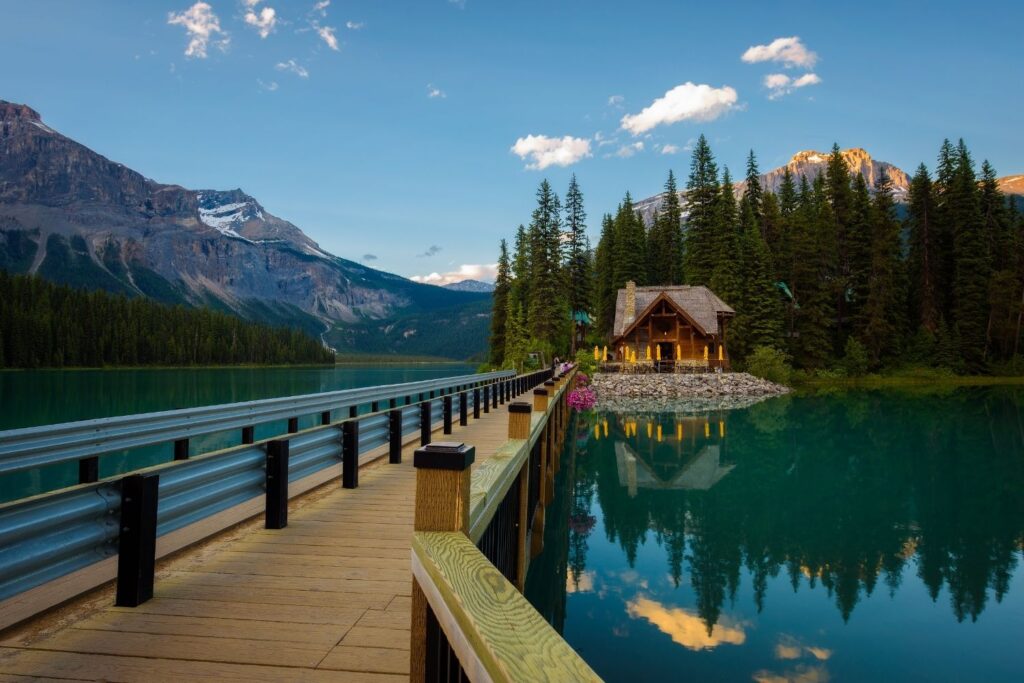 A highly sought after property to stay on the stunning Emerald Lake. Rates are high in the summer as the lodge is the only accommodation on Emerald Lake.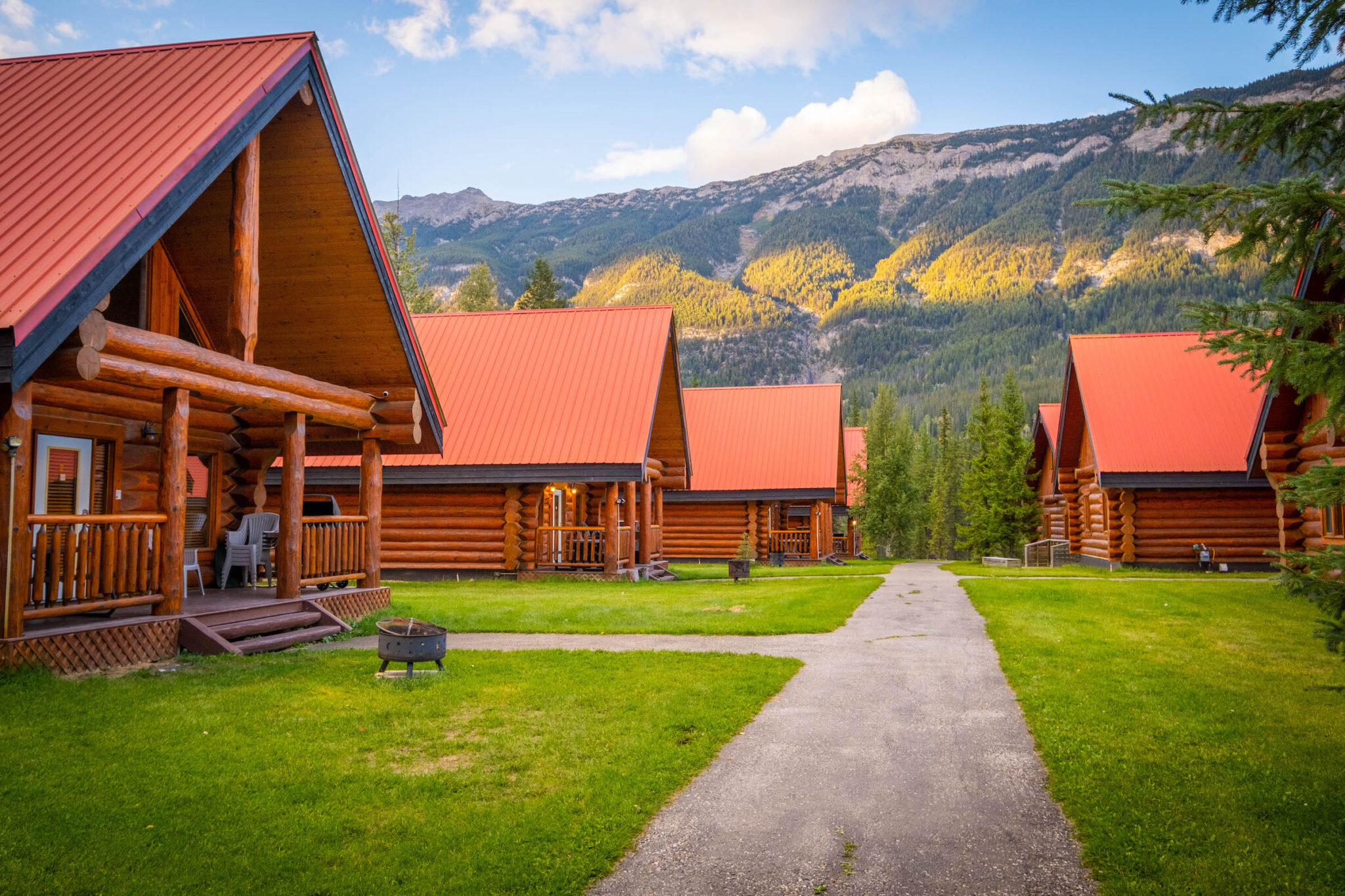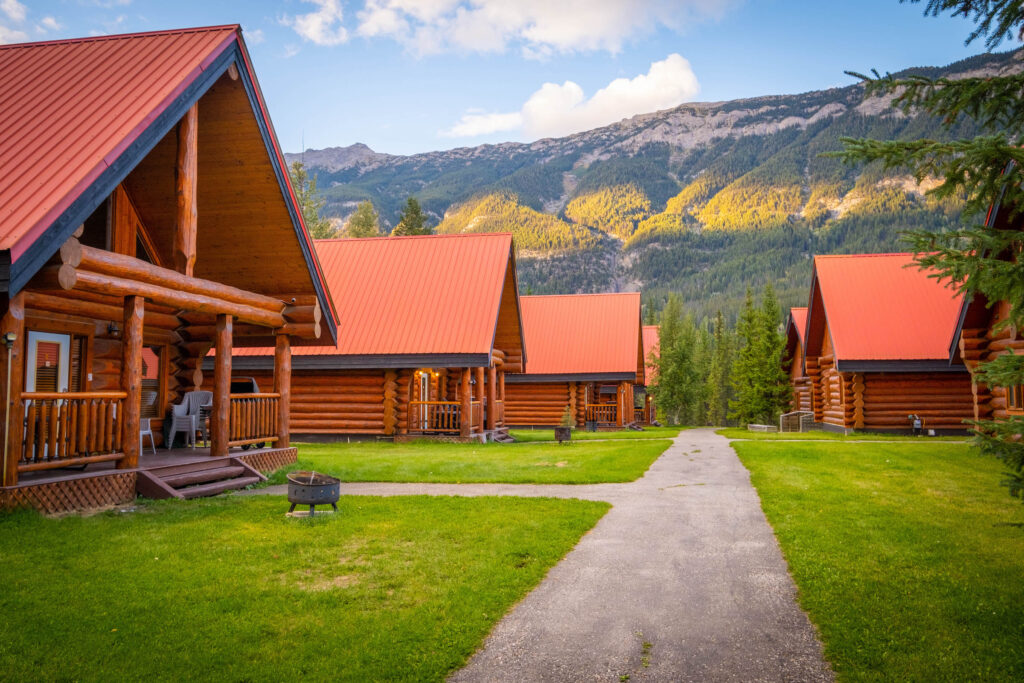 The Getaway cabins are a series of beautiful cabins not far from Yoho along the Trans Canada highway. We spent a week here and loved the cozy vibe we got in the cabin!
---
Hopefully, this helped you determine what things to do in Yoho National Park.
If you have any other questions leave a comment or see our Canadian Rockies travel guide for more articles about photography spots, lakes, hikes, and everything else.
---
---
Plan Your Trip to the Canadian Rockies
↓ Join the community ↓
The Banff Blog Facebook Group is your headquarters for the Canadian Rockies' travel advice and information. Including hike info and off-season travel information. This is also where you can meet one another when you need adventure buddies.