Post Summary: The Best Free Things to do in Banff
In all honestly, it's extremely easy to find free Banff activities. You're in a national park, and enjoying nature is free! That being said there are some pretty expensive Banff activities you can do, so if you're on a budget you'll want to stay away from those.
Things like the Banff Gondola, a sleigh ride at Lake Louise, and a boat cruise can really add up. So we wanted to put together our favorite free and cheap activities you can enjoy in Banff!
See Also:
---
The Best Banff Activities to Enjoy for Free
---
Walk Johnston Canyon
---
The Johnston Canyon walk is the best thing you can do in Banff in the winter or summer for free. In the winter it's truly magical and has fewer tourists (but still busy). Have you ever stood on a frozen waterfall before? Neither had we until the Johnston Canyon hike. Due to the elevation of the region and the sub-zero temperatures of winter the waterfalls of Johnston Canyon freeze in time. It's a pretty surreal experience and completely accessible for all.
As a tip, we suggest picking up some ice cleats in town if you visit Banff in the winter. Although the trail is well managed it can get icy and it's better to slip everywhere on the trail – ours were very handy! Once you reach the end of the trail and the most impressive frozen fall you'll probably find some ice climbers. If you're feeling adventurous book an ice climbing tour yourself.
The summer is a completely different experience and nice to watch the waterfalls in motion. It is one of the easiest hikes you can do around Banff, with a well-maintained trail that is suitable for all ages.
---
Hike to Lake Agnes
---
The Lake Agnes Teahouse trek is a popular thing to do in Banff for visitors to Lake Louise. This is an easy to moderate hike above Lake Louise that is suitable for all visitors to Banff. If you're already visiting Lake Louise you should seriously consider adding this hike to your Banff itinerary.
The best part is when you reach Lake Agnes you'll not only find a beautiful lake, but also an iconic teahouse to enjoy tea and a scone. It's seriously one of the most beautiful spots for tea in the entire world.
---
Hike Tunnel Mountain
---
Tunnel Mountain is one of our favorite Banff activities because it's right in the heart of Banff, it's a free and easy hike, can be hiked all year round, and it's beloved by locals. Tunnel Mountain moves slowly with gradual elevation gain the entire hike. At the top you'll get amazing views over both Mount Rundle and the town of Banff. Sunrise and sunset here never disappoint.
---
Walk the Moraine Lake Shoreline
---
Visiting Moraine Lake is a must-do while in Banff. It's one of the most beautiful sights in the entire world and will surely take your breath away. Visiting, although it can be chaotic in the summer, is one of the best things to do in Banff for free. Take in the million-dollar view from the top of the Rockpile trail and then continue on to walk the shoreline. This is a flat trail that works its way along the shoreline of the lake and back. It's a wonderful trail that moves in and out of the forest with great views of the lake and mountains.
You'll be shocked at how few visitors to Moraine Lake go just a little further hike along one the easiest trails in the area. At the end of the hike is a boardwalk near the waters flowing down from Wenkchemna pass.
---
Visit Surprise Corner
---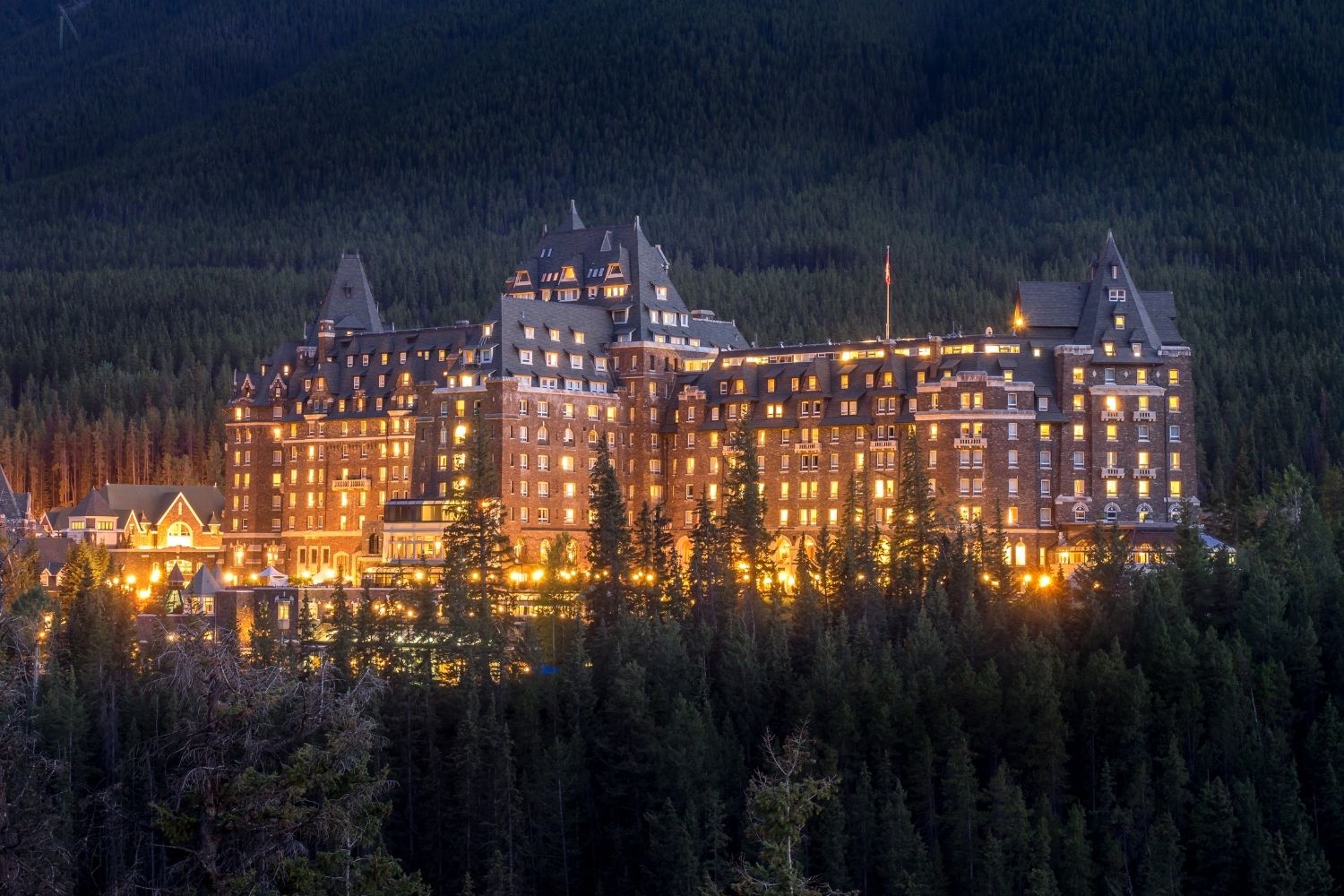 Visiting Surprise Corner is an easy and quick free thing to do in Banff. It's here you will find amazing views of the Bow and Spray Valley including the best images of the Banff Springs Hotel. If you want to hike you can also go on a 7.7 hike through the Hoodoos (A series of thin spires of rock that have formed after years of erosion).
---
Wander Around Cascade Gardens
---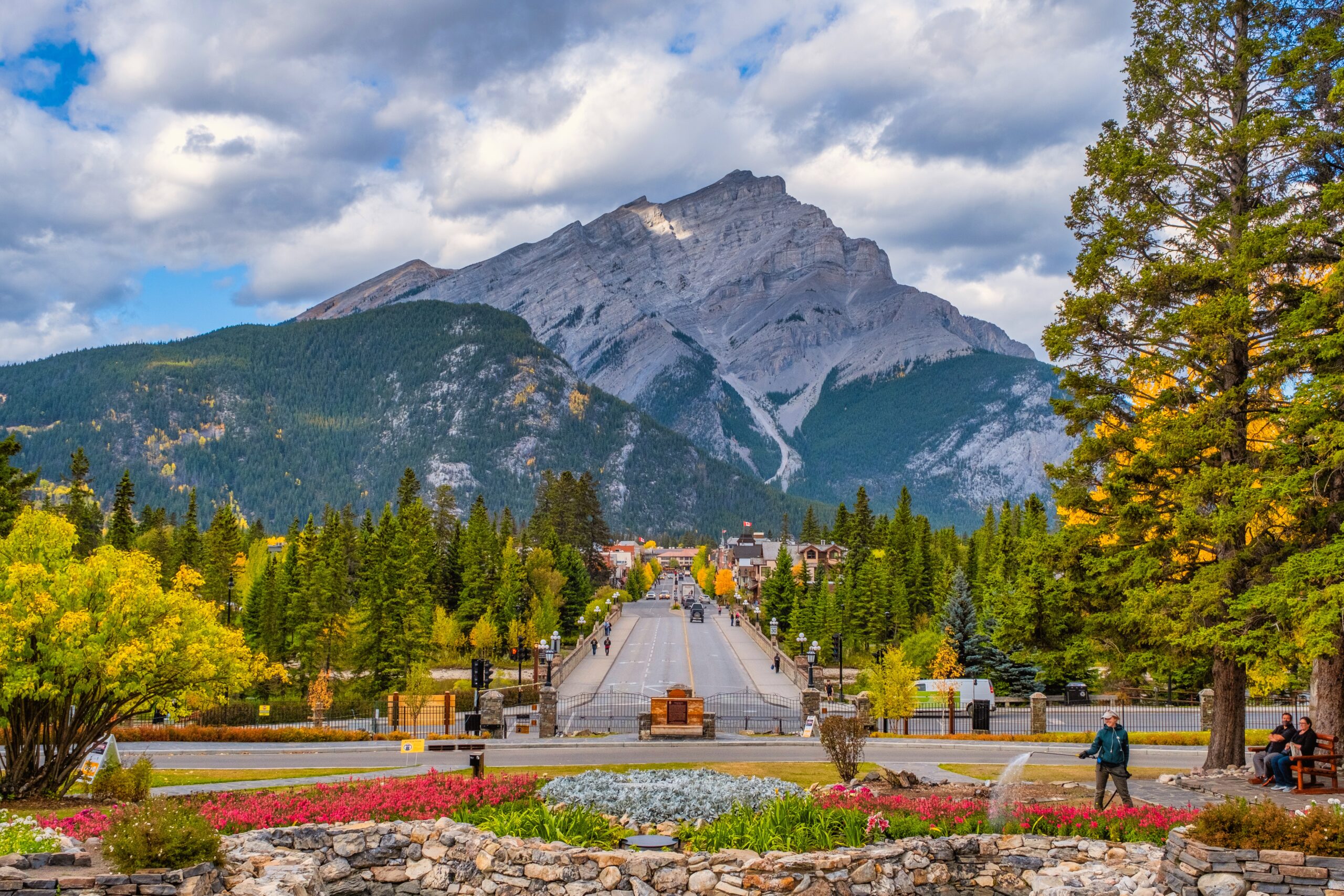 If you're strolling around Downtown Banff in the summer you can't miss a stop at Cascade Gardens. It's located behind Park Canada's building right at the end of Banff Ave. It's a great free Banff attraction that anyone can enjoy while they are just strolling around downtown. From the garden, you get great views of Rundle and Cascade Mountain.
---
Hike Up Sulphur Mountain
---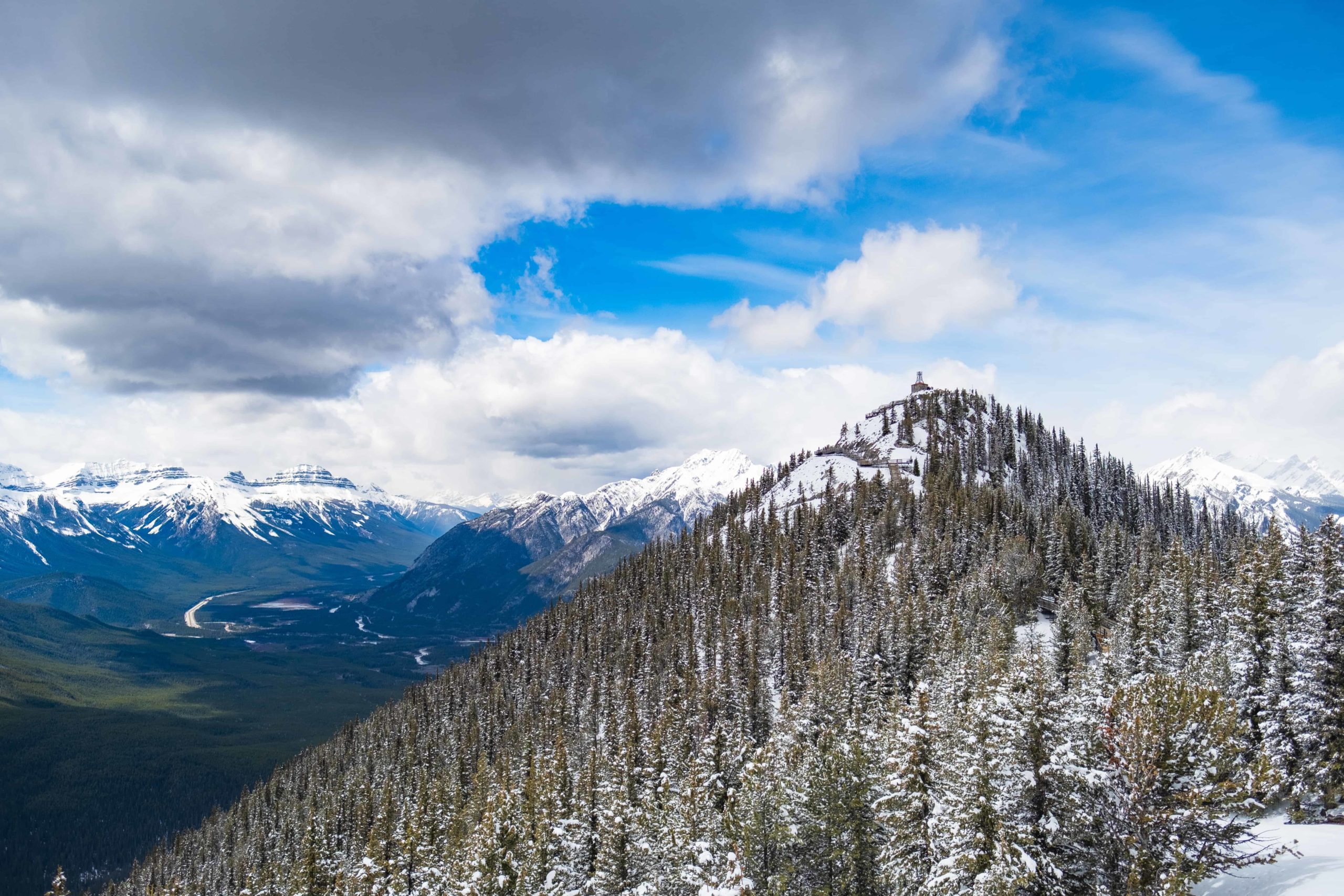 Sulphur Mountain is one of the closest mountains to hike in Banff. It's also the site of the Banff Gondola, which is not free or cheap. You can either take the Banff Gondola up, or hike on a series of switchback trails to the top for free. I prefer the hike not only to save money but to get the legs moving. At the top, you'll have amazing views over the Bow Valley and the entire town of Banff.
---
Swim in Johnson Lake
---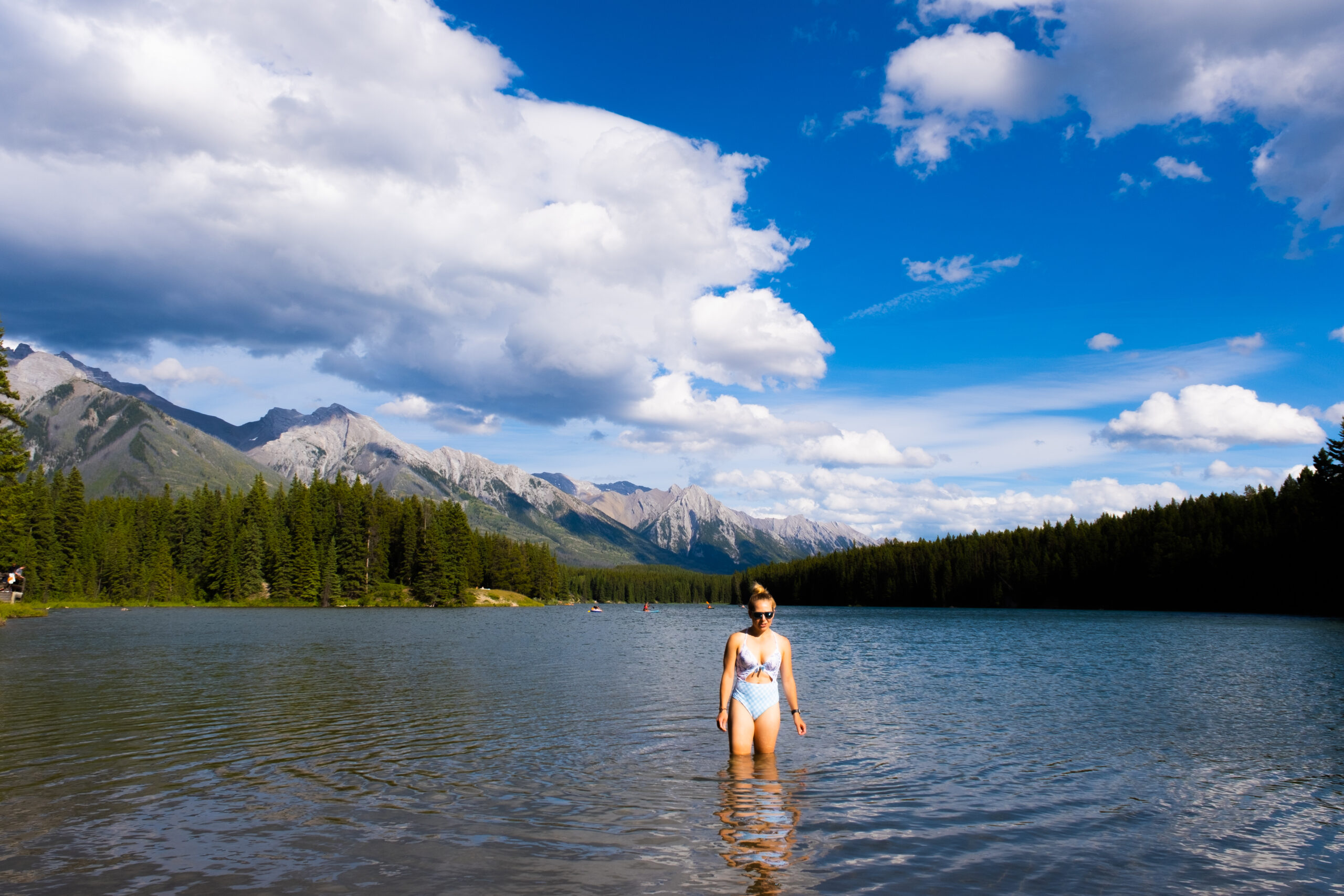 Johnson Lake is one of our favorites because it's often overlooked by the more popular Two Jack Lake and Lake Minnewanka. It's a great lake to stroll around and enjoy the views of Mount Rundle. Alternatively, Johnson Lake is one of the best lakes in Banff to take a dip in. It's warm and not wind affected like so many other lakes in the Canadian Rockies. Plus there is a hidden rope swing on this lake!
---
Check Out Lake Minnewanka
---
Lake Minnewanka is an amazing lake that is 21 km long and 142 meters deep and helps power Banff with hydroelectric power. At that size it's easily one of the largest lakes in the Rockies (as well as Maligne Lake in Jasper)
In the summer it's a busy place to hike, picnic, and go canoeing on, and in the winter it's a sight to behold and you can even ice skate on it. I love coming here to chill and breathe in nature, but it's a fantastic lake to photograph.
---
Enjoy Sunset at Vermilion Lakes
---
Vermilion Lakes reflect the iconic Mount Rundle that looms over the town of Banff and are the ultimate Banff photography spot. The series of three lakes are situated west of Banff and are fed by the Bow River in the Canadian Rockies.
They can be seen from right off the Tran-Canada, but you'll need to stop to grab an epic photo. Vermilion Lakes are one of my favorite Banff attractions to just chill out at.l There are a few docks to sit and read a book at.
---
Take Photographs at the Mt. Norquay Lookout
---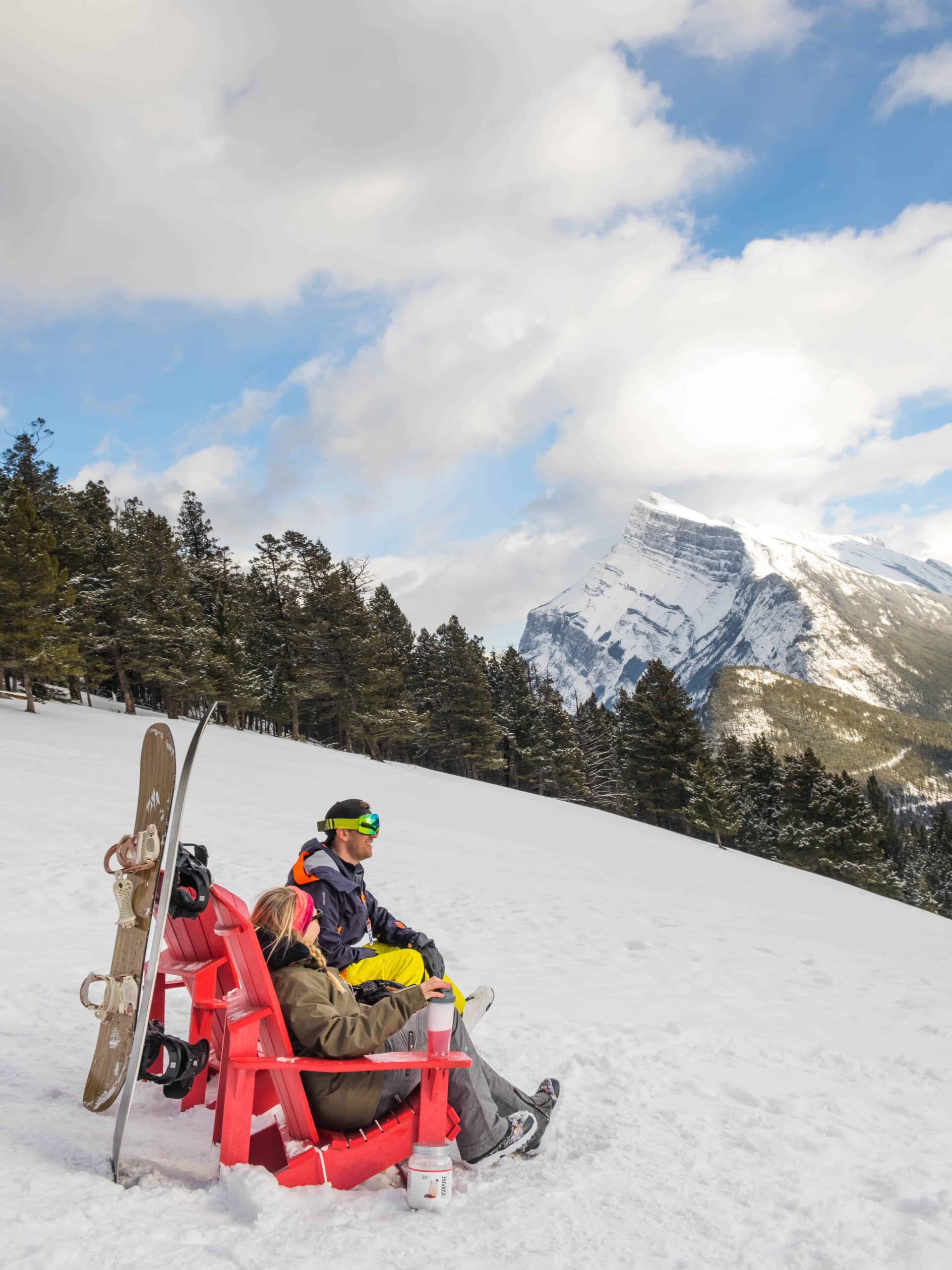 Another great Banff attraction is the Mt Norquay Viewpoint gives exceptional views over Mount Rundle. You know it's an exceptional Banff activity because Parks Canada has put a few of its iconic red chairs there for visitors to sit and marvel at the view. To reach this destination you'll need to drive to Mt. Norquay for about 4.8 km till you reach a pull-off point on your right-hand side.
---
Drive the Bow Valley Parkway
---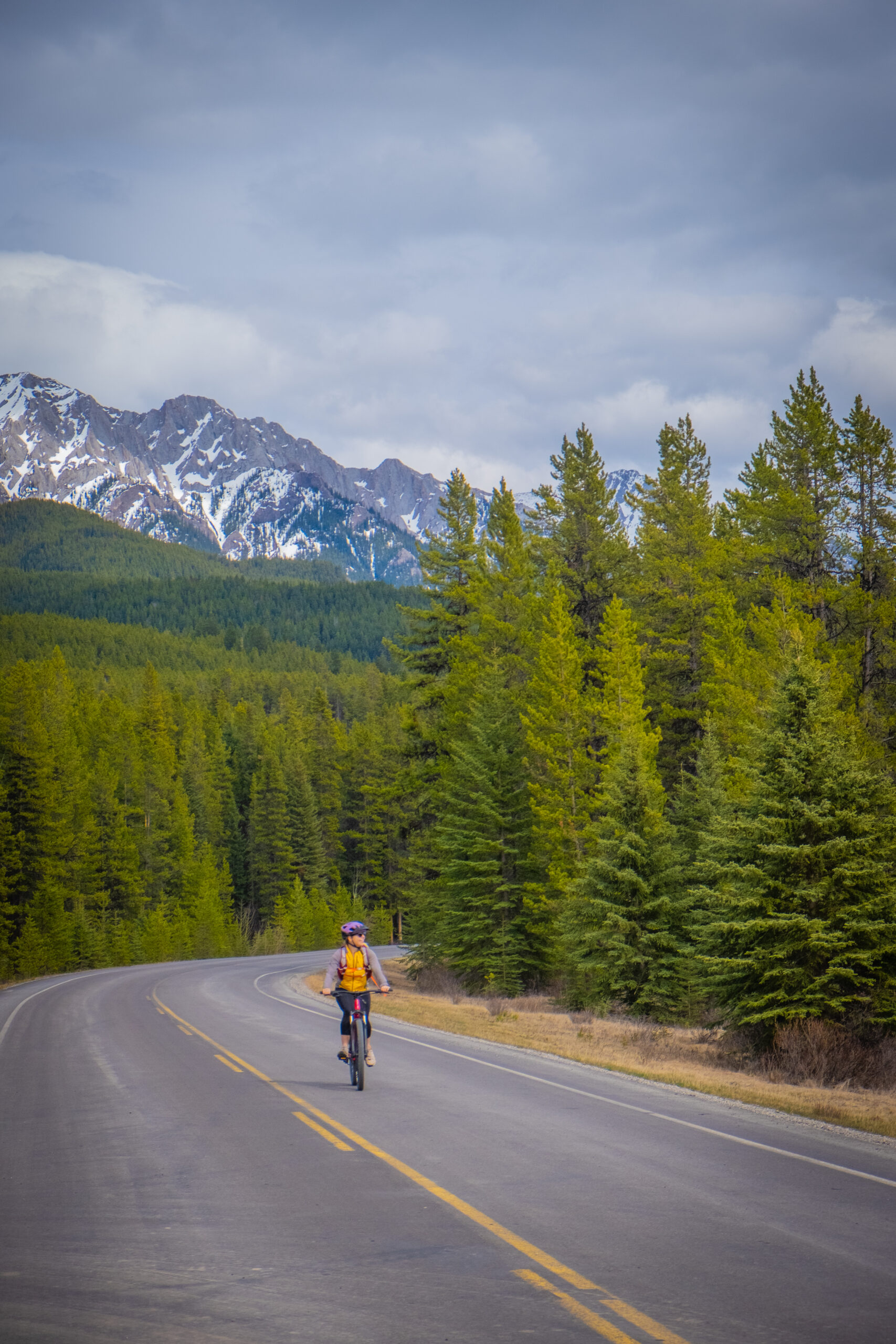 The Bow Valley Parkway (or the 1A) is a road that every visitor to Banff National Park should drive on at least once. It's a great alternative to the Trans-Canada when connecting Banff to Lake Louise. Although it's much slower than the highway, it allows visitors ample time to get out of the car and enjoy the breathtaking views.
Driving the Bow Valley Parkway is one of the best free things you can do in Banff. There are so many beautiful stops on it, including Johnston Canyon and Morant's Curve. To drive the entire parkway will take you between 1.5-2 hours. I find it most beauutiful in the winter when the trees are powdered with snow.
---
Spot Wildlife
---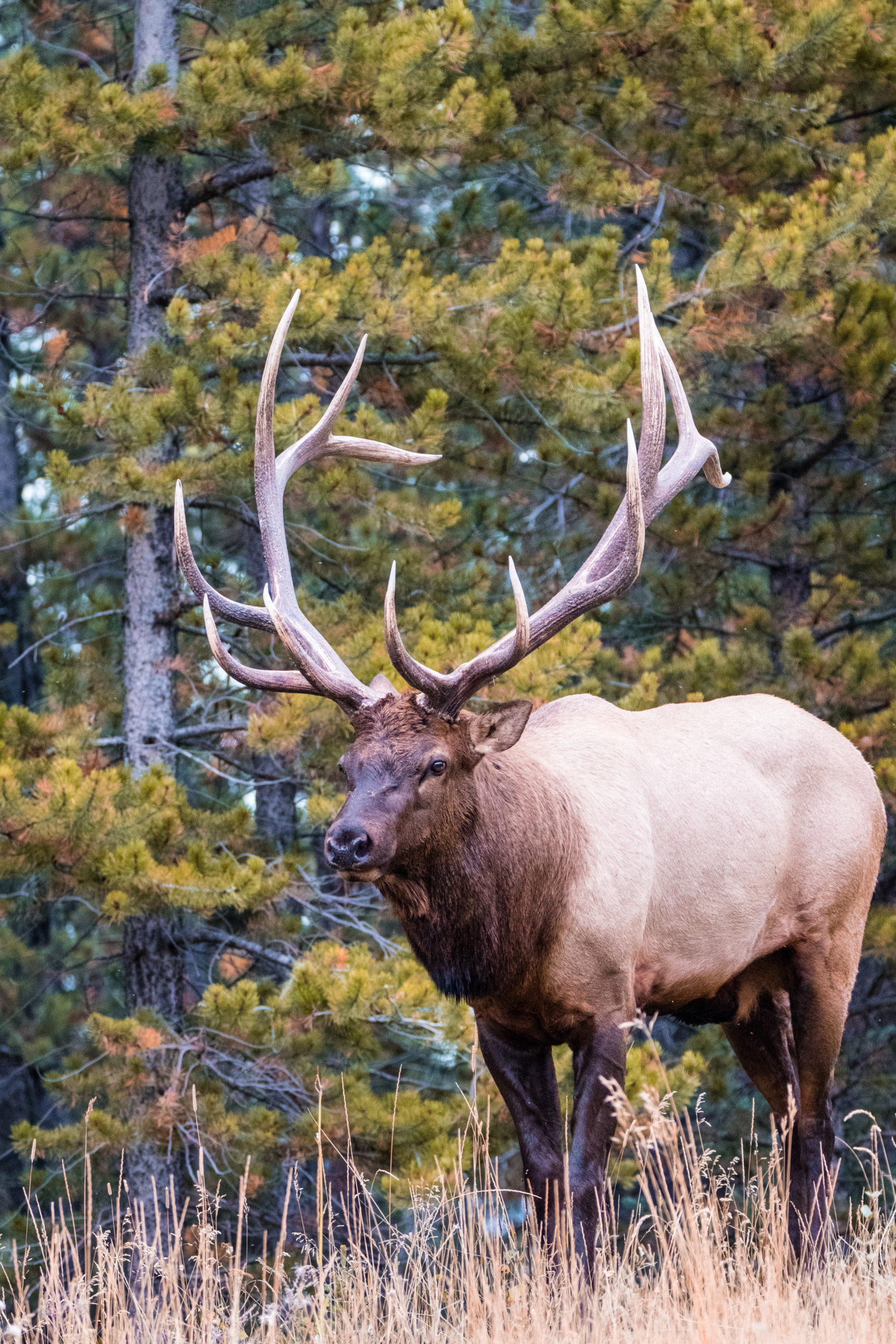 A lot of visitors head to Banff solely for wildlife spotting. There are so many beautiful animals in Banff to see. Like bears, moose, elk, deer, owls, coyotes, and foxes. Although seeing these creatures is never a given, you stand a strong chance at seeing at least some of them in Banff.
We frequently have elk roaming through our backyard. Please remember if you want to pull over to take photos of wildlife to do so safely and make sure you are out of the way of traffic.
---
Free Banff Activities in the Winter
---
These are just a few of my favorite Banff winter activities. For the full list check out our things to do in Banff in the winter.
---
Walk on Lake Louise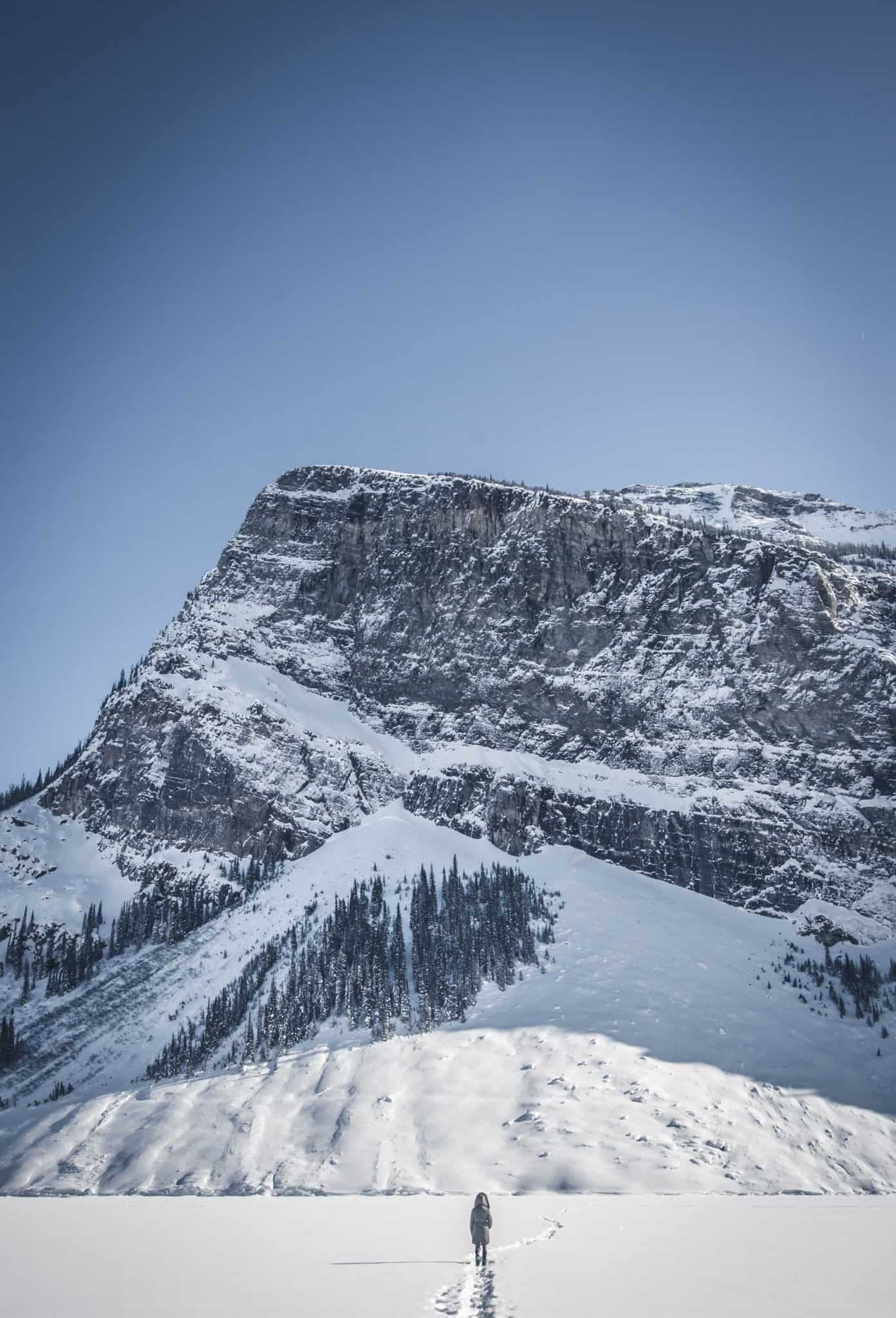 Lake Louise freezes completely over every winter providing you the opportunity to walk and explore the stunning area.
---
Banff Ice Festival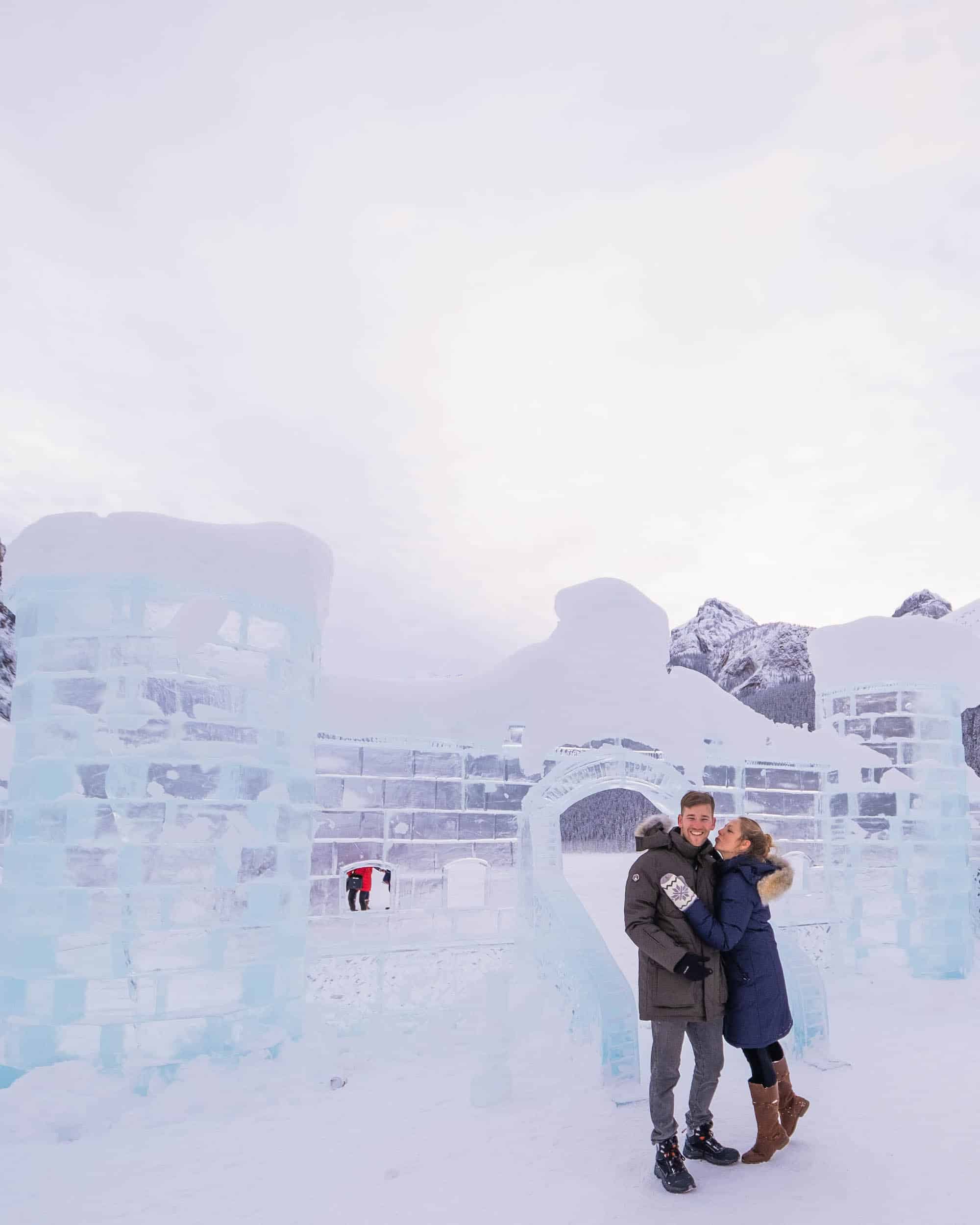 For 12 days around January 15 – 26 (check dates first though), there is a very special event at Lake Louise. The Ice Magic event is what winter in Canada is all about. This is where ice comes alive and serves as a form of art and architectural design. During this time you can watch artists from around the world carve different frozen figures.
It's free to visit the ice carving events between Monday – Friday and on the weekends before 10 a.m. or after 5:30 p.m. During peak times on the weekend an admission fee is charged.
If you can't make the dates of the actual Ice Magic events don't worry, the carvings will be on display throughout February.
---
Check Out Peyto Lake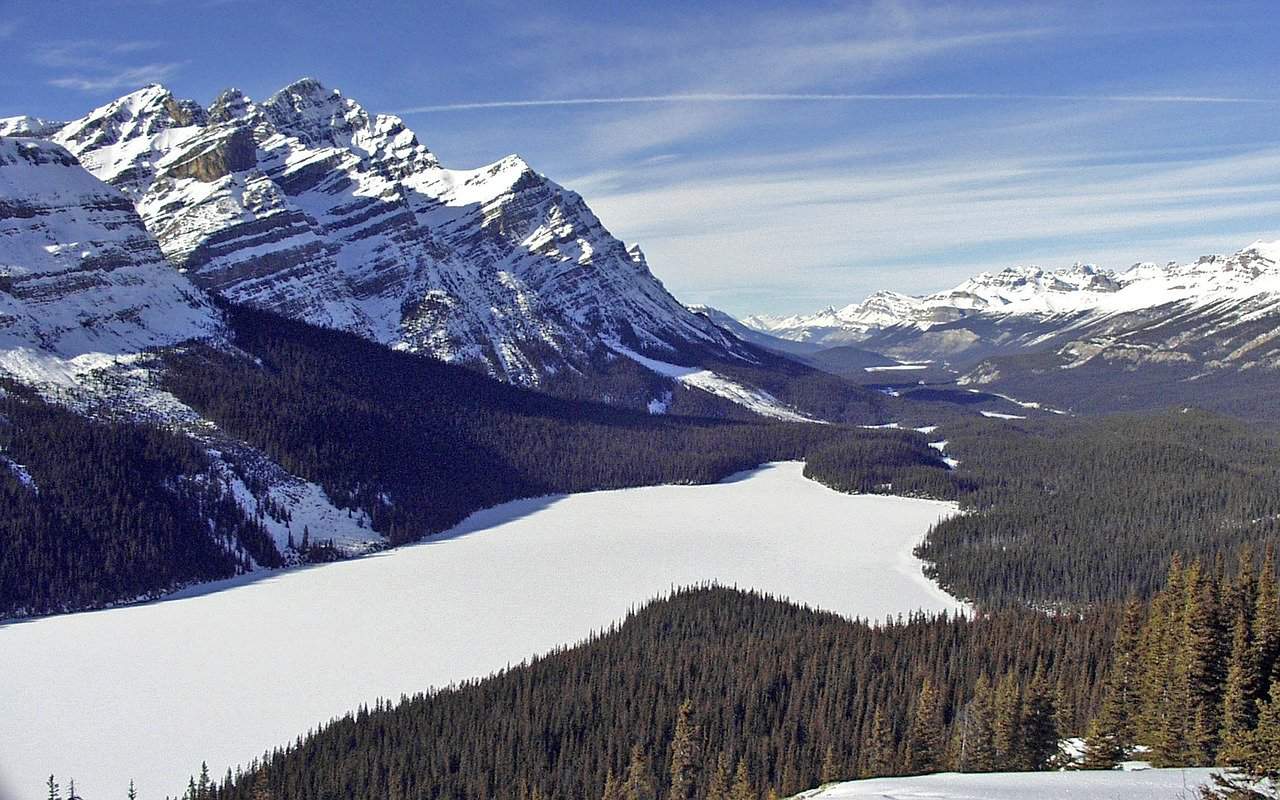 Peyto Lake is the most famous lake in Banff National Park you've probably never heard of before. It's a turquoise blue glacier-fed lake 40 km north of Lake Louise and a popular stop on the famous Icefields Parkway. The brilliant display of blue is fed by the Peyto Glacier high above the lake and part of the Wapta Icefield.
It's stunning in the summer, but in the dead of winter, you can still see a beautiful frozen wonderland. If you get here in October right after the first snowfall, but before the lake freezes it makes for an extra special sight! It's a great place to go for a snowshoe in Banff, but be mindful to not continue on to Bow Summit as it is avalanche terrain.
---
See the Frozen Bow Falls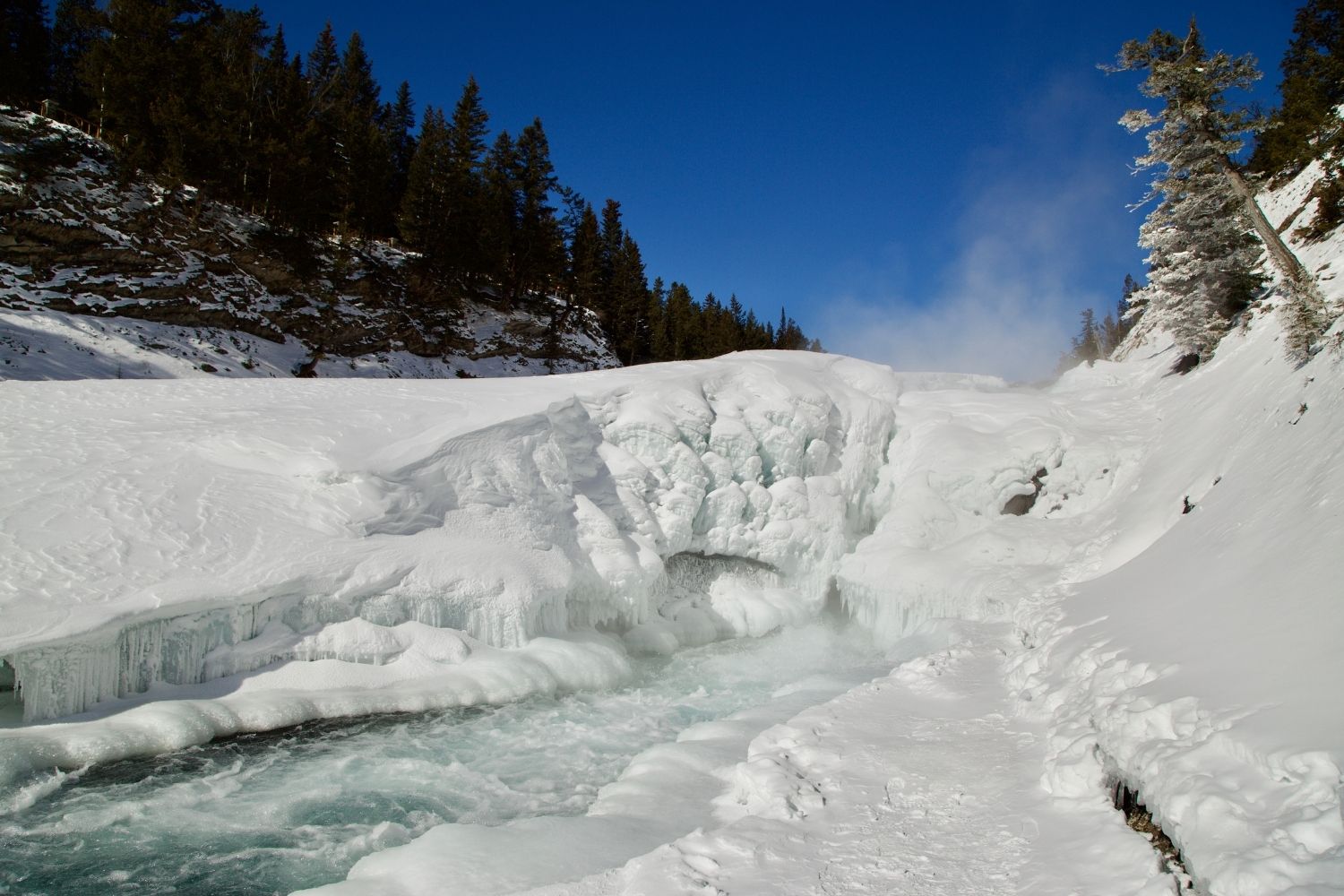 Bow Falls are one of those must see Banff activities in the winter. They are only a short walk away from the town and take you into magnificent nature. Depending on when in the winter you go to see them they may be frozen, which is a treat to see.
---
How to Save Money in Banff
Visit During the Off Season: The high seasons in Banff are between June and September, and December and February. These are when the prices are the highest. To get lower prices on things like hotels and discounts on local attractions visit outside these times.
Be Wise About Your Parks Canada Pass Purchase: You can purchase a Parks Canada pass at any park gate. Or you can buy them in advance online. A Parks Canada Discovery Pass which gets you entrance to all Parks Canada destinations for the year is only $139.40 for a family. Day passes are $10 per person, so if you are a group who is visiting Banff for more than two days it's worth it to get the full year.
Avoid Paid Banff Activities: Some of the paid experiences in Banff are spectacular. Nothing will ever beat my horseback trip in Banff, for example. However there's a lot of free things to do in Banff that cost $0 so take advantage of this.
Fuel Up Outside of the Park: Gas costs the most in Banff and Lake Louise so to save money on fuel you should try and fill up outside of the park if possible. My favorite place for gas is in Dead Man's Flats which is cheaper than Canmore. Canmore is cheaper than gas in Banff, and the cheapest place of all is in Calgary.
Buy Food from the Grocery Store: While it's fantastic to eat out at all the yummy Banff restaurants this is going to put a dent in your wallet. To save money on food make sure to buy from the grocery stores and cook your own dinners, and pack packed luck for hikes out!
Take Public Transport: The ROAM transport is surprisingly efficient for a little mountain town. The ROAM bus will take you to some of the hot spots like Lake Louise and Moraine Lake and also shuttle you between Banff and Canmore, which is a great way to save money in Banff when you don't have a car.
Check for Local Discounts: If you are a local Alberta resident you may get some special discounts, especially in the offseason when booking hotels and Banff activities. Check or call with the operator first to find out if you qualify.
Stay in Canmore: While the town next to Banff is still an expensive touristy one, it's cheaper than Banff so check out the Airbnbs in Canmore and the Hotels in Canmore before booking a place in Banff first.
↓ Join the community ↓
The Banff Blog Facebook Group is your headquarters for the Canadian Rockies travel advice and information. Including hike info and off-season travel information. This is also a place where you can meet one another when you need adventure buddies.