Lake Minnewanka is a beautiful lake in Banff that is just a ten-minute drive away from the town of Banff. The lake is 21 km long and 142 meters deep and helps power Banff with hydroelectric power. One of the top things to do in Banff National Park is to stroll along or take a boat ride on Lake Minnewanka
In the summer it's a busy place to hike, picnic, and go canoeing. While in the winter, Lake Minnewanka can make for one of the grandest ice skating rinks in the world.
The mountains towering over Lake Minnewanka are seriously impressive all year round. Oh yea, and there's also a Canadian resort ghost town right under the lake! Read on for a helpful guide to visiting Lake Minnewanka.
---
A Guide to Visiting Lake Minnewanka
---

Lake Minnewanka is a large glacial lake five kilometers (three miles) from the town of Banff. Lake Minnewanka is 21 kilometers (13 miles) long and 142 meters (466 feet) deep. It is a beautiful spot, popular for picnicking, mountain biking, hiking, canoeing, diving, and snowshoeing.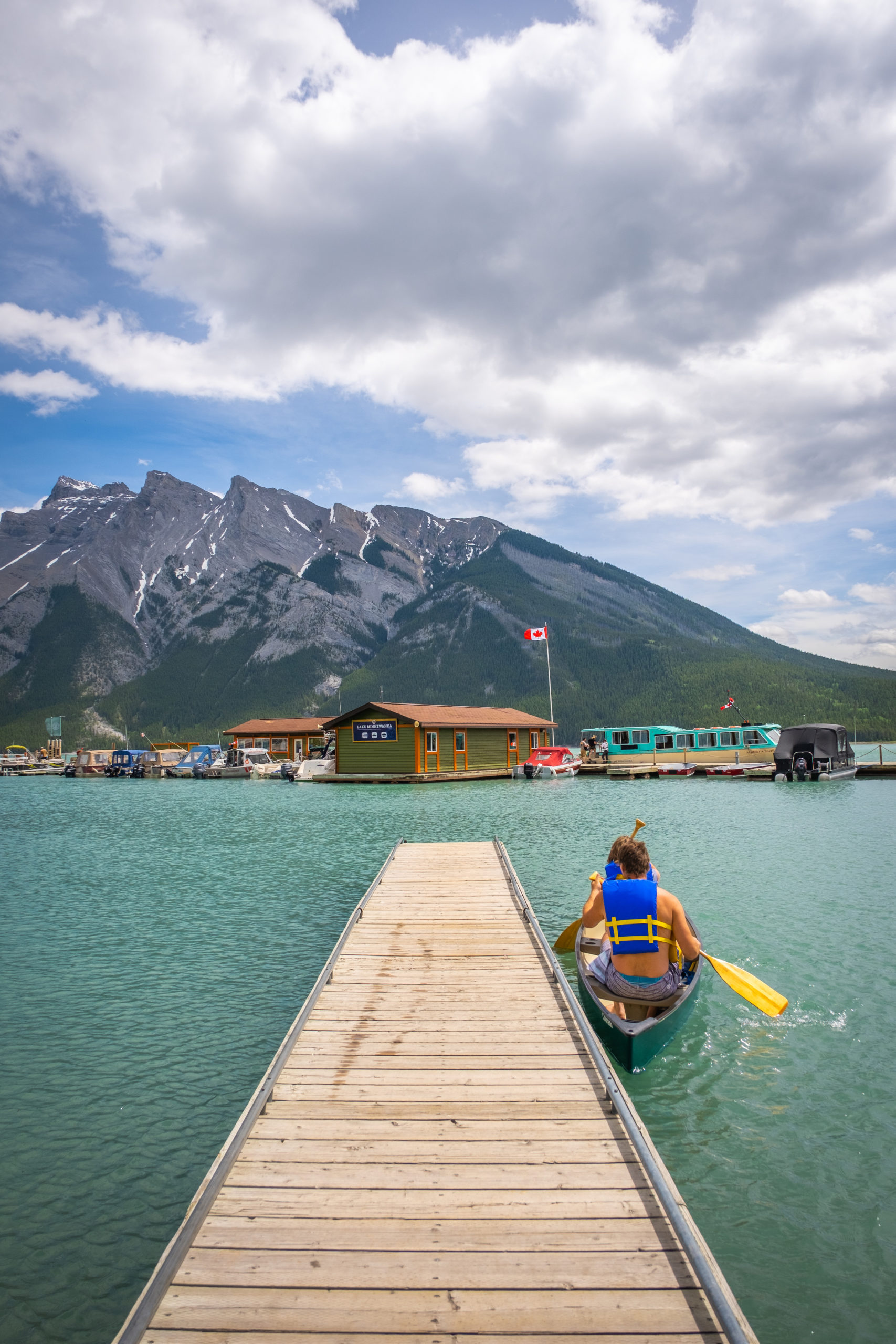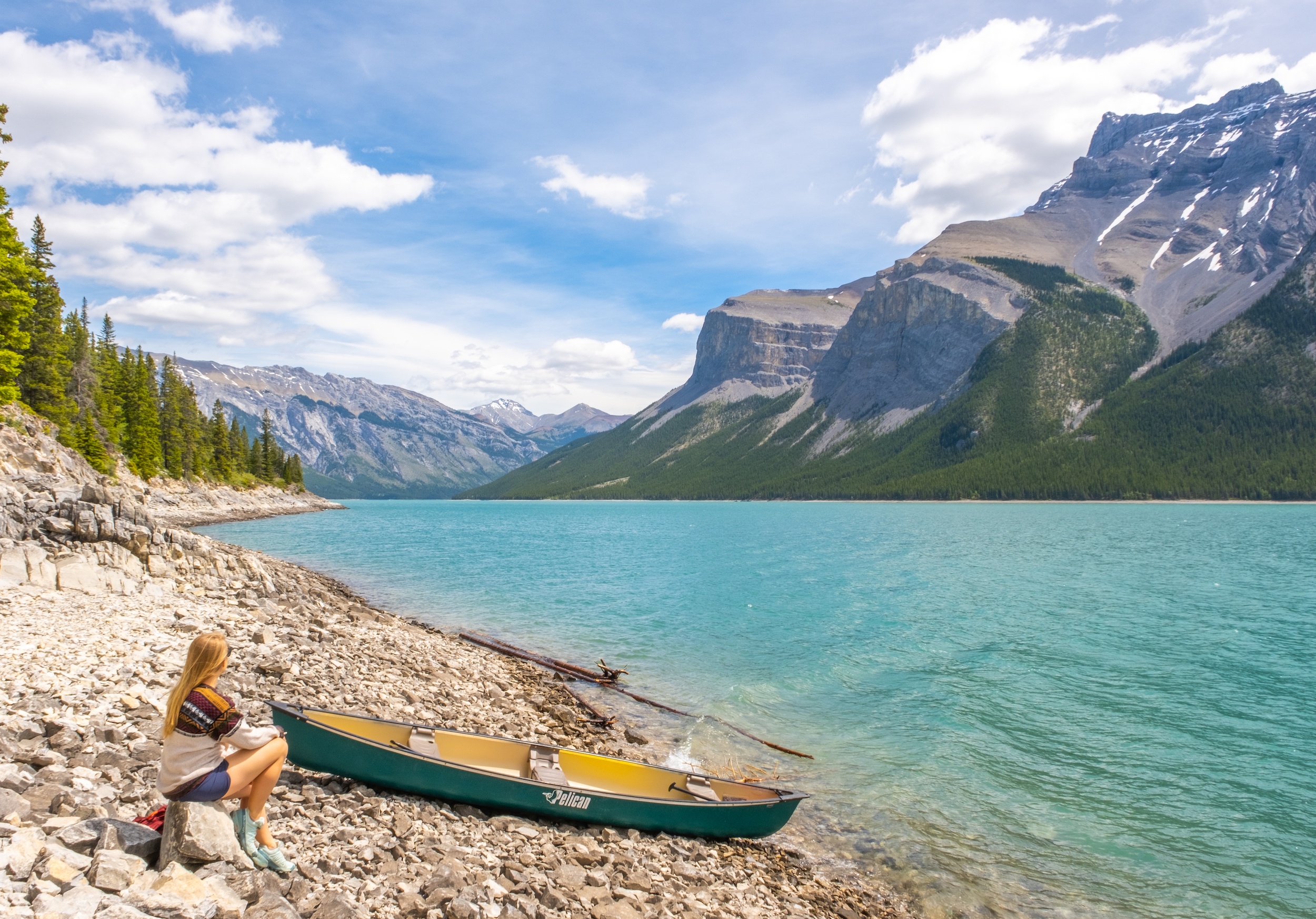 For over 100 centuries, people have camped and hunted along the original shores of Lake Minnewanka.
The indigenous Stoney Nakoda First Nations people called it Minn-waki (Lake of the Spirits) because they respected and feared the lake for its resident spirits. Early European settlers would later name it Devil's Lake.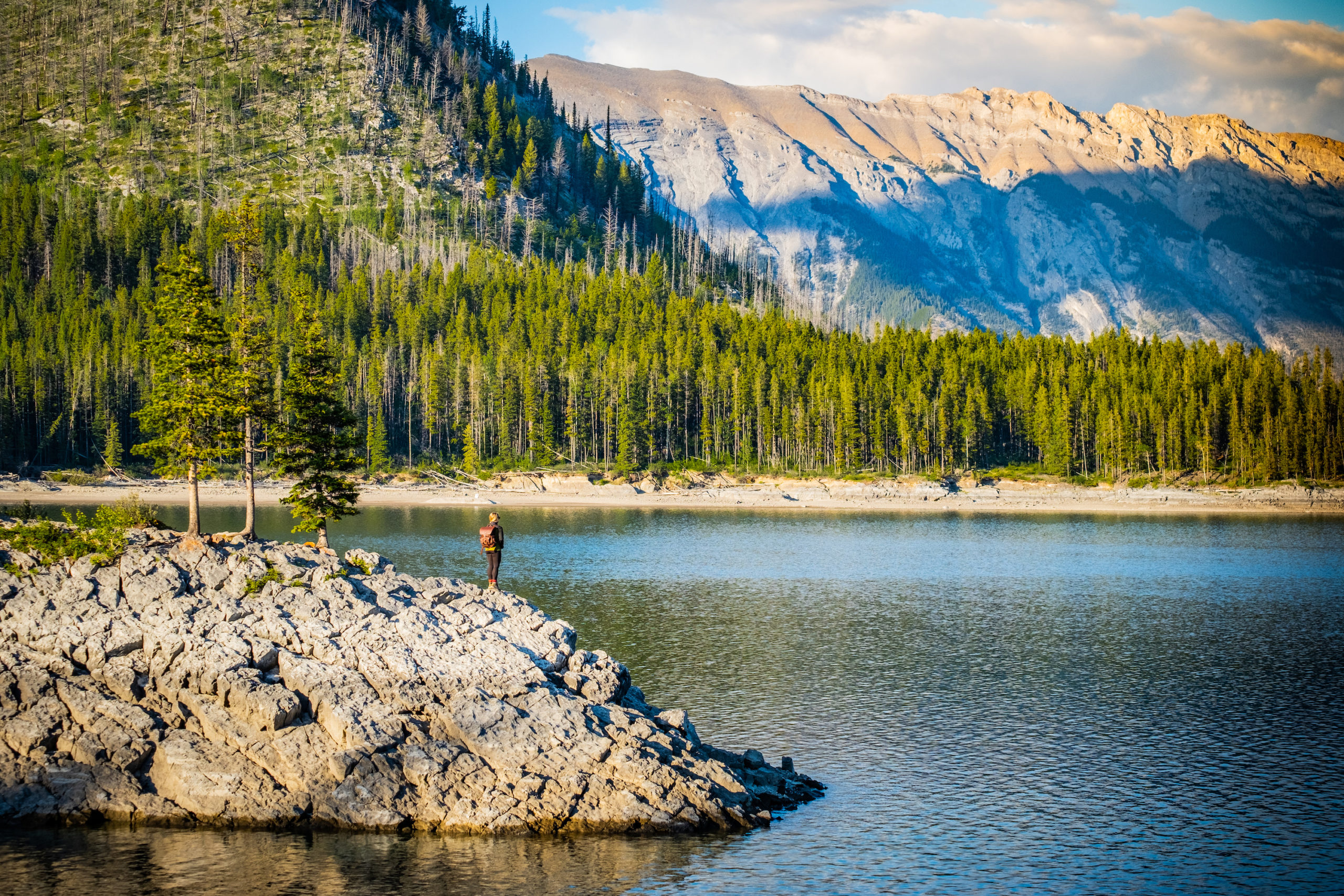 The magic that surrounds Banff National Park's largest body of water is palpable. Even now a ghost resort town sits on the lake floor which only adds to its mysticism.
Forests around Lake Minnewanka stir with wildlife that includes mule deer, bears, wolves, elk, bighorn sheep, or an abundant population of birdlife. If you're in search of spotting some of the park's famous wildlife the drive to the lake and its shoreline are a safe bet.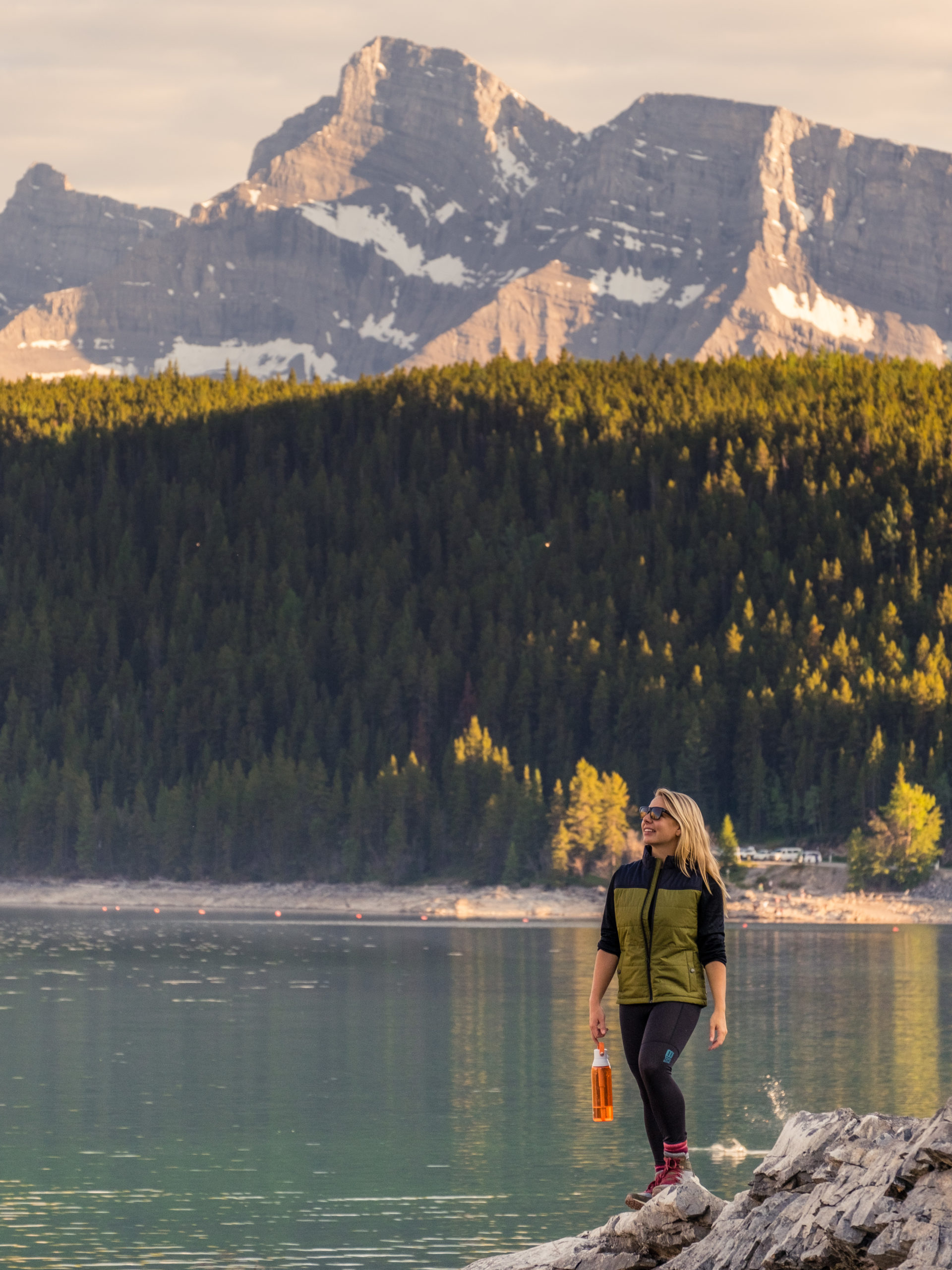 Lake Minnewanka also happens to be one of our favorite places to relax on a summer evening in Banff. A plethora of picnic areas and an easy walking trail make this particularly easy.
So head here with some take-out and enjoy a meal with a view in the wilderness. If relaxation isn't your only goal there are quite a number of activities that visitors to Lake Minnewanka can enjoy on or around the lake.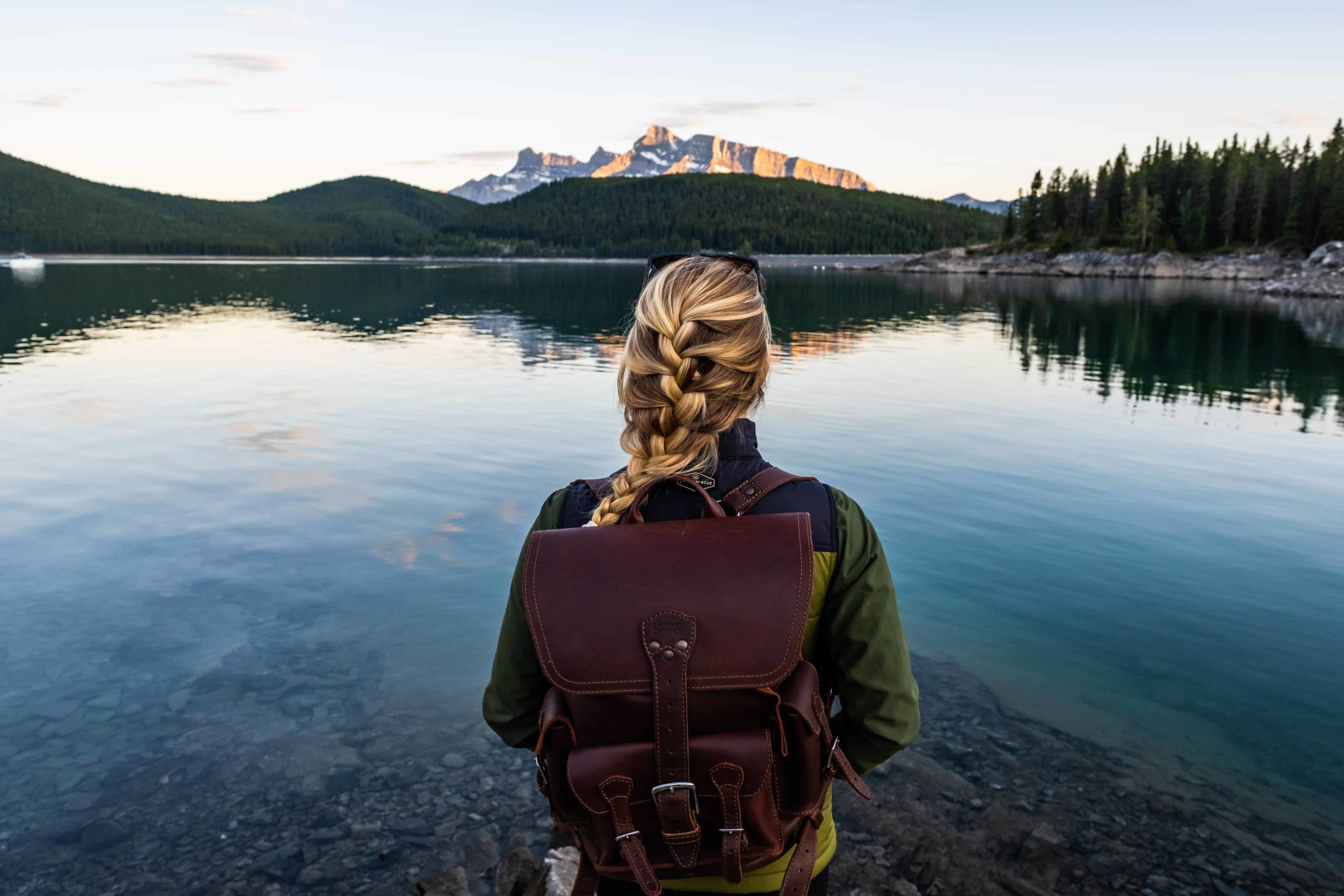 ---
The History of Lake Minnewanka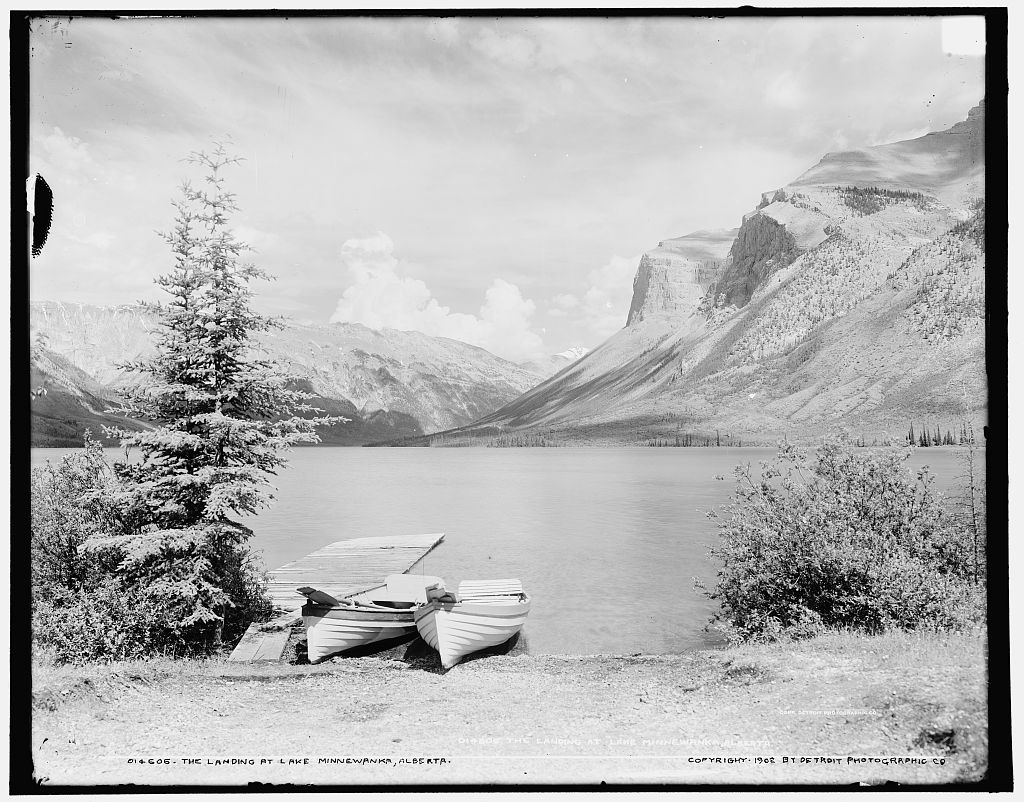 Artifacts have been found on the shores of Lake Minnewanka that date back to 13,000 years ago and the lake has a long human history. It's believed that humans have settled along its shores for millennia. The name Minnewanka comes from the Stoney Nakoda language.
The history of Minnewanka is also closely tied to Banff National Park itself as one of the first resorts in the park were located along its banks. The Lake served as a summer escape for Calgarians who came to stay at Minnewanka landing over a century ago.
Most notable was the wood log hotel named the Beach House built in 1886 which spurred the development of a resort town. Over time the town would grow to four avenues, dozens of cottages, hotels, restaurants, and multiple sailing companies to take guests out on the Lake Minnewanka.
As the demand for power increased in the 20th century a dam was built in 1912 by the Calgary Power Co. which flooded part of the resort town. However, the resort continued to exist until 1941, with the onset of WWII and the demand for power in manufacturing even greater in Calgary a new dam was built. The new dam raised the level of the lake by 96 feet flooding the resort entirely and forever altering the landscape around the lake.
Since the water here is very cold glacial water it has preserved much of the resort town and makes for a unique dive site. The diving in Lake Minnewanka attracts as many as 8,000 divers each year to see the submerged resort.
---
When Is The Best Time To Visit Lake Minnewanka?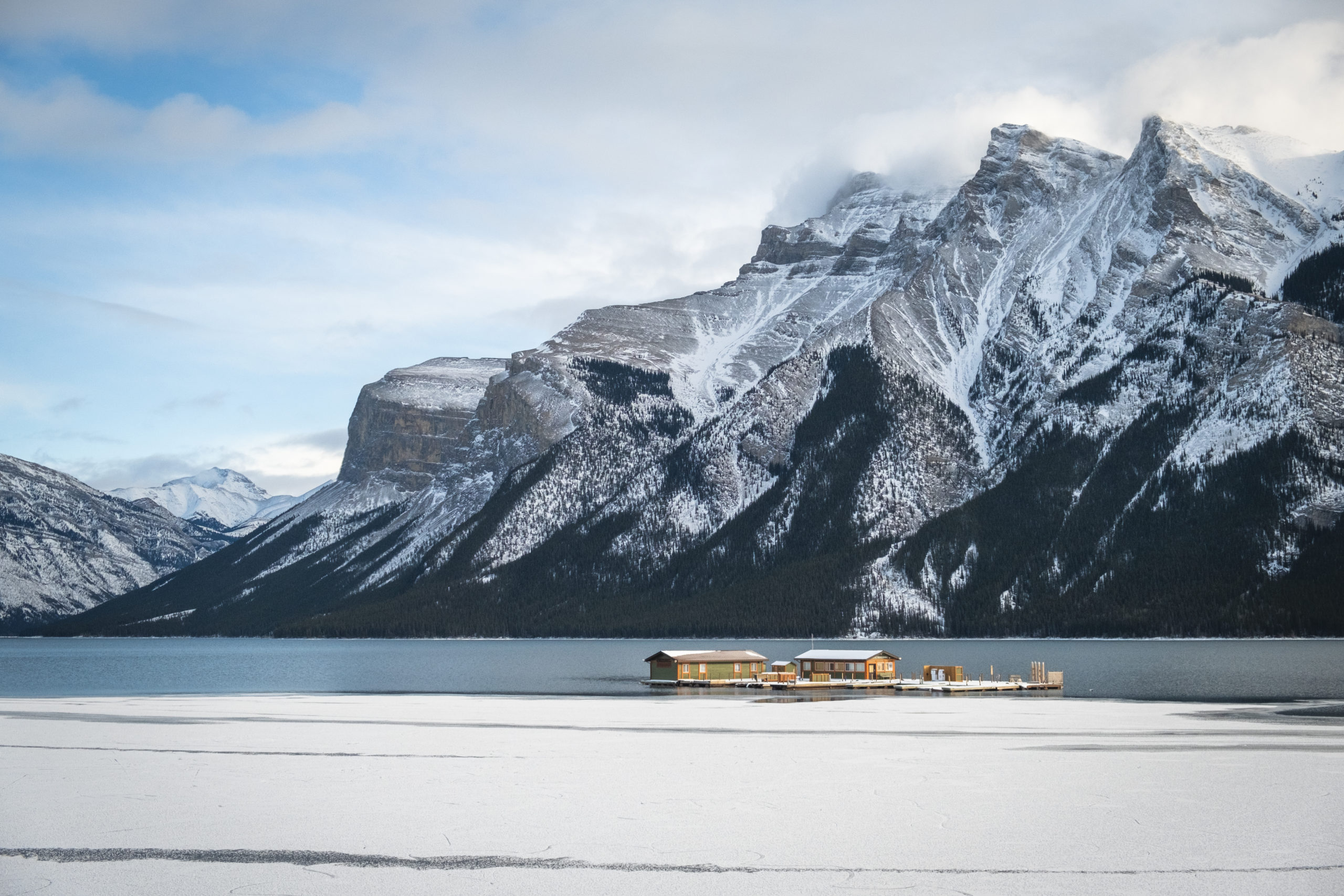 Lake Minnewanka is technically a year-round destination, but to really enjoy the lake it's best visited in the summer months. From June to October is when Lake Minnewanka really comes alive. By mid-June, the boat docks and lake tours begin operating. The best time to visit would be around this time until early October when operations begin to shut down as the snow comes. In the summer you'll be able to take full advantage of everything that Lake Minnewanka offers.
During the Lake Minnewanka winter months, the lake remains frozen and covered in a heavy layer of snow/ice.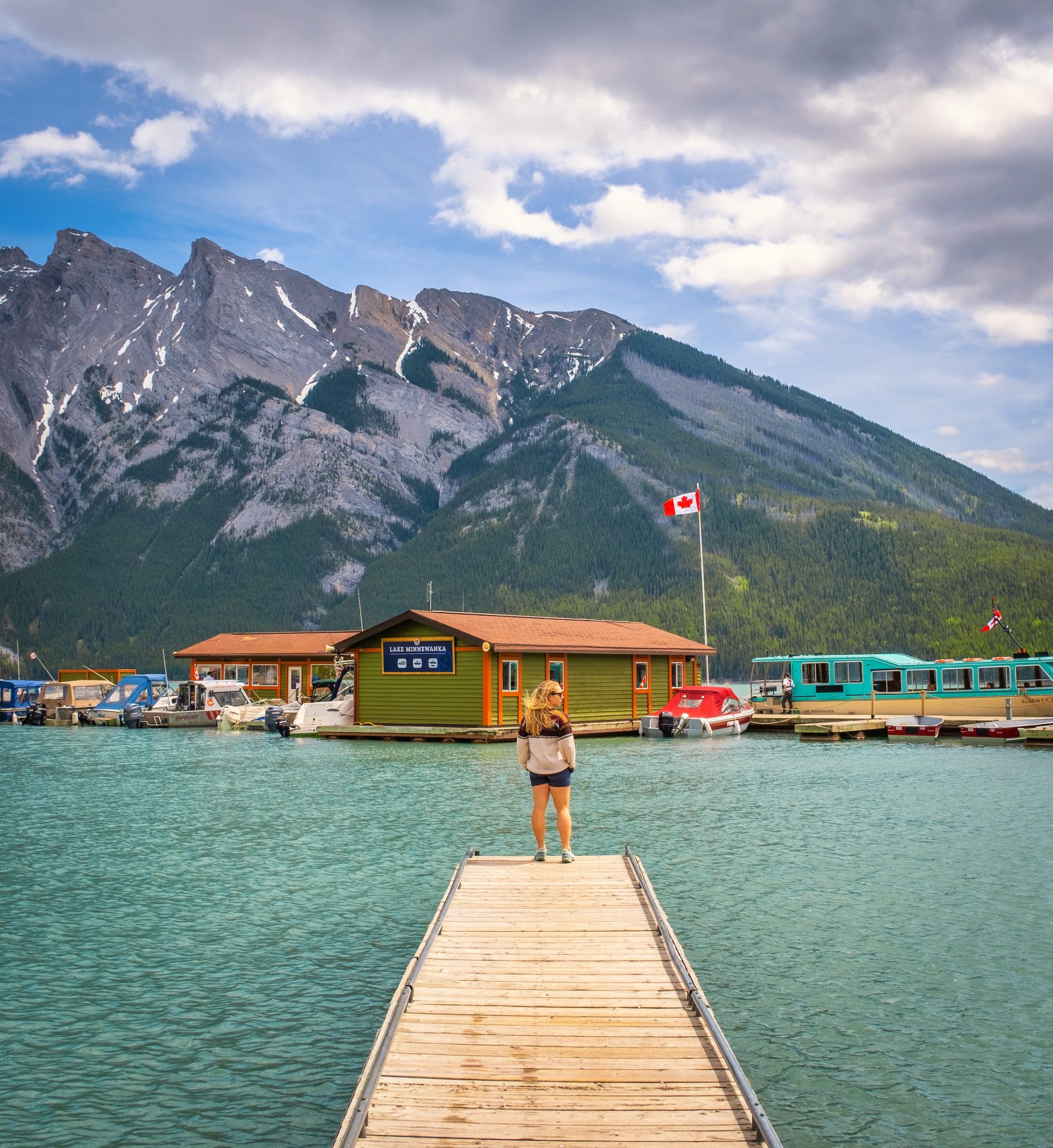 Lake Minnewanka begins to freeze around December and will remain frozen until the end of May when the lake unfreezes. There's a short period in the winter when the lake freezes, but the snow has yet to cover the ice making it a fantastic place to go ice skating in Banff.
---
Parking at Lake Minnewanka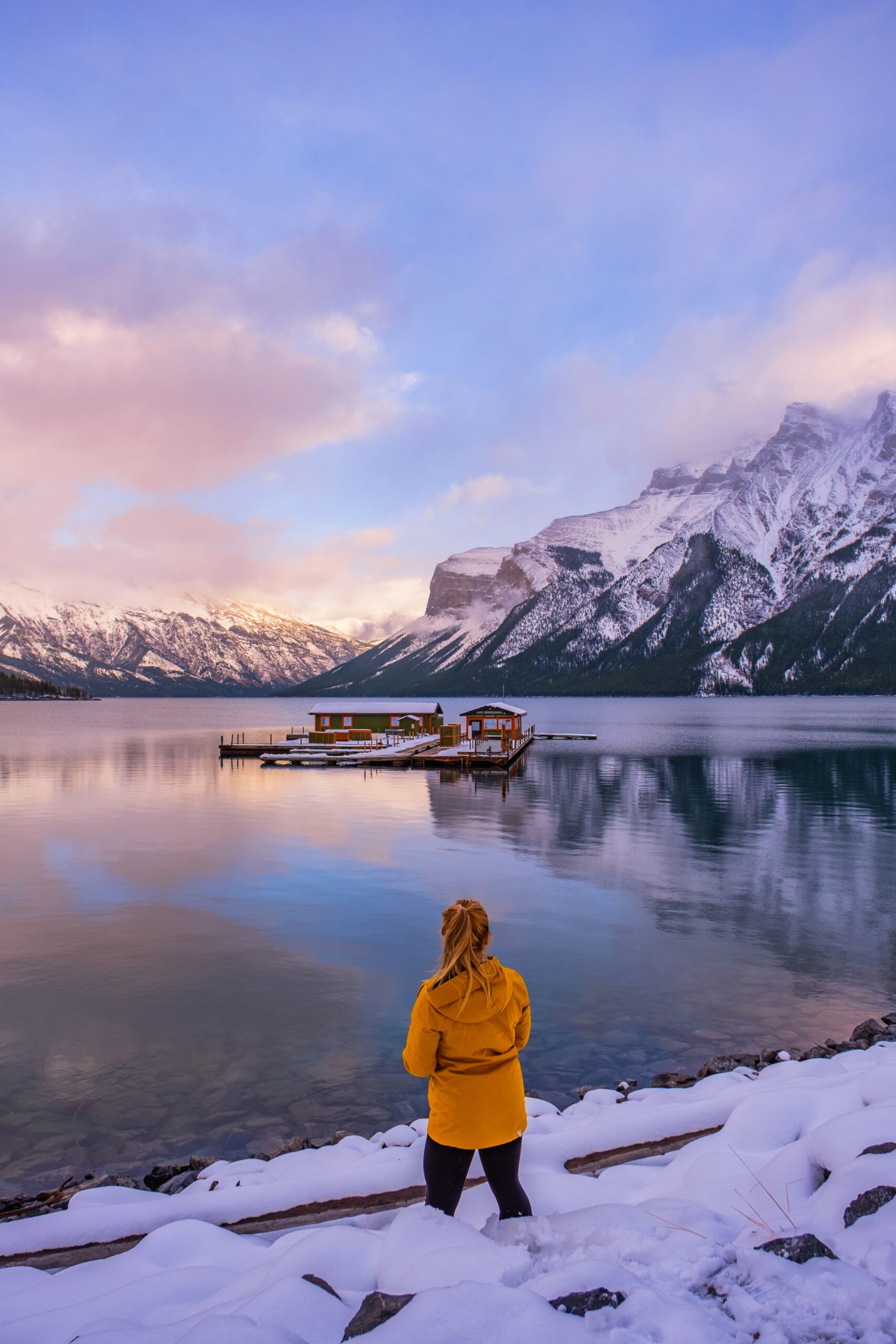 There are two large lots for parking at Lake Minnewanka and that includes a large lot for trucks with boat trailers. On an average day, it's not too difficult to get parking, but in the summer months the parking lot quickly fills up. The peak times are from 10 a.m. to 3 p.m. You can still visit during these times, but parking will be a struggle.
You have several options though for easy access to the lake. You can park at the Minnewanka Park & Ride or the Banff Train Station and hop on the Roam Transit (route 6) which will take you to the lake.
The bus route also stops at Two Jack Lake, Johnson Lake, and Cascade Ponds. Rides are $2 for adults and $1 for children. The bus only operates in the summer months from May 21st to September 15th.
---
Is Lake Minnewanka Freeto Visit?
Lake Minnewanka is free to visit with the purchase of a National Parks Pass.
You can purchase a Parks Canada pass at any park gate, and the entrance to Banff National Park is just before Lake Minnewanka. Or you can buy Parks Canada passes in advance online. A Parks Canada Discovery Pass which gets you entrance to all Parks Canada destinations for the year is only $139.40 for a family.
Day passes are $10 per person, so depending on how many days you are staying and if you have plans to go to Banff, you may want to consider the Discover Pass.
Parks Canada Day Passes
Adult: $10.00
Senior: $8.40
Youth (up to 17): Free
Family/group of 7 people: $20.00
Day passes expire at 4 pm the following day.
---
Boating on Lake Minnewanka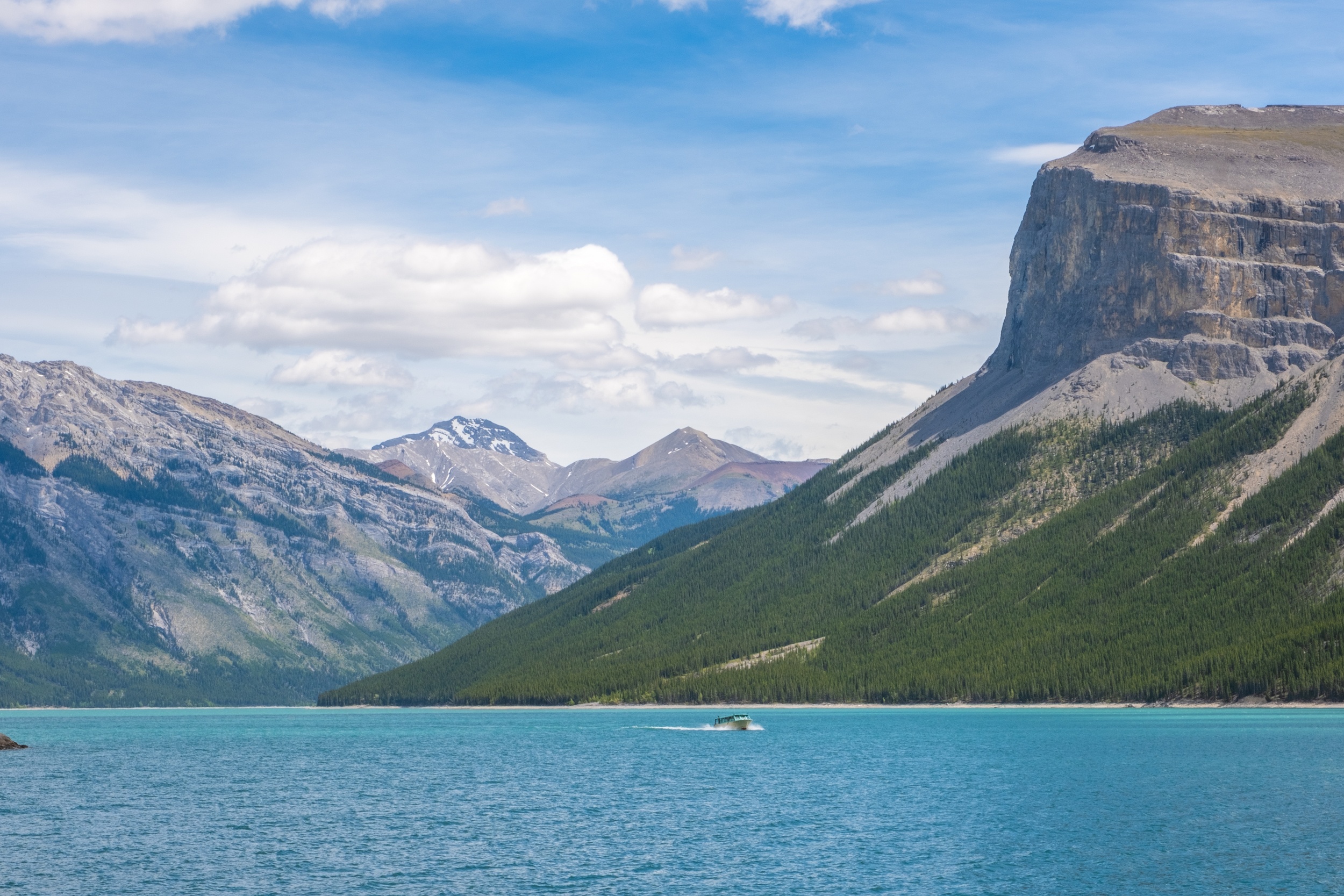 You have a wide range of options for boating on Lake Minnewanka that include canoes, motorboats, kayaks or even stand up paddleboards. If you're seeking more of a challenge or to experience canoeing on open water head to Lake Minnewanka.
The large lake is well known for its "swells" that occur when the wind gust picks up. More advanced paddlers with their own canoes can plan multi-day camping trips along the lake.
The boat launch managed by Pursuit also rents small motorboats as Minnewanka is the only lake in the park that allows motor-powered boats in addition to kayaks and double kayaks. All rentals come with necessary equipment which includes gas with the motorboat rental.
You don't have to rent a boat or canoe/kayal though as personal watercraft are allowed and there is a boat launch at the lake. However, jet skis or sea doos are not allowed on the lake. The only requirement is that the boat must be free of anything such as mussels or algae as it can damage the lake's ecosystem. Additionally, any boat coming from outside of BC or Alberta in the last 30 days requires a provincial inspection.
Lake Minnewanka Boats and Canoe Costs
Location: Pursuit Collection Lake Minnewanka Boat Dock
Canoe Cost: $85 first hour / $25 additional hours
Kayak Cost: $45 first hours / $20 additional hours
Double Kayak Cost: $75 first hour / $20 additional hours
Motor Boat Cost: $115 first hour / $65 additional hours / Half Day (4 hours) $295
Season: June to October
---
Take a Lake Minnewanka Cruise
One of the most popular activities on Lake Minnewanka is to hop on a lake cruise run by the Pursuit Collective. The hour-long panoramic cruise heads to Devil's Gap at the end of Lake Minnewanka and back.
It's a unique natural feature that looks out to the east and the plains of Alberta while enveloped in a mountain amphitheater. You're guaranteed spectacular mountain vistas while you cruise across the emerald green water. You can buy individual tickets for the Lake Minnewanka cruise, but for the best deal consider purchasing the Banff Jasper Collective's Banff Explorer Pass that includes the Banff Gondola and the Icefields Experience.
Advanced Purchase Pricing:
Adults – $59
Ages 6-15 – $30
Age 5 & Under – Free
---
Lake Minnewanka Fishing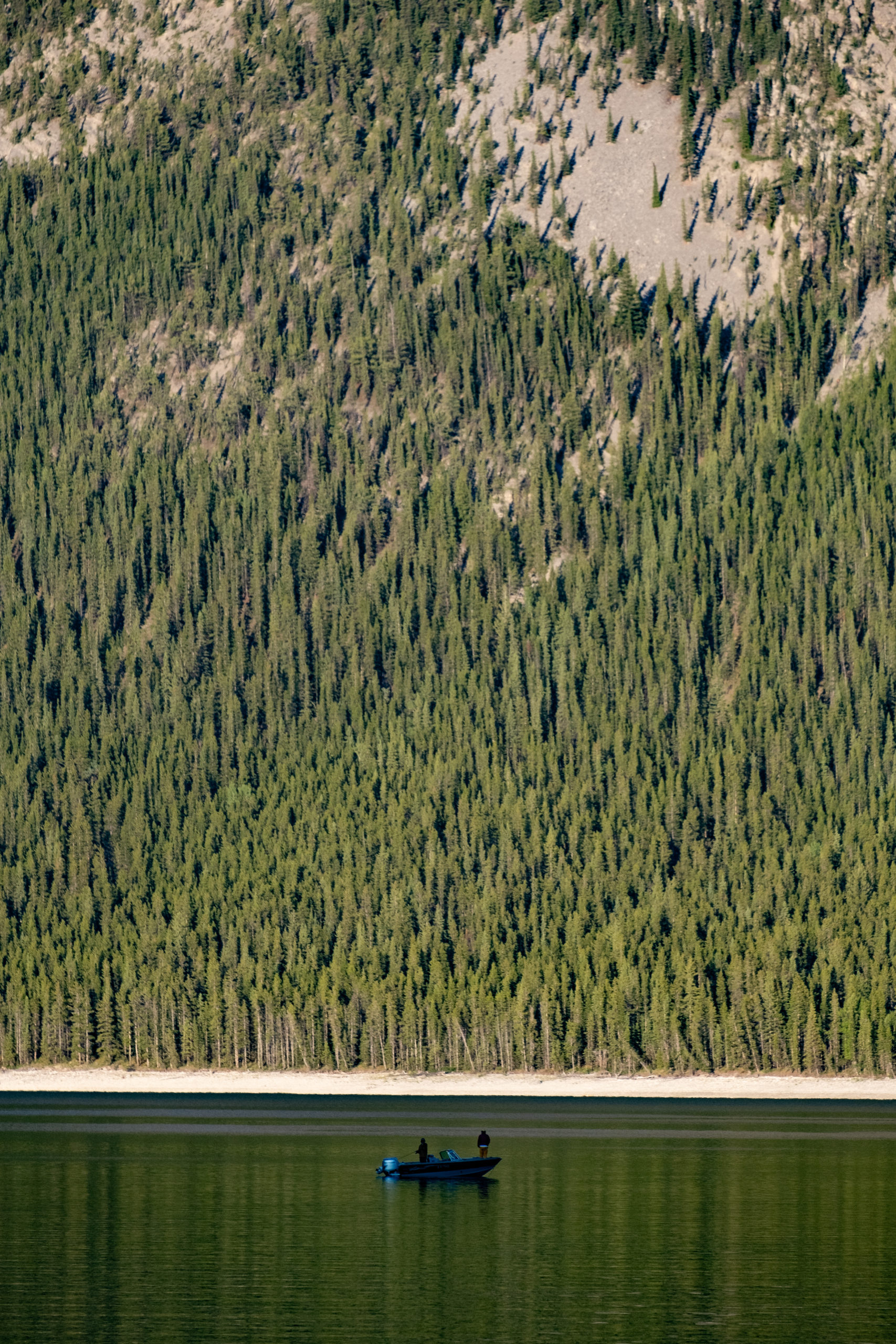 You're permitted to fish on the lake on your own or you can hire out a chartered boat. The boat charter is a bit pricey, but then again they know all the local fishing holes. To fish in the park you are required to have a Park pass, fishing permit, and be aware of current regulations.
This means you know fishing limits and can identify the various fish within the park. No live bait fishing is allowed in the park.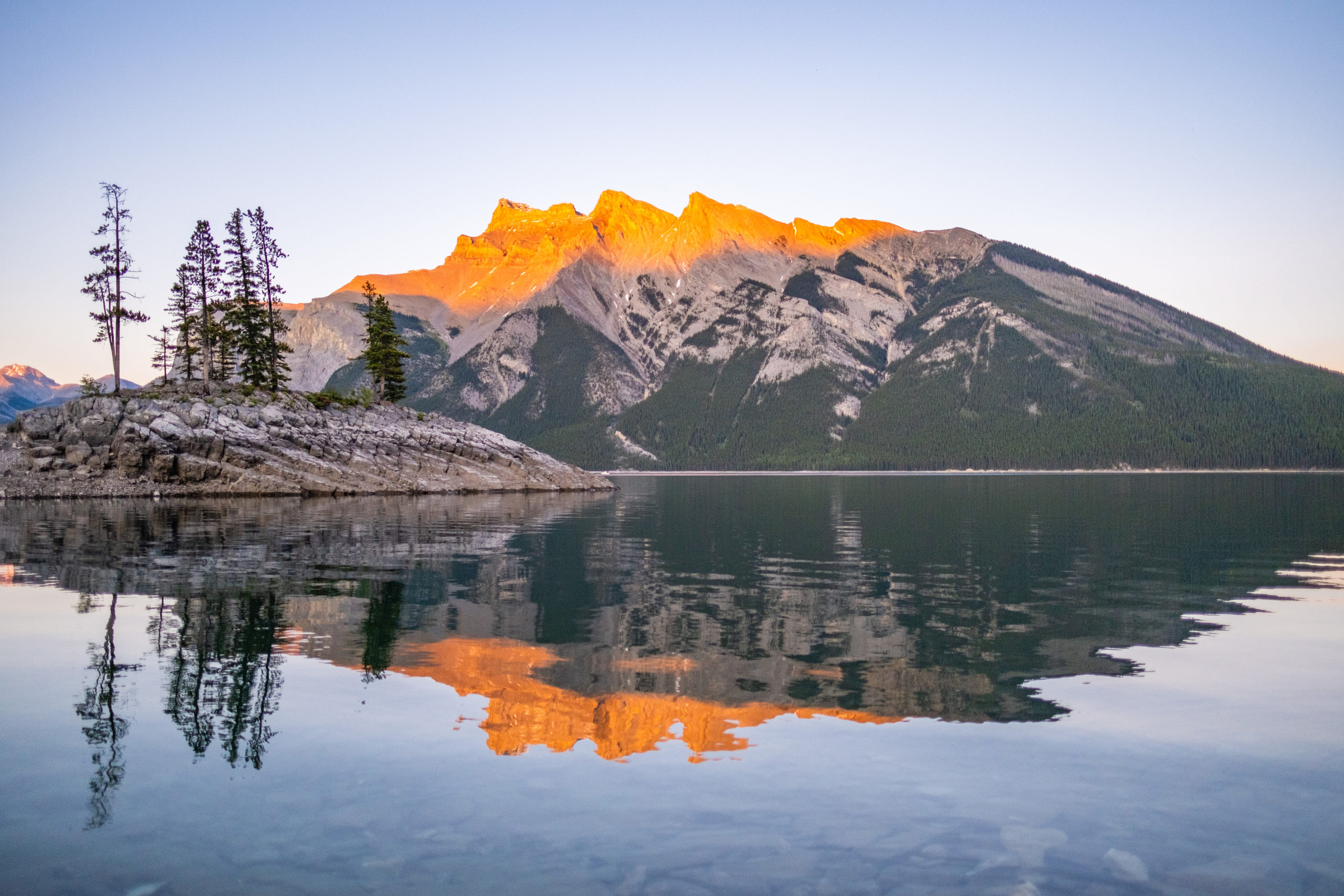 Kids under the age of 16 are allowed to fish on their accompanied pass, but their catch is included within the permit holders' daily limit. For the most up to date fishing information please reference Park Canada's website as it changes seasonally.
Fishing Permit Price:
Daily – $ 9.80
Annual – $ 34.30
---
Hiking Around Lake Minnewanka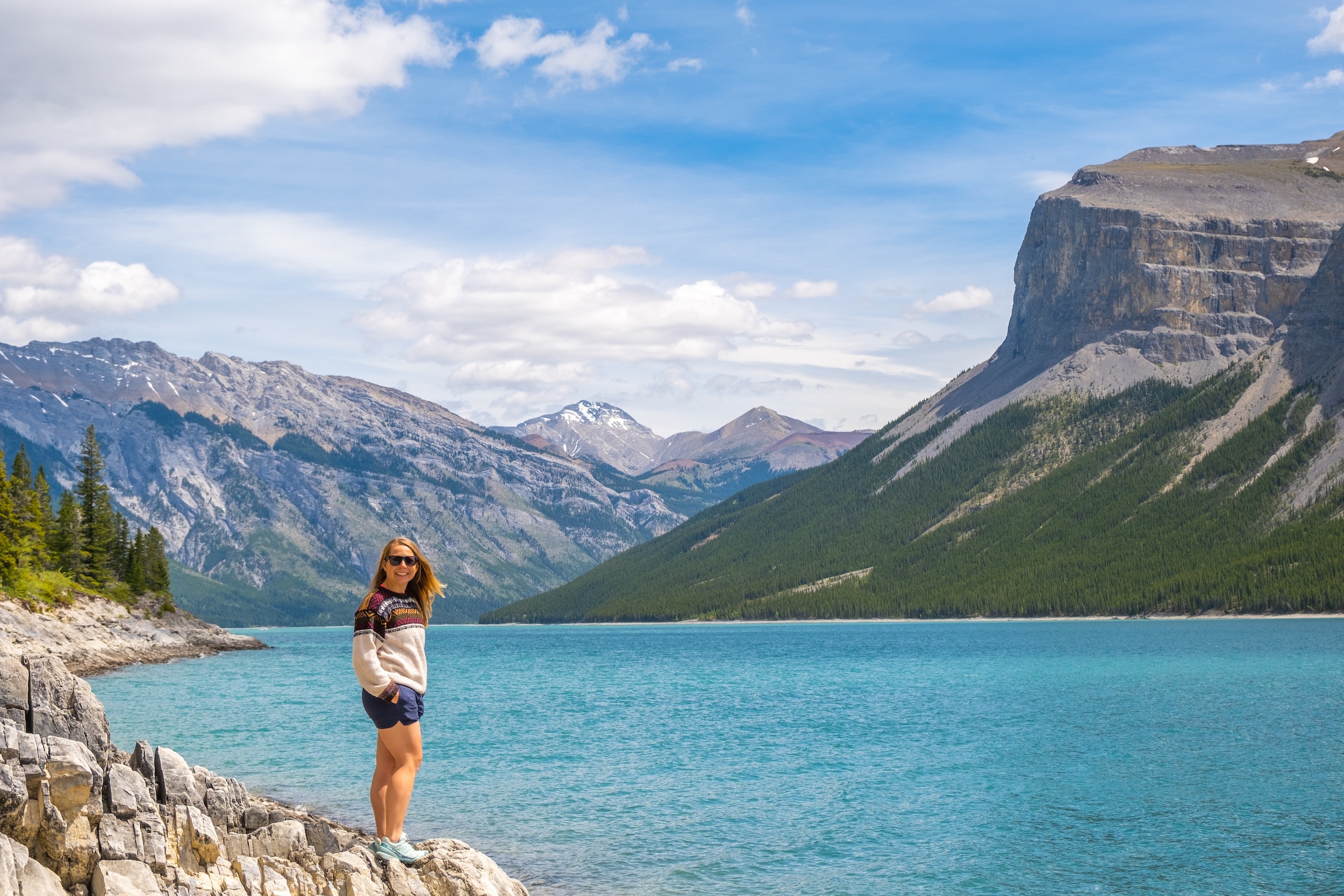 There are a number of great hikes around Lake Minnewanka. You can take simple strolls along the lake, summit nearby Mt. Alymer (scramble), head up the Mt. Alymer Lookout or make a multiday backpacking trip out of it.
One of our favorite hikes in the area is C-Level Cirque. Which is a nice challenge that provides astounding views of Lake Minnewanka and the Bow Valley.
---
Can You Walk Around Lake Minnewanka?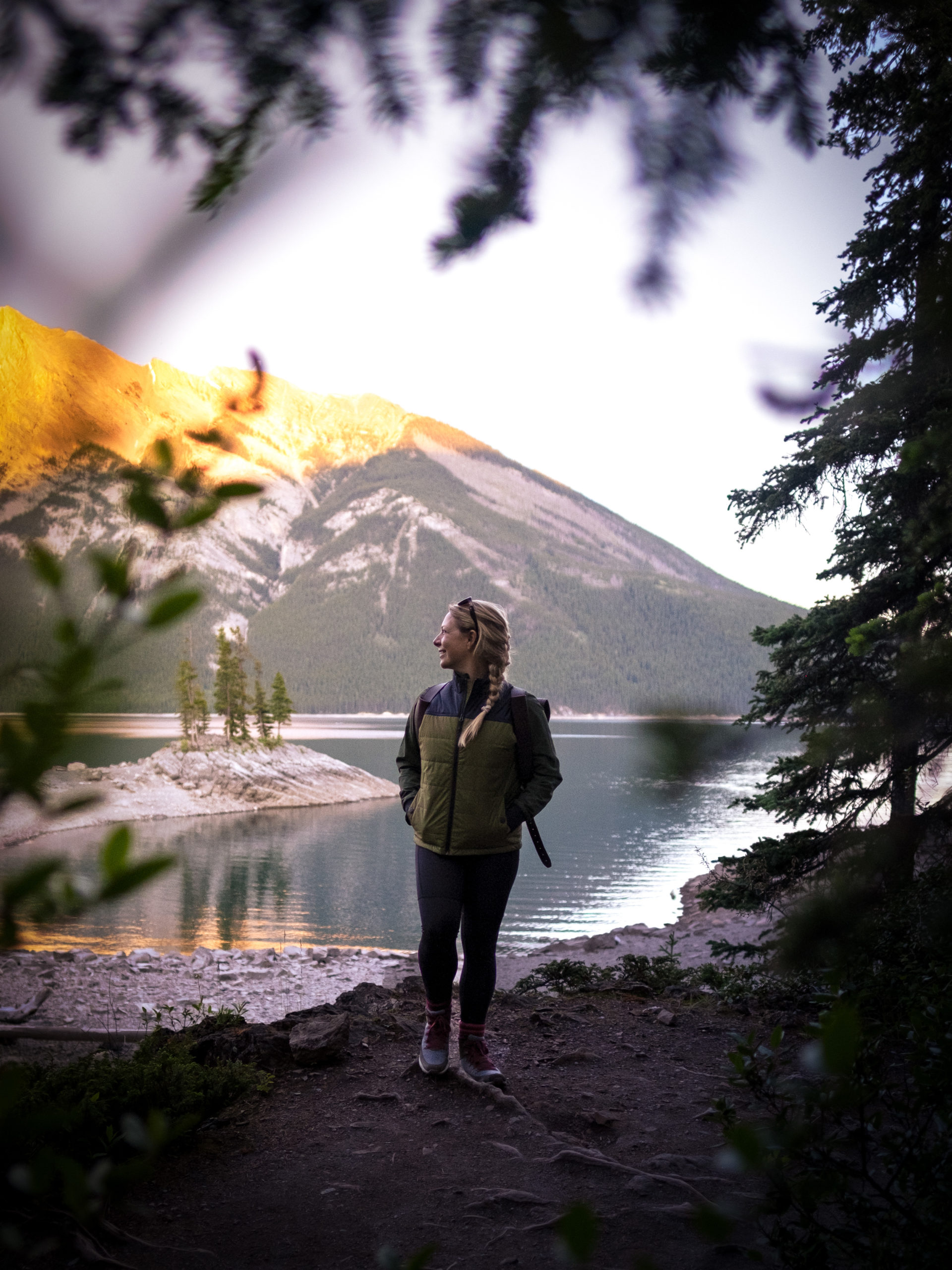 The Lake Minnewanka lakeside trail follows Lake Minnewanka from the parking area for about 8km and back. It has some elevation gain and decline and provides fantastic views of the lake. It's a popular trail though, especially in July and August. To beat the crowds head there in June. If you are into trail running, the lakeside trail is a popular trail run!
---
Can You Bike Around Lake Minnewanka?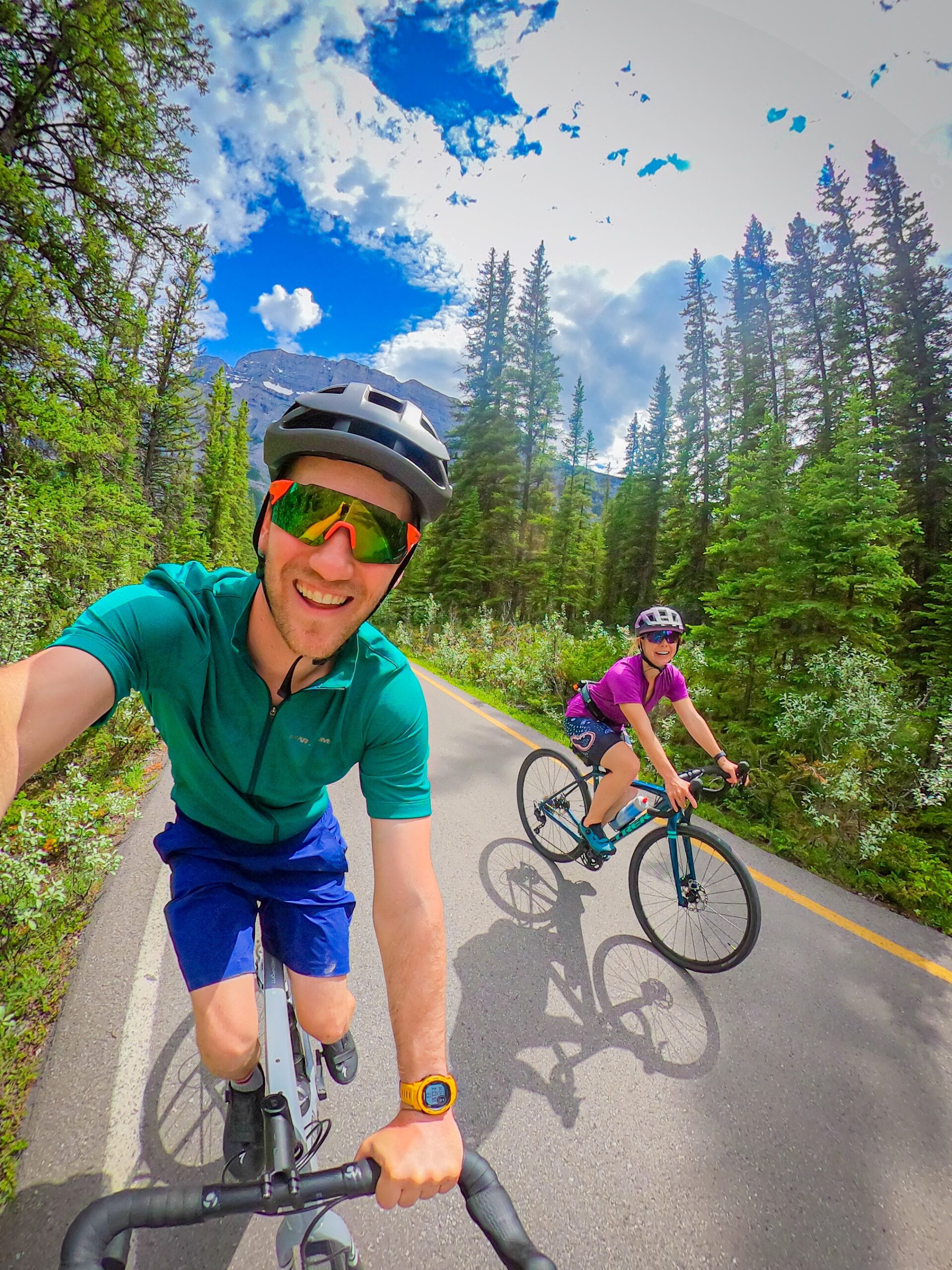 The Lake Minnewanka Loop ride is a beautiful paved ride that turns off from the Legacy Trail in Banff and follows the road past Two Jack Lake and up to Lake Minnewanka and back to the town of Banff, Cascade Ponds, or wherever you decided to park. No matter which way you take the loop you are in for some elevation gain (around 175 m). You can detour to Johnston Lake for some extra mileage as well.
It's a wonderful ride that I absolutely love completing on a nice summer day.
You can also mountain bike on the Minnewanka Lakeside Trail, but this option typically closes to bikes around June 15th. It's a moderate mountain bike trail with plenty of challenging ups and downs, but nothing too technical.
---
Can You Ice Skate on Lake Minnewanka in the Winter?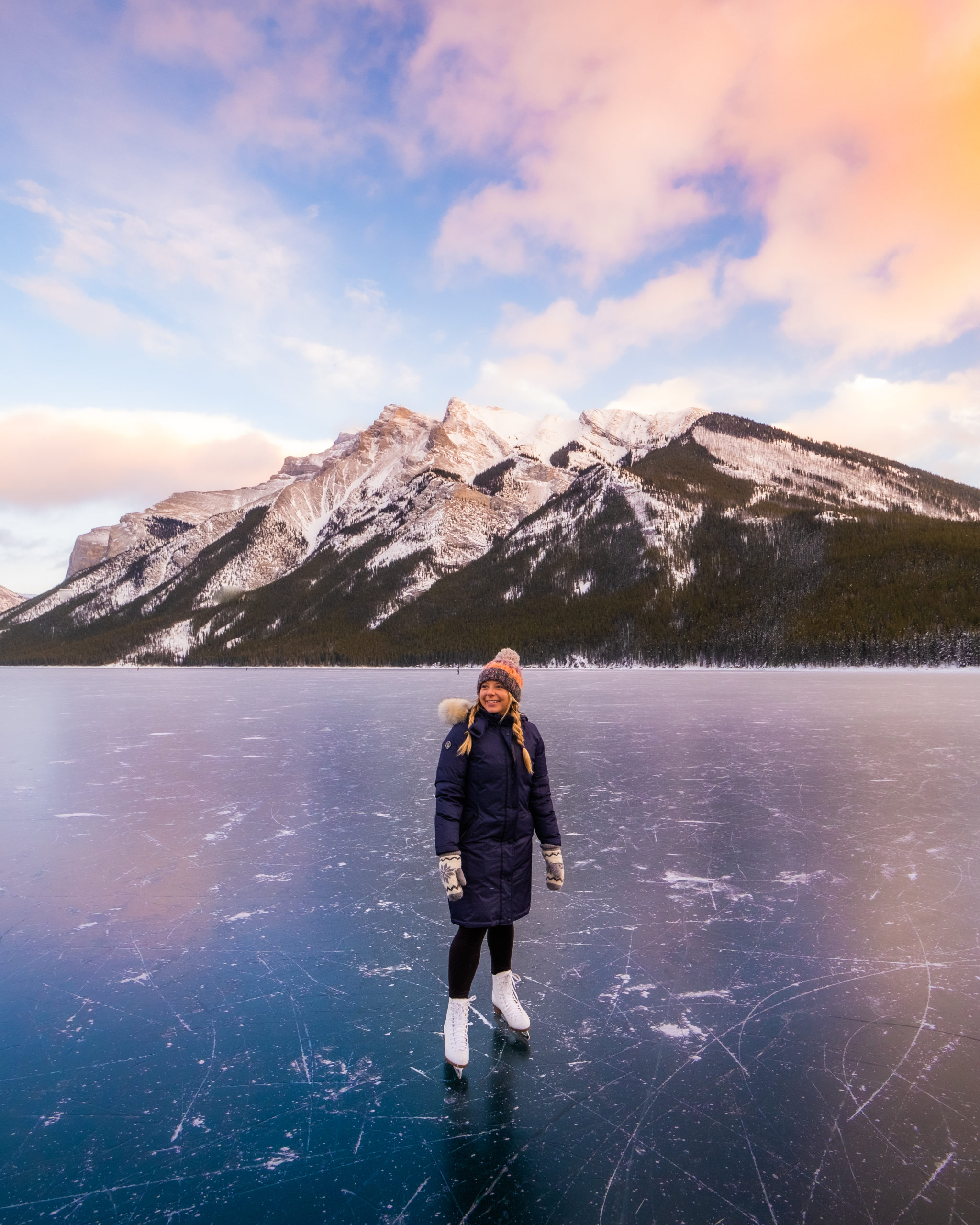 If you're in Banff around Christmas time or the New Year make sure to keep an eye on Lake Minnewanka as it typically freezes over enough to ice skate during this time.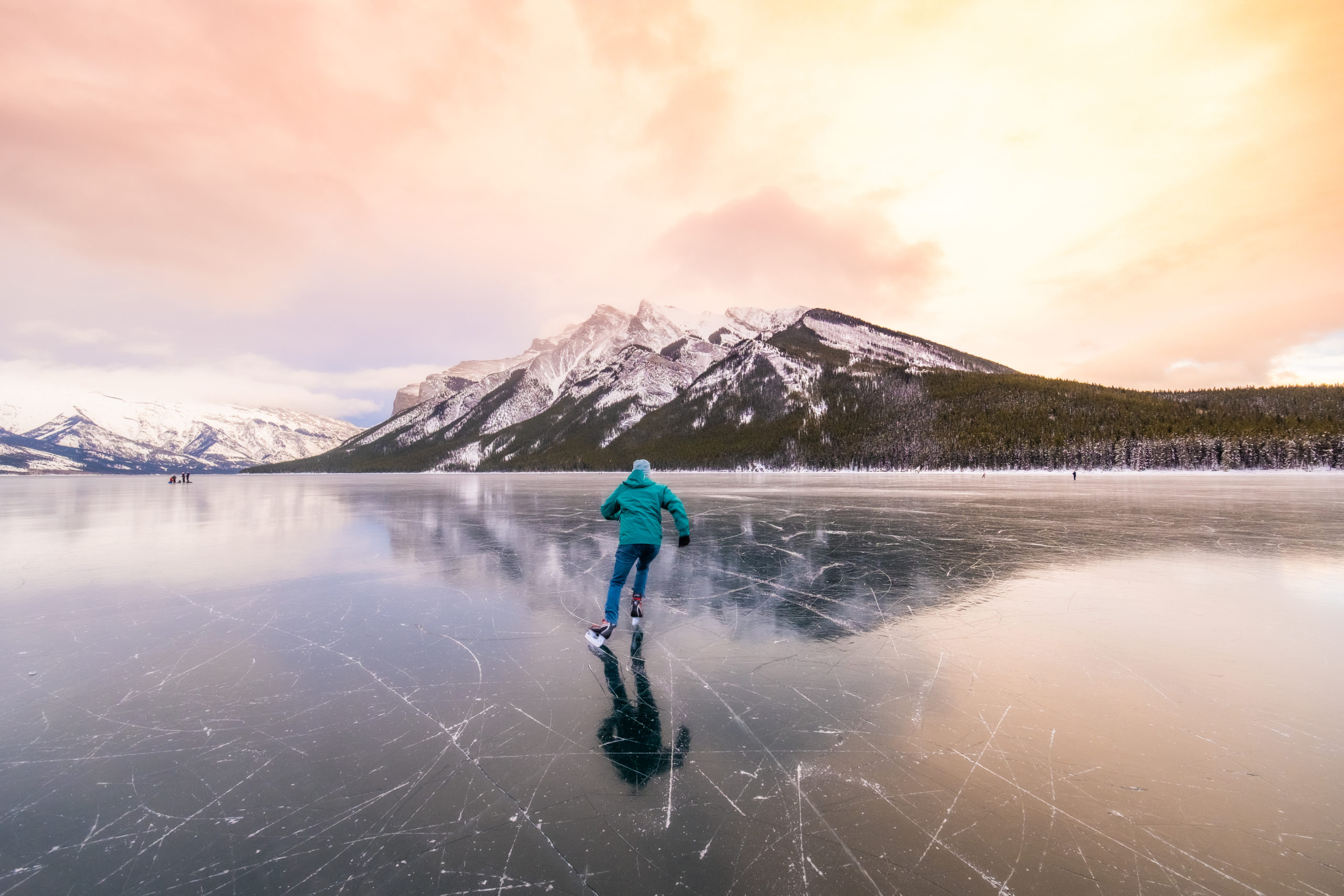 This is before snow builds up on the frozen lake surface so you can skate. The entire surface looks like a piece of glass and you can skate the whole width of the lake which means going for nearly 2km in one direction.
The most common sight of Lake Minnewanka in winter is a snowbound and frozen landscape. You can still walk along the edge near the boat dock and it makes for a pretty spectacular sight.
---
Can You See the Northern Lights at Lake Minnewanka?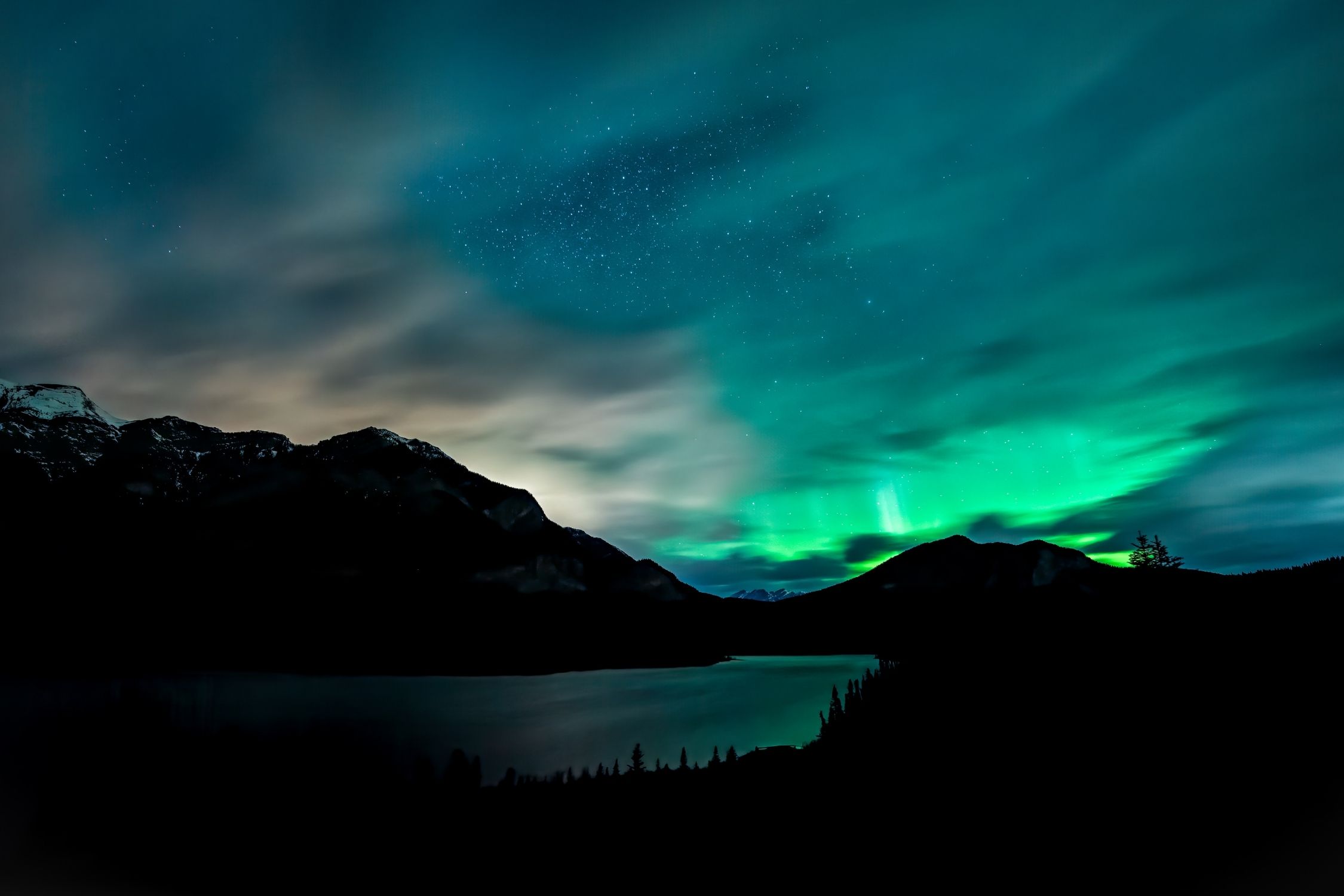 When the Northern Lights are on display in Banff one of the most popular places to try and see them is Lake Minnewanka. It's the perfect location away from town so that you don't get much light pollution. In the dead of winter in Banff, Lake Minnewanka is incredibly dark. It's a great spot for star gazing as well!
---
What are the Holidays at Lake Minnewanka?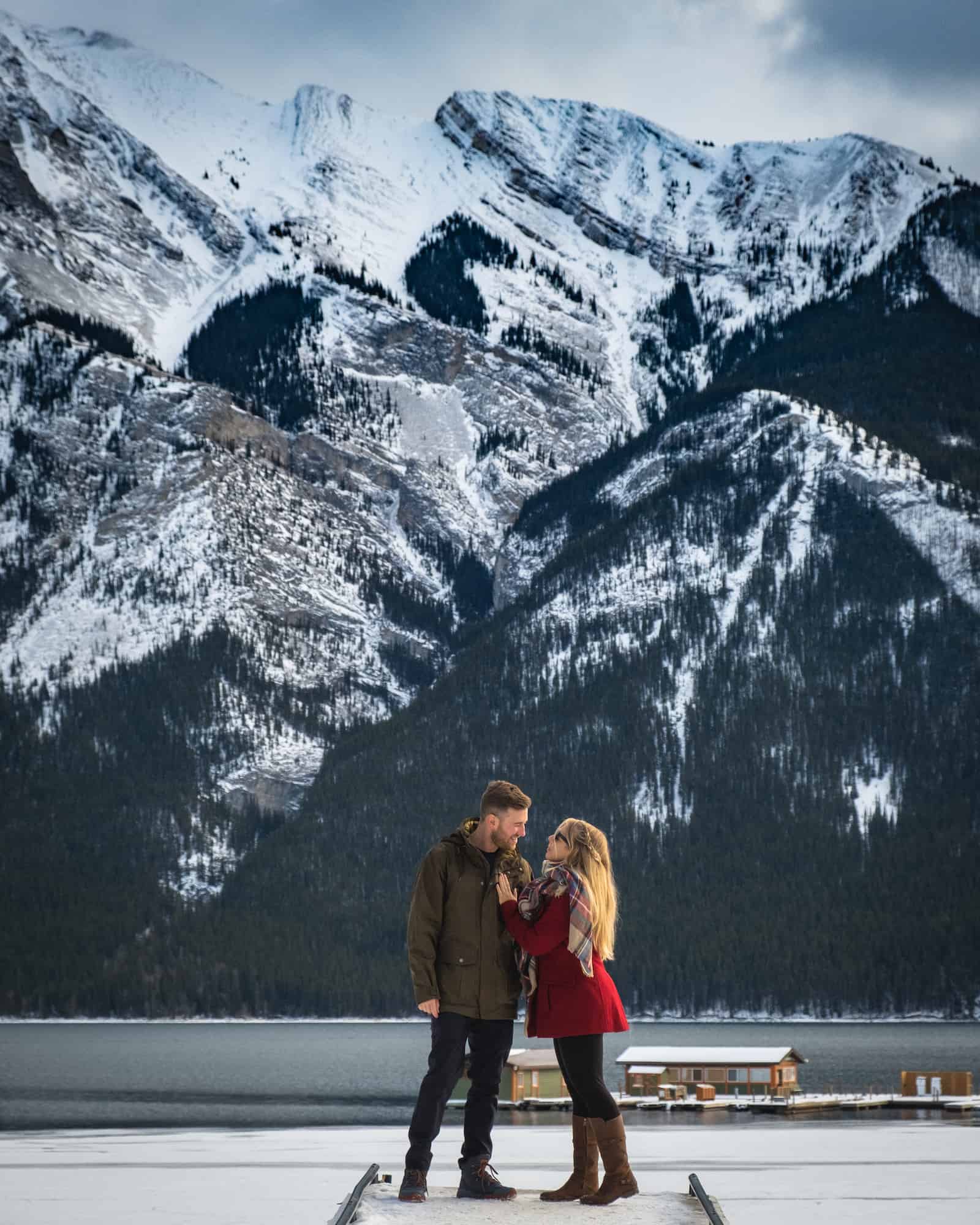 Lake Minnewanka is always busy in the summer, but you should take note of the following holidays as it's even busier. It's really packed on Canada Day when everyone heads to the picnic area for a BBQ in the park. Canada Day at Lake Minnewanka is always when I see the most trash thrown about.
If you're going to recreate in Banff it's important to Leave No Trace and dispose of your garbage properly and never leave trash behind. There are plenty of bear-proof dumpsters at Lake Minnewanka so there is absolutely no excuse to litter.
Victoria Day Long Weekend – 1st Monday of May.
Canada Day – July 1st
Heritage Day Weekend – 1st Monday of August.
Labour Day Weekend – 1st Monday of September.
---
Other Great Lakes in Banff to Visit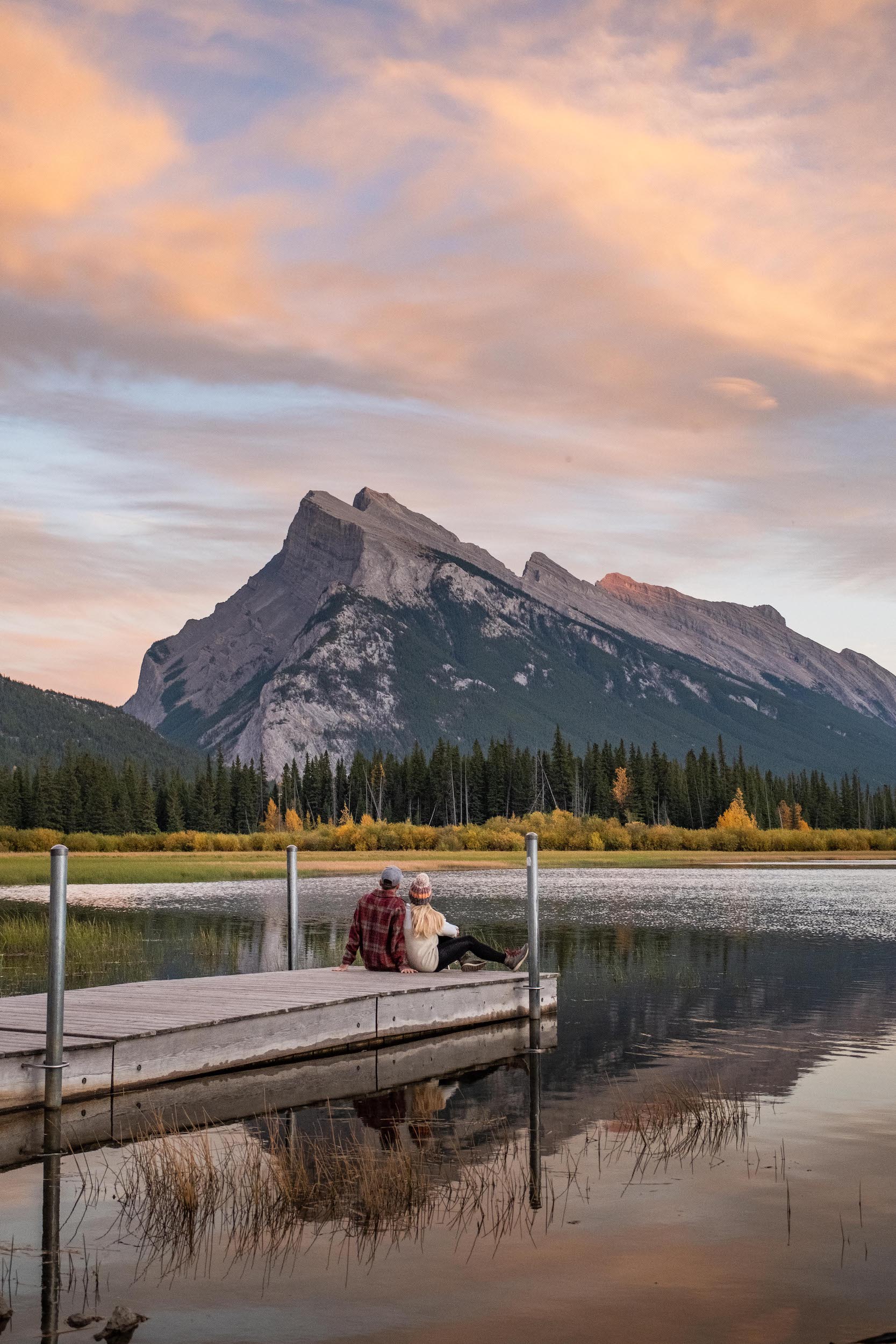 Of course, there are so many other lakes to visit after Lake Minnewanka. Two Jack Lake is right down the road, as well as Johnson and Vermilion. See all the best lakes in Banff broken down here.
↓ Join the community ↓
The Banff Blog Facebook Group is your headquarters for the Canadian Rockies travel advice and information. Including hike info and off-season travel information. This is also a place where you can meet one another when you need adventure buddies.