We love biking in Banff, and there are some fantastic Canmore bike trails. You'll often find us out on the mountain bike trails or zipping around the park on our gravel bikes. There are some fantastic bike rides around the town, exciting trails, and breathtaking scenic routes. In this post, we cover the best trails and roads and where to rent a bike.
I've broken the best routes and trails into three sections for the various kinds of riders that plan to bike in Banff and those searching for Canmore bike trails too. The first is for mountain bikers, then cyclists on road bikes or gravel bikes, and last for those after some leisurely Banff bike trails.
---
Where To Rent A Bike?
---
Where to Rent A Bike In Banff?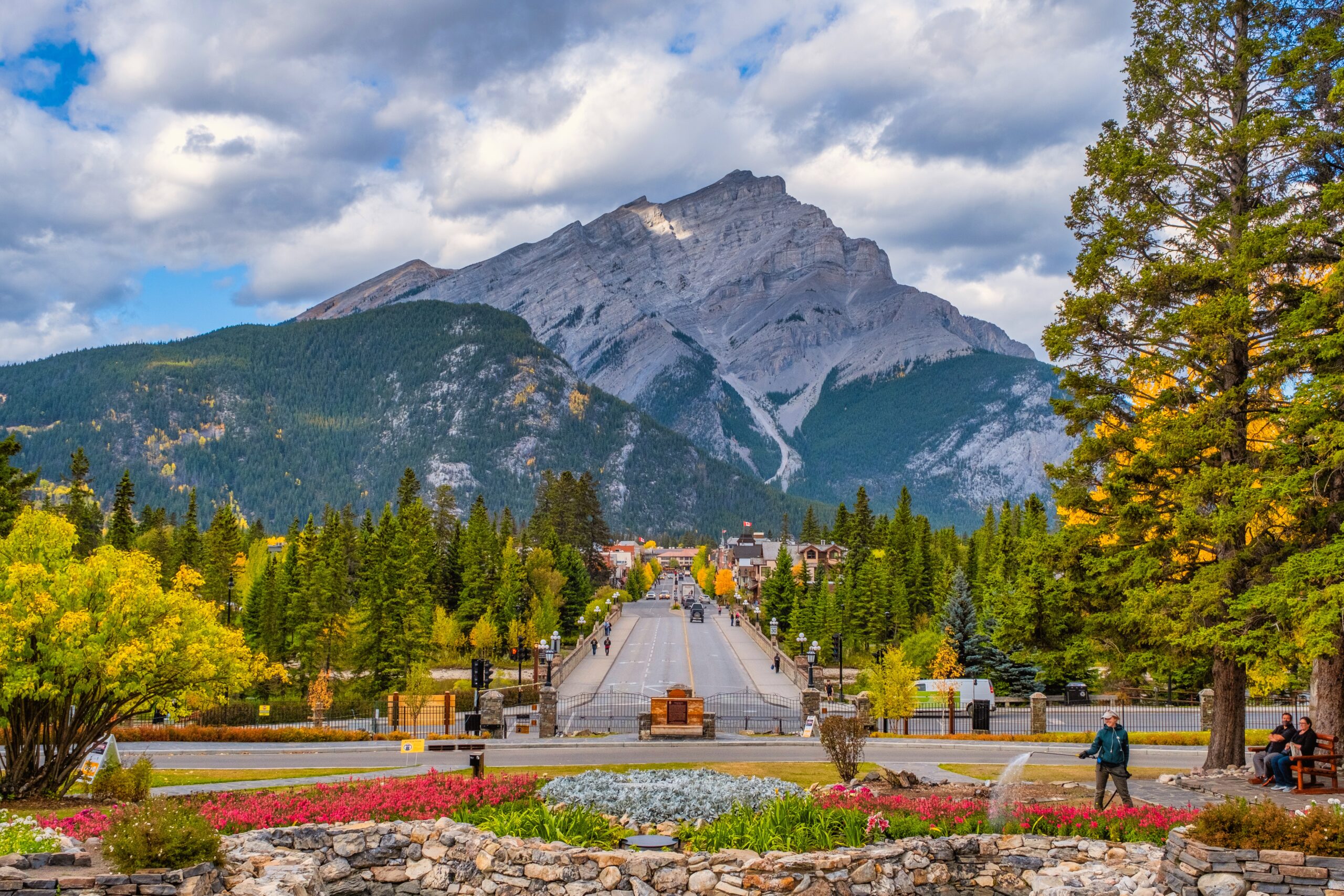 ---
Where To Rent A Bike In Canmore?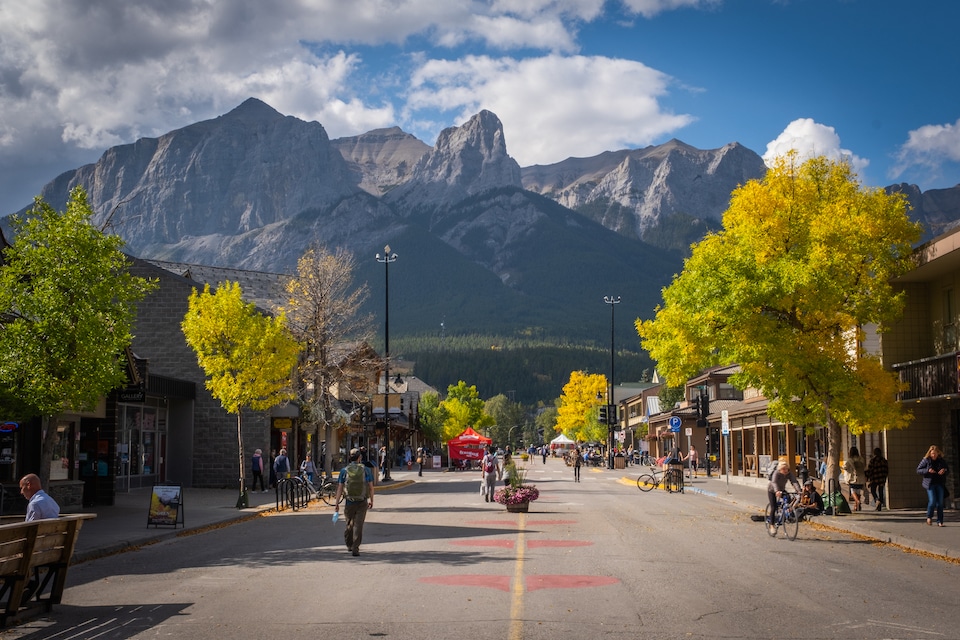 ---
Best Mountain Biking Trails
If there is one thing that Banff lacks it's decent mountain bike trails when compared to much of Western Canada. Of course, its location in a national park does hinder the ability to maintain and develop new trails.
That being said there is a decent network of trails worth exploring if you love to mountain bike. The area skews towards technical cross country trails with a few around tunnel mountain that offers a bit of downhill flow.
---
Star Wars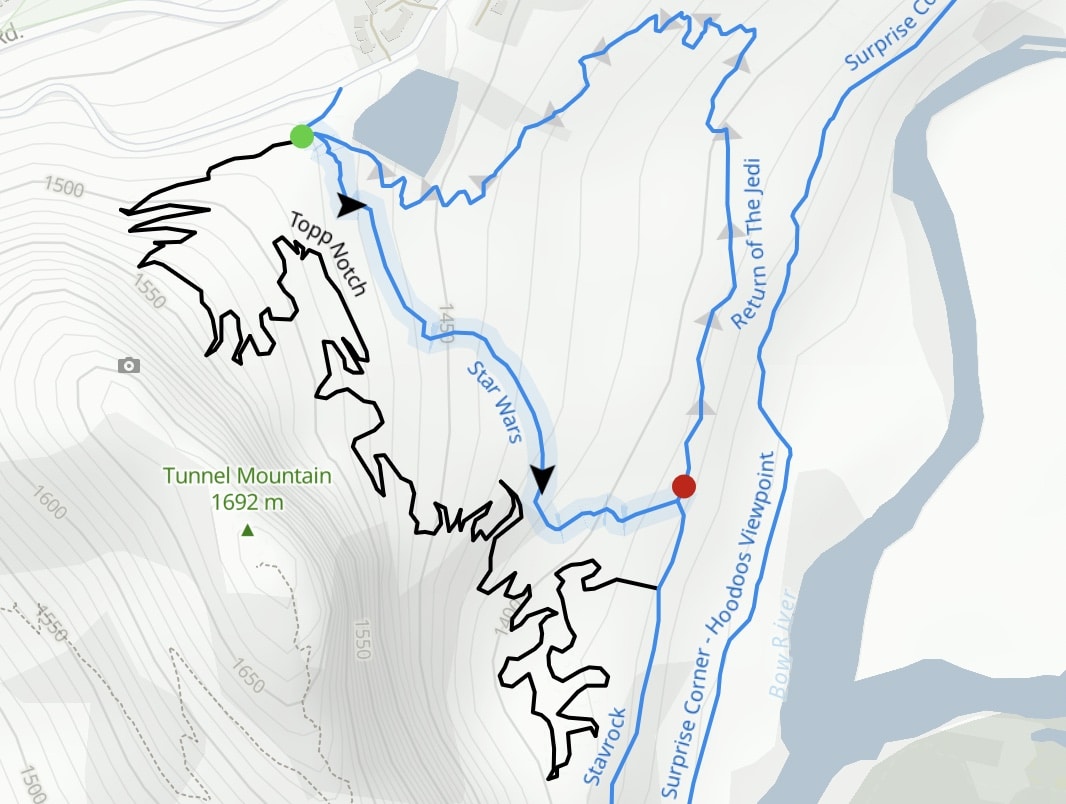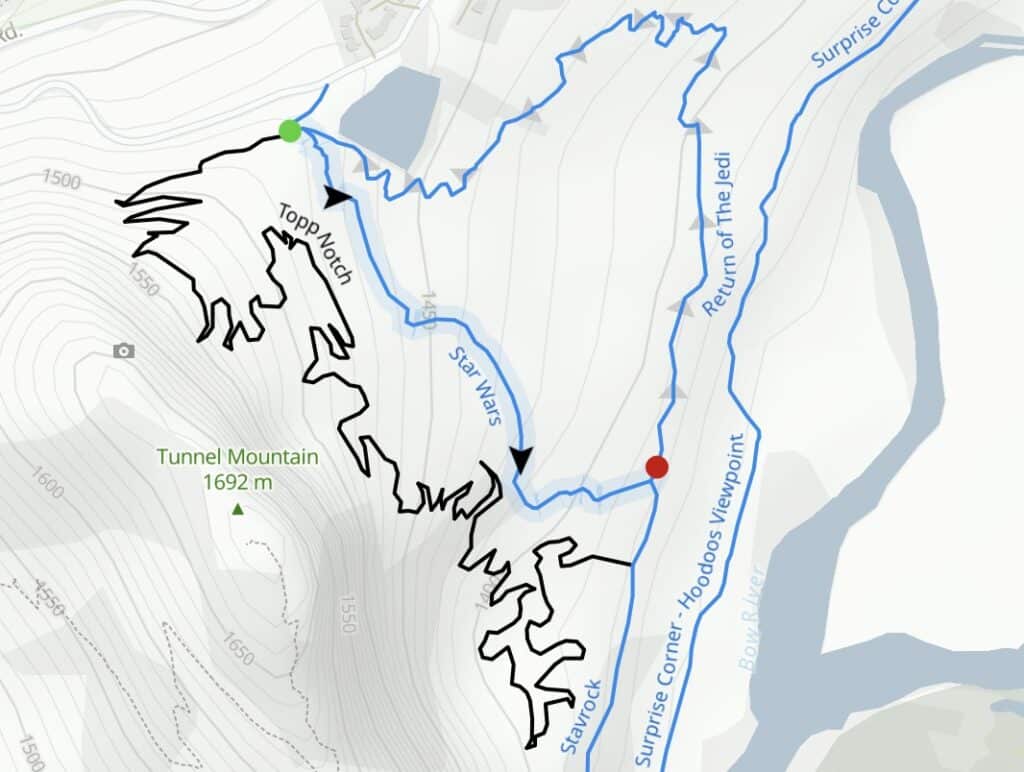 Difficulty: Intermediate | Style: Cross-Country/Downhill | Link: Trailforks
Star Wars is the closest thing to a proper mountain bike trail with some flow in Banff. It's fast and loose with some decent berms and technical features that offer a nice challenge. Most notable of the features are several drops and a pretty impressive wallride.
It's a great trail, but the loose track makes it tough to gain too much speed. I wouldn't advise hardcore mountain bikers to make a trip out of biking this trail, but it's pretty enjoyable for a town not known for mountain biking.
It's an easy trail to lap as an easy climbing trail called "Return of the Jedi" takes you right back to the start. If I'm in Banff on my bike I'll usually take a lap or two on this trail.
---
Topp Notch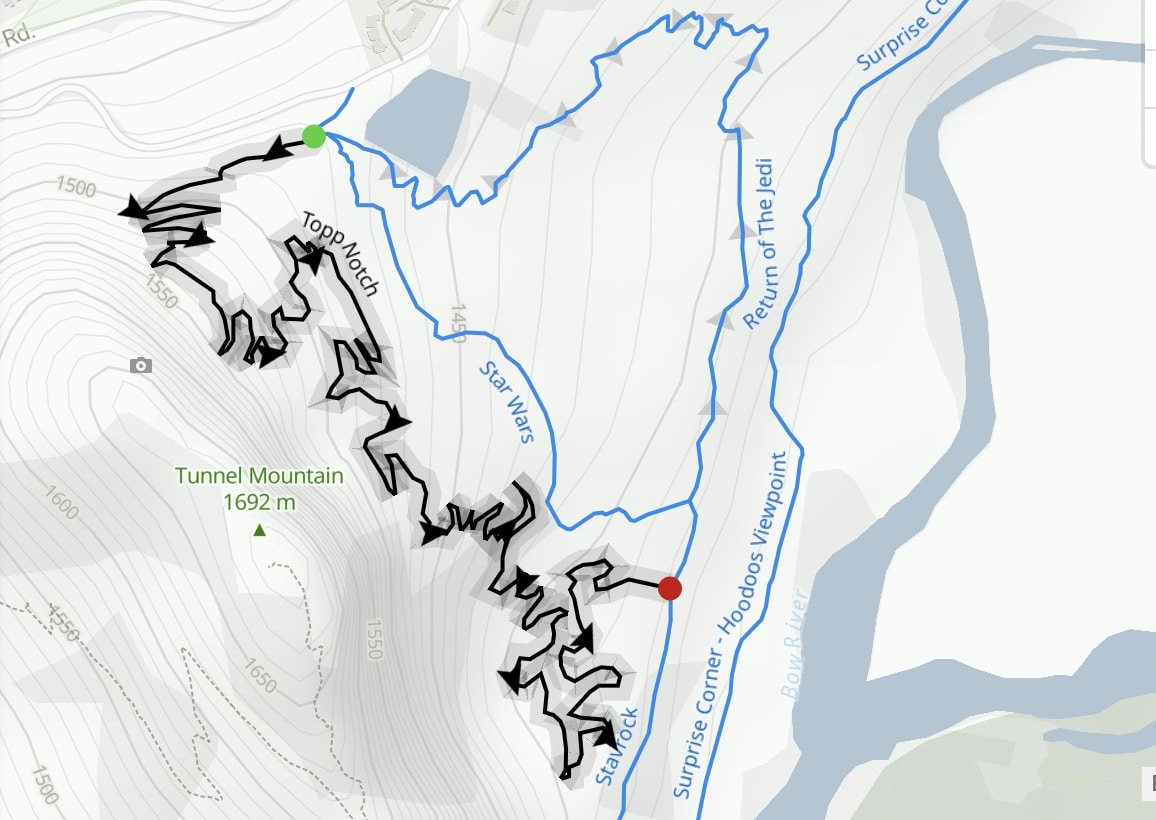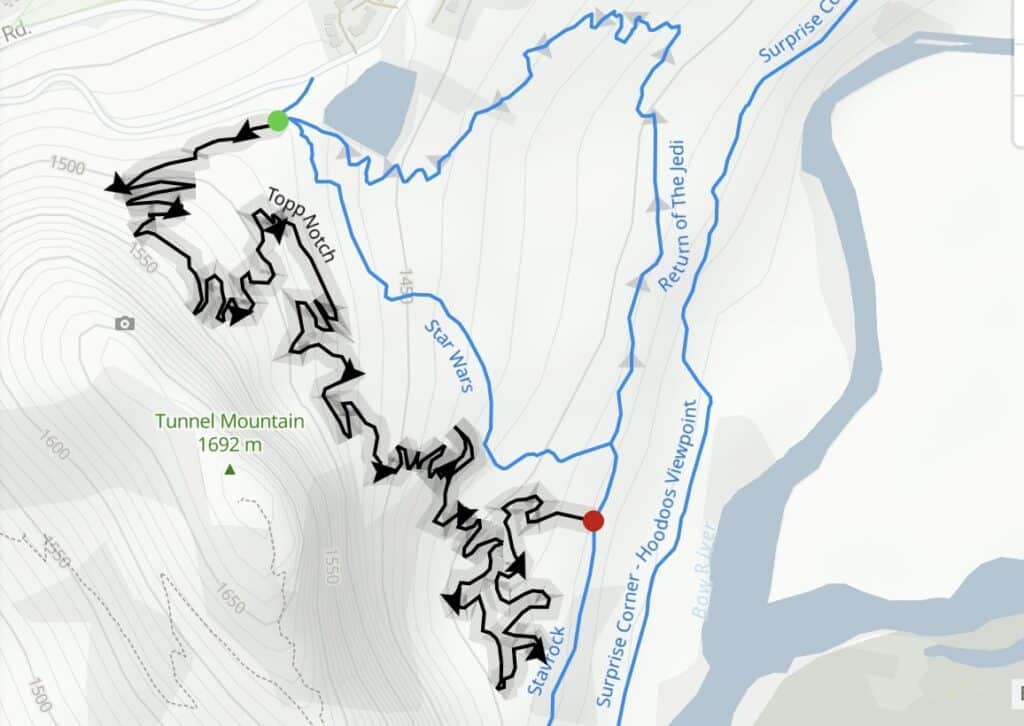 Difficulty: Expert | Style: Cross-Country/Downhill | Link: Trailforks
This is one of the best Banff bike trails that's black and has a little bit of everything to offer bikers. Like Star Wars, it features some excellent technical features and a nice flow.
However, the trail has steeper sections, punchy climbs, exciting woodwork, and technical sections. It has an easy squirrel catcher right at the start, and for a black, this trail is far from hair raising. That being said the local trail association did a tremendous job with an interesting trail layout and woodwork
---
Upper/Lower Stoney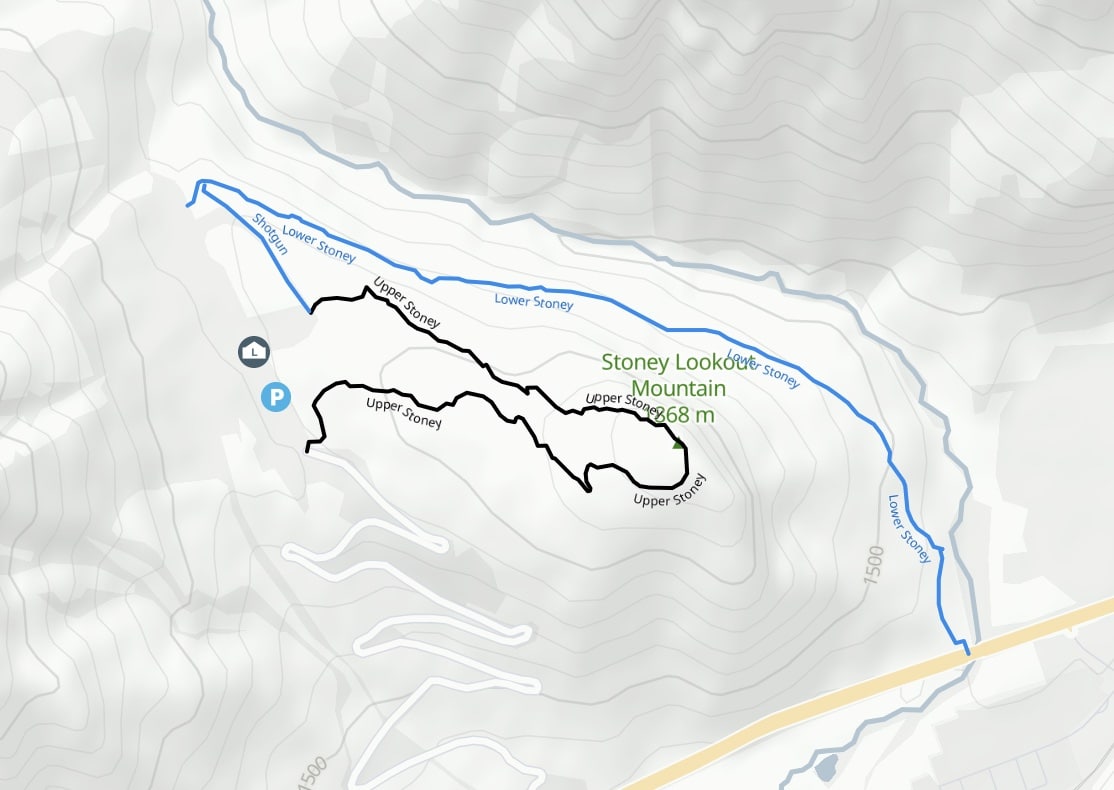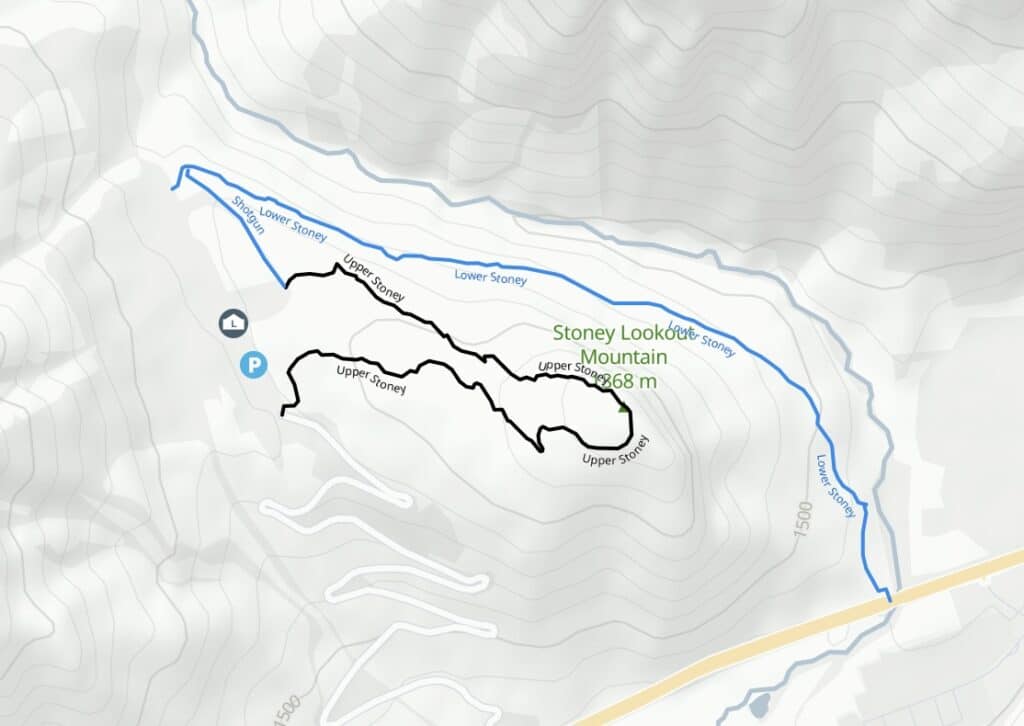 Difficulty: Intermediate/Expert | Style: Cross-Country/Downhill | Link: Trailforks
The Upper Stoney and Lower Stoney loop are great little circuits right by the Mt. Norquay Ski Resort. Upper Stoney is a tough climb up to the summit of Stoney Squaw Mountain. It's a technical, tight, and rough climb with brief moments of exposure and some punchy steep climbs.
After the challenging cardio workout up Upper Stoney, you can enjoy the longest downhill in Banff. It's fast and flows well with minimal pedaling. Keep an eye out for wildlife and hikers on the descent. Lower Stoney arrives at a wildlife gate and requires a short five-minute pedal along the highway back to Mt. Norquay Road.
The big negative to this trail is the access to the start of the trail. It starts from the Mt. Norquay parking lot so it requires a car drop-off or a climb up the Norquay road.
---
Minnewanka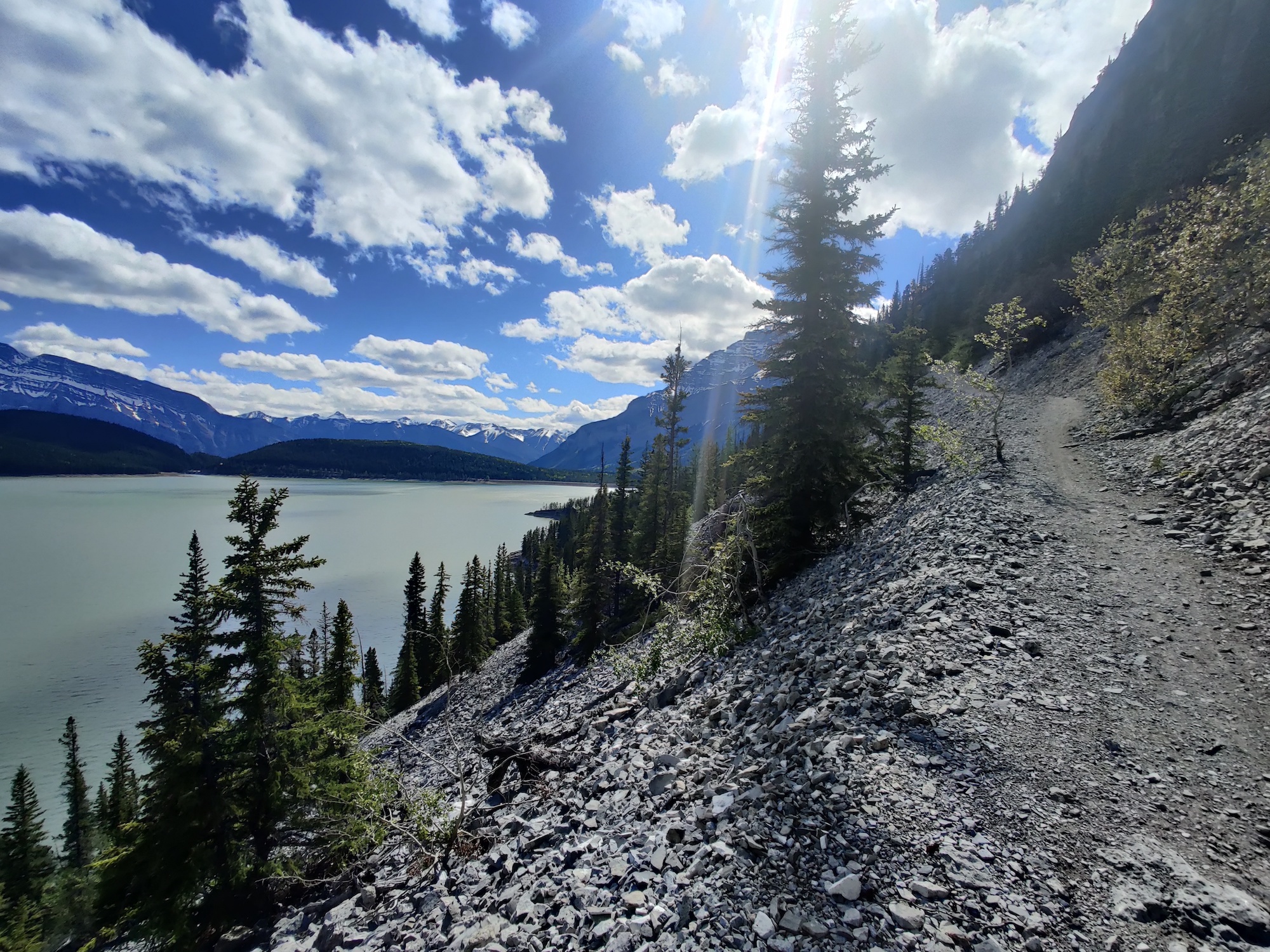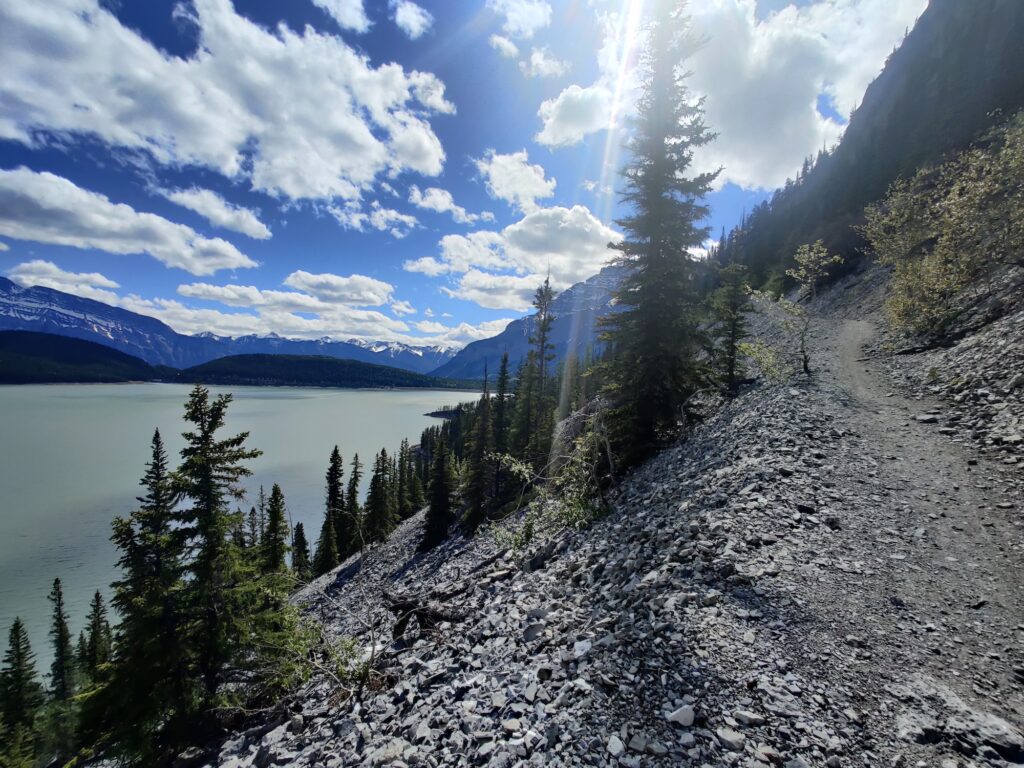 Difficulty: Intermediate | Style: Cross-Country | Link: Trailforks
If you're looking for a great cross-country trail, follow the rocky route along the side of the largest lake in Banff National Park. Initially, it's a short, strenuous climb, but the course goes up and down along the lakeshore.
You'll cross a large number of hikers on the first kilometer or two as they make their way to Stewart Canyon. However, after the bridge, it's smooth sailing with a relatively quiet trail. Views across Lake Minnewanka are stunning and it's a great workout.
There is a seasonal closure in effect during the peak summer months, so you'll have to time it early in the season. It's popular to do this in the winter, and you can bike on certain sections of the lake once it freezes over.
---
Bow Falls/Hoodoos Trail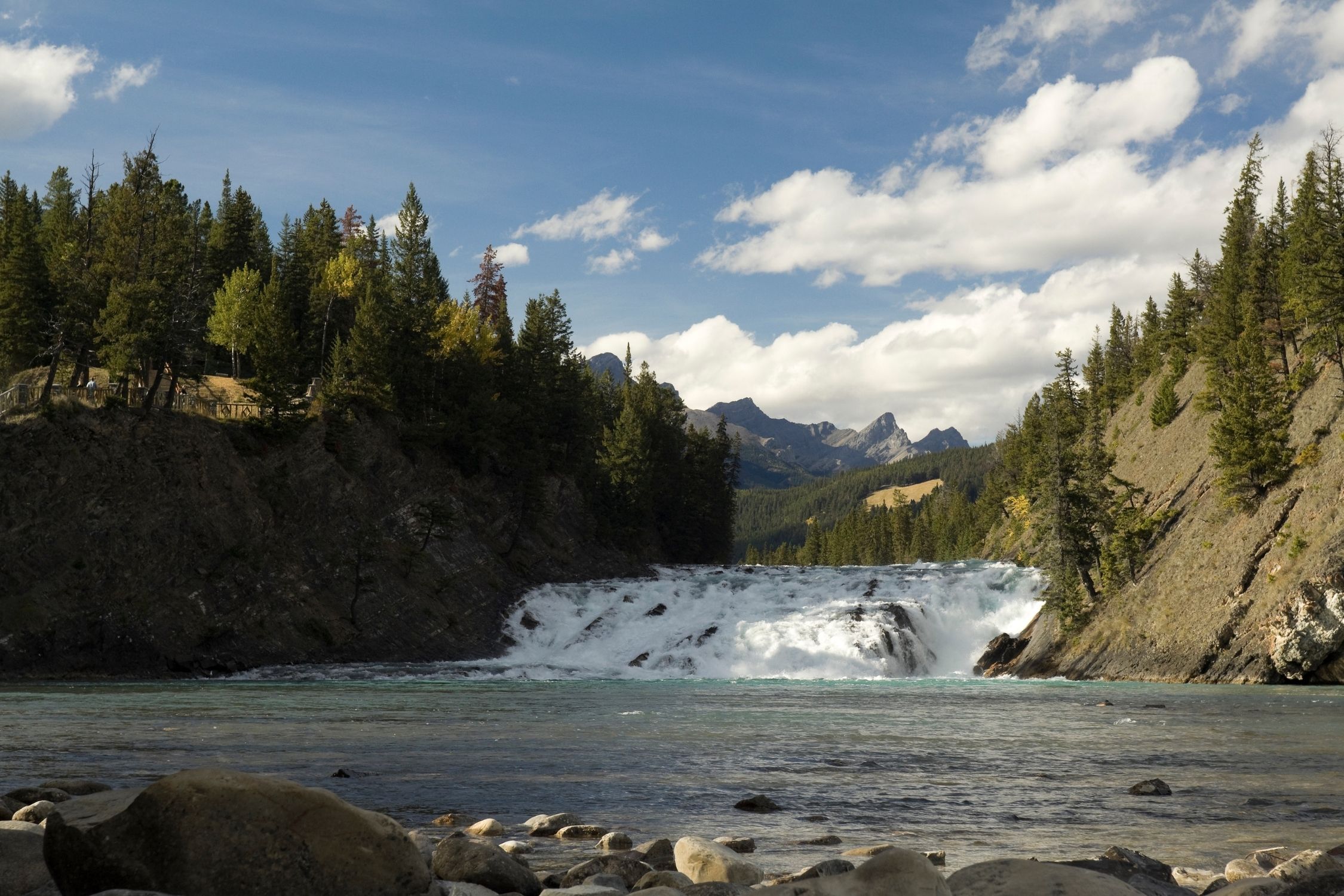 Difficulty: Easy | Style: Cross-Country | Link: Trailforks
Bike out to the Hoodoos Trail on singletrack. It starts at Bow Falls and heads out to the second Tunnel Mountain Parking Lot. It's an easy trail that feels appropriate for all skill levels.
The trail is a wide hiking trail/mountain biking trail that climbs and descends several easy trails. There are some roots and rocks to contend with if you're not a super confident mountain biker as this is more a cross country style trail.
---
Cascade Trail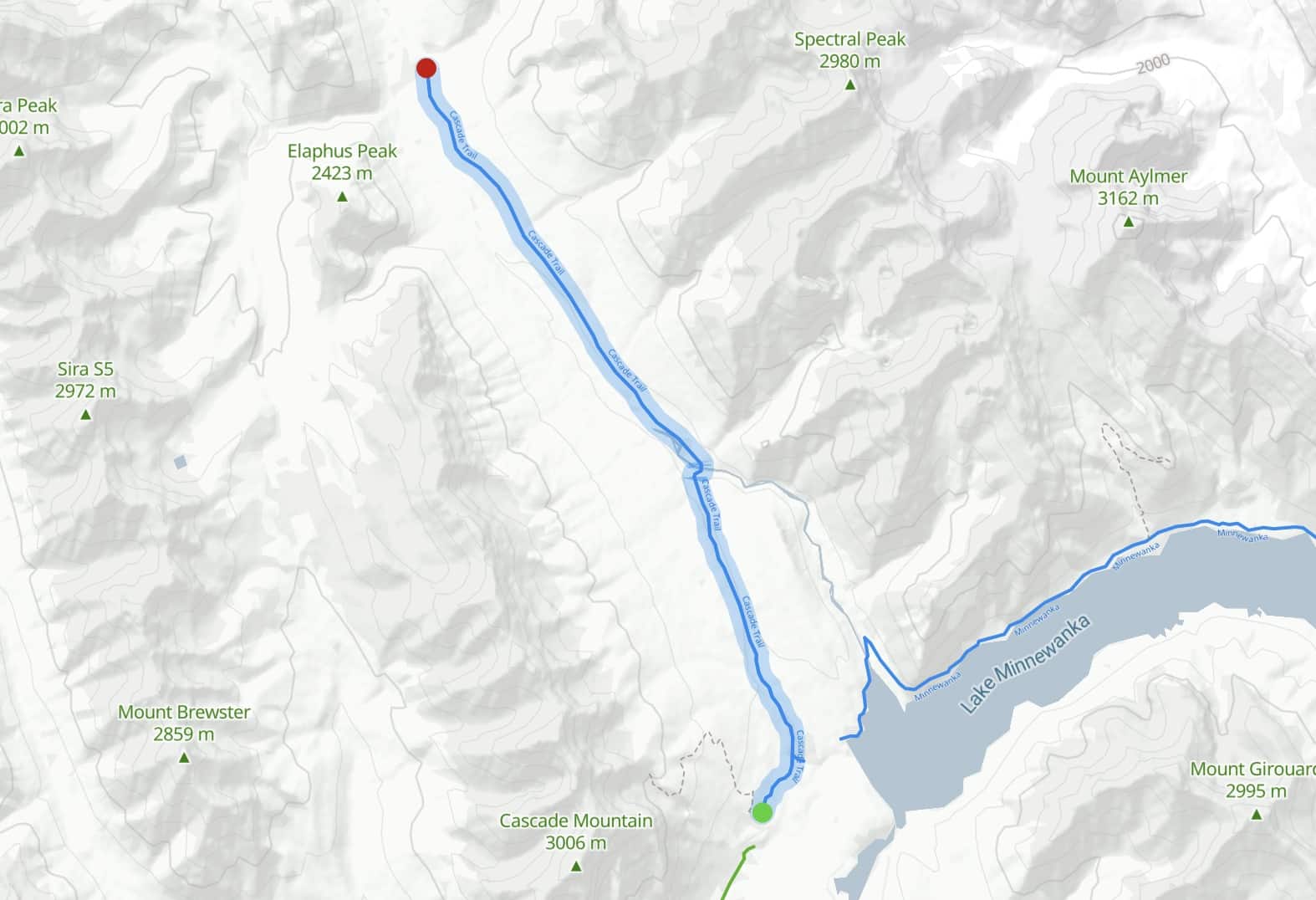 Difficulty: Moderate | Style: Cross-Country | Link: Trailforks
This is a fantastic journey if you're after a backcountry adventure on a mountain bike. It's an out and back trail that follows an old service road through the Cascade Valley.
It's a seldom-visited section of the park, and it's entirely possible to find no one else on the road. Since this one is pretty remote, bikers should be prepared for the wilderness and keep an eye for bears as it prime grizzly habitat.
---
Goat Creek/Spray Valley (Canmore to Banff Bike Trail)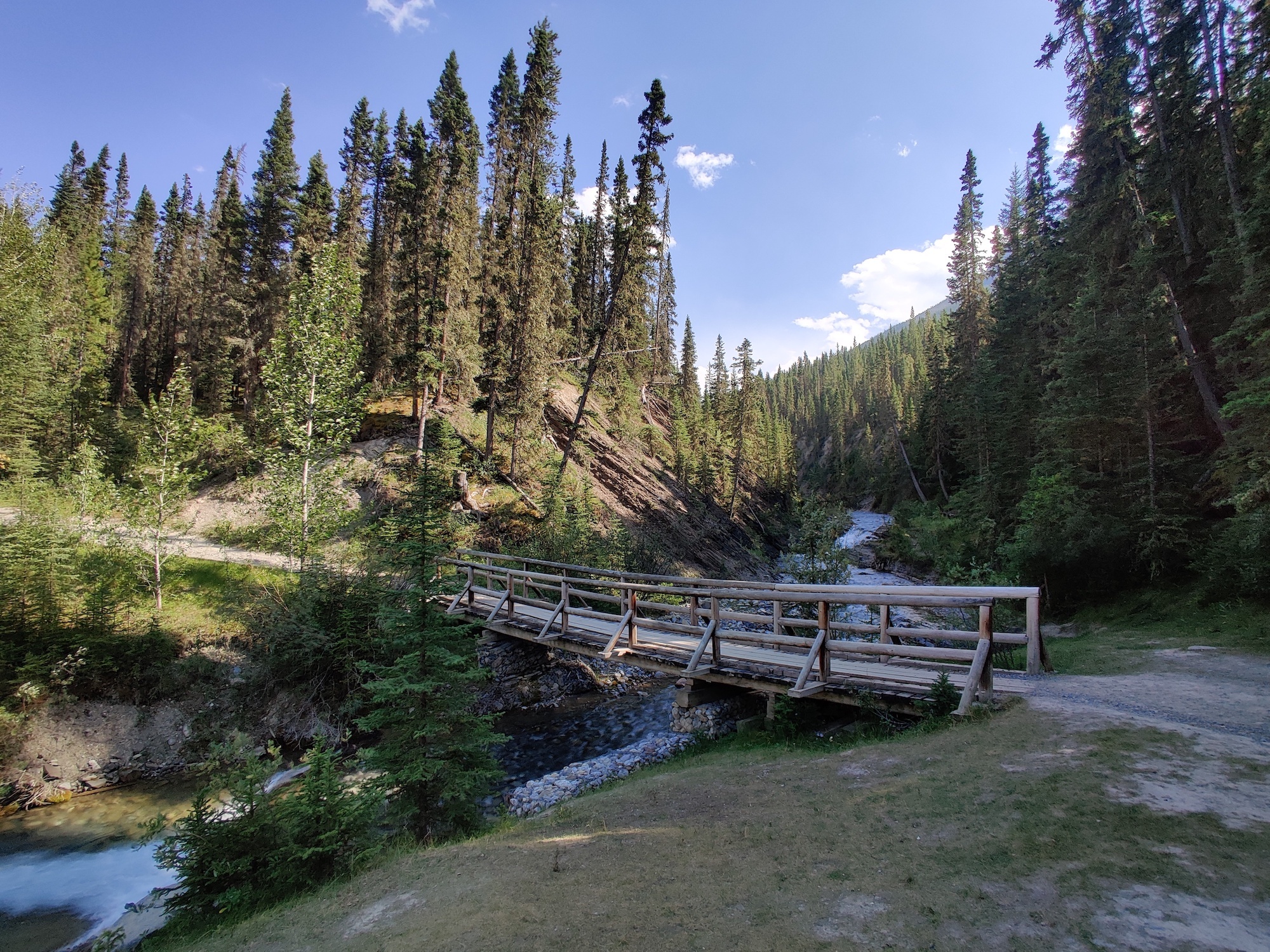 Difficulty: Moderate | Style: Cross-Country | Link: Trailforks
This is an old service road that offers a double-track up Goat Creek. It can be done in both directions or as an out and back trail from Banff. However, the route up the creek from Banff is a continuous uphill climb, nothing steep, but it does gain a fair amount of elevation.
I've found it most enjoyable from the Goat Creek Parking lot off the Smith Dorrien Highway as the route is downhill and ends at the Banff Springs Hotel. It makes for a great fat bike trail in the winter too! It ends at the Banff Springs, so it's another bike ride perfect for a post-ride beer at the Waldhaus.
---
Rundle Riverside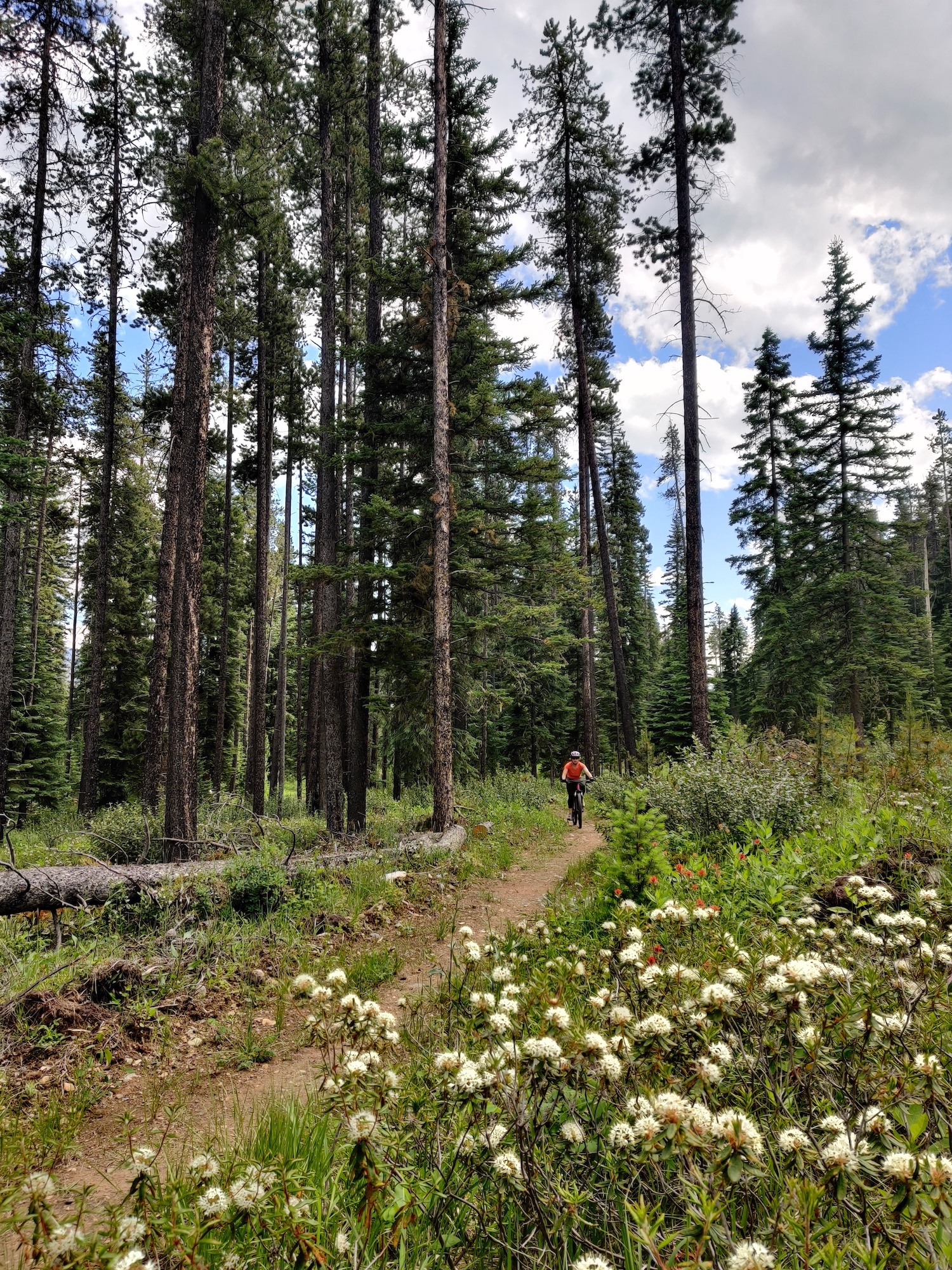 Difficulty: Moderate | Style: Cross-Country | Link: Trailforks
Roots, roots, and roots are the game's name on the Rundle Riverside trail that connects Canmore and Banff. The trail starts at the Canmore Nordic Centre and ends at the Banff Springs Golf Course — of course, it can be done in either direction.
It's a quiet trail that is seldom traveled and a great way for a long day out on the bike without any other distractions. You can link this up with Goat Creek for an epic and tough bike ride around Mount Rundle.
---
Best Canmore Bike Trails: Mountain Biking
---
Highline Trail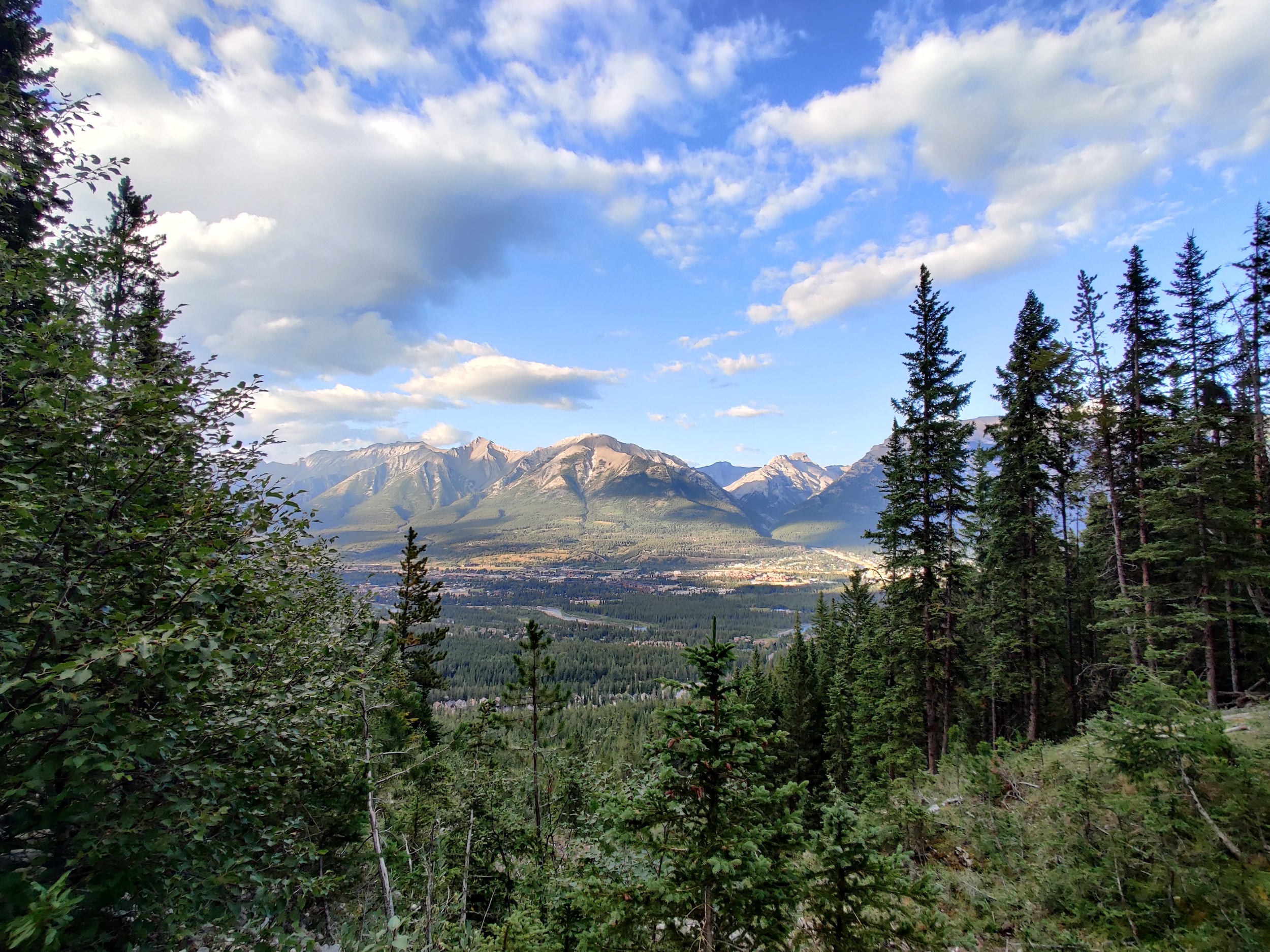 Difficulty: Moderate | Style: Cross-Country | Link: Trailforks
This is a classic trail in Canmore and perfect for a solid cardio workout. A well-maintained singletrack trail that offers some friendly technical challenges follows along the lower slopes of Mount Lawrence Grassi and Ha Ling Peak.
It's always been my go-to as we live at the start of one of the trailheads. You can climb the trail in any direction you see fit, but my favorite is from the Three Sister Neighborhood and descend to Quarry Lake. It's pretty difficult to climb, so fitness will be greatly appreciated.
---
Horseshoe Loop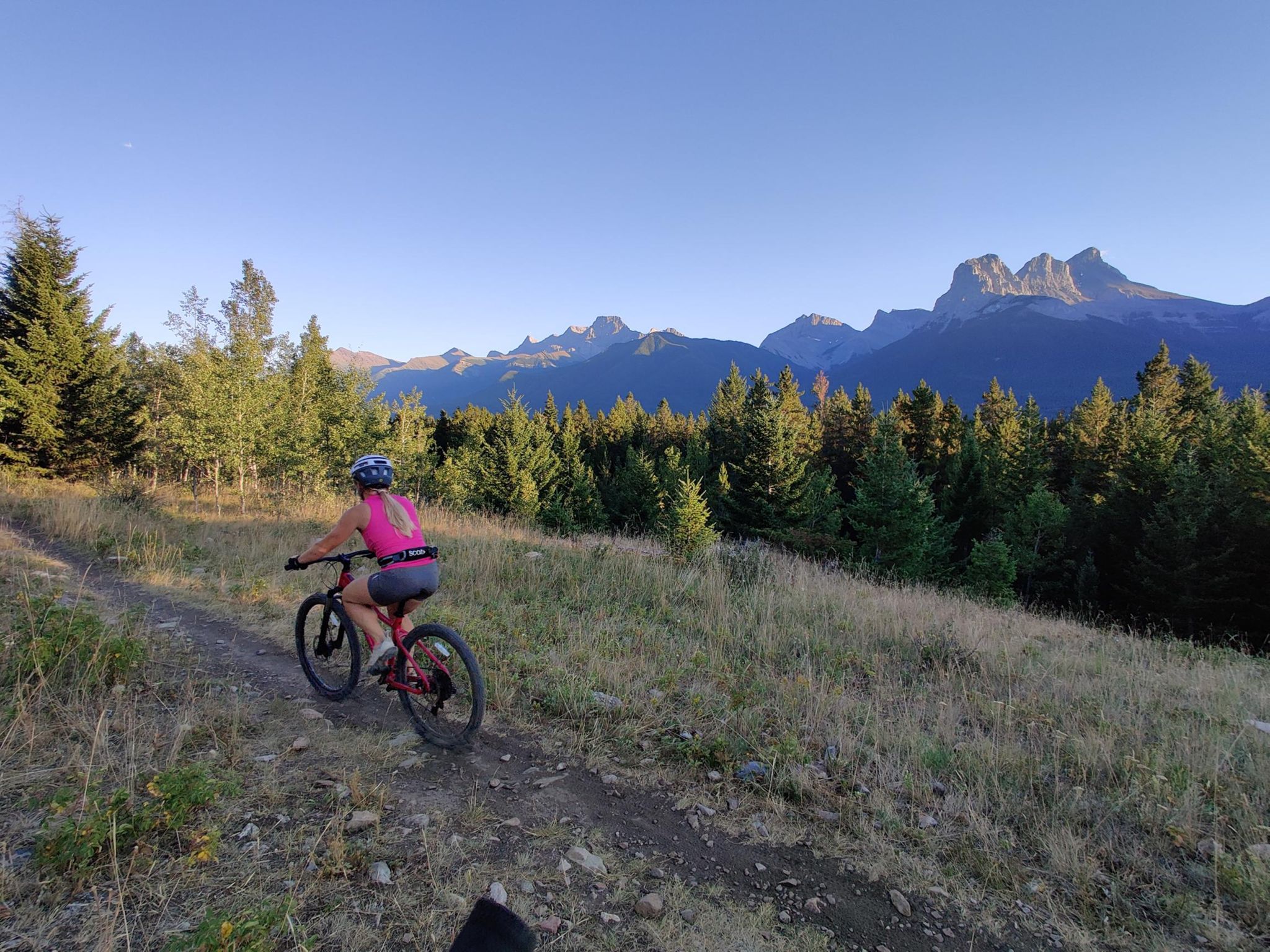 Difficulty: Moderate | Style: Cross-Country | Link: Trailforks
Located on the sunny side of Canmore and starts along Cougar Creek. It's an easy cross-country trail with plenty of roots and little elevation gain. The extended route is the most popular option as it has a steep gully, a bit more technical terrain, and some excellent views from a meadow of the Bow Valley.
Overall a quick and easy trail that can be done in an hour and some change. There isn't much of anything technical or standout with this trail, but you can some excellent views across the valley to the Three Sisters.
---
Razor's Edge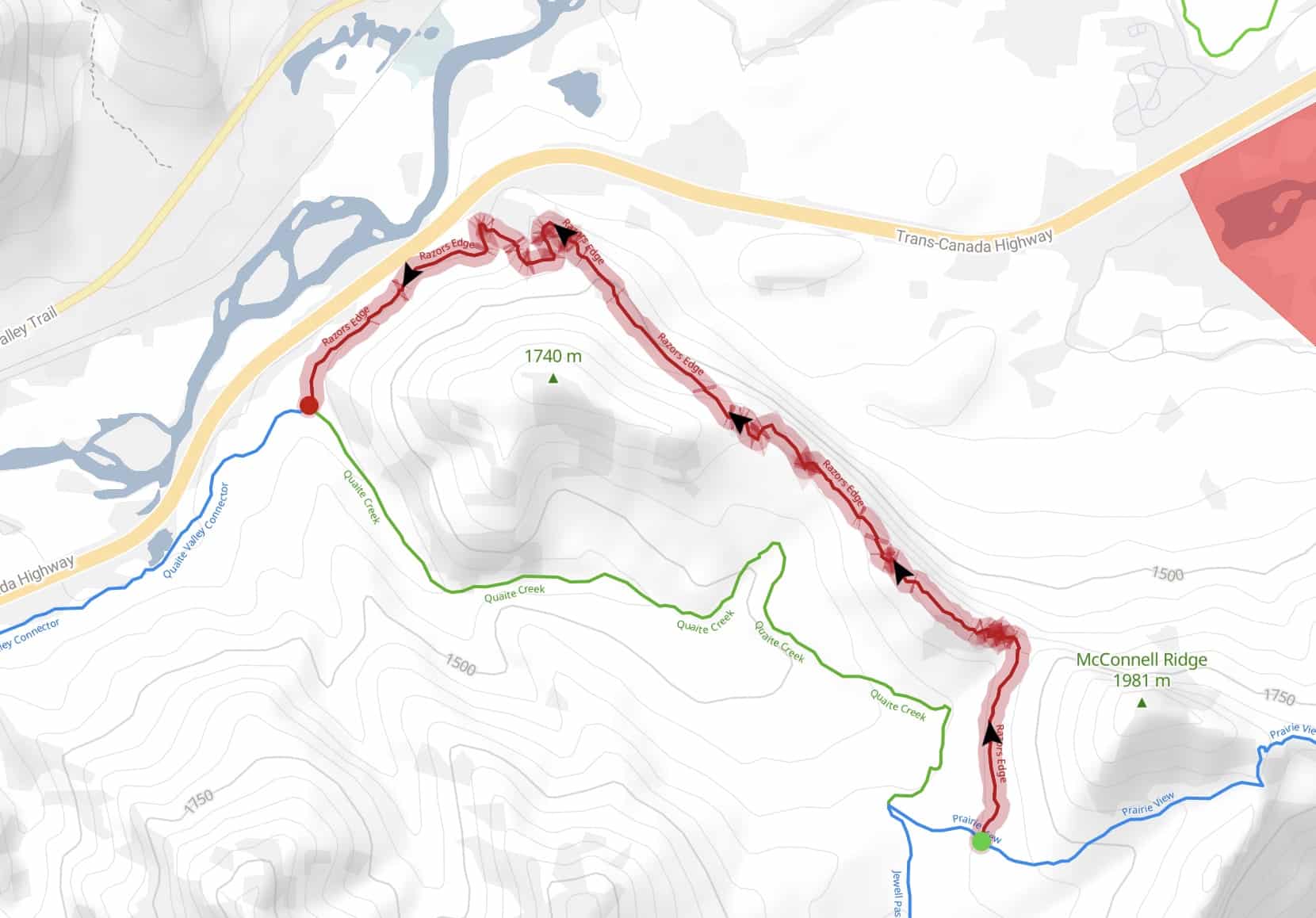 Difficulty: Pro-Line | Style: Techincal Downhill | Link: Trailforks
This is about extreme as it gets in the Bow Valley, and it's a pro-worthy route with highly technical sections, slabs, ridges, exposure, and steepness. It's arguably one of the best trails in the area. Any experienced mountain biker will want to give this trail a shot if they're passing through.
It's also a challenging climb with about 600 meters of elevation gain to access the entire route. Expect some stellar views of the Bow Valley and hair-raising thrills. This is a destination-worthy mountain bike route!
---
The Odyssey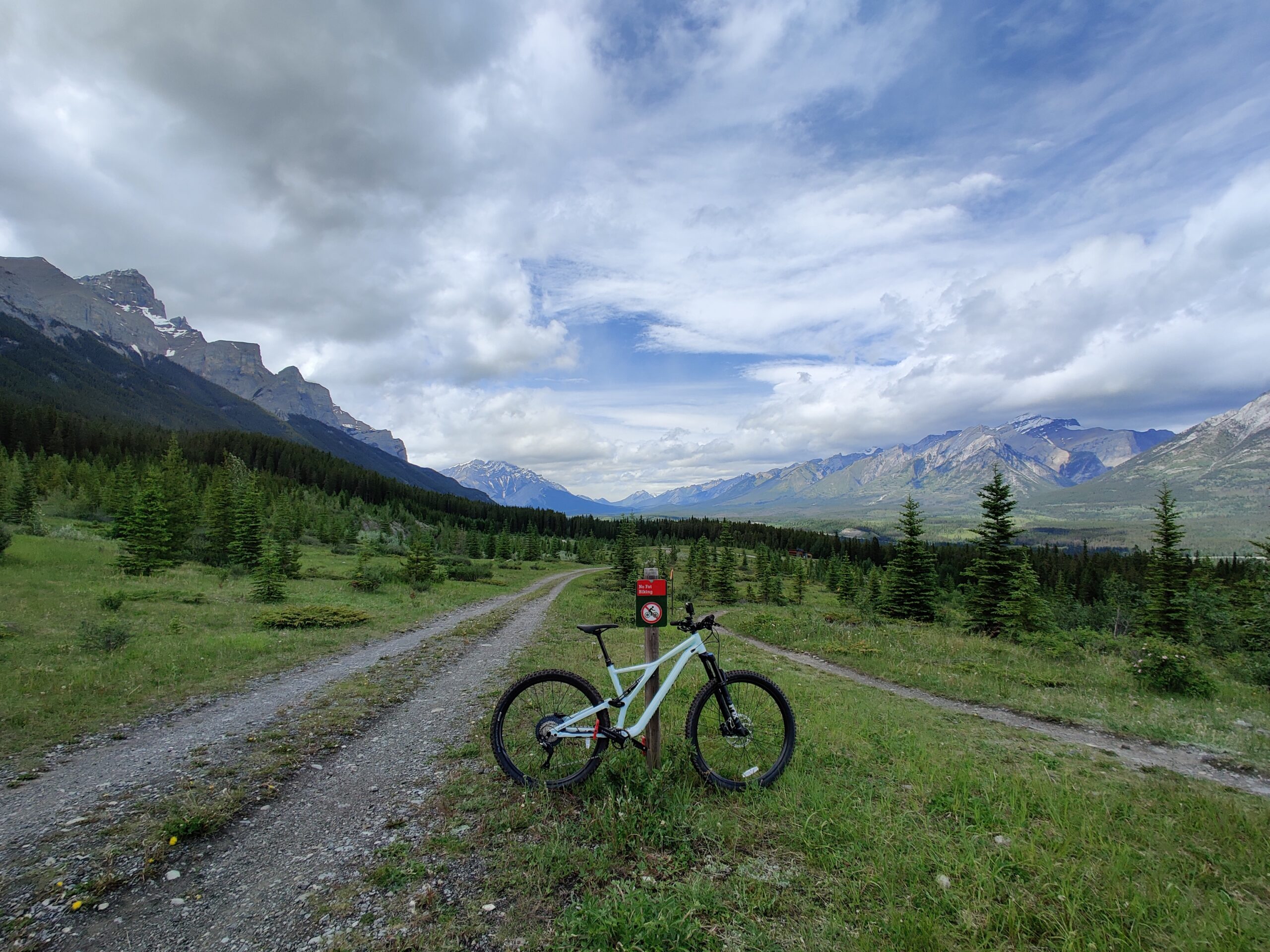 Difficulty: Moderate | Style: Downhill | Link: Trailforks
This is the best downhill trail, thanks to local trail associations. It's fast and offers some decent flow with small jump features along the way. It's undoubtedly the most well-made trail in the Bow Valley and is great fun for a wide variety of skill levels.
The blue-rated run is never too steep in sections but is a solid pitch that even the more experienced riders will enjoy ripping down. It's one of my favorite rides in the valley if I'm looking for speed. Plus the view from the meadows before you access the trail is wonderful!
---
Reclaimer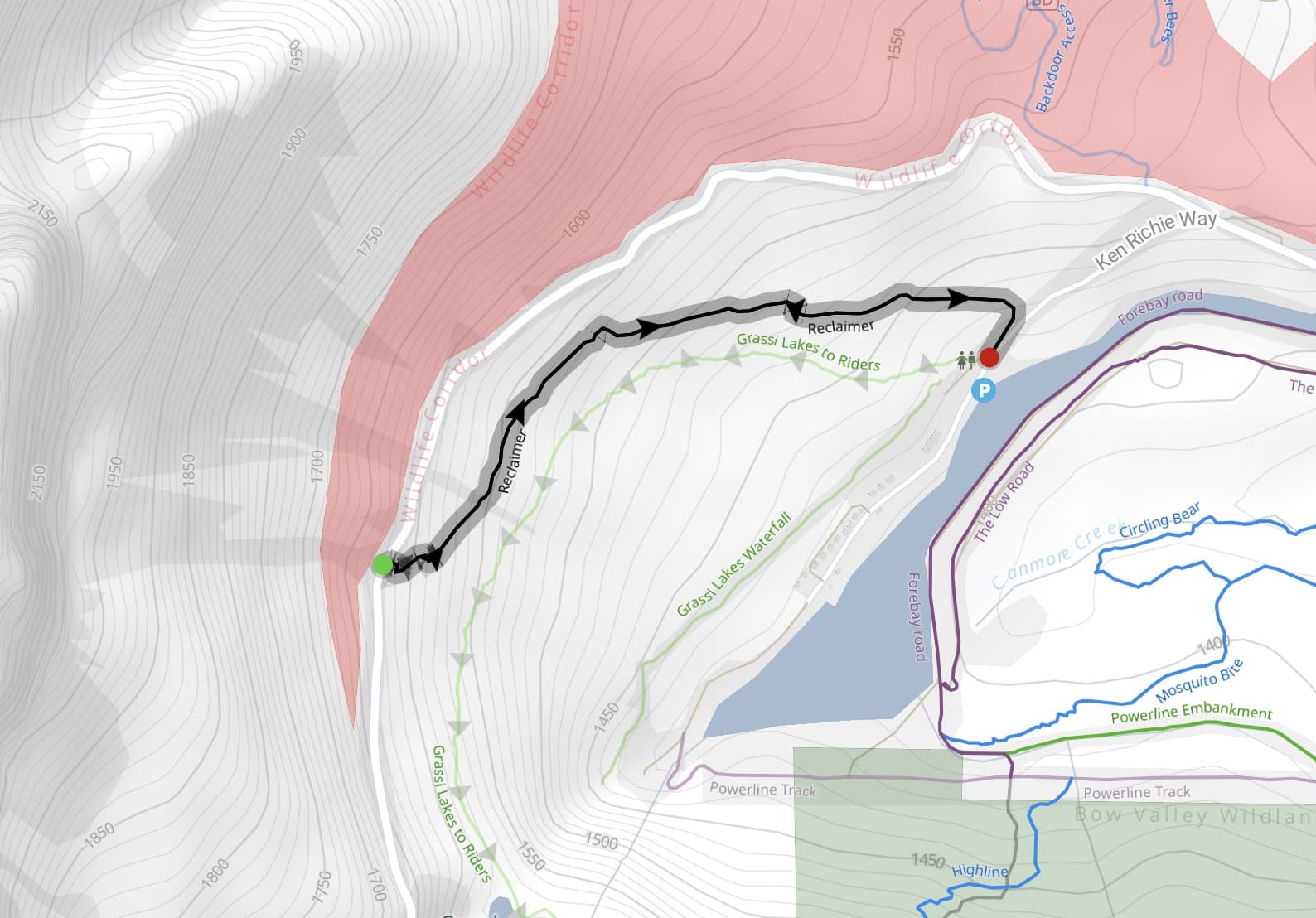 Difficulty: Expert | Style: Downhill | Link: Trailforks
This is another flow trail that is rated black. It starts out steep and loose before it mellows out and turns into a loose flowing trail that moves through several switchbacks.
It's a decent trail but requires a drop-off on the Smith Dorrien Highway. It's possible to bike up the road, but given traffic and the amount of dust, I wouldn't advise that suffer-fest. I have managed a late evening or early morning jaunt up the road without too much hassle.
---
Riders of Rohan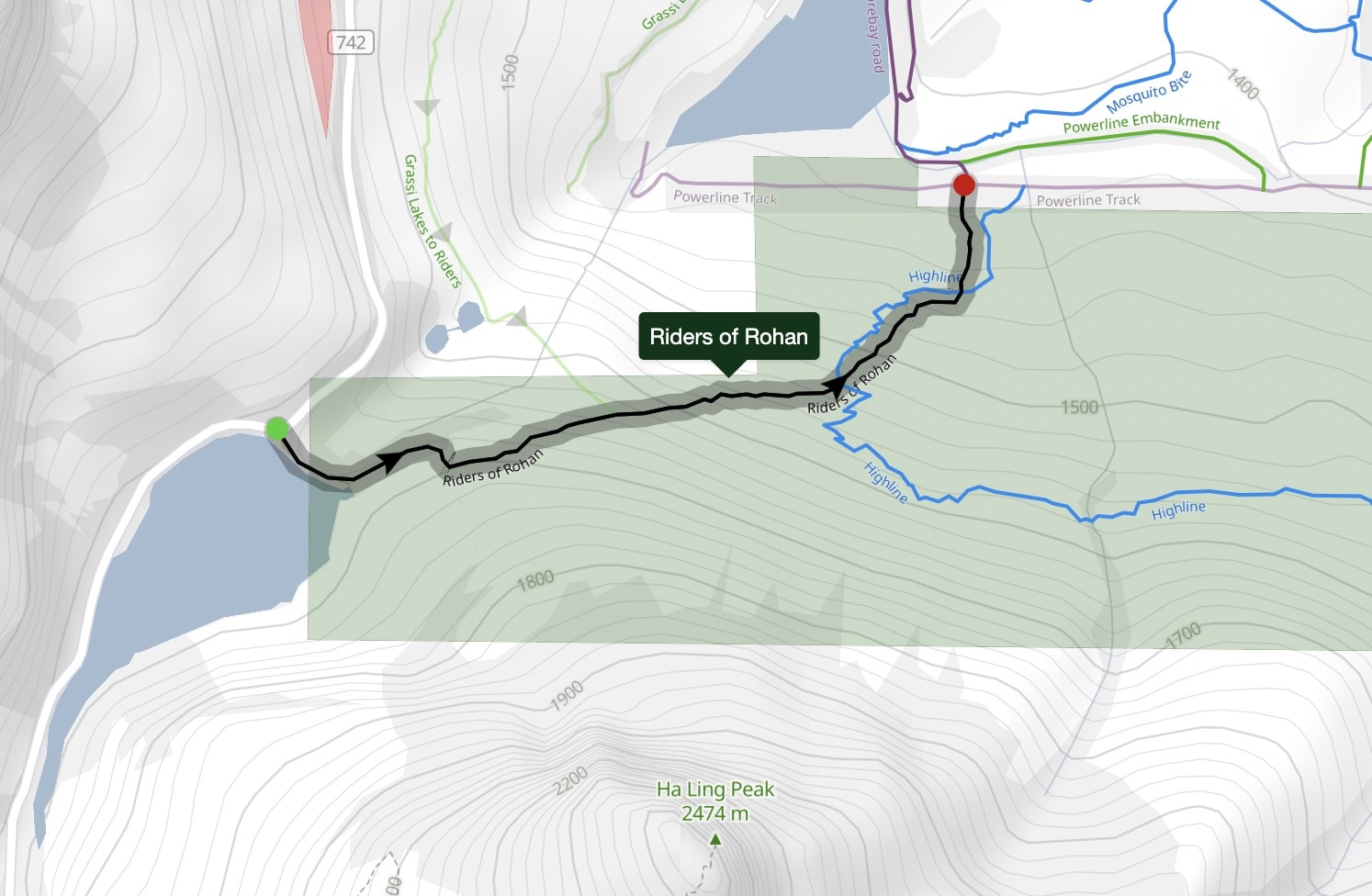 Difficulty: Expert | Style: Downhill | Link: Trailforks
Riders of Rohan is pretty steep and technical towards the top, like Reclaimer. However, as it descends, it gets a little better and more mellow, but the rocks get a lot looser near the bottom.
There are a couple optional drops and a few big mandatory rolls, but nothing too tricky. The flow really opens up as it intersects with the Highline, and you can interchange between either trail as they cross and run parallel.
---
EKG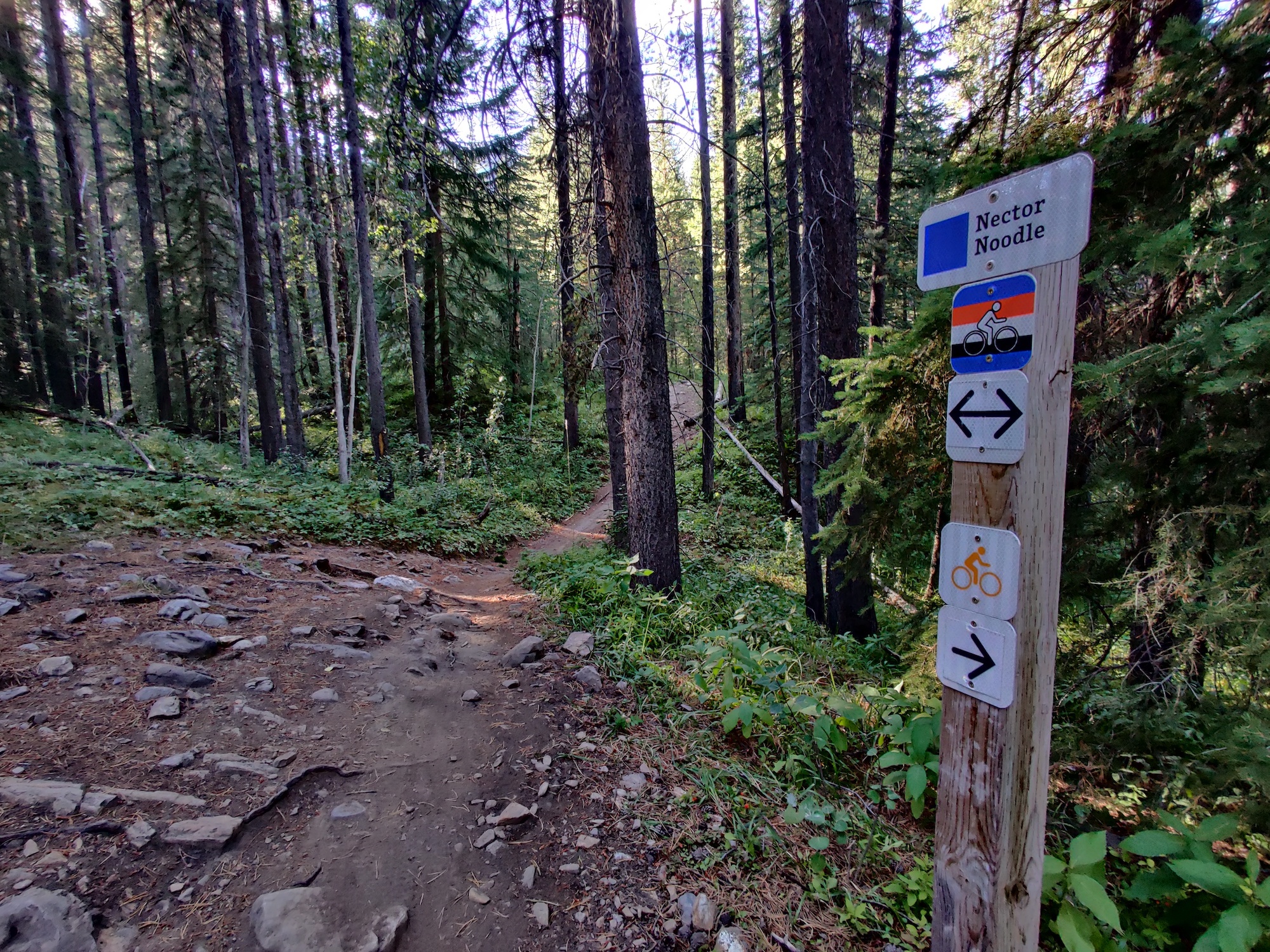 Difficulty: Moderate | Style: Cross Country | Link: Trailforks
This classic loop around the Canmore Nordic Center is a nice mix of easy tech and cross country. A few wood bridges, punchy climbs, and rocky gullies. The trail moves through the forest and eventually opens up to a large meadow with an astounding view over the Bow Valley to Cascade.
There are a ton of other trails at the Nordic Center that can be conjoined with EKG, such as Killer Bees, Back Door, Nector Noodle, Long Road to Ruin, and FYI. I personally love the climb up Back Door to Nector Noodle as it's one of the most challenging climbs in the valley, and Nector Noodle is a fast little root and rock-filled trail with some rolling terrain.
---
Soft Yoghurt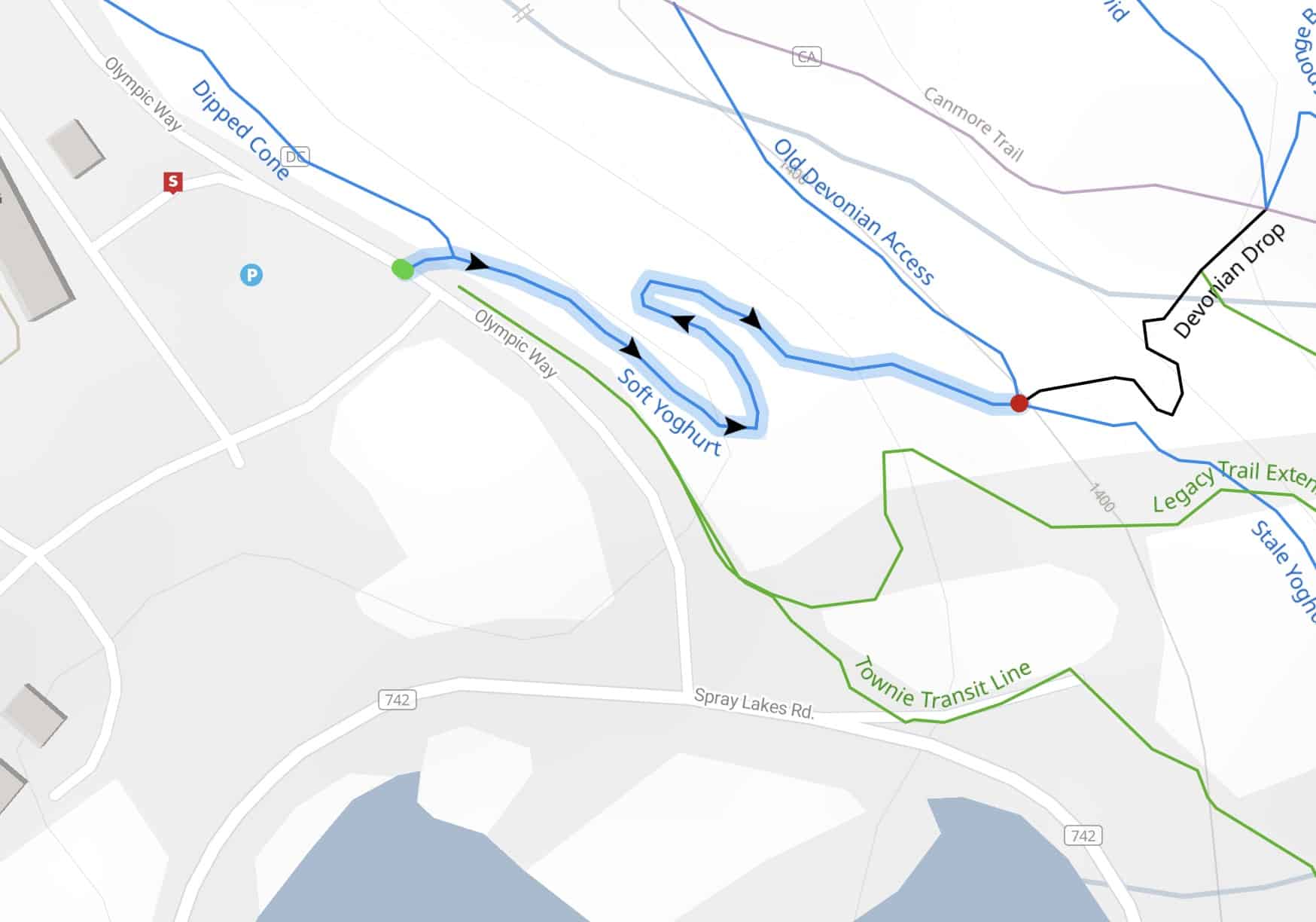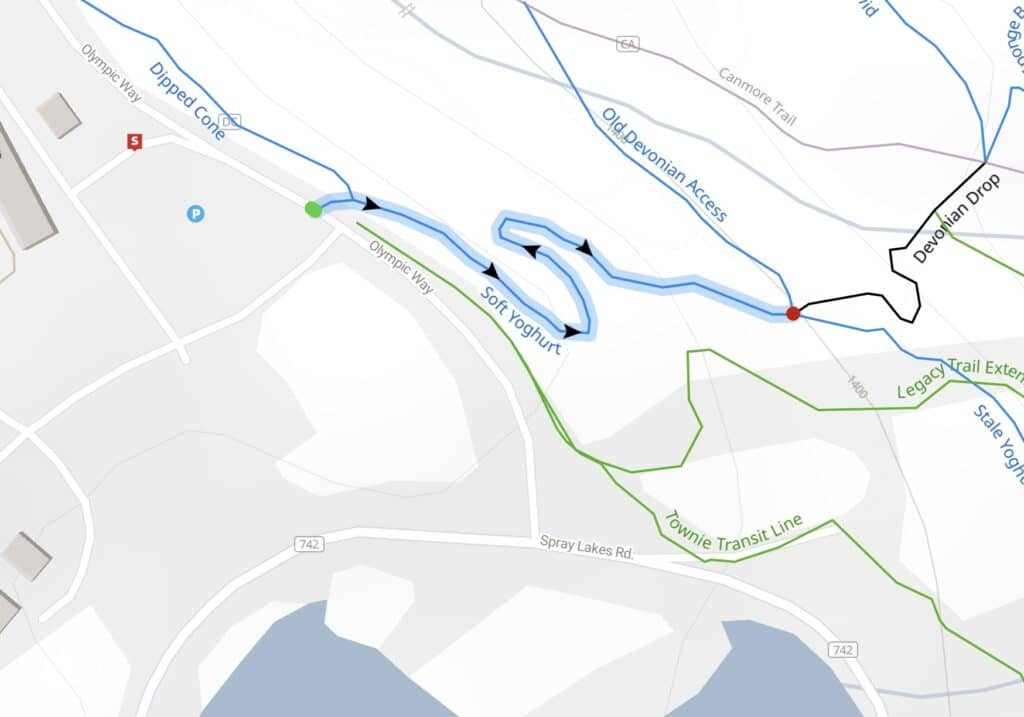 Difficulty: Moderate | Style: Downhill | Link: Trailforks
There's not much in terms of jump trails in the Bow Valley, so if you're after that, you'll need to go further afield. Soft Yoghurt is the best jump track for MTB in Canmore.
It's short, sweet, and has a really lovely flow. Located right out of the Nordic Center parking lot, it's easy to crank out a few quick laps. It can get a little loose as the season progresses, but early in the bike season, you can really rip down the trail.
---
Prospector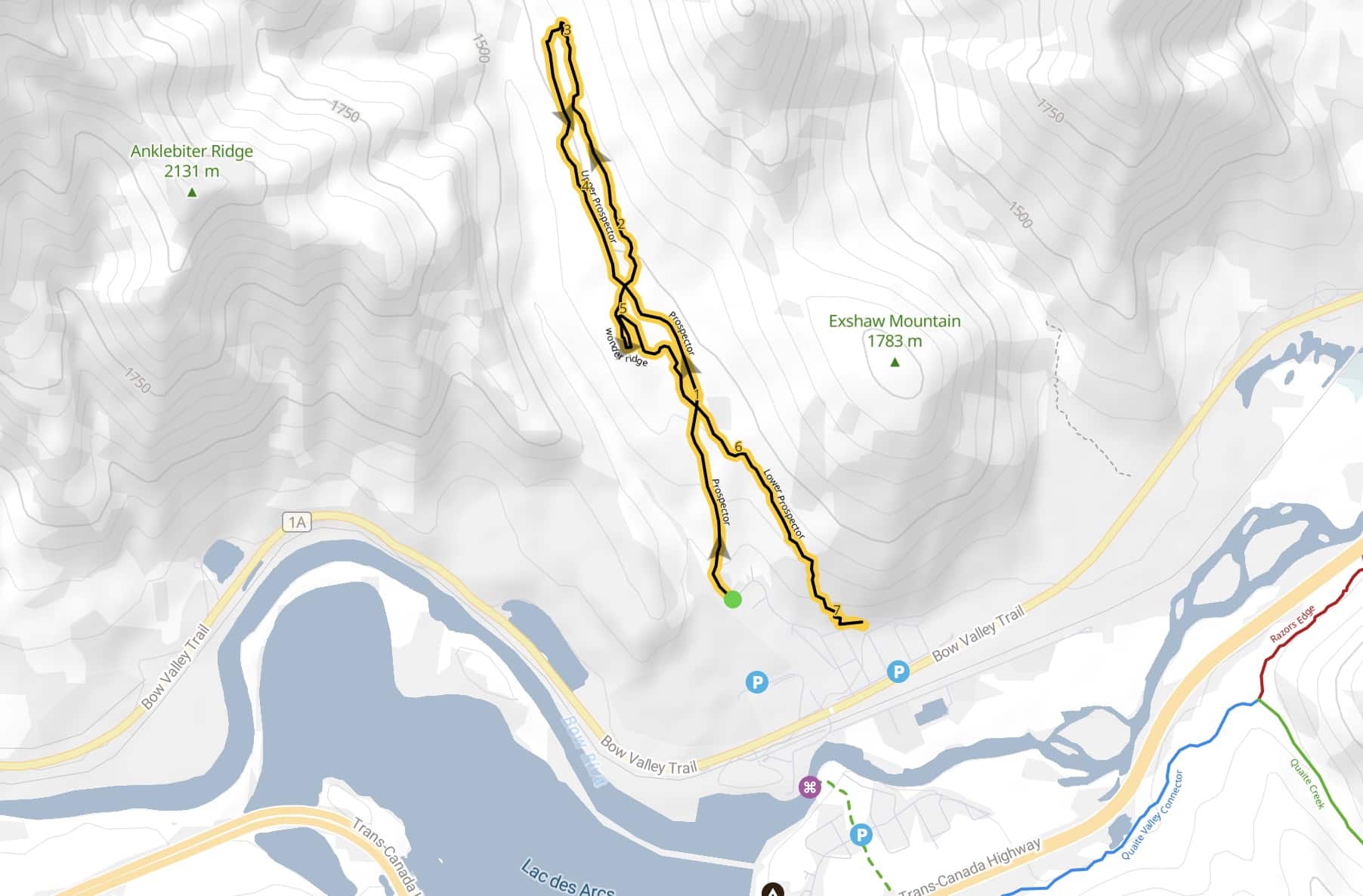 Difficulty: Expert | Style: Cross-Country/Downhill | Link: Trailforks
This trail has the feel of a classic old-school mountain bike trail. It has it all. It is a challenging climb, with great switchbacks, and a fun descent. There are some sweet wood features and great rock slabs.
The trail moves in a large figure eight and is easy to follow. Altogether, one of the best mountain bike trails around Banff and Canmore.
---
Local's Secrets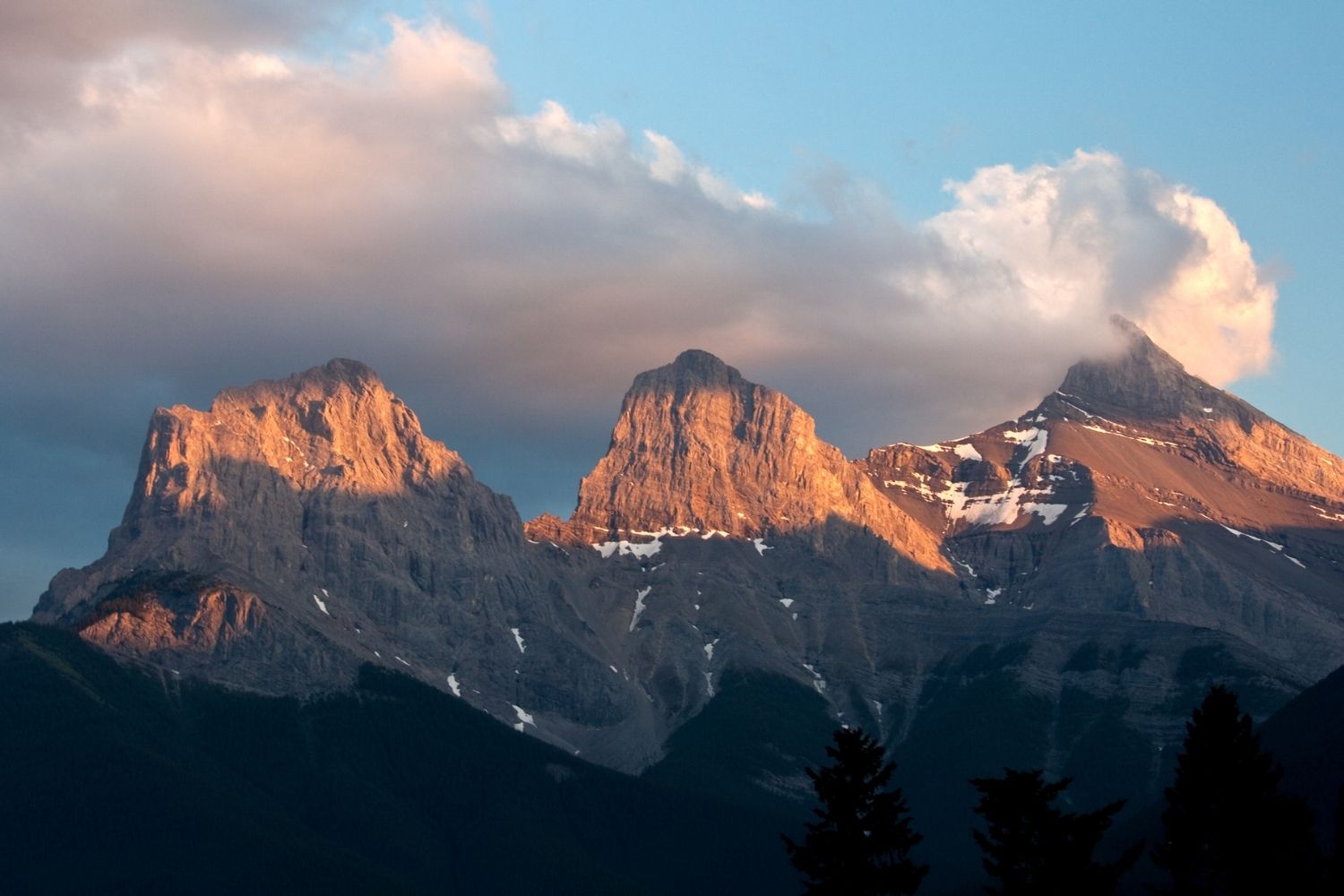 There are several other trails I've not included because they are dangerous, illegal, and kept as a local's secret. That being said, outside of Razor's Edge, they offer some of the best biking in the valley. Good luck finding the booty if you're after these trails.
---
Mountain Biking Beyond Bow Valley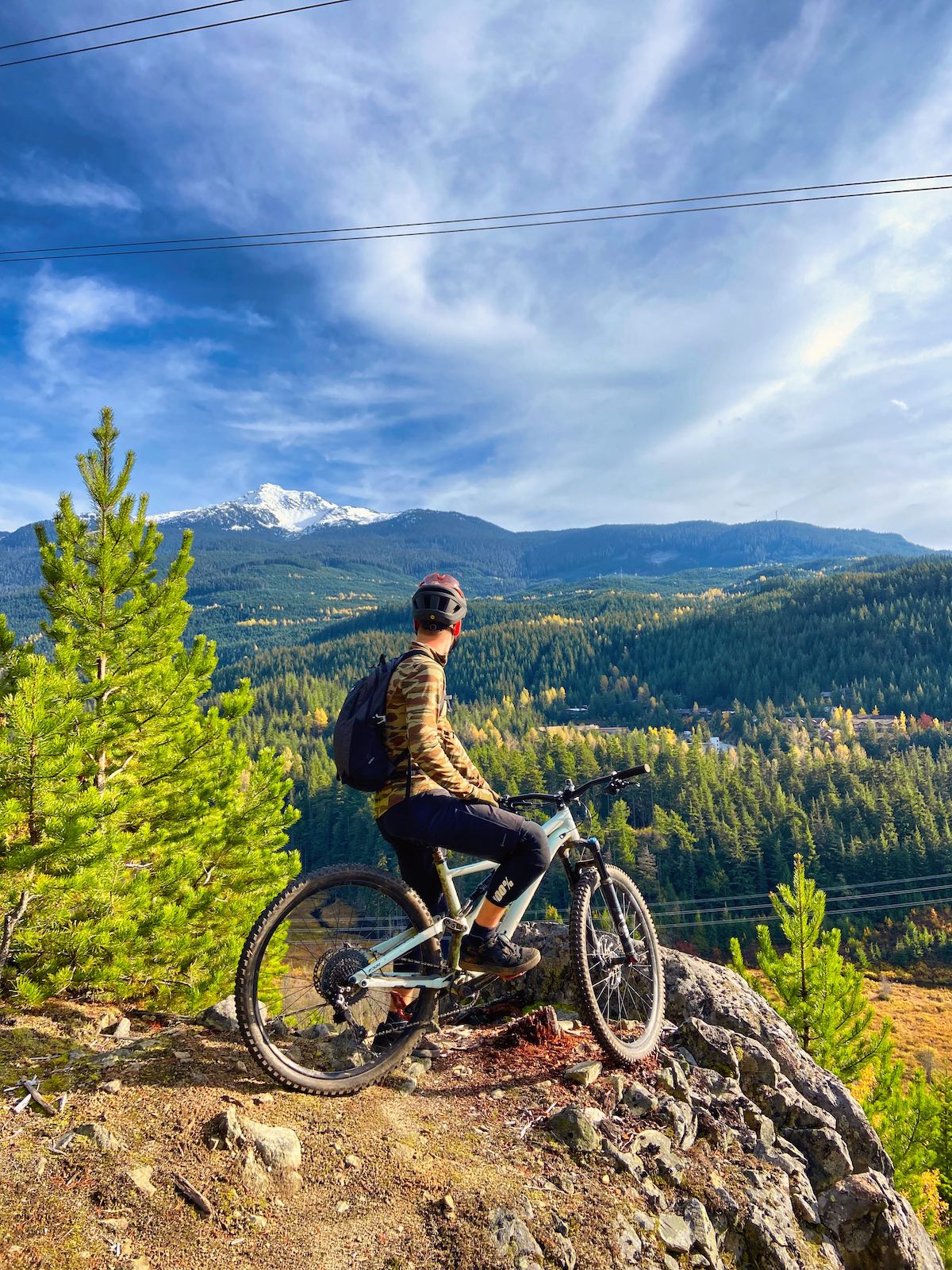 ---
Kicking Horse — The local ski resorts in Banff do not offer lift-assisted mountain biking, so you'll need to head to B.C. to find a bike park. Kicking Horse in Golden is characterized by its significant vertical and steep rocky descents that ride fast. It's around a two-hour drive away from Banff, so it's a feasible day trip from Banff for mountain bikers looking to get out on their downhill bikes.
Panorama — If you're after nice flow and jump tracks at a bike park in the region, then Panorama delivers. The ski resort converts into a large bike park in the summer.
Moose Mountain — This is a fantastic mountain for flow and great for truck rides up service roads. There are several great downhill runs and some of the best woodwork and features in the area, indeed in Alberta.
---
Best Banff Cycling Routes
---
Moraine Lake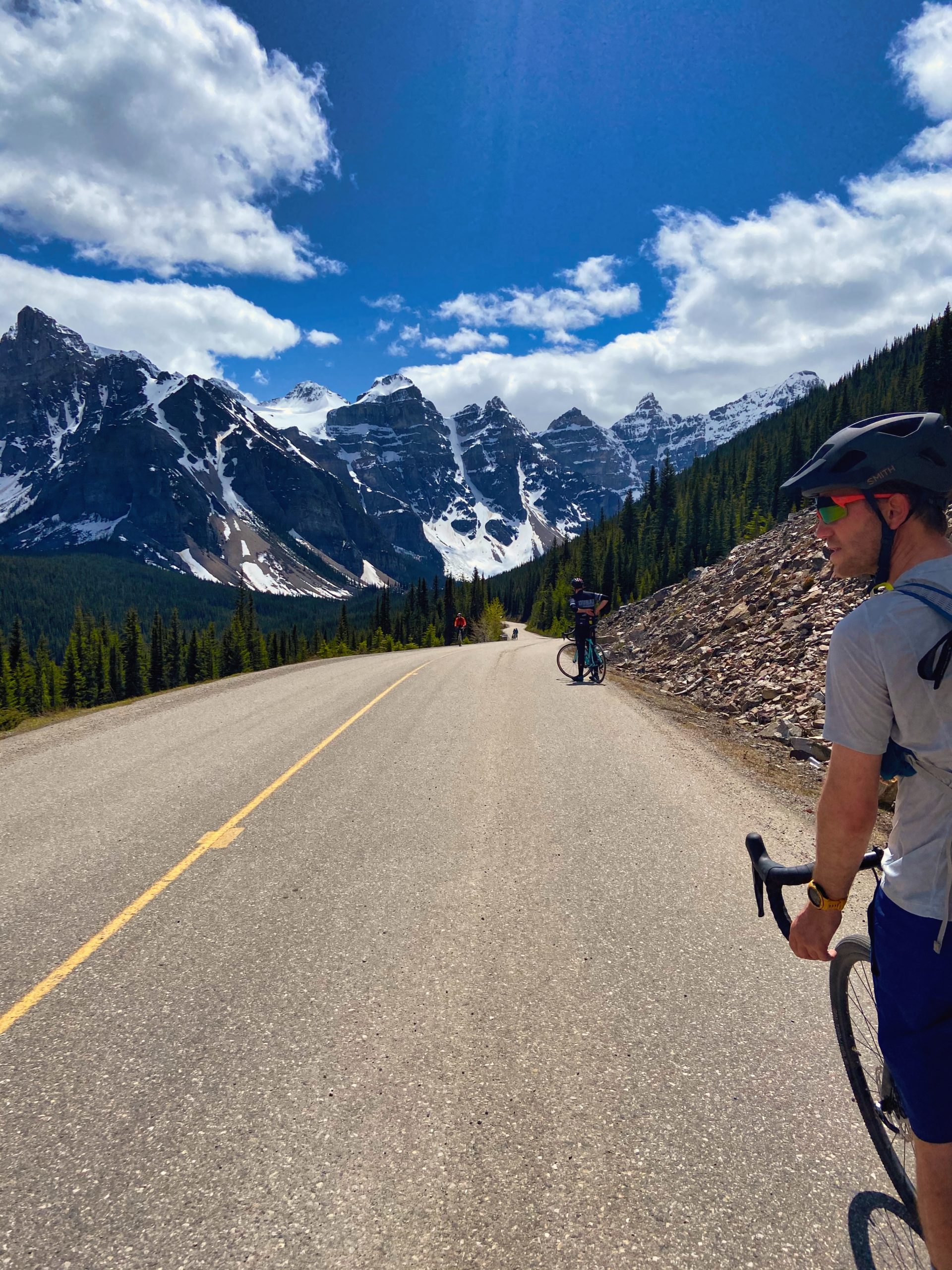 They plow the road to Moraine Lake every year about a week before opening it to cars. During this window, it's a fantastic bike ride to visit the famous lake without the crowds.
The ride up to Moraine Lake is only 13km long and gains around 250 meters. It's pretty easy for the most part, and you hardly have to pedal the whole ride back.
---
Bow Valley Parkway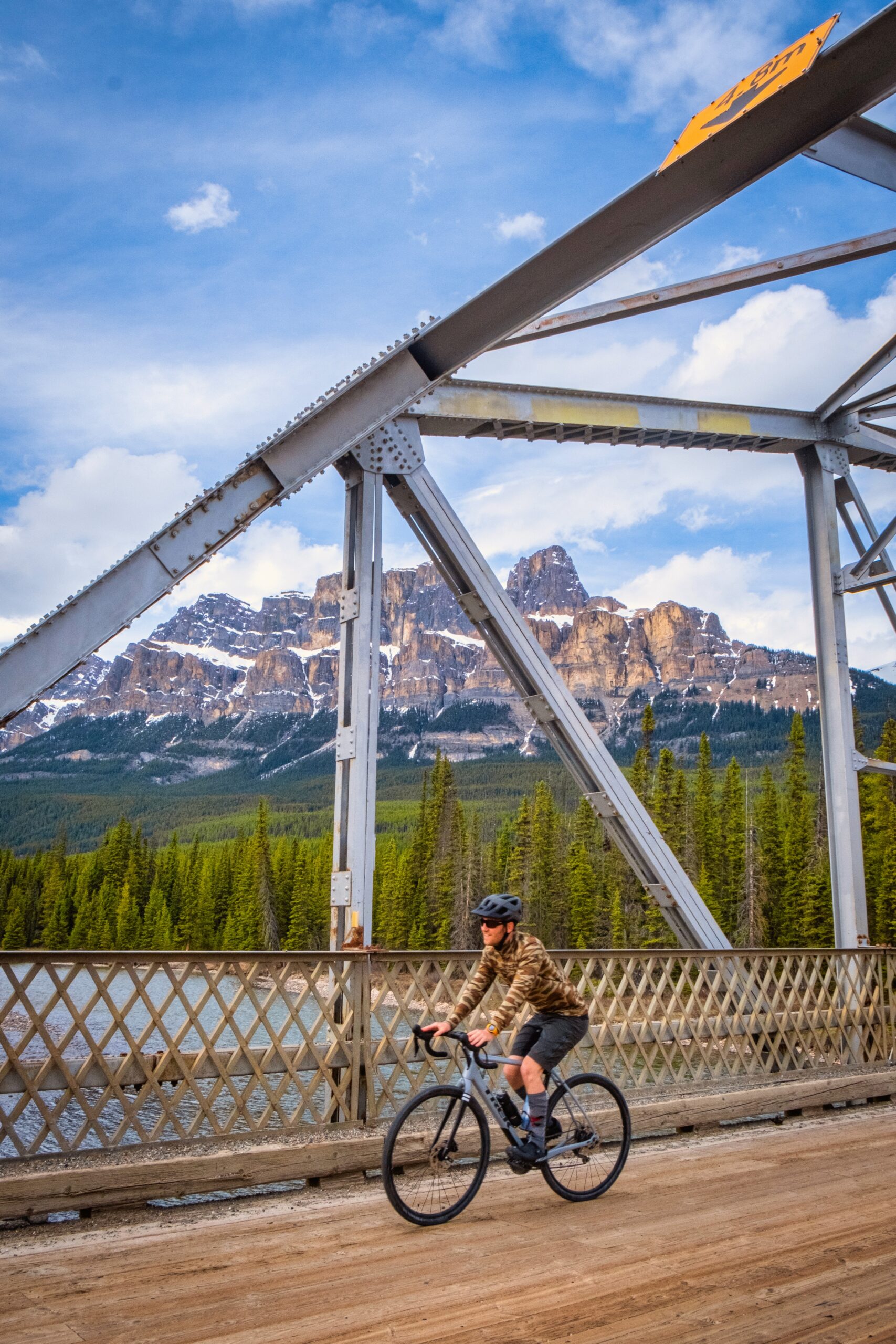 The Bow Valley Parkway connects Banff with Lake Louise Village, and the scenic road takes you past several scenic stops. Along the way, you cycle past Johnston Canyon, Moose Meadows, Morant's Curve, and Castle Junction.
It's the best cycle route in Banff and promises a long ride as the distance to Lake Louise from Banff is 61 km. If you ride all the way to the lakeshore — you should! This makes the roundtrip journey around 120+ km a solid Gran Fondo.
It's possible to shorten the route in a few different ways by starting at Castle Junction or the gates to the Bow Valley Parkway off the TransCanada.
---
Legacy Trail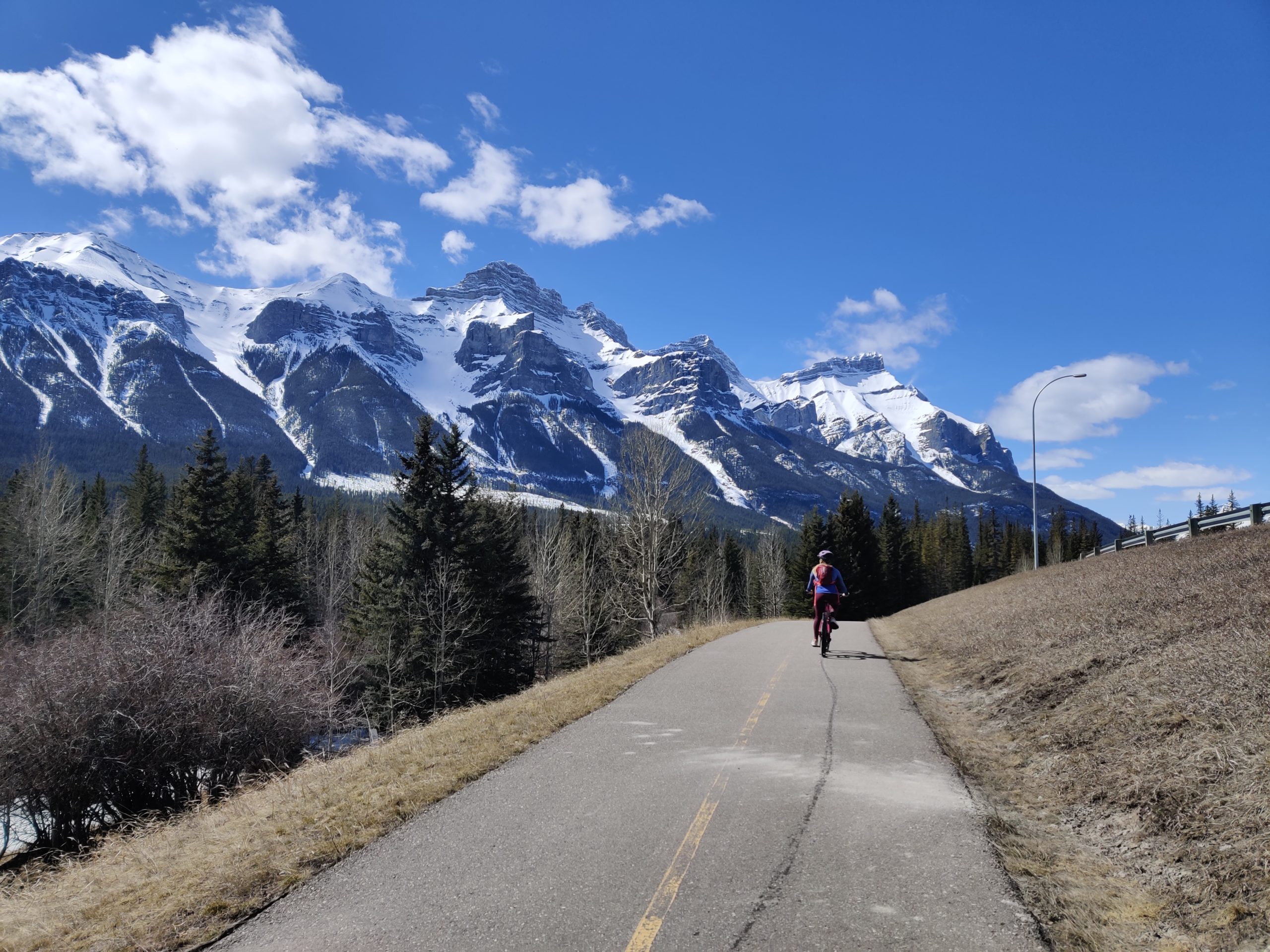 This is the best bike trail that connects Canmore to Banff! There is a lot to love about the efforts to make the Bow Valley more bike-friendly. A paved 26 km long walking and cycling path connects the town of Canmore and Banff. It's a fantastic bike ridge on a sunny day or when you're seeking to stretch your legs on the bike.
It is a pretty long journey that families can do one way. The easiest route is from Banff to Canmore, as it loses elevation and a strong wind is at your back. That strong wind can also be a brutal headwind on a windy day from Canmore to Banff, so be prepared if you're not a strong cyclist.
---
Minnewanka Loop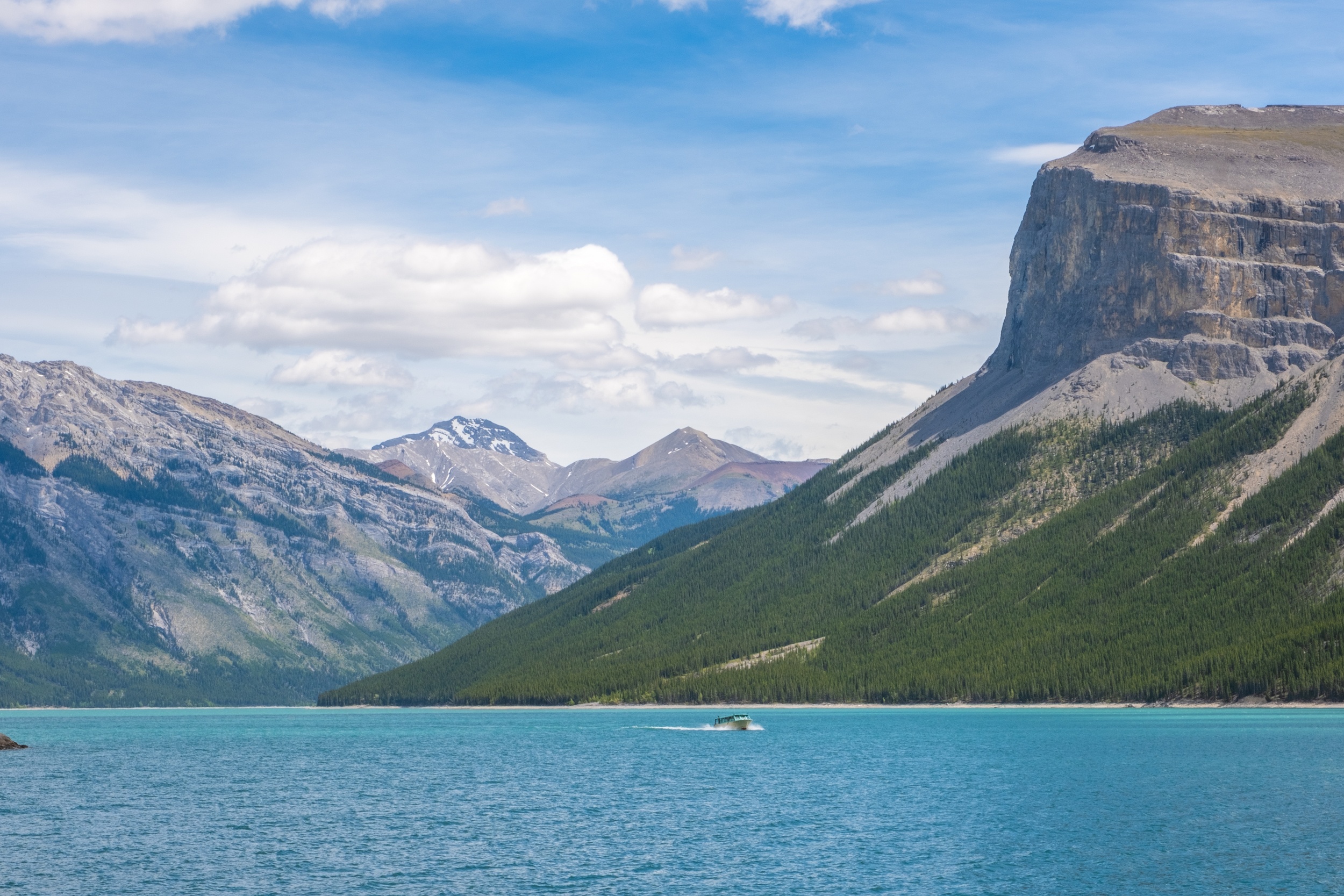 We like to tack this on to our ride along the Legacy Trail as it is easy to connect via an underpass at Cascade Ponds. The road from Banff to Minnewanka is a large loop that passes Two Jack Lake, Bankhead, and Cascade Ponds. It's a gorgeous bike ride and a common area to spot wildlife.
---
Banff Springs Golf Course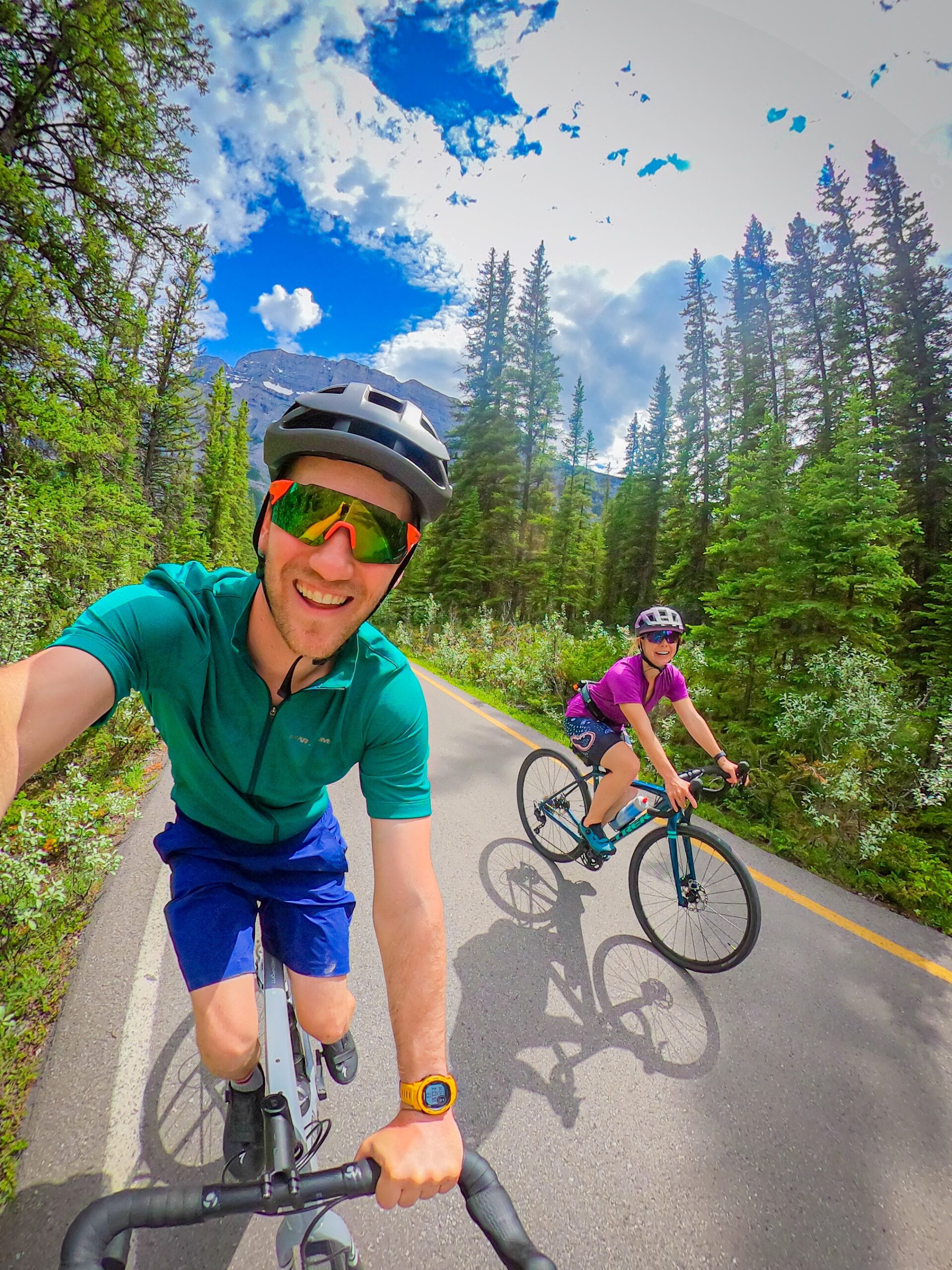 The old road around the Banff Springs golf course makes for an excellent ride as it is relatively car-free and sees little traffic. It also offers some incredible views of Mt Rundle and the wonderfully manicured grounds of the golf course.
---
Icefields Parkway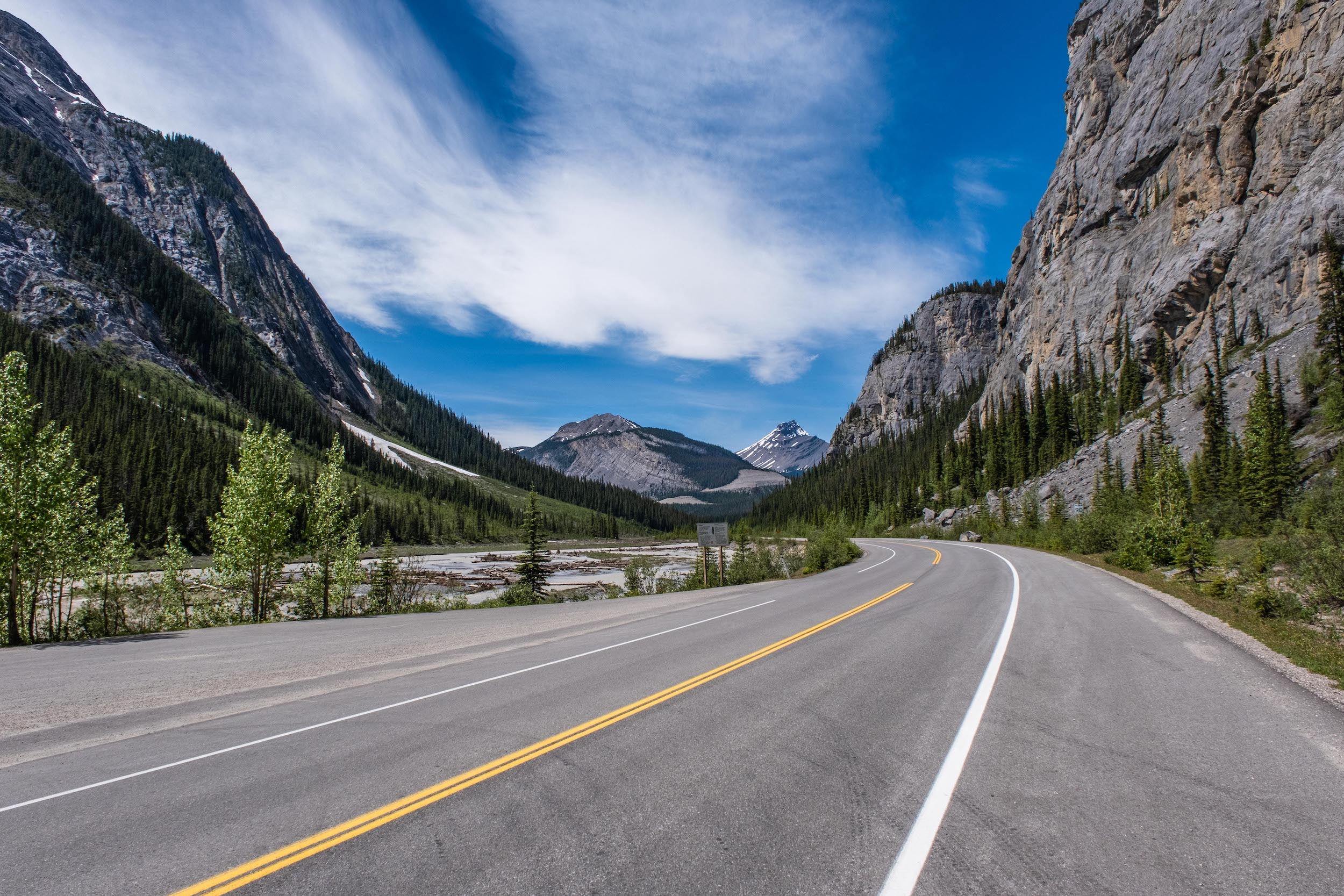 The Icefields Parkway is arguably one of the most scenic roads globally. Naturally, it would make for a great scenic cycle through the Canadian Rockies. However, in peak summer, the road can see a lot of road traffic, and it's no small feat to bike the road as it deals with plenty of elevation, weather, distance.
A full-day ride from Banff to Jasper s a truly epic bike ride that is a notable accomplishment for even the fittest cyclists as it is nearly 300 km with 2,000 meters of elevation gain. Maybe one day!
---
Highwood Pass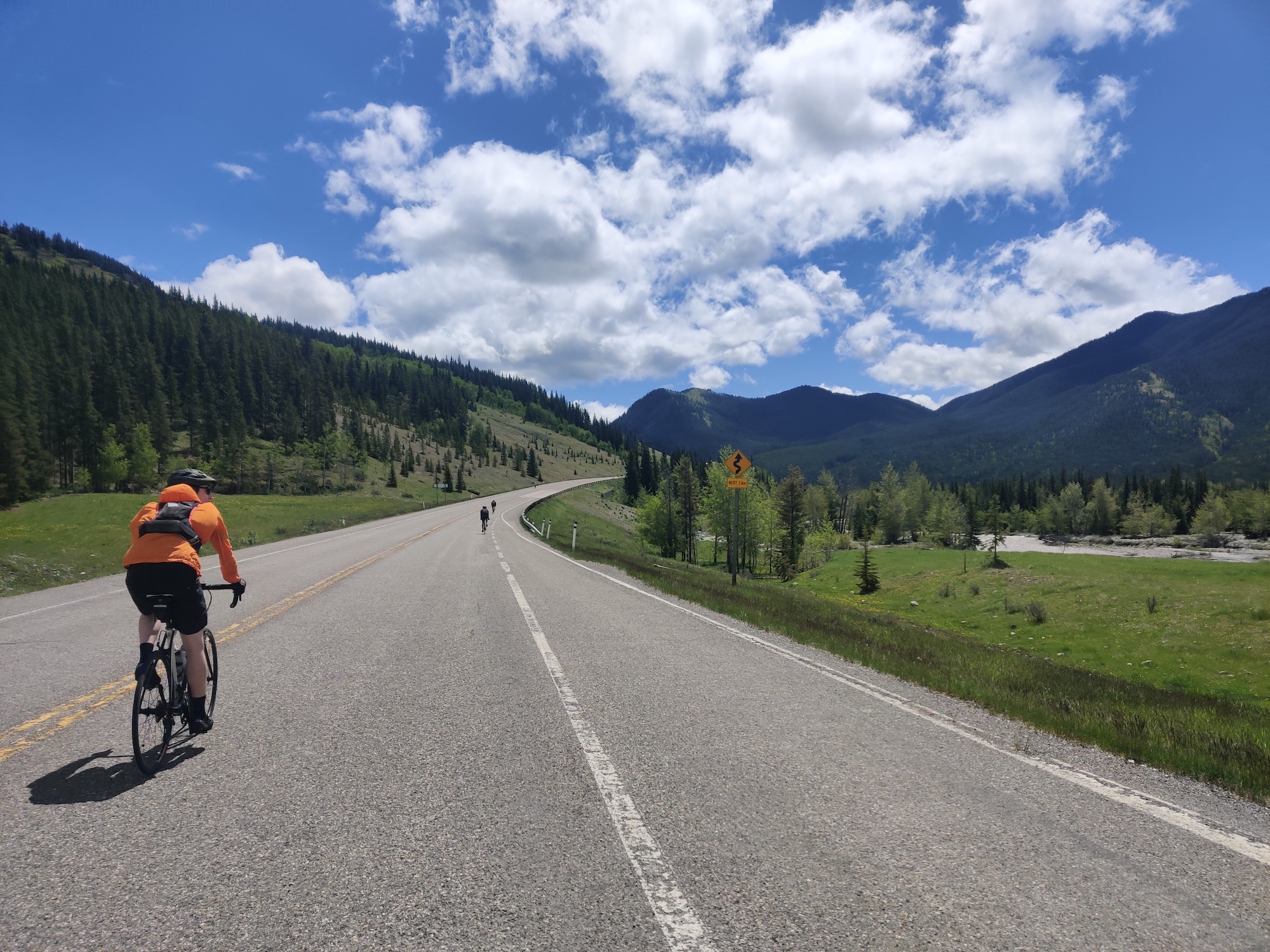 Highwood Pass is the highest highway in Canada, with some astounding views of the front range. Due to the elevation and high snow levels, the road closes in the winter months due to avalanche risk.
However, at the start of summer, the snow often melts before the official opening date for the highway. It makes for an excellent route for cyclists and a pretty nice challenge if you bike the whole way.
The climb up the pass from King Creek is a category one, one of the steepest climbs on the professional bike circuit. However, it's possible to bike the pass from either end of the road to the top. The more accessible section would be from Longview, but it does cover a greater distance of 37 km one way.
My GPS clocked in the full circuit at 110 km and 1650 meters of elevation gain. It's a pretty big day, so be sure to pack plenty of fuel and water.
---
Best Banff Bike Routes
If you have plans to visit the sites around the town of Banff, consider a bike rental to get from point to point. Parking and traffic can be a pain in the summer months as tens of thousands of visitors visit the little town every day.
---
Tunnel Mountain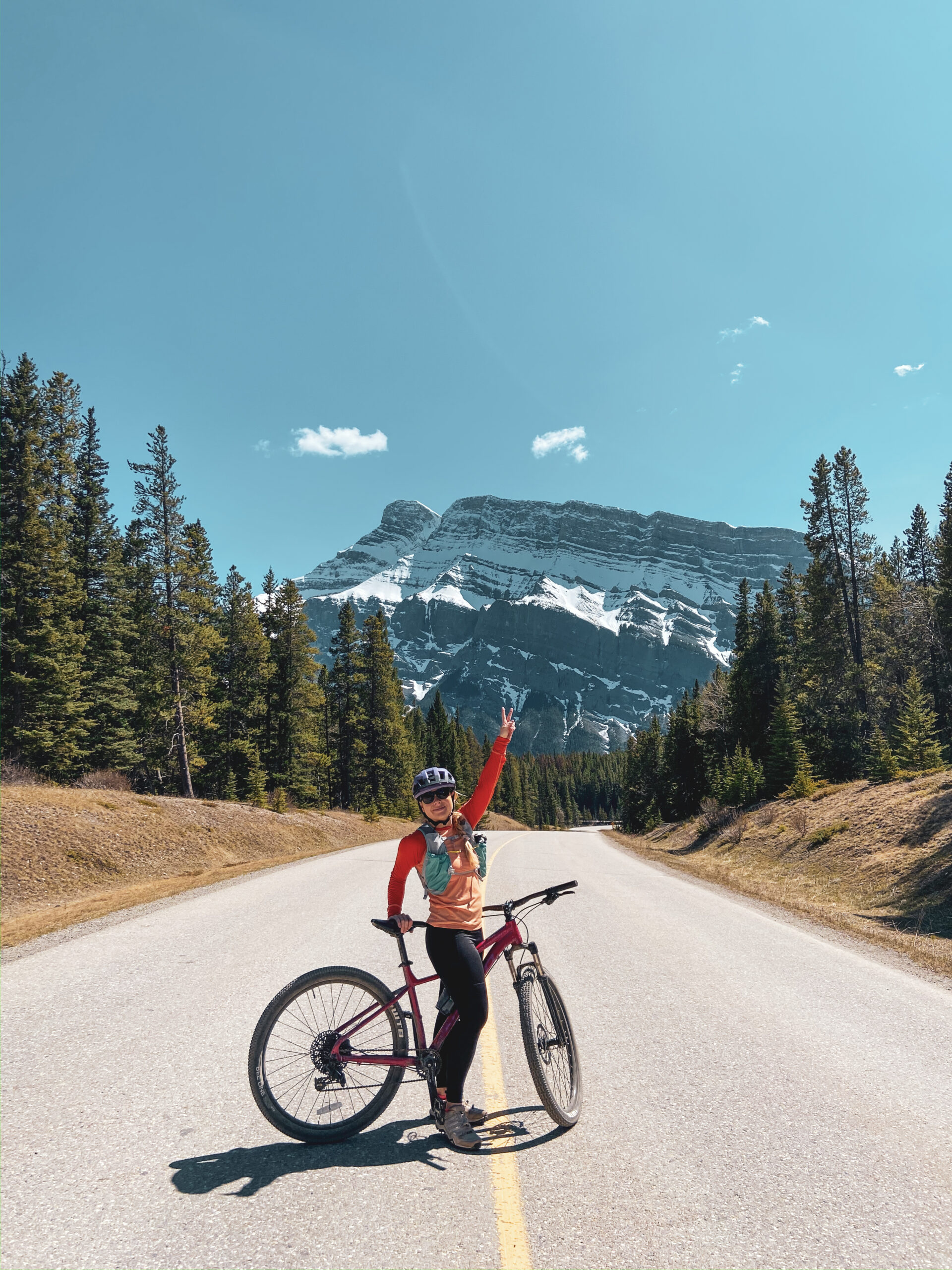 Take a scenic ride along the Tunnel Mountain road for a chance to spot some wildlife and catch some stellar views of Rundle Mountain.
Bow Falls
Consider a ride out to the Bow Falls for a leisurely bike ride around town. Afterward, continue to the Iconic Banff Spring Hotel, the Banff Gondola, or The Banff Hot Springs.
---
Cave & Basin
Take a leisurely bike ride to the location that led to the creation of Banff National Park. The historic site is a great stop to learn more about the park's history.
---
Vermilion Lakes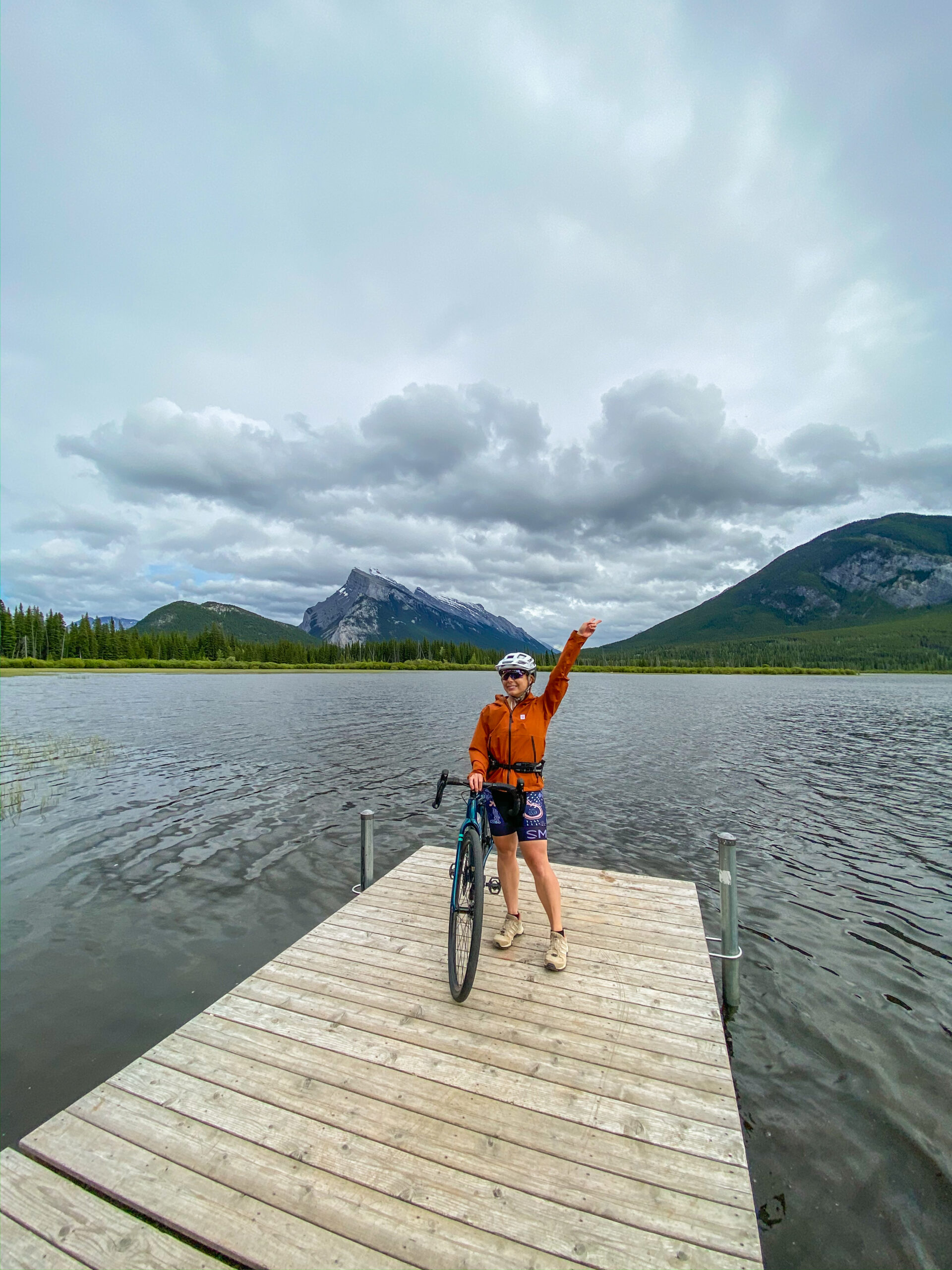 The Vermilion Lakes is one of the most scenic spots close to town. An easy road travels along the edge of the lake and leads to a bike path that connects the town of Banff with the Bow Valley Parkway.
---
Sundance
Continue past Cave Basin along the Bow River to the Sundance Creek.
---
Our Bike Gear
---
Trek Checkpoint SL5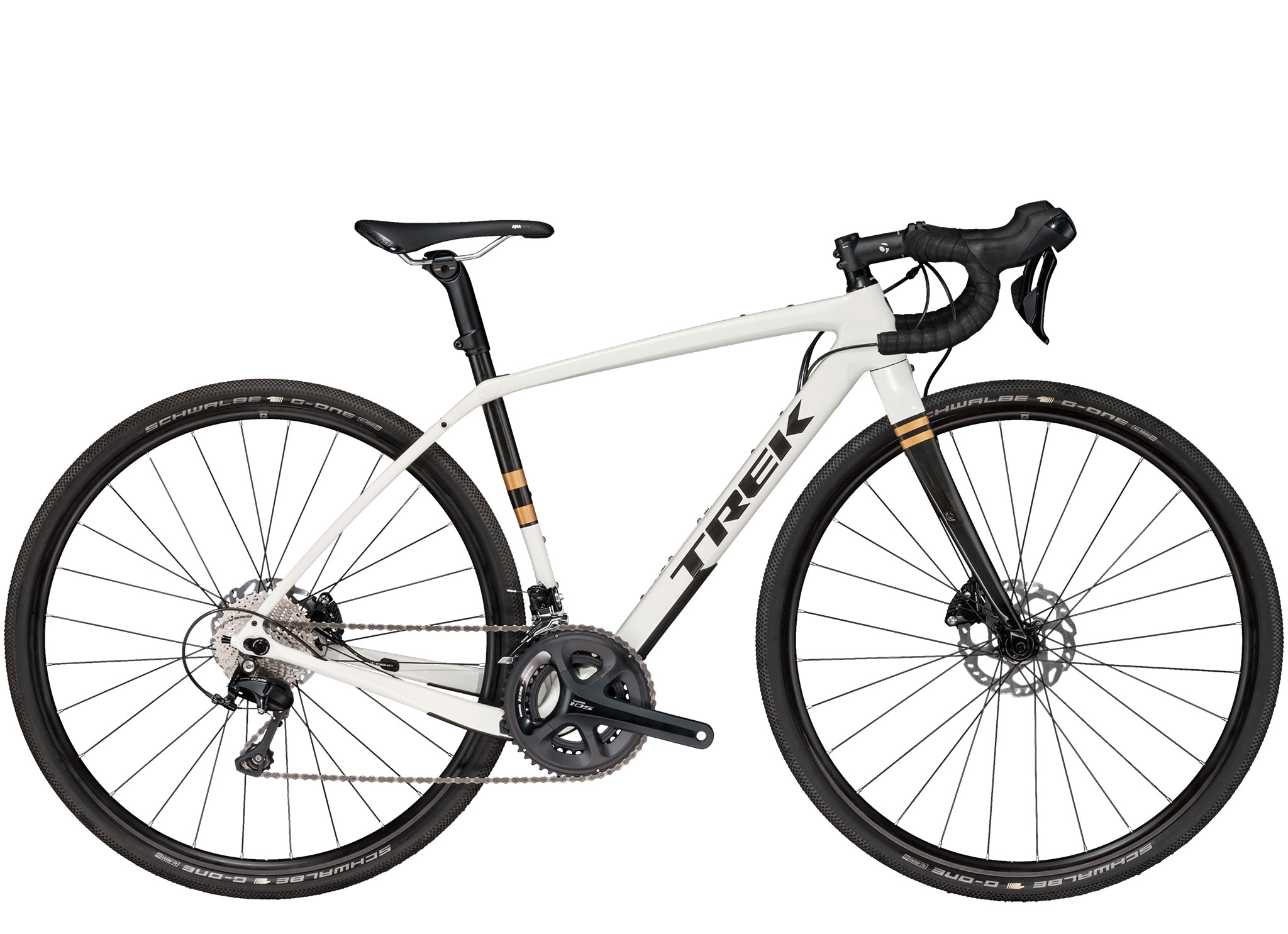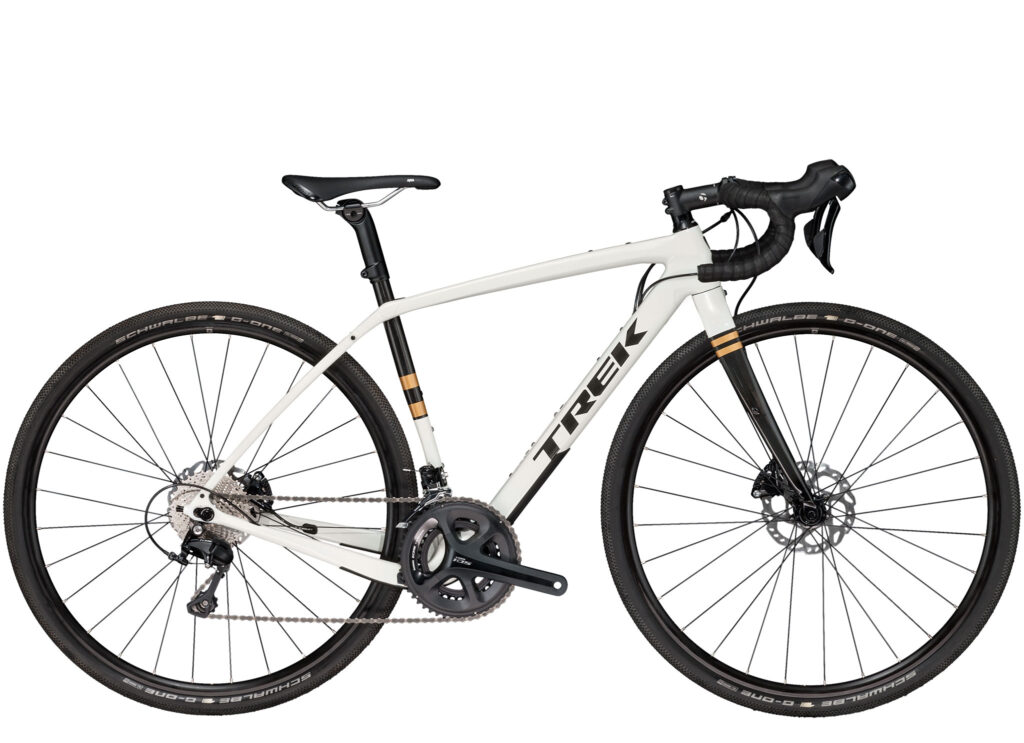 We spend a lot of time in the mountains and love exploring, so we spend most of our time out on a gravel bike. It's not as conventional, but it is like 90% a road bike with the ability to cruise on some of the great forest service roads and trails around the region.
---
Giordana FR-C Pro Lyte Winter Jacket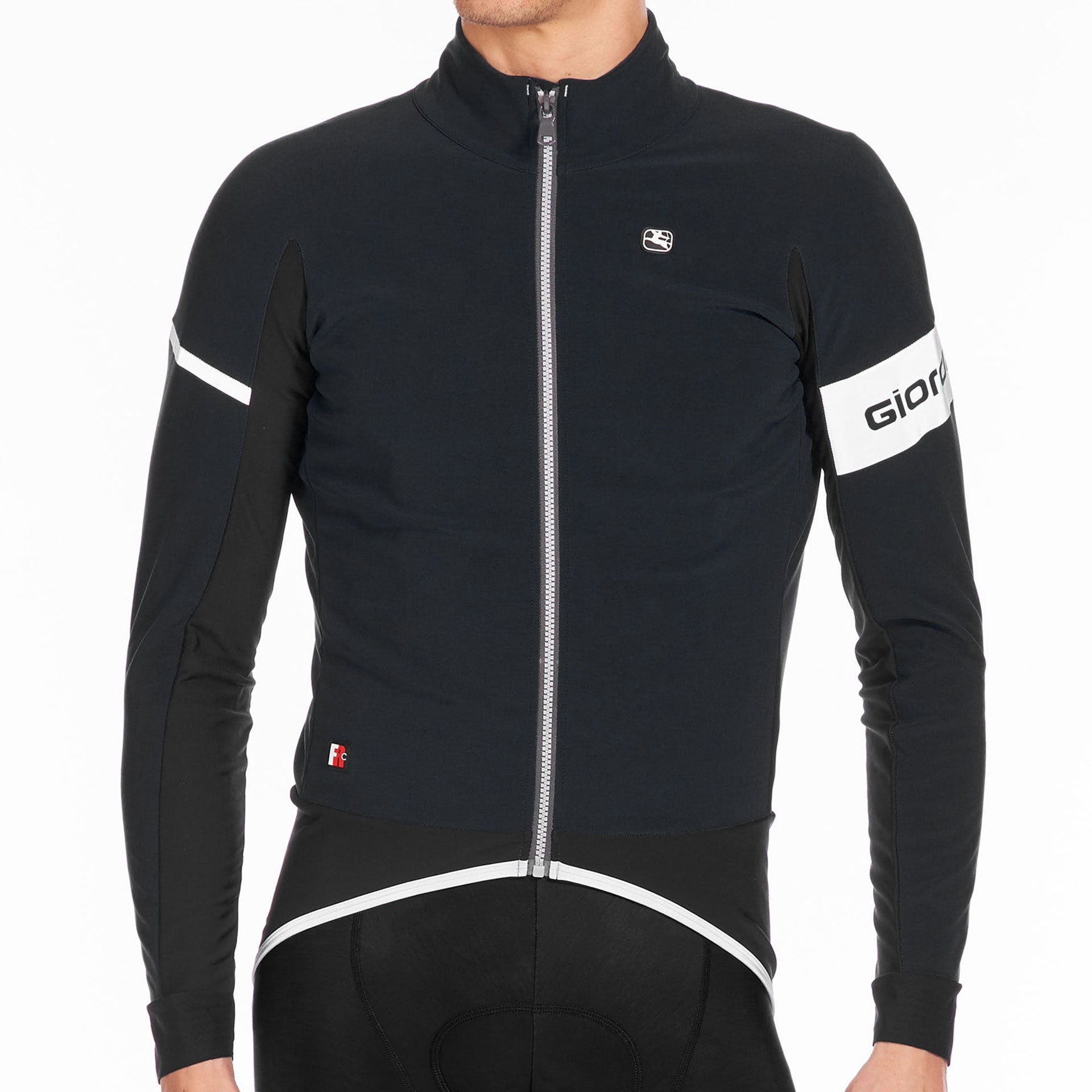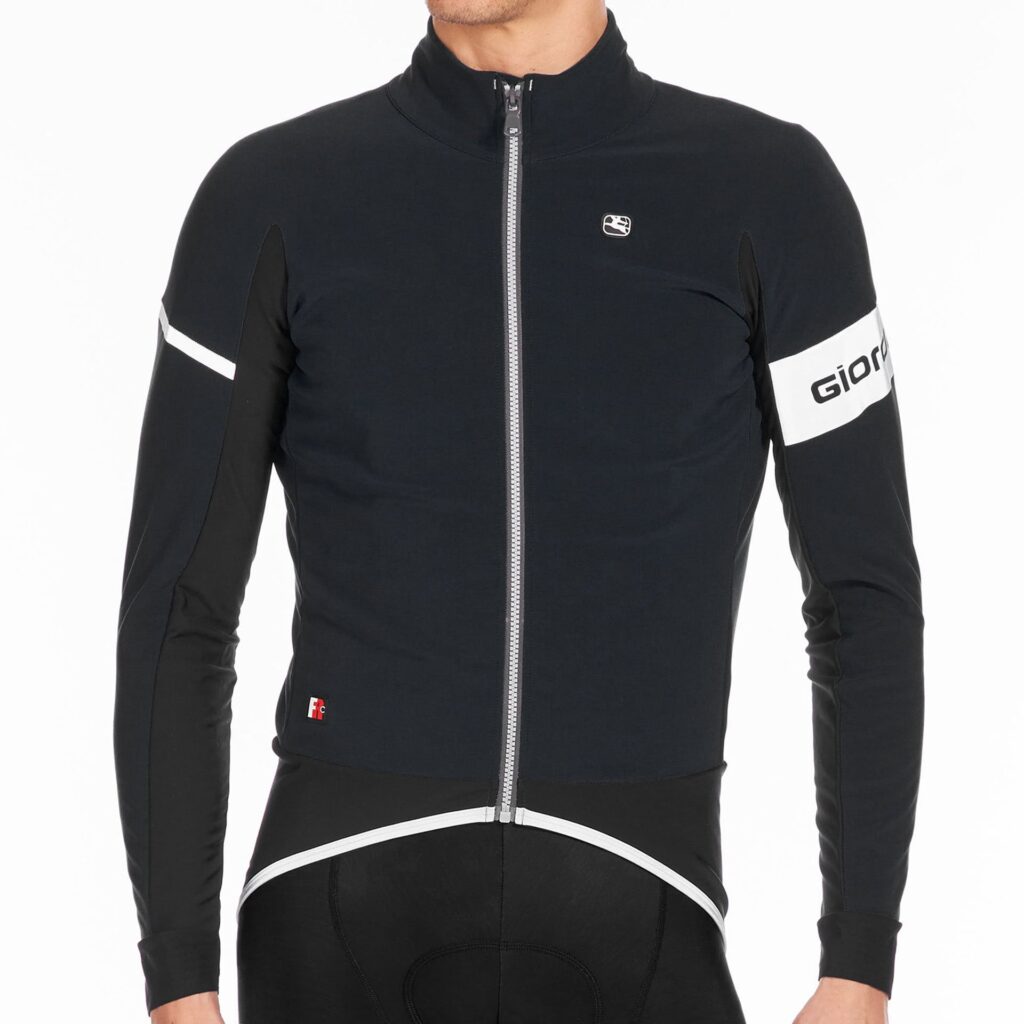 Days can be cold in the shoulder months, especially on larger bike rides like Highwood Pass or the Icefields Parkway. Our performance wear makes a massive difference in our comfort and ability to remain comfortable on the bike for hours on end. Our bike kits come from the Giordana FR-C line. The warm line is a lifesaver in the Spring and Fall months. (Use code WORLDPURSUIT15 for 15% off!)
---
FR-C Pro Reflective Thermal Bib Tight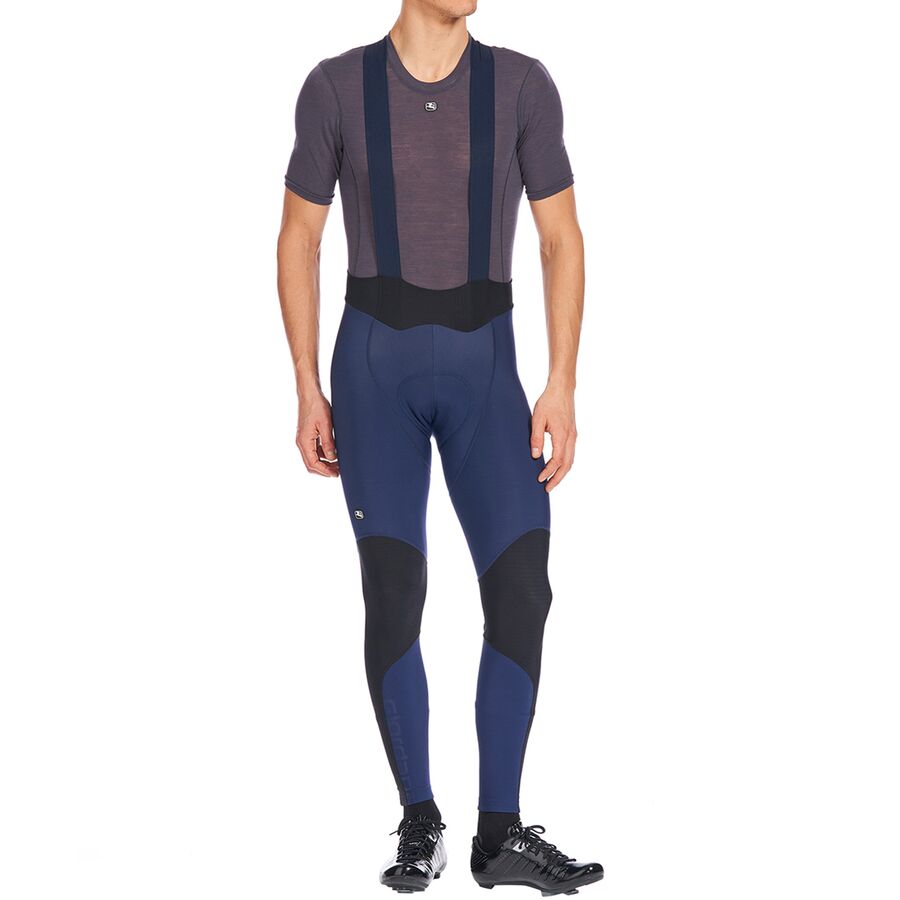 We wear bibs whenever we are on the road bikes, and they come in especially handy on long rides. The best performance bibs we've found are made by Giordana. The thermal line is vital for biking in Alberta when temperatures are colder. (Use code WORLDPURSUIT15 for 15% off!)
---
Specialized Recon 2.0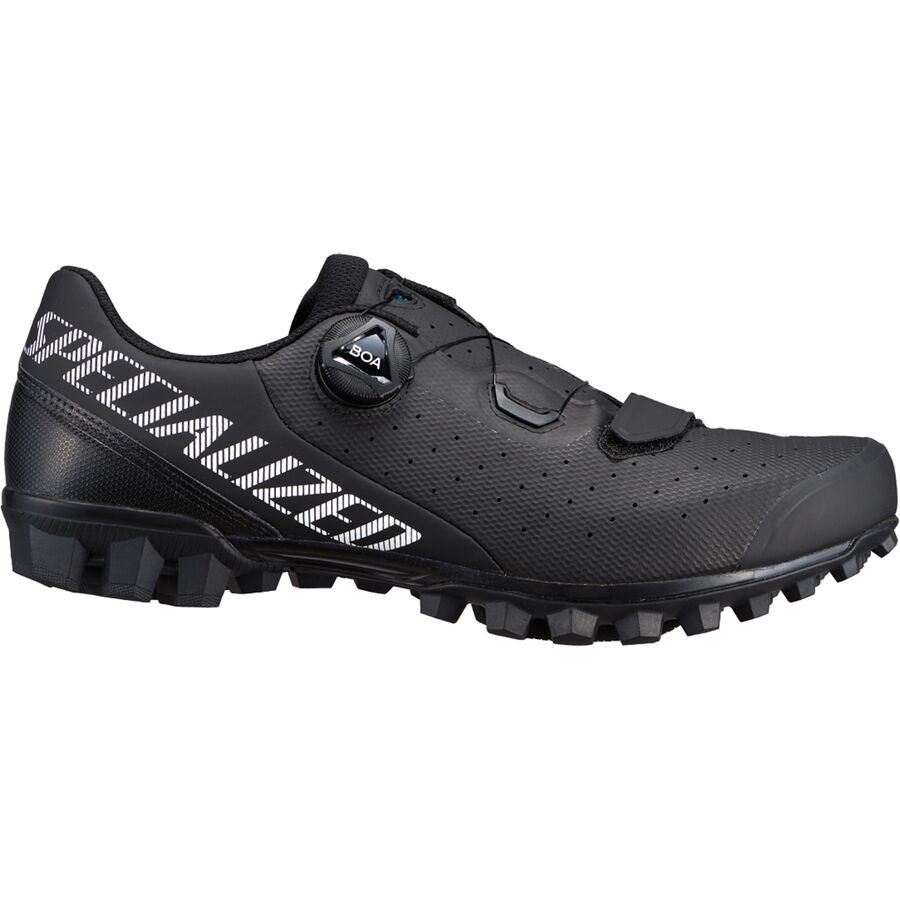 ---
Smith Session Helmet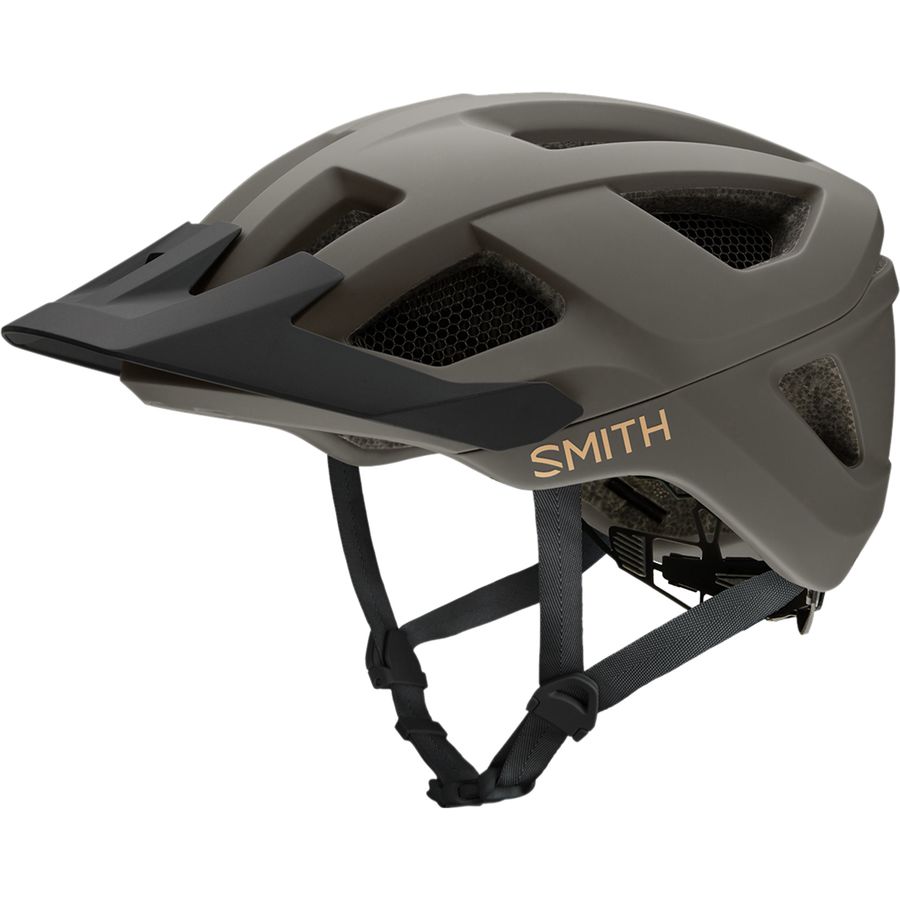 ---
Hope this list of our favorite Canmore bike trails and Banff bike trails helps you determine where to go on your two wheels!
If you have any other questions leave a comment or see our Canadian Rockies travel guide for more articles about photography spots, lakes, hikes, and everything else.
---
↓ Join the community ↓
The Banff Blog Facebook Group is your headquarters for the Canadian Rockies' travel advice and information. Including hike info and off-season travel information. This is also where you can meet one another when you need adventure buddies. 

Plan Your Trip to the Canadian Rockies