If you plan on visiting Banff in May, you have picked an excellent off-season month. Banff in May isn't your typical time to visit Banff. The month is far from warm in the Canadian Rockies, and you'll still be dealing with snow. The ski resorts are still running for the first half of the month. It's not quite the best time to visit Banff, but it's getting there!
It's not summer, and it's not the white winter wonderland everyone loves either. Out of all 12 months, I would say that May ranks 10 behind all the great summer, fall, and winter months. Only November and April are worse in my mind (just being an honest local!) Don't worry, though, the Rockies are always fantastic, with plenty of things to do.
That being said, Banff in May is tranquil compared to the summer months, and you'll be able to explore many areas without the hassle of the crowds. You'll get some sunny days and may feel brave enough for shorts. As long as you're prepared for varying weather, you'll have a great time and be able to score some shoulder season deals too!
---
Things to Know Before Visiting Banff in May
---
What's the Weather Like in Banff in May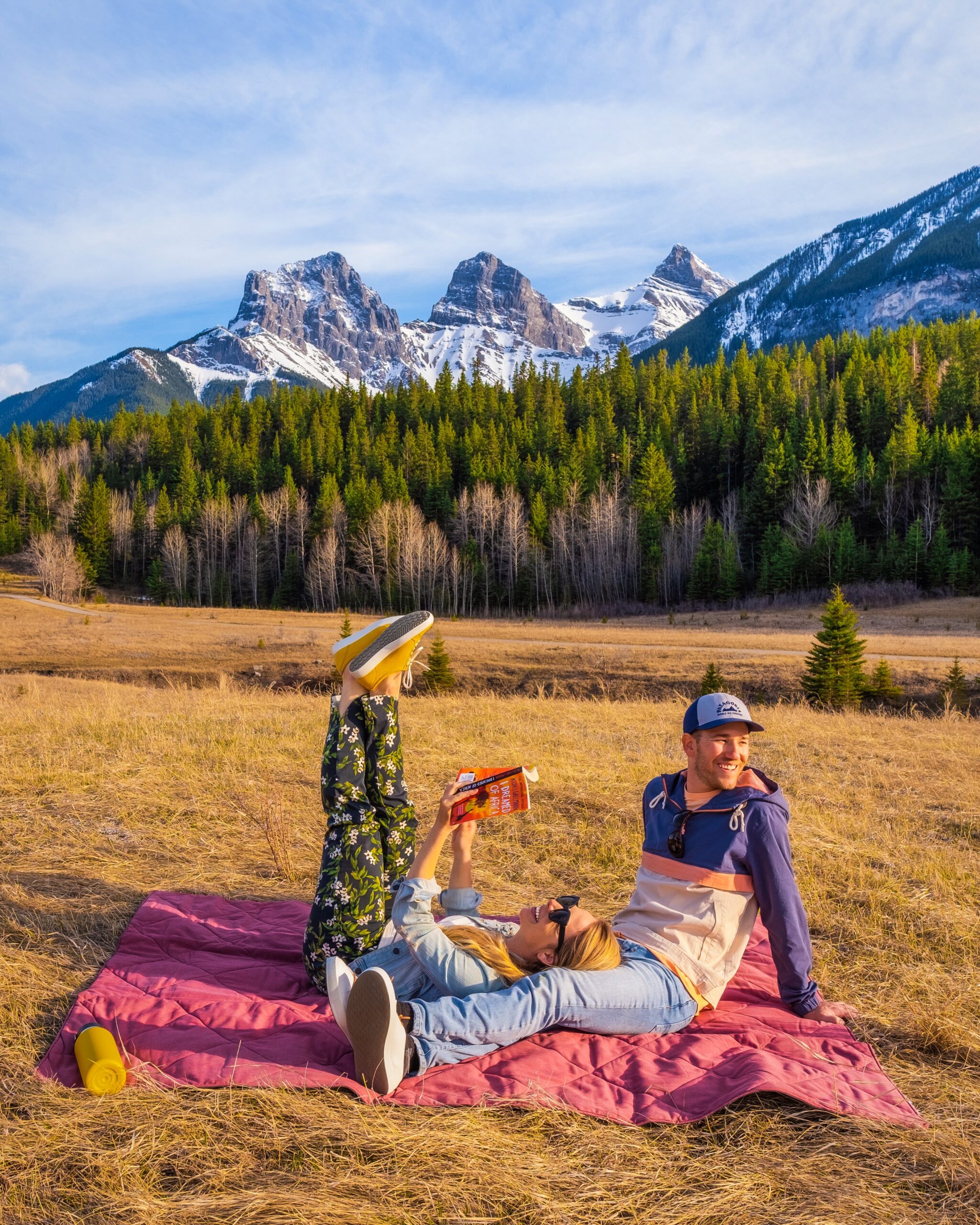 Things start to get pretty lovely in Banff in May. Temperatures are increasing, and the sun shines over the land. There can still be a dusting of rainfall in May, especially in higher altitudes (which is then snow), but generally, this is what you'd call pleasant weather for the Rockies. The high for the month floats around 15°C.
So is there snow in Banff in May? Absolutely, but it's melting at a lower elevation. Banff Sunshine and Lake Louise Ski Resort are still open until mid-May, among the longest-running ski seasons in North America.
You might get the very odd powder day too, but in general, expect spring riding conditions (soft slushy snow and not many layers).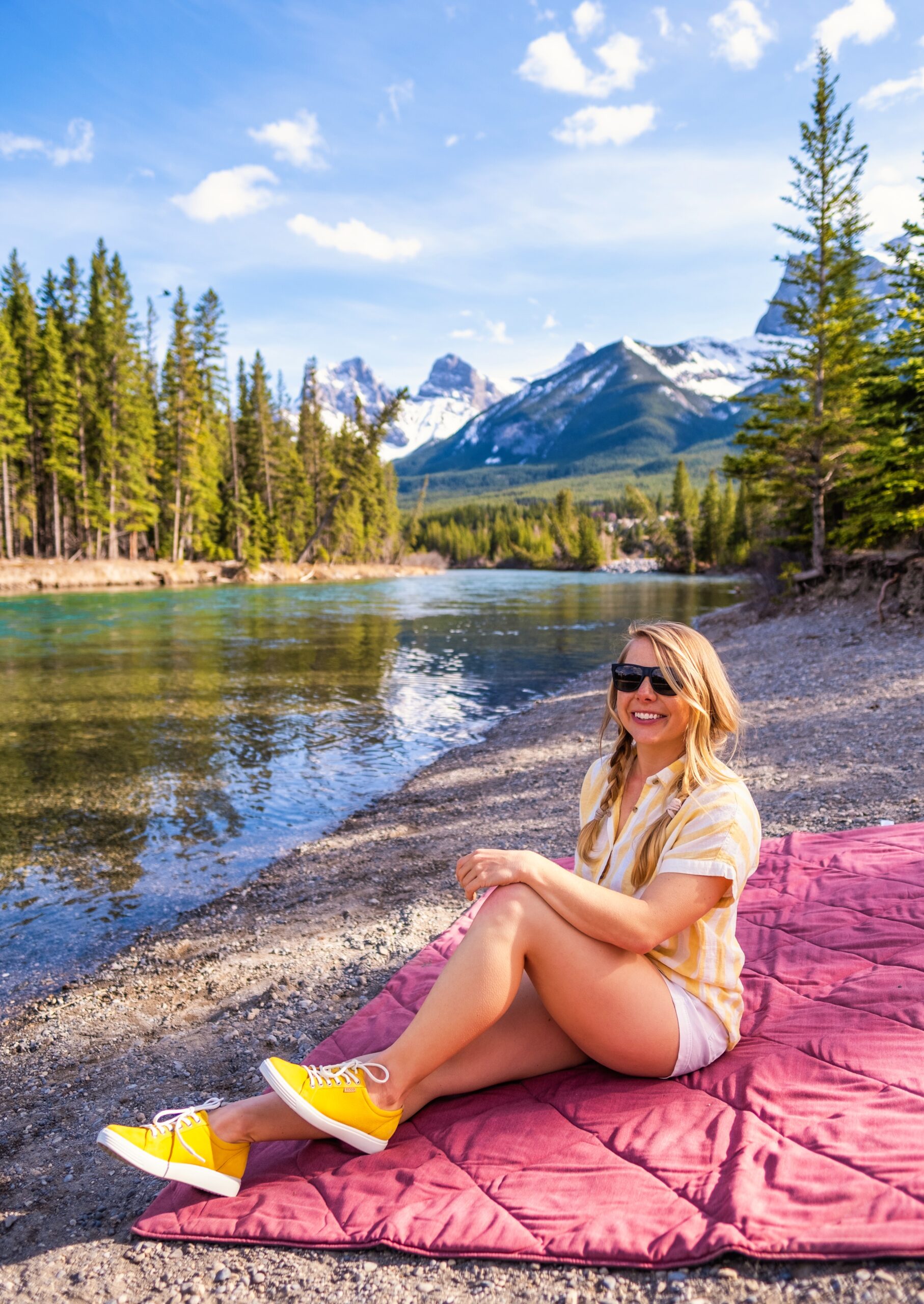 The glacier lakes will likely not be thawed yet, so if you're coming to Banff expecting to see the amazing blue lakes, you should wait another month. It's not the best time to visit Lake Louise. The access road to the iconic Lake Moraine is not open yet, so you'll have to return in June to see her in all her glory.
As mentioned, rainfall in May increases to about 50mm – still not that much. At high elevations, this means snow-capped mountains. At lower elevations, you'll be reaching for a rain jacket.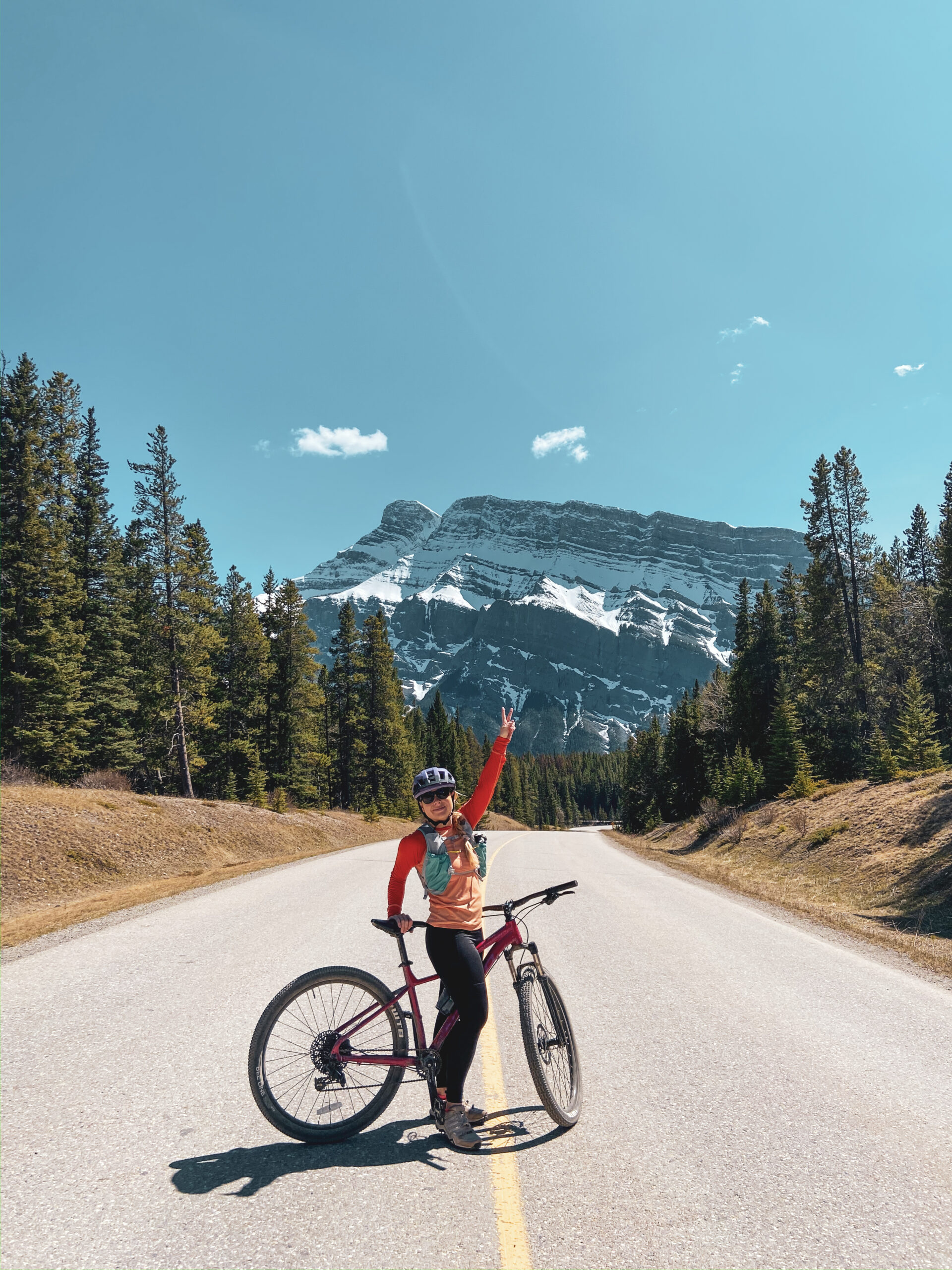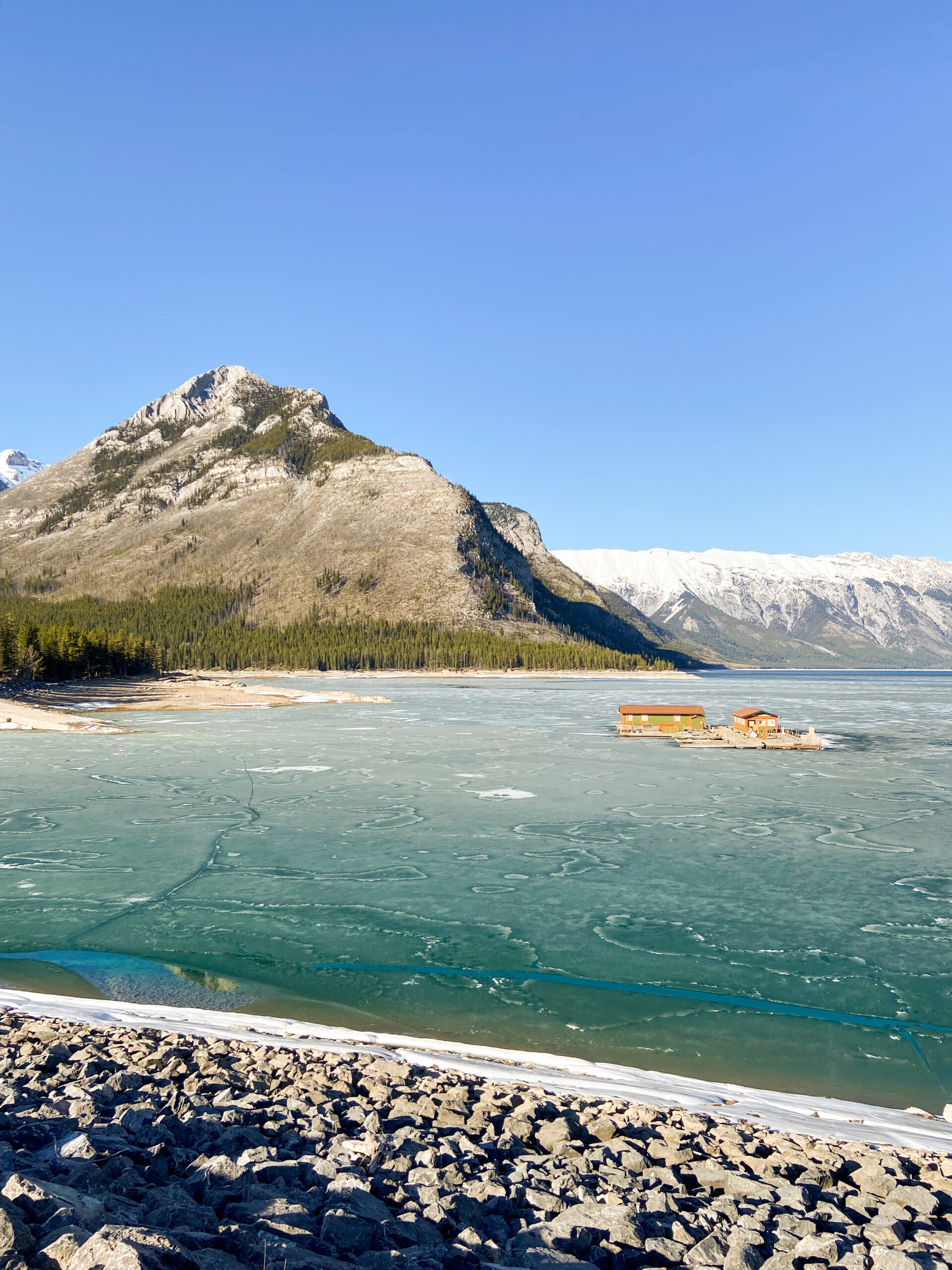 The wildlife is waking up from winter slumber, so you'll want bear spray while hiking. A few lower-elevation mountain hikes are doable now, but make sure you're equipped for wintery weather before heading out, just in case.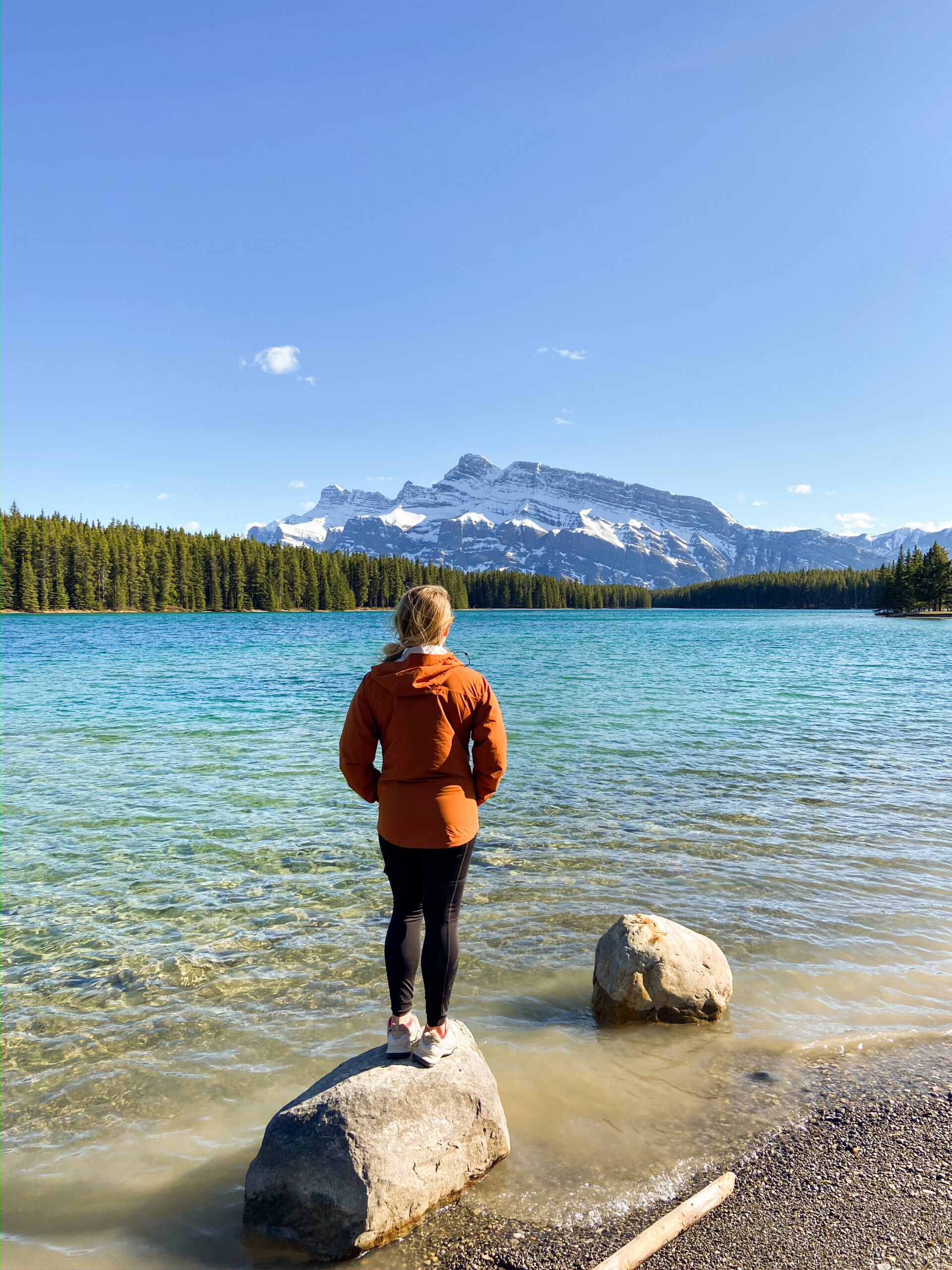 We hiked Sulphur Mountain last year in May, and it was still very snowy, and the low-elevation hikes are very muddy from melting snow. May in Banff is low season/shoulder season. It's not camping weather yet, though some campsites are open if you want an early start to the season.
Just make sure to bring equipment rated for freezing temperatures at night. In general, you won't find many crowds, and you may be able to score some off-season rates on the best Banff hotels.
---
What to Pack for Banff in May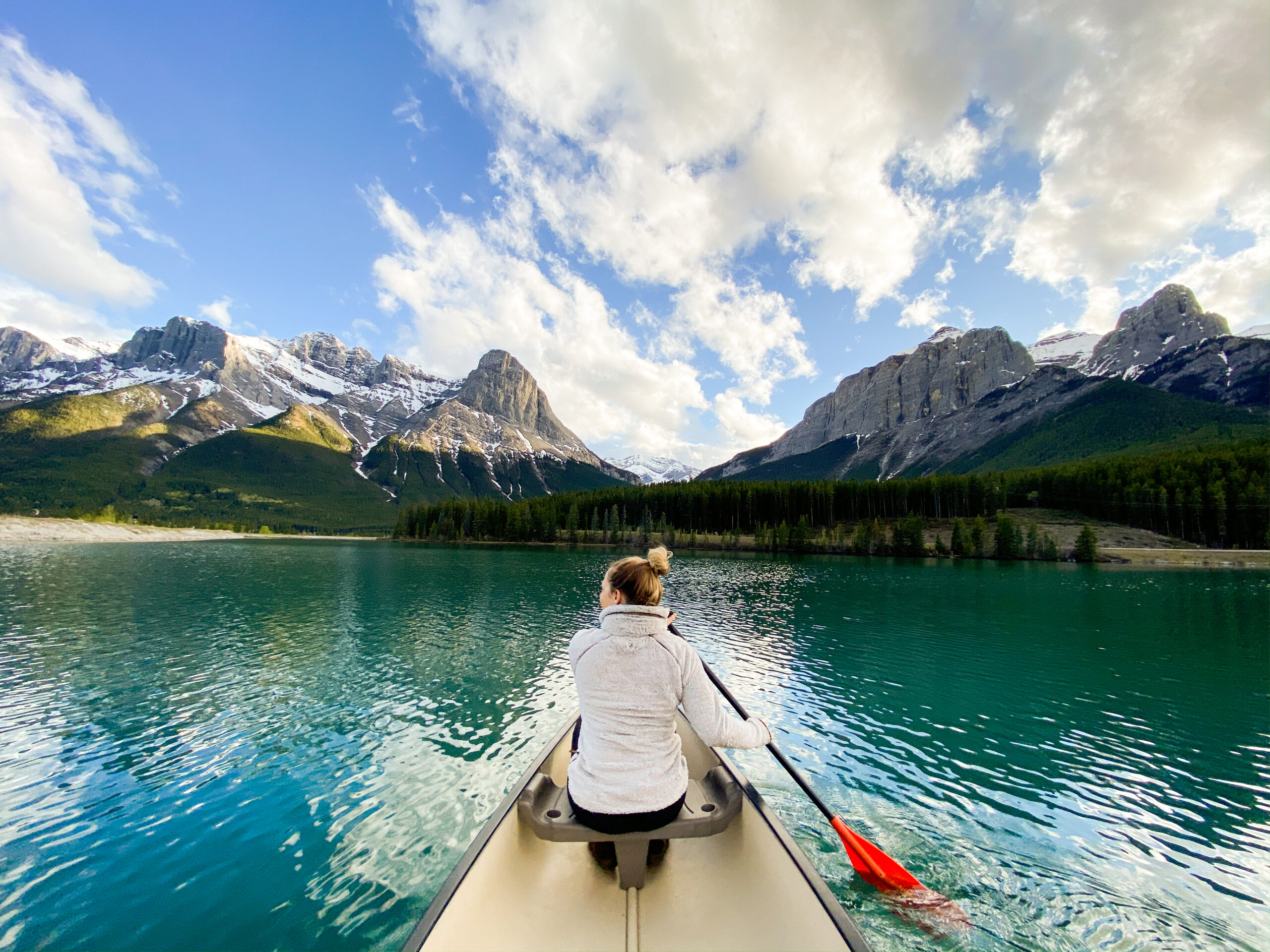 Boots, a hat, gloves, and warm clothing. Especially if you're visiting in early May. The later it gets in the month, the warmer, but you will still want a fleece jacket and long pants for nighttime. A down jacket is needed in the Rockies during all months.
I wouldn't plan on wearing shorts much unless you get lucky or run hot, though it's worth packing a pair in your bagj just in case! May is a varying month, but generally, I would say it will be on the chillier side rather than, the warmer side – this is the Rockies, after all.
If you plan on doing any hiking, waterproof shoes are a must, as well as microspikes, in case you find yourself on an icy trail.
---
Can You Visit Lake Louise in May?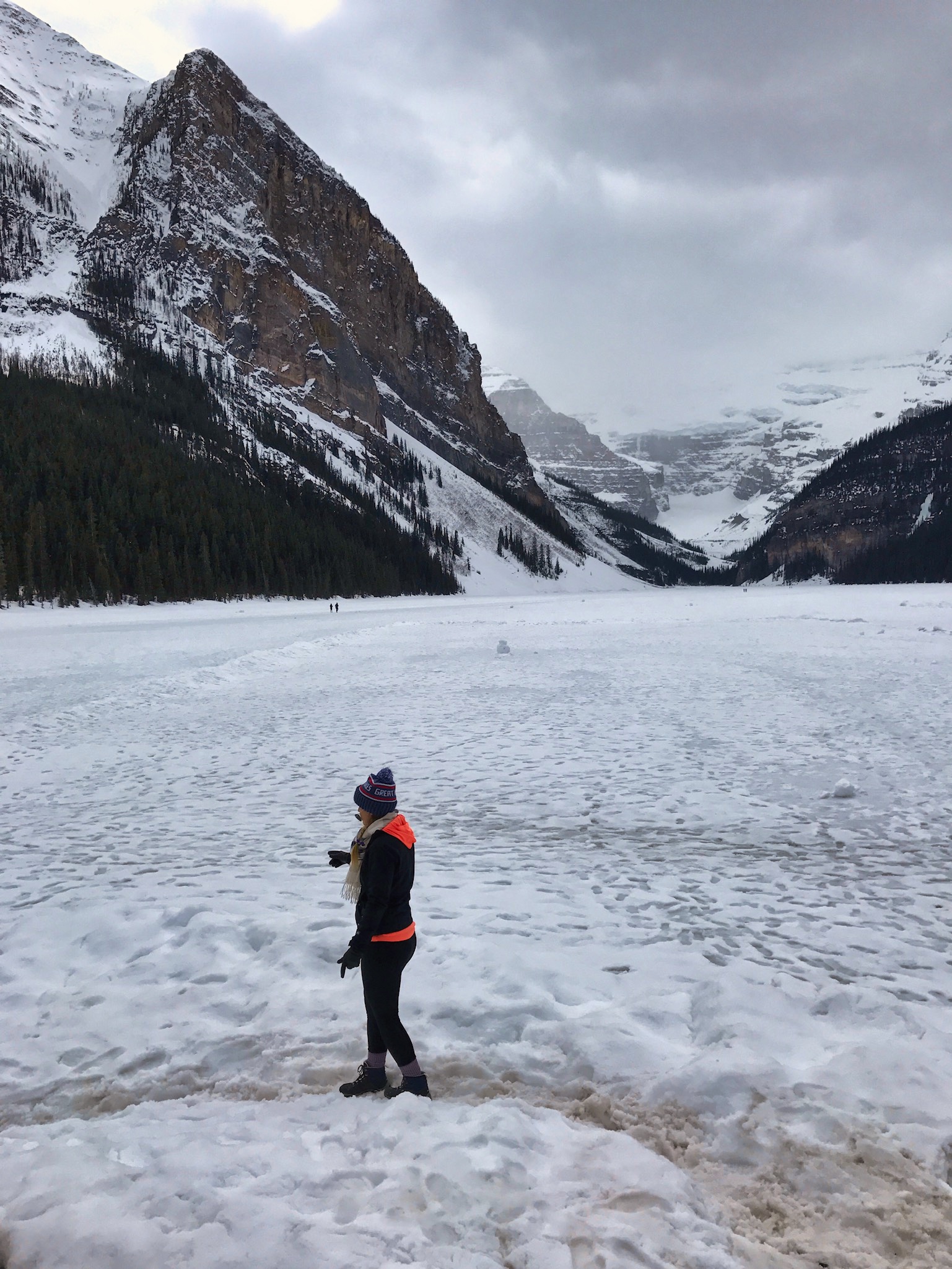 Lake Louise, at the earliest, will be completely thawed by the last week of May. So if you're wondering if Lake Louise is frozen in May, the answer is probably yes.
However, it really all depends on the year. In 2020, Lake Louise was not thawed until June. If you're visiting Lake Louise in early May, you can still expect the lake to be frozen and lots of snow in the surroundings. It's also the ski resorts' last month of the season, so if you want some excellent spring conditions, head to Lake Louise Ski Resort the first week of May.
Hiking up to the Lake Agnes Teahouse or the Little Beehive won't be ready until aroundl the last week of May, but you might have to wait until June, depending on the year. The Lake Agnes Teahouse won't be open until around June 4th, so bring your own tea and biscuits while hiking.
We went the first week of June one year, and it was a glorious hike. Then the next year, the second week of June, was a battle against snow and mud. No one can predict what exactly will happen every year.
---
Can You Visit Moraine Lake in May?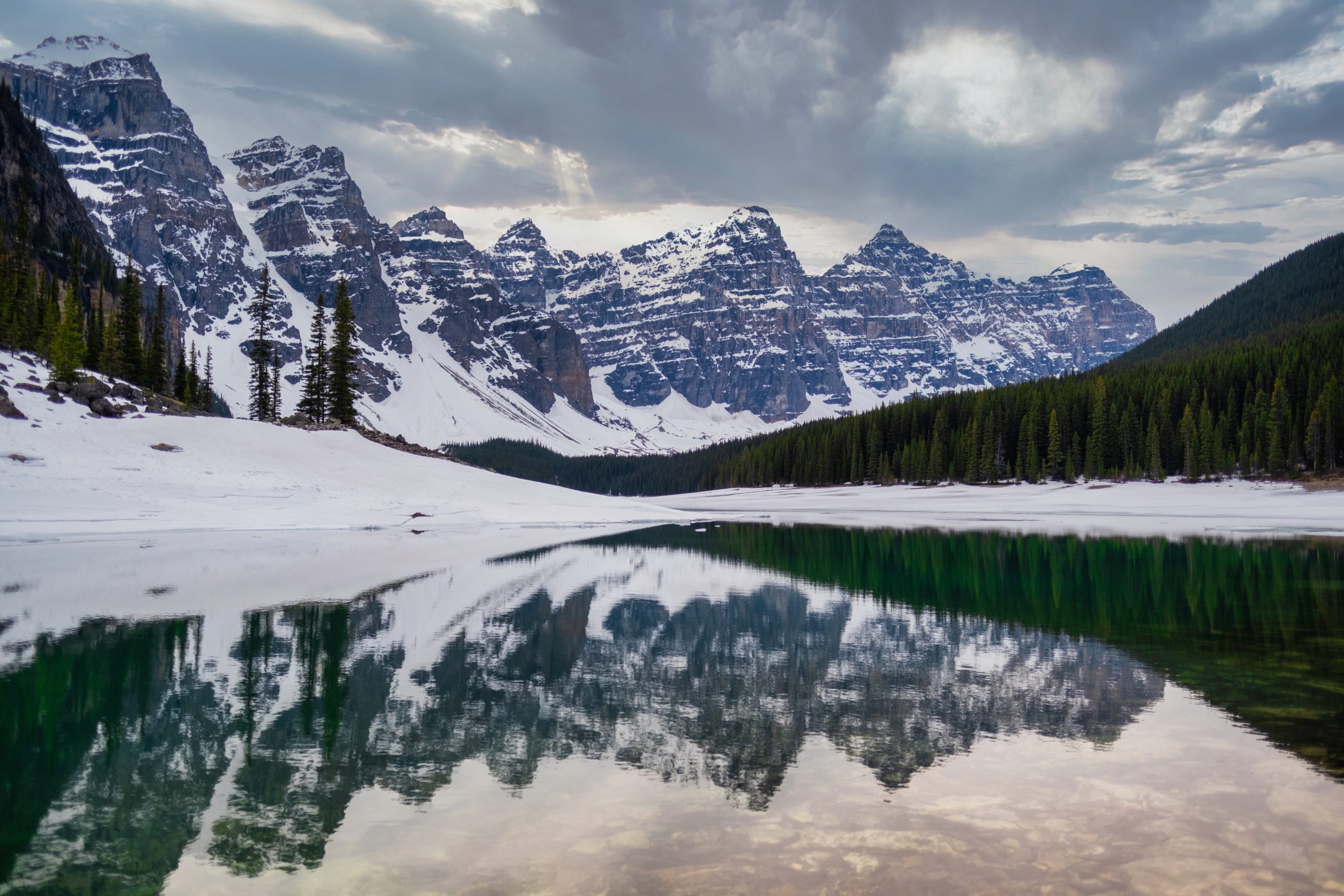 The road to Moraine Lake usually opens around the first week of June or maybe the last week of May and closes the Tuesday after the Canadian Thanksgiving Holiday (the second Monday in October). But there are no guarantees with anything in the Rockies – it all depends on the snowfall.
If you happen to be in Banff at the end of May, you might have access to Moraine Lake Road and be able to drive up to see the iconic lake, but I wouldn't plan on it. It's best to stay updated with Parks Canada, or join our Banff Group Facebook page!
Although she's never ugly, Moraine Lake likely won't be as stunning in May as you've seen on social media. If you visit Moraine in May, expect there to still be lots of snow on the peaks and the lake to still be mainly frozen.
It won't be its full blue color yet, but it's a nice visit as it's relatively quiet. It turns into a crazy town come June and stays that way until October.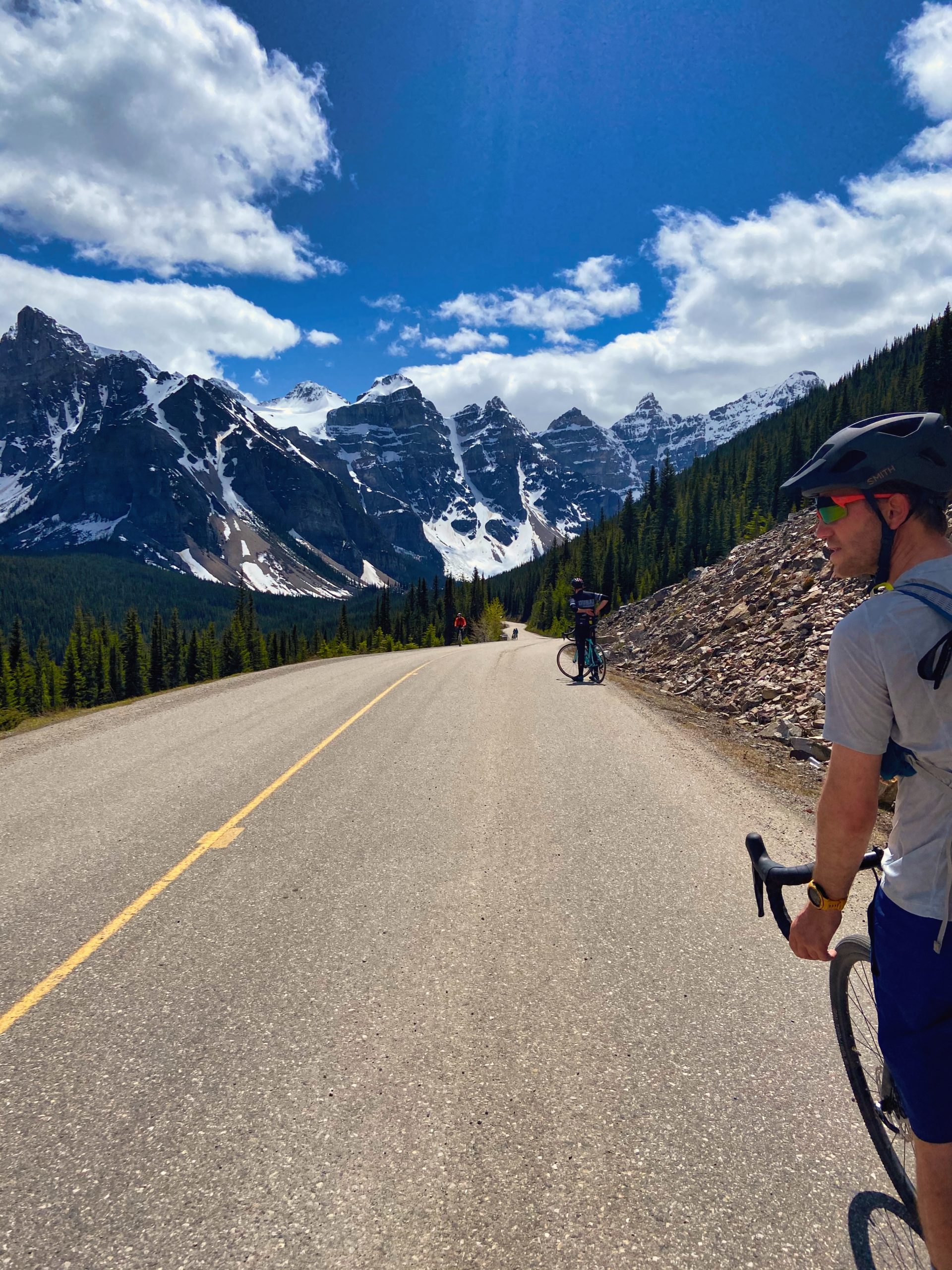 If you visit Banff in May and the road to Moraine Lake has not opened yet, you can bike in. It's 12km all uphill, and I promise you it's not that bad. Plus, the way down is super fun and cruisy! Biking in is the only way we've ever seen Moraine Lake in May.
The road is typically not clear of snow until at least mid-May, and the best time to cycle Moraine Lake Rd is the last week of May. This is right after it is cleared, but before the road opens to vehicles.
---
The Best Things to Do in Banff in May
---
Bike the Bow Valley Parkway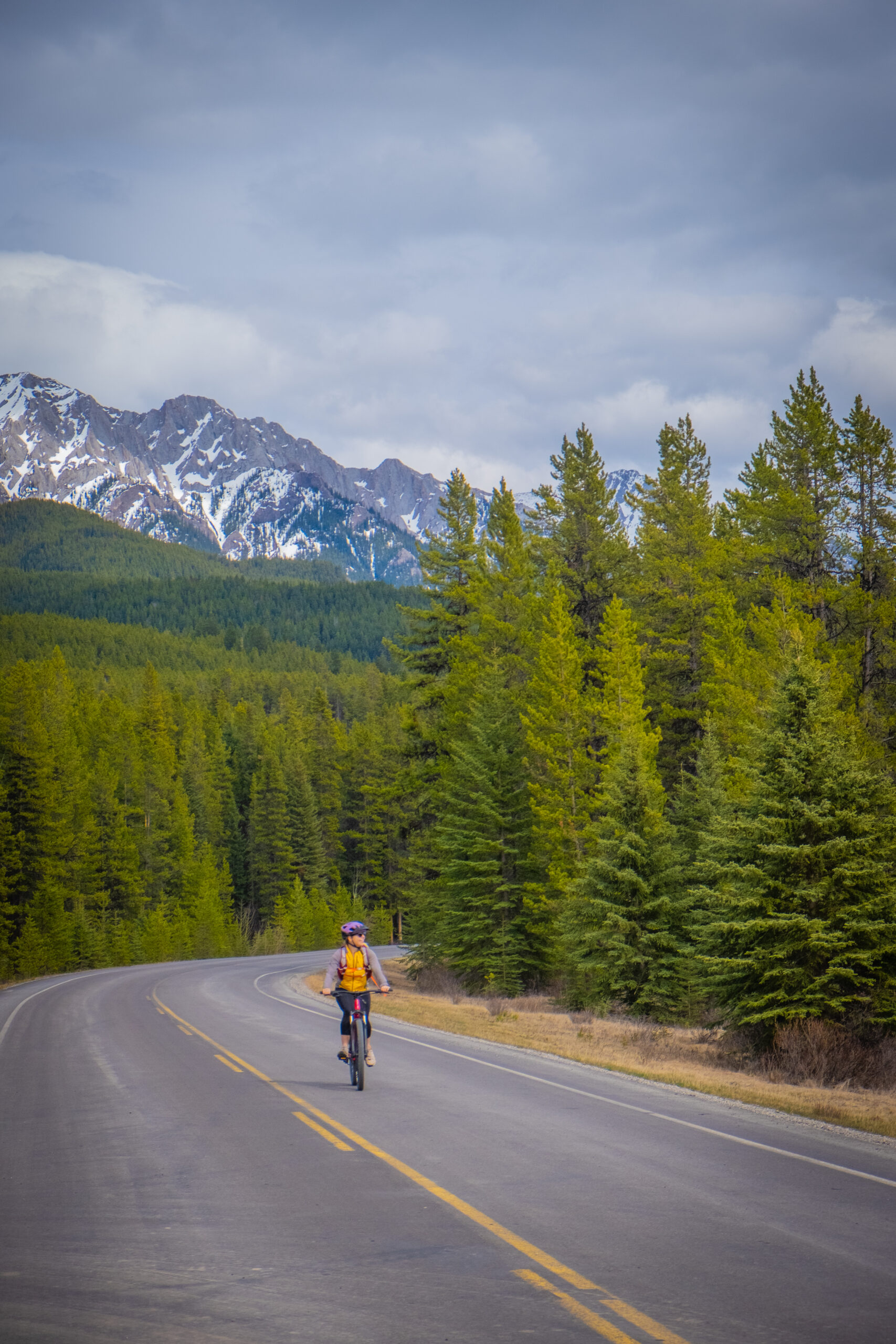 Since hiking in Banff isn't in full swing yet, we consider May in Banff the perfect bike month. Most paths are clear of snow now and are fantastic for cyclists and mountain bikers. My favorite road to cycle is the Bow Valley Parkway, followed by the Legacy Trail from Banff to Canmore.
Parks Canada closes a section of the Bow Valley Parkway to vehicles to give cyclists and wildlife the right of way. Last year this closure lasted the entire month of May, stay up to date here with closure dates for May 2024. It's the perfect route to go for a bike ride, and we've seen dozens of bears along the route. It's paved and crosses many beautiful stop-offs like the Storm Mountain Lookout, Johnston Canyon, and Moose Meadows.
You can go for as long as you want and then turn around and head back to your car. Or you can cycle all the way to Lake Louise and back for an epic 100km+ day!
---
Johnston Canyon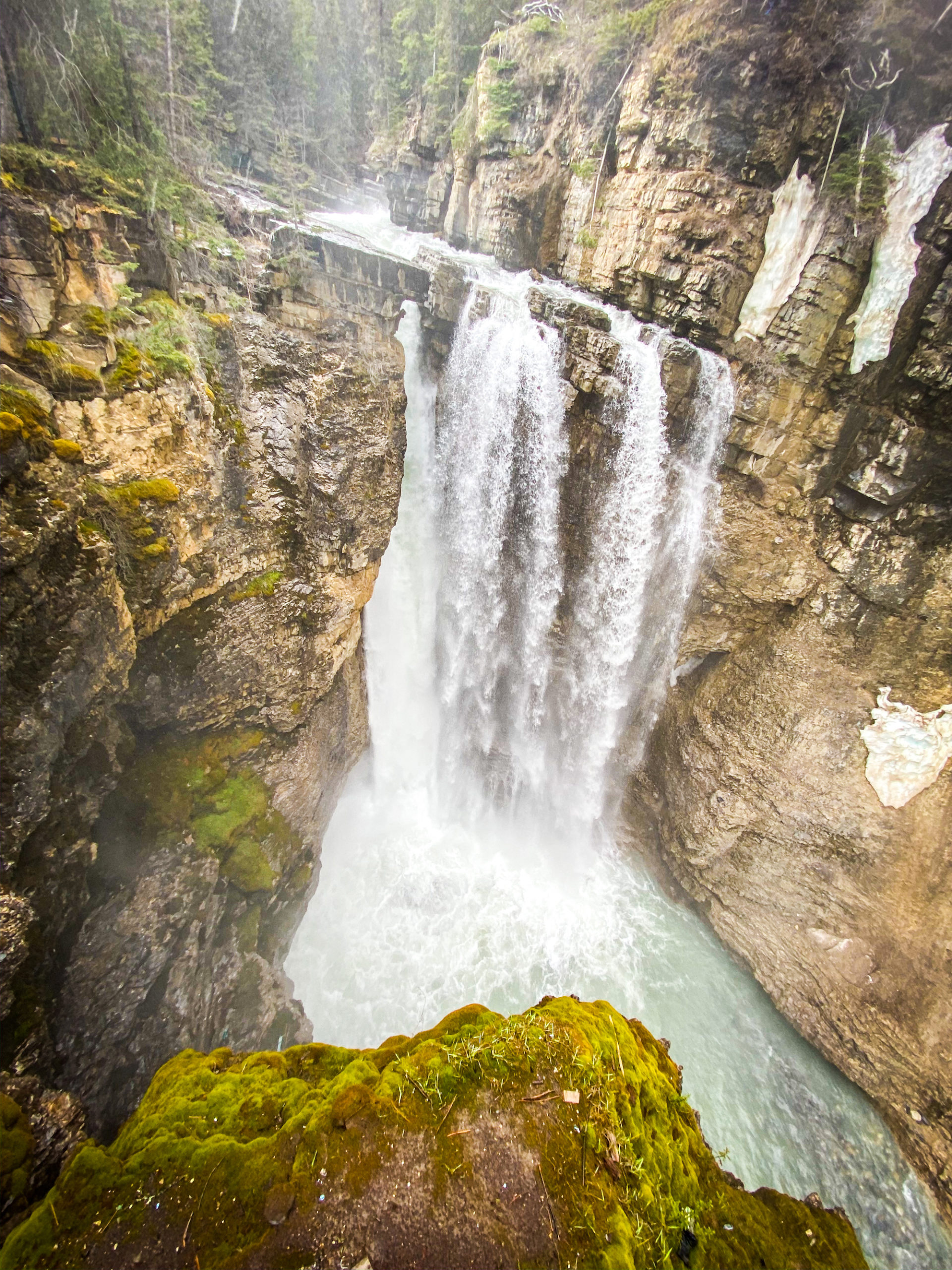 One of the best things to do in Banff in May is a hike through Johnston Canyon. Almost everyone loves this very popular hike along the Bow Valley Parkway! The walk through Johnston Canyon to the Upper and Lower Falls is gorgeous.
It's accessible and well-maintained. However, we regularly encounter ice and snow on the trail in early May. We recommend good boots or even microspikes are recommended before May 15th.
Come late May, and we start getting into more spring-like conditions. The waterfalls often rush again as the snow melts off the higher elevation areas.
---
Mountain Bike at the Nordic Center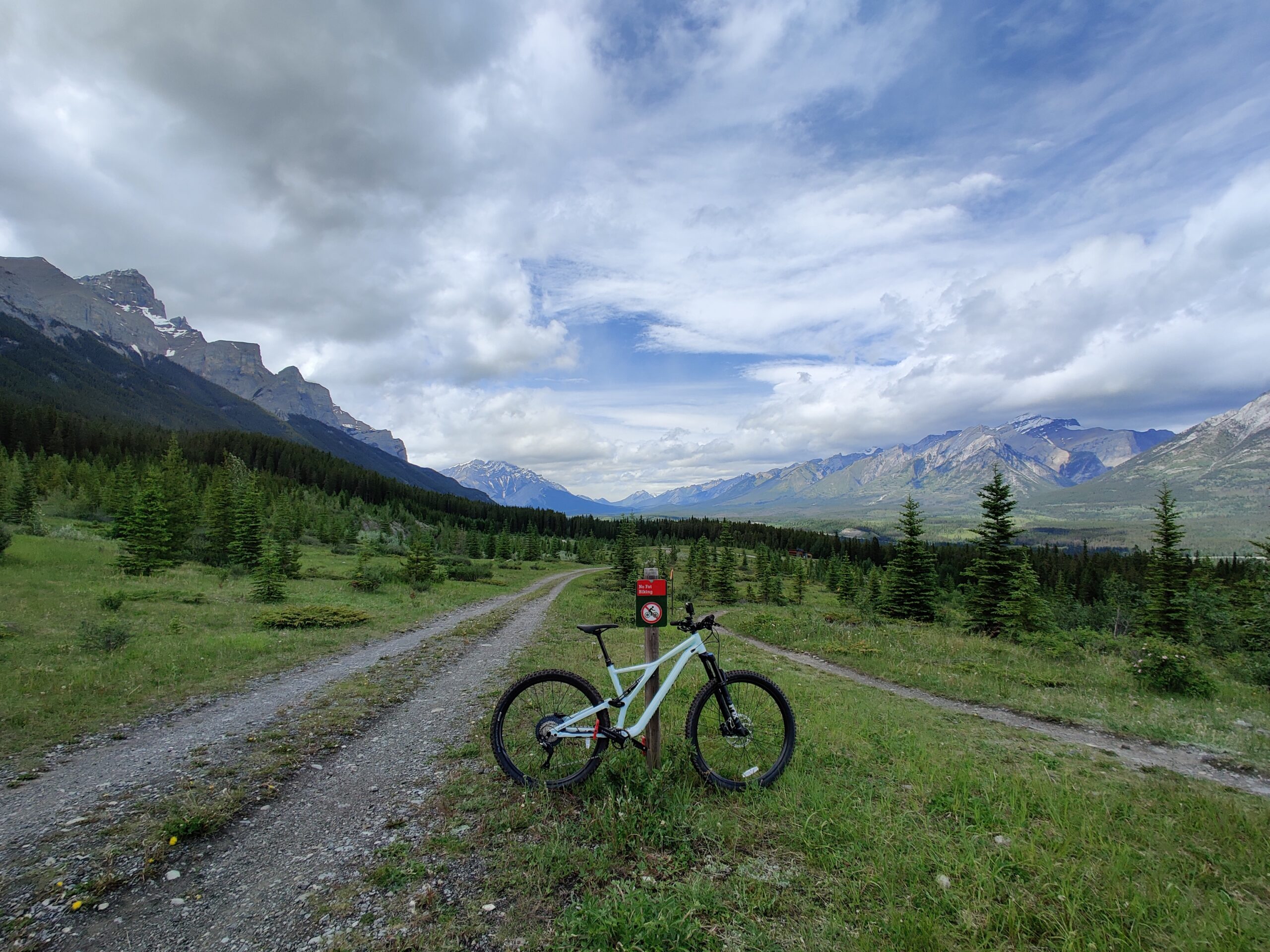 It's season-dependent, but the Canmore Nordic Center generally opens up sometime in May for mountain biking. There are some awesome flow trails at the Nordic Center and great greens, blues, and blacks here.
You can rent mountain bikes at Rebound Cycle in Downtown Canmore. It's not the best mountain biking in Canada, you'll need to head to Whistler or Squamish for that, but it's still an enjoyable few hours in nature.
35 Best Canmore and Banff Bike Trails
---
Enjoy the Sunshine Slush Cup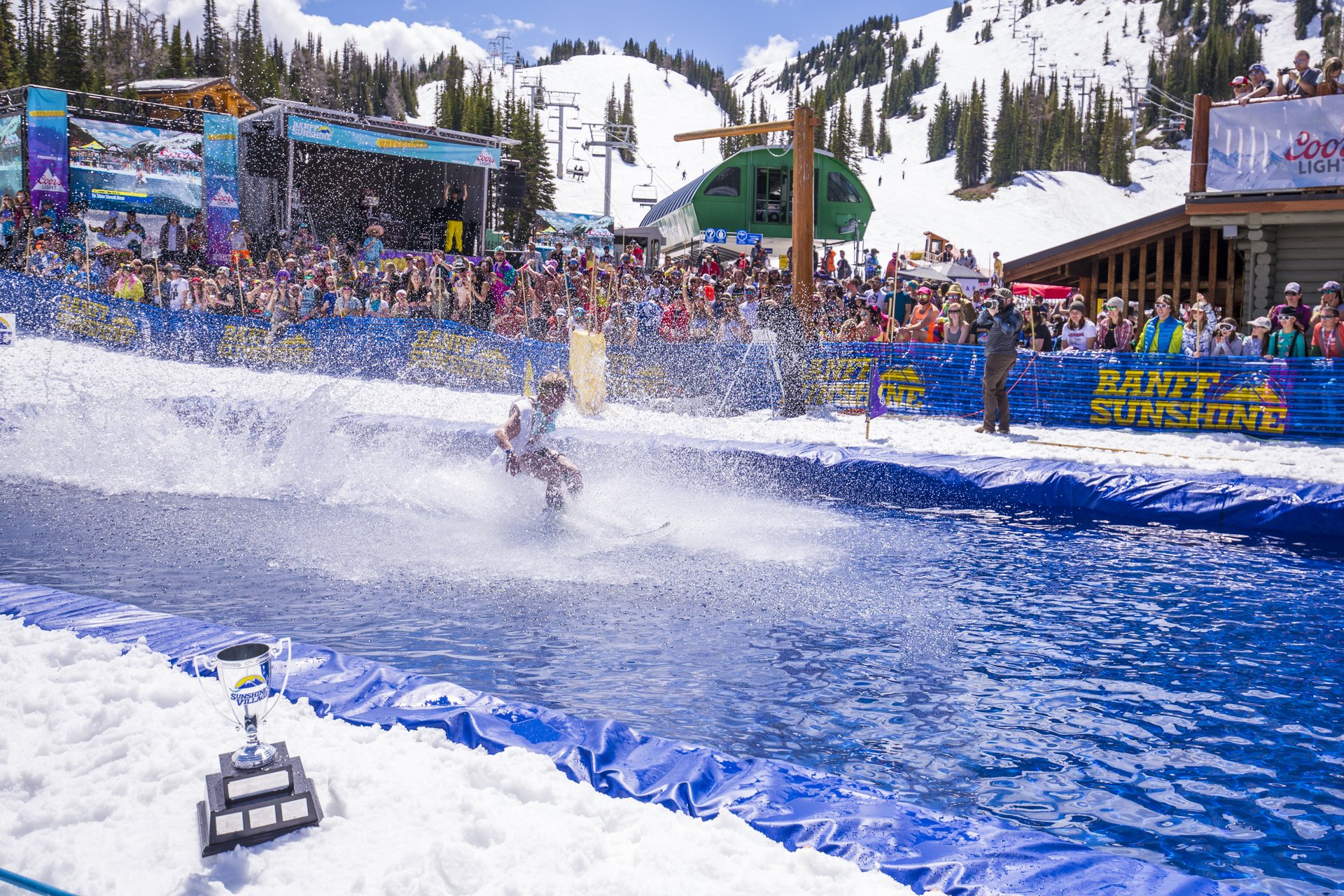 Sunshine Ski Village actually holds a fun festival to signal the end of the winter. The annual Banff Sunshine slush cup takes place on May Long Weekend every year and is where skiers and snowboarders alike celebrate a fantastic winter.
It's recognized as one of the year's best ski events, and you can expect a lively party with a DJ and tricksters battling it out on the slush.
---
Read a Book on the Bow River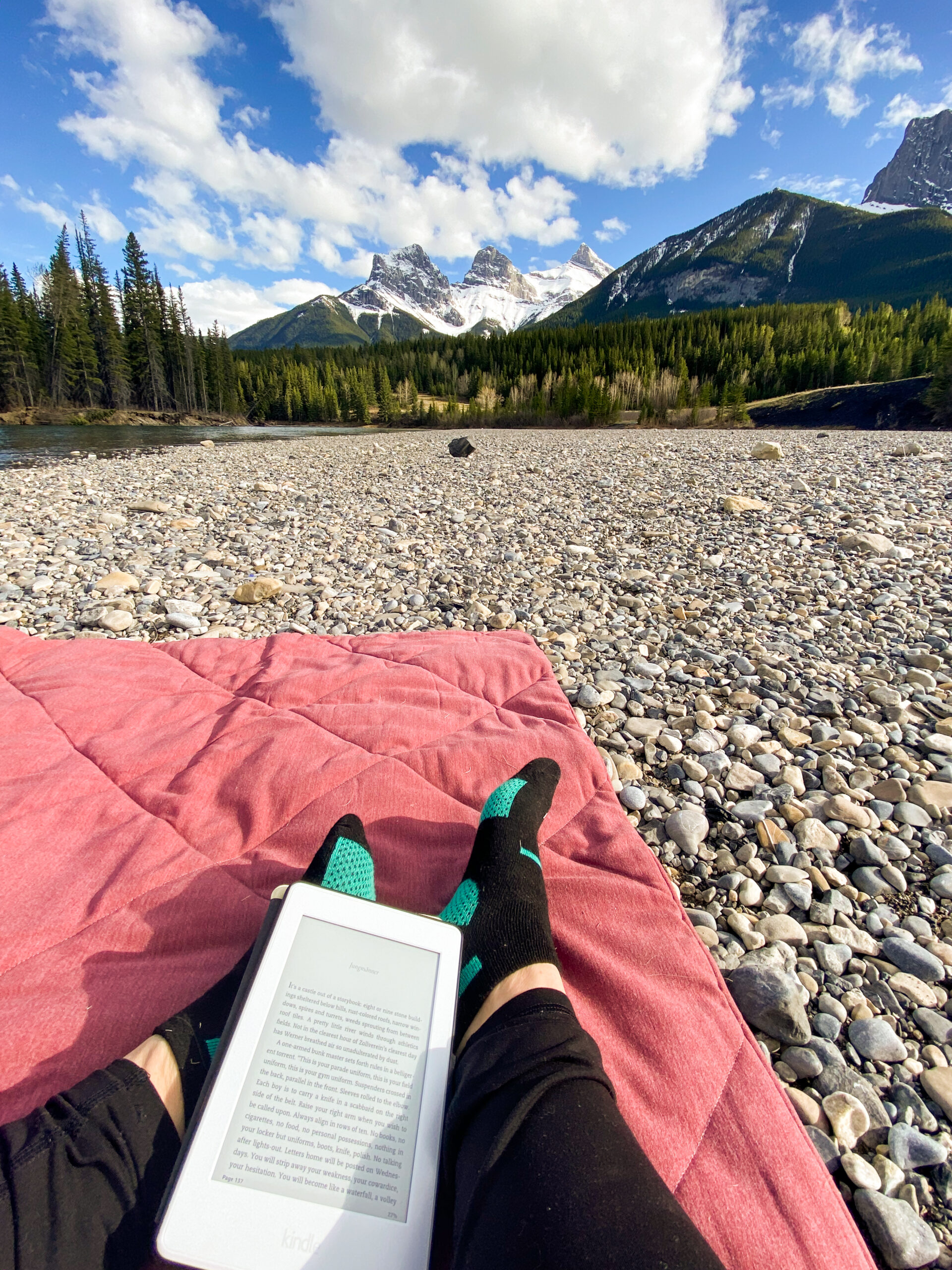 One of the best things to do in Banff in May is head down to the Bow River, which flows through Banff and Canmore, and enjoy the flowing water with the mountain scenery. I love bringing a book down to the river and think about what a long beautiful summer we are about to have in the Canadian Rockies.
---
White Water Raft Down the Bow River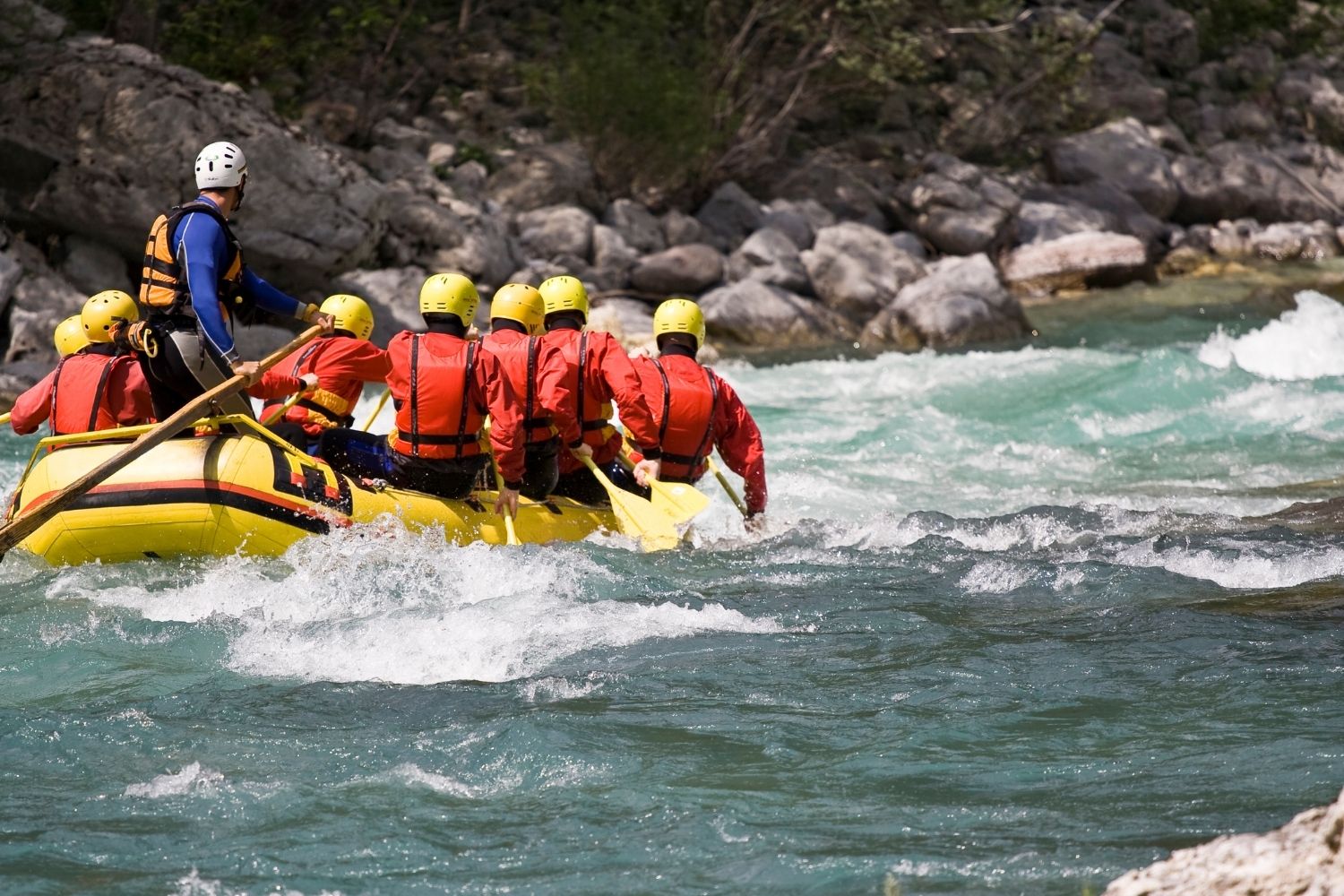 May marks the beginning of the Whitewater rafting season in the Bow Valley. A few operators will safely take you down the Bow River on class 2-3 rapids. You also will have the option to swim, but be forewarned it's freezing.
---
Drive the Icefields Parkway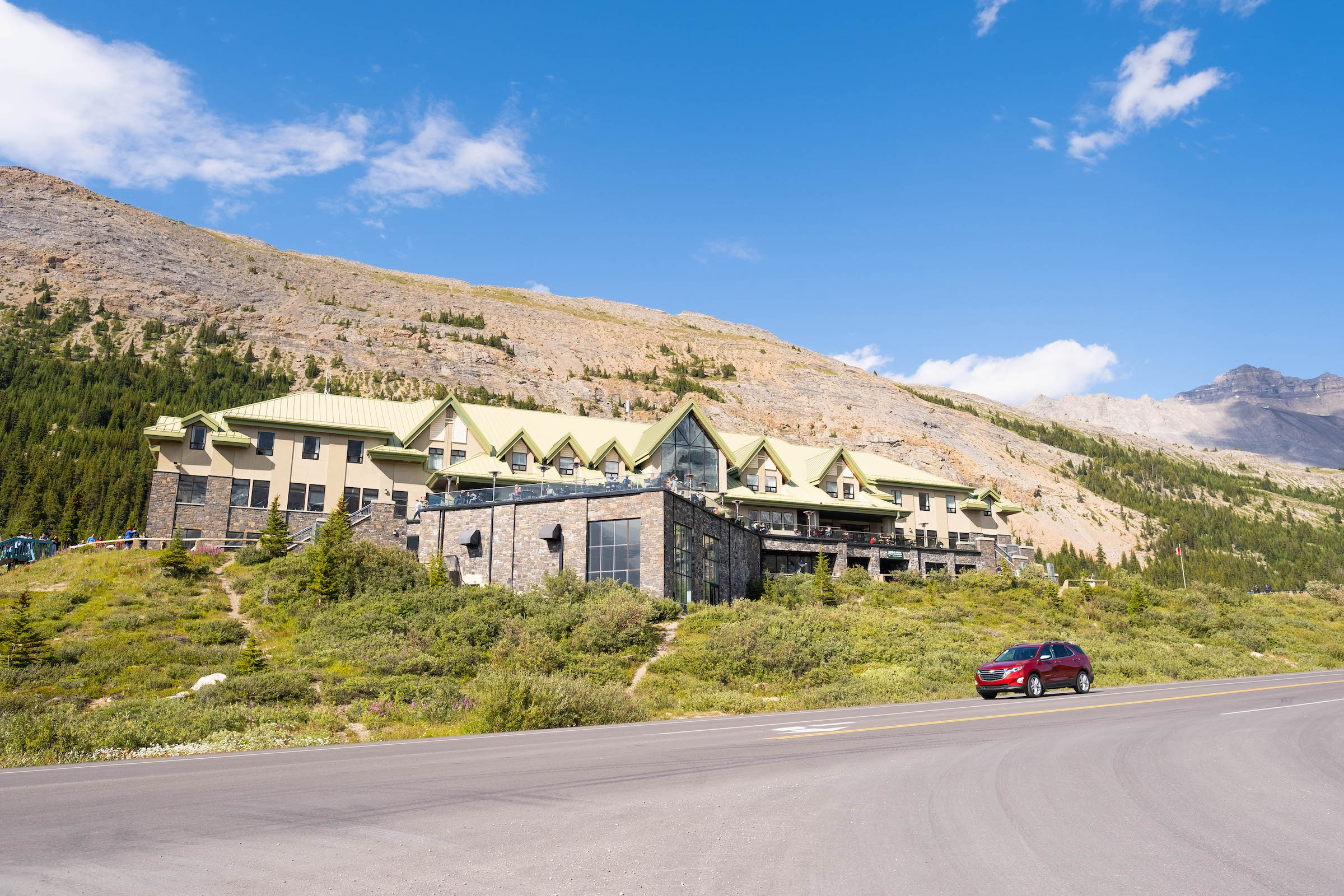 The Icefields Parkway is a beautiful drive enjoyed by many in the summer months. Though in May, you'll likely have it to yourself. The drive between Banff and Jasper is long and full of stunning stops.
We enjoyed driving it in late May and had many sights like Mistaya Canyon, Athabasca Falls, and the Parker Ridge trail to ourselves. And the Columbia Icefield Center and Jasper Skywalk reopens every May!
May can still be a mixed month road conditions-wise. The snow is melting, but that doesn't mean you are scot-free of hazards like black ice, so please drive carefully on the Parkway.
---
Hike Sulphur Mountain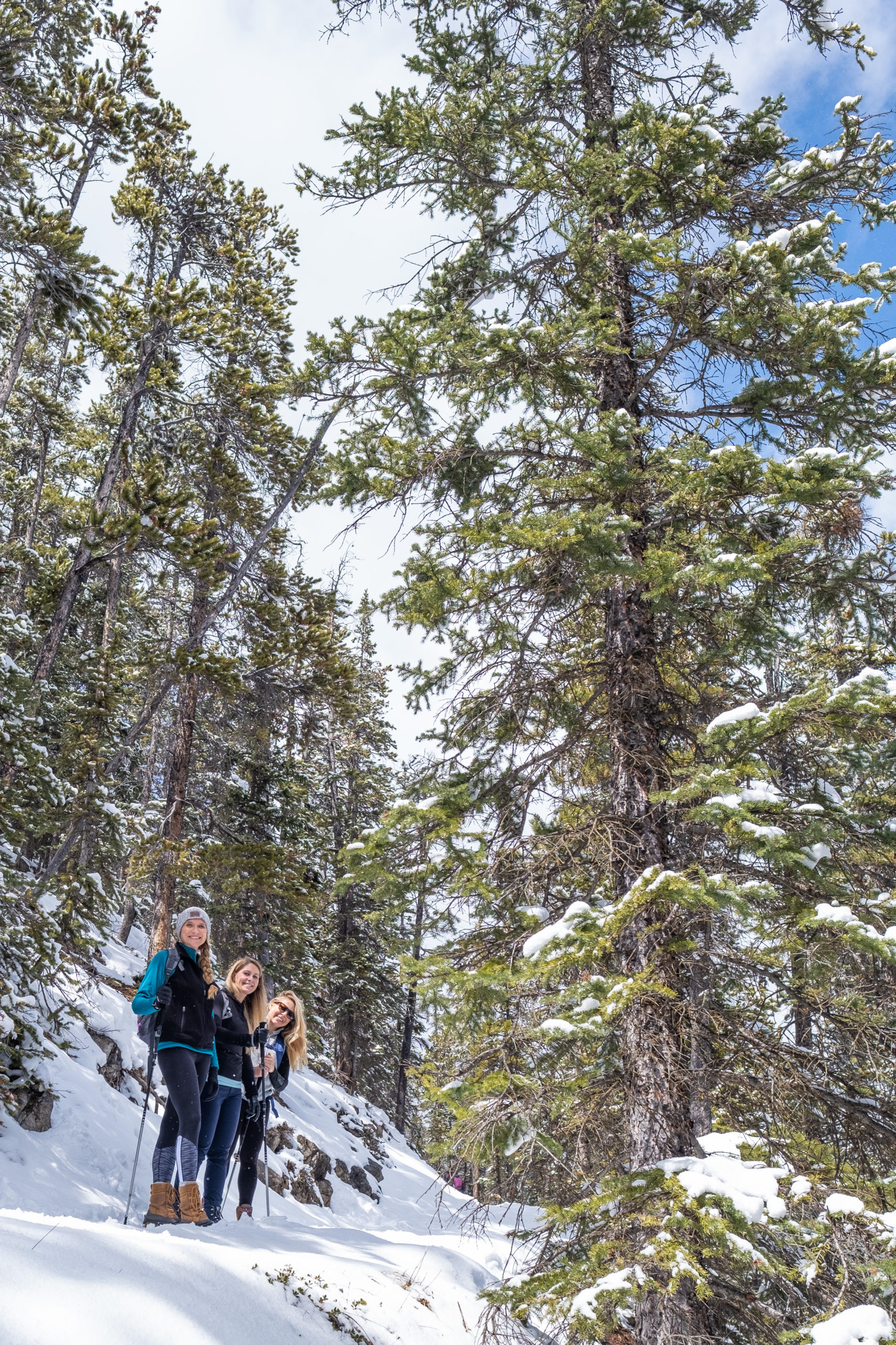 Sulphur Mountain is easily one of the most popular hikes in Banff National Park. It's a beautiful hike up that provides visitors with astonishing views over the Bow Valley and Spray Valley.
The trail leaves from the Banff Gondola or Hot Springs parking lots and follows a series of switchbacks up Sulphur Mountain until reaching the Gondola Station. Follow the boardwalk along the ridge to the peak and stunning views out across the valley and Banff.
Sulphur Mountain is a classic hike in Banff that is good to go year-round. Expect some snow still in May. There's a coffee shop, a restaurant, and indoor interactive learning center for kids at the summit!
**In May, animals are emerging from hibernation and seeking the easiest route to food, potentially intersecting with your hiking path. Familiarize yourself with bear safety protocols before embarking on hikes. We recommend carry bear spray all year round. Did you know bears aren't true hibernators and can awaken at any time?
---
Banff Gondola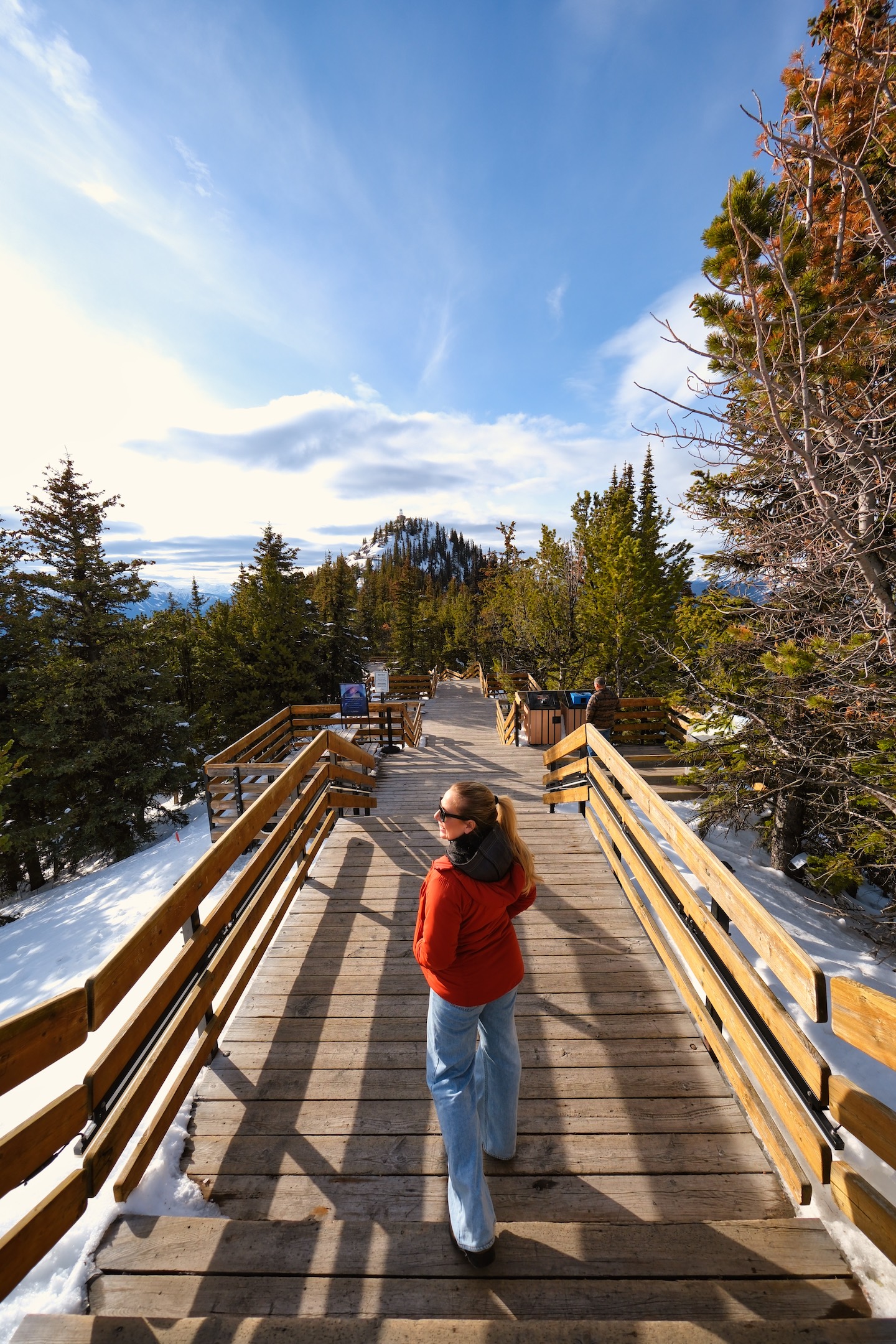 If you don't feel like hiking up Sulphur Mountain, you can still get to the top another way. The Banff Gondola gets you to the top of the mountain in just eight minutes and climbs to 2281 meters (7486 ft) above sea level. You climb 698 meters very quickly!
Once at the top you'll have panoramic views of the Bow Valley and down towards the town of Banff. It's one of my favorite views of Cascade Mountain. There's a coffee shop up here, as well as Sky Bistro, one of the most scenic restaurants in Banff. Expect it to be pretty chilly up here in May, so you'll want to make sure you have a jacket!
Book Your Banff Gondola Tickets
---
Hike in Kananaskis Country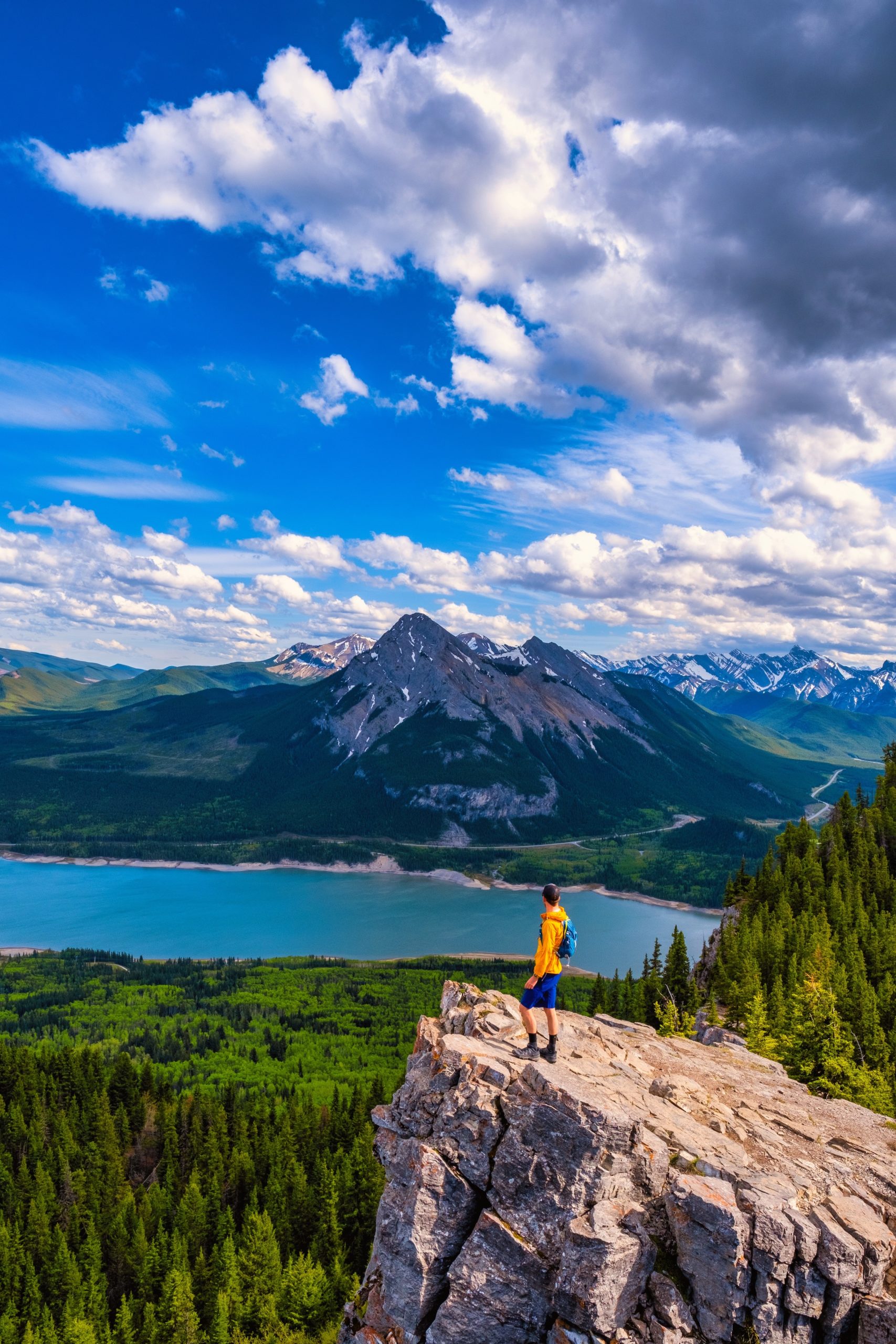 The foothills and front ranges of the Canadian Rockies often see better early season conditions than the mountains in Banff. There are some great early season hikes to enjoy in Kananaskis that are snow-free, or at least relatively snow-free. The Barrier Lake Lookout is a great early season hike, as well as Wasootch Ridge and Porcupine Ridge.
If you want some super simple hikes that are family-friendly consider Troll Falls or Grotto Canyon. Keep in mind the later in May, the better for hiking in the Canadian Rockies.
---
Go for Paddle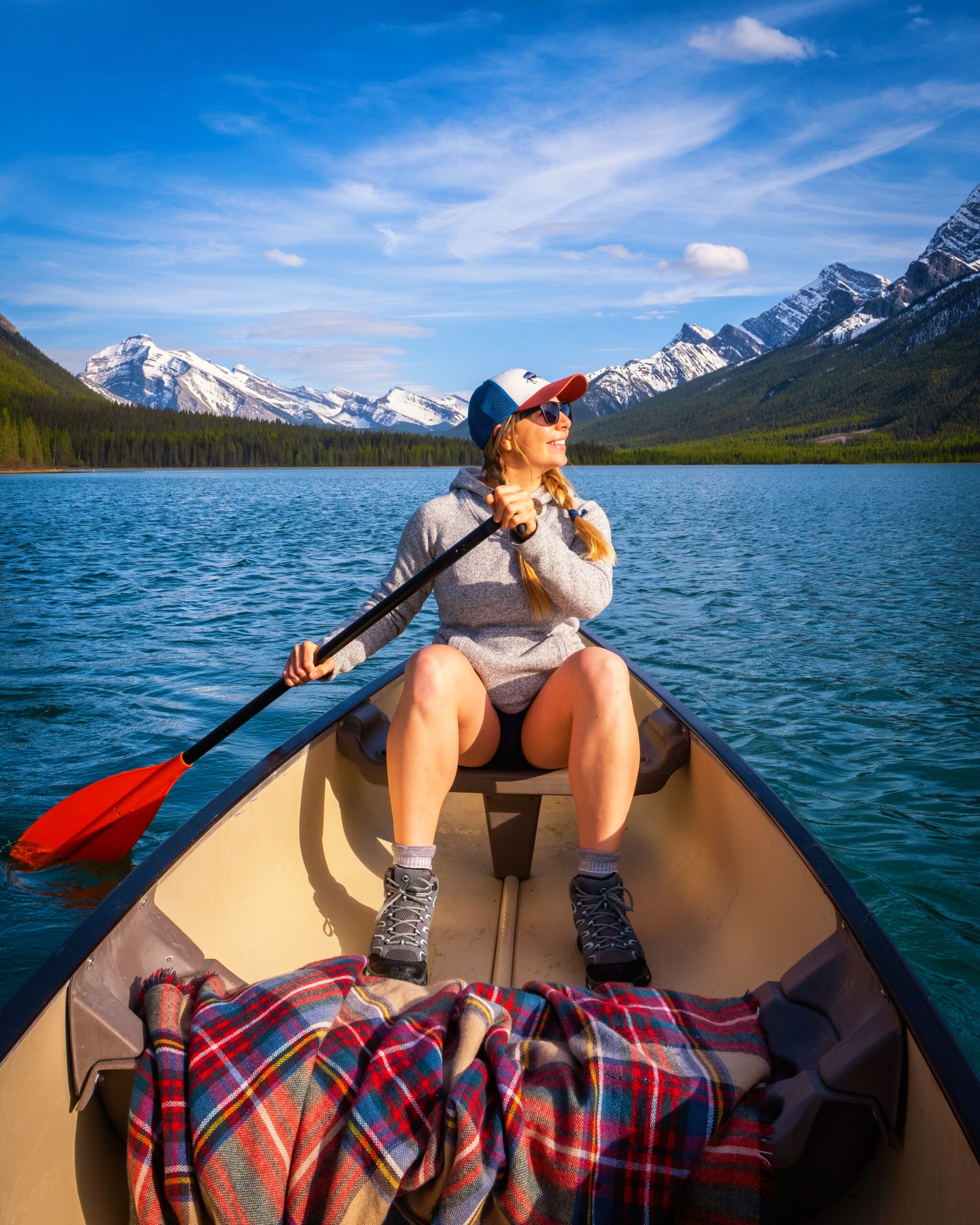 While hiking season isn't in full swing, May is a time when you will see many canoes and kayaks out on the water. Plenty of the lakes around Canmore are usually melted by now, and so are Vermilion Lakes and Two Jack Lake in Banff.
It's a great time to rent a canoe or kayak and paddle around. Our favorite place for a leisurely paddle is the Canmore Reservoir which has fantastic views of Ha Ling Peak and the Little Sister.
Amazing Paddle Boarding Locations in Banff
---
Enjoy the Banff Breweries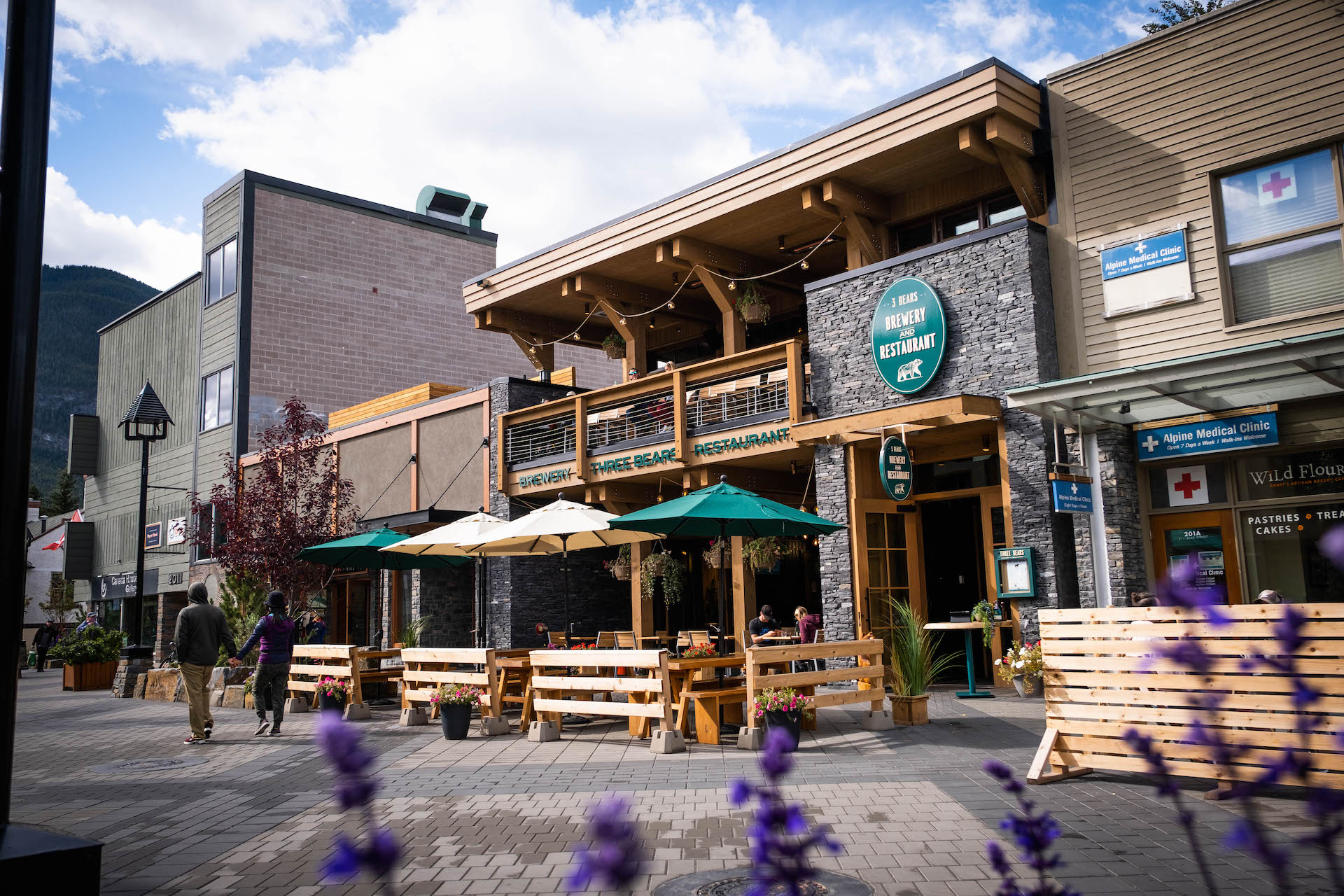 In theory, Banff in May means it's officially patio season again! Though you're in the Canadian Rockies, so it's likely still chilly. Thankfully many Banff restaurants have heaters to sit under.
Though you do get the odd clear sunshine day, and you should take advantage and enjoy a beer at Three Bears or Banff Ave Brewing outside!
The Best Banff Breweries!
---
Take in the Canadian Rockies from the Sky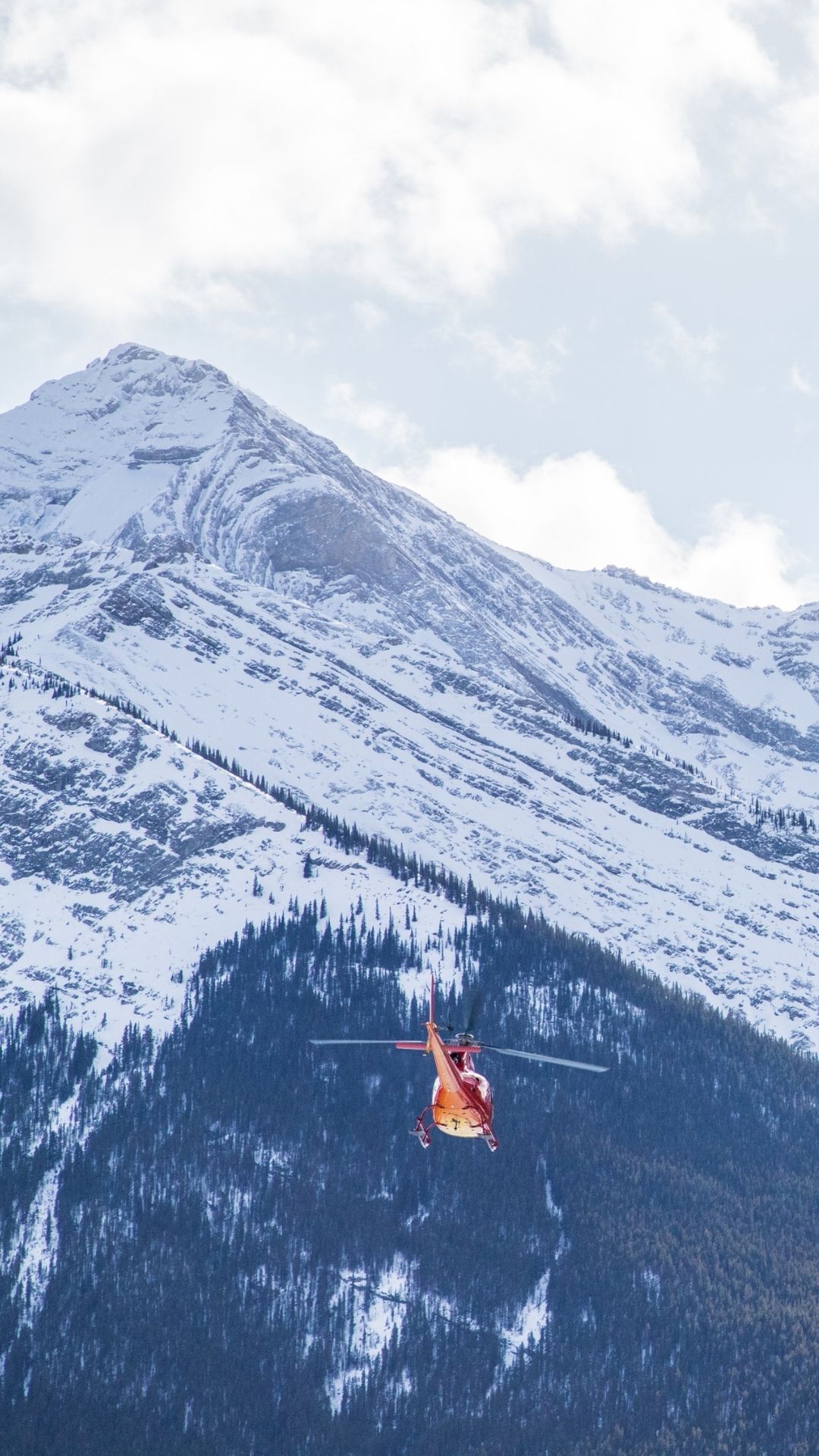 A Canadian Rockies helicopter tour is one of the best things you can do in Banff in May. If you thought the mountains were beautiful from the ground, just wait until you see them from a helicopter. There are plenty of different routes; check some of them out here.
---
Bike the Legacy Trail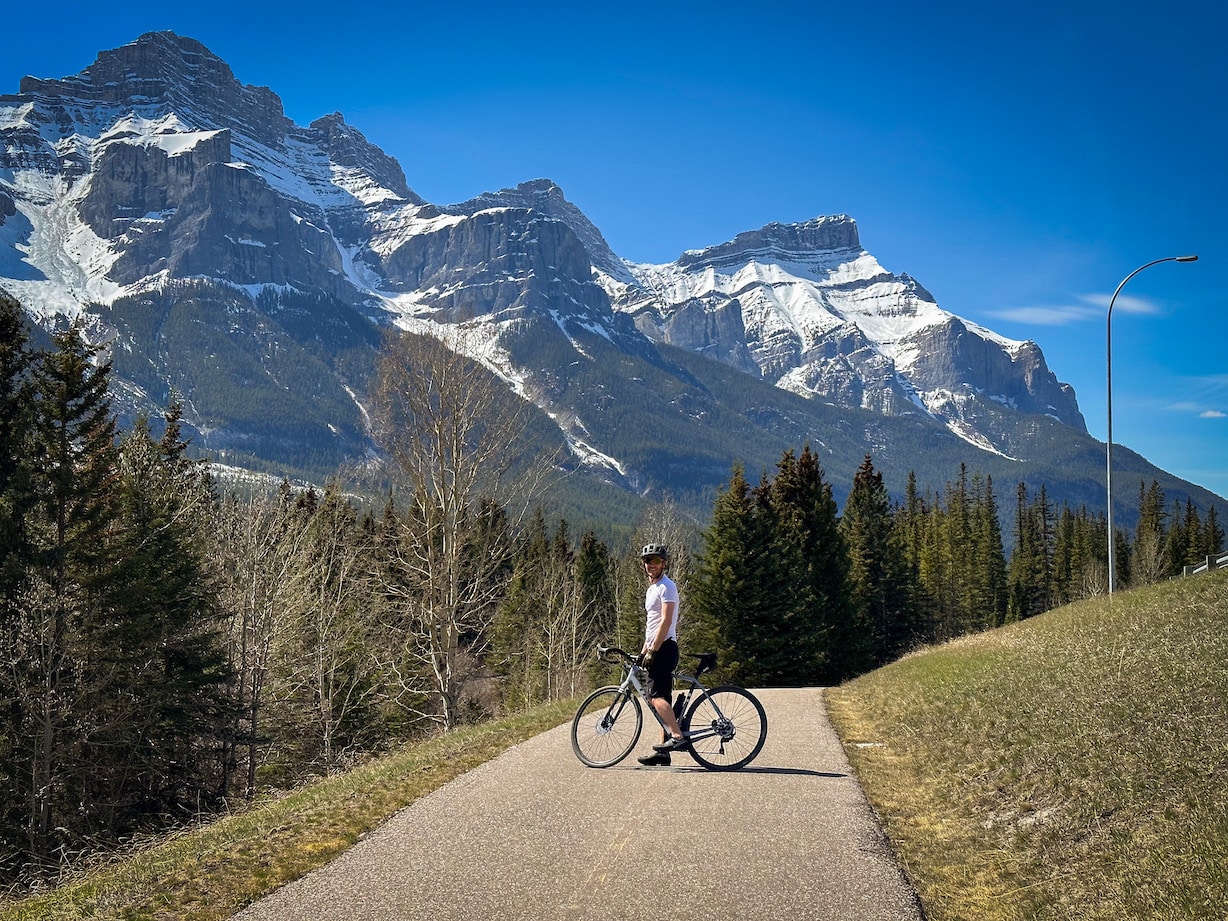 The Legacy Trail is a 26.8 km paved pathway that runs from the Bow Valley Parkway in Banff to the Travel Alberta Visitor Information Center in Canmore.
Most of the Legacy Trail runs alongside Trans Canada and is a unique multi-use rec pathway that bikers love come mid-April when the snow melts off the path. There are rest stops, picnic areas along the way, and some epic spots to take in the views.
In our opinion it's the best way get from Canmore to Banff, and we ride it a few times per month. Depending on pace, the ride from Canmore to Banff on the Legacy Trail can take anywhere between 1-3 hours one way. We love to ride the Legacy Trail from Canmore to Banff on a nice summer day in May and sometimes connect it with the Lake Minnewanka Loop for an epic day.
---
Is May a Good Time to Visit Banff?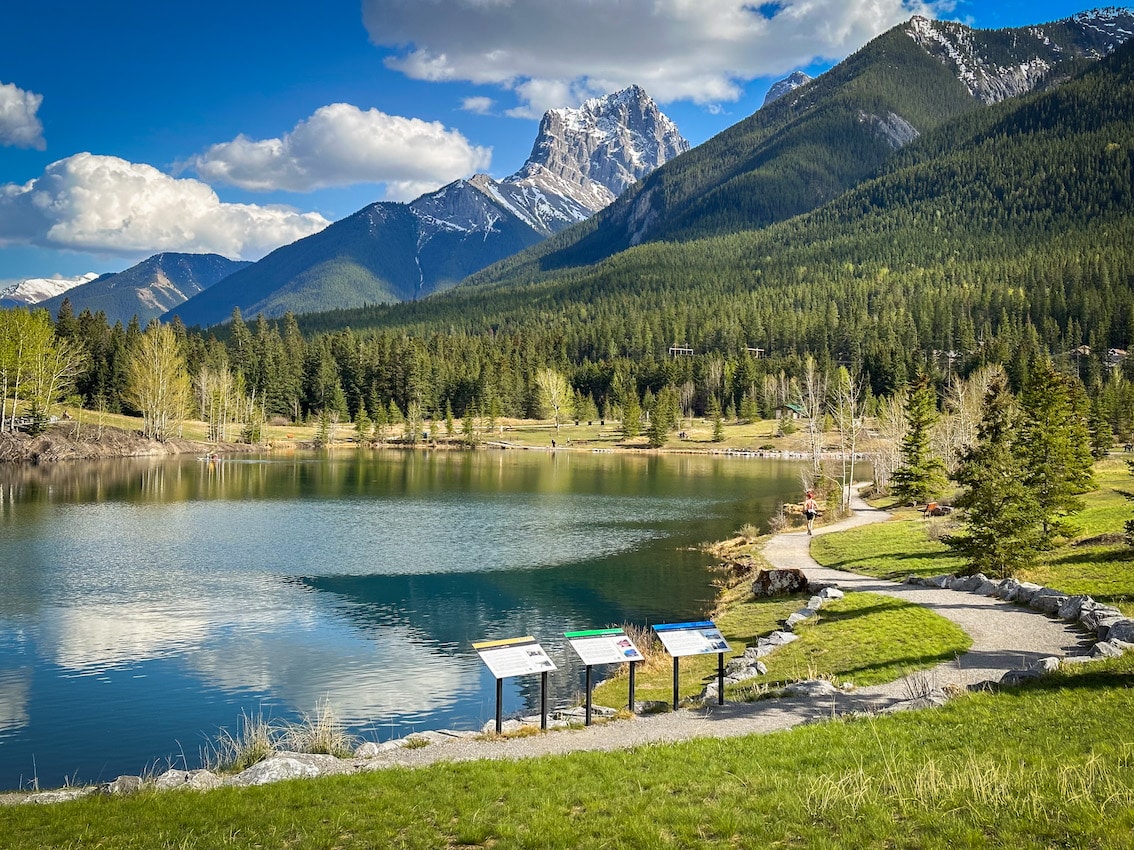 I won't sugarcoat it – there are better times to visit the Canadian Rockies. As mentioned, I personally think May is the third-worst month to visit Banff (but admittingly, that is because I love to snowboard). It's typically when we think of far-flung island destinations to escape to (think Bora Bora or The Philippines) before we really get into the best time of the year in Banff.
The weather is variable, most hikes that we have on our list are not good to go yet, many glacial lakes are still covered in ice, and the ski season has pretty much come to an end.
That being said, the beauty of the Rockies never disappears and towards the end of May, you will really feel like summer is in close sight. Any day spent in these mountains is a good day indeed, and you certainly won't have a bad time if you visit in May. You'll always be surrounded by colossal peaks and pretty landscapes. There are still some great things to get up to in Banff in May, and trust me when I say that you won't ever leave the Rockies disappointed.
The other good news about visiting Banff in May? The crowds have yet to arrive, and May is truly a locals month. There are often deals at restaurants and hotels to be had. And have I mentioned that biking during this time is a local favorite?
---
Pros and Cons of Visiting Banff in May
Pros
Cheap prices on accommodation and car rentals
Deals at restaurants to be had
Few crowds
Ski Resorts open until the middle of the month.
Sunny, warm and pleasant days.
Biking the Bow Valley Parkway car free!
Summer attractions like the Jasper Skywalk and Athabasca Glacier Experience open middle of th emonth.
Beautiful snow-capped peaks.
Cons
Unpredictable and changeable weather.
It's still cold – pack a jacket.
Lakes still mostly frozen
Moraine Lake Road is still closed.
Access to Tak Falls in Yoho still closed.
Less hiking opportunities.
Summer attractions don't open until the middle of the month.
---
Visiting Banff Travel Tips
---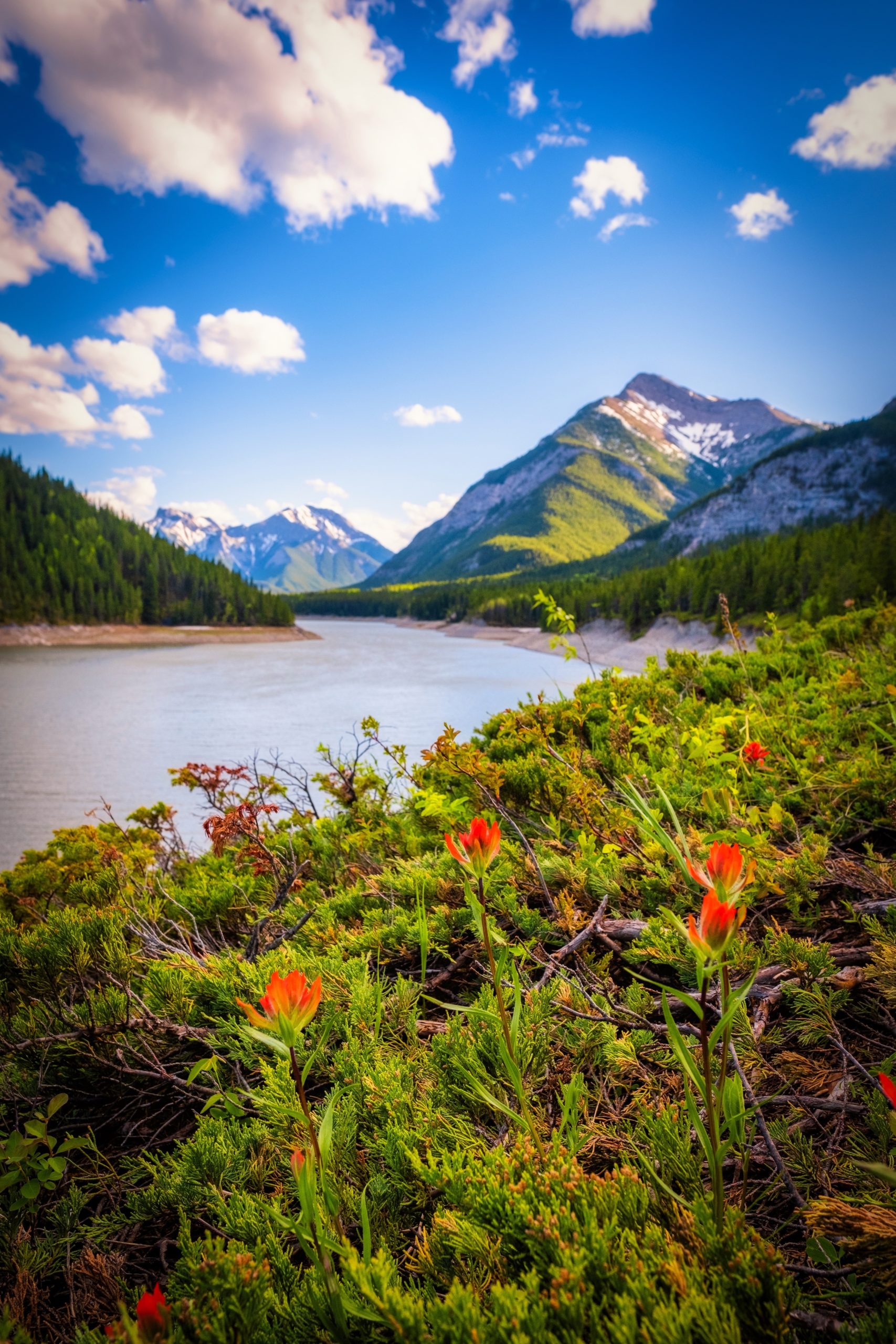 If you plan to do any hiking (including the hikes mentioned on this list), download AllTrails first. Alltrails gives you the latest review of a hike, as well as all the logistical information you may need.
If you pay for AllTrails Pro, you'll also be able to download offline trail maps to your phone. We use AllTrails for every hike. It's not the end all be all of hiking information, but it's a great resource to use in conjunction with hiking guidebooks and websites.
---
Consider Renting a Car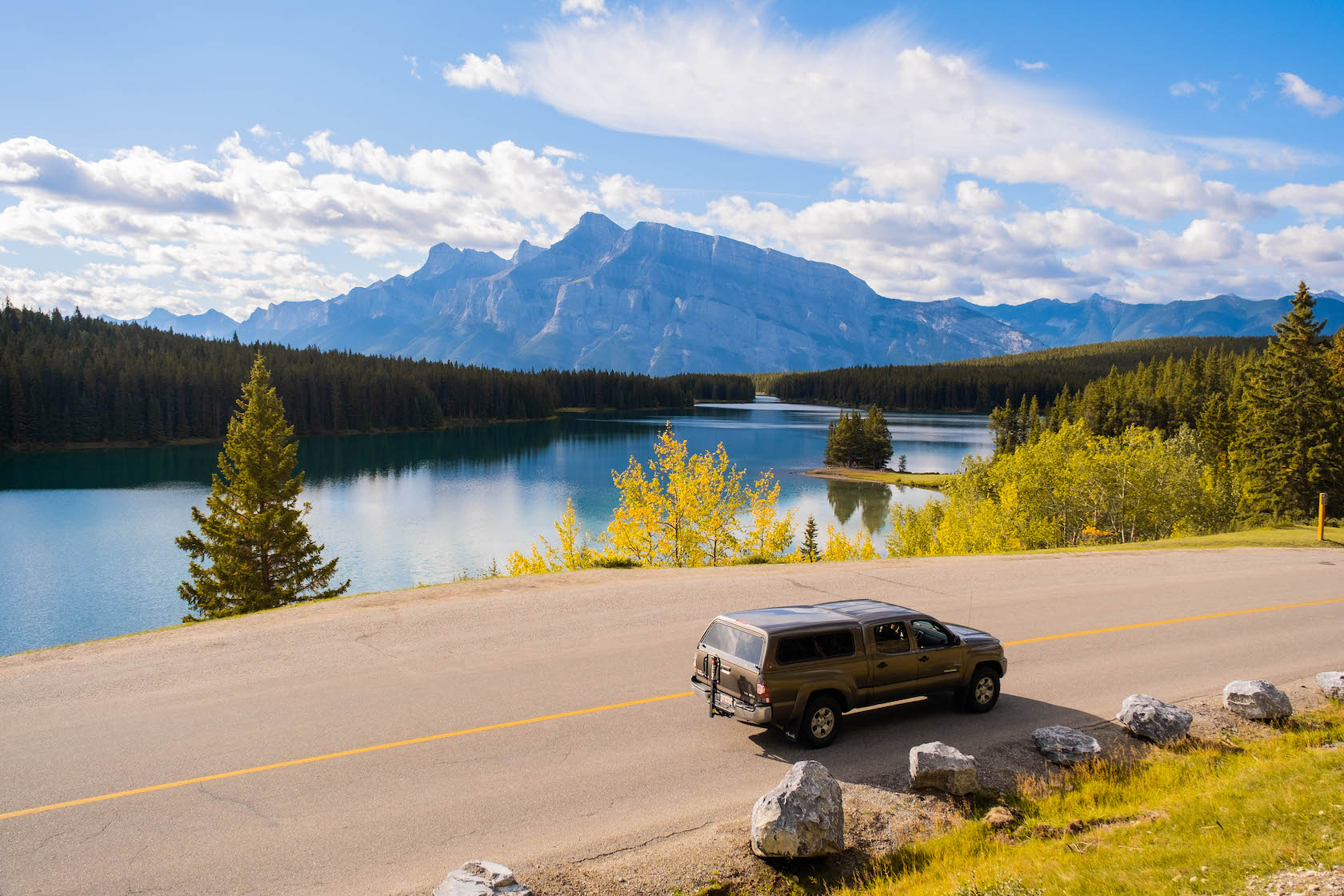 Being in North America, your options for transport are limited and many Roam Transit summer routes are not yet running in May. Most visitors to Banff will rent a car in Calgary, which is the easiest way to get around. Renting a car in Banff ensures that you can get to where you want to go on your own schedule.
Depending on the season of your travel, car rentals in Calgary can be quite affordable. In May, you should be able to find shoulder season rates.
Check Car Rental Rates
---
Other Transport Options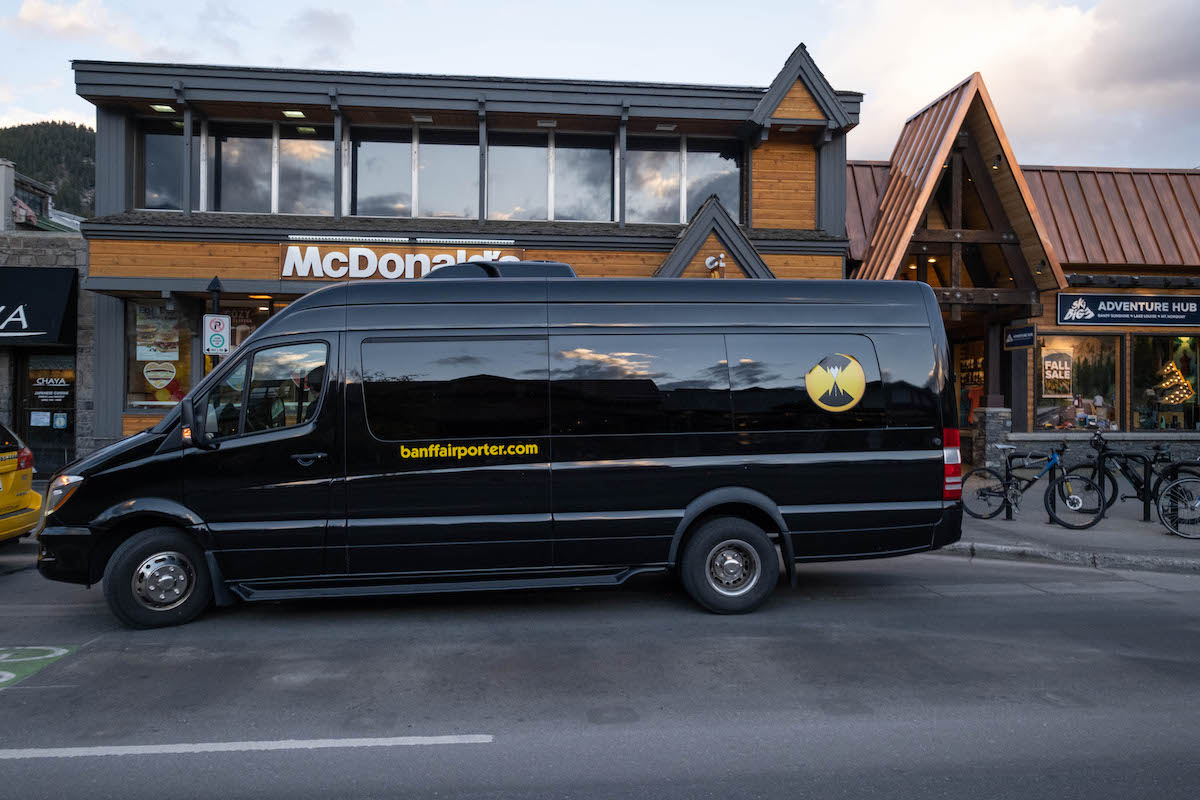 You may not feel comfortable driving in Canada, and that's okay! There are other options to get to and from Banff and around the town. However, they are limited, so keep that in mind. To get from YYC to Banff, the Banff Airporter is a good option. Once in Banff, there is the Roam bus system to get around town.
---
Where to Stay in Banff in May
For a small mountain town, Banff has a plethora of accommodation options. Some of our favorites are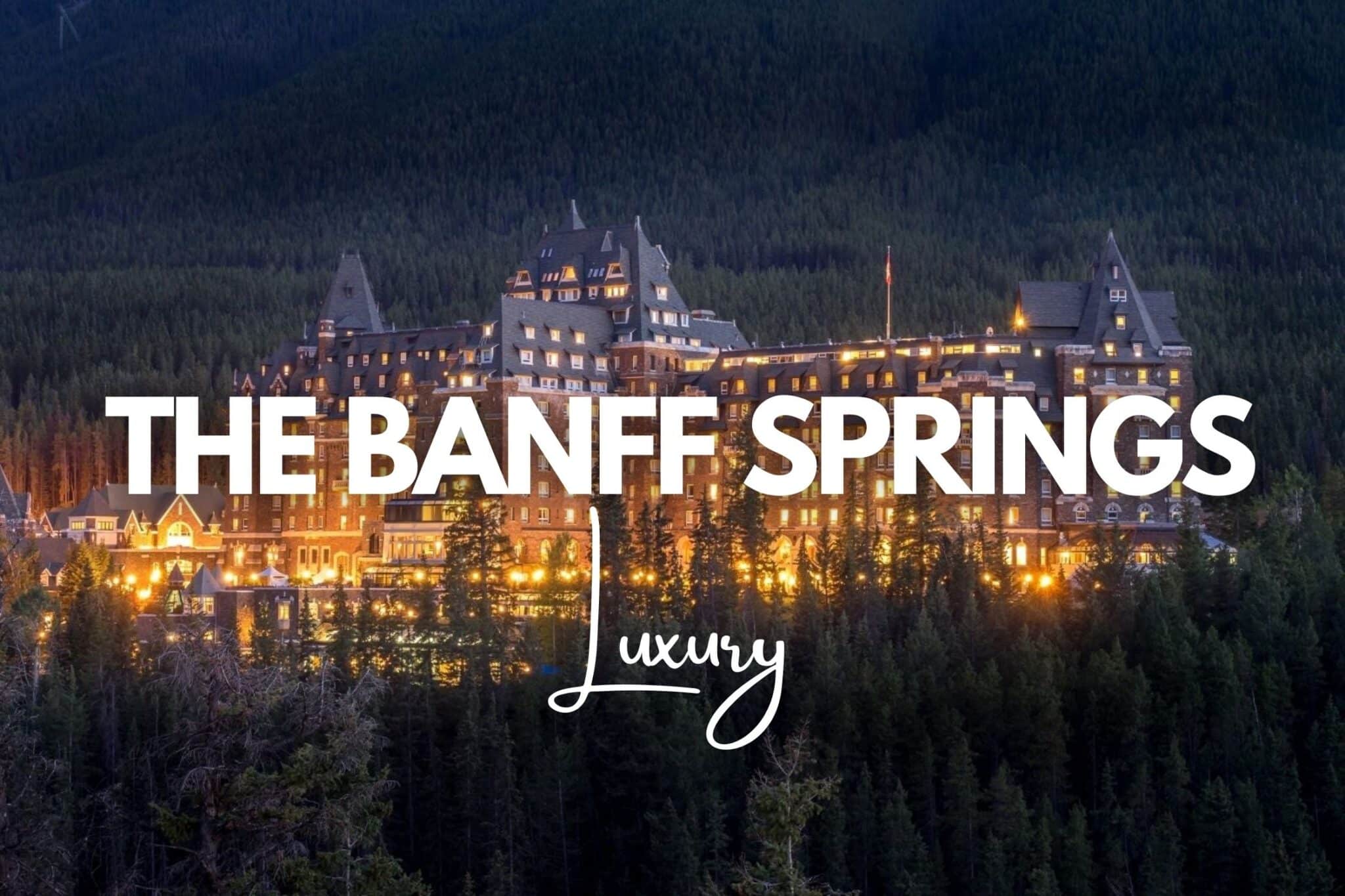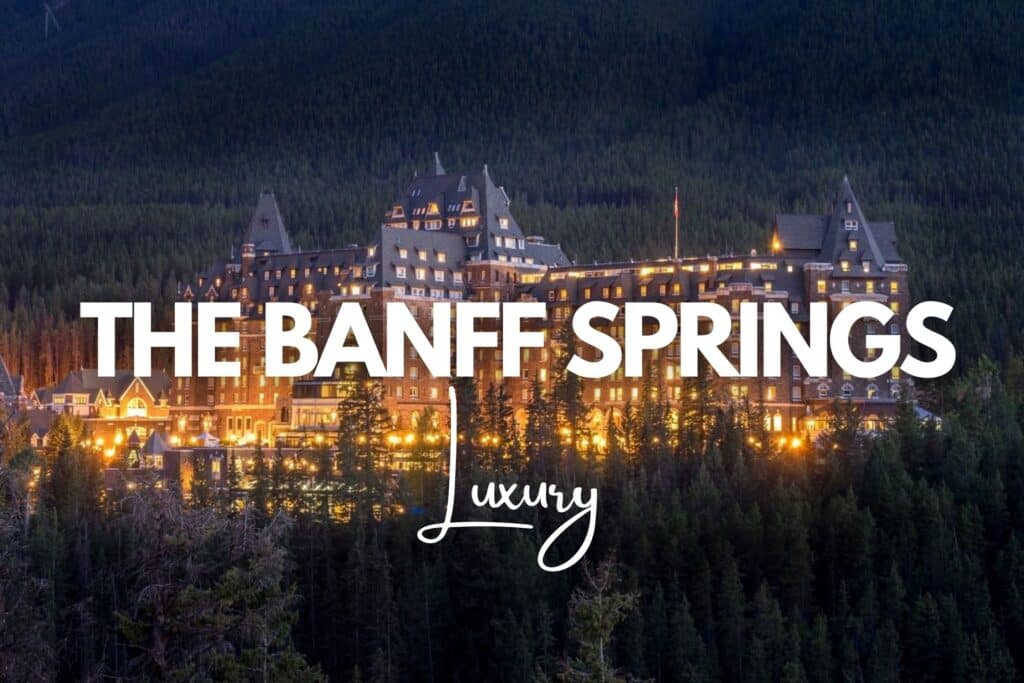 The most luxurious place to stay in Banff. Definitely a splurge, but worthwhile if you are celebrating a special occasion.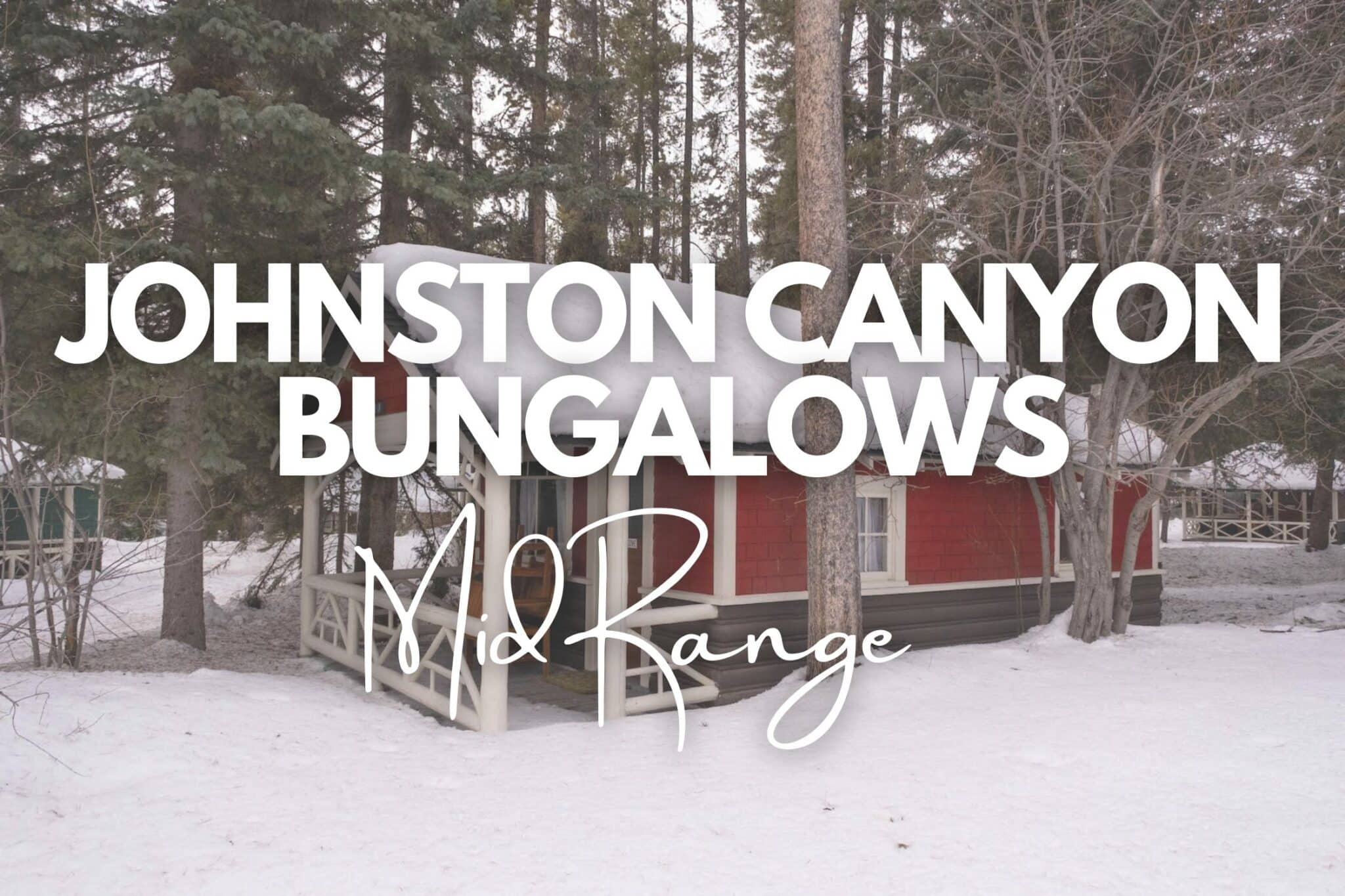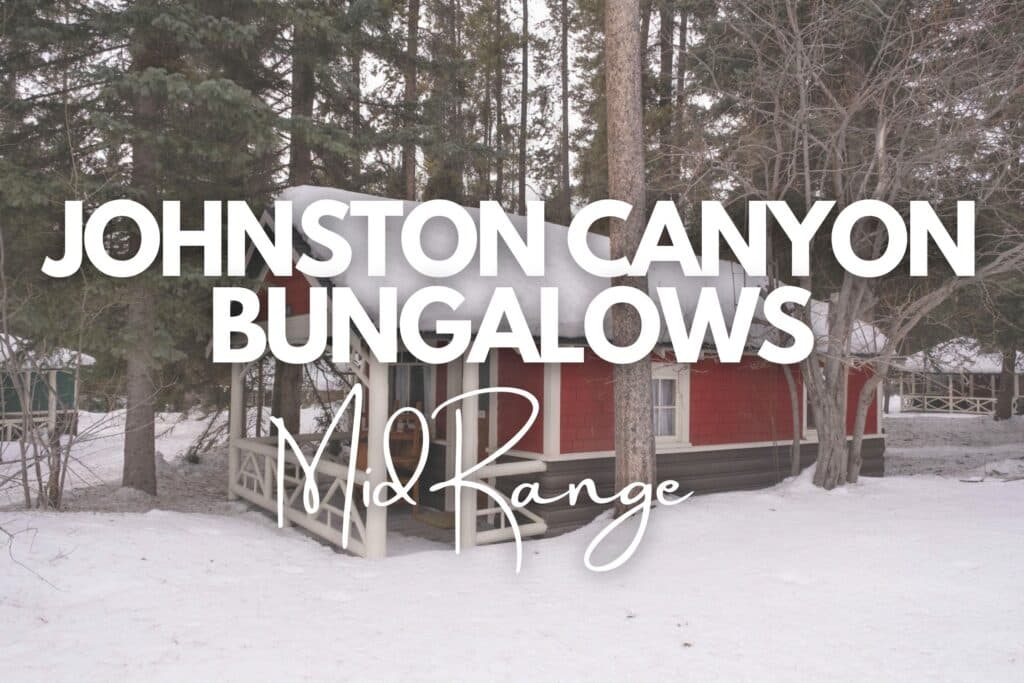 Cabins at the base of Johnston Canyon! These are a fantastic getaway for a few nights that will have you away from the noise of Downtown Banff.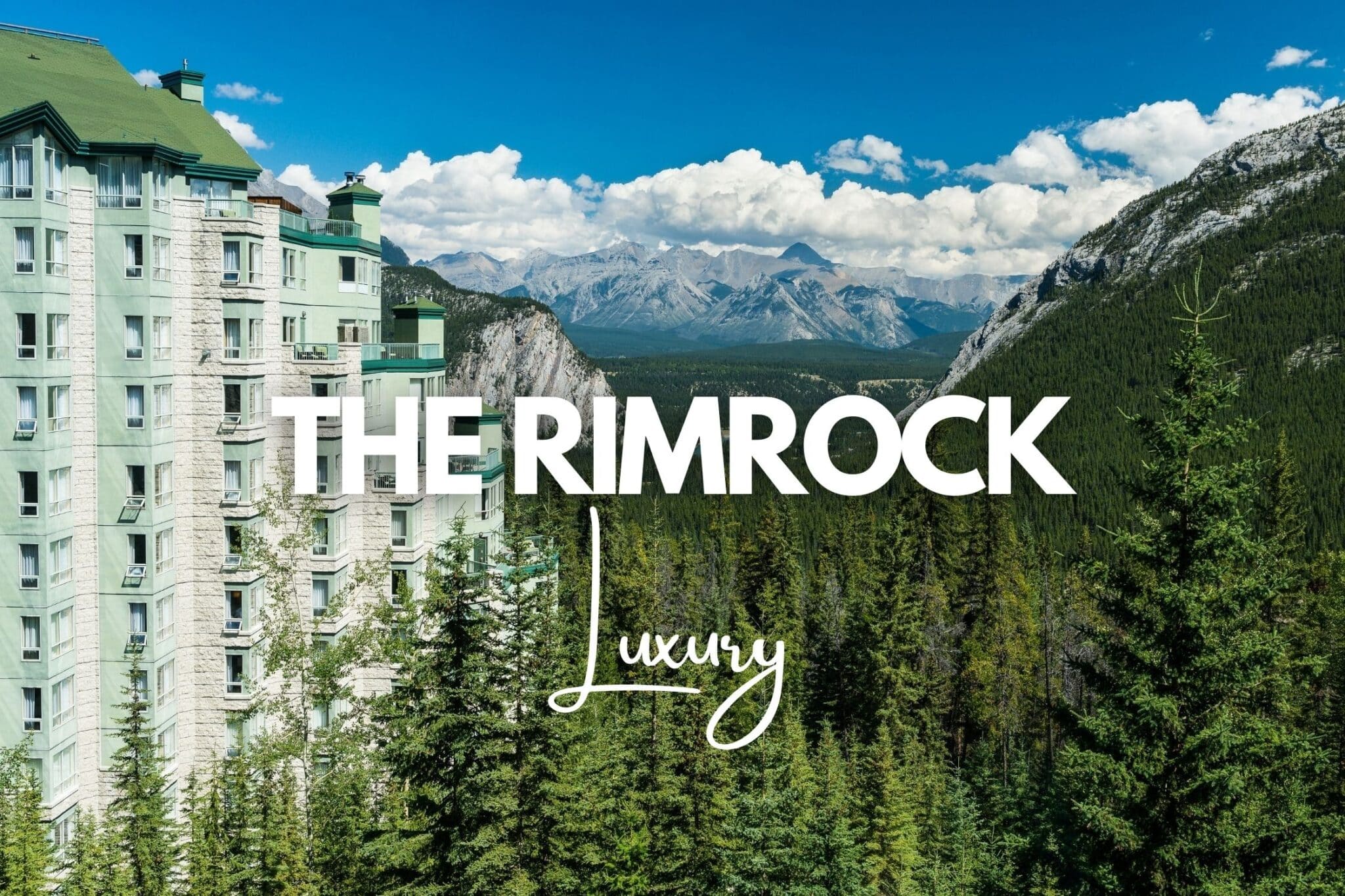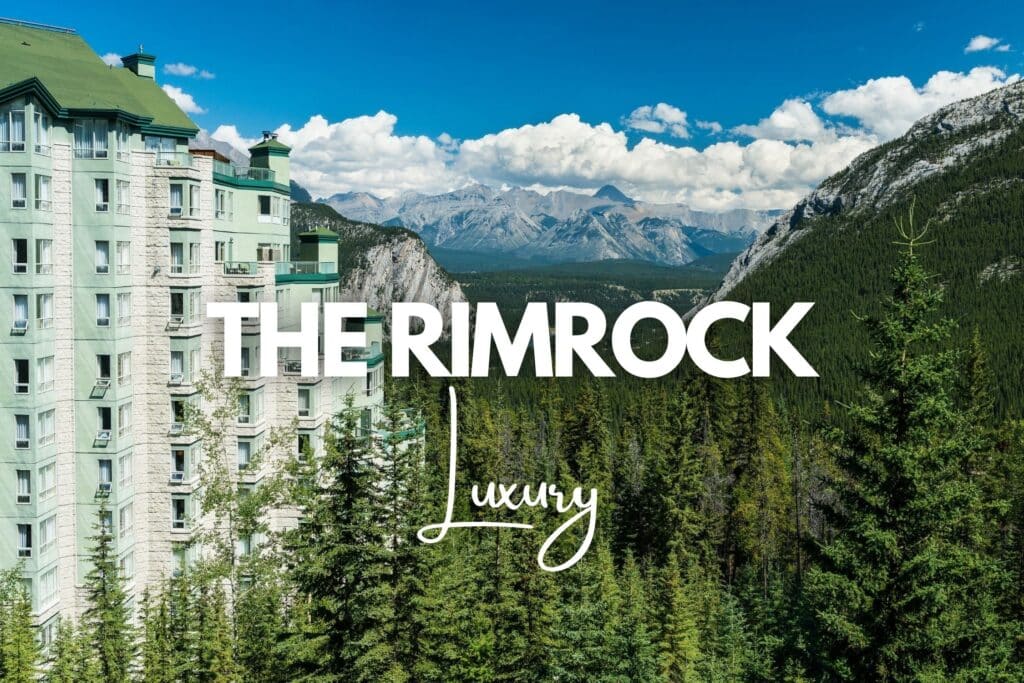 Is a super great pet friendly option in Banff. It's close to Sulphur Mountain and the Banff Hot Springs.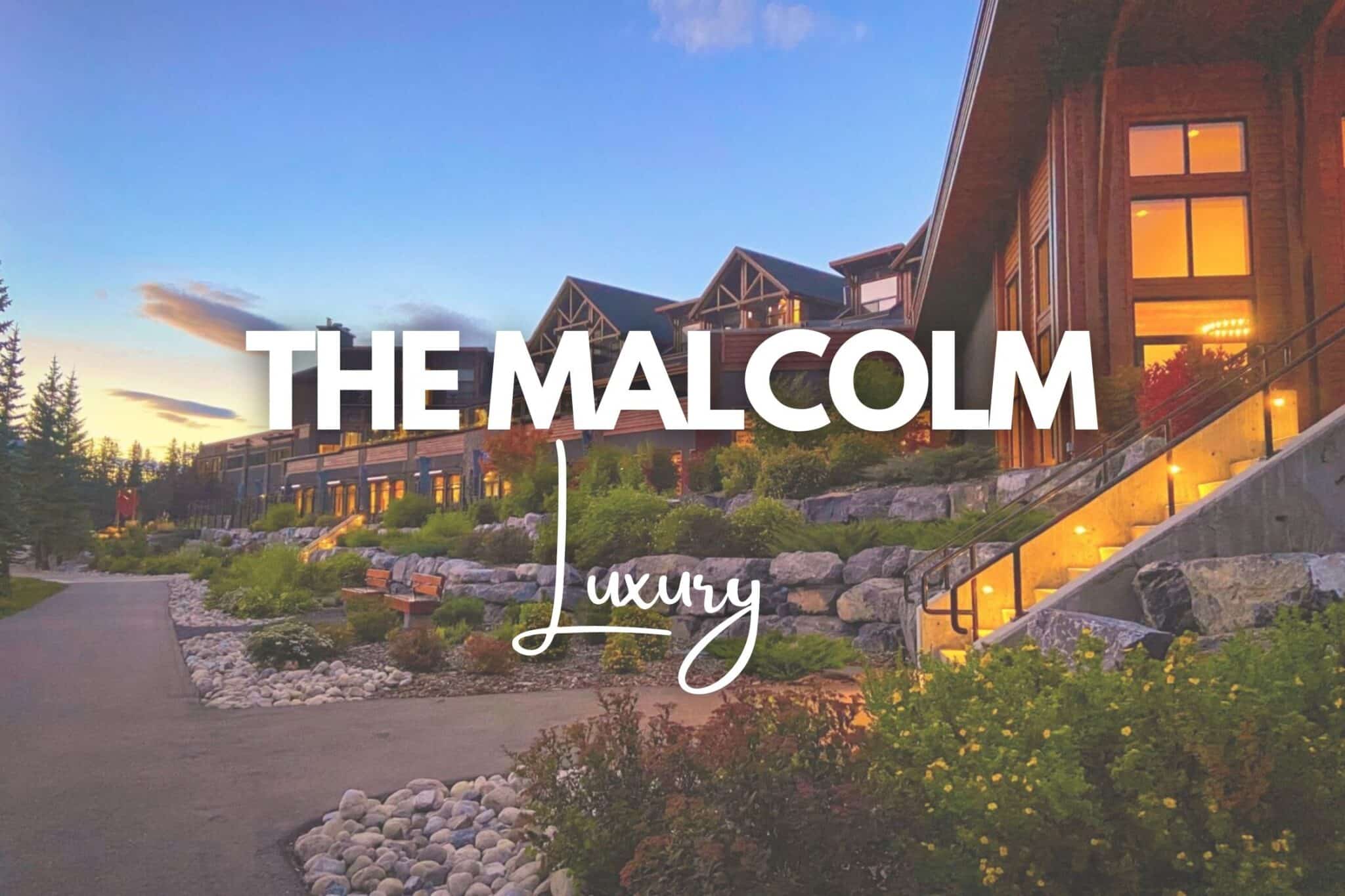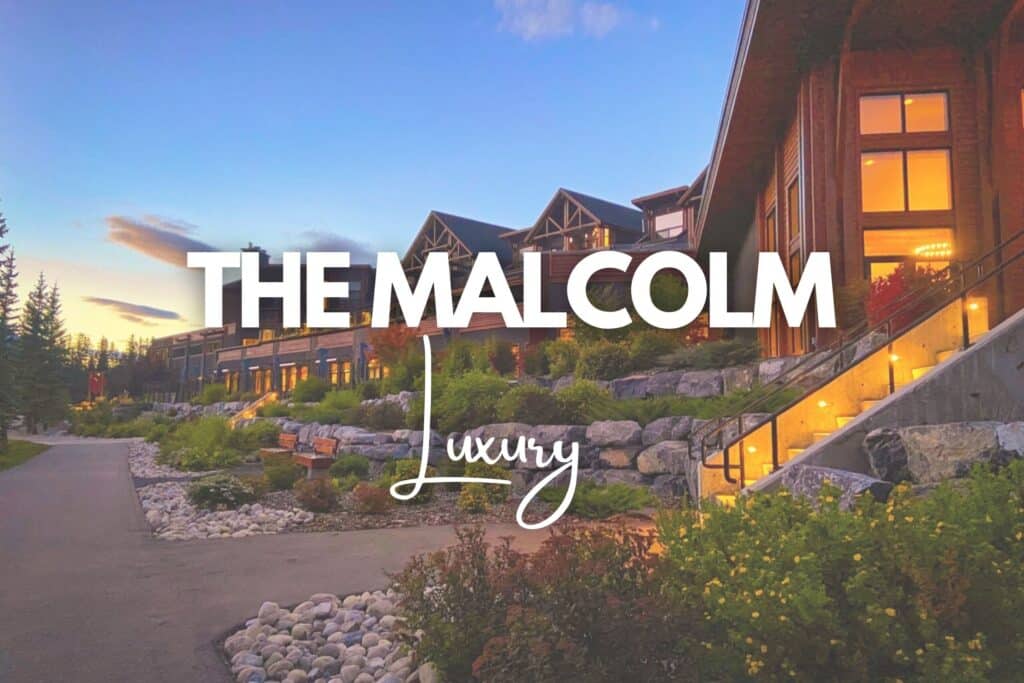 ---
---
↓ Join the community ↓
The Banff Blog Facebook Group is your headquarters for the Canadian Rockies' travel advice and information. Including hike info and off-season travel information. You can also meet new adventure buddies.

---
Plan Your Trip to the Canadian Rockies