Banff in November isn't the most exciting for most visitors and not exactly the best time to visit Banff. November in Banff is the shoulder season. One that many visitors may want to avoid as its cold, dreary, and not as scenic as almost any other month. That being said it's snowing by November in Banff, and the ski resorts open so skiers and snowboarders can finally shred it up without the crowds.
By the end of the month, Christmas cheer is in the air, and its full-on hot chocolate season. Here's everything you need to know about visiting Banff in November.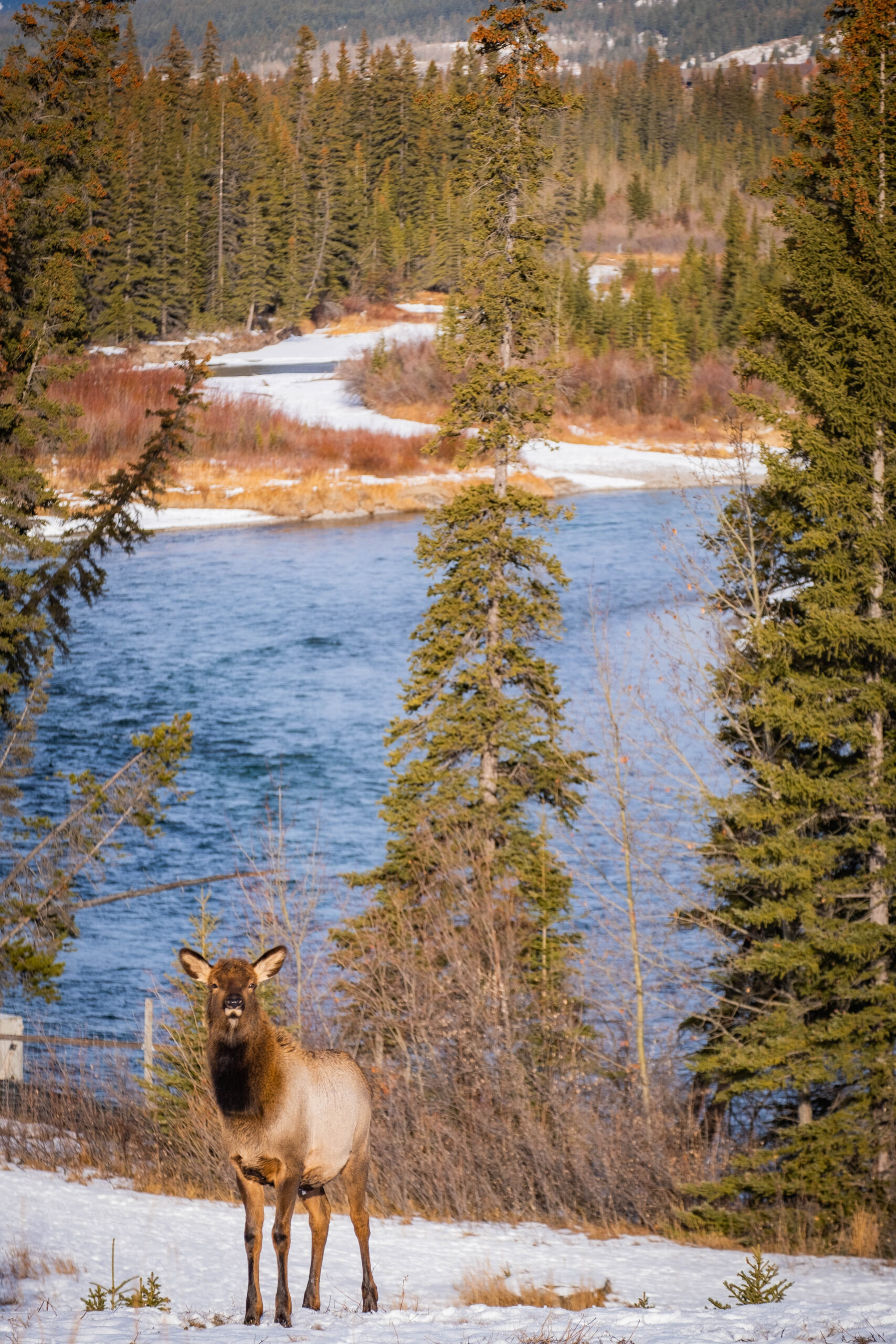 ---
Things to Know Before Visiting Banff in November
---
What's the Weather Like in Banff in November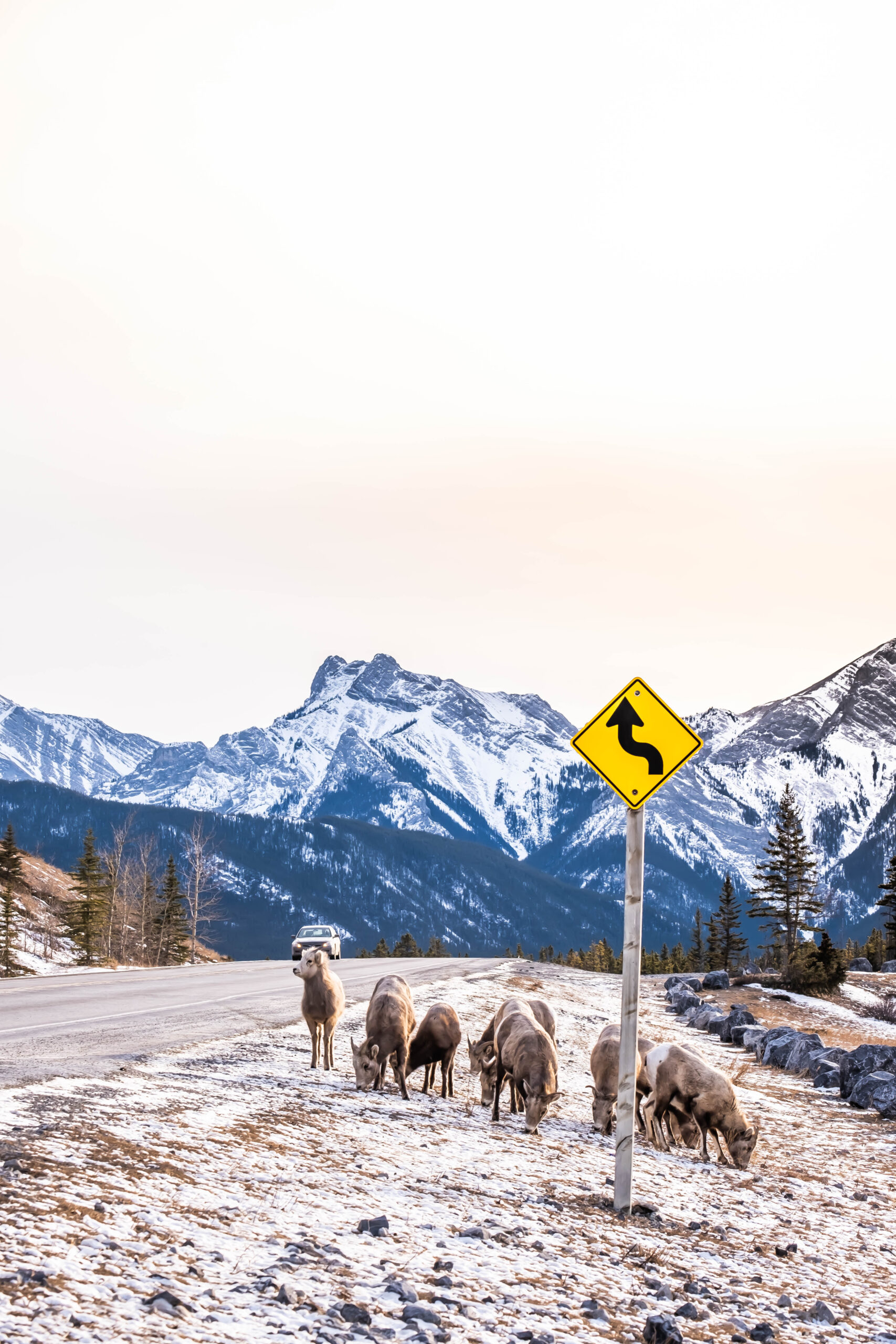 November is a changeable month with a mix of sunshine and snow, but generally, the temperatures are much cooler than they have been. These plummet to an average of 3°C. Fall most definitely becomes winter in November. By mid to late November there should be snow everywhere, which makes the mountain peaks that much more beautiful.
Sometimes the average temperatures can dropto -9°C, so bundle up and don't forget a jacket or boots. The most exciting part about November in Banff for me is that it marks the start of the ski season. You'll find SkiBig3 resorts open, but the runs will likely be visited by locals mainly. Few tourists are here in November, meaning now crowds and low prices.
If you planned on seeing the beautiful blue lakes of Emerald Lake, Moraine Lake, and Lake Louise in their splendor you'll be disappointed. They are pretty much completely frozen now, so grab some ice skates, a hat, and enjoy the frost.
---
What to Pack for Banff in November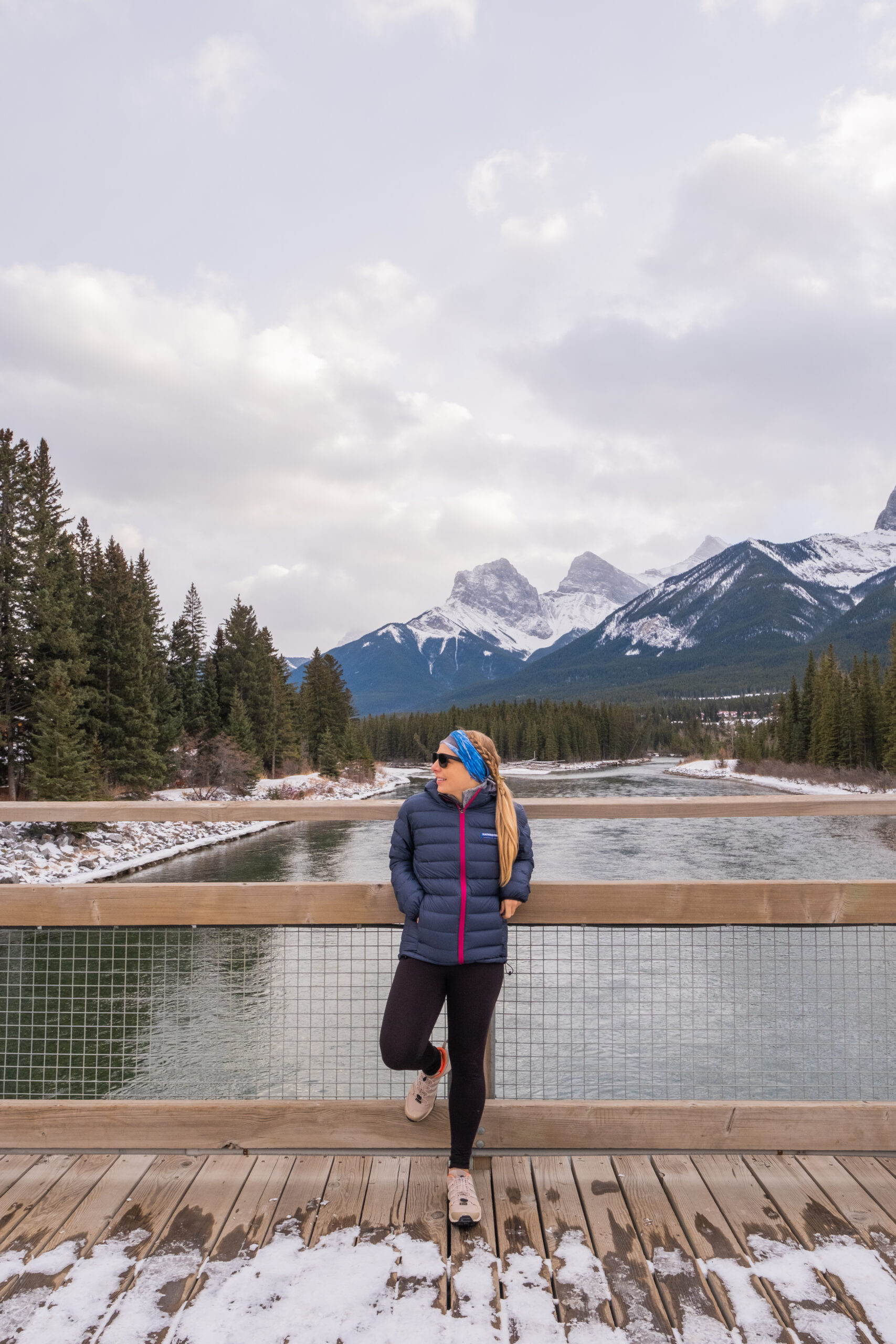 In October, I mentioned to put away the sandals and shorts. Now that it's November in Banff I need to mention to put away the sneakers and bundle up. It's now pretty cold in Banff and you'll want a good jacket, boots, hats, and mittens. If you're planning to do some early season skiing or snowboarding don't forget your snow pants and ski jacket.
Down Jacket
Sweater
Flannel
Casual Pants
Long sleeve shirts
2-3 x Wool Ski Socks
Mittens
Warm Hat
Waterproof Boots
Buff
---
Can You Visit Lake Louise in November?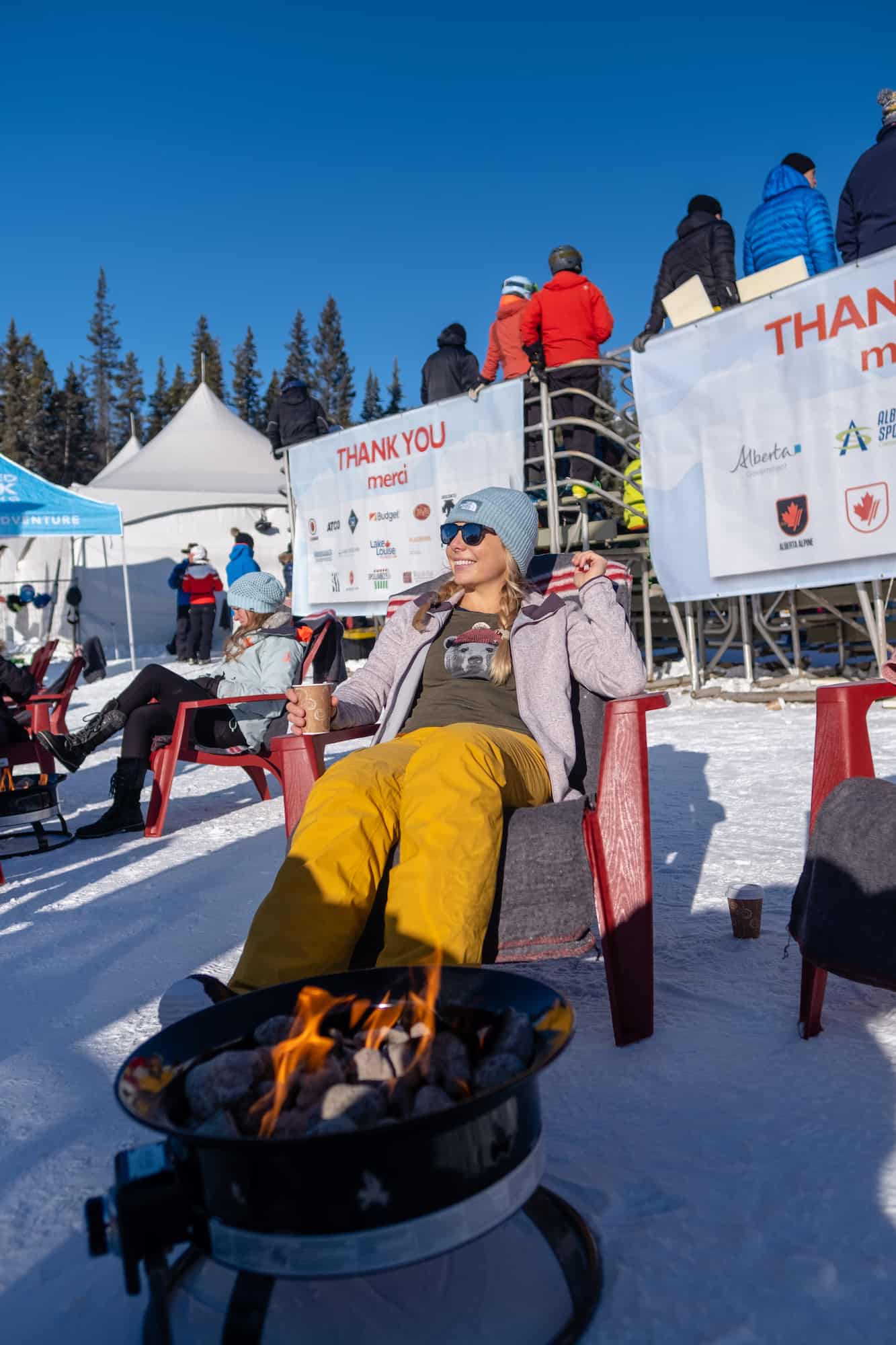 If you're lucky, and I mean really lucky, you might be able to ice skate on Lake Louise before the snow falls onto the frozen lake, it happens every few years. Meaning you'll be skating on frozen blue Kool-Aid. Yup, November at Lake Louise means that it's winter again and you can expect to find Lake Louise frozen.
The good news? Lake Louise ski resort opens up in Late November and there is plenty of early-season skiing fun to be had. The other good news? It's the locals season in Banff National Park. Yup, the summer tourists are gone and the holiday tourists have yet to arrive so it's a very quiet time to visit Lake Louise.
Don't forget to check out the Lake Louise Alpine Ski World Cup which happens the last weekend of November and first weekend of December!
---
Can You Visit Lake Moraine in November?
Moraine Lake road closes in mid-October, so if you want to visit Moraine Lake in November you'll either have to bike yourself in if there is no snow on the road, or snowshoe or ski in. But take precautions the road does cross a few avalanche chutes that can become dangerous in the winter.
---
Things to do in Banff in November
---
Climb Sulphur Mountain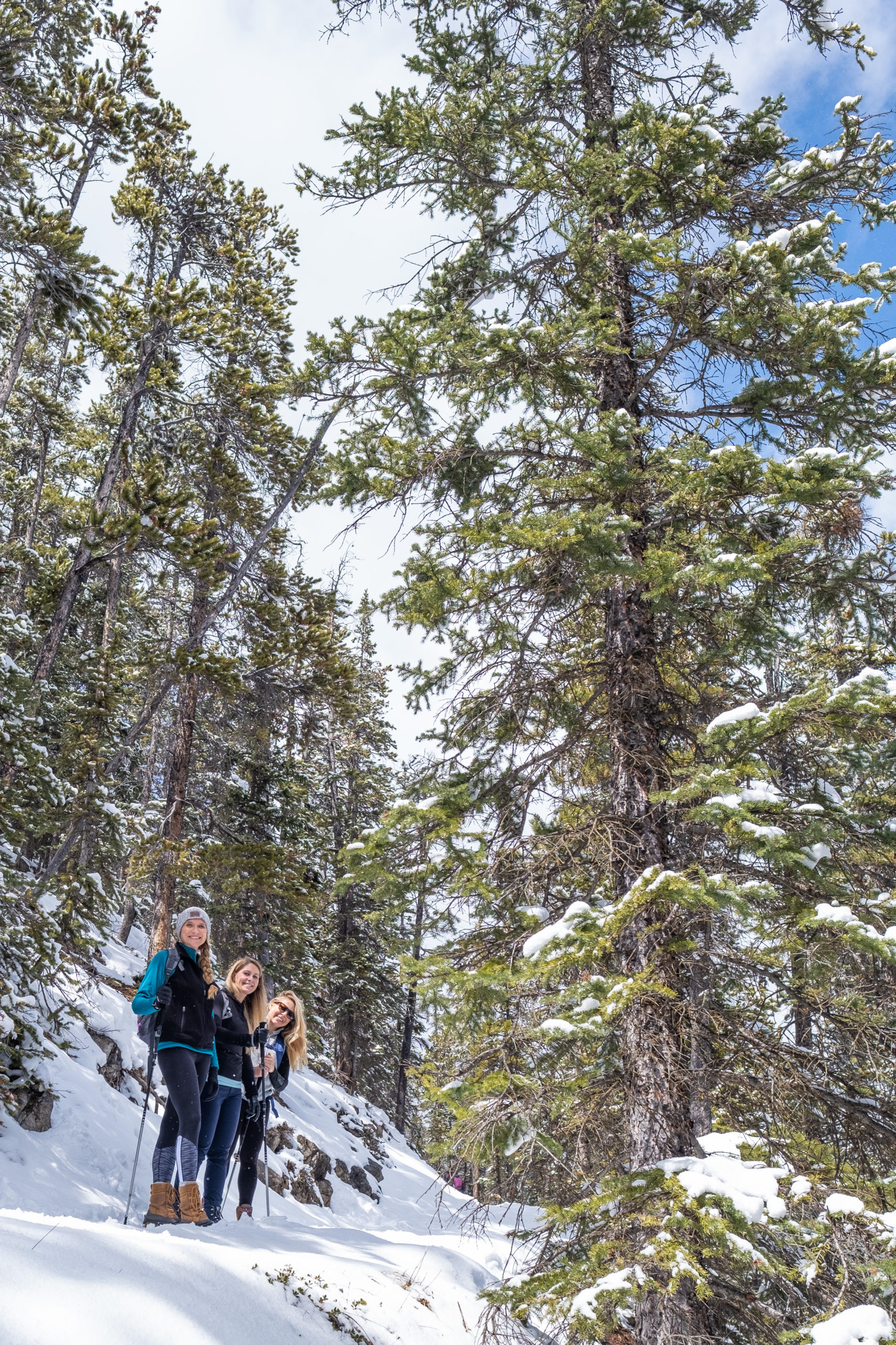 One of the best things to do in Banff in November is hike Sulphur Mountain. Sulphur Mountain is easily one of the most popular hikes in Banff National Park. It's a beautiful hike up that provides visitors with astonishing views over the Bow Valley.
Due to its proximity to Banff town, and the fact that you can take the Banff Gondola up to the peak instead of sweating it out on the trail means that Sulphur mountain becomes very busy in the summer! However in November, you'll have it pretty much empty. A pair of crampons and some hiking poles will help you tackle the trail up in no time in November.
---
Enjoy the Town of Banff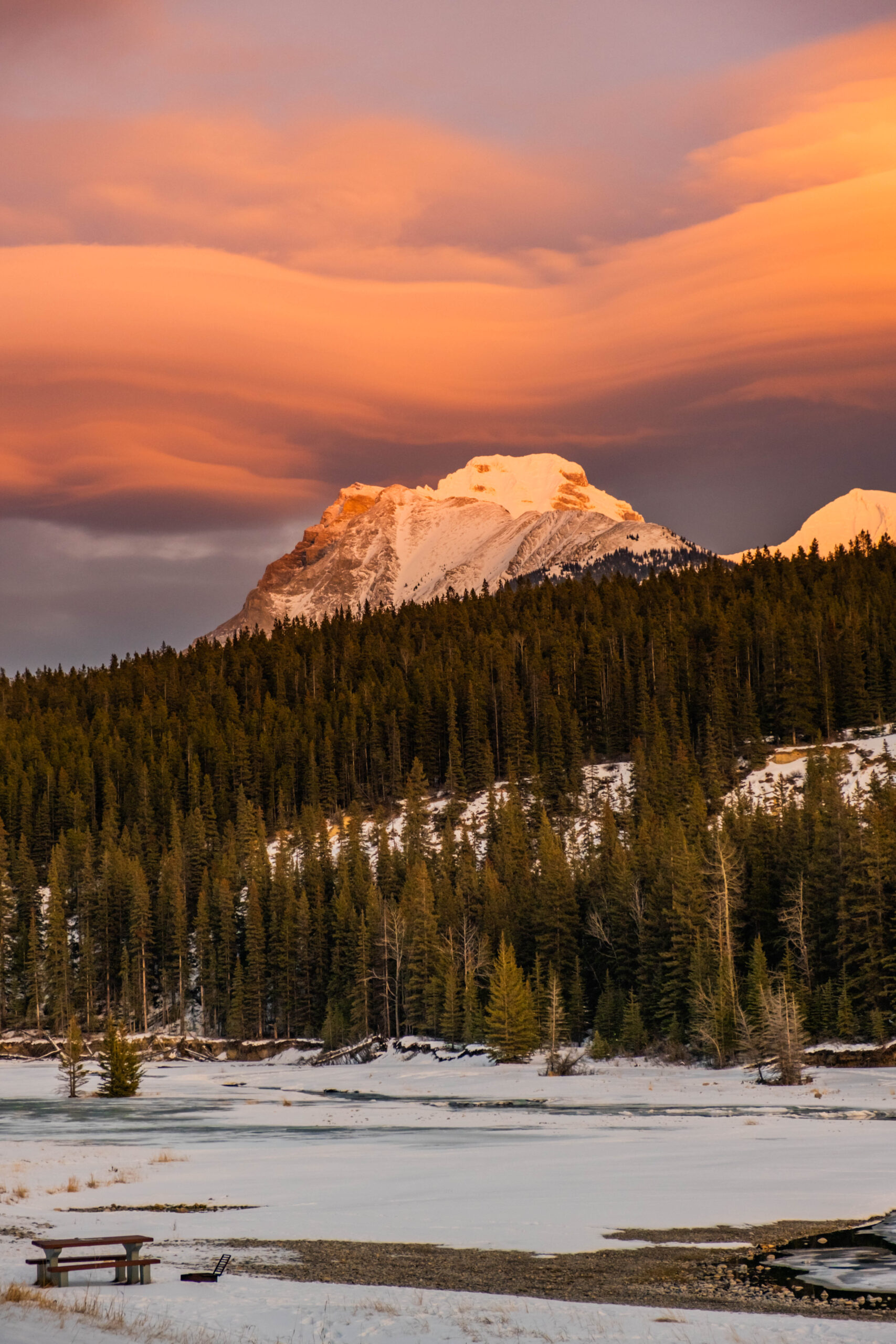 If you want a day of shopping, cappuccinos, and breweries stay in the Banff downtown area and enjoy a day of walking around. Banff Ave has tons of restaurants, boutique shops, and cheesy souvenir stores to entertain all.
---
Ski/Snowboard Big Mountain Terrain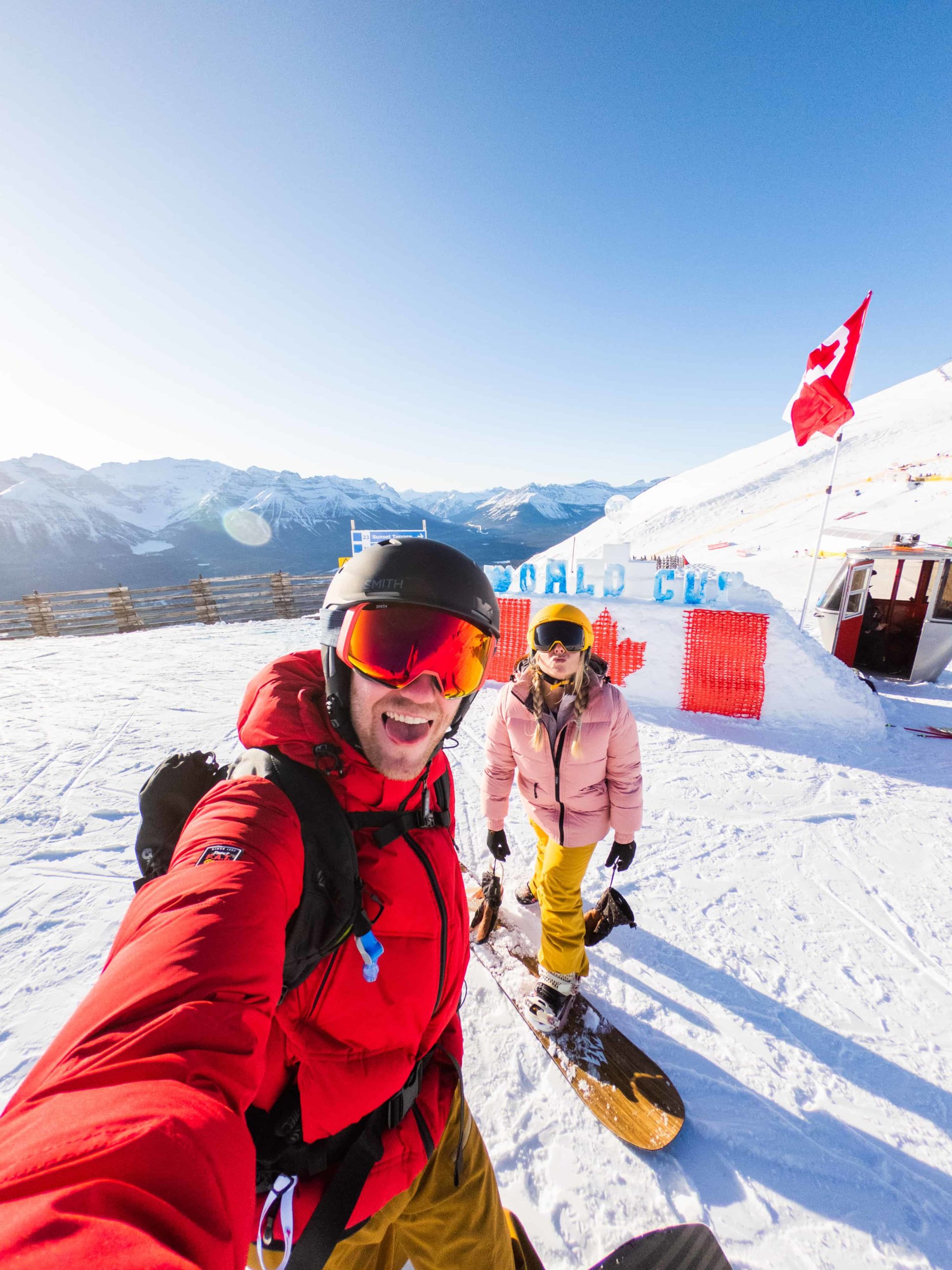 The ski culture in North America has its roots in the Canadian Rockies with Skoki Lodge the first ski hut in North America located here. Now there are three ski resorts in the Banff National Park and one in the neighboring Provincial Park, Kananaskis, along with a bunch of other great mountains within a couple hours drive. The region has it all in terms of ski whether that's groomer, big mountain resorts, backcountry, and even heli-skiing.
The resorts within the park comprise a group called the SkiBig3. You have Lake Louise, Banff Sunshine Village, and Mt. Norquay which are all fantastic and unique ski resorts. Skiing or snowboarding here is one of the best things to do in Banff in the winter, and they are open up by mid-November!
---
Hike Tunnel Mountain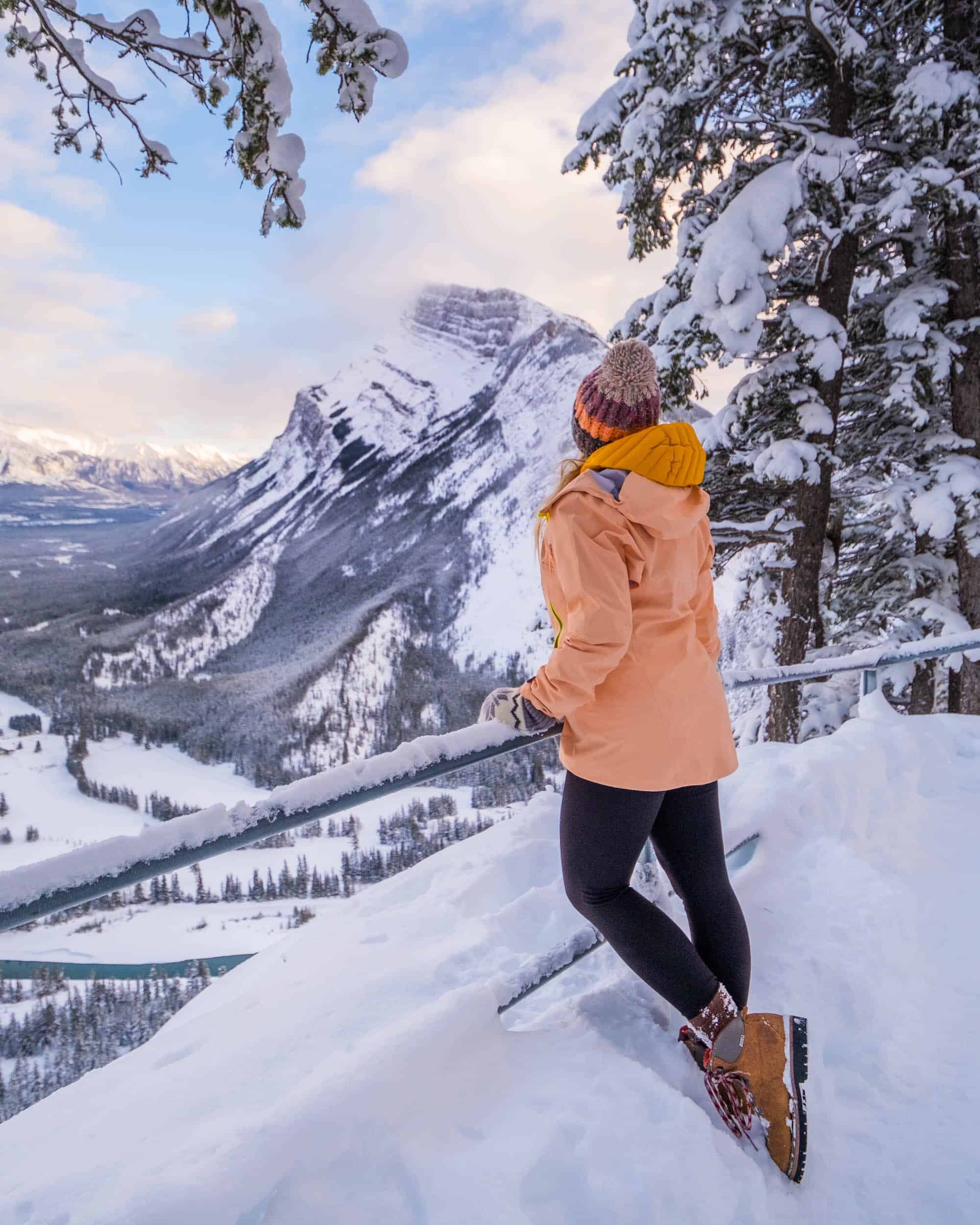 Tunnel Mountain is right in the heart of Banff. It's beloved by locals for its accessibility and you can hike it year-round. It may be one of the smallest mountains in Banff National Park, but it still offers tremendous views of the surrounding valleys and Mount Rundle.
The hike moves slowly up the mountain through a number of switchbacks and offers various viewpoints out into the Bow and Spray Valleys. It's great for sunrise or sunset and it rarely disappoints. The best part is it's only a 4.5 km round trip hike and shouldn't take more than one hour up. It's one of the easiest winter hikes you can do with only 266 meters of elevation gain, perfect for November!
---
Snowshoe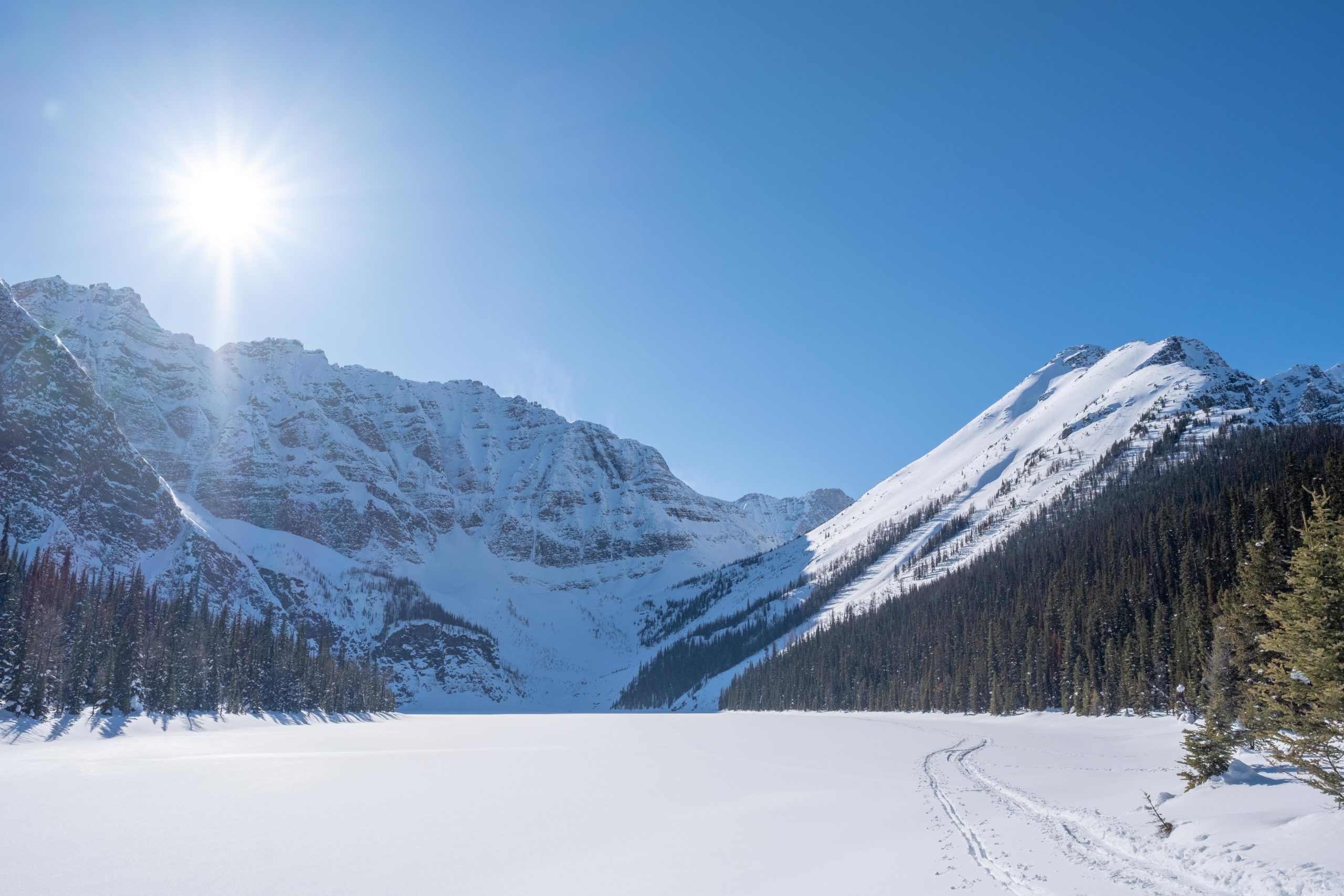 A great thing to do for families visiting Banff in the winter is snowshoe! Just because there is snow on the ground doesn't mean you can't leave the well-trodden path. You might not be able to walk through the snow on foot, but a quality pair of snowshoes allow you to float across the snow.
They're super easy to get the hang of and you'll be moving along in no time. Two popular snowshoe hikes are to the Paint Pots or Marble Canyon, but you're free to explore the wilderness on your own if you rent a pair.
---
Check Out More Things to do in Banff in the Winter Here!
---
Banff Travel Tips
---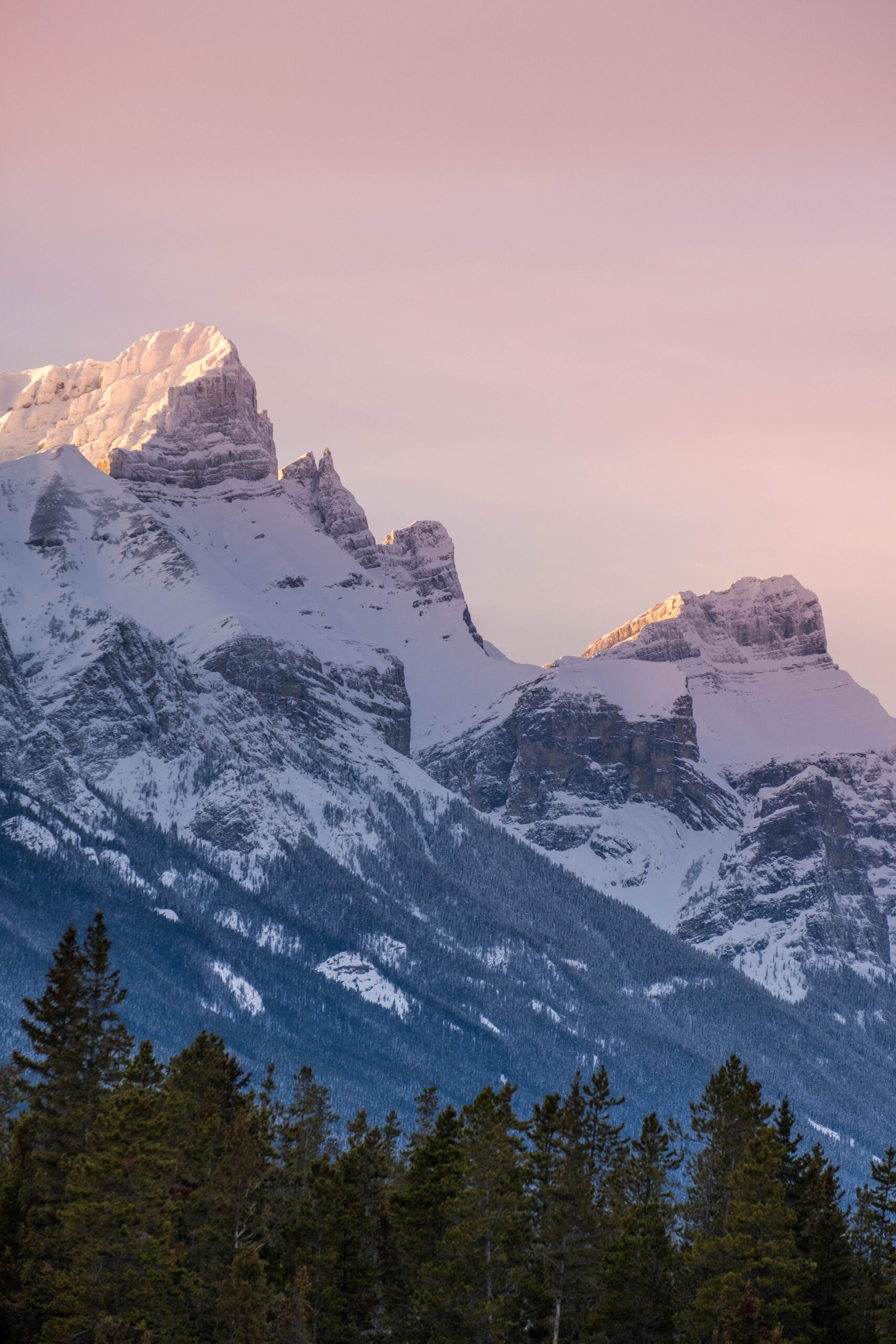 ---
Consider Renting a Car
Being in North America your options for transport are limited. Most visitors to Banff will rent a car in Calgary as this is the easiest way to get around. Renting a car in Canada ensures that you can get to where you want to go on your own schedule.
Depending on the season of your travel car rentals in Calgary can be quite affordable. We've rented with Enterprise for less than 20 CAD a day in the winter. However, expect prices to rise during July and August.
In the winter, it's best to get a car with winter tires so make sure to check with your car rental agency. If you do decide to drive from Alberta into BC these winter tires are mandatory! You can see road conditions here, which are super helpful between November and late April.
---
Other Transport Options
You may not feel comfortable driving in Canada and that's okay! There are other options to get to and from Banff and around the town. However, they are limited so keep that in mind.
To get from YYC to Banff, the Banff Airporter is a good option and costs $138 (CAD) round trip.
Once in Banff, there is the Roam bus system to get around town and in the summer it runs to Lake Louise while in the winter it will easily get you to Lake Louise Ski Resort and Banff Sunshine Ski Resort.
---
Dress for the Mountains
If I had a dollar for every time I saw a visitor wearing poor mountain clothes I would have, like $500. No, but seriously guys come to Banff dressed for mountain weather. That means packable down jackets and hats especially in Banff in November.
The weather here can change at a moment's notice and you don't want to be underdressed. It's extremely important to pack layers, thermals, good boots.
↓ Join the community ↓
The Banff Blog Facebook Group is your headquarters for the Canadian Rockies travel advice and information. Including hike info and off-season travel information. This is also a place where you can meet one another when you need adventure buddies.