The town of Canmore, home to the stunning Three Sisters and a variety of popular Canmore restaurants, is another prime location for craft beer enthusiasts.
Canmore is home to three main breweries, each with its own unique perk and each worth your visit! Be sure to treat yourself to one of the best breweries in the Canadian Rockies after crushing a beautiful local hike. 
---
Best Canmore Breweries
---
The Grizzly Paw Brewing Company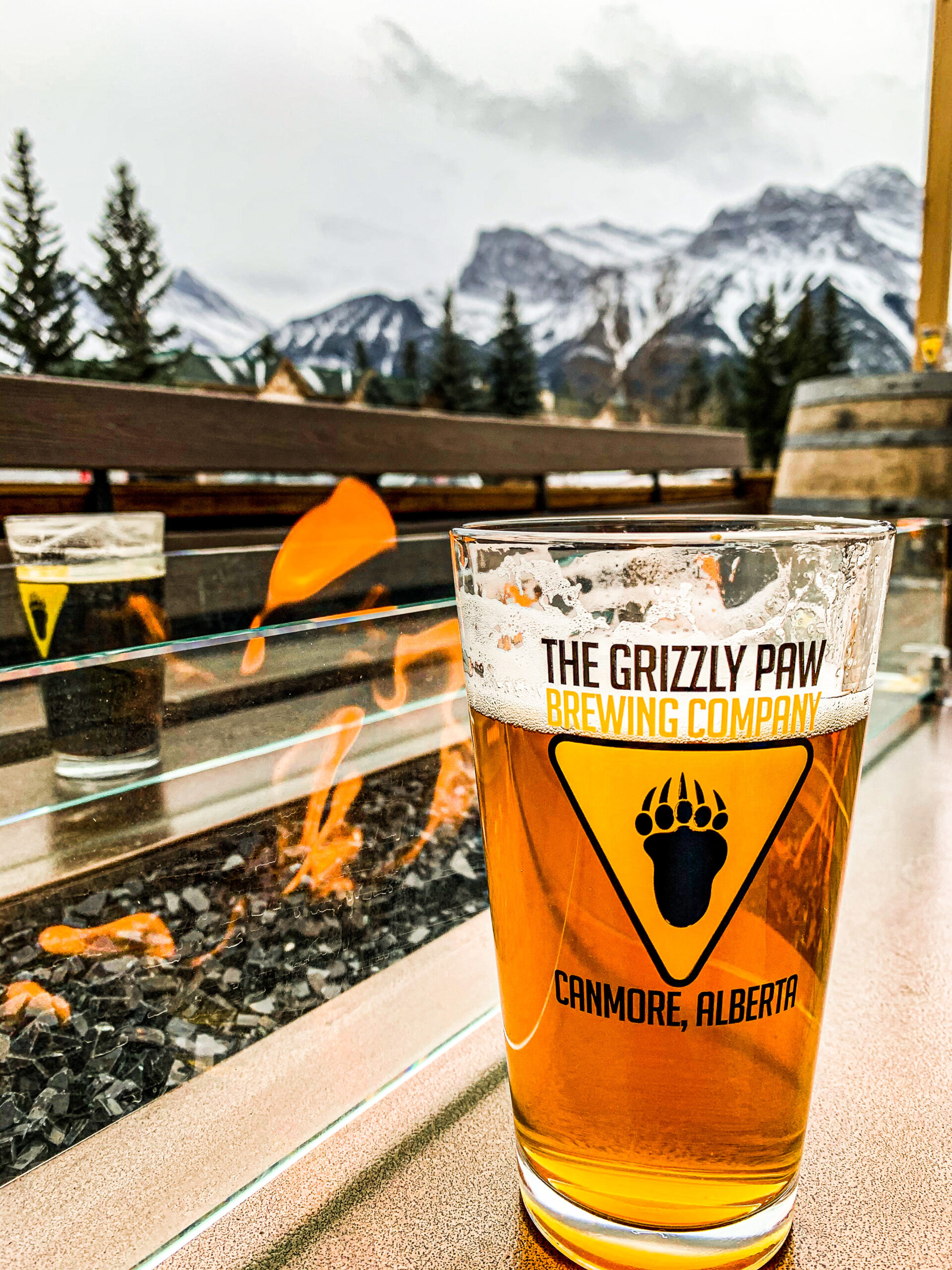 Location:
Parking:

Tank 310 (Main brewery & tasting room): parking available at Canmore brewery 
Pub: Canmore Public Parking Lot

Food Menu: Full menu – lunch, dinner, snacks
If you appreciate stunning scenery while enjoying a delicious pint, The Grizzly Paw Brewing Company's "Tank 310" needs to be added to your itinerary. Heading here is one of the best things to do in Canmore. Tank 310 offers a picture-perfect view of the Three Sisters, whether you are enjoying their ground-level patio, their third-level balcony, or sitting inside looking out their floor-to-ceiling windows.
Just a quick turn off the Trans-Canada Highway, you can't miss this Canmore brewery and taproom thanks to the big yellow brew tanks standing tall out front.
The Grizzly Paw offers three series of beer, and each series includes its own unique beer options. With each beer named after infamous Rocky Mountain symbols, made with mountain water, and brewed with Albertan-grown ingredients, you cannot get a more genuine Canadian Rockies brew. If beer isn't for you, they also make refreshing canned cocktails and delicious soda pop!
Turn your visit to the Grizzly Paw into the full experience by indulging in a meal, too! Their food menu has all the pub classics, and it even has options for the "cubs" in your family. The food menu here might be limited for health-conscious or vegetarian diets, though they offer select vegetarian and gluten-free options.
If you are downtown Canmore, there is no need to leave the main strip to enjoy the brews of the Grizzly Paw. They also have a pub in the heart of downtown Canmore, offering the same tasty drink and grub menus and a fun atmosphere.
---
Canmore Brewing Company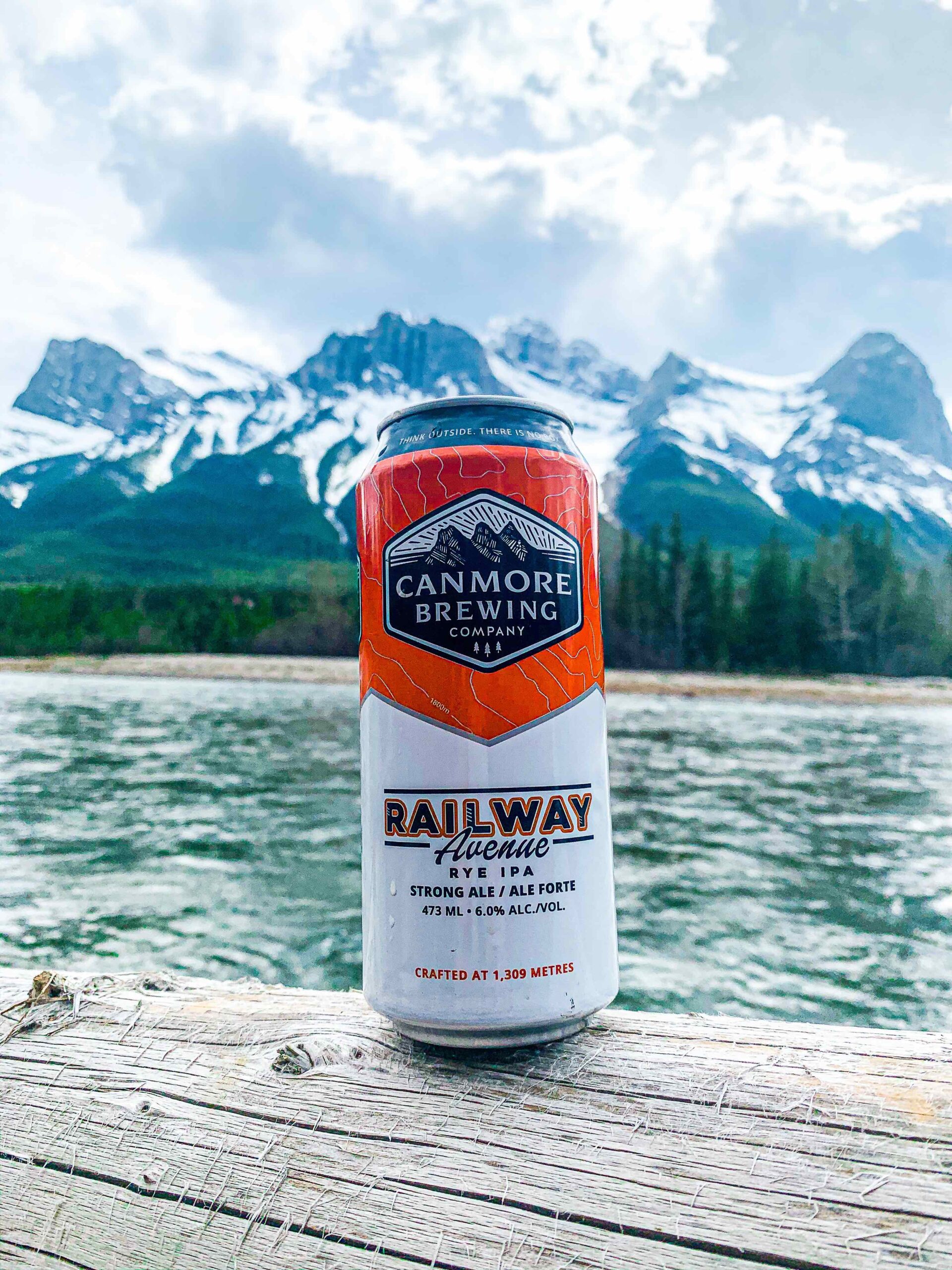 If you are making a quick trip through Canmore without time to stop for a meal, be sure to grab a growler-to-go from the Canmore Brewing Company. The Canmore Brew Co. offers some of my favorite beer of the Canadian Rockies breweries, and always has a long list of fresh brews to choose from.
The Canmore Brew Co. has an appealing tasting room and patio, and they offer light snacks from local eateries to pair with your drink. They typically have 5 delicious core beers and 1 apple cider on tap, and they are always creative in brewing their seasonal rotation. Their "4th Birthday Double IPA" seasonal tap was a short-lived favorite this year that has me looking forward to their 5th birthday.
If you are keen to learn more about this impressive local brewery, be sure to book a tour with them to check out the behind-the-scenes action. After you taste one of their drinks, you will be searching every liquor store for these popular Rocky Mountain pints.
---
Sheepdog Brewing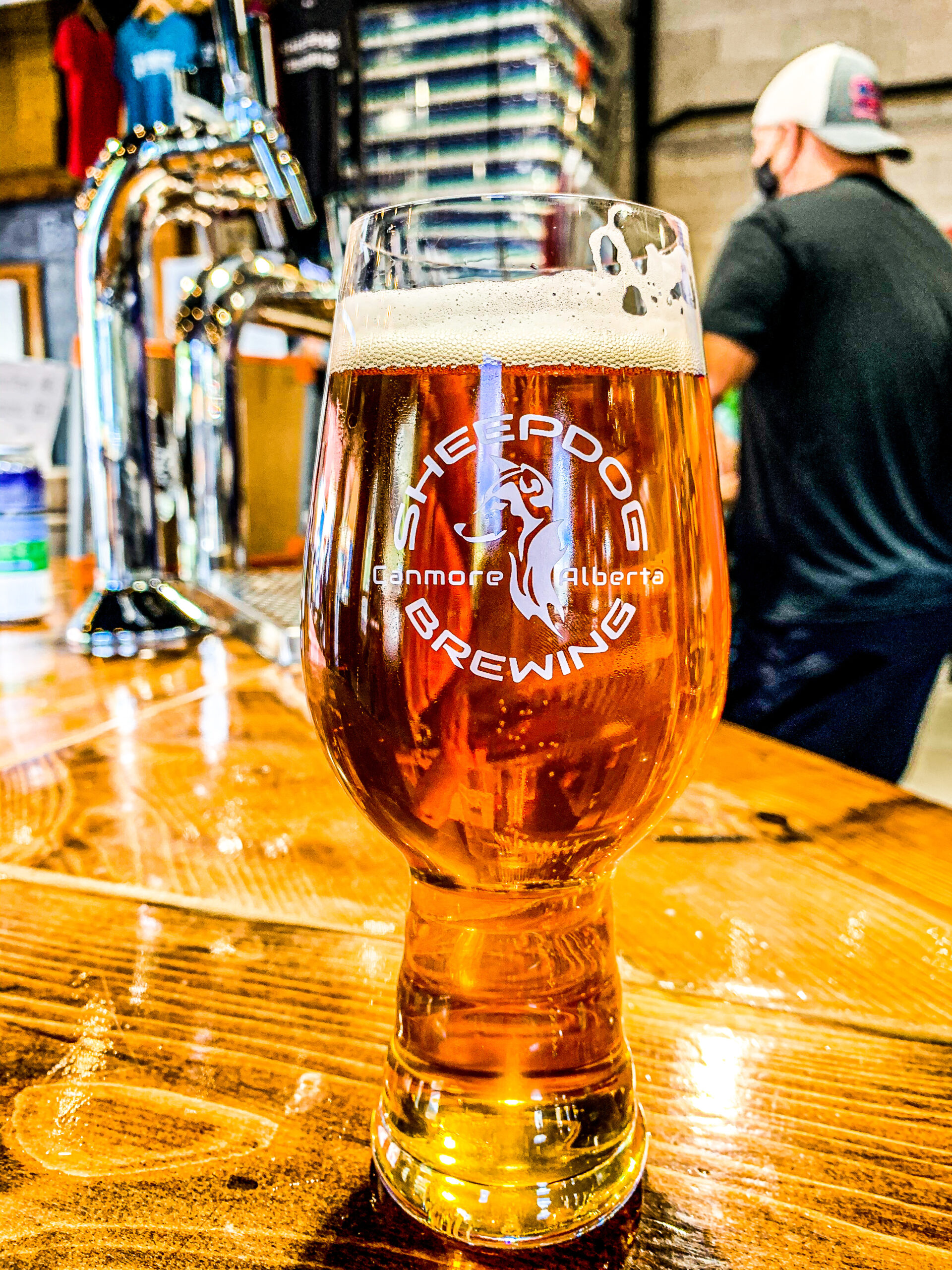 Sheepdog Brewing is a hidden gem of Canmore, tucked away on the outskirts of the main town. If you want a taste of life as a Canmore local, simply make a visit to this epic craft brewery.
The Sheepdog rocks an industrial-style interior, with the main floor taproom and upstairs seating area. In the warmer months, they open up the front wall of the taproom (garage door style!) to connect the taproom to the parking lot patio.
Sheepdog Brewing always has a wide range of beers on tap, and they are constantly switching up their selection. It is always fun to visit their taproom and try something new! For food, they offer light snacks to pair with your pint. With their food options being fairly limited, they also allow you to bring in or order any food you want! Why not combine your favorite take-out options with your favorite craft brewery?
For any dog lovers out there, Sheepdog also welcomes your furry friends on Fridays and Saturdays. Be sure to bring your pup along to keep you company while enjoying a refreshing Rocky Mountain pint.
---
Wild Life Distillery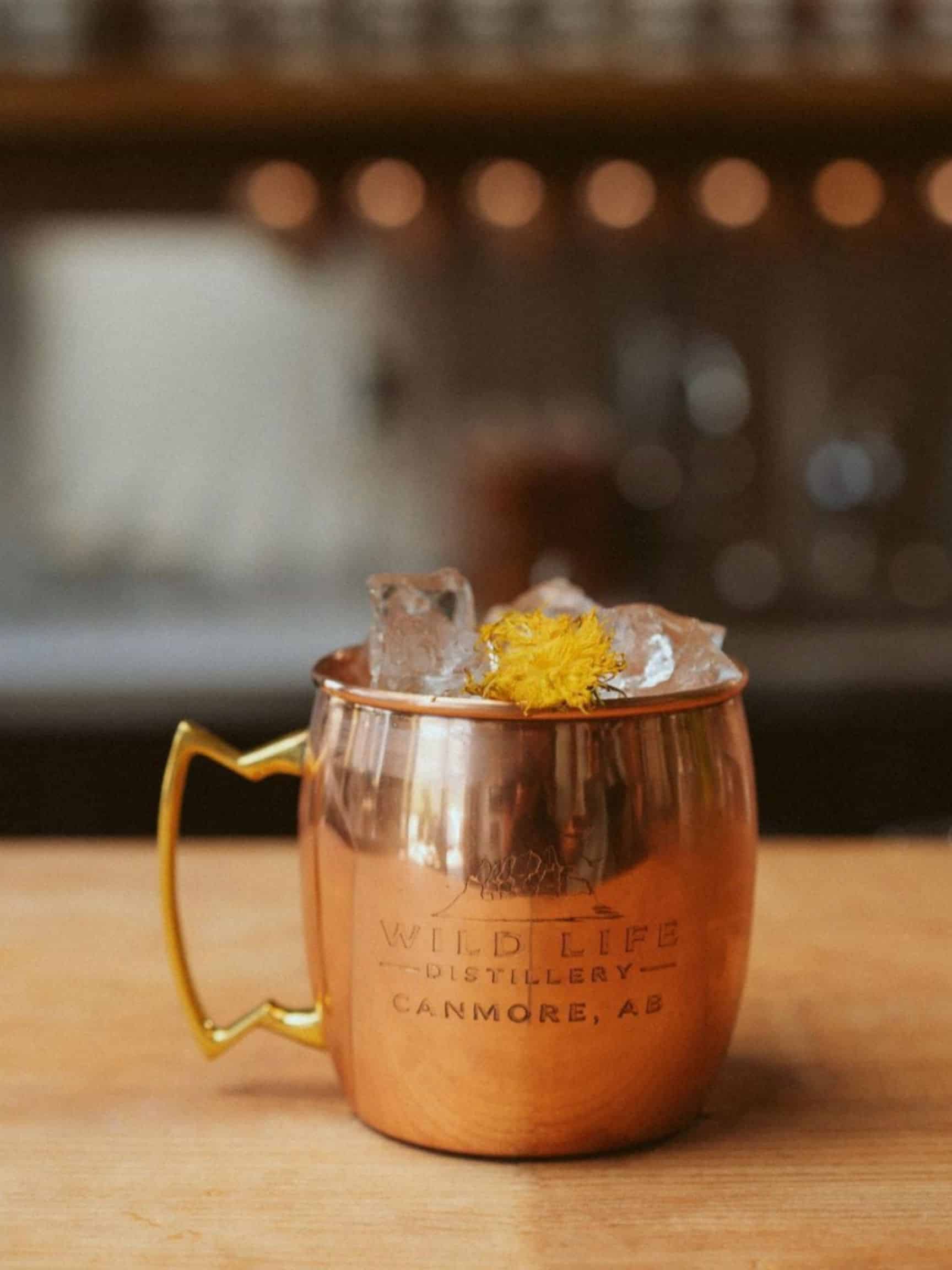 Not a Canmore brewery, but if craft gin is your thing, a visit to Wild Life Distillery in Canmore is a must. You can find these craft bottles of gin in the local Liquor stores, but for tastings and tours, it's worth it to visit their location on Bow Meadows Crescent.
It's here that you can tour the facilities, do some gin tastings, and try one of Wild Life's amazing craft cocktails. They rotate their specialty cocktails based on the season, but so far my favorite is the Take Flight!
After your tasting, don't forget to buy a bottle of their best seller – the Wild Life Distillery Rhubarb Gin.
---
Angry Bear Growlers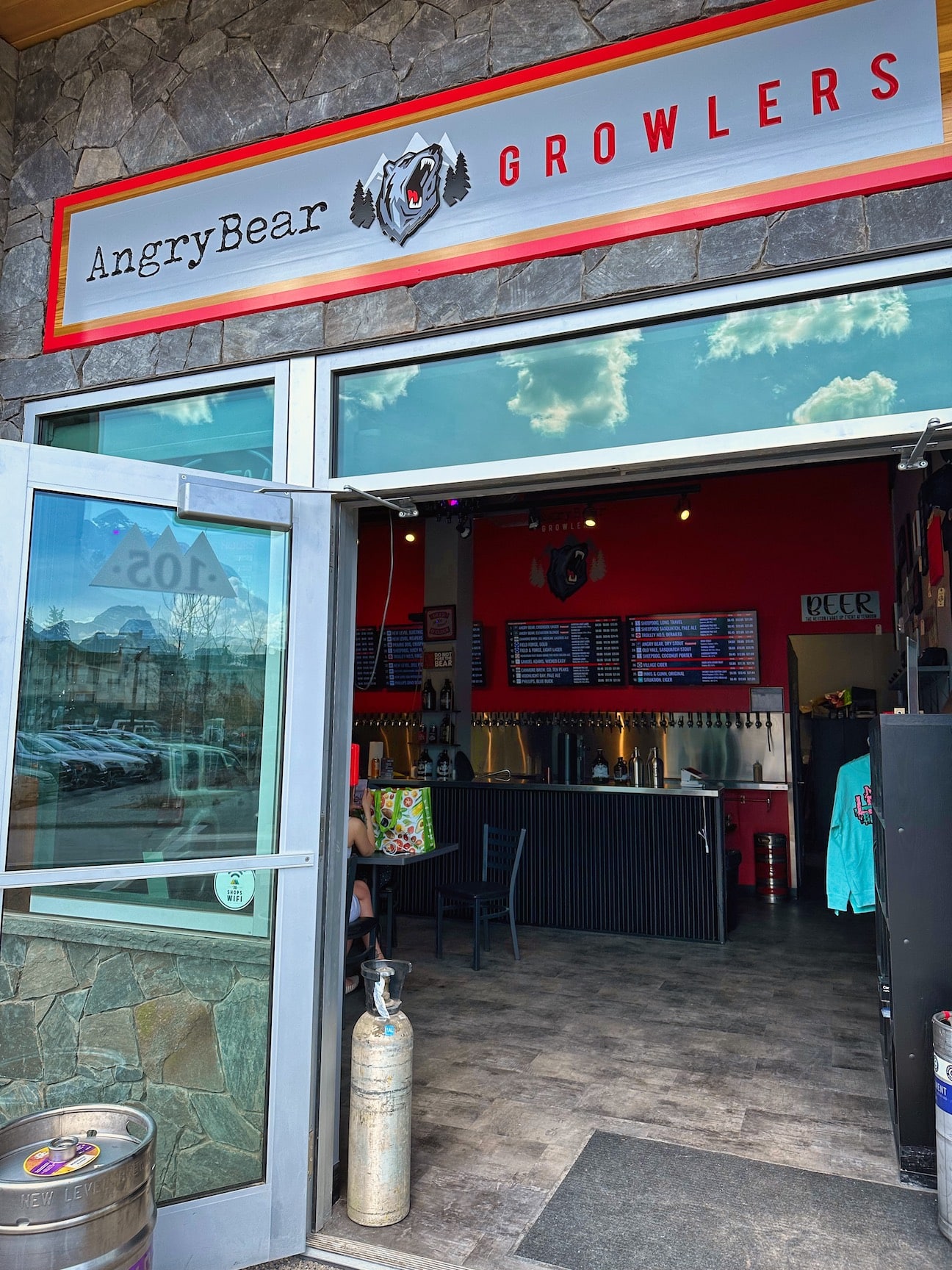 Just off the Bow Valley Trail away from Downtown Canmore, but still easily walkable, there is a tiny brewery for beer enthusiasts and connoisseurs alike.
It's a small atmosphere and exceptional offerings. Step inside and prepare to enjoy their Hoppy Hour, available daily until 6pm, offering an incredible selection of craft beers, cocktails, ciders, sodas, and more.
Angry Bear boasts an impressive collection of 58 constantly rotating taps, ensuring there is always something new and exciting to try. Whether you're a beer aficionado looking to explore different styles or a casual drinker in search of a refreshing pint, their diverse range of flavors is sure to satisfy every palate.
In addition to their large beverage selection, the brewery also offers tasting flights, allowing patrons to sample a variety of brews in one sitting. If you're hungry there are a few food items on offer, though it is right next door to Rocket Pie – one of the best Canmore pizza restaurants.
My favorite here is the Angry Bear Mountain Haze, but there are also beers on top from other breweries in the region!
---
Other Canmore Bar Favorites
---
Looking for more breweries? See our favorite Banff breweries!
---
The Best Things To Do In Canmore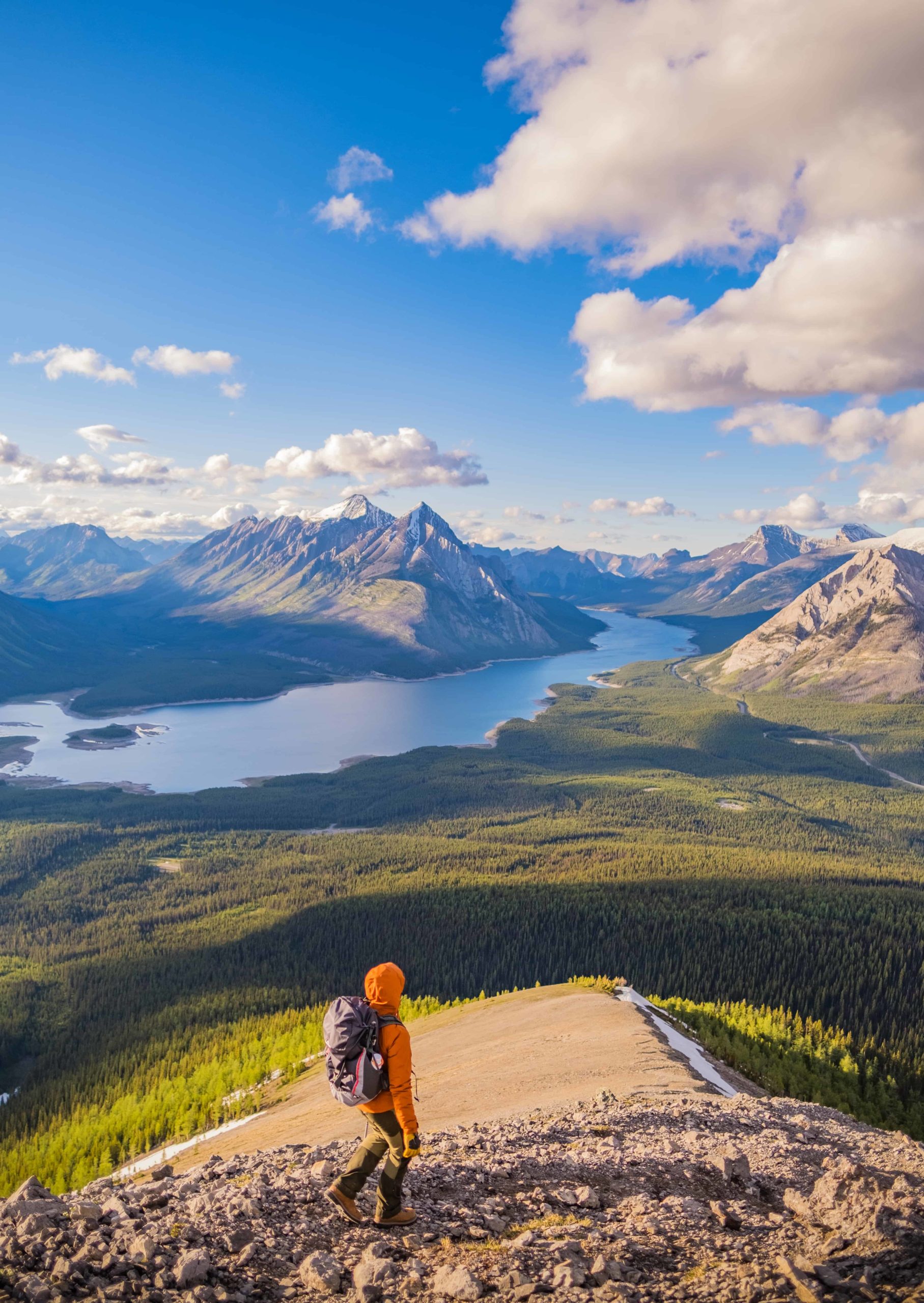 There are so many fantastic things to do in Canmore. Consider hiking in Kananaskis, paddleboarding on the Canmore Reservoir, or mountain biking at the Nordic Center.
60 Best Things To Do In Canmore, Alberta
Plan Your Trip to the Canadian Rockies