Are you visiting the Canadian Rockies and on the hunt for a fantastic Banff brewery or Canmore brewery? If so, you're in luck – the Canadian Rockies are home to some of the best craft breweries in Canada. No matter which mountain town your itinerary takes you to, there will be a stellar brewery nearby.
Offering locally brewed beer, tasty eats, and mountain views, what better place to indulge in a cold one than at one of the best breweries in the Canadian Rockies. Here we'll break down the best breweries in Banff, Canmore, and beyond!
---
Best Canmore Breweries
---
The town of Canmore, home to the stunning Three Sisters and a variety of popular Canmore restaurants, is another prime location for craft beer enthusiasts. Canmore is home to three breweries, each with its own unique perk and each worth your visit! Be sure to treat yourself to one of the best breweries in the Canadian Rockies after crushing a beautiful local hike.
---
The Grizzly Paw Brewing Company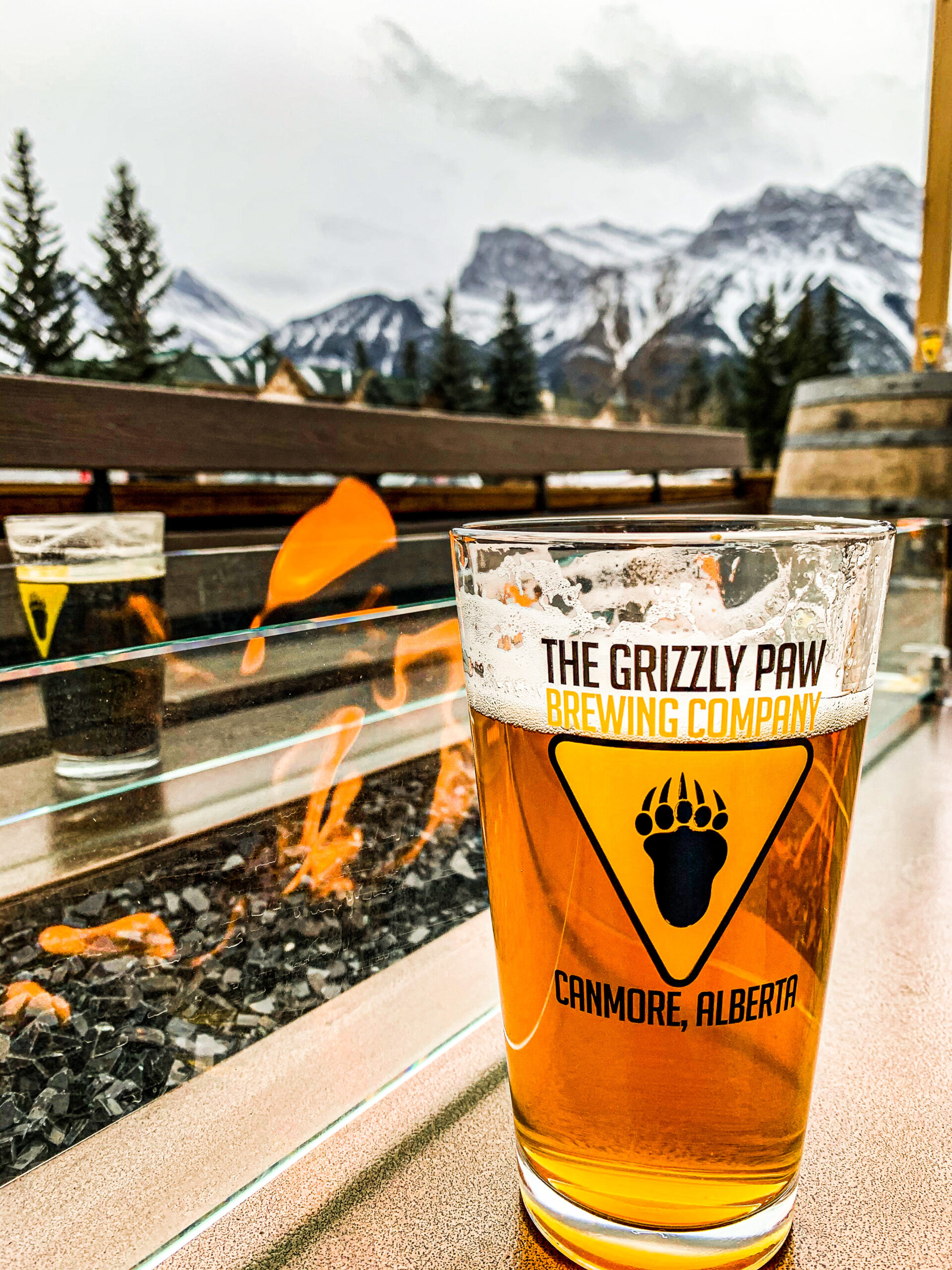 Location:
Parking:

Tank 310 (Main brewery & tasting room): parking available at brewery
Pub: Canmore Public Parking Lot

Food Menu: Full menu – lunch, dinner, snacks
If you appreciate stunning scenery while enjoying a delicious pint, The Grizzly Paw Brewing Company's "Tank 310" needs to be added to your itinerary. Heading here is one of the best things to do in Canmore. Tank 310 offers a picture-perfect view of the Three Sisters, whether you are enjoying their ground-level patio, their third-level balcony, or sitting inside looking out their floor-to-ceiling windows.
Just a quick turn off the Trans-Canada Highway, you can't miss this Canmore brewery and taproom thanks to the big yellow brew tanks standing tall out front.
The Grizzly Paw offers three series of beer, and each series includes its own unique beer options. With each beer named after infamous Rocky Mountain symbols, made with mountain water, and brewed with Albertan-grown ingredients, you cannot get a more genuine Canadian Rockies brew. If beer isn't for you, they also make refreshing canned cocktails and delicious soda pop!
Turn your visit to the Grizzly Paw into the full experience by indulging in a meal, too! Their food menu has all the pub classics, and it even has options for the "cubs" in your family. The food menu here might be limited for health-conscious or vegetarian diets, though they offer select vegetarian and gluten-free options.
If you are downtown Canmore, there is no need to leave the main strip to enjoy the brews of the Grizzly Paw. They also have a pub in the heart of downtown Canmore, offering the same tasty drink and grub menus and a fun atmosphere.
---
Canmore Brewing Company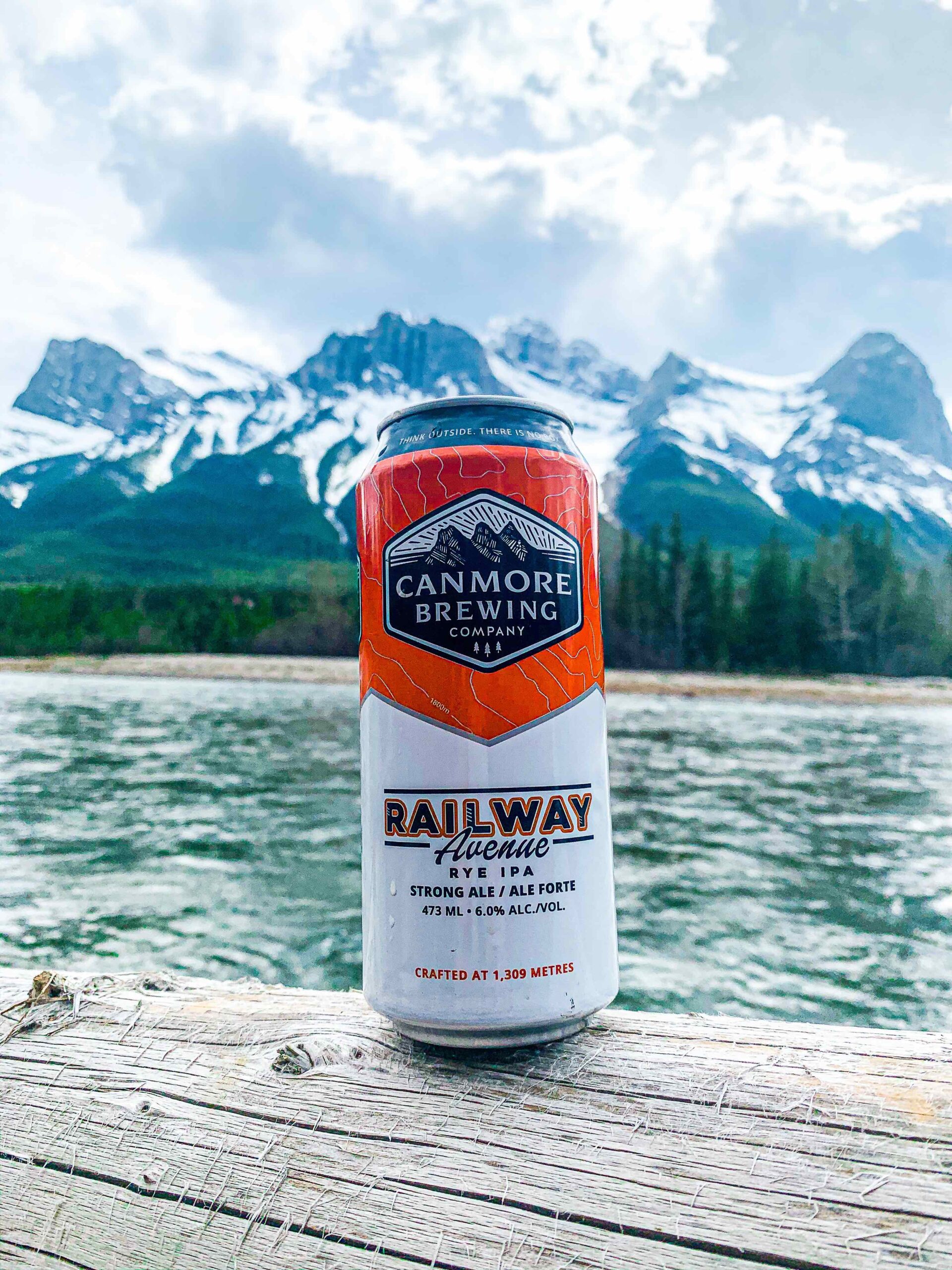 If you are making a quick trip through Canmore without time to stop for a meal, be sure to grab a growler-to-go from the Canmore Brewing Company. The Canmore Brew Co. offers some of my favorite beer of the Canadian Rockies breweries, and always has a long list of fresh brews to choose from.
The Canmore Brew Co. has an appealing tasting room and patio, and they offer light snacks from local eateries to pair with your drink. They typically have 5 delicious core beers and 1 apple cider on tap, and they are always creative in brewing their seasonal rotation. Their "4th Birthday Double IPA" seasonal tap was a short-lived favorite this year that has me looking forward to their 5th birthday.
If you are keen to learn more about this impressive local brewery, be sure to book a tour with them to check out the behind-the-scenes action. After you taste one of their drinks, you will be searching every liquor store for these popular Rocky Mountain pints.
---
Sheepdog Brewing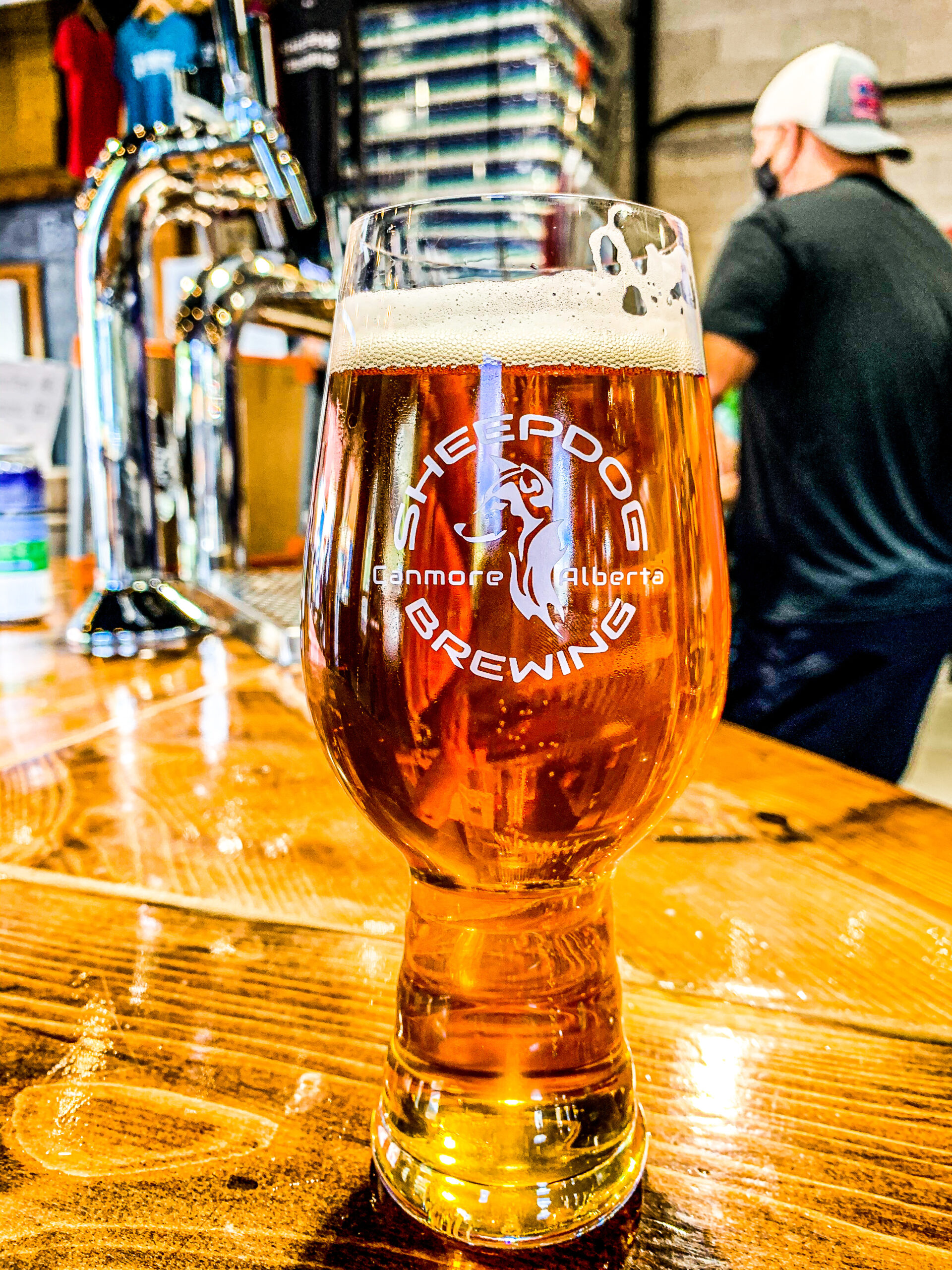 Sheepdog Brewing is a hidden gem of Canmore, tucked away on the outskirts of the main town. If you want a taste of life as a Canmore local, simply make a visit to this epic craft brewery.
The Sheepdog rocks an industrial-style interior, with the main floor taproom and upstairs seating area. In the warmer months, they open up the front wall of the taproom (garage door style!) to connect the taproom to the parking lot patio.
Sheepdog Brewing always has a wide range of beers on tap, and they are constantly switching up their selection. It is always fun to visit their taproom and try something new! For food, they offer light snacks to pair with your pint. With their food options being fairly limited, they also allow you to bring in or order any food you want! Why not combine your favorite take-out options with your favorite craft brewery?
For any dog lovers out there, Sheepdog also welcomes your furry friends on Fridays and Saturdays. Be sure to bring your pup along to keep you company while enjoying a refreshing Rocky Mountain pint.
---
Wild Life Distillery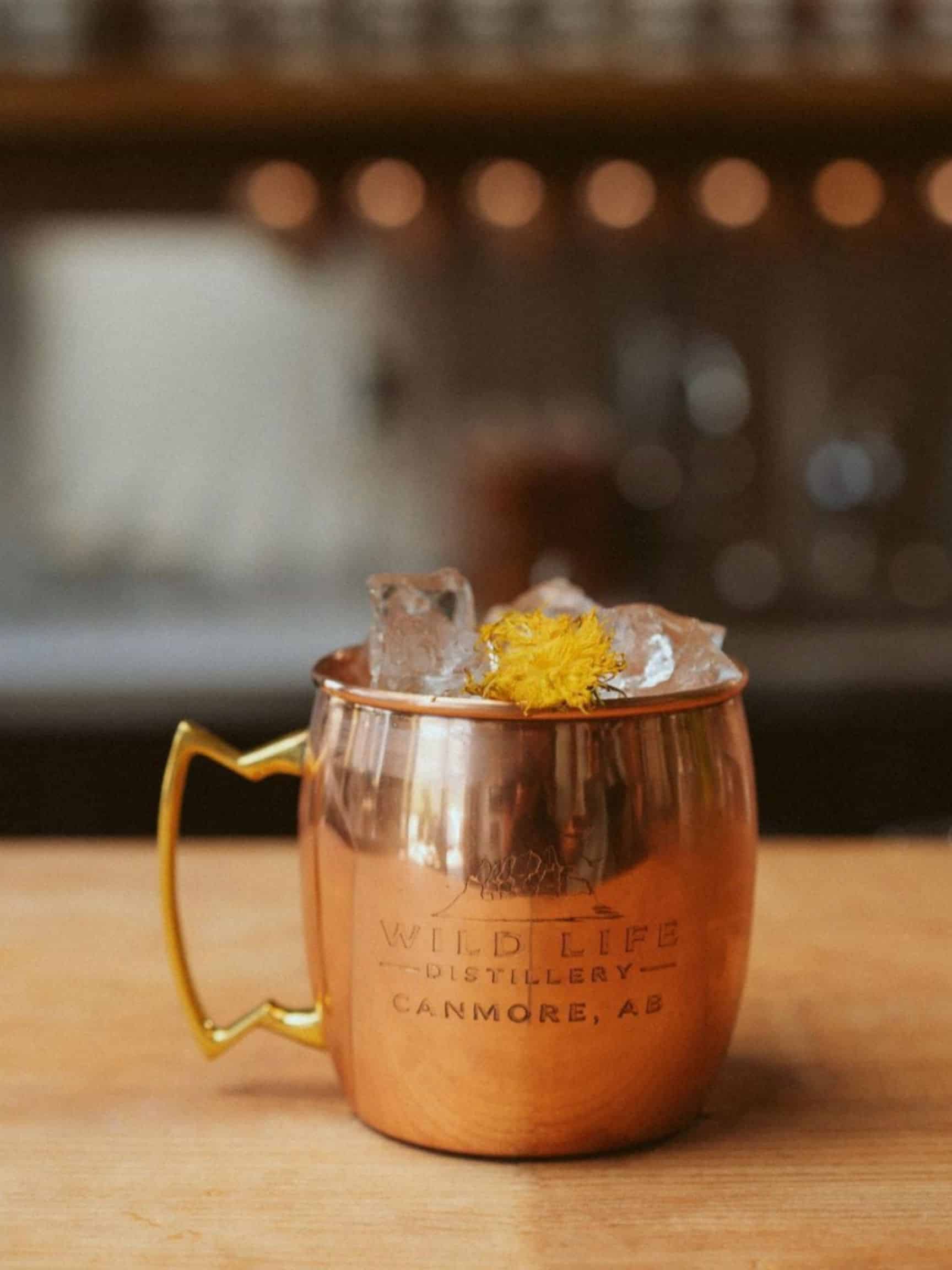 Not a Canmore brewery, but if craft gin is your thing, a visit to Wild Life Distillery in Canmore is a must. You can find these craft bottles of gin in the local Liquor stores, but for tastings and tours, it's worth it to visit their location on Bow Meadows Crescent.
It's here that you can tour the facilities, do some gin tastings, and try one of Wild Life's amazing craft cocktails. They rotate their specialty cocktails based on the season, but so far my favorite is the Take Flight!
After your tasting, don't forget to bring a bottle to their best seller – the Wild Life Distillery Rhubarb Gin.
---
Other Canmore Bar Favorites
---
Best Banff Breweries
---
There are two must-visit breweries right in the heart of beautiful Banff: the one and only Banff Ave. Brewing Co, and the new Three Bears Brewery. With the Brew Co located on Banff Avenue and Three Bears just one street over on Bear street, there's no need to choose between the two – check out both breweries during your visit to Banff after you hit up a fabulous Banff restaurant.
---
Banff Ave. Brewing Co.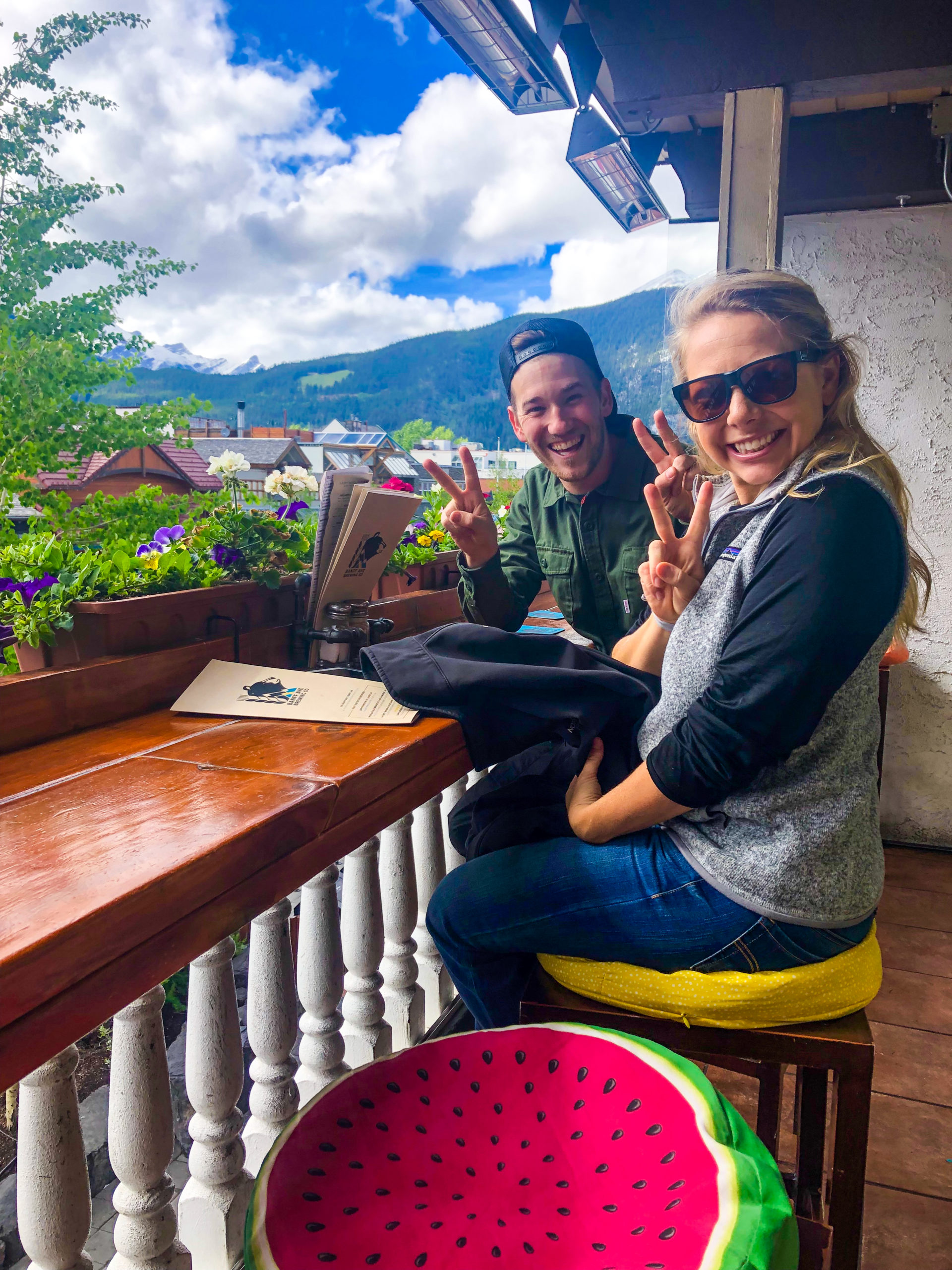 The Banff Ave. Brewing Co, also known as the Brewpub by the town's dedicated locals, is the OG Banff brewery. This pub offers several taps and covers everything from Pale Lagers to Stouts- all of which are brewed in-house. The Brewpub is great at rotating their available selection while holding onto the fan favorites. One of my all-time favorites is their infamous Head Smashed IPA!
The Brewpub offers a chilled-out atmosphere that allows tourists to feel just as at home as the locals do. With mountain views from both inside the bar and the second-story patio, there's no need to miss a moment of Banff's beauty while you enjoy some local brews.
The offerings at this brewery go much further than the tasty drinks and cozy atmo, with the Brewpub food menu being a town favorite.
Offering everything from delicious snacks to pair with your drink, to vegetarian-friendly bowls, to hearty sandwiches, I definitely recommend a meal here. Be sure to try out their Alberta Bison Burger for a genuine Canadian Rockies meal.
---
Three Bears Brewery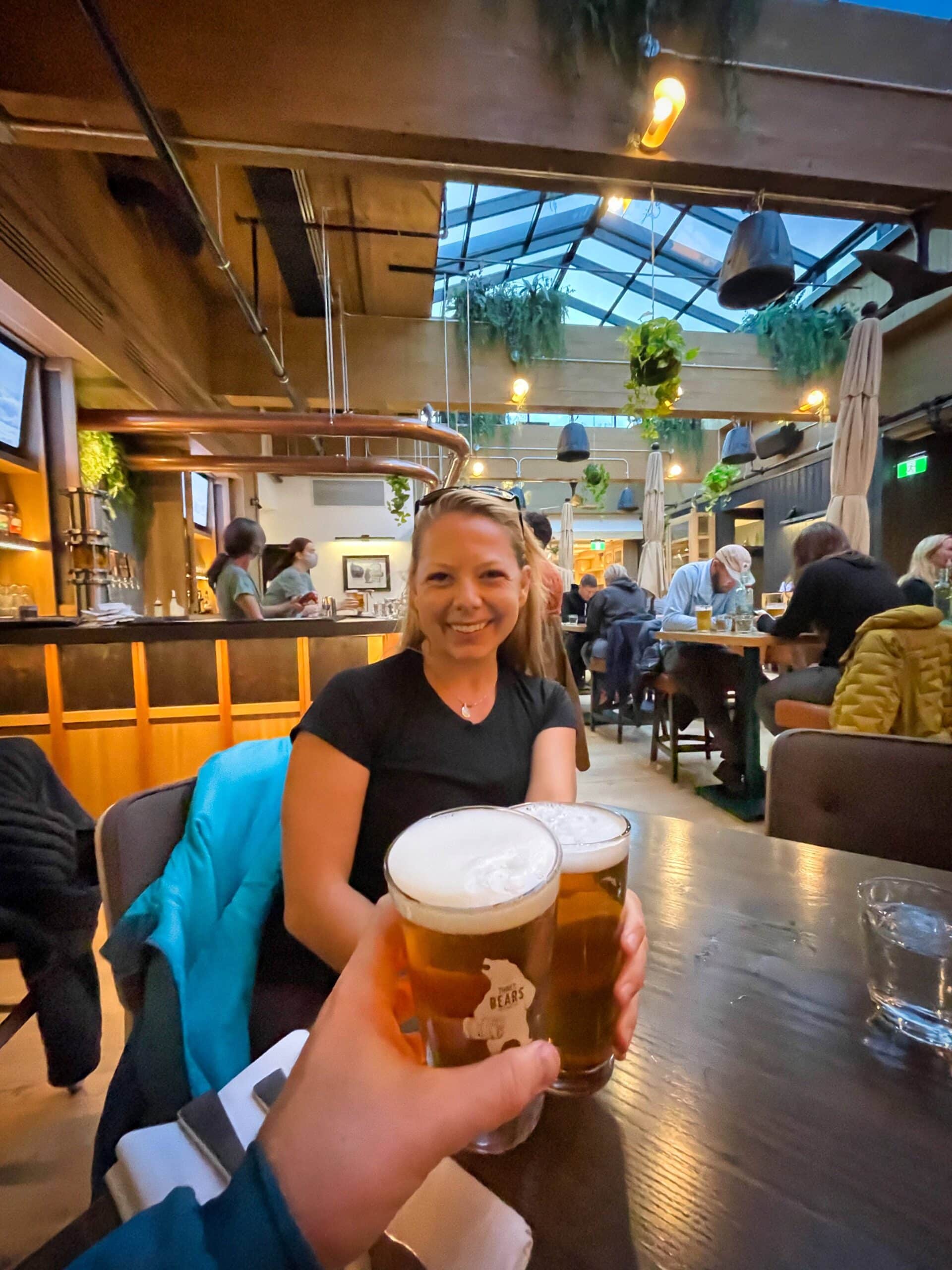 The Three Bears Brewery is brand new on the Banff Bar scene, and I couldn't be happier with this wicked addition. This brewery offers refreshing brews in an equally refreshing atmosphere.
The interior of the Three Bears has a modern-rustic vibe, with a wood theme and fresh greenery that has the space bursting with life. In the summer months, they open their retractable roof, making the second floor a rooftop patio! Enjoy your drinks under the sun or the stars, with the mountains in the distance.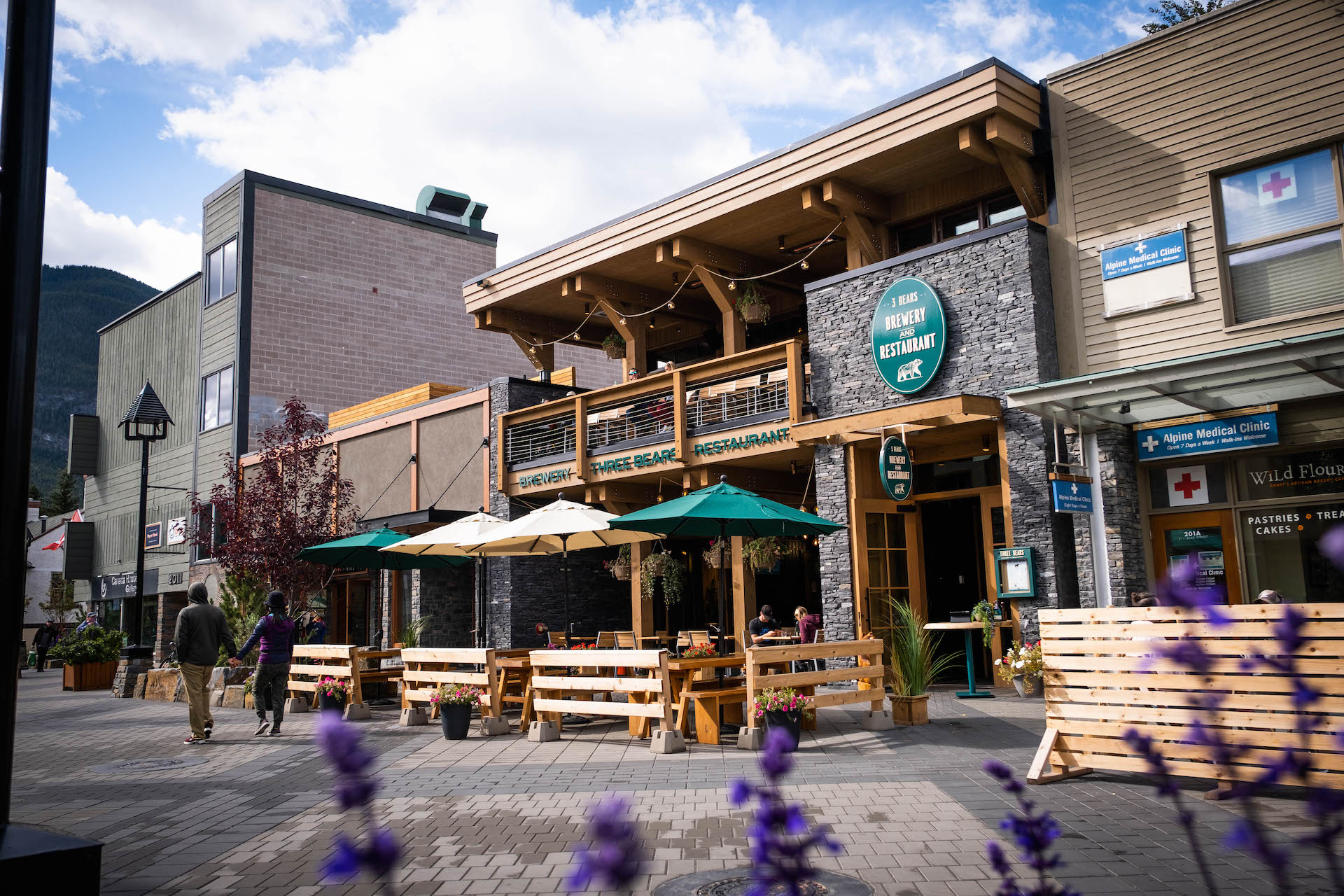 Enough about their gorgeous interior; their beer is just as dreamy! Offering 5 tasty, constant taps and 1 seasonal tap, every beer lover can find a favorite on this drink menu. The Happy Trails Pale Ale is my favorite, but you can find yours by trying their 6-beer flight. While you enjoy a refreshing pint or flight, be sure to try out their food menu too.
The Three Bears food menu offers a wide variety of food options, including some of the best Pizza in town. Their menu also has an excellent selection of vegetarian, vegan, and gluten-free options. I must say, their Sweet Potato Wedges are probably the tastiest appetizer I have ever had (and it's vegan)! This new Banff bar definitely passes the beer, food, and vibe check – especially during the warmer months when their rooftop patio is open!
---
Park Distillery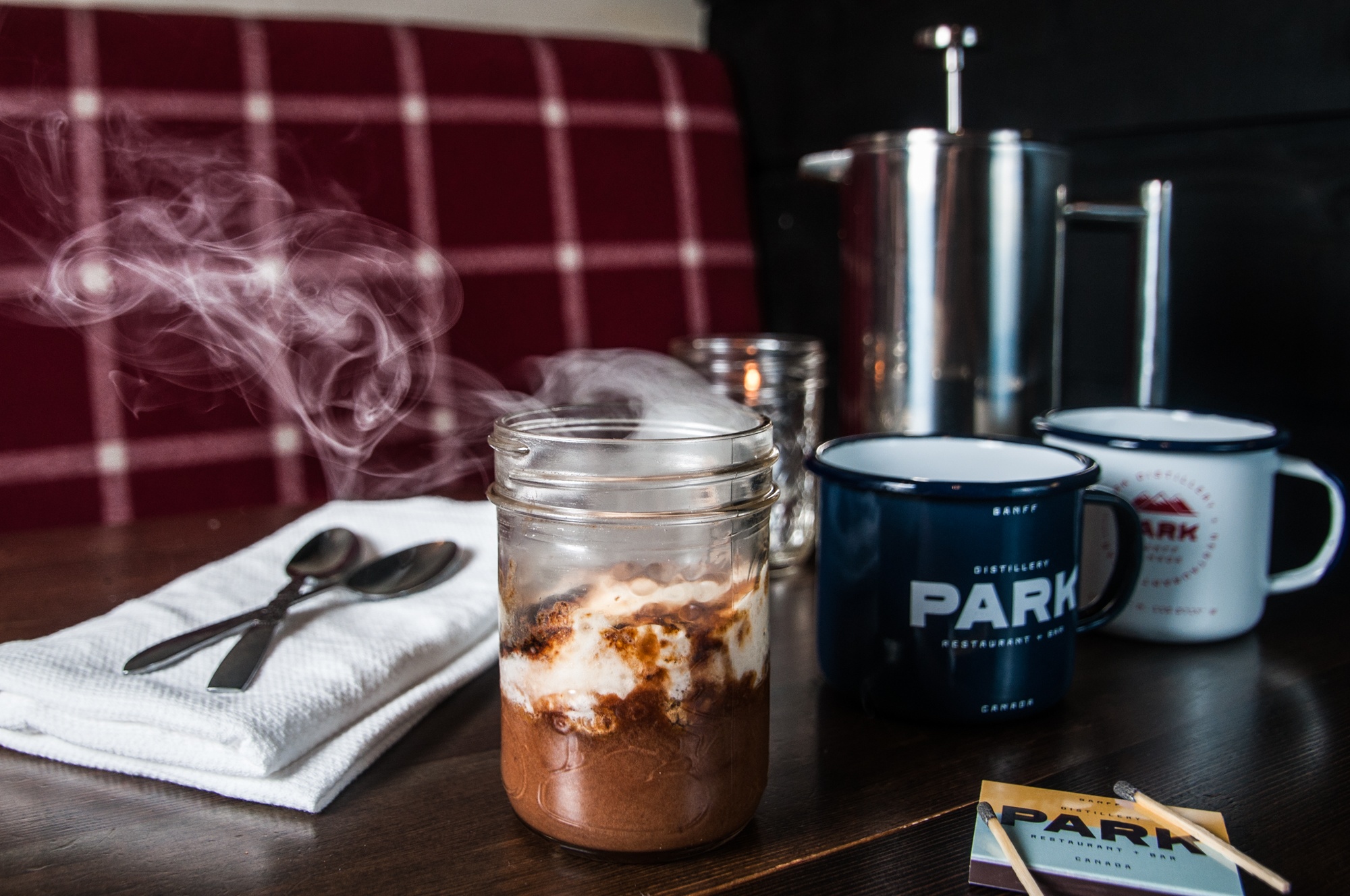 With a prime location on Banff Ave, it's tough to miss Park Distillery. This is where we take friends and family to eat when they're in town. Park Distillery has quickly made a name for itself in the Rockies as one of the best distilleries around.
If you're looking for a classic cocktail, try their Caesar made with chili vodka at brunch. However they have plenty of other inspiring cocktails on the menu. It's a fun place to head for lunch or dinner as they dish up some fantastic food items.
---
Other Banff Bar Favorites
Tommy's Neighbourhood Bar
---
Jasper Breweries
---
If you are visiting the beautiful alpine town of Jasper, you just so happen to be visiting the birthplace of National Park breweries in Canada! The Jasper Brewing Company started it all, being the first brewery established in a Canadian National Park – right in the heart of Jasper National Park.
With Jasper Brew Co being a lone brewery on the Jasper bar scene for over a decade, Folding Mountain Brewing turned this stunning National Park into a hotspot for some of the best breweries in the Canadian Rockies!
---
Jasper Brewing Company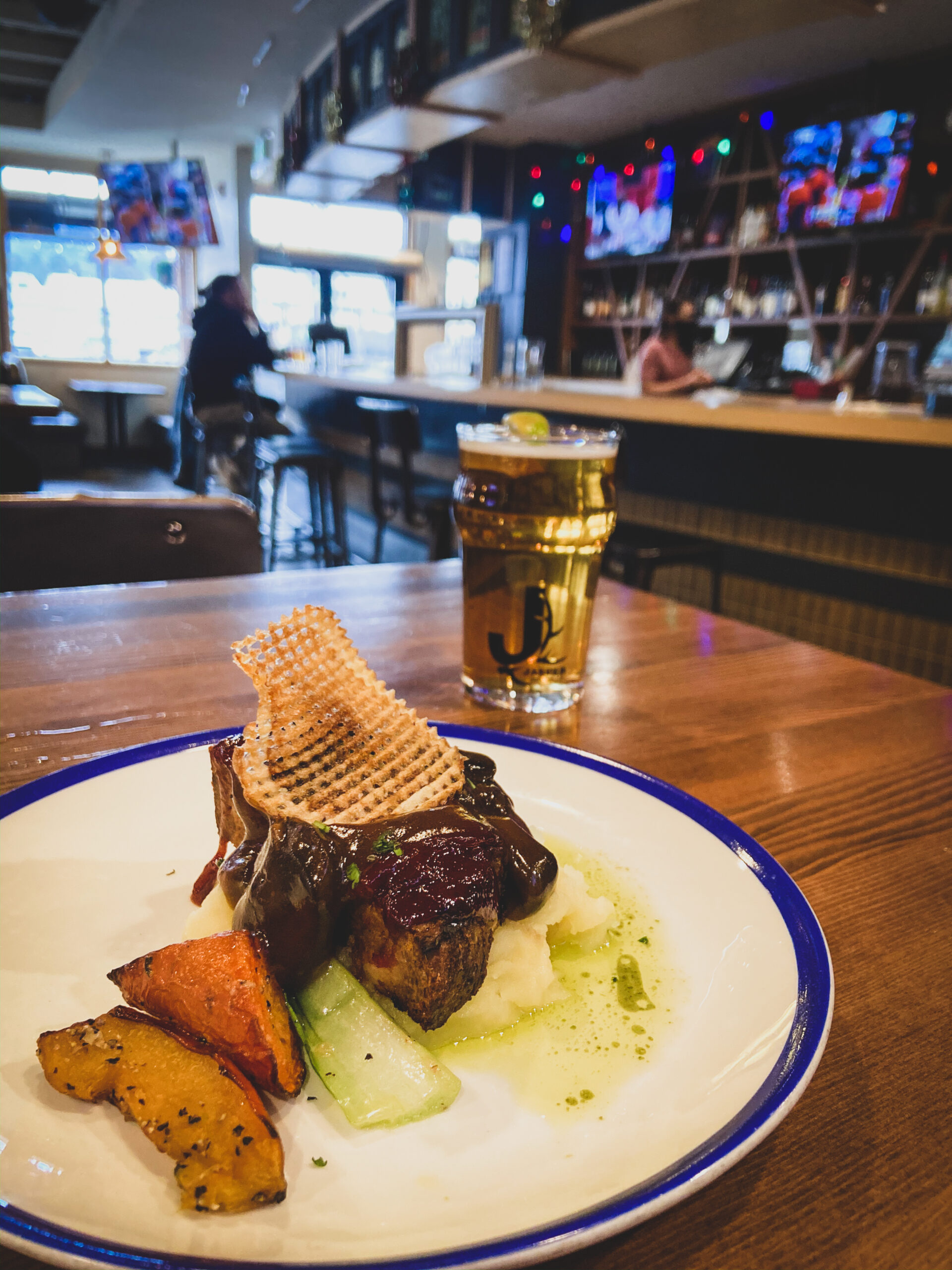 The Jasper Brewing Company broke ground as the first brewery in a Canadian National Park! Thanks to the ingenuity of two Jasper locals, we can now enjoy fresh mountain brews while surrounded by the most beautiful sites in Canada. Jasper Brew Co, also known as the Brewpub, is the sister company to Banff Ave Brewing Company!
The Brewpub offers tasty brews and genuine Canadian grub, all inspired by the one and only Rocky Mountains. It's one of the best restaurants in Jasper on top of being a brewery. This brewery offers 8 constant taps, with a wide selection of rotating taps – their rotating selection even includes ciders, hard seltzers, twisted teas, kombucha, and non-alcoholic pints! With such a wide selection of drinks, everyone will find a favorite on this drink menu.
Even if you have visited the Banff Ave Brew Co, do not cross the Jasper Brewpub off your list! This popular Jasper brewery offers a brand-new atmosphere, fresh scenery, and a creative food menu. 
The atmosphere here is bright and lively, with a modern wood theme and fun retro booths. Whether you are inside this stylish brewery or enjoying Jasper's natural offerings, the picture-esque views do not stop.  
---
Folding Mountain Brewery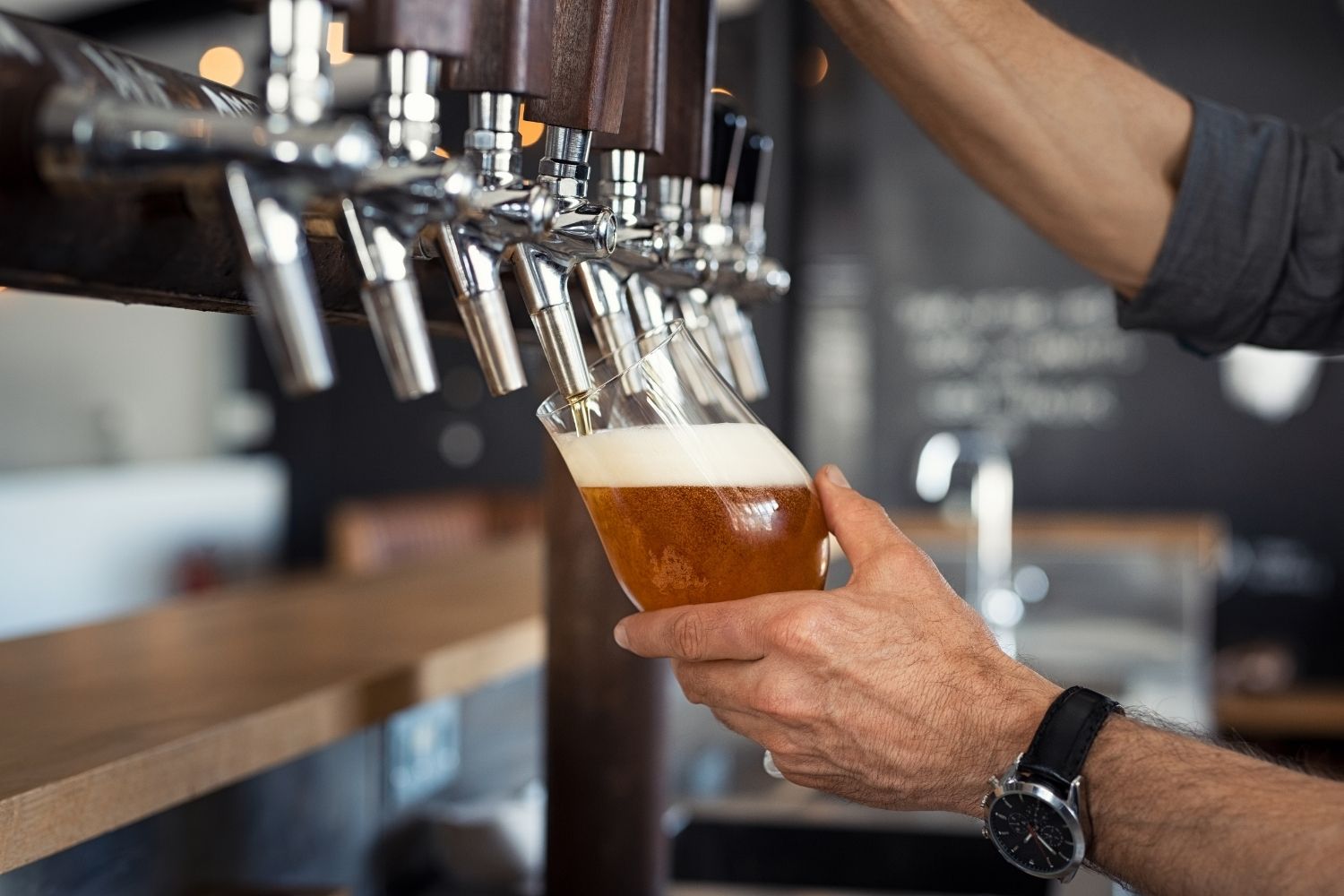 The Folding Mountain Brewery, opened by two of the area's locals, is a must-visit Jasper Brewery This relatively young brewery hosts a stunning, Jasper cabin-chic atmosphere and some equally as impressive brews. Located just one minute from the Jasper National Park gates, there is no better place to enjoy a delicious pint.
This stylish brewery offers a dozen delicious, unique beers on tap, covering a wide selection. Every beer lover will have a tough time choosing a favorite from this extensive list of fresh mountain brews. Not only are the drinks perfectly brewed, but the food menu has delicious offerings to pair with them. Their menu consists of a long list of snacks and select sandwiches and has a section for the kiddos too.
The Folding Mountain Brewery does an excellent job of creating a fun, bright, and mountain-esque atmosphere for locals and tourists alike! When you pair this lively interior with their spacious patio, the atmosphere here could not get much better, especially considering that the brewery is surrounded by our gorgeous Canadian Rocky Mountains!
---
Other Jasper Bar Favorites
---
Notable B.C. Breweries Nearby
---
The best breweries in the Canadian Rockies do not stop at the Albertan border; some of my all-time favorite brews are crafted by our neighbors in beautiful British Columbia! Both Fernie and Golden each offer their own excellent breweries, Fernie Brew Co and Whitetooth Brewing Company, which gives you all the more reason to visit these cozy mountain towns.
---
Fernie Brewing Company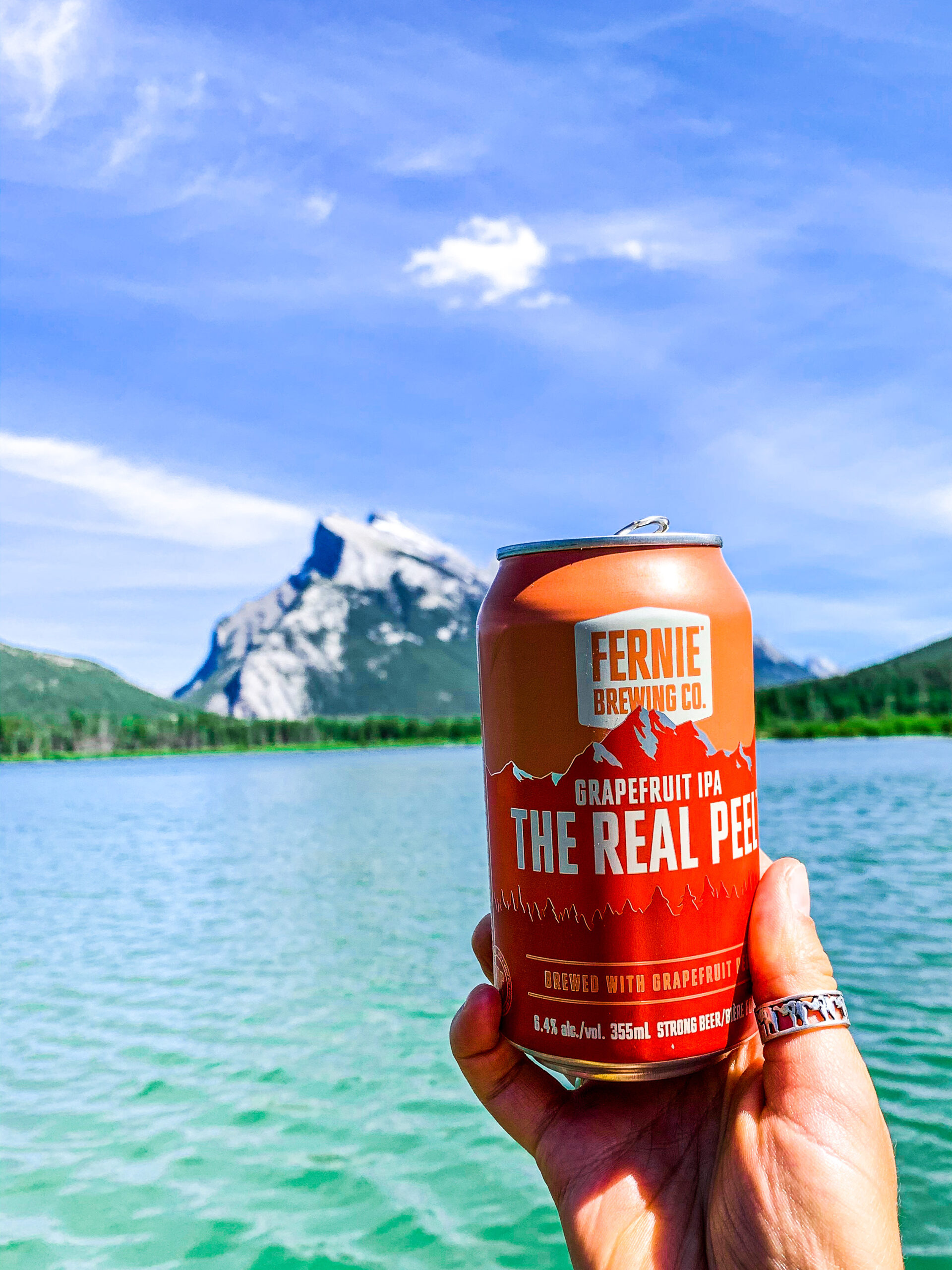 With so many breweries in the Canadian Rockies, it's hard to choose a favorite. But if I am honest, the Fernie Brew Co is my go-to brand any time it's offered on tap or on the liquor store shelves. The Fernie Brew Co has an unbeatable selection of brews and is owned by a local family committed to sustainable practices as they are to brewing excellent beer.
The Fernie Brew Co offers 10 constant beers year-round and has an endless list of seasonal drinks full of creativity and flavor. Their fun and lively taproom typically have 12 taps ready for your choosing. You can enjoy their taproom or sunny patio, and even tie your pup up in their shaded "doggo parking" area.
This brewery only offers light bar snacks for food – they do not have a kitchen or food menu. With the showstopper being their tasty beer, you wouldn't want to distract yourself with a meal anyhow! Visiting is one of the best things to do in Fernie! When you visit the Fernie Brew Co, be sure to try their unique "What the Huck" Huckleberry Ale.
---
Other Fernie Bar Favourites
---
Whitetooth Brewing Company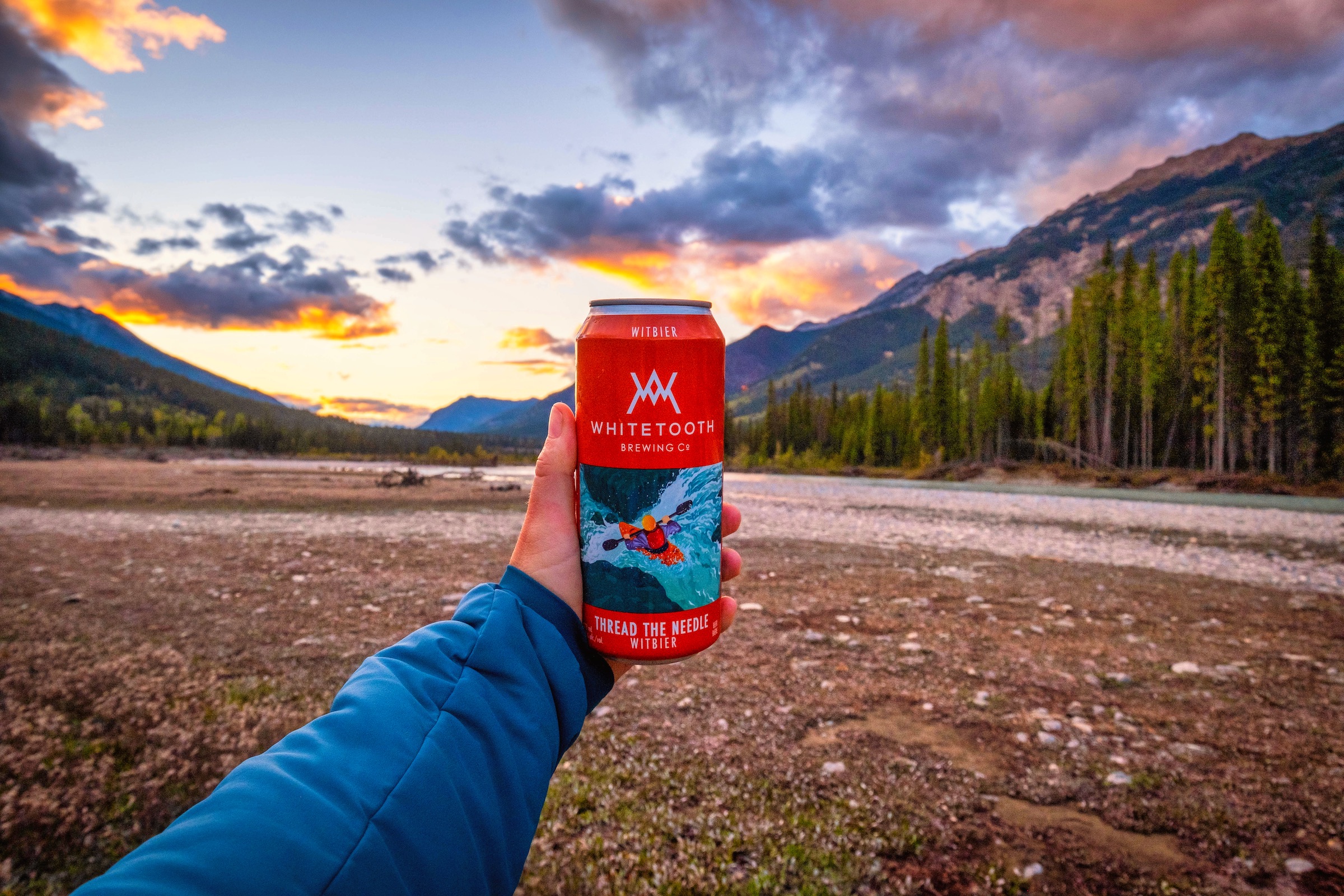 The Whitetooth Brewing Company is one of those places that you should base your travel plans around to ensure a stop at. This young brewery has epic beer and offers a fun environment to enjoy them in. Their main goal is to create West-Coast inspired brews for you to indulge in after your favorite Rocky Mountain activity – a goal they effortlessly achieve.
The Whitetooth Brewing Company is in the heart of Golden, B.C, with Kicking Horse Ski Resort just up the road and tons of mountain adventures all around you. This brewery rocks an industrial-style interior, with indoor seating right amidst their brew tanks and daily operations. This is a fun spot to enjoy a delicious beer while watching just how that drink came to be.
Along with their indoor seating, Whitetooth also has a beautiful patio to enjoy mountain views in the sun. For food, they offer the option to order from a nearby local restaurant which is a great way to indulge in some tasty eats while enjoying their brewery.
Be sure to check out their retail shop for some stylish merch or a growler to go! FYI – their "Thread the Needle" Witbier as definitely a fan favorite.
---
Other Golden Bar Favourites
---
Hopefully this Canmore brewery and Banff brewery guide helps you plan where to have a tasty beer.
If you have any other questions leave a comment or see our Canadian Rockies travel guide for more articles about photography spots, lakes, hikes, and everything else.
---
↓ Join the community ↓
The Banff Blog Facebook Group is your headquarters for the Canadian Rockies' travel advice and information. Including hike info and off-season travel information. This is also where you can meet one another when you need adventure buddies. 

Plan Your Trip to the Canadian Rockies