There are many great things to do in Golden, BC, during the summer and winter months. Golden is only a short drive away from our home, so we decided to take a short weekend trip to check out what all they have to offer.
What we found was an outdoor lover paradise in a growing town nestled in the mountains. Golden, BC, makes a great destination for any traveler looking to explore more of the great Canadian wilderness. If you're looking for some ideas of what to do in Golden, we have you covered!
See Also:
---
Where is Golden, BC?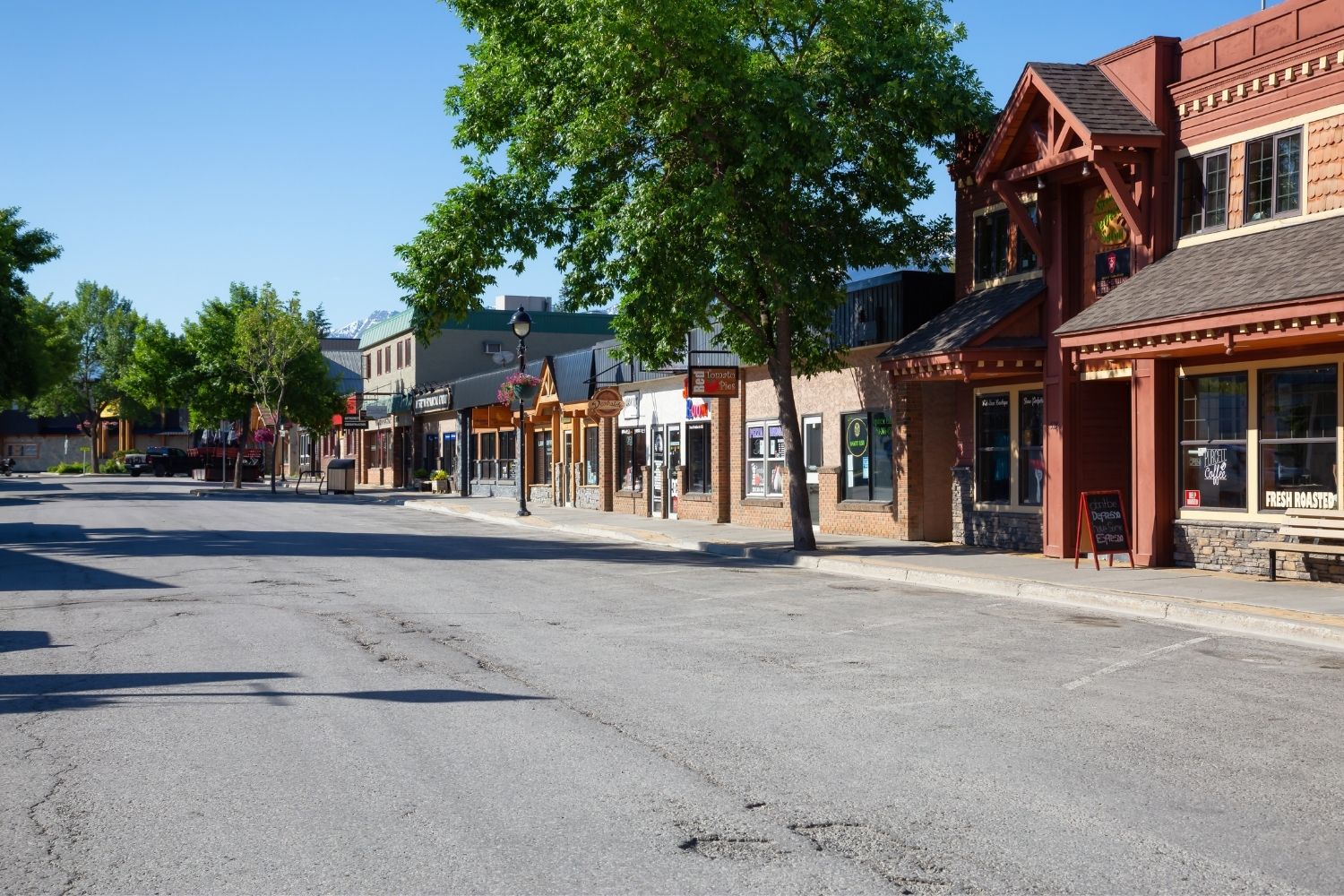 Golden is a small town with under 4000 people in population in southeastern British Columbia. The closest major city is Calgary, about four hours away. Golden is built around the confluence of the Columbia and Kicking Horse rivers and surrounded by the Purcell and the Rocky Mountains. It's the perfect location near Yoho, Banff, Jasper, Glacier, and Kootenay National Park. Golden is located on Highway 1 (the Trans-Canada Highway making it a great stop on any Western Canada road trip.
Its accessibility to Yoho National Park makes it a popular spot for summer tourists. With the development of Kicking Horse Mountain Resort, it is slowly creeping up the map as a world famous ski destination.
Golden's history is strongly tied to the Canadian Pacific Railway and the logging industry, and after visiting, you can still see the remnants of an old railway town. Now one of the town's main drivers is outdoor adventure and tourism!
We love visiting Golden and think you need at least three days to properly explore.
---
Awesome Things to do in Golden, BC
---
Horseback Ride Along the Blaeberry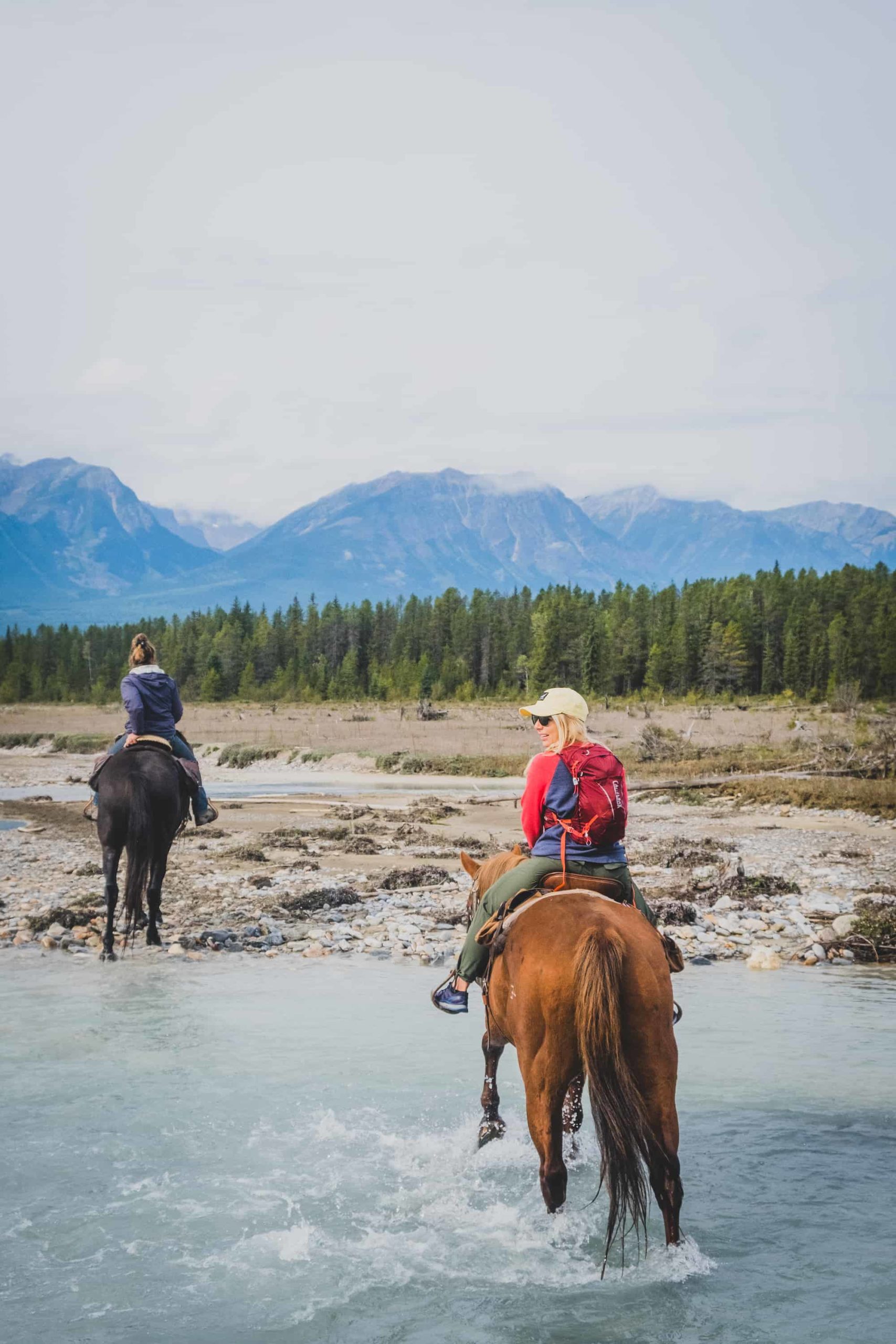 One of the best things to do in Golden, BC, is to saddle up on a horse and enjoy a horseback ride through the stunning region. We really enjoyed our time doing this on a cool September morning. Unlike where we live in Canmore, the terrain and land are completely different, just two hours away.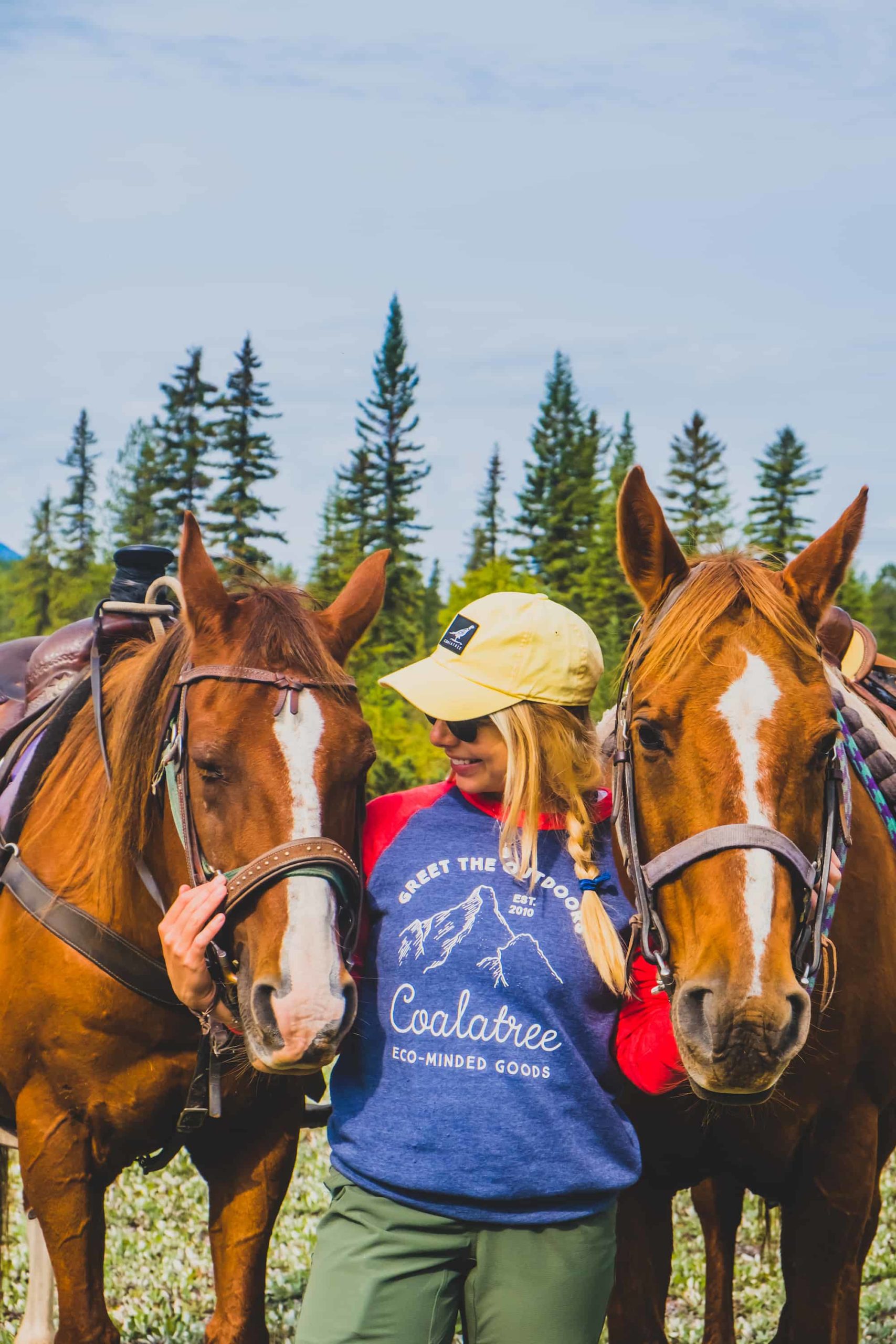 Think lush forest, diverse plants, unique wildlife, fantastic green space, and fewer people around. You could easily take a hike along the Blaeberry, but we honestly loved exploring it by horseback as it gave us a whole different viewpoint from our many hikes in Alberta. See Bear Corner Bed & Bale for horseback riding tour options, hourly rates start at $60 per hour.
---
Have Lunch at Thompson Falls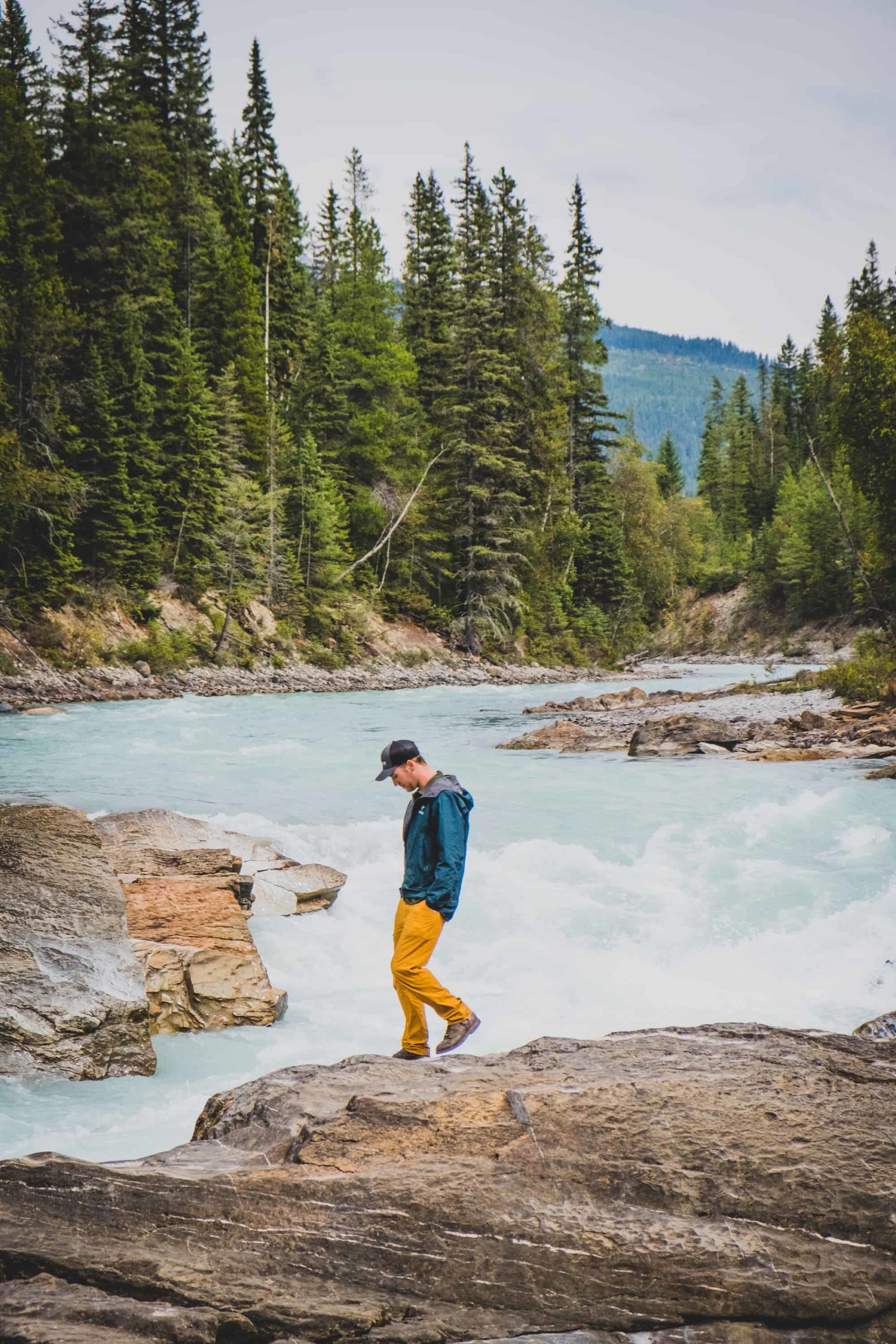 A beautiful but easy and short hike around Golden is the Thompson Falls forest hike. This moderate hike only takes three hours round trip and provides spectacular views of Thompson Falls. This trail has a connection that was used by First Nations as a trade route!
We decided to have lunch here after our horseback ride and were shocked by how few people came back here on the weekend. It's a great place to come with families or pets and enjoy nature for a bit. Careful walking around – you don't want to slip in here!
---
Meet Boo the Bear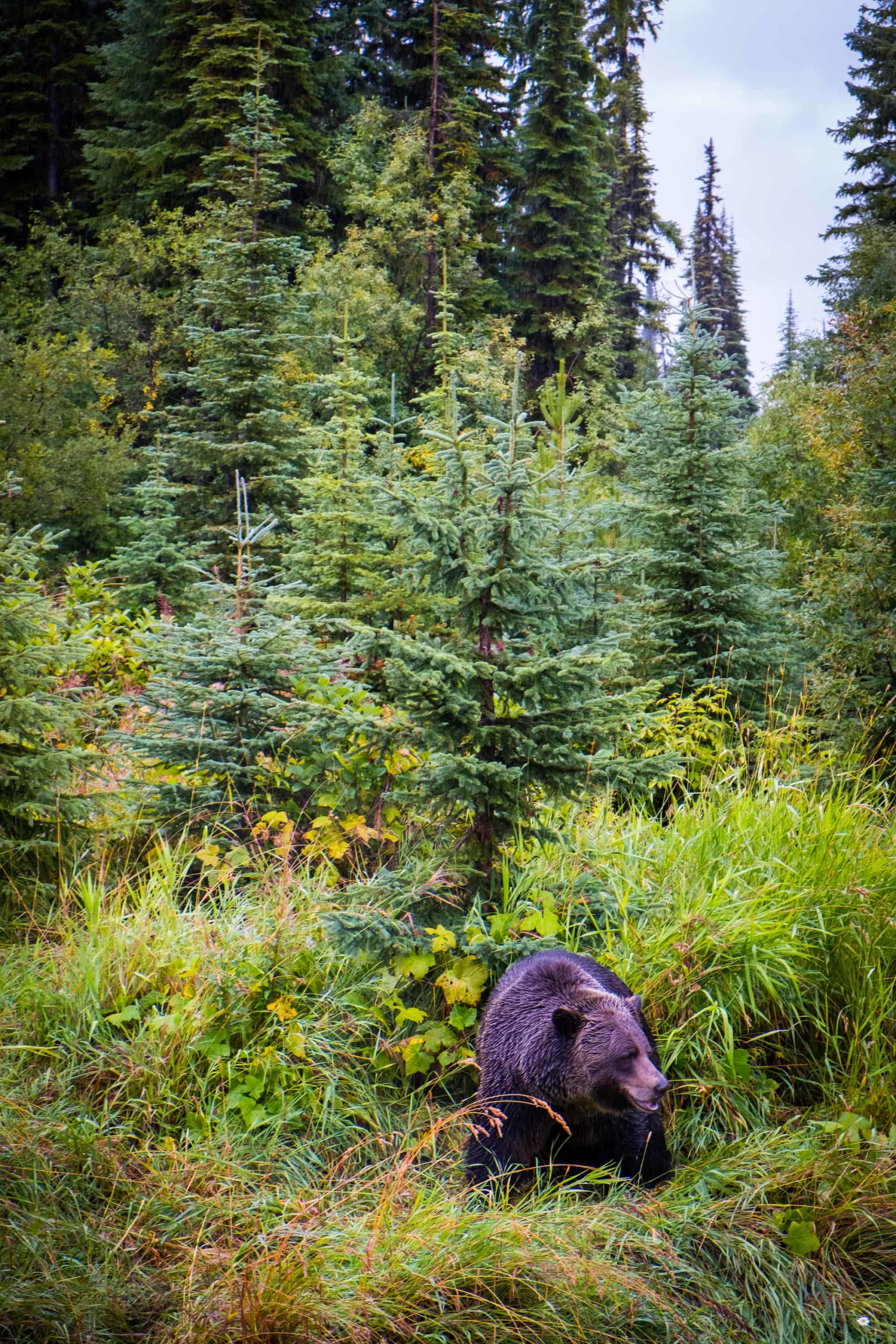 No trip to Golden would be complete without paying a visit to Boo the Grizzly Bear first! At Kicking Horse Mountain Resort, there is actually a Grizzly Bear Refuge, the largest one in the world.
That's right, right on Kicking Horse Mountain is a 20-acre area home to Boo. That means in the winter, you can literally ski and snowboard past a (sleeping) grizzly.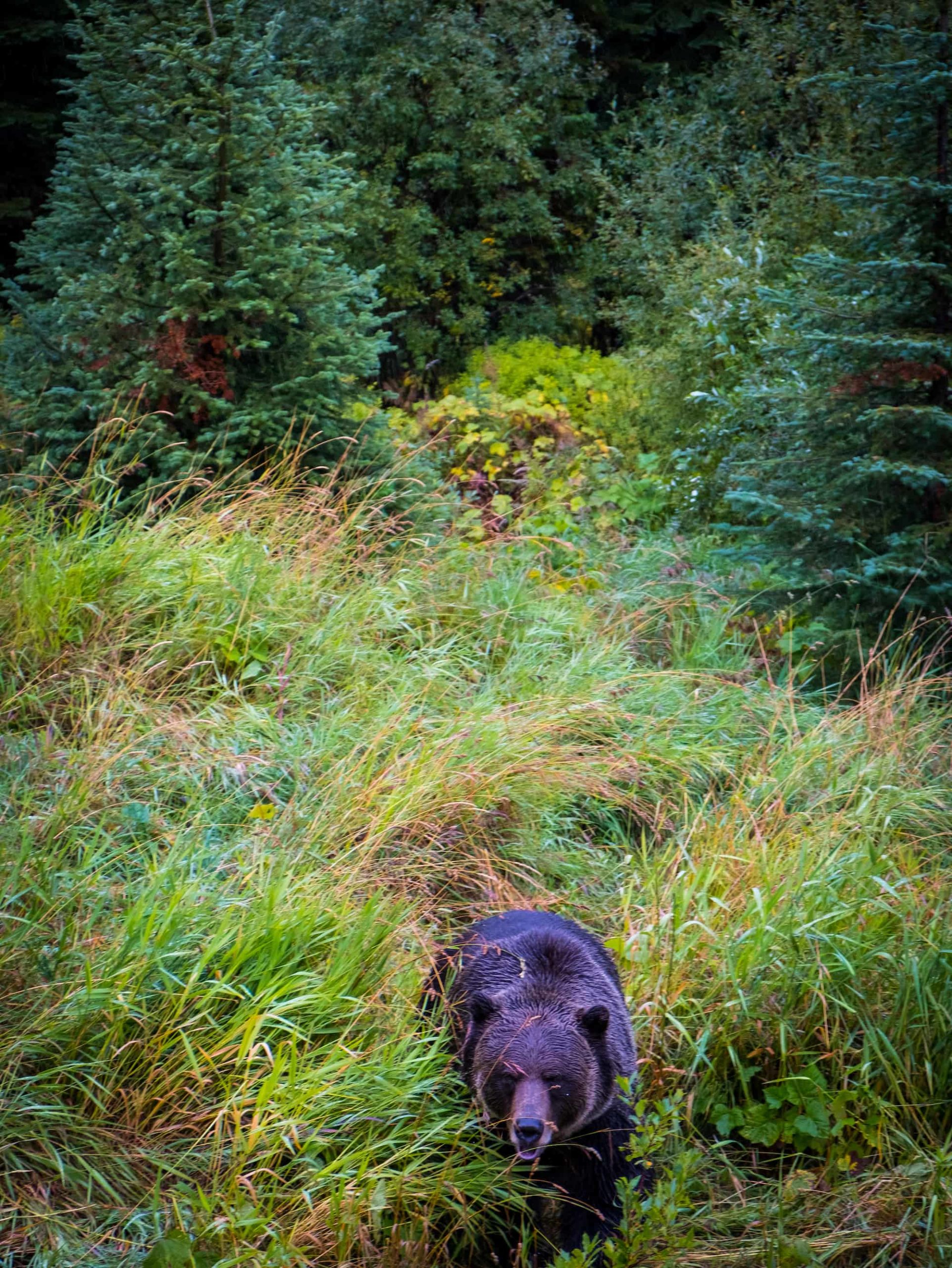 When Boo's mother was sadly shot in the wild at just five months, the cub was given a home at the Grizzly Bear Refuge. He's been living his lazy bear life here for the past 17 years and has become an icon of Golden and Kicking Horse Mountain.
It's here that Boo hunts, forages, and plays around in his wide-open space. He's an impressive and absolutely massive creature and is a special sight in Golden. Boo is observed and monitored in his natural area, and many great studies about Grizzlies have come from this refuge.
Interpretive tours are offered every day in the summer to help visitors understand Grizzly bears further. Those wishing for a more in-depth experience can join the RAP (Ranger Assist Program). The RAP program is only offered twice a day without the general public. By partaking in this program, you get to see how Boo is fed his supplements every day and get a more private, in-depth tour. Find more info here!
---
Test Your Skills on the Via Ferrata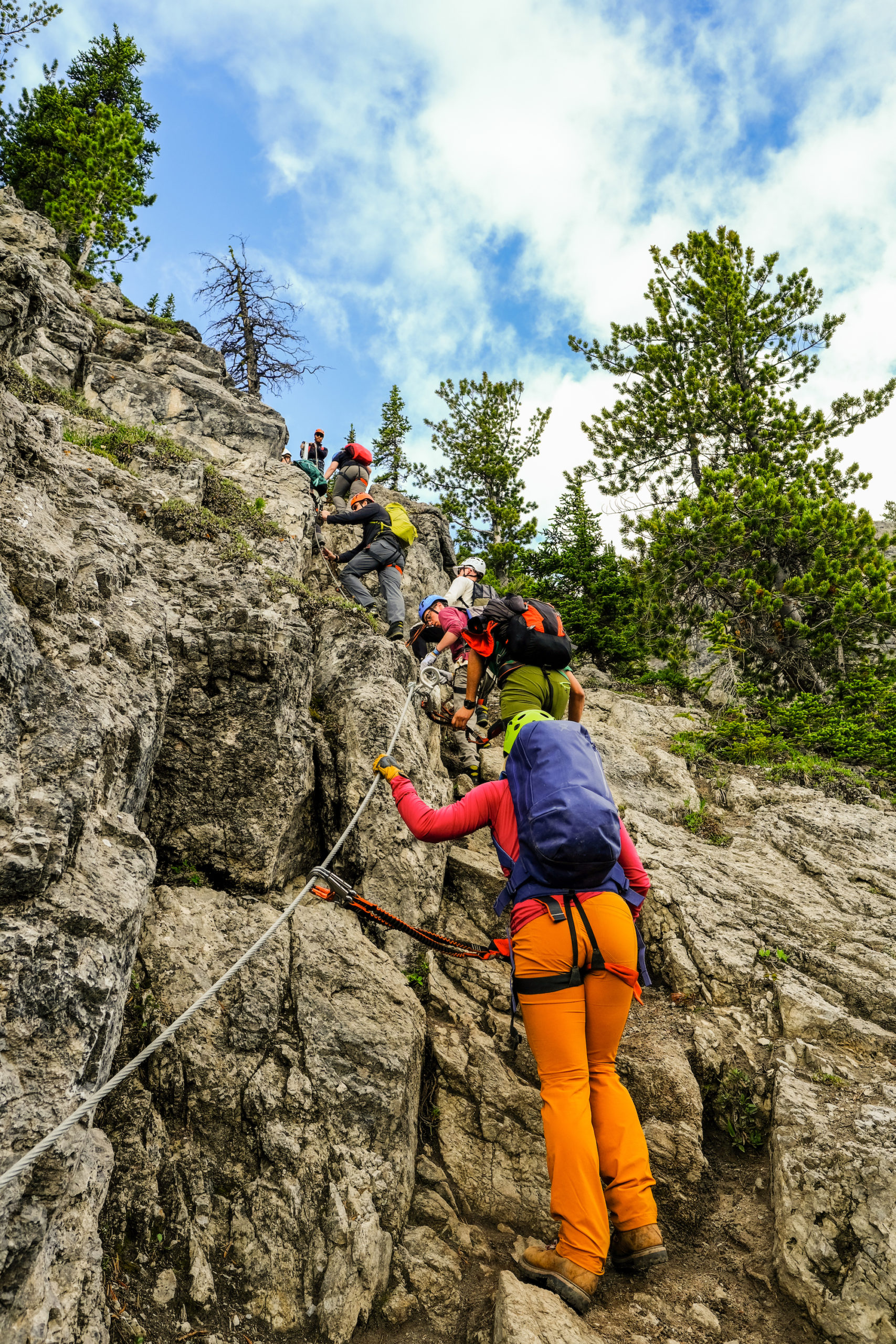 Via Ferrata means "Iron Road" in Italian, and that's exactly what this is, an Iron Road up a mountain. Essentially it's a climbing route with harnesses, steel cables, iron rungs, pegs, ladders, and bridges, making an ascent up a huge mountain in Canada completely safe!
This is one of the best Via Ferratas in Canada and offers many different route options from beginner to advanced. The "ascension route" is the most difficult and is even said to be one of the hardest Via Ferratas in North America. At 465 meters and a summit of Terminator Peak, it just may be one of the best!
Sadly, for the second time in a row, we got rained out of our Via Ferrata experience at Kicking Horse (the first was just two months before on Mt. Norquay). However, we know we'll be back to conquer this one!
---
Have a Beer at Whitetooth Brewing Company
After you're done with all your mountain fun for the day, the only natural thing to do is unwind at a Whitetooth brewery. This is one of the only breweries in Downtown Golden and offers incredible homebrews that are Belgian-inspired.
It's also one of our favorite breweries in the region, beating out both Banff Ave Brewing and The Grizzly Paw in Canmore.
---
Golden Skybridge
The Golden Skybridge is Golden's newest attraction. Just opened in summer 2021 these are Canada's Highest Suspension Bridges.
This is one of the most thrilling things to do in Golden for all ages as it's not every day you can walk 426 feet above a huge canyon. Surrounded by the Columbia Valley, walking across this skybridge while a river and waterfall crash below you is something memorable.
There's also a play park for the children and soon there will be a zipline and canyon swing!
---
Hike the Iceline Trail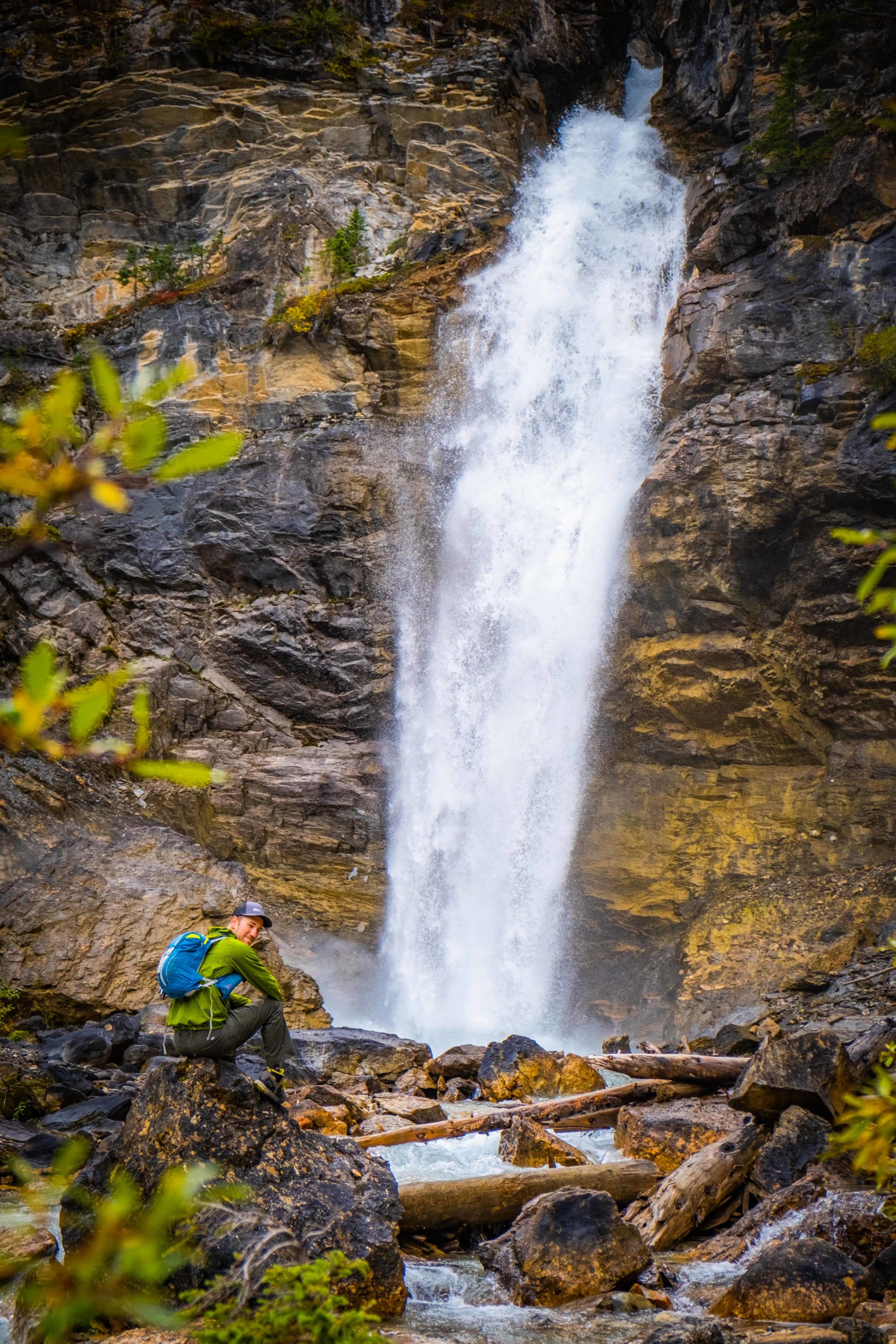 The Iceline Trail is one of the great hiking trails in Yoho National Park. The whole 14.2 km trail is simply stunning, offering waterfalls, glacier views, glacier lakes, and beautiful wildflowers if you hit it in the right season.
This trail is rated as moderate as there isn't much elevation gained and no scrambling to overcome, but it is long. Expect the Iceline to take you anywhere from 6-8+ hours. Alternatively, if you don't want to rush your time, there are campsites along the trail, though they'll have to be booked out in advance in the summer season.
If you aren't comfortable going into the Canadian wilderness independently, a guide is a great option. Laura, from Self Propelled Adventures, is extremely knowledgeable and will get you through these trails safely.
Length: 14.2 km
Duration: 5-9 hours
Elevation Gain: 864 meters
Difficulty: Moderate-Hard
Best Time To Go: Summer
Parking: Takakkaw Falls Parking Lot
---
Marvel at Takakkaw Falls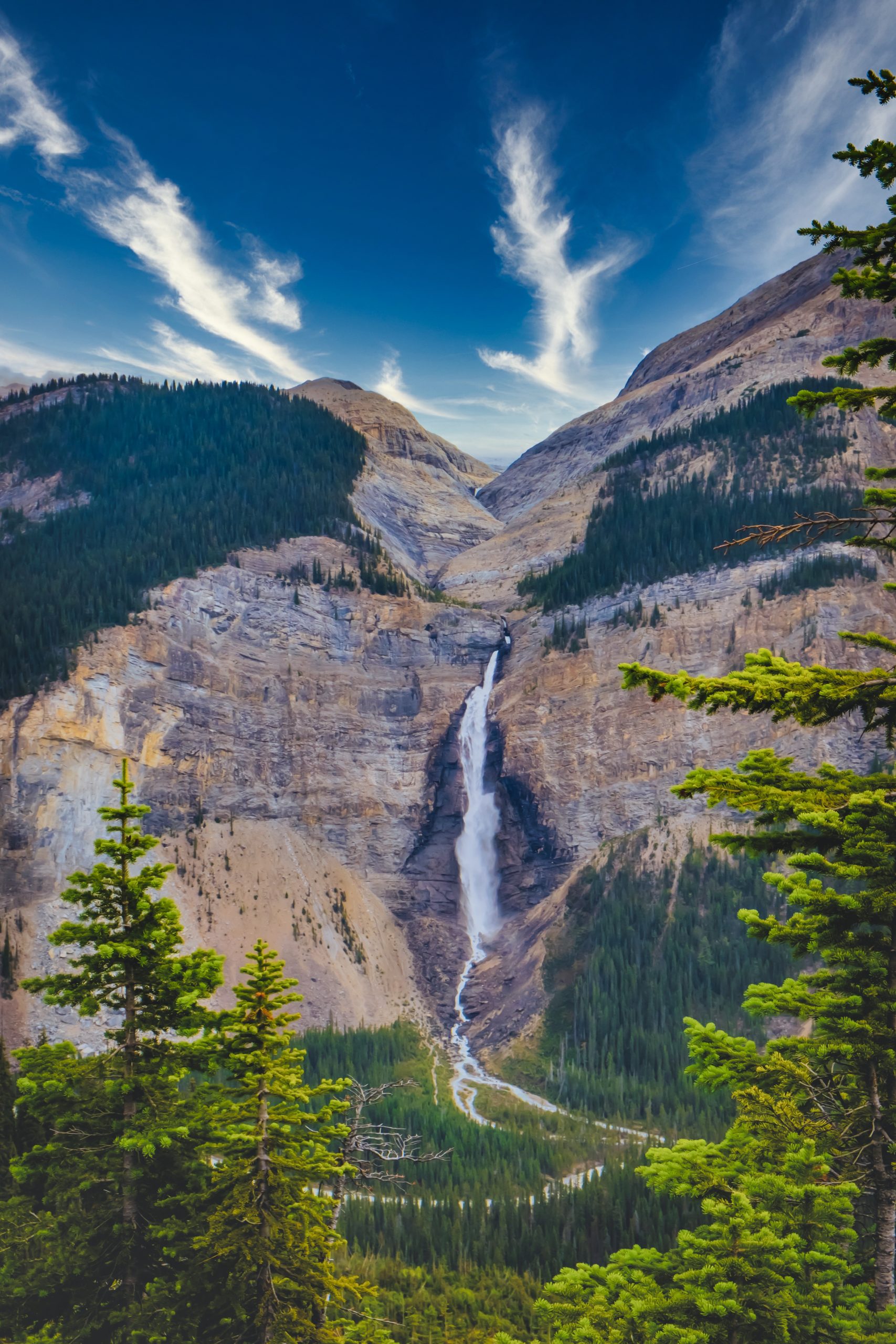 Takakkaw Falls, "Tak Falls" for short, is the second-highest waterfall in Canada and one of the most amazing waterfalls in the Canadian Rockies. At 373 meters high, Tak Falls is a sight to behold. The falls are fed by the meltwater of the Daly Glacier, part of the Waputik Icefield.
During the summer months, the volume of the falls is massive, but during October, and into the winter, it's like someone turned the taps off.
The best part is it doesn't require any effort to get views of it. You can drive right up to the parking area in Yoho and get grand views of the falls. However, in my opinion, the best views of the falls are from the Iceline Trail.
---
Ski/Snowboard at Kicking Horse Mountain Resort!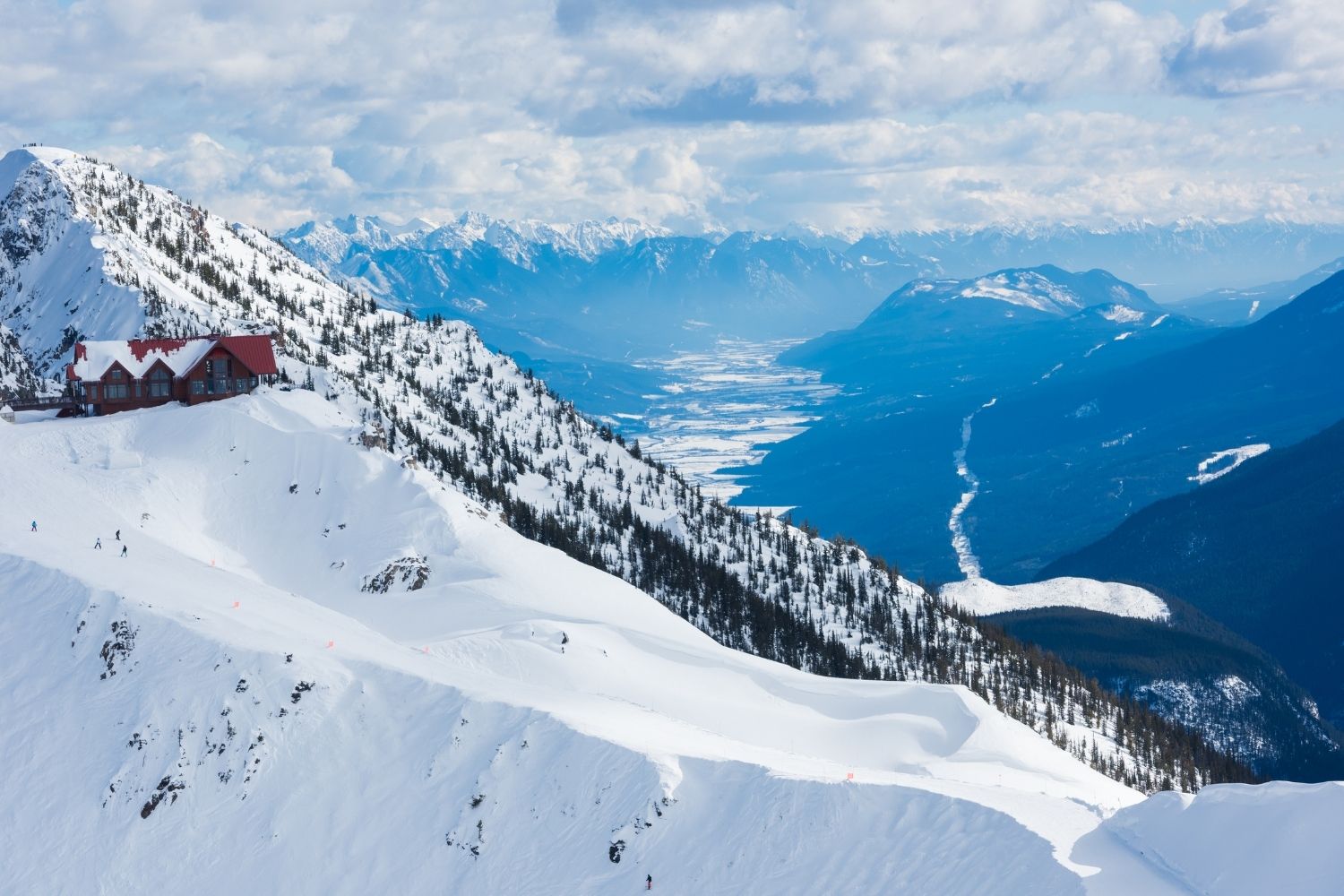 British Columbia is well known for its legendary ski resorts, and Kicking Horse consistently makes the list. The mountain used to be serviced for heli-skiing only, but with the new addition of a massive gondola, a world of terrain has opened up to everyone. This Canadian ski resort is no beginner mountain with some crazy double black diamond cutes and bowls. A day (or week) at Kicking Horse Mountain Resort is one of the best things to do in Golden in the winter.
Over half the runs on the mountain are either rated as black or double black, and it's well known for being an advanced and expert rider mountain. What makes the mountain even better is its location on the Powder Highway. Kicking Horse is known for getting epic snow dumps and being the 'Champagne Powder Capital of Canada.'
However, with a gnarly mountain and little snowmaking and grooming capabilities, the mountain is prone to the weather. Hit it on the wrong day, and you may be met with bulletproof ice and moguls unless you head to the more difficult to access steep terrain. This is, unfortunately, what happened to us, but if you catch it on a powder day, you'll find untouched tracks and deep powder if you don't mind waiting in the one gondola line.
While crowds are far from what we witnessed, we have heard the legendary terrain draws a crowd on a powder day. Single-day lift tickets for Kicking Horse cost $104.95, but if you pre-purchase, you will be able to get a deal.
---
Canoe Around Emerald Lake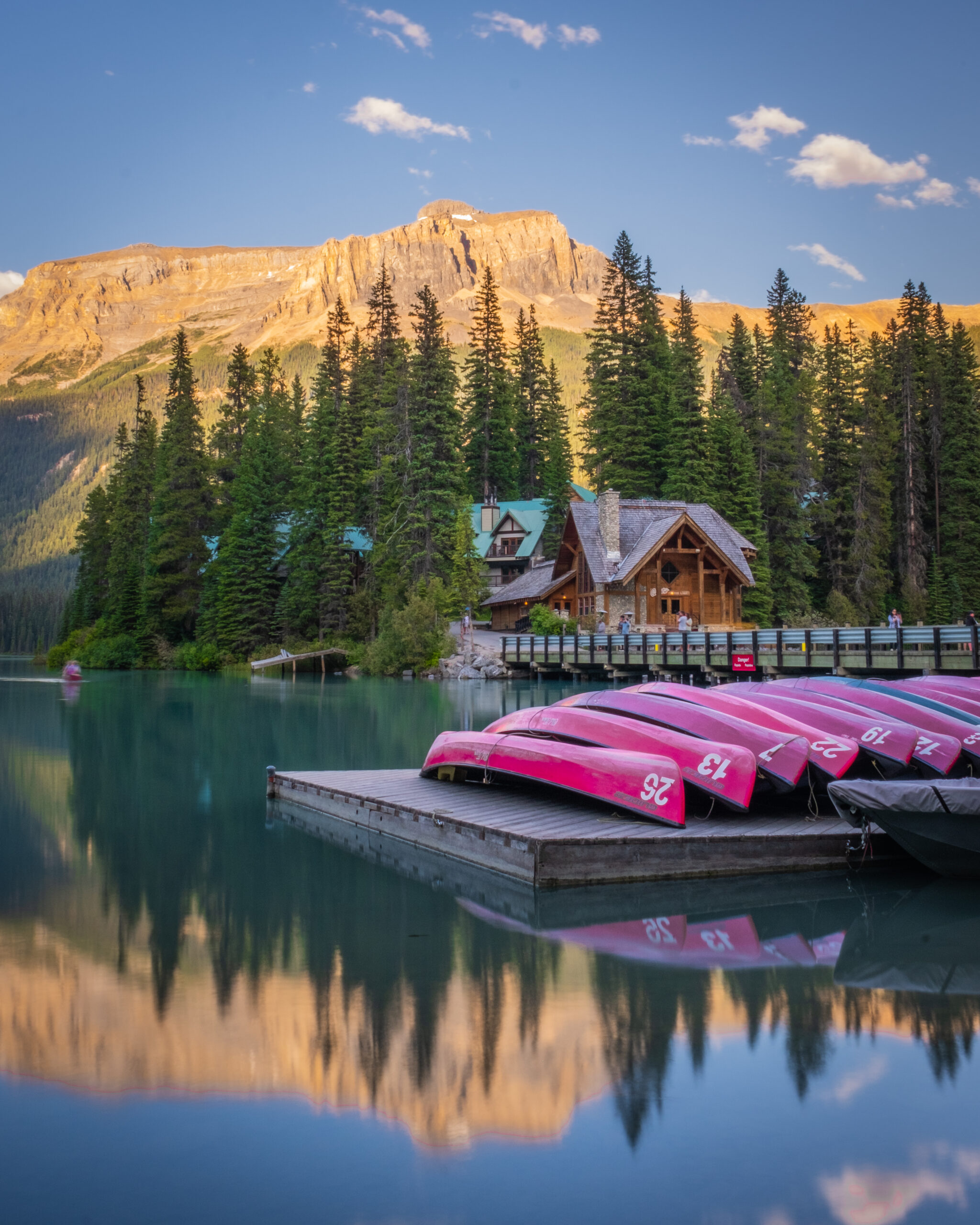 Emerald Lake is an icon of Yoho National Park and is a great half-day trip out from Golden. Located just one hour away is this stunningly blue lake where you can enjoy a walk around the Emerald Lake Trail or take a stand-up paddleboard or canoe around for a few hours.
The photos seriously don't do this amazing place in the world justice. Emerald Lake is one of the busiest of Yoho's 61 lakes and ponds, so it's best to get there early or later in the afternoon to avoid crowds.
10 Excellent Reasons to Stay at Emerald Lake Lodge in Yoho
---
Enjoy Sherbrooke Lake and Scramble Paget Peak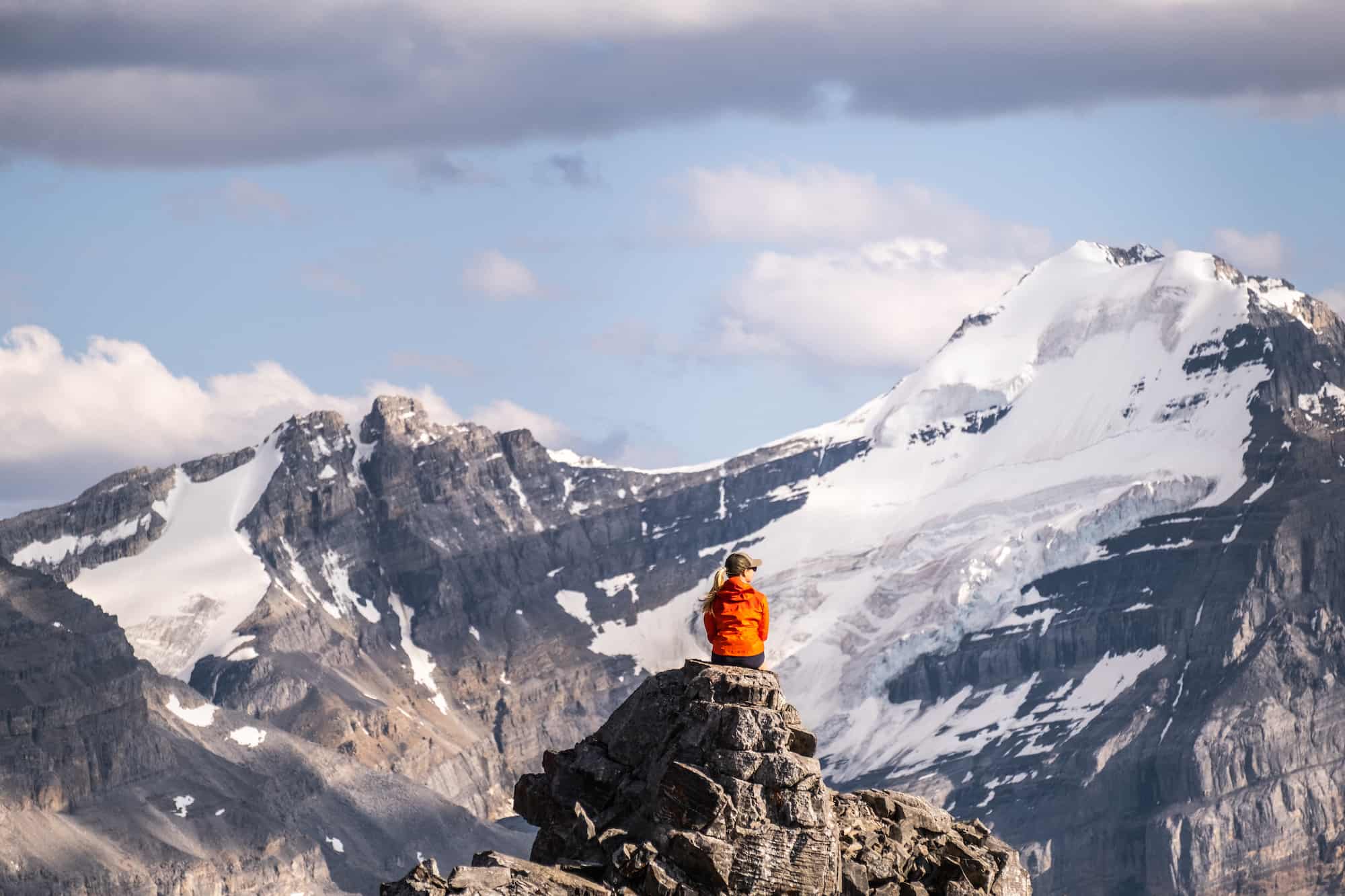 Paget Peak is a great place to start for those experienced hikers wanting something a little bit more challenging. Paget Peak is in Yoho National Park and is technically a scramble, but an easy scramble that provides downright breathtaking views.
At 9.5 km and almost 1000 meters of elevation gain, you'll be putting some work into summit Paget Peak, but I promise it's worth every step. If you want an easy option, hike to the Paget lookout (seen in the cover image of this post) in about 45 minutes and stop there.
Or, to get a real workout continue on to the peak; it's a steep grind up loose scree slopes. Paget Peak took us around four hours round trip to complete with a 30-minute summit break.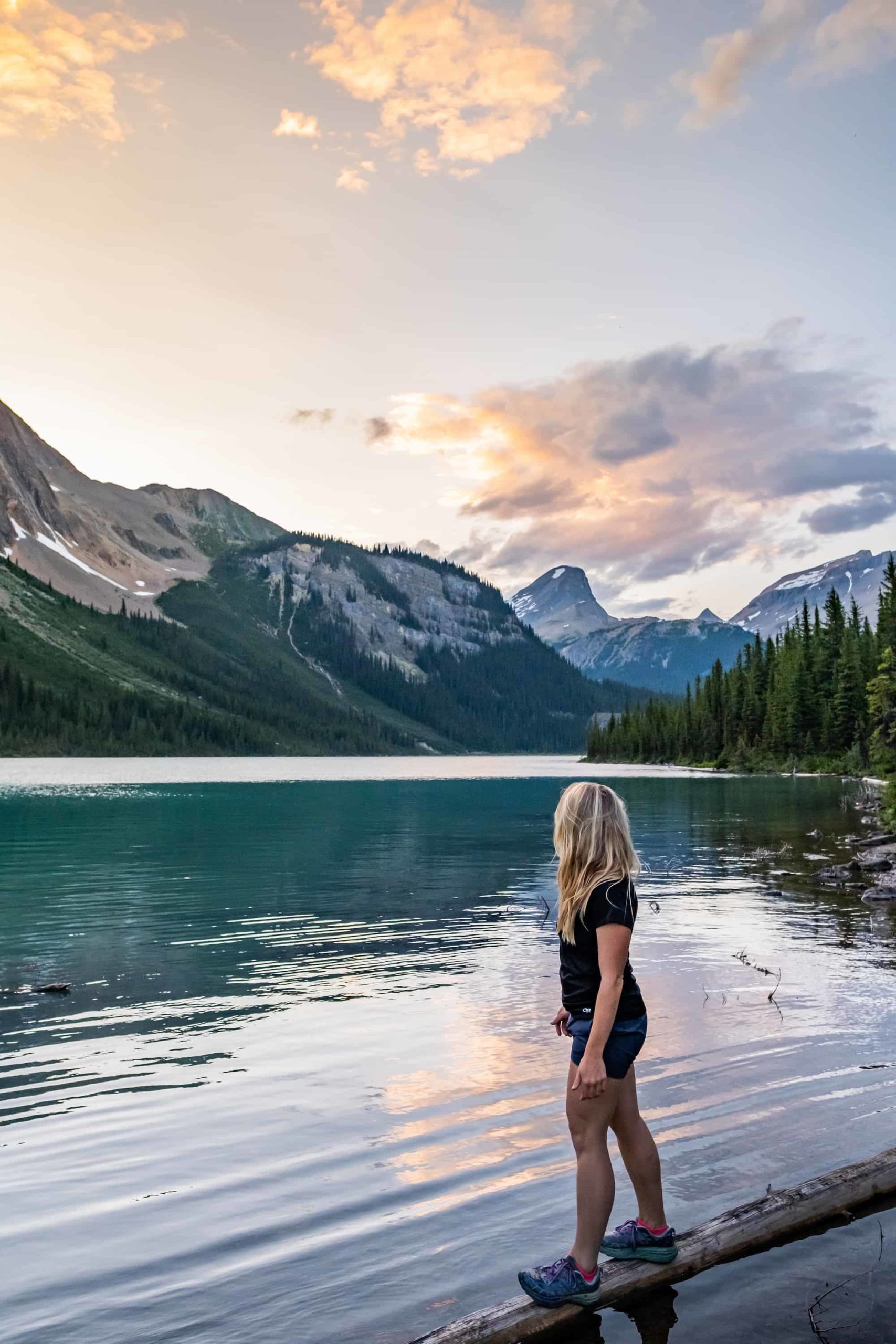 Don't forget to stop at Sherbrooke Lake on the way down – it's just as blue as Lake Louise but without all the crowds!
---
Hit Up the Mountain Biking Trails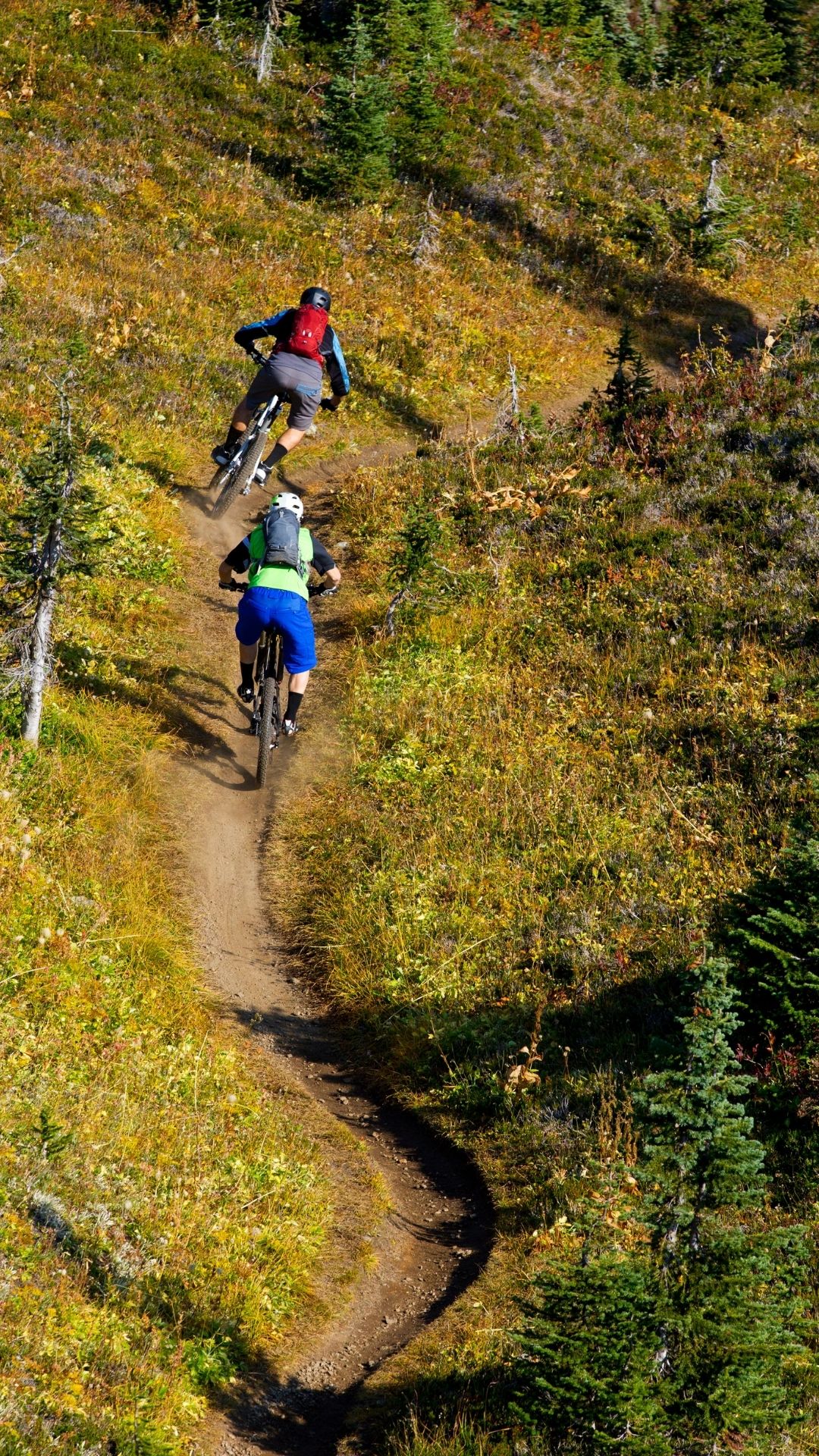 Golden has some of the best mountain biking on the west coast. There are over 185 km of cross country trails and there is a lift assisted downhill park in the summer at Kicking Horse Mountain Resort. It's here you can get the longest vertical in all of British Columbia! For bike rentals make sure to check out Selkirk Ski and Bike.
---
Get Wet on the Kicking Horse River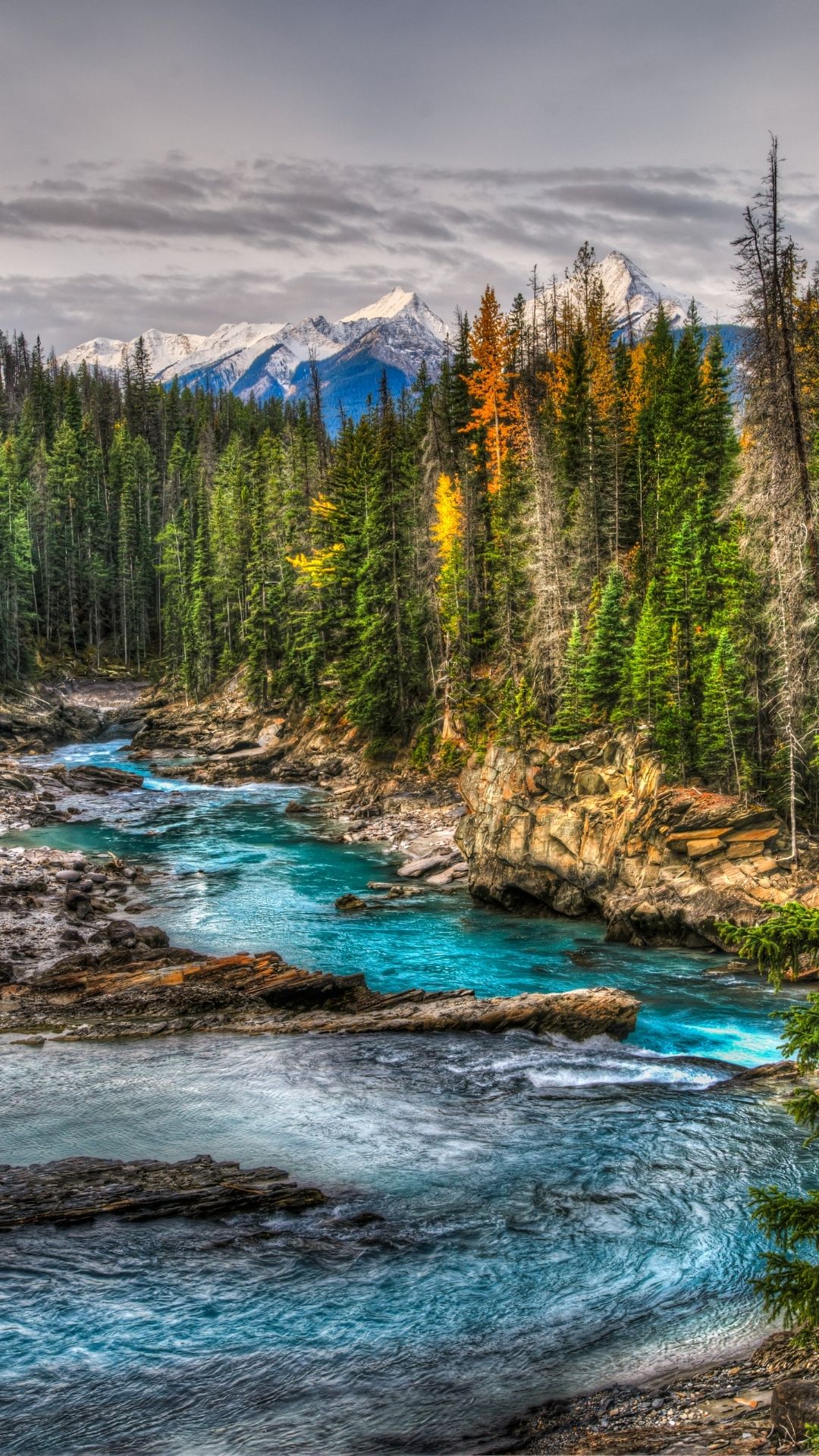 For those after some thrilling adventure who don't mind getting wet, one of the best things to do in Golden is white water raft on the Kicking Horse River. This is a wild spot popular with kayakers for its Class II to IV rapids.
The Kicking Horse River takes rafters from the Canadian Rockies to the Columbia River confluence. The season typically runs from the beginning of June to mid-September, and tours can be booked with Glacier Raft Company, starting at $100 per person. They have half-day and full-day tours that vary in difficulty!
---
Northern Lights Wildlife Wolf Center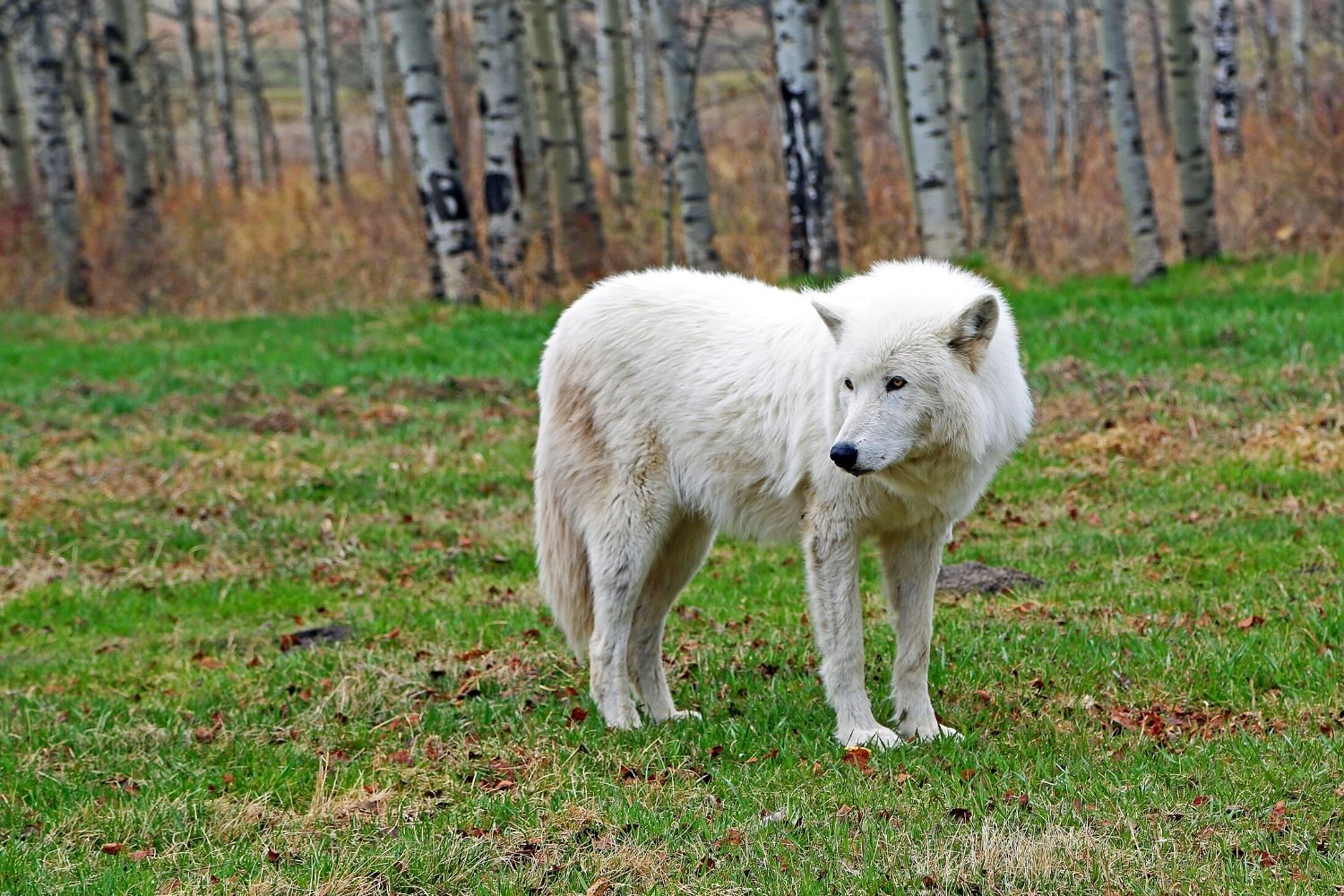 If you're wondering what to do in Golden, BC for kids consider checking out the Northern Lights Wildlife Wolf Center. Like the Yamnuska Wolfdog Sanctuary in Cochrane, this wolf center is a unique facility dedicated to raising awareness and conservation for the wolf.
The center is home to nine resident wolves, and guests are able to visit them, learn, and photograph on a 25-minute interpretive tour.
Adults are also able to book 1.5 hour-long photography tour where they can walk with wolves without any fences, leashes, or boundaries. It's a thrilling and unique experience everyone should partake in when visiting Golden.
---
Meet Chester Jr.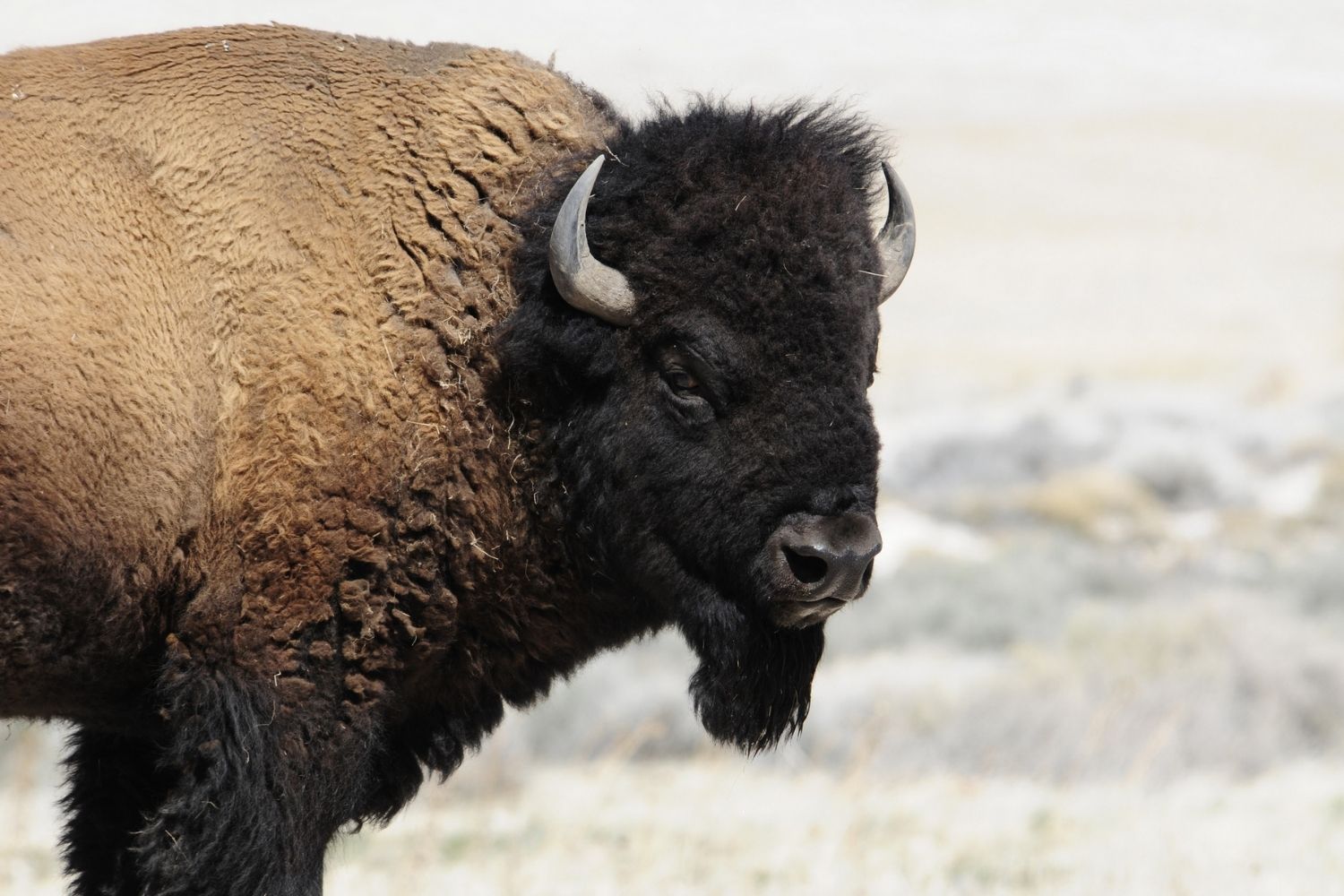 You can meet bears in Golden, you can meet wolves in Golden, and – you can meet a buffalo in Golden, BC! Chester Jr. the Buffalo lives at Rocky Mountain Buffalo Ranch with Leo the wonder. Chester is the chief bull with his heard of Buffalo.
Another fun thing to do in Golden for families is head here to learn about these amazing creatures and the history of the land. Kids are free to visit and adults are $15. There is one buffalo tour every day at 10:15 during the summer months! Find more information here.
---
Paddle and Fish on the Columbia River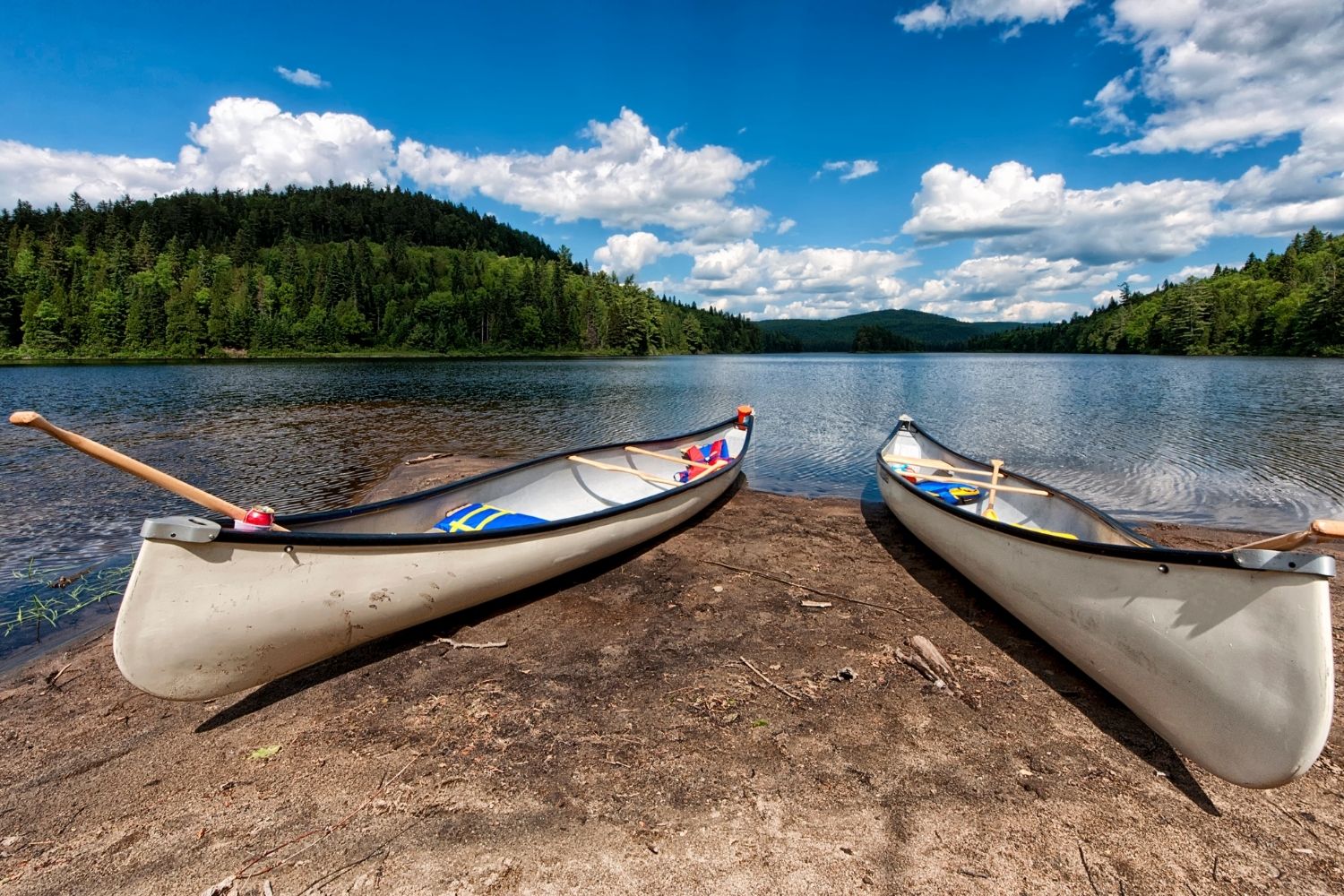 The Columbia River is a B.C. Heritage River and the largest river in the PNW, and the fourth largest by volume in all of North America.
The source of the river is Columbia Lake past Invermere, which flows through Golden and to Revelstoke.
Near Golden the Columbia River is a popular place for locals to head and canoe, kayak, fish, and stand up paddleboad. There are plenty of fishing spots to set up – if you're lucky you'll be able to catch Rainobw Trout, Walleye, and Whitefish.
---
Where to Stay in Golden?
We stayed at Cedar House Chalets, which provided us with a comfortable place to stay and great views over Kicking Horse Mountain. Each of these Golden chalets comes with a full kitchen, good WiFi, a fireplace, and most come with even a hot tub! I highly recommend staying there while in Golden!
Other Places to Stay in Golden
---
Where to Eat in Golden
Purcell Coffee: For a cup of Joe, Purcell Coffee is the place to go. They serve up anything from chai lattes to traditional black coffee.
Wandering Fern Coffee: A pop-up coffee stand with delicious coffee that you can find moving around Golden in the summer months.
Cedar House Restaurant: Cedar House leans more towards fine dining in Golden, in a beautiful and serene setting.
Whitetooth Mountain Bistro: We had a fantastic meal at Whitetooth Bistro. They cater to any dietary needs and have everything from Italian to Asian cuisine.
ELEVEN22: You'll likely need reservations here as it's not very big and is super popular with locals and visitors. ELEVEN22 dishes up modern food with fresh ingredients.
---
---
↓ Join the community ↓
The Banff Blog Facebook Group is your headquarters for the Canadian Rockies travel advice and information. Including hike info and off-season travel information. This is also a place where you can meet one another when you need adventure buddies.

Plan Your Trip to the Canadian Rockies