There are plenty of beautiful cabins for rent in BC that offer guests the opportunity to kick back and unwind in complete nature.
British Columbia is renowned for its stunning natural scenery, including mountains, lakes, forests, and parks, all of which can be easily accessible from a stunning cabin rental nearby.
All mountain lovers know that activities like hiking, fishing, skiing, and camping, feel better when based in the comfort of a cabin rental. While there are hundreds of amazing cabins in BC, we are breaking down a few of our favorites!
---
Why Rent a Cabin in British Columbia?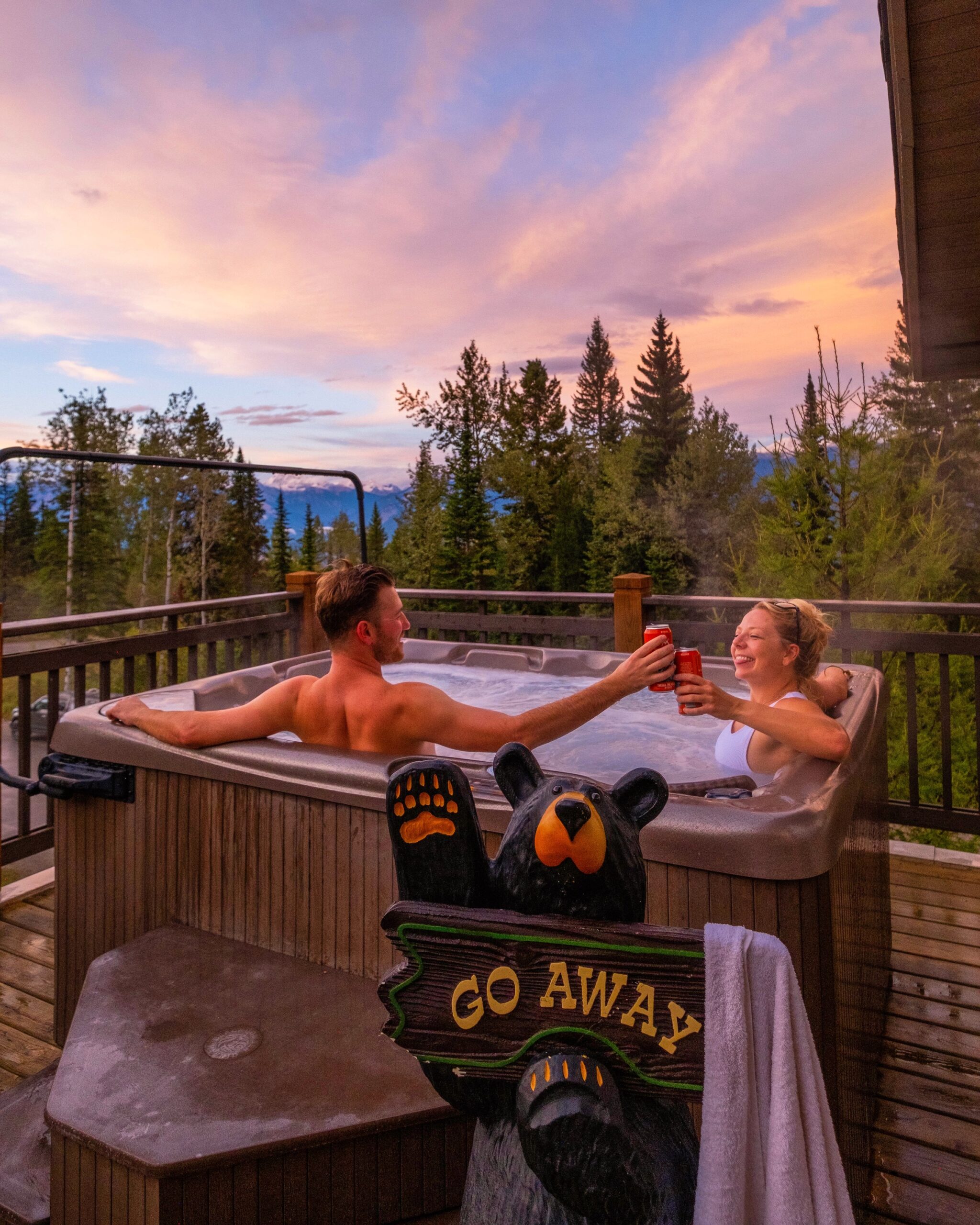 There are so many reasons to book a cabin rental in BC, here are just a few to consider.
Privacy and relaxation: Cabin rentals in British Columbia provide a secluded and peaceful environment, unlike major hotels and resorts. This allows you to escape the hustle and bustle of everyday life and fully unwind and relax in nature – and there is A LOT of nature in British Columbia.
Affordability: Compared to hotels, cabin rentals in British Columbia can offer great value for money, especially for families or groups traveling together.
Home away from home: Cabins often provide a comfortable and cozy home-like atmosphere, allowing you to feel right at home while exploring the beautiful province of British Columbia. Our favorite aspect of cabins for rent in BC? Typically there are fireplaces to cozy up near (great for the winter!).
Hot Tubs: Yes many hotels in BC have hot tubs, but you have to share those. Cabins provide private hot tubs!
---
Best Cabins For Rent in British Columbia
---
1. Woodhouse Cottages And Ranch (Prince George)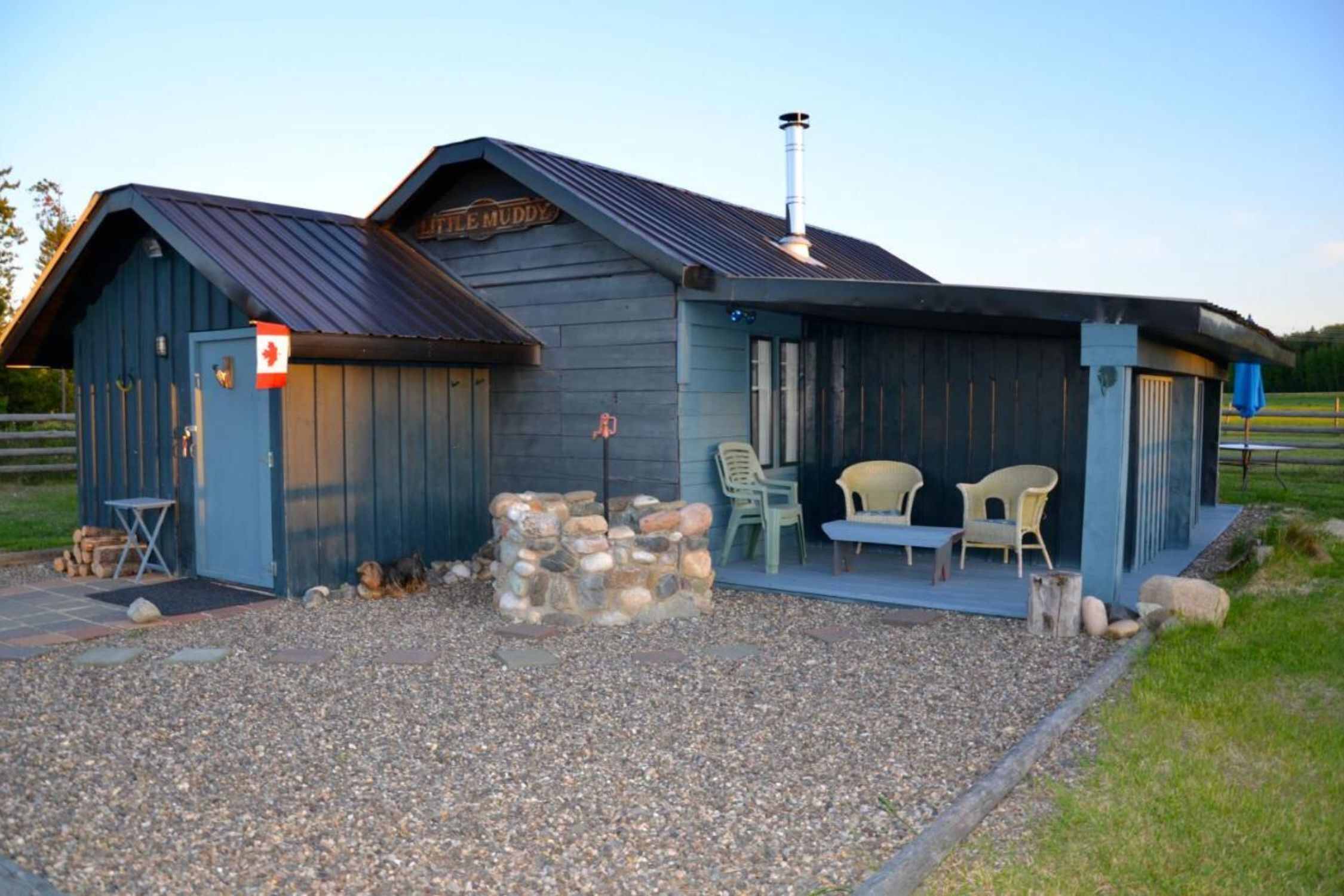 It's a scenic ranch, but this property also has cabins available for visitors looking to spend the night near Prince George. This 308-acre property is far enough away from the city to feel remote but close enough to be able to easily access services and top attractions.
Every cabin is unique, but if you like to prepare your own meals when you travel, your best bet is to book one with a full kitchen. Inside, you'll have access to free Wi-Fi, satellite television, a living area and kitchen facilities including a fridge and microwave.
There are many hiking trails nearby and if you want to go to the city, Prince George is only a half-hour drive away. If you want to escape into a pristine nature area, West Lake Provincial Park is also nearby.
---
2. Rocky Mountain Cabins (Golden)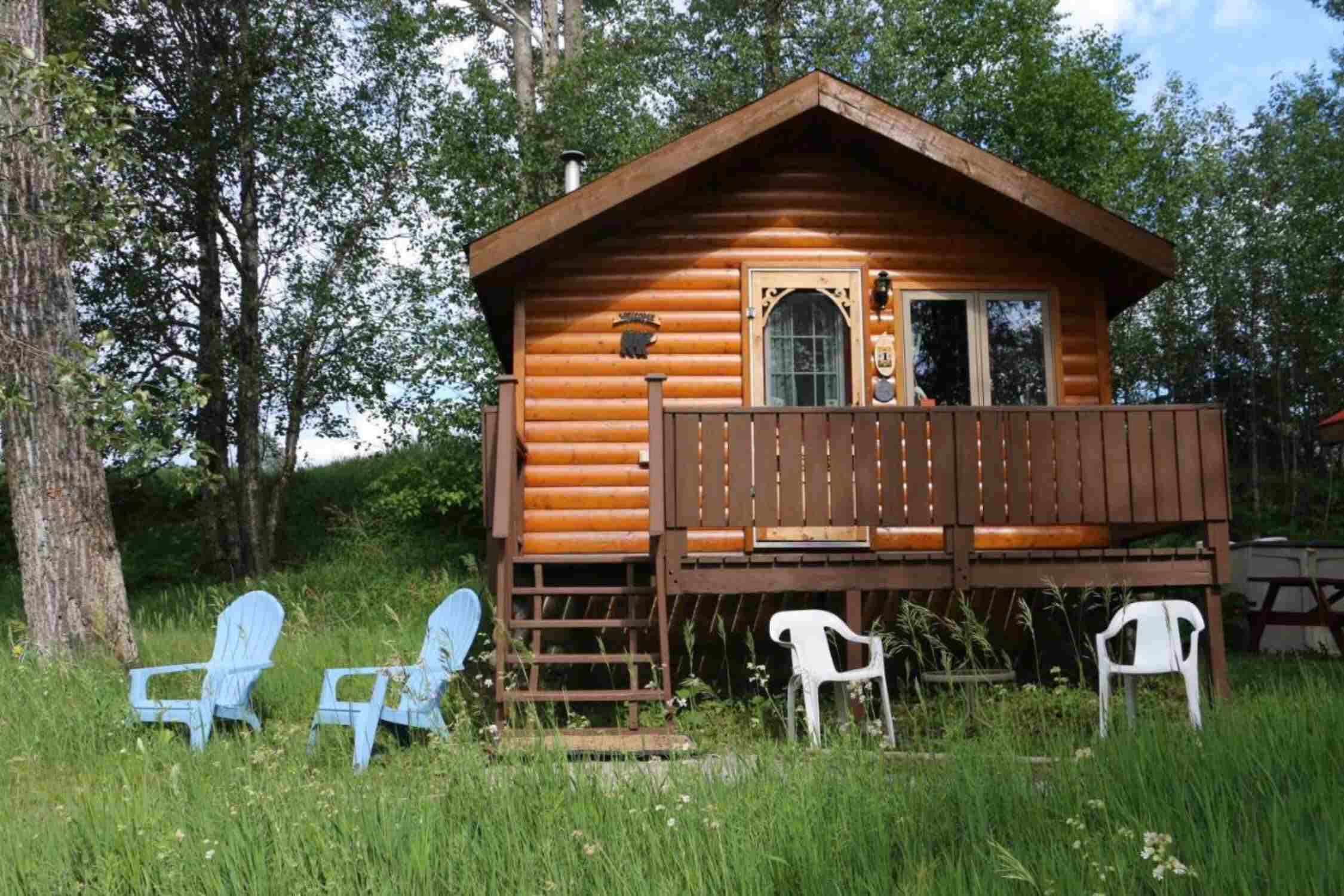 Enjoy an ultimate Rocky Mountain escape near beautiful Golden when you stay at the Rocky Mountain Cabins and Home. The location itself is perfect for anyone who wants to get away from it all.
This British Columbia cabin is nearly 15km from any major highway and there's plenty of wide-open space to enjoy an array of outdoor activities including cross-country skiing, snowshoeing, hiking, birdwatching, nature viewing, fishing and mountain biking.
Nearby, you can also enjoy golfing, kayaking, downhill skiing in Golden in the winter, and rafting. Besides looking out over stunning mountain vistas, your wood cabin comes equipped with free Wi-Fi, a fireplace, a full kitchen, furnished seating areas a patio and BBQ facilities.
---
3. Cottage Steps from the River, Courtenay (Vancouver Island)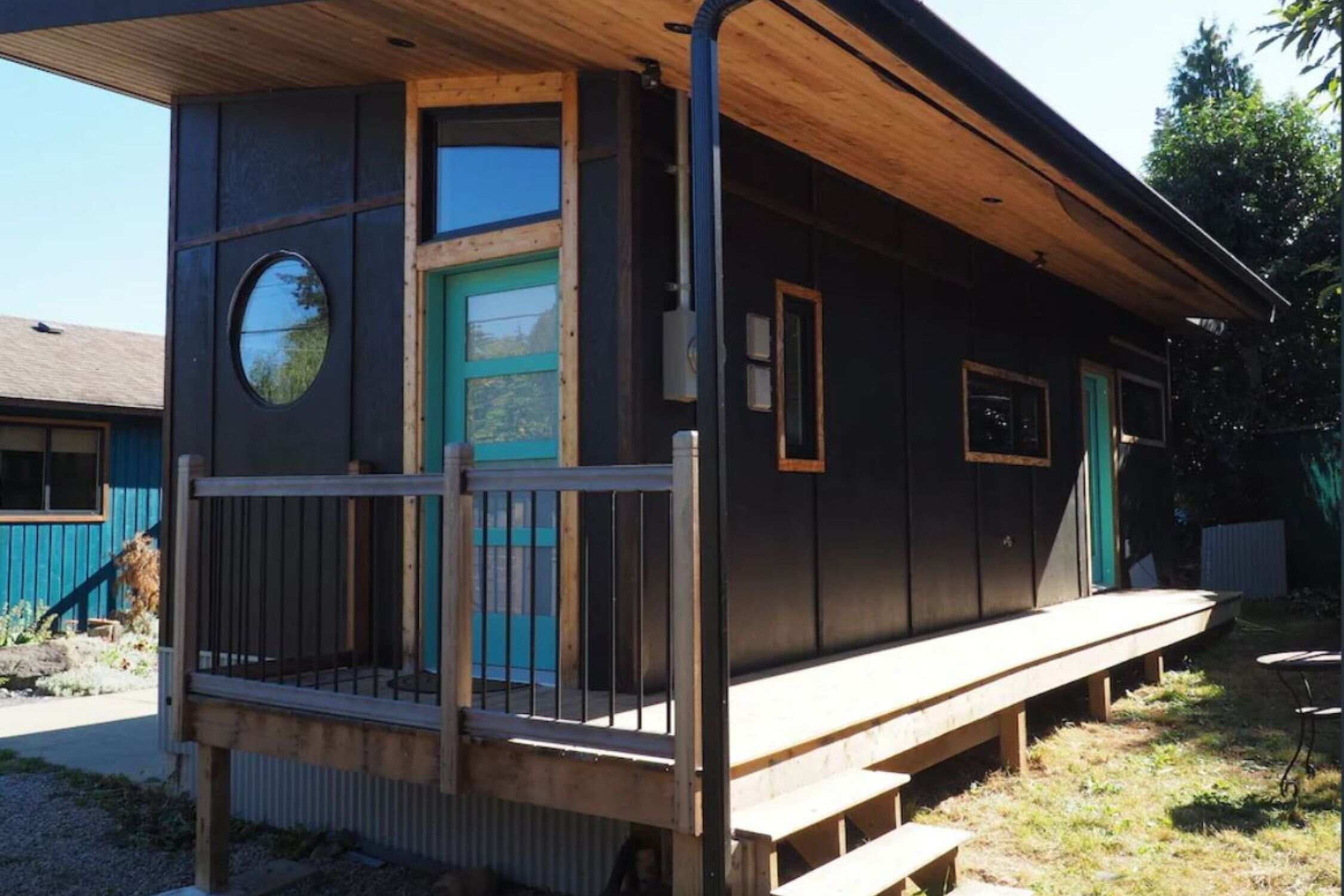 Located in Courtenay, this one-of-kind cabin provides guests with chic, modern décor and amenities in a seemingly secluded but central location only a 15-minute walk from downtown.
The best part about this property is the proximity to the river. Imagine falling asleep each night to the sound of fresh water running downstream only meters away. Sounds like paradise! But the river isn't the only good thing.
How about the cabin itself and the cozy open design and comfortable living spaces, the luxurious bathroom with a rainfall shower and the full kitchen? The wrap-around deck is sure to be a strong selling point especially since it opens out into a beautiful, lush garden. You can even enjoy some fresh eggs each morning courtesy of the chickens that live on site.
---
4. Gudjonson Getaway Cabin (Golden)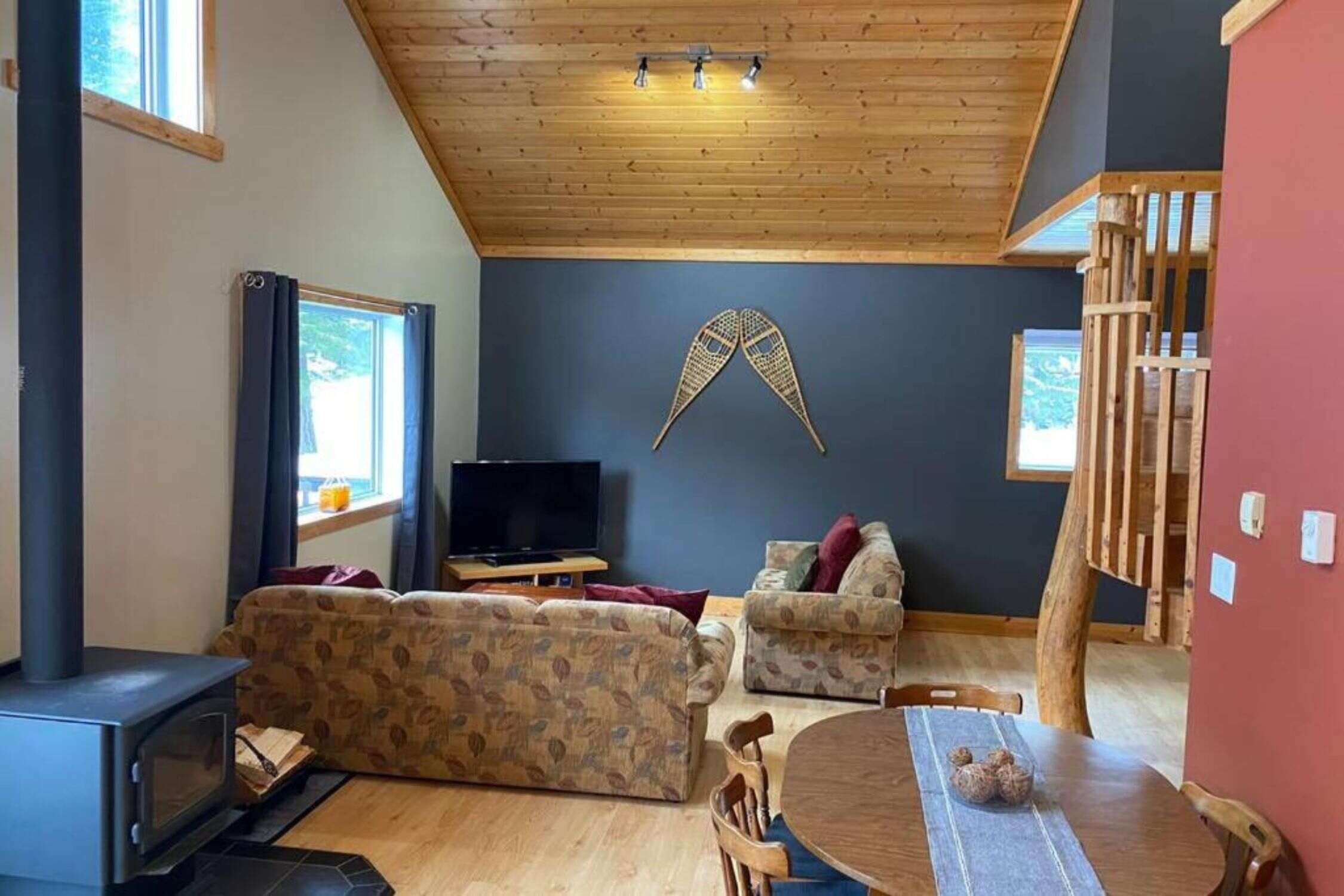 Another gem in beautiful Golden, Gudjonson Getaway Cabin is a two-bedroom, two-bathroom escape overlooking those spectacular mountains the area is known for. Enjoy those views from your private terrace while you prepare a delicious feast on the BBQ.
Wake up each morning to prepare a delicious breakfast and fresh coffee before heading out to enjoy the many things to see and do in the surrounding area.
---
5. Mt. Revelstoke Alpine Chalets (Revelstoke)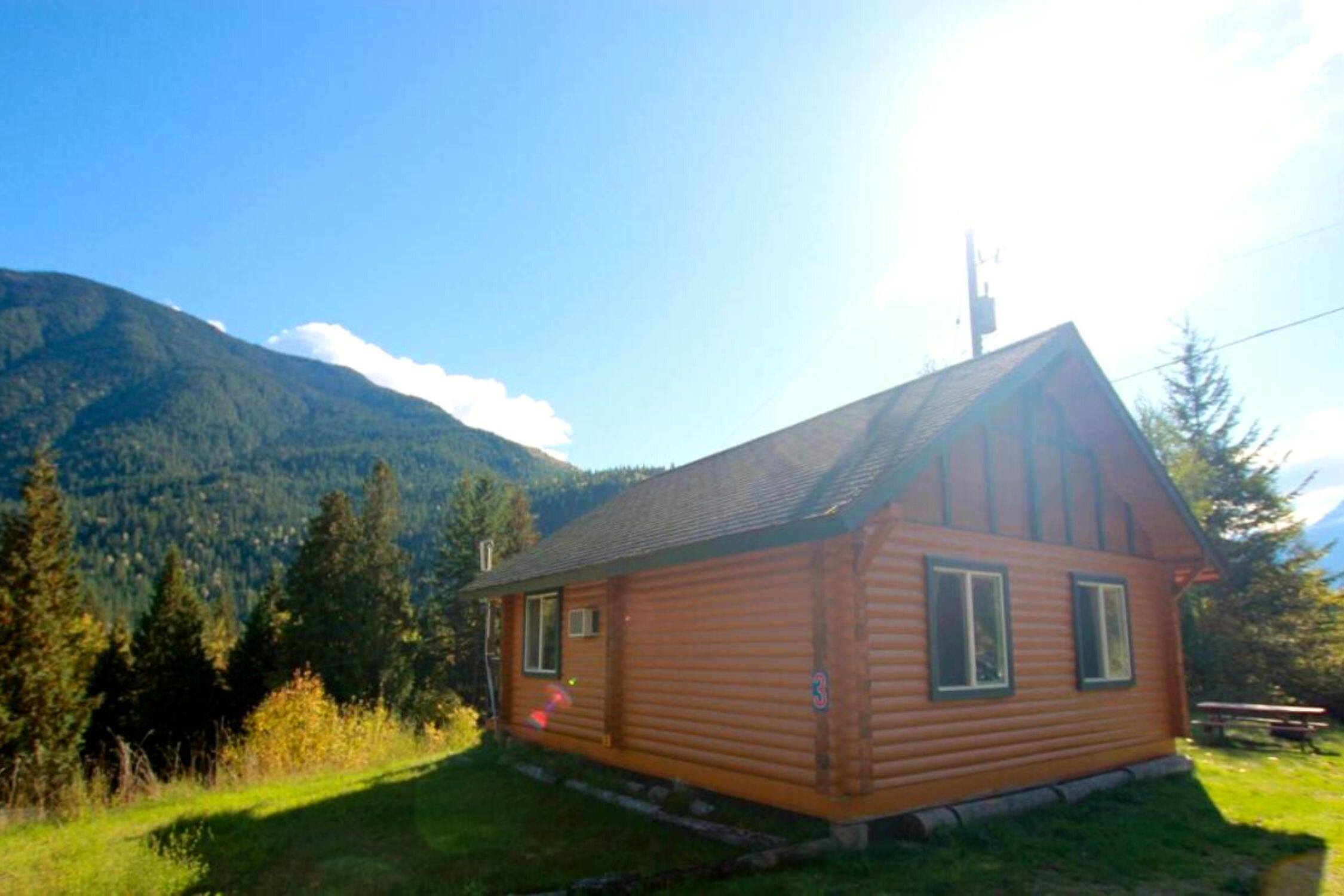 At the Mount Revelstoke Alpine Chalets near the town of Revelstoke, you'll enjoy a serene and secluded location close to top attractions including the Revelstoke Mountain Resort, Revelstoke Railway Museum and, of course, downtown Revelstoke where you'll find restaurants and plenty of ski shops.
Inside your cozy log cabin, you'll find a full kitchen, free Wi-Fi, cable television and wood furnishings. Prefer to spend time outdoors where you can enjoy those incredible mountain views? Head to the firepit and roast some marshmallows until the stars appear in the night sky above.
---
6. Coach House on the Cove (Pender Island)
Pender Island is an incredible destination for a romantic vacation and this one-bedroom luxury oceanfront cottage is a perfect getaway for two. This island situated in the Canadian Gulf Islands between Vancouver and Victoria is only accessible by ferry, float plane, or private boat so it doesn't get the crowds and traffic that mainland destinations get.
This means you're guaranteed to have a quiet, relaxing escape in a lush setting surrounded by gardens and ocean views. Kayaking, hiking and many other outdoor adventures await but if you prefer the comfort of your cabin, you'll enjoy access to a full kitchen, cozy living spaces, a deck and a fireplace.
---
7. Dream Cabin (Lone Butte)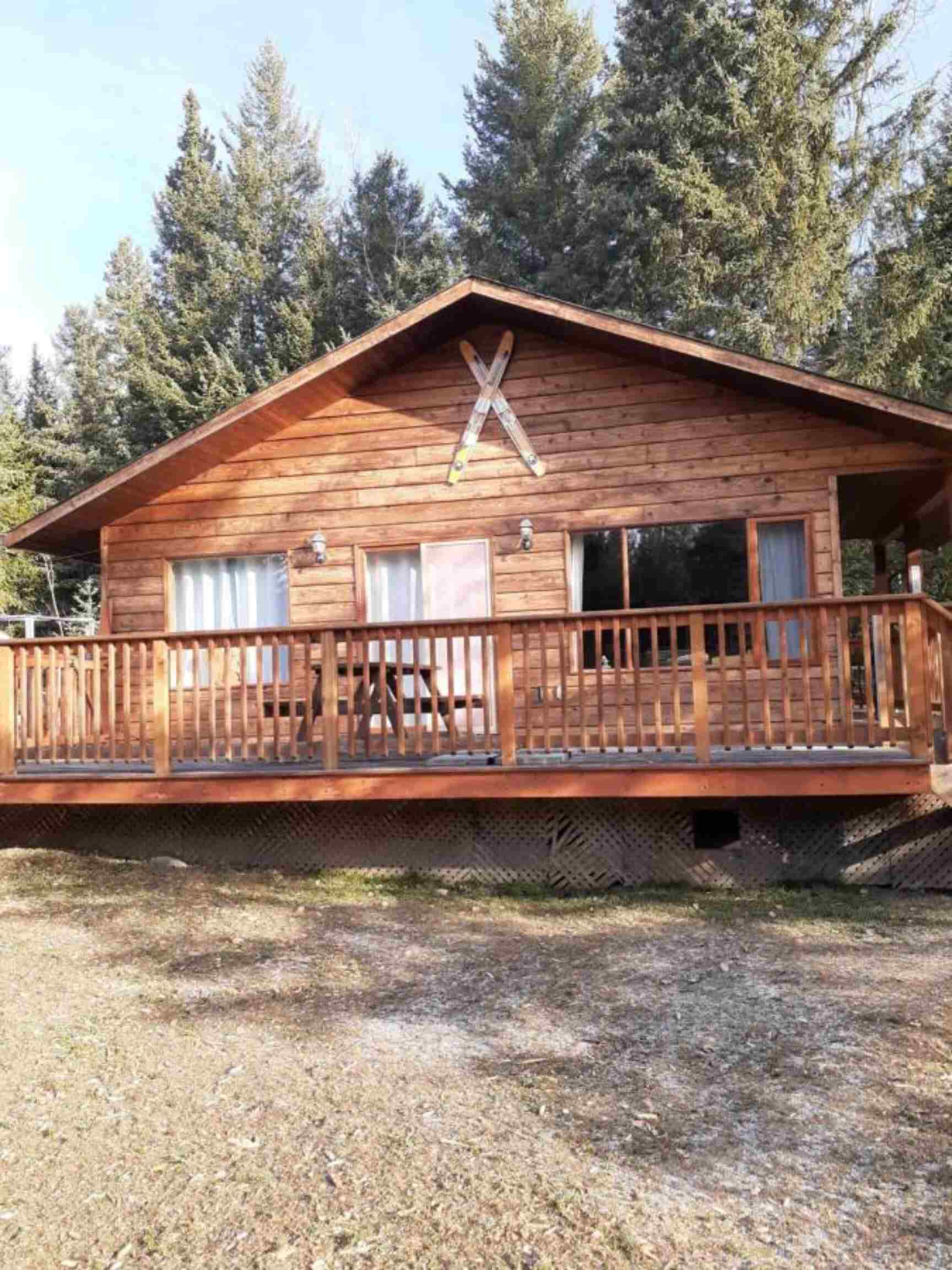 Situated in Lone Butte, Dream Cabin is a centrally-located property overlooking a beautiful lake. If you love the outdoors, this is the place for you if you plan to spend any time in this area. Nearby, visitors enjoy many activities including hiking, skiing, fishing, biking, canoeing and kayaking.
After a long day outdoors, retreat to your private terrace or cook up a delicious feed of barbecue with the on-site facilities. Free Wi-Fi, a well-equipped kitchenette and a full bathroom are just some of the fantastic amenities you'll enjoy inside this cozy, one-bedroom cabin.
---
8. Chalet Style Cottage (Shawnigan Lake)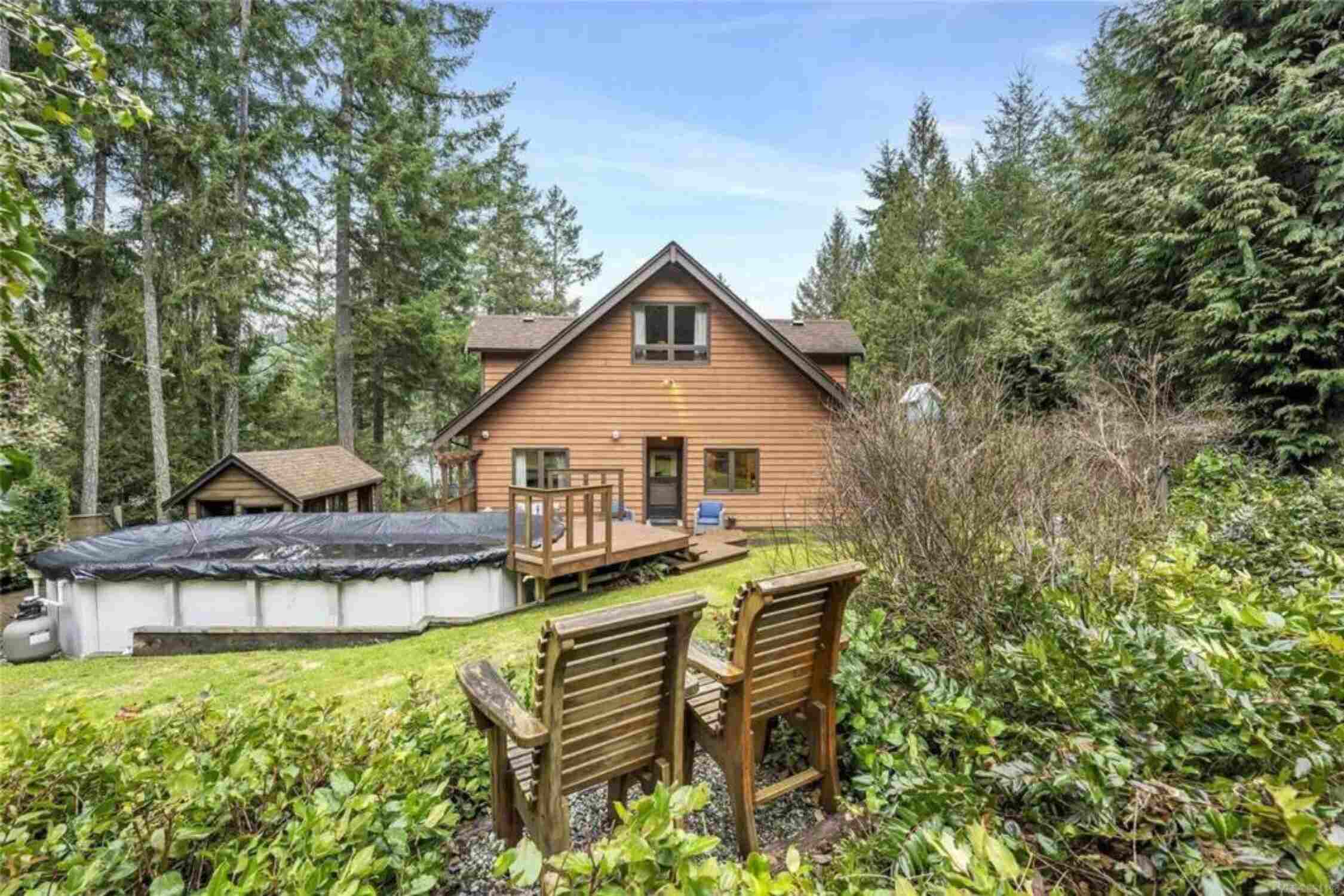 Located on Shawnigan Lake Road, this chalet-style cottage has all the amenities you'll need for a convenient, comfortable and enjoyable stay in the area. The outdoor grounds alone are something to look forward to with an outdoor swimming pool, peaceful garden, BBQ facilities and views of beautiful Shawnigan Lake.
The cabin is equipped with a full kitchen, laundry facilities, complimentary Wi-Fi, a terrace and a flat-screen television. There are three bedrooms in this cabin so there's plenty of space for the whole family.
---
9. Oceanfront Cottage with Private Beach Access (North Pender Island)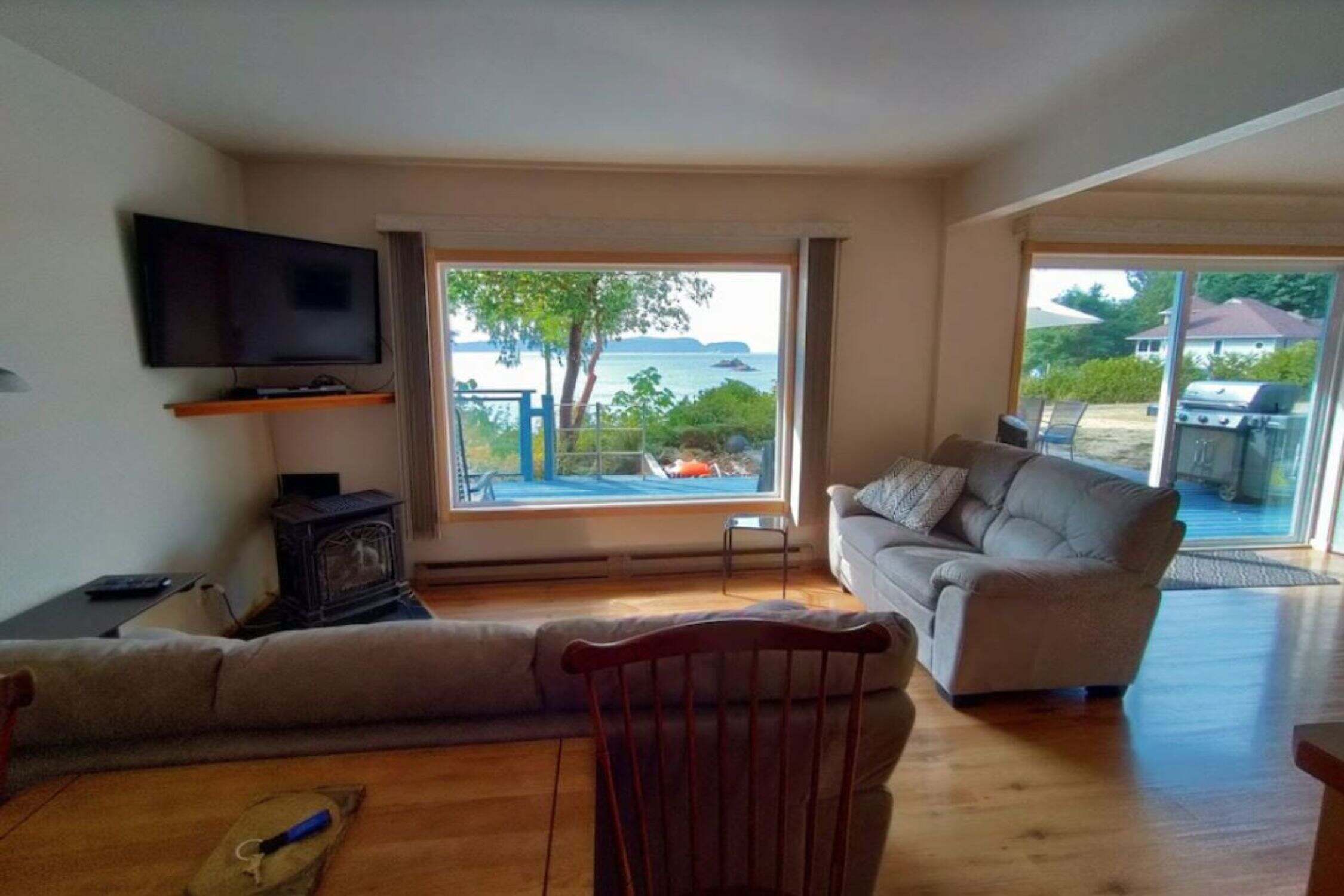 It's private, it's well-equipped and it feels remote but it's central. I'm talking about the Oceanfront Cottage situated on Pender Island, the one with private beach access, oceanfront views, and five acres of wide-open spaces where wildlife such as deer and mink, are known to roam.
Nearby, kayaking, canoeing, fishing, hiking, biking and golfing are popular activities. Inside the one-bedroom cabin, you'll find a cozy atmosphere and everything you need for an amazing stay. Pender Island Golf Course and other attractions, including Pender Island Museum, are only a short drive away.
---
10. The Enchanted Woods Waterfront Cottage (Secret Cove)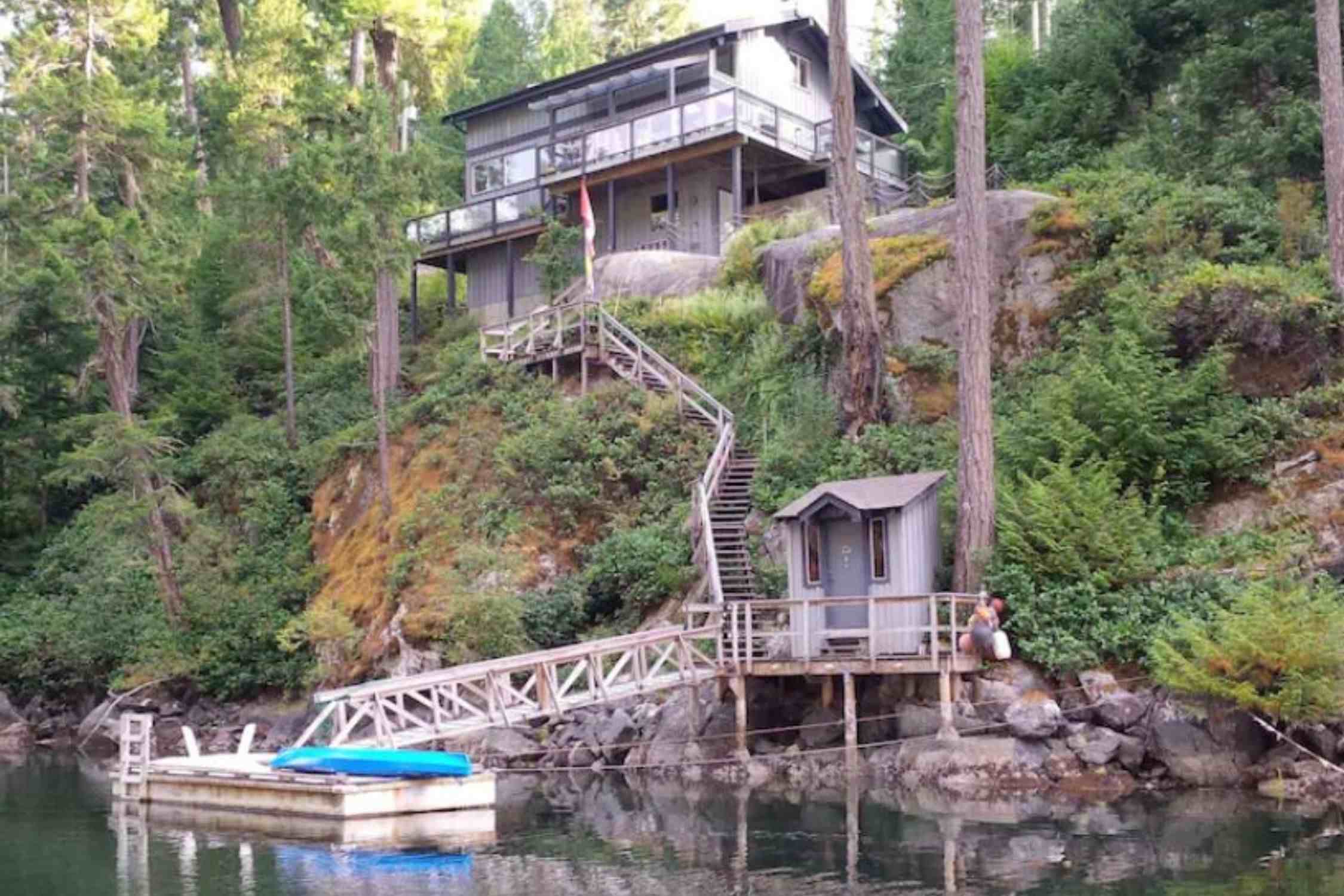 Located in Secret Cove, The Enchanted Woods Cottage has everything you could want in a vacation rental. It's secluded, it's spacious, it's quiet and it's situated right on the waterfront so you can enjoy incredible views. Nature lovers love this spot, especially the outdoor shower and fire pits that allow you to be even closer with nature.
There are also several hiking trails nearby and if you want to just relax outdoors without leaving the comfort of the cabin, there's the wrap-around deck. Inside this three-bedroom property, you'll enjoy a full kitchen, a fireplace and two bathrooms.
You don't have to travel very far to enjoy a wide range of outdoor pursuits including bird watching, kayaking, swimming, paddleboarding, fishing, snorkeling, scuba diving and biking. Even in winter there's plenty to do including snowshoeing and cross-country skiing. Homesite Creek Falls, Smuggler Cove Marine Provincial Park and Buccaneer Bay Provincial Park are only a short drive away.
---
11. Cozy Cabin (Pender Island)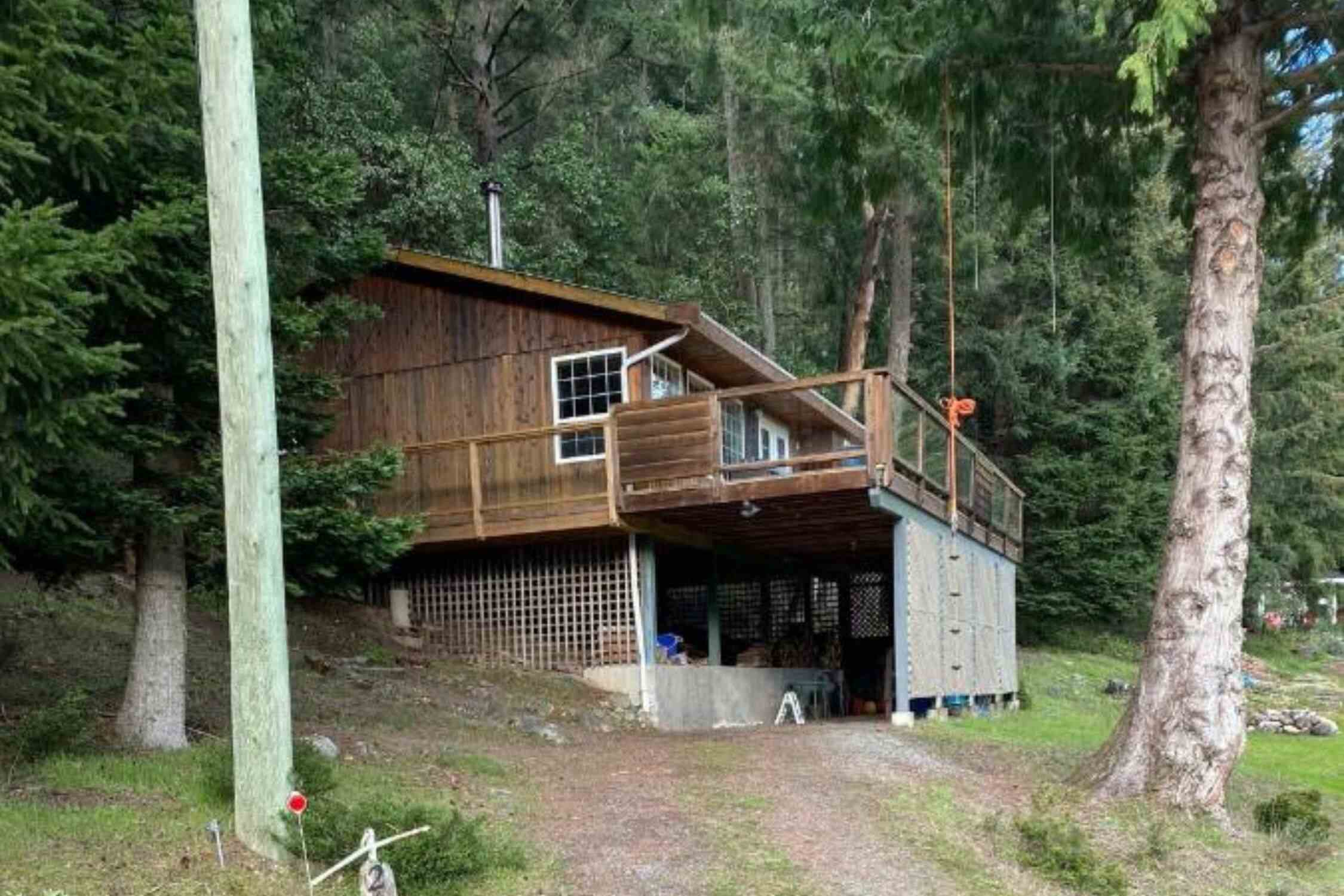 While exploring Pender Island, you'll likely discover that it's impossible to see and do everything you'd like to in one day. Fortunately, there are some pretty nice places to hunker down for the night and the cozy 2 bedroom cabin on Crowsnest Drive is a great choice!
Enjoy access to a full kitchen, laundry facilities, free Wi-Fi and a balcony looking out over the beautiful landscape. The cabin features two bedrooms, a full bathroom and living area so space shouldn't be an issue!
---
12. Shoregrove Cottage (Nanaimo)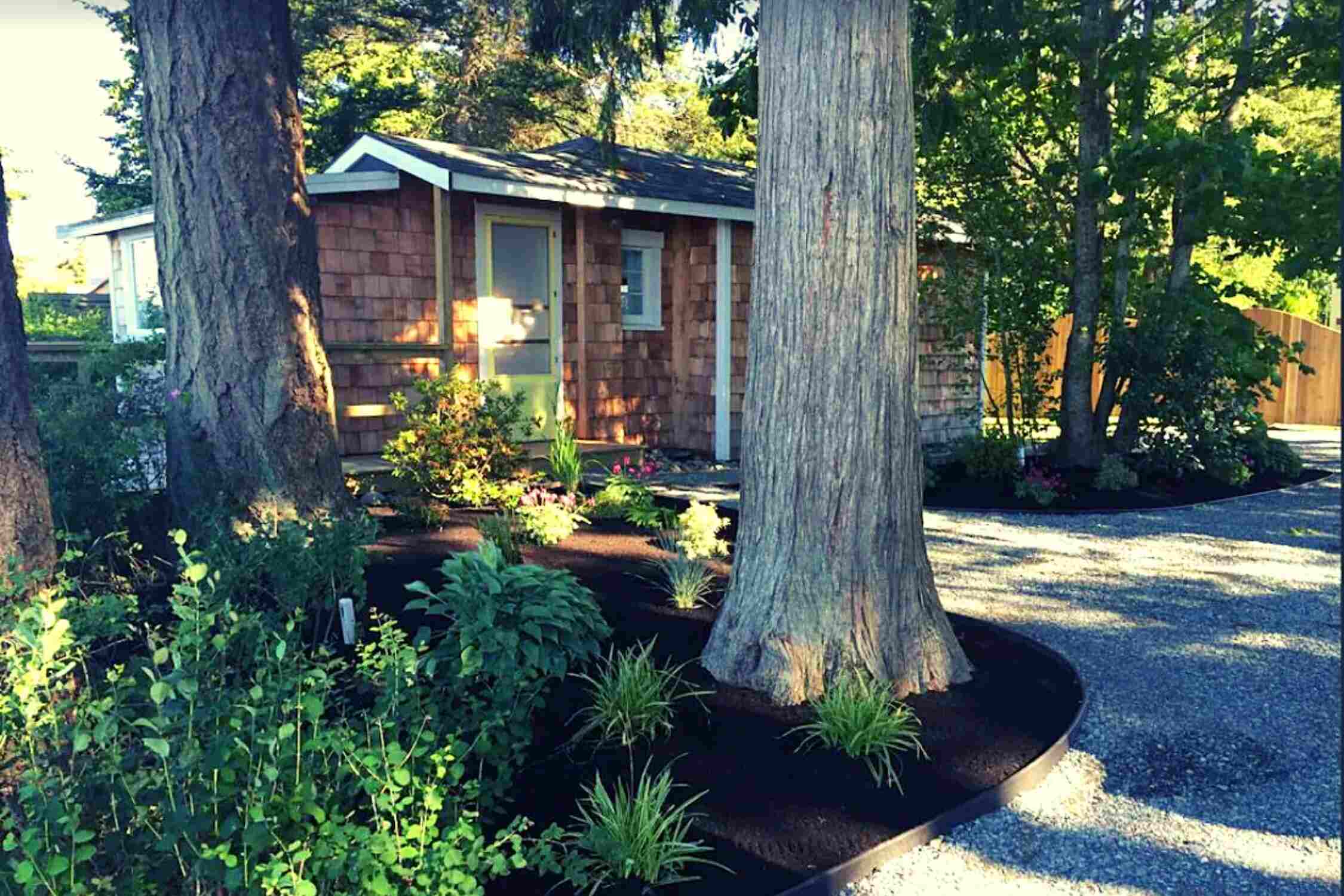 If you're looking for a place to stay close to Nanaimo that's right on a beach overlooking the pacific ocean, Shoregrove cottage is a great pick! This cozy one-bedroom cabin features a full kitchen, living area, a fireplace and a patio from which you can watch the spectacular sunsets the Strait of Georgia is known for. All around you is nature.
You'll hear the birds chirping first thing in the morning, you'll see eagles, otters and other wild creatures around the property and you'll witness clear night skies full of twinkling stars. Hiking, biking, kayaking, canoeing, fishing and golfing are all popular activities in the area so you'll never be bored.
The best thing about this place is how remote it feels despite being only minutes away from Lantzville Ville and many amazing restaurants and attractions such as museums and galleries.
---
13. Architect-Designed Cabin in the Woods (Pender Island)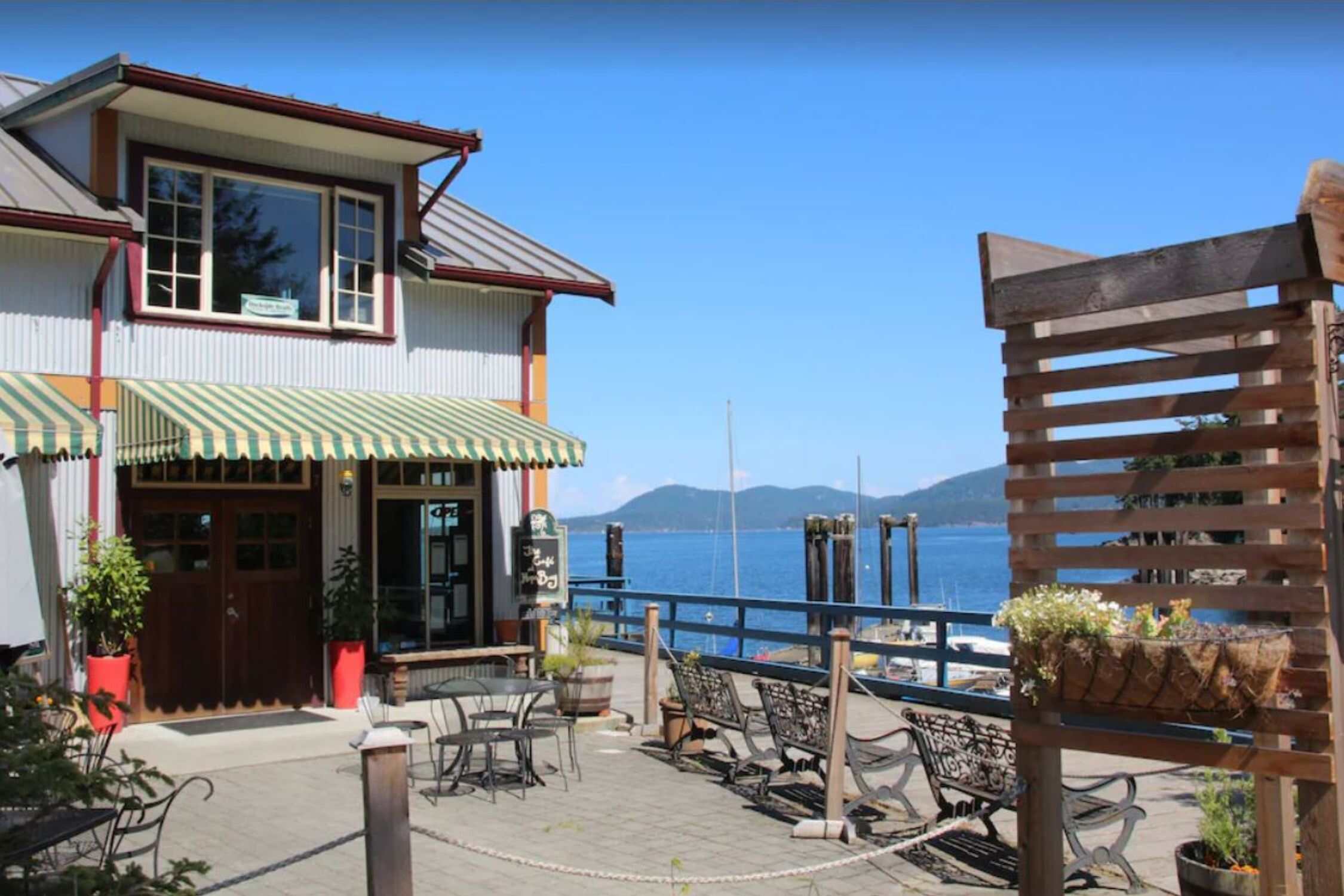 With one bedroom, a comfortable living area, a deck overlooking the ocean and an open-concept design, you'll get the best of both worlds at this South Pender Island getaway; you'll get a cozy retreat that has just the right amount of space to move freely. Did I mention there's a full kitchen too?
The unique style of the furnishings is also eye-catching but this is just the inside of the cabin. Wait until you see the outside! Five acres of open space, hiking trails, beaches and an outdoor bathtub from which you can start your morning, watch the sunset or end your day under a sky full of stars.
---
14. Stoke Cabin by Revelstoke Vacations (Revelstoke)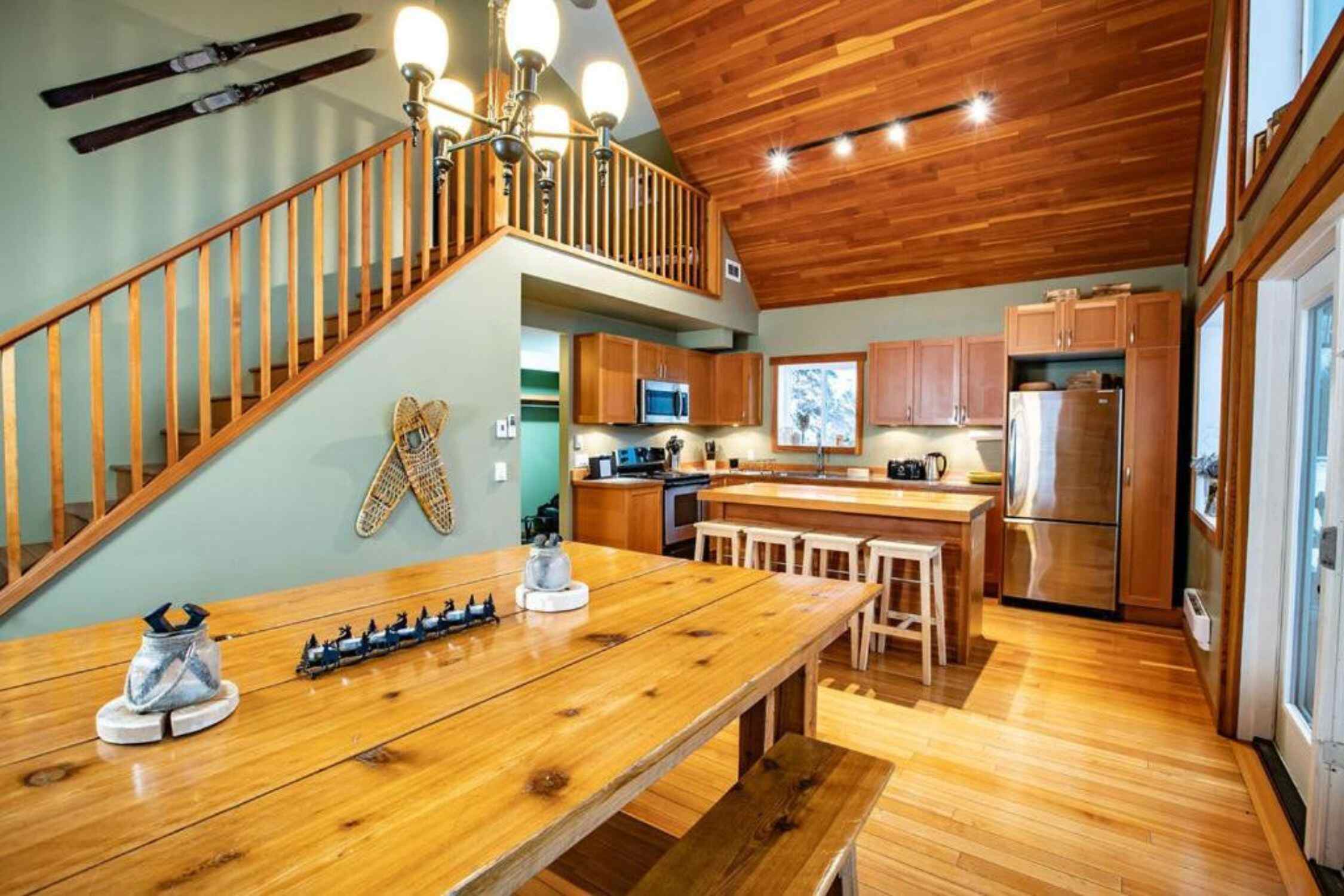 Not your typical, small cabin, but cozy nonetheless! Stoke Cabin by Revelstoke Vacations features four bedrooms and three bathrooms so you can get together with other couples, family members, or friends.
The location near Revelstoke is amazing with easy access to the Revelstoke Railway Museum and beautiful places to enjoy hiking and skiing. Inside the spacious, air-conditioned cabin (not common in Western Canada), you'll find many amenities including a full kitchen, free Wi-Fi, BBQ facilities and a hot tub.
---
15. Across the Creek Cabins (Clearwater)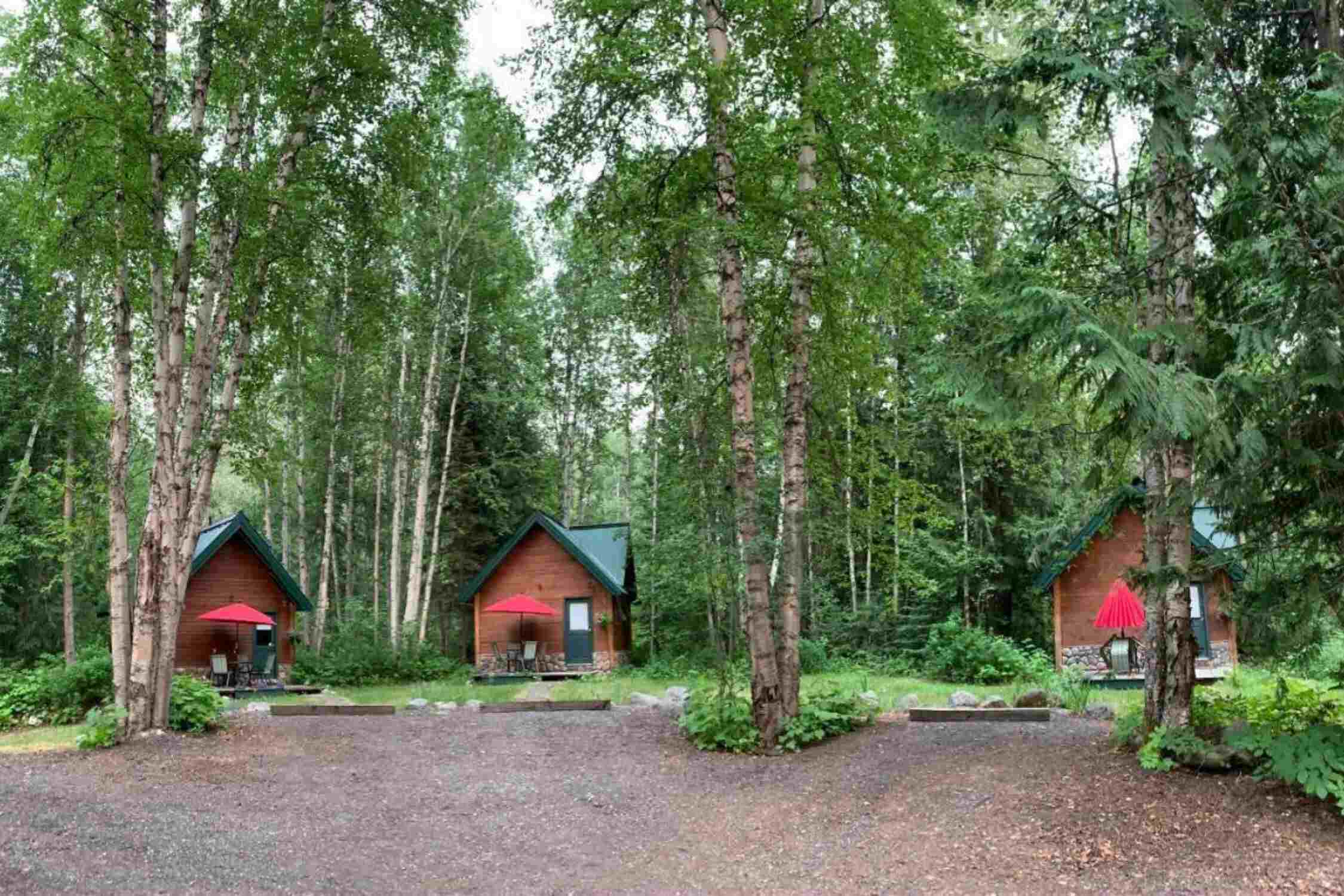 Situated in the center of Wells Gray Provincial Park near Clearwater, Across the Creek Cabins is a series of cozy, well-equipped cabins. A full kitchen, free Wi-Fi, a comfortable living area and a furnished deck are just some of the amenities you'll enjoy when you book one of these cabins.
You'll also enjoy a serene location only a short drive away from top attractions including Moul Falls and Helmcken Falls.
---
16. Delightful Country Cottage (South Pender Island)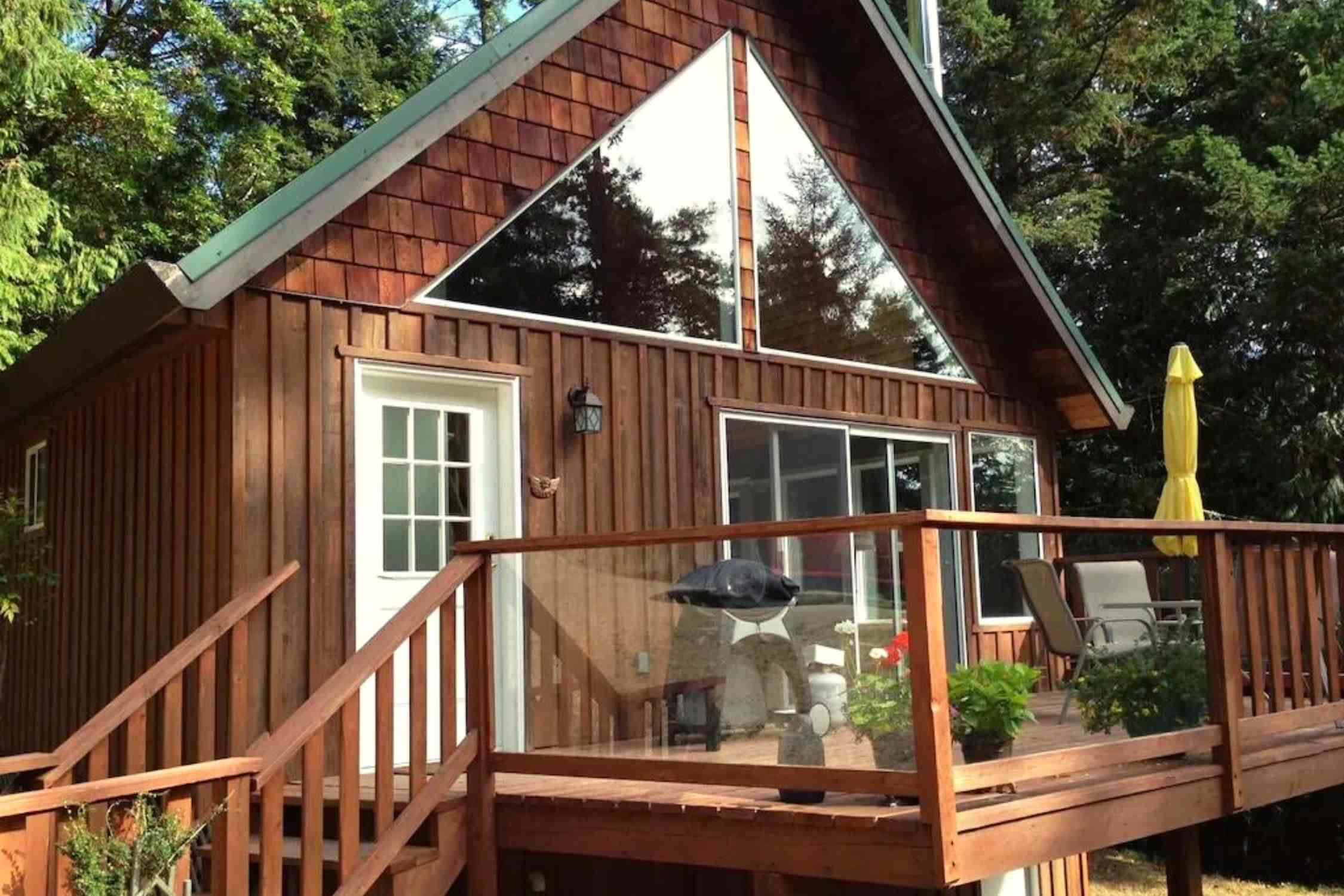 Situated on South Pender Island among British Columbia's Southern Gulf Islands, this two-bedroom cabin makes for the perfect getaway for a few friends, two couples, or a small family. Everything you need for comfort and enjoyment is right on site.
Your cozy accommodations come with a full kitchen, wood-burning stove, living area and plenty of windows to let natural light in. The spacious deck is the perfect place to enjoy your morning coffee or stargaze late into the night.
Four acres of pristine wilderness surround you so there's plenty of opportunity to beachcomb, hike and observe nature. Golfing, sailing, kayaking and biking are some of the other outdoor pursuits that are popular in this area.
---
17. The Broody Rooster Guesthouse and Gallery (Yellow Point)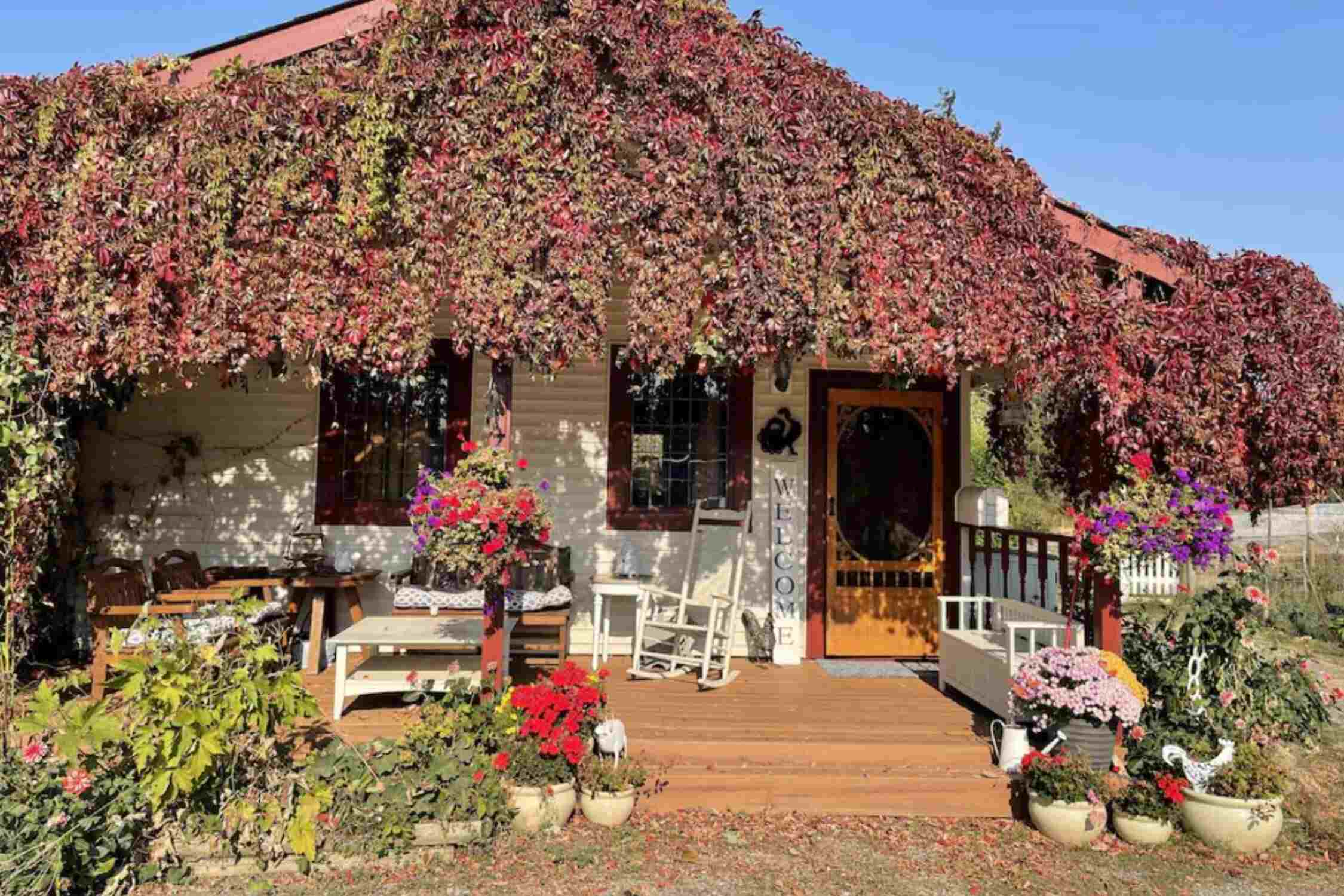 If a charming cottage in the country is what you envision when you think of your next weekend getaway in British Columbia, this adorable cabin located on a farm in the Cedar/Yellowpoint area is about as close as it gets! The drive down the long driveway along a fenced-in area full of horses is your first taste of just how rural this place is.
That being said, the bustling city of Nanaimo is only 15 minutes away so you still have easy access to restaurants, shopping, museums, galleries and a wide variety of other amazing attractions. Upon arrival, you'll first notice the huge fully-furnished front porch where many previous guests have sat early in the morning and watched the sun come up.
Inside, you'll find a beautifully-decorated, cozy space with high ceilings and a spacious kitchen equipped with everything needed to prepare meals using the fresh vegetables you can pick right from the on-site garden.
---
18. Kicking Horse Kabins (Golden)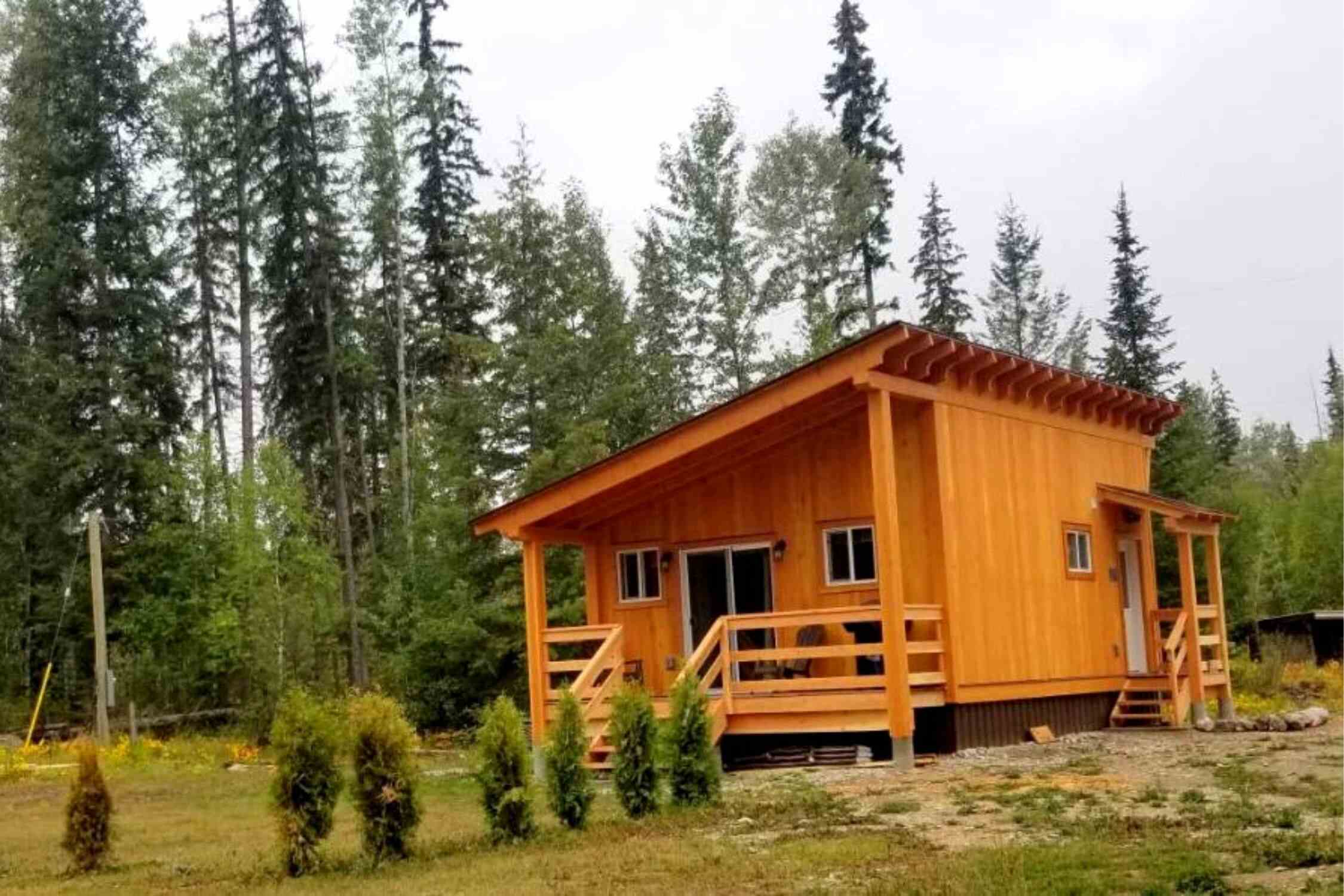 Located just outside the town of Golden, Kicking Horse Kabins is an ideal location to explore some of British Colombia and Alberta's top national parks including Banff, Yoho National Park, and Glacier.
The property itself is an outdoor lover's paradise. Cook up a meal on the BBQ and spend clear evenings around the fire pit under a sky full of twinkling stars. During the day, take a stroll around the lovely gardens or enjoy the spectacular views of Goat Mountain from your private balcony.
Inside your cozy cabin, you'll find more great amenities including a hot tub, complimentary Wi-Fi, cable television, a fireplace and a full kitchen.
---
19. Kootenai Hideaway (Kaslo)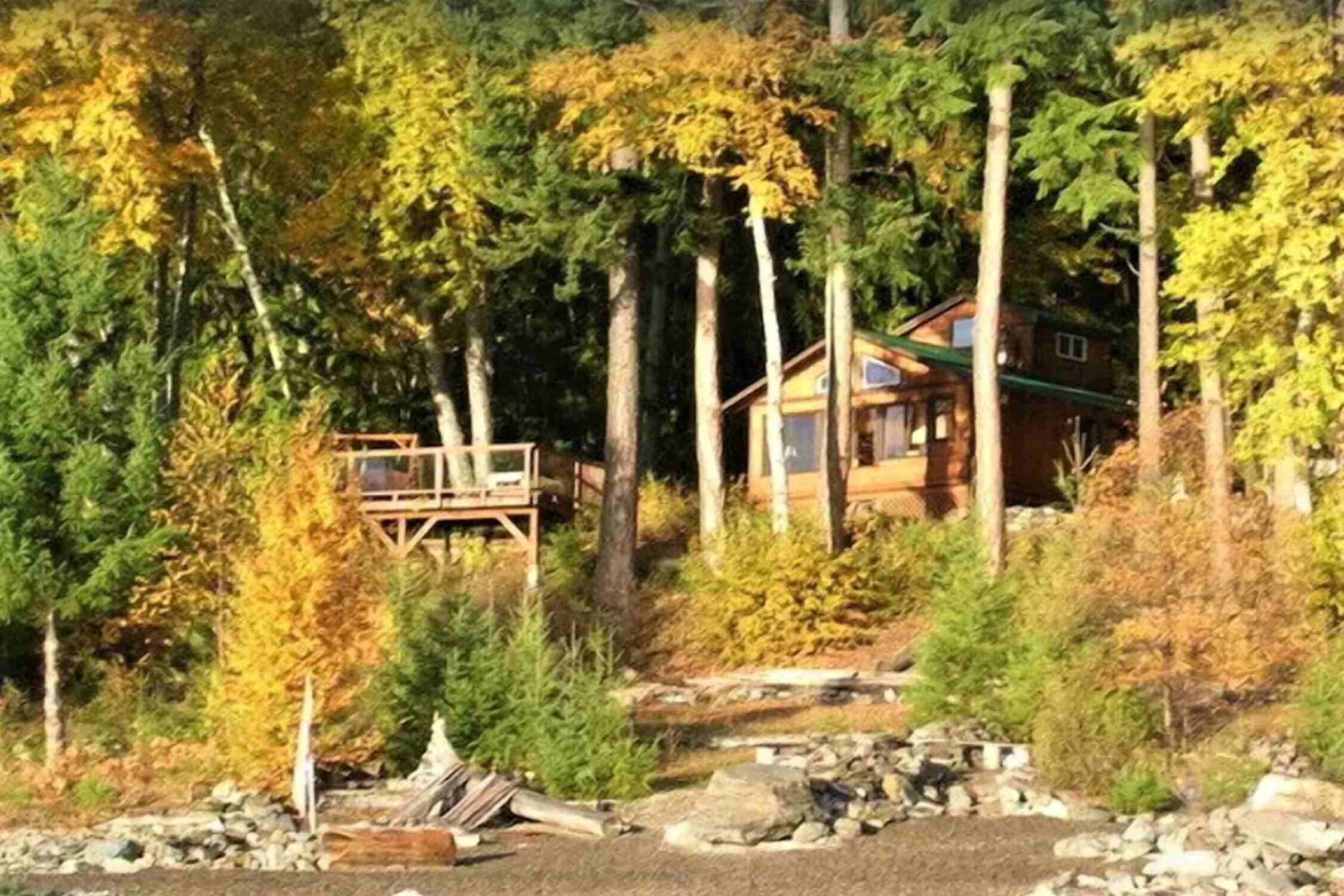 Kayaking, canoeing, biking, hiking, wildlife viewing, cave exploring, bird watching, and even scuba diving. These are just some of the outdoor activities you'll enjoy in the Kootenai region.
You'll enjoy a variety of accommodation options including cozy cabins like this lakefront property. With two bedrooms, a full kitchen and a spacious deck equipped with a swing, you have everything you need for a relaxing escape in nature.
How does a campfire on the beach along the lake sound? Perhaps watching the moon rise over the mountains from that swing sounds like a relaxing kind of night? Whatever you choose, just know that the property is tucked away enough from the main road that all you'll hear is the wind rustling through the trees as you fall asleep at night and the birds chirping in the morning.
Nearby, you'll find the beautiful little town of Kaslo, several golf courses and some natural hot springs.
---
20. Blacktail Retreat (Sun Peaks)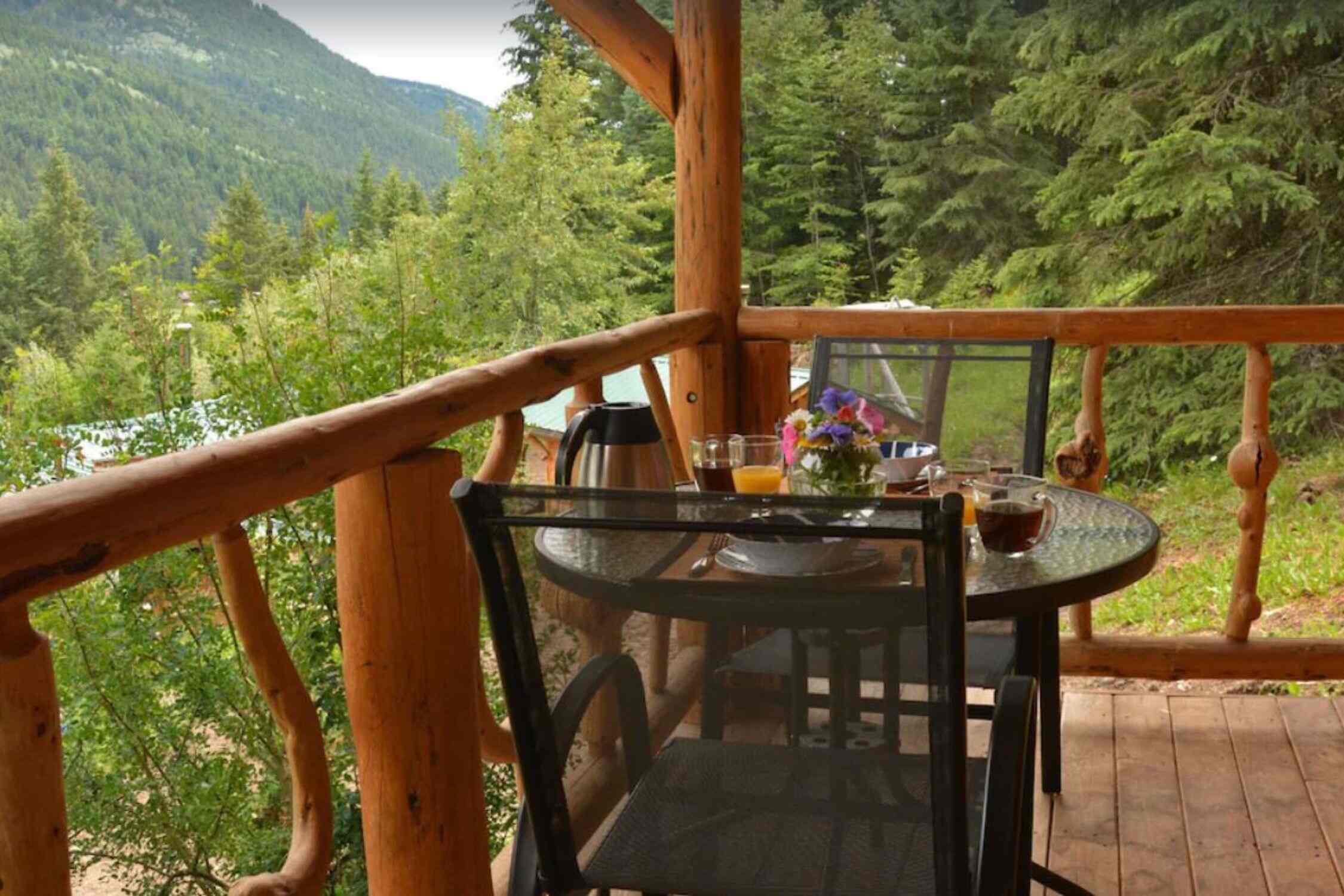 Who doesn't dream of a cozy log cabin in the forest near a lake? Well, stop dreaming because Blackrail Retreat is a real place and it's a top pick for accommodation in the Heffley Lake area. While the bustling resort village of Sun Peaks (one of our favorite ski resorts in Canada) is only minutes away, your cabin sanctuary is far removed from the noise and crowds.
Outdoor lovers enjoy plenty of activities nearby and after a long day of exploring, retreat to the outdoor space where there's a fire pit, outdoor seating area and hot tub. Inside, you'll find a snug space and all the amenities you need for comfort and convenience. A favorite among guests is the deck with incredible views.
---
21. Getaway Cabin (Golden)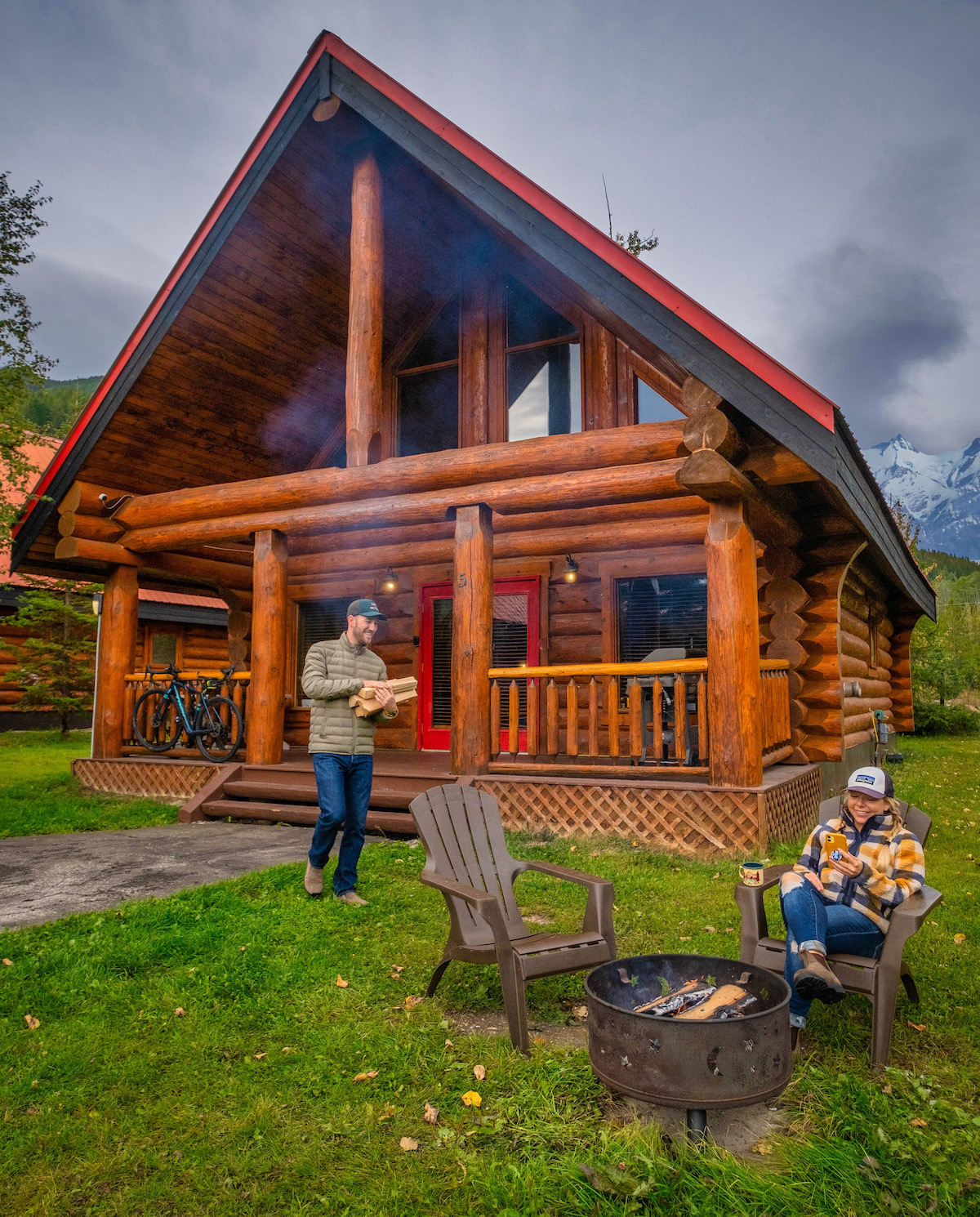 You'd be hard pressed to find a cozier cabin in Golden. This timber-framed log cabin is your ticket to a true Rockies experience. The interior has two floors – the upstairs loft has a queen bed and two twins, while the downstairs has a second queen bedroom and a living room with a comfortable pull-out. Pets are welcome for an additional fee.
The cabin is located just off the river and backed by beautiful forest. It's about a 30 minute drive from Downtown Golden so it's for those who don't mind being away from town and would rather find themselves surrounded by wilderness and be closer to natural sites like Wapta Falls, Tak Falls, or Emerald Lake. The cabin is perfect for staying in – pour a drink while you curl up by the indoor fireplace or the outside fire pit.
There's a full kitchen for all your meals. It's best to do all your grocery shopping at the IGA in Golden as that is the closest grocery store to the cabin.
This cabin is a cabin community, so look around at the different cabin options and choose which one is right for you.
---
22. Da Cabane (Squamish)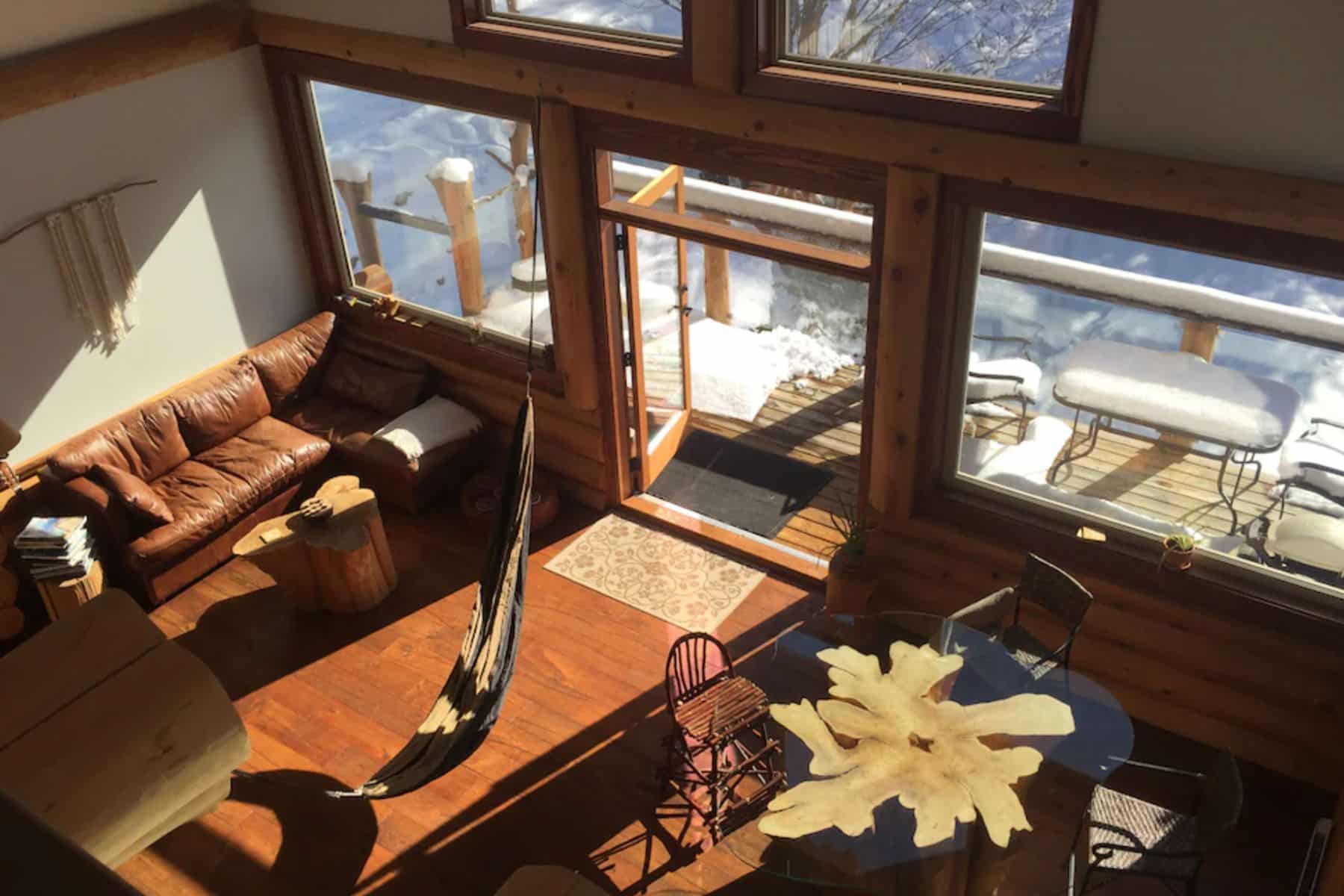 If you find yourself outside of Vancouver in the mountain city of Squamish how about checking out this cozy rustic log house in the picturesque Squamish Valley? You'll love the two bedrooms – one with a king-sized bed and another with a queen-sized bed. And if you have an extra guest, there's even a comfortable couch that can sleep one person.
You'll have everything you need with a full bath and a shower too! The house sits on a beautiful 5-acre property surrounded by nature, including a creek with stunning glacier views. You might even spot an eagle or two. For those who need to stay connected, there's a private gate, wifi, and a cell phone booster for great reception.
Did I mention there's also a beautiful private lake just an hour hike behind the house? And if you're up for a little adventure, there are tons of hikes to stunning waterfalls and easy walks along the Squamish River.
---
23. 3 Cedars Cabin (Mt Currie)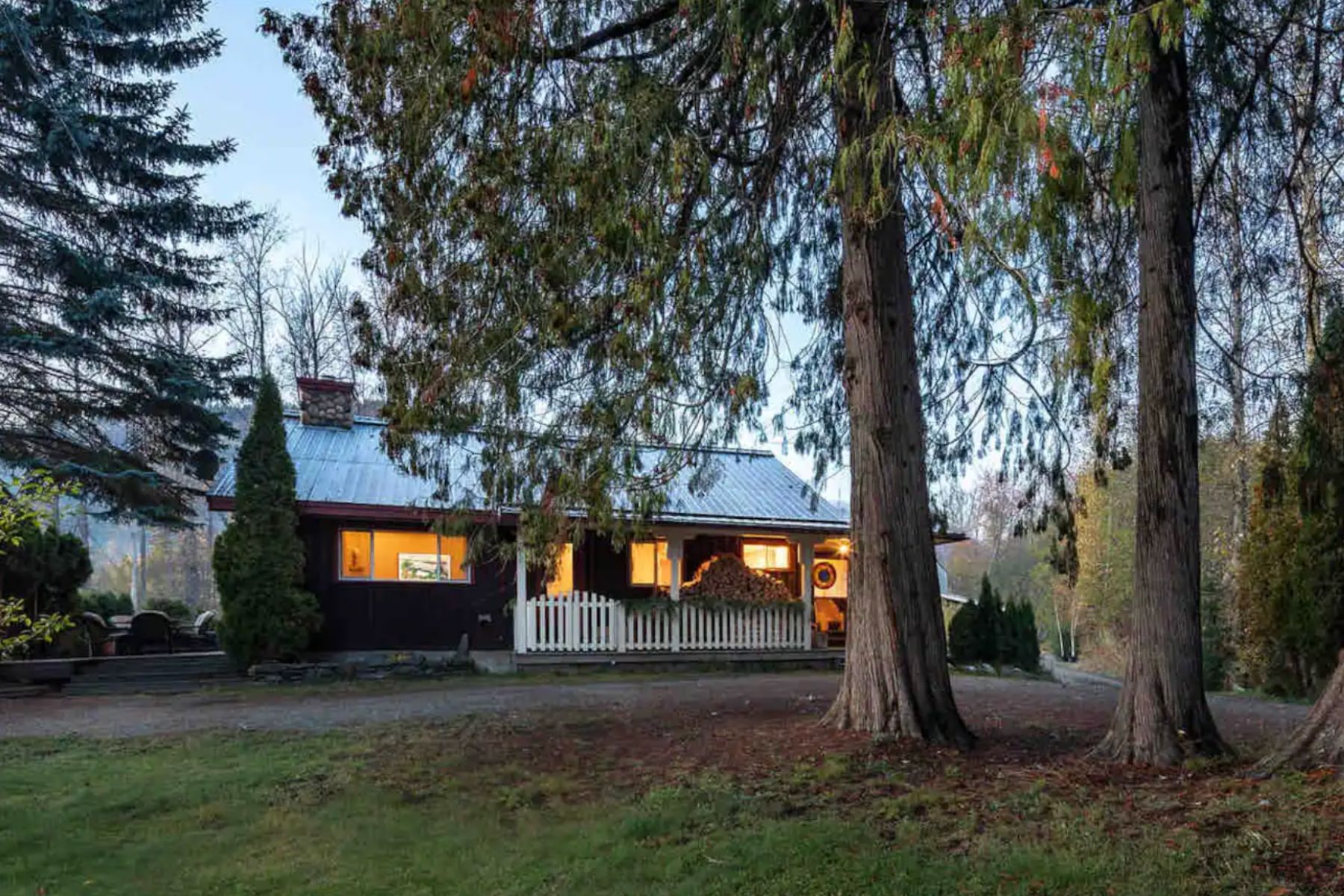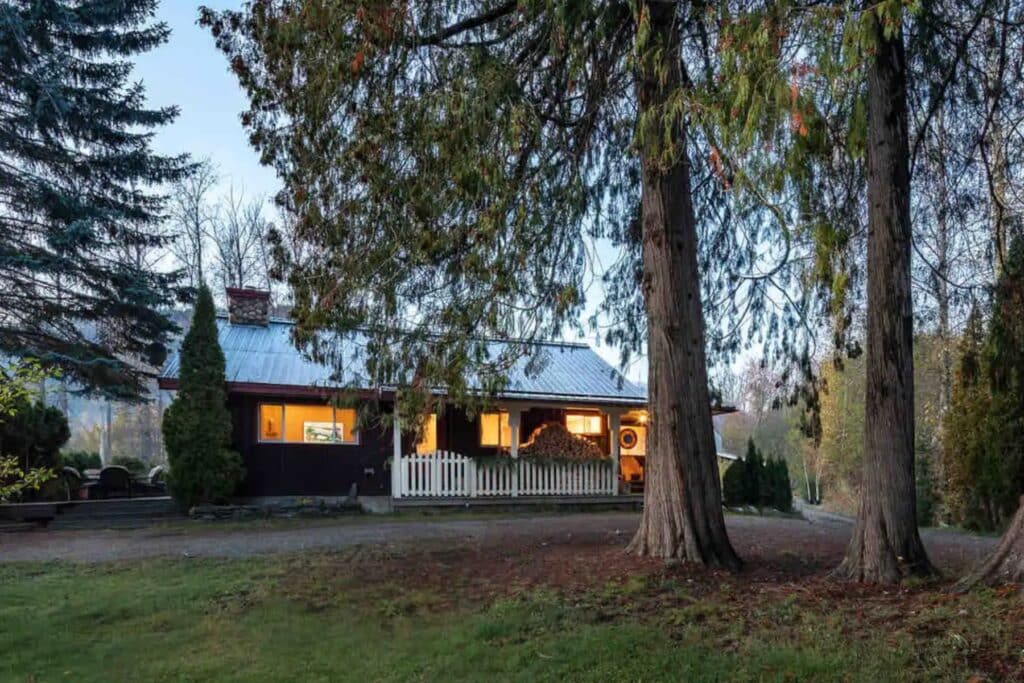 Easily one of the best cabins for rent in BC! Allow us to introduce you to this charming cabin built in 1959, which has been beautifully renovated to offer an open floor plan while still retaining its vintage charm. The full kitchen is fully stocked with all the cookware you'll need, as well as pantry basics like salt, spices, oil, coffee, and tea.
Get ready for cozy family meals and game nights around the farmhouse dining table, which seats up to 6 guests comfortably. The main floor living room is truly the heart of the cabin, with its wood-burning fireplace serving as the focal point. Listen to the comforting crackle of the flames, or connect your music to the speakers via Bluetooth. From the living room, step out onto the deck and immerse yourself in the private hot tub, where you can gaze at the stars and soothe your tired muscles.
This 3-bedroom rancher-style cabin is located on a private, tree-lined lot in a family-friendly neighborhood, nestled at the base of the majestic Mount Currie. It has a recently finished basement, but no upstairs level. Conveniently located just 5 minutes from Pemberton, 20 minutes from Joffre Park, and 30 minutes from Whistler this is the perfect cabin in BC to get away into the wilderness yet still be close enough to comfortable conveniences.
---
24. Joffre Creek Cabins (Pemberton)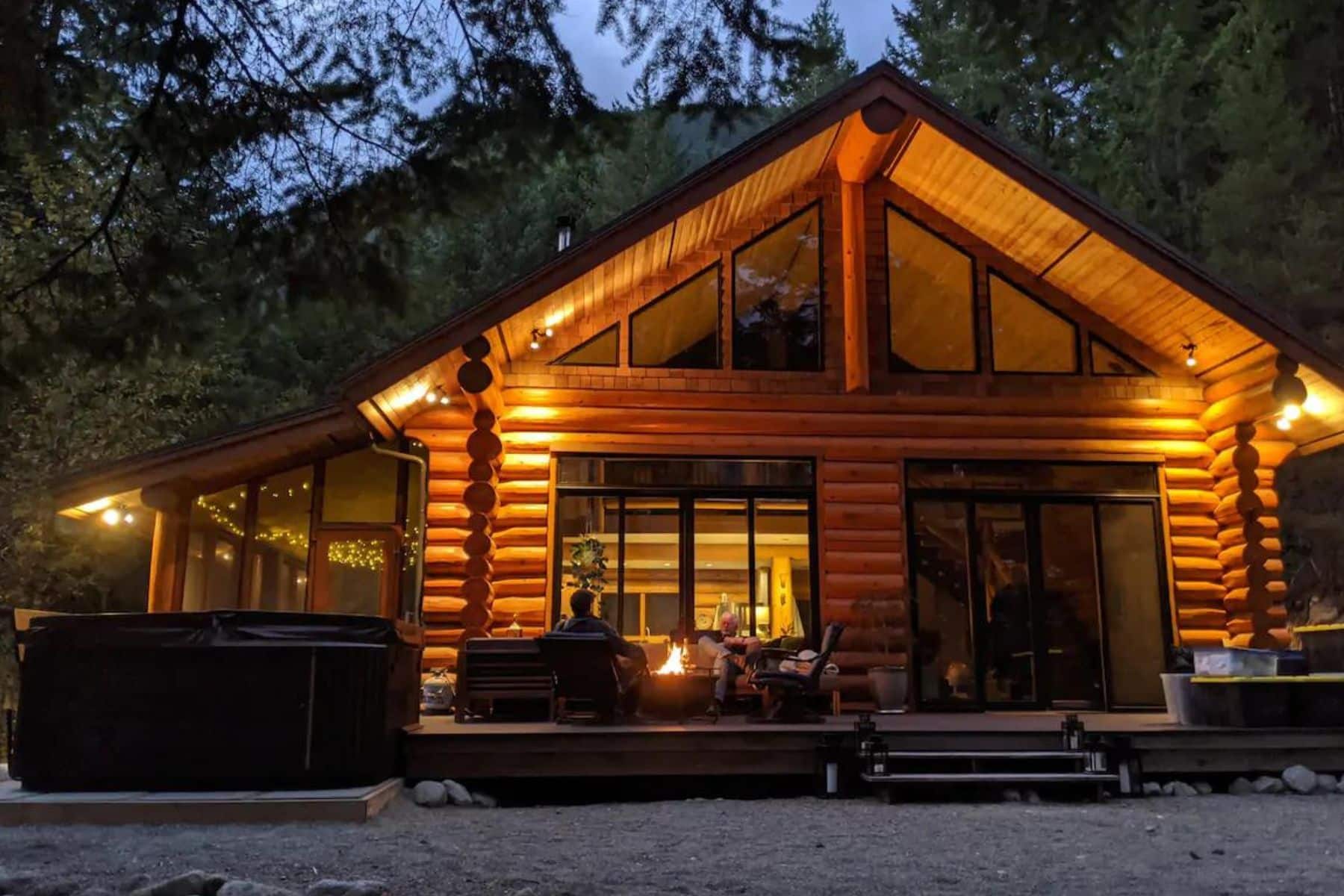 Step into 3.5 acres of pristine forest at Joffre Creek Cabins. Surrounded by crown land on three sides at Joffre Creek Cabins, you'll find the perfect escape from the chaos of city life. Located at the base of the Duffy, you'll be the closest to the breathtaking Joffre Lakes Provincial Park – an outdoor adventurer's dream destination. It's the perfect stop if you find yourself driving between Vancouver and Calgary on a Western Canada road trip.
Whether looking to work remotely, unwind, or simply spend quality time with loved ones, Joffre Creek Cabins have something for you. Connect to wifi, settle next to the crackling wood stove, and get to work on that screenplay or finish up a project. For a romantic escape, enjoy a dinner under the stars in the on site fairy-light-lined gazebo or take a short two-minute walk down to Lower Joffre Creek with a bottle of bubbly.
Rejuvenate your body and mind with a full Scandinavian thermal experience, including a sauna and a cold plunge. It's no wonder why Joffre Creek Cabins have been named the best accommodation in Pemberton and one of the top cabins in British Columbia.
---
25. Sechelt Cabins (Sunshine Coast)
Indulge in a truly unforgettable getaway at this unique cabin situated near the tranquil Sechelt Inlet in British Columbia. Designed with elegance in mind, the cabin features an open floor plan that encompasses a spacious living area, a fully equipped kitchen, a loft bedroom, and a luxurious bathroom.
The loft bedroom boasts a queen-size bed with plush bedding and a small balcony, the perfect spot to enjoy a cocktail and admire the breathtaking sunsets over the inlet. The bathroom is a haven for relaxation with ample natural light streaming through the skylight and a luxurious clawfoot bathtub with a shower, a toilet, and a sink.
In the living area, sink into the comfortable sofa bed, catch up on your favorite film or get lost in the pages of a good book from the cabin's well-stocked library. The kitchen is fully equipped with a refrigerator, stove, microwave, and tea kettle, allowing you to prepare delicious meals with ease. Wi-Fi and heating are also provided for your comfort.
Step outside onto the cabin's decks and admire the stunning scenery while enjoying a cup of coffee or cooking up a delicious meal on the outdoor grill. This wonderful accommodation provides guests with all the comforts of home, including linen and towels, bathroom essentials, heating, and ample entertainment options. Complimentary Wi-Fi is available, and parking is conveniently located just off the property.
---
26. Owl's Perch Treehouse (Sooke)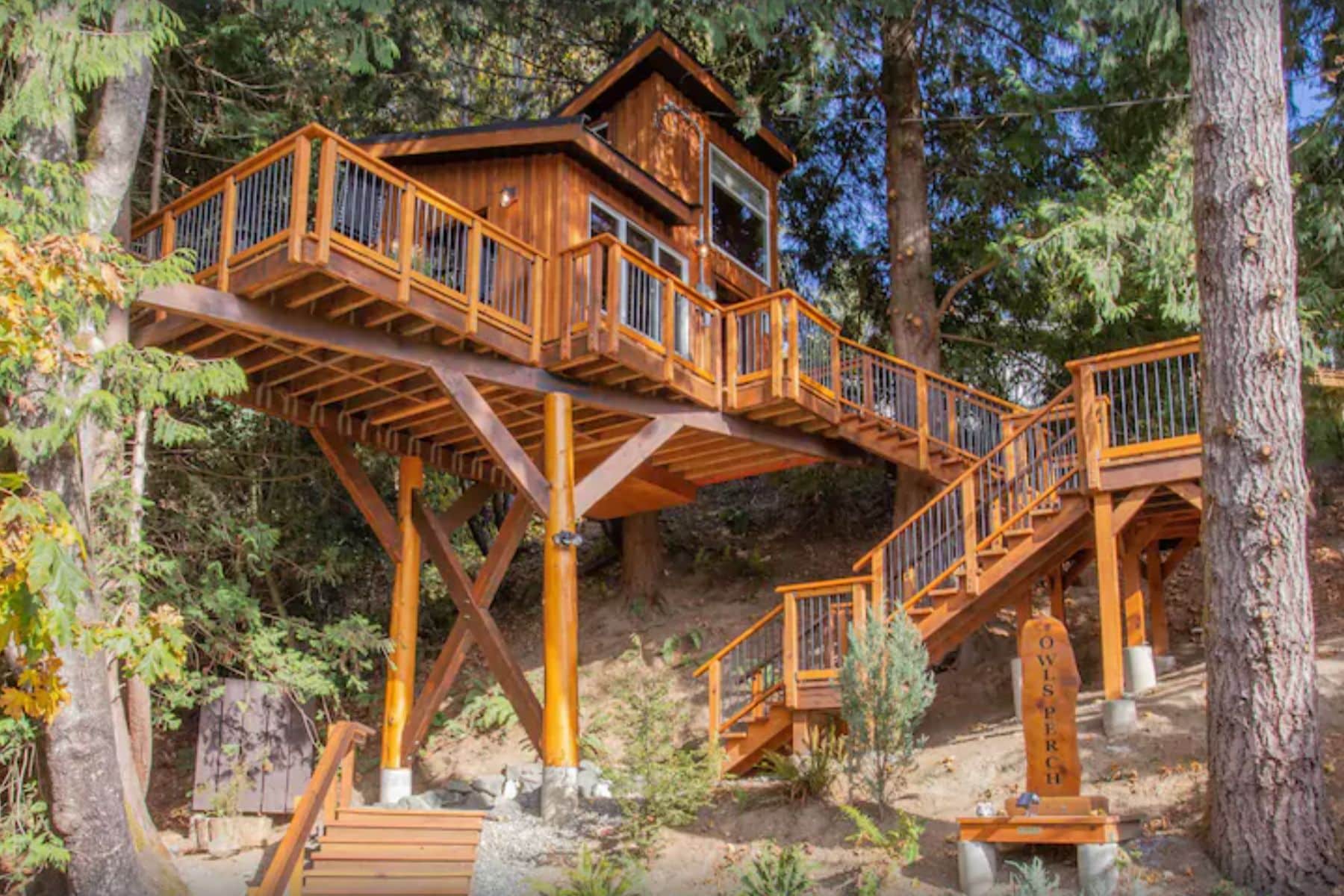 If you're in Sooke, you must check out this amazing and one-of-a-kind treehouse that's soaring 30 feet high! Securely attached to three beautiful cedar trees and one giant maple with special tree tabs, allowing the trees to move naturally this is one of the best cabins to rent in BC.
Inside the treehouse, you'll find all the comforts of home with a fully equipped bathroom and kitchenette. Snuggle up in the cozy loft bedroom with a comfy double bed and enjoy the views from the large picture window.
The living room is complete with a love seat, dining table, and cozy fireplace – perfect for movie nights with Netflix already installed! Step out to the private deck surrounded by the tree canopy for a relaxing experience. Owl's Perch is the perfect place for your next adventure or a serene getaway in the trees.
---
27. Ocean Village Resort (Tofino)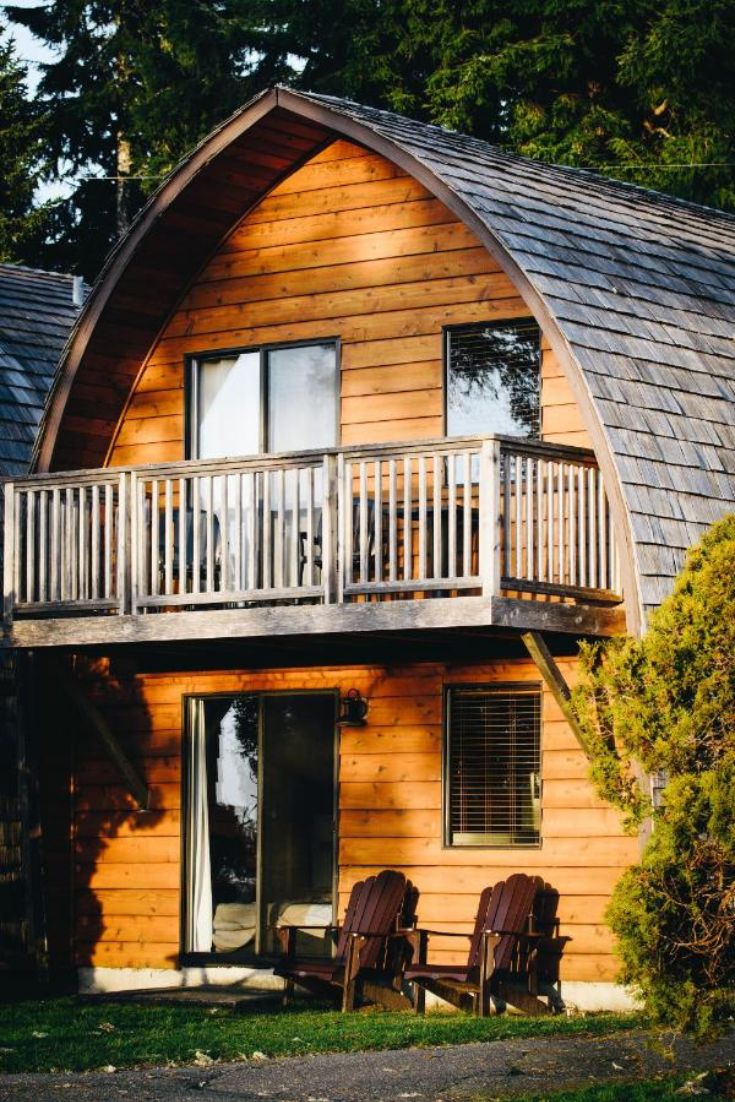 Set on a beautiful location on the breathtaking shores of MacKenzie Beach! Enjoy direct access to the beach, an indoor pool and hot tub to soak in, and free Wi-Fi to stay connected.
No matter which unit you choose, be it the Upper or Lower Studio Suite, you'll be treated to stunning views from every room. Each suite comes complete with a fully equipped kitchen and a private bathroom featuring a full-size tub and organic products made locally.
And for furry friends, lower suites are dog-friendly (with a separate dog policy and rates). Other amenities include guest laundry, outdoor BBQ areas, onsite massages, free parking, and a selection of products from local stores.
---
28. Boulder Mountain Resort (Revelstoke)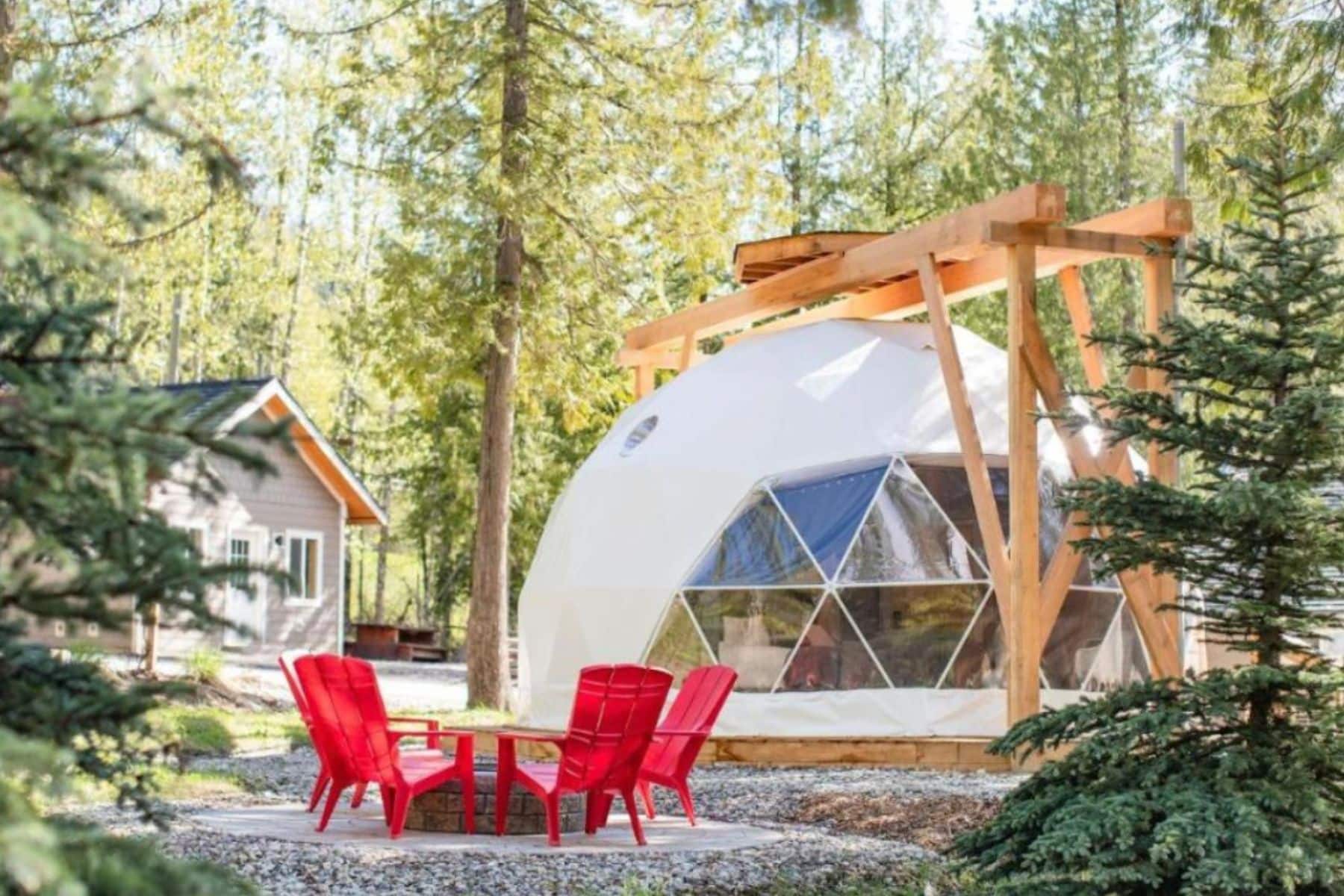 Escape to the beautiful mountain town of Revelstoke and stay at the cozy and inviting Boulder Mountain Resort! With free WiFi and free private parking, you'll have everything you need for a stress-free getaway whether it be winter or summer. As a bonus, you'll have access to a hot tub to soak in after a long day skiing.
Each unit at the resort is fully equipped with a cable flat-screen TV, a kitchen with a fridge, and a private bathroom with a shower and free toiletries. Everything you need to feel right at home!
Take a stroll through the nearby Enchanted Forest, just 3.8 km away, or visit the fascinating Revelstoke Railway Museum, only 5.5 km away.
---
29. Wild Renfrew Seaside Cottages (Port Renfrew)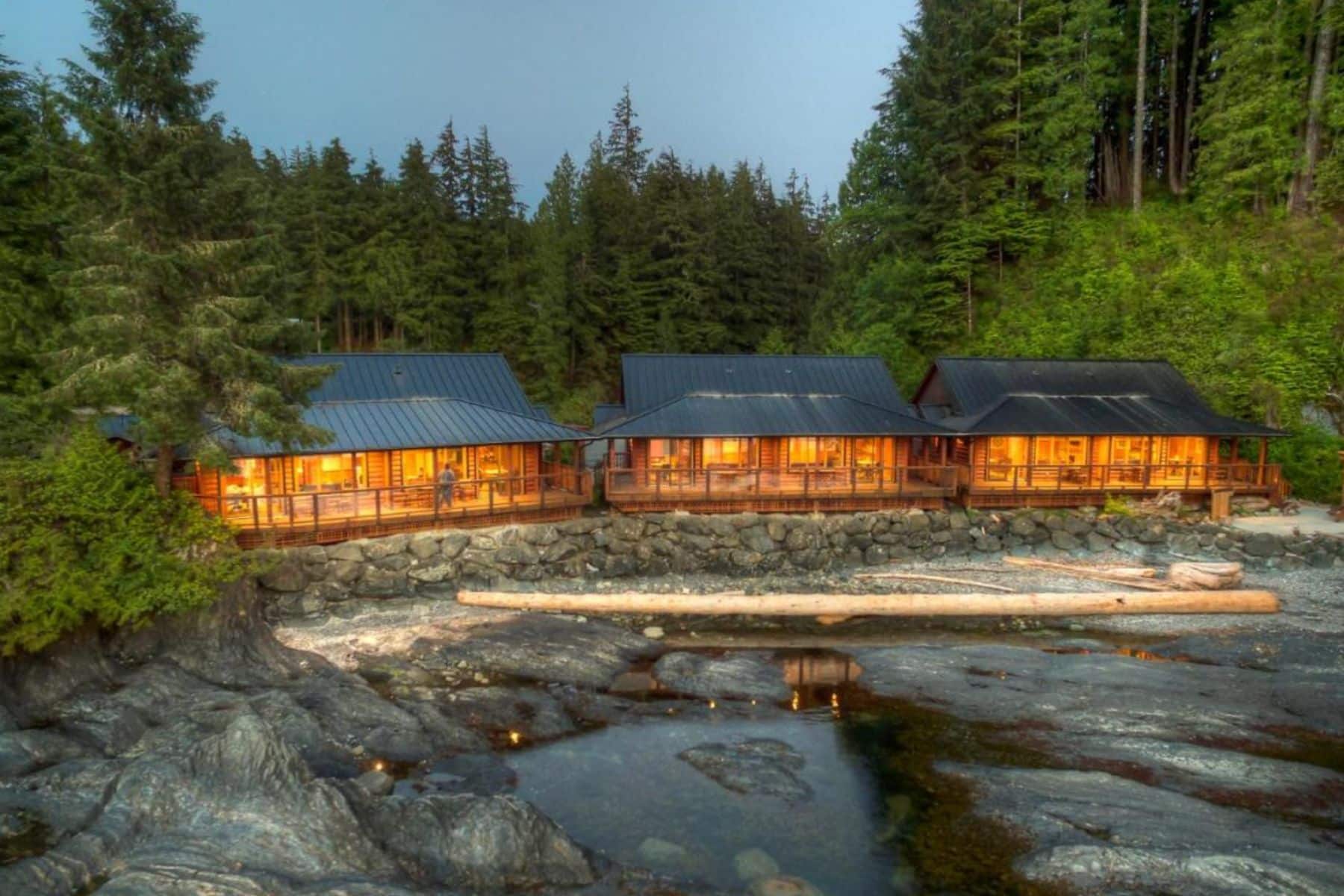 Enjoy the best of both worlds with a stay at Wild Renfrew Seaside Cottages on Vancouver Island! Whether you're seeking a break from roughing it in the bush or just want a cozy retreat, these private waterfront cottages offer all the comforts you need to relax.
With the feel of a plush log cabin, you'll feel nestled at the end of the world. The new Wild Renfrew Seaside Cottages are the perfect way to indulge your wild side without sacrificing any of the amenities you love.
---
30. Tiny Homes by Snow Valley Lodgings (Fernie)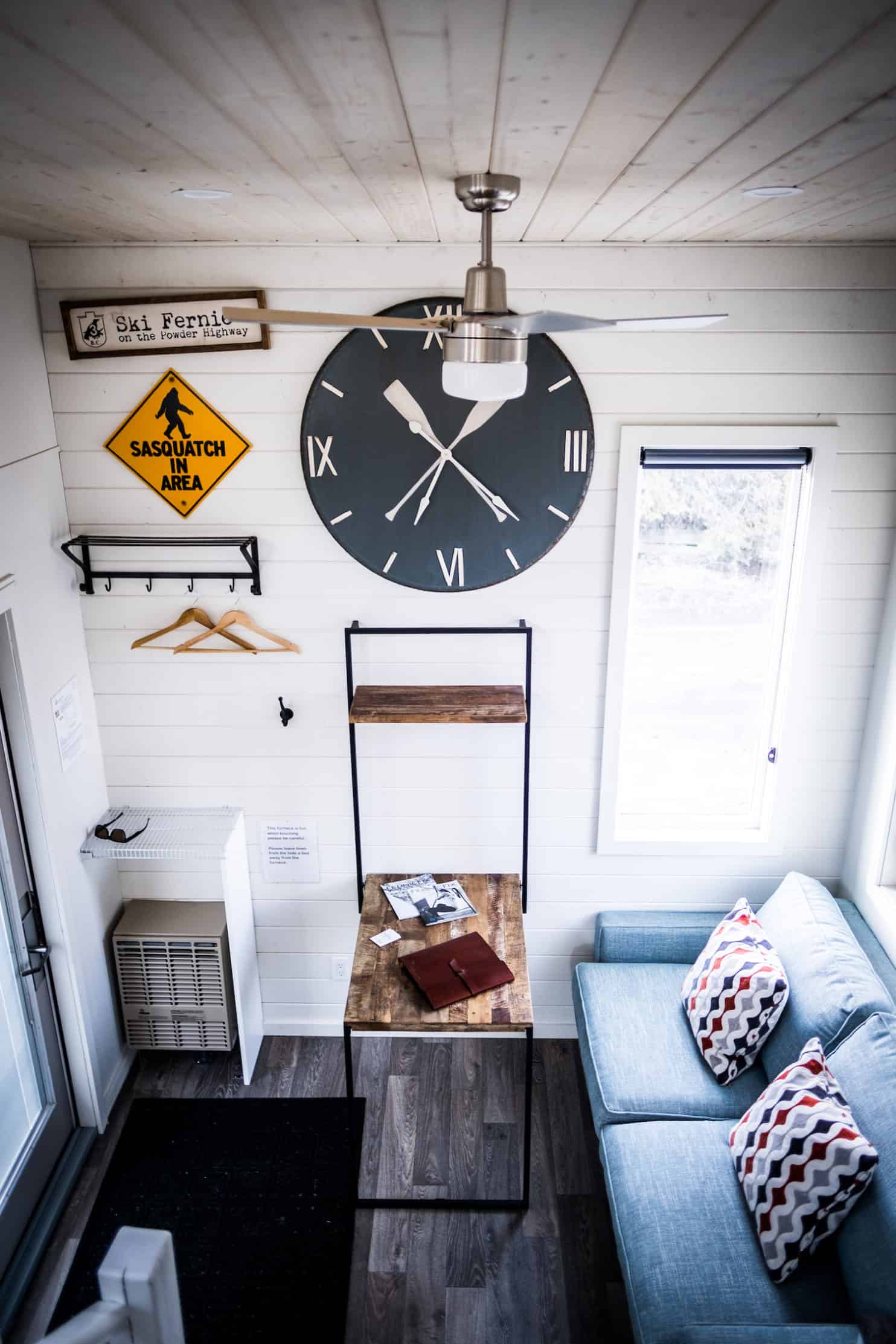 Ever stayed in a tiny home? If not, this little spot would make a great first experience as it's one of the best Fernie BC cabin rentals. This is a bright little one-bed, one-bath suite with all the amenities, including a full kitchen with a gas stove, oven, fridge, and coffee maker.
Start your morning with a steaming cup of coffee before heading out for a Bagel at Big Bang Bagels downtown!
Not only will staying here get you a delightfully well-designed tiny living space, but any guest of the site has access to mountain bikes and take to the trails (one of the best things to do in Fernie)
This tiny little getaway is a perfect escape for couples looking for a weekend escape amidst some of the country's most beautiful scenery.
---
FIND MORE CABINS
We hope one of these cabins for rent in BC is just what you are looking for. Discover more cabins in Western Canada below!
Plan Your Trip to the Canadian Rockies