The waterfalls in BC are known for their stunning beauty, unique features, and sheer size. British Columbia is home to the most beautiful waterfalls in all of Canara. Set amidst lush forests, grand mountains, and everything in between all of British Columbia's waterfalls offer natural beauty.
Each waterfall is unique in shape, size, color, and flow of water. Some BC waterfalls are easily accessible while others require a hike and a bit of effort to reach. Whether you are looking for a relaxing place to have a picnic, or have a goal of chasing every waterfall, here are the most beautiful waterfalls in BC!
---
The Best Waterfalls in British Columbia
---
1. Sutherland Falls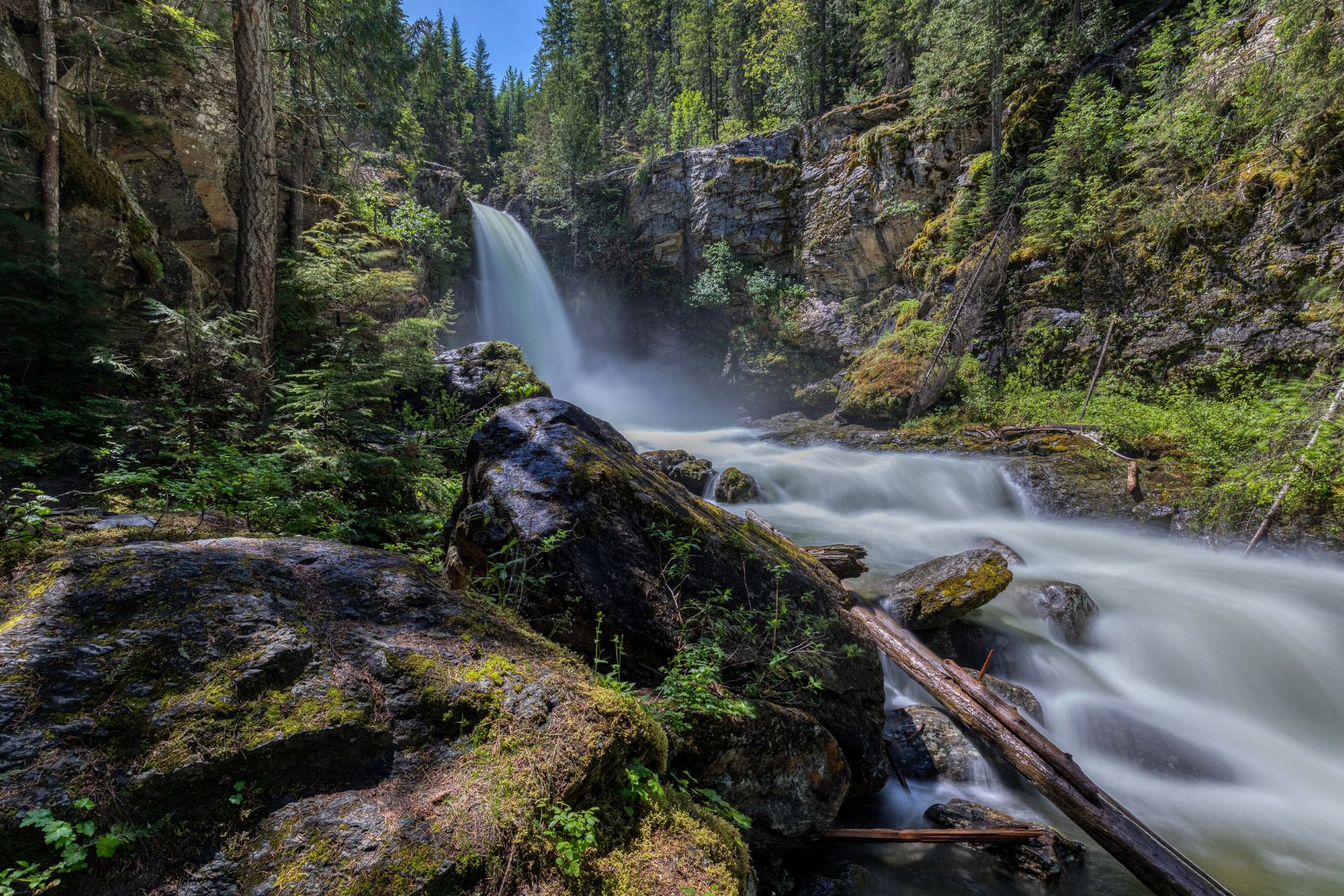 Location: Columbia-Shuswap. 25 minutes drive from Revelstoke.
More Info: Alltrails
Soothing sounds of falling glacial waters, stunning natural views and a seemingly remote location in the middle of nowhere. Sounds nice, right? You can experience such a place just outside the mountain village of Revelstoke.
It's a magical place called Sutherland Waterfalls and despite sounding like a place that could only be hard to reach, it's quite the opposite. The trail is easy and only half a kilometer long so you can be in this lovely spot in less than ten minutes from your car. A step trail leads to the first waterfall and a second trail leads to a second one.
If you want more BC waterfalls in the Revy area, you can also visit Begbie Falls, and Moses Falls. The three of these waterfalls in BC create a Revelstoke Waterfall Trifecta.
---
2. Sawblade Falls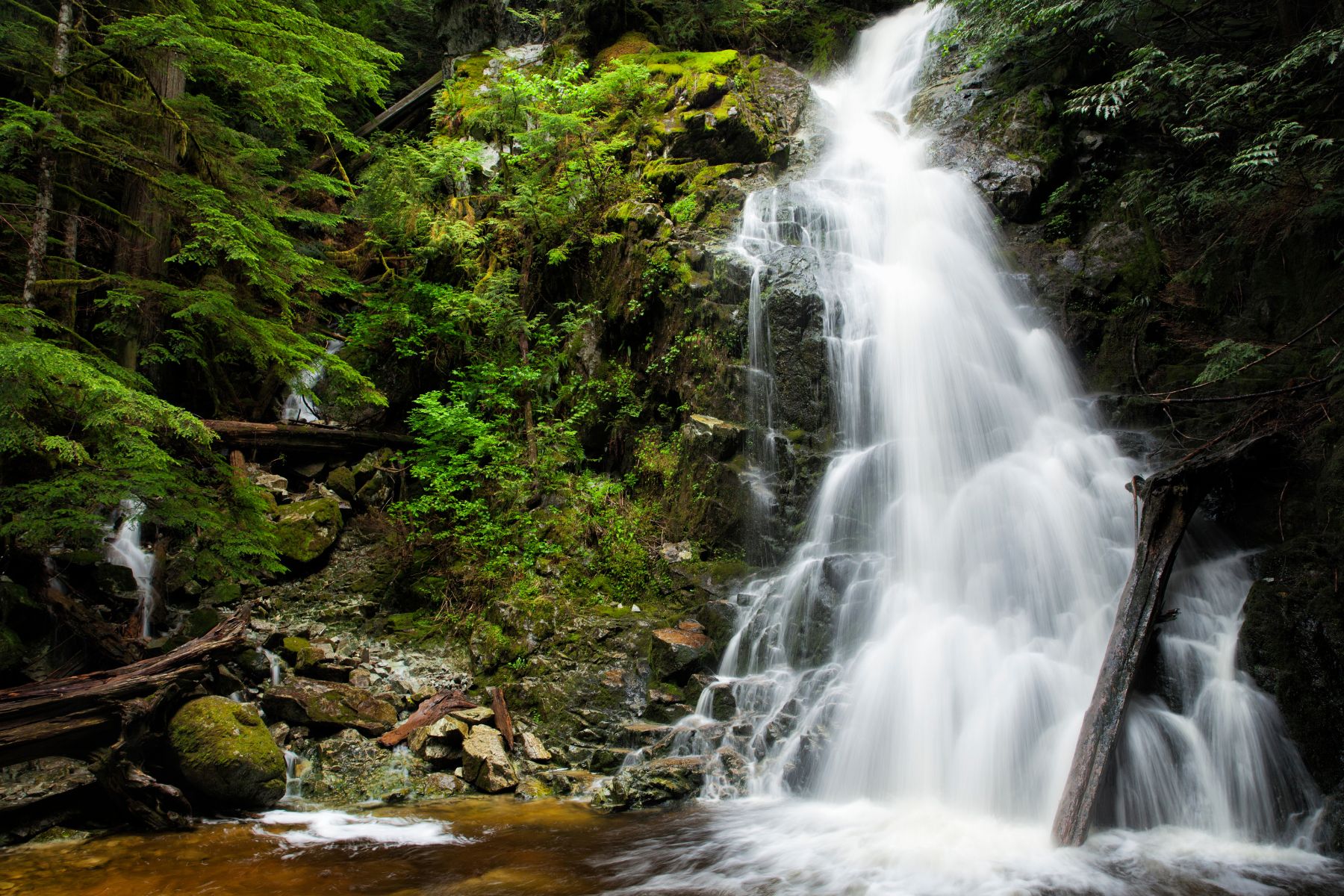 Situated in Pinecone Burke Provincial Park, the hike to Sawblade Falls gives you the chance to trek into the mountains of the Coquitlam area. The hike is nine kilometers but the trail is fairly easy and along the way, you'll pass by the equally scenic, but smaller, Woodland Falls.
If you're a bird watcher, you'll see many different species of birds in this area and the trail is also popular with mountain bikers.
If you want to experience this trail and the falls at their best, between March and October is the best time to go. Dogs are permitted on the trail but must be kept on a leash at all times as there are bears in the area.
---
3. Bosumarne Falls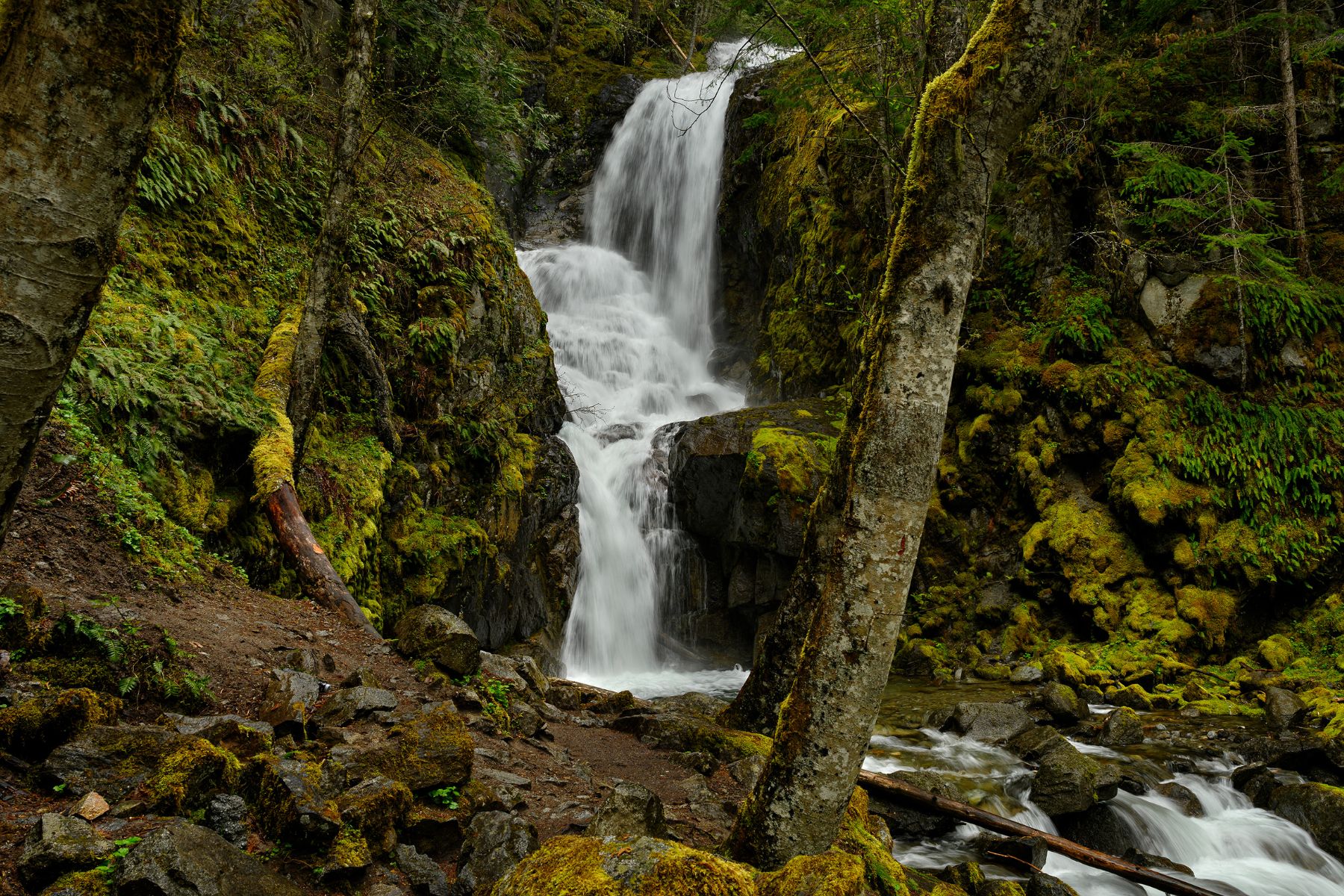 It only takes about an hour to hike the two and half kilometers to beautiful Bosumarne Falls so you can easily do this hike alongside other activities you have planned in the Chilliwack Lake area.
The hike is easy for most of the way but there are a few rocky sections and you will need to cross a creek. The trail begins at the end of Chilliwack Lake Road. Not far along the trail, you'll first see the smaller lower falls before hiking to the main upper falls. Most of the hike is through thick, lush forest with some steep parts but it's worth it just to see the beauty at the end!
---
4. Kennedy Falls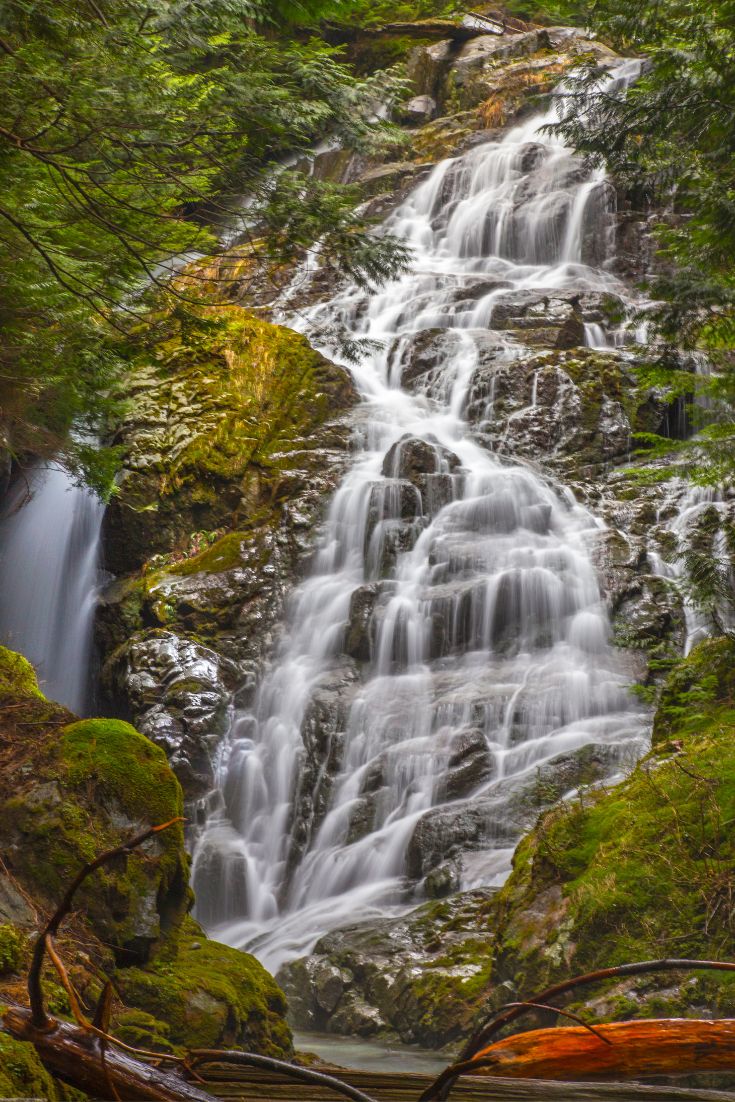 Location: North Vancouver
More Info: AllTrails
It's backcountry, it's rugged, it's seemingly remote and it's beautiful. Makes you think you'll be hiking in the middle of nowhere, right? Actually, the trail to Kennedy Falls is in North Vancouver so you don't have to travel far from a bustling urban center to see one of the province's most beautiful natural wonders.
At 10 kilometers, this trail is a bit rugged and more suited for seasoned hikers. Be sure to put aside at least five hours to get there and back, more if you wish to linger for a while. Stony creeks, old-growth forest and giant cedars are just some of the things you'll see before you even reach the main attraction!
---
5. Crooked Falls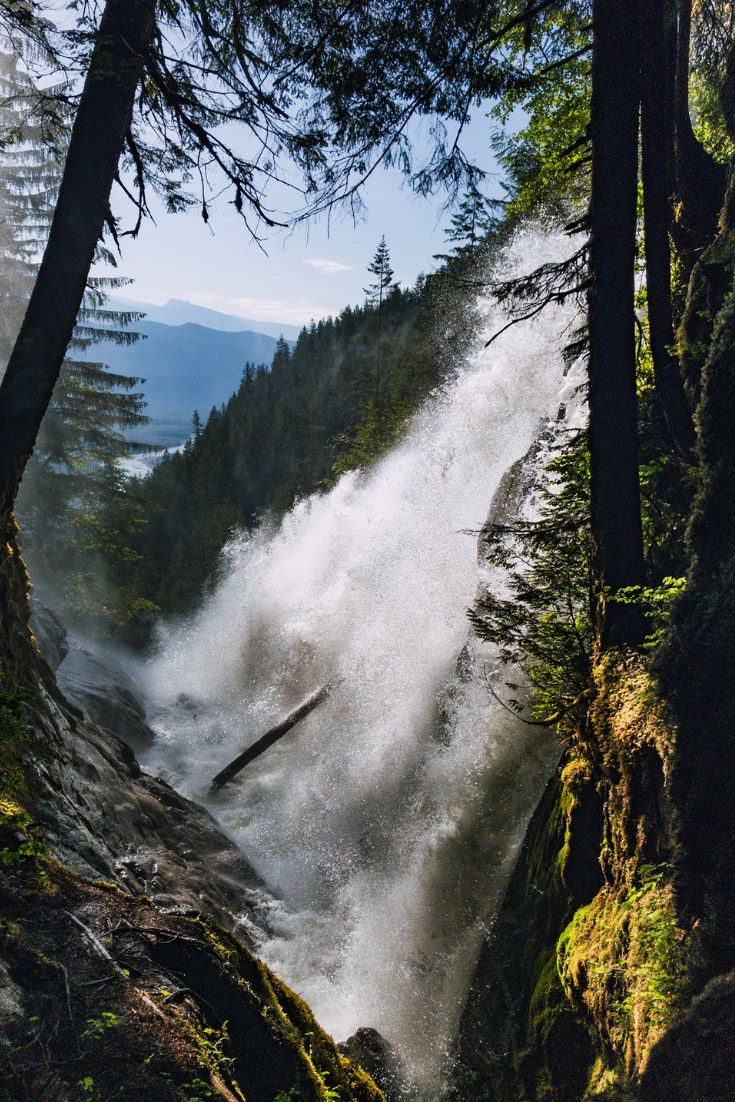 Located in the Upper Squamish Valley, Crooked Falls is a must-see when it comes to waterfalls in British Columbia. This somewhat difficult trail is six kilometers long and there's quite the elevation gain so be prepared for a steep climb!
Along the way, you'll have the chance to stop at several scenic viewpoints to catch some views of the mountains and the valley and river below.
Much of the trail is through the forest and when you reach your final destination, you'll be in awe at the beauty of this stunning waterfall. The falls are best enjoyed in the spring when there's more water but any time between April and November is a great time to do this hike.
---
6. Moul Falls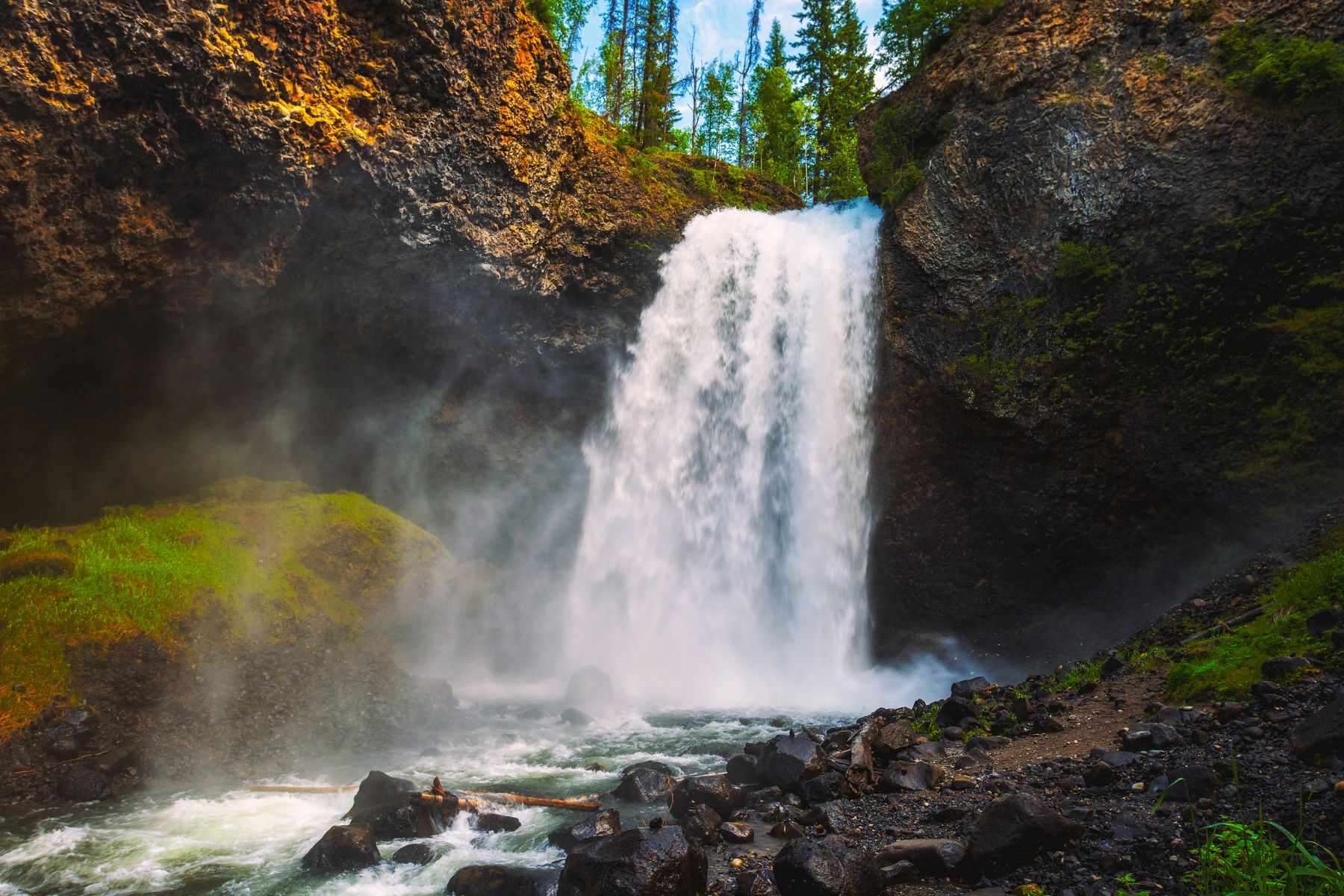 Location: Wells Gray Provincial Park
More Info: Wells Gray
There are quite a few waterfalls in Wells Grey Park (the official number is a whopping 41!) and all are worth checking out but none are quite as unique as Moul Falls.
Often called a sunken waterfall, you need to hike down to this beautiful waterfall instead of up as is the case with many of the other waterfalls in the area.
At six kilometers long, the hike takes a little over an hour. If the conditions are right, you won't just get to view the falls from the outside, you may even be able to go behind them too! Just be sure to check the conditions at the visitor's center before heading out onto the trail.
---
7. High Falls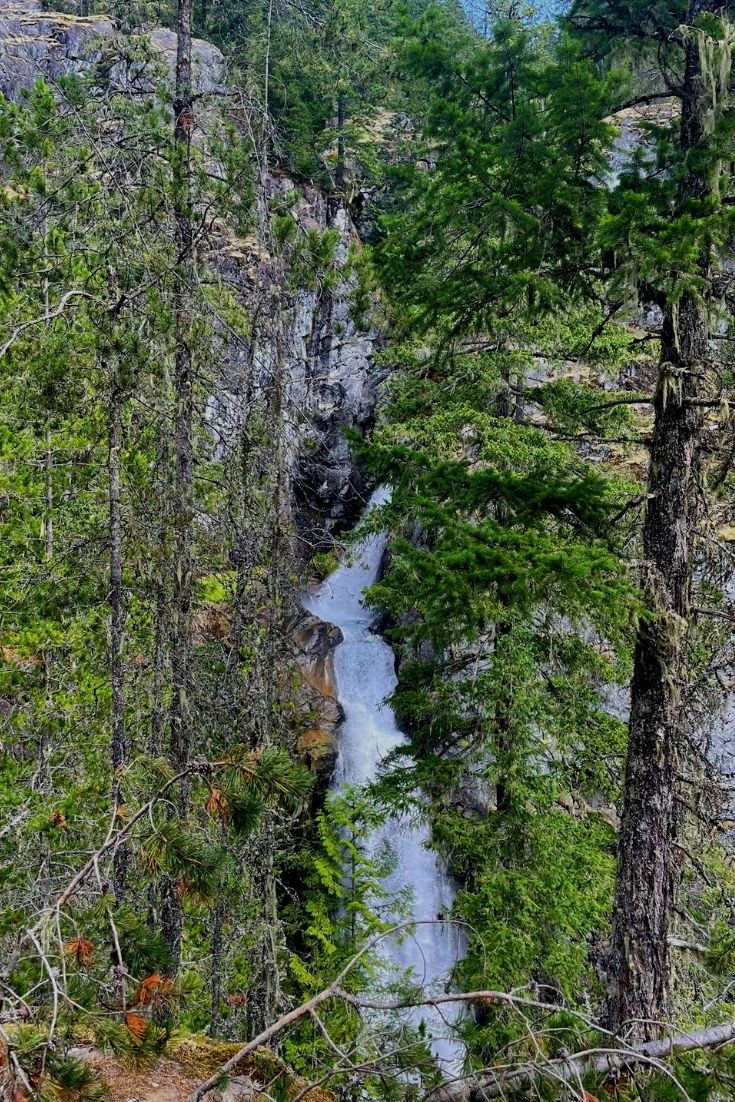 Are you afraid of heights? If so, you might want to give the hike to High Falls a pass. It's steep, it's slippery at times and it's rugged. It's also quite long at 12 kilometers but if you decide to complete the hike, your efforts will pay off when you reach the waterfall. Along the trail, you'll enjoy views of the Squamish Valley and the Tantalus Range Mountains.
Be aware that there is a point on the trail where you'll need to use the ropes to help you get up a steep section. Once at the top, a short trail takes you to an opening where you'll see the falls and sheer canyon walls. You can keep going for another 20 minutes or so to get an even better view of the full waterfall.
---
8. Bridal Veil Falls
There's a reason they call it Bridal Veil Falls. Just picture a bridal veil as you stand in awe before this waterfall and you'll know why! This waterfall, which is located in a provincial park just outside of Chilliwack, can't be missed if you happen to be in the area. Also a great stop if you're driving between Calgary and Vancouver!
The park itself is a day-use area with picnic facilities and beautiful green spaces but the shining star, of course, is the waterfall.
The short trail, which starts in the parking area, is less than a kilometer long so it's easy to fit it into any itinerary. Along this trail, you'll pass through a forest area with a variety of different trees and over a wooden bridge before facing a short climb to the viewing area where you'll see the 60-meter waterfall and all its glory.
---
9. Neverland Falls
The trek to Neverland Falls is not a short one; you'll need to put aside at least four hours to complete it but that's just if you hike in and hike right back out. You'll want to stick around for a while and admire the scenery, take some pictures and go for a dip in the refreshing waters of the pool at the bottom.
Getting to the trail is an adventure in itself. You'll need to first hop on the Sea to Sky Gondola into the mountains where you'll join Al's Habrich Ridge Hike. This trail leads to the loop trail that'll take you to this spectacular waterfall.
---
10. Helmcken Falls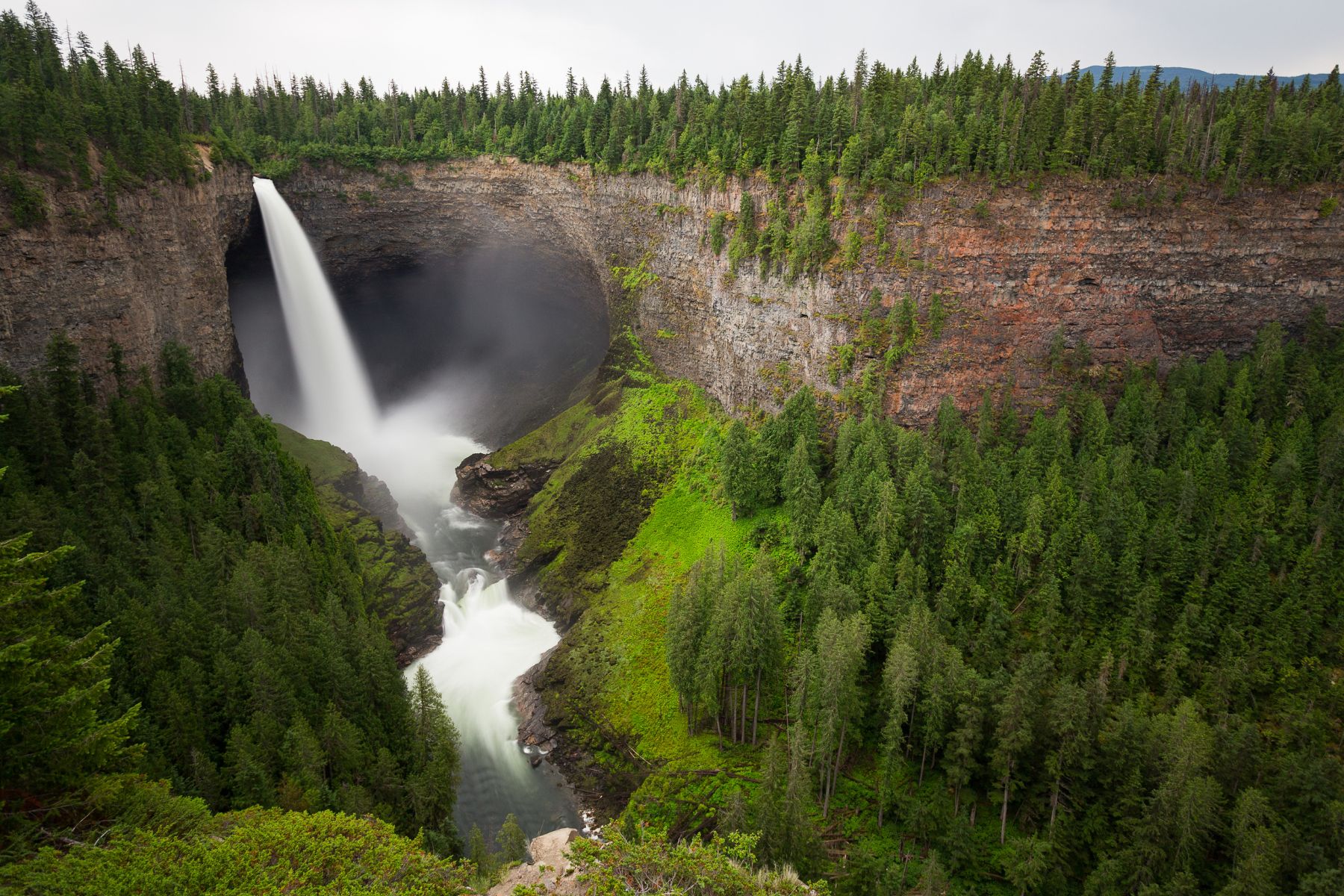 Location: Wells Gray Provincial Park
More Info: AllTrails
You'll need to make your way to the Wells Grey Provincial Park in the Clearwater area if you want to check out one of British Columbia's most scenic waterfalls. Helmcken Falls is the fourth tallest waterfall in all of Canada at 141 meters. The second best thing about this waterfall is how easy it is to get there.
The trail is suitable for all hiking levels and it only takes about a half hour to get to the waterfall. The best thing about the trail is the waterfall itself and that you can spend as much time as you want taking in the spectacular sight before you! These falls are stunning any time of year, even in the winter when everything is coated in ice.
---
11. Dawson Falls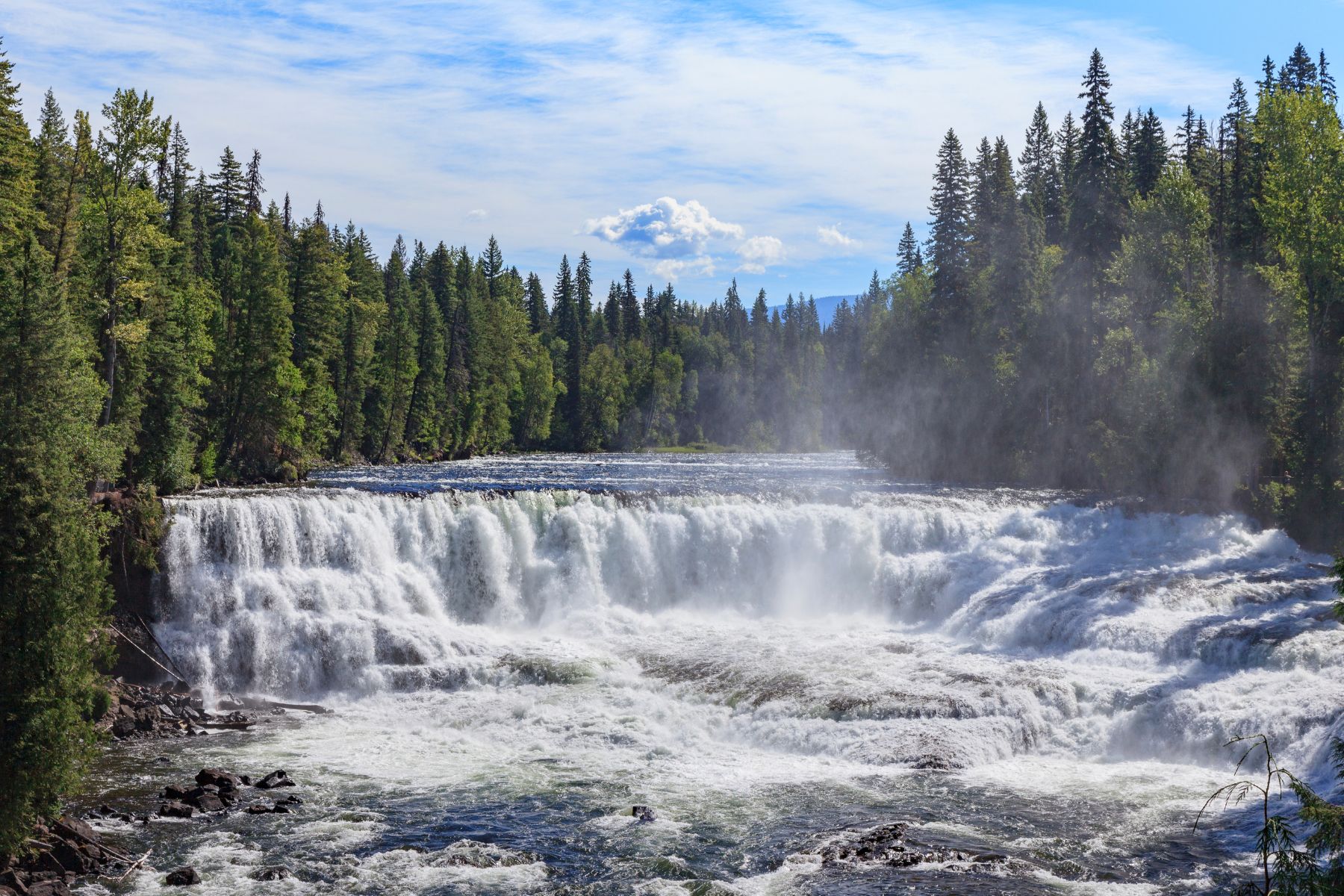 Location: Wells Gray Provincial Park
More Info: AllTrails
Since you're in the area, you might as well visit another waterfall that's not too far away from Helmcken Falls. Also situated on the Murtle River, the trail to access this waterfall is quite easy and short. Once there, you'll enjoy views of a 90-foot-wide waterfall cascading over ancient lava formations
---
12. Rainbow Falls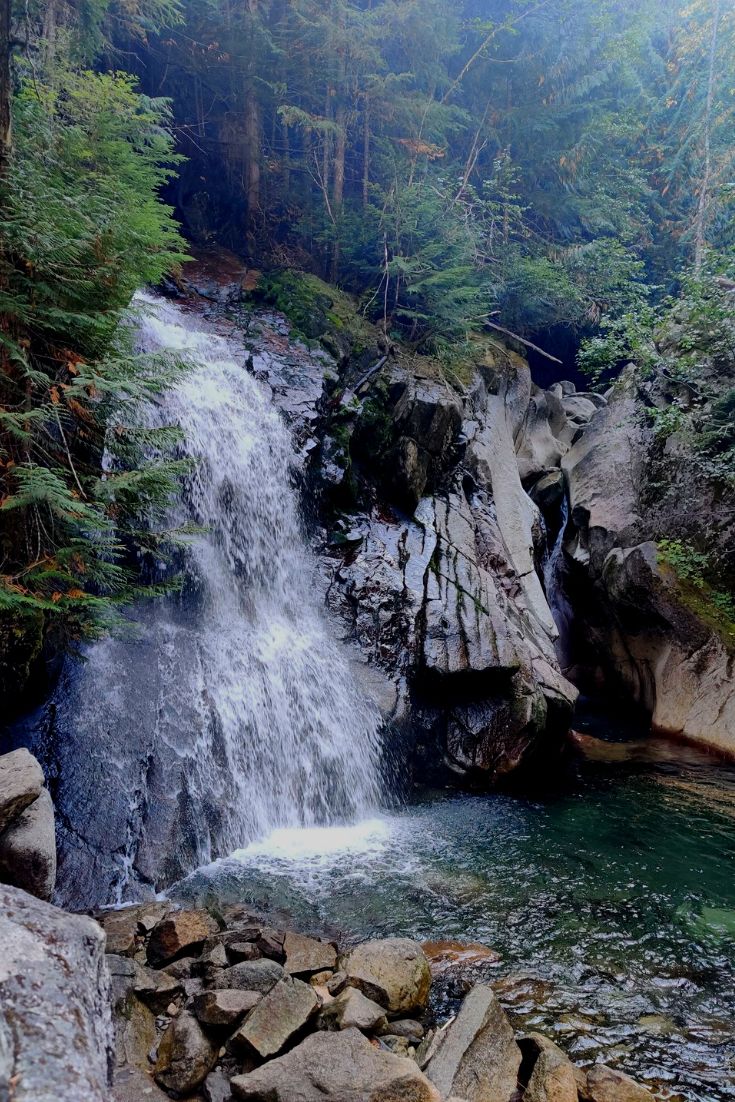 Rainbow Falls is situated in the Whistler area of British Columbia and is the perfect hike for hikers of all levels. The trail is only two kilometers long and is fairly easy so it's suitable for the whole family. Leave the parking area at Alta Lake Road and hike through the forest along 21 Mile Creek.
You'll know you're going the right way because the sound of rushing water gets louder as you get closer to the falls. This beautiful waterfall is in a shaded area so it's a perfect place to cool off on a hot day but don't get too close to the spray as falling rocks are common!
---
13. Della Falls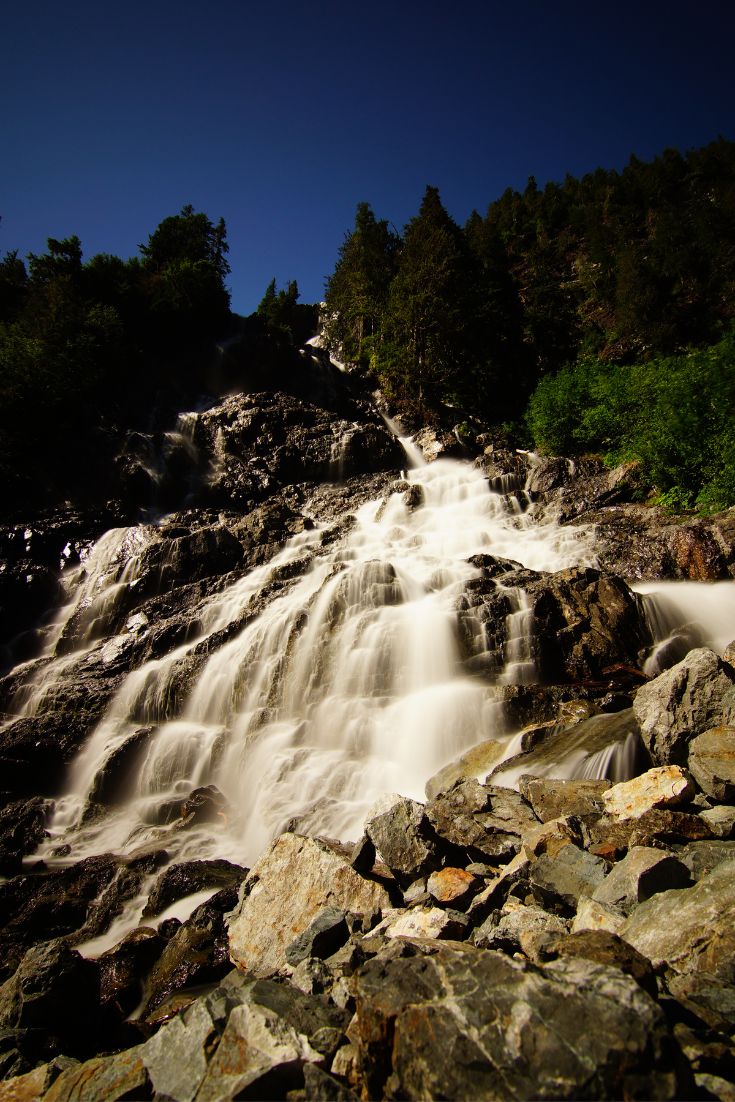 Location: Strathcona Provincial Park
More Info: Trails BC
It's a challenging hike. It's also a long hike. However, if you're up for a fairly difficult 16 kilometer trek (32 km round trip), I guarantee it'll be worth your while! After all, the trail leads to Canada's tallest waterfall, Della falls.
With water cascading an incredible 440 m, or 1,445 feet and a scenic backdrop like no other, you won't regret the effort it takes to reach this stunning sight. This is a great hike if you want to spend the day in nature and relax near one of Canada's top natural wonders.
---
14. Sombrio Beach Waterfall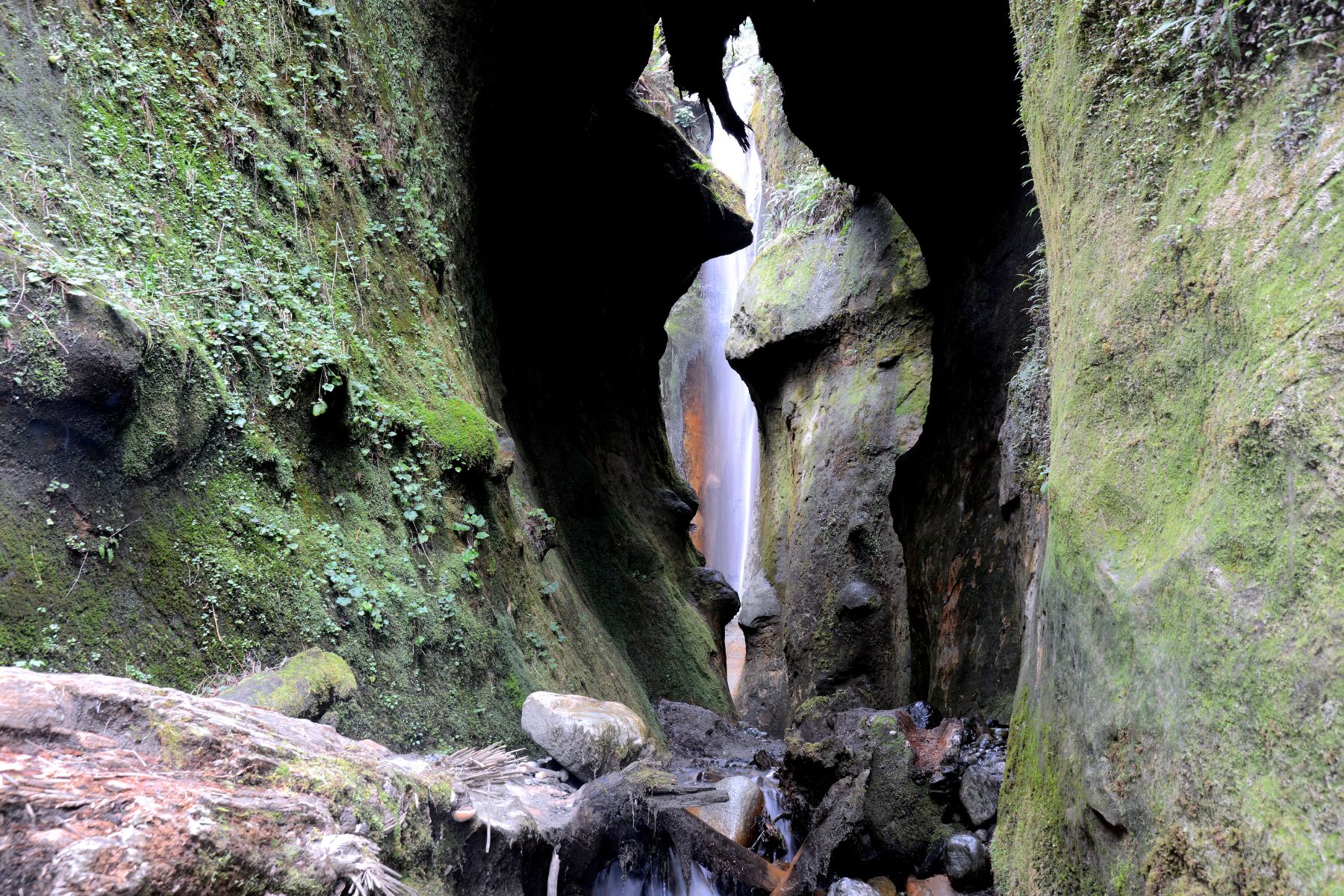 Location: Juan de Fuca
More Info: BC Parks
If you're seeking a one-of-a-kind adventure on Vancouver Island, Sombrio Beach Waterfall is the perfect place to go! Sombrio Beach is pretty hidden in Juan De Fuca Provincial Park but once you're there, the search for the waterfall begins.
The "trail" is not marked as it's simply a rocky shoreline that you'll follow until you reach a creek. Once at this creek, follow it until you reach the cave that houses the waterfall. The cascading waters are something to see against the narrow canyon covered in moss.
---
15. Shannon Falls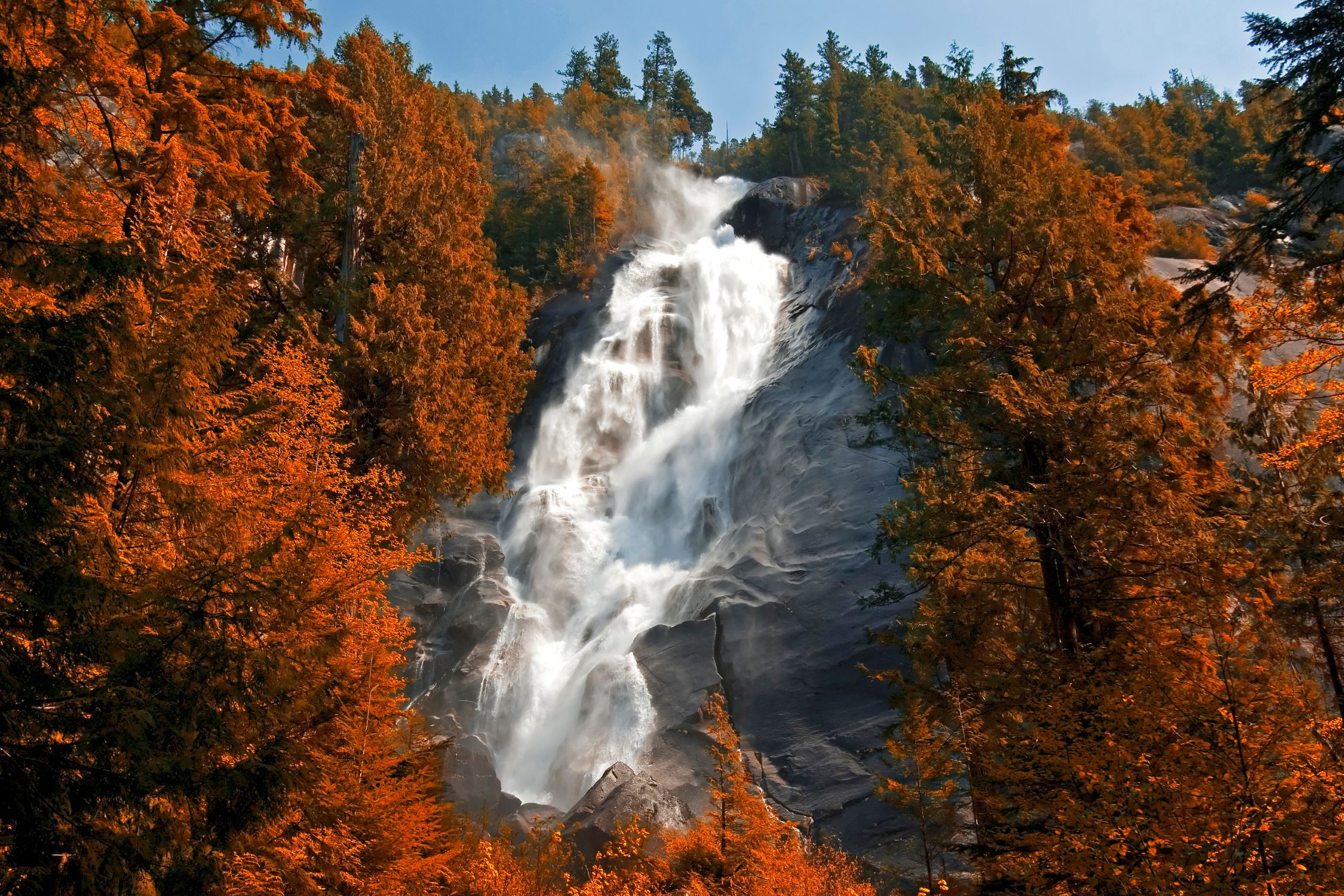 Location: Shannon Falls Provincial Park
Located in Shannon Falls Provincial Park along the famous Sea to Sky Highway outside of Squamish, Shannon Falls is the third-highest waterfall in British Columbia. This BC waterfall is 335 meters high and its beauty can be easily enjoyed by anyone because the trail is short and fairly easy.
If you want to continue onto the upper falls, it'll require a little more effort but it's well worth it for the views! The park is open all the time but if you choose to hike on a wet day, be aware the trail can be very slippery.
---
16. Brandywine Falls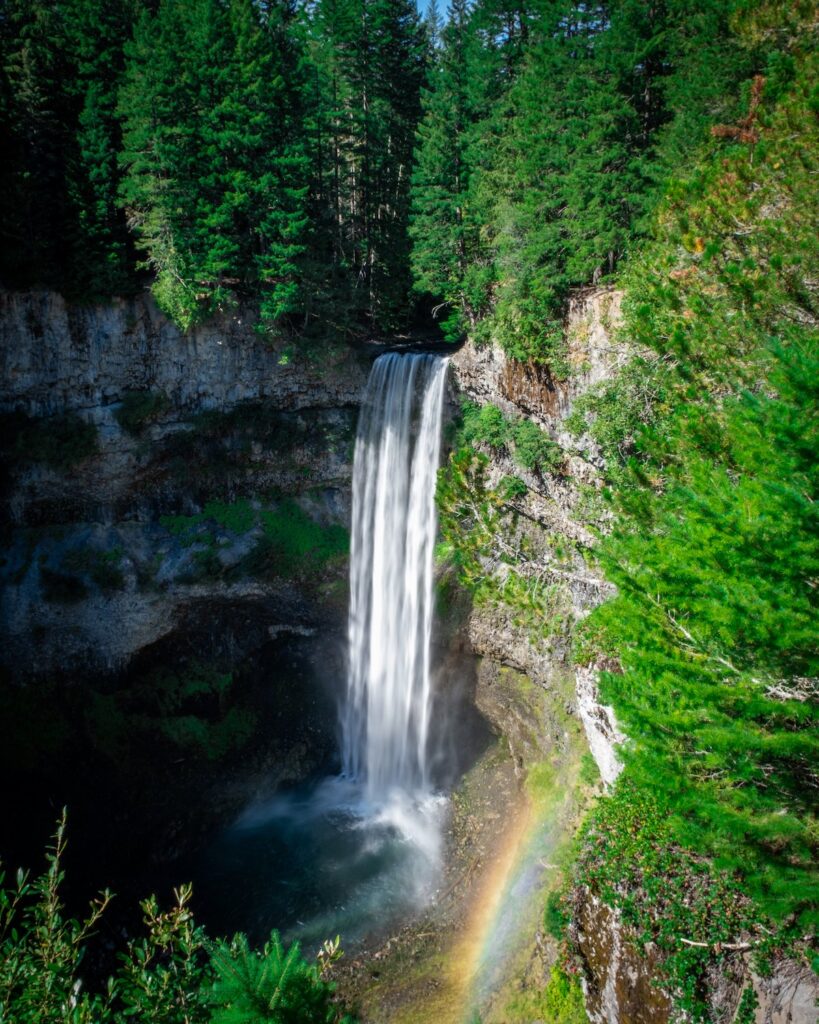 Location: Brandywine Falls Provincial Park
More Info: BC Parks
Situated in Brandywine Falls Provincial Park, the waterfall by the same name is one of the most spectacular in the Whistler area and one of the easiest to get to. From the parking lot, kike along a short trail to a viewing platform where you'll see the entire 70-meter waterfall come into view.
The landscape around the falls is unique, having been formed after a volcanic eruption over 13,000 years ago. You can continue along the trail if you have some extra time and check out Daisy Lake too.
---
17. Swan Falls
If you're not used to hiking or aren't in tip-top shape, you might want to skip the long and challenging hike to Swan Falls. The climb is steep but the views are worth it if you manage to complete the 15 kilometer loop.
The trail passes along Buntzen Lake until you reach North Beach and start the steep climb along the Halvor Lunden Pass to reach the waterfall.
Along the way, you'll pass little creeks, cross old wooden bridges and get some views of Vancouver and the nearby mountains. You'll know when you've reached the falls when you see the cascades flowing downward from the rocky ledge.
---
18. Little Qualicum Falls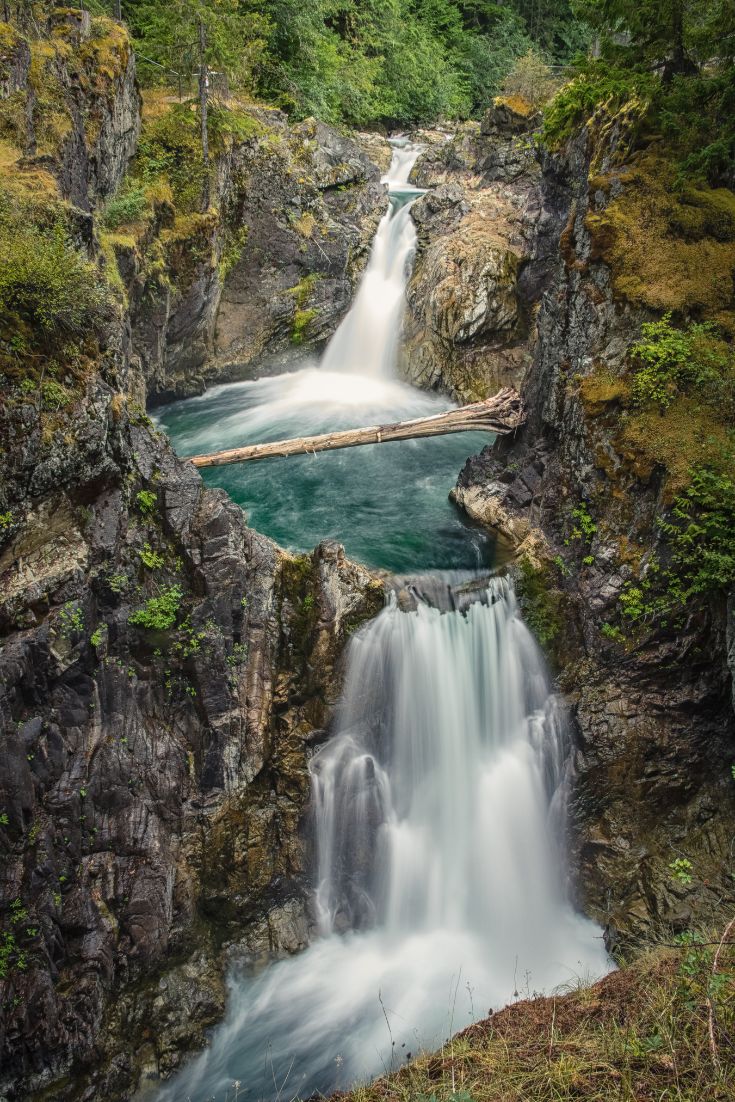 Location: Little Qualicum Falls Provincial Park
More Info: BC Parks
At only two kilometers, the loop trail to Little Qualicum Falls is highly doable for any hiker of any age. The trail is well-groomed and fairly level most of the way and as you make your way to the waterfall, you'll pass by several smaller cascades and pools.
To find the falls, head to Vancouver Island and drive for 25 minutes past Parksville until you reach Little Qualicum Falls Provincial park.
---
19. Cypress Falls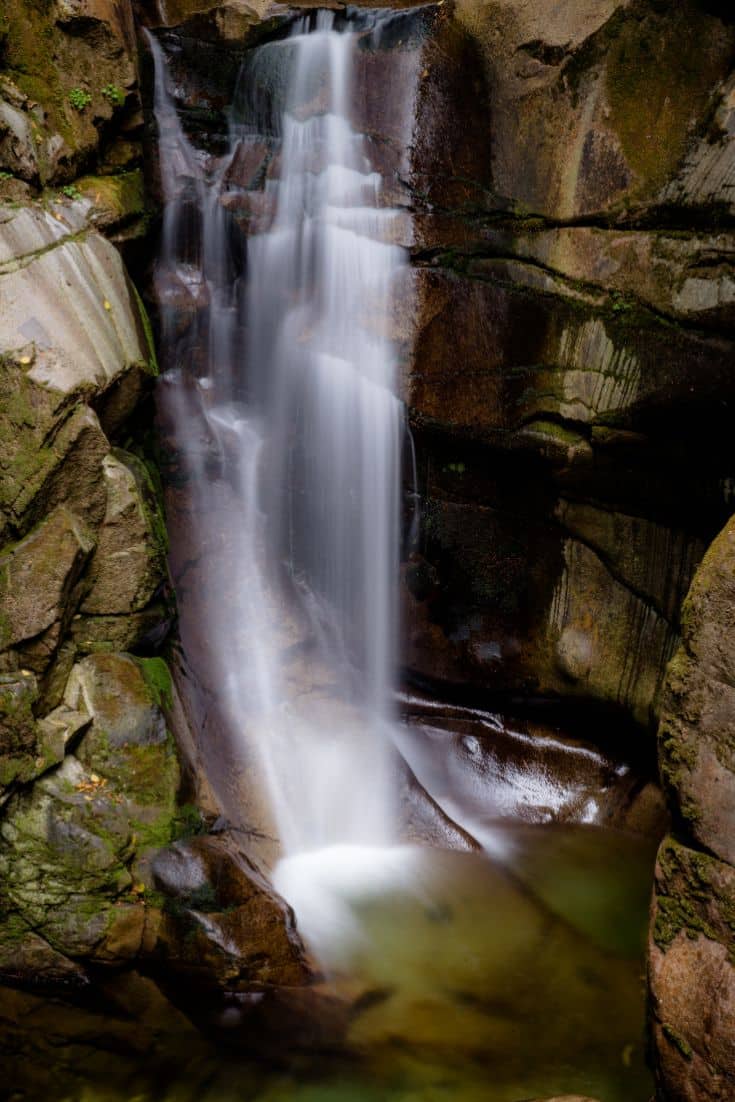 The best thing about Cypress Falls is it only takes about one and a half hours to get to the falls and back so it's a great hike to do if you want to get a hike in and check out a beautiful waterfall without eating up too much time.
The three kilometer hike is situated in West Vancouver and is a great one to do any time of year due to the lower altitude. The hike passes through thick forest along Cypress Creek and past two scenic waterfalls. The beginning of the hike sees a gradual incline before leveling off.
Along the way, you'll find a viewpoint that allows you to get a glimpse of the lower Cypress Falls. A little further and you'll hear the rushing water getting louder before the upper falls come into view and the sight of water dropping into the steep canyon is quite the sight!
---
20. Twin Falls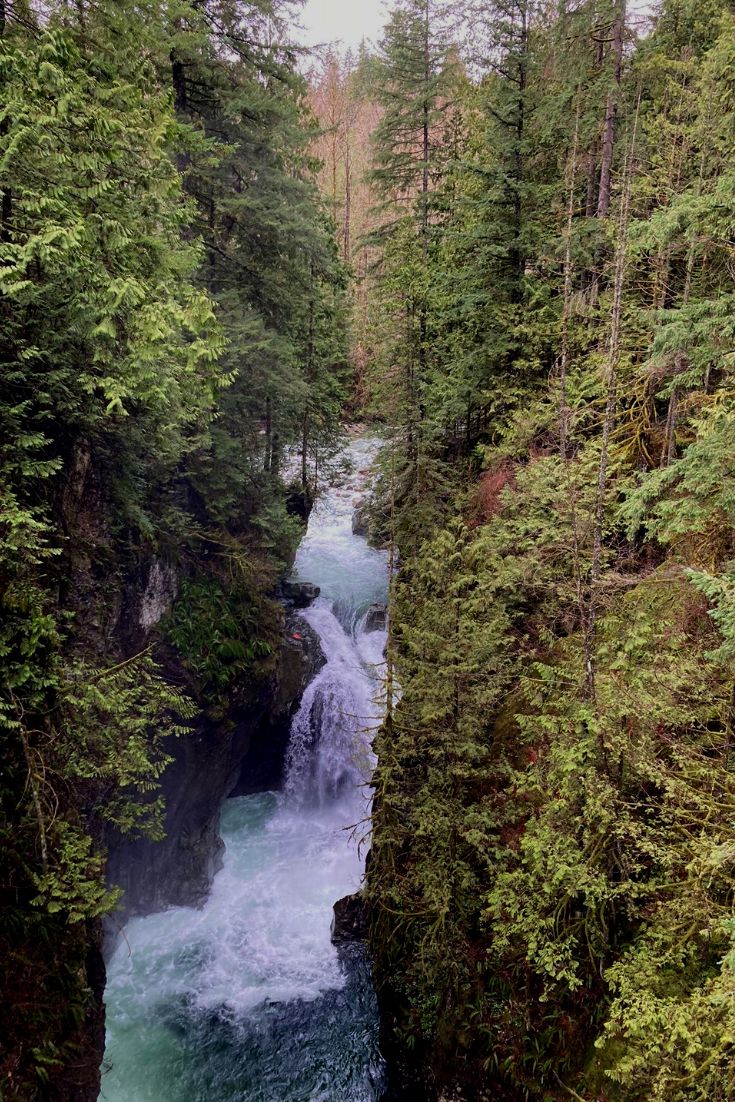 To reach the spectacular Twin Falls, you'll need to venture into Lynn Canyon near North Vancouver. It'll take about an hour to hike the one and a half kilometer trail and along the way, you'll pass through rainforest areas and cross a suspension bridge before reaching an area that's quite steep and best suited for hikers who are in pretty good shape.
There are some swimming holes near the falls, so if you're hiking on a warm day be sure to take swimwear if you wish to take a dip!
---
21. Takakkaw Falls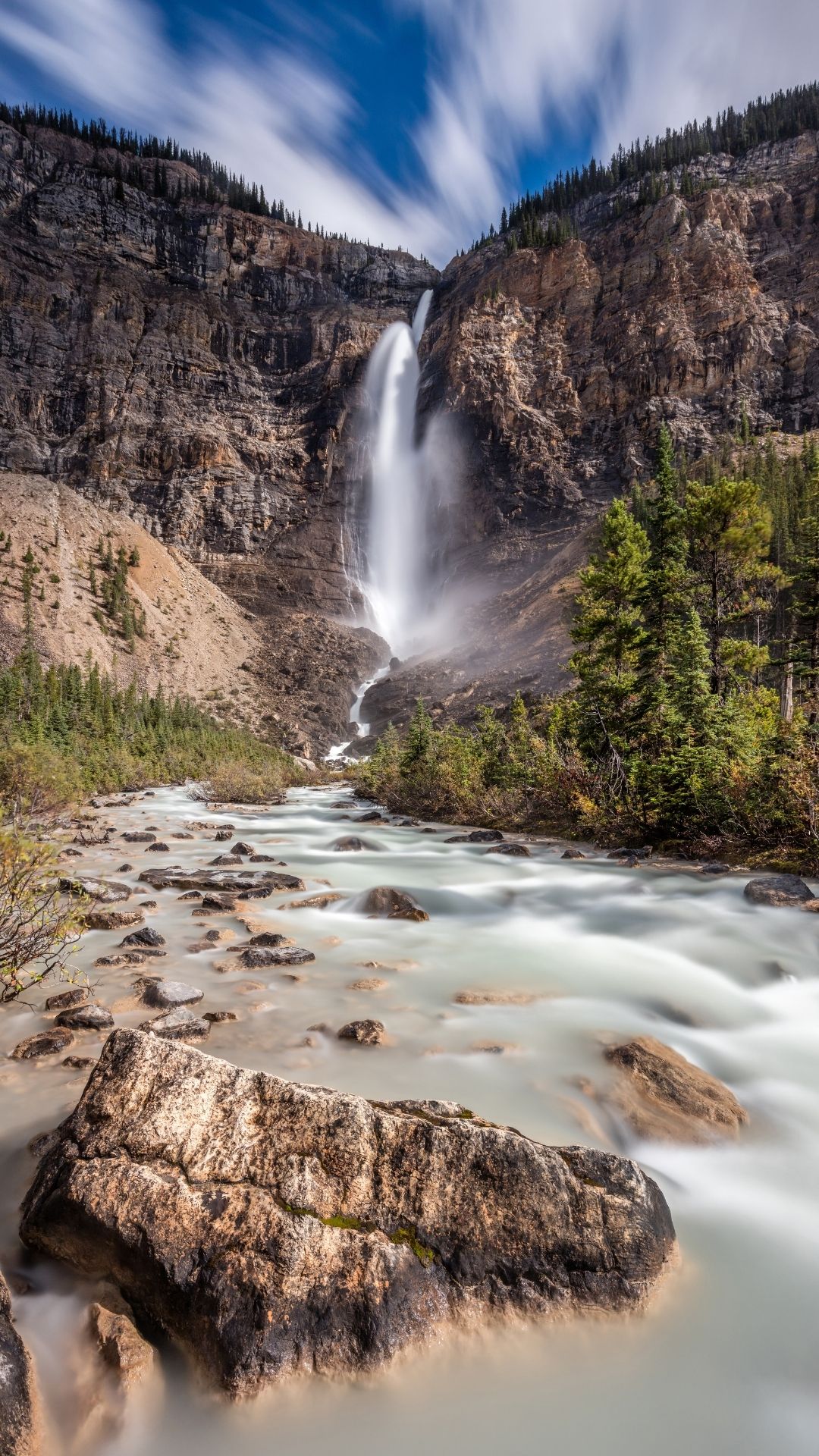 Takakkaw Falls, or "Tak Falls" located in the Canadian Rockies, is an awe-inspiring waterfall that takes the title as one of the most breathtaking in Canada, and it's not hard to see why. As the second highest waterfall in the country, it's a must-see for anyone visiting Yoho National Park, especially if you're already in the vicinity of Emerald Lake or Lake Louise.
Exploring Takakkaw Falls is a top activity in Yoho National Park, and the best aspect is you don't have to hike to see the falls. This is one of the best waterfalls in BC that you can easily see with just a short walk from the parking area. However, if you do feel like hiking, along the Iceline Trail you will get stellar views of Tak Falls.
---
22. Wapta Falls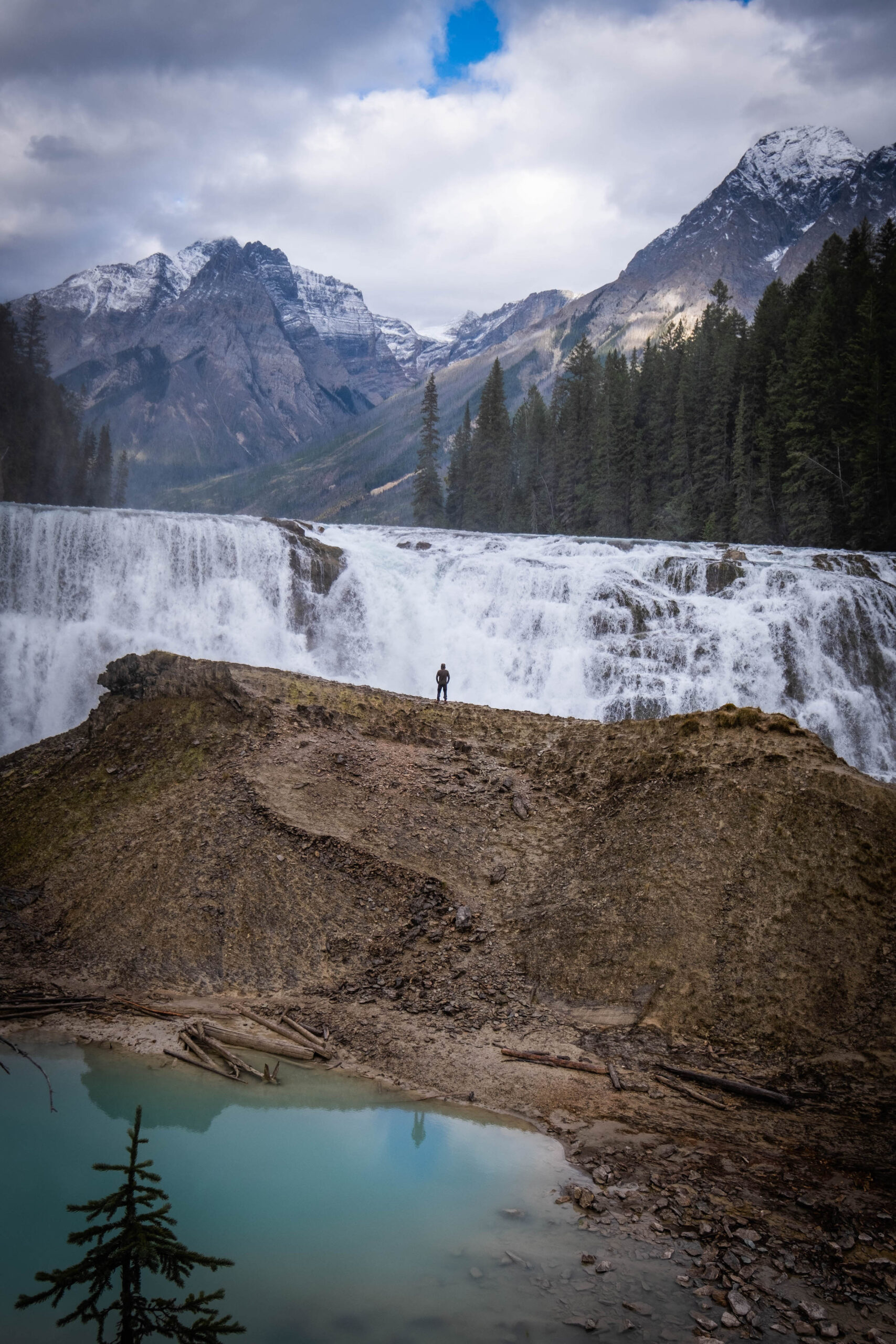 Wapta Falls in Yoho National Park is a magnificent natural wonder and a must-visit waterfall in the Canadian Rockies. Wapta Falls is a height of 18 meters, but it's true size shrines through as it stretches a breathtaking 107 meters in width.
Although the summer is a popular time to hike to Wapta Falls, I personally believe that the waterfall is even more stunning during the winter months. When the water freezes over, creating an ice-covered masterpiece, and the surrounding peaks are blanketed in snow, the scenery is truly breathtaking.
To reach Wapta Falls requires a short and sweet 5km (round trip) hike.
---
Waterfalls in BC Map
---
TRAVEL MORE OF BRITISH COLUMBIA