Alberta is rich with natural wonders like lakes, prairies, deserts, mountains, and forests. However, hidden among these beautiful bounties is a treasure trove of phenomenal flowing waterfalls in Alberta.
No matter how many waterfalls we've seen before, there's nothing quite as magical as that moment you set your sights on the stunning cascades pouring over rocky cliffs.
Most of these falls are set within Alberta, and National Parks meaning the surrounding landscapes are often just as enchanting as the waters themselves.
Each cascade offers its own special allure; from tall to small and accessible to hidden, there is a fall to explore for everyone throughout this expansive area. A beautiful adventure full of all the best waterfalls in Alberta awaits.
---
The Best Waterfalls in Alberta
---
Bridal Veil Falls and Panther Falls (Banff)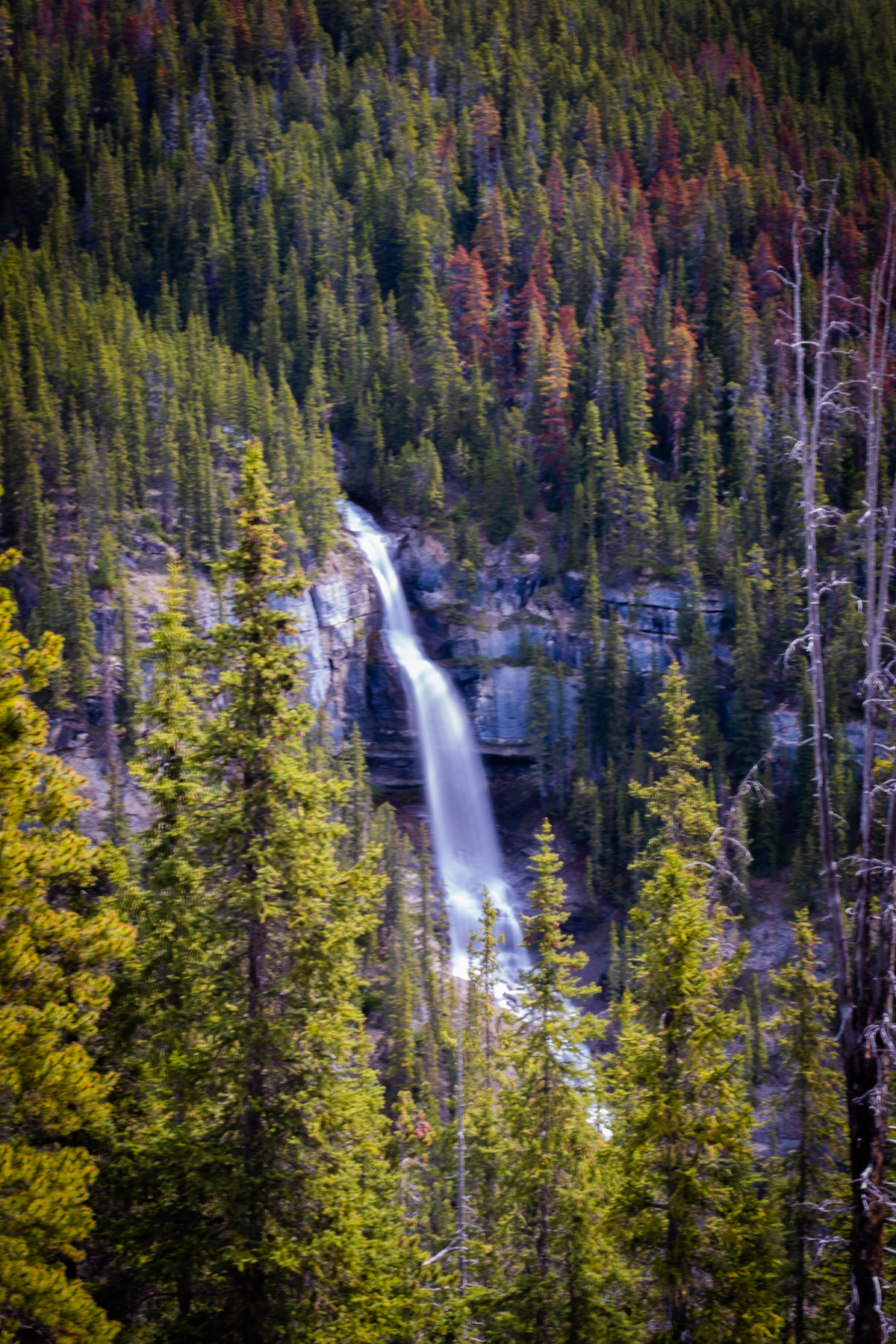 Located in Banff right before the Banff/Jasper Border is Bridal Veil Falls and Panther Falls. Some say that Bridal Veil Falls is the tallest waterfall in Alberta, though it's hard to tell as much of it falls into the treeline.
The cumulative drop is a staggering 365 meters. It's best to view this cascading feat of nature from afar to really take in all its breathtaking beauty. From too close, it will be hard to see the scope of this stunning scene. It's partially shrouded in dense forest, so it's nearly impossible to see it in its entirety, but it's a remarkable sight nonetheless.
The ideal time to visit is between May and September, although June would be ideal when the snowmelt is at its strongest. Wintertime is also an impressive sight with the frozen falls, and this is when many people head to the nearby Panther Falls to see the frozen ice spectacle.
The source of the impressive flow of these falls is the Huntington Glacier. From the large pull-out along the Icefields Parkway, there's an out and back trail to take you to Panther Falls which is worth doing as it's only 0.8 km round trip. But a bit of bushwacking and proper shoes may be necessary as the path is steep and loose dirt.
You can view the multi-tiered plunges and slides of Bridal View Falls from the pullout area along the Icefields Parkway, located right before you get to the Parker Ridge Trailhead.
---
Lundbreck Falls (Southern Alberta)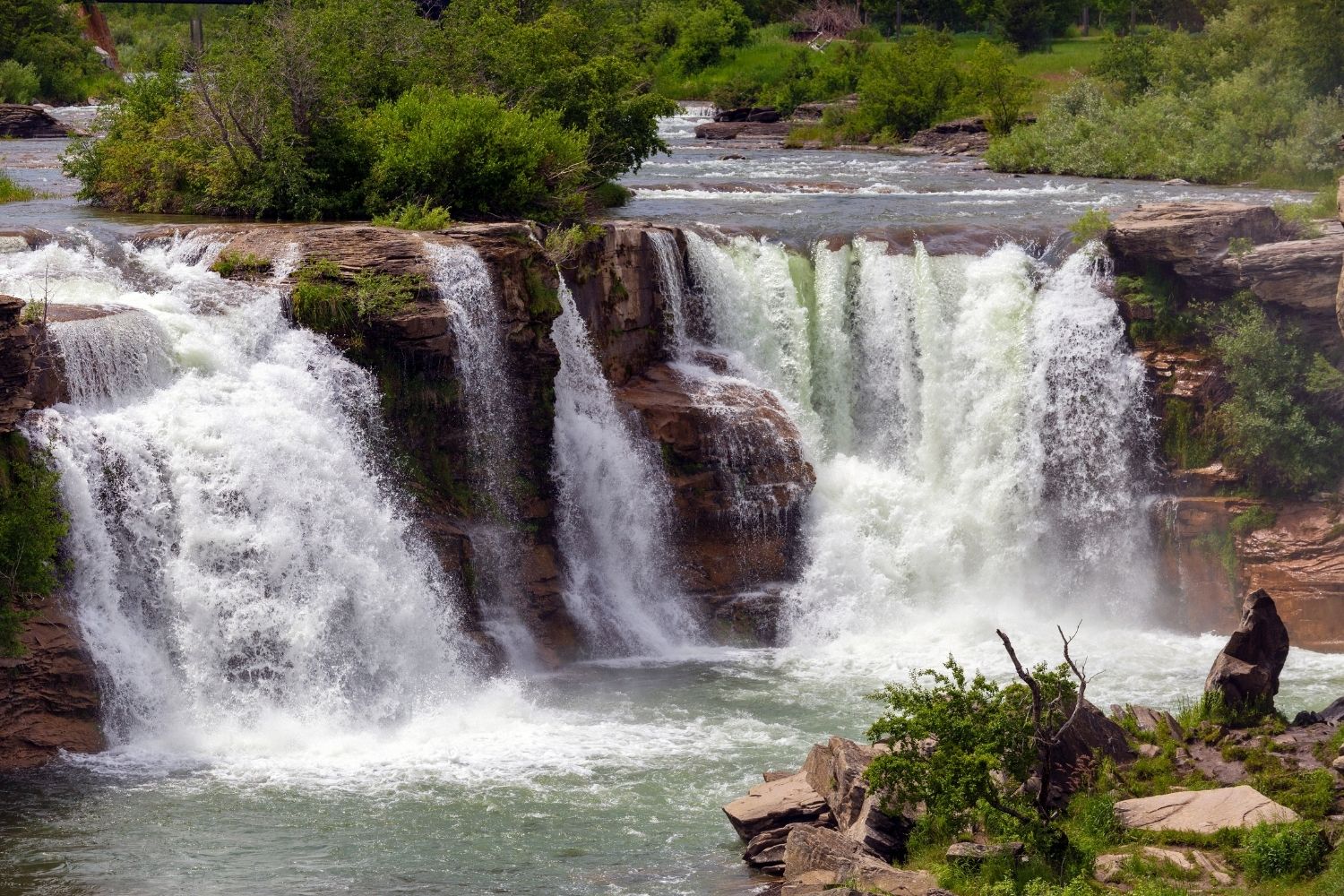 Set in southwest Alberta, the Crowsnest River creates a 40-foot-tall rushing cascade known as the Lundbreck Falls. A terrific two-for-one, these falls are actually twins sitting side by side.
Soak up the spectacle of nature from the bird's eye vantage point of the observation deck or travel down into the limestone gorge to see it from its base, where cool waters collect in a deep pool.
There are plenty of opportunities for other outdoor activities around such as fishing, swimming, and camping. This site is often less crowded than some others allowing you plenty of peace and tranquility to connect with the natural surroundings. It's close enough to Calgary for a day trip, or you can discover one of the quaint tiny towns surrounding Crowsnest Pass.
It's a gorgeous spot to pack a picnic and relax next to this bright blue wonder. Be sure to take plenty of pics; they'll turn out great.
---
Bow Falls (Banff)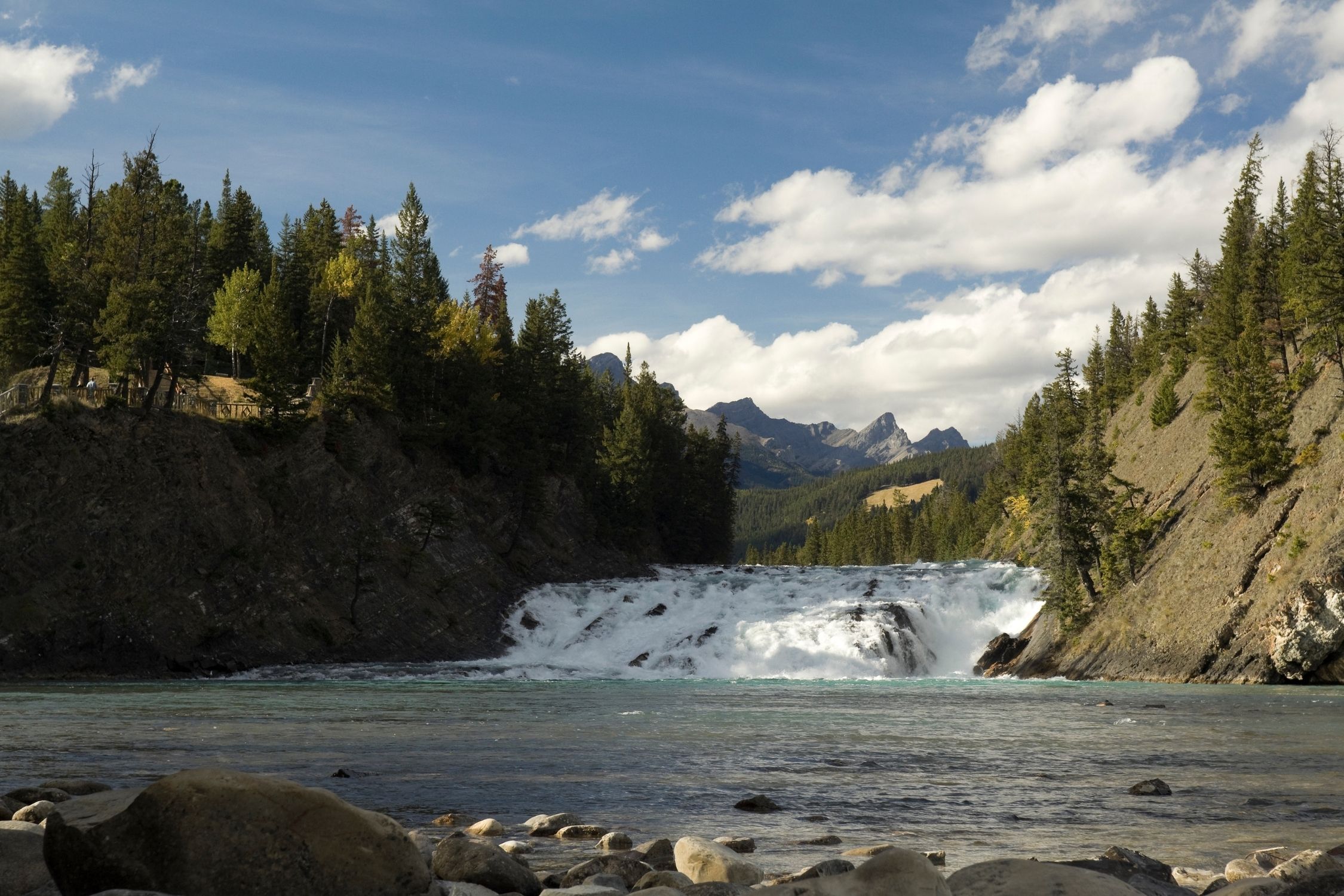 Bow Falls is one of the most famous waterfalls in Banff. Well known for having been featured in several big films. They might sound unimpressive at a height of 30 feet; however this massive cascade does span the entire width of the rushing Bow River.
It's located just on the edge of Banff and is an extremely accessible waterfall to visit, making it one of the best things to do in Banff. This does make it a popular attraction, so expect many other tourists to join you in enjoying this natural wonder. If you want this Alberta waterfall all to yourself, consider visiting in the early morning.
To arrive, hike along the southern shore of the river right from town. It's a forested mountain area that is rich with lush landscape in its own right making for a lovely excursion all around. The Bow Falls Trail around the falls is just over one kilometer long, well-kept, and easy to navigate, and without much elevation gain. It will allow you to appreciate the waters from many different angles as well.
Careful here, every year tourists think they can take photos and get too close to the river only to be swept away. The Bow River is intense and should be respected!
Ultimate Guide to Visiting Bow Falls in Banff
---
Elbow Falls (Kananaskis)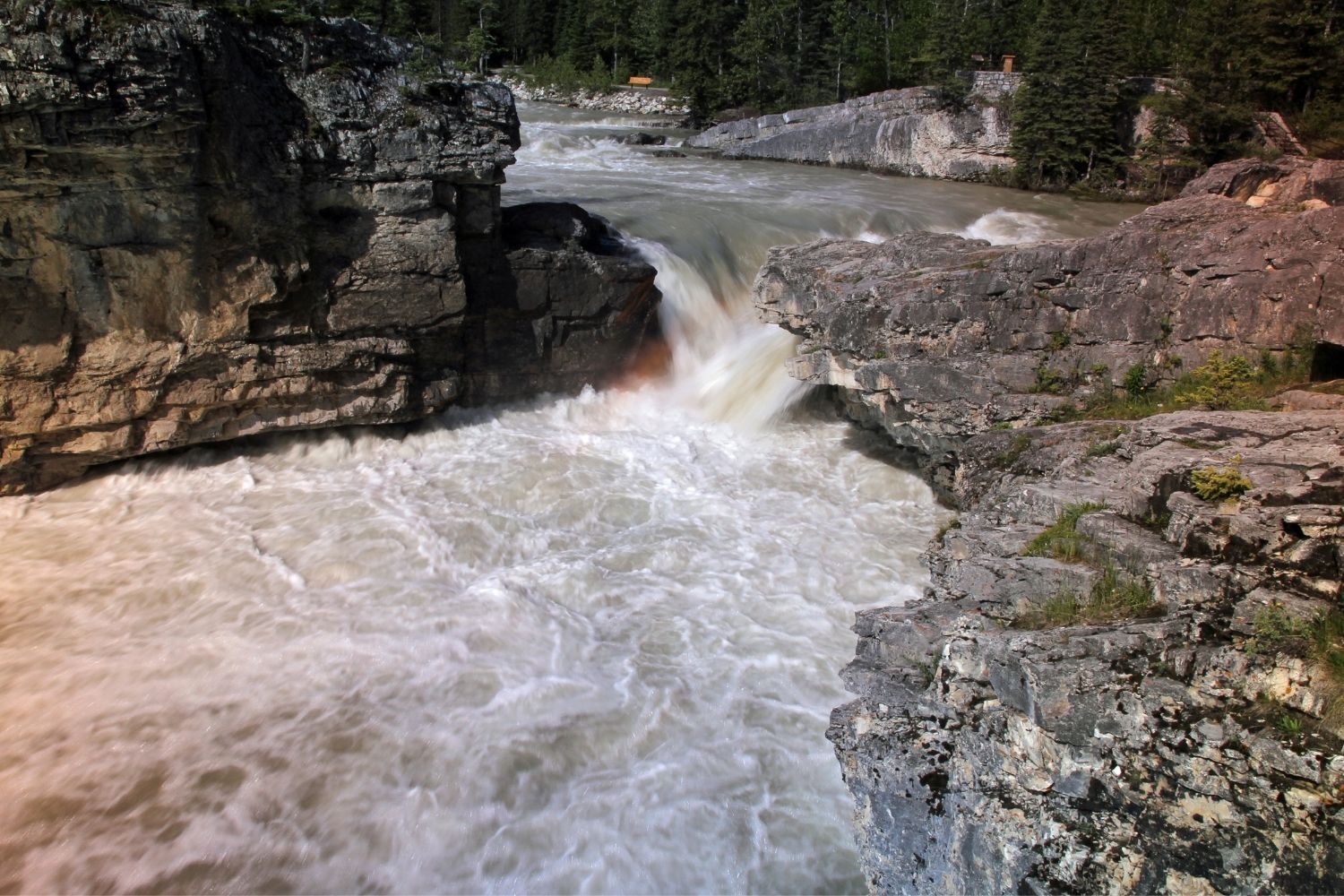 Elbow Falls are located in Kananaskis Country. There's a plethora of wildlife in the area, so be sure to keep your eyes out for some native creature spottings. The hike itself is a mere 0.8km loop trail and well worth the pay off, making it a great easy Kananaskis hike for families.
There are several viewing platforms to enjoy the sights from. The gorge which holds the waterfall is stunning, and the waters here are crystal clear.
It's only about 6 meters tall, yet the limestone and pine forest landscape makes for spectacular surroundings. You can even wade in the water further down in the riverbed.
It's made up of several small falls that come together, and it's a quintessential classic example of the picture-perfect Alberta experience. It's accessible all year round, each season offering its own unique beauty.
---
Crescent Falls (David Thompson Country)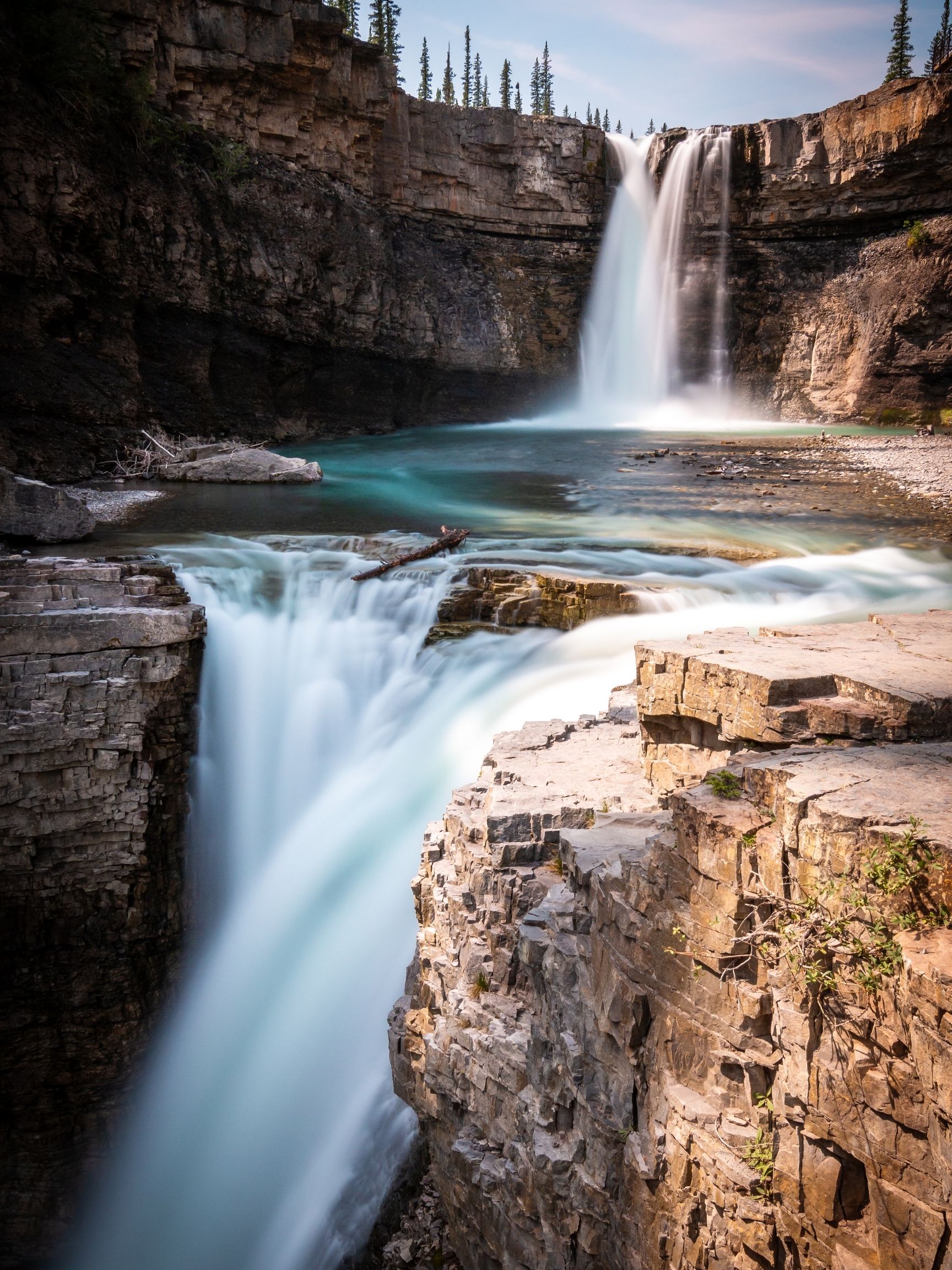 Crescent Falls is made up of two flowing forces moving rushing waters from one pool to another. Bighorn Lookout offers a sweeping view over these falls. The combined height is a staggering 27 meters.
They are more remote than some others, but the hike itself is quite short and spectacular. It's an out and back trail with minimal elevation gain.
You'll enjoy sightings of the deep, bowl-shaped basins and flowing river below as you go. At the end, you'll be rewarded with unobstructed panoramas and a refreshing mist from the powerful waters. Pro tip – a tiny trail travels down to the base of the upper falls to take in just how massive the majestic formation is from below.
---
Siffleur Falls (David Thompson Country)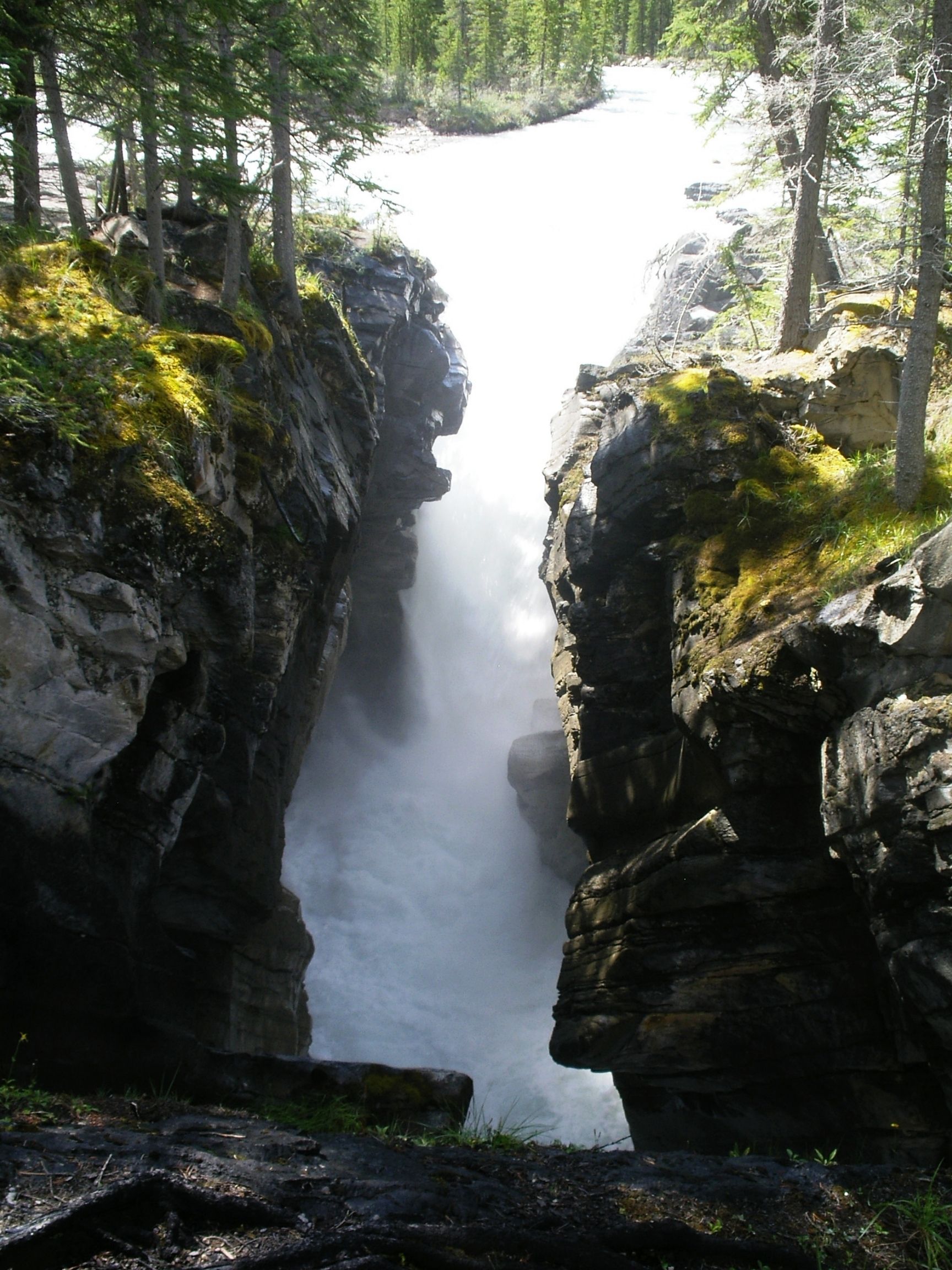 Set in the Kootenay Plains Ecological Reserve near Nordegg, here you will find open plains, snow-covered peaks, a deep gorge, and the bright blue Abraham Lake caused by a glacial silt deposit. To top it all off, the Siffleur Falls are breathtaking to behold. At 15 meters high, this is one of the best waterfalls in Alberta, beloved by many.
The hike is of moderate difficulty level, mainly because of its 7 km length, but with very little elevation gain. It contains exciting terrain, including river crossings, canyons, and a suspension bridge. The North Saskatchewan River flows down in a narrow chute into the canyon, creating a truly tremendous effect.
There are two more falls to see if you continue on the out and back trail, though they are quite a bit smaller than the main attraction. You can trek here in any season, and the overlooks along the trail and at the end all offer dramatic panoramas of the landscape.
---
Johnston Canyon (Banff)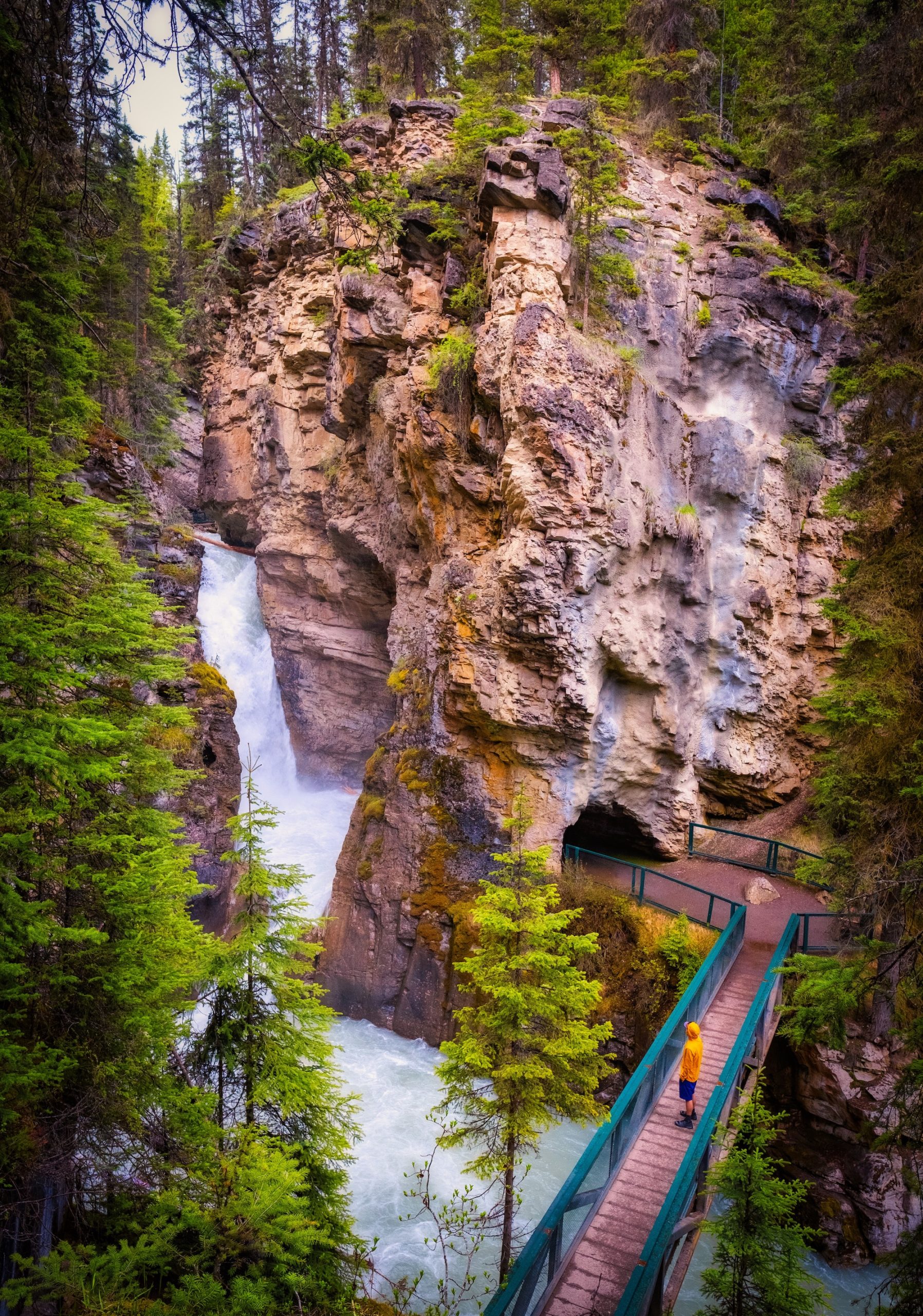 The Johnston Canyon hike is a nice easy family-friendly hike in Banff. It's one of the most popular things to do in Banff and is a great path to take. The two main highlights on this trail are the falls. The Lower and Upper Falls can be viewed by hiking just 1.2 km to the Lower Falls and 2.4km to the Upper Falls.
They are a sight to see in the summer with the roaring water, as well as in the winter when the falls are frozen solid. In the winter, you can book an ice climbing tour back here!
---
Troll Falls (Kananaskis)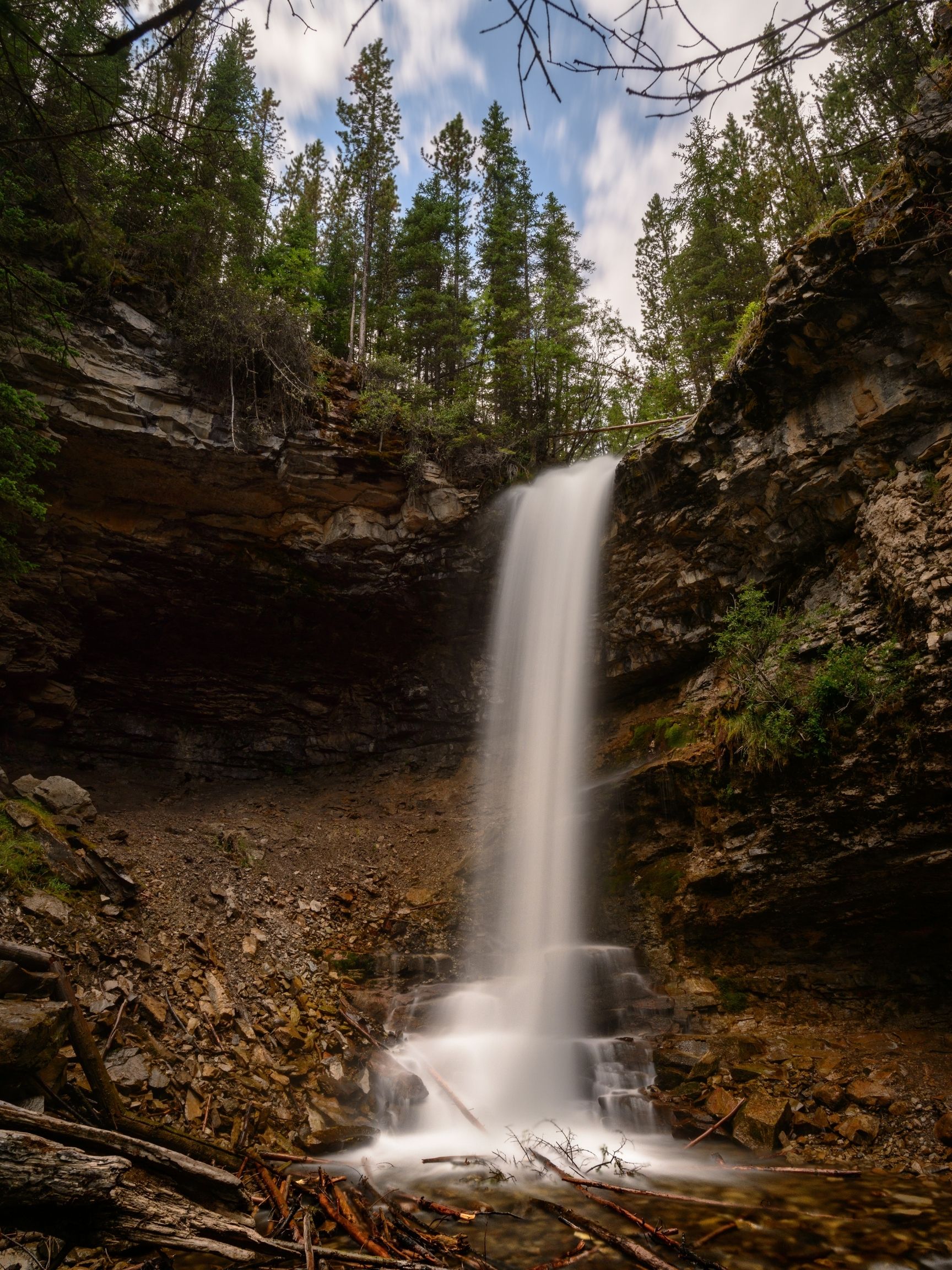 This two-fer waterfall is well worth a mention on this list! Troll Falls is one of the most family-friendly hikes in all of Kananaskis.
Year-round, Albertans venture to this popular stop to see the water roaring in the summer and a frozen ice wonderland in the winter. The hike to Troll Falls is just 3.4 km total making it a great half-day excursion.
---
Castle Falls (Castle Provincial Park)
Castle Falls can be found within Castle Provincial Park set in the southern Rocky Mountains. This wild land of wonders offers a true escape into nature and a gorgeous getaway at that. In this park, there are many opportunities for outdoor adventure, from kayaking to fishing to swimming.
Even in the most popular seasons, odds are you will find yourself alone on this trail in total tranquility, a rare and harmonious experience for visiting falls.
The swimming hole is a vibrant turquoise color and divine for a refreshing dip. The drop itself is quite small, but the color is simply stunning. This area also happens to be home to the highest number of plant and animal species in Alberta.
You will undoubtedly spot all kinds of wildlife in this thriving protected ecosystem, including within the crystal-clear waters. This is one of the most picturesque places in the entire province.
---
Ram Falls ( David Thompson Country)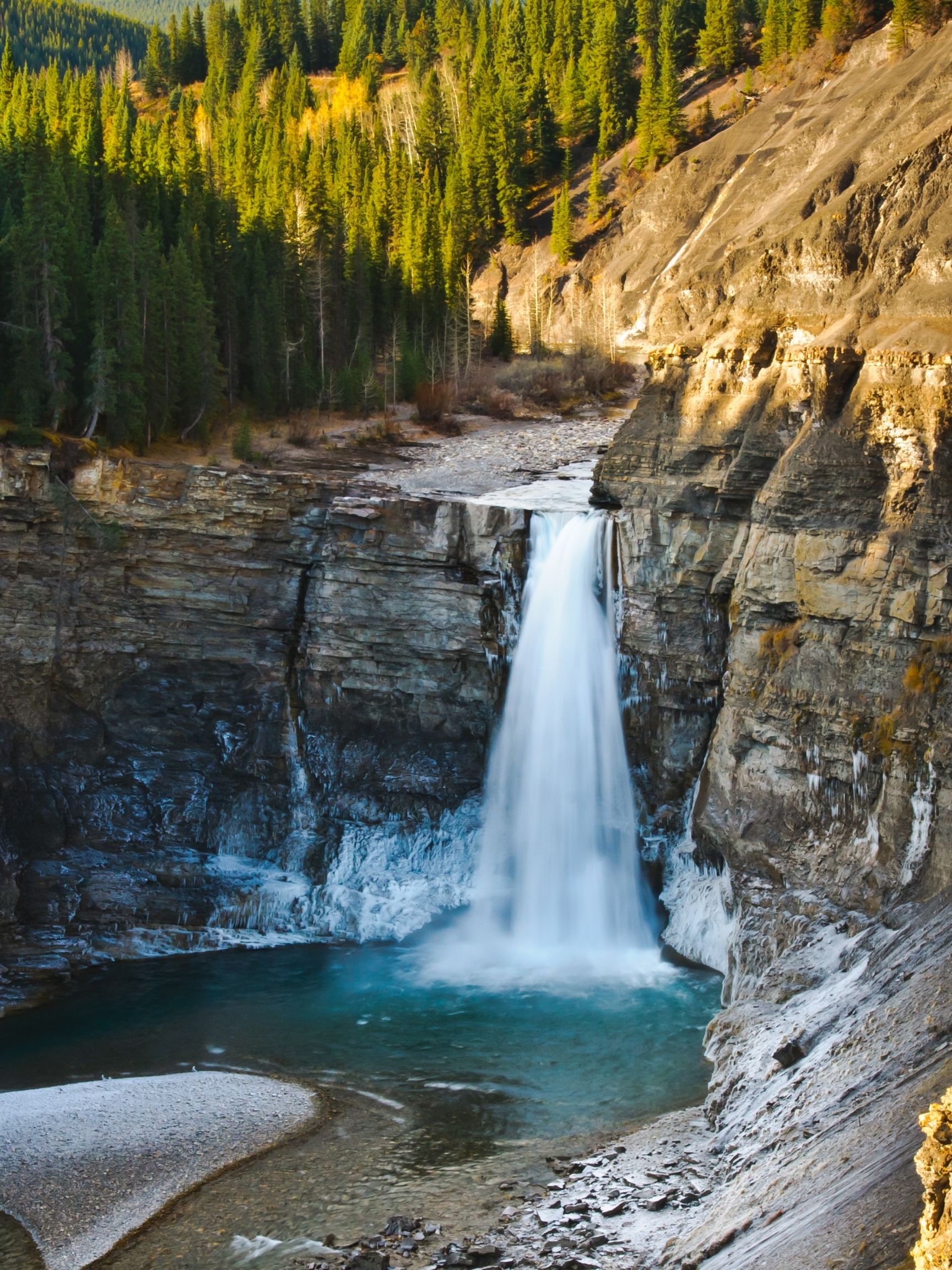 This Alberta waterfall is set within Ram Falls Provincial Park in the scenic surroundings of David Thompson Country. The gushing waters will announce themselves before you see them.
Enclosed by striated rock walls on both sides and pooling below in a beautiful basin, these falls are a fantastic force. It stands at 20 meters tall, and the viewpoint is a perfect spot for a photo op, even if you can't visit the base of the falls at this one.
There are plenty of other trails to explore in the area as well. This trail is short and easy to hike, less than a km to get to the waterfall, with a forested and mountainous backdrop. It's out and back and lightly trafficked, though there can sometimes be a tiny crowd at the viewing platform during peak season. See if you can spot the iconic Bighorn sheep along the banks of the river.
---
Bow Glacier Falls (Banff)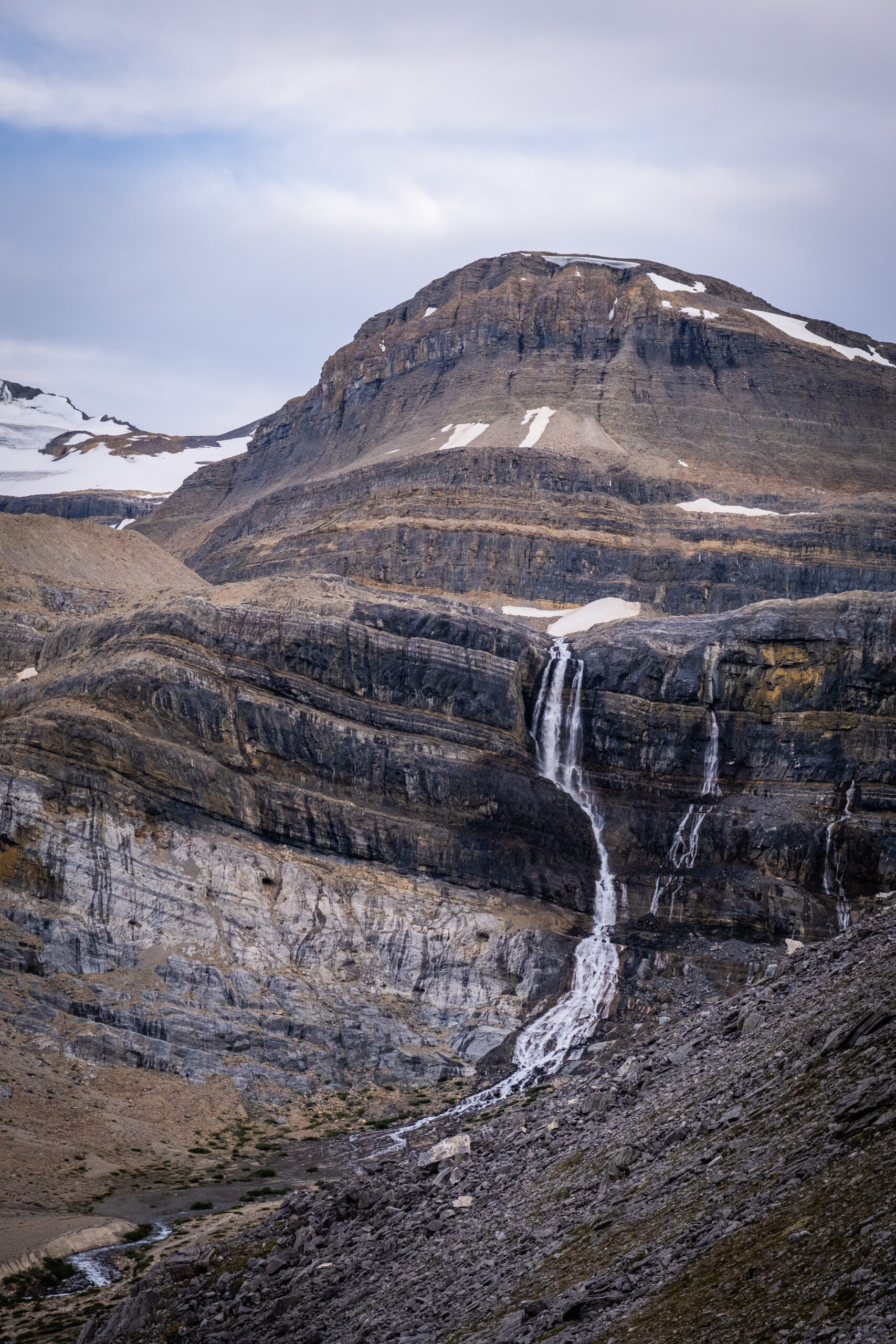 If you've come across Bow Lake in Banff and wondered where all the water flows from, it's a short hike away. The meltwater from the Bow Glacier and Wapta Icefield cascades over Bow Glacier Falls and into Bow Lake.
It's a fairly simple hike to get back and see Bow Glacier Falls. Walk past the Num-Ti-Jah Lodge to the right of Bow Lake. Follow the trail all the way around the lake and continue up the stairs and through the meadow. It's a wonderful easy hike in the summer and gives Icefield Parkway drivers a good excuse to stretch their legs.
Some websites claim you can see the falls from Bow Lake, but they are pretty far back there, and it's an obstructed view, so I would highly recommend making the hike. The hike will take you between 2-4 hours and is 8.7 km with 266 meters of gain.
---
Mistaya Canyon (Banff)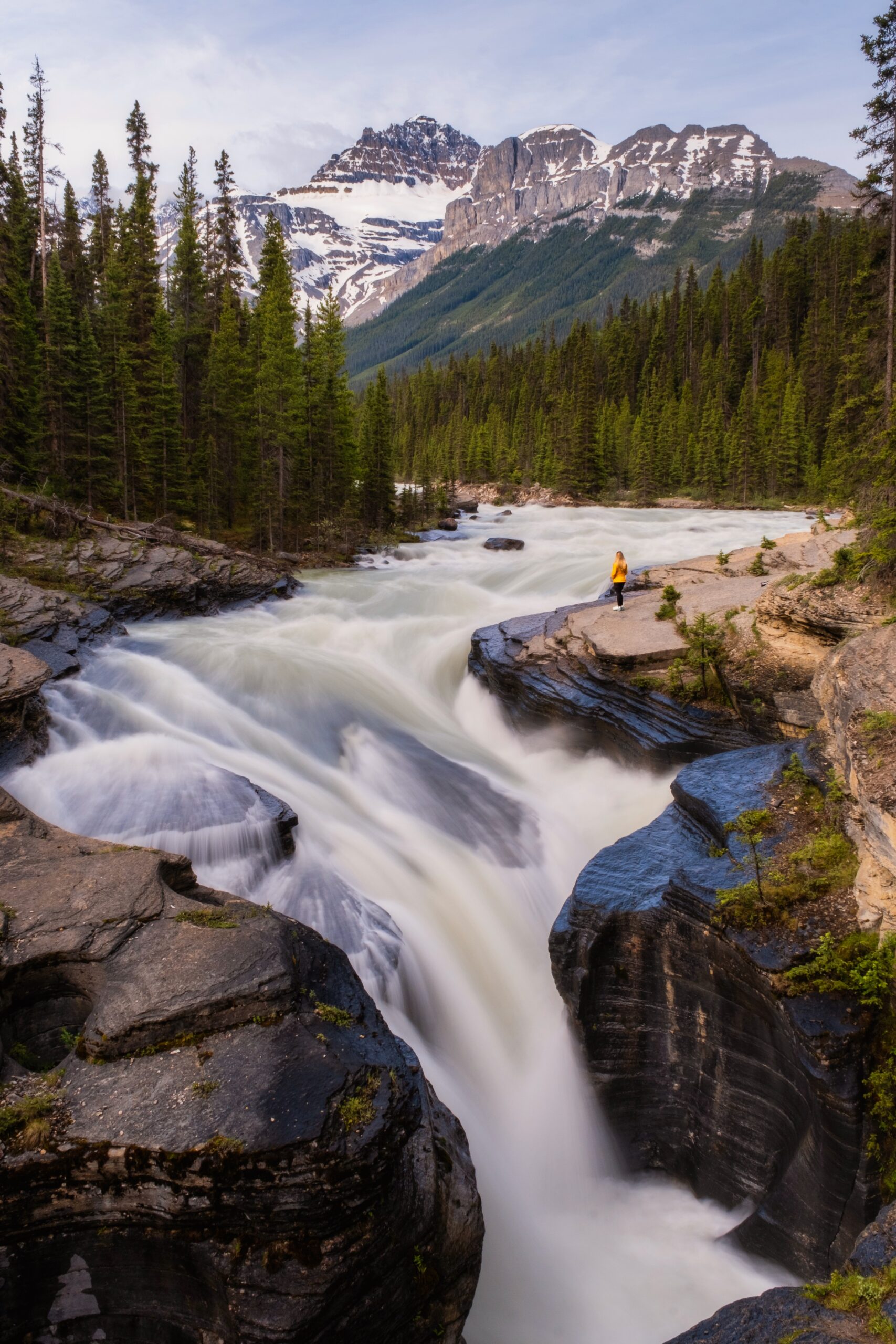 Mistaya Canyon is a popular stop when driving between Banff and Jasper. The pullout area for parking here is on the west side of the parkway; there's limited parking, so it may be busy peak summer.
To reach the canyon, you'll have to hike down the easy .5 km trail to a well-maintained fenced bridge. It's here you can see the roaring canyon around you. There's a great viewing area and a few hiking trails around the canyon.
---
Sunwapta Falls (Jasper)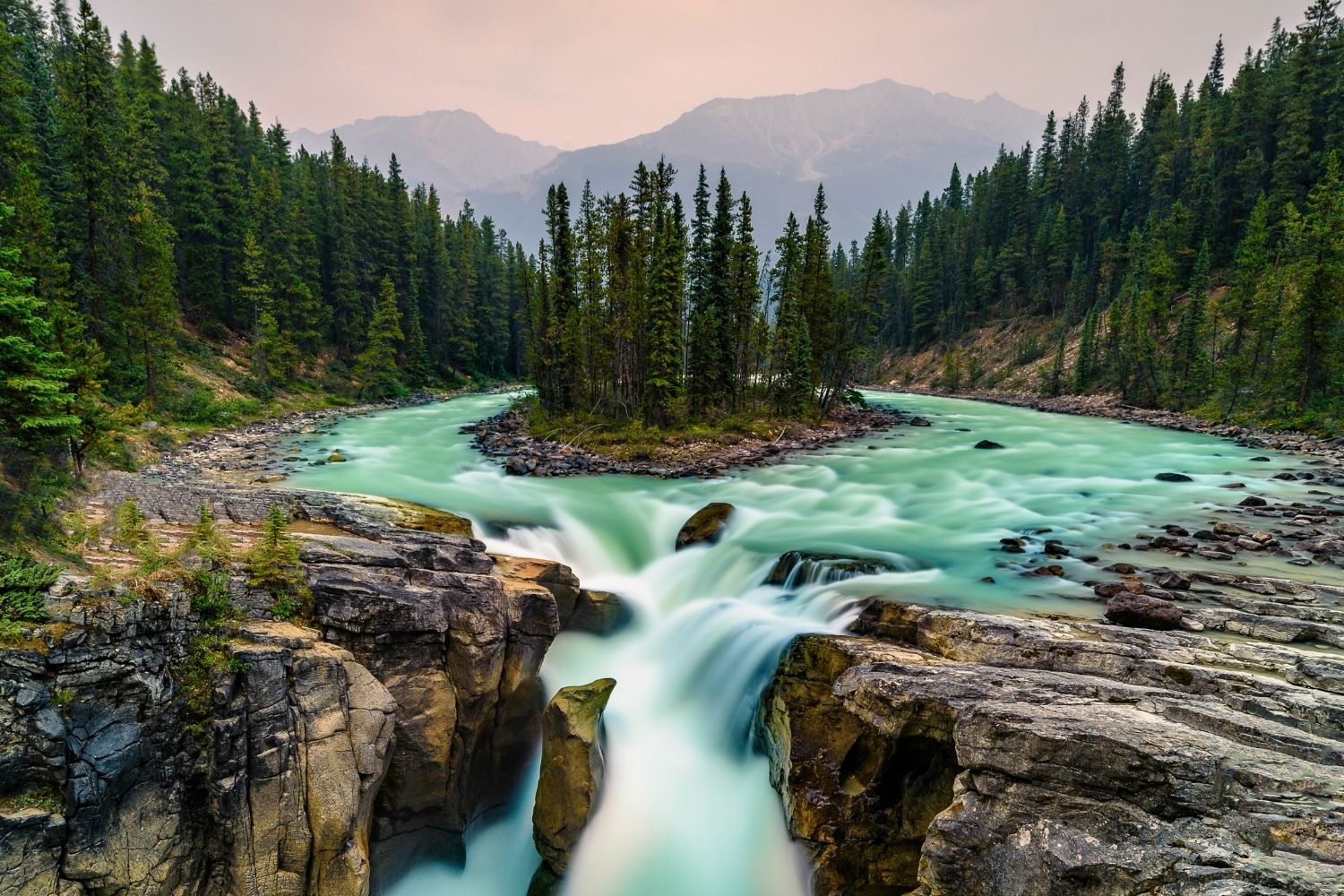 Sunwapta Falls is an easy stop off on the Icefields Parkway that is well worth venturing to. Sunwapta Falls consists of upper and lower falls that are fed by the Athabasca Glacier. The upper falls are more easily accessible and therefore much busier, but a 1.3 km hike will take you to the lower falls.
If you have the time, consider hiking to both, but if you're in a pinch driving to Jasper, then the upper falls will surely leave you satisfied.
---
Kakwa Falls (Northern Alberta)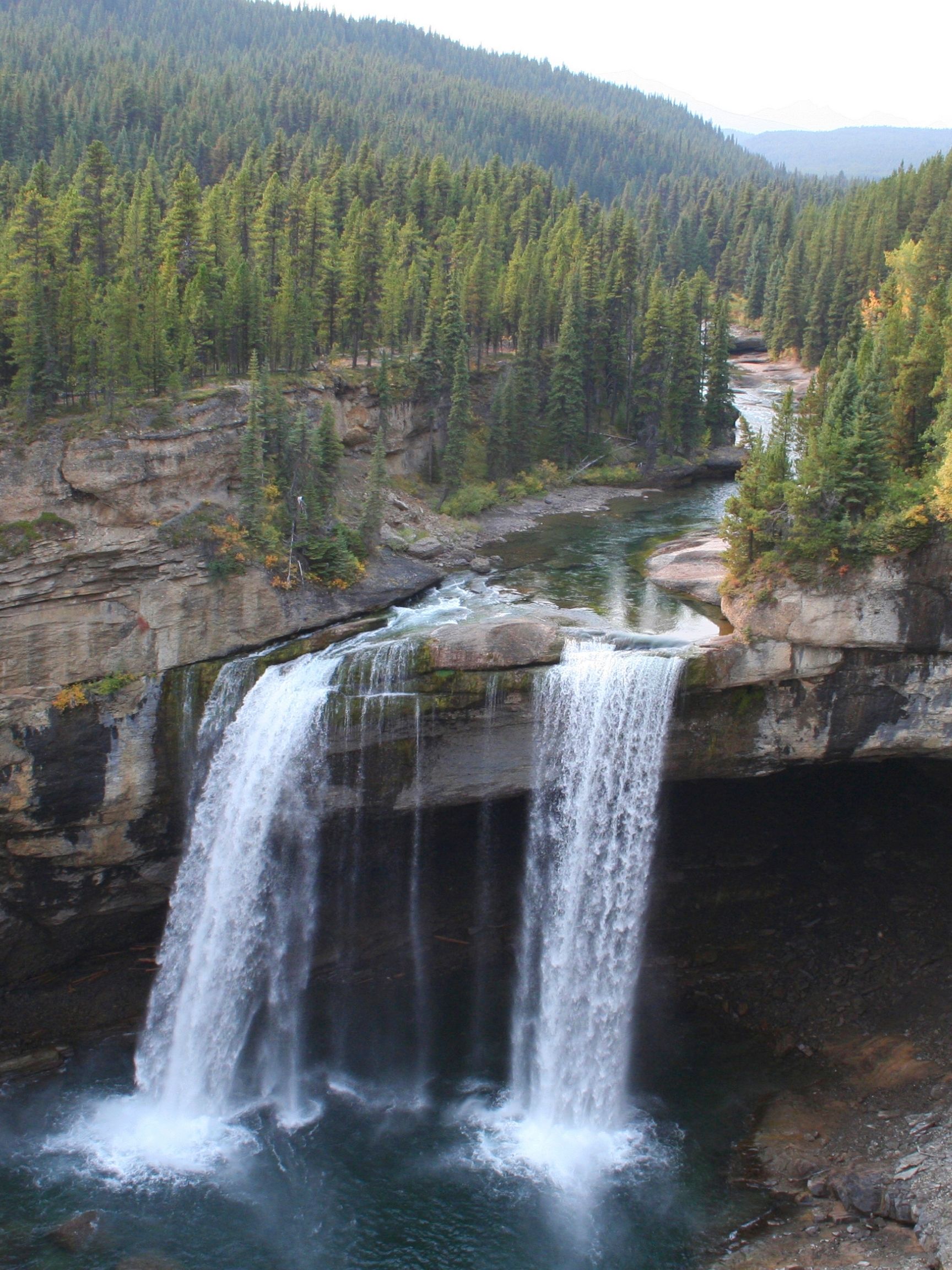 The Kakwa Falls are located just southwest of Grand Prairie. It's an expansive landscape full of lakes, mountains, forests, and valleys. It's home to an array of local wildlife, and if you're lucky, you may even be able to see a wild bear in its natural habitat.
At almost 30 meters high, this is one of the tallest waterfalls in the area. This park is remote and rugged – not an adventure for the faint of heart. Four-wheel drive is necessary to get to the viewing point through a 20 km off-road trail.
You'll come across narrow passages, creek crossings, and other difficult terrains. Afterwards it's just a short hike to see the falls. If you're up for even more adventure, you can take the short but very steep side trail to the bottom of the gorge for a whole new perspective on this beautiful outpouring.
There's an opportunity to try out some boulder hopping behind the falls from here as well. Trust us when we say that these falls are just as much about the journey as the destination.
---
Sheep River Falls (Kananaskis)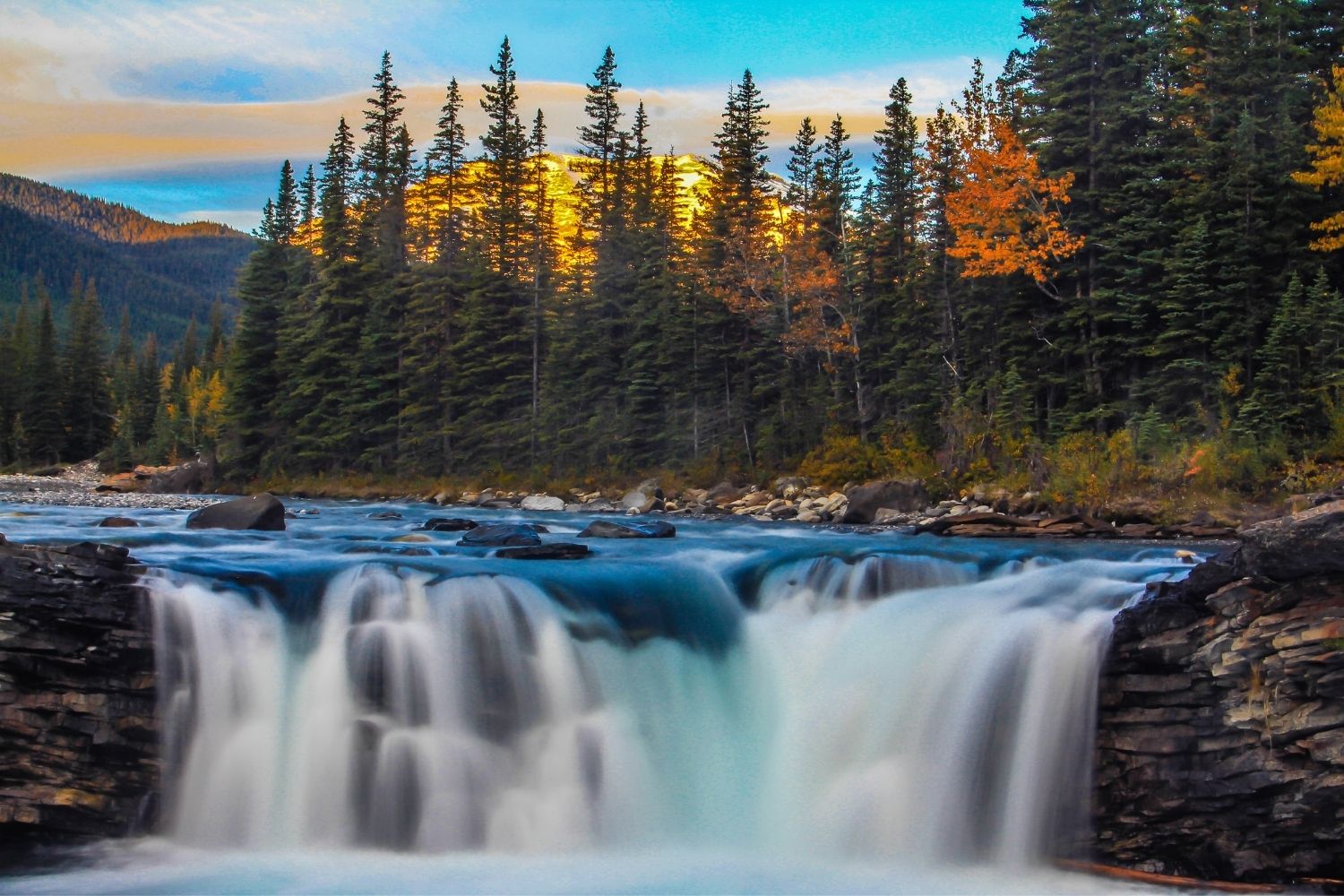 These are some of the most well-known waterfalls in all of Alberta. It's about 10 meters high and set in Sheep River Provincial Park in Kananaskis Country. The hike is a short one, about half a km out and back.
It's straightforward and is great for those with less experience. It runs along the Sheep River Gorge, offering beautiful scenery and sweeping views of the surrounding Rockies and Canadian foothills.
It's close enough to Calgary, making it a popular day trip for locals and tourists alike, especially in the summer months. If you head far enough downstream, you can even find some lovely little spots for swimming.
You can also climb down to the first falls and enjoy the experience from behind the overhang. The trail takes you all the way to the base of the second falls for a picture-perfect moment.
---
Athabasca Falls (Jasper)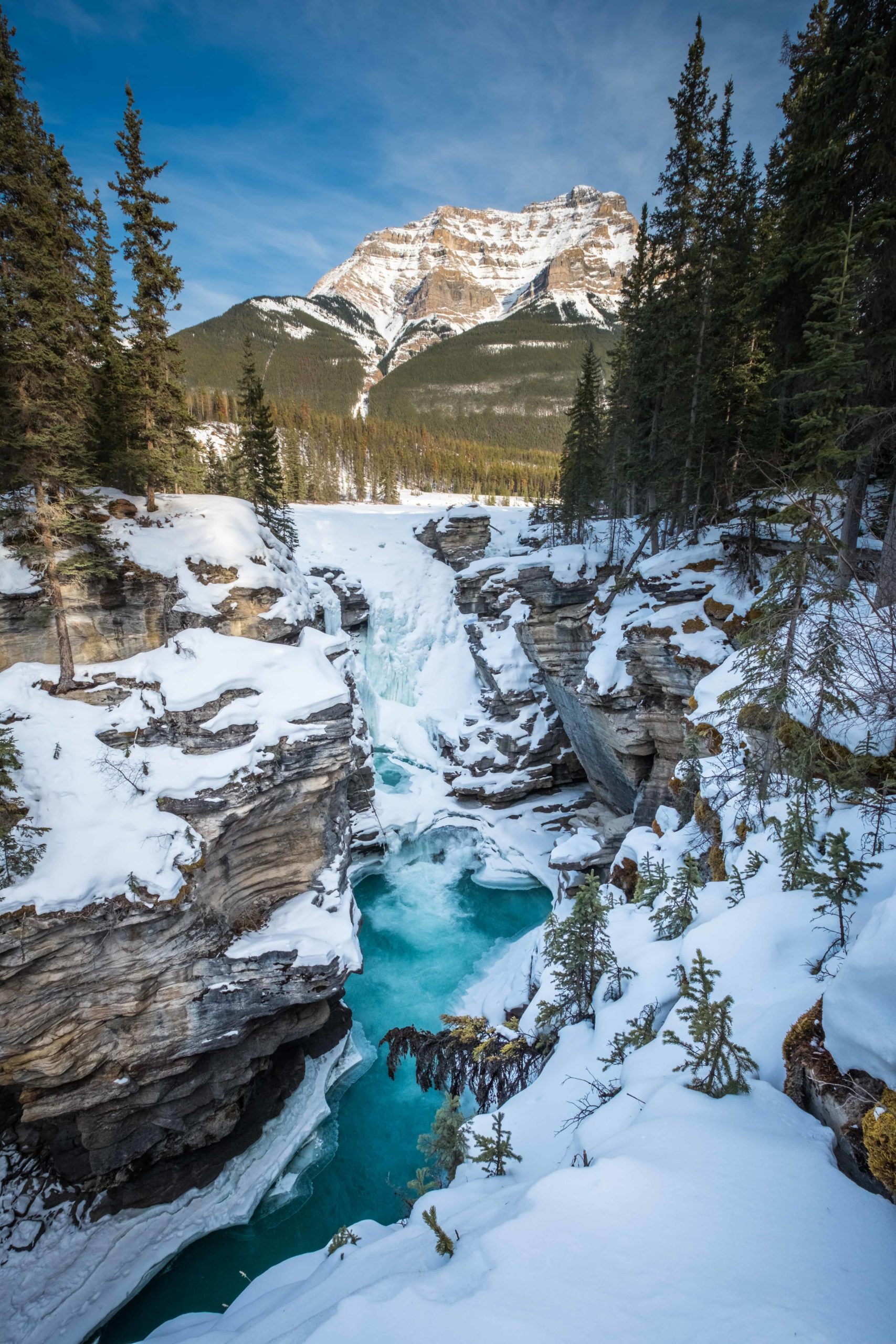 These Alberta waterfalls are located in the beautiful Jasper National Park, just off of Icefields Parkway. It boasts a very high volume of water, and the drop is roughly 23 meters tall. The Athabasca River has formed from melted glaciers and carved a tiny canyon through the ancient limestone.
The trail follows along the edge and is well maintained and short. It's even paved, making it one of the easiest waterfalls to access. There are several lookout points, each more breathtaking than the next.
The mist from this powerful wonder fills the surrounding air with a refreshing mist adding to its ethereal allure. See if you can spot a rainbow in it on a sunny day! The geology itself is gorgeous and fascinating, making for a fun-filled experience.
The light blue hue of the water is dazzling as well. There's a small island in the middle of the river just before it descends over the rocky edge, splitting up the waterfall. While it's stunning in the summer, it's even more magical in the winter with the snow all around the falls.
---
Maligne Canyon (Jasper)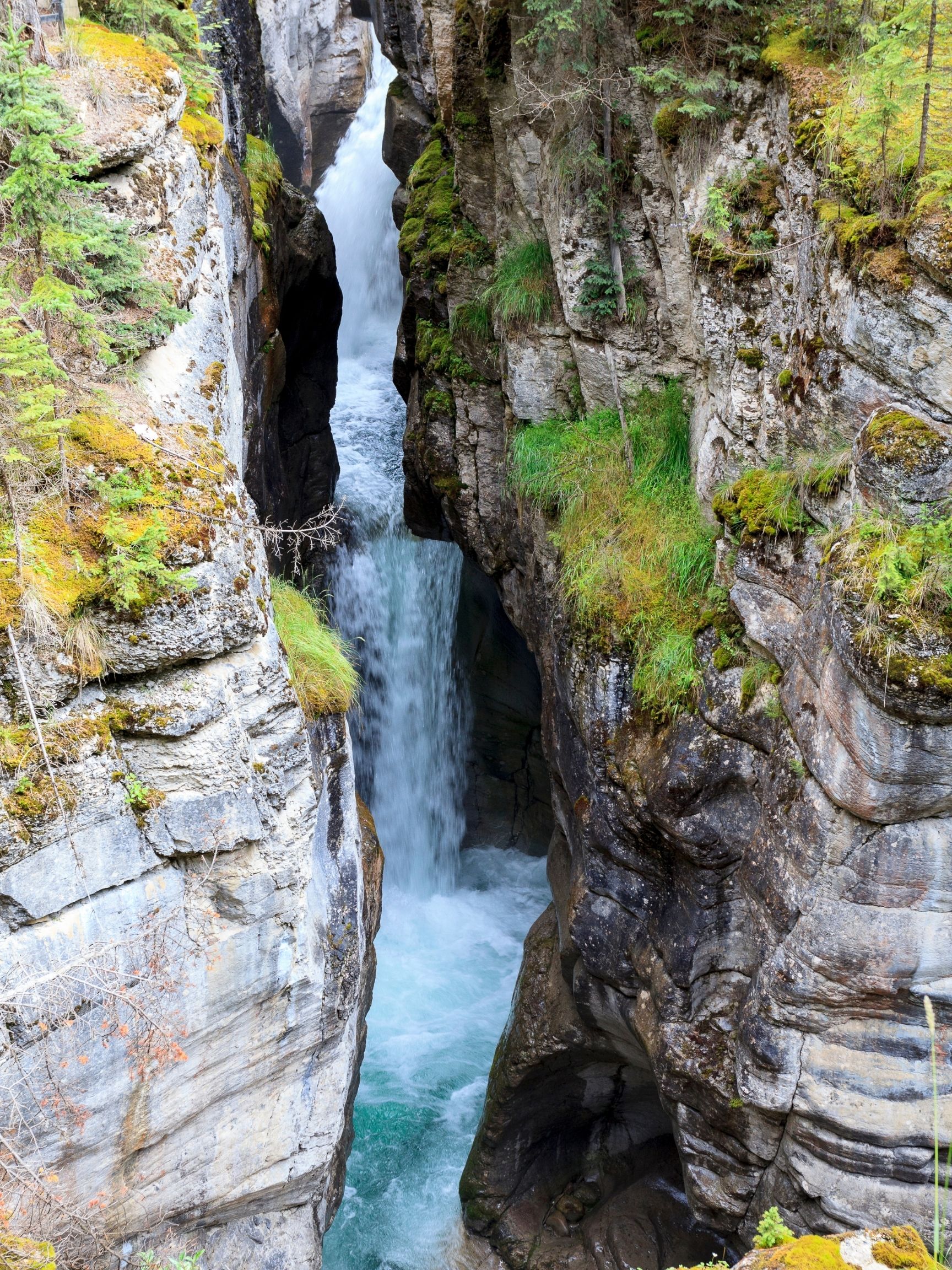 Maligne Canyon can also be found in Jasper National Park. This is actually a favorite of those who love a winter waterfall, as its appearance takes on a magical form when frozen.
It's popular in the warmer seasons as well, mainly for its bright blue waters that look too good to be true. It also has some of the deepest gorges in the Rockies. At points, it's over 2 meters wide and 50 meters deep, and unlike most canyons, it gets narrower toward the top.
The curves and formations you will see are some of the most captivating around. The trail is a loop that's just over 3 km, and it's easy to hike as the whole area is well maintained. Along this trek, you'll find six different bridges at various points of the canyon. There is a delightful surprise at every turn on this trail, like hidden streams and pools.
You'll actually be able to enjoy several waterfalls in your journey here; the main tallest one lies after the first bridge, though we recommend continuing on to appreciate the erosion of the limestone by these beautiful rushing waters. Heading here is easily one of the most popular things to do in Jasper in the winter, as well as in the summer.
---
Cameron Falls (Waterton)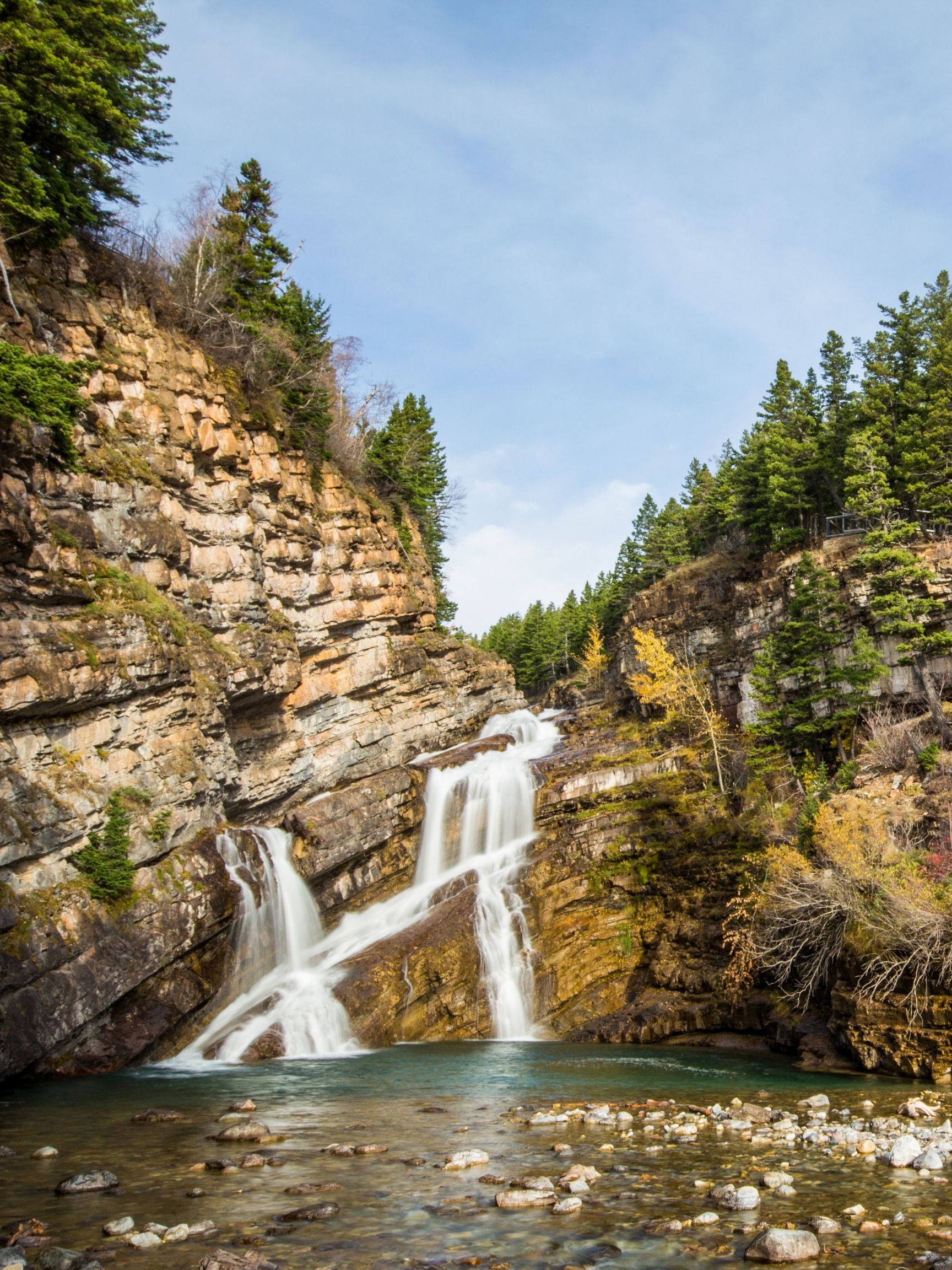 In the southwestern corner of Alberta lies Waterton National Park, home to Cameron Falls, the most famous waterfall by far in the area. It's super accessible; you can basically drive right up to the viewpoint – or walk right from your Waterton hotel or the center of town!
There's a viewing bridge to get up close and personal with the cascades and plenty of paved paths to enjoy the sights from many different angles. It's often crowded with people admiring its beauty, so be prepared to share your space.
If you wish, you can hike a nearby cliff to get a beautiful birds-eye view of the falls as well. It's a series of steep switchbacks carved into the stone for a steady ascent up to the peak. The most notable thing about these falls, in particular, is that in the past, large storms have caused sediments upstream called argolite to be disturbed.
This, in turn, made the water a bright pink color – Insta worthy, indeed, but these are extremely rare occurrences, and I wouldn't go expecting to see them this color.
---
Tangle Creek Falls (Jasper)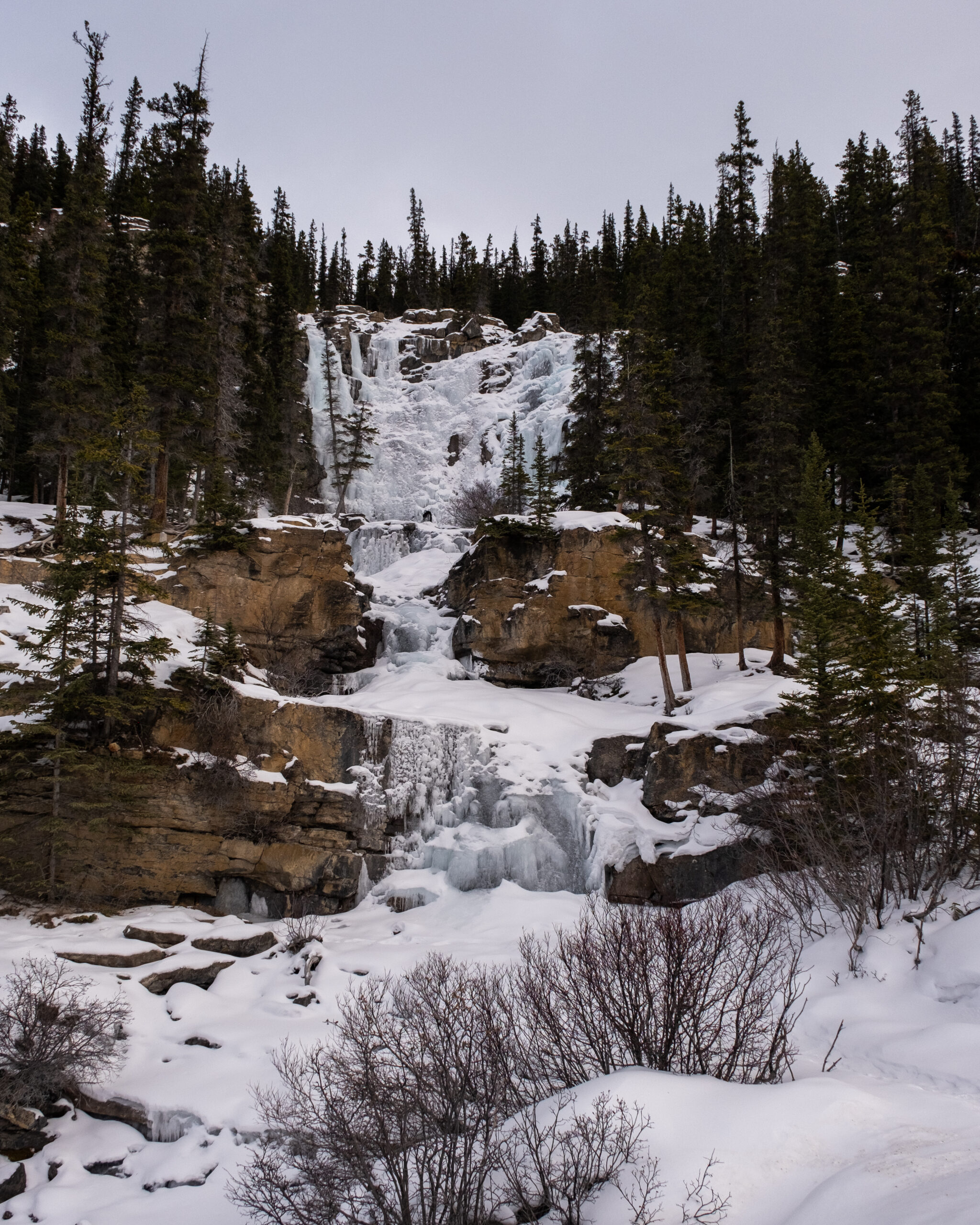 When driving the Icefields Parkway, you'll come across Tangle Creek Falls right after the Columbia Icefields Skywalk (when driving from Banff to Jasper). You'll see the waterfall on your right-hand side, with a small parking area on your left. If you aren't watching out for it, it's extremely easy to miss, and there aren't a ton of turnaround points.
It's not the most impressive waterfall in Alberta on this list, but it's easily accessible as it's right off the road and makes for a beautiful stop on the Icefields Parkway.
---
Star Creek Falls (Southern Alberta)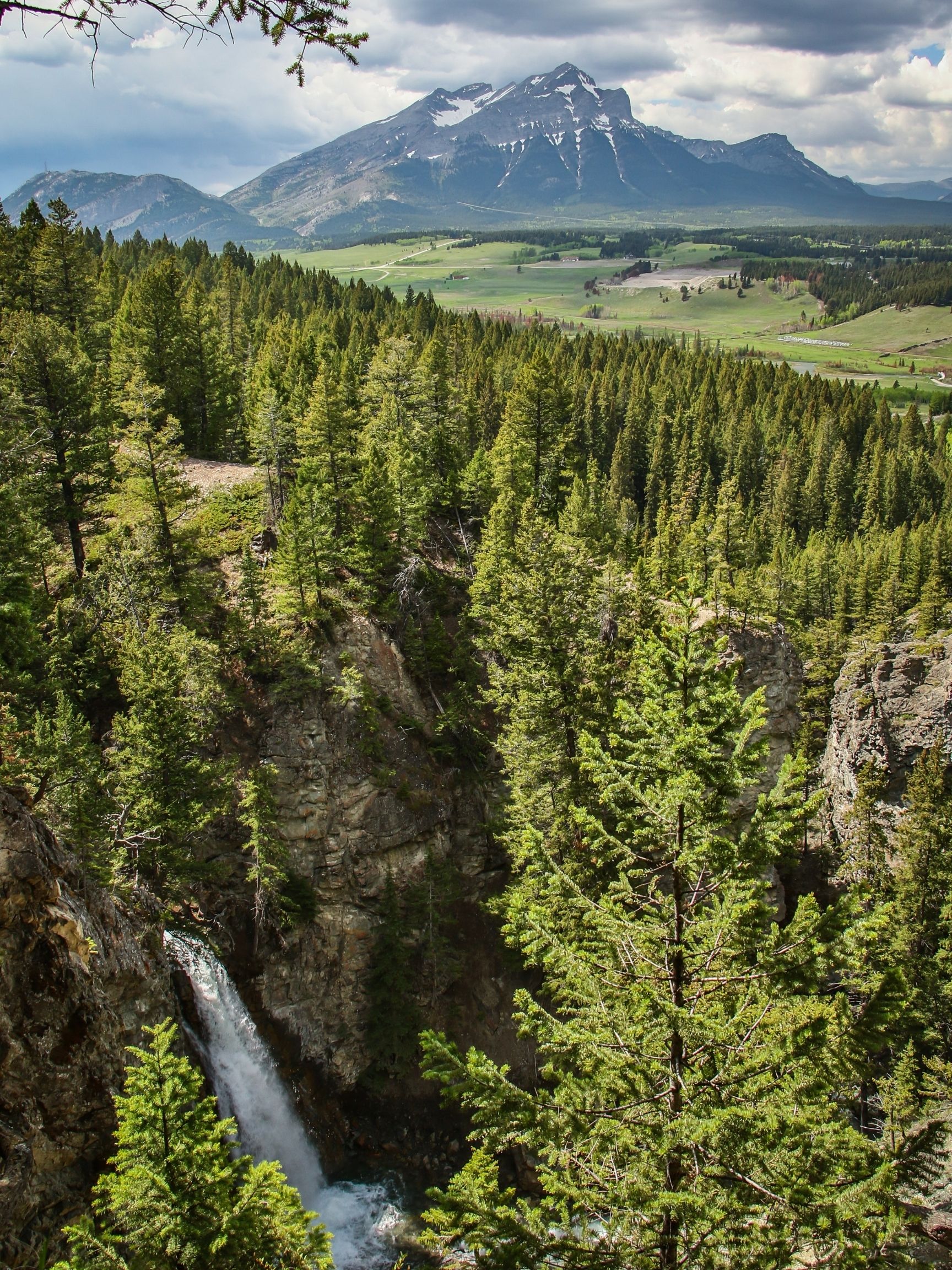 Star Creek Falls is a unique waterfall accessible by a short loop trail located near the Town of Coleman in the Crowsnest Pass region.
It's more well known for winter hiking as the waterfall freezes and creates a beautiful winter wonderland (bring microspikes and poles!). In the summer, there is a loop trail that is slightly longer (2.5 km), and it goes above the falls!
---
Waterfalls in Alberta Map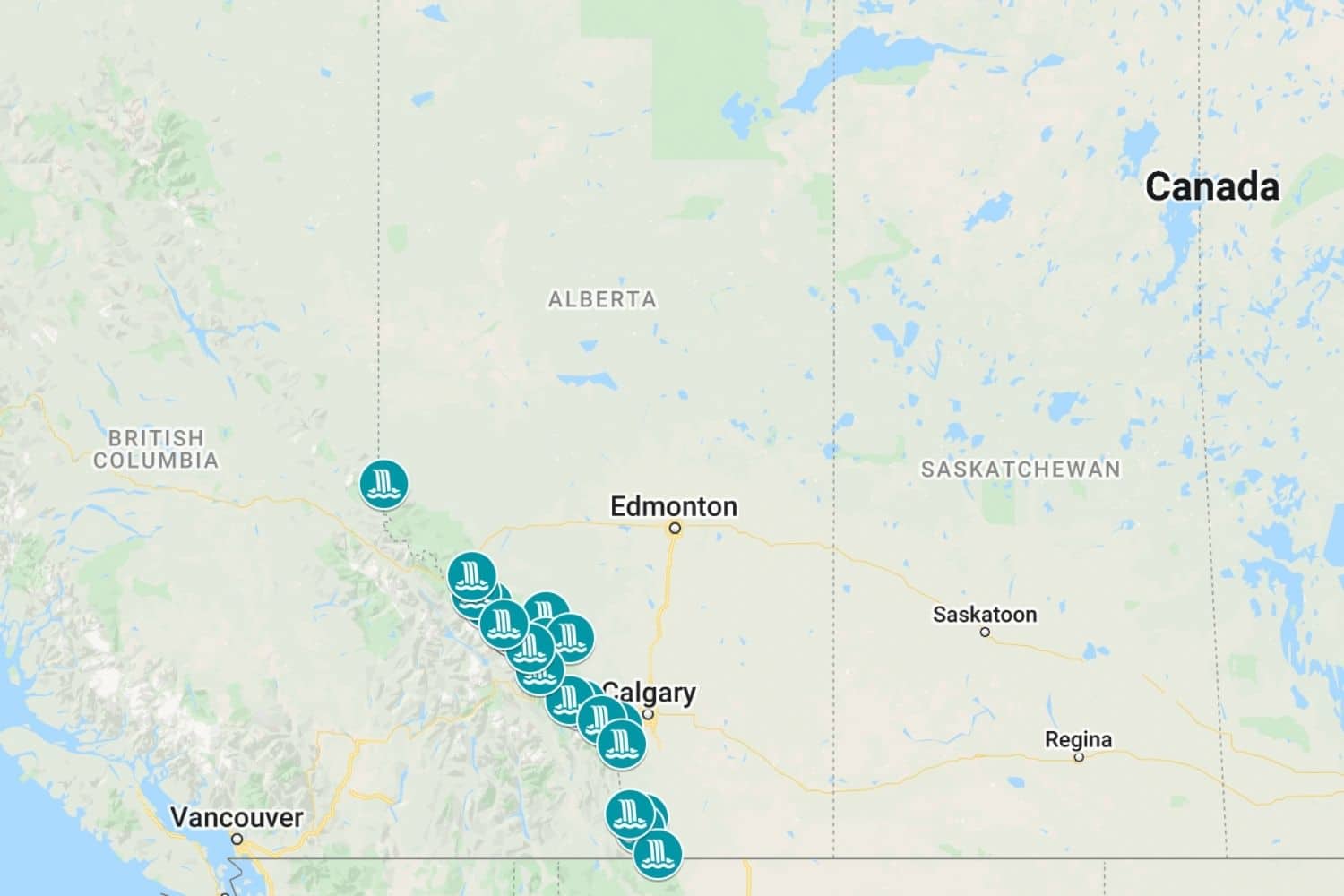 ---
Cautions About Swimming in these Waterfalls in Alberta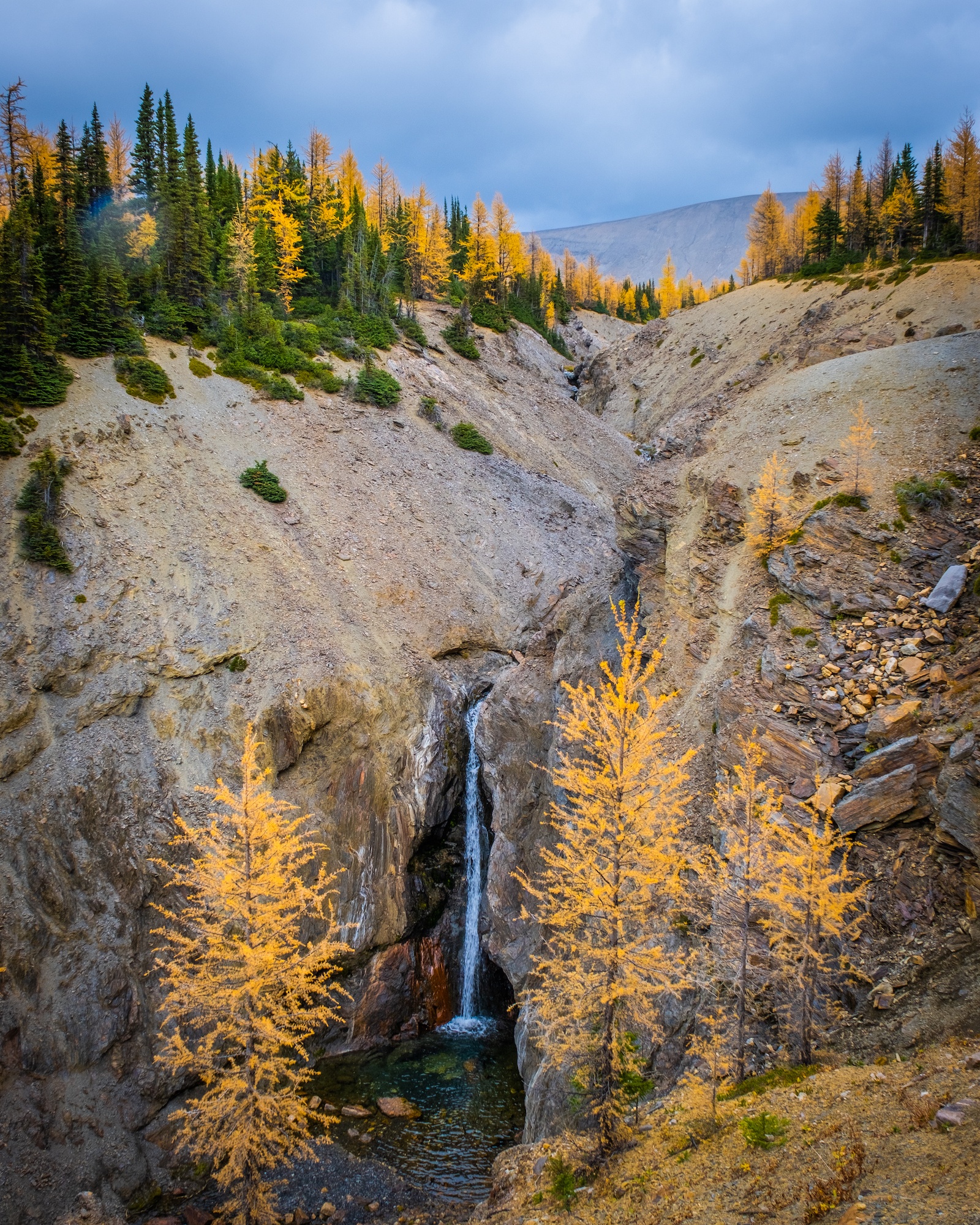 It may look refreshing to swim in all these Alberta waterfalls, but please take caution as it's easy to drown in many of these areas. In 2020, three people lost their lives at Crescent Falls while swimming. Getting swept up in the undercurrent at these falls is a real concern, and rescue efforts will be challenging.
Additionally, the water in some of these waterfalls in Alberta is often below freezing, so it's unlikely you'll stay in the water for long.
---
When is the Best Time to Visit these Waterfalls in Alberta?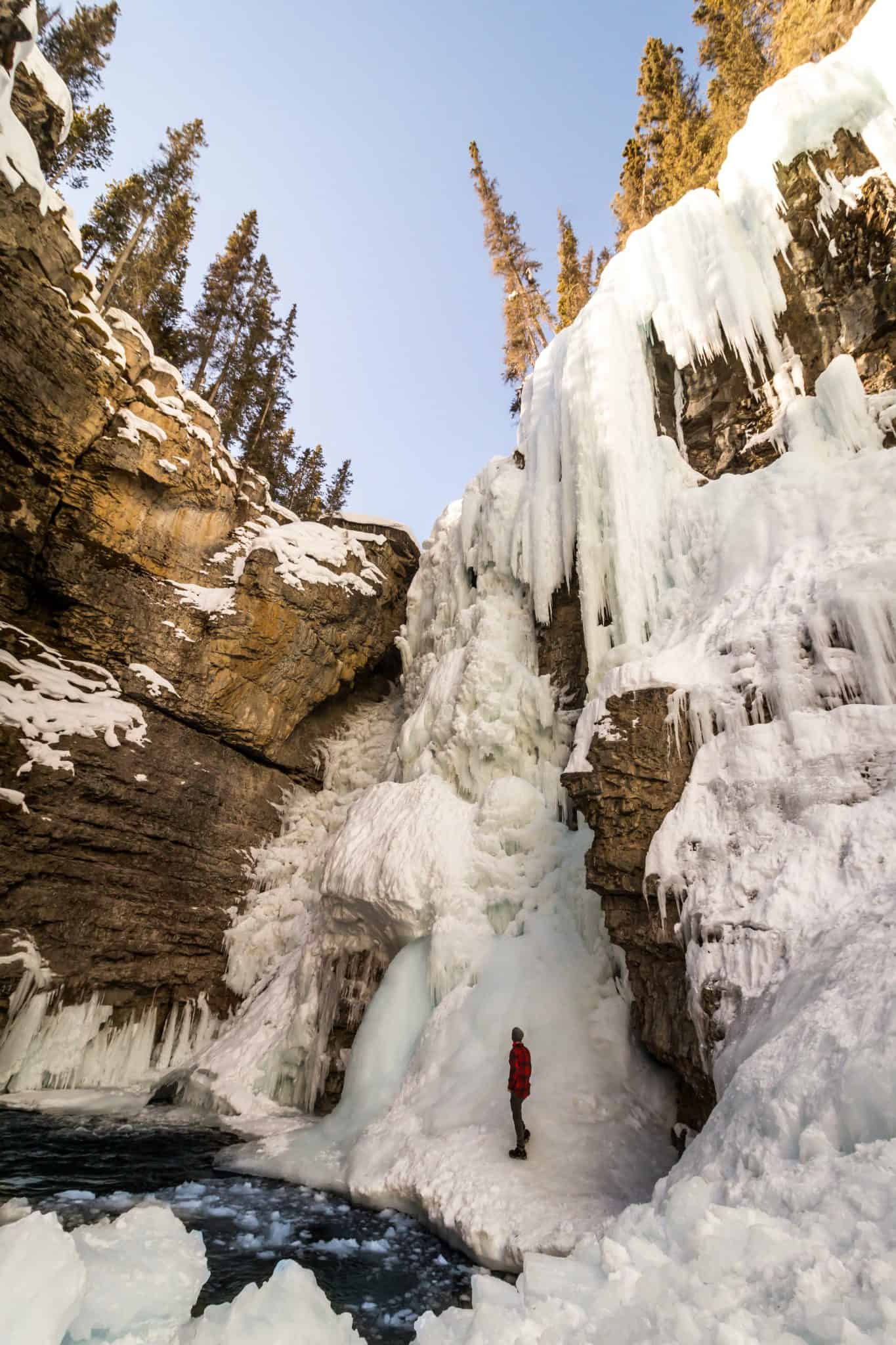 The best time to visit the stunning Alberta waterfalls is completely up to your preference! If you want to see frozen falls visiting in January and February will almost guarantee you frozen falls.

However if you want to see water roaring down the mountainside, the best time to get out and about is in June when the snow is quickly melting off the mountains.
---
If you have any other questions leave a comment or see our Canadian Rockies travel guide for more articles about photography spots, lakes, hikes, and everything else.
Plan Your Trip to the Canadian Rockies
↓ Join the community ↓
The Banff Blog Facebook Group is your headquarters for the Canadian Rockies' travel advice and information. Including hike info and off-season travel information. This is also where you can meet one another when you need adventure buddies.