So you want to visit Banff in January? As someone who loves winter in the Canadian Rockies, I think this is a great time to visit Banff. While most people head to Banff in the summer, the winter is just, if not more magical. There's still so much to do in Banff in the winter, especially if you love the snow.
And nothing quite beats that warm fuzzy feeling you get when you're drinking hot chocolate by the fireplace. Though you may be wondering what the weather is like in Banff in January, what should you pack for winter in the Rockies, and what is there to do in Banff. We've covered all that for you in this guide.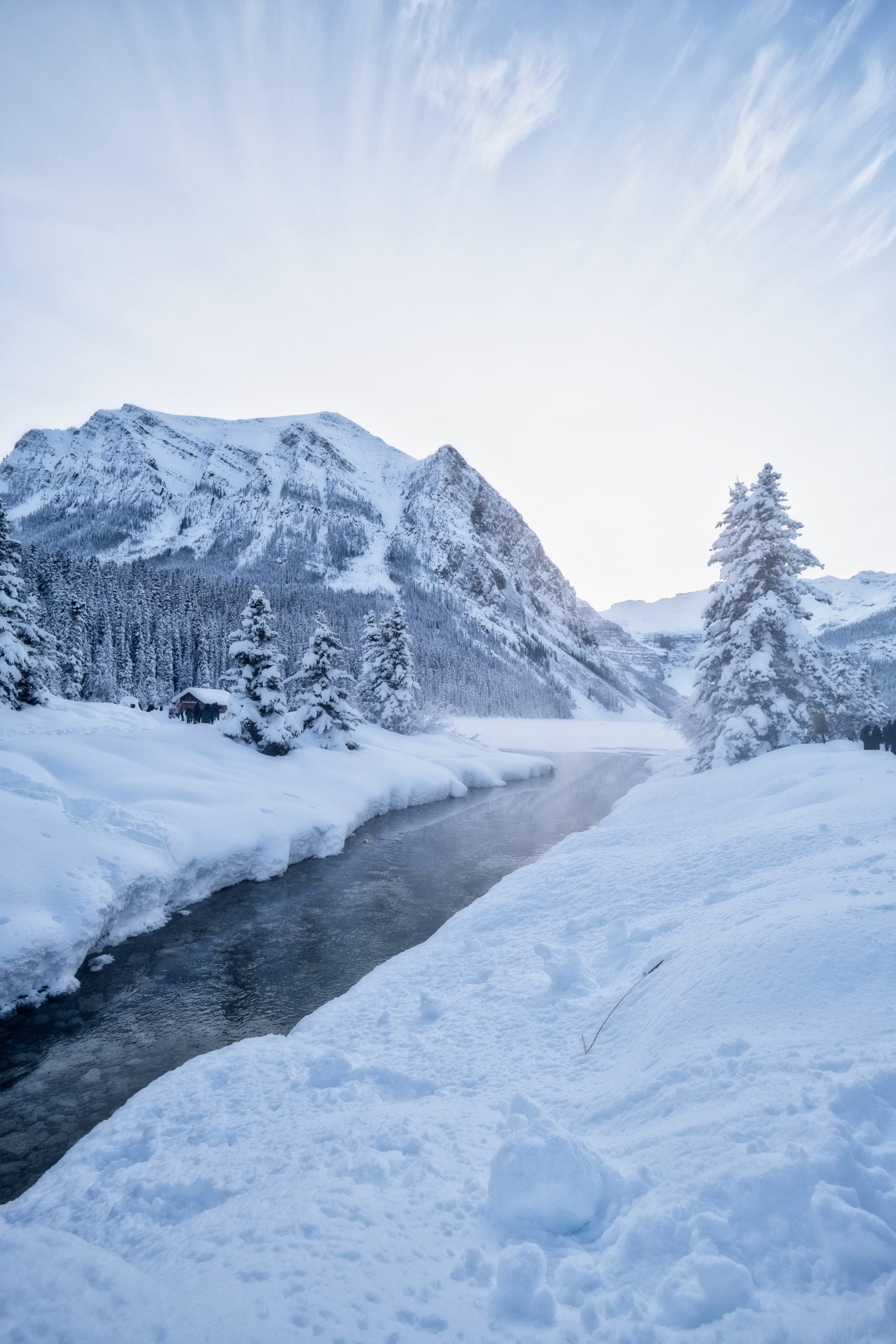 ---
Things to Know Before Visiting Banff in January
---
What's the Weather like in Banff in January?
---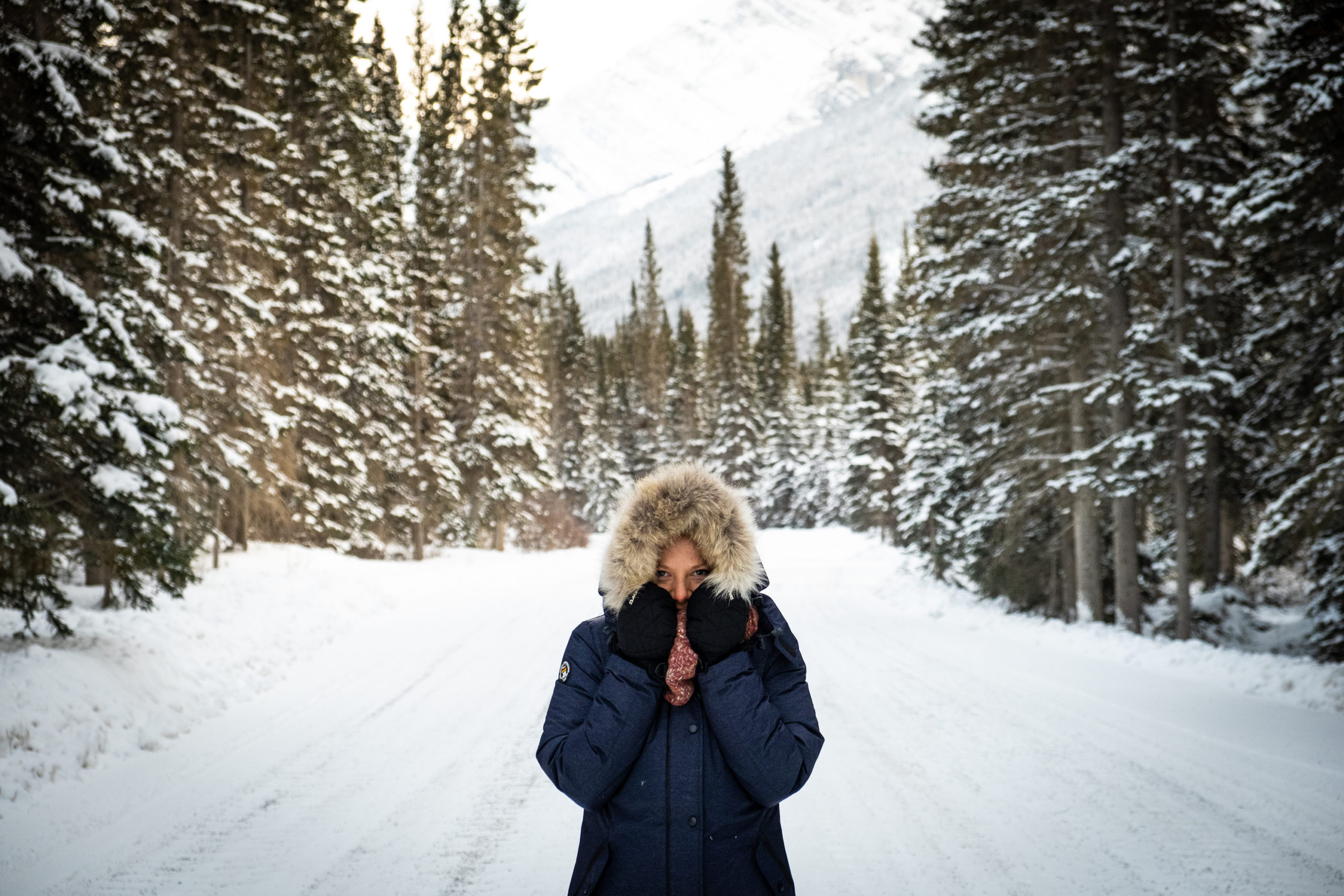 In short, January in Banff means it's cold and there's plenty of snow. However, the frequent snowfalls during the month make places like Mount Rundle and Cascade Mountain stunning as they're draped in sheets of white. It's one of the best times to visit Banff.
January is the perfect time to hit the slopes at Lake Louise, Mt. Norquay, and Banff Sunshine. January is one of the best times of the year to visit the Canadian Rockies and go skiing and snowboarding in Banff National Park. Outside of the few days around the New Year celebrations, the ski resorts are quiet as it is not peak season and there are no holiday crowds.
Like we said, it's cold and snowy. Average daytime temperatures are -5°C, and the nights drop to around -10°C. Despite the cold, there's plenty of sunshine and not a lot of wind. Crisp, cool conditions for winter sports, we'd say. That being said, we receive chinooks in the winter where temperatures fluctuate between mild winter temperatures and extreme ones that reach below -30C. It's important to pack for an Alberta winter if you're visiting during these times. Don't visit Banff expecting it to be warm!
---
What to Pack for Banff in January?
---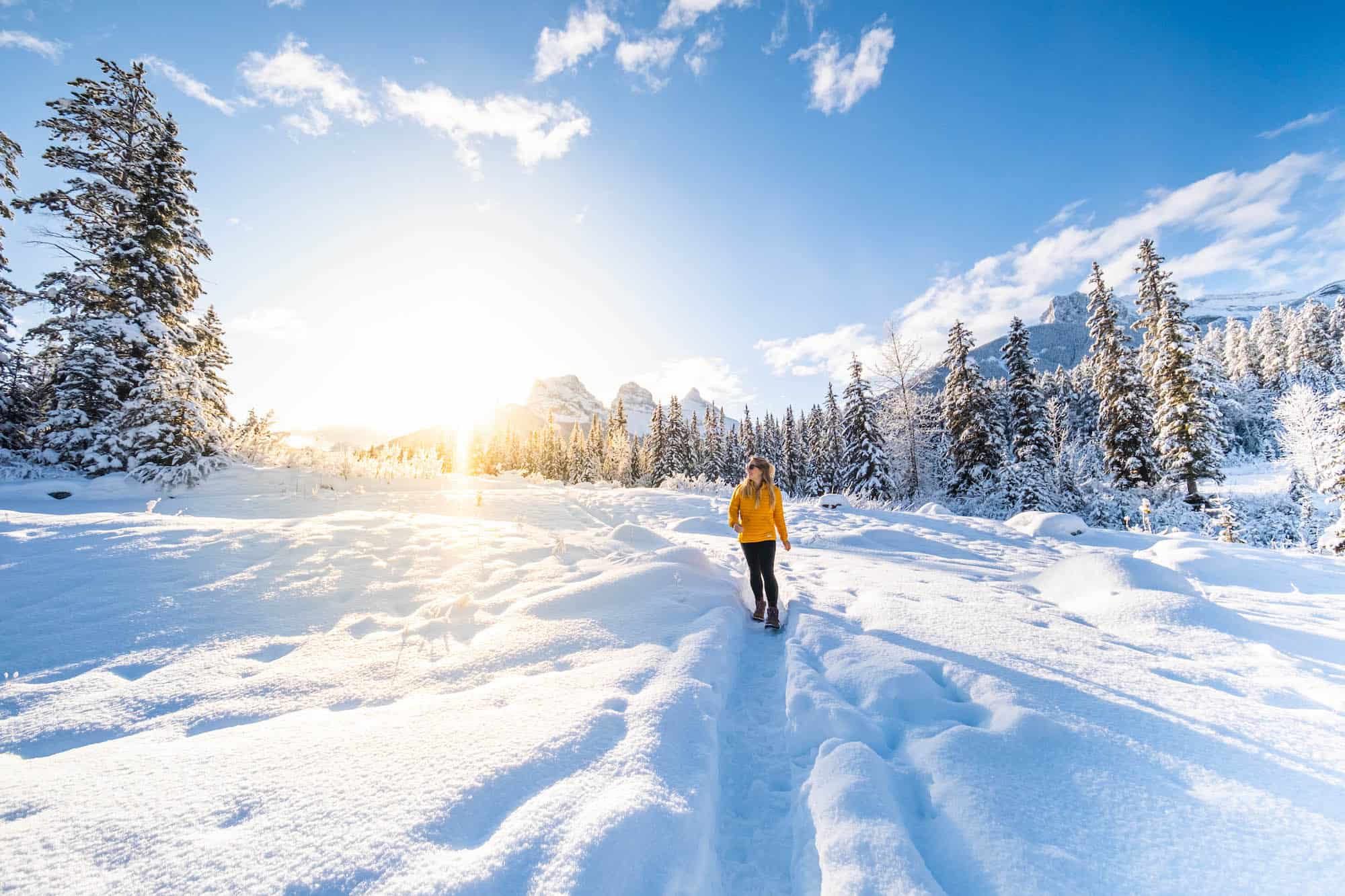 Layers, layers, and layers. January in Banff is one of the coldest months of the year and you'll want to prepare accordingly. That means a proper winter jacket, thermal underwear, merino wool socks, winter boots, gloves, and a hat at the very least. For indoor time you'll want to pack things like a sweater and long sleeve pants. Don't bother with any kind of summer gear during this time, and unless you plan on having an extravagant dinner out I wouldn't advise bringing a dress or dress shoes. Honestly, you may even feel out of place dressing up a lot in Banff
Here's a basic list to go off. The left column is for general winter packing and the right is if partaking in snow sports
Sweater
Flannel
Casual Pants
1 x Top Base Layer
1 x Bottom Base Layer
2-3 x Wool Sports Bra
2-3 x Wool Ski Socks
Mittens
Warm Hat
Winter Boots
1 x Mid-Layer Jacket
1 x Shell Jacket
1 x Shell Pants
1 x Insulated Jacket*
1 x Snow Pants*
1 x Mitts or Gloves
1 x Balaclava
1 x Buff Headwear
1 x Helmet* (if skiing or snowboarding)
---
Can You Visit Lake Louise in January?
---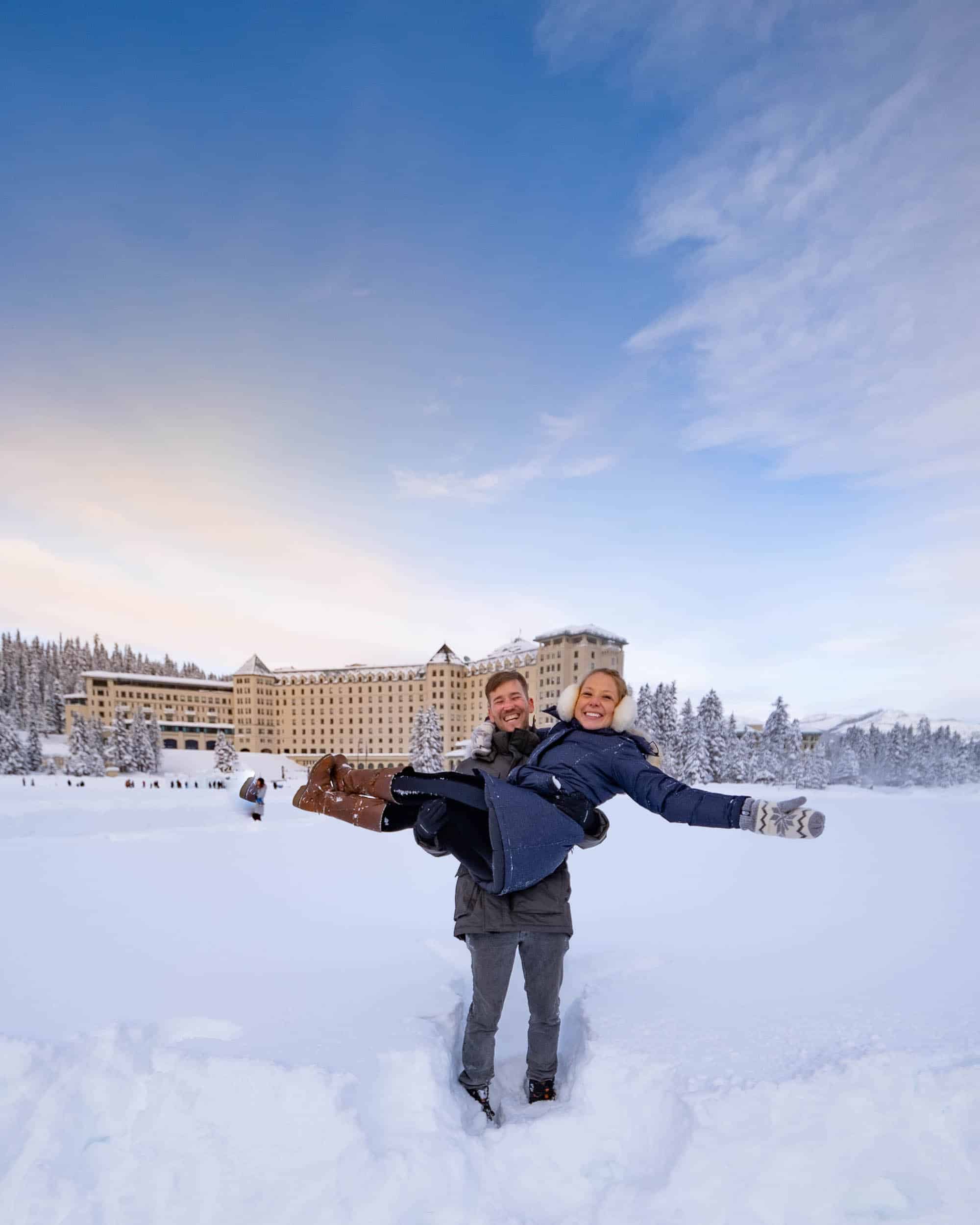 Yes you can visit Lake Louise in January and it's beautiful! I love Lake Louise in the winter. Although expect Lake Louise to be cold and have a lot of snow in January. Because of its location in the mountains, you'll want to get to Lake Louise earlier in the day rather than later. Sometime around 10am will give you optimal sunshine on the lake.
It's a great time to bring or rent ice skates or walk on the frozen lake. Thankfully when you're feeling cold you can duck into the Fairmont Château Lake Louise and warm up with hot chocolate. Also, make sure to Ice Magic International Ice Carving Competition that happens every January!
---
Things to do in Banff in January
---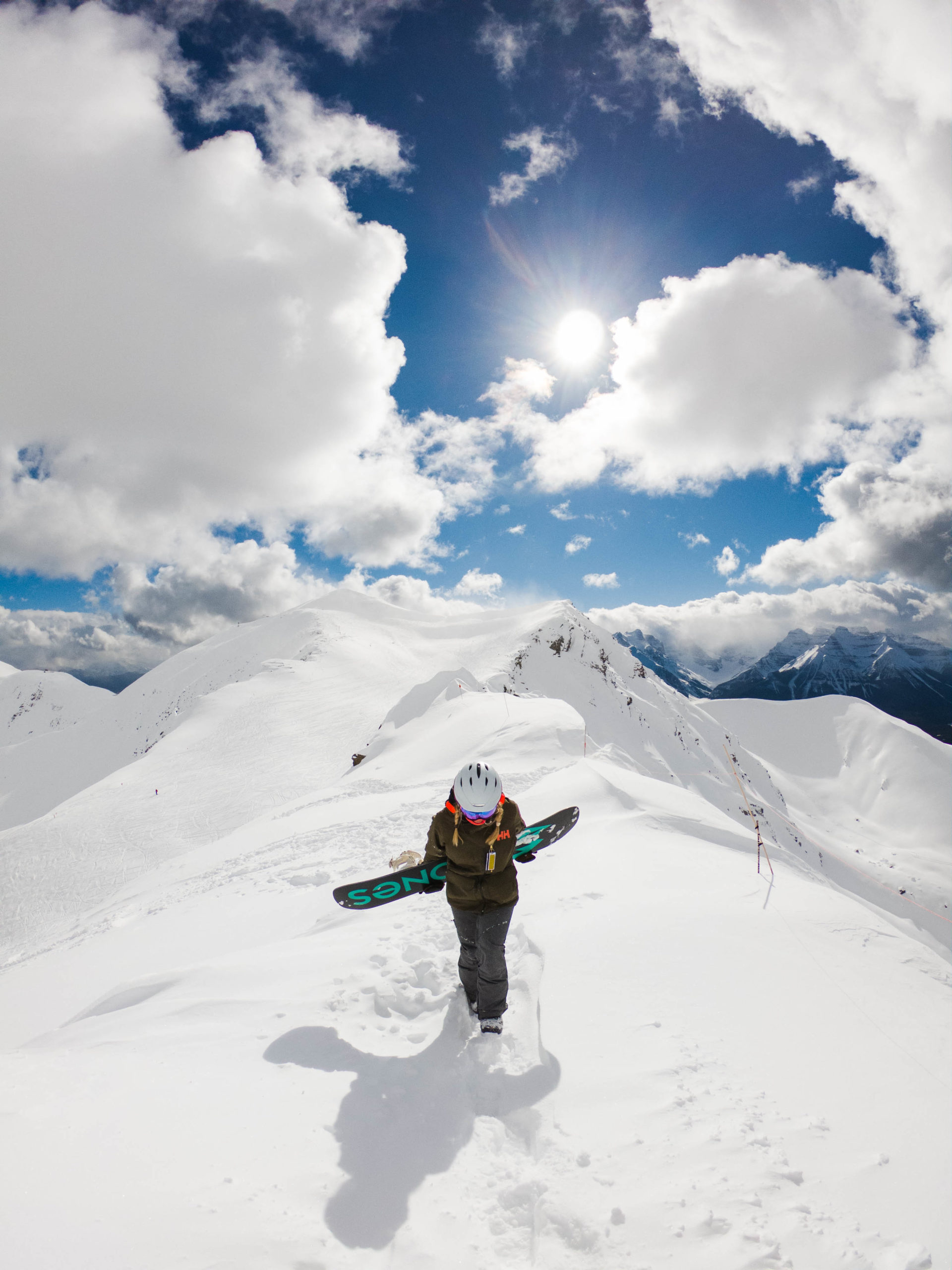 Enjoy Snowdays in Downtown Banff
During late January you can take part in Snow Days in Banff. It's a time when you'll find snow sculptures around Bear Street in Banff, as well as see ice sculptures at Lake Louise, and enjoy tasting cocktails from the many local vendors downtown. It's a great time for locals and visitors alike!
---
There's Always Skiing and Snowboarding
There are three epic ski resorts in Banff to enjoy. Snowboarding at all of the SkiBig3 resorts was our primary reason for heading to Banff in the winter before we settled on moving here. SkiBig3 is a collection of three mountain resorts all within Banff National Park.
You have Lake Louise, Banff Sunshine, and Mt. Norquay which are all fantastic and unique ski resorts. Skiing or snowboarding here is one of the best things to do in Banff in the winter. Mt. Norquay is the closest ski resort to town, while Banff Sunshine is about 20 minutes from Banff and Lake Louise is about 40 minutes from the town. They are all great options! (But we honestly love Lake Louise the best).
---
Or Cross Country Skiing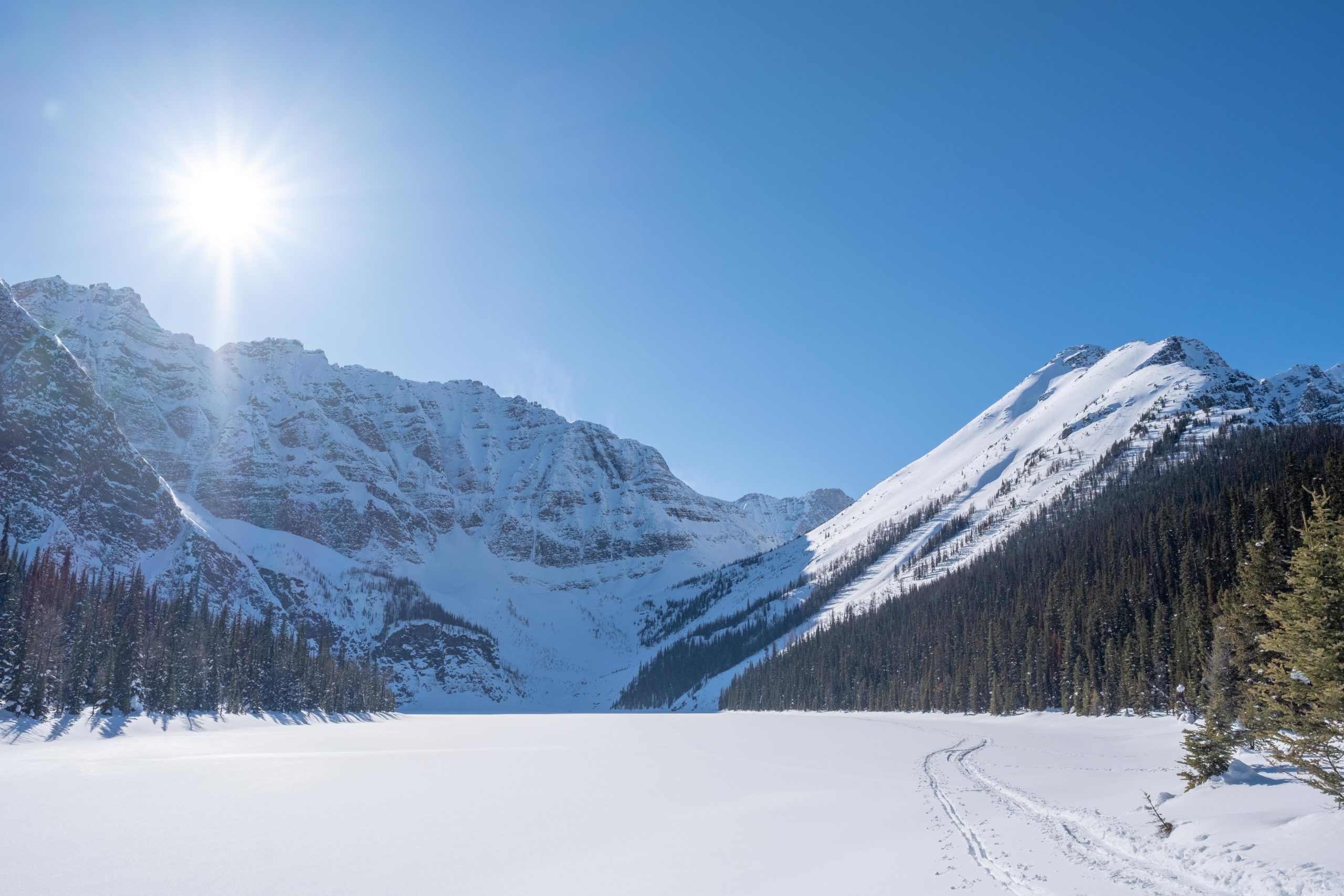 Cross Country skiing is a low impact sport that gets your heart racing and allows you to slide across the snow. It's one of the best things to do in Canmore and Banff in the winter. There is one thing you can't argue against is the pristine wilderness beauty nordic skiers will find themselves, especially in Banff.
Cross country skiing is a serious hobby here and you'll find plenty of people getting out there and stretching their legs. The Nordic Center near Canmore is a popular place to go cross country skiing.
---
You Can Snowshoe in Banff in January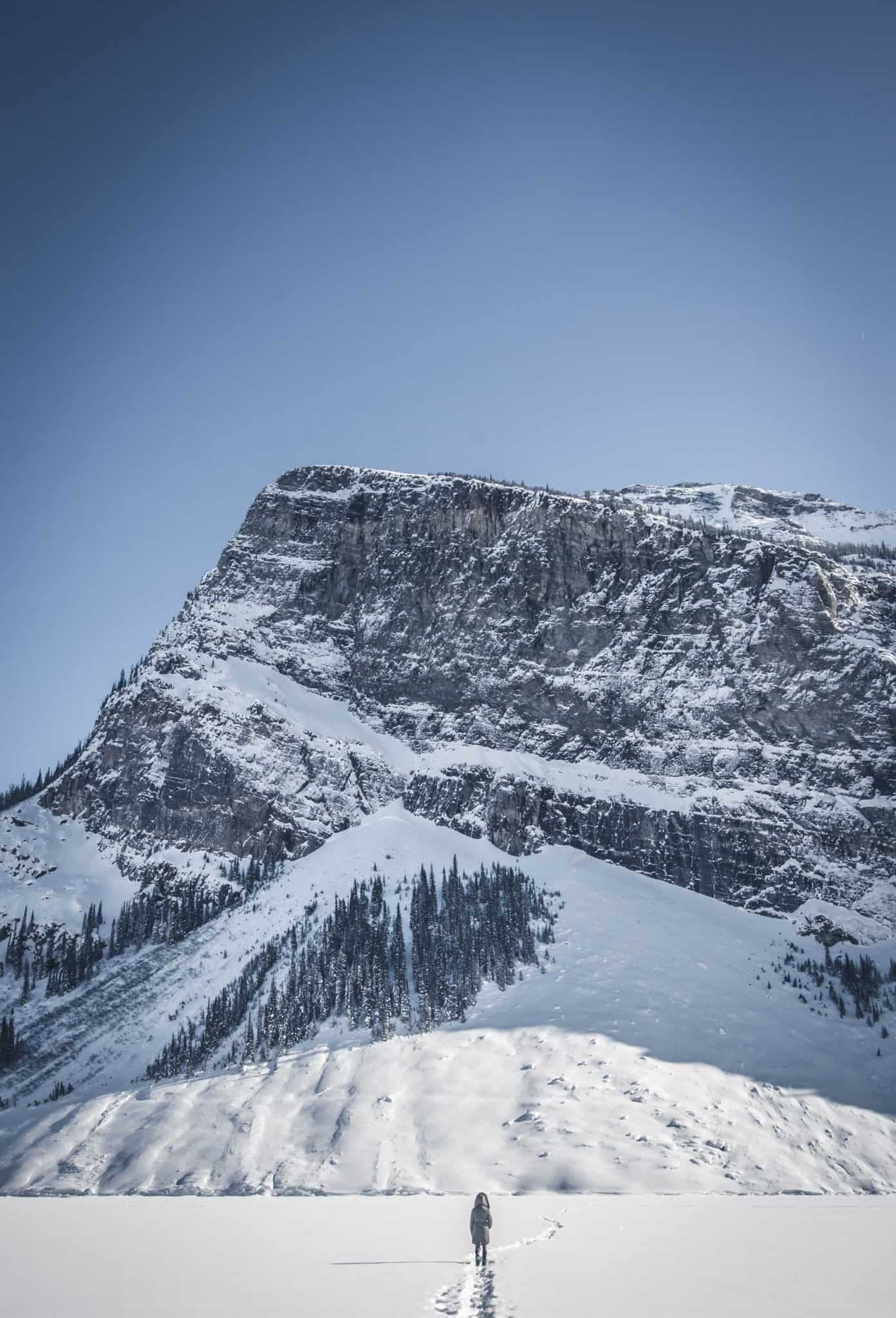 A great thing to do for families visiting Banff in the winter is snowshoe! Just because there is snow on the ground doesn't mean you can't leave the well-trodden path. You might not be able to walk through the snow on foot, but a quality pair of snowshoes allow you to float across the snow.
They're super easy to get the hang of and you'll be moving along in no time. Two popular snowshoe hikes are to the Paint Pots or Marble Canyon, but you're free to explore the wilderness on your own if you rent a pair, just make sure you don't get yourself in avalanche terrain without proper avalanche safety knowledge.
---
Enjoy Apres Downtown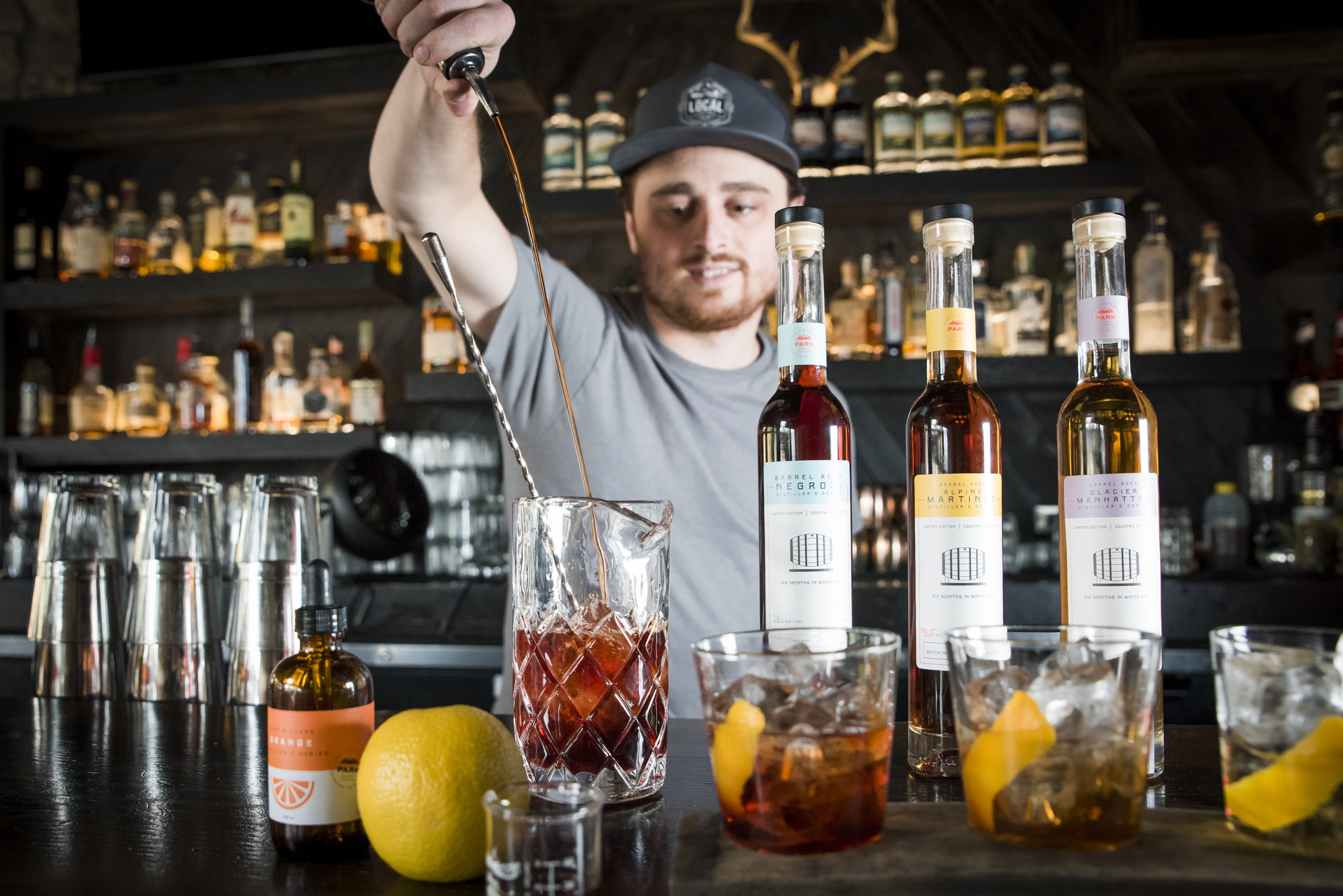 One of the best things to do in Banff in January is warm up at one of the many bars downtown. Doing this is especially great for Apres ski. My favorite restaurants to go in Banff are Banff Ave Brewing, Park Disterilly, and Banff Ave Brewing.
---
Definitely Soak in the Banff Hot Springs in Banff in January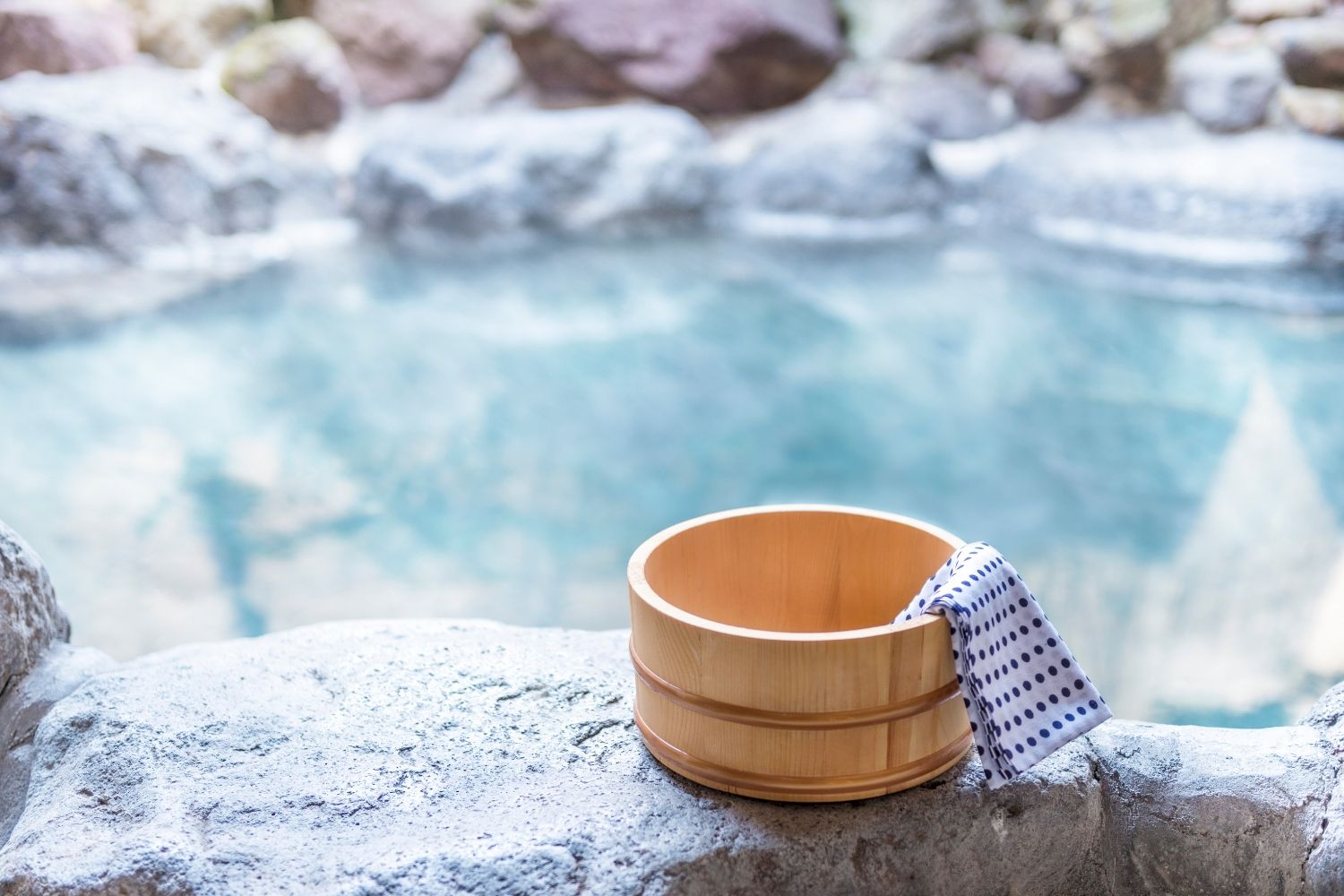 Enjoying hot water in the cool air is one of the top Banff winter activities to enjoy. Don't let the frigid Canadian temperatures detract you because there are plenty of ways to warm up around the Banff.
Just outside of the Banff town lies the Banff Upper Hot Springs. These hot springs make for one of the best places to relax those stiff muscles after a ski day. Just be warned afternoons can draw a crowd so head there in the morning for a more quiet experience.
---
Catch the Northern Lights
If you're lucky, and I mean really lucky it is possible to see the Northern Lights in Banff in January. Be on the lookout for a clear night and check the aurora forecast. If it looks good then head to a dark sport in the park and see what happens. Two Jack Lake and Lake Minnewanka are two great places to catch the light show.