Check out our Banff winter packing list. It gets COLD in the Canadian Rockies in the winter. Come prepared for a proper Canadian winter here temperatures in the winter alternate between a few degrees above freezing and as low as -40 which is the same in both Celcius and Fahrenheit.
Never fear the most extreme temperatures only happen a few times in the winter. Plus with proper packing and the right clothes we rarely let the cold deter us from enjoying the beauty of the Canadian Rockies. You've probably heard this before, but the key to staying warm is layers and a solid exterior. The last one is super important as the wind can pull the heat away from your body and leave you feeling much colder. Read on to learn what we recommend packing for Banff in the winter.
Banff Winter Packing List
---
Here is a short rundown which includes ski/snowboarding gear and winter fun clothes. We're pretty active individuals and love winter sports so you'll find a good mix of lifestyle clothes and technical apparel for winter weather. This packing list is just to give you an idea of what's useful to pack for Banff in the winter. Of course, you know your wardrobe best!
Winter Down Jacket
Down Jacket
Sweater
Flannel
Casual Pants
1 x Top Base Layer
1 x Bottom Base Layer
2-3 x Wool Sports Bra
2-3 x Wool Ski Socks
1 x Mid-Layer Jacket
1 x Shell Jacket
1 x Shell Pants
1 x Insulated Jacket*
1 x Snow Pants*
1 x Mitts or Gloves
1 x Balaclava
1 x Buff Headwear
1 x Goggles (if skiing or snowboarding)
1 x Helmet* (if skiing or snowboarding)
---
Dress For Your Winter Activities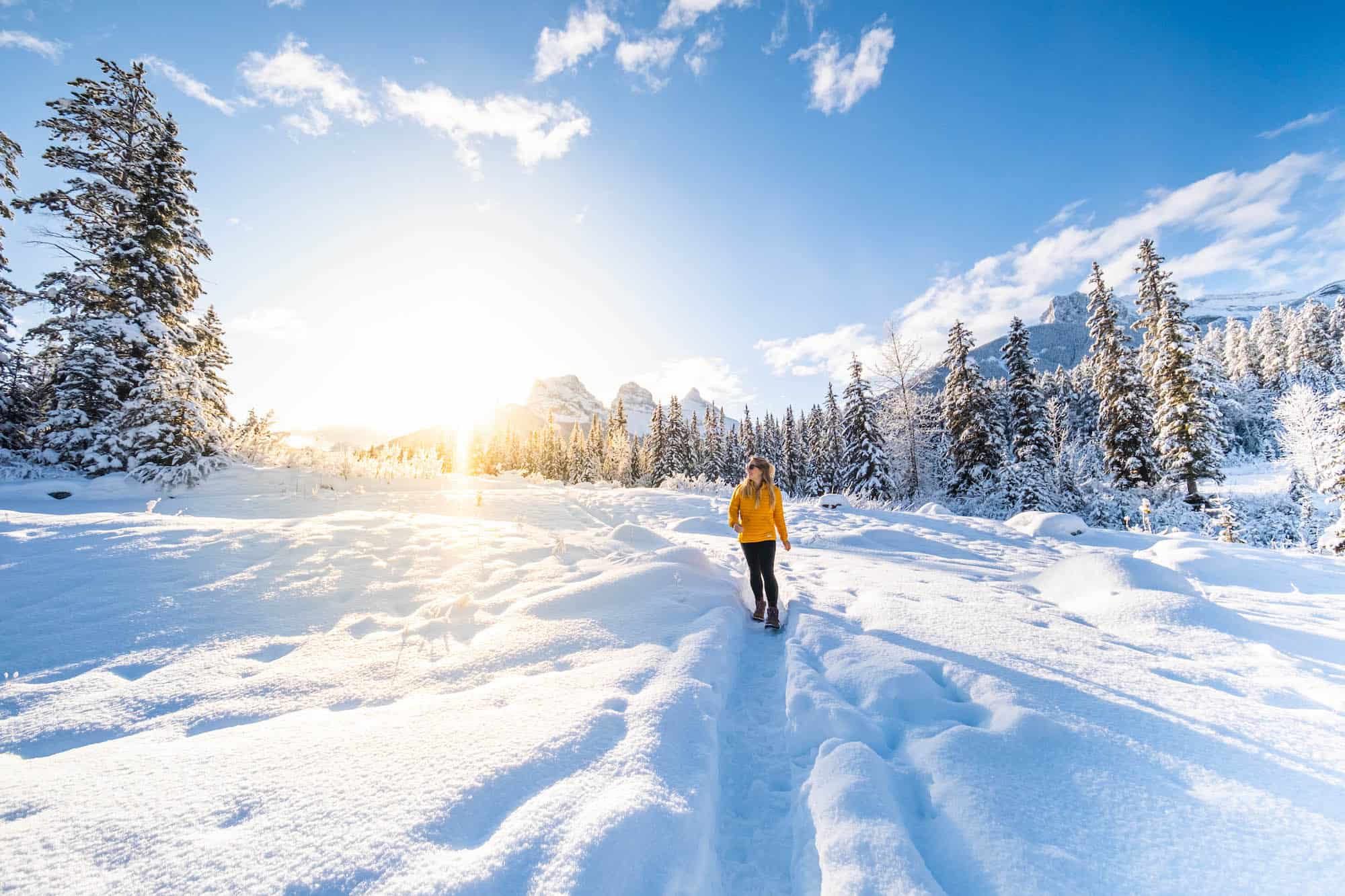 Just because there is snow on the ground doesn't mean you can't be active in the winter. We're big winter sports fans and there are a plethora of things to do in Banff in the winter. Some of our favorite things to do in the winter are ice skating, snowshoeing, ice climbing, snowboarding/skiing, or even a nice winter hike.
---
Winter Temperatures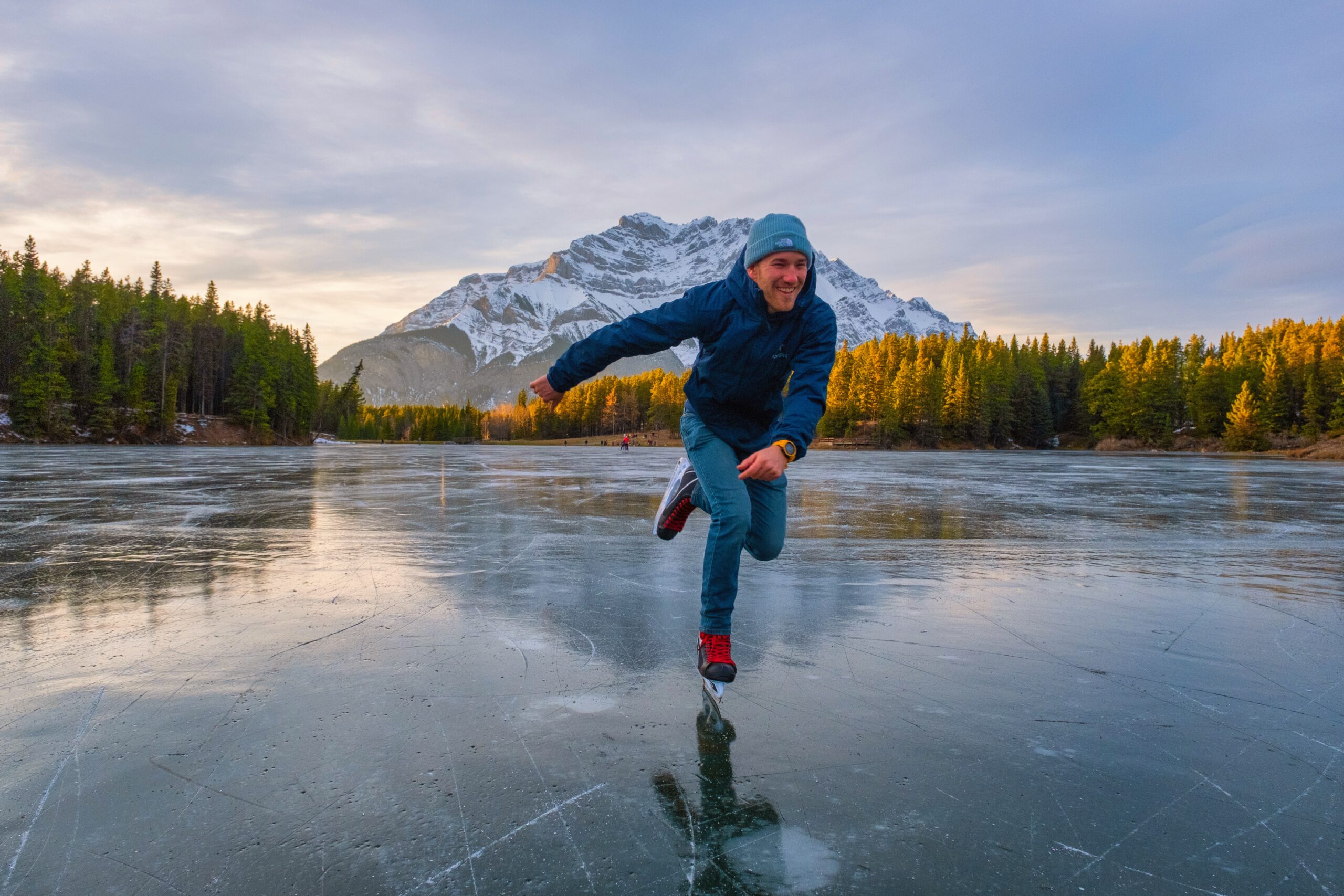 Winter in Banff last a lot longer than in most parts of the world and you shouldn't be surprised to find snow on the ground from October to May. These are the average temperatures in winter in Banff. As we stated earlier these are just the averages Banff and Alberta for that matter is notorious for its Chinook winds which cause wide temperature swings where one day will be a mild 32°F/0°C the next can drop down to a bone-chilling -22°F/-30°C.
November: 33° / 17° F or 1° / -8° C
December: 23° / 7° F or -5° / -14°
January: 25° / 7° F or -4° / -14°
February: 32° / 11° F or 0° / -12°
March: 39° / 18° F or 4° / -8°
---
Clothes To Pack For Banff
---
Winter Parka Down Jacket
A winter jacket is great to pack if you have one handy. We wear heavy down parka jackets that have a hood for when we're running errands in town or walking around the neighborhood. It's great for most people who come to Banff to pack at least one heavy winter jacket. These are great for sipping hot chocolate at Lake Louise, a horse sleigh ride, or even going for a dog sled when you're not very active.
We have a strong preference for down jackets as they provide a lot of warmth, but the real key here is for a jacket with some weight that will help block the wind and insulate. When we travel with our jacket we often wear it on the plane as a large winter jacket can easily eat up half your luggage. Our jackets are from Triple Fat Goose as we need something that will handle the coldest days here.
---
Down Jacket
We take a light packable down jacket on pretty much every trip and use ours all the time around Banff. It's a really versatile piece of clothing because it can pack down and travel in your suitcase. It's great for mild days in the early season around October/November or in the springtime from March to May and beyond.
A packable down jacket can also act as a great insulator/mid-layer if you're really feeling the chill. They can also double as mid-layers for when you go skiing or snowboarding in the park. Or serve as your main jacket if you're cross country skiing, ice skating, or snowshoeing. Our favorite down jacket is the Arc'teryx Cerium Hoody.
---
Wool Sweater
There's always room for a comfy sweater in our winter travels. Since we live in the mountains we've got a nice collection of wool sweaters. Sweaters are all about personal preference, but we love a classic wool sweater.
Stylish, but unpretentious they feel right at home in a mountain town like Banff. Throw one on and head out to dinner or grab a drink at the bar. You can also sub a comfy cardigan for a sweater, but anything that's stylish and provides some casual style is a great call.
---
Flannel
We love a great flannel for a casual mid-layer or for sitting around a fire. It's a classic casual look that's perfect for mild days around Banff in the winter. We have a pretty sweet flannel that is lined with thermals from California Cowboy.
---
Casual/Hiking Pants
A casual pair of hiking pants for walking around town is great to pair with the sweater or use on easy hikes around the park. If we're going for an easy hike like the climb up Tunnel Mountain or a snowshoe on a mild day we rarely wear a pair of snow pants and instead use a synthetic pair of pants with thermals underneath. This can vary a lot from a basic hiking pant to a more technical softshell pant. They're more comfortable and less goofy than bulky snow pants.
There are a lot of pants we recommend for travel, but some of our favorites come from prAna. Look for pants that blend hiking and everyday life well. These pants should handle moisture and block out the wind better than a pair of jeans.
---
Thermal Top
Your base layer is the layer of clothing touching your skin. Therefore you will want something comfortable and flexible. We strongly recommend a quality base layer made of a natural fiber like wool.
We spend five months skiing every year so we've invested in yak wool layers from Kora, but that comes at a premium. A great advantage of wool is its antibacterial properties, I washed my yak wool layer once last year and we went skiing for over 50 days.
For the average vacation or if it's your first ski holiday I would recommend picking up thermals made from a polyester or nylon blend. You can find them on Amazon, at outdoor stores, or any cheap department store carrying winter wear. Do not buy a cotton base layer as cotton pulls body heat away from you when wet. Your base layer doesn't have to be the most attractive thing in the world as it's more or less underwear. Consider your base layers one of the top priorities when packing for Banff in the winter.
---
Thermal Bottoms
Make sure to have a base layer for your whole body. The base layer for your legs is probably more important than the upper body. Remember to purchase thermals made from wool or a reliable synthetic material. Base layers for your legs are also great for walking around the town or a resort.
You don't want to wear your ski pants to the bar, but jeans might be a little cold. However, if you slip on a pair of thermals underneath it makes life a lot warmer. The same size advice for your top applies to the bottom nice and snug. When purchasing make sure to note size charts as top and bottoms sizes can be different. (I wear a size small bottom and medium top.)
The other option is to consider is a 3/4 thermal bottom that stops at the calf. These short thermals are designed to stop above the ski/snowboard boot and reduce the chance of pain from scrunched thermals. It's a more important consideration for skiers and their stiff boots because as snowboarders we've never experienced any discomfort.
---
Wools Socks
In reference to socks, there are three elements to seek out in a pair of socks. First, you want to select a material such as wool or synthetic, not cotton. Do not wear cotton socks as it will almost certainly lead to cold feet. Wool socks aren't that expensive and everyone likely has a pair or two in their sock drawer for everyday life.
If you aren't a diehard ski fanatic any pair of wool socks or warm synthetic socks will do the job. However, an important second element in wool socks is the height. Ski specific socks are cut high up the calf so that they protect the skin from the boot. Many brands also offer dynamic panels on the heel and shin where pressure and abrasion are most likely to occur.
The last consideration is in terms of fit. Try to opt for slim-fitting socks, as loose or bulky sock can bunch up around the shin and ankle. As the sock bunches up it cuts off circulation and results in cold feet, plus general discomfort. This is also why multiple layers of socks can result in cold feet!
For the average trip, I would suggest two pairs of ski socks and if it's an extended trip (2+ weeks) three pairs of socks. If you're worried about them getting too dirty just hand wash pairs in the sink and lay them by the heater. One last tip, always always keep your socks dry when you get ready. My socks are the last thing I put on before my boots. I've had days with cold feet because I walked into the bathroom to brush my teeth.
---
Mid-Layer
This is most important for people who come to Banff for skiing. A mid-layer is your insulating layer and where you'll get the majority of your warmth. They go on over your thermals and also operate as a jacket for when you're not skiing or snowboarding.
Mid-layers come in a wide variety of fashions and we have several different types for different conditions. The most common are down jackets, synthetic down jackets, Polartec jackets, fleece jackets, and synthetic hoodies.
The most affordable option we recommend for everyone is a fleece jacket, as it provides plenty of warmth at an affordable price. It's not made to hold up to extreme conditions, but the average skier shouldn't be out in adverse conditions anyways. We both use a synthetic down jacket from Arc'teryx as our mid-layer as it's lightweight provides great warmth, and handles moisture well. I have the soon to be rereleased Arc'teryx Nuclei (Spring 2020) and Tasha has their classic Proton Hoody.
---
Shell Jacket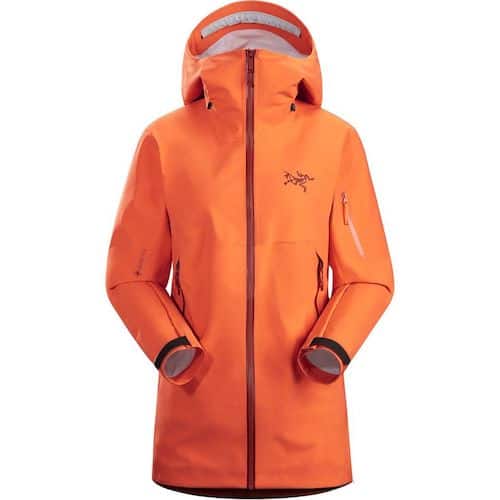 Shell layer (jackets/snow pants). Shell layers are made out of waterproof and usually windproof material. Premium jackets use a multilayered GORE-TEX. It's the main layer that separates the wearer from the outside world. A good shell jacket should not only keep you warm but protect you from the snow/moisture.
The jackets we use are the men's Arc'teryx Sabre AR and Women's Sentinel AR shell jacket. These are top of the line jackets made with GORE-TEX and built to handle everything ski and snowboard. The tough jackets keep us bone dry in adverse conditions and the brushed flannel interior feels great to the touch. If you want a more affordable option check out the REI Co-op Stormbolt GTX, Helly Hansen Sogn, or the Outdoor Research Skyward II.
---
Shell Pants
If you have the right pair of pants you need a lot less insulation in the legs than you would think. Robust shell pants will keep you dry and protect you from the cold winter wind.
These pants are most commonly a lightweight material like GORE-TEX that is water and wind-resistant. We have a couple of pairs of shell pants, but the big difference in the pants are those with insulation and without insulation.
To compliment our top jacket we went with the Arc'teryx Sabre AR Pants. Similar to the jacket they're bomb-proof pants made for sending if off jumps and tackling steep lines in the resort or backcountry. They feature things like rear leg zips for ventilation when climbing mountains and kevlar enforced insteps to prevent cuts from crampons or ski edges. However, insulation only comes in the form of a thin flannel brushed interior. They aren't designed for sitting around in the cold.
That being said there are a plethora of pants that are much more affordable and provide plenty of performance. You can pick up more affordable shell pants from a wide range of gear companies like Outdoor Research, REI, The North Face, Mountain Hardwear, and Helly Hansen.
---
Insulated Jacket
For the best performance, we suggest the three-layer system. The only problem is this can be expensive and a little cold for those that are just starting out with winter sports.
Simply put an advanced skier tends to run hotter than a beginner as they're moving faster, thus more body heat. If it's your first ski trip consider picking up an insulated jacket instead of a shell and mid-layer.
An insulated jacket is often considered "resort wear" and it's a perfect jacket for most to have as it works well in everyday life. Resort wear insulated jackets come in a wide variety of price points and you can even pick up some three-layer options that have multiple detachable layers. Of course, any generously cut insulated jacket can be worn with multiple layers to keep yourself toasty warm on extra cold days.
One of the best value options in the ski jacket world is the Columbia Bugaboo II Interchange Jacket. We've been long-time fans of Columbia for their great value with solid products. This jacket combines a decent shell with two detachable layers inside (fleece and down). Outside of that, you have a massive selection of insulated jackets to pick from we've personally loved jackets from Outdoor Research, Patagonia, Helly Hanson, The North Face, Stio, and REI. That's just the tip of the iceberg.
---
Snow Pants
The other obvious items for a ski and snowboard trip to Banff is snow pants. Snowpants are essential for anyone heading up the mountain. If you're a weekend warrior or take one ski trip a year consider some decent pants like The North Face Freedom pants. They don't cost an arm and a leg but deliver a heck of a lot of performance with a waterproof exterior and synthetic insulation.
If you want something even cheaper bargain shop around on Amazon or at your local department/sporting goods store. I spent several short weekend trips when I started snowboarding in $50 snow pants from a generic sporting goods store. They kept me happy and warm, enough.
---
Bibs
If you plan on skiing or snowboarding in deep powder, which does happen on stellar days at Lake Louise and Sunshine, bibs are not a bad option in lieu of regular snow pants.
Bibs wrap around your entire body like overalls, which may sound restraining when you're being active but they actually prevent snow from falling down your pants in the event of a fall in the snow.
We just recently started using 686 gear and love their fit, style, and overall durability of the pant. We've ridden powder a few times this season and can confirm that we stay completely dry in these bibs still!
---
Mitts or Gloves
Quality gloves will be your best friend on the slopes because no one likes it when they can't feel their hands. Seriously, the main reason people don't enjoy skiing or snowboarding is when they get cold. Many prefer mittens as they keep your fingers together and allow for less surface area to the cold. This means your hands stay warmer in mitts than gloves.
That being said this comes from two snowboarders. We know that many skiers prefer glovers so that they can separate their fingers more easily when dealing with their ski poles. It's all personal preference, but if you're prone to a chill I'd suggest some mitts. And at the end of the day gloves are one of the last things you want to forget about for your winter holiday. My go-to glove is the three-finger Fall Line from Hestra.
---
Balaclava
It's always good to pack some snow protection for your face. On sunny days we'll go without anything, but more often than not we expect snowy conditions on the mountain. We generally switch between two different styles of face protection.
The primary for bad weather and cold days is a merino wool balaclava. We've tried a bunch of different balaclavas and it's tough to get one that doesn't collect tons of moisture before freezing to your face. As for the best warmth and performance we've found a wool balaclava can do wonders. Our next choice would be for a fleece one that can be bought for super cheap!
---
Goggles
Unless you're on a budget, don't care, and taking a short weekend trip with guaranteed sunshine I would strongly recommend packing a pair of goggles. They are an essential part of your ski outfit and I consider it a lifeline. Goggles provide protection for your eyes and aid your vision on the mountain.
We have been long-time fans of Smith goggles for their unrivaled optics quality and performance in low light. Their latest goggles mag technology in their goggles for easy switches between low light and sunny days. Even if you don't want to drop $200 on goggles, it worth picking up a good budget option. For only $60 you can grab the Giro Roam that includes two lenses for low light and sunny days.
It's tough to come by ski goggle rentals so opt if it's your first time opt for the Giro Roams or order a cheap $20 pair off Amazon as it will save you a lot of headaches on the mountain.
---
Winter Boots
You aren't going to trudge around town in a pair of sneakers. Pick up a pair of functional, but stylish boot that has a high ankle to prevent snow.
We have a pair of Sorel Caribou boot for deep snow days in Banff. However, the majority of the winter snow depths aren't bad in town so a sturdy pair of boots will work perfectly well. These shoes are often more than you'll need, but they are awesome and cute.
---
I suggest bringing at least one pair of casual gloves or mittens for just walking around. I personally like the ones that have touchscreen fingertips. It's also common for many ski-specific mittens and gloves to come with liners that work well for casual use around town.
---
Helmet
Not wearing a helmet is a thing of the past. Do yourself and your noggin a favor and wear a helmet when you ski or snowboard. This applies whether you are a beginner or an expert. The great thing about helmets is they keep your head and ears warmer than hats too!
We rock the Smith Vantage Helmet as it's considered one of the best helmets on the market. It provides robust protection around our head, plenty of ventilation, and a cozy soft interior. After receiving a concussion last ski season, wearing a helmet, it's not something I plan to forgo anytime soon. If it's your first time traveling with ski gear carry your helmet onto the plane strapped to the outside of your backpack. Don't worry if you don't own equipment every ski rental shop should offer helmets.
---
What You Don't Need to Bring to Banff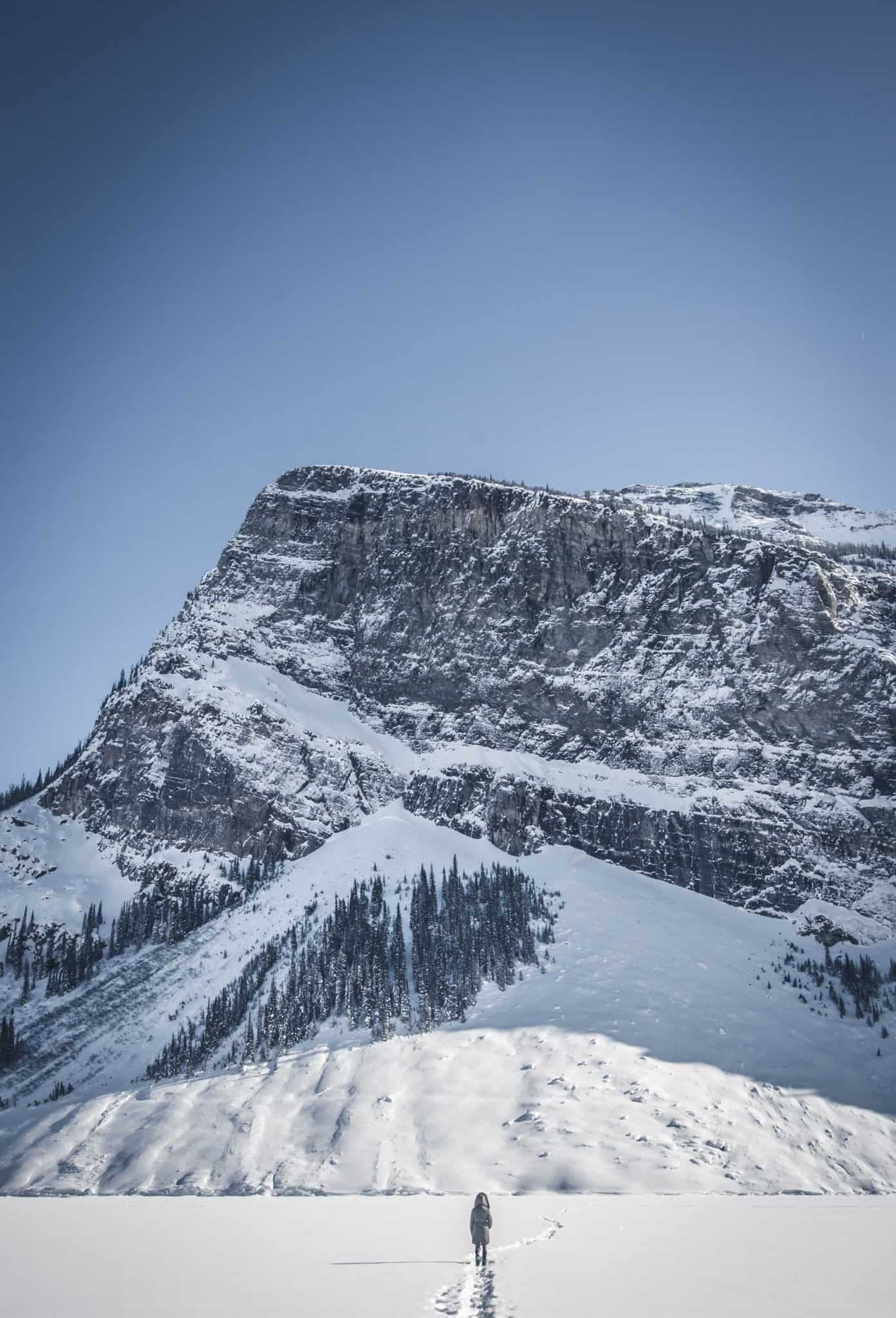 Club Dresses: There are no clubs in Banff or Canmore. There is no need for a short clubbing dress. The best thing you'll find here is a brewery or distillery where you would instantly feel out of place in a short dress.
Heels: There's absolutely no scenario in the Canadian Rockies where you will need heels. Oh yea, and don't go hiking in them – that's a bad idea.
Dress Clothes in General: Both men and women don't need to worry about getting super fancy here unless you absolutely want to. If you're going to a nice event a sweater and black pants work just fine.
Bottled Water: The one thing that drives me nuts every summer are the grocery stores that sell cases of bottled water and the visitors that think they need to buy them. Not only is this a waste of plastic, but you don't need to. worry about the tap water here. It's SO good and completely fine. Please don't buy bottled water here.
↓ Join the community ↓
The Banff Blog Facebook Group is your headquarters for the Canadian Rockies travel advice and information. Including hike info and off-season travel information. This is also a place where you can meet one another when you need adventure buddies.