If you're planning on visiting Banff in February don't come dressed in shorts and t-shirt. Banff in February is a wonderful, but chilly time to visit. So not everyone may think it's the best time to visit Banff.
This is Alberta after all! There are so many wonderful things to do in Banff in February! From visiting Lake Louise to hitting up a hot chocolate bar here is all you need to know.
---
Things to Know Before Visiting Banff in February
---
What's the Weather Like in Banff in February
---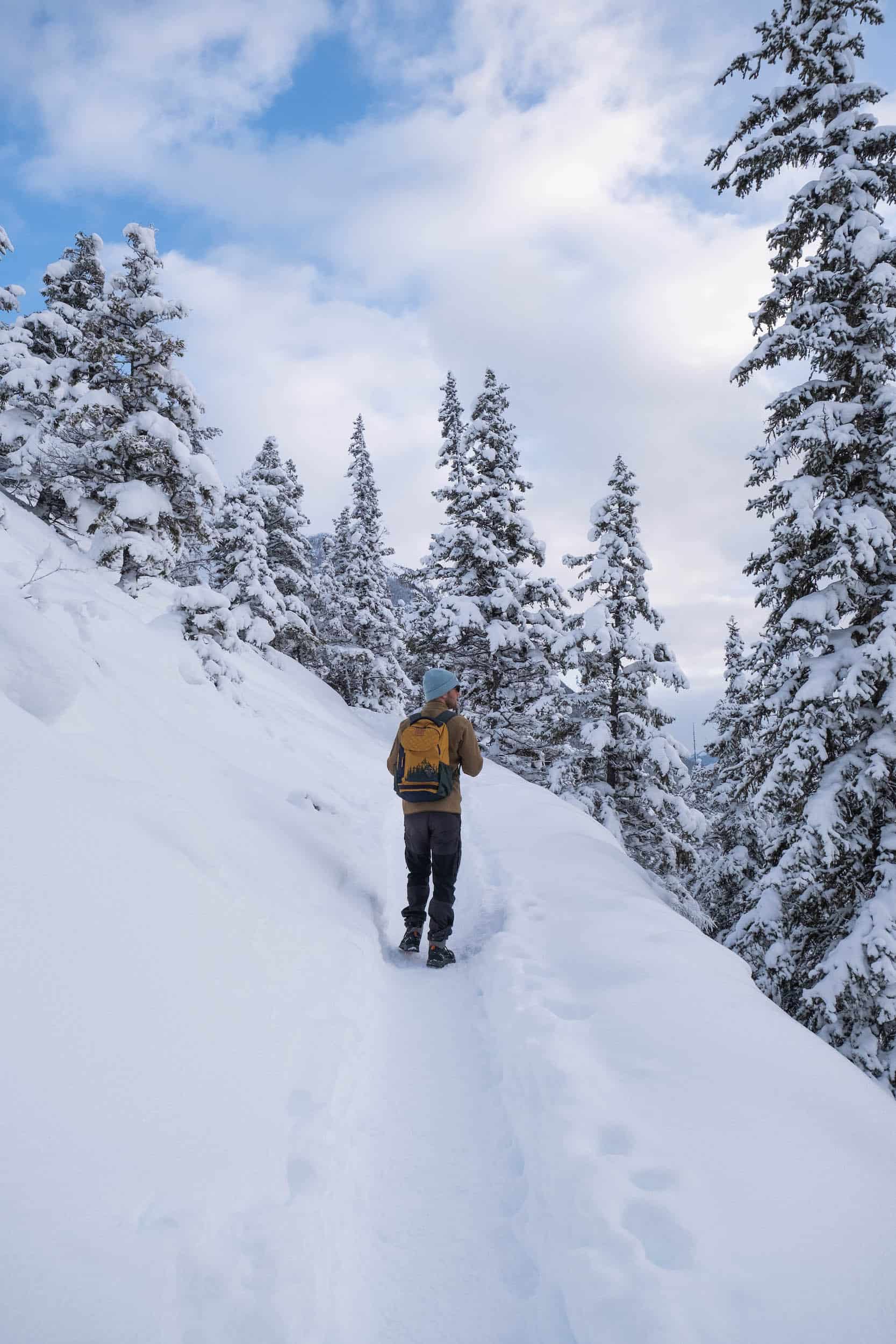 The average temperature of Banff in February is around -1°C (but it can get colder). It's definitely one of the coldest times to visit Banff, but also one of the best times to visit the Canadian Rockies if you like winter sports. While January was more of a "locals" month, February means tourists are now showing up for their winter adventures, so you may find high season prices and it's gonna be busier than you might think in town.
There is one week in February that is Family Week. This is when the towns of Canmore and Banff fill up with visitors and the ski resorts can be particularly busy. It's still manageable though and nothing like the big ski resorts like Whistler, Breckenridge, Aspen, Park City, or Mammoth.
Nights in February are still super cold, with temperatures hovering at -10°C or even lower. This means that February in Banff is the perfect time for sitting around a cozy fireside with a hot chocolate. Snowfall in February is a little unpredictable. Some winters it's heavy and can provide epic powder days, while other Februarys have seen little snowfall.
Nevertheless, you should arrive to Alberta fully prepared for winter in Banff. Cross your fingers for sunshine, February in Banff means long days so when the sun is shining it can make for a glorious day. It's a great time of year to spend days on the slopes. nordic skiing, or ice climbing around Johnston Canyon.
---
What to Pack for Banff in February?
---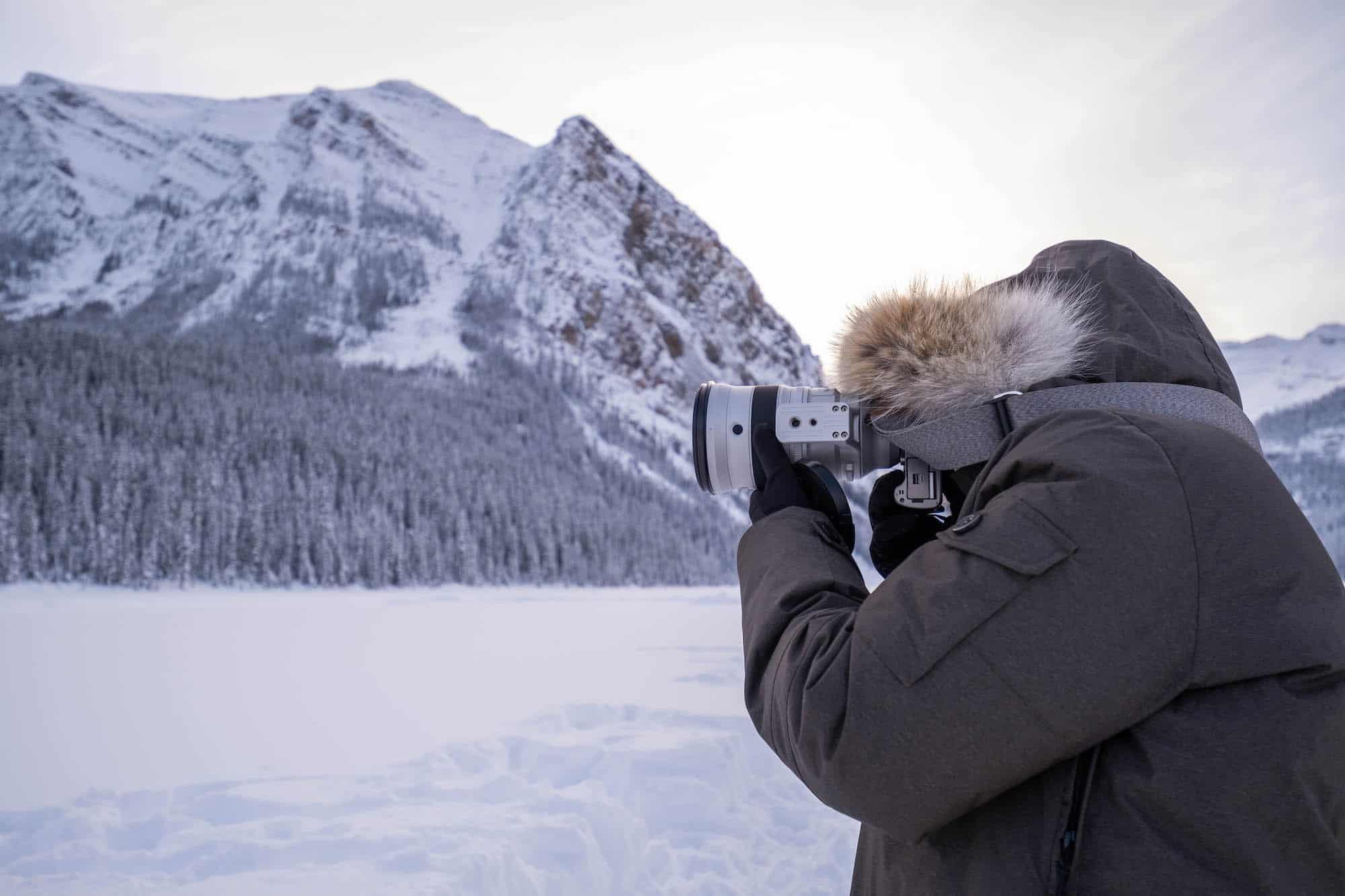 Layers, layers, and layers. February in Banff is one of the coldest months of the year and you'll want to prepare accordingly. That means a proper winter jacket, thermal underwear, merino wool socks, winter boots, gloves, and a hat at the very least.
For indoor time you'll want to pack things like a sweater and long sleeve pants. Don't bother with any kind of summer gear during this time, and unless you plan on having an extravagant dinner out I wouldn't advise bringing a dress or dress shoes. Honestly, you may even feel out of place dressing up a lot in Banff
Here's a basic list to go off. The left column is for general winter packing and the right is if partaking in snow sports
Winter Down Jacket
Sweater
Flannel
Casual Pants
1 x Top Base Layer
1 x Bottom Base Layer
2-3 x Wool Sports Bra
2-3 x Wool Ski Socks
Mittens
Warm Hat
Winter Boots
1 x Mid-Layer Jacket
1 x Shell Jacket
1 x Shell Pants
1 x Insulated Jacket*
1 x Snow Pants*
1 x Mitts or Gloves
1 x Balaclava
1 x Buff Headwear
1 x Helmet* (if skiing or snowboarding)
---
Can You Visit Lake Louise in February?
---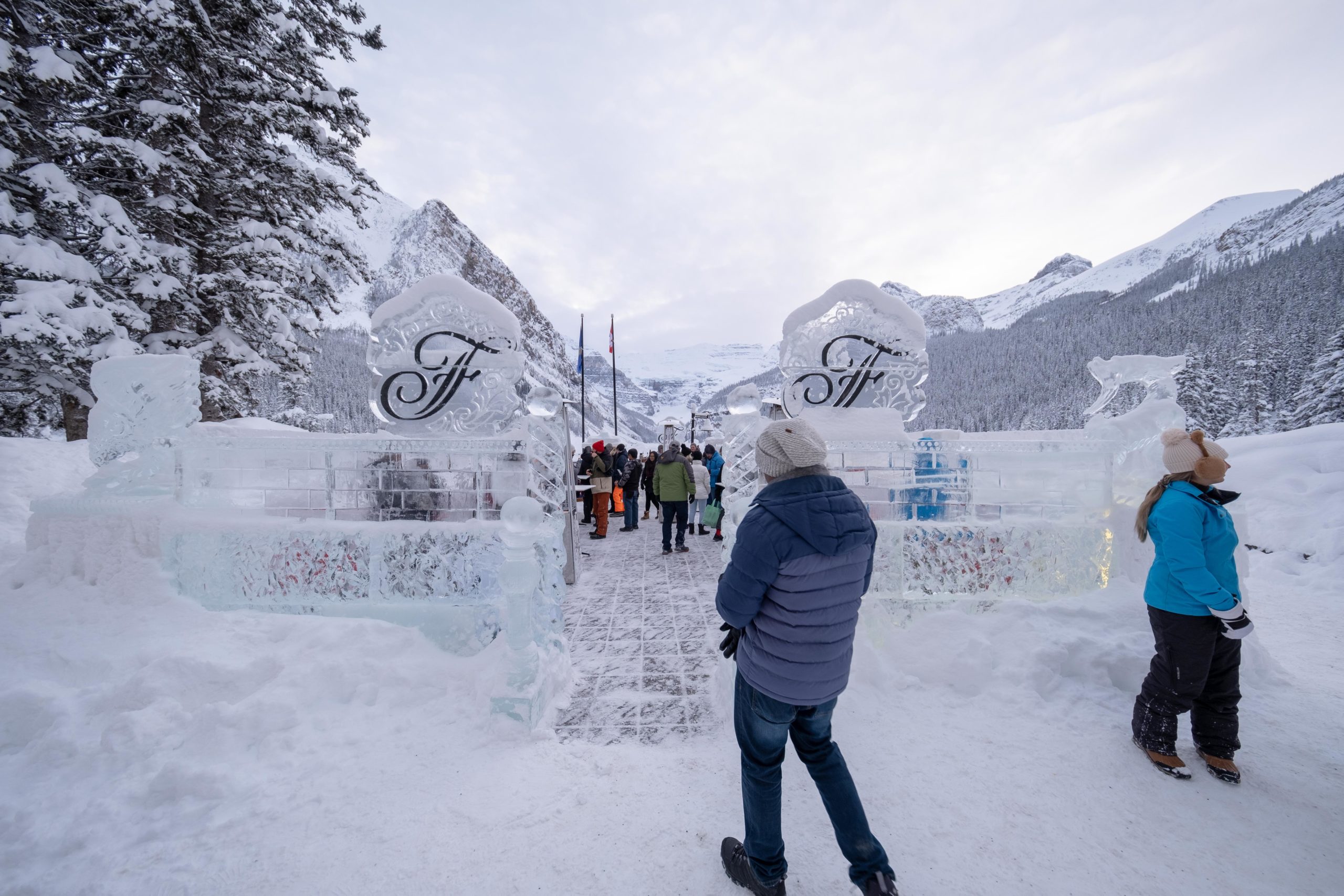 Yes, you can visit Lake Louise in February and it's beautiful! I absolutely love Lake Louise in the winter. Although expect Lake Louise to be cold and have a lot of snow – it is Banff in February after all. The best thing to do in Lake Louise around this time is ice skate, walk around the lake, or enjoy a coffee inside the Fairmont. Pack warm weather clothes for Lake Louise in February, it's higher in elevation that the town of Banff so you can expect it to be colder.
Don't think that just because Lake Louise is frozen that it isn't still beautiful. Lake Louise is still amazing in the winter.
Note that Moraine Lake is not accessible in February.
---
Things to do in Banff in February
---
Johnston Canyon Ice Walk
---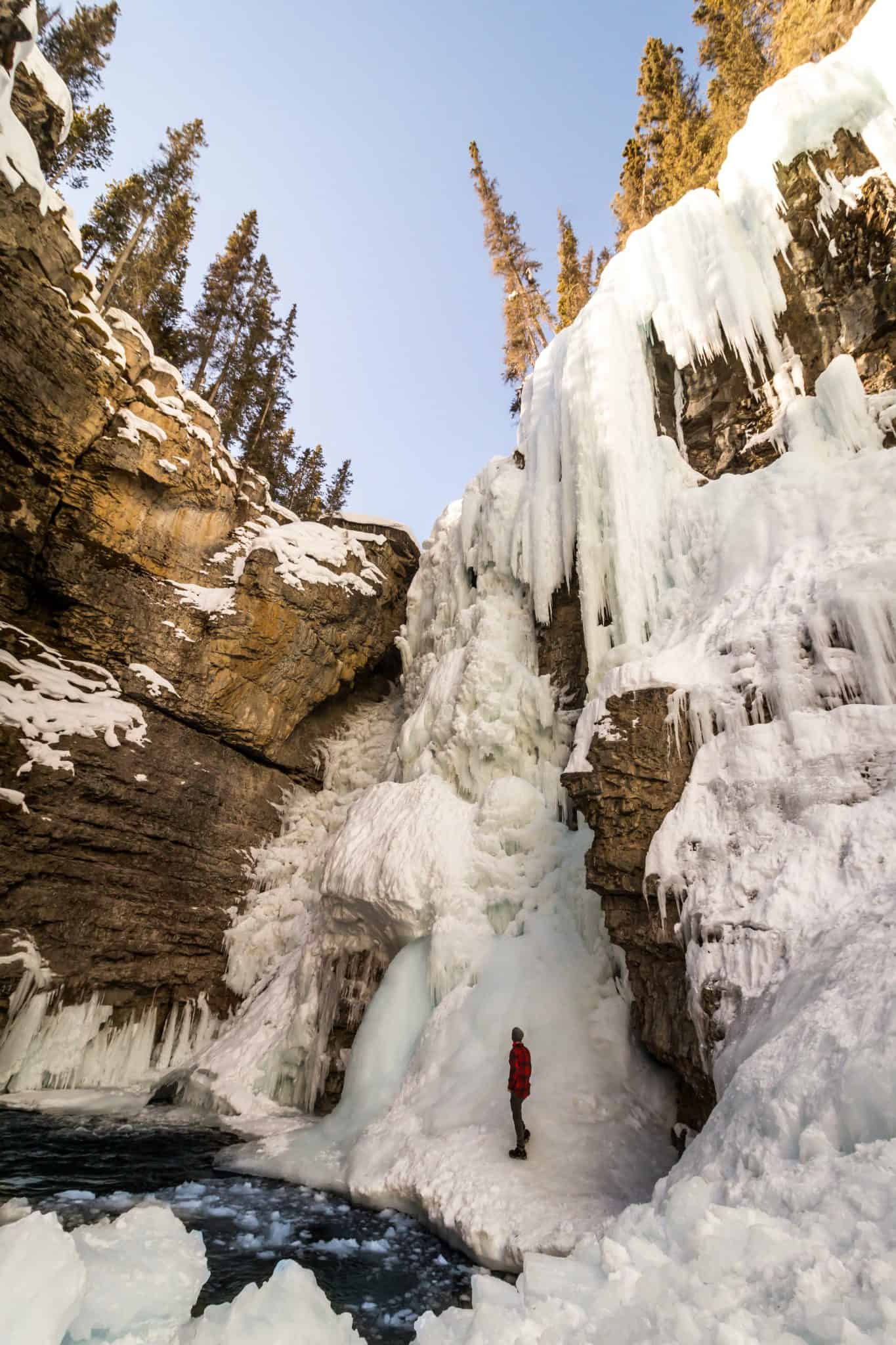 The Johnston Canyon walk is the best thing you can do in Banff in the winter for free. Have you ever stood on a frozen waterfall before? Neither had we until the Johnston Canyon hike. Due to the elevation of the region and the sub-zero temperatures of winter the waterfalls of Johnston Canyon freeze in time. It's a pretty surreal experience and completely accessible for all.
As a tip, we suggest picking up some ice cleats in town. Although the trail is well managed it can get icy and it's better to slip everywhere on the trail – ours were very handy! Once you reach the end of the trail and the most impressive frozen fall you'll probably find some ice climbers. If you're feeling adventurous book an ice climbing tour yourself!
---
Hike Tunnel Mountain
---
Tunnel Mountain is right in the heart of Banff. It's beloved by locals for its accessibility and you can hike it year-round. It may be one of the smallest mountains in Banff National Park, but it still offers tremendous views of the surrounding valleys and Mount Rundle. It's one of the easiest yet rewarding hikes you can do in Banff.
The hike moves slowly up the mountain through a number of switchbacks and offers various viewpoints out into the Bow and Spray Valleys. It's great for sunrise or sunset and it rarely disappoints. The best part is it's only a 4.5 km round trip hike and shouldn't take more than one hour up. It's one of the easiest winter hikes you can do with only 266 meters of elevation gain.
---
Ski/Snowboard in Banff in February
---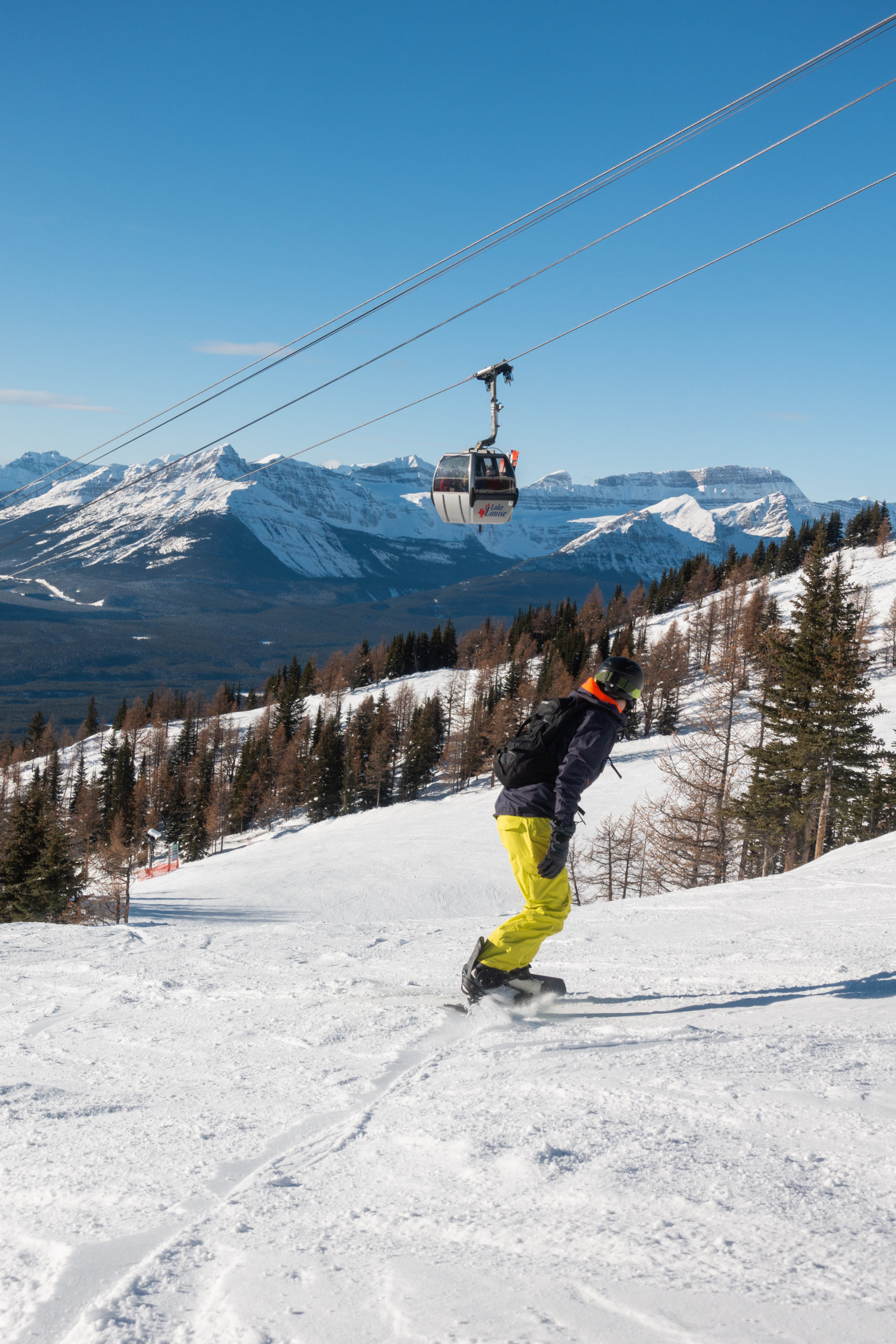 There are three epic ski resorts in Banff to enjoy. Snowboarding at all of the SkiBig3 resorts was our primary reason for heading to Banff in the winter before we settled on moving here. SkiBig3 is a collection of three mountain resorts all within Banff National Park. You have Lake Louise, Banff Sunshine, and Mt. Norquay which are all fantastic and unique ski resorts.
Skiing or snowboarding here is one of the best things to do in Banff in the winter. Mt. Norquay is the closest ski resort to town, while Banff Sunshine is about 20 minutes from Banff and Lake Louise is about 40 minutes from the town. They are all great options! (But we honestly love Lake Louise the most).
---
Snowshoe in Banff in January
---
A great thing to do for families visiting Banff in February is snowshoe! Just because there is snow on the ground doesn't mean you can't leave the well-trodden path. You might not be able to walk through the snow on foot, but a quality pair of snowshoes allow you to float across the snow.
They're super easy to get the hang of and you'll be moving along in no time. Two popular snowshoe hikes are to the Paint Pots or Marble Canyon, but you're free to explore the wilderness on your own if you rent a pair, just make sure you don't get yourself in avalanche terrain without proper avalanche safety knowledge.
---
Go Dog Sledding
---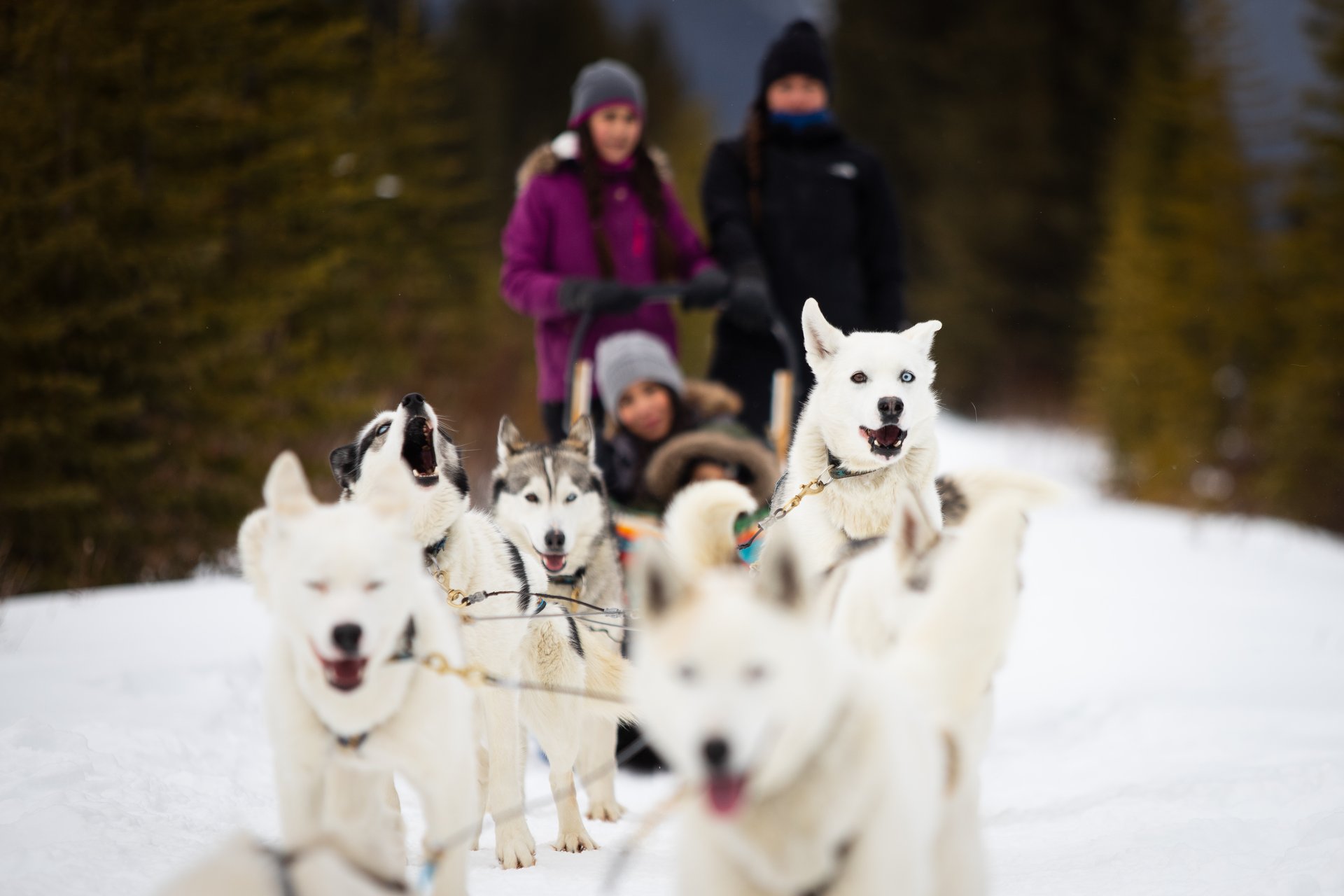 Discover Banff Tours runs dog sledding adventures at Lake Louise and in Canmore and is one of the best things to do in Banff in February. We've done this four separate times and it's always an amazing experience. What I particularly love is how quiet the ride is with only the sound of the dog teams steps against the snow.
---
Venture into Canmore!
---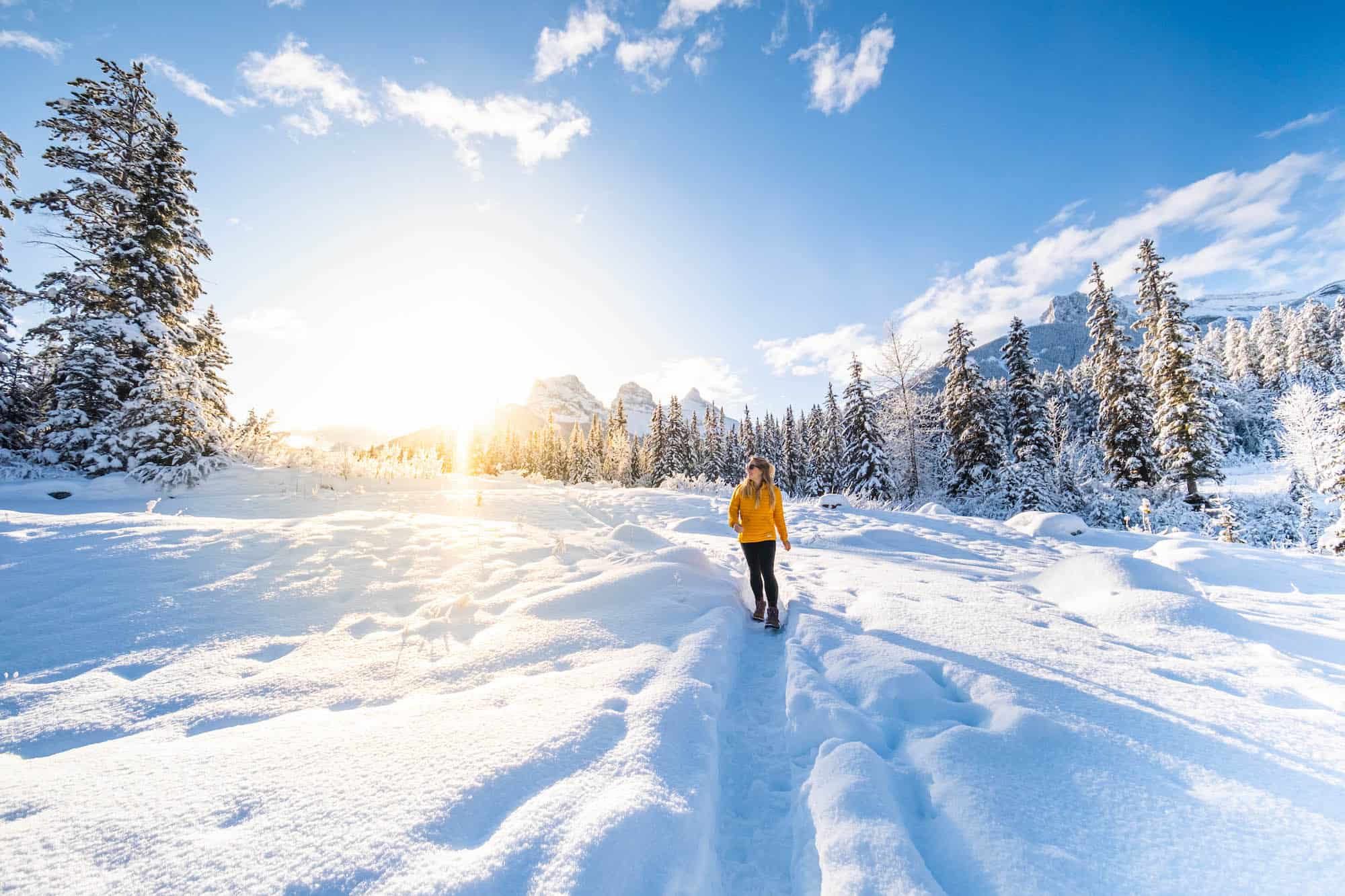 Okay, this isn't really a thing to do in Banff as it's a 15-minute drive away. We may be biased to our home base, but we think Canmore is the bee's knees. There's plenty to do in Canmore in the winter. Including Nordic skiing at Canmore Nordic Center, and having a beer downtown at The Tavern!