The Kananaskis Nordic Spa is a relaxing oasis located in the beautiful Kananaskis Country. This spa is nestled in the impressive Canadian Rocky Mountains, near Nakiska Ski Resorts.
This 50,000 sq foot spa is open year-round and is centered around relaxation and calmness.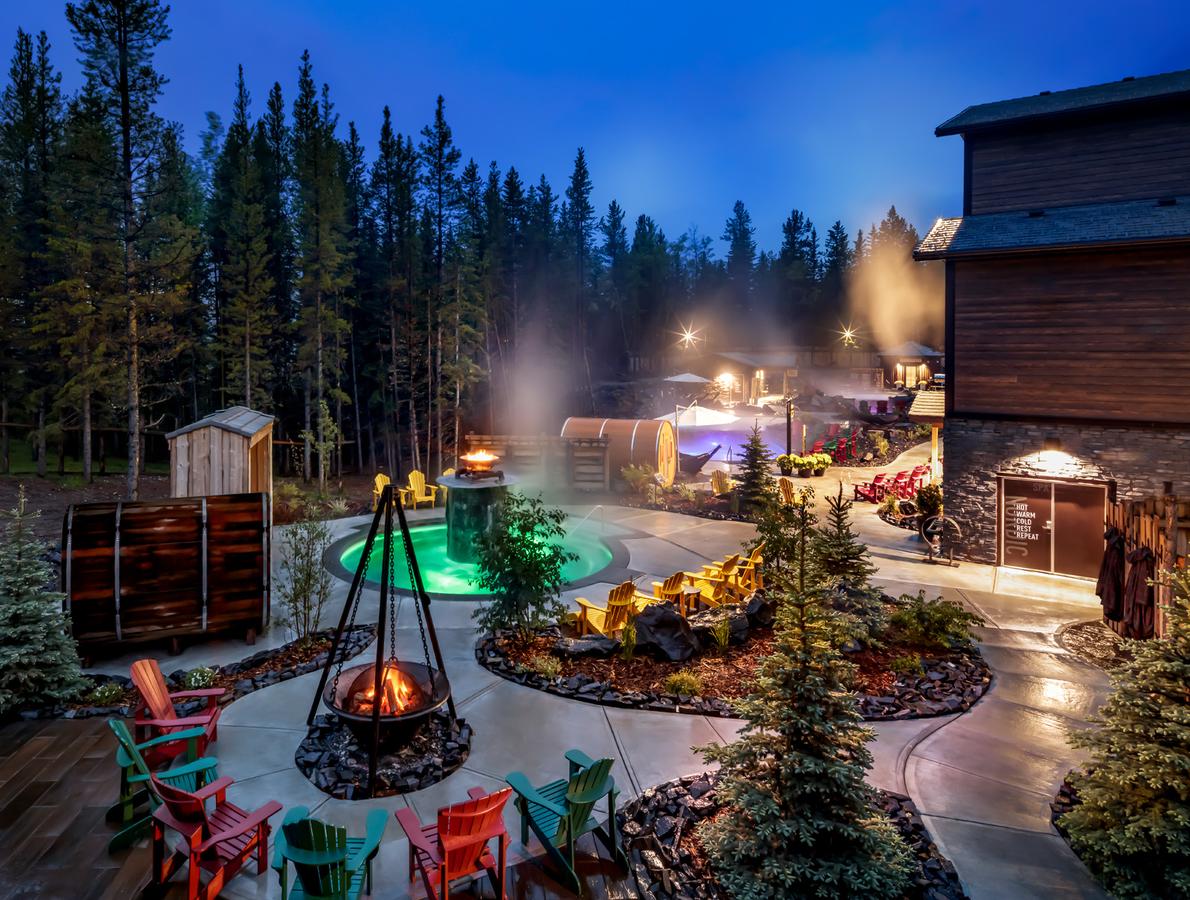 Once at the spa, there are various amenities to enjoy, including steam rooms, saunas, hot pools, cold pools, relaxation areas and firepits. What's even better? All of these stunning facilities have a stunning mountain backdrop!
---
Where is the Kananaskis Nordic Spa Located?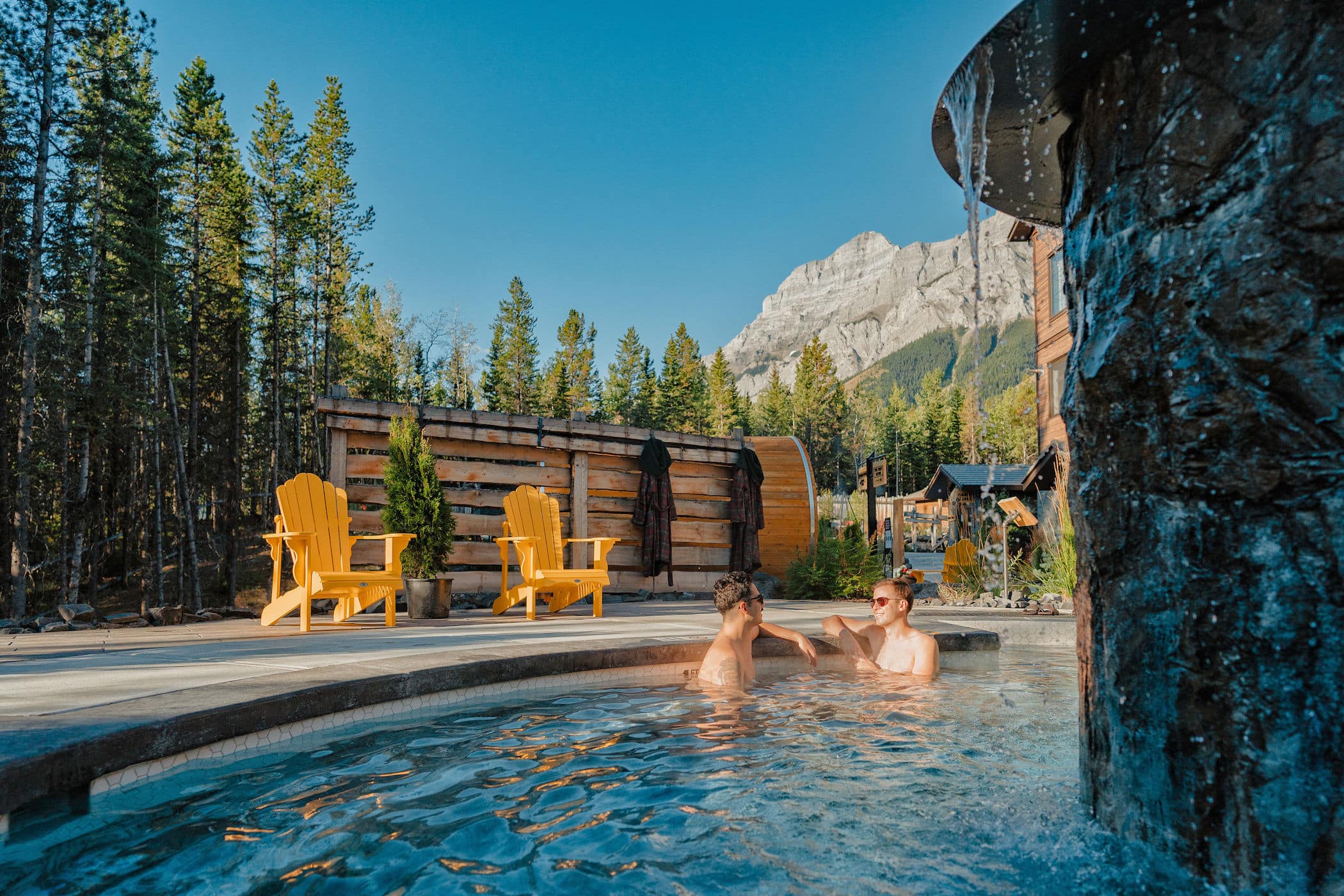 The Kananaskis Nordic Spa is located at 1 Centennial Dr in Kananaskis, Alberta. This picturesque spa can be found an hour and 10 minutes from Calgary, just 40 minutes from Canmore and 55 minutes from Banff.
As you pull up to the Pomeroy Kananaskis Mountain Lodge (home of the Kananaskis Spa), you will spot parking to the right. Once you've parked and grabbed everything you need for the day, head through the hotel's main doors and turn left. Once you see their front desk, you will notice a door to the right. Head through that door to find the main entrance of the spa.
Once in the main building, the friendly staff will greet you and give you the full rundown for your experience.
TOP TIP: If you are arriving for a massage booking, we recommend arriving 30 minutes in advance, as this will give you time to check in, pay, head to the locker area and enjoy the massage lounge. 
Once you've checked in and paid for your experience, you will be given a wristband to unlock your designated locker. In your locker, you will find a cozy robe, a towel, water sandals and exfoliation salts. Save these salts for the end of your experience to enjoy in the exfoliation cabin!
TOP TIP: If you are plus sized like myself or are a tall person, you may find that their new robes feel small. The staff are happy to provide you with their older model (which is both bigger and cozier) upon request.
There are so many things that we love about their changing rooms. Kananaskis Nordic Spa truly goes above and beyond to offer a positive experience for everyone.
Their change rooms have showers with shampoo, conditioner and body wash, blow dryers, body cream and other little bits and pieces that you may have forgotten!
Once you're ready, follow the signage to either find the hydrotherapy access area or the massage therapy facility.
---
What Can I Find at the Kananaskis Nordic Spa?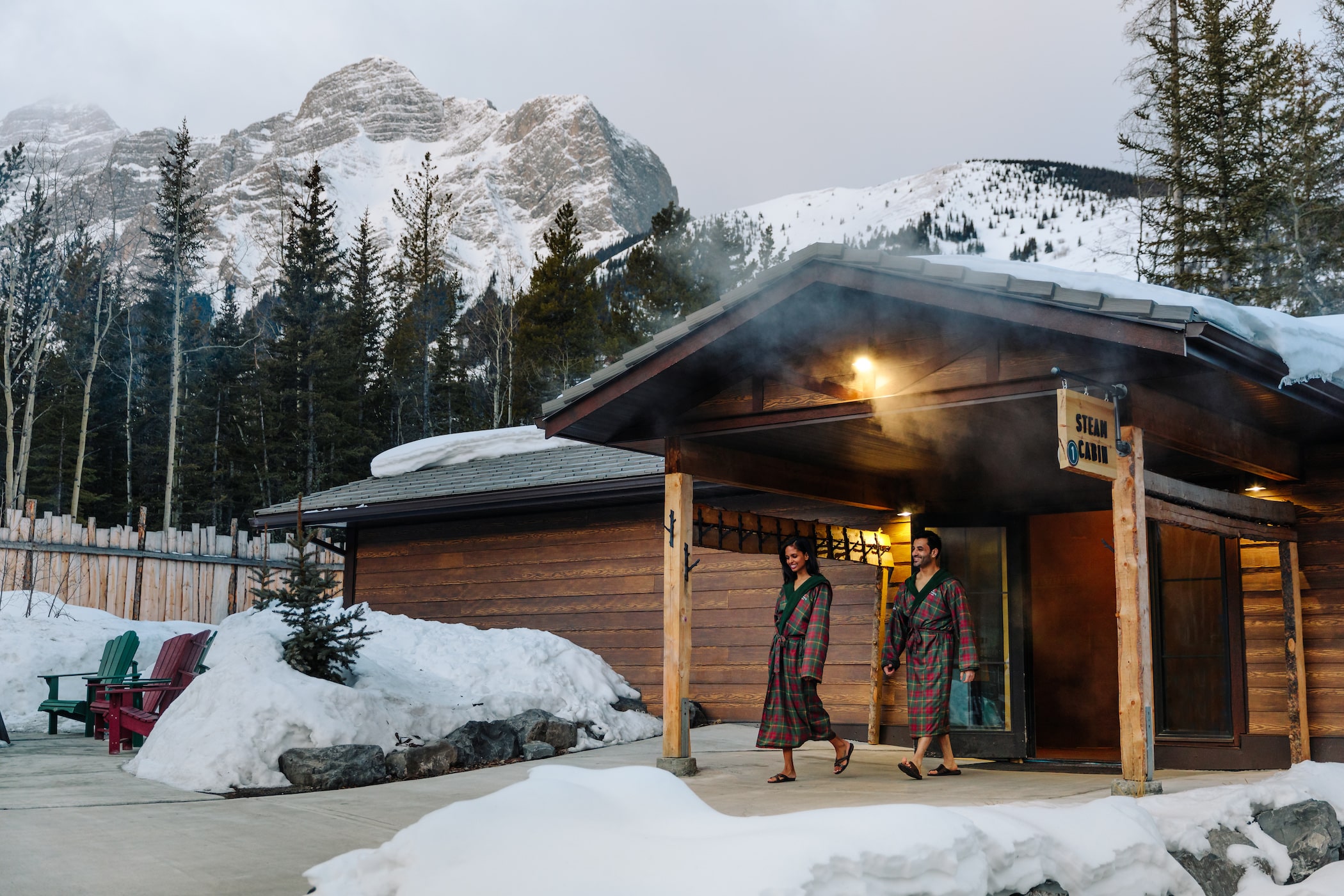 There is truly something for everyone at the Kananaskis Nordic Spa! When you're at the spa itself, there are so many options to choose from. It is recommended to follow the hydrotherapy circuit to get the most benefit from your experience.
With 50,000 sq ft facility holds a wide variety of options to choose from. This includes:
Three Relaxation Areas
Two Hammock Areas
One Restaurant (Two Trees Bistro)
Two Barrel Saunas
Four Warm/Hot Pools
One Cold Plunge
Two Sauna Buildings
Two Fire Cauldrons
One Exfoliation Cabin
One Steam Cabin
One Exfoliation Cabin
One Main Spa Lodge
KEEP IN MIND: The facilities are 18+, there is no re-entry allowed, it is a cell-phone free zone and bookings are available up to three months in advance. 
---
Hours of Operation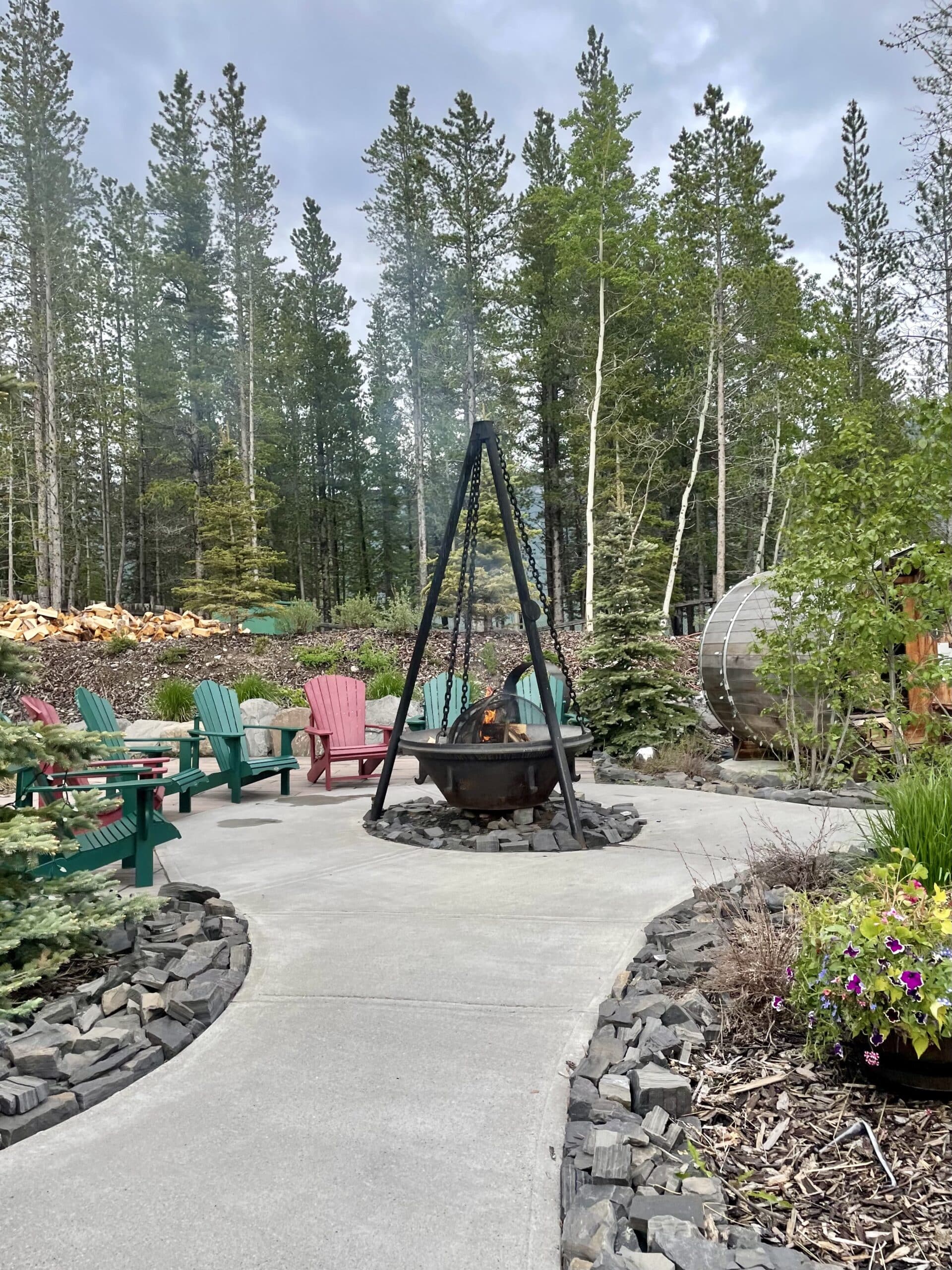 The Kananaskis Nordic Spa hours depend on whether you're looking for massage therapy or you're looking for hydrotherapy access.
If you're looking for a massage, they are offered between 8:15 am and 8:30 pm. For the hydrotherapy access, they are open between 9:00 am and 9:00 pm.
From our experience, we have always enjoyed arriving as early on as possible to make the most of the day. Seeing as there are so many different relaxation spots to choose from and access to the bistro, we like to take our time and make the most of the entry fee.
---
Kananaskis Mountain Lodge Pricing (+ Money Saving Hacks)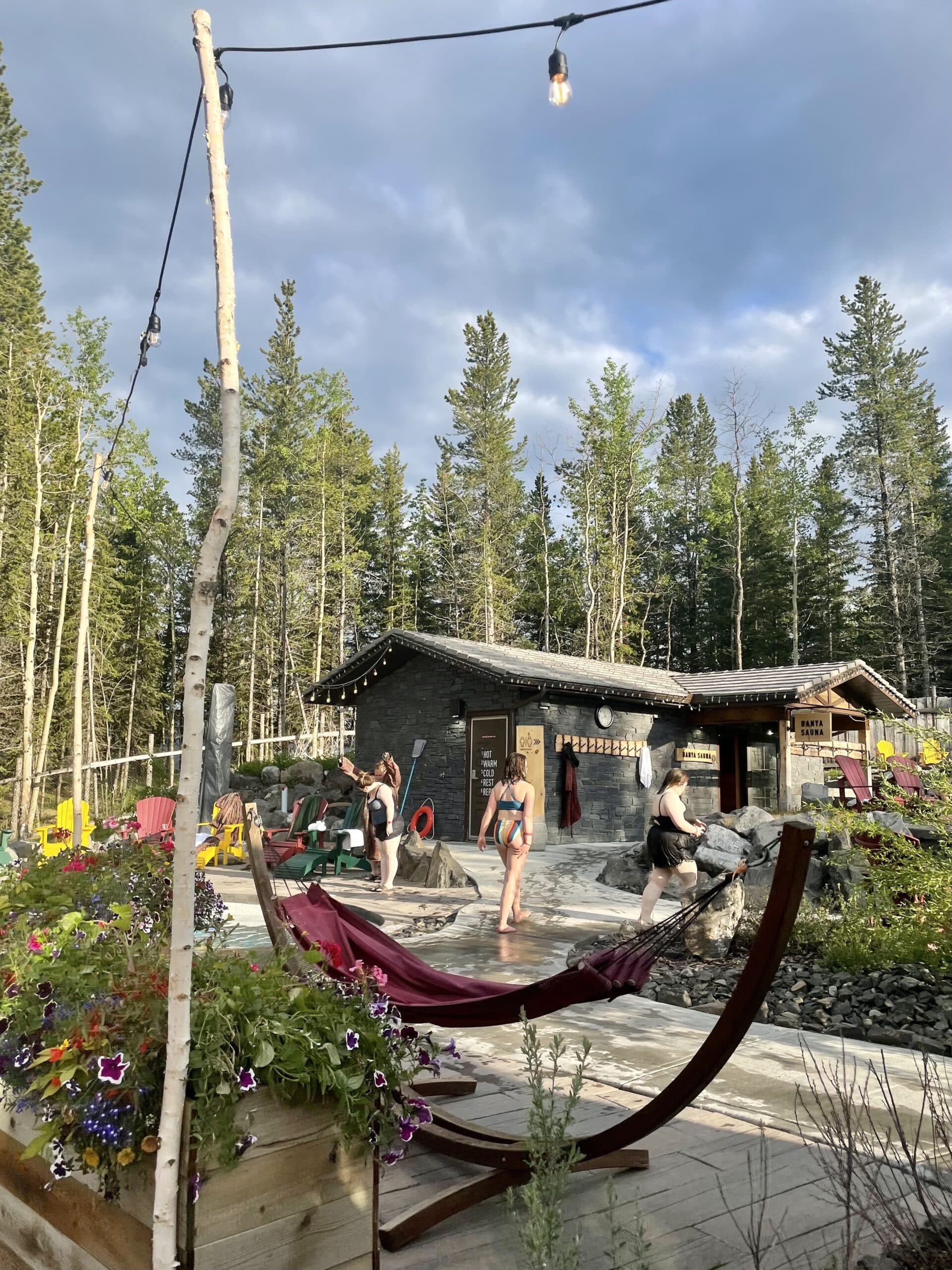 The pricing for the Kananaskis Spa depends on if you're just looking to enjoy the hydrotherapy stations, or if you are hoping to enjoy a massage while you are there.
The hydrotherapy access fee ebbs and flows, depending on the time of the year, holidays, weekdays vs weekends. From Monday to Thursday, hydrotherapy access tickets cost $129.00. From Friday to Sunday, they tend to range from $149.00 to $169.00.
HACK #1: Are you looking to enjoy the hydrotherapy access but find the prices a bit too steep? They have a special "Soak and Sleep" or "Twilight" rate. Head to the spa later in the evening and access the hydrotherapy area from 6-9pm for only $79.00. Better yet, if you're a hotel guest, this evening experience is only $69.00!
Hydrotherapy Access
| | |
| --- | --- |
| Monday – Thursday | $129.00 |
| Friday – Sunday | $149.00 – $169.00 |
Getting a massage is one of our favorite parts of visiting the Kananaskis Nordic Spa.
Massage appointments are available between 8:15am and 8:30pm and many types of massages are offered at the Kananaskis Nordic Spa. All massages are 60 minutes long and are completed by registered massage therapists with minimum of 2,200-hour certified educational training.
Here are the types of massages offered:
Relaxation Massage
Time Together Massage
Deep Tissue Massage
Aromatherapy Massage
Prenatal Massage
Personally, we have tried the relaxation massage as well as the aromatherapy massage. Our favorite is the aromatherapy massage, which we've never experienced elsewhere and adds to the spa feel!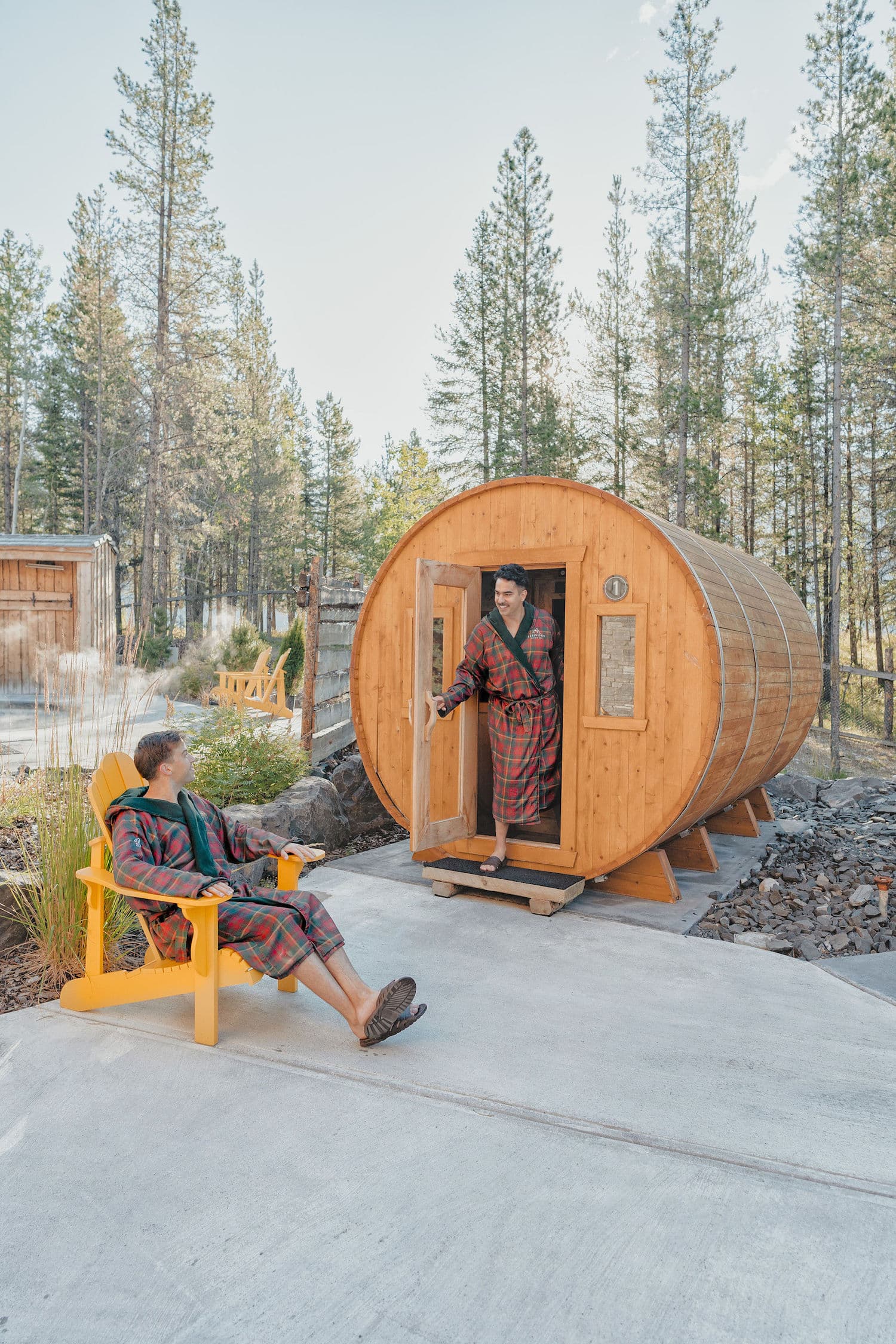 From our experience, the massage therapists are extremely welcoming, kind and knowledgeable. They made us feel comfortable from the get-go and our comfort and relaxation was their biggest priority.
The massages are offered on the third floor of the main building. As you await your massage, you have access to fresh fruit, citrus water and are greeted by a cozy fireplace (in the winter months) and comfortable couches.
As you're guided to your massage room, the massage therapists ask you what you're looking for from your experience and are ready to accommodate any of your needs.
Once you're ready for your massage and all setup, they will offer to place your robe into a robe heater! We found that this was such a nice touch! The bed is incredibly comfortable. It is wide and molds to your body. As a plus-sized woman, it can be discouraging to receive services on a bed that feels like I am hanging off of. This is most definitely not the case at the Kananaskis Nordic Spa!
Massages do fill up quickly, so we recommend booking your appointment as far in advance as you can!
HACK #2: Access to the hydrotherapy areas are INCLUDED in the price of a massage! This is a great way to get the best bang for your buck! 
We enjoy booking our massage at the beginning of our experience at the Kananaskis Nordic Spa. This way, we dive right into a deep state of relaxation that we can then carry out for the rest of the day.
When we head to the spa, we like to book our massages for one of their first-time slots. That way, we know that we have the entire day to enjoy the hydrotherapy access and we never feel like our experience has been cut short!
Massage Therapy Prices
| | |
| --- | --- |
| Tuesday – Thursday | $239.00 |
| Friday – Monday | $259.00 |
| Holiday Weekend (Individual) | $279.00 |
| Holiday Weekend (Couple) | $579.00 |
HACK #3: Seeing as the massages are offered by registered massage therapists, you are often able to submit it to your benefits and/or health spending account. This makes for a more reasonably priced experience!
---
A Bite & A Drink Pair Perfectly With a Spa Day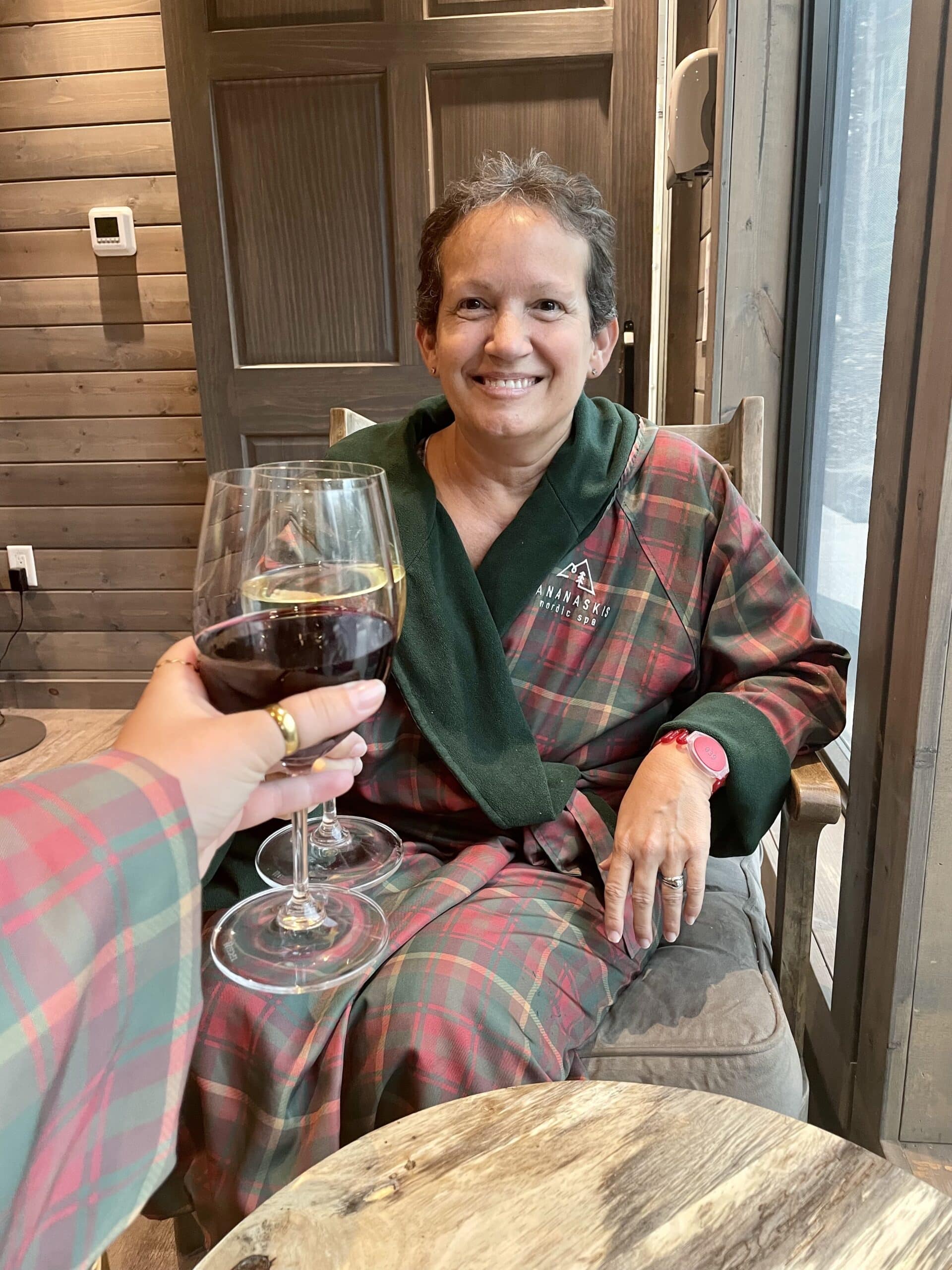 There is nothing better than enjoying a bite and a drink while in a cozy and warm bathrobe! Two Trees Bistro is a cute and cozy restaurant that is located in the hydrotherapy access area at the Kananaskis Nordic Spa.
Seeing as you cannot enter and exit the spa throughout the day, it is a great chance to treat yourself to a bite at the bistro! The restaurant is set in a two-story building with couches and comfortable chairs as seating, tying in with the theme of ultimate relaxation.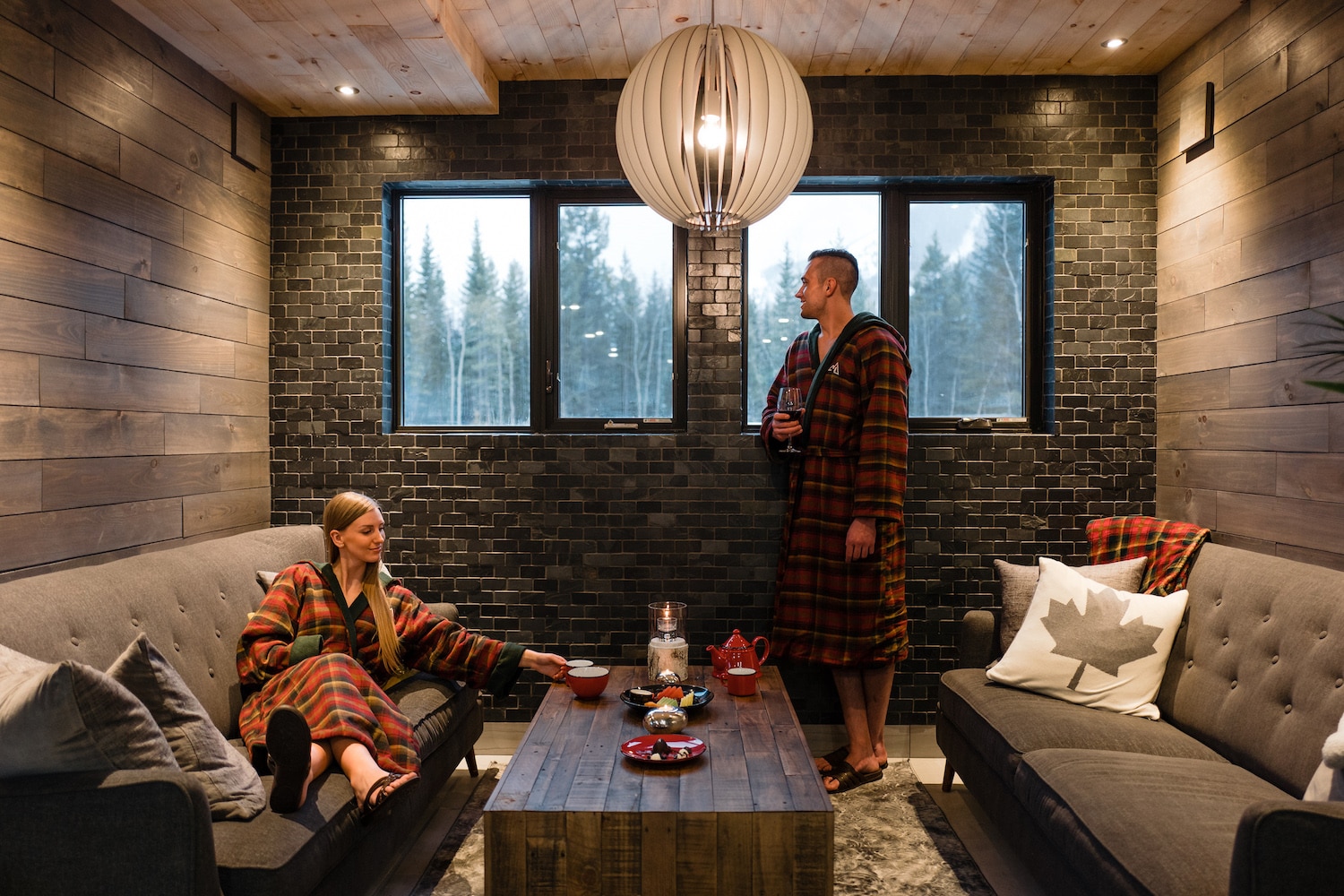 Two Trees Bistro has it all if you're looking for a quick cup of tea, a glass of wine, a snack, or a full meal. We have stopped in at the bistro on multiple occasions and were never disappointed.
They have a health-focused approach with filling options that will leave you feeling refueled and ready to continue with your day, whether it's your last stop before leaving or giving you energy to continue your spa day.
They offer options for all dietary needs, including dairy-free, gluten-free, vegetarian and vegan options. You do not need reservations for the Two Trees Bistro. We have never had trouble finding a spot.
We found the prices quite reasonable given the nature of the area and found that the quality and presentation to be fair for the type of experience.
OUR FAVOURITES: We have had the opportunity to try many different bites during our time at the bistro. Some of our favs are the Lox bagel, chicken panini and buddha bowl. We also enjoy grabbing a glass of wine or a glass of prosseco when celebrating. There is always something that can be celebrated, after all!
---
What is the Best Season to Visit the Kananaskis Nordic Spa?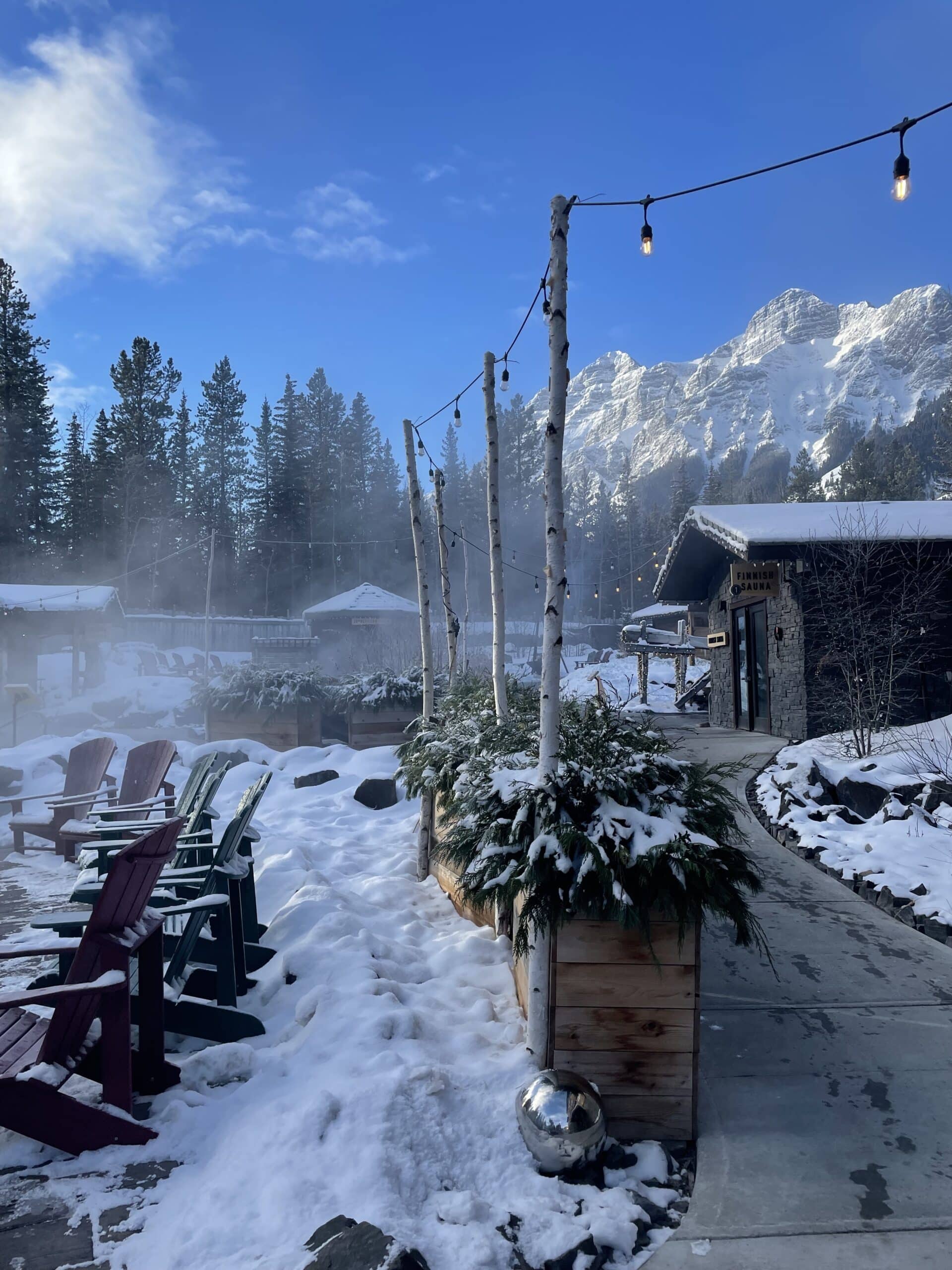 The Kananaskis Nordic Spa is open throughout all four seasons. Though it is an enjoyable experience year-round, we have found that certain seasons resonate with us more than others.
Summer

What we like about the summer is that the spa is less busy. This makes the experience feel more personal and intimate. That said, seeing as you as spending a big part of your time in warm pools, saunas and steam rooms, you may feel like you aren't able to spend as much time in these facilities as you had hoped. 

When we visit in the summer, we focus more of our time in the oversized hammocks, sitting on the adirondak chairs with a book, dipping into the cold pool, and spending time at the bistro. 

On the days that we choose to go to the spa in the summer months, we typically opt for the "Soak and Sleep" experience, as the temperature tends to drop in the evening. If not, we keep our eye on the weather and go on cooler days and reserve the warmer ones for other adventures in the area.
Fall

Fall is the perfect time to plan a visit to Kananskis Nordic Spa. Seeing as fall is considered "shoulder season", it is the perfect activity to enjoy between hiking season and ski season. 

The hot pools feel extra cozy with the cool autumn air. We found that we could spend more time at the spa in the fall, seeing as we didn't feel too warm. We love grabbing a tea at the bistro and bundle up in the cozy bath robes.
Winter

It is such a great feeling to soak in the hot pools, saunas and steam rooms in the dead of winter when we are feeling chilled to the bone. The Kananaskis Nordic Spa is a great stop to add to your itinerary if you are visiting the area on a ski trip. 

With Nakiska Ski Area just around the corner, warming up at the spa after a morning on the hill makes for the best combo.

Though we do love visiting the spa in the winter, it can get quite cold when moving from one station to another. That said, it makes you appreciate the heat of the spa that much more when you get to hop into your next spot.
Spring

The spring exprience at the Kananaskis Nordic Spa is very similar to that of the fall. It is very pleasant shifting around in the spa, content and warm in your fuzzy bath robe. We enjoy visiting the spa in the spring, knowing that the summer months are approaching and enjoying the cool mountain air before the shift in seaons.
Overall, you can't go wrong by visiting the Kananaskis Nordic Spa during your trip to the mountains. That said, we prefer visiting in the fall, winter, and in spring when the weather makes for the perfect spa atmosphere!
---
Make the Most of It and Stay the Night!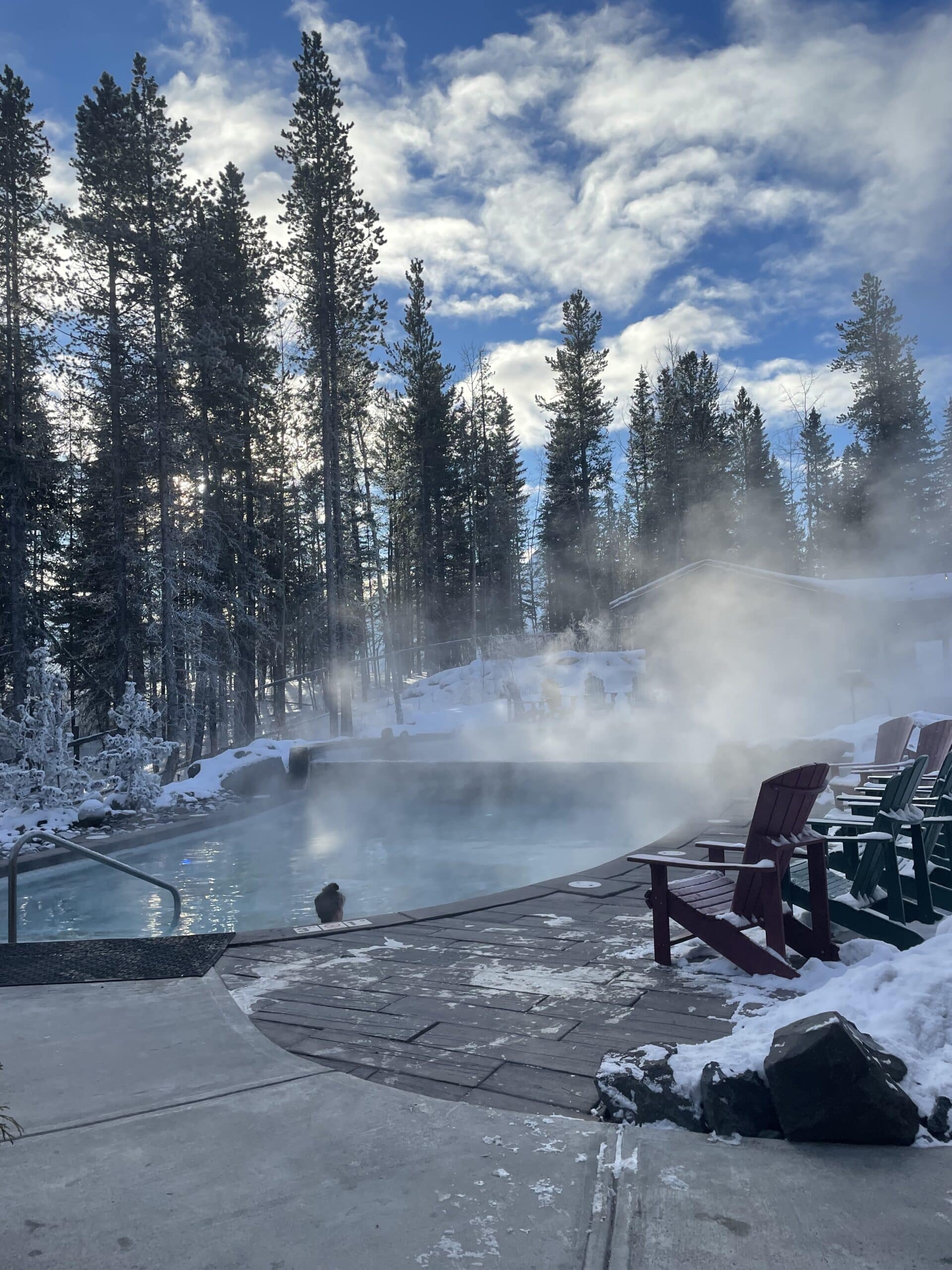 The Kananaskis Nordic Spa is located within the renowned Pomeroy Kananaskis Mountain Lodge, one of the best Kananaskis hotels.
This hotel has cozy yet modern backcountry feel and is nestled in a quiet, serene part of Kananaskis. We love making the most of our experience by staying at the Pomeroy for the night. That way, when we finish our day at the spa, we can maintain our relaxed state at the hotel.
Access to the Kananaskis Nordic Spa is NOT included in the rate of a standard room. That said, they offer a discounted price ($69.00) to hotel guests. 
Though the Kananaskis Nordic Spa experience isn't included in the hotel rate, they do have a small indoor water park and a hot tub that is offered.
There are a multitude of packages and rates offered by the Pomeroy Kananaskis Mountain Lodge, including the "Stay + Explore Longer", the "Bed and Breakfast" the "Kananaskis Nordic Spa" package and others.
The rates fluctuate depending on the time of the year, so be sure to keep your eye on them. Booking in advance is highly recommended.
---
Food At Kananaskis Mountain Lodge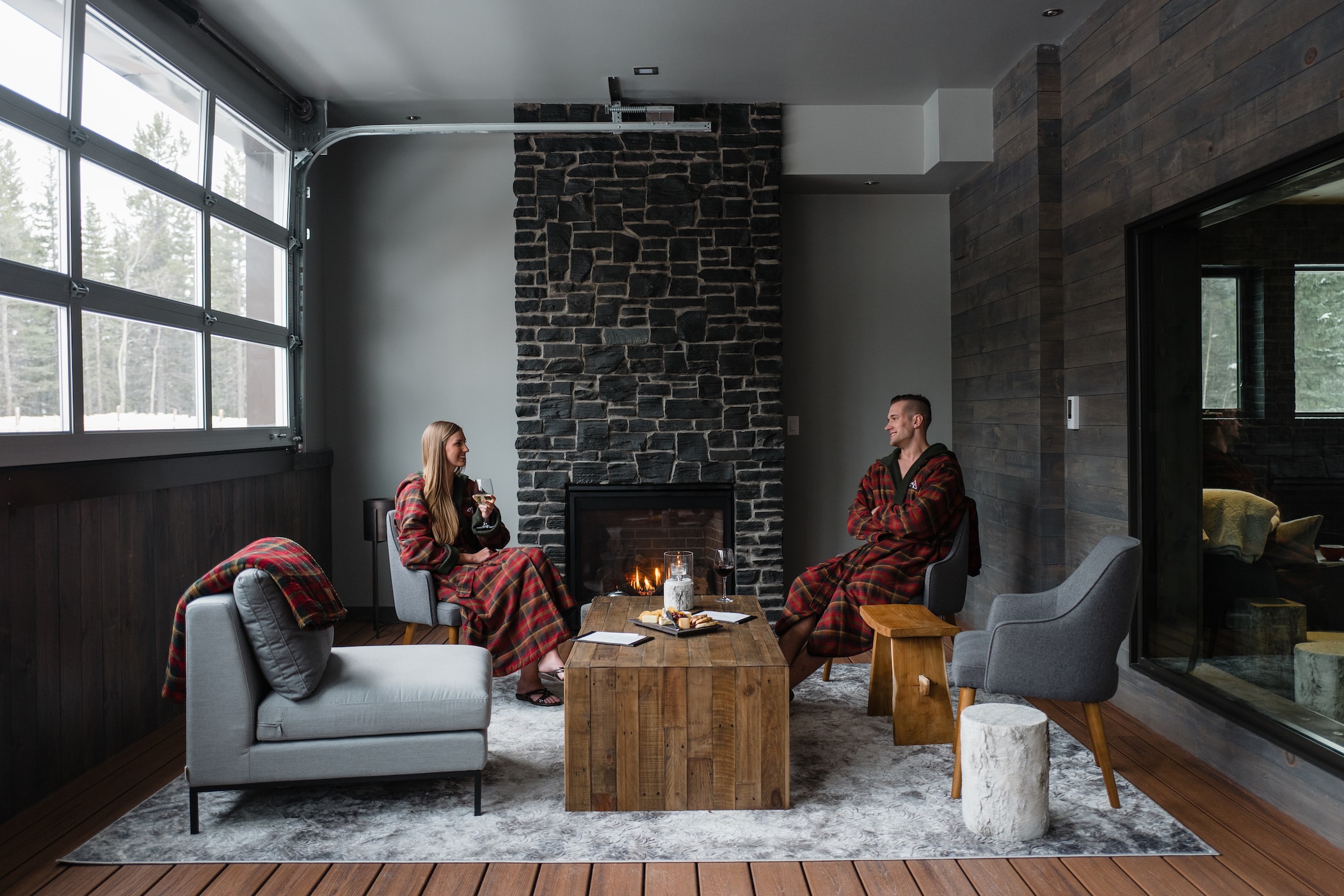 Whether you've planned a day trip to the spa or you're staying the night at the hotel, it's worth grabbing a bite at the Pomeroy at some point during your experience.
They have a variety of options to choose from, depending on what you're craving.
| | |
| --- | --- |
| Forte Restaurant | Specializes in wood oven pizzas |
| Blacktail Bar | Modern mountain lounge with healthy dishes and craft beer and cocktails |
| Market Cafe | Grab and go coffee and snacks |
| Cedar Room | Canadian steakhouse with contemporary comfort cuisine |
| Woody's Pub & Patio | Log cabin charm with authentic pub feel |
Beyond the above, there is also the option to enjoy a private dinner at the Cedar Room. Arrangments must be reserved ahead of time. As a hotel guest, you can also enjoy booking in-room dining.
After a beautifully long and relaxing day at the spa, we love eating dinner from the comfort of our own hotel room. The next morning, we love grabbing a coffee and sitting in the cafe with our laptops to get through a few things on our to-do list.
---
What Else Should I Do While In Kananaskis?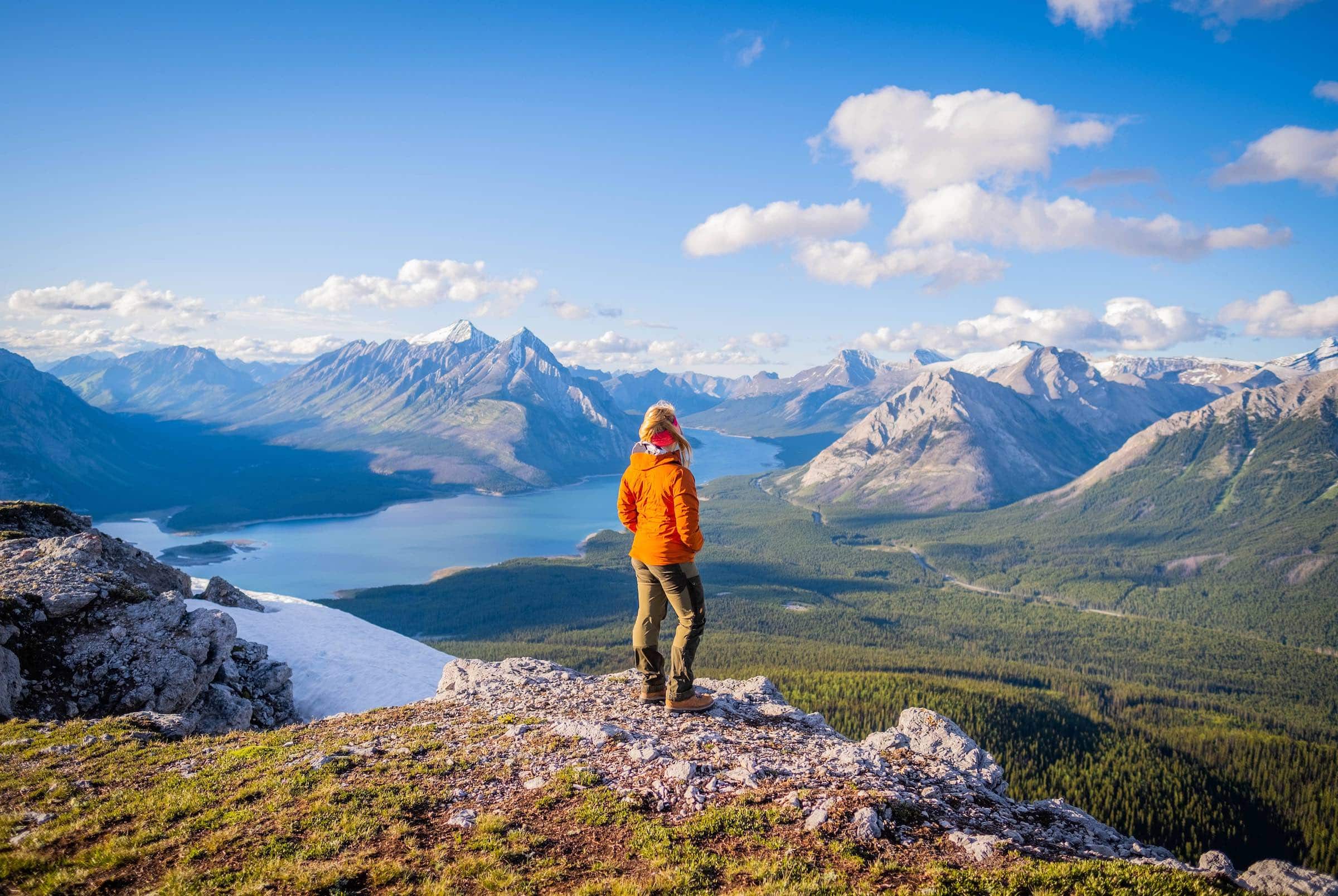 There are so many note-worthy activities to do in Kananaskis Country.
| | |
| --- | --- |
| Winter | In the winter months, we love to head up to the family-friendly ski resort, Nakiska Ski Area. This ski hill is ideal for beginning skiers and families. Not to mention, it is the closest ski hill to the Calgary airport. We also love grabbing our skates and enjoying some wild skating on Spray Lakes and Barrier Lake. |
| Summer | In the summer months, there are so many breathtaking hikes to be enjoyed. Some of our favorites include Tent Ridge and Windtower. Don't forget to get your Kananaskis Conservation Pass for any hiking in Kananaskis. In addition, we love spending time front and backcountry camping in Kananaskis Country. |
| Fall | In the fall, it is worth the hike to see the larches on the Pocaterra Ridge Trail, as it's one of the best larch hikes in Alberta. Although the trail will likely be busy, it is worth it to get to experience the larches shift to a lovely golden color in the last weeks of September.If you're looking for a short hike to a cool spot that isn't overcrowded, the Blackshale Suspension Bridge is not to be missed. |
| Spring | Depending on the weather and the amount of snow that remains, some of the easy Kananaskis hikes may be safe and accessible. |
---
Things to Know Before Visiting Kananaskis Nordic Spa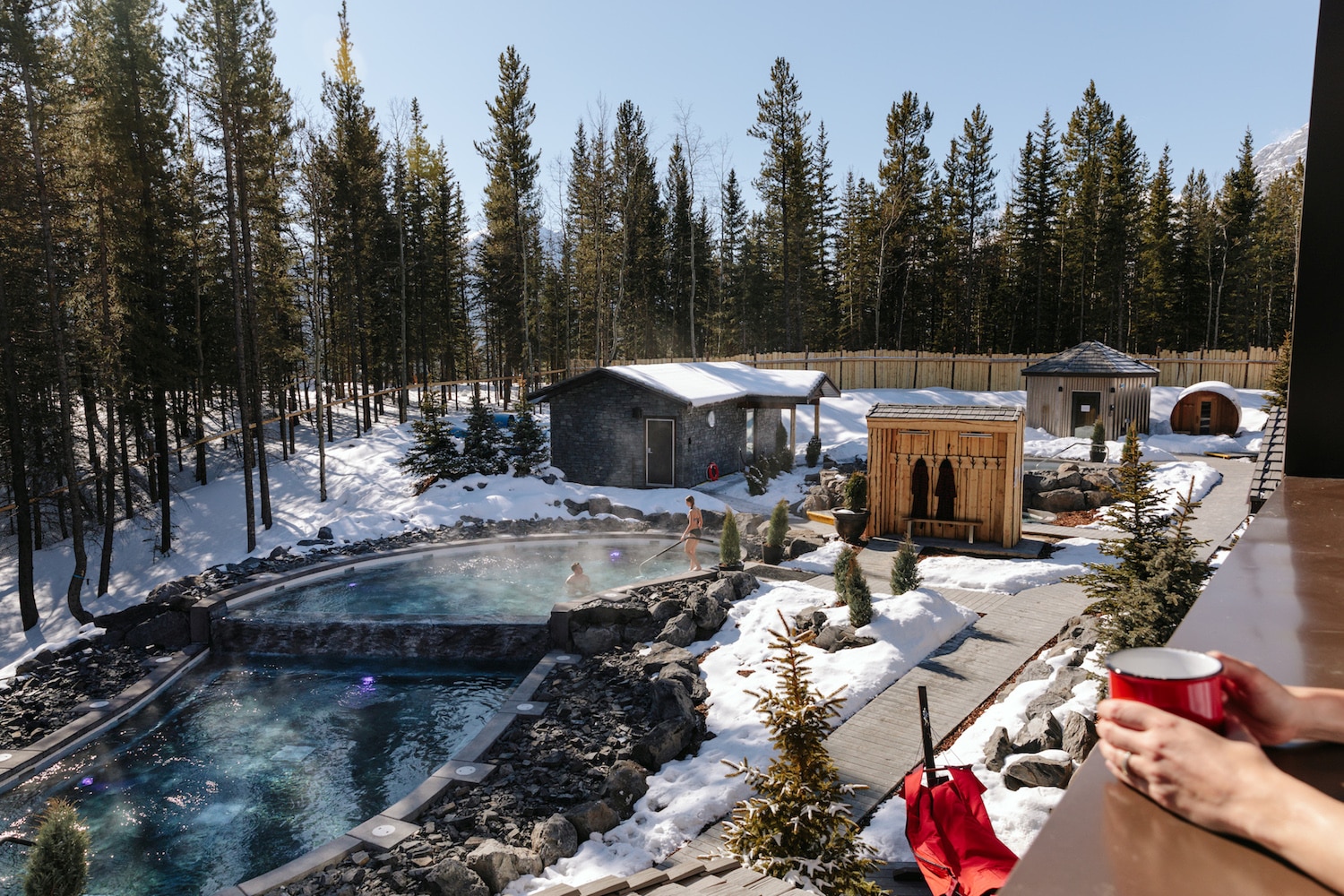 Here are some important things to keep in mind for your visit.
- We recommending planning to spend roughly four hours at the spa itself

- The best seasons to visit the Kananaskis Nordic Spa are winter, spring and fall

- You must be 18+ to enter the Kananaskis Nordic Spa

- Phones and cameras are prohibited in the spa (except at Two Trees Bistro). 

- Pack water to stay hydrated throughout the experience

- If you don't use your exfoliation salt, bring it home to use in the show

- Pack a toque on colder days for a more pleasant experience

- There is no re-entry into the spa

- You can book up to three months in advance

- Book your massage appointment as soon as you can  

- Arrive 30 minutes in advance to your massage appointment to get settled in
---
Is The Kananaskis Nordic Spa Worth It?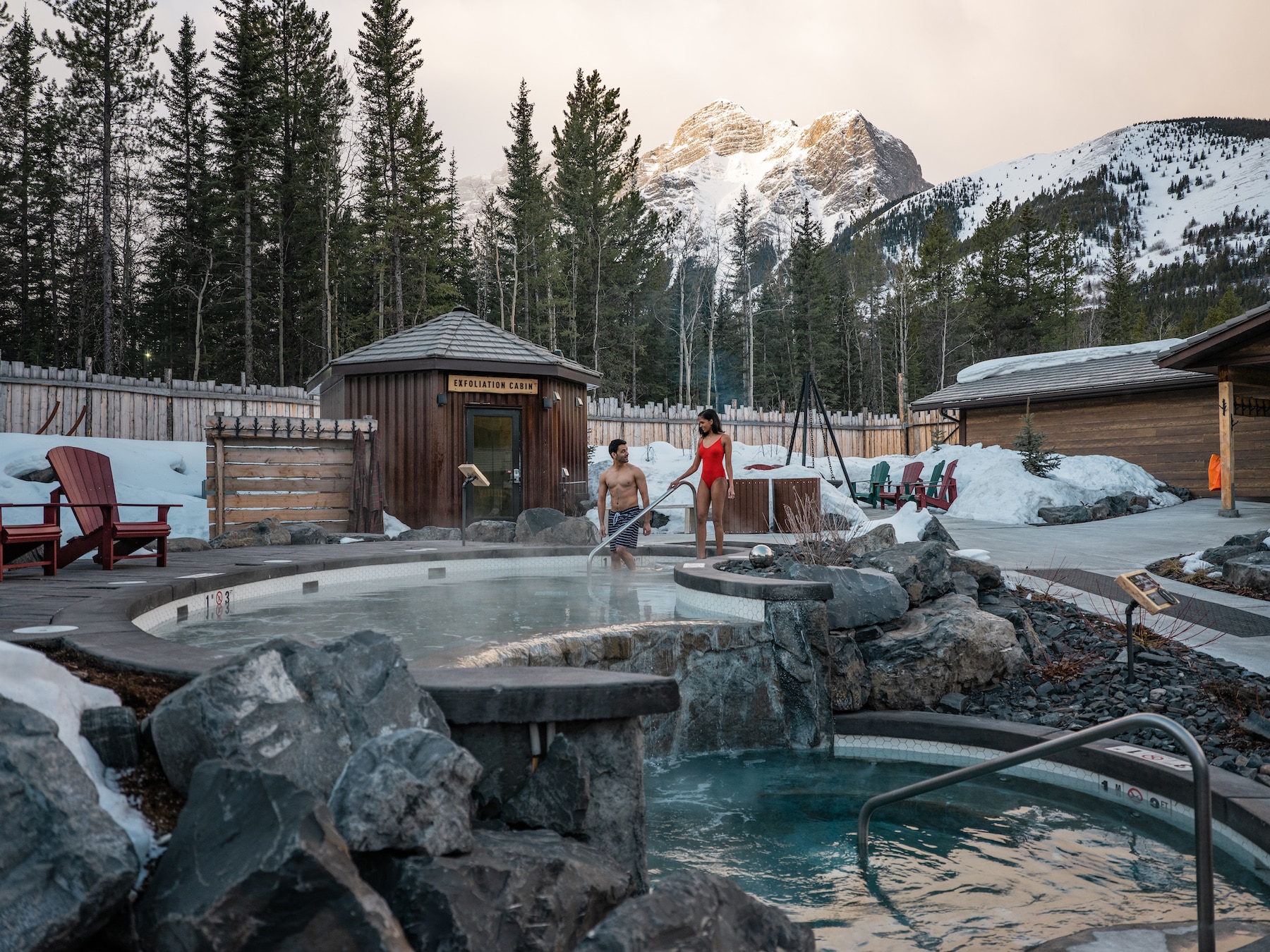 All in all, the Kananaskis Nordic Spa is a must-do activity. Between its relaxing atmosphere, natural beauty and rejuvenating essence, you really can't go wrong!
This is one of our all-time favorite things to do in Kananaskis Country, as it is open year-round, is close to Calgary, Canmore and Banff National Park, and can be paired with a massage, a delicious meal and/or a night at the Pomeroy Kananaskis Mountain Lodge.
The Kananaskis Spa is a great spot to visit alone to recharge your battery, enjoy a romantic getaway or catch up with a friend.
Whether you've had the chance to experience spas in other areas or this is your first time, this spa's offerings will surely leave you feeling relaxed, serene, and revitalized.
Plan Your Trip to the Canadian Rockies