If you are searching for the best Kananaskis hotels we have you covered! Kananaskis Country is one of the most beautiful places in Alberta. Visitors come from all over the world to enjoy the mountains, lakes, and wildlife here.
In between hiking in Kananaskis and paddling on Kananaskis Lakes, you'll need somewhere to lay your head.
We've broken down the best Kananaskis hotels, but keep in mind there are not many actual hotels inside the park. You may need to venture a little further out to Canmore to find exactly what you are looking for, so we've included a few of those too!
---
The Best Kananaskis Hotels
---
Kananaskis Mountain Lodge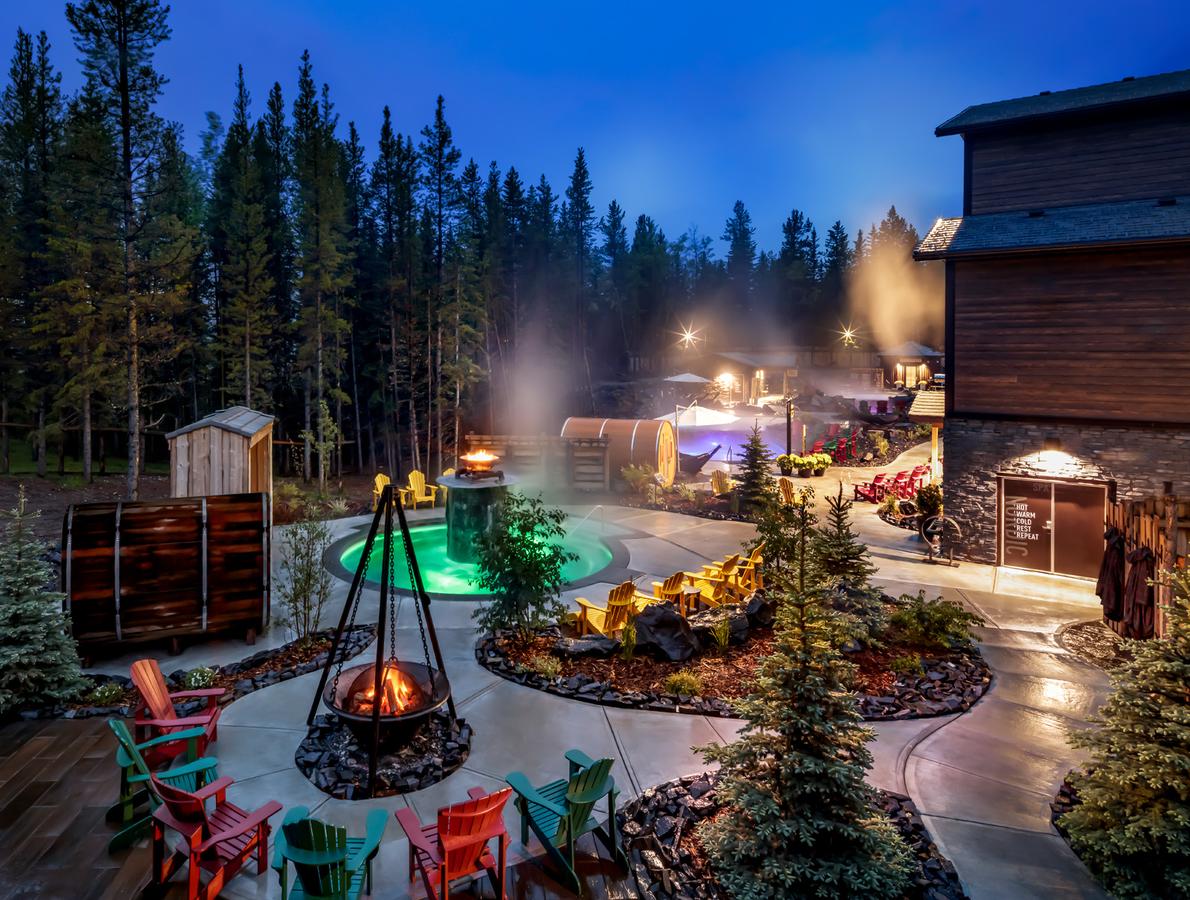 Kananaskis Mountain Lodge is an excellent Kananaskis hotel, the nicest hotels in Kananaskis. On top of that, it's a great ski hotel in the Rockies. Situated right next to Nakiska Ski Resort, you can't go wrong staying here if you are after one of the most luxurious Kananaskis hotels.
Kananaskis Mountain Lodge will give you upscale mountain vibes as soon as you walk in. They get kudos for always having activities for the kids and families, especially around the holidays.
They are most known for their Nordic Spa, which is a fantastic place to relax for the whole day and one of the best things to do in the Rockies in general. Even locals will book a stay at Kananaskis Mountain Lodge so they can have a relaxing weekend in the Nordic Spa.
Enjoy the day outside with your spouse or friends enjoying the steam rooms, relaxation rooms, and saunas. If you're having a romantic holiday in the Rockies, you'll want to book a couples spa and treatment!
---
Crosswaters Resort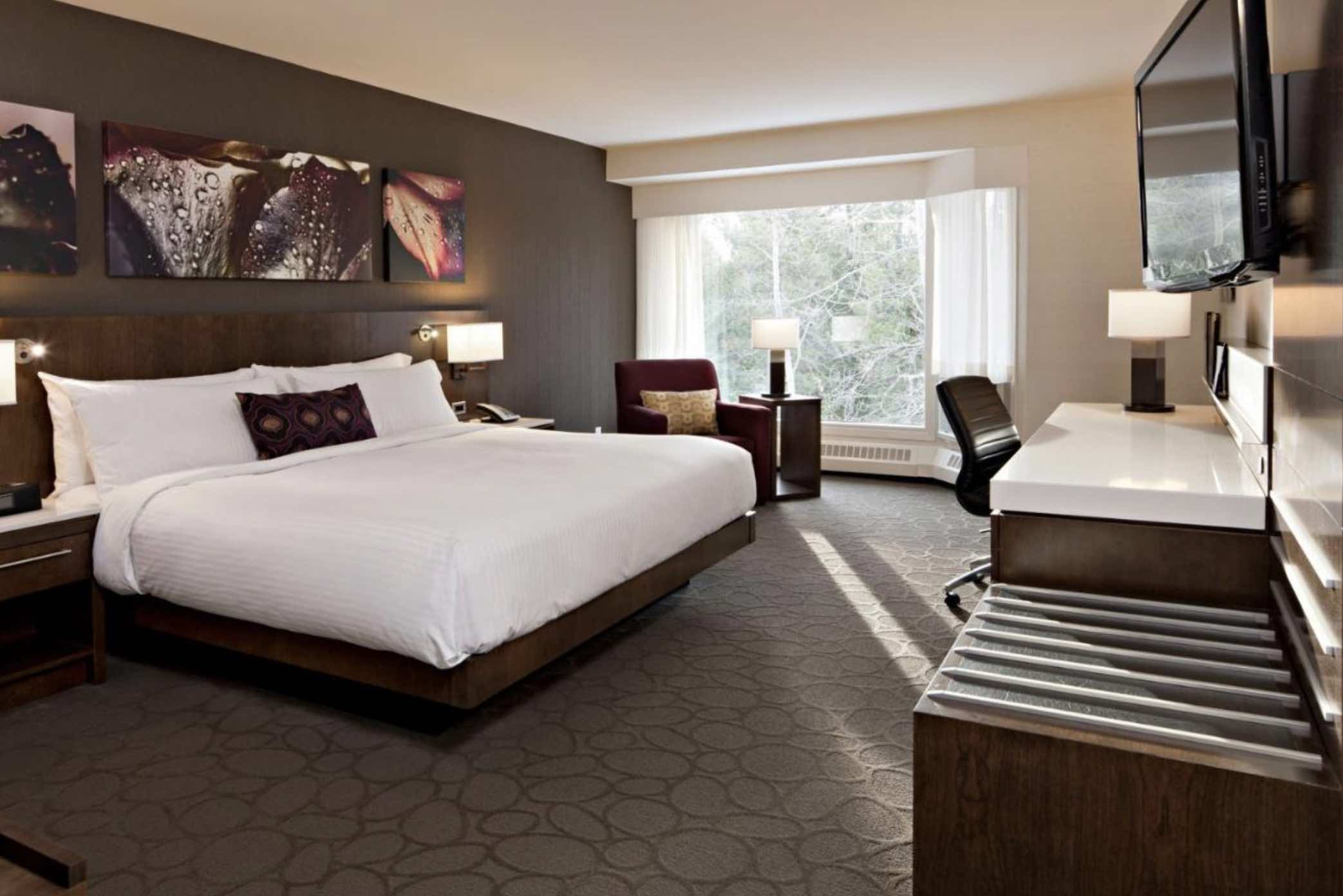 Crosswaters Resort is in Kananaskis Village and right near Kananaskis Mountain Resort. All guests staying at Crosswaters Resort have full access to the amenities at Kananaskis Mountain Resort – the best of both worlds!
In the summer you can enjoy their tennis court, while in the winter you can take the kids to the indoor waterpark.
There are a variety of room types here, from Double Queen to Executive suites. Crosswaters Resort is pet friendly, and a pet fee of $40+taxes per stay applies. Note that there is a resort fee here of $25 per room per night applies and provides access to the indoor and outdoor hot tubs, steam room and sauna, and fitness center.
If you've wanted to stay in the area but don't want to shell out the high price tag for the Kananaskis Mountain Lodge, then Crosswaters Resort is a great option!
---
Mount Engadine Lodge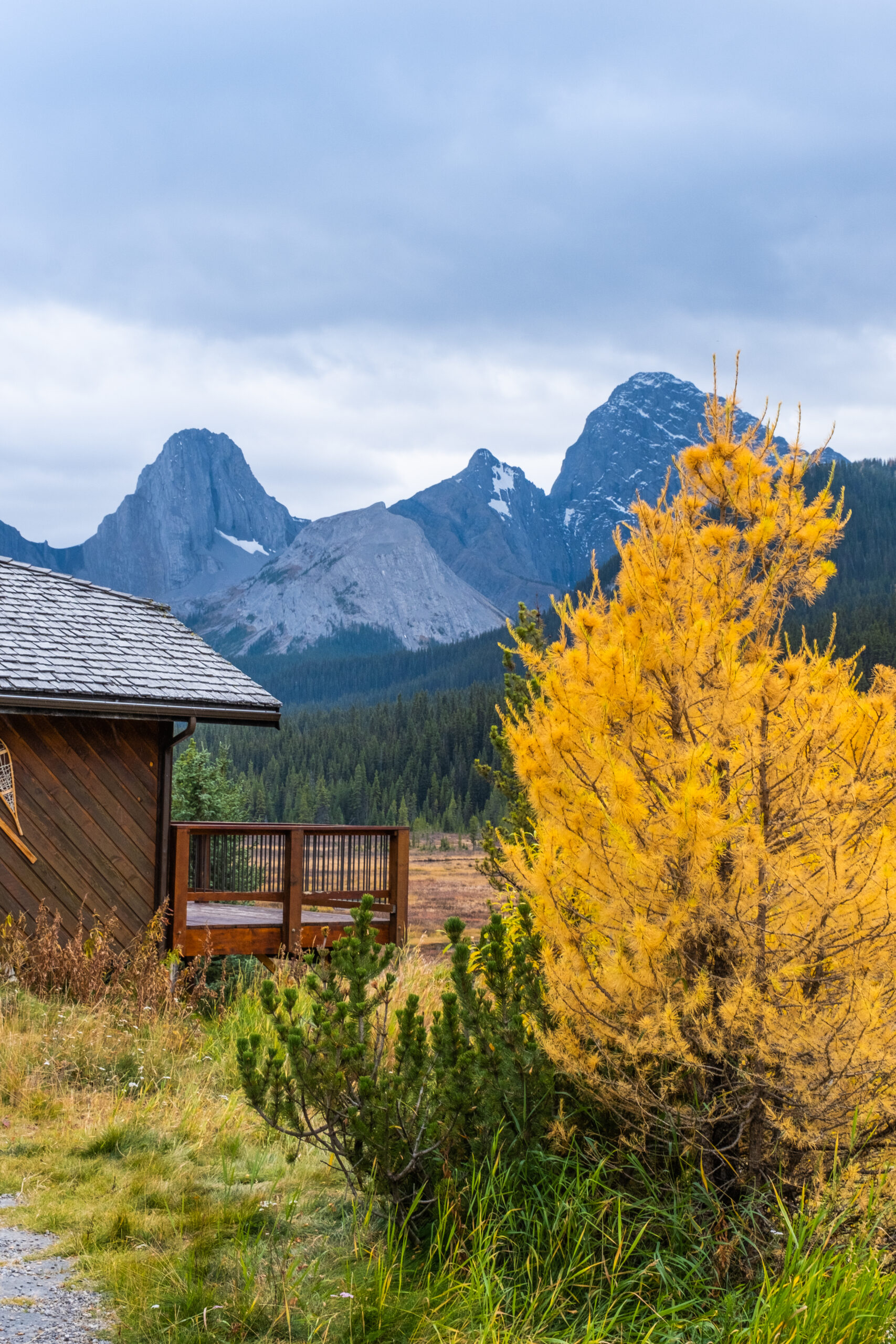 Mount Engadine is a beautiful cabin in Kananaskis and easily one of Alberta's best cabins. Mount Engadine Lodge is located along the Smith Dorrian Road/Spray Lakes Road, about one hour away from Canmore. Besides mountains, valleys, trees, and some moose in the wilderness, there isn't much else around – which is my idea of heaven.
There is no cell service, WiFi, and no televisions. It's back to wilderness here – precisely like what you may be after with a trip to the Canadian Rockies. It's quite literally cabin camping at its finest.
It's like camping, but with a booking here, you get a comfortable king-size bed, fireplace, and a delicious restaurant serving you all local Canadian food. So let's call it glamping.
Mount Engadine has various room types, including cabins, of course, but also traditional hotel rooms and yurts! Bookings include breakfast, a packed lunch, afternoon tea, and dinner. Mount Engadine has impressive views of Commonwealth Peak and is just a 5-minute drive away from the trailhead to Smutwood Peak and Tent Ridge.
---
Stoney Nakoda Resort and Casino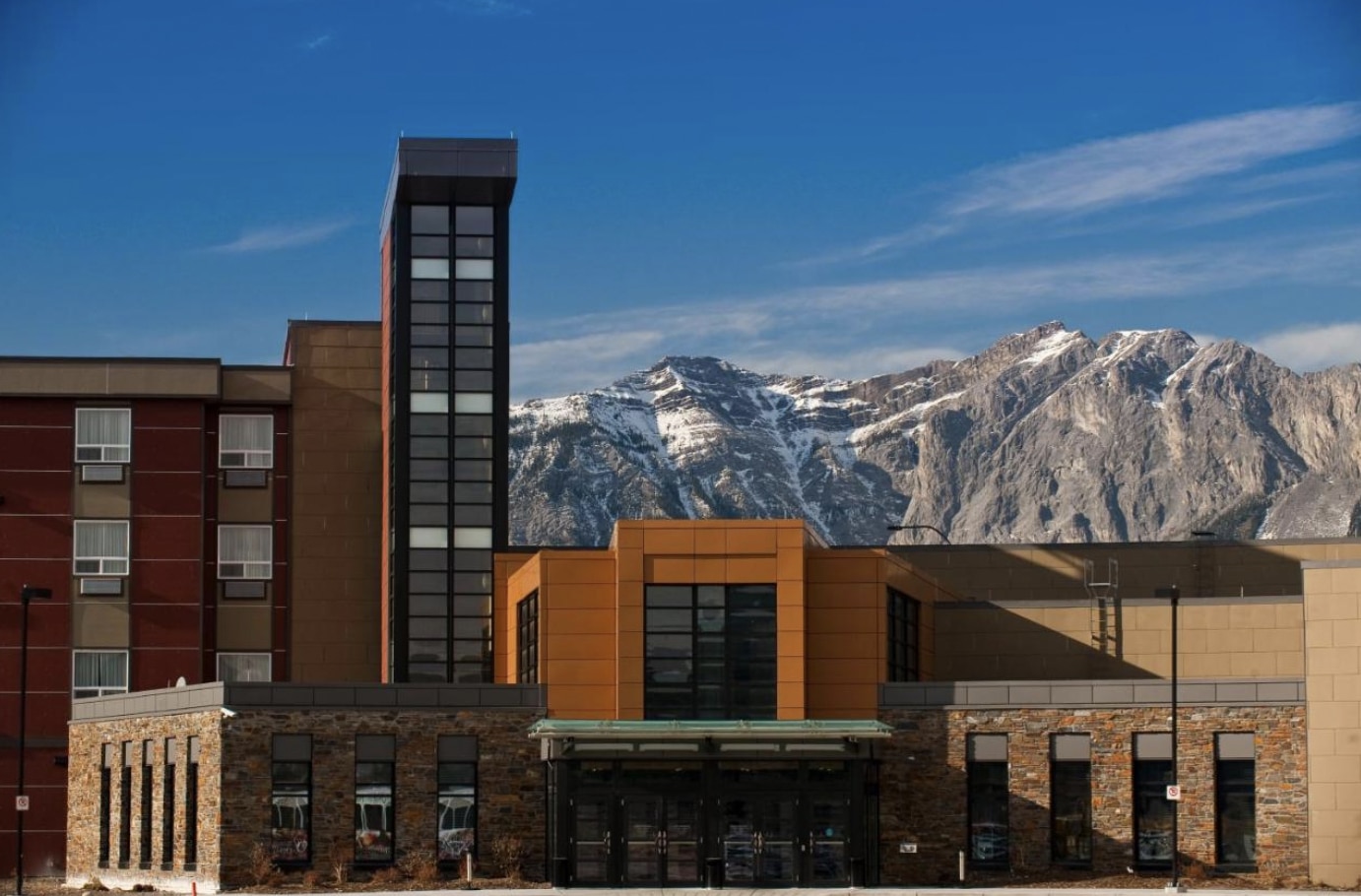 Stoney Nakoda Resort and Casino is at the intersection between Highway 40 and the Trans Canada. You can't miss it if you are driving between Calgary and Canmore. The Casino sits right at the entrance before entering Kananaskis Country.
It's a great place to stay if you plan on enjoying the front range of Kananaskis. Barrier Lake, and hikes like Wasootch Ridge and Yates Mountain. The only negative is that it's not near much of anything besides a gas station and Tim Hortons. You'll have to venture into Canmore or Cochrane for meals outside of the Casino.
---
Lady MacDonald Country Inn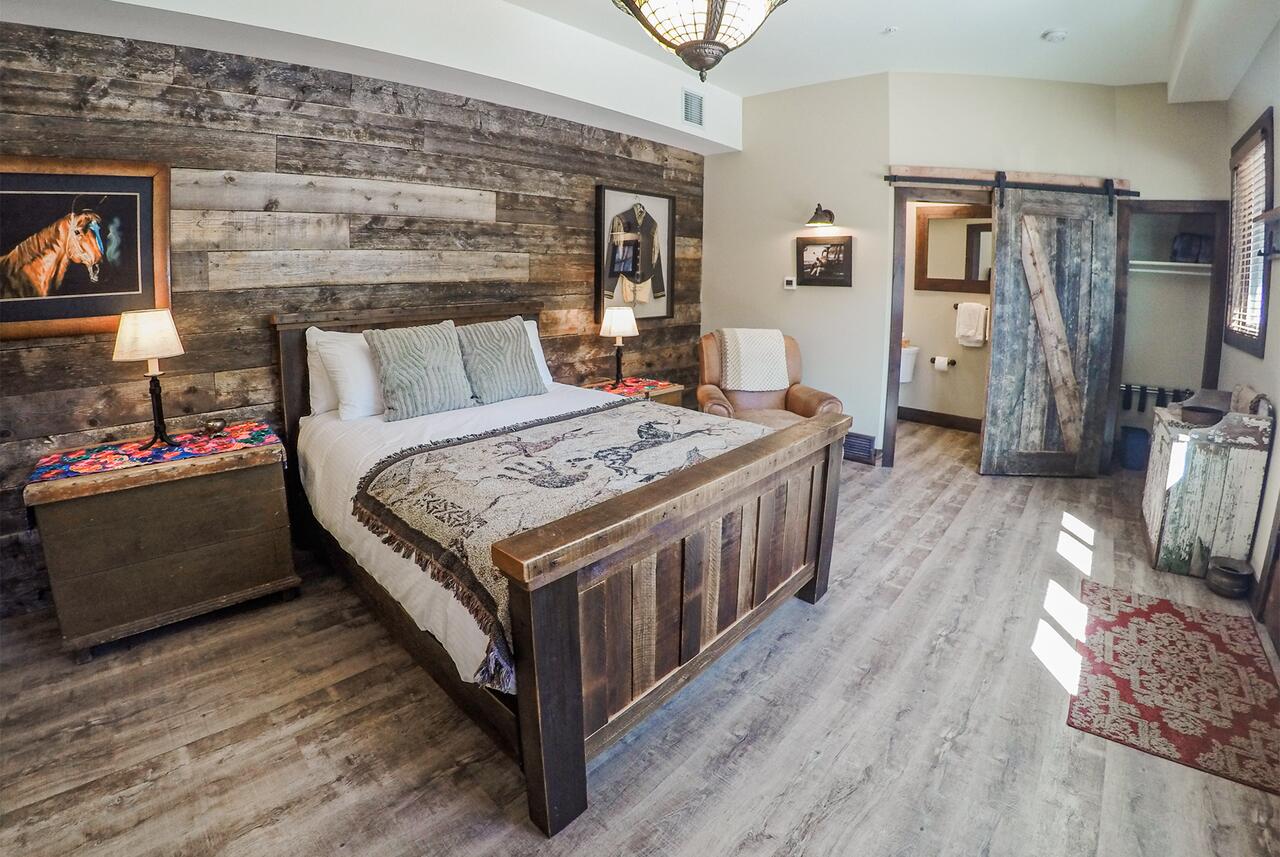 Not one of the best Kananaskis Hotels per say as it's located in Canmore. Lady MacDonald Country Inn is a bed and breakfast that sits in the Silvertip neighborhood at the base of Mount Lady MacDonald in Canmore.
It's about a 40-minute drive in Kananaskis Country, but honestly, there aren't many hotels actually in Kananaskis.
Lady MacDonald Country Inn is a Canmore favorite. It's well known for its charming bed and breakfast feel that will transport you to the European countryside rather than the Canadian Rockies
Of course, like a traditional b&b, homemade breakfast is served each morning in the solarium.
A communal parlor has a wood fireplace and presents a cozy location to relax, especially during the winter in Canmore.
---
The Malcolm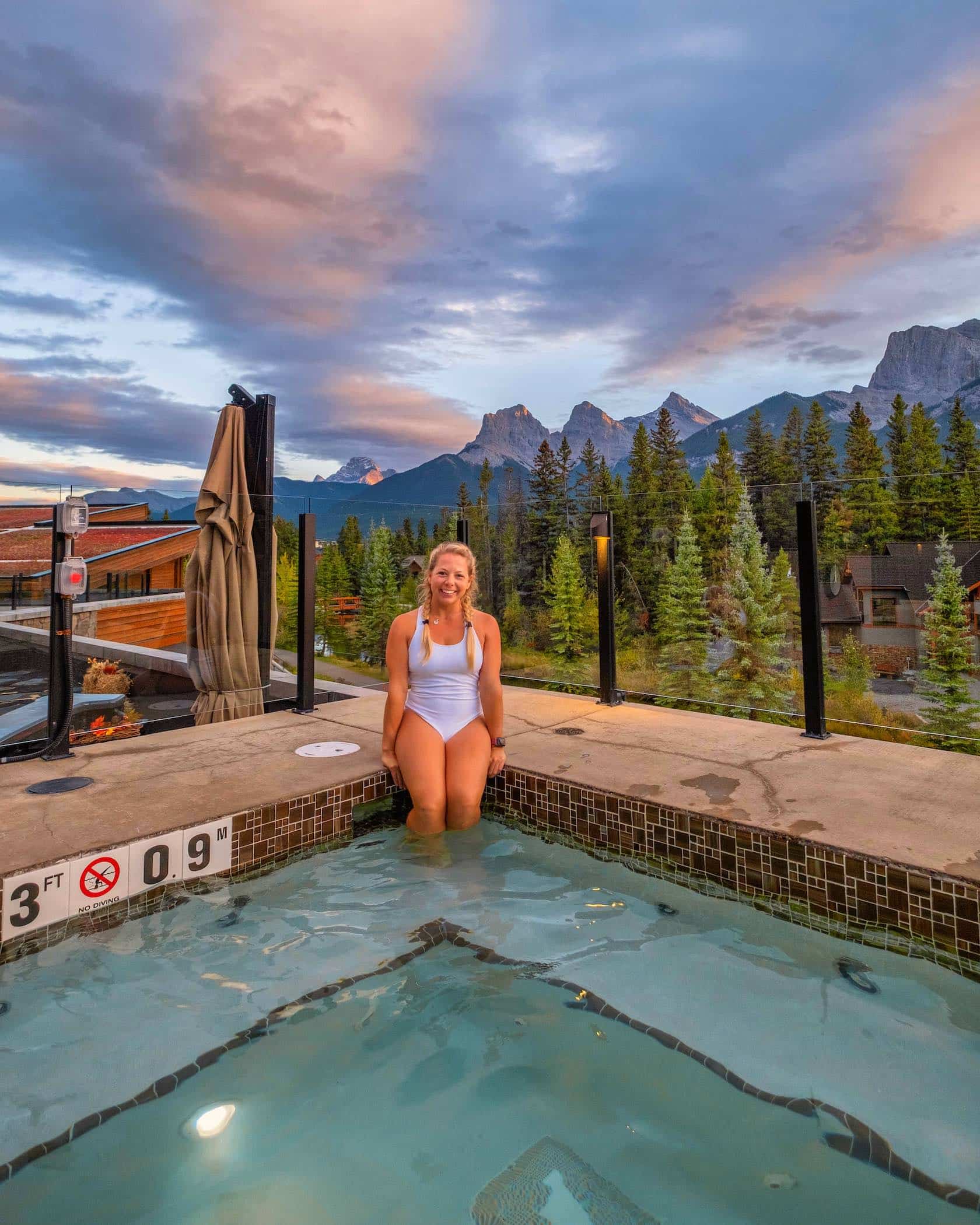 The Malcolm is one of the newest hotels in Canmore and certainly the nicest place to stay in the area.
It's located in the heart of Spring Creek, a desirable neighborhood just steps away from downtown Canmore. The location provides a convenient place for Canmore's restaurants, bars, and shops. When you want to go hiking in Kananaskis, you are just a short drive away from the Ha Ling Trailhead or Grassi Lakes.
Inside the luxurious rooms are modern TVs, free Wi-Fi, mini-fridges, coffeemakers, and rainfall showers. The hotel facilities include a fitness center, restaurants, concierge service, and free underground parking – a treat in the winter. However, the best part about this Kananaskis hotel is the outdoor pool overlooking the Three Sisters.
---
Solara Resort by Bellstar Hotels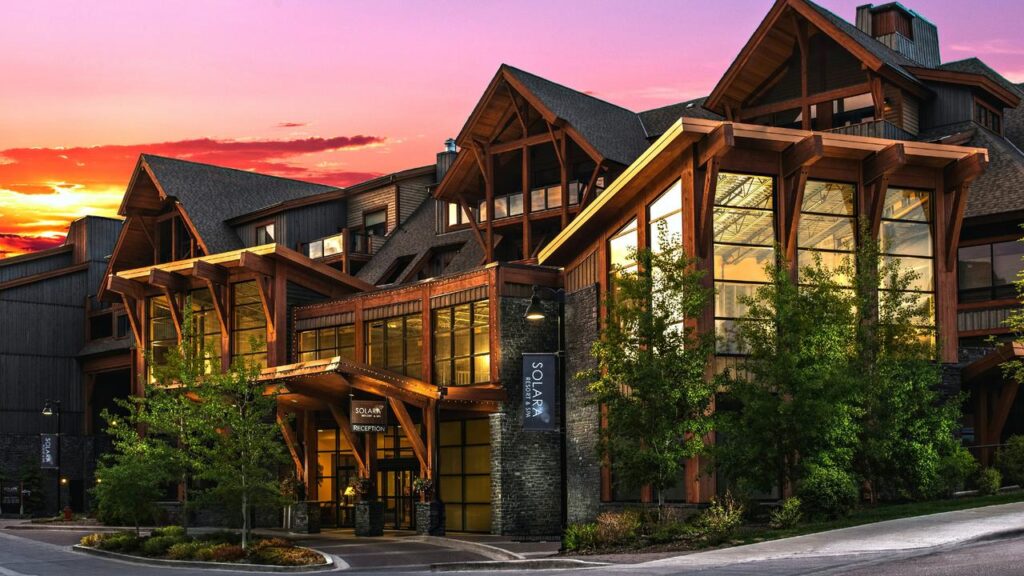 Solara Resort is one of the top reviewed hotels in Canmore. Each unit comes with a fully equipped kitchen and fireplace. Also included in the suites are dining areas, fireplaces, washing machines, and flat-screen TVs. The property has an on-site spa, hot tub, and fitness center.
Several units feature mountain views, but most units face the complex or adjacent property. Units are very comfortable with granite countertops, leather furniture, and hardwood floors.
Bathrooms are similarly luxurious with quality toiletries. The clean and modern suites are great for couples, families, and groups visiting the Rockies and who want to venture into Kananaskis.
---
Hopefully, this helped you determine which of these Kananaskis hotels is best for you.
If you have any other questions leave a comment or see our Canadian Rockies travel guide for more articles about photography spots, lakes, hikes, and everything else.
---
↓ Join the community ↓
The Banff Blog Facebook Group is your headquarters for the Canadian Rockies' travel advice and information. Including hike info and off-season travel information. You can also meet new adventure buddies.

Plan Your Trip to the Canadian Rockies