If you love alpine lakes, this is the hike for you! With three alluring lakes nestled below jagged peaks, Lillian and Galatea Lakes via Galatea Creek is one of the most beautiful hikes in Kananaskis Country!
Rushing streams, an easy to follow route, and stunning views, make this lush out-and-back trail a great hike that offers a range of intensity options for different hiking ambitions.
Consider booking a campsite at Lillian Lake as an easy backpacking trip to extend your stay in this alpine oasis. In the meantime, review this guide to learn more about the beautiful Lillian and Galatea Lakes hike.
See More:
---
Key Stats to Lillian Lake (+Galatea Lakes Extension)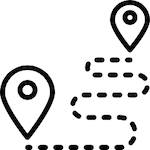 Length
12 km to Lillian and 16 km to Galatea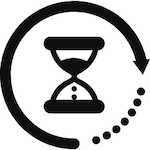 Duration
4-7 hours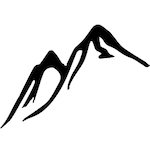 Elevation
500m to Lillian and 870m to Galatea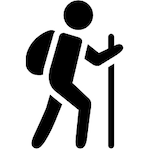 Difficulty
Moderate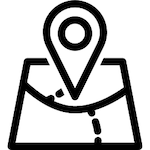 Trailhead
Galatea Day Use
---
Lillian and Galatea Lakes Route Description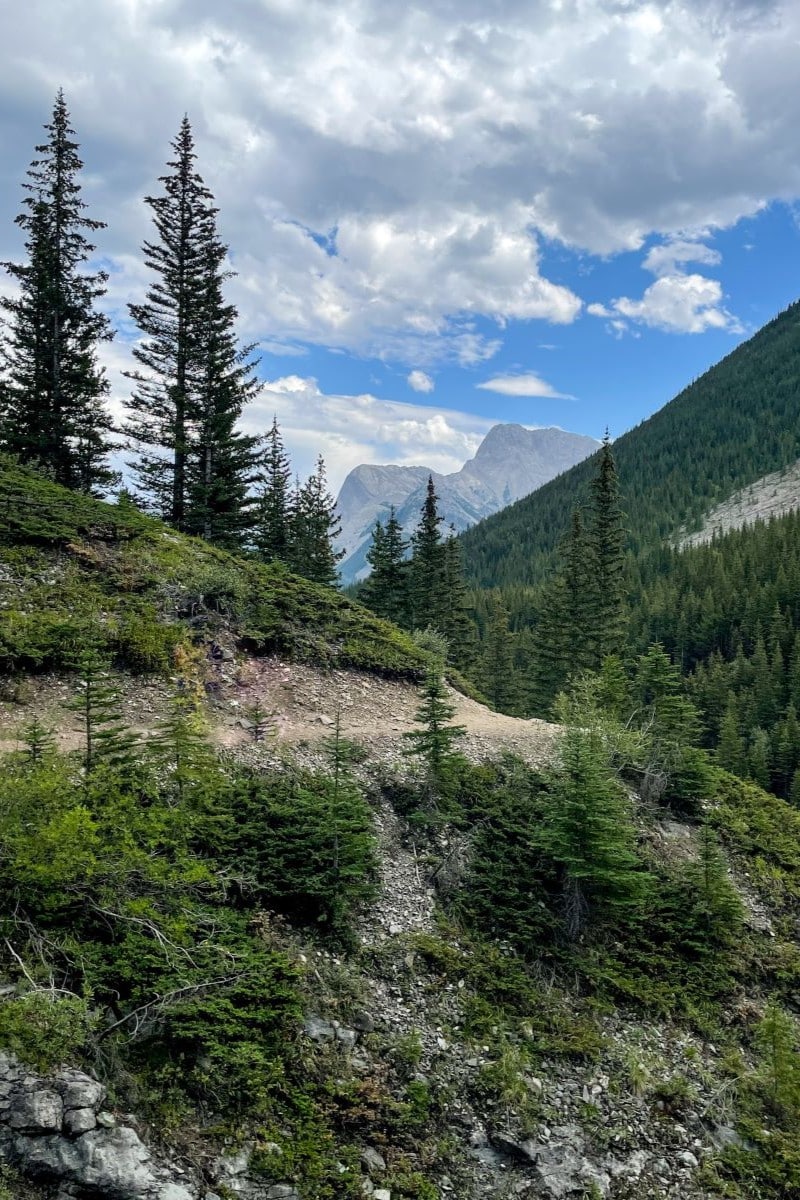 The trail to Lillian and Galatea Lakes starts from the parking area that shares its name and follows the eponymous Galatea Creek.
To reach the trailhead, drive south on Highway 40 from the TransCanada Highway into Kananaskis Country. You'll find the Galatea day-use area on the right side of the road a few kilometers past the golf course.
Despite its generous size, the parking lot can get quite busy on summer weekends, so it's best to arrive early or visit on a weekday. Note that a valid Kananaskis Conservation Pass is required while hiking Lillian and Galatea Lakes.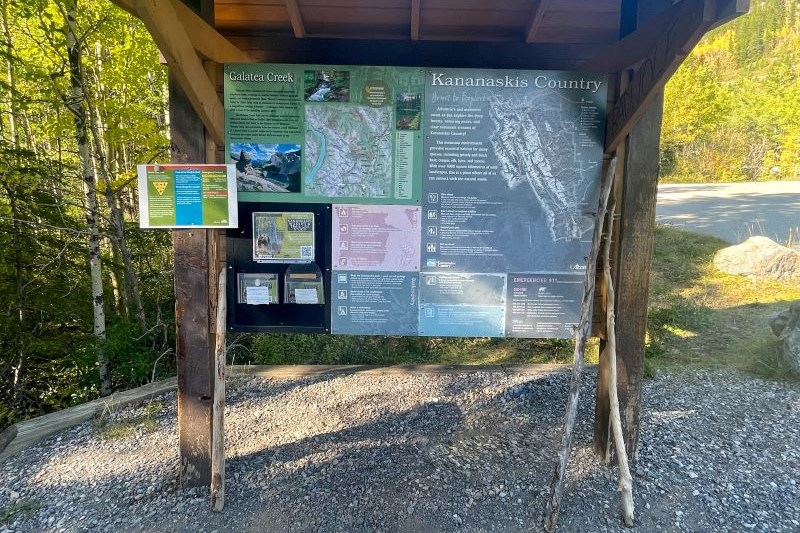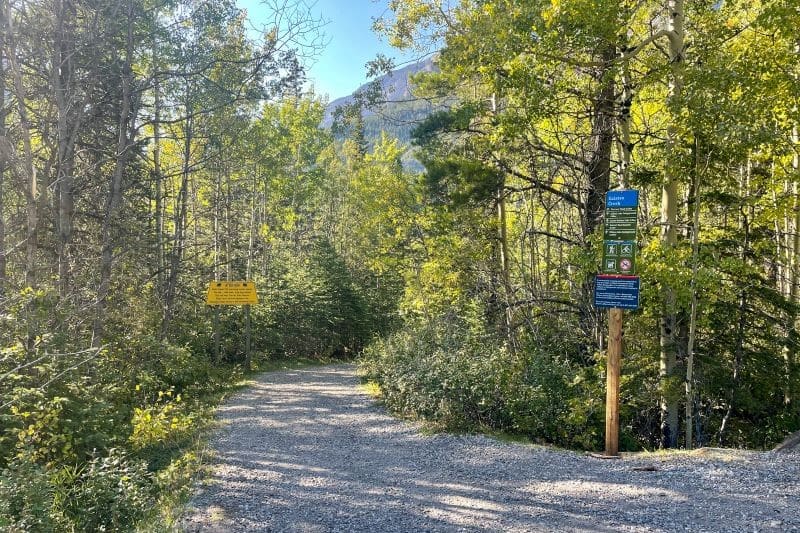 The trailhead offers maps and information on the area as well as bear-proof garbage bins and toilets. Unfortunately, these aren't the nicest facilities in Kananaskis and see quite a bit of use in peak season. Bringing your toilet paper and sanitizer as a backup may be worthwhile.
Once you're ready to hit the trails, follow the wide path that leads away from the parking lot. The gentle descent for the first couple hundred meters is a nice way to warm up legs for the 6 kilometer incline to follow (or more if completing both Lillian and Galatea Lakes!).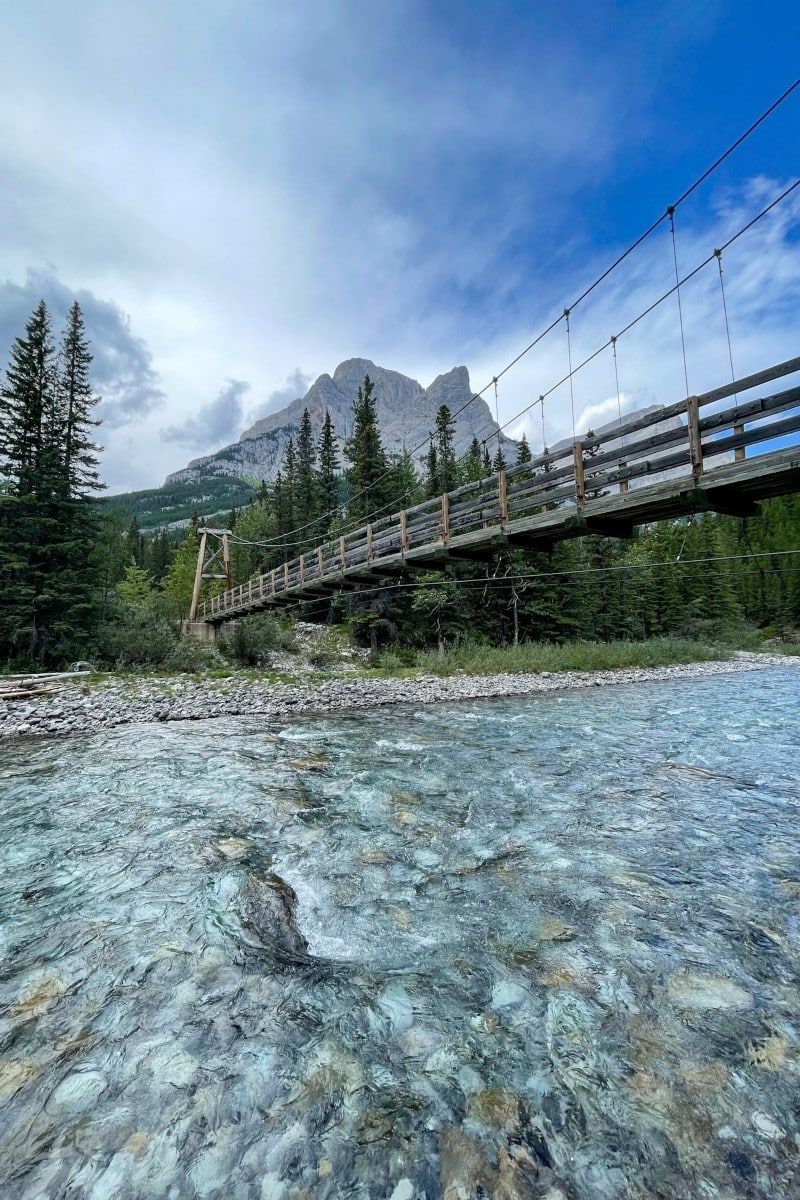 At the bottom of the hill, you'll cross a suspension bridge over Galatea Creek. After this point, the trail rises gradually, meandering along and over the babbling waters through a mossy pine forest that provides shelter and shade for most of the journey to Lillian and Galatea Lakes.
Don't worry about your feet getting wet, as all creek crossings are facilitated by sturdy wooden bridges. That being said, the packed dirt trail can become quite muddy in rainy conditions.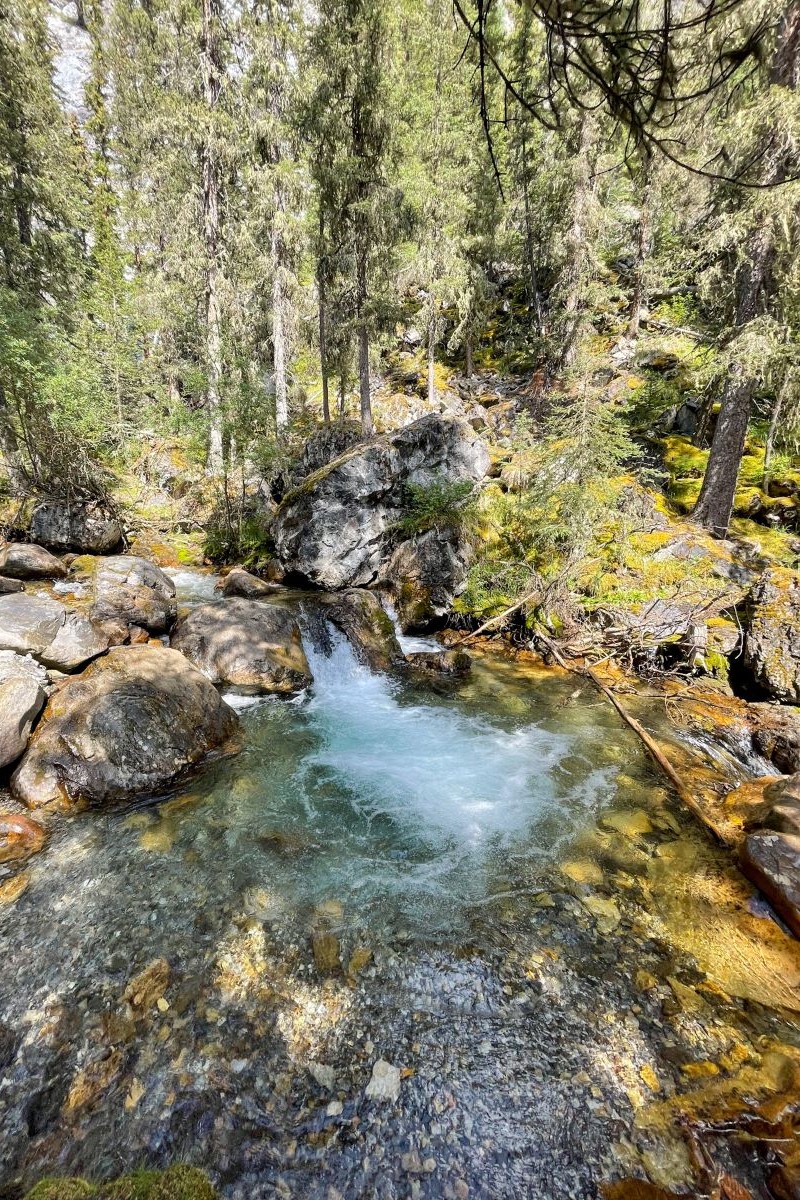 The rushing waters provide a continuous soundtrack for most of the hike and it's a good idea to talk loudly and make noise so that any local bears can hear you over the creek's crescendo.
About halfway to Lillian Lake, the trail rises above the stream, traversing the valley's north side. The views open up where the trail crosses a few slide paths, providing glimpses of distant mountain peaks back down the valley (a visual treat for the return journey).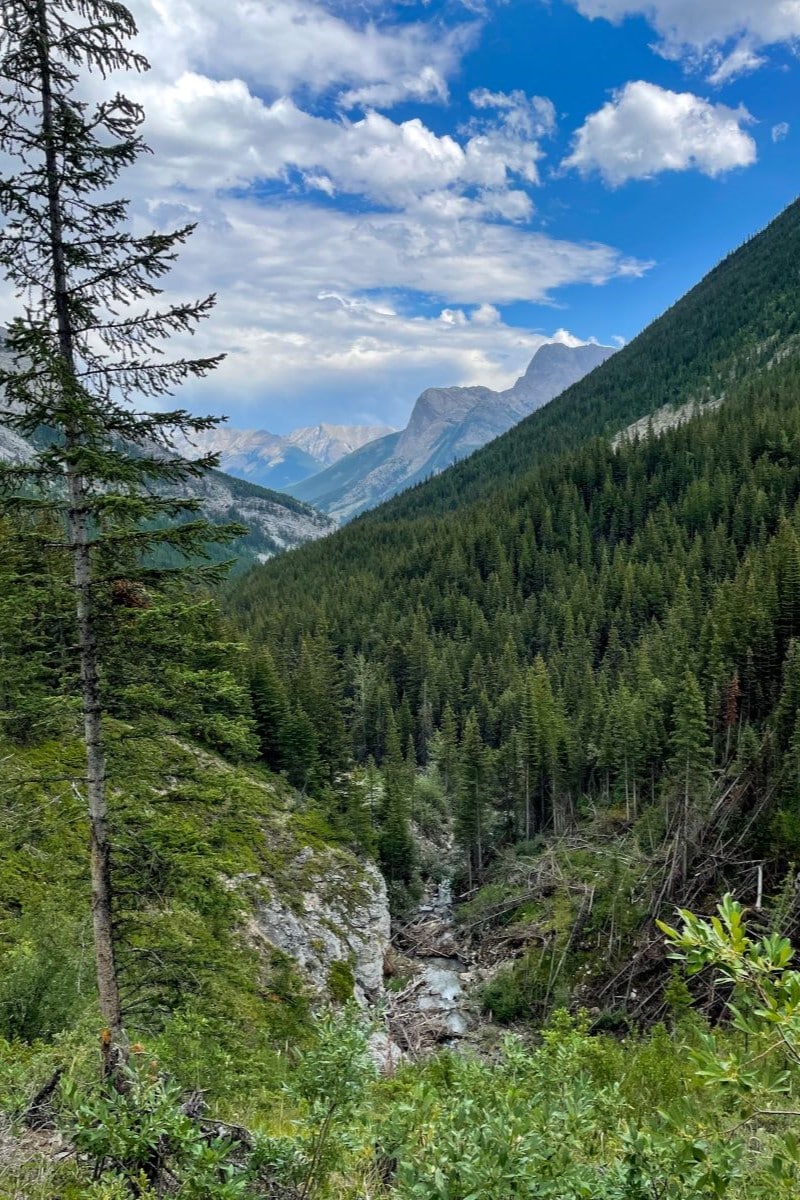 The trail soon rejoins the creek, crossing back over a few more times via familiar wooden bridges. Keep right when you reach the junction with Lost Lake trail. At most of the trail junctions, you can rely on shiny green directional signs to guide you toward Lillian and Galatea Lakes.
There is a reasonably steep incline almost 5km into the trail, after which the path levels out on the final approach to Lillian Lake. The calm waters and protective mountain offer a soothing sight.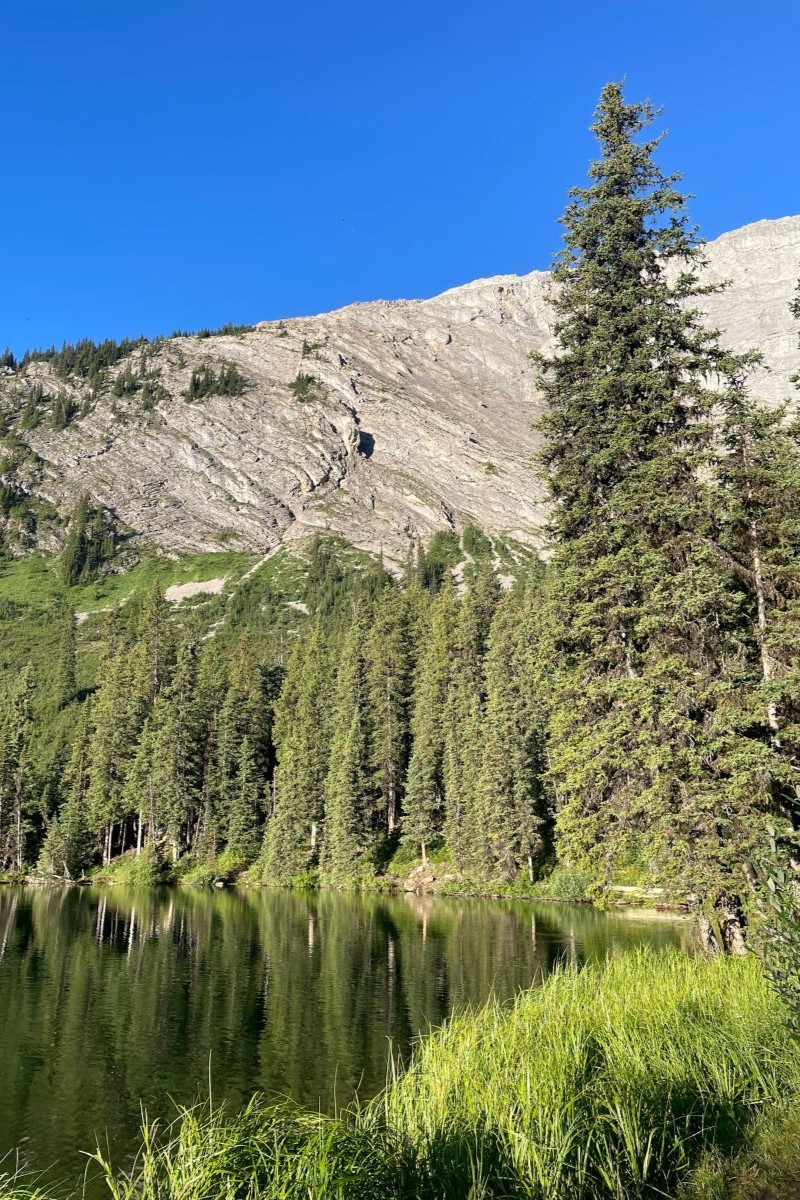 Many hikers end at Lillian Lake, taking some time to rest on the far shore with convenient log benches before returning along the same trail.
Those seeking more of a challenge may continue to the two Galatea Lakes, an extension that is well worth the extra effort of navigating a few more kilometers and additional 370m of elevation!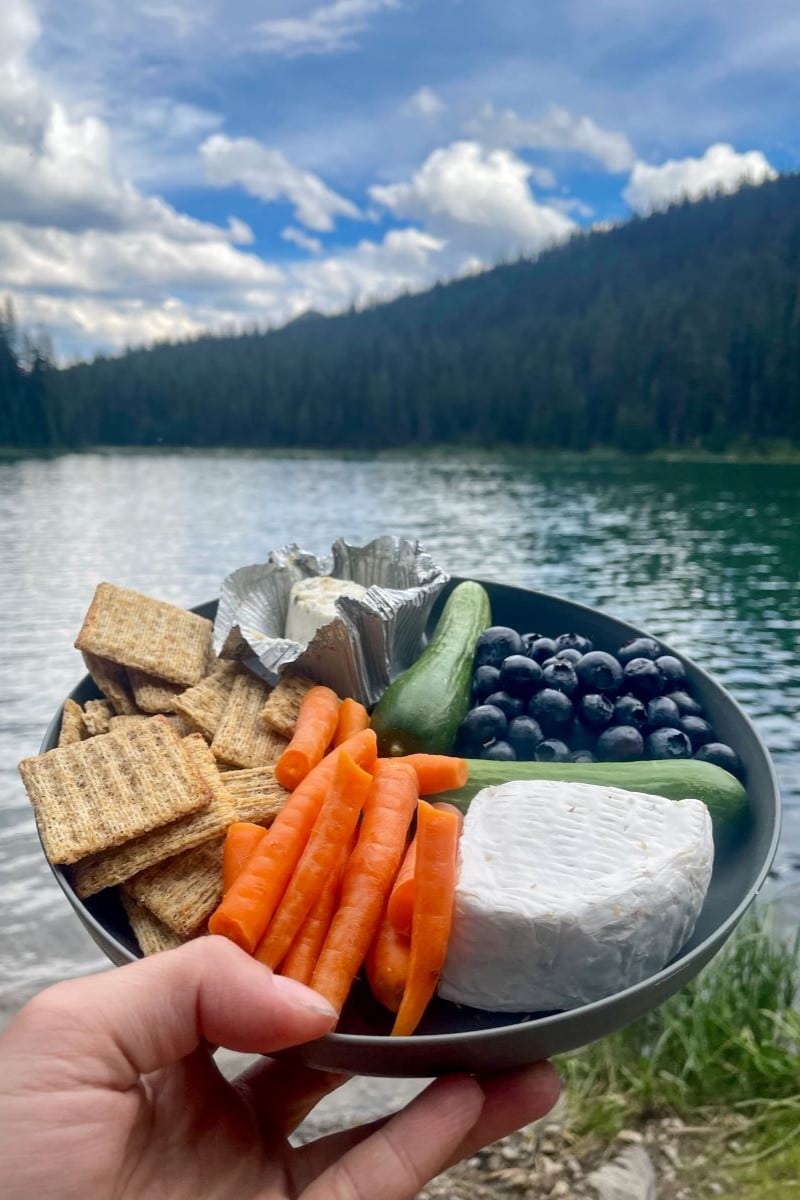 The onward trail to Galatea from Lillian's shores is not intuitive at first. You'll need to head towards the campground nestled in the trees and follow the signs to the outhouse. Along the way, a Galatea Creek sign will confirm the route and indicate the distance to the upper and lower lakes.
Past the outhouse, the trail steepens, winding through tall brush before leading out over rocks. This is the trickiest section of trail, but the difficulty is offset by rewarding views back down to Lillian Lake.
You'll soon come to a junction where the trail splits to Guinn's Pass or Galatea. Take the left route over the ridge and bask in the beauty of lower Galatea Lake with its many shades of blue.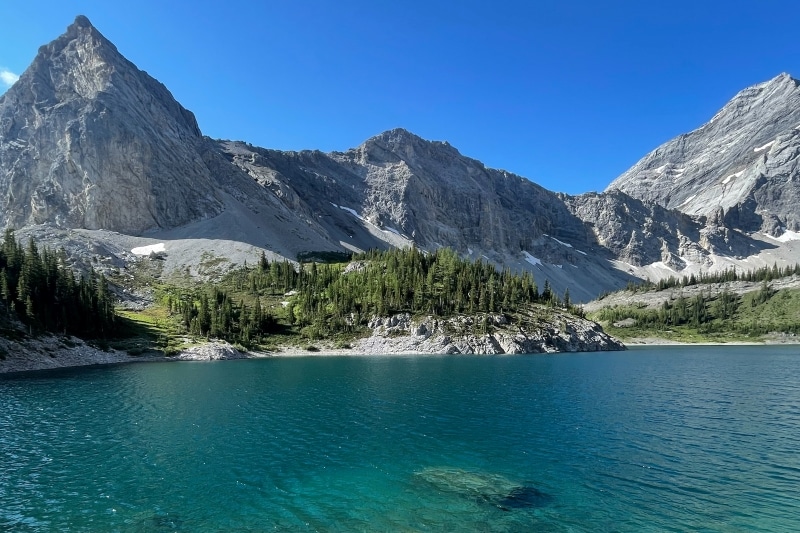 Continue around the rocky right side of the lower lake (counterclockwise direction) to enjoy some of the trail's most spectacular views. Given the elevation, snow patches may linger here well into summer.
A short climb through a treed meadow at the far end of the lower lake will bring you to overlook upper Galatea Lake.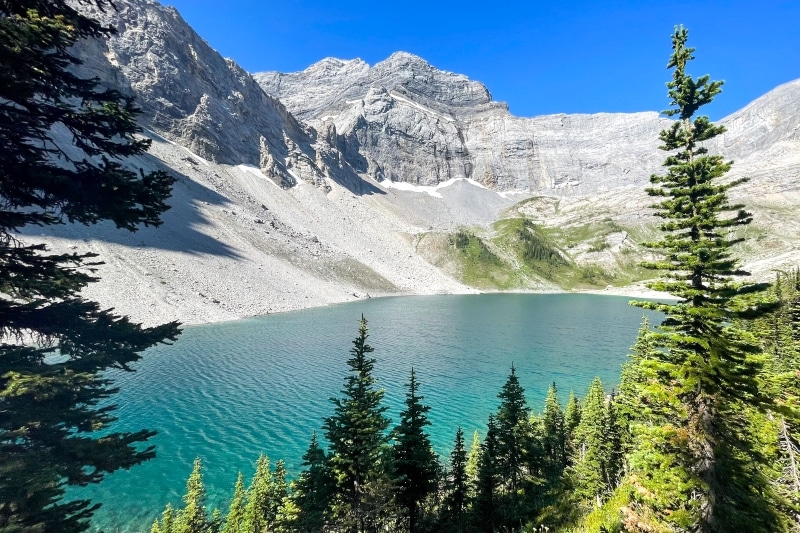 While there is an option to loop around the lower Galatea Lake on the return, I found it easiest to retrace my steps back along the north side of the lake and down to Lillian Lake. From here, it's an easy return to the parking lot back along the same route.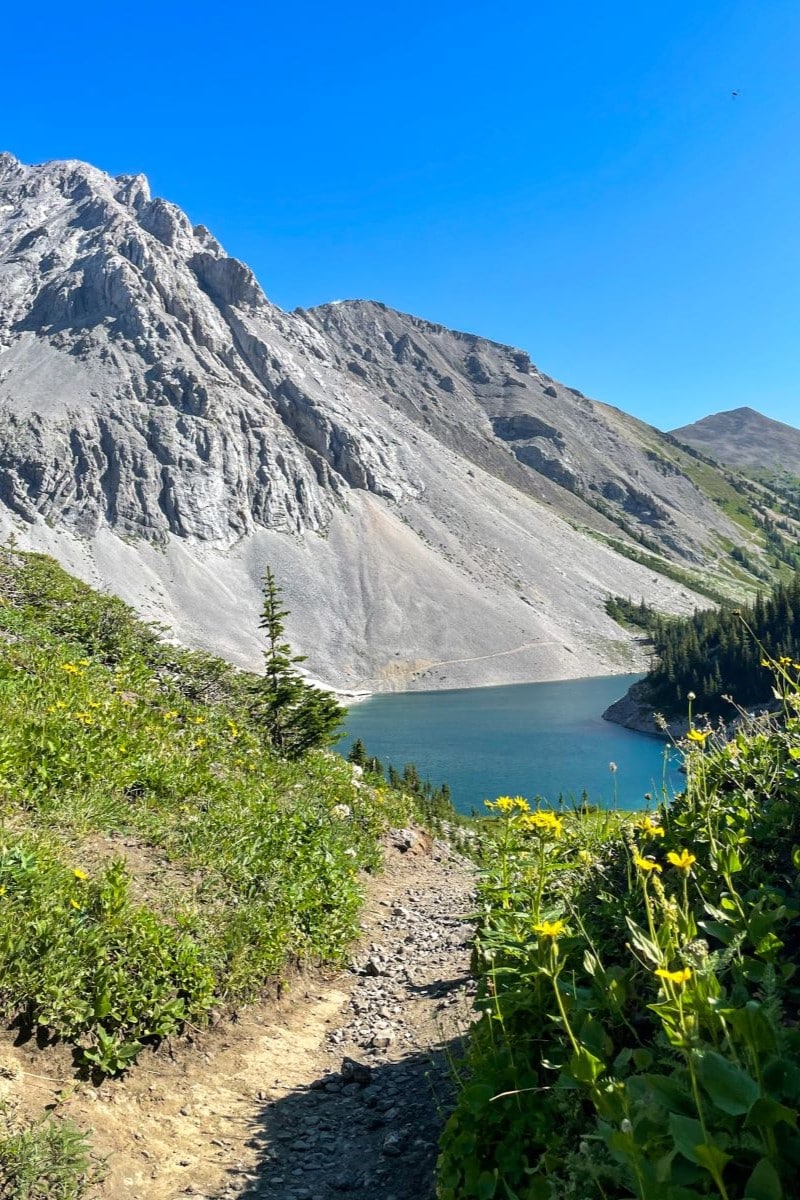 ---
When Can You Hike to Lillian and Galatea Lakes?
Lillian and Galatea Lakes trail makes for a great summer hike best attempted in July or August to take advantage of the swimming, fishing, and camping opportunities. Wildflowers also bloom during this period and can be spotted between the Galatea Lakes.
Lillian Lake makes for a popular snowshoe route during the winter months, but the area around Galatea brings you into avalanche terrain and can be quite hazardous. Only those with proper avalanche training and gear should consider venturing up here in the winter.
Seasonal restrictions limit hiking along Galatea Creek in the spring and the trail to Lillian and Galatea Lakes is closed annually from May 1 to late June to allow the ground to dry and prevent damage.
---
How Long Does it Take to Hike Lillian and Galatea Lakes?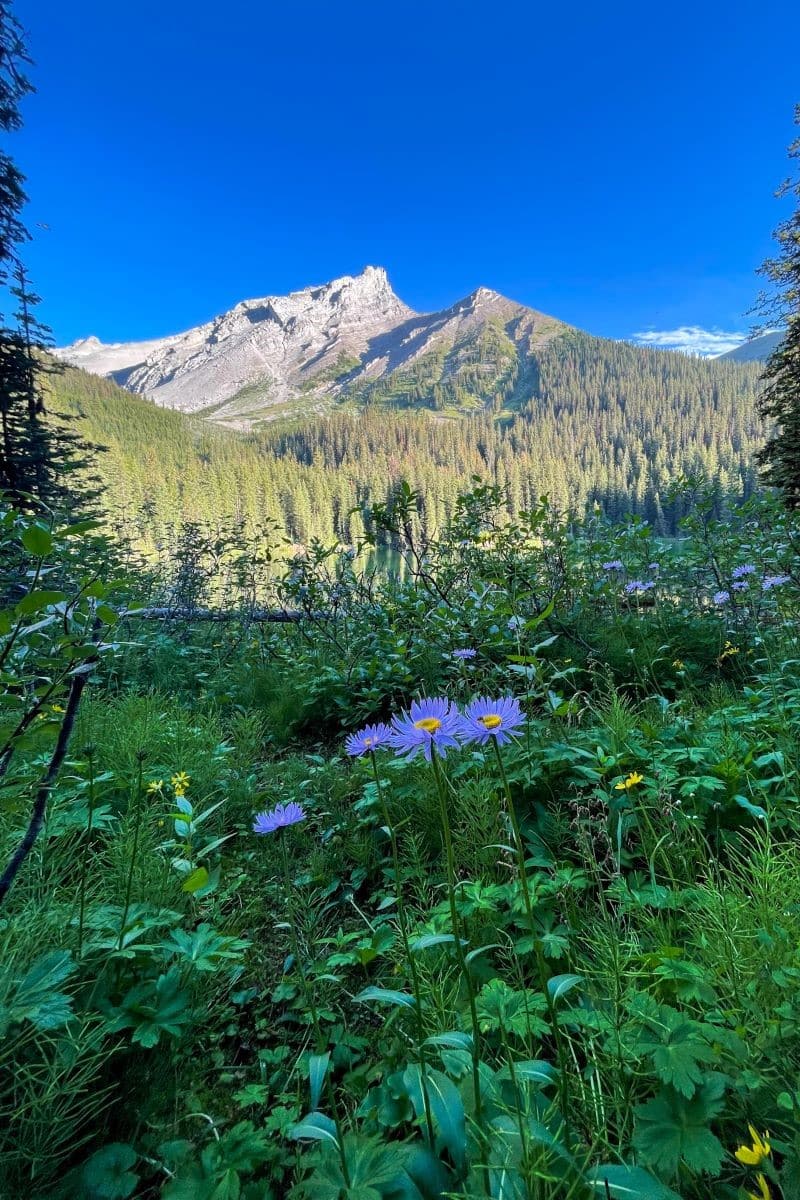 The hike to Lillian Lake can be completed in 4 to 5 hours, while those continuing to both Galatea lakes should budget an extra hour or two and expect to return in about 6 to 7 hours.
We made it to Lillian Lake in about 2 hours with overnight packs and most hikers should expect to reach this first lake within a similar time frame. There are a few open sections on the lakeshores that provide venues to snack and rest, so budget some time for breaks.
---
How Hard is it to Hike Lillian and Galatea Lakes?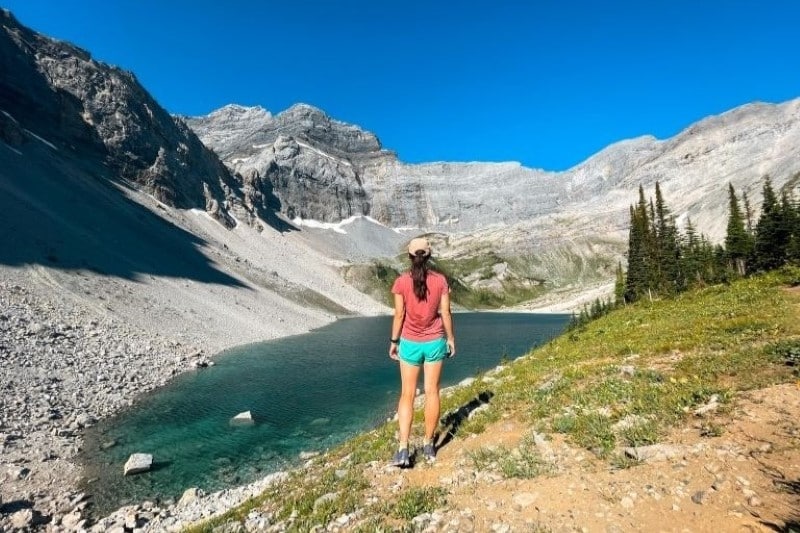 The trail to Lillian Lake is a moderate hike that can be managed by anyone willing to endure a few hours of walking with a consistent incline. The compacted dirt trail is well-established and clearly marked. With only a few rocky sections, it amounts to a physical challenge without technical complexities.
Continuing up to Galatea Lakes is more challenging as the trail becomes steeper and rockier, with careful footing required to navigate the shale. Poles are useful for extra support and balance. Shade is limited around Galatea Lakes, so come prepared with sun protection and enough water, particularly on hot days.
As an experienced hiker, I easily managed the entire hike in trail runners, but boots with ankle support would provide better stability when traversing the rocks.
I also found the views at Galatea were the most impressive and well-worth the extra effort. I'd love to return and add on Guinn's Pass for even more elevation and a bird's eye view of the Galatea Valley.
---
Is the Hike to Lillian and Galatea Lakes Family and Dog Friendly?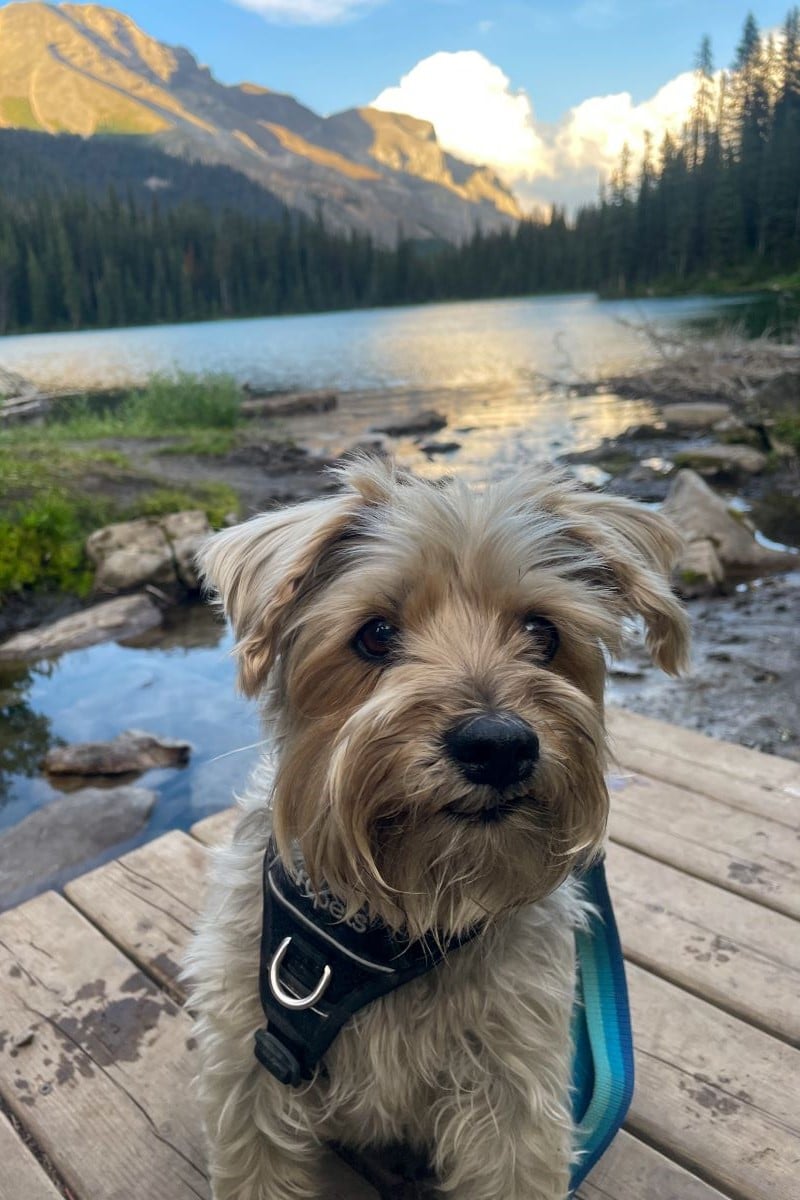 Again, the answer to this question varies depending on the lake destination. Lillian Lake is popular among families, with the main consideration being the 12 kilometer distance. We encountered a few families with children of varying ages backpacking or out for a day hike, while our own party brought a 9-month old baby on back and a small dog.
Lillian Lake is well suited to dogs accustomed to hiking longer distances. Four-legged friends will greatly appreciate the abundance of water sources on hot days. Our senior terrier (pictured above) managed the trip to Lillian Lake, broken up with a night rest at the campground.
The extension to Galatea Lakes requires a bit more stamina, but could be managed by older children and teenagers with more mountain experience. The rocky sections may be rough on dog paws, so consider your dog's tolerance or pack protective booties.
Remember to always keep your dog leashed for their own safety, as well as the safety of wildlife and other hikers. Leash laws are also in effect in Alberta's provincial parks and even when on leash, pets must be kept under control.
---
How Busy is the Lillian and Galatea Lakes Hike?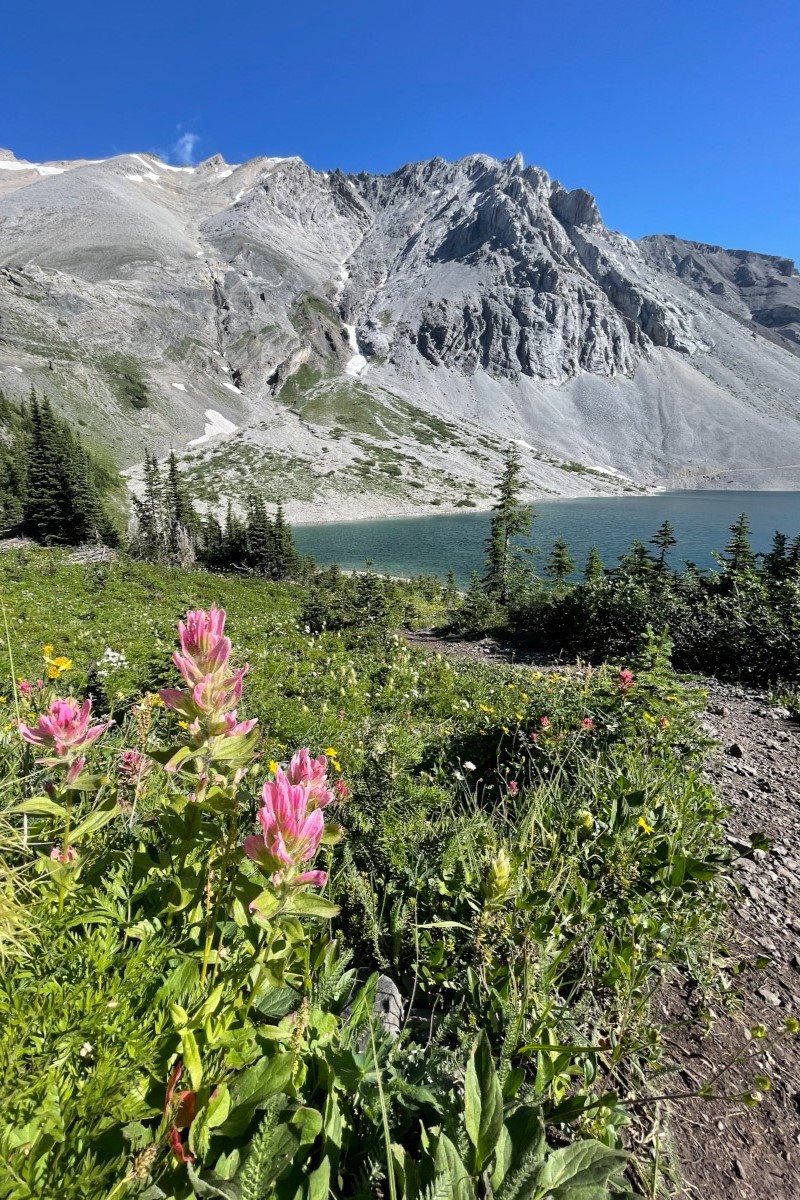 We completed this hike over a weekend in mid-August (out on Saturday, back on Sunday) and found it consistently trafficked. Lillian Lake was particularly busy around mid-day as many stopped to swim and picnic. All tent pads at Lillian were also occupied.
More solitude can be found at Galatea Lakes, given the longer distance and elevation gain.
---
Camping at Lillian Lake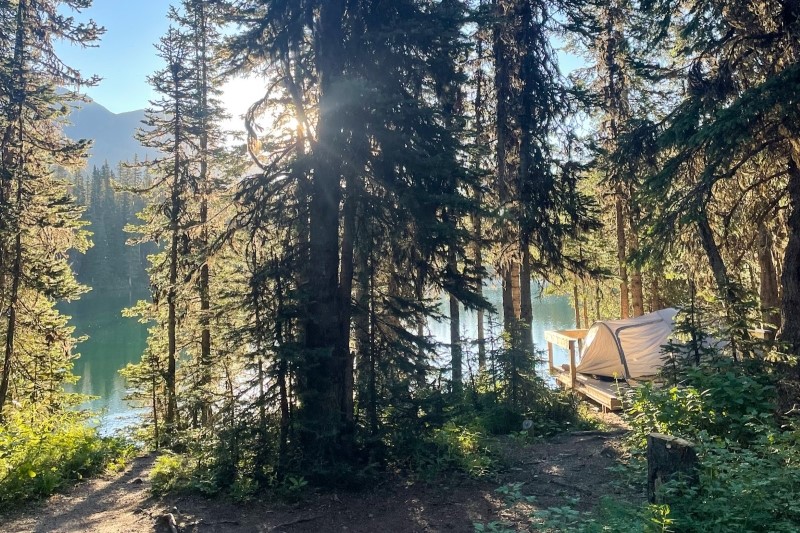 Lillian Lake hosts one of the most picturesque and accessible backcountry campgrounds in Kananaskis. There's nothing quite like waking up to the sun rising over the tranquil lake and the smell of fresh pine.
A backcountry permit from Alberta Parks is required to camp at Lillian Lake and you'll need to secure a reservation online or by phone in advance. The campground contains 17 sites, which permitted campers can select on a first-come-first served basis upon arrival.
Tents should only be pitched at one of the designated sites, which are clearly identified either as raised platforms or outlines on the ground. If you're lucky, you may be able to snag one of the coveted campsites overlooking the lake.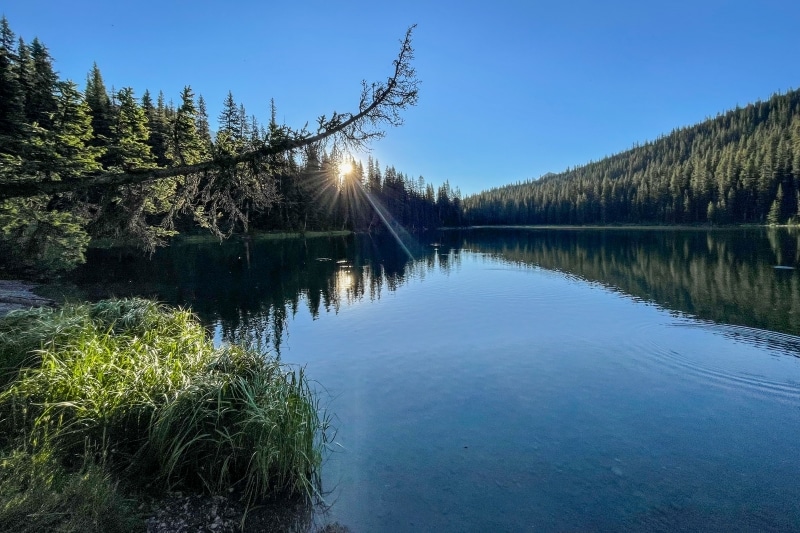 The campground offers great amenities for the backcountry, including relatively new pit toilets (nicer than the trailhead!), secure food storage lockers, communal picnic tables for cooking, greywater disposal, firepits, firewood, and axe.
With relatively easy access, Lillian Lake is one of the most popular sites for backcountry camping in Kananaskis, so expect to have company during your stay. To respect neighboring wildlife, store all food and scented products in the convenient bear bins and pack out all waste.
---
Fishing at Lillian and Galatea Lakes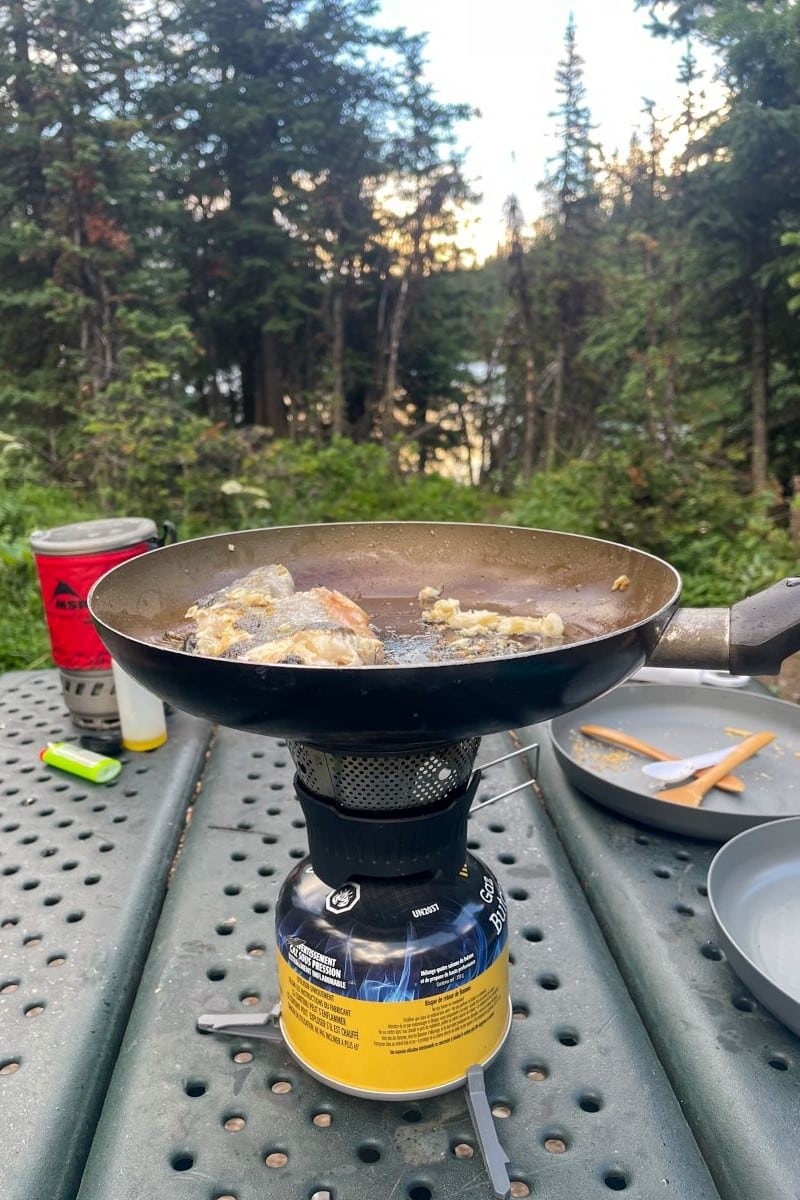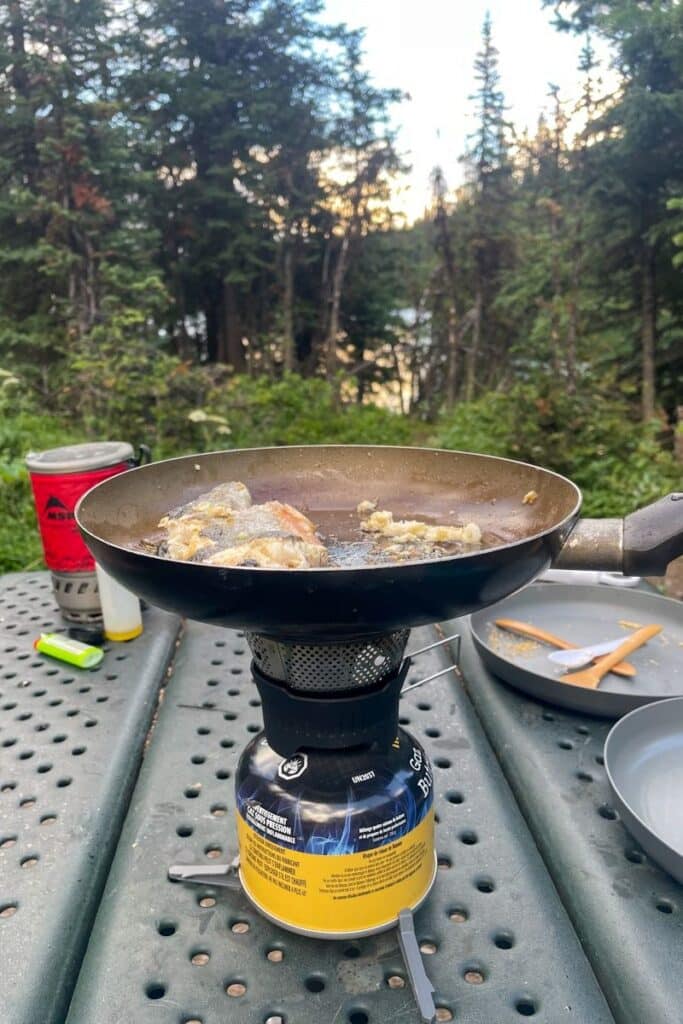 Fishing is permitted at Lillian and Galatea Lakes provided that anglers follow all applicable regulations. An Alberta sportfishing license is required for most anglers (with some exceptions based on age and Indigenous status) and possession limits apply to all three lakes.
With a bit of skill and luck, you may be able to catch yourself a fresh meal!
---
Hiking Tips for the Canadian Rockies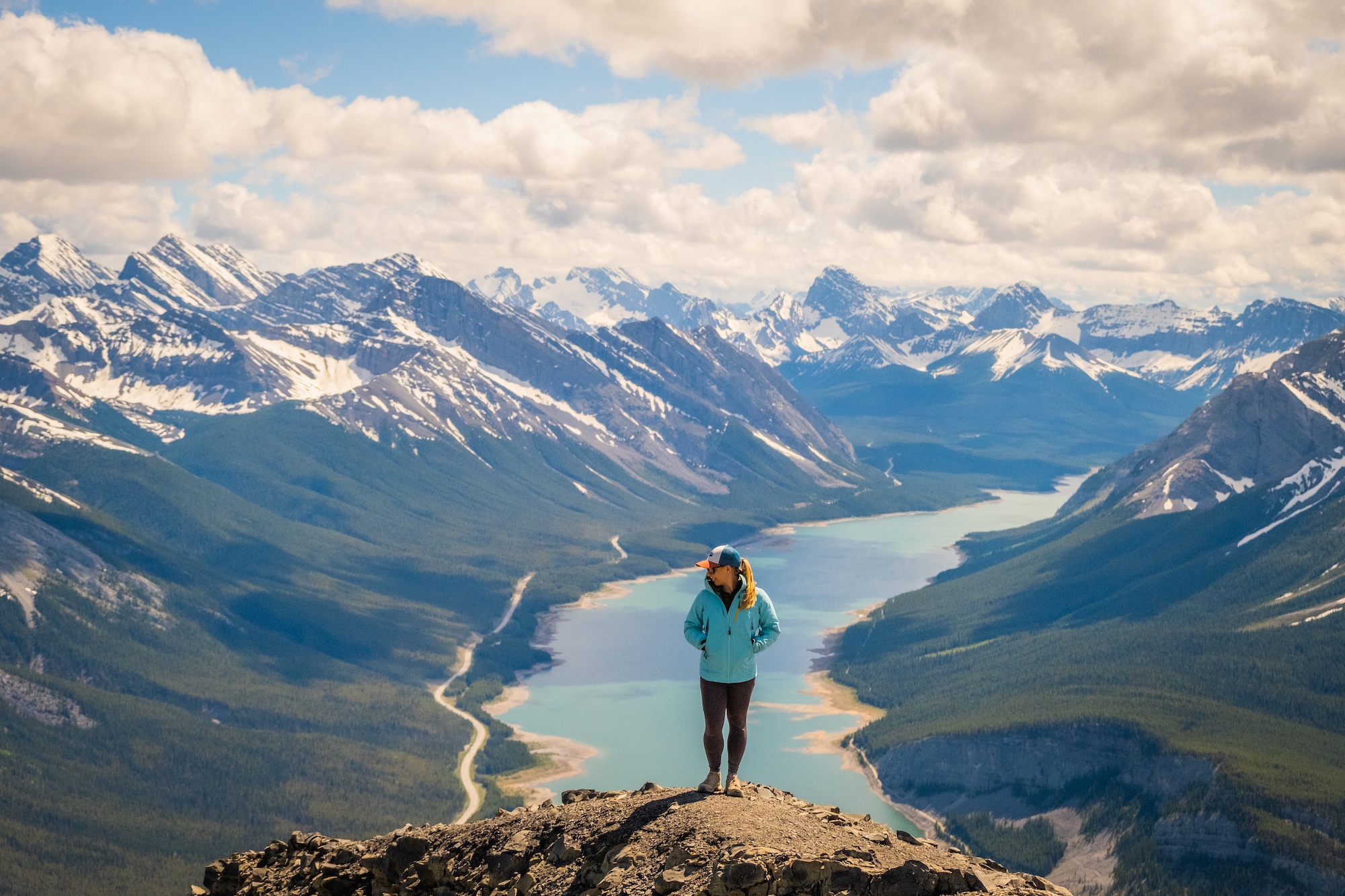 Check the weather and trail conditions before leaving home. AllTrails is a great resource with reviews from those who recently completed the trail. Alberta Parks also posts highway and wildlife advisories on its website.
There is no cellular service on the trail or surrounding area so it's important to plan ahead and consider bringing a satellite communicator in case of emergency.
Be aware of wildlife and always carry bear spray. You can also stay safe in bear country by respecting advisories, maintaining an awareness of surroundings, making noise on the trail, hiking in groups, and packing out all food and waste.
Plan for your own level of fitness and comfort. Make sure you budget enough time to travel at your own pace and pack plenty of food and water to keep you sustained. If hiking later in the day, set a turn around time to avoid getting caught out in the dark.
Dress for variable conditions with layers. Check out this post for advice on what to wear while hiking in the Rockies. I also love to leave a bag with clean clothes, extra water, and salty snacks in the car to feel refreshed on the post-hike drive.
30 Helpful Tips for Hiking in Banff for New Hikers
---
Other Awesome Kananaskis Hikes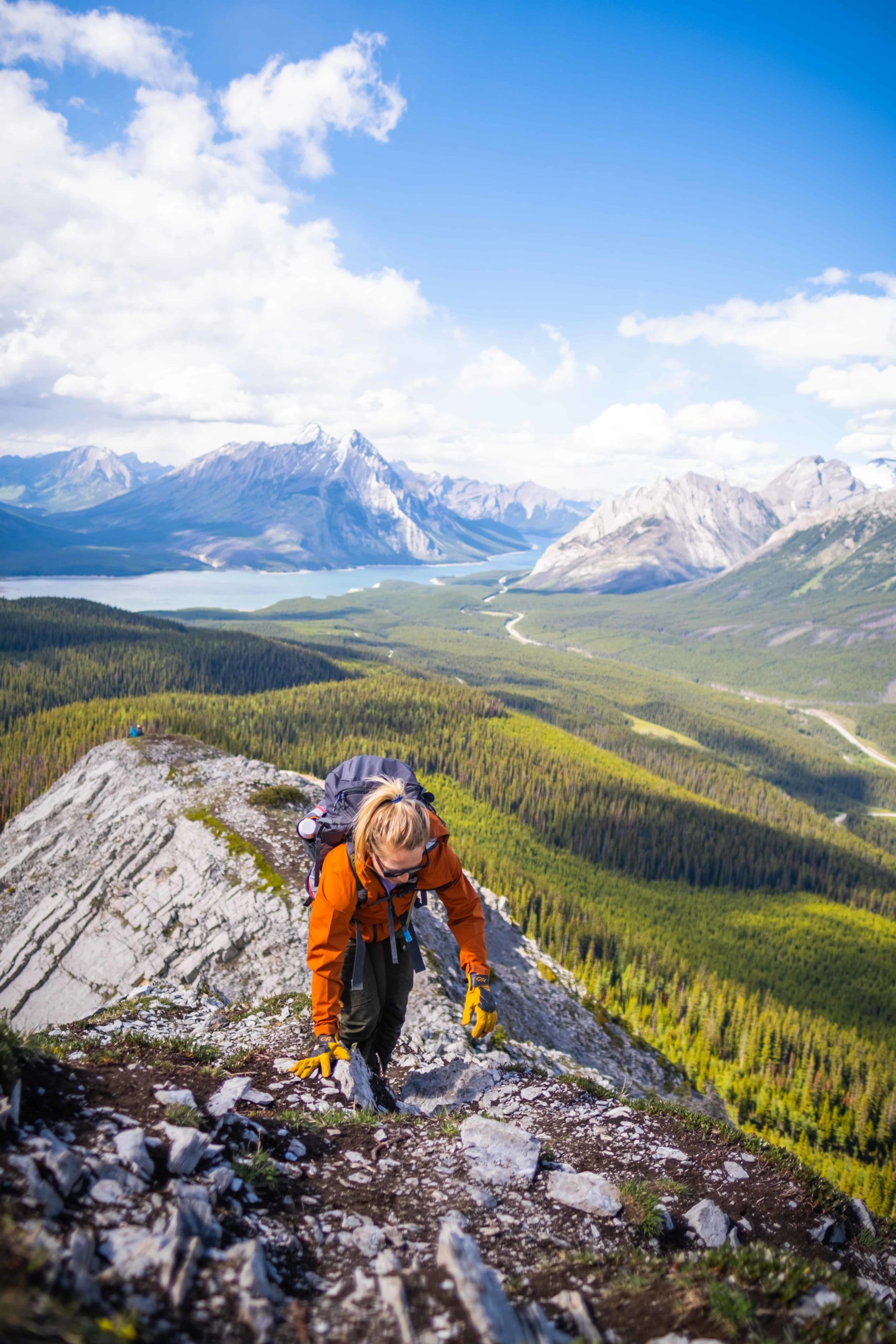 There are so many more great hikes in the Kananaskis Country Provincial Park. A few of my favorites are Tent Ridge, Windtower, Ha Ling, and EEOR.
Plan Your Trip to the Canadian Rockies