The Tent Ridge Horseshoe hike is one of my favorite hikes in all of Alberta. Just an hour's drive from Canmore in the Spray Valley is this beautiful loop trail. It's the perfect hike with amazing views of the surrounding mountains and lakes. In summer you'll find wildflowers and bird watching.
If you're looking for a quick, but moderately difficult hike then Tent Ridge Horseshoe is a must do. Let's dig in with all the details.
See More:
---
How to Hike Tent Ridge
---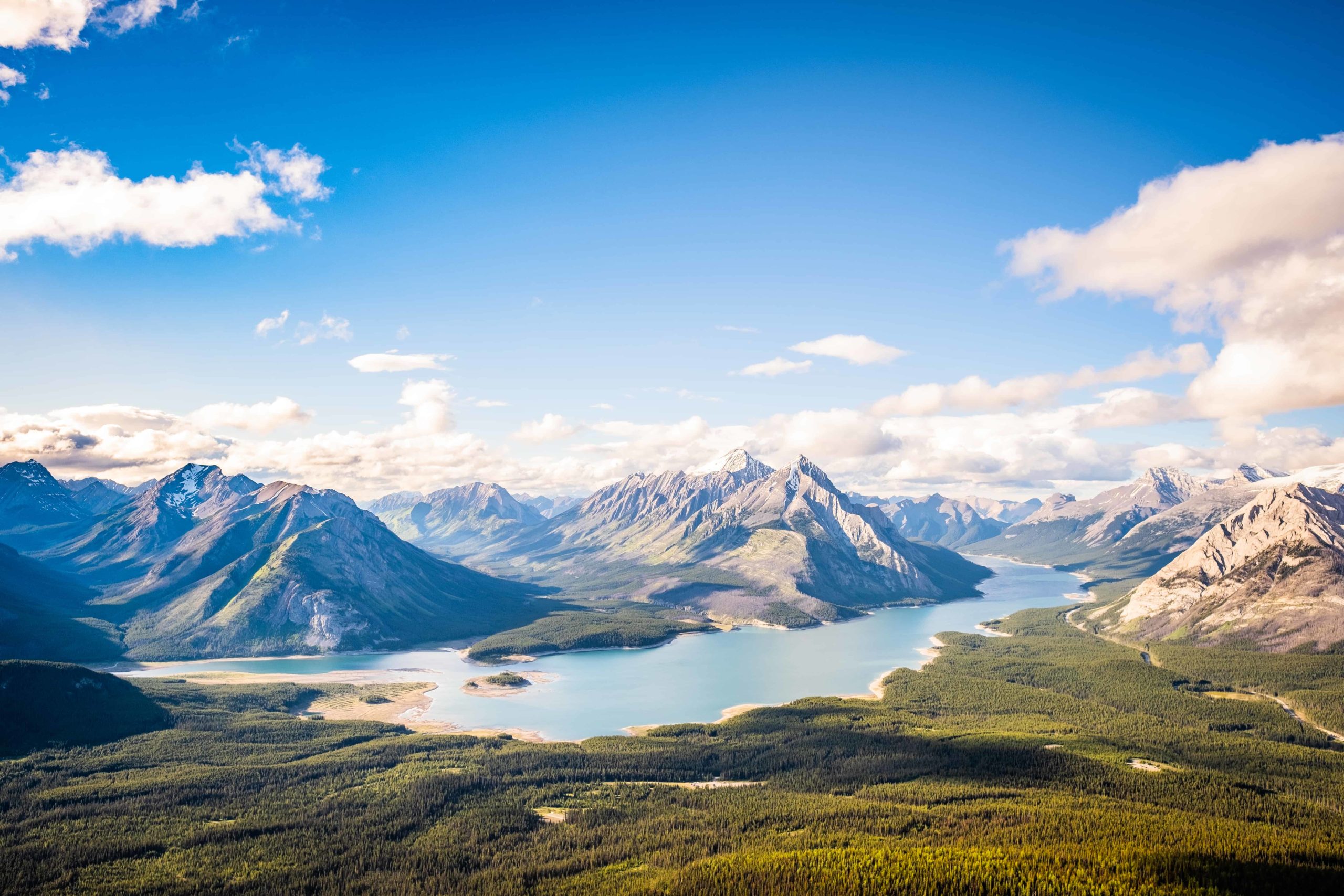 ---
How Long Does the Tent Ridge Hike Take?
Tent Ridge Horseshoe is a 10-kilometer loop trail. We are faster than average hikers and this trail took us about 5 hours, with LOTS of photo stops as it was too beautiful, and a long lunch break near the satellite tower. If we weren't taking any photos or video (or waiting around for great light at sunset), we would have been able to do this loop hike in 3-4 hours.
---
How Hard is Tent Ridge Trail?
Although AllTrails rates this as hard, I would put it slightly above moderate. There are a few steep pitches that will have you panting, but I believe the real reason it's rated as hard is because of the scramble up (or down depending on which way you go), from the ridge. I saw all ages of life on this trail, the scramble was slightly exposed and very short lived, but nothing too sketchy.
---
Which Way Should I Hike Tent Ridge?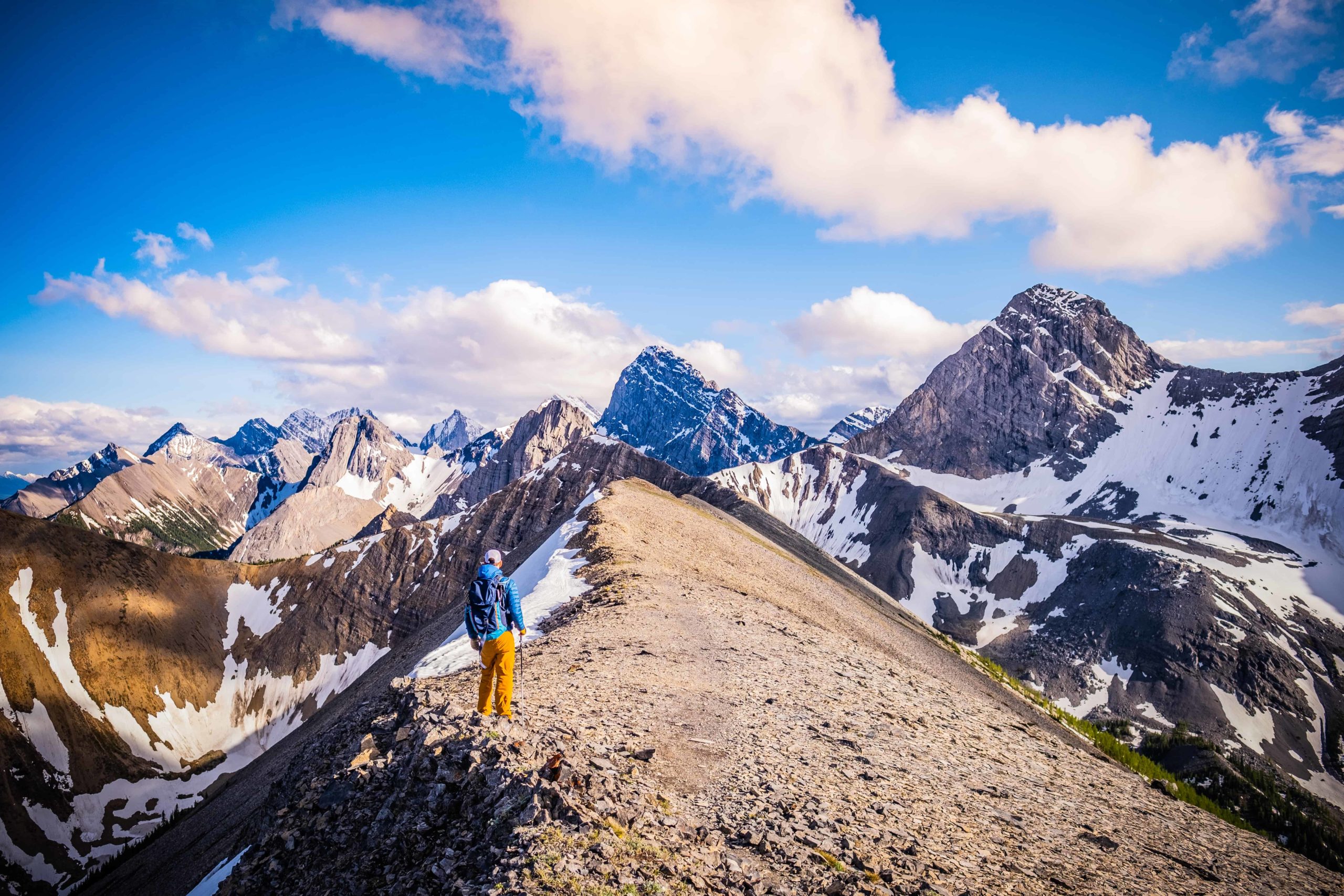 Since this is a loop trail from the parking area you have two ways you can begin your ascent. The most obvious one is to the right of the parking area because it is more visible from where you park. This will take you up a steep climb, and you'll move counterclockwise on the ridge, ending with a steep scramble down.
I do not recommend going this way, and instead, walking to the left of the parking lot until you find the trail and going clockwise for two reasons. Number one, then you just have the steep scramble up, and not down, making it much less scary. Number two, because once you summit the ridge you'll have breathtaking 360° views of Spray Lakes for the remainder of the ridgeline.
---
When Can You Enjoy the Tent Ridge Hike?
This trail would be best between mid June and mid October, though I've seen photos in the winter and the images are gorgeous. Just make sure you have gaiters, crampons, and poles if you decide to do a winter hike. You're also in an avalanche prone area, so taking an AST1 course and having some avalanche knowledge would be extremely wise.
We hiked this trail on Canada Day weekend (July 1st). There were a few spots with slushy snow, but for the most part, it was a dry trail. It's still the mountains though, and the weather changes rapidly. When we started this hike, it was a bright sunny day. When we reached the top of the ridge it was snowing, and the wind was howling, no views at all.
Then as we walked further along the ridge the clouds passed and the sun made a wonderful appearance again. Make sure that you're fully prepared for any adventure out in the mountains or you'll have a miserable/dangerous time. You can see our hiking recommendations at the end of this post.
---
How Busy is the Tent Ridge Hike?
We set out for Tent Ridge on a beautiful weekday afternoon. When we reached the car park there were about 10 other cars parked. We passed maybe 20 people on our way up, they were all hiking counter-clockwise direction – the one I don't suggest going.
Towards the end of the day, we found a few people who just came up for sunset, but not to hike the whole loop – and one trail runner.
AllTrails rates this as a heavily trafficked trail, and I agree with them. You'll have to time it right to have it to yourself like we did. Weekends and holidays are especially busy. The best time to hike Tent Ridge would be on a Monday through Friday at sunrise or sunset.
It's far from the busiest trail in the Rockies, but also far from the quietest. As most foreign visitors stick to Banff, you'll be mainly passing Albertans on the trail. You also have to drive quite a ways to reach it, past Mount Engadine Lodge, which probably keeps numbers down.
---
Should Dogs and Kids Do the Tent Ridge Hike?
Most of the trail is moderate, but as mentioned before there is a steep and short scramble either up or down. Only experienced trail dogs should tackle this, and young children with no scrambling experience may not enjoy it. However, any experienced child or pet who has done some hikes in the Rockies will have no issue.
---
Wildlife Awareness On Tent Ridge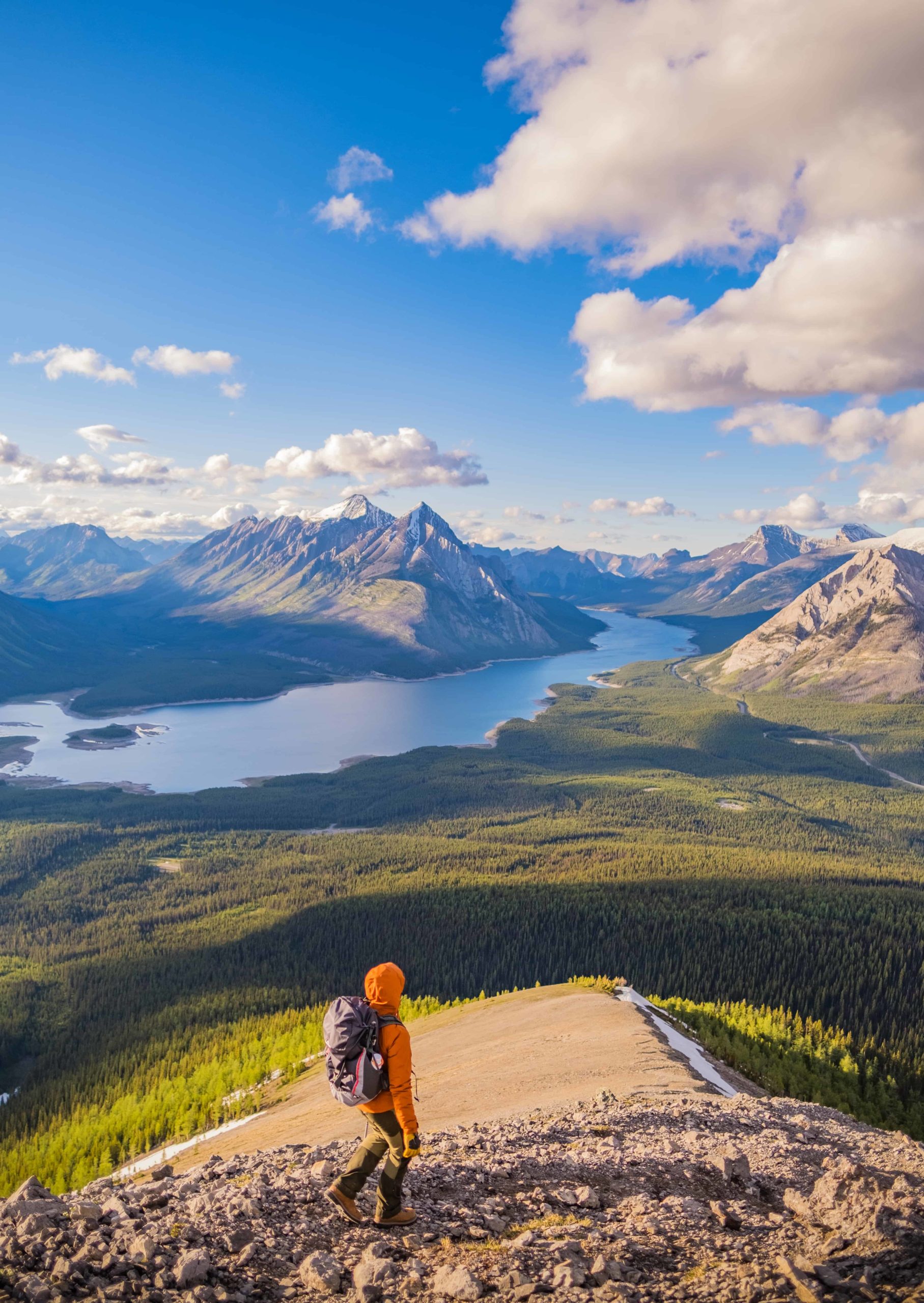 If you're on any hikes in Kananaskis you should practice proper wildlife awareness. In the region, there are frequent sightings of black bears, grizzly bears, moose, coyotes, and cougars. They all a potential threat to humans and we should reduce our impact on their natural lives.
Before any hike or walk in Banff National Park or Kananaskis Country, you need to have bear spray. Remember that the bear spray is worthless if it's in your pack, you'll need to be able to grab this in two seconds or less in an emergency. We wear our bear sprays on our hip.
Always check the park websites for wildlife information (Parks Canada and AB Park), and then check again for notices at the trailhead. When you're on the trail make noise by banging hiking poles, talking, whistling, clapping, or singing. This is particularly important around blind bends and corners, which there are many at the start and end of the Tent Ridge hike. You're through the deep woods during these times, and it's prime time to sneak up on a bear. Once you're on the ridge, you're safer as you can see wildlife from afar, but still, don't let your guard down and keep the bear spray on you just in case.
As always while hiking you need to stay alert, travel in a group, mind children and pets, and finally carrying bear spray and knowing how to use it. If you've come to the park without bear spray Valhalla Pure Outfitters in town sells spray and holders with employees who will demonstrate how to use properly.
---
Things to do in Nearby Canmore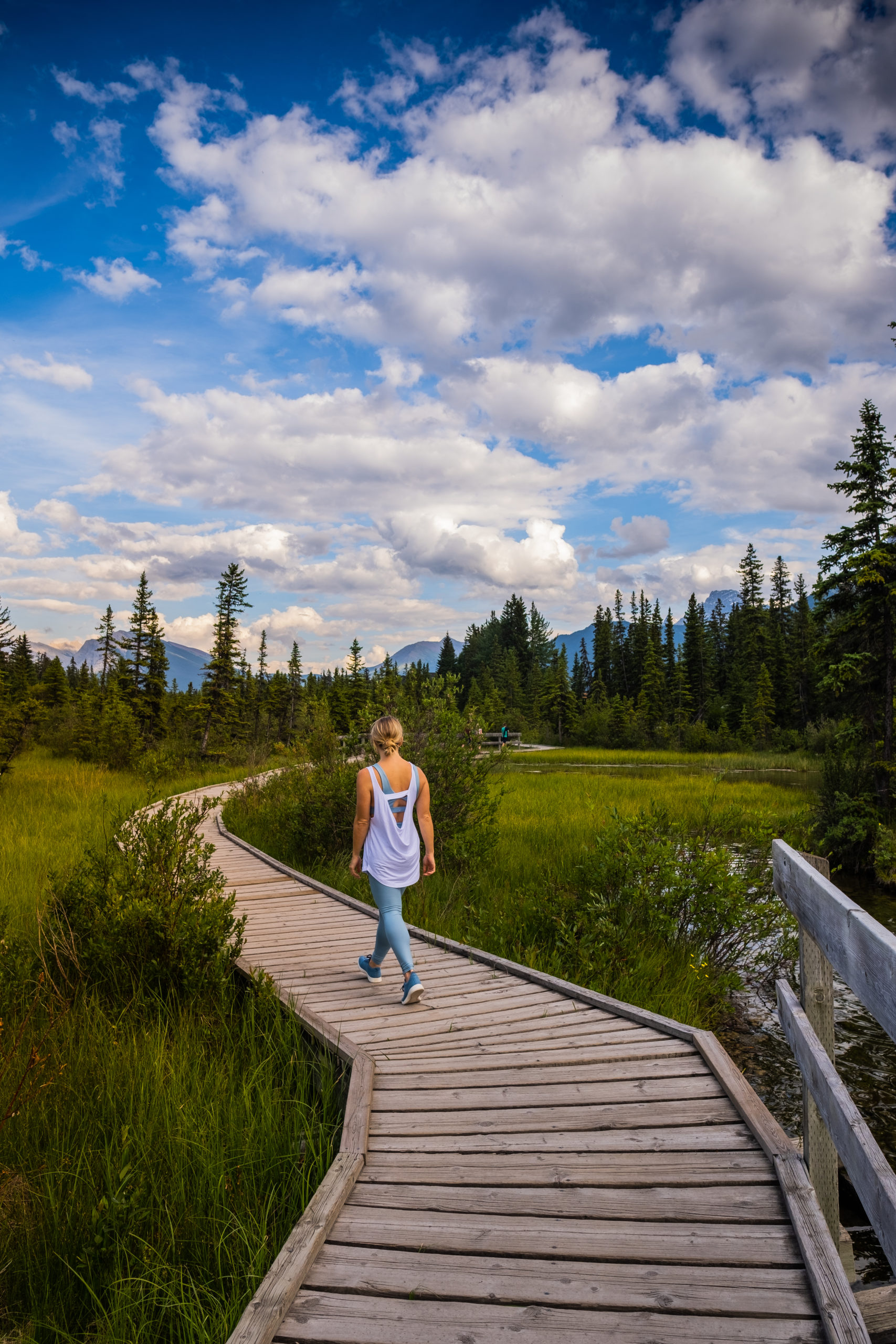 Grab A Beer at the Tavern 1883: It doesn't matter the season, but to end any day with a local craft beer and an appetizer in the stunning Rockies is the perfect day. We love Tavern 1883 as it's one of the best restaurants in Canmore.
SUP: There is no secret that Canada has some stunning lakes, more than any country in the world. Canmore has a wide selection of waterways itself and there are so many water activities that visitors can do in the area. One of those things that have made its way from the coast is stand up paddleboarding. Bow Valley Stand Up Paddleboarding has been operating in Canmore for the past five years and offers rentals, lessons, and sales.
Grotto Canyon: An easy Canmore hike that's good year-round is Grotto Canyon. Even in the winter, this famous canyon with rock art is possible to walk along the frozen creek. In the summertime, it's popular for families seeking to enjoy the narrow slot canyon and climbers looking to scale its walls. At only 4km in length, you can check this one off the list in an hour or two.
Indoor Rock Climb at Elevation Place: Though rock climbing isn't for the faint of heart, you don't have to put your life at risk clinging to a sheer rock face thousands of feet up to experience it. That's just what they had in mind when they created Elevation Place – the place to go in Canmore to see what the climbing hype is all about. It's also a great place for expert-level climbers to practice their moves.
---
What to Wear On a Hike?
The most basic principle of what to wear hiking is layering. Anyone that has spent time in wilderness or mountains can speak to the fact your temperature can fluctuate a lot on a hike. You can easily start off cool at the base of the mountain and get hot as soon as you begin moving.
What to Wear On a Hike in the Rockies?
---
Other Kananaskis Country Hikes to Check Out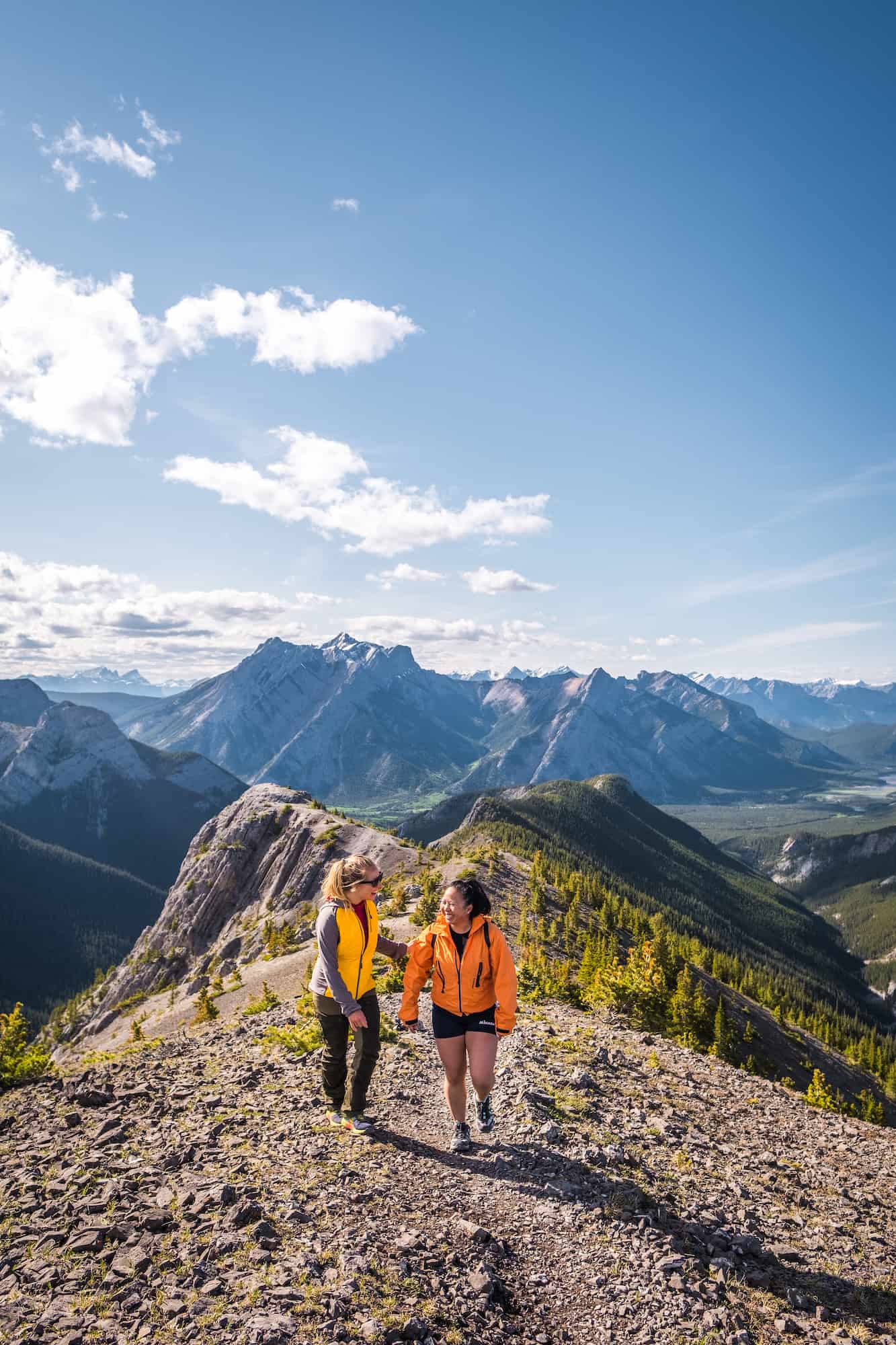 There are so many more great hikes in the Kananaskis Country Provincial Park or you can check out some awesome Banff hikes. Both are home to some of our all-time favorite hikes and scrambles in the region. To learn more, we've got a post on our favorite hikes in Kananaskis Country.