Kananaskis Country is one of the most beautiful parts of Alberta that everyone should get out and enjoy. You don't have to summit a mountain to feel fulfilled, as there are many other things to do in Kananaskis. There are plenty of easy hikes in Kananaskis to adventure on.
Whether you're with your parents, or young children, on a sunset hike, winter hike, sunrise hike, or just want a lovely day out in the mountains without too much work. And stress involved, we've broken down some of our favorite easy Kananaskis hiking trails for you. Ranked from easiest to hardest!
When you're up for more, see our full list of our favorite hikes and scrambles in Kananaskis, followed by our favorite hikes in Banff!
---
A Kananaskis Conservation Pass is Needed to Hike in Kananaskis
Visitors are required to hold a Kananaskis Conservation Pass. The area covered in the pass includes Kananaskis and the Bow Valley corridor. Passes may be purchased online and are attached to a license plate number. Requirements are around vehicles and parking, not the individual. This includes parking at the Canmore Nordic Center or Grassi Lakes.
Kananaskis Conservation Pass Prices
Daily Pass: $15 (registers one vehicle)
Annual Pass: $90 (registers two vehicles)
---
Easy Hikes in Kananaskis for All to Enjoy!
---
Blackshale Suspension Bridge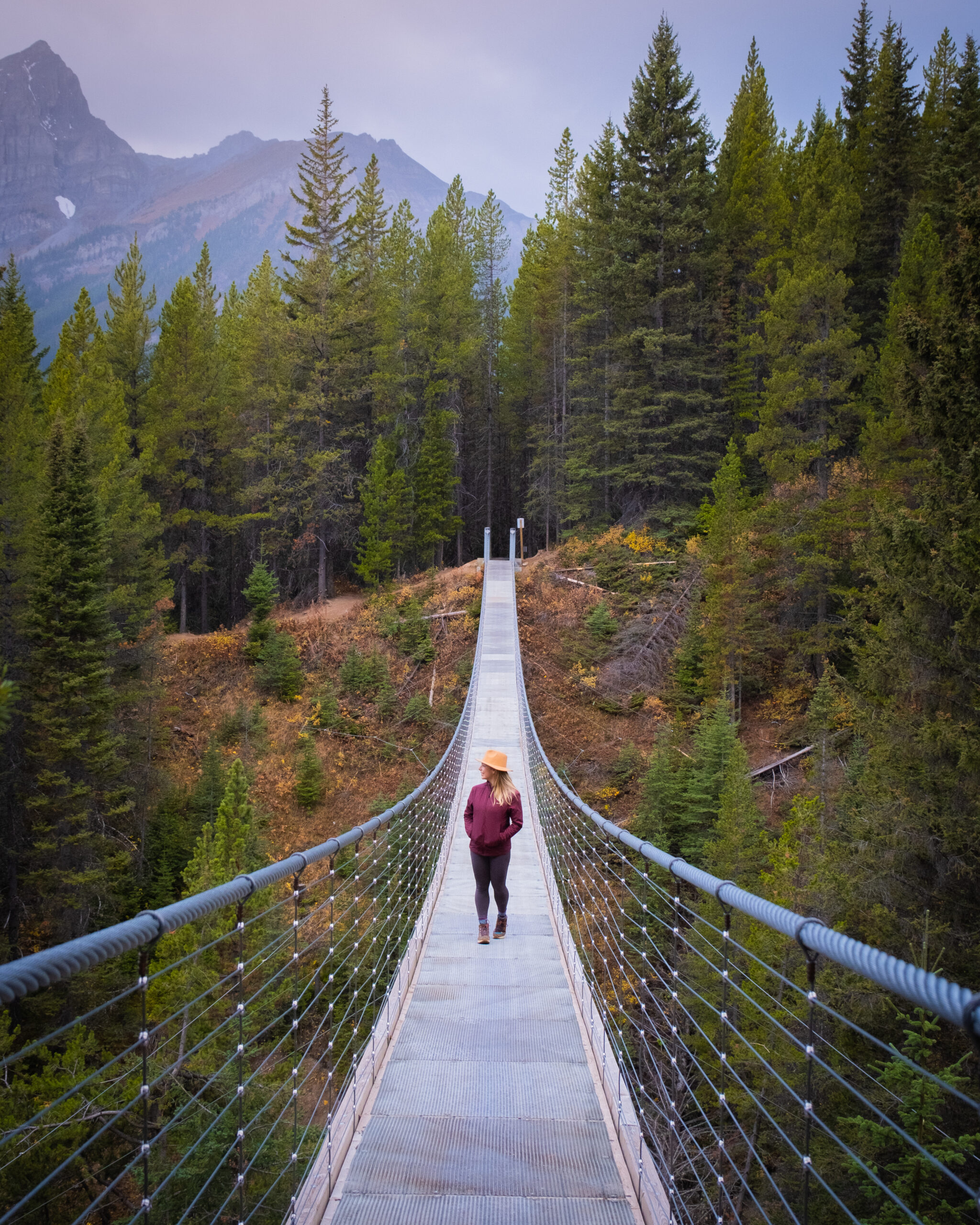 Length: 1 km
Elevation Gain: 52 meters
Time Estimate: 30 minutes
Route Type: Loop
When to Go: Year Round
If you are looking for the easiest hike in Kananaskis, head to the Blackshale Suspension Bridge. This easy hike in Kananaskis is precisely what it sounds like, a suspension bridge over Blackshale Creek, and it will impress the kids!
This loop hike is quick and easy and will take you across a beautiful bridge. You can complete the hike going in either direction, and it may take you as little as 10 minutes, depending on how quick of a hiker you are.
For Canadian Rockies hikes, this one isn't the most exciting, with few views, and the main highlight is crossing the bridge itself. It's best done with another hike nearby or after a day out by Kananaskis Lakes.
---
Watridge Lake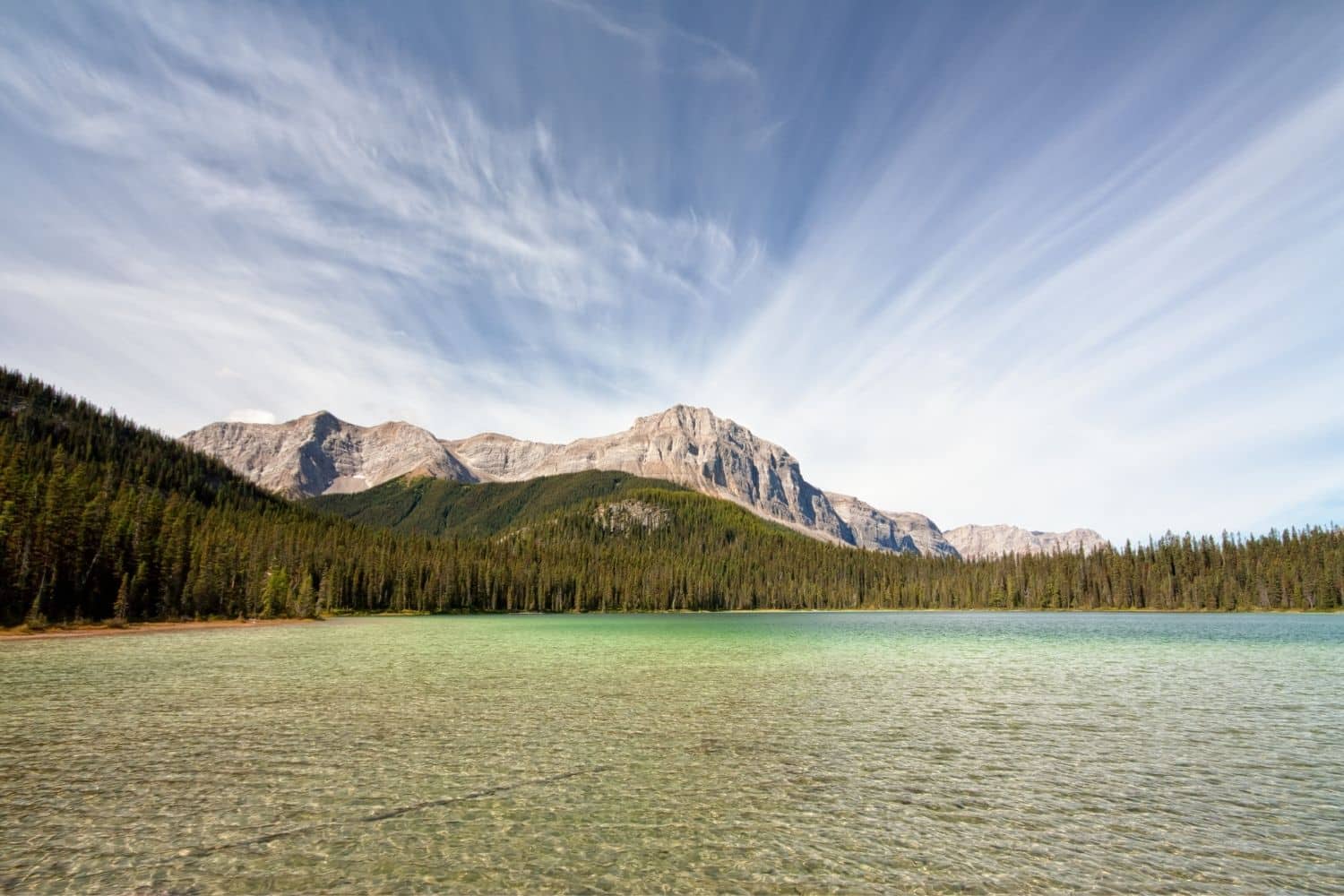 Length: 8.2 km
Elevation Gain: 194 meters
Time Estimate: 2-3 hours
Route Type: Out & Back
When to Go: Year-Round
Near Mount Shark is one of the most beautiful and easy hikes in Kananaskis, great for anyone wanting to hike over 5km. This easy and well-marked trail in the Spray Valley Provincial Park is great for hiking, snowshoeing, fat biking, and cross country skiing!
The Watridge Lake trail is wide and flat. It allows hikers to take in the mountain views in all directions. With a total elevation gain of under 200 meters, you'll never feel like you are putting too much work in. If you are up for it, you can add on the short and steep hike to Karst Spring, a highlight of the entire area.
---
Troll Falls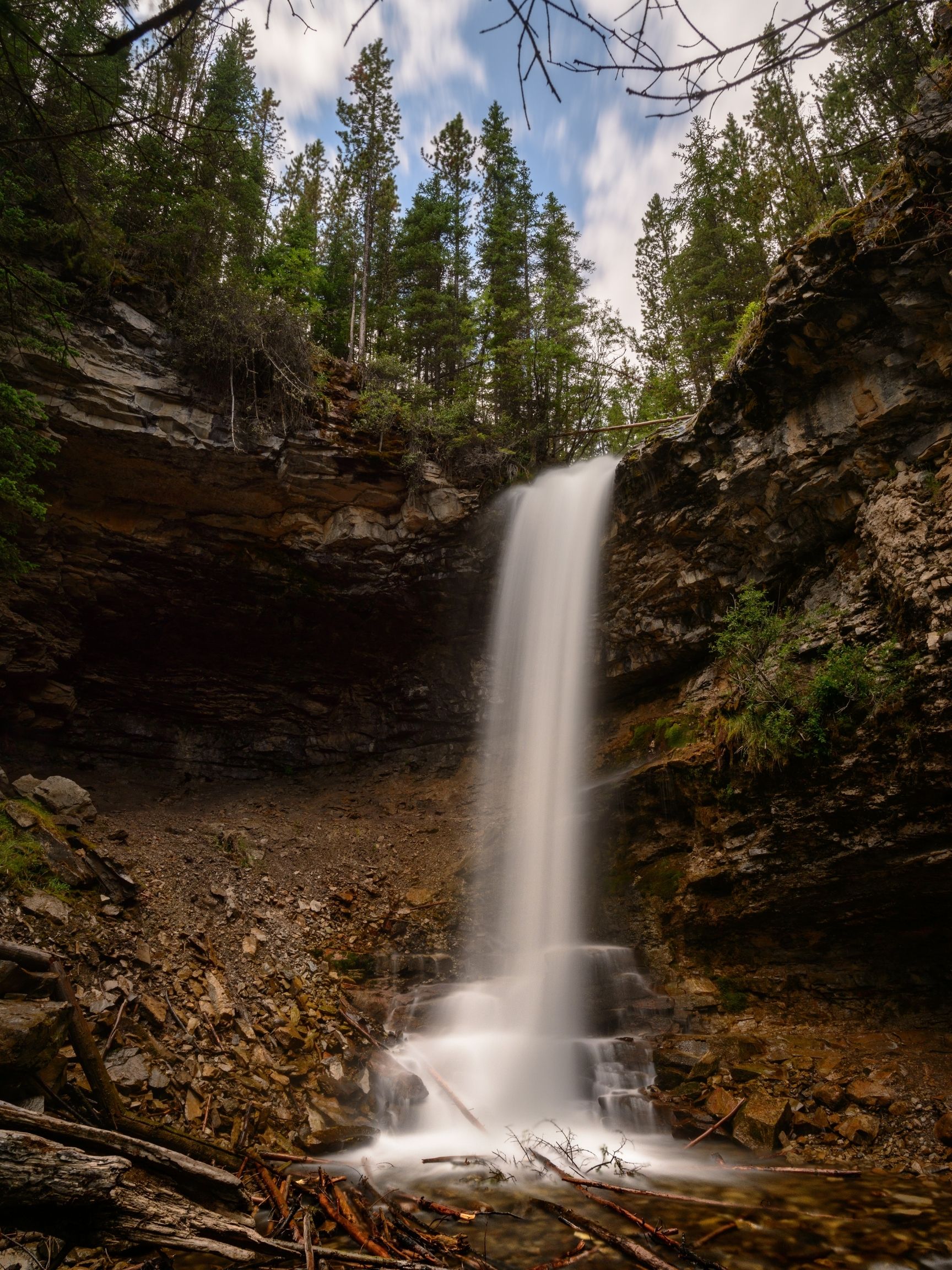 Length: 3.4 km
Elevation Gain: 151 meters
Time Estimate: 1 hour
Route Type: Out & Back
When to Go: Year Round
Troll Falls is a popular winter Kananaskis hike for families as it's short and easy and will lead you right to a frozen waterfall. If planning a trip in the winter, hiking poles and microspikes may be helpful for you.
The trail is hectic as it's one of the best easy hikes near Calgary. Especially in the summer during the weekend days, so try and go during the weekday if possible.
---
Grassi Lakes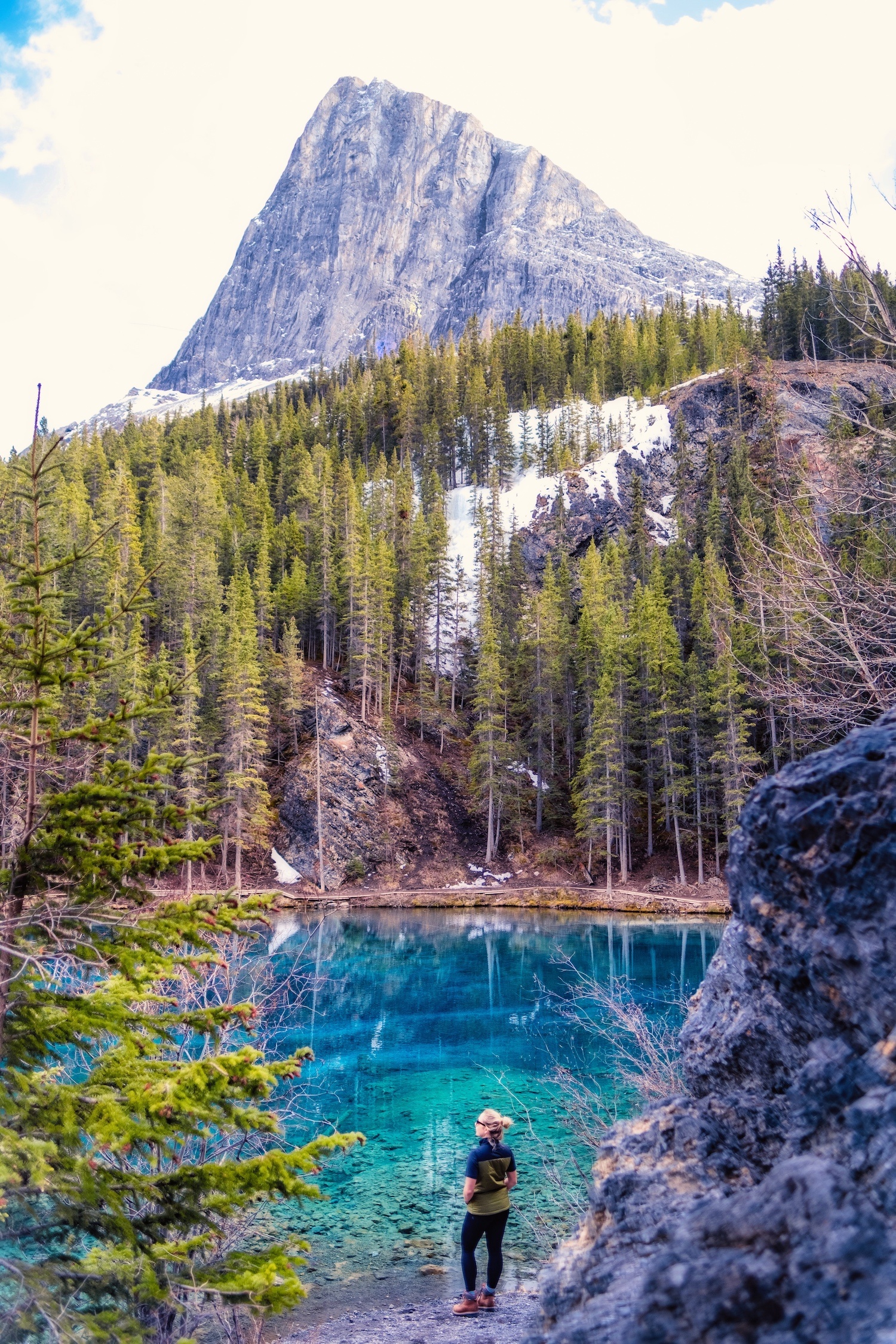 Length: 4.3 km
Elevation Gain: 233 meters
Time Estimate: 1.5 hours
Route Type: Out & Back
When to Go: Year-Round
Note: This is truly one of the best easy hikes in Kananaskis and after a long closure, it is now open for all to enjoy.
Grassi Lakes is the easiest hike near Canmore. It's easy to hike year-round and has a well-trodden path to the clear blue lakes under Ha Ling Peak.
In the summer, you can take the "hard" or "easy" trail with the hard trail passing by a waterfall ( not to worry, it's not that difficult). The easier trail follows a long path with mild elevation gain the whole way.
At 4 km in length and only 233-meter elevation gain. During the summer weekend days, this trail is insanely busy. It's best to go on a midweek day in the early morning or towards sunset if you try to stay away from the crowds.
---
Elbow Lake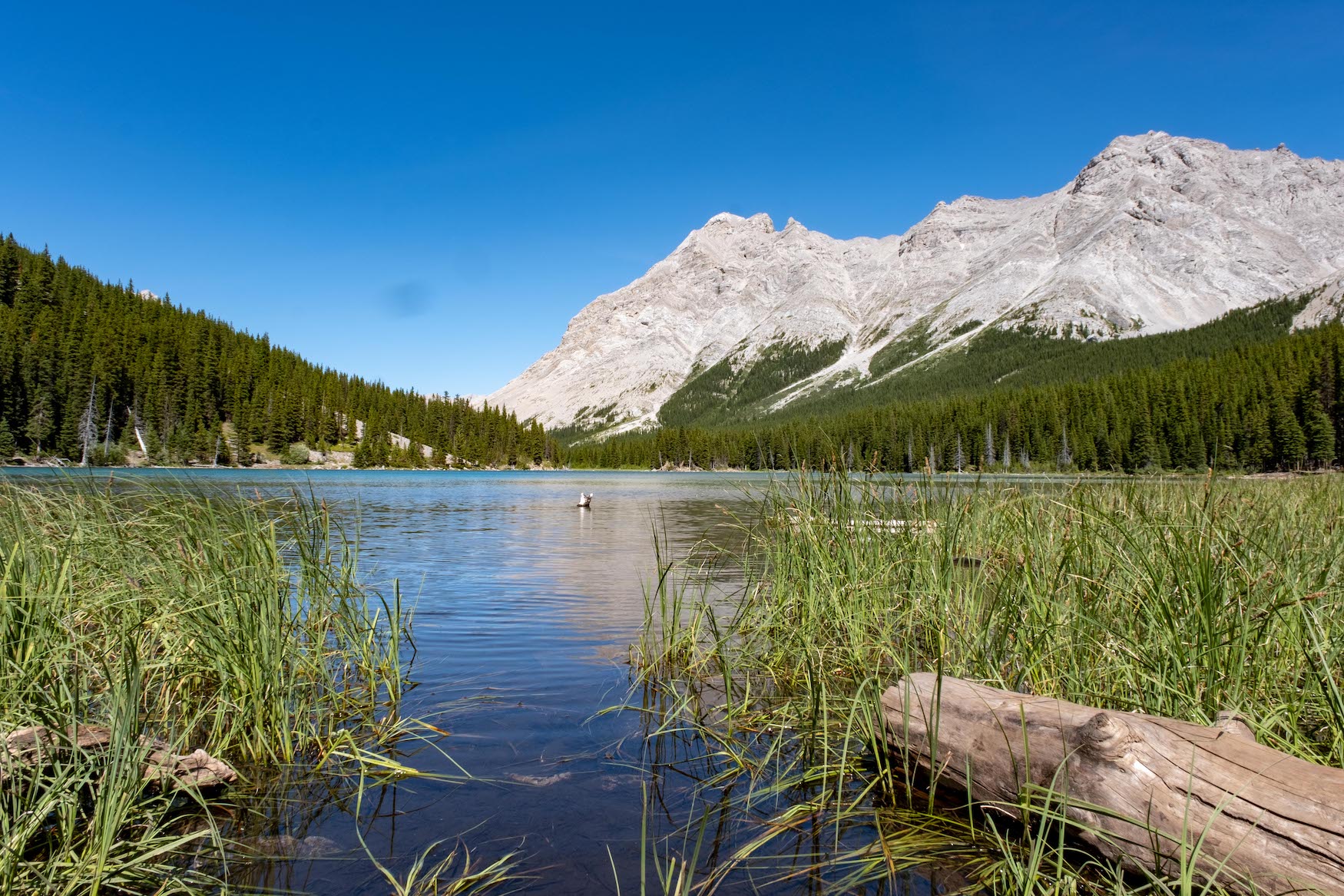 Length: 2.8 km
Elevation Gain: 120 meters
Time Estimate: 1.5 hours
Route Type: Out & Back
When to Go: Year Round
Elbow Lake is one of the most beautiful short hikes in Kananaskis that follows a well-maintained trail to the beautiful Elbow Lake. Around Elbow Lake is the Elbow Lake campground, so if you are new to camping or want to test out some gear, this is a tremendously easy Kananaskis hike to walk to with a load on your bike for the night.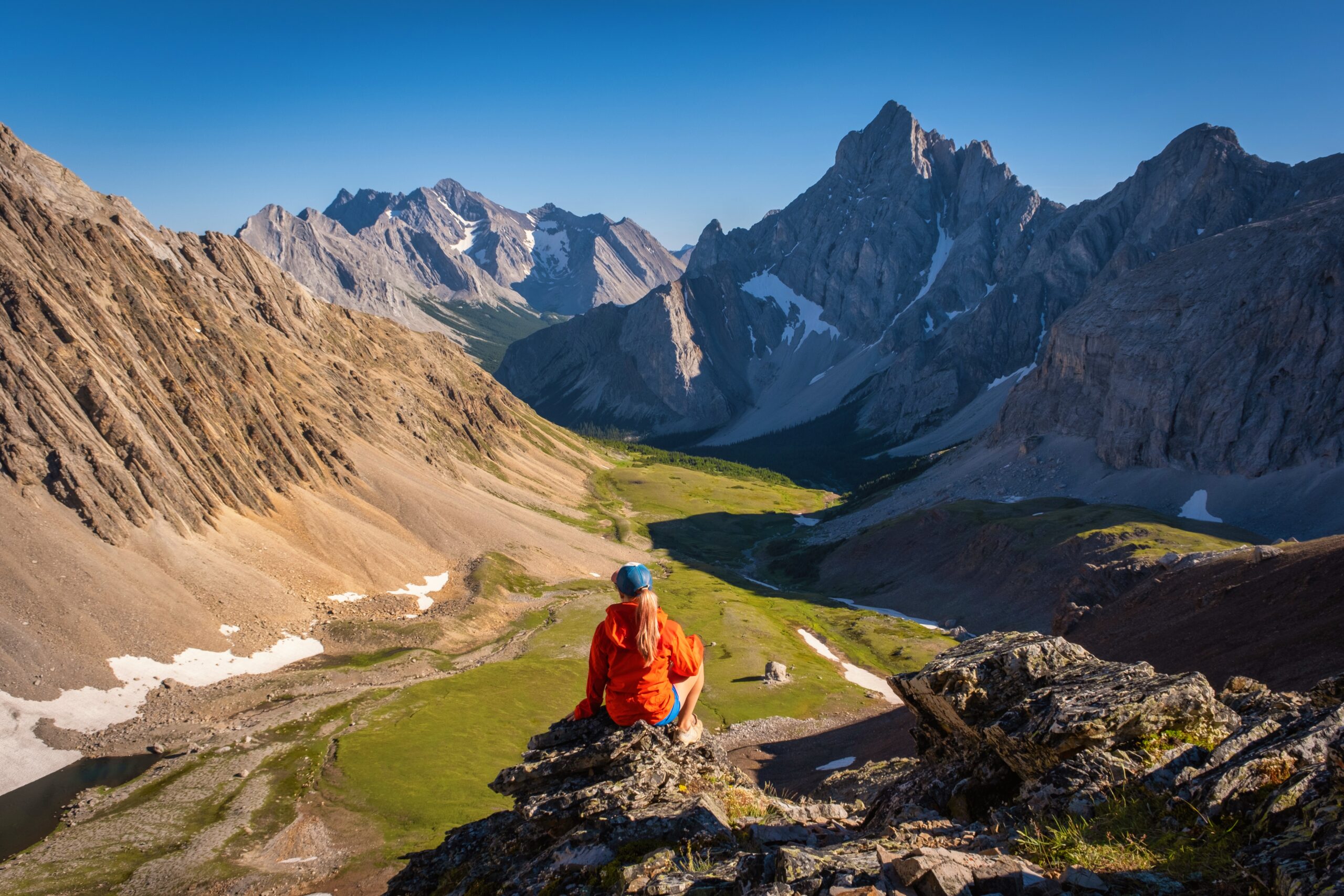 If you want to keep trekking past Elbow Lake and long for a long strenuous day, consider hiking up to Piper Pass in the summer, it's stunning and a less popular trail in Kananaskis.
---
Ptarmigan Cirque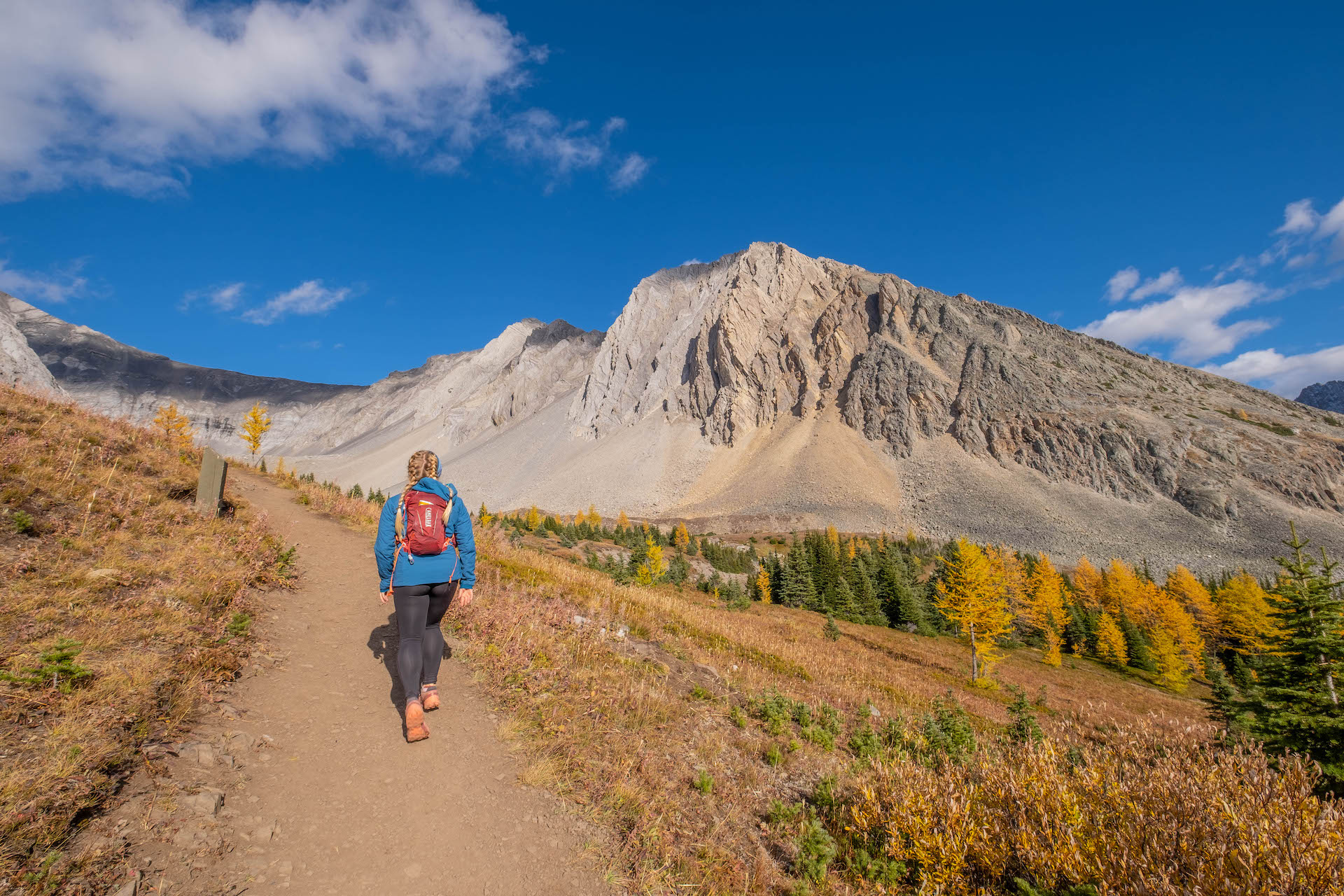 Length: 4.2 km
Elevation Gain: 271 meters
Time Estimate: 2 hours
Route Type: Loop
When to Go: June-Early October
One of my favorite easy Kananaskis hikes is Ptarmigan Cirque. Especially during the larch season, thousands of larch trees are in the area. During late September, this whole area turns a golden yellow.
To start, park near the Highwood Meadows Trailcross Highway 40, follow the well-trodden trail, and walk until you get a stunning open vista of the larches.
For a longer and slightly more challenging hike, you can consider Pocaterra Ridge (mentioned further down) across Highway 40.
---
Chester Lake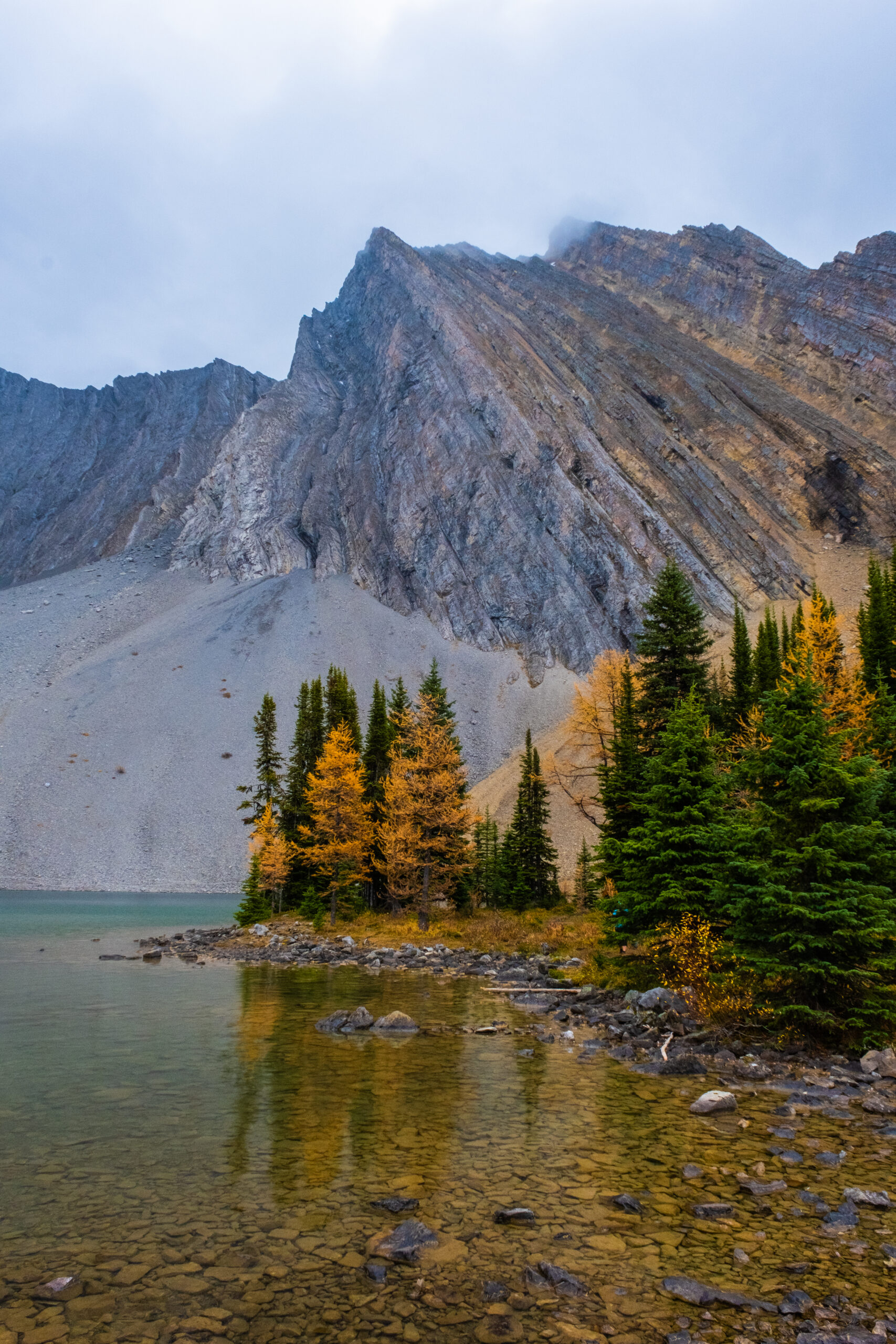 Length: 9.7 km
Elevation Gain: 424 meters
Time Estimate: 2-4 hours
Route Type: Out & Back
When to Go: Year Round
Chester Lake is a popular winter hike in Kananaskis as there is a fantastic snowshoe trail. During the fall, it's also a beloved hike as there are many amazing larches in the area. Another short and sweet hike on this list is great for beginner hikers or families with children or grandparents in town.
Most of the trail is pretty boring, but eventually, it will open up as it takes you to Chester Lake. Here you can walk around the entire lake and the surroundings and take in all the colors!
---
West Wind Pass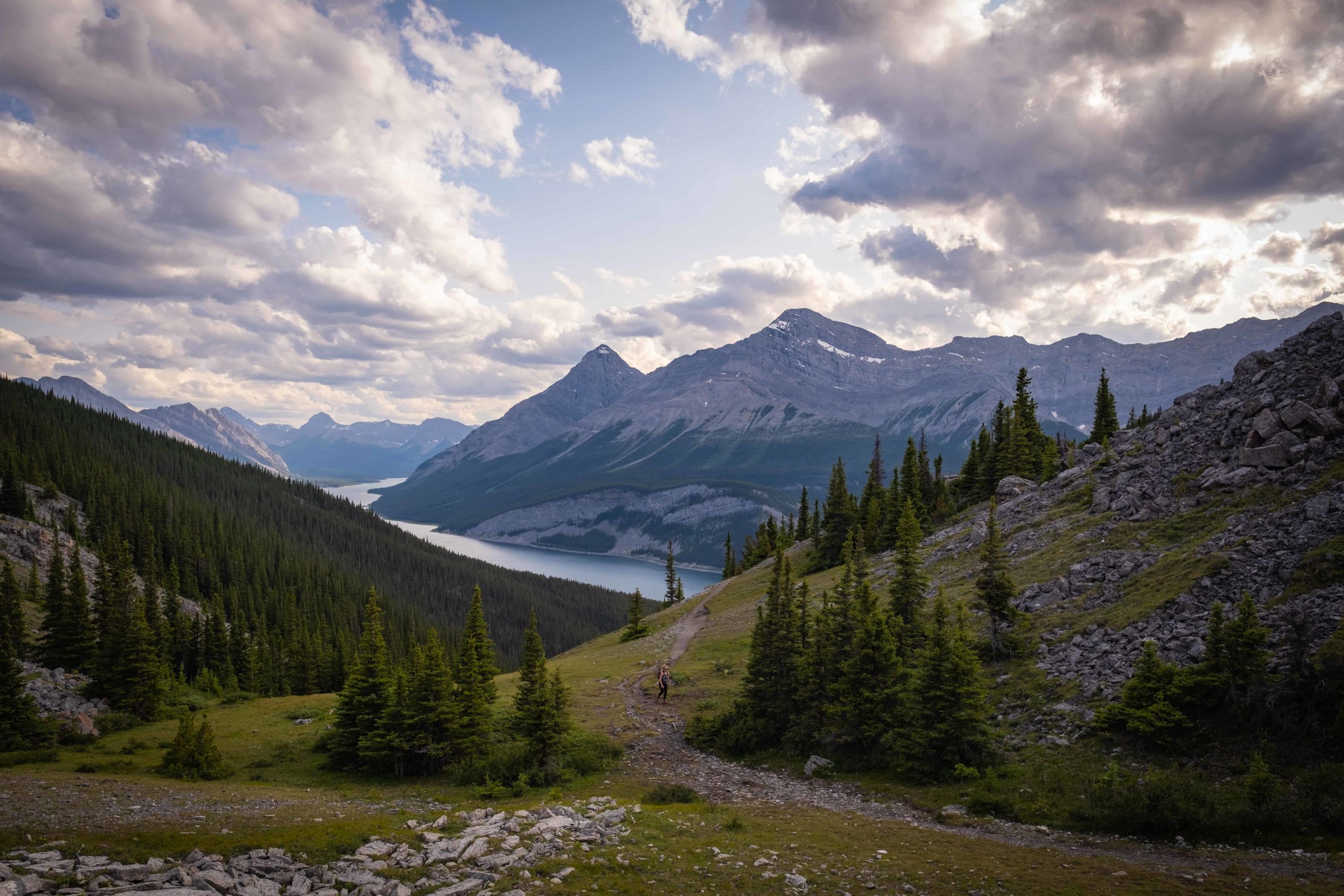 Length: 4.7 km
Elevation Gain: 356 meters
Time Estimate: 2-3 hours
Route Type: Out & Back
When to Go: Year-Round
West Wind Pass is a fun and rewarding hike with superb views of Spray Lakes. However, some of the elevation gains on the trail may really get your heart pumping – it gets pretty steep in some sections.
When you make it to West Wind Pass, you'll have great views of Canmore on one side and epic views of the Spray Lakes. This is a popular hike in the summer – especially on weekends. Head here during the mid-week at off-season times for optimal enjoyment.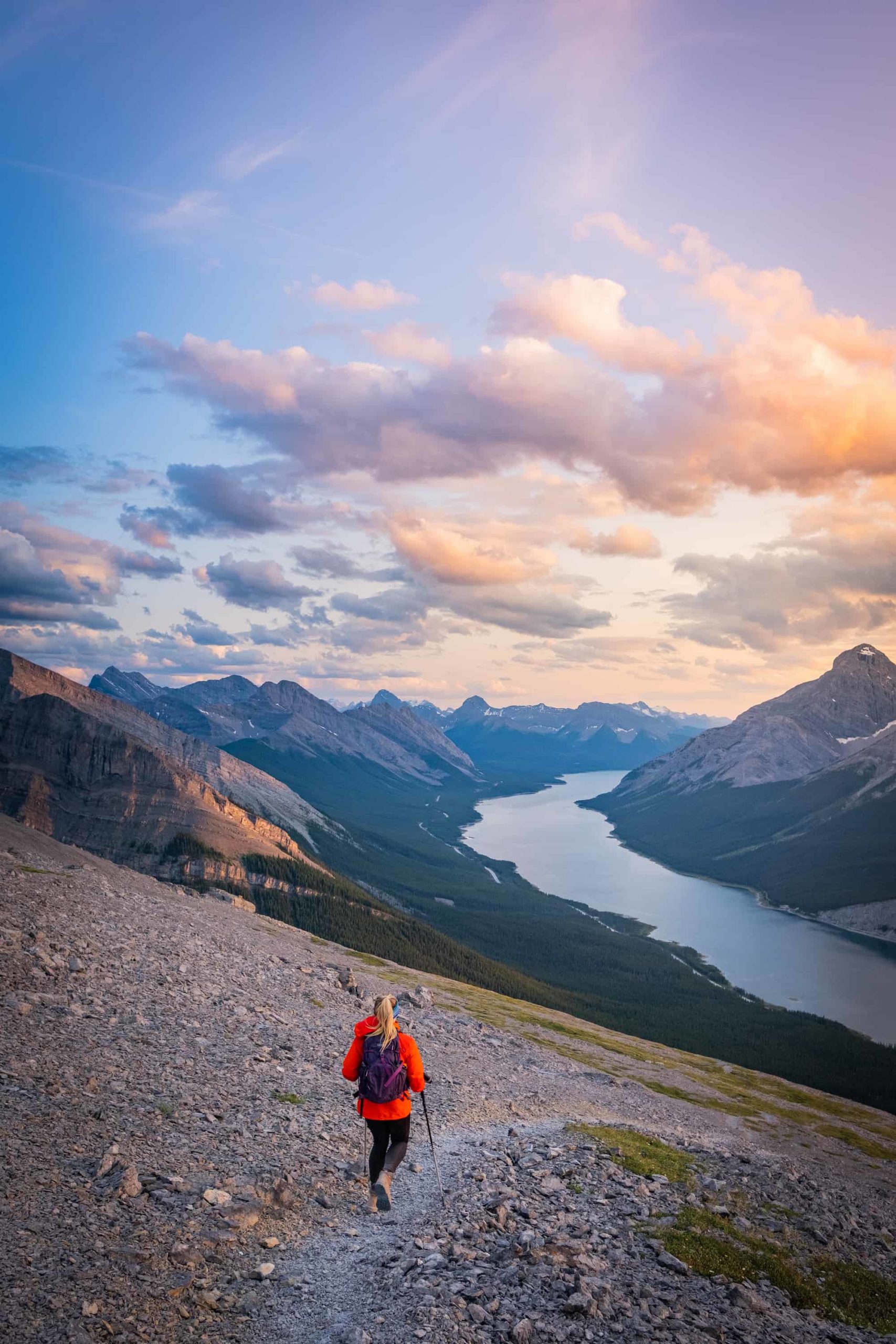 If you have a little more in you, consider continuing on to summit Windtower, or Rimwall Summit is also nearby.
---
Burstall Pass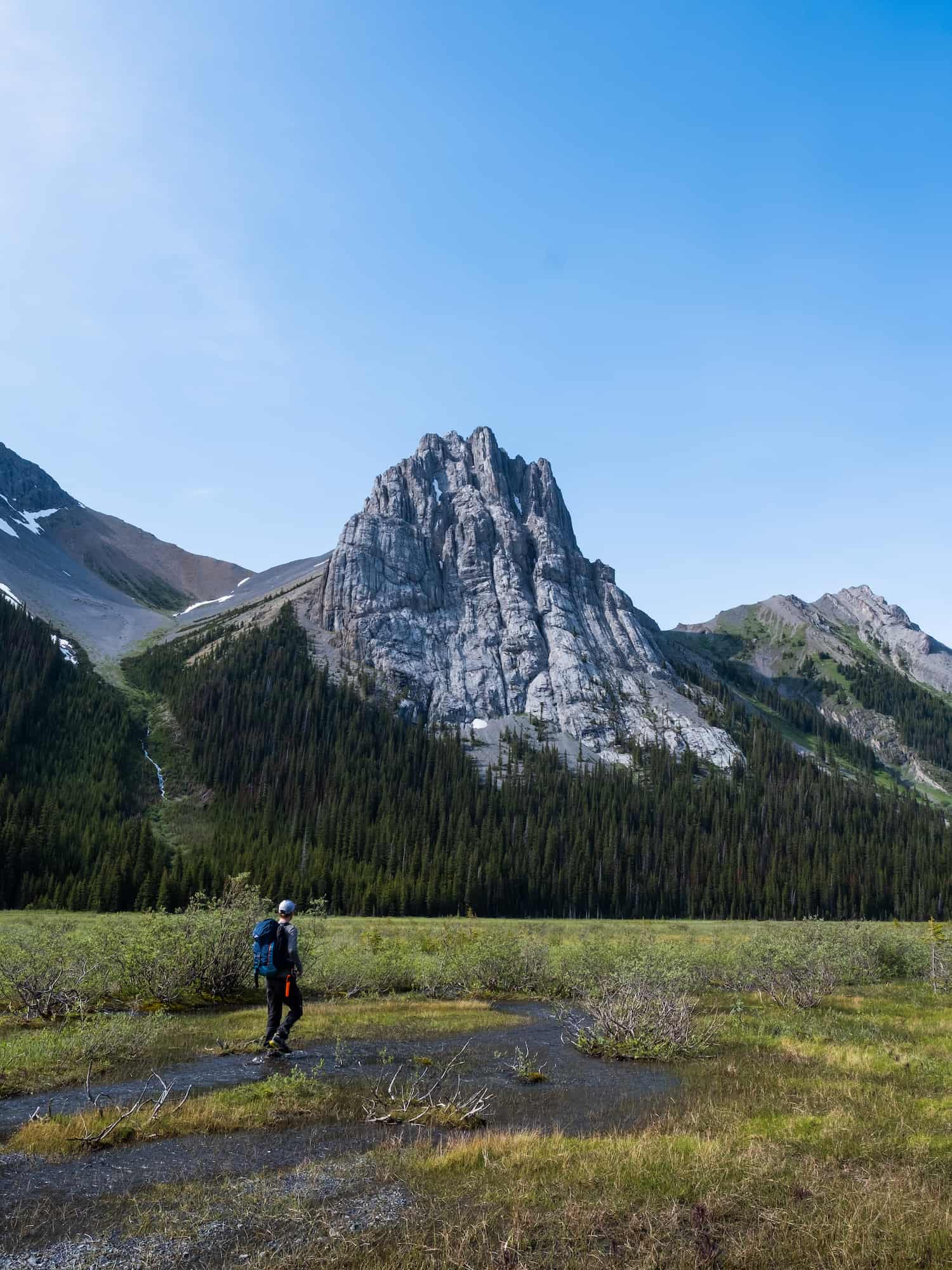 Length: 16.4km
Elevation Gain: 667m
Duration: 4-6 hours
Route Type: Out & Back
When to Go: May-October
Near the Chester Lake trailhead is the trailhead to Burstall Pass. To complete the full route is a longer day than most of the other easy Kananaskis hikes on this list. However, 667 meters of fain spread across 8 km, meaning the gain is gradual almost the entire way.
The hike moves past several marshy lakes and streams before a steeper ascent up to an alpine meadow and then finishes on a high mountain pass with grand glaciated mountain views. We loved our time in Burstall pass and spent most of our time alone in the woods. It has everything you could want out of a Canadian Rockies hike.
If it's a little too long of a day for you, don't worry – you can turn around at any time and follow the same trail back!
How to Hike Burstall Pass in Kananaskis Country
---
Rawson Lake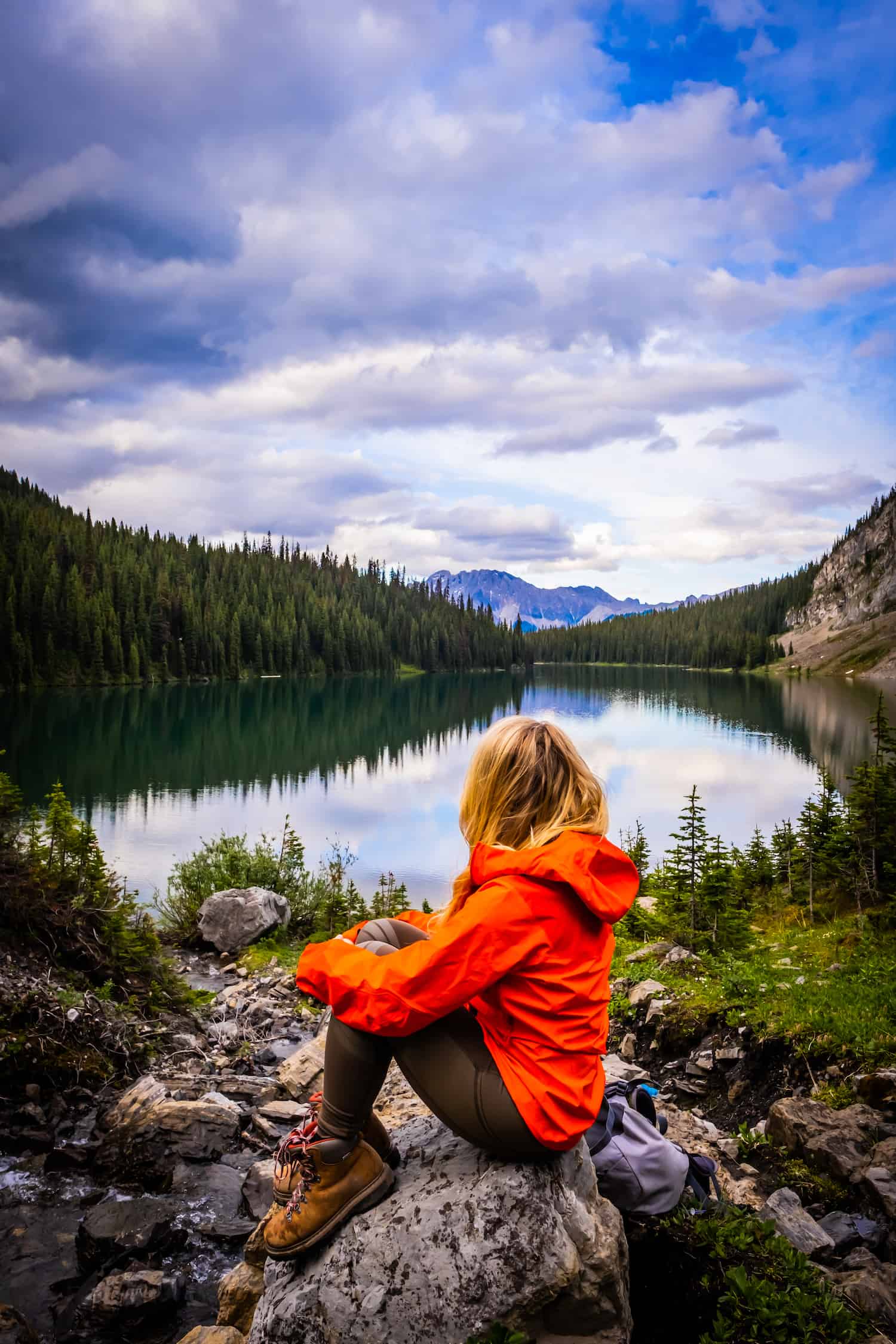 Length: 7.7 km
Elevation Gain: 320m
Duration: 3-5 hours
Route Type: Out & Back
When to Go: Year Round
Starting at Kananaskis Lakes, the trail to Rawson Lake is popular in the summertime. The trail to Rawson Lake is exciting as it skirts Upper Kananaskis Lake for its beginning, passing by waterfalls and streams along the way. The elevation starts around the 1.3 km mark and keeps climbing until Rawson Lake.
Once you make it to Rawson Lake, you can walk around the lake and pick a nice spot to sit and relax. I suggest bringing some picnic supplies and enjoying the scenery under the mountains.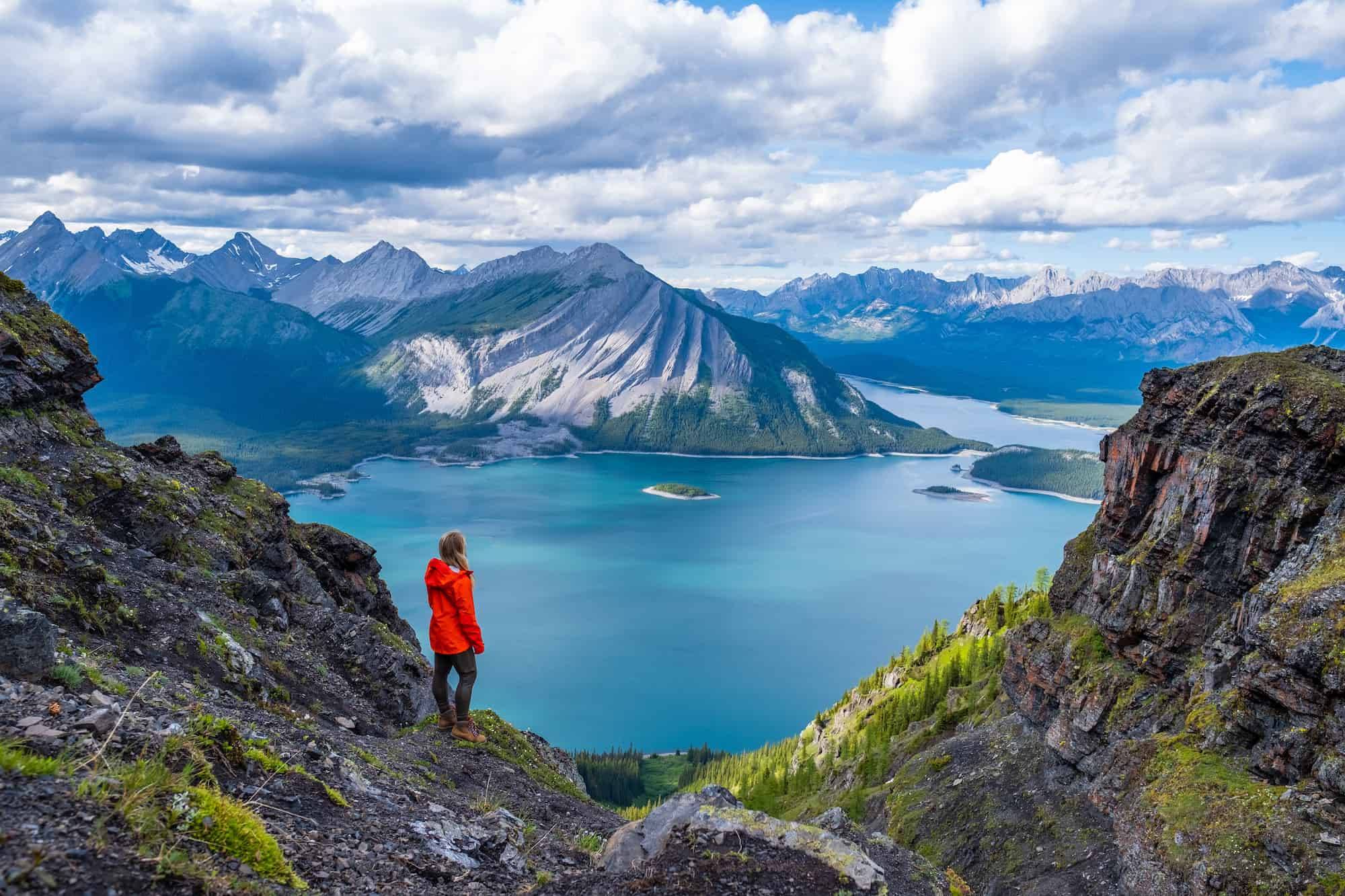 For those looking for a more extended and challenging day, consider hiking the steep trail up to Sarrail Ridge. Keep an eye on the Alberta Parks website. This trail frequently closes as there are many grizzly sightings.
How to Hike Sarrail Ridge Via Rawson Lake in Kananaskis
---
Arethusa Cirque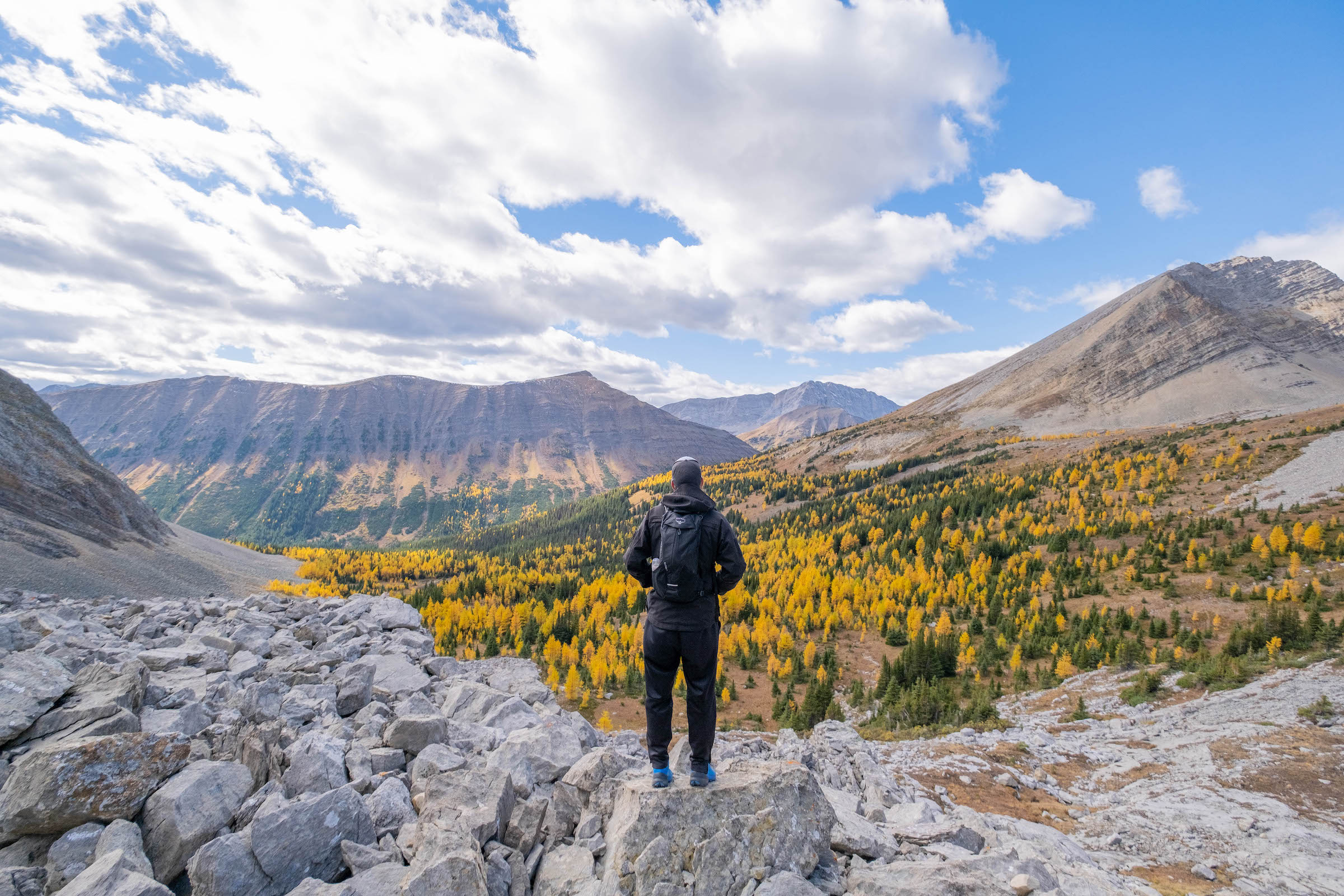 Distance

: 5 km

Elevation: 350 meters
Time

: 2-3 hours

Route Type: Loop
When to Go: June-Early October
As a well-known family-friendly hike in Kananaskis, I wasn't expecting much from Arethusa Cirque. We decided to do it with a 4-week old newborn since it looked simple for a new momma.
Boy, was I wrong about my perceptions with this one. The views from the trail completely blew me away, and it quickly shot up to one of my favorite larch hikes in Alberta.
If you are looking for an easy half-day larch hike, put Arethusa Cirque on your list. This is a loop trail that I would suggest taking clockwise. One very steep and loose section is better to ascend than descend – especially with children or older hikers. If you want to kill two birds with one stone, I recommend combining Arethusa Cirque with Ptarmigan Cirque!
---
Prairie Mountain/Barrier Lake Trail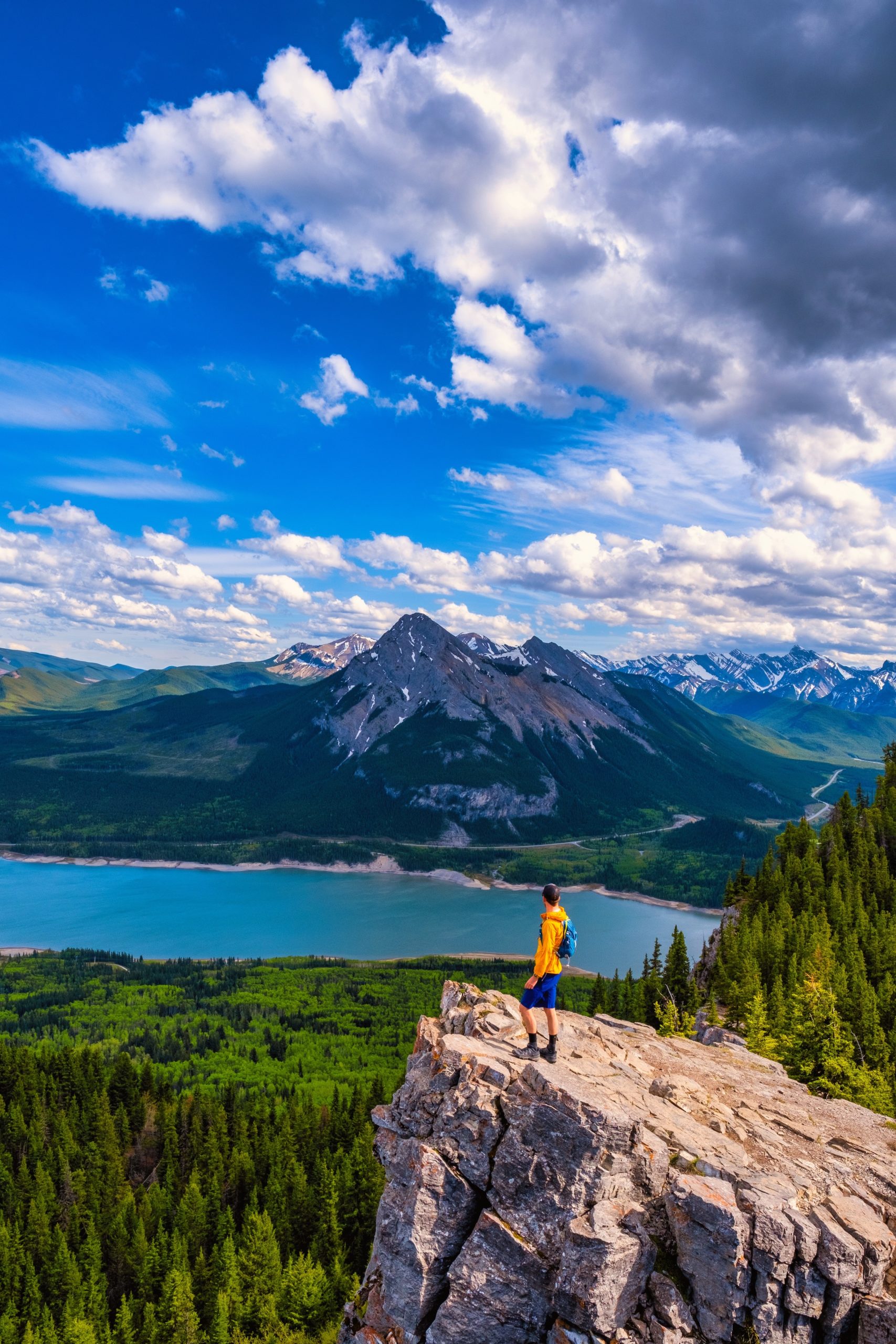 Length: 13.8 km for Full Loop, Can be shortened by doing an out and back
Duration: 2-4 hours
Elevation Gain: 564 m
Route Type: Out & Back or Loop
When to Go: Year Round
Barrier Lake is one of the most popular places to head in the park and is one of the best easy hikes in Kananaskis. It's one of the first stops as you are driving into Kananaskis from Calgary, and it can easily be reached within an hour from the city.
Many choose to sit and enjoy the lakeshore, walk around the lake, or go for a paddle. For hikers, though, the Prairie View Trail is a great easy hike for sunrise, sunset, or even in the winter.
This is a smooth well-maintained trail the entire way, with stunning views over Barrier Lake once you get to the Prairie View Lookout. It took us less than an hour up. Once you reach the viewpoint, you can head back down the way you came, or make it a look trail by following the Jewell Pass Trail.
If you have a spare 30-45 minutes, continue up to summit Yates Mountain and see the fire lookout!
Barrier Lake Hike Guide (Prairie View Trail and Jewell Pass)
---
Yates Mountain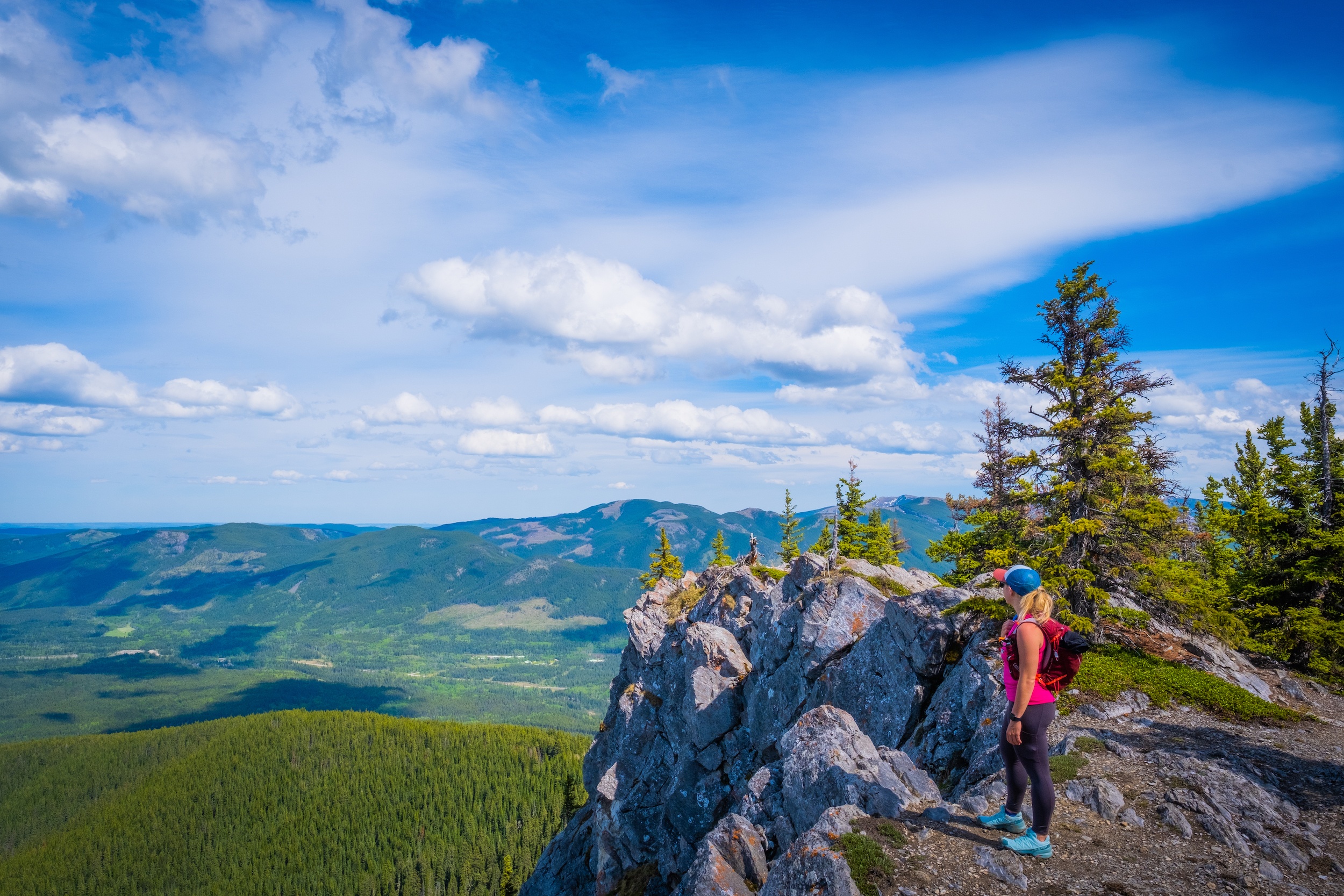 Length: 13.5 km as a full loop, out and back shorter
Duration: 2-4 hours
Elevation Gain: 699 m
Route Type: Out & Back or Loop
When to Go: May-October
The summit of Yates Mountain requires just 130 meters of elevation gain from the Barrier Lake Lookout. While the views of Barrier Lake are far better at the lookout point, if you continue on to Yates Mountain, you get to say you summited a mountain, see the fire lookout, and get views towards Mount Yamnuska.
I highly recommend adding it to your day for a little extra challenge as it's not a hard trail and requires no scrambling.
---
Mist Mountain Hot Springs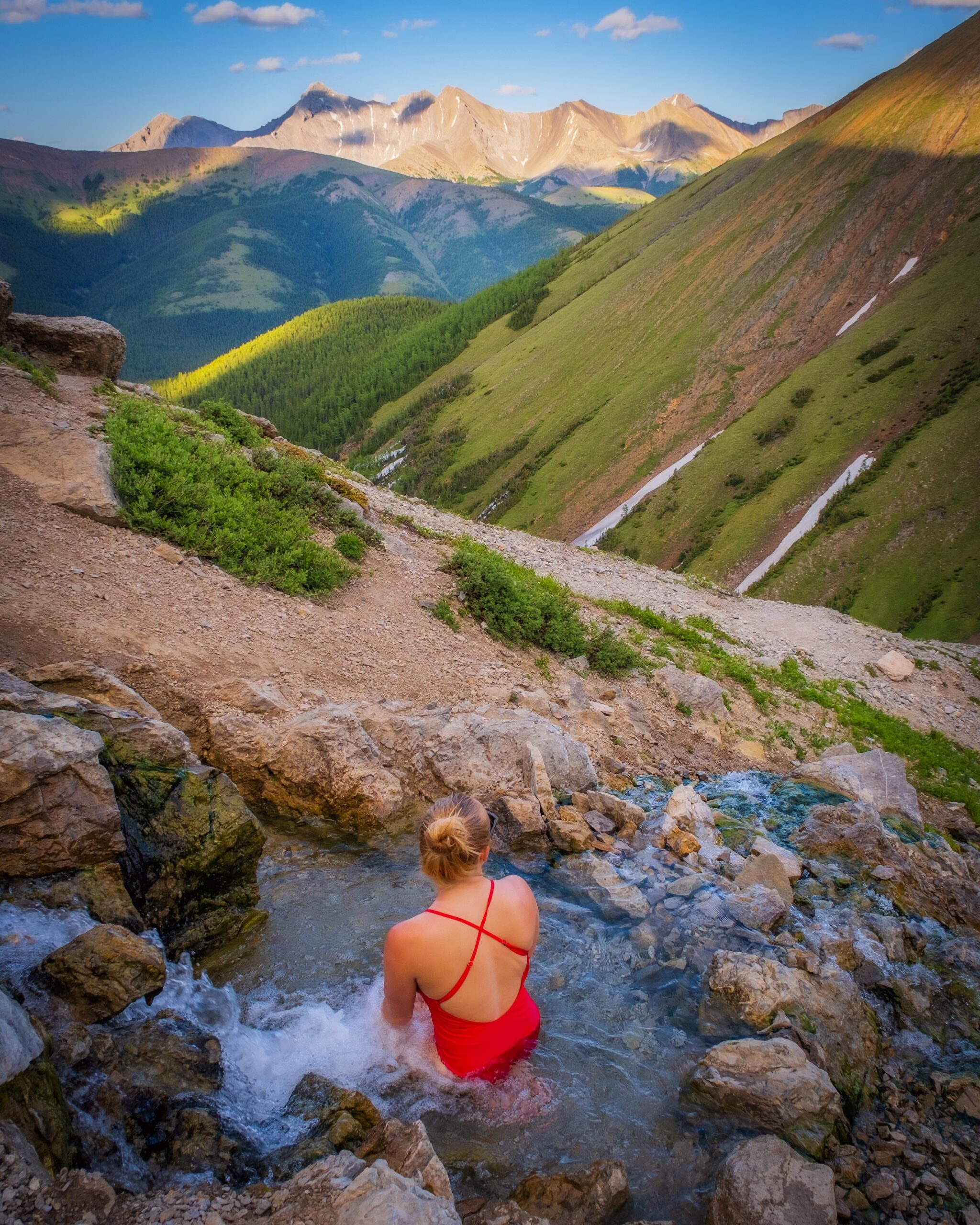 Length: 8 km
Elevation Gain: 550 m
Duration: 3-4hours
Route Type: Out & Back
When to Go: Summer
The Mist Mountain Hot Springs was an unknown hidden gem a few years ago but has exploded in popularity. Reaching the hot springs can easily be done in under an hour, but be forewarned if you visit at any time in the summer that isn't sunrise or sunset, you're likely to be waiting in a line to sit in the springs.
The springs consist of just two tiny pools only capable of fitting five or so people. They are also not very hot, leaving you feeling pretty chilled even on the hottest mountain day in the Rockies. There's no privacy or trees for changing, so it's best to hike with your bathing suit on or with a partner who can hold a towel over you while you change.
I say this not to put you off from visiting, just to manage expectations. The hot springs are a cool spot in the Rockies with amazing views, but unfortunately, they have been a little overshared.
After summiting Mist Mountain (moderate scramble), we hit the hot springs at sunset and hiked down very cold and wet. However, we got great views and fantastic photos.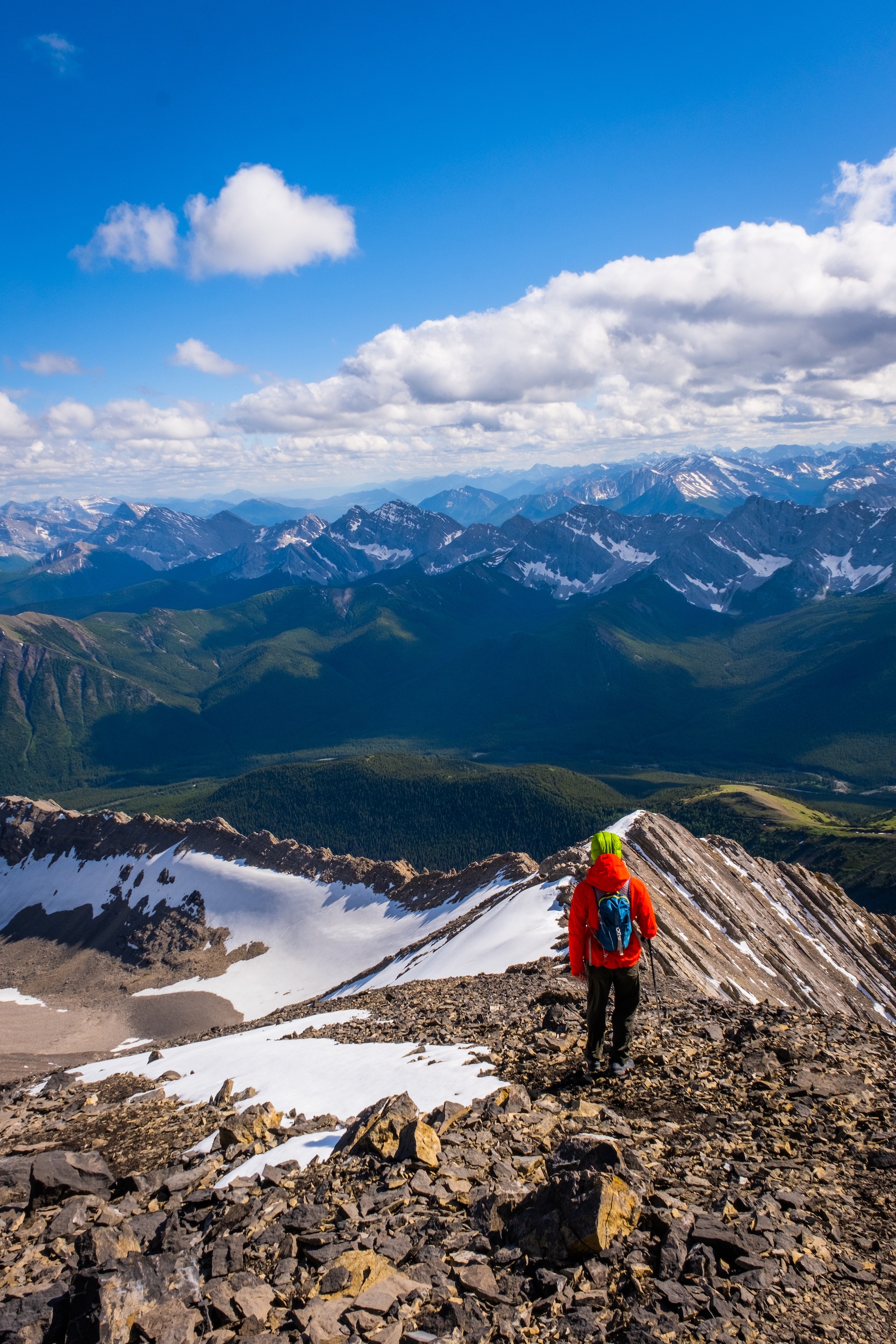 If you have experience scrambling in the Canadian Rockies and want a full day out with more challenges, you can consider summiting Mist Mountain. However, this is a moderate scramble with some route finding required and not for beginner hikers.
How To Hike Mist Mountain (Hot Springs & Summit)
---
South Pocaterra Ridge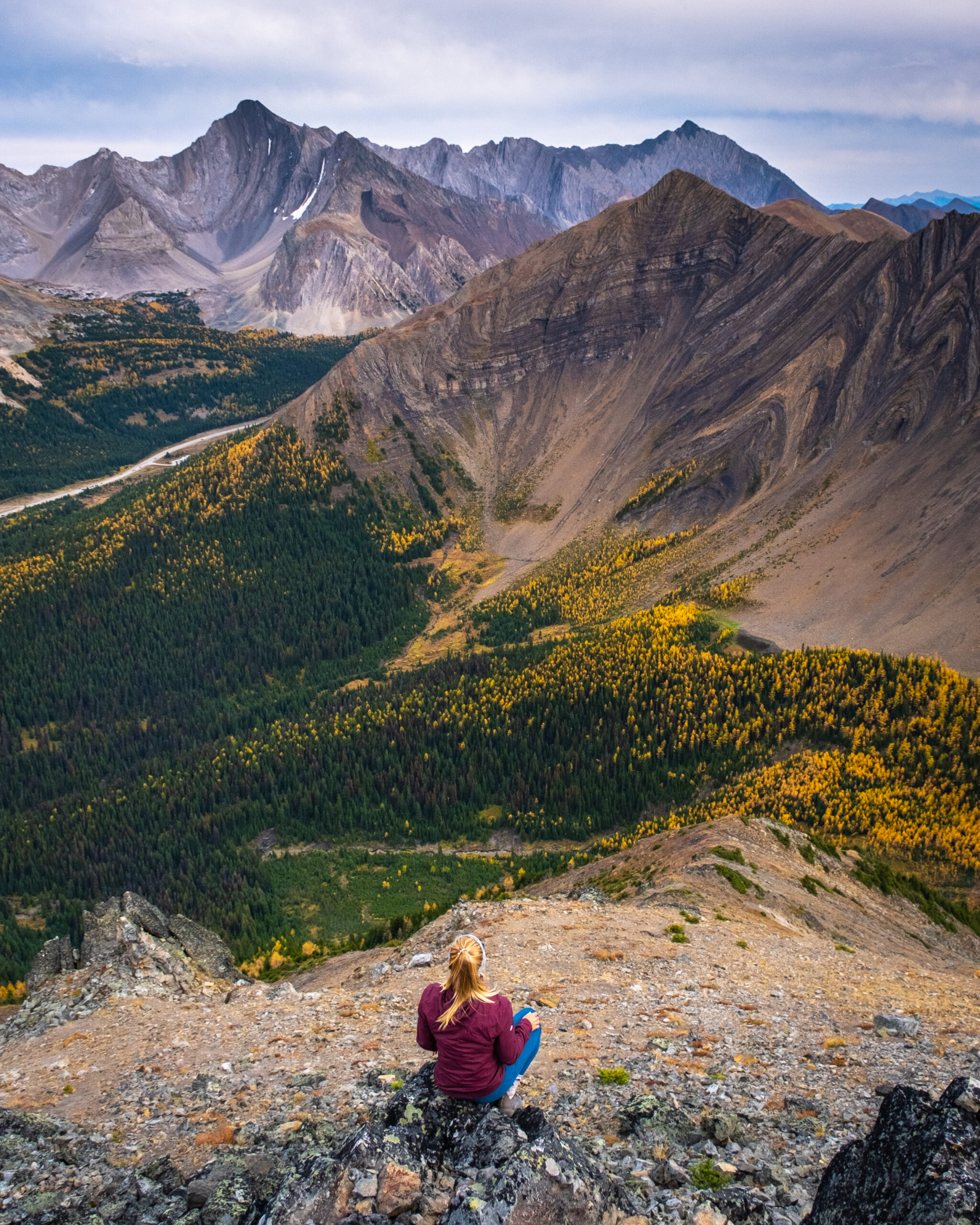 Distance: 11.4km
Elevation Gain: 764 meters
Duration: 4-7 hours
Route Type: Out & Back or Loop
When to Go: June-Early October
This is one of the more moderate hikes on this list, but it's still relatively easy and requires no scrambling. Pocaterra Ridge is one of the most popular Kananaskis hikes on this list. Mainly because it's one of the best larch hikes in the Canadian Rockies.
Pocaterra Ridge is traditionally a point-to-point hike making for a more prolonged and strenuous day. However, if you only have one car and looking for something shorter and easy, you have the option to hike South Pocaterra Ridge.
The hike to this "summit" is stunning, and it's hard to believe your eyes during the larch season. The most difficult and steepest part is towards the end, as views open up towards Mist Mountain and Mount Tyrwhitt.
Pocaterra Ridge Hike in Kananaskis – All You Need to Know
---
Porcupine Ridge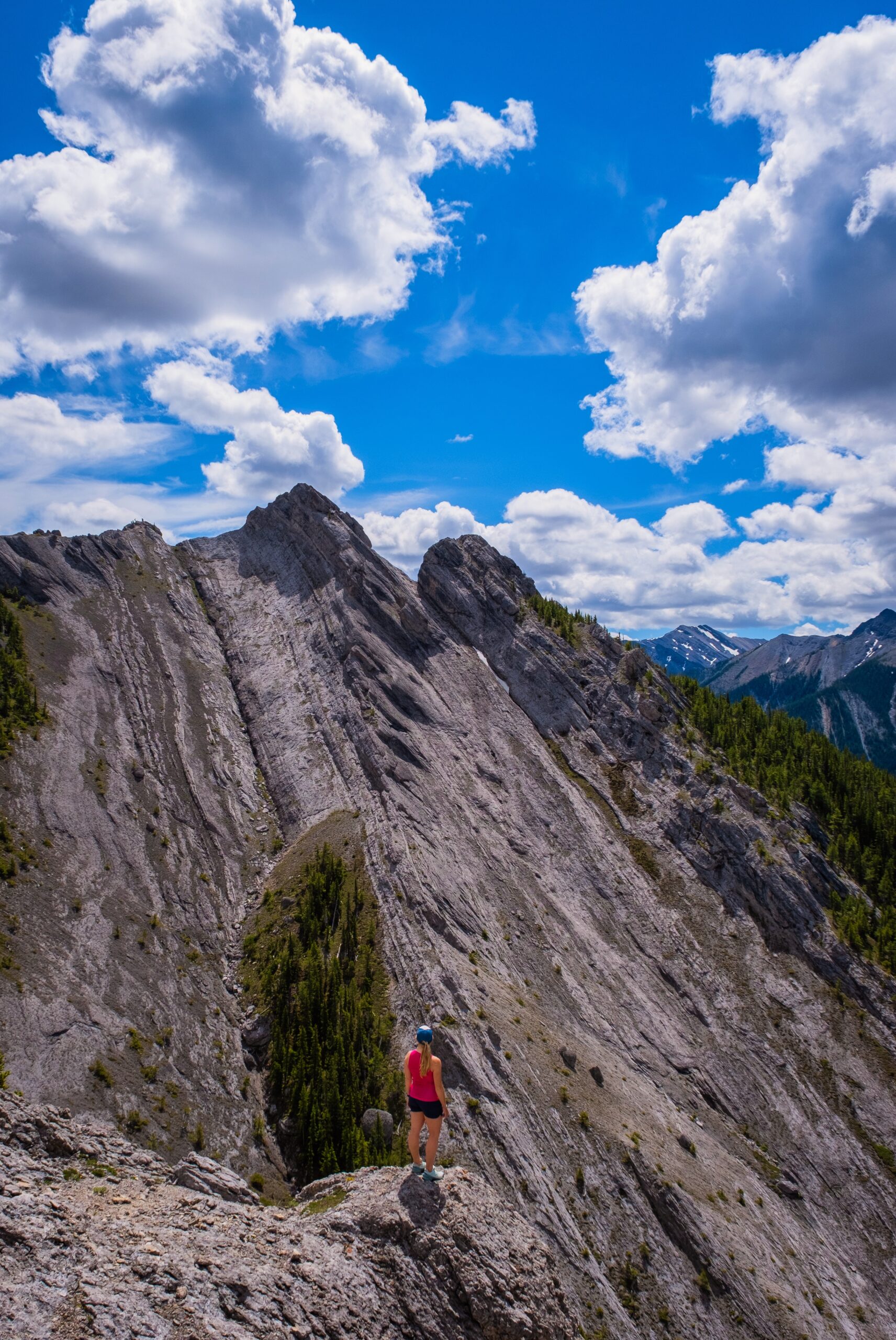 Length: 9 km
Duration: 2-4 hours. Depends on where you want to turn around.
Elevation Gain: 764m
Route Type: Out & Back
When to Go: May-October
Right across the valley from Wasootch Ridge (mentioned below) is Porcupine Ridge. It's a similar Kananaskis hike to Wasootch Ridge, with similar views. However, I found it slightly easier regarding distance and elevation gained, so it's why it's mentioned before Wasootch.
The main difference here is the approach to the hike, which will require you to navigate a creek bed and criss-cross ver water a few times. It's not a problem in the late summer season, but you may get a little wet if you set out the early season while there is still snowmelt.
---
Wasootch Ridge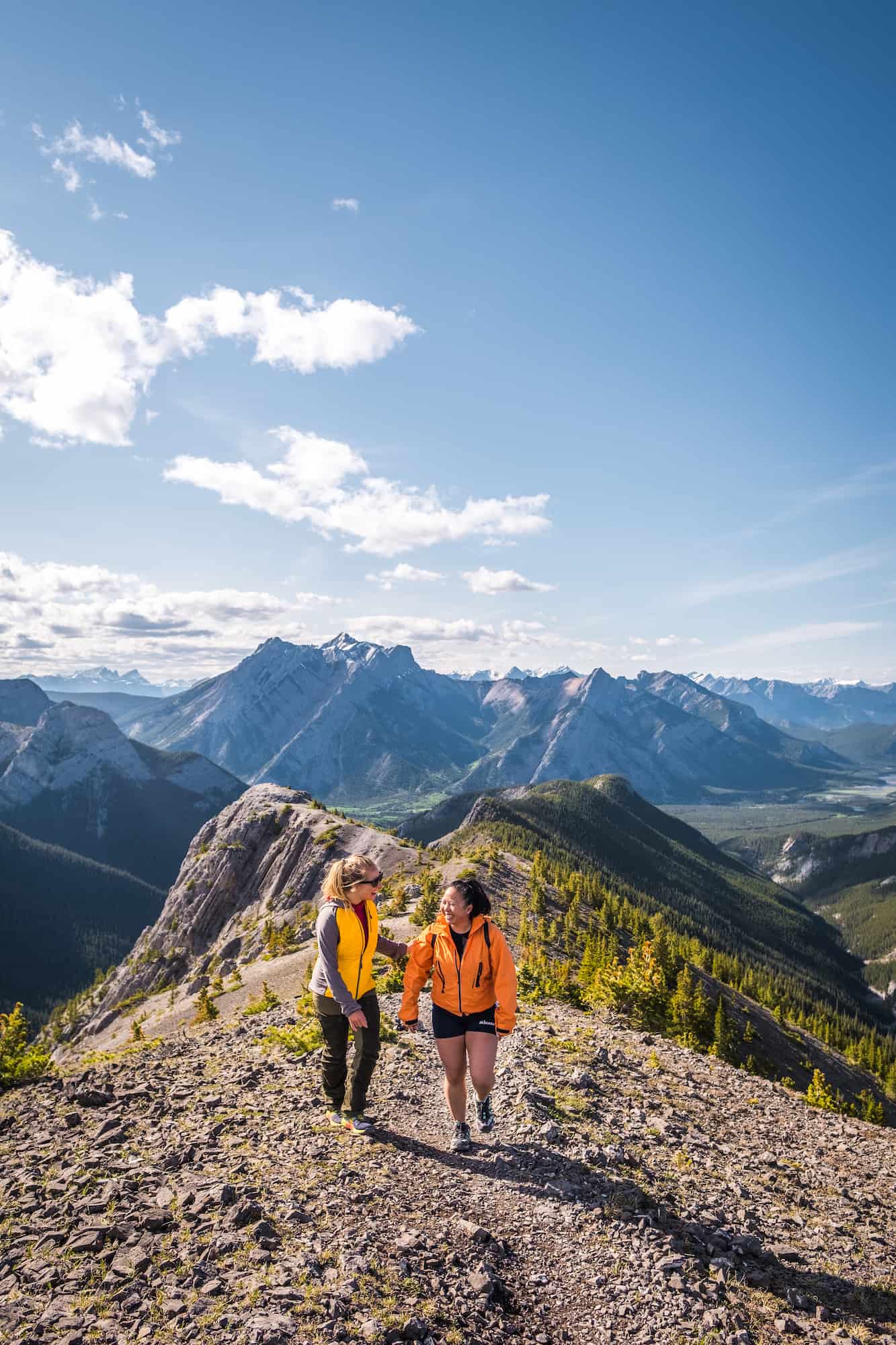 Length: 15.4km
Duration: 6-10 hours. Depends on where you want to stop.
Elevation Gain: 1,451m
Route Type: Out & Back or Loop
When to Go: May-October
Wasootch Ridge is a favorite near Canmore in Kananaskis Country as it's easily accessible and close to Calgary. This is the hardest hike on this list, though, in Canadian Rockies terms, it's still relatively easy. Although you gain elevation quickly in the beginning. Once you pass the initial grain, you'll be on a ridge for a large portion of your hike, soaking in plenty of views.
Though it's dog and kid-friendly, it is a long day at 15.4 km and 1451 meters of gain if you do the full route.
The great news about this hike is that you are navigating a ridge most of the time and can turn around whenever you want. So if you get tired before the 7.5 km mark, you can easily turn around. A scramble at the end is not commonly noted, but it is not advised unless you are an experienced scrambler who has handled high exposure on ridges.
How to Hike Wasootch Ridge in Kananaskis Country
---
Gear We Recommend for Easy Hikes Kananaskis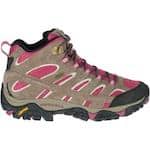 Many hikers will enjoy the security, comfort, and value in the Merrell Moab II. It's a great beginner hiking boot.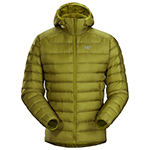 Arc'teryx Cerium is our pick for the best down jacket. It's incredibly light, and we bring it on almost every hike in the Rockies.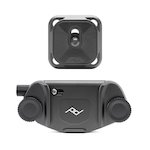 This nifty clip from Peak Design secures a camera to my backpack strap for easy reach. No more digging in the backpack!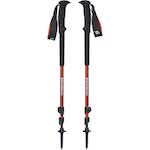 A pair of durable and lightweight hiking poles are a great asset on the hiking trail.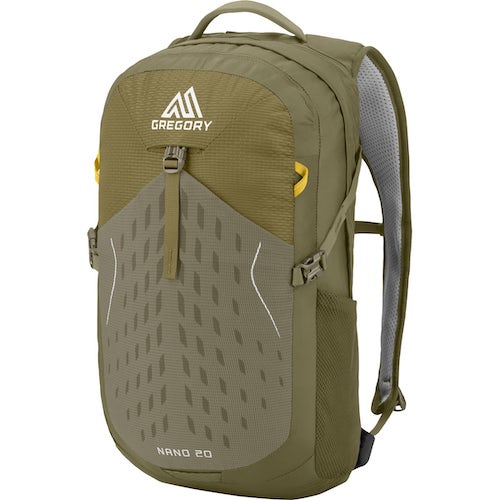 20L feels like the ideal size for quick hikes and scrambles. We love the Nano from Gregory with a hydration reservoir.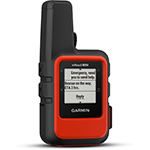 There is not much cell service in the Canadian Rockies. In case of emergencies, we carry an emergency beacon with GPS.
---
Advice for Tackling These Easy Kananaskis Hikes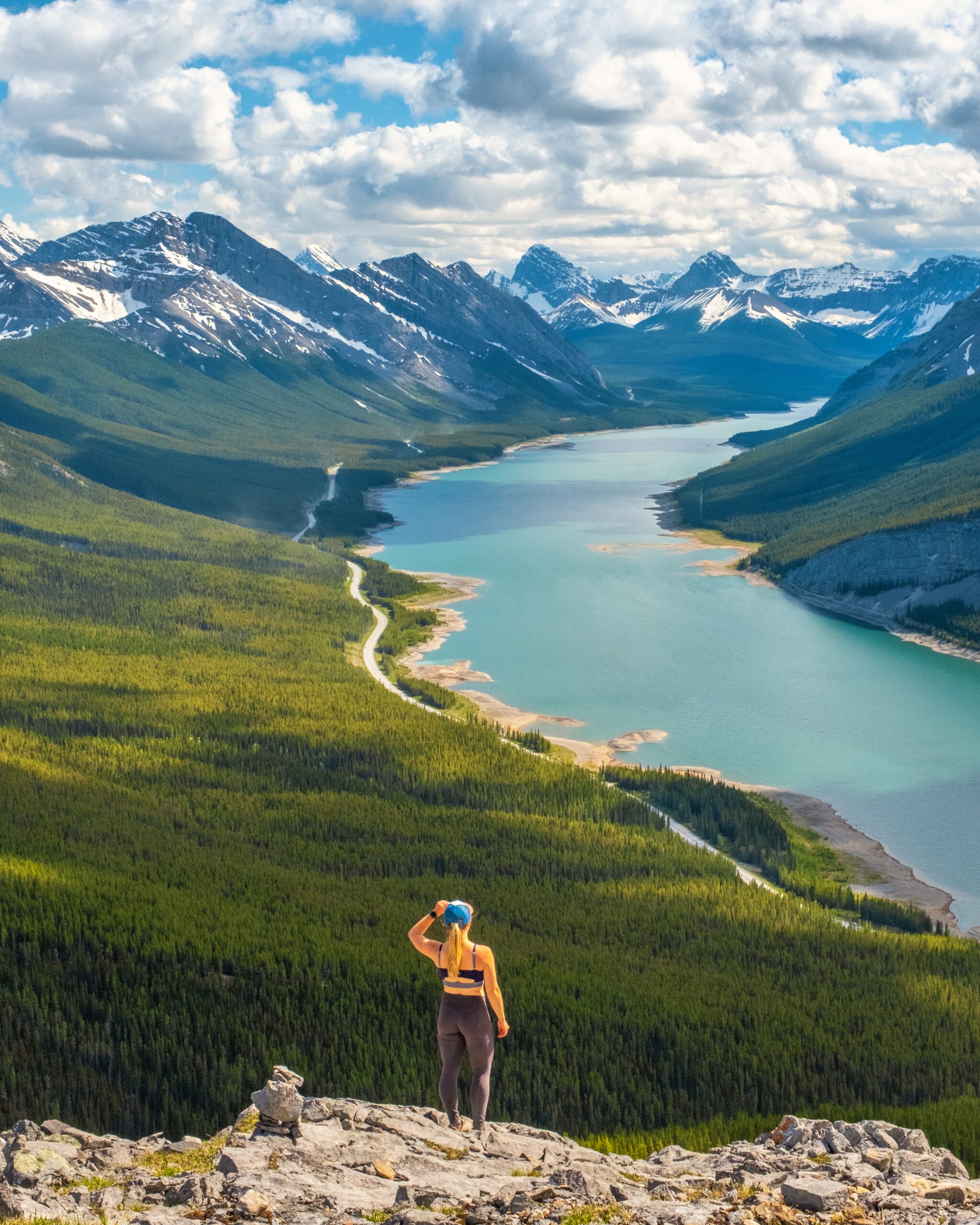 If this is your first time hiking in the Rockies take a conservative approach – read our post for beginner hikers in the Canadian Rockies too. Pick an adequate hike for your fitness, plan for plenty of time, pack water and food, and don't be afraid to turn around. If you want to learn more about what to wear hiking we have a great post.
For some of these longer hikes, like Wasootch Ridge and Porcupine Ridge set a turn around time at the departure
Always carry bear spray if you plan to hike in Kananaskis. Always practice wildlife awareness when you're on a trail, and please give animals space.
Leash your dogs. Dogs are allowed on these easy Kananaskis hikes, but must be kept on a leash at all times while hiking in Kananaskis Country.
If tackling some of these hikes in Kananaskis during the winter months, snowshoes, microspikes, and poles are a huge help. If you plan on hiking a lot in the winter taking an Avalance Safety Course is recommended.
There is no cell service for most of these hikes, a Garmin Increach, or something similar could save your life!
---
Where to Stay in Kananaskis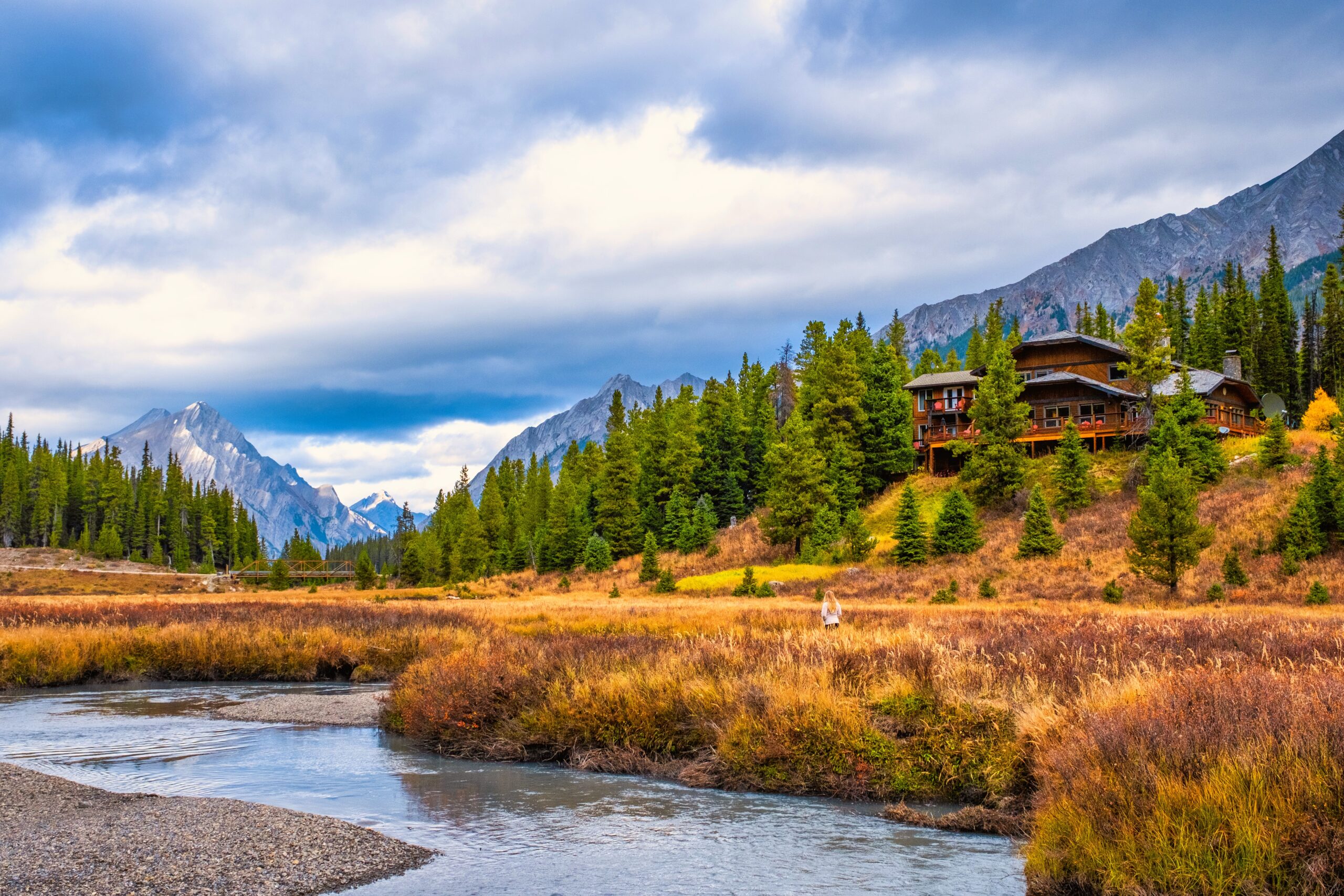 Camping – There are plenty of front and back-country camping sites in Kananaskis. A few of our favorites are Spray Lakes West and Mount Kidd. We break down all the best camping spots in Kananaskis here.
Glamping – Camp in luxury at Mount Engadine! Mount Engadine is one of our favorite cabins in Kananaskis. They offer excellent all inclusive packages in their rooms, yurt, and glamping tents.
Kananaskis Hotels – There aren't a plethora of accommodation options in Kananaskis Country, and only a limited number of hotels. Our favorite in the park is Kananaskis Mountain Lodge at the base of Nakiska.
---
Want More Kananaskis Hikes?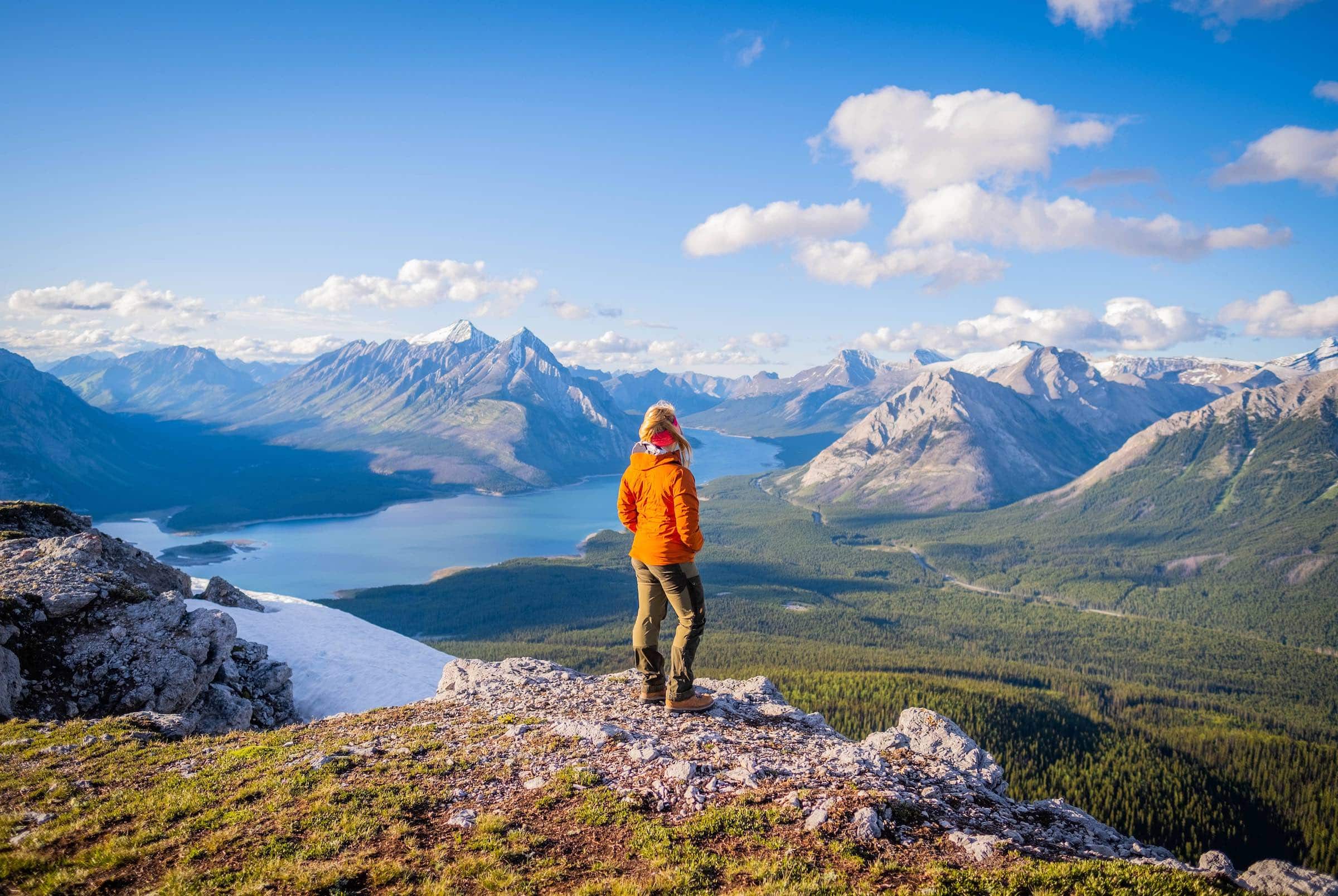 For a bit more challenge, check out our full list of amazing hikes in Kananaskis! A few of our favorites are Mount Allan, Smutwood Peak, and Tent Ridge!
---
Hopefully, this helped you determine which of these easy hikes in Kananaskis is for you!
If you have any other questions leave a comment or see our Canadian Rockies travel guide for more articles about photography spots, lakes, hikes, and everything else.
---
Plan Your Trip to the Canadian Rockies
---
---
↓ Join the community ↓
The Banff Blog Facebook Group is your headquarters for the Canadian Rockies' travel advice and information. Including hike info and off-season travel information. You can also meet new adventure buddies.