Mist Mountain is one of the tallest mountains in the Kananaskis region and offers a significant objective without any technical mountain climbing. There are several routes up to the peak of Mist Mountain with many varying degrees of difficulty.
The most straightforward and enjoyable ascent is via the south face and east ridge. This was our choice, as we decided to skip over the Lipsett Col with high exposure levels on loose rock.
What's of most interest is the excellent alpine pass views on the approach, exceptional cirque, and small Mist Mountain hot springs with a great view. Of course, the views from 3,140 meters are pretty great too! The technical aspects and short approach make the mountain accessible to many able-bodied hikers, so it's easy to understand the popularity.
See More:
---
How to Hike Mist Mountain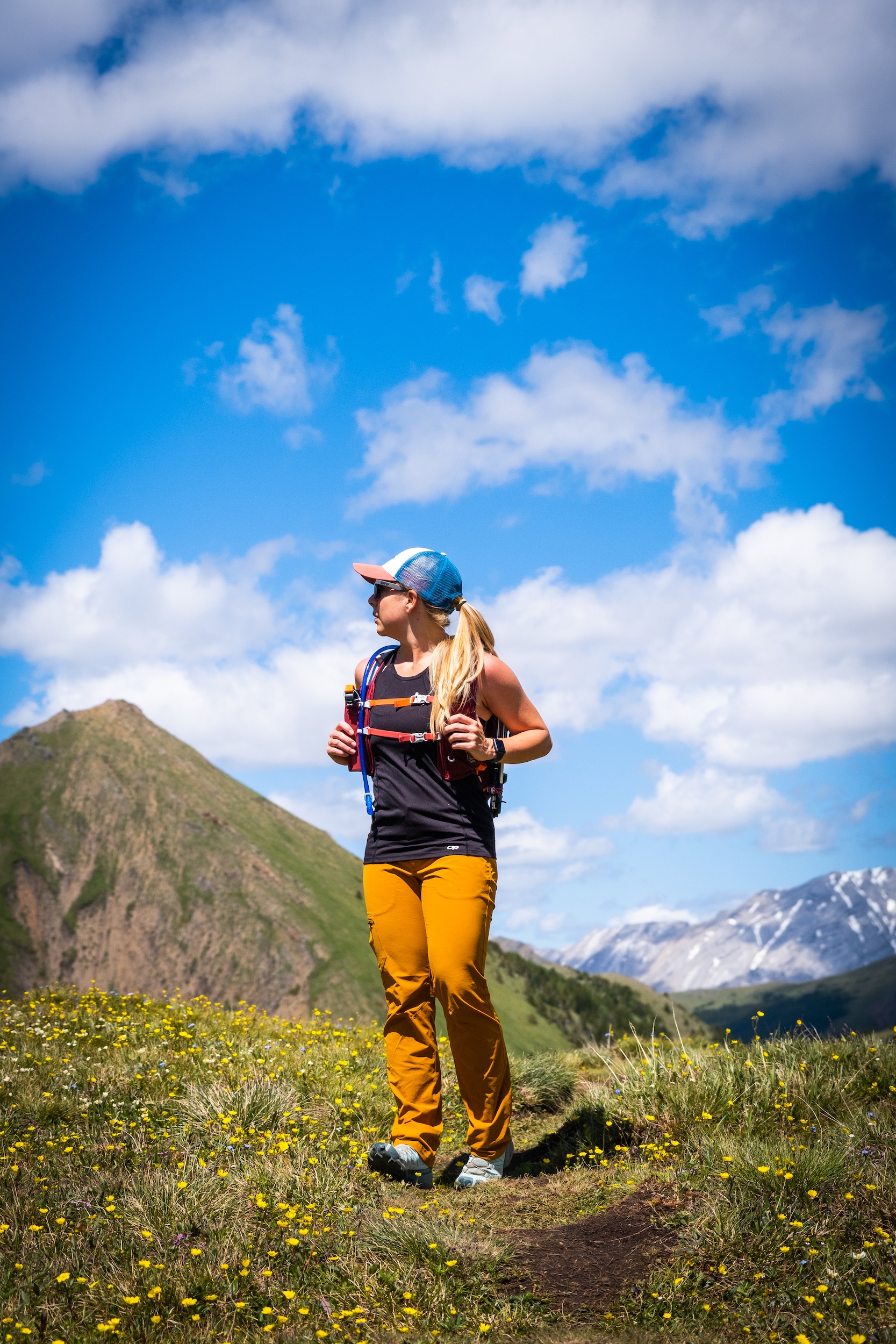 ---
Key Stats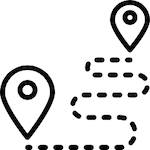 Length
9.8 km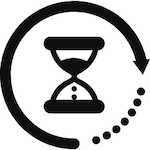 Duration
4 – 7 hours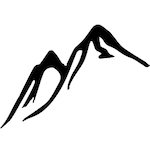 Elevation
1,265 meters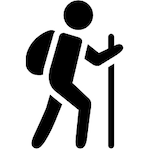 Difficulty
Difficult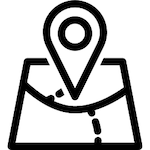 Trailhead
Mist Mountain Trailhead
---
Mist Mountain GPX Track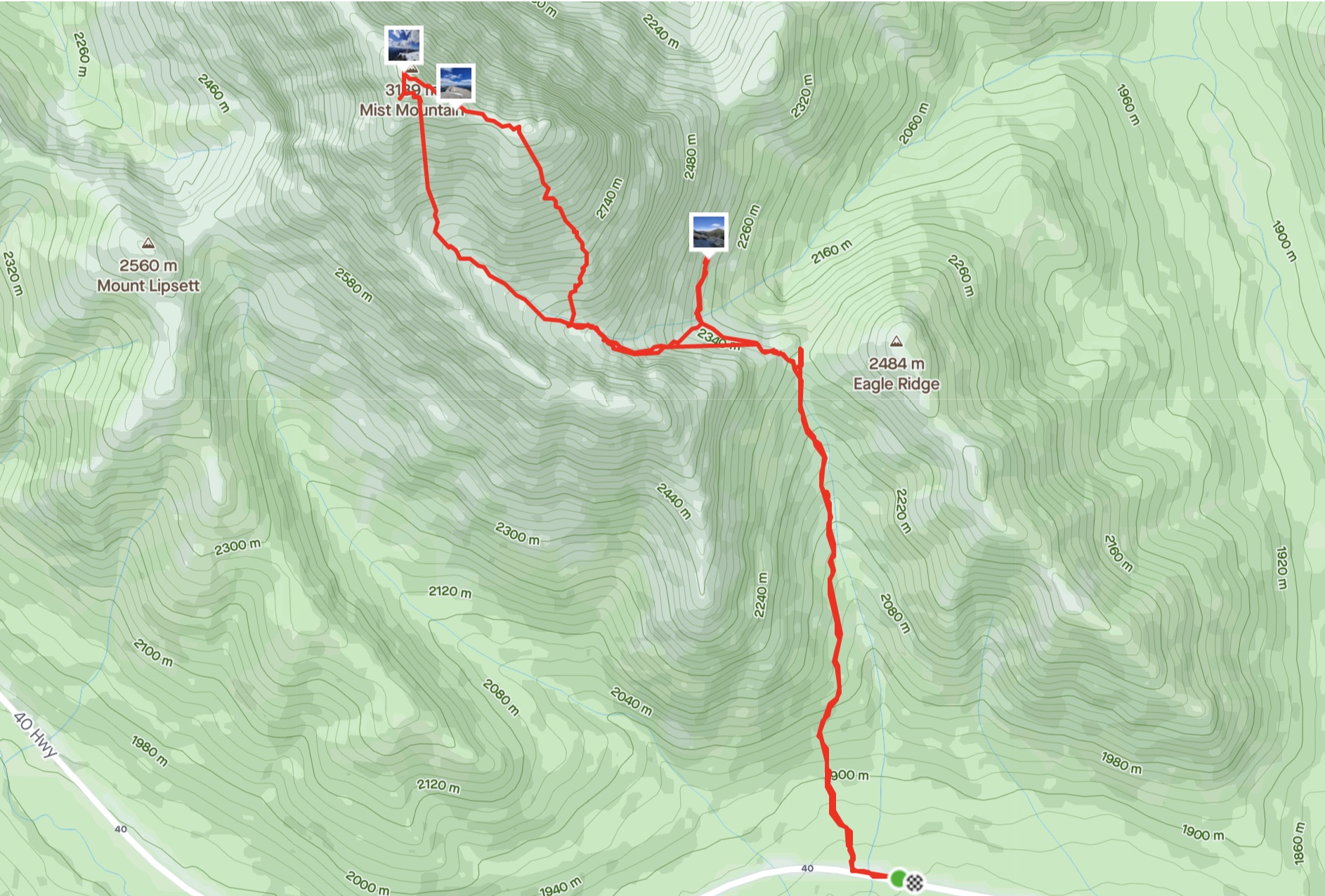 ---
Mist Mountain Hike Route Description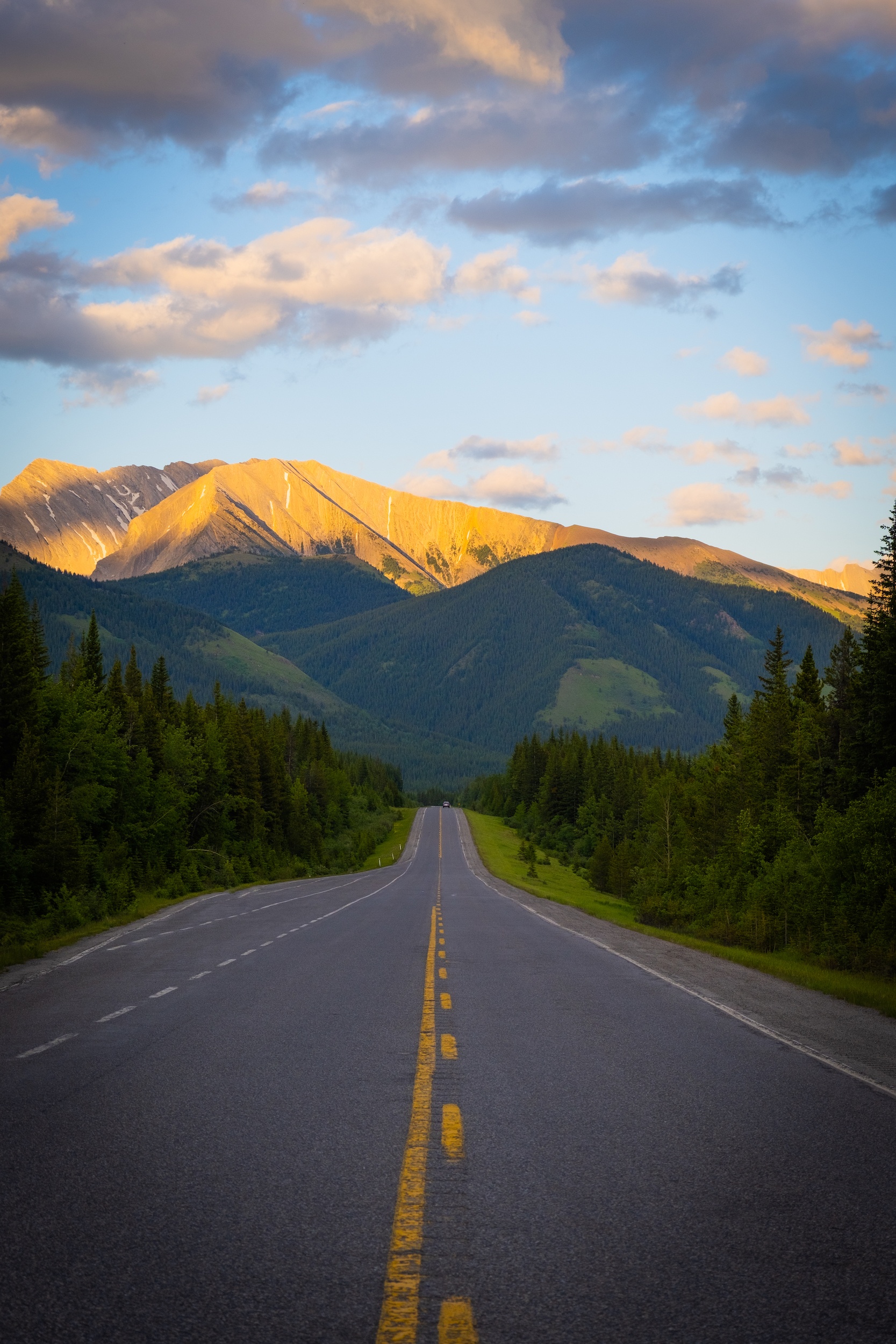 Along highway 40 is a trailhead that cuts through the woods and begins a short approach through the forest to the Nameless Ridge. There is no official trailhead sign, but a wide shoulder pull-off 200 meters from the trailhead makes for reliable parking, and if you follow the GPX tracks attached, it's easy enough to figure out where to park. Additionally, the AllTrails app does provide the correct start of the trail.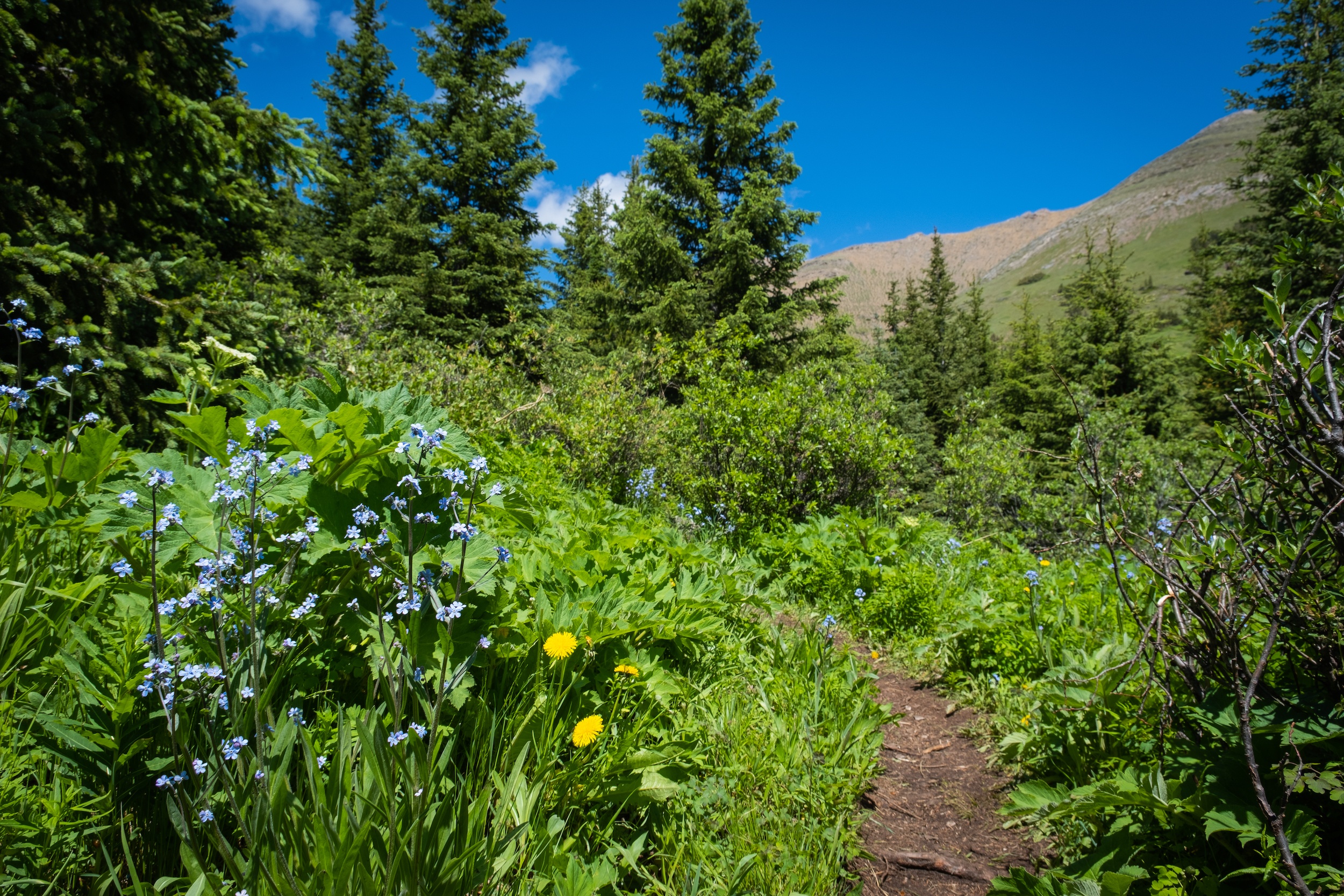 The first kilometer moves through the woods and is relatively uneventful, but it's a short approach and passes by quickly. Afterward, you come to a vast alpine meadow on the way up to the Nameless Ridge.
The trail here is easy to follow, and it is well worn into the meadow. It's a substantial uphill climb as you gain around 450 meters in less than 2.5 km to the top of the ridge, but never too steep.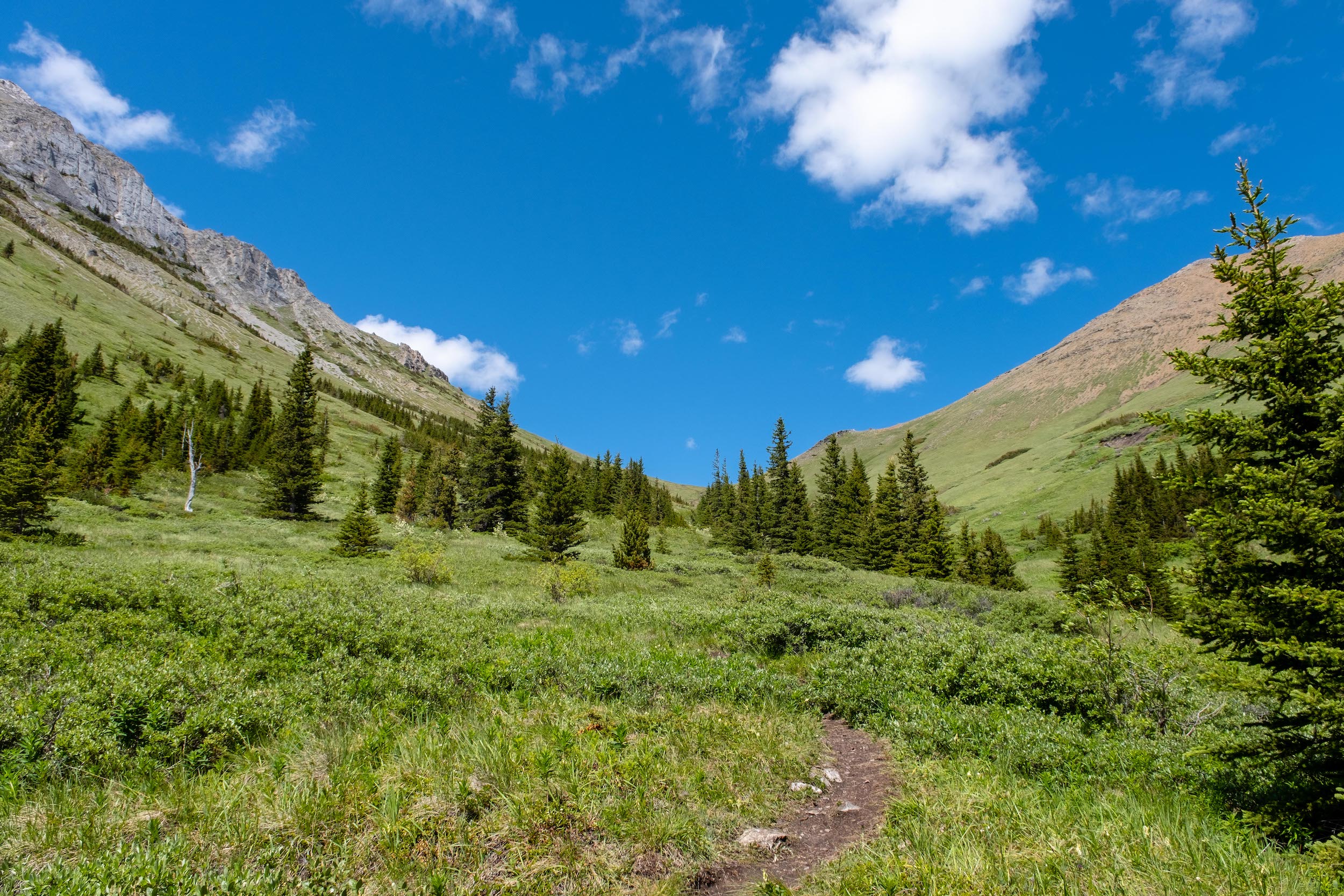 We really enjoyed the Nameless Ridge and the meadow leading up to the col. You have great views in both directions, and there were a plethora of wildflowers in mid-July. If you gain the ridge, you'll have to backtrack a little as the trail moves to the left or North before towards Mist Mountain.
From here, it's an easy-to-follow scree trail that climbs towards the cirque on the left, the paths that braid to the right lead off to the Kananaskis hot springs.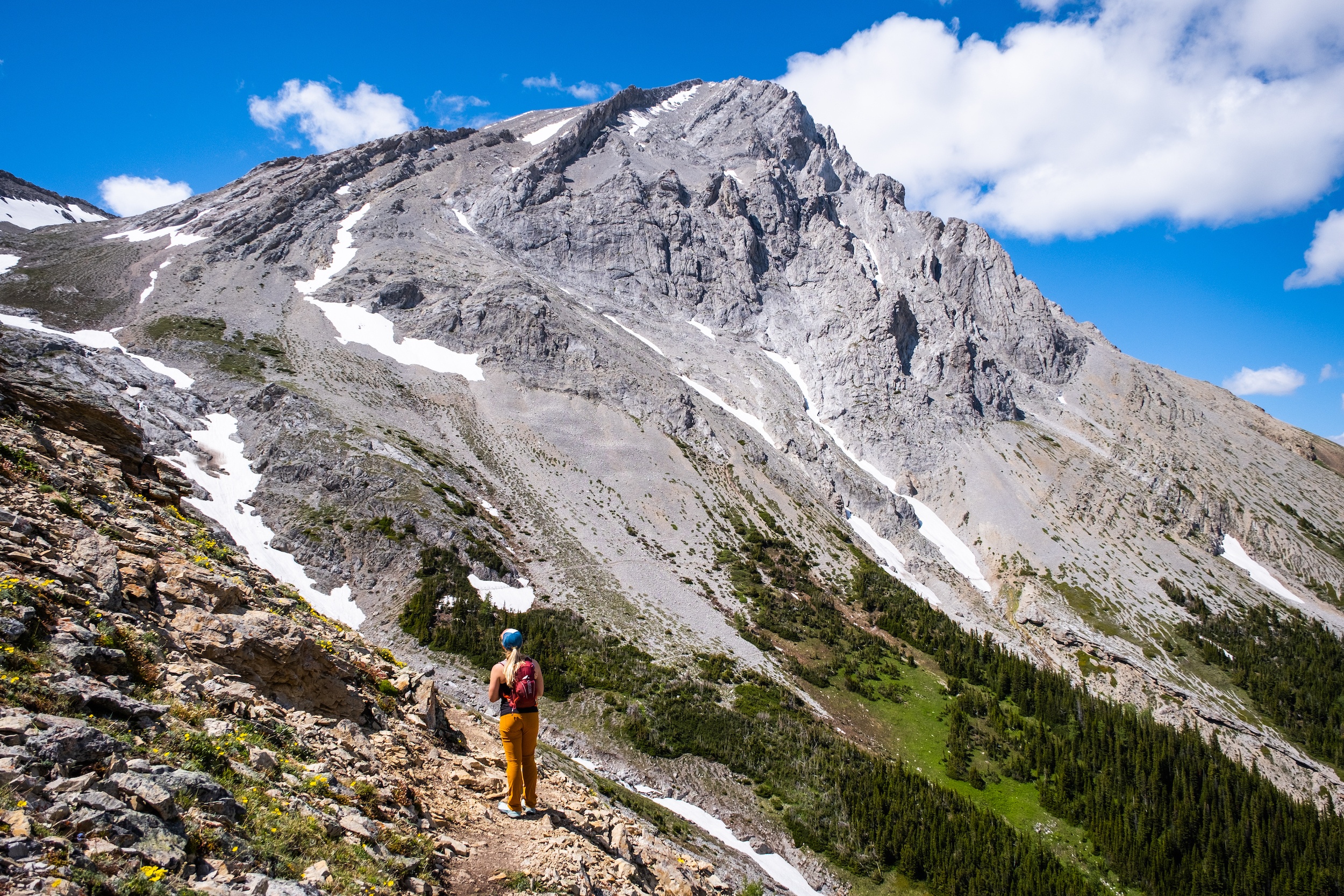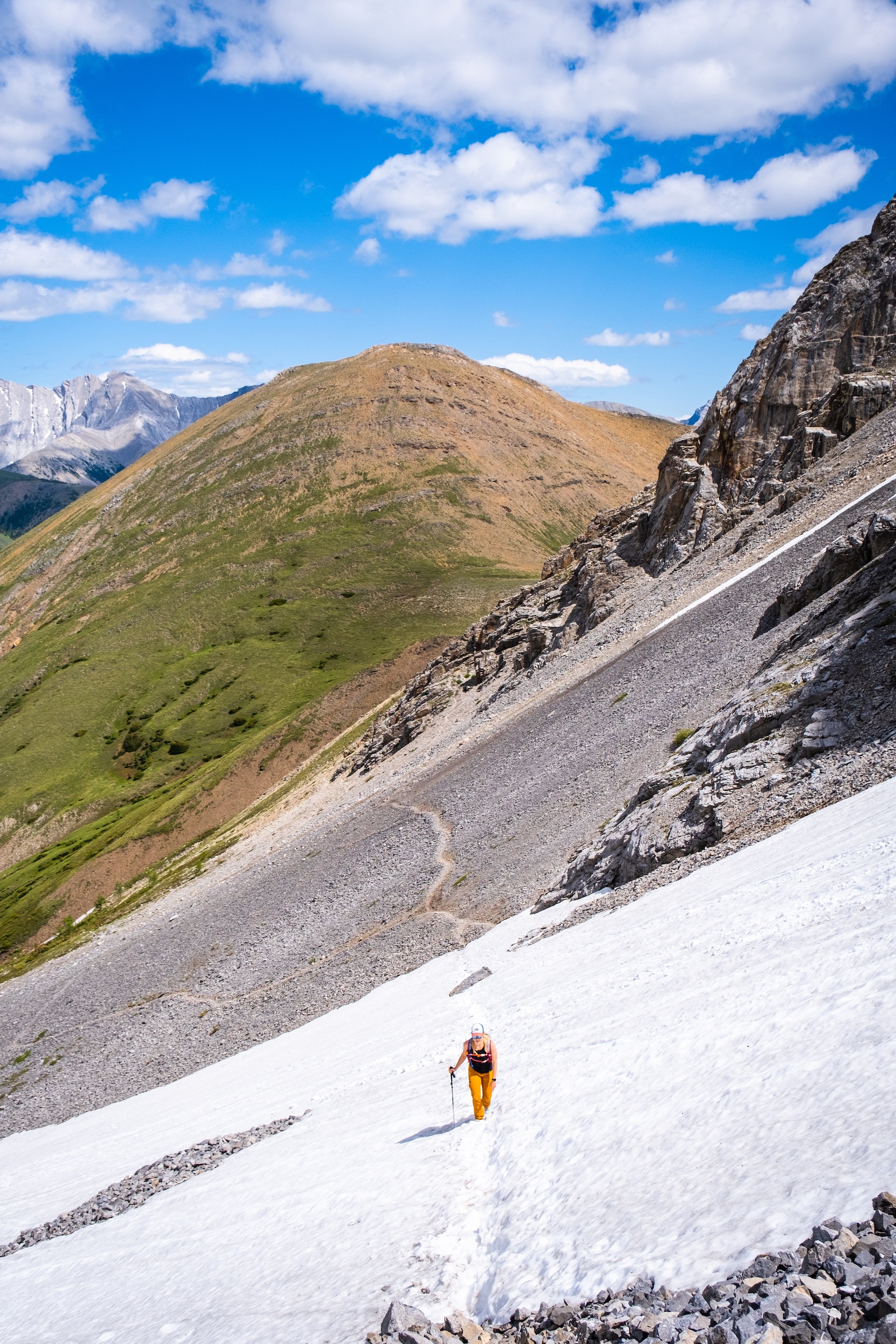 Once in the cirque, we chose to break away from the trail and climb the South face, an easy/moderate scramble that gains the False Summit with around 500 meters of elevation gain. Keep an eye out for a small waterfall and an easy weakness in the ribs. This is where we began our ascent.
This proves to be a far better route as it avoids climbing the steep scree at the end of the cirque to the East Ridge. We had no difficulty in route finding up the South Face that leads to the false summit.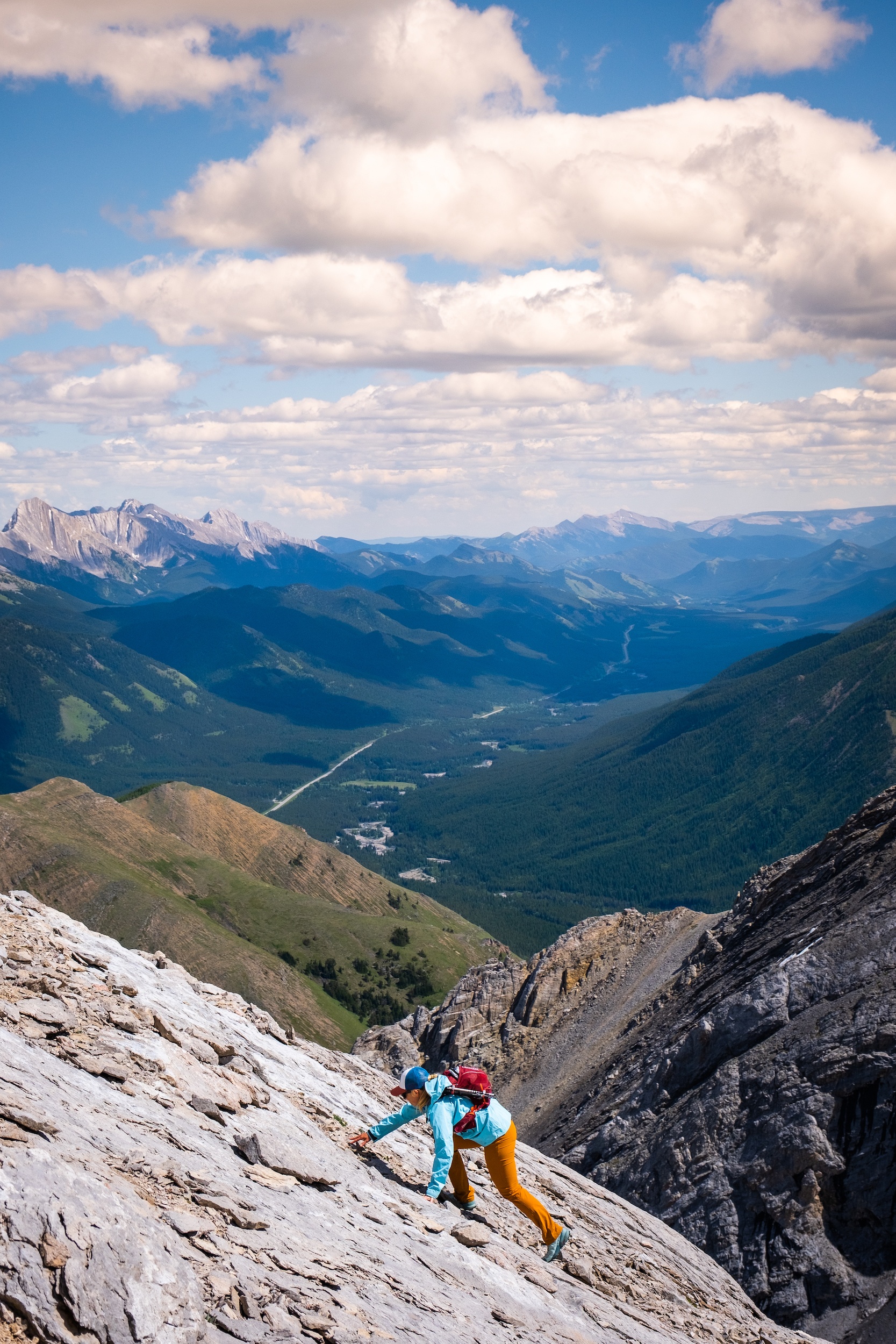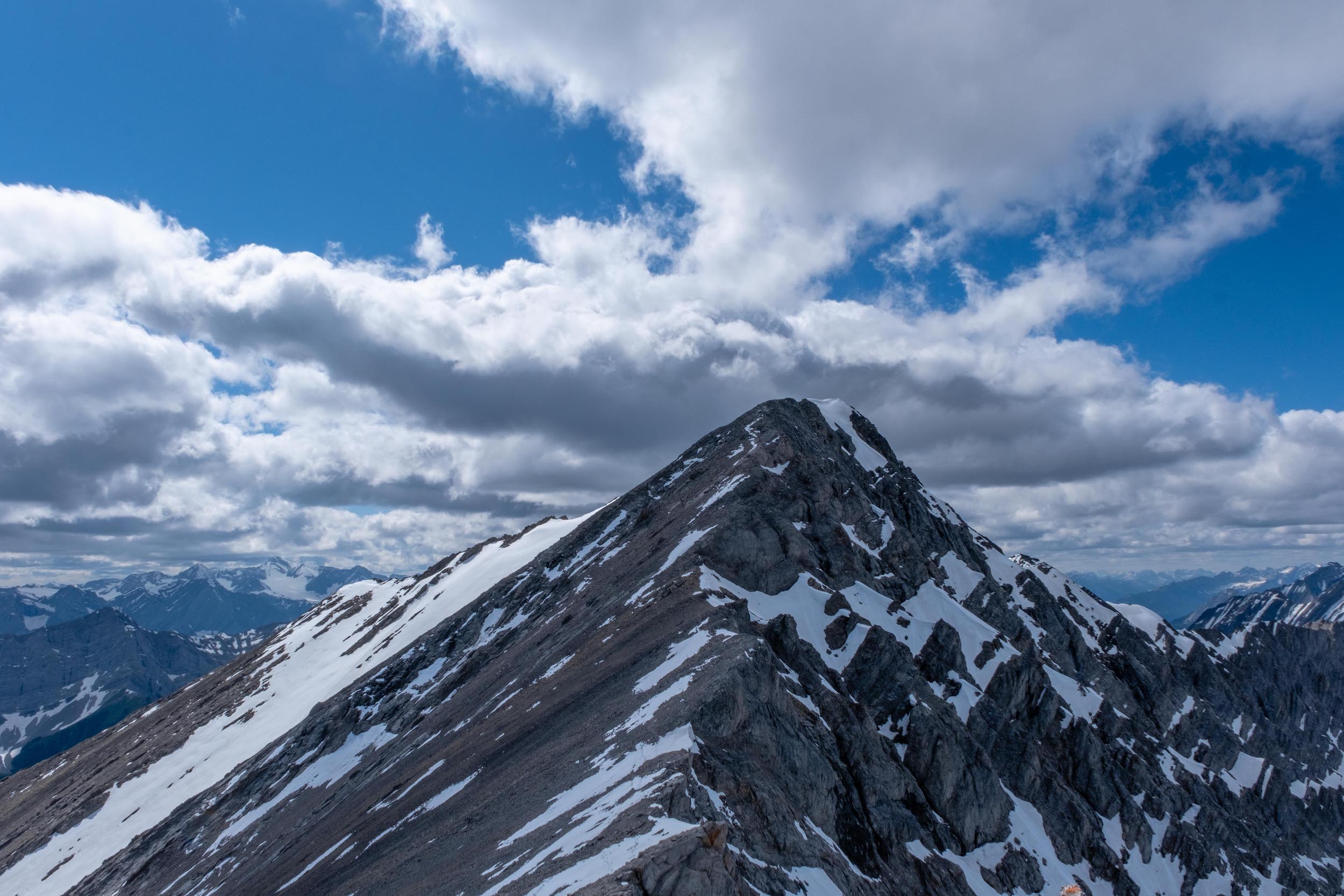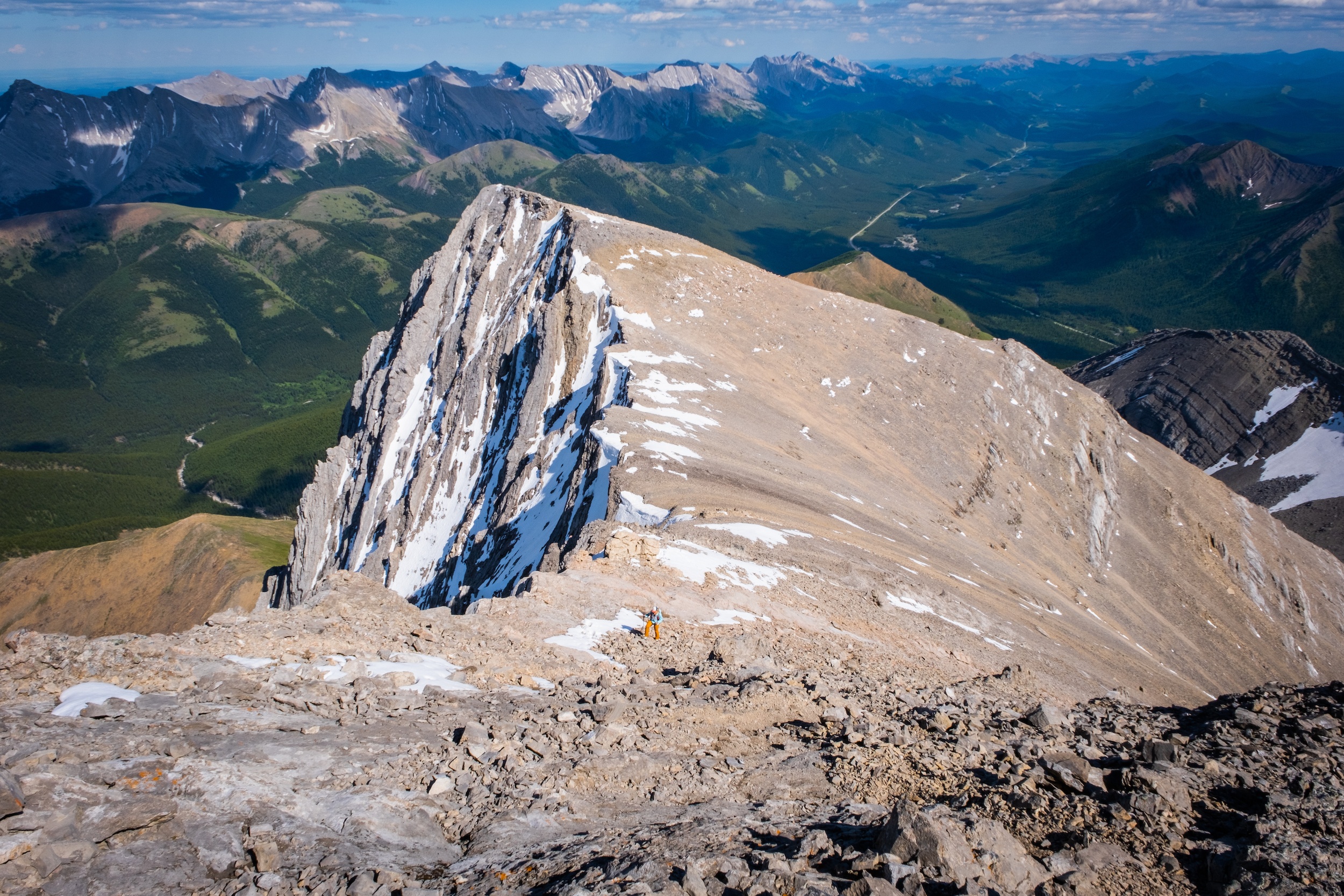 From the false summit, it's a short ridge walk to the true summit. As expected, the summit views are vast and provide a fantastic panorama of the surrounding mountains. We were lucky and had warm weather to enjoy lunch on the summit. Don't be surprised if it's too cold and windy to do this every day! From the peak, we descended the scree gully directly and skipped the East Ridge.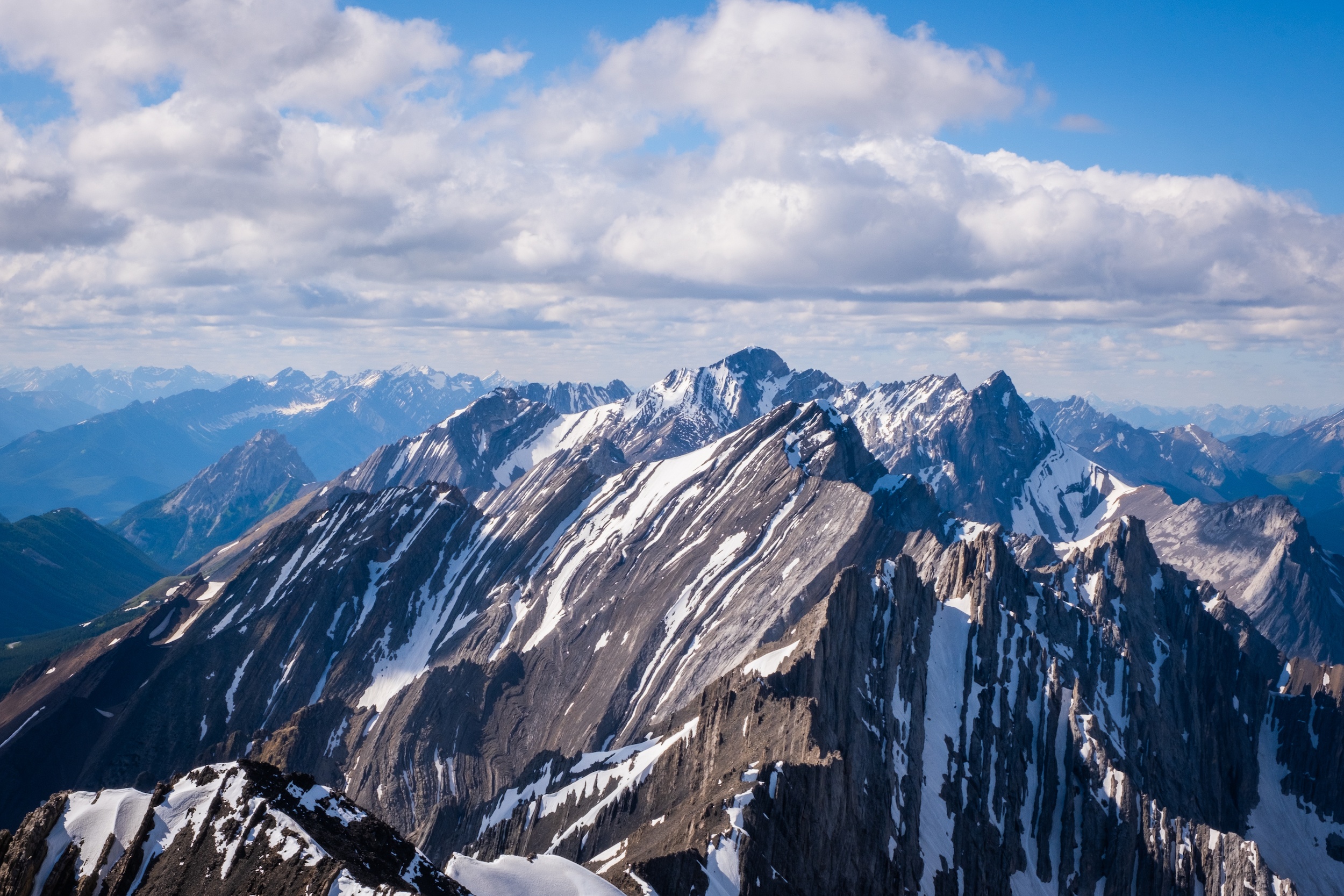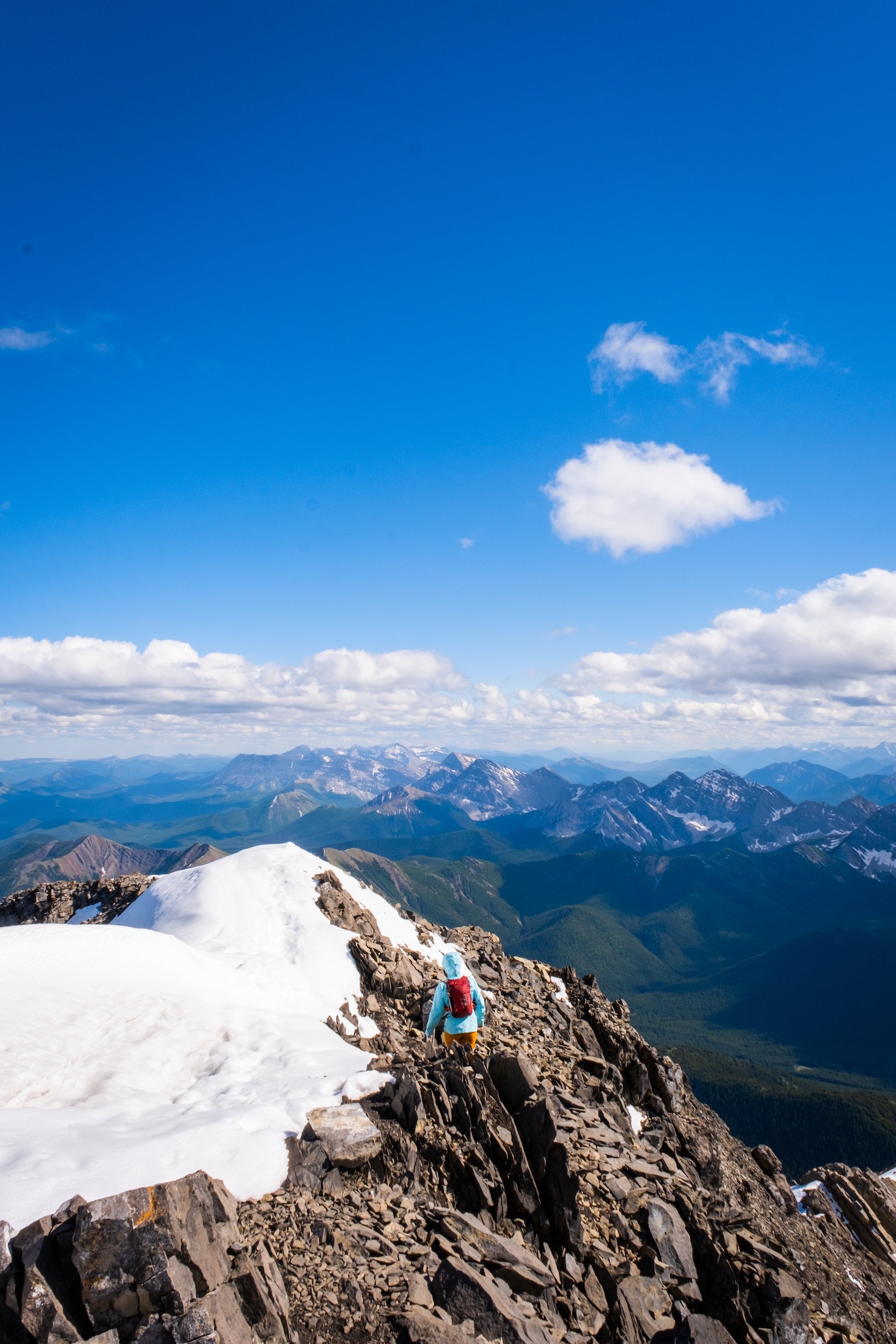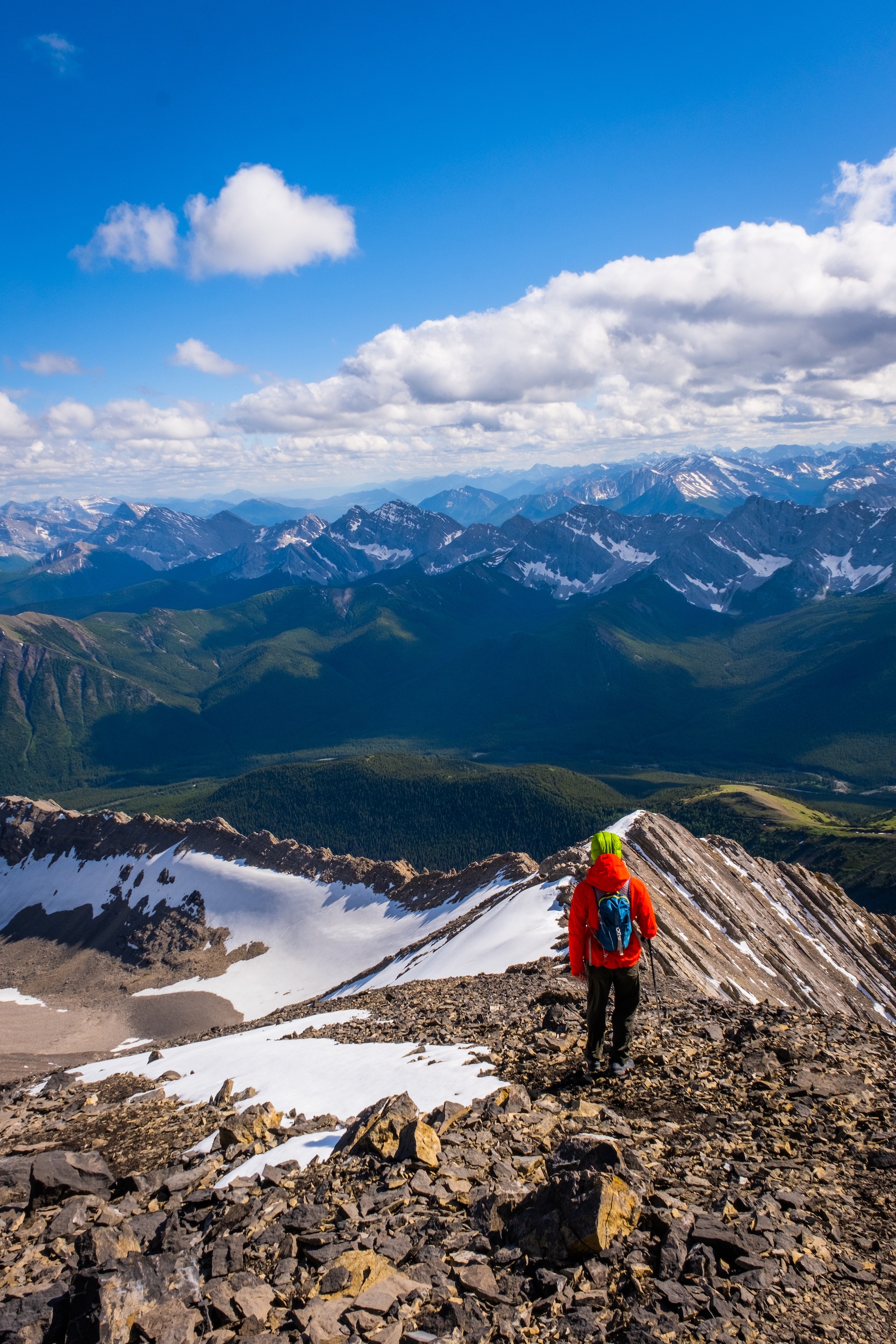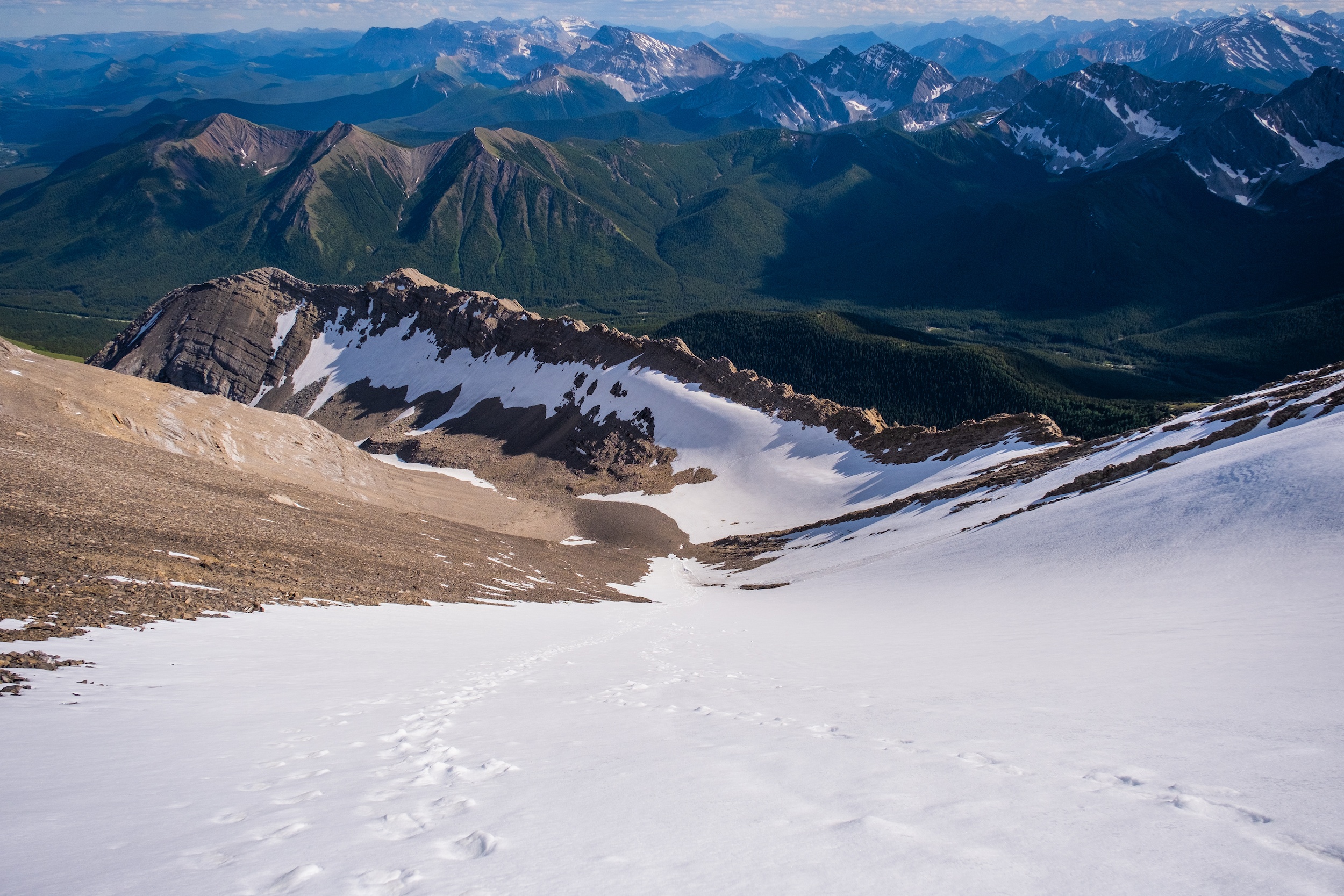 ---
The Mist Mountain Hot Springs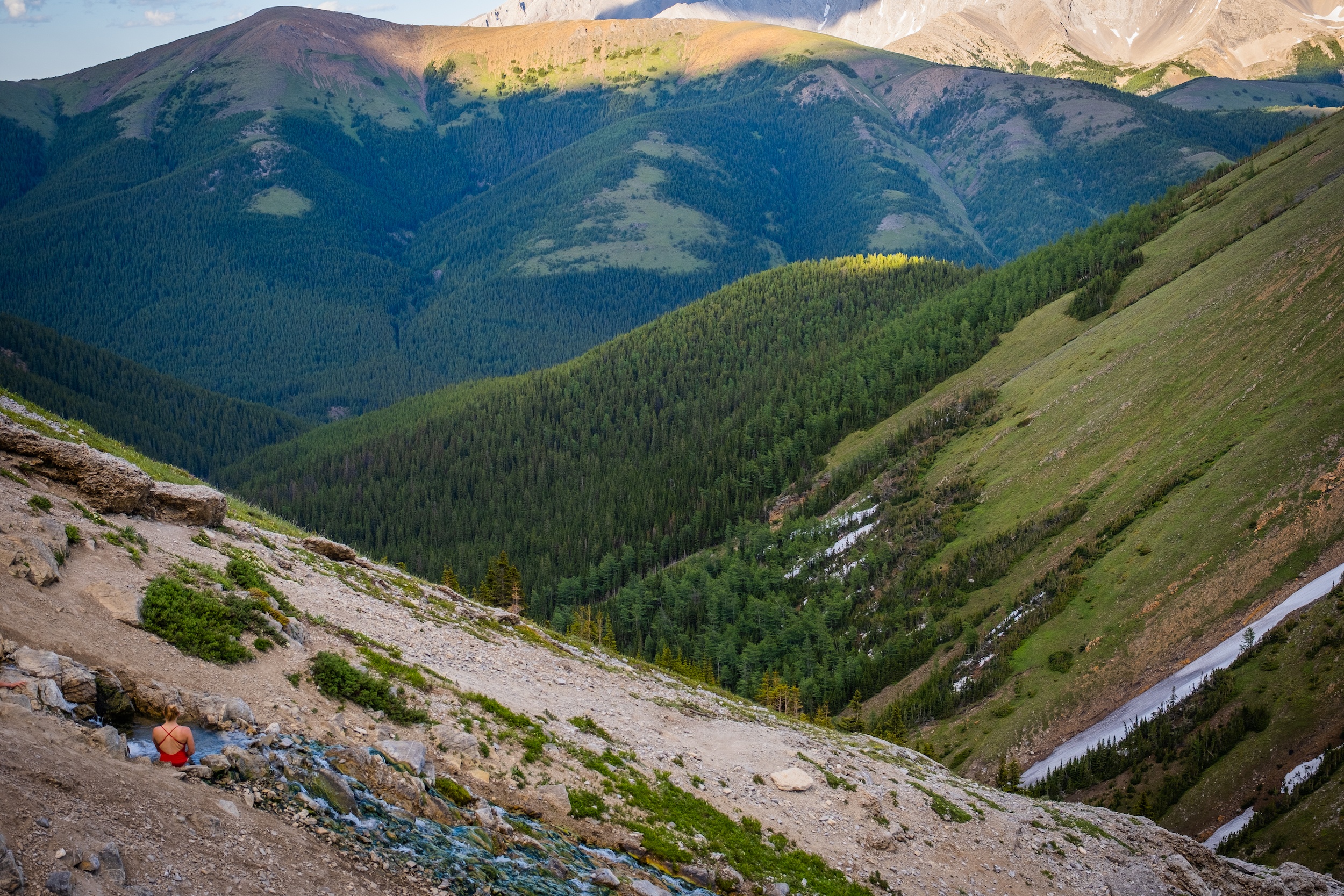 The Mist Mountain hot springs were once a secret. However, these hot springs in Alberta have quickly changed thanks to social media posts and groups that have shared the springs.
Truthfully, we had the mountain on our list of objectives before realizing the Kananaskis hot springs are en route. If your goal is to visit the hot springs, you may leave feeling a bit disappointed.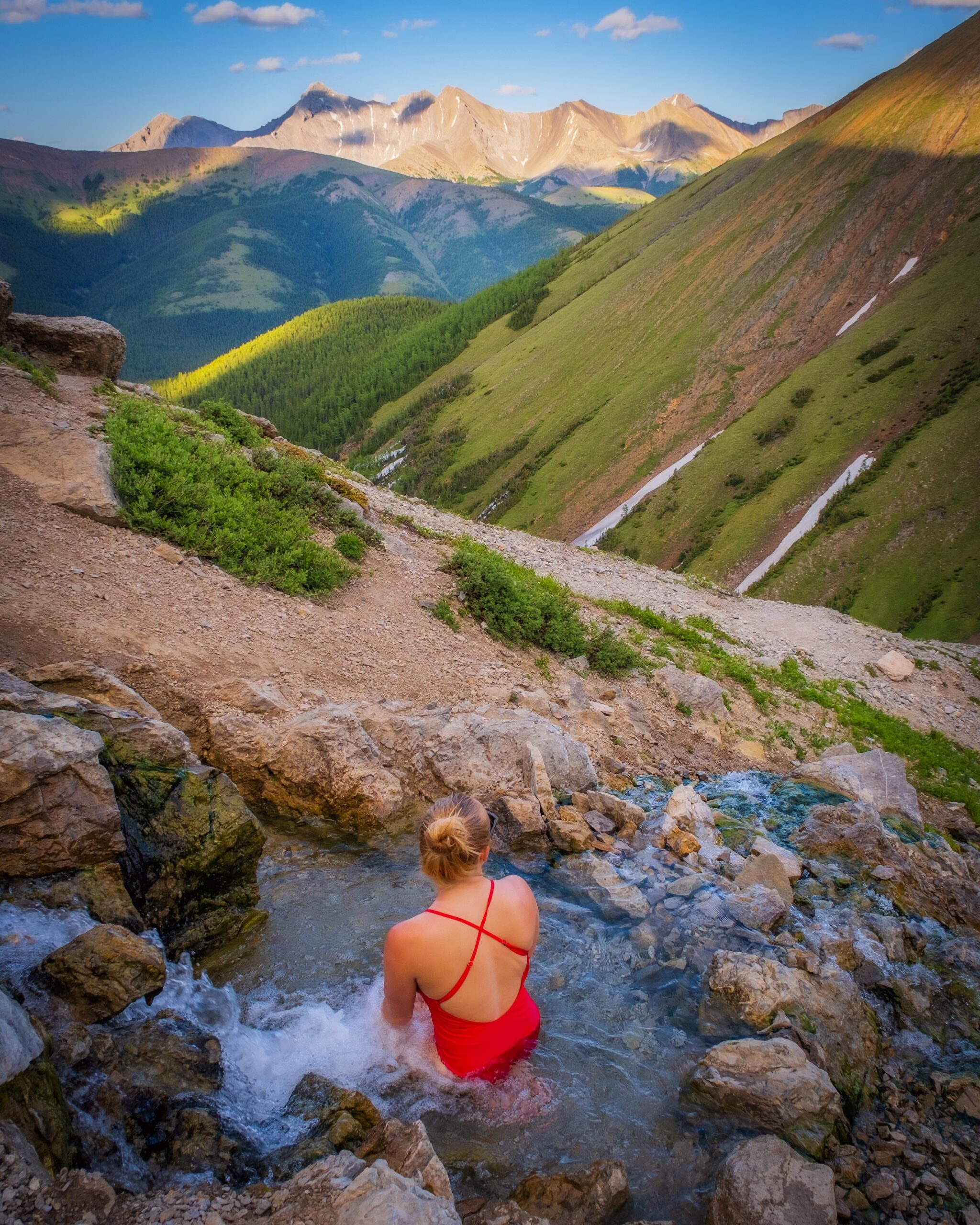 The two pools are tiny and capable of fitting just a couple people in each. Due to their popularity, this means that there are lines during peak times, especially on the weekend. It's also on a treeless slope that doesn't offer any privacy if you have plans to change at the springs. Most notable is the fact that the springs are not hot. Instead, they are more of a lukewarm 30C (just a guess).
Don't be surprised to find photographers visiting the spring for the early morning or evening light with the prevalent photos on social media. Check them out, but just come with managed expectations.
We purposely waited until after summitting Mist Mountain to enjoy the springs, and made our way to them around 8pm. We thought by this time we would have them to ourselves, but unfortunately even then there were still hikers who hiked up just to the Mist Mountain hot springs for sunset.
Of course, the hot springs do make for great photos, and the views are delightful!
---
Gear We Recommend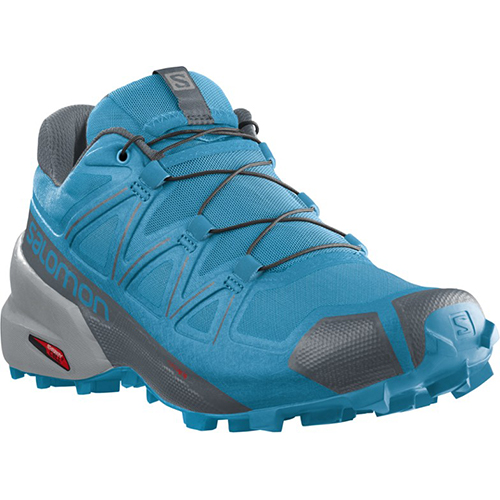 The vast majority of hikes and easy scrambles in the Rockies, you'll find us in our trusty Salomon Speedcross.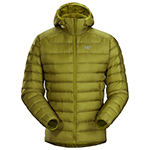 Arc'teryx Cerium is our pick for the best down jacket. It's incredibly light, and we bring it on almost every hike in the Rockies.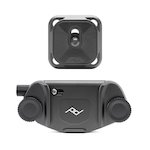 This nifty clip from Peak Design secures a camera to my backpack strap for easy reach. No more digging in the backpack!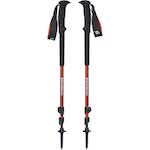 A pair of durable and lightweight hiking poles are a great asset on the hiking trail.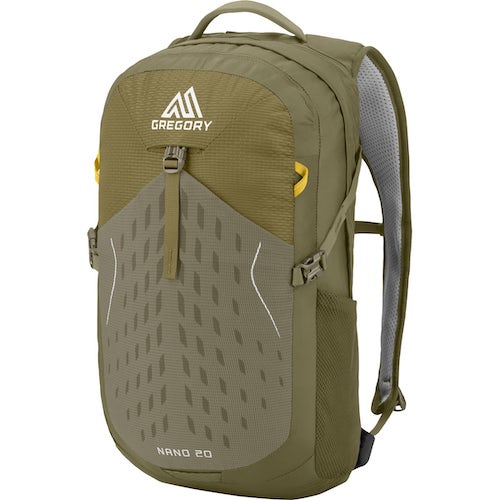 20L feels like the ideal size for quick hikes and scrambles. We love the Nano from Gregory with a hydration reservoir.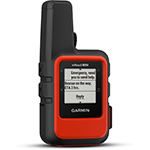 There is not much cell service in the Canadian Rockies. In case of emergencies, we carry an emergency beacon with GPS.
---
How Hard is Mist Mountain?
As capable hikers, we found the Mist Mountain trail to be fairly easy. However, there is some real elevation here with over 1300 meters and a decent amount of distance. Be prepared to be on your feet for at least 5 hours at a walking pace.
We'd rate this as a moderate to hard hike that feels suitable for older adults, children, and dogs. You should also be prepared for a bit of hands-on easy scrambling. There's no serious exposure, but you'll likely be using your hands a bit.
The hike to the Mist Mountain hot springs only is fairly easy and straightforward and we saw all walks of life on the trail.
---
Mist Mountain Hike Duration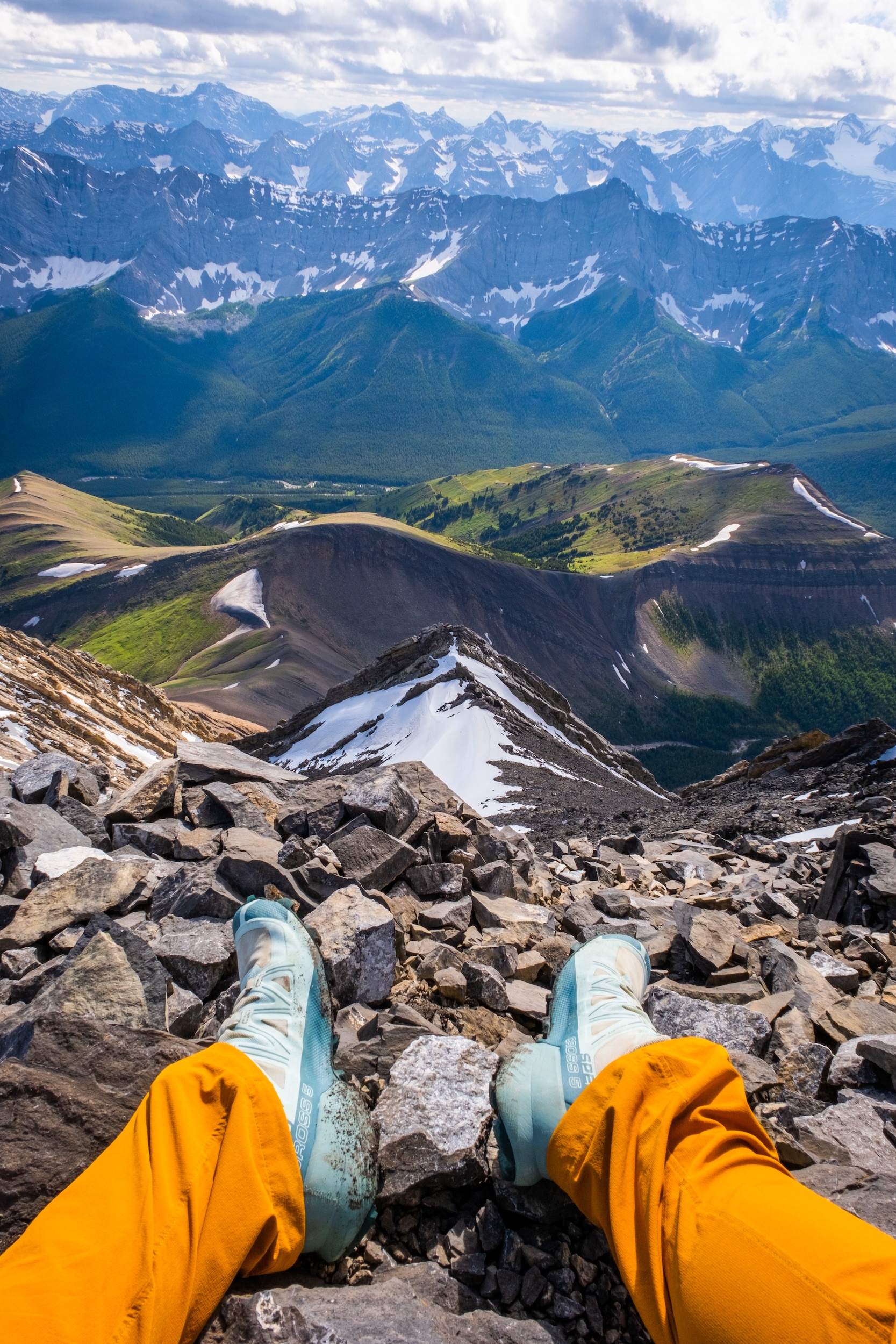 The duration of the Mist Mountain can vary greatly as there is a lot of elevation and route choices. If you stick to our route, I will plan for the hike to take between 5-8 hours.
Of course, everyone's hiking time varies, but an average pace falls in the middle of the suggested hike times. We completed it in around five hours but could have easily completed it in a shorter time if we ran.
---
When Can You Hike Mist Mountain?
Mist Mountain was good to go around early July this year, but that was fairly late as we had an abundance of snowfall. Generally, the mountain is in good shape from July to September. You'll have to wait until the Highwood Pass road opens up around June 15th to access Mist Mountain.
---
What About Dogs & Kids on the Mist Mountain Trail?
The trail is appropriate for most hikers who feel comfortable walking uphill. It is appropriate for anyone with moderate fitness. I'd say kids from ages 10 years old and up. Dogs should be able to handle the trail just fine. Just keep in mind the hike has a lot of elevation if you go to the summit, so small dogs will struggle with the range while large dogs handle the trail with ease.
Also, there is lots of scree, so perhaps some paw protection would be a good idea. Please remember dogs must always be on a leash in Kananaskis for safety of fellow hikers, dogs, and wildlife.
---
Other Kananaskis Country Hikes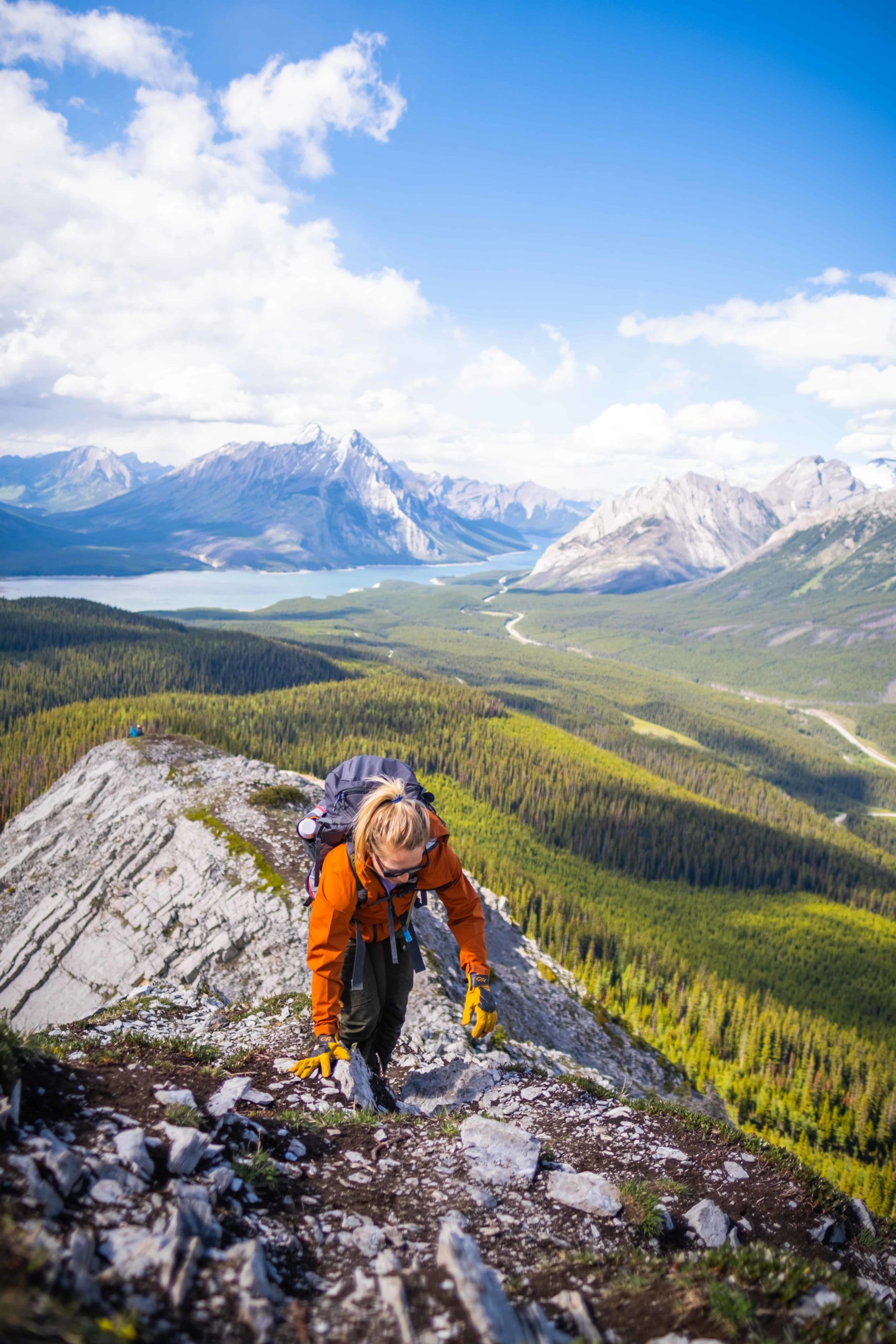 There are many more great hikes in the Kananaskis Country Provincial Park, or you can check out some awesome Banff hikes. Both are home to some of our all-time favorite hikes and scrambles in the region.
To learn more, we've got a post on our favorite hikes in Kananaskis Country as well as our favorite easy hikes in Kananaskis.
---
Advice on Hikes in the Canadian Rockies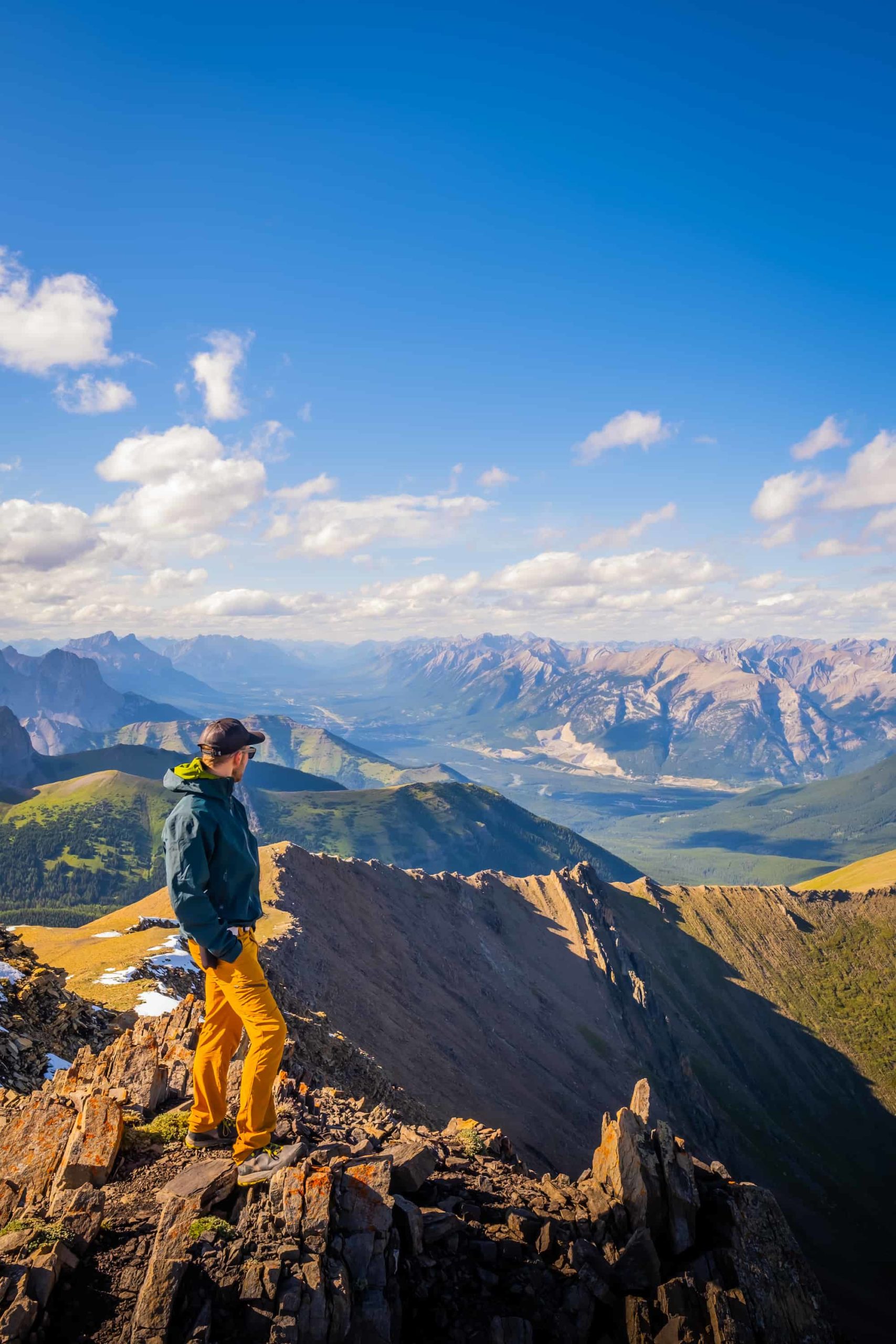 If this is your first time hiking in the Rockies take a conservative approach – read our post for beginner hikers in Banff too. Pick an adequate hike for your fitness, plan for plenty of time, pack water and food, and don't be afraid to turn around.
For long Kananaskis hikes, set a turnaround time at the departure. Any time we set out for an objective I determine a time at which we need to turn around in order to arrive at the parking lot or campsite by dark. I would recommend not hiking in the dark as it's easy to get lost and it's not fun in bear country.
Always carry bear spray if you plan to hike in the park. We carry ours in the neighborhood and bears have been known to stroll through town and busy parking lots. Always practice wildlife awareness when you're on a trail, and please give animals space.
In regards to times keep in mind your mountain fitness — it's much different than the gym. The low end of the times in this post is a constant fast pace uphill with little to no breaks and a brisk pace downhill. Most hikers should plan for a middle of the road time with the estimated duration.
It's also super important to know that there are limitations and to come prepared. These are very serious mountains and it easy to get in well over your head with life-threatening consequences. That being said, all of these hikes should pose no risk if you stick to the trail.
12 Bear Safety Tips • How To Hike In Bear Country
---
What to Wear On a Hike?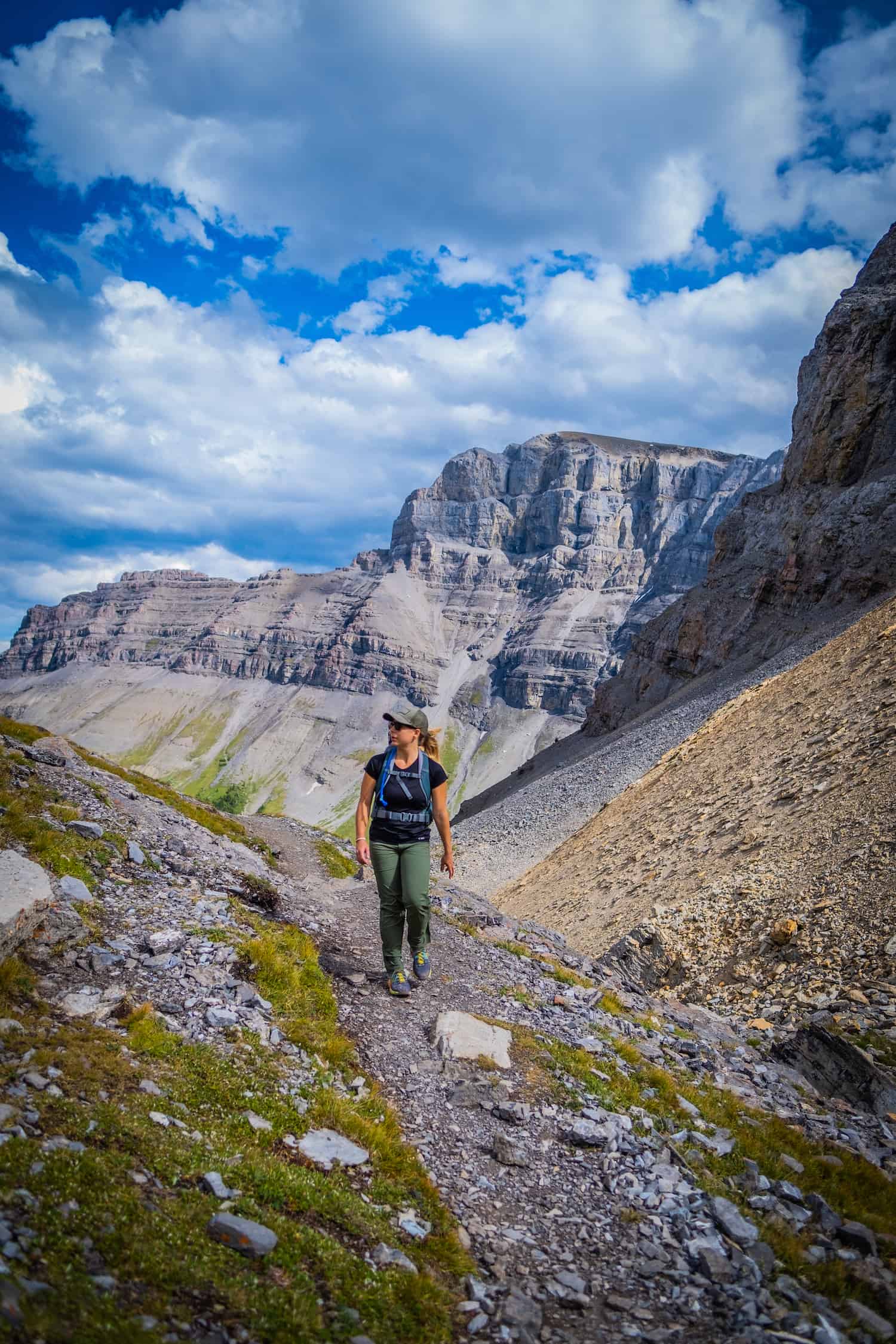 The most basic principle of what to wear hiking is layering. Anyone that has spent time in the wilderness or mountains can speak to the fact your temperature can fluctuate a lot on a hike. You can easily start off cool at the mountain base and get hot as soon as you begin moving.
What To Wear Hiking in The Canadian Rockies
---
Hopefully this route guide helps you plan your hike up to Mist Mountain and the Mist Mountain hot springs.
If you have any other questions leave a comment or see our Canadian Rockies travel guide for more articles about photography spots, lakes, hikes, and everything else.
---
↓ Join the community ↓
The Banff Blog Facebook Group is your headquarters for the Canadian Rockies' travel advice and information. Including hike info and off-season travel information. This is also where you can meet one another when you need adventure buddies. 

Plan Your Trip to the Canadian Rockies