We often get asked where to find the best Alberta hot springs, and sadly, our answer is that there aren't as many glorious natural hot springs in Alberta as many may think.
Still, there are some fantastic places to sit, soak, relax, and take in the views in Alberta. From Banff to Jasper, here are the best Alberta hot springs.
---
Best Alberta Hot Springs
---
1. Banff Upper Hot Springs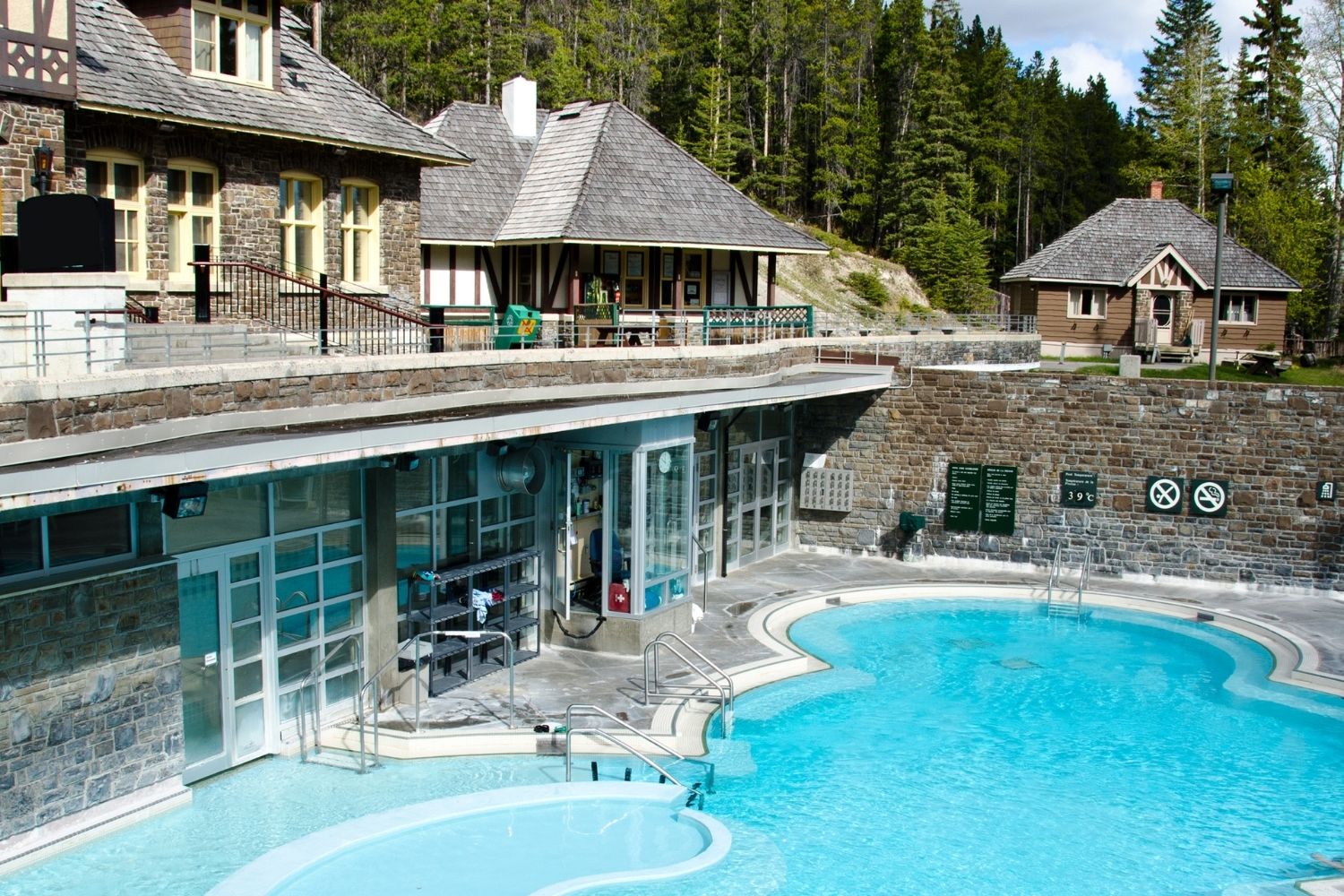 The thermal mineral springs at Banff Upper Hot Springs are run by Parks Canada and are the highest in the country at 1,585 meters above sea level. The water that flows at these springs is 100% natural and so are the incredible views of nearby Mount Rundle and the Spray River Valley. Heading here on a cold day is one of the best things to do in Banff, particularly in winter.
The main draw at this site is the opportunity to soak in these rejuvenating springs but you also have access to a historic bathhouse, a lovely picnic area, a gift shop and a cafe.
Location: 1 Mountain Avenue, Banff.
Tip: Entry to the springs is first come, first served. Reservations are not taken.
Price: $9.25 per adult.
All You Need to Know About the Banff Hot Springs 
---
2. Kananaskis Nordic Spa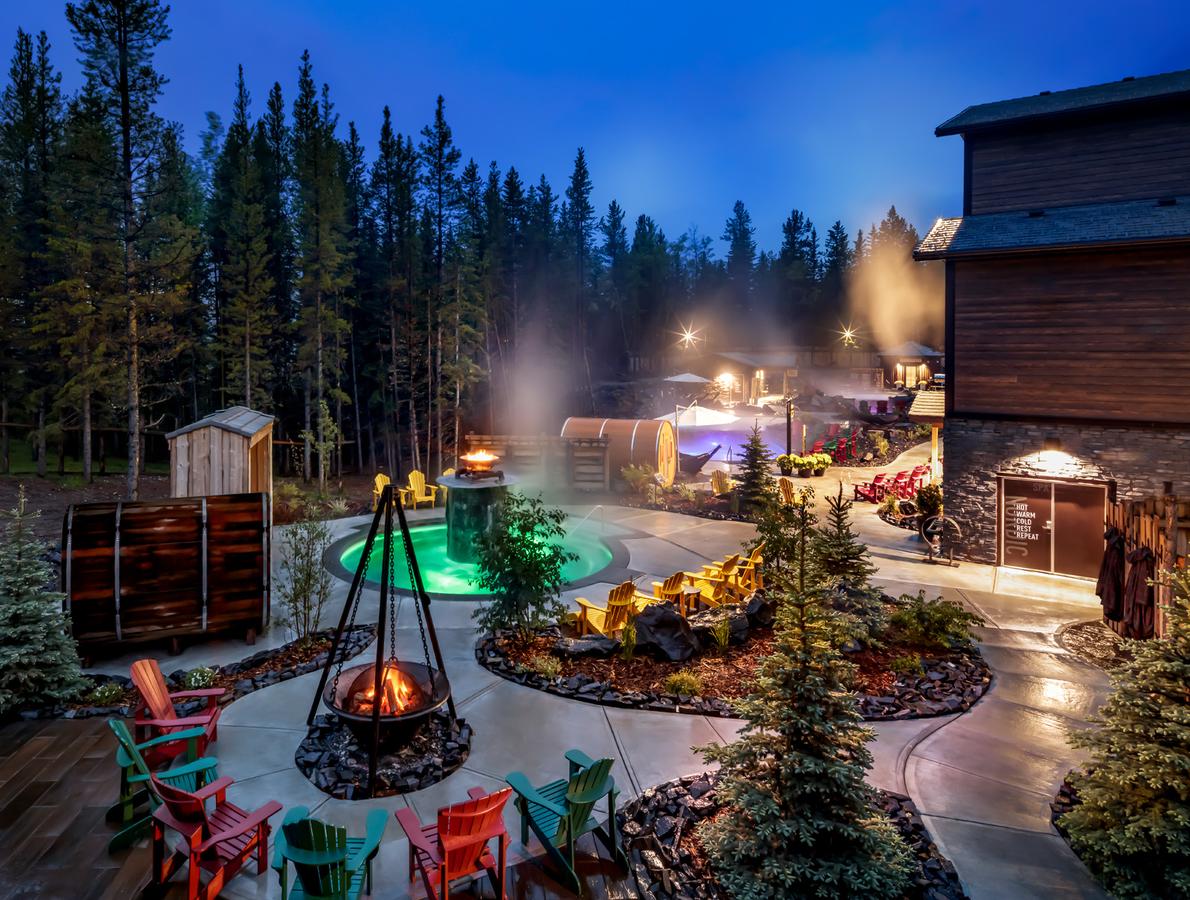 The Kananaskis Nordic Spa is a place where you can go to get away from the rat race and indulge in relaxing hydrotherapy while surrounded by spectacular mountainous scenery. It's in the Kananaskis Mountain Lodge, which is one of the best places to stay in all of Kananaskis.
There are both hot and cold pools on site and you can also enjoy access to massage services, a sauna and an exfoliation cabin. Your hydrotherapy pass allows you access to all these facilities.
Location: 1 Centennial Drive, Turner Valley.
Tip: Head to the Two Trees Bistro where you'll find a selection of craft beers, herbal teas, wines, caffeinated drinks and small plates.
Price: Prices start at $109 for a day pass.
22 FUN Things to do in Kananaskis Country
---
3. Cave and Basin National Historic Site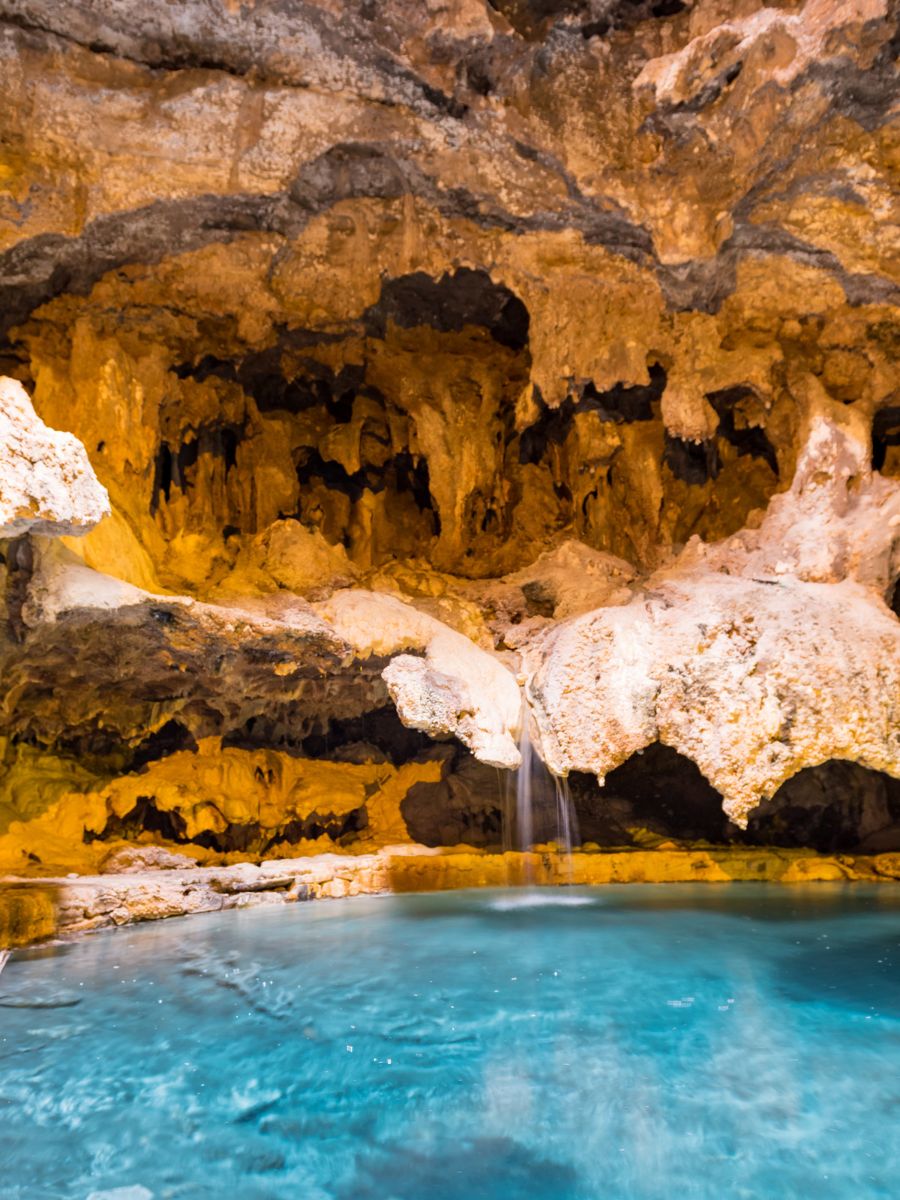 Not all hot springs allow swimming or soaking; some are just nice places to admire and explore like the ones at Cave and Basin National Historic Site.
The historic springs at this site are very important to the region's indigenous people and you can learn all about them and their historic and cultural importance at the little museum that's on-site.
There are nine sulphurous springs with waters that are heated by geothermal activity about two miles underground. You'll need to walk through a small tunnel to access the hot springs cavern. A cafe and gift shop are also on-site. Heading here is one of the best things to do in Banff on a rainy day.
Location: 311 Cave Avenue, Banff.
Tip: Take a hike along the interpretive boardwalk leading to the cave vent and hike along the Marsh Loop and learn about the plants and wildlife of the area.
Price: $8.50 per adult.
---
4. Hidden Ridge Resort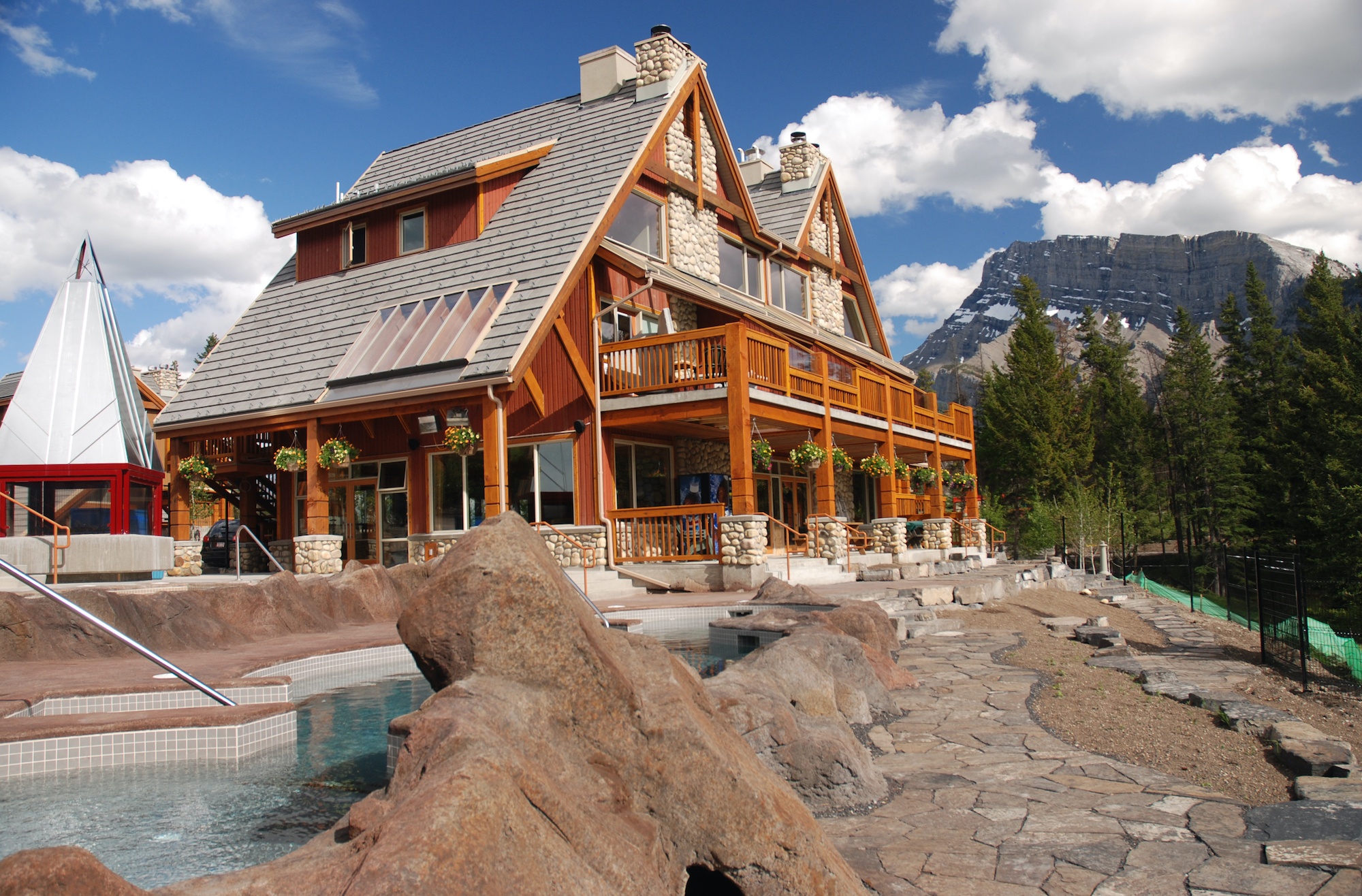 Not exactly a hot spring, but a nice hotel to stay at if you're traveling with kids. At Hidden Ridge Resort, you'll find an outdoor hot pool and a wading pool that are open to guests all year round from 8:30 AM to 10:00 PM every day. It's great for families as kids absolutely love the pool after a long day in the mountains.
Location: 901 Hidden Ridge Way, Banff.
Tip: Make sure to enjoy the other fantastic amenities that are available, including a sauna, BBQ facilities and bicycle rentals.
Price: Average price to stay at this resort is $503 in the summer
10 Best Hotels in Banff for Families
---
5. Mist Mountain Hot Springs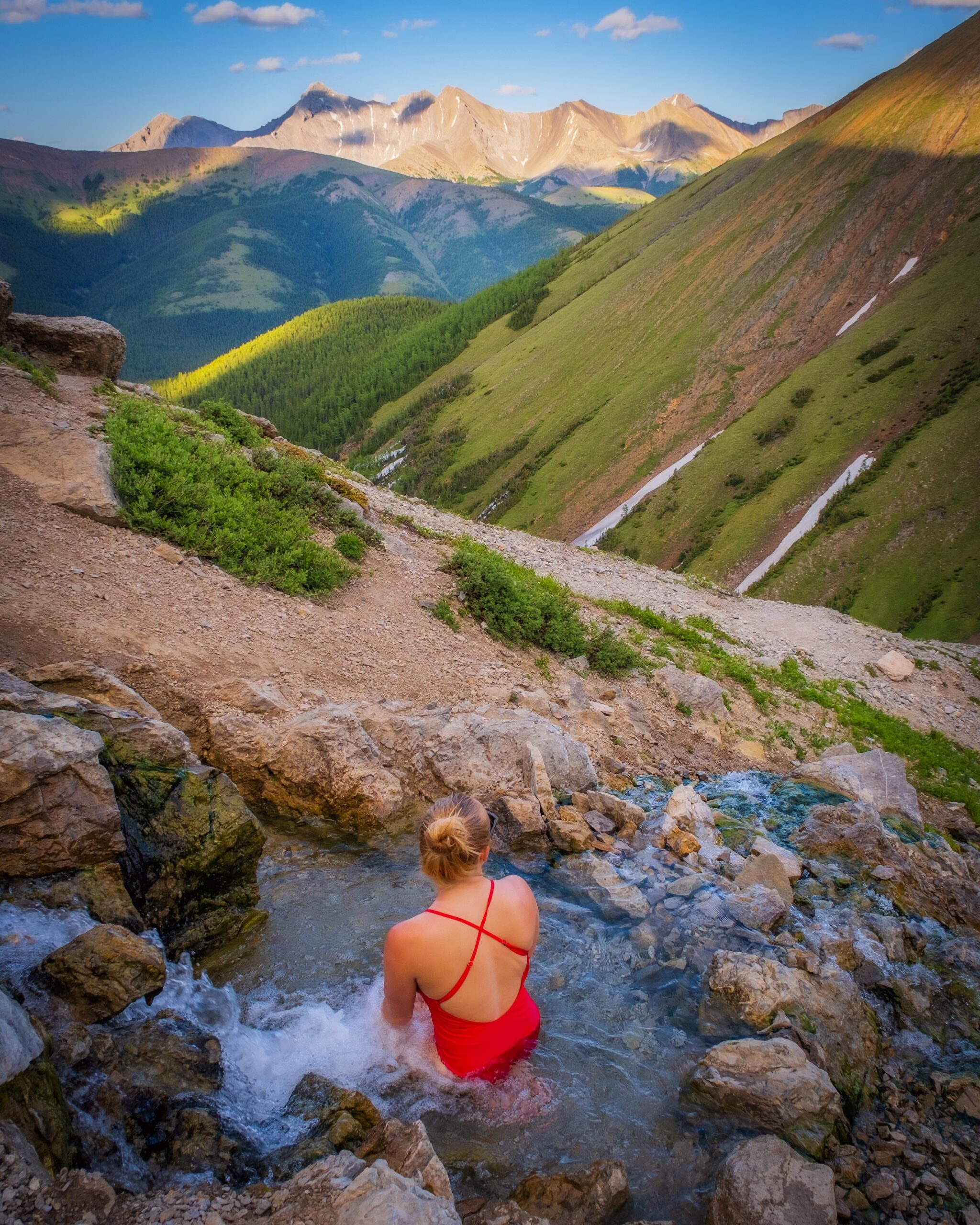 If you prefer to enjoy some natural, undeveloped hot springs without the large crowds and commercialism, head to Mist Mountain Hot Springs in Kananaskis and enjoy one of the best hikes in Kananaskis.
You'll need to be up to a little adventure to get to these beautiful springs as it requires a 6km return hike that'll see you crossing a stream and climbing a bank to reach them.
The hike is worth it when you can finally soak in those little pools while enjoying panoramic mountain views. However be forewarned, this is no secret spot anymore, and the hot springs draw a crowd in the summer. There's only enough space for 2-3 people in the pools, so if you want a more crowd-free experience best to get here at sunrise or sunset.
Location: Get on Highway 40 in Kananaskis until you find the trailhead on the east side of the road about nine miles from Highwood Pass.
Tip: There are no facilities such as change rooms at this site so make sure to wear your swimsuit under your clothes.
Price: Free
How To Hike Mist Mountain Hot Springs AND Summit
---
6. The Malcolm Hotel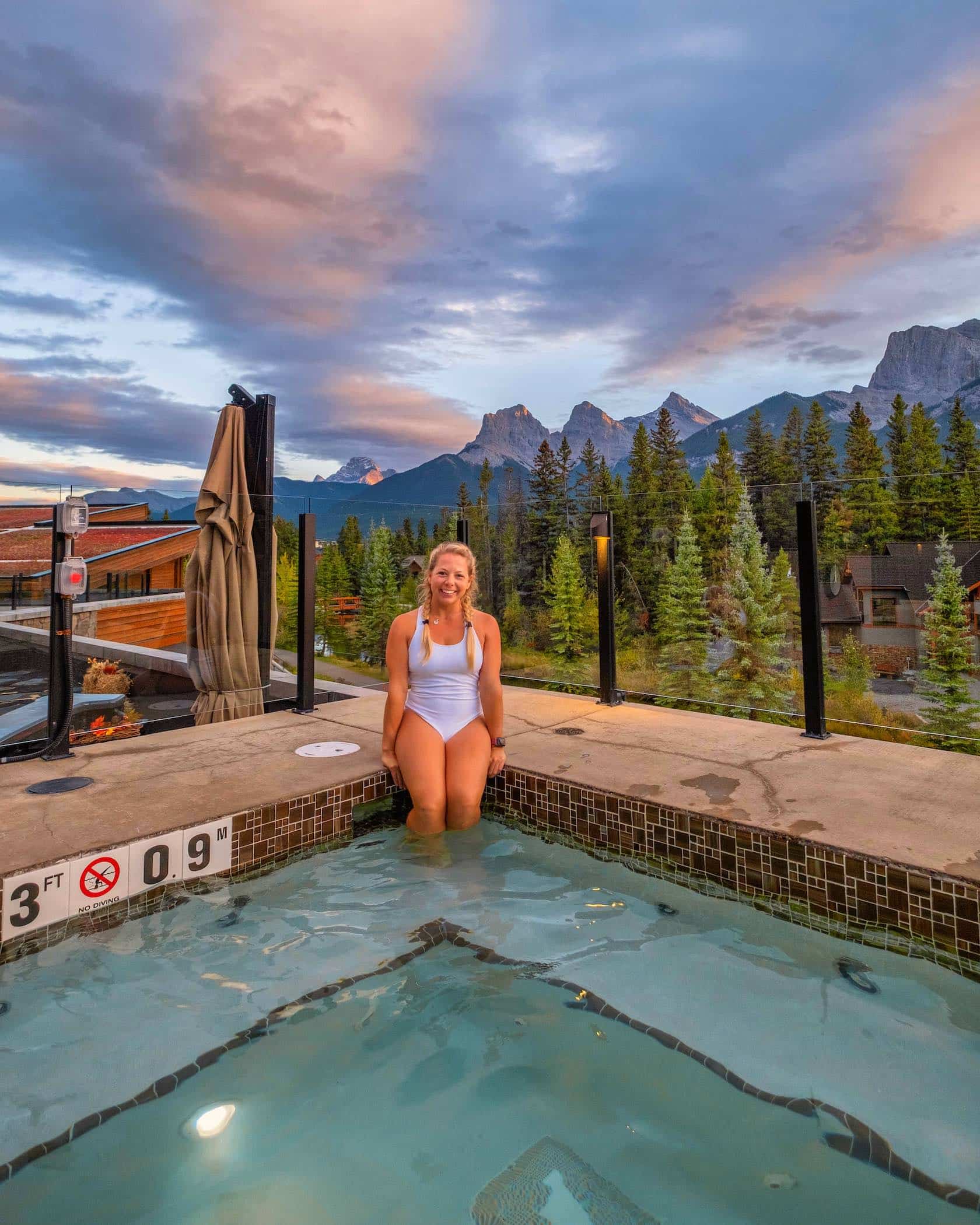 The Malcolm Hotel is home to one of Canmore's biggest outdoor hot pools. It's not exactly a spring, but if you are looking for an exclusive rooftop heated outdoor pool, book a stay here.
After a long day of exploring the area, hiking, whitewater rafting, horseback riding, or whatever adventure you embarked on, retreat to the warm waters and recuperate for the next day's adventures. Enjoy the amazing views of the Three Sisters too!
Location: 140 Kananaskis Way, Canmore.
Tip: Be sure to check out the other amenities on site including a large hot tub and BBQ facilities.
Price: Average cost to stay one night is $405.
BEST Canmore Hotels with a Pool (& Private Hot Tub!)
---
7. Miette Hot Springs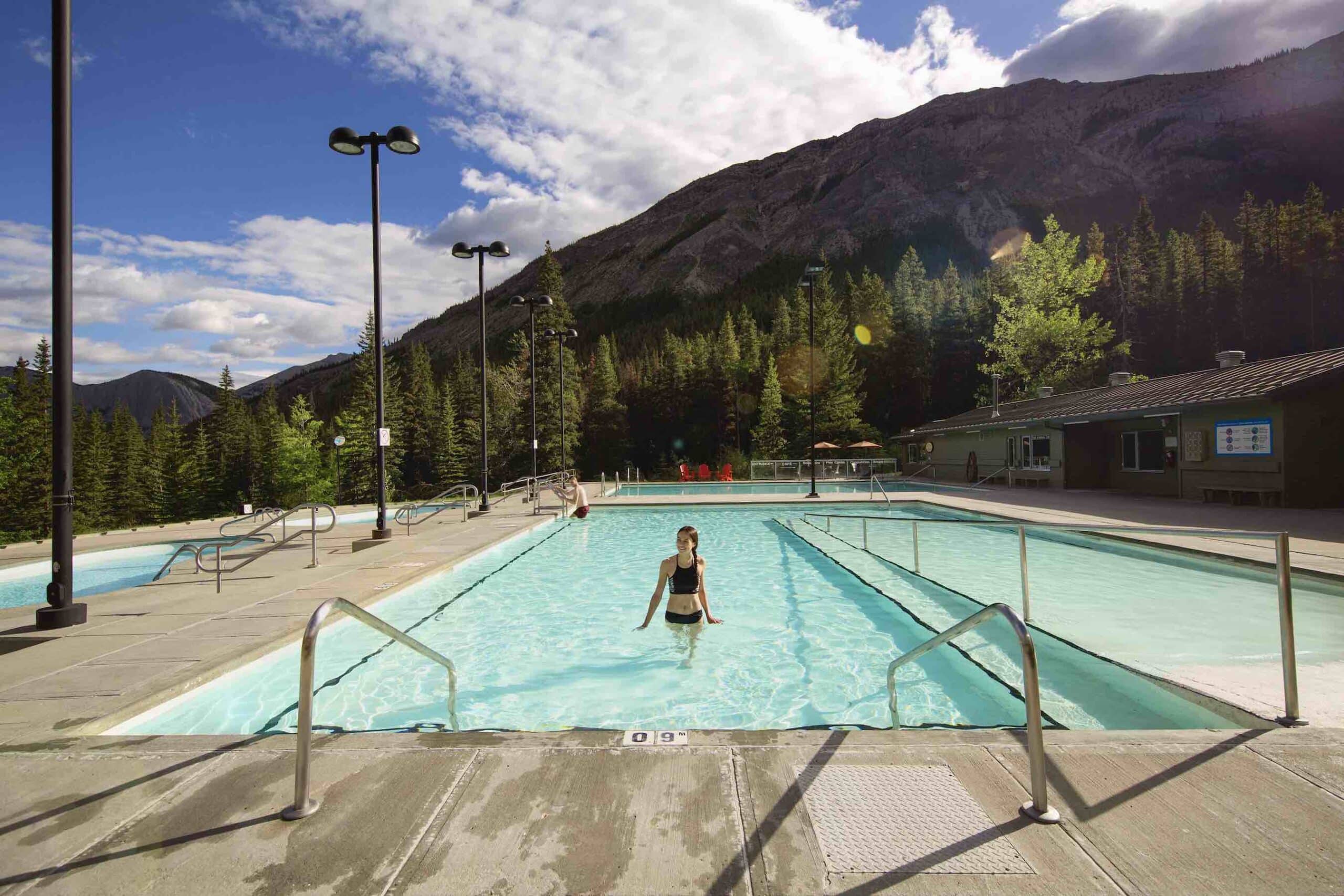 Miette Hot Springs in Jasper National Park is another very popular hot spring location in Alberta. The outdoor pools here have mountain spring water that's 104°F which makes them the hottest hot springs in The Rockies.
These healing waters are also naturally infused with various minerals including sulphate, calcium, bicarbonate, magnesium and sodium.
On-site, you'll also find change rooms, a gift shop and a cafe.
Location: Miette Road, Jasper.
Tip: Take a hike along the Source of the Springs Trail and learn about how these springs are formed. If you're feeling a little more adventurous, embark on a 5-mile hike on the Sulphur Skyline Trail and enjoy spectacular views.
Entry to Miette Hot Springs is first come, first served. Reservations are not taken.
Price: $7.75 per adult.
---
8. Fairmont Banff Springs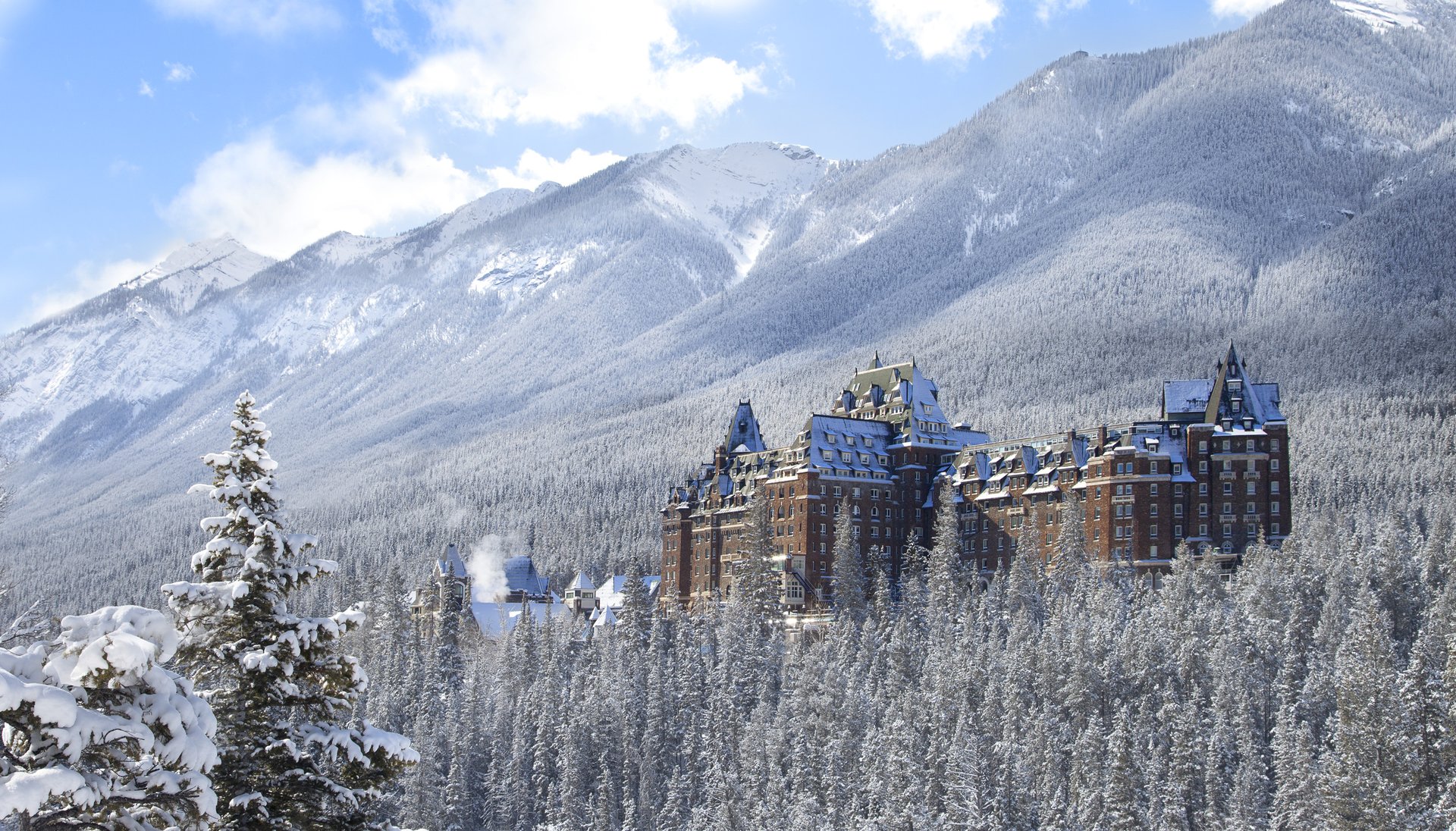 The thermal waters in the pools at the Willow Stream Spa at the Fairmont Banff Springs are no longer channeled from Banff Upper Hot Springs but these mineral waters are still relaxing and rejuvenating!
This world-class spa features a Kur pool with a domed ceiling, floor-to-ceiling windows and an underwater sound system. There are also several plunge pools with waterfalls.
---
9. Canmore Natural Springs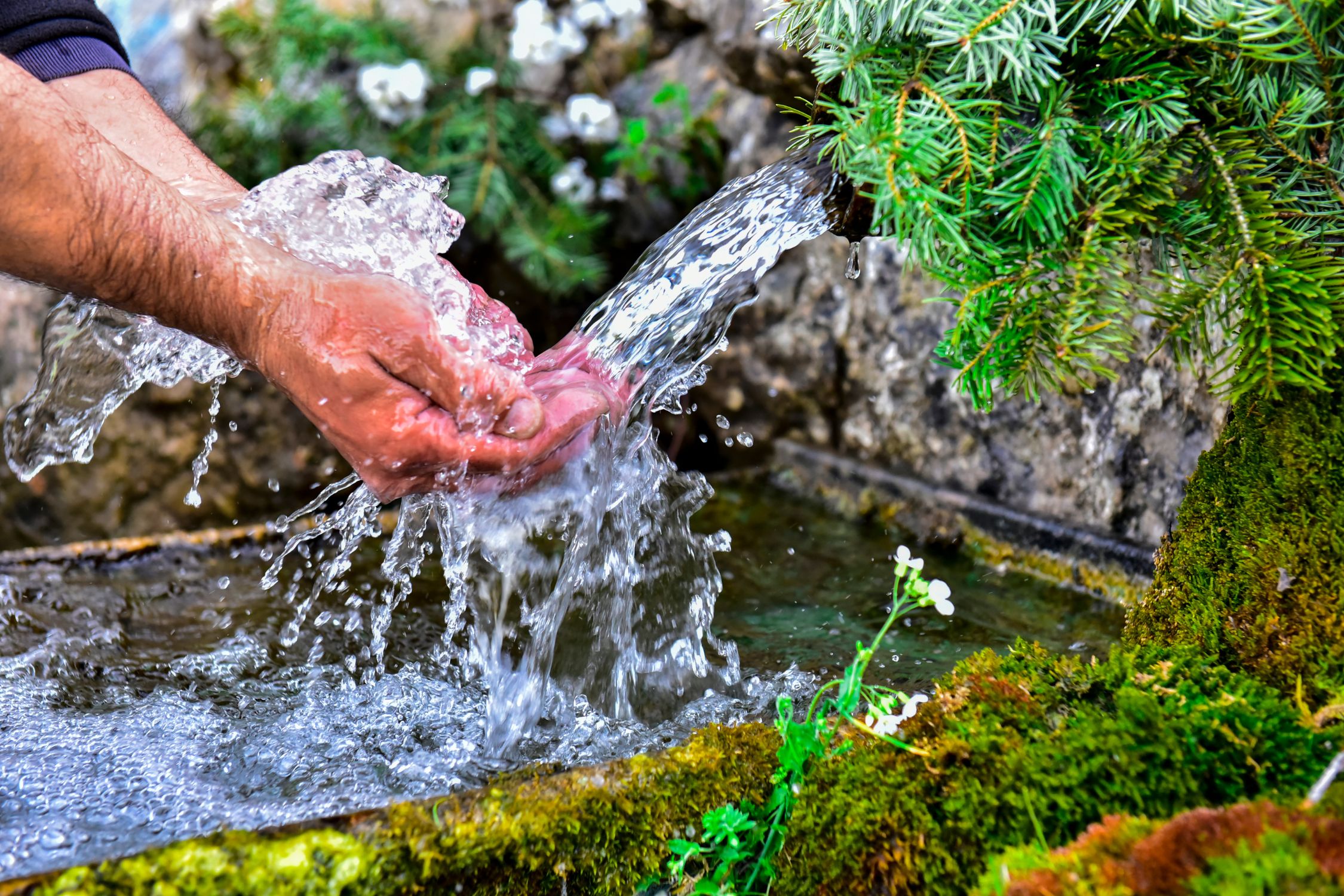 While visitors to Alberta are usually familiar with the man-made hot springs and spas, natural springs tend to be a little more off-the-beaten-path but they offer something that the commercial pools don't; pure, natural surroundings and thermal pools that were created by mother nature and remain in their natural state.
You can't swim at the Canmore Natural Springs but you can hike to them and see a natural spring for yourself.
Location: 2500 Palliser Trail, Canmore.
Tip: While many people drink the water from these springs because they claim it tastes better and has health benefits, authorities have put out warnings telling people that the water is likely not safe to drink.
Price: Free
60 UNIQUE Things To Do in Canmore, Alberta (Locals Travel Guide)
---
10. Manitou Springs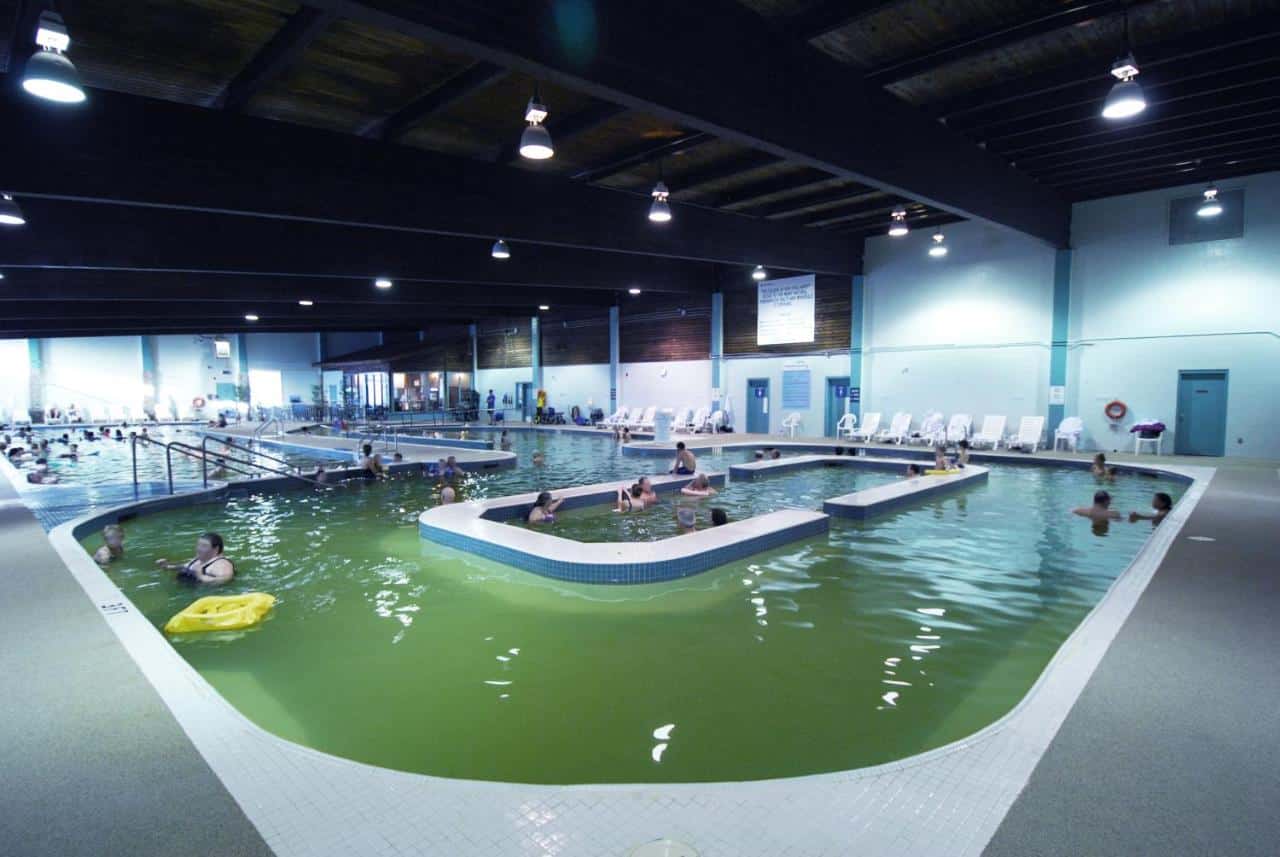 Although Manitou Springs is not situated in Alberta, it's close enough to the Alberta-Saskatchewan border to mention. It's also amazing enough to be on a list of must-see hot springs in Alberta. There's so much salt and other minerals in the water that this place has earned itself the nickname of the Dead Sea of Canada.
Magnesium, carbonate, sulphate, sulphur and silica are just some of the minerals you can find in this lake that's fed by an underground spring. If floating in the lake is not your thing, you can head into the spa at the Manitou Springs Hotel where you'll enjoy access to a mineral pool and various spa services.
Location: 302 MacLachlan Avenue, Manitou Beach.
Tip: Enjoy a delicious lunch or dinner at the Water's Edge Restaurant.
Price: $16 per adult. Free for guests staying overnight in the hotel.
---
More Hot Springs Near Alberta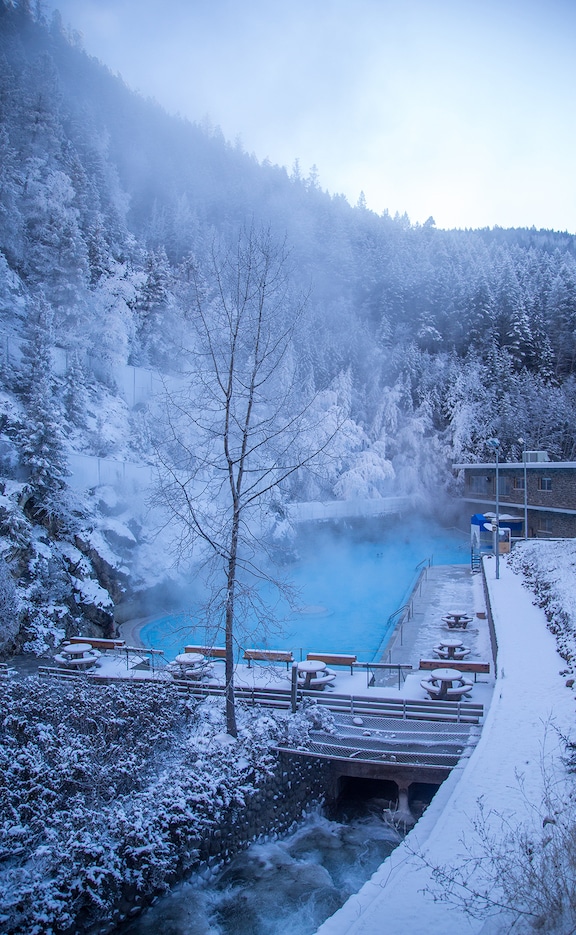 As you can see, there are not a plethora of hot springs around Alberta. The good news is you don't have to venture far to find some amazing hot springs. Some of the best hot springs near Alberta are:
Radium Hot Springs in Radium
Lussier Hot Springs in Cranbrook
Fairmont Hot Springs Resort Near Invermere
The BEST Hot Springs in BC
Plan Your Trip to the Canadian Rockies
↓ Join the community ↓
The Banff Blog Facebook Group is your headquarters for the Canadian Rockies' travel advice and information. Including hike info and off-season travel information. This is also where you can meet one another when you need adventure buddies.