Looking for the best family hotels in Banff? Banff is For a small town in the middle of a national park, there are actually some great places to stay and some fantastic Banff family hotels everyone the whole team will love. So if you're wondering where to stay in Banff National Park, we have you covered.
Flanked by dramatic mountains and surrounded by no shortage of things to do, Banff has a lot to offer visitors. All of these Banff family hotels will ensure you have a great vacation with your family. Let's dig into the best hotels in Banff for families.
---
See Also:
---
Click on the hotel name or the Booking.com links to check the latest rates. For the best rates on your hotel reservation, we recommend booking 6-8 months in advance.
---
Best Banff Hotels to Book
---
Moose Hotel & Suites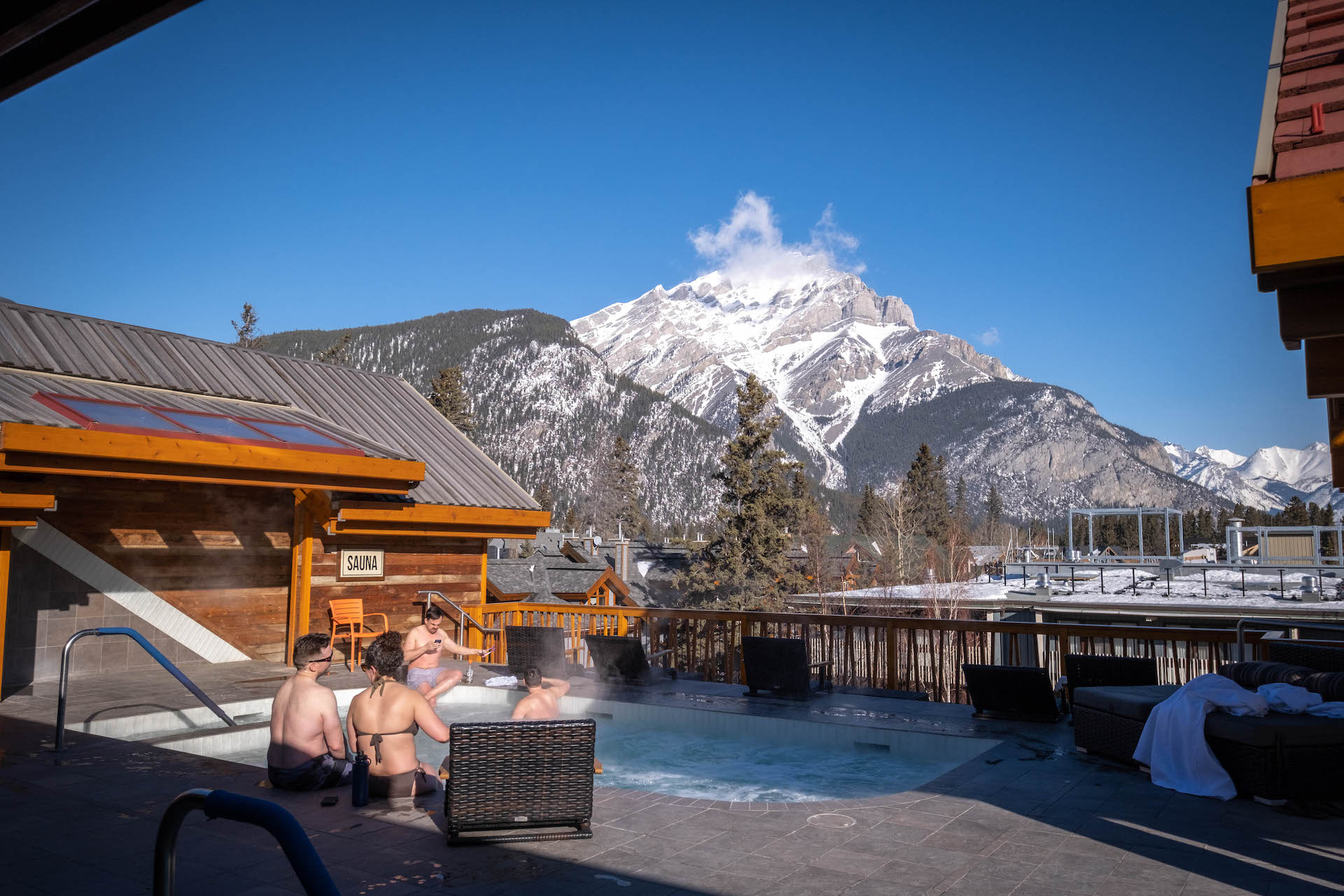 The 4-star Moose Hotel is situated only minutes from the center of Banff, so you can easily walk into town and enjoy the services and attractions available. Rooms with multiple beds and suites provide enough space for families who don't mind sharing a room.
Rooms are stylish, comfortable and many feature a gas fireplace in the room. This is one of the most charming Banff family hotels featuring an indoor pool which the kids love, two rooftop hot pools, a fitness room, and a sauna. Sitting areas with outdoor fireplaces also make for a nice spot to relax in the evening.
An on-site Pacini Italian Restaurant serves gourmet cuisine with a cozy ambiance, so you don't have to go far with the family if you are tired, that being said we prefer other restaurants in Banff. The Meadow Spa offers massages and various body treatments in a relaxing environment with mountain views. 
 Its location on Banff Ave places it just out of the heart of downtown so families have access to all of the town's offerings. It's one of the nicest hotels in the core downtown area of Banff and the hotel features suites, so room rates in peak season are far from cheap.
---
Banff Rocky Mountain Resort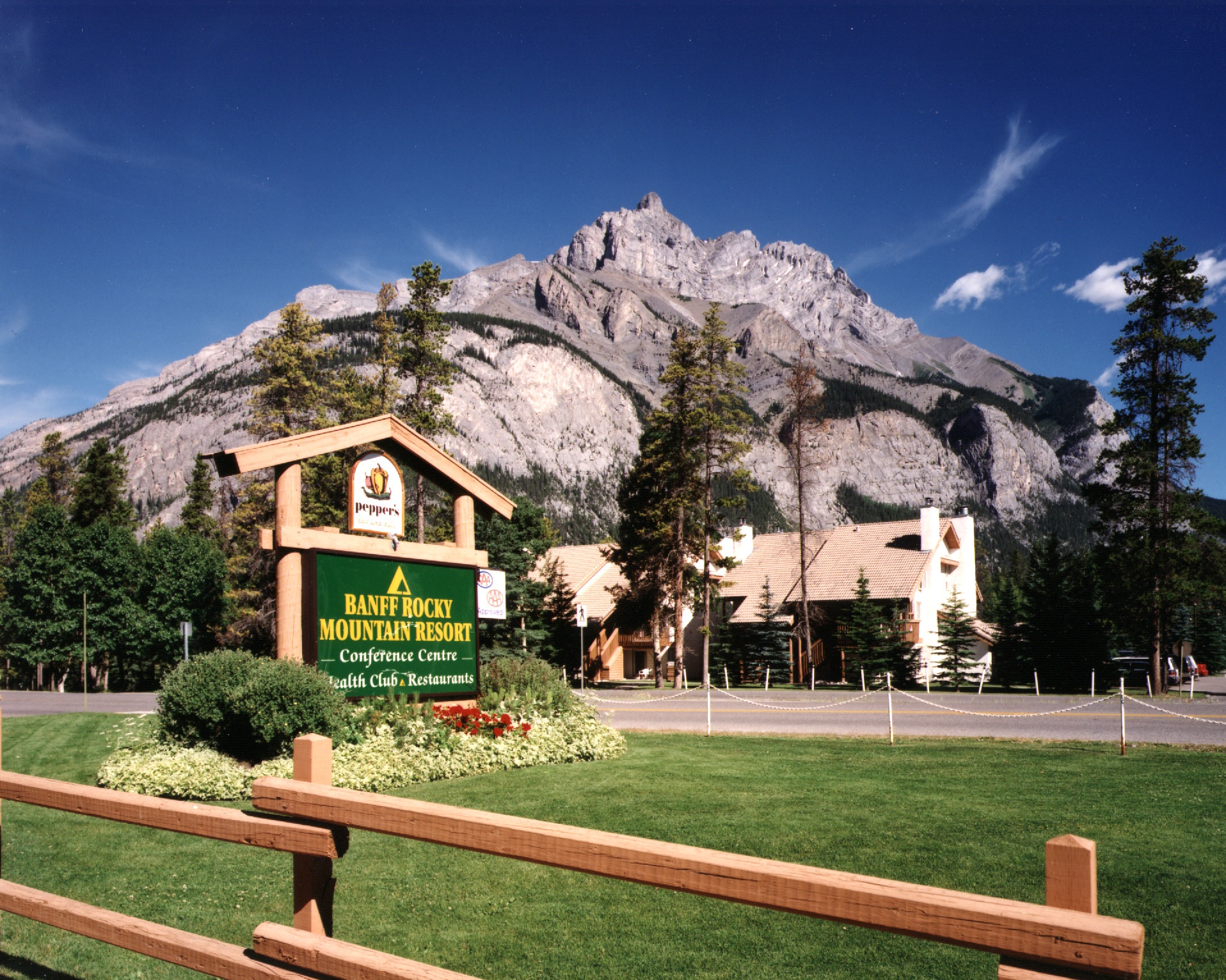 This three-star Banff hotel is pet-friendly and offers self-catering accommodation and is one of the best hotels in Banff for families. The Banff Rocky Mountain Resort is a great option for families as many of the room options are two-bedroom suites with full kitchens.
Facilities at the resort include an indoor pool, outdoor hot tubs, sauna, gym, coin-operated laundry facilities, ski storage, and bike rentals.
Its location is several kilometers outside of town near the Tunnel Mountain Campground so it's best if for guests who plan to cook most meals and don't care about being in the center of Banff Avenue. The grounds around the resorts offer plenty of space for children and families.
However, access to town will require a short drive which can be a deal-breaker for those who plan to dine out for most of their meals. That being said, the added space in the rooms makes up for the location which is also close to the highway and train tracks.
---
Fox Hotel & Suites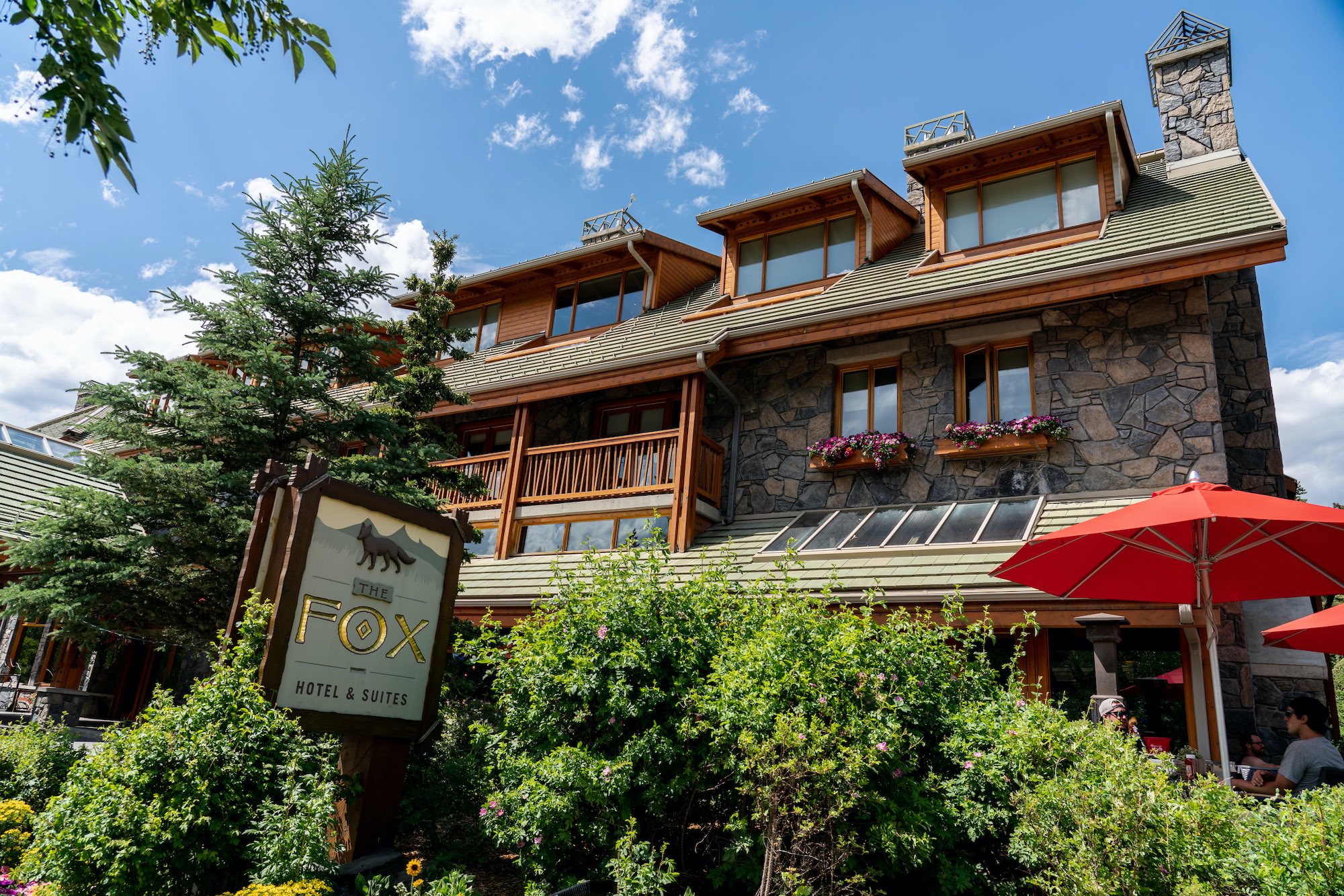 The Fox Hotel & Suites is conveniently located on the edge of Downtown Banff and one of the most family friendly hotels in Banff. In the lobby, a large wood-burning fireplace feels welcoming and matches the lodge's mountain decor.
It's a nice value that includes breakfast in the mornings. Facilities at the hotel include a Cave and Basin themed pool/sauna, fitness room, Chili's Bar and Grill, and bike rentals.
Families can choose from hotel rooms or one/two bedrooms suites. Each room features comfortable bedding, WiFi, flat-screen TVs, in-room safes, ironing board, and coffee/tea station. The suites feature a small kitchenette and air conditioning, and are attractive for families who need a bit more space.
---
Canalta Lodge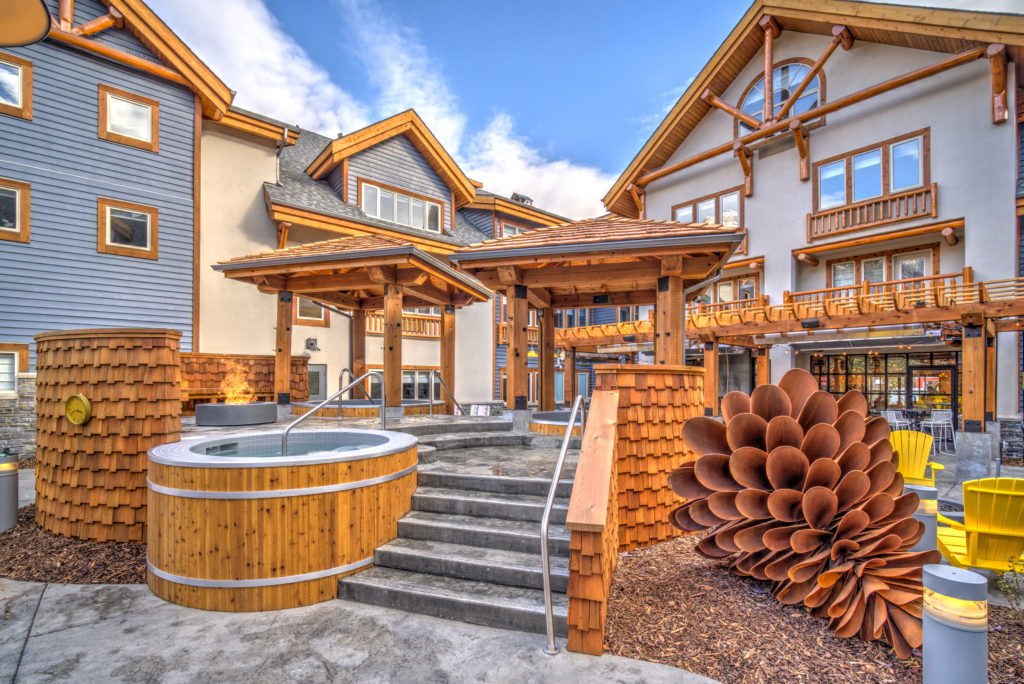 The Canalta Lodge is on the outskirts of downtown Banff and features renovated mountain modern rooms. It's another fantastic family hotel in Banff as it comes with quite a few amenities.
Start each day with a complimentary buffet breakfast followed by a rejuvenating dip in the glacier plunge tub before setting off into the great outdoors to enjoy whatever it is you like to do in the wilderness. The hotel contains a number of suites, but most of the standard rooms are two queen beds for families.
Return each evening to relax in the outdoor sauna or hot tubs, or kick back in front of the cozy fireplace. Also enjoy access to a gym, coffee shop, ski lockers, and bike rental service. Each modern room offers many amenities, including complimentary Wi-Fi, HDTV, refrigerator, coffeemaker, microwave, and private bathroom.
---
Tunnel Mountain Resort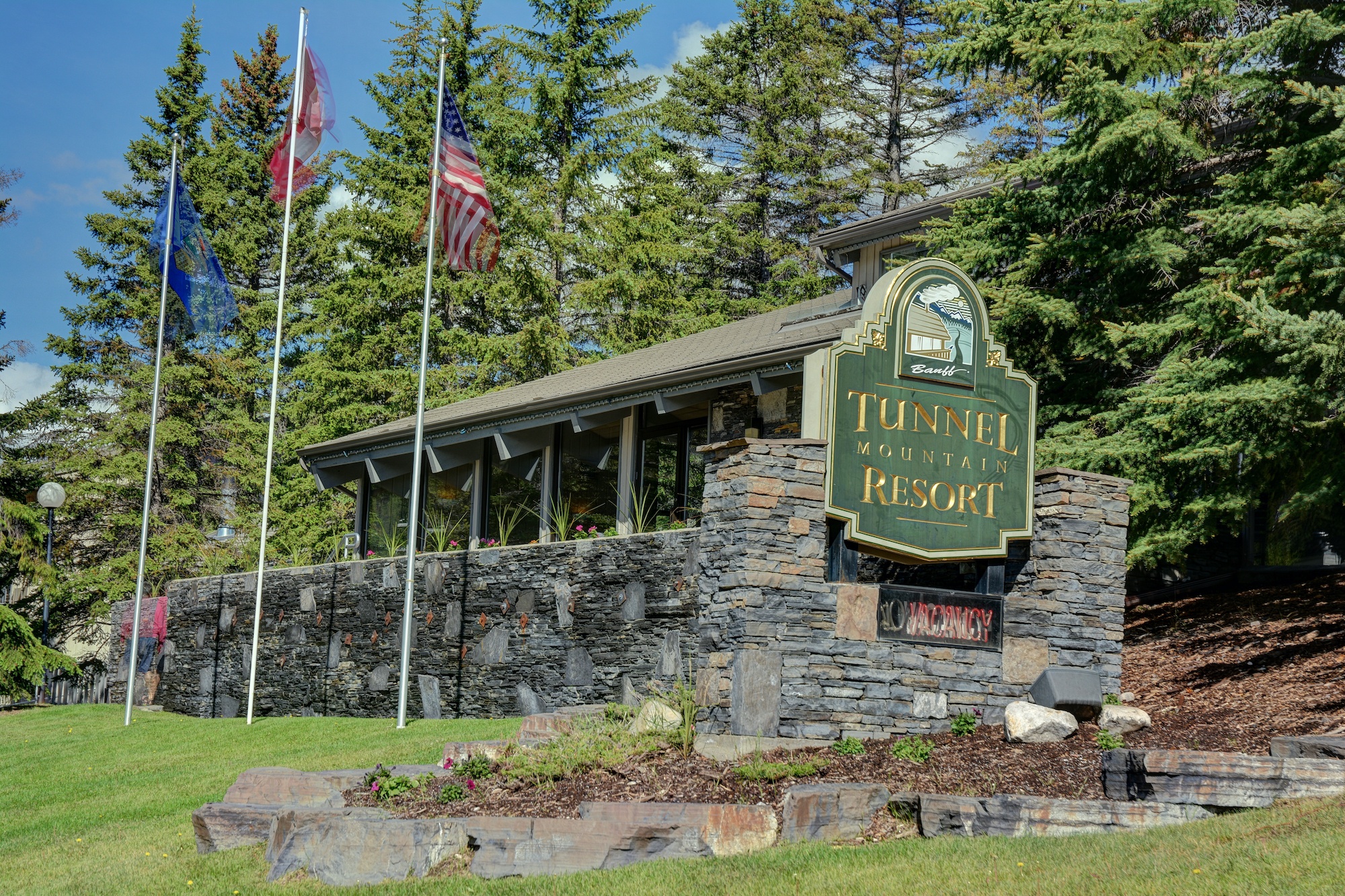 Tunnel Mountain Resort is another great option for those seeking self-catering accommodations as all room options include at least a kitchenette. The location sits just above downtown Banff on Tunnel Mountain in a quiet neighborhood. A walk into town is two kilometers down a large hill, but the hotel does supply a complimentary public bus pass. Perhaps, a walk into town and the bus back is the best option.
All of the rooms include a balcony and the suites include a fireplace for a particularly good value. Facilities at the hotel include an indoor pool, grills, swing set, complimentary firewood, Banff Roam bus passes, laundry facilities, sauna, fitness room, and bike rentals.
Rooms are modern, but families likely need more than the standard room as it only has two full beds. The location and grounds feel particularly well-suited for a family hotel in Banff. A small swing set is also a great bonus for the kiddos.
---
Hidden Ridge Resort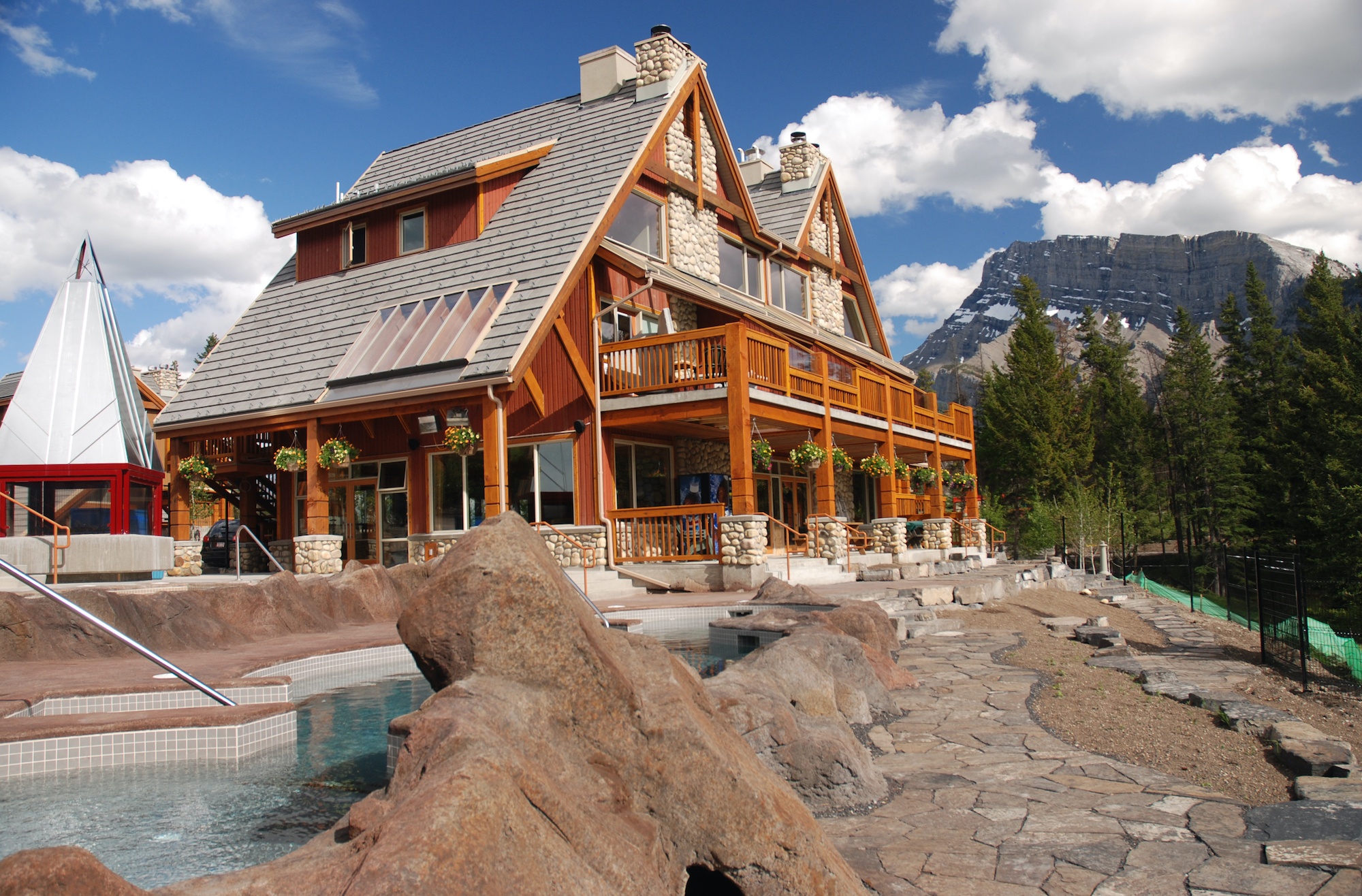 Each apartment-style room at the Hidden Ridge Resort includes a full kitchen, dining area wood burning fireplace, and balcony. It's easy to see the appeal of this family-friendly Banff hotel. Rooms are well equipped, but it is possible to hear noisy neighbors, and the beds could use an upgrade.
The location is next to the Tunnel Mountain Campground II and you can walk to town via trails in around 20 minutes. It's a five-minute drive to town or guests can utilize the free shuttle. Facilities at the lodge include outdoor hot tubs with great views and outdoor barbecue grills. Hidden Ridge Resort offers a good value for families traveling with a pet who needs more space.
Hidden Ridge is comparable to the Tunnel Mountain Resort. I prefer Tunnel Mountain as rooms are more comfortable; however, the grounds at Hidden Ridge are better and it's slightly easier to walk into town. So it just depends on what is more important to your family.
---
Banff Ptarmigan Inn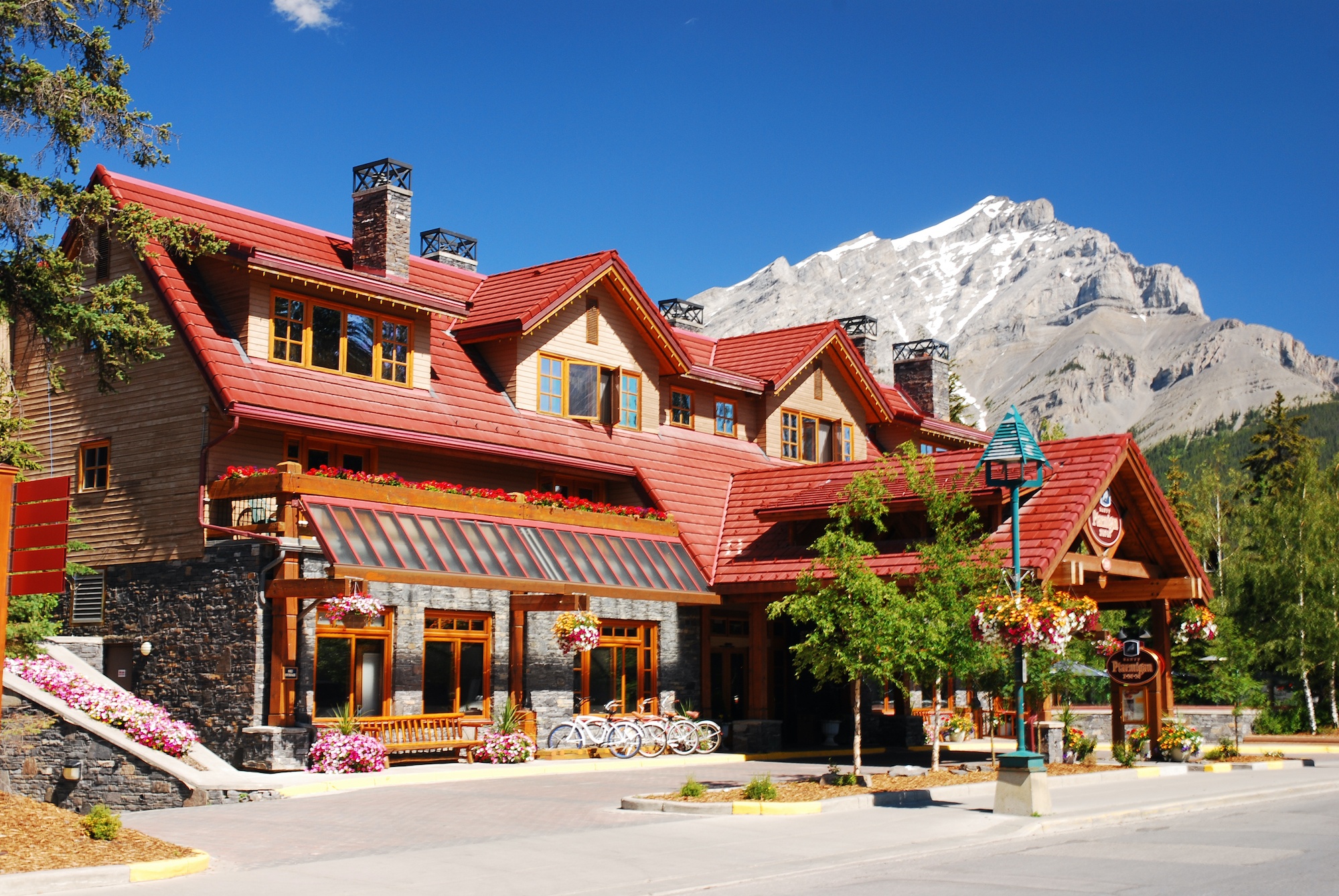 The Banff Ptarmigan Inn is a traditional hotel in downtown Banff with mountain decor and underground parking. Rooms are clean, cozy, and comfortable with service from some great staff. Standard rooms in this family hotel in Banff include two queen beds. That being said rooms are pretty small for a family hotel in Banff, but for the location and quality, you will not find a better value.
Included in the room rate is a delicious breakfast and a Banff Roam bus pass. The facilities at the hotel include hot tubs, sauna, and steam room. Overall it's a great option in downtown Banff with decent value.
---
Fairmont Banff Springs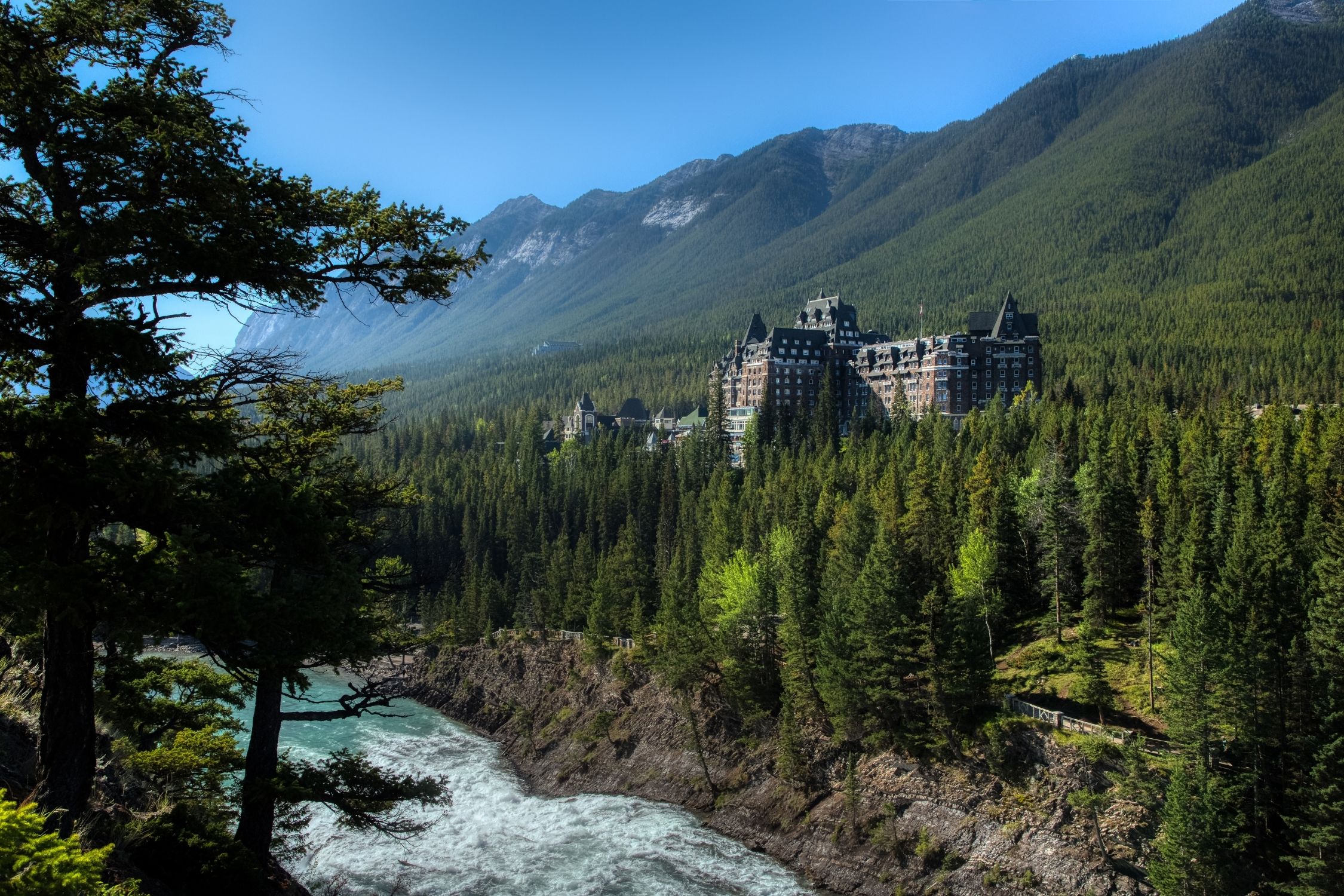 When it comes to luxury hotels in Banff National Park, none are more iconic than the long-standing Banff Springs Hotel. When you glimpse this grand landmark for the first time, you'll see why it's known as The Castle of the Rockies. The hotel has seen guests from all over the world for more than 100 years.
The view, overlooking a stunning vista consisting of a valley and the distant Mount Rundle, is just the beginning. When it comes to amenities, you'll have access to a championship golf course, fitness center, swimming pool, bowling center, and tennis courts. There are 757 guest rooms and suites. While there are different categories of rooms, each one has complimentary high-speed internet, cable TV, and a coffeemaker.
A unique feature of this hotel is the variety of cultural programs and organized activities offered to guests. Communal campfires with marshmallow roasting, nature walks, Tunnel Mountain hikes, stargazing outings, guided snowshoeing adventures, and bike tours are just some of the outdoor activities available for all ages. They also decorate the hotel in the most amazing decorations for Banff Christmas.
The downside is the sky-high prices with nightly rates easily going for over $500 a night, and often much more depending on the season. If you're seeking value in your accommodation the Fairmont Banff Springs is not one of the Banff family hotels for you. However if you want to splash out on your family vacation in the Rockies this is easily one of the best family hotels in Banff.
---
The Rundlestone Lodge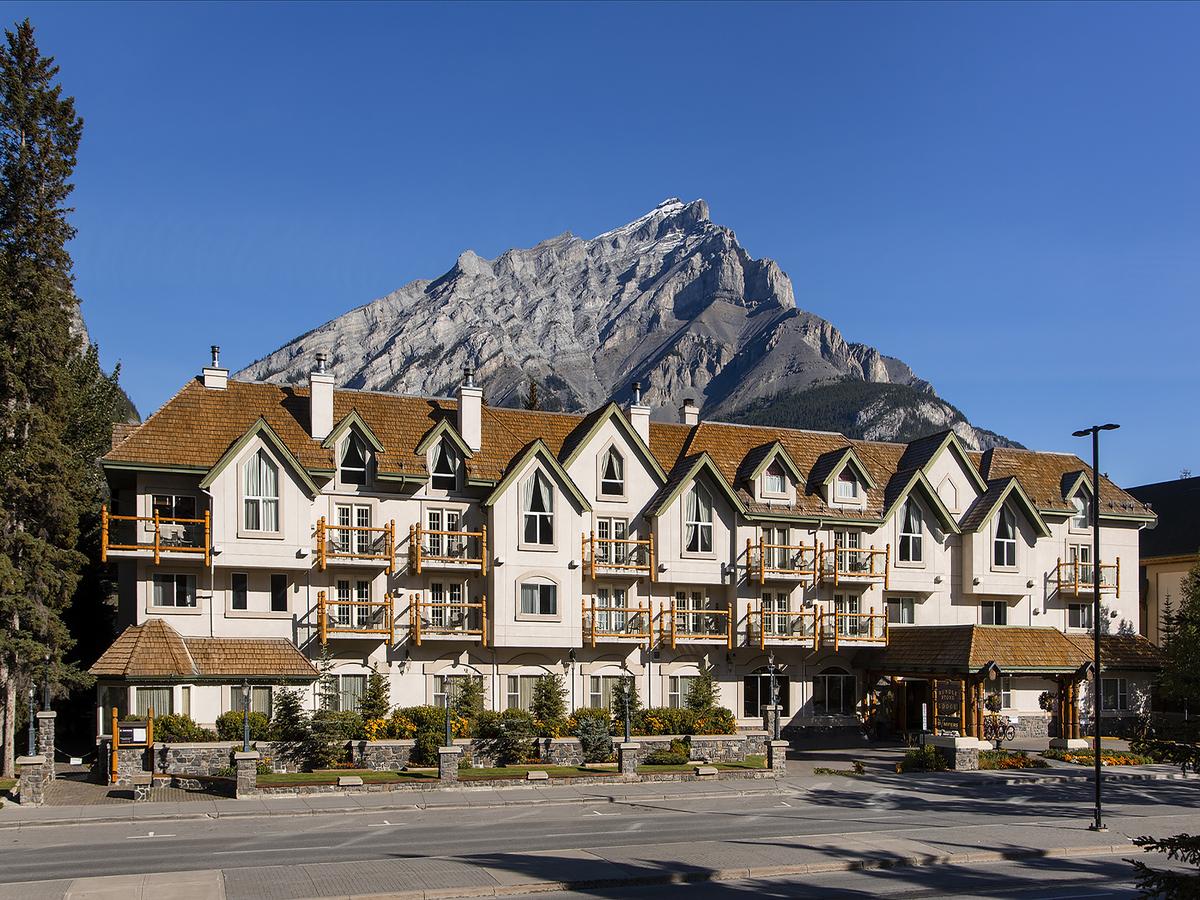 When you walk into The Rundlestone Lodge, you walk into a warm and cozy lobby with the fire already going in the fireplace. Here, you'll enjoy mountainous surroundings close to the town of Banff.
Easy access to the national park means you can spend your days exploring trails and backcountry. There are 98 rooms with more than a dozen styles to choose from, some equipped with kitchenettes or jetted tubs.
You'll also enjoy access to a swimming pool, fitness area, and hot tub. You can rent a bike from this lodge. Traveling by bike is a great way to explore places you wouldn't think of venturing with your car. Trails, back roads, and tucked away places around the quaint little town are easily-accessible on two wheels.
It's also more fun to zip around with the fresh mountain air in your face. Patrino's Family Restaurant, an Italian restaurant with some of the best NY style pizza in Banff.
---
Hope this list of Banff family hotels helps make your hotel choice more clear. Enjoy your trip to the Rockies!
---
Plan Your Trip to the Canadian Rockies
---
↓ Join the community ↓
The Banff Blog Facebook Group is your headquarters for the Canadian Rockies' travel advice and information. Including hike info and off-season travel information. You can also meet new adventure buddies.