So you have booked your flights to Alberta, and are now searching for the perfect accommodation to make your trip to the Rockies more memorable. There are plenty of accommodations in Banff, but only a few are truly luxurious. Some hotels may claim to be one of the best luxury hotels in Banff, but trust us when we say, there are only a few that can really hold the honor!
To be honest, there aren't that many luxury hotels in Banff, so we've expanded our search to the whole area, including Yoho, Kananaskis and Canmore!
---
Luxury Hotels in Banff (and Beyond)
---
The Rimrock Resort Hotel – Banff
The Rimrock Resort Hotel is one of the best luxury hotels in Banff and deserves to be at the top of anyones list when choosing where to stay in Banff. Its interior decor, massive lobby, floor-to-ceiling windows, fantastic views, and wonderful service make the hotel stand out. Facilities at the resort include two restaurants, an indoor heated pool, hot tub, steam room, sauna, and a fitness studio.
One of the restaurants, Eden, has the prestigious 5 Diamond Award and serves some of the finest food in Banff with a view. This hotel deserves its 5-star status, and provides extremely close access to the Banff Gondola and Banff Hot Springs.
The hotel is one of the most pet-friendly in Banff. If you book a pet friendly room the rooms are prepared with a dog bed, bowls, poop bags, and freshly baked dog biscuits ready for their canine guests! Plus the hotel's location on the outskirts of town means there are nice walking trails for dogs.
---
Fairmont Banff Springs – Banff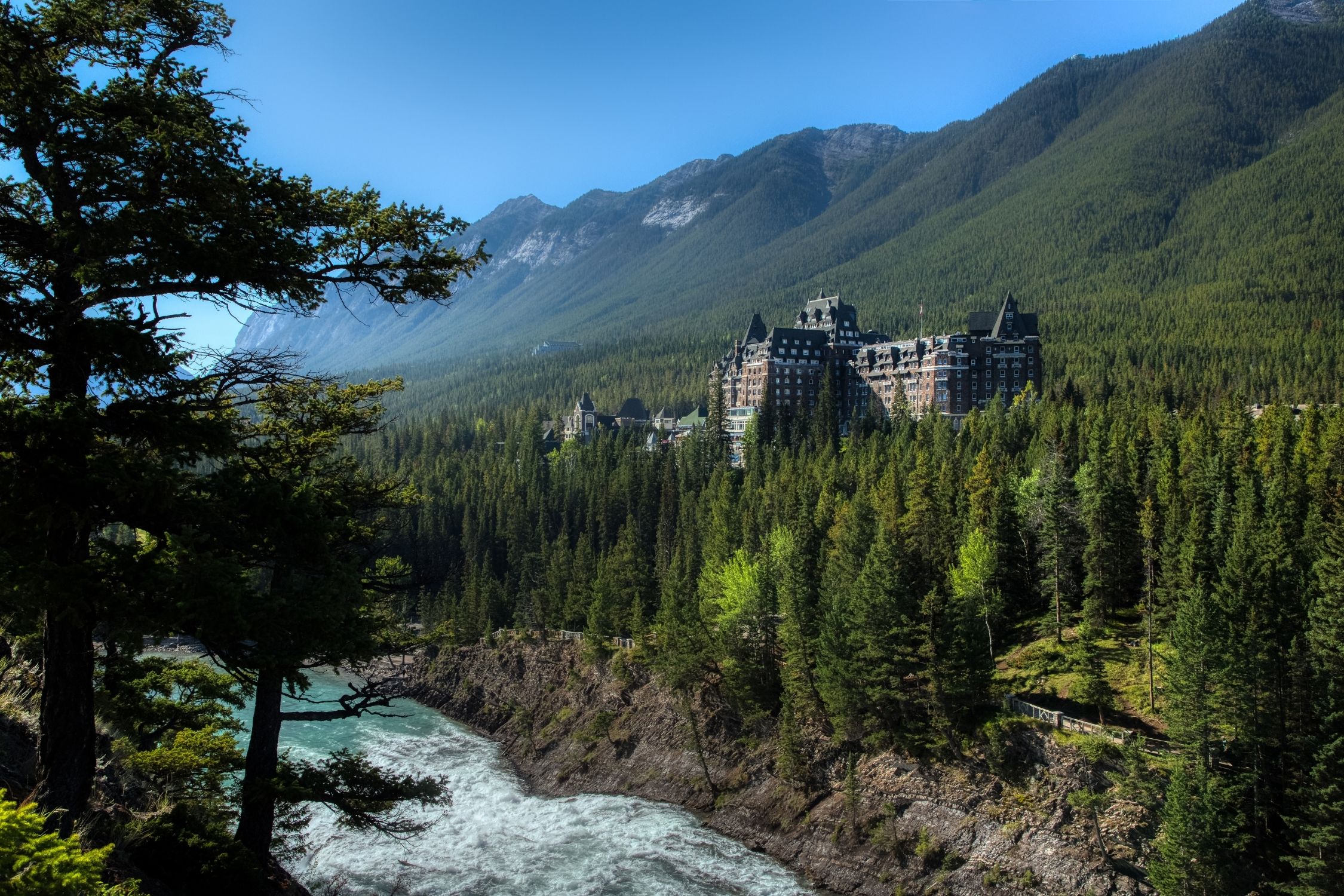 No hotel in Banff National Park is more iconic and luxurious than the long-standing Banff Springs Hotel. It's one of the best hotels in Banff, and for a good reason. When you glimpse this grand landmark for the first time, you'll see why it's known as The Castle of the Rockies. The hotel has seen guests from all over the world for more than 100 years.
The view, overlooking a stunning vista consisting of a valley and the distant Mount Rundle, is just the beginning. Amenities include access to a championship golf course, fitness center, swimming pool, bowling center, and tennis courts.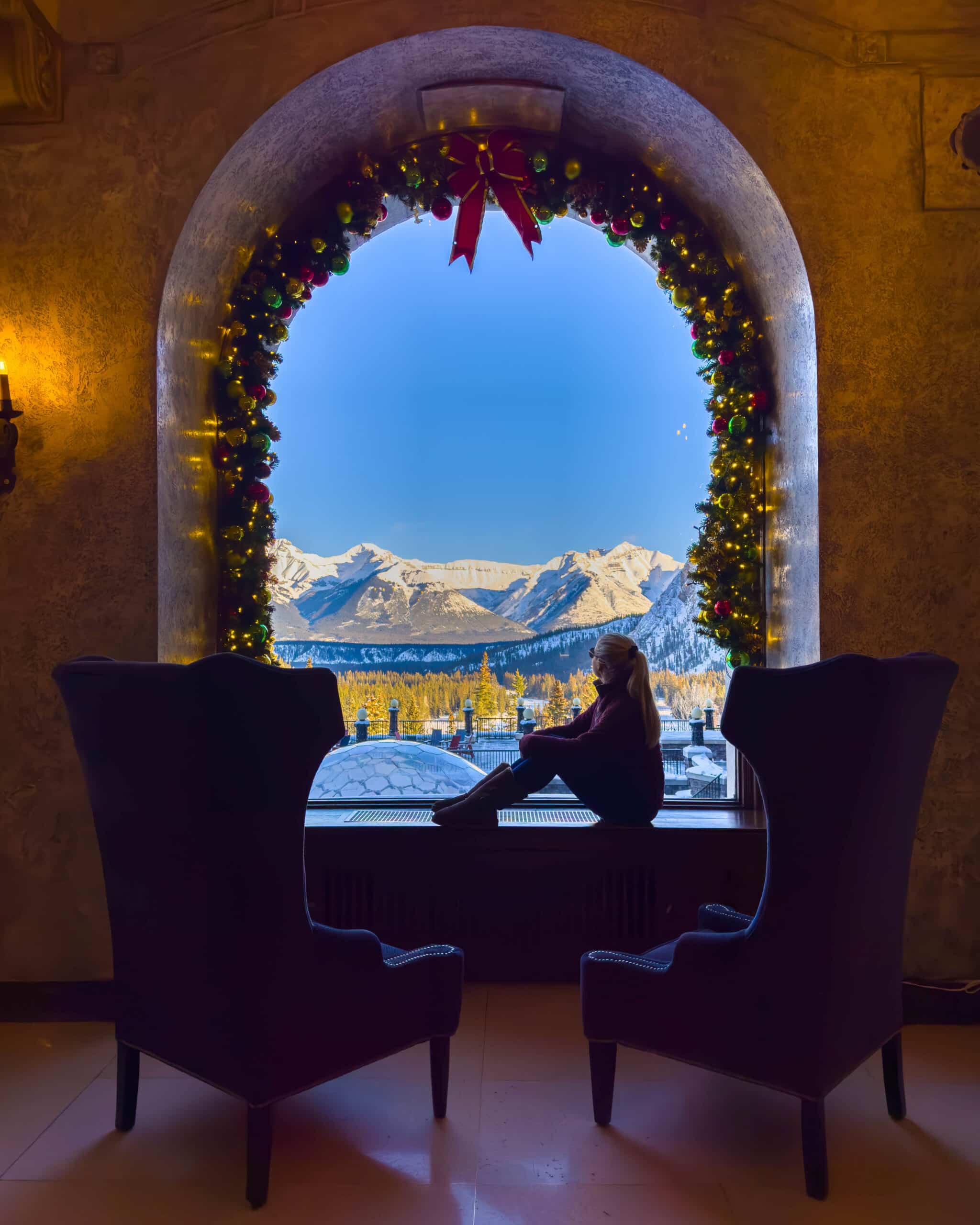 Fancy a spa treatment after your Banff hike? Willow Stream Spa offers a variety of treatments, including massages and facials. Each one of the on-site restaurants provides a unique experience. Whether you're seeking a fine dining experience or a cozy family eatery, you'll find every type of food – from world cuisine to local favorites.
A unique feature of this hotel is the variety of cultural programs and organized activities offered to guests. Guests can enjoy communal campfires with marshmallow roasting, nature walks, hikes up Tunnel Mountain, stargazing outings, guided snowshoeing adventures, and bike tours are just some of the outdoor activities available for all ages.
Oh yea, and if you're looking for the most Christmasy hotel to stay in Banff during the holidays – this is it. In December, the hotel is decorated with incredible decorations for Christmas in Banff.
---
Moose Hotel & Suites – Banff
The Moose may not be the "luxury" your looking for, but to be completely honest there just aren't many 5 star luxury accommodations here like you may find in The Maldives. So for those looking for a high end place, at a cheaper price point than Rimrock or Banff Springs, The Moose offers just that.
The 4-star Moose Hotel & Suites is situated only minutes from the center of Banff, so you can easily walk into town and enjoy the services and attractions available. This charming hotel has an indoor pool, two rooftop hot pools with views in all directions, a fitness room, and a sauna.
Guests will find many amenities here, including air-conditioning (a rarity in Banff), complimentary Wi-Fi, coffeemakers, and safes. Some suites also have kitchenettes and gas fireplaces. With easy access to the adventures you dream of having in the Canadian Rockies, you'll be able to realize those dreams from this ideal base.
The best part about The Moose is the location on Banff Avenue, as well as their rooftop hot tubs and sauna, overlooking Cascade Mountain, the view is hard to beat.
---
Fairmont Chateau Lake Louise – Lake Louise
The Fairmont Chateau Lake Louise is another iconic long-standing resort in Banff National Park. Many consider it the best hotel in Banff, but personally I just think it has one of the best locations in Banff. Nevertheless, given it's a Fairmont, it's certainly one of the most luxurious hotels in Banff.
This stately resort overlooking stunning Lake Louise has 530 rooms and suites in various sizes. On-site amenities include an indoor pool, hot tub, steam room, and fitness area with a stretching room. The resort spa offers many services, including massages, body scrubs, and facials.
The Fairmont plays host to many activities in the summer and winter. Most notable in the winter is the Lake Lousie ice bar, ice castle, ice skating rink, and sleigh rides.
---
Moraine Lake Lodge – Moraine Lake
Moraine Lake Lodge is less a luxury hotel in Banff and more a luxury cabin in Banff. Though it may be set in the most scenic setting for a lodge in the entire world, right on the shores of Moraine Lake. This is the only place to stay on Moraine Lake, so if that is your goal while visiting, you need to book here.
As it's the only lodge in a desirable location you'll have to book well in advance for the summer season. Moraine Lake Lodge is only open from June to October, so you can bet this place books up quickly.
Included in room rates is tea time, breakfast, dinner, wine, and activities such as canoeing and hiking. The free canoe rental at Moraine Lake is a particularly nice perk as it costs $140+ an hour for non-guests. Another perk of being a guest? Venturing out to The Rockpile trail under a starry sky in the summer.
---
Sunshine Mountain Lodge – Banff Sunshine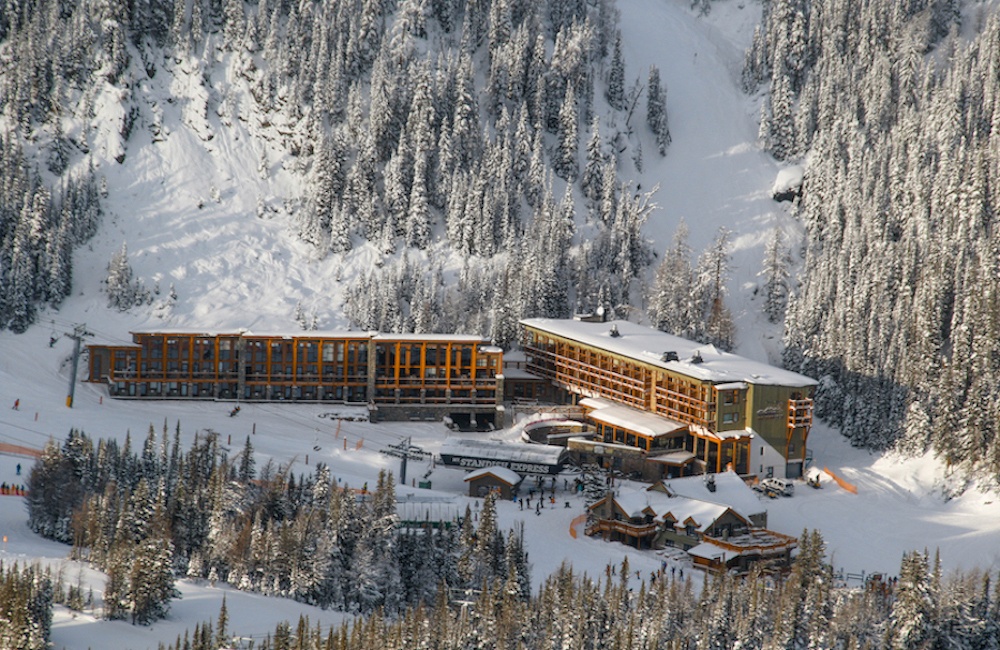 There is only one ski-in/ski-out accommodation option in all of Banff National Park. The honor lies at Sunshine Resort in the form of the Sunshine Mountain Lodge.
With its tall windows reflecting the stunning mountain backdrop that it stands against, it's one of those treat yourself hotels in Banff. The woodwork and stone structure are luxurious, yet blend in with the natural landscape looking as though it all formed in unison. This place is the perfect getaway in winter, but it's still available for a stay in the summer as well!
---
Cathedral Mountain Lodge – Yoho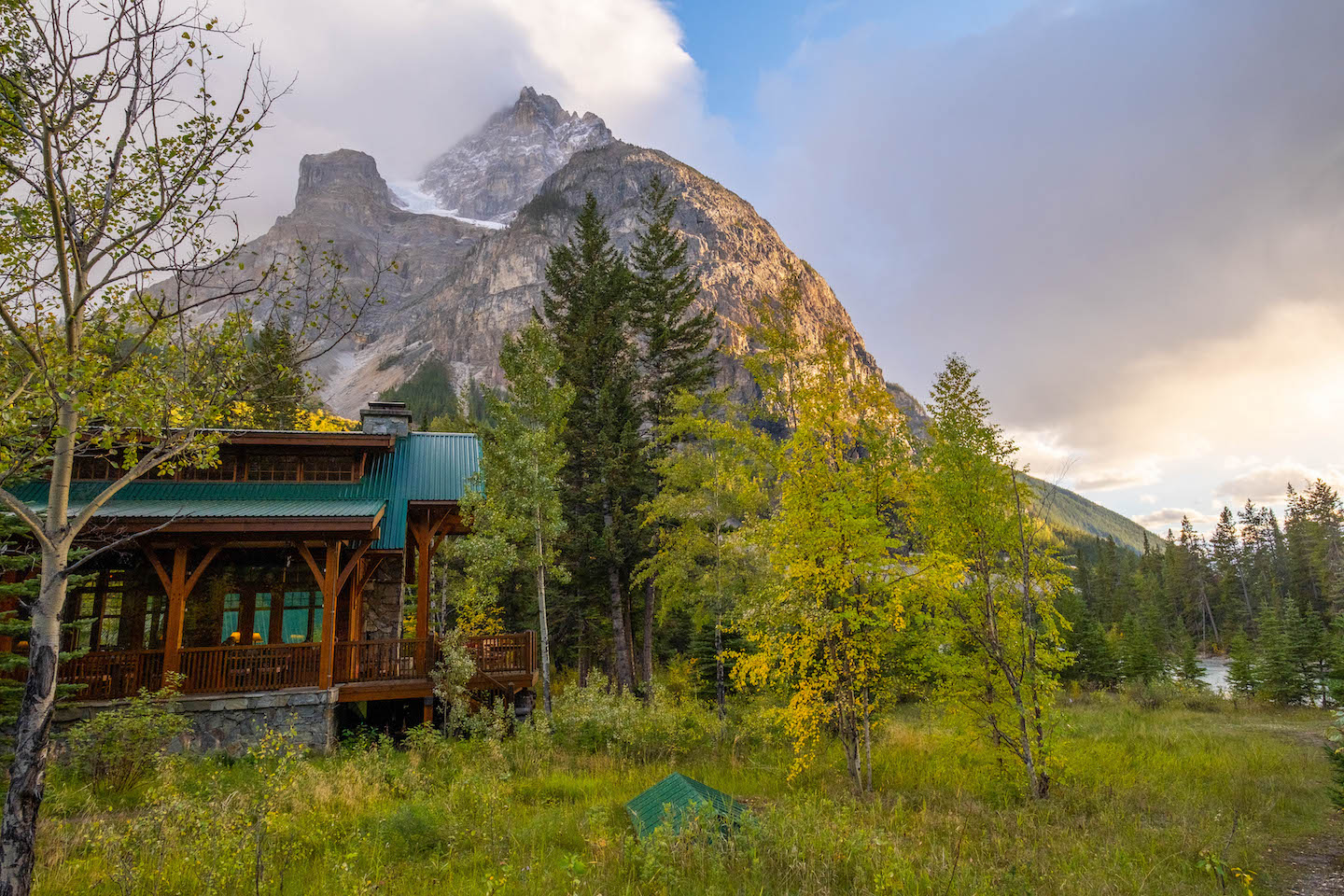 Not in Banff, but just 20 minutes away from Lake Louise is Cathedral Mountain Lodge in Yoho National Park. It's near the small town of Field, and certainly one of the luxurious places to stay in the Rockies.
This is a luxury mountain lodge, that books up fast in the summer (they only operate during summer months). It's easy to see why, as they truly bring log cabin mountain living home.

This timber frame structure is located right on the banks of Kicking Horse River; you can truly feel at home in the mountains here. There are no modern-day distractions here. TVs and phones are replaced with Canadian cultural timepieces encouraging guests to always get out in the wilderness. This is one of the most romantic places to stay in the region, and there are plenty of beautiful rooms to choose from.
Their Riverside Dining Room is a fantastic place to dine in the area. Reservations are highly recommended. The Cathedral Mountain Lodge is operated by the same folks who run Moraine Lake Lodge, meaning that guests staying here get complimentary canoeing on Moraine Lake.
Cathedral Mountain Lodge is next to Takakkaw Falls and has plenty of hiking opportunities in the Yoho Valley, like the Iceline Trail. Note that Cathedral Lodge is closed during the winter season.
---
Lake O'Hara Lodge – Yoho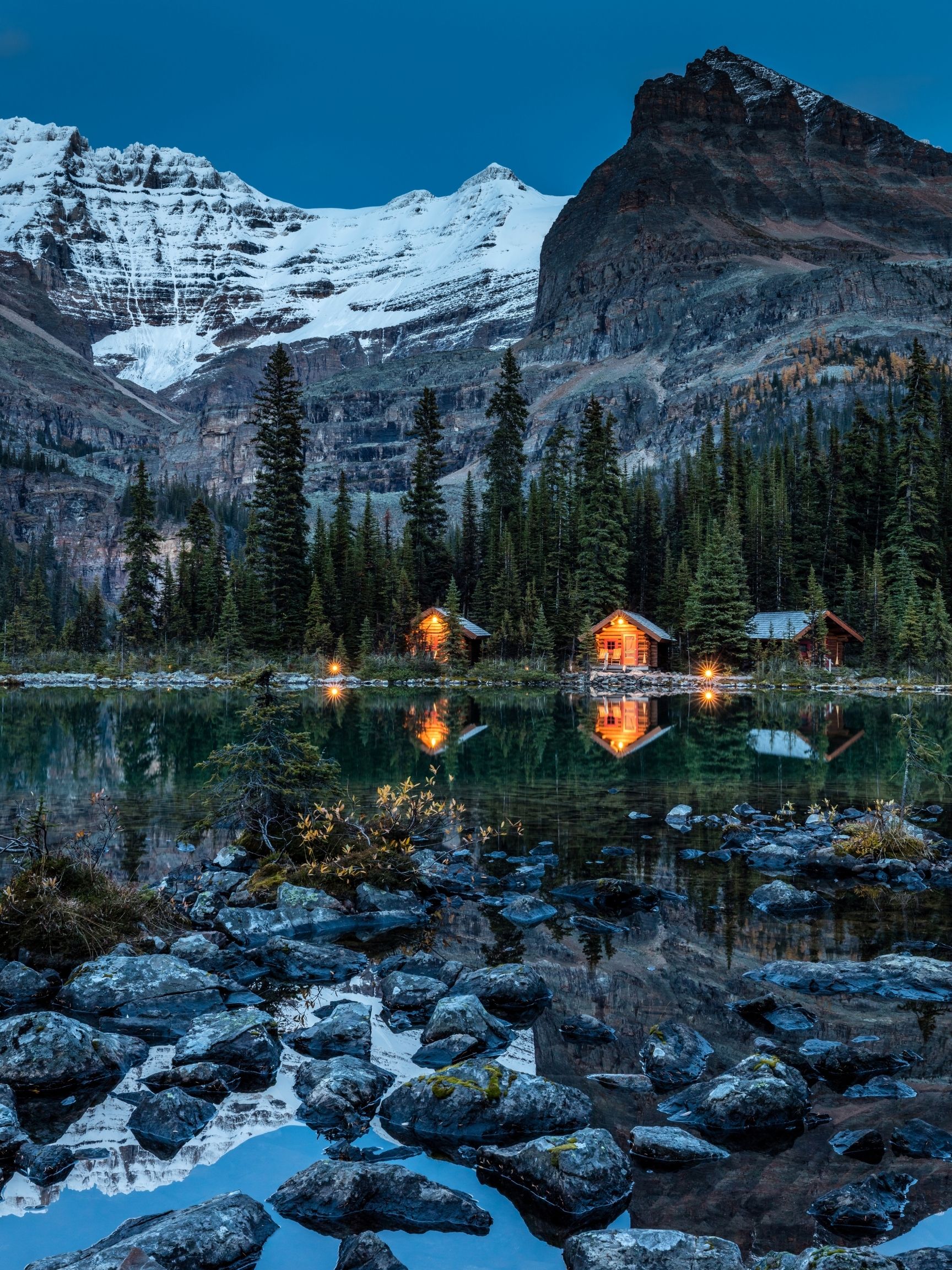 For those who do not feel like pitching a tent or walking down the long gravel road, staying at Lake O'Hara Lodge will be a sublime choice. The historic lodge is luxurious and has lakeside cabins that are beyond enviable.
Quite honestly, they may be some of the most serene cabins in the world. Included in the guest's stay are all meals, a private shuttle bus, and the use of the lodge canoes.
However, all of this comes at a steep price of $1,300+ a night, easily the most expensive in the area. The cabins based on double occupancy, and this price does not deter people. Expect the lodge to book up quickly, often more than a year in advance.
That being said, it is surely a dream-worthy stay that should be envied by all visitors to Lake O Hara.
---
Malcolm Hotel By Clique – Canmore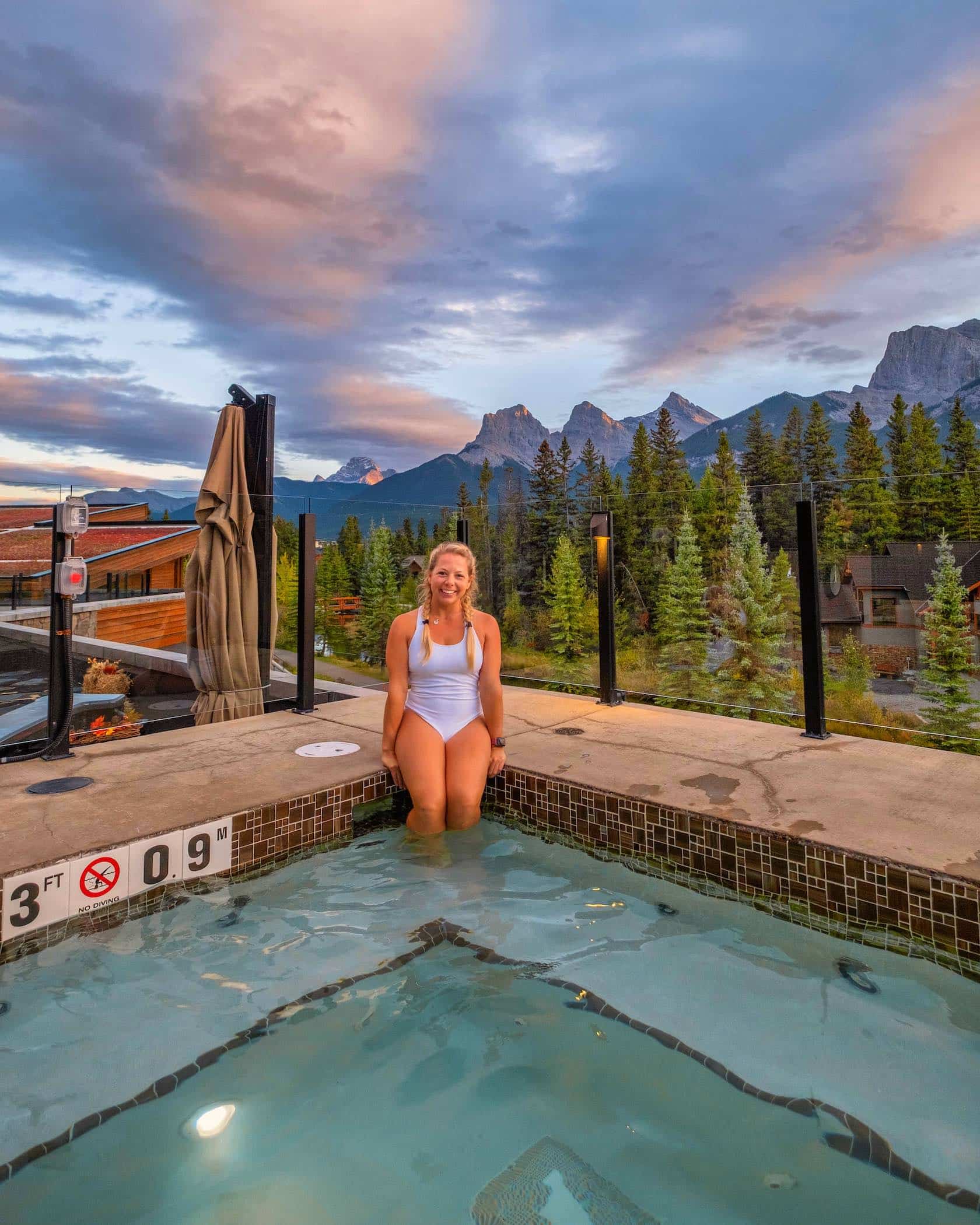 We recommend all our friends and family heading to Canmore to stay at The Malcolm. The Malcolm Hotel is a luxury hotel situated in the heart of Spring Creek – a desirable neighborhood just steps away from downtown Canmore.
Their location provides a convenient location for Canmore's restaurants, bars, and shops while still being in close (walking) proximity to Safeway and Save On Foods.
It also sits conveniently across from the Policeman's Boardwalk, which is one of the best walks in Canmore for all ages and abilities. A series of rooftop decks make for a great place to take the views.
However, the best view comes from the outdoor pool and hot tub area, which looks out to Faith, Hope, and Charity, or the Three Sisters. You won't regret booking a stay here, trust me!
It's charming around the holidays as the entire hotel really goes big on their Christmas decorating! So if you are heading to the Rockies in December and prefer to stay in Canmore over Banff – book here!
---
Kananaskis Mountain Lodge – Kananaskis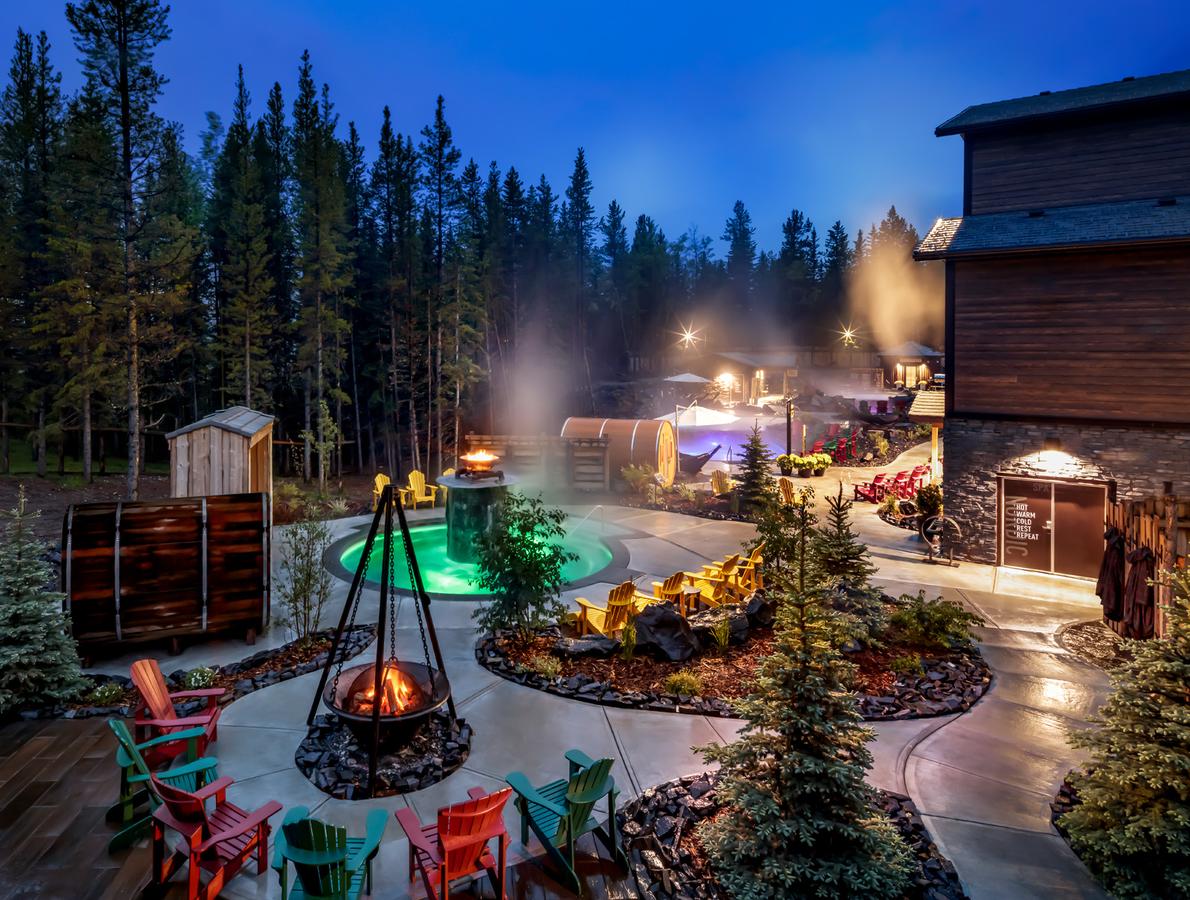 Kananaskis Mountain Lodge is an excellent hotel in the heart of Kananaskis Country. On top of that, it's a great ski hotel in the Rockies, nearly right next to Nakiska Ski Resort, you can't go wrong staying here if you are after one of the most luxurious hotels in the Rockies.
Kananaskis Mountain Lodge will give you upscale mountain vibes as soon as you walk in. They get kudos for always having activities for the kids and families, especially around the holidays.
They are most known for their Nordic Spa, which is a fantastic place to relax for the whole day and one of the best things to do in the Rockies in general. Even locals will book a stay at Kananaskis Mountain Lodge so they can have a relaxing weekend in the Nordic Spa.
Enjoy the day outside with your spouse or friends enjoying the steam rooms, relaxation rooms, and saunas. If you're having a romantic holiday in the Rockies, you'll want to book a couples spa and treatment!
---
Luxury Hotels in Banff FAQ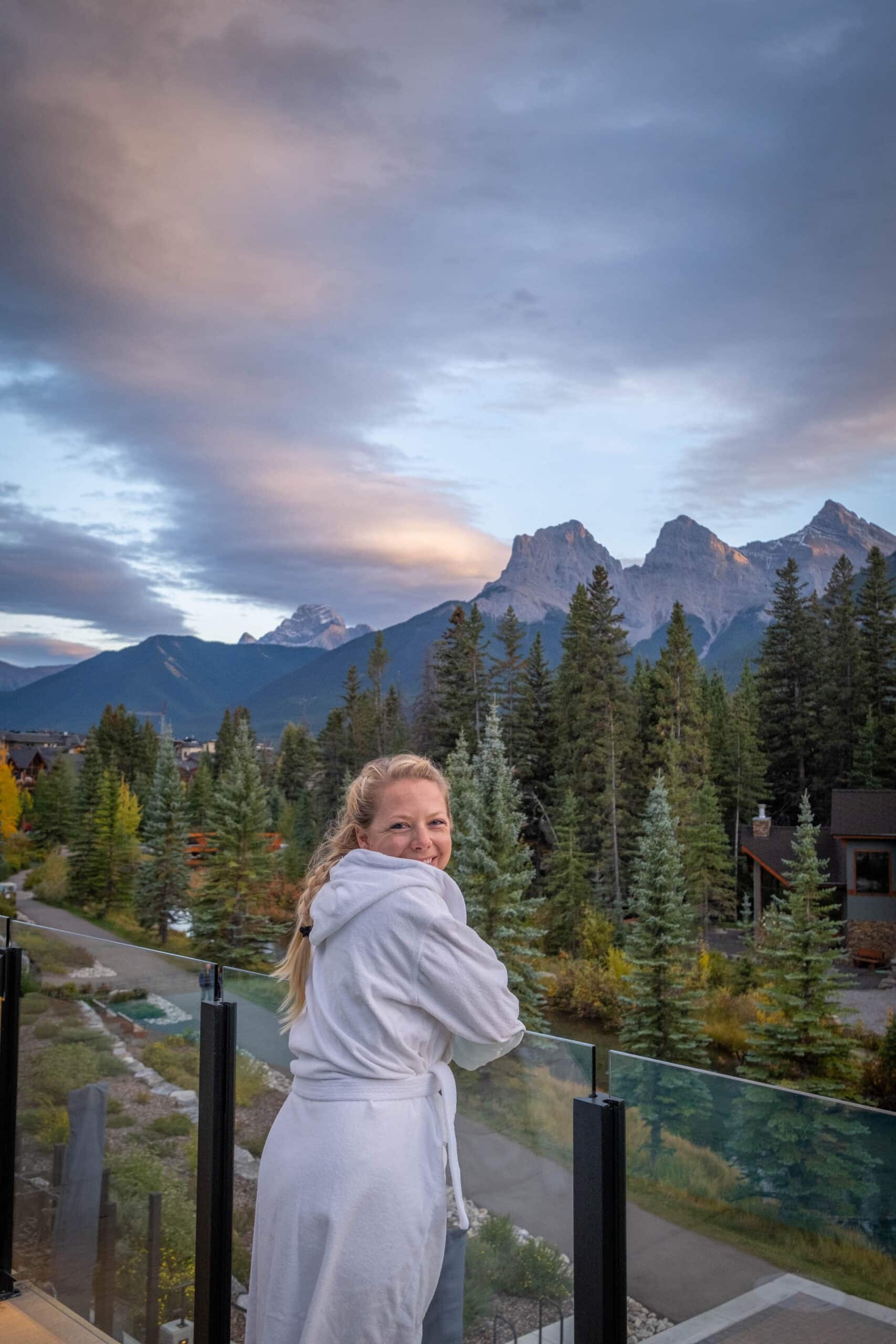 These hotels seem pretty expensive, what's the deal?
Yes, they are expensive. Some reach over $1000 a night in July and August, and this doesn't even include food for this price point! Still, many of these establishments book out well in advance, so they are clearly not incentivized to lower their prices.
How can I score a deal?
There are not many deals to be had in Banff in the summer. Though, we recommend booking mid week to save a bit of money. Traveling in the low season (April, May, November) will result in lower prices.
When is the best time to stay at these hotels?
Some may say summer, but I truly think December is the best time to book a luxury hotel in Banff. Most of these establishments decorate like it's the set of a Christmas fairytale movie. It truly is something to experience!
Where should I book these luxury hotels in Banff?
We always recommend Booking.com. Often you'll even find better rates on Booking.com than if you were even booking direct! If you book through the Booking.com app, sometimes the prices are even lower! Once you are a Booking.com "genius" they often offer 10% off your booking price as well!
Plan Your Trip to the Canadian Rockies