I've been putting off summiting Cascade Mountain due to its elevation gain and length. Dissuaded by the long approach, Cascade Mountain was never high on my list. However, it towers over Banff, and I can even see it from outside my bedroom in Canmore, so I knew it was time I finally checked it off the list.
Now I'm happy I completed this Banff hike last summer. Even though the approach is long and the hike is a little bit of a grind, the views from the summit are absolutely amazing. Here's how to summit Cascade Mountain yourself.
---
Cascade Mountain Hike/Scramble Information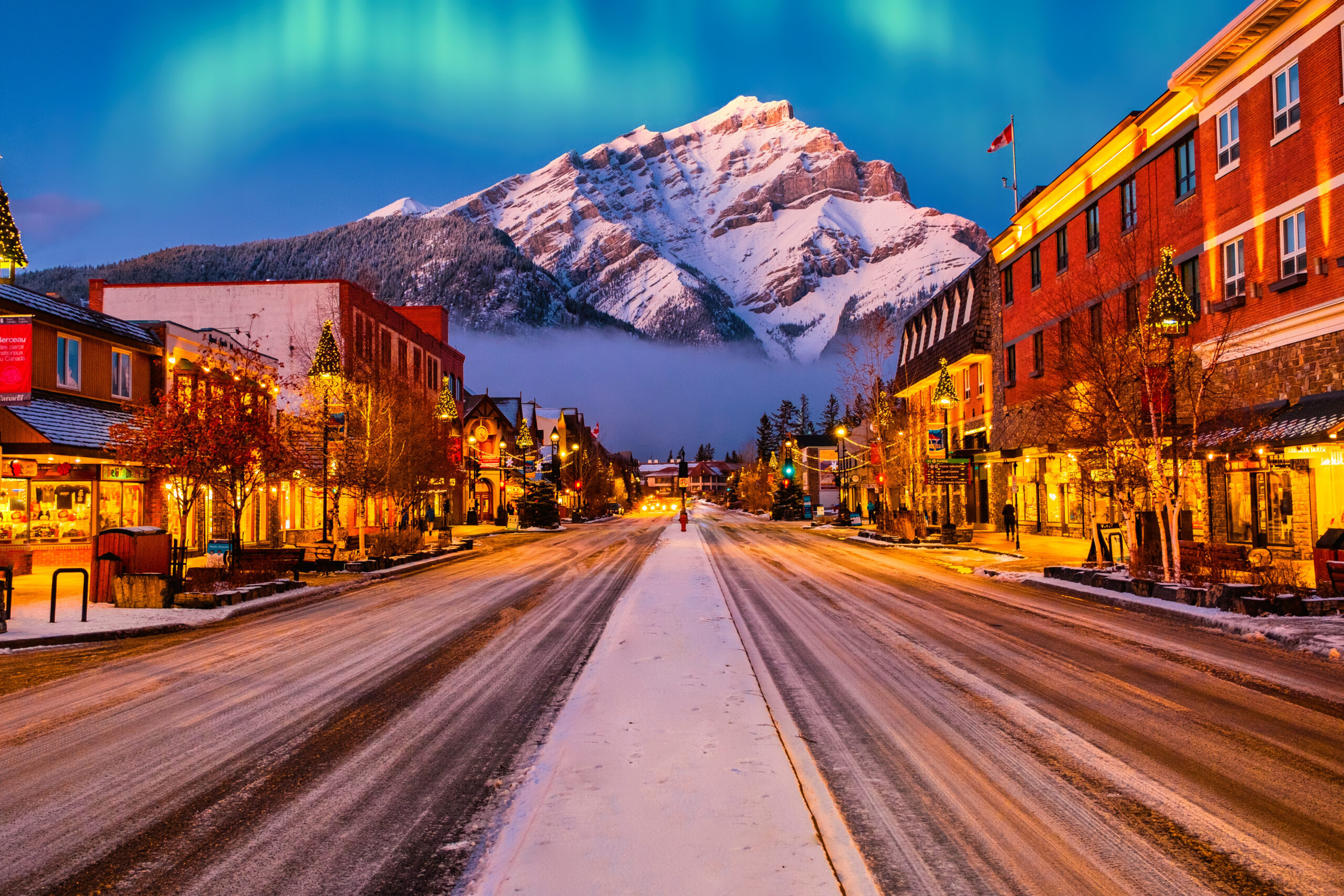 ---
Cascade Mountain Key Stats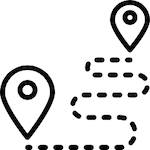 Length
20.3km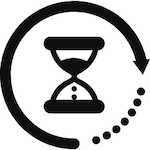 Duration
5 – 9 hours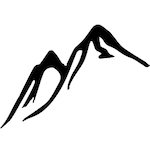 Elevation
1563 meters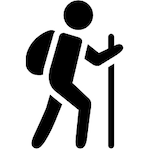 Difficulty
Hard (Easy scrambling)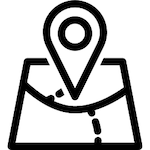 Trailhead
Mt. Norquay Day Lodge
---
Best Time To Climb Cascade Mountian
Late July – September. If you can see snow near the false summit from town, do not attempt Cascade. The route requires an exposed traverse in this section, and it would be perilous with snow. Once the snow has melted off of Cascade, it is good to go.
---
Cascade Mountain GPX File
---
Cascade Mountain Route Description
I'm not going to sugarcoat it – the first 7.4 km of this hike suck. Until you reach the amphitheater, you can pretty much count on a non-eventful time. If it weren't for this 14 km of terrain, climbing Cascade would actually be more enjoyable and likely much more popular.
To start, park at Mt. Norquay Day Lodge area. Walk past the lodge and past the chairlifts. Follow the signs for the Cascade Amphitheater. It's pretty breezy and easygoing until you reach the bridge over 40-Mile-Creek. It's past here you'll start to gain elevation and quickly come to the amphitheater turn off where it's relentless switchbacks for the next 3km and 300 meters.
Once you reach the amphitheater, breathe a sigh of relief that that part is over. However, you'll now get a clear view of your objective, and there is still a lot of climbing left to go to reach Cascade summit.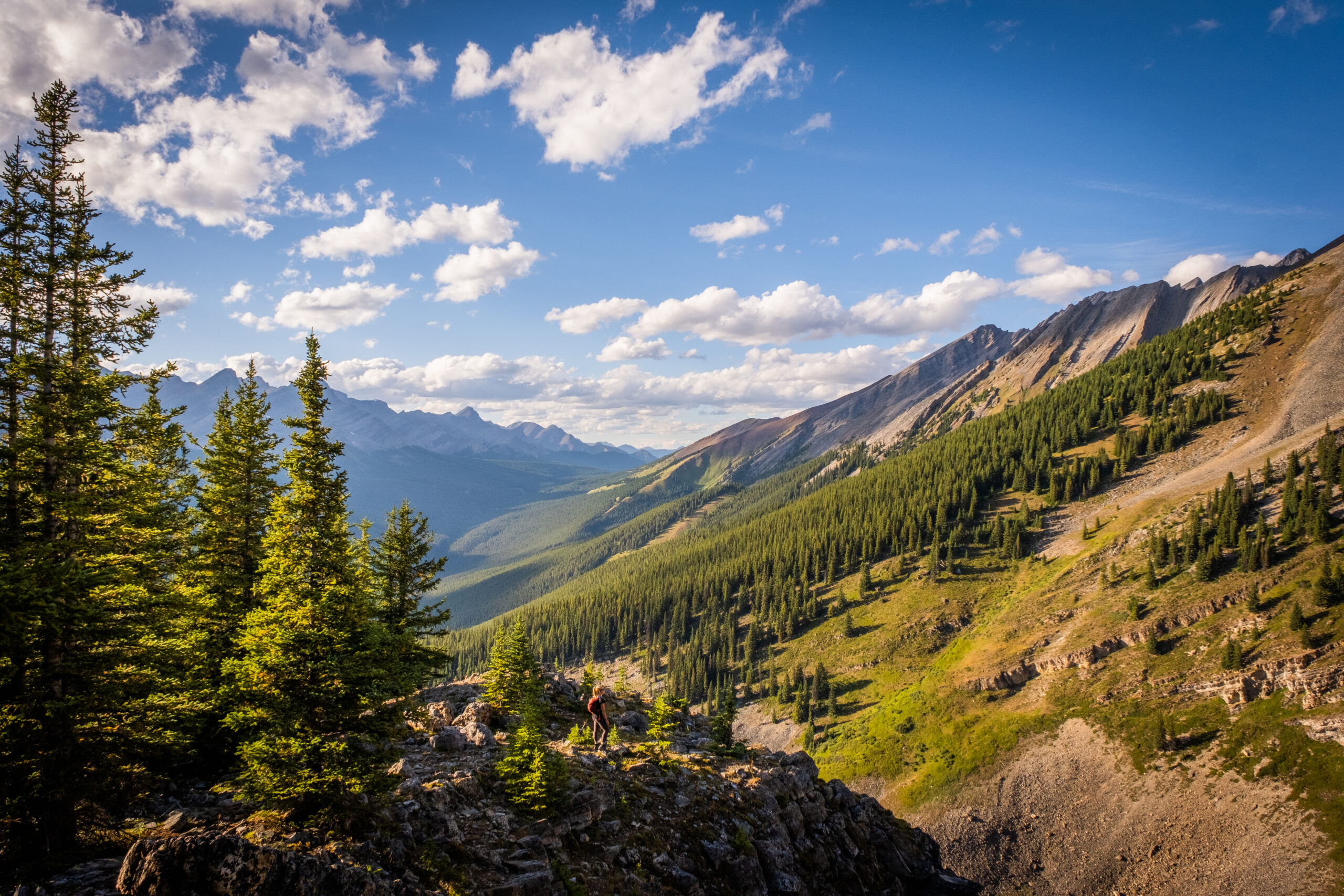 As you go around the amphitheater, you'll gain elevation quickly. Follow the well-worn path until you reach the boulder field. Take care of your footing here, as a mess up on these large rocks could result in a sprain. The boulder field took us about 15 minutes to navigate, each step getting close to the summit.
You might use your hands here, making this more of a fun scramble, but it's not necessary. As you pass the boulder field, you'll get better views of the false summit and summit. Continue on over the ridge crest on smooth dirt and moss. Take note of the false summit in front of you and do not attempt to go up it. You'll get cliffed out and have to turn around. Bright orange paintings are marking the correct way.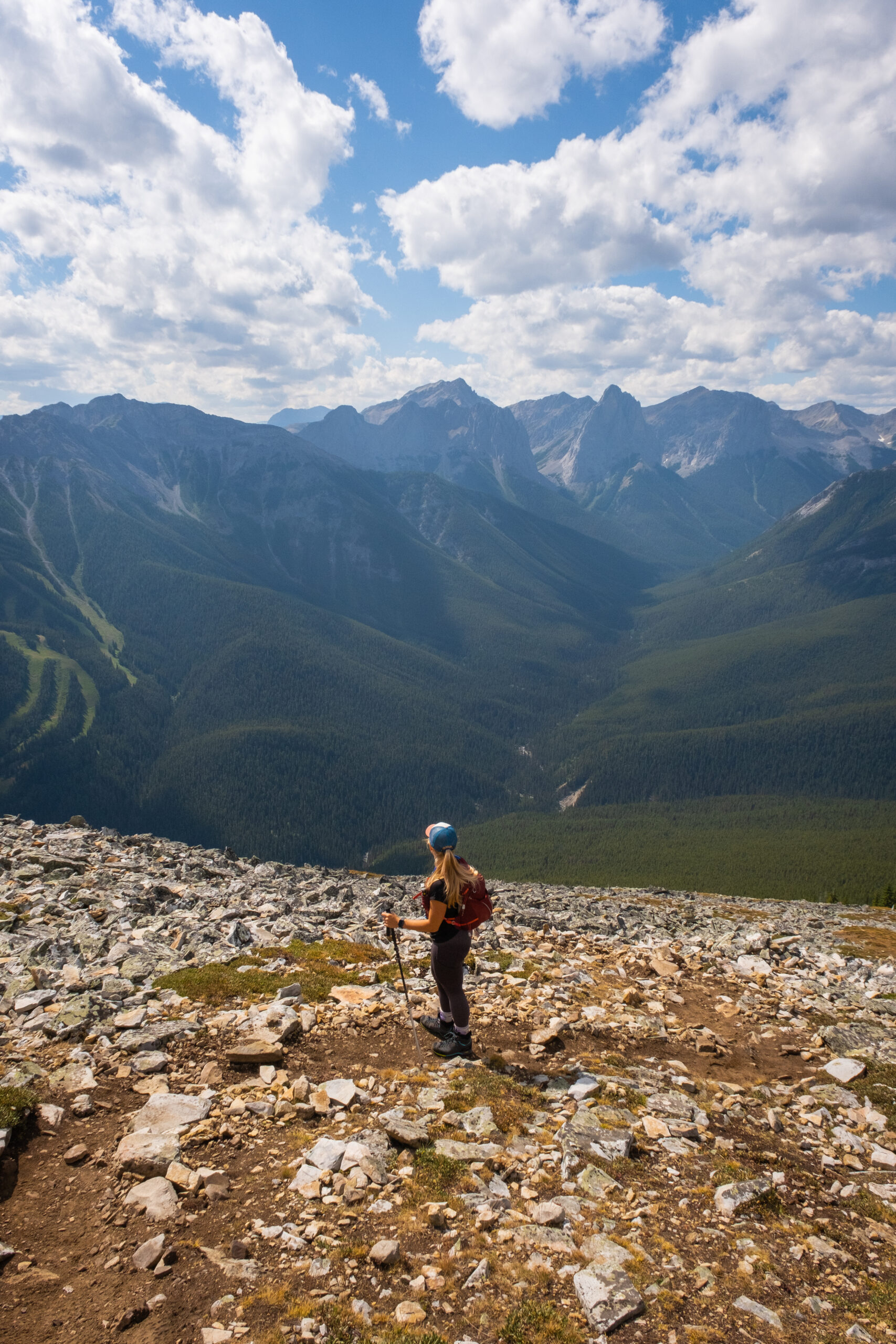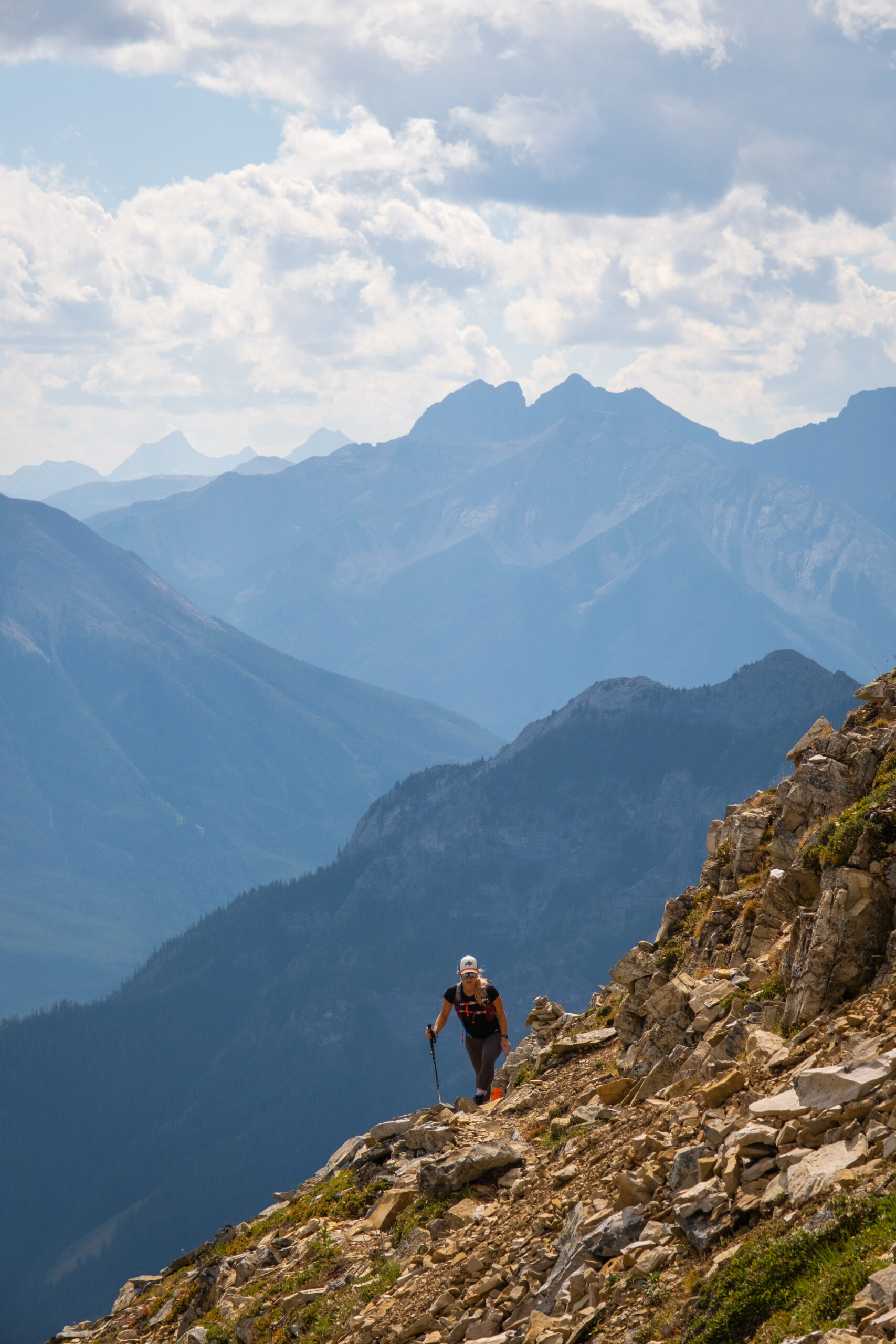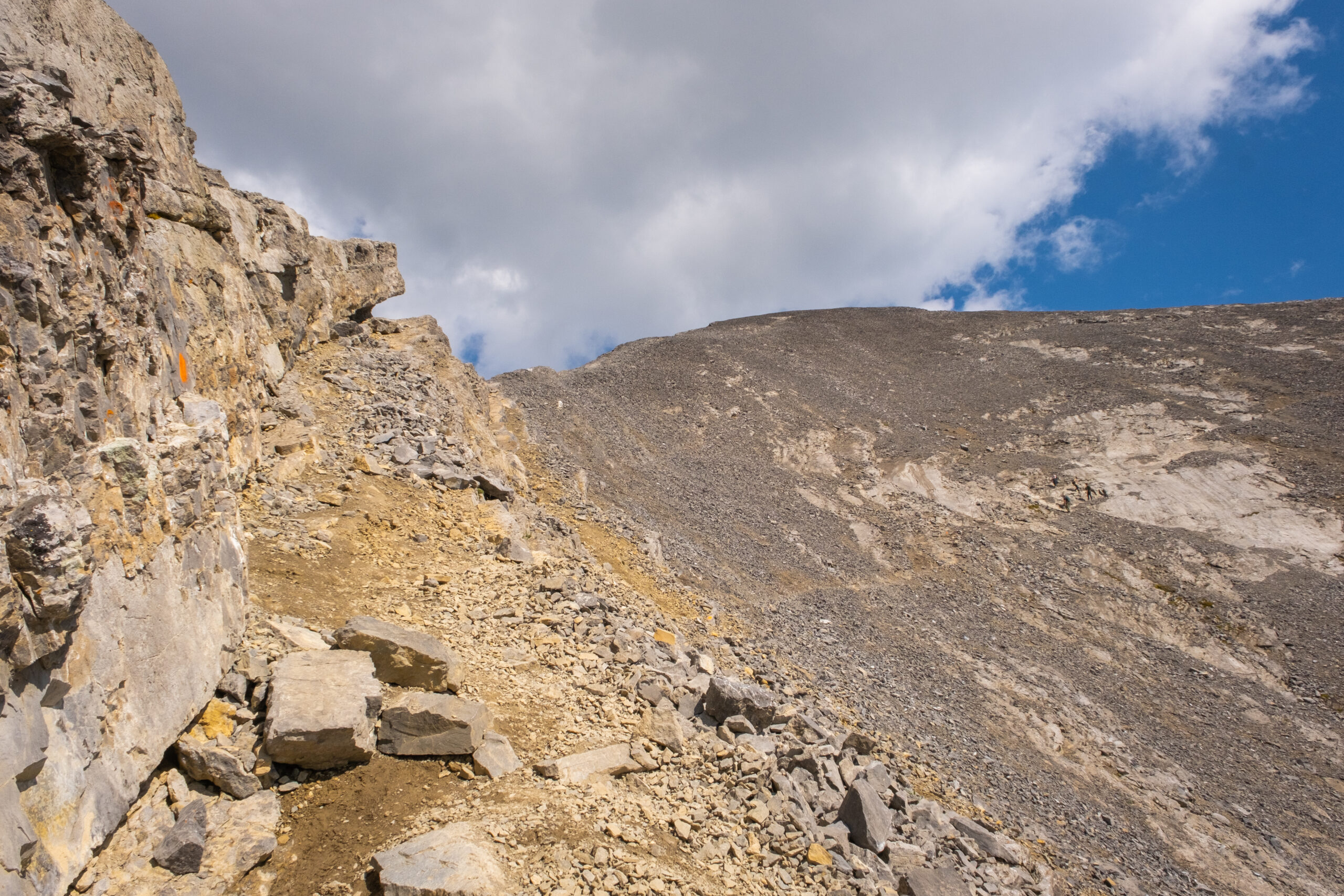 Keep following the trail past the boulder field, where you will continue to gain elevation. There's a very short downstep (2 m) you'll have to take to continue, but it's easy and not too difficult. Admire the views behind you of the amphitheater as you ascend.
There are a few slabs you'll have to climb up right before the false summit, but nothing difficult or exposed. Don't be lured by the false summit, although with a well-worn trail and plenty of orange markings provided by parks, it would be hard to get off route.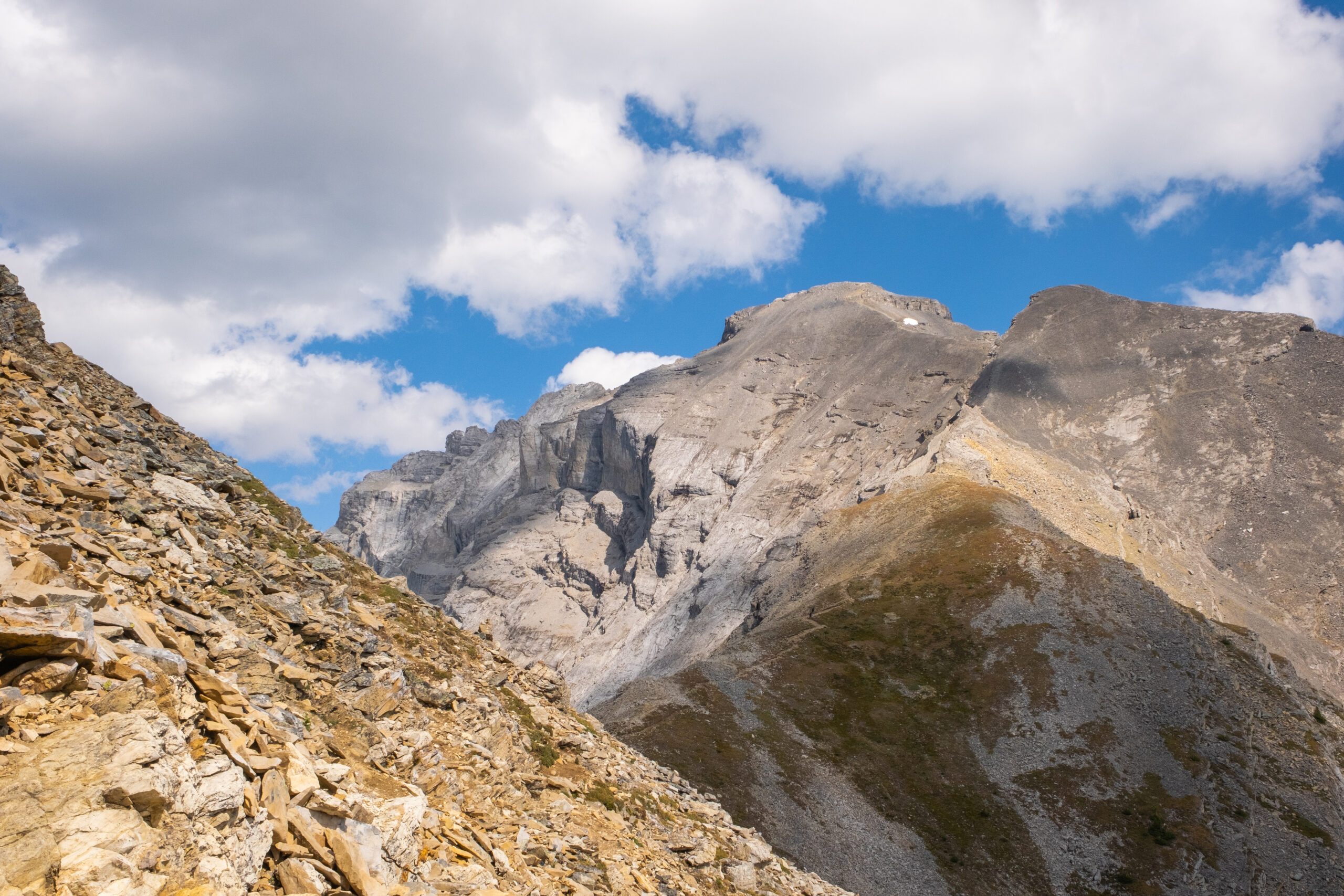 Take the narrow marked route with the Bow Valley on your right. There's a concise scramble section over a rock band here. You'll come across a steep slope with a well-worn trail. This is an easy walk across the trail in the summer, but if there is any snow on this section, it's best not to attempt it as a slip here would be your last. Turn left here after the small ridge, and you'll have to cross another steep slope – again, if there's snow, consider turning back.
Without an ice ax and crampons, you wouldn't be able to stop yourself. This is the last place the winter snow melts off Cascade and needs to be dry to continue on. Thankfully, you can see this section from the town and decide if it's good to go or now.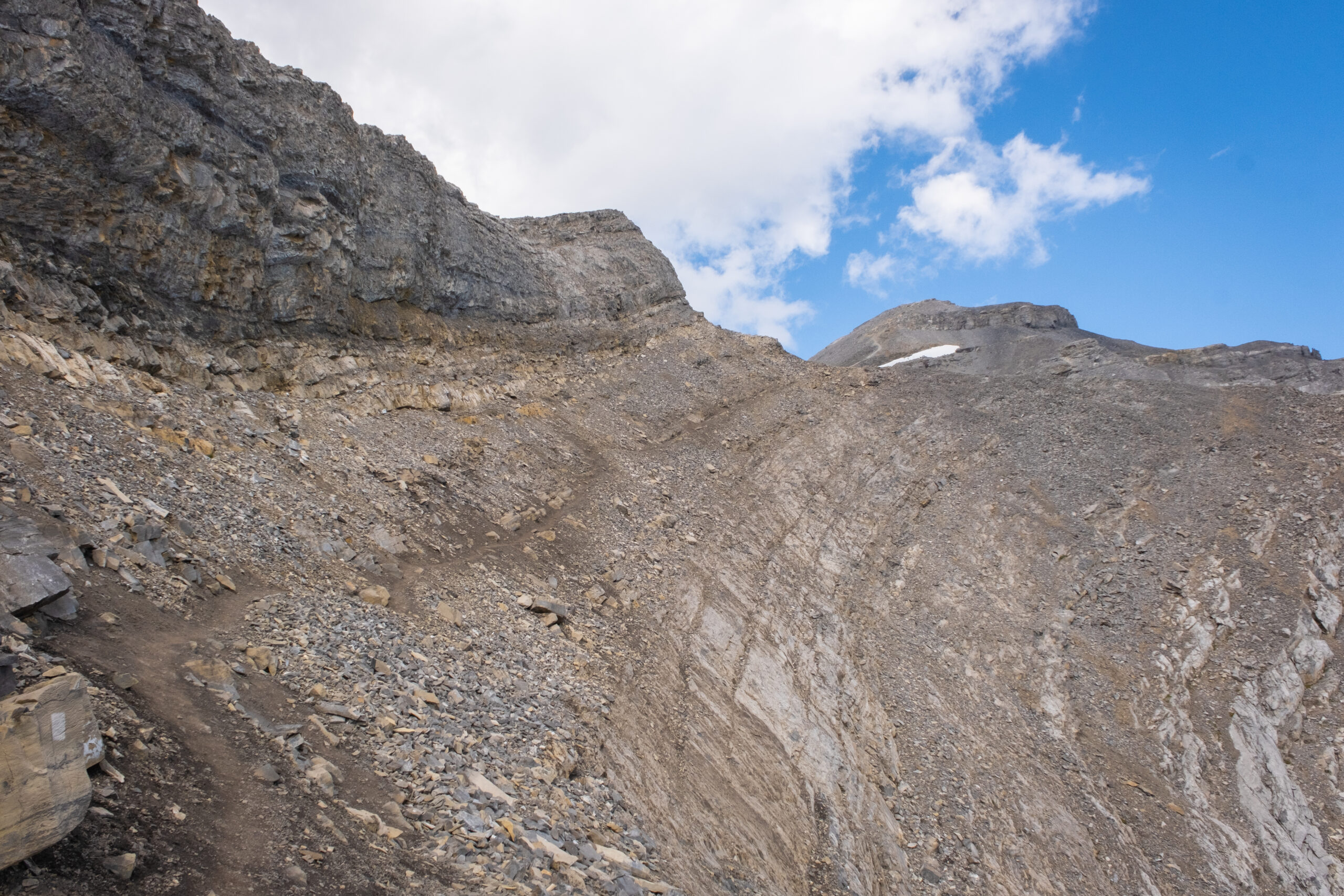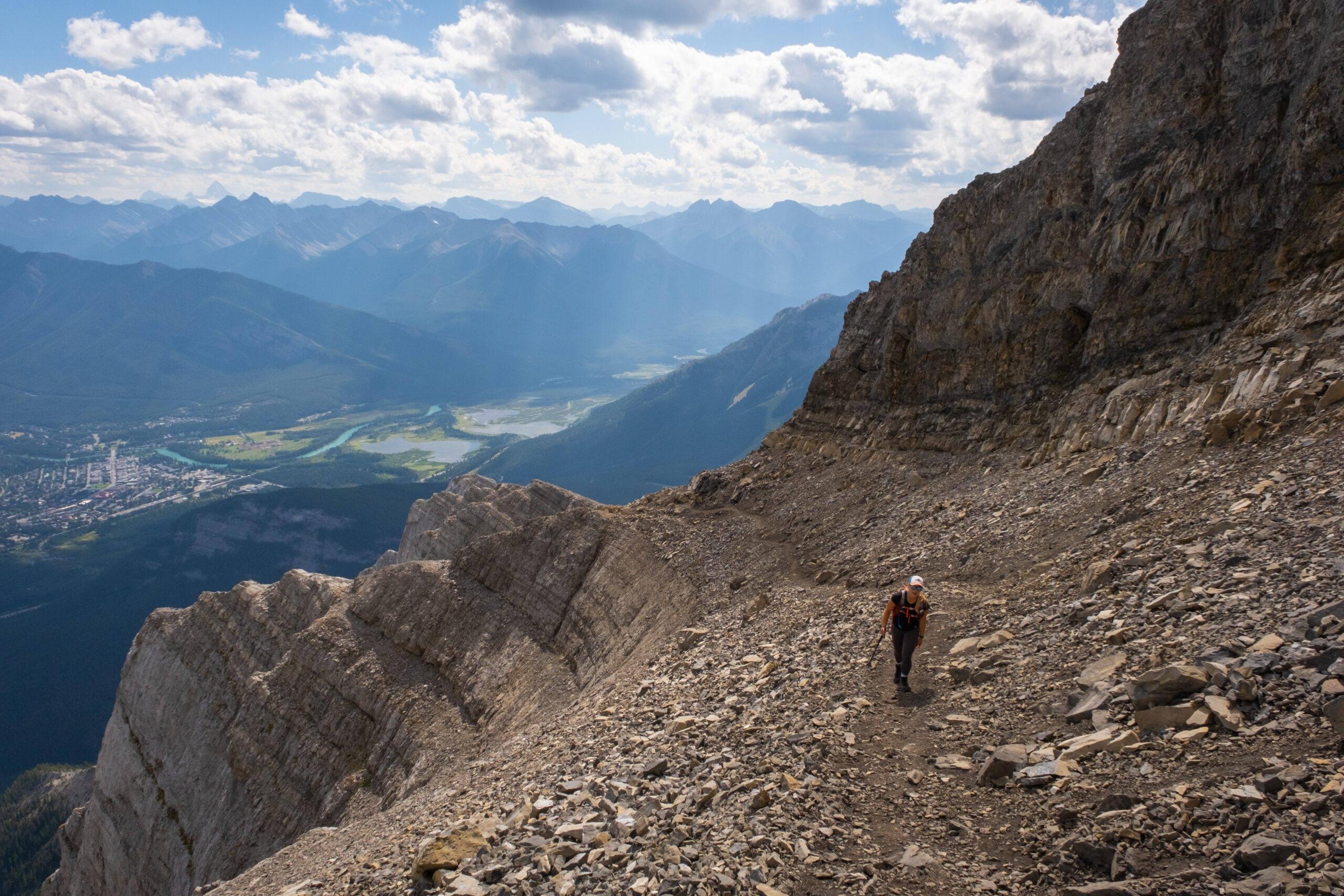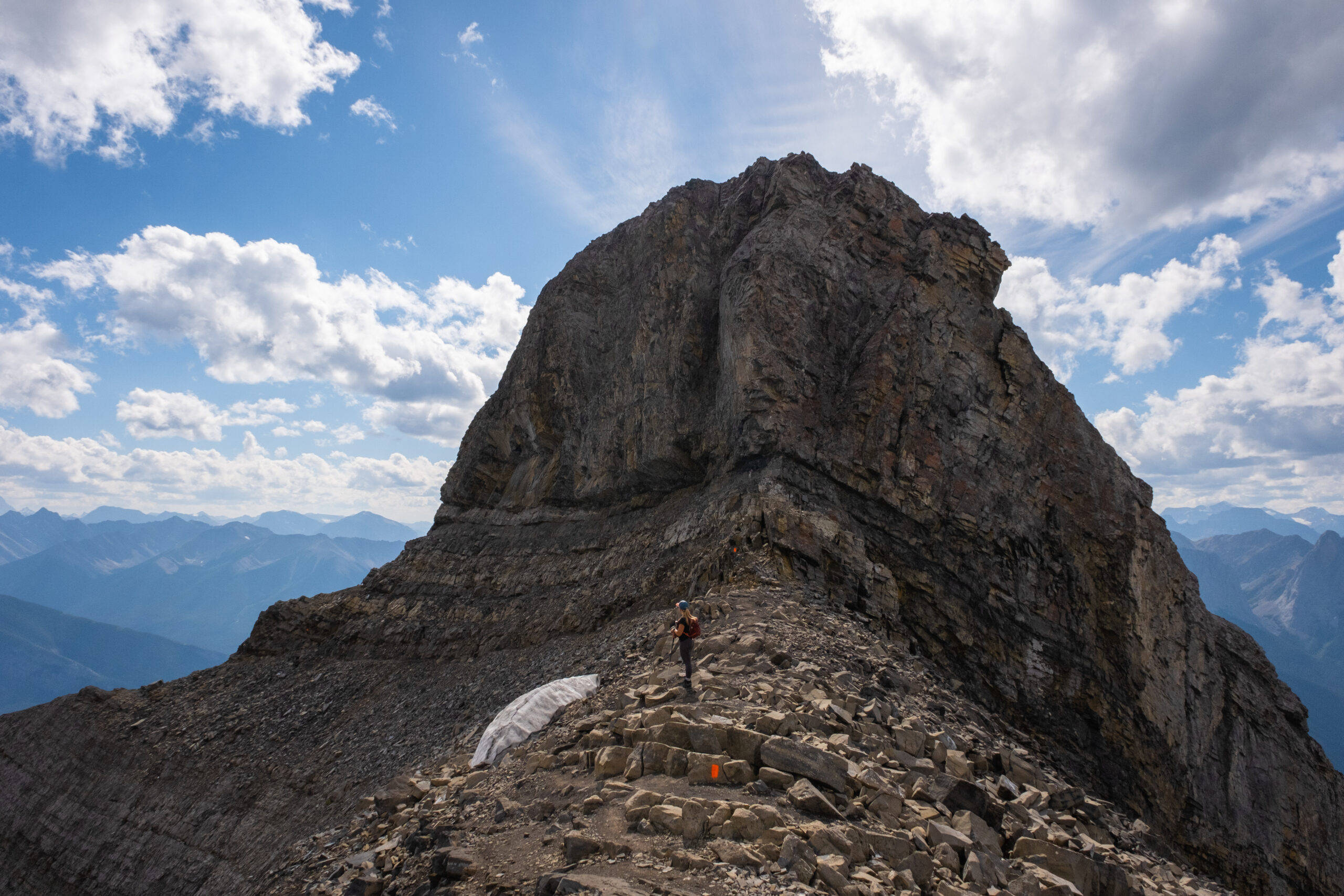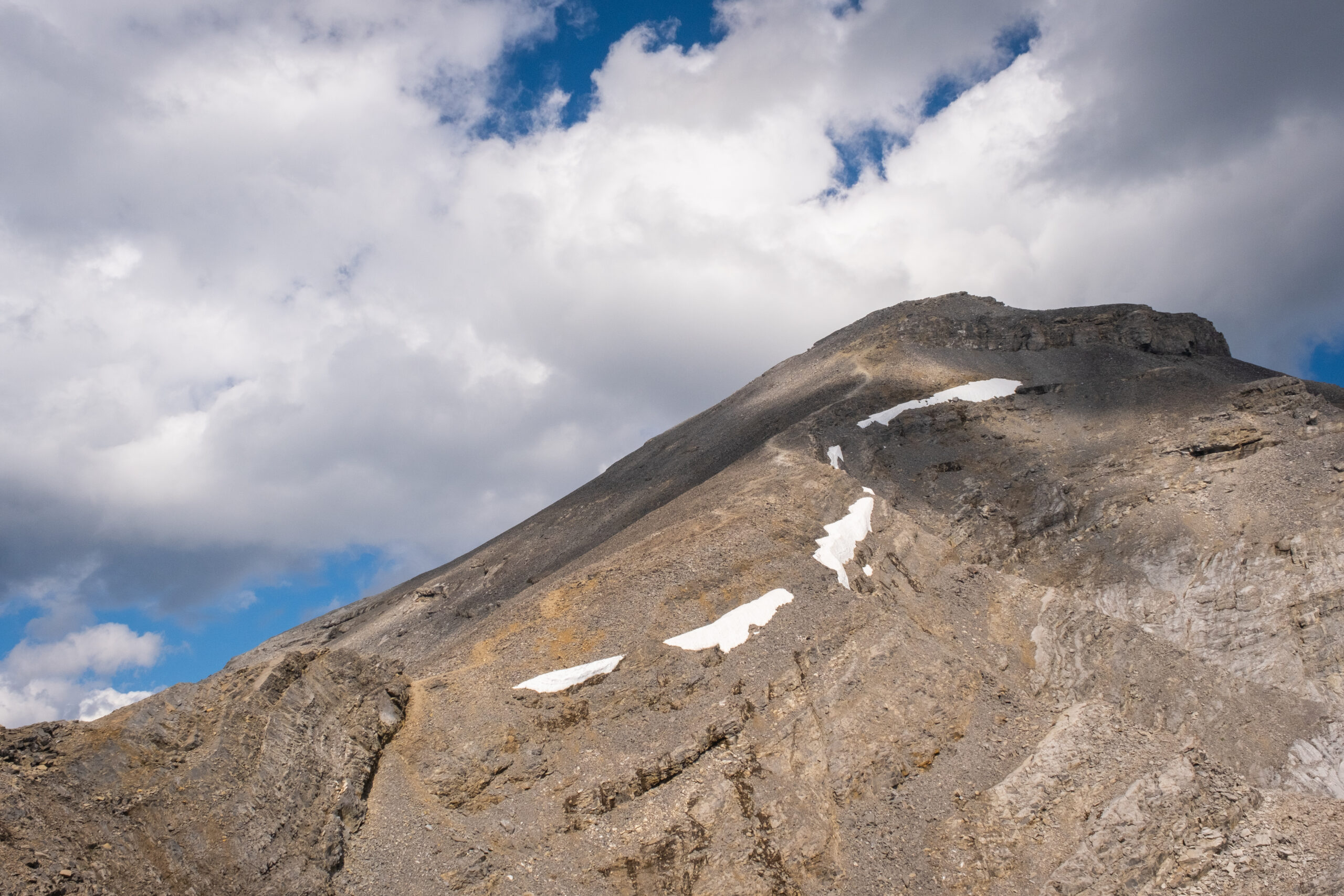 Now you'll see the main summit and realize you have a long stretch up loose scree to make it there. We took a few scramble sections here to eliminate some relentless scree climbing, but you don't have to take these and can continue along the scree if you wish. You won't get any views of Lake Minnewanka until you reach the summit, but once you do, you'll realize why you just climbed over 1400 meters. We stayed for about an hour, enjoying the views.
Somehow we got the summit all to ourselves on a beautiful summer day. A mountain goat mother and her baby joined us at the summit, which was absolutely incredible. They took the trail back down, and we followed in their footsteps the majority of the way.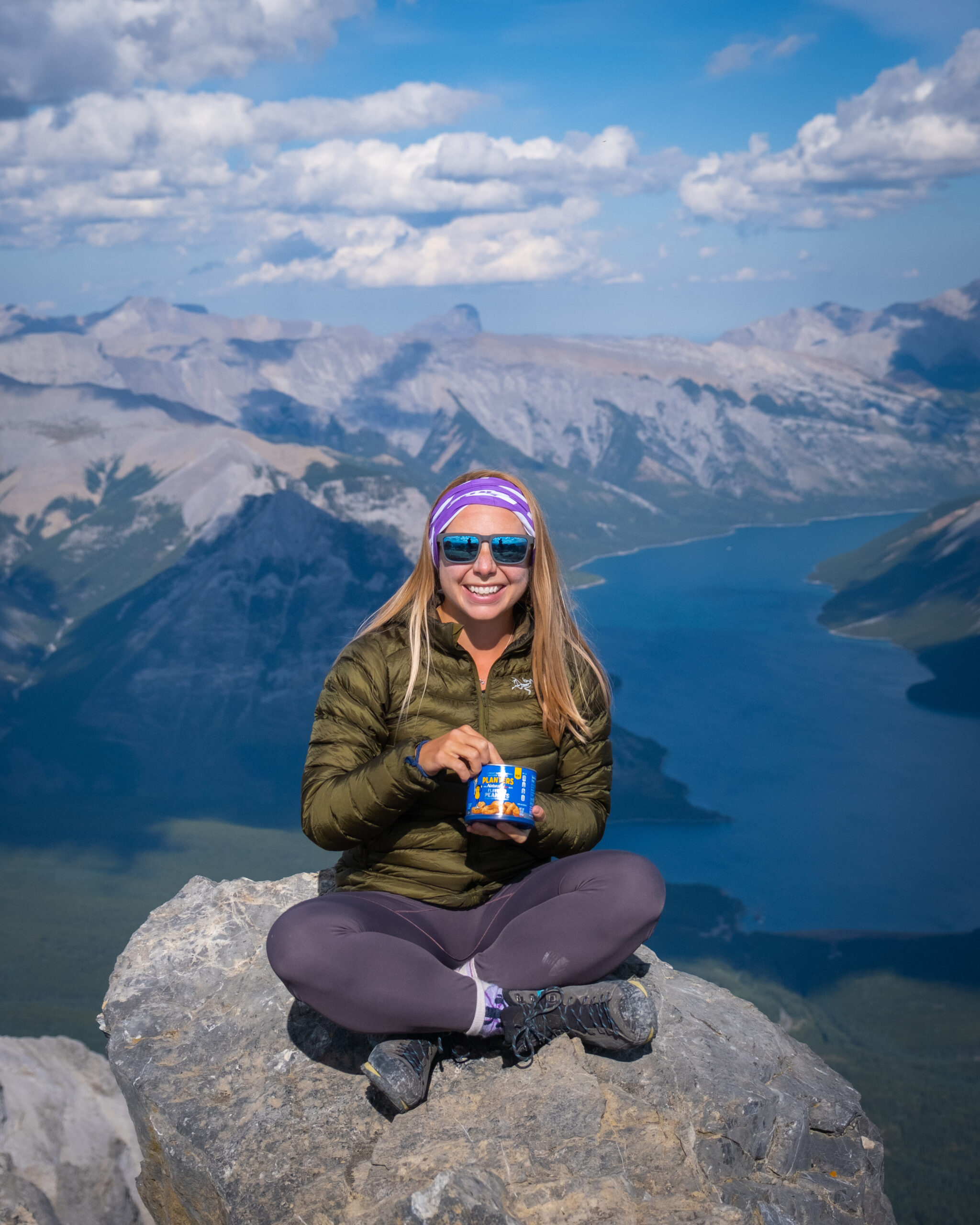 Return the same way you came. Do not be lured by the amphitheater. There have been a couple disastrous accidents by hikers hoping to cut corners only to be cliffed out. Returning the same way is the only safe way off Cascade Mountain.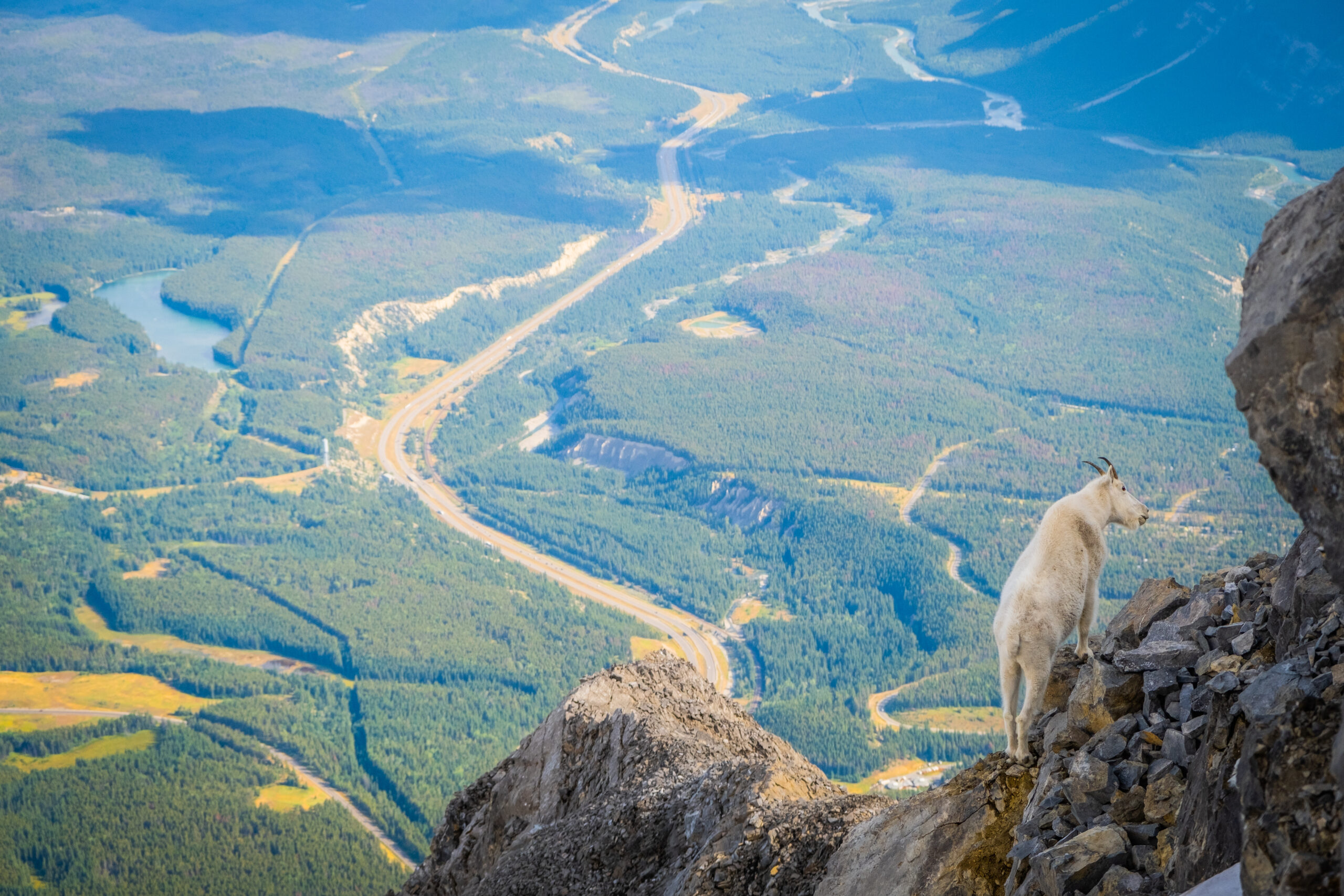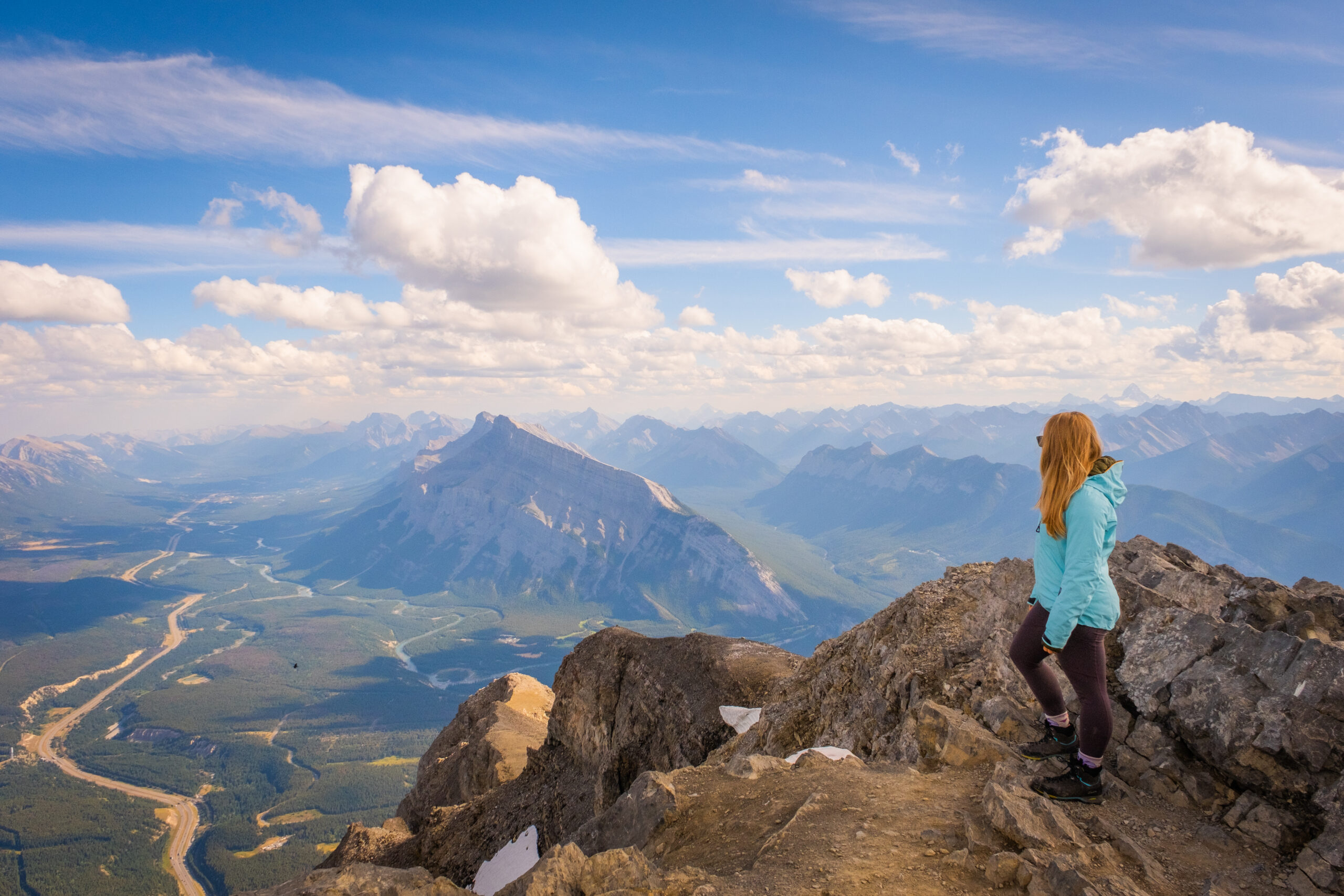 ---
Gear We Recommend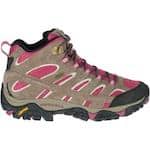 Many hikers will enjoy the security, comfort, and value in the Merrell Moab II. It's a great beginner hiking boot.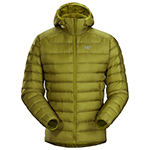 Arc'teryx Cerium is our pick for the best down jacket. It's incredibly light, and we bring it on almost every hike in the Rockies.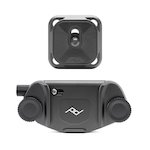 This nifty clip from Peak Design secures a camera to my backpack strap for easy reach. No more digging in the backpack!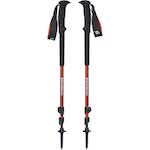 A pair of durable and lightweight hiking poles are a great asset on the hiking trail.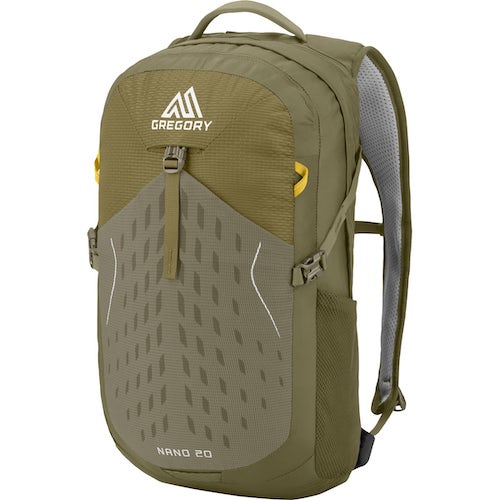 20L feels like the ideal size for quick hikes and scrambles. We love the Nano from Gregory with a hydration reservoir.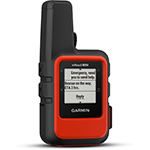 There is not much cell service in the Canadian Rockies. In case of emergencies, we carry an emergency beacon with GPS.
---
How Hard is Cascade Mountain?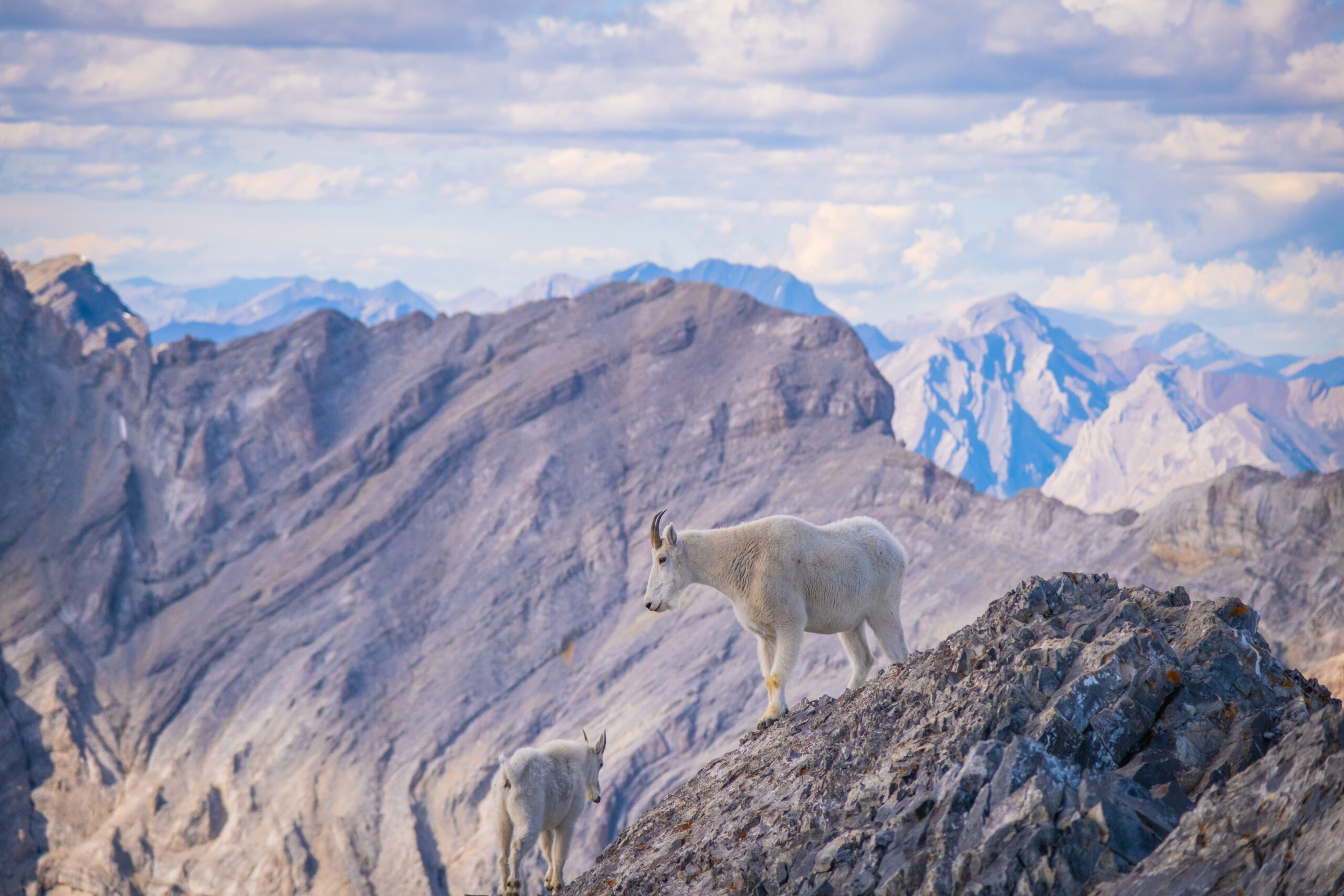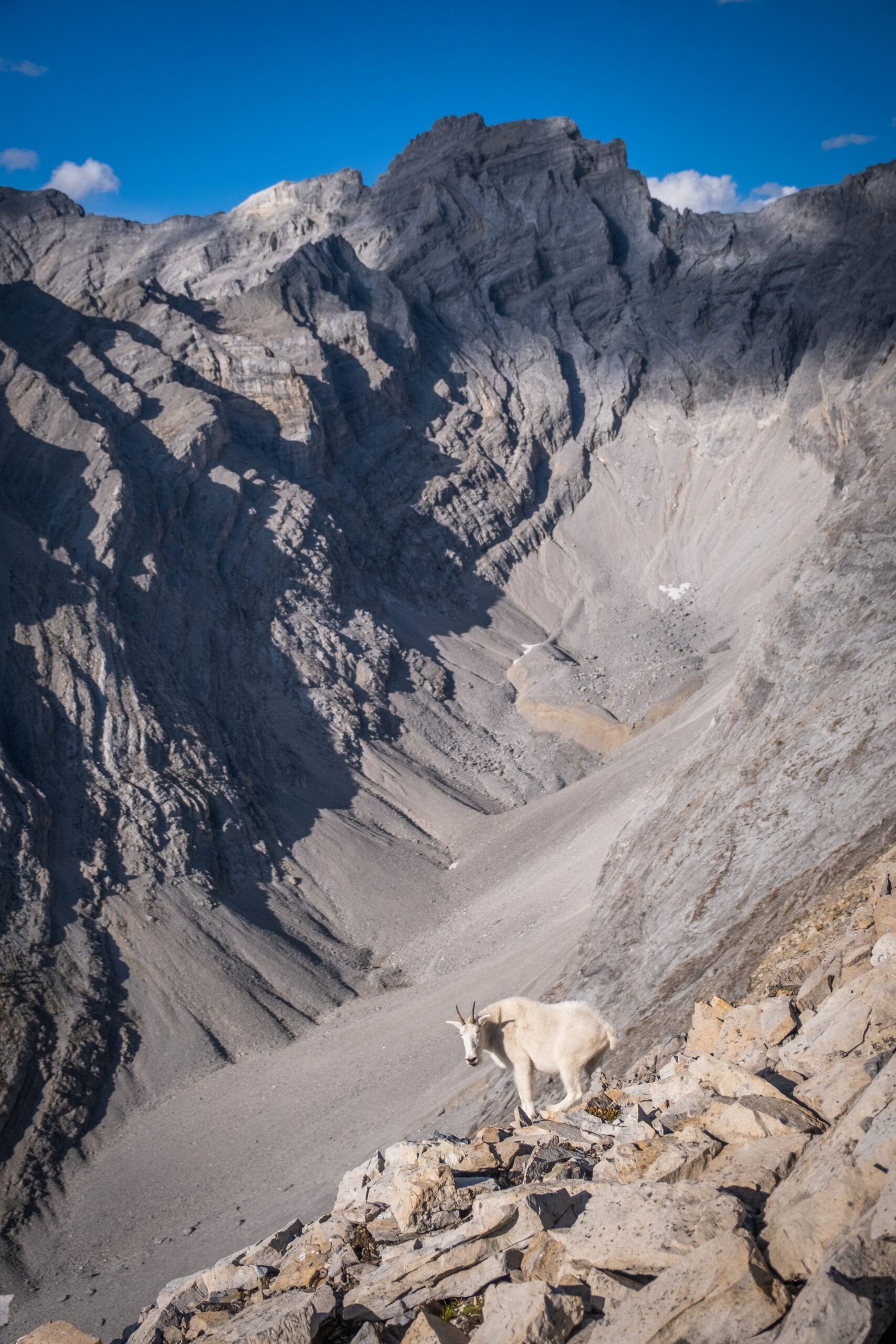 I'm an experienced hiker and moderate scrambler and found Cascade to be pretty easy. Long? Yes. Elevation Gain? A lot. But nothing technical. Thanks to bright orange markings and a well-worn path, the trail is easy to follow and pretty hard to get off route. That being said, there is a large boulder field to navigate, a few scramble sections, and the final push to the summit is a neverending scree slope that is steep, ascending, and descending. Poles would be helpful.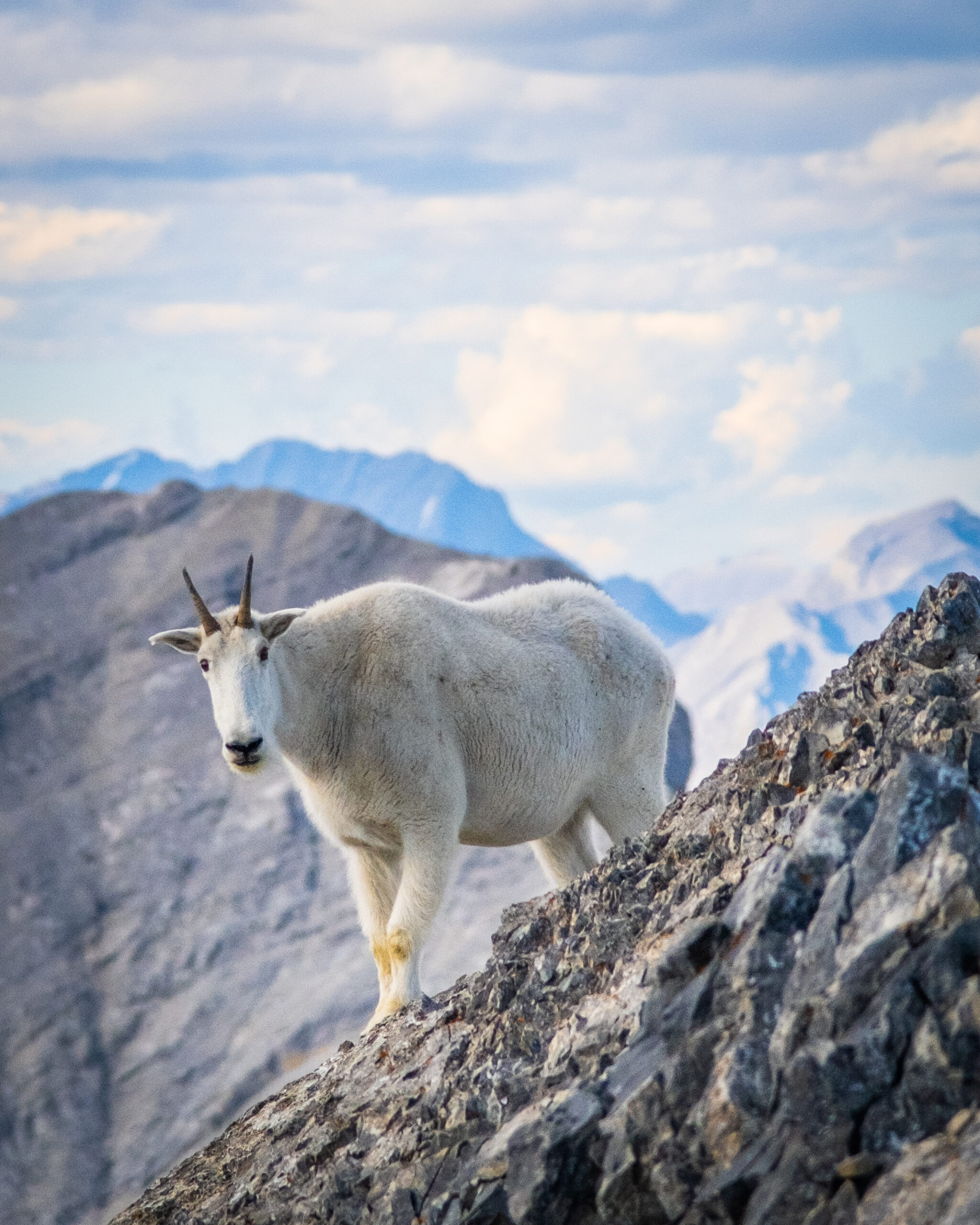 If it's your first hike in the Canadian Rockies, I do not suggest you attempt Cascade Mountain. We met a few tourists who appeared to be struggling and noted it was their first hike ever. This is not a hike for first-timers, nor is it all a hike. Cascade Mountain involves a very long and boring approach, and there are times when you will have to use your hands.
If you want to try out a good first-timers hike in Banff, I would suggest Sulphur Mountain Trail or Tunnel Mountain if you want something short. If you are nervous about attempting Cascade Mountain, try heading up Bourgeau Mountain first. It's a very comparable summit objective that is slightly easier and just (if not more) beautiful.
---
Cascade Mountain Hike Duration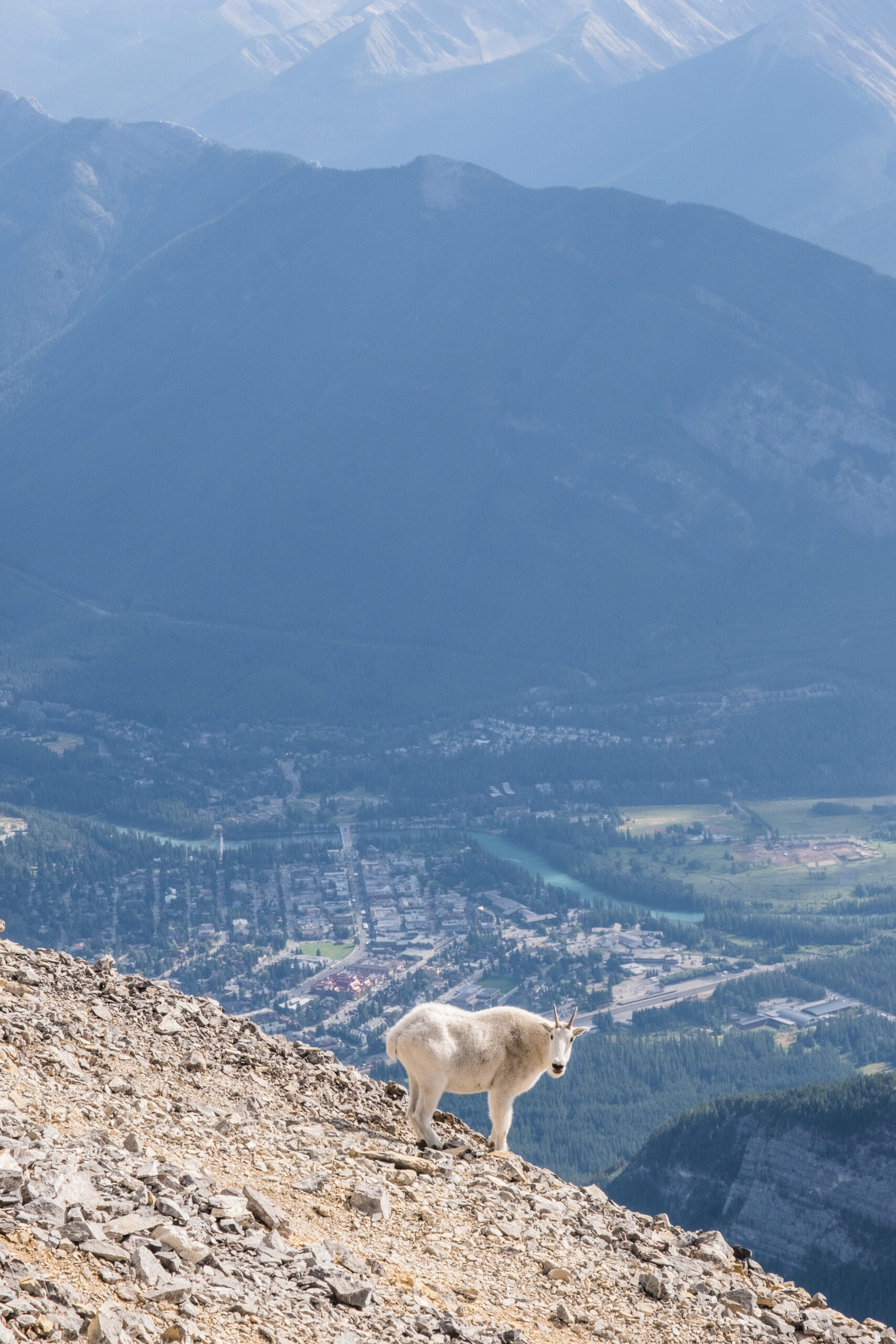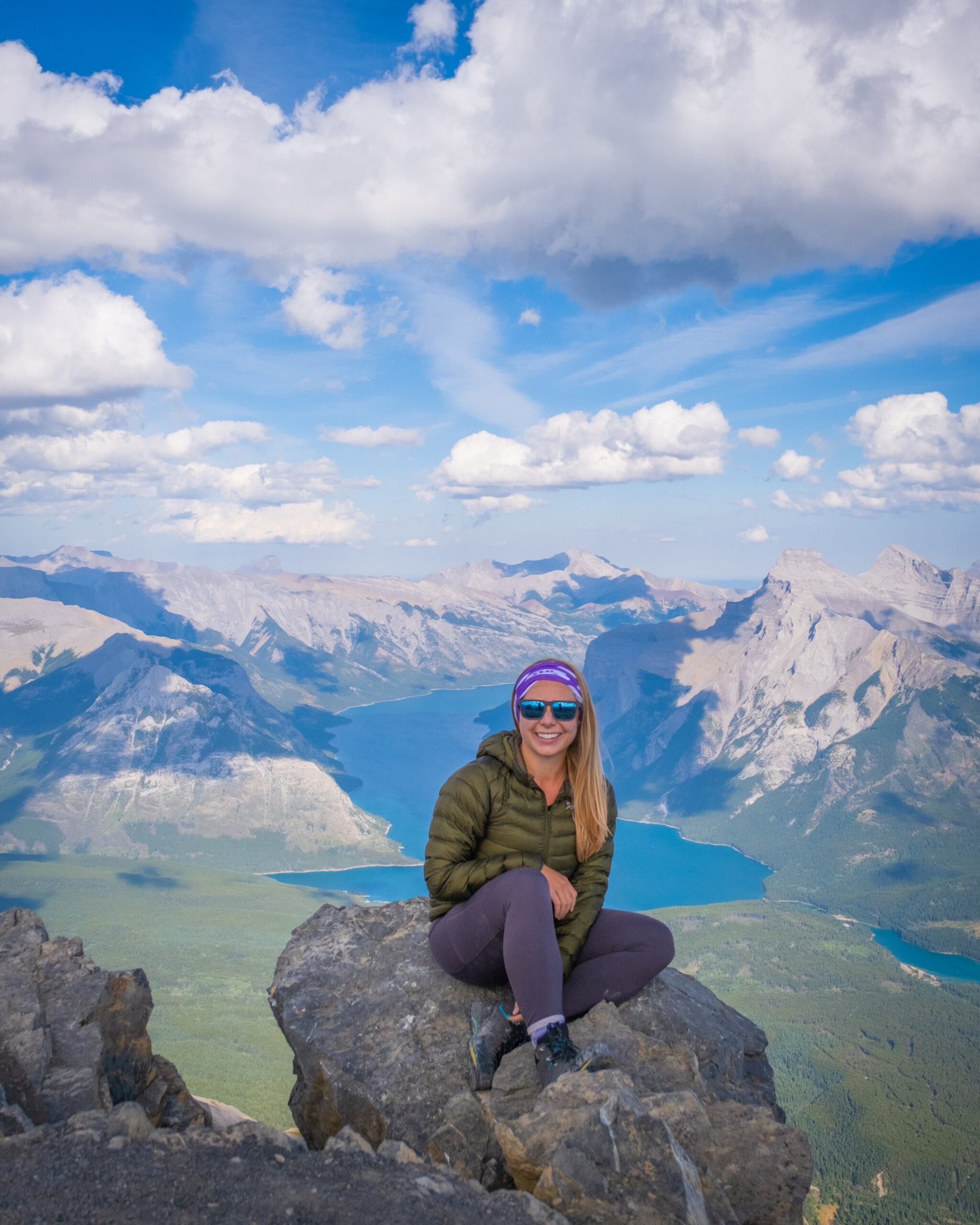 It took us just over 6 hours round trip to complete Cascade. 3.5 hours to summit and 2.5 hours to descend. It appears to take the average hiker between 8-9 hours to complete this hike. I
f you are a trail runner, the section from the amphitheater to the Mt. Norquay car park is certainly runnable on the way down. Estimate a full day to complete Cascade Mountain. Start early to avoid being caught after a dark. Read up on a few more of our hiking tips for new hikers in Banff here.
---
When Can You Hike Cascade Mountain?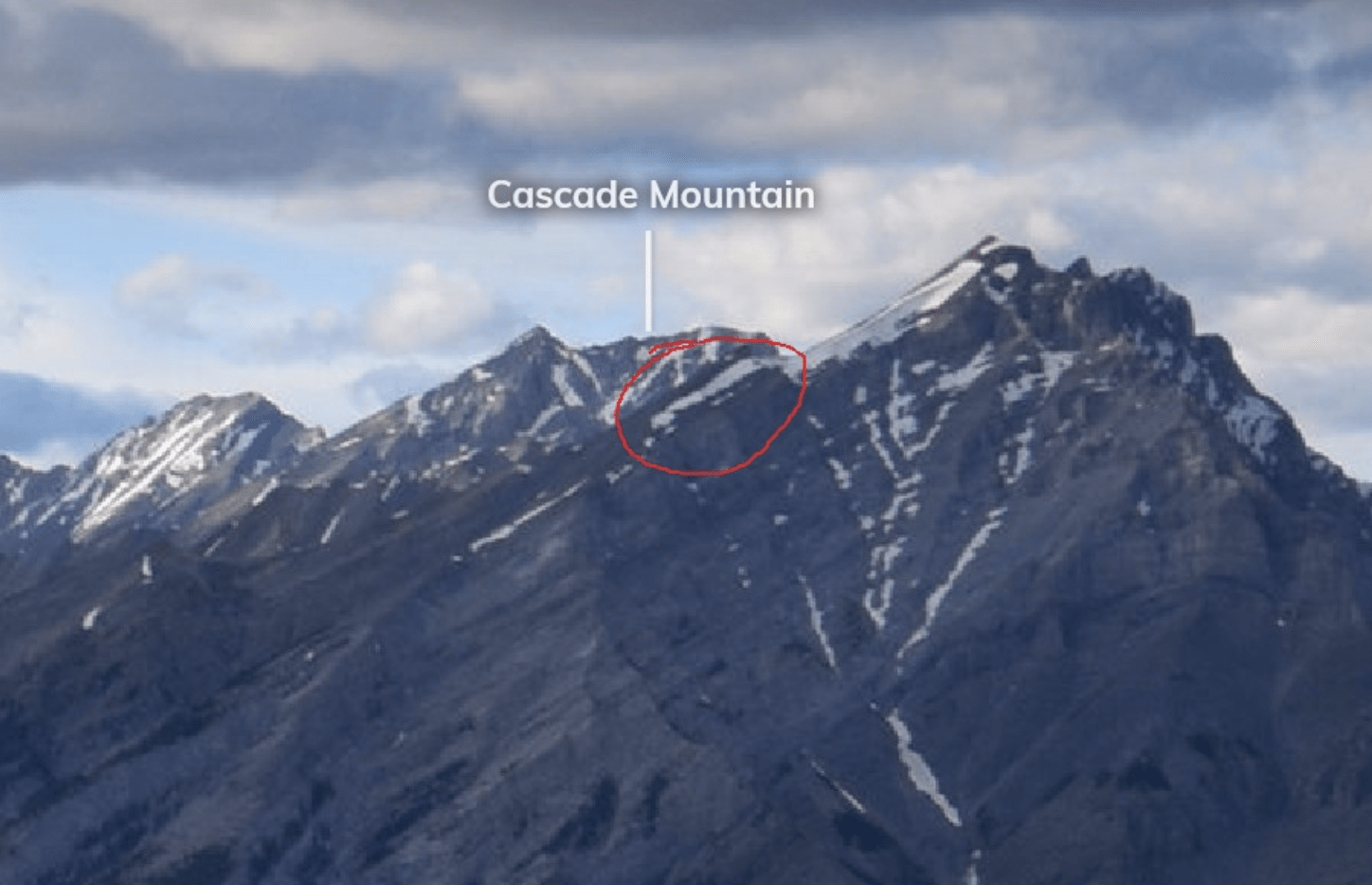 As soon as the section between the false summit and the main summit is clear of snow. If you check the Banff Sunshine webcam and zoom in on Cascade, you can double-check if it is clear. You can also see parts of this section from town. Typically from late July to September, this section is good to go.
---
Should You Bring Dogs & Kids up Cascade Mountain
---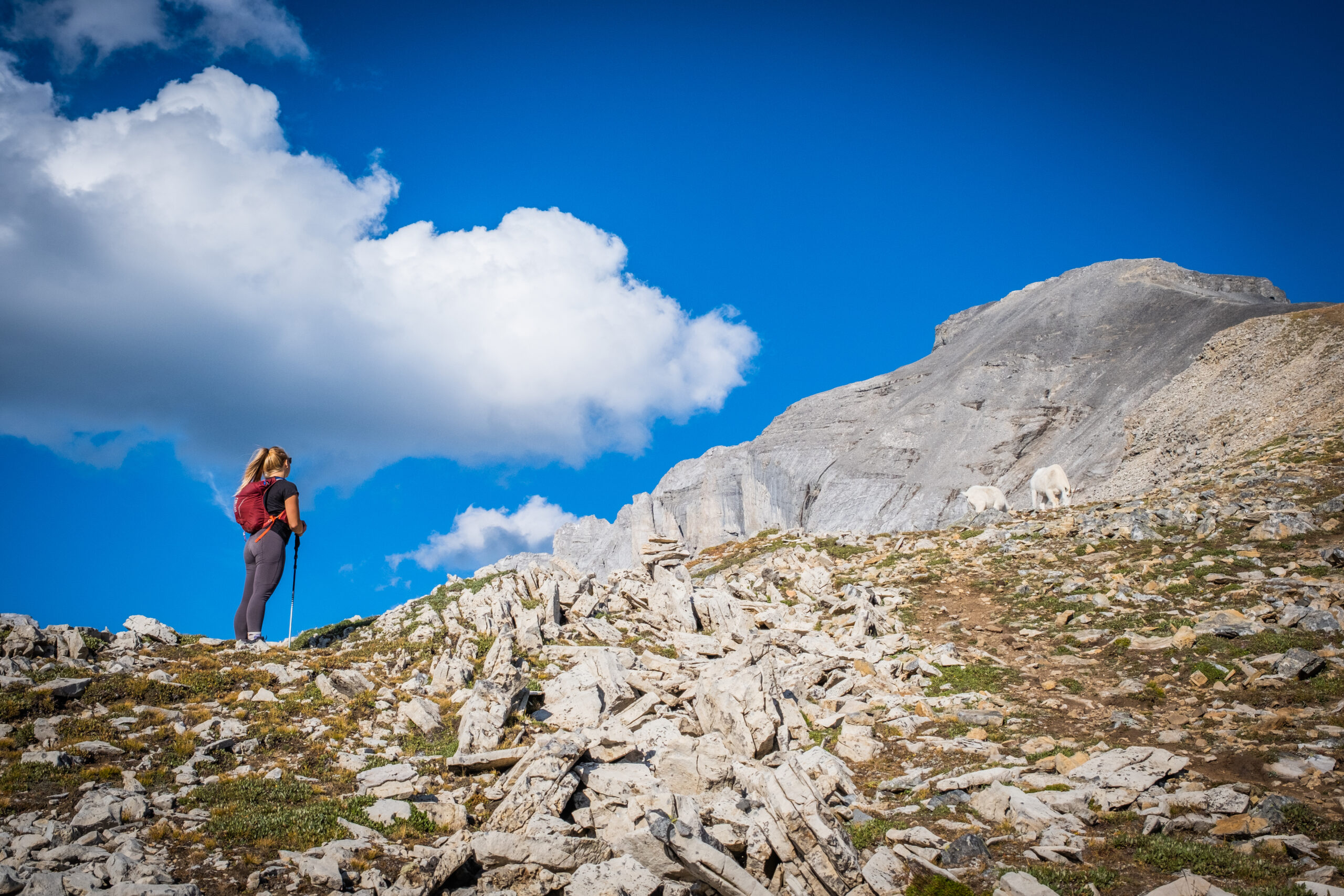 Experienced dogs and kiddies are safe to bring up Cascade Mountain. As long as they have experience with long days and lots of elevation gain.
---
Advice on Hikes in the Canadian Rockies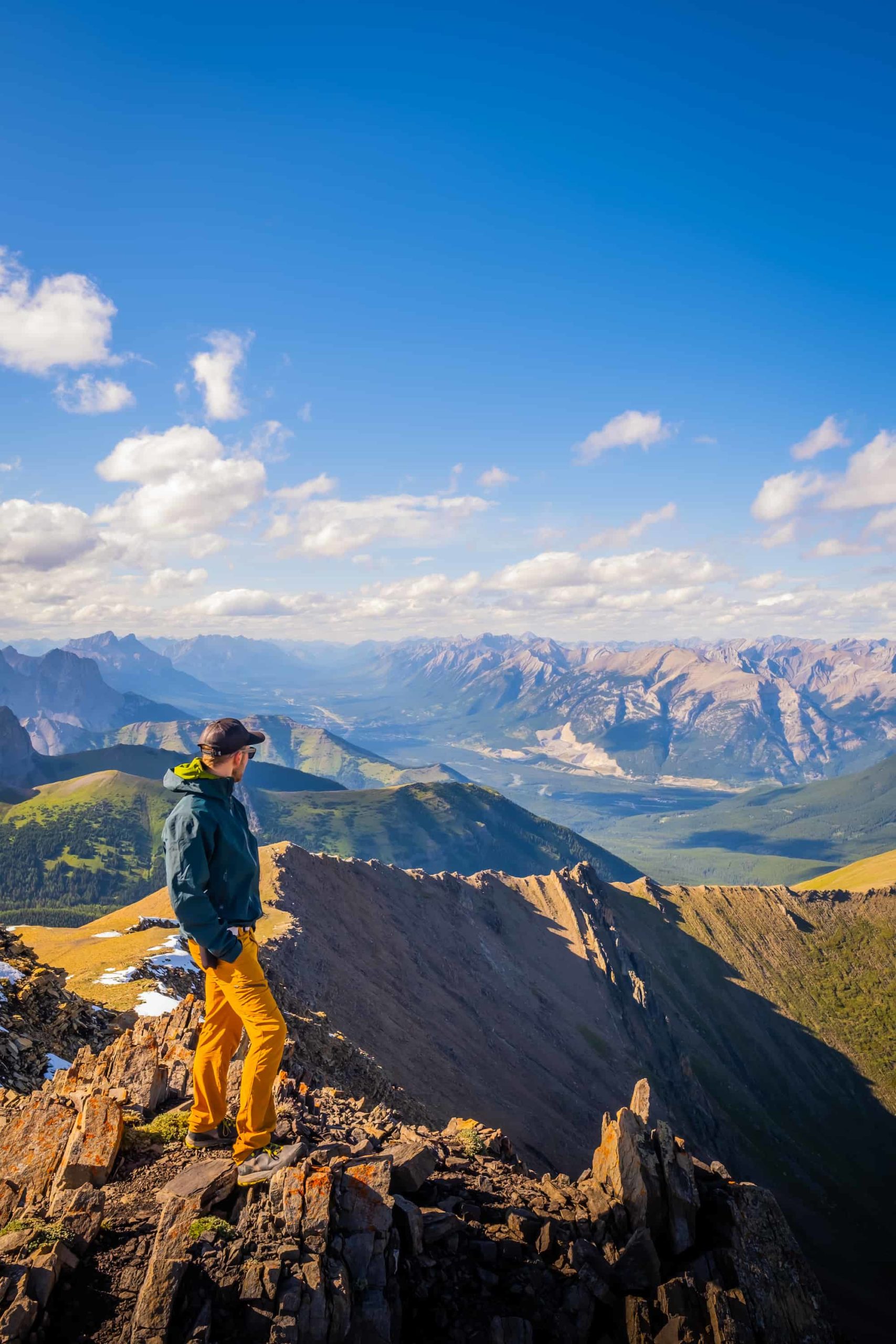 If this is your first time hiking in the Rockies, take a conservative approach. Pick an adequate hike for your fitness, plan for plenty of time, pack water and food, and don't be afraid to turn around. If you want to learn more about what to wear hiking, we have a great post.
For long hikes, set a turnaround time at the departure. Whenever we set out for an objective, I determine a time at which we need to turn around to arrive at the parking lot or campsite by dark. I would recommend not hiking in the dark as it's easy to get lost and it's not fun in bear country.
On that note, always carry bear spray if you plan to hike in the park. We carry ours in the neighborhood, and bears have been known to stroll through town and busy parking lots. Always practice wildlife awareness when you're on a trail, and please give animals space.
In regards to times, keep in mind your mountain fitness — different than the gym. The low end of this post's low end is a constant fast pace uphill with little to no breaks and a brisk pace downhill. Most hikers should plan for a middle-of-the-road time with the estimated duration.
It's also super important to know that there are limitations and to come prepared. These are very serious mountains, and it is easy to get in well over your head with life-threatening consequences.
Lastly, a GPS tracker could save your life – it's one of those backpacking essentials I like to have on me just in case I need to hit SOS. Alltrails is our favorite app to have on a hike. It shows the correct trail way, elevation, and other hiker reviews. We paid the subscription fee so that we could download all the data we need to our phones. Best $3 (per month) ever spent!
---
What to Wear On a Hike?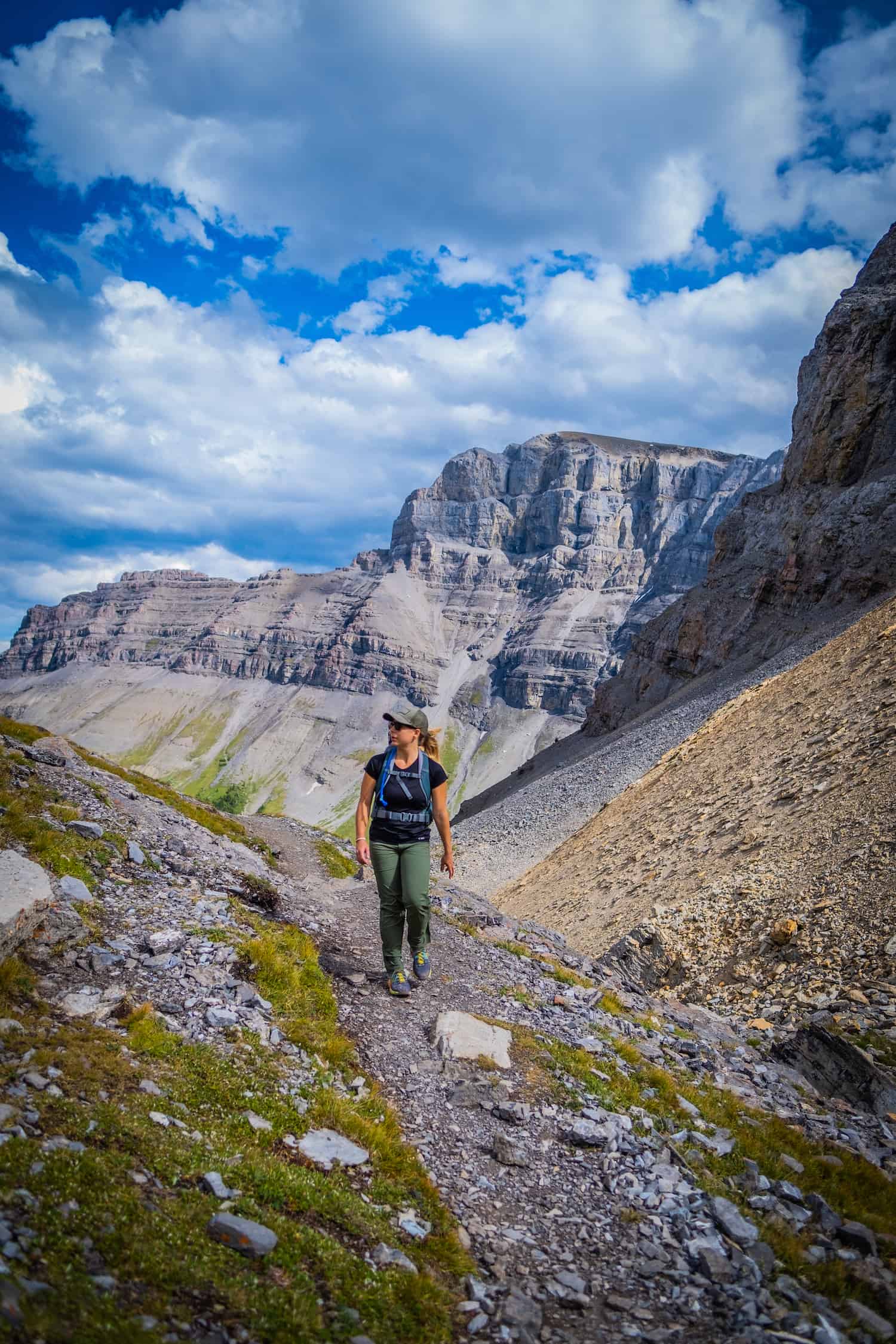 The most basic principle of what to wear hiking is layering. Anyone that has spent time in the wilderness or mountains can speak to the fact your temperature can fluctuate a lot on a hike. You can easily start off cool at the mountain base and get hot as soon as you begin moving.
---
Looking for Other Great Banff Hikes?