Sulphur Mountain is easily one of the most popular hikes in Banff National Park. It's a beautiful hike up that provides visitors with astonishing views over the Bow Valley.
Due to its proximity to Banff town, and the fact that you can take the Banff Gondola up to the peak instead of sweating it out on the trail means that Sulphur mountain becomes very busy.
Here is all the info you need to know about hiking up Sulphur Mountain, which is a great free alternative to paying for the Banff Gondola.
---
Sulphur Mountain (or Sulfur Mountain) Key Points
Length: 10.1 km out and back
Elevation Gain: 744 m
Duration: 3 – 5 hours
Difficulty: Moderate
Best Time to Go: Good to go all year
Parking: Banff Gondola Parking Area
---
How Long Does Hiking Sulphur Mountain Take?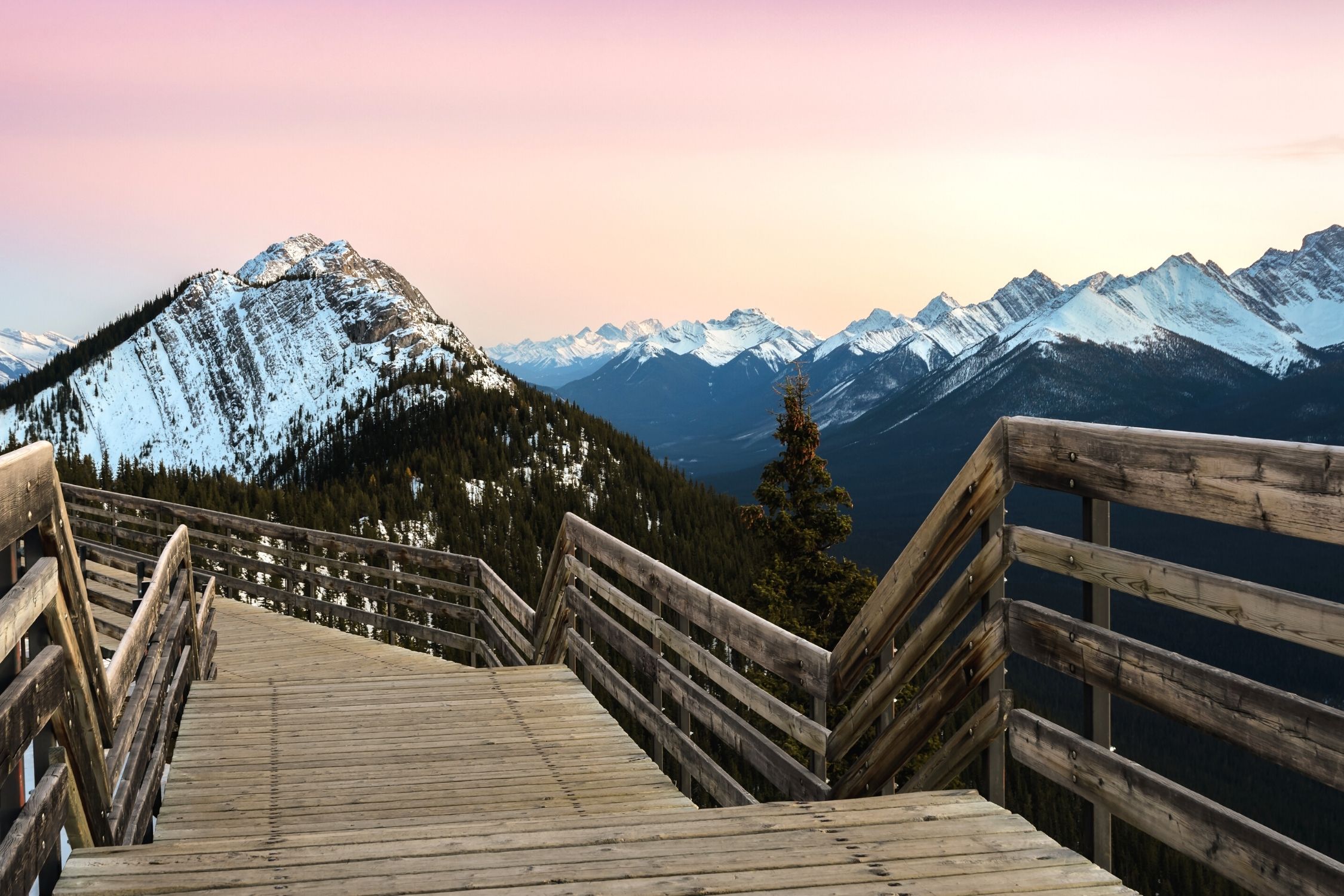 Sulphur Mountain trail is a 10.1 kilometer out and back trail. We hiked up the Sulphur Mountain switchback trail in about 1.5 hours in the winter. We had hiking poles and a few members of our party had crampons on which definitely helped with the sliding.
In the summer I think ascending Sulphur Mountain is doable in one hour, and you could descend in about 45 minutes. We spent about one hour enjoying the views from the top of Sulphur Mountain.
If you are really taking your time this whole circuit could be completed in four hours with a nice coffee at the Sky Bistro at the top.
There aren't any WOW views on the hike until you reach the top, but if you like to take a lot of photos like us then factor in an extra 10 minutes.
---
How Hard is the Sulphur Mountain Trail?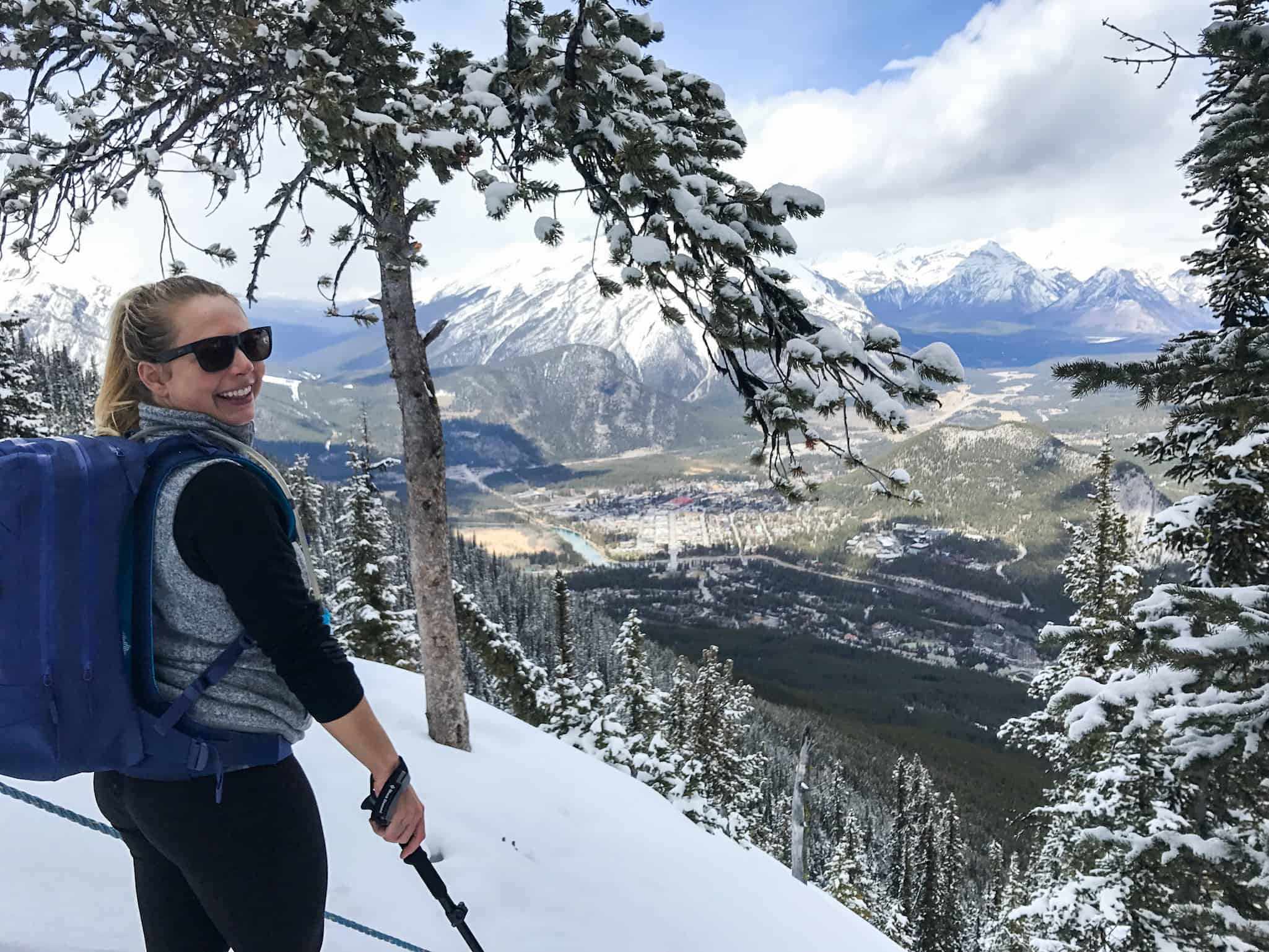 AllTrails has rated this hike as moderate, and I would have to say I agree with them. There is nothing technical or challenging about this hike, but it is a steady incline the entire way up with little to no flat spots and switchbacks almost the entire way.
If you're in reasonably good shape this will be no problem for you and is one of the easier hikes that you can do in the park. It's harder than Tunnel Mountain but much easier than Cascade Mountain. Don't think that means it's a complete walk in the park! You'll still gain an elevation of 744 meters through what seems like neverending switchback trails.
---
Which Way Should I Hike Sulphur Mountain?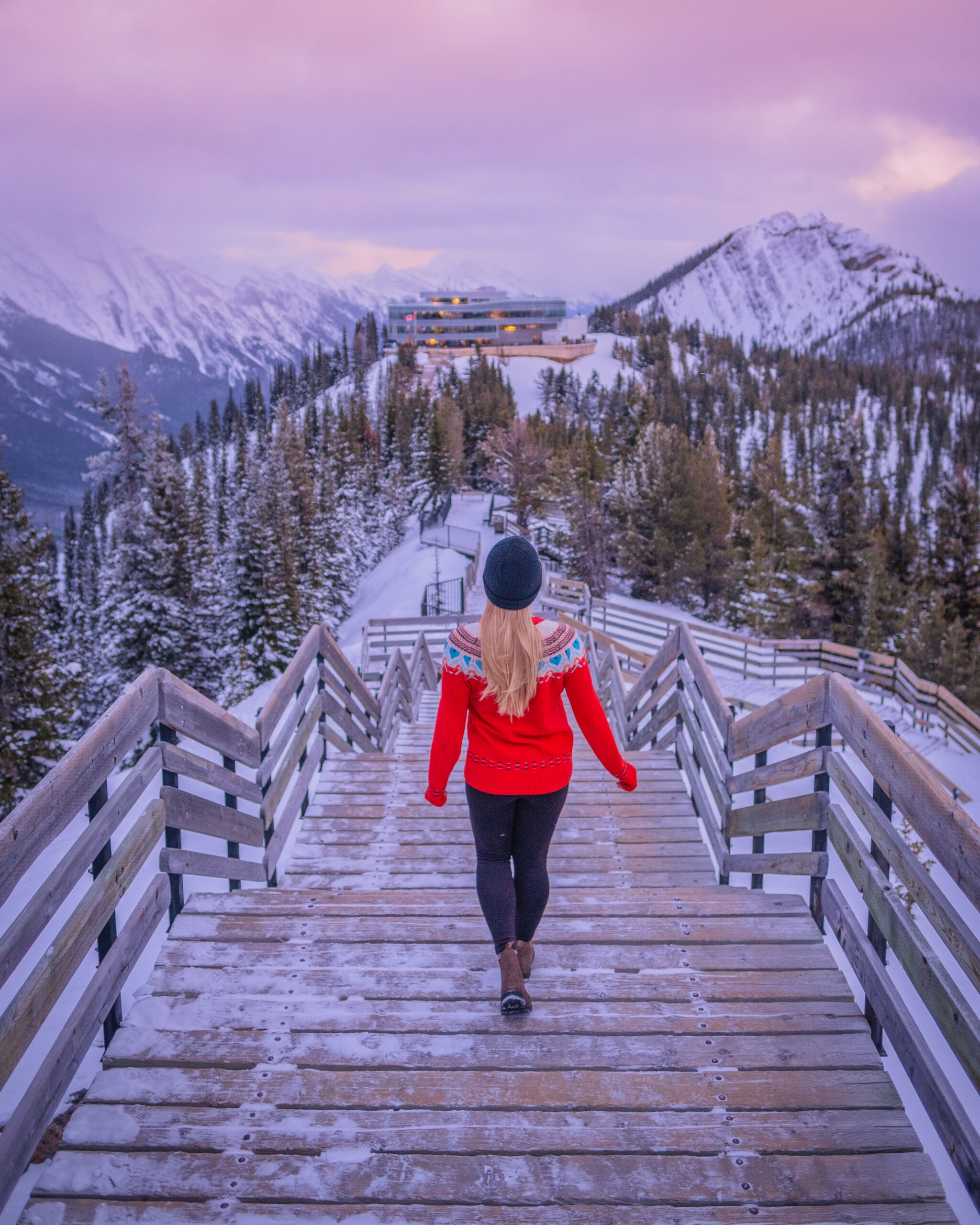 There is only one trail up! You'll find it off to the left of the parking area right near the Sulphur Mountain and Hotsprings sign. You'll take this way down too if you decide to hike.
However…
In the winter anytime the Banff Gondola is FREE to take down. So if you want to hike up for sunset and have a breezy way back down you can plan on taking the gondola for absolutely no charge. Make sure to pay attention to the times of the last ride. In the summer this means 10:30 pm, while in the offseason it is generally 9:30 pm or earliere.
Any other time the ride down will cost you $30.
---
When Can You Hike Sulphur Mountain?
Sulphur Mountain is doable all year! If you decide to tackle this in the winter microspikes will come in super helpful to get you through. It's steep and slippery. Hiking poles are never a bad idea either. See my section at the bottom for what to wear hiking.
We hiked Sulphur Mountain in early May and there was still plenty of snow on the ground (if you can't tell from these photos!). While crampons weren't necessary at this time they definitely were helpful for a few members of our group.
Hiking Sulphur Mountain in the winter means that you won't find many other people on the trail. We saw maybe 10 other people in May. During peak summer season this trail is heavily trafficked given its ease and proximity to Downtown Banff.
---
How Busy is Sulphur Mountain Trail?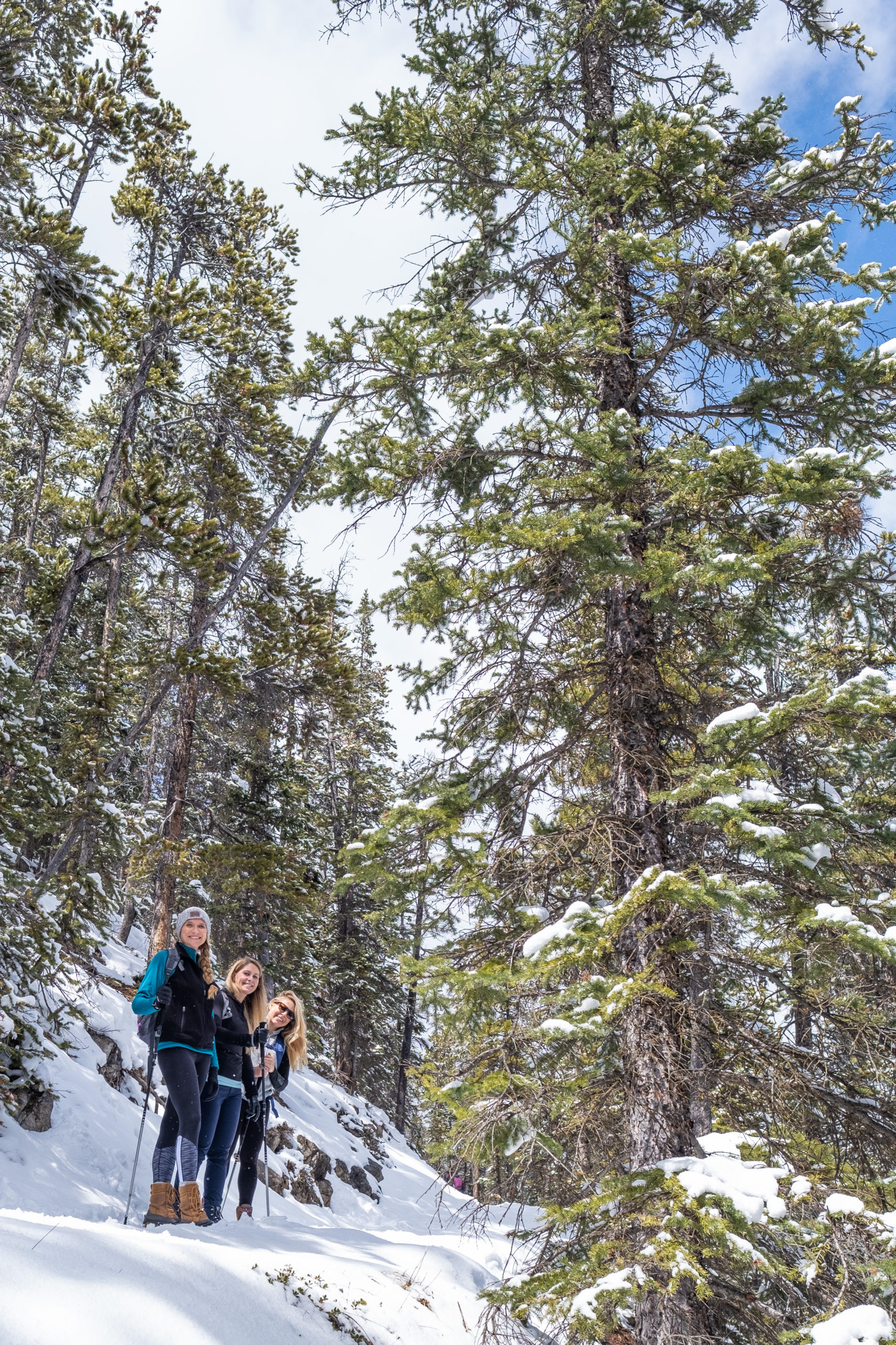 AllTrails rates this as a heavily trafficked trail, and it is. It's a moderate hike that is exceptionally close to the town of Banff and offers breathtaking views over the Bow Valley. Don't come here expecting to be alone, except maybe on a mid week winter day.
---
What About Dogs and Kids on Sulphur Mountain?
Bring the dogs and the kids! Sulphur Mountain is a doable trail for all. Remember to keep the dogs on a leash and make sure the kids don't slip in the winter.
---
Summiting Sulphur Mountain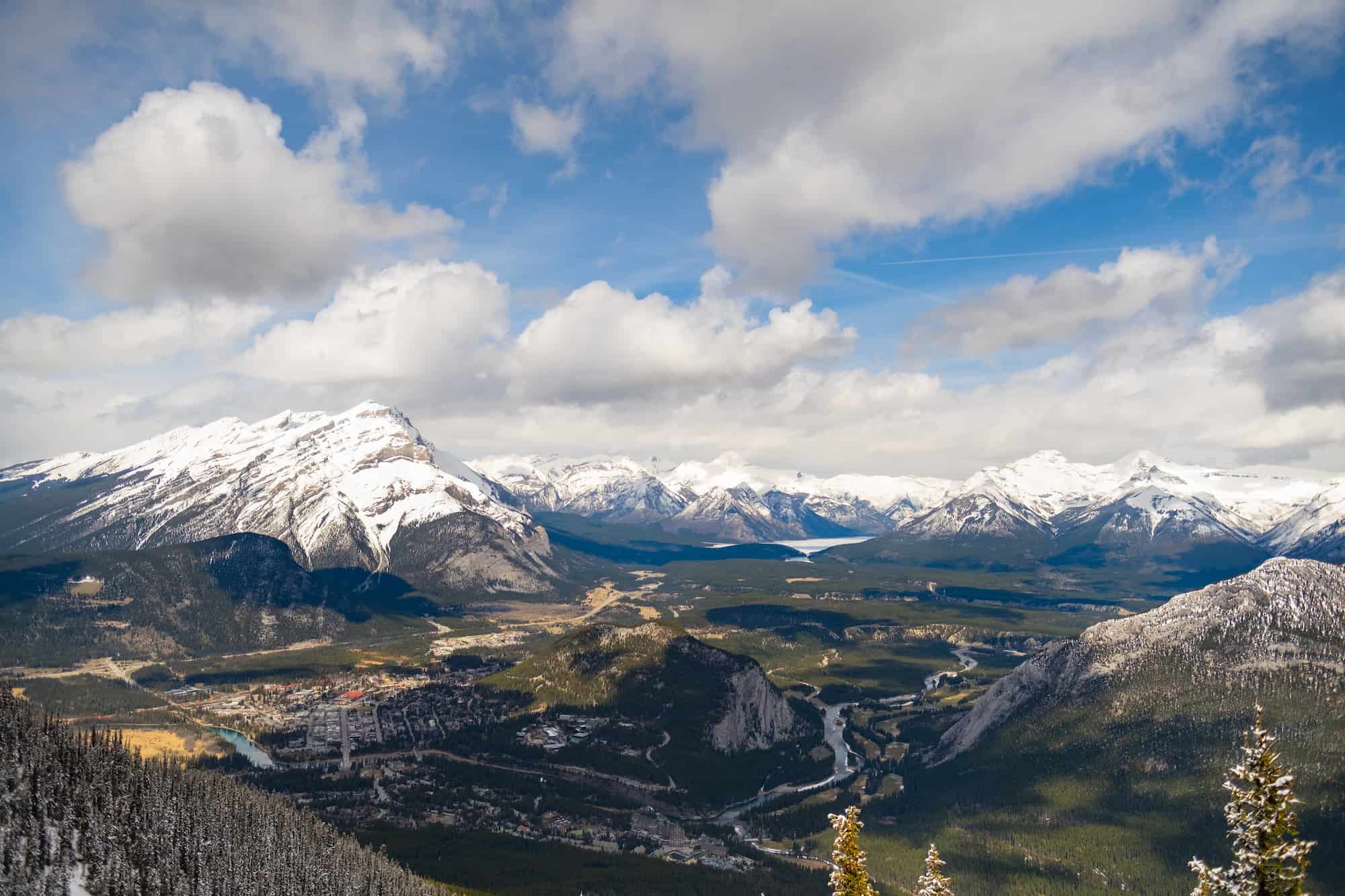 Once you reach the top of Sulphur Mountain, you may be in for a treat, depending on what kind of person you are.
The views are breathtaking, but there is also a well-built viewing and walking platform. The Sulphur Mountain boardwalk takes you across the summit comfortably and safely.
You'll also find an interactive interpretive center for families, a small theatre, rooftop viewing platform, a mountain restaurant, and a coffee shop to relax at after your hike up. It's fully wheelchair accessible and great for the elderly who want the views without the strenuous climb.
The way that Sulphur Mountain is built up at the top is certainly not for every adventurous hiker, but it is great for many visitors to Banff who want to learn more and get a great introduction to hiking in the Canadian Rockies.
---
The Banff Gondola
The Banff Sightseeing Gondola is located just five minutes from the Town of Banff. It's really one of the most popular things to do in Banff all year round.
The Banff Gondola is there for you if you want to get those amazing six mountain range views from the top of Sulphur Mountain without the climb up or down.
The Banff Gondola runs year round and provides the chance to relax and hang over the trees. The Banff Gondola is not a cheap experience at $62 Round trip. In my opinion, the gondola is great for those that are not physically able to do the hike. This may mean people with disabilities, the elderly, or large families.
If you are able, I highly recommend hiking up Sulphur Mountain. The beautiful view will feel much more rewarding!
---
Wildlife Awareness On Sulphur Mountain
If you're on any hikes in Banff you should practice proper wildlife awareness. In the region, there are frequent sightings of black bears, grizzly bears, moose, coyotes, and cougars. They all a potential threat to humans and we should reduce our impact on their natural lives.
Before any hike or walk in Banff National Park or Kananaskis Country, you need to have bear spray. Remember that the bear spray is worthless if it's in your pack, you'll need to be able to grab this in two seconds or less in an emergency. We wear our bear sprays on our hip.
The likeliness of seeing wildlife on this trail is rare. It's heavily trafficked and there is a loud gondola floating above the trail the whole time. Undoubtedly scaring away most wildlife. Still – you need to be prepared for any situation in the Canadian Rockies!
Always check the park websites for wildlife information (Parks Canada and AB Park), and then check again for notices at the trailhead.
When you're on the trail make noise by banging hiking poles, talking, whistling, clapping, or singing. This is particularly important around blind bends and corners. You're through the deep woods during these times, and it's prime time to sneak up on a bear. Once you're on the ridge, you're safer as you can see wildlife from afar, but still, don't let your guard down and keep the bear spray on you just in case.
As always while hiking, you need to stay alert, travel in a group, mind children and pets, and finally carrying bear spray and knowing how to use it. If you've come to the park without bear spray Valhalla Pure Outfitters in town sells spray and holders with employees who will demonstrate how to use properly.
What to Wear On a Hike in the Rockies?