The Grassi Lakes hike is perfect for friends and families and is a great way to pass a couple of hours. It's an easy Canmore trail with a wide path that leads through the forest up to two sparkling turquoise lakes. If you're looking for a quick hike near Canmore, this is a classic!
However, because of its ease and accessibility, you can expect plenty of crowds on the trail, especially on weekends during the summer. Nevertheless, Grassi Lakes is a great hike that everyone should try at least once during their trip to the Canadian Rockies.
2023 Update: After a long closure, the Grassi Lakes Trail is now open for the season.
---
Grassi Lakes Hike Guide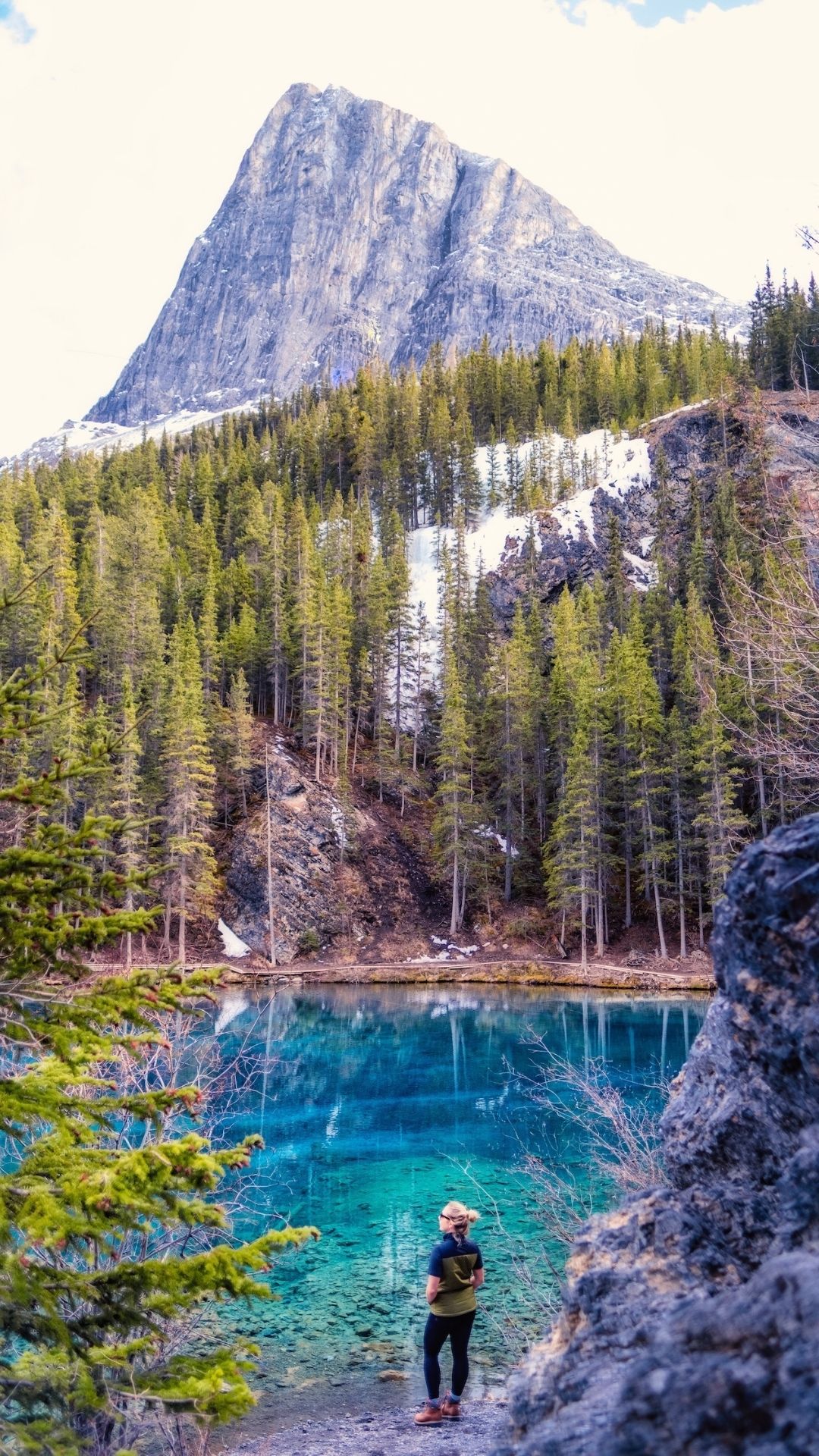 ---
Key Points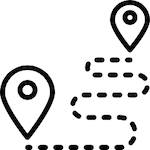 Length
4.3 km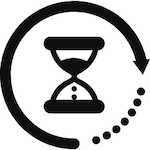 Duration
1 – 4 hours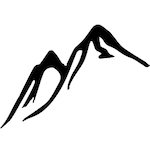 Elevation
203 meters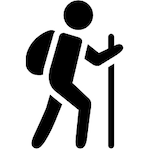 Difficulty
Easy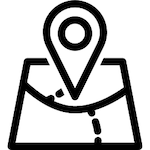 Trailhead
Grassi Lakes Trailhead
---
Best Time To Hike Grassi Lakes
Possible year-round, but attention must be paid to avalanche cycles in winter/spring. The lakes will freeze over in the late fall and thaw in spring.
---
Grassi Lakes Trail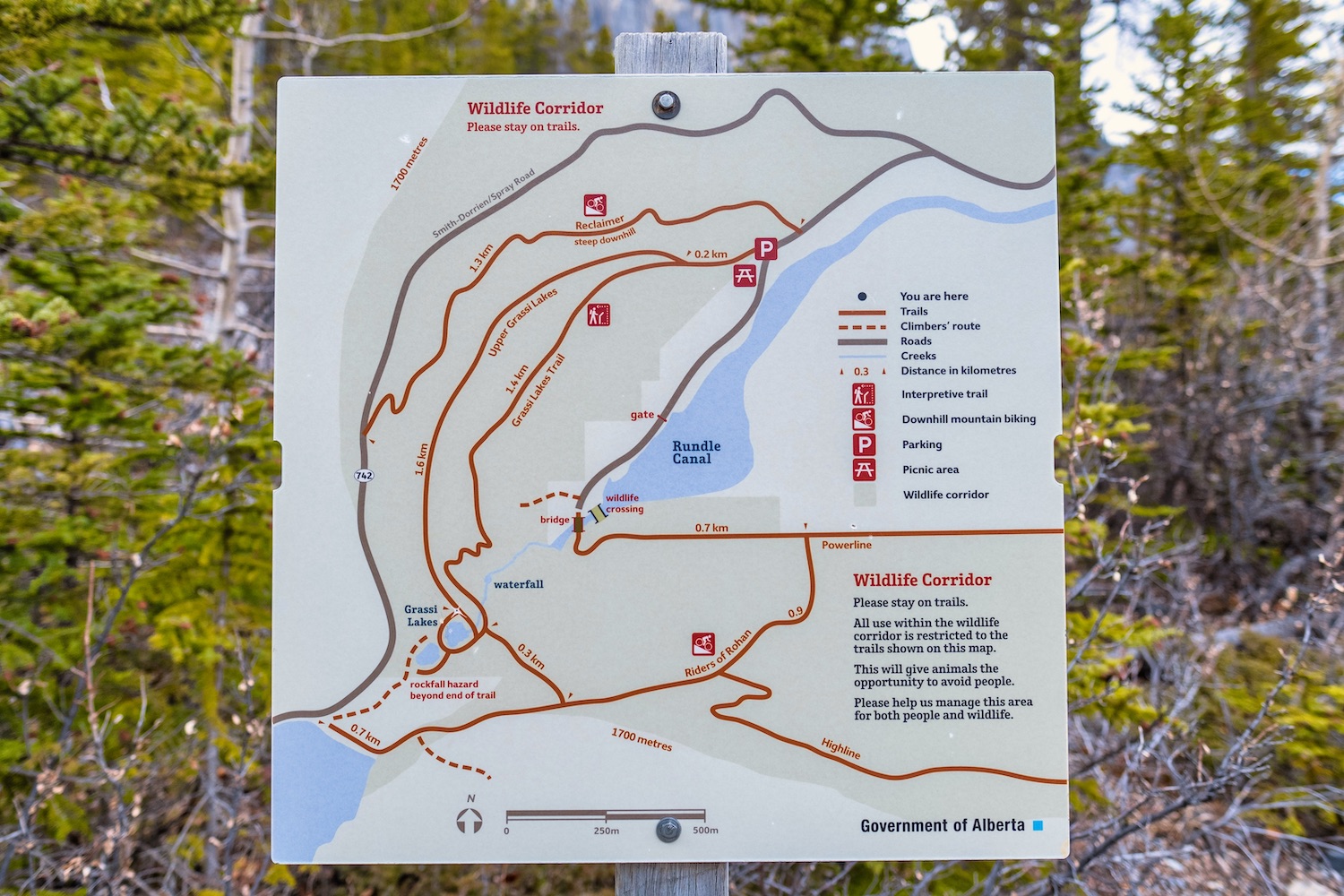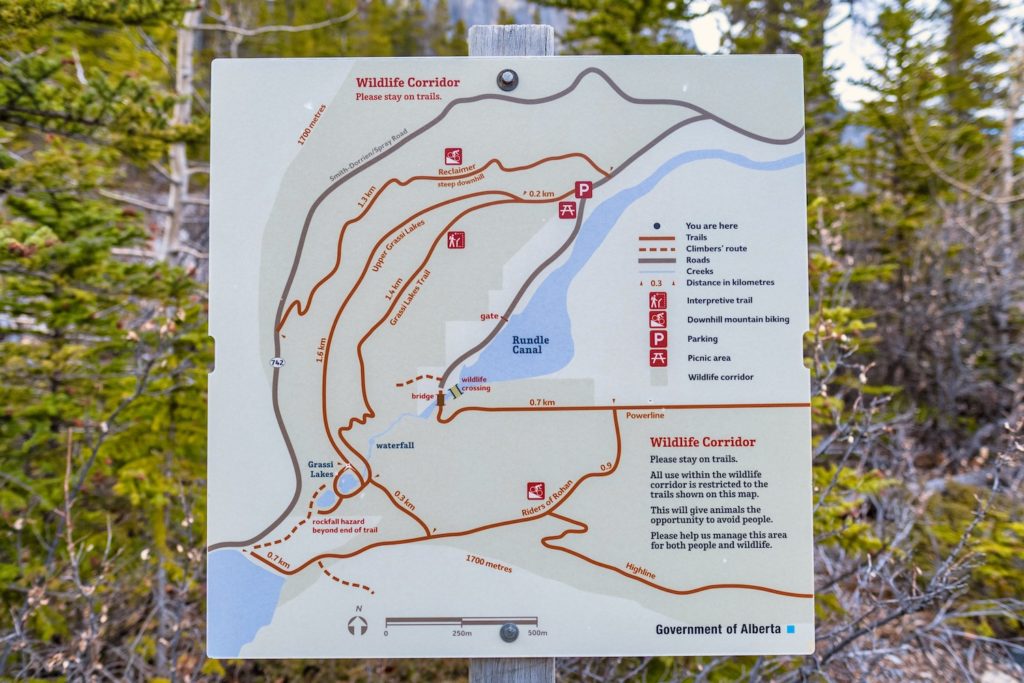 The trailhead for Grassi Lakes is 2 km past the Canmore Nordic Center at the Canmore reservoir. There is a decent-sized parking lot with enough room for about 50 vehicles, but this parking lot fills up quickly on the weekends.
When the parking lot is full on weekends, you'll find rows of cars along the road and uphill parked on the Smith Dorrien Highway. If it's this busy, we'd recommend hiking somewhere else around Canmore or Kananaskis, but it's hard to deny the appeal to the trail.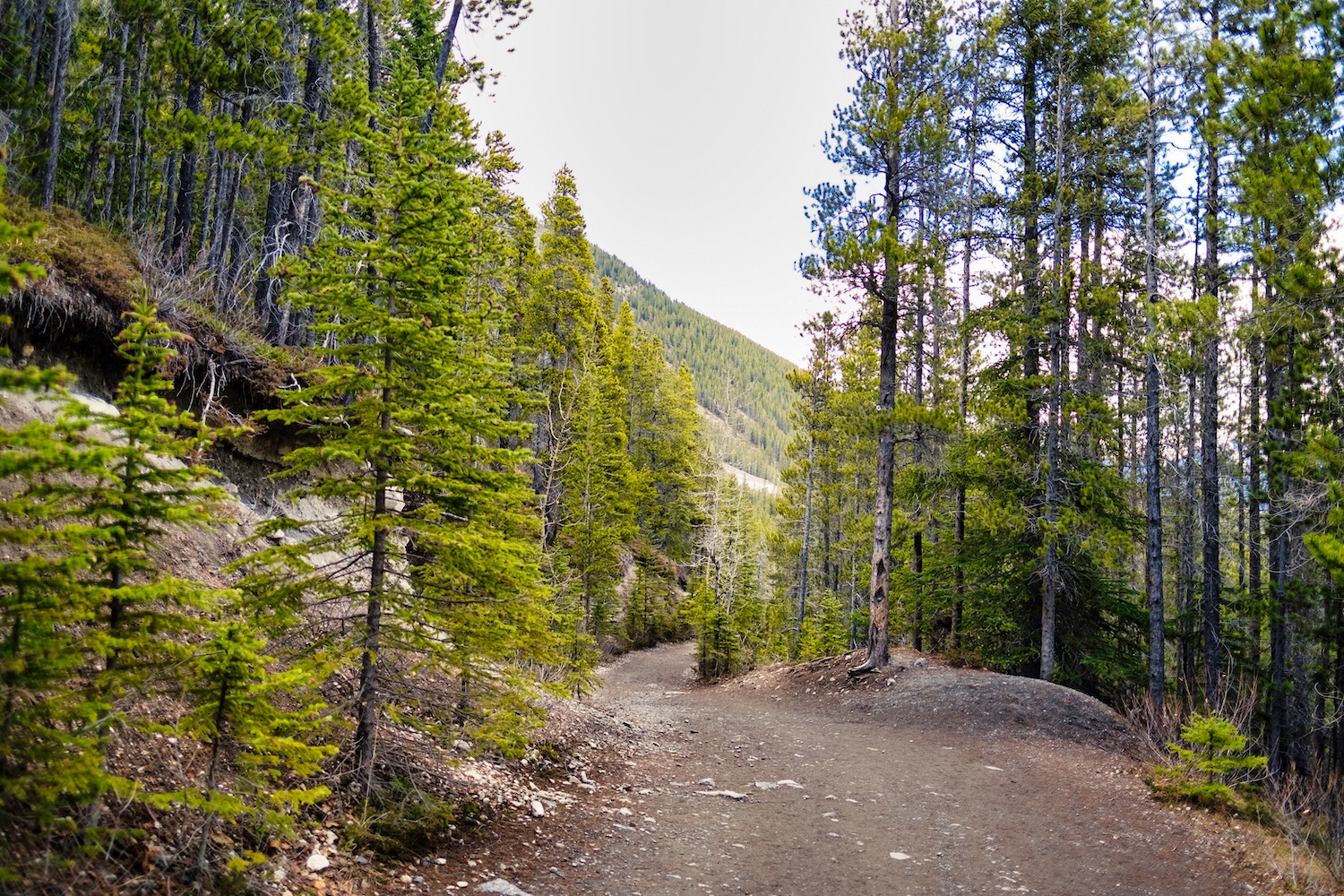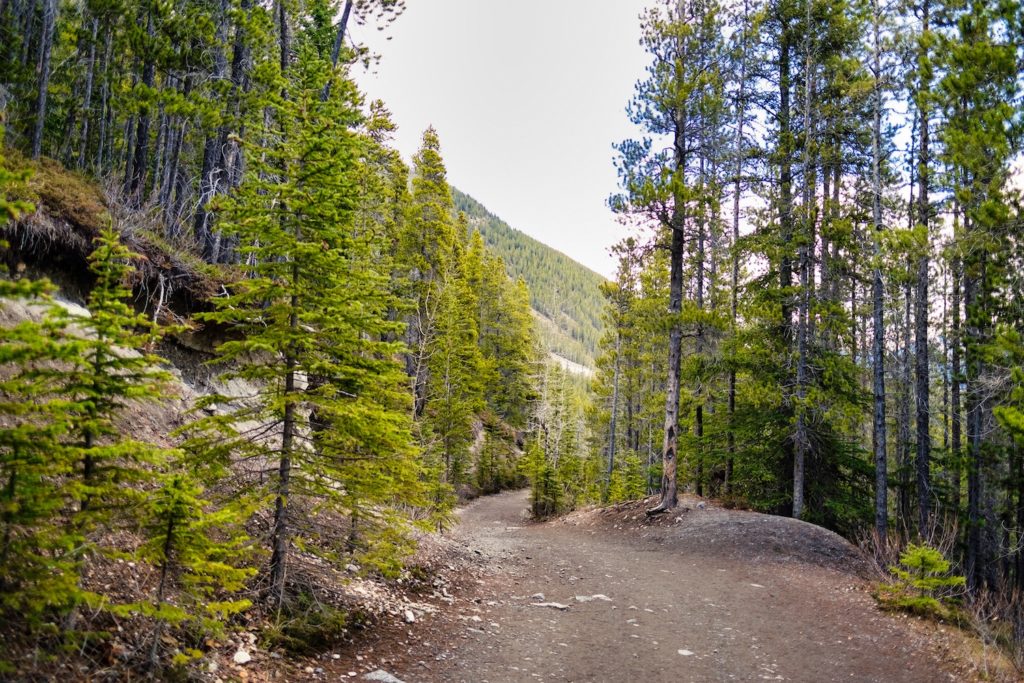 From the parking lot, a wide gravel trail that is well maintained leads up the lakes. It's a gradual uphill climb that is easy enough for most to climb. However, it is a 200-meter climb, so don't be surprised if you start to warm as you make your way to the lakes.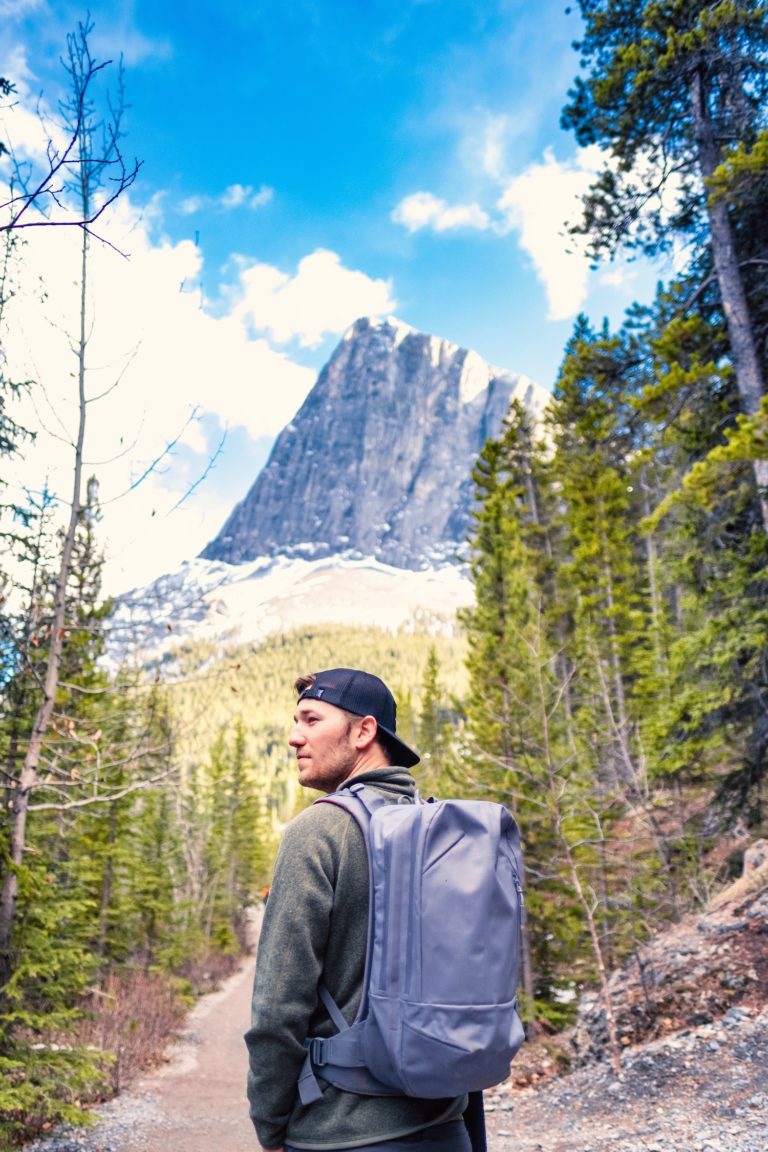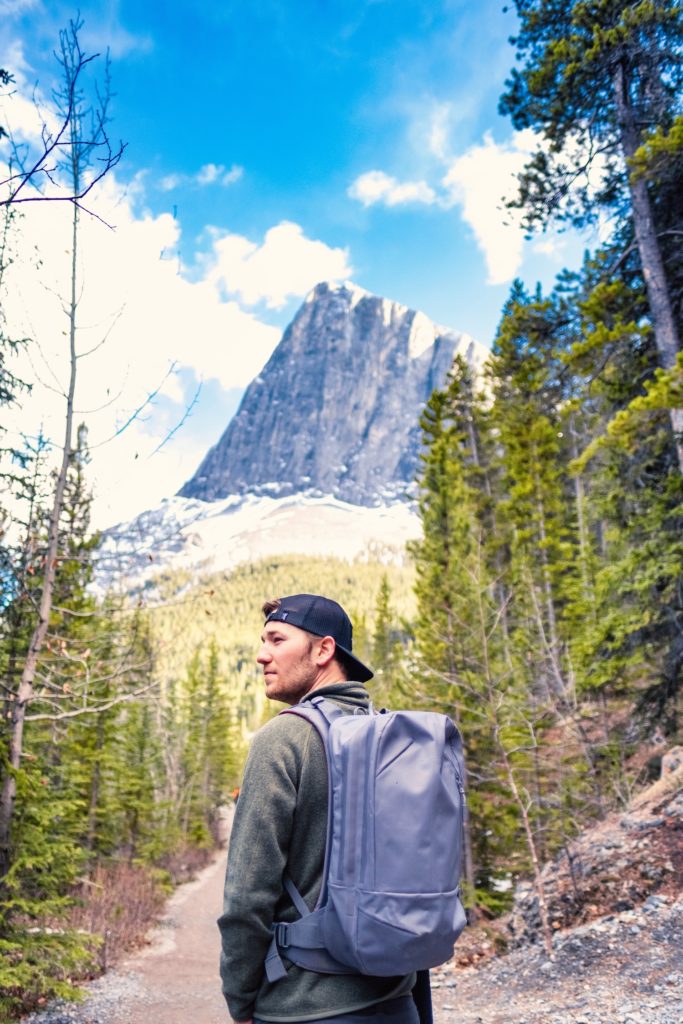 There are two routes to lakes an easy main trail and a "hard" trail that moves away from the main trail. Both trails are fairly easy. In the winter and spring, the hard trail is often not passable. While in the summer it's quieter, but difficult to pass slow-moving parties and can become congested. For most, we'd recommend you stick to the easy trail as it's well-graded and maintained.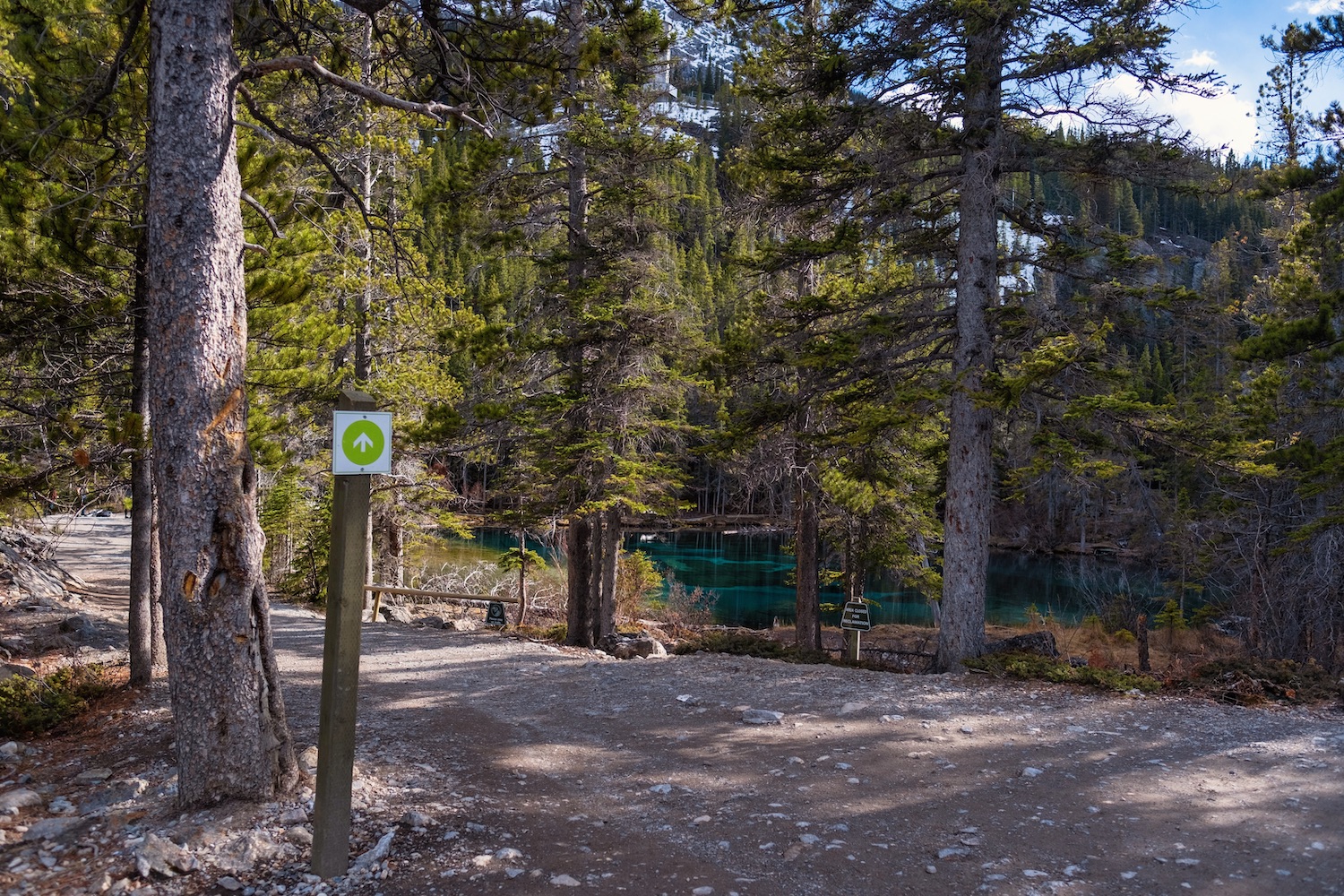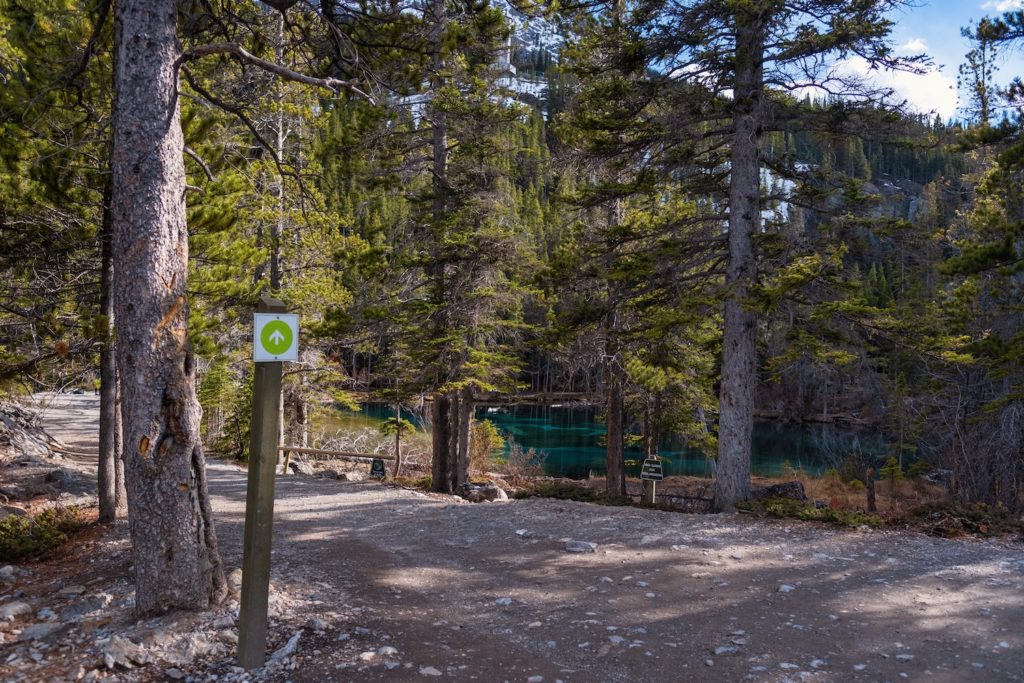 The first section of the trail is a nice walk in the woods and doesn't offer much for views. That doesn't last for long, and eventually, the trail opens up to some nice views down to the Bow Valley and Ha Ling Peak above. On the way up to the two shallow lakes, there are a few viewpoints that offer wonderful panoramic views of the town of Canmore down below.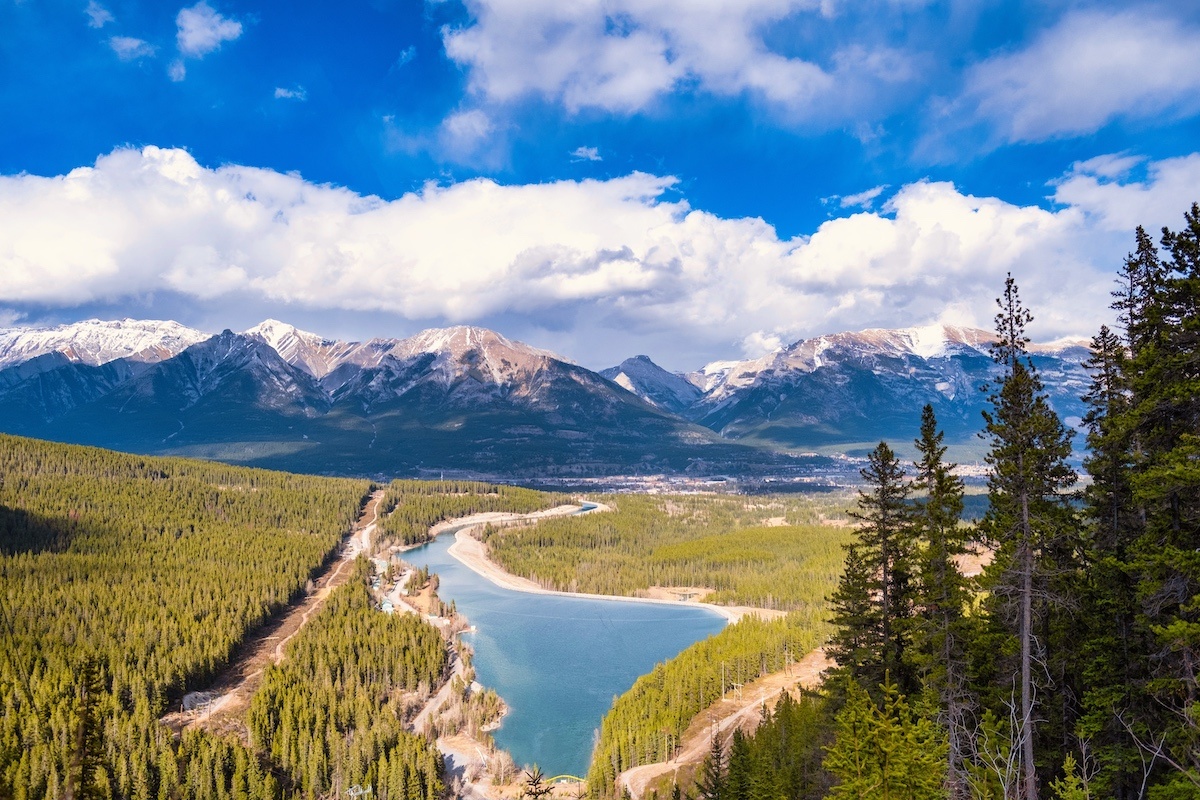 The best viewpoint is just before you reach Grassi Lakes, so make sure not to miss it, even though the lakes may be tempting. The two sparkling lakes nestled below Ha Ling Peak and the East End of Rundle (another famed hike— advanced level) are a wonderful sight to be seen by all visitors.
Both lakes have a trail that circumnavigated them, so we like to walk around in a figure-eight loop. Several trails branch off from the trails. One leads up further up towards Whiteman's pond and the Smith Dorrien Highway. It provides some views over the lakes and more views of the Bow Valley.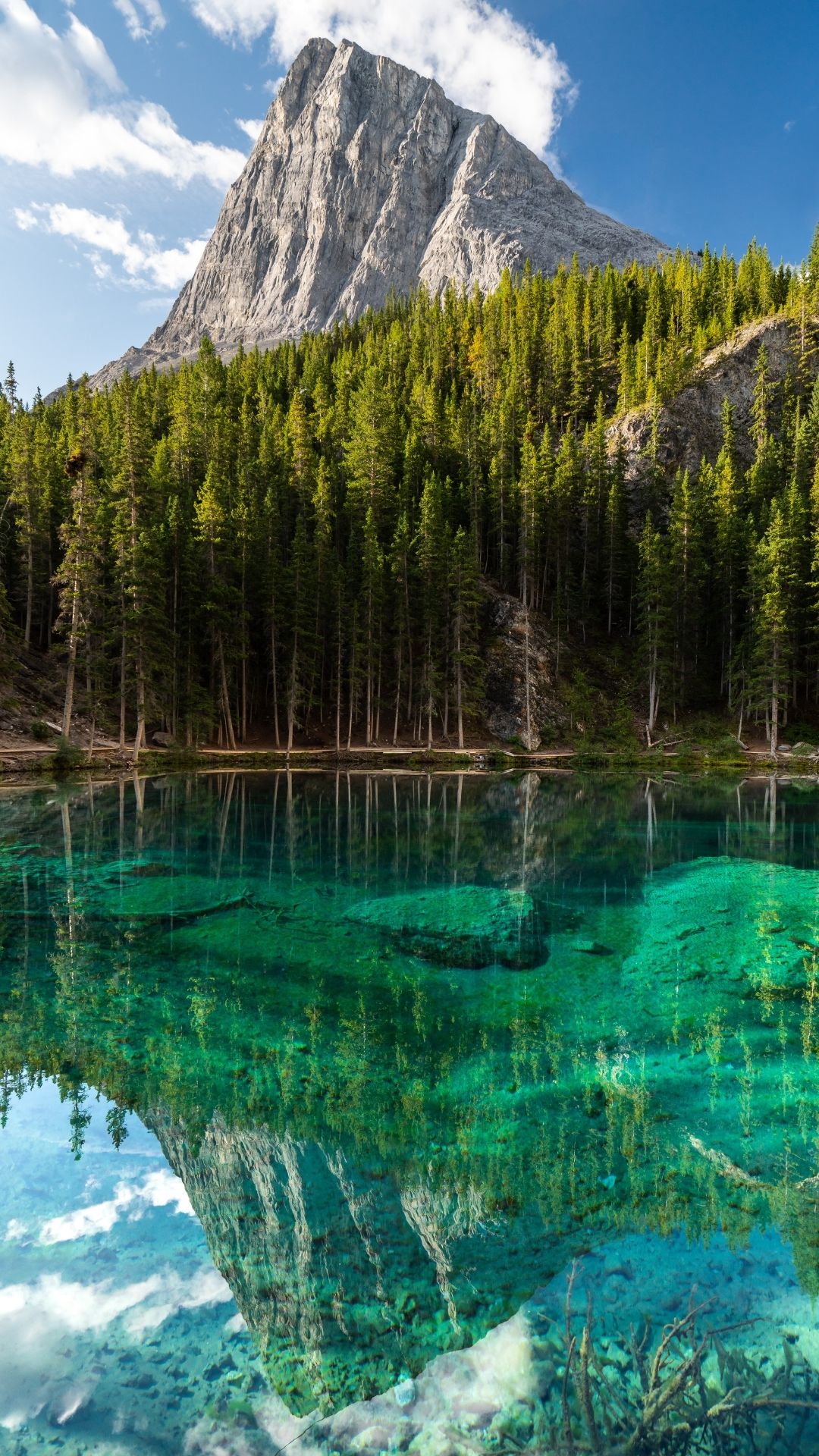 For the more adventurous and locals, there are several rock faces popular for rock climbing. Routes are pretty easy to find with a large number of bolts in place. However, please take this area seriously. A woman lost her life two years ago bouldering.
Unless you're confident in your skill set, we'd advise you to stay away from the rock walls as there is always the risk of rockfall from overhead. Another word of warning, be careful in your exploration and avoid the trail named Riders of Rohan as it's for downhill mountain biking.
---
Grassi Lakes Trail Duration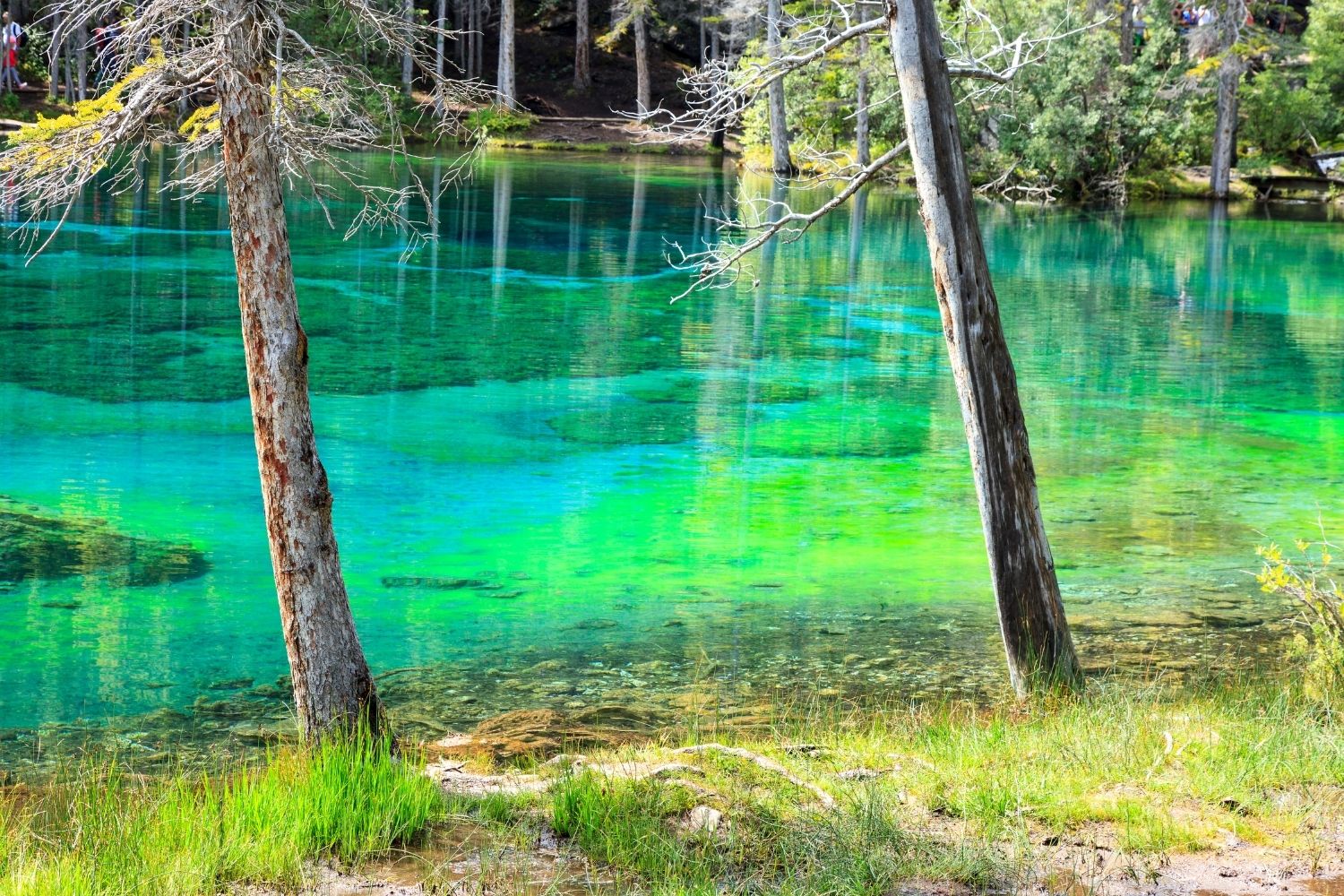 The hike is a short 2km (4km round trip) jaunt that climbs a slight hill at an elevation of 250m. You should expect to take around two hours for the hike as the lakes are gorgeous and nice to explore for a little while. Although, it could easily be done in an hour.
---
Gear We Recommend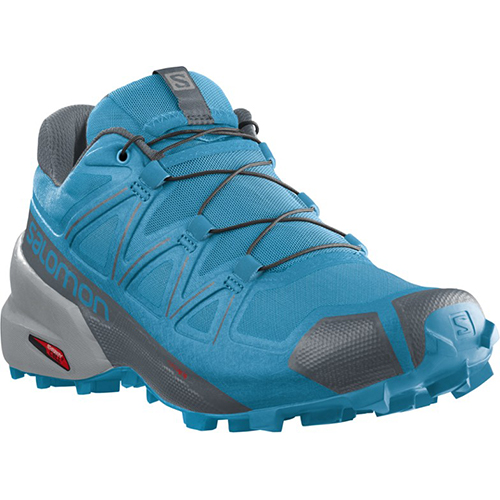 The vast majority of hikes and easy scrambles in the Rockies, you'll find us in our trusty Salomon Speedcross.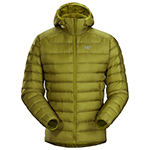 Arc'teryx Cerium is our pick for the best down jacket. It's incredibly light, and we bring it on almost every hike in the Rockies.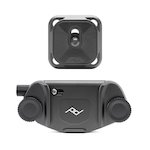 This nifty clip from Peak Design secures a camera to my backpack strap for easy reach. No more digging in the backpack!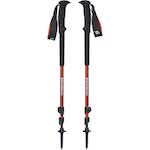 A pair of durable and lightweight hiking poles are a great asset on the hiking trail.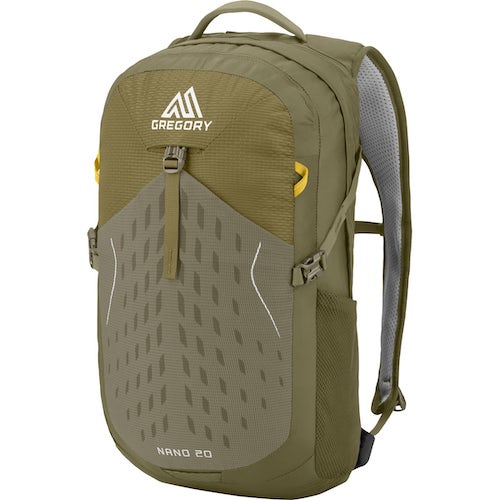 20L feels like the ideal size for quick hikes and scrambles. We love the Nano from Gregory with a hydration reservoir.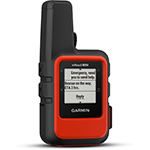 There is not much cell service in the Canadian Rockies. In case of emergencies, we carry an emergency beacon with GPS.
---
Grassi Lakes Trailhead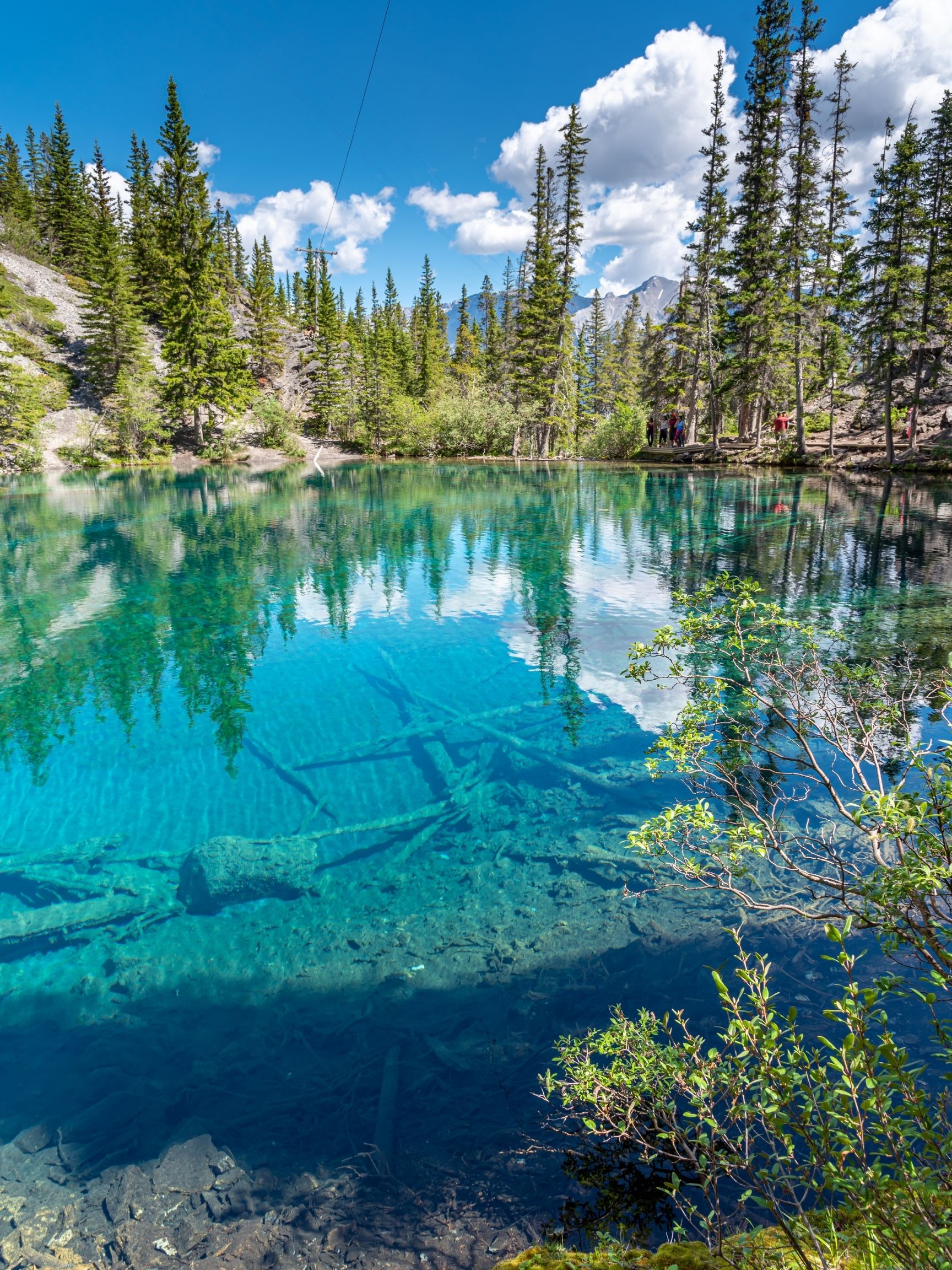 The trailhead begins on Spray Lakes Road, around 2kms past the Canmore Nordic Center. You'll see a small sign that says "No Exit" on the left and a gravel parking lot on the right. Drive down the hill to the parking area and sign for the Grassi Lakes Trail. I've dropped the GPS coordinates where you need to take a left coming from Canmore.
---
When Can You Hike Grassi Lakes?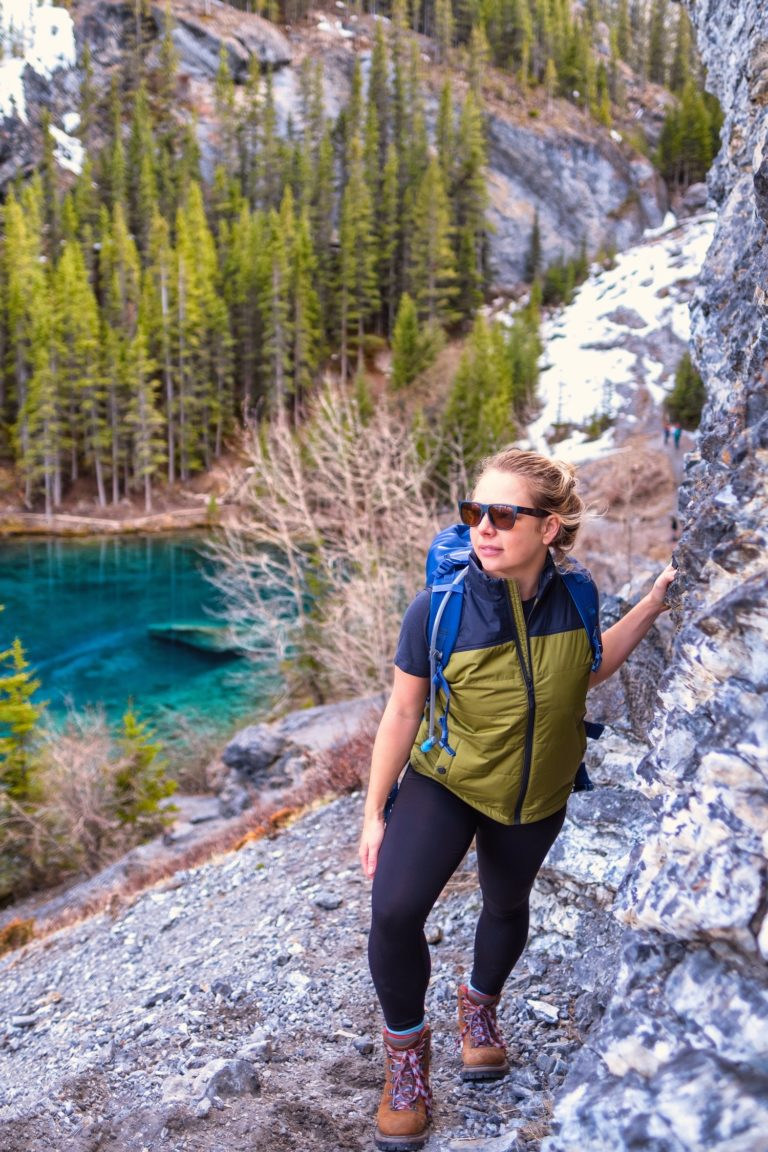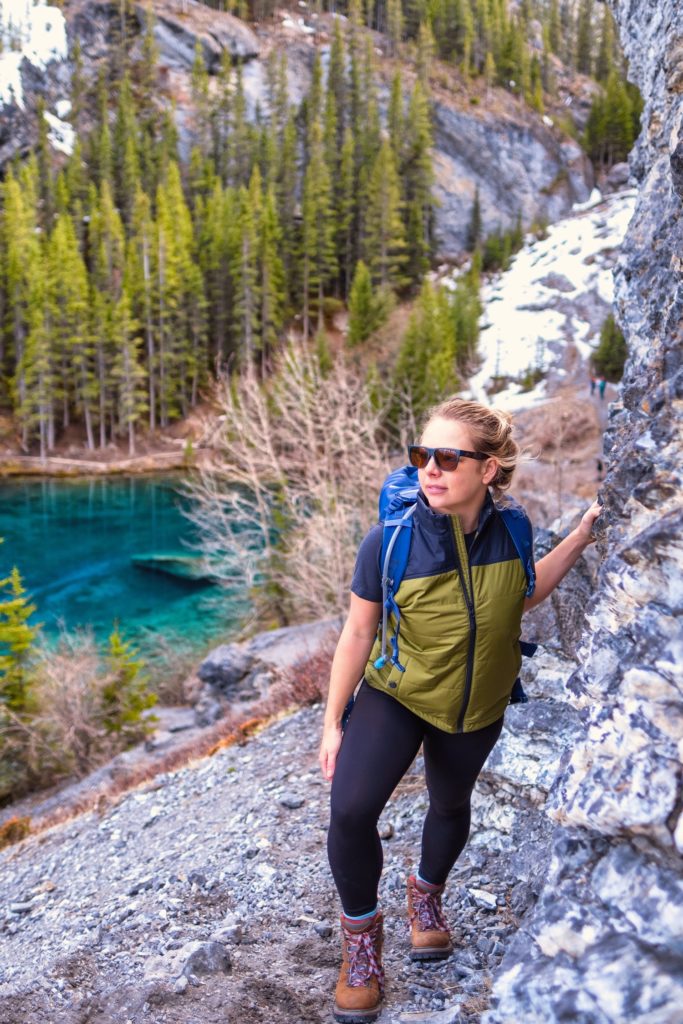 This is one of the most popular hikes in the area on a nice day, so it's best to get on the trail early or late in the evening. That way, you have a parking spot and quiet trails in the summer months. In addition, hiking earlier in the day ensures cool temperatures as daytime temperatures can get pretty warm.
Seasonally, it's a go year-round, although the lakes do freeze over in the coldest winter months, and you may need snowshoes or crampons. However, generally, it's well-trafficked enough to where the snow is packed down and easy to walk along. A good pair of hiking poles should be more than enough.
The more advanced hike does close in the winter months and should open up around late April or early May.
---
How Long Does it Take To Hike to Grassi Lakes?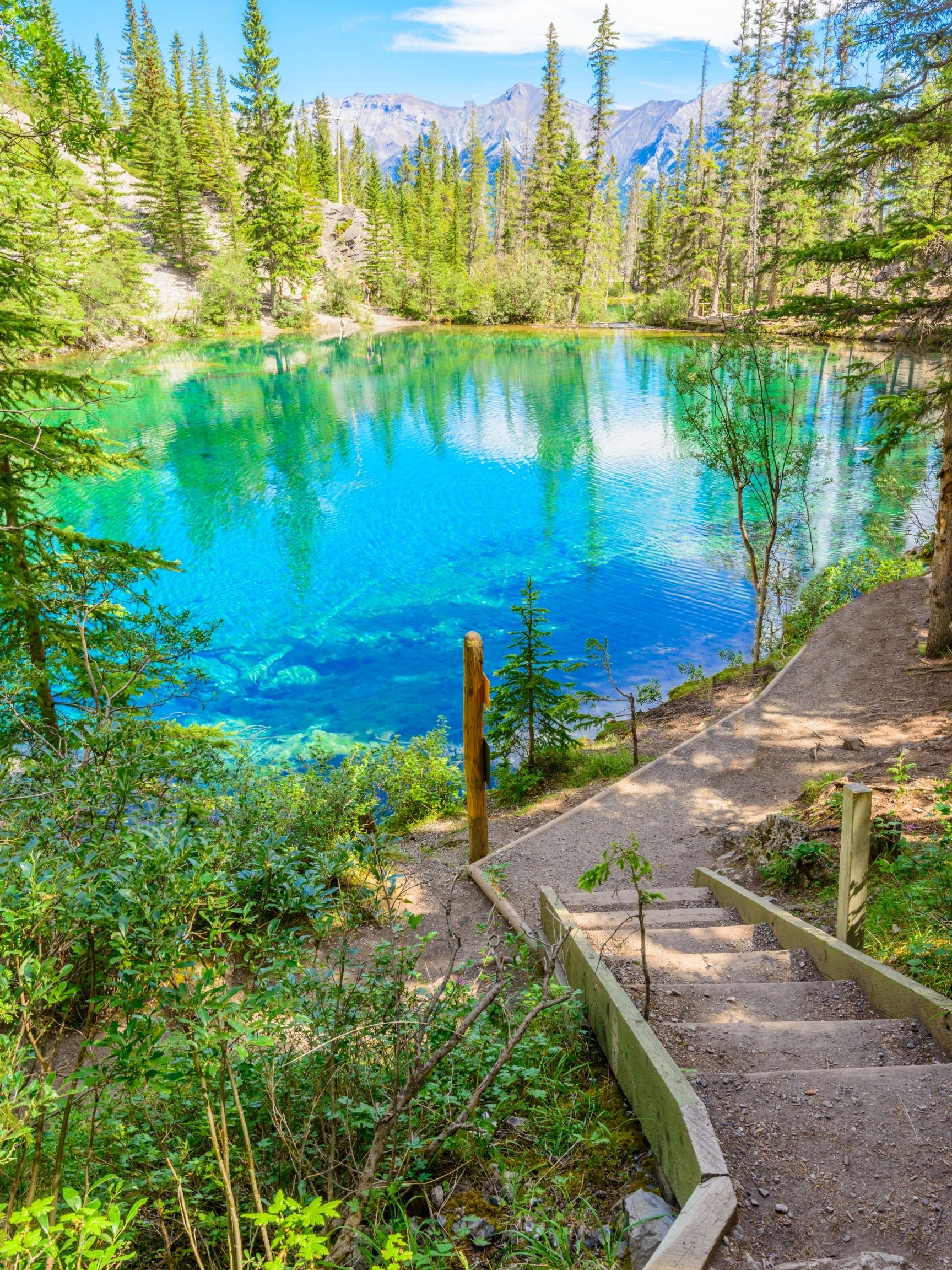 That all depends on you and your pace and how long you hang around at the lakes. I am a pretty fast-paced hiker and can make it up the trailhead in under a half-hour.
Meaning a round trip quick hike for outdoor time and cardio could easily take on one hour. However, if you want to take things slower and enjoy your time at the lakes, I would allow two to three hours to fully enjoy.
---
How Hard is the Grassi Lakes Hike?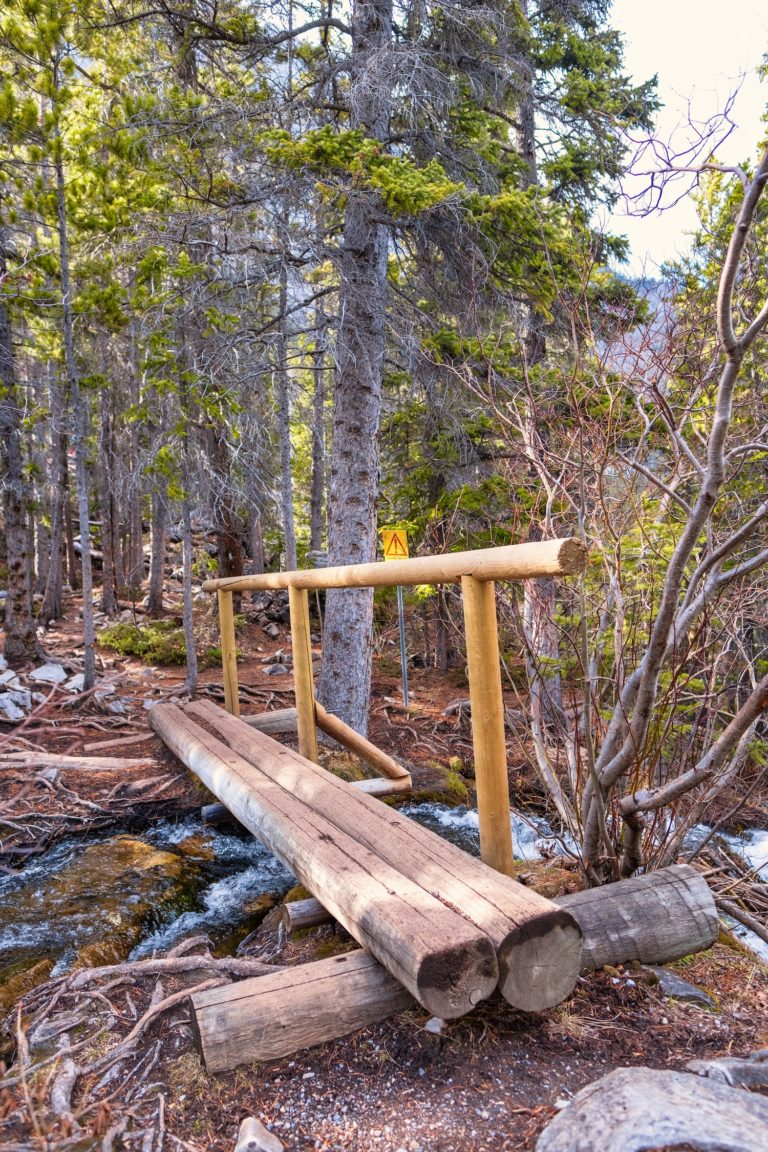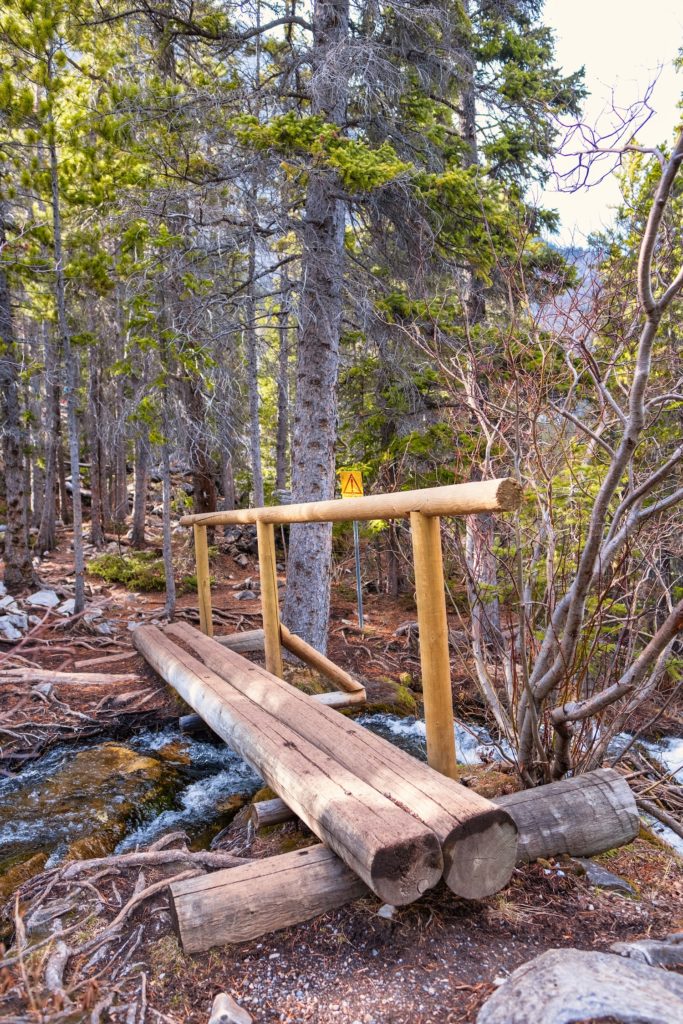 The Grassi Lakes hike is one of the easiest hikes you can do in Canmore and Banff. It's often suggested to beginners, families, and the elderly because it is short, has a slight incline, an elevation gain of 203 meters, and provides amazing views. If you've done Tunnel Mountain in Banff, you can expect Grassi Lakes to be easier.
---
Should You Brings Dogs and Kids to Hike Grassi Lakes?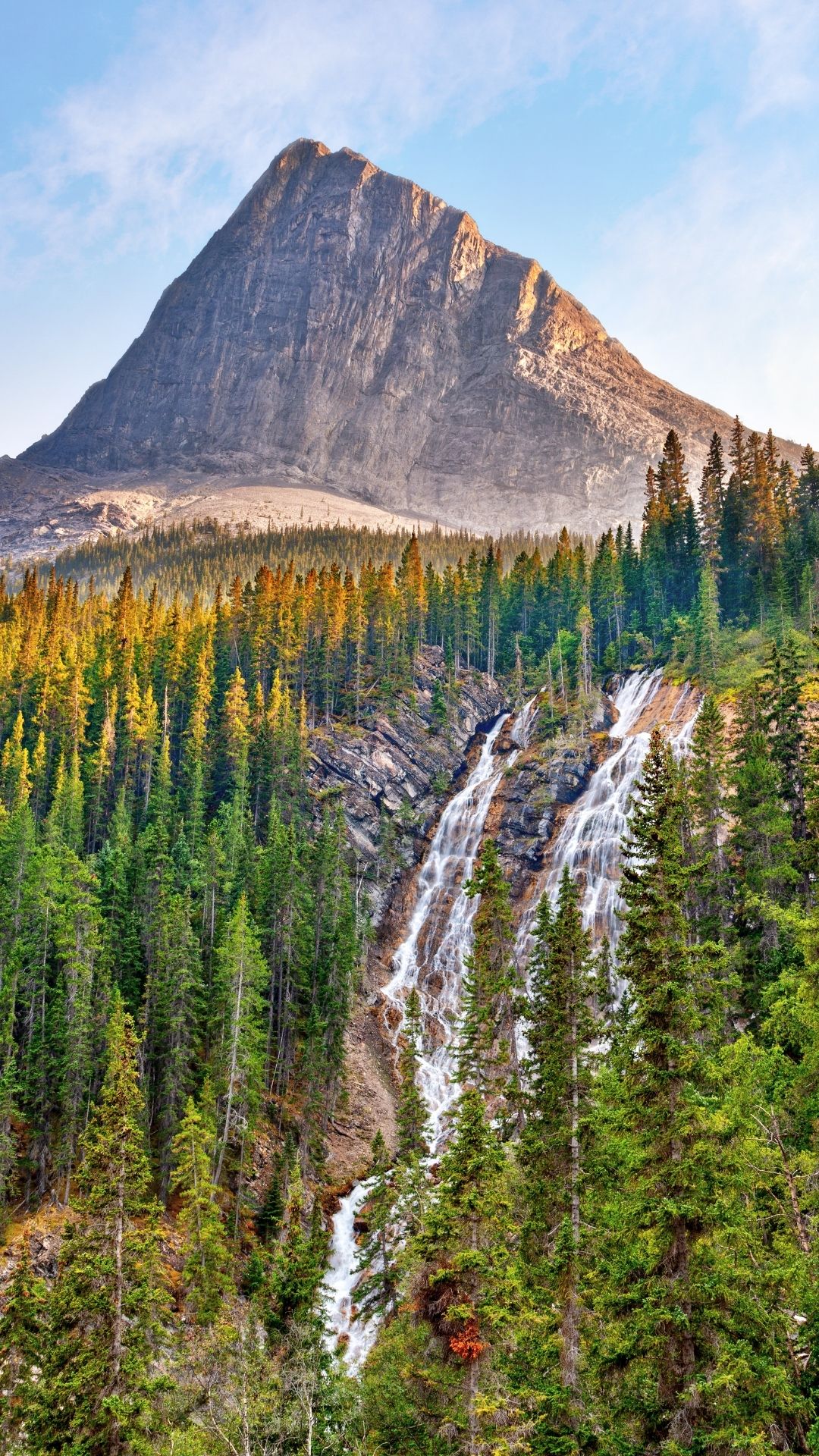 Absolutely! Grassi Lakes is the ideal setting for young children, older grandparents, and all pets!
---
Grassi Lakes Hike Notes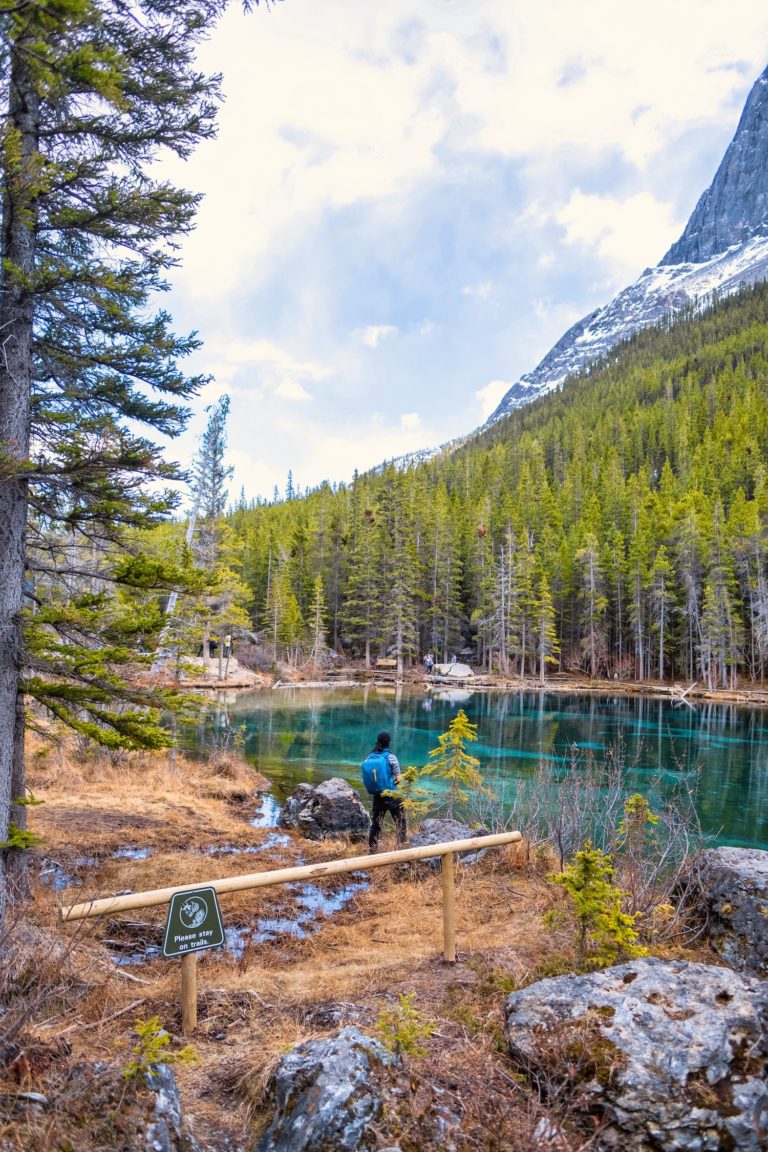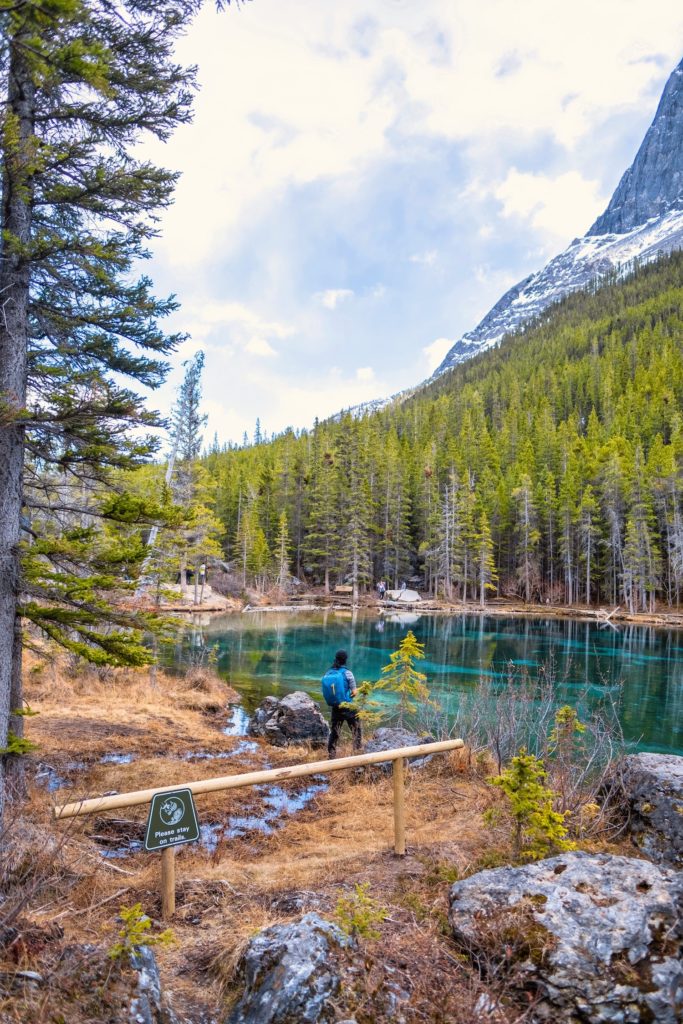 Grassi Lakes is one of the busiest trails in Canmore. Especially on weekends. Arrive early, or later in the day to avoid the crowds in the summer. During the winter you'll have no problem spacing out from everyone!
Be careful of falling rocks. There are many climbing and bouldering routes at Grassi Lakes, so pay attention that you aren't standing directly under climbers. There are also plenty of mountain goats and sheep in the area always kicking down small rocks. There's been deaths from people getting hit from overhead rockfall so make sure to always pay attention.
Stay on the trail! There are signs everywhere asking visitors to stay on the trail to protect the environment, but still we always see lots of people walking off for photos.
---
Wildlife Awareness On Grassi Lake Trail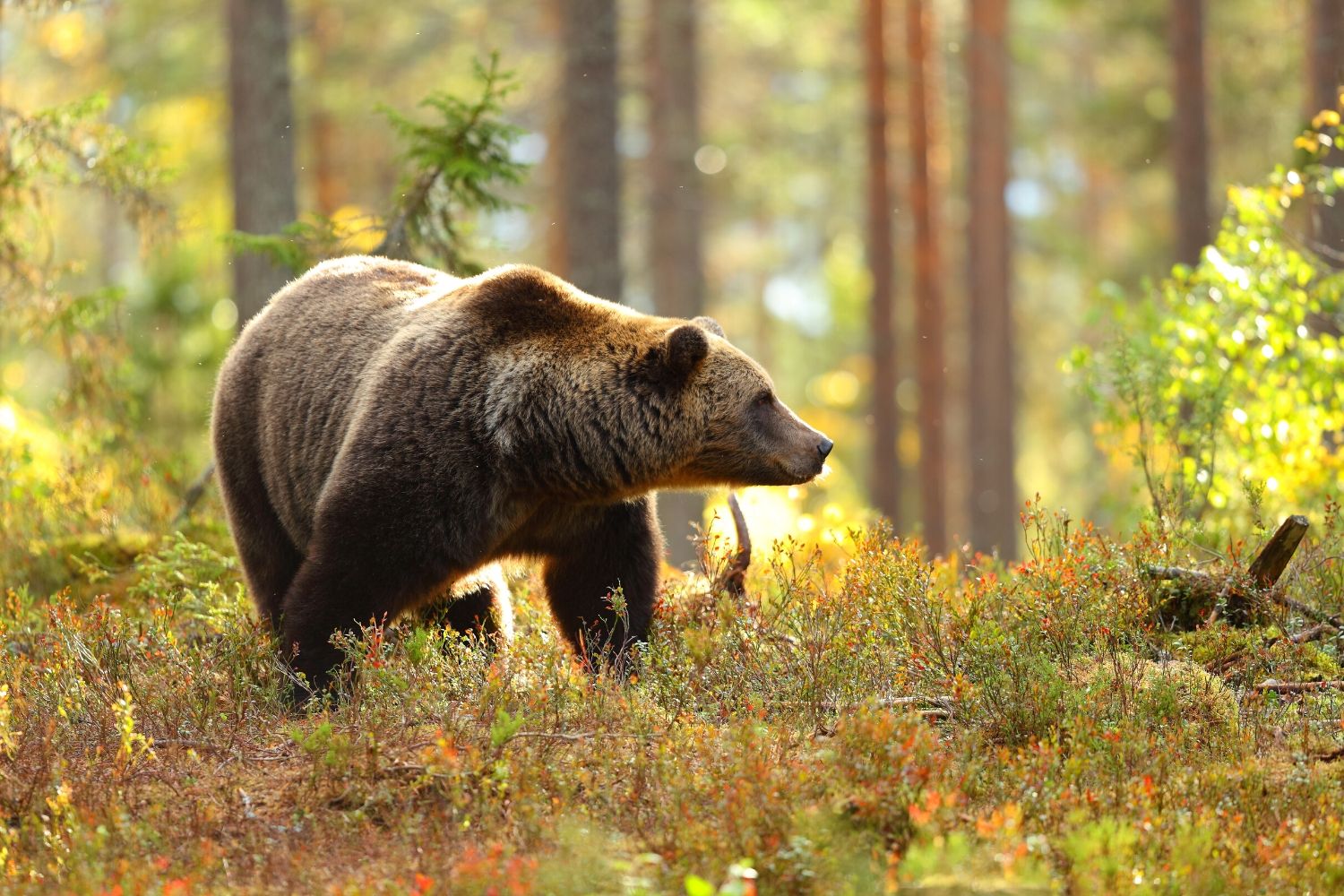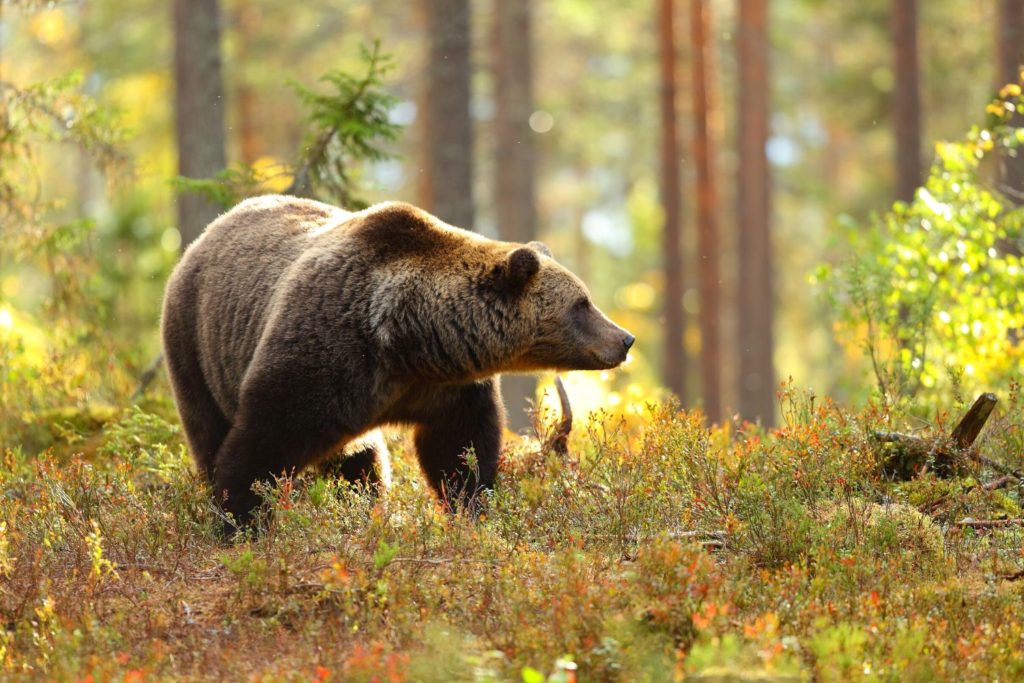 If you're on any hikes in the area, you should practice good wildlife awareness. There are frequent sightings of black bears, grizzly bears, moose, coyotes, and cougars in the region. They all present a threat to humans, and we should reduce our impact on their natural lives.
Before any hike or walk-in Banff National Park or Kananaskis Country, you should pack bear spray, check the park websites for wildlife information (Parks Canada and AB Park), and then check again for notices at the trailhead.
When you're on the trail, make noise by banging hiking poles, talking, whistling, clapping, or singing. This is particularly important around blind bends and corners, although there aren't many on the Grassi Lake Trail. It's also a busy trail, so you generally don't need to make too much noise, but always be bear aware.
This means staying alert, traveling in a group, minding children and pets, and finally carrying bear spray and knowing how to use it. If you've come to the park without bear spray, Valhalla Pure Outfitters in town sells spray and holders with employees who will demonstrate how to use it properly.
---
What To Wear on Grassi Lakes Hike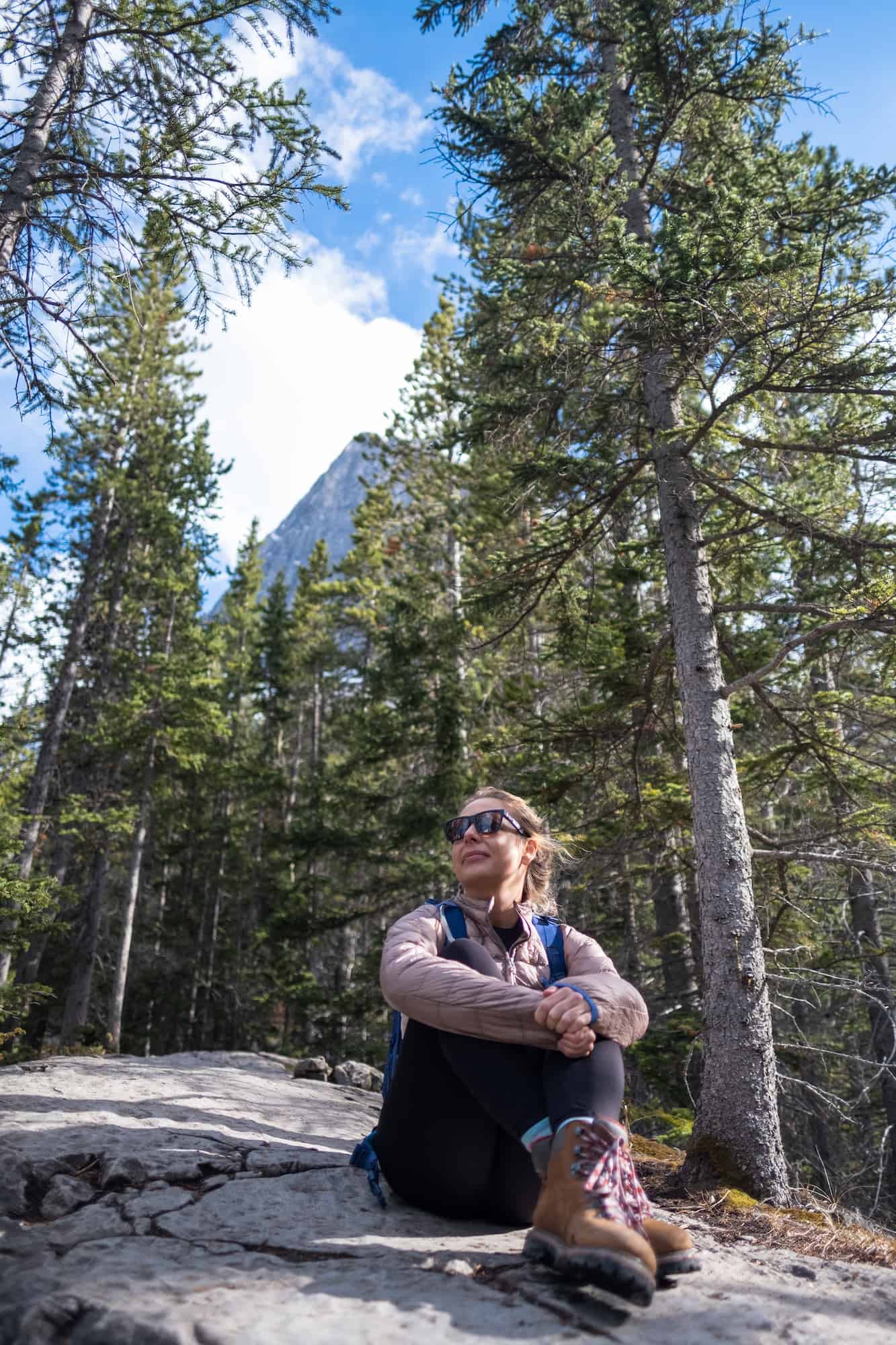 Grassi Lakes is easy and simple enough that you could hike up in anything you want, as it's much more of an uphill walk than a hike. That being said, you should wear proper footwear, and in the winter you'll need to dress warm!
The most basic principle of what to wear hiking is layering. Anyone that has spent time in the wilderness or mountains can speak to the fact your temperature can fluctuate a lot on a hike. So the goal of clothing is to help regulate your body temperature, element protection, and moisture management. Temperature management is best done through a layering system. If you want to learn more about what to pack for a day hike or what to wear on a hike, you can see ours.